Pipsticks is a monthly sticker subscription that sends new designs from their collection in a super shiny holographic pack every month! The stickers come in a reusable sparkly pouch and include sticker sheets, paper products, and Little Zippy, an exclusive sticker magazine. You also get 5% savings in the online store and more. You can choose to get stickers for adults (Pro Club) or kids (Kids Club). Both clubs come in Classic (15 sheets for $17.95 a month) or Petite (7 sheets for $11.95 a month). Shipping is free to the U.S., and Pipsticks can even be shipped worldwide for a fee.
C'mon. Who doesn't love stickers? Any stationery lover, crafter or pen pal knows the true magic of these little guys. Stickers motivate, inspire, entertain and delight with unmatched simplicity.

The Kids sticker pack is totally child-friendly, they can do everything by themselves which means it's a break for the parents – yay!
DEAL: Save $5 on your subscription! Use this link to subscribe and coupon code FRIENDSROCK.
I am reviewing the Pipsticks Kids Club Classic! Each month subscribers can expect to receive 15 sheets of stickers, a coloring postcard, an activity booklet, a chance to win the monthly raffle, 5% savings in the online store, and more!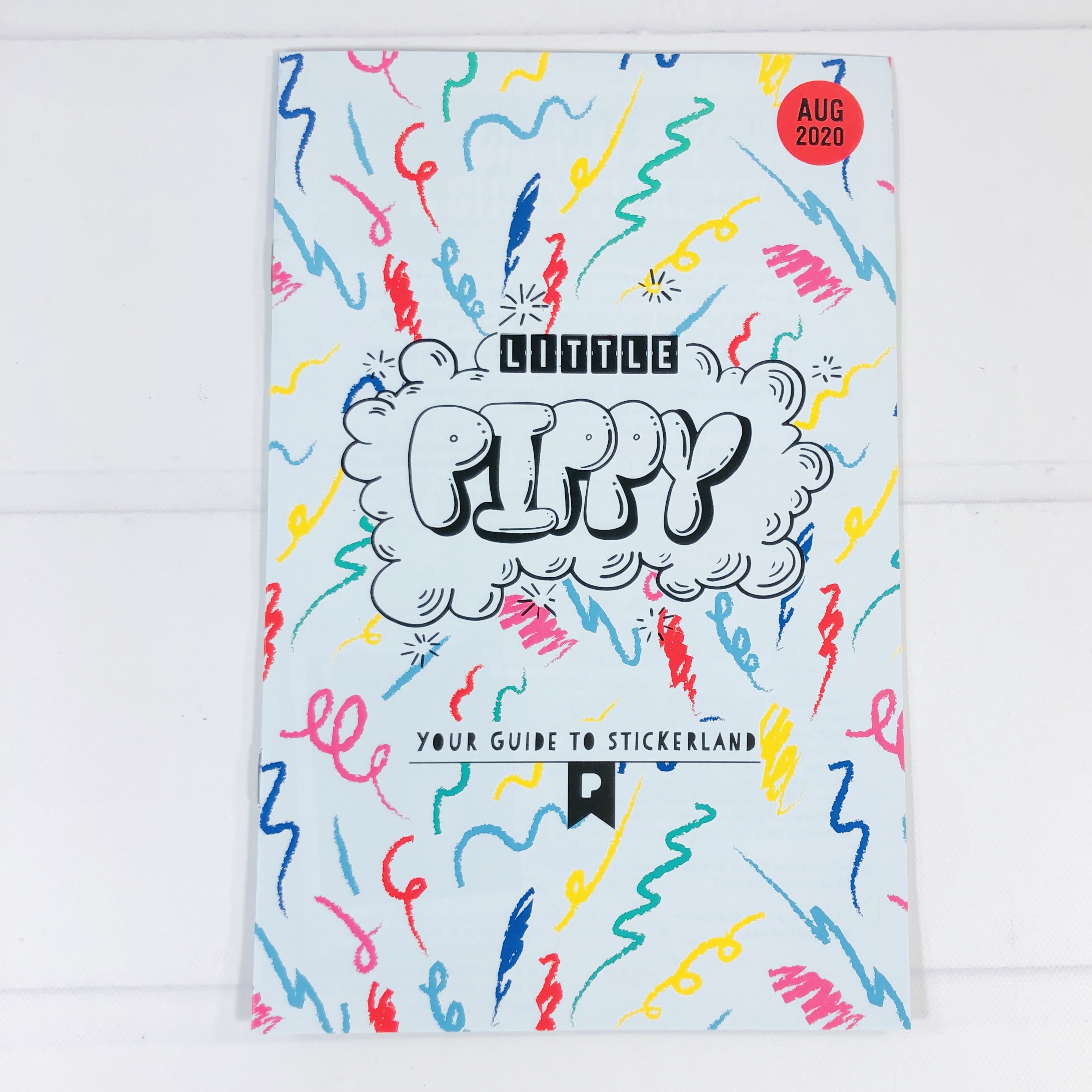 Pipsticks includes an exclusive magazine called Little Pippy.
The booklet suggested meeting friends for a sticker club and a school related question. There was info on the monthly giveaway.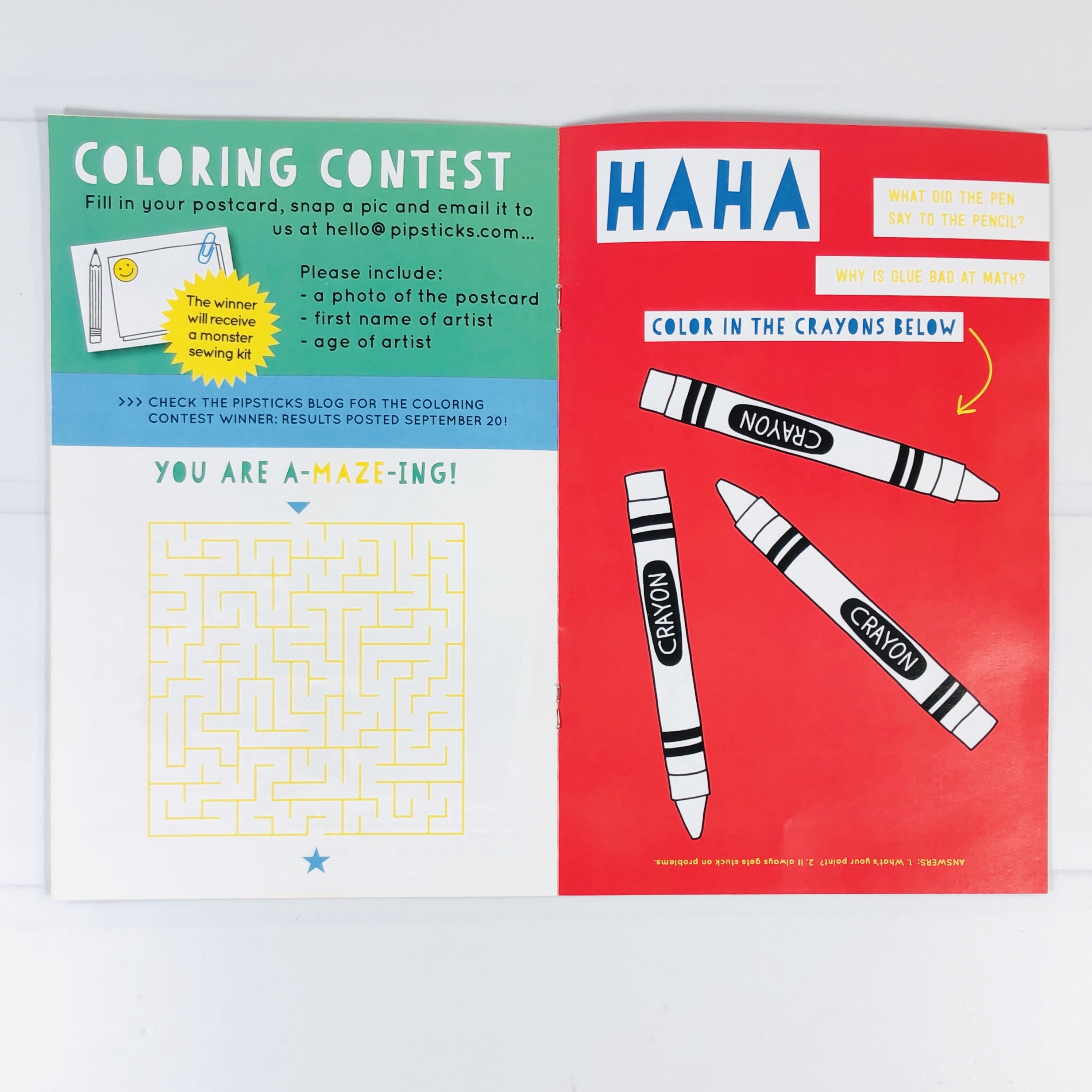 Info on the coloring contest was on this page, along with a coloring activity.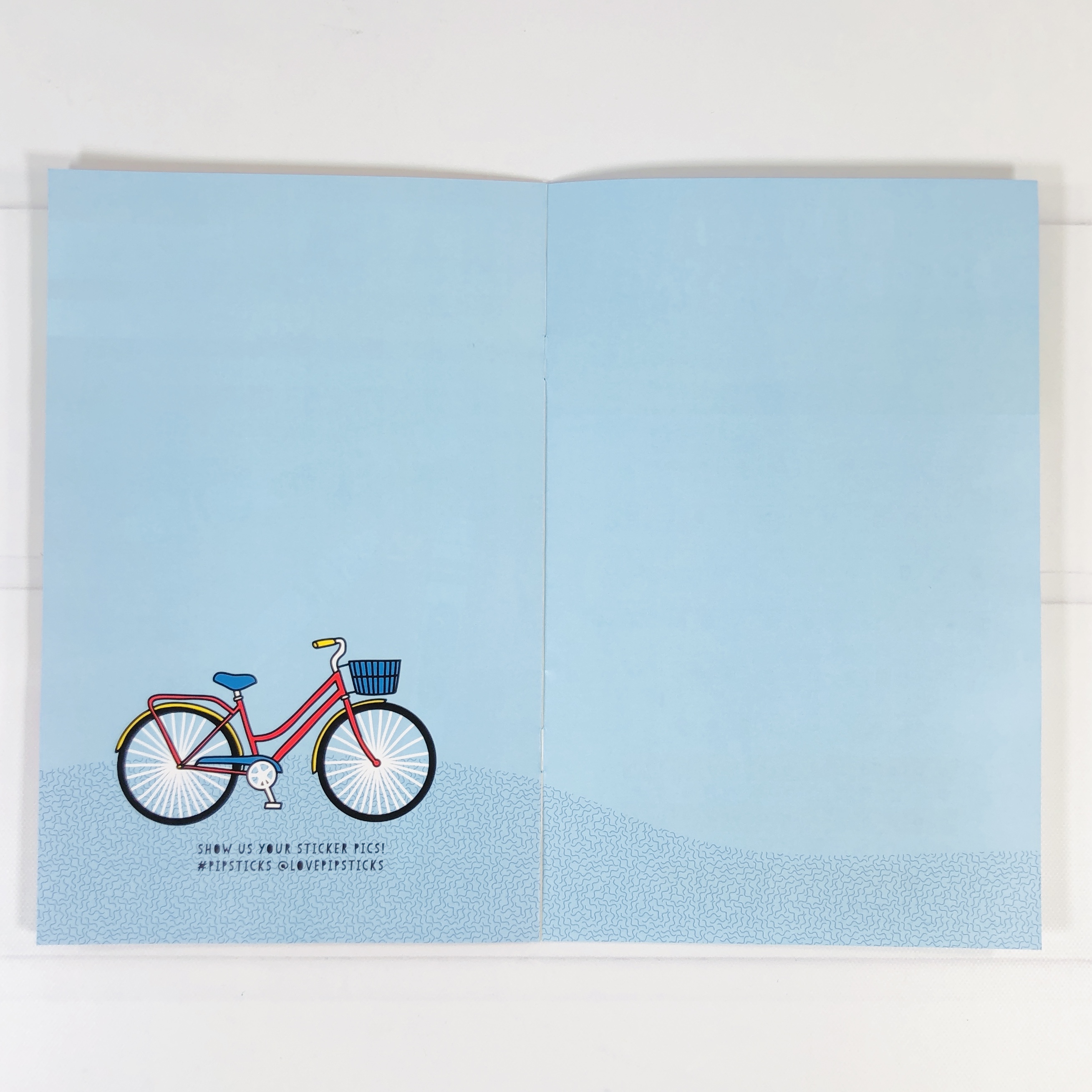 Decorate this page with some of your new stickers!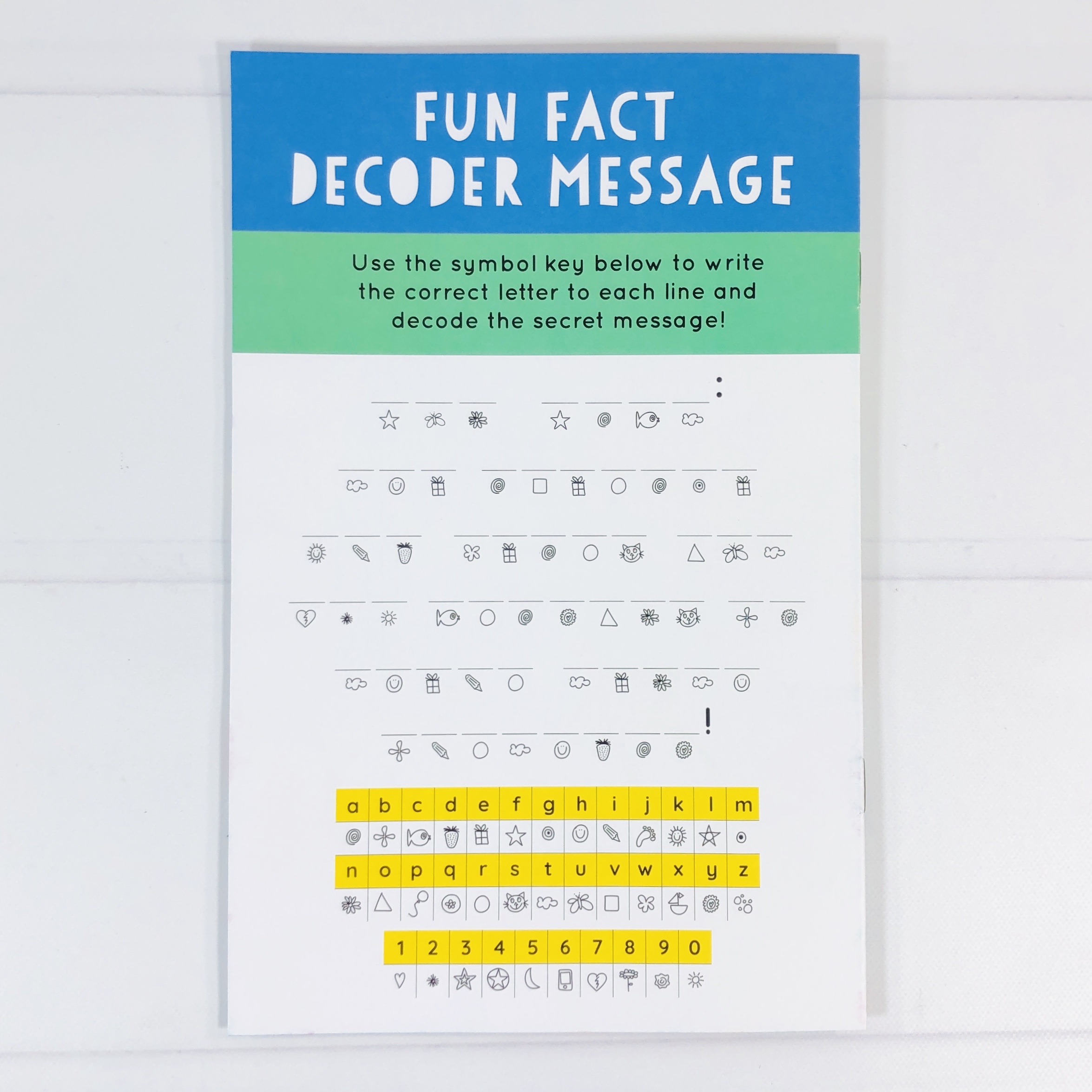 The back page had a puzzle.
My stickers and goodies were tucked into this fabulous holographic zipper envelope. The back of this envelope is shimmery gold stars!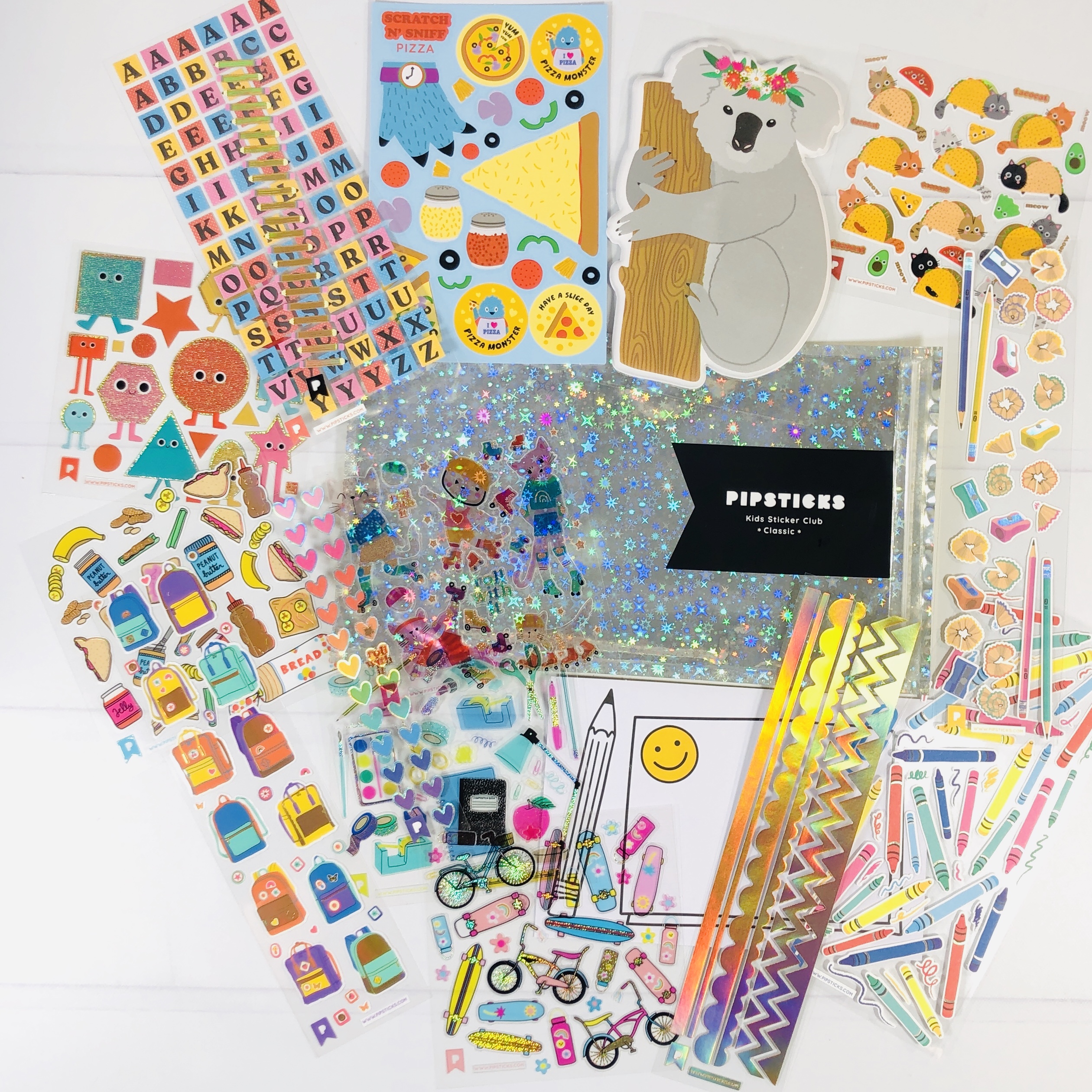 Everything in my box!
NOTE: You might be able to find the items in this month's pack in the Pipsticks online shop in the following month. They sometimes have previous packs available too.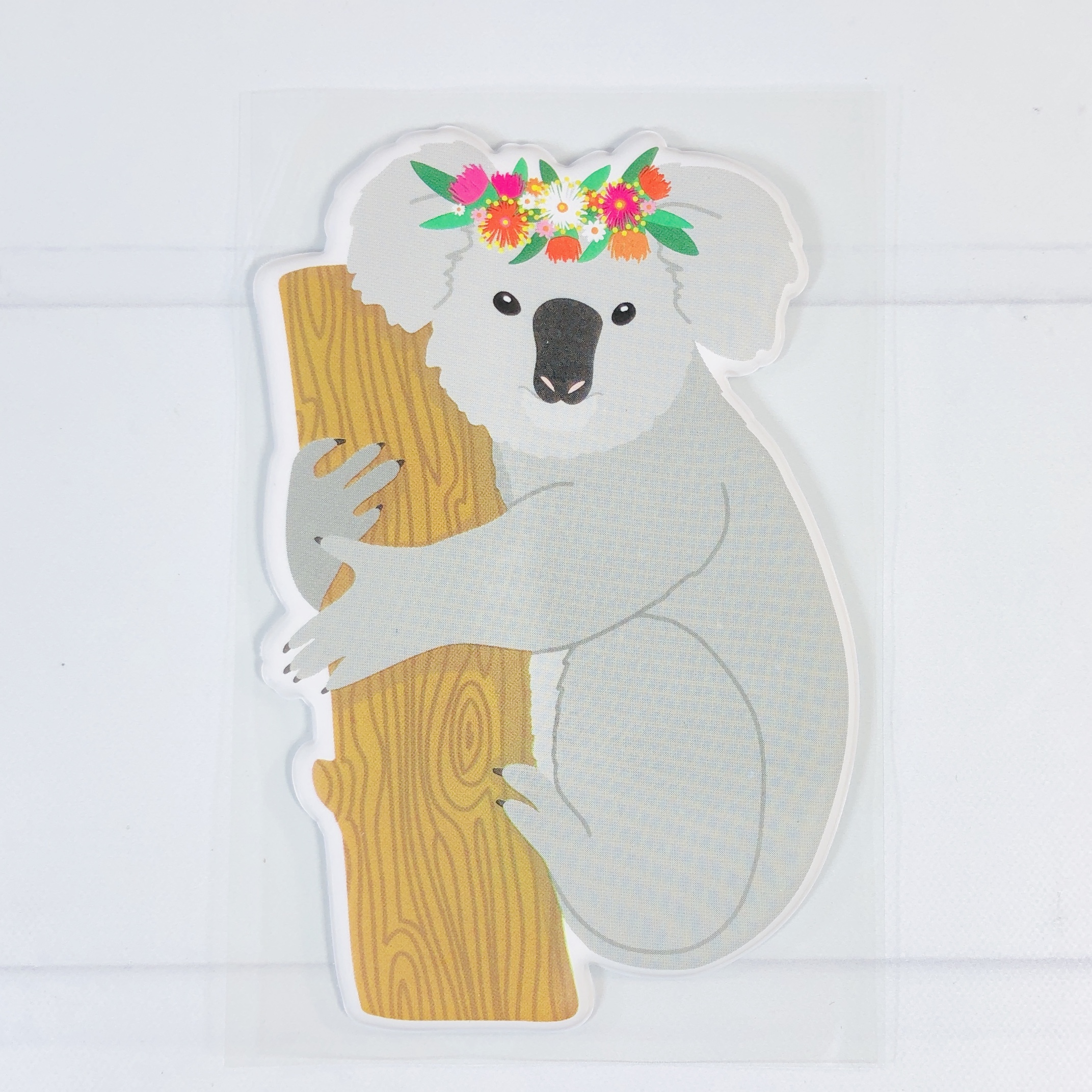 Big Puffy Koala ($5.95) Once when we were at the San Diego Zoo, my daughter (who was 3) got to pick out a toy from the gift shop. She picked a koala and she still has him 14 years later. She will LOVE this sticker.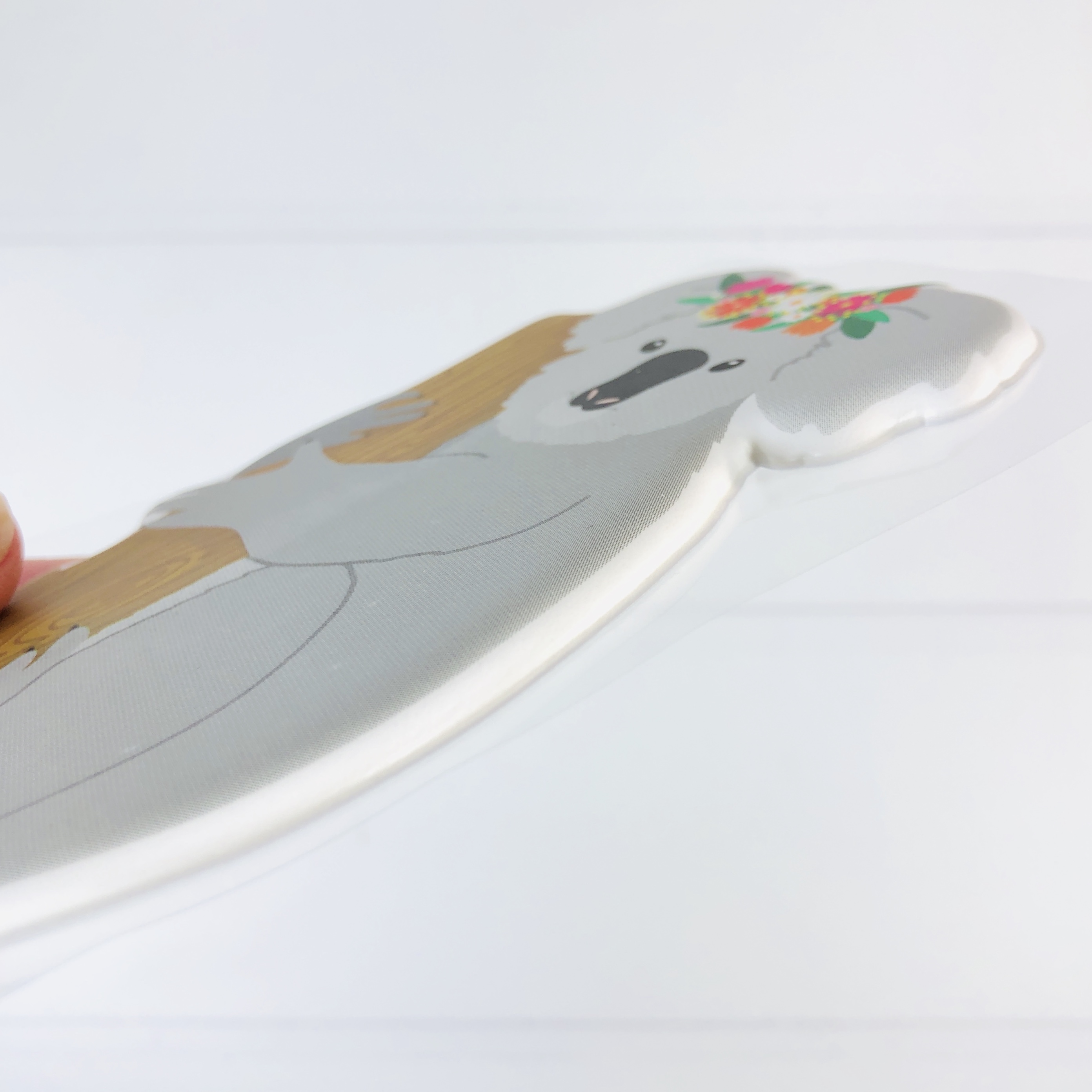 The sticker is 5.5″ high and look at how puffy it is!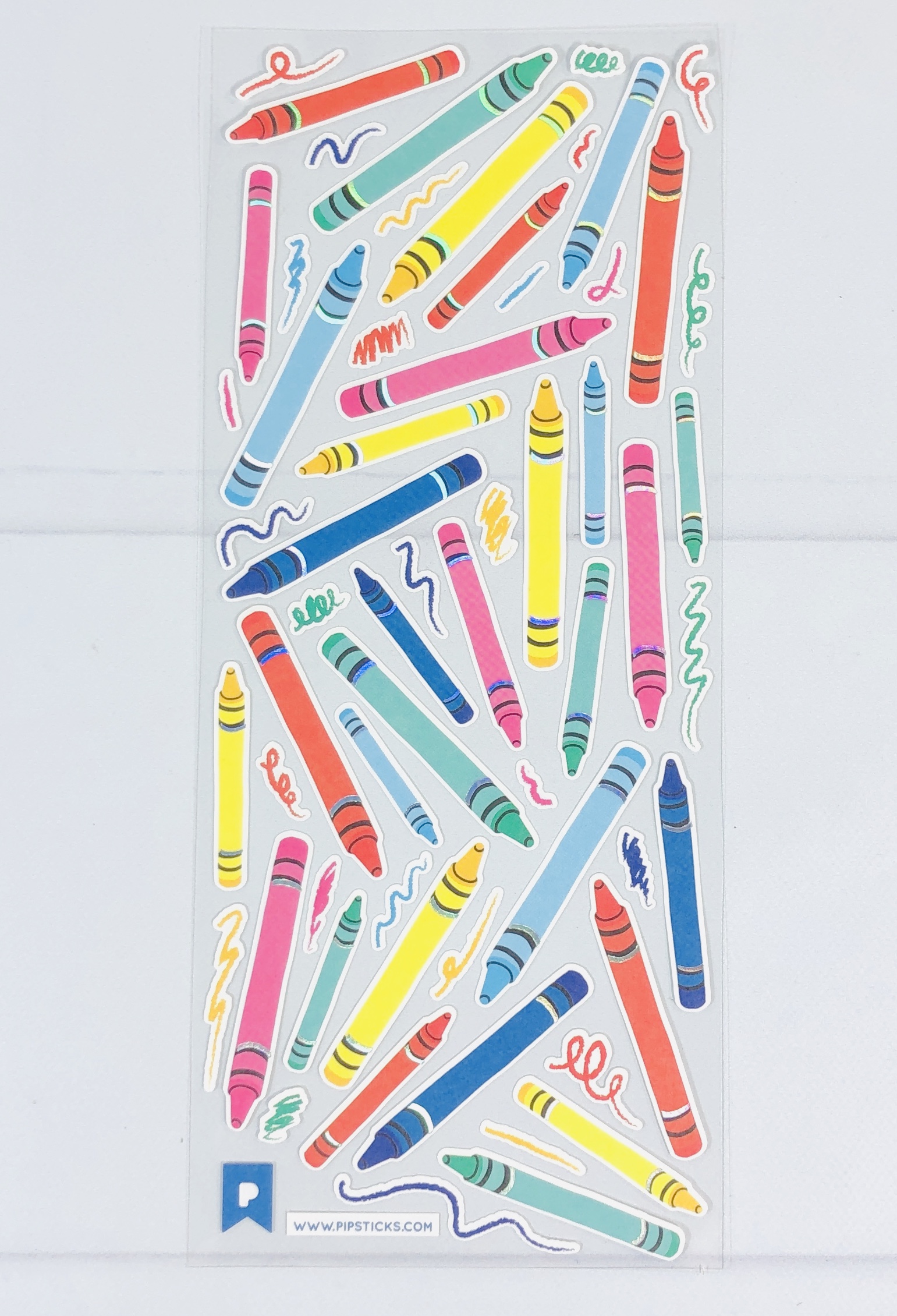 Color My World ($3.95) is made of wood-free paper and has silver foil accents. Buy the big box of crayons this year if you can.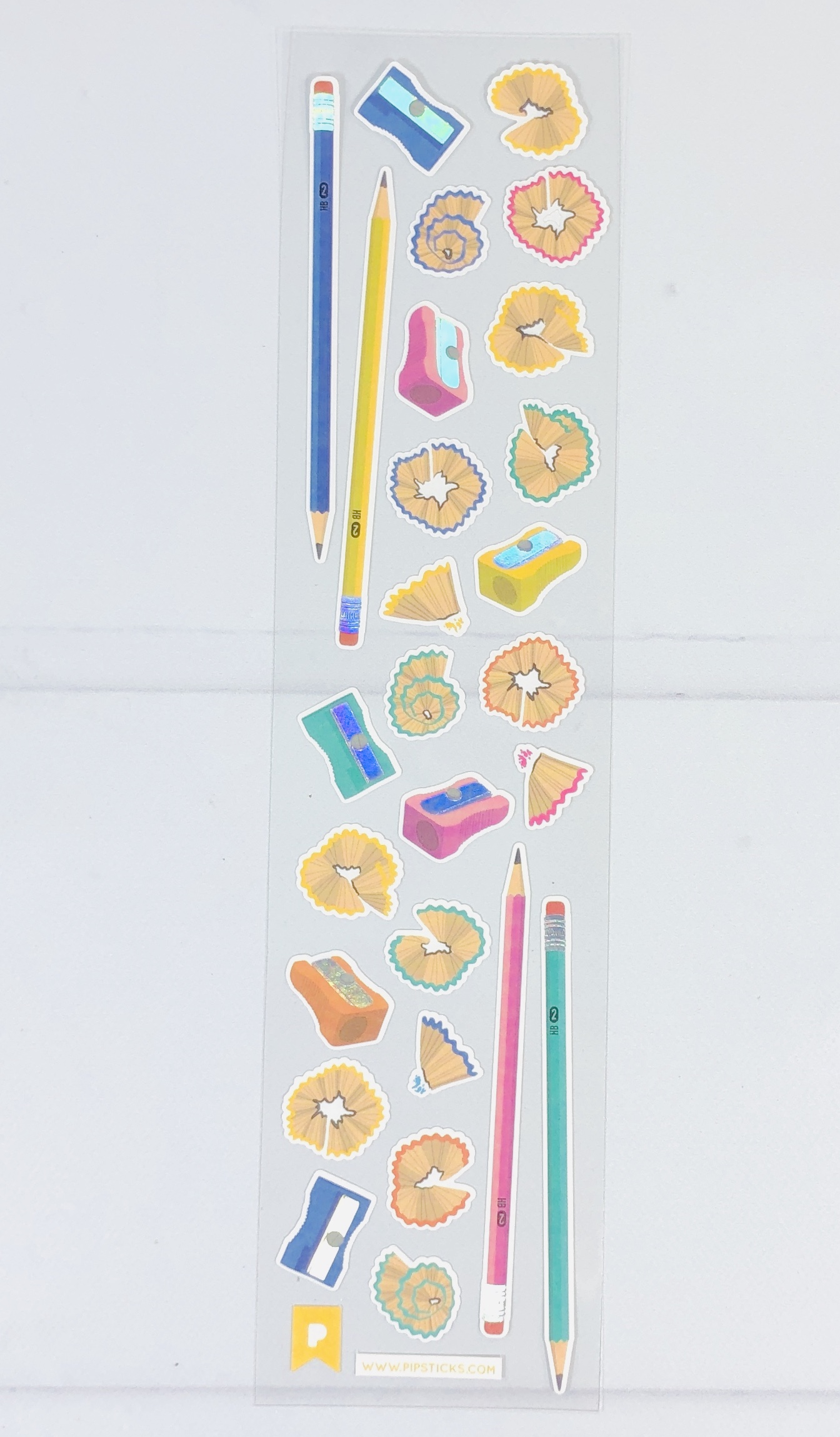 Sharpen Your Skills ($2.95) has pencils, sharpeners, and wood shavings. Paper with silver foil accents.
Back To School Supplies ($2.95) I think I'm detecting a trend here. Of course, my supplies aren't as glittery as these are. Vinyl with silver glitter foil.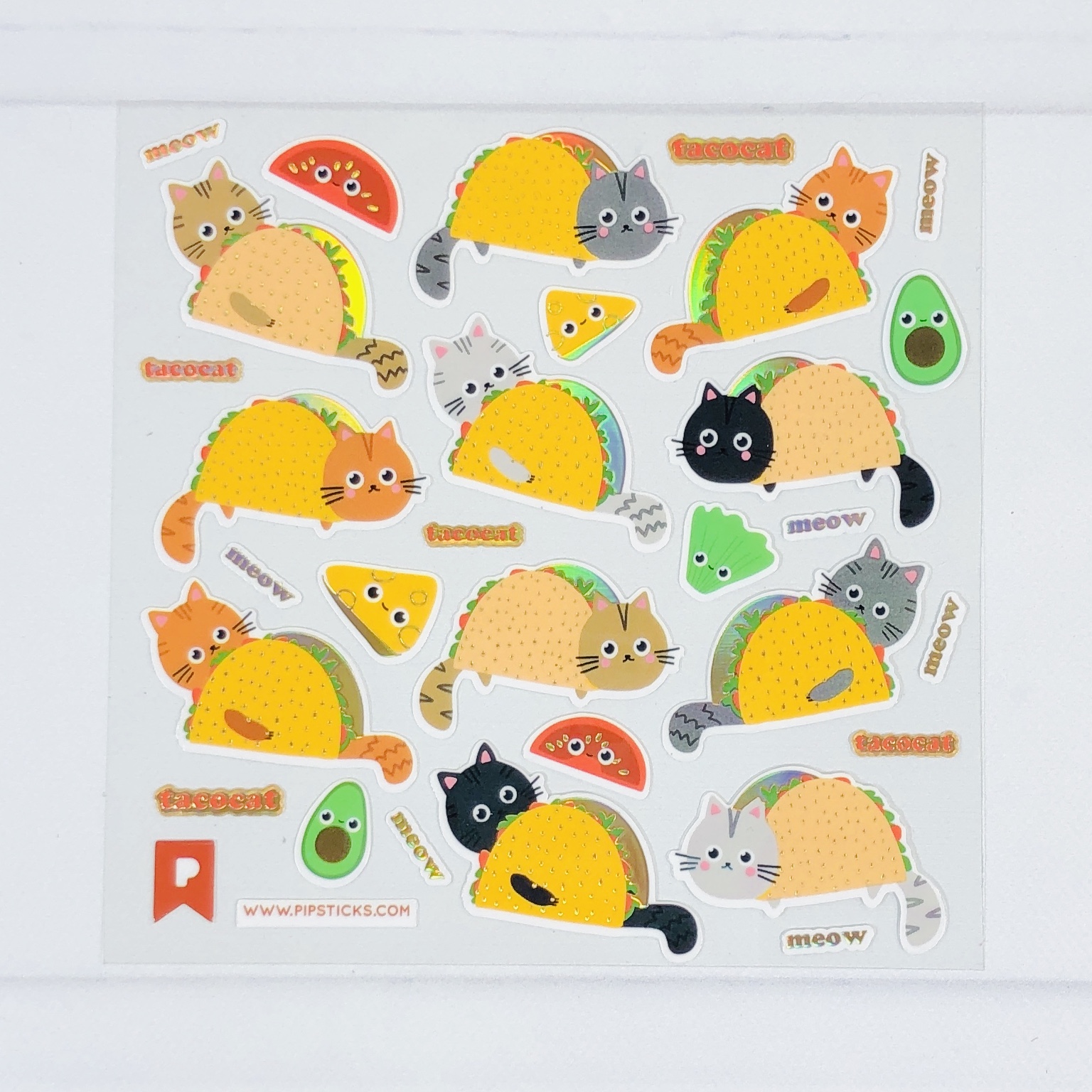 TACOCAT ($2.95) is a palindrome, a word spelled the same forwards and back. Love it! Vinyl with holographic gold foil.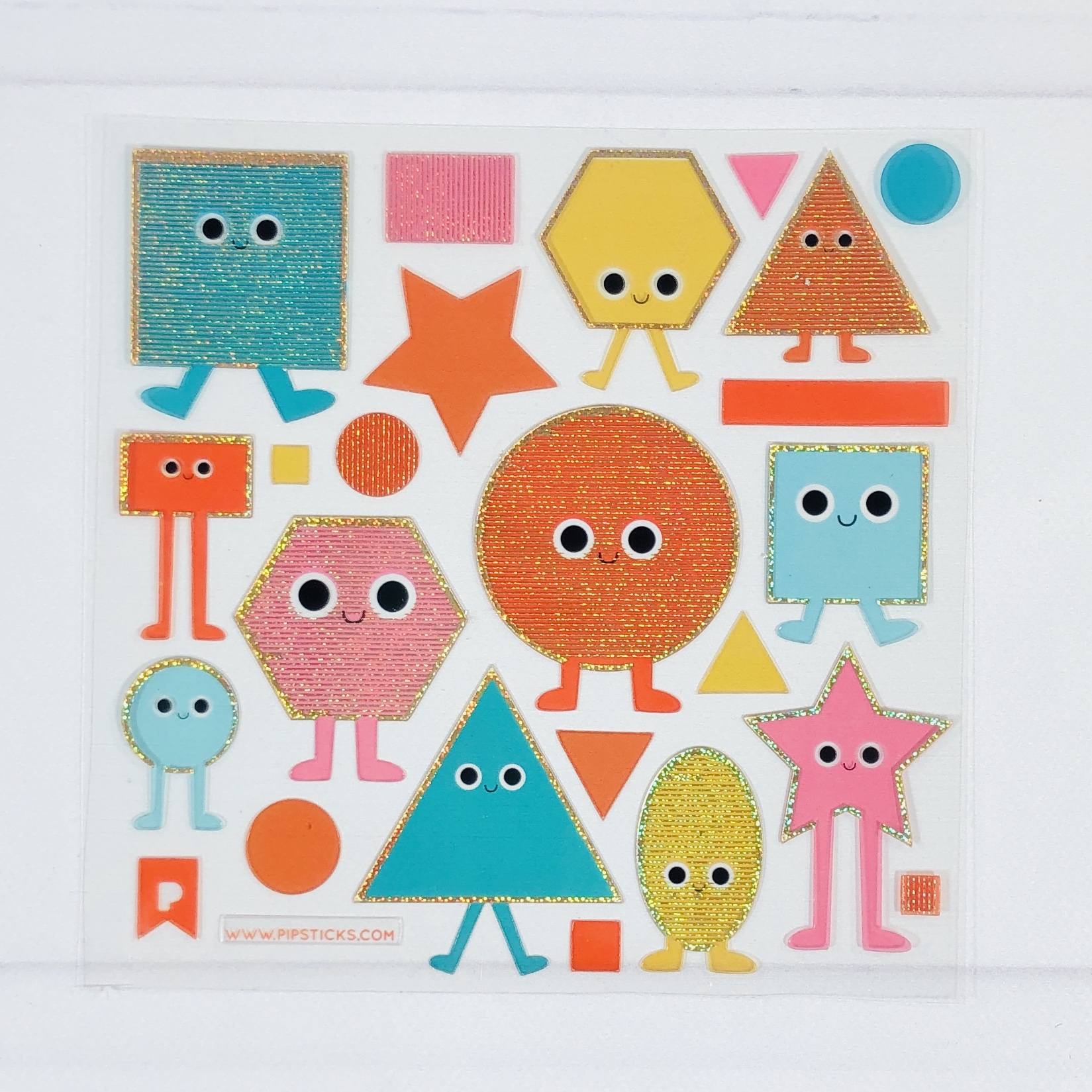 Stay in Shape ($2.95) Oh my goodness, look at the eyes! This is a fun way to teach shapes. Vinyl with silver glitter foil.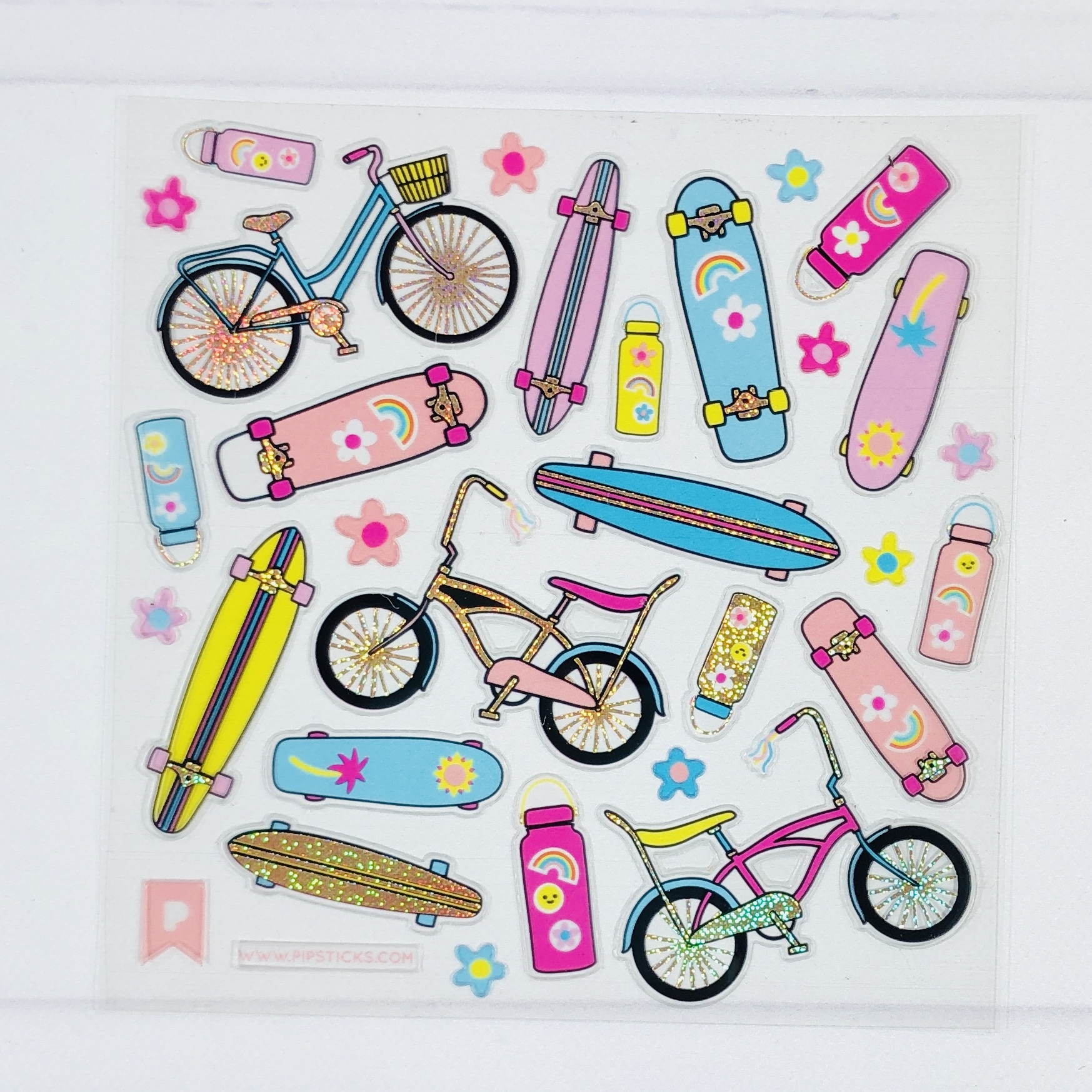 Wheel Fun ($2.95) I think I recognize these bikes and skateboards from my childhood! Vinyl with silver glitter foil.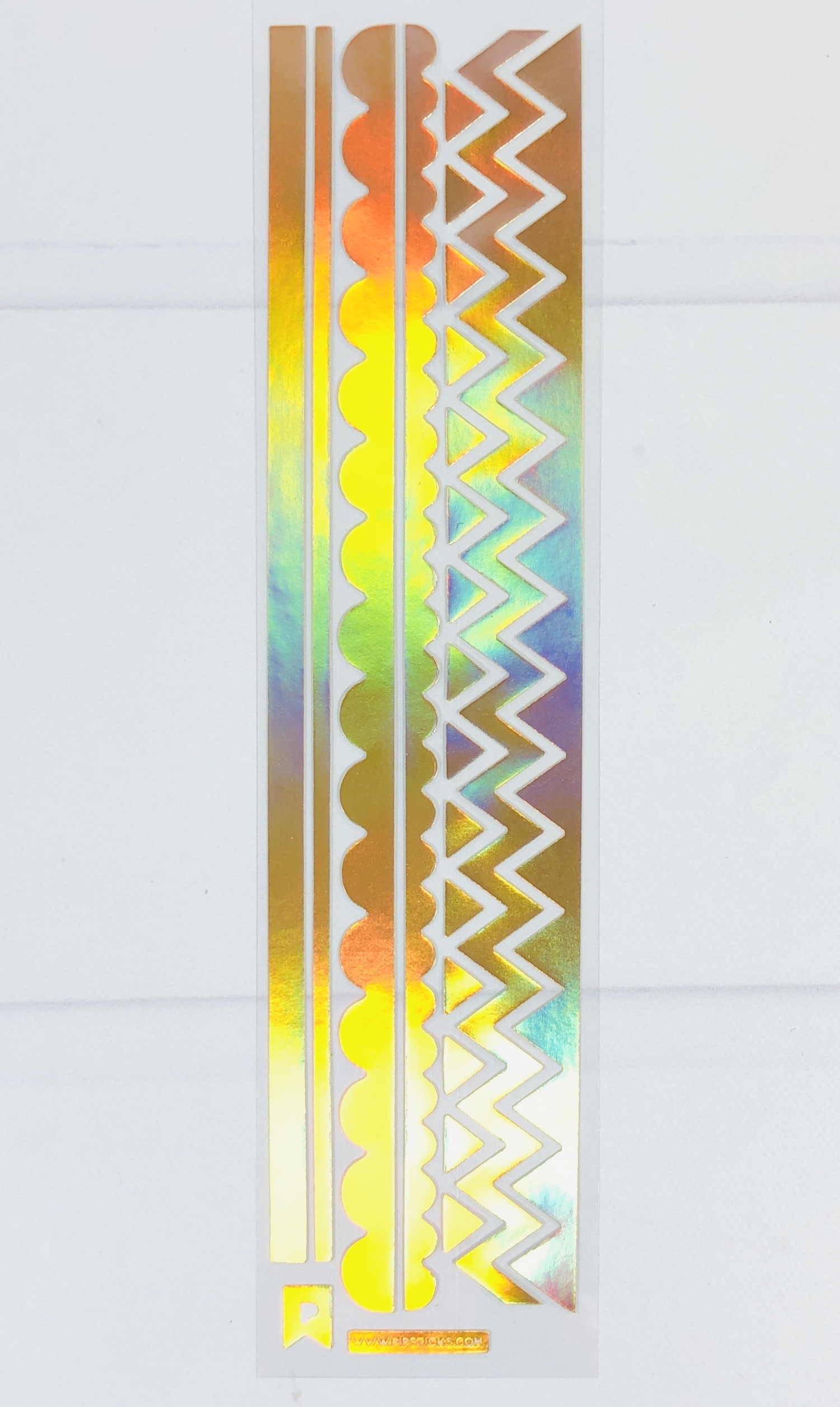 Foil Fringe ($2.95) I think I will keep this sheet for myself, it will look good in my planner. Vinyl with holographic gold foil.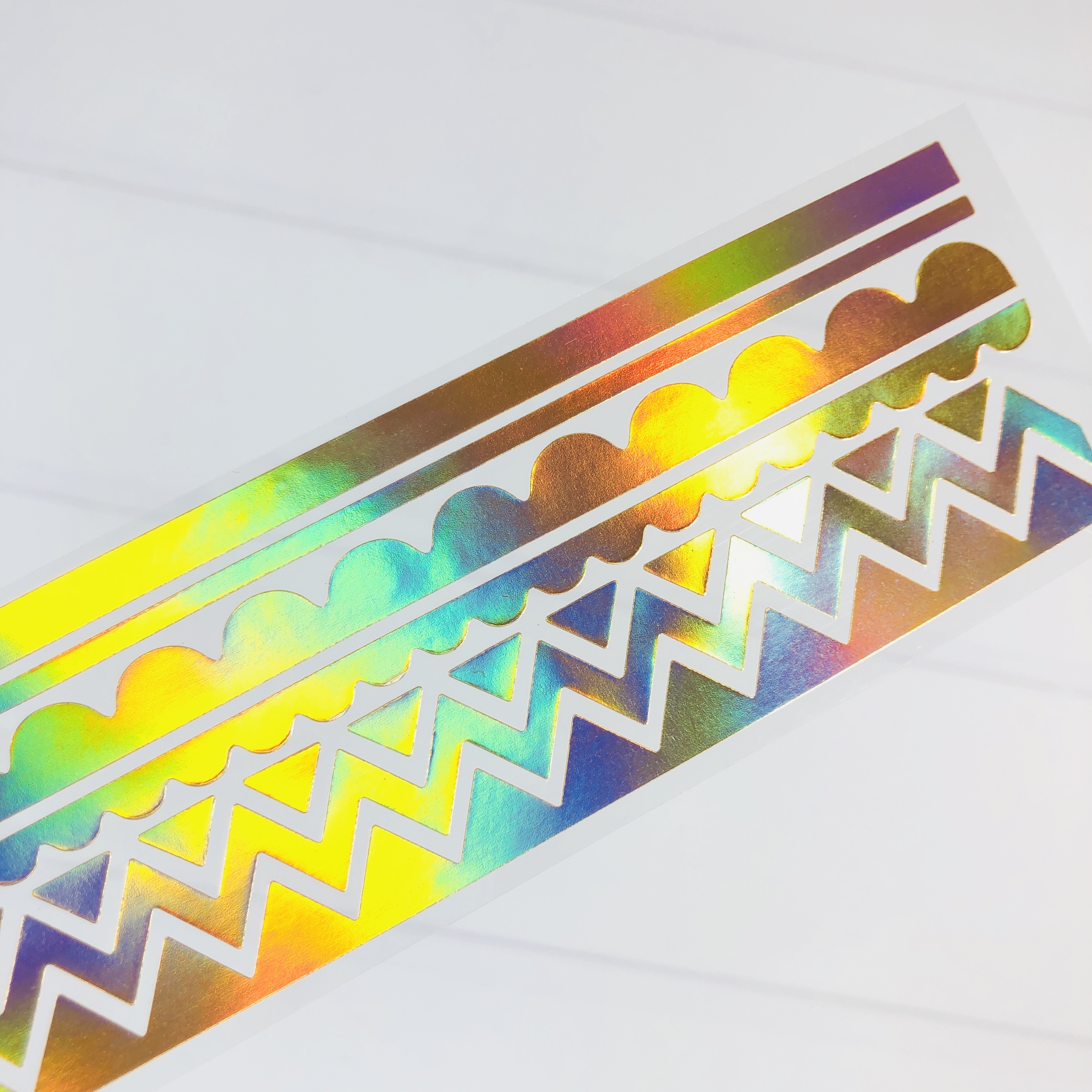 Check out how much the color changes with the light!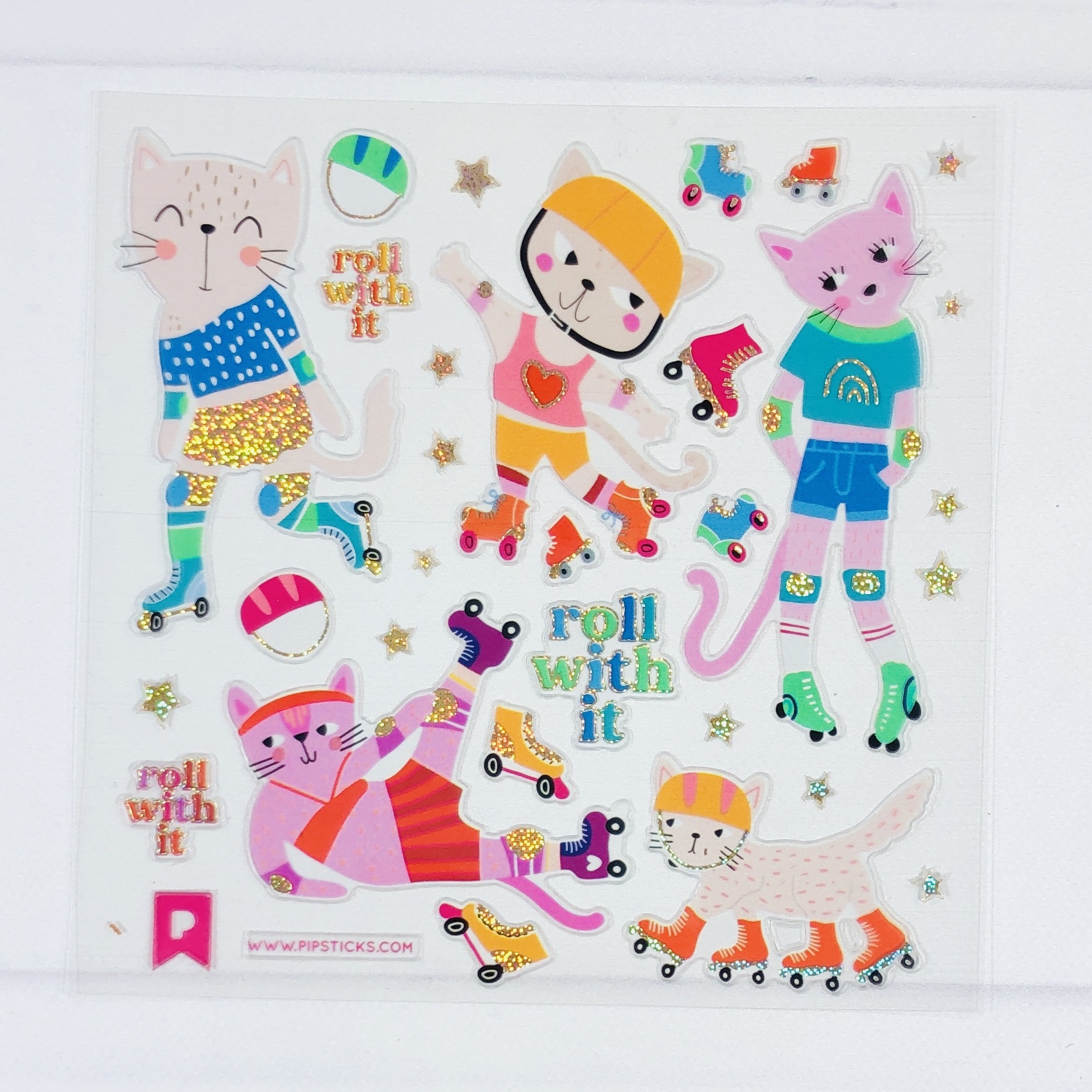 Let's Roll ($2.95) I loved roller skating when I was a kid, and even broke my arm skating once. I even skated with my kids but was much more cautious! These roller skating kitties are adorable. Vinyl with silver glitter foil.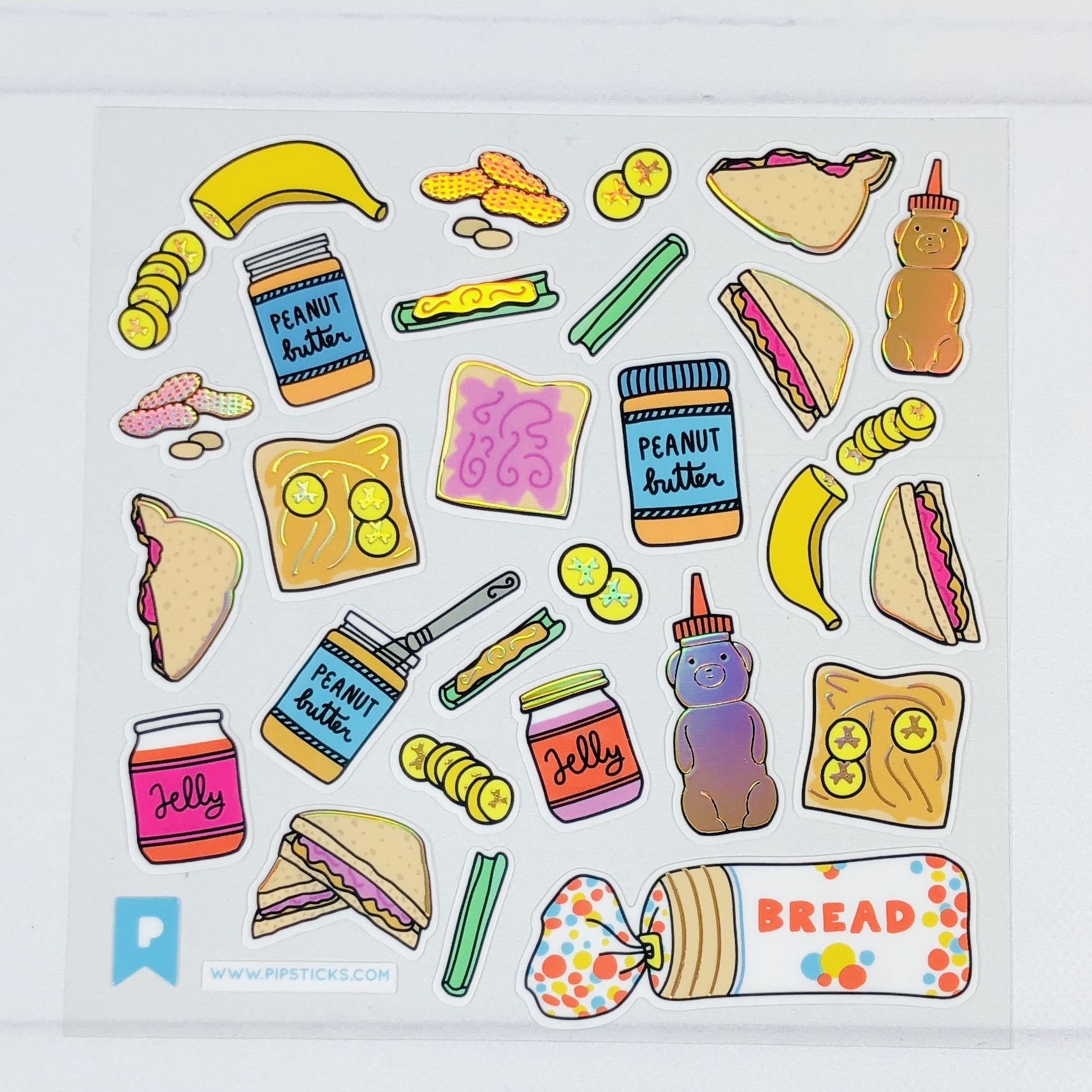 Spread The Love ($2.95) I don't know if kids still take PB & J to school for lunch but I can tell you that this was my breakfast this morning. Vinyl with holographic gold foil.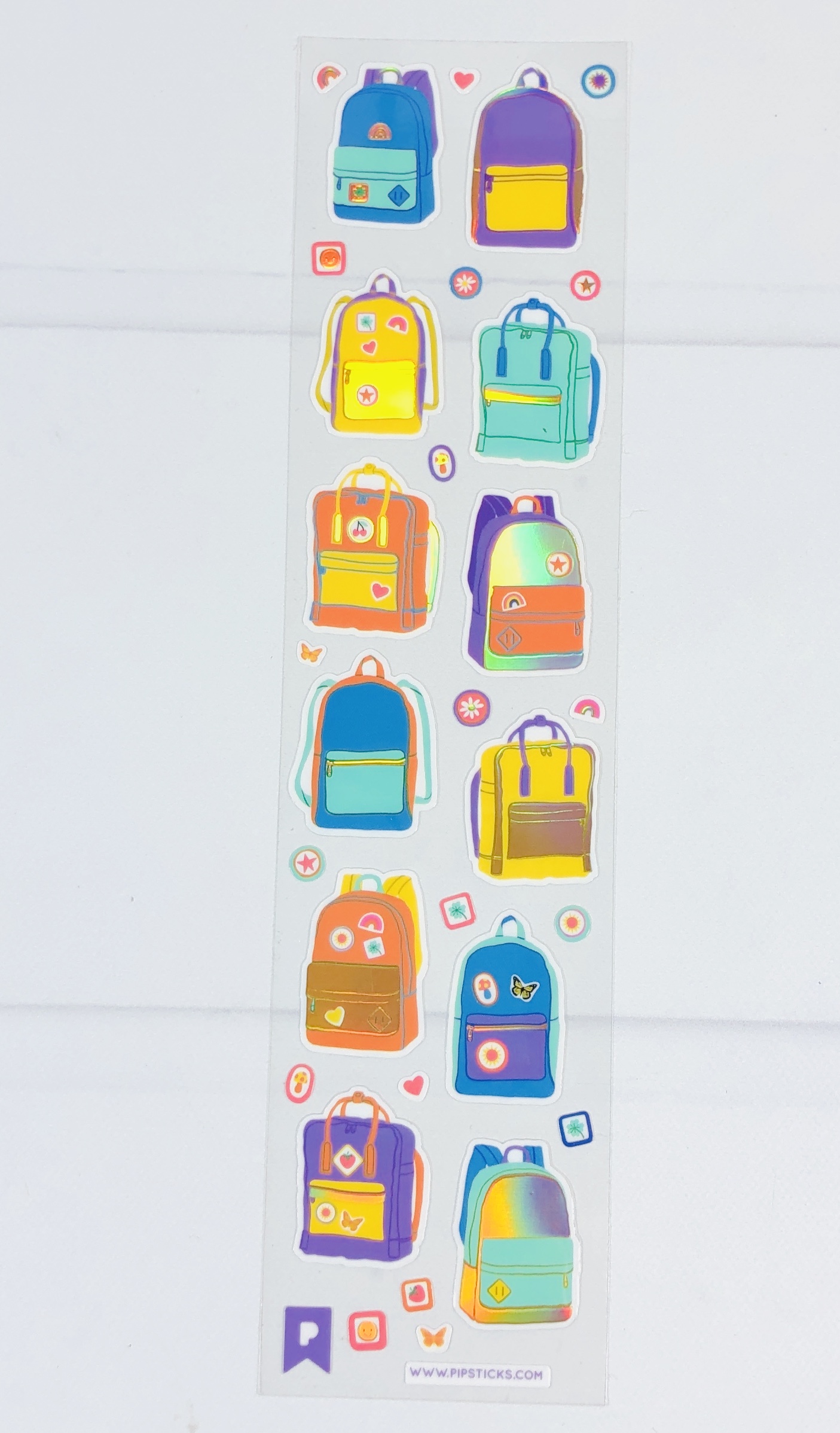 Pack & Go ($2.95) I can't even remember owning a backpack when I went to school, did they have them back in the '80's? I would carry any one of these, and I am way past school age. Vinyl with holographic gold foil.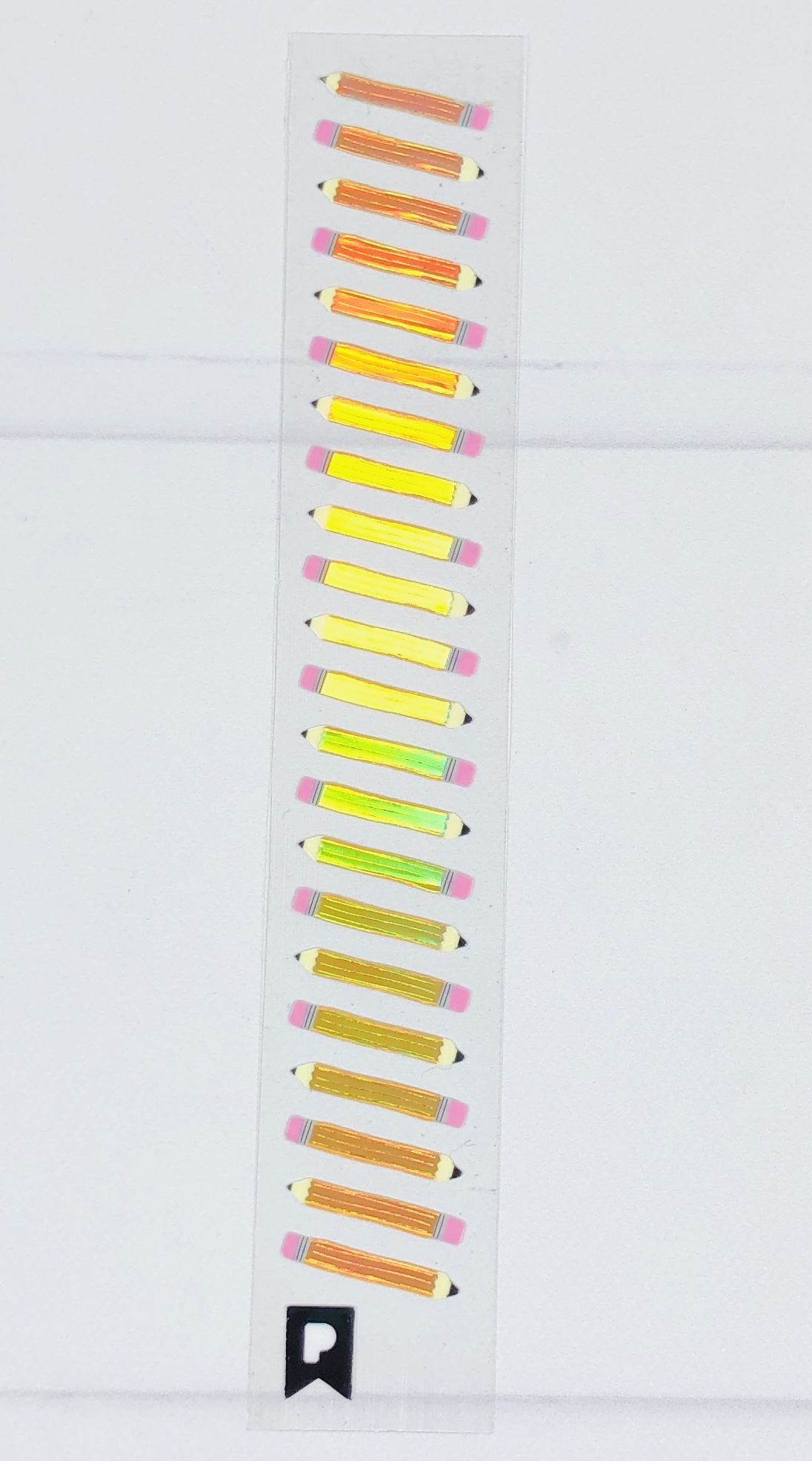 To The Point ($1.95) One thing that never goes out of style – classic #2 pencils. Vinyl with gold foil accents.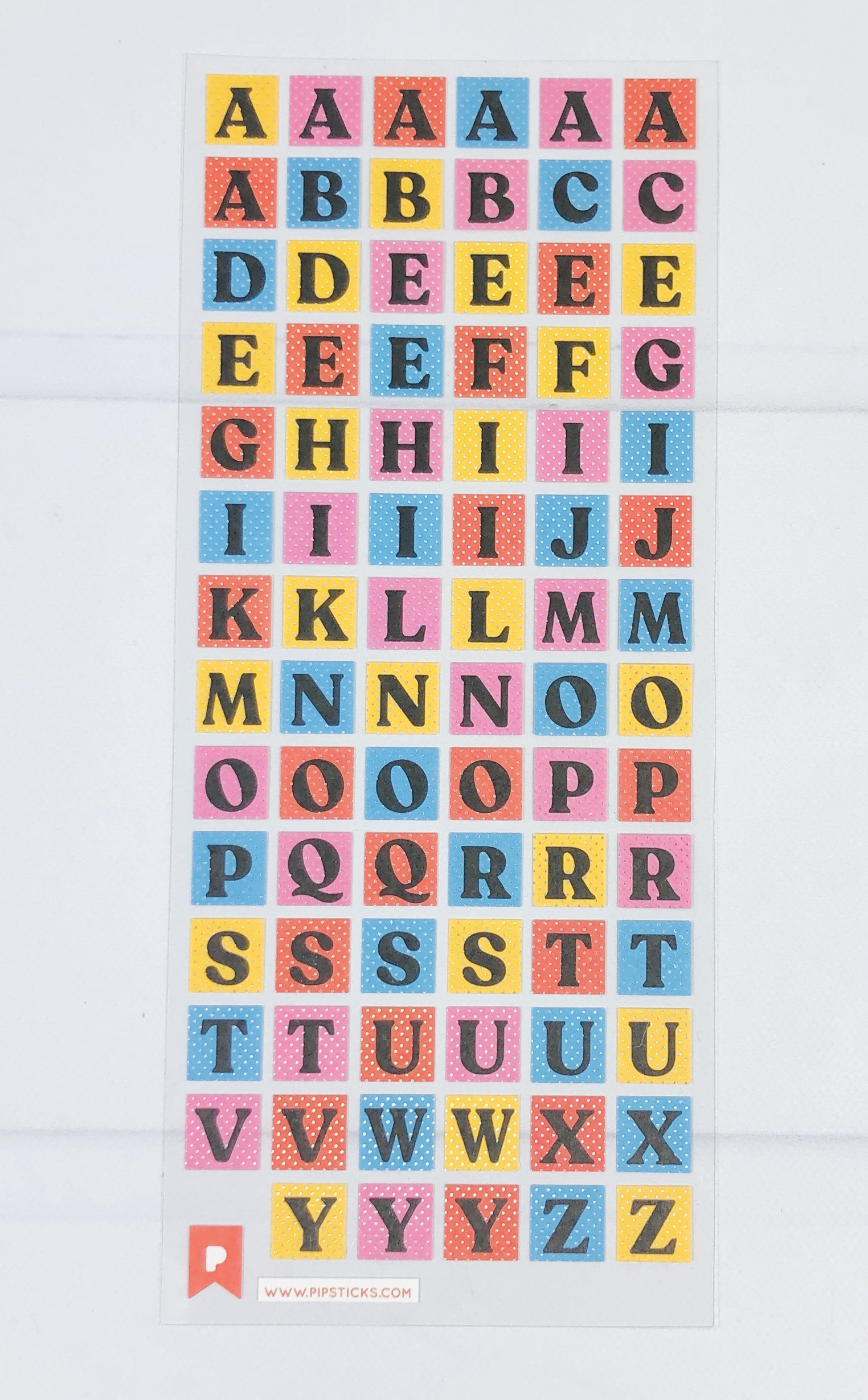 Alpha Blocks ($3.95) Oh, these are cute for spelling out names, and I like the metallic dots. Paper with holographic silver foil.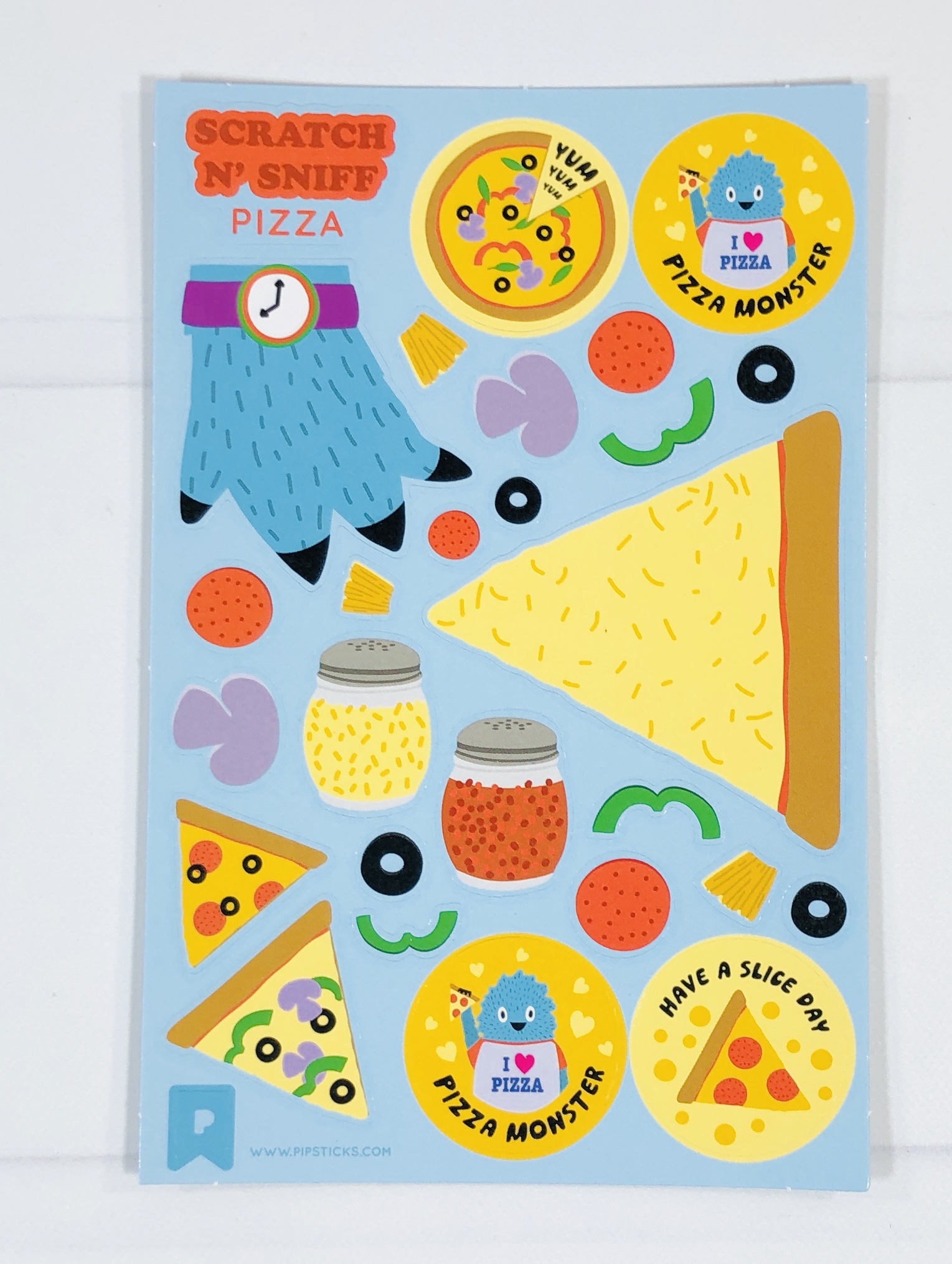 Have A Slice Day ($3.95) Scratch and sniff is a quick way to get me feeling like a kid again. Smells like oregano! Semi-glossy paper.
Rainbow Hearts ($1.95) I think hearts are appropriate any time of the year. Paper with holographic silver foil.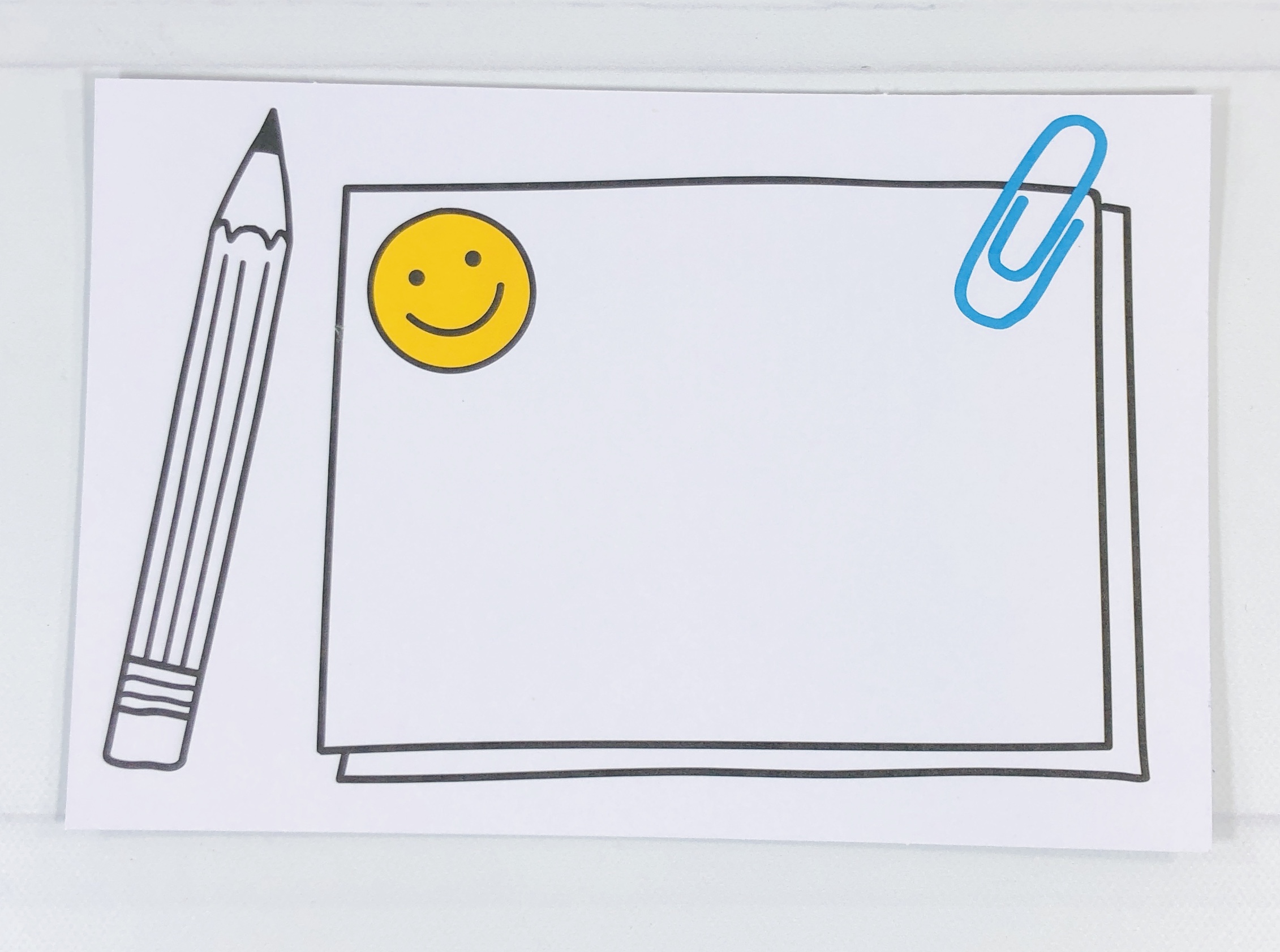 Back To School Postcard I think it's sweet that Pipsticks includes a do-it-yourself postcard, perfect for decorating with the stickers we received this month. Make sure to check out the instructions in Little Pippy magazine to enter the decorating contest before you send along to a friend!
The August Pipsticks Kids Club Classic pack was filled with traditional back-to-school images along with some adorable non-school related things like TACOCAT's and roller skating kitties. I love the colors and overall shimmeriness of the stickers. My daughter loves to use them to decorate her phone and I actually have no idea what else, possibly papers? I use them in my planner and get a smile every time I check something off my list and see something offbeat like a bike with a banana seat.
Are you getting any of Pipstick's subscriptions?