PHILOSOCKPHY is a monthly sock subscription that sends bright colors and patterns. You can go for the best sellers each month or choose the designs that speak to you. Philosockphy aims to "make a positive impact in the sustainability of our environment and well being of our community through their partnership with Brands for Canada and Philadelphia's People's Emergency Center". Proceeds will go towards those non profits. You are guaranteed to love your socks or receive a refund or replacement. Philosockphy is $7 for the first month, $11 each month after that, or choose a longer term or add more socks at a variety of price points.
Do you love socks, but are getting bored with all the plain designs? Then Philosockphy is the perfect sock shop for you. We have plenty of vibrant, colorful sock designs for you to choose from, designed by talented Canadian designers. Not only are our socks colorful, but they are also high quality, so you know that they will be long-lasting and allow your feet to breathe. Sign up to our monthly sock subscription today and see our amazing socks for yourself!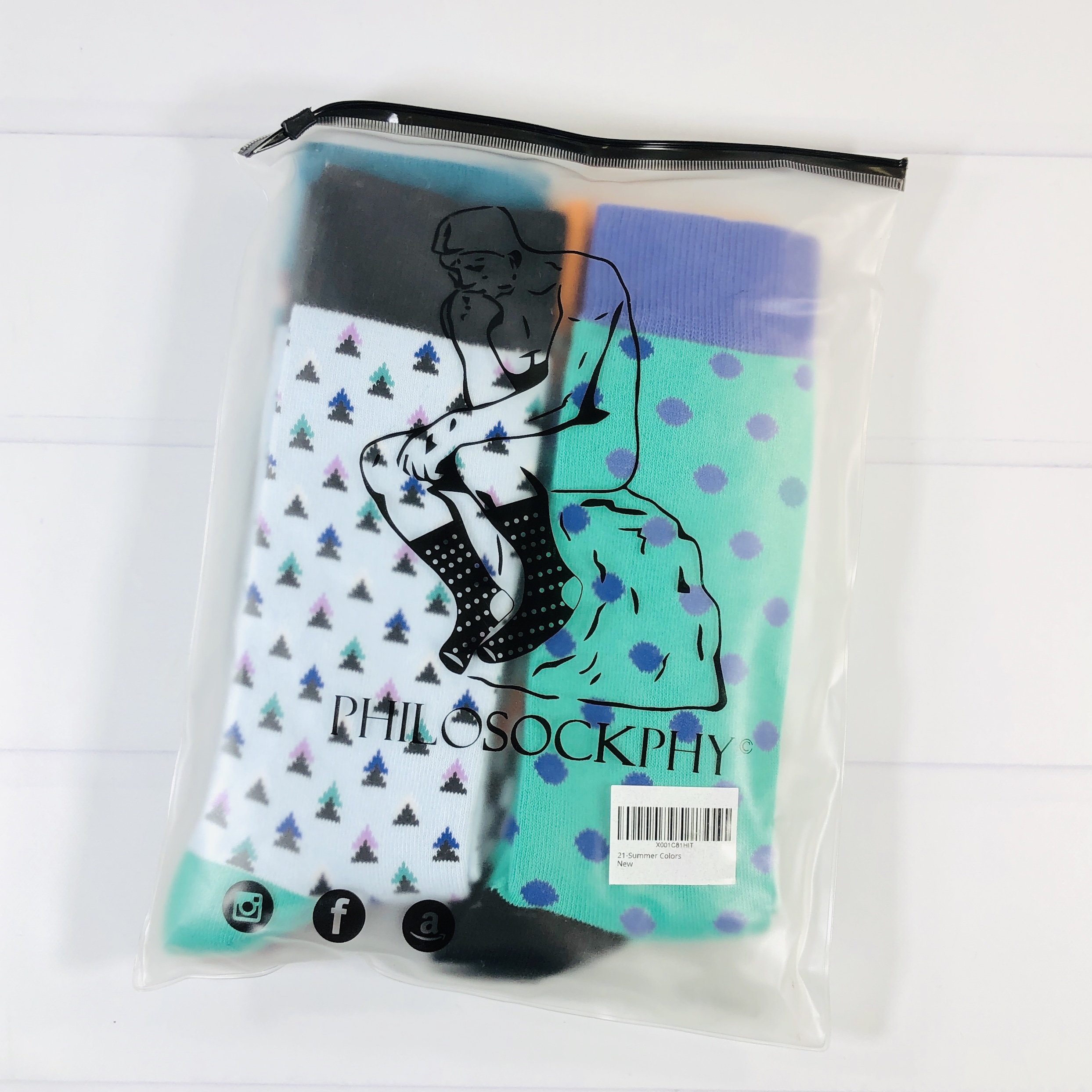 I am reviewing the 4 Pairs Package, which is $43. My box was shipped via Amazon and arrived in a plain mailer on my doorstep. Inside I found this cool zipper bag.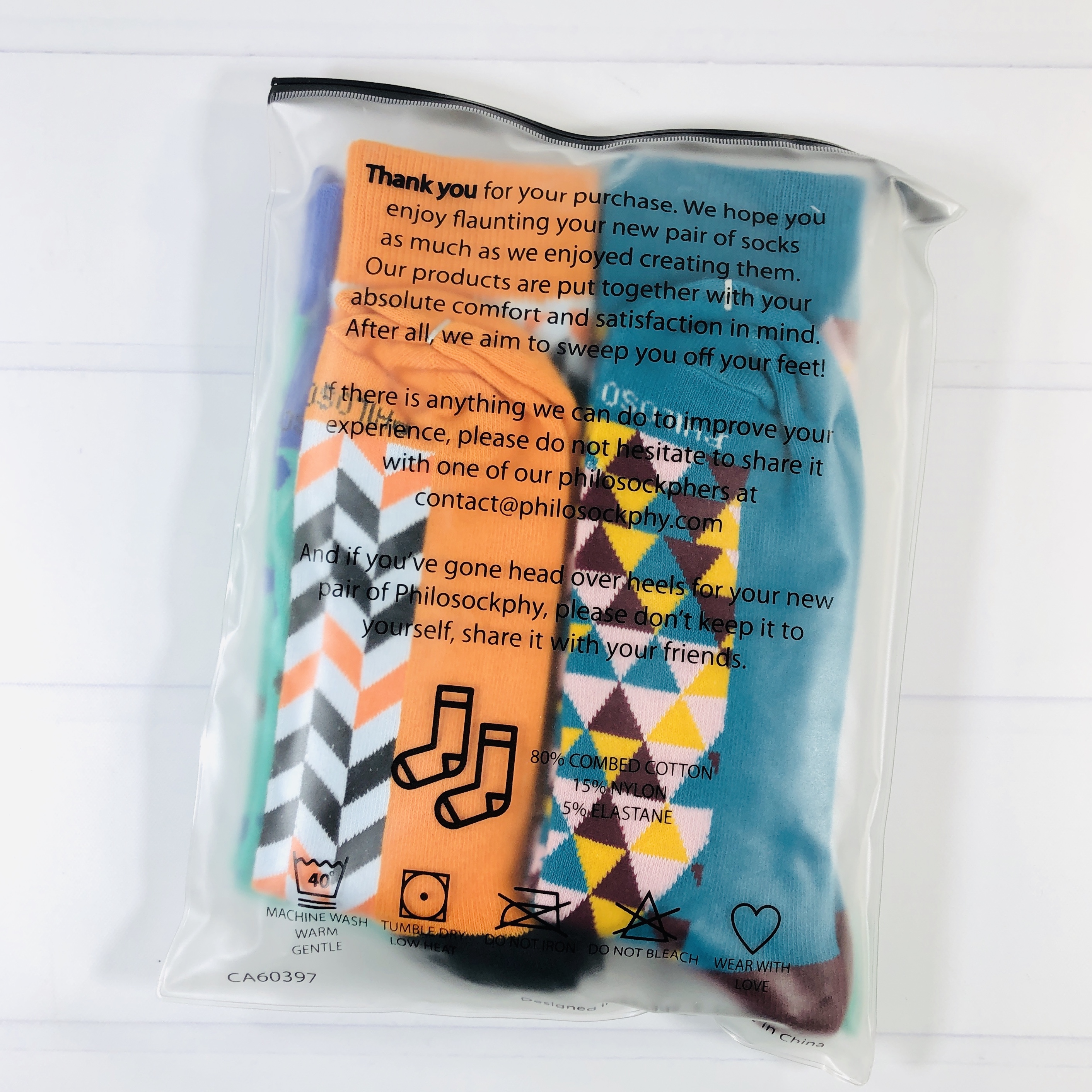 The back of the bag listed the materials used in the socks along with washing instructions. In my house, socks get washed in the machine and thrown in the dryer, and luckily that is what the bag suggests too!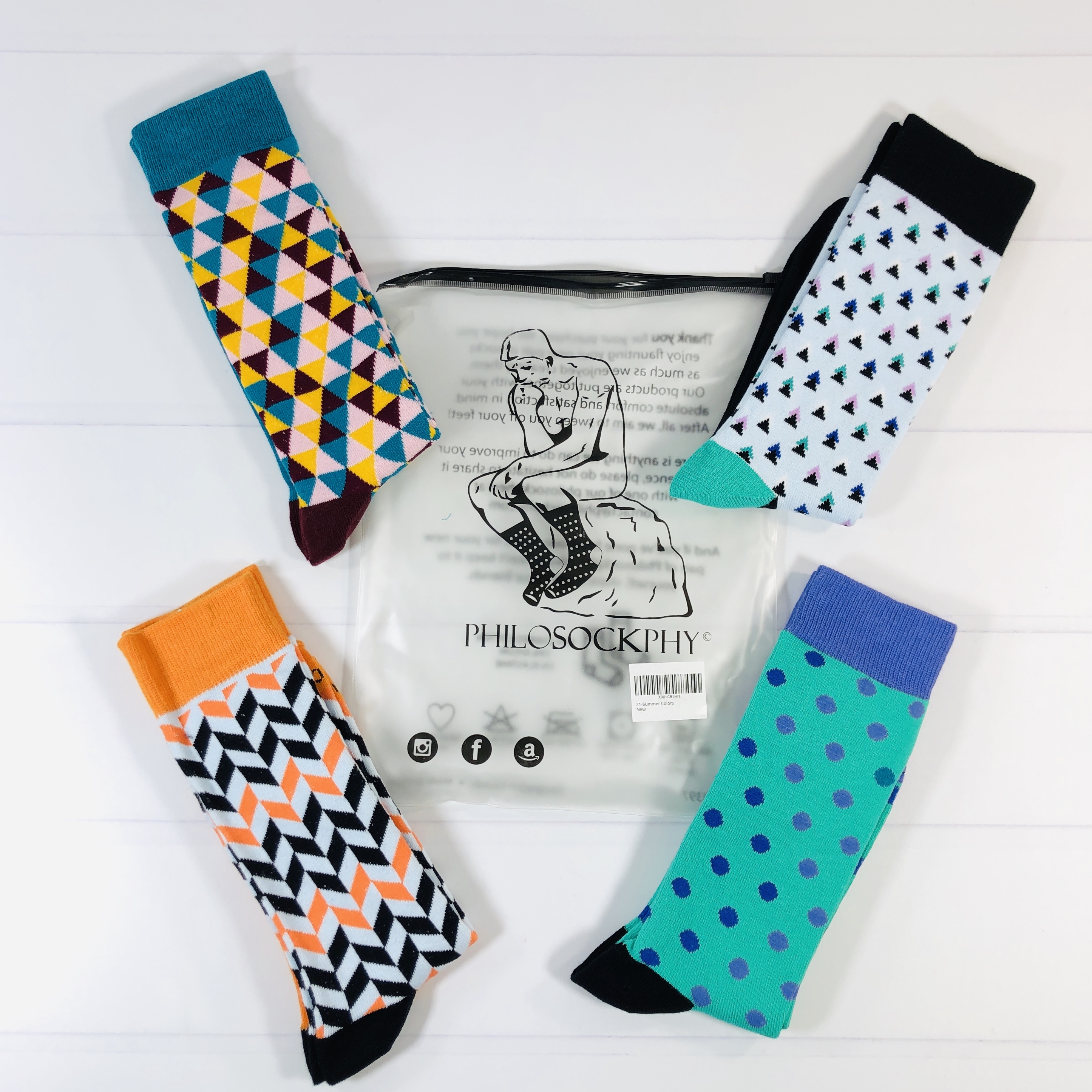 Everything in my box! The bag shows The Thinker by Rodin, but he has on super cool socks! The socks fit U.S. shoe sizes 8-13. They may be marketed towards men but women can of course wear them too!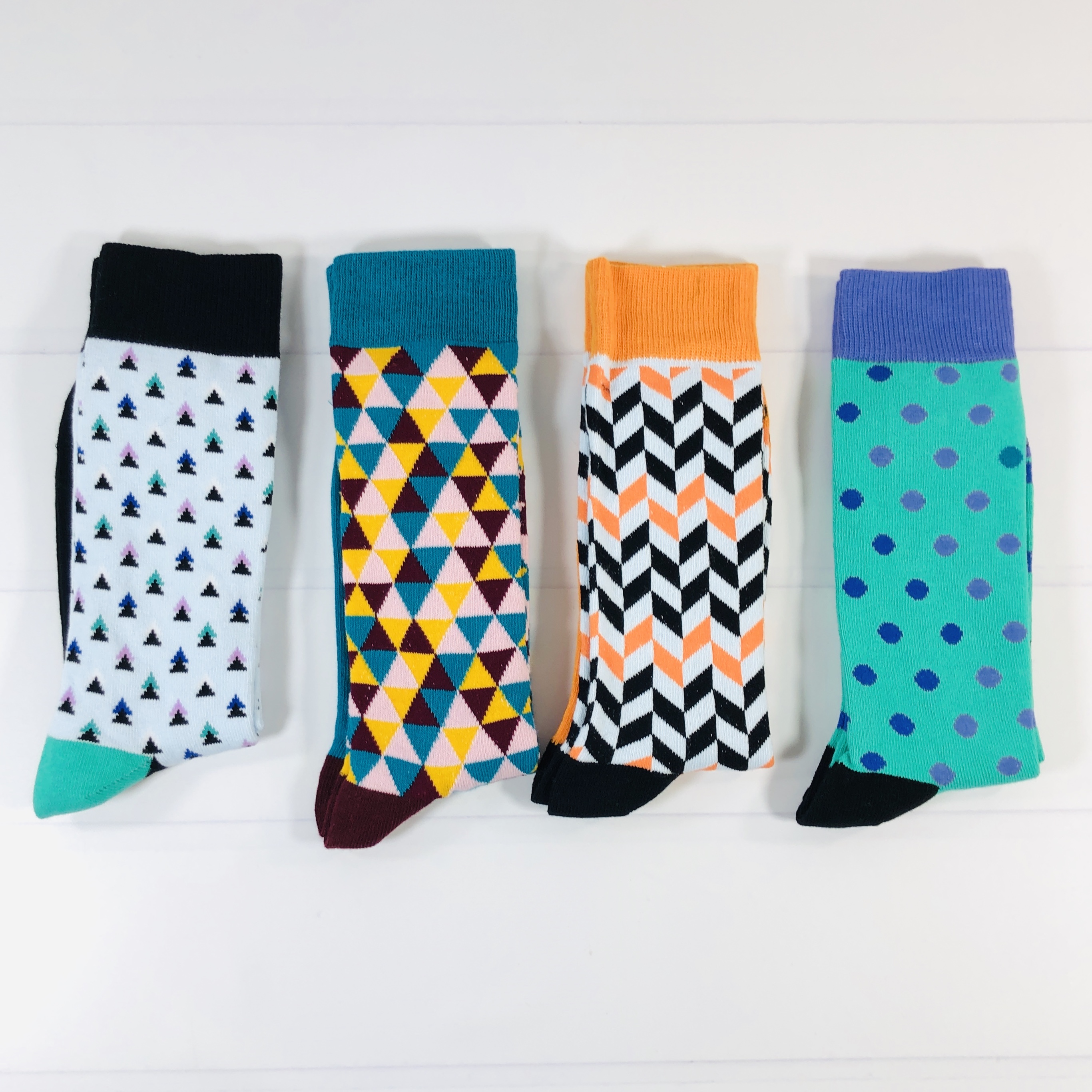 Majestic Designs ($45) You can also order this exact set from Philosockphy, they call it Majestic Designs. The socks came in some pretty awesome designs and colors. I received 4 pairs, perfect for when you need a sock drawer overhaul, like at the beginning of autumn. The socks are made of 80% combed cotton, 15% nylon, and 5% spandex. Philosockphy says they "have tested and experimented with a variety of fibre and material composition to get a product that is ultimately comfortable, attractive and long-lasting". They used combed cotton because the smaller threads have been combed out, leaving super soft material behind.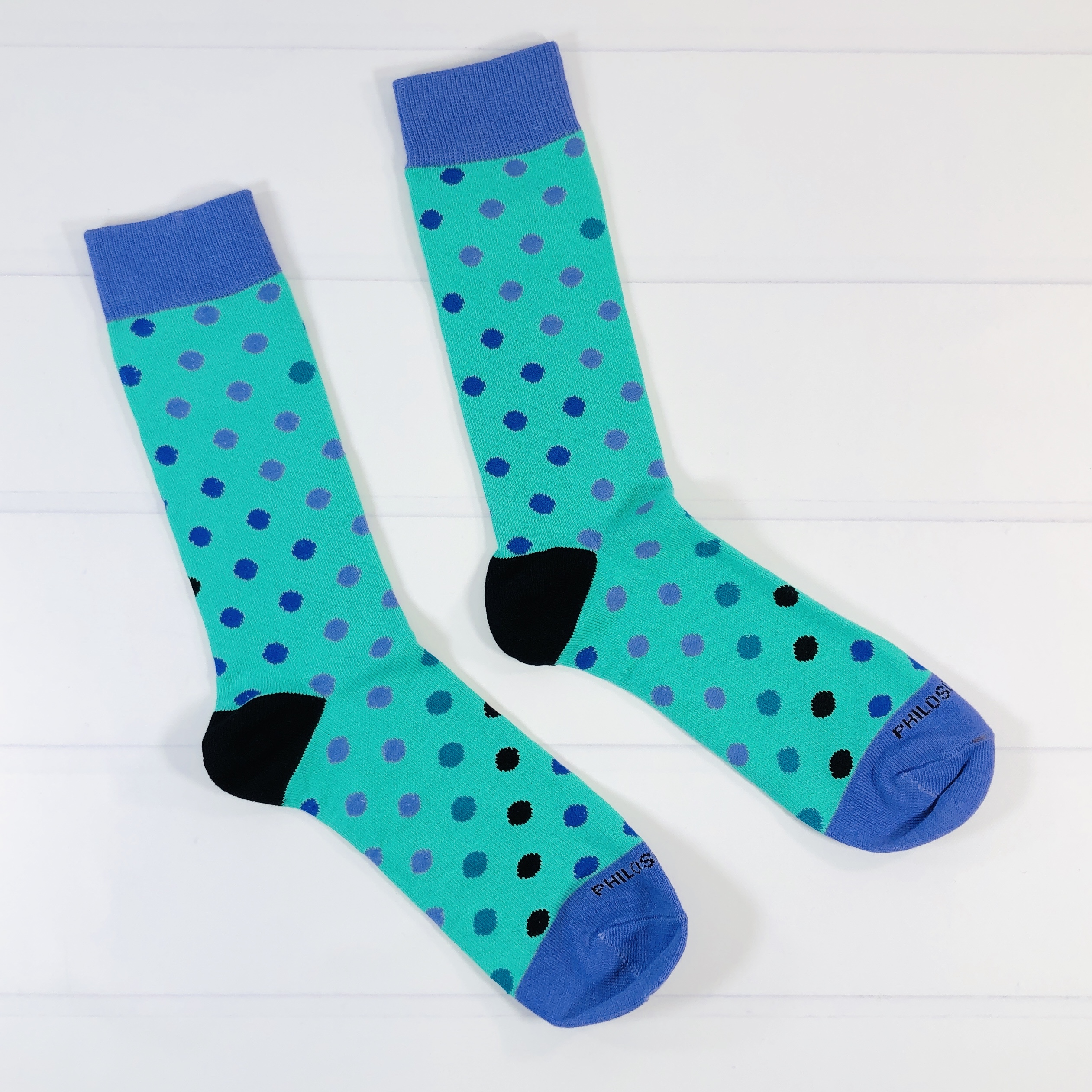 Big Dots in Teal ($12) My first pair have a green body with light purple, teal, dark purple, and black polka dots. They have light purple cuffs and toes, while the heels are black. All pairs say "PHILOSOCKPHY" across the top of the toes.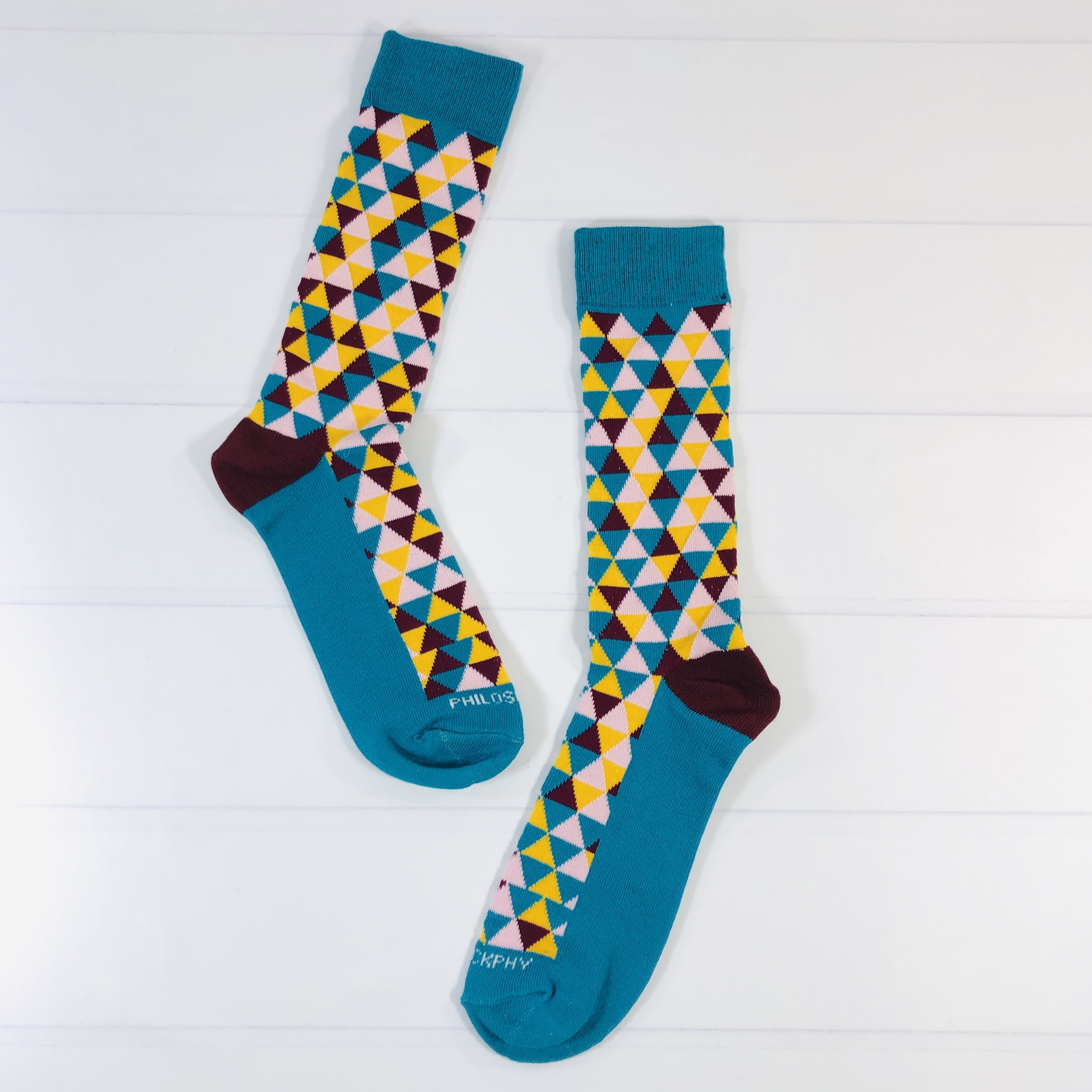 Trigons Pattern ($12) These have triangles all over in shades of yellow, pink, teal, and maroon. They have teal cuffs, toes, and bottoms and the heels are maroon.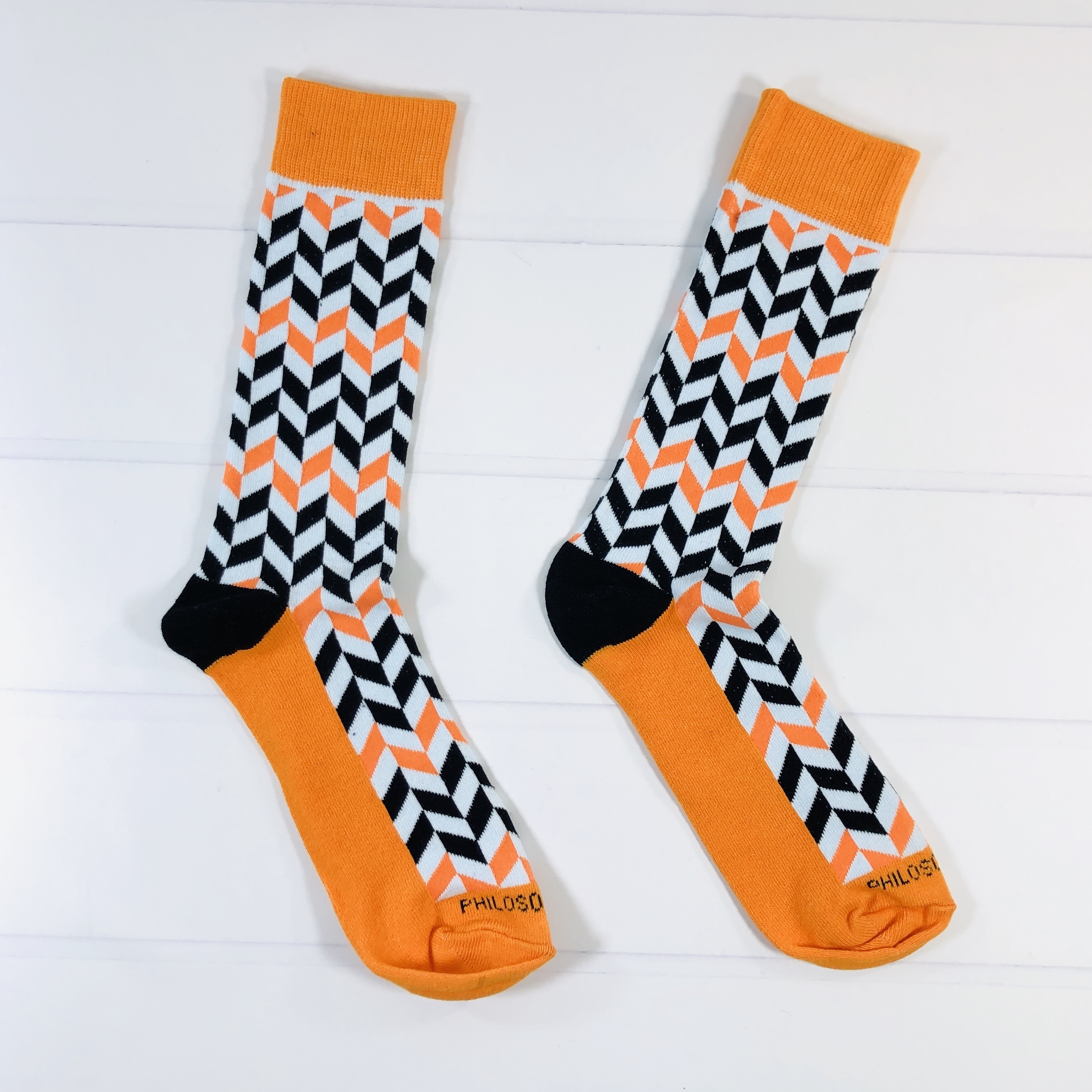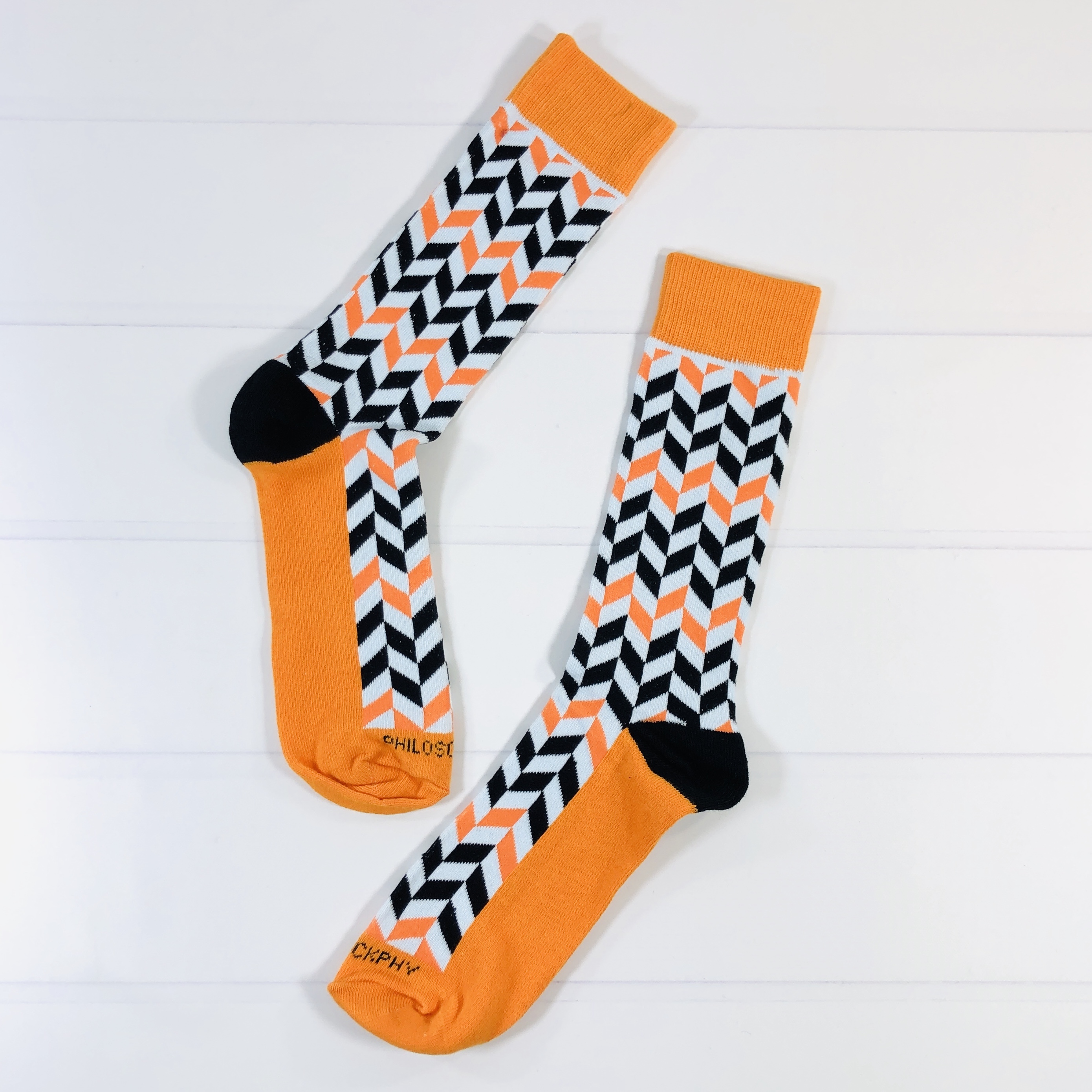 Very Herringbone in Orange ($12) The color scheme here reminds me of Halloween, or possibly a work zone! The socks have a white, orange, and black herringbone pattern all over, black heels, and orange cuffs, toes, and bottoms.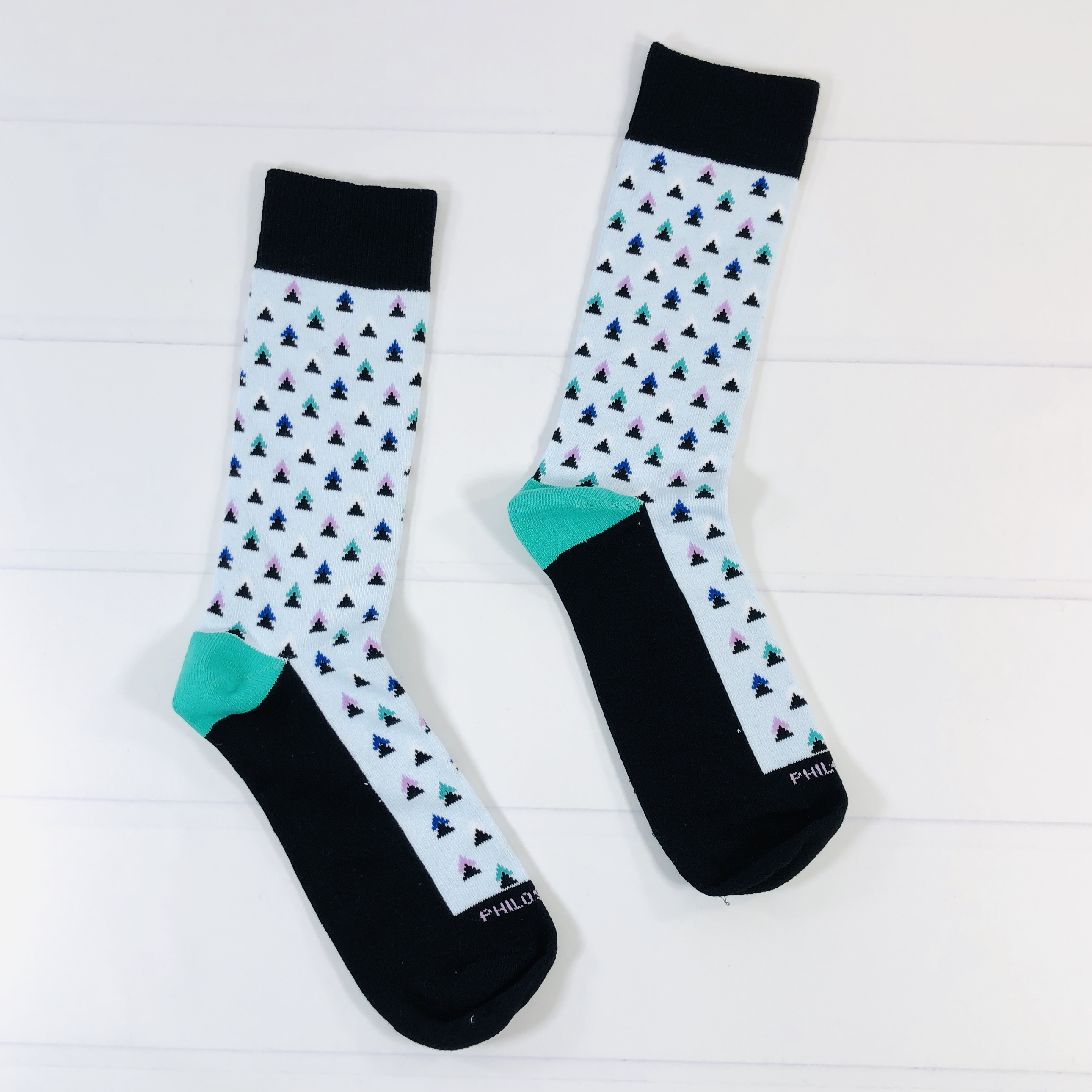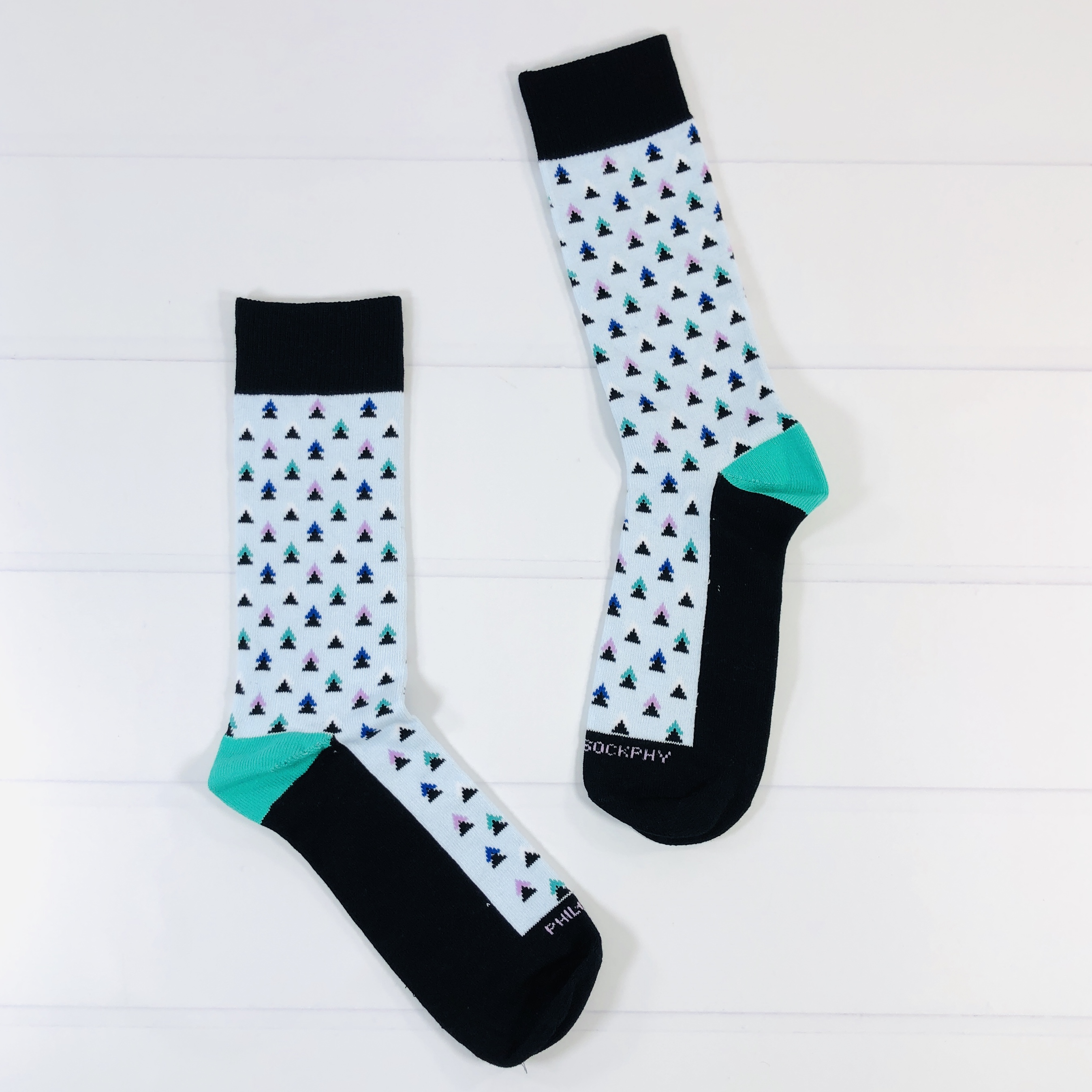 Triangle Me in Sky ($12) These are noted as a best seller on the Philosockphy site! They have overlapping triangles that remind me a bit of pine trees in a forest. The body is light blue, the cuffs and bottom of the foot as well as the toes are black, and the heels are green.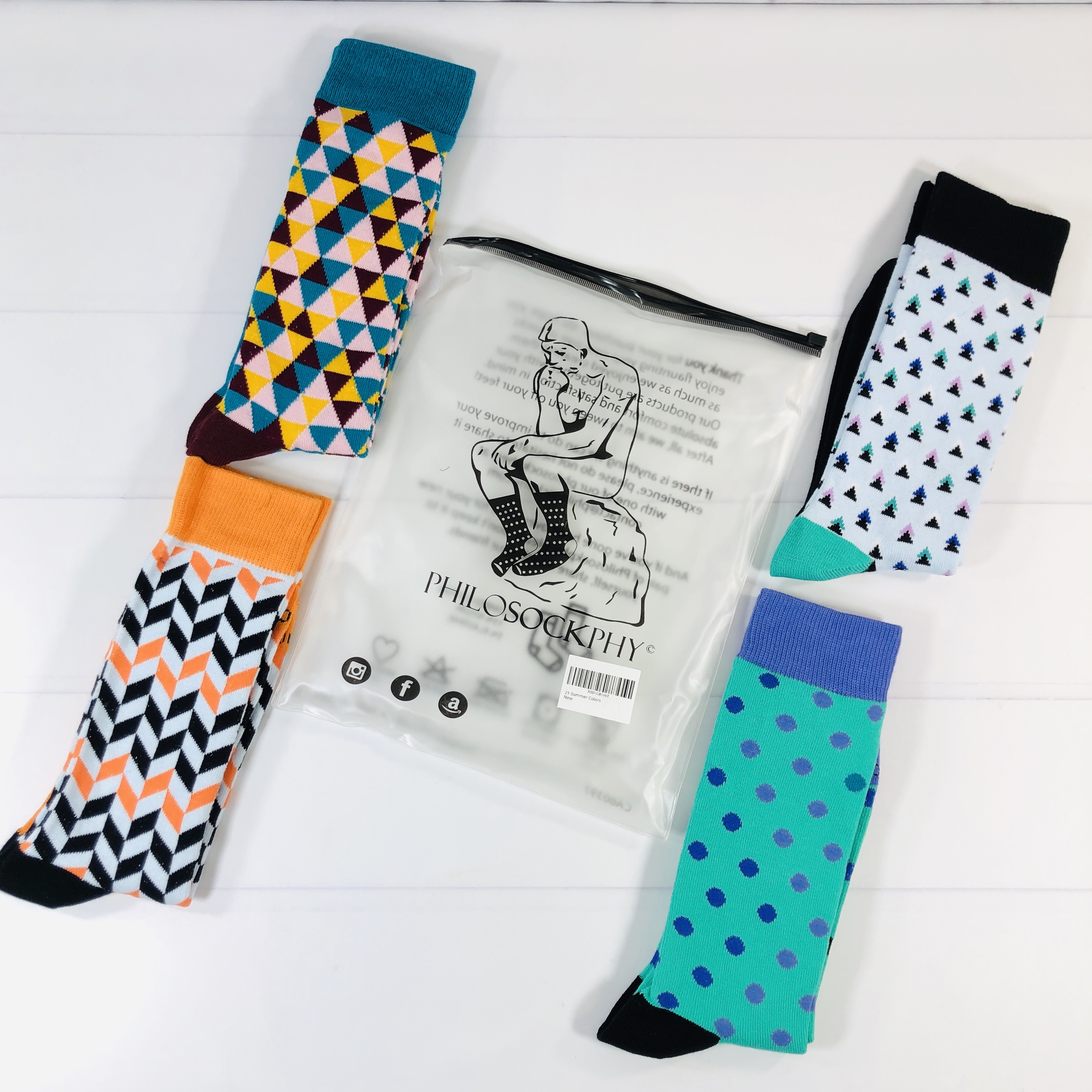 My feet are ready for fall with all of the brightly colored patterned socks in my September shipment from Philosockphy! The socks feel so cozy on my feet and are big enough for my husband to wear too. On me, they go up almost to my knees but they are probably more like crew socks for taller folks. The combed cotton material is so soft and is supposed to keep my feet breathing, and prevent any funky scents from forming. I like that Philosockphy gives to charitable organizations too and that I can pick my designs to fit my style!
What do you think of this month's pack?