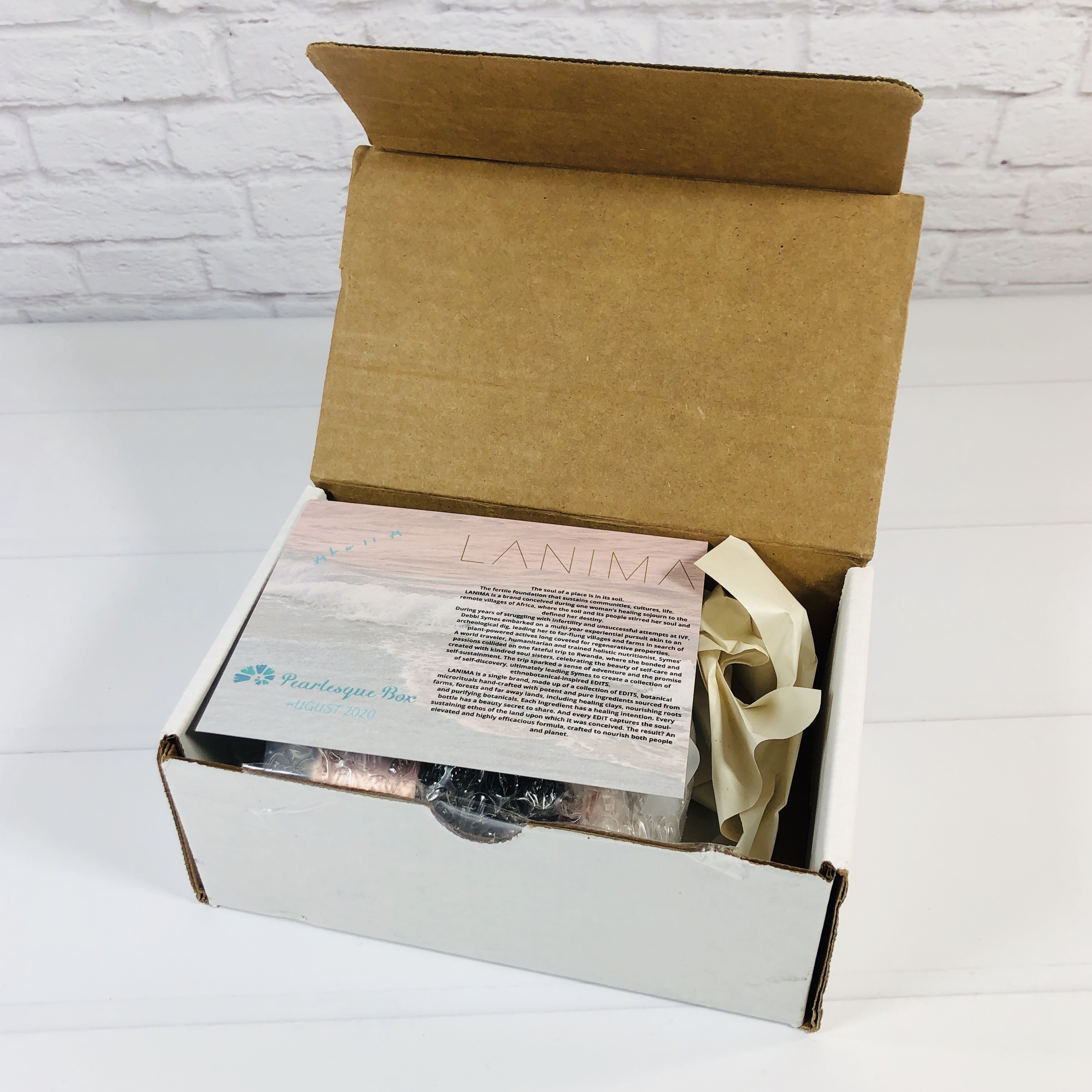 Pearlesque Box is a subscription box that delivers full-sized and travel-sized beauty products from around the world to your home each month so that you can accurately judge how each product affects your skin. Each month features a different organic, non-toxic, natural skin care line. This box is $39.95 a month (or a bit lower for longer sub terms) and promises a value of $90 – and it is often well above that!
DEAL: Save $5 on your first month with PEARL5.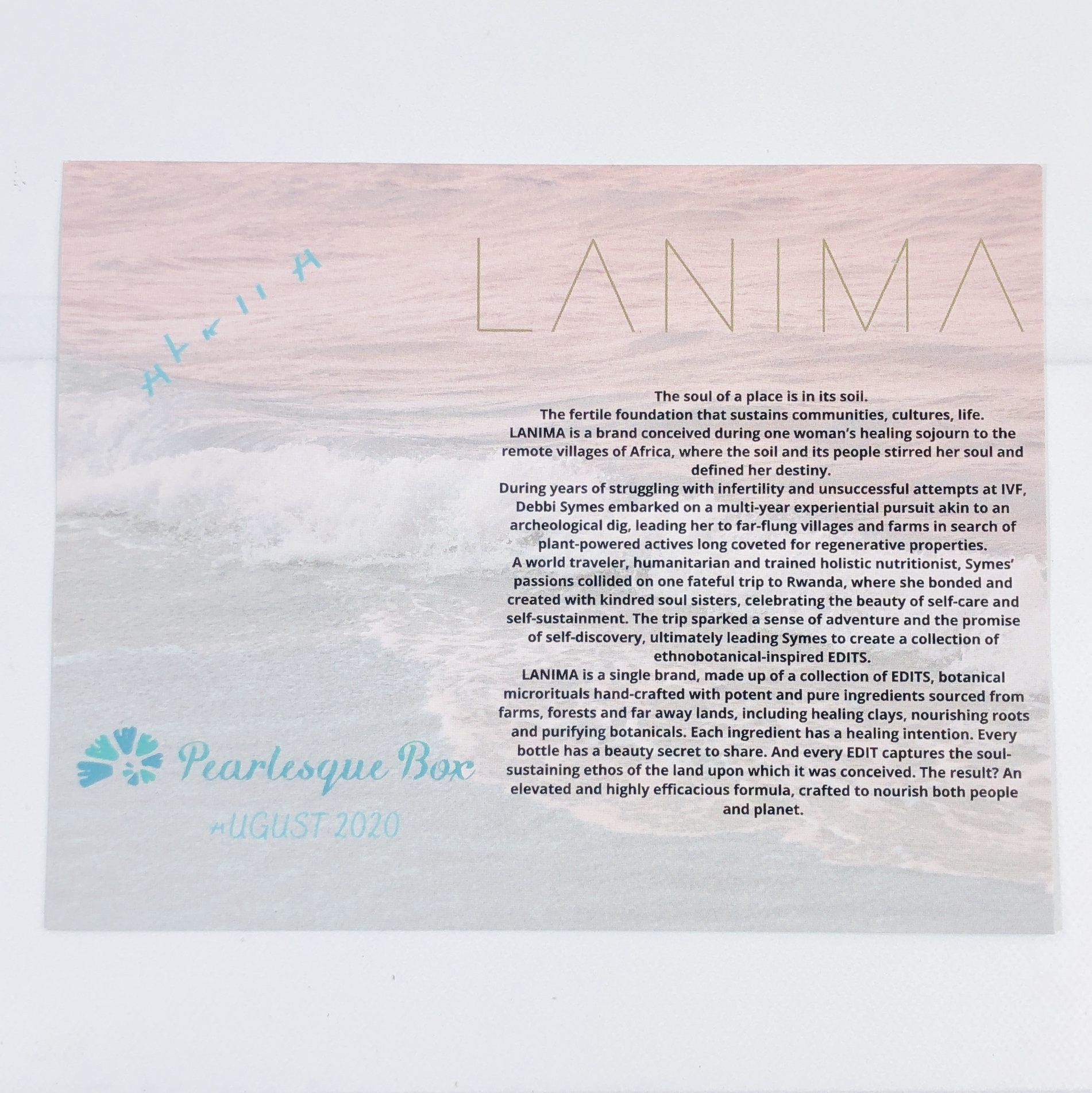 I received a card with background info on the featured brand for August, LANIMA:
The soul of a place is in its soil.
The fertile foundation that sustains communities, cultures, life.
LANIMA is a brand conceived during one woman's healing sojourn to the remote villages of Africa, where the soil and its people stirred her soul and defined her destiny.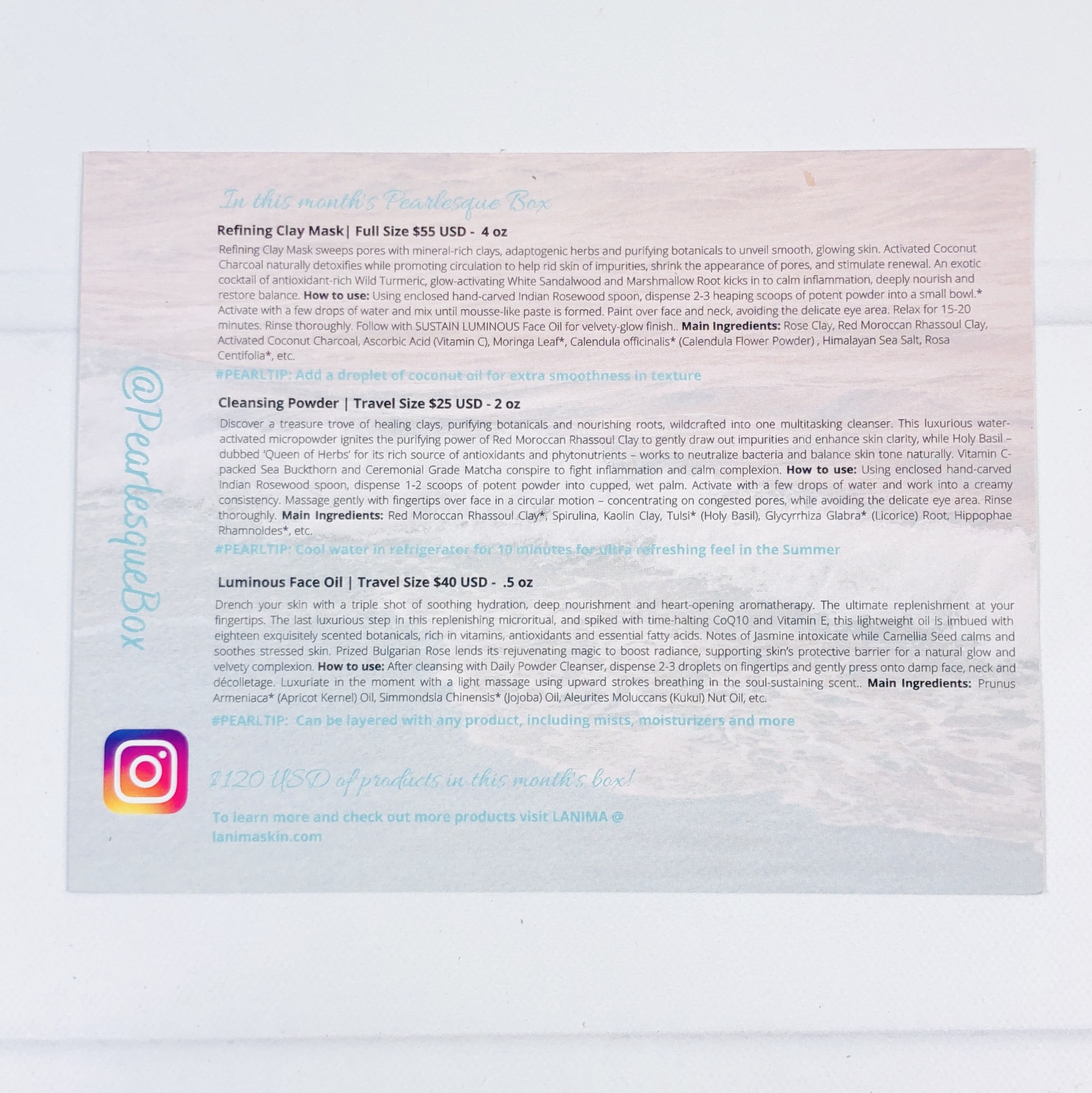 The back of the card listed each product, its retail value, and how to use each item. Check out the #pearltip for additional info.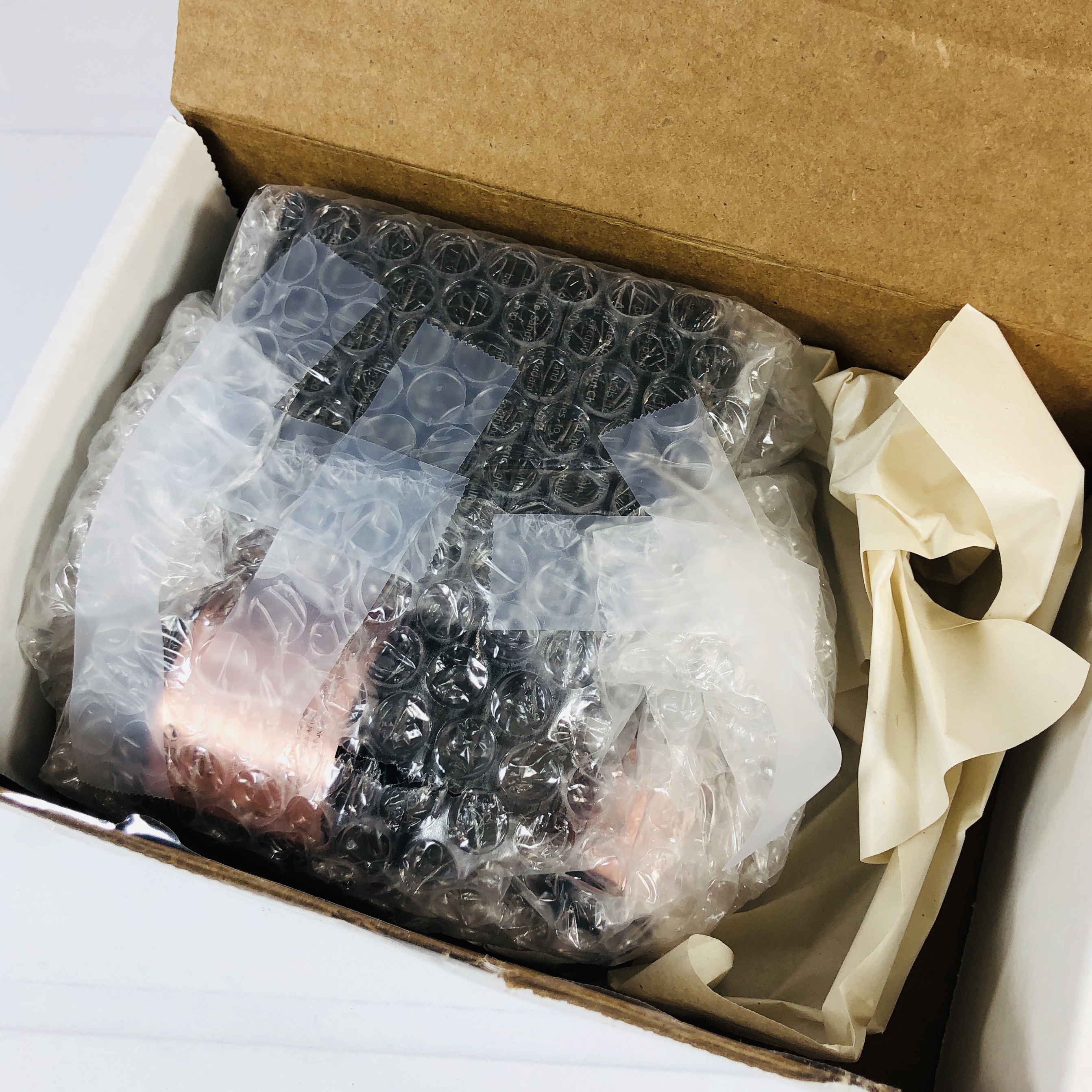 The presentation is simple and the items were snuggled in bubble wrap and wadded up paper.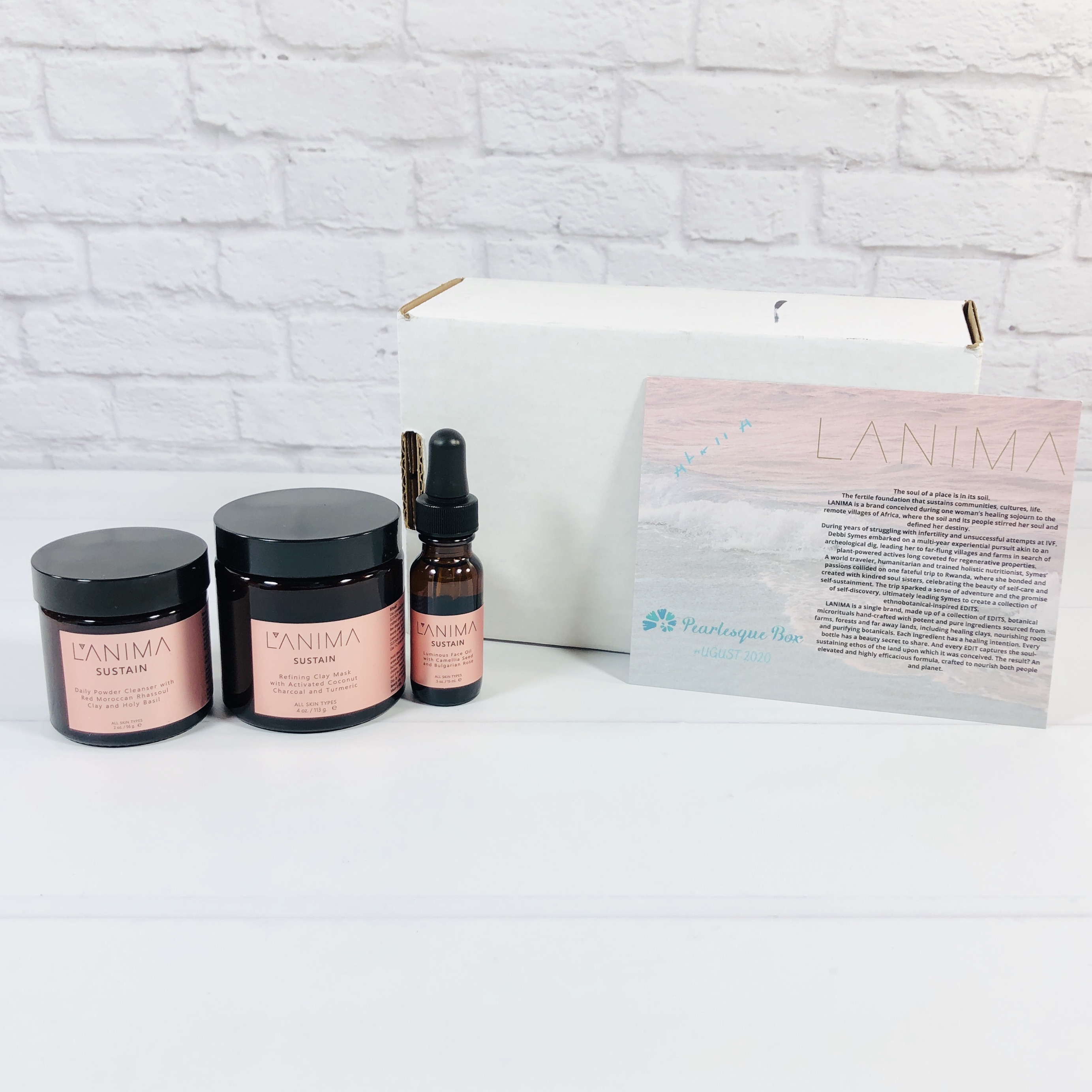 Everything in my August 2020 Pearlesque Box! We received 3 items from this brand! LANIMA doesn't have a huge assortment of products, it is a small line and that is fine with me.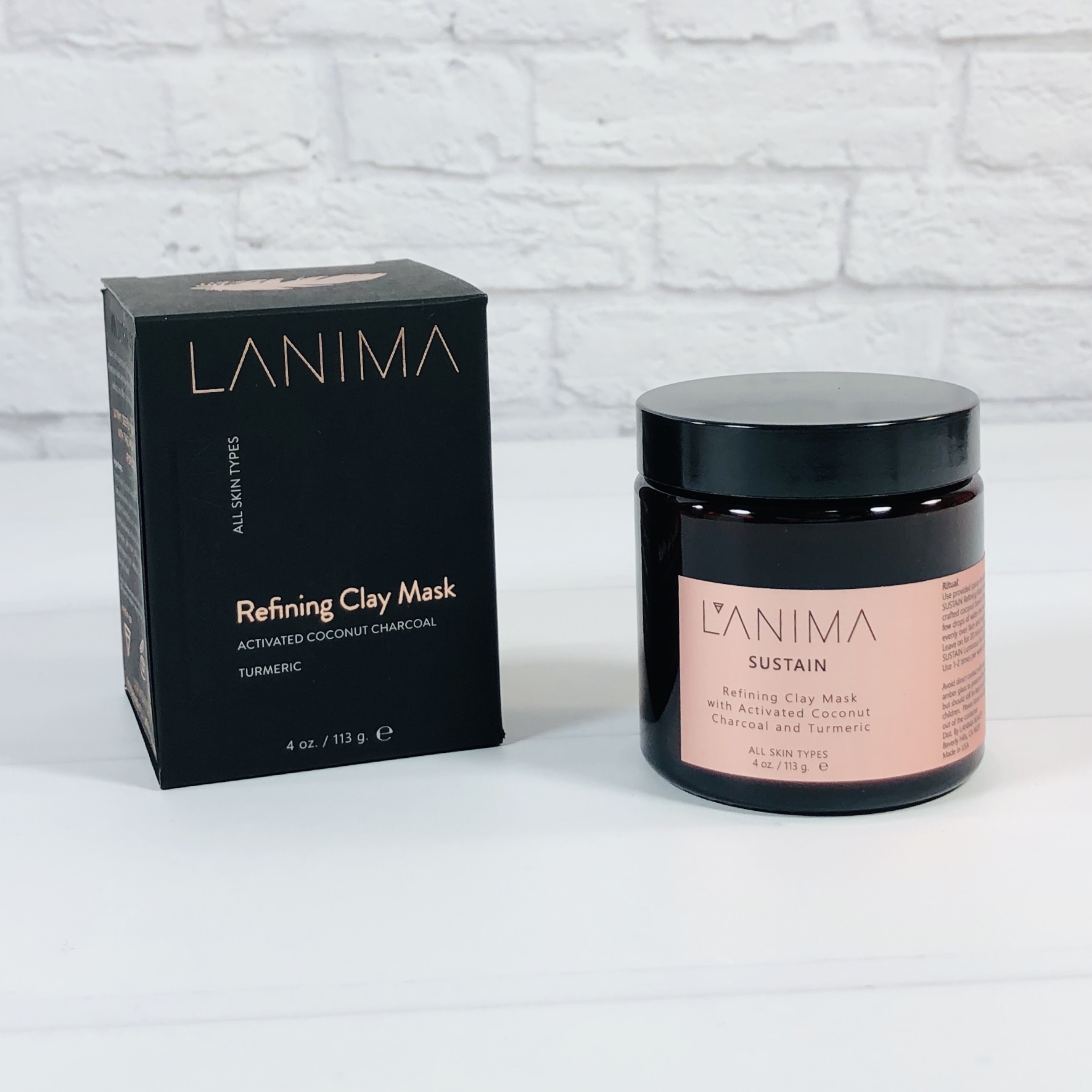 LANIMA Refining Clay Mask ($55) I refuse to wear masks that list weird ingredients like polyvinyl alcohol and that have the consistency of glue. This is a mask with ingredients I can pronounce and that I felt good about putting on my skin.
Refining Clay Mask sweeps pores with mineral-rich clays, adaptogenic herbs and purifying botanicals to unveil smooth, glowing skin. Activated Coconut Charcoal naturally detoxifies while promoting circulation to help rid skin of impurities, shrink the appearance of pores, and stimulate renewal. An exotic cocktail of antioxidant-rich Wild Turmeric, glow-activating White Sandalwood and Marshmallow Root kicks in to calm inflammation, deeply nourish and restore balance.
Even the packaging with this brand involves the senses. Look at that rose gold feather!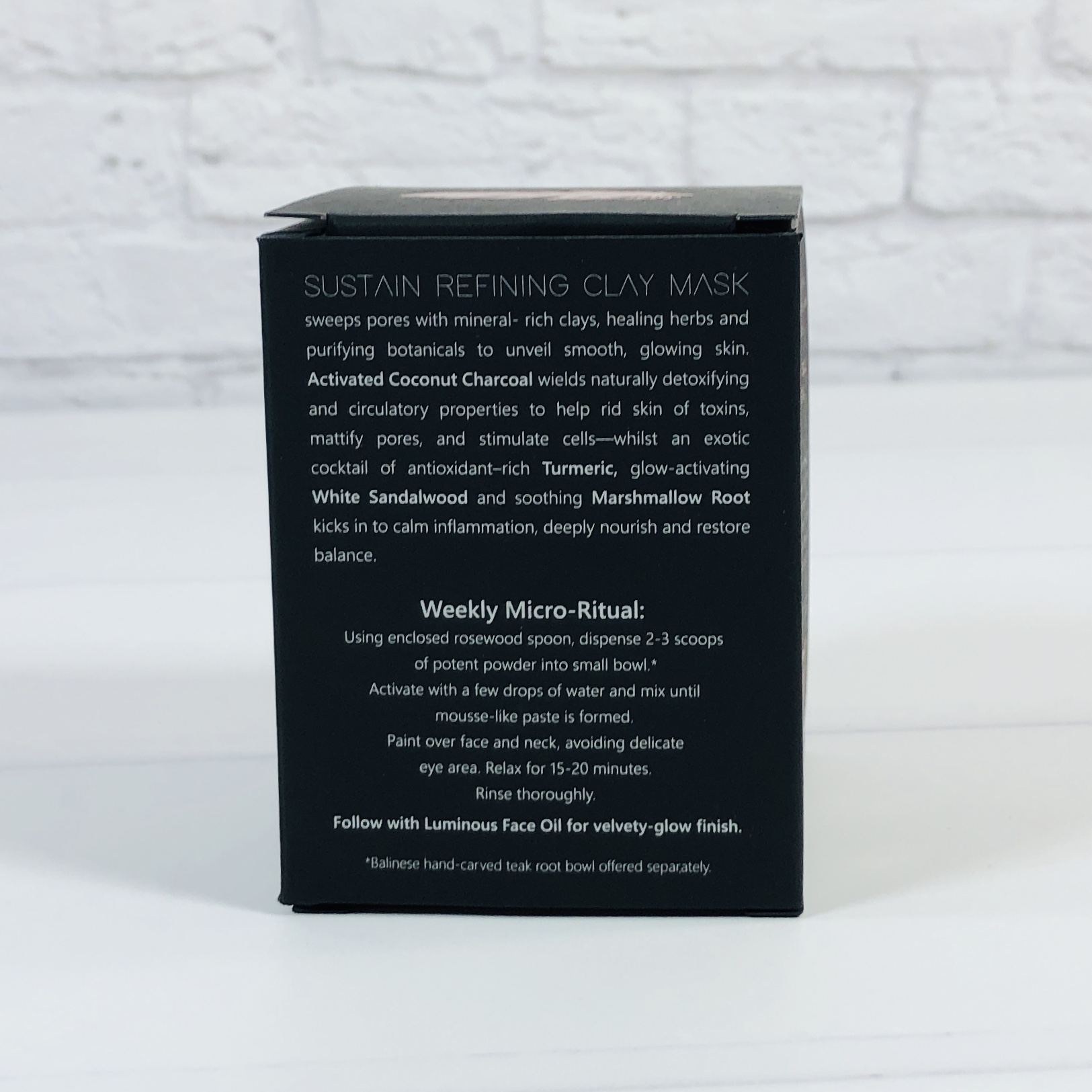 LANIMA suggests performing micro-rituals when using their products.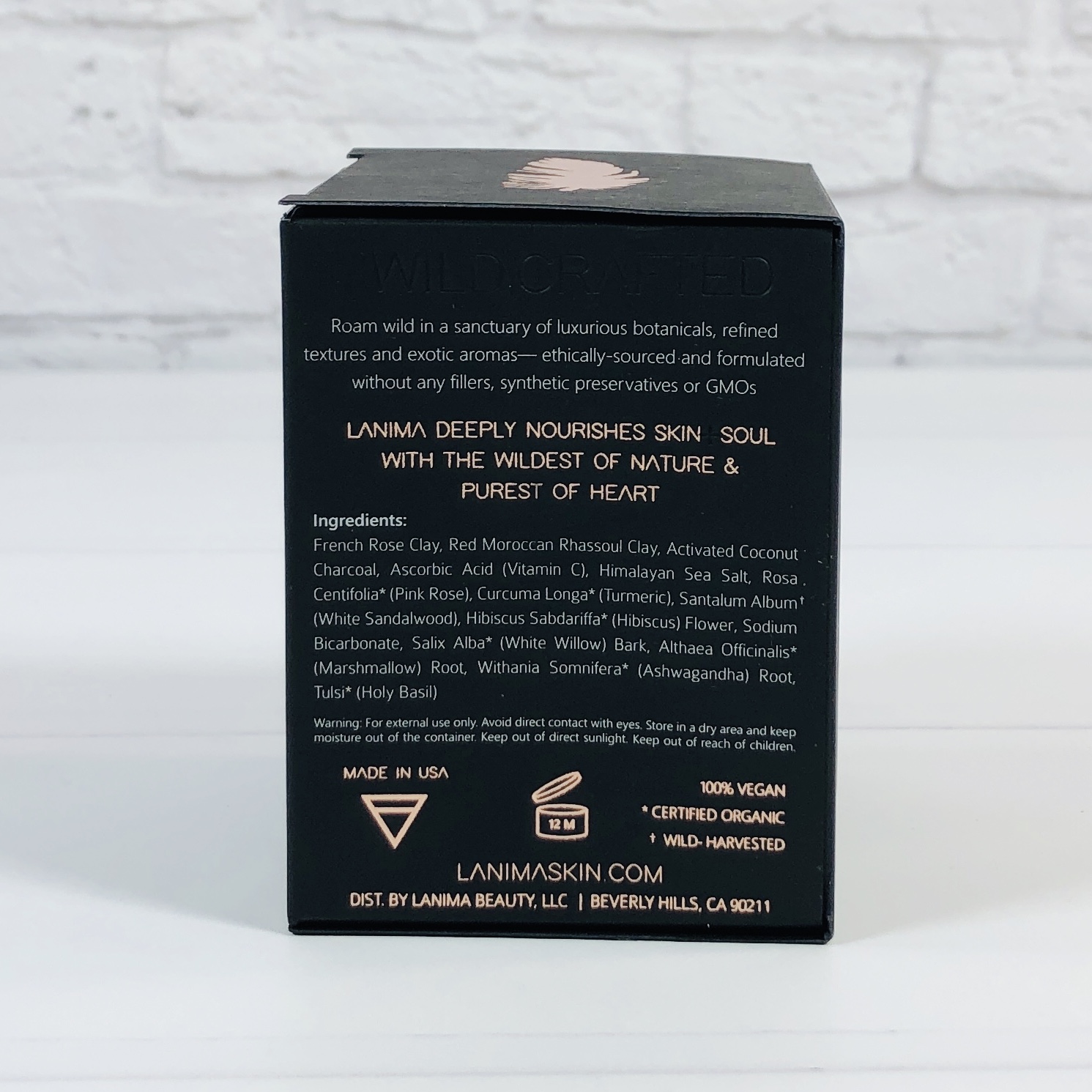 Ingredients were listed on the box and ok, maybe I can't quite pronounce "ashwagandha" but at least I know it's a plant. Other ingredients are two types of clay, coconut charcoal, and mostly plant parts.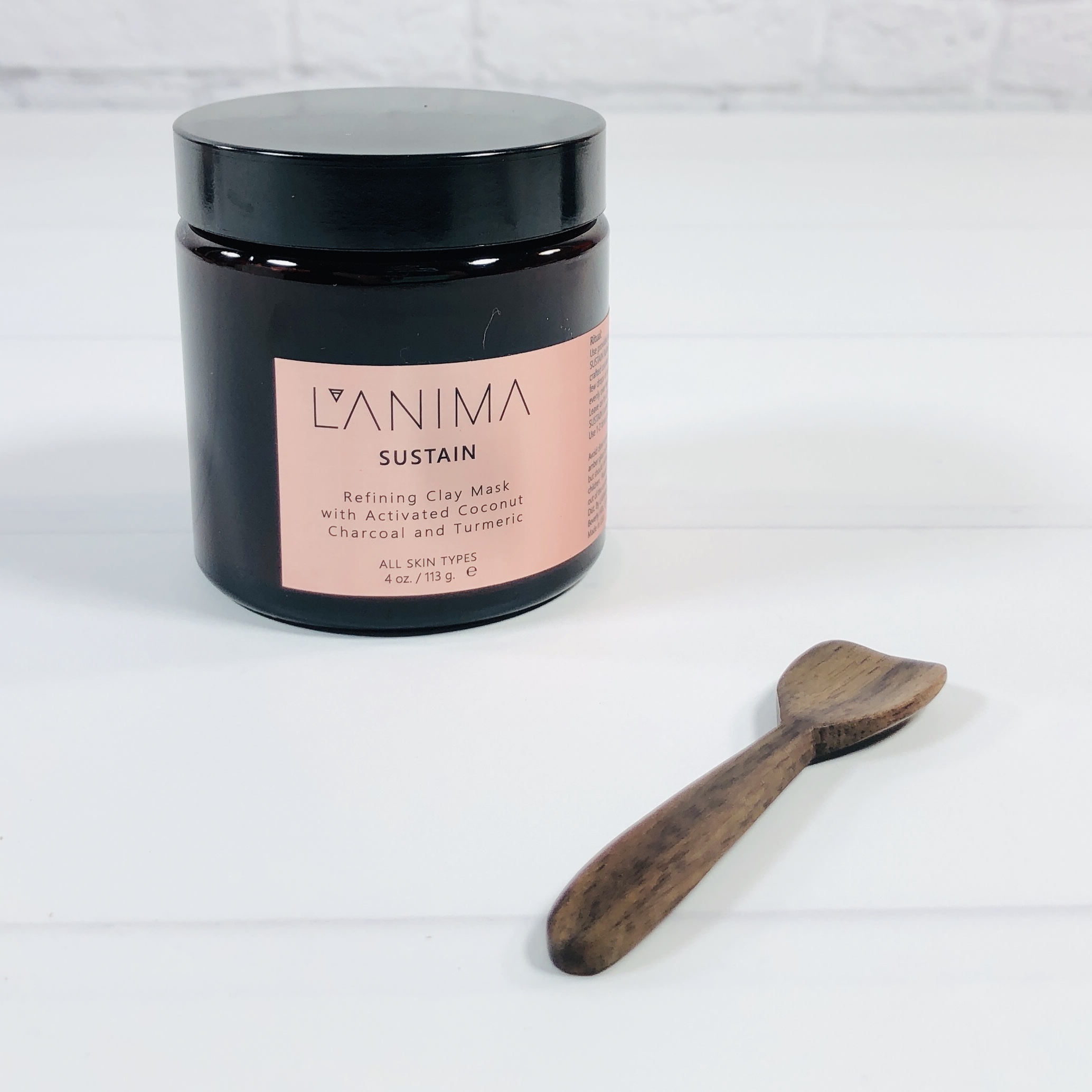 All of the LANIMA products were in glass jars.
It even came with a rosewood spoon/spatula.
I measured 3 scoops of the powder into a bowl and added water until it formed a paste.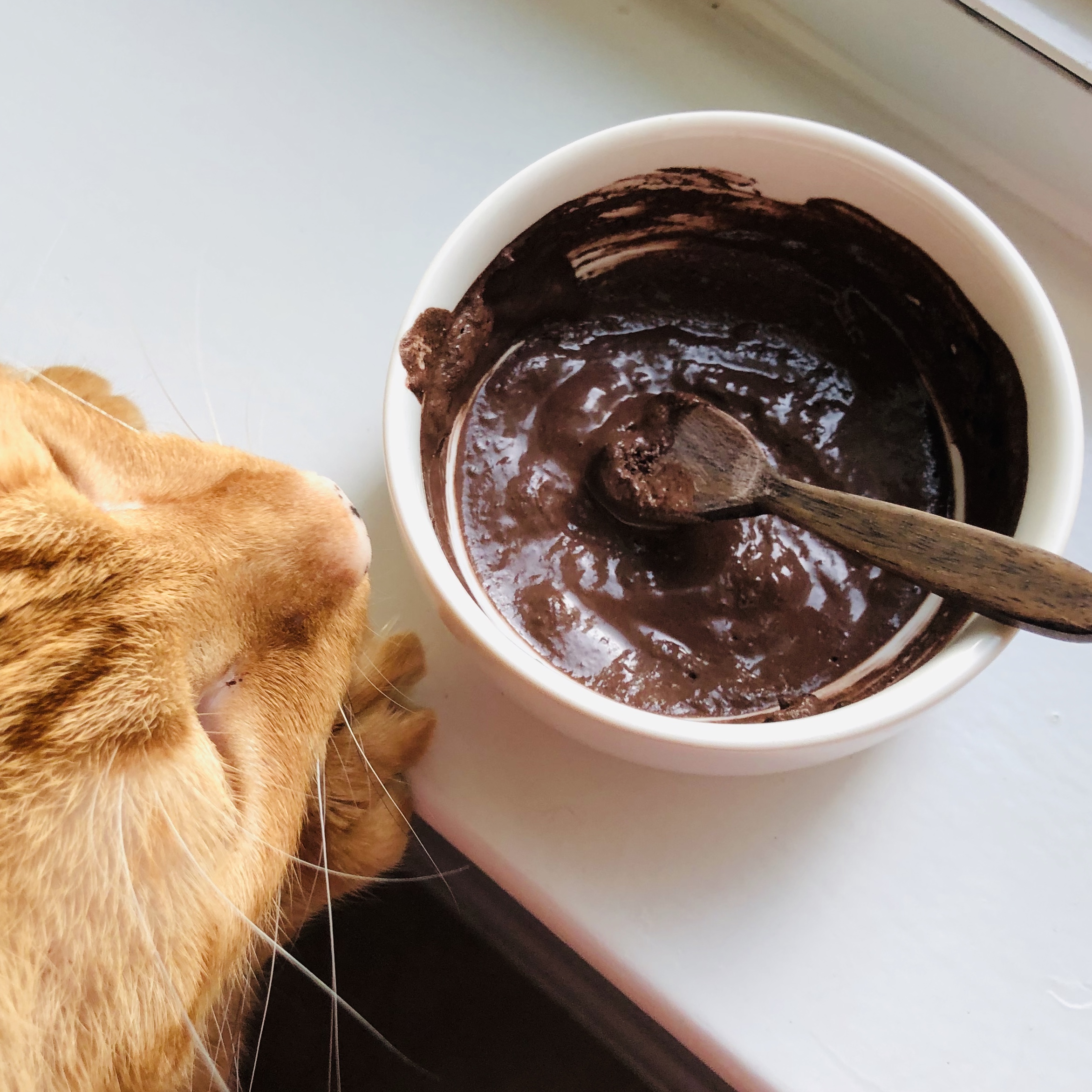 My cat thought it was a treat of some sort for her, but nope, it's for me. I slathered it on my face and while it started out black with some touches of red around the edges, it dried into a grey shade. I could feel my skin getting tight so I hopped in the shower to rinse it all away (it can be messy). My skin wasn't irritated afterwards and I wouldn't say that this is strongly scented, the smell was very light.
LANIMA Daily Powder Cleanser ($21.41) We received a second clay-based item, but this is a daily cleanser meant to promote healthy skin by fighting redness and irritation while also purifying skin by removing impurities.
Discover a treasure trove of healing clays, purifying botanicals and nourishing roots, wildcrafted into one multitasking cleanser. This luxurious water-activated micropowder ignites the purifying power of Red Moroccan Rhassoul Clay to gently draw out impurities and enhance skin clarity, while Holy Basil – dubbed 'Queen of Herbs' for its rich source of antioxidants and phytonutrients – works to neutralize bacteria and balance skin tone naturally. Vitamin C-packed Sea Buckthorn and Ceremonial Grade Matcha conspire to fight inflammation and calm complexion.
Use the rosewood spoon to place a scoop or two of the powder into hands, then add water to form an appropriate cleansing consistency. Depending on your skin type you can use once a day or maybe just a couple of times a week.
Ingredients include clay, tulsi, matcha, and soapwort bark. I tried it two different times by mixing it into my hands and haven't found it to be helpful, maybe mixing in a dish would work better. I made it less wet and it dried almost instantly on my skin, and made it wetter but had it dripping down my arm and onto the floor. I tried to use a washcloth to remove and stained the cloth, plus, I used toner afterwards and still picked up traces of clay. The grains are lightly exfoiliating so my preferred use would be as a weekly exfoliator that I can rinse off in the shower, sort of like the other clay mask but not as purifying.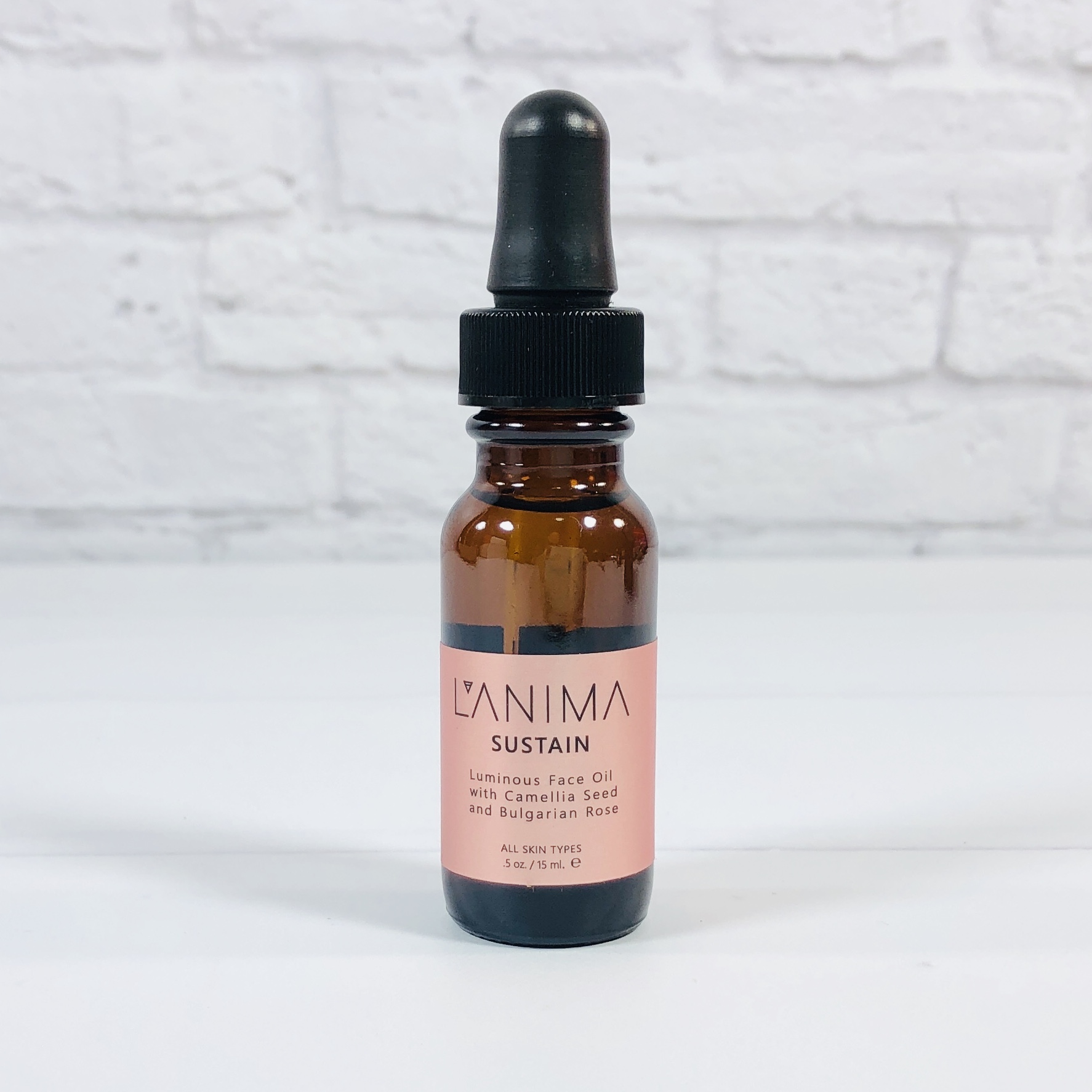 LANIMA Luminous Face Oil ($40) To follow whichever cleanser I use is this luxurious facial oil.
Drench your skin with a triple shot of soothing hydration, deep nourishment and heart-opening aromatherapy. The ultimate replenishment at your fingertips. The last luxurious step in this replenishing microritual, and spiked with time-halting CoQ10 and Vitamin E, this lightweight oil is imbued with eighteen exquisitely scented botanicals, rich in vitamins, antioxidants and essential fatty acids. Notes of Jasmine intoxicate while Camellia Seed calms and soothes stressed skin. Prized Bulgarian Rose lends its rejuvenating magic to boost radiance, supporting skin's protective barrier for a natural glow and velvety complexion.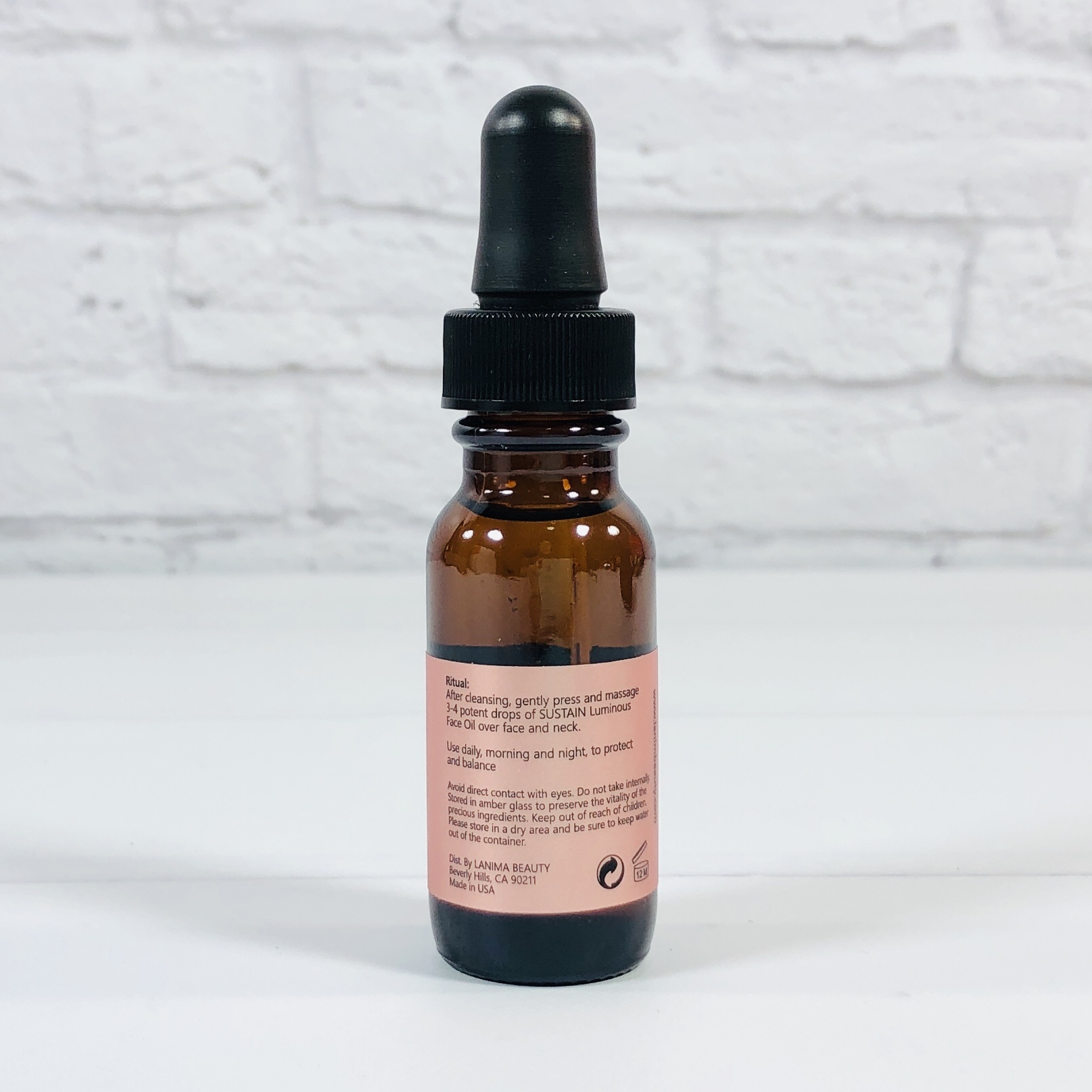 Ingredients include apricot kernel and jojoba oils, chia extract, and essential oils. Frankincense is supposed to be anti-aging and healing, while the other oils work their own kind of magic.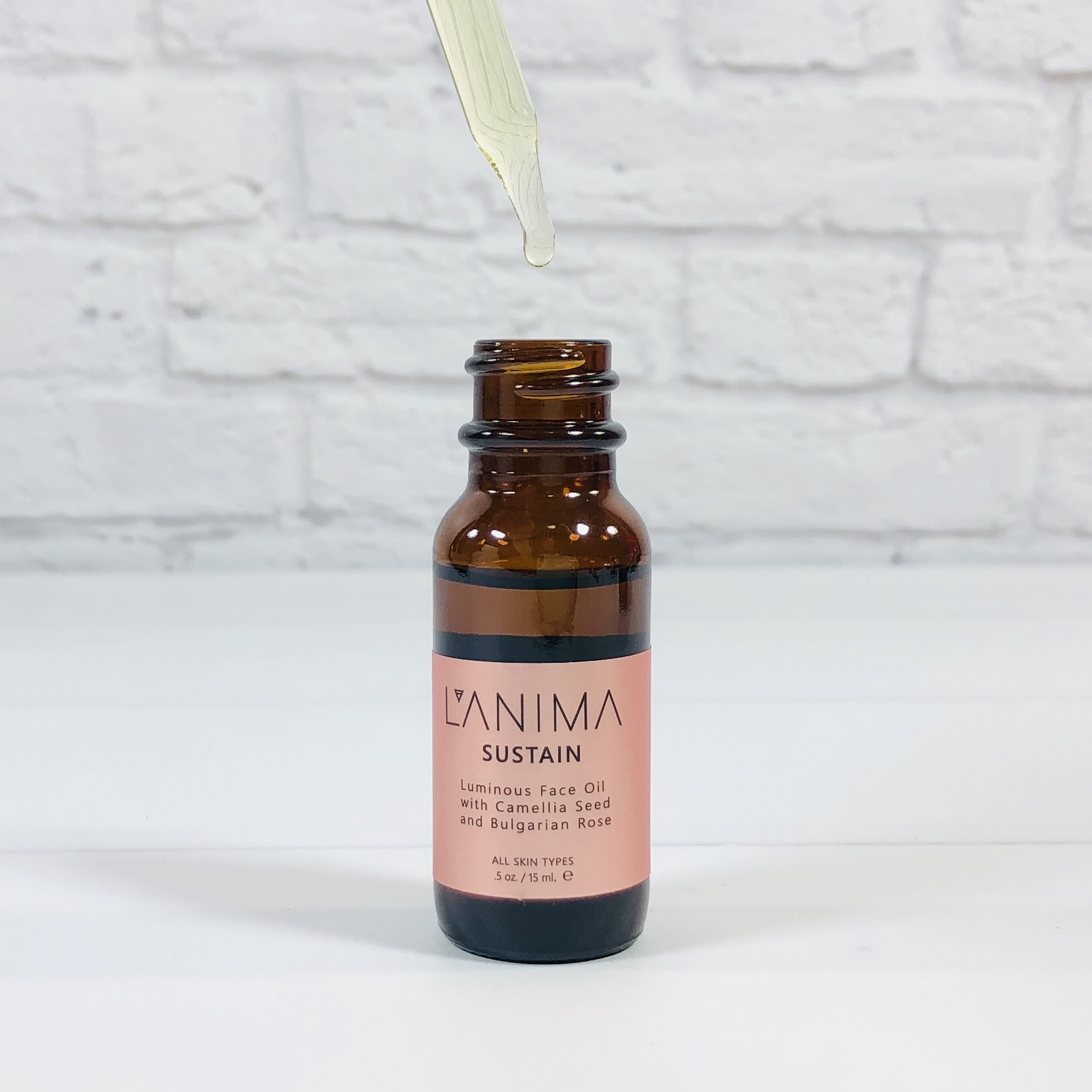 My skin absorbed this light-colored oil quickly, and I did take a bit longer than usual to massage it over my skin because it felt good. It smells lovely, with a hint of ylang ylang and black cumin seed. It doesn't have a rose scent despite having that ingredient.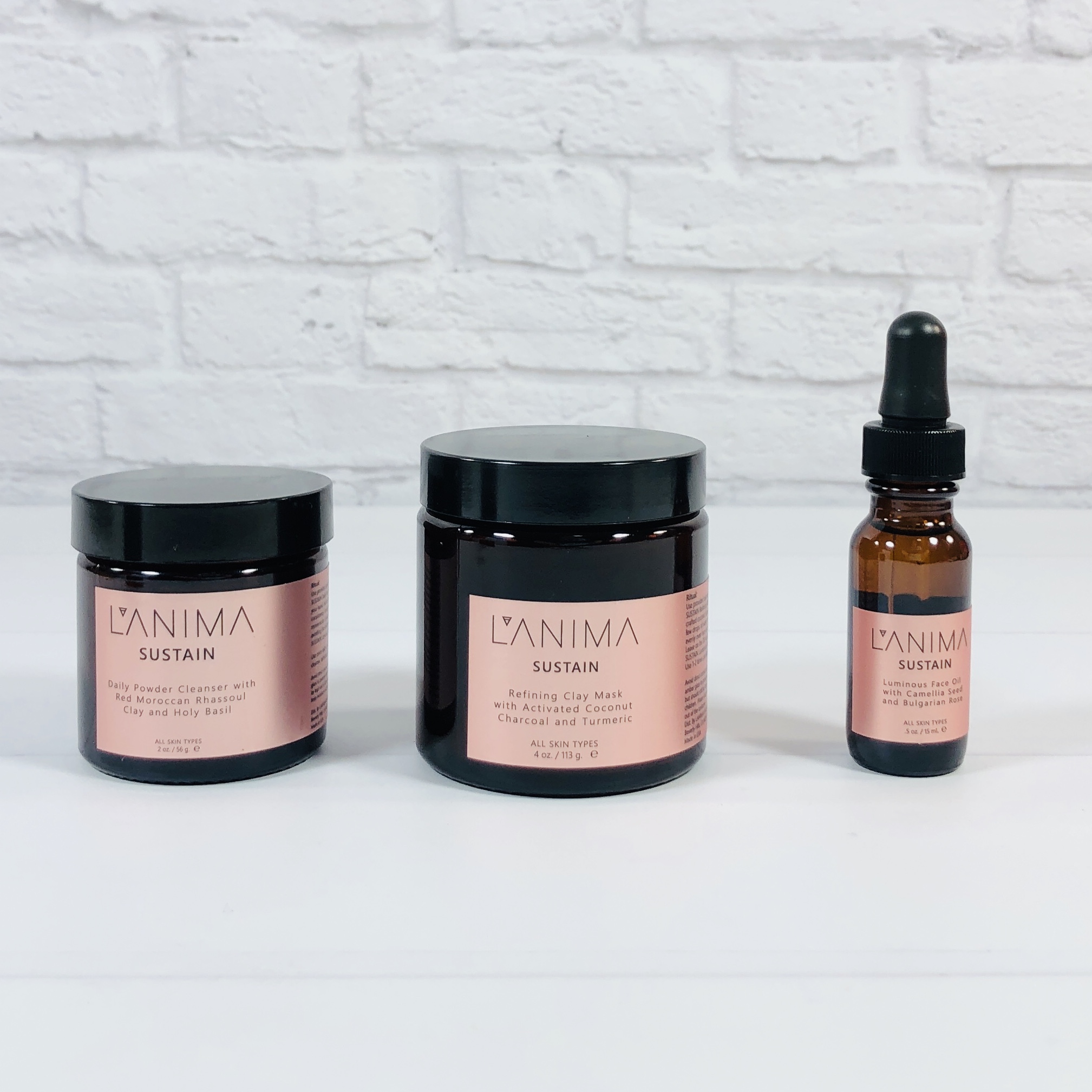 I was very impressed with the August Pearlesque Box and LANIMA! I enjoyed using the clay masks, especially the thicker one because it left my skin clean but not irritated. The cleanser will take some getting used to but then again, I like it better as a quick exfoliator. The oil felt amazing on my skin and I enjoyed its light, natural scent, which faded quickly, and the way it left my skin dewy. The value for the August box was around $116.41!
Do you subscribe to Pearlesque Box? What did you think of this month's box? I would love to hear your thoughts in the comments!