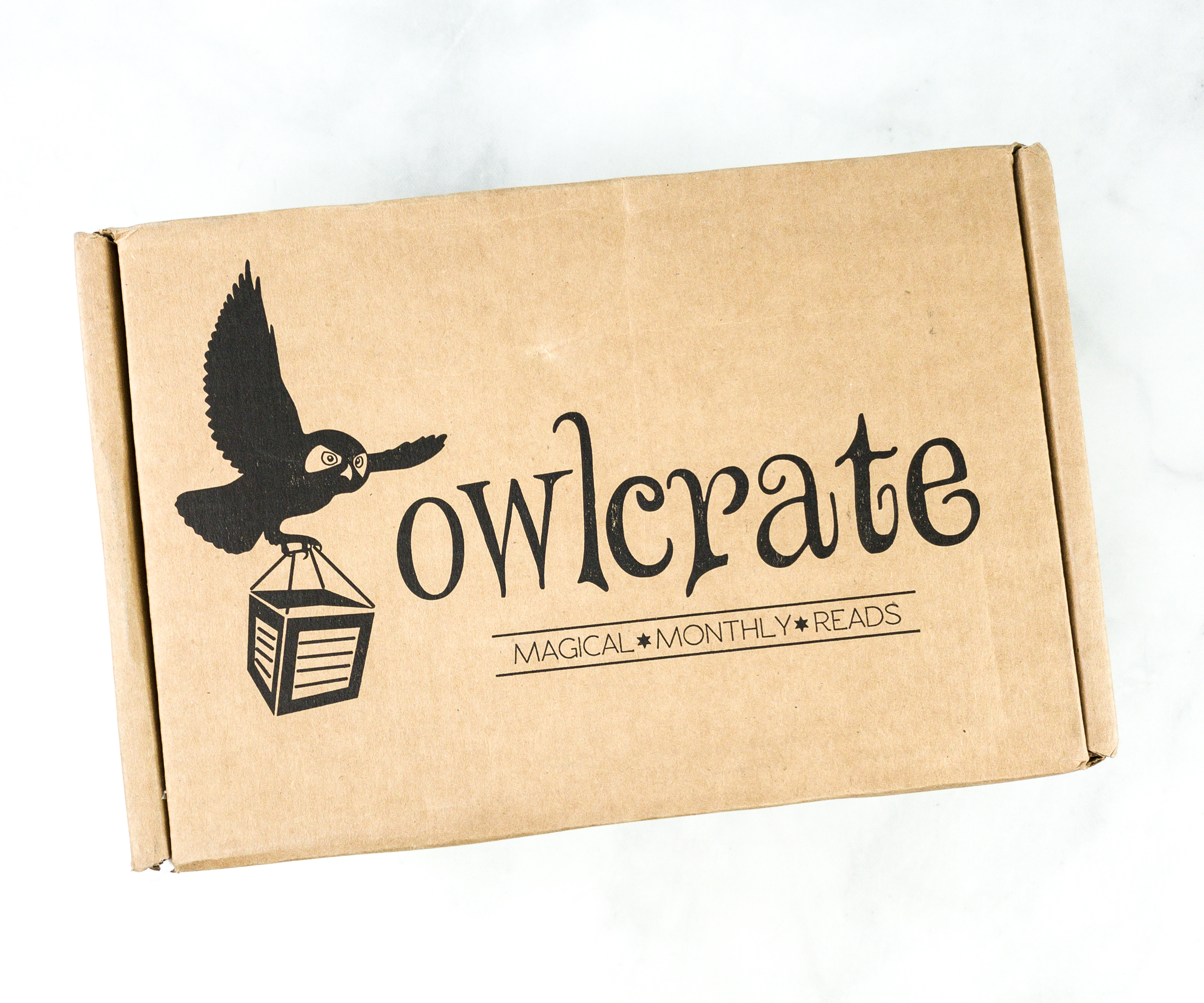 Owl Crate is a monthly subscription of books and bookish items. Each OwlCrate contains one new Young Adult novel, as well as 3-5 other bookish items all matched to the monthly theme. OwlCrate always sends the best items to go along with their theme with the hottest new books out there.
DEAL: Use coupon code WELCOME10 to save 10% on your first subscription!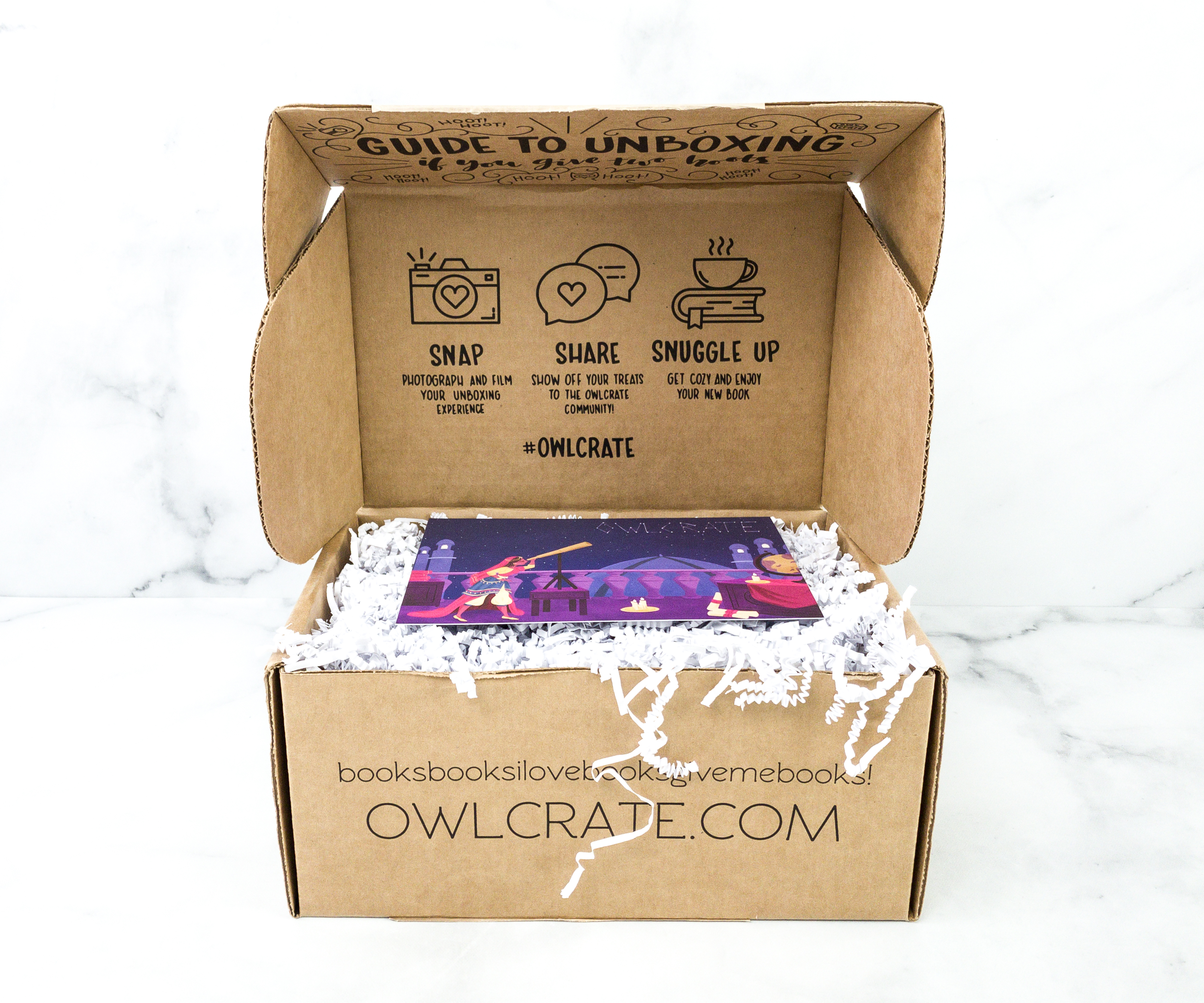 July's theme is WRITTEN IN THE STARS!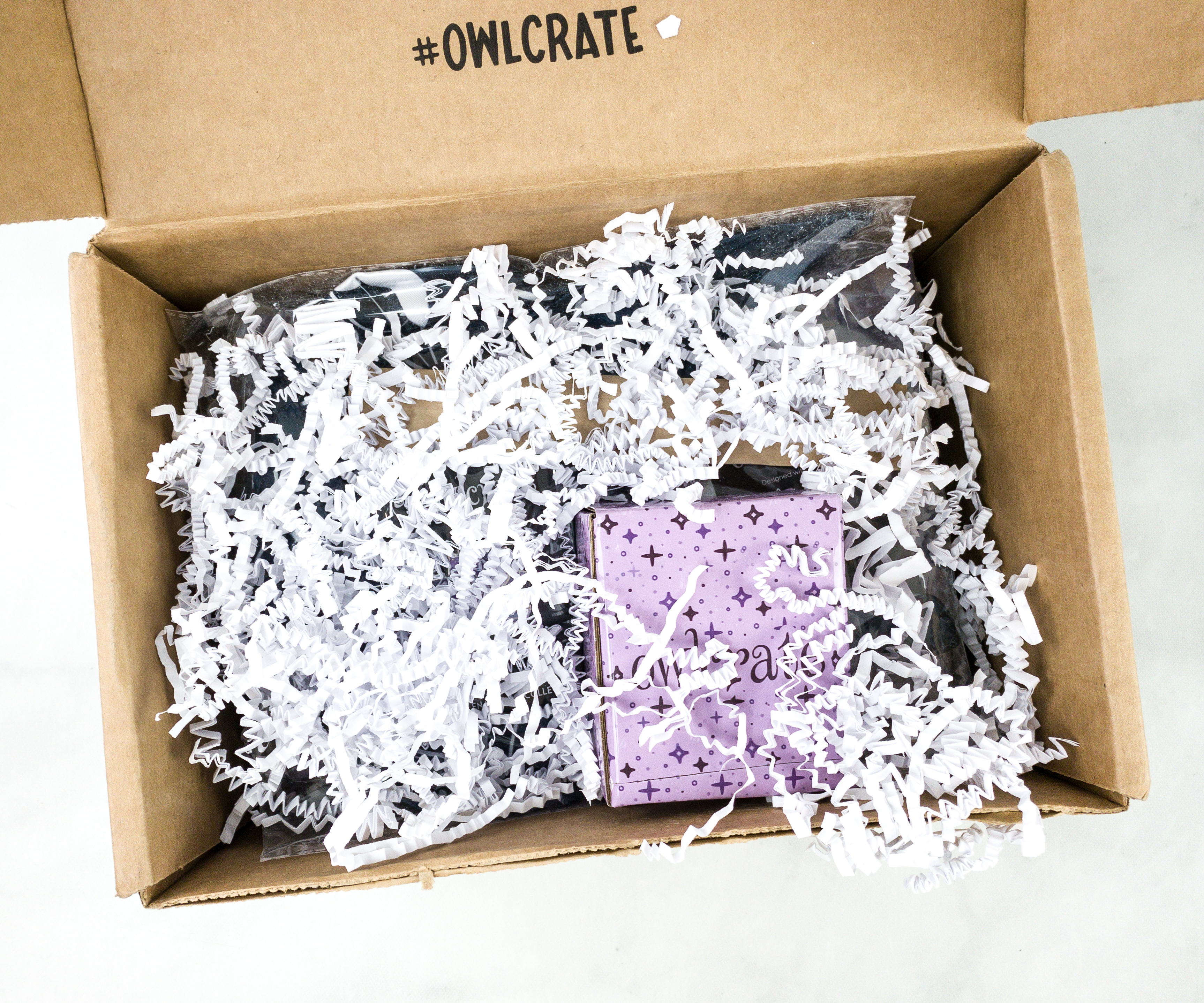 The items were cushioned with squiggles.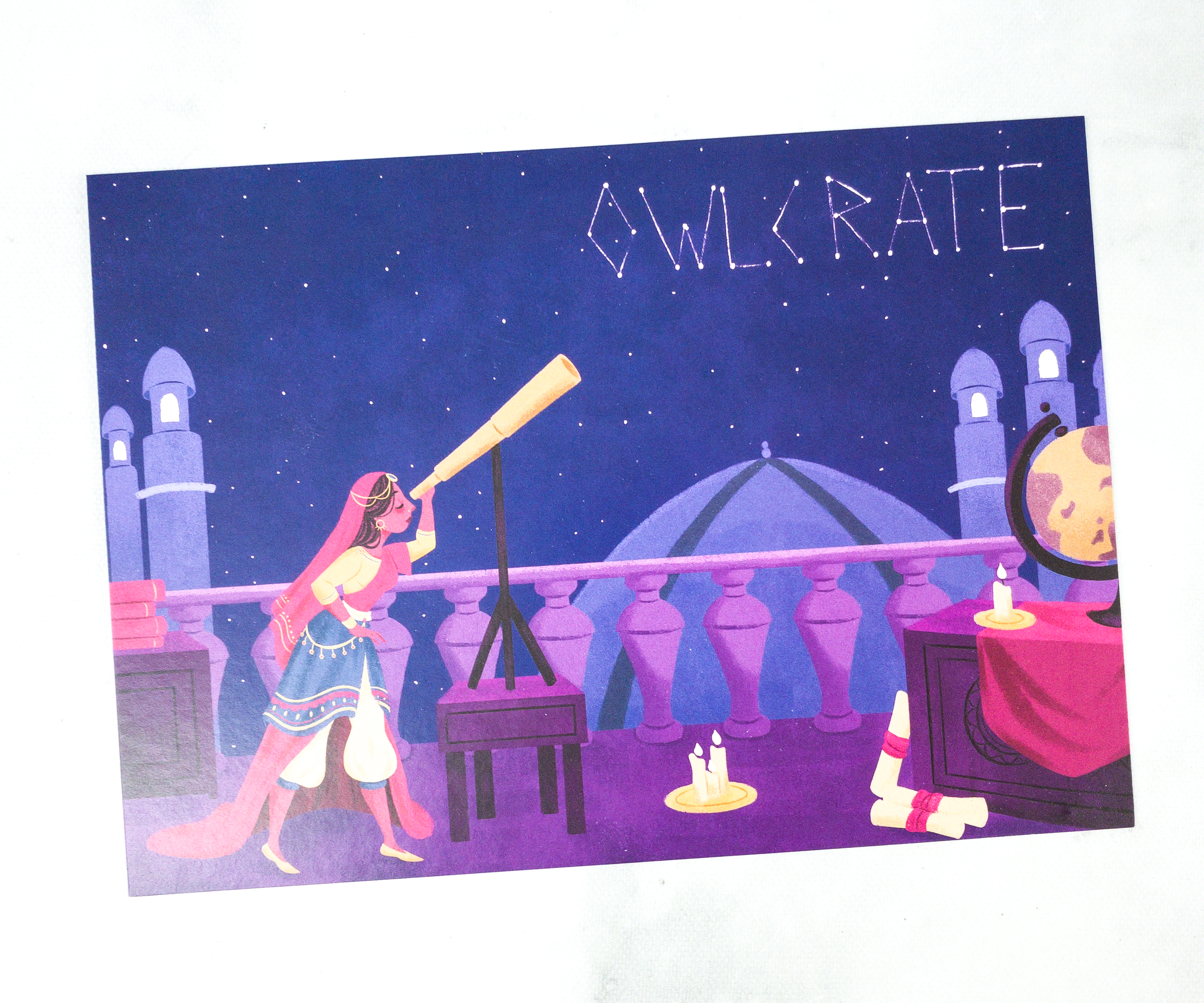 OwlCrate always has the best info card prints!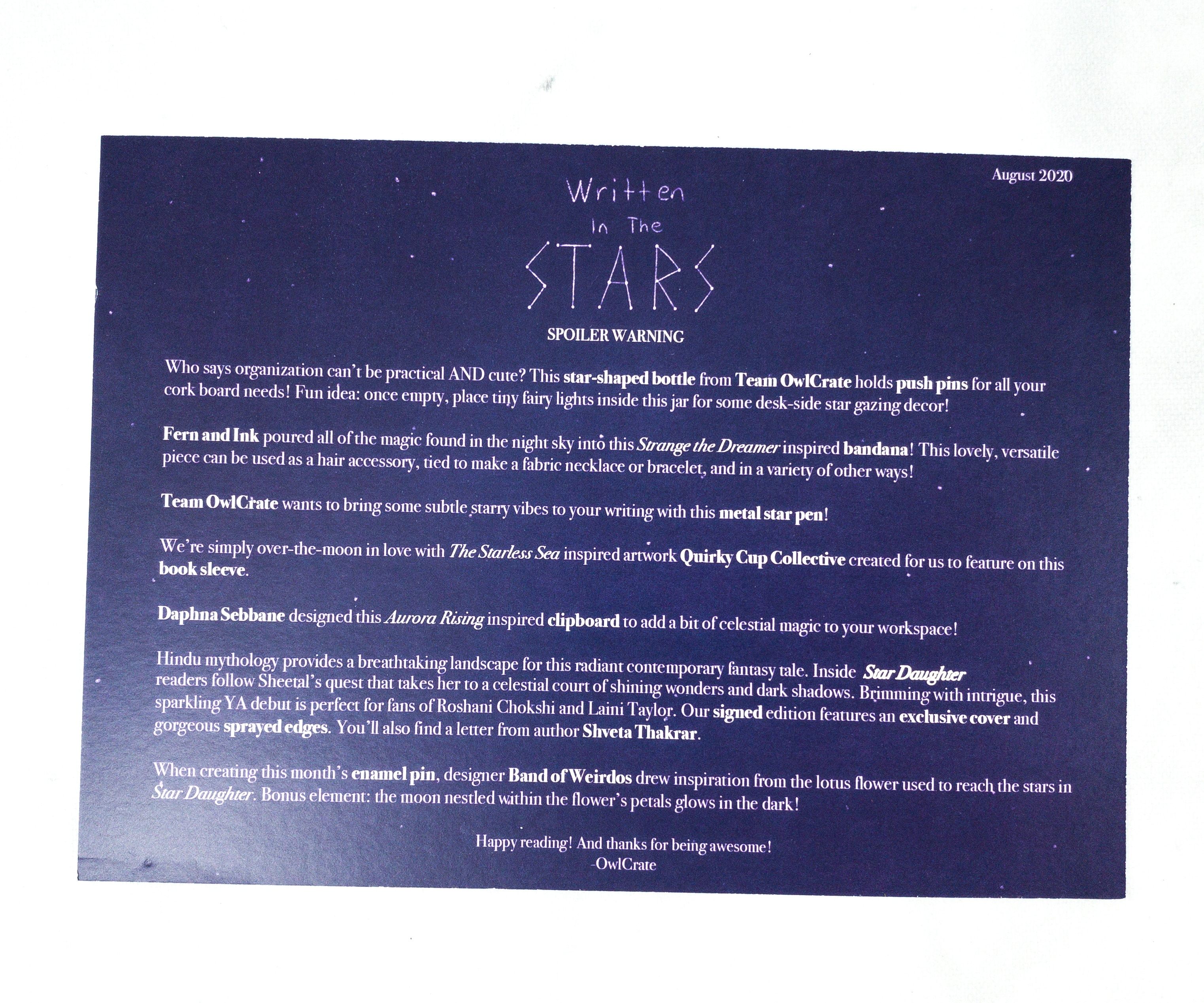 The flip side lists all the items inside the box.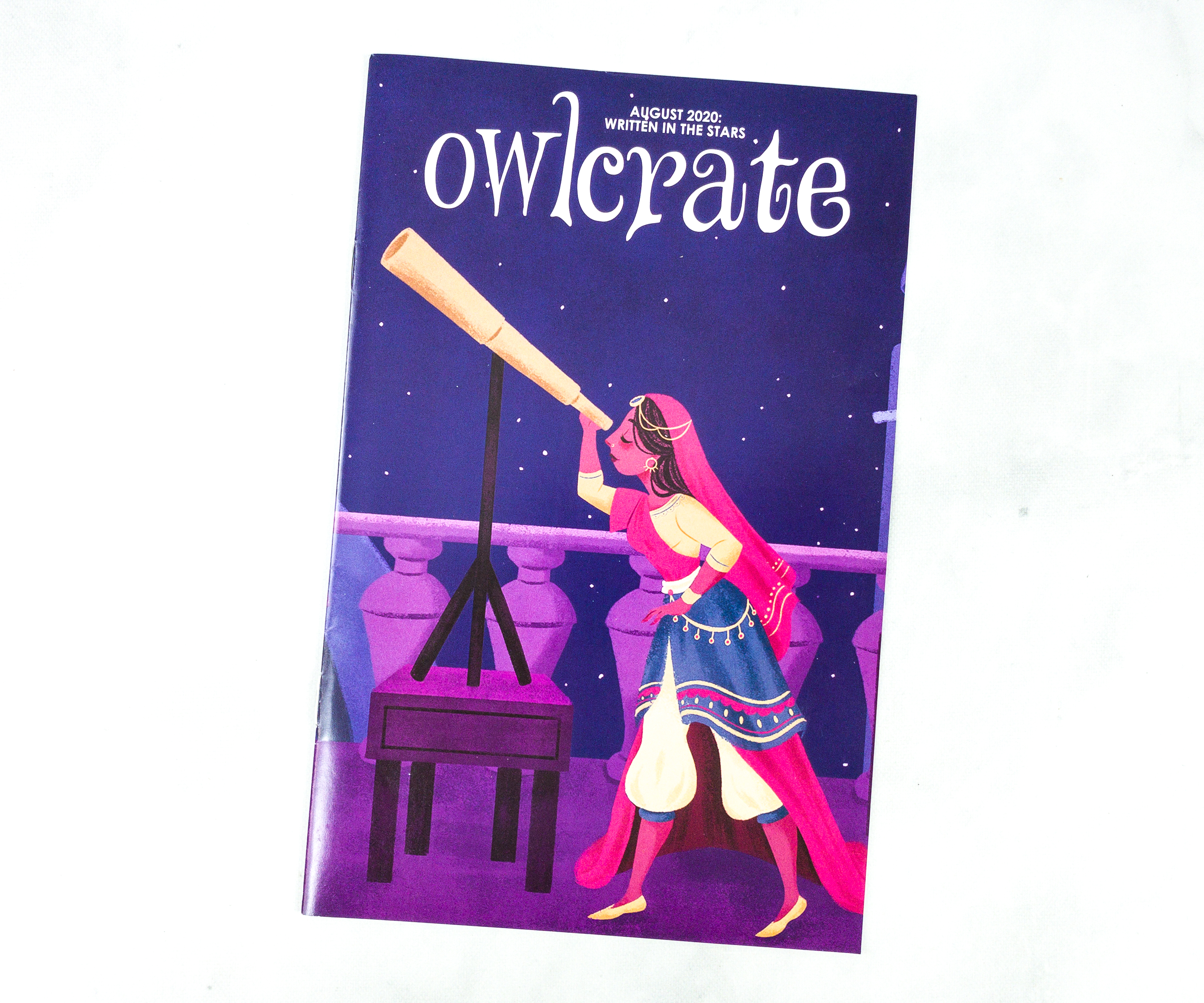 They also included an adorable mini-magazine!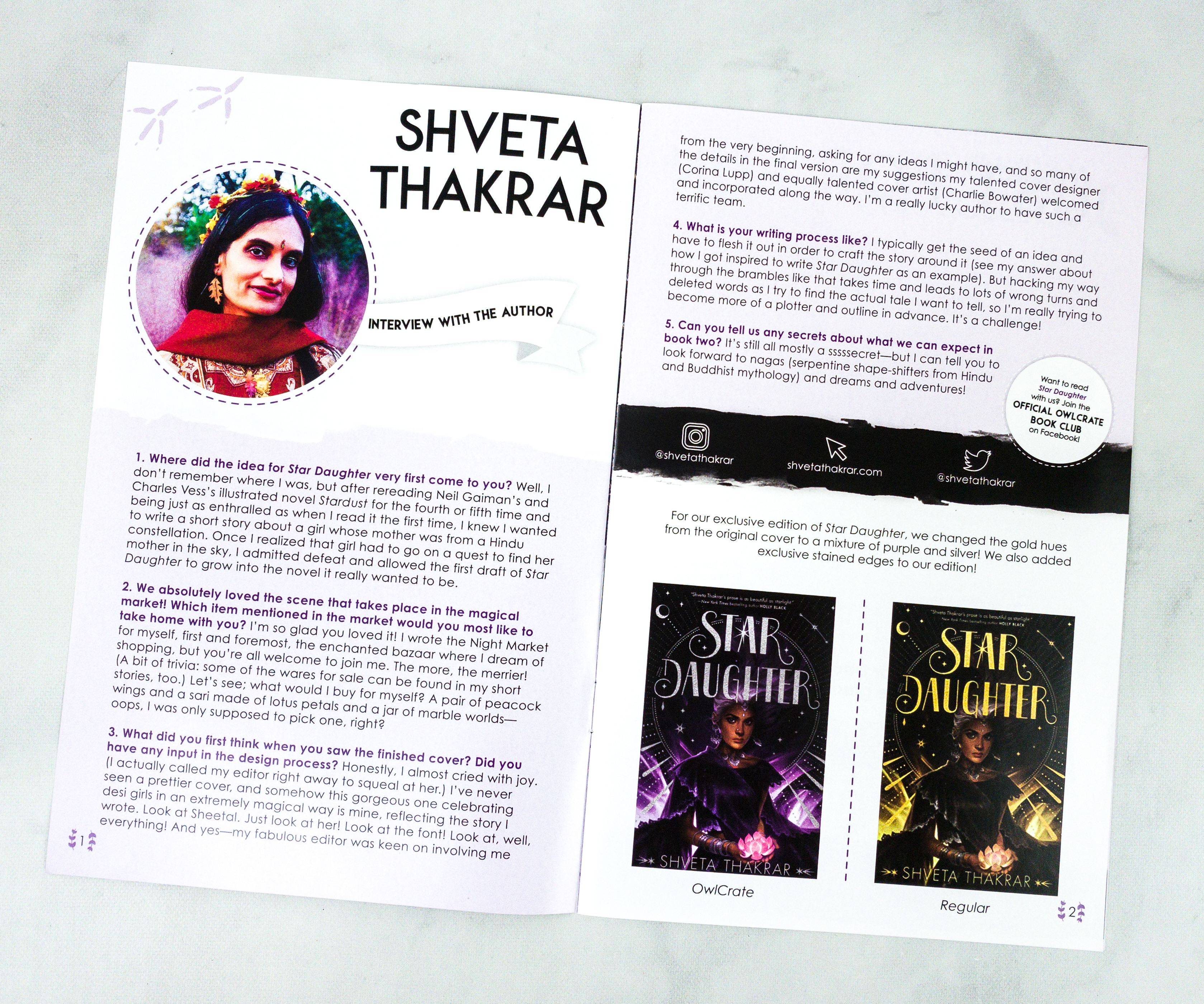 The mini-magazine includes an author interview. This month's featured author is Shveta Thakrar. Knowing what inspired the author to pen a story can help children understand the book better.
There's also a box photo challenge that you can join.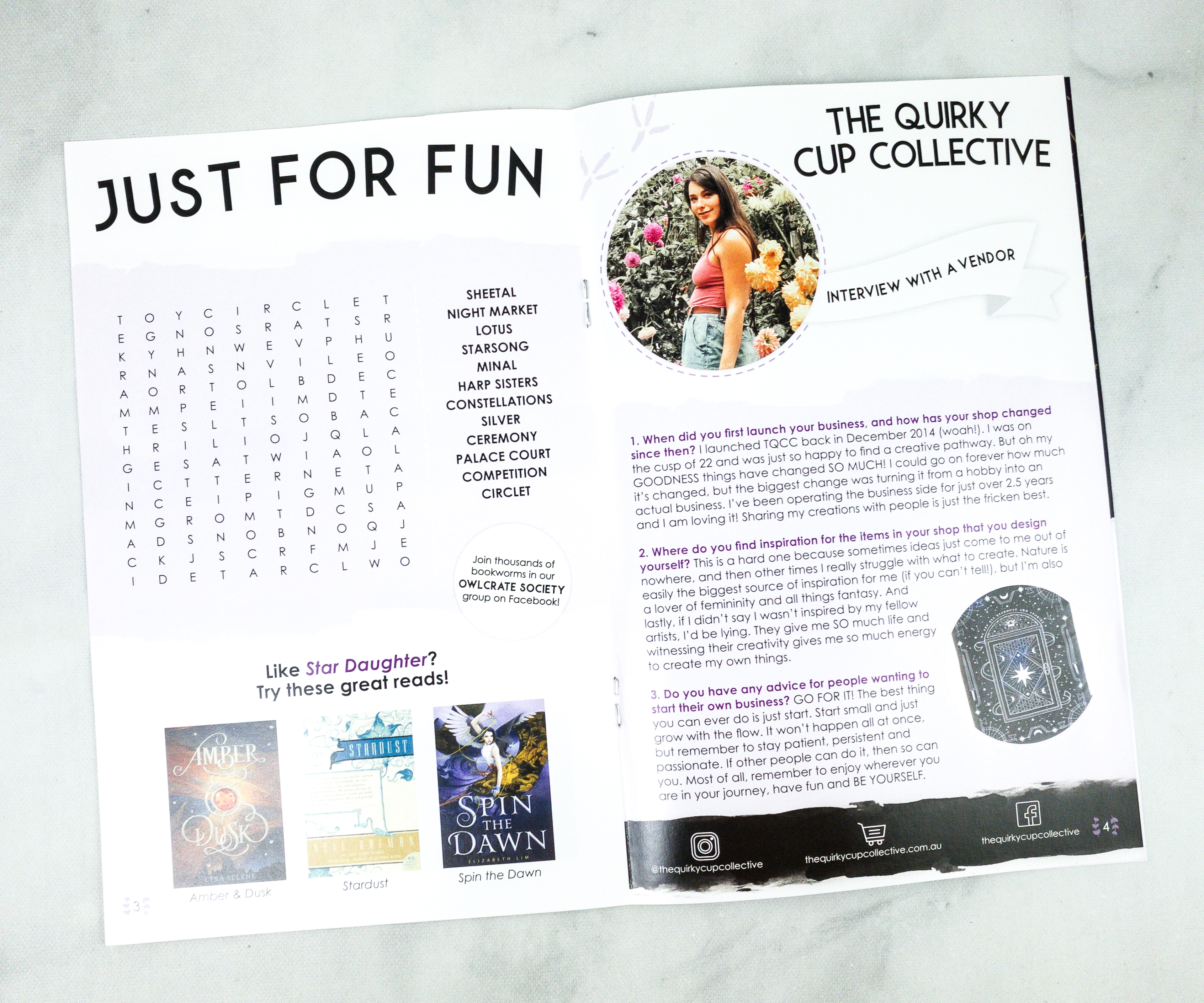 They also suggested some titles for further reading, especially if you love this month's book:
The mini-magazine also included some fun activities, while the other page is another interview with a vendor, The Quirky Cup Collective!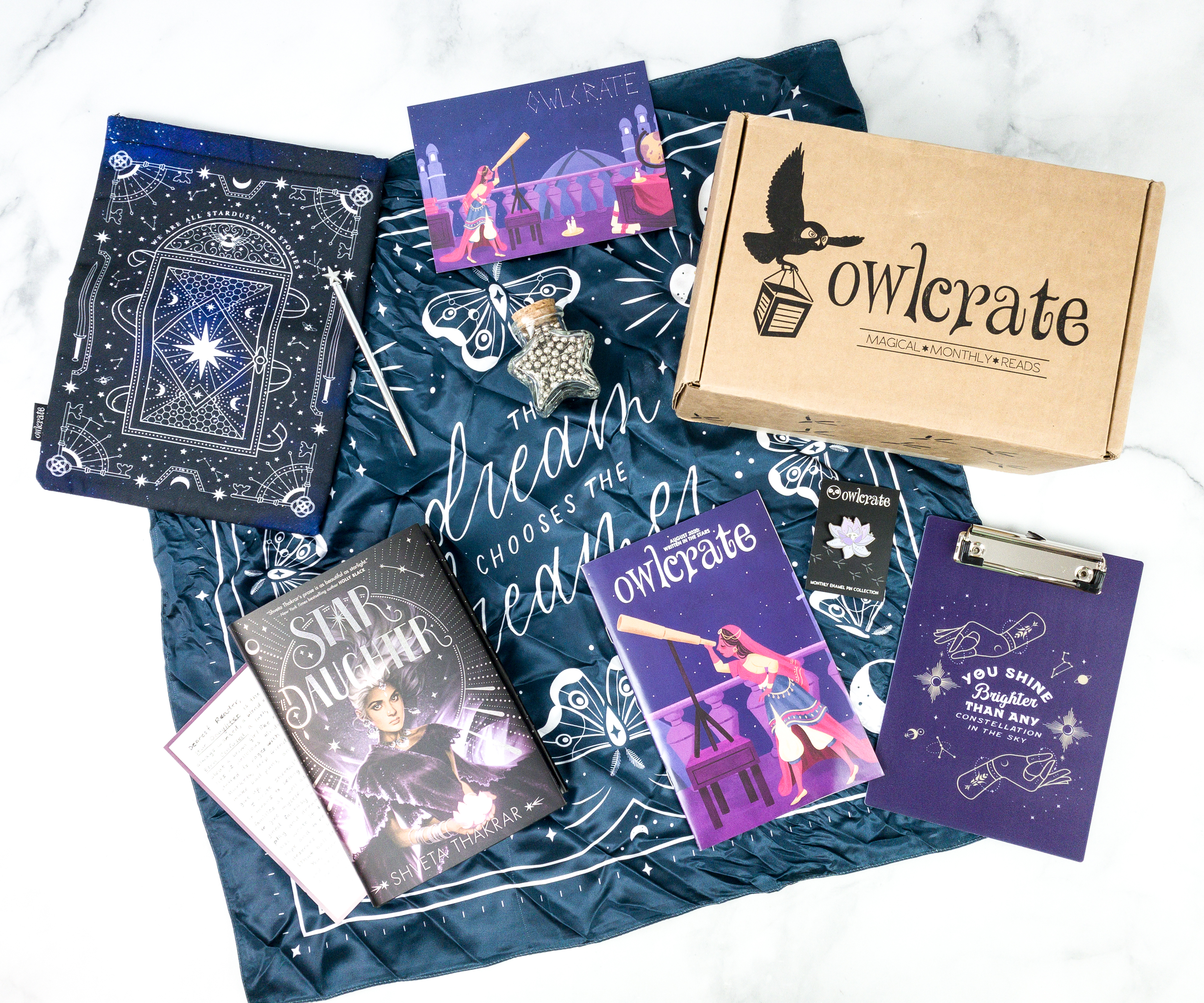 Everything in our August 2020 OwlCrate!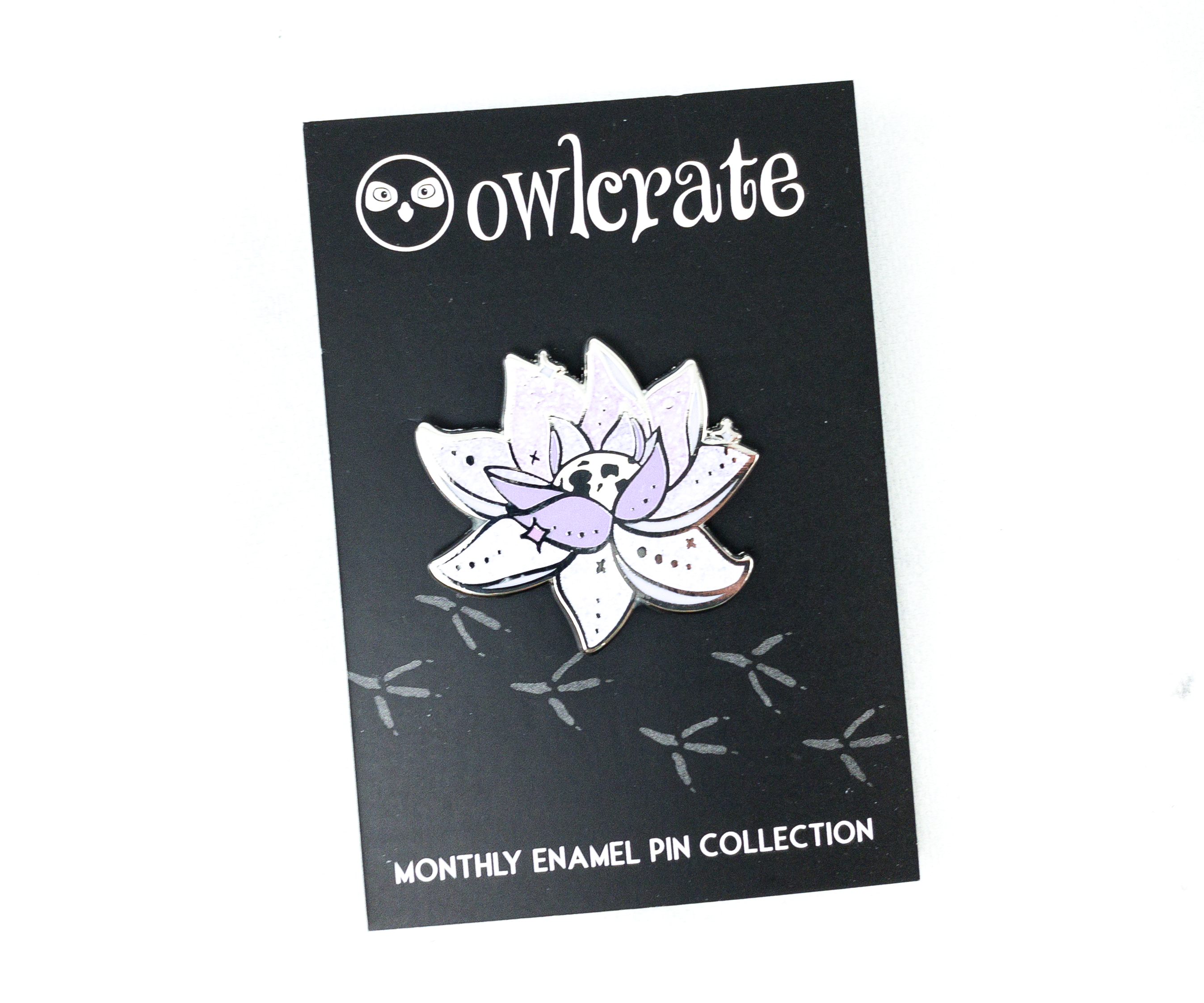 Enamel Pin. The Band of Weirdos made this month's enamel pin featuring a lotus flower.
It's a two-post pin secured by butterfly clutches.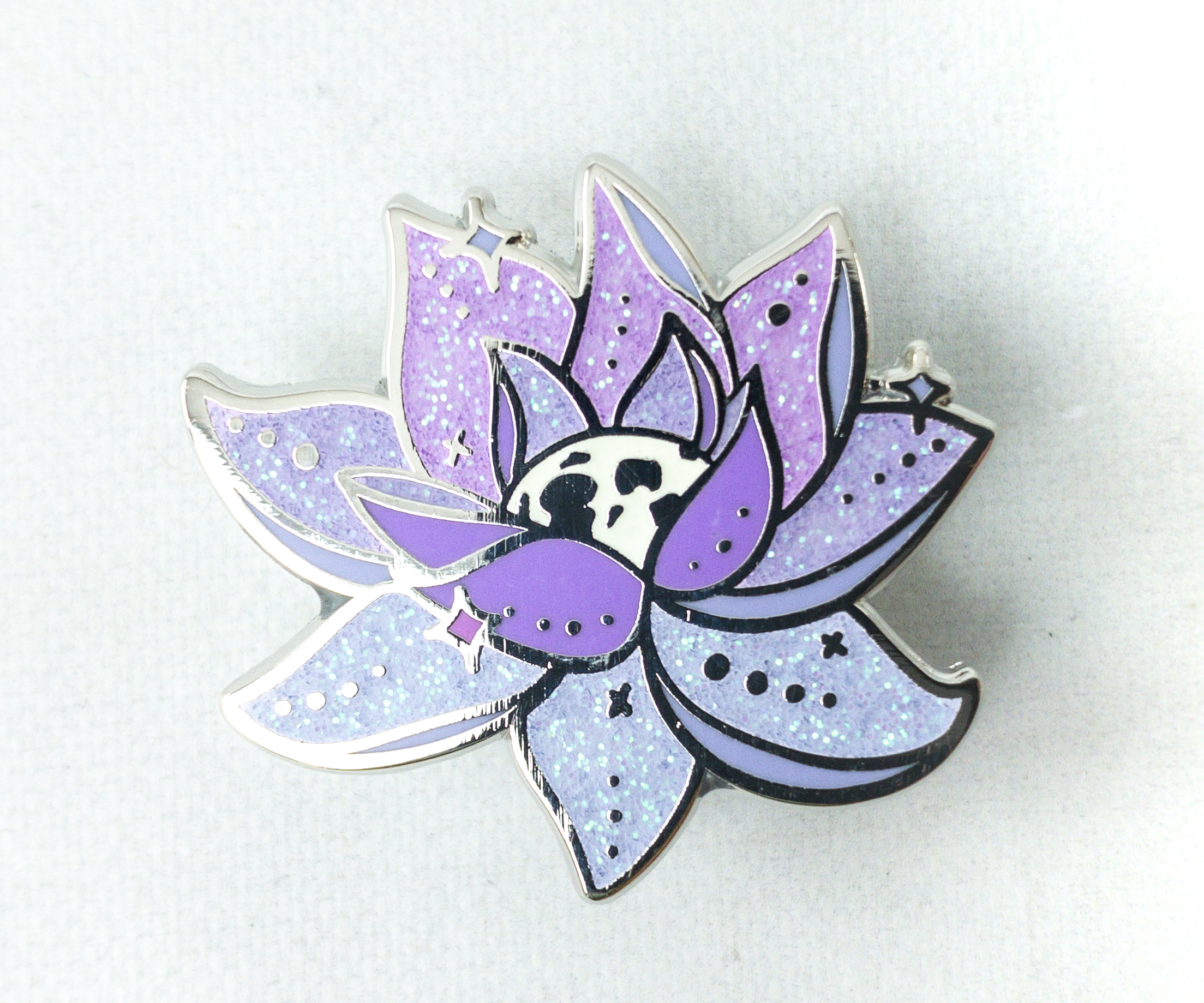 In this month's featured book, lotus flowers are used to reach the stars. This pin looks gorgeous, and it even has a bonus feature: the moon that is nestled within the flower's petals glows in the dark!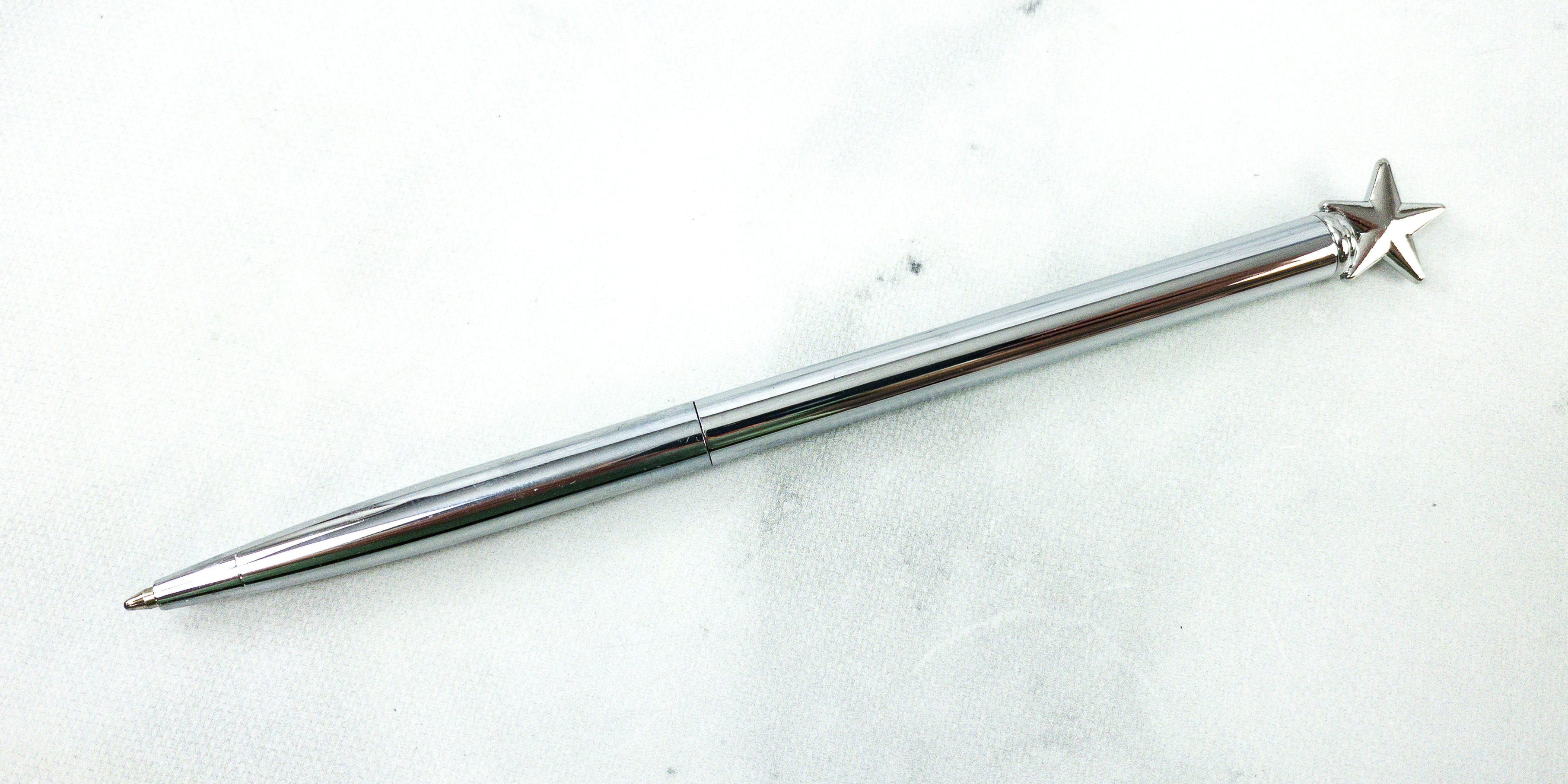 Metal Star Pen. Another star-studded item is this metal star pen by Team OwlCrate!
The twist pen has a shiny star topper. It actually looks like a wand which is truly magical!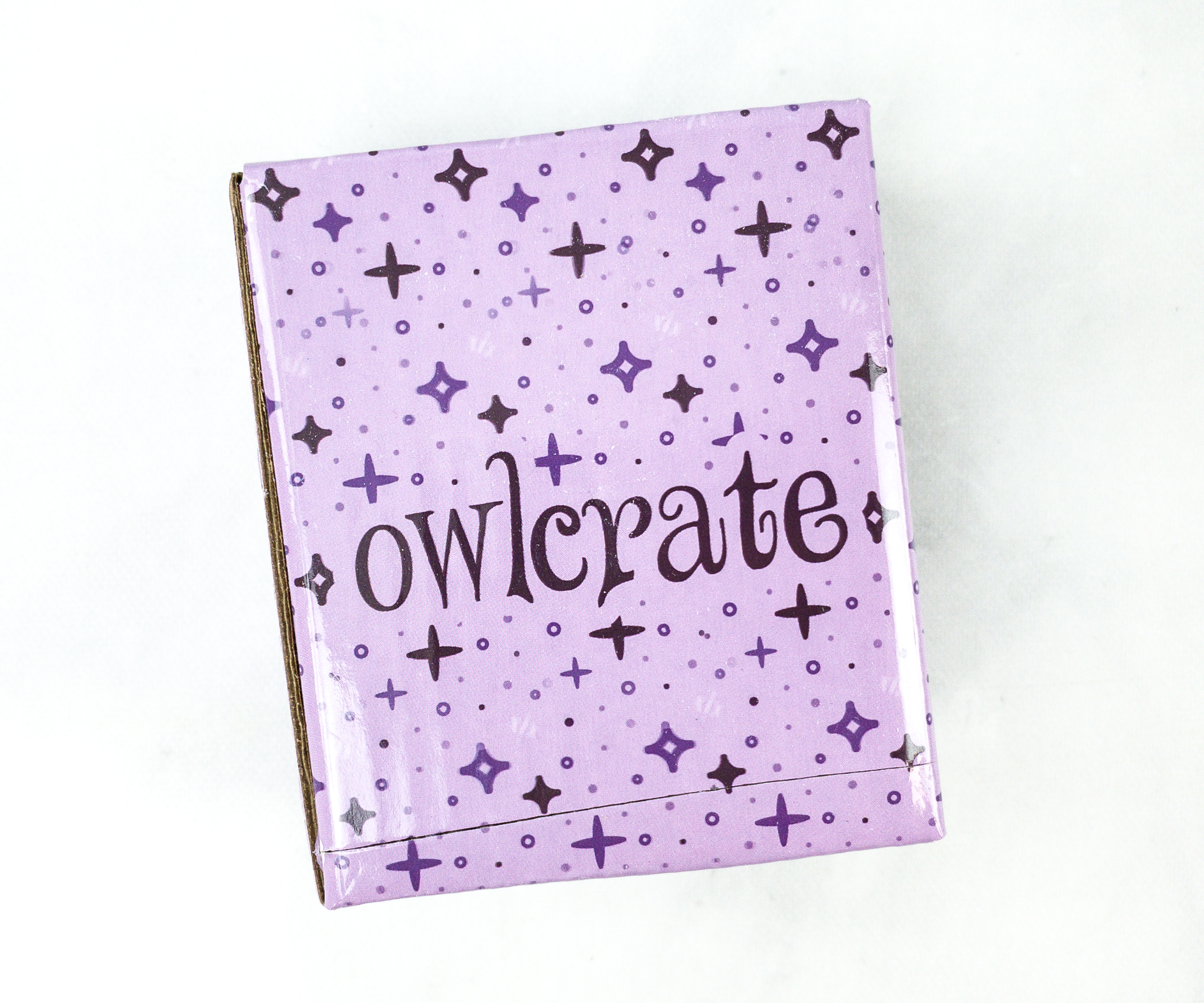 Star-shaped Bottle. Here's another special item from Team OwlCrate, and it is nestled inside a pretty purple box.
According to the box, this OwlCrate exclusive contains 250 pieces of metallic push pins.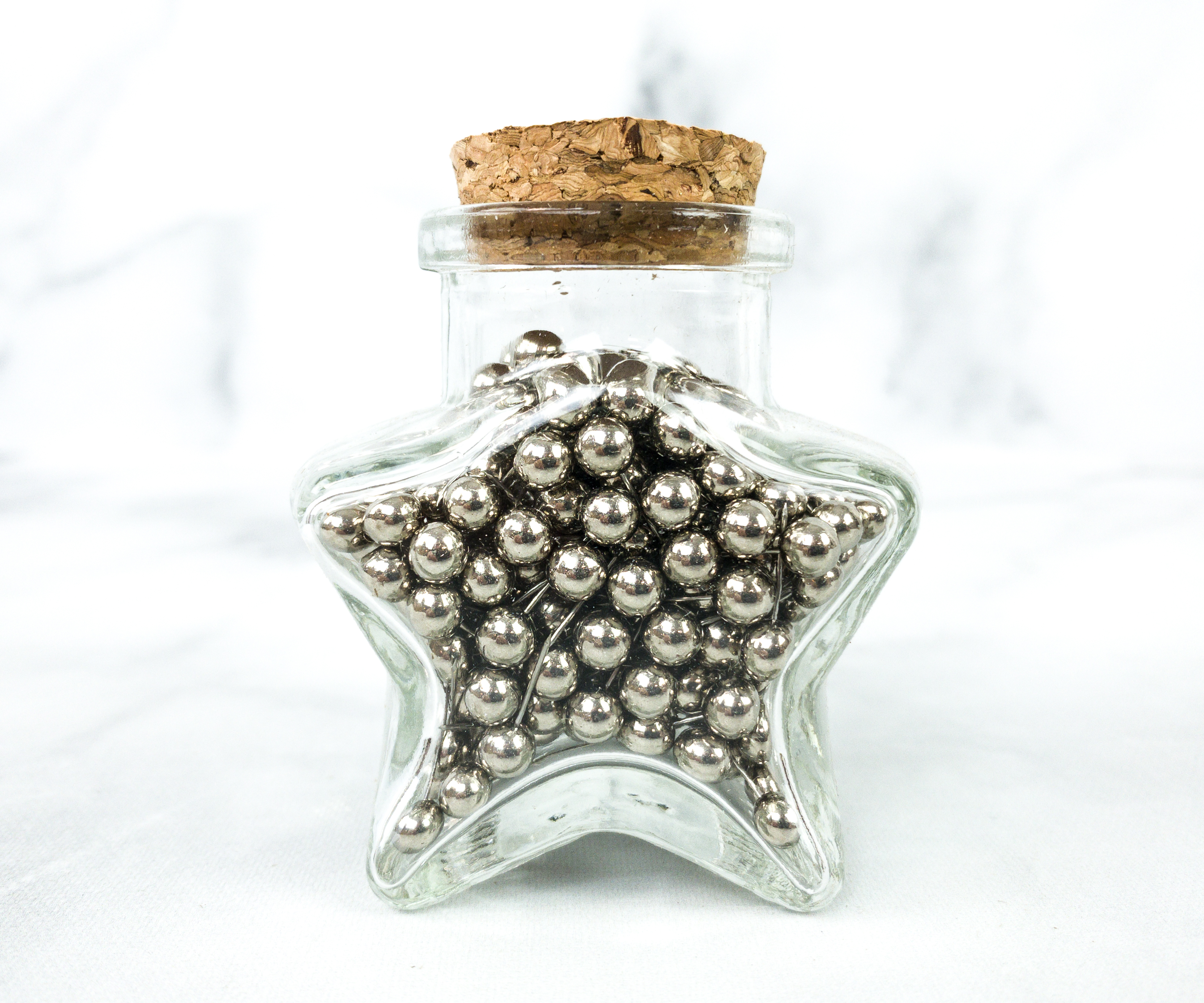 The glass star bottle looks gorgeous! It contains all the metallic push pins for your corkboard. It also has a cork topper that ensures that the contents are safe inside the beautiful glass container.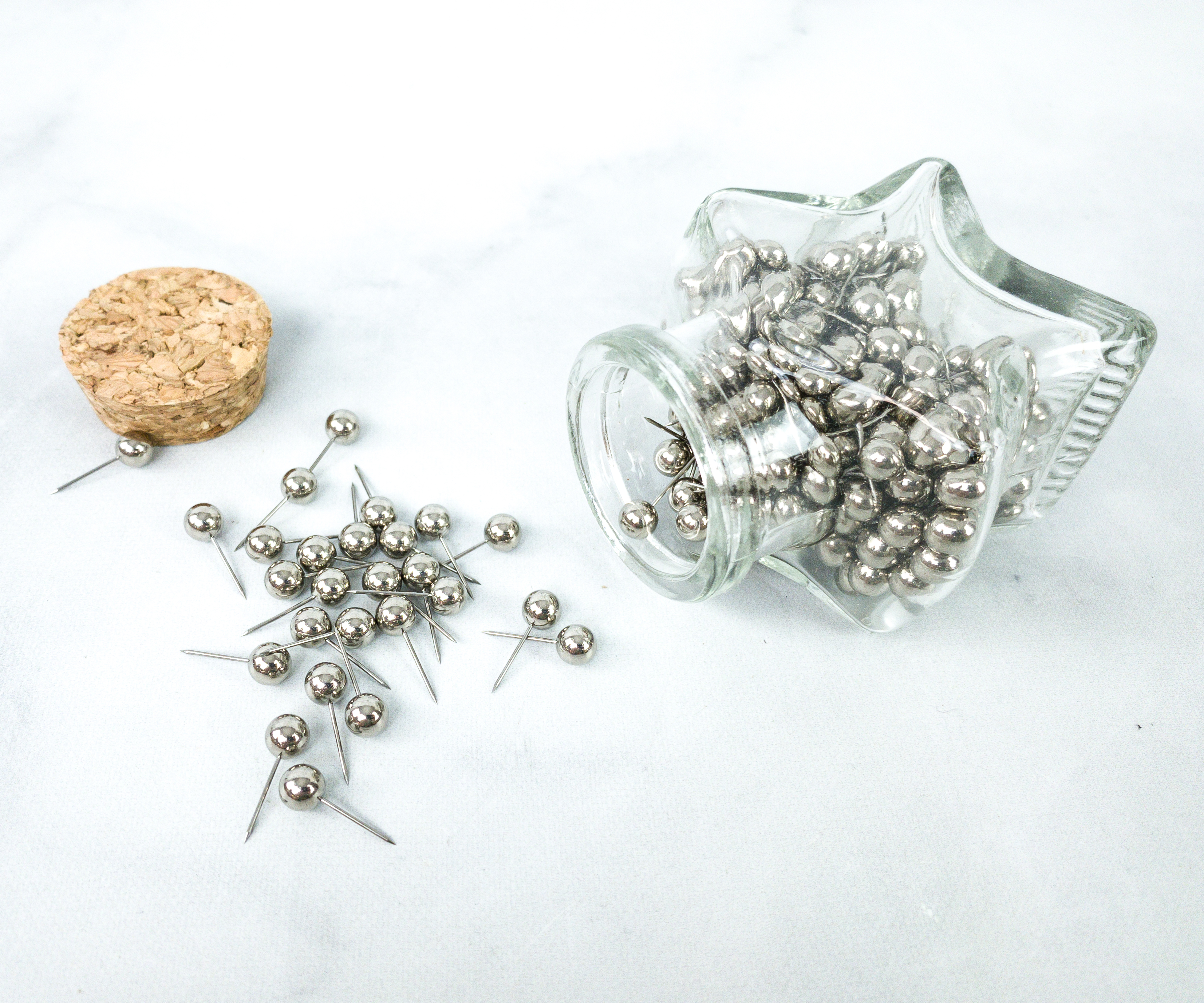 Just be extra careful when taking them out because the push pins are really pointy and sharp. When you've used up all the pins, OwlCrate suggests placing tiny fairy lights inside the bottle to make a pretty room decor.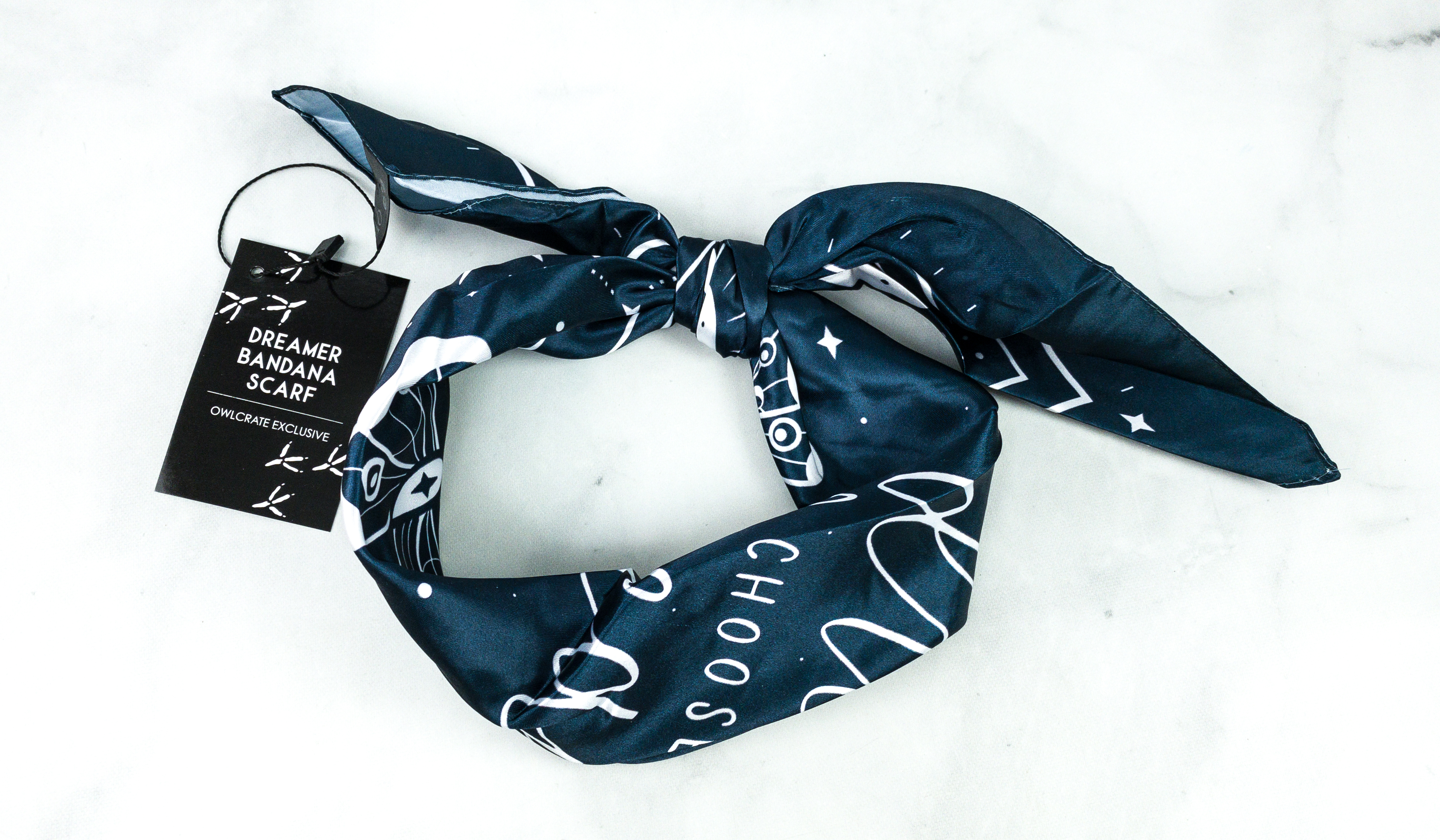 Dreamer Bandana Scarf. Designed by Fern and Ink, this bandana scarf is perfect for adding flair to your fall outfits!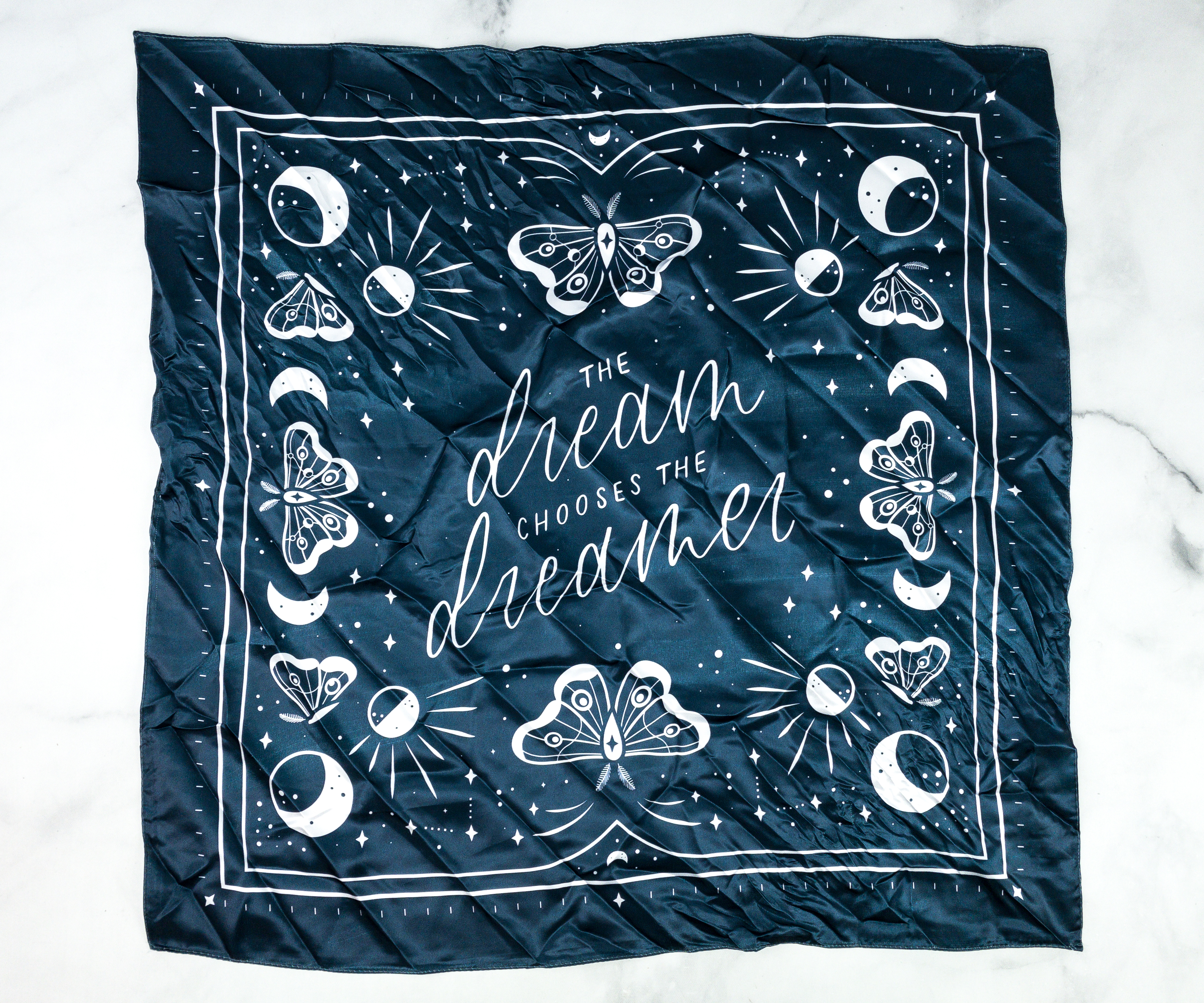 It's inspired by Strange the Dreamer by Laini Taylor! There are butterfly and moon images on it, as well as a quote:
The dream chooses the dreamer.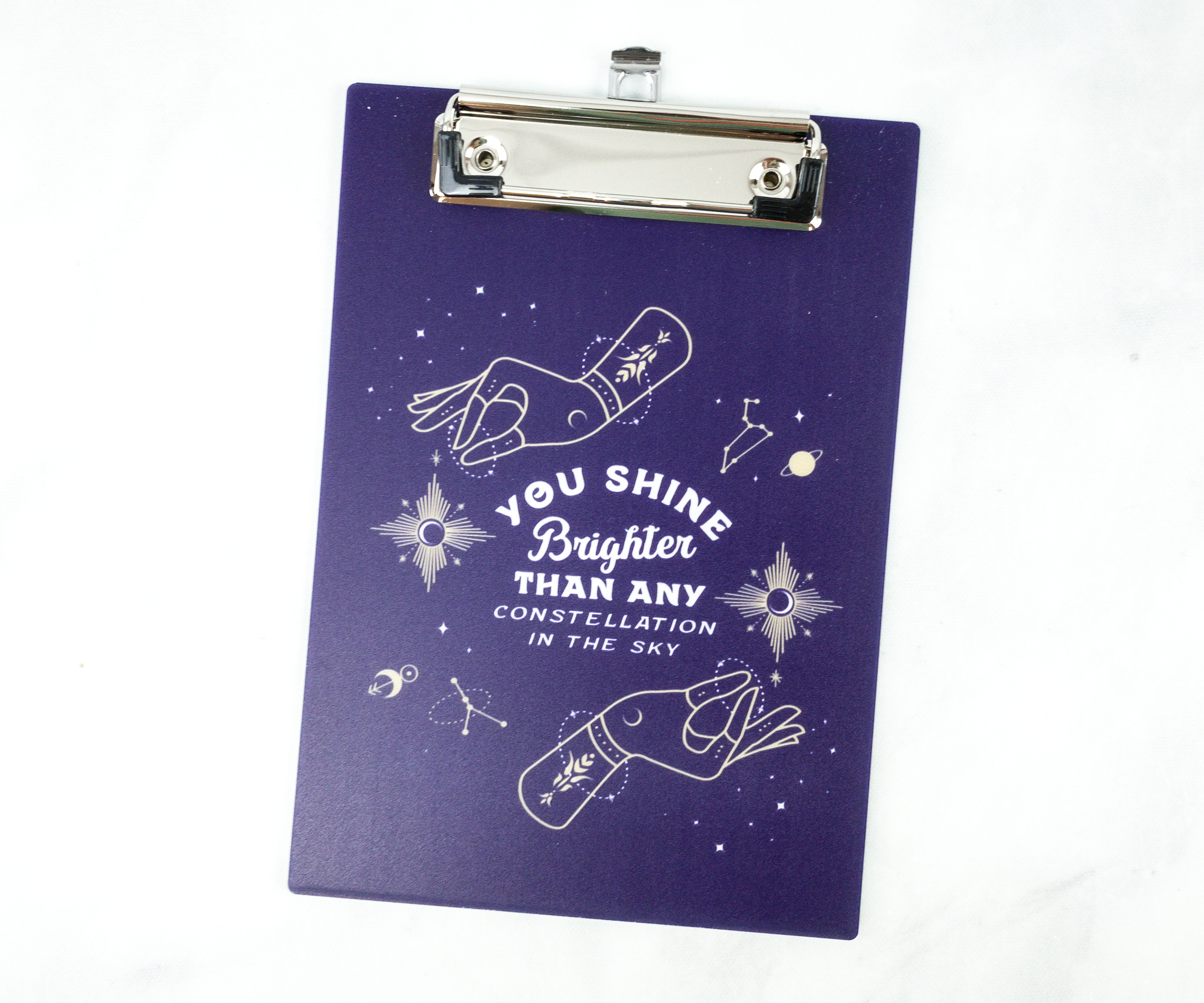 Clipboard. The clipboard does not just showcase celestial beauty, it also includes an inspirational line from Aurora Rising by Amie Kaufman.
You shine brighter than any constellation in the sky.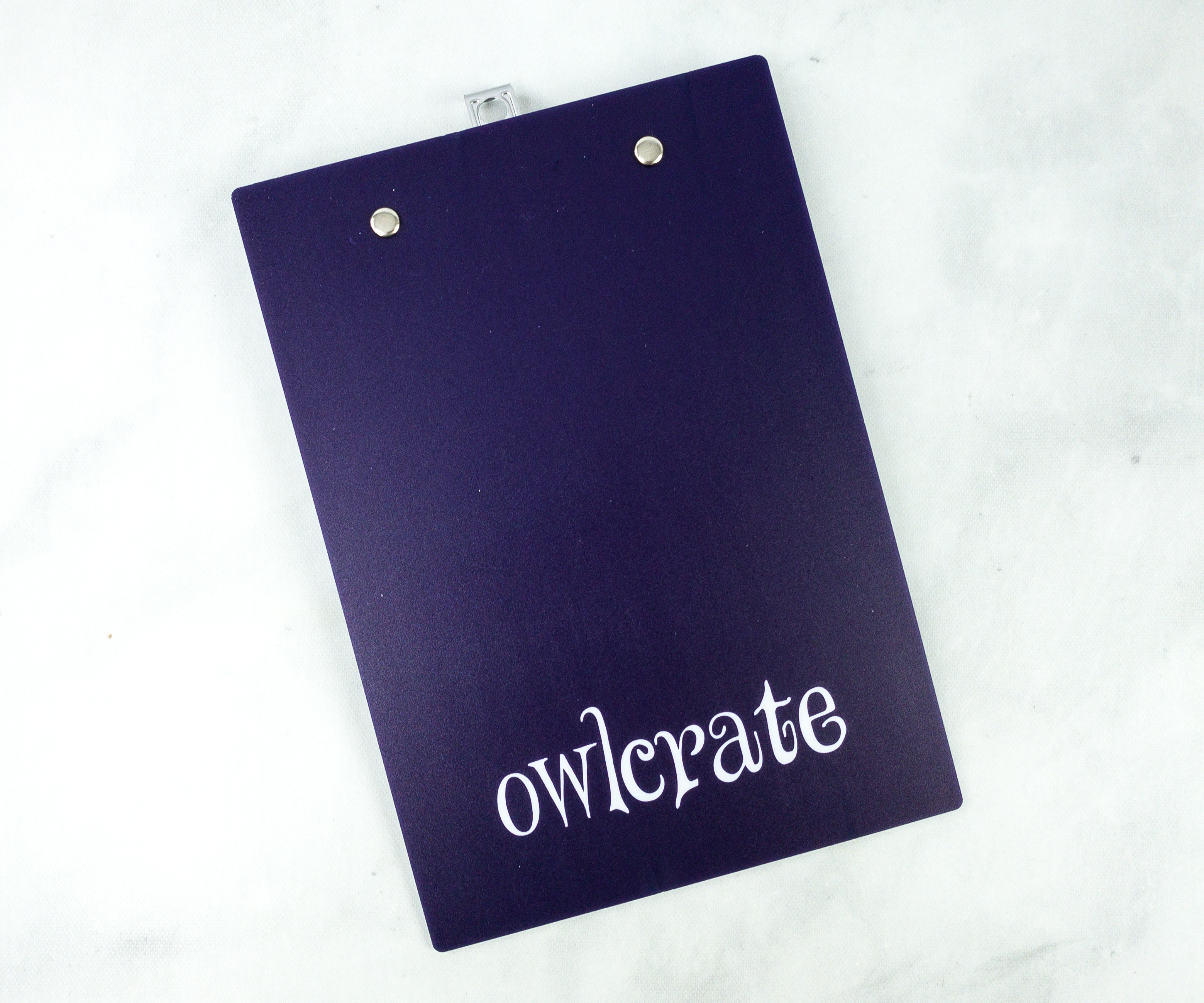 The back of the clipboard has the OwlCrate logo on it. The clipboard is a work of art by Daphna Sebbane.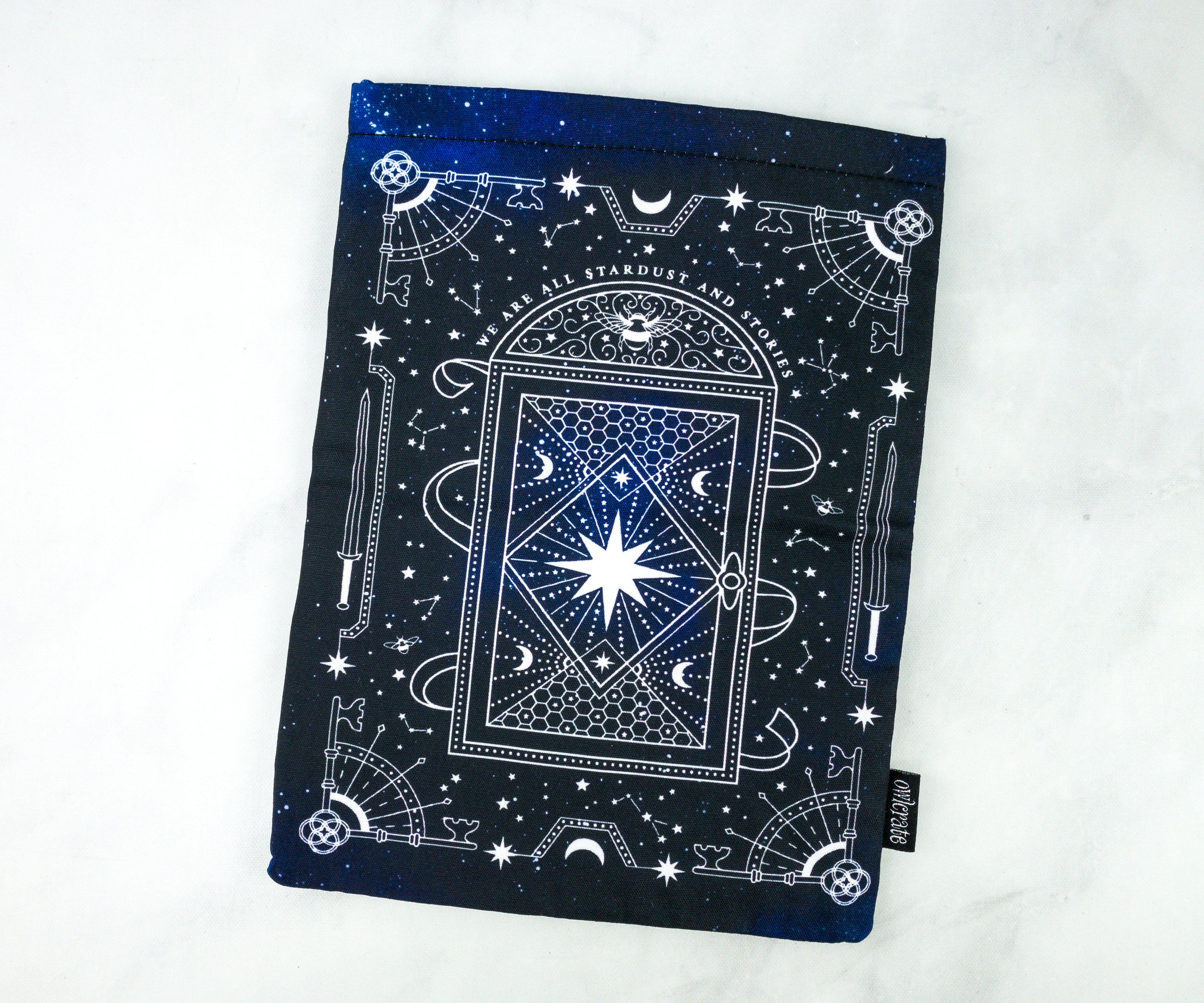 Book Sleeve. This book sleeve is made by the featured vendor of the month, The Quirky Cup Collective! The design is based on The Starless Sea by Erin Morgenstern.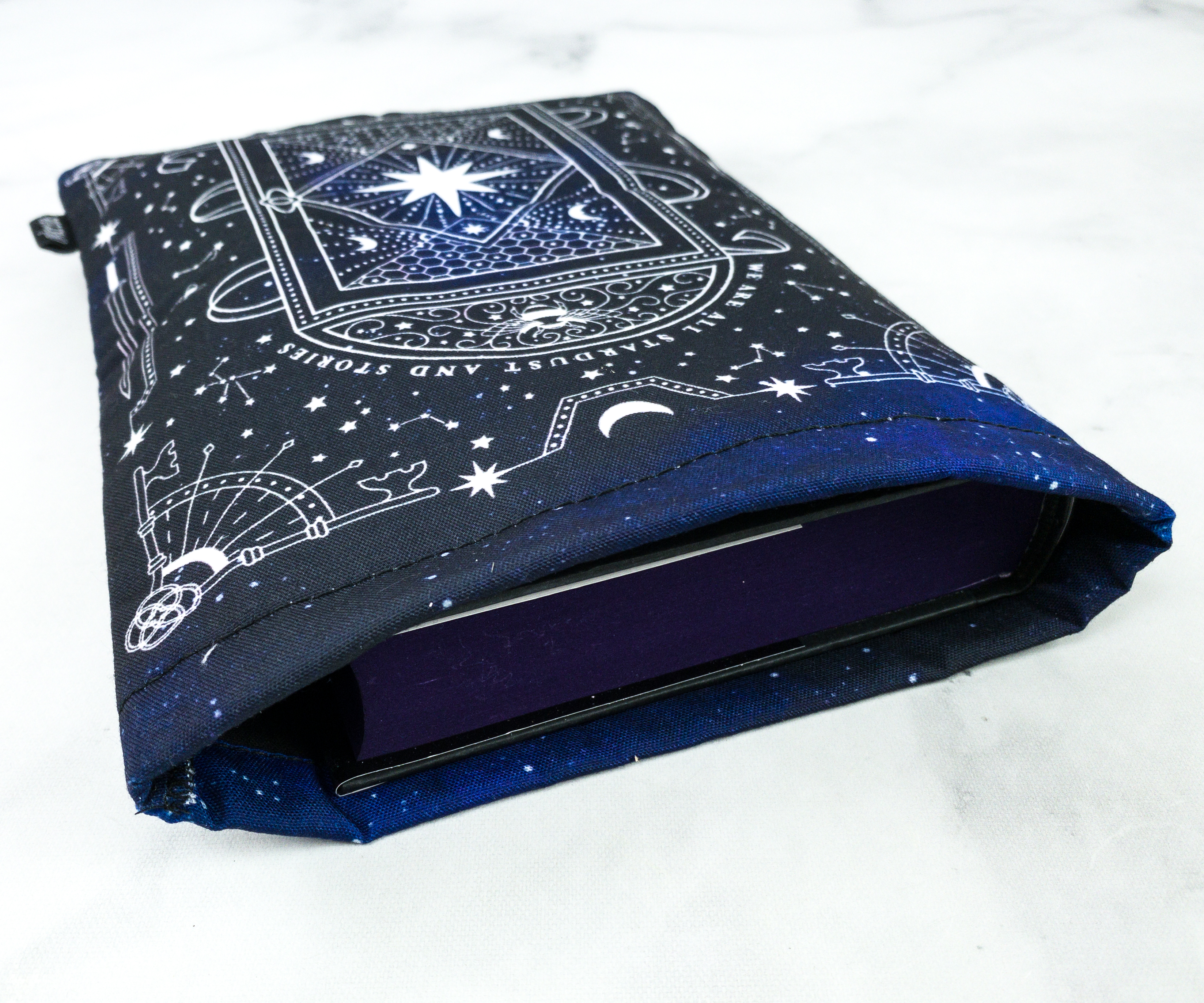 It can fit any regular sized book. It keeps a book safe and free from scratches and other damage, perfect for bookworms who carry a book in their bag all the time.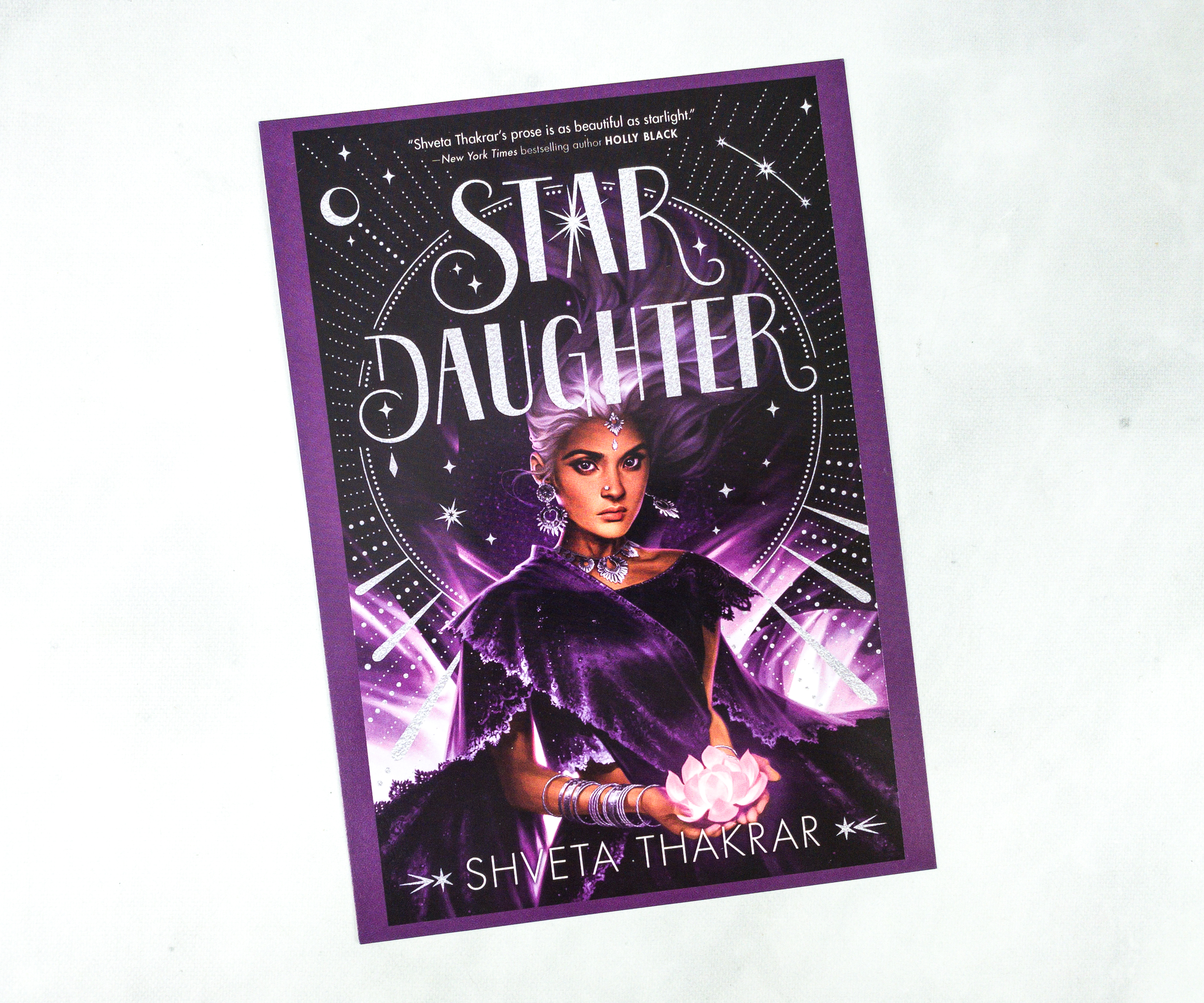 The box includes a card with the same beautiful artwork as the cover of this month's featured book.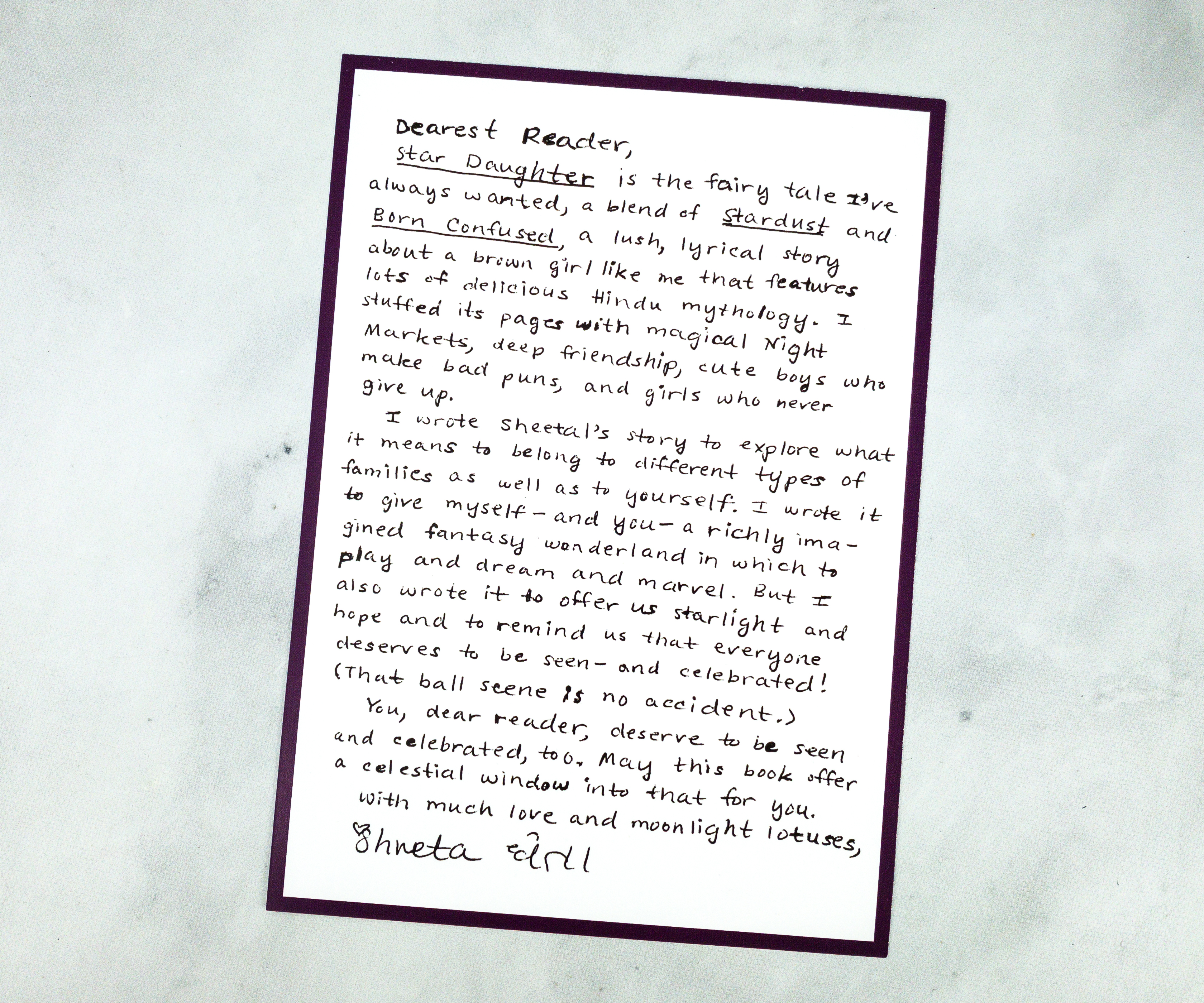 At the back is a note from the author!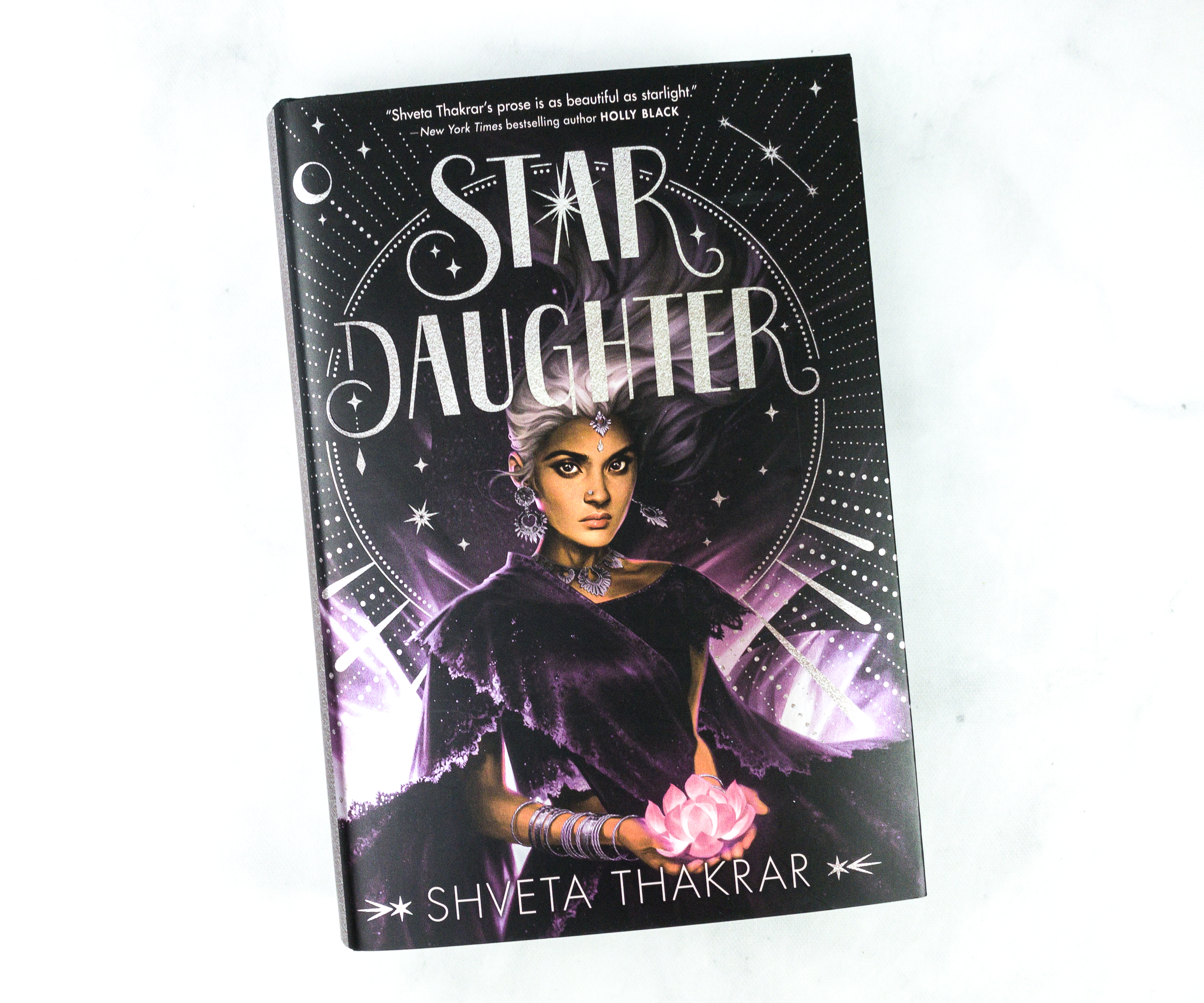 Star Daughter by Shveta Thakrar ($16.19)
"Shveta Thakrar's prose is as beautiful as starlight."—New York Times bestselling author Holly Black

This gorgeously imagined YA debut blends shades of Neil Gaiman's Stardust and a breathtaking landscape of Hindu mythology into a radiant contemporary fantasy.

The daughter of a star and a mortal, Sheetal is used to keeping secrets. Pretending to be "normal." But when an accidental flare of her starfire puts her human father in the hospital, Sheetal needs a full star's help to heal him. A star like her mother, who returned to the sky long ago.

Sheetal's quest to save her father will take her to a celestial court of shining wonders and dark shadows, where she must take the stage as her family's champion in a competition to decide the next ruling house of the heavens—and win, or risk never returning to Earth at all.

Brimming with celestial intrigue, this sparkling YA debut is perfect for fans of Roshani Chokshi and Laini Taylor.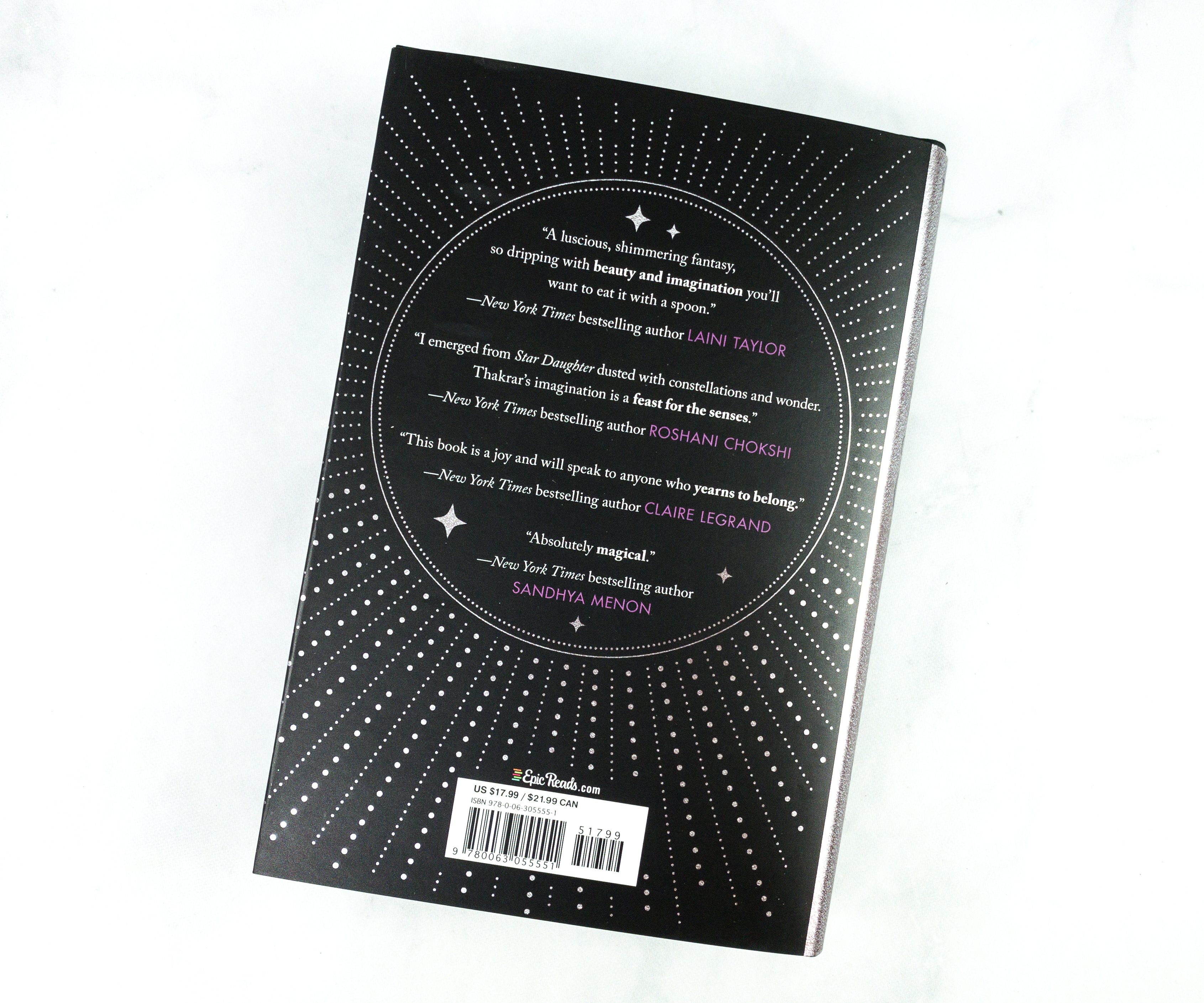 The cover design is stunning. This book also has sprayed edges!
This is a perfect read for YA fans and it also involves Hindu mythology.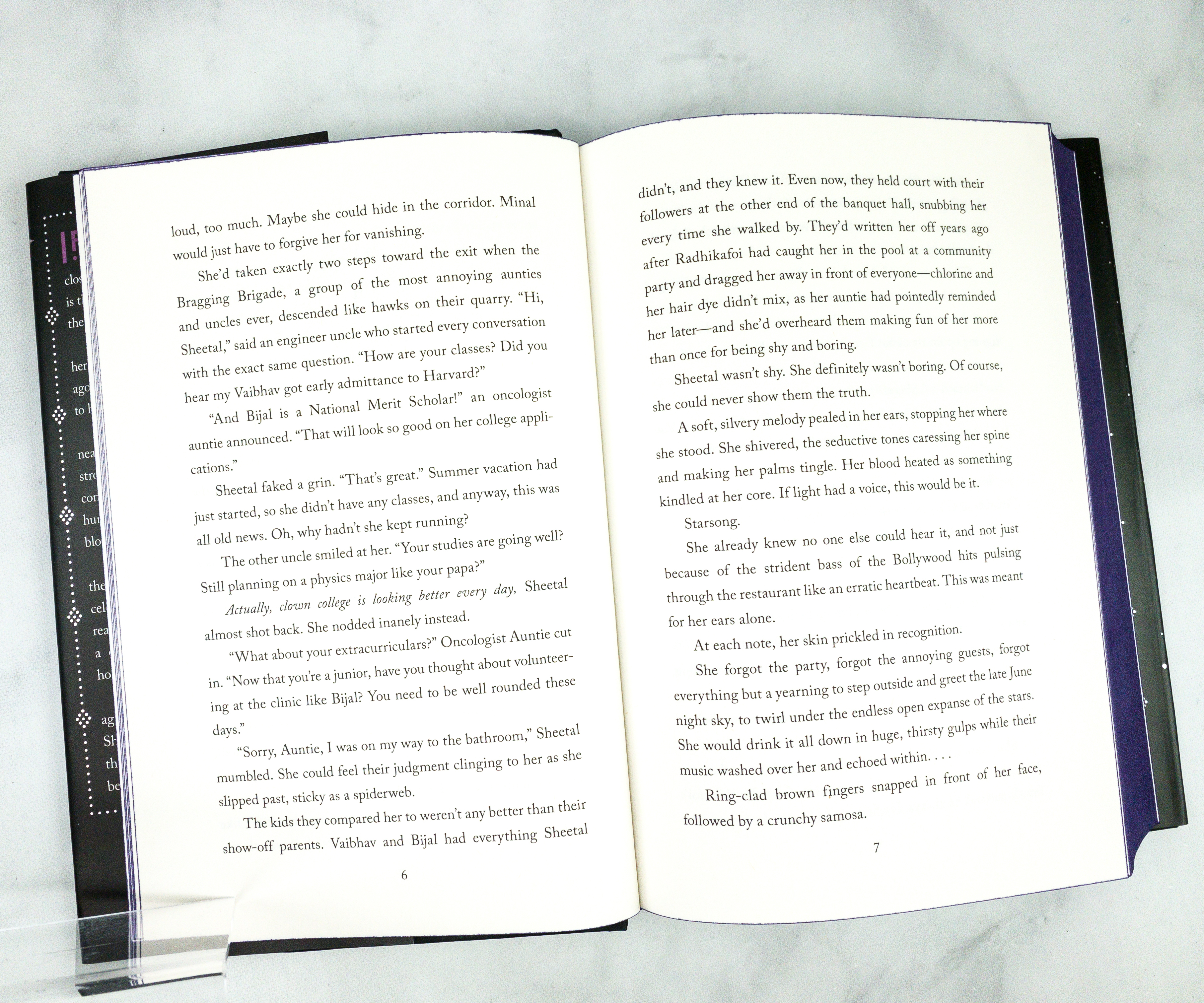 The story is about a girl named Sheetal Mistry, a half-human and half-star. Her mother is a full-star, while her father is human. HOne day, her father was injured and only a full star's blood can heal him. She was summoned by her celestial family to also join a competition to decide the next ruling house of heavens.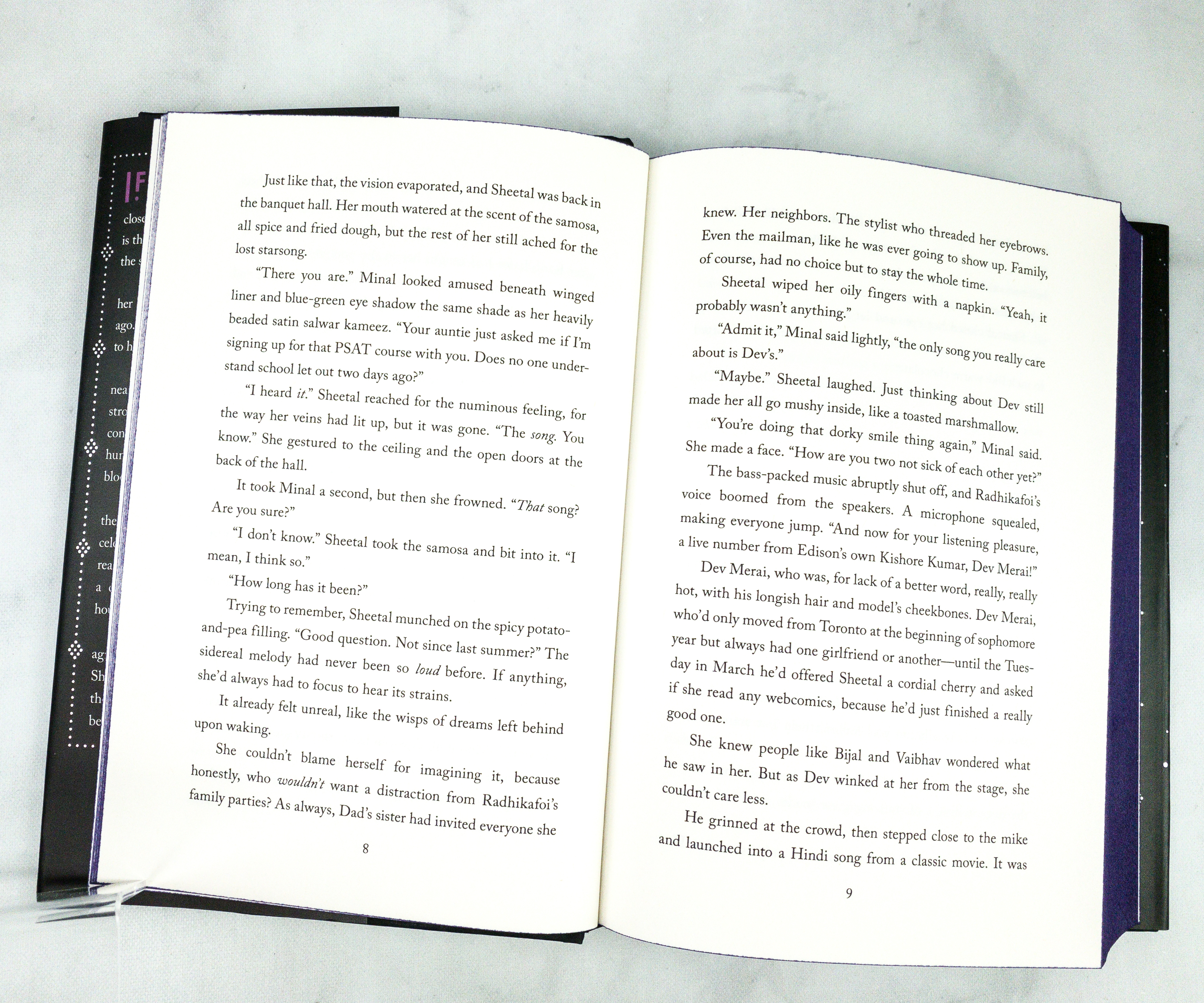 The story is about the beauty of being human, embracing the joys and pains in life, and that you, yourself, define your own destiny.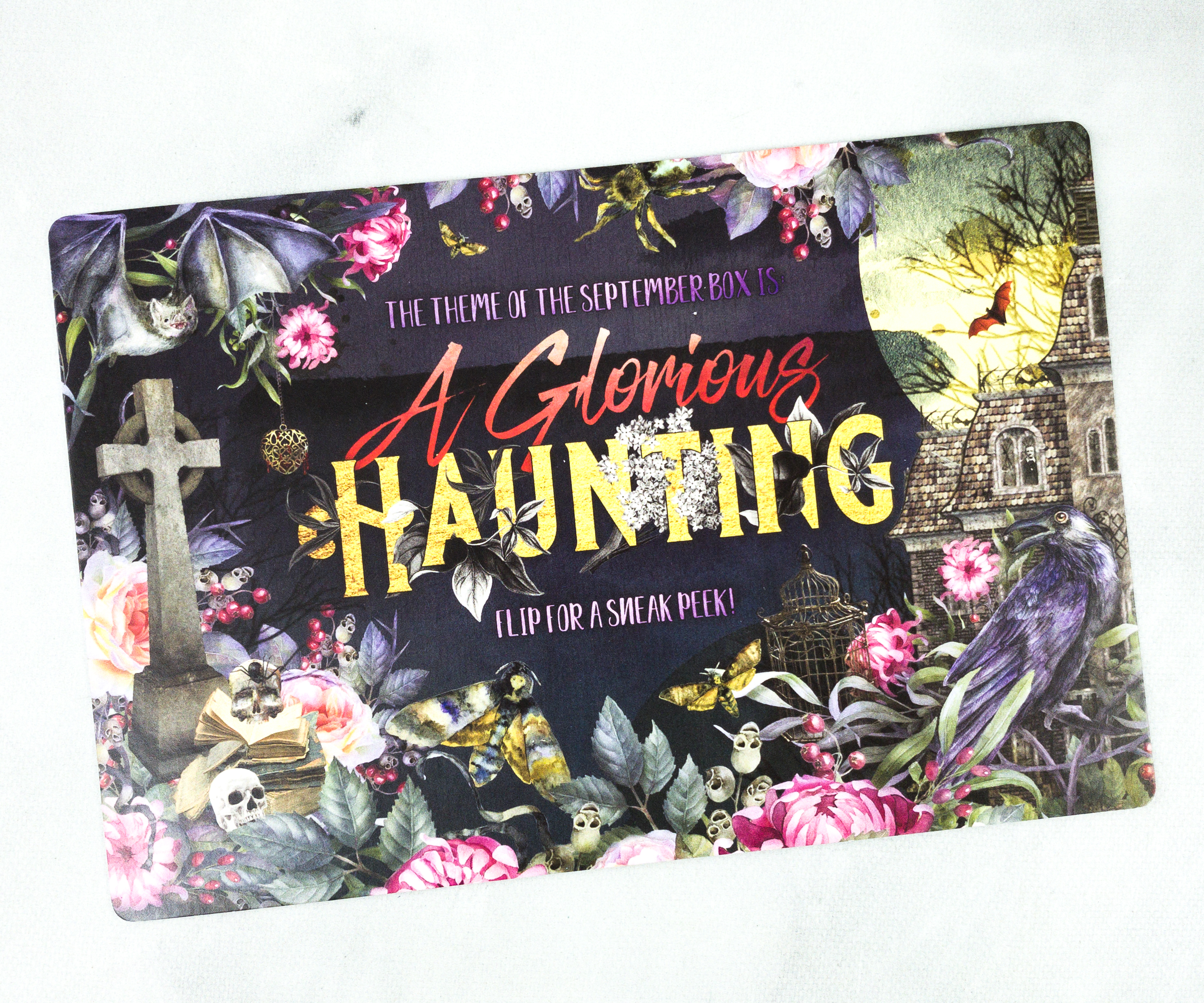 They also gave us a theme spoiler for the September 2020 box, A Glorious Haunting!
There's the sneak peek on the flip side! In every September box, subscribers will receive a cozy throw blanket designed by Michelle Gray!
This month's box is as gorgeous as the stars, as it contains beautiful items that represent the other realm above us! The featured novel fits the theme perfectly. It's a well-put-together YA fantasy and its cover art is just gorgeous. The star-inspired bookish items are also fantastic, like the twist pen, push pins, bandana, and book sleeve. The pin this month is also magical as the moon at the center glows in the dark. Halloween is nearing and we're already excited for the next box because of the sneak peek!
What did you think of this month's Owl Crate theme? Are you excited for next month's theme?