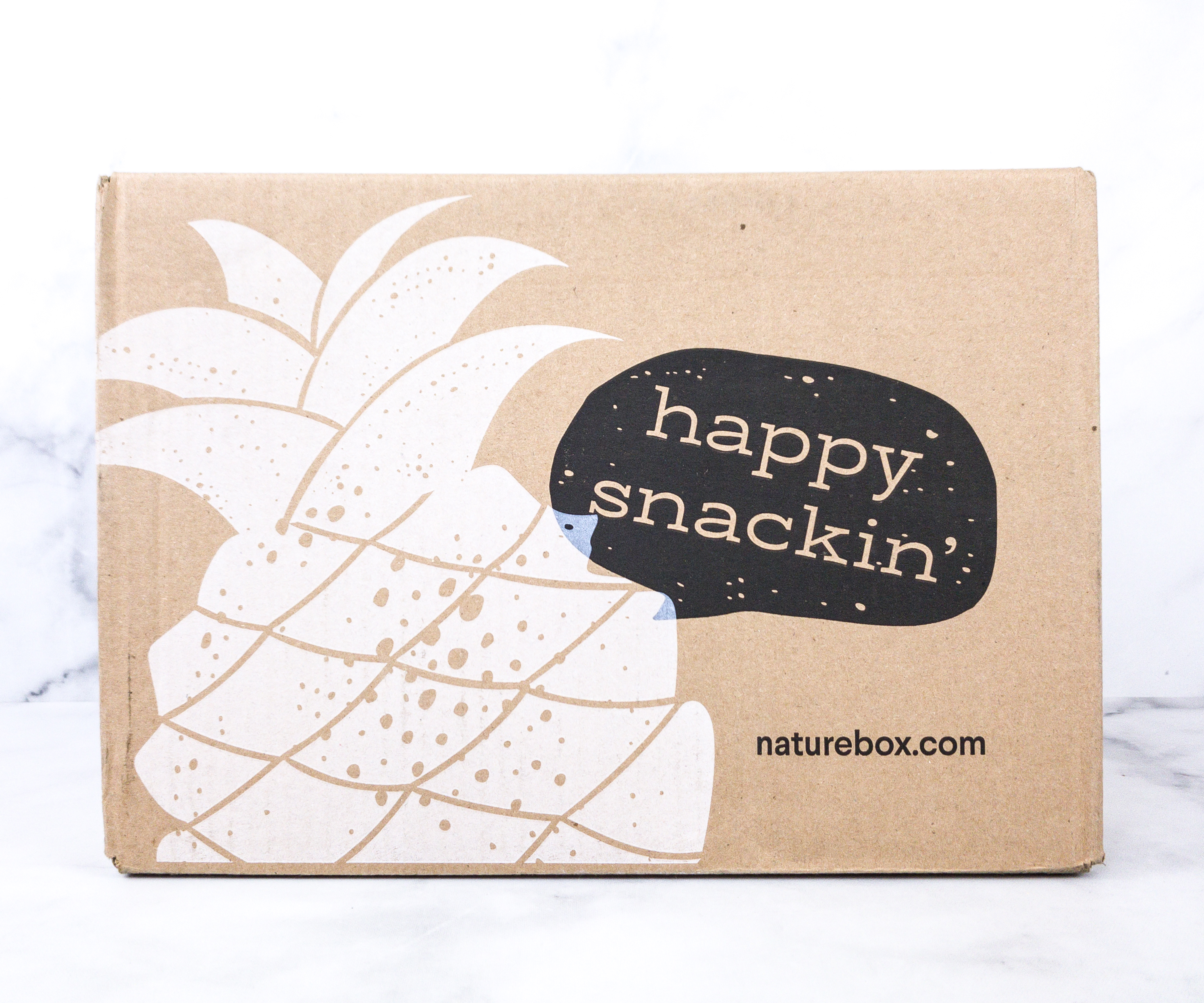 NatureBox is a monthly snack delivery membership. When you sign up, your first 30 days are FREE, then it's $30 per year for membership. Membership perks include 40% off orders, free shipping in the continental U.S. on all orders of $25 or more, credit for snacks you don't like, and a $5 store credit every month.
All of NatureBox snacks do not contain artificial ingredients, high fructose corn syrup, or hydrogenated oils. Except for their beef and turkey jerky, everything else is vegan and vegetarian friendly. NatureBox snack categories include Chips & Crackers, Cookies & Bars, Dried Fruits, Popcorn & Pretzels, Nuts & Clusters, Snack Mixes, Jerky, Breakfast, Coffee, and their newest offering: Wellness Snacks, which includes CBD snacks and Maca snacks.
After a 30-day free trial, if you don't make back your membership fee in savings during your first year, they promise to make up the difference in store credit upon renewal.
DEAL: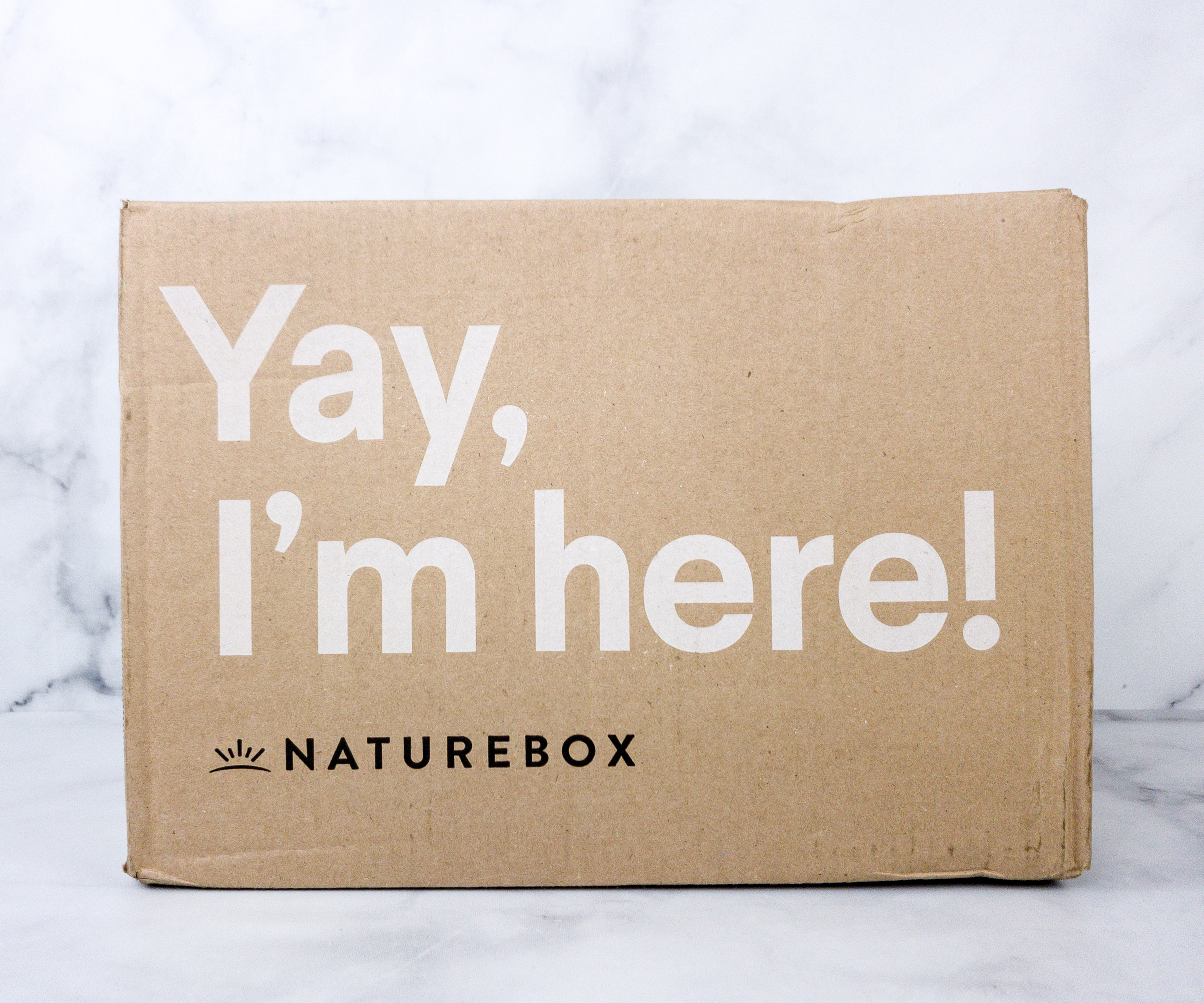 The goodies arrived in a simple brown box with NatureBox branding.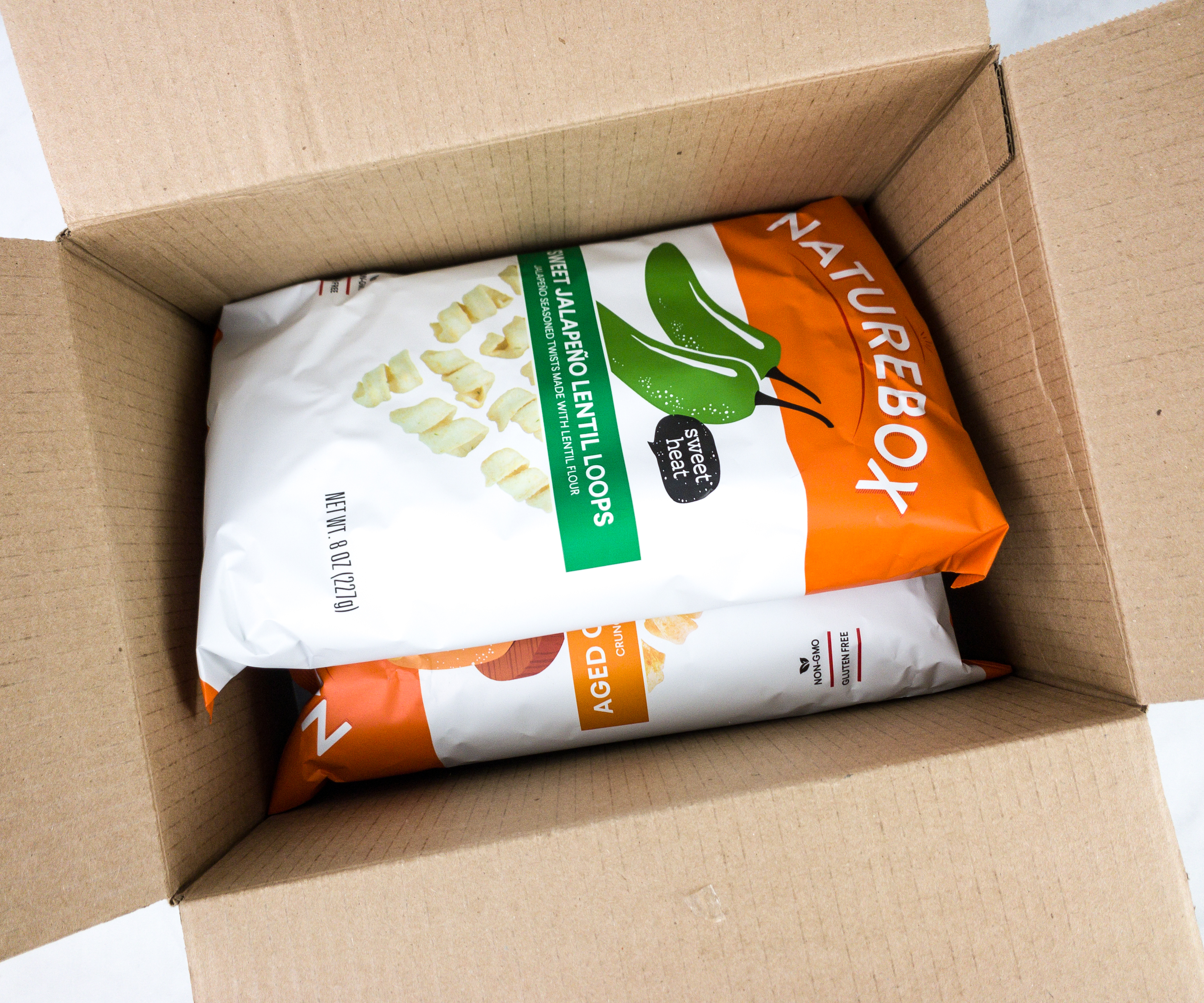 In case you don't like a particular snack, you can contact them within 90 days and they will provide a store credit for the purchase price of the snack (excluding bulk purchases and wellness snacks).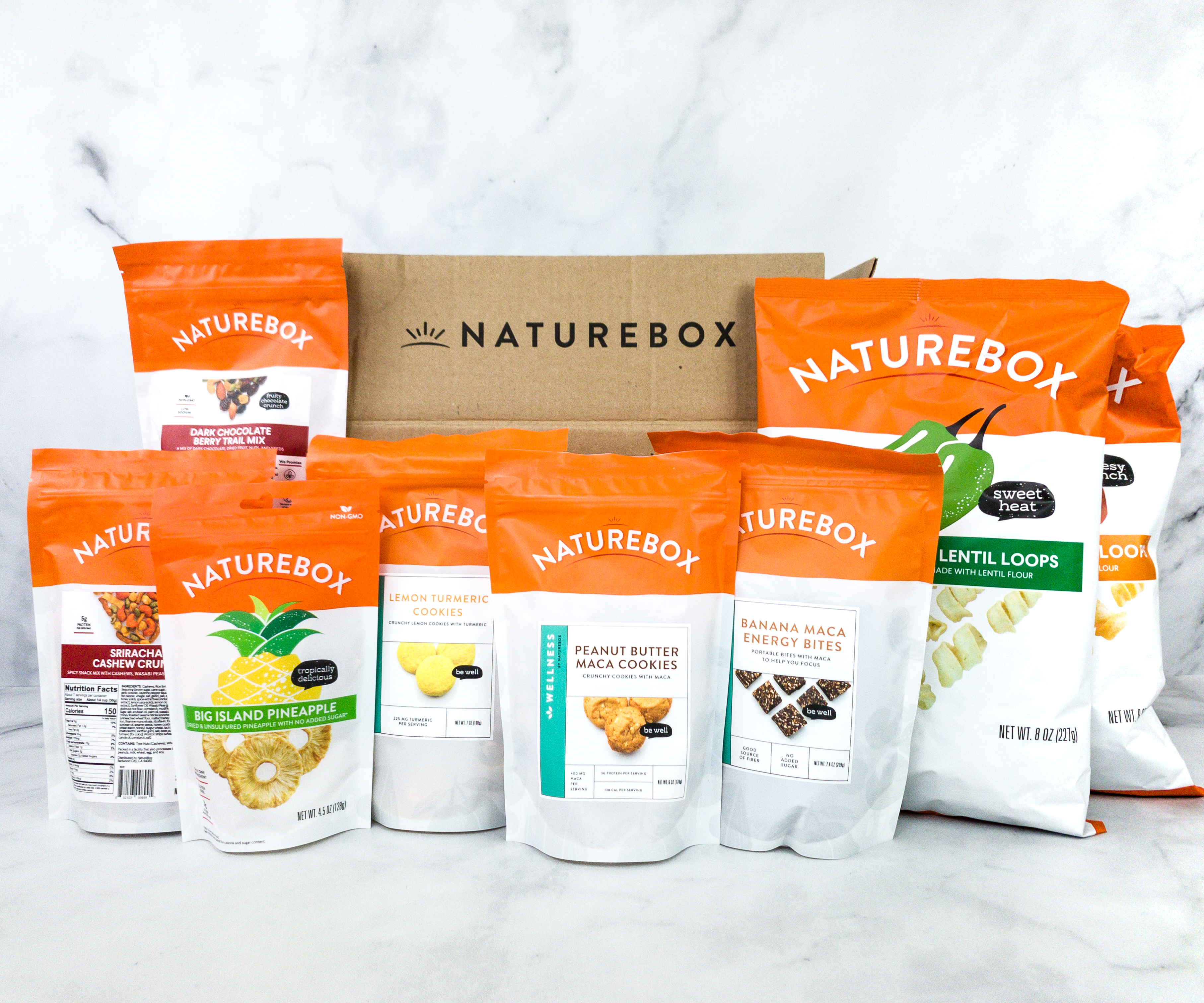 Everything in our box! Remember, you'll be picking out exactly what you want in your box!
Aged Cheddar Lentil Loops ($7.49) Cheddar meets lentils in this scrumptious snack! The loops are made of lentil flour, and also exhibits a savory but mild flavor from the cheese. Each piece provides superior crunch, minus the greasiness!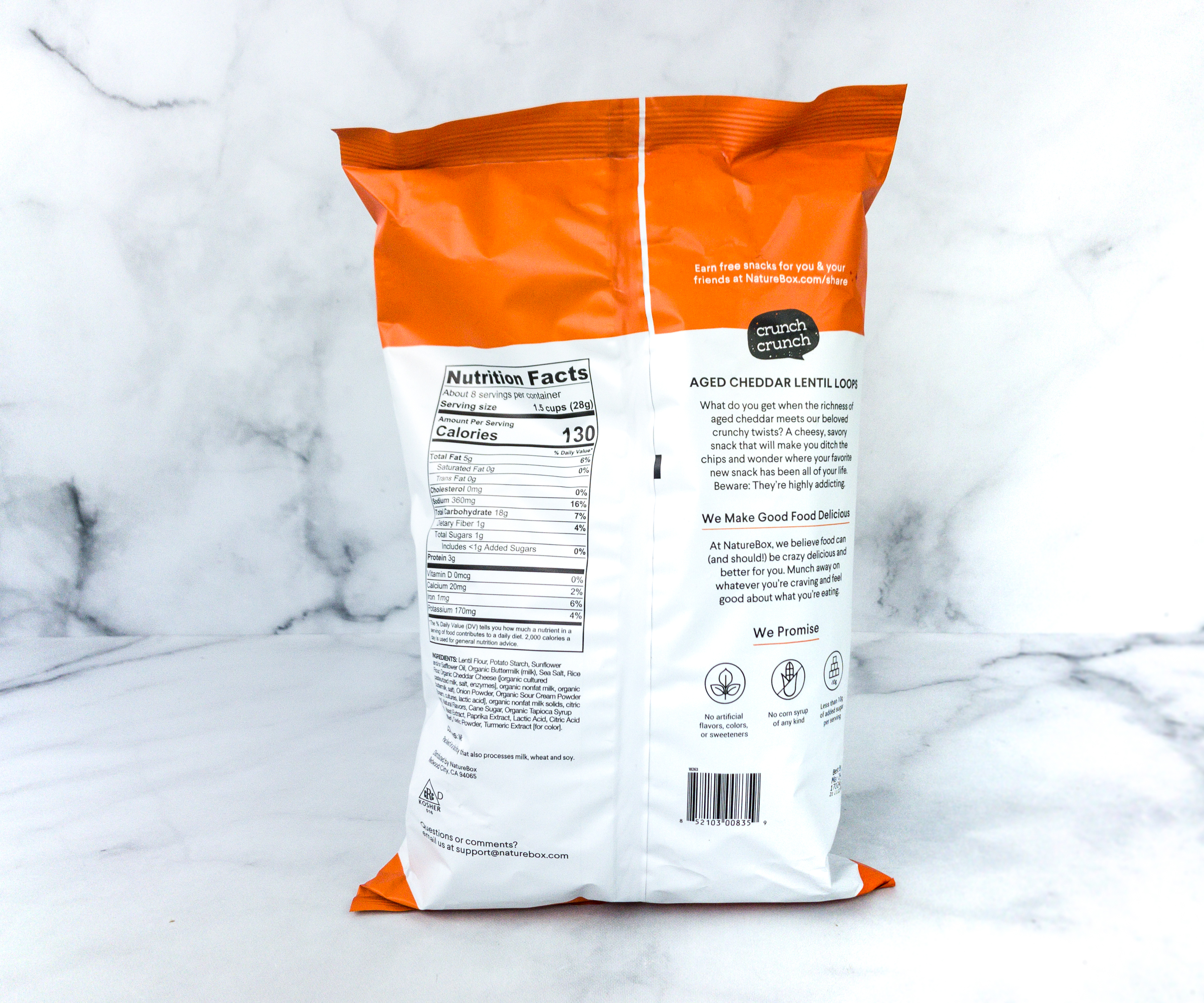 This is great for those who are watching their diet. It only contains 130 calories!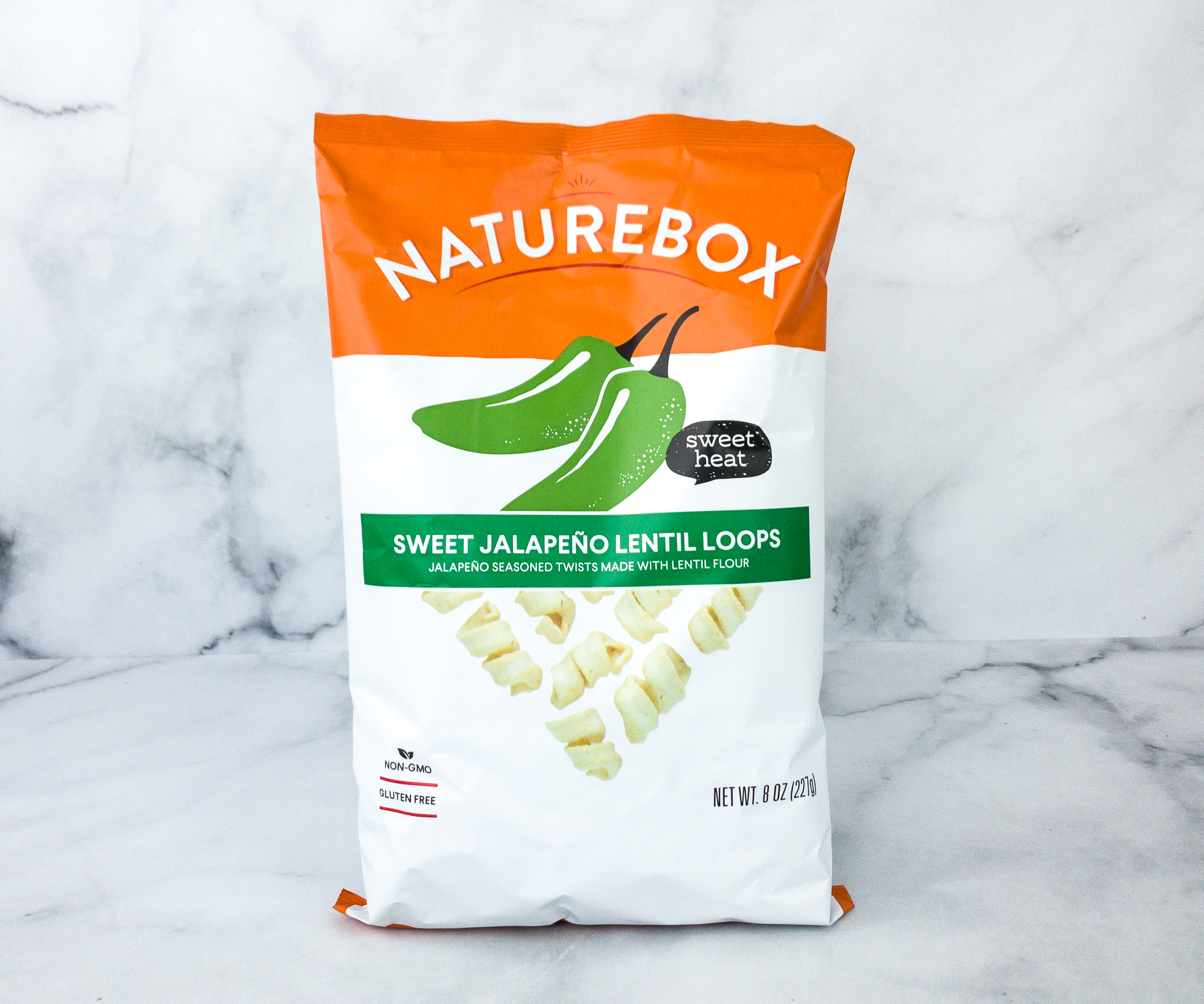 Sweet Jalapeño Lentil Loops ($7.49) Another snack made from lentil flour is this bag of sweet jalapeño twists! They are incredibly crisp and airy, and the sweet and spicy kick makes it such a unique snack.
Like the aged cheddar variant, this one comes with only 130 calories. I don't feel guilty snacking away!
Here's how the lentil loops look! They can be mixed and you can still tell the flavors just by appearance, and of course, the distinctive yet amazing flavors! I love the crunch, and it's the perfect alternative to greasy chips.
Lemon Turmeric Cookies ($7.99) Turmeric comes with many health benefits, like lowering cholesterol levels and boosting the immune system. Not everyone may enjoy its warm flavors, but I like them in my cookies!
There are only 100 calories in this bag of cookies. The cookies are made from simple ingredients with an added boost of turmeric.
On the outside, the crunchy cookies are a bright yellow, but the insides are rich orange because of the turmeric and the active ingredient, curcumin. Other benefits that we can get from the turmeric are the inflammatory and antioxidant properties, plus it also aids the memory and regulates cortisol. The cookies are surprisingly good, and they taste just right for a nice snack paired with a hot drink.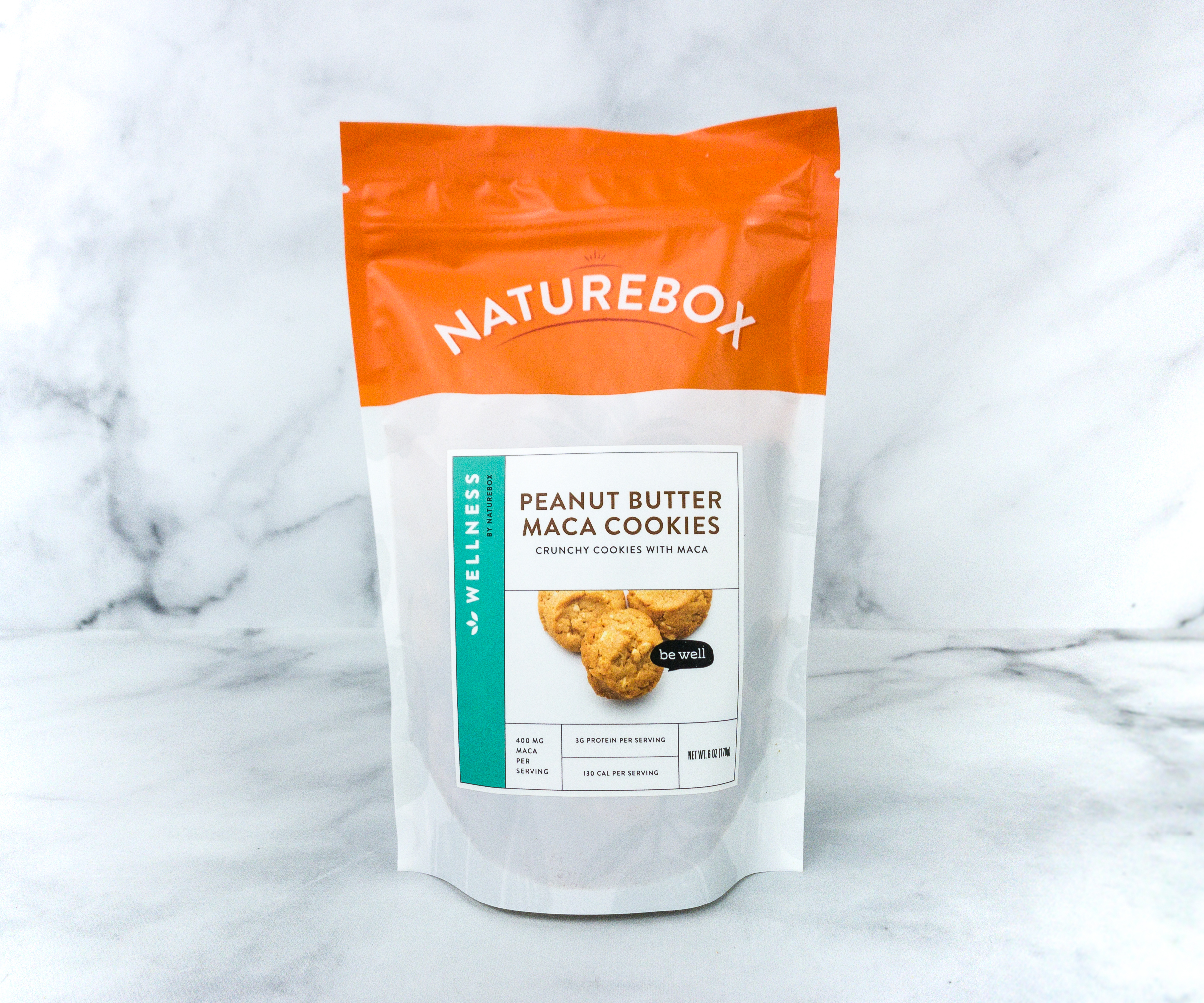 Peanut Butter Maca Cookies ($9.99) I love a good balance of flavors and these cookies gave me just that. They're sweet enough to fulfill my cravings, but not too much that they're overwhelming.
The cookies have the same calorie content as the lentil loop snacks, which is 130 calories. It contains maca, an adaptogenic root native to South America that has a malt-like nutty taste.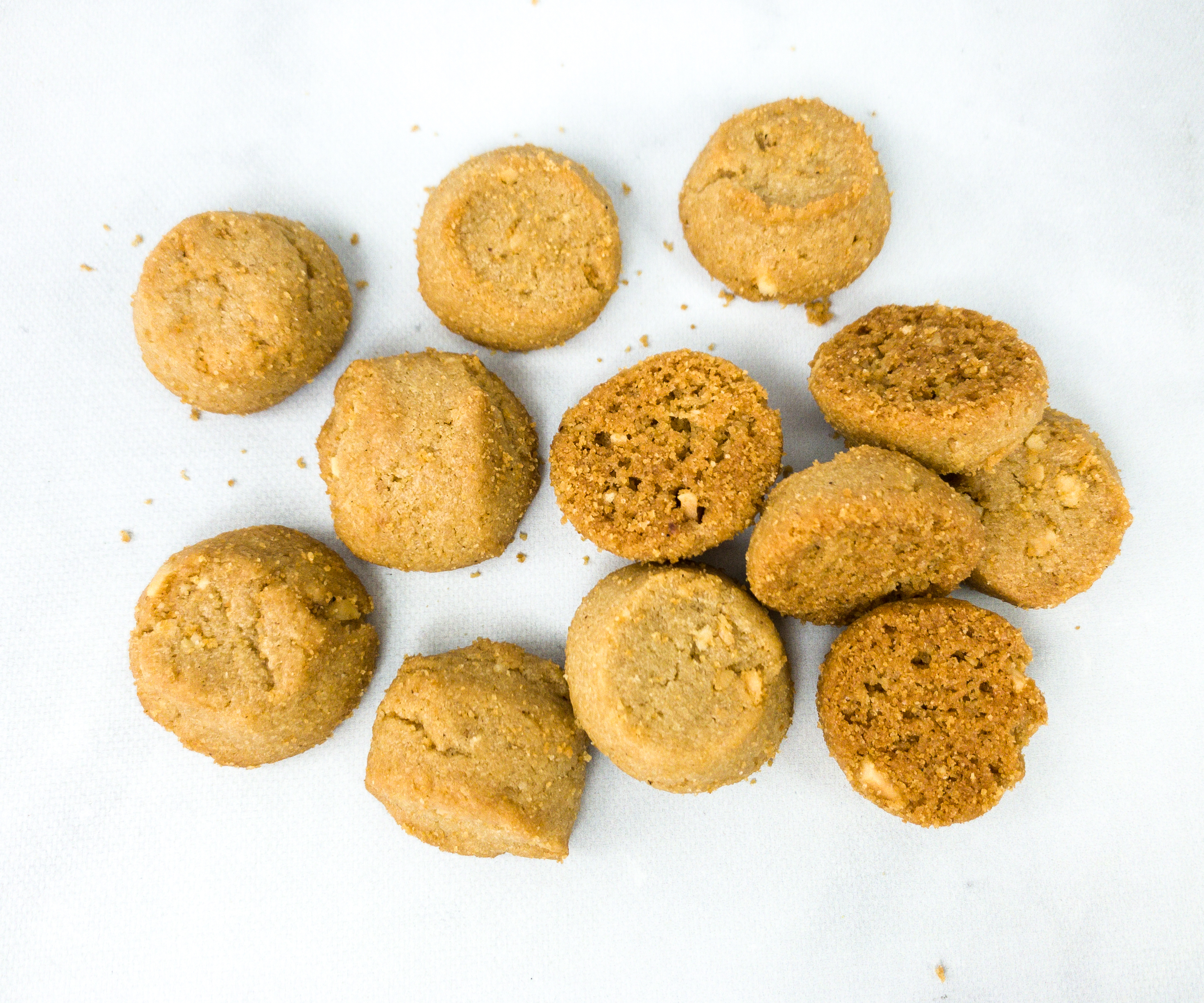 I also enjoyed the creamy peanut butter flavor on these light and crunchy cookies! They're yummy and I can't get enough of them!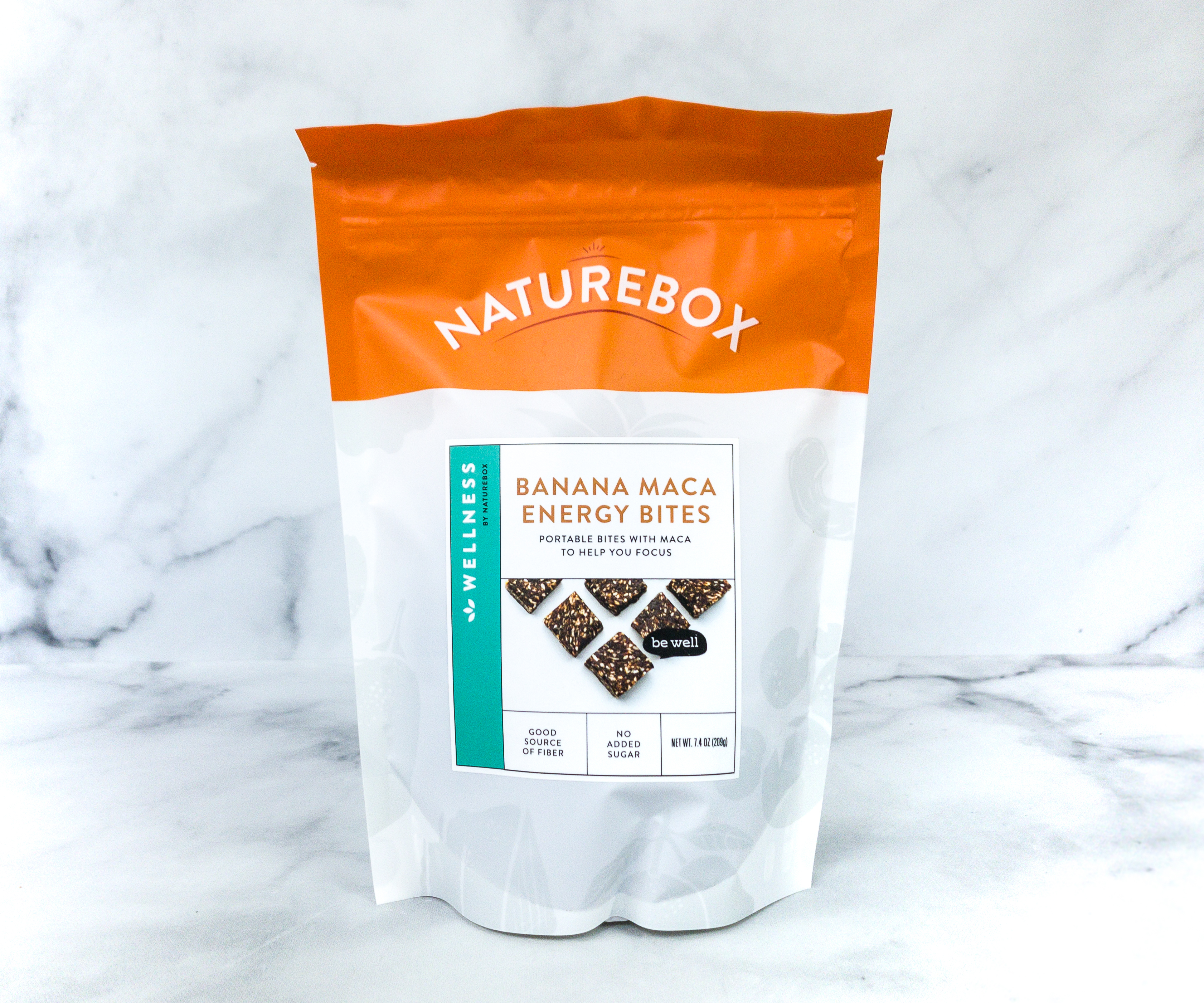 Banana Maca Energy Bites ($11.99) Another snack made from the delightful and earthy maca are these banana-flavored energy bites. The bites are convenient, it's like eating banana loaf on-the-go!
The snack is made from real banana, coconut, and maca. It helps boost energy levels and helps provide brain and cognitive support. It's also a great alternative to a 200-calorie banana bread with just 80 calories!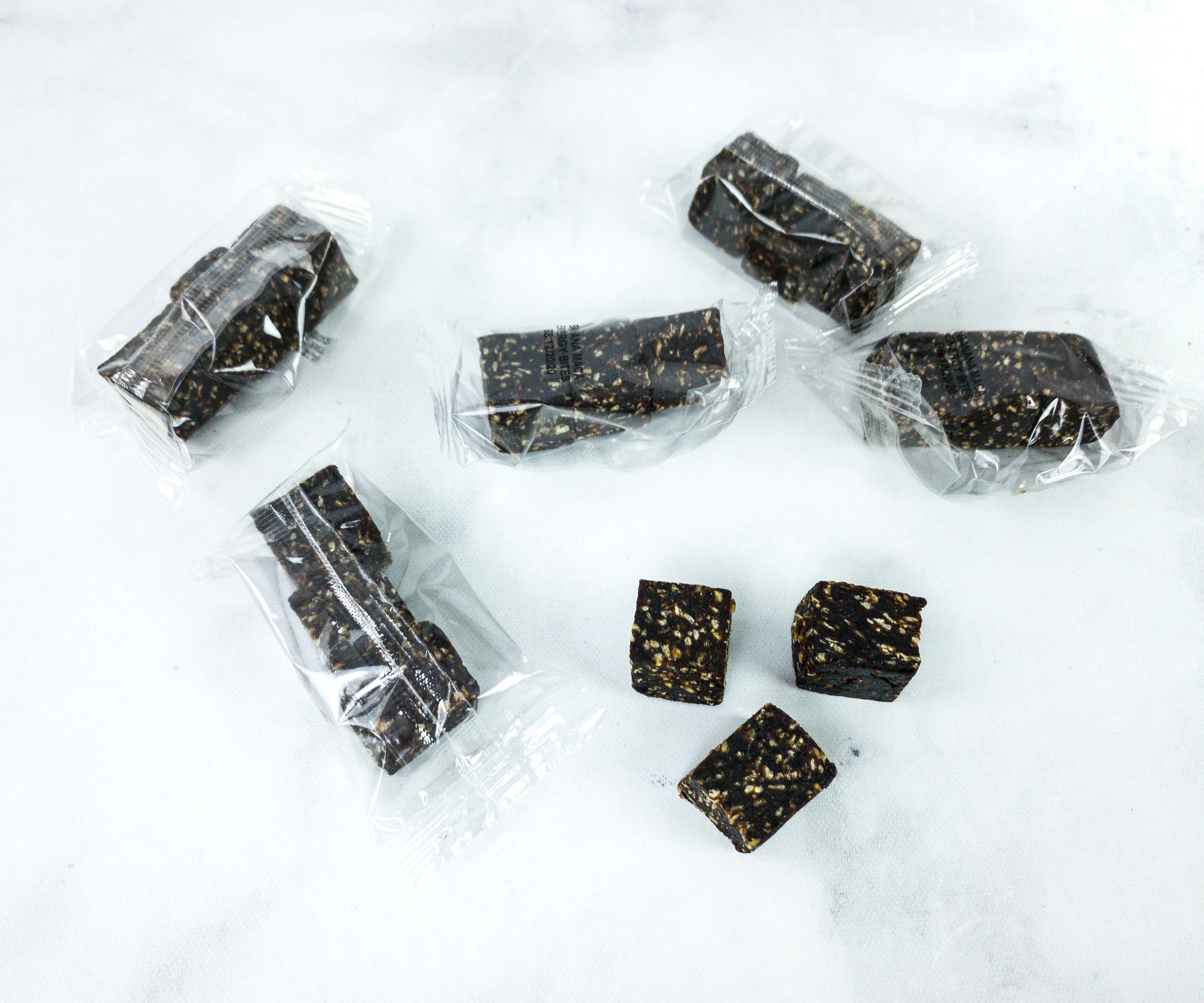 The squares were packed in plastic, and they come in threes. You can just grab a pack for an easy snack!
Big Island Pineapple ($5.99) These yummy, dried pineapples are sweet even without the artificial sweeteners. It's a healthier alternative to candies, chocolates, and other sweet treats to satisfy your sweet tooth!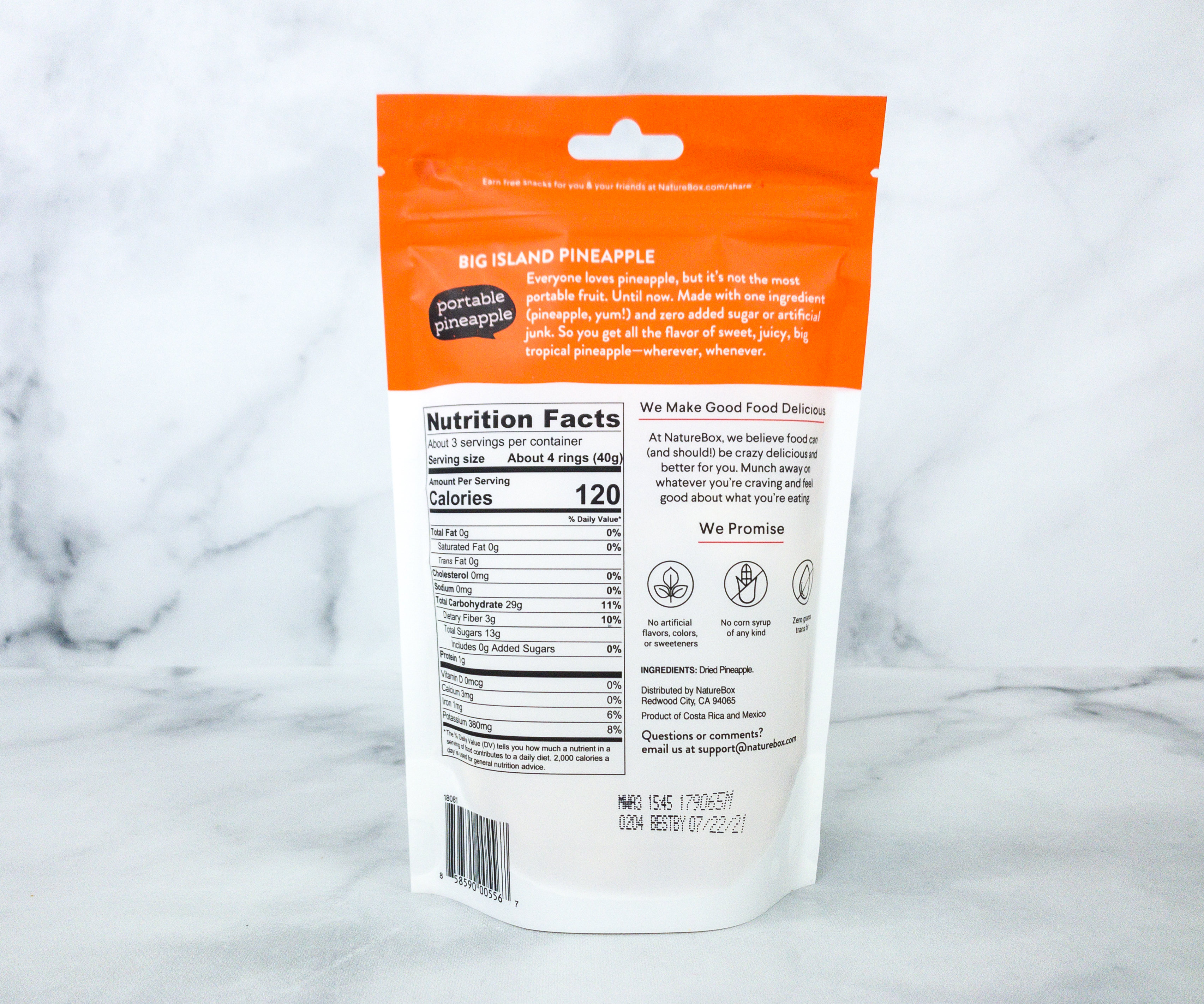 This single-ingredient snack is natural, healthy, and has no added sugar, sulfites or BS, which is great! It only has 120 calories as well.
You will get these pineapple slices with just the right texture: chewy but not tough. It's amazing that we can enjoy the goodness of pineapple without the need to peel a fresh one or getting it canned with too many preservatives!
Dark Chocolate Berry Trail Mix ($8.99) I enjoyed the added dark chocolate in this mix of dried fruits, nuts, and seeds. It's just a little bit sweet, but it still has the goodness from all the nutty and fruity contents!
This trail mix has a good balance between sweet and salty, which is the perfect snack while taking a break from your trail run and other tiring activities!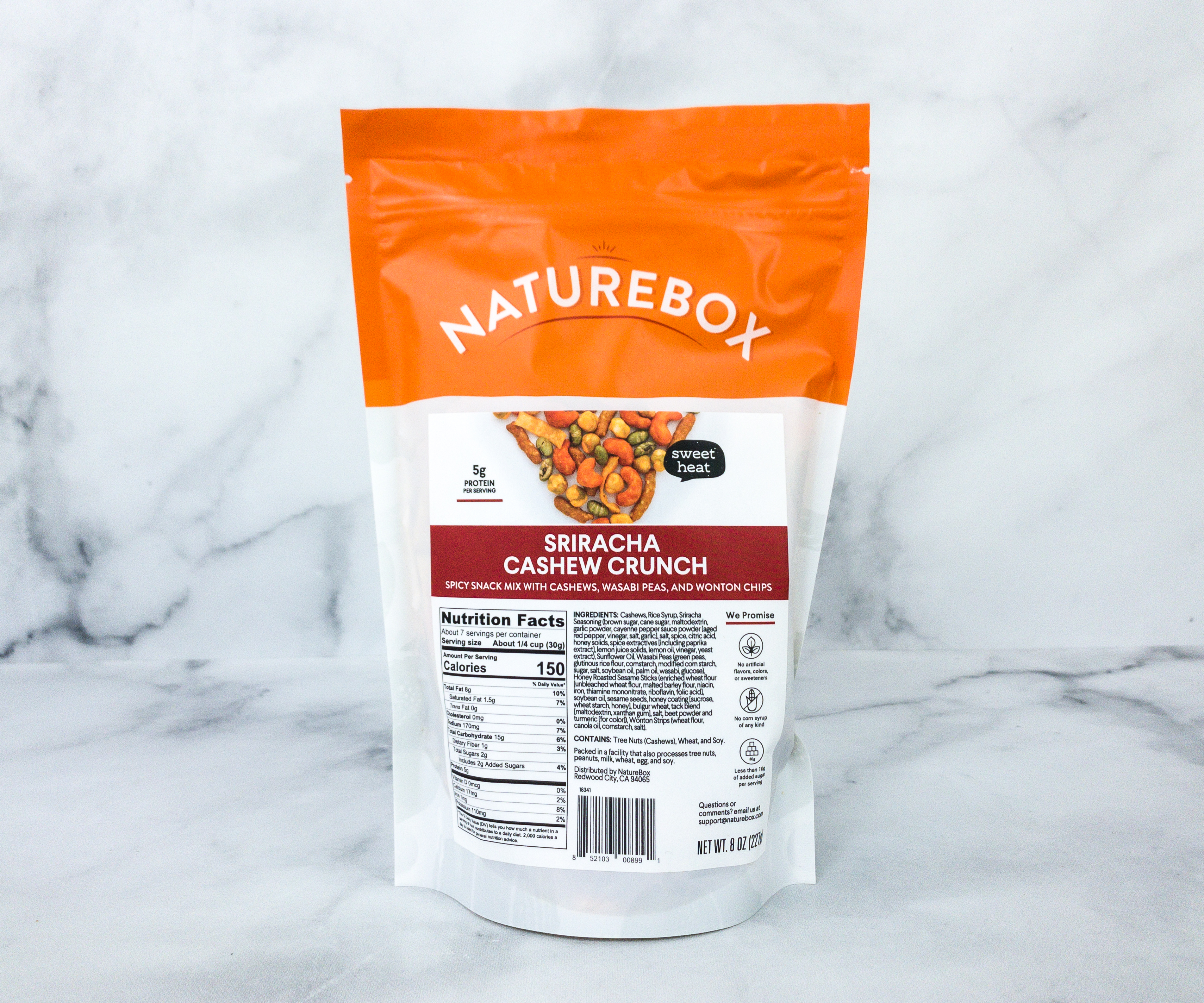 Sriracha Cashew Crunch ($8.99) Crunchy and salty with a kick from the sriracha! I'm loving this mix filled with protein-rich components, embraced with tons of spicy and savory flavors!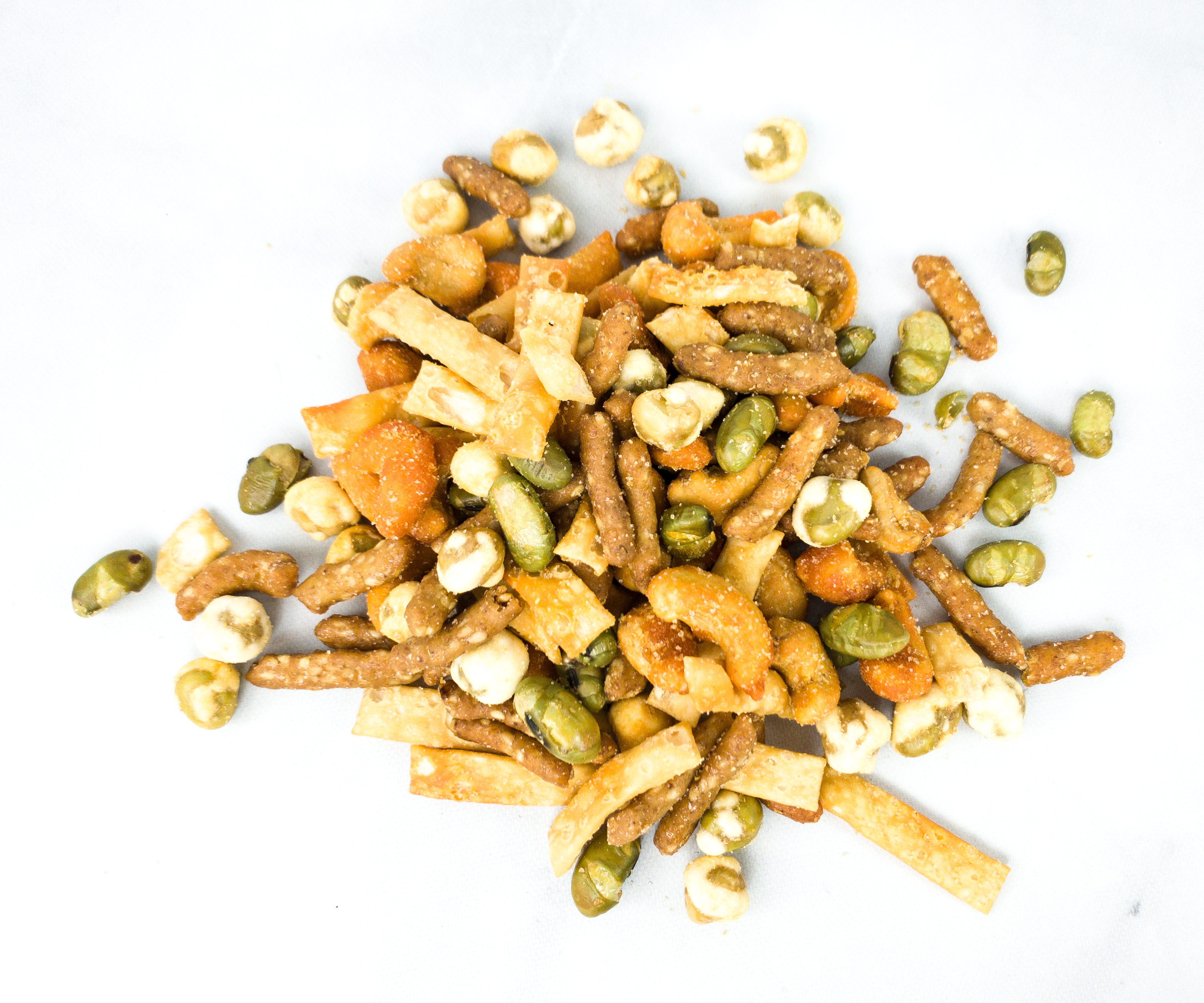 Also, the combination of textures is just amazing! It's my perfect go-to snack after a long day!
Nature Box snacks are always healthy and delicious! My favorites are the lentil loops that come in 2 flavors. They make great alternatives to greasy chips because they are just as crunchy and flavorful but they are low in calories! The trail mixes and the cookies are also fantastic. I can bring them wherever I go for an easy yet filling snack. Most everything comes in resealable packs so they're easy to keep and store as well. Nature Box proves that healthy snacks don't have to sacrifice the taste. This is great if you're looking for new snacks that you can munch on without guilt!
Which snack is your favorite?