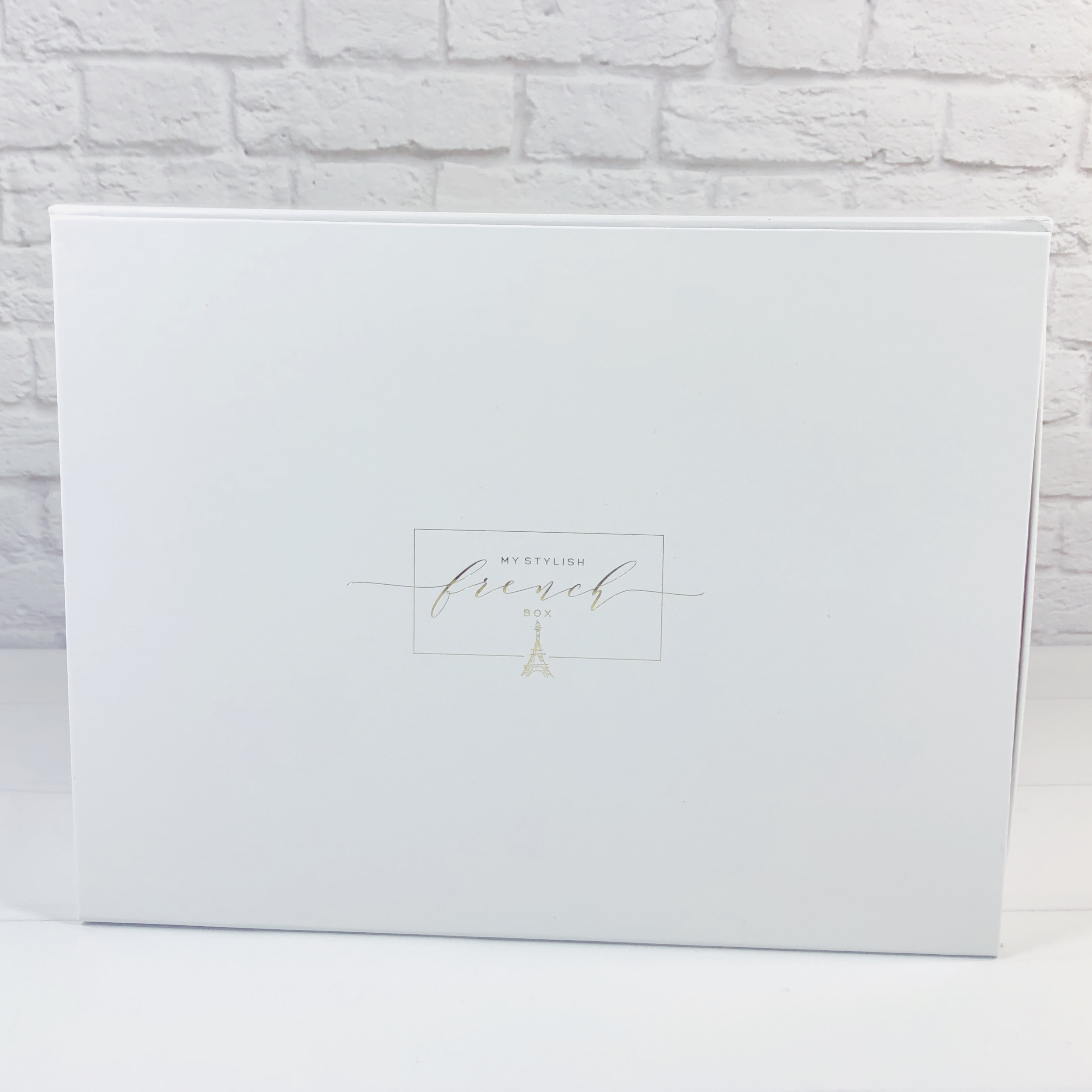 My Stylish French Box is a quarterly lifestyle box that sends authentic and stylish items all the way from France! The box is curated by Sharon Santoni, an author and the blogger behind My French Country Home. This box is based in France and they work directly with highly coveted and timeless French brands to create a box that will help chic up your home and self.
What Is My Stylish French Box?

A selection of 6-8 French products, curated around a theme, and chosen for you and your home.  All products are full sized and truly French.  Many brands are only available in France.  The price you pay will always be lower than the US retail value, and it includes shipping to your door (small surcharge for shipping to Australia and New Zealand).
My items were shipped directly from France and came in a reusable white box. The box has a hidden magnetic closure and it makes a good storage box. It's simple and I like that I can reuse it. I opened it up to find my products wrapped in tissue paper with a satin ribbon around the parcel.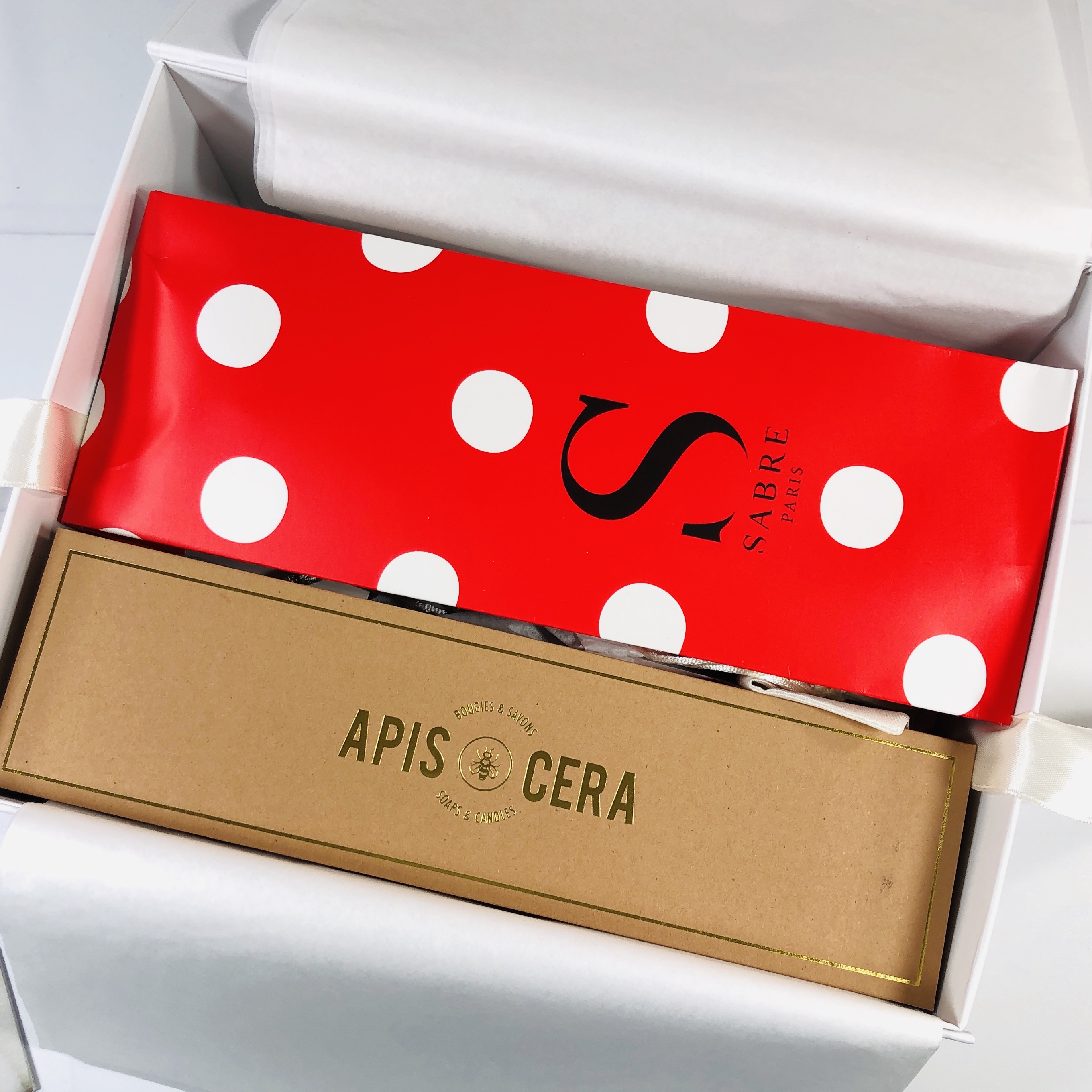 My Stylish French Box is $255 a quarter. A one-time, non-recurring gift box shipment is $265, while a year's prepaid subscription brings the price down to $245 a box. Shipping is free to the USA and other countries, with Australia and New Zealand paying an additional $15.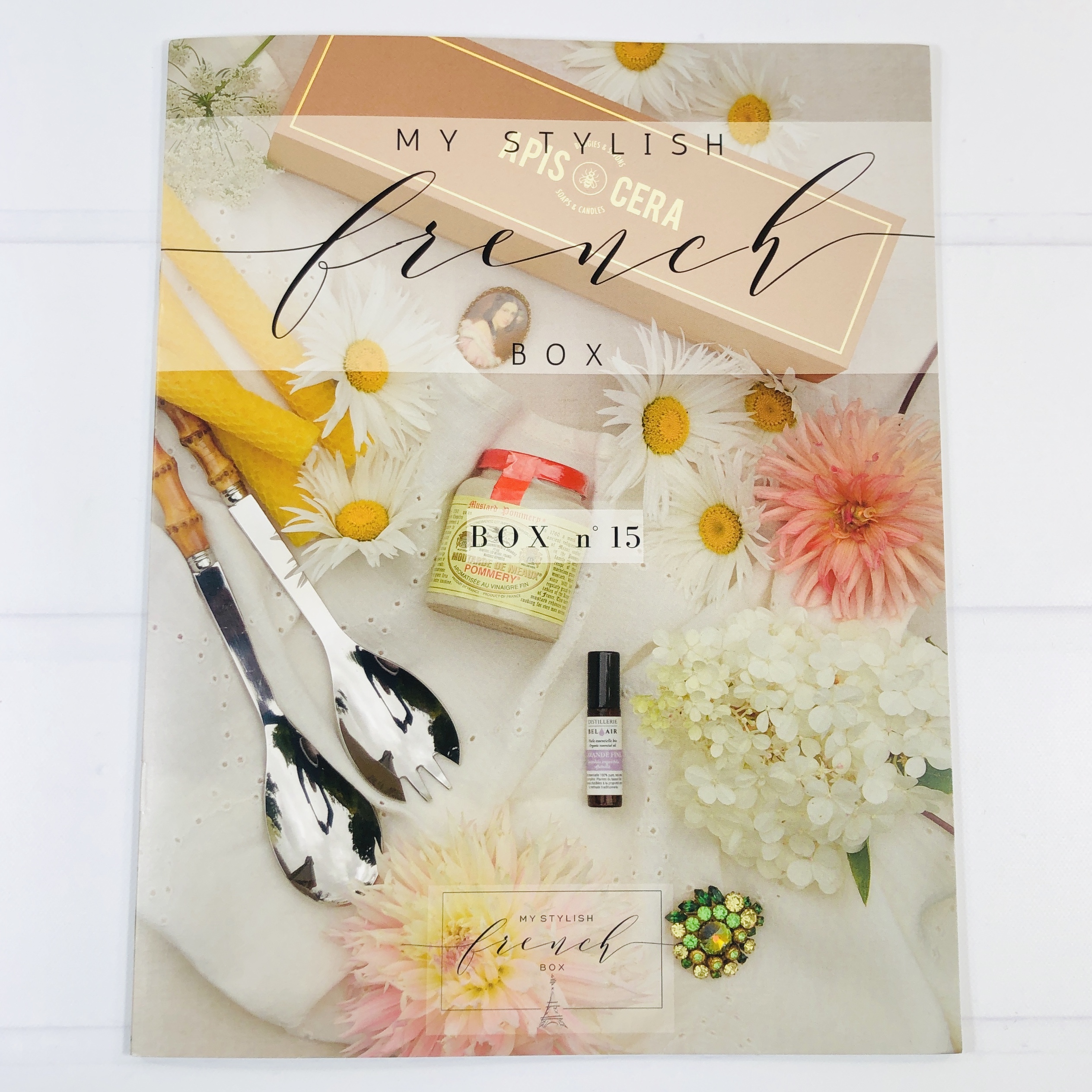 Each box comes with a beautiful full-color brochure showing each item.
The theme for the August 2020 box is Dinner With Friends!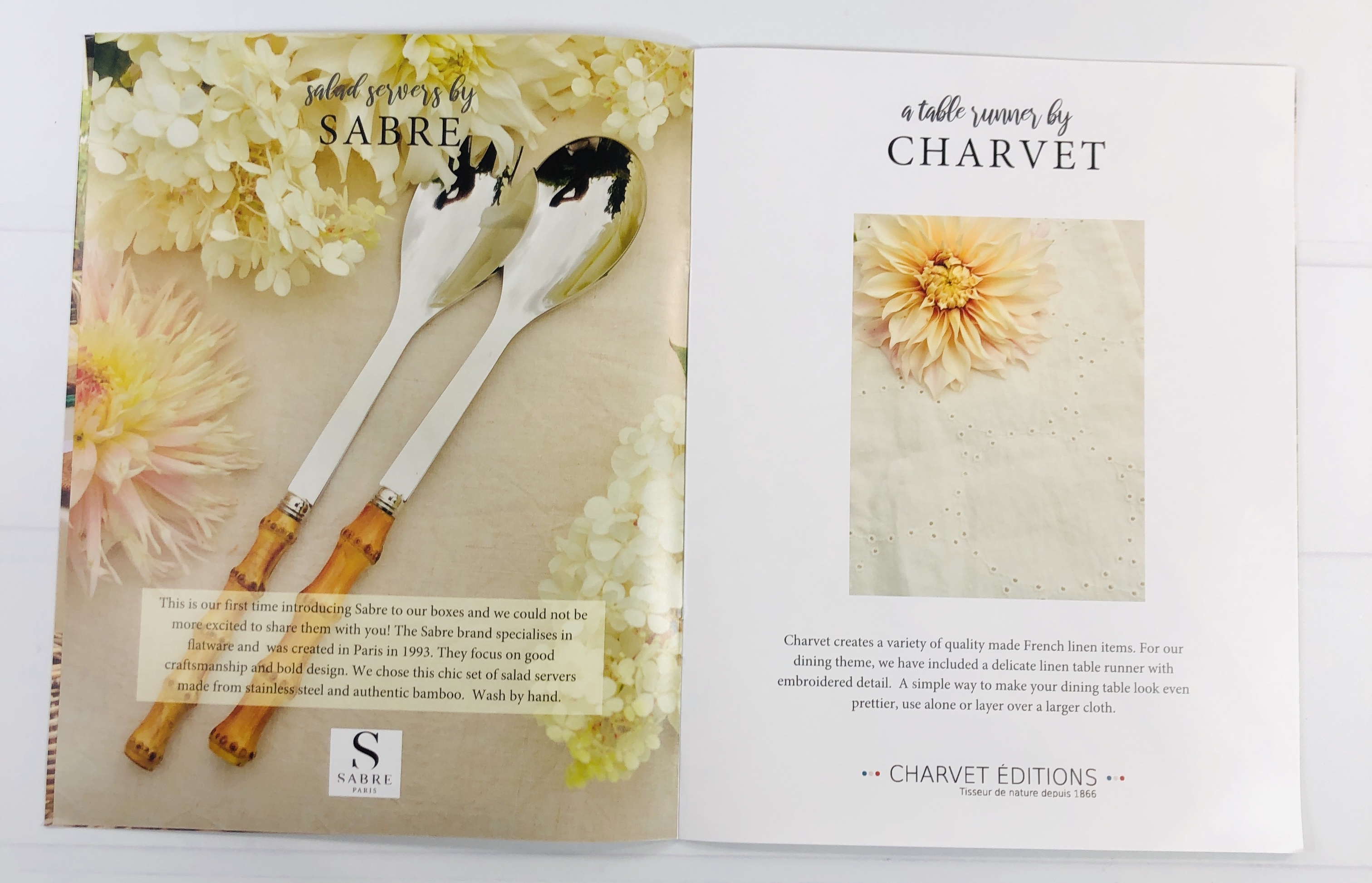 Each item is shown and mentions the maker.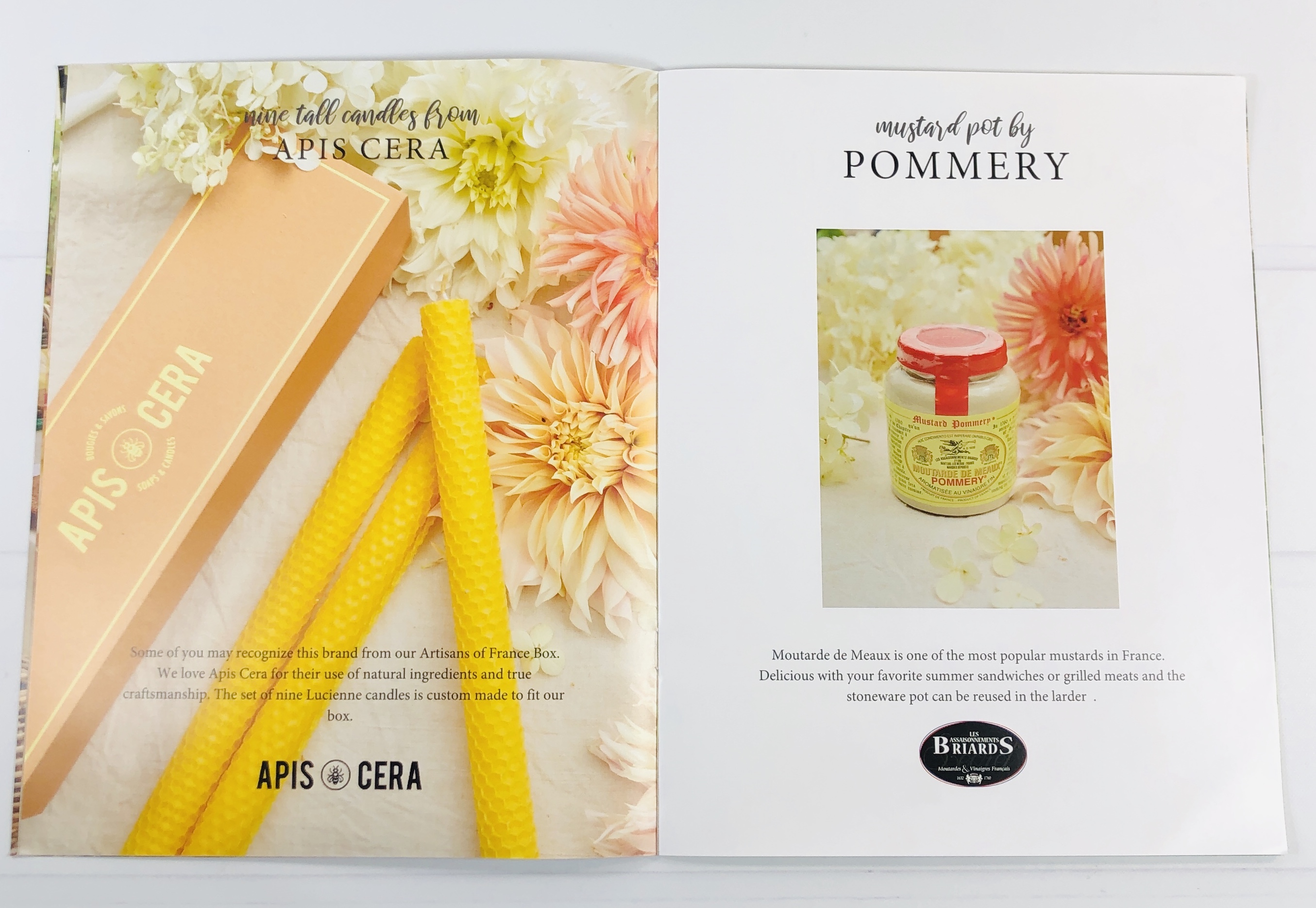 A brief description is so helpful.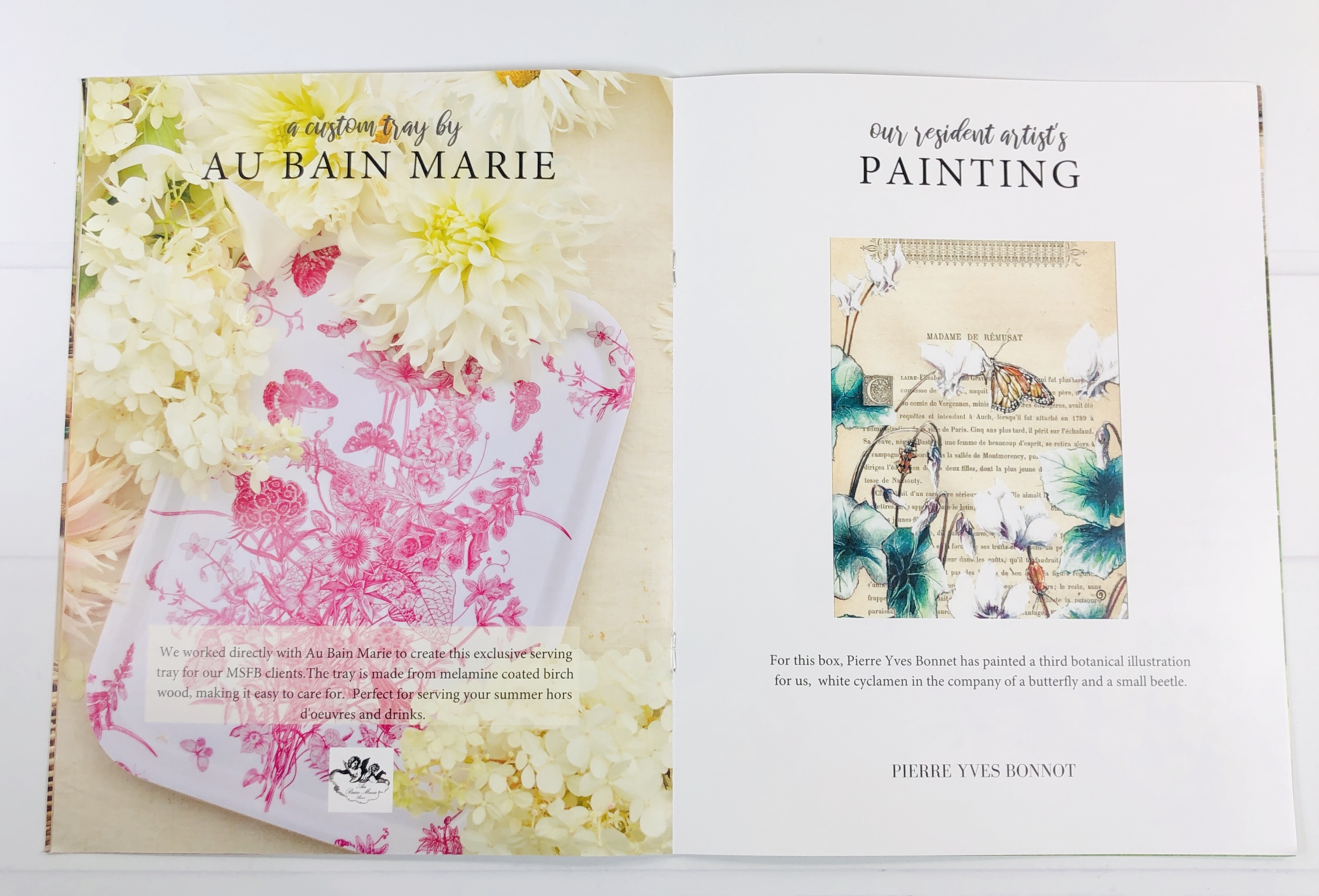 The colors are so pretty!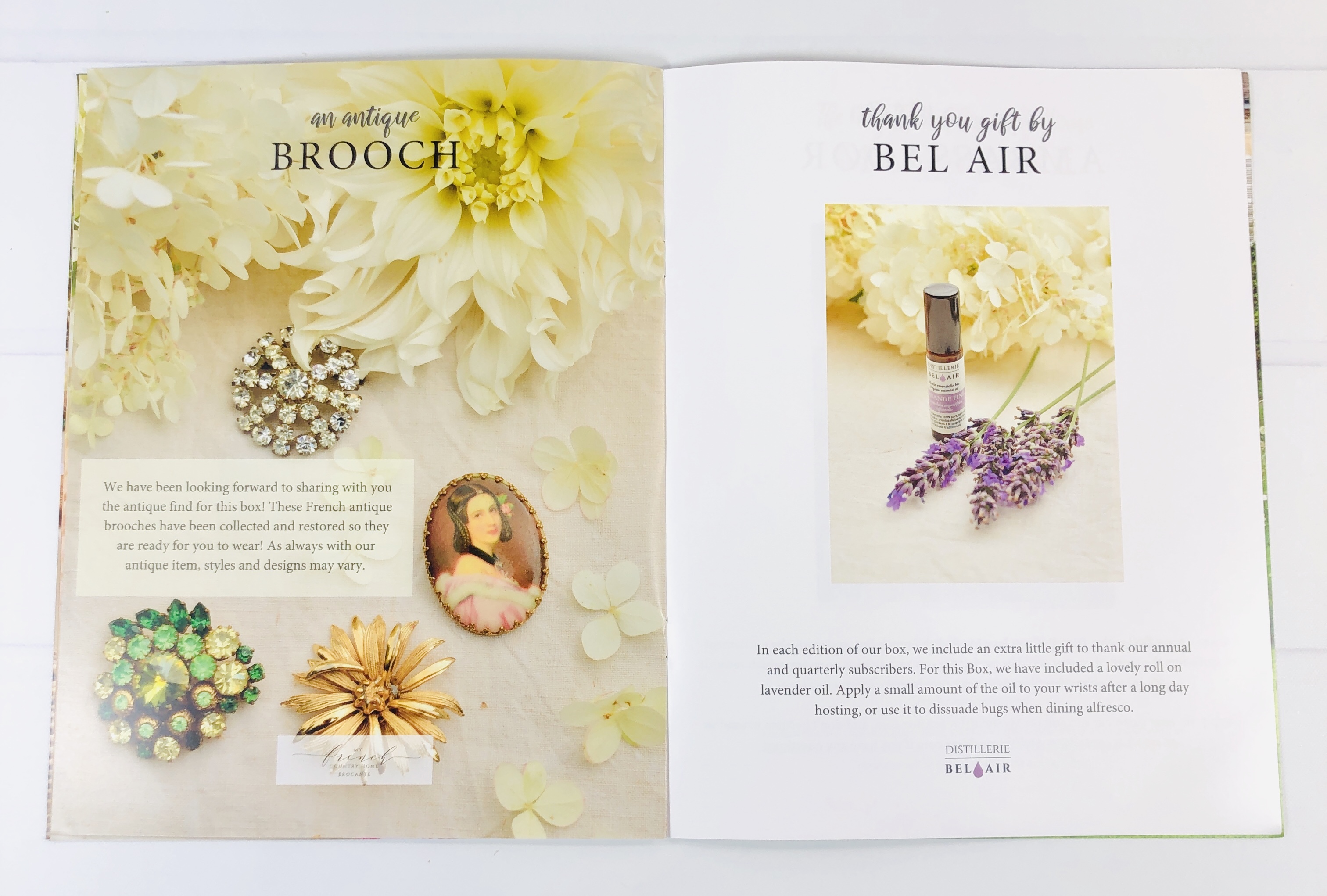 Annual and quarterly subscribers always receive a bonus gift, which is a lavender roll on for this shipment!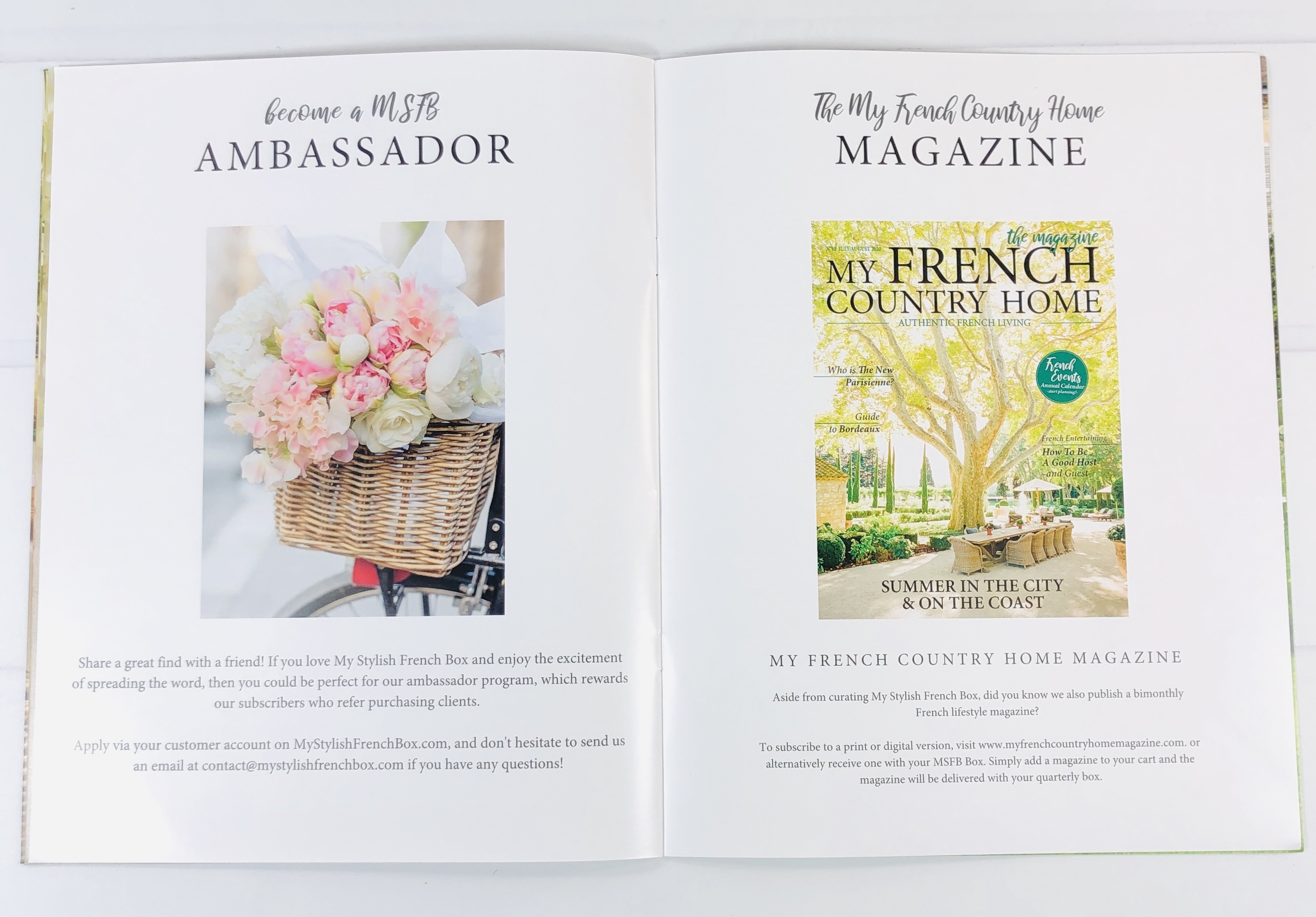 Info on the Ambassador program was mentioned, along with a shot of My French Country Home Magazine. Luckily, the magazine is in this box!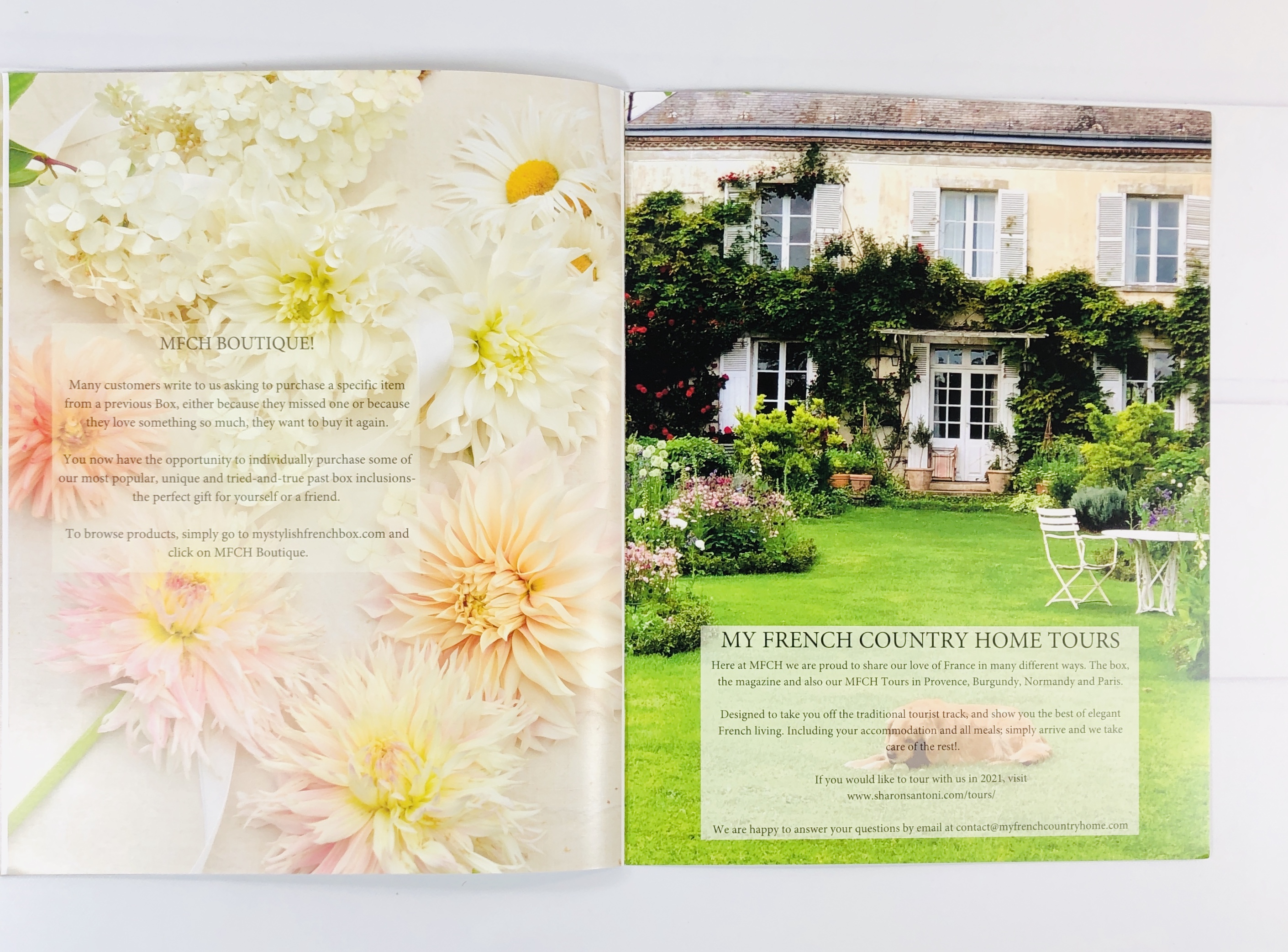 You can find merchandise from this box and previous boxes, as well as a selection of other high quality French made products. You can also take a tour of France thanks to My French Country Home and Sharon Santoni! There are three scheduled for 2021 and they sound amazing!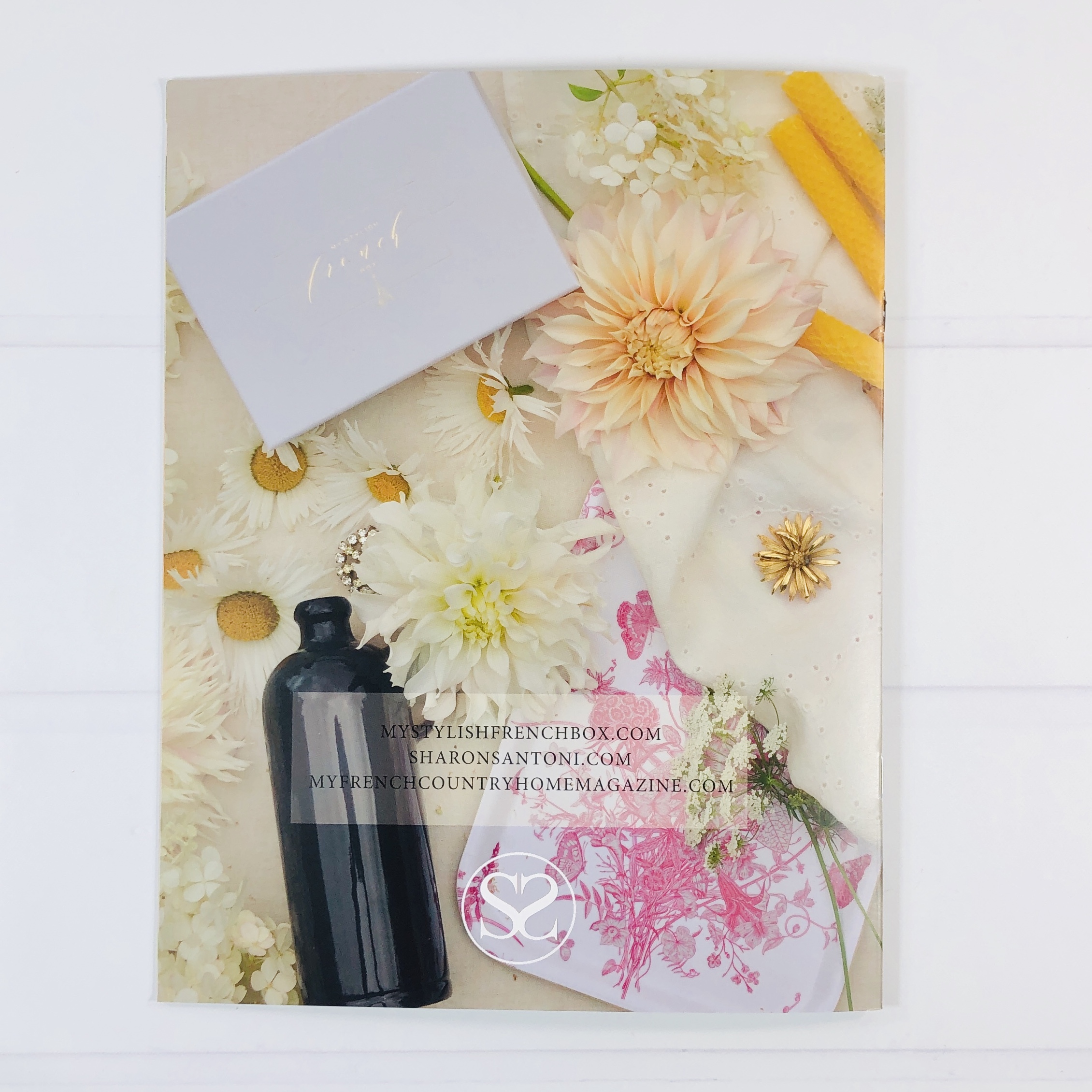 Some websites with more info were listed on the back.
Everything in my box! I must say the experience of opening this box and learning about each item is magnificent! It is an elegant box and would make a super special box for yourself, or an exceptional gift for a friend or loved one.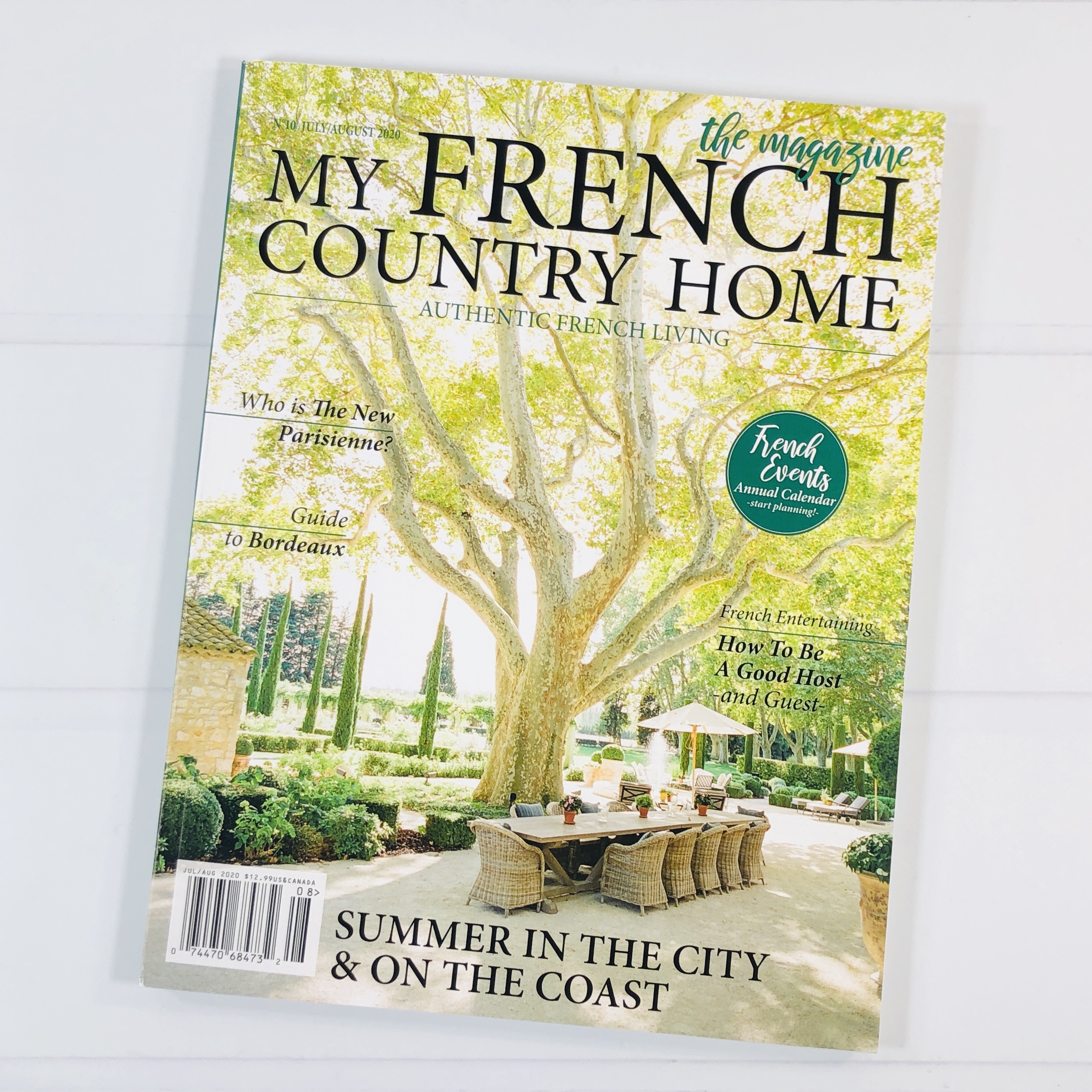 My French Country Home Magazine July/August 2020 ($12.99) The latest issue of My French Country Home magazine was included!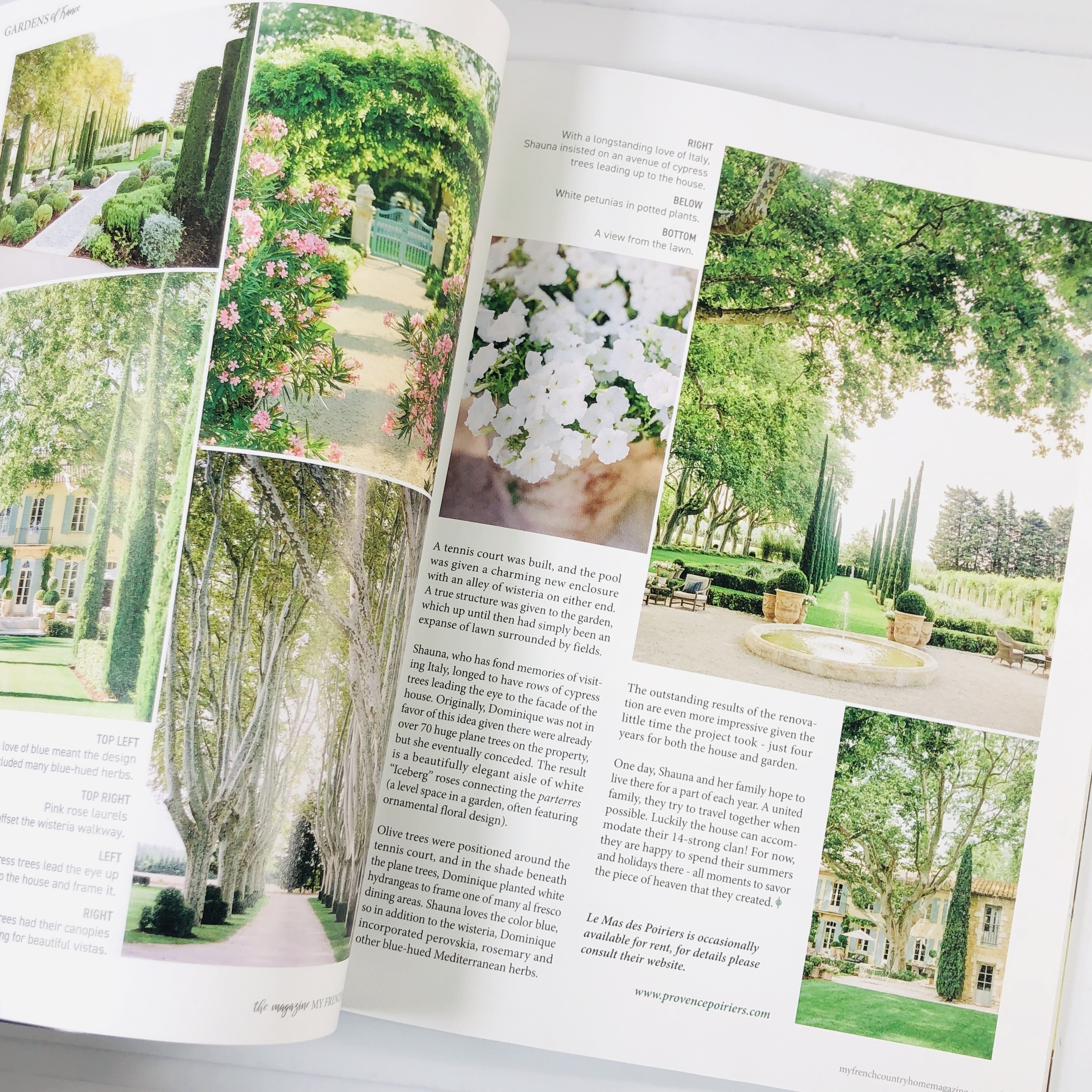 It has articles, recipes, shopping info, interior design, and more and is visually stunning. I didn't get to go on vacation this summer, and in fact didn't even leave my town, but in this magazine I got to visit France!
Some of the items came with additional packaging. This makes them perfect for gift giving!
Apis Cera Lucienne Candles ($70) came in a box that had gold lettering across the top.
A couple of inserts were on top, one asking for a review on the brand's website, the other with typical candle burn warnings.
Even the paper wrapping is so French, and so beautiful. Check out the bee sticker!
Inside were hand-wrapped beeswax candles!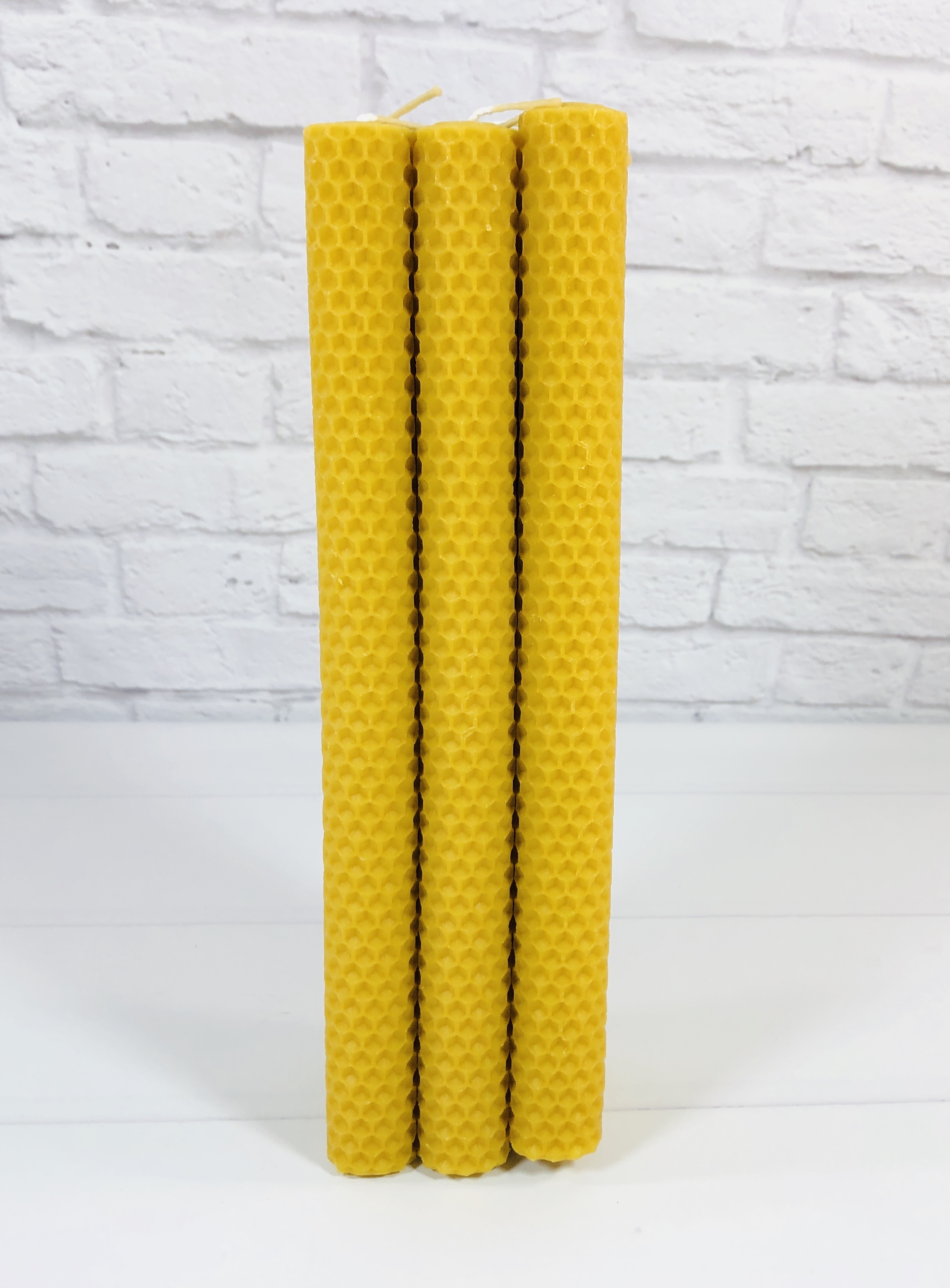 There were 9 candles total and the are made of wax-dipped cotton wicks, with a sheet of honeycomb patterned wax wrapped around the wick.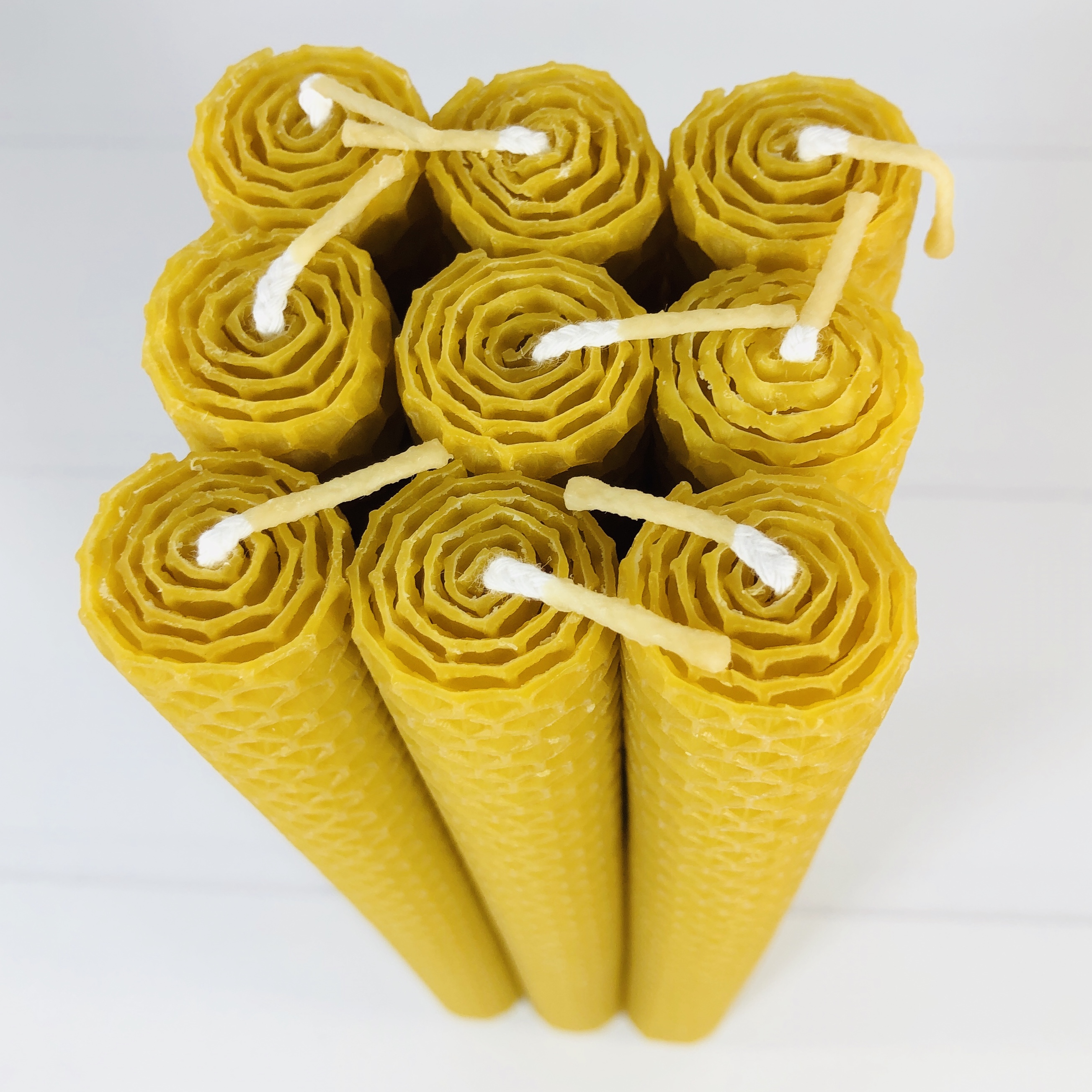 The tapers are 9.75″ tall.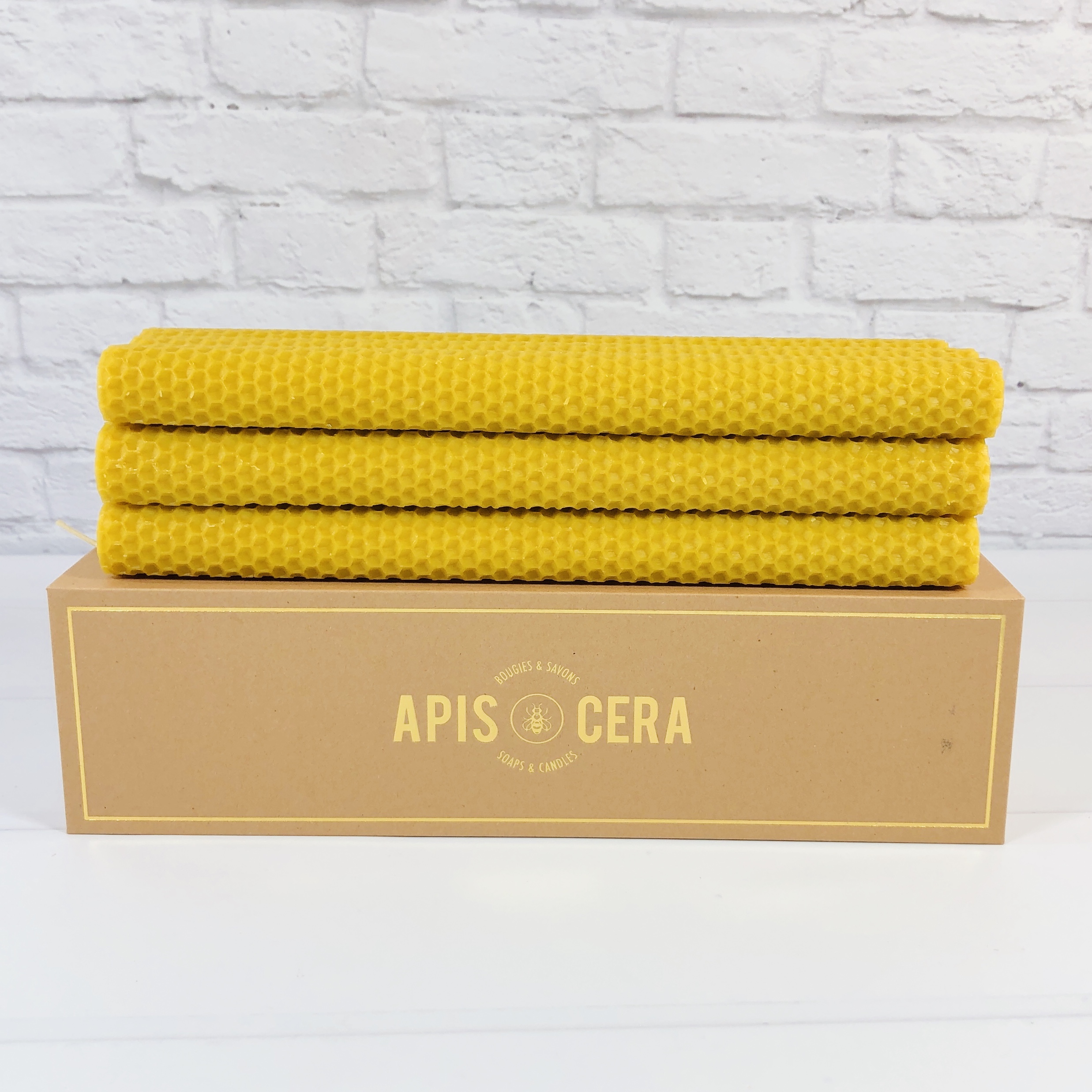 I was recently cleaning out a cupboard and discovered that I have not one but two sets of taper candle holders and I think these will add a beautiful touch to my dinner table!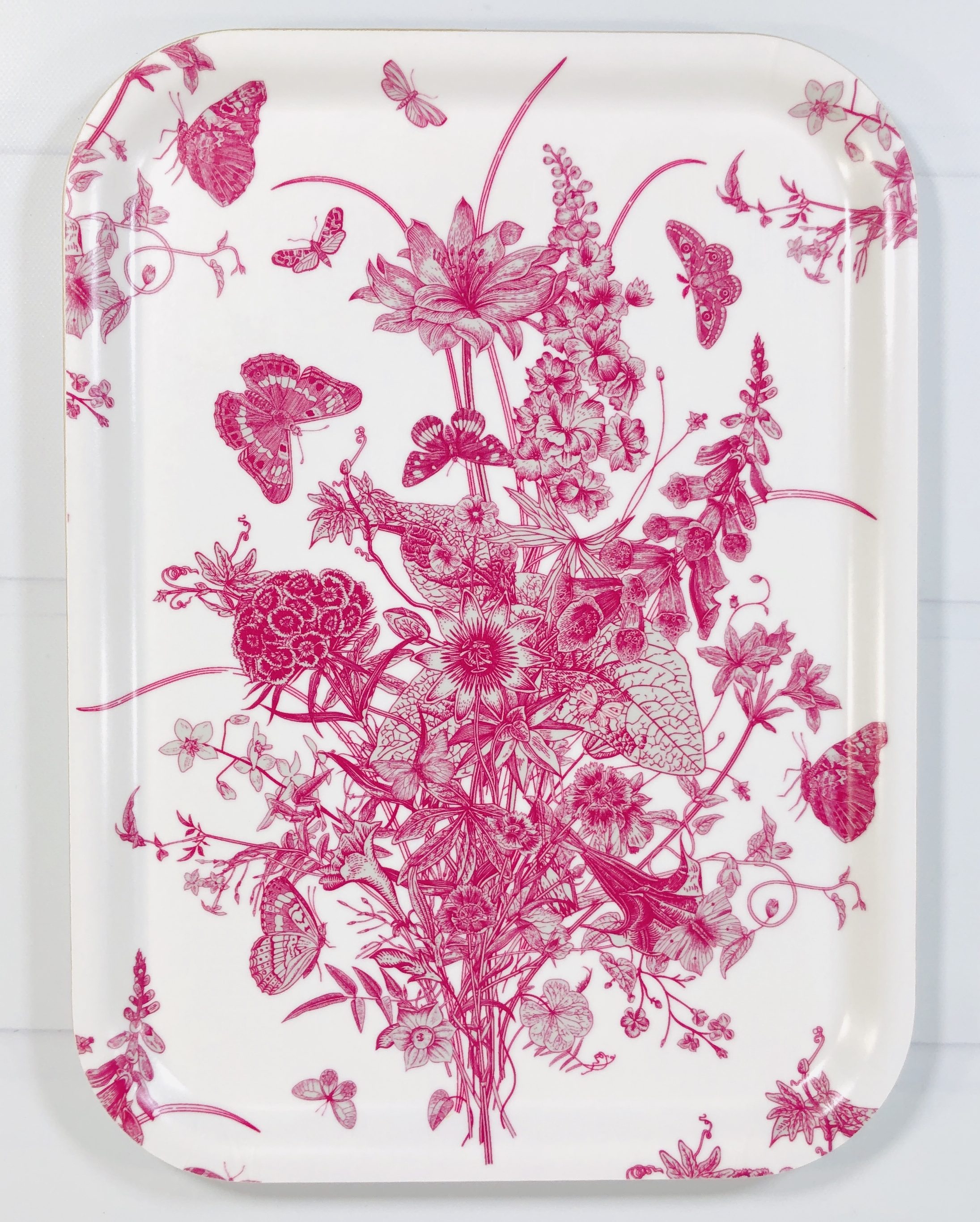 Au Bain Marie Custom Serving Tray ($40) Au Bain Marie has similar products on their website but this pattern is an exclusive for My Stylish French Box! It has a white base with magenta colored flowers and butterflies. It is 10.75″ tall and 8″ wide.
The tray is made of birch wood coated with melamine so it is easy care and washable. The tray is meant to be durable, long lasting, and shouldn't break if dropped.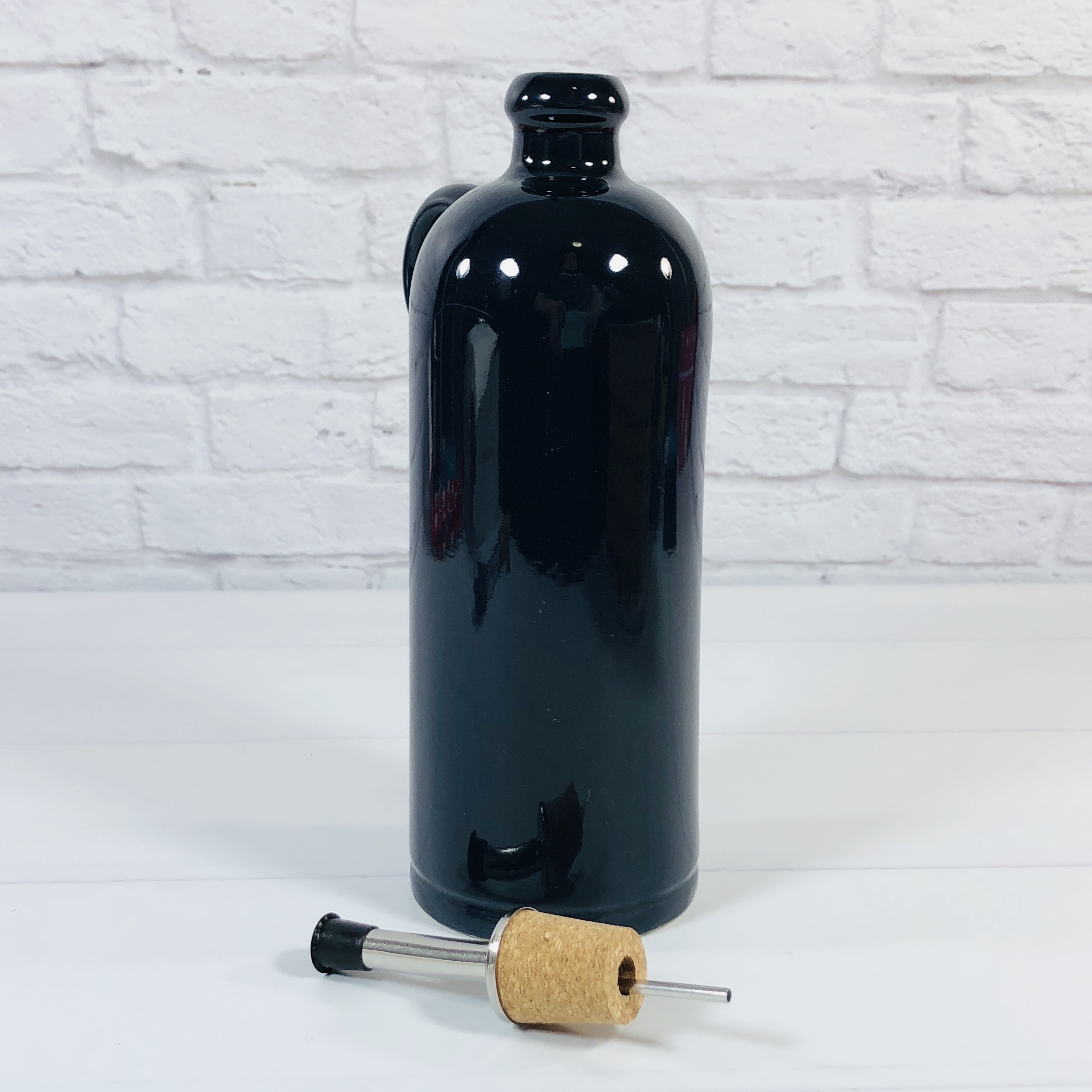 Digoin Oil Jug and Cork ($42.80 for similar here) I have noticed something similar to this on cooking shows so I was excited to see it in this box! It's a bottle for holding olive oil (or vinegar) and even comes with a pour spout!
The bottle is made of clay with a blue enamel finish so it is non-porous.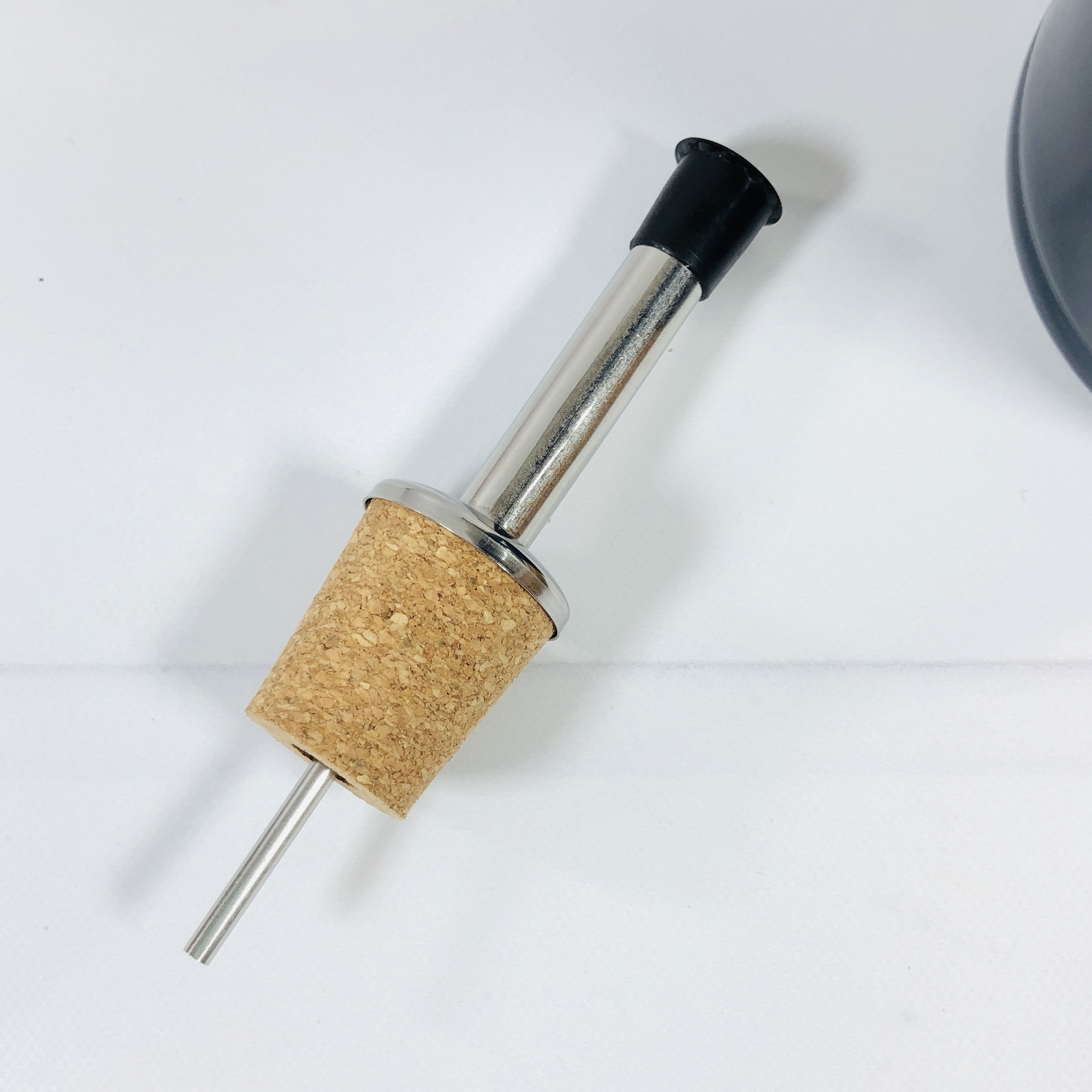 The spout has a cork stopper with a stainless steel spigot. Fill the bottle with olive oil, place the stopper/spigot inside, and pour as needed while cooking at the stove or place on the table to use for dressing salads.
Sabre Bamboo Salad Servers ($75) The brand calls these Panda salad servers, I'm guessing because bamboo is all a panda eats!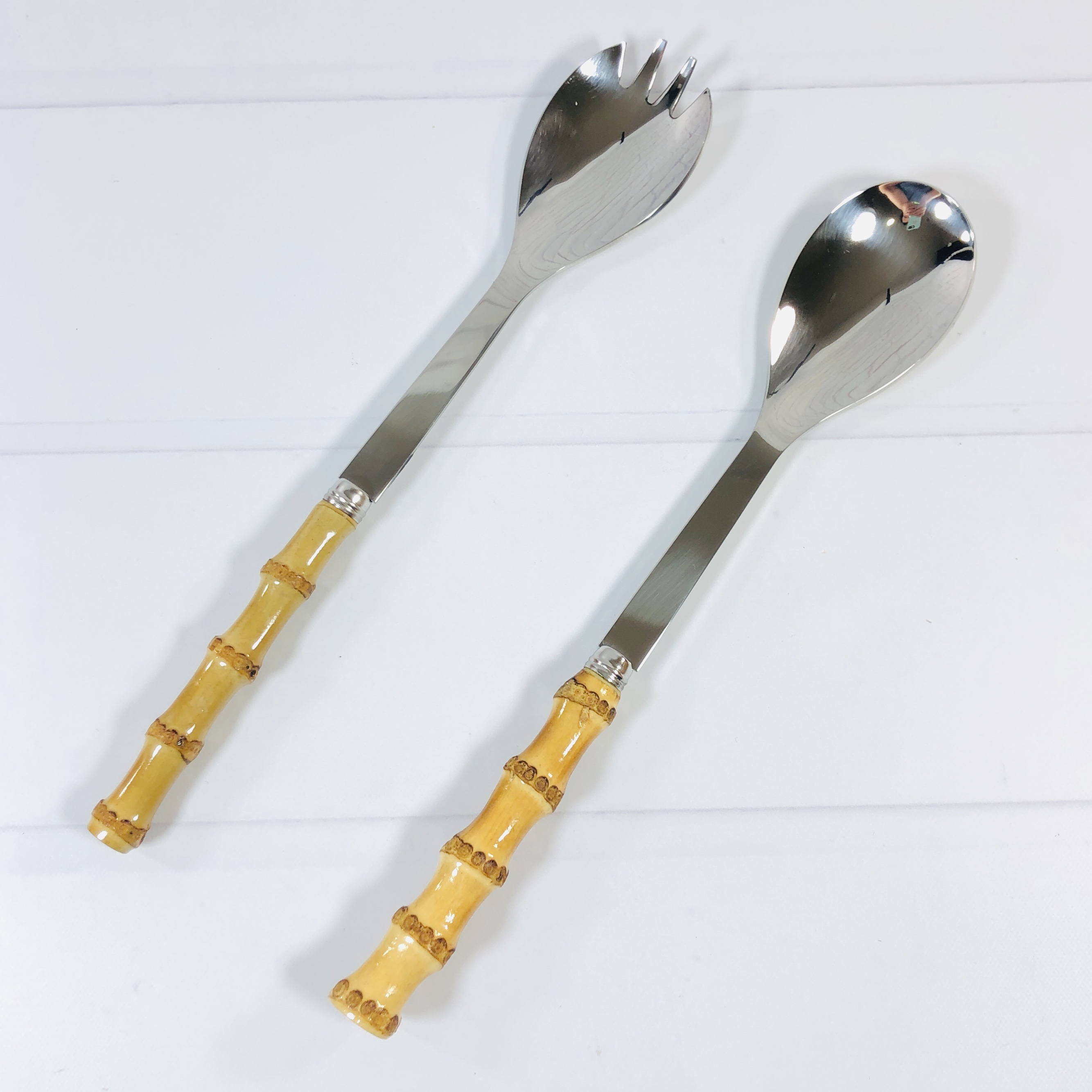 The set is made of stainless steel tops and real bamboo handles, which are unique to each set. Bamboo is a renewable resource that grows quickly so this is a good use of that wood. One handle is wider than the other, and the colors are slightly different. That is the unique beauty of natural products!
There is a varnish coating on the handles. Hand wash these servers to keep them around for a while. They are each 10.5″ long and about 2″ at their widest point for the steel parts.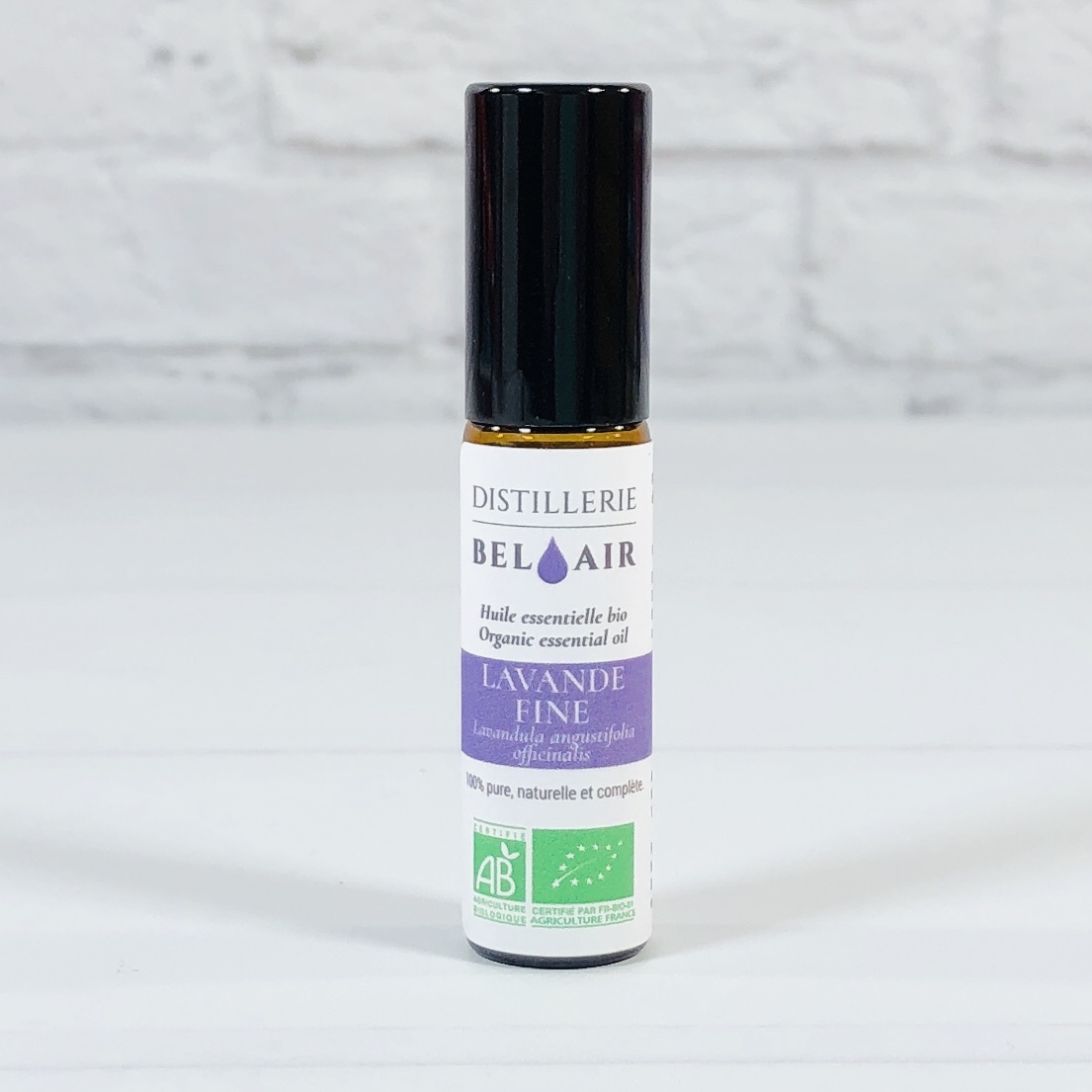 Distillerie Bel Air Fine Lavender Roll On Essential Oil ($15) is the bonus item for annual and quarterly subscribers!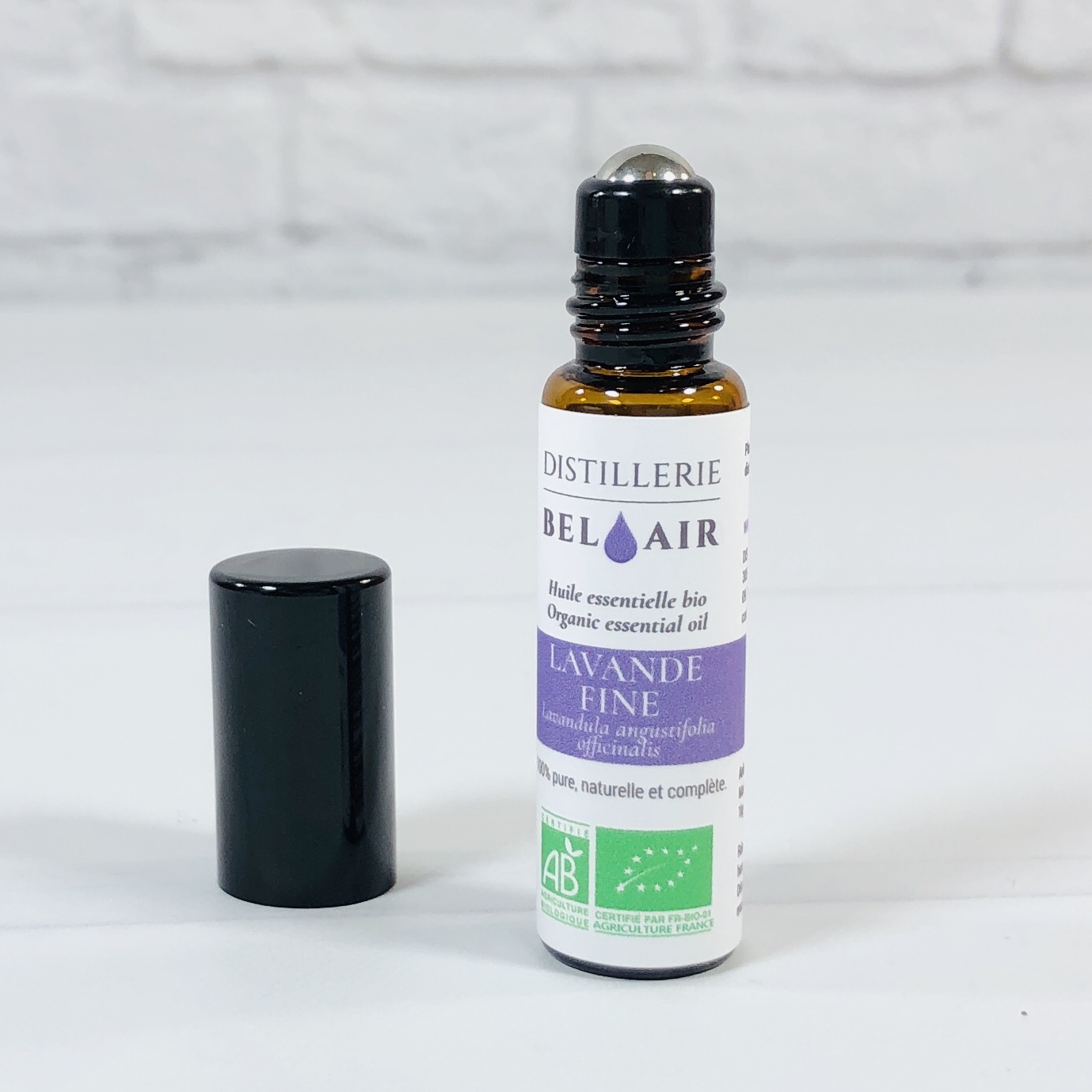 It is made of 100% pure lavender essential oil from Occitania, a region of France. It is organic and the scent is said to induce relaxation. Roll on pulse points a couple of times a day and take a deep breath!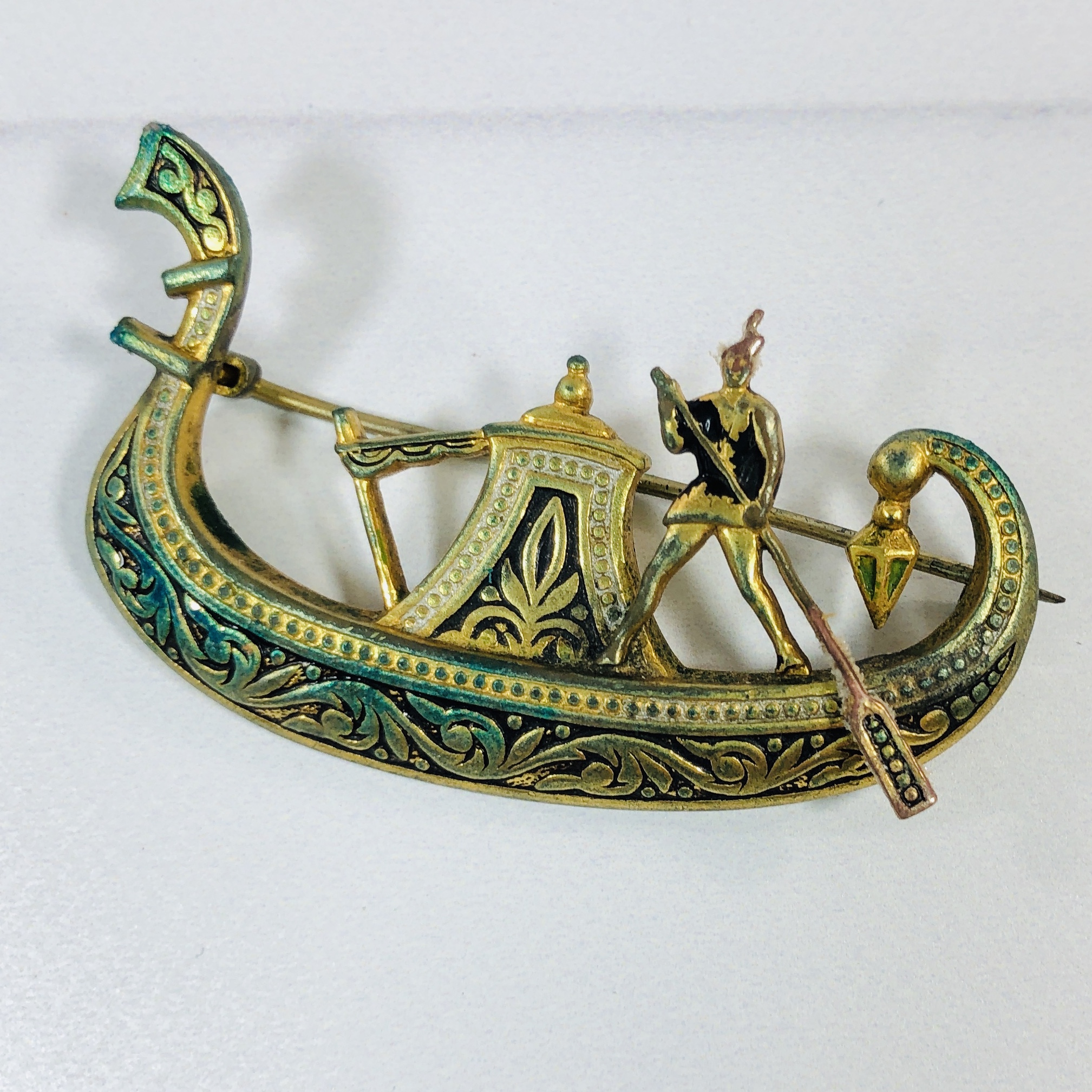 Antique Brooch (Styles vary, $25) I believe the brooch will vary for all subscribers and mine happens to have a man rowing a gondola!
It is very pretty, I love the patina on it, it gives it some color! My pin is 1.5″ long.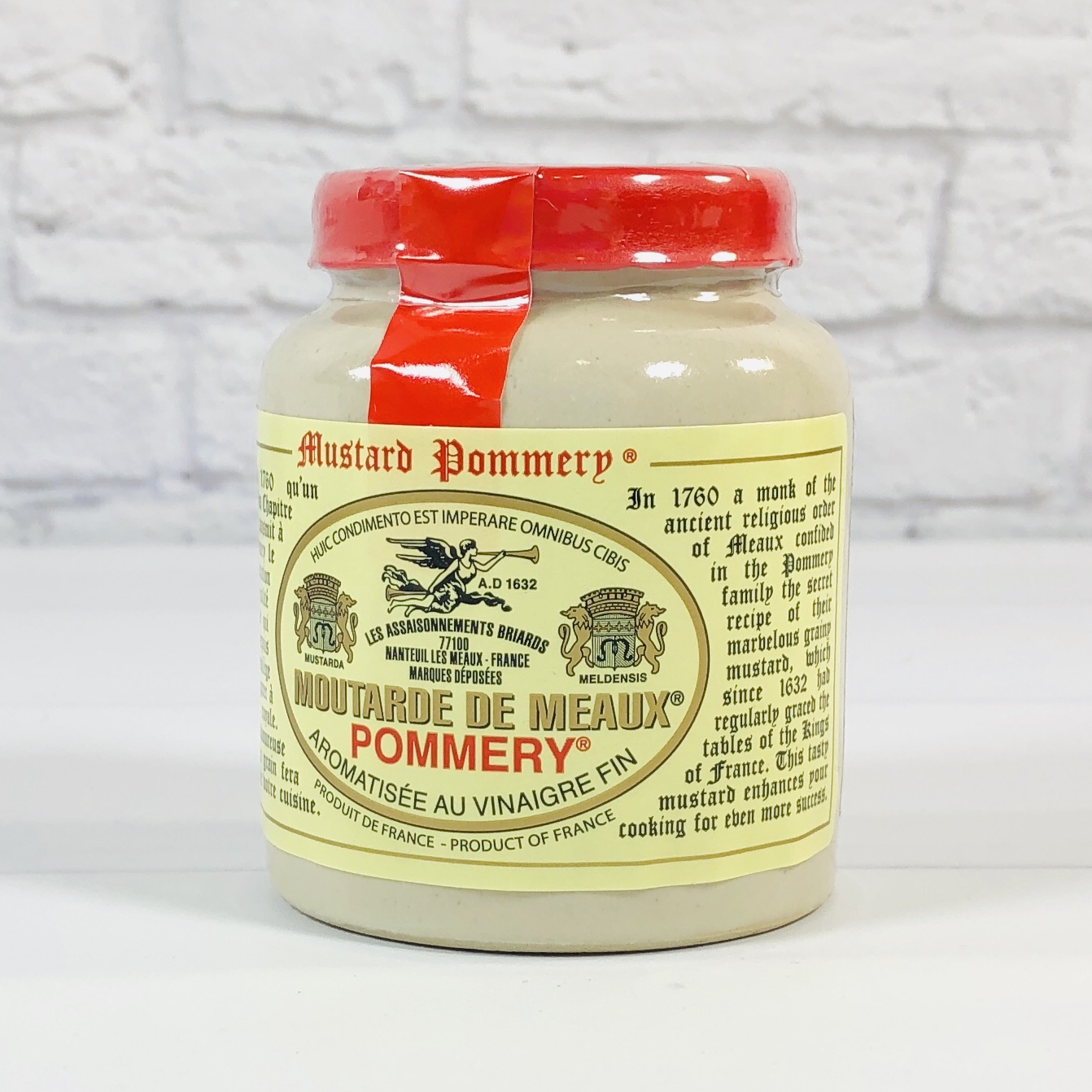 Pommery Mustard ($15) I love mustard and how beautiful is the crock jar that this one comes in? This brand has been around since 1632!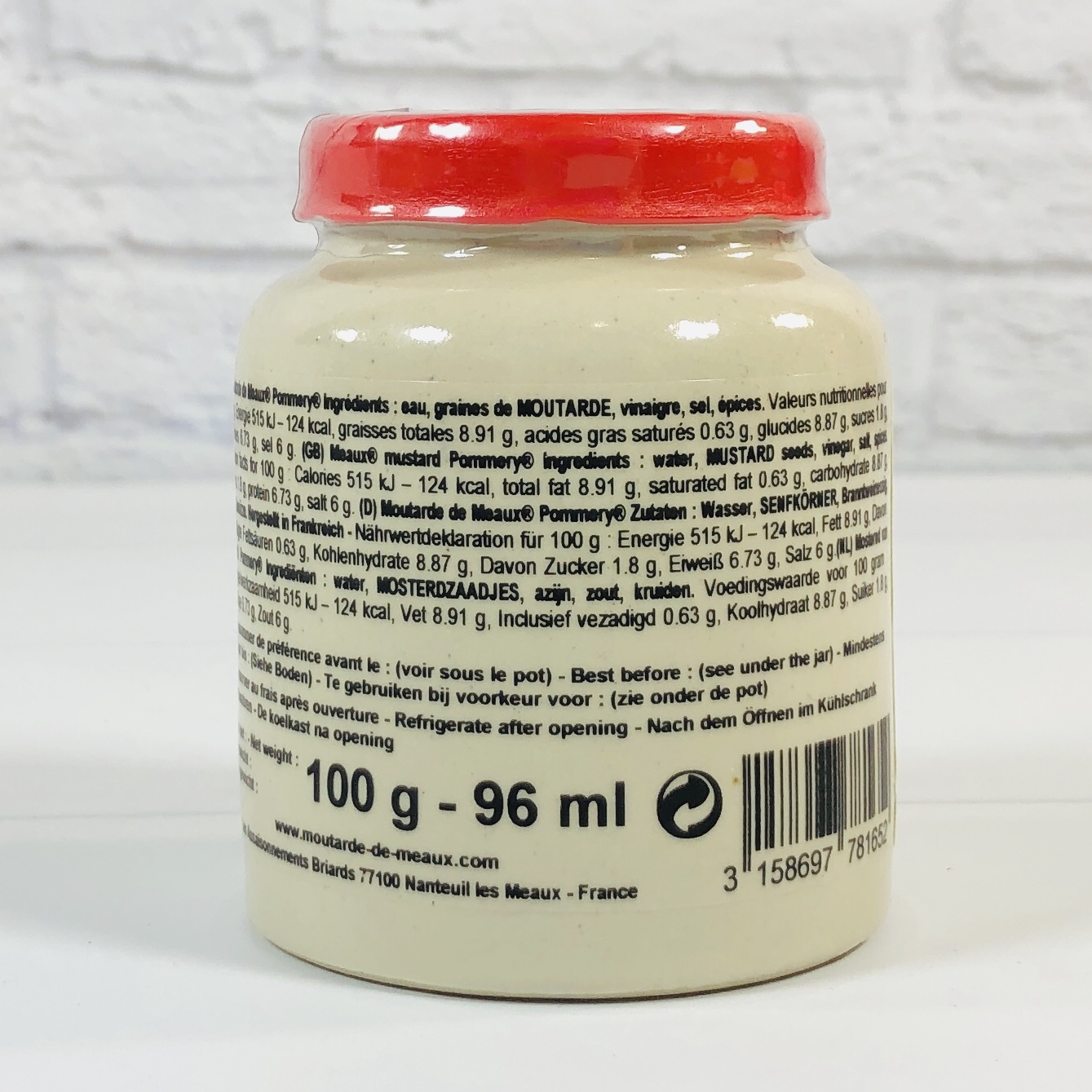 It is made of water, mustard seeds, vinegar, salt, and spices. It has been served to kings.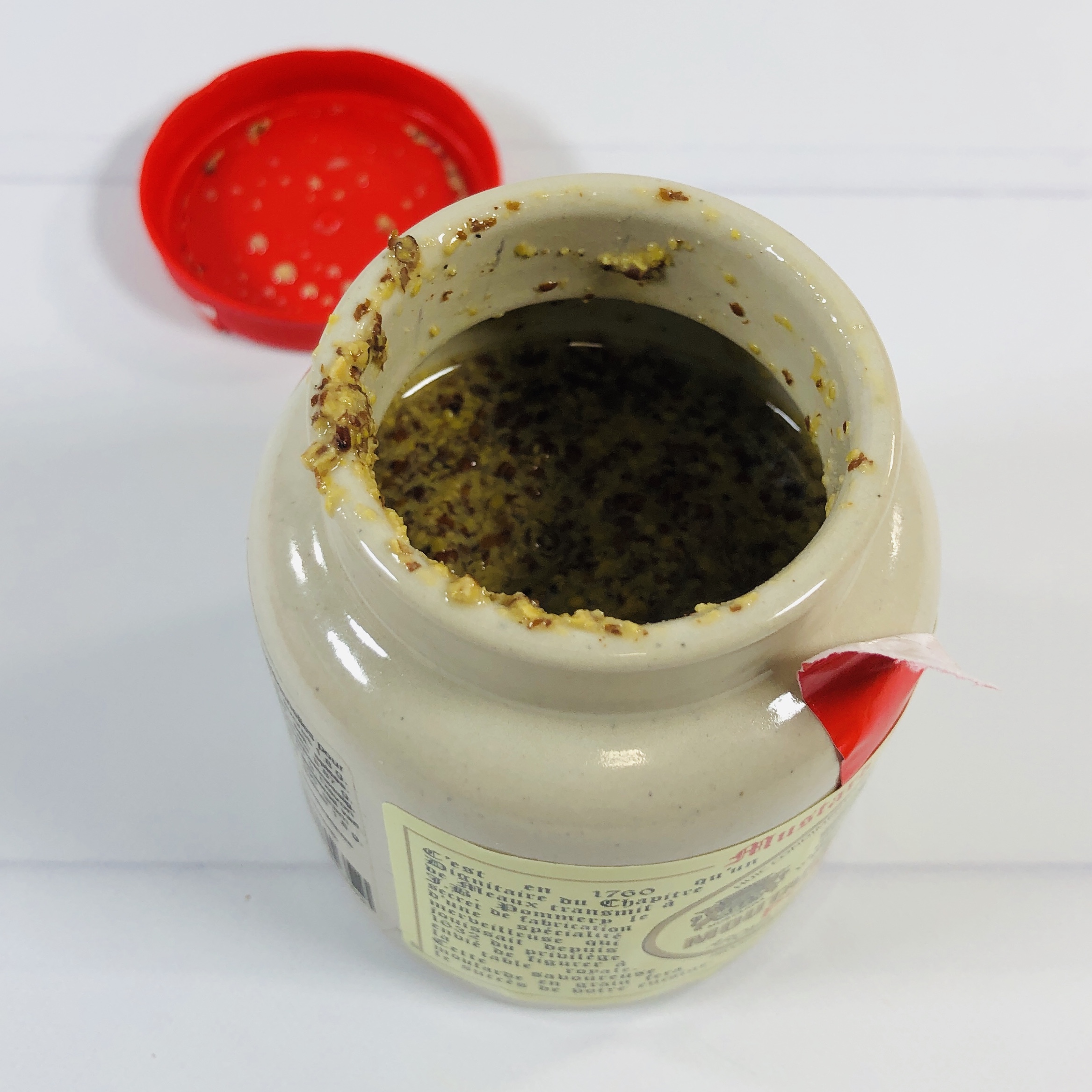 After breaking the seal you just push the lid off the top. The crock is reusable after the mustard is gone.
The mustard has coarse grains and would be good on sandwiches or in salad dressings, or maybe in a special sauce for chicken.
It is tangy with vinegar and well spiced. I just thought of another idea – place a grilled bratwurst in a French roll and top with this mustard and it will be just like a meal I had in Germany.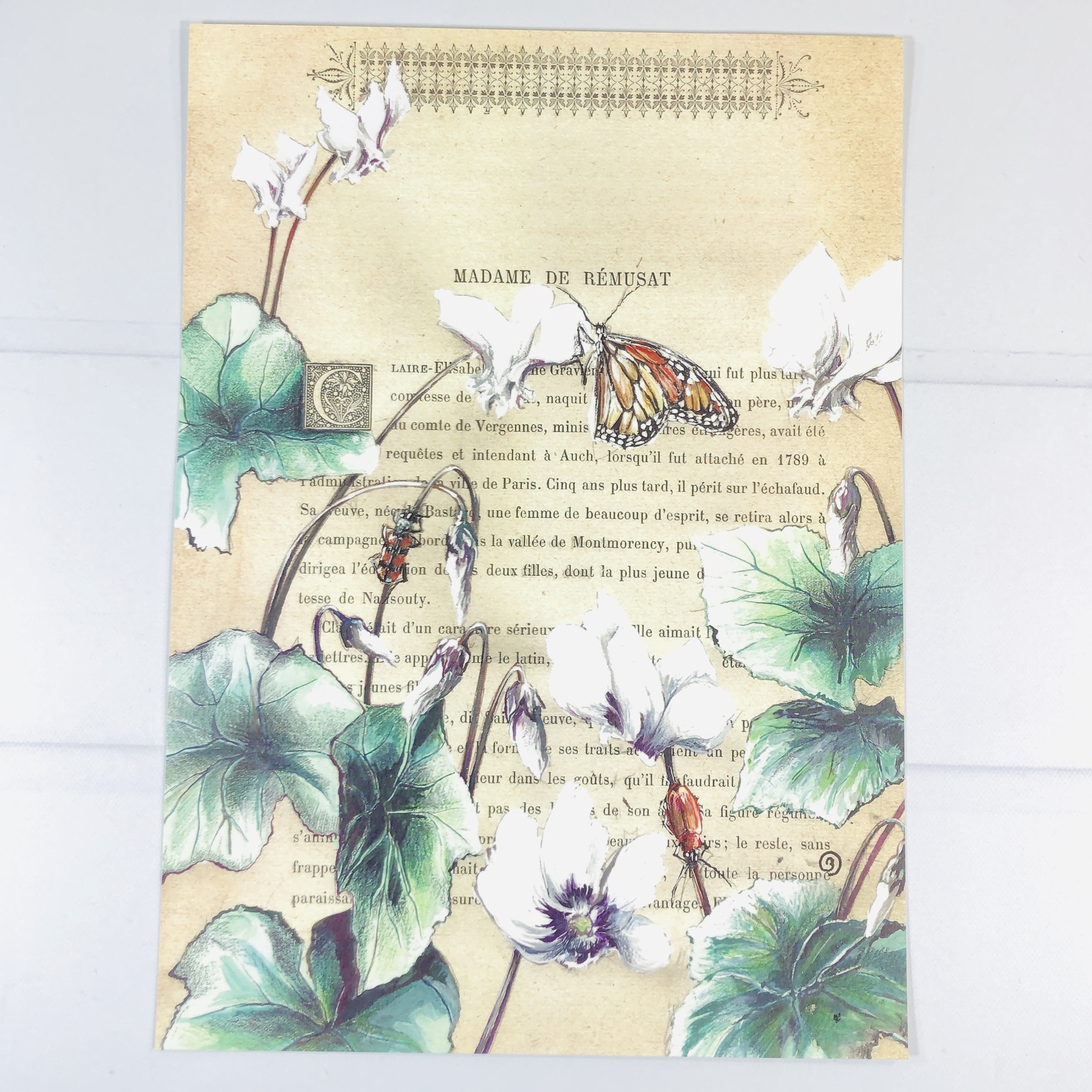 Print from Pierre Yves Bonnot Every shipment we receive a print and this time around it has some cyclamen with a butterfly and a couple of beetles. The print is about 10.75″ x 7.75″ and is printed on sturdy cardstock. It is suitable for framing.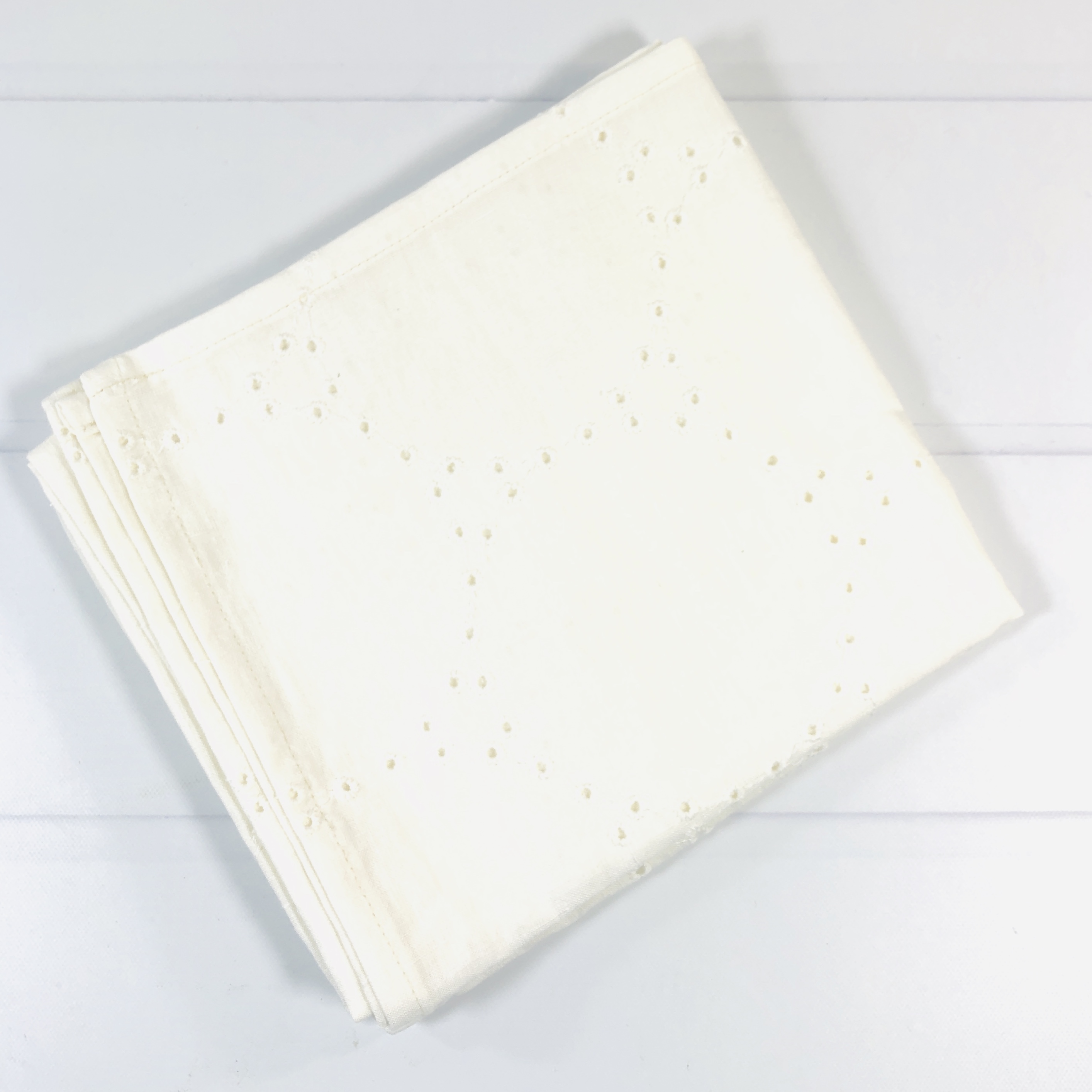 Charvet Éditions Table Runner One way to dress up a table is to place a pretty cover over the top!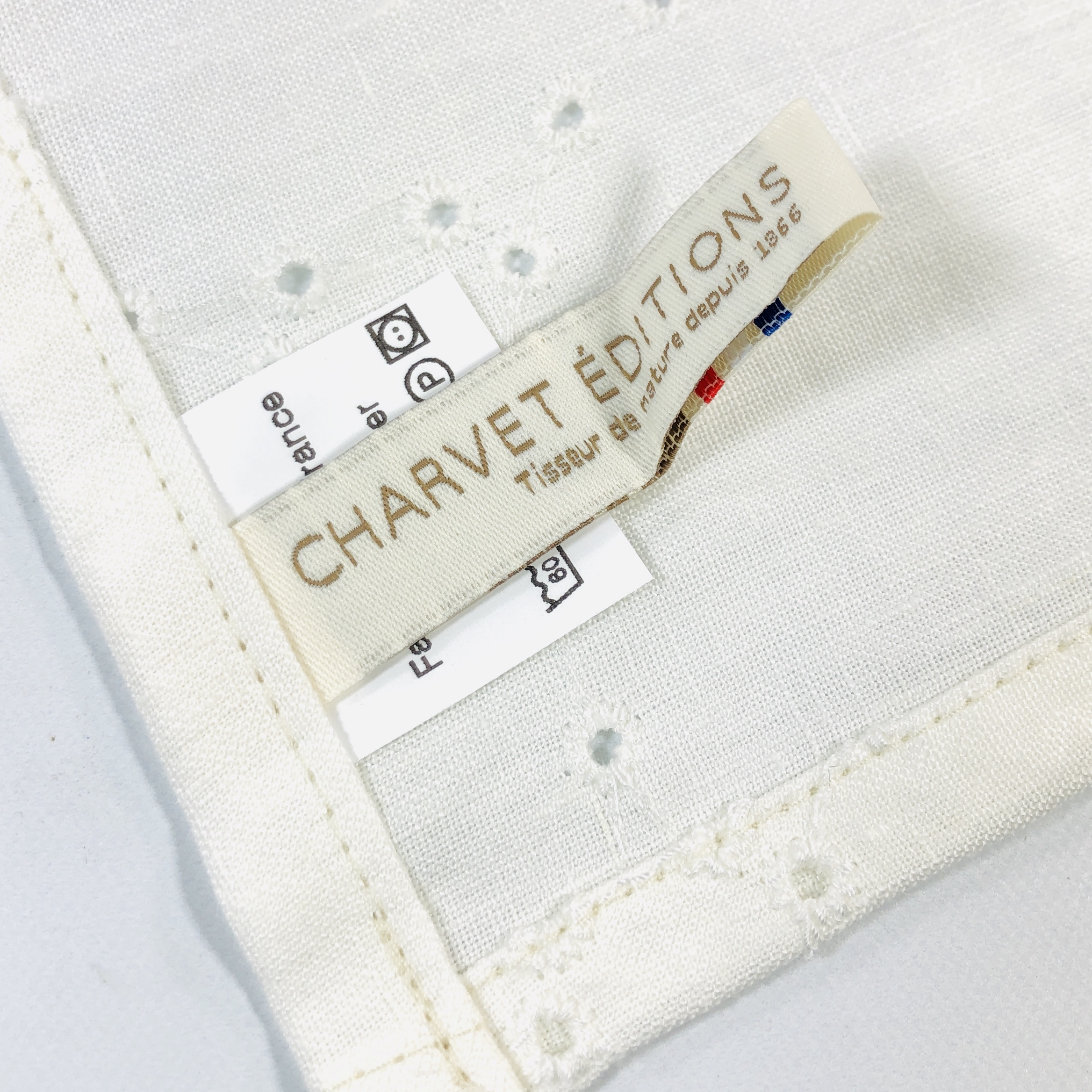 This runner is made of 94% linen and 6% polyester and like all of the items in this box, it is made in France.
The runner is a classic shade of cream and has embroidered holes in circle patterns all over, which makes for a lovely design. The runner is 60″ x 16″ and can be machine washed and dried on low.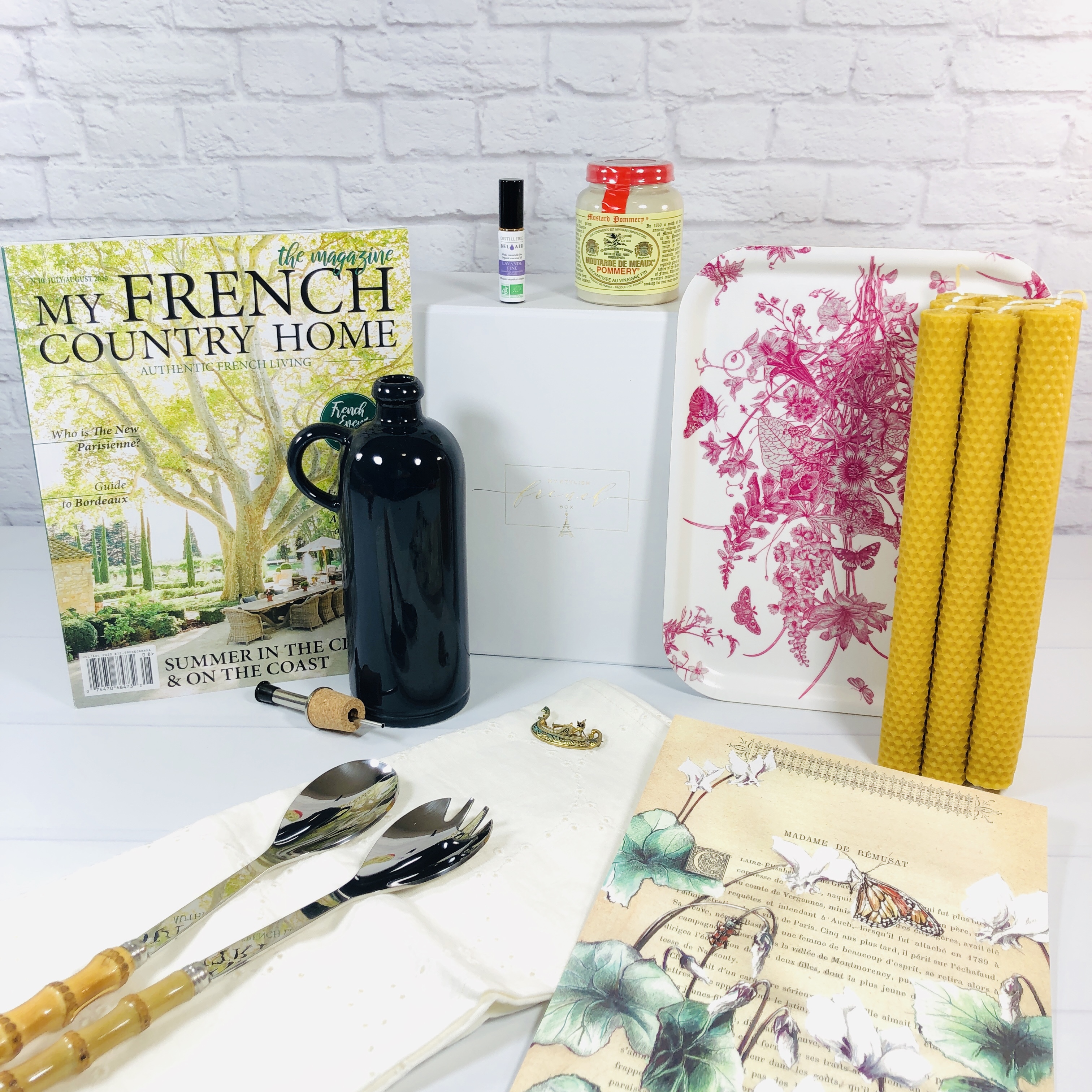 Oh my goodness, what a brilliant assortment of products in the August My Stylish French Box! I simply adored the Dinner With Friends theme and think that each item was perfect for this shipment. One other theme I see here makes me think of nature, from the bamboo handles to the lavender oil, from the clay oil bottle to the beeswax candles. Even the print and tray have flowers and insects for decoration, and the mustard has such a short ingredient list. The table linen is made primarily of actual linen too. I think that My Stylish French Box always comes up with stellar items that are high quality and it is such a special experience to use them in my daily life, while imagining their origins in a country far away. If you are looking to treat yourself to an amazing experience then please give this box a try, and if you are looking for a gift for a discerning friend or family member then I think they would be well pleased with My Stylish French Box!
Any thoughts about My Stylish French Box? Let me know what you think of the Dinner With Friends box!