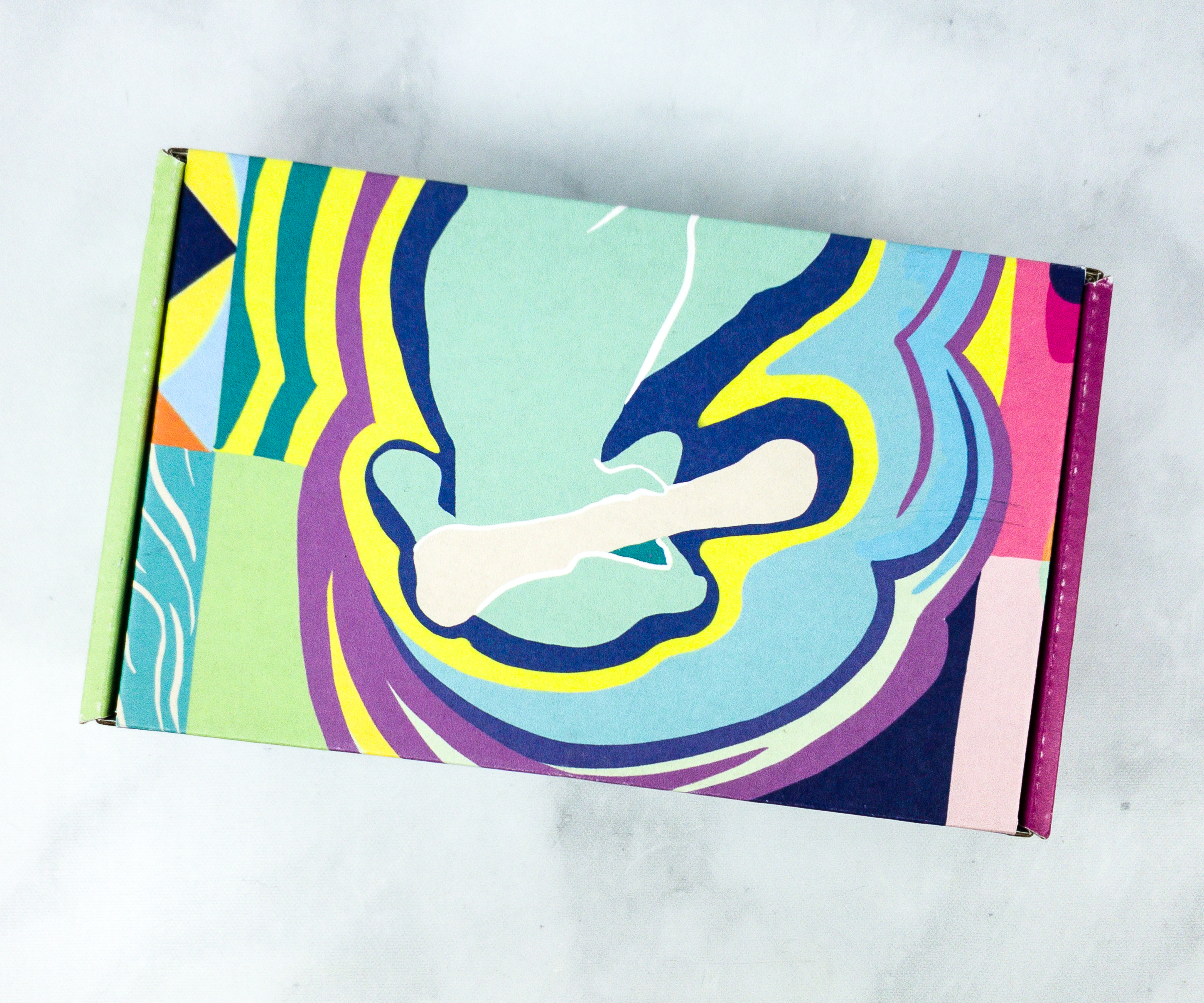 My Pet Defense is a monthly dog subscription service that offers health essentials and delivers them straight at your doorstep. Each box includes a 30-day supply of flea & tick protection, dental support, assorted tasty soft chew supplements, and some fun bonus items. You'll get all of these for as little as $24.99/month.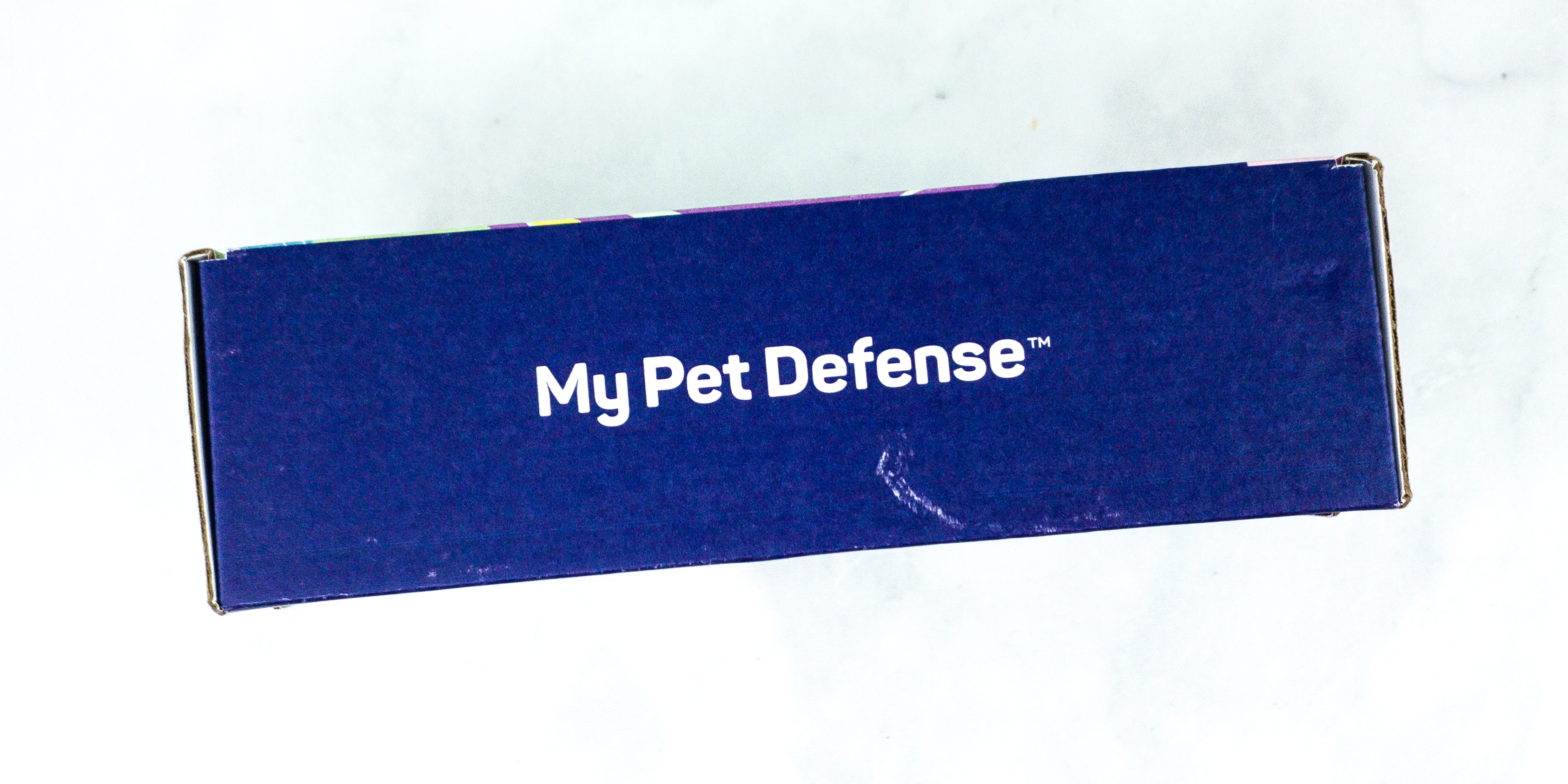 The goodies were packed in a sturdy box.
Everything arrived in great condition.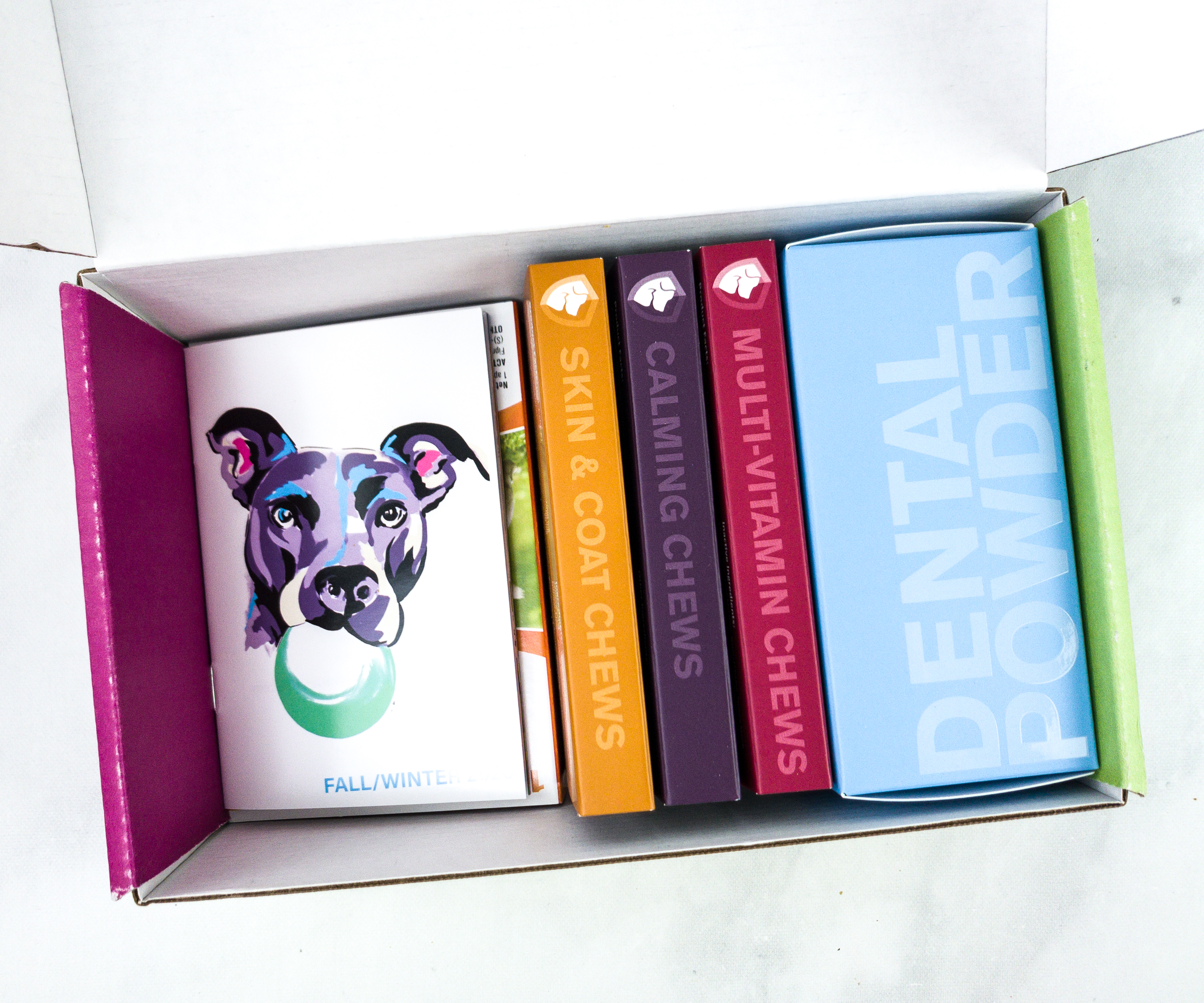 The dog supplements were also packed in smaller, individual boxes.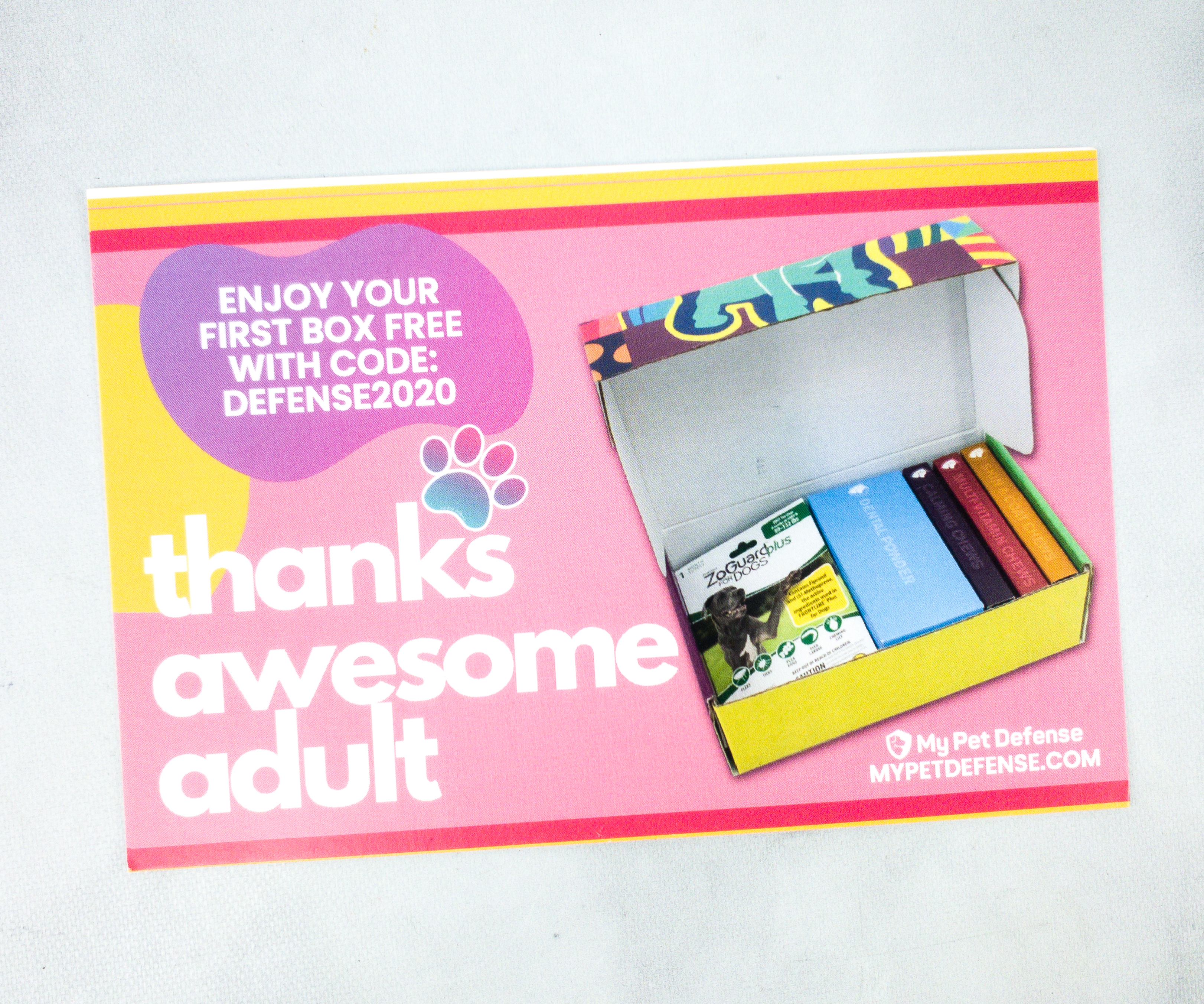 Here's a card from My Pet Defense, and it comes with a free first box coupon! Just use code DEFENSE2020 upon sign up.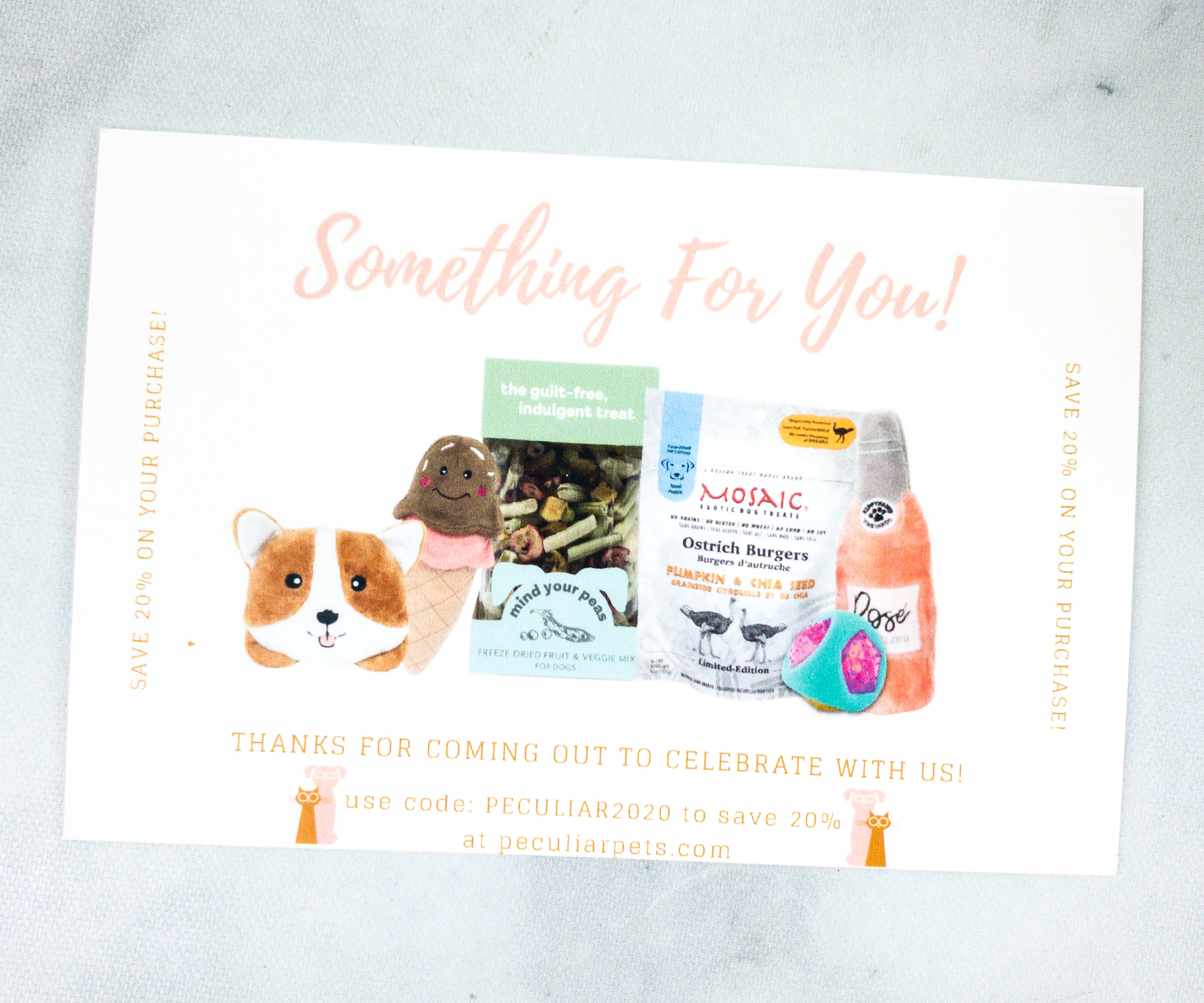 At the back, there's also an included 20% off coupon code from Peculiar Pets, which you can use for purchases on their online shop.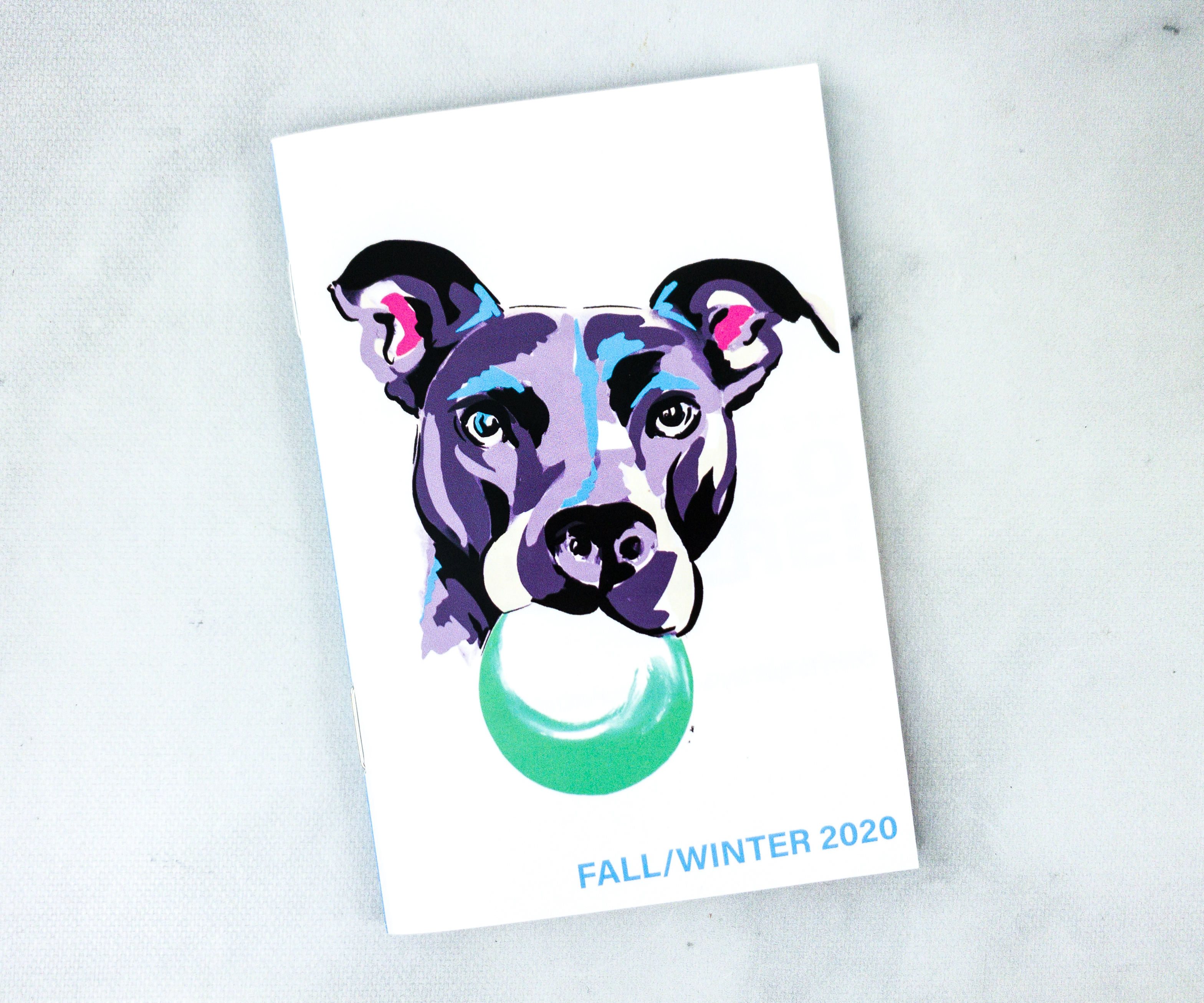 Every box comes with a booklet. It contains all the information you need to know about your pet's new supplements!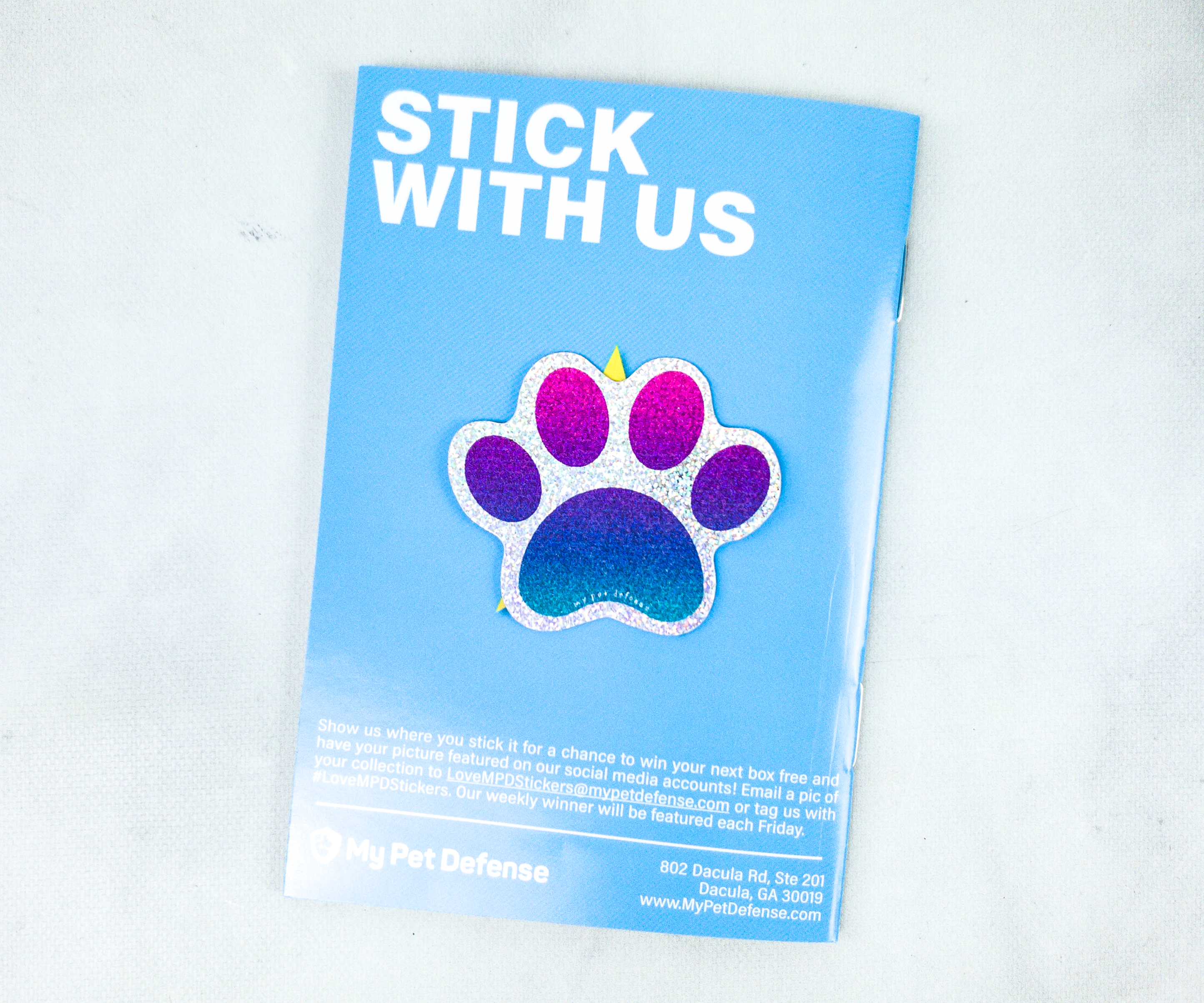 Featured at the back of the booklet is a cute and glossy paw-shaped sticker.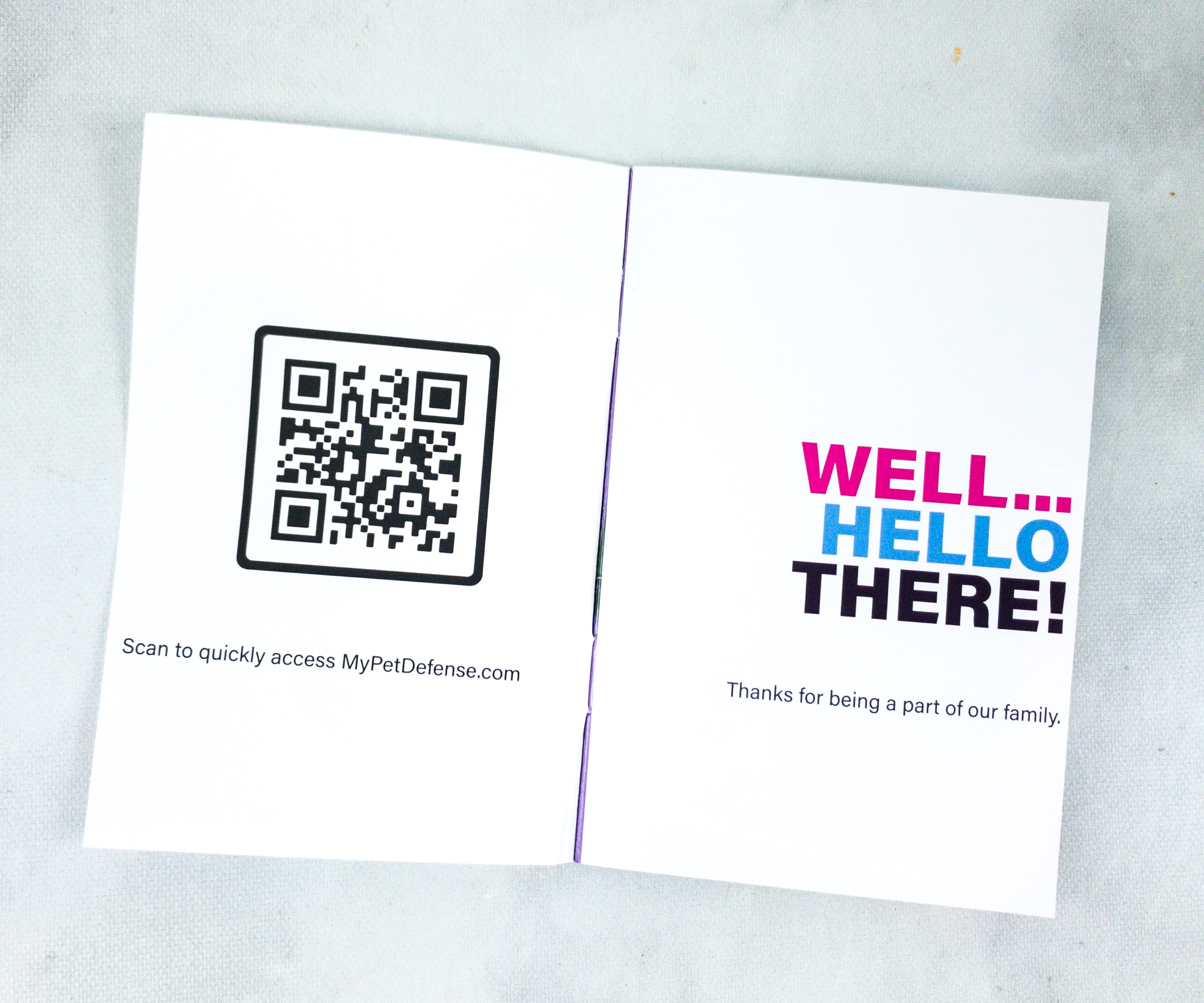 You can also scan the provided QR code to get quick access to My Pet Defense's website.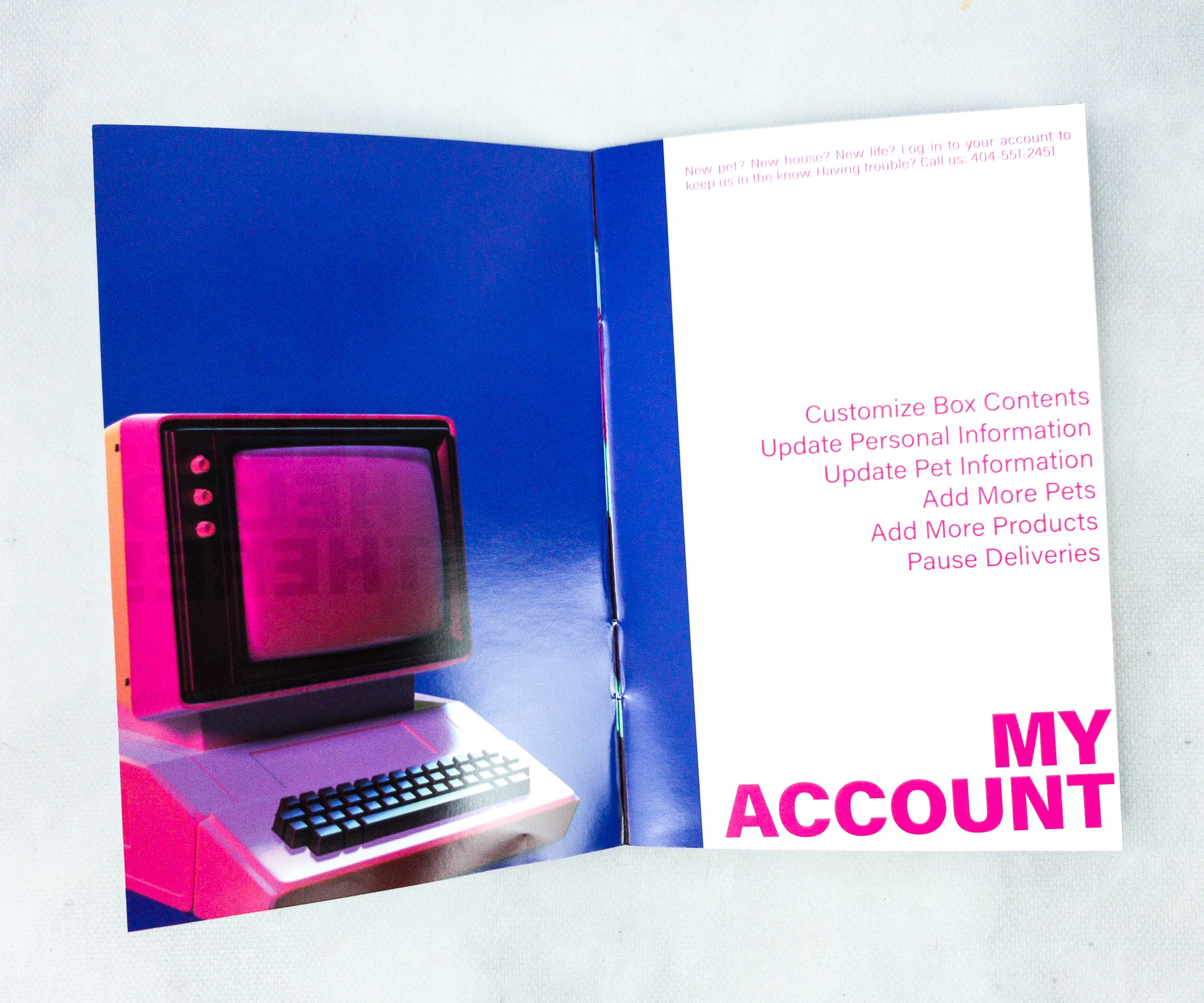 Once you're signed in, you can customize your box content and update your personal and pet information. You can also add more pets, products, and deliveries.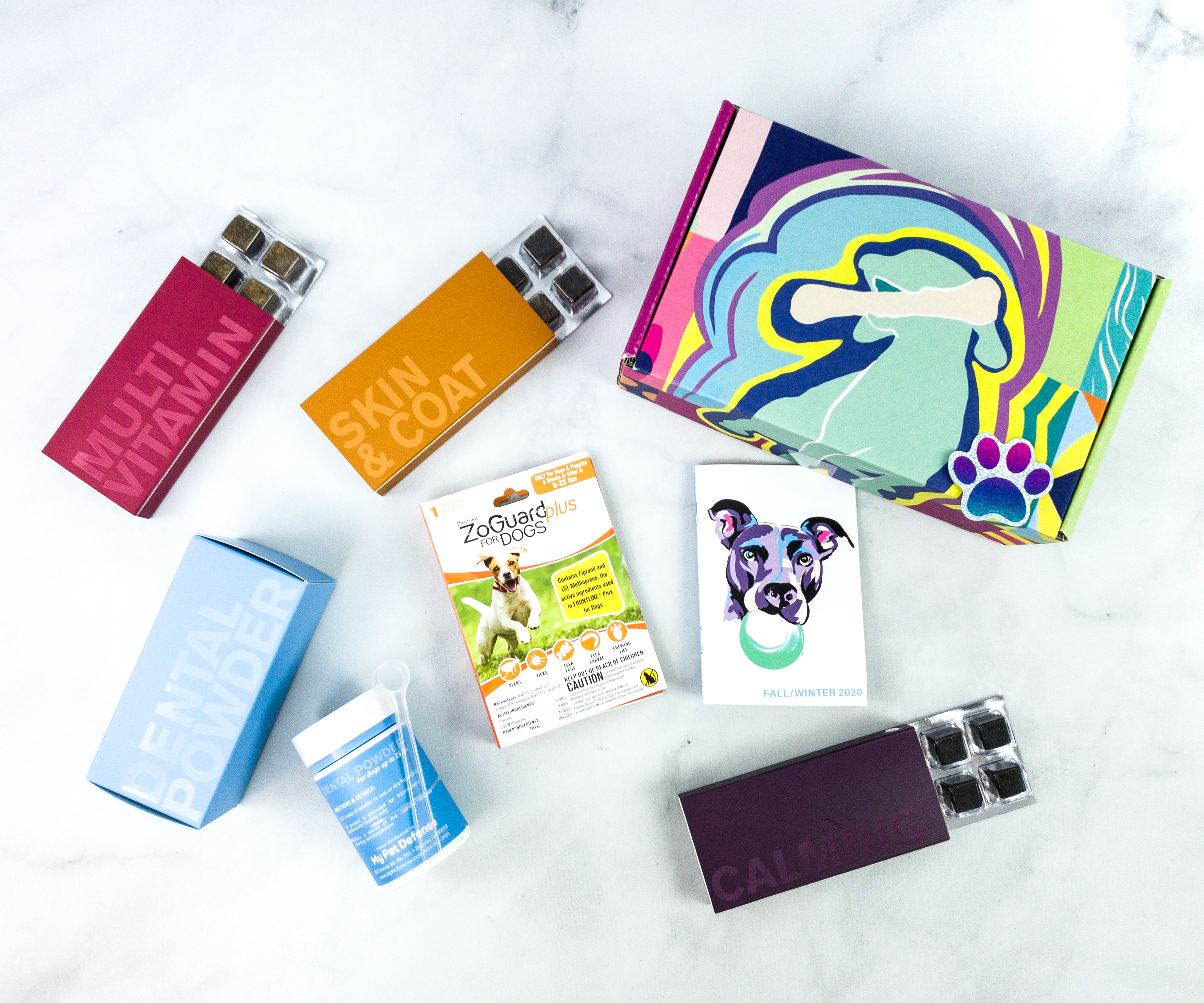 Everything in my August 2020 box!
First in our box is the 30-day supply of flea and tick protection!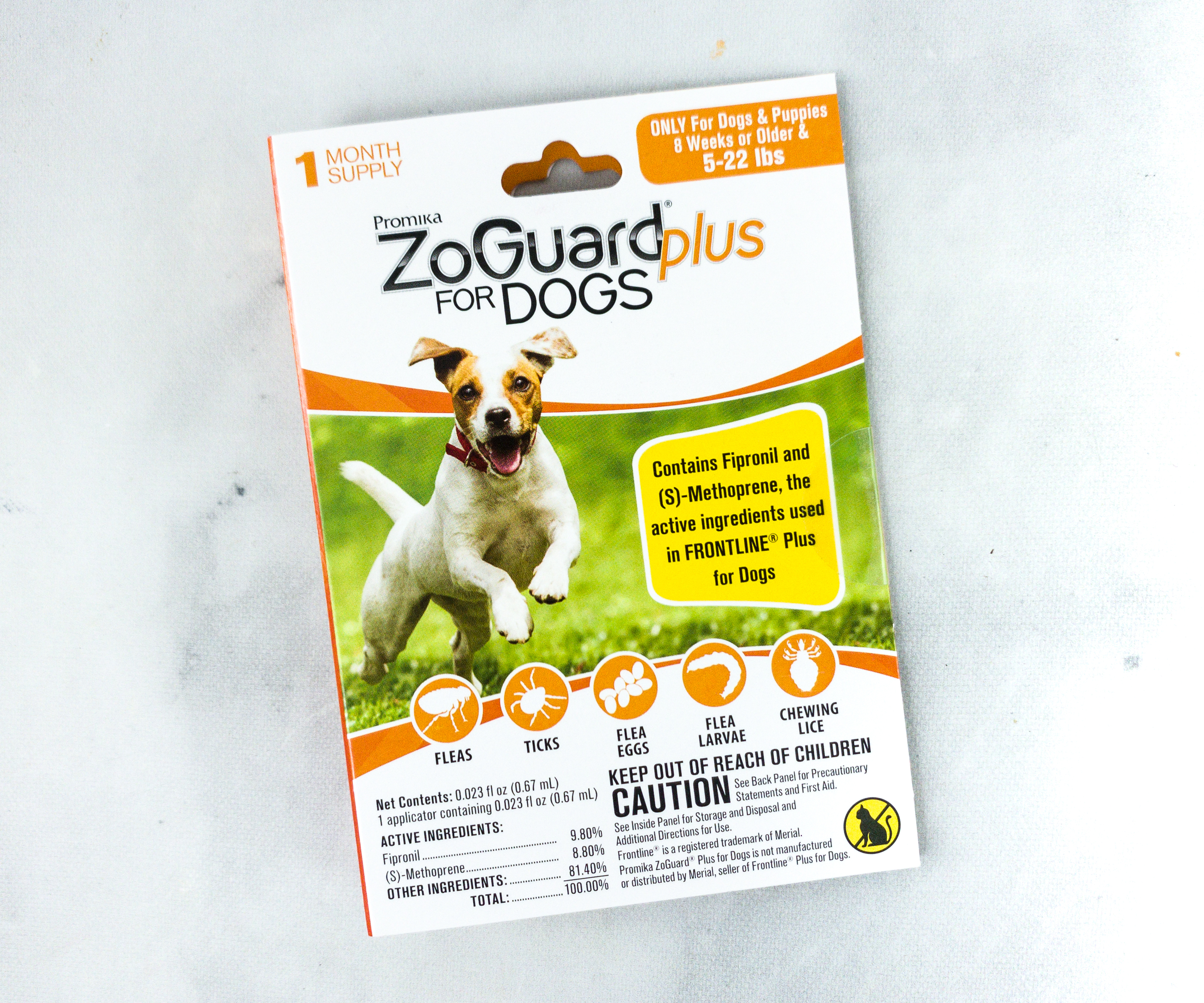 Promika ZoGuard Plus for Dogs. With the help of Fipronil and (S)-Methoprene, this product helps eliminate fleas, ticks, and lice, while controlling the growth of eggs and larvae. The one we received is ideal for dogs 8 weeks and up, and those who weigh 5-22 lbs.
FYI ZoGuard Plus is a product comparable to Frontline Plus.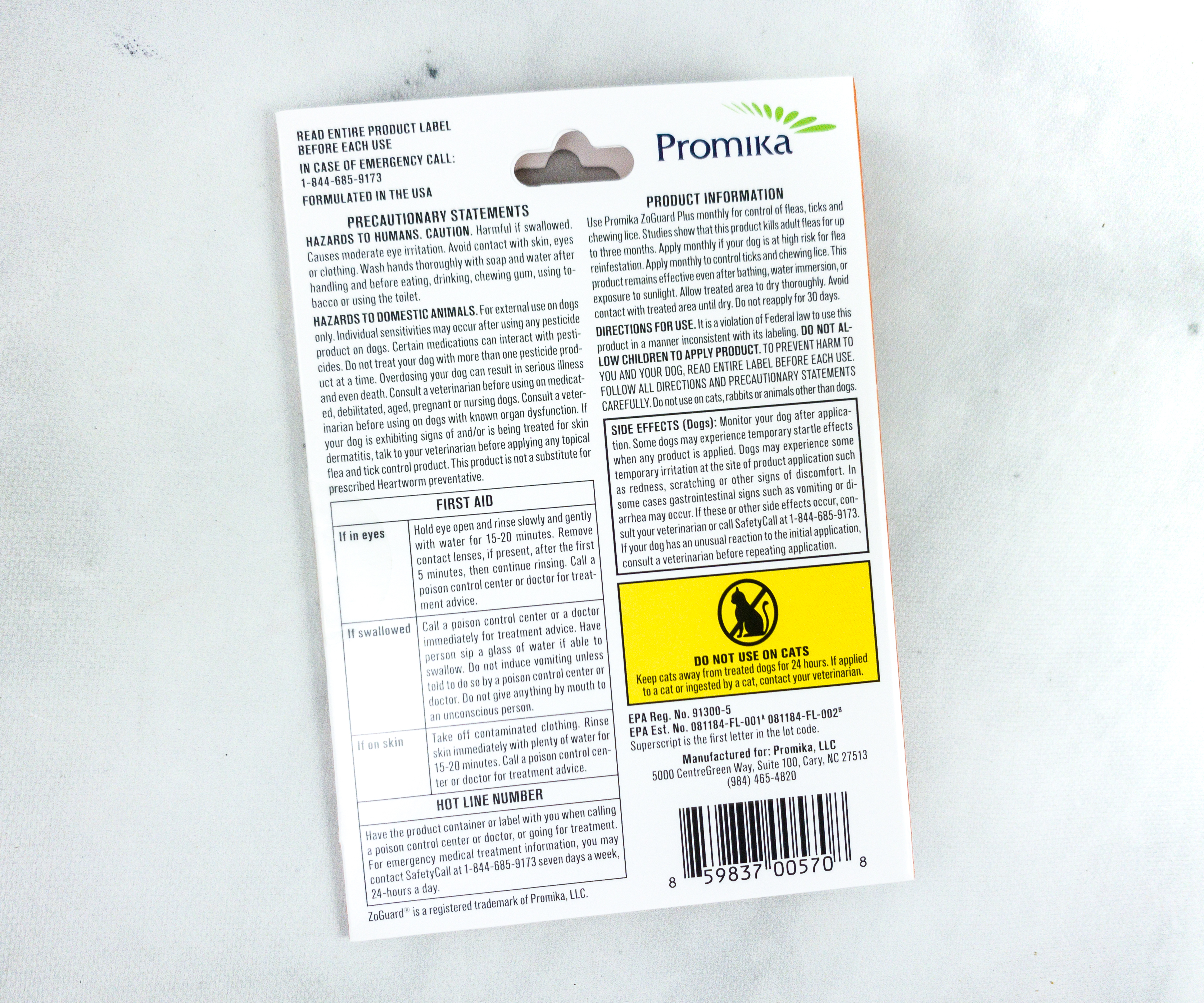 Since it is a pest eliminator, it contains hazardous ingredients that may cause bad effects on humans and on other pets such as cats. The label reminds us to handle it carefully. Also, it's recommended to be applied monthly if your dog is at high risk for flea reinfestation.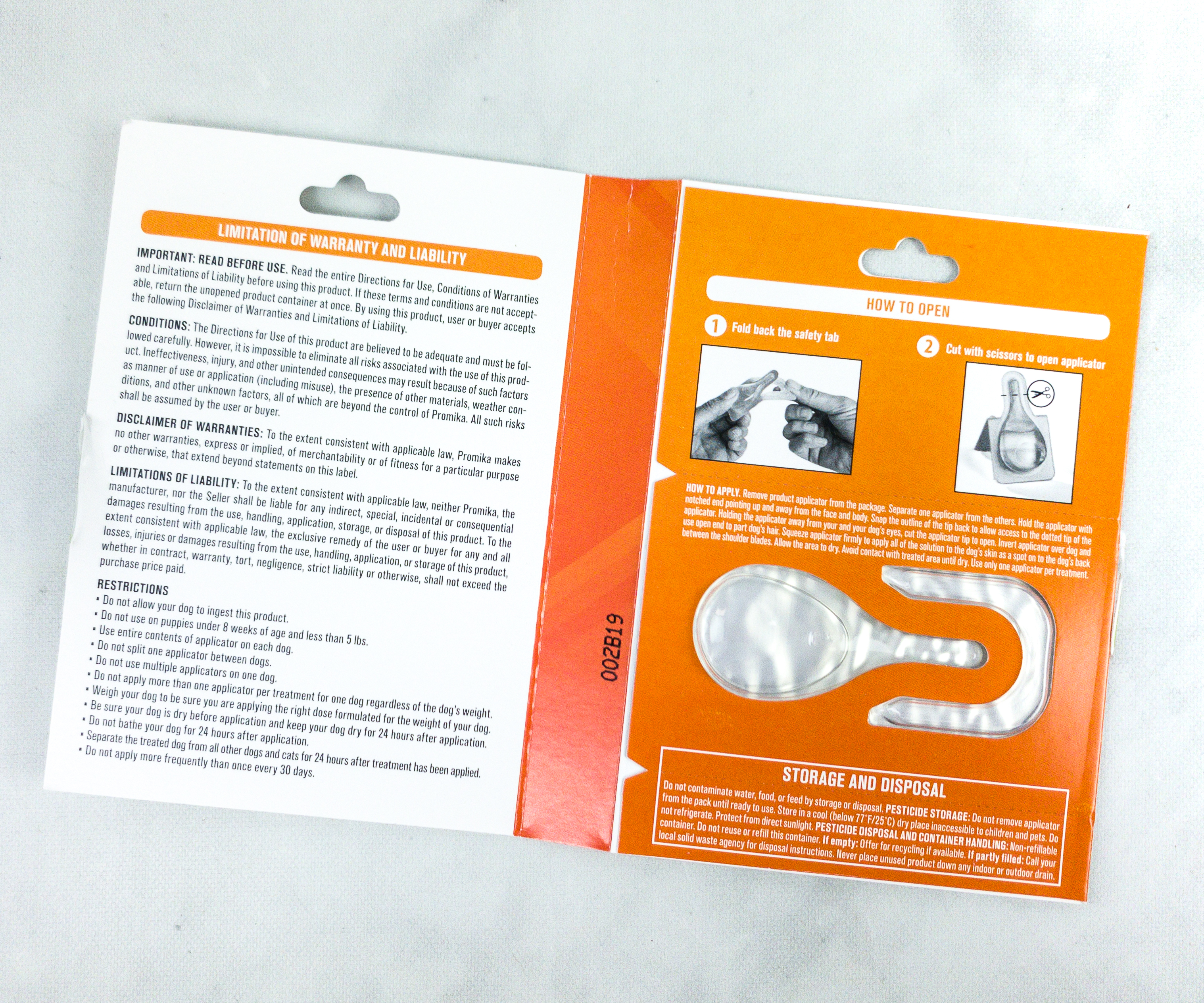 It's waterproof, so it works even after bathing. Just make sure to allow the treated area to dry thoroughly first.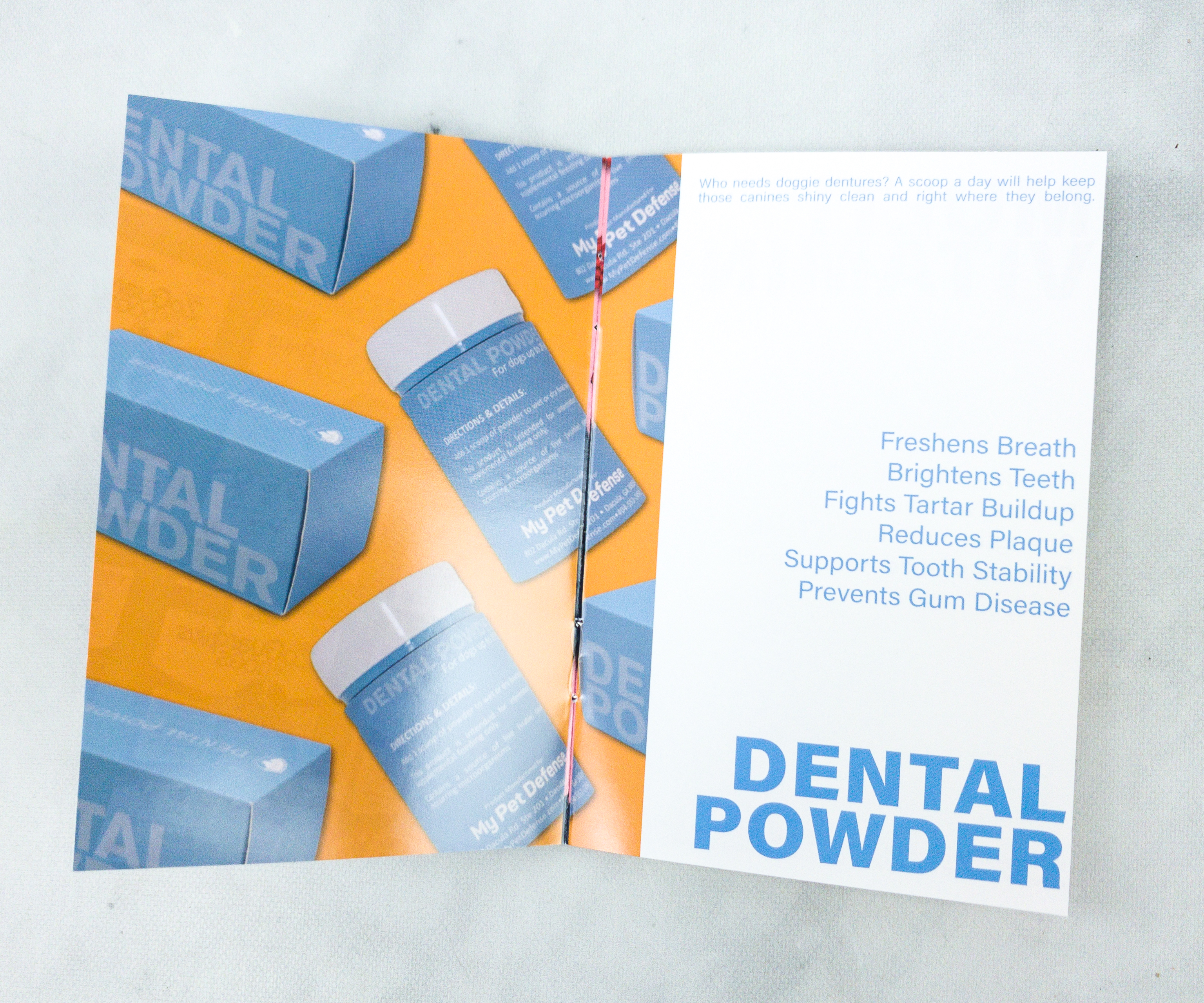 To keep a dog's teeth shiny, clean, and strong, here's My Pet Defense's Dental Powder!
My Pet Defense Dental Powder. This dental powder contains a unique blend of naturally-occurring, live microorganisms which help reduce plaque and tartar.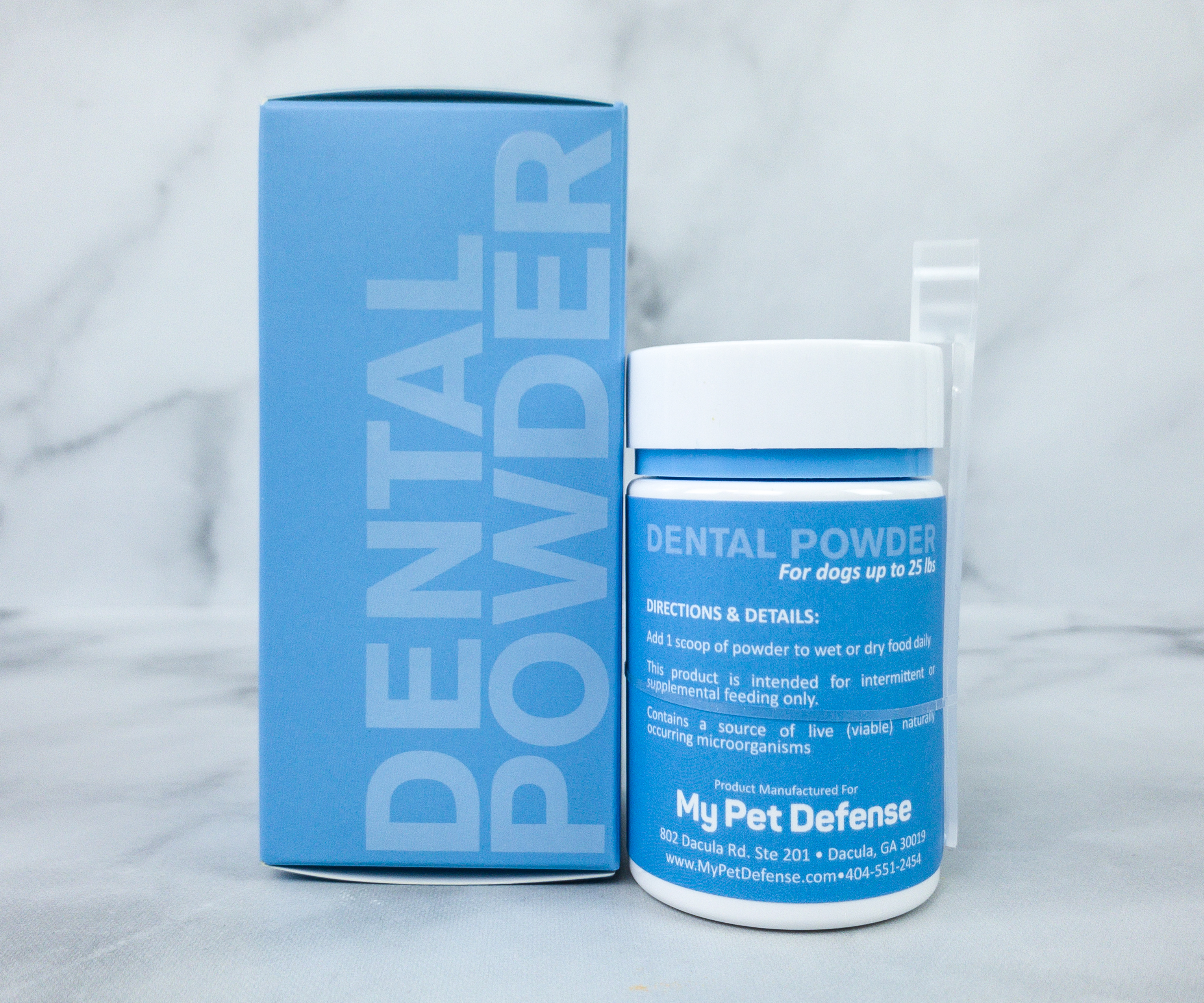 It comes in a sealed container that contains 30 grams of pure dental powder. It contains dicalcium phosphate, green lipped mussel, yucca schidigera extract, dried bacillus, dried chicken liver powder, and more!
To prepare, just mix a scoop of this powder on wet or dry dog food daily. It's intended for intermittent diet or supplemental feeding only.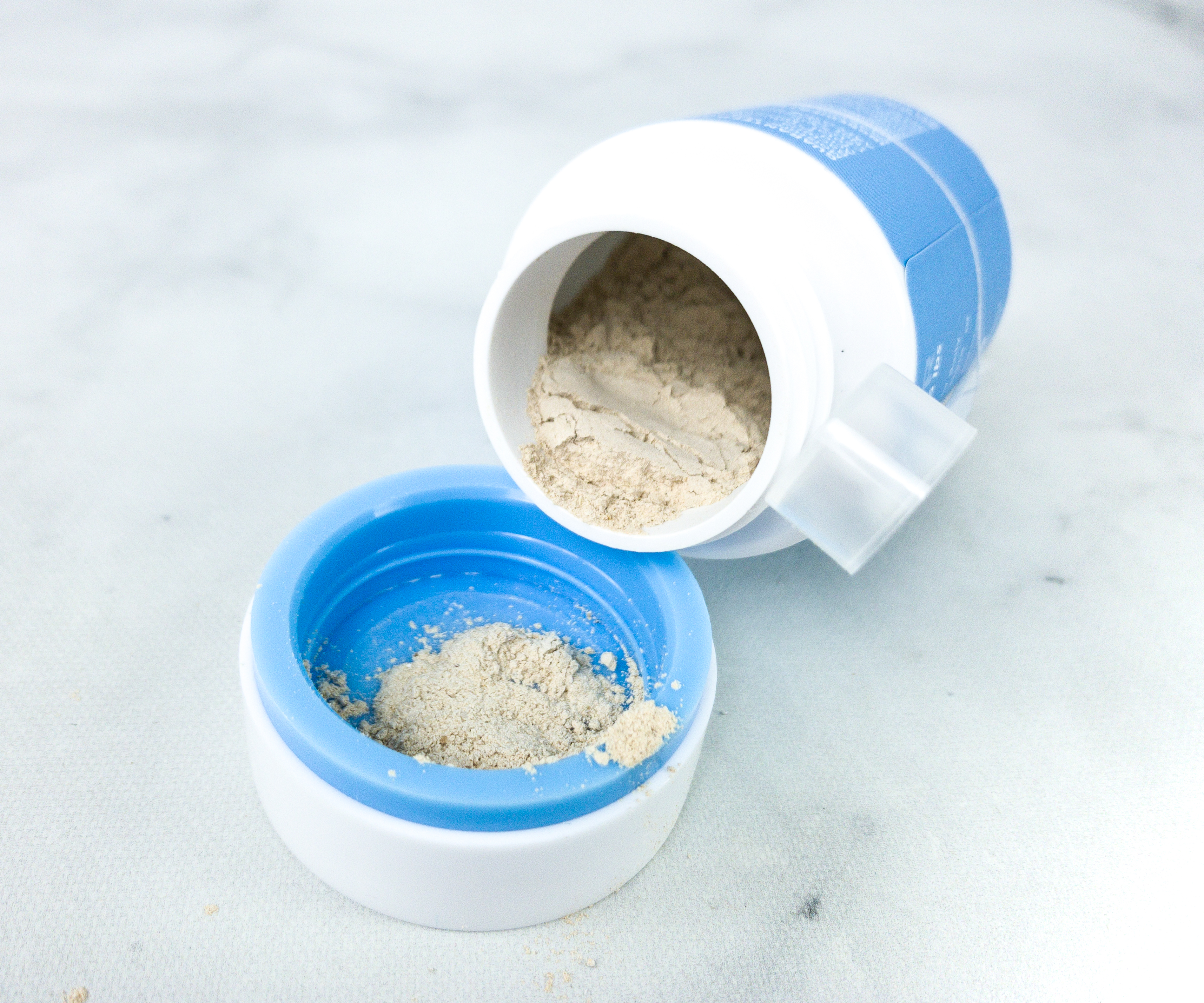 The powder has great texture and it doesn't clump either. This container has enough dental power for a whole month of consumption! It's also free from grain, gluten drugs, antibiotics, or preservatives!
Aside from proper diet, pups also need multivitamin supplements to help keep them healthy! This pack of multivitamins from My Pet Defense helps fortify the immune system, boost natural energy, strengthen bones and teeth, and promote good heart health.
My Pet Defense Multivitamin. These multivitamins are made with chickpea flour, cane molasses, natural cheese, natural bacon flavor, safflower oil, ascorbic acid, sorbic acid, and mixed tocopherols.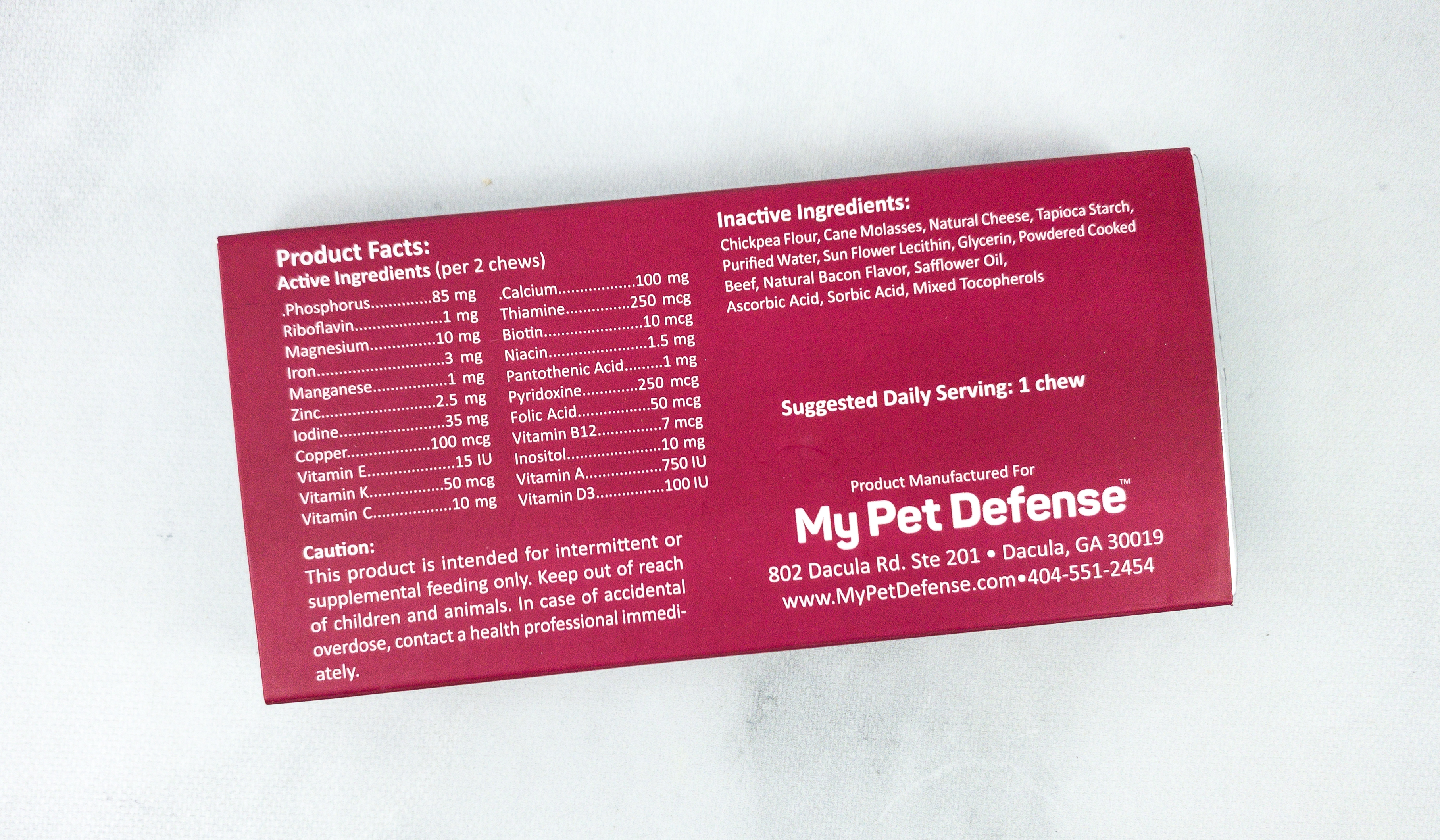 Featured at the back of the carton are all the vitamins and minerals your dog will get in each chew. It includes Vitamins A, C, and E for the immune system and Niacin to aid digestion. They suggest serving 1 chew daily.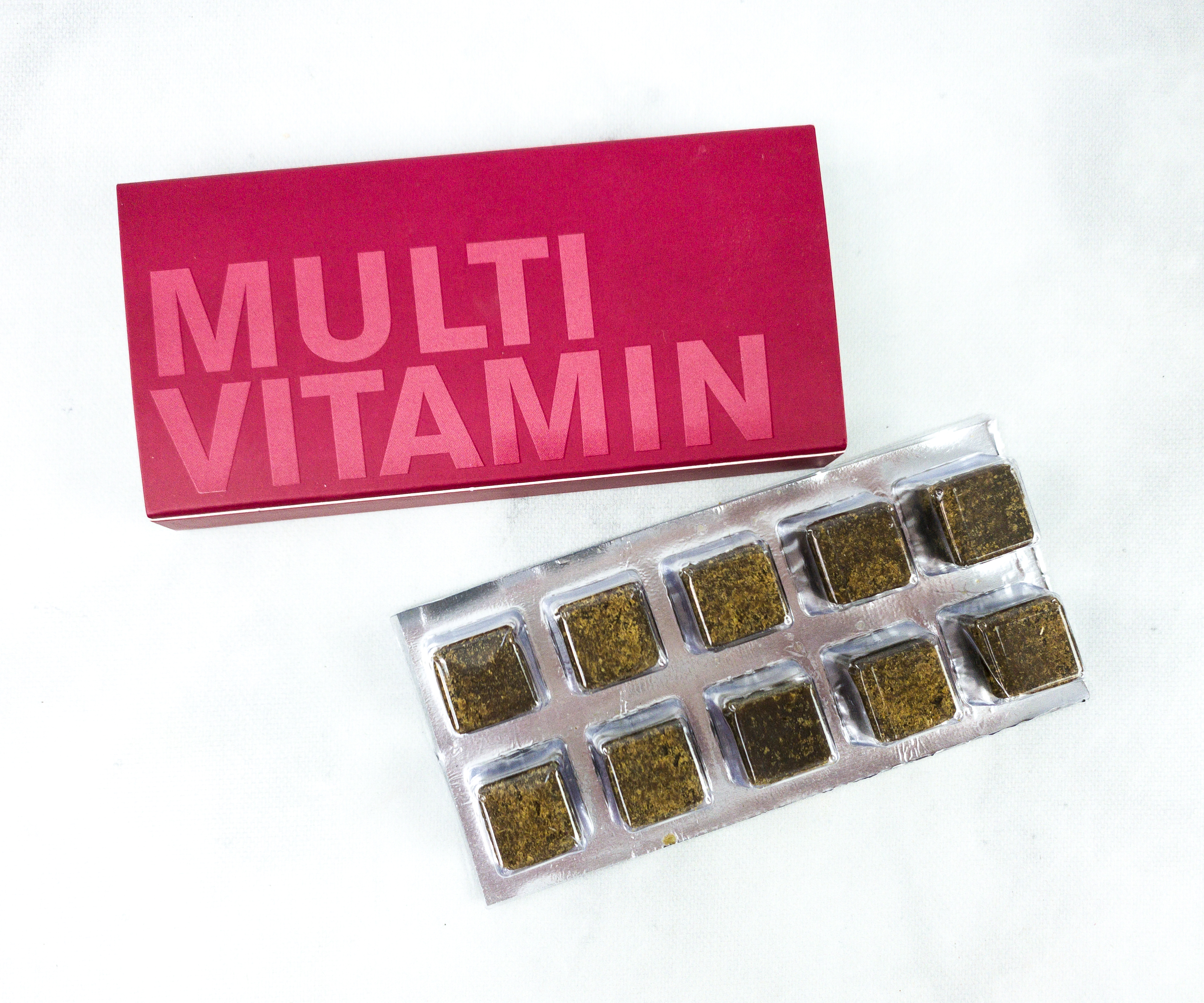 I love that they used a foil-sealed packaging, which keeps each supplement fresh for a longer time.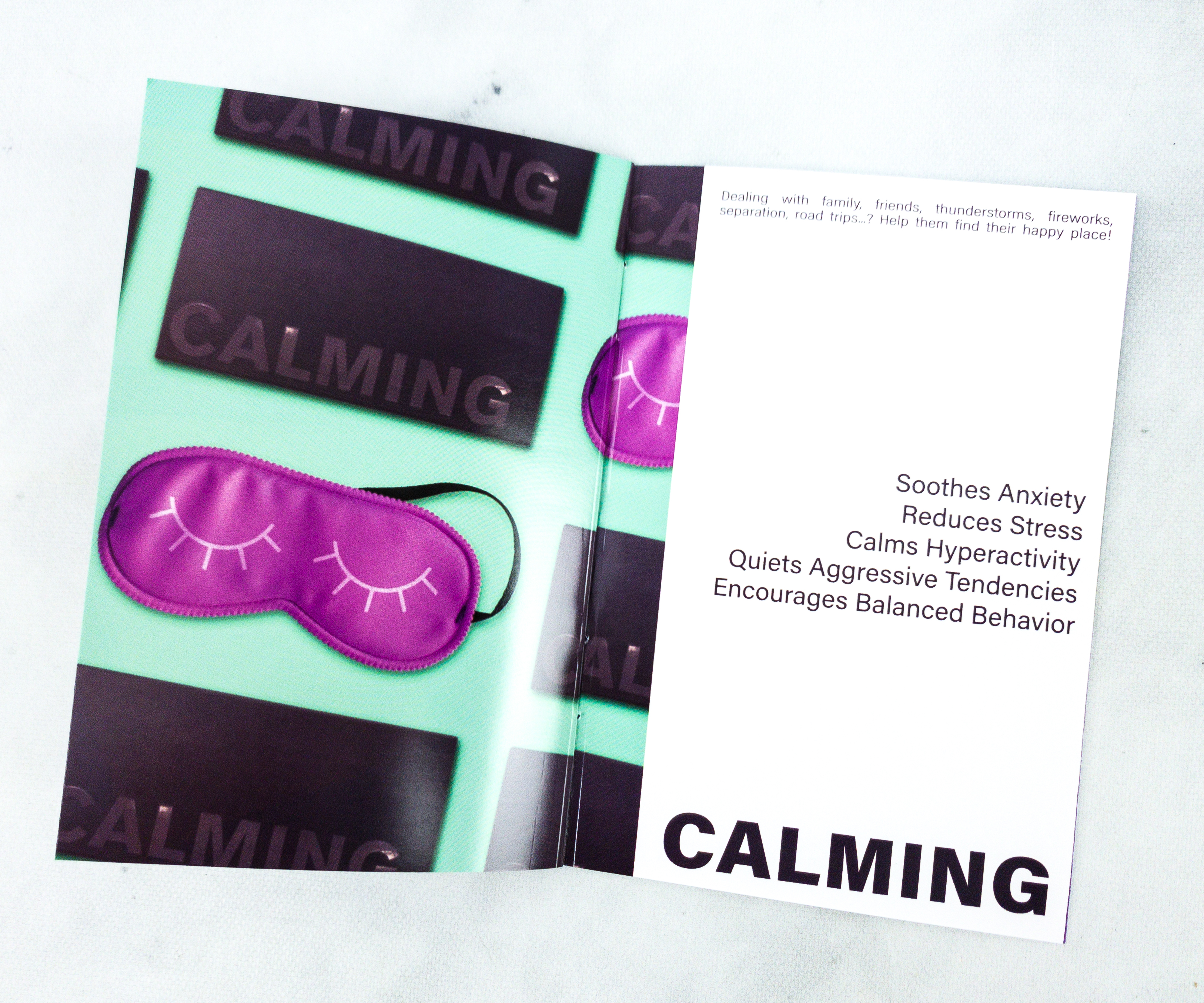 Here's another supplement in our box, and this time the soft chews are formulated to help calm our furry friends!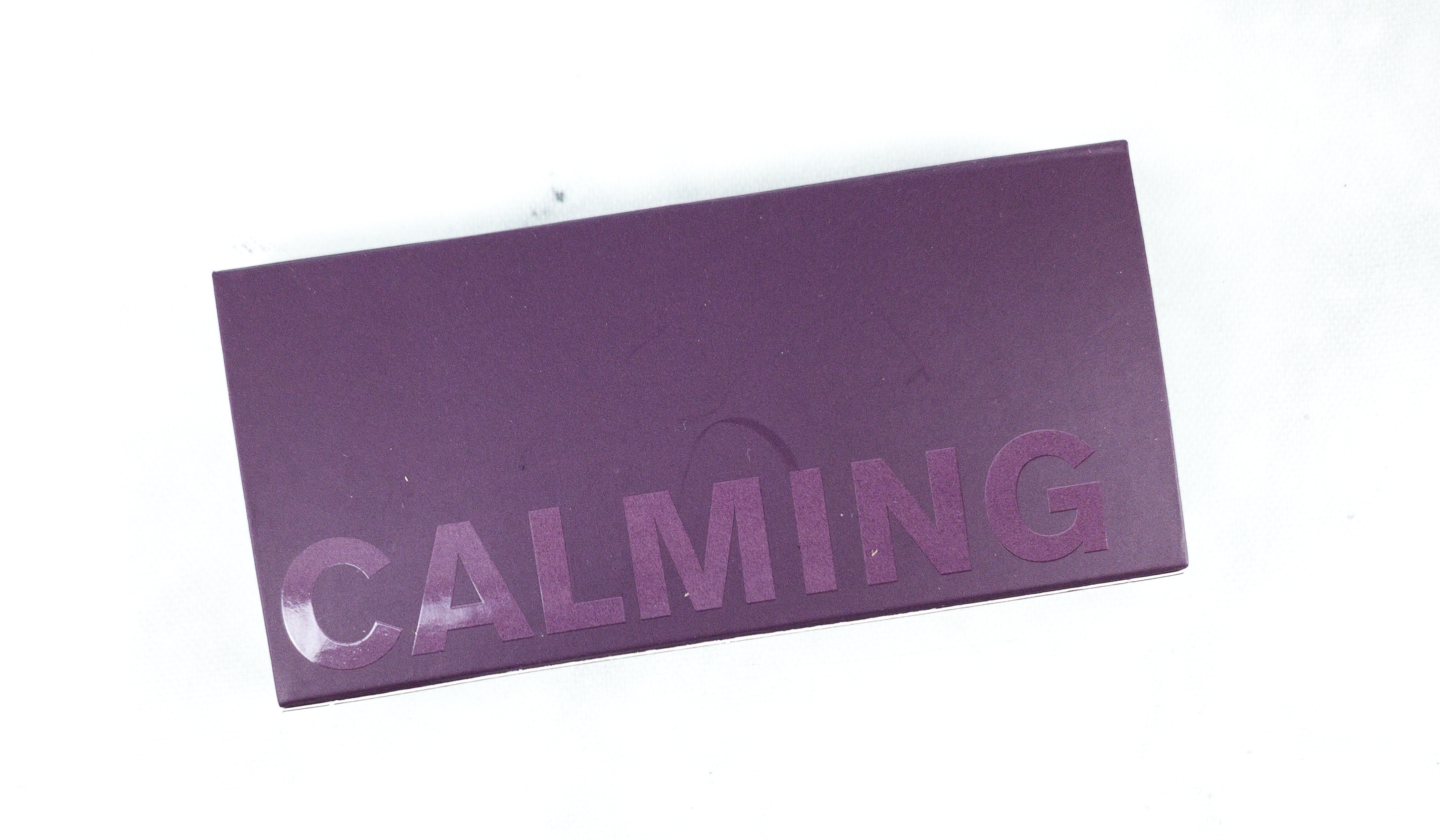 My Pet Defense Calming Soft Chews. Dogs tend to be uncomfortable when they are put in a new environment or exposed to a new situation. These supplements come in handy to soothe their anxieties, reduce stress, and even calm hyperactivity, with the help of chamomile, organic hemp seed, and hemp oil.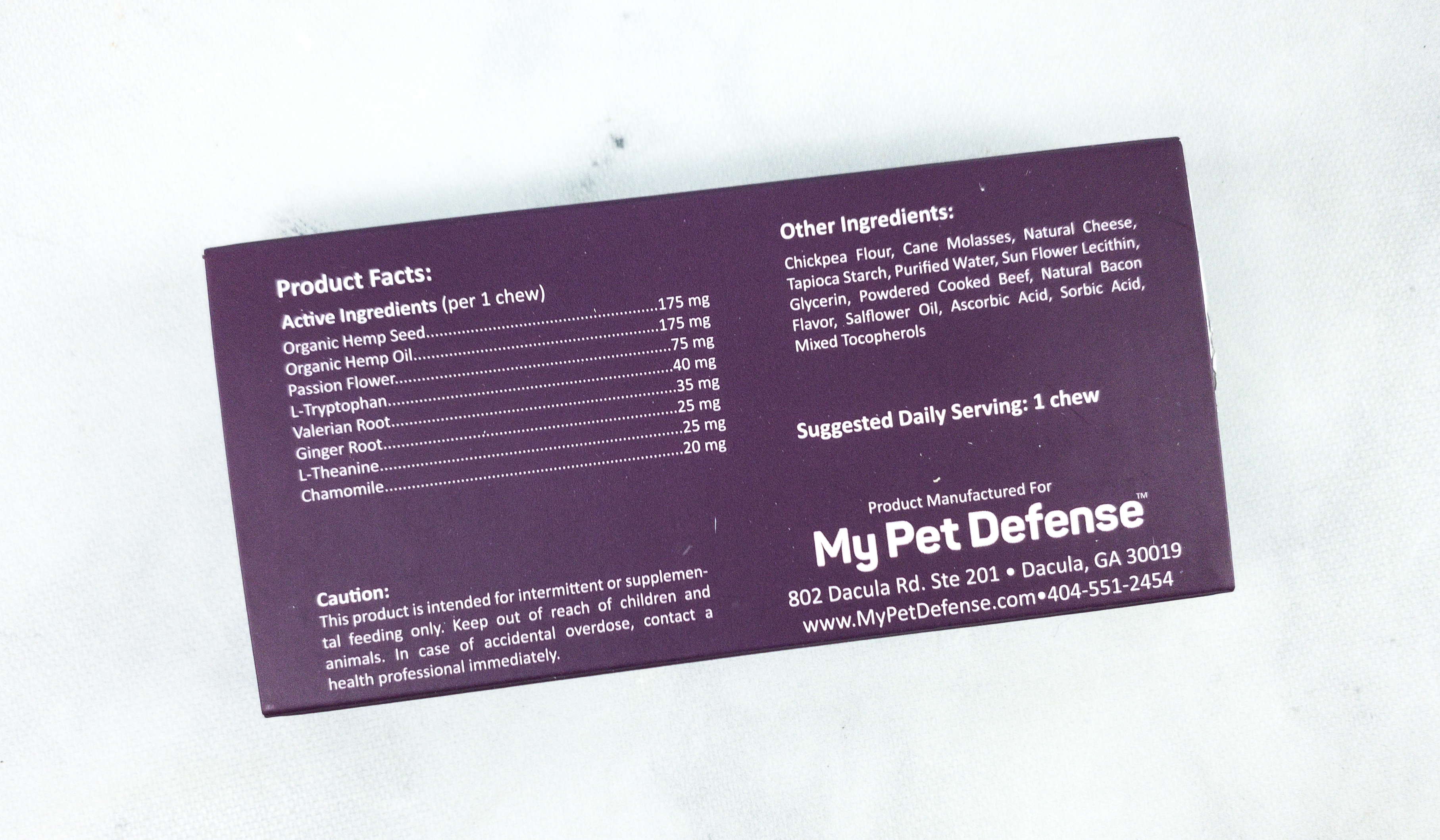 Other ingredients are passionflower, L-tryptophan, and valerian and ginger root.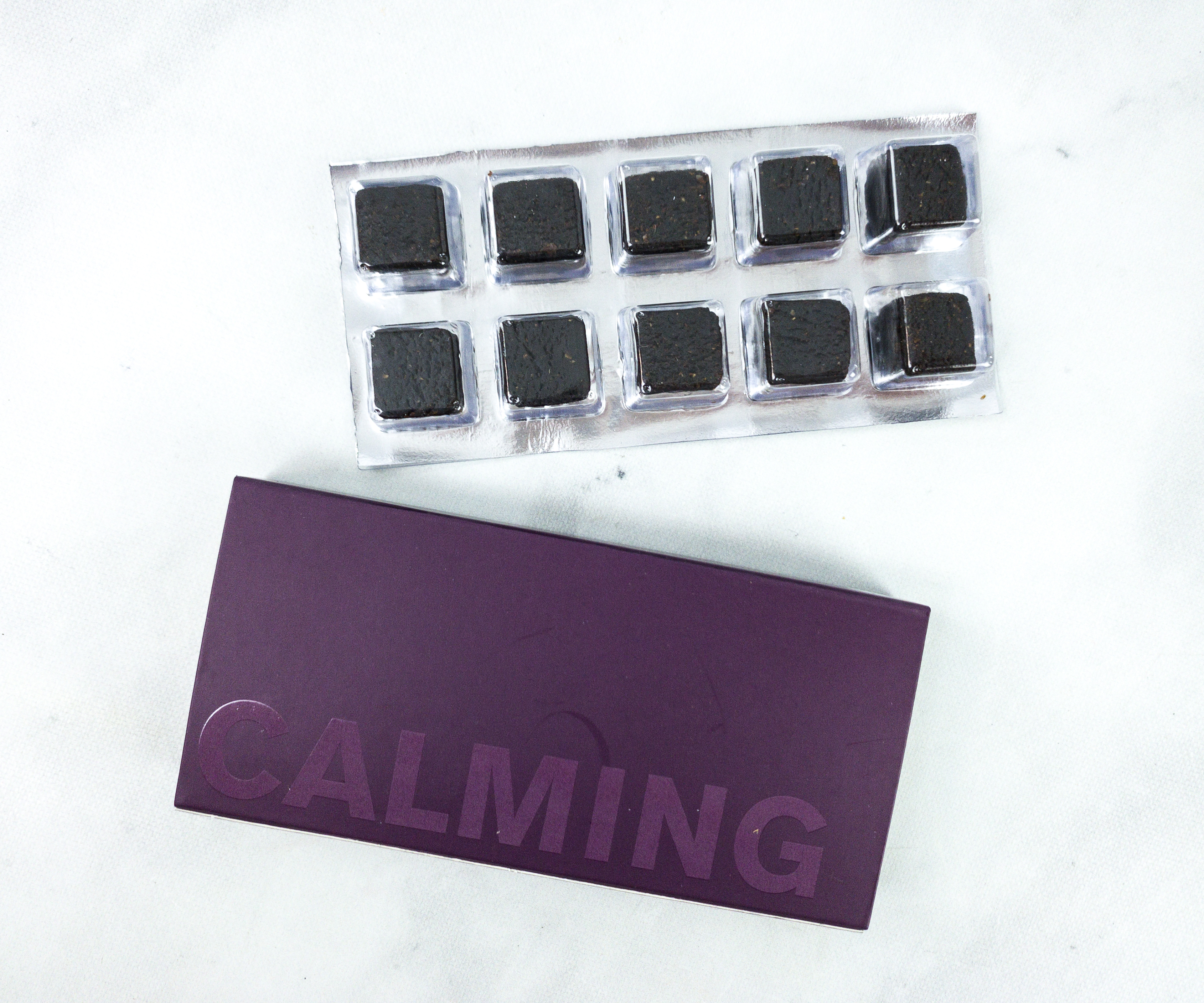 You can serve this treat on the day you are going for a road trip, taking a walk in the park, or if you're having guests at home.
We also have supplements formulated to maintain a dog's skin and coat!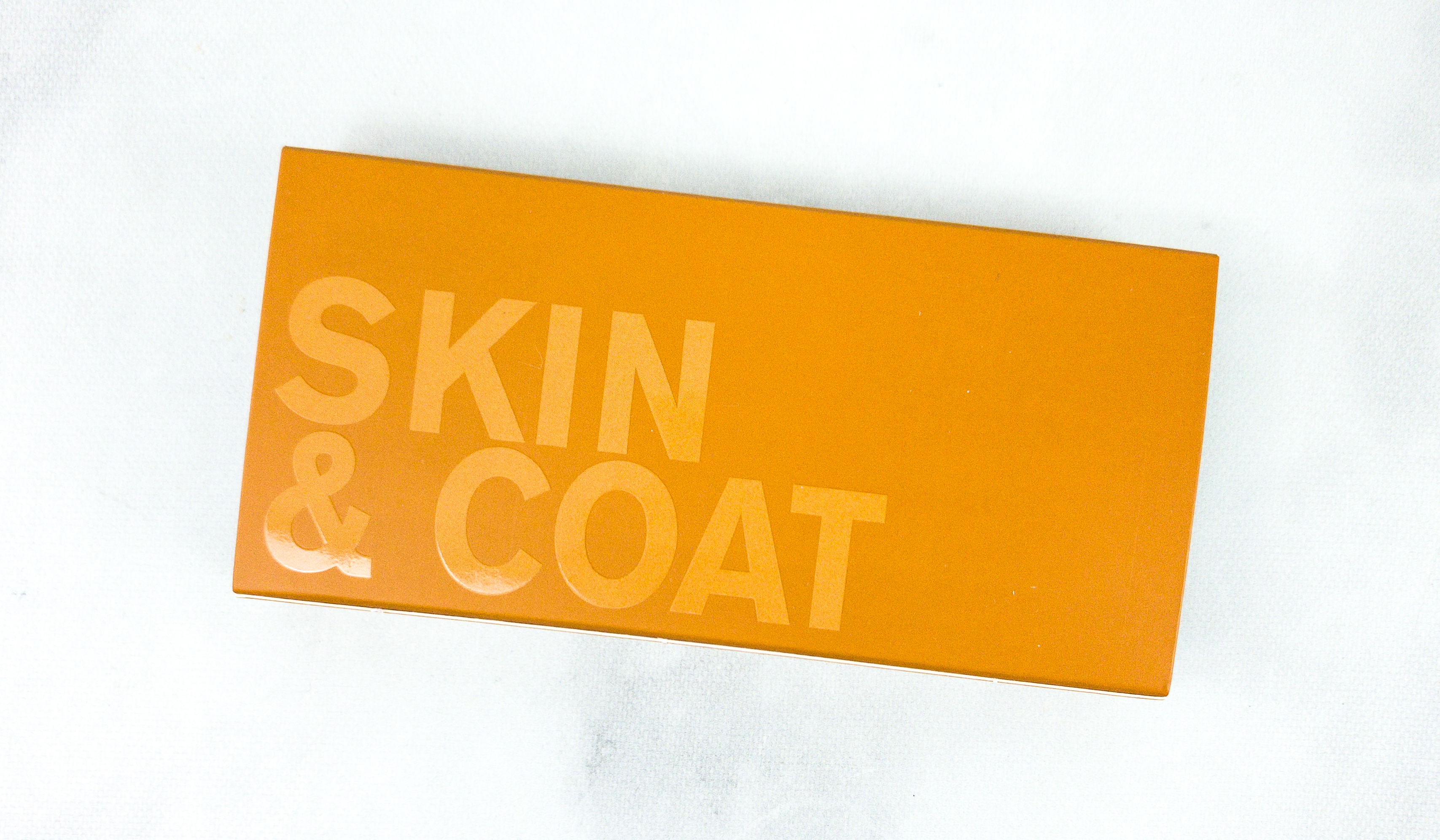 My Pet Defense Skin & Coat Soft Chews. These chews help restore a dog's shiny coat, revitalize dry skin, relieve itchiness, support the immune system, and soothe skin irritations.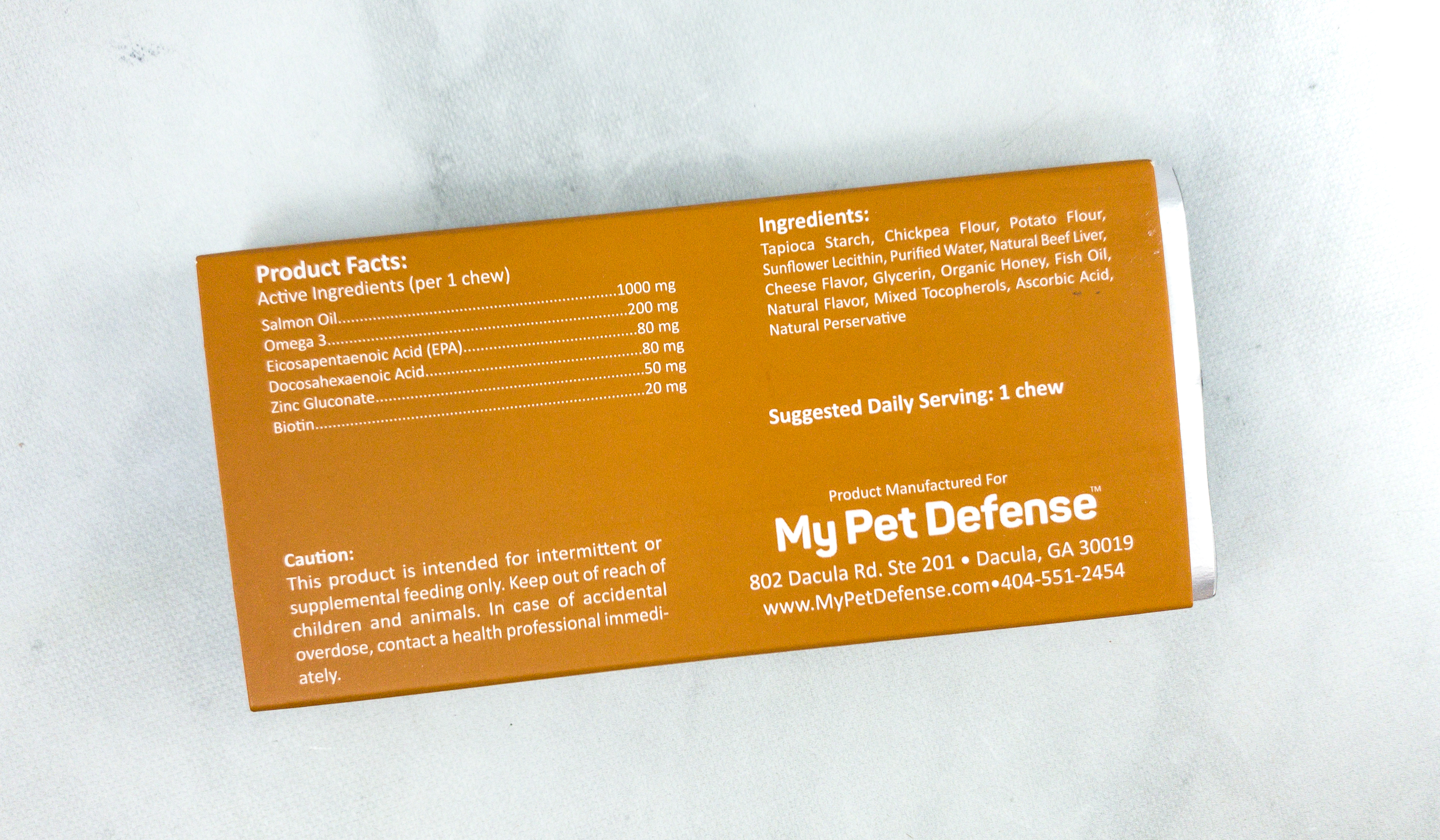 These are made with tapioca starch, chickpea flour, potato flour, natural beef liver, cheese flavor, organic honey, and fish oil.
Each soft chew is rich in salmon oil and omega 3s, which are well-known ingredients that promote beautiful skin and coat. Just like the other supplements from this subscription, they were also in foil-sealed packs to keep them fresh!
My Pet Defense helps maintain a dog's overall health and wellbeing, making it such a useful subscription for pet parents. I really appreciate all the items in our first box, from the flea and tick protection to the dental powder and, of course, the supplements. What's great is that everything in the box is enough to last a month. So far, we haven't encountered any problems with these pet health and wellness goodies. Our pups are always excited about the supplements and I think it is because the soft chews look and taste just as good as their regular treats! All in all, we're impressed with this box, from the presentation to the benefits for our beloved dogs! We think this is a good choice for people choosing topical flea and tick protection for their pups like Frontline Plus or ZoGuard Plus.
What do you think of this month's box?