Merkaela is a quarterly box that sends natural bath, beauty, and meditation products curated to a theme as well as the season. Merkaela's items are made in-house although they may occasionally send a product from high-quality collaborators. All of the items are cruelty-free and there is a vegan option that you can choose at sign up. The ingredients are clean and in some cases organic. You can feel good about putting these items on your skin!
In our Deluxe box, you will receive 6-9 products (Essential box includes 3-5) built on the theme of the season. In addition, you will gain access to our thought-provoking content and a playlist that pairs with the products for that season. Our goal is to provide you with everything you need to be on your way to a holistic approach to a clear mind, body and spirit.
DEAL: Use code NEWMOON to save 22% on all subscription plans.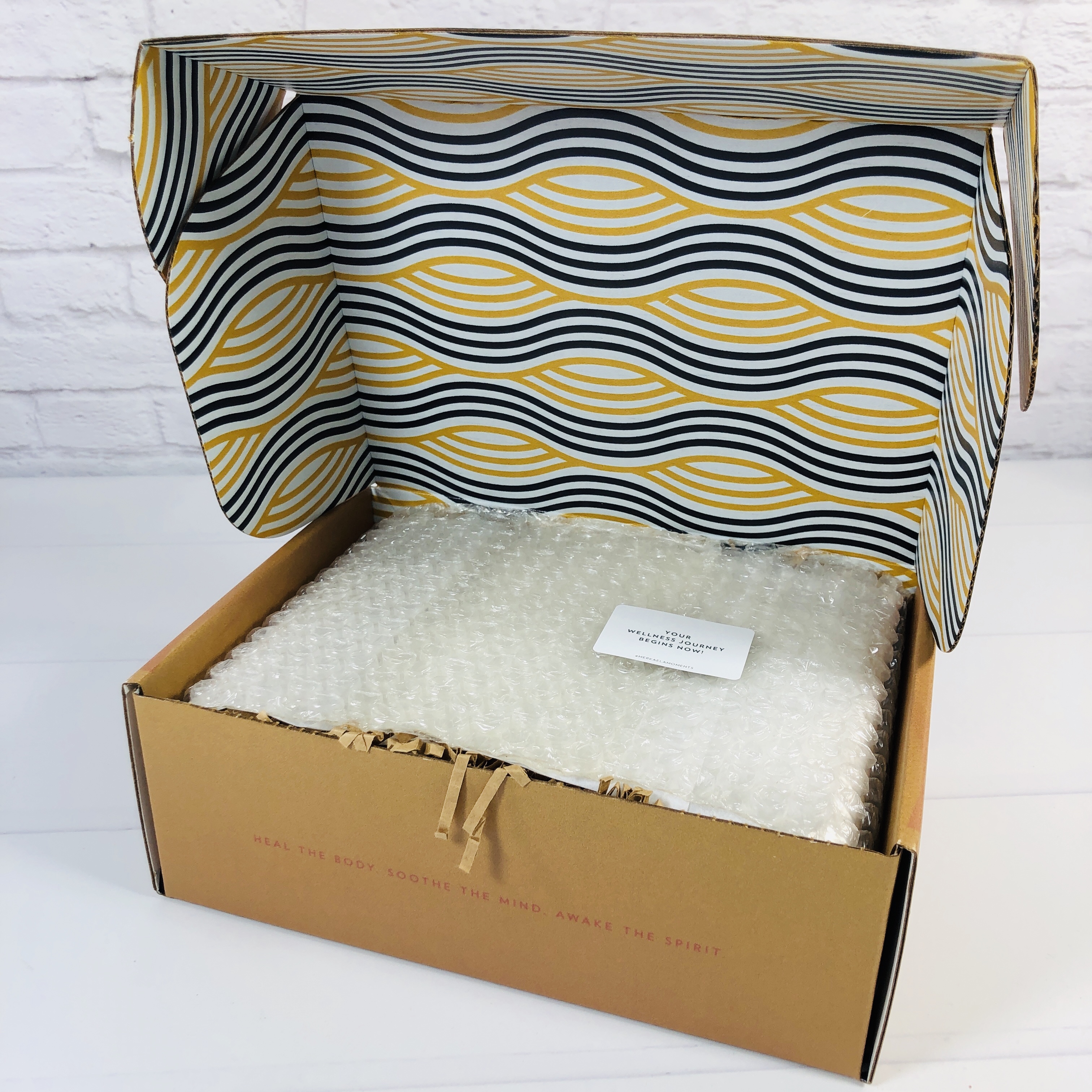 Merkaela has two different subscription levels. One is the "Essential" box ($39), which mainly has the meditation products, while the "Deluxe" box ($72) includes both the meditation products and body products. I am reviewing the "Deluxe" box. Keep in mind that shipping is extra. Recently added is a quarterly Soap Subscription, which is $18, and a Shea Body Butter Subscription, which is $25. Merkaela has the BEST body butters! Prices drop for longer subscription terms.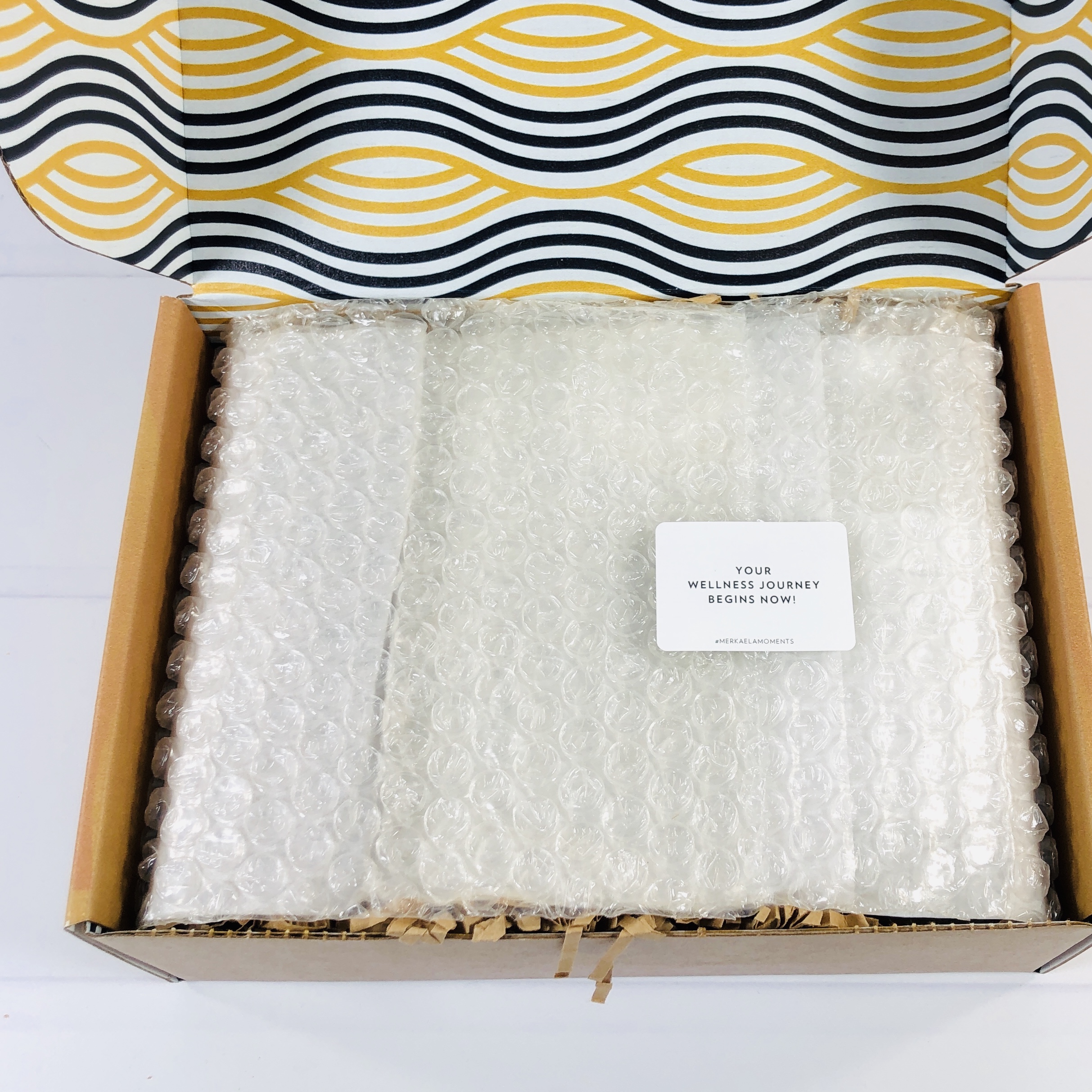 "Your wellness journey begins now!"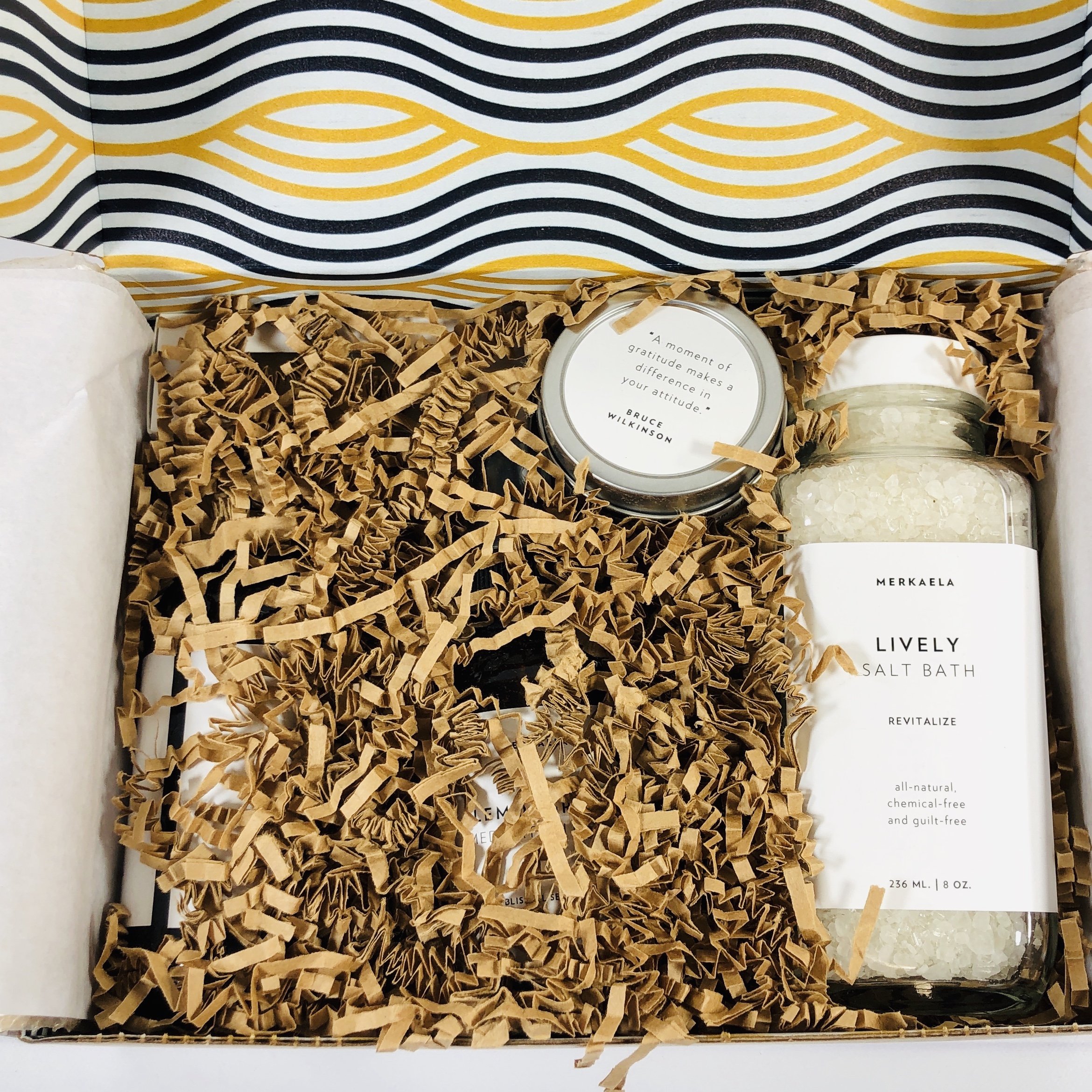 My items were tucked into shredded paper squiggles and the whole thing was covered in bubble wrap. The products come in glass containers and when you open the box, it smells relaxing. It's already having a positive effect on me!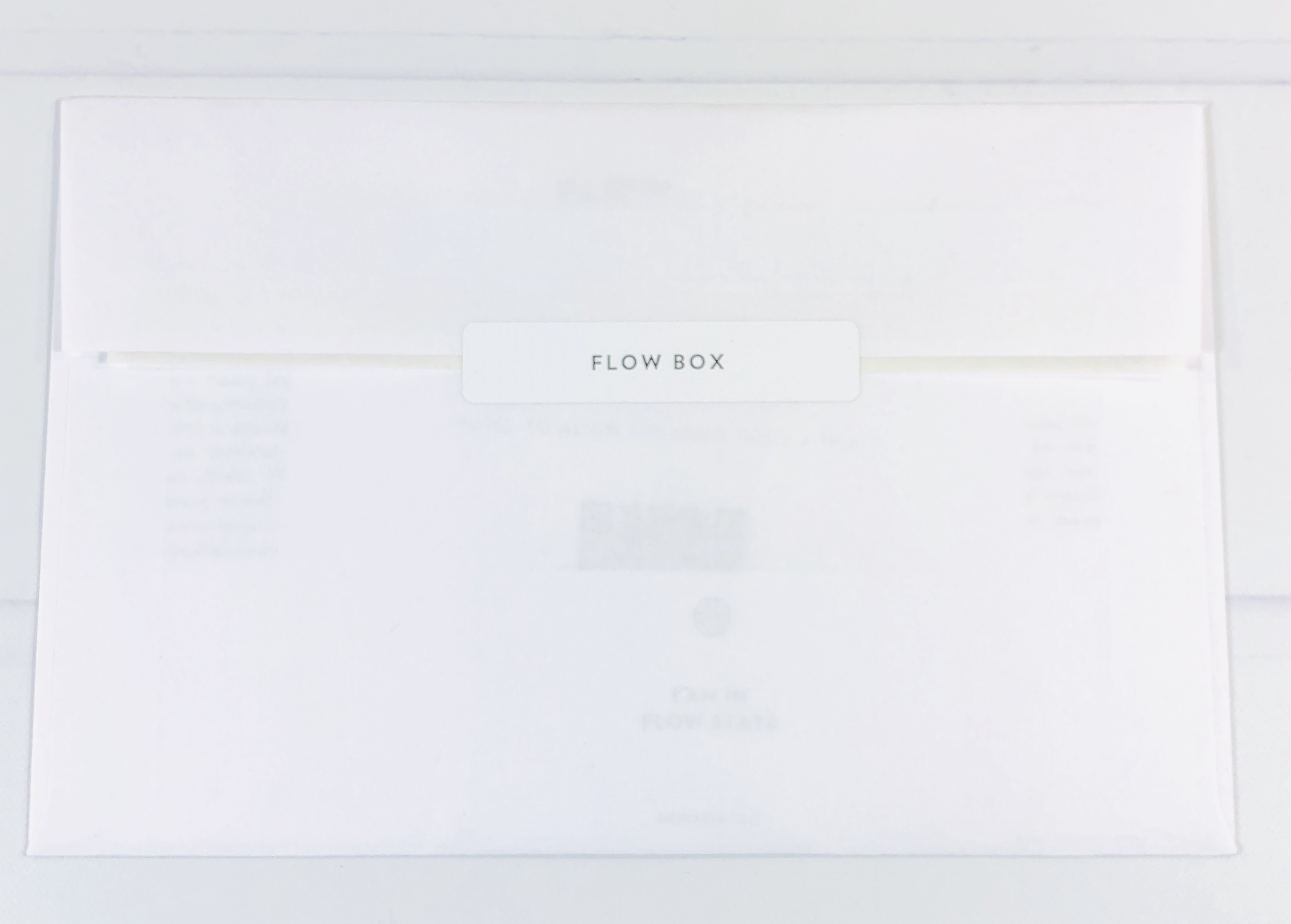 I received an envelope with some papers inside. The theme for this box is Flow.
I've never really given much thought to Flow so this is a new concept for me! I looked it up and it is pretty much the same thing as "being in the zone".
A list of the items plus their MSRP's was on the back of the card. A brief description was also noted.
There were two playlists on the info card, and this card has a code that you can scan with your camera app and it opens it up in Spotify.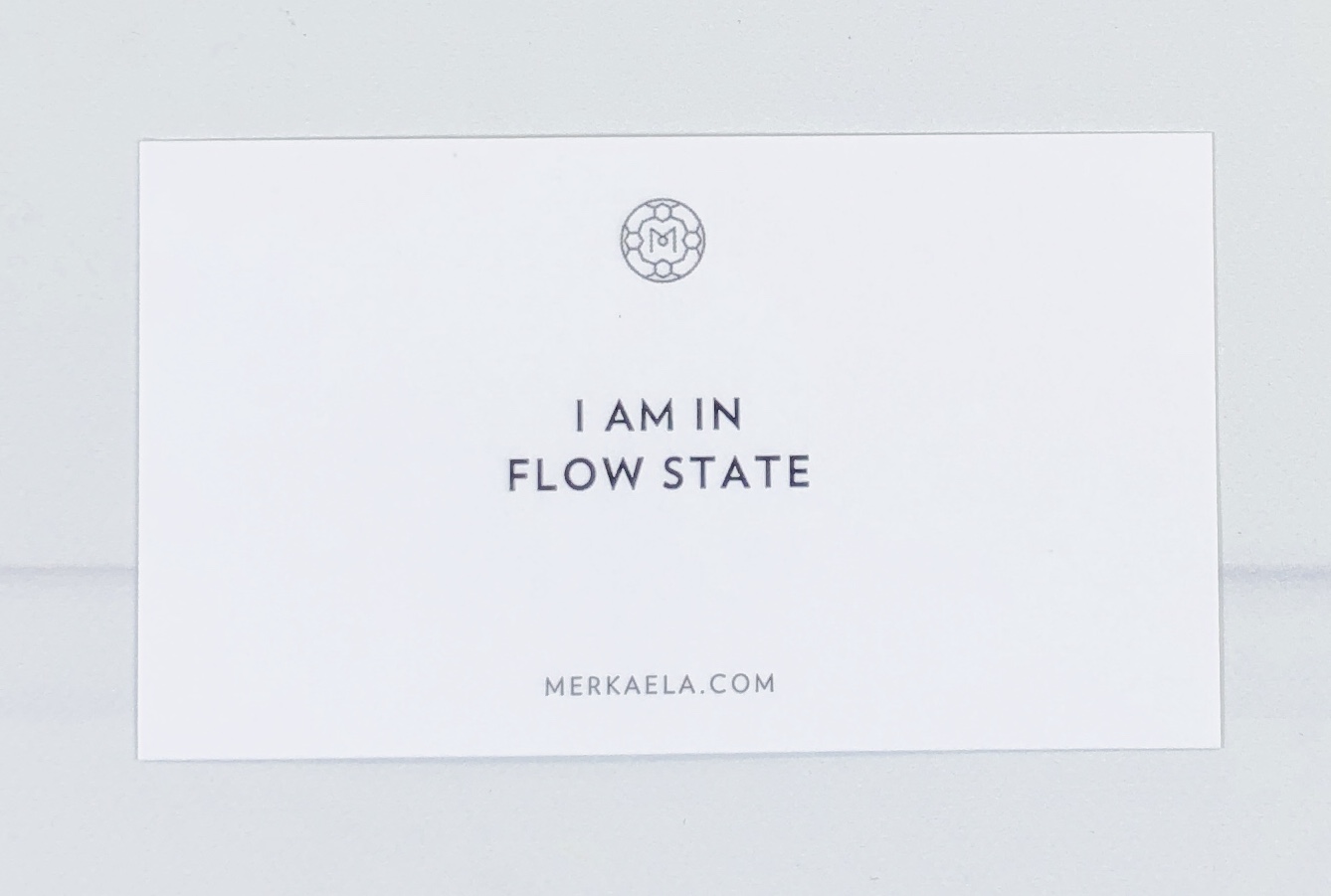 Here is our mantra for the season.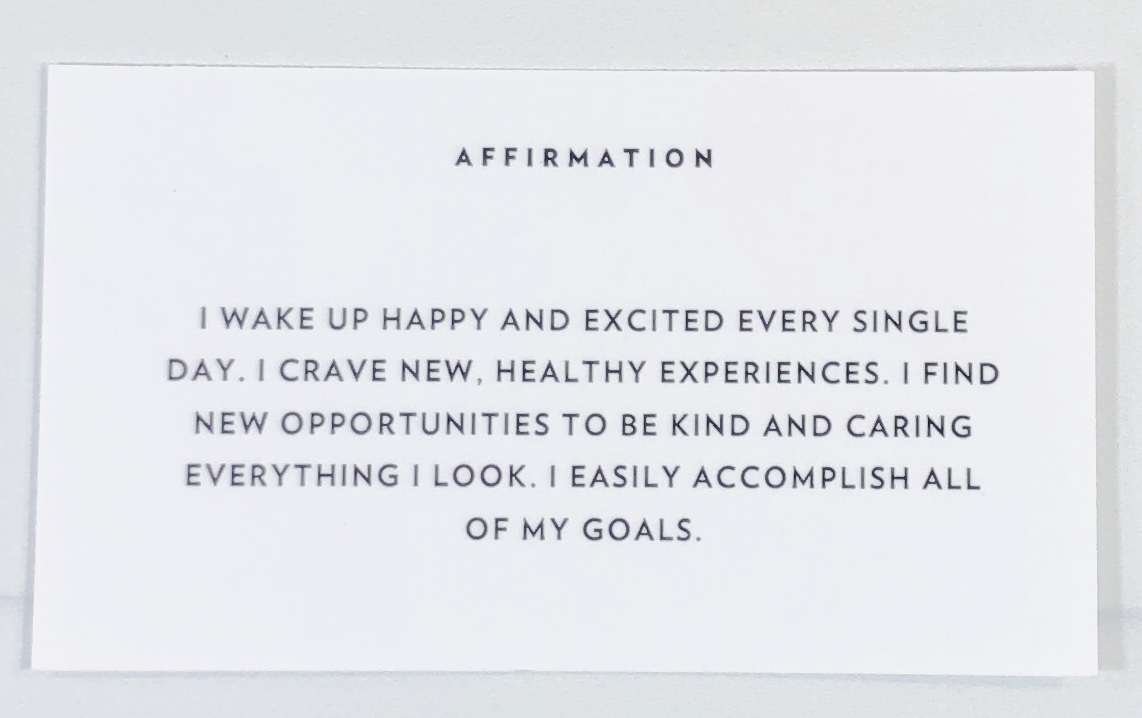 On the back is an affirmation. You can place this business-sized card somewhere to look at it frequently, like a planner or mirror. These past few months have been a difficult time for all of us, and this uplifting message would be a good one for me to see every morning.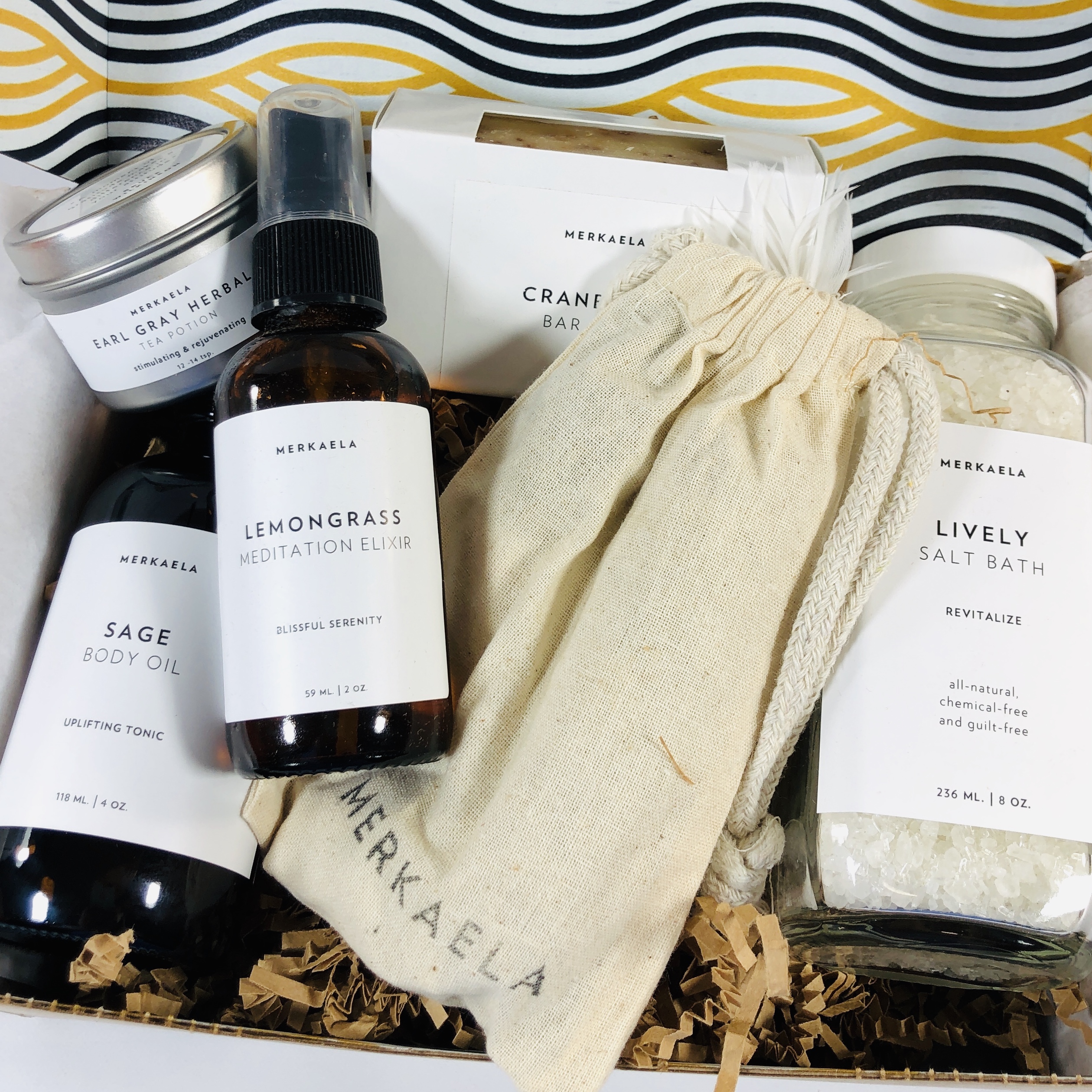 A couple of items had additional packaging.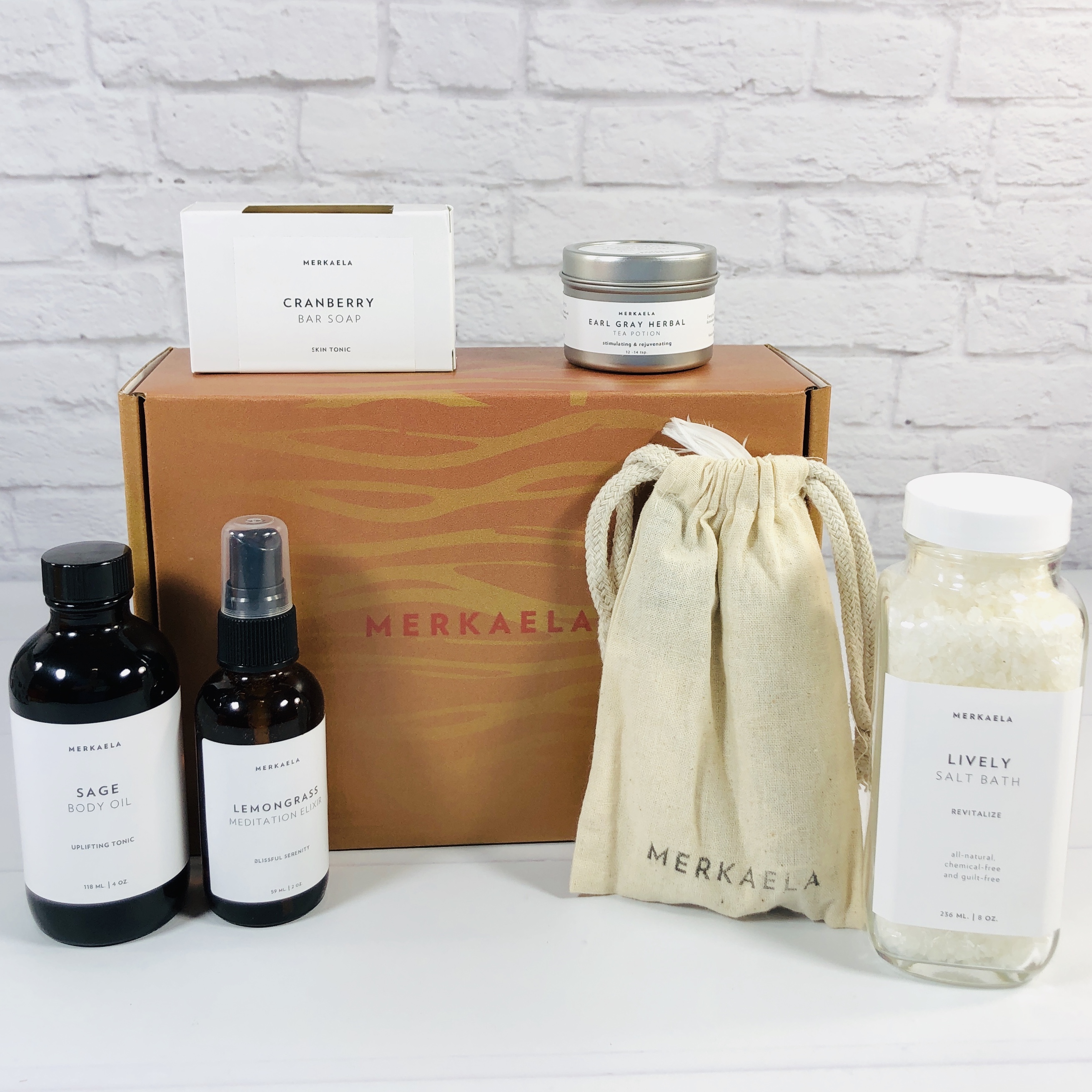 Everything in my box! Doesn't it look beautiful? I think the packaging of Merkaela's products is lovely and classy. They even have mini-affirmations on them. Most of them are in glass jars/bottles, except for the tea and soap.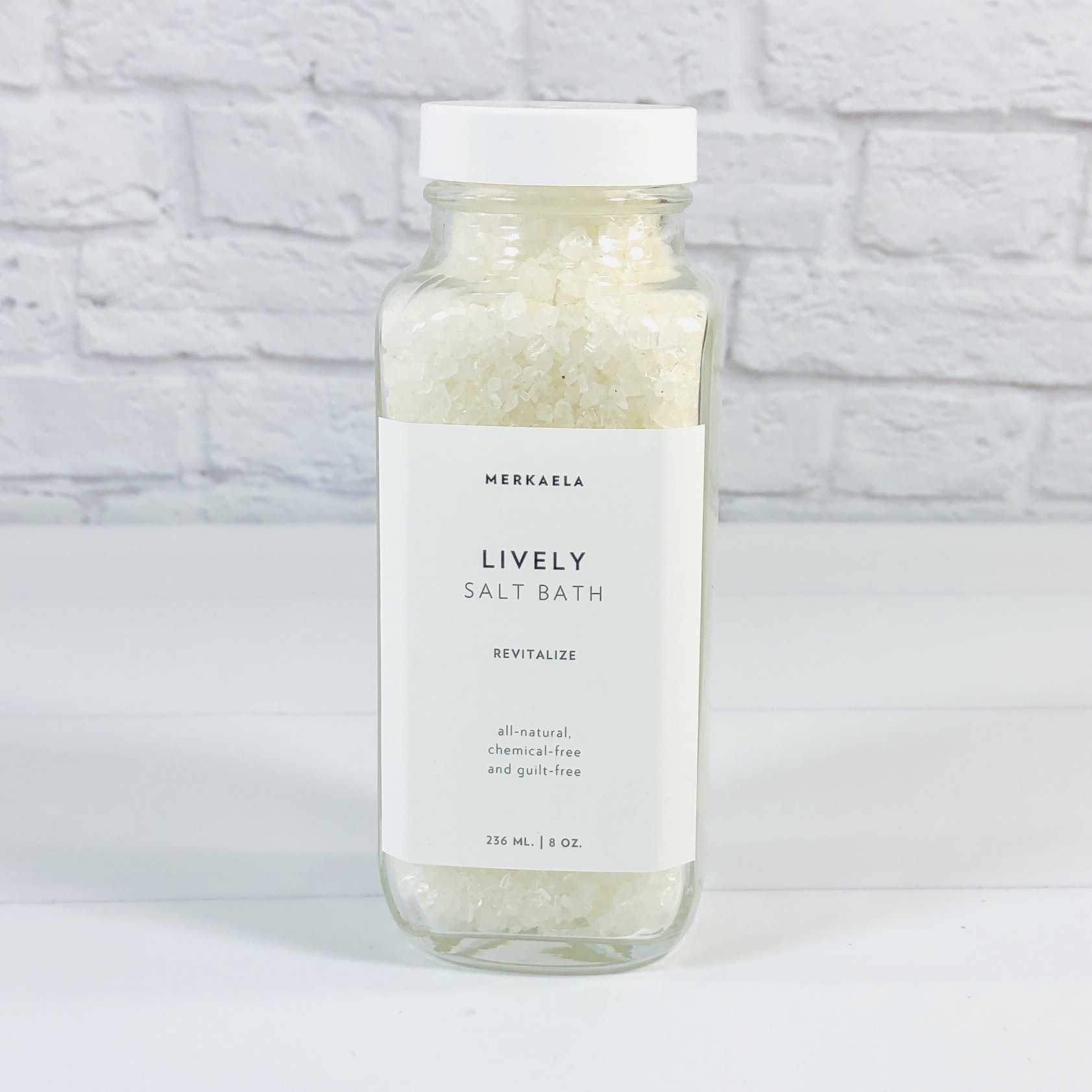 Merkaela Lively Salt Bath ($18) My daughter commented how much she likes the jar these bath salts came in, it looks like a smoothie jar!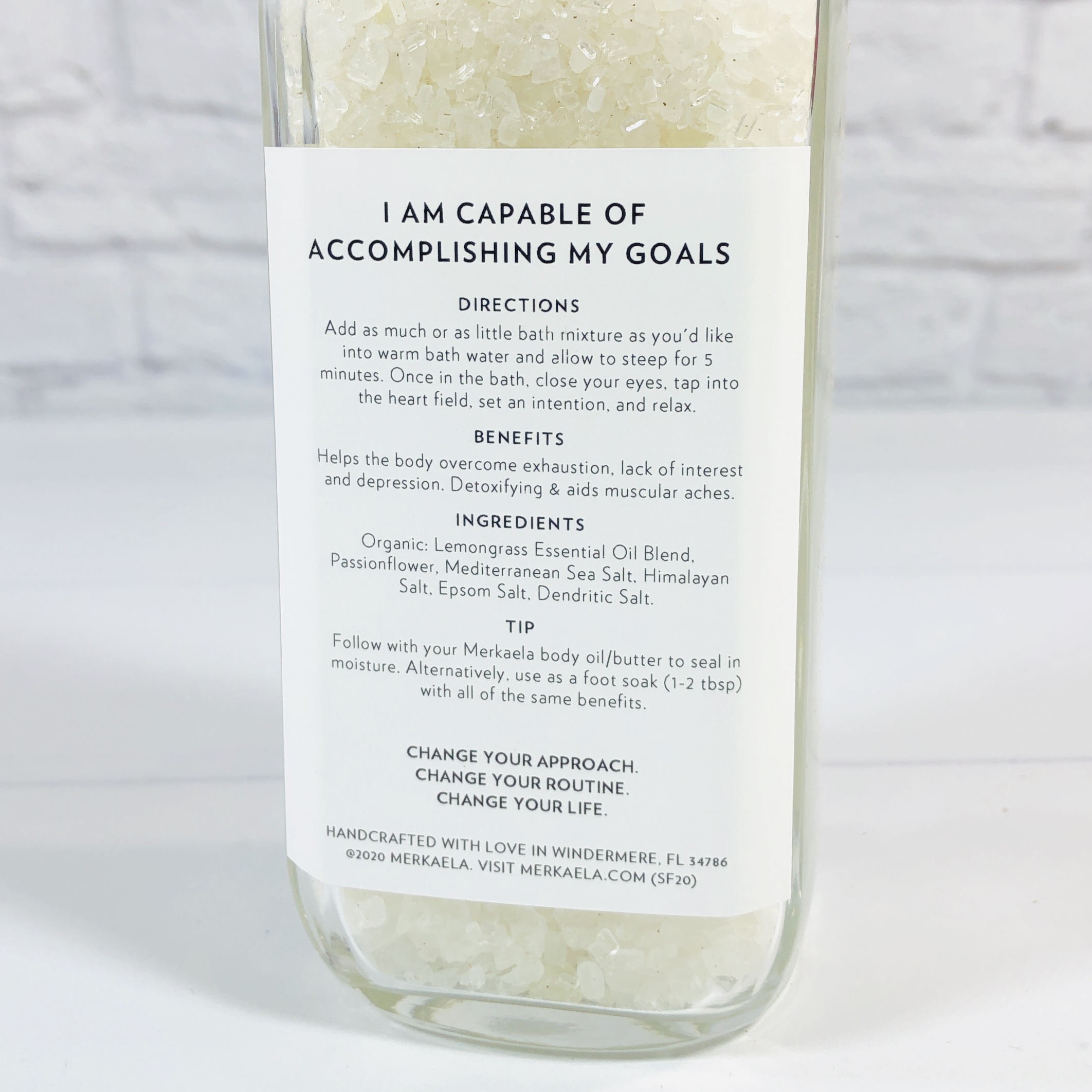 This super soaker is made with four types of salt: Mediterranean, Himalayan, Epsom, and Dendritic. It also has lemongrass essential oil blend and passionflower.
The scent is lively, very uplifting and energizing, I think it may have some peppermint in there too! Pour some into a warm bath and just relax while taking in that amazing scent.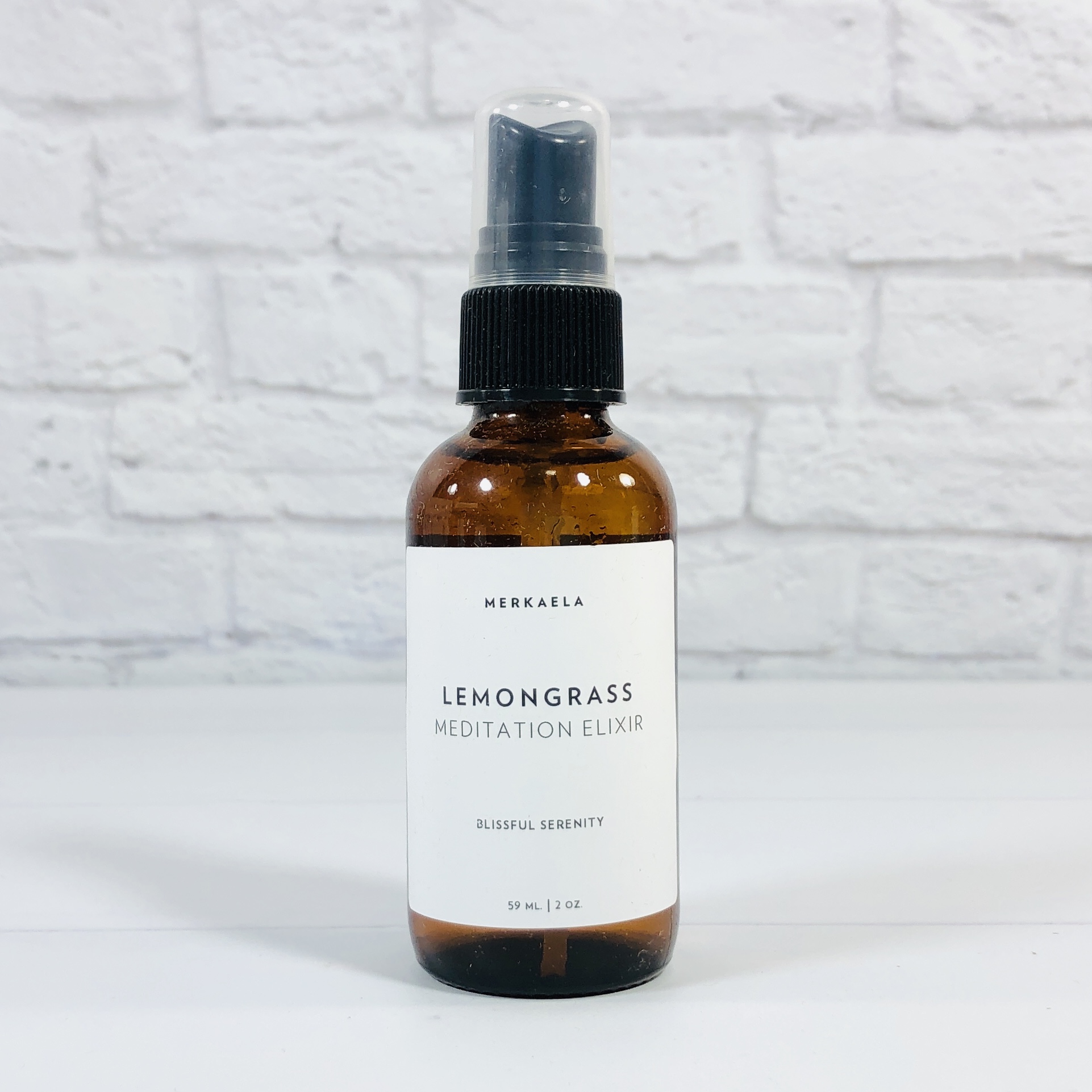 Merkaela Lemongrass Meditation Elixir ($9.25, buy 4 ounces for $18.50) is a room or body spray that also has lemongrass, which provides a light lemon fragrance in the immediate area.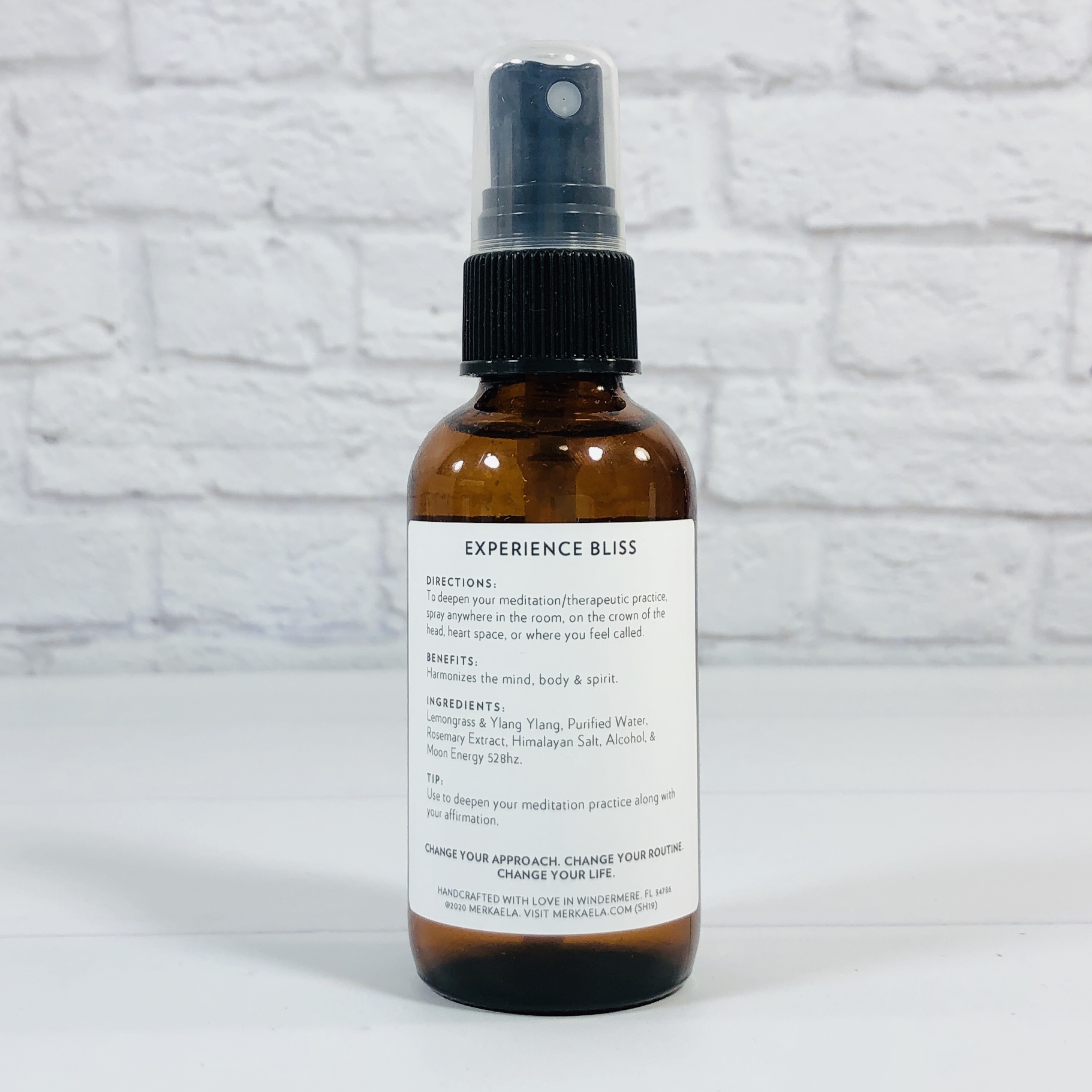 Spray around the room or above your head and take a couple of deep breathes, this is a fleeting scent and won't last long!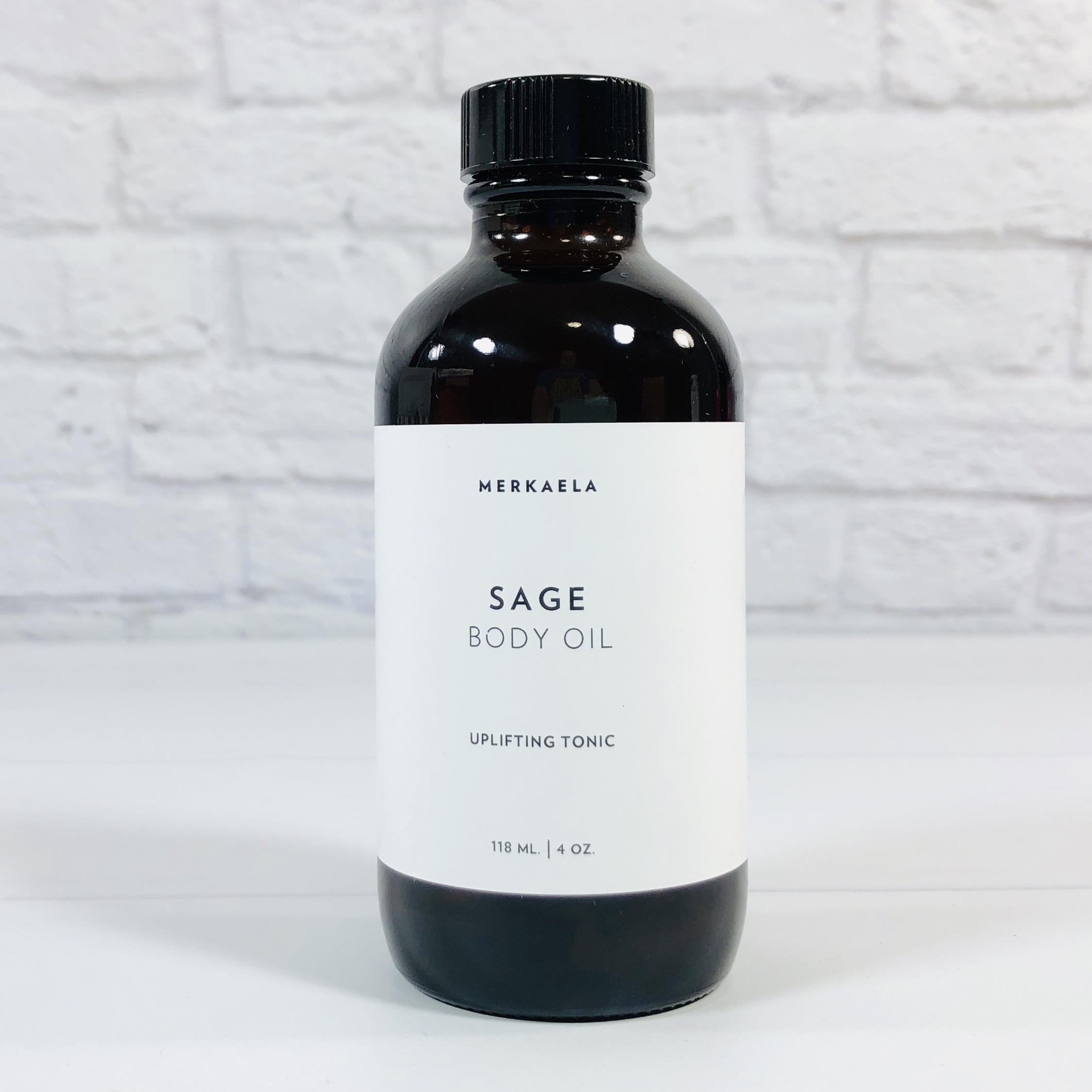 Merkaela Sage Body Oil ($30) Hmm, I can't recall if I've ever received a body oil from Merkaela before, what a surprise!
Several oils were involved such as jojoba and hemp, plus there was a sage essential oil blend.
I found this dropper in the baggie with the sage bundle and was confused for a bit until I realized it must go with the oil!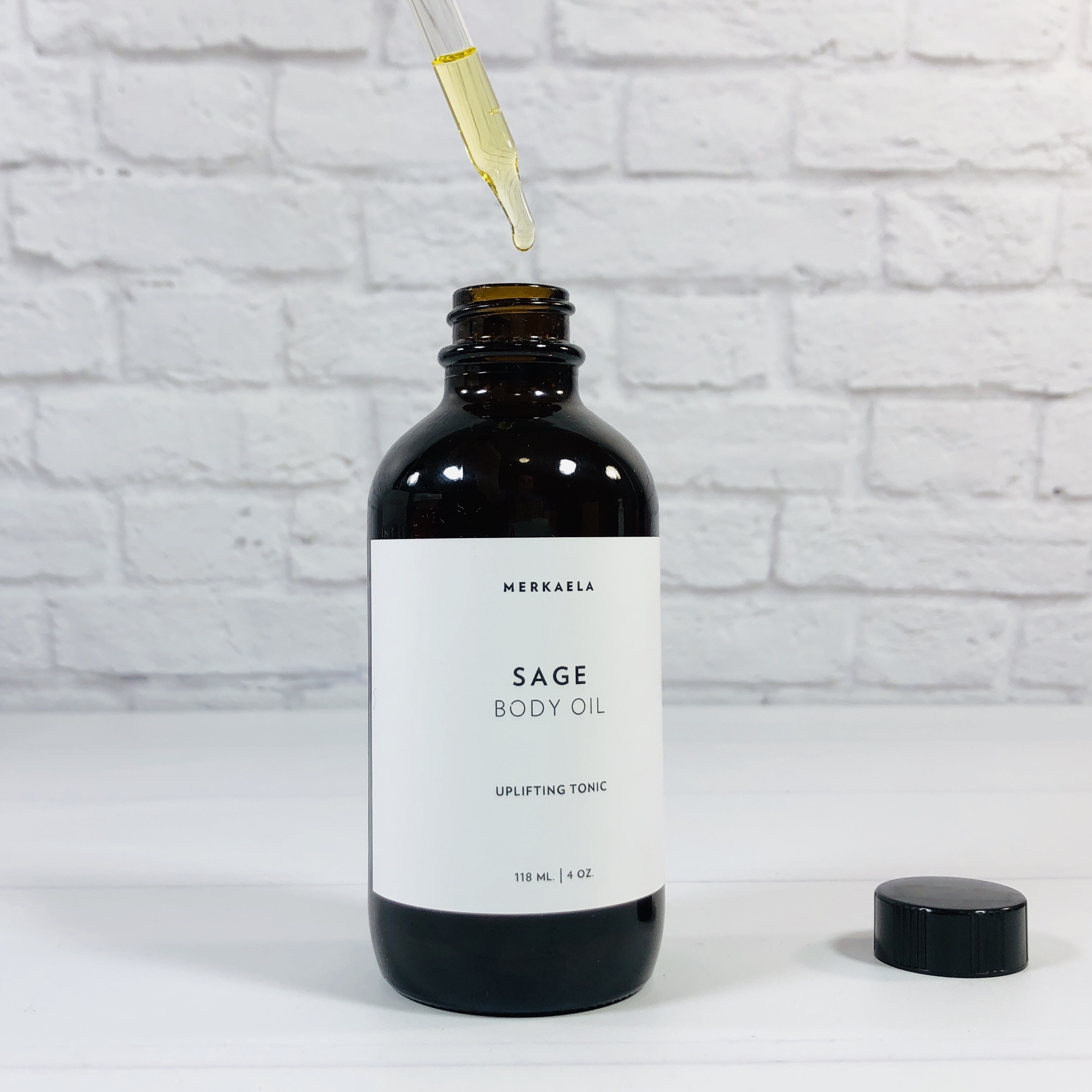 You can add a couple of droppers worth of oil to a bath before soaking, or apply to damp skin after a shower. It felt really nice on my skin, but I wonder what else was in the essential oil blend, because it kind of smelled a bit like bug spray! I think I will add some essential oils of my own to make it smell earthier for fall.
Merkaela Cranberry Bar Soap ($9.50) I simply love Merkaela's bar soaps, they are one of the best I've ever tried!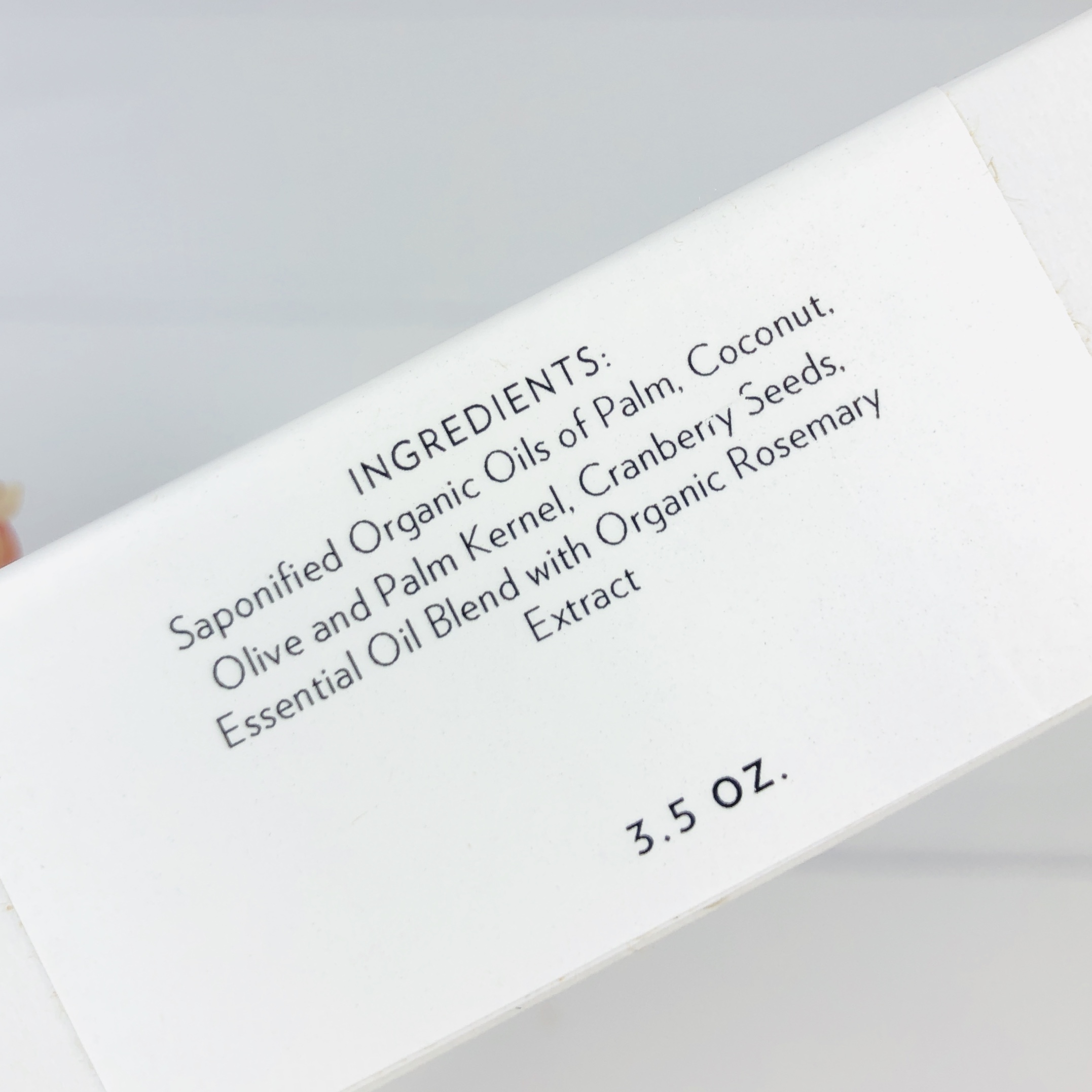 Saponified oils and essential oils are here, along with cranberry seeds.
The cranberry seeds provide a gentle exfoliation to the skin, my arms and legs love it! It has a natural scent enhanced with citrus notes.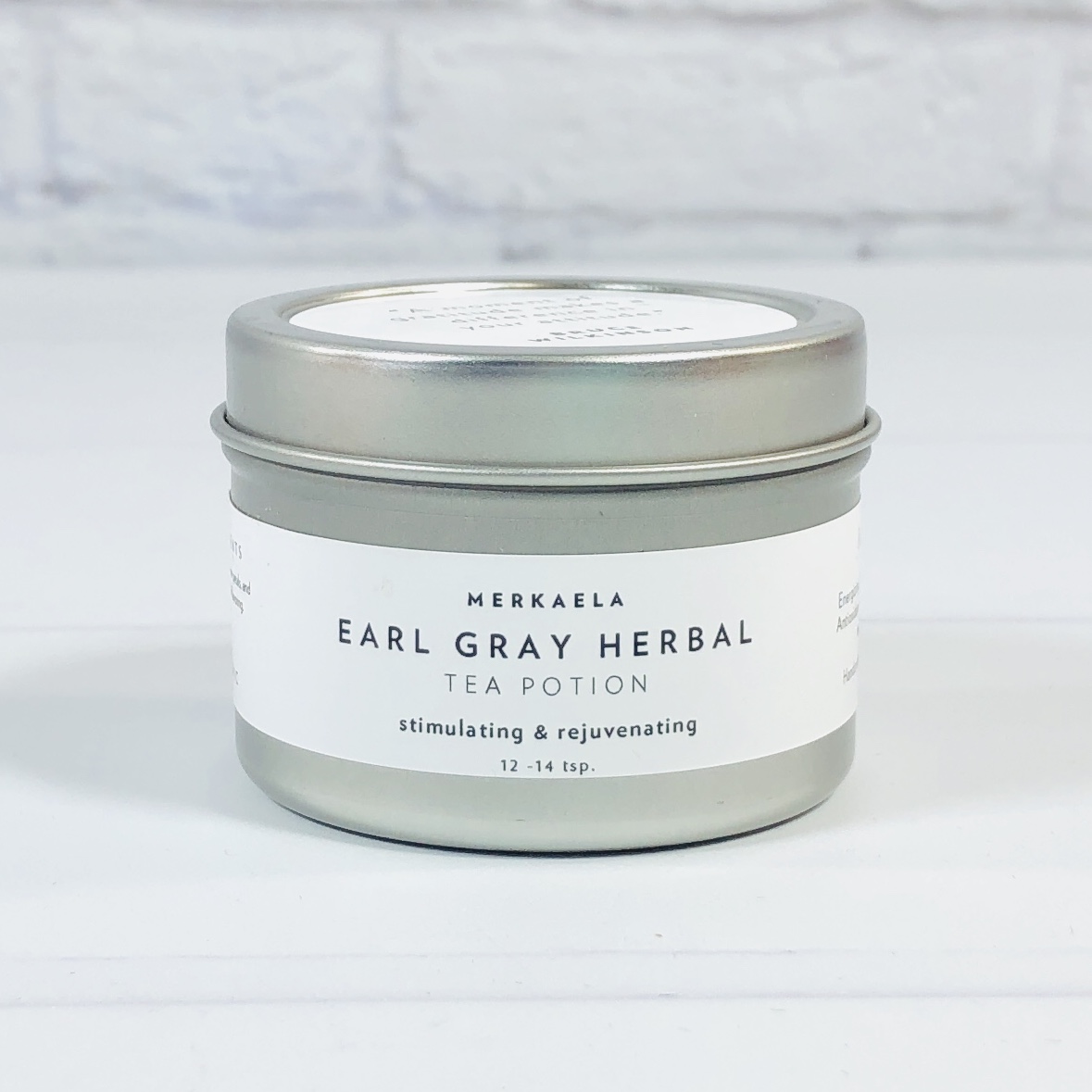 Merkaela Earl Gray Herbal Tea ($8.50) I want to point out that this isn't an herbal tea, which usually means there is no actual tea (camellia sinensis) and therefore no caffeine. This is traditional black tea with caffeine.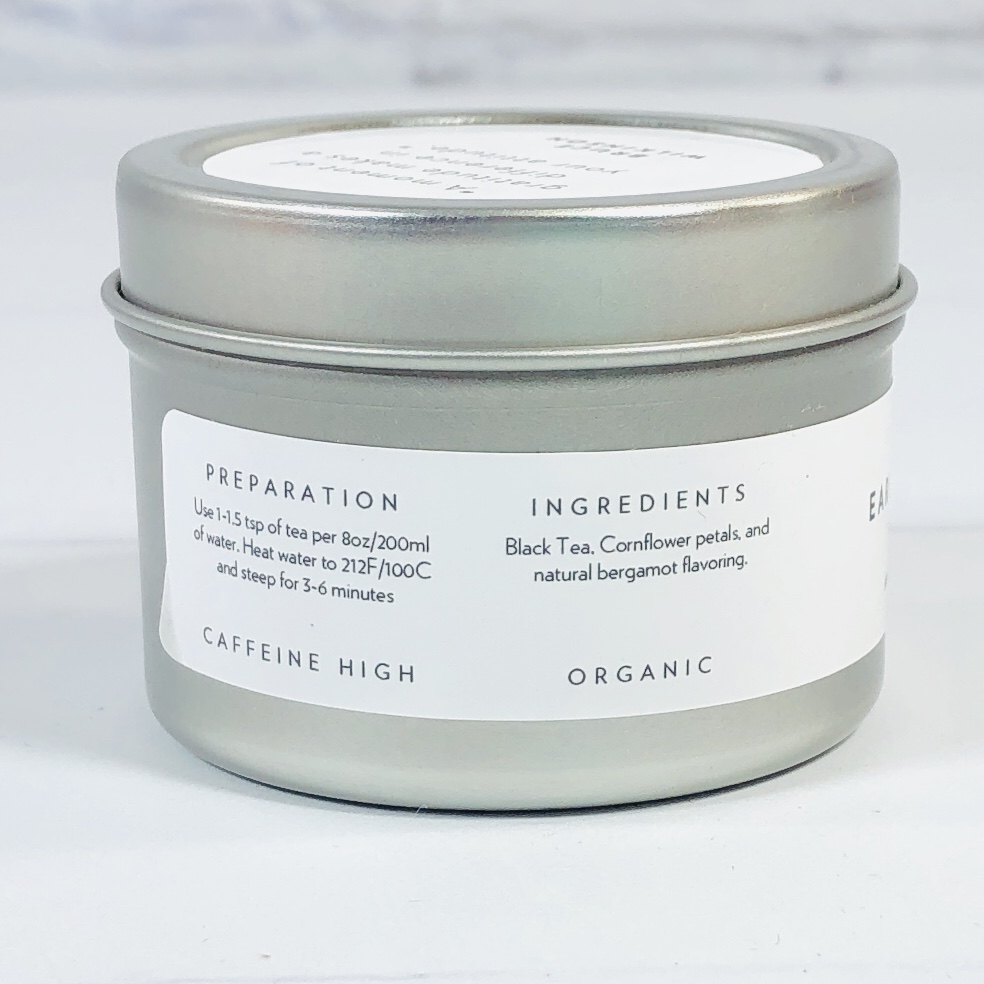 The ingredients are black tea, cornflower petals, and bergamot essence.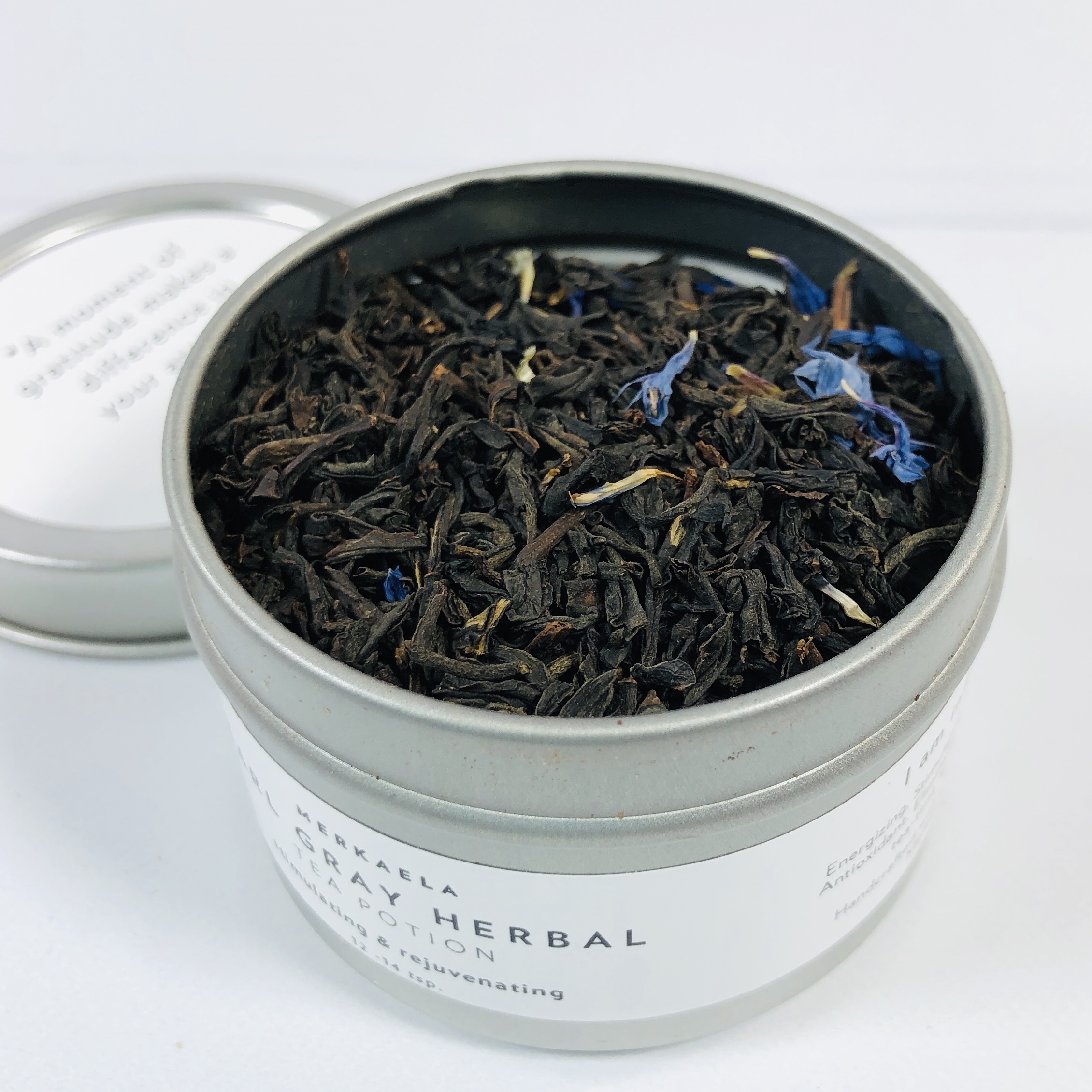 It's so pretty, look at those blue cornflower petals! It also smells divine, such a stimulating floral/citrus scent. As for the flavor? Also spot on, and it's a lively cup of tea! I added a bit of milk and sugar and it was the absolute best way to greet a rainy morning.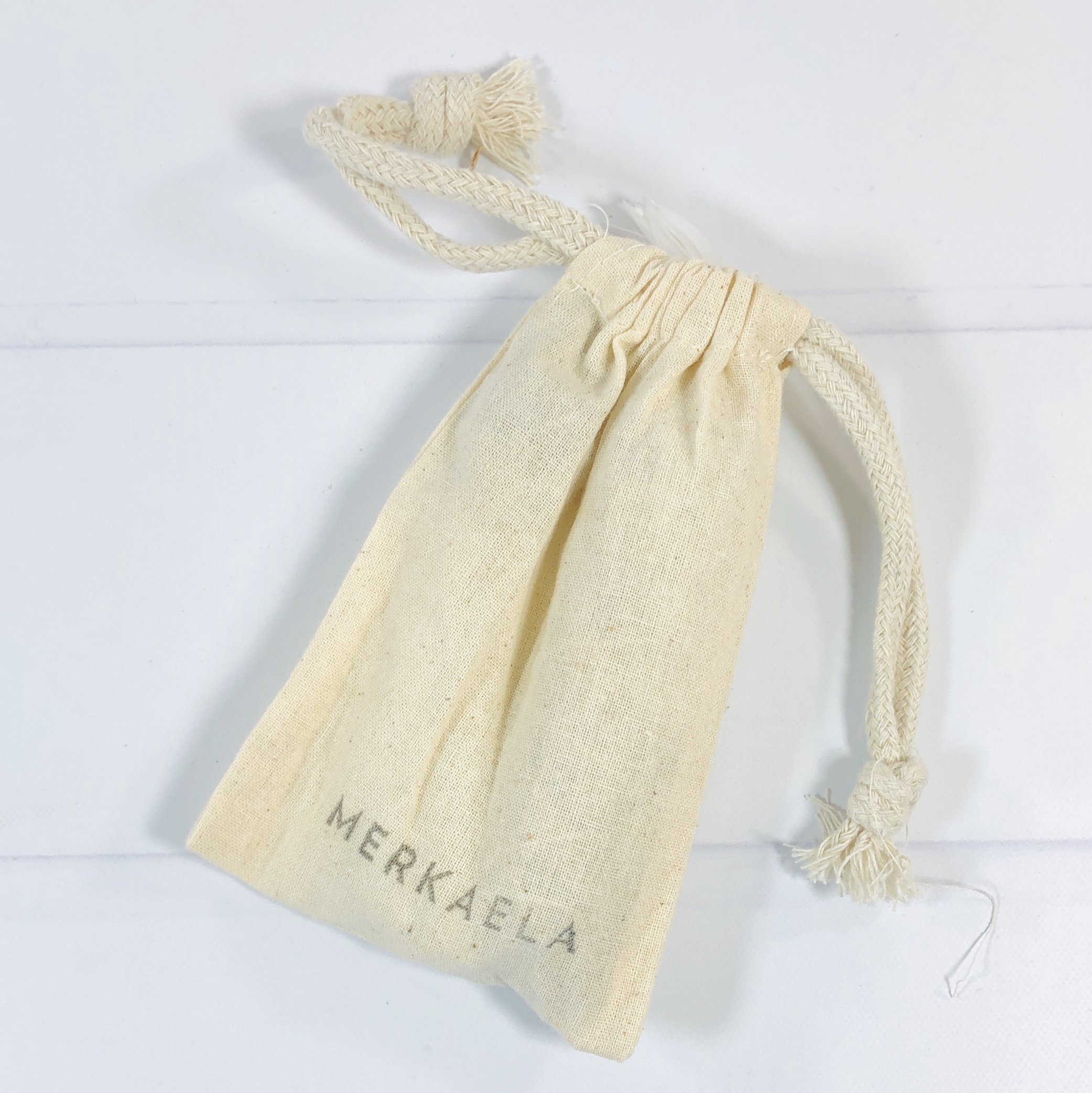 Inside this pouch I found a Sacred Sage Bundle, a gemstone, and a dropper, which I stuck in the bottle of body oil.
Merkaela Sacred Sage Bundle ($7) My Sacred Sage Bundle came with brief instructions. This is the first time I have ever read that the ties around the sage bundle should be cut, I have always used the whole bundle when smoke cleansing before.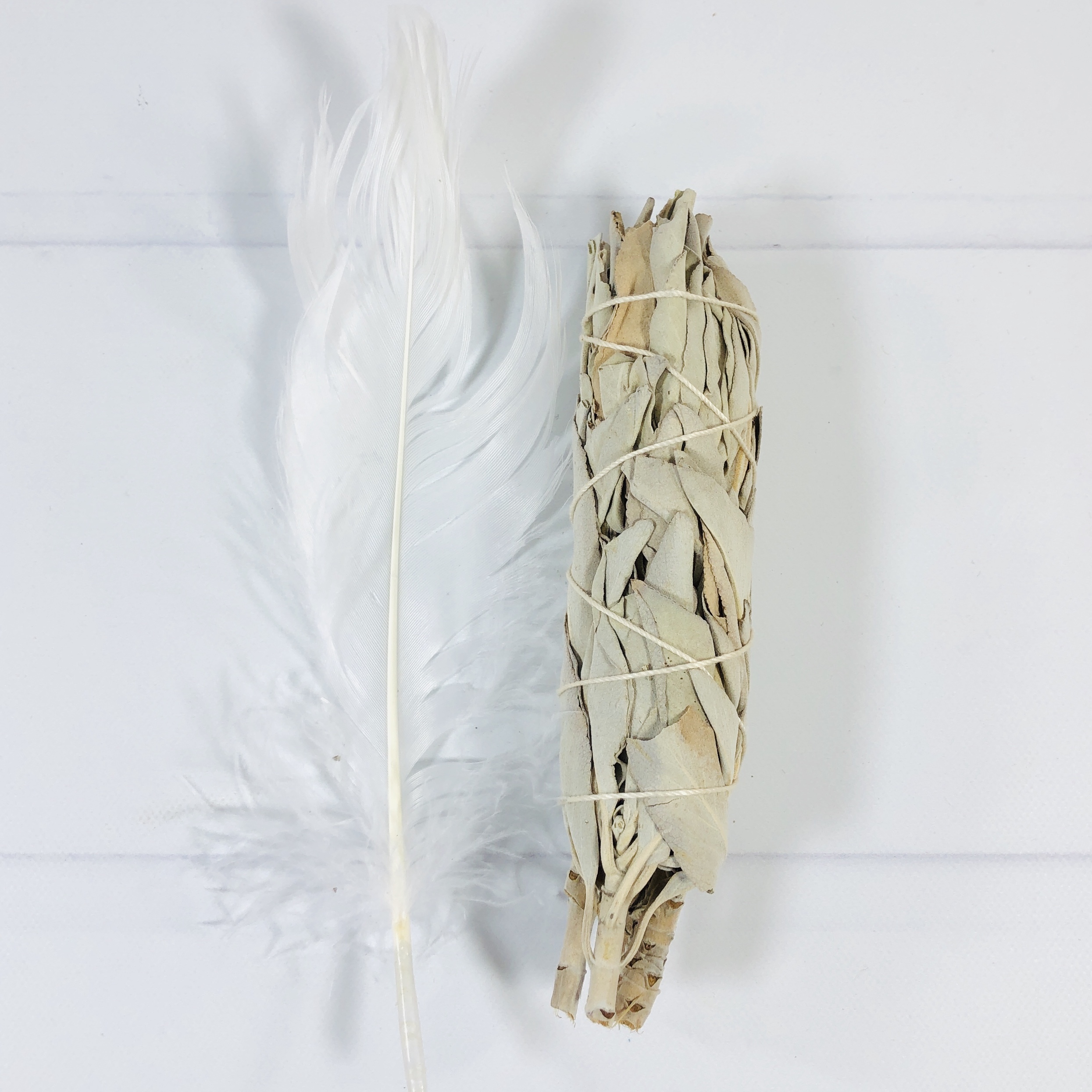 The sage bundle came with a feather. Briefly light the sage, let it burn out (or blow it out yourself) and then take it from room to room, using the feather as a sort of fan to push the smoke around. You can speak good intentions while doing this: I usually say a prayer for protection.
Bloodstone Gemstone ($4) Bloodstone is considered a healing gemstone and I am happy to add it to my collection!
Some say it purifies the blood or provides courage and clarity. You can hold it while meditating and there are some smooth sides that make it somehow satisfying to rub the thumb against. It is about 1″ long and the color is a blue/grey/green shade.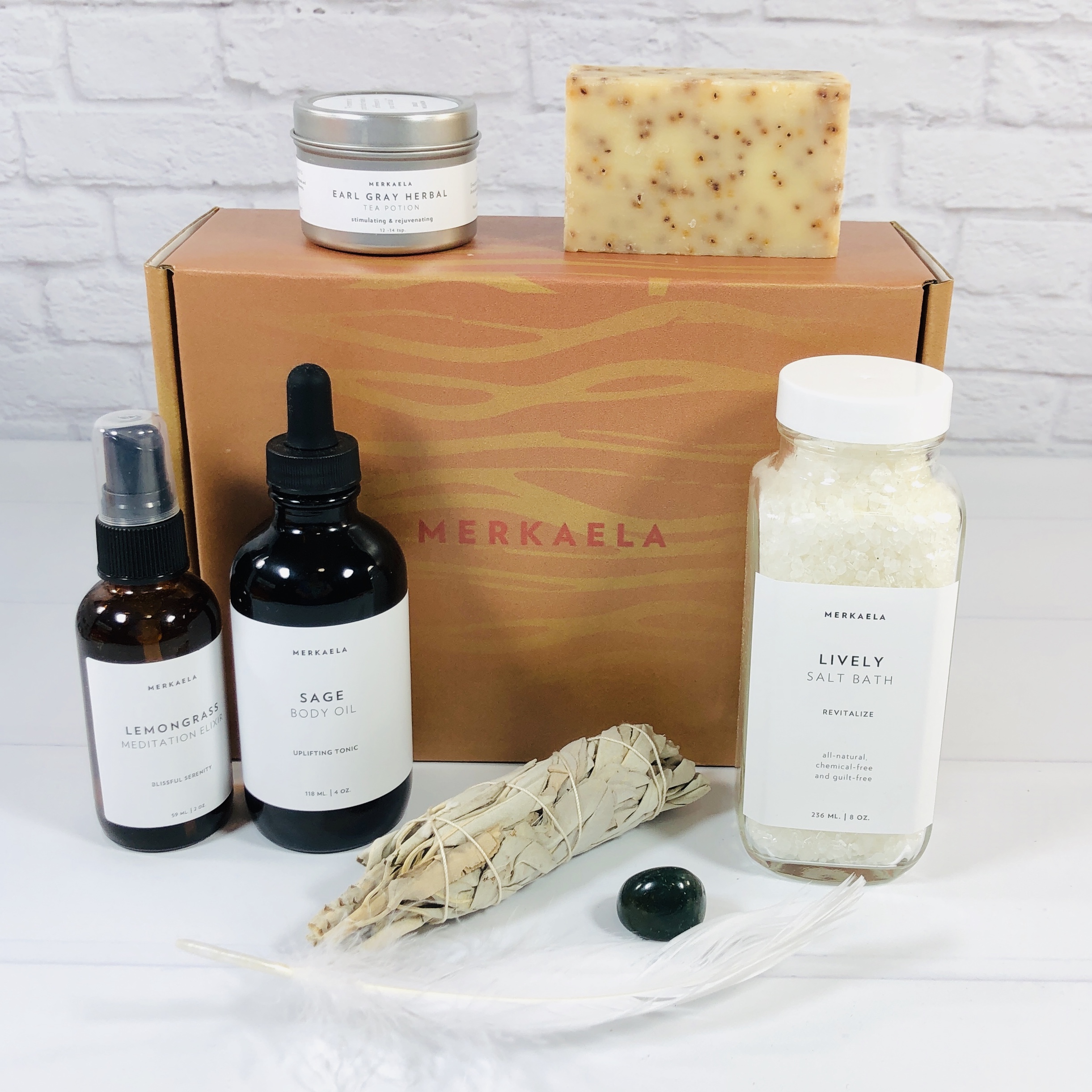 Merkaela sends a beautiful curation every time and I love using these products, they are so luxurious! The scents are never loud or overwhelming, they are natural and not perfumed. The tea is one of my very favorites while the meditation elixir and bath salts both smell uplifting thanks to citrus notes. The soap is one that I will use until the last sliver is gone and the oil maybe doesn't smell like my most favorite ever but I think I can fix that with my own oils. The sage and bloodstone help connect me to a more spiritual side and the playlist and affirmation are enjoyable and mind changing. If you are looking for a luxe gift for someone, then I would suggest Merkaela. Anyone who wants a lightly spiritual box, or who just loves well-made natural bath and body products, should give this a try!
What do you think of the Merkaela Summer Flow Box? Let me know if it helps you connect your mind, body, and soul in the comments!