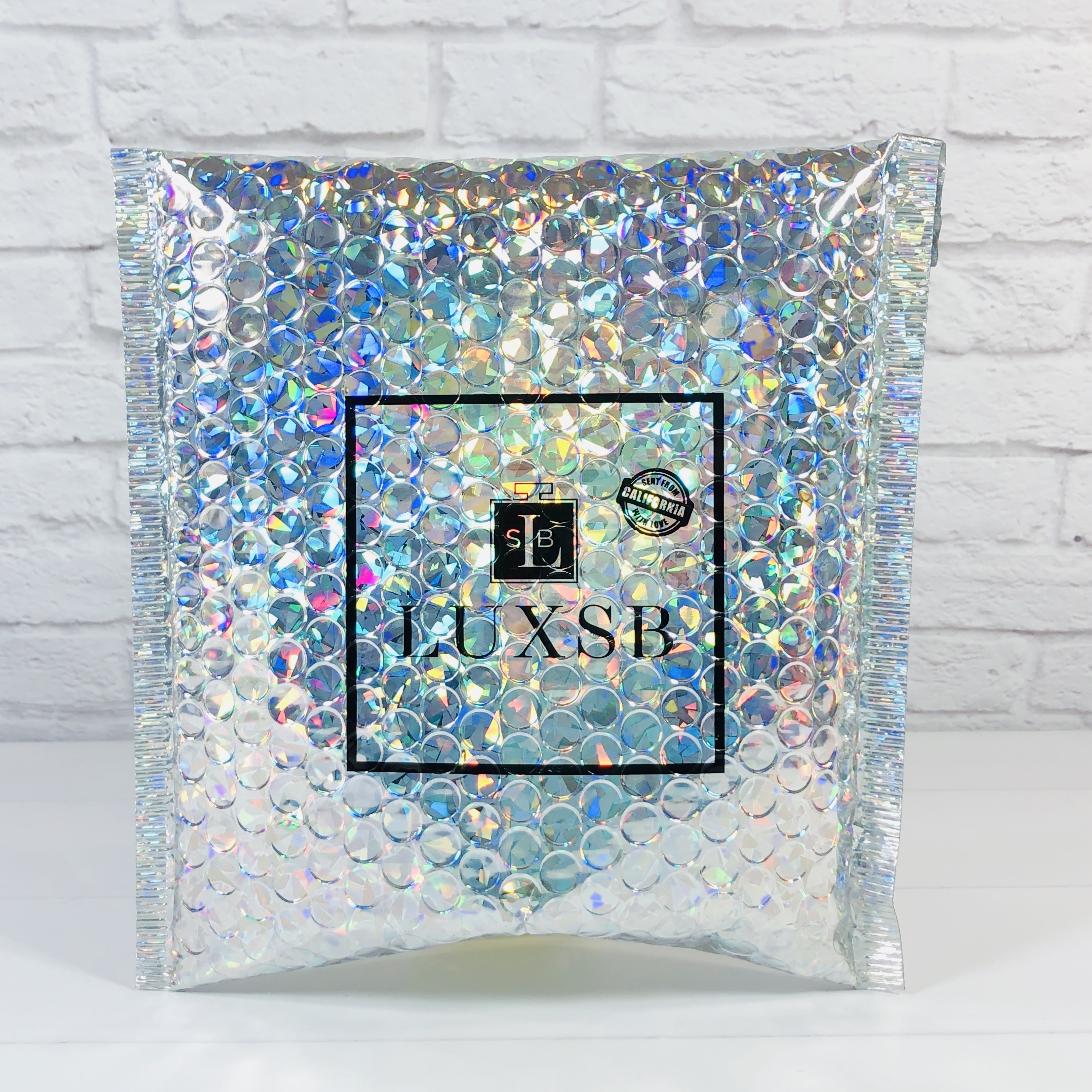 LUXSB – Luxury Scent Box is a subscription fragrance service that wants you to "LOVE LIFE WITH PERFUME™"! They send you the perfume or cologne of your choice for $15 a month ($5 extra for premium scents). You can choose your own scents or let LUXSB pick for you based on answers you give on a short quiz. They have tons of authentic designer and niche fragrances for you to choose from, which they decant into bottles before shipping. You can choose month-to-month or pay for 11 months and get the 12th month free! Shipping is always free.
DEAL: Get $5 off your first box! Use coupon code HELLOSUBSCRIPTION. Applies to new members only.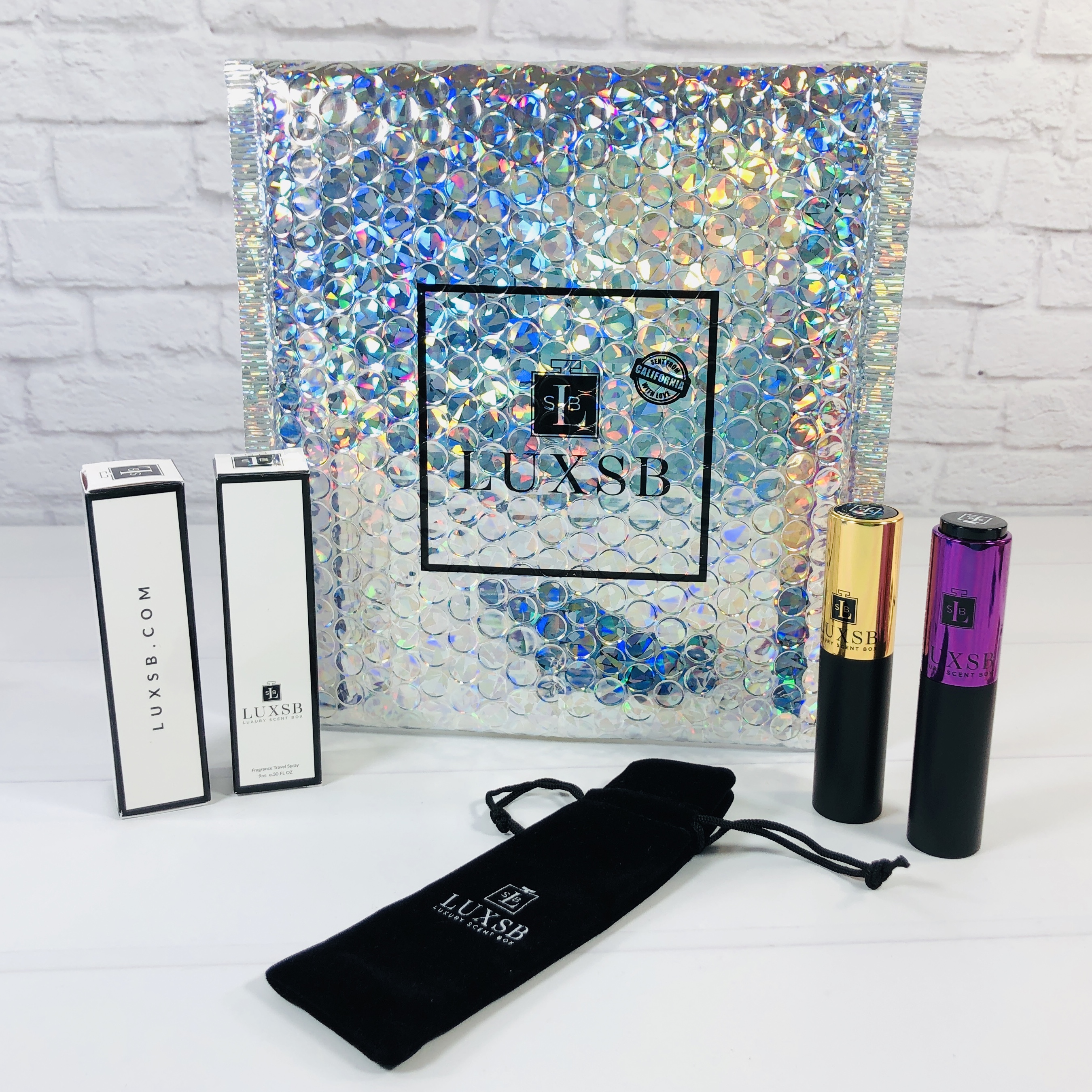 Everything in my box! You can add additional fragrances to your account and even purchase extra cases if you like. New members receive a case with their first order and a new case every quarter. The Premium $20 membership includes a new case every month (in addition to those pricier scents).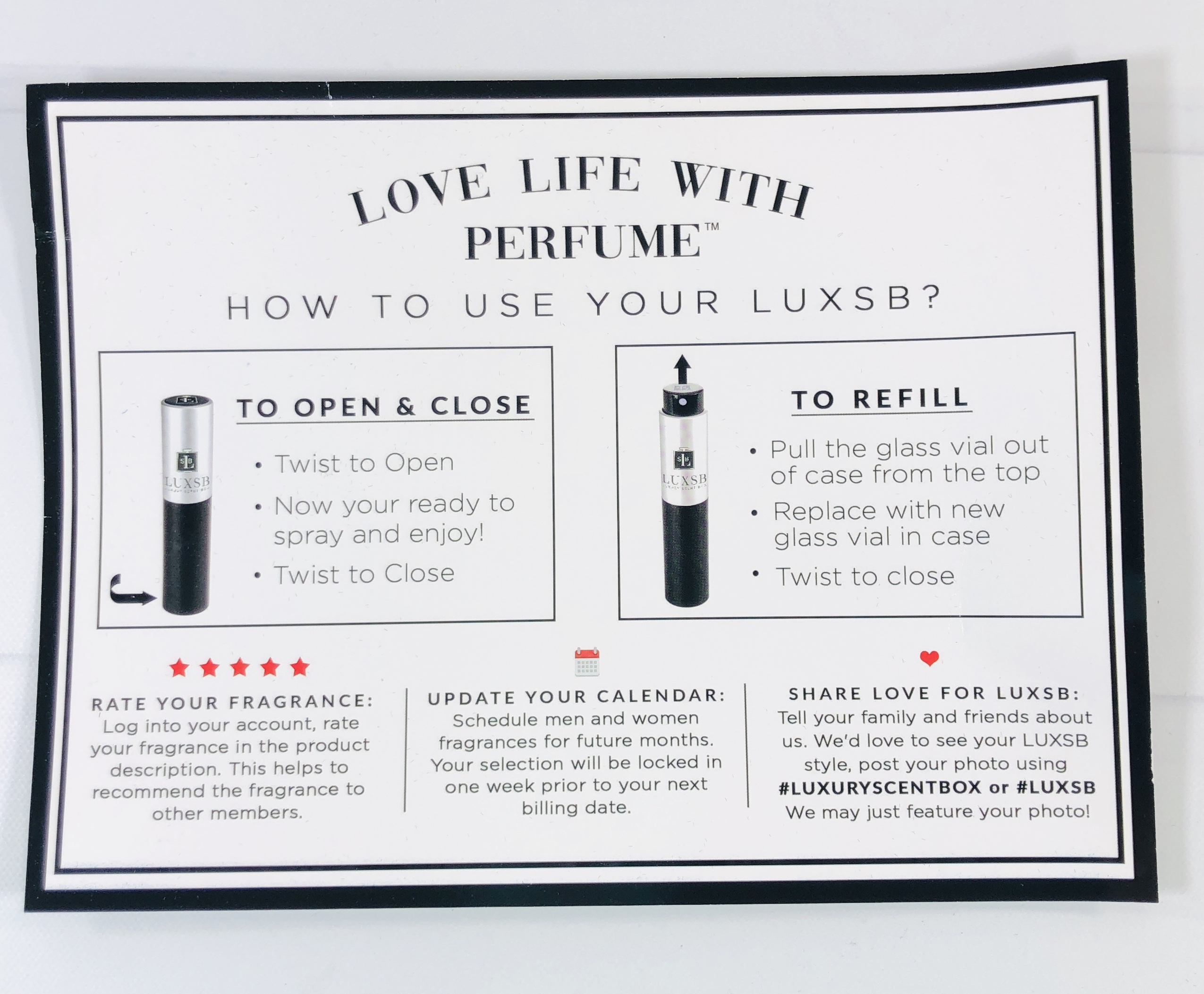 I received a card with instructions for changing out my perfume vial.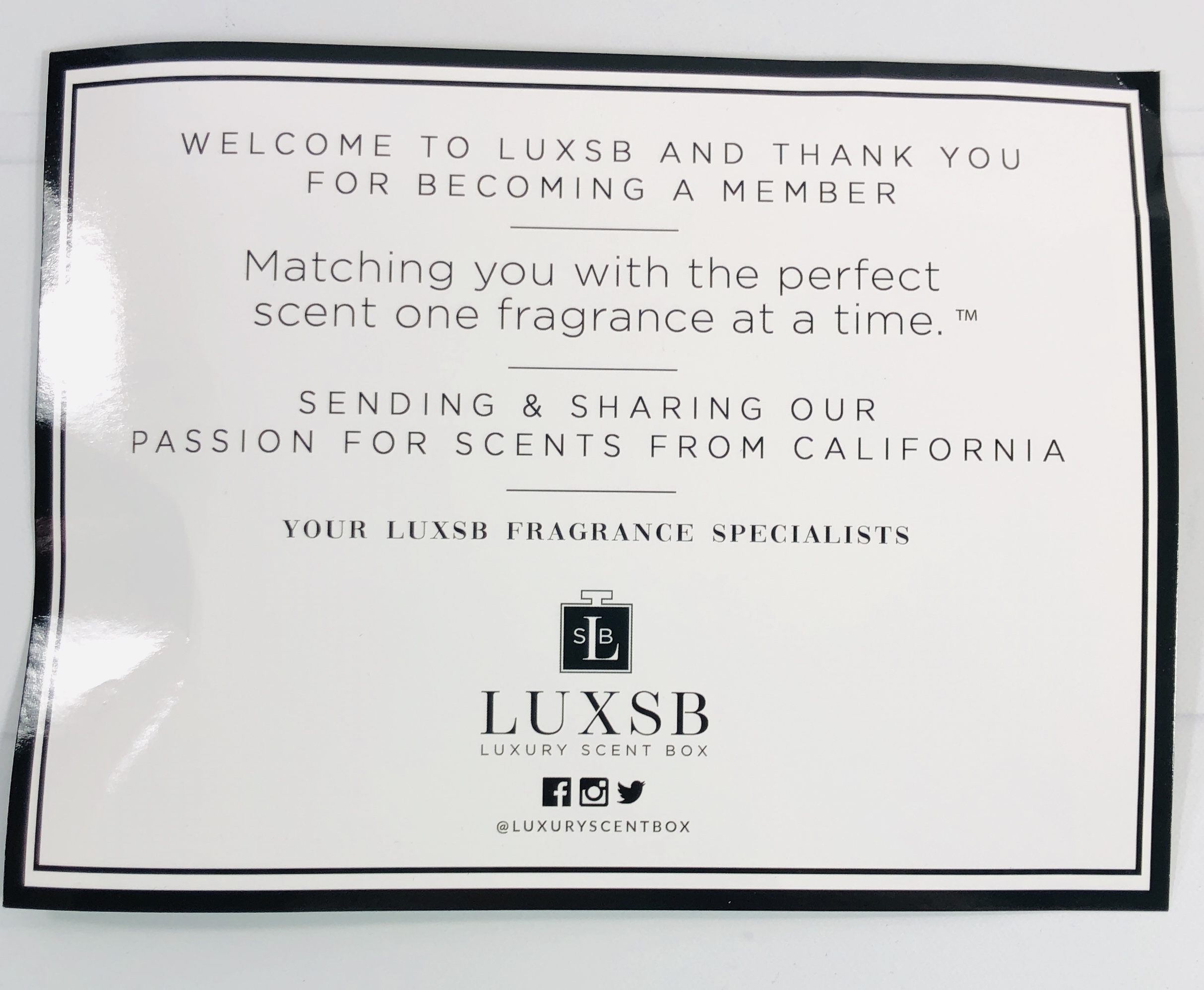 When you create your account there is a short questionnaire that you fill in so that Luxury Scent Box will know what types of scents you prefer.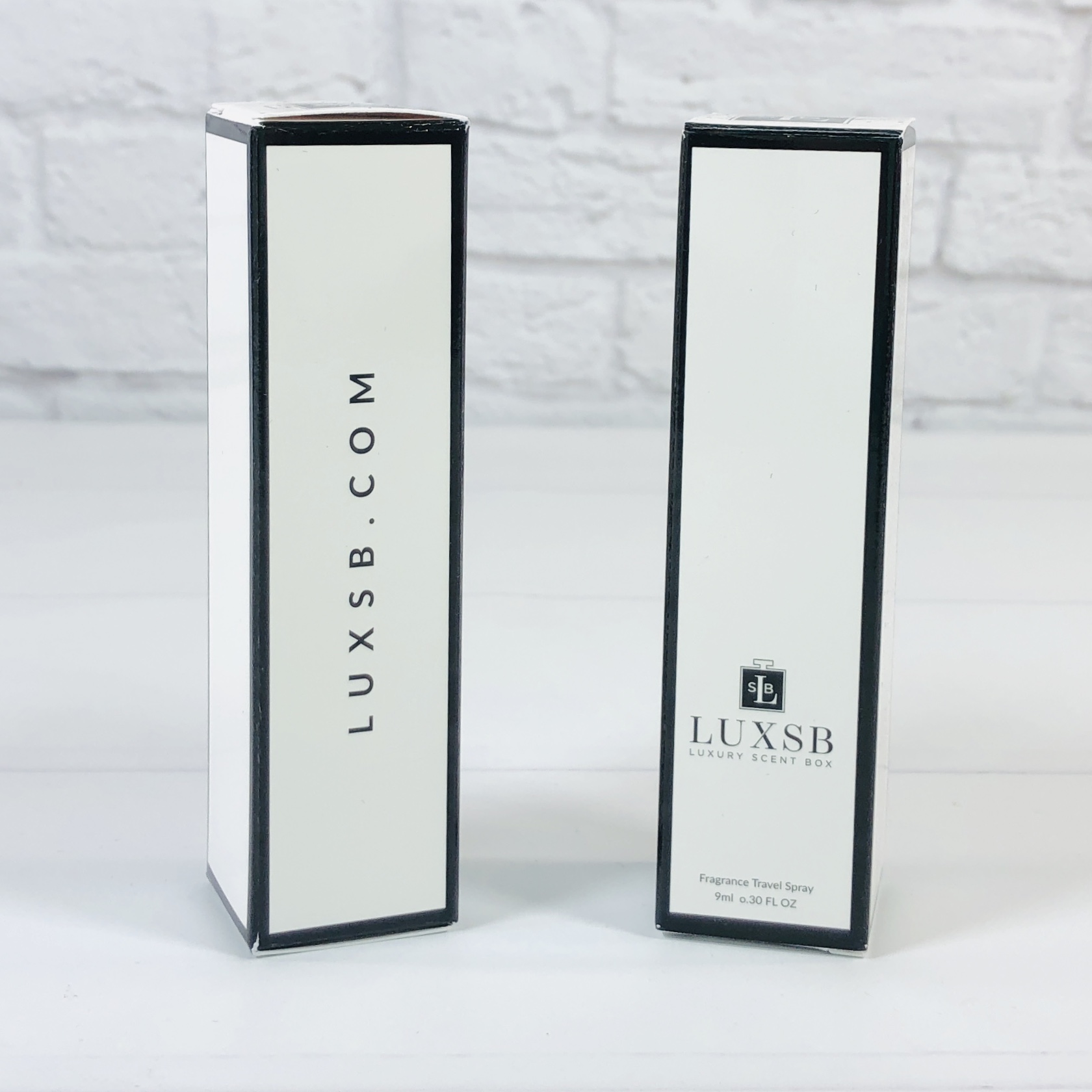 Luxury Scent Box has a huge assortment of fragrances, including niche and designer choices such as Black Opium and TokyoMilk. Note that Premium fragrances are $5 extra. You can also search by brand or fragrance note to find something you might love. LUXSB sends 9ml, or .30 ounces of fragrance, making it one of the largest of the scent subscriptions. There is enough product for about 5 sprays a day for an entire month.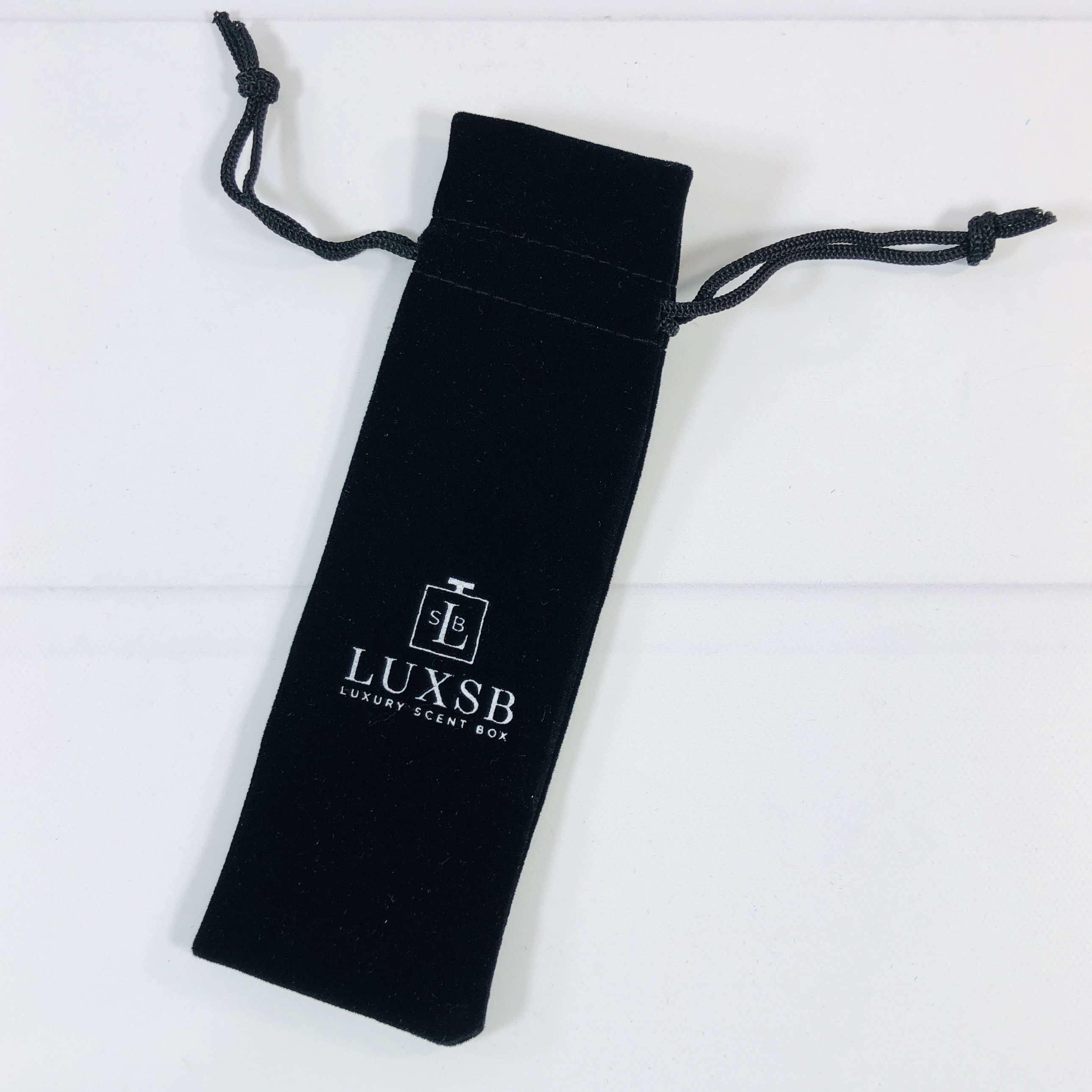 I received a velvet holder to keep my case from getting scratched in my bag.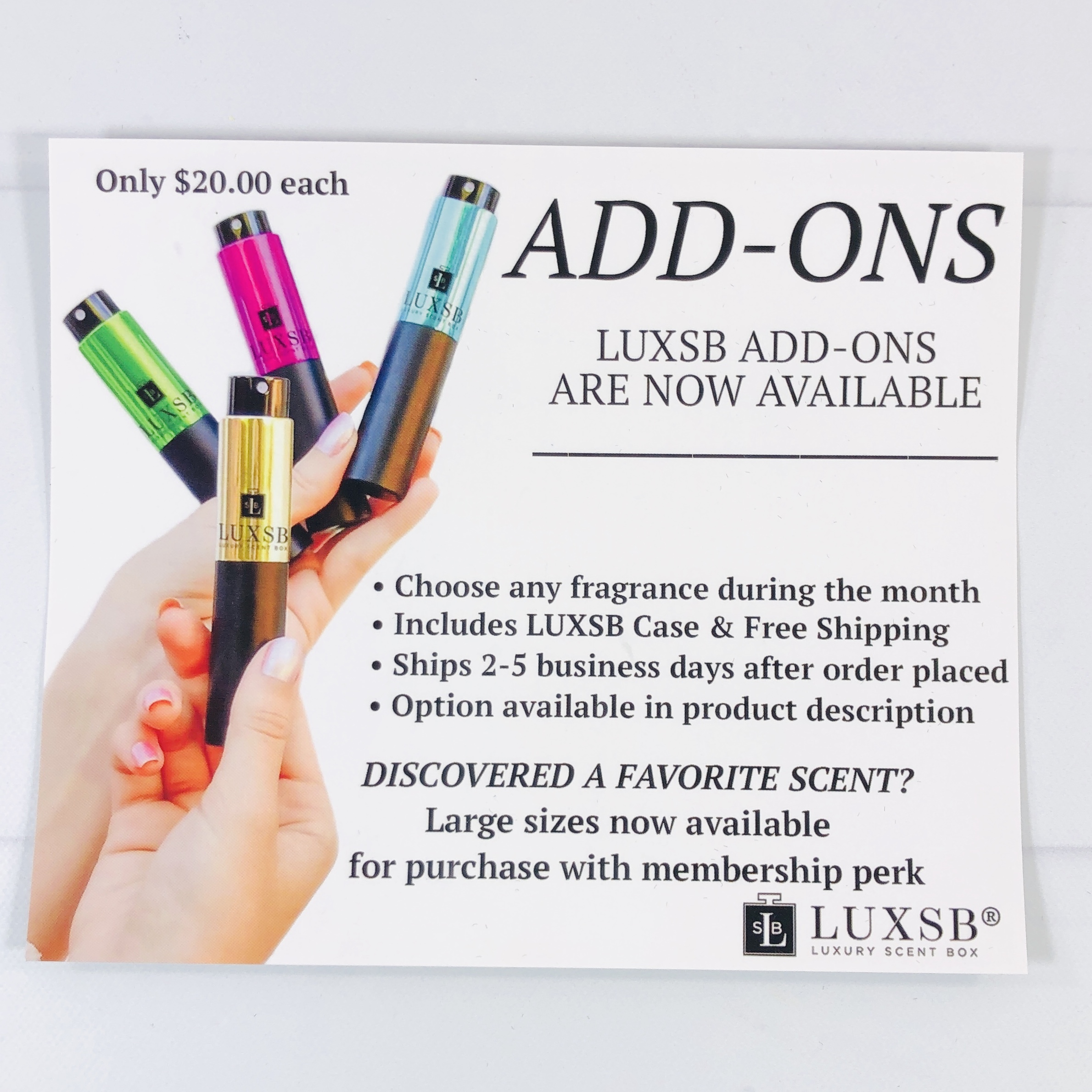 Add-ons are $20 each and come with a case. You can also purchase full-sized bottles at a discount.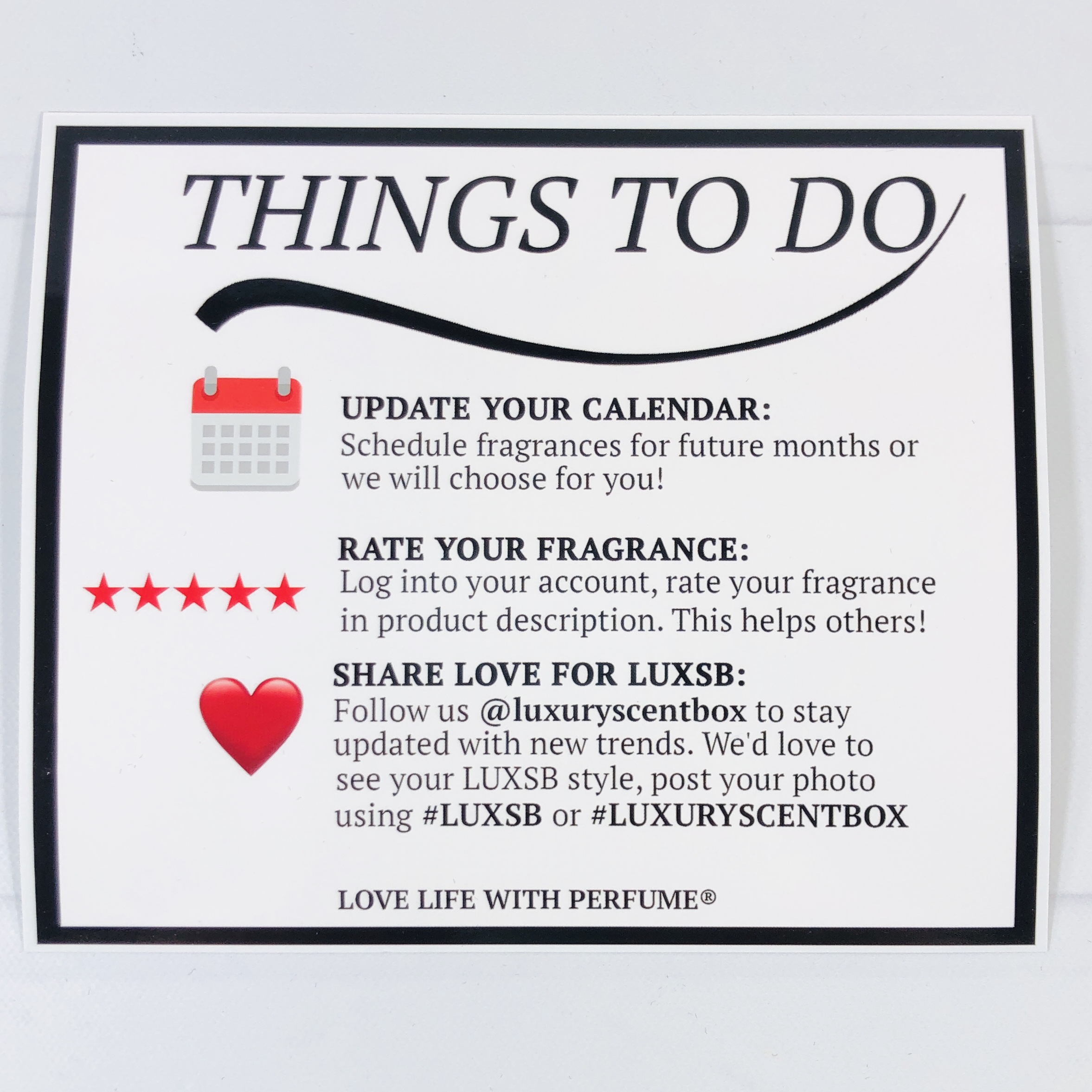 Make sure to rate your perfumes and keep your calendar updated, or let LUXSB choose for you!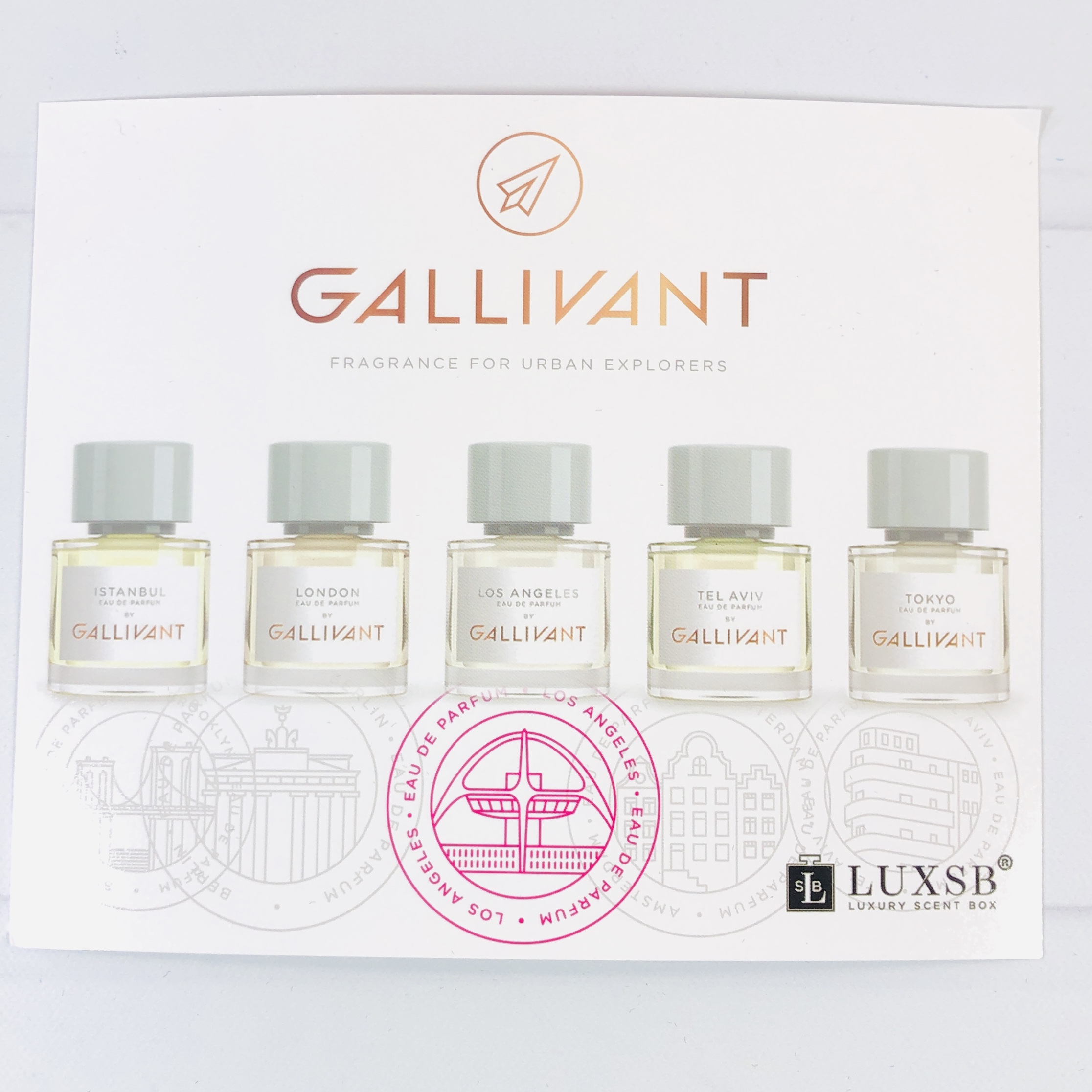 I received a card about a brand I am trying this month.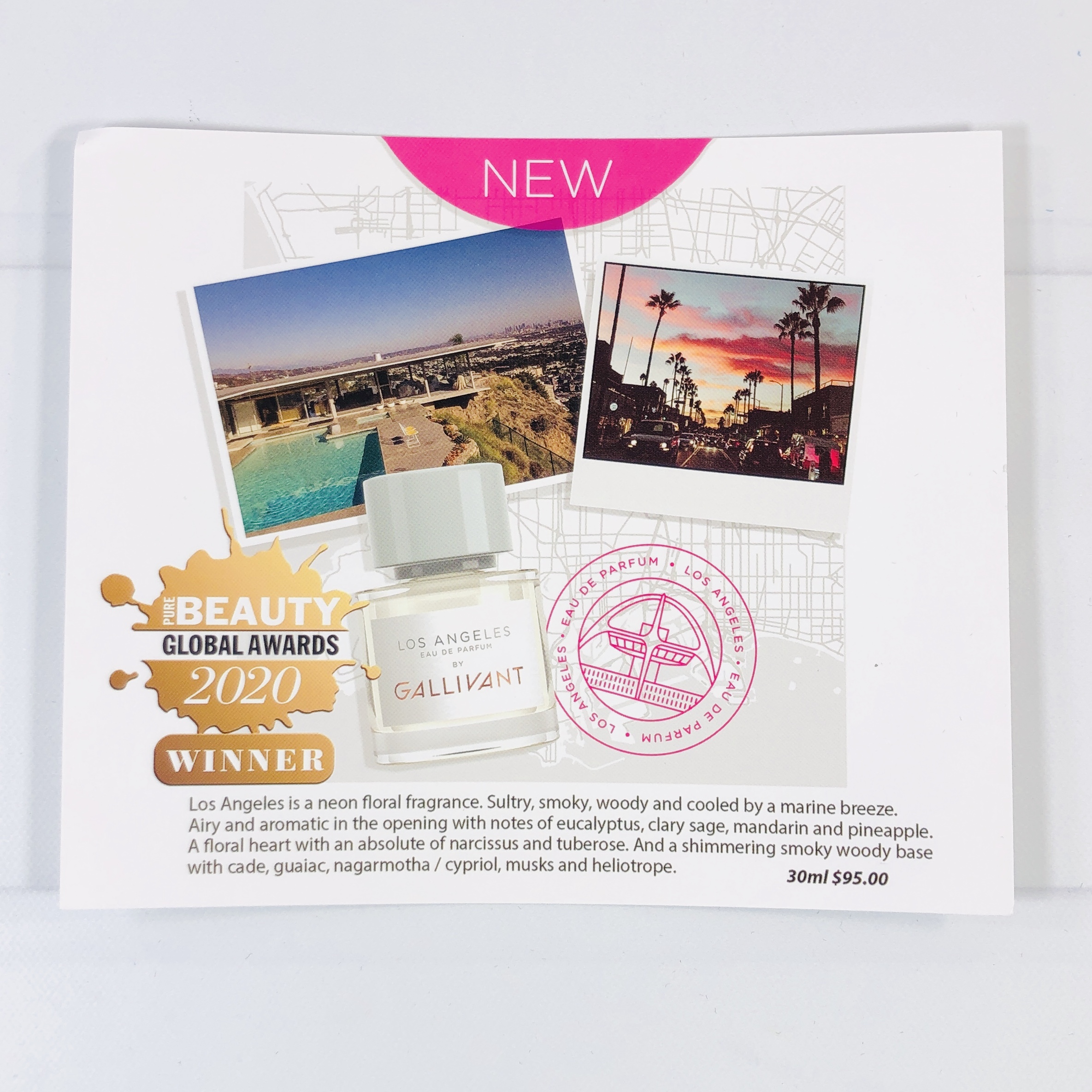 The back described one of my scents shown below.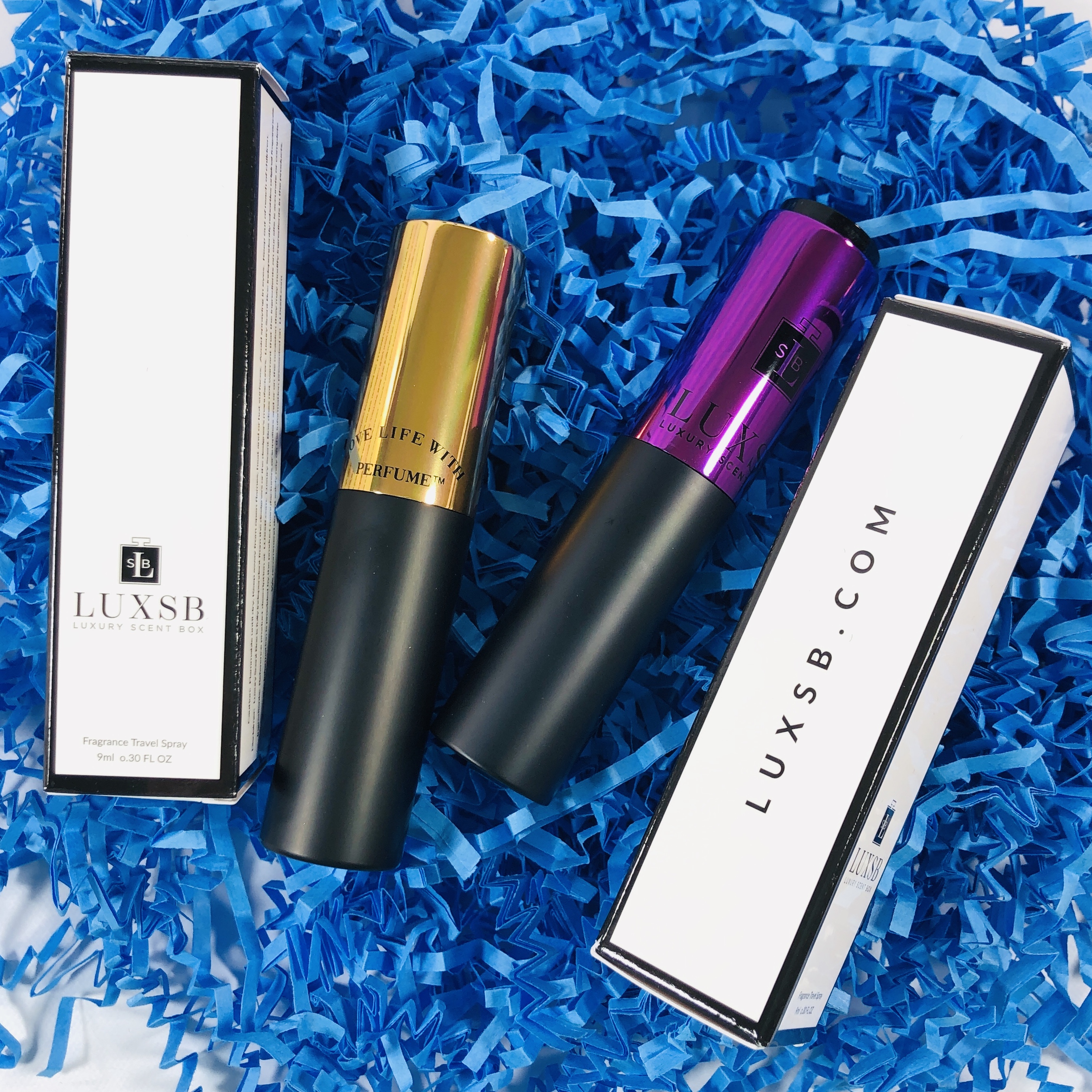 I am reviewing the Duo Plan, which is $30 for two fragrances, or $40 for two Premium fragrances. Add-ons are $20 and if you fall in love with a fragrance, you can purchase a full-sized bottle and get a members discount.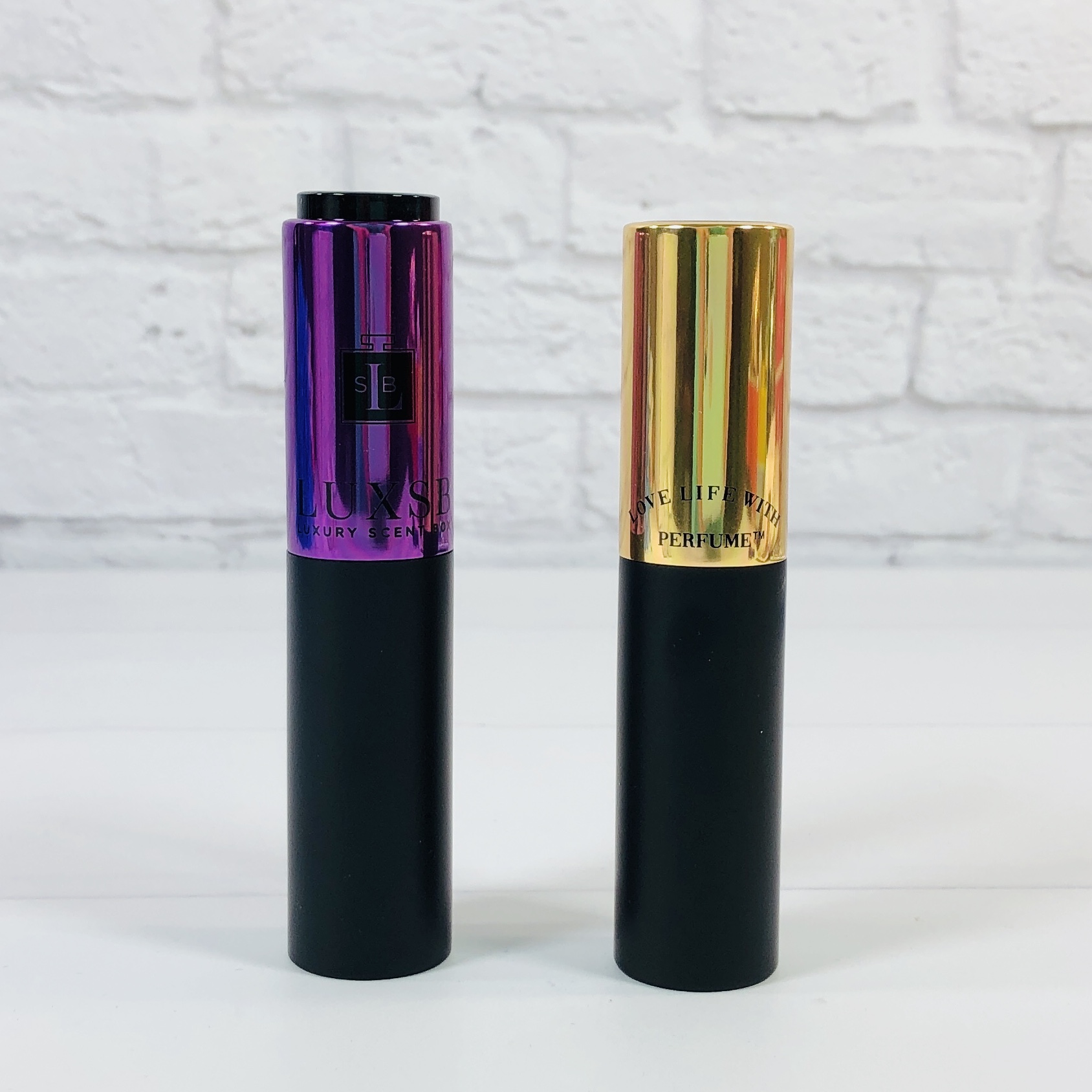 New subscribers will receive a case and a new case will show up quarterly.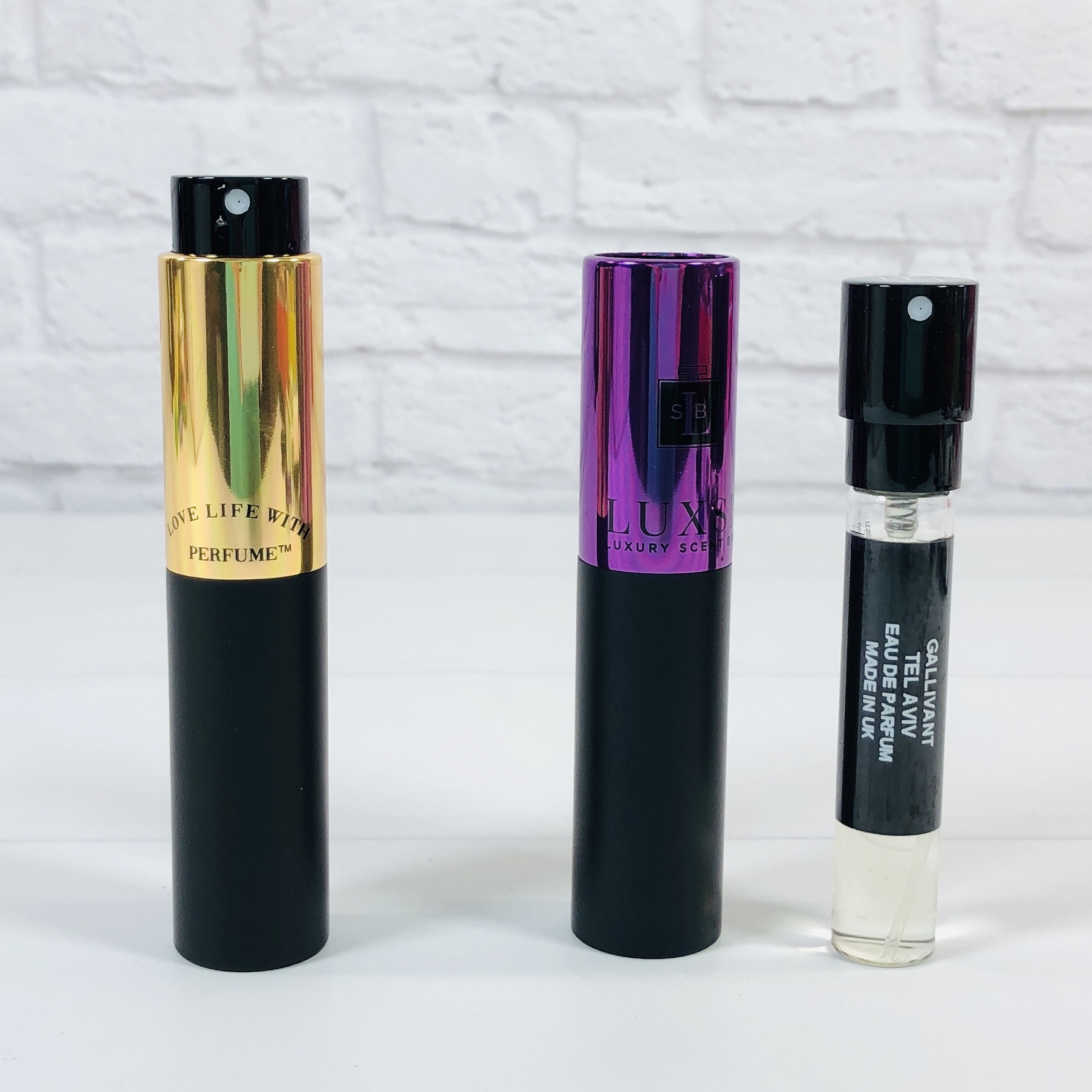 Here you can see one vial outside of the case and one that has the top sticking out. Just twist and push down to hide the nozzle.
Gallivant Tel Aviv Eau De Parfum (£65, about $86.95 for 30ml) I appreciate that LUXSB adds new scents and fragrance brands often! Galivant is new to me and I received two of their luxurious scents to try. Tel Aviv is a floral with notes of jasmine, musk, and black currant. It is supposed to take you straight to the Mediterranean, with sweet fruit to start, a bouquet's worth of florals in the middle, and musk at the base. It lasts for hours. It is on the feminine side despite being unisex. It is sunny and warm, much as I would expect its namesake to be too!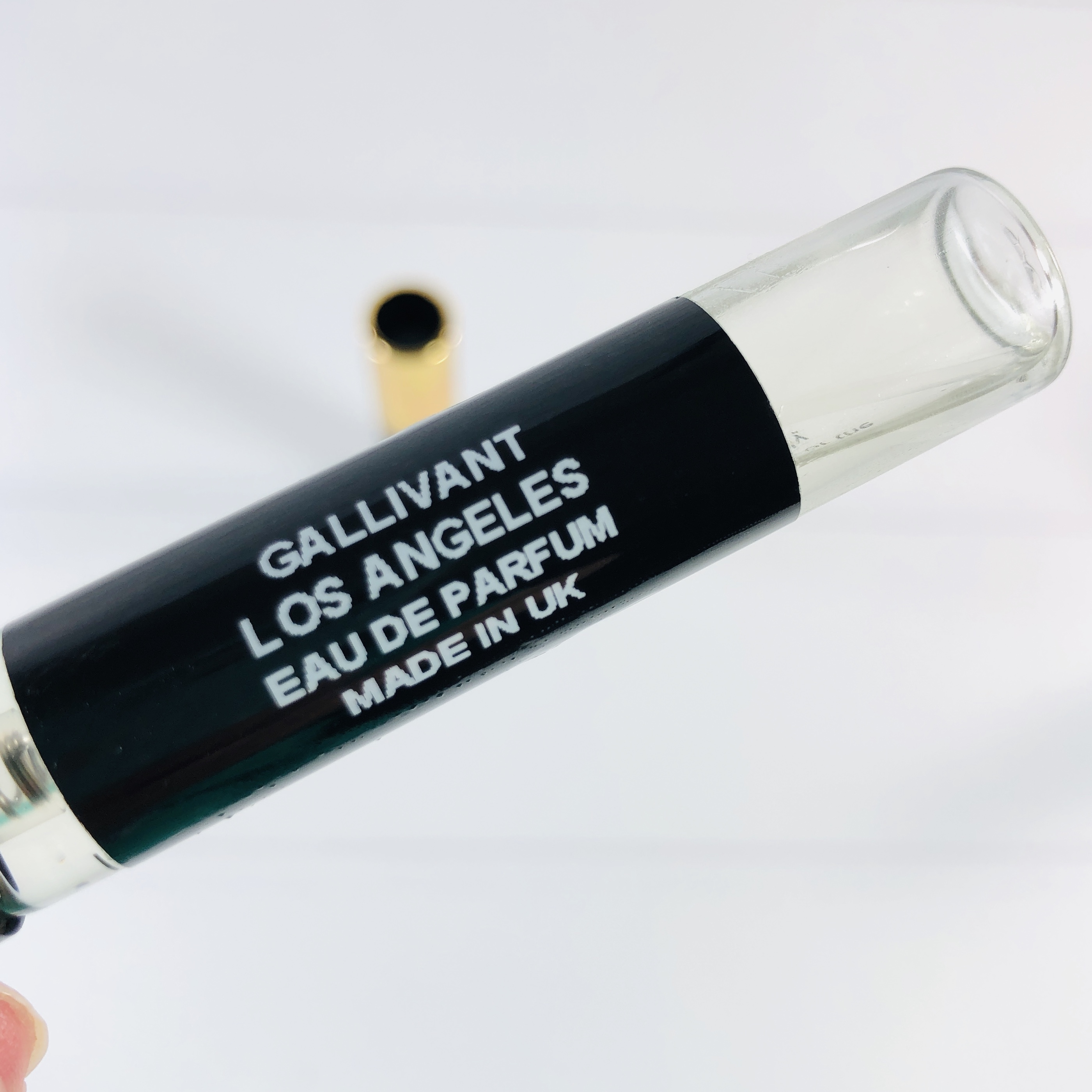 Gallivant Los Angeles Eau De Parfum (£56.87, about $76.07 USD for 30ml) is a woody aromatic unisex scent that is unique and unusual. When I first spray it on it smells warm and almost like incense, and I get a whiff of wood notes, similar to pencil shavings. There is also the aroma of very ripe juicy fruit. Of course, this doesn't match up with any of the listed notes, such as pineapple, eucalyptus, and heliptrope. Then again there are some notes listed that I can't say I've ever smelled before, such as cade oil and nagarmotha, even heliotrope. I will say it's sweet, warm, woody, and loud, at least for that first hour. The scent lasts several hours and calms down a bit after a while. Shortly after spraying my daughter said it smelled like Altar'd State in the office!
I was impressed with the exotic fragrances I tried from Gallivant in my August LUXSB! I wouldn't have known about this brand without LUXSB, they have a wonderful way of scouting out niche brands that produce exceptional juice. The value was there too, with both of these scents worth more than $20 each, and I didn't have to buy a full-sized bottle before trying, but can use the member's discount to get more!
Have you tried Luxury Scent Box? Let me know in the comments!