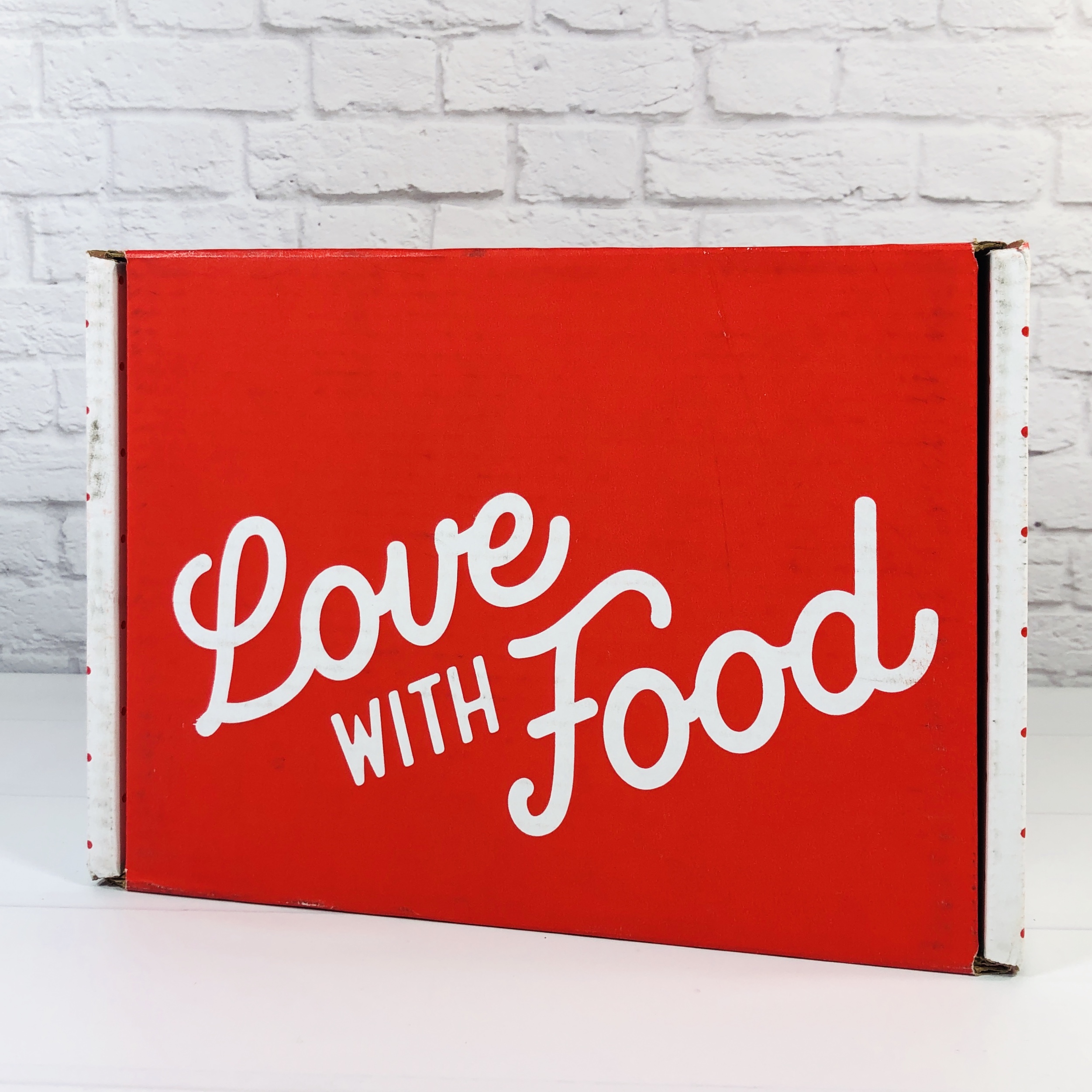 Love with Food Deluxe Box sends 15+ surprise snacks from various healthy snack brands each month. It's an ideal snack box for sharing at home or if you are a heavy snacker. This particular plan promises to include plenty of snacks for everyone and a few duplicates. Also, the snack box only includes snacks made with real ingredients and no added chemicals. The Deluxe Box is $19.95 a month. Love with Food also offers other snack boxes such as the classic Tasting box and the Gluten-free box.
Our team scours hundreds of brands every month and chooses the best tasting, feel good options for your box.

No chemicals, artificial flavoring, MSG or high fructose corn syrup
Clean and delicious snacks made with real ingredients
Every snack passes our 73 Banned Ingredients List
Expertly sourced, vetted and curated
DEAL: Save 40% off your first Love With Food Box:
Or, save 25% off your first Gluten-Free Box: use this link to subscribe!
Here is a breakdown on prices and shipping for the various plans.
Packed to the top!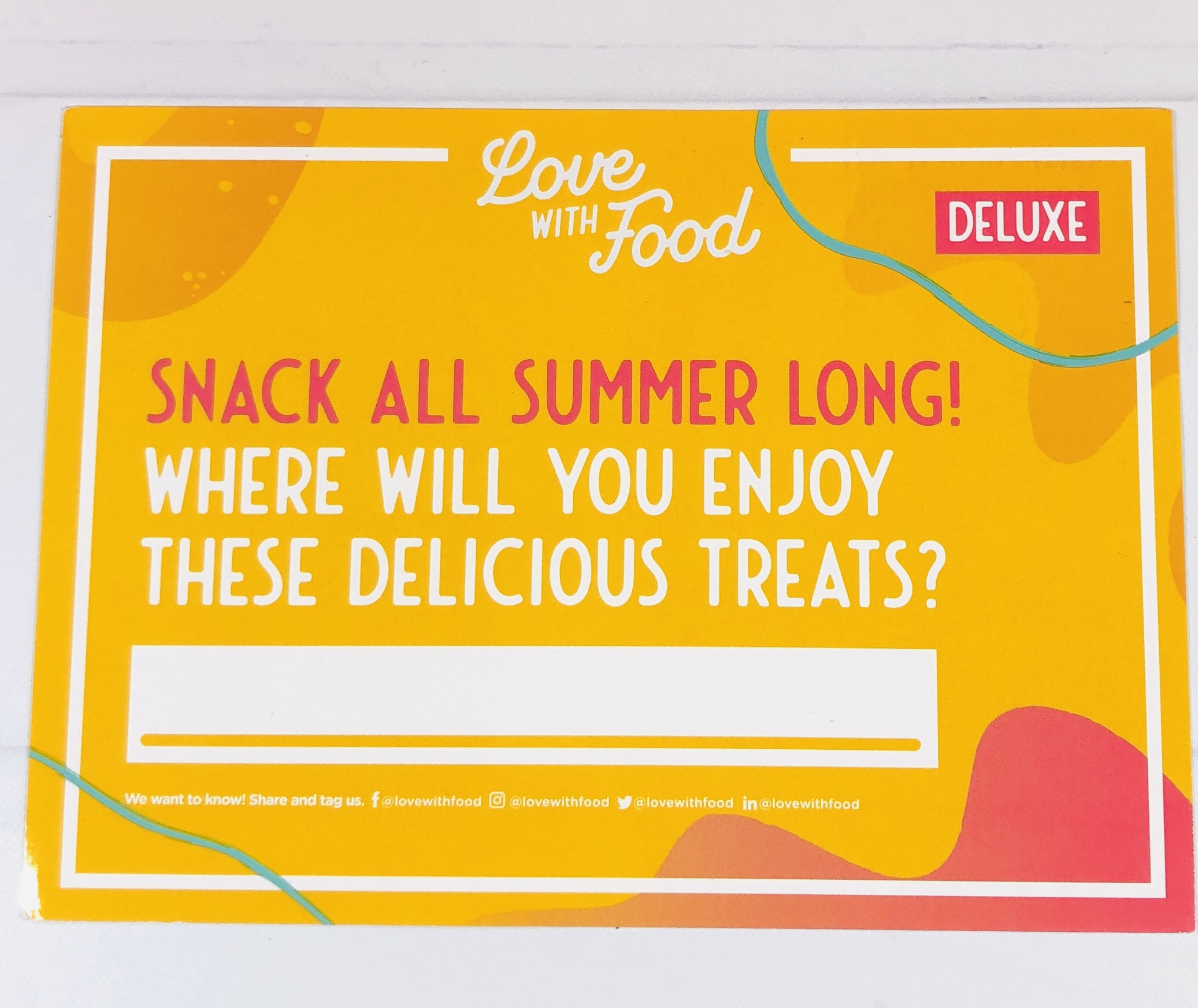 I found a card that has a blank spot so I can write in my answer to this month's question. Right now we have temps of 100°+ every day so I will enjoy my snacks on my couch. You can find some of the items sampled each month on the Love With Food website.
For every box sent to subscribers, Love With Food donates 2 meals to families in need. Don't forget to review your snacks so you can earn points for even more snacks!
There were a few inserts this month. One of them had a drink sample.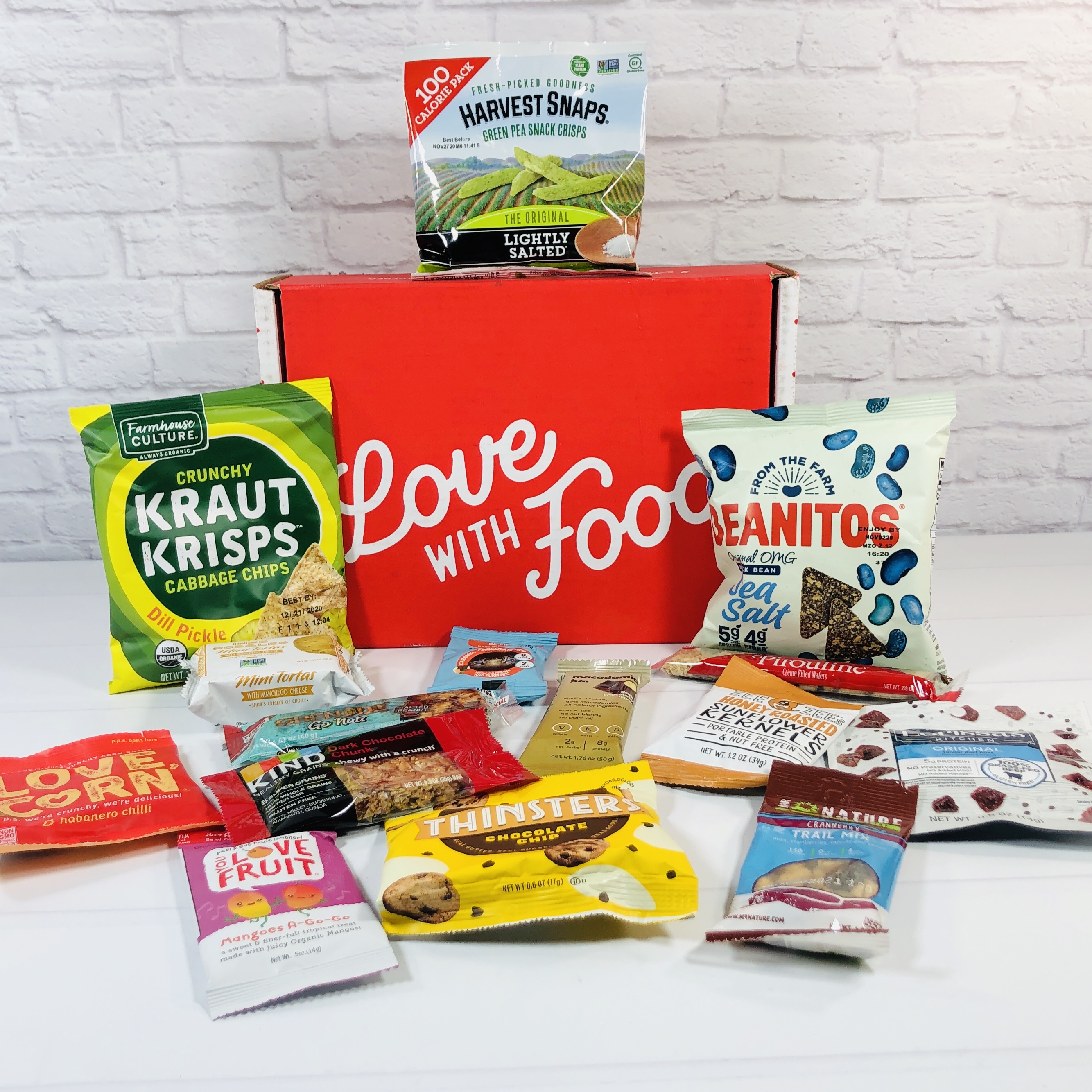 Everything in my box! I usually find some past favorites as well as new flavors and products each month.
Farmhouse Culture Crunchy Kraut Krisps Cabbage Chips Dill Pickle are dill pickle flavored tortilla chips. They have some sauerkraut in the ingredients too.
From the Farm Beanitos Black Bean Sea Salt are similar to tortilla chips but with beans instead of corn!
Love, Corn Habanero Chilli are like Corn Nuts but these have a salty/spicy flavor that I really enjoy. I do worry about breaking my teeth however.
Harvest Snaps Green Pea Snack Crisps Lightly Salted Are chips that are shaped like peas! Peas are the first ingredient and there is some rice in there too.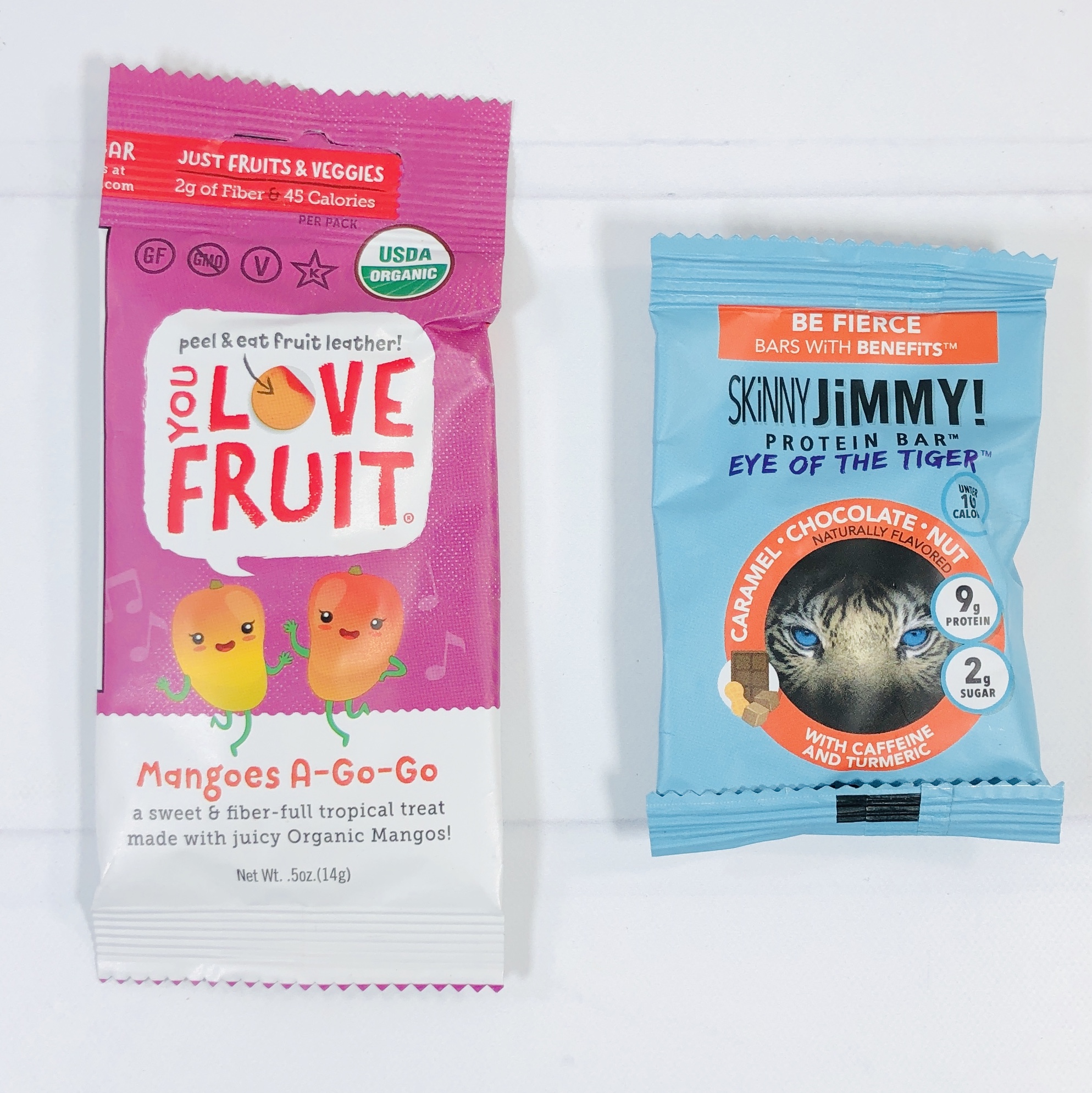 You Love Fruit Mangoes A-Go-Go are peel and eat discs of fruit leather, without added sugars and colors. My daughter loved it and I thought it reminded me of the natural fruit leather my mom would make when I was a kid.
Skinny Jimmy Protein Bar Eye of the Tiger Caramel Chocolate Nut is a mini protein bar that starts with a protein blend crispy base and has chocolate, peanut butter, and caramel flavors. It also has guarana for a burst of energy. It reminds me of a less dense Butterfinger candy, but in bar form.
Lorissa's Kitchen Original Tender Beef Bites are bits of dried beef that come from 100% grass-fed cows. They are very tender and have a sweet and salty flavor with some good spice, but not too much. Would love to try the Korean BBQ flavor in a future box!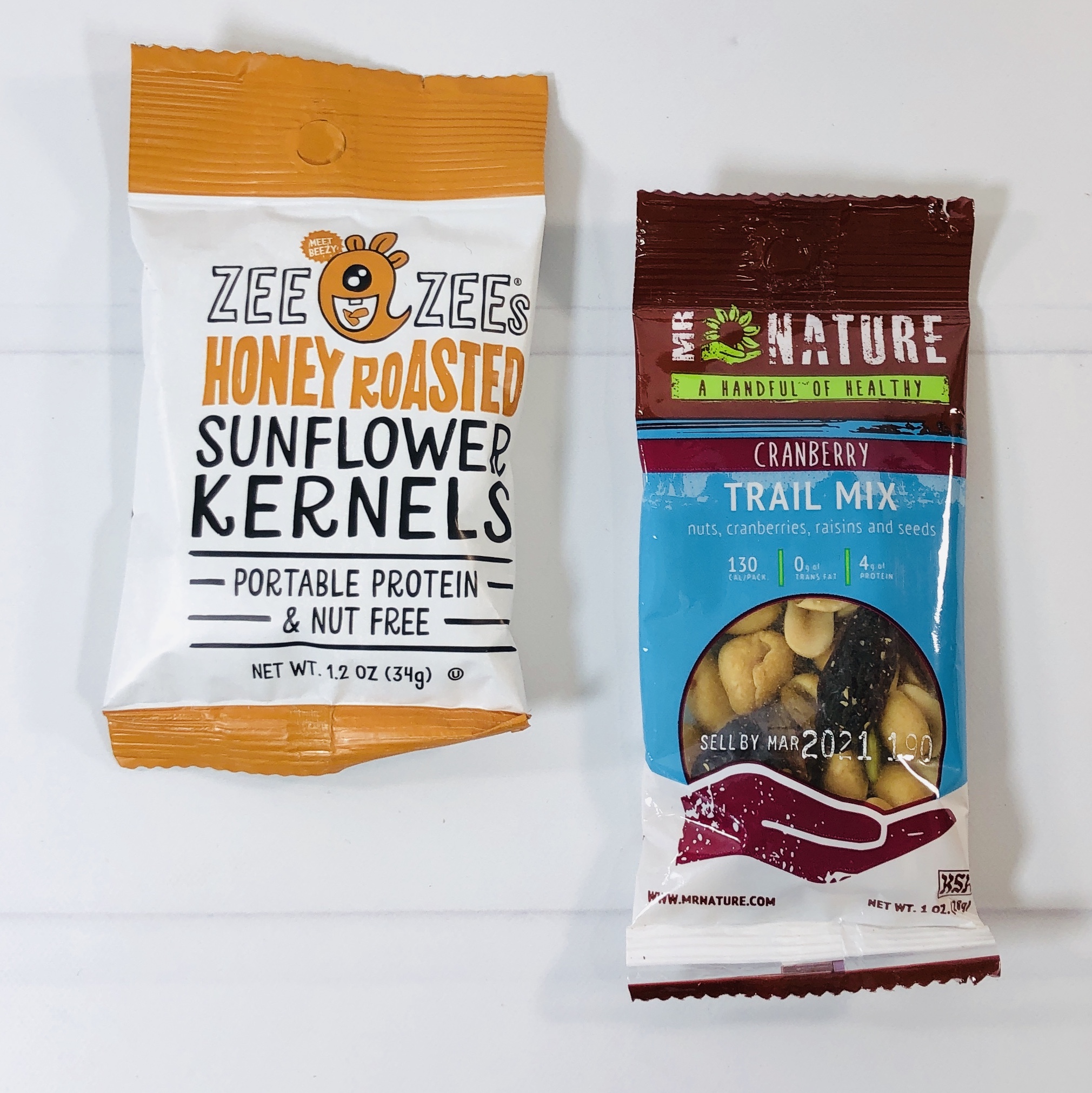 Zee Zee's Honey Roasted Sunflower Kernels Portable Protein & Nut Free Simple nut snacks are my very favorite of all. These were sweet and salty glazed sunflower seeds and I could just pour them into my mouth without dirtying my hands. They were delicious!
Mr. Nature Cranberry Trail Mix is a good basic trail mix, with mostly peanuts, some raisins, sunflower seeds, pepitas, and a couple of craisins. This is low sodium and I liked it!
Kind Dark Chocolate Chunk Chewy with A Crunch and Grenade Go Nuts Protein Nut Bar Salted Peanut are bars that could double as breakfast if needed. Kind is a little more on the less processed side and is something I would buy for my family as a meal replacement or snack.
HOM Macadamia Bar Dark Chocolate Flavor is a keto, vegan snack bar that has macadamias as the first ingredient. It also has pea protein so it's kind of dense and chewy, but the macadamia bits are tasty. It's covered in chocolate coating and is sweetened with stevia.
Ines Rosales Mini Tortas with Manchego Cheese are from Spain and they are interesting, thicker than a Saltine and with a hint of cheese flavor. I like it!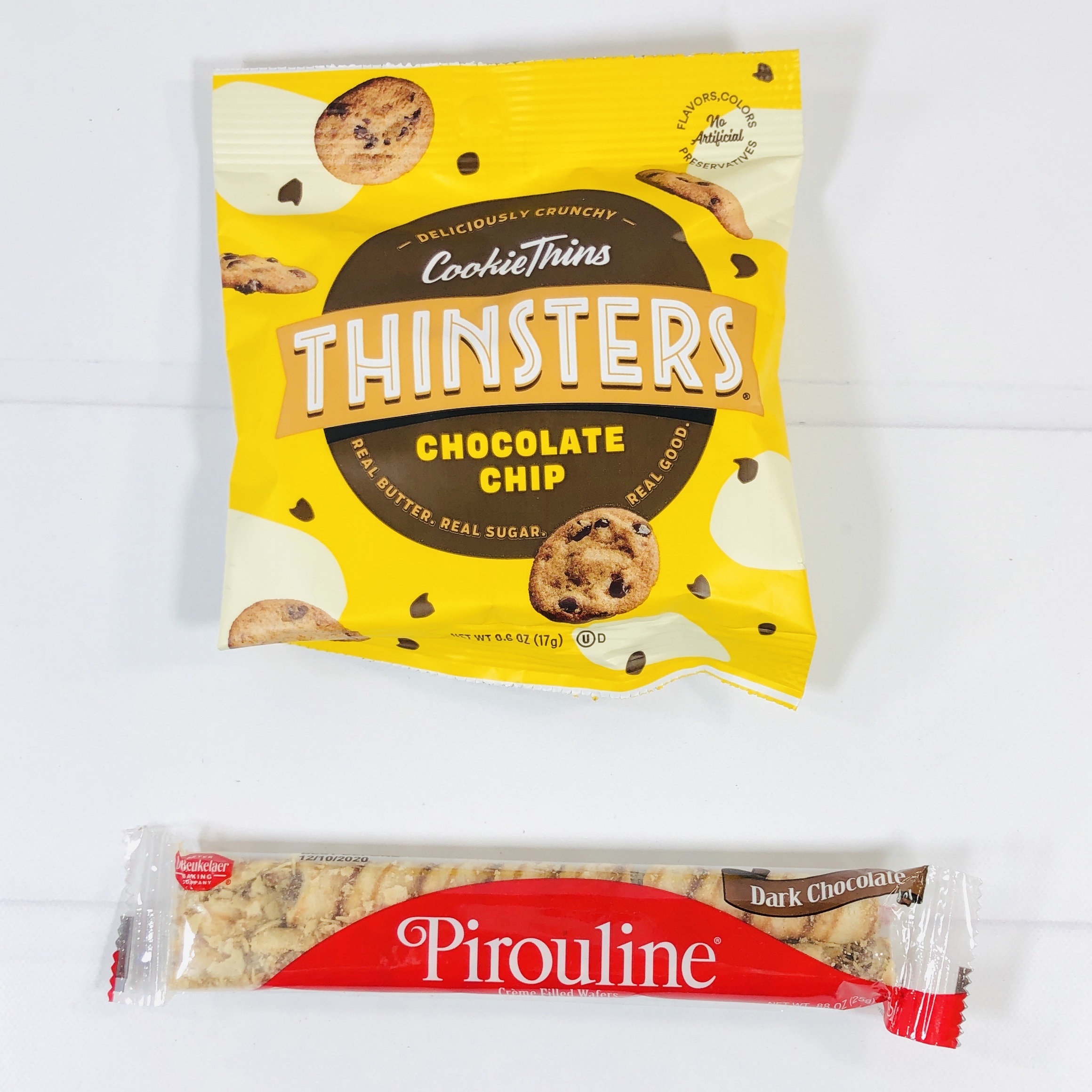 Cookie Thins Thinsters Chocolate Chip I've had these a couple of times and enjoy the buttery flavor, they taste like crispy chocolate chip cookies. I noticed that this batch was hard and had pieces that I couldn't really chew, and they got stuck in my teeth. I've not had that problem with them before.
Pirouline Rolled Wafers Dark Chocolate I always like a wafer cookie, and the filling wasn't too "dark" as far as chocolate goes. I had to empty this into a bowl before eating and it was mostly in pieces.
Love With Food sends a good mix of snacks every month. I found some new flavors this month along with older favorites. As always I got something that suits each of my taste buds. Snacks were sweet, salty, crispy, chewy. Some replaced breakfast and some were TV watching snacks. I love to try before I buy and Love With Food helps me to discover which snacks I might want to stock up on in bulk!
What's your favorite snack from the Love With Food Deluxe Box this month?
Visit Love with Food Deluxe Box to subscribe or find out more!