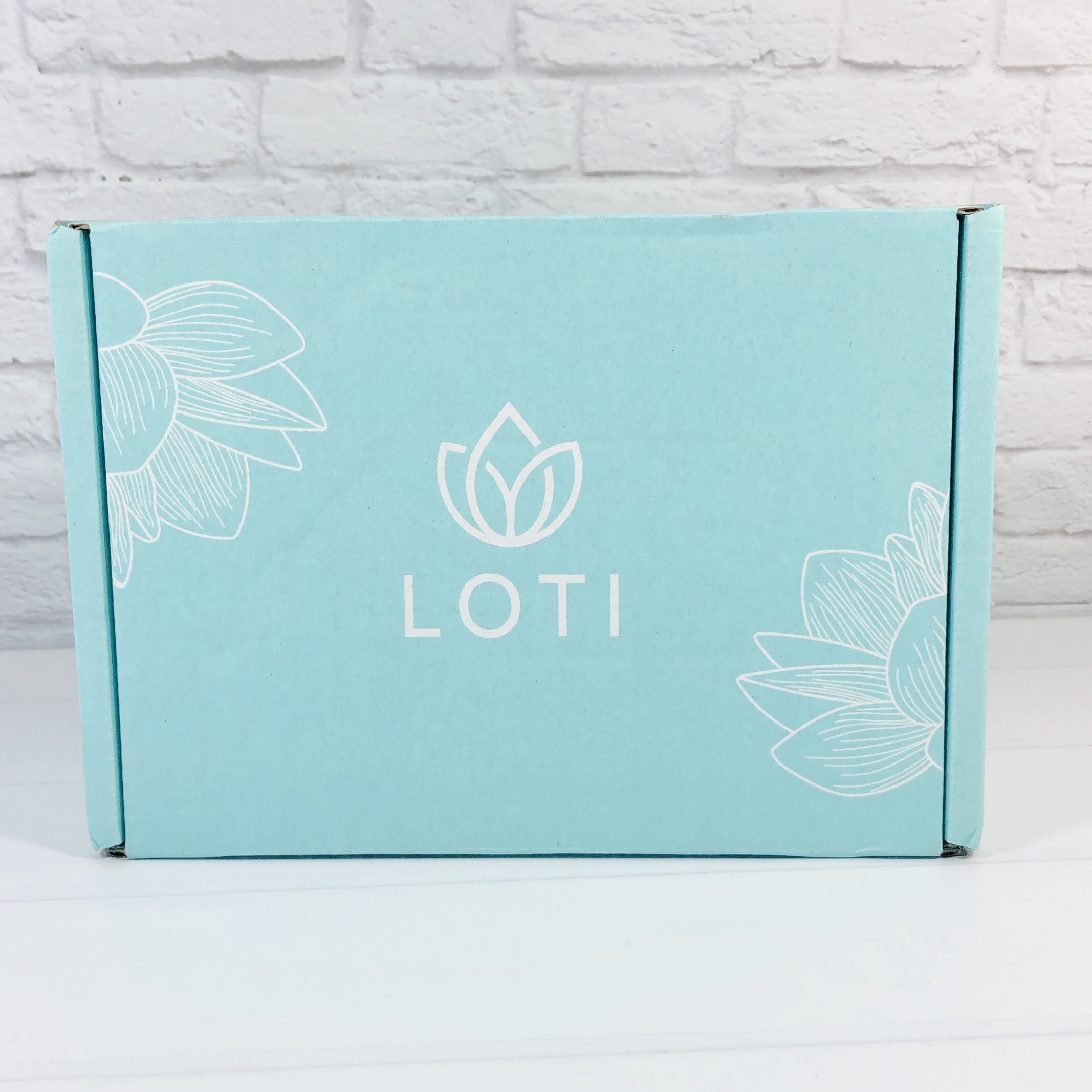 Loti Wellness is a subscription box with a focus on self-care. The box has a monthly theme curated by therapists to focus on items and rituals to promote positivity and improving one's self. Loti Wellness works with local brands and small businesses whenever they can, and choose cruelty-free and natural products. The box will have 5-8 products for self-care and wellness. The box is $49.95 CAD with lower prices on annual subscriptions – about $35 USD. Shipping is $5.99 CAD to Canada and $7.99 CAD to the US (about $6 USD). A portion of proceeds go to CanadaHelps COVID-19 Fund.
A lotus is a flower that blooms from the mud. It symbolizes overcoming adversity and achieving your greatest potential. The Loti Wellness Box offers practical skills and products to reduce stress and anxiety, and improve your overall wellbeing.

Each Loti Wellness Box delivers the tools and strategies you need to cope with life's challenges, using research based in psychology and psychotherapy. The monthly themes focus on topics like reducing anxiety, setting goals, and even boosting positive mindsets to help you discover self-care and self-love.
DEAL: Save 10% on your first box! Just use this link and coupon code SUBSCRIBE10.
This is my very first Loti Wellness Box!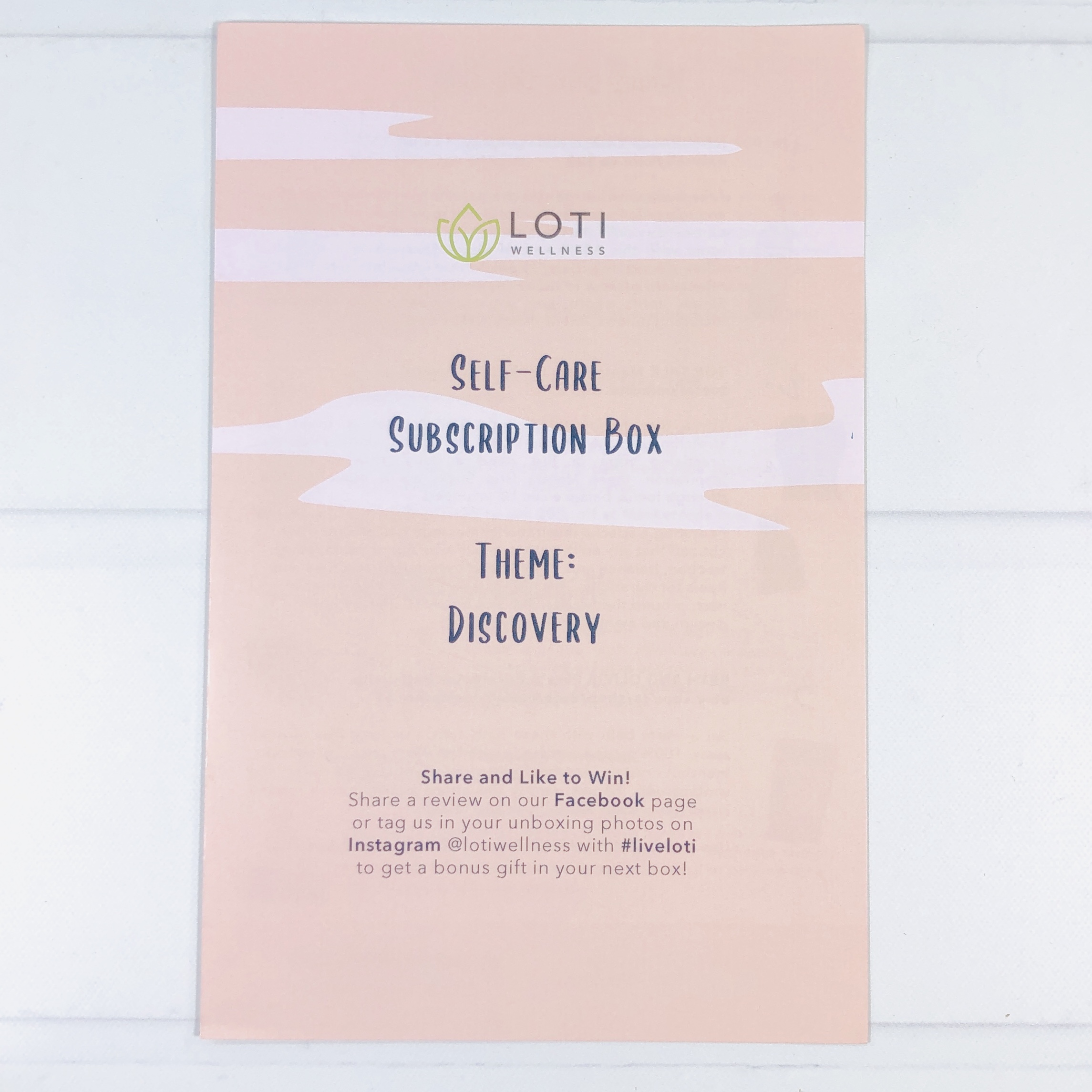 I received a brochure with the theme for September: Discovery!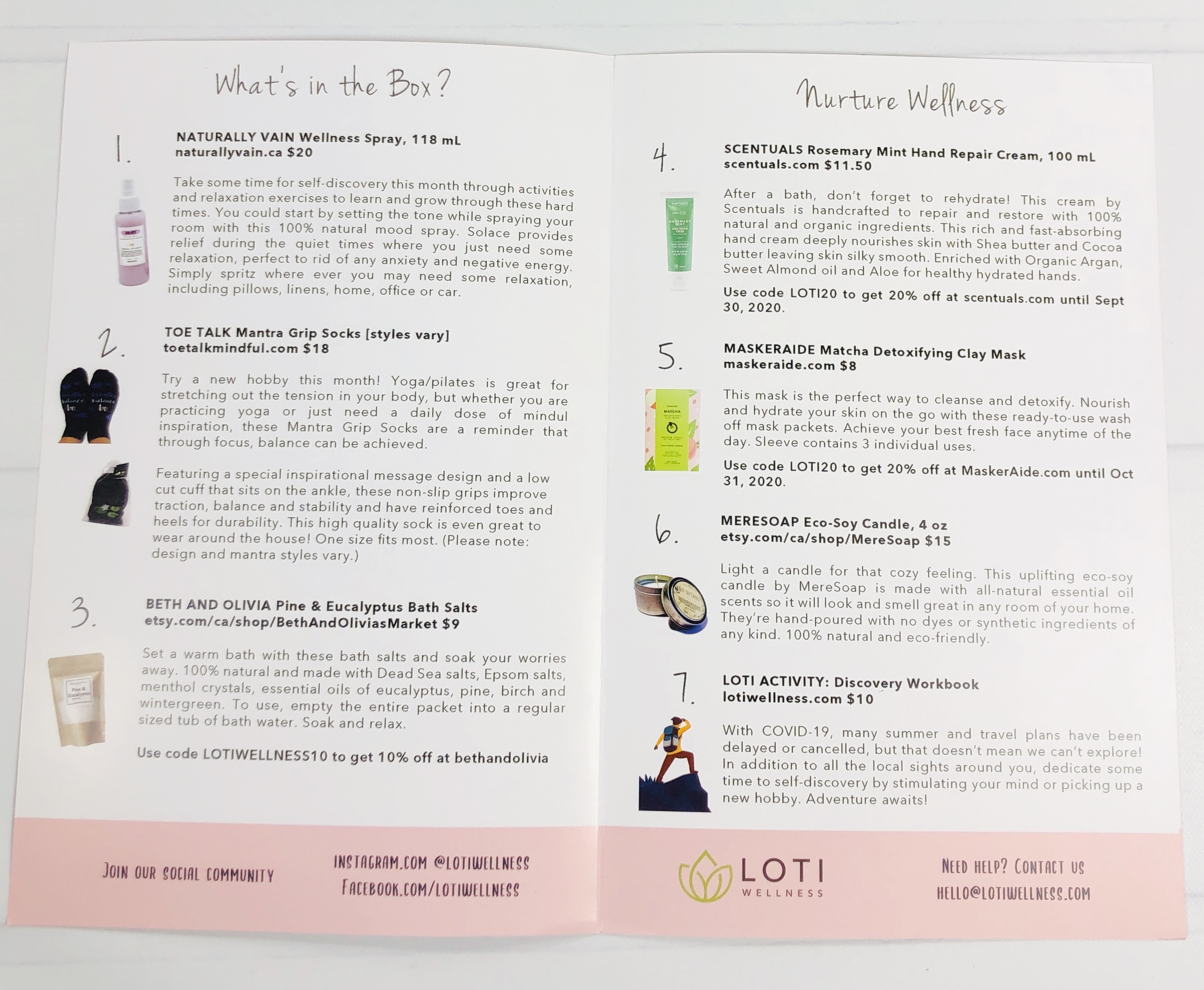 The inside of the brochure listed each item, MSRP, and website so you can stock up on more wonderful items from these brands. In some cases there was even a discount code!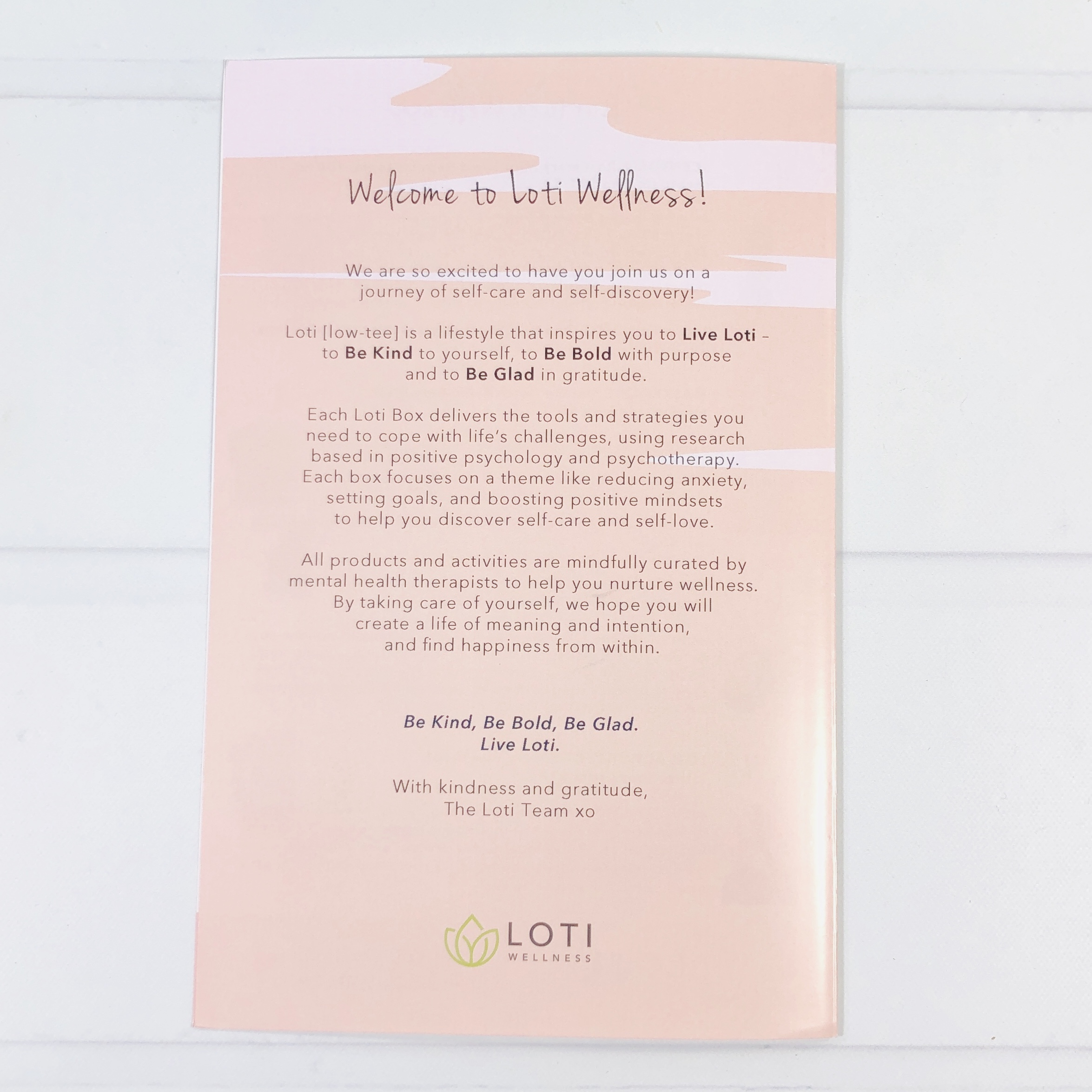 The back of the brochure discussed some of the intentions of Loti.
My items were wrapped in tissue paper that was sealed with a sticker.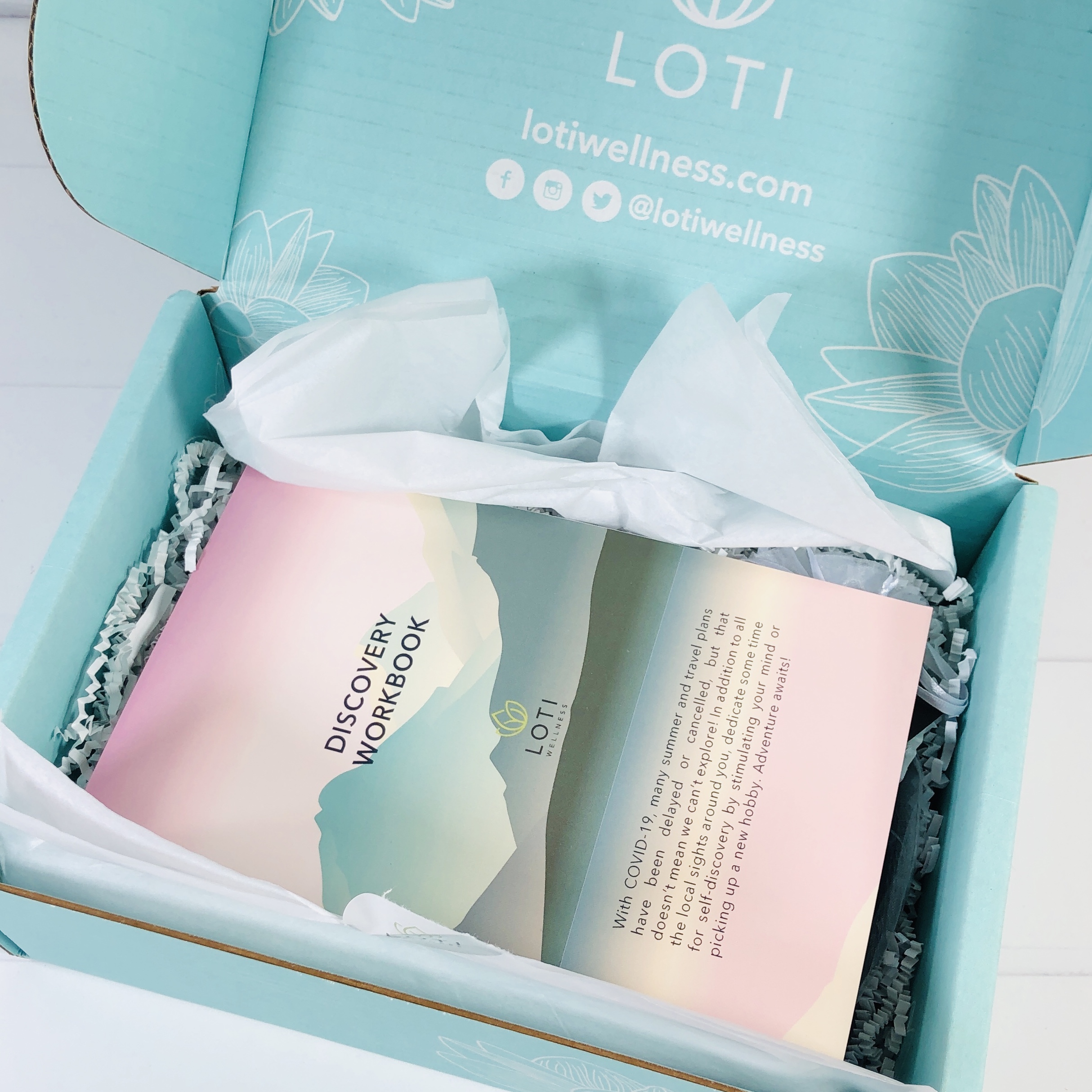 A workbook was on top.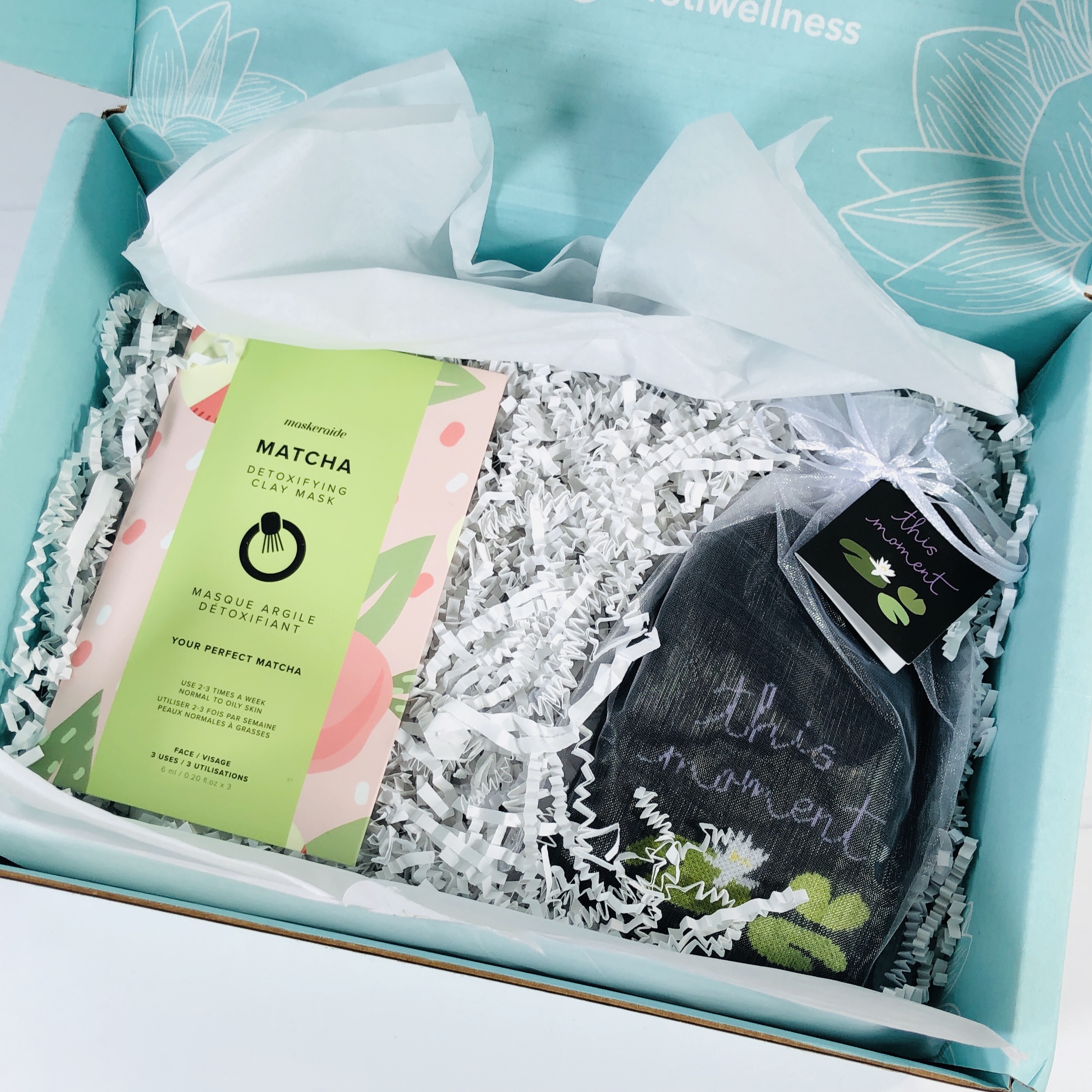 The rest of the items were snuggled into white paper squiggles.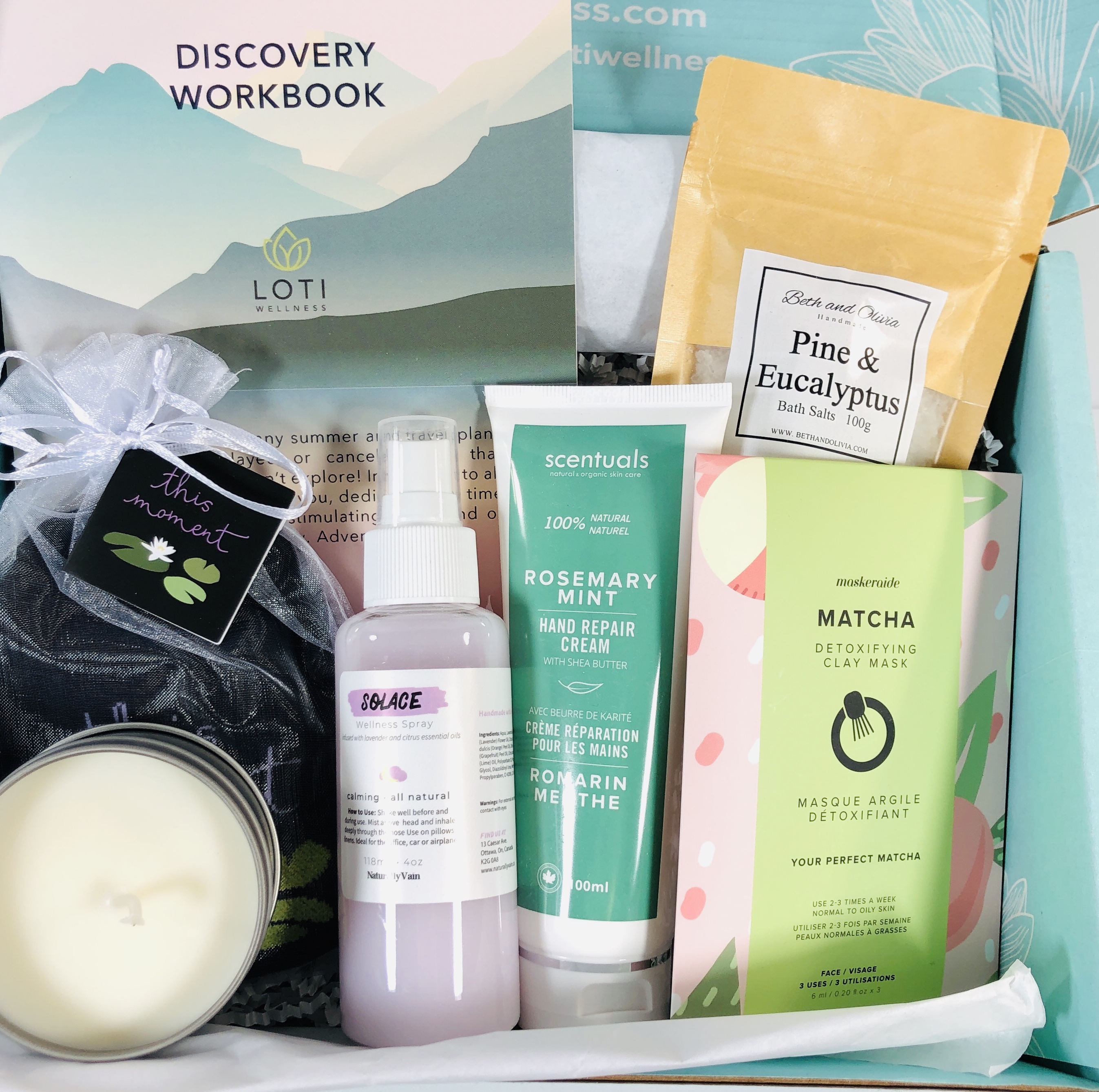 Everything in my box!
Looking good. Let's see what we got!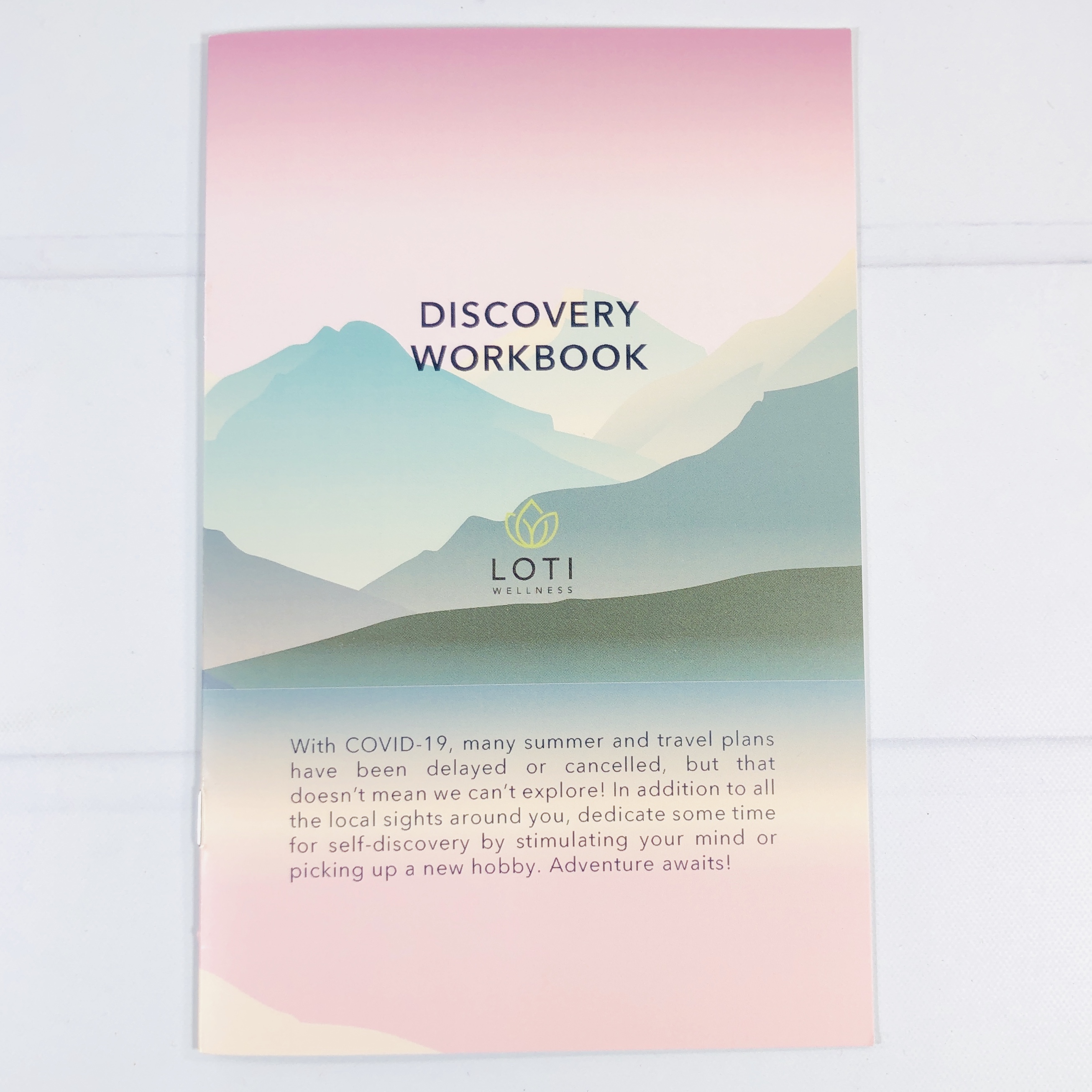 The theme was Discovery and even though we may not be out and about as much this year thanks to the pandemic, we can discover things in our own neck of the woods.
The booklet had 10 pages of ideas to put into practice.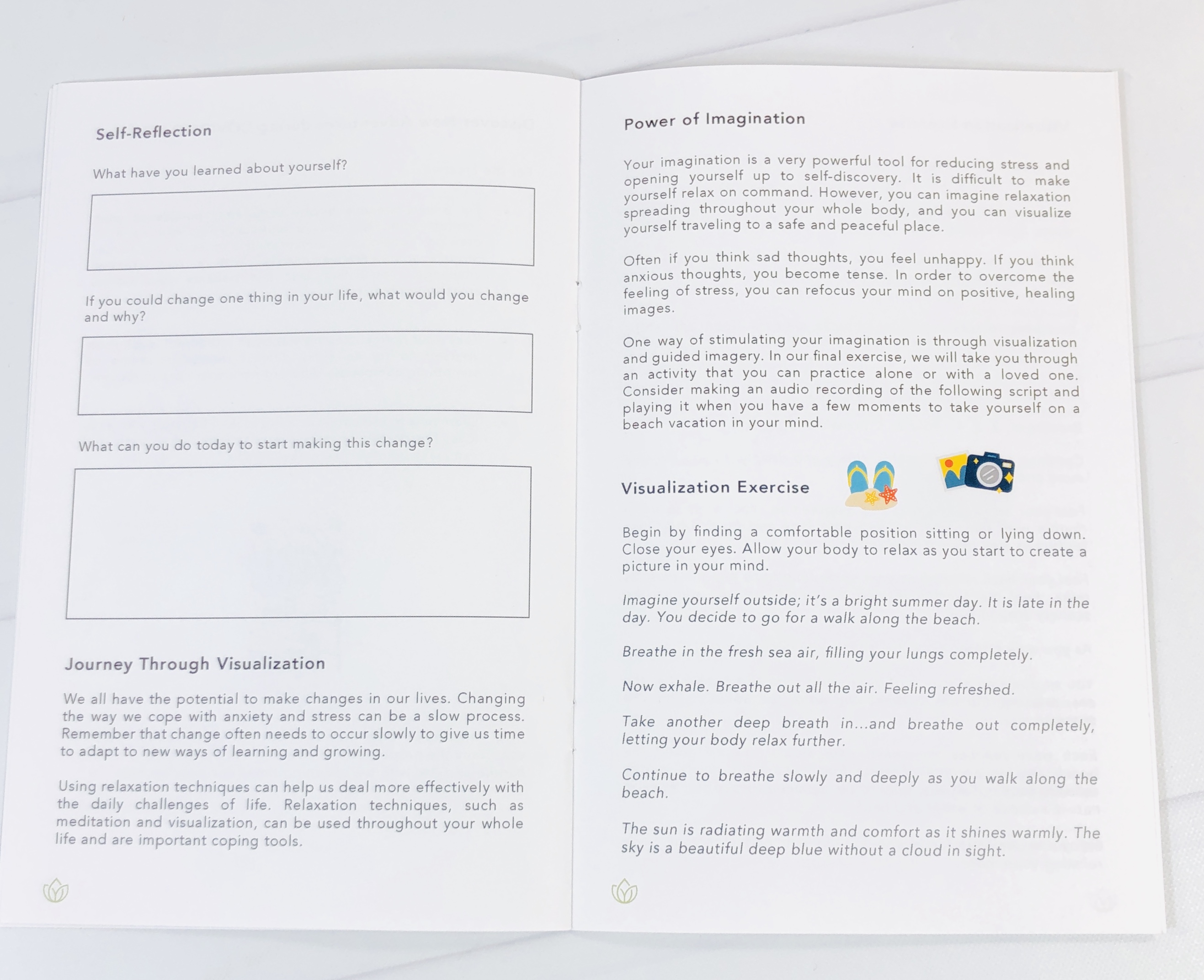 There was even room for a mini journaling activity.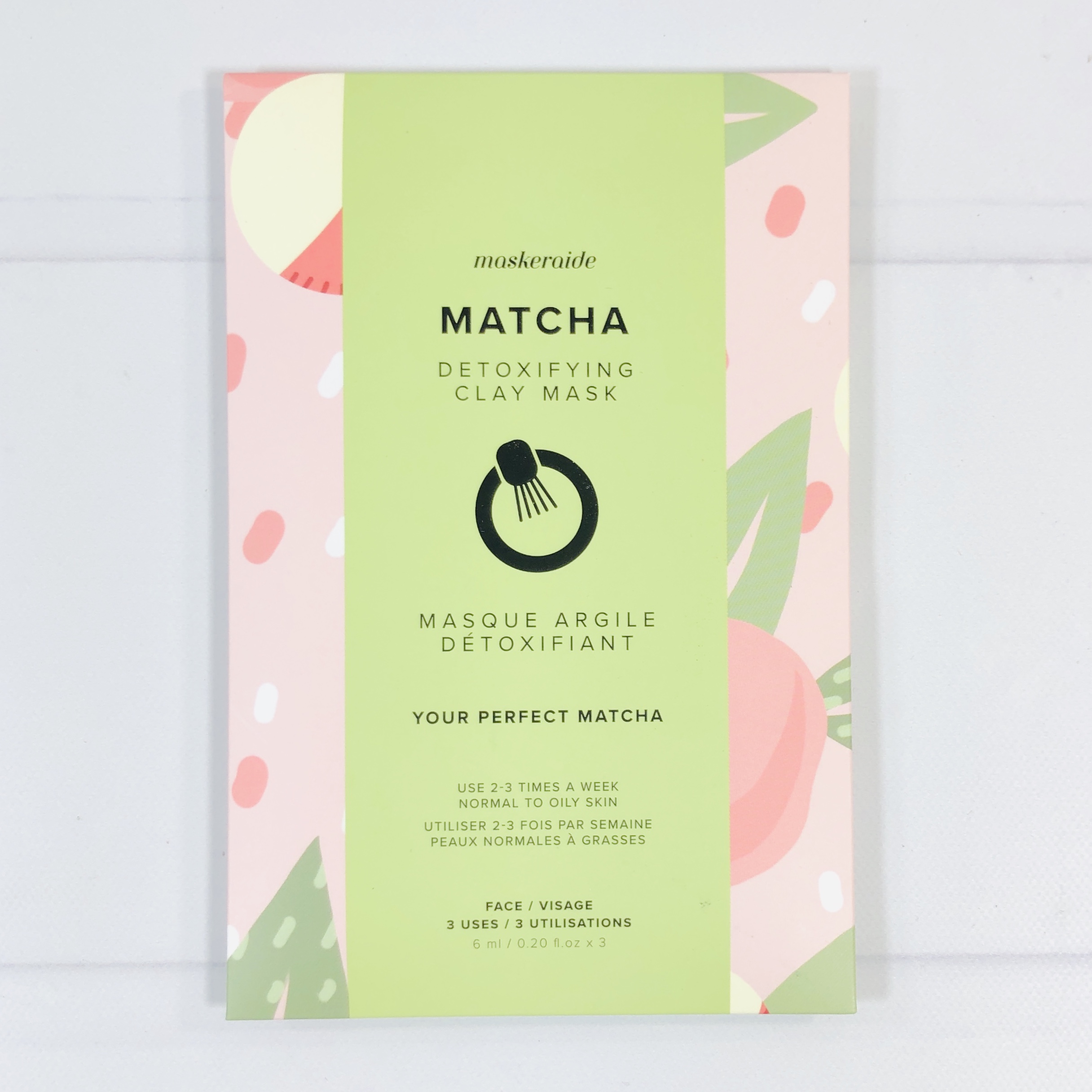 Maskeraide Matcha Detoxifying Clay Mask ($8 CAD, about $6.12 USD) We received a set of three clay masks that are best for oily to normal skin and that are meant to help detoxify pores.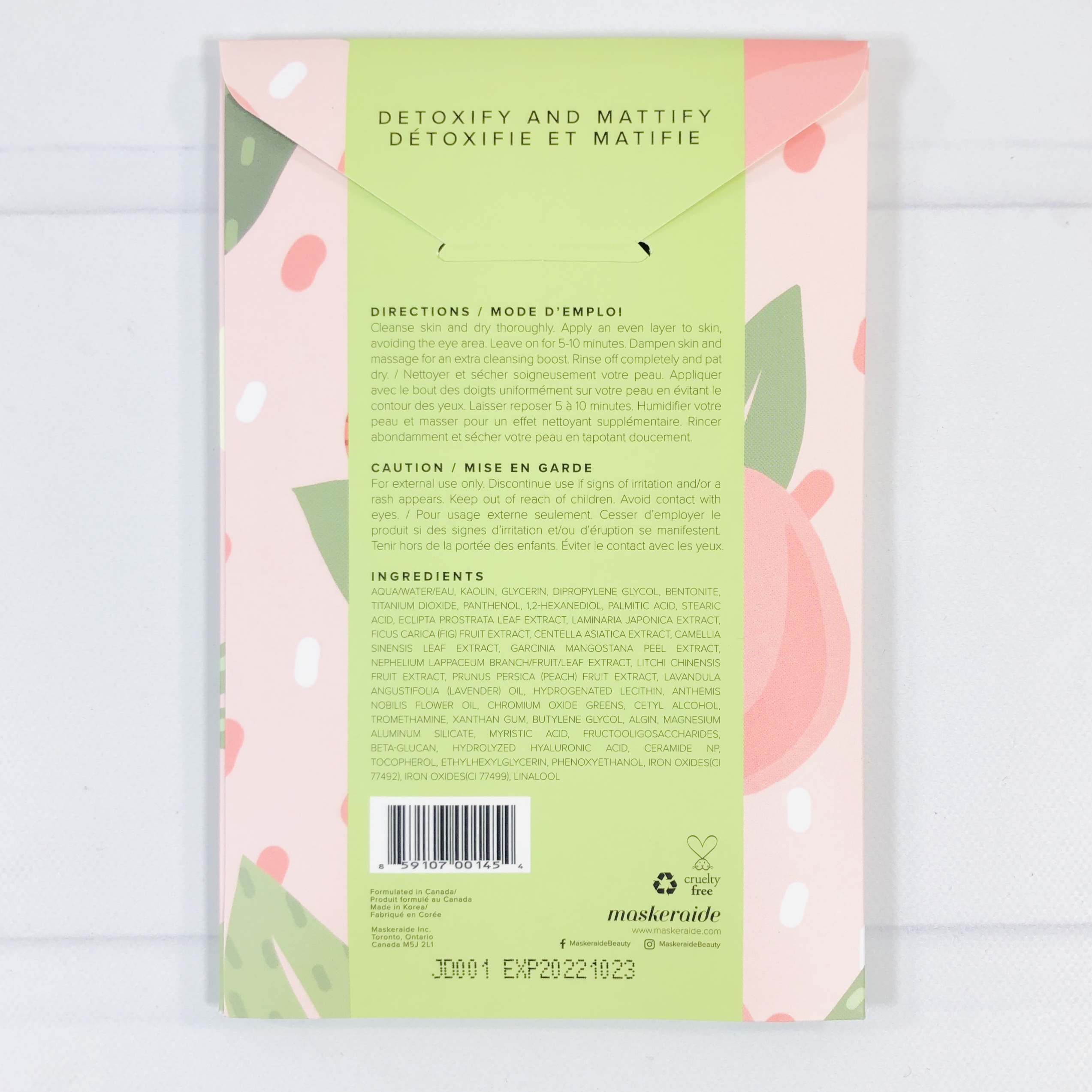 Kaolin clay draws out oils and impurities while matcha is antibacterial and may reduce inflammation.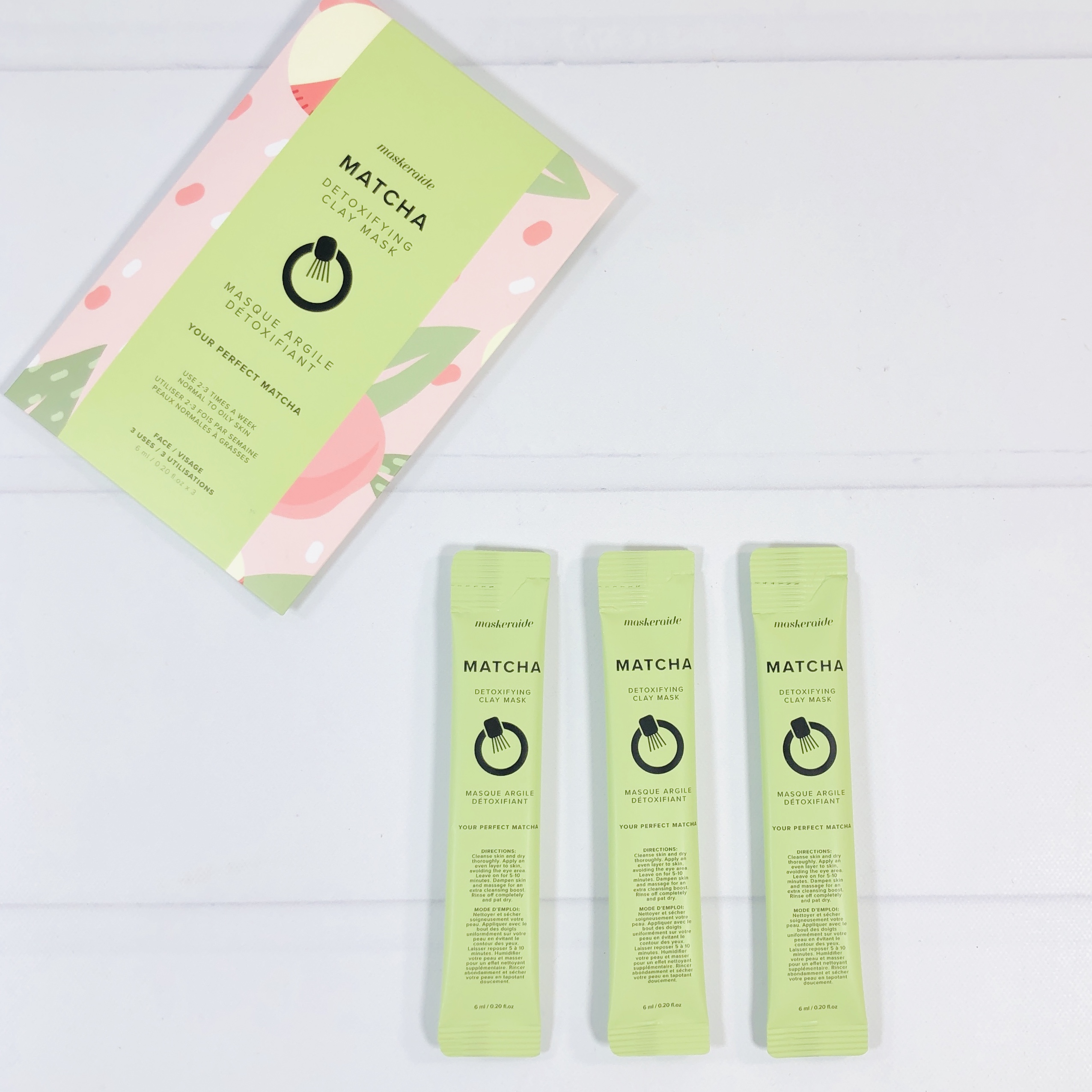 There are three single-use packets of product ready to go. Just apply to clean, dry skin and let dry for about 10 minutes. You can get it damp again and gently rub it around to exfoliate or just rinse it completely off (I suggest under a running shower) and move on to the next step of your skincare routine.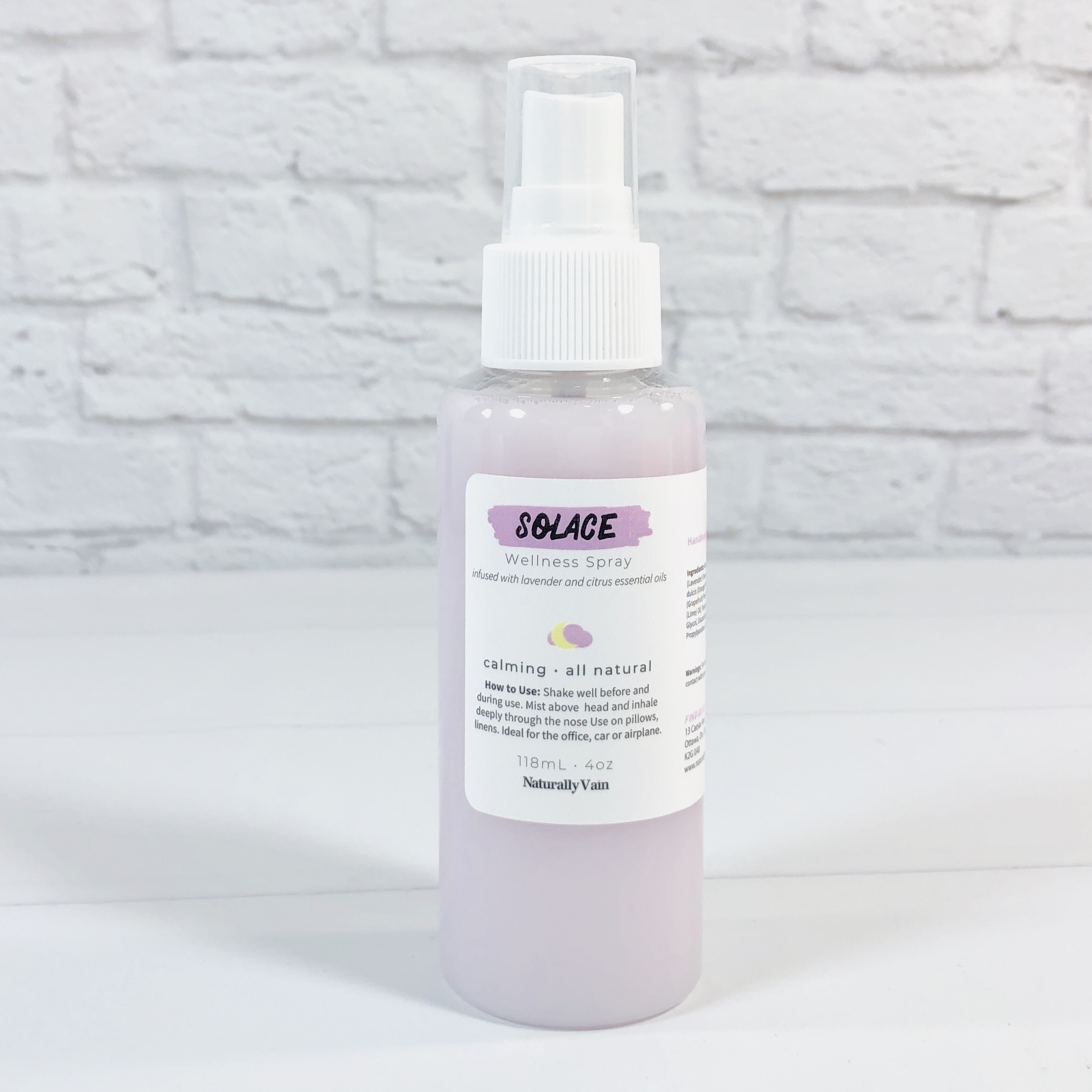 Naturally Vain Solace Wellness Spray ($20 CAD, about $15.31 USD) is a wellness spray that is supposed to provide a calm feeling when sprayed in your general area, around your room, even in your car!
The first few ingredients are water and essential oils such as lavender and citrus peels. I was surprised to see two parabens in the list, most "natural" beauty products would steer clear of those ingredients, and diazolidinyl urea is on Whole Foods list of banned ingredients. I will say that this isn't a product that goes on skin anyways so that is a plus. It smells mostly of lavender.
Scentuals Rosemary Mint Hand Repair Cream ($11.50 CAD, about $8.80 USD) I was ecstatic to see this peppermint hand cream in my box because I love this brand and I am all about that peppermint!
The lotion was quickly absorbed by my hands and didn't leave them oily afterwards, I could get on with my life and not have to worry that I was leaving grease stains everywhere. Aloe, sweet almond oil, and shea butter were a few of the ingredients and of course that uplifting scent is provided by essential oils. Love it!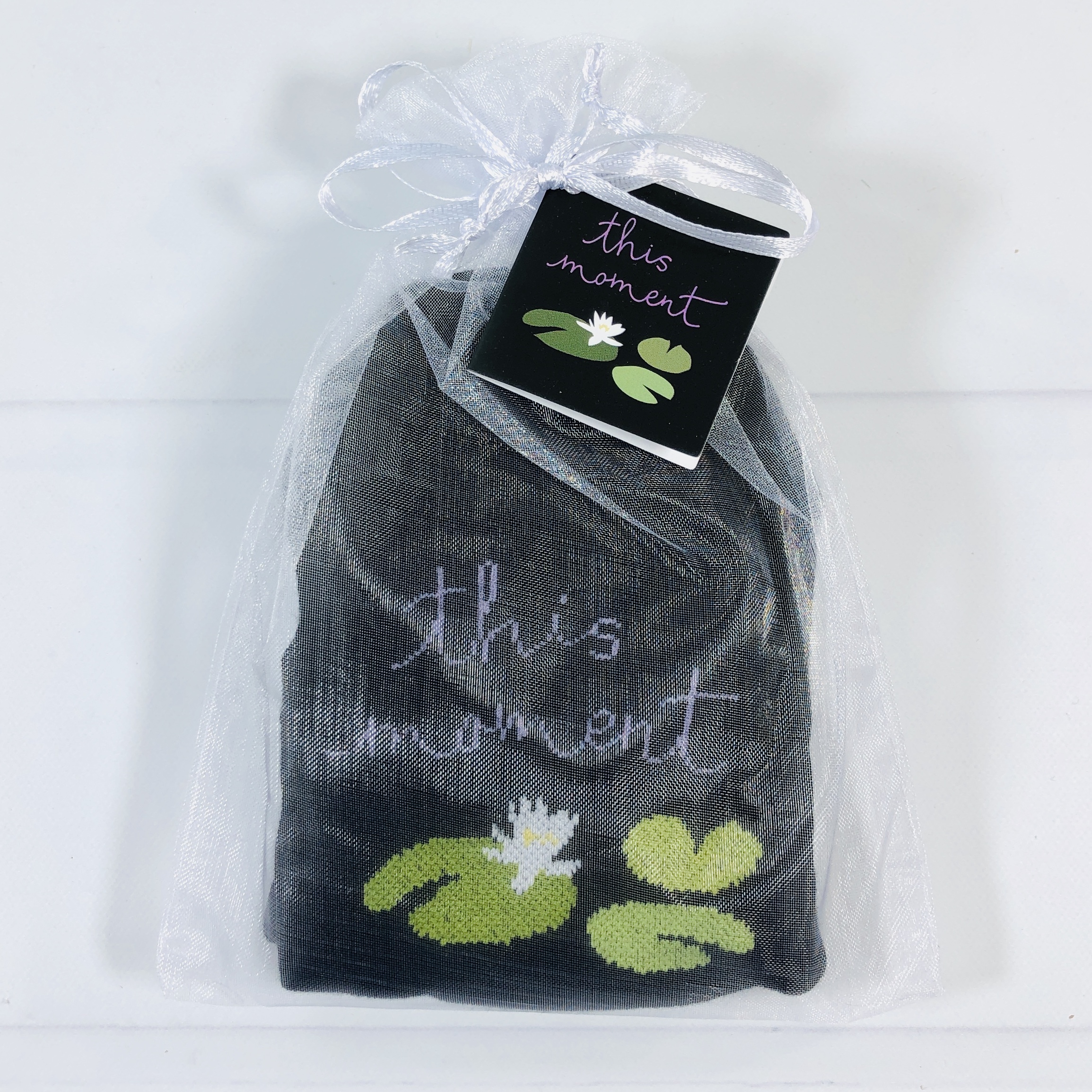 Toe Talk Mantra Grip Socks in Gift Bag ($12.97 USD, designs may vary) come in an organza mesh bag that is suitable for gifting. You can reuse the bag as storage, for gifts, or to hold potpourri.
The socks are made of a blend of bamboo rayon, nylon, polyester, rubber, and spandex. One size fits most women's shoe sizes 6-10.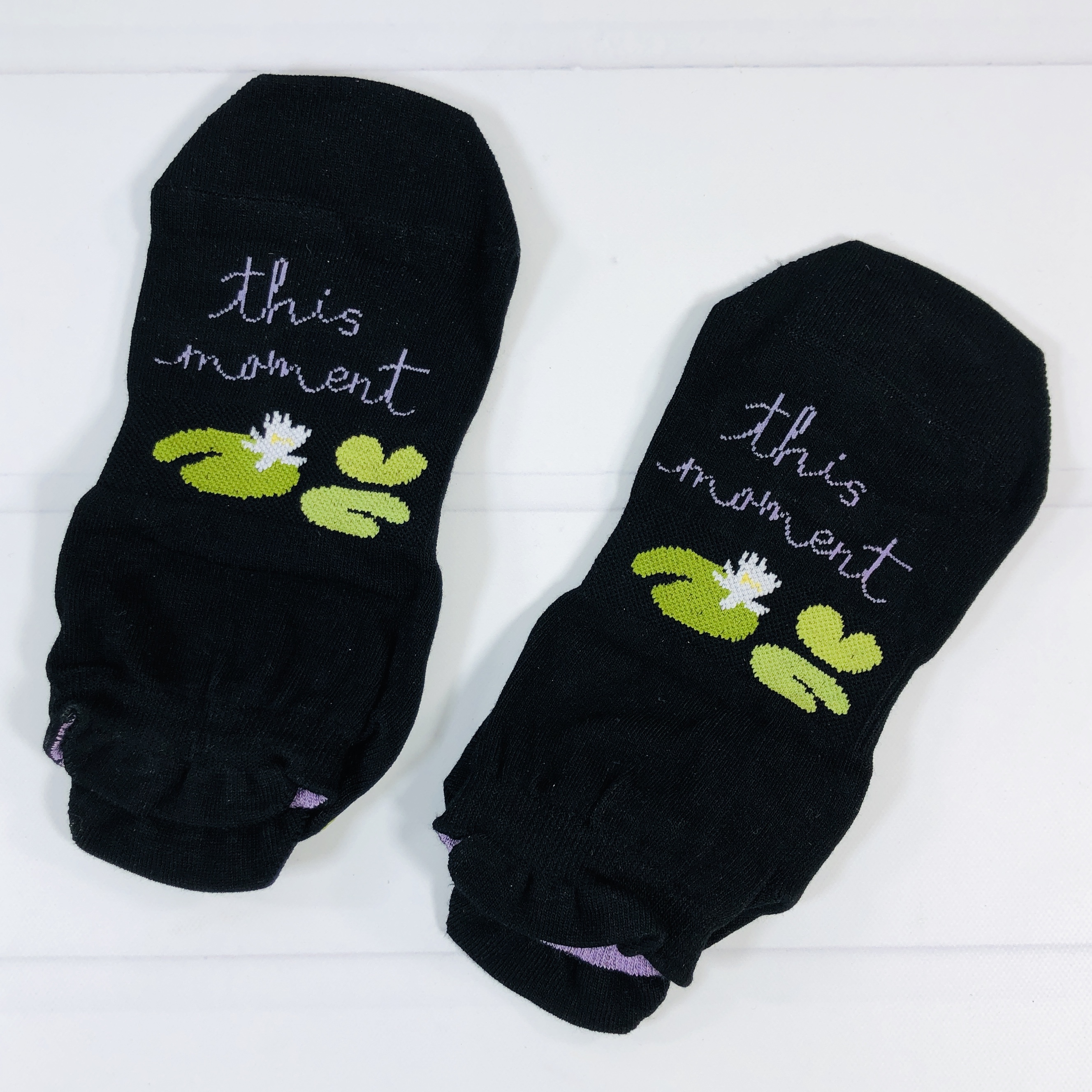 The mantra on the tops of the socks say "this moment" and have lily pads, a couple with flowers. Please keep in mind that sock styles will vary.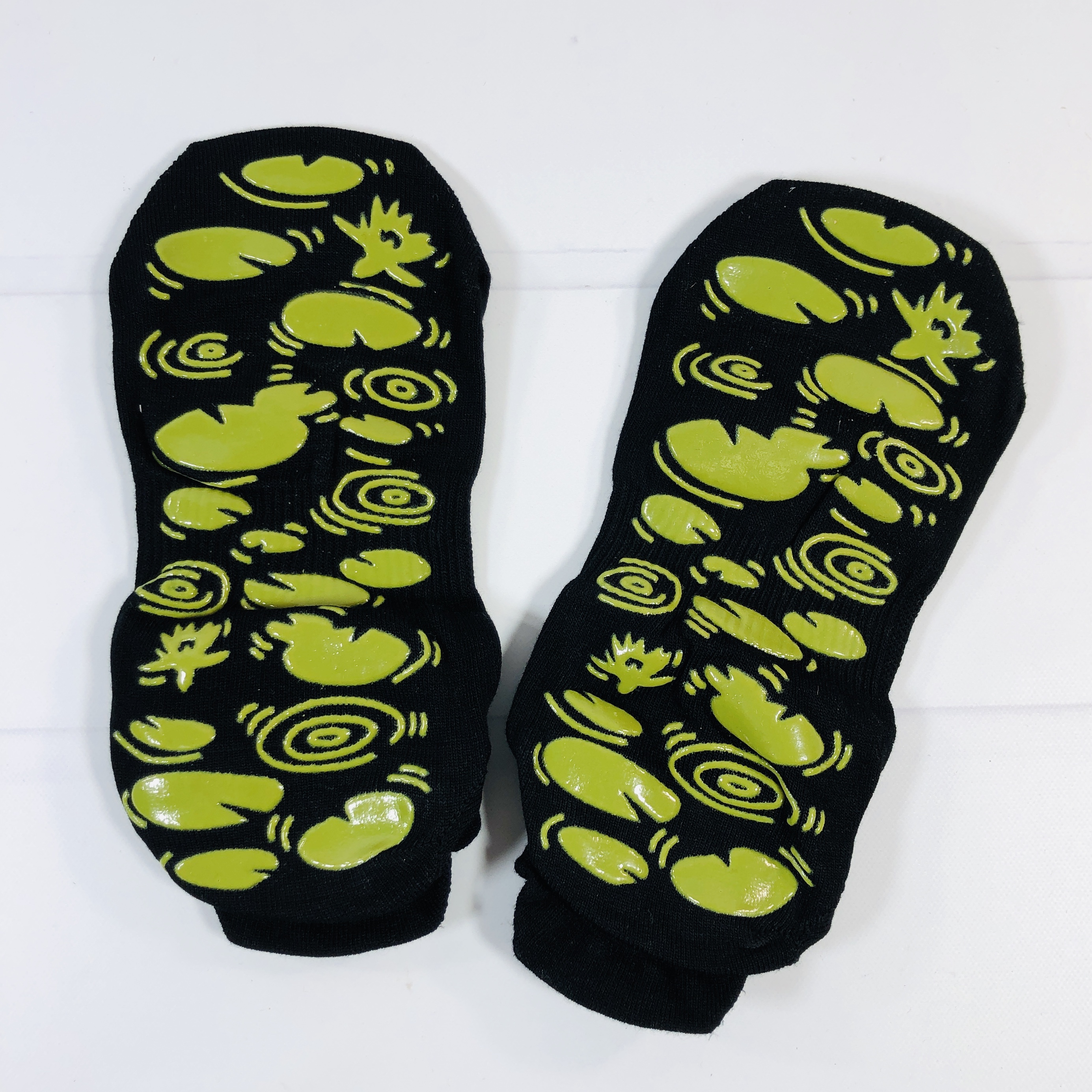 The bottoms have rubbery non-slip grips to keep you from slipping and sliding, whether that's in yoga class or your kitchen. Never been to yoga before? Now is a good time to "discover" yoga poses and if you prefer to do that in your home then YouTube is a good resource, just search for beginners yoga.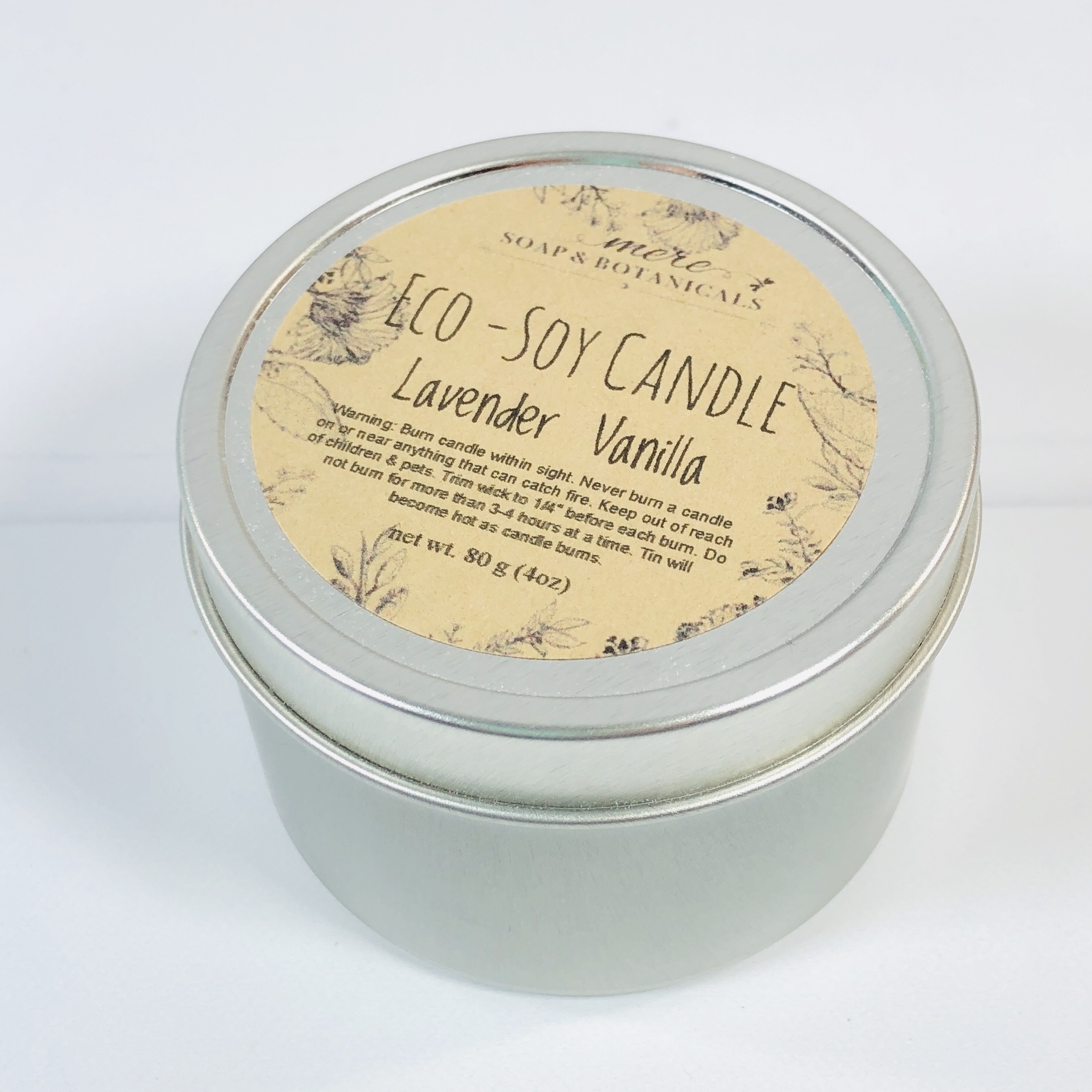 Mere Soap Eco-Soy Candle in Lavender Vanilla ($15 CAD listed value) I didn't see many single items for sale on this brand's Etsy site, mainly they sell gift boxes that are absolutely lovely, so feminine and yet earthy. The lid mentioned to burn carefully and never leave the candle unattended.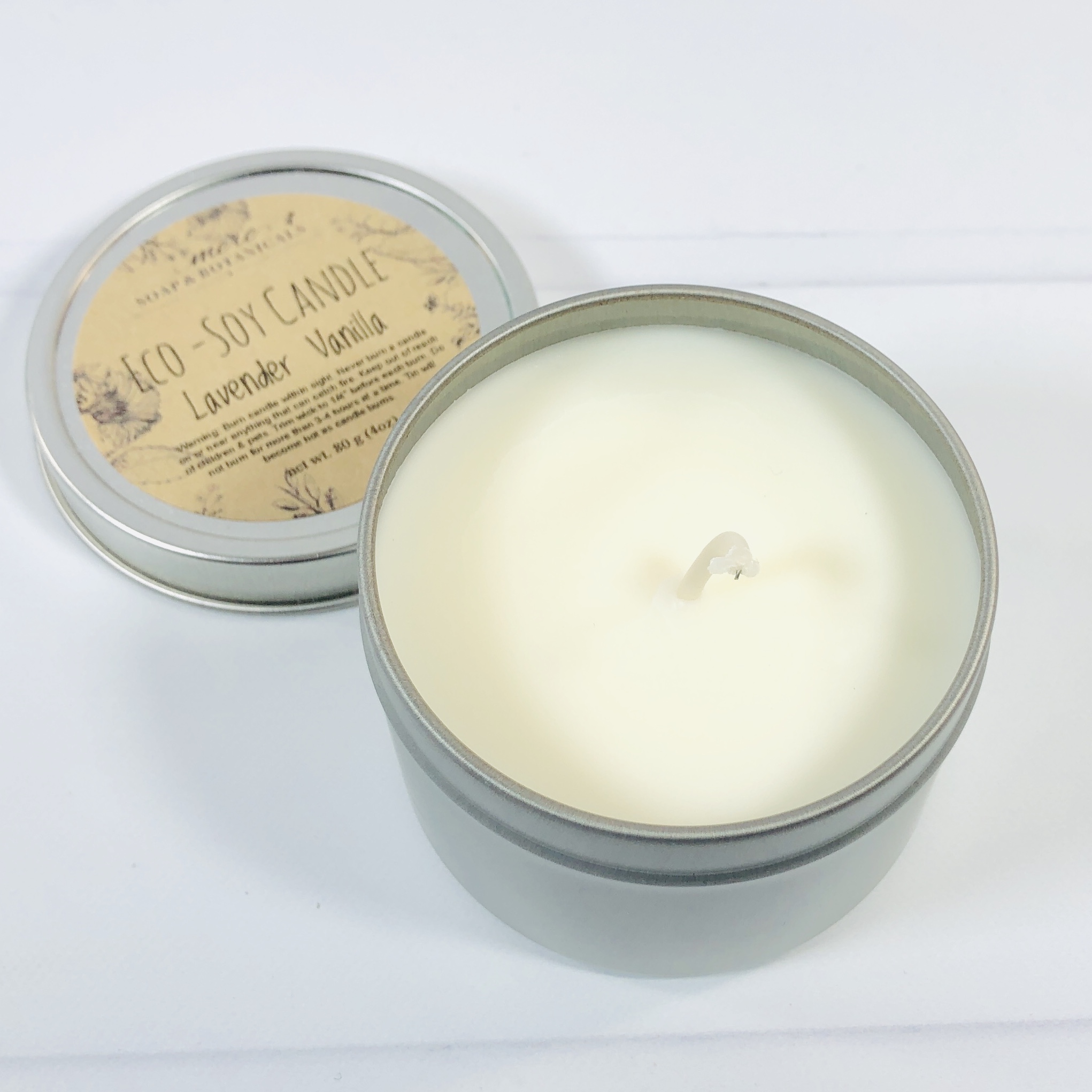 This is a sweet herbal scent that I really enjoyed. It wasn't overly strong while burning – that is how I prefer my candles, otherwise I end up with an aching head.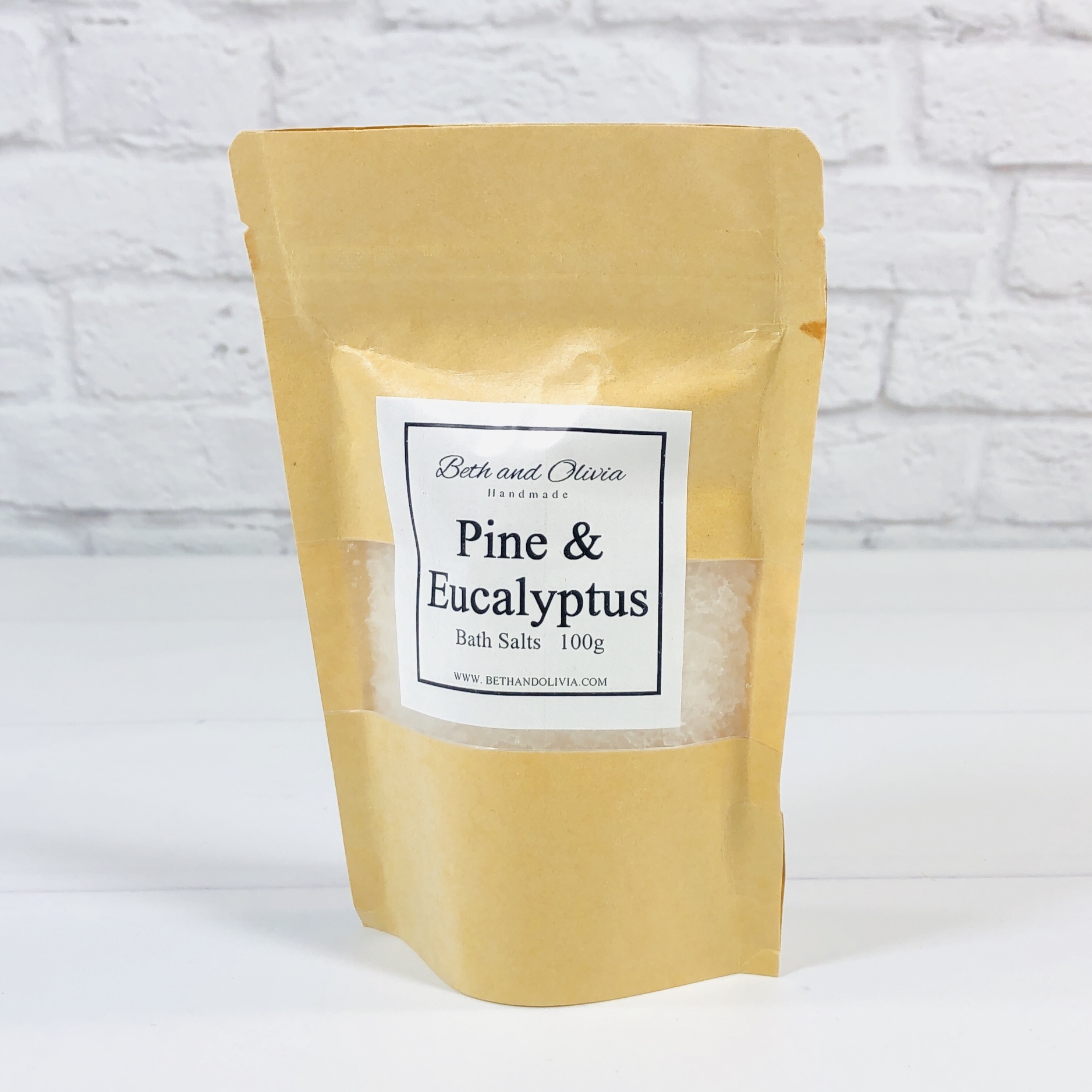 Beth and Olivia Pine & Eucalyptus Bath Salts ($6.90 for 150 grams, about $4.60 USD value) What a way to welcome the beginnings of cooler weather, with an invigorating pine & eucalyptus scented bath soak!
The ingredients include Epsom and Dead Sea salts plus eucalyptus, wintergreen, rosemary, and pine essential oils.
The scent is very refreshing and the minerals in the salts help soothe tired muscles. Suffering from congestion? This may help open those sinus passages and relieve colds or allergies. Empty the entire pack into a warm bath and disperse before soaking.
The September collection from Loti Wellness was my very first Loti box and it was full of fun and indulgent items for self-care! I really enjoyed the assortment of products: there was something for 4 out of 5 of my senses. The candle smelled wonderful while burning and provided a relaxing atmosphere during downtime, as did the spray. The socks are so cute and the mask and bath salts are perfect for making my bathroom feel like a spa. The workbook has so many interesting ideas to put into practice and the lotion is my new favorite hand cream! I definitely feel indulged and ready to discover some new self-care practices!
What do you think of this self-care subscription?