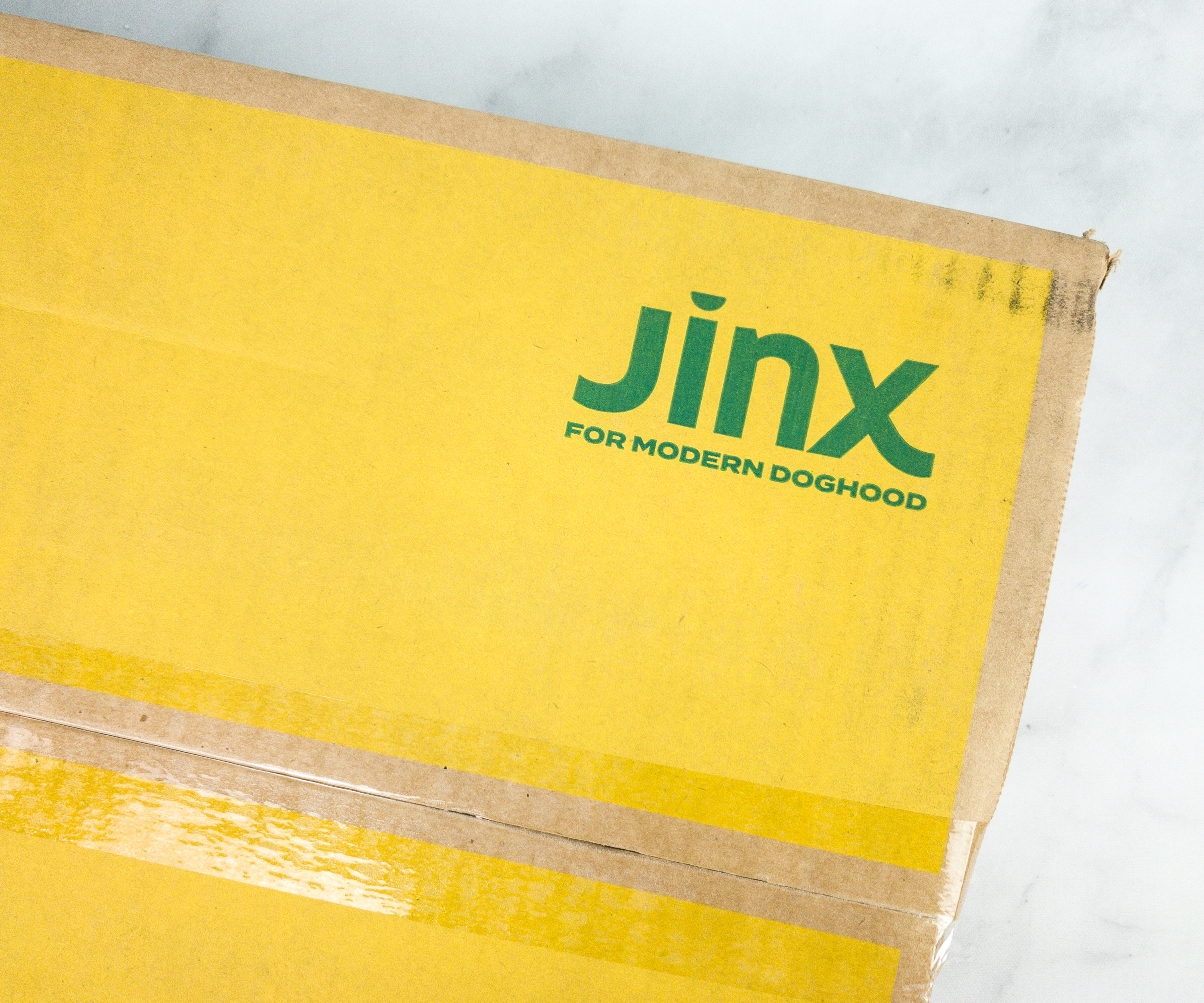 Jinx is a monthly subscription that delivers healthy food for dogs! Receive dog kibbles of your choice in each box and save 5% on you order with auto-delivery. When you subscribe a 4 lb bag is $19, 10 lb bag is $38, 20 lb bag is $61.75, and 30 lb bag is $85.50. Subscription frequency can be as short as every 3 weeks or as long as every 8 weeks.
DEAL: Save 25% on your first subscription when you sign up here with coupon code PAWSOME!
They currently have 3 available kibble recipes. They're all full of high quality protein with no fillers, have custom probiotics, and all the ingredients are top notch and highly palatable to our pups! Here are the flavors:
Salmon, Brown Rice and Sweet Potato Kibble
Chicken, Sweet Potato and Eggs Kibble
Chicken, Brown Rice and Avocado Kibble
Treats are also available for subscriptions! When you subscribe, each single pack treat bag is $9.50, 2-pack treat is $18.05, and 3-pack treat is $26.60! Here are the flavors:
Chicken and Mango Treats
Chicken and Sweet Potato Treats
Pumpkin and Apple Treats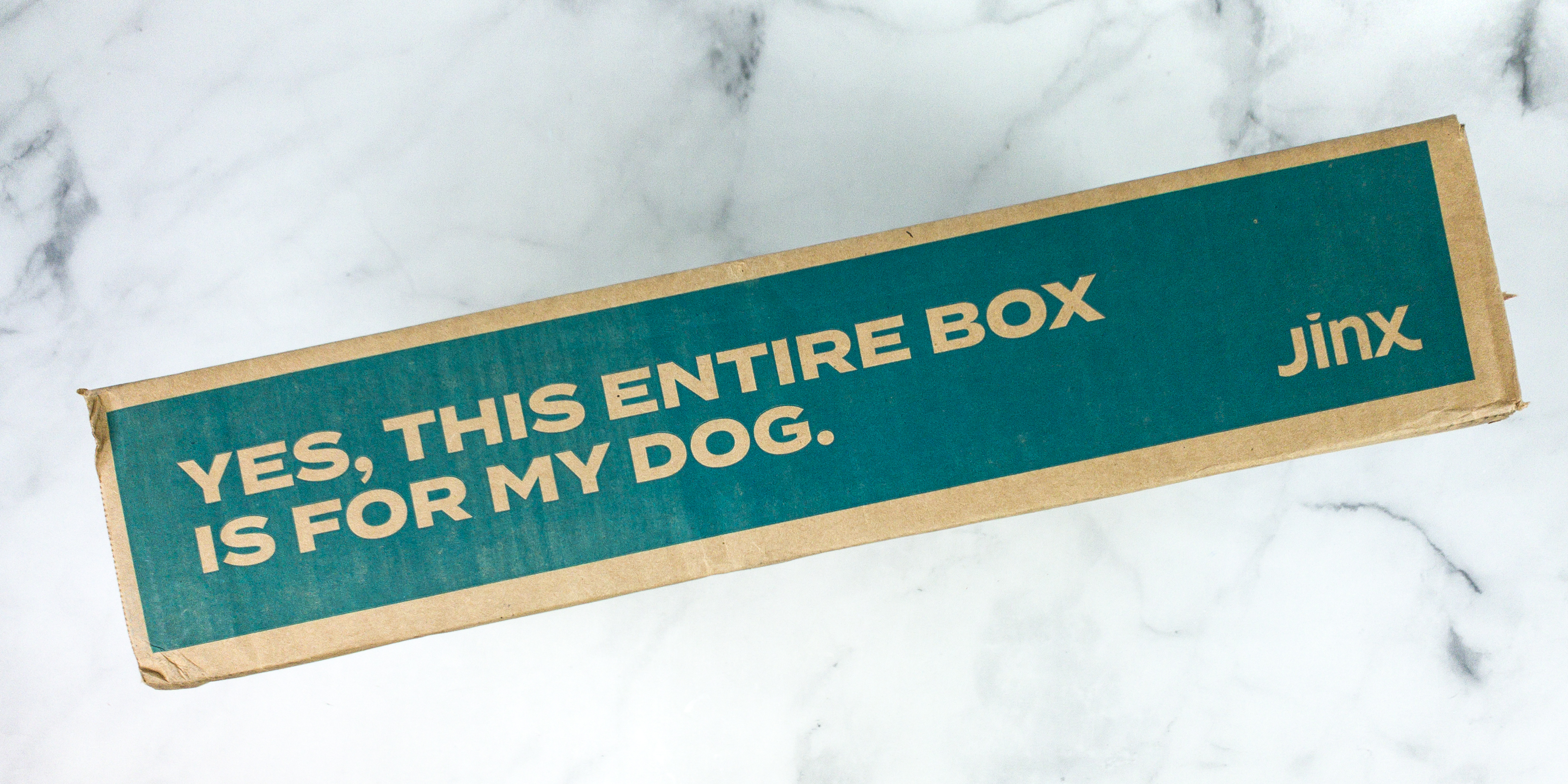 On one side, the box says "yes, this entire box is for my dog."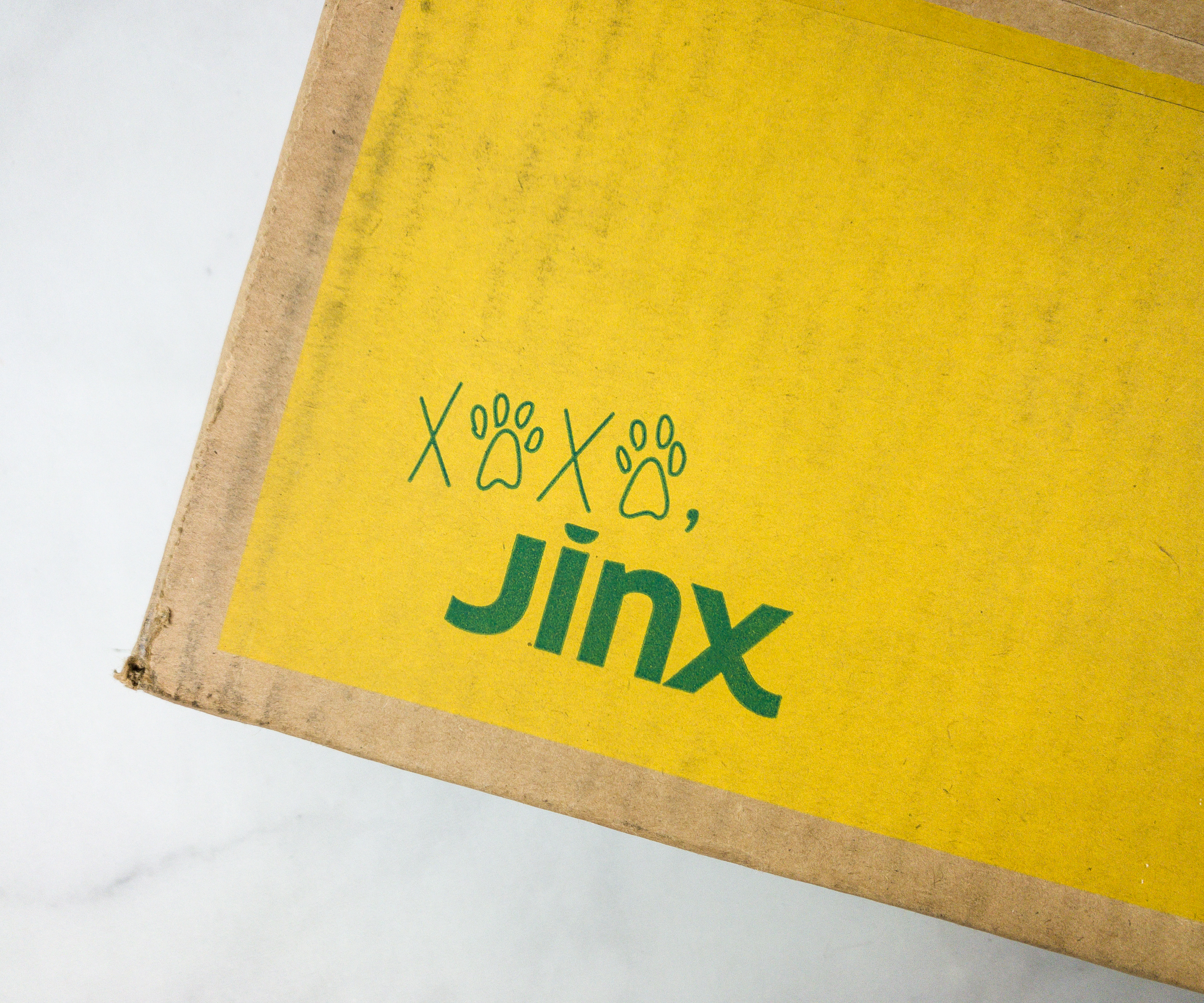 The box design is cute and simple!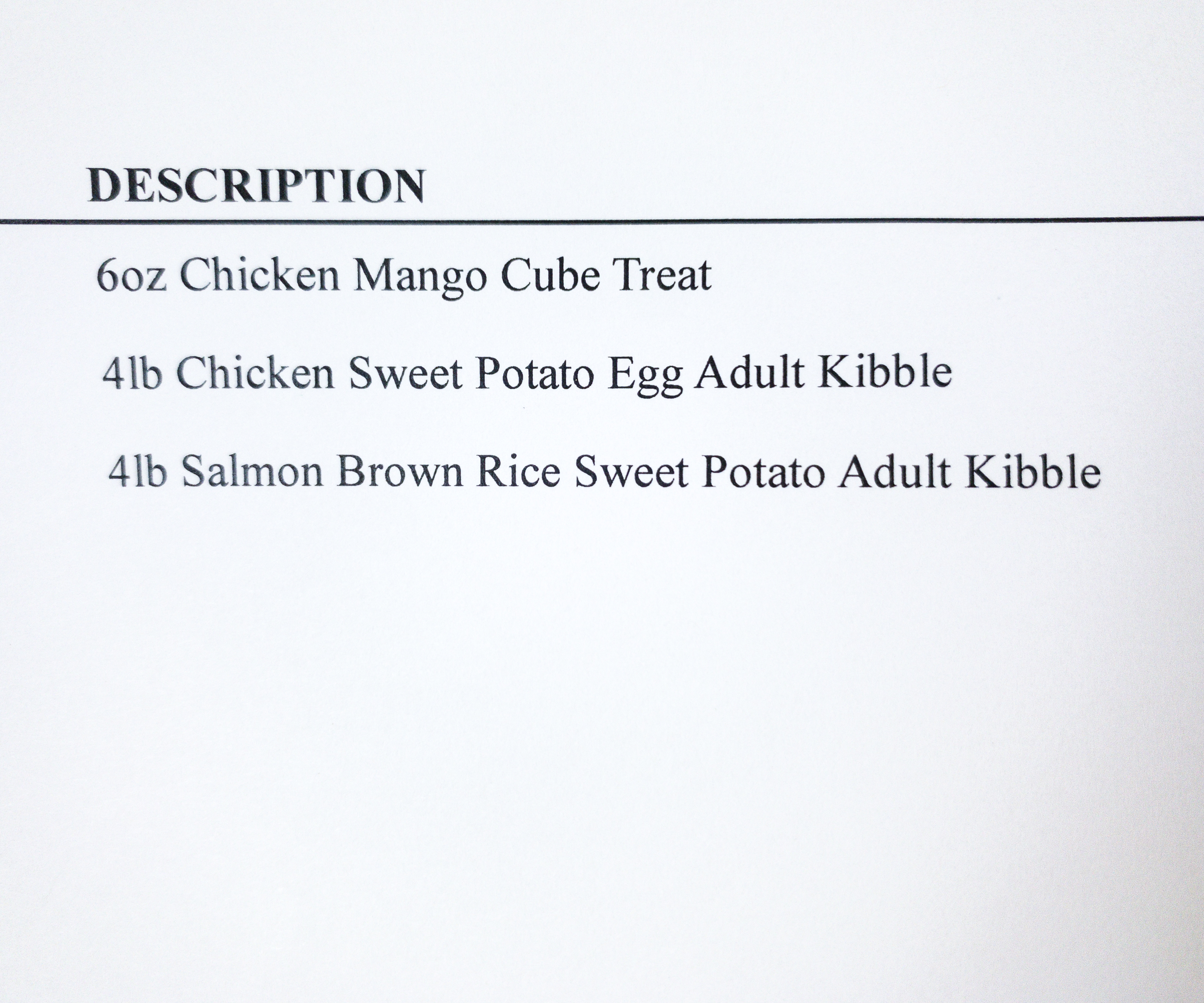 Here's a list of all the dog food we received in this box!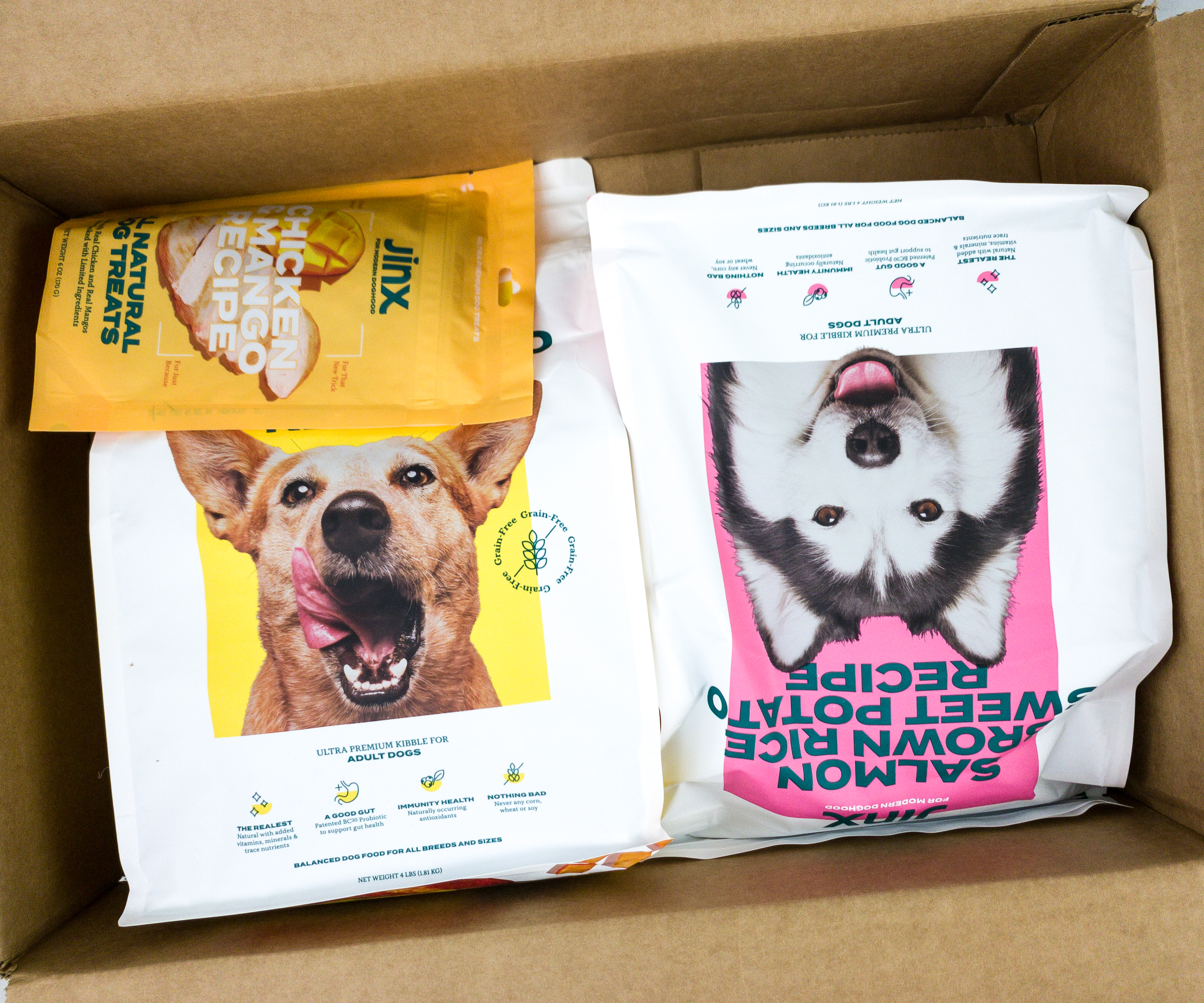 The dog food came in separate bags and there are no other packaging materials or fillers.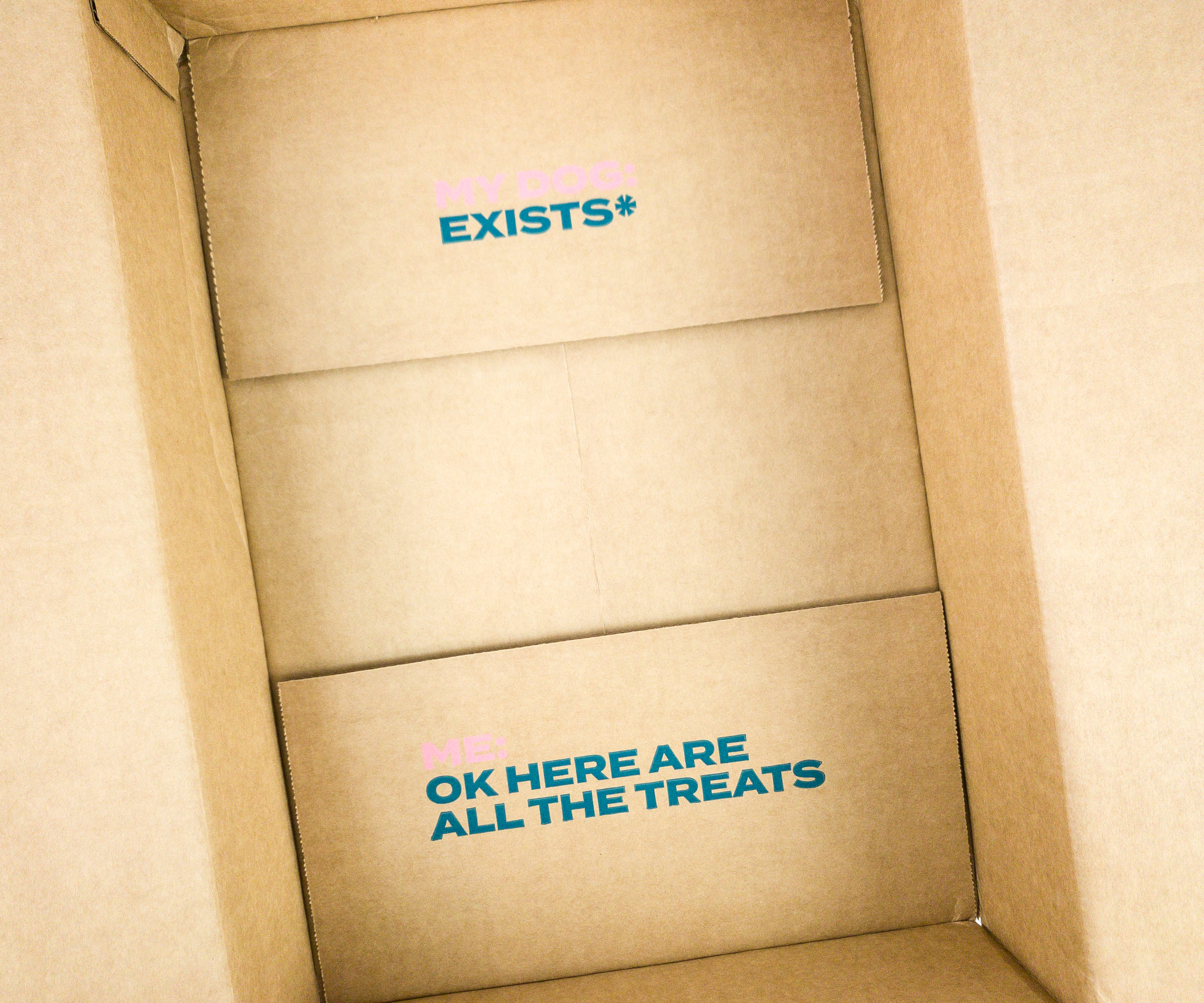 The bottom of the box also has some relatable stuff!
My dog: exists*

Me: ok here are all the treats
Everything in my box! We tried out two of the dog recipes, plus one of the treats!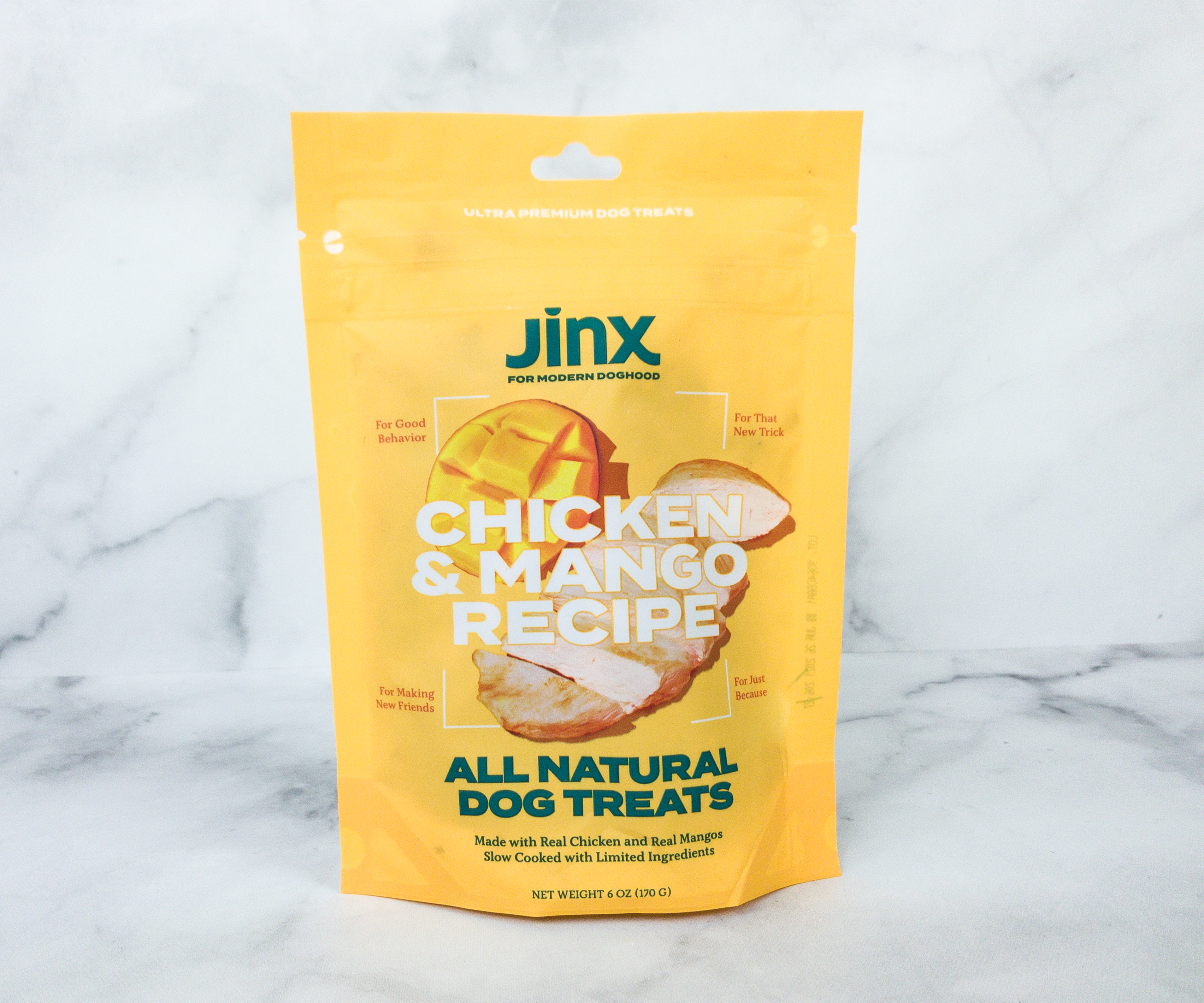 Chicken & Mango Recipe Dog Treats ($10 for one time purchase/$9.50 on a subscription) First up is the 6 oz bag of dog treats (not a part of the subscription, but an add-on)! This jerky treat is made from real chicken and mangoes, blended with coconut glycerin, citric acid, mixed tocopherols, and rosemary extract.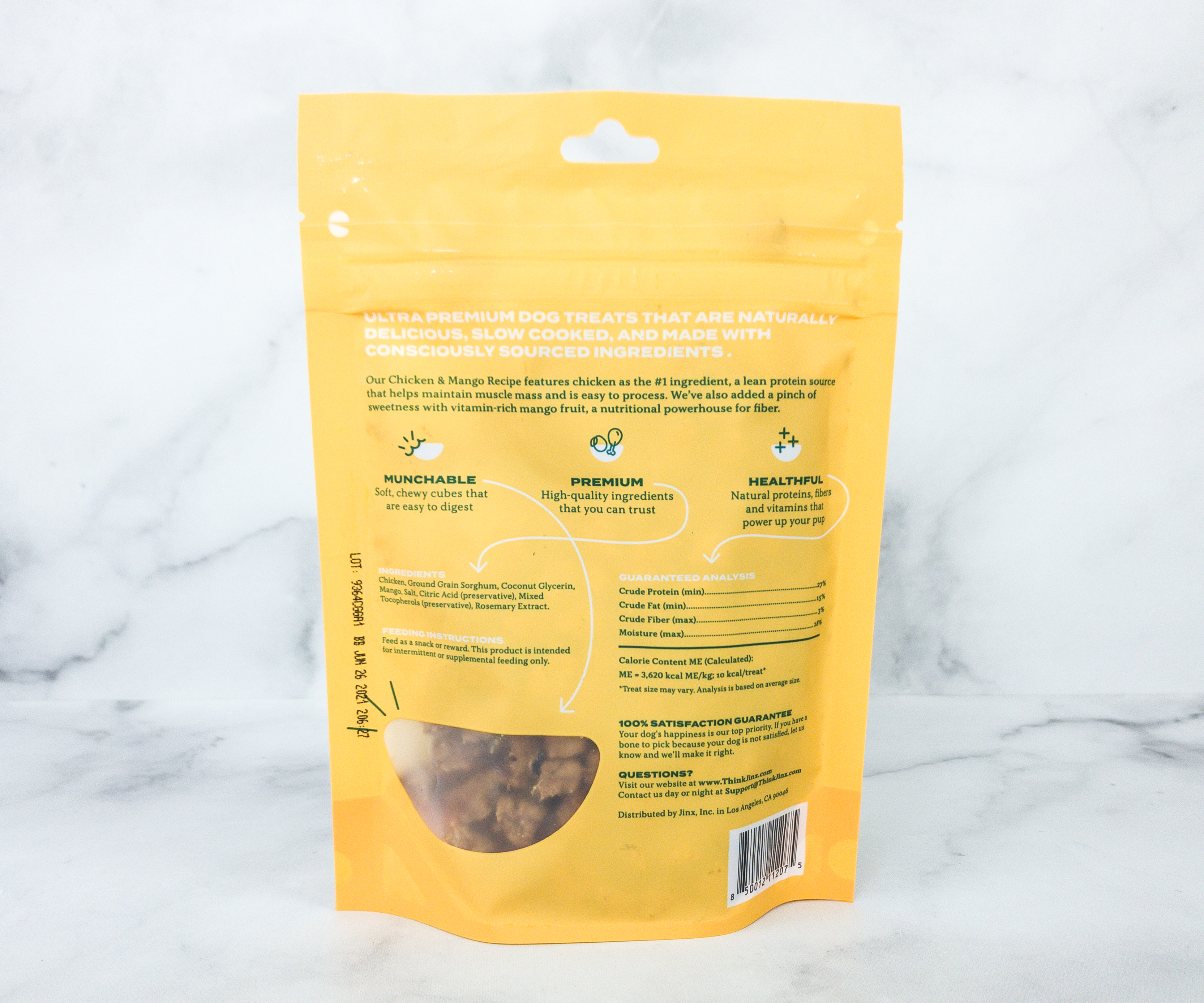 This chicken-based snack is a good source of low-fat protein, which helps improve a dog's muscle mass. Mango also adds a touch of sweetness to the snack, as well as fiber that aids digestion!
These were slow-cooked to ensure that they retain their natural flavors. They came out soft and chewy, and our pups love them because they're easy to eat! They're perfect for our senior dog Lindy, and she's so been begging for them!
Salmon Brown Rice Sweet Potato Recipe ($20 for one time purchase/$19 on a subscription) Now, we're onto the 4 lb bag of premium dog kibbles! The first recipe is made with salmon, brown rice, and sweet potato, and it's one of the most popular kibble variants from Jinx.
One side of the bag features the breakdown of all the vitamins, minerals, and other nutritional content of this scrumptious meal.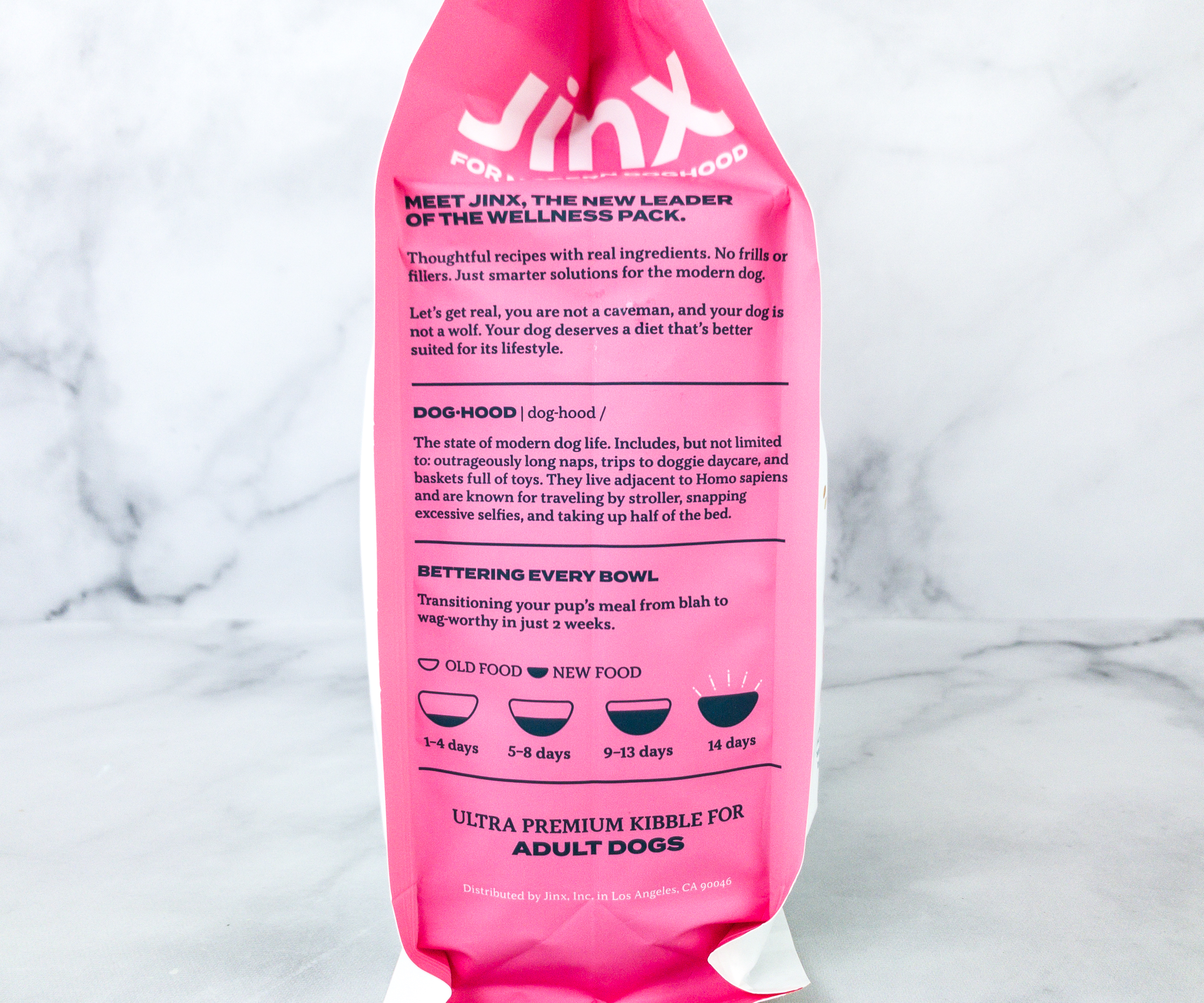 If your dog is new to this diet, you can use the transition guideline they provided on the label. You don't need to feed them a full bowl of kibble right away. Start slow and then increase a bit day by day.
The back of the bag features the images of some of the ingredients used for the dog food. They even included a brief explanation for each of the major ingredients. Salmon is the first ingredient.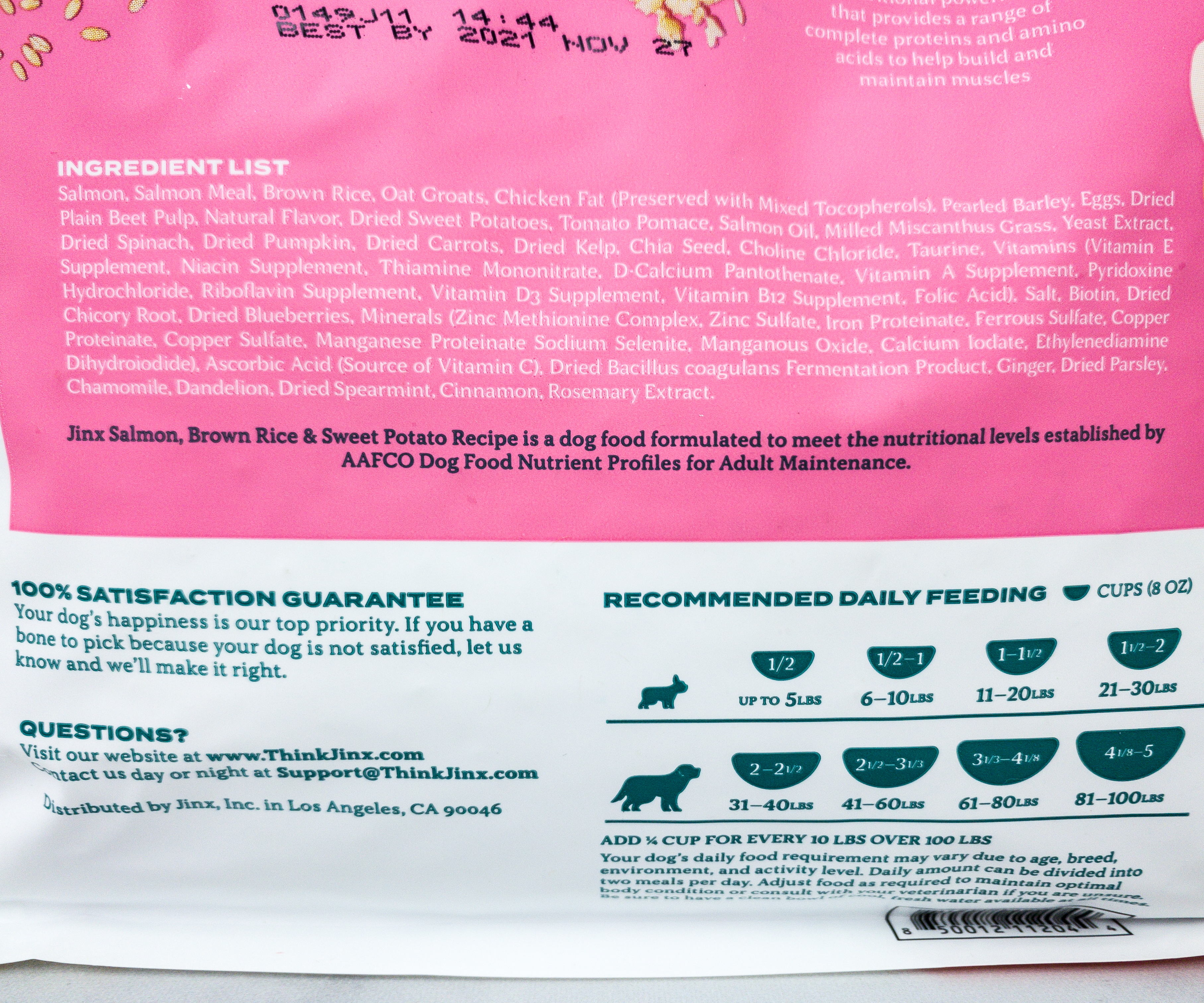 According to the label, these kibbles were formulated to meet the nutritional standards set by AAFCO.
The Association of American Feed Control Officials (AAFCO) defines and establishes regulations for the pet food industry and sets standards for nutritional adequacy. They are a voluntary membership association of local, state, and federal agencies charged by law to regulate the sale and distribution of animal feeds. They protect not just consumers, but safeguard the health of the animals we love.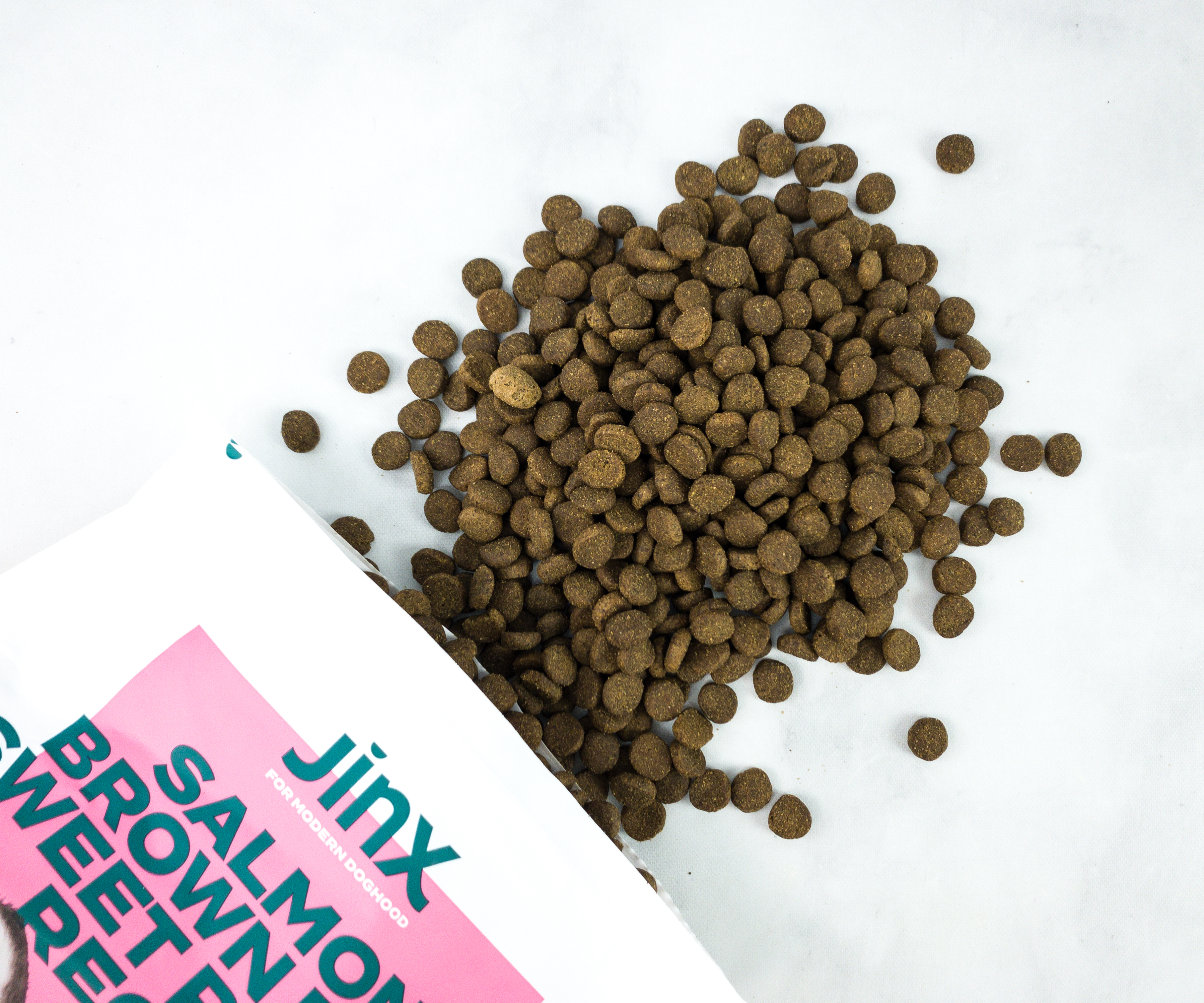 Inside the bag are perfectly baked, bite-sized treats in dark brown color. These are rich in Omega 3 from salmon, which supports a dog's immune system. Meanwhile, sweet potatoes and brown rice supply the fiber needed to maintain their digestive health.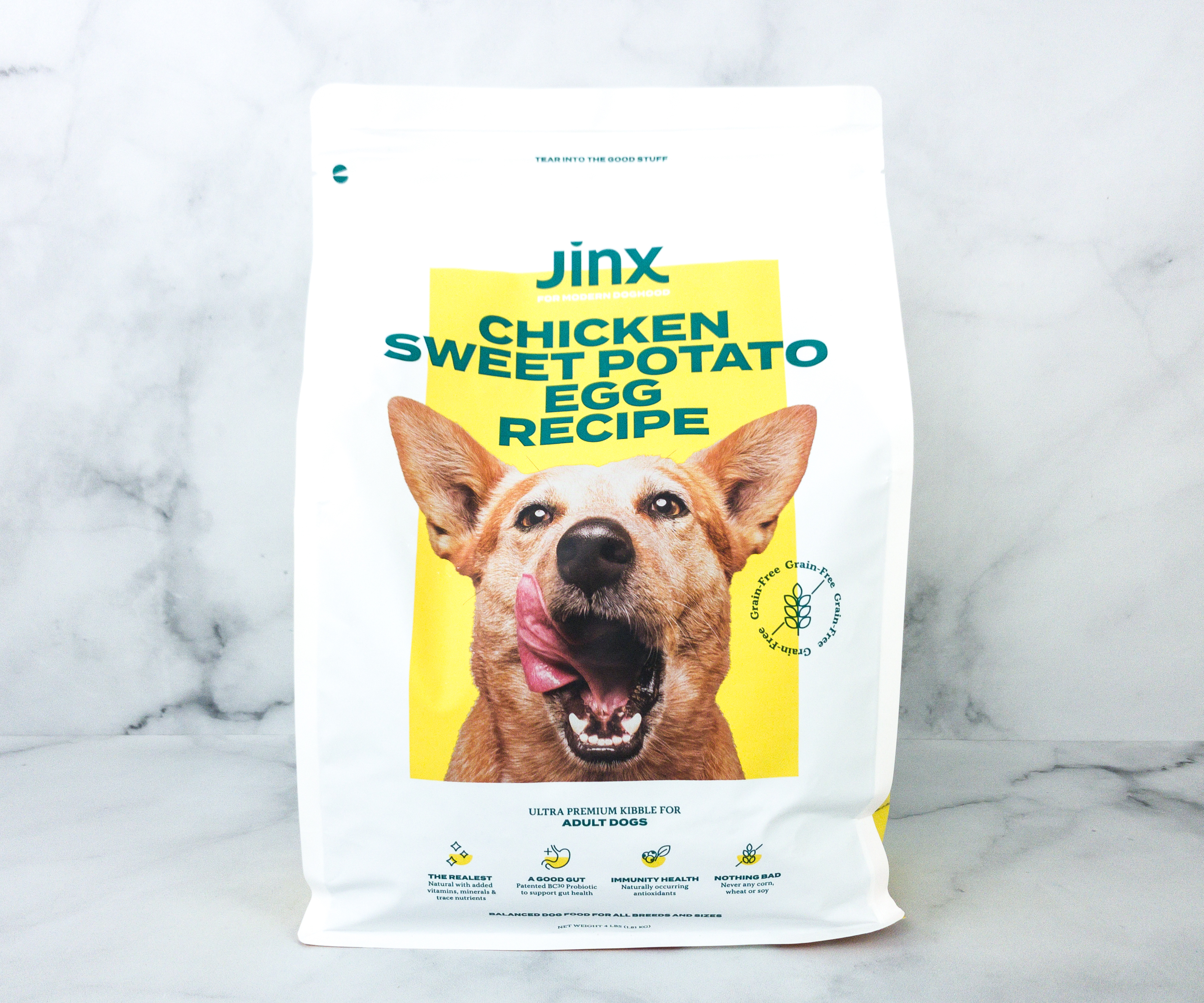 Chicken Sweet Potato Egg Recipe ($20 for one time purchase/$19 on a subscription) Here's the second 4 lb bag of premium dog kibbles! It's made with a blend of organic chicken, dried sweet potatoes, and eggs. This is the Jinx grain-free recipe if that's what you and your dog prefer.
Just like the other bag, it has a transition guide for dogs who are new to this diet.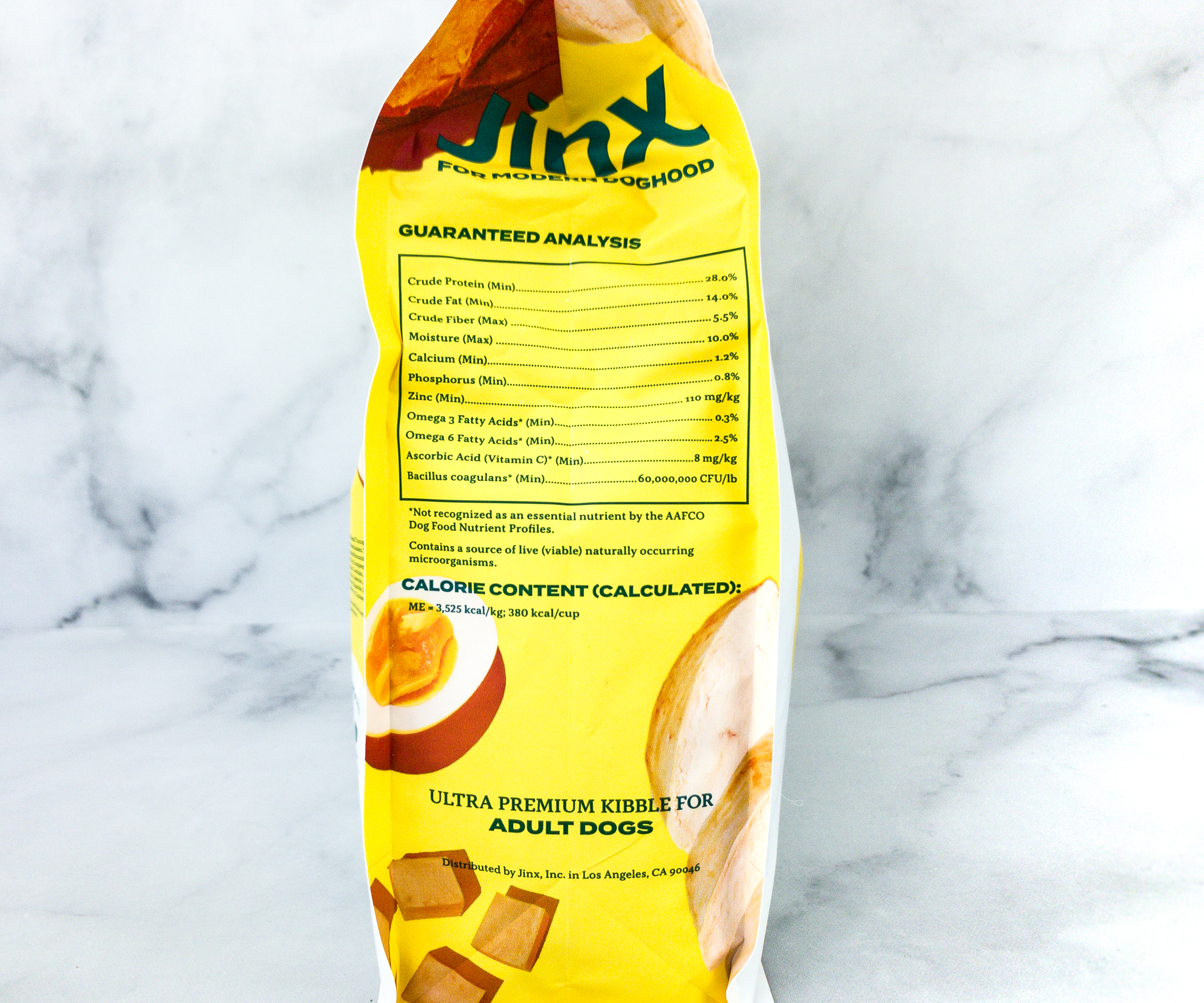 Sweet potatoes are rich in dietary fiber that dogs need for their digestive health, while eggs contain proteins and amino acids that help build and maintain muscles.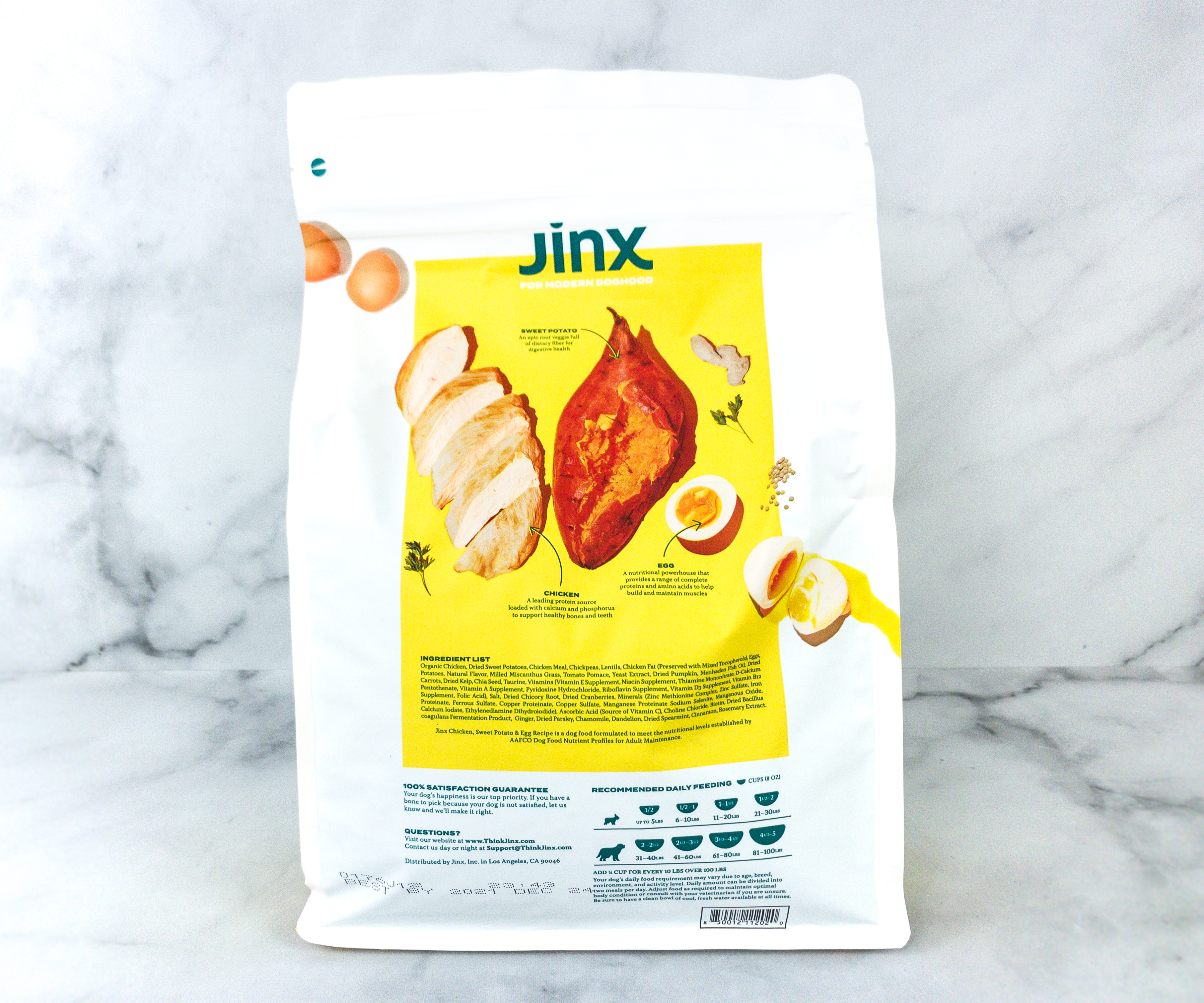 Of course, there's also organic chicken (first ingredient!) that provides protein, and even calcium and phosphorus for healthy bones and teeth.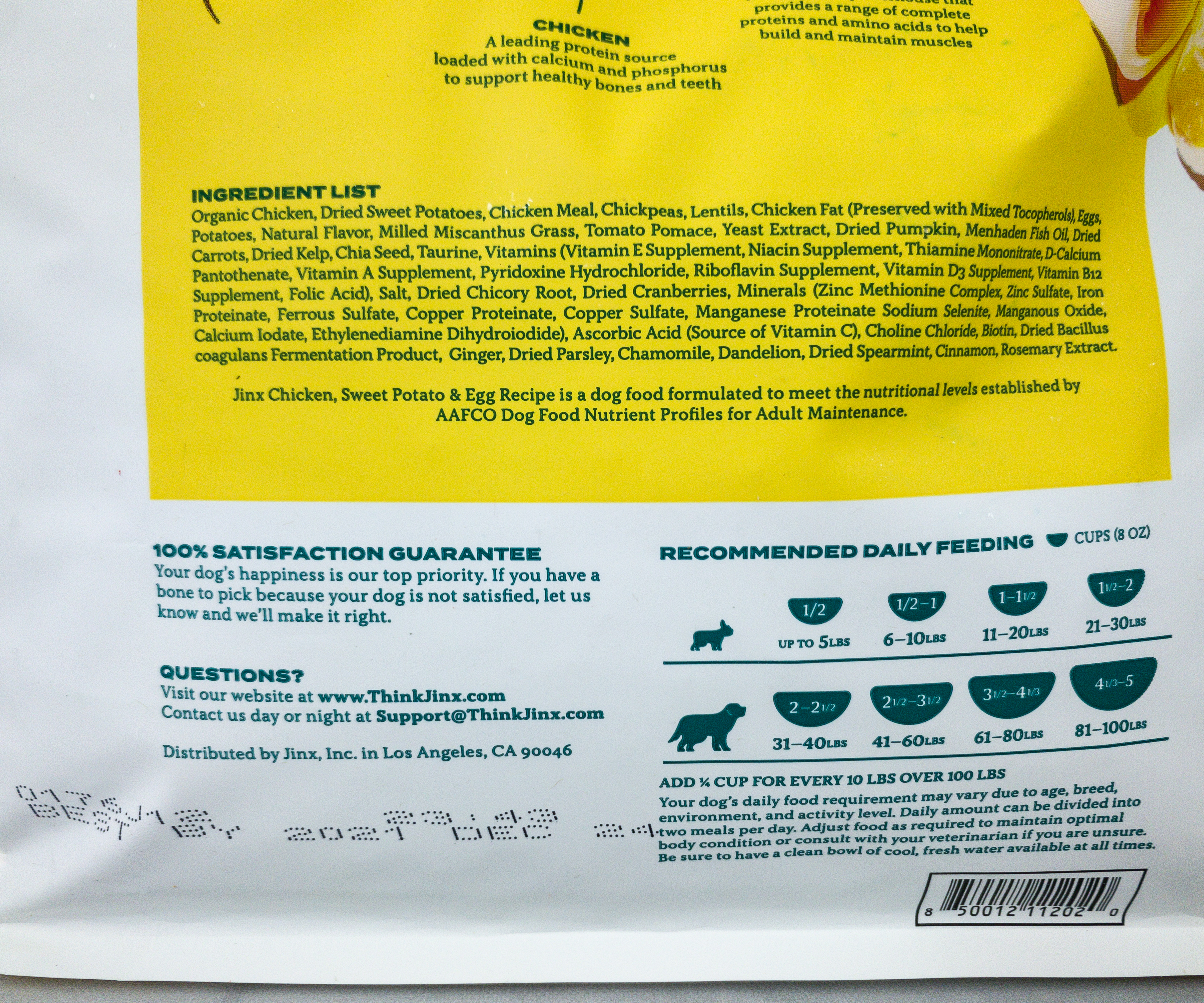 Other ingredients include chickpeas, dried pumpkin, dried carrots, yeast extract, and natural flavors. The complete list of ingredients can be found at the back of the packaging.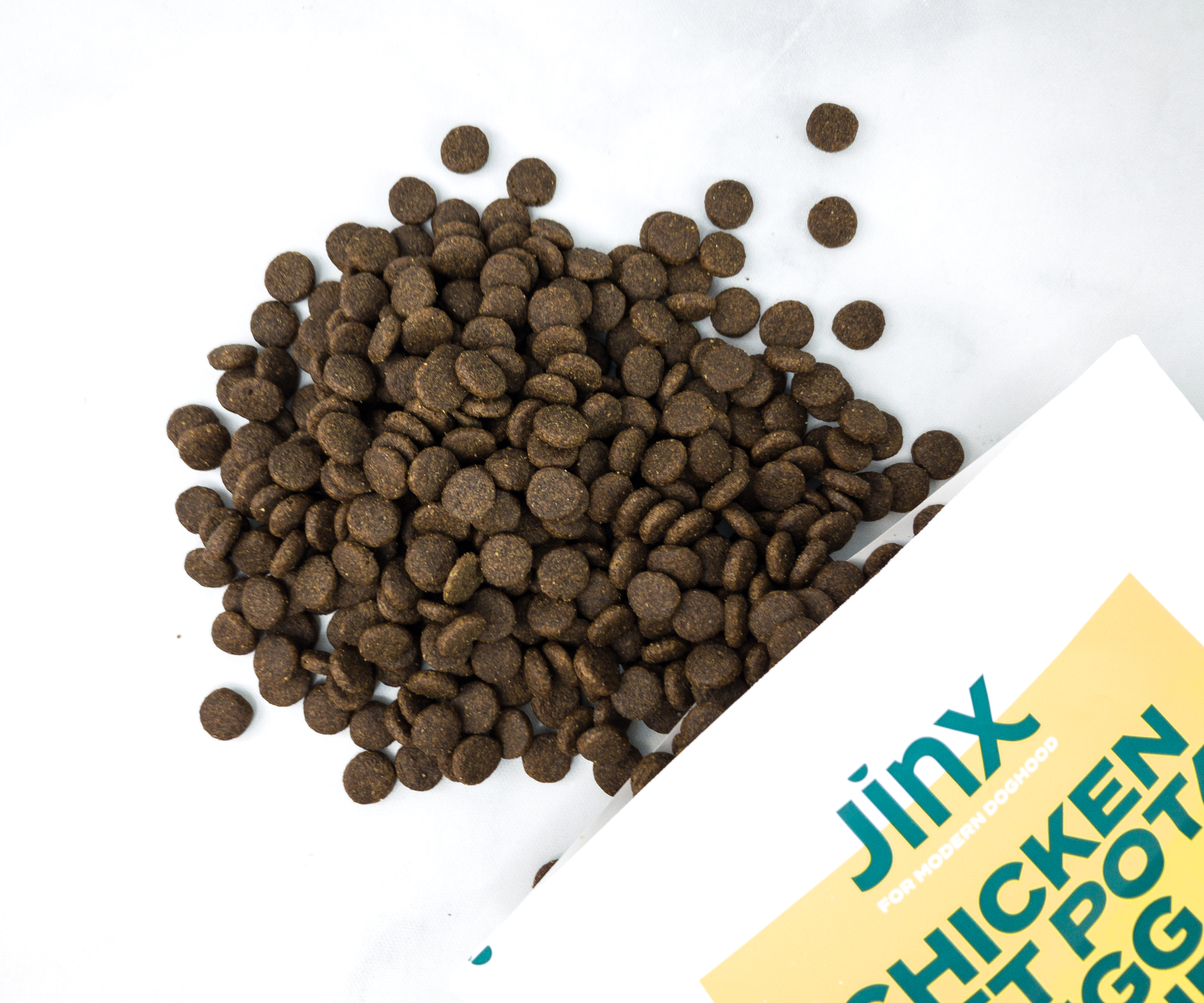 Just like the first variant, these kibbles are also bite-sized so they are easy to feed!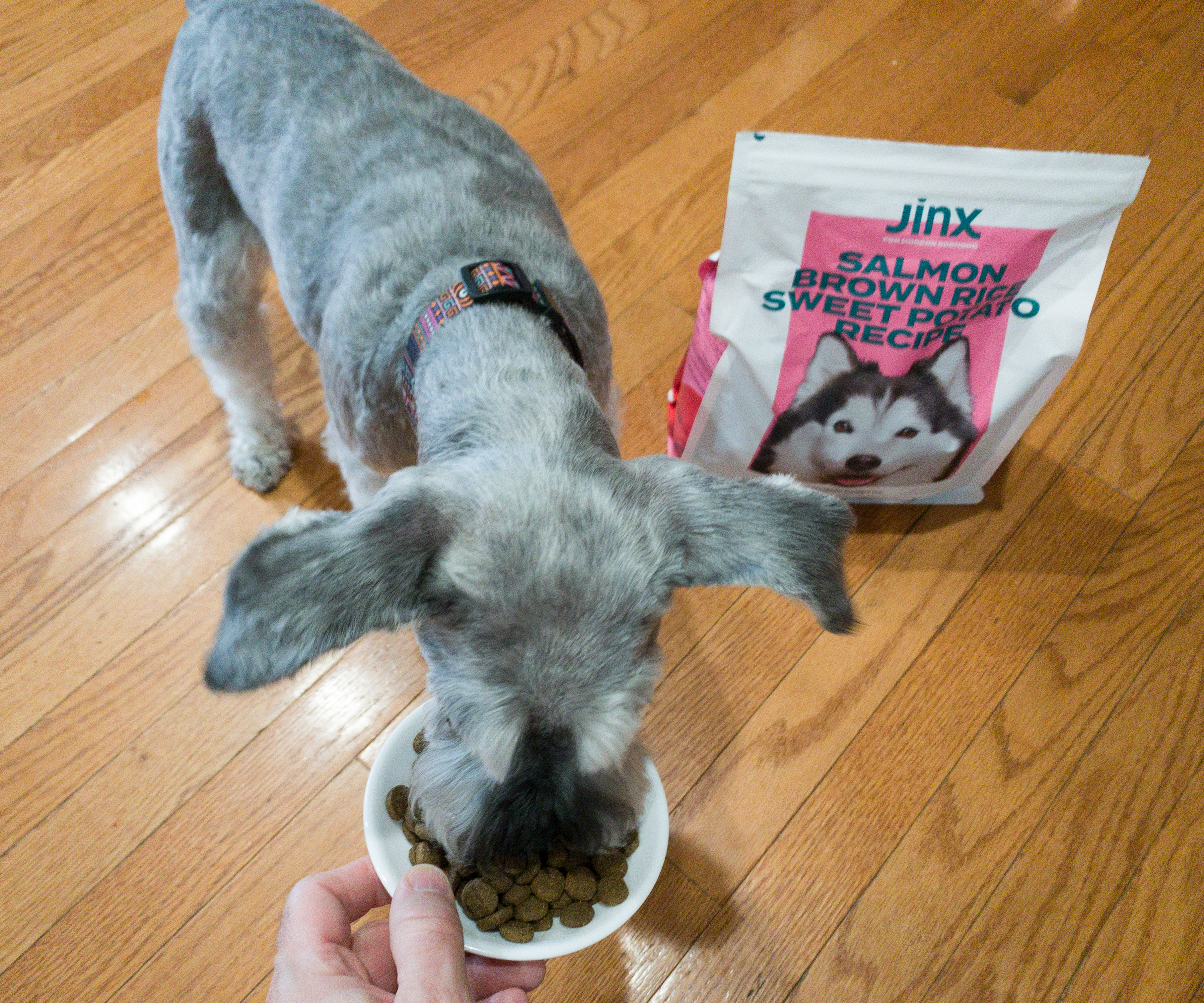 I served the salmon-flavored kibble to Lindy, and without any hesitation, she immediately dove into it.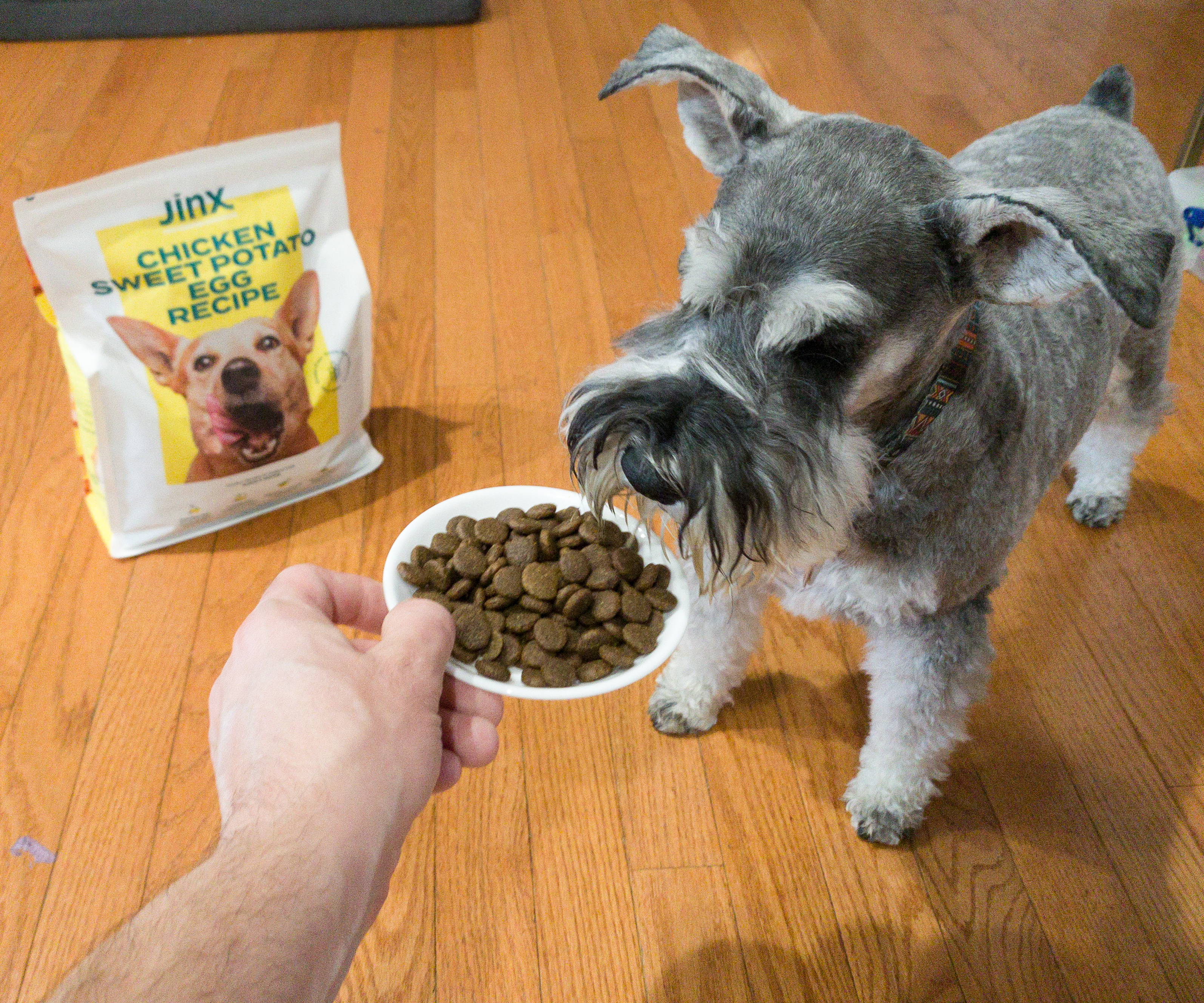 This was when he tried the chicken-flavored kibble. In a matter of minutes, the good were all gone. He definitely loved it!
Kibbles from Jinx are formulated to ensure that our dogs get a balanced diet with top ingredients. They are made with wholesome ingredients and processed in a way that they maintain their maximum flavors and nutrients. Dean and Lindy both love the chicken and salmon kibbles so far, which is great, because they can be real picky eaters! This dog food is full of the extra flavors that our puppies really enjoy, like rosemary, cranberries, and pumpkin. We also find the food easy to store with totally easy to use zipper seals (seriously they're magic) and we love that it doesn't easily spoil, unlike other types of dog meals. Since everything is ready-to-eat, you just have to open the bag, scoop, and serve, so dogs can enjoy their meal in no time! The add-on treat in this box is also of great quality and ideal for feeding as a training reward! If you're looking for new, healthy food for your dogs, this is an amazing choice to consider because you're in control of what you receive and when you will receive it and everything is premium quality and designed for the modern dog!
What do you think of Jinx?