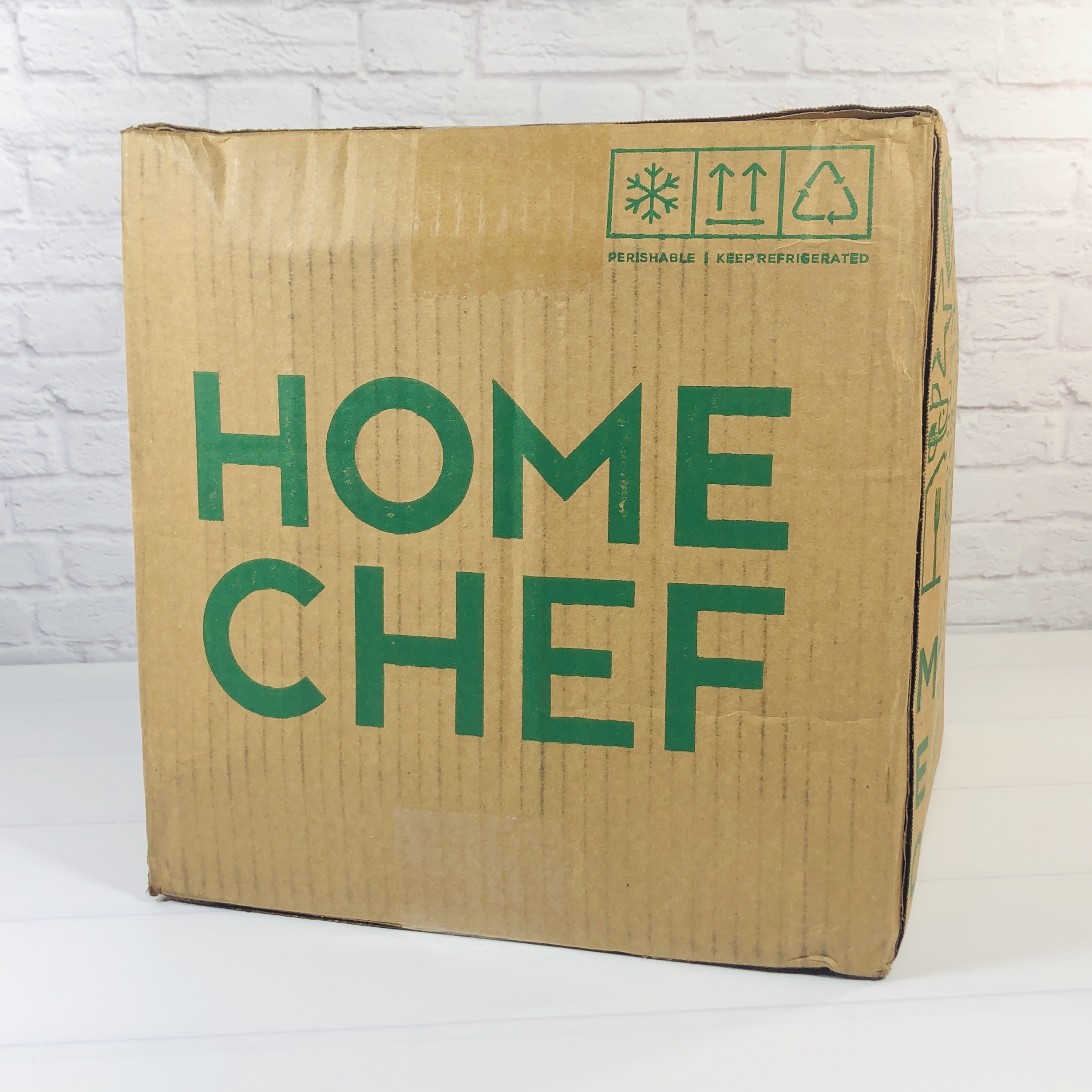 Home Chef is a meal in a box subscription – every week, you choose from a variety of recipes and have all the ingredients and preparation instructions delivered to your door. The basic concept is the same as other weekly meal delivery services, but it has its own unique features and recipes. Their meal options include many great Asian, Indian, African, and South American inspired dishes, along with more traditional American home-style and steakhouse fare. They offer at least one oven-ready meal a week and even have protein packs and seafood samplers.
Home Chef vs. the Grocery Store With meals starting at $7.99, Home Chef is more affordable than shopping the same ingredients at a supermarket. Not only do our meal kits save you time, they can save you over $20 per entrée.
Home Chef vs. Other Ingredient Delivery Services We offer you variety and flexibility. Order today for delivery next week. Delivery is free when you meet our minimum order.
We make Fancy Food Approachable & Inexpensive For under $60, you get everything you need to whip up three restaurant caliber meals for two, including portioned out oils and spices. No wasted time. No wasted ingredients.
DEAL: Get up to $30 off over your first TWO boxes when you sign up – that's $15 off each of your first two deliveries! No coupon code needed, just use this link to subscribe.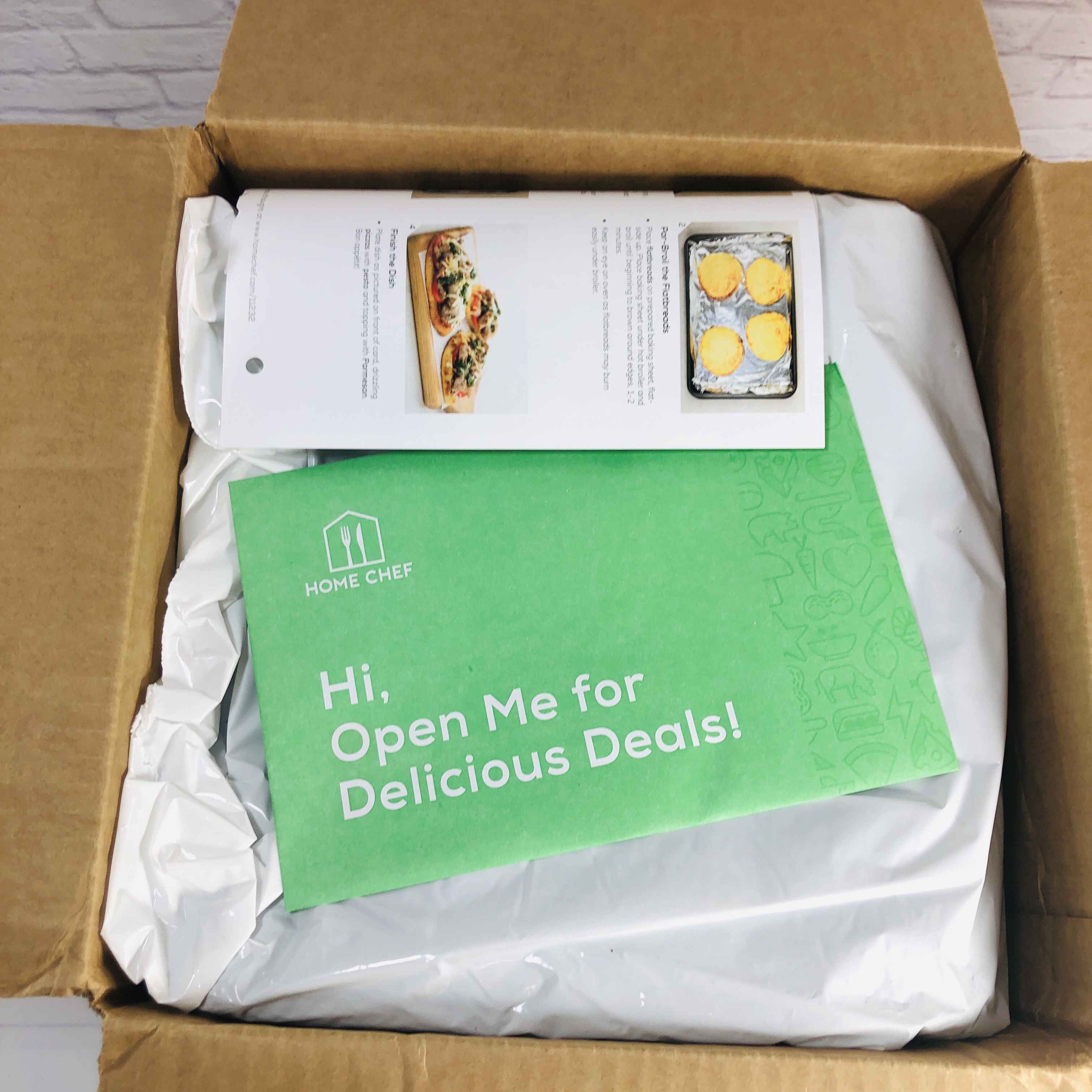 I found a coupon pack and the recipe cards on top.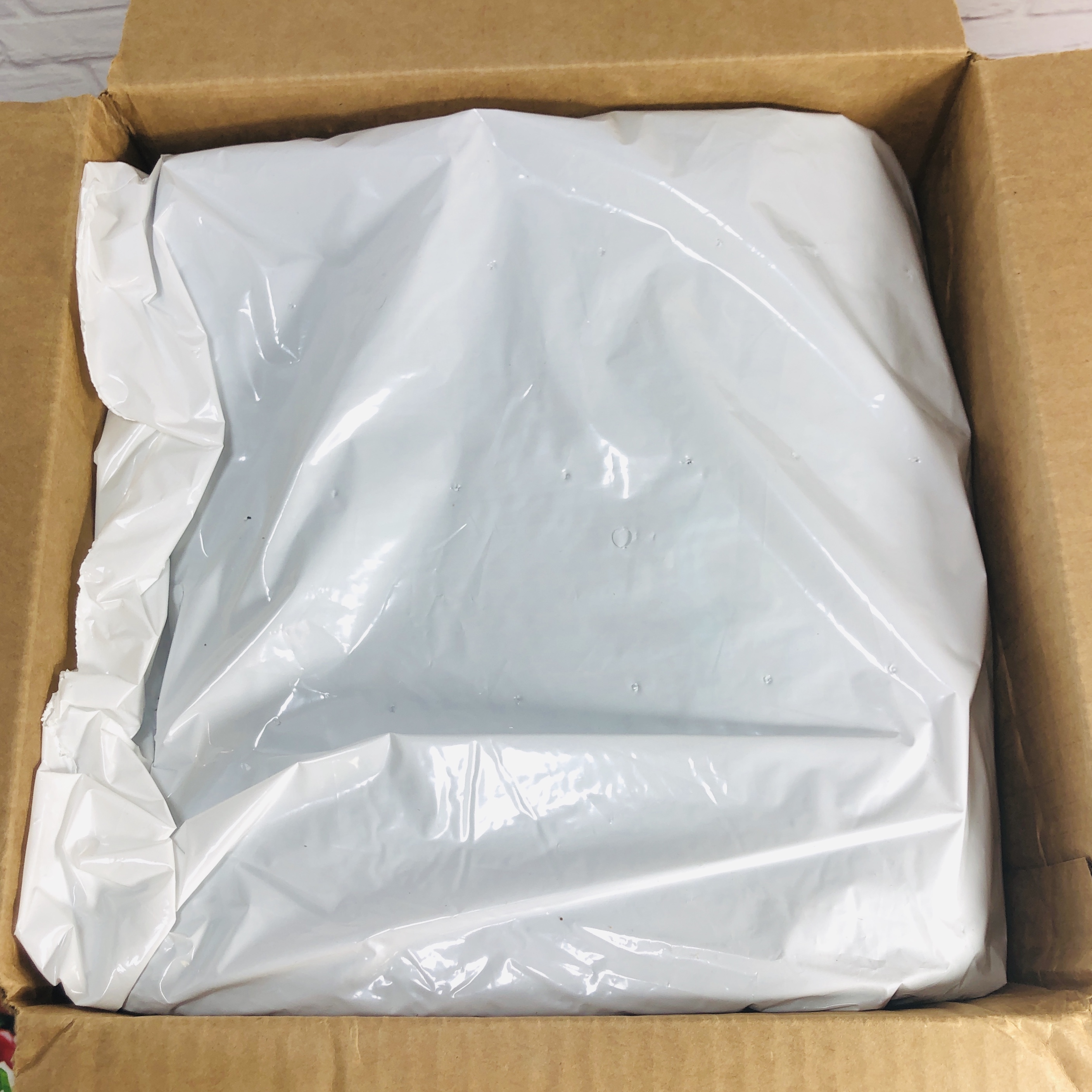 Everything else was kept inside the insulated packing.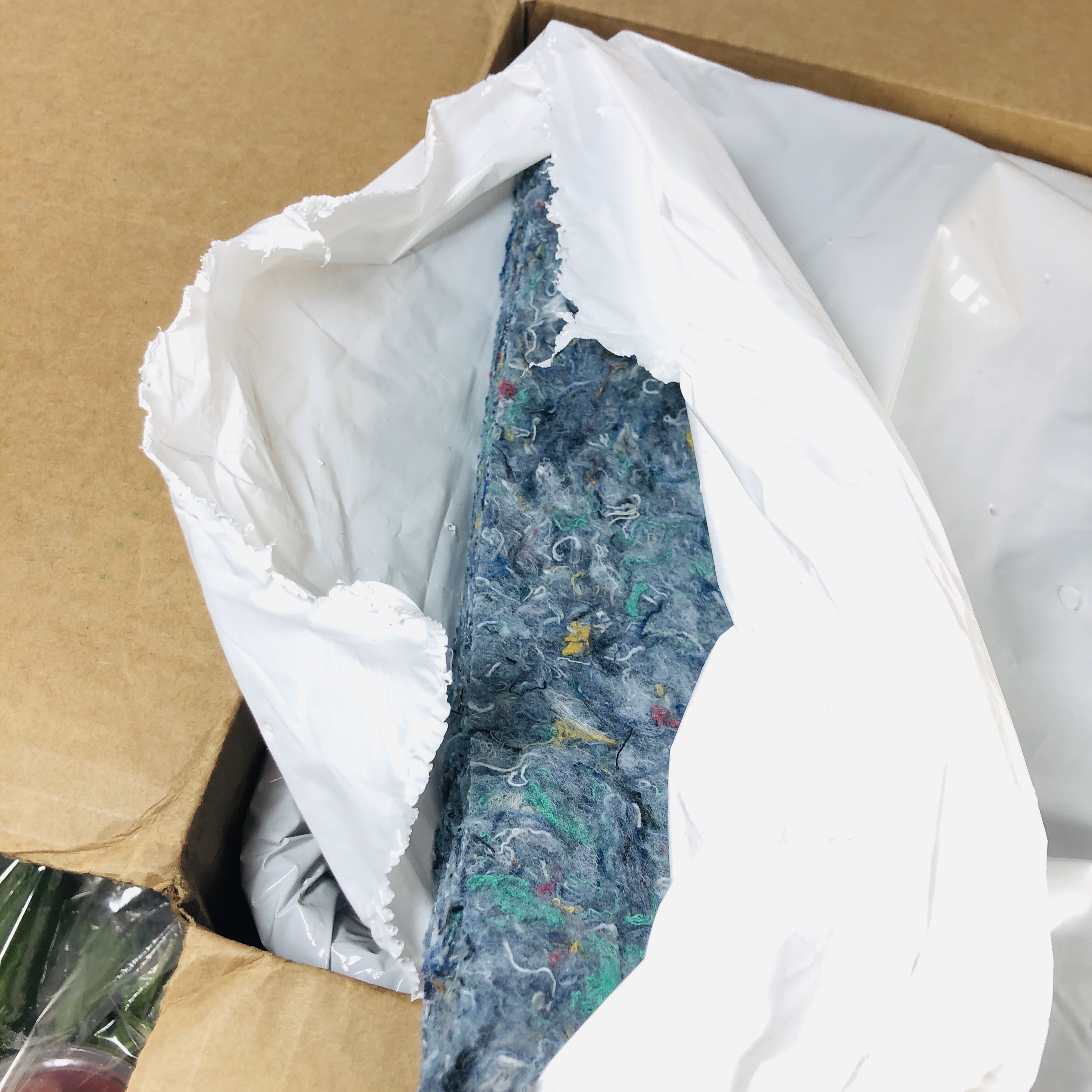 It's made of recycled cotton clothing!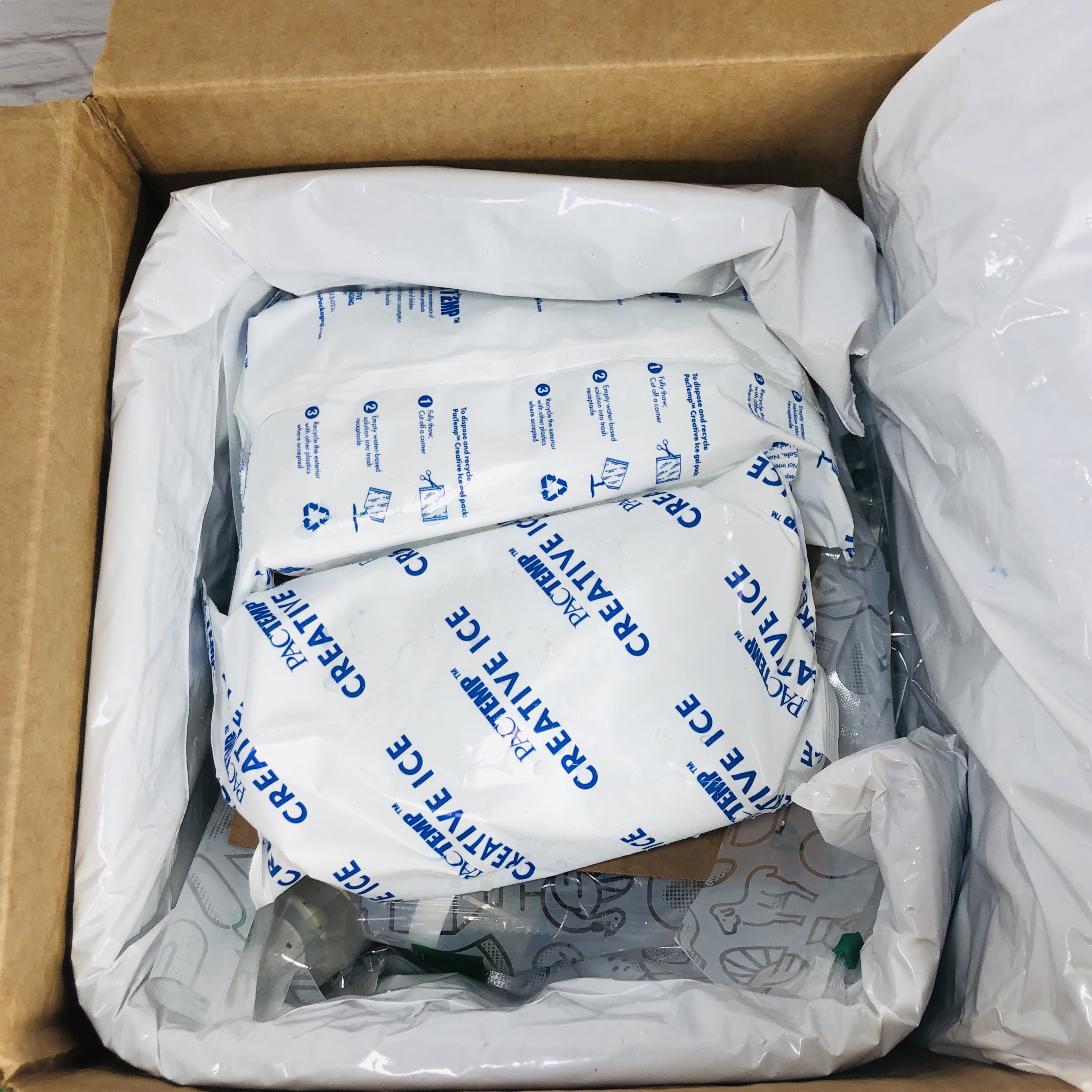 There were a total of 6 ice packs in the box. The ice packs can be reused, while the packing can be placed at the curbside for recycling.
The meals were separated into their own bags, except for the meat.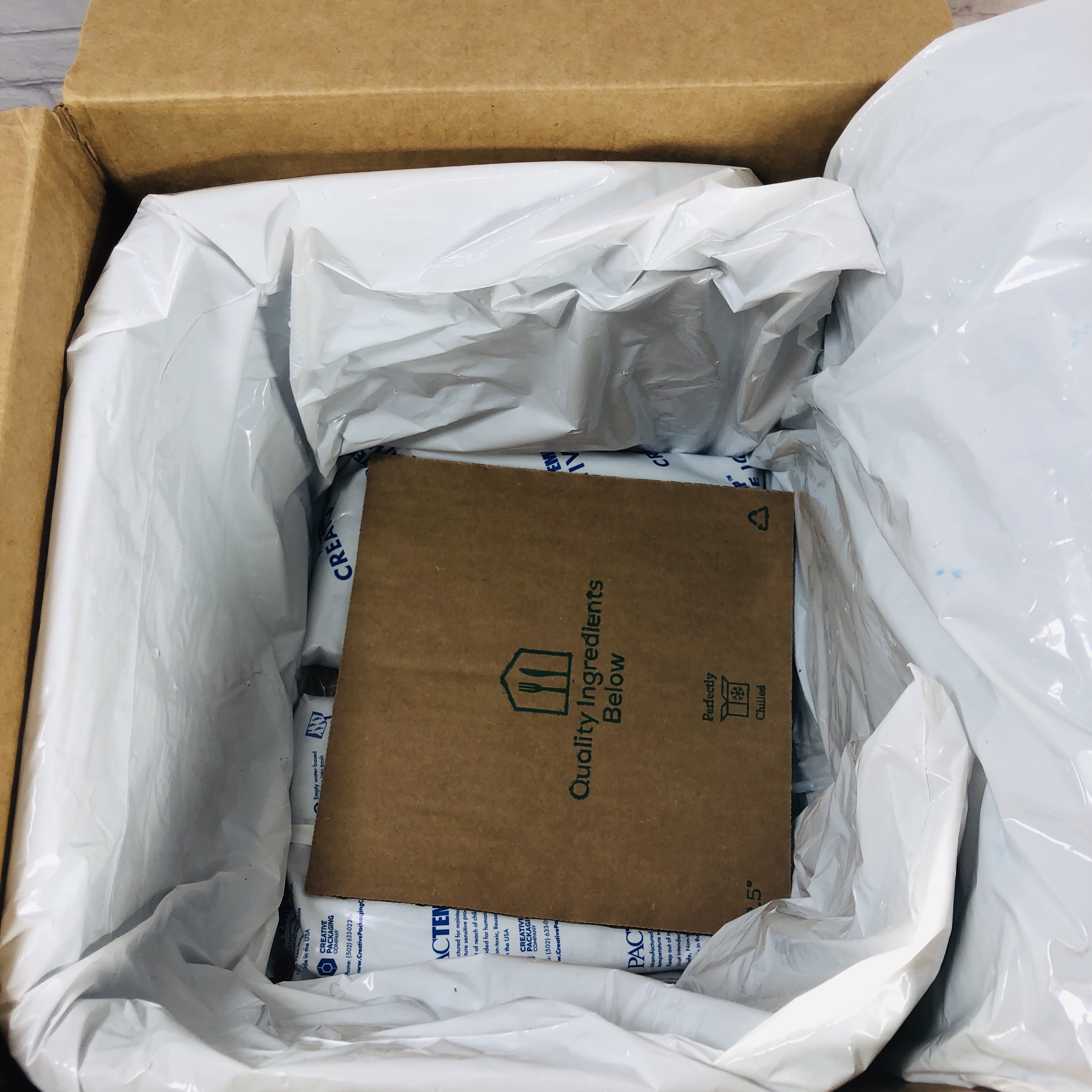 The meat was packed separately on the bottom of the box below another cardboard insert and with more reusable ice packs. The reusable ice packs were still almost completely frozen solid!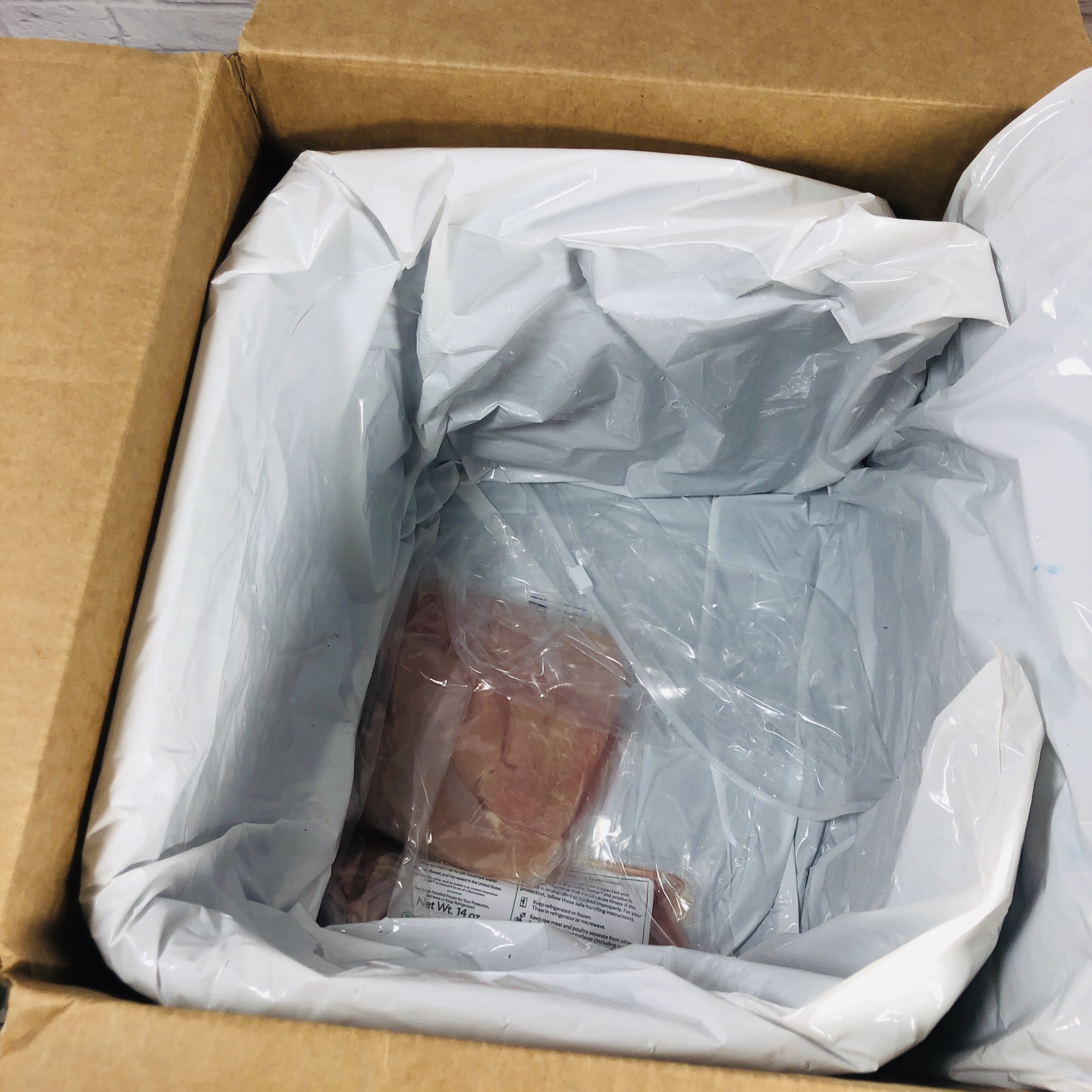 Everything was cold and went straight into the fridge.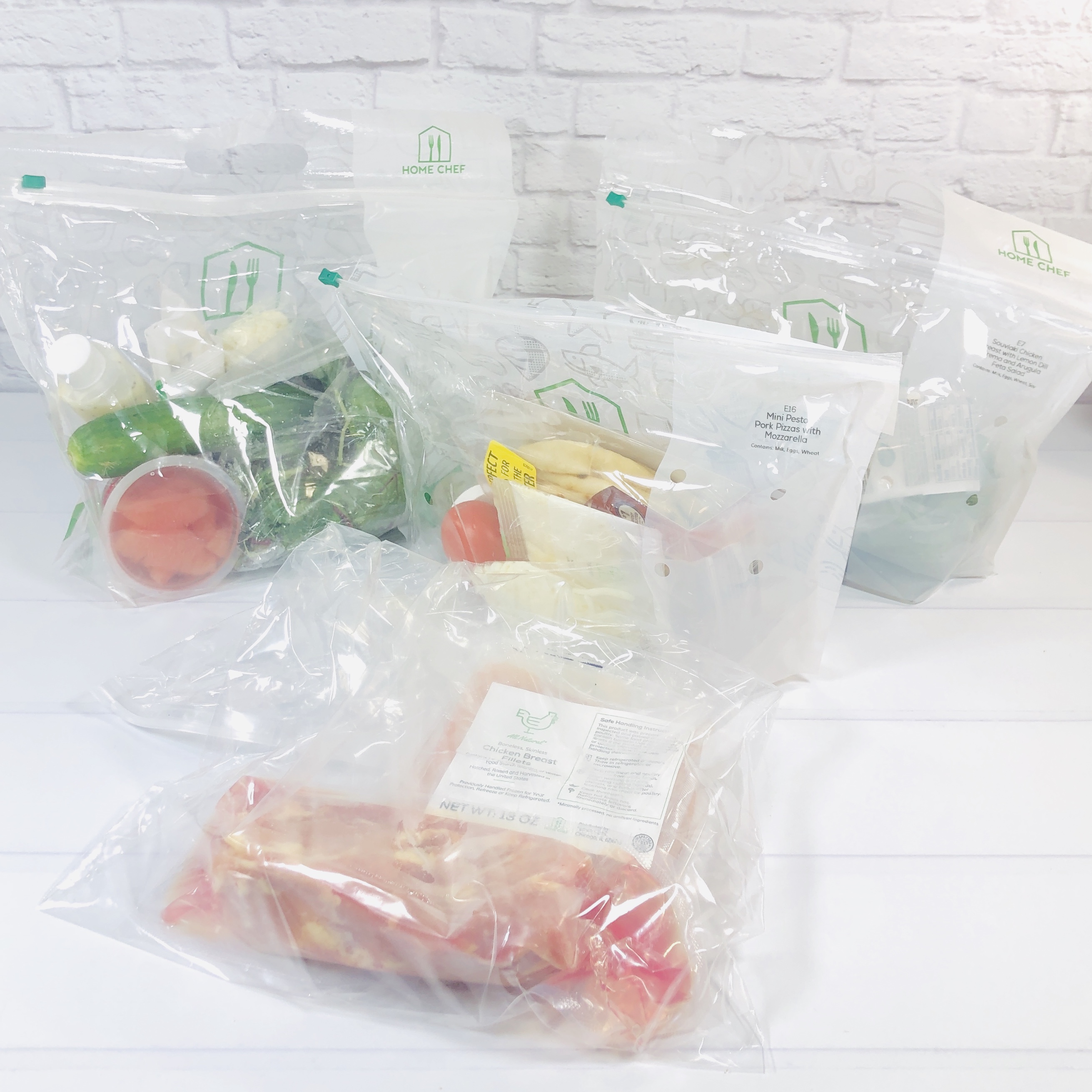 Home Chef offers at least 10 selections available for 2, 4, 6, or 8 people. Meals for your box are suggested based on your preferences, but you can change the selections any time. The portions are large, and this is currently the least expensive and has the most choice out of any similar major subscriptions (for 2 people) – around $9.95 per person per selection, although there are options that are more or less, depending on the meal.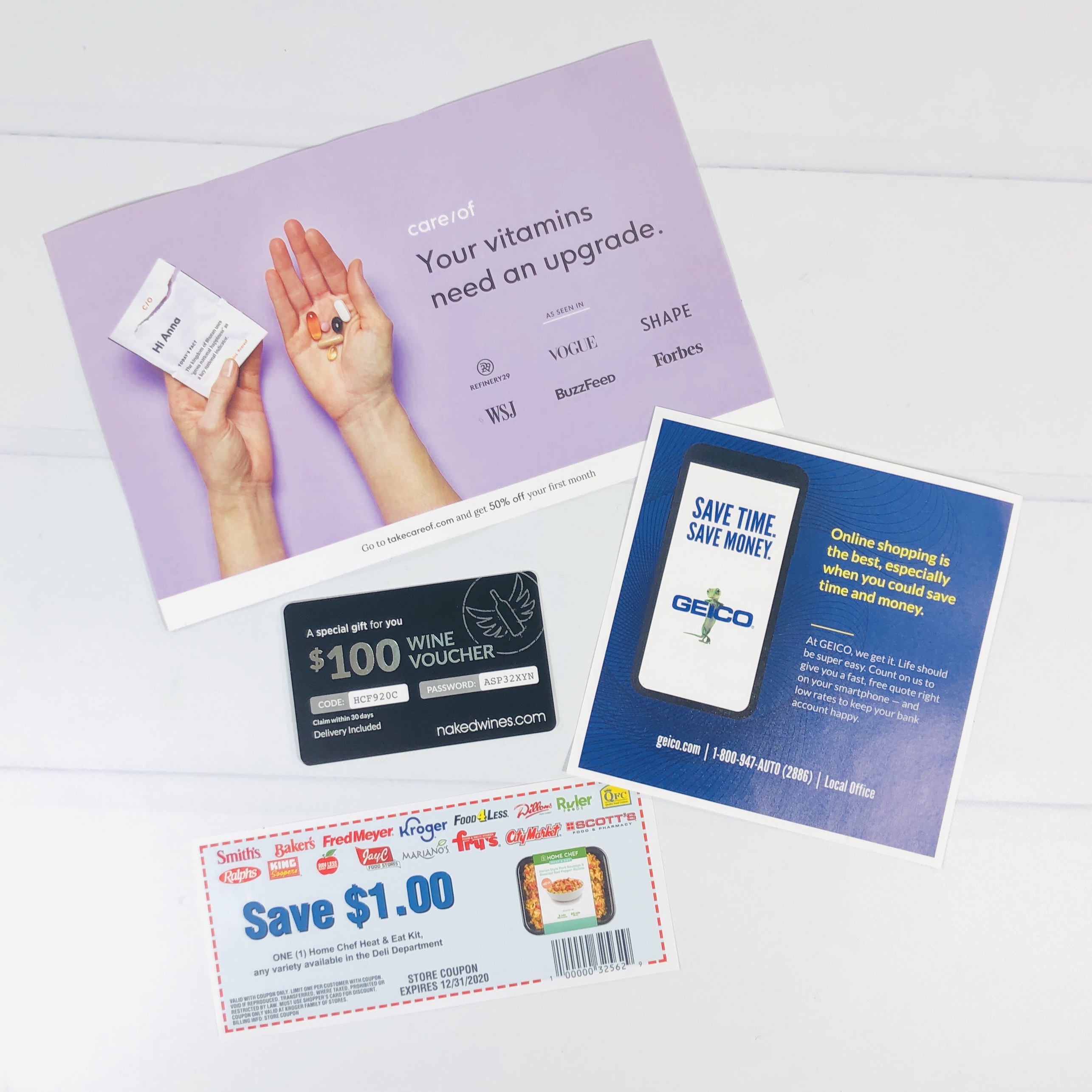 Here are the offers that were in the green envelope. Home Chef now has heat and eat meals available in some supermarkets! Turns out the stores are all affiliated with Kroger and none of them are in my area. Sigh.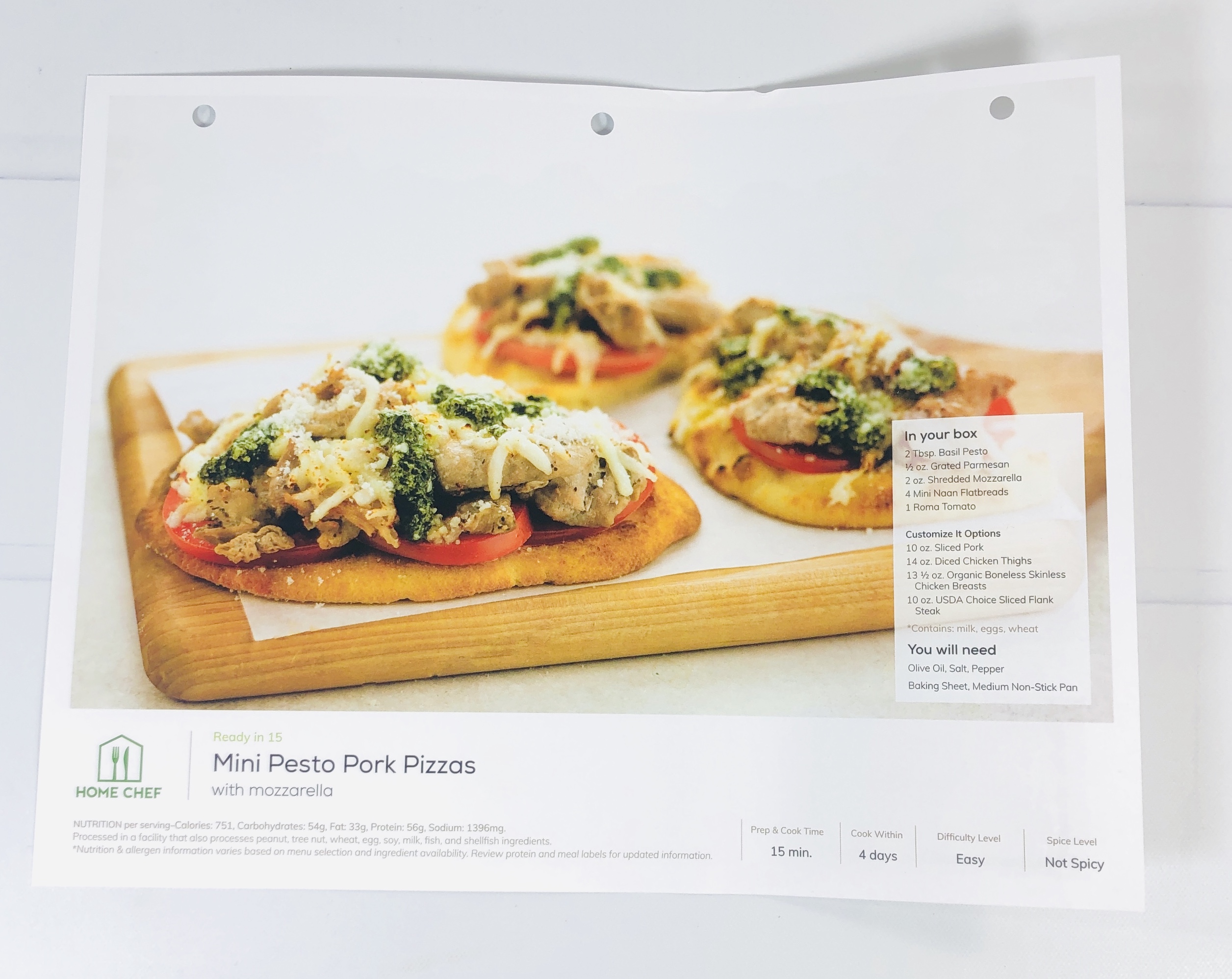 Mini Pesto Pork Chicken Pizzas with Mozzarella (Easy, 15 minutes, 751 calories) Each meal comes with a color recipe card that lists how long it will last in the fridge, time to cook, items you need from your kitchen, and what comes in the box. One thing I really appreciate is that full prep instructions are on the website, so I can see if I'm going to need the oven (not something I want to use in the summer) or any other special cooking items.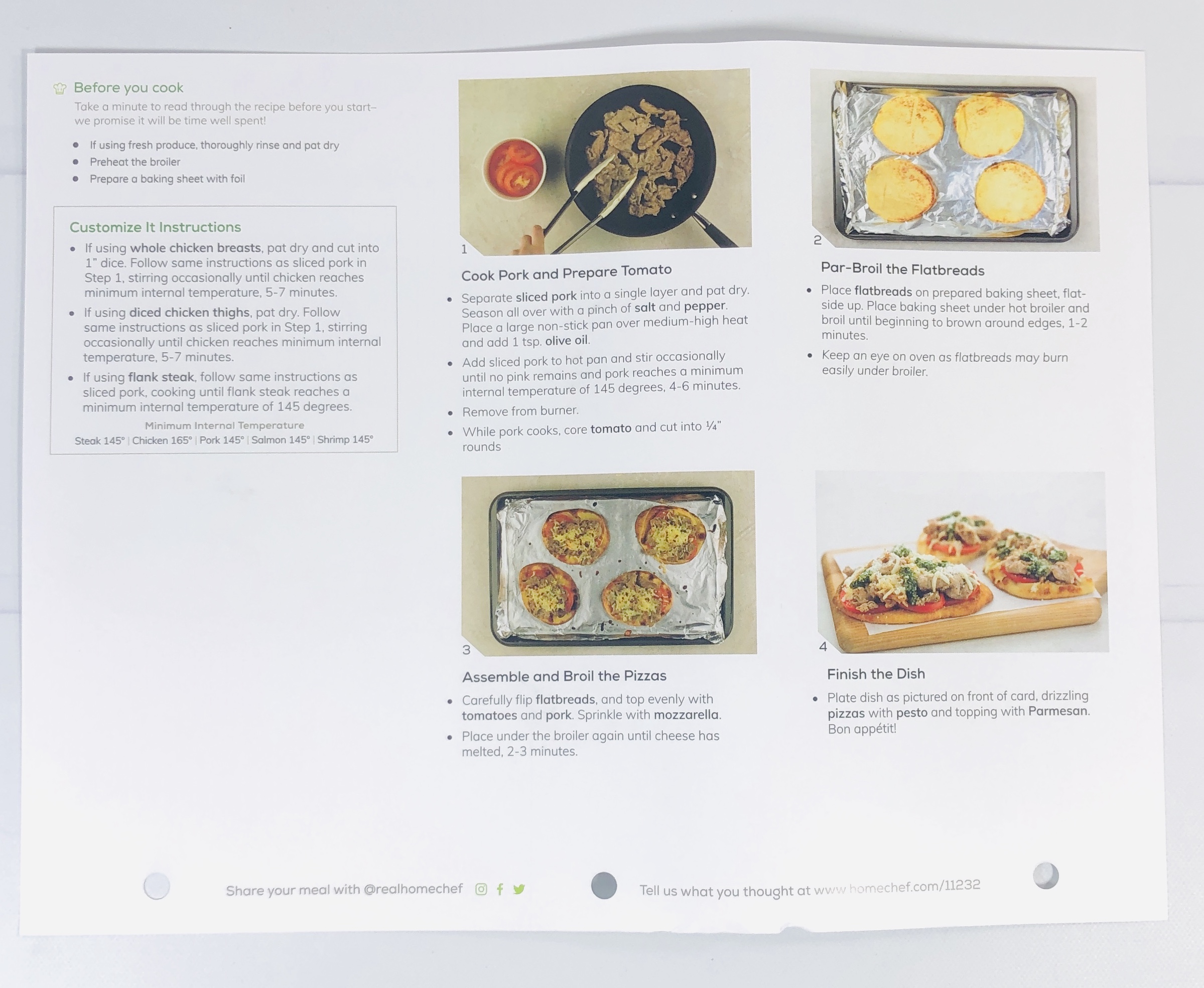 Directions are given and pictures show how some steps should look. Home Chef lets you customize some meals, and they show the different prep tips for those revisions. I was able to switch out the pork for chicken thighs at no extra cost, although other swaps (such as organic chicken or steak, etc.) will cost extra.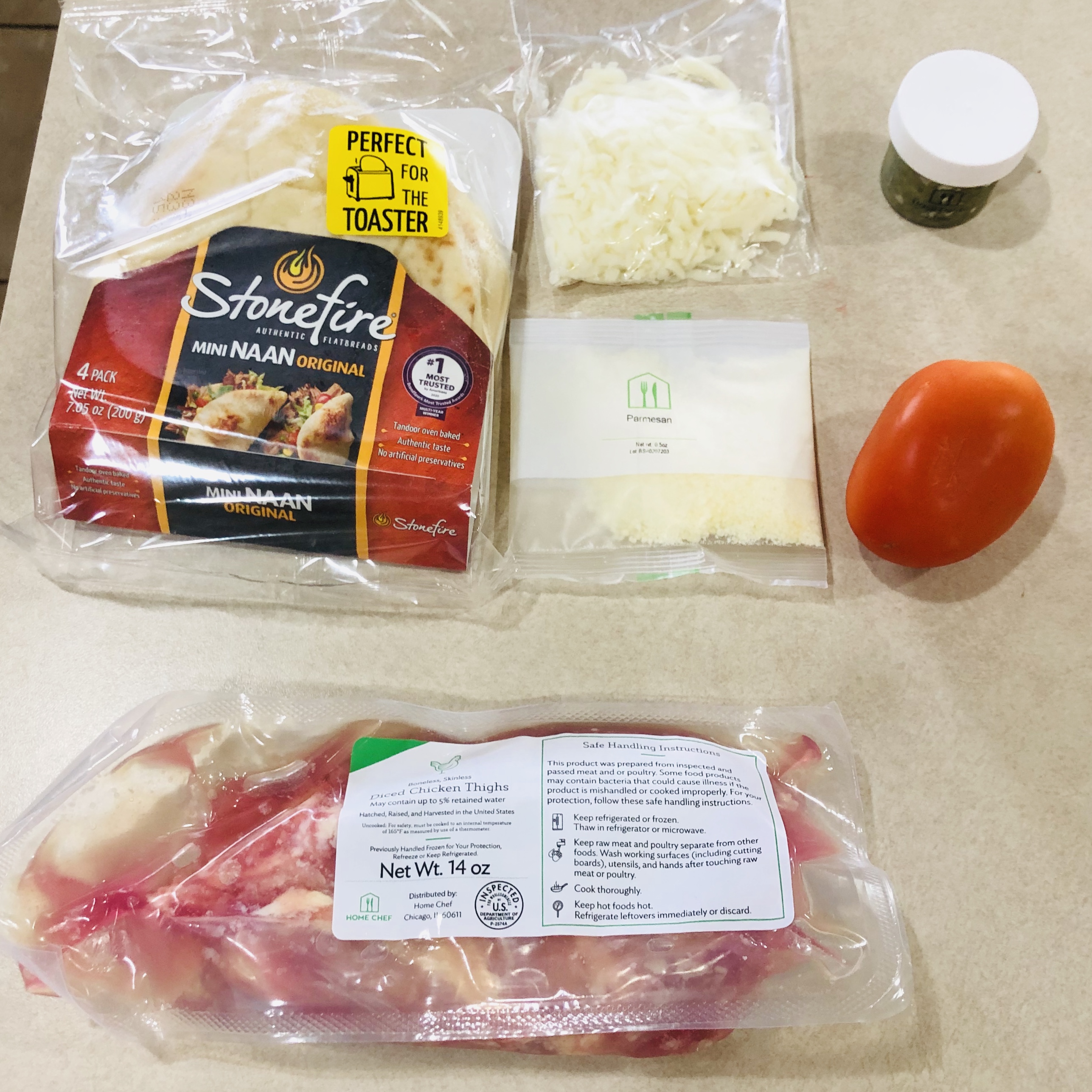 Here are the ingredients for my mini pizzas!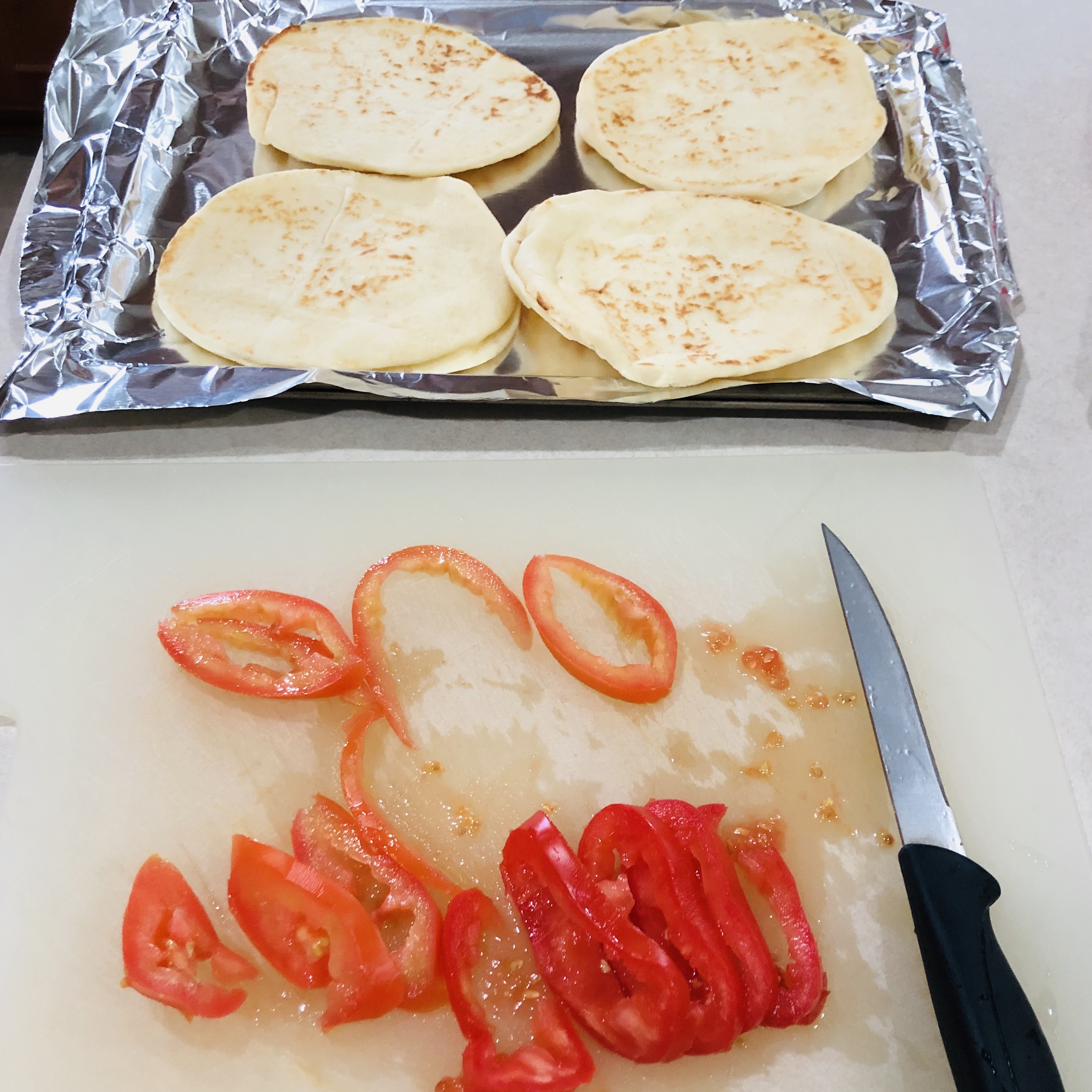 I prepared a pan for the pizzas (which use pillowy naan as a base) and cored + sliced the tomato. I thought it could use some more tomato so I added one of my own.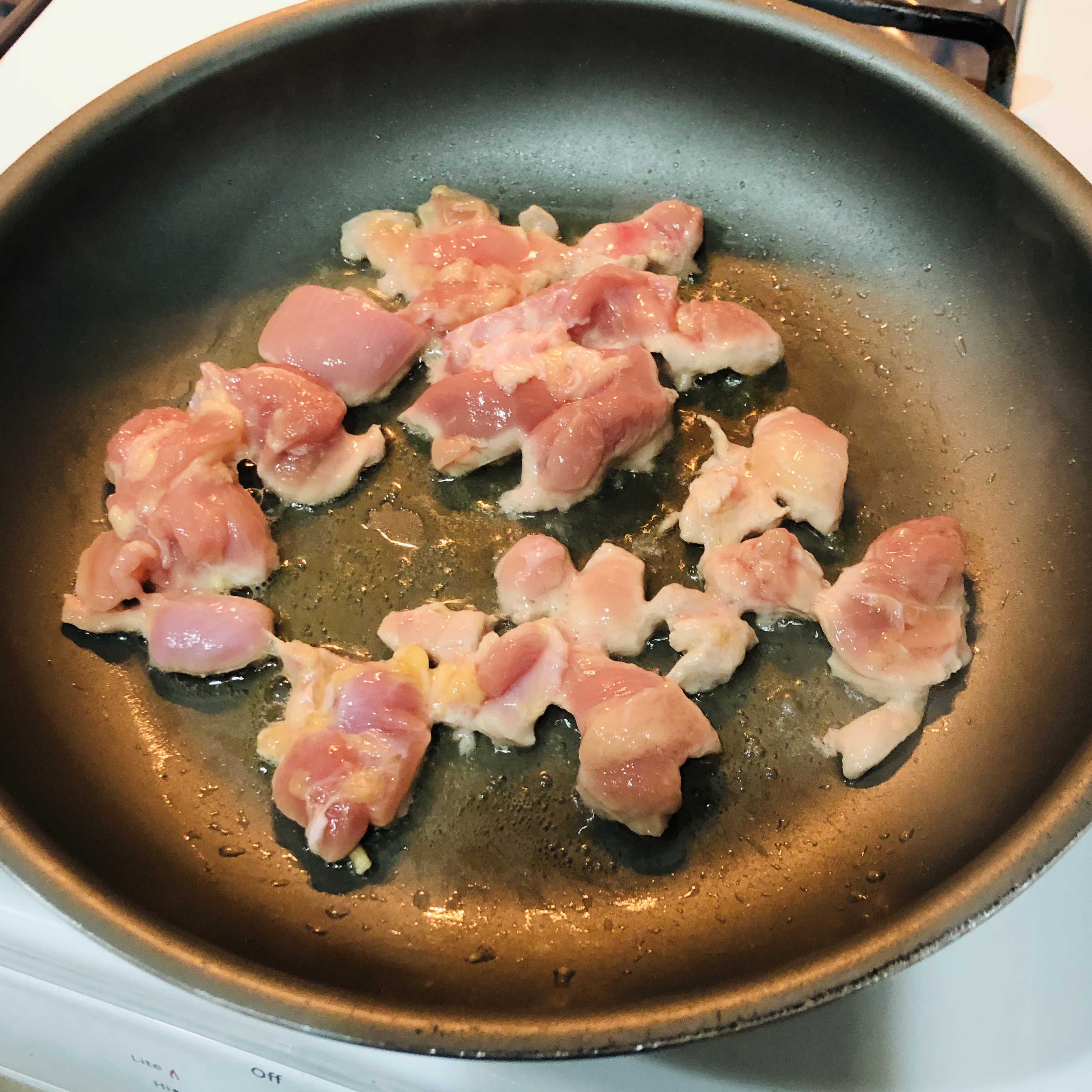 I patted the chicken thighs with paper towels to remove moisture. I also thought it had too much fat in there and took a minute to remove the extra. There was about a tablespoon or two that I discarded. Next, I sautéed the thighs in olive oil until cooked through. In the meantime, I par broiled the naan.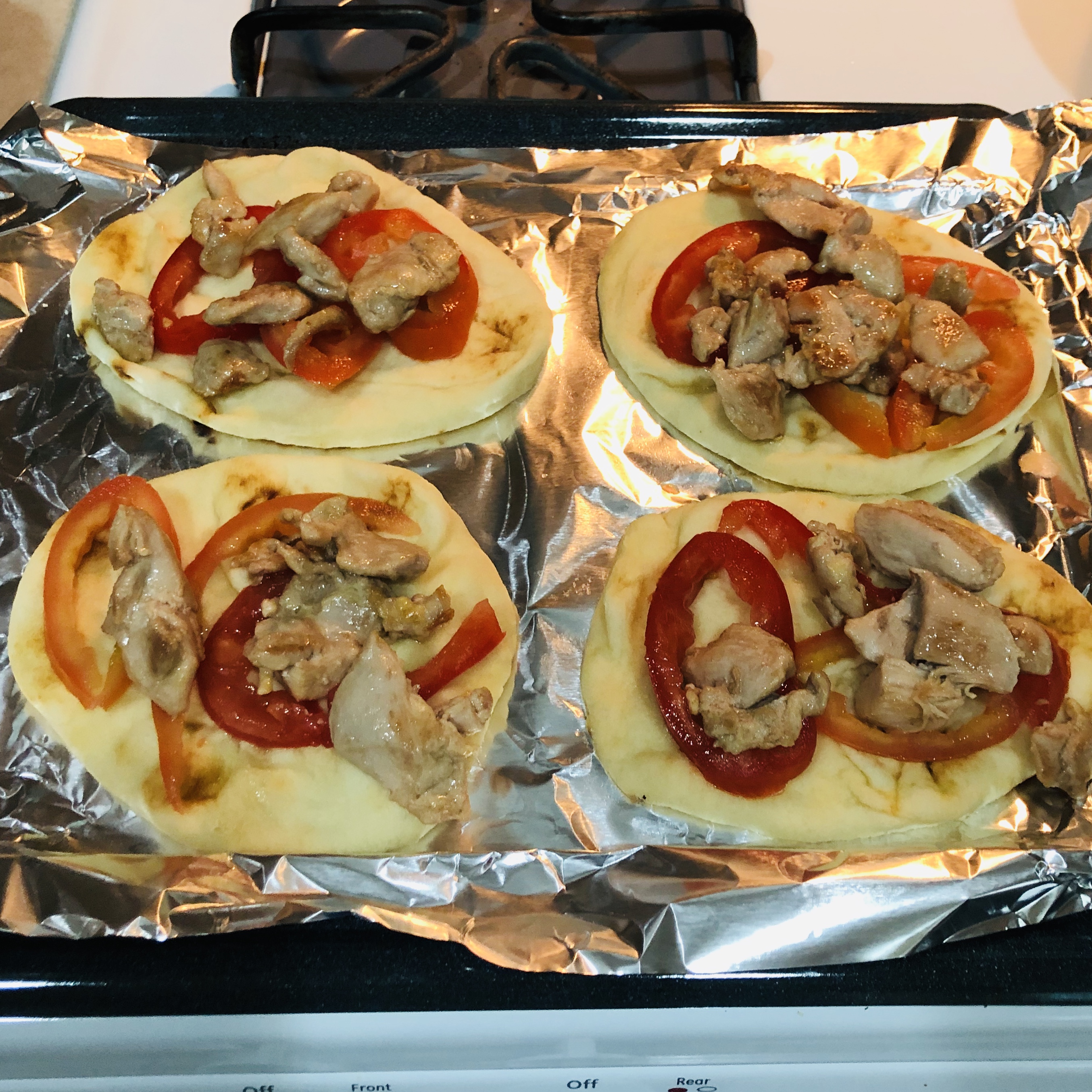 I flipped the naan over and topped with the tomatoes and cooked chicken. I sprinkled it with the mozzarella and then added some more from my fridge.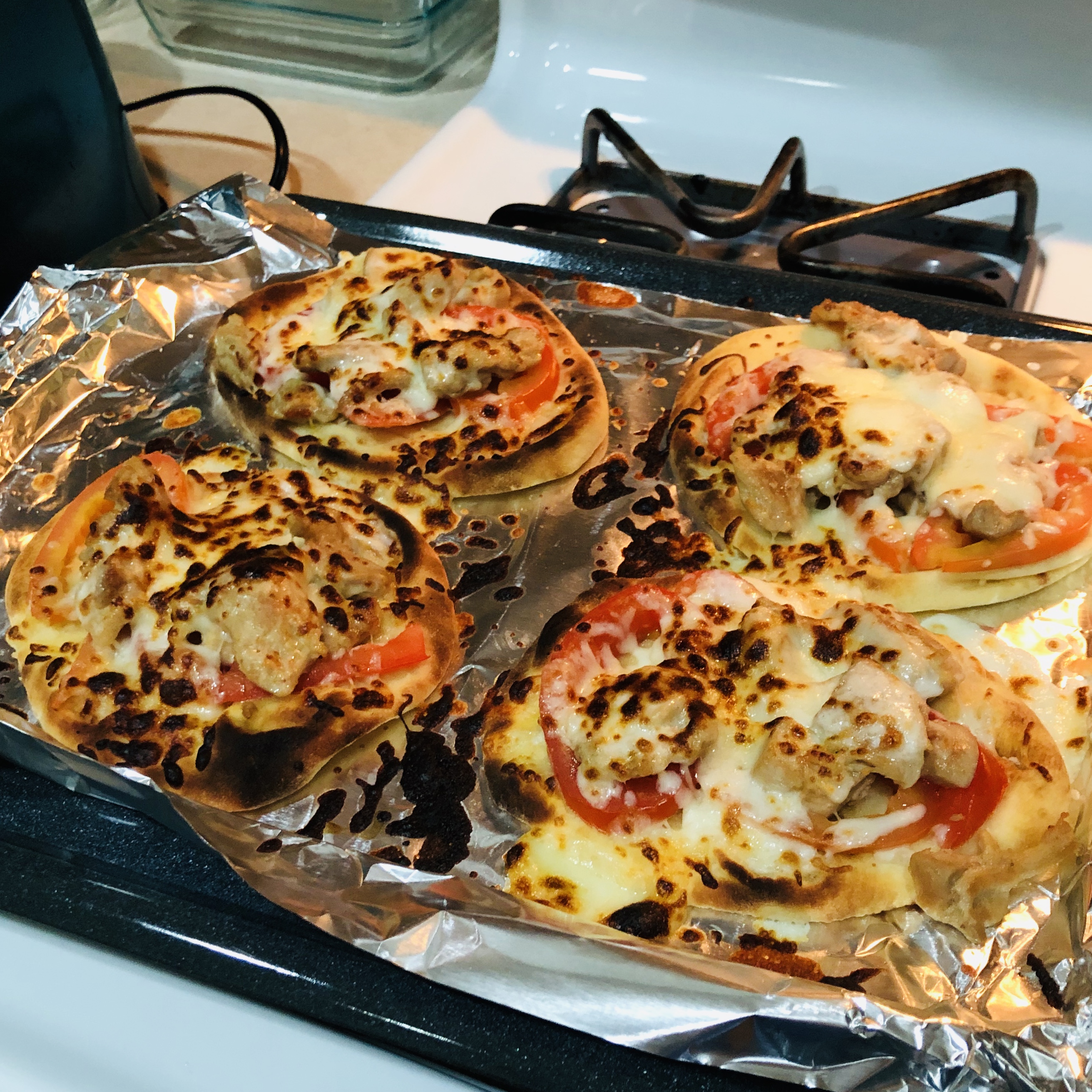 I broiled the pizzas for 2 minutes, keep a close eye out or they will burn!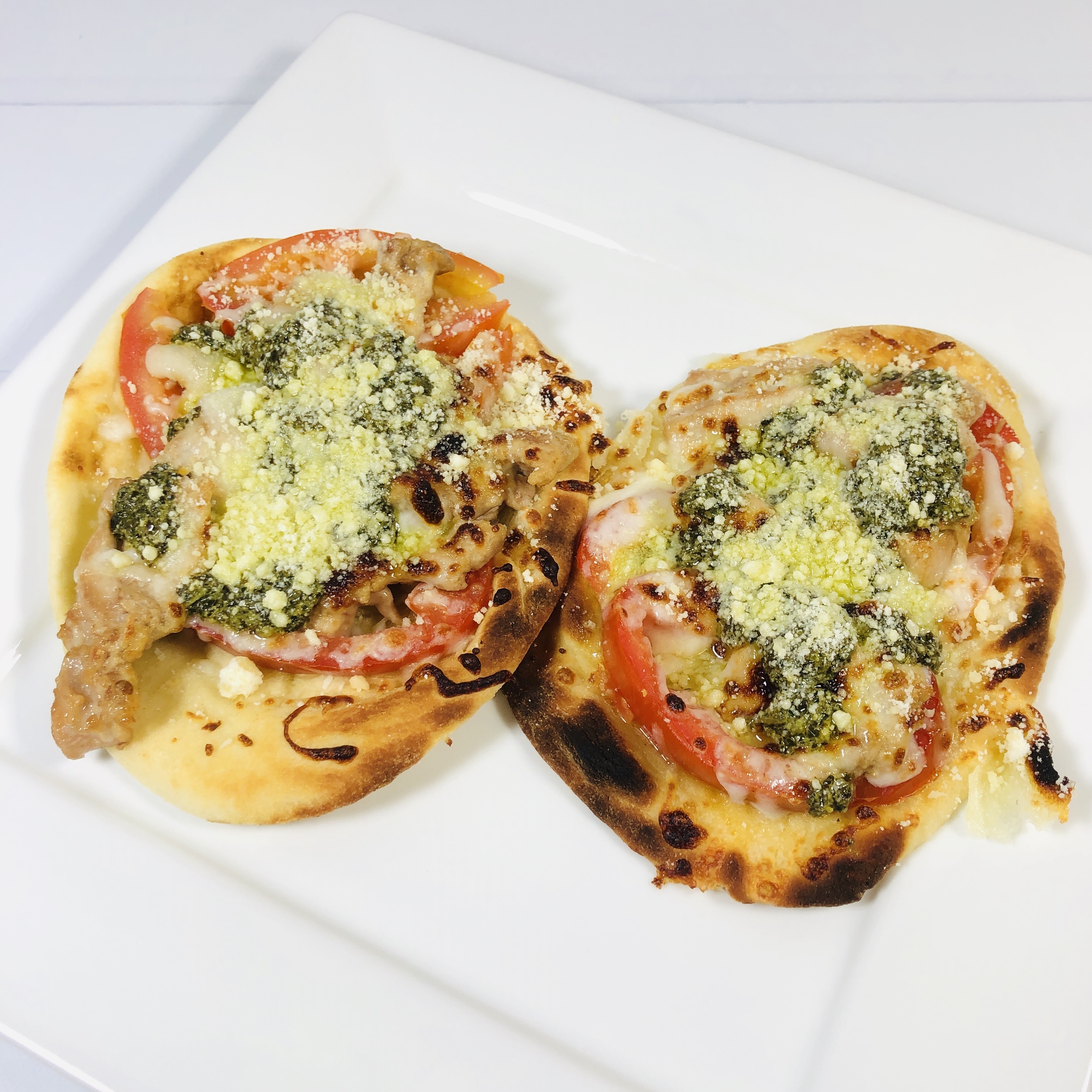 I drizzled the pesto over top and then sprinkled with parmesan. This was delicious and filling, and super easy to replicate at home!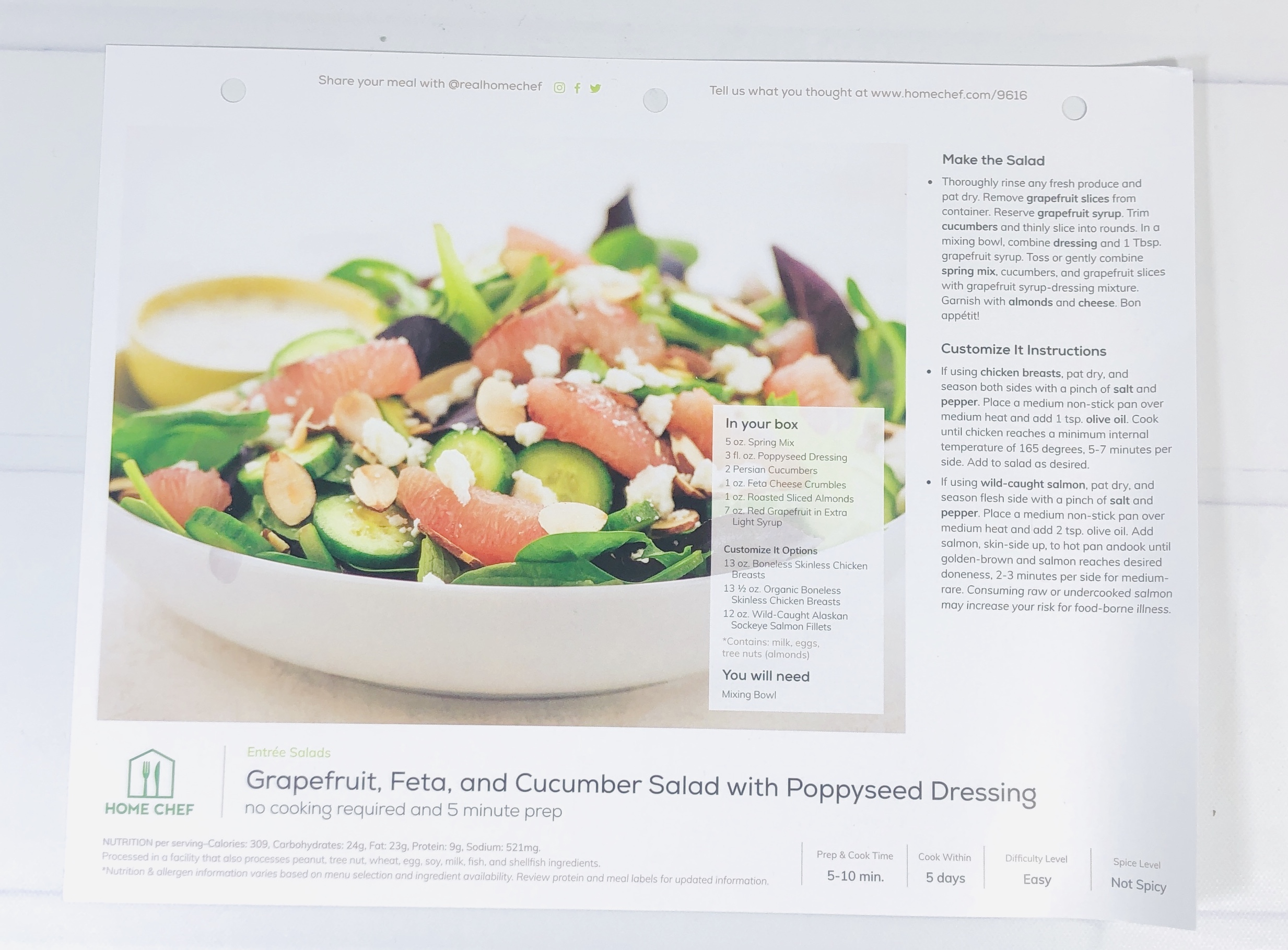 Grapefruit, Feta, and Cucumber Salad with Poppyseed Dressing (Easy, 5-10 minutes, 309 calories) Home Chef has simple to prepare salads available, and even one dish meals that come with the actual (disposable) dish! This is considered a meal salad and you can add chicken or salmon to make it extra filling, but I decided to serve it as a side with one of my own self-prepared meals!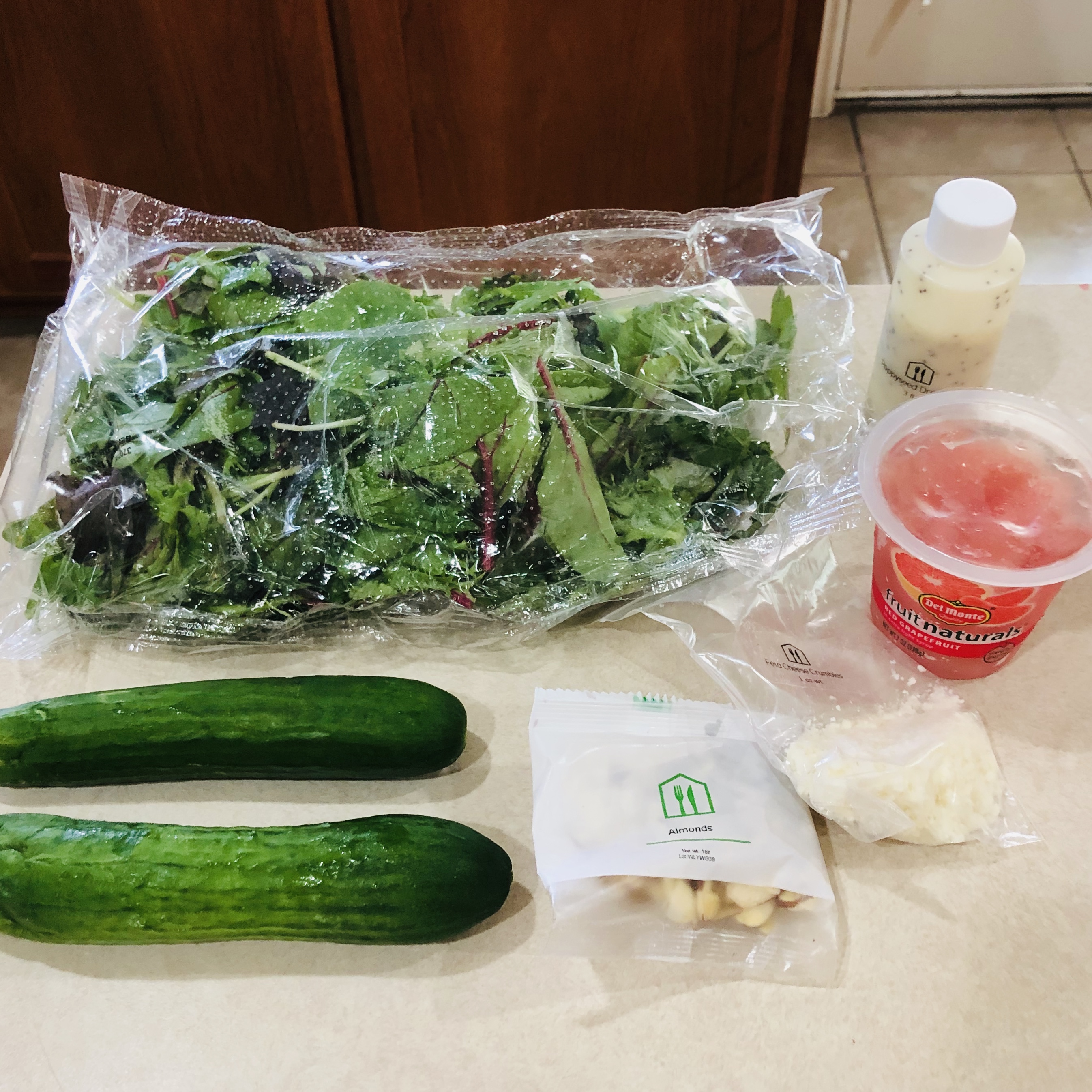 Here are the ingredients, and there was so much salad greens!
The cucumbers were looking a little soft on the ends, so I cut those parts off and the rest was fine. It was still plenty of cucumber.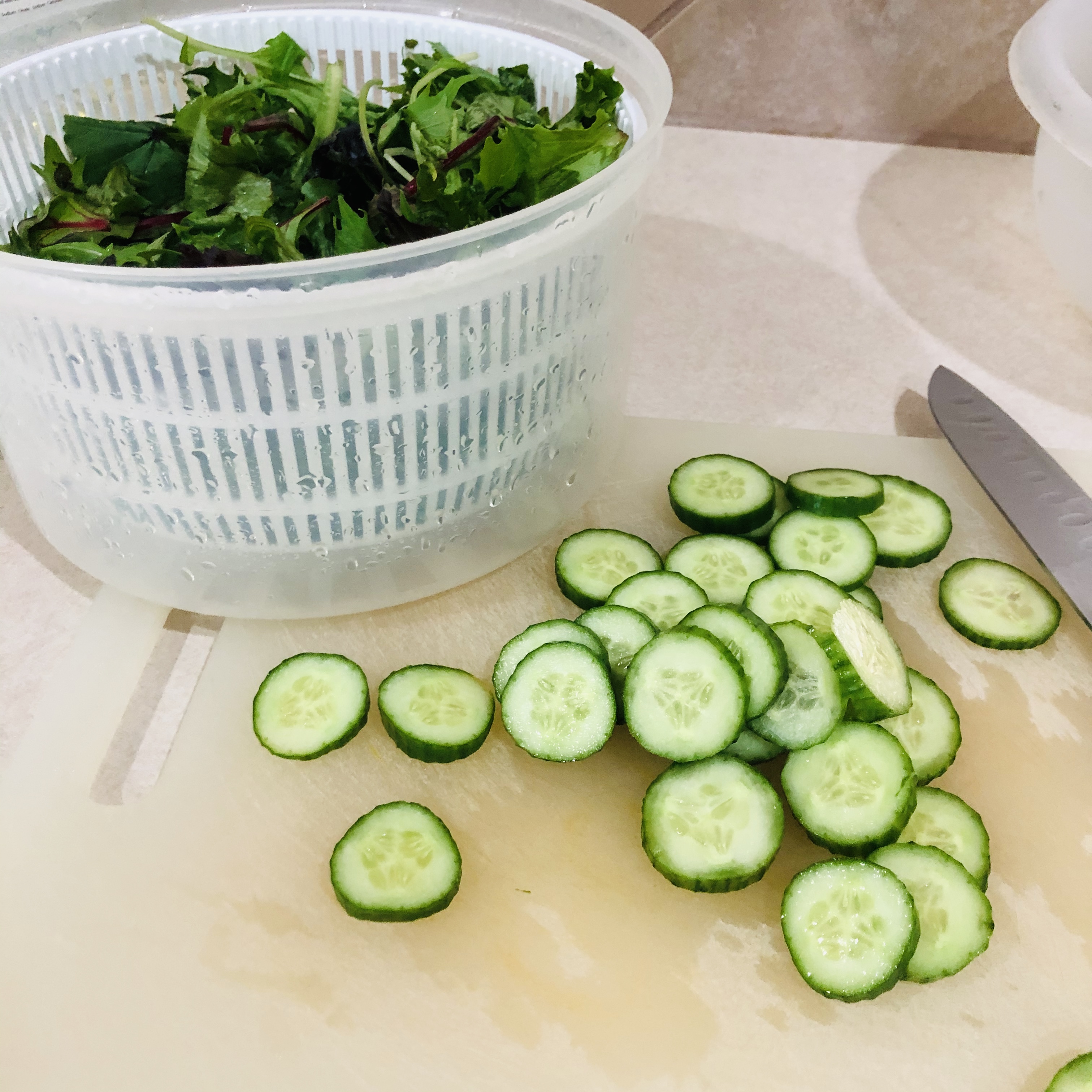 I washed the greens and sliced the cukes.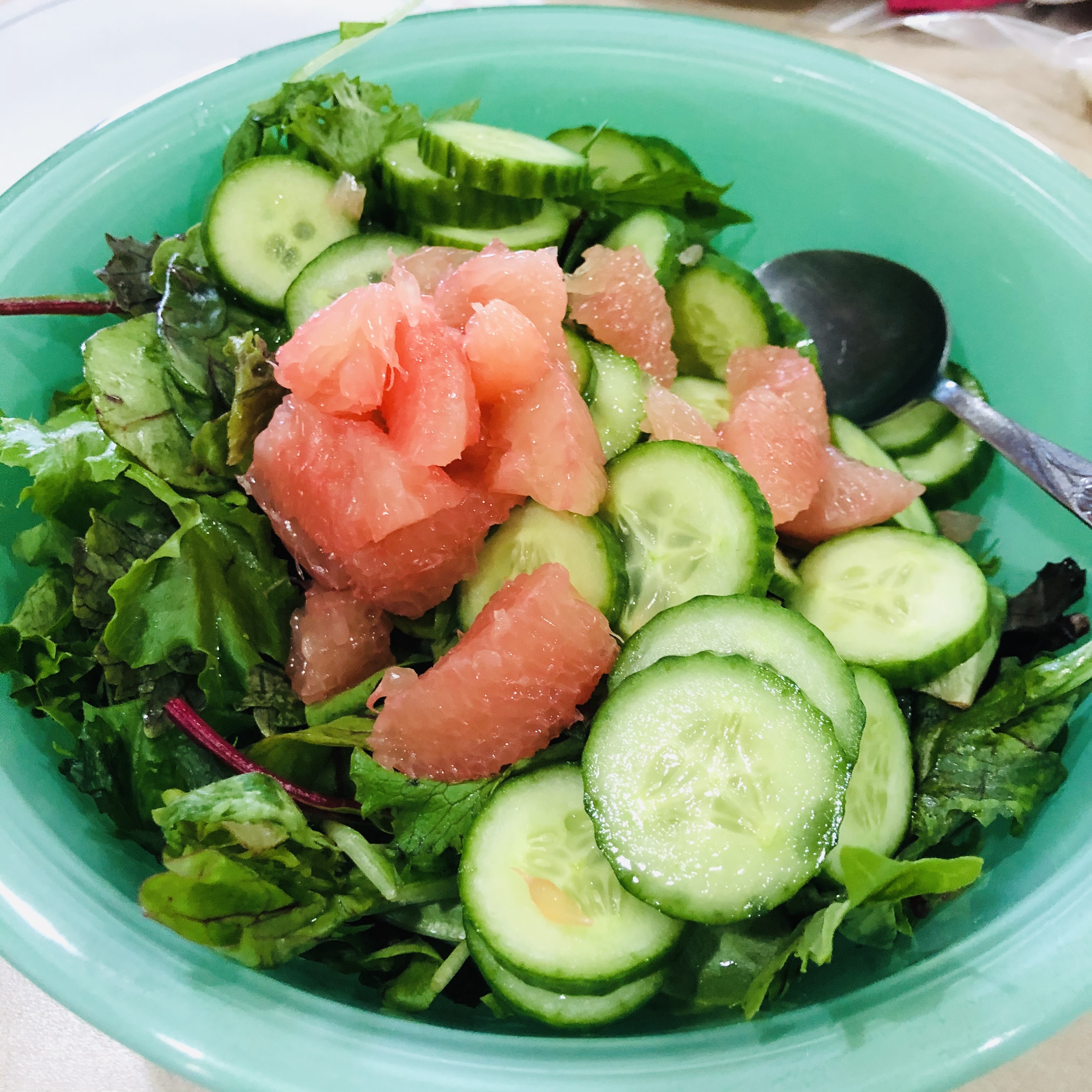 I drained the grapefruit segments but made sure to keep the liquid. I mixed the dressing and one tablespoon of grapefruit liquid in the bottom of the bowl, then added the greens and cucumbers. I placed the fruit on top. Then I mixed it all up and plated it.
I topped it with the feta and sliced almonds and served. It was super yummy, the sweet dressing was so tasty with the salty feta and the rest of the salad. I served this salad to three people, and I feel like it could have served 4 as a side salad. It would have been super filling for two people, even without a protein.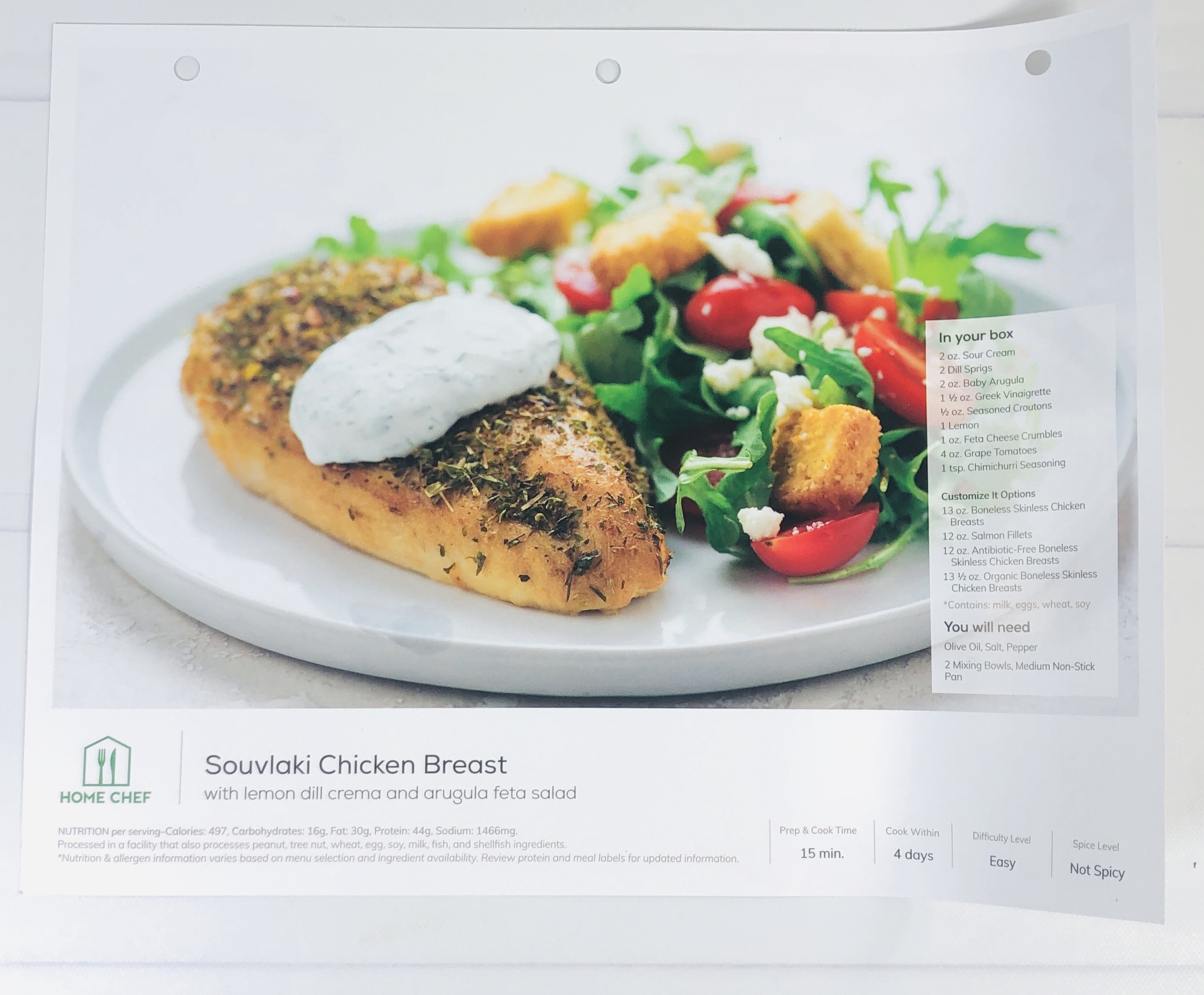 Souvlaki Chicken Breast with Lemon Dill Crema and Arugula Feta Salad (Easy, 15 minutes, 497 calories) My final recipe was for a well-seasoned chicken breast and salad.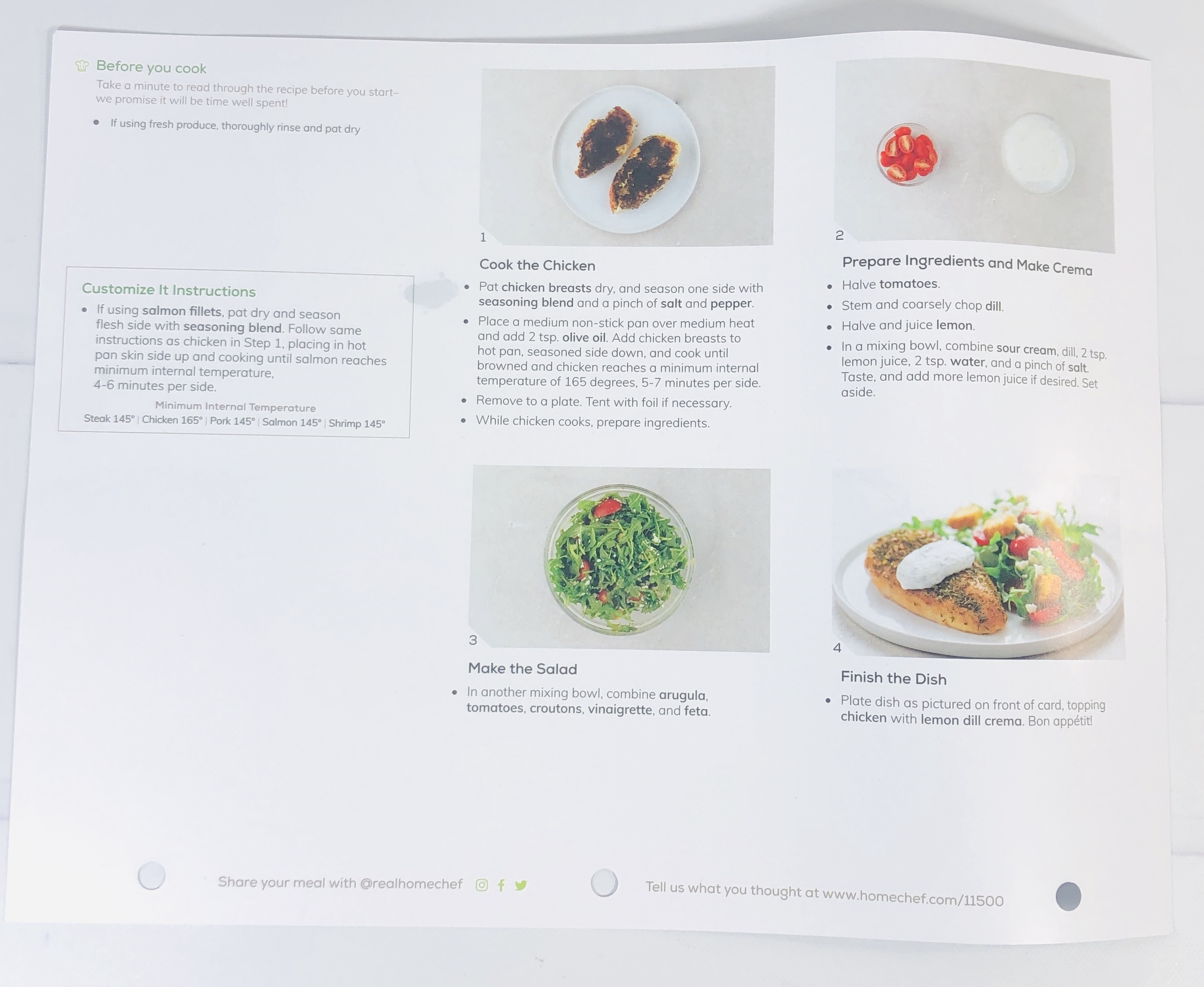 It is helpful to read the instructions thoroughly before starting to see if any of the ingredients are used twice or if there are any other hints I need to know about.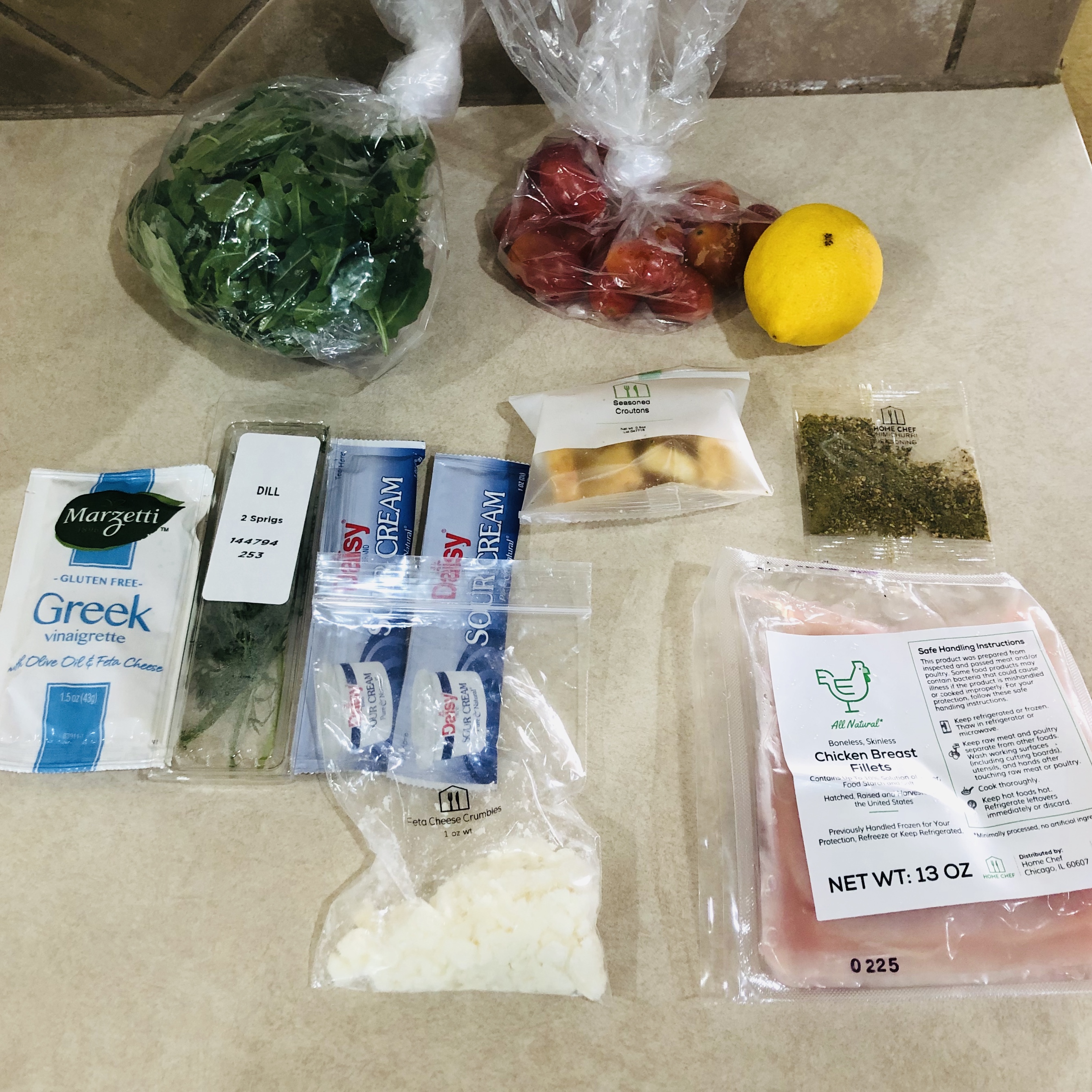 Here's the stuff!
I washed the produce and then juiced the lemon, chopped the dill, and halved the tomatoes.
I patted the chicken dry and then sprinkled the seasoning on one side. I cooked it seasoned side down and then flipped it over to finish.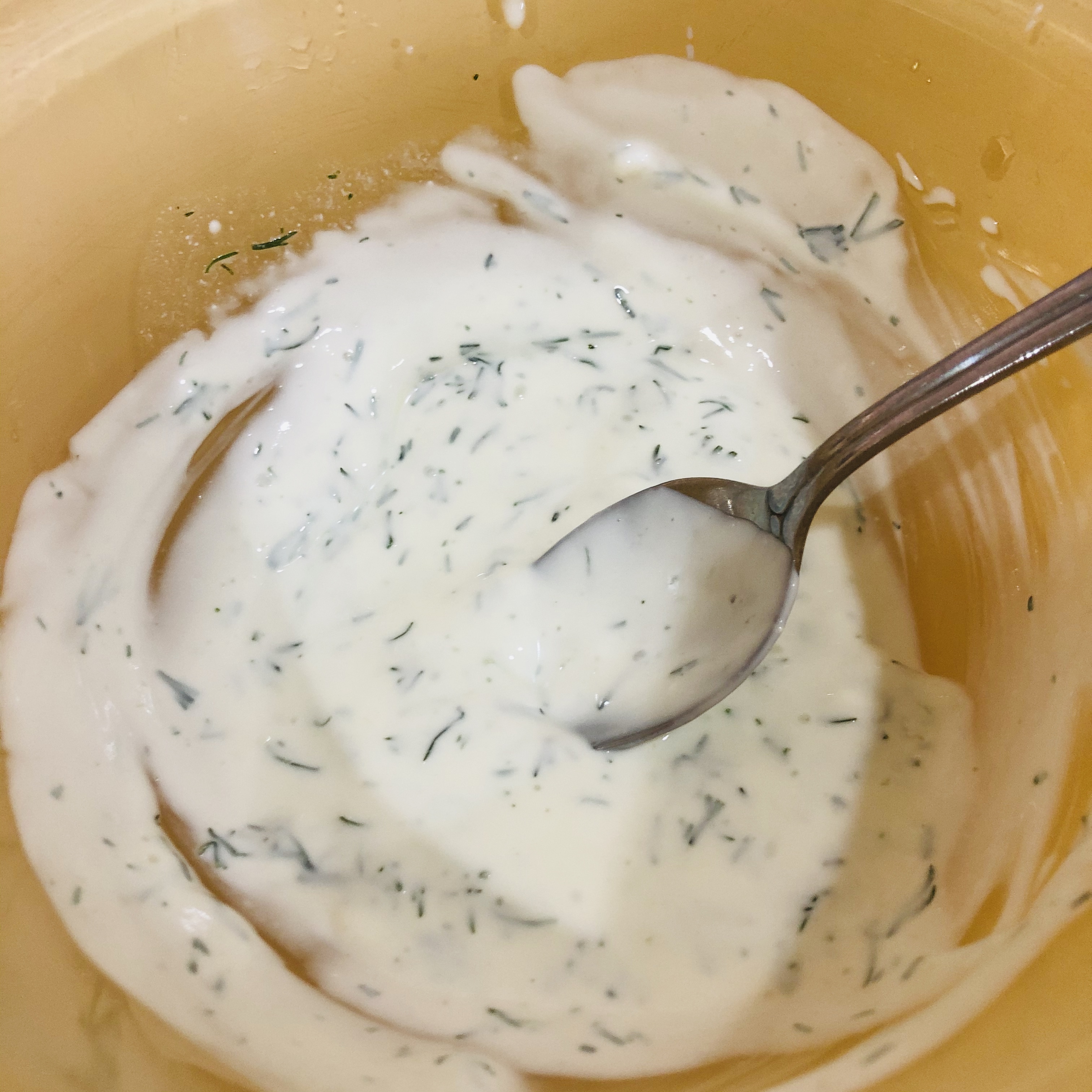 I mixed the ingredients for the super easy crema.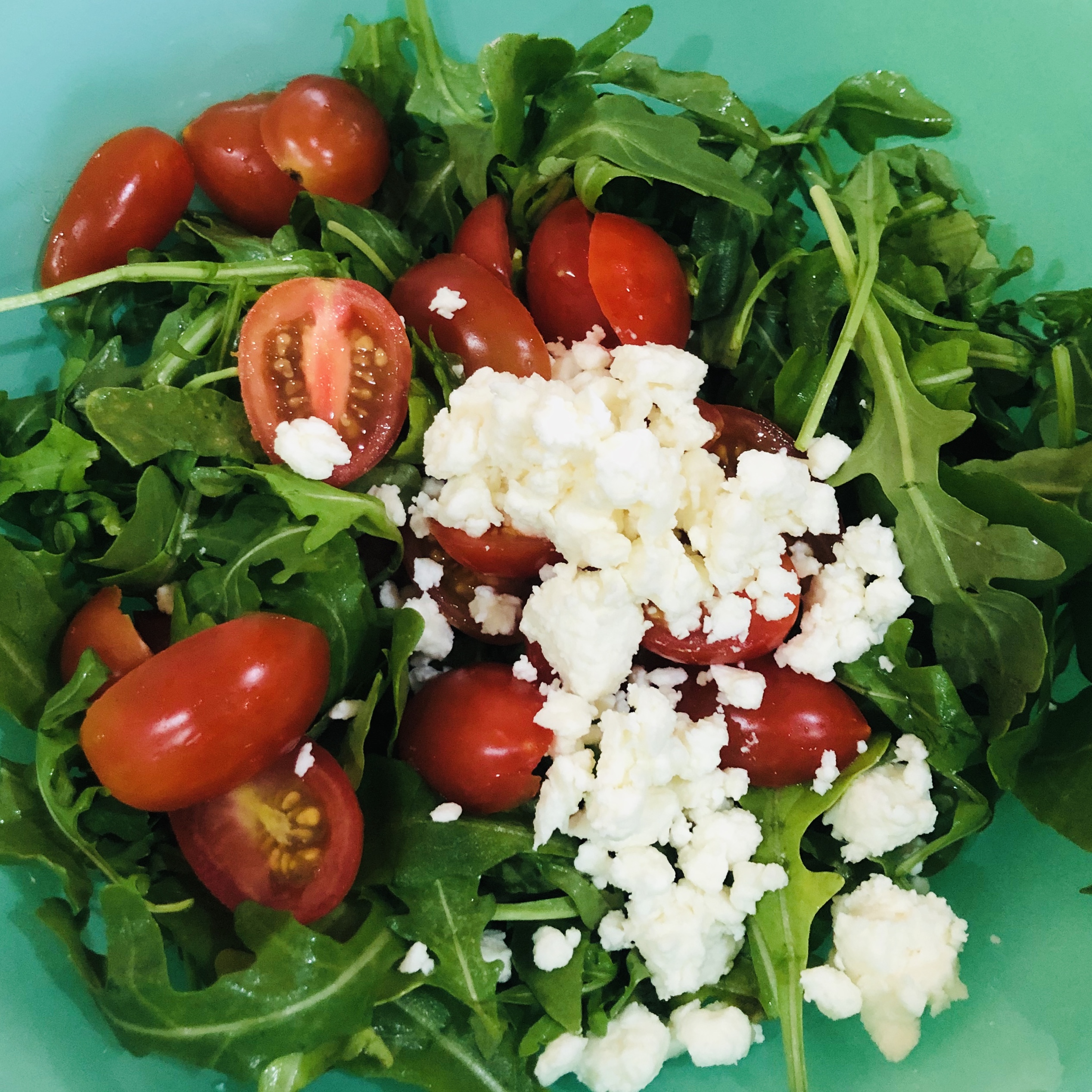 I mixed the arugula, tomatoes, and feta and then waited until the chicken was finished before adding the dressing, feta, and croutons.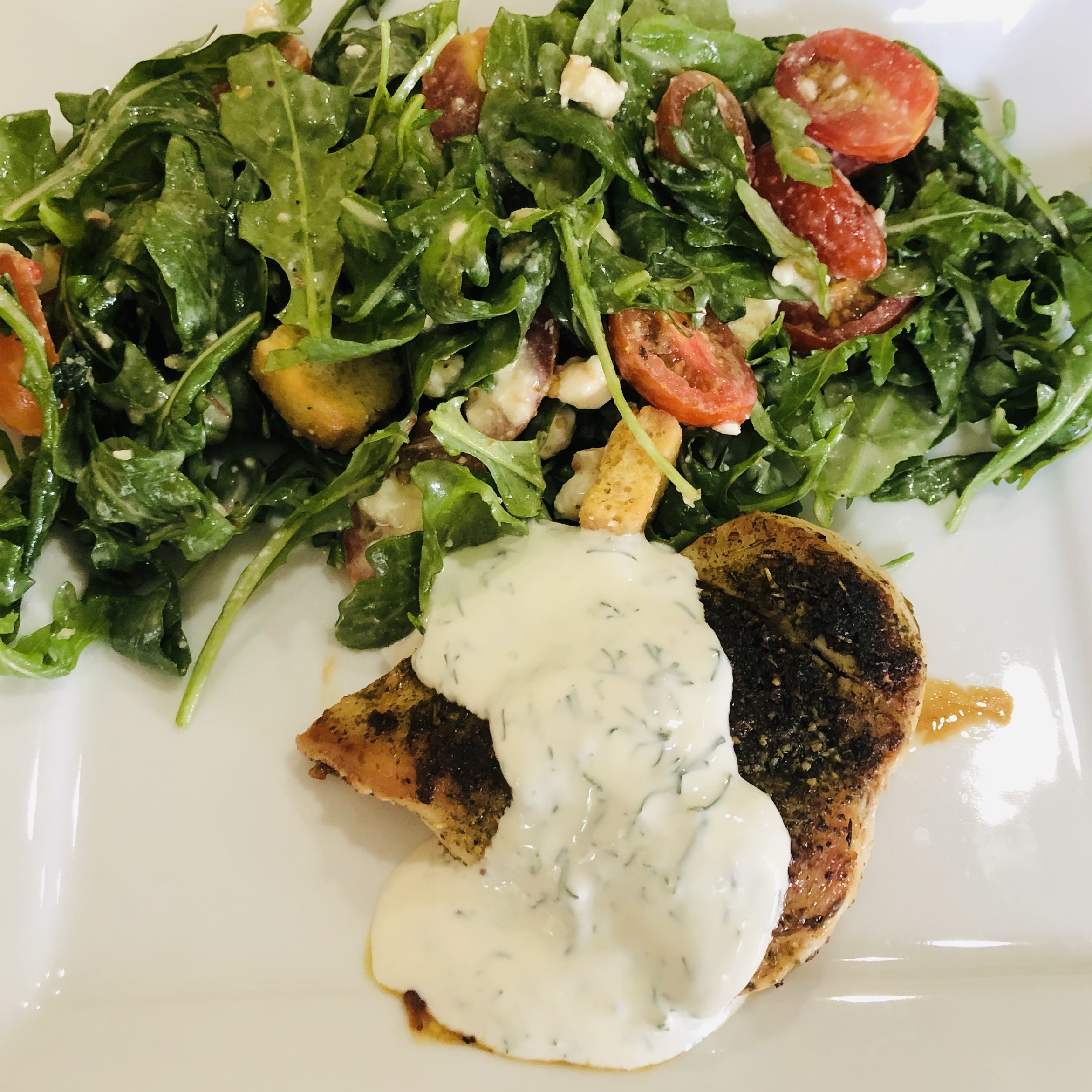 Here is the finished salad and the chicken with crema. This is one of my favorite meals ever from Home Chef, and I feel confident I can make this at home, I just need to find that seasoning mix! My daughter said this was restaurant quality!
Home Chef makes getting a meal on the table quick and simple! I thought each of these recipes were quick, easy, and delicious. I feel like I can make them again with my own ingredients, but they generally come around every once in awhile if you just want to order them again. The cucumbers were a little squishy looking but other than that everything arrived in perfect order and well chilled. I received three meals for 2 people for $53.78, and my order shipped for free. The portions were generous and I am never left feeling hungry after eating a Home Chef meal!
Have you tried Home Chef? What did you think of your meals?