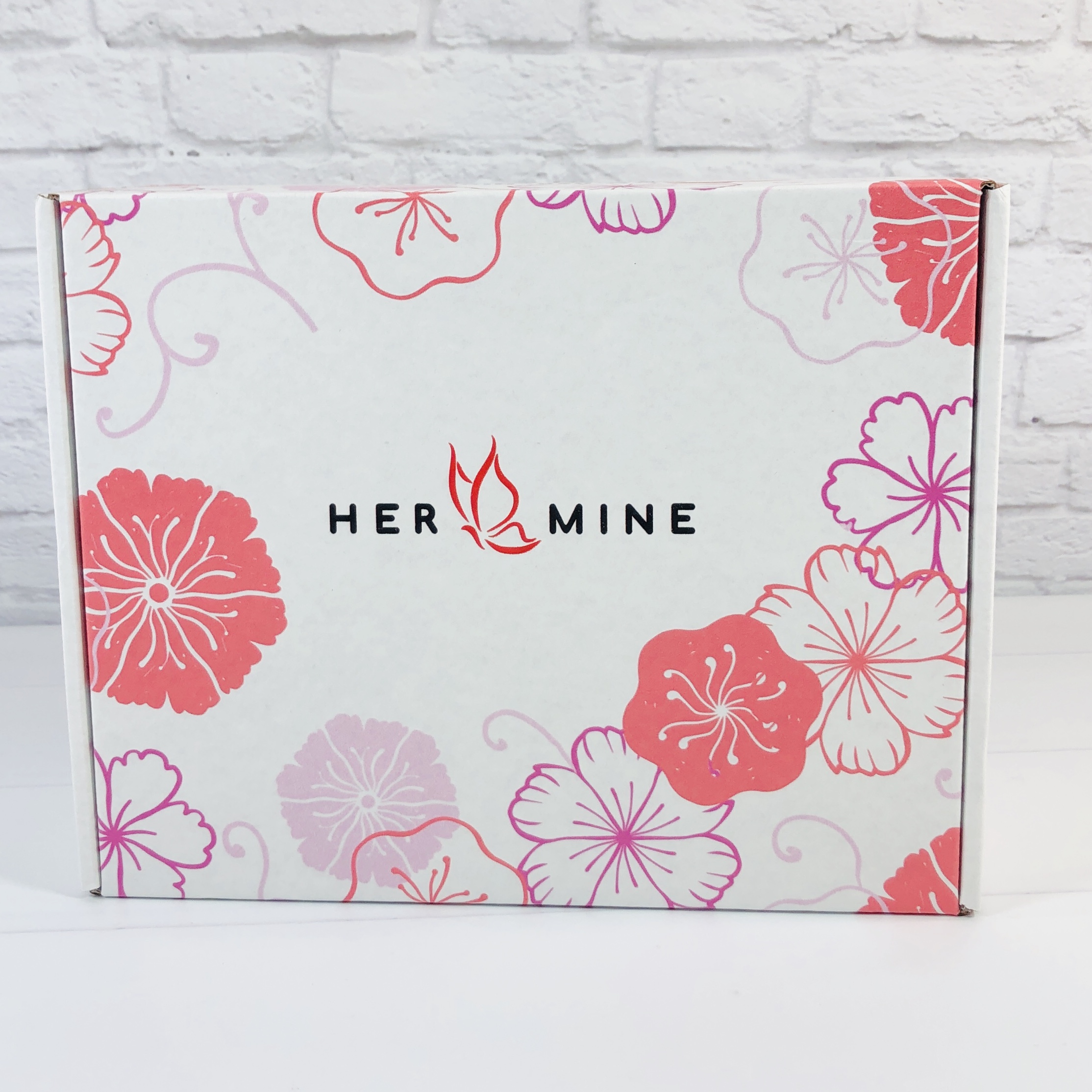 HER-MINE Self-Care Box is an aromatherapy, beauty, wellness, and lifestyle subscription box that sends items that are from women-owned companies. Her-Mine is a box for those who like to relax with pampering products, and who knows that self-care is important. You can sign up for the Mini Box ($34.95, 3-5 products) or the Deluxe Box ($44.95, 5-8 products). Products will be both full and deluxe sample sized.
HER-MINE Box is a monthly self-care subscription focused on pampering and empowering women. Each box incorporates 5-8 wellness products sourced primarily from female vendor partners that produce natural, organic, or feel-good products ranging from aromatherapy, clean beauty/skincare, and unique lifestyle goodies. Themes and items change each month so it's always a delightful surprise!
DEAL: Get $10 off on 3+ month subscription! Use coupon code HELLO10.
This is my very first box from HER-MINE and I am reviewing the Deluxe Box!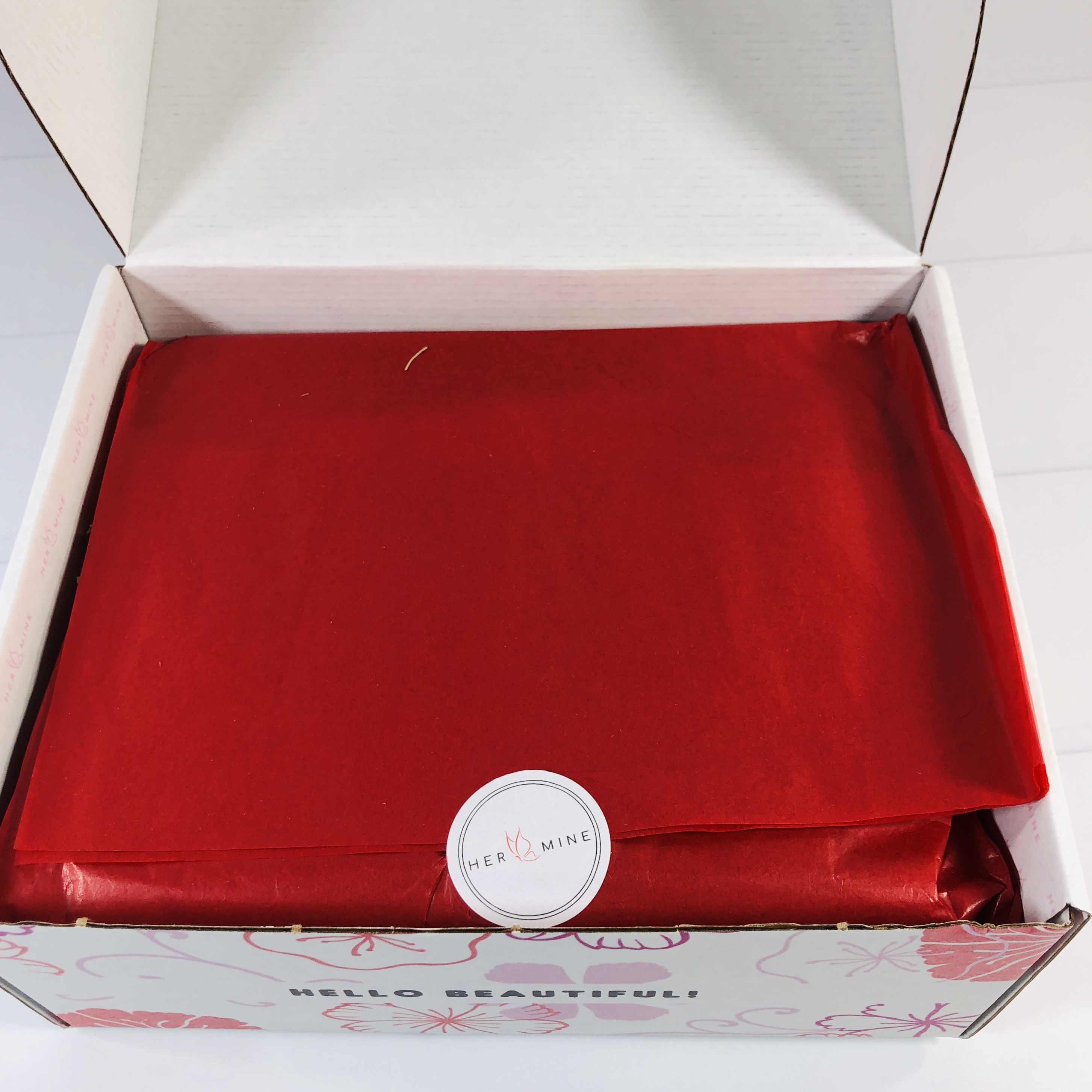 The items were wrapped in red tissue paper that was sealed with a sticker.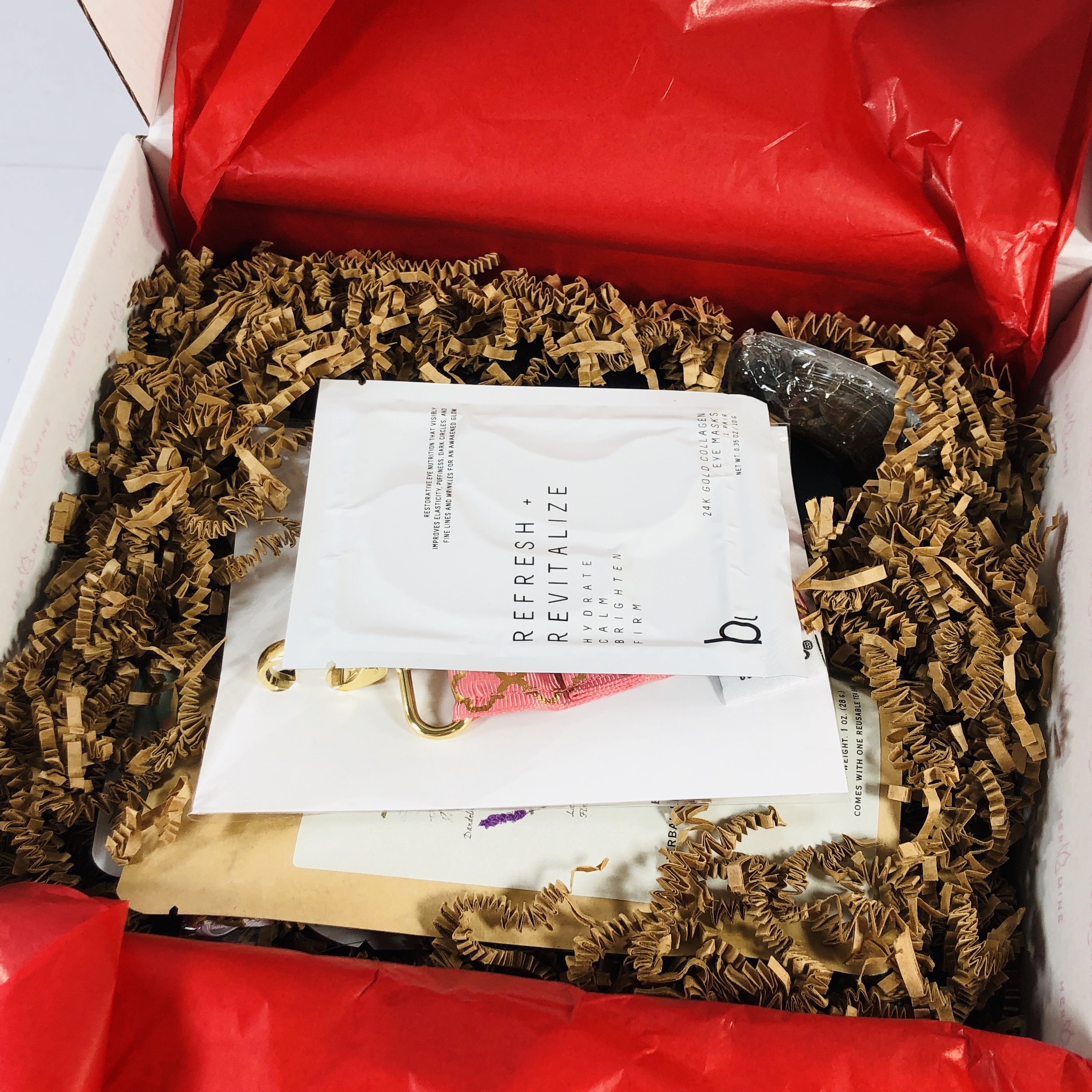 The items were snuggled in shredded paper squiggles.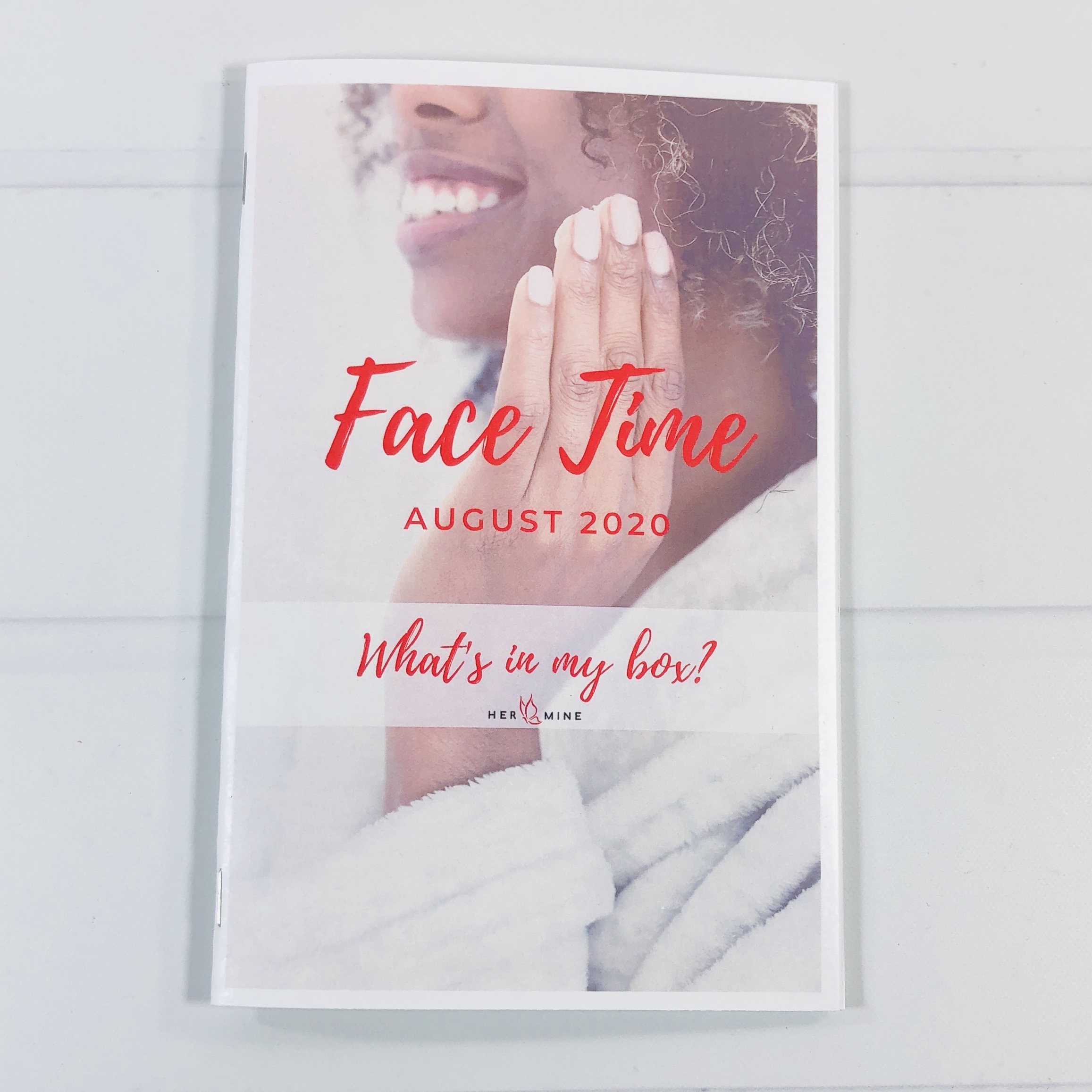 A lovely pamphlet was included. The theme for August was Face Time!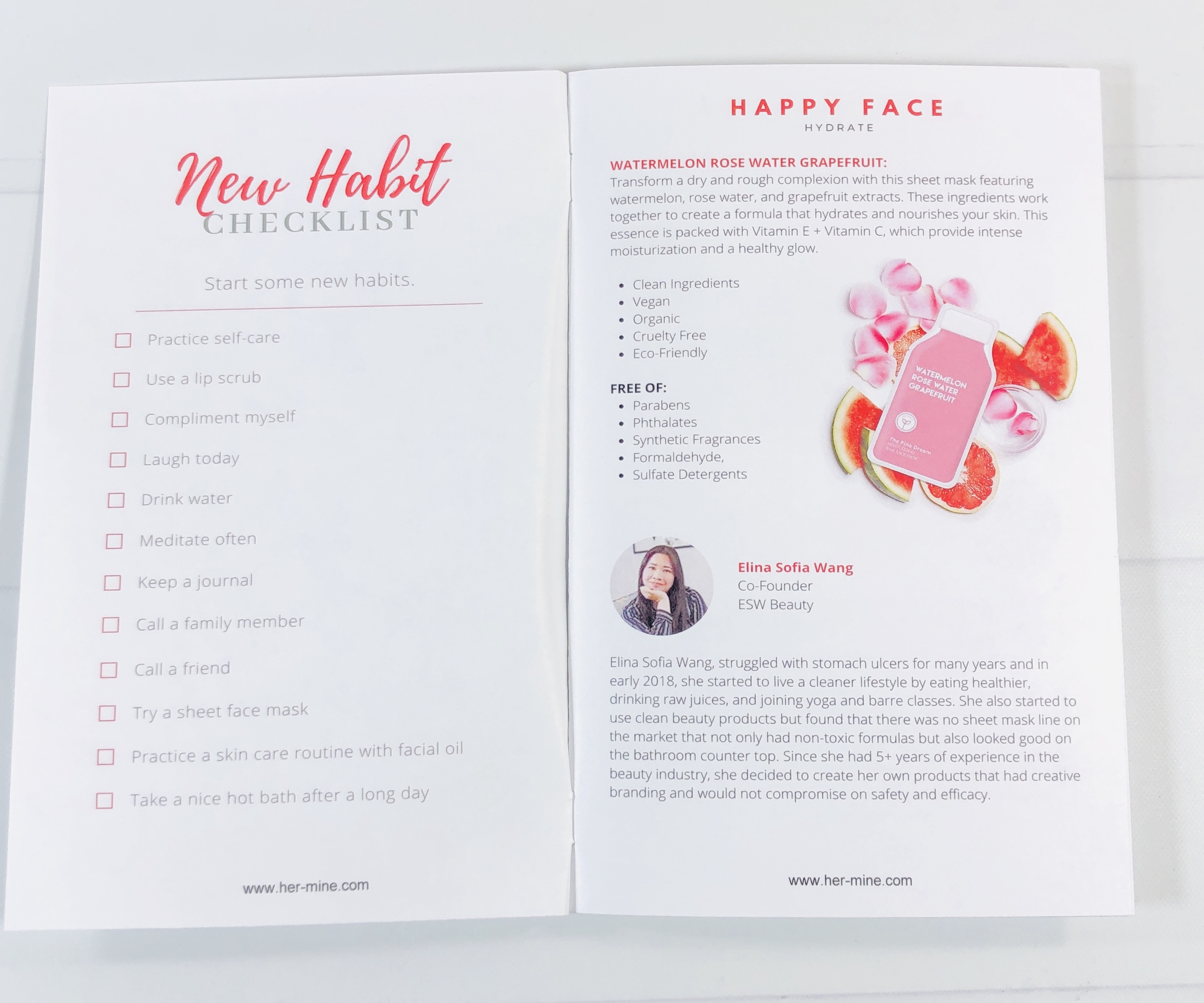 A good habit checklist was inside, along with each product. They also included info about these woman-owned businesses.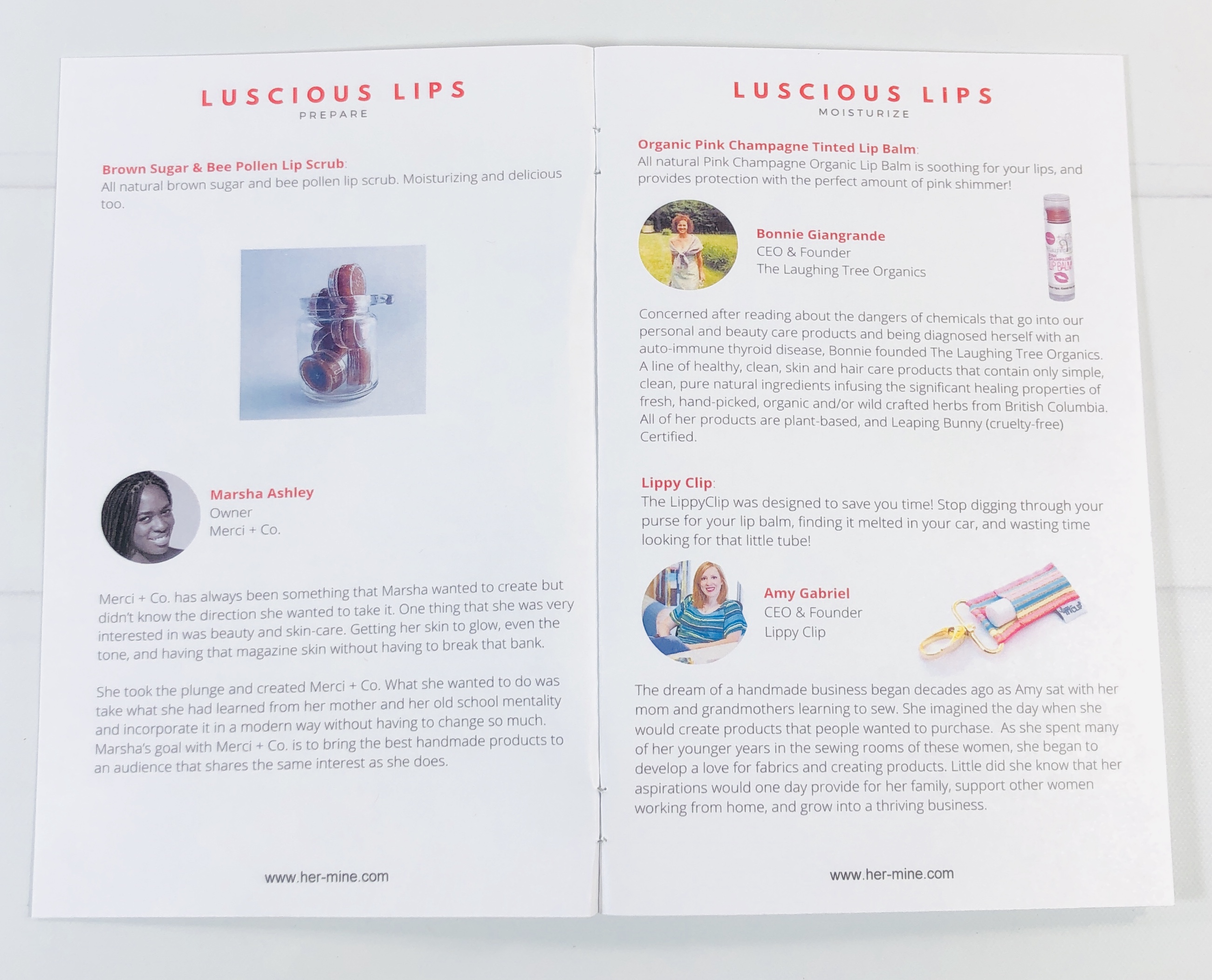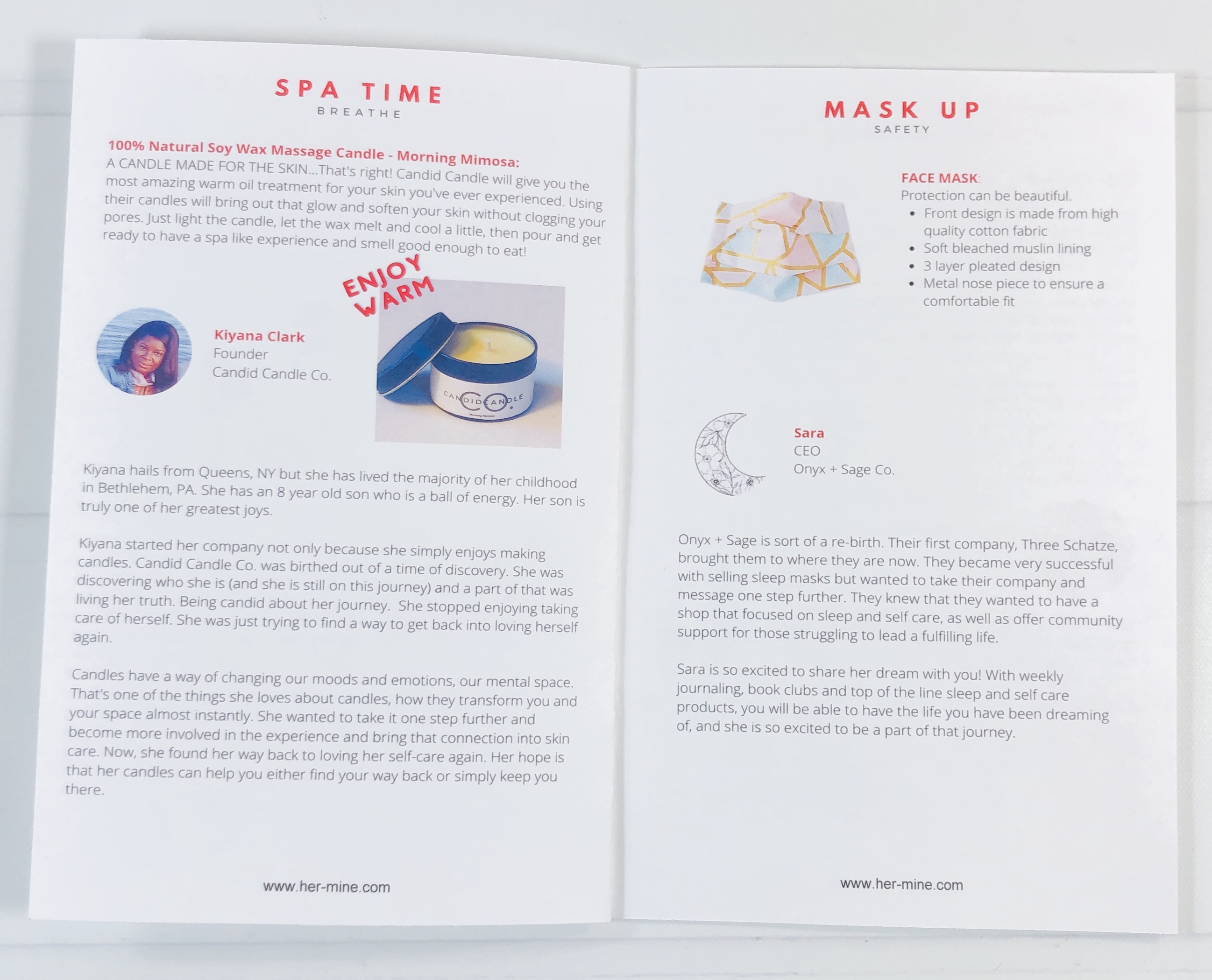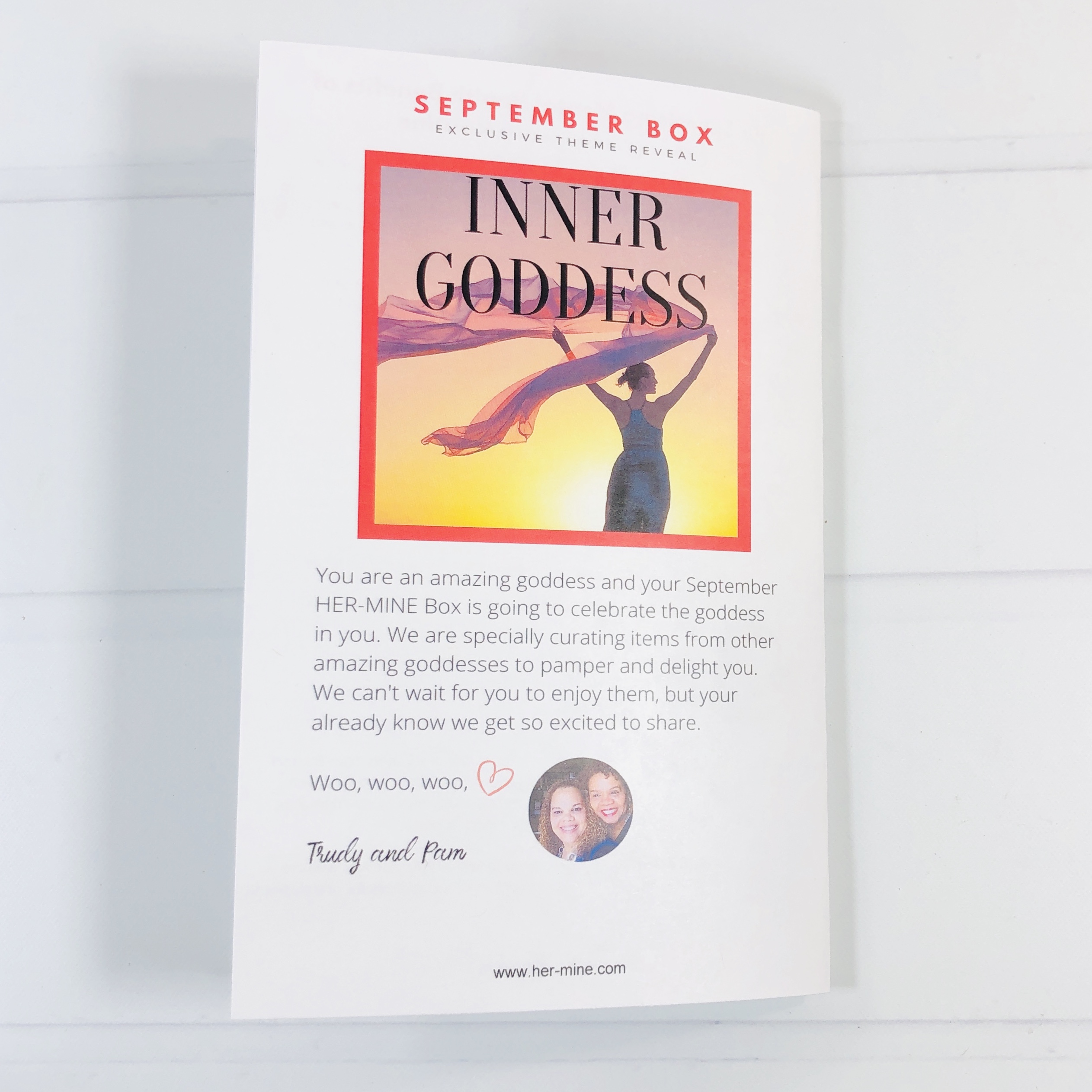 The back of the pamphlet gave us a peek at the September theme, which sounds powerful!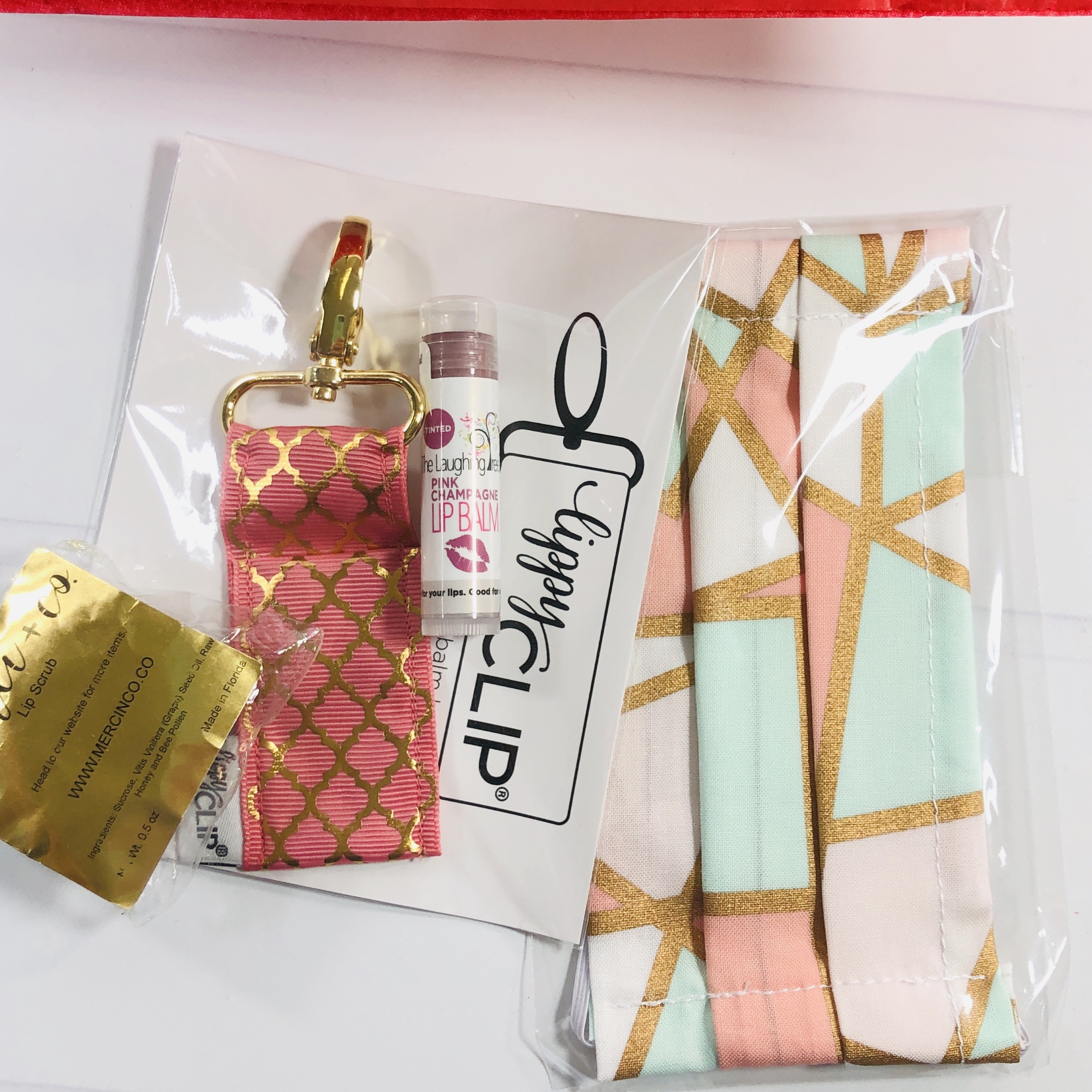 Some of my items were wrapped in bags to keep them from spilling or getting dirty in transit.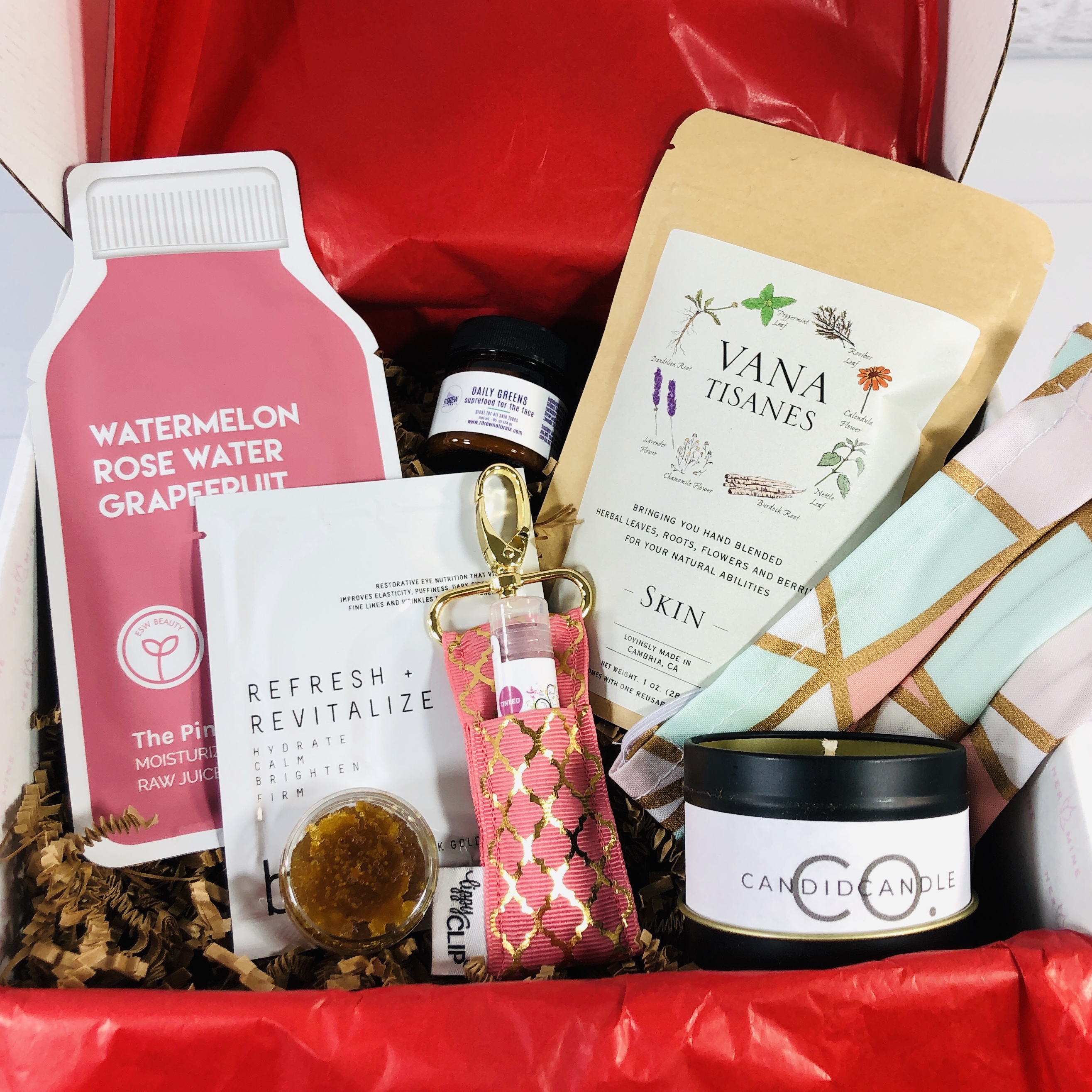 Looking good, the colors are so coordinated!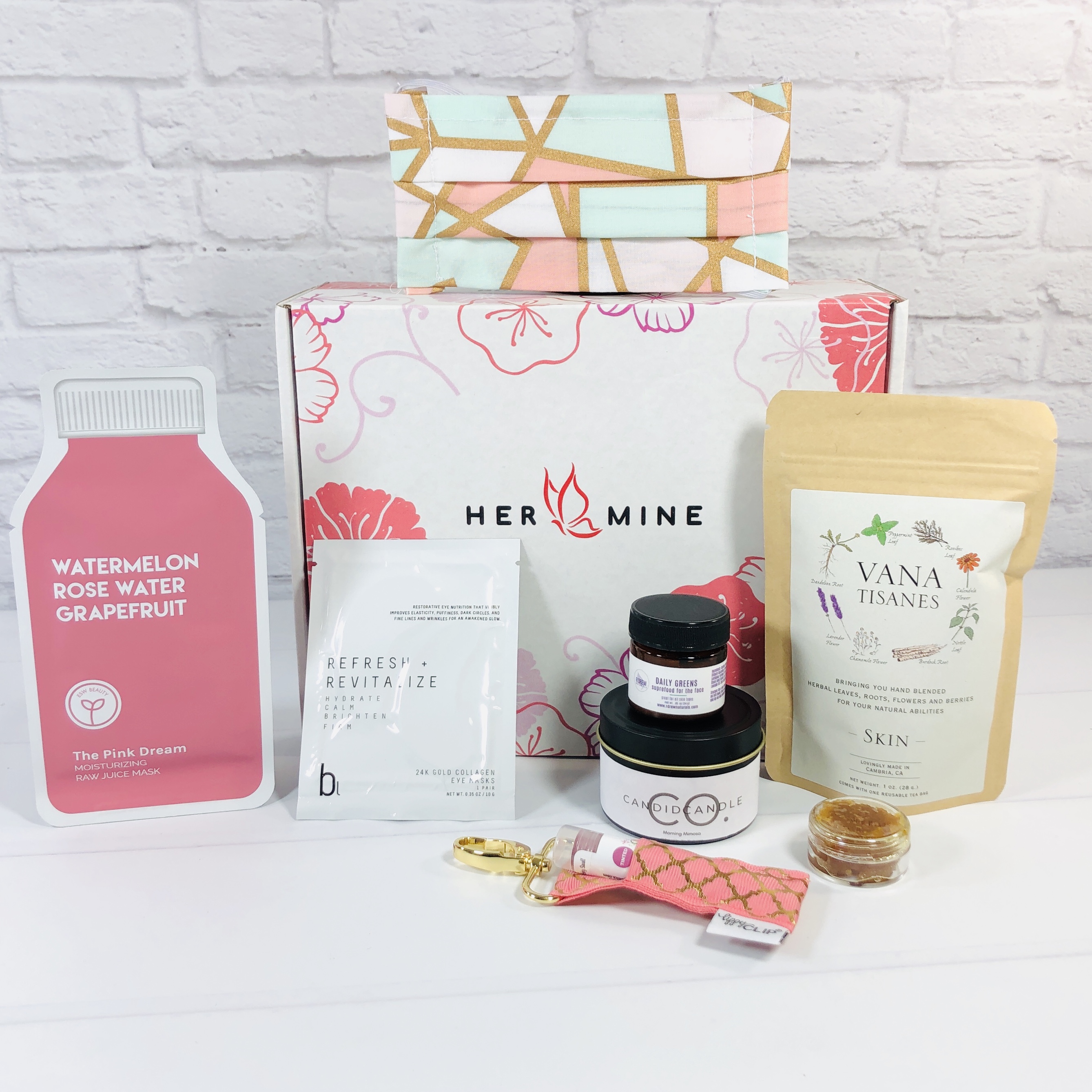 Everything in my box!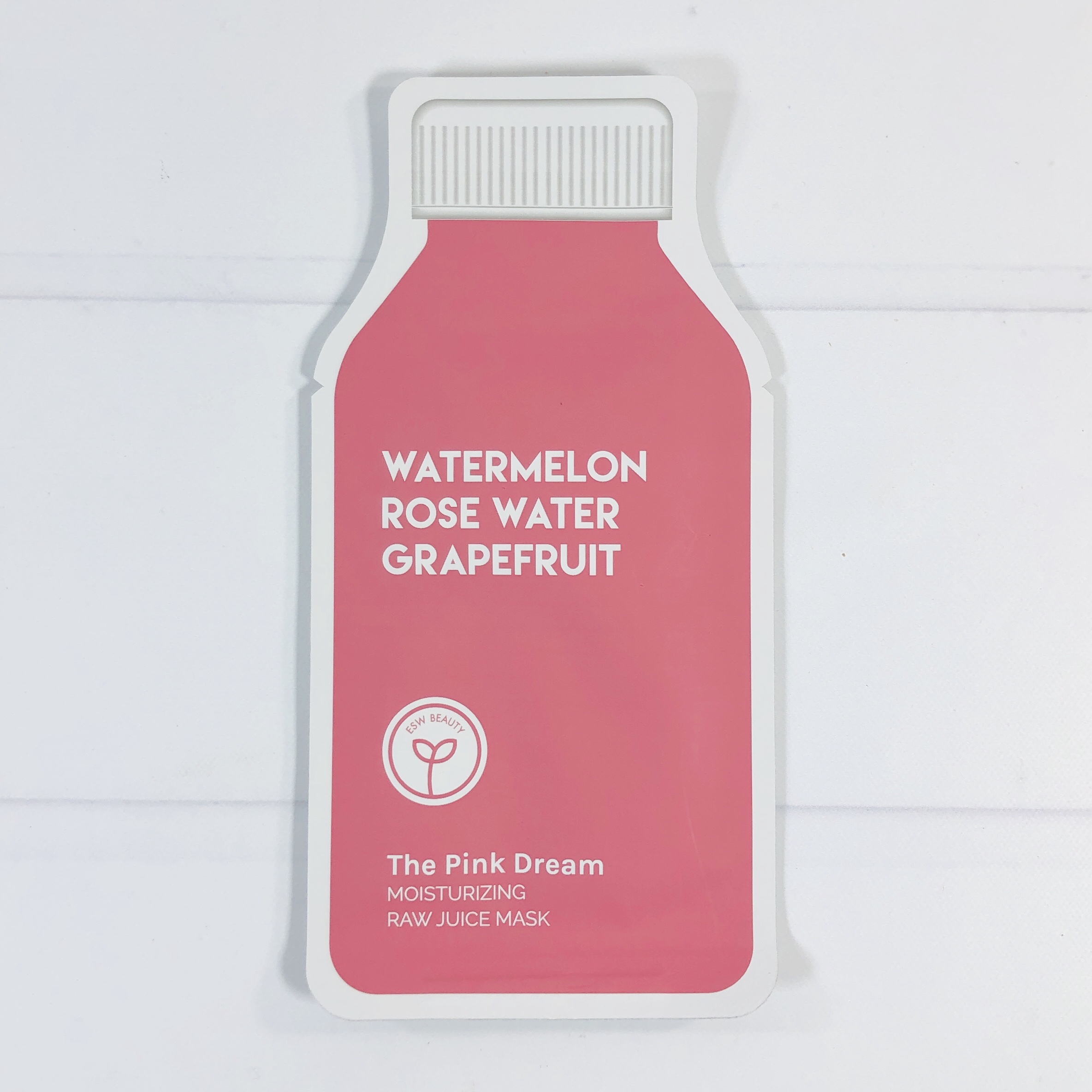 ESW The Pink Dream Moisturizing Raw Juice Mask ($6) A sheet mask is a relaxing way to spend some me-time, because there isn't a whole lot you can do while balancing a mask on your face!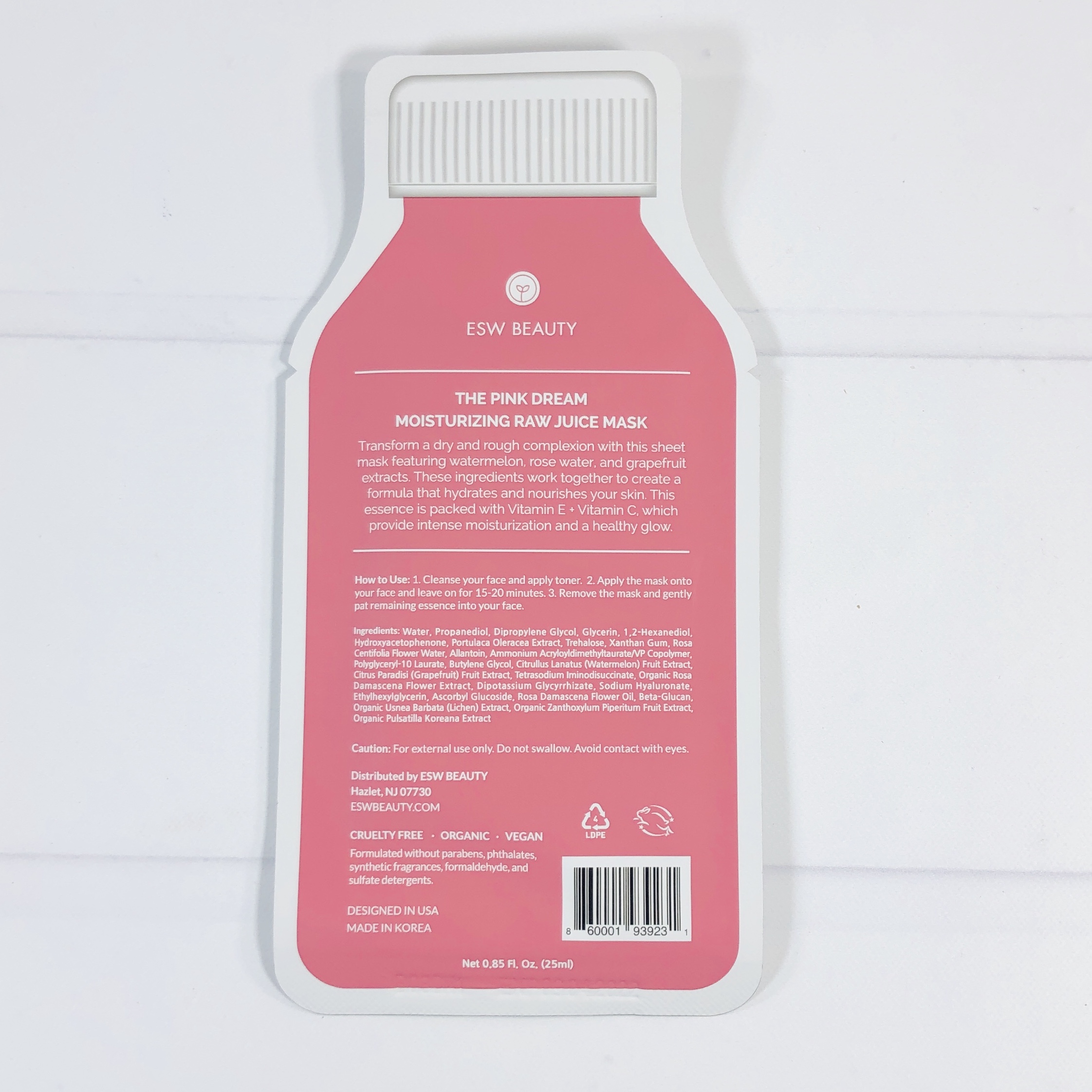 Watermelon, rose water, and grapefruit provide moisture for the skin, and hyaluronic acid keeps it there, plumping up the skin. Apply to a clean face and sit back for about 20 minutes. I guess meditating or watching a TV show are some things you can do simultaneously if you want to multi-task.
Beautology Lab 24K Gold Collagen Eye Mask ($2.33) I love eye masks, I can use them all the time and never get tired of them!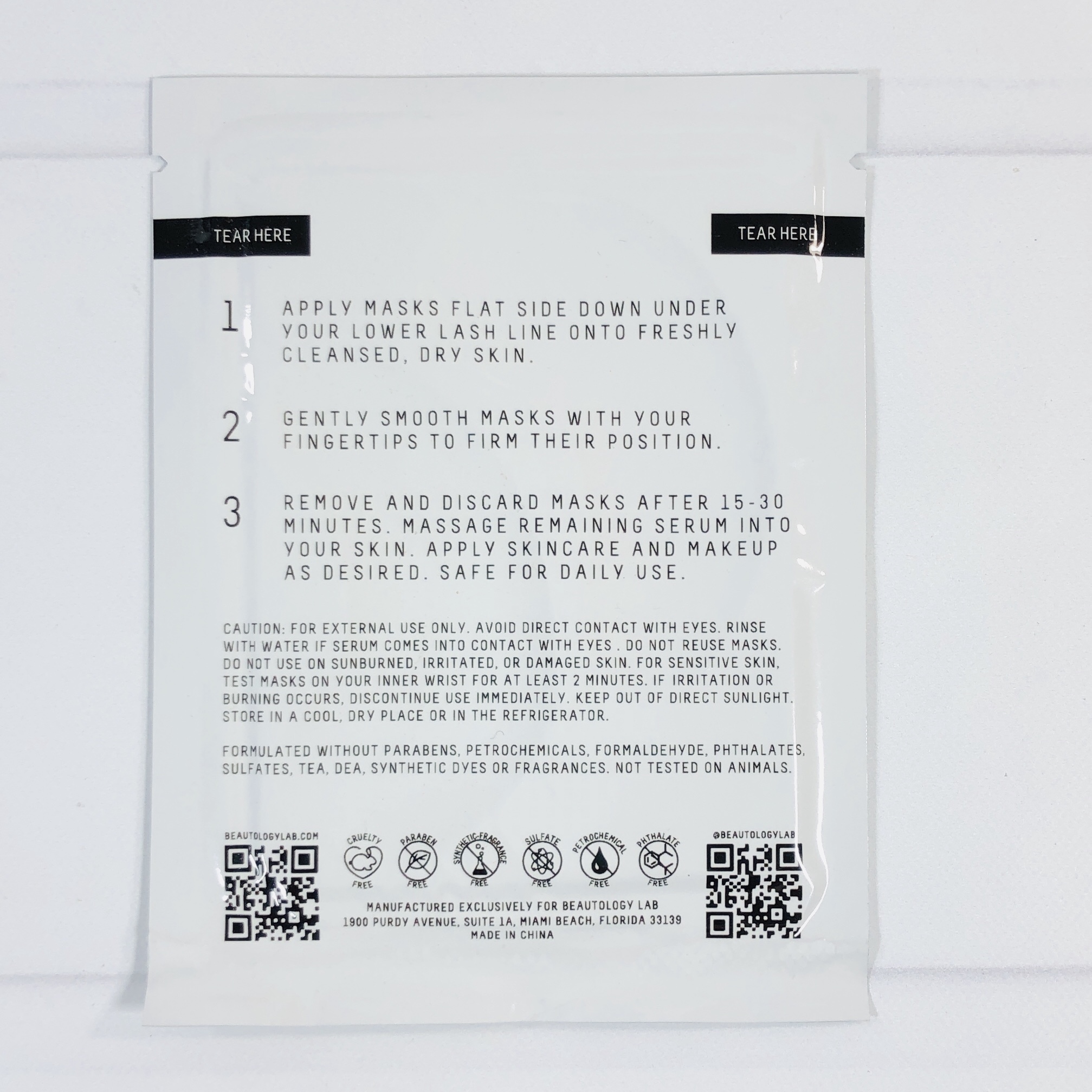 These are gold colored and I've tried something similar before. The ingredients include water, glycerin, hydrolyzed collagen, licorice, oat peptides, and rose oil, which is about the same as the less expensive gold patches on Amazon and AliExpress. This company mentions in the FAQ's that they are "proudly vegan and certified cruelty-free by Leaping Bunny" but I didn't find them on the LB list. The package here doesn't actually say vegan, it just says cruelty-free, which means not tested on animals.
The masks felt very cooling and soothing under my eyes and smelled like roses. You are supposed to massage any remaining serum into the area but there was nothing left. I am sure the area looked plumper afterwards and my lines appeared finer.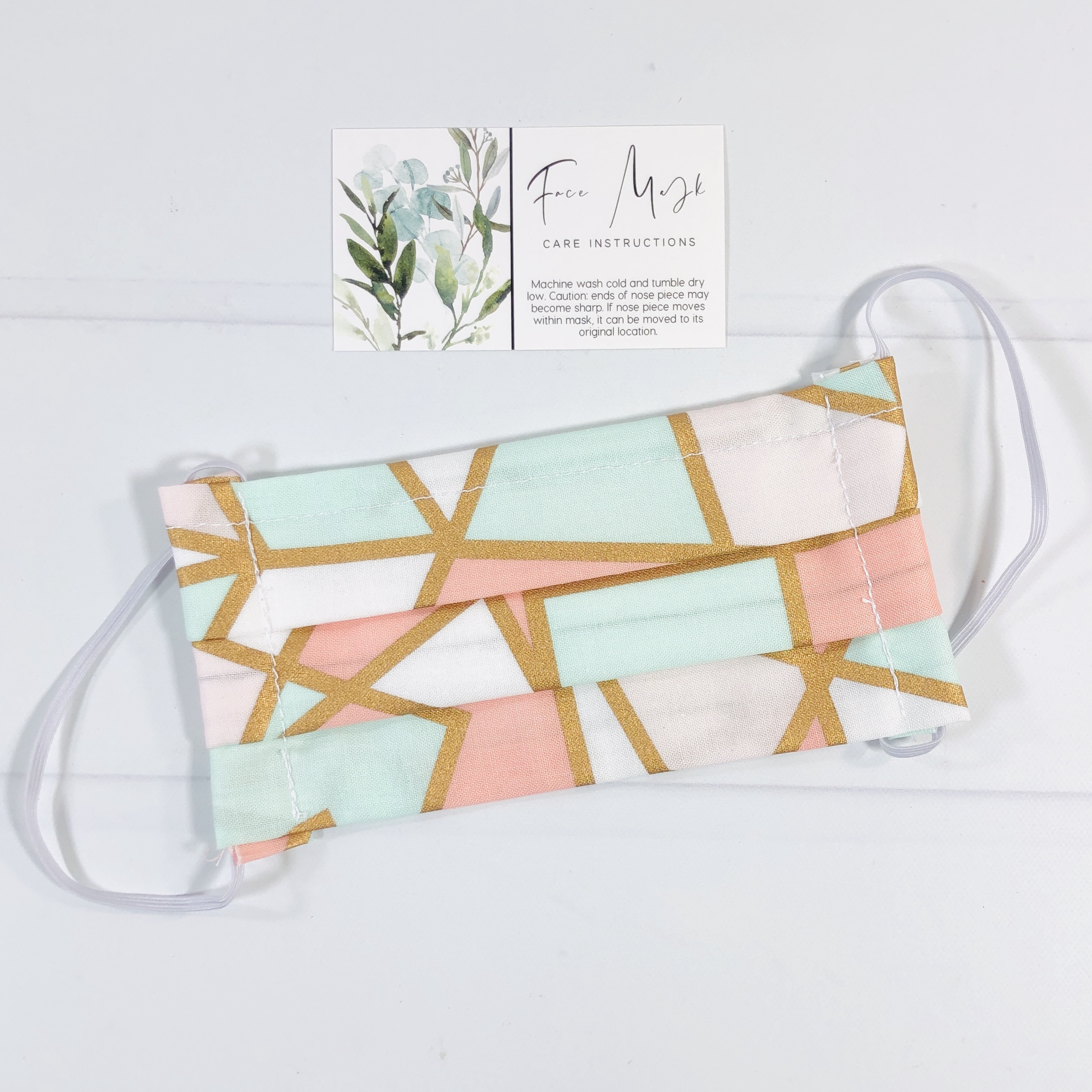 Onyx + Sage Face Mask I could only find wholesale ordering info for this brand so if you want a beautiful mask like this, then you would need to buy in bulk! Also, some subscribers may have received a cleansing oil instead of the mask, as shown on Instagram. The outside of this mask has a geometric design with sea foam, pale pink, medium pink, and white colors and metallic gold lines running across it. It is very feminine and the prettiest mask in my collection! The accompanying card had washing instructions.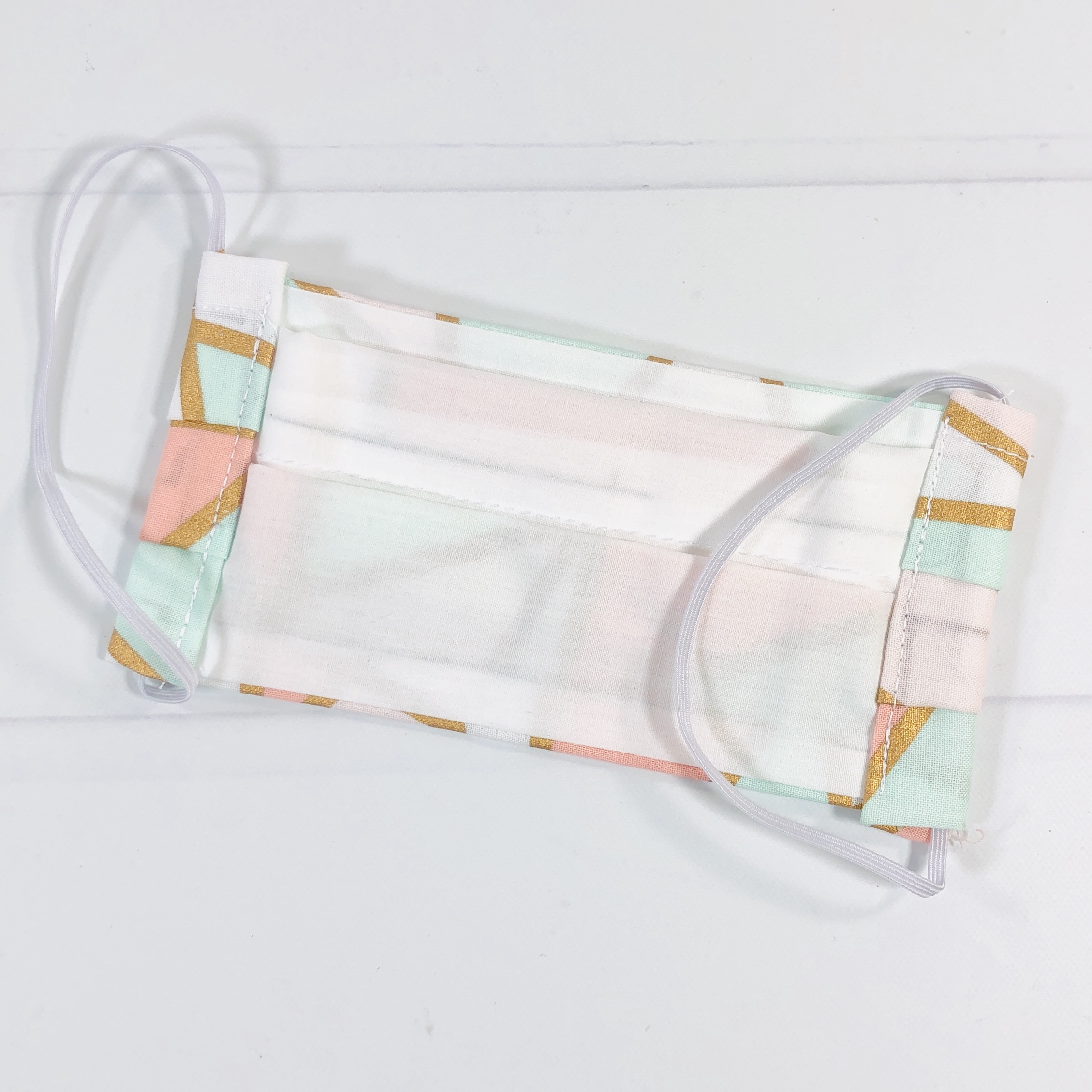 The backside was white. The materiel used is cotton.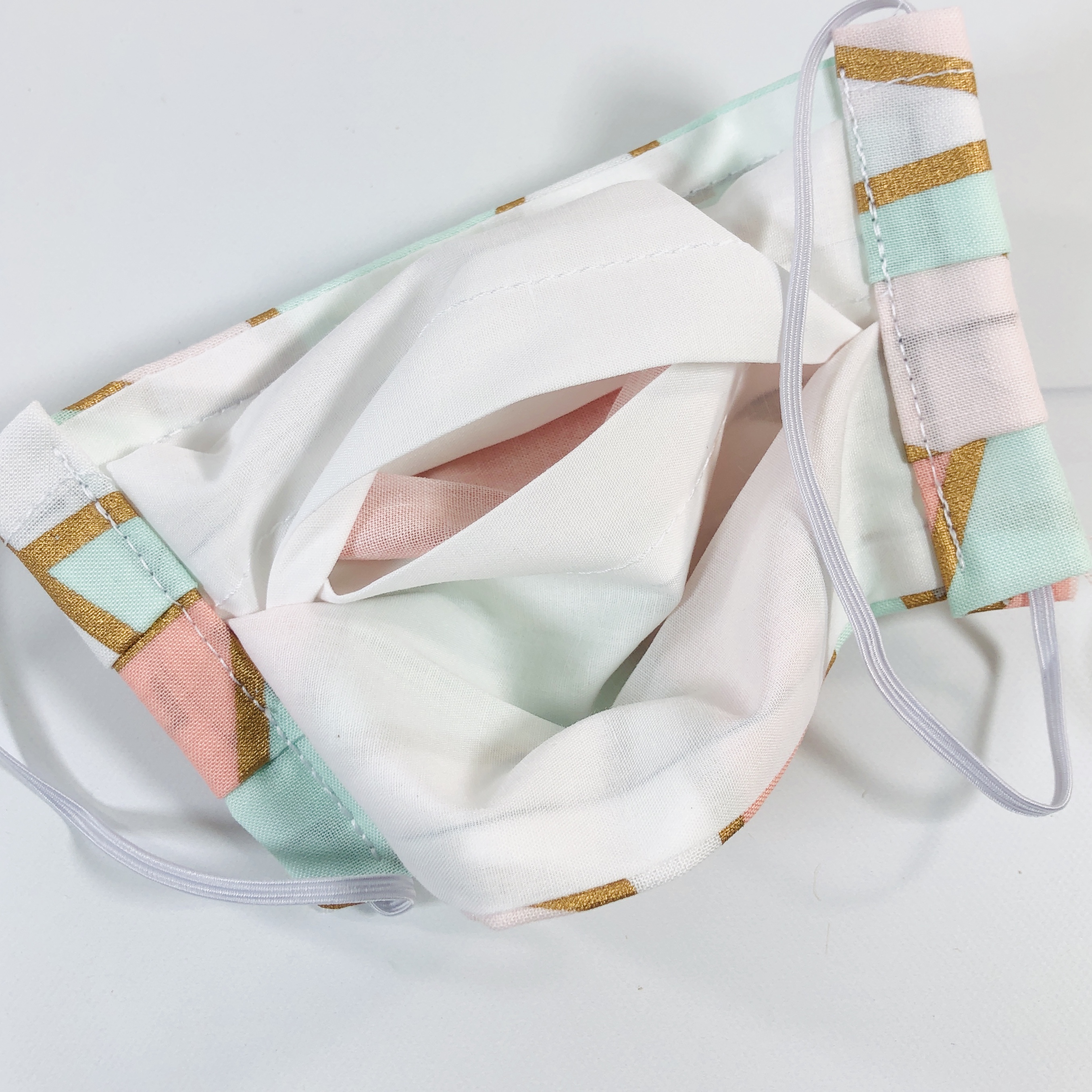 The mask is pleated and there is room for an additional filter if you feel the need to place one there. The ear loops are elastic and not fixed in place, and the top has a piece of wire through it so it can be molded for a closer fit. So pretty!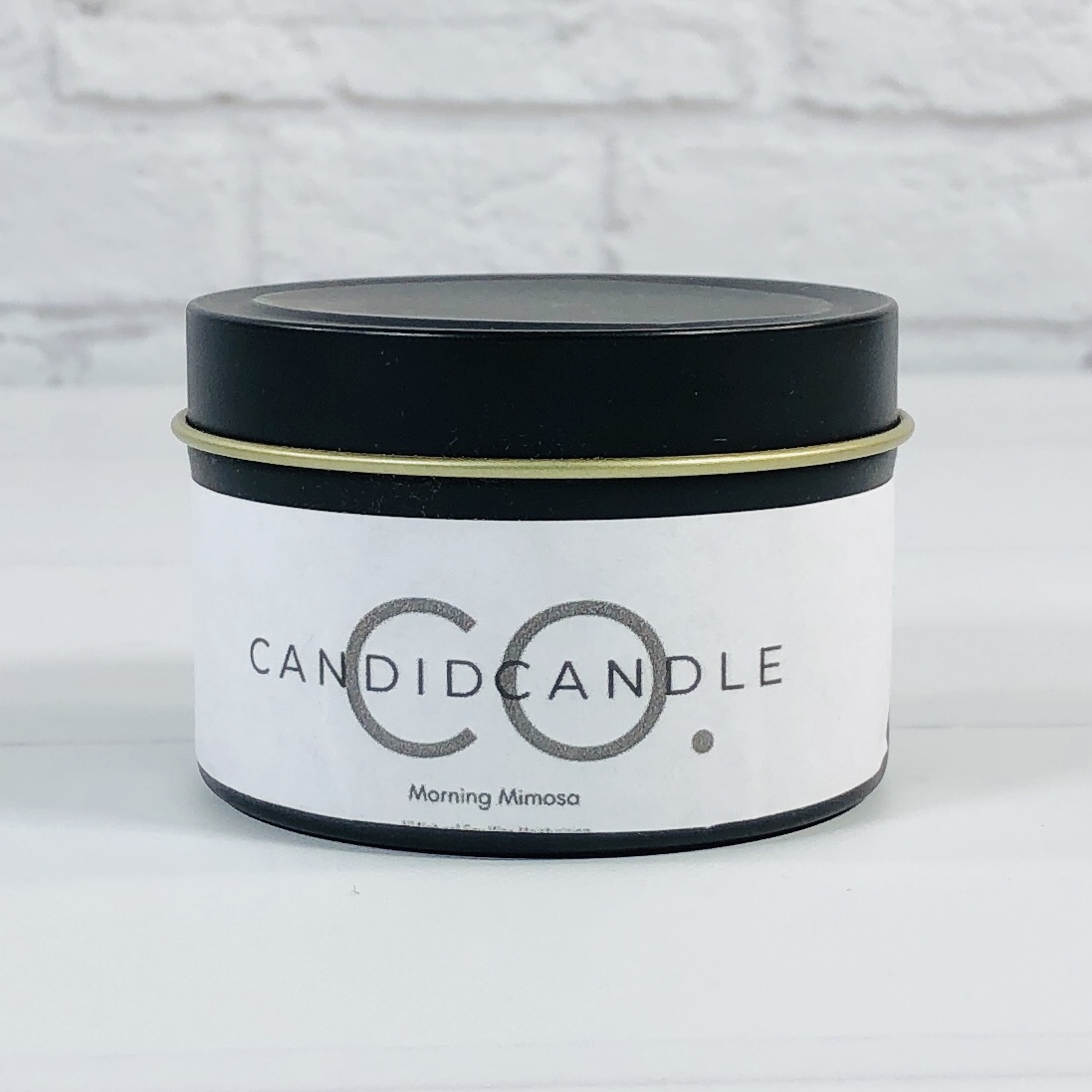 Candid Candle 100% Natural Soy Wax Massage Candle in Morning Mimosa (Size not listed, 4 ounces?, $9.25 value) I only found 8 ounce candles on this brand's website but guess what? It doubles as skincare!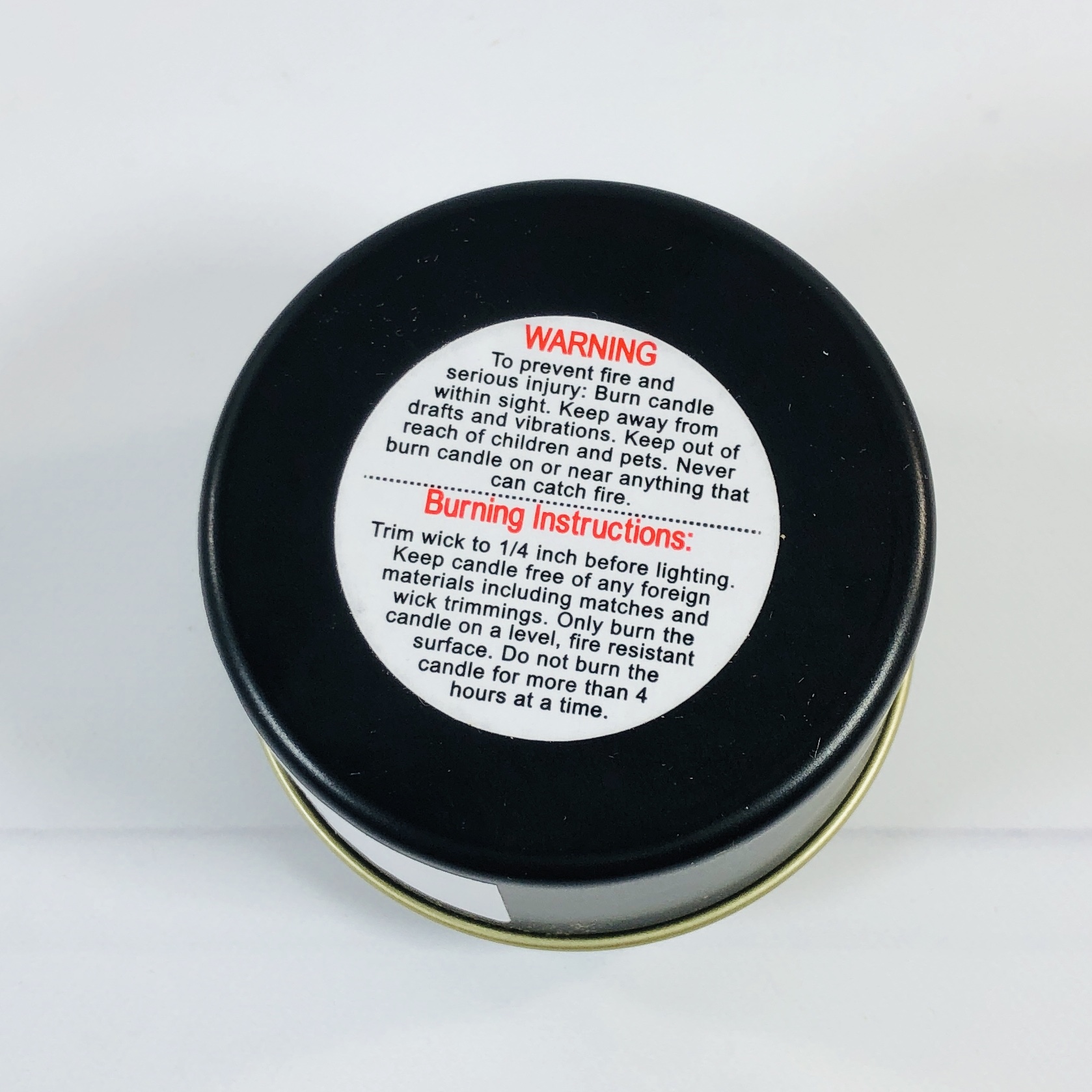 Make sure to use the usual precautions when burning.
This is meant to be used as a hot oil/massage treatment as opposed to the usual candle use. You burn it for a few minutes to get a good puddle going, blow it out, then wait a minute or so before using it on the body for massage. It is made with soy wax, almond oil, and shea butter, plus fragrance. Morning Mimosa smells sweet and has a champagne kind of scent. It smells good while burning. I picked it up about 30 minutes after burning and it was still liquefied, be careful because I ended up spilling it all over my shirt and carpet but at least I smell amazing!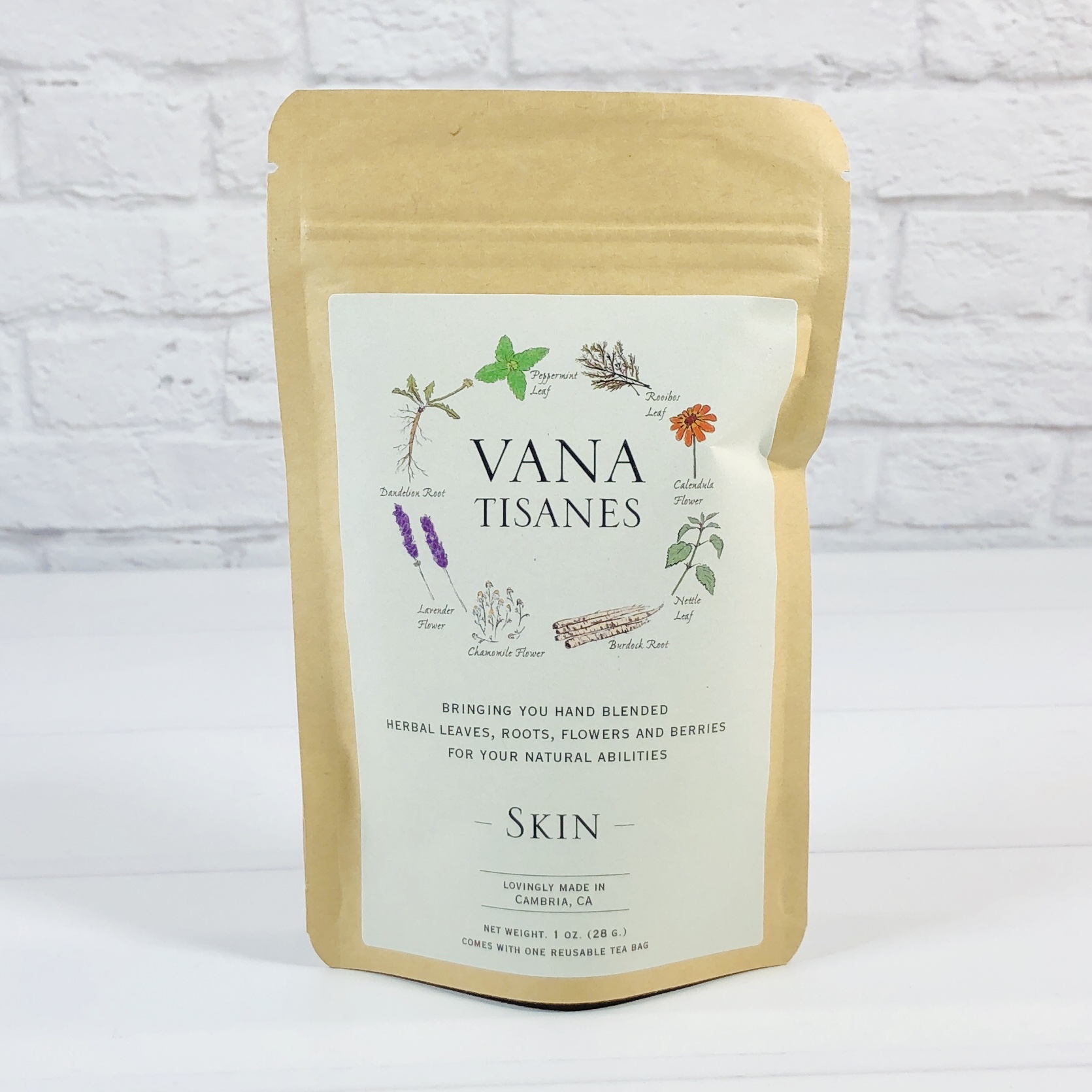 Vana Tisanes Skin Herbal Tea ($8) At first I thought this was a facial steam but it's an herbal tea that has ingredients to promote healthy skin!
Skin's herbal blend has the ability to fight free radicals, help soothe damaged skin while also possessing anti-viral, anti-inflammatory, anti-toxic, anti-bacterial and antiseptic properties.
Tisane is the proper term for what most people call an herbal tea, since herbals do not actually contain any tea leaves, aka camellia sinensis.
In this case we have burdock, calendula, chamomile, dandelion, lavender, nettle, peppermint, and rooibos. There is no caffeine and the lavender may help promote a restful night's sleep. It smells sweet and earthy and sipping a relaxing tisane in the evening is such a lovely way to practice self-care. The product came with a linen bag packed inside for steeping.
RDrew Naturals Daily Greens Superfood For The Face ($7.99) is a moisturizer that is meant for all skin types and that is supposed to nourish skin with superfood ingredients, like a smoothie for skin!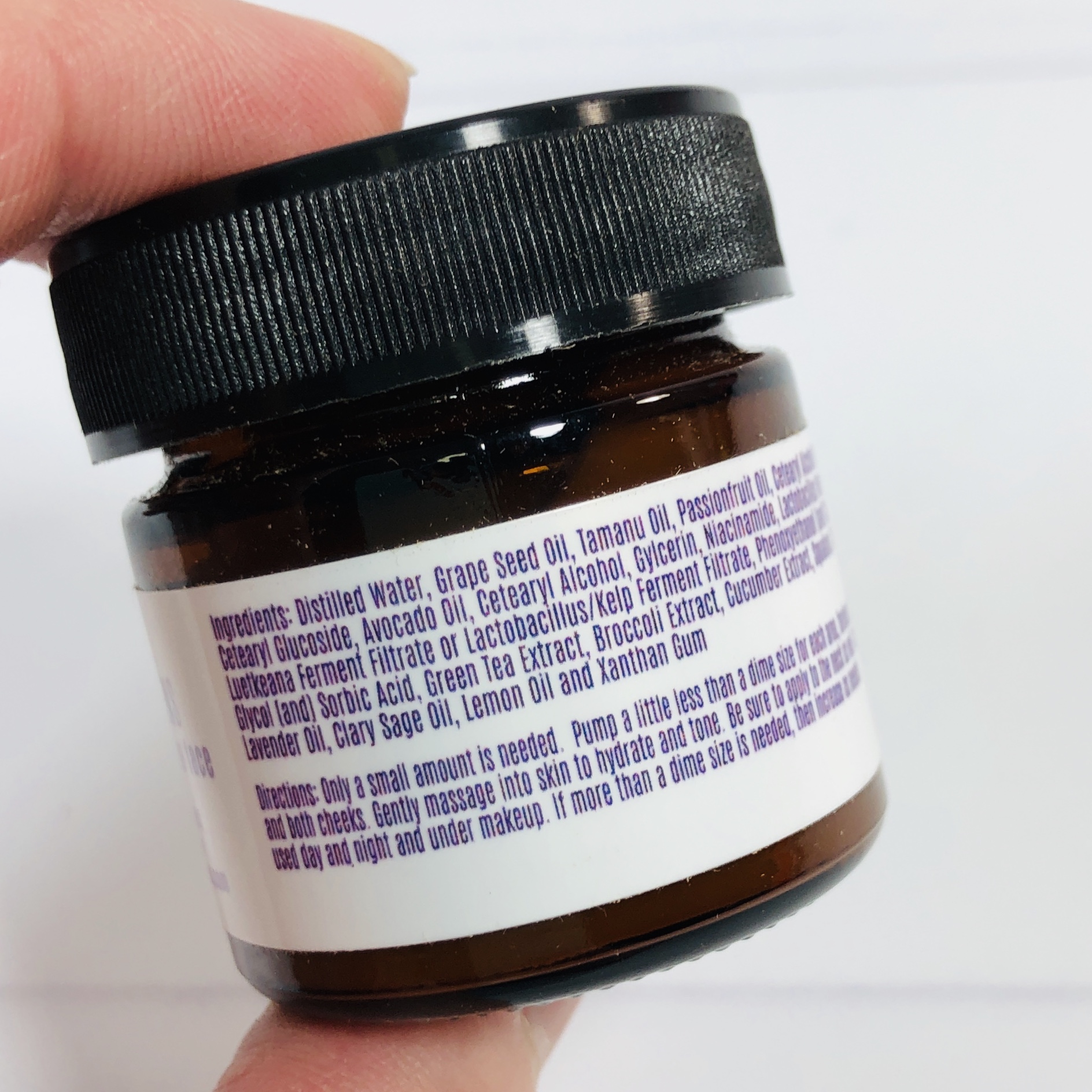 Grapeseed and tamanu oils are near the top of the list but there is also avocado oil and green tea extract. Carrot, lavender, clary sage, and lemon essential oils give it a beautiful, natural scent.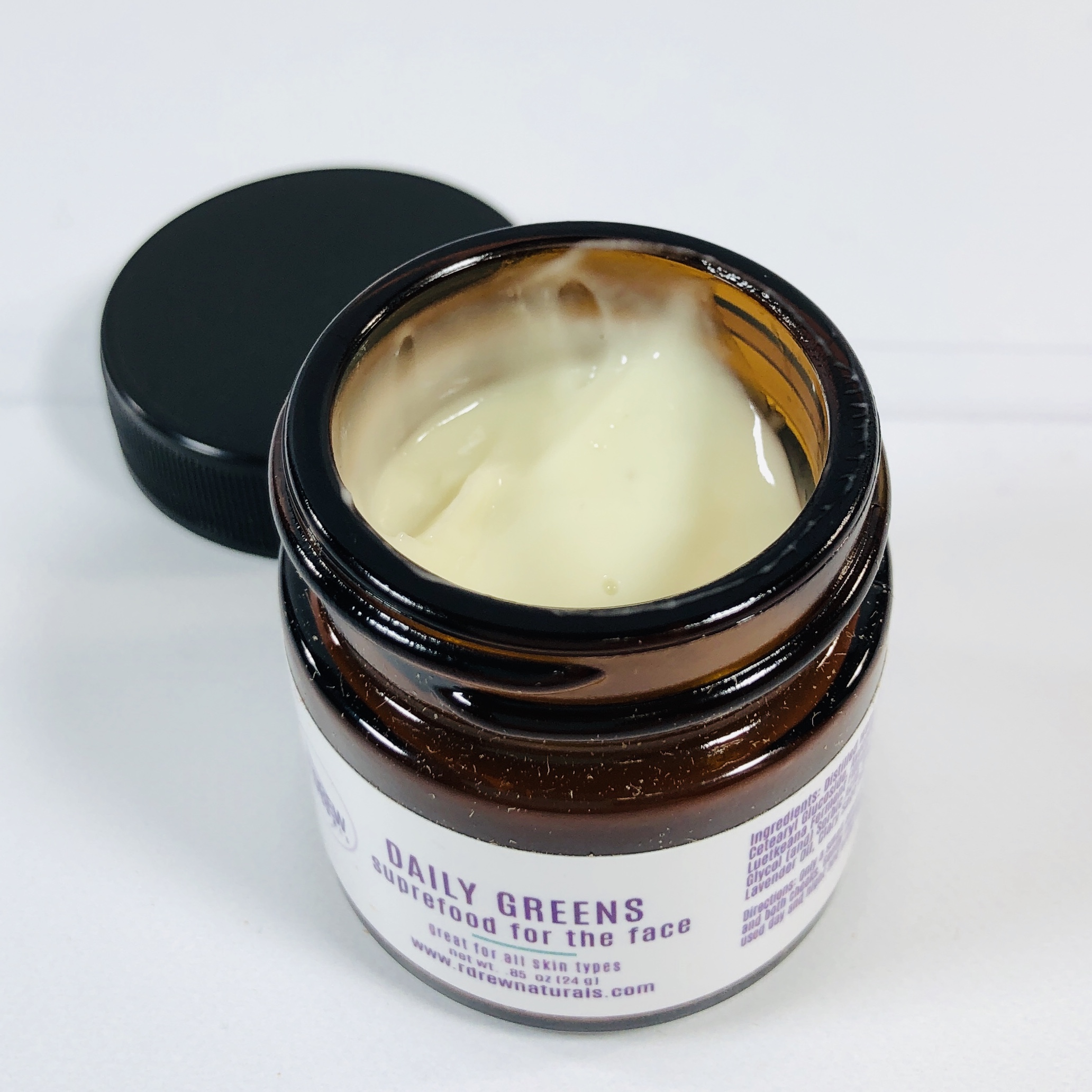 It felt pleasant on my skin, and left my skin soft with a light coating of the moisturizing oils. This also has niacinamide to help fight inflammation.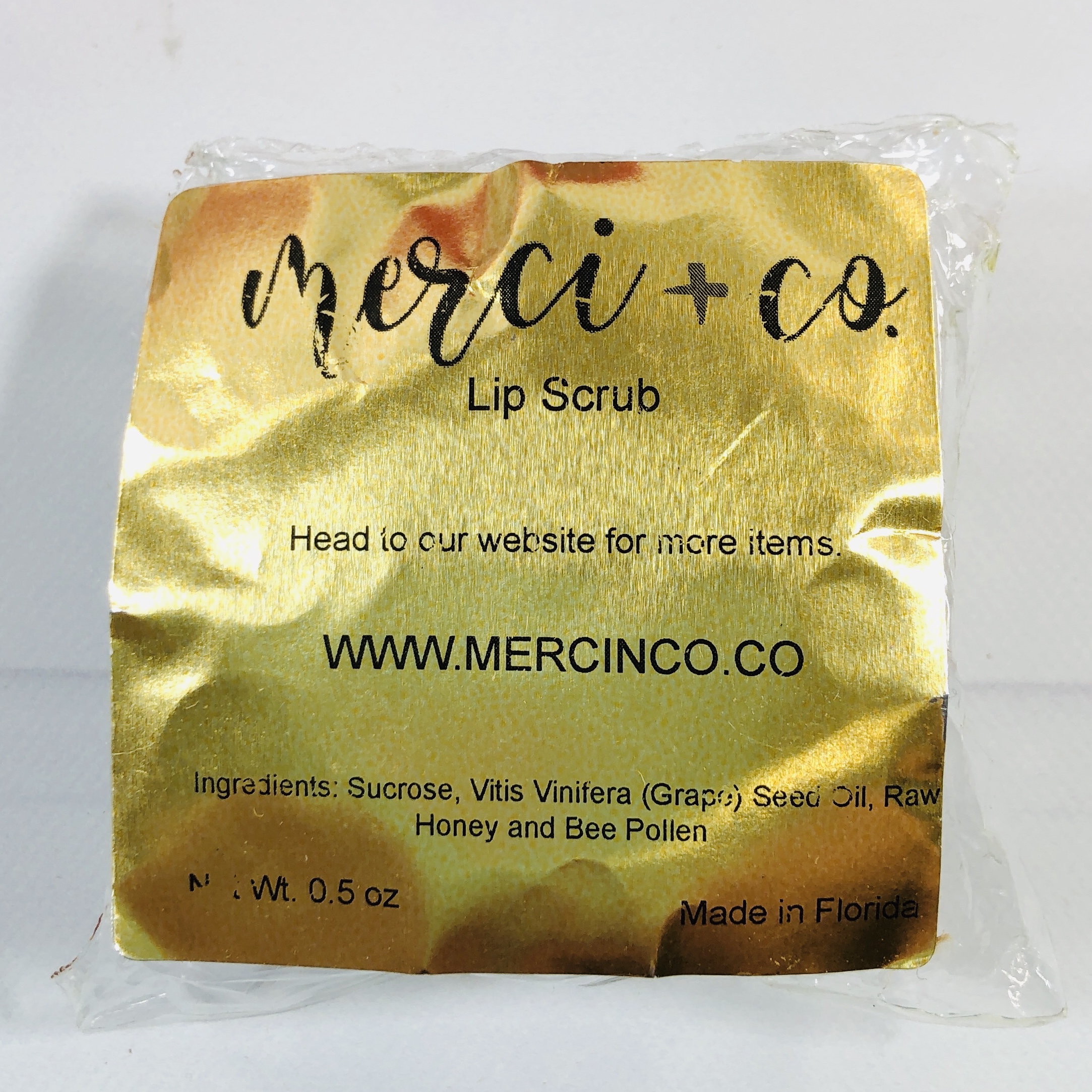 Merci + Co. Lip Scrub came in a bag so it wouldn't leak and it also listed the ingredients.
I didn't see this product on the vendor's website but they do have body scrubs, body butters, and soaps.
Instructions were on the bottom of the container.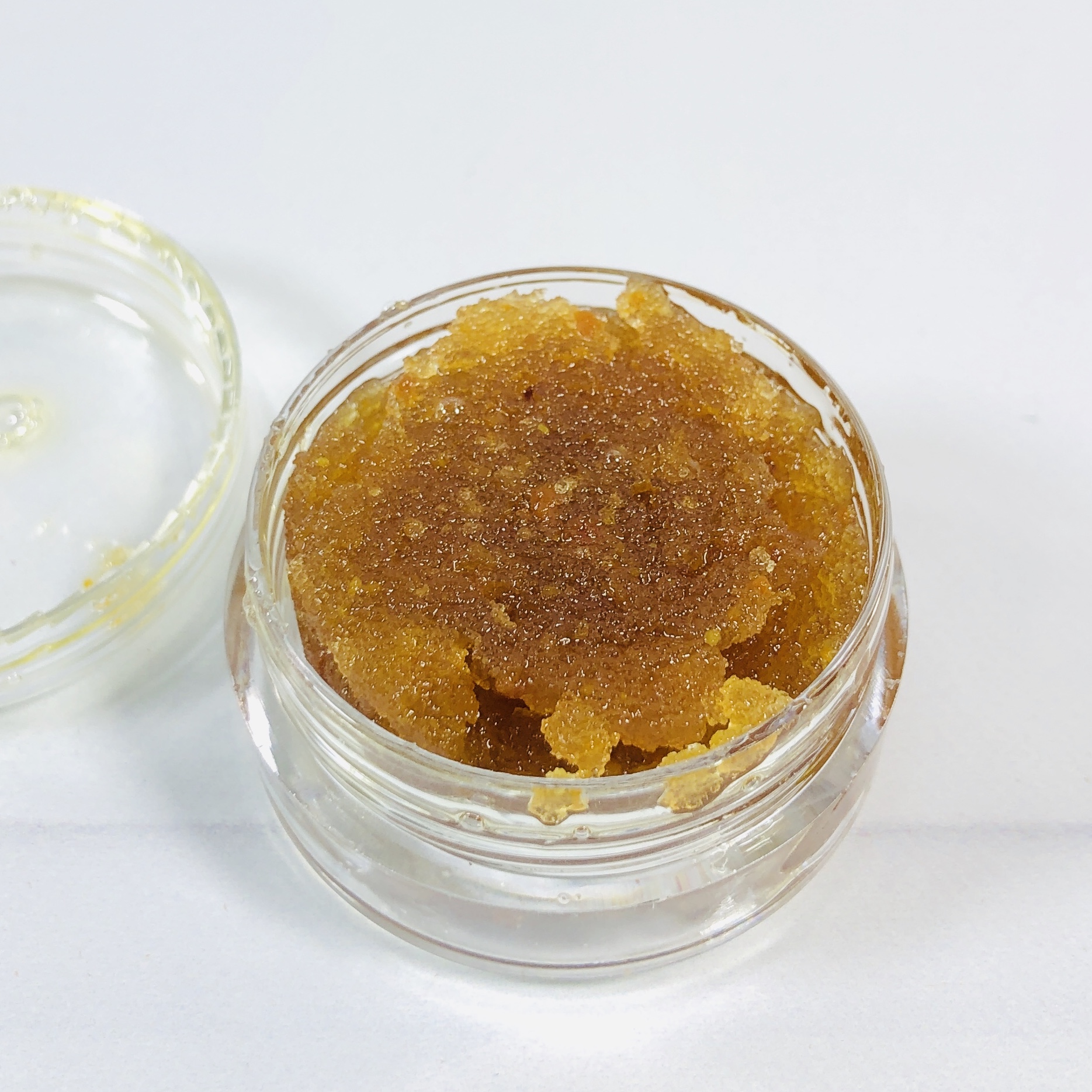 Packed to the top! I scooped a bit out and rubbed it all over my lips. The sugar gently exfoliated while the oil left my lips soft. I tissued off the rest and then used a warm, damp washcloth to make sure it was all gone. There isn't much flavor but then again there is no need for it on this delicate area.
LippyClip in Coral Gold Quatrefoil ($9.99) Your design may vary for this item. It's a holder for your lip balm!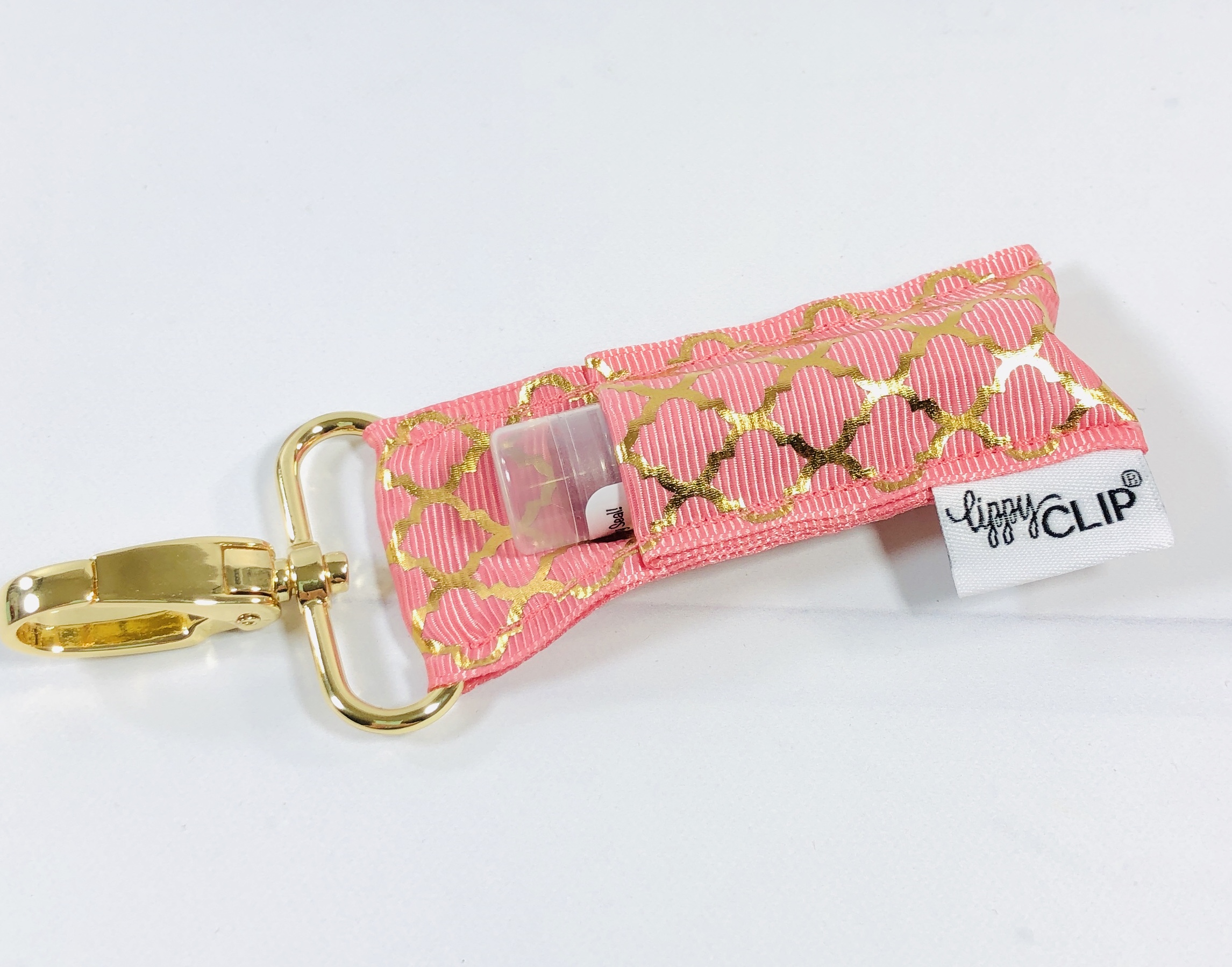 Mine was a coral pink tone with a metallic gold pattern.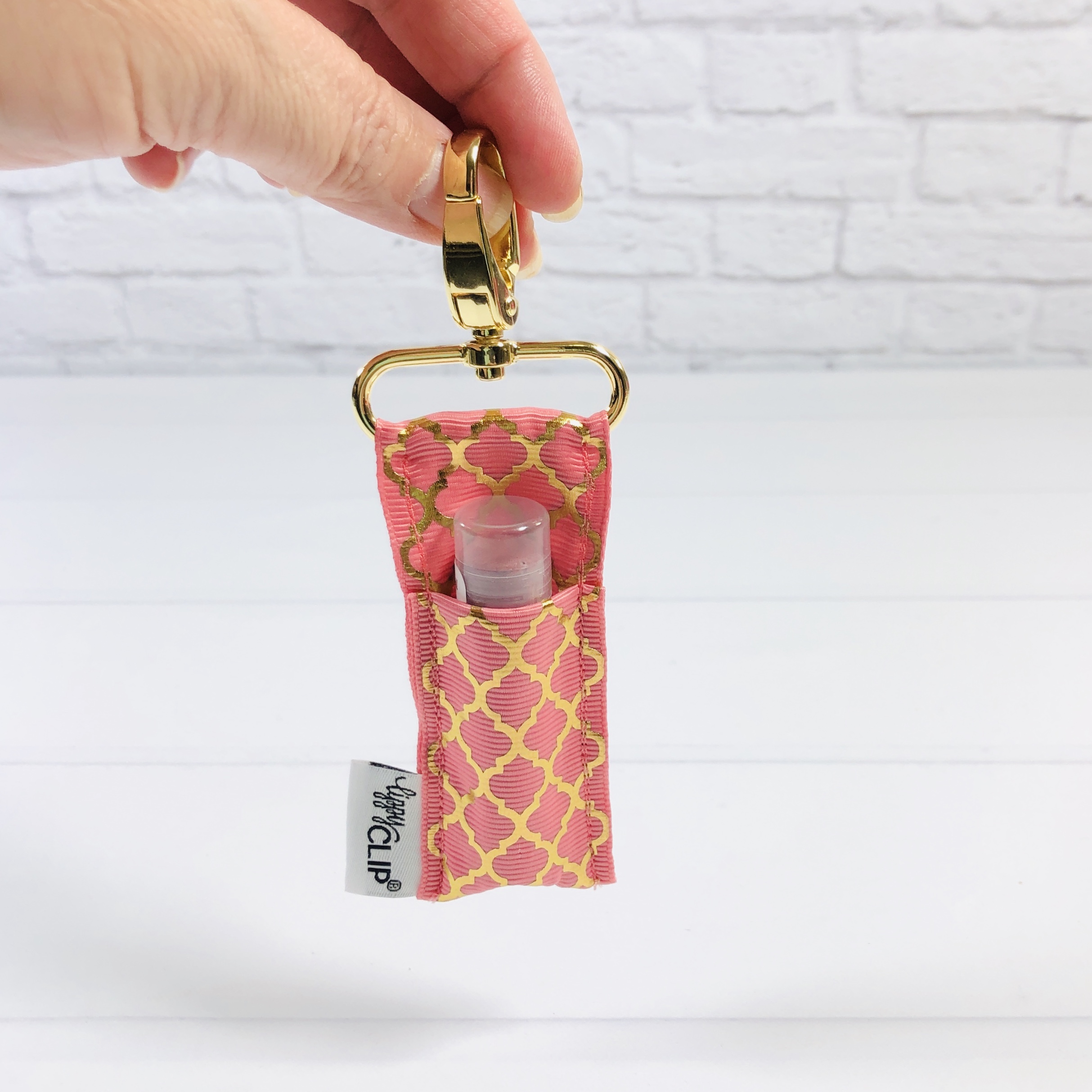 The material for mine feels sturdy, like polyester ribbon, and there is a gold-tone clip attached. Just slip your lip balm inside and attach it where you like. We even received a lip balm to go with it, read about it below!
Laughing Tree Organic Pink Champagne Tinted Lip Balm ($4) What a refreshing minty lip balm this is! I love peppermint, and it leaves my lips with a light tingling sensation.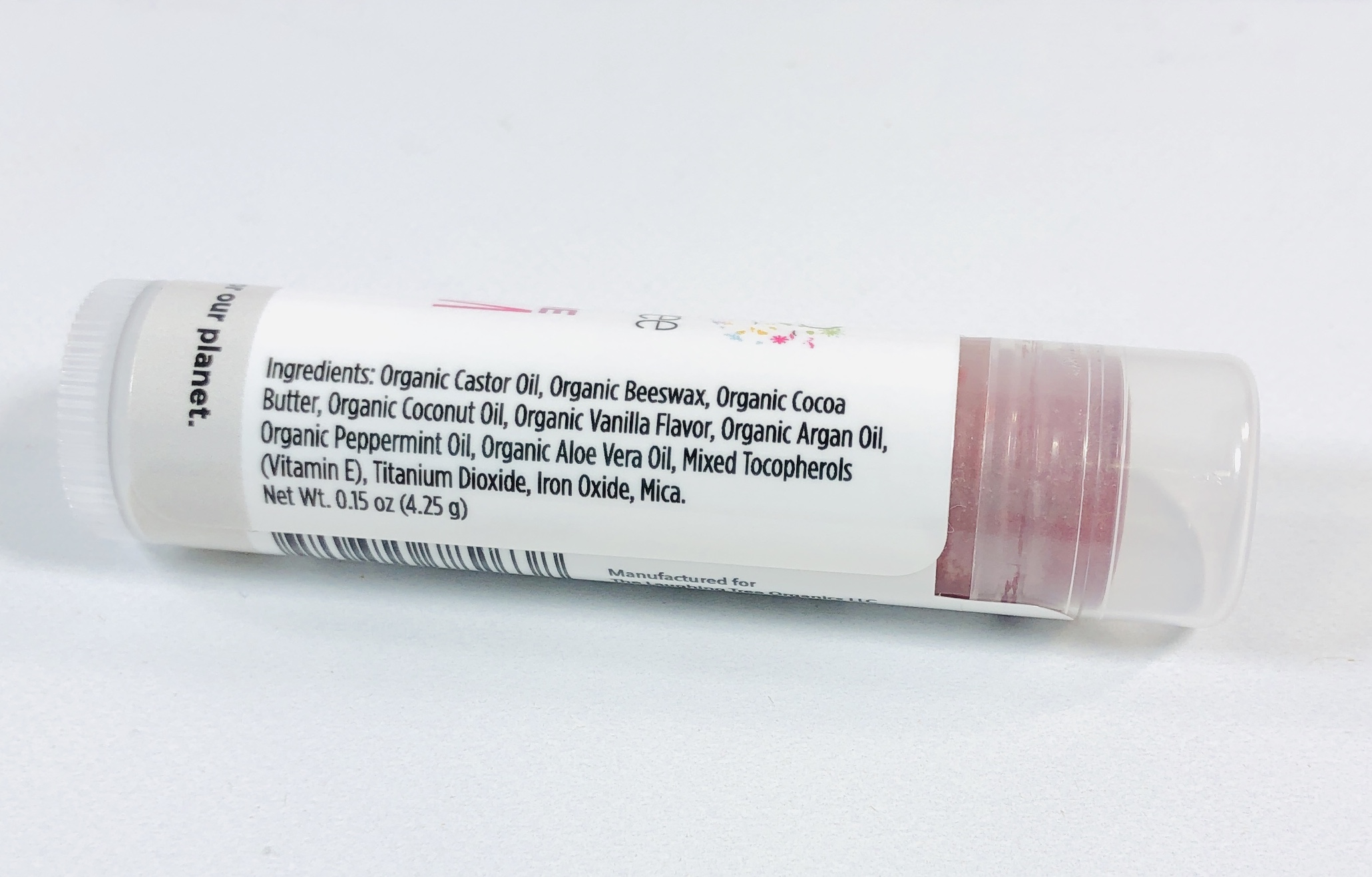 Some of the other ingredients include castor oil, beeswax, and cocoa butter.
I tried swatching this but there isn't much to see. It leaves my lips with a subtle sheen that doesn't really change the shade at all. Very nice!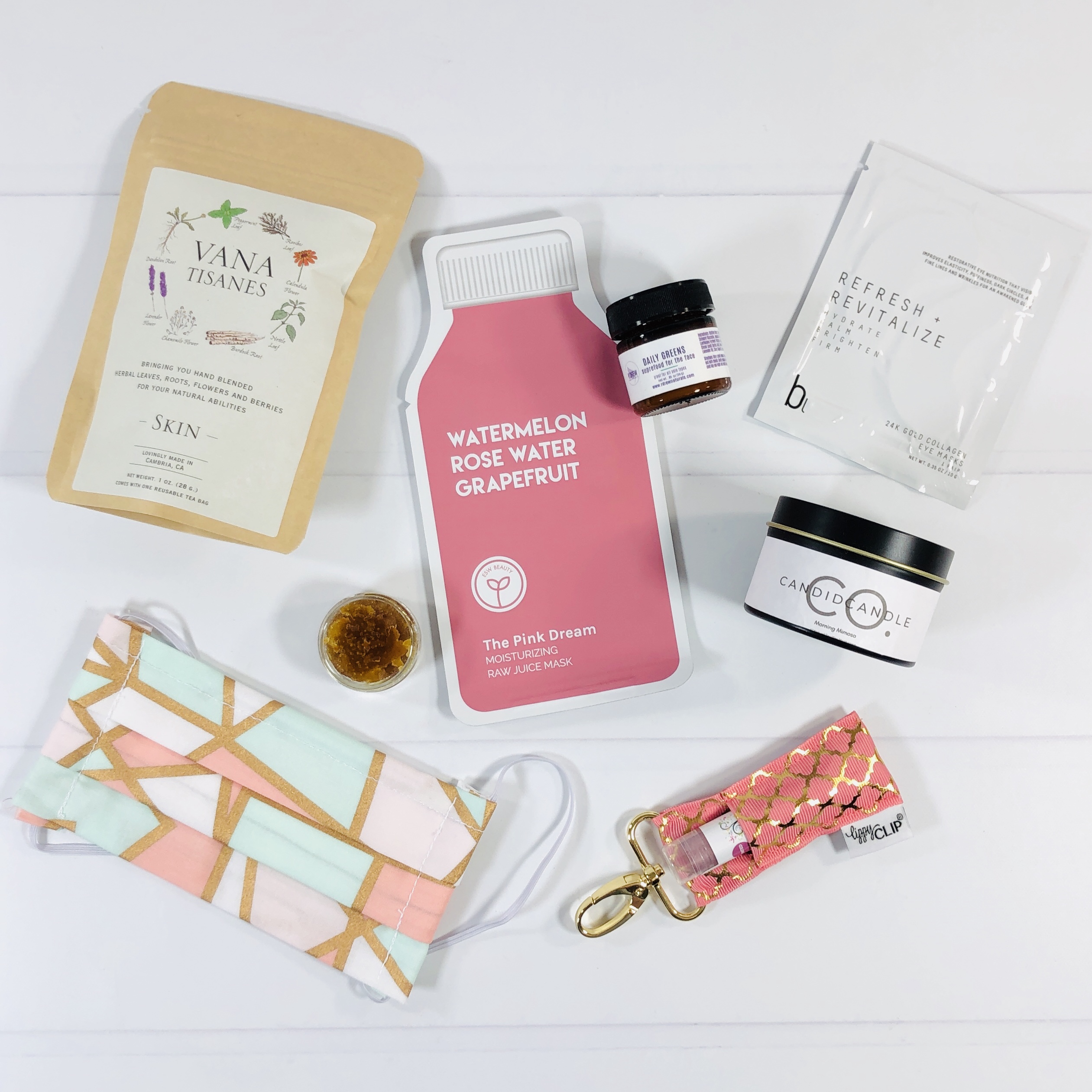 The August box from HER-MINE was amazing, they sent a wonderful assortment of relaxing products along with some reusable items such as a mask and lip balm holder. The tea was tasty and the self-care items worked well and smelled great, plus, they were all pleasing to the eye. I was excited to learn about these woman-owned businesses that I might not have known about otherwise!
What do you think of this box?