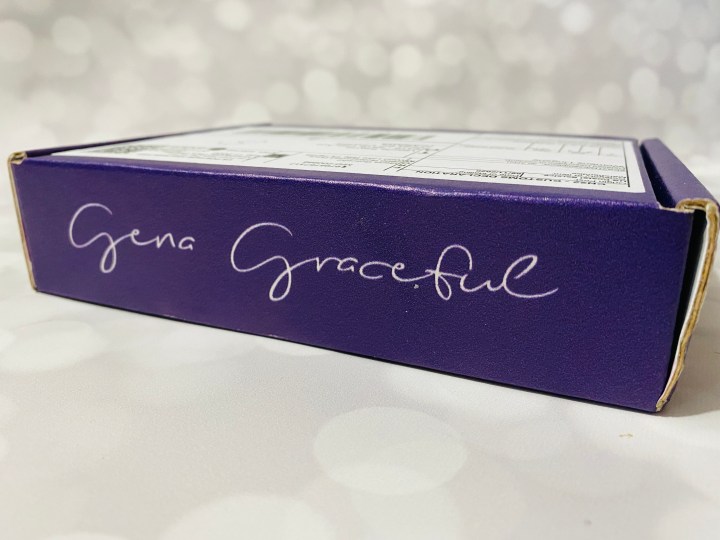 Gena Graceful is a monthly or quarterly subscription that pairs cute and comfy undies with uplifting and inspiring short stories to help you choose your attitude just as carefully as you choose your underwear! Choose two pairs monthly for $15.99 or three pairs every quarter for $19.99. They're working on international shipping right now, too, and I was really grateful that they sent me a box to review! They partner regularly with women's shelters to donate panties, which is absolutely wonderful to hear.
DEAL: Get 25% off your first month or quarterly subscription! Use coupon code HELLO.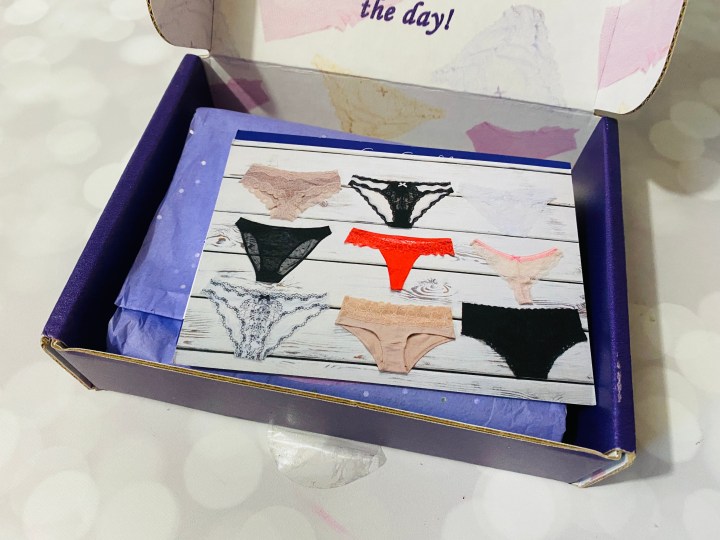 First look!
There's quite a bit to read in the box, including a personalized welcome to the box that outlines the aim behind it. They give you ideas on which panties to wear for which sort of mood you're in, but encourage you not to let that limit you and pick what you feel like wearing on any day. There are 8 different traits in total, from humour to sassy, beauty, and strong.
Some quotes to go along with the panties that have been selected for you.
"You are remarkable!"
When you subscribe you can choose between thongs, panties, or a mix of both. I did a mix!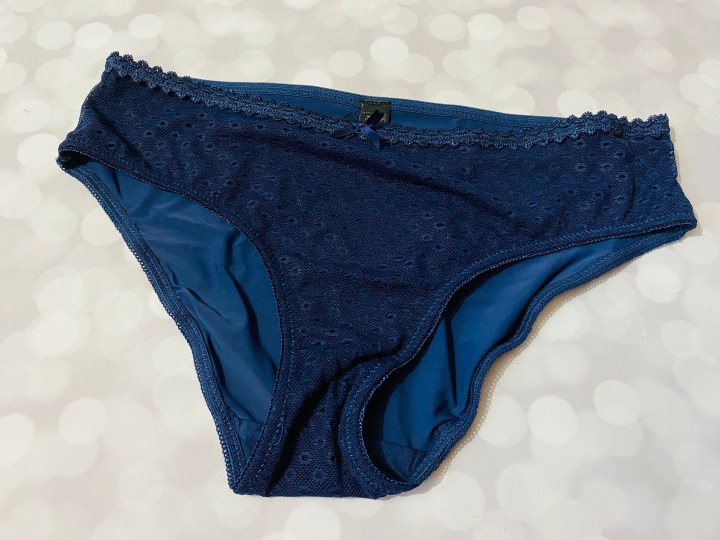 The first set is an adorable blue "Smart" pair. They are 90% nylon and 10% spandex for some stretch. The front has a lace pattern overlay and the back is a smooth fabric.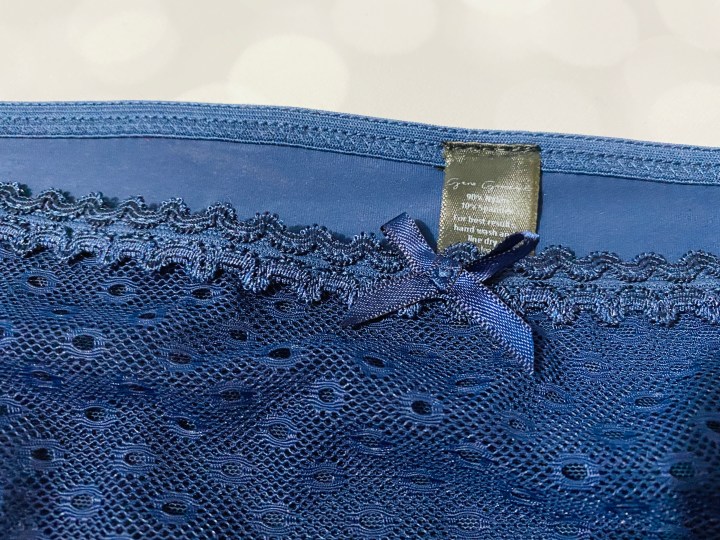 The little bow adds a sweet accent. The tag is branded Gena Graceful, proof that this is an exclusive design. The tag recommends washing them by handle and hanging to dry on a line to keep them looking perfect.
The back has medium coverage and is super soft and silky.
I was sent both undies in a size S and they asked me for feedback on the fit especially — the spandex means these are pretty accommodating but it's been a year and a half since my first review and I've definitely put on some weight! They do fit but they cut into my hips (not uncomfortably so though!) so I would probably size up to an M for that perfect second skin fit.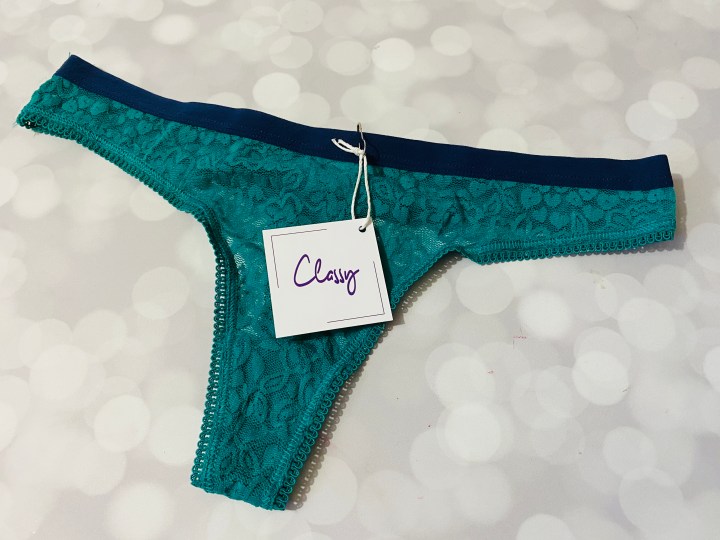 To mix things up they also sent a thong. I wish my camera could accurately show the true colour of these undies — they are the most gorgeous emerald green colour. The colour correction on my iPhone makes them look more blue than they really are. I am obsessed! There is a coordinating navy elastic waist and I really love the contrast between the navy and the green.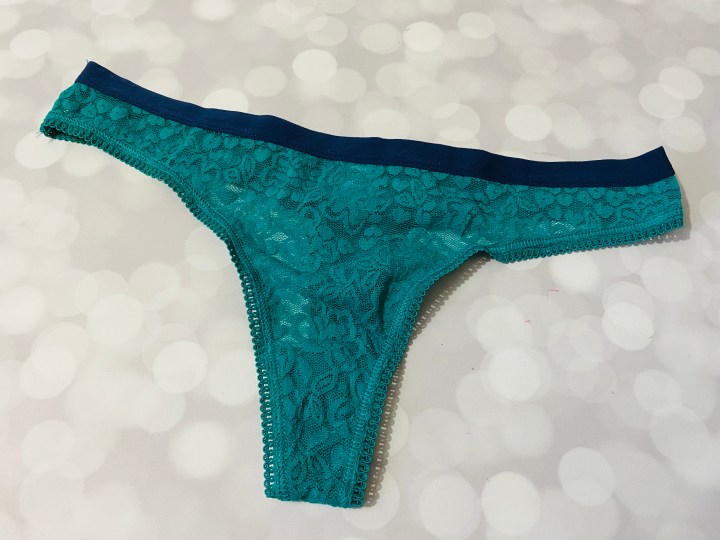 Like the first pair, these are a size S and I probably would feel my most comfortable sizing up to an M. Thongs are definitely a bit more forgiving since there's less fabric, but even with the stretchy waistband they sit lower than I'd ideally like. I appreciate their consistency with the sizing — the four pairs I've received (two in this box and two in the previous back in 2018) fit true to size and felt like they all fit the same. The challenge with sourcing from multiple designers and brands is the sizing is often not the same (one brand may fit smaller for their S, one might be more forgiving, etc) so by going with their own designs and patterns they have a lot more control over the cut and size to keep things easy and painless.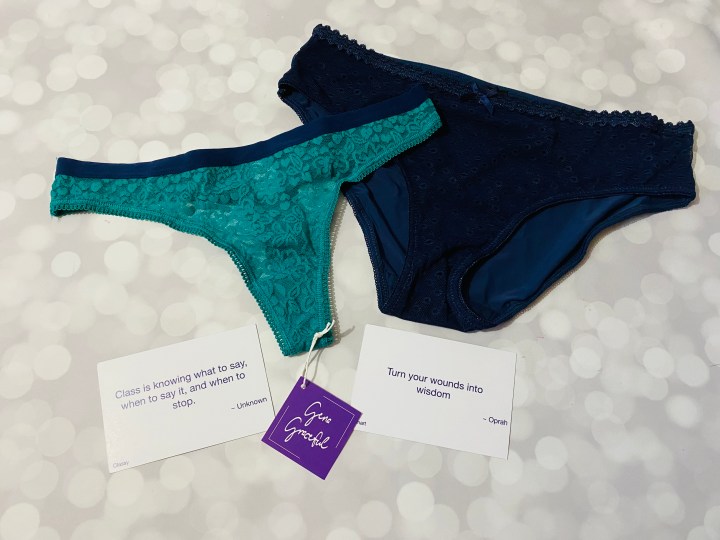 Gena Graceful is such a fun way to try out some new undies and refresh your underwear drawer. The punch of positivity is appreciated and doesn't come off as false — something as simple as a cute pair of panties really can help you feel that extra bit pampered and special. Right now with the situation the world is in together I'm taking more time for self-care and seeing this little purple box again in my mail definitely made me smile.
What do you think of this underwear subscription?