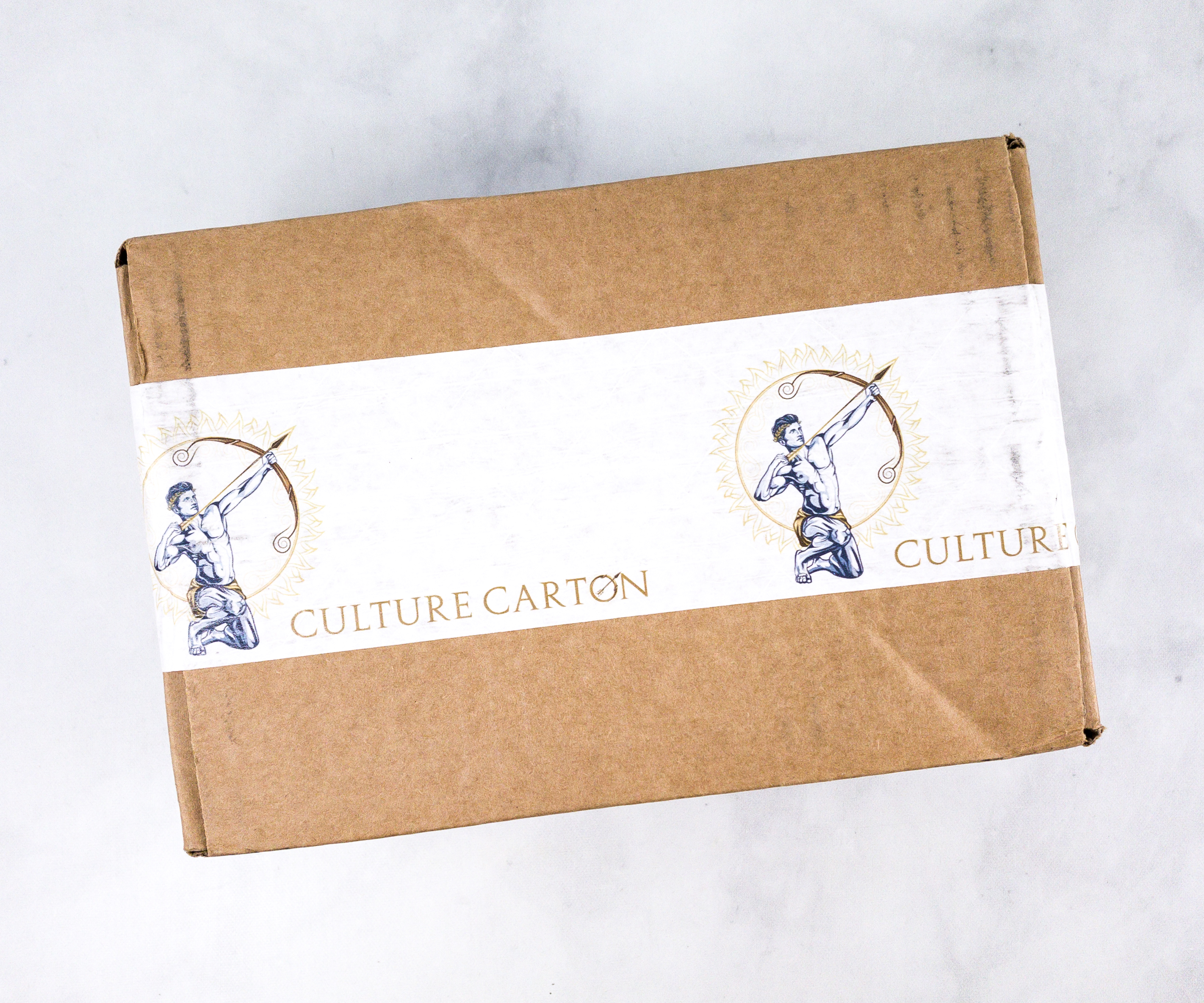 Culture Carton is the subscription box for men that embraces themes relating to self-improvement. Whether it be improving one's mind, health, style, or career, this box is for the man who wants to go above and beyond, not being content to be just ANY man. It is for him who wishes to strive toward a more cultured and sophisticated self. Among the items in the box is a book that a cultured man would want in his growing library, along with select accessories curated around a monthly theme related to improving some aspect of one's self.
There are 3 box options: Culture Carton Standard (men's lifestyle items + book, $45 per month), Culture Carton Essential (lifestyle items only, $35 per month), and Book Club (book only, $16 per month). This is the review of Culture Carton Standard.
DEAL: Get 10% off your first box. Use coupon code HELLOSUB.
Everything was well-packed in a brown box.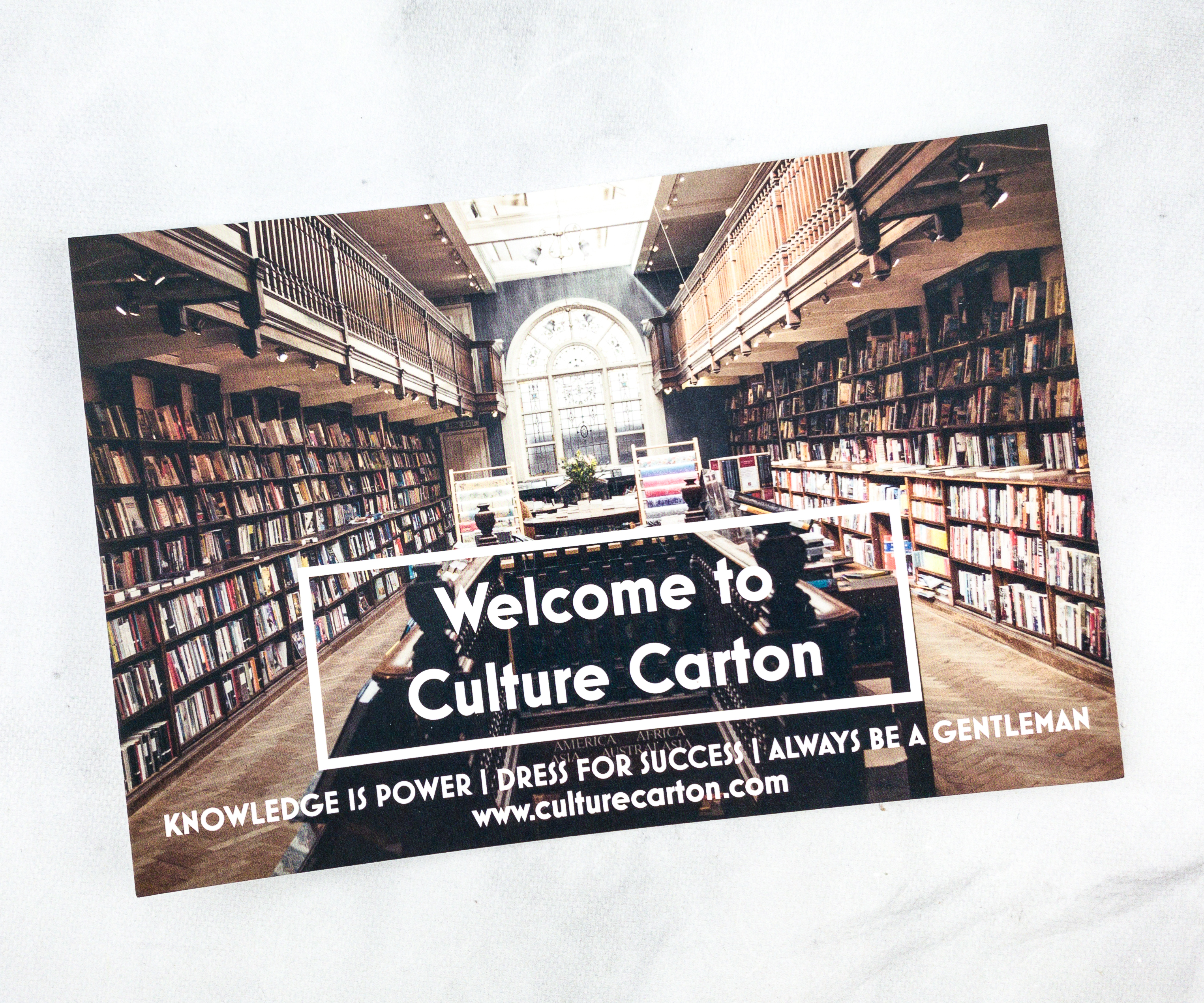 Welcome to Culture Carton!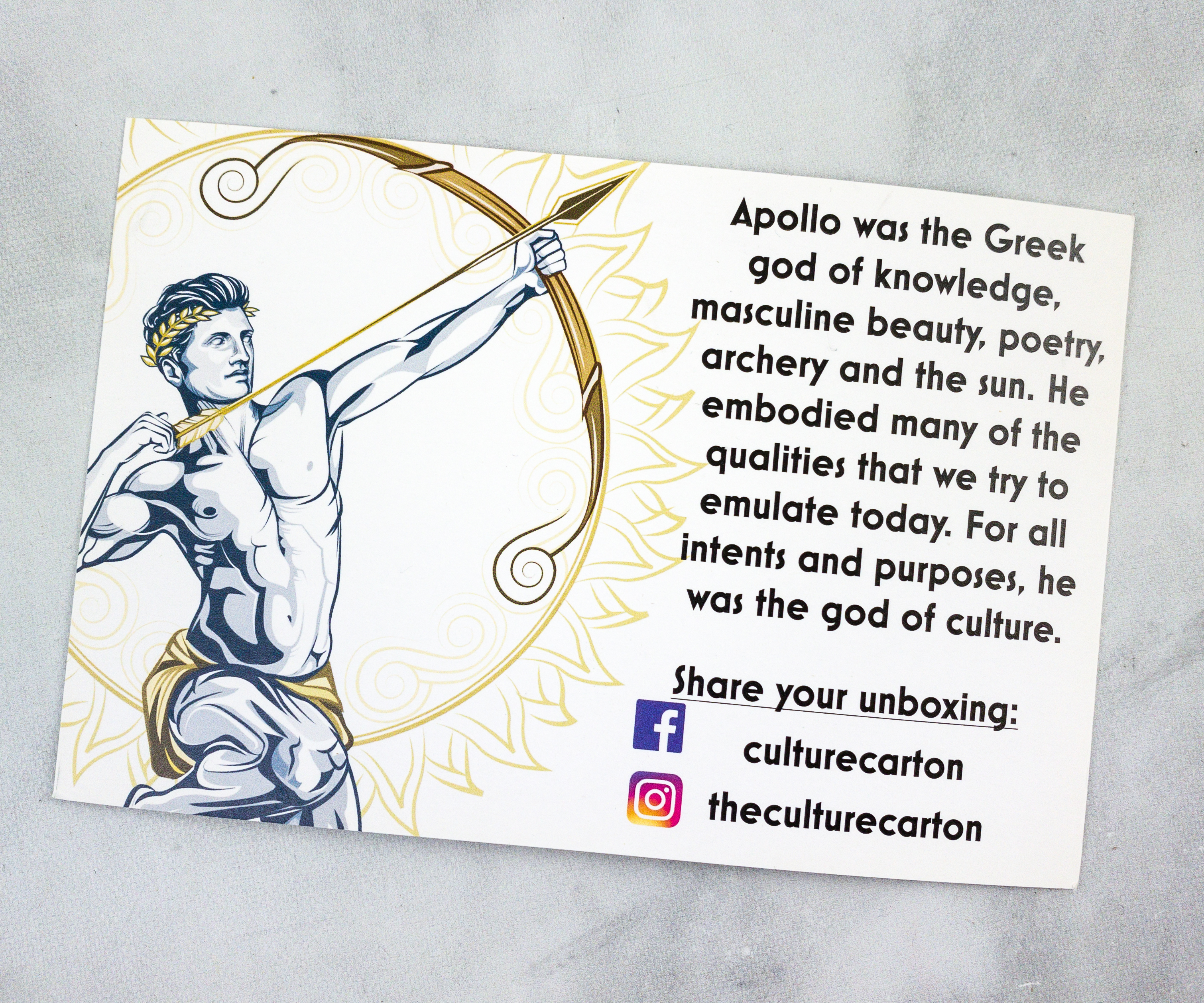 Apollo is the inspiration for the curation of this subscription box.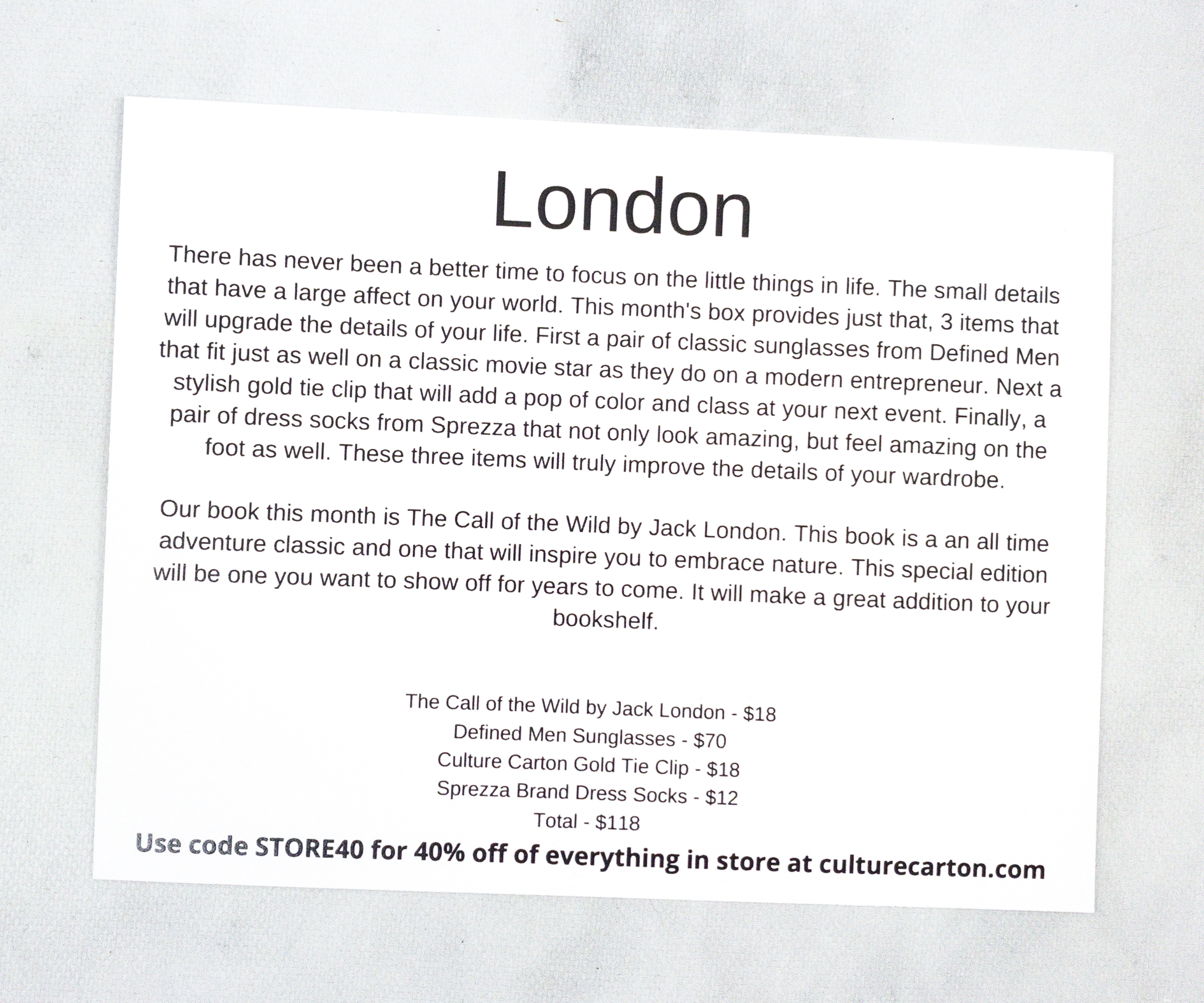 The theme title is a reference to the author of this month's literary selection. The August 2020 theme is London!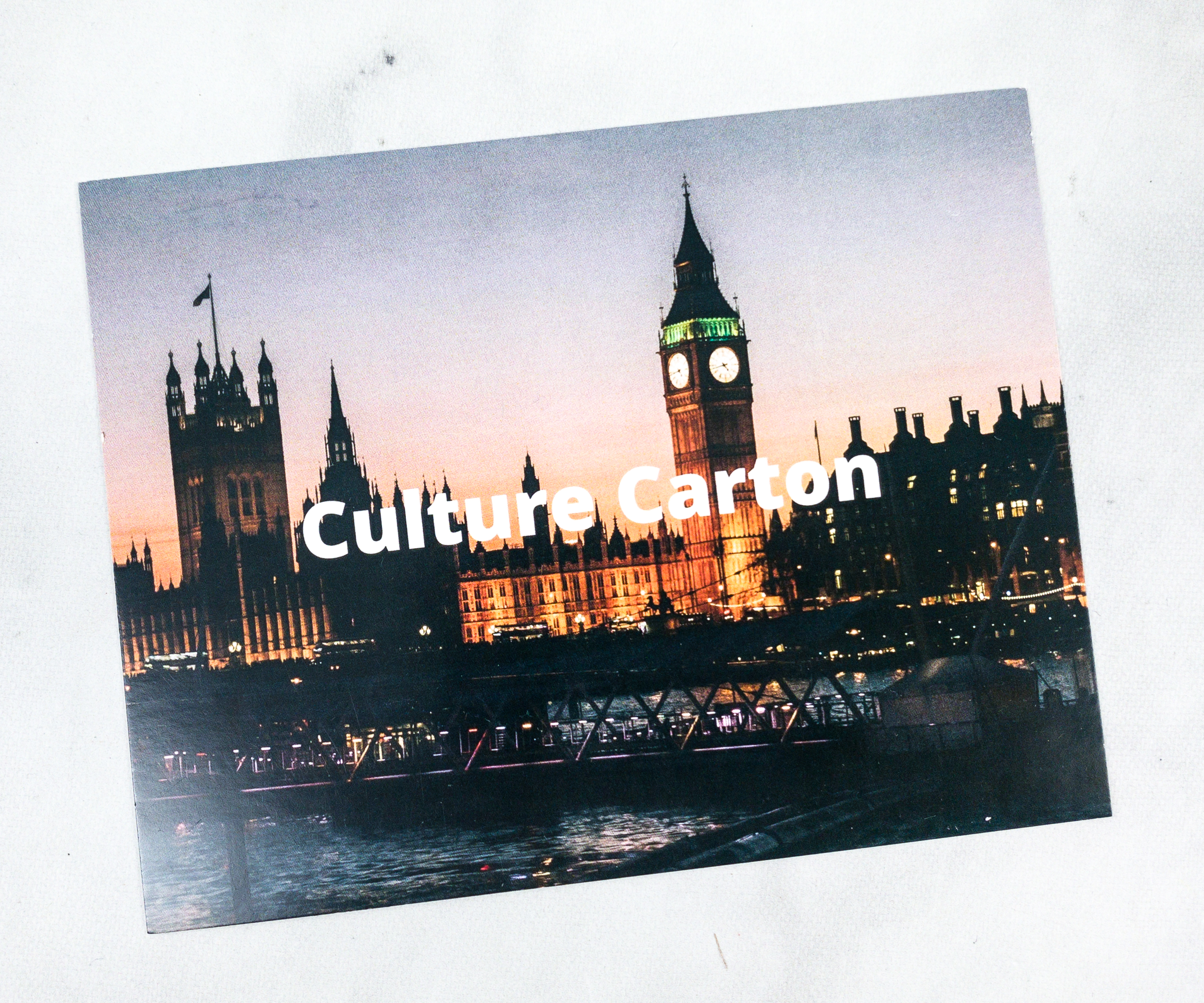 The back of the card features a beautiful scenery!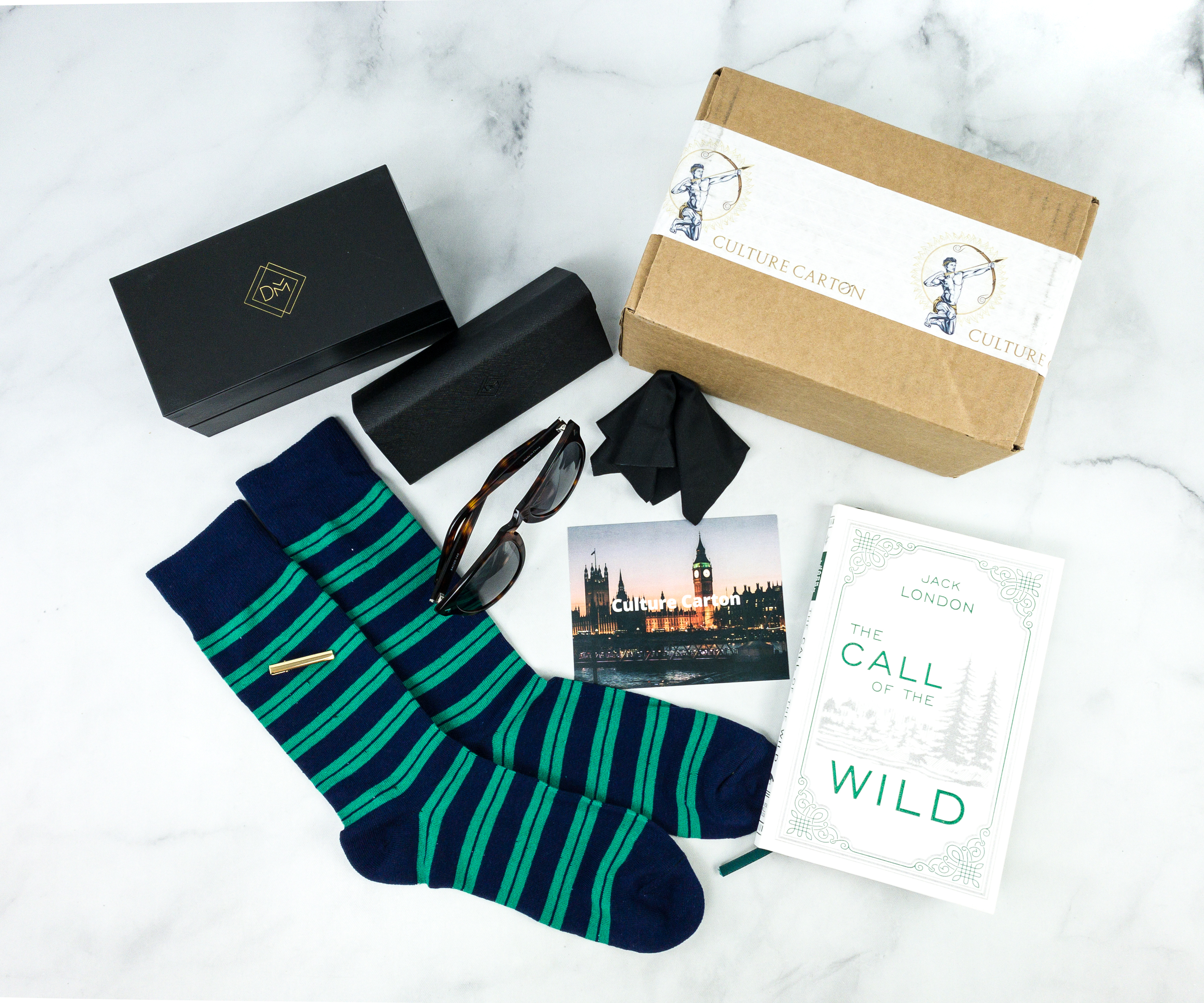 Everything in my August 2020 Culture Carton!
Culture Carton Gold Tie Clip ($18) This gold-colored clip keeps my tie in place and also adds a touch of sophistication to my overall look!
Look at how sleek and shiny it is!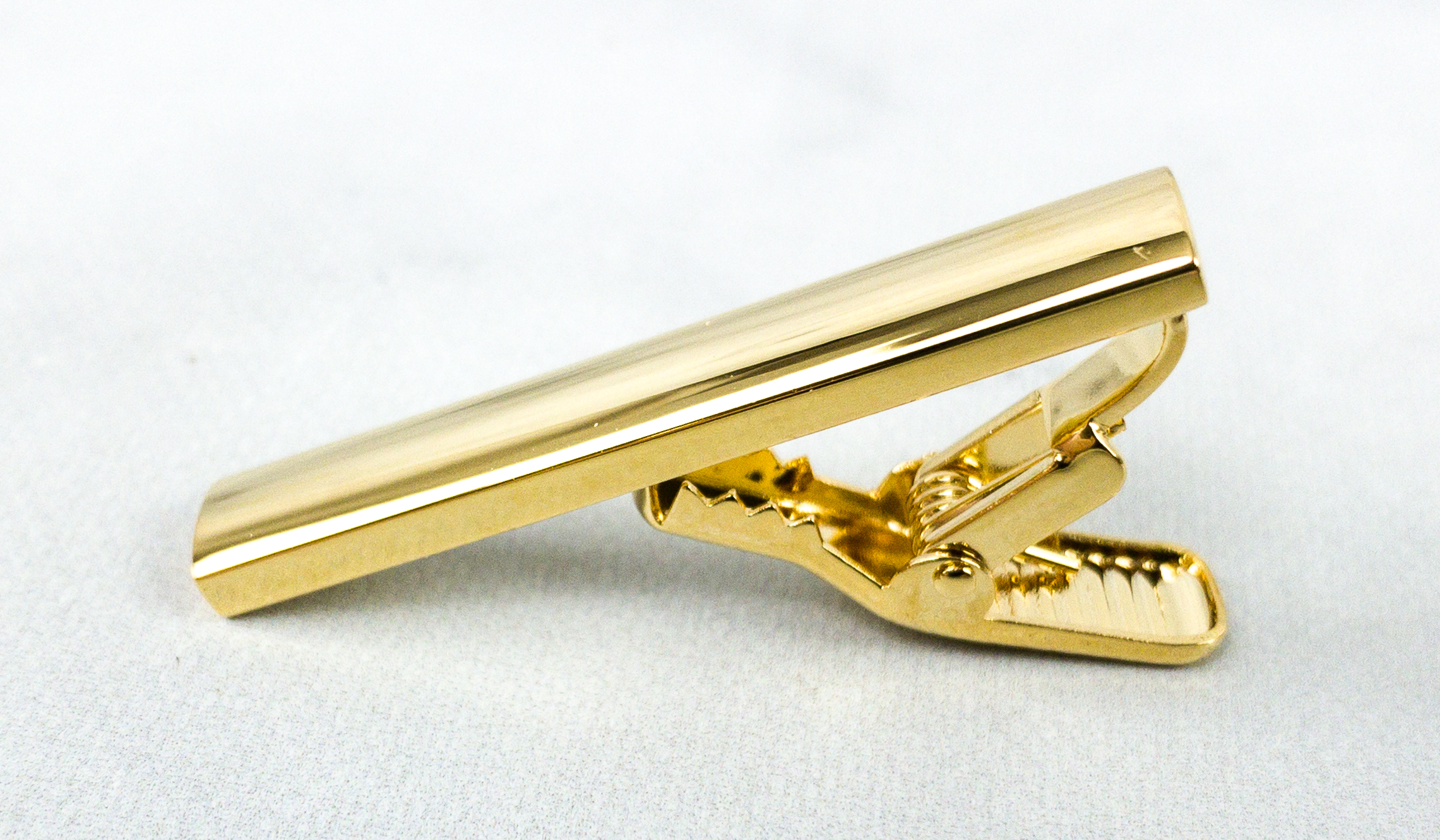 This clip is also lightweight and easy to attach!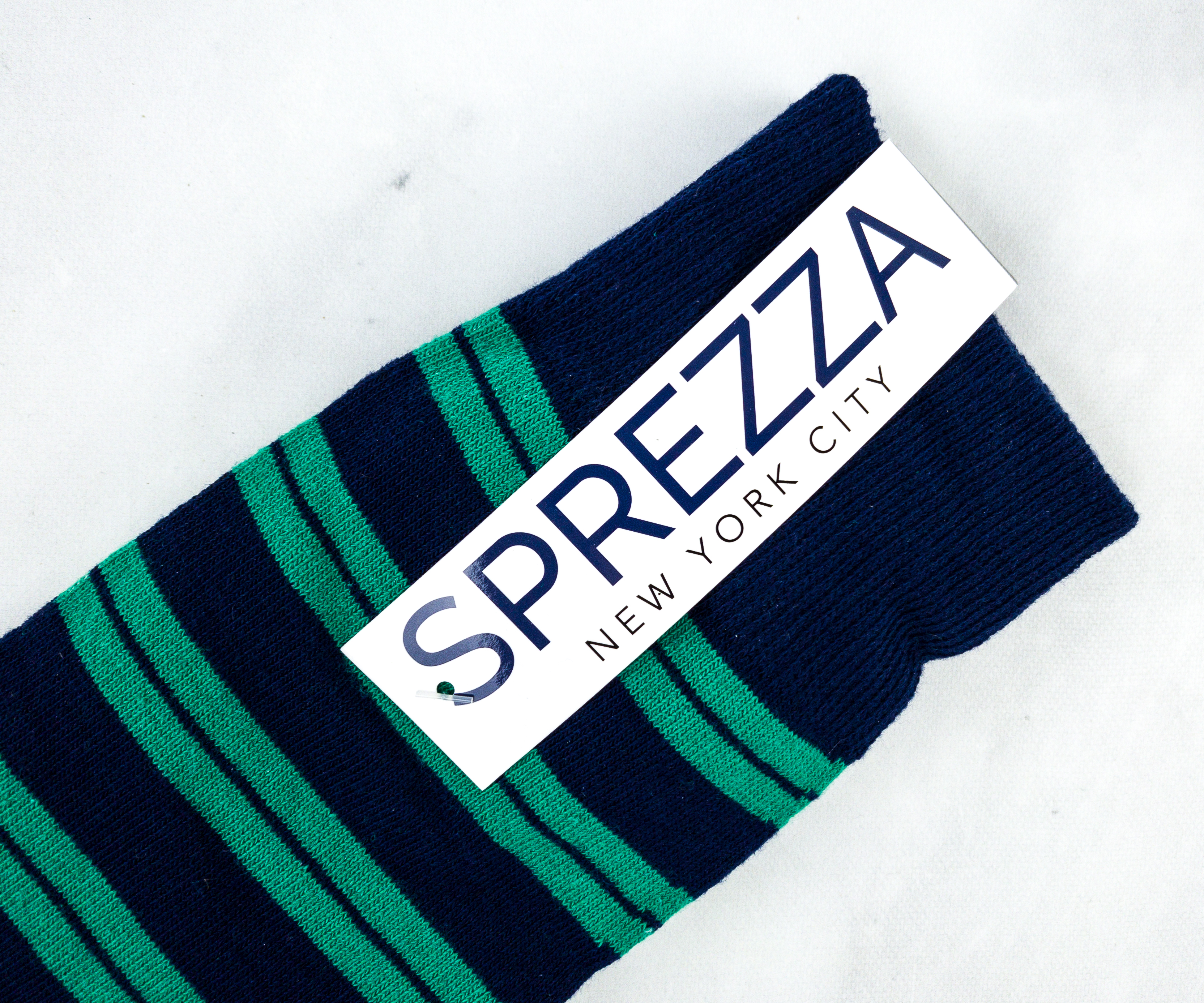 Sprezza Brand Dress Socks ($12) This month's featured socks are from Sprezza and they feature navy blue and green stripes.
These socks are made with 65% combed cotton, 24% polyester, 9% nylon, and 2% spandex. They fit US sizes 8 – 12.
These socks provide nice coverage. They're long enough to keep me warm but short enough to keep me comfortable.
There's slight pilling on the socks, but overall, it's still a good pair.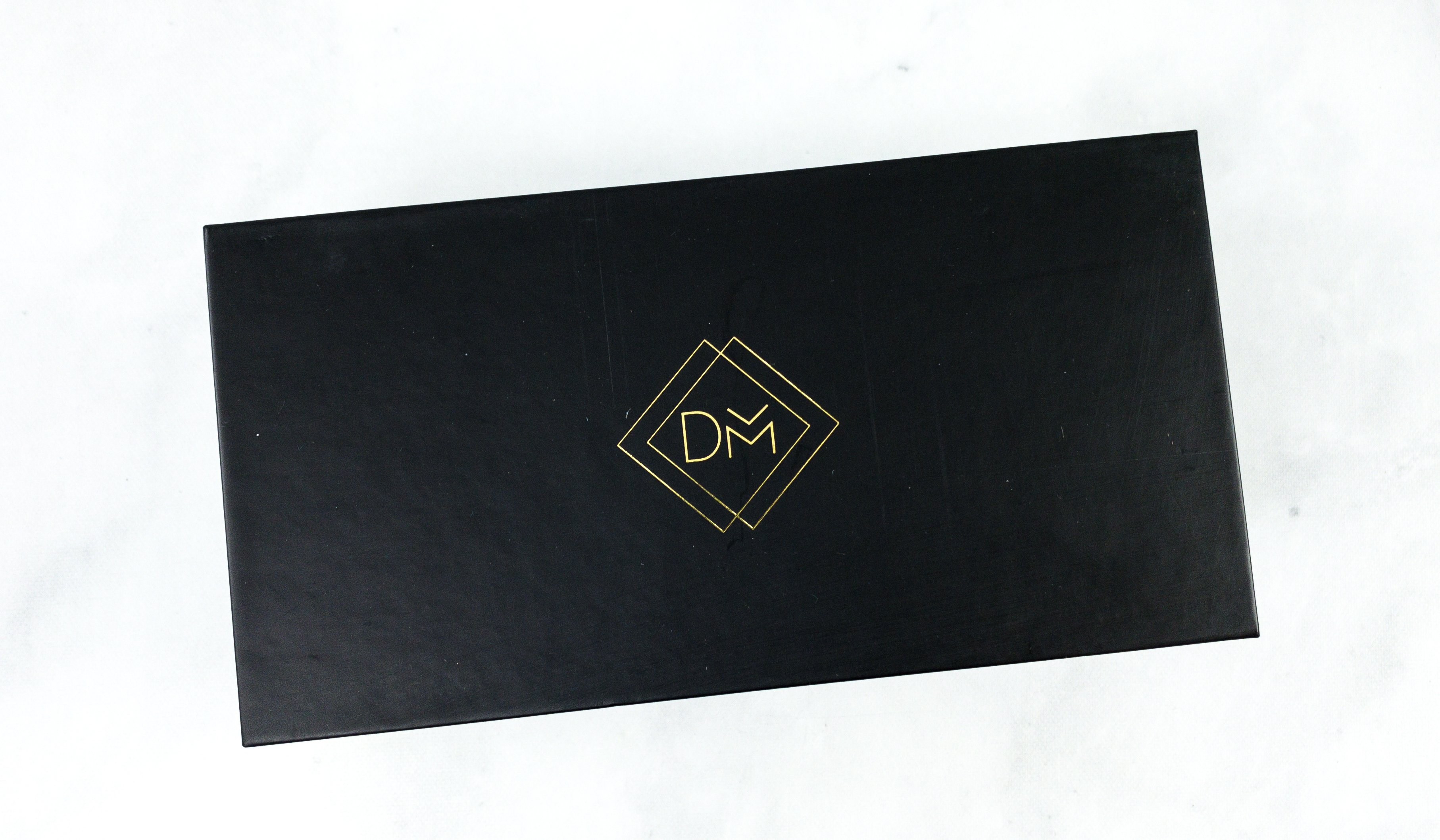 Defined Men Sunglasses ($70) The sunglasses arrived in a classy black box with the brand's gold foiled logo on top.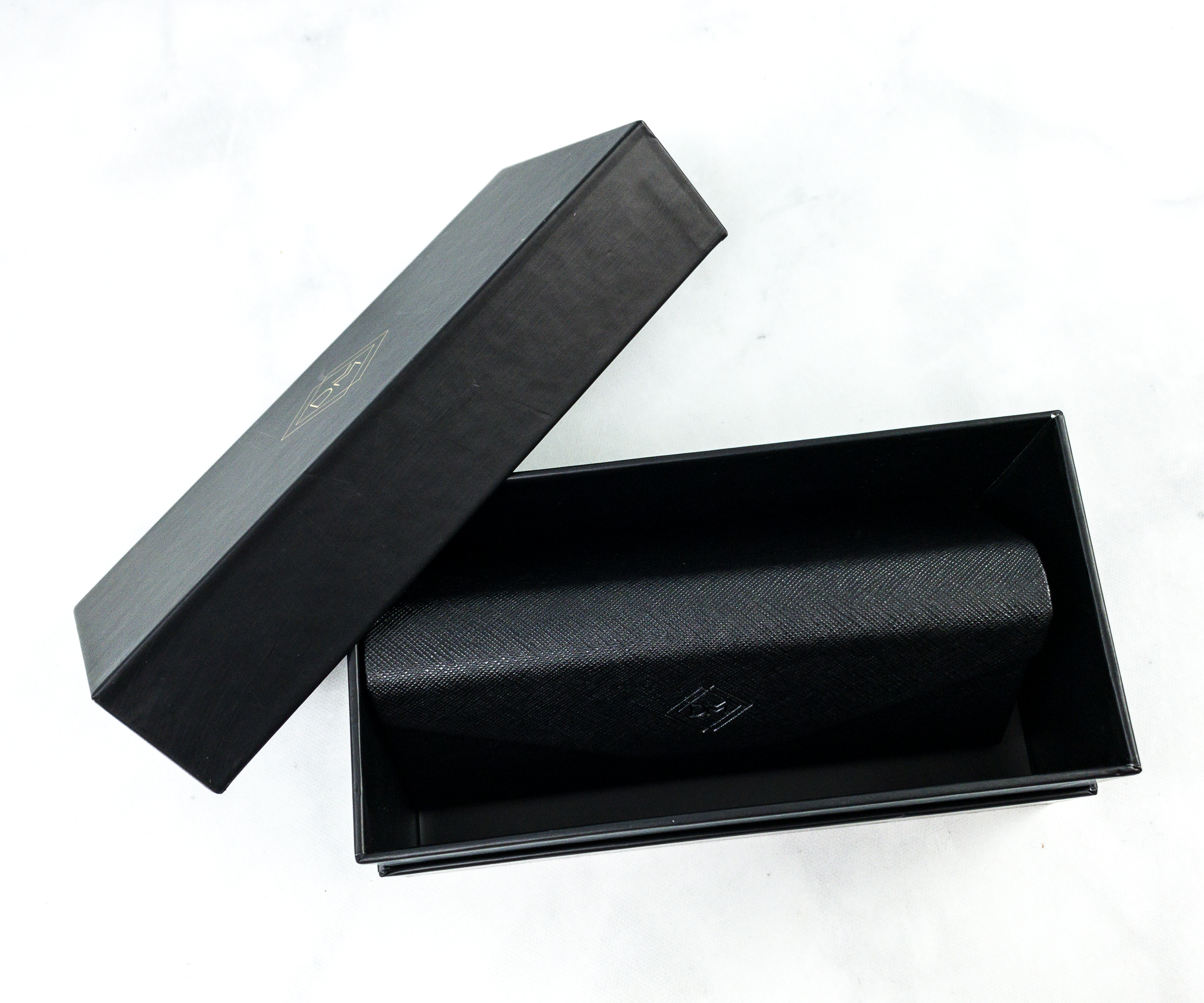 It even comes with its own case!
This case is ideal to bring when traveling, so you can keep your sunglasses protected from scratches and other kinds of damage.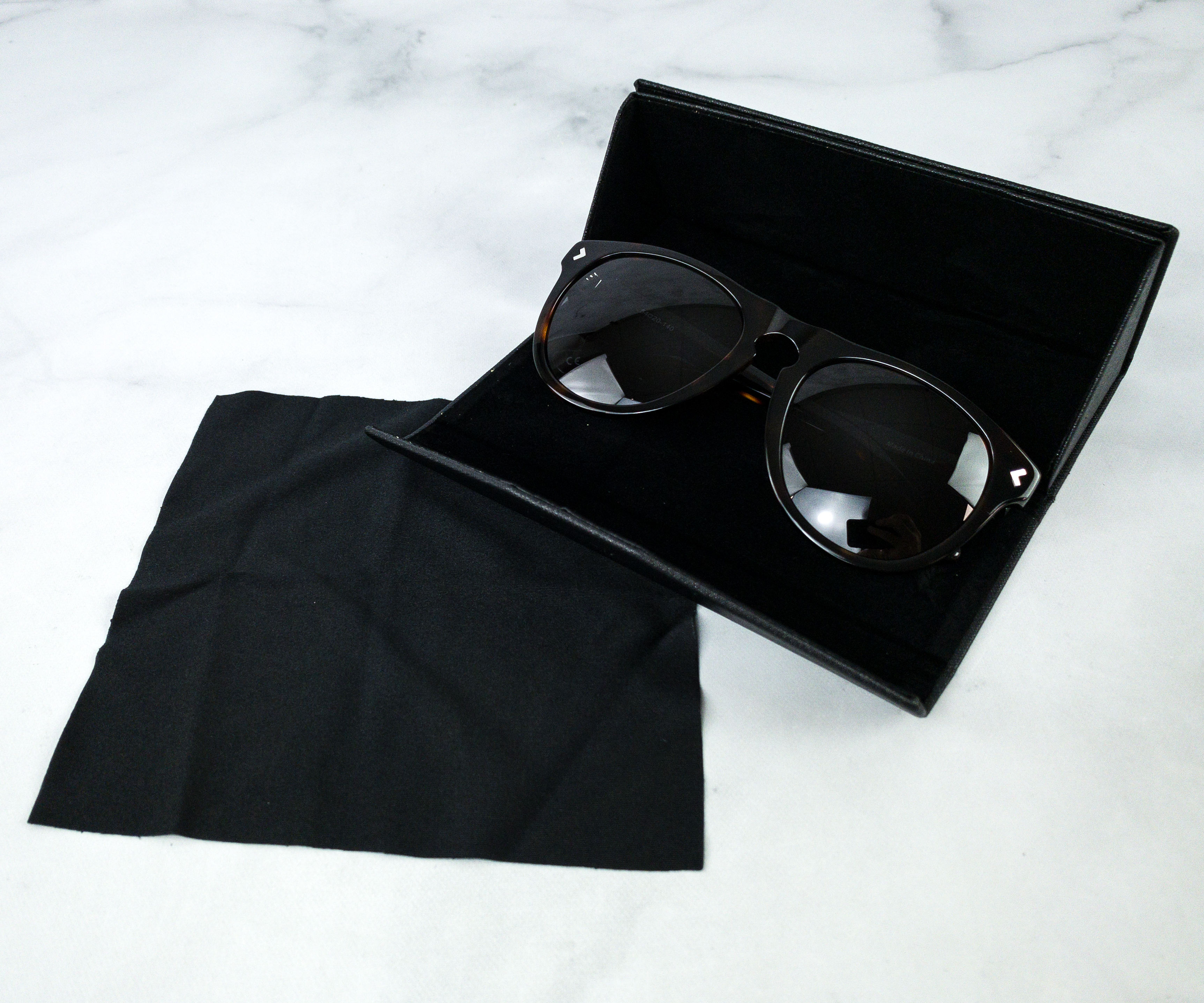 Aside from the case, they also included a cleaning cloth.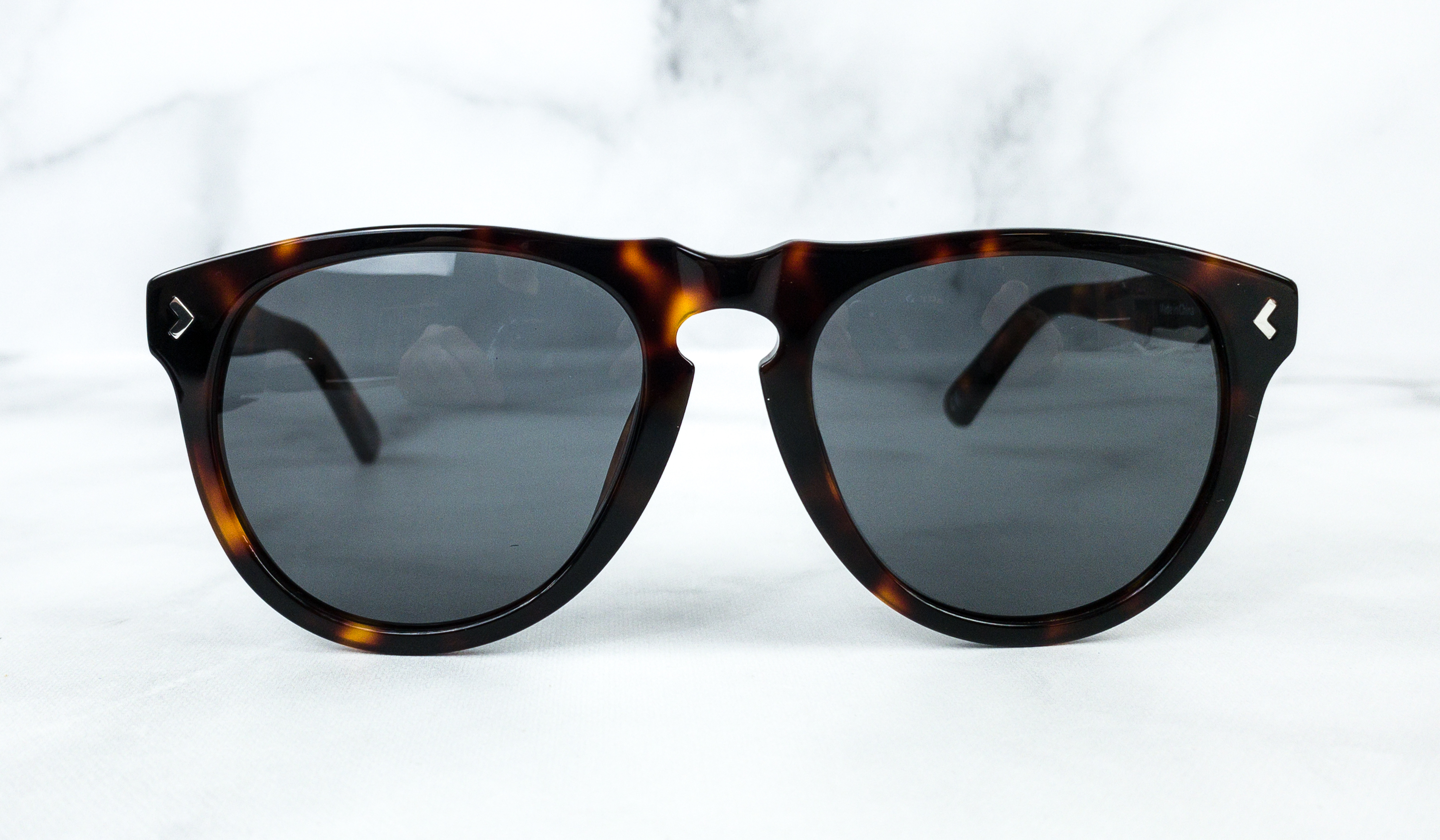 These wayfarers are snazzy! The tortoiseshell-inspired design is a nice alternative to my usual sunglasses with black frames.
The temples look thick but they're lightweight and comfortable to wear.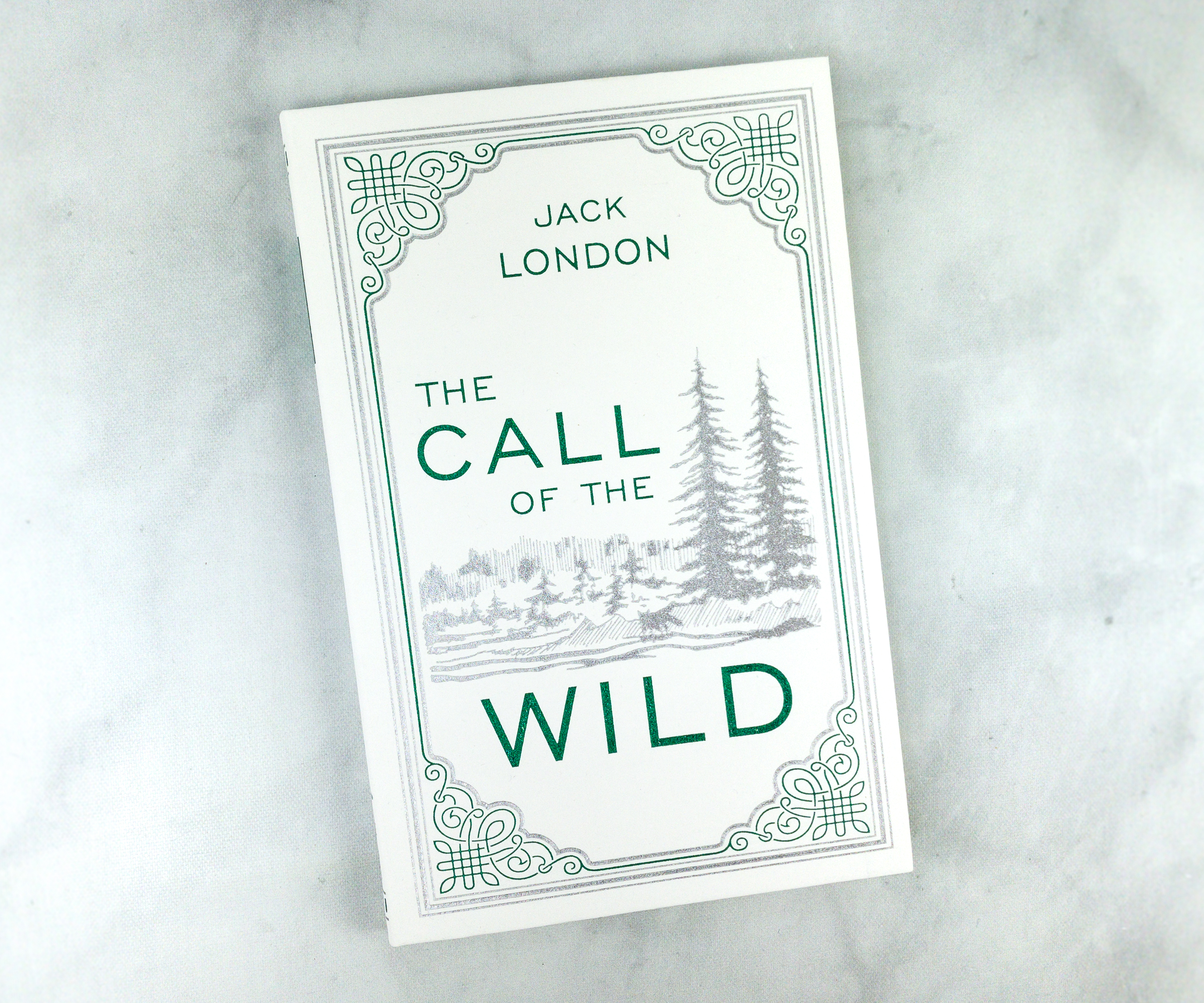 The Call of the Wild by Jack London ($2.93)
Unabridged version of Jack London's break out novel of survival is the essence of the American dream, its longings, and frustrations.  Taste the cold with Buck in the unforgettable adventure of The Call of the Wild.

Originally a serial, it leaves the reader wanting more chapter after chapter.
This classic fictional tale is worthy of a read because of the author's exemplary storytelling style and the plot that revolves around a dog named Buck!
The story is written from Buck's perspective and it was fascinating, to say the least.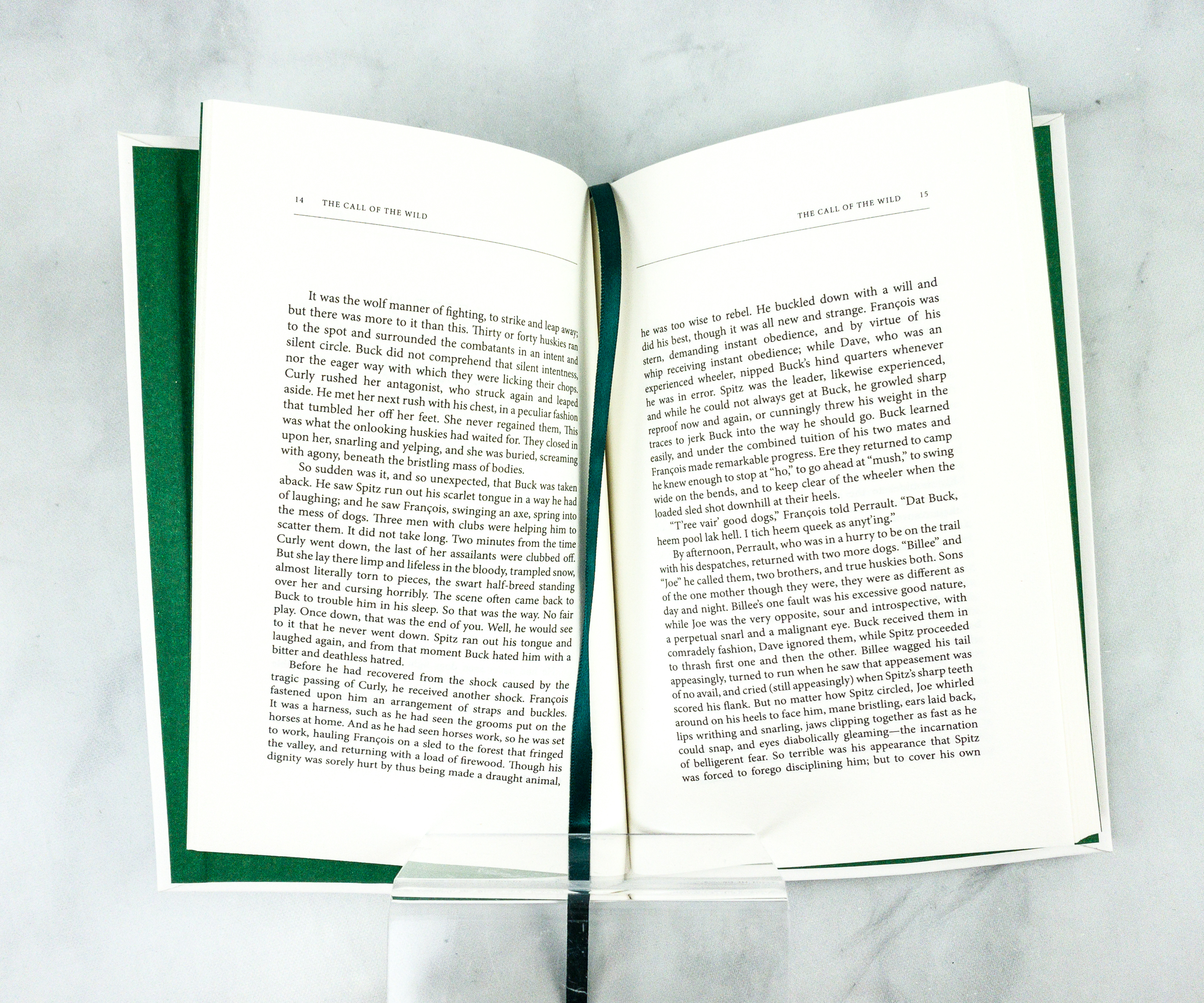 It seems like a grand adventure, but the story also tackles deeper themes, including human nature and justice.
Culture Carton is one of the best subscriptions for men, helping us improve different aspects of our lives. My favorite item this month is the gold-colored tie pin. It's an accessory I can wear over and over, as it's versatile and stylish. It's amazing how it can easily make me look well-put-together! Aside from the accessories that suit my taste, I also have a book that I enjoyed from cover to cover, so I couldn't really ask for more! It's a great box overall and I'm glad that they are consistent with their self-improvement themes!
What's your favorite item this month?