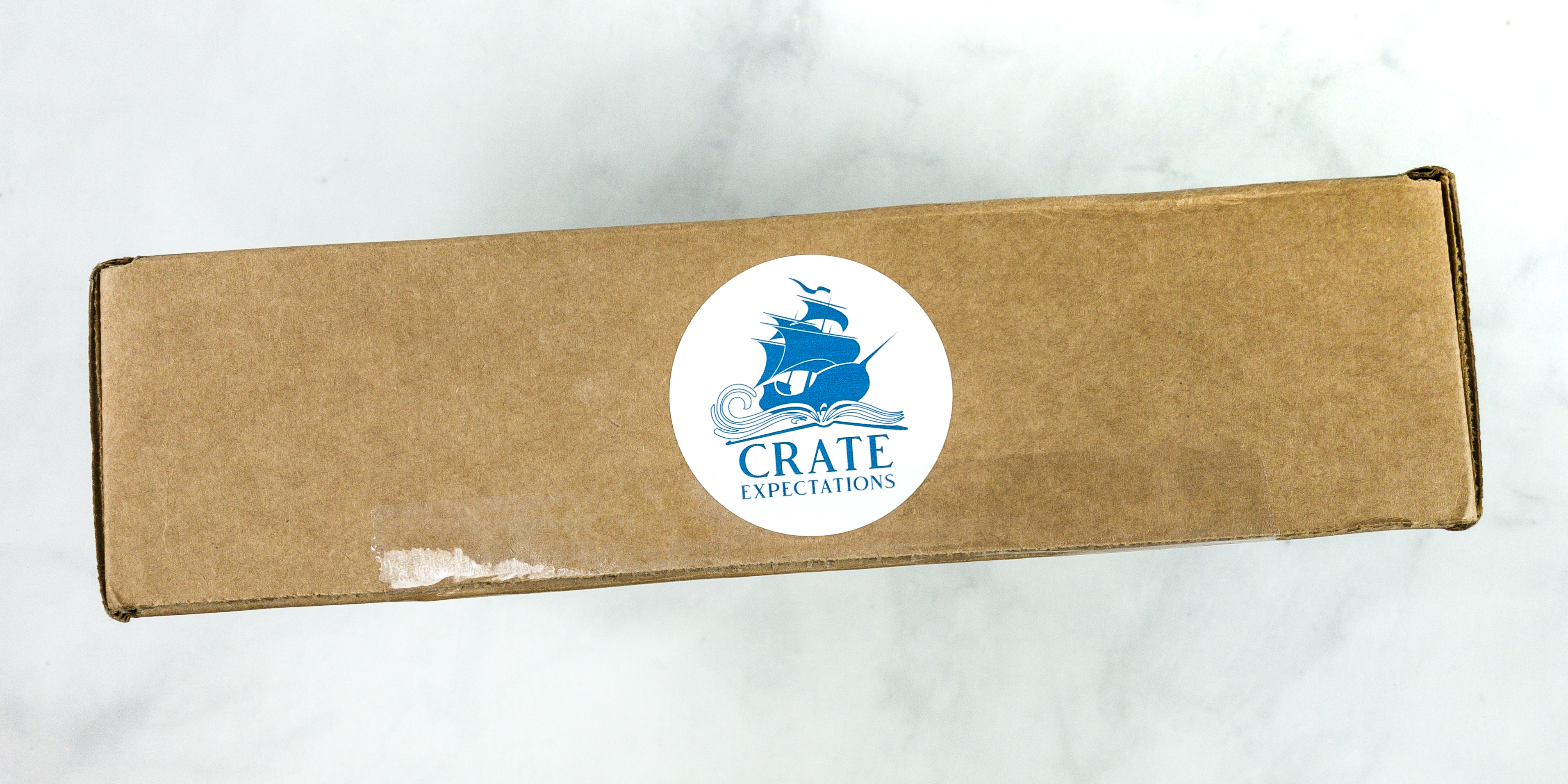 Crate Expectations is a monthly kids' book subscription box that sends a quality book paired with one-of-a-kind Adventure Guide and toys or games. Plans start at $32.99 each month, plus shipping and tax, and they also offer 3-month and 6-month subscriptions. Each box contains their book club pick of the month, 2-4 specially curated toys or games, a book-related STEM activity and supplies, an exclusive author interview, a book-inspired recipe and menu ideas, book club discussion questions, and recommendations for further reading. The box is suited for 8-12 year old kids.
DEAL: Get 10% off your first purchase! Use coupon code HELLO10.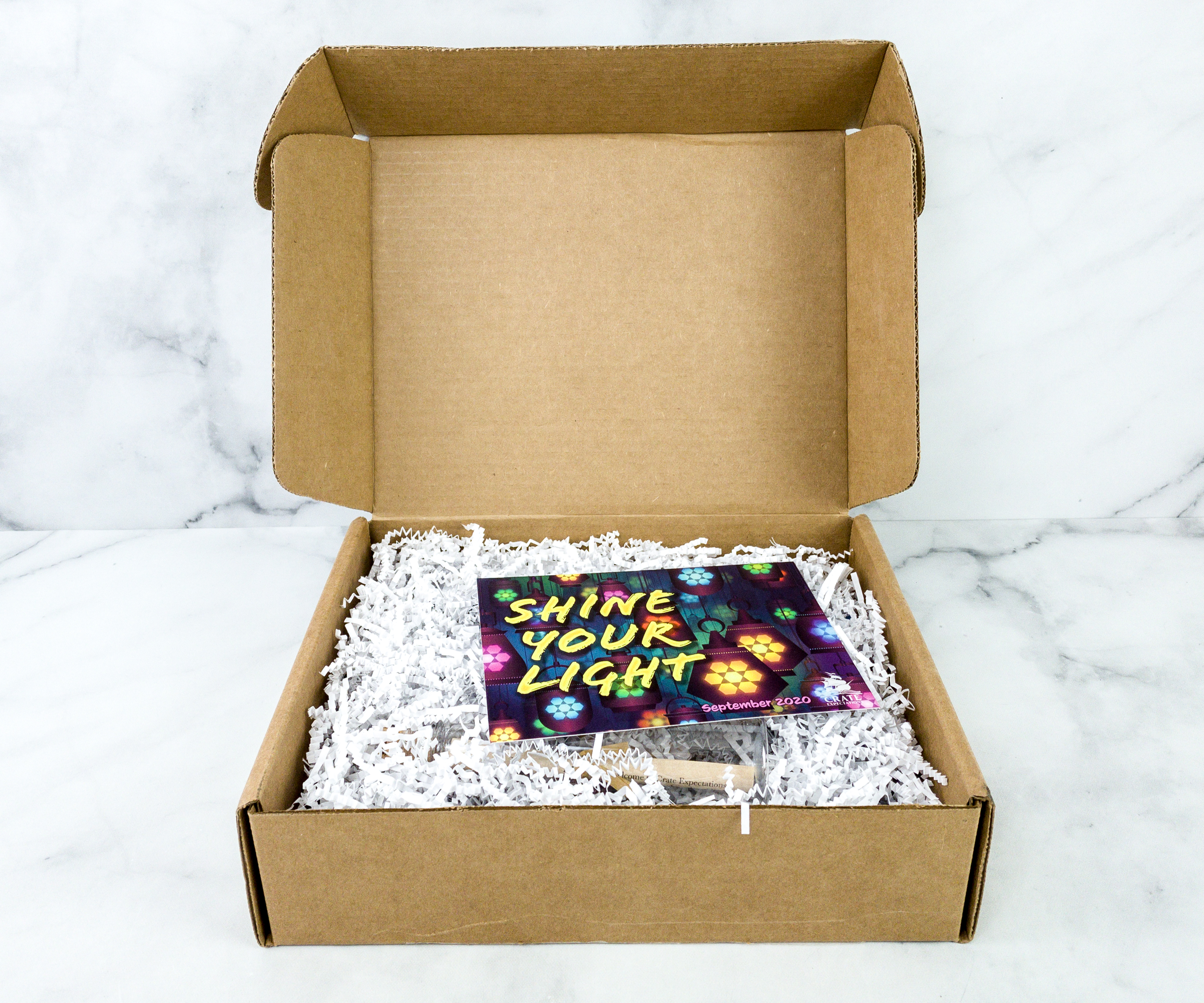 There's a card on top of everything in the box!
The contents are protected by white squiggles.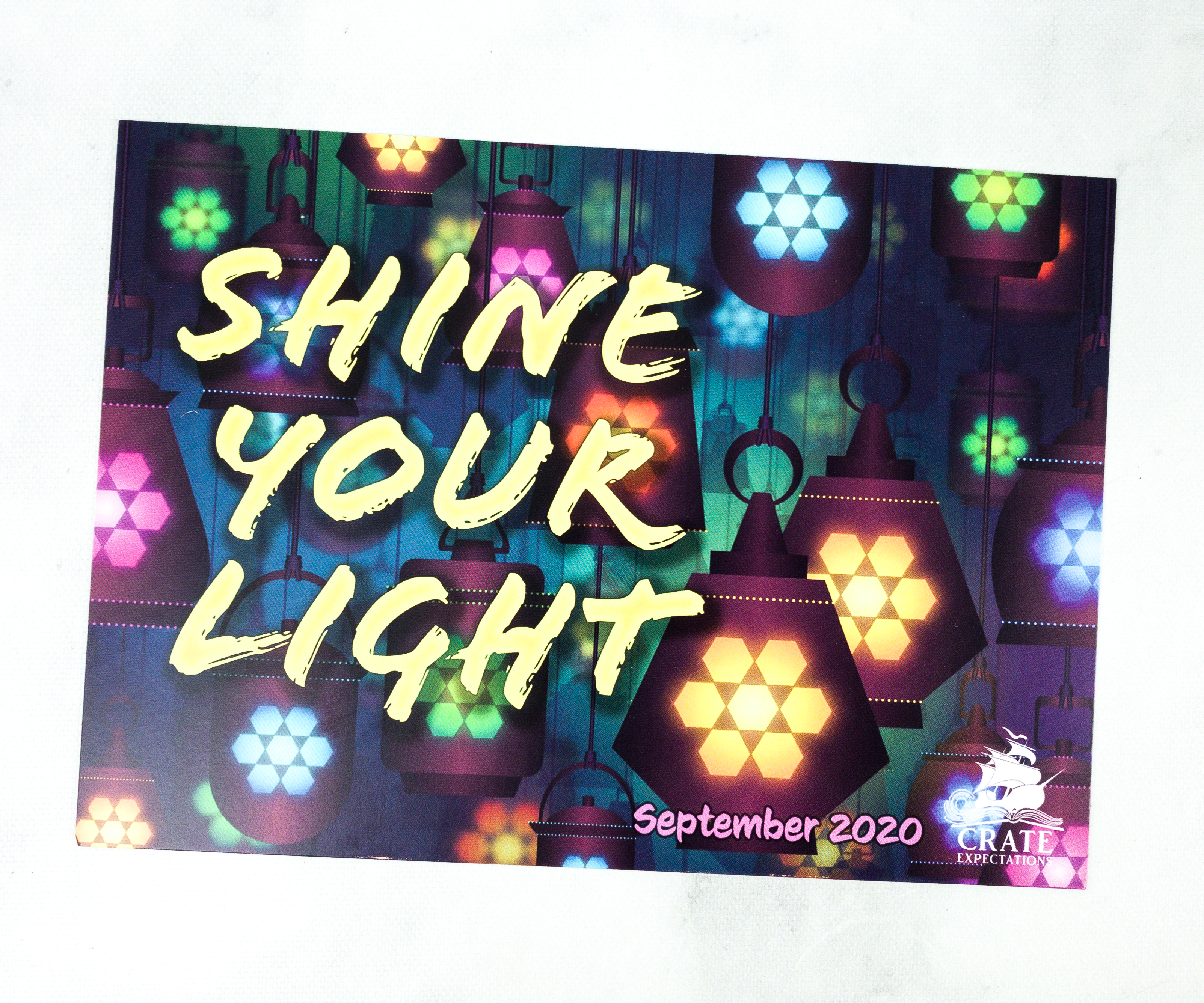 The theme for September 2020 is SHINE YOUR LIGHT!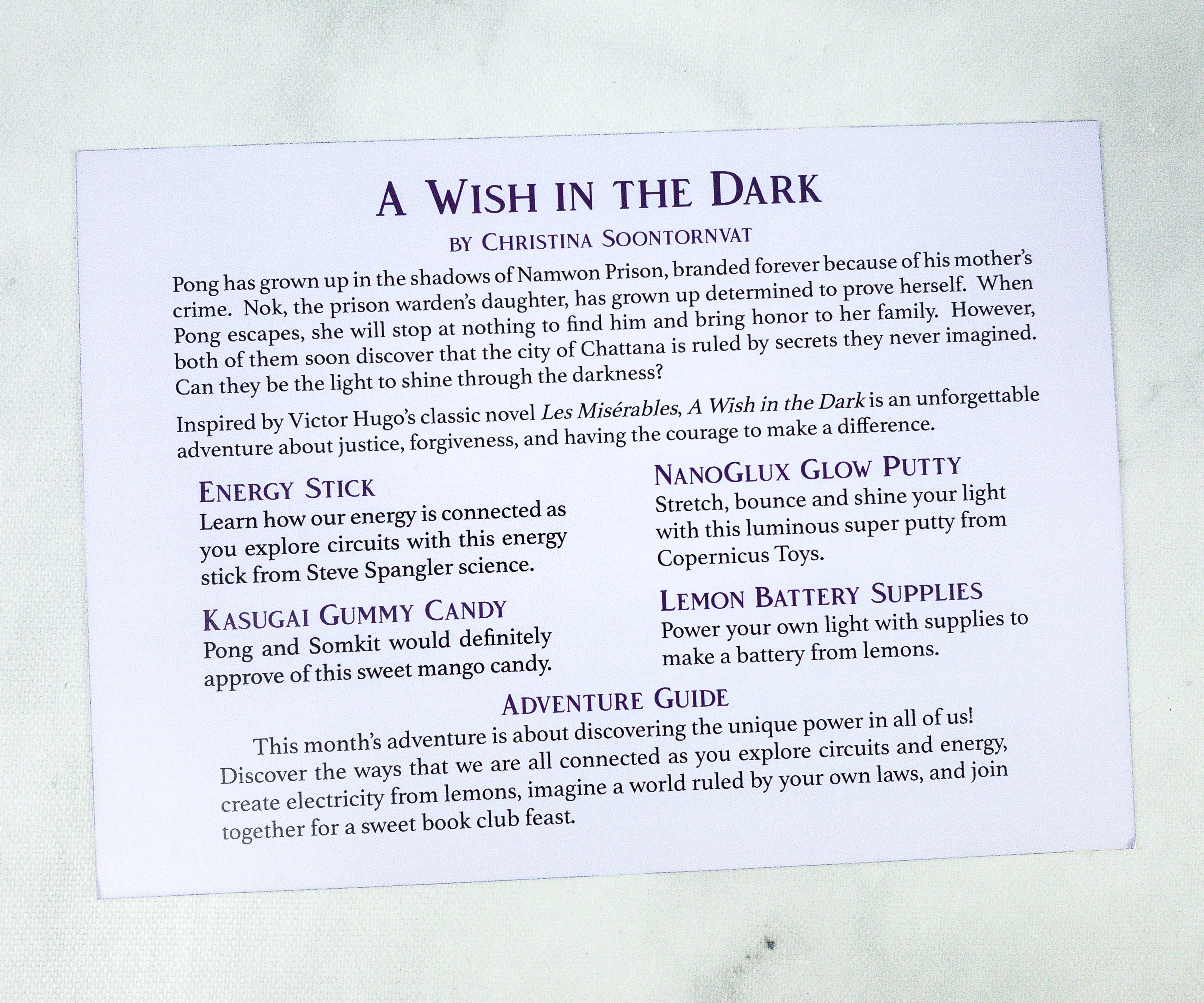 The flip side of this month's info card lists all the contents of the box.
Everything in my box!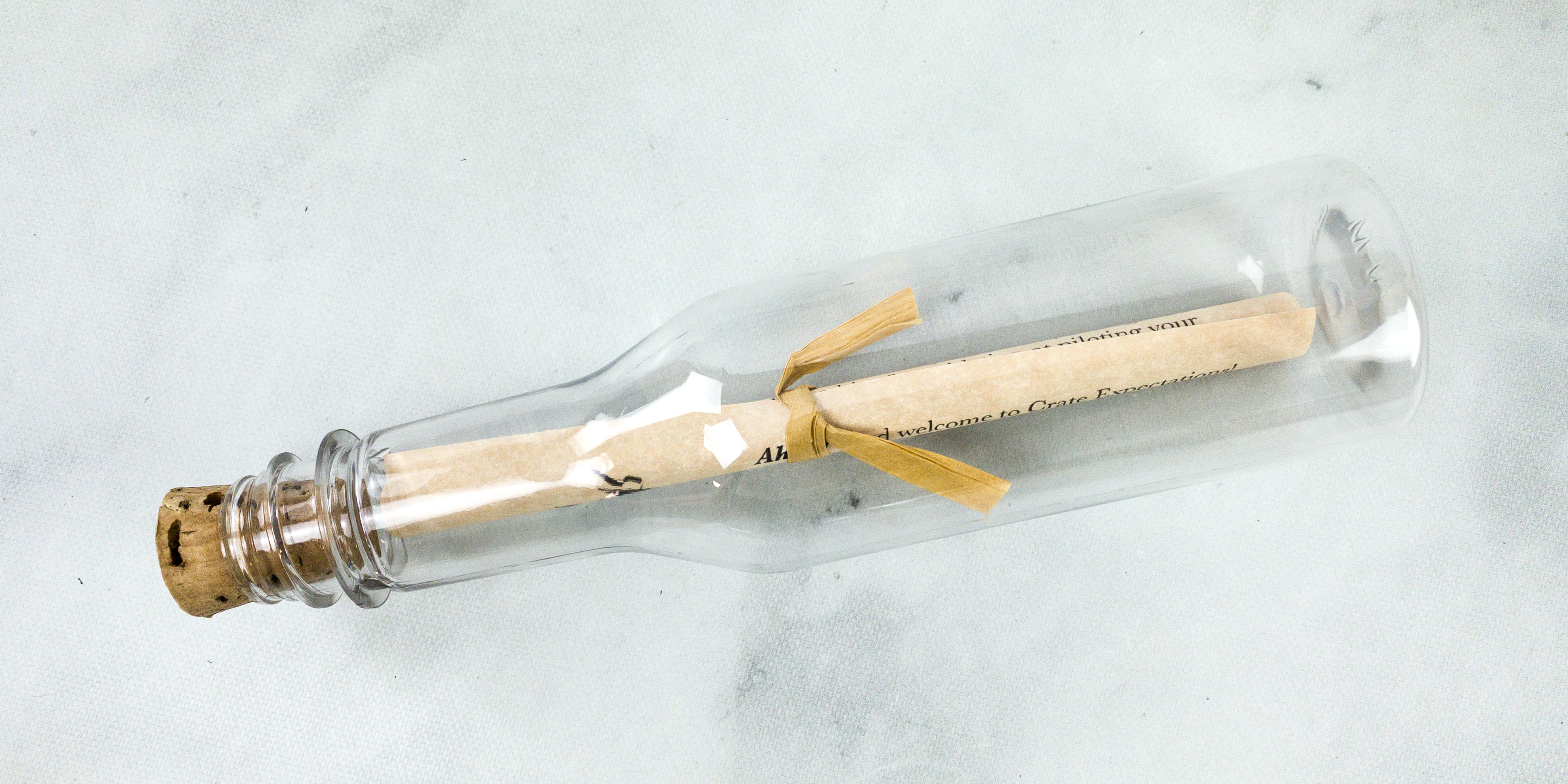 Message In A Bottle. Like the crew of a ship, we also received a message inside a corked bottle.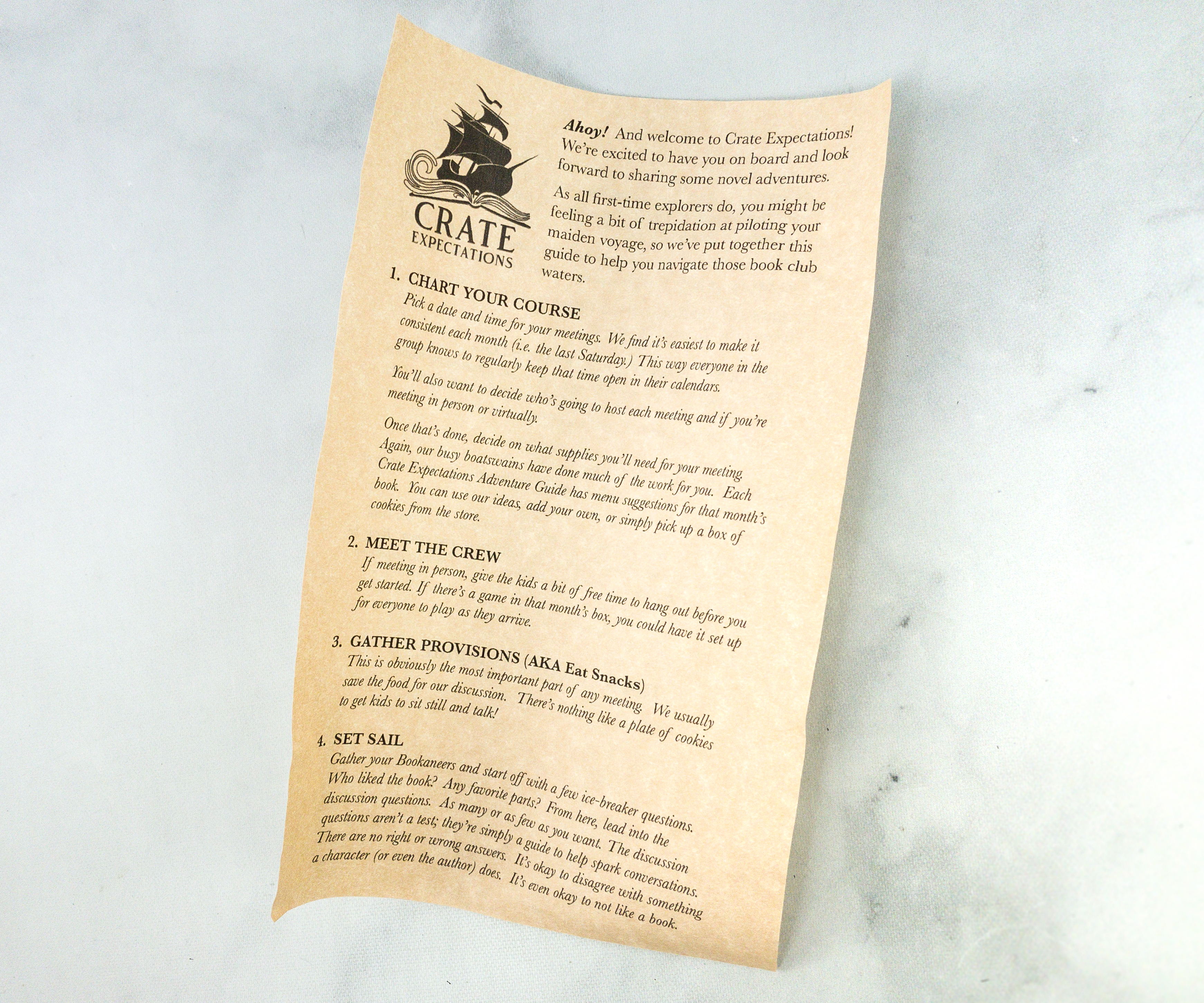 We popped the bottle open and took the rolled paper from inside. It has a message that welcomes us to the subscription, and also listed some activities for our book club meetings!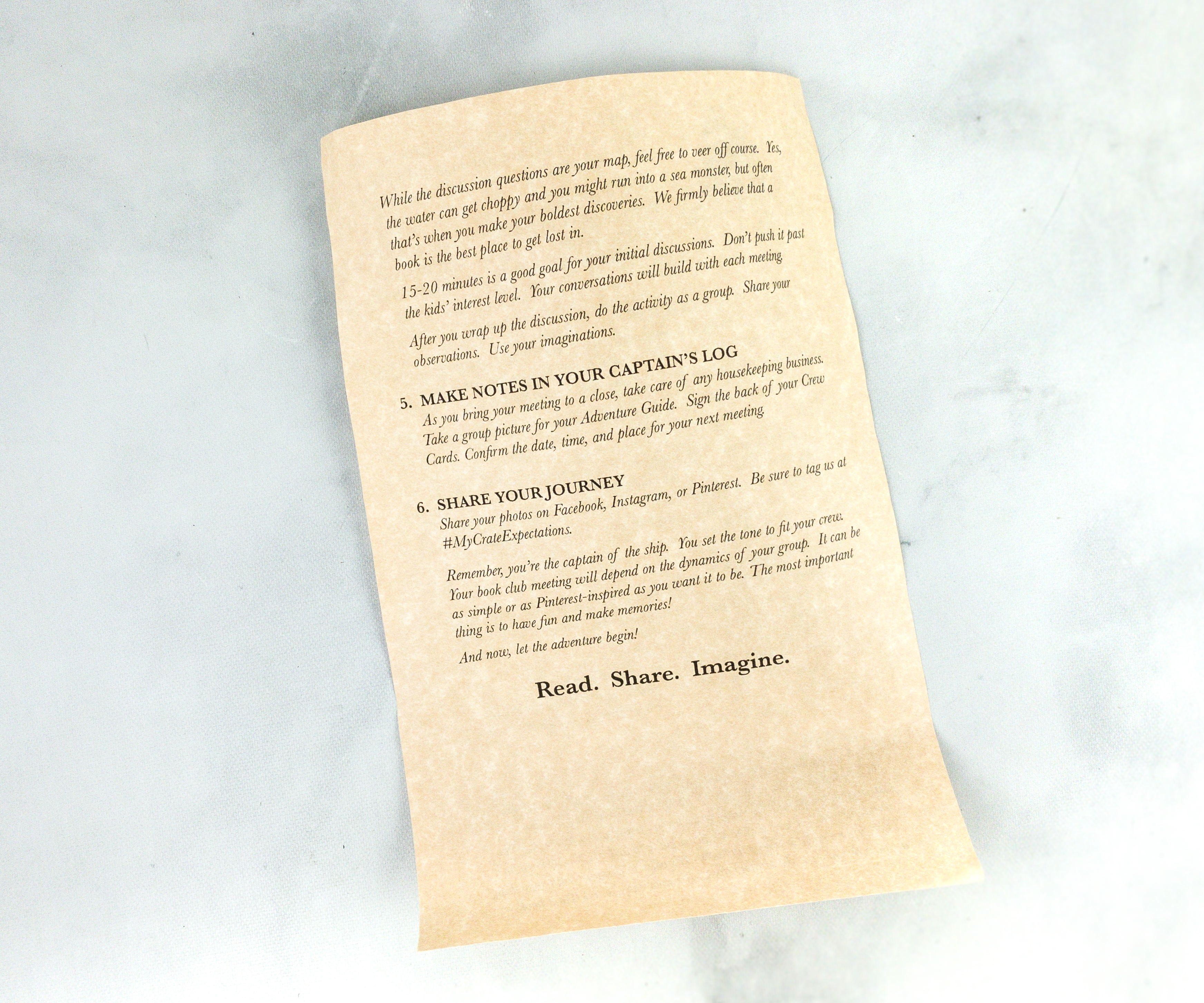 It also explains how to use the Captain's log that can be found in the activity guide.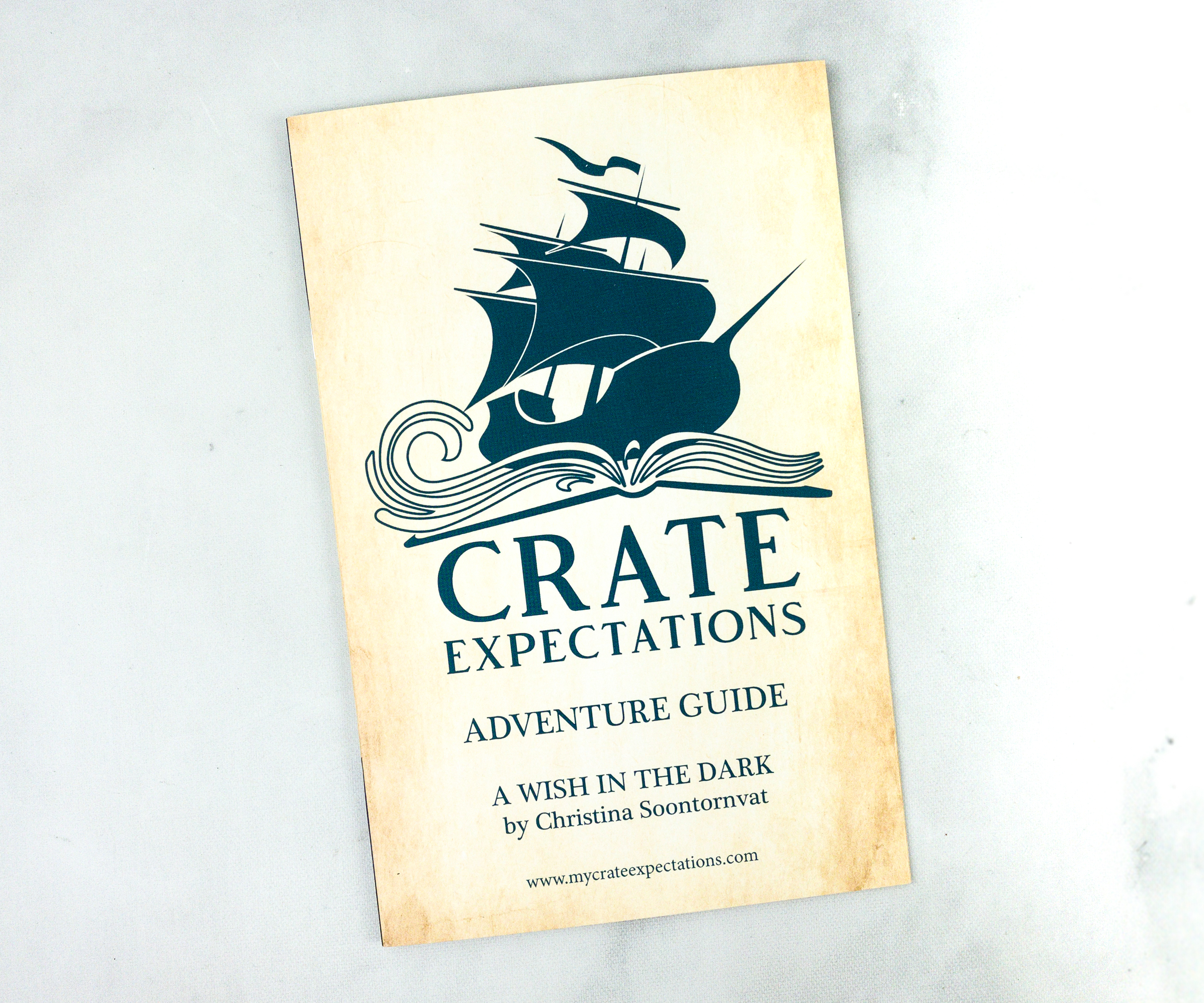 Adventure Guide. Every crate contains an adventure guide. It has information about the month's featured books, author, activities, discussion questions, and even a recipe.
It also gave us a peek for next month's box with the theme Special Delivery.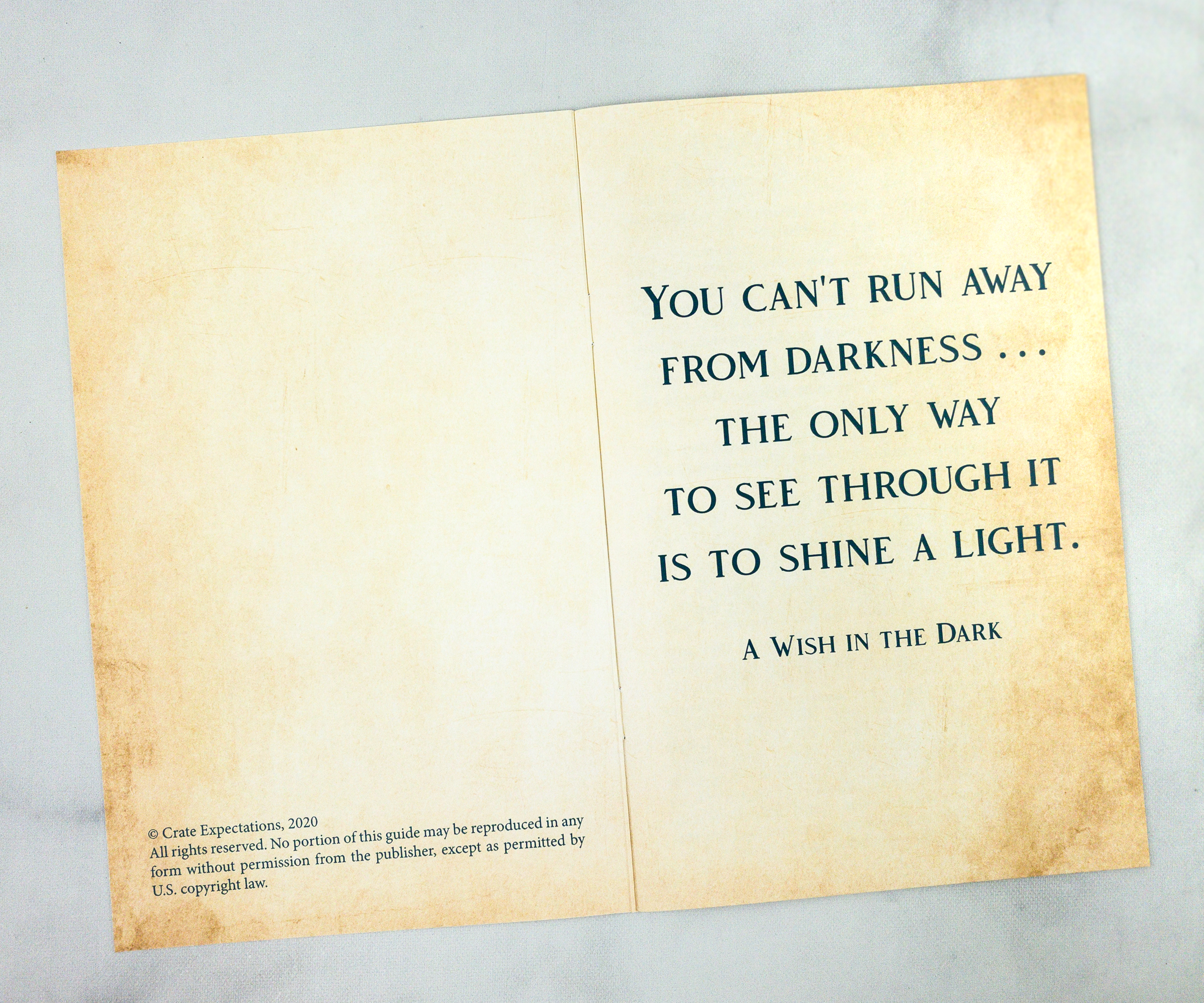 There's a quote from this month's book, A Wish in the Dark by Christina Soontornvat.
You can't run away from darkness… The only way to see through it is to shine a light.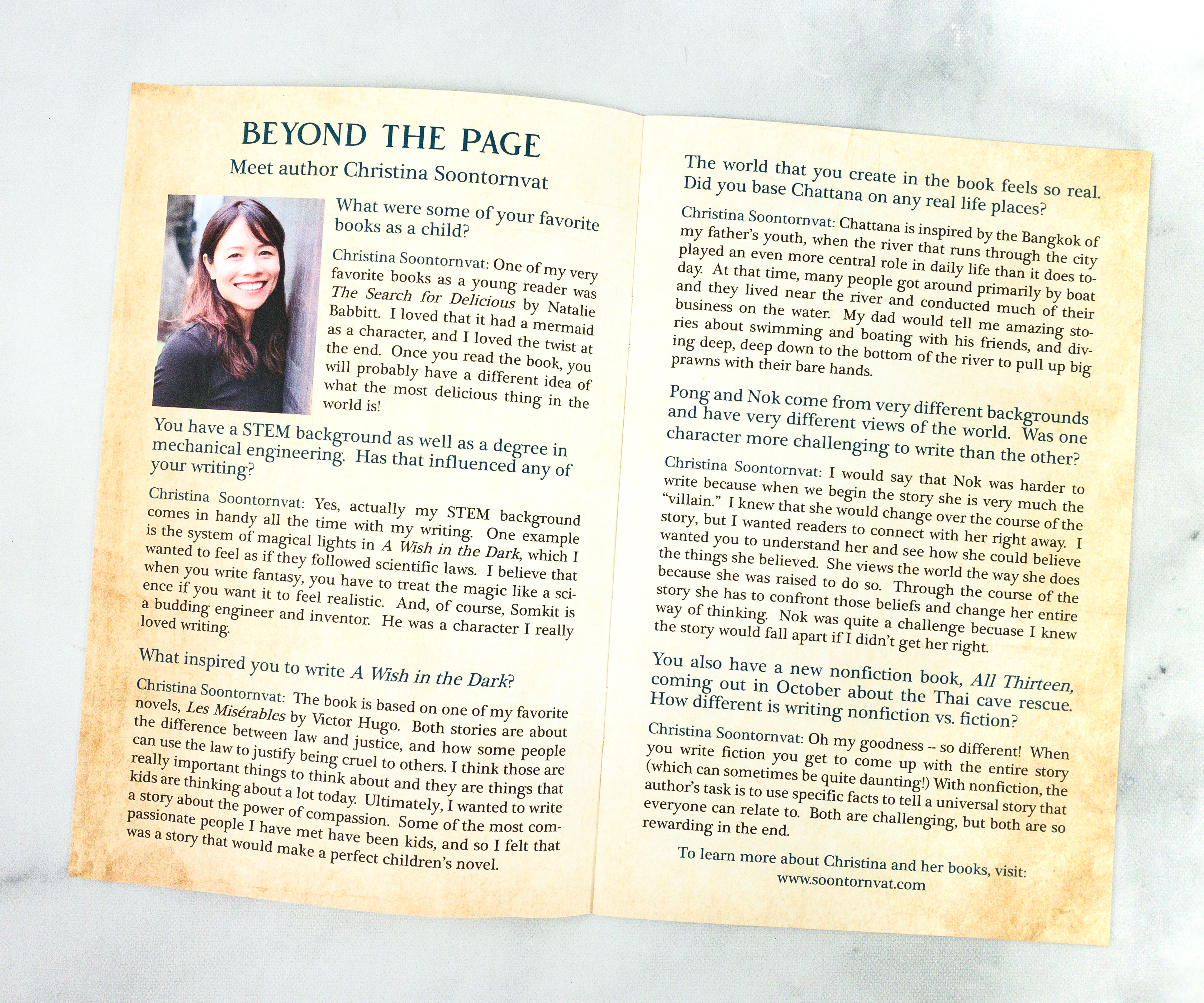 There's also an author interview included in the guide. This month, it features Christina Soontornvat. They also provided a link to her site so the kids can learn more about her and her books.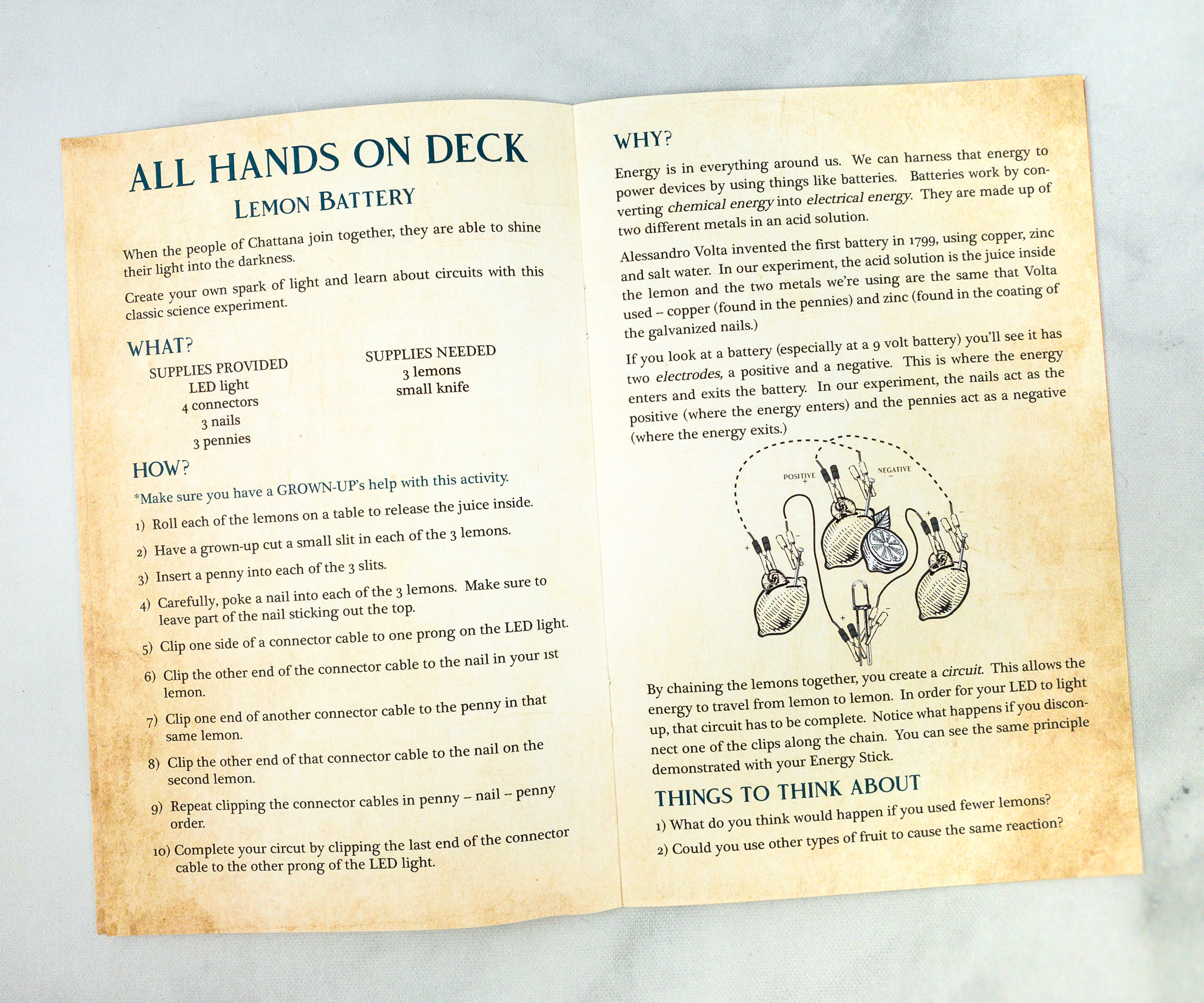 There are also activities in the guide. The first one is about making a lemon battery. The box provided materials such as LED light, connectors, nails, and pennies. From home, you will need 3 lemons and a small knife.  They also included complete instructions and even explained how it works!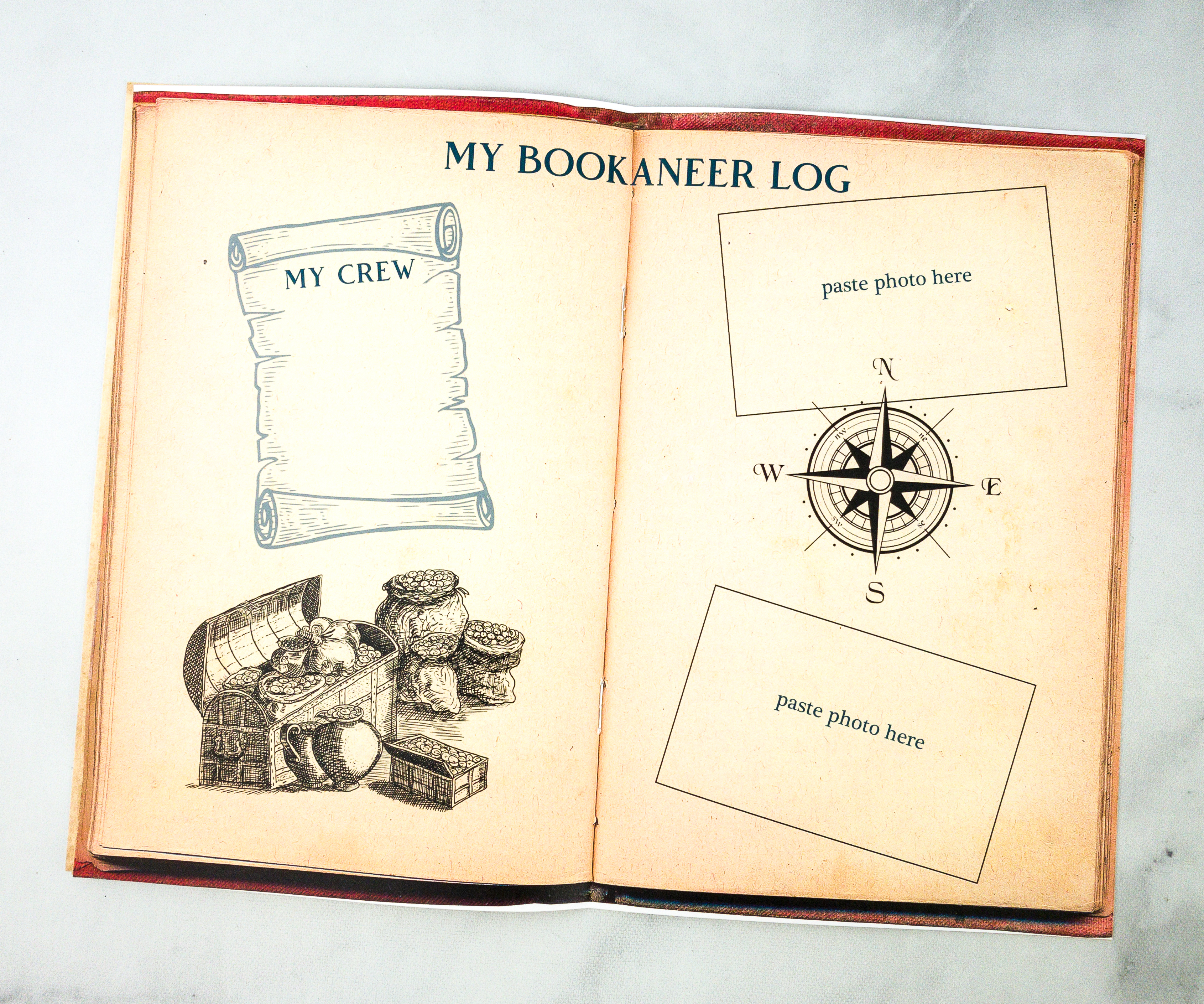 This part of the booklet is the Bookaner Log, where kids can paste their photos and list the name of their crew.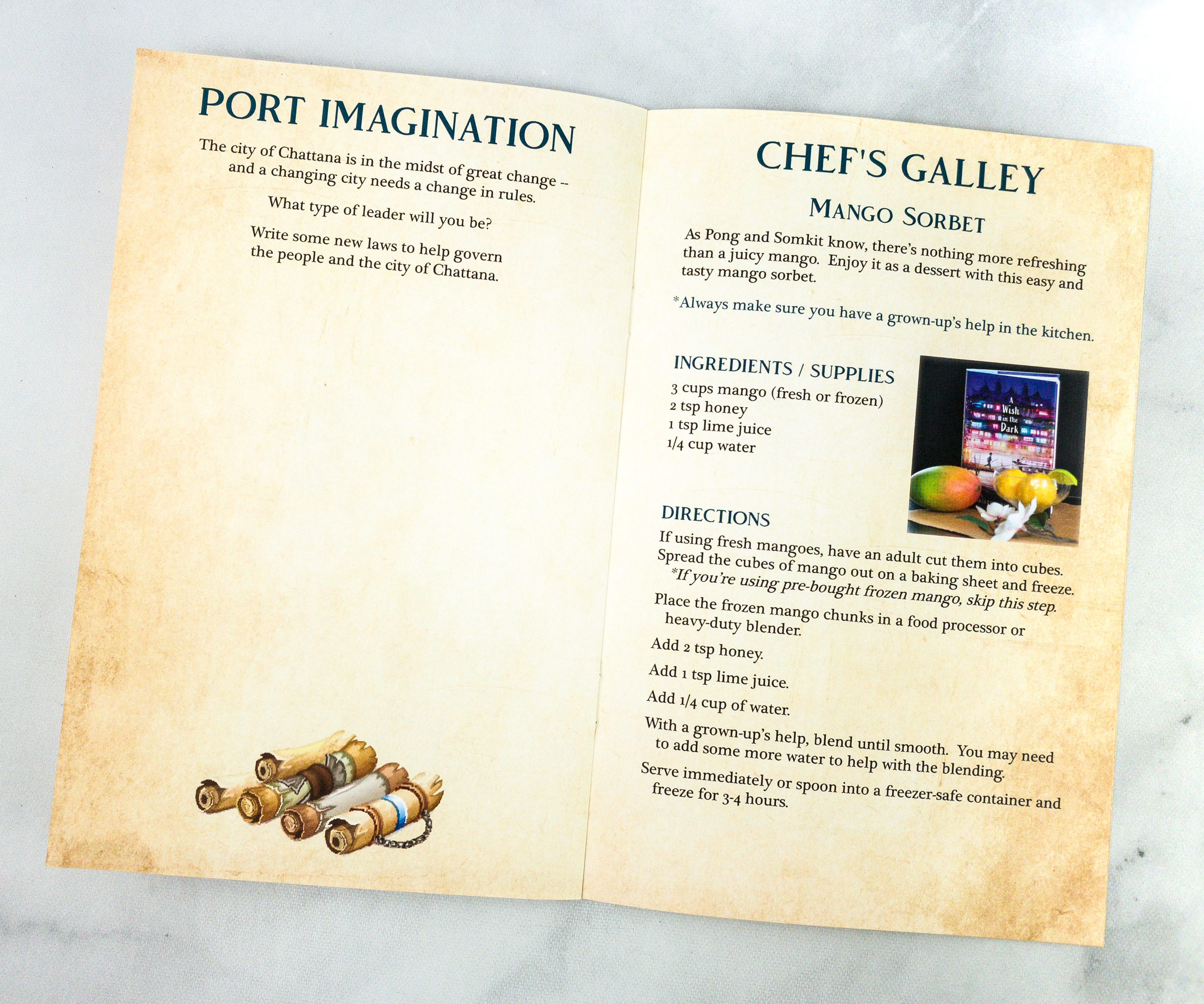 Other activities include a page for Port Imagination, where you can make your own laws to help govern the people of and the city of Chattana, and a recipe for Mango Sorbet which sounds really refreshing and yummy!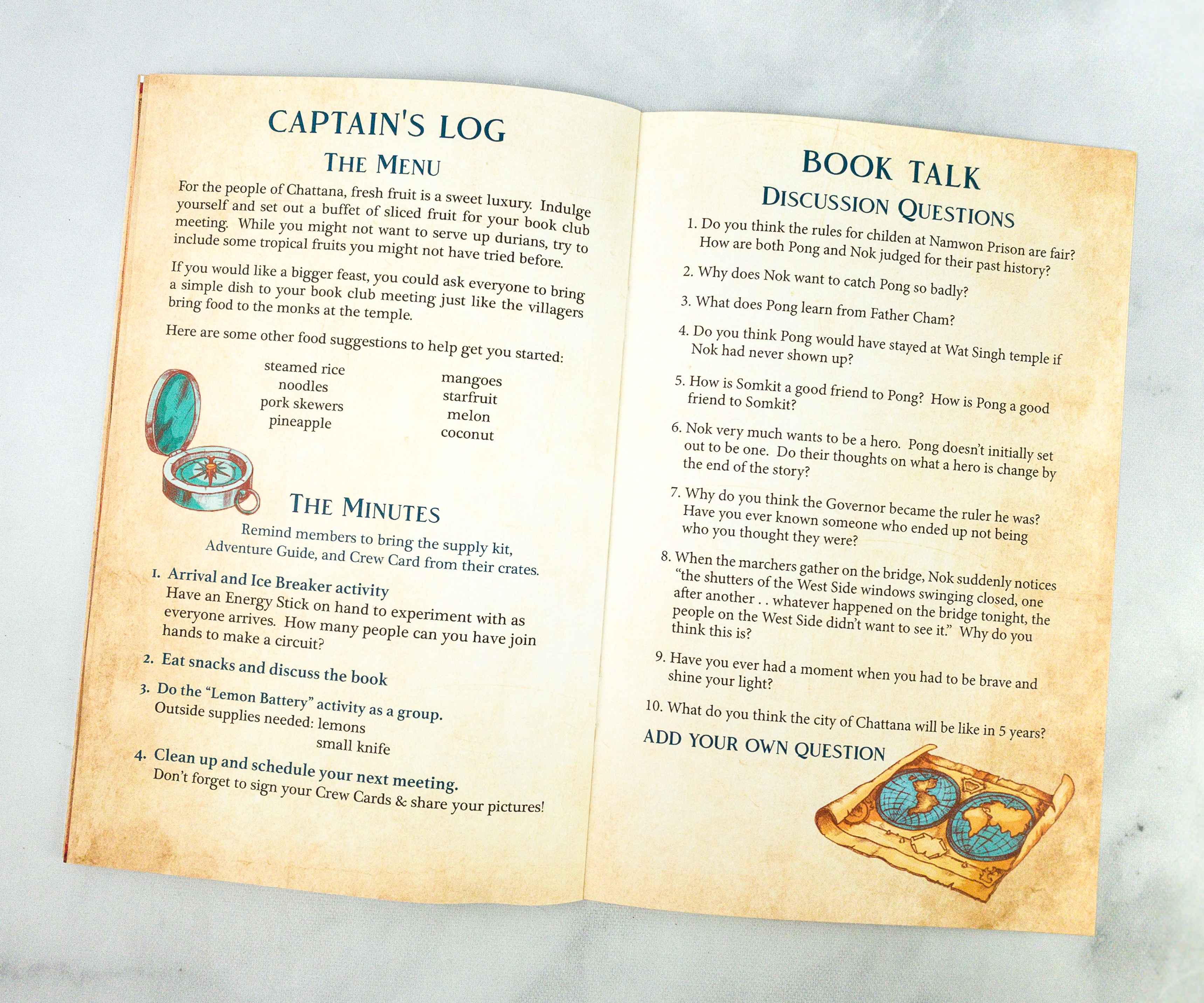 There's also the Captain's log where they suggested some food and activities for your book club meeting.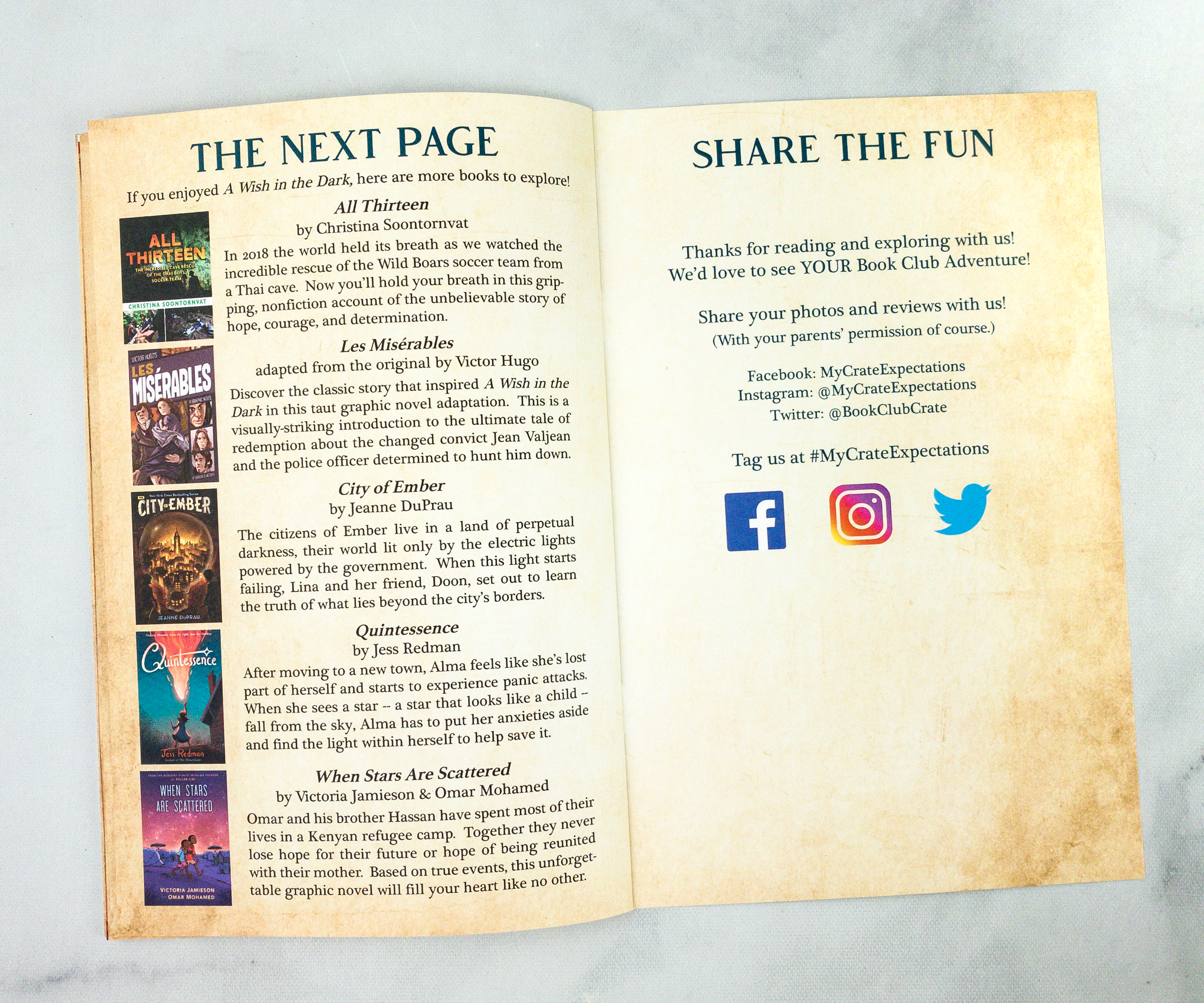 They also included a list of other books that you can read: All Thirteen by Christina Soontornvat, Les Miserables: Graphic Novel, City of Ember by Jeanne DuPrau, Quintessence by Jess Redman, and When Stars Are Scattered by Victoria Jamieson and Omar Mohamed.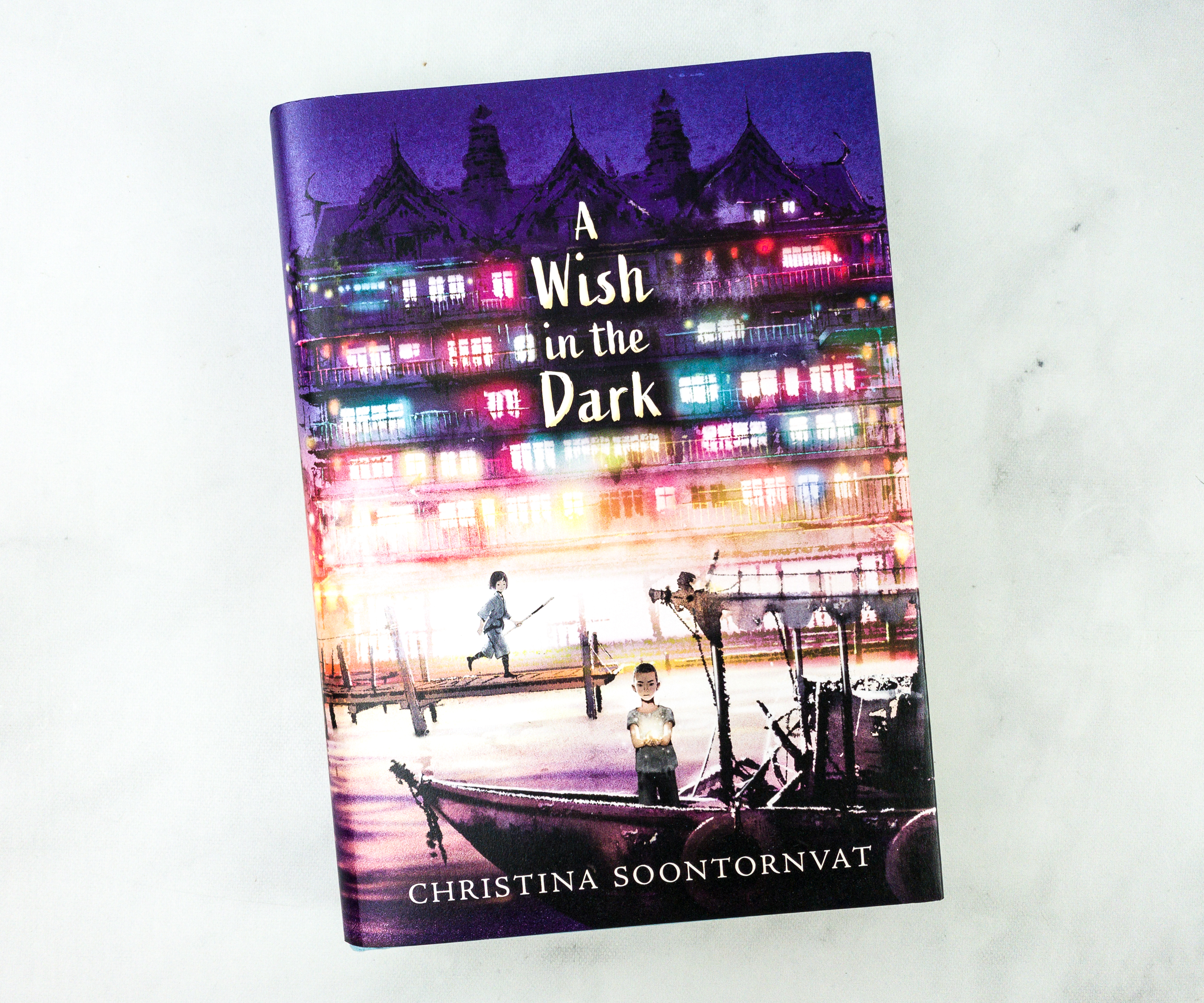 A Wish In The Dark by Christina Soontornvat ($14.45)
A boy on the run. A girl determined to find him. A compelling fantasy looks at issues of privilege, protest, and justice.

All light in Chattana is created by one man — the Governor, who appeared after the Great Fire to bring peace and order to the city. For Pong, who was born in Namwon Prison, the magical lights represent freedom, and he dreams of the day he will be able to walk among them. But when Pong escapes from prison, he realizes that the world outside is no fairer than the one behind bars. The wealthy dine and dance under bright orb light, while the poor toil away in darkness. Worst of all, Pong's prison tattoo marks him as a fugitive who can never be truly free.

Nok, the prison warden's perfect daughter, is bent on tracking Pong down and restoring her family's good name. But as Nok hunts Pong through the alleys and canals of Chattana, she uncovers secrets that make her question the truths she has always held dear. Set in a Thai-inspired fantasy world, Christina Soontornvat's twist on Victor Hugo's Les Misérables is a dazzling, fast-paced adventure that explores the difference between law and justice — and asks whether one child can shine a light in the dark.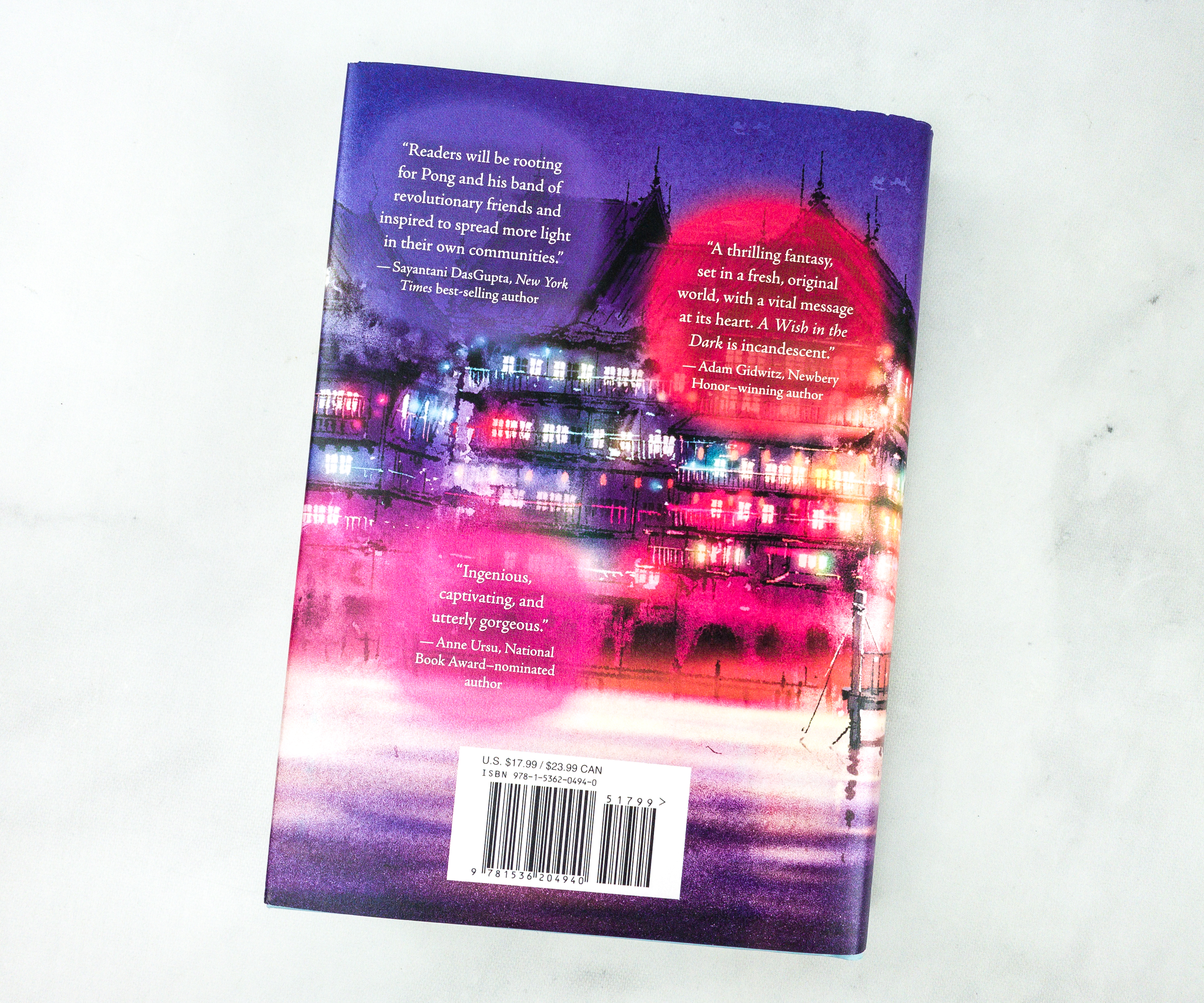 I really like the beautiful cover of this book, plus there are also some brief reviews from other authors at the back which give us an idea of how good it is!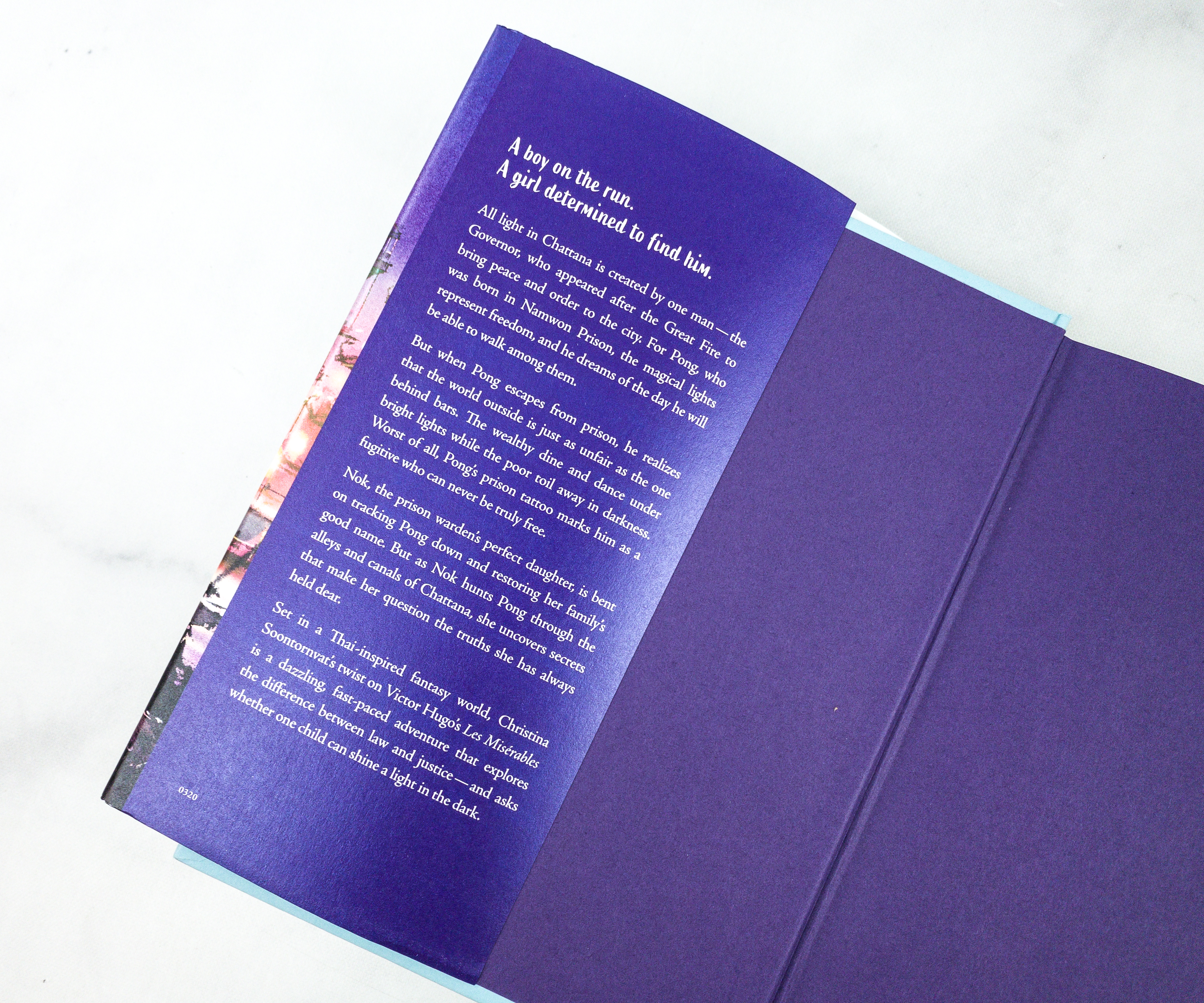 Reading the synopsis on the book's dust jacket flap, we learned that it is a Thai-inspired fantasy which is a twist to Victor Hugo's popular novel, Les Miserables. It also introduced us to the characters. There's Pong, a prisoner who wants to be truly free, and Nok, a woman who is in charge of tracking him down.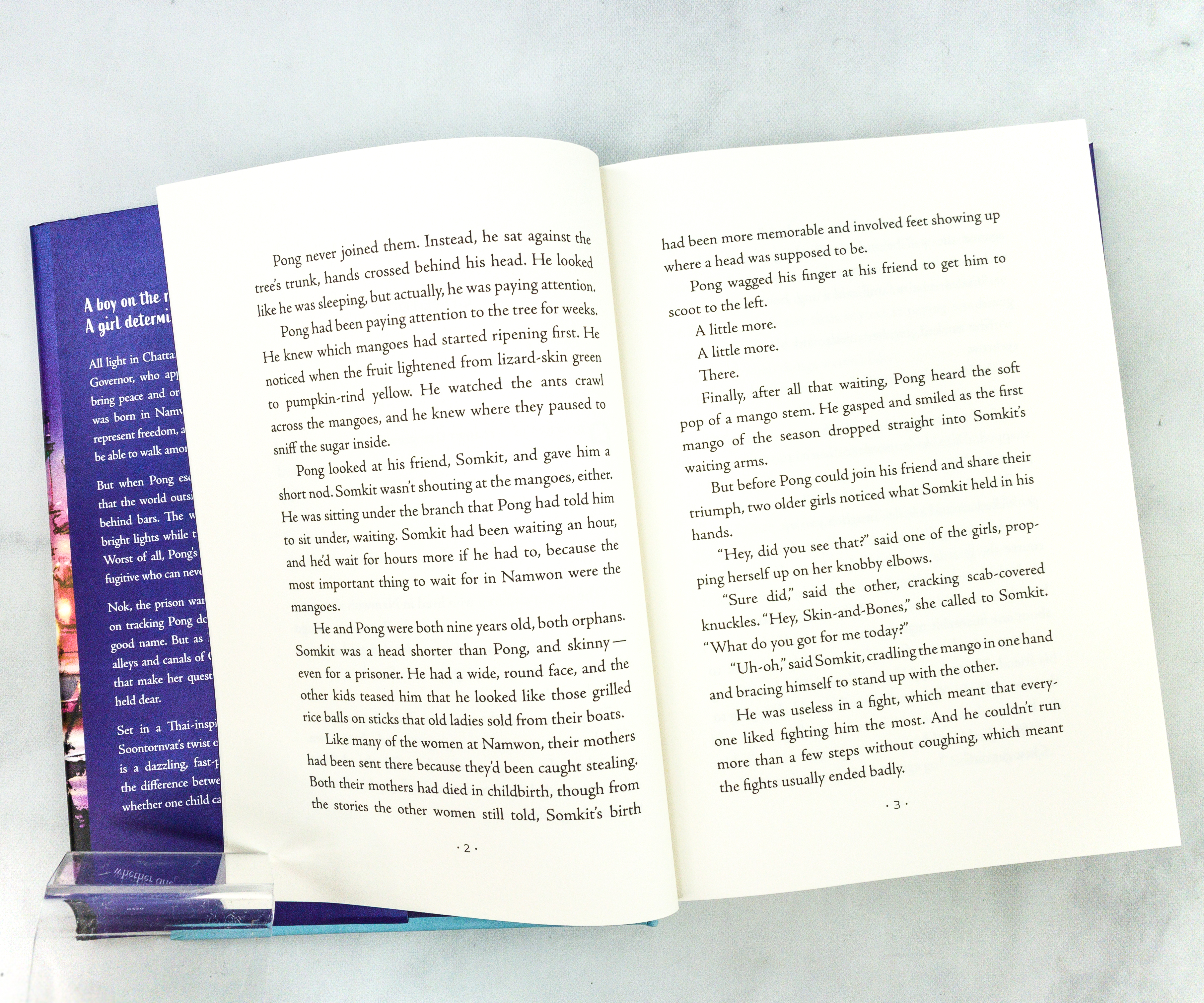 Pong may have escaped the prison, but he learned that the world outside is as unfair as the world behind bars. The rich are always having things their way and while they dance under bright lights, the poor toil away in the darkness.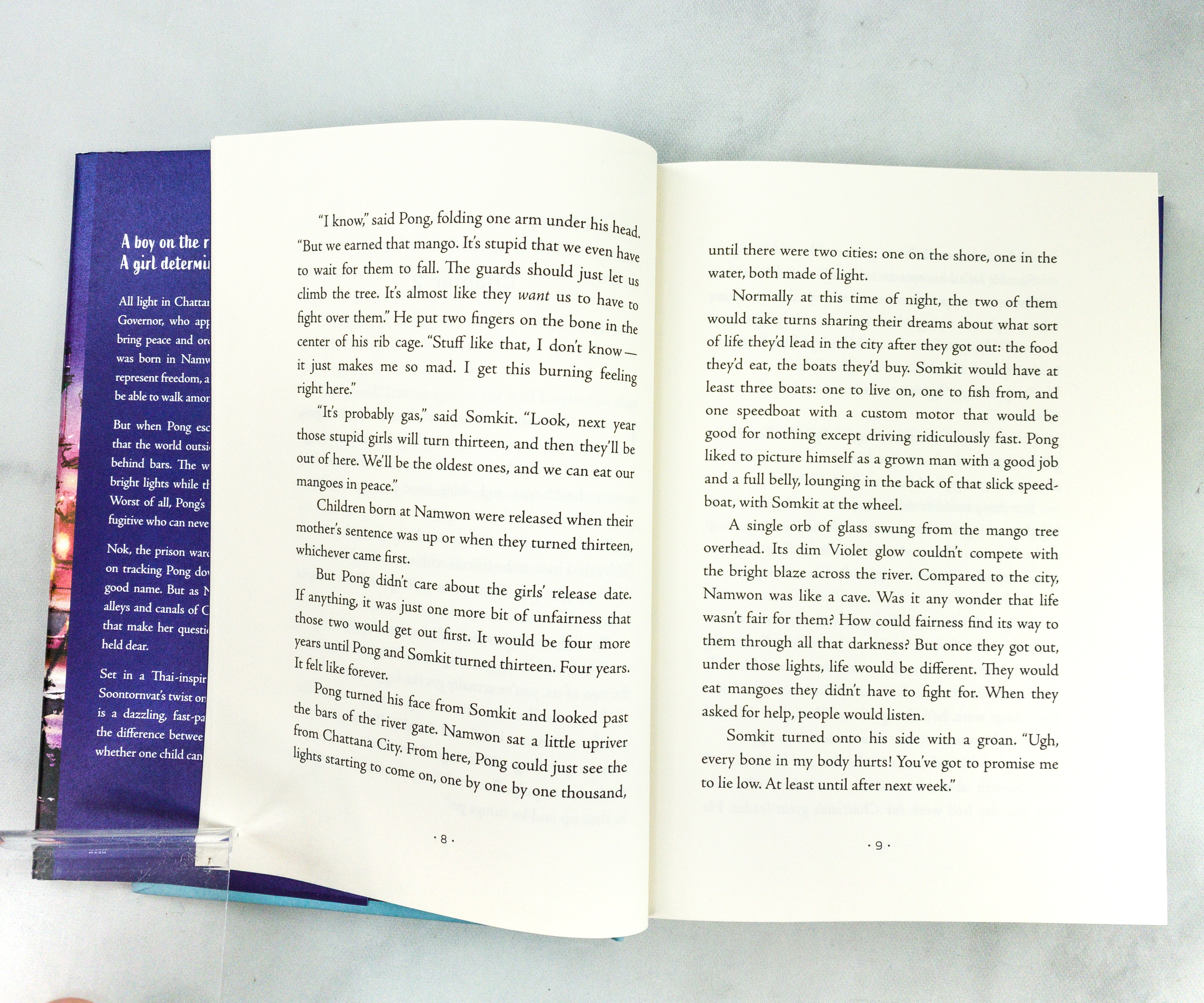 With this story, kids can learn about the difference between law and justice!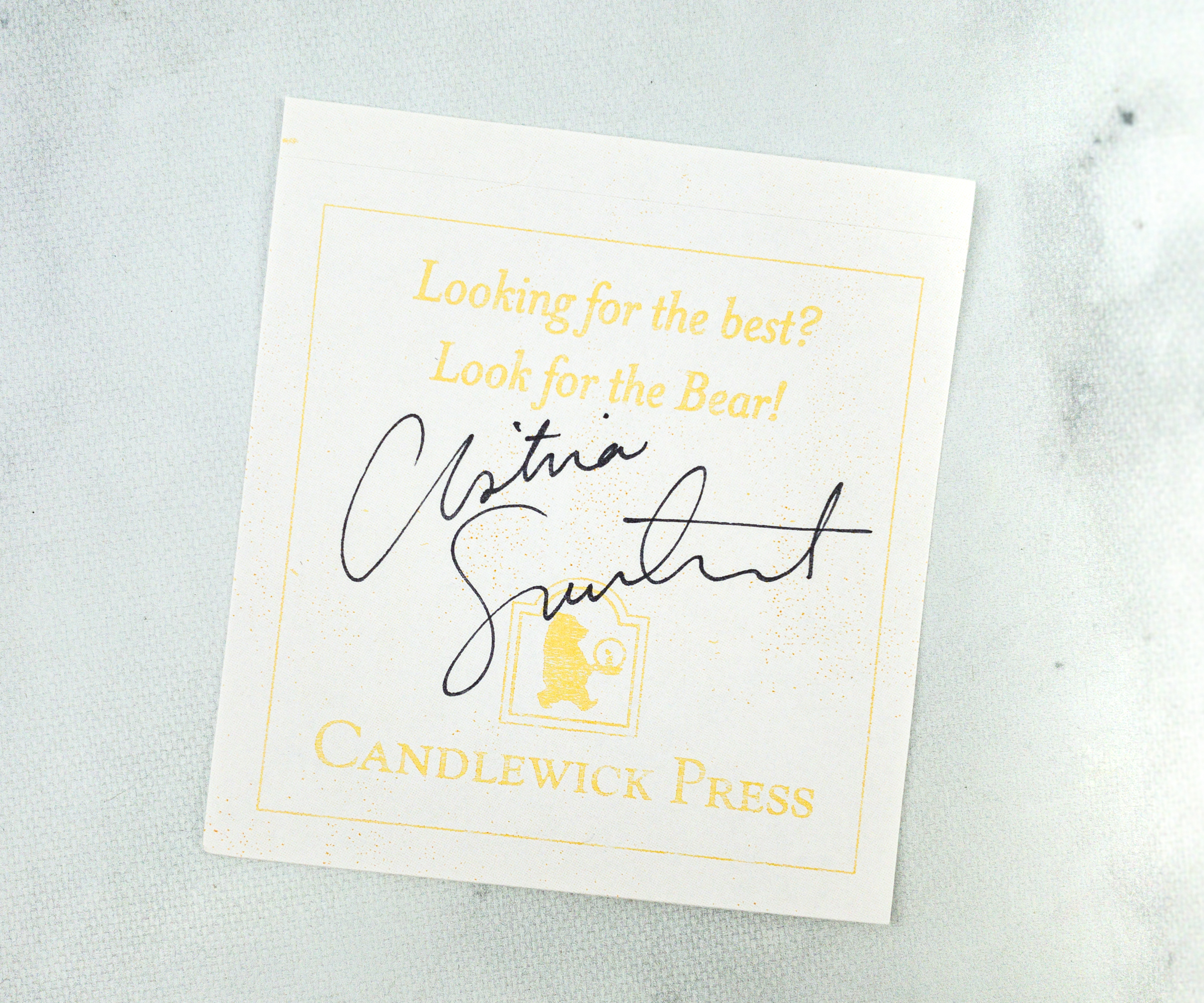 Along with the book is a plate signed by the author.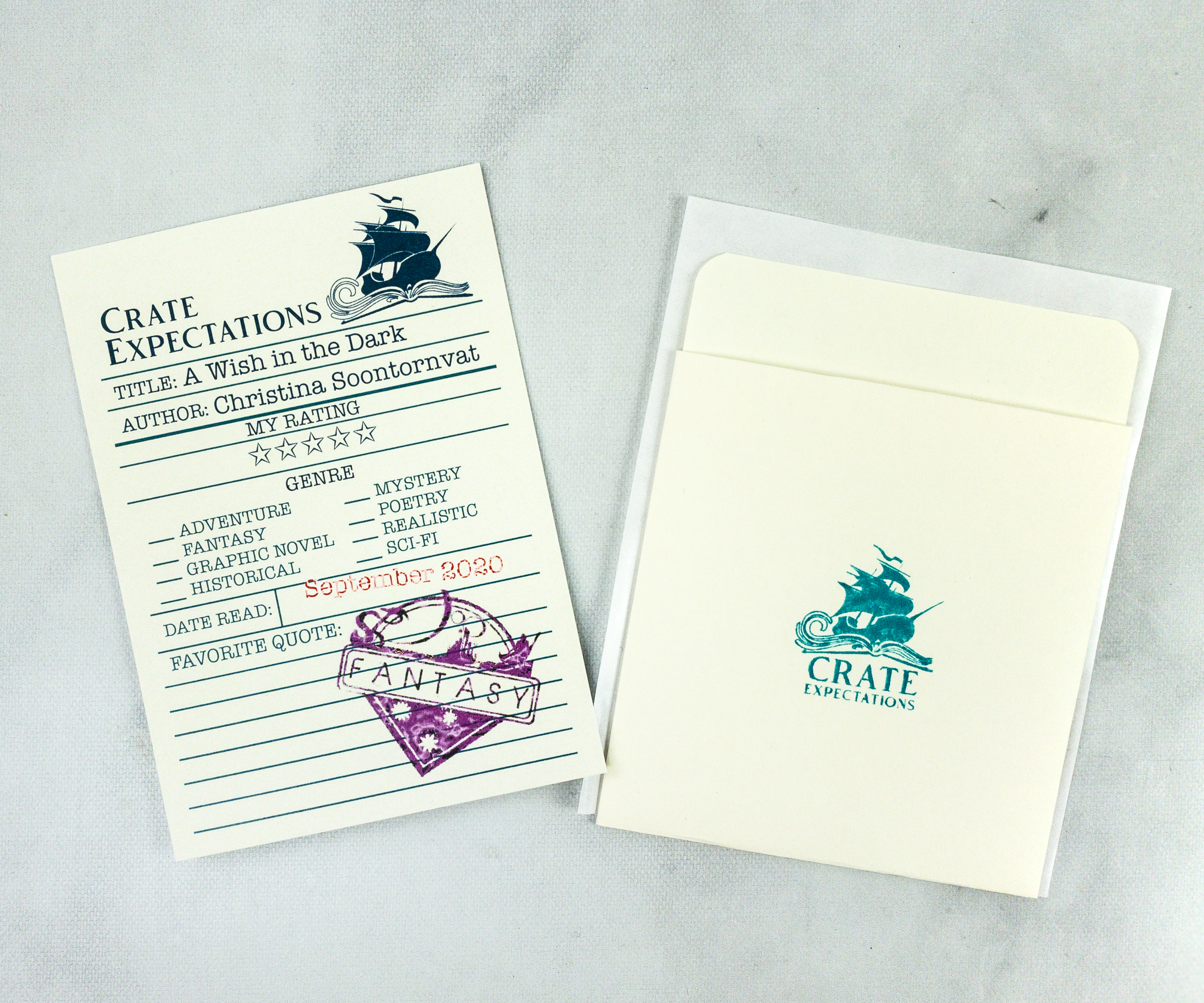 There is also a book card with its own envelope that you can stick to the book's endpaper.
Kasugai Gummy Candy. Mango Sticky Rice is a popular delicacy in Thailand, and this gummy candy would be the closest thing that they can send in this box! Too bad there's only one, but it really tastes great!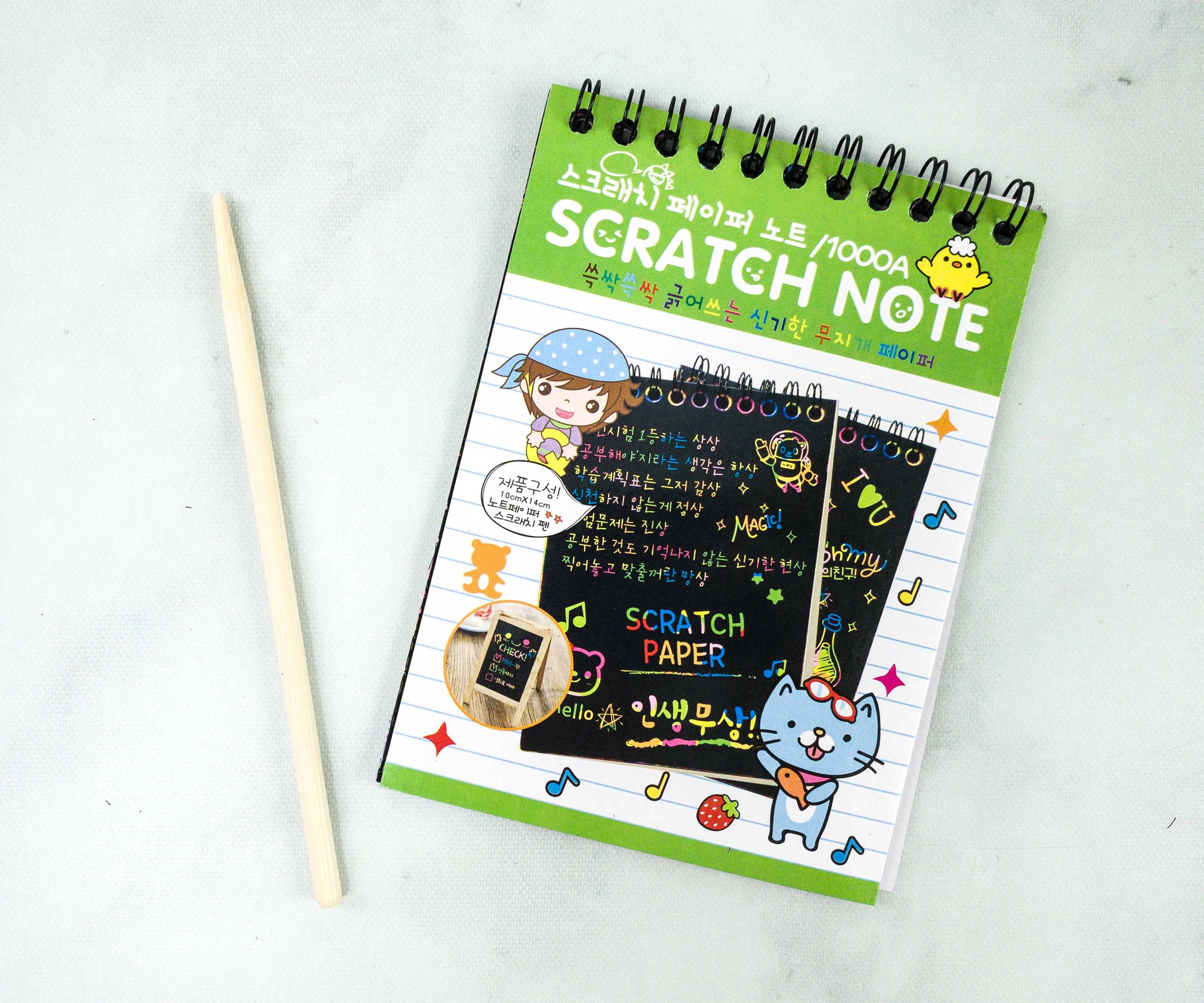 Scratch Note with Wooden Stylus. Kids can doodle, write or make their own art with this adorable scratch note, complete with its own wooden stylus.
The writing page is a blank matte black page with rainbow colors and patterns hidden underneath. You can simply scratch off the black coating with the included wooden stylus to reveal the colors underneath!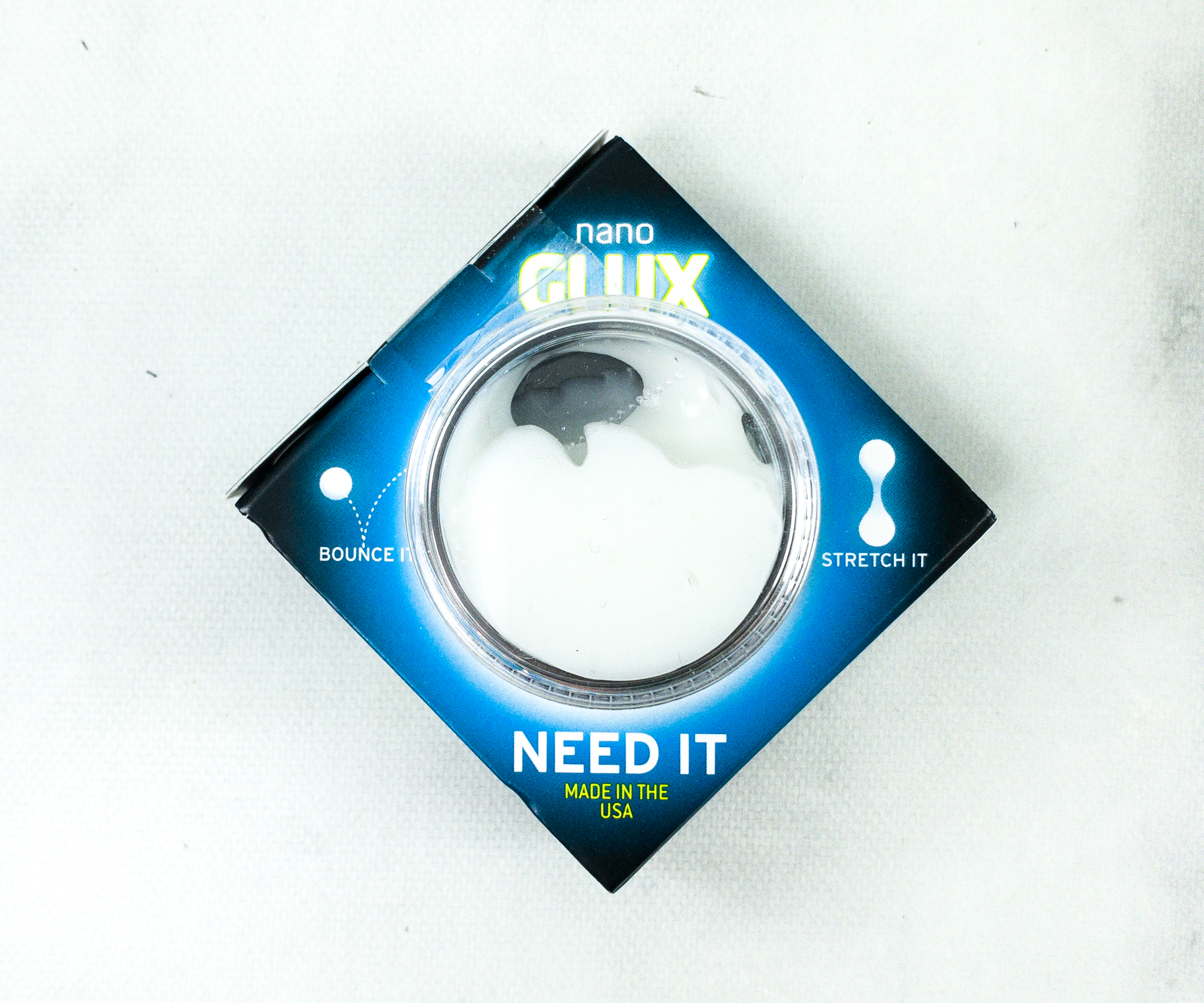 NanoGlux Glow Putty. We also received a pack of putty, and it can be bounced and stretched to relieve stress. It even glows!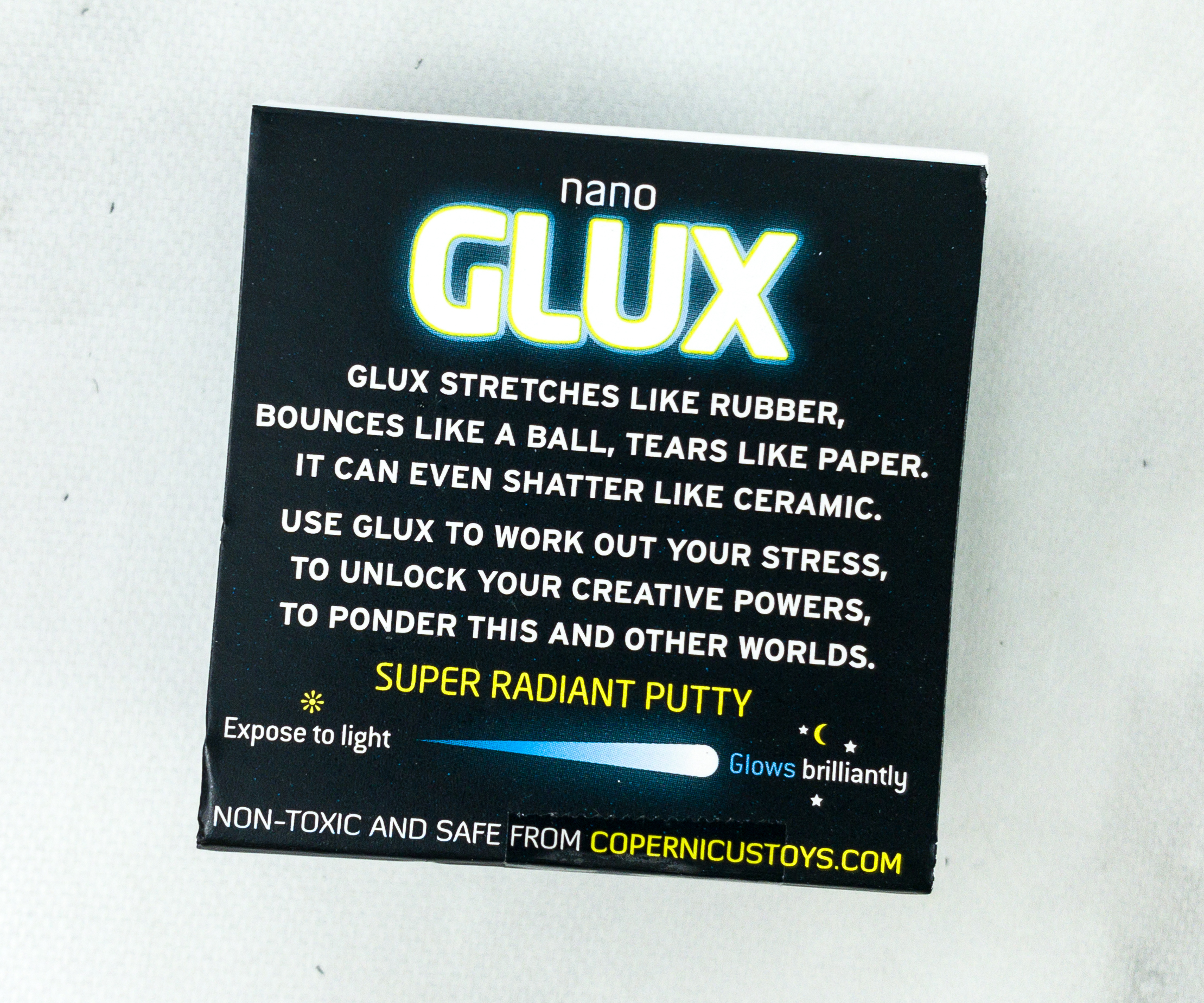 The back of the packaging explains how the putty works!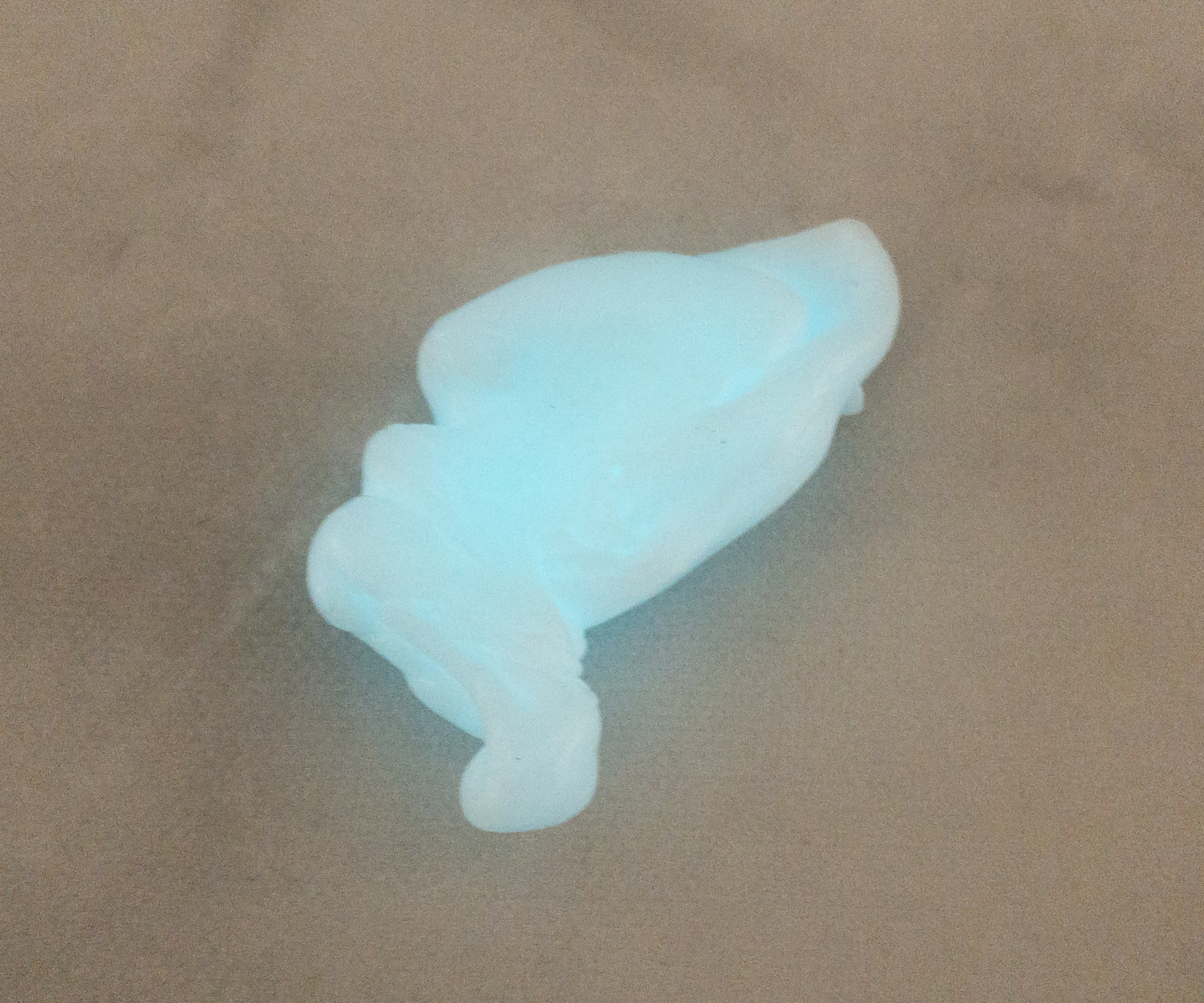 You can place your Glow GLUX under a bright light or sunlight for a minute to let it soak some energy. When you bring it into a dark space afterward, the putty will glow brilliantly!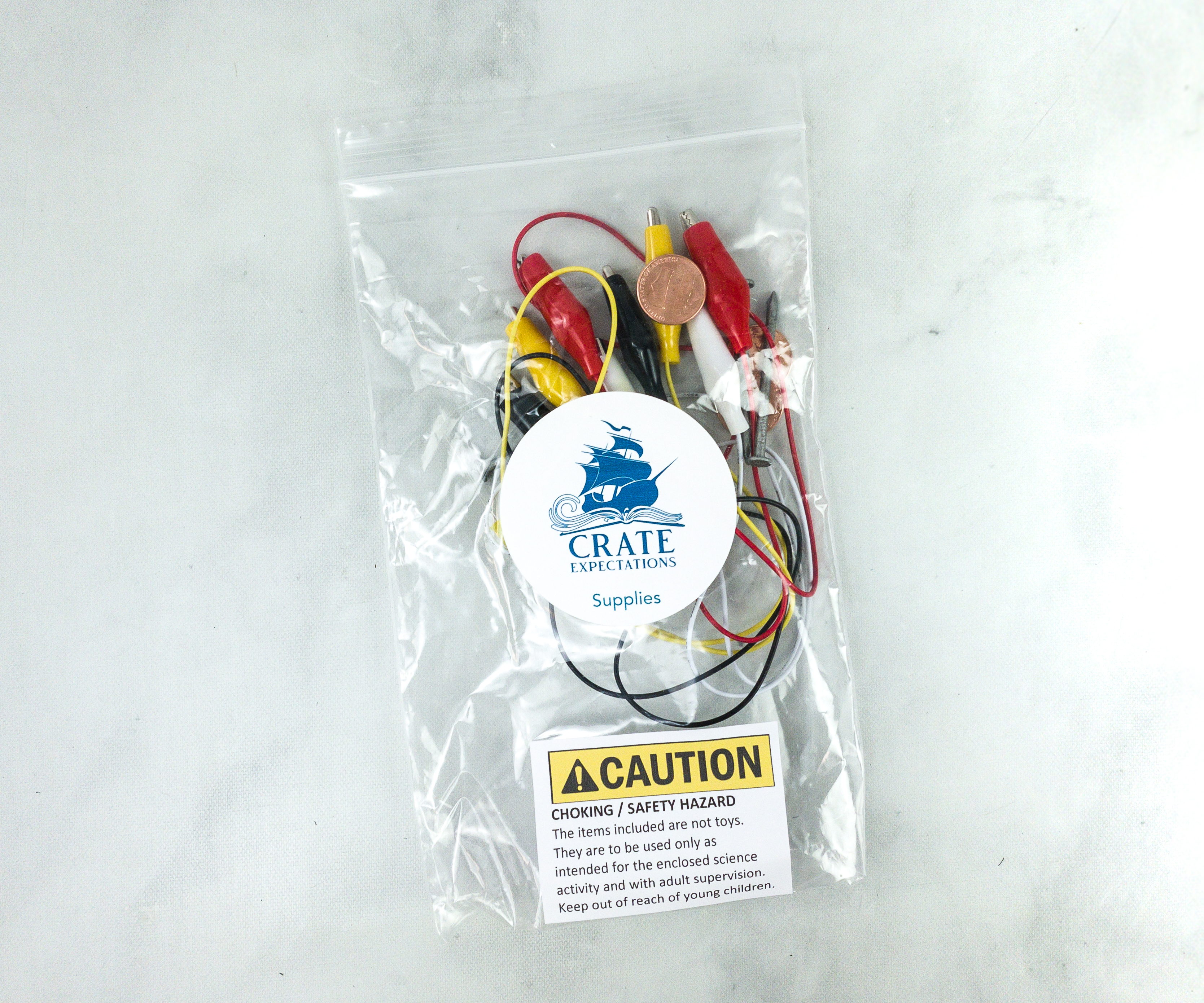 Lemon Battery Supplies. Inside this plastic bag are the supplies for this month's featured activity: the Lemon Battery.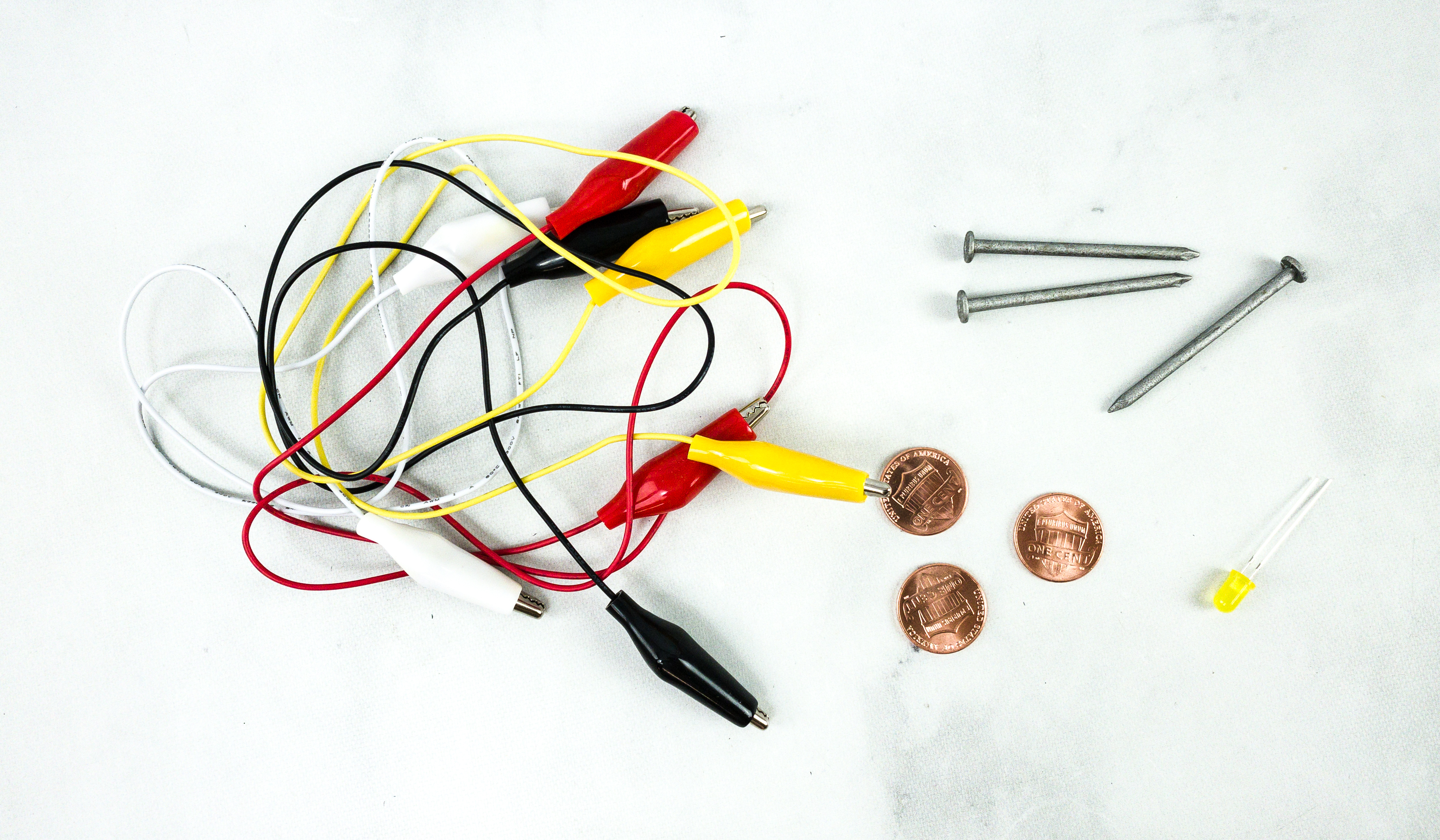 It contains LED light, connectors, nails, and pennies. We'll be using this with the very next lemon that comes in a meal box!
Energy Stick. There's also an Energy Stick from Steve Spangler Science!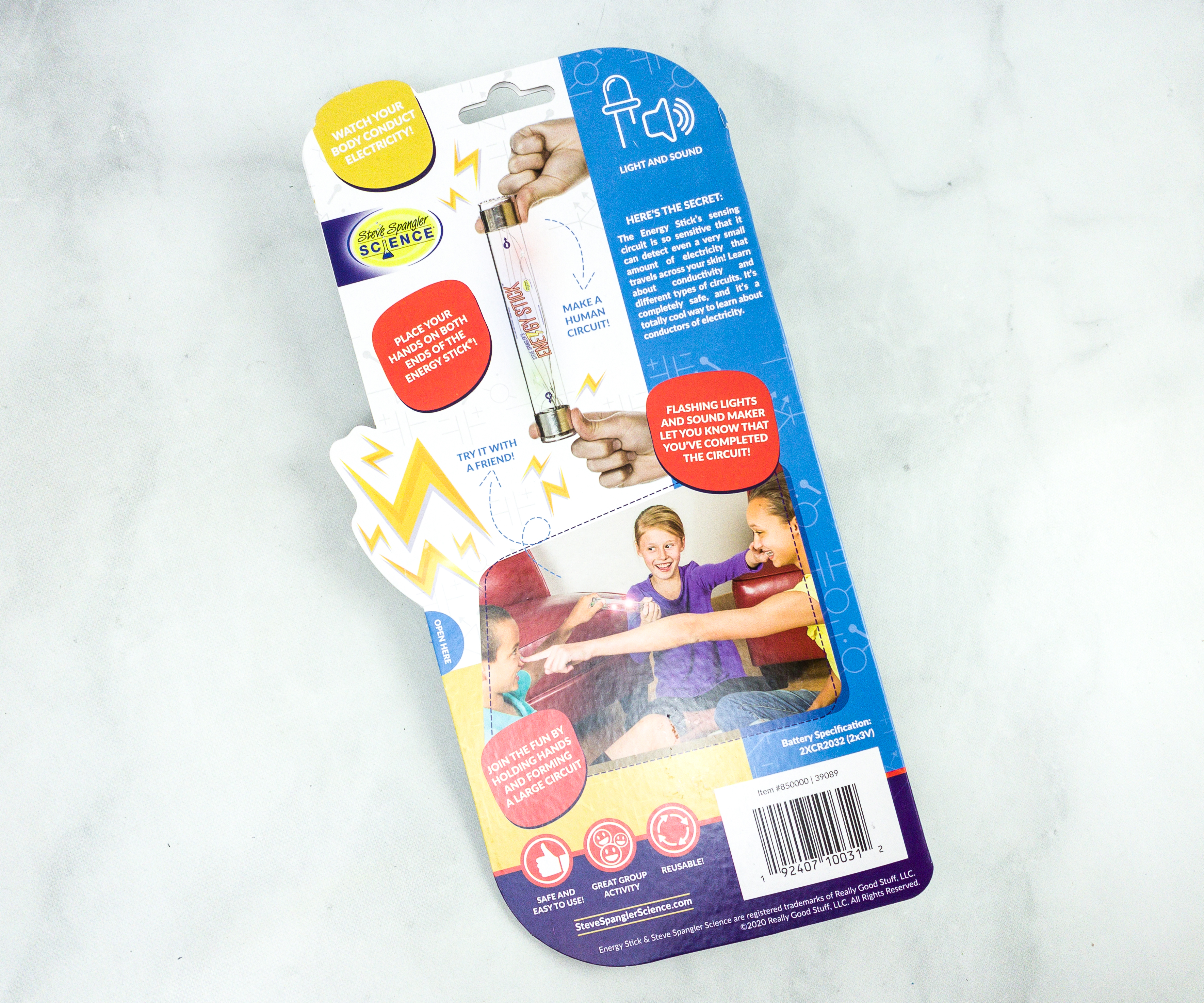 The back of the packaging tells us more about the item, and it included instructions on how to use it.

The Energy Stick is a great toy to explore the science of electricity and circuits. The Energy Stick's sensing circuit is so sensitive that it can detect even a very small amount of electricity that travels across your skin! It's completely safe, and it's a totally cool way to learn about conductors of electricity.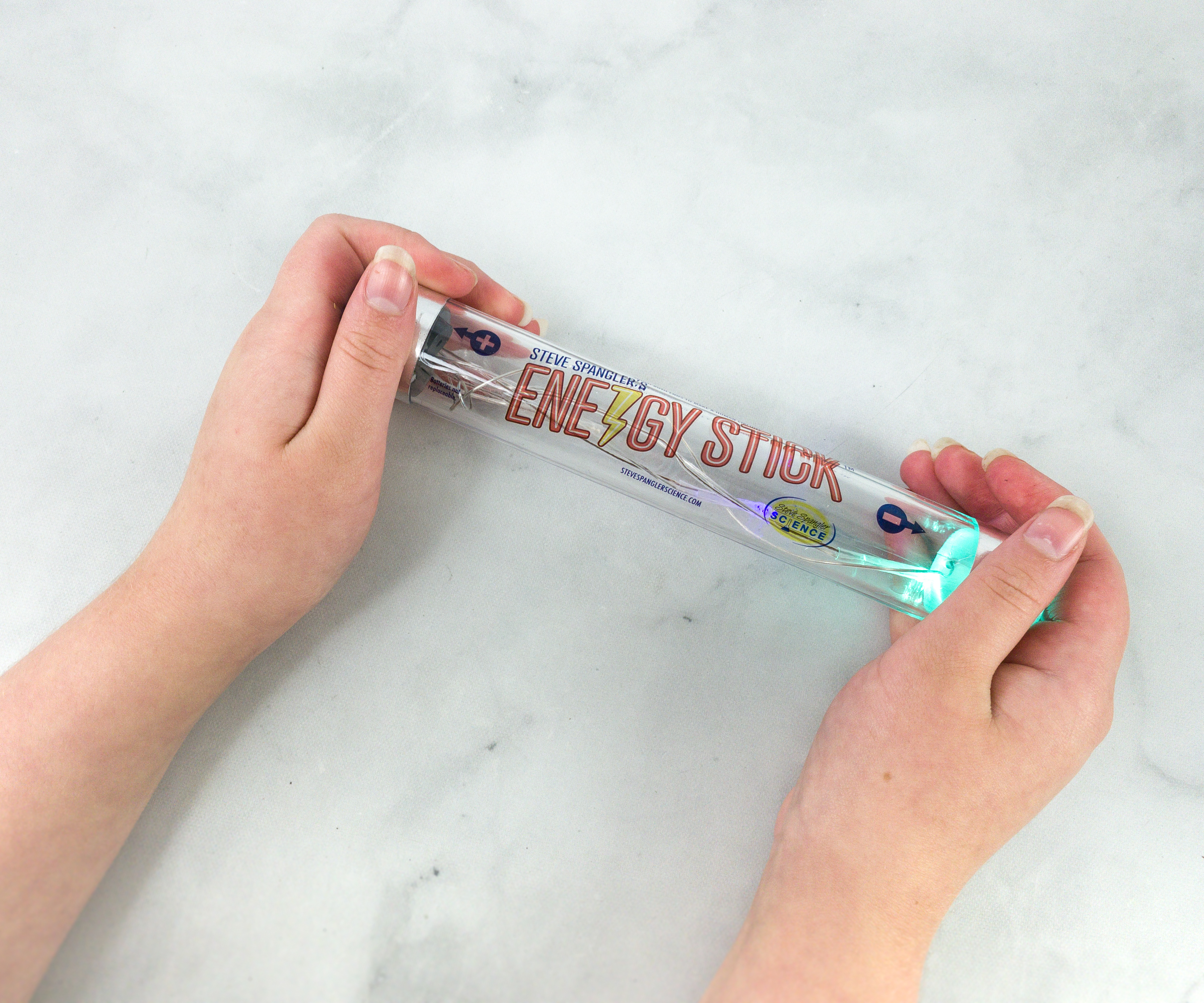 You can use both of your hands to create a human circuit, or ask some friends to join you! By holding the ends of the Energy Stick, you are making yourself a human conductor of electricity. If done by a group, as long as you are all holding hands,the Energy Stick will do its magic, and if someone breaks the circle, it will stop.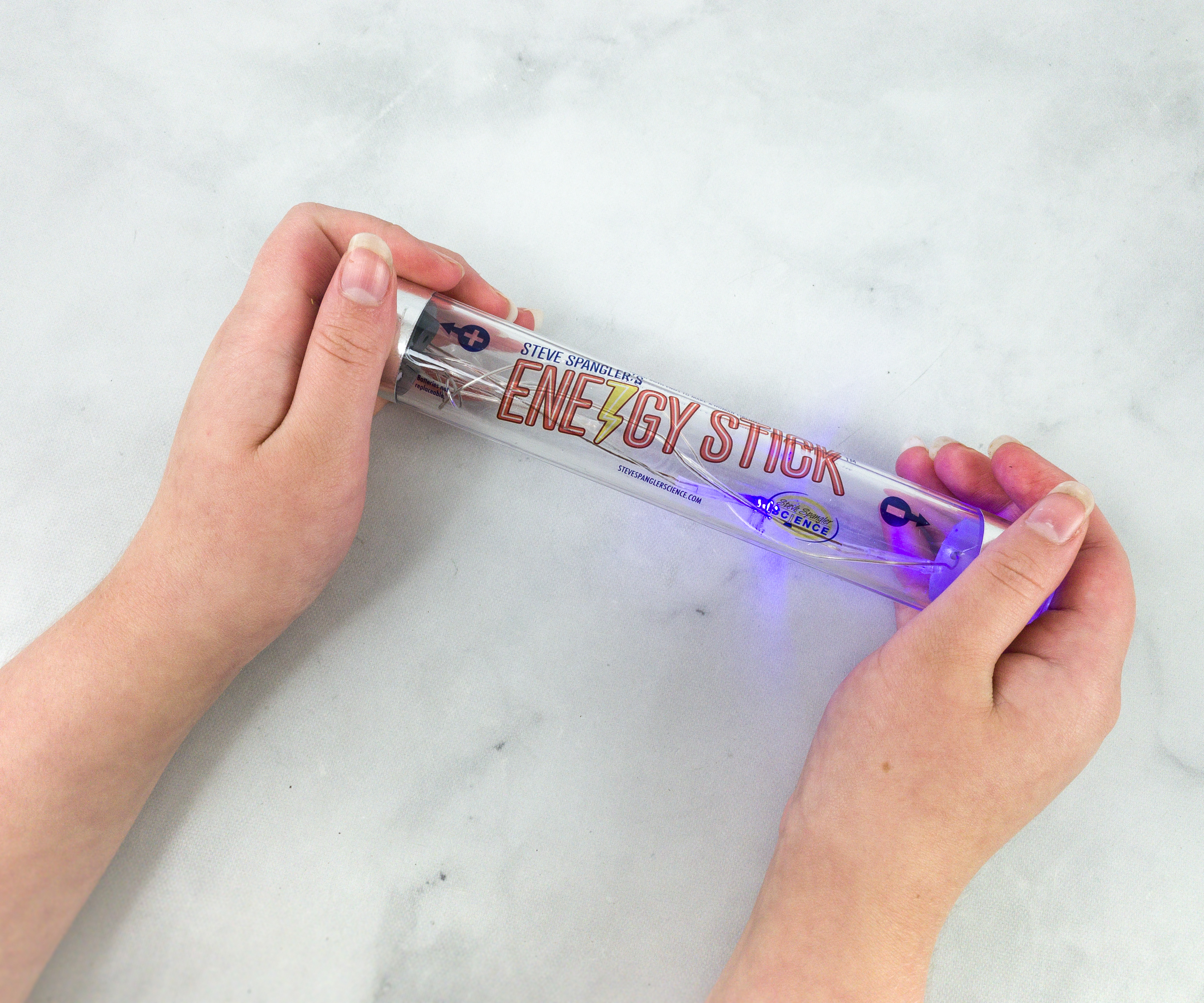 It's really a fun way to learn more about open and closed circuits, conductors and insulators, and how electrodes work!
This crate proved that kids can shine their own light, especially with all the inclusions this month. The featured book is beautiful, and it's the perfect tale for the kids to learn about law and justice, forgiveness, and how they can make a change to make the world a better place for everyone. The activities are all fun as they discovered about circuits, and how they can light up things like the LED light powered by lemon batteries and the Energy Stick which can light up using their own hands! It requires parental supervision, especially when working with the circuits, but generally, the activities are kid-friendly and easy to understand. My kids enjoyed this month's adventure, and we're excited for more adventures to come with this subscription!
What do you think of the Crate Expectations box?