Brick Loot is a monthly subscription box filled with LEGO-compatible items, bricks, and brick building accessories for LEGO fans. Every themed Brick Loot box is filled with 4-8 items that were handpicked by Brick specialists who scour the world for the newest and coolest products for you to collect. Usually, you can expect a custom mini-fig, two or more custom builds, and lighting or other customization products. A monthly box is $27.28, with discounts for longer subscription plans.
DEAL: Use code HELLO15 to save 15% on your entire subscription! OR use code KIDCEO to save $5 on your first box!
The box arrived in perfect condition.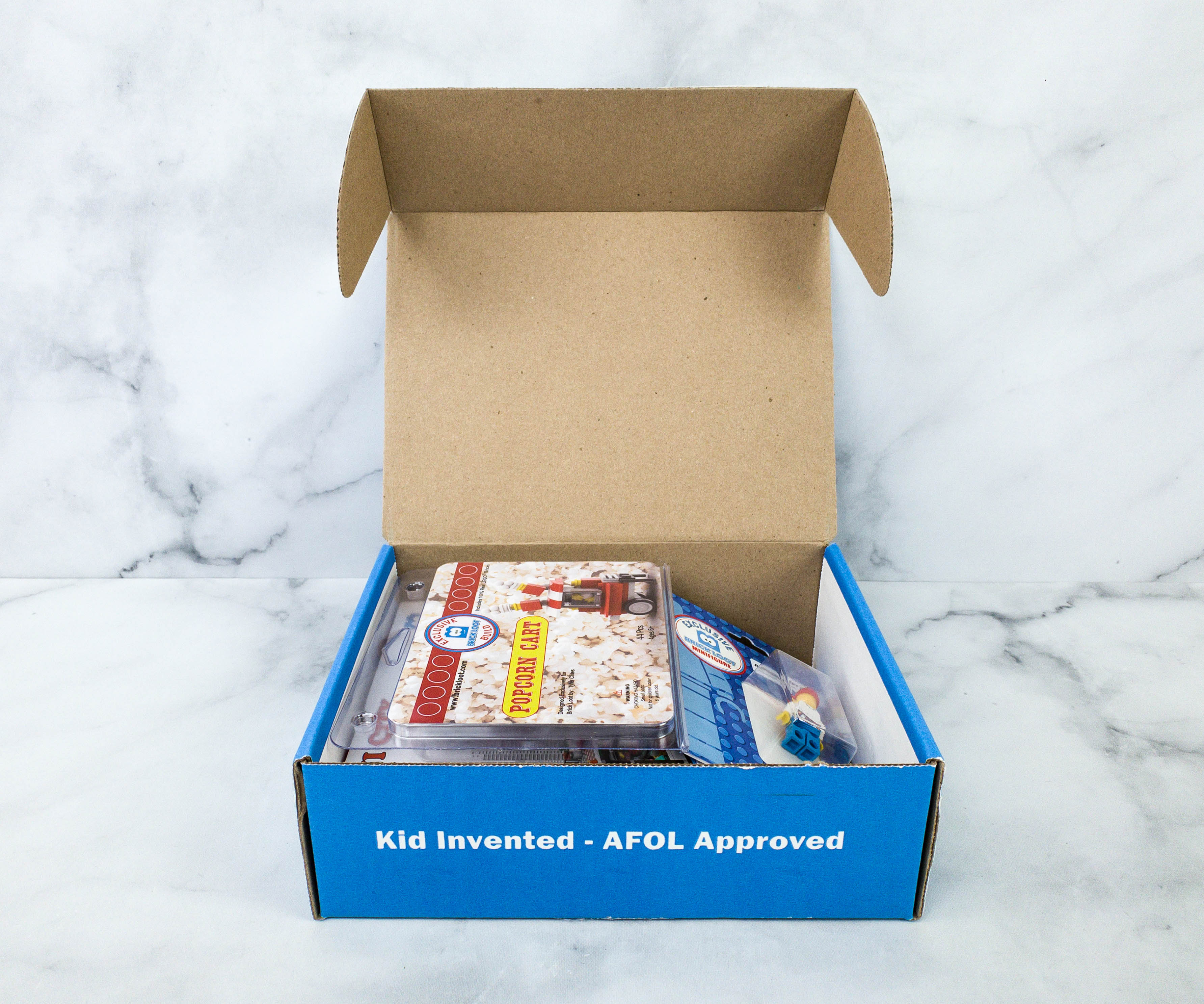 All the items came in their original packaging.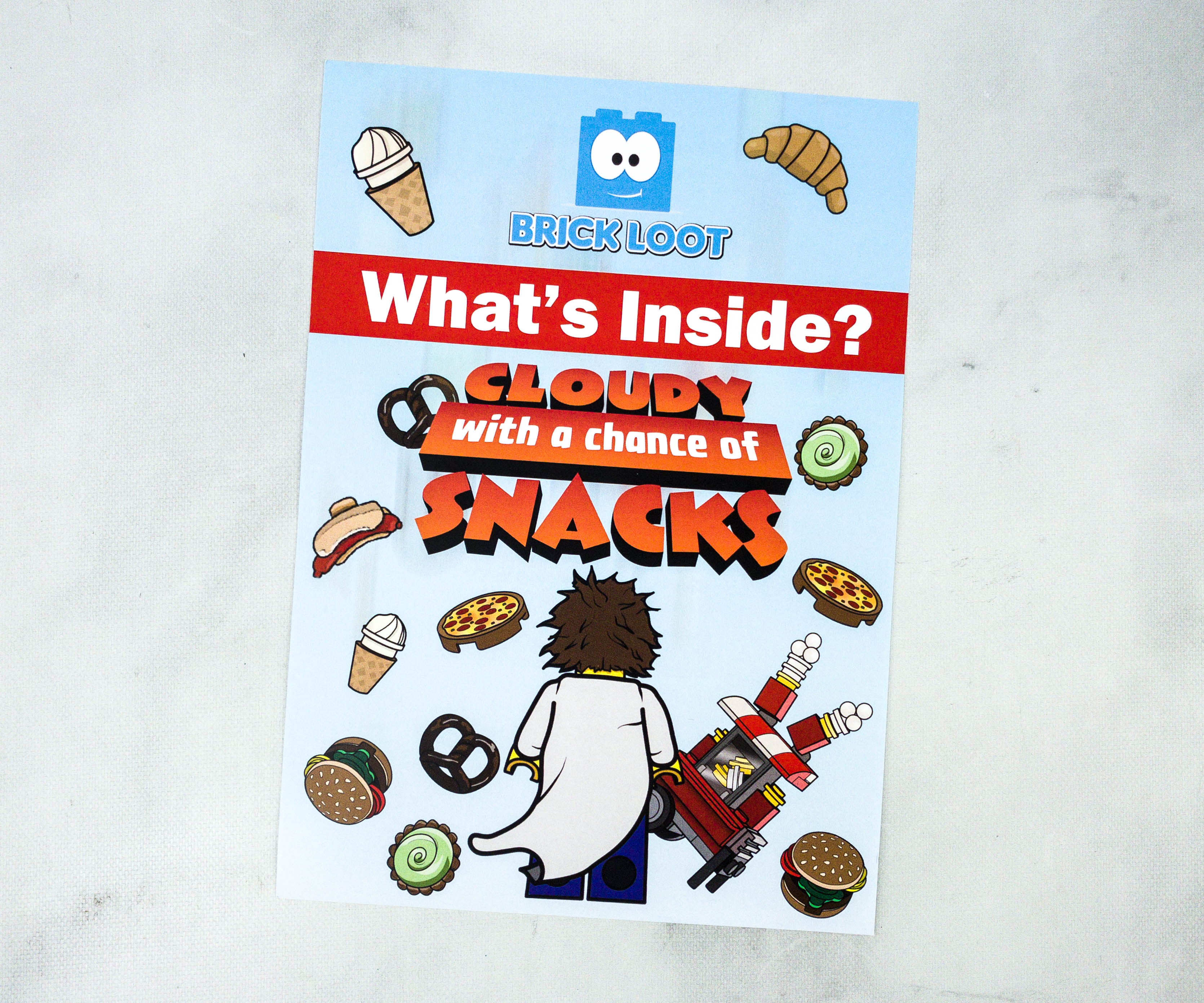 This month's theme is CLOUDY WITH A CHANCE OF SNACKS!
There's a list of all the items in the box, and all the details!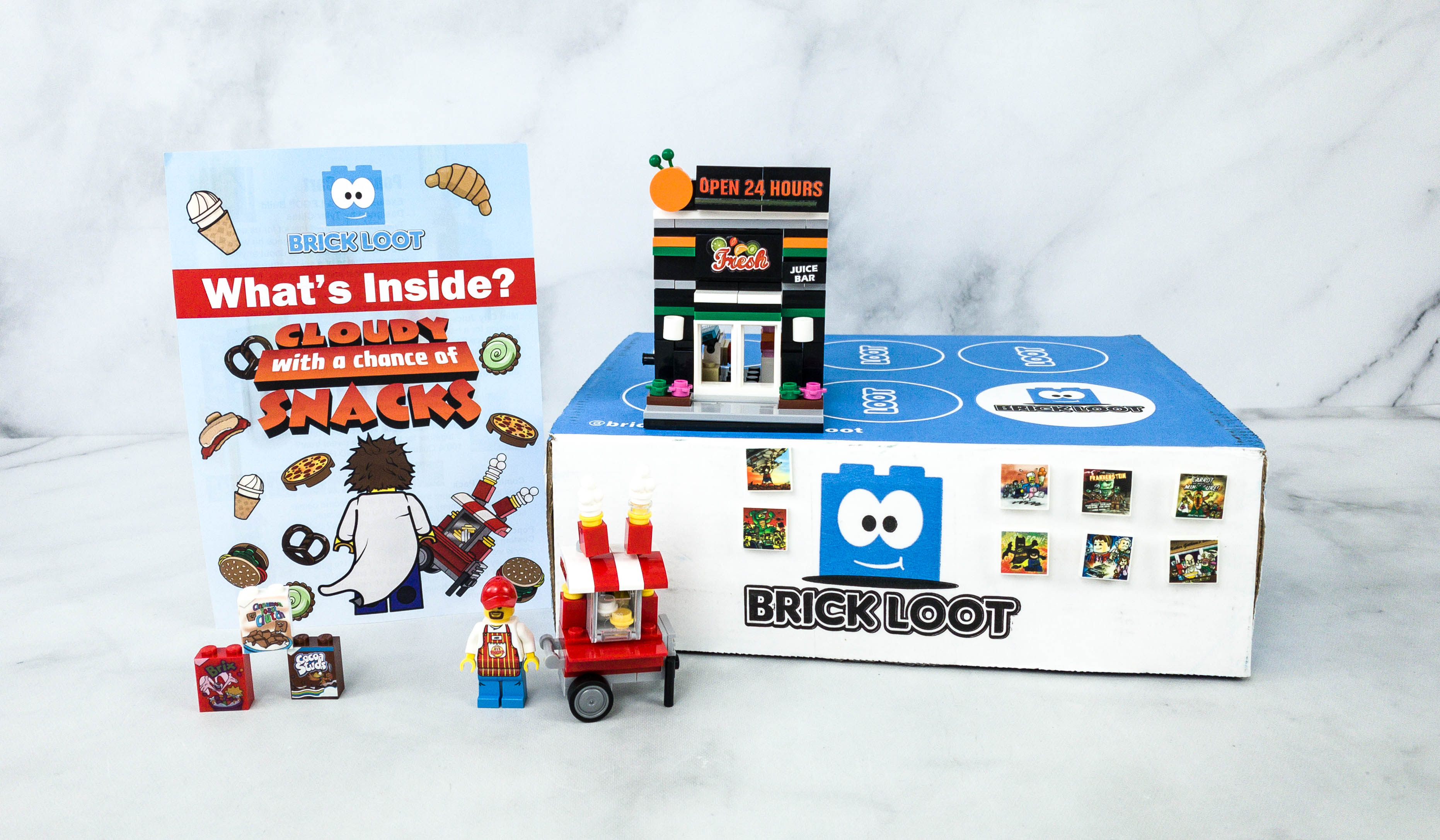 Everything in my box!
Popcorn Cart Vendor – Custom Printed LEGO Minifigure. This month's featured custom printed mini-figure has a name tag and it says he's Joey. He's a popcorn vendor!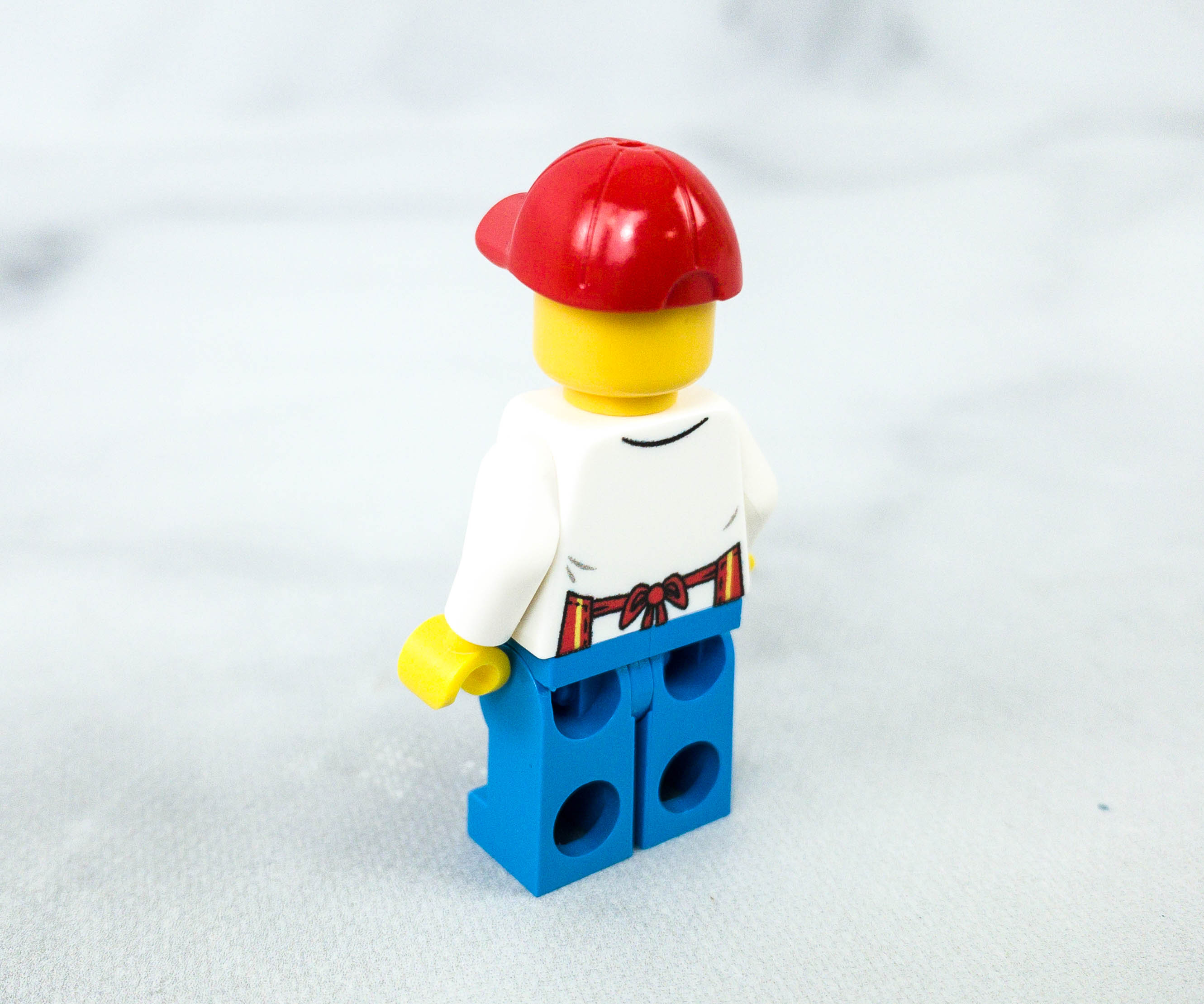 Detailed markings and colors are seen at the back of this piece. Look, he even has that apron tied up at the back!
Comic Tile Pack. As always, there's custom-printed tiles in this box! It came in a resealable pouch that you can also use as storage for the tiles when not in use.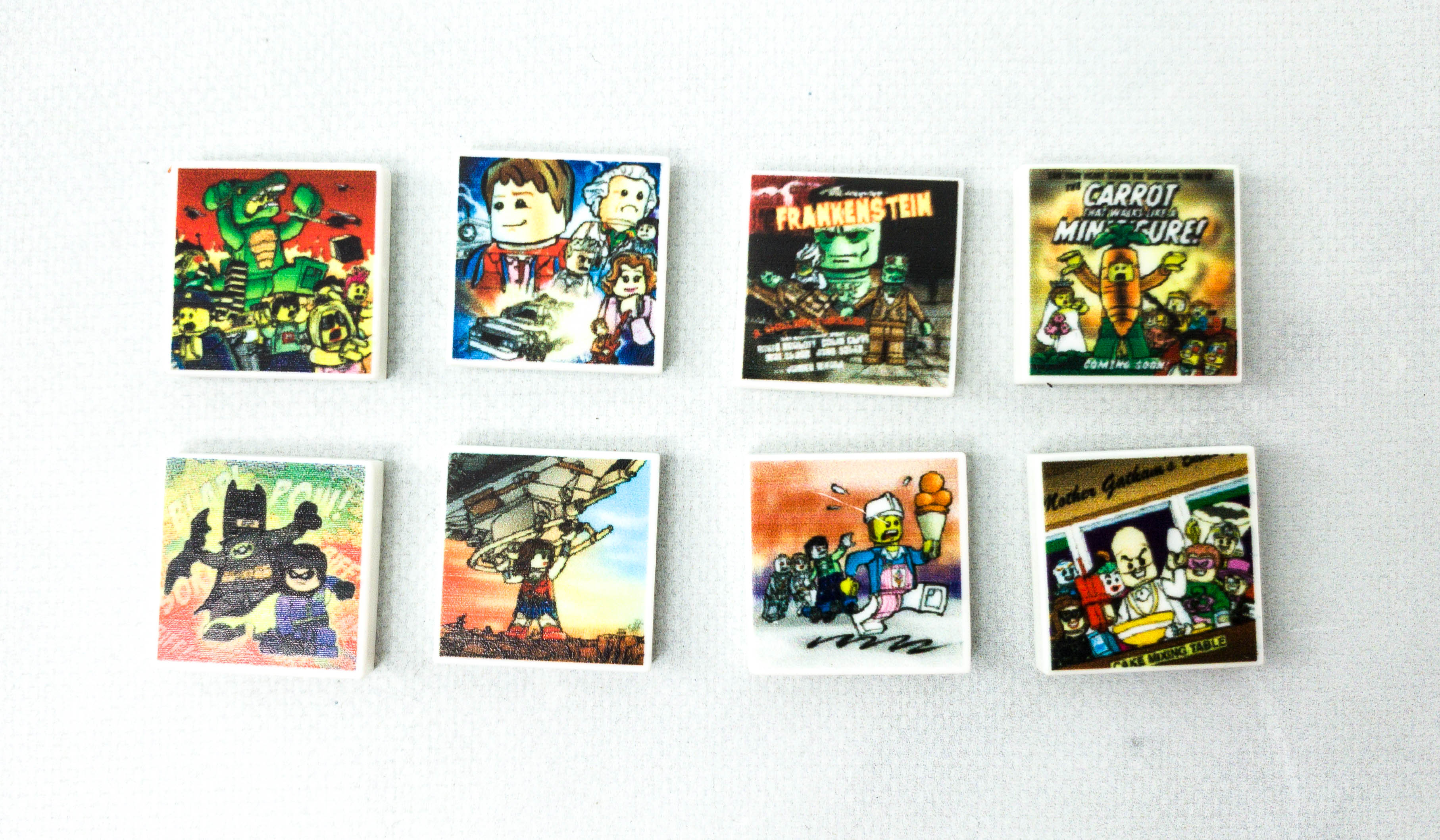 These are so fun! Batman, Wonder Woman, Back to the Future, and Classics like Frankenstein!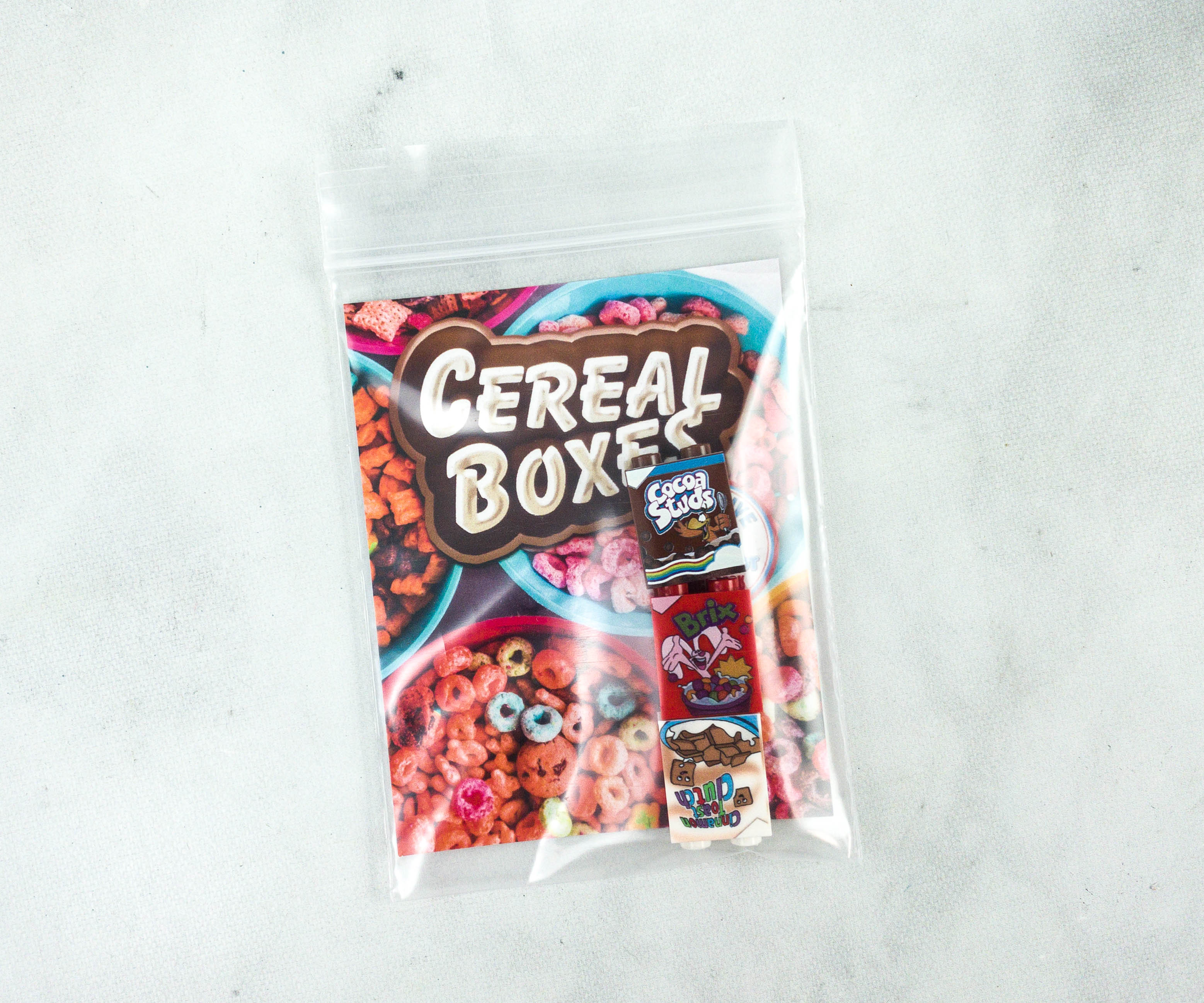 Cereal Boxes. Still in line with the theme, here are miniature cereal boxes packed in a reusable pouch. These are perfect for displaying in a LEGO kitchen.
Look at the details of the boxes, they look like the real thing. They are also inspired by actual cereal boxes!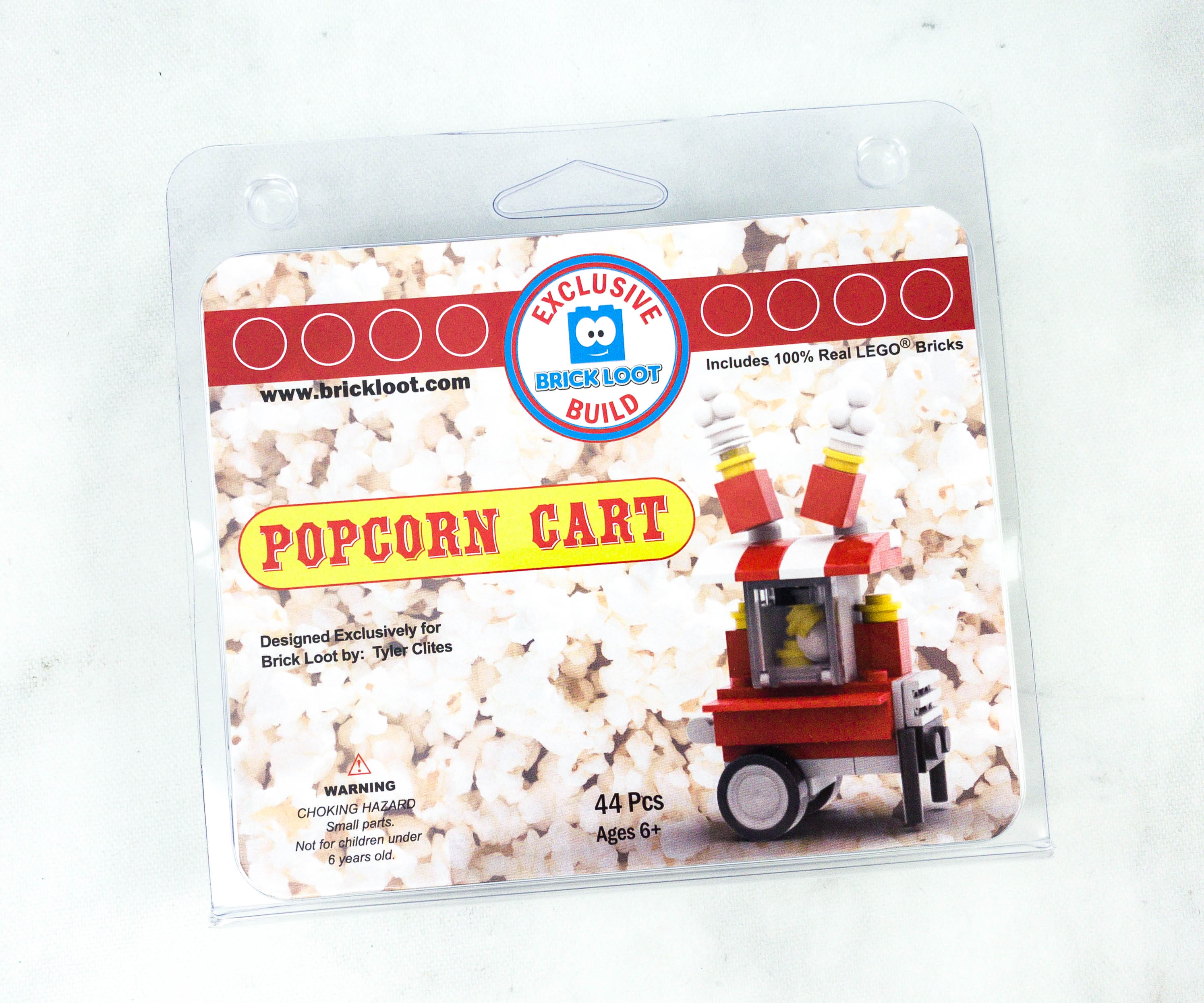 Popcorn Cart Exclusive 100% LEGO Build Design by Tyler Clites. This is an exclusive LEGO build, designed by Tyler Clites!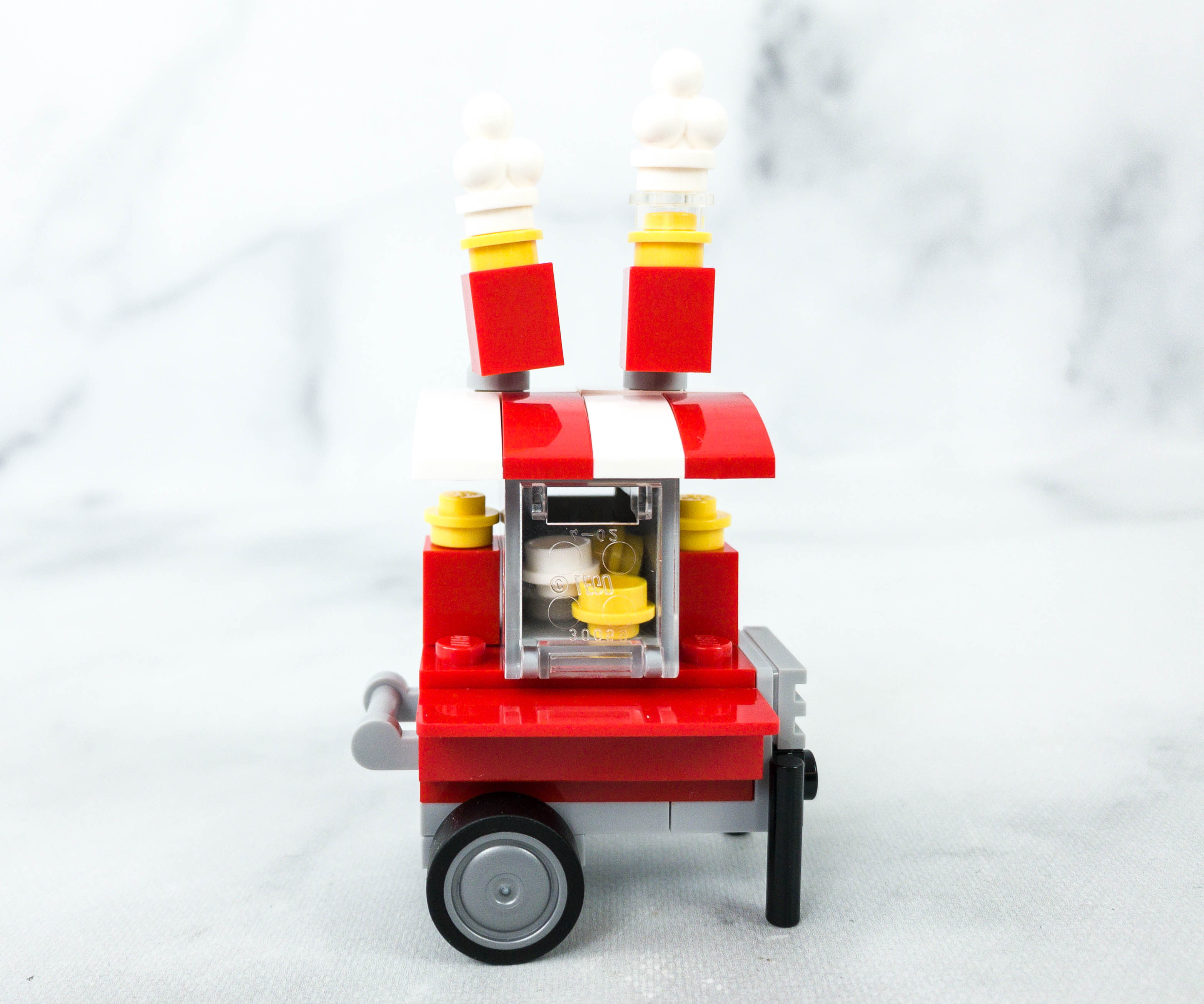 This cart looks like a real popcorn cart. It's composed of 44 pieces and my kids didn't have a hard time putting them together!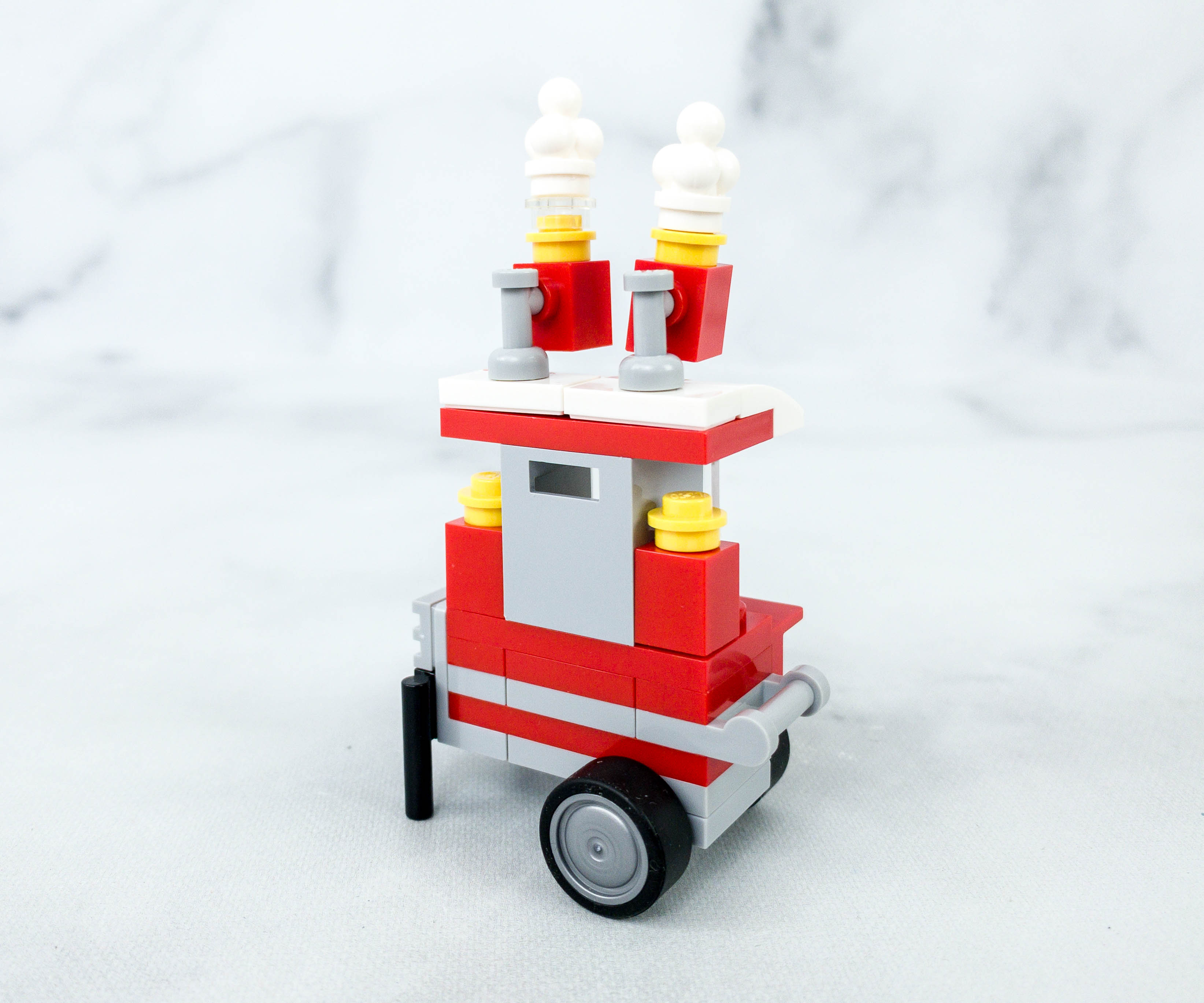 It even has wheels and a grab handle for the Popcorn Cart Vendor piece. This is too cool!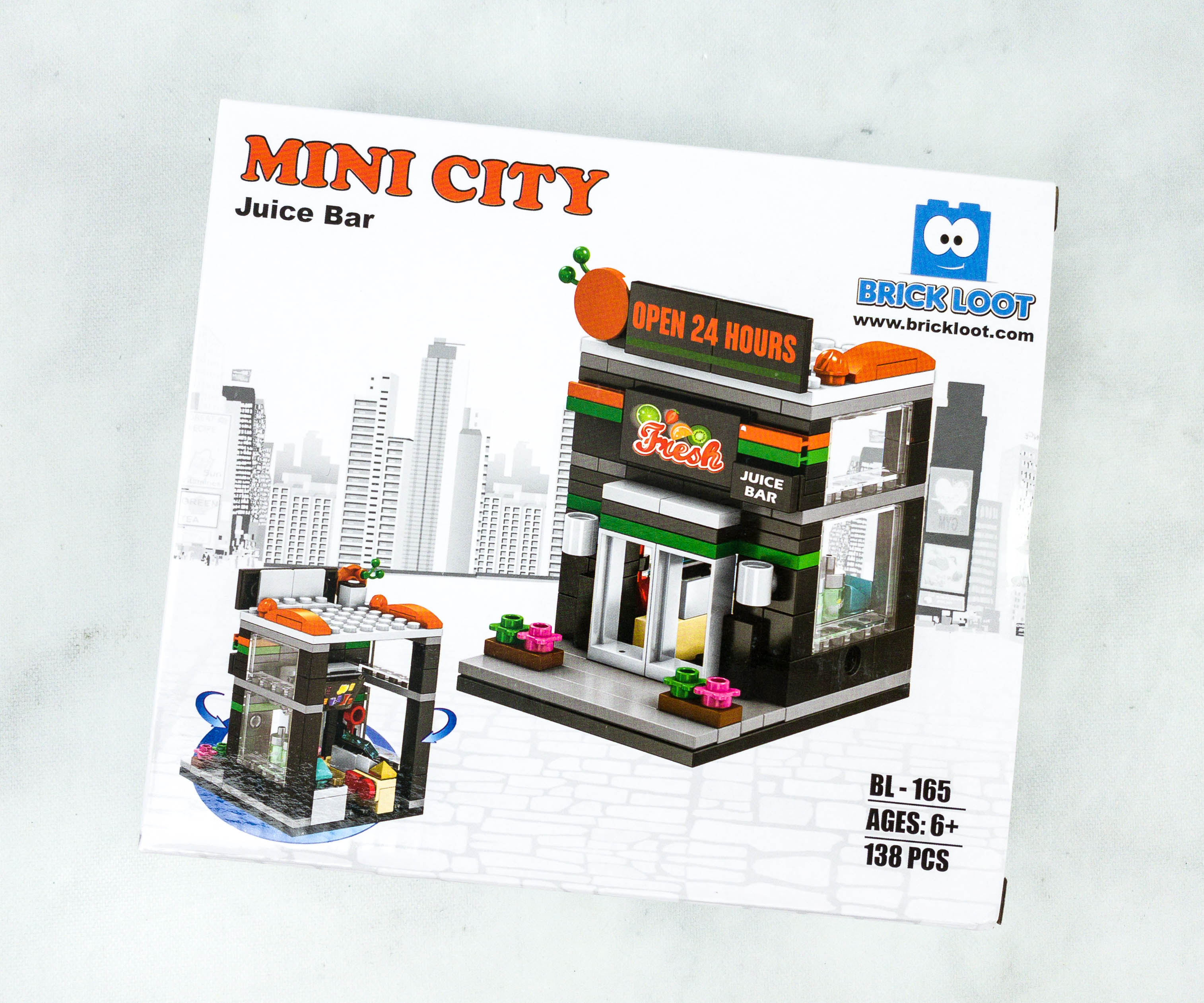 Mini City Juice Bar. The second custom build is a juice bar! It came in a box with an actual image of the finished product.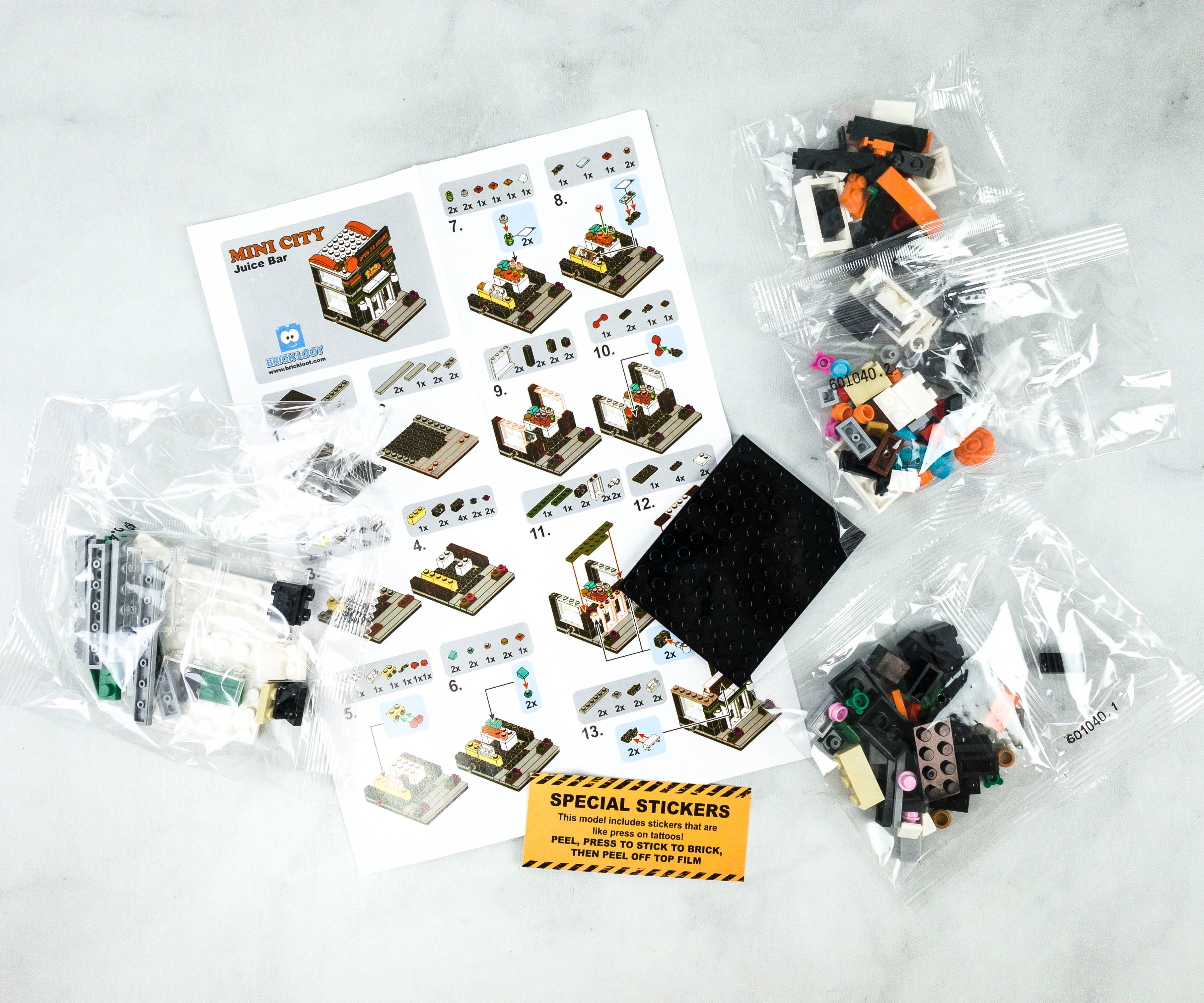 The 138-piece set came with an instruction manual and special stickers! The LEGO pieces were also grouped per part in plastic pouches.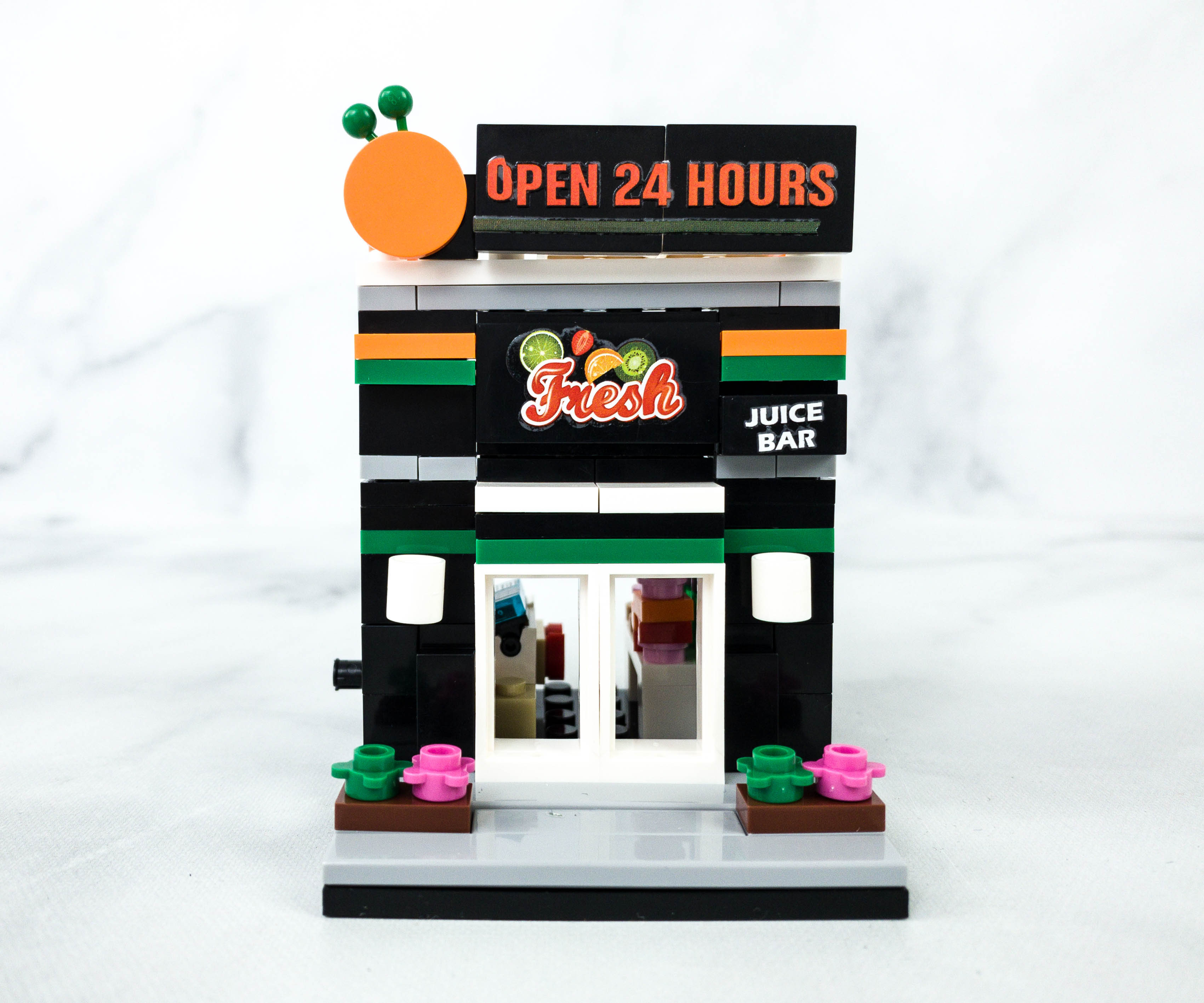 Here's how it looks like once done. The juice bar even has flower pots outside!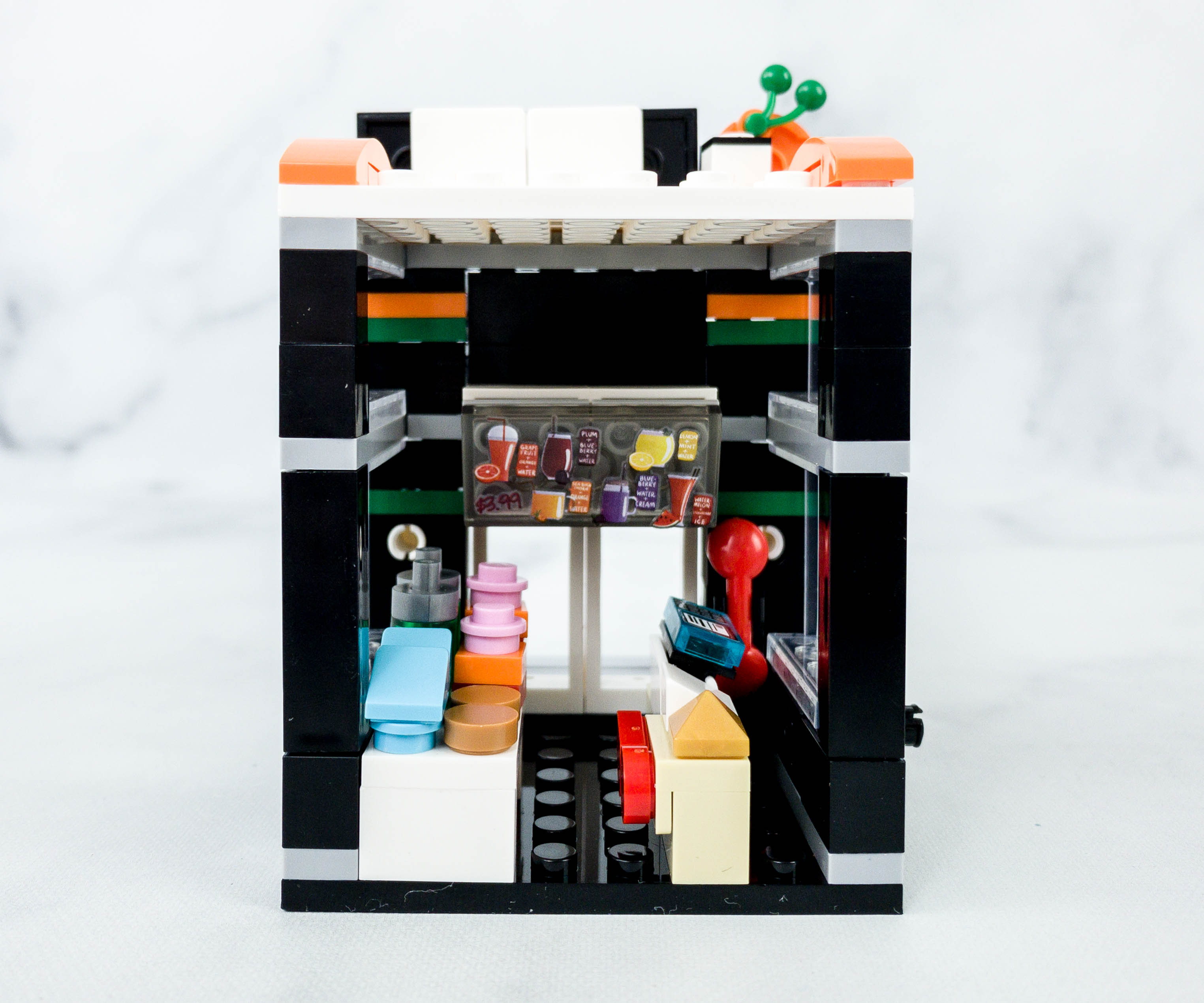 Even the interior of the juice bar has complete details, like the menu and the cash register.
Brick Loot always sends new and exclusive pieces and we're so happy to add them to our LEGO collection! Aside from custom builds, there are also custom tiles and mini-figures which are nicely detailed. Another thing we love about this subscription is that they never fail on coming up with interesting themes, like this month's box which is all about snacks. Our favorite item is none other than the popcorn cart! Like other builds we've previously received, it's easy to put together and it looks like the real thing. It's also nice to have Joey, the mini-figure, pose next to it! I love how they captured even the tiniest detail and they even got him a name tag. Overall, my kids and I love this month's box contents! This is a great subscription for LEGO fans and collectors of any age!
What do you think about Brick Loot?