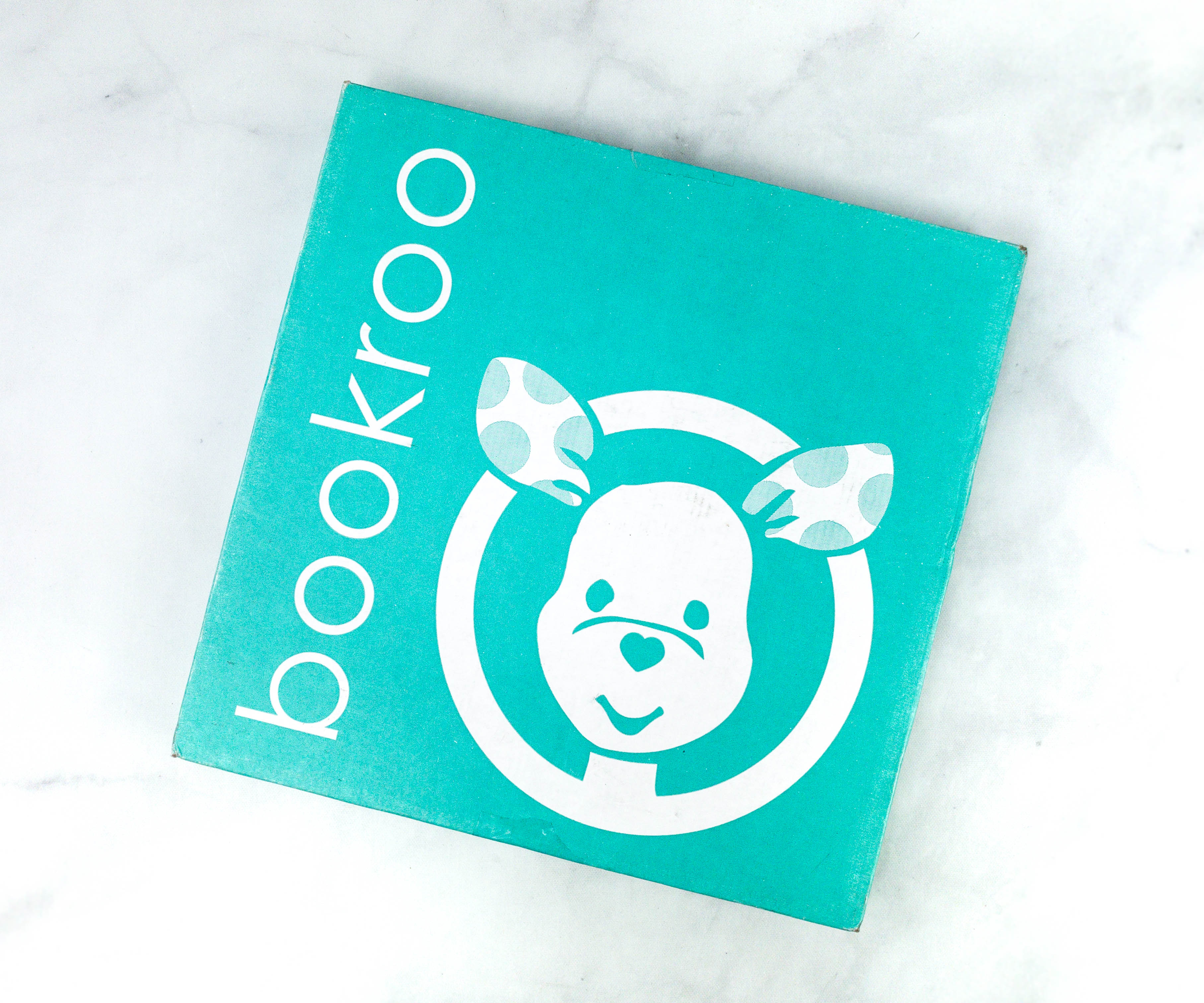 Bookroo is a monthly book subscription for kids! With this subscription, you can choose between board books (best for ages 0-3) and picture books (2-6+). They also have chapter books, perfect for ages 7-10. The retail value of the books you receive will always be above the subscription cost.
DEAL: Get 15% off on any subscription! Use the coupon code HELLOBOOKROO. Gift Subscription not included. Cannot be combined with any other offers.
This is a review of the $19.95 per month + $5 shipping Picture Books subscription, which includes 2 gift-wrapped picture books every month.
Your books will arrive neatly wrapped in gift paper and tied with a bow. It's a lovely touch, and it turns it into an easy gift for a grandparent to pick up! Throw on a card and bow, and they would be presentable for any gift-giving occasion. The paper is really thick and high quality, so the books are both pretty and well protected. The care with which the books were packed tells me the curator has a great love and respect for books.
The information card gives us a brief description of the books included in this box.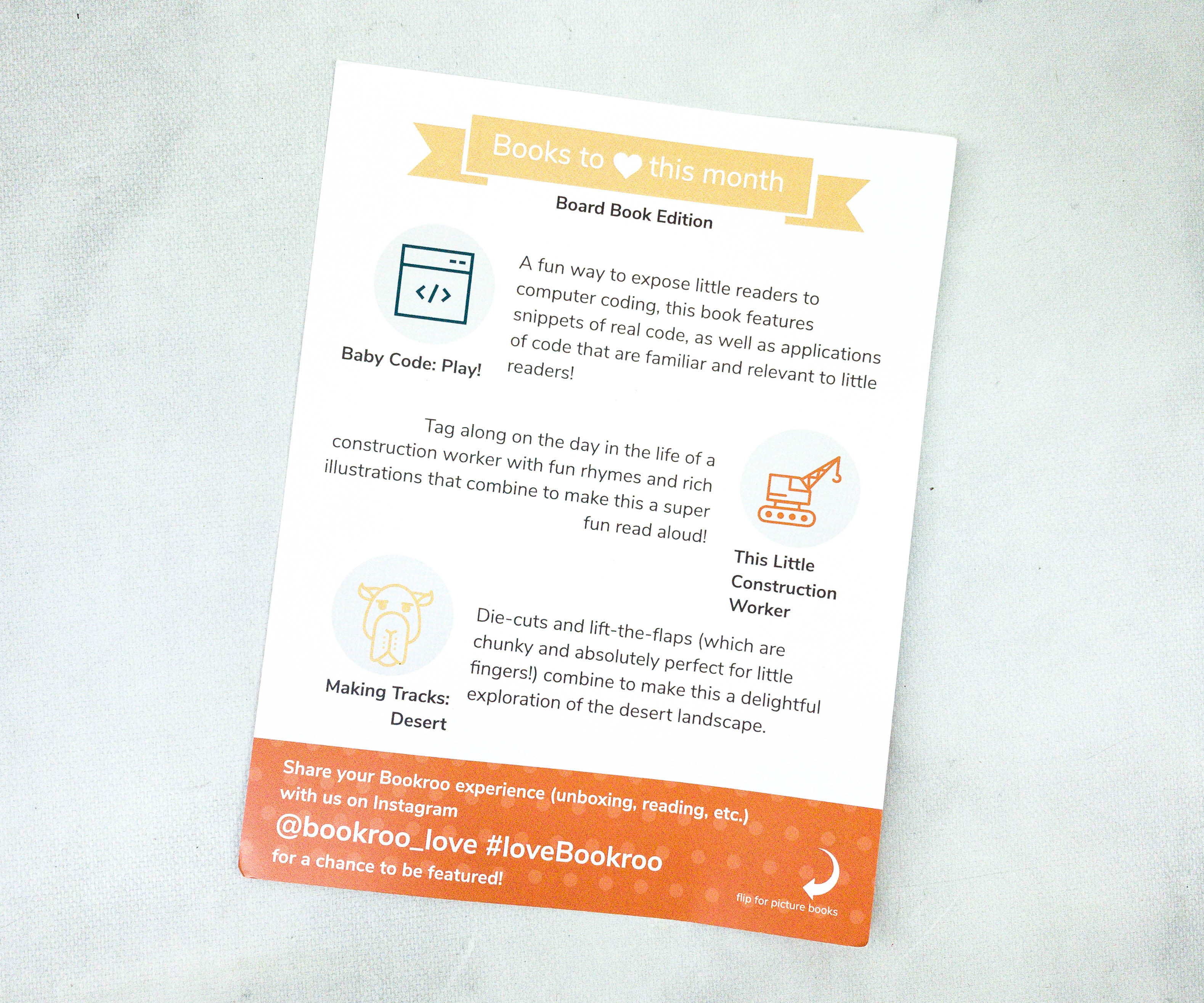 You can check out their author interviews on the Bookroo Blog.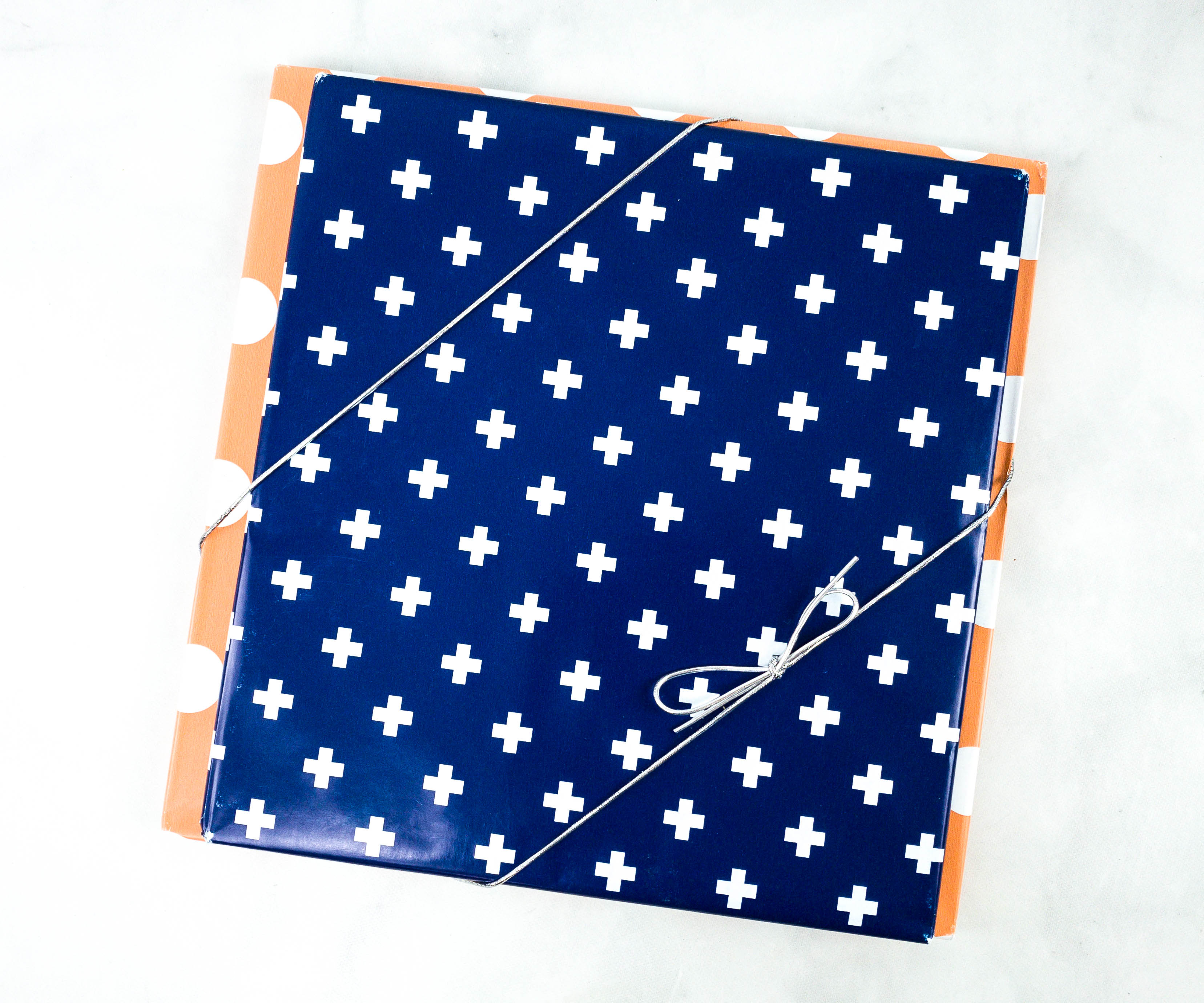 These are perfect holiday gifts as well!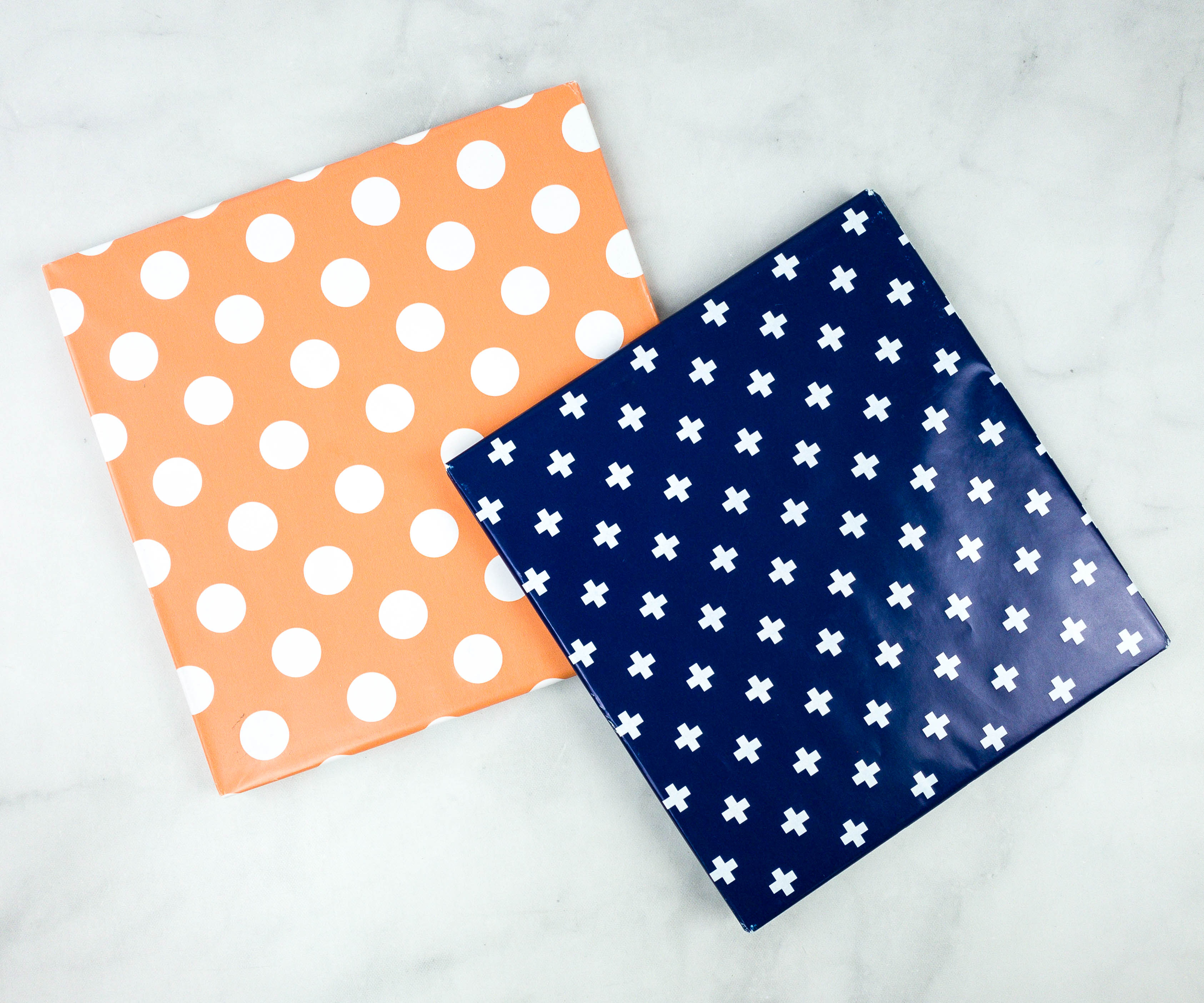 We're really excited to unwrap them!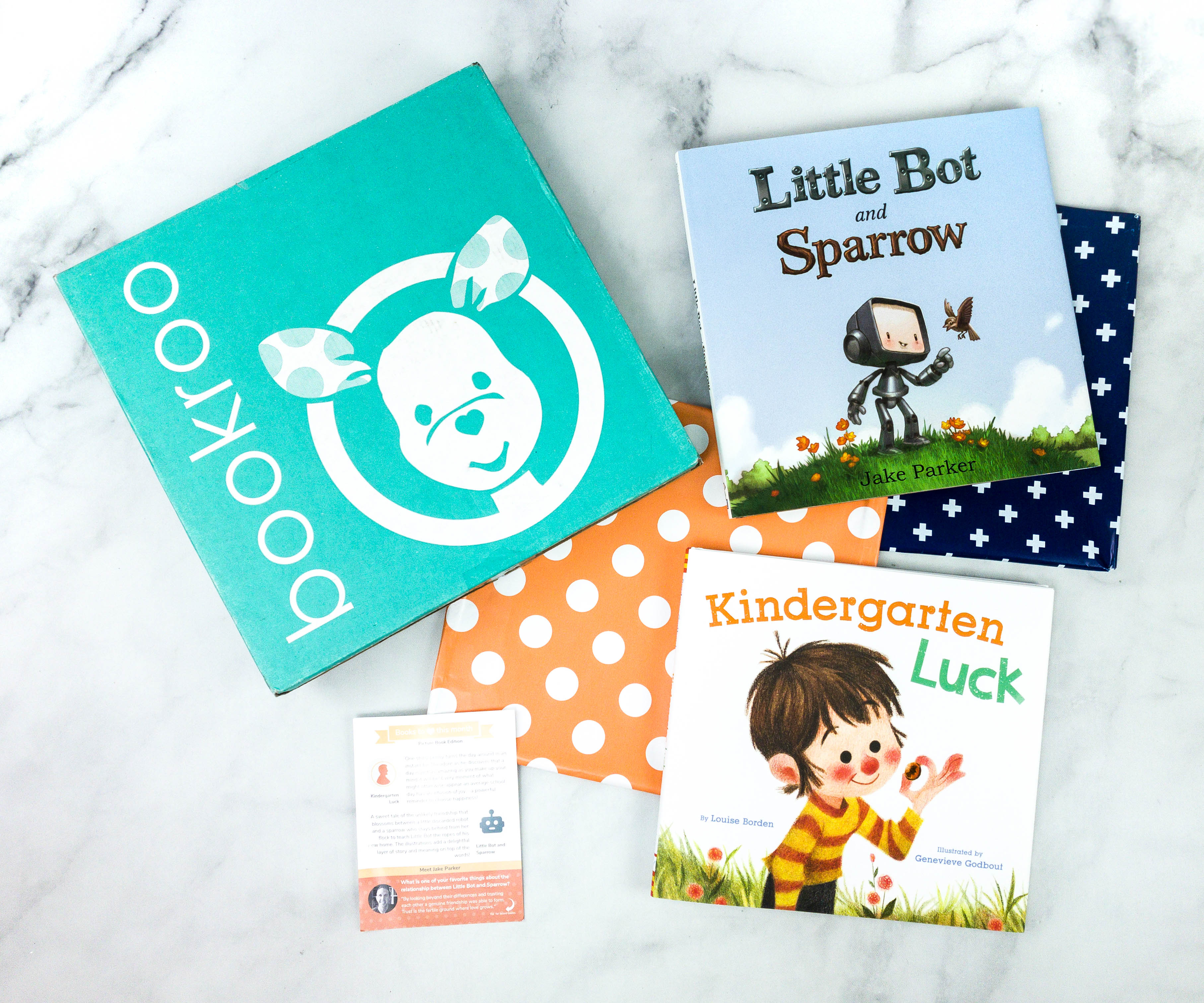 Everything in this month's box!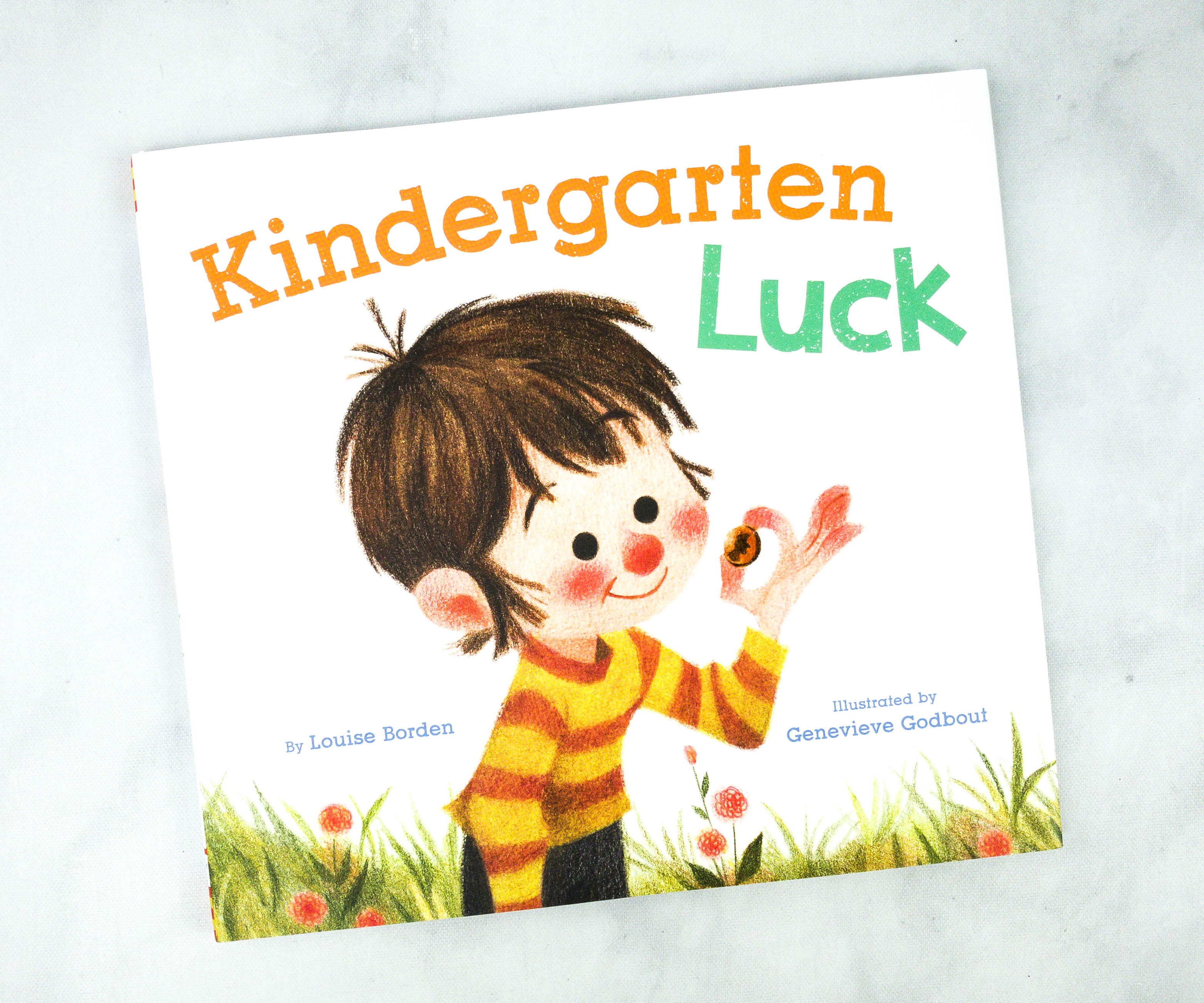 Kindergarten Luck by Louise Borden ($15.23)
What makes a lucky day?
One gloomy morning, Theodore found a bright, shiny penny on the way down to breakfast. There was Abraham Lincoln, face up. What luck! "Oh THANK you, Mr. Famous President!" Theodore said. And he tucked that shiny, new penny in his pocket.
Follow Theodore through a day bursting with the simple joys and endless verve of young children—a reminder of how much luck abounds in the world, and how sometimes, it's just waiting to be found.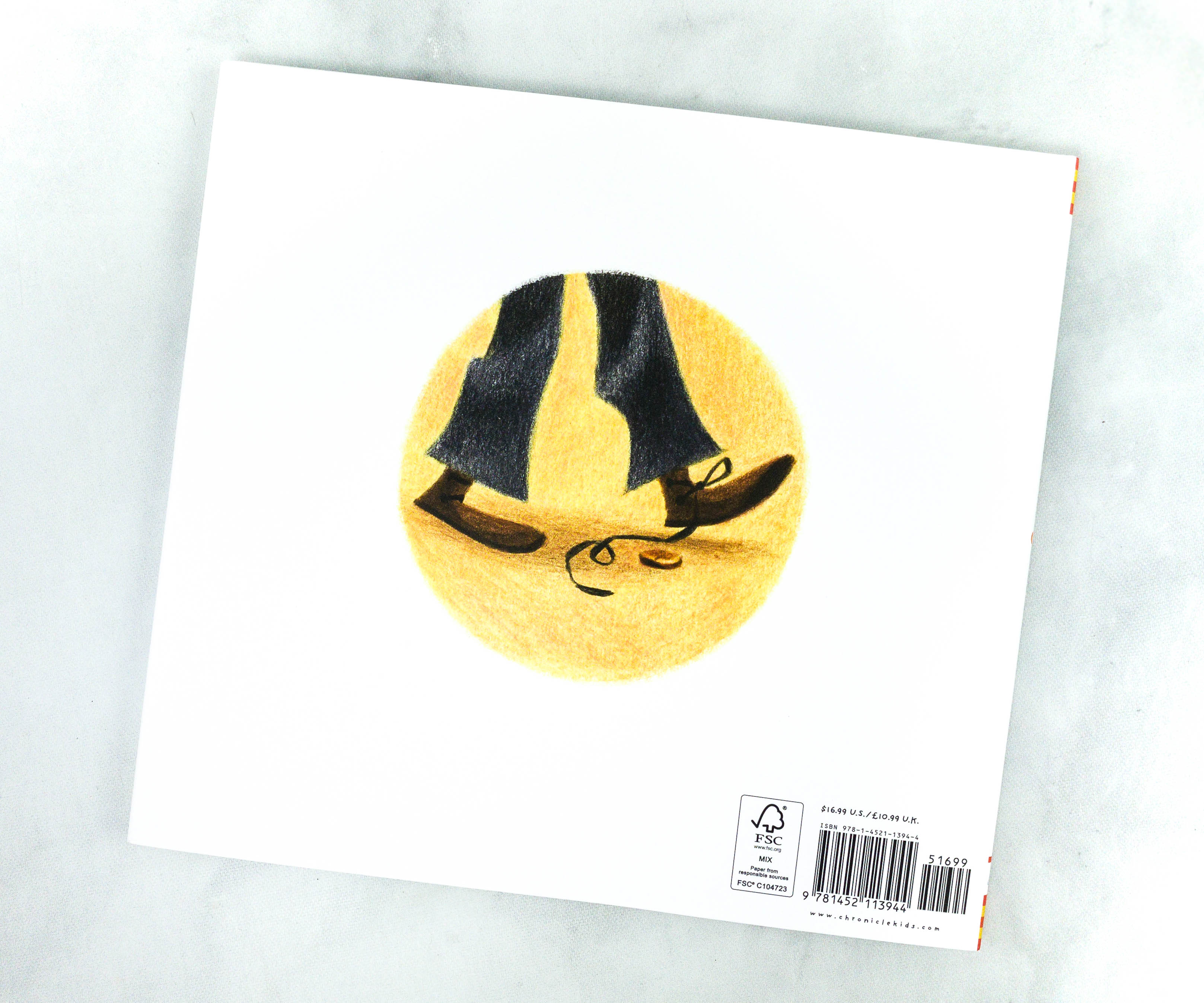 This story is all about a kid's lucky day! Accompanied by cute illustrations, this charming story makes a perfect bedtime read.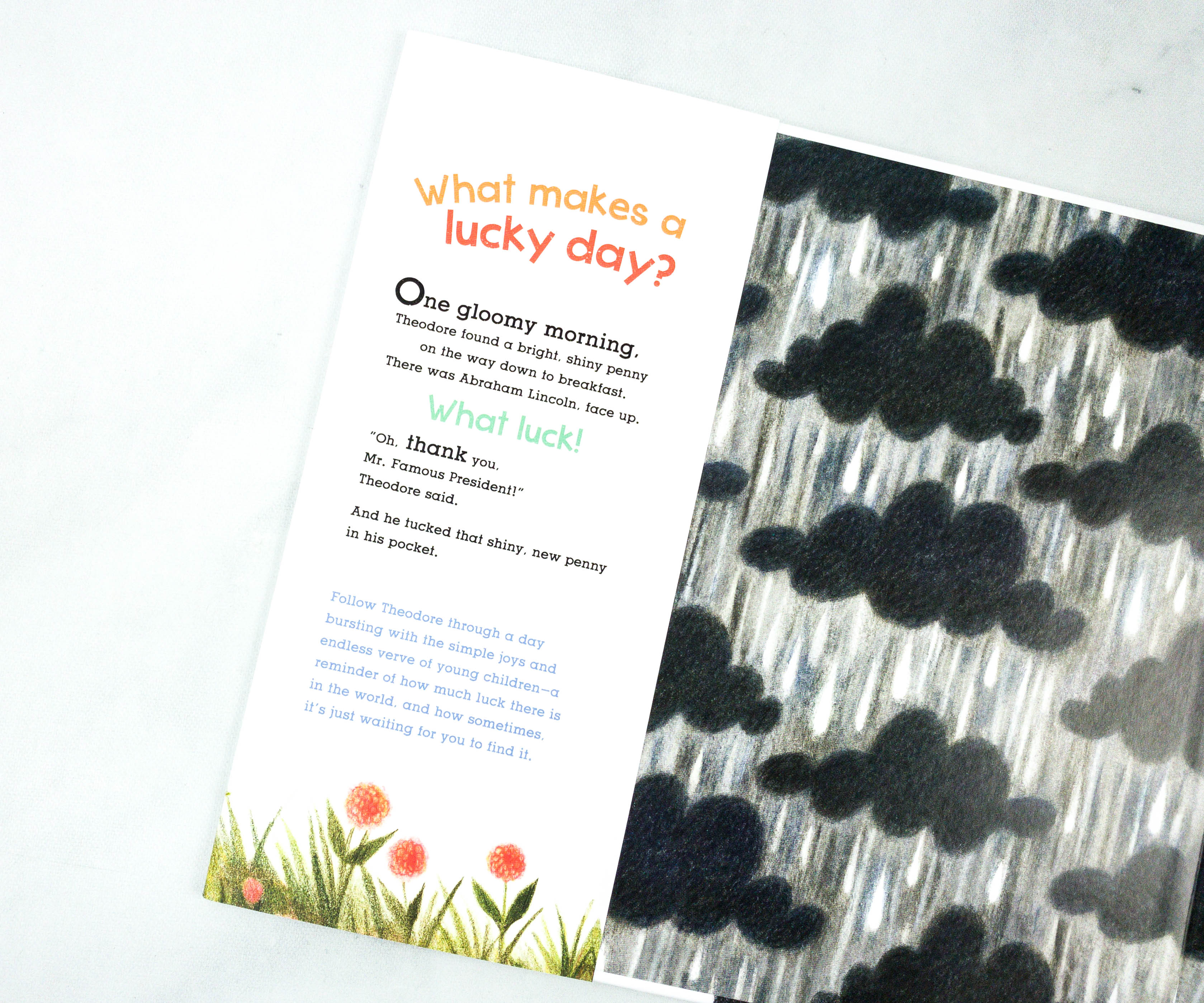 The flap gives us a sneak peek of the story. There are also dark clouds on the endpaper!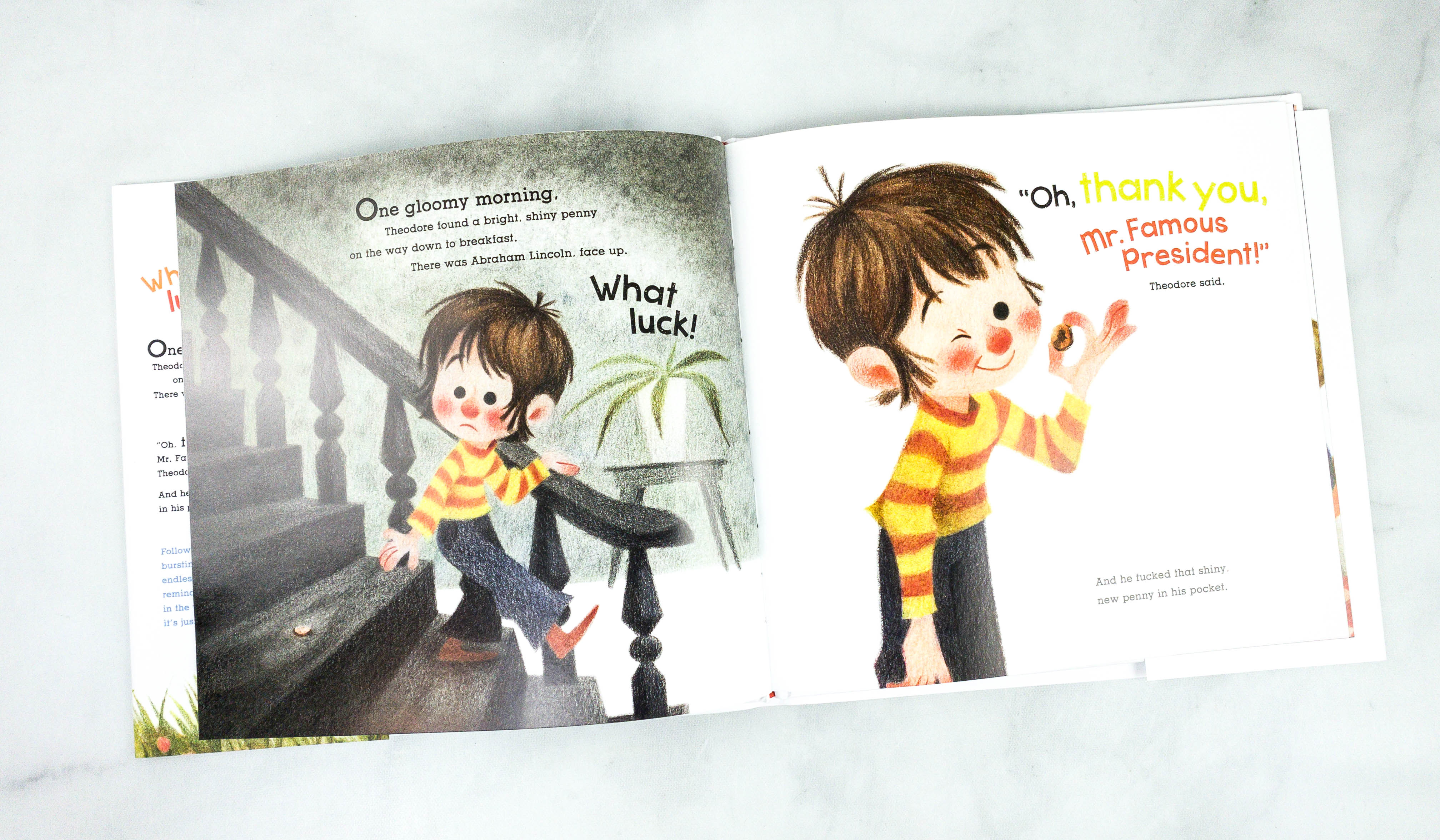 Although the morning is gloomy and the sky is dark, Theodore stumbles upon a shiny penny! From here on, he experiences more things that make him more thankful.
The story teaches children to be more appreciative of the things that they have and to see things in positive ways. If they do, it will make every day better and the things they do become more enjoyable!
Little Bot & Sparrow by Jake Parker ($7.78)
A story of friendship that can inspire anyone, even robots, to dream . . .

When Little Bot is thrown out with the garbage, he finds himself in a strange new world. Fortunately, Sparrow is there to take him under her wing. Together, they explore the forest, share adventures, and learn what it means to be forever friends.

This sweet and lasting tale by Jake Parker beautifully captures the happiness and love that can come from making your first true friend―and the courage it takes when it's time to say goodbye.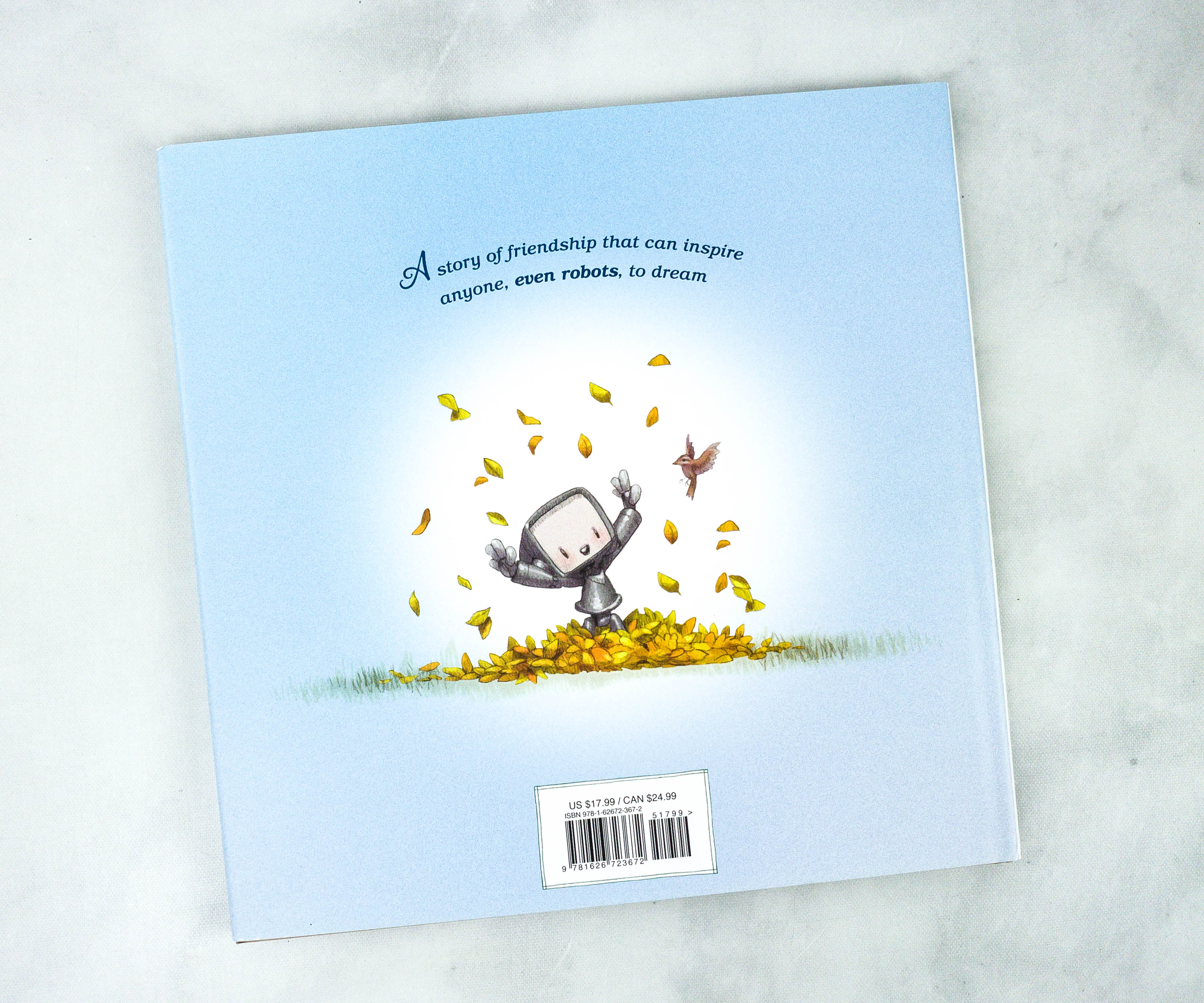 Just by looking at the cover, we could tell that it will be a fun adventure with these two characters, Little Bot and Sparrow!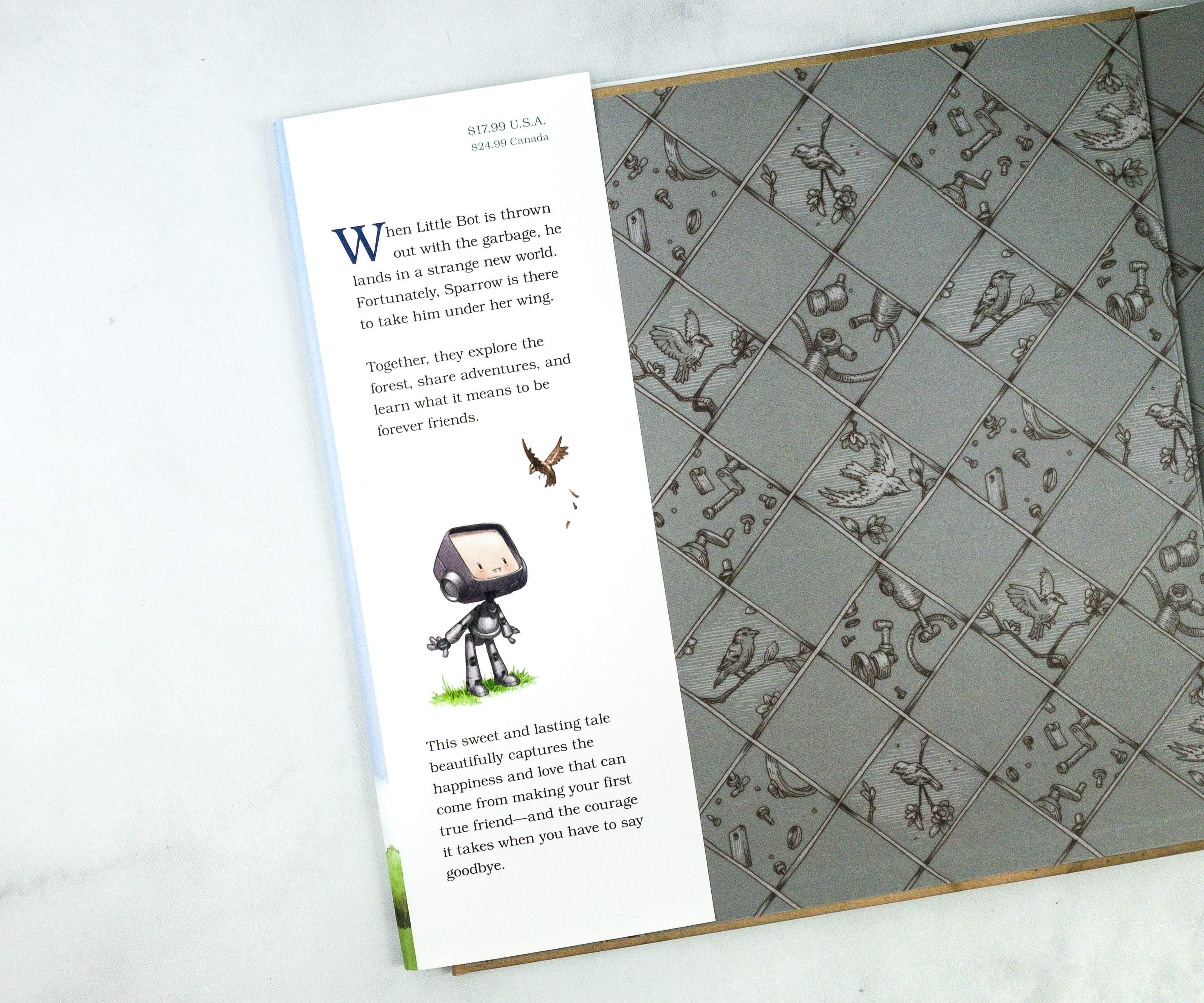 The dust jacket of the book includes the story's synopsis. It introduces us to Little Bot, a robot that was thrown out with the garbage, and Sparrow, the bird that helped and took him under her wing.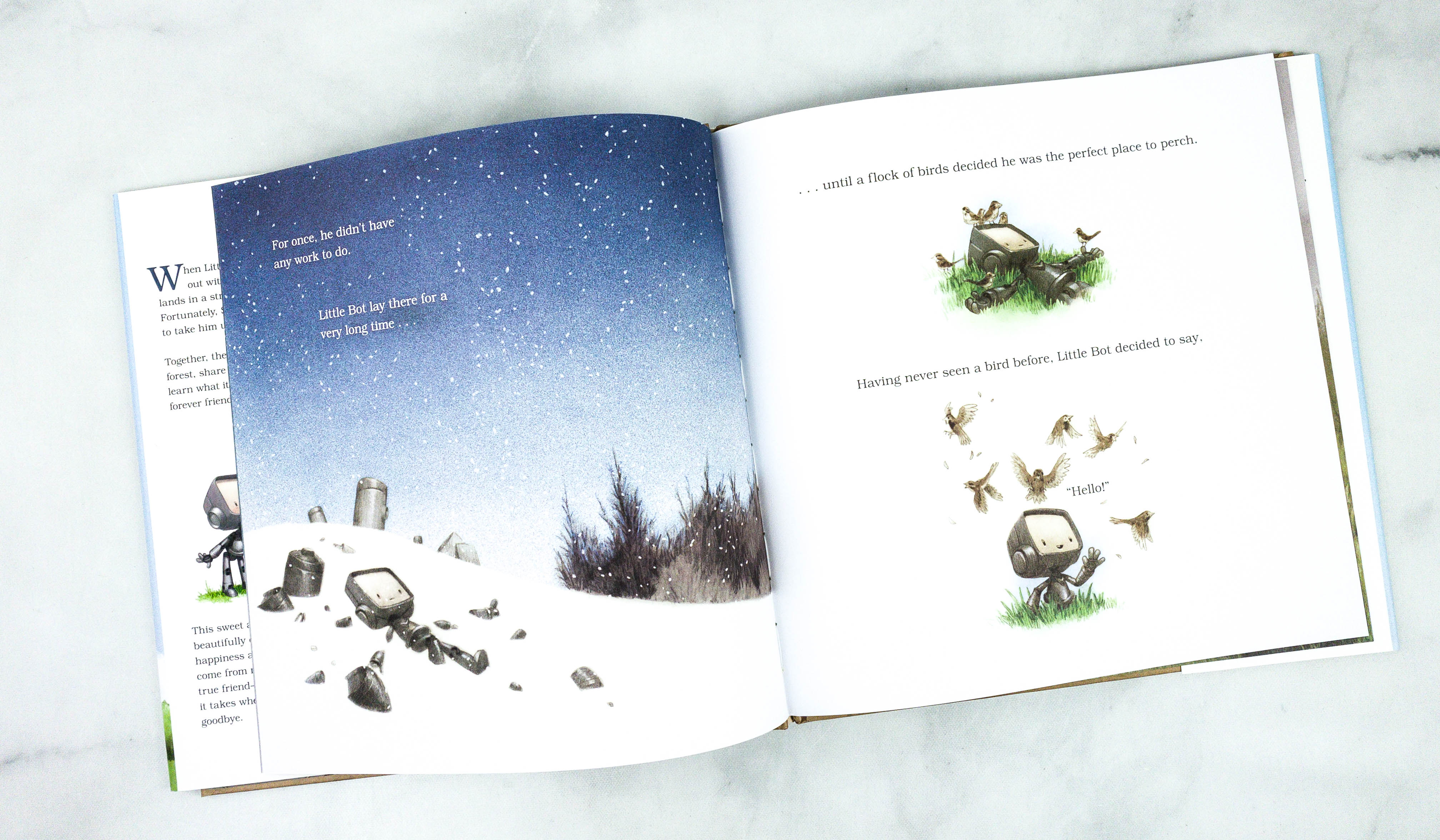 The illustrations are magical! They make it easy for kids to easily follow through the story!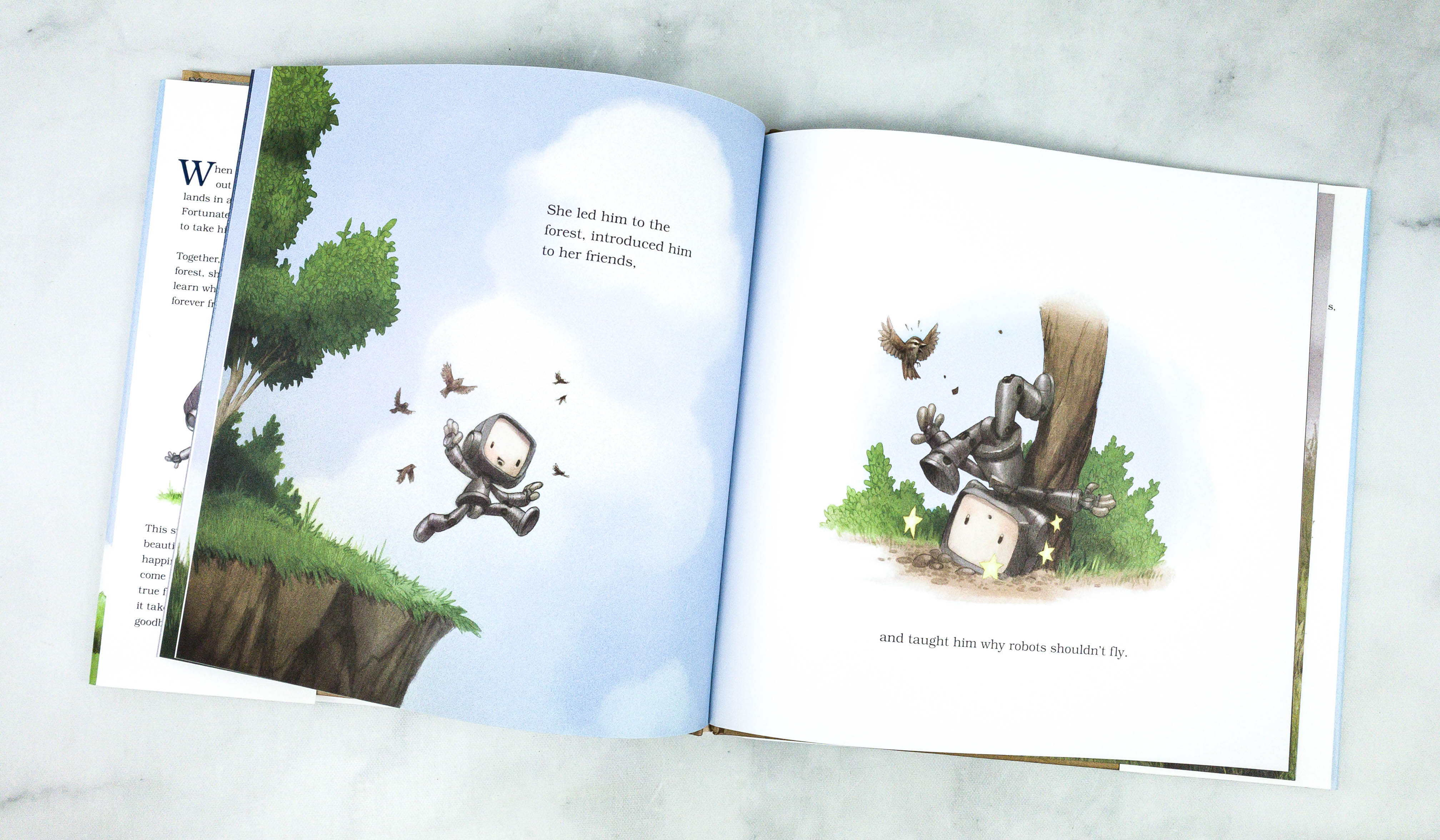 It's a beautiful and enjoyable tale of a friendship between two unlikely characters. It reminded us of meeting our first-ever friends, and how it's hard to say goodbye when the time comes. The story also shows the beauty that comes with a lasting friendship where even when you're miles apart, they will always stay in your heart.
Both books this month are awesome, and each tale came with amazing moral lessons! The first book teaches kids about being thankful and appreciative, while the second book is all about the beauty of true and lasting friendship. Bookroo is one of the best kids book subscriptions that send age-appropriate titles. Also, my kids undeniably enjoyed unwrapping the books, like it's already the holidays!
What do you think of this month's book selections?