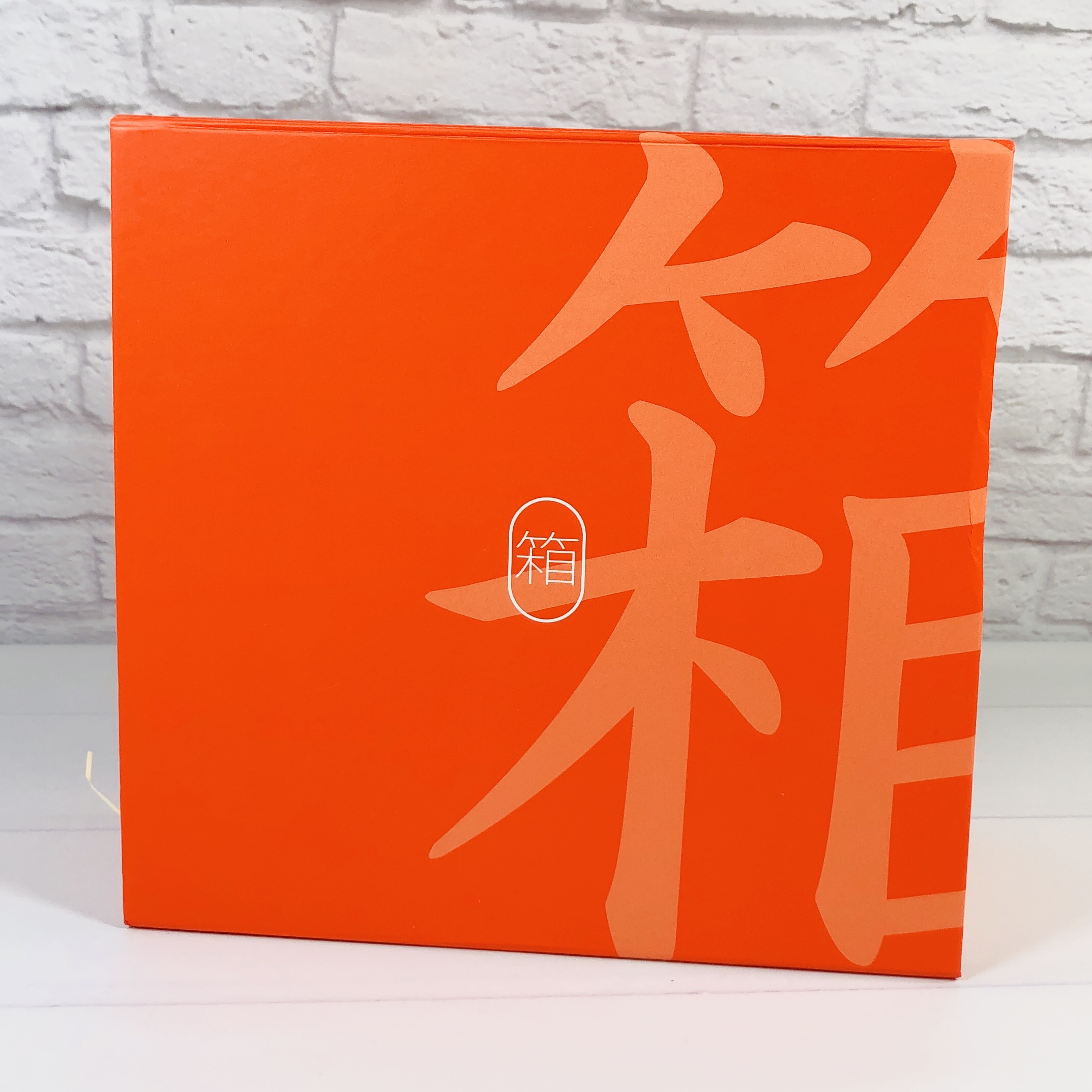 Bokksu is a premium snack box that features authentic Japanese snacks, as well as a tea pairing to go with it. There are two levels to choose from: Classic Bokksu ($44.99 USD) includes an assortment of 20-25 premium Japanese snacks and a tea pairing; Tasting Bokksu ($29.99 USD) includes 10-14 premium Japanese snacks and a tea pairing. Both boxes offer a discount for longer terms. The snacks sent are not easily found outside of Japan and this subscription ships internationally from Japan. Shipping is already included in the price. I am reviewing the Classic Bokksu.
Other Japanese snack subscription services use mass-produced mainstream snacks that can be readily found in most Asian markets outside of Japan. Bokksu directly sources its artisanal snacks from local snack makers in Japan (some of whom have been around for over 200 years!). We only curate high quality and gourmet snacks, never filler items. We are also the ONLY service that handselects a tea pairing for each box to complement that month's flavors.
DEAL: Save $5 on your first box with coupon code HELLO.
NOTE: Your first box will be the Seasons Of Japan, shown here.
As always the snacks are packed in there so nicely.
Looking good!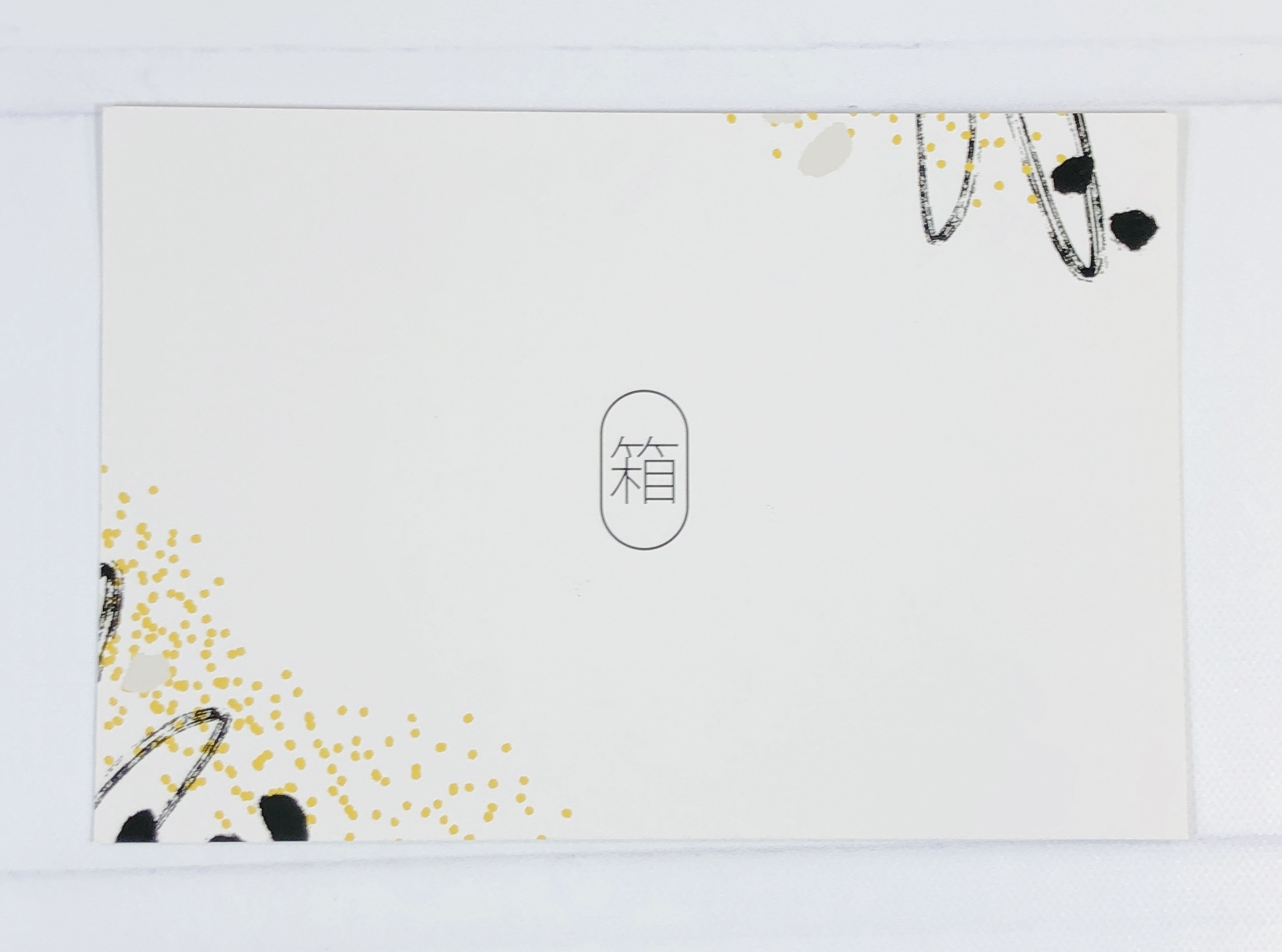 When I opened my box I found a card on top.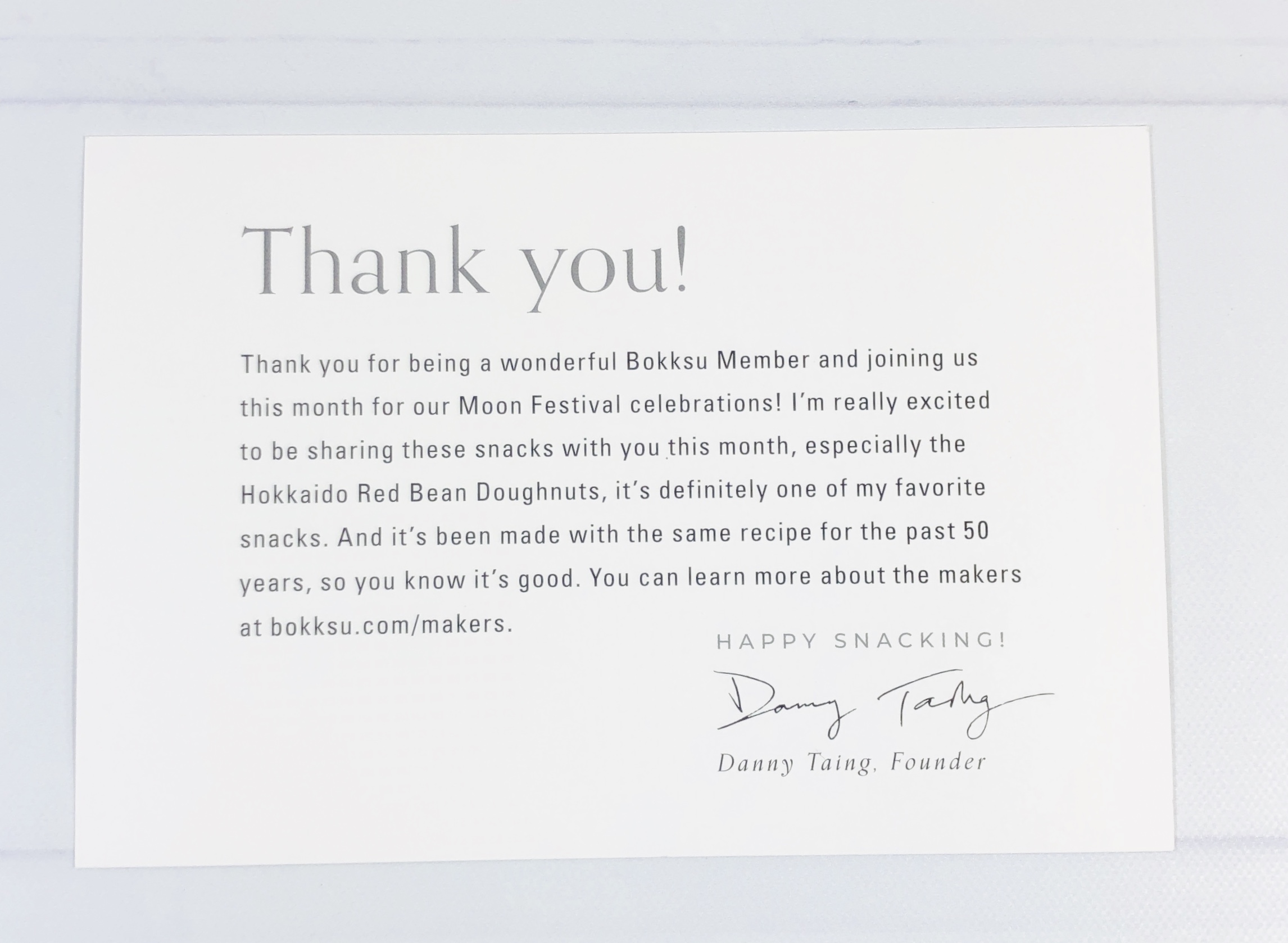 The back of the card thanked me for being a member and reminded me I can find info on the makers on the Bokksu website.
Bokksu provides a beautiful full-color info guide in every box.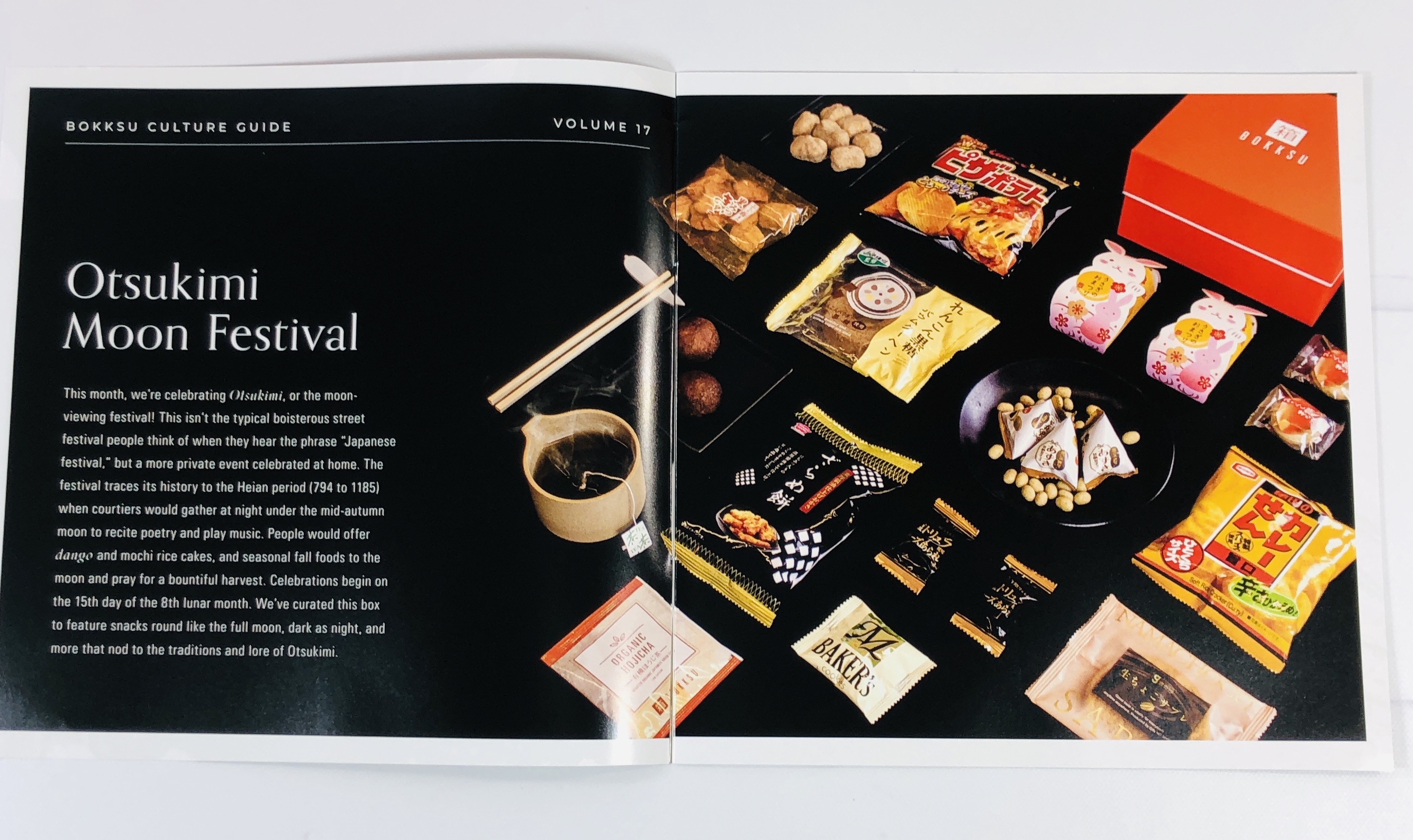 September's theme is Otsukimi Moon Festival. The first page spread discussed this festival.
The next page shows what's in my Bokksu as well as a map showing where in Japan each snack originated.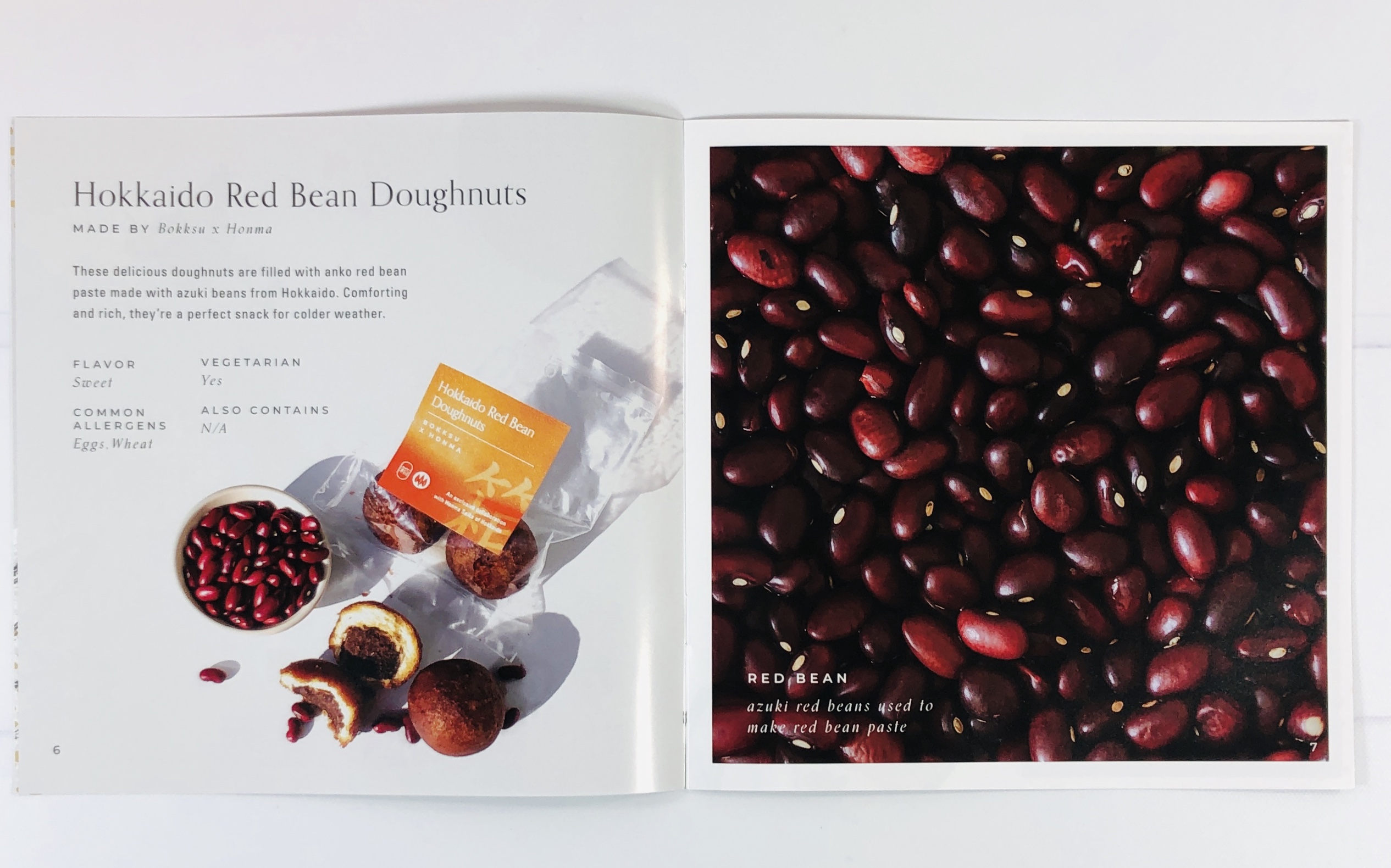 Each product was shown and lists brand name, common allergens, and a description.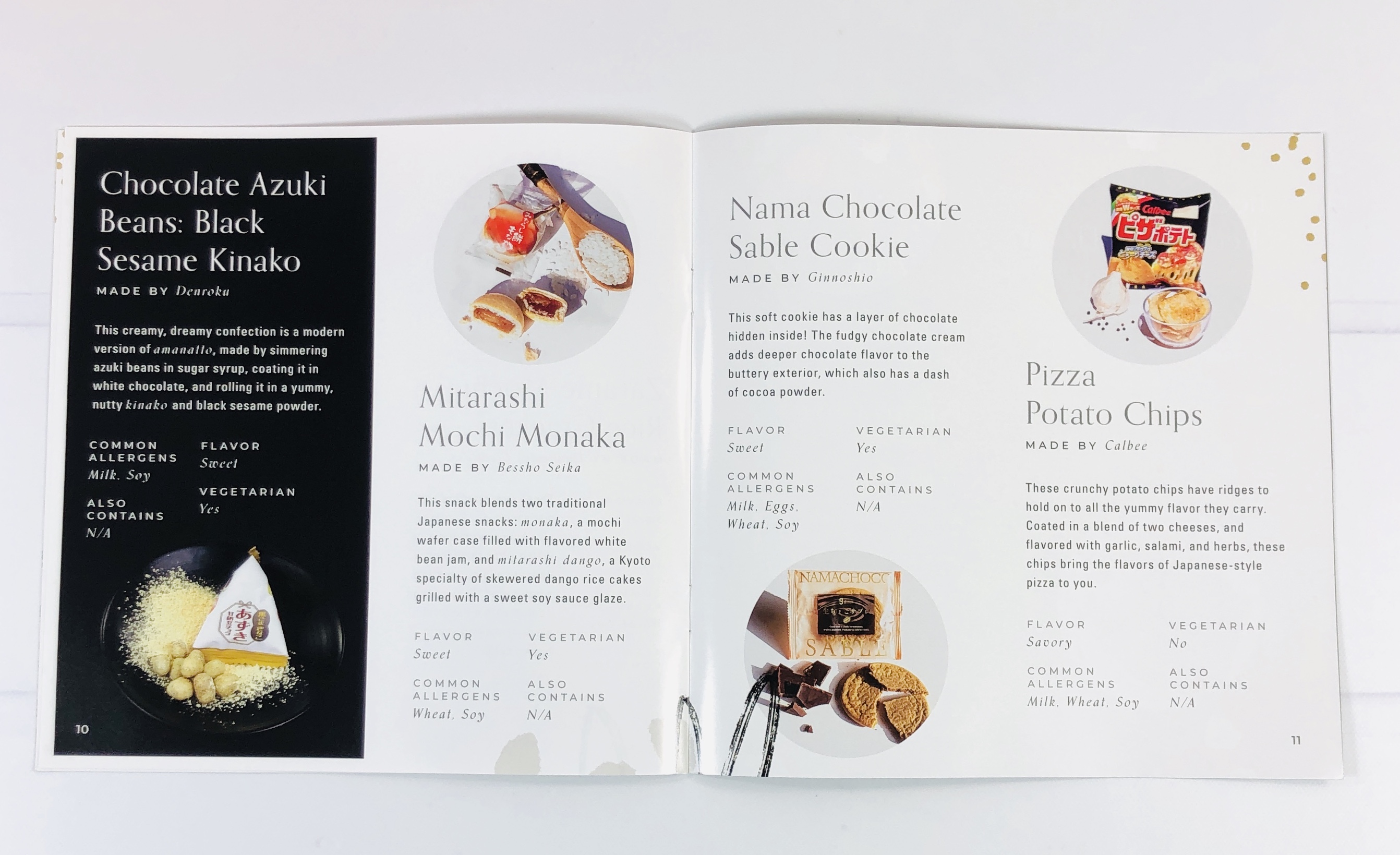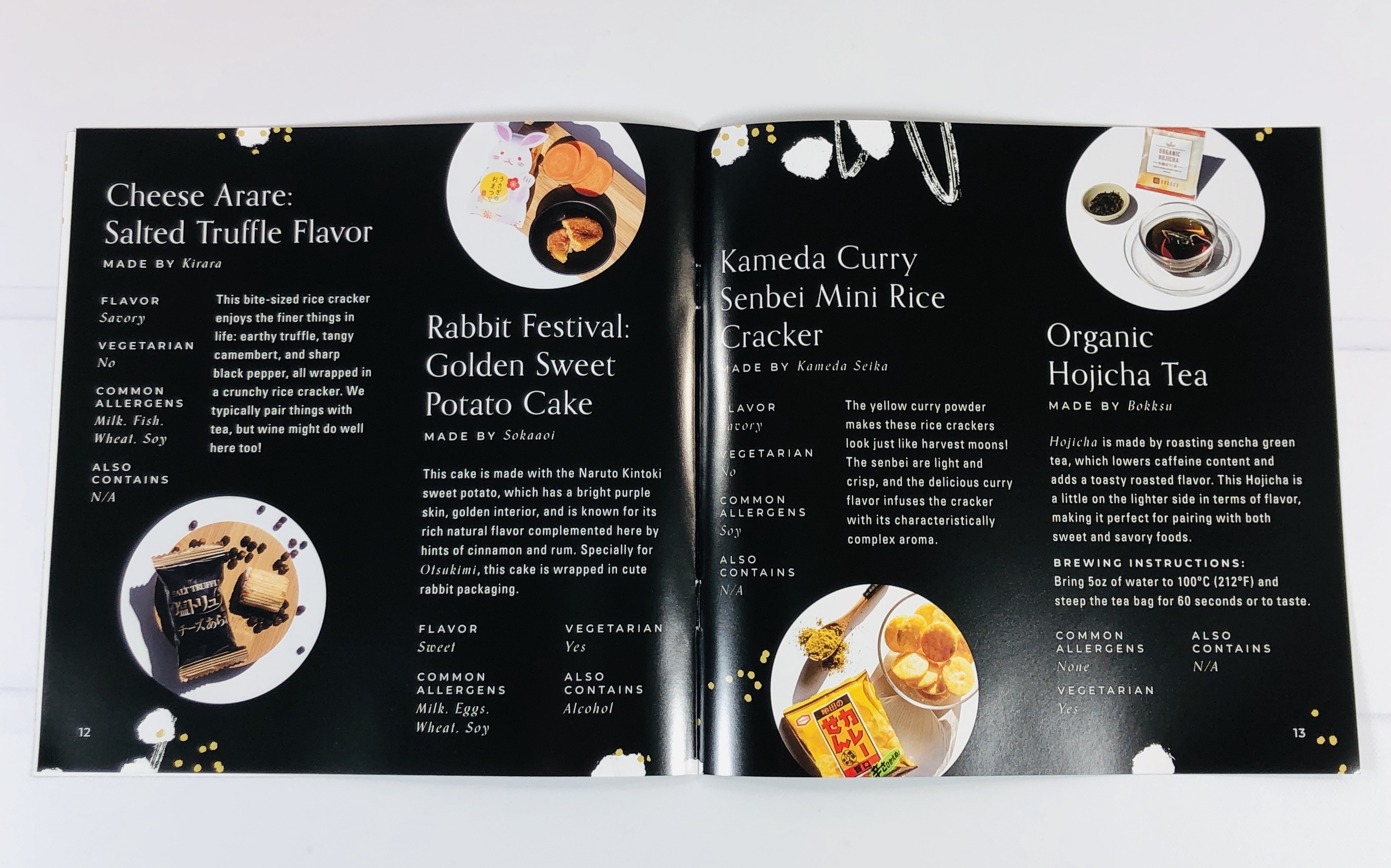 A little more info on the moon festival and traditions was described.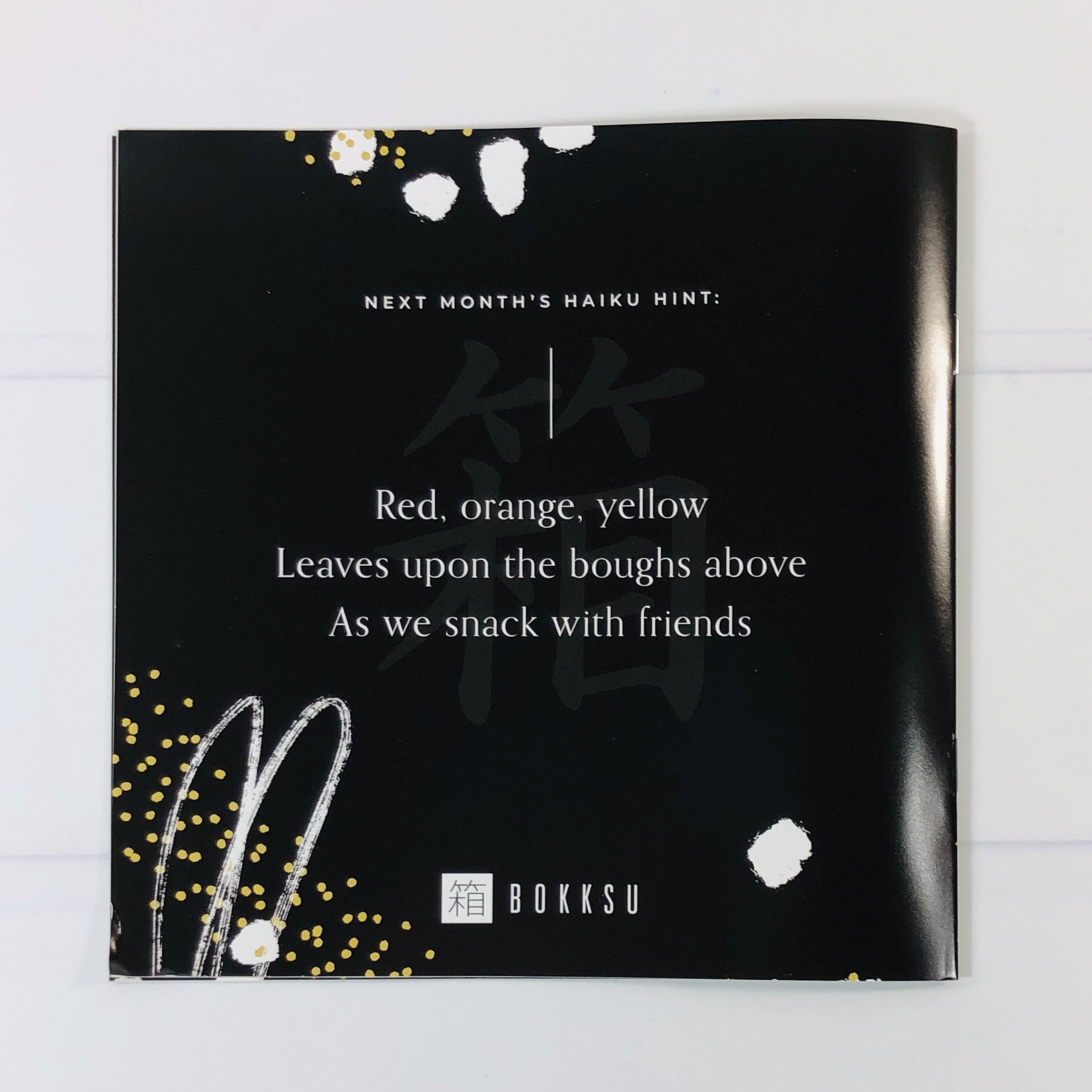 The back of the mag had a glimpse at the next box theme! Sounds like a colorful autumn theme!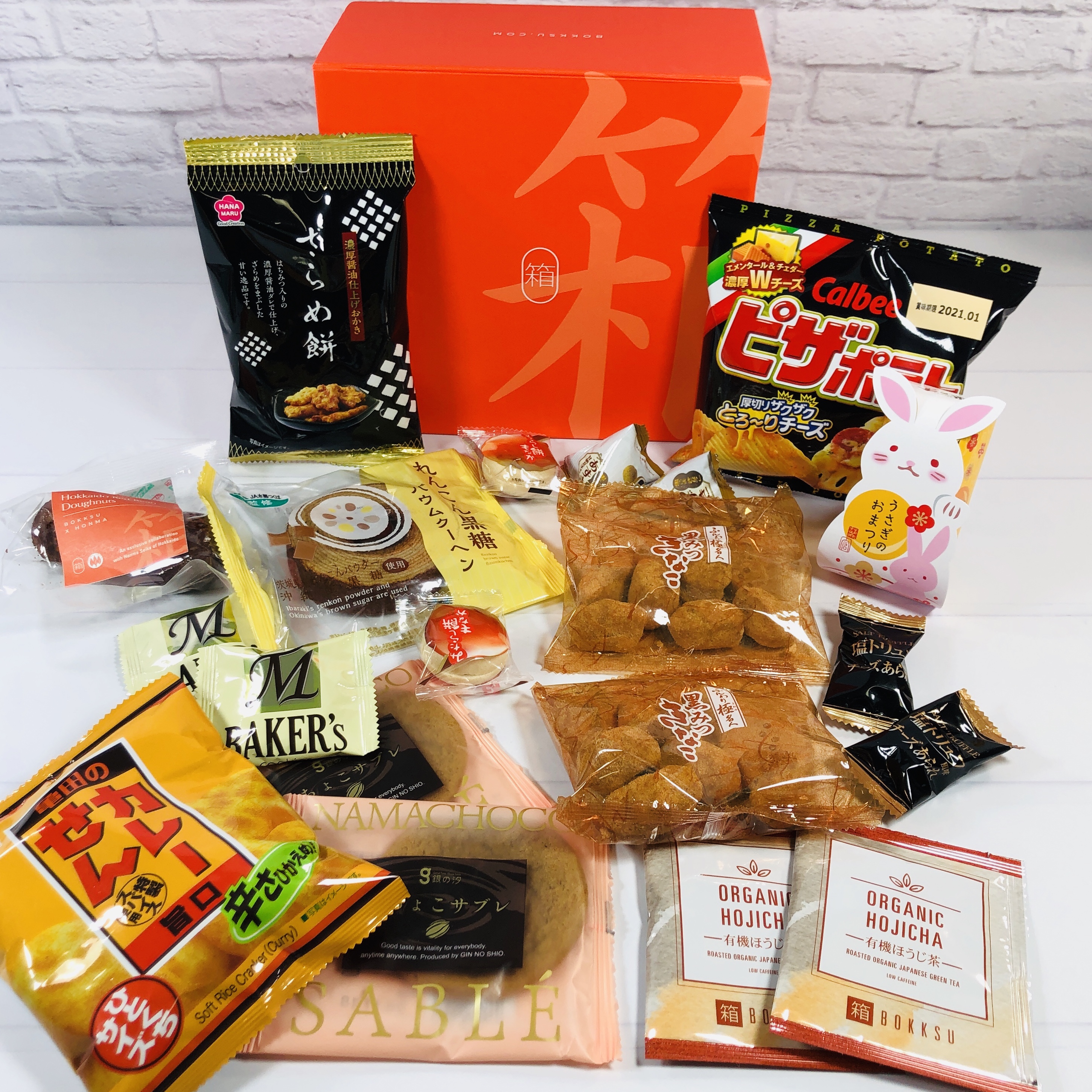 Everything in the September 2020 Classic Bokksu!
Organic Hojicha Hojicha is sencha (or other) green tea that is roasted to give it a deeper flavor. The roasting process is supposed to remove some of the caffeine as well as leave it less bitter. I used 5 ounces of water just below boiling and steeped for 1 minute as stated in the booklet. My tea was strong and full-flavored in that time, but it was still bitter to my taste buds. It reminded me of a stronger version of genmaicha. I added sugar and a bit of milk, which I wouldn't normally add to green tea but this was pretty deep in the flavor profile.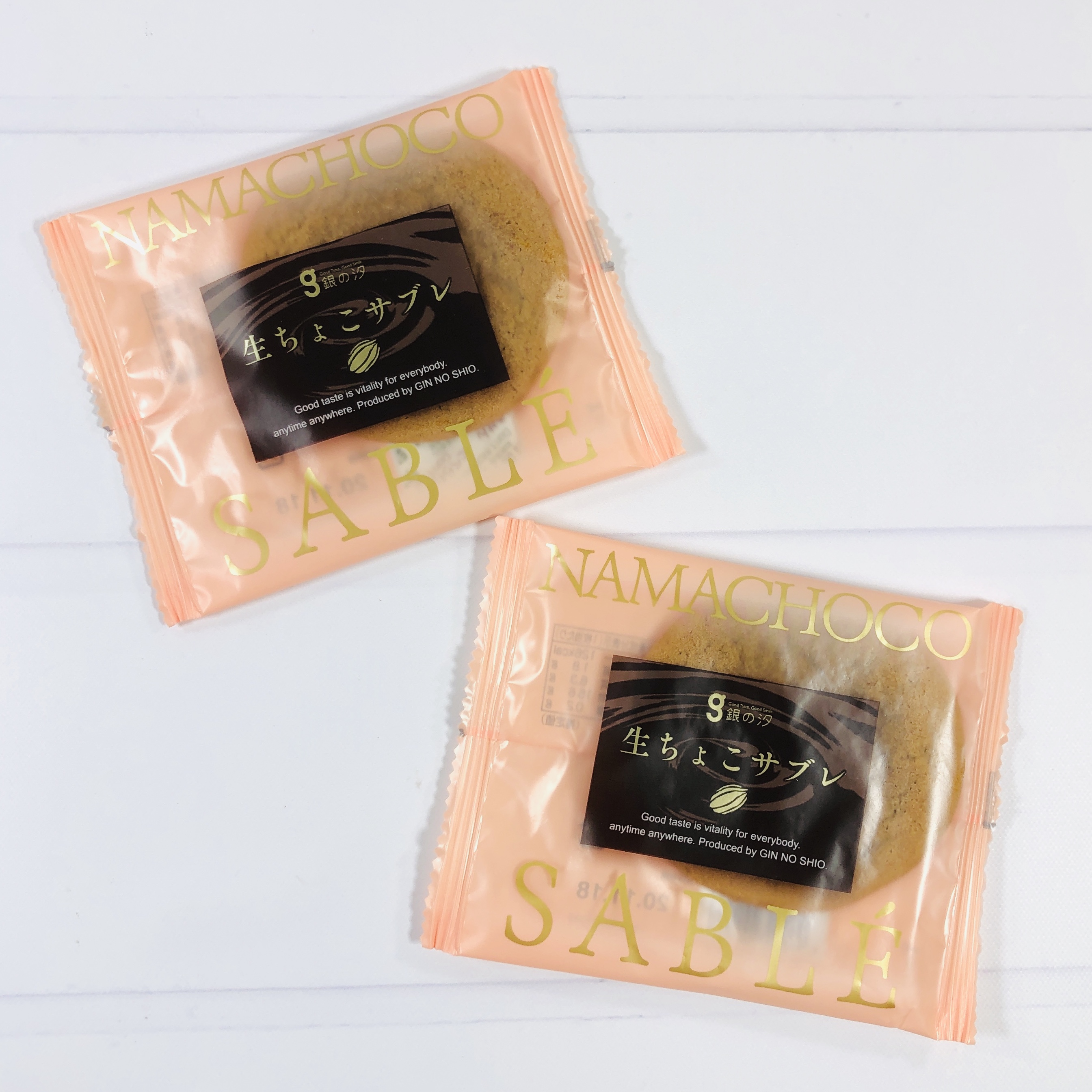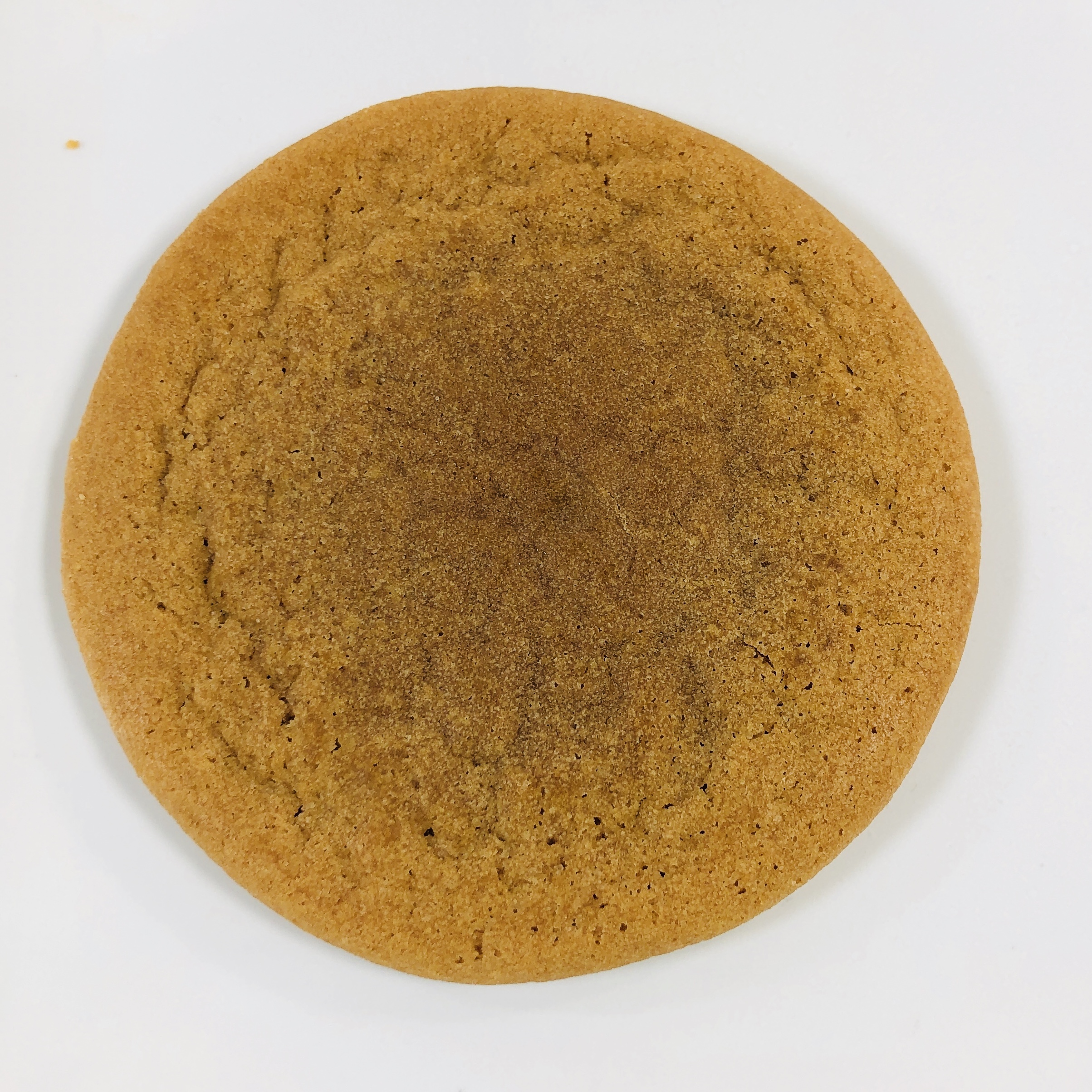 Nama Choco Sablé Cookie is a buttery cookie that happens to have chocolate on the inside. I think the outside was so sweet that it was hard to tell that the fudge was in there. Such a rich treat.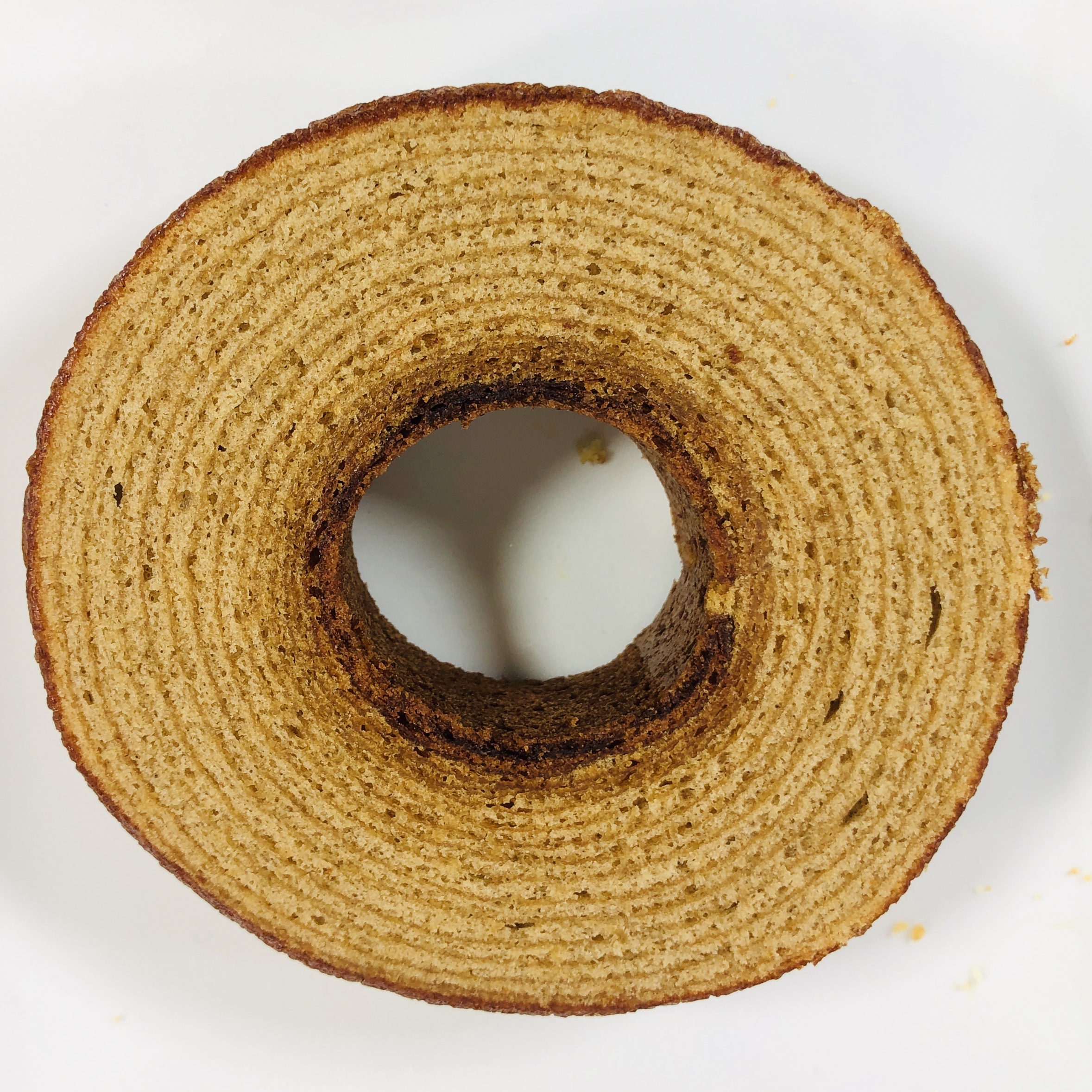 Lotus Root & Kokuto Black Sugar Baumkuchen I believe baumkuchen is German for "tree cake" and you can see the rings, like a crosscut of wood! In this case it's a not-too-sweet sponge cake flavored with lotus root and black sugar.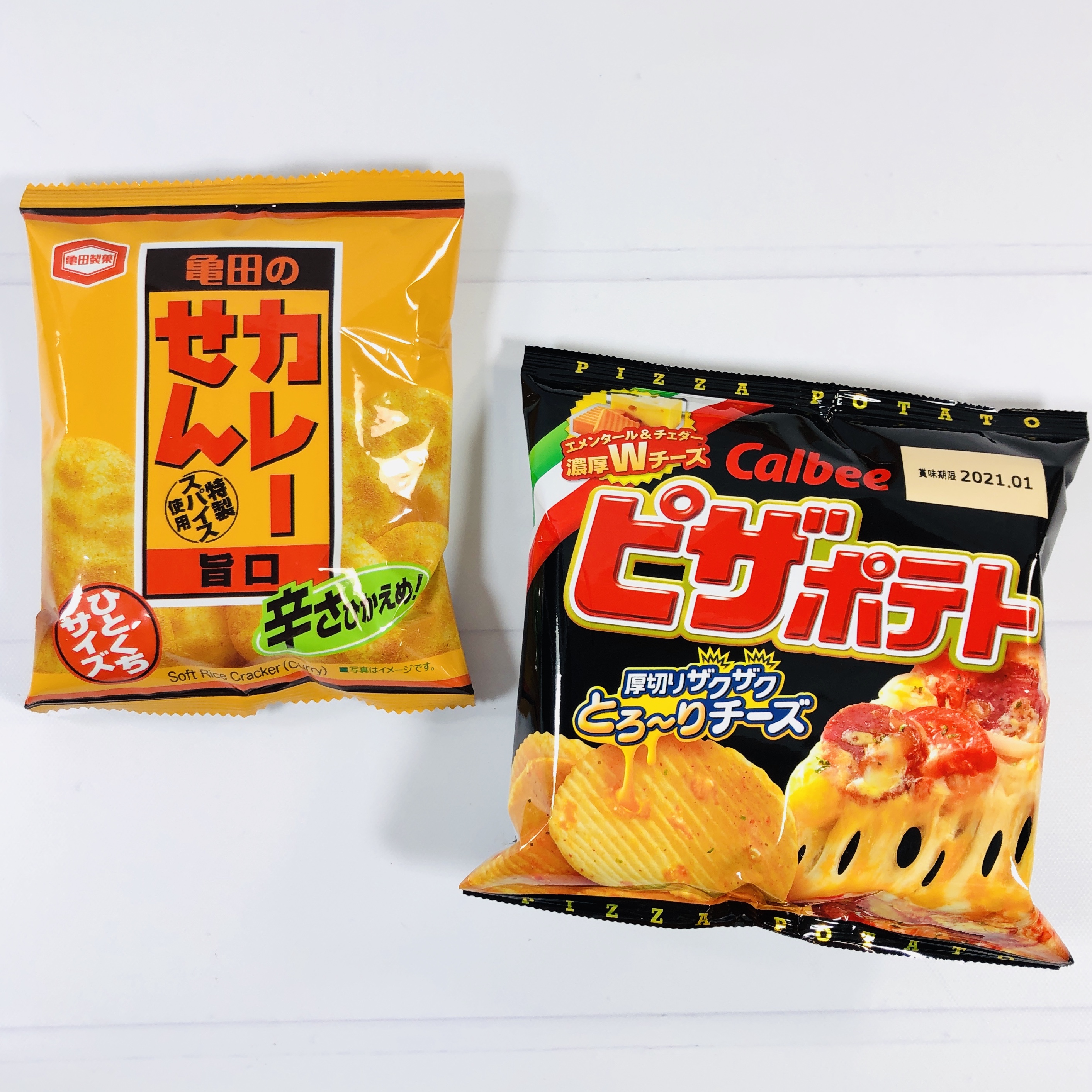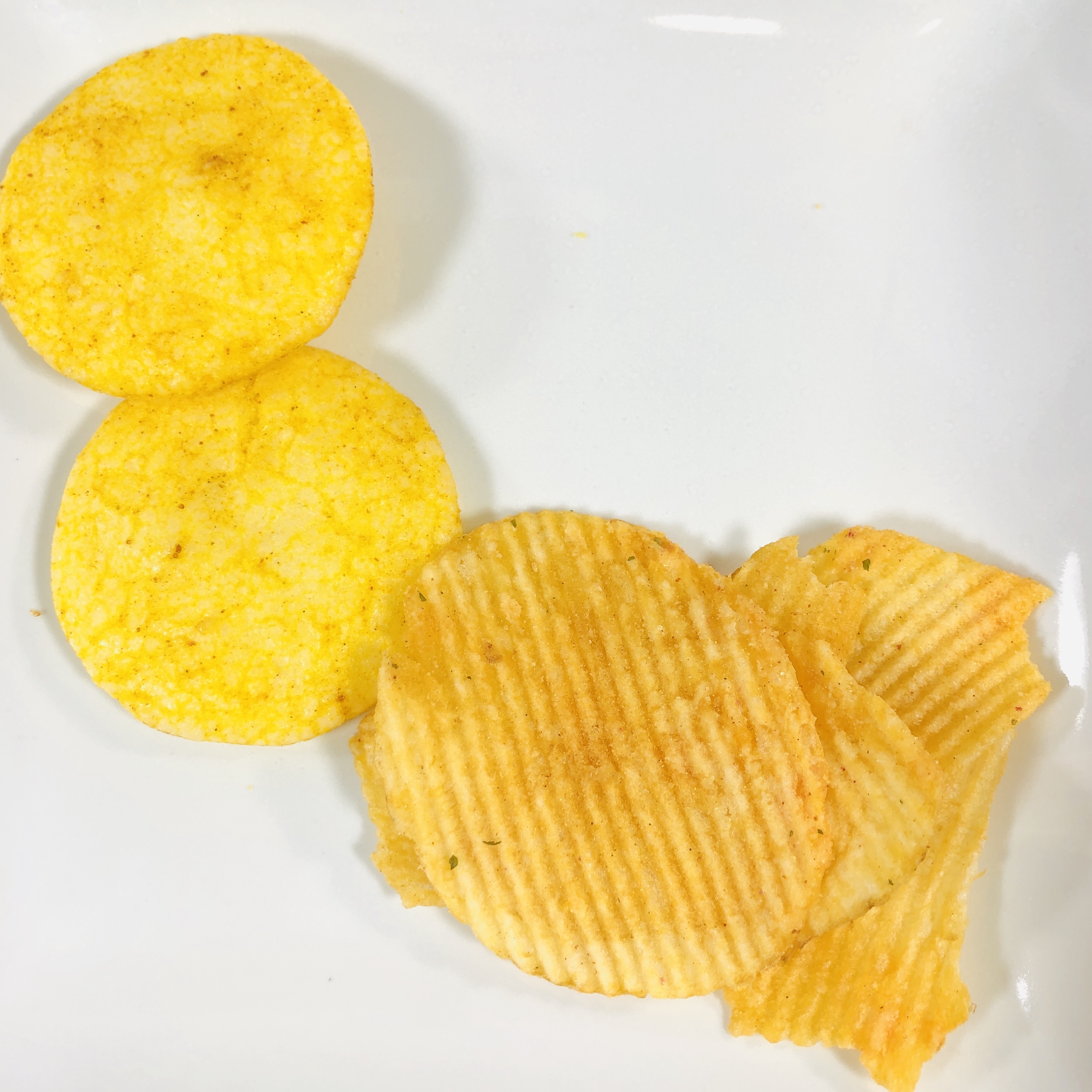 Kameda Curry Senbei Mini Rice Cracker is a lightly textured rice cracker that looks like a full moon! It is flavored with curry that has no heat but is salty, no sign of sweetness in this cracker.
Pizza Potato Chips There was a note on the Bokksu website that says "Please note: Pizza Potato Chips has been replaced with Sayaendo Green Pea Refreshing Chips." Just FYI in case your product is different. These are classic ridged potato chips but with a delicious pizza flavor, and there is even some cheese on some of the pieces!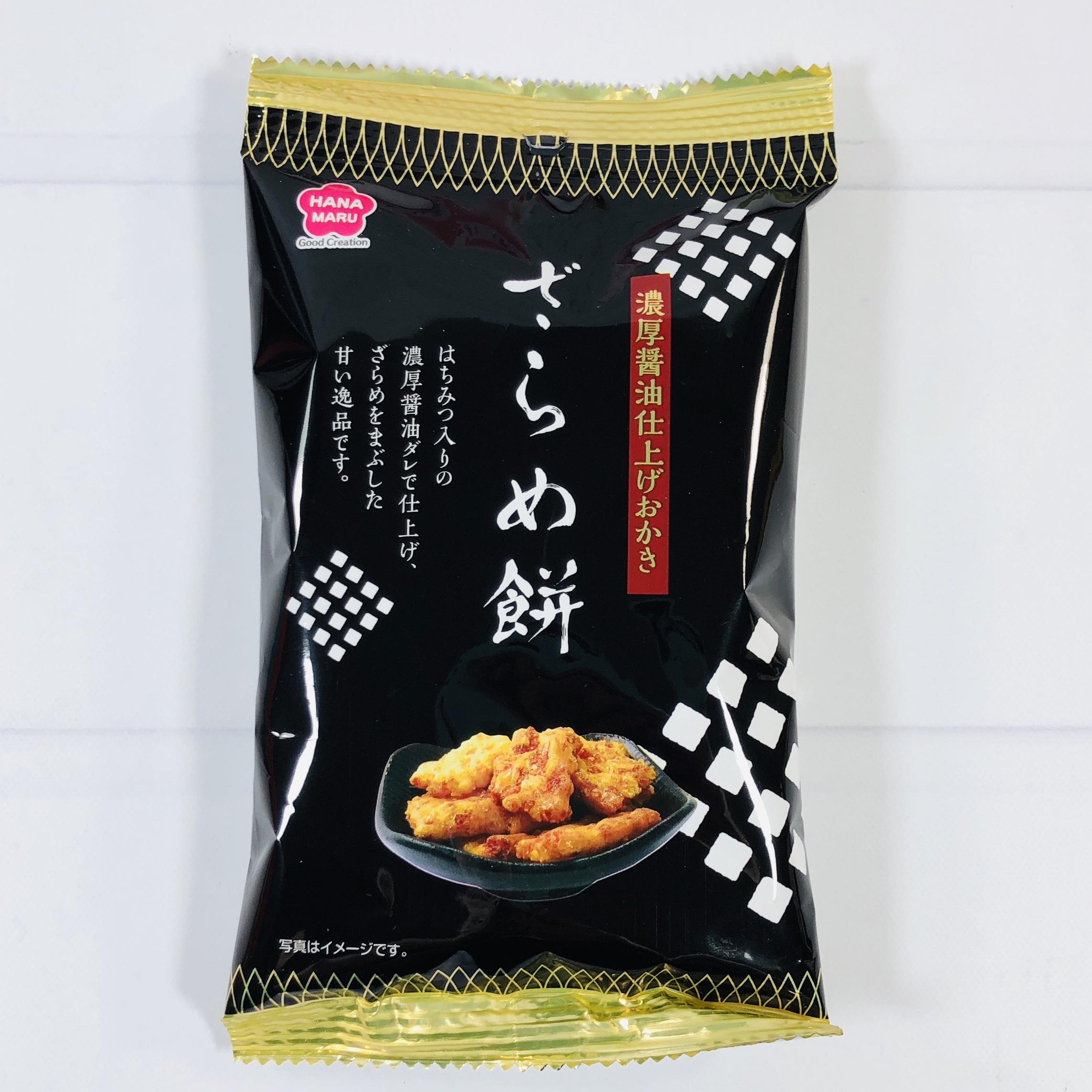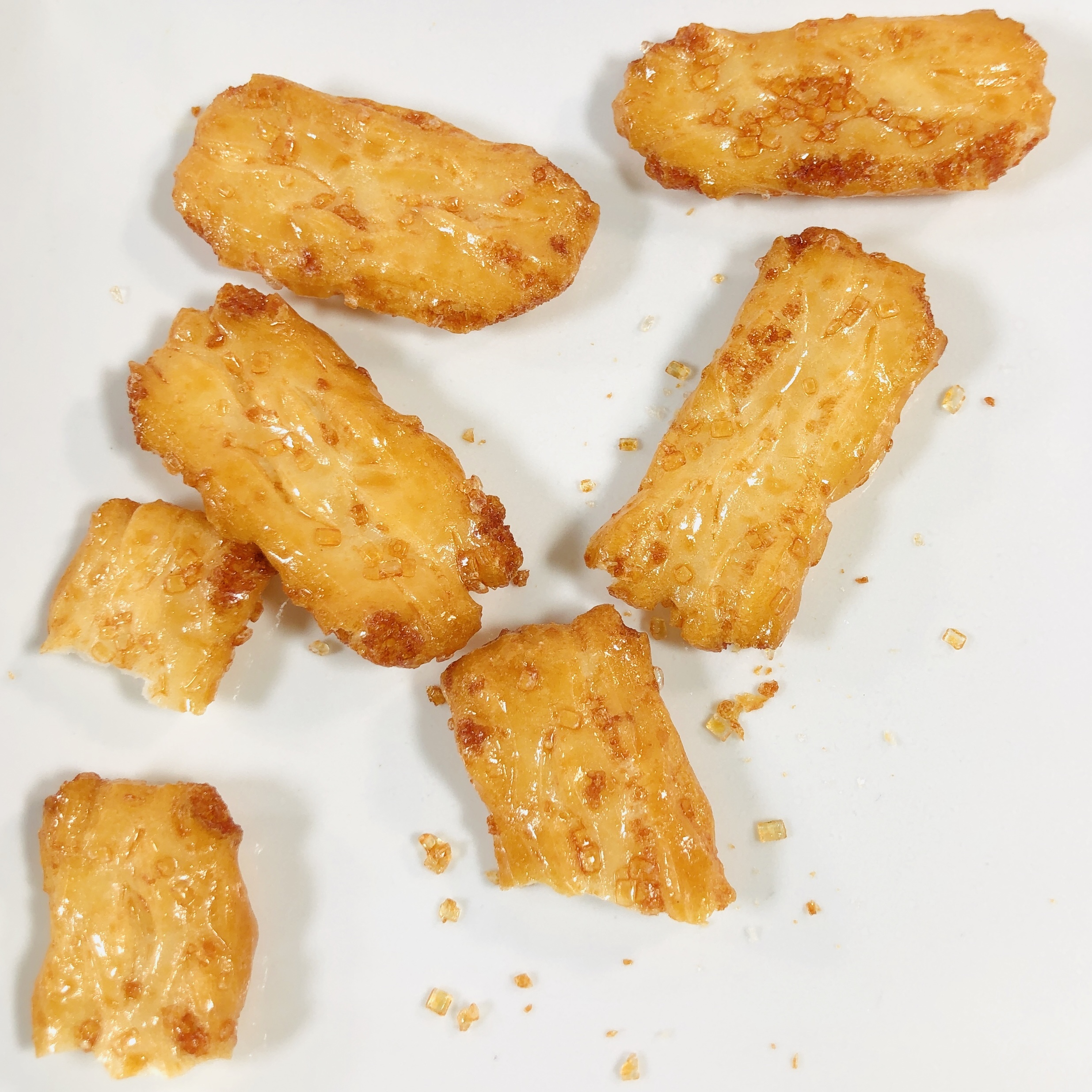 Zarame Mochi Rice Crackers are made with mochigome, which is a type of rice, and they are covered in a soy sauce and brown sugar glaze. The glaze is where it's at, I love the sweet and salty flavor of these kind of hard rice crackers, similar to arare.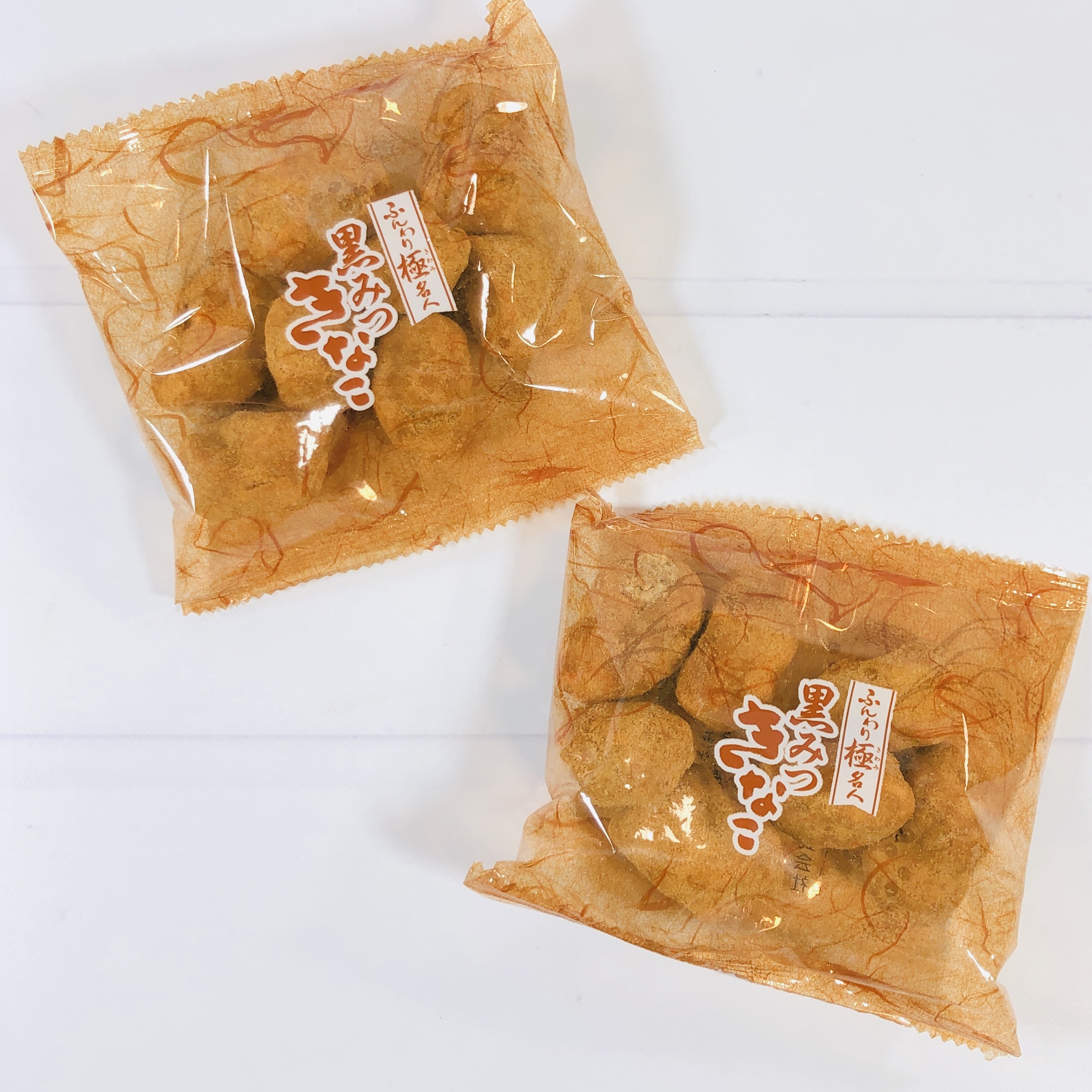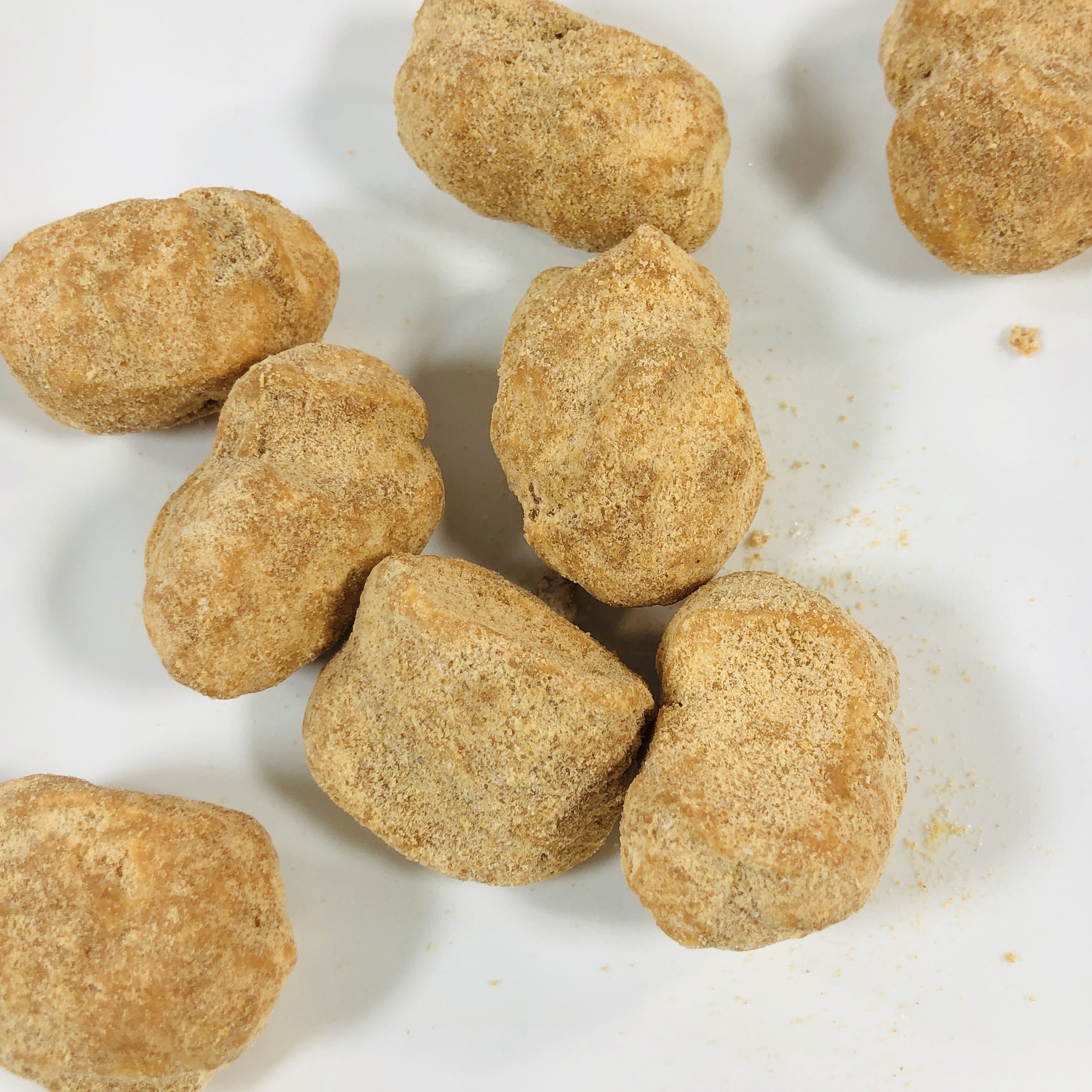 Funwari Meijin Mochi Puffs: Black Syrup Kinako are here one moment and melted in the next, as soon as they touch my tongue. The mochi rice base is so delicate and the kinako powder covering this has a sweet and toasty flavor that reminds me a bit of peanut butter.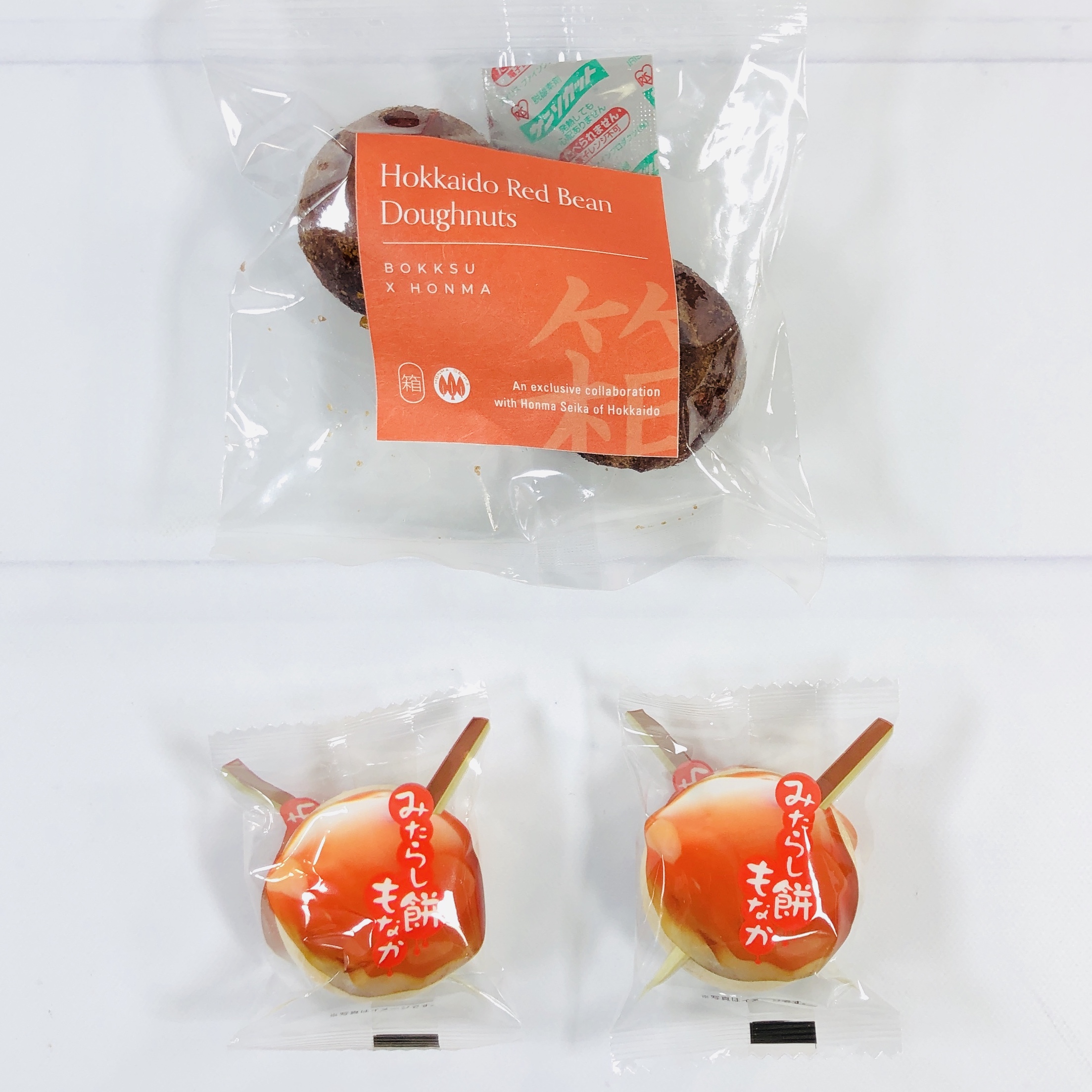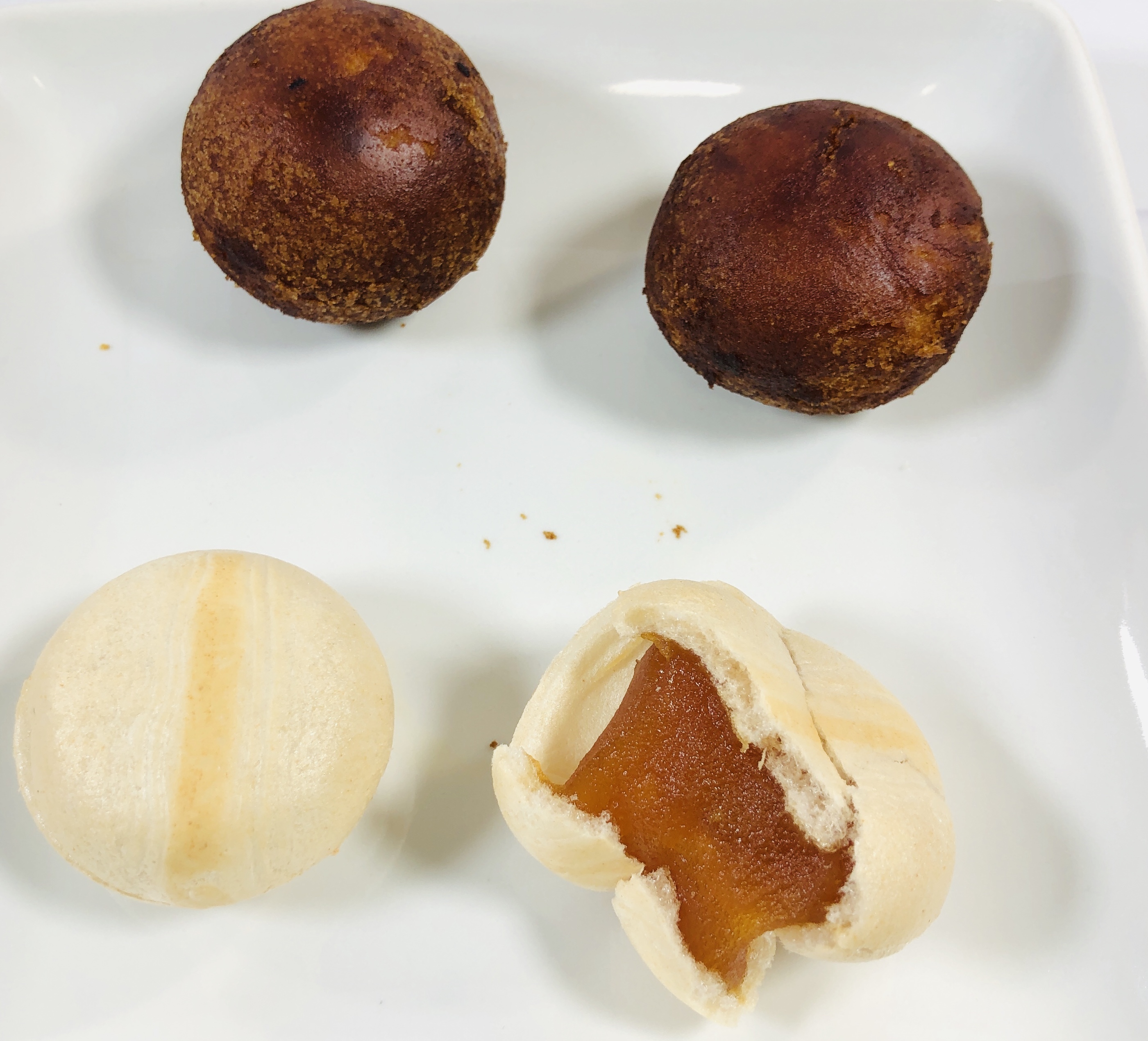 Hokkaido Red Bean Doughnuts is such an interesting treat. The outside reminded me a bit of a Hostess doughnut, but the inside was filled with lightly sweet red bean paste. What an interesting combo, and it would go well with tea or coffee.
Mitarashi Mochi Monaka Every time I think I know what mochi is, I go and get a totally different version that messes with my head. The mochi in this case is in wafer form on the outside, while the inside has a sweet jam that just so happens to have soy sauce in it. It shouldn't work but it does, so delicious but in a weird way.
Chocolate Azuki Beans: Black Sesame Kinako are one of those snacks that make you go "what?" because they have a sugar soaked azuki bean as the base and it is covered in a sweet white candy coating that is flavored with black sesame powder. These just taste sweet to me, maybe with a hint of nuts, but it doesn't taste like beans!
Cheese Arare: Salted Truffle Flavor has a salty glazed arare rice cracker on the outside and the inside is a creamy cheese filling that has truffle and black pepper. I taste the pepper, not sure what a truffle tastes like, but it is a salty type of snack.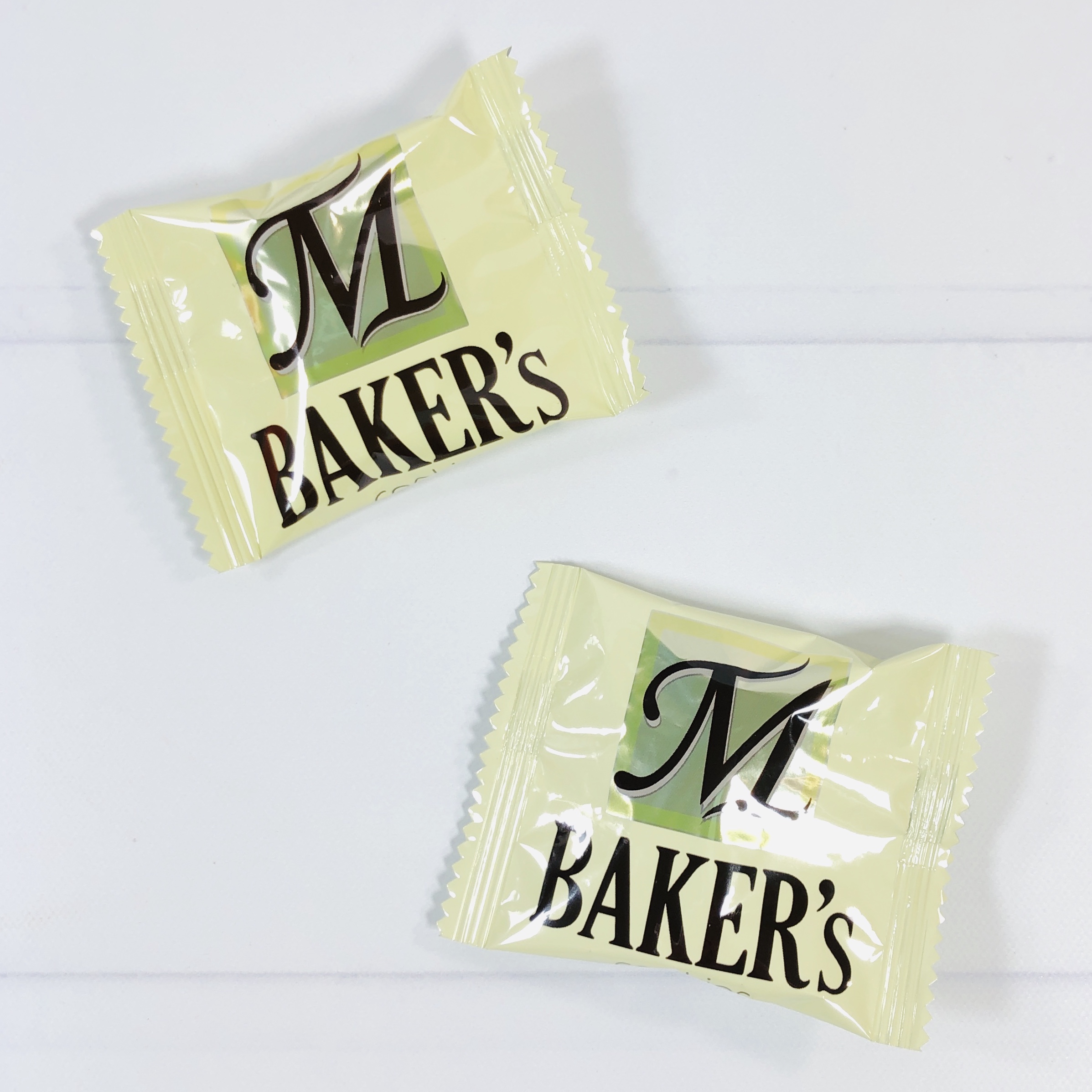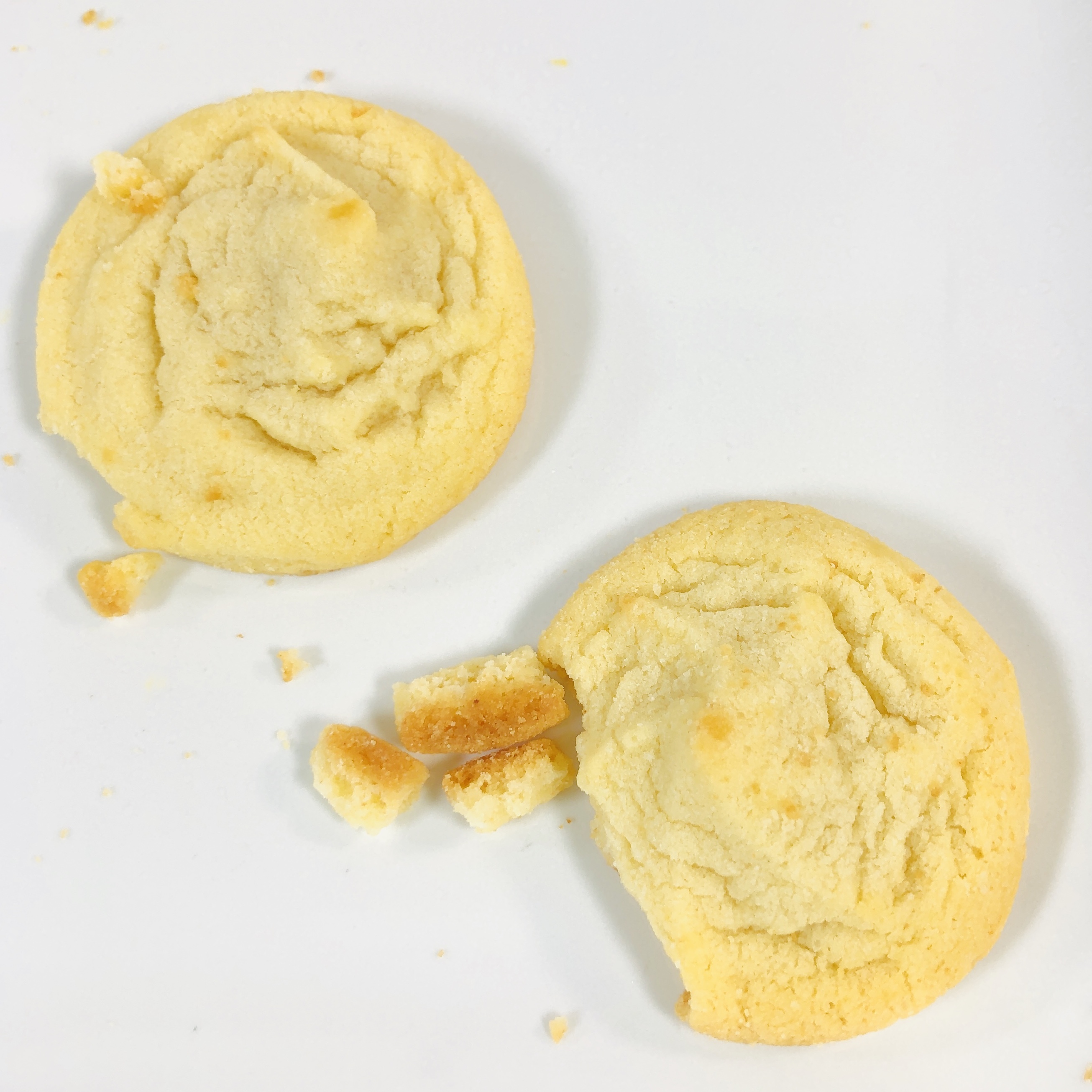 M Baker's Cookie: Custard Flavor Oh wow, I don't think I've ever had a vanilla pudding flavored cookie before! It is soft baked and very yummy.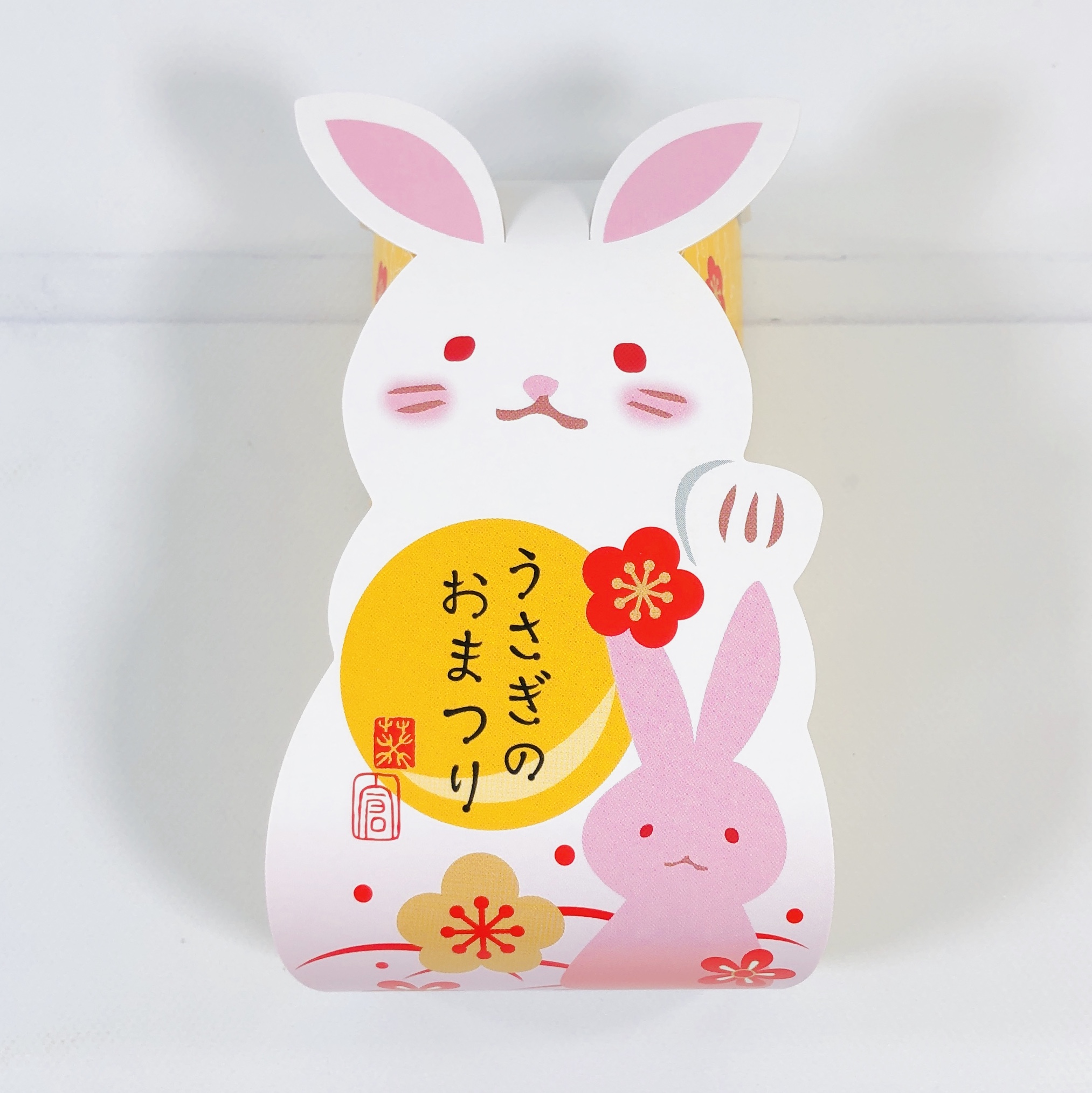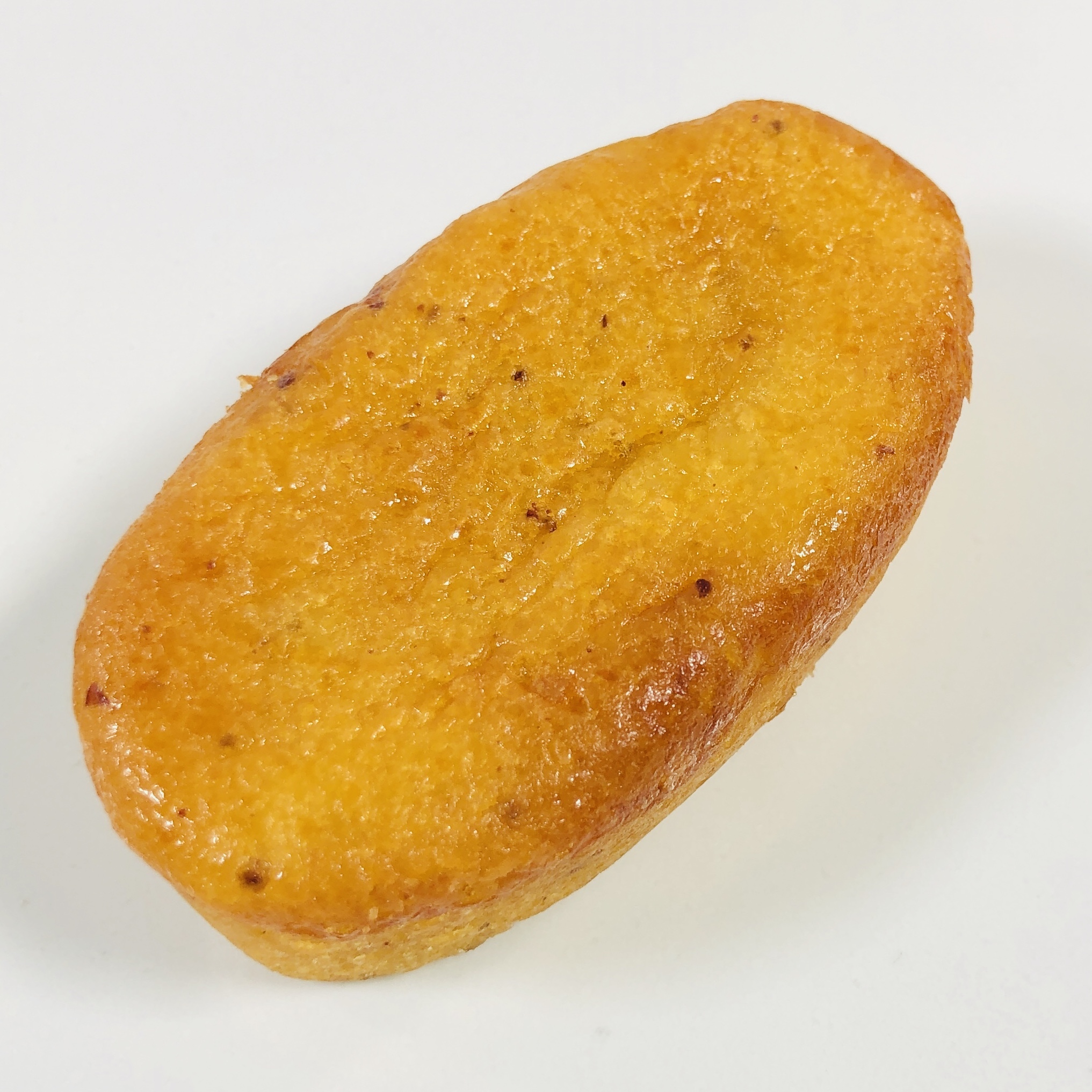 Rabbit Festival: Golden Sweet Potato Cake is a super moist, very rich buttery cake that is flavored with sweet potato. It reminds me of sweet potato pie!
My family and I enjoyed sampling the snacks in the September Otsukimi Moon Festival Box from Bokksu! Bokksu always sends a good assortment of sweet and salty for all of our snacking desires. The flavors this month were not too strong, no fishy flavors this time around, but then again, usually the fishy flavors are just a different layer of umami. I think the pizza chips were so delicious and the mochi rice crackers had such a tasty glaze that made them my favorite. I love tea and the flavor sent this month was so deep and toasty.
What's your favorite snack from this month's box?