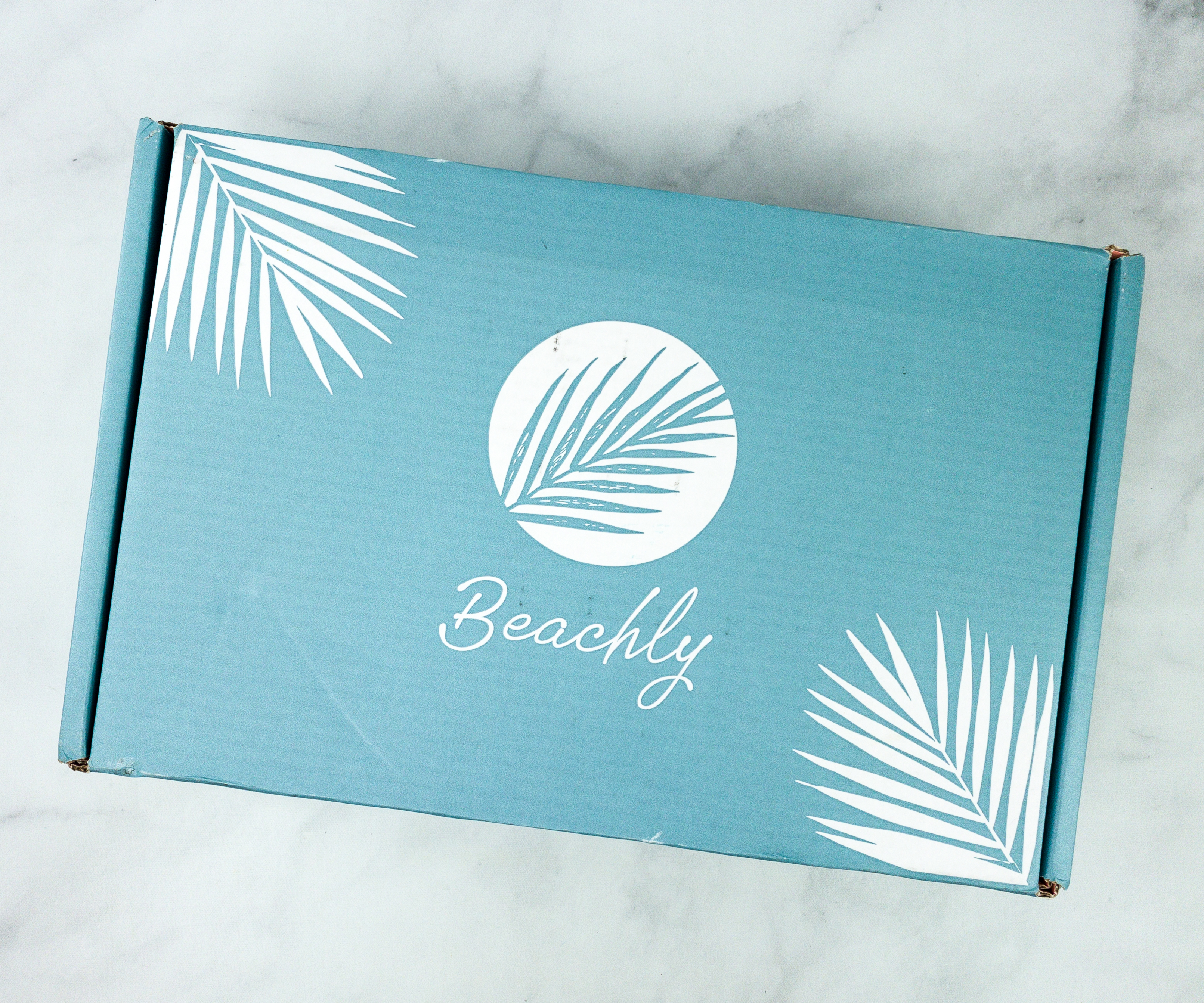 Beachly, formerly Coastal Co., is a quarterly subscription that gives you a dose of the beach lifestyle no matter what season through apparel, accessories, and more. With 6-8 premium items, each box costs $99 and promises a $200+ retail value. Some of the brands they've partnered with include Puravida Bracelets, Aloha, Billabong, DIFF Charitable Eyewear, Havaianas, and more. Proceeds from every box sold fund monthly beach cleanups hosted by Heal The Bay.
DEAL: For a limited time, get $30 off your first box! Use the coupon code BEACHDAY30 at checkout!
OR Get a FREE BONUS BOX ($100+ value) with your Fall Box! Use the coupon code BONUSBOX at checkout!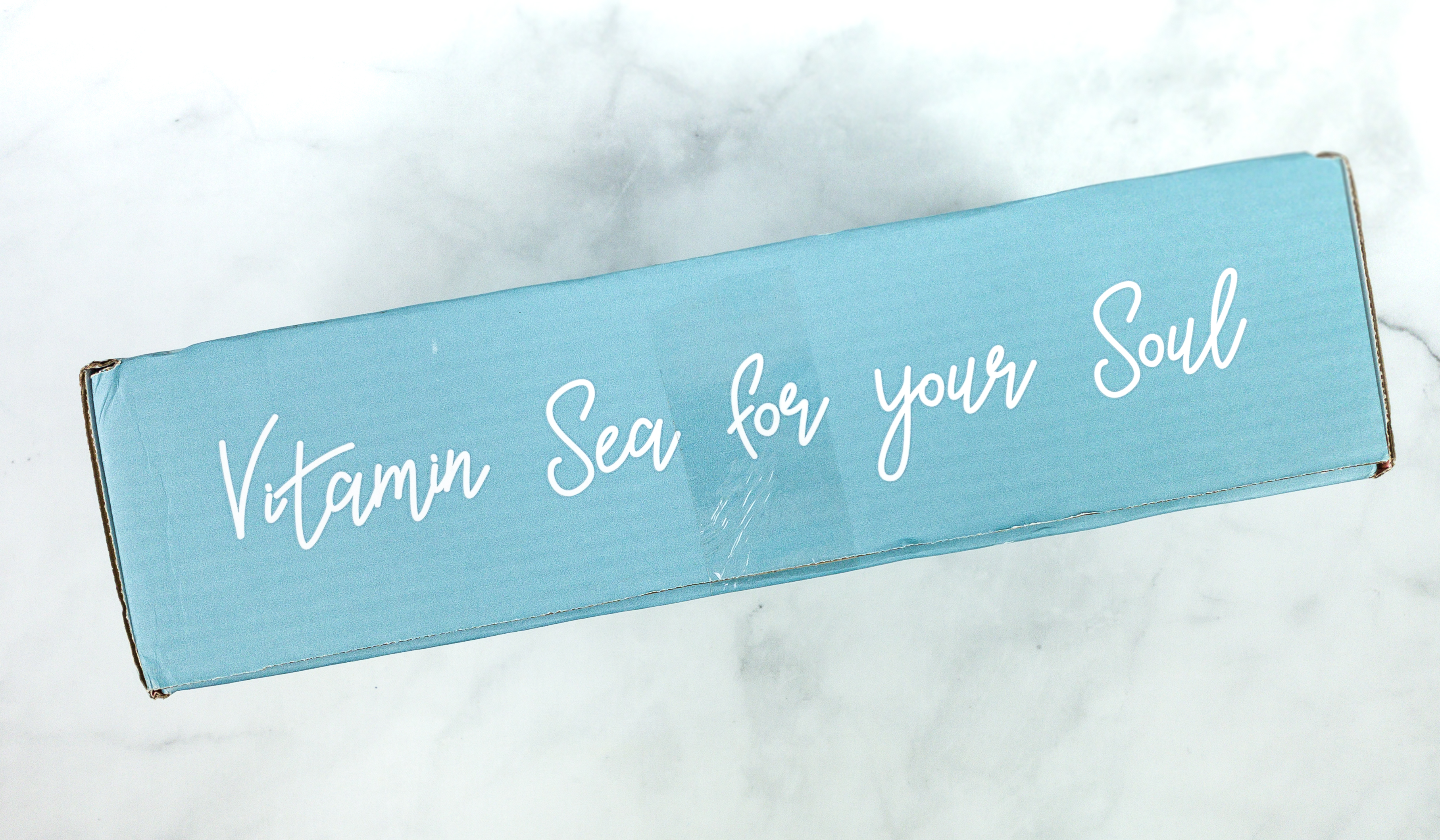 One side of the box says "vitamin sea for your soul"!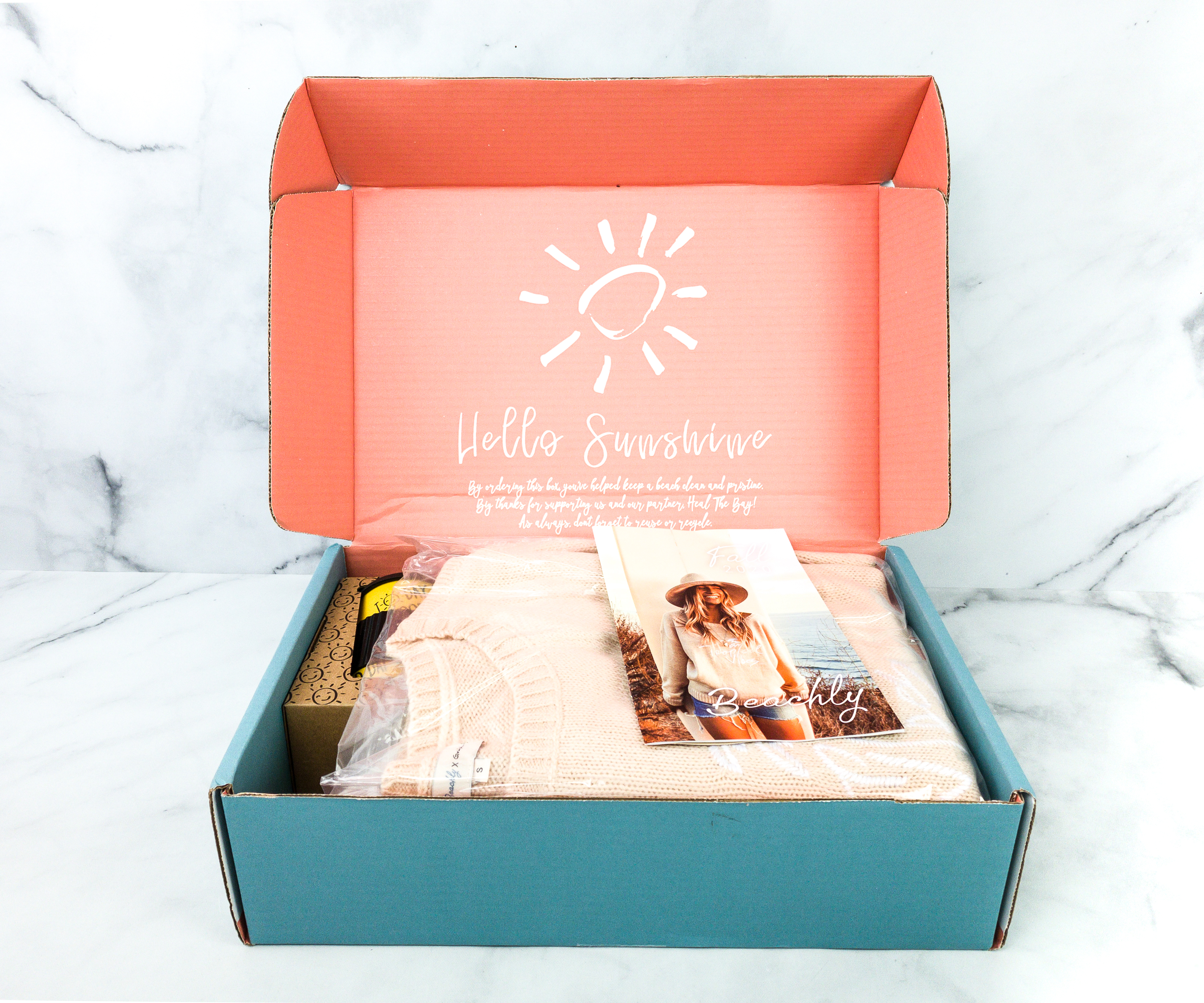 The items are neatly packed inside.
By ordering this box, you've helped keep a beach clean and pristine. Big thanks for supporting us and our partner Heal The Bay! As always, don't forget to reuse or recycle.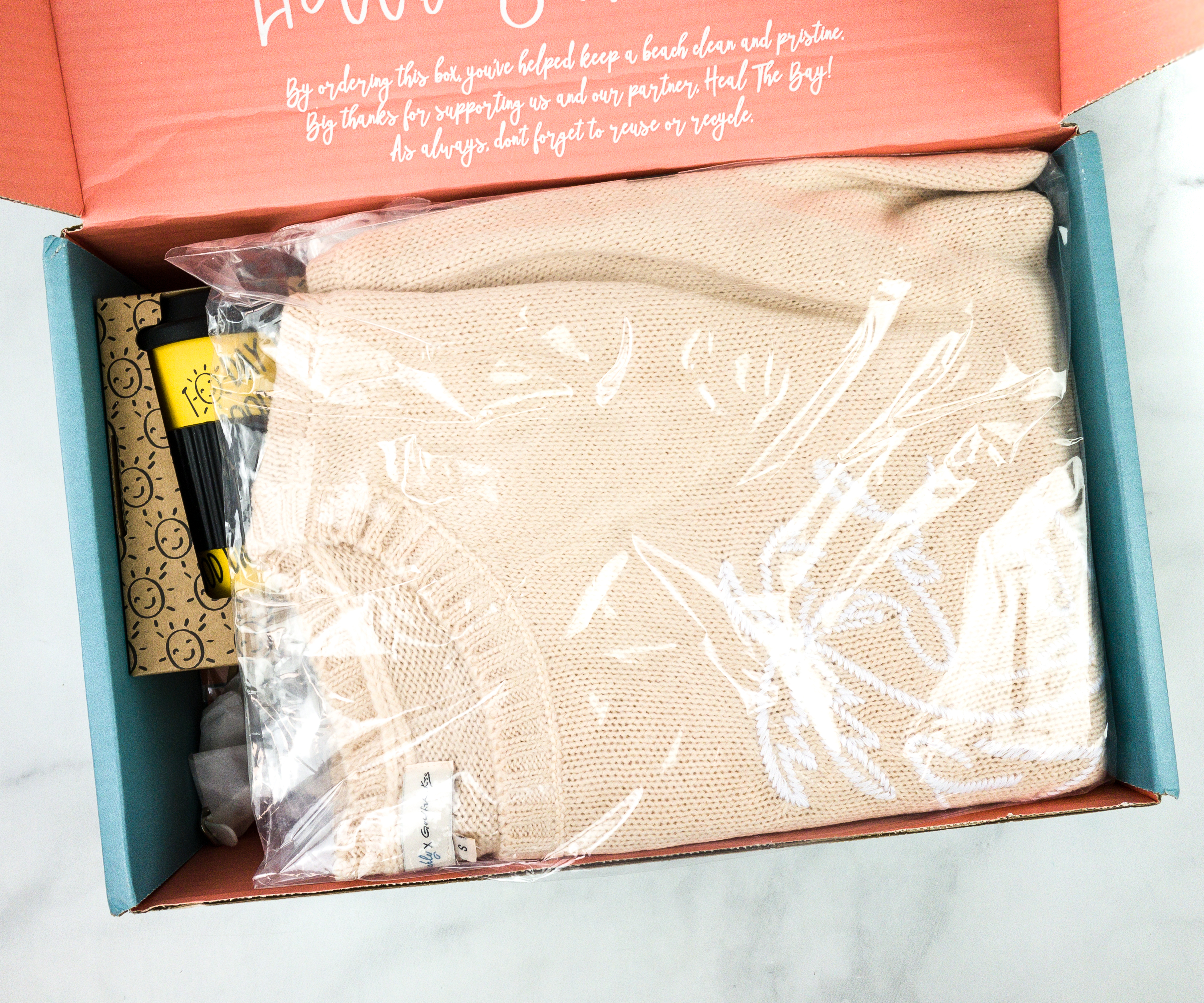 Some of the items were packed in plastic.
The box also includes a mini-mag!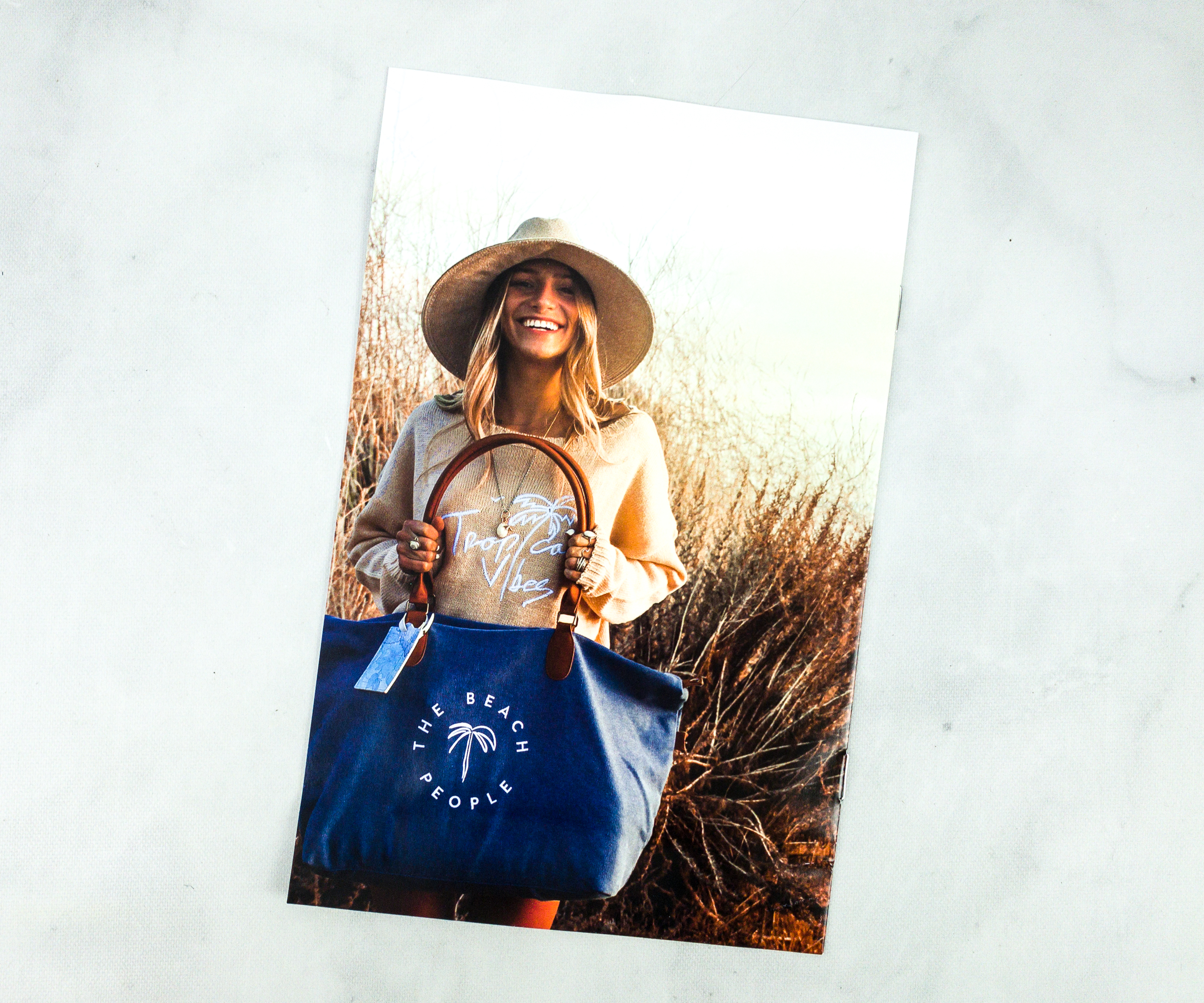 It features photos of this quarter's items plus other useful info!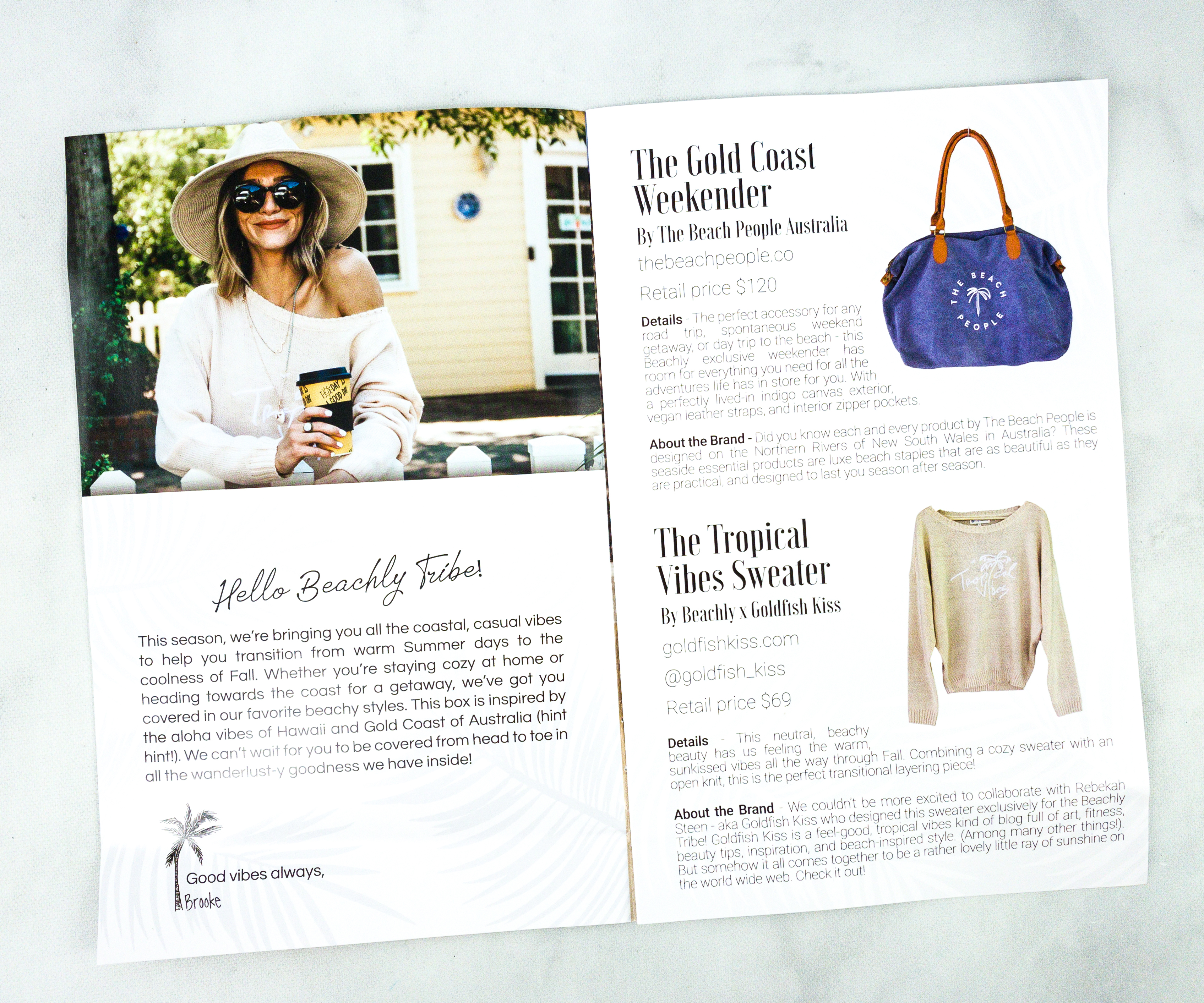 There's a message for the Beachly Tribe!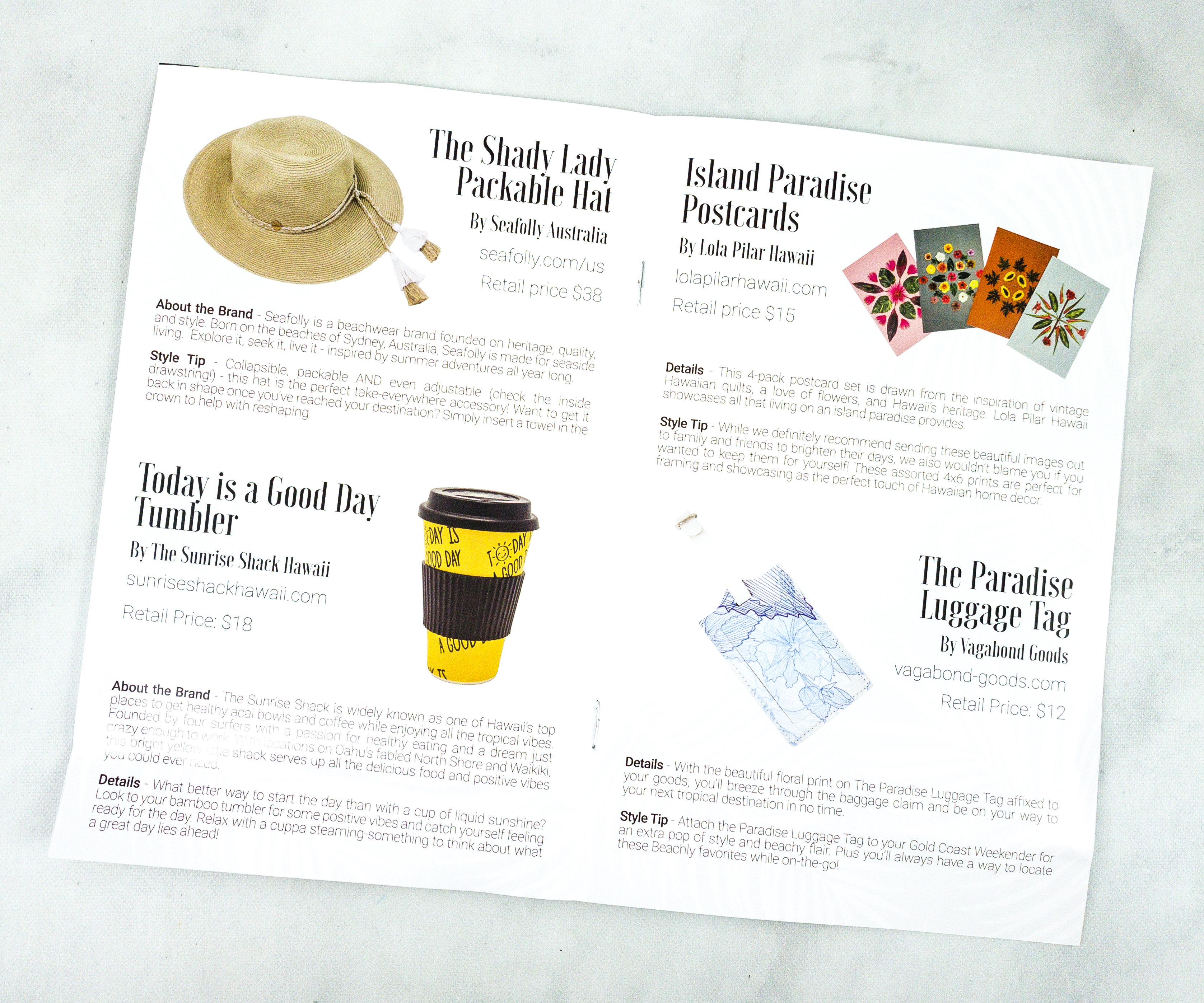 Inside, there are the item descriptions and a brief history about the brands, plus style tips.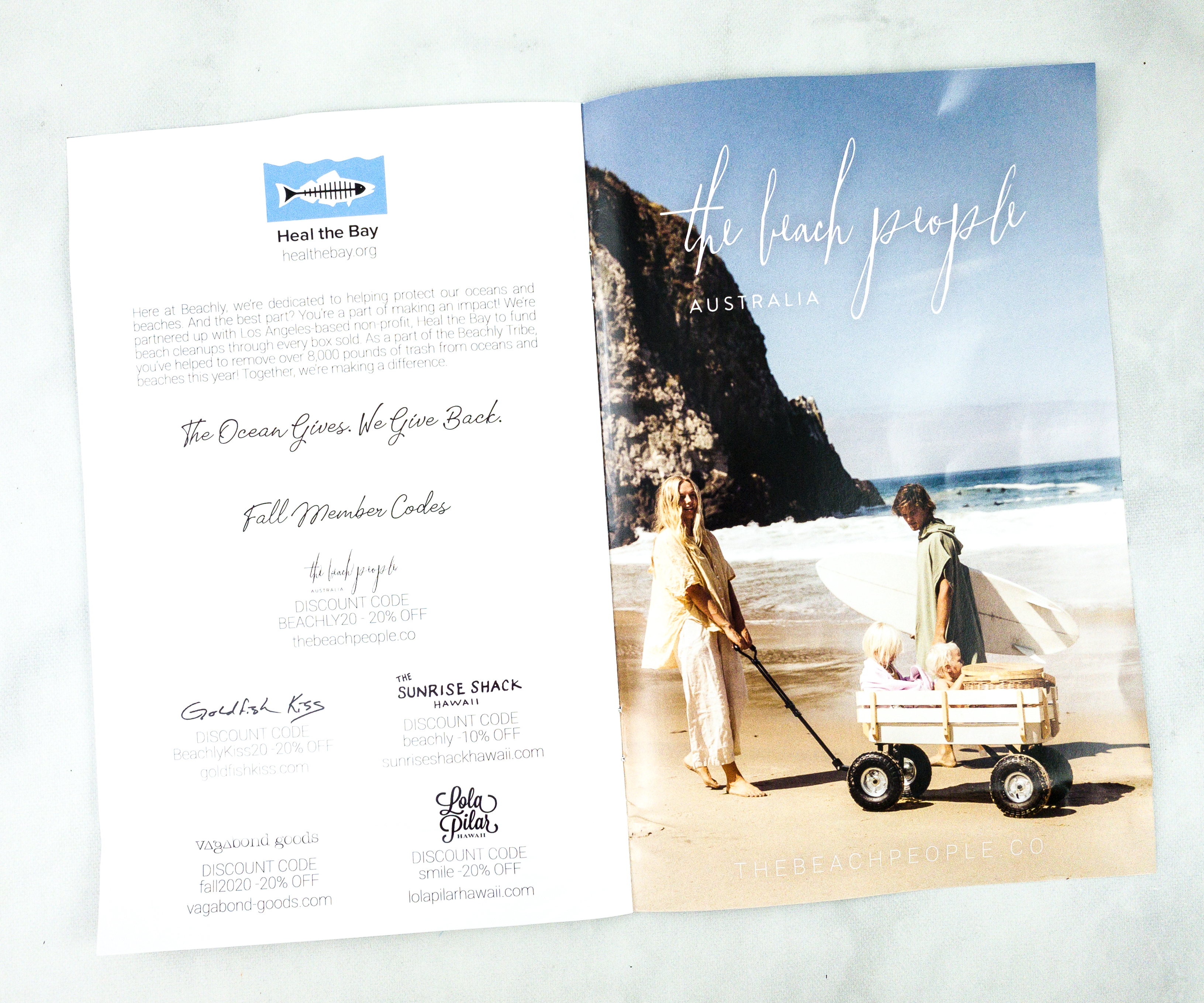 Beachly has partnered with Heal The Bay, a Los Angeles-based non-profit, to fund beach clean-ups through every box sold!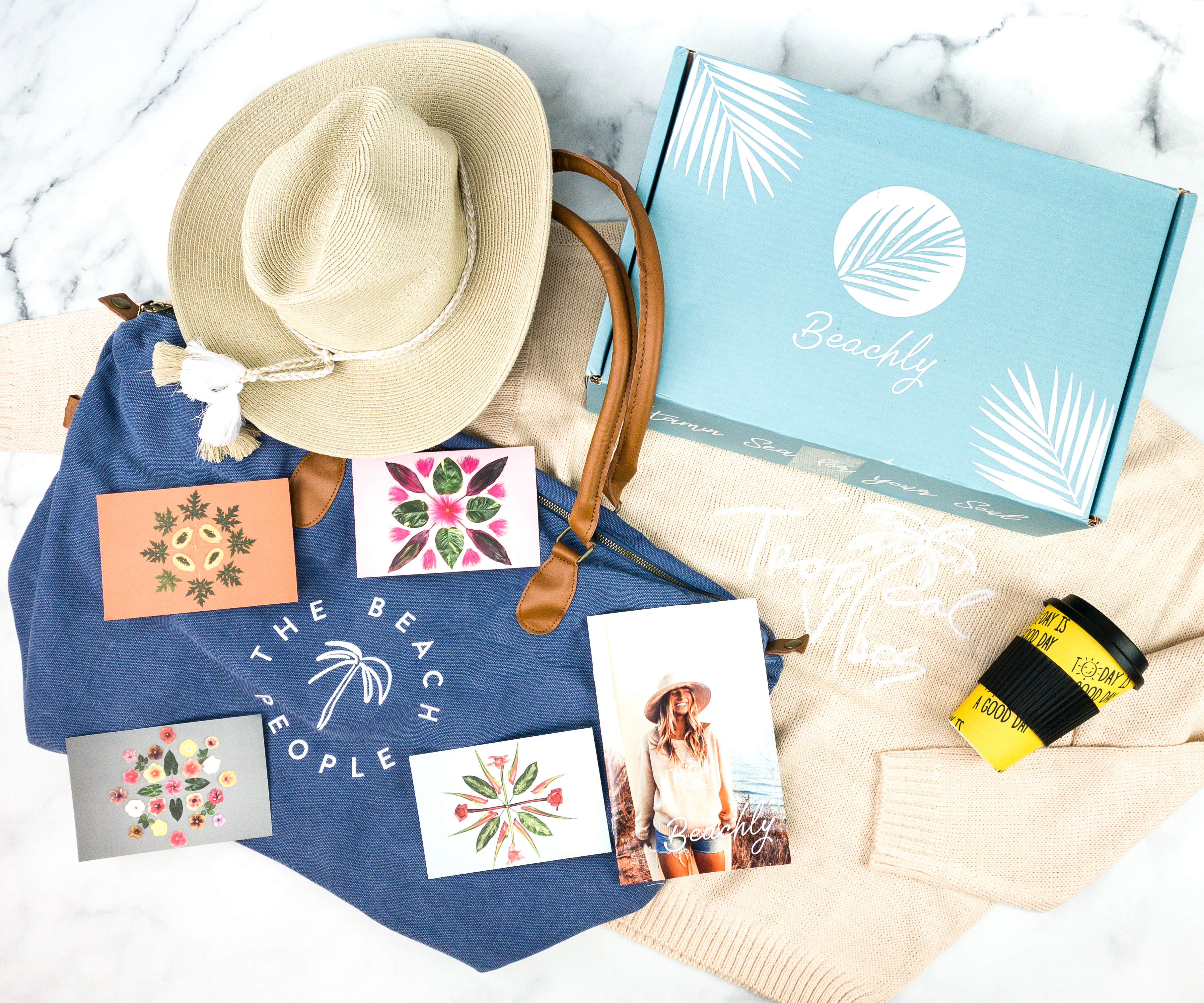 Everything in my Fall 2020 box!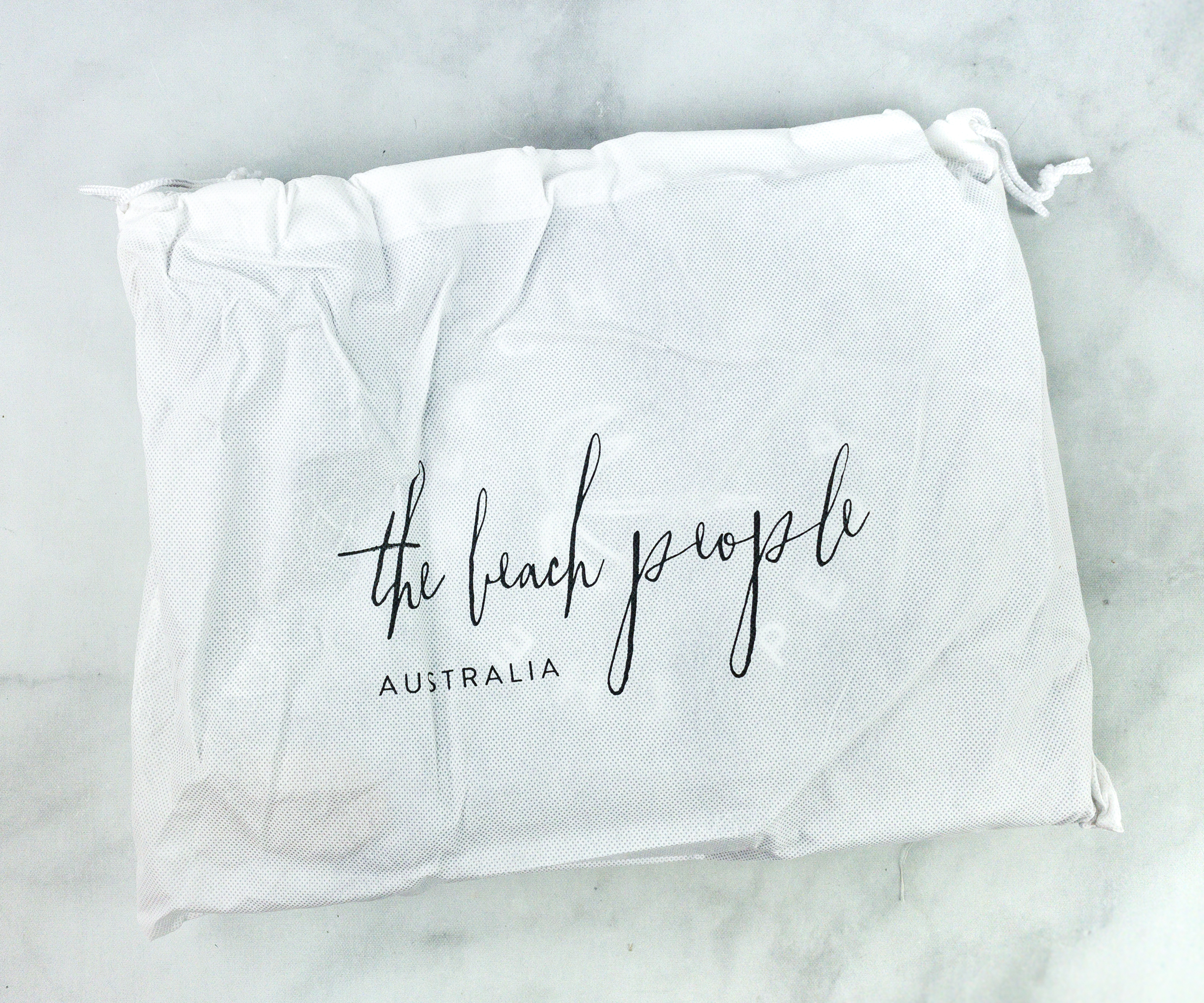 The Beach People Weekender Duffel. The duffel bag arrived in a drawstring pouch for safekeeping.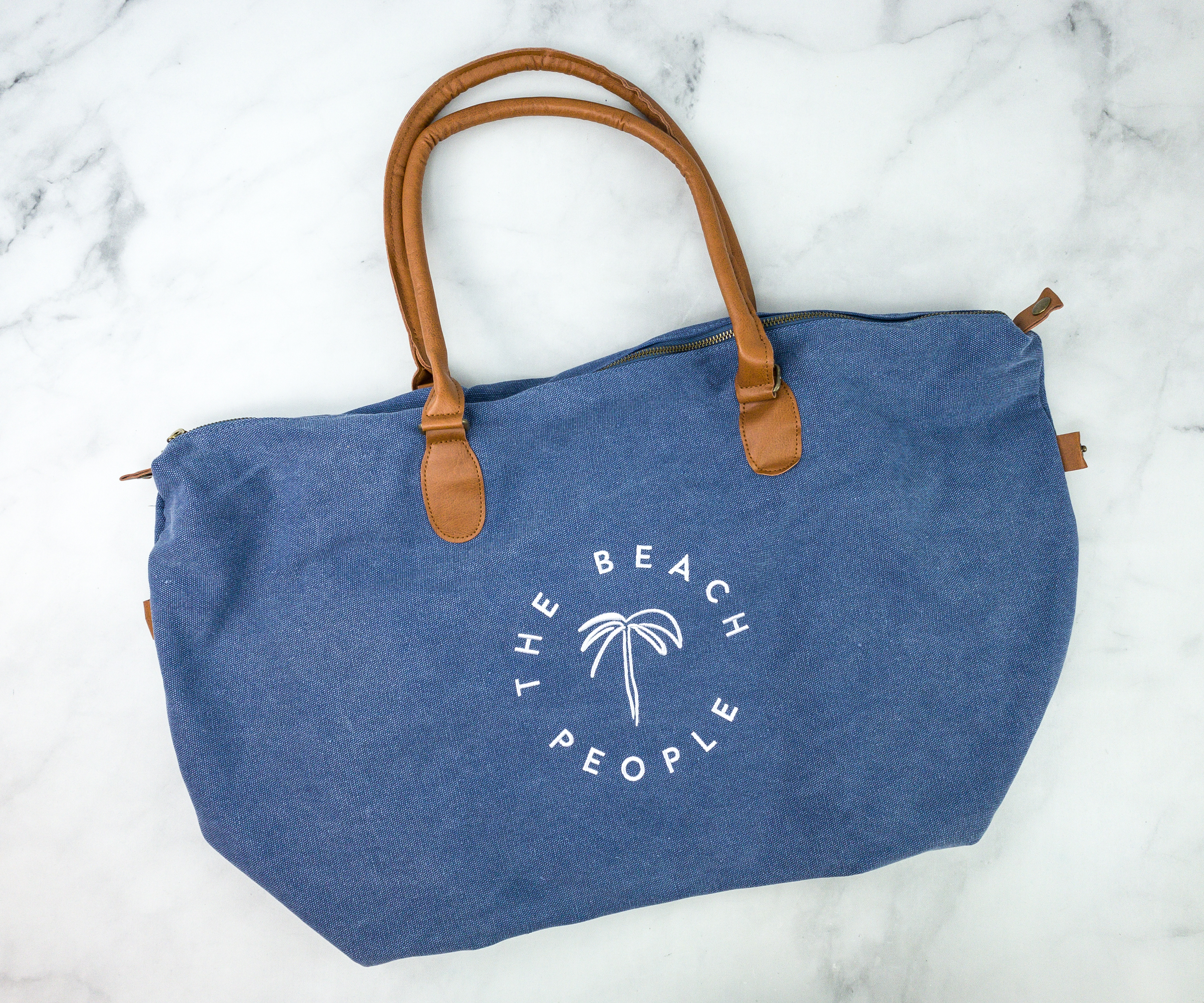 I love how roomy this duffel bag is! It's enough to fit my clothes and essentials for a weekend trip.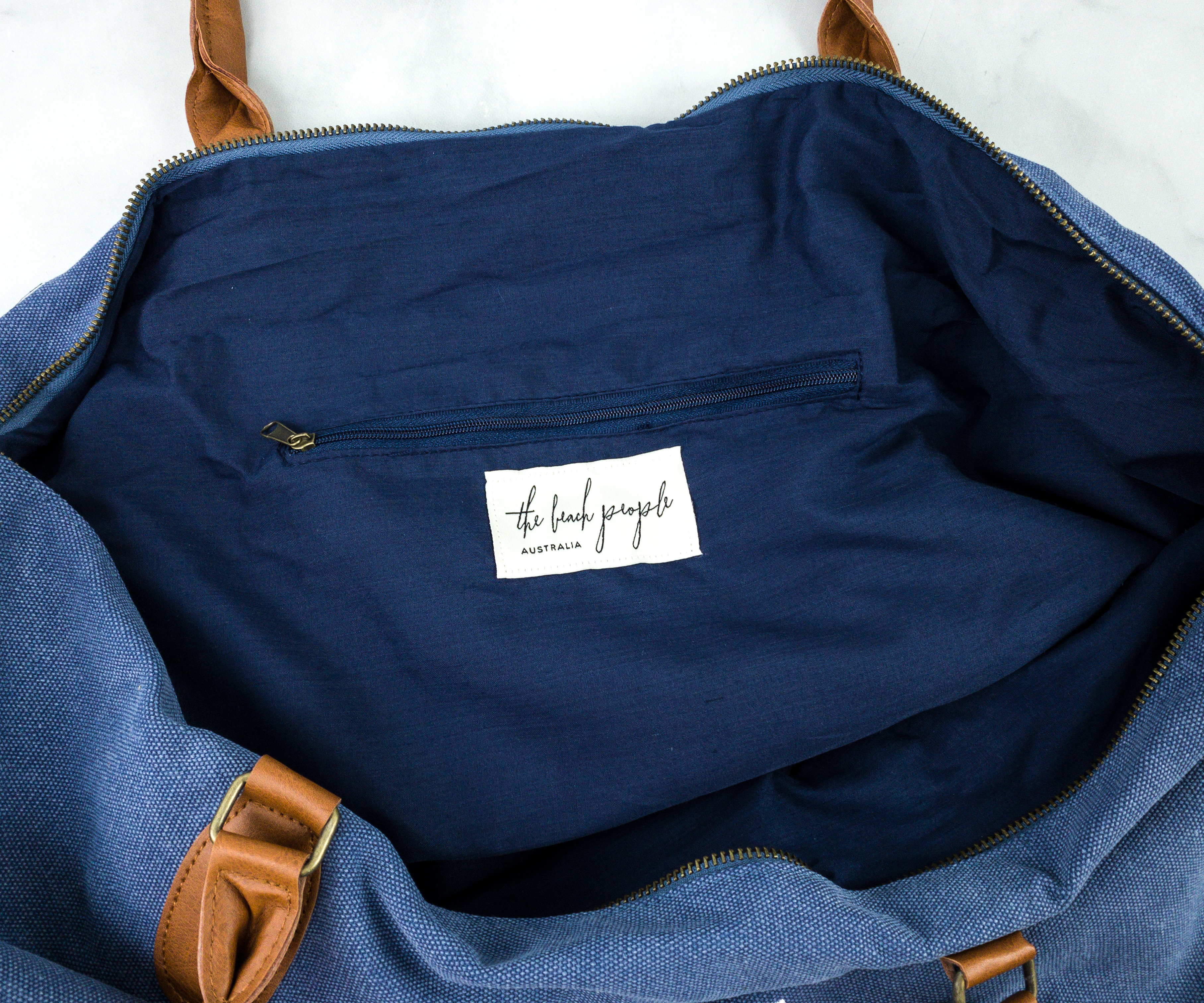 There's a pocket inside for storing smaller items.
The blue bag is denim-inspired. It also has the brand logo in the middle.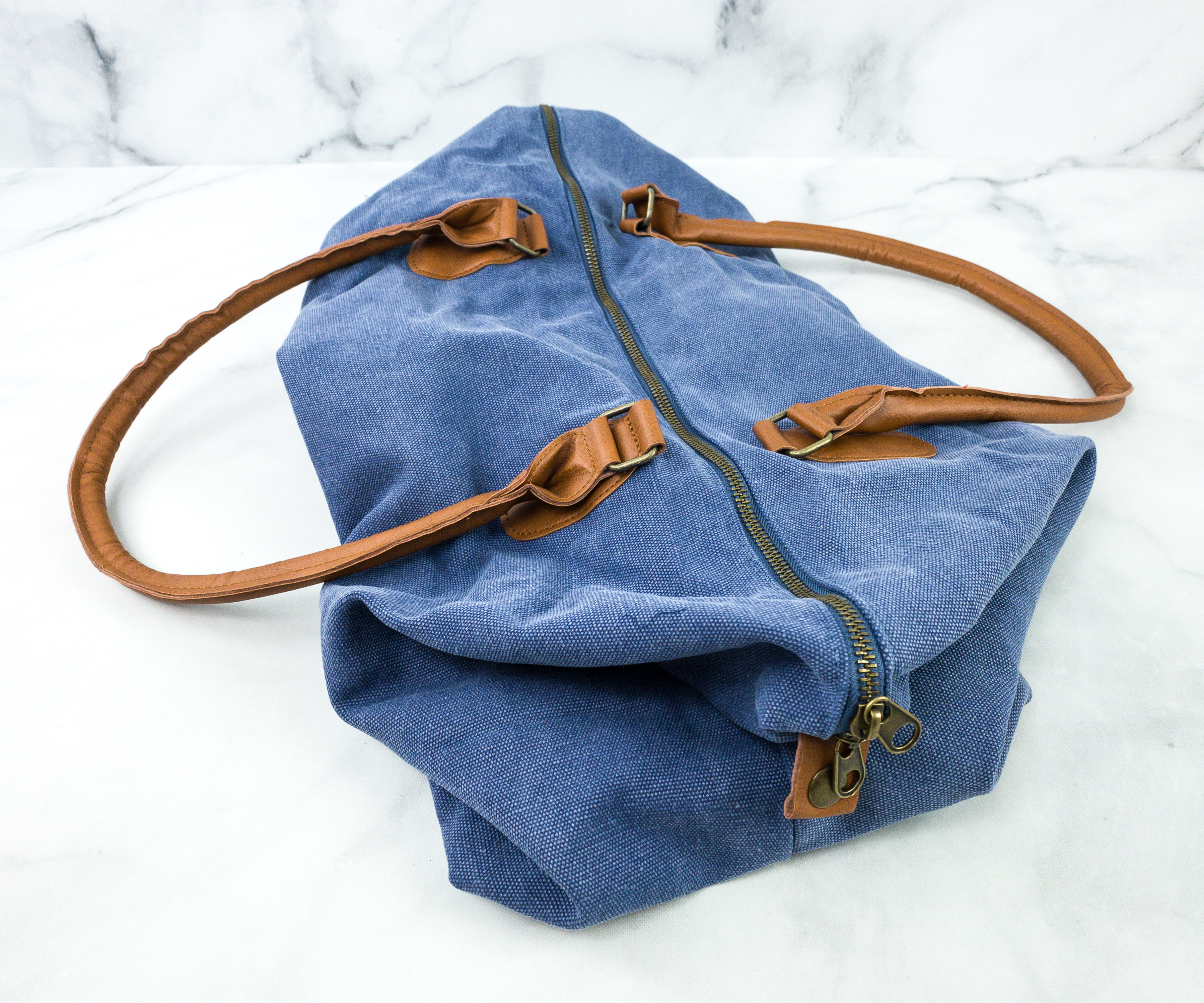 The brown handle and oxidized gold hardware tie up the whole denim look together. The bag zips up widely so you can easily put and get your items when you need them!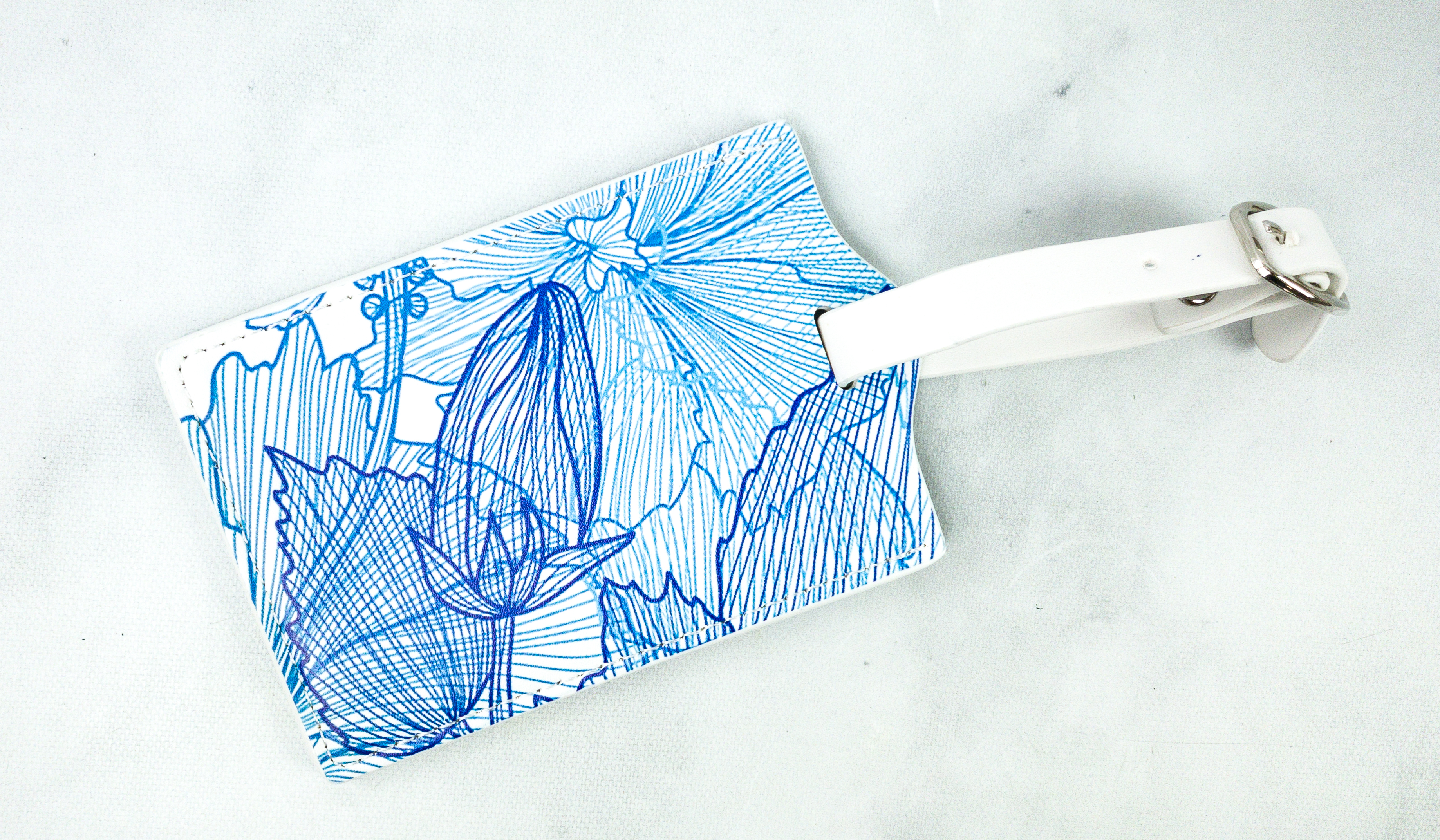 Vagabond Goods Luggage Tag. To match the duffel bag is this super cute luggage tag. It has a floral print in different shades of blue!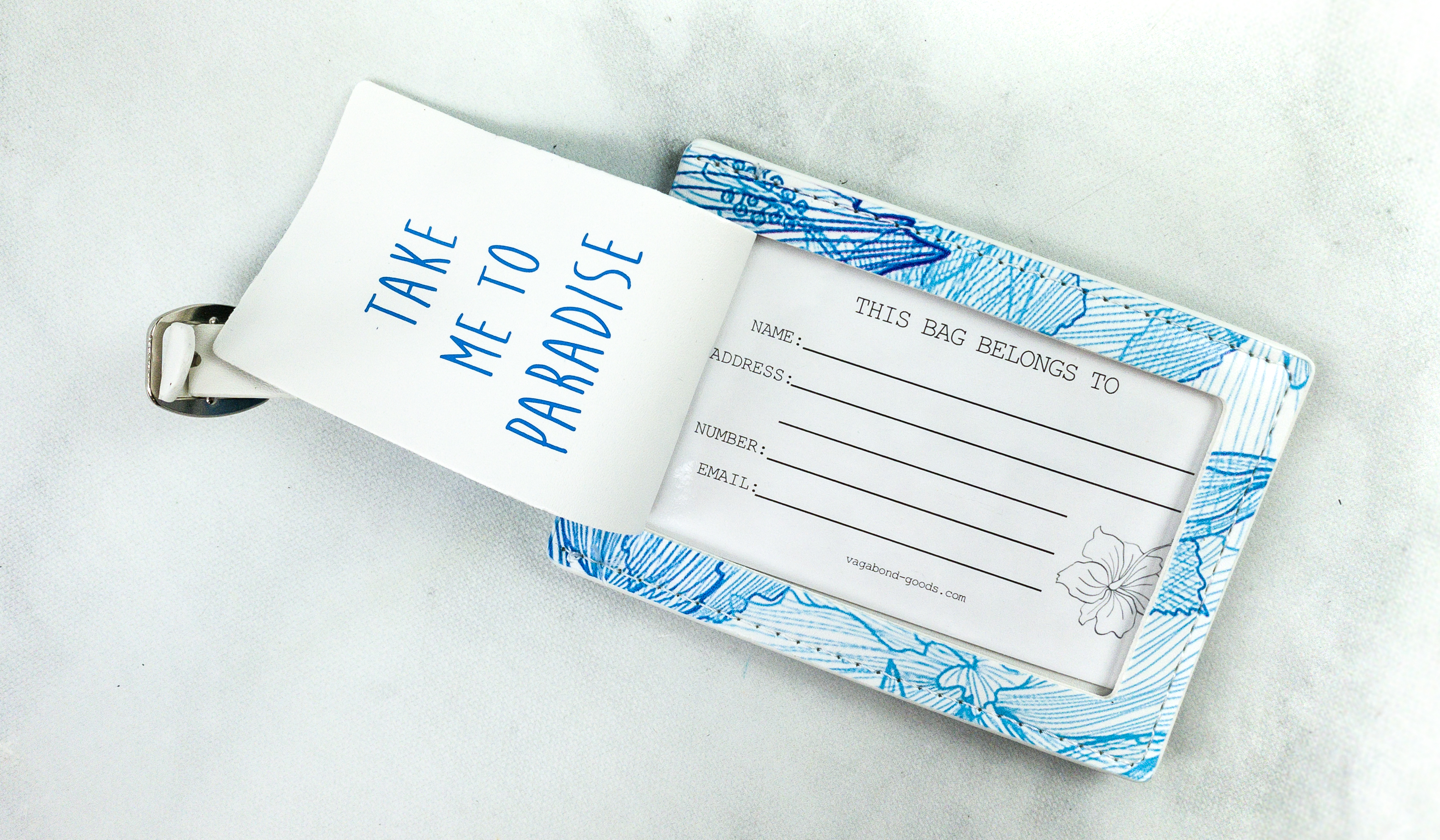 It's discreet as it covers up your info with a flap that says "Take Me To Paradise".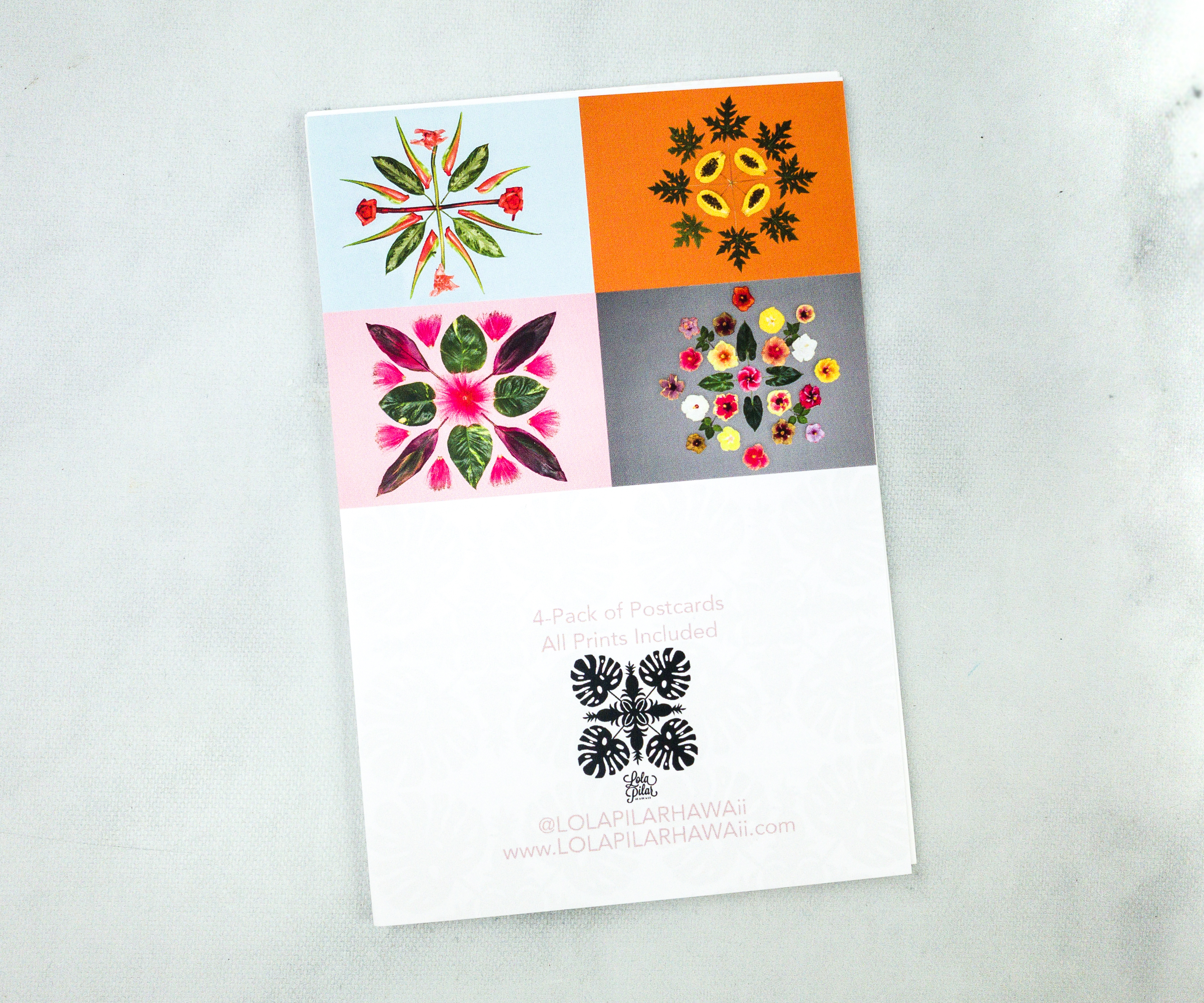 Lola Pilar 4-pack Postcards. Here's a set of postcards that you can send to loved ones or simply display in your room!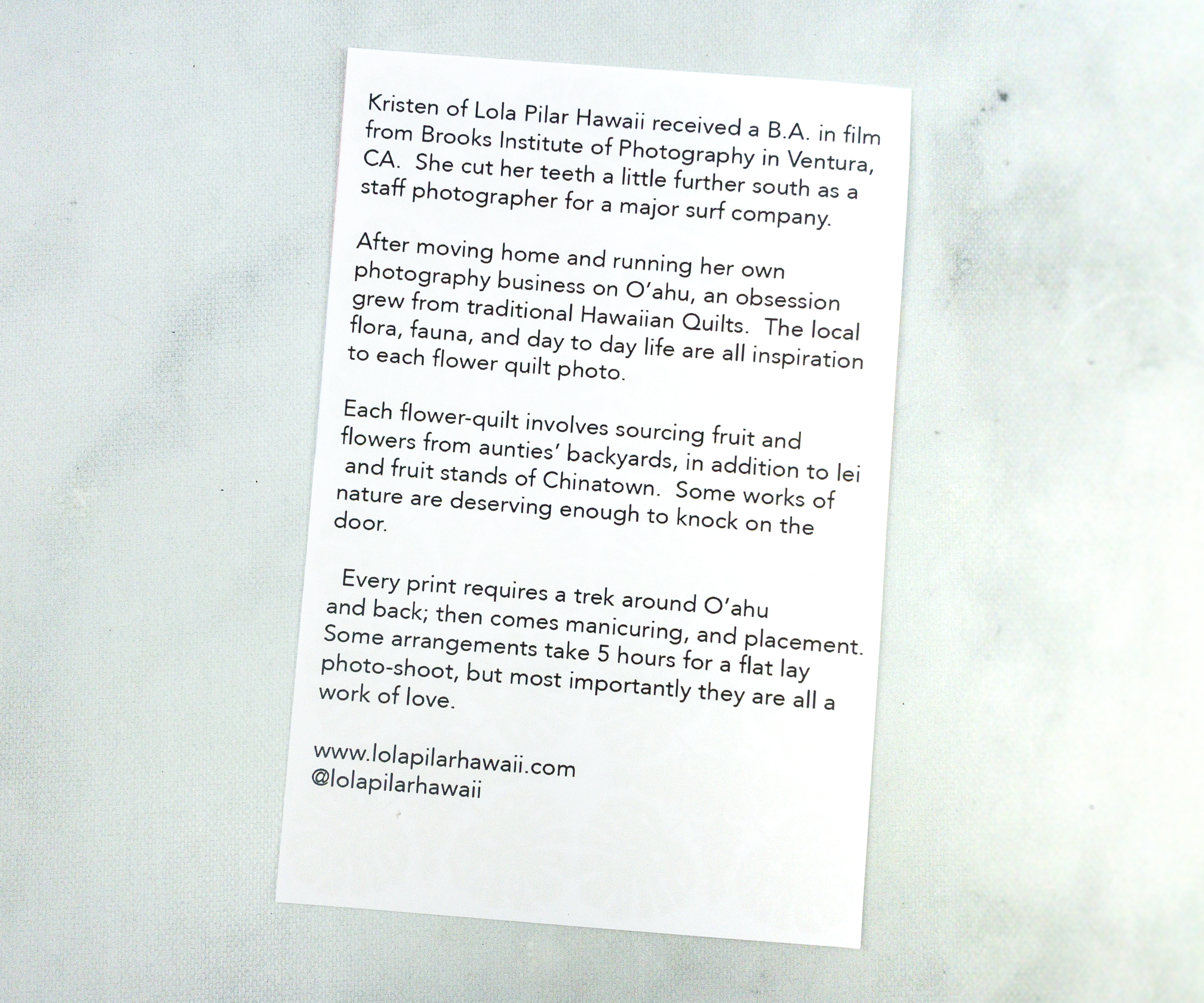 It also came with a card that explains about the maker's process!
The postcards feature plants and fruits, and they are all gorgeous. I like the tropical vibe they're giving off! They're truly an artwork in their own right!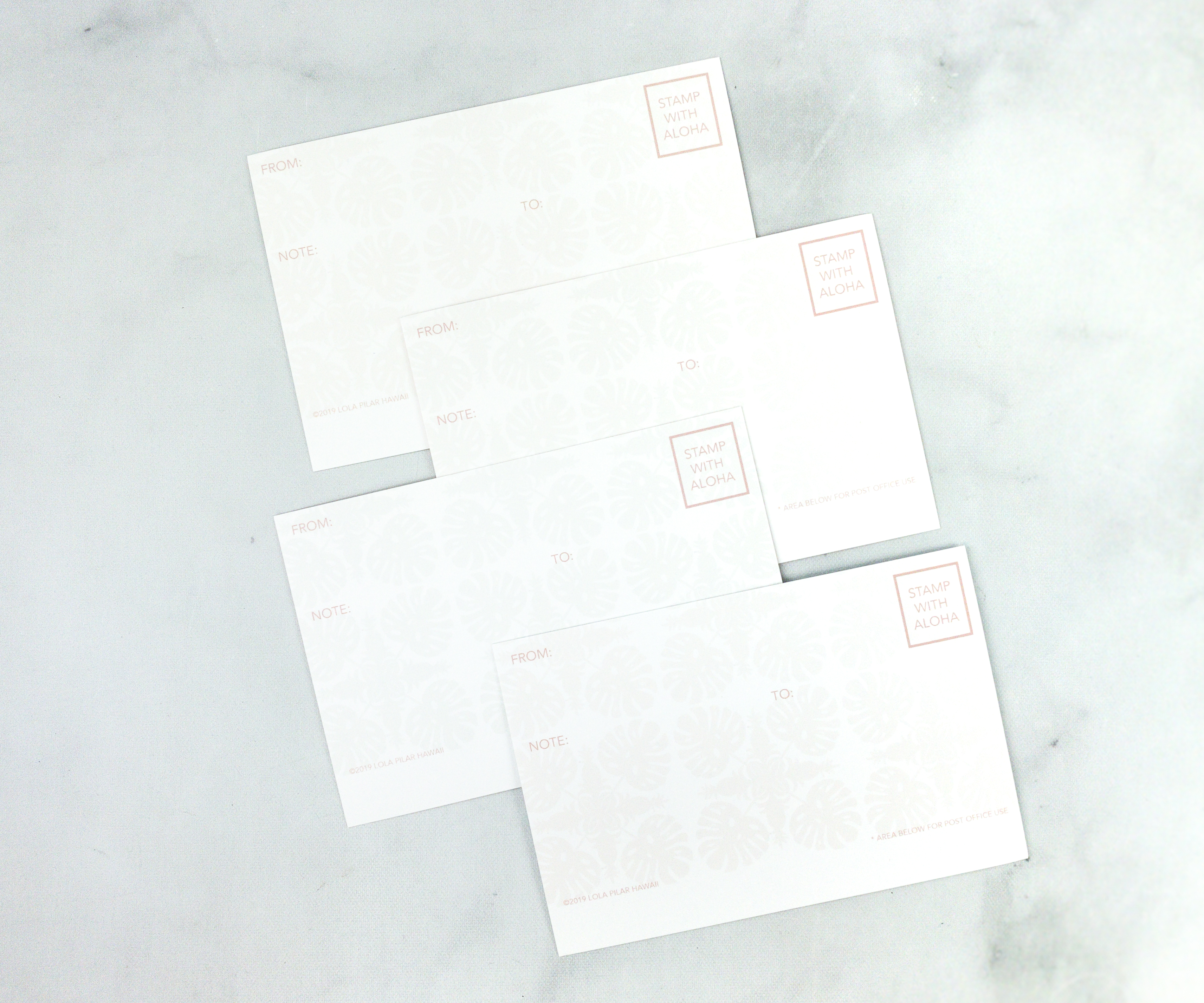 At the back, there's ample space where you can write your messages!
Sunrise Shack Tumbler. It's important to keep ourselves hydrated, so they included this cute tumbler in the box!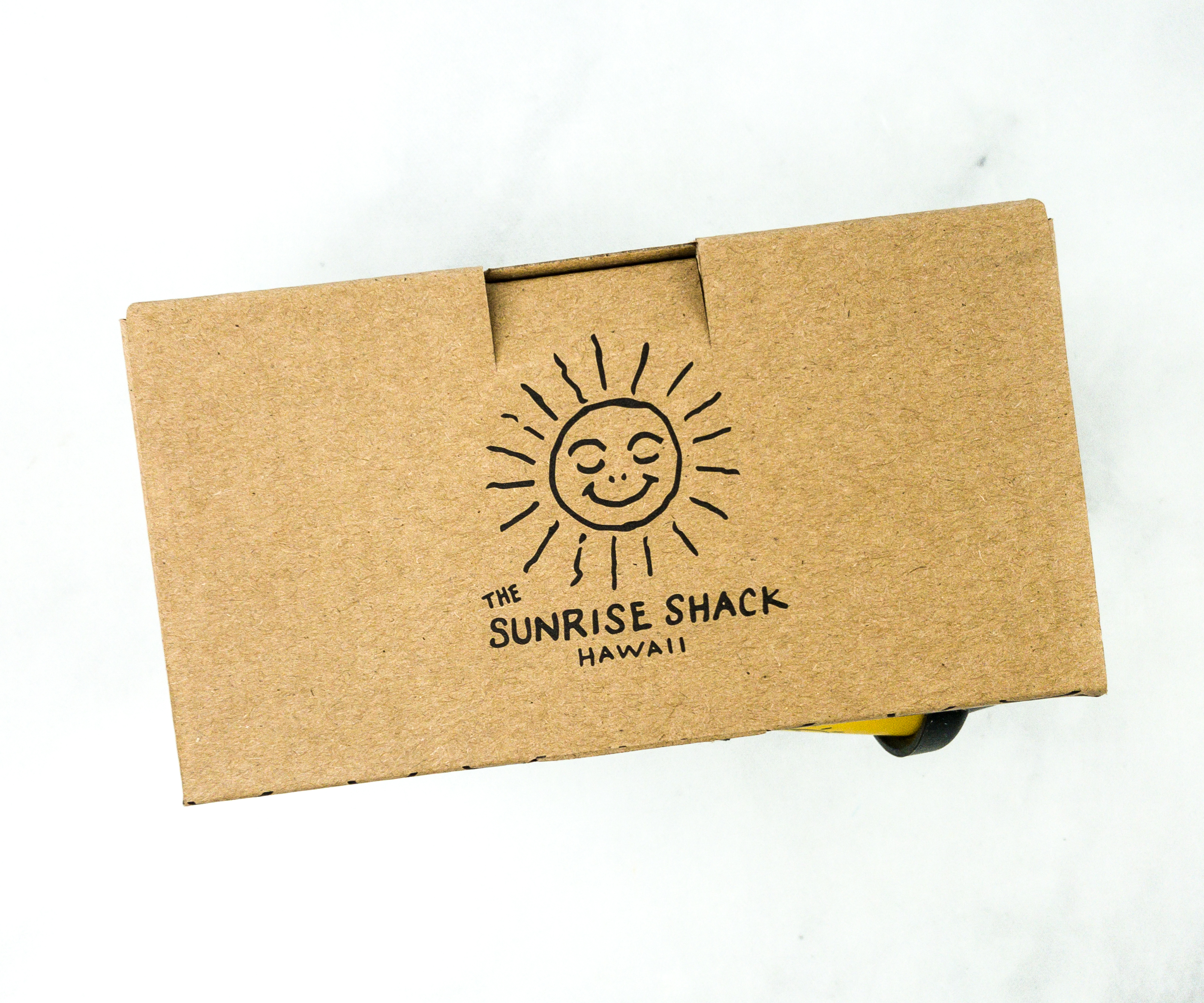 The tumbler came in its original box packaging.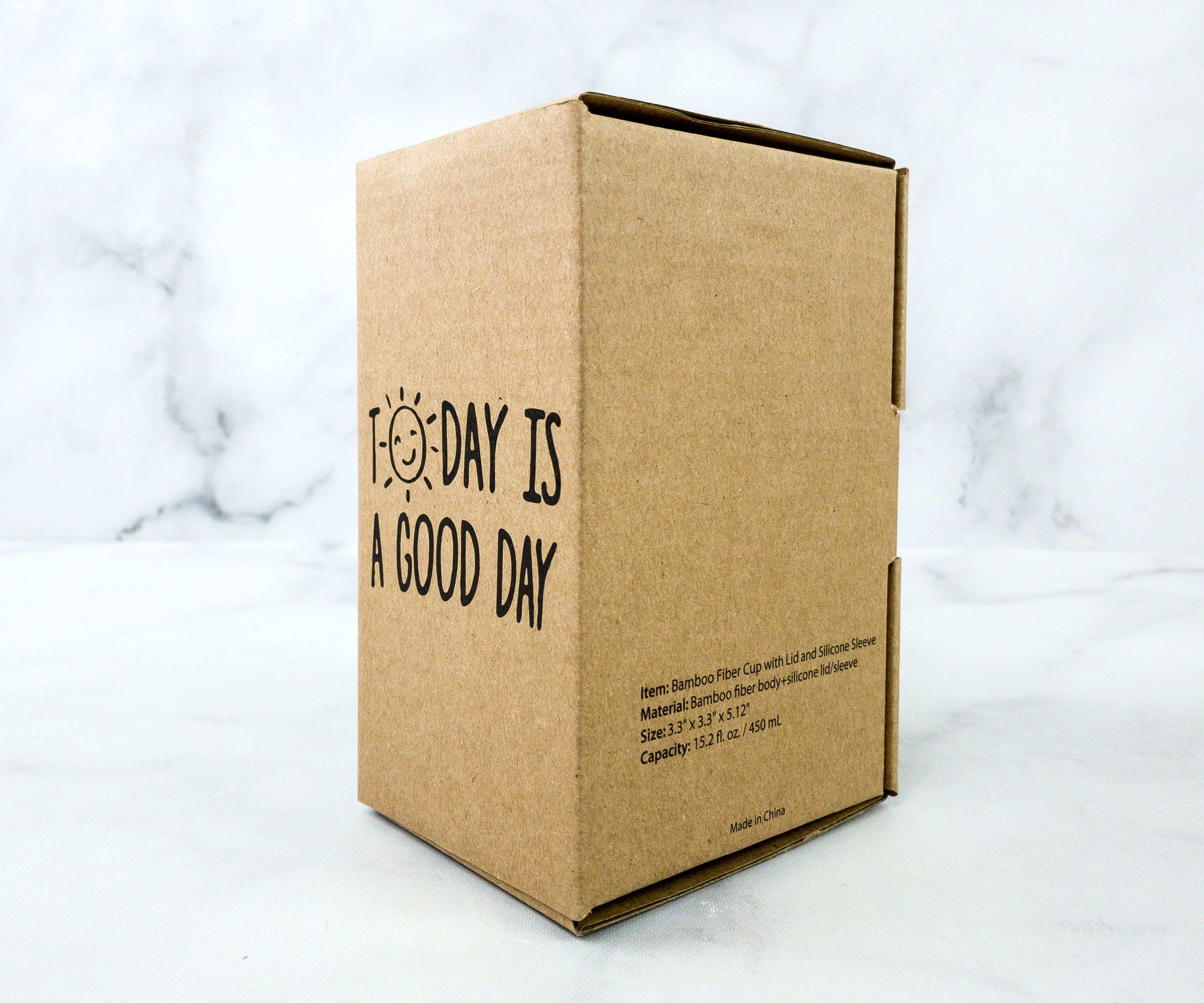 According to the label, the cup is made with bamboo fiber and it can carry up to 450 ml of liquid.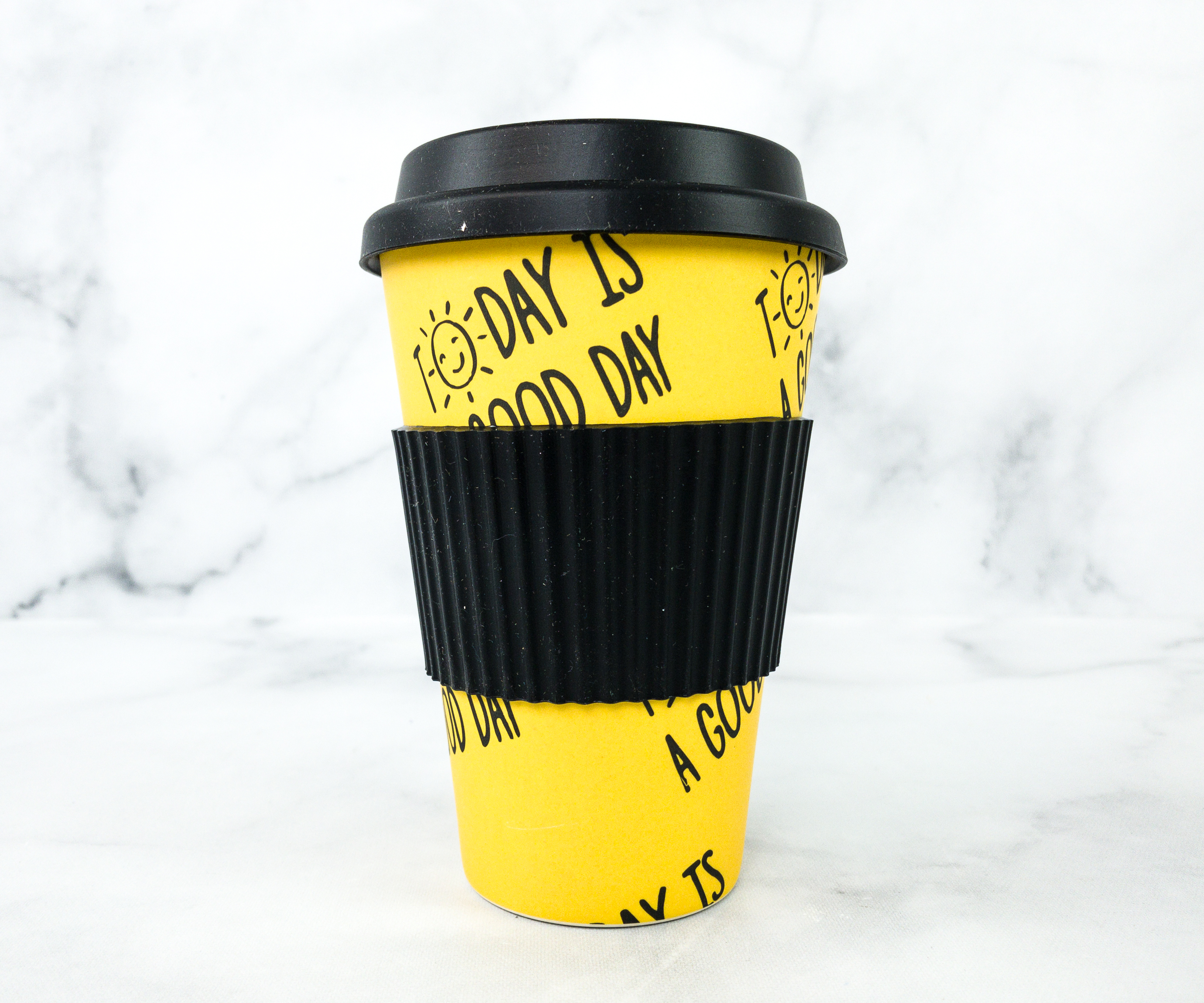 Here's what's inside! It's a nice reusable cup with a silicone holder. The black and yellow combination is a nice touch.
Whether it's a hot or cold drink, this recyclable piece is definitely the way to go. It's easy to bring anywhere because of the included sleeve and lid.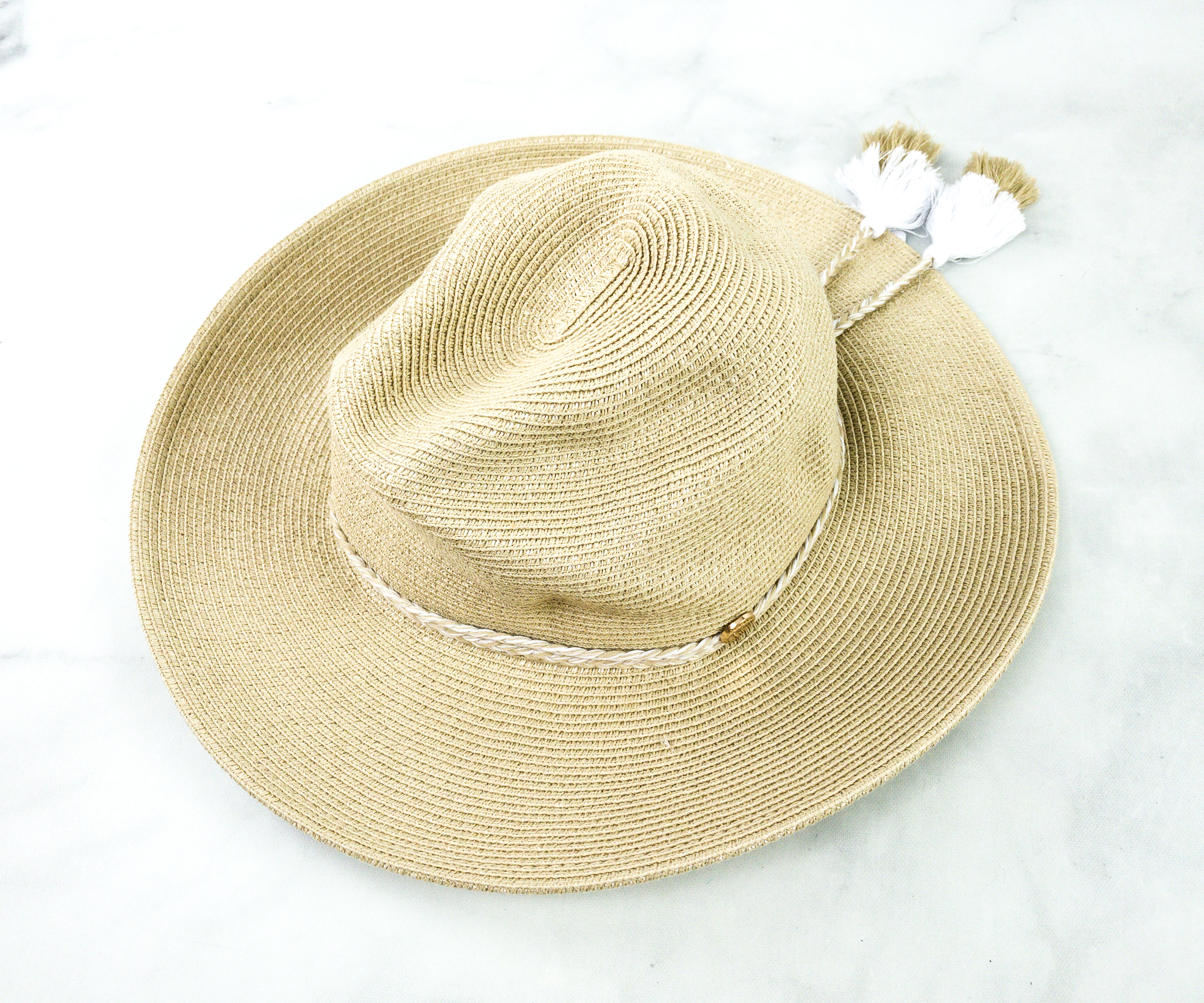 Seafolly Packable Hat. For more beach vibes, they threw in this nice hat! It's a vacation must-have, not just to protect you from the sun rays but also to add flair to your look!
It has a braided string accent that goes over the hat twice and ends up in a tie with tassels at the end!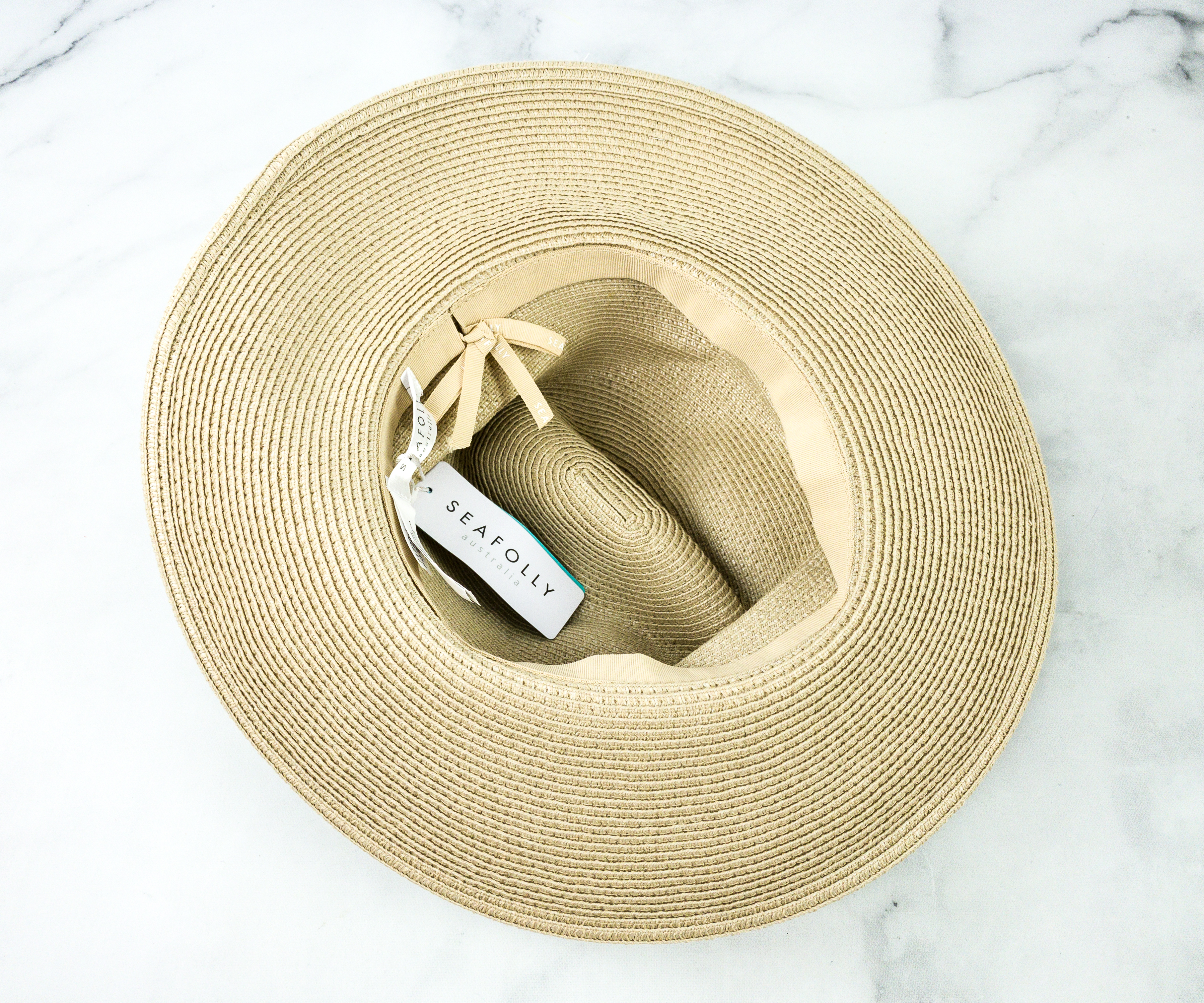 The wide brim of the hat ensures that your eyes, if not the whole face, gets protected from the sun. I also like how lightweight this hat is!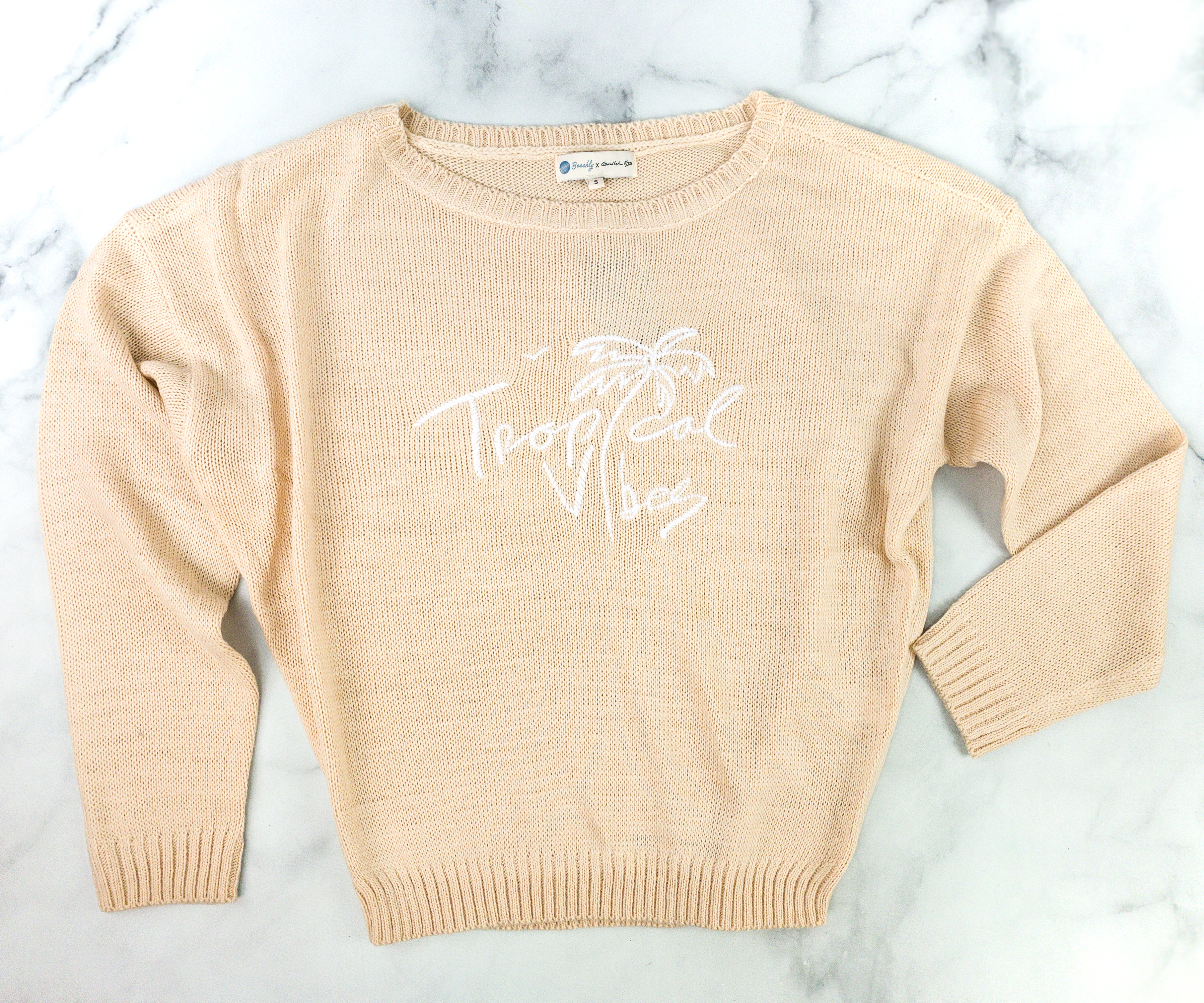 Goldfish Kiss Sweater. This sweater is the perfect representation of a fall item with a beach vibe!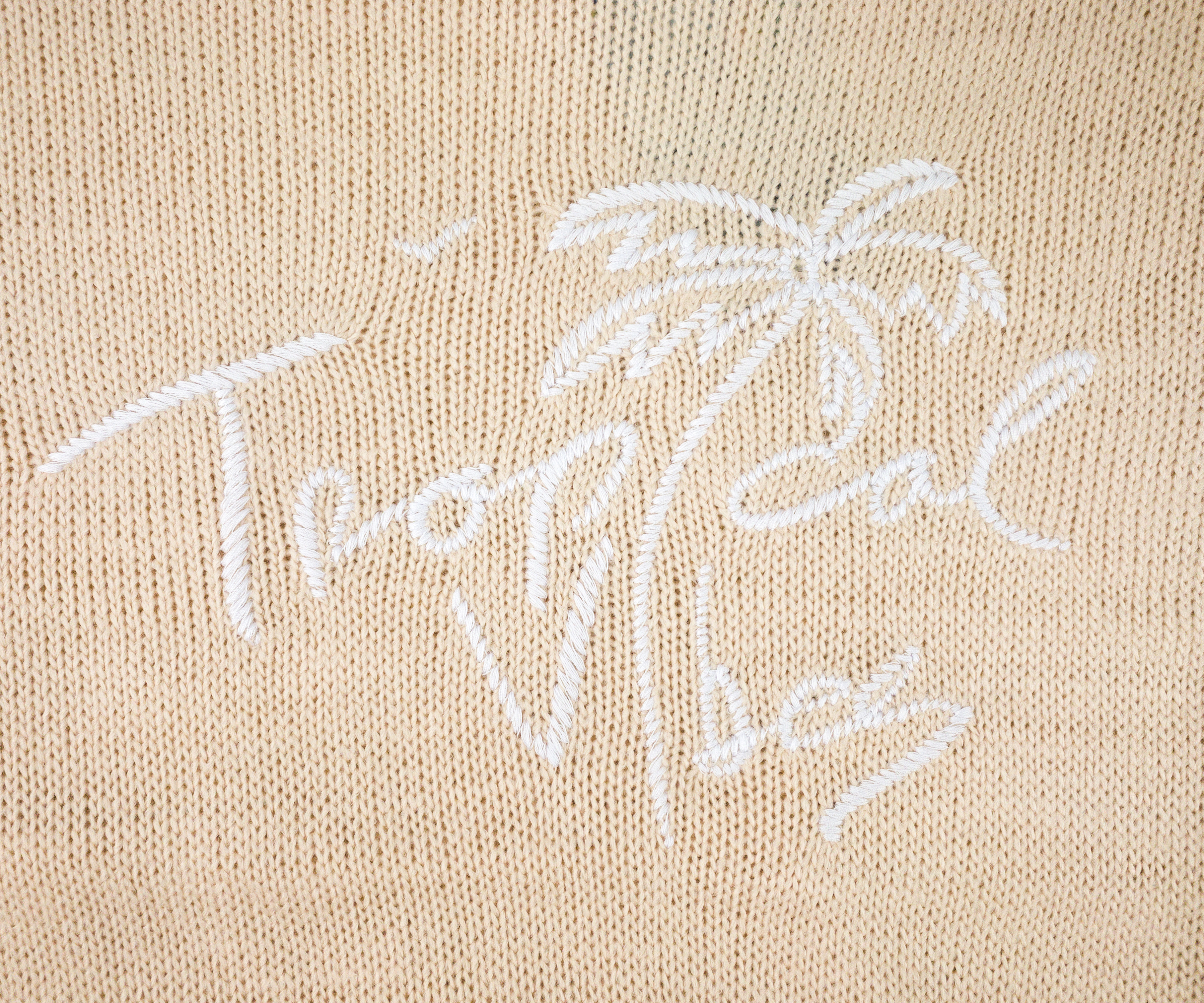 It has a light peachy color with a stitched "Tropical Vibes" design in front. They put a palm tree in place of the letter I!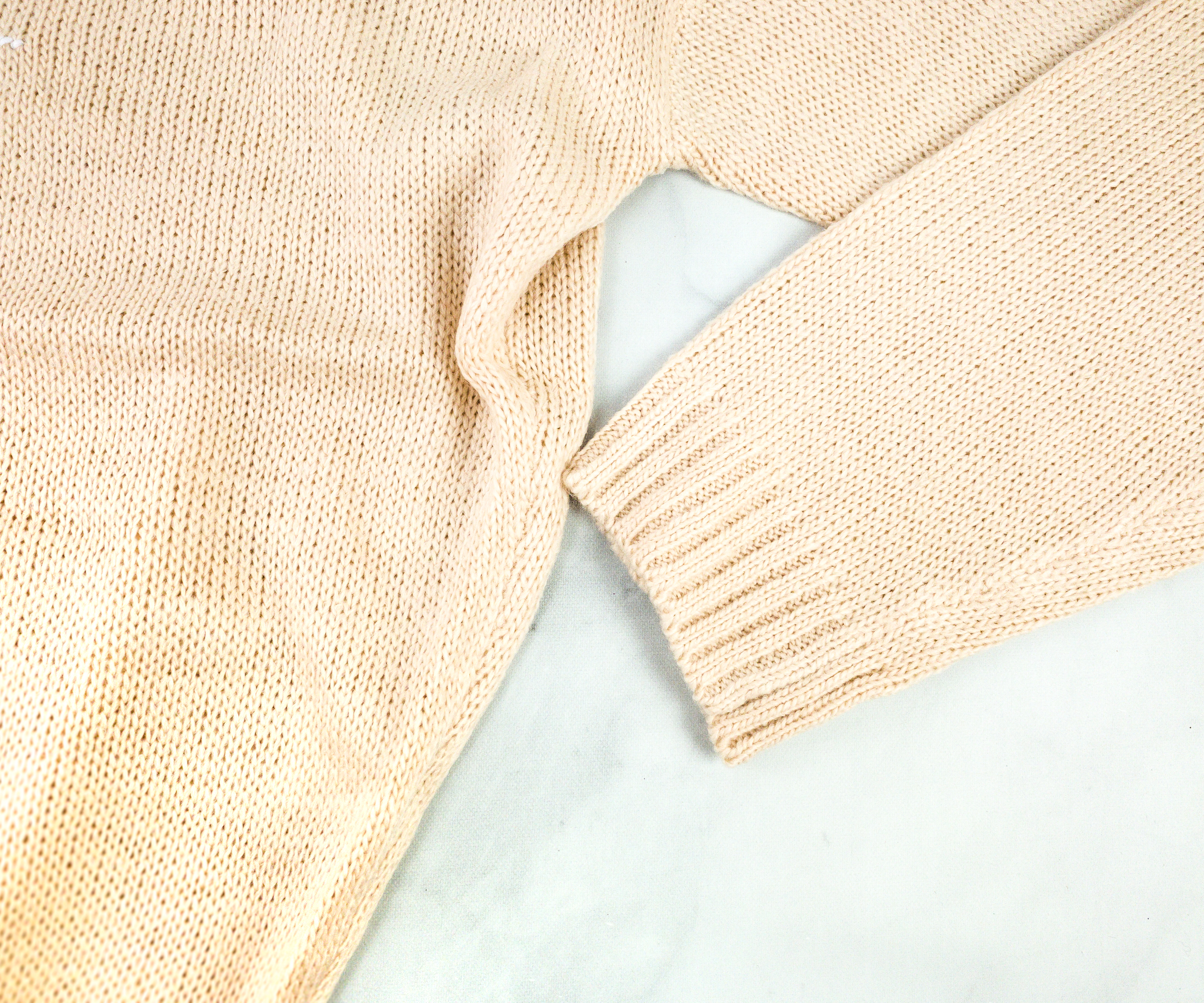 The sleeves are ribbed, adding to the overall cozy vibe of this top.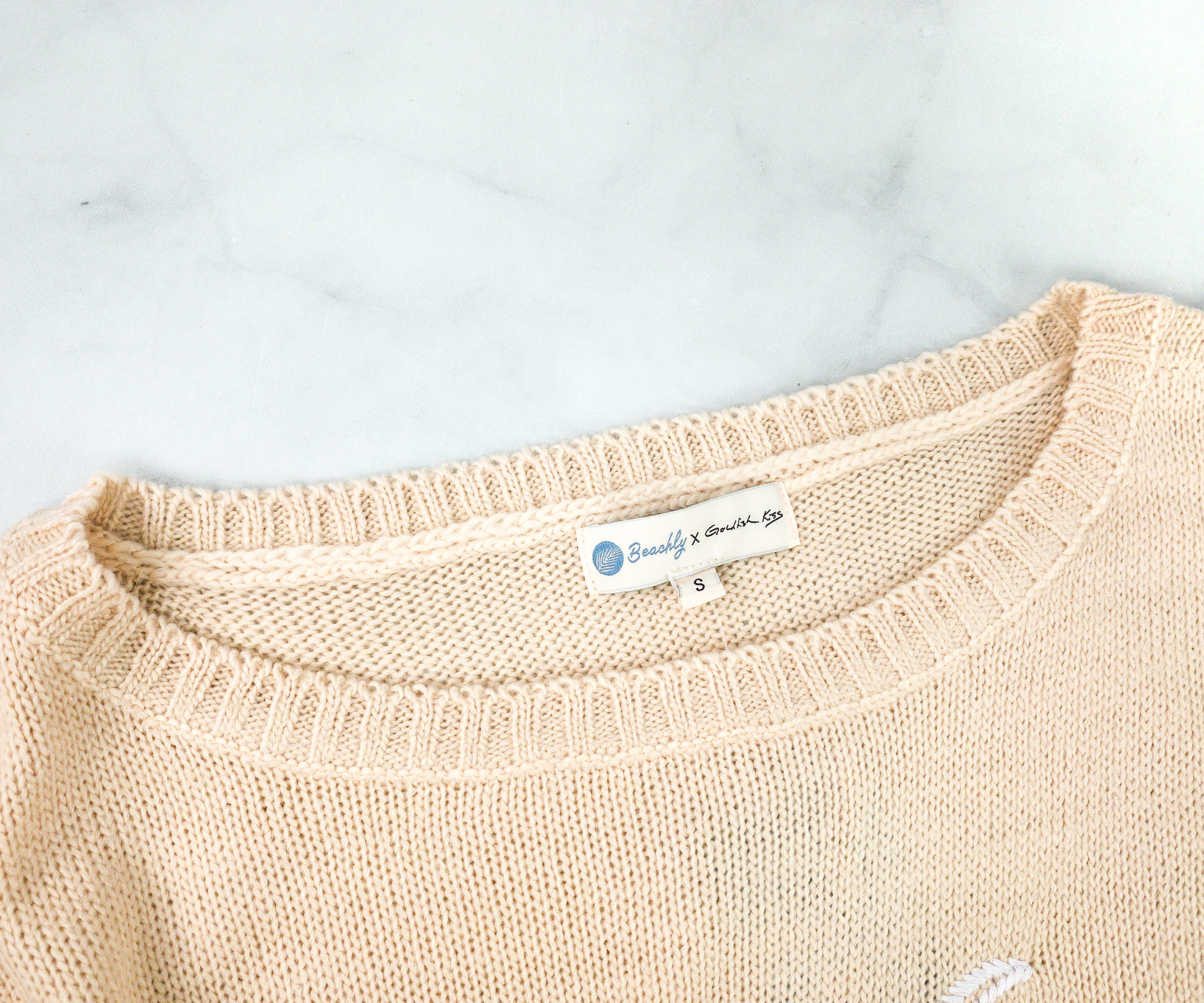 I really like the light color of this sweater. Also, it's not too thick but just enough to keep the wearer warm. Visually, it looks really good as it's very easy on the eyes. Just pair this up with jeans or leggings and you're good to go!
A new season also means a new box from Beachly! For beach lovers, this is the ultimate subscription because every curation is just overflowing with beach vibes, and includes everything from apparel to home decor and everything in between. For fall, I have two favorite items, the duffel bag and the sweater. The duffel bag is perfect for bringing on a weekend trip. It's spacious and well-stitched! Meanwhile, the sweater is perfect for wearing on a chilly day, whether when walking by the shore or on regular days running errands! It has a classic beachy vibe to it that I'm drawn to! The rest of the items also fit the overall theme of the box, so I have no complaints. My beach-loving heart is happy once again!
What do you think of this quarter's Beachly?