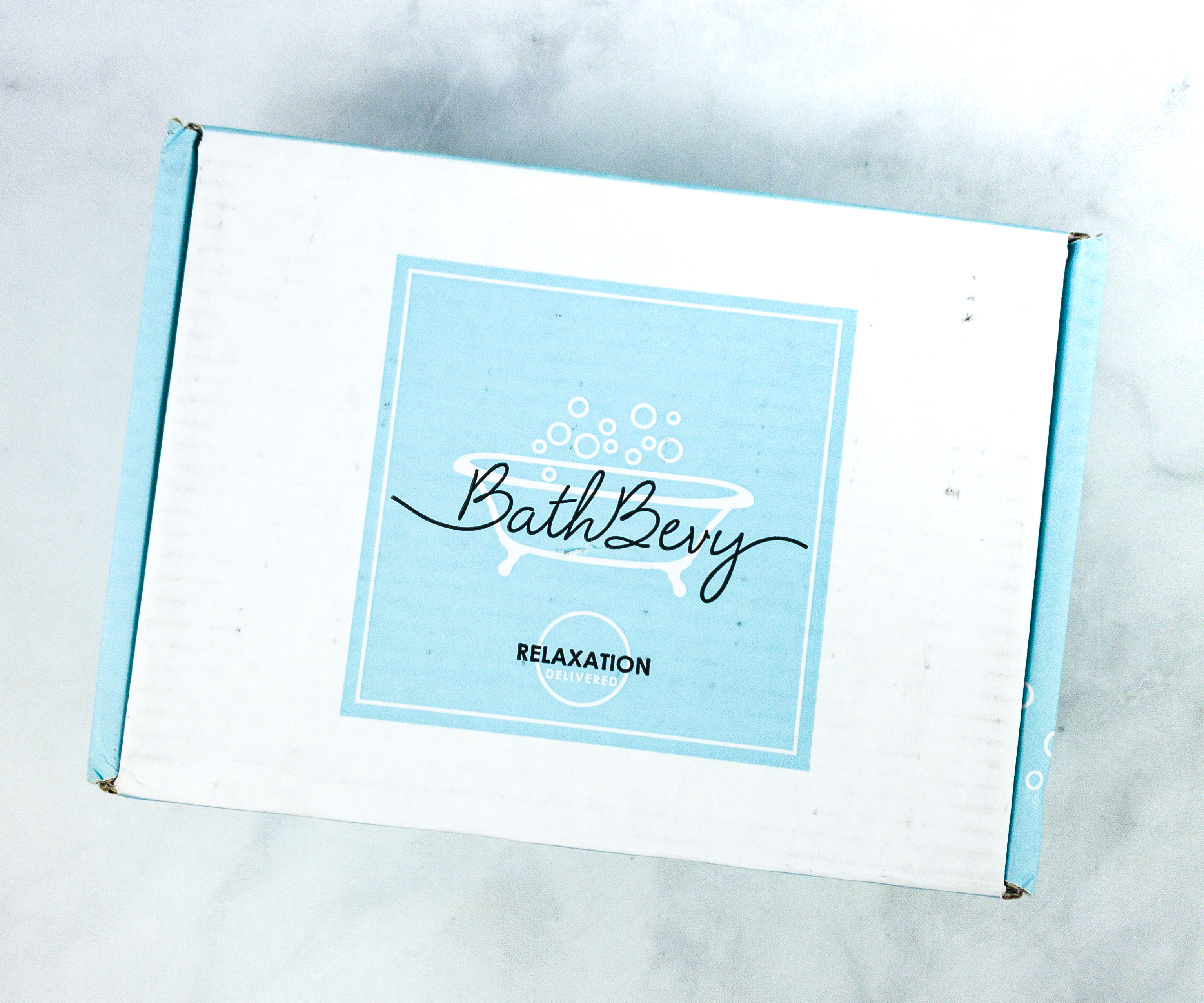 Bath Bevy curates monthly boxes for bath lovers! Each themed box has 6-10 bath items, which may include bath bombs, bubble bars, bath salts, body scrubs, handmade soaps, and more! Most of these items are from indie bath and body brands. A monthly subscription is $34.95. They also offer a quarterly subscription that ships every 3 months, and costs $36.95 per box.
DEAL: Receive 10% off your first subscription and renewals for the Bath Bevy Subscription Box. Use coupon code HELLO10.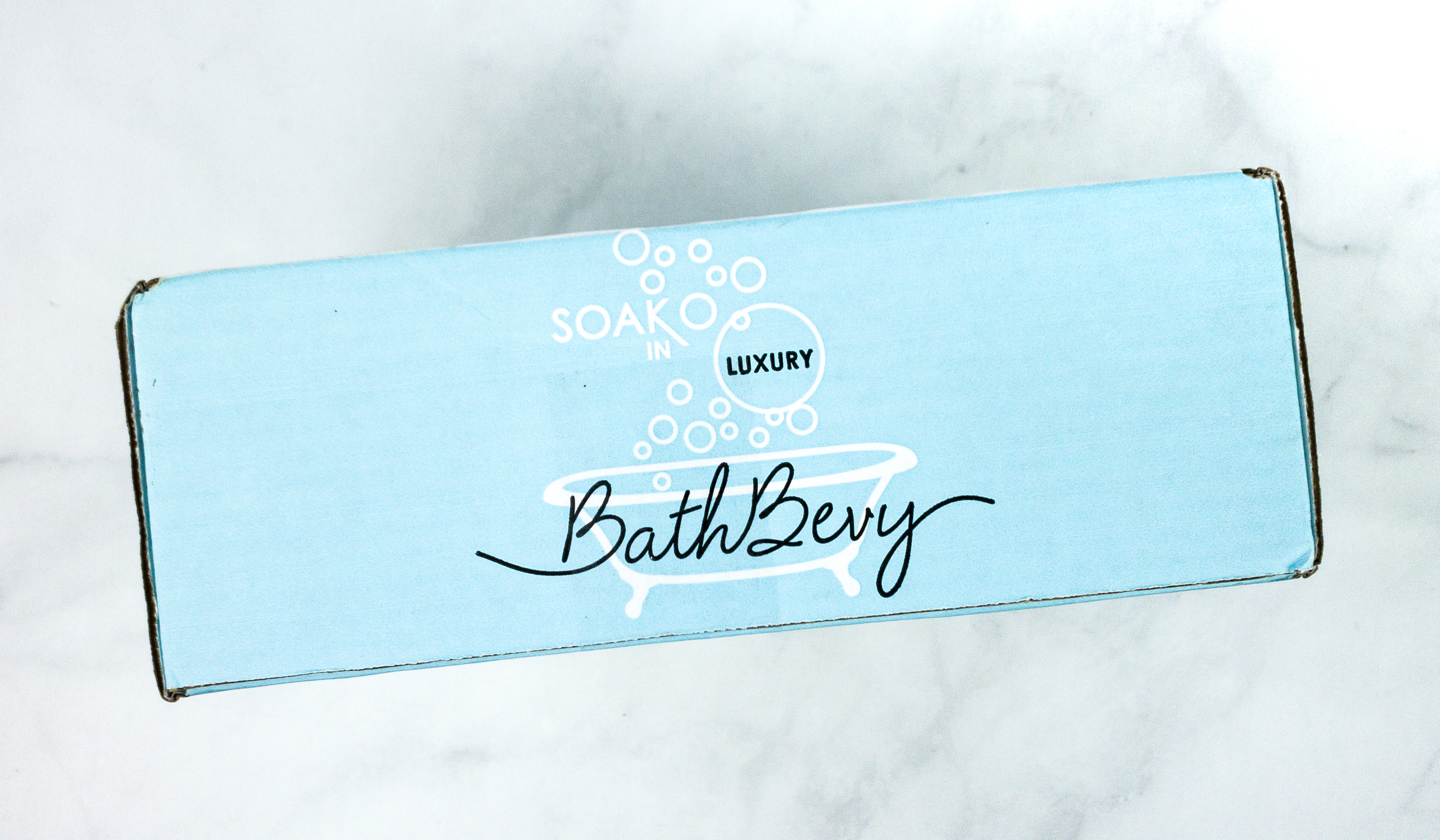 The box looks really great with the Bath Bevy branding on the side!
The box is full and on top of the items is a card.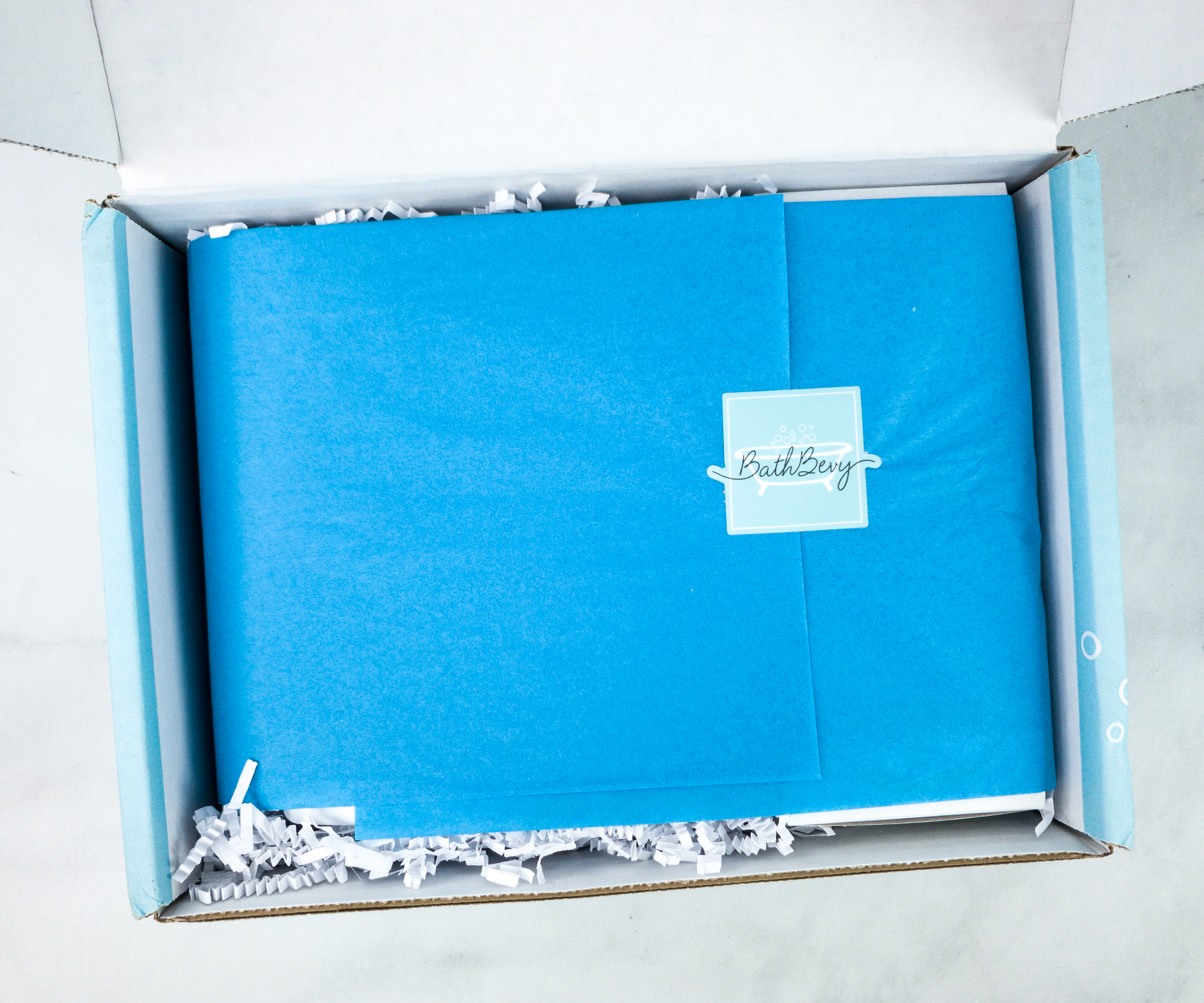 The items were wrapped in blue tissue paper, sealed by a Bath & Bevy sticker!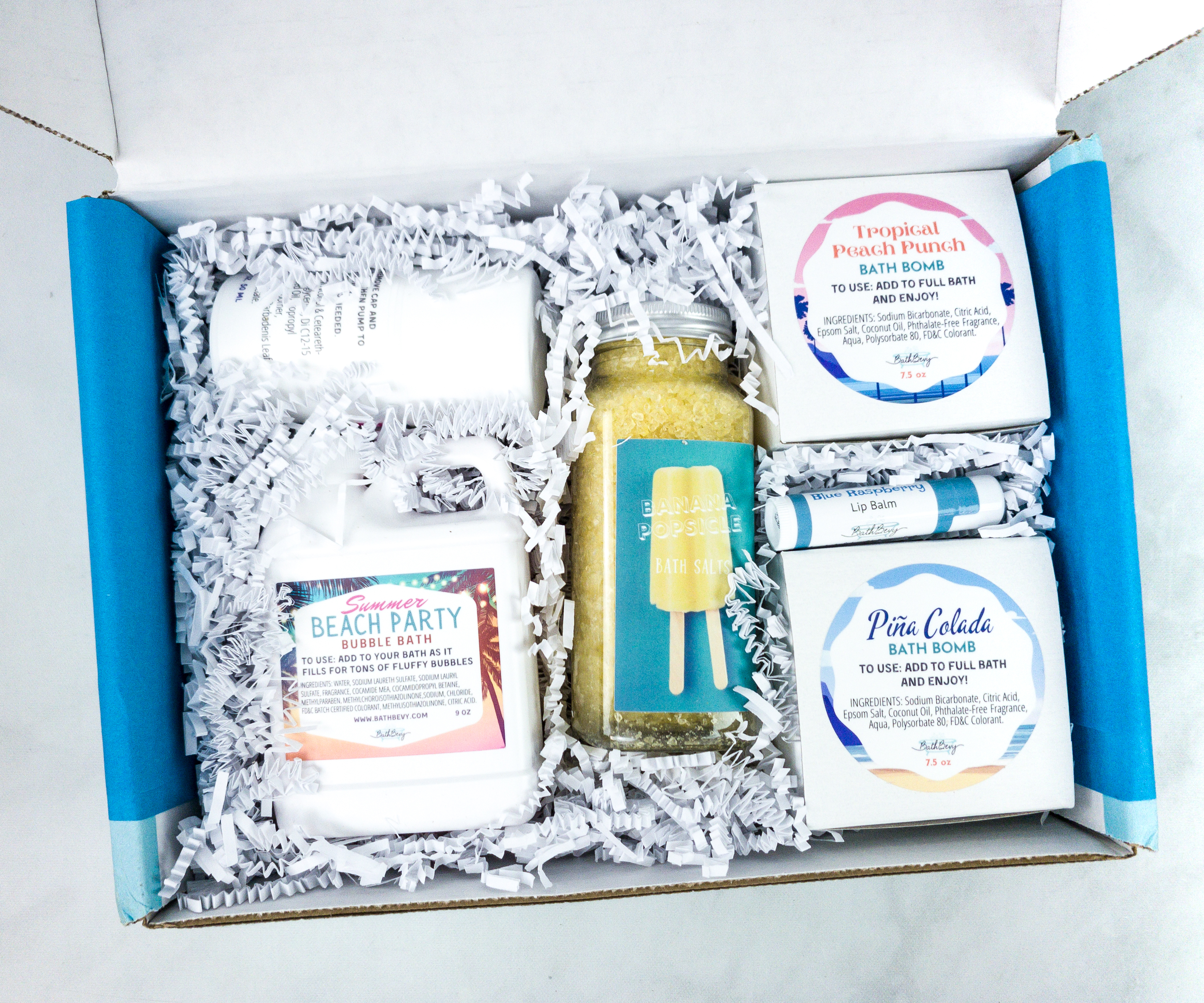 They were also cushioned with paper squiggles.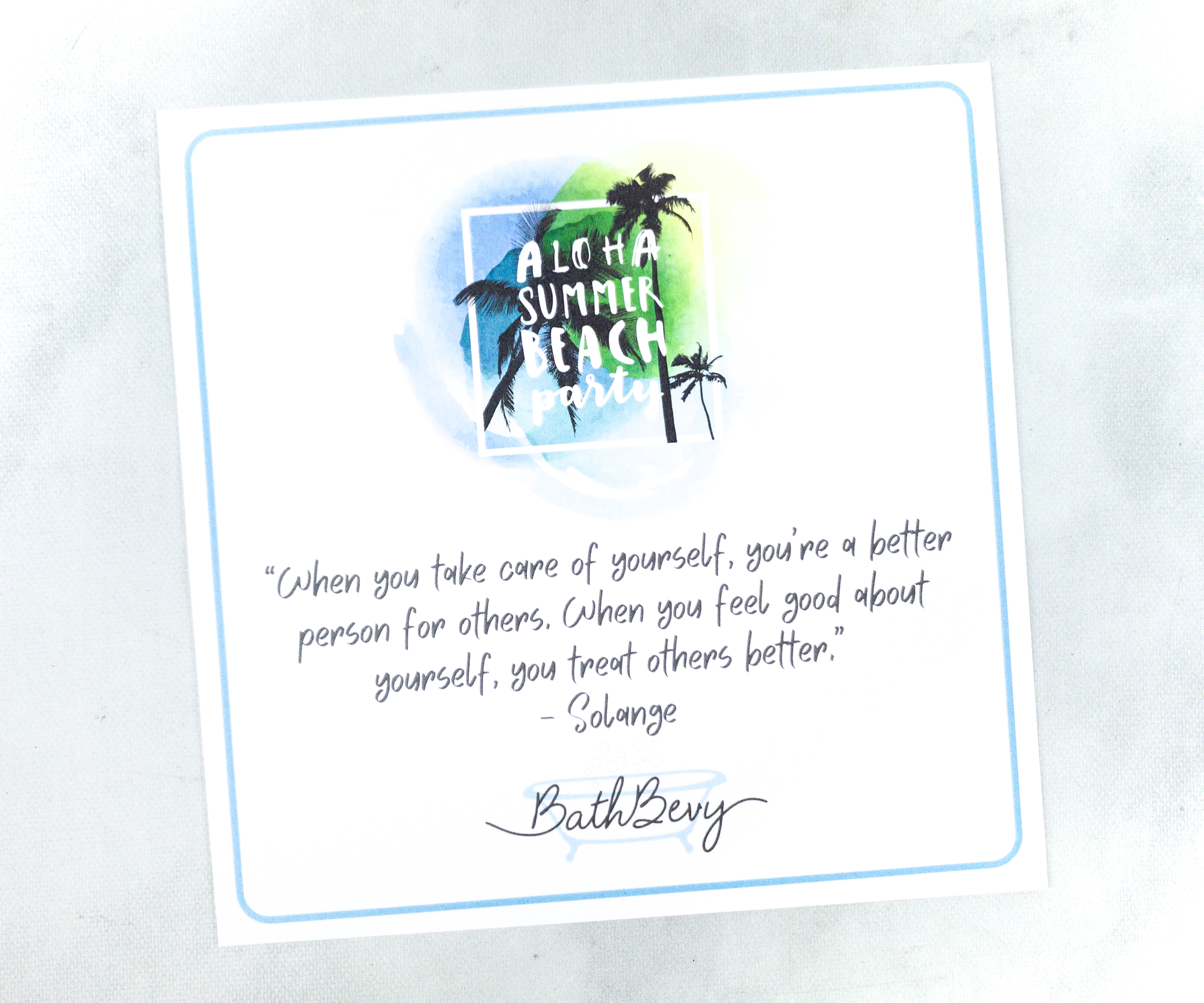 The card features a quote.
When you take care of yourself, you're a better person for others. When you feel good about yourself, you treat others better.

– Solange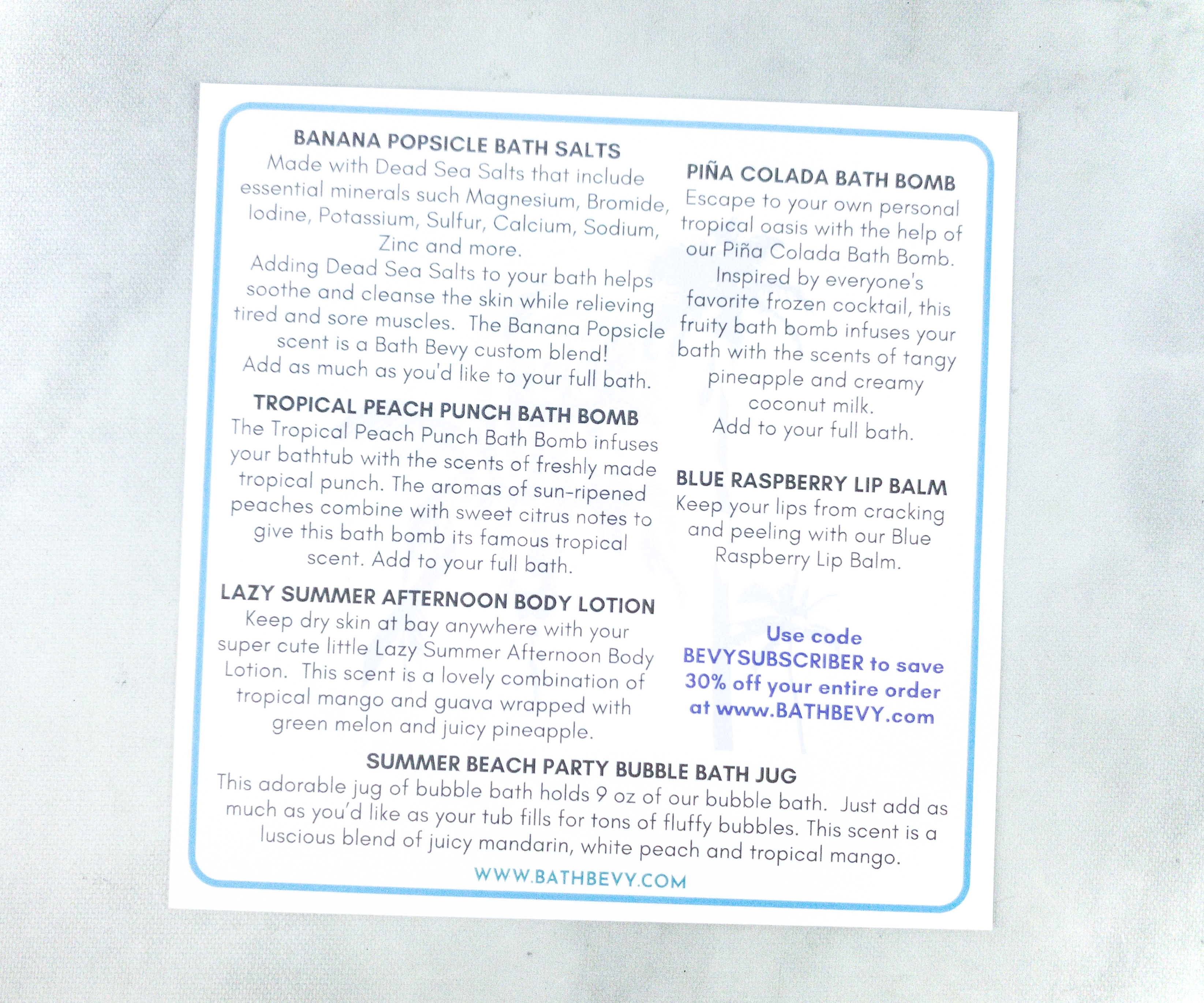 At the back, there's a list of all the products along with a short description for each one.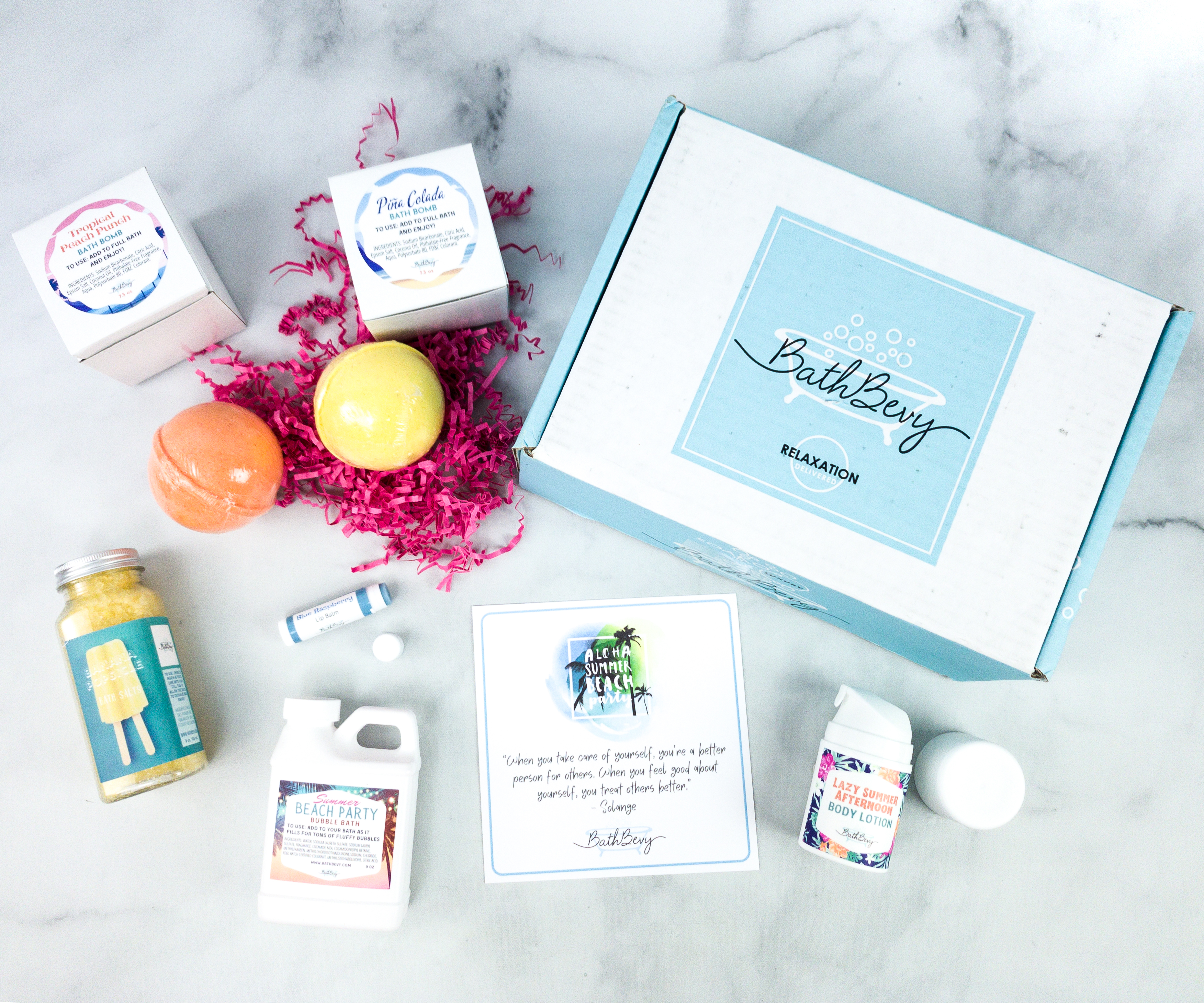 Everything in my box!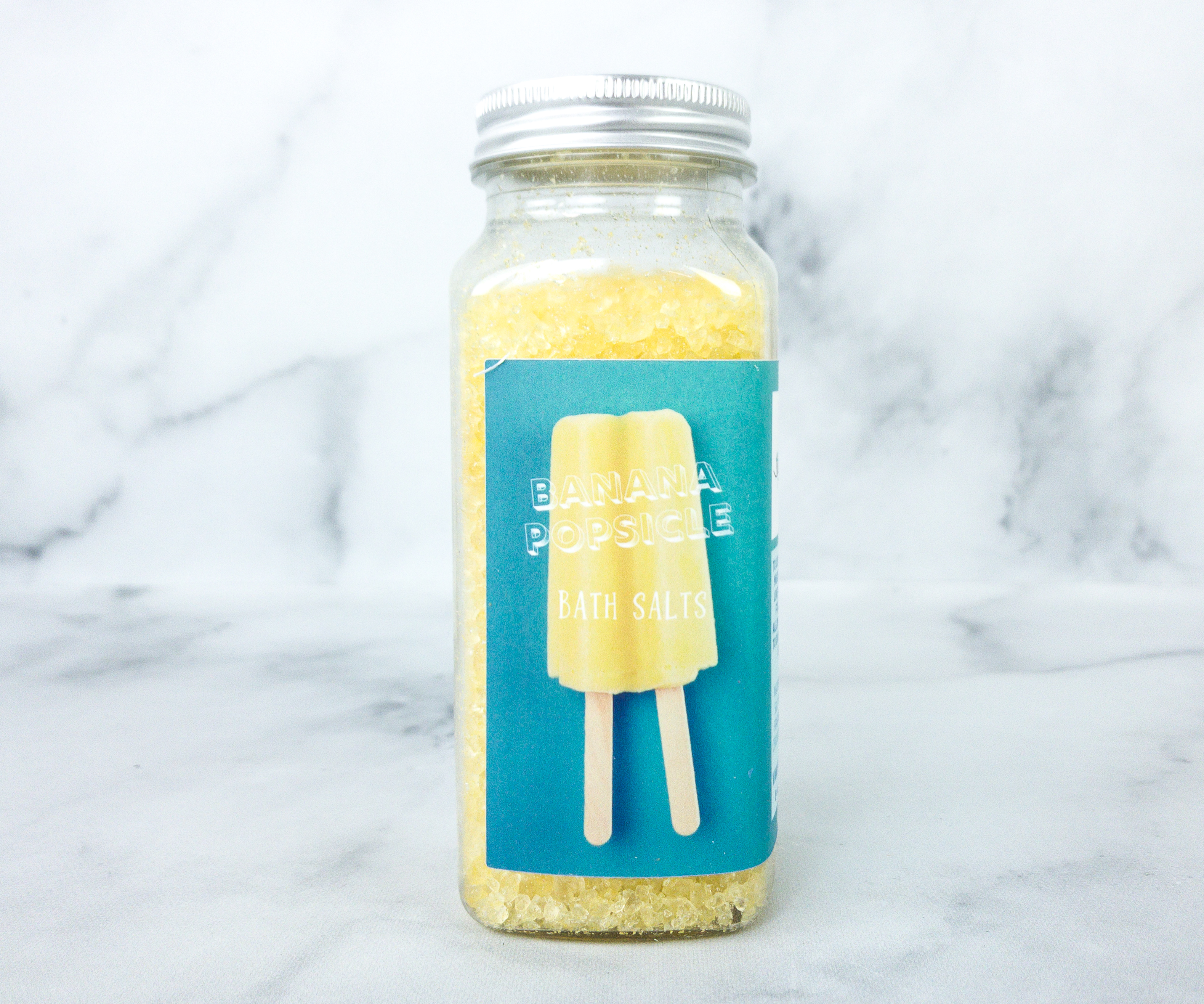 Banana Popsicle Bath Salts. This custom blend bath salt is a crowd favorite because it just smells just like the creamy banana popsicle we all love!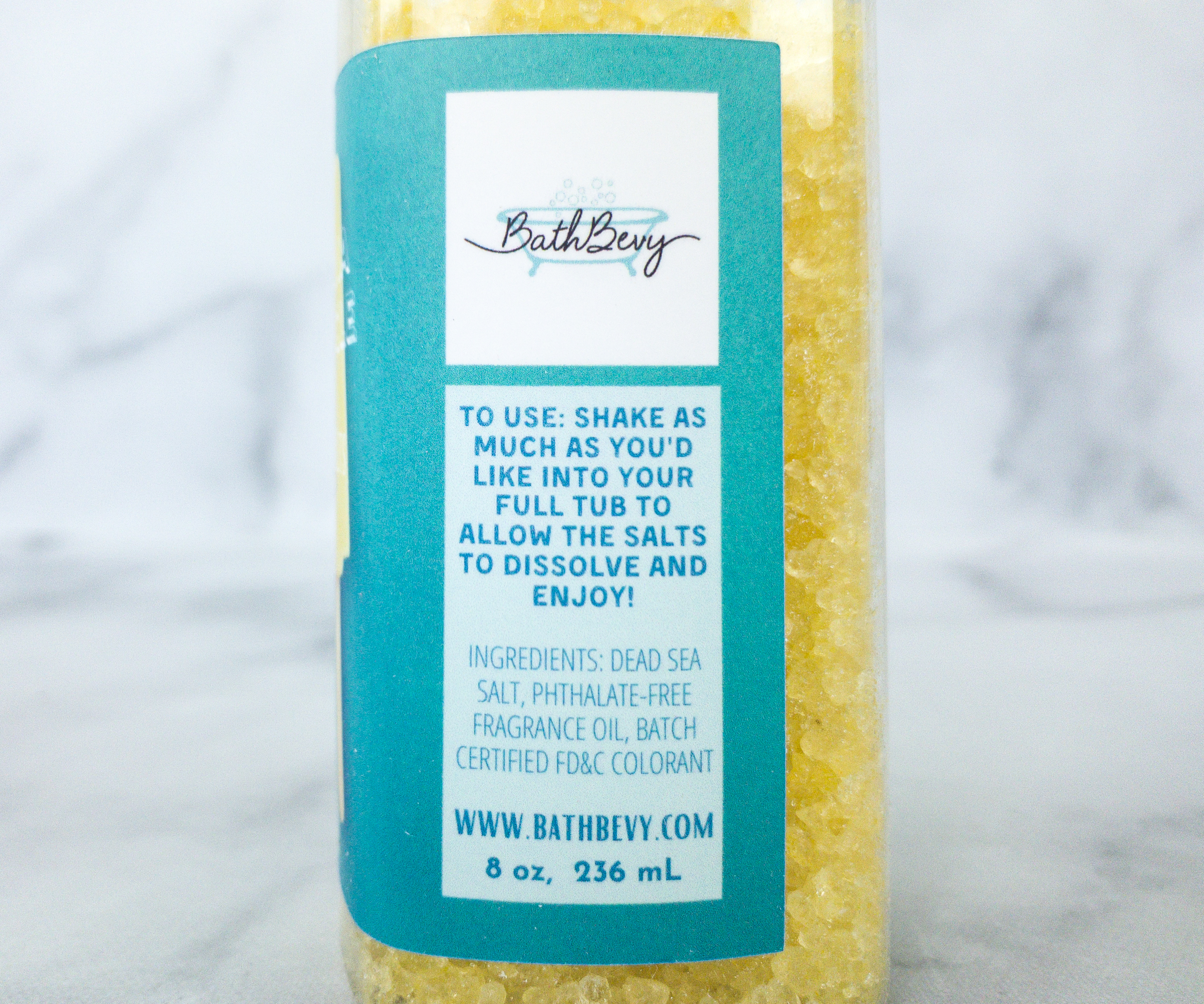 It is made with Dead Sea salt which is known to help strengthen skin tissue, eliminate toxins, improve blood circulation, and balance the skin's natural pH levels. It is also known to alleviate discomfort, help treat eczema, and hydrate the skin by restoring depleted minerals.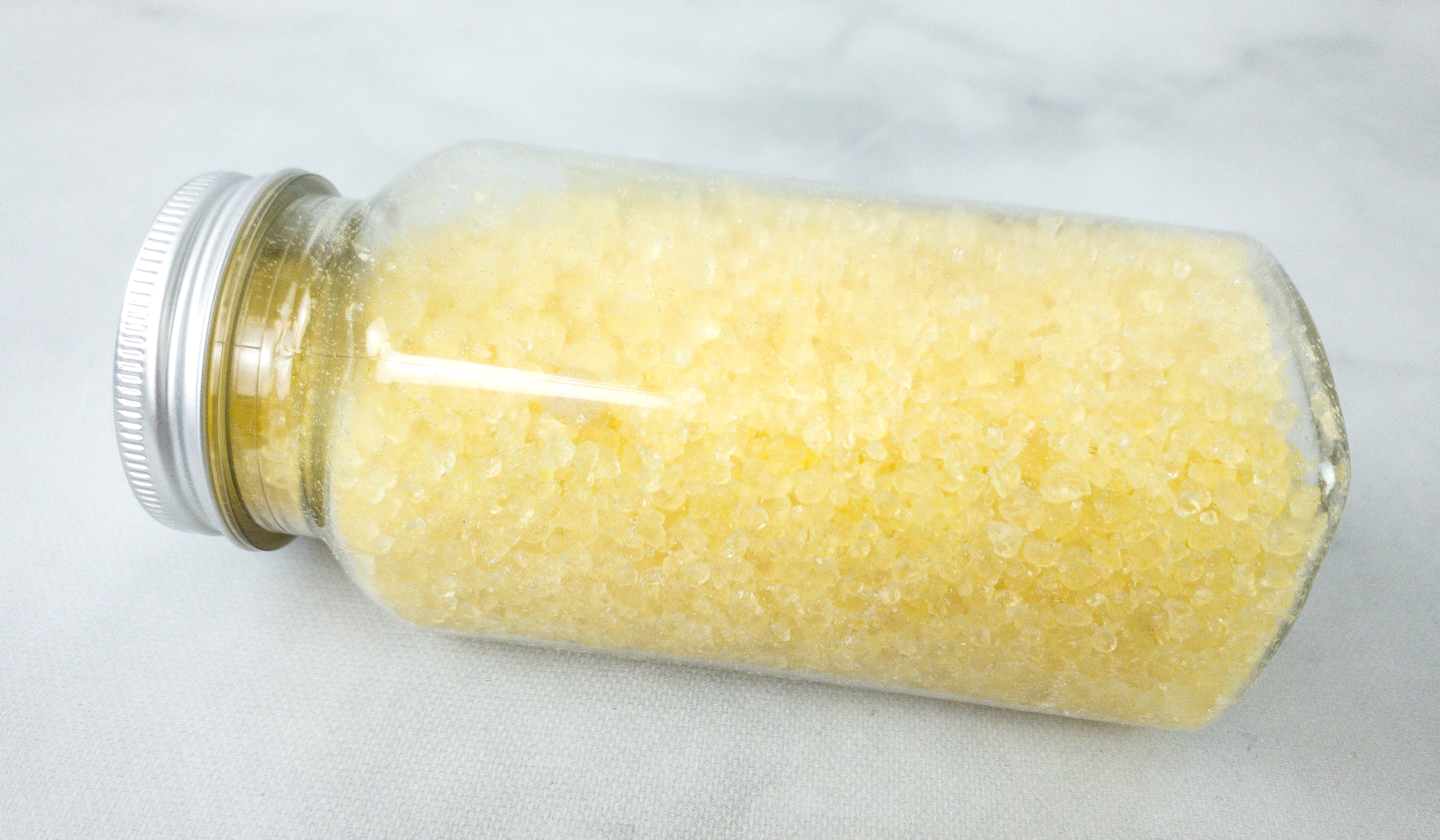 It exfoliates and removes dead skin cells, leaving my skin feeling smooth and soft. I also love that it came in this clear container because I can easily keep track of my usage!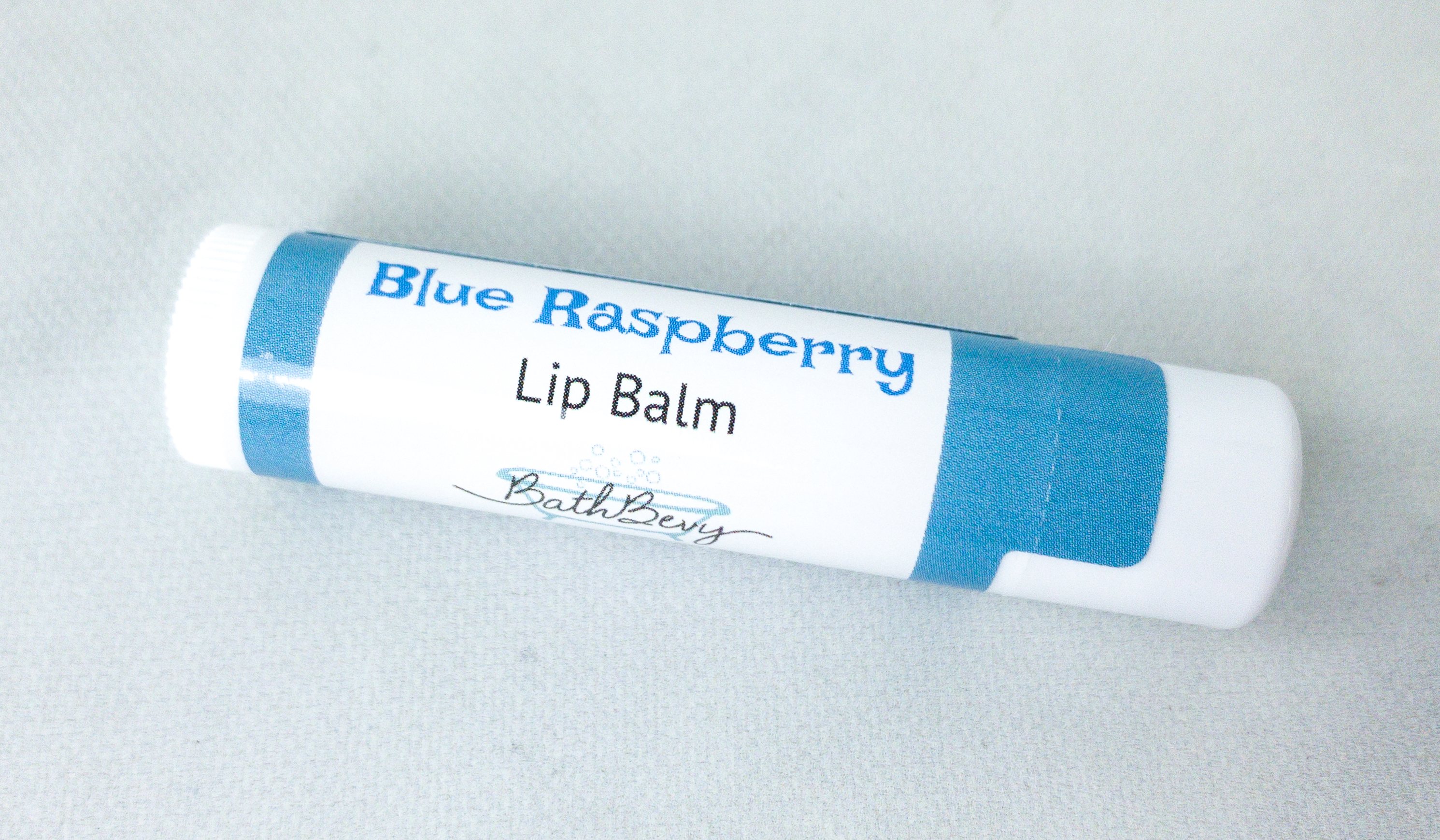 Blue Raspberry Lip Balm. It's a lip balm in a small and compact packaging which I can easily bring just about anywhere!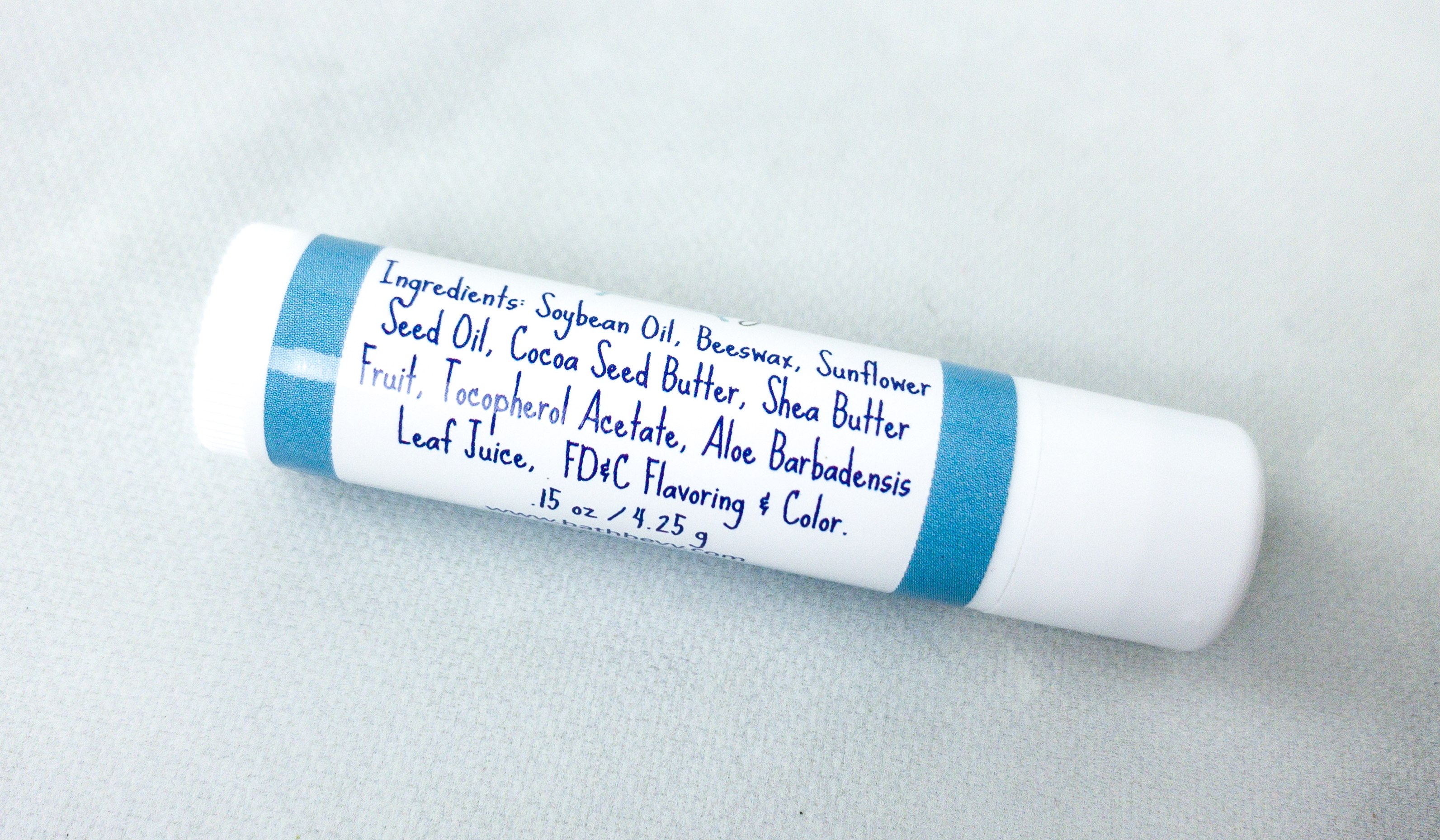 Formulated with cocoa seed butter, this lip balm forms a protective barrier over the skin to hold in moisture. It also has shea butter which has skin-soothing benefits, helping you avoid dry and chapped lips!
I like that this isn't tacky on the lips. It's not lightweight as you can definitely feel that it's there, but it's not sticky and all. The blue raspberry flavor is so yummy, you would want to eat the whole thing!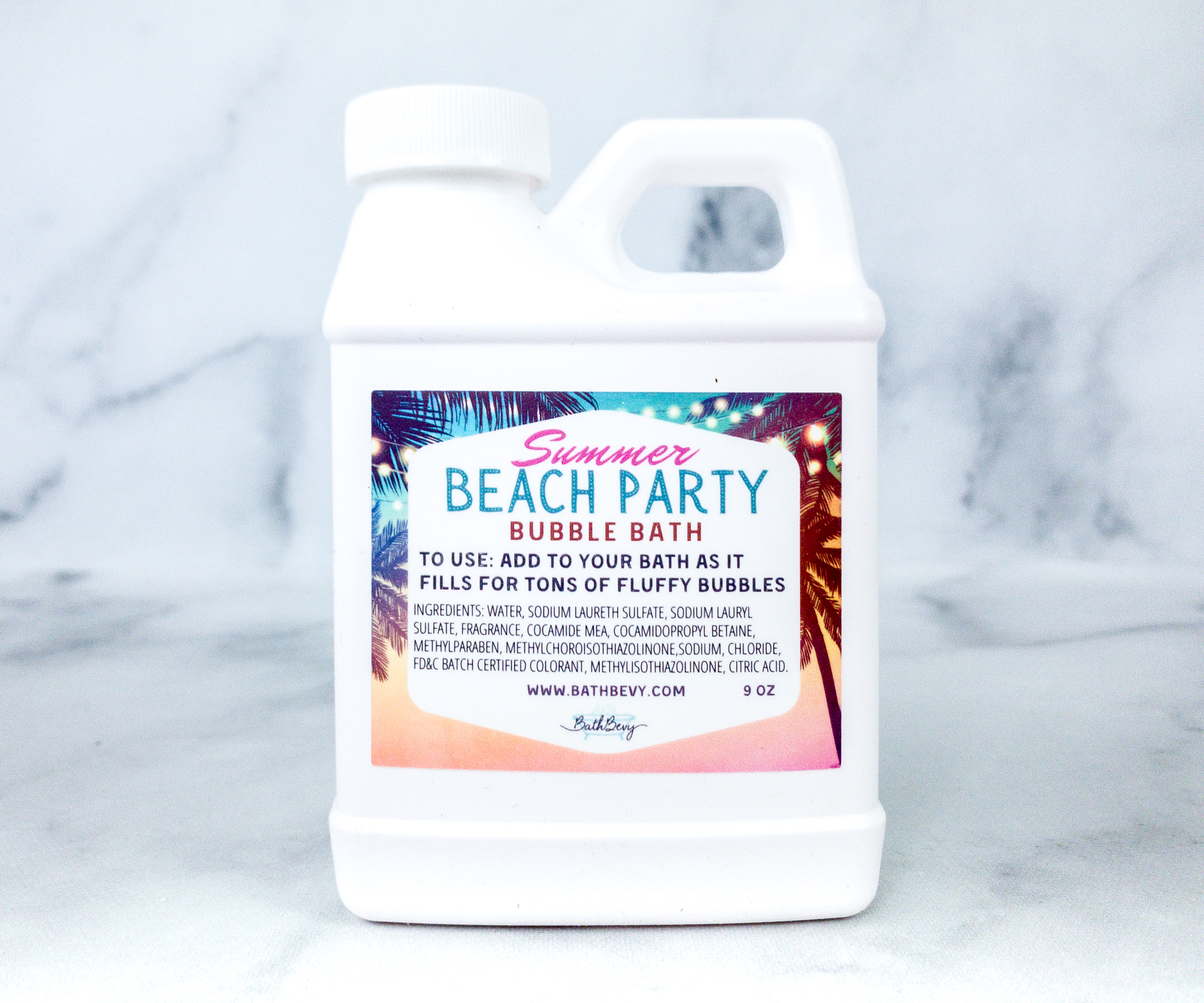 Summer Beach Party Bubble Bath. The bubble bath formula came in a cute 9 oz. jug! It smells like summer, with notes of juicy mandarin, white peach, and tropical mango. It also creates fluffy bubbles! Unlike other bubble bath products, this one isn't harsh on the skin. My skin didn't just smell good, it also felt so soft!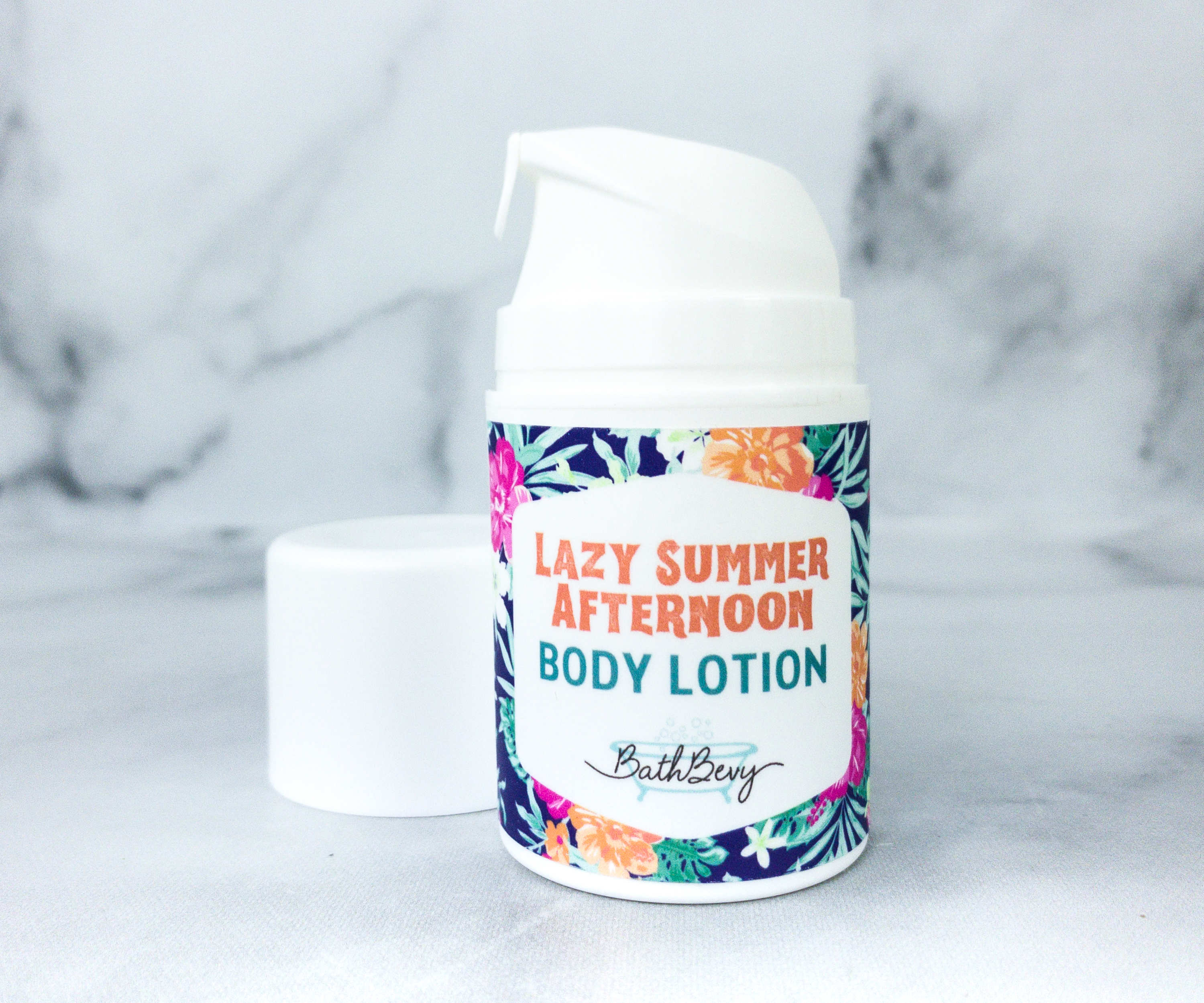 Lazy Summer Afternoon Body Lotion. After a bath, it's a must to put on body lotion to keep the skin moisturized! This body lotion absorbs easily on the skin and it's even scented with a wonderful tropical combination of mango, guava, melon, and pineapple.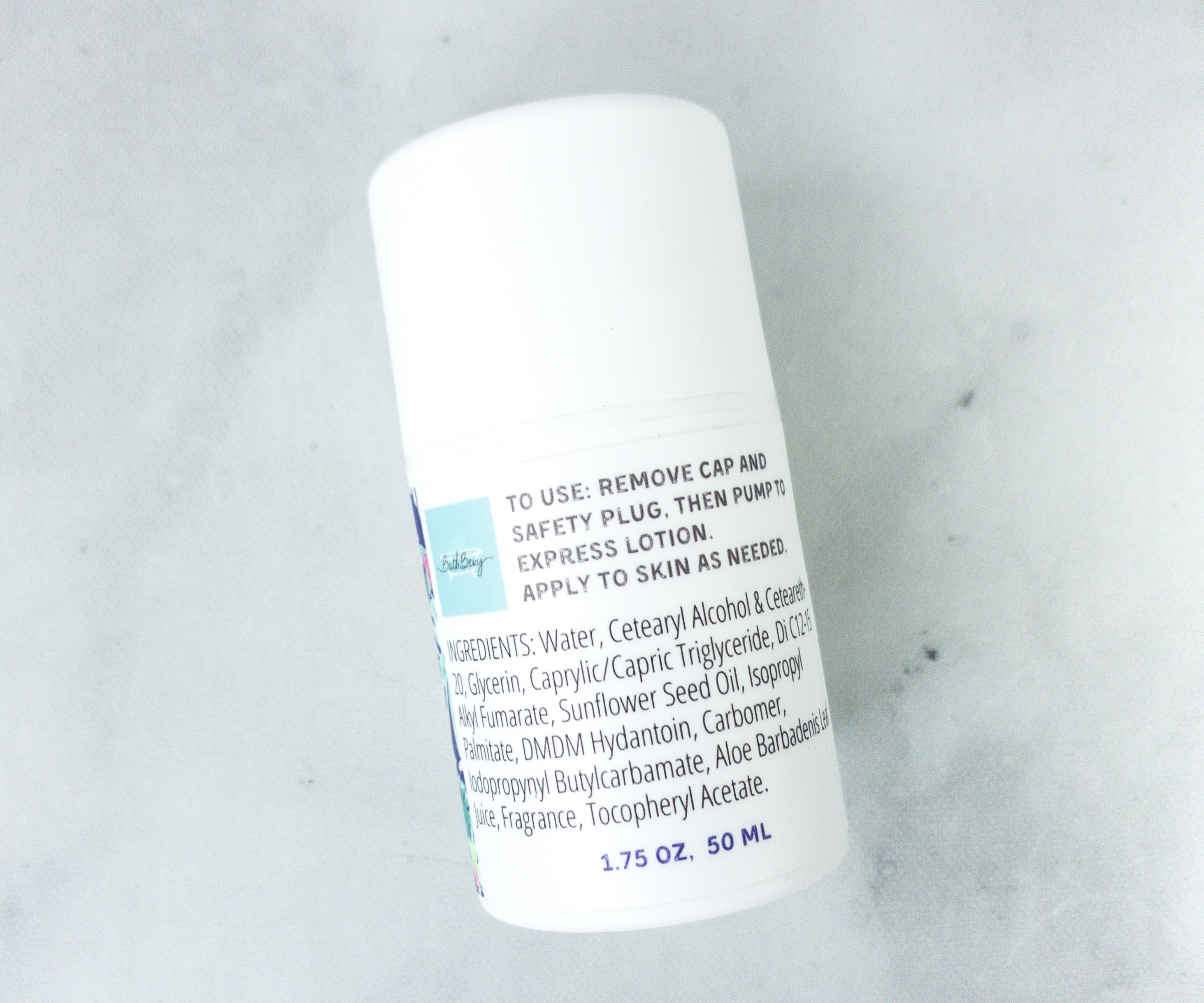 I like it because it doesn't leave a greasy feeling. It's comfortable on the skin, even on a humid day out! The formula contains sunflower seed oil that is rich in natural vitamins, fatty acids, and antioxidants that help your skin rid itself of acne-causing bacteria and regenerate new skin cells.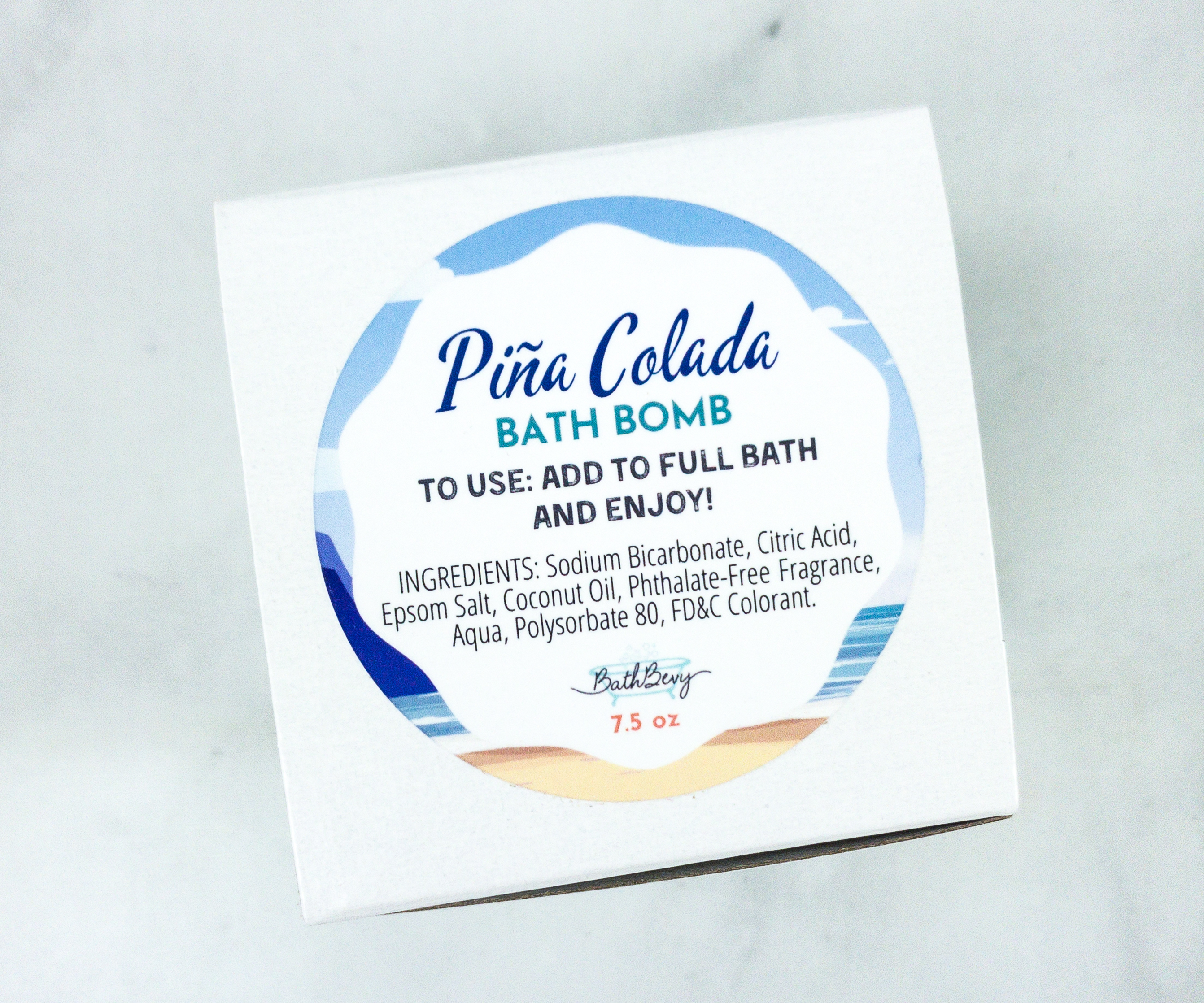 Piña Colada Bath Bomb. This bath bomb is good for a full bath! It came individually wrapped inside a box.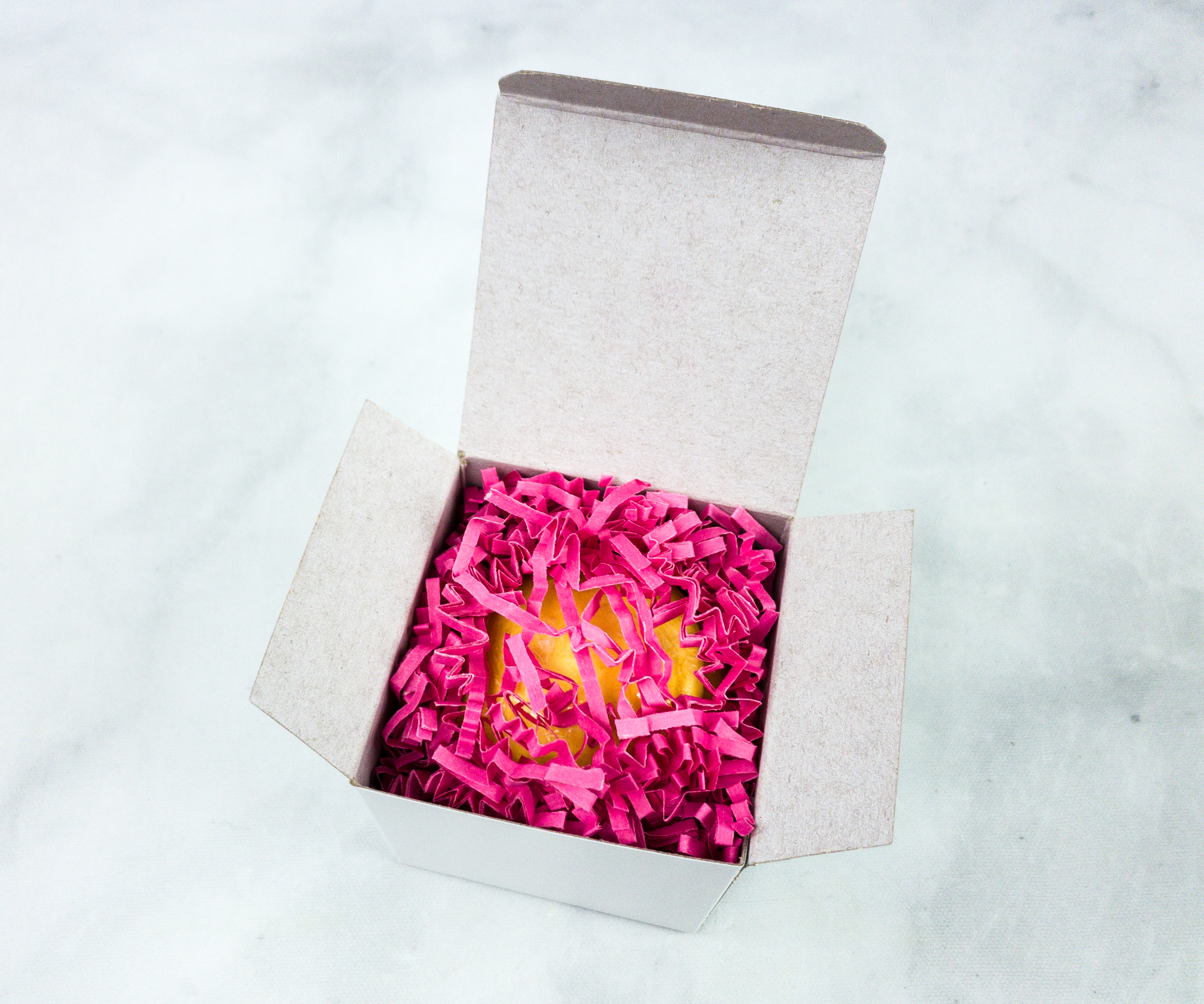 The box is also filled with paper squiggles to protect the bath bomb from breakage during transit!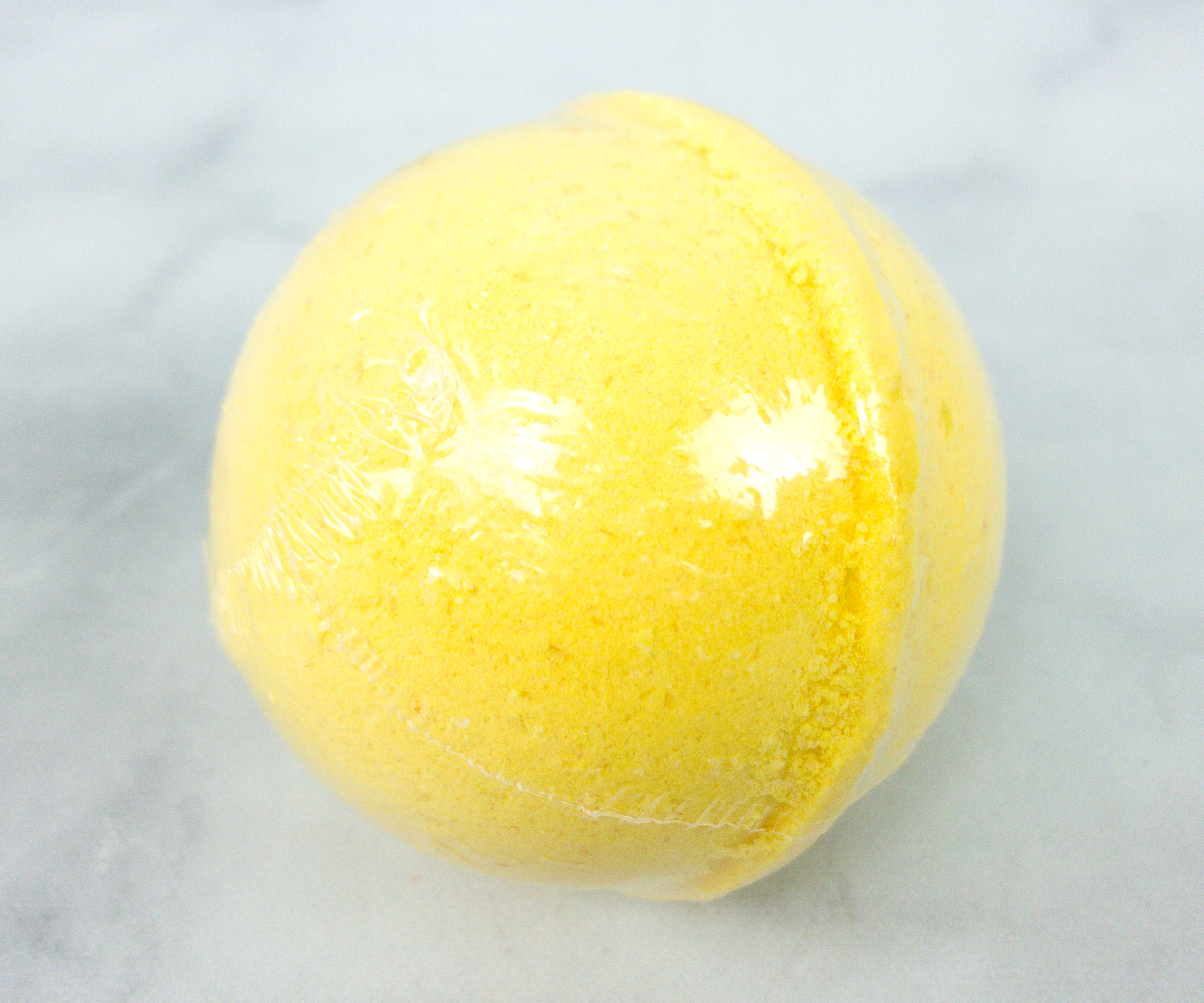 This Piña Colada scented bath bomb will make you feel like you're in booze heaven because it really smells like the cocktail! Fresh and fruity, it has that tangy pineapple scent followed up by the creamy coconut milk.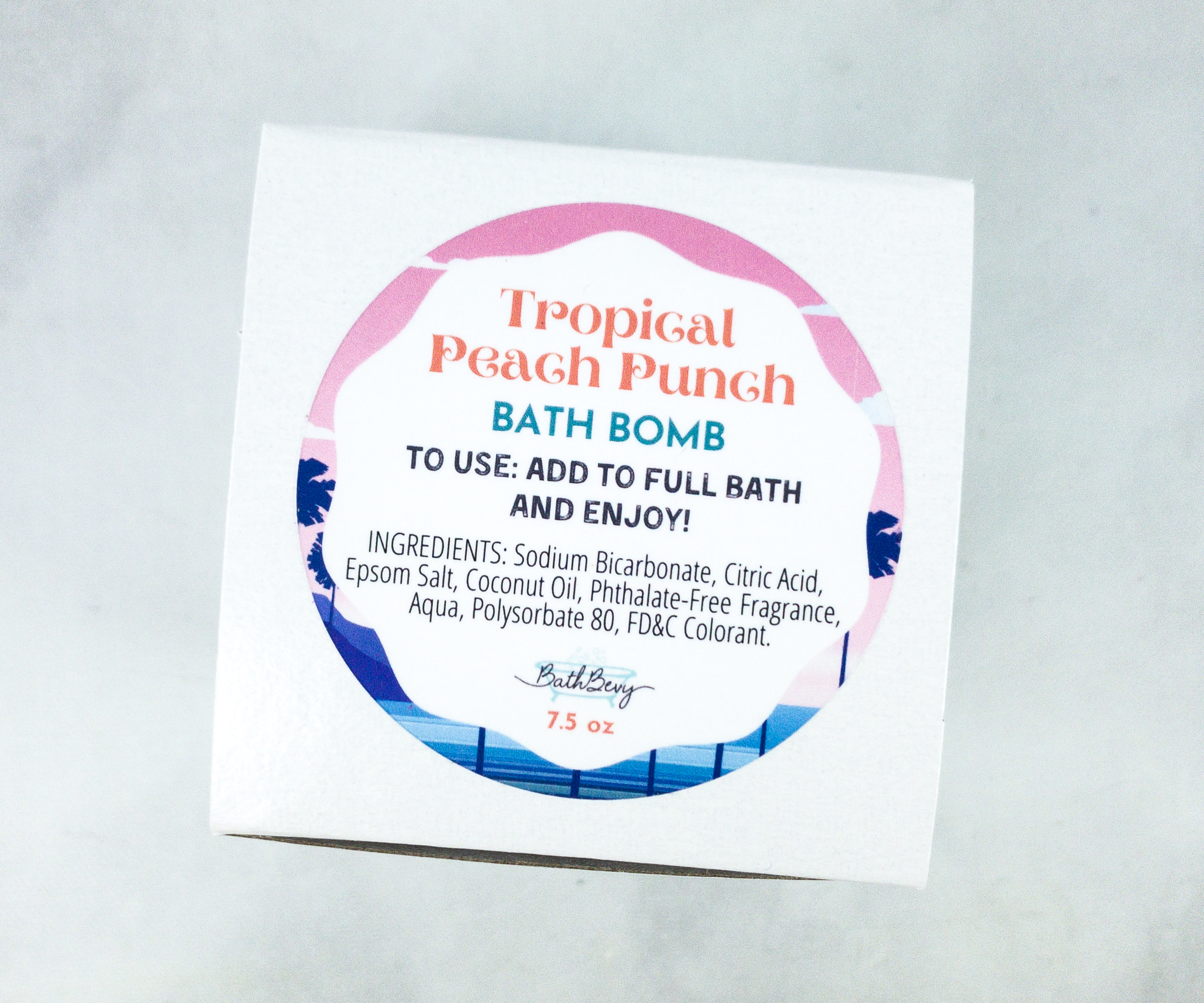 Tropical Peach Punch Bath Bomb. Here's another bath bomb and it's also inspired by a popular summer cocktail!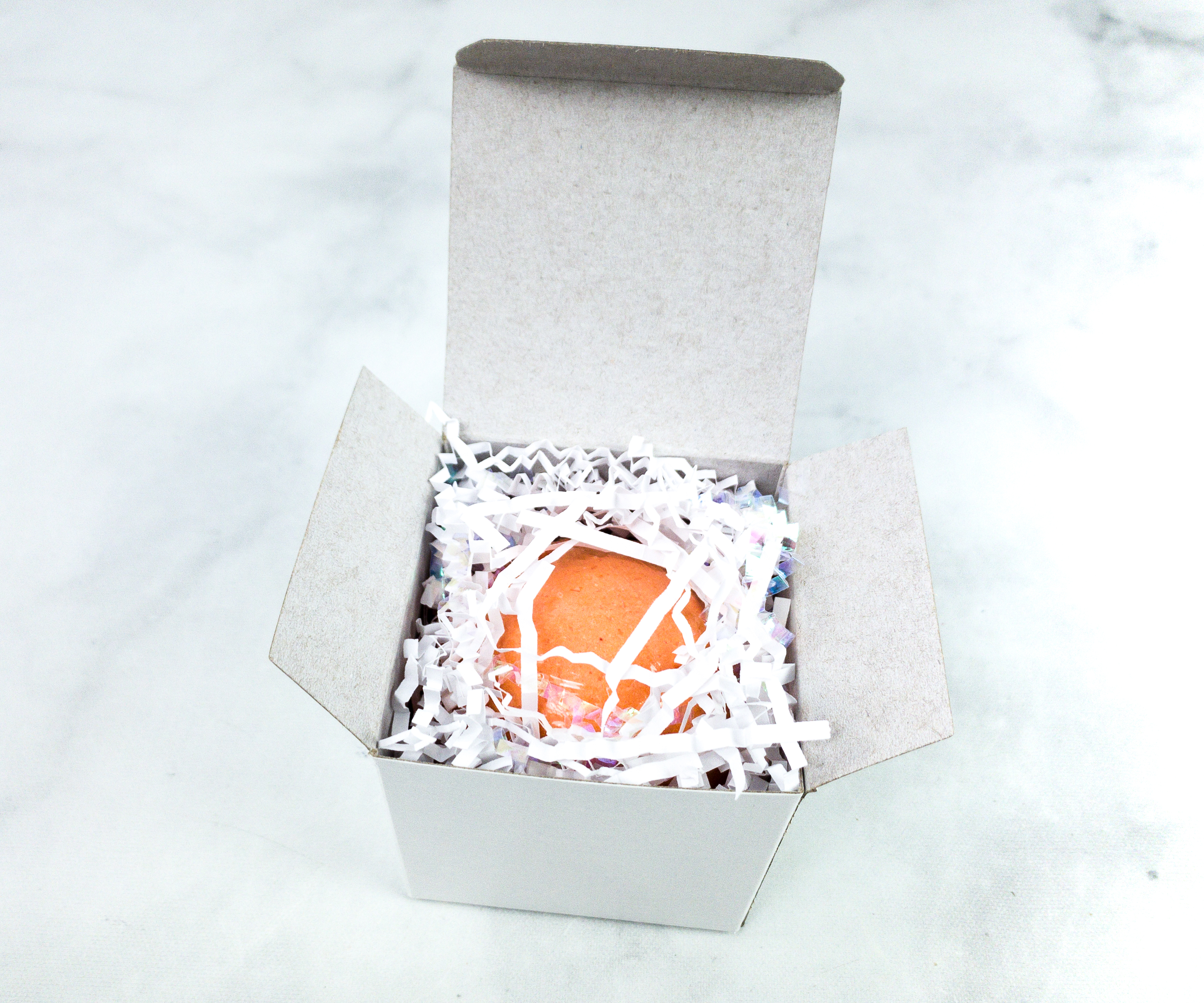 Just like the first one, it came in its own box, cushioned with squiggles.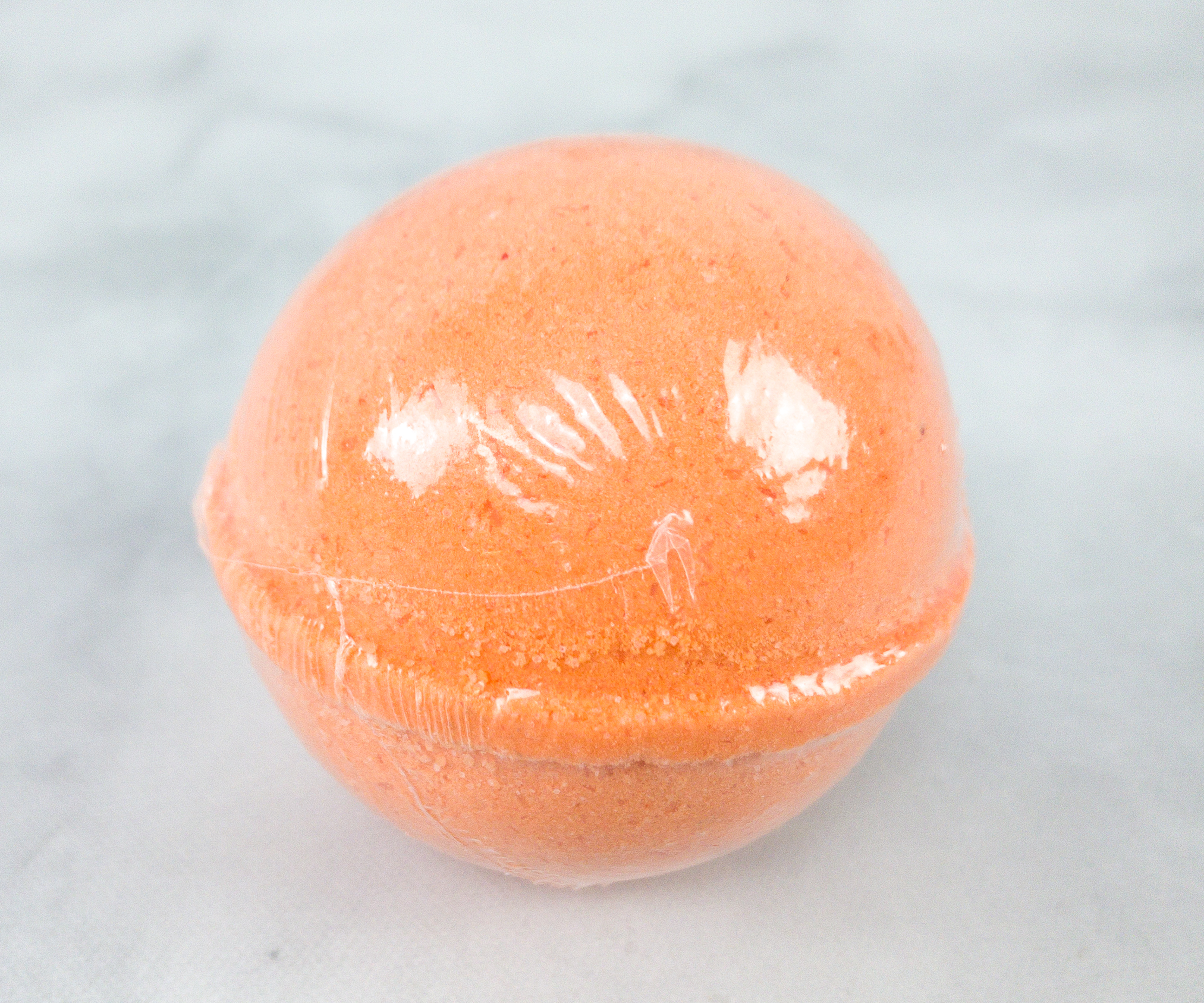 This bath bomb reminds me of juicy peaches! It smells so good! It also has a hint of citrus that balances out the sweet scent of those plump peaches. The scent is very invigorating, truly a great way to add extra fun to your bath time!
I'm loving this summer-themed Bath Bevy box! My favorite item from the curation is the banana popsicle inspired bath salts. I like how it gently exfoliates my skin, keeping it smooth, soft, and well-hydrated. The bubble bath in a jug comes in a close second! It produces fluffy bubbles, as promised, and the tropical scent is just fantastic. Also, they did a great job with packing the bath bombs this month. They really made sure that the items don't break before they get to our door. Everything else is of good quality so I'm really happy! Bath Bevy adds more fun and excitement to my bath time with these scented products!
Did you love this month's box?