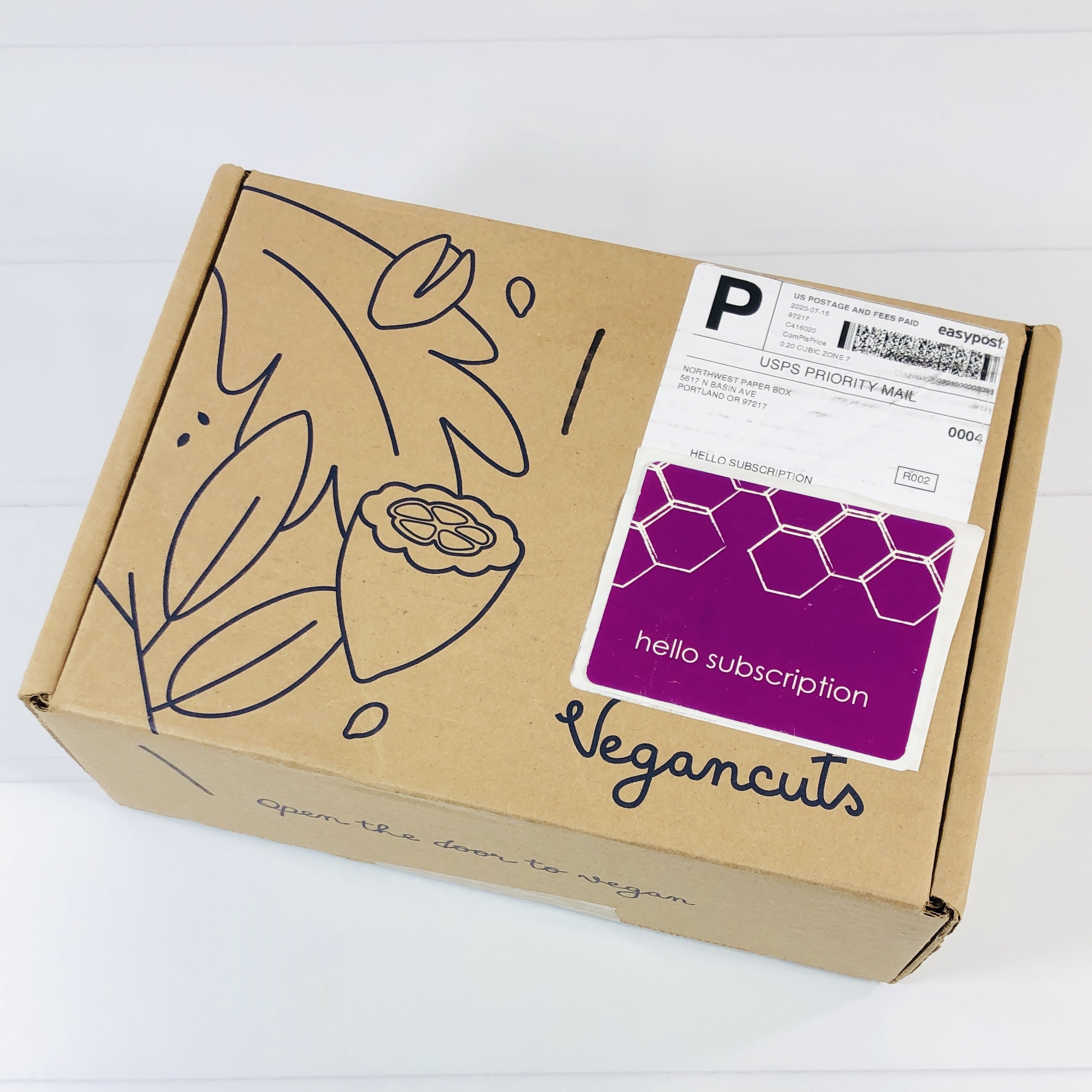 Vegancuts Snack Box is a monthly vegan food subscription that deleivers 10 or more organic and vegan treats each month. Snacks can include a pantry item or drink and most snacks are gluten-free. Each subscription box costs $24.95 monthly, or save a bit with a longer pre-paid term.
From vegan mac and cheese and delicious vegan chocolate, to avocado chips, hummus crackers and superfood smoothies, the Vegancuts Snack Box is your monthly delivery of the best vegan snacks and meal items, and drinks on the market. Open the door to at least 10 sweet & savory vegan snacks to make vegan living easier than ever before.
DEAL: Use the coupon code hellosub to get $5 off your first box on any Vegancuts subscription!   It can only be used once per customer, but it can be used on multiple subscriptions at once so long as they are in the same transaction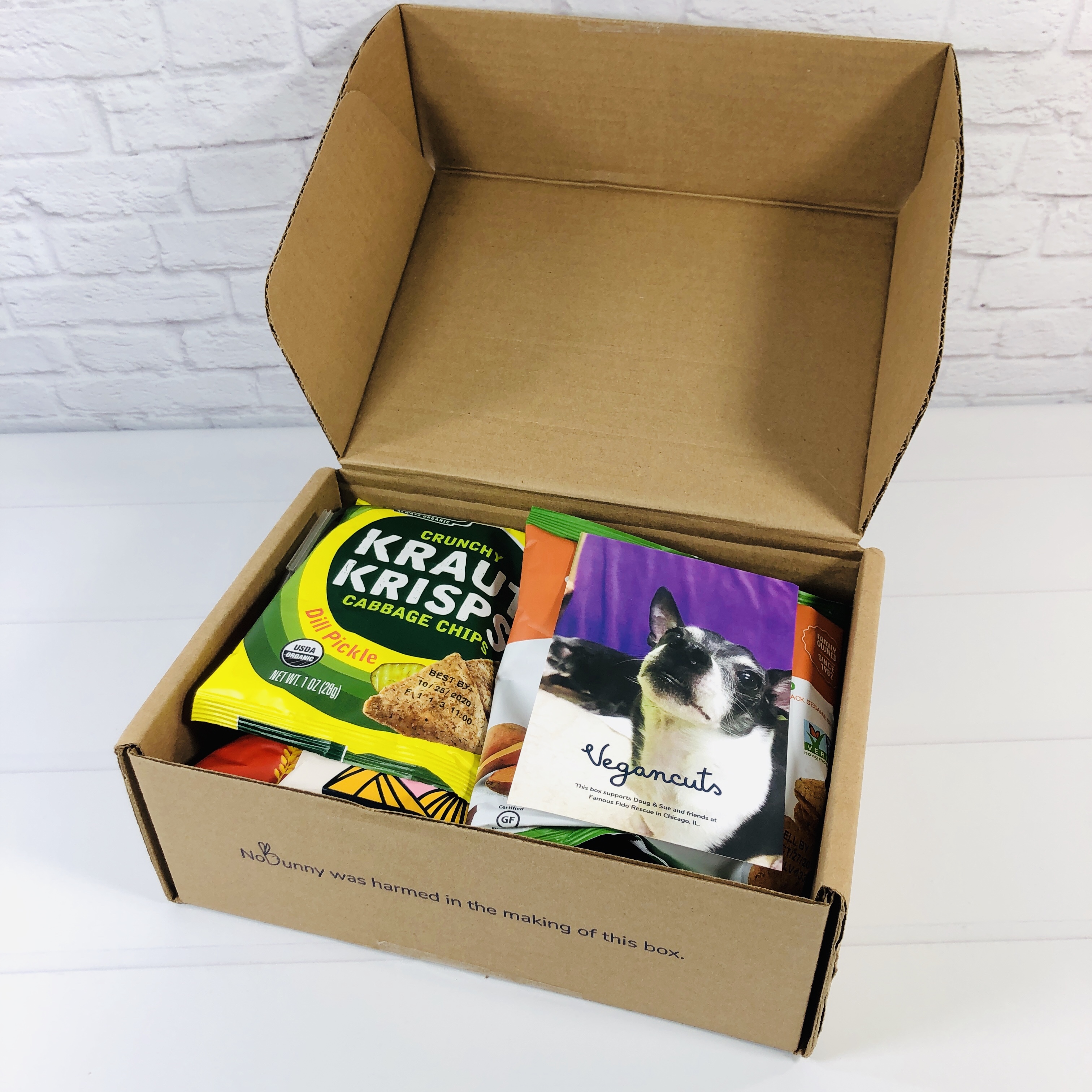 Packed with snacks!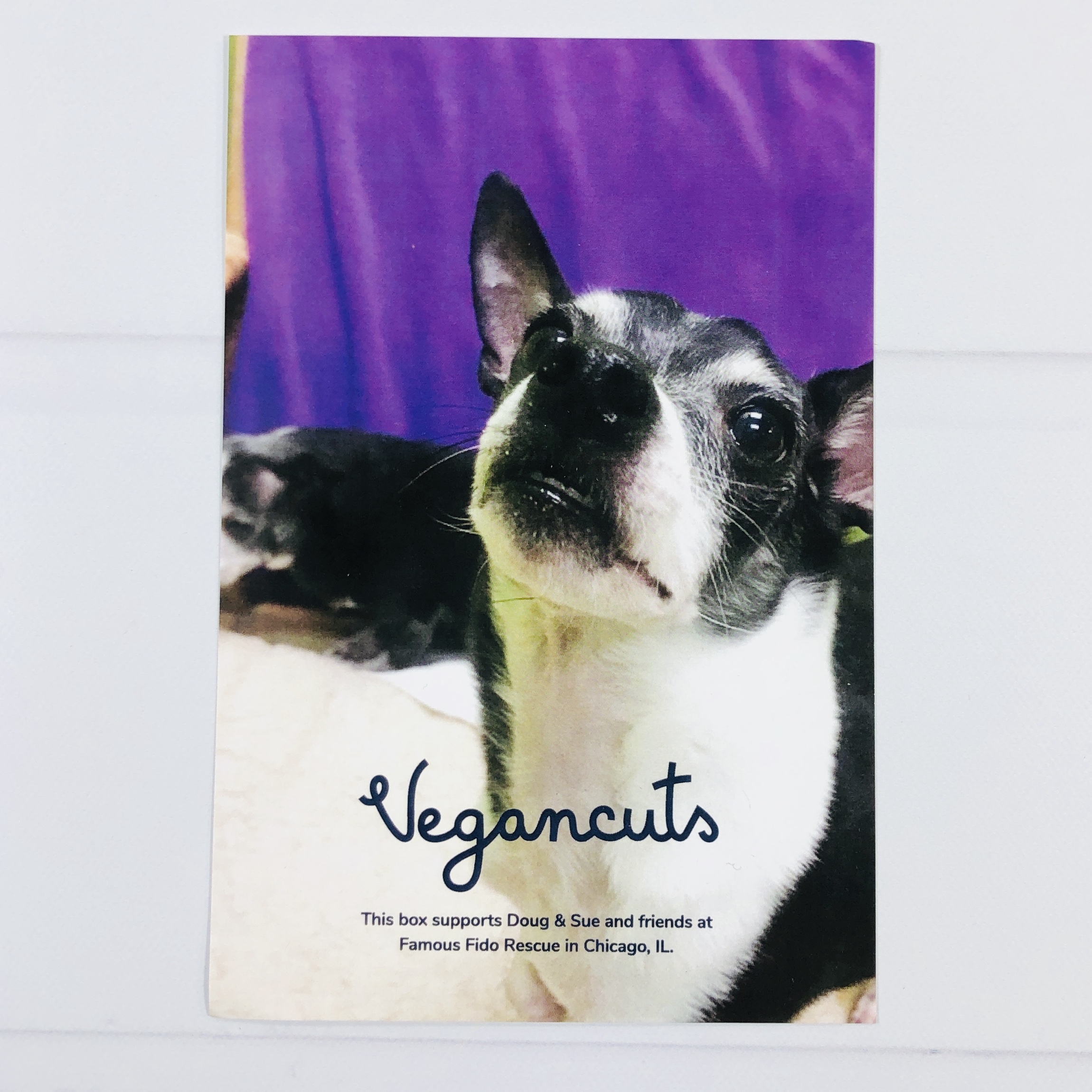 I received a card that told me proceeds from this box will go to the animals at Famous Fido Rescue!
The theme for the July Box was Crunchy Munchies! The bottom of the card says that substitutions may be made.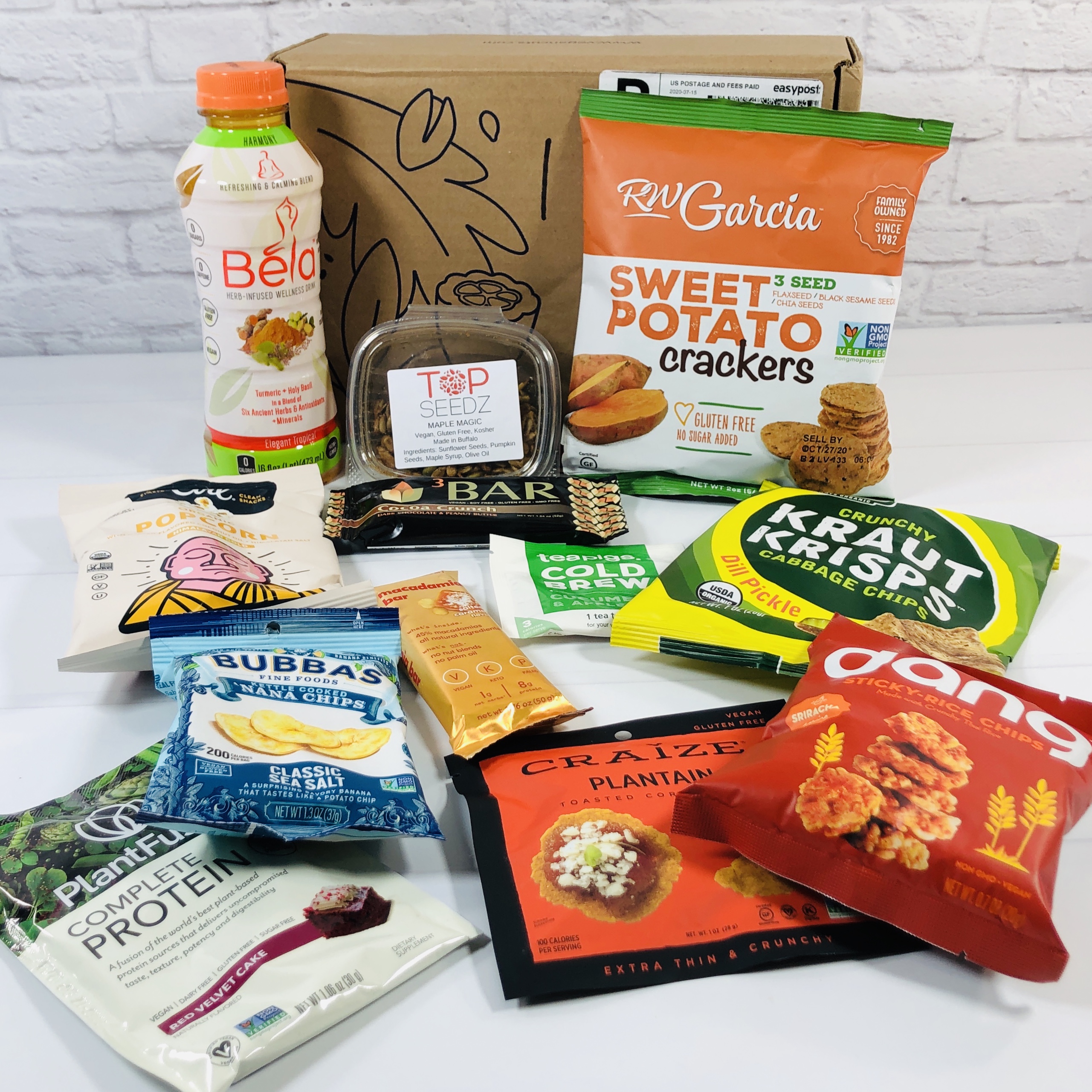 Everything in my box!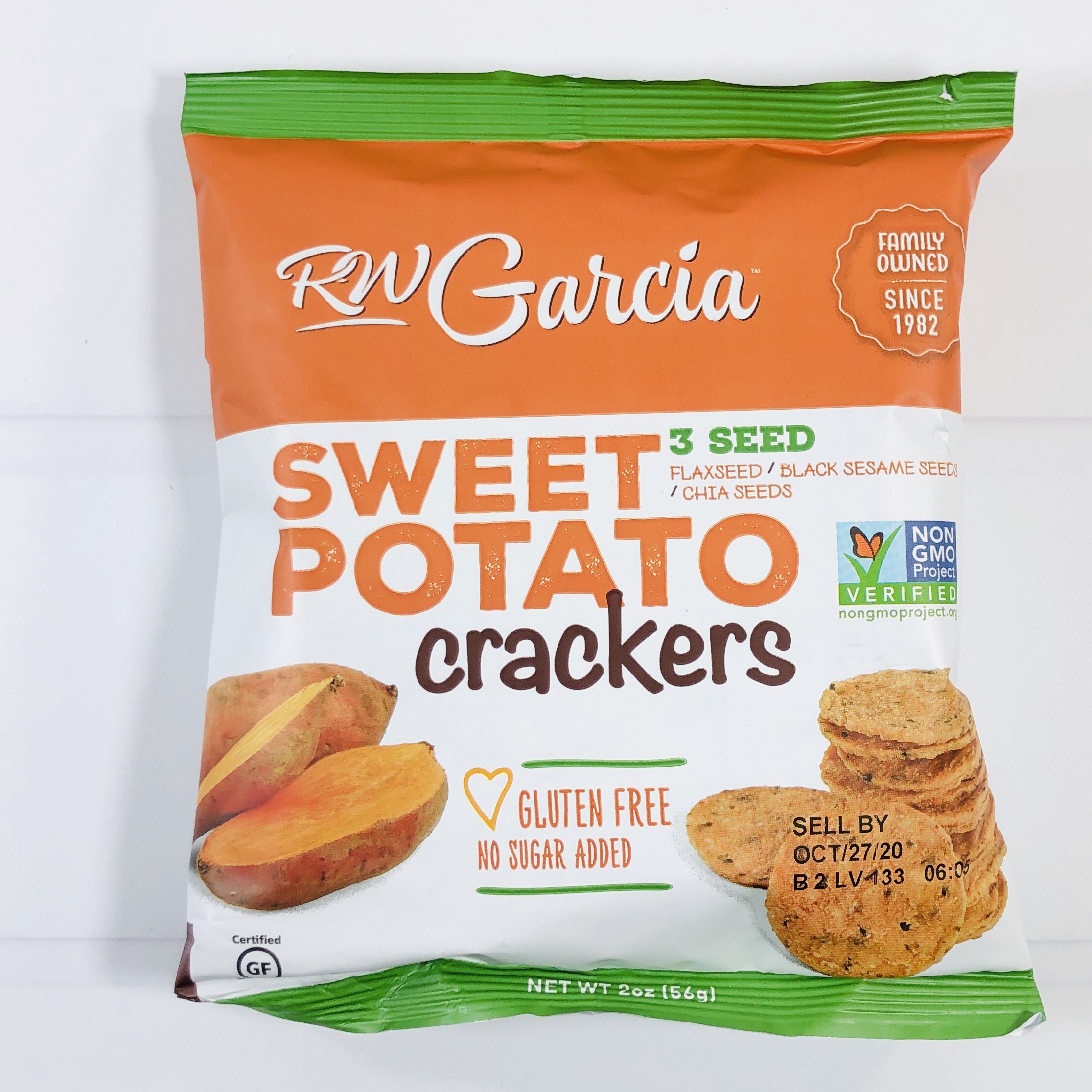 RW Garcia Sweet Potato Crackers I know this says it's a cracker but it's basically a round sweet potato flavored corn chip. The first ingredient is stone ground corn and there are flaxseed, black sesame, and chia seeds.
The "crackers" are baked with oil and some of them are flaky and rich, others a bit dry. I would totally buy these again.
Farmhouse Culture's Crunchy Kraut Krisps Whole grain corn meal is the first ingredient so I think it's fair to call these tortilla chips.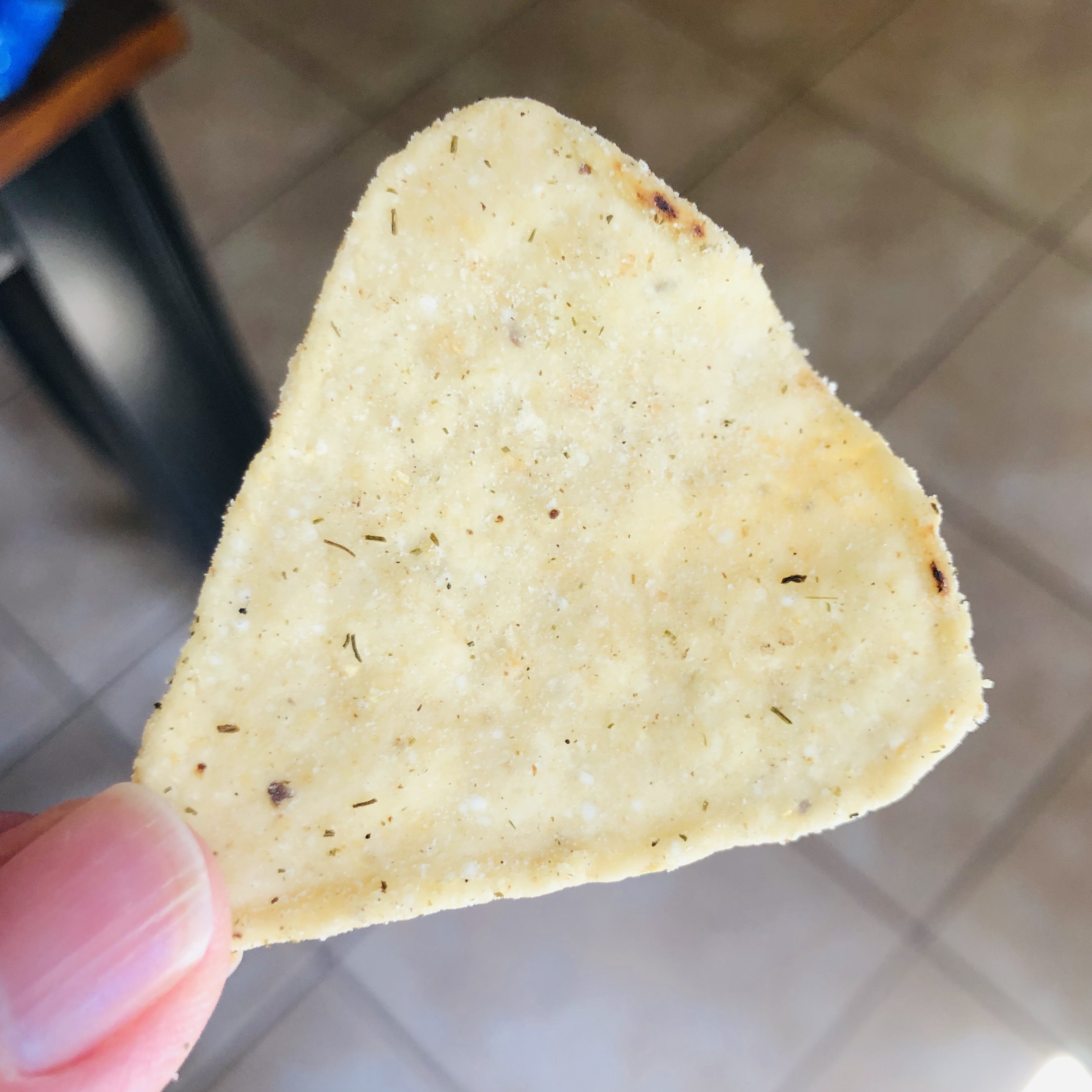 They have that tangy dill pickle flavor and I liked these more than I expected to.
Lesser Evil Organic Popcorn in Himalayan Gold My daughter usually eats all of the popcorn snacks but she had her wisdom teeth removed so it was up to me to test this month. I thought the flavor was really good, I think most popcorn that tastes good starts with coconut oil anyways. It has a butteriness to it thanks to "natural flavors" and I liked the texture too.
Dang Sticky Rice Chips in Sriracha I recognize this brand, they make some amazing coconut chips, so I was excited to try this crispy sounding treat.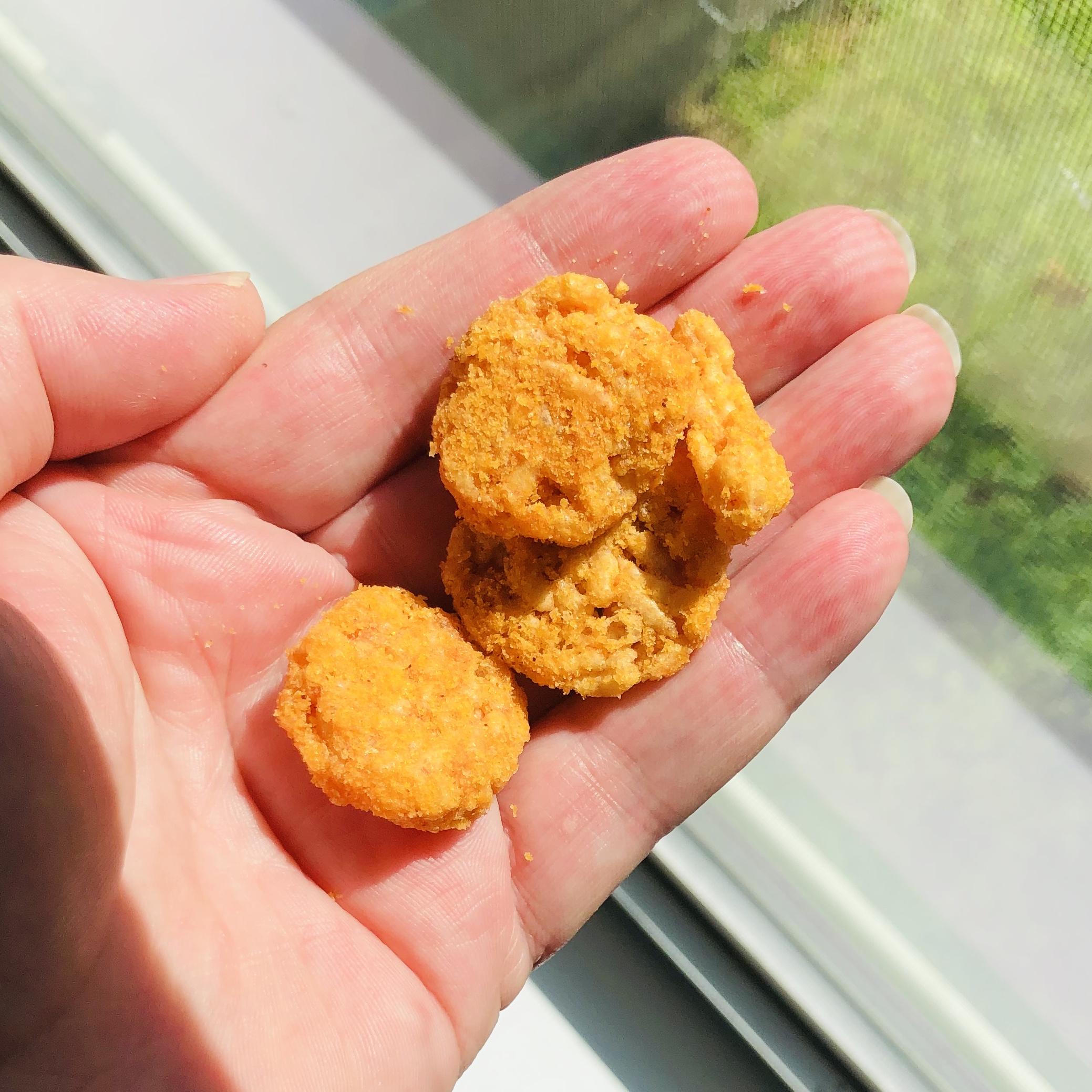 They are so yummy! You know those good croutons, the kind that seem like they are cooked in butter? These had that same texture, not like a typical rice cake at all. The flavor is amazing, with a hint of spice, a touch of sweetness.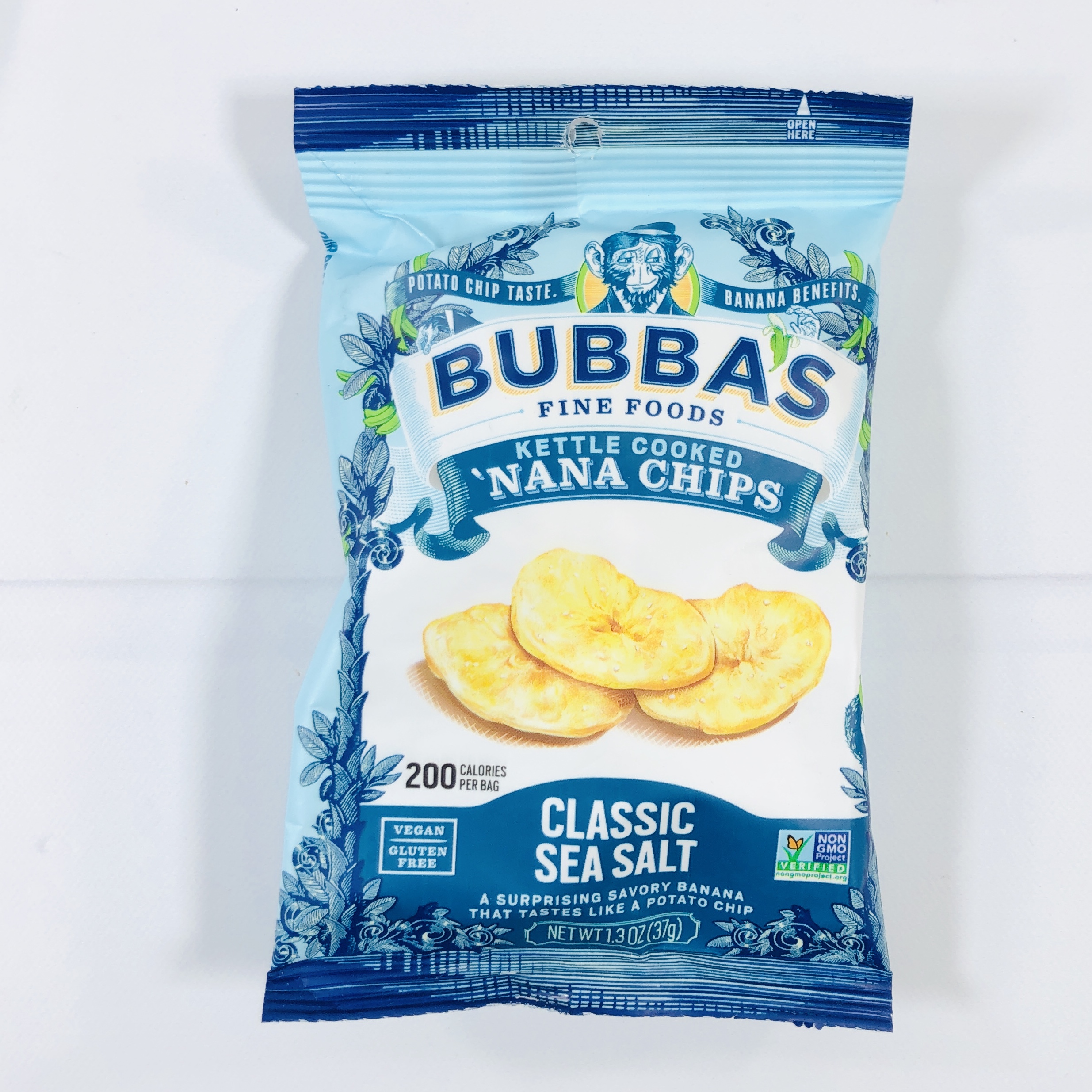 Bubba's Fine Foods Nana Chips in Classic Sea Salt I've never been a fan of dried banana chips but these were different, maybe because they weren't sweet, just salty, like a thick potato chip. Watch out though or you will go through 200 calories and more than half a day's worth of saturated fat in no time.
Plant Fusion Complete Protein Red Velvet Cake I am looking at this package and I can tell you I'd rather have a fresh artichoke or peas than eat them in a shake. Also, I won't touch anything Red Velvet, even though I know this product gets its color from beets and not dye. The final nail in the coffin is stevia, to which I have an aversion. If you try this let me know how it turns out. Mix with 12 ounces of water before drinking and know that it has 32% of the daily value of protein and seems to be a good source of iron.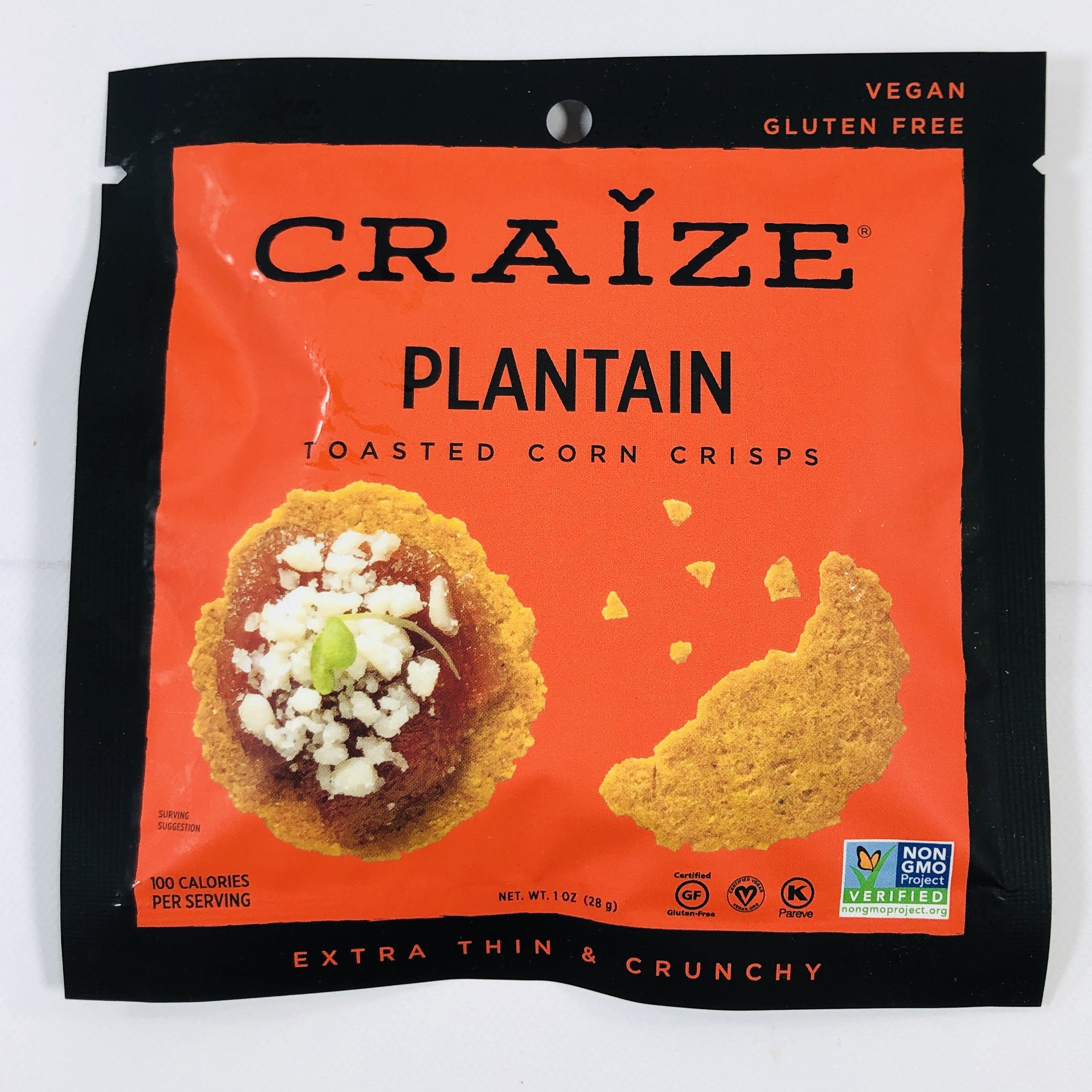 Craize Plantain Toasted Corn Crisps is a thin, crunchy corn chip, but with a hint of sweetness to it.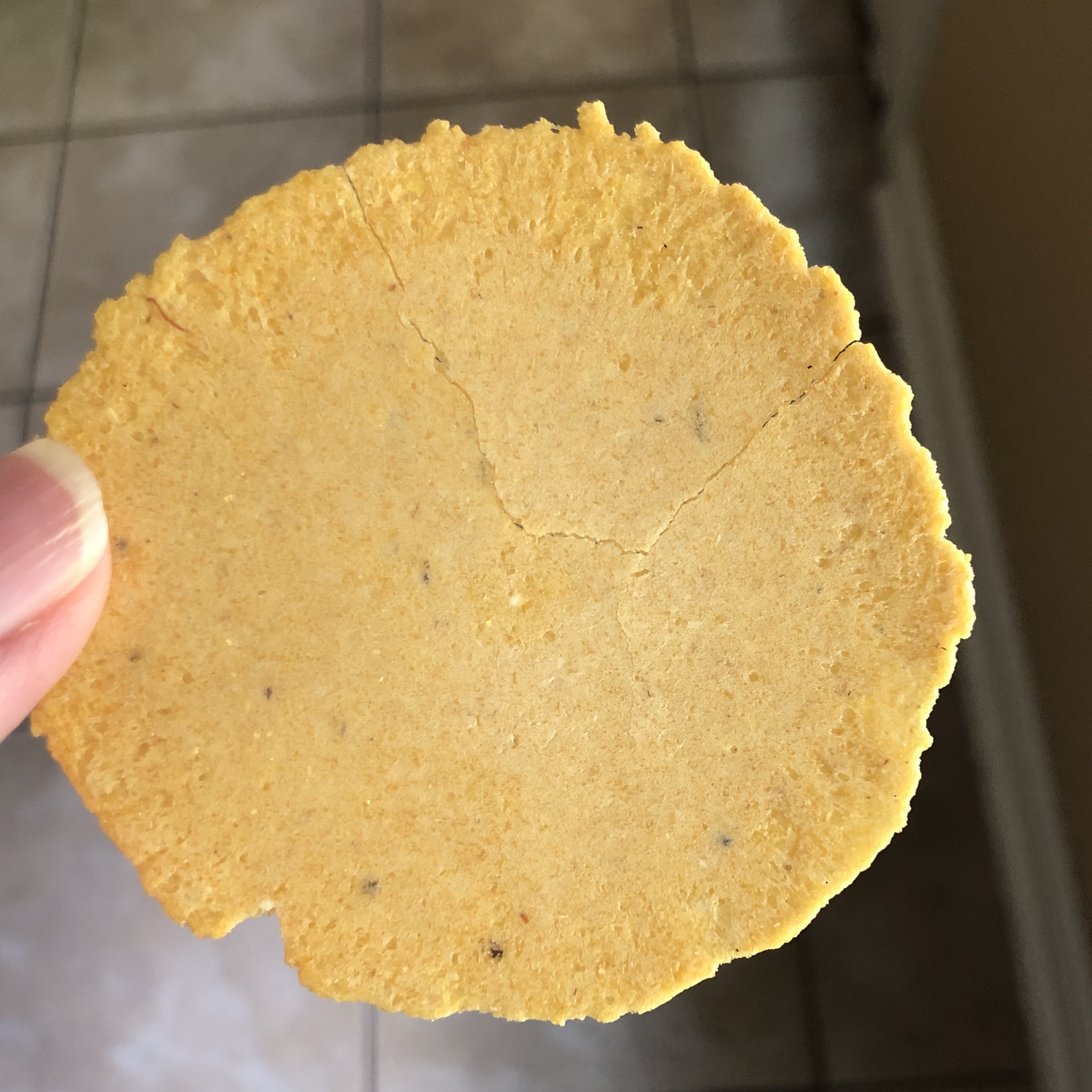 The texture and even a hint of the flavor reminded me of a fortune cookie!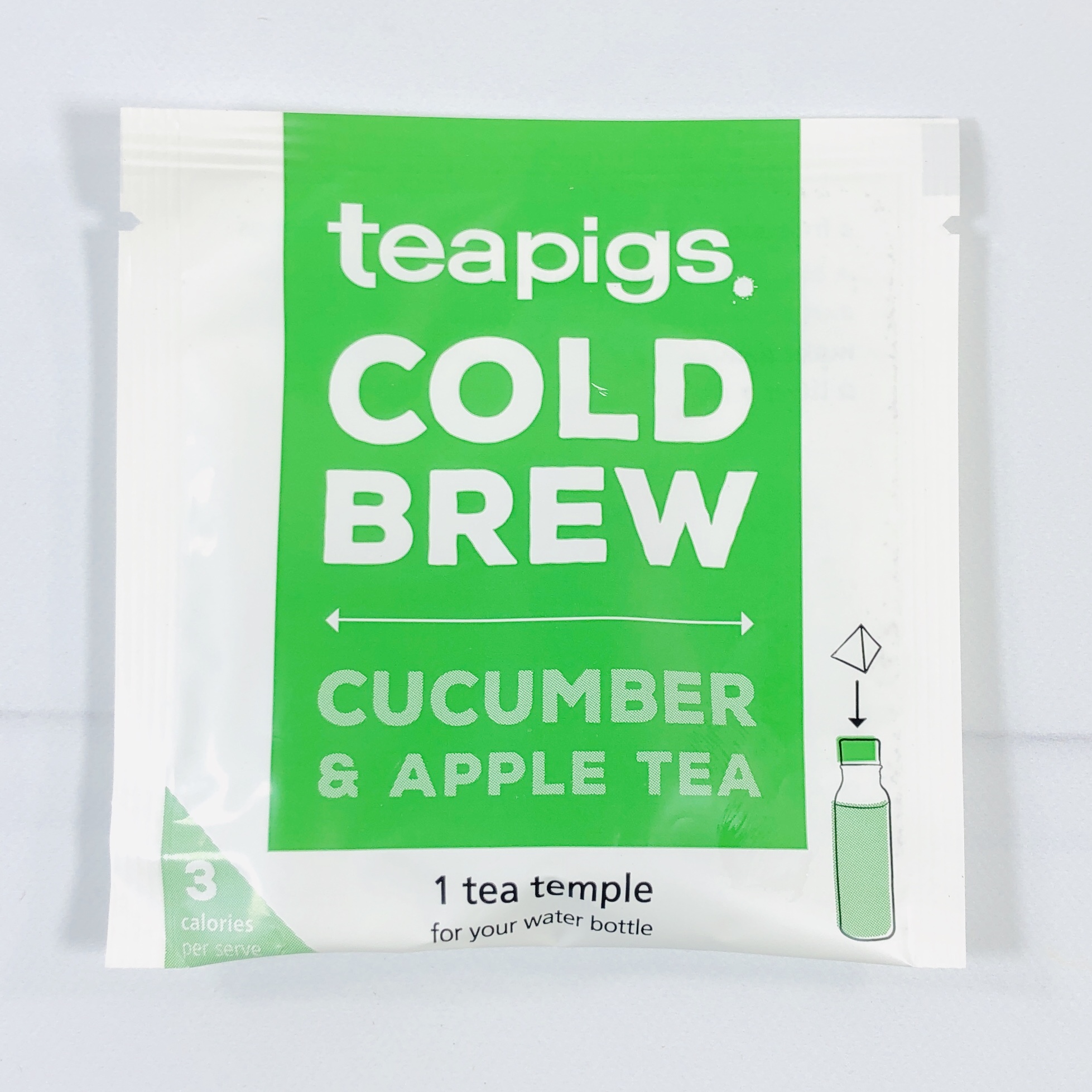 Teapigs Cold Brew Tea looks like a pyramid tea bag but it has apple, cucumber, and watermelon instead of tea leaves. Place it in about 16 ounces of cold water, let sit for 5 minutes, then enjoy the lightly fruity flavor. It didn't change the color of my water, and it was tangy, like lemonade, thanks to the citric acid. If you have a hard time drinking plain water, then this might help you down more glasses.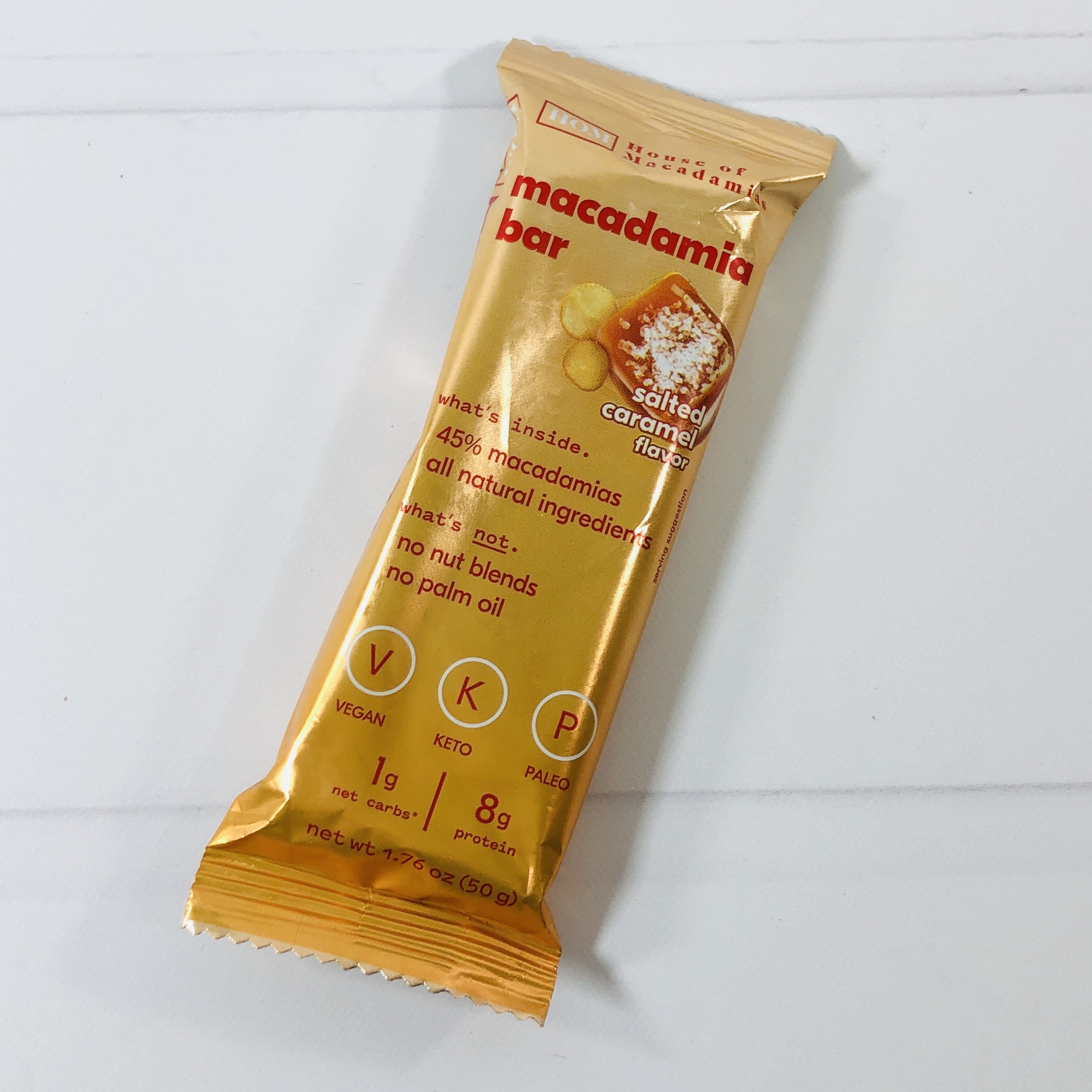 House of Macadamia Macadamia Bar I love macadamias, and with chocolate? Even better. I was surprised to see that this bar had 14 grams of fiber (about half a day's worth), but it's from inulin so I'm not giving up my apples and flax seed just yet.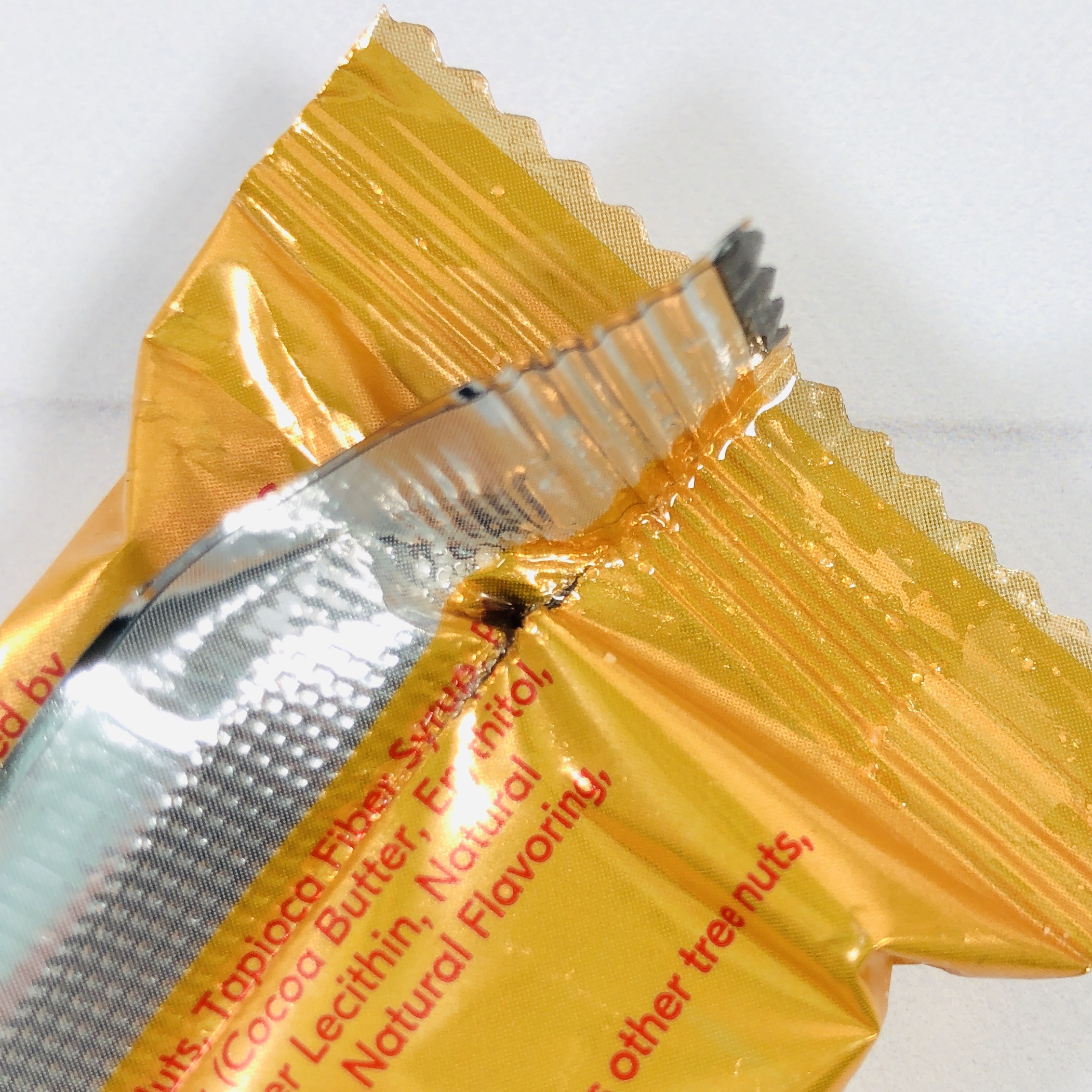 When I opened my box, I noticed that several of the items were greasy, and I discovered that this bag had a hole in it. I don't feel safe eating it, so maybe I will discover it in another box someday and give it a try.
Tri3Bar Cocoa Crunch It looks like subscribers will receive one of two flavors of this bar, and I am always happy to get a PB and chocolate combo.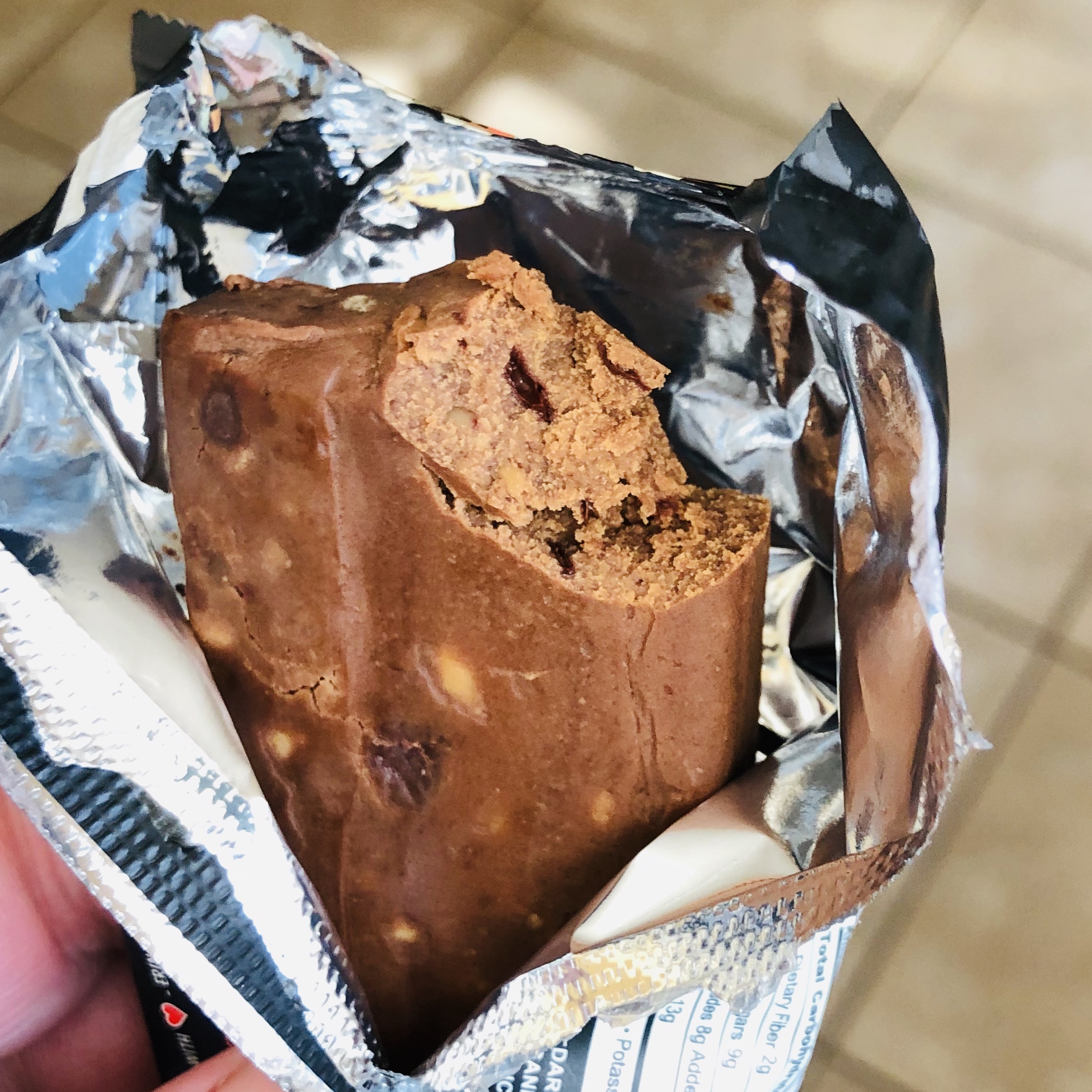 It's a pea protein-based bar with chicory root fiber and peanuts, plus mini chocolate chips. I was going to eat this for breakfast, but after the first bite I moved on to something else. When I tried again a couple of hours later I thought it wasn't too bad, I guess I just didn't want it first thing in the morning! No one will confuse this with a Reese's candy but it's not too bad for a meal replacement.
Top Seedz Maple Magic We received crackers from this brand recently and I loved them. Guess what? I love these seeds too!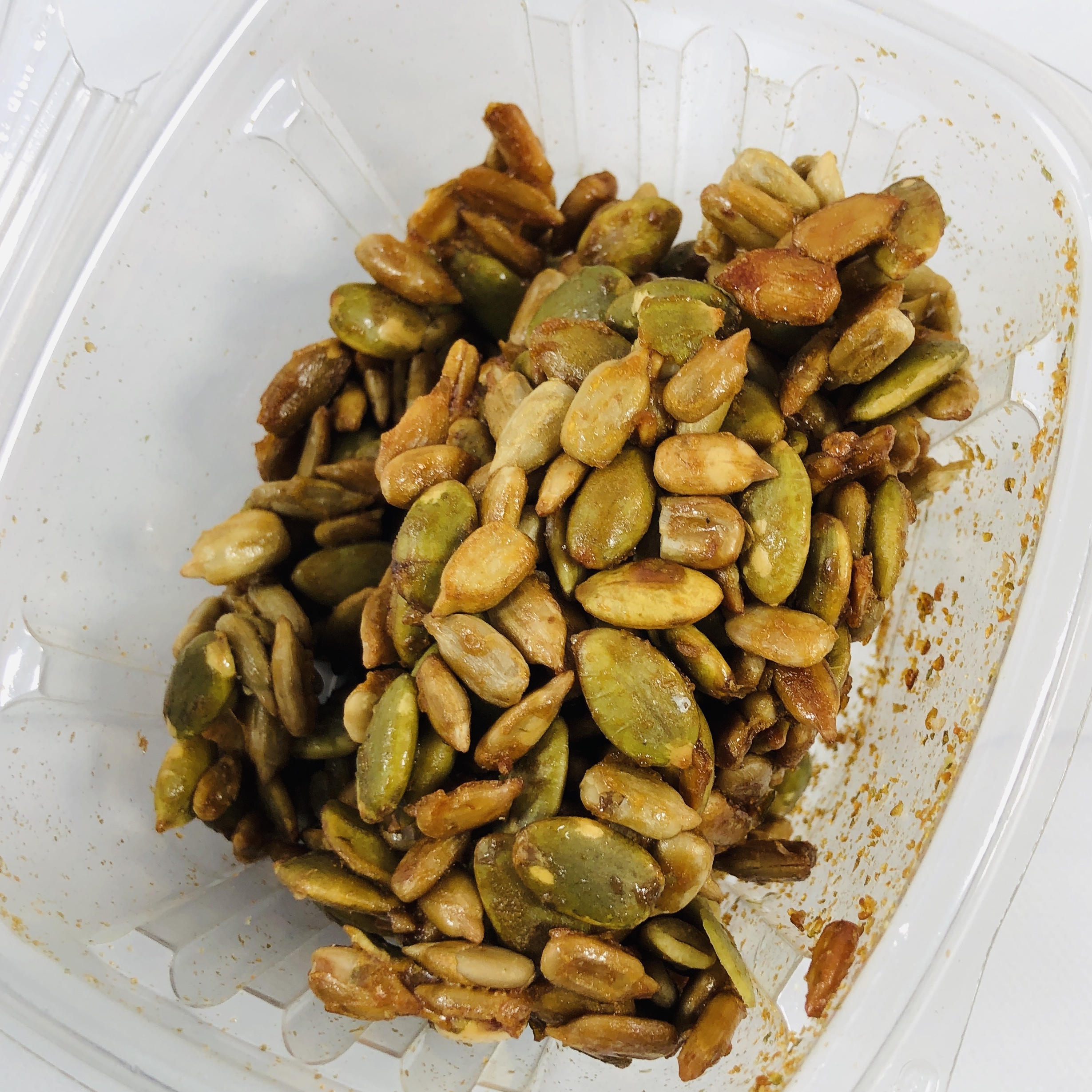 They are simply sunflower seeds, pepitas, maple syrup, and olive oil. Some of them are in little bunches but mostly it is a loose mix. They suggest mixing it into yogurt but I like these sweet and nutty bites straight from the container into my mouth.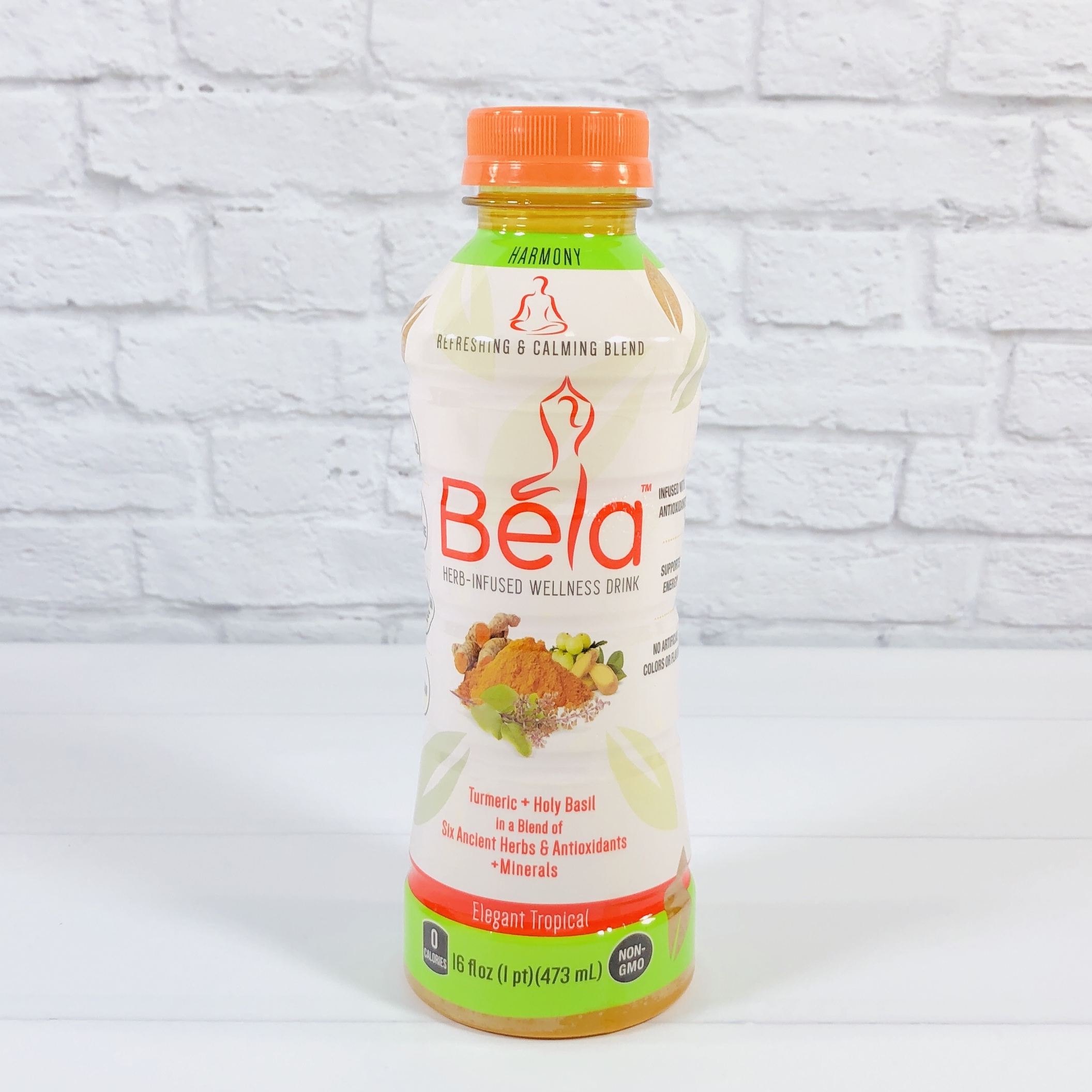 Bella Herb-Infused Wellness Drink I tried this drink but between the citric acid and stevia, I just wasn't a fan (and wouldn't typically reach for this kind of product anyways). I gave this to my daughter and she really enjoyed it and asked where she could find more! She said it didn't taste the way she thought it would based on the description. I thought it was similar to a Crystal Light type of drink, no earthiness or herbal flavor to it at all. Like watered down tropical Tang maybe? Vegan Cuts sends some very tasty treats, and I love the variety I received in the July 2020 Snack Box! I received brands and flavors I've never tried before – a sauerkraut chip, who knew? My very favorite was the Top Seedz Maple Magic, it was so good! I appreciate that Vegancuts sends meal replacement bars and mixes, because sometimes I don't want to think about breakfast, I just want to eat (or sip).  
Have you tried Vegancuts Snack Box? Let me know what you thought of the box!