Try My Snacks is a unique subscription box that delivers snacks from a different country every month. Each box contains anywhere from 5 – 20+ snacks per box (depending on the plan), a 12+ Page booklet that includes fun facts about the country, snack information, puzzles, and more. They also include a coin/bill from the country in every box & offer FREE shipping to the USA. A portion of every order is donated to the ASPCA to help end animal abuse.
Tailored Just For You

Each box is tailored to your palettes needs. You tell us what you like and don't like and we'll take care of the rest. Besides, what's the point of trying something new if in the end it'll just go in the trash? Our interactive & fun quiz will make sure that doesn't happen.
Start by choosing which subscription level fits your needs. Then answer a few questions like whether or not you like coconut and if you want a drink ($4.95 upcharge). There are additional charges in the questionnaire, like if you want rush delivery ($5) or a chilled ice pack so your chocolate doesn't melt ($4.95). You can also tell them if you are allergic to peanuts and there is a place to write in other allergies.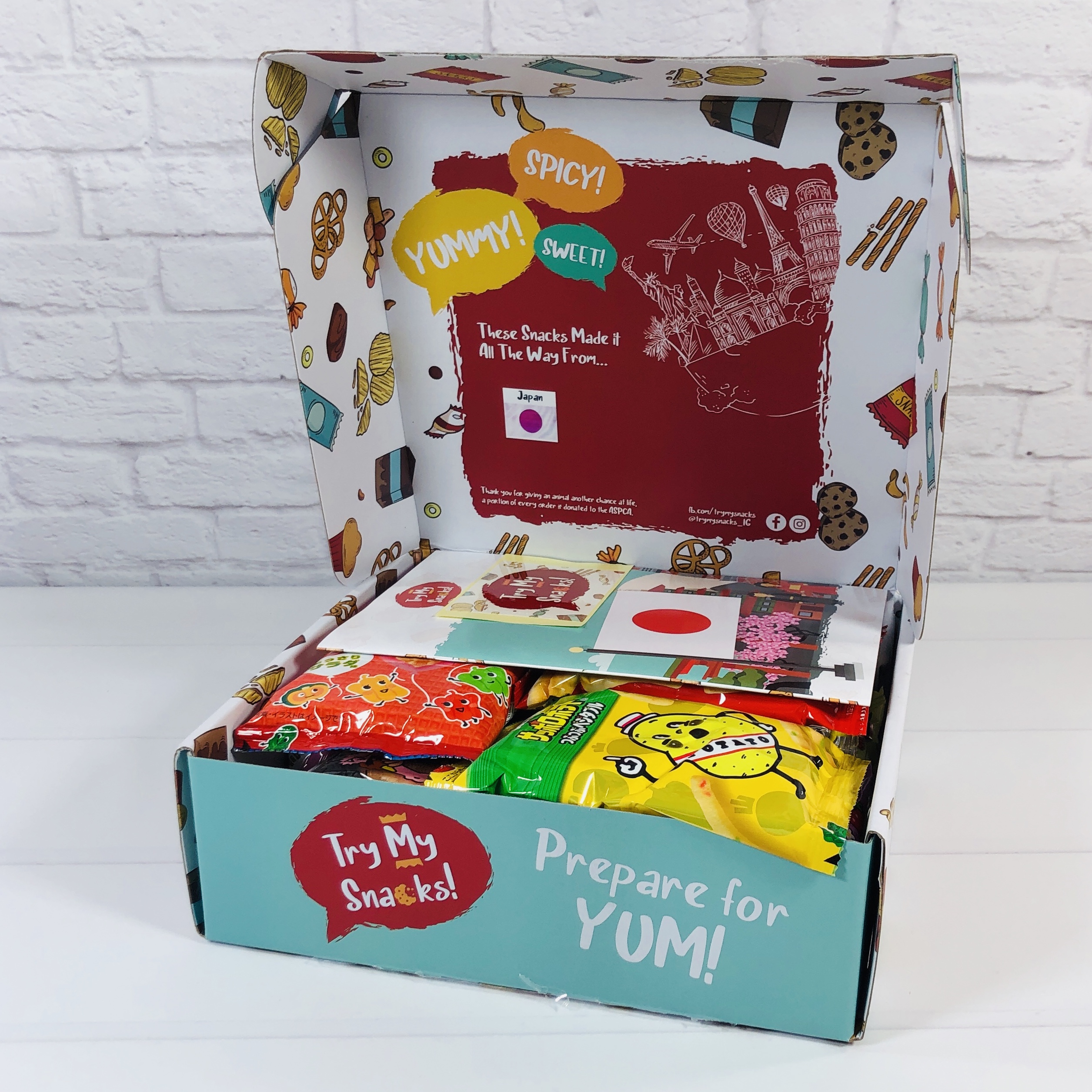 This is my second shipment from Try My Snacks!
This time we are exploring the flavors of Japan!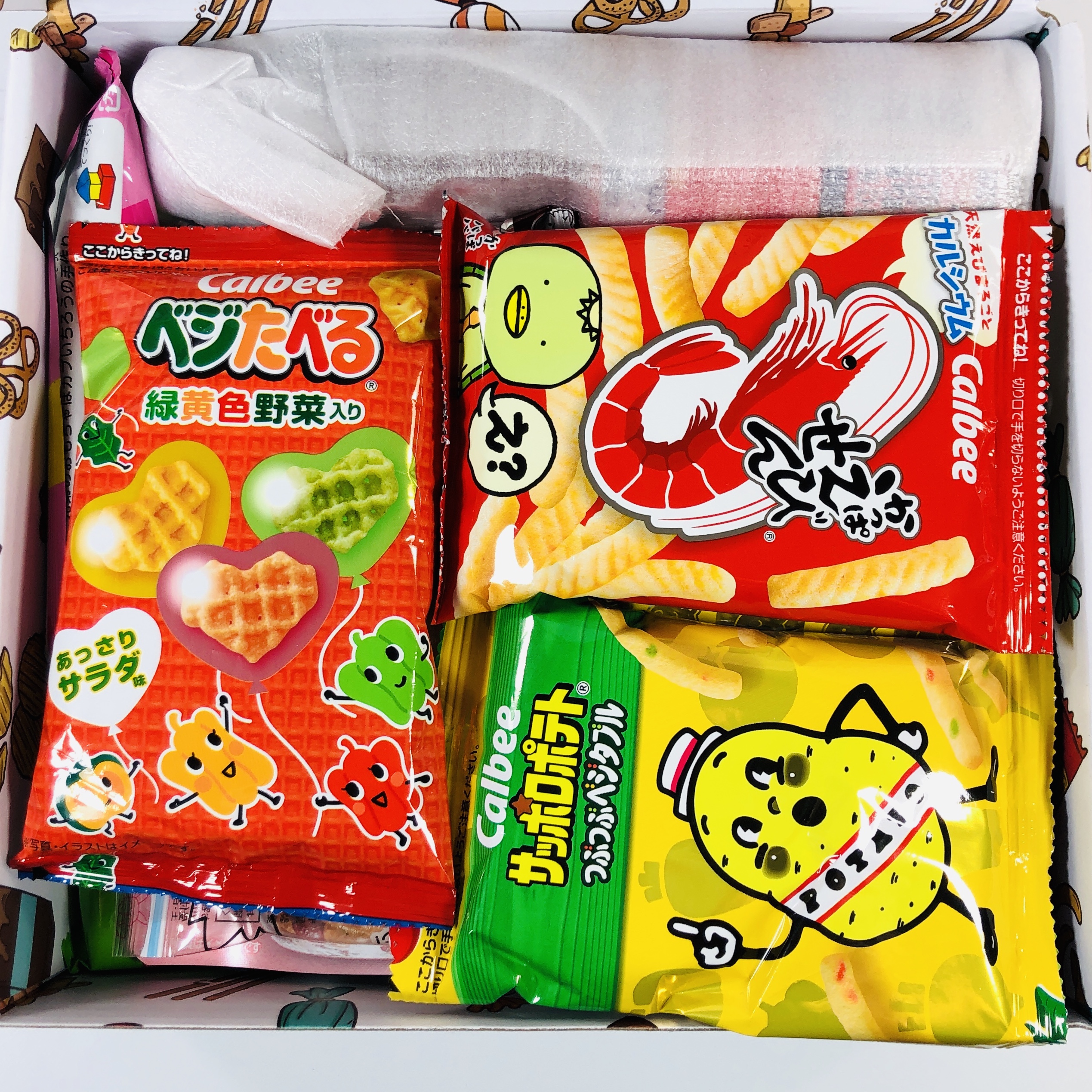 There was a nice assortment of sweet and salty snacks!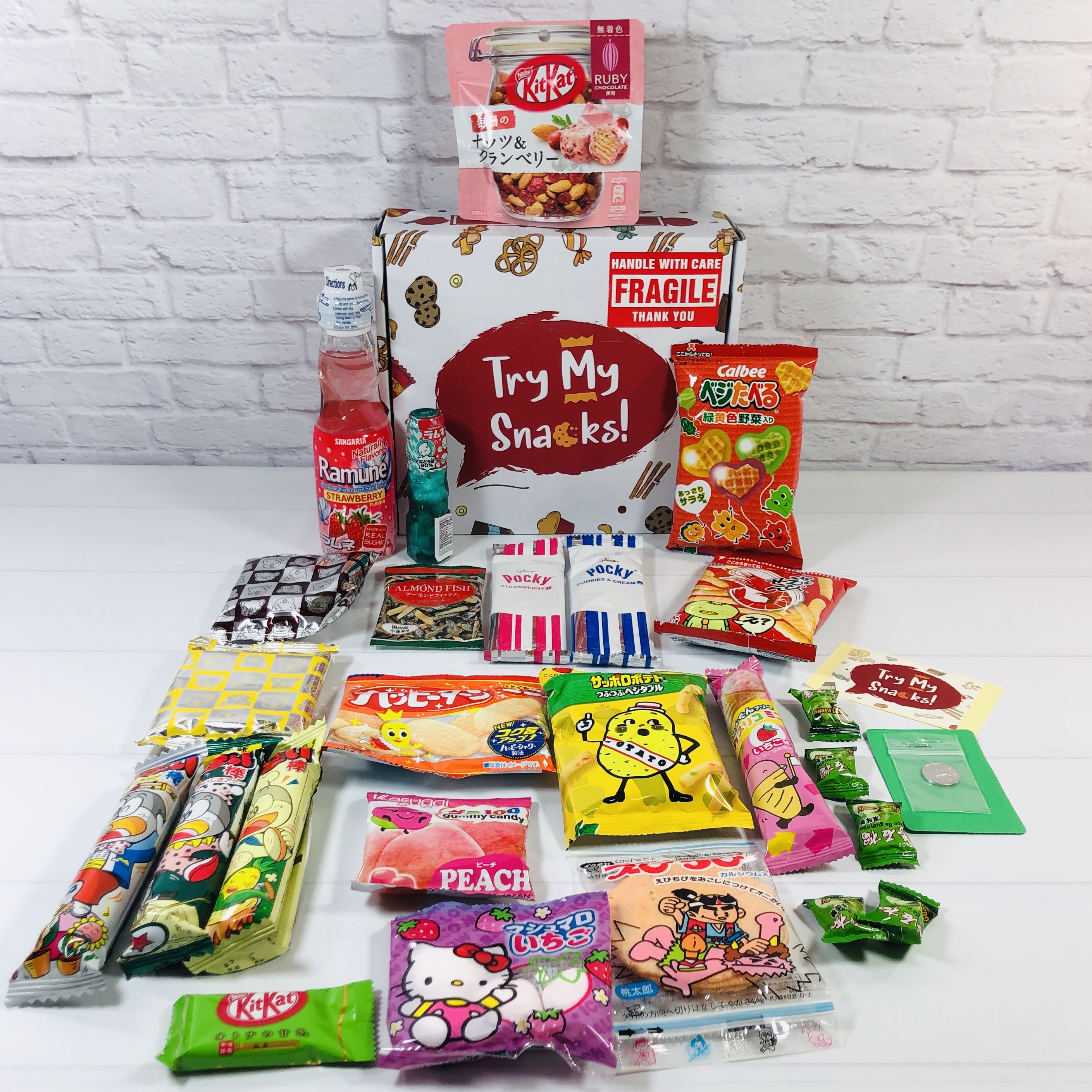 Everything in my box!
I received a vinyl sticker.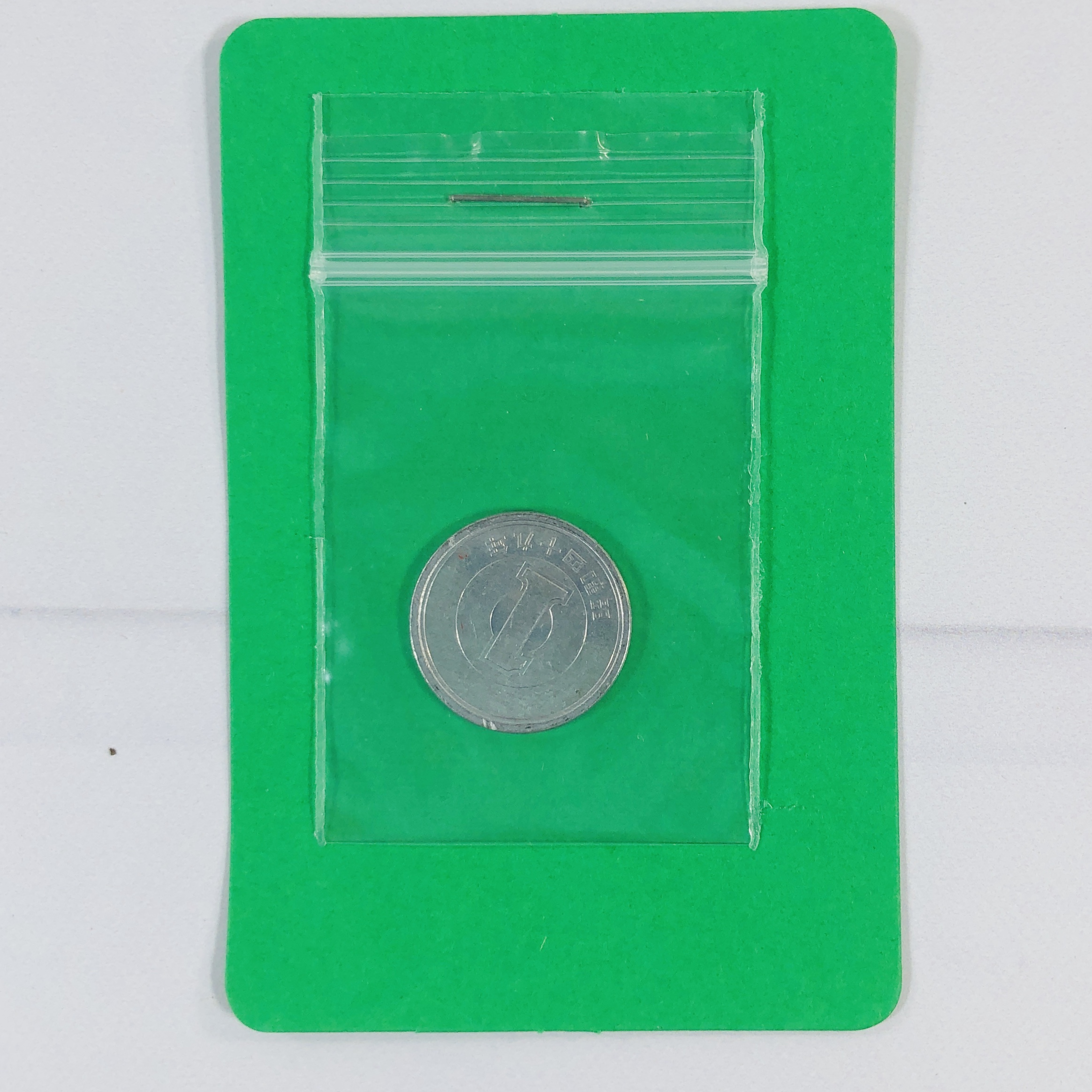 Try My Snacks sends a coin from the featured country. I believe this is a ¥1 coin, which is worth approximately 0.0093 of a U.S. dollar, less than one cent. It takes around 108 yen to equal $1. I will add it to my coin collection, which mostly has European coins.
I received a glossy booklet.
The inside mentioned some facts about Japan and discussed the currency.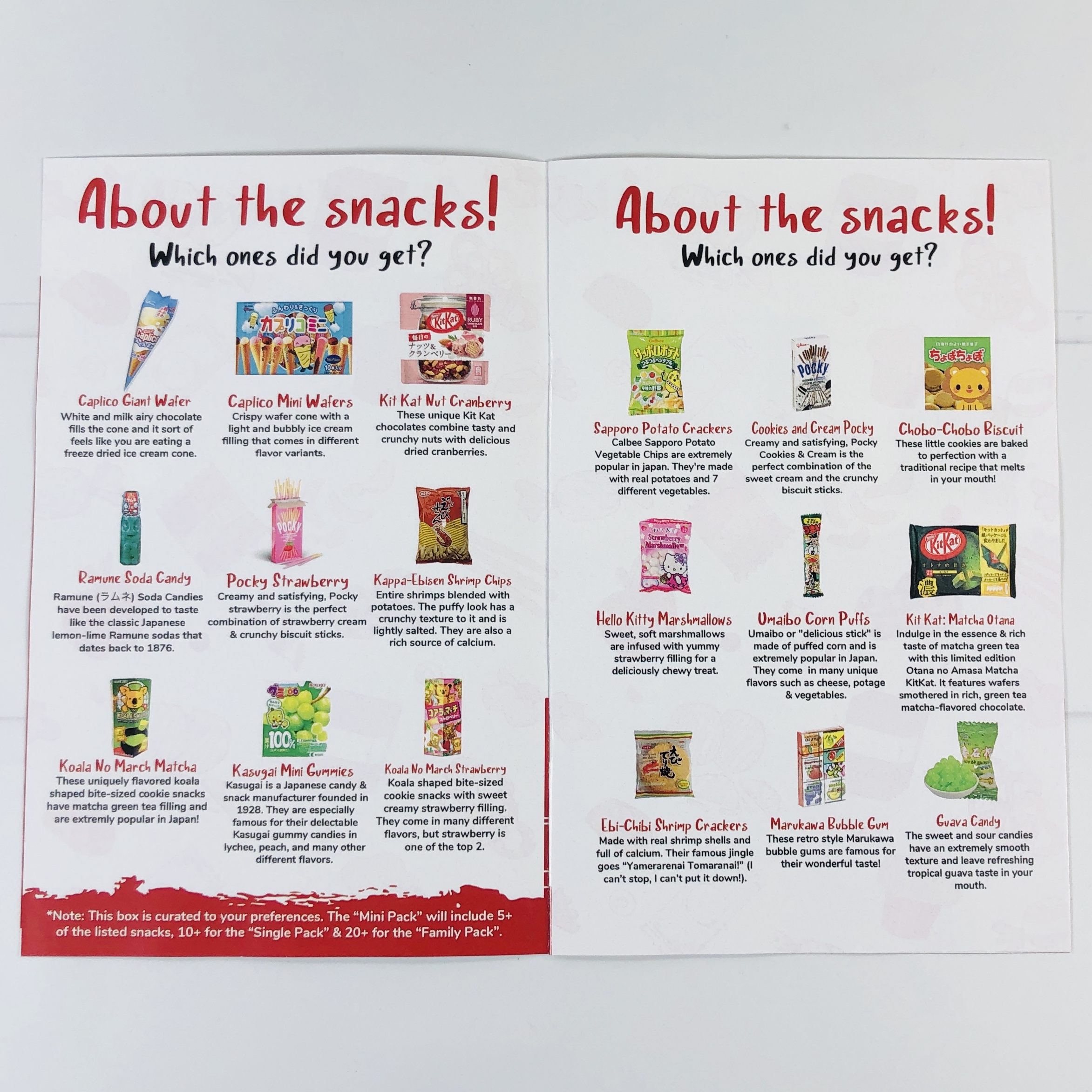 The next two pages discussed the snacks along with the bonus drink upgrade.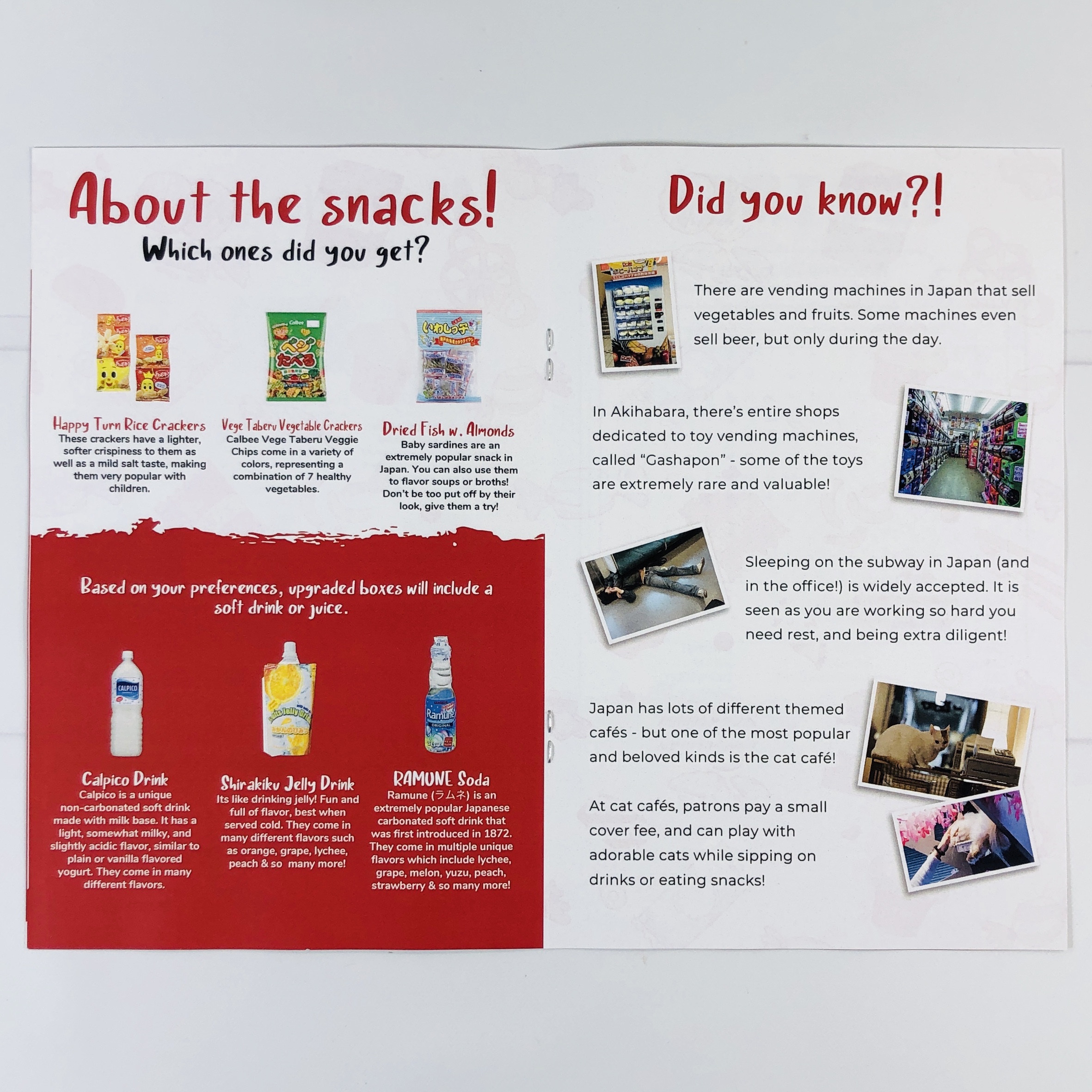 The next page listed more snacks and fun facts about Japan.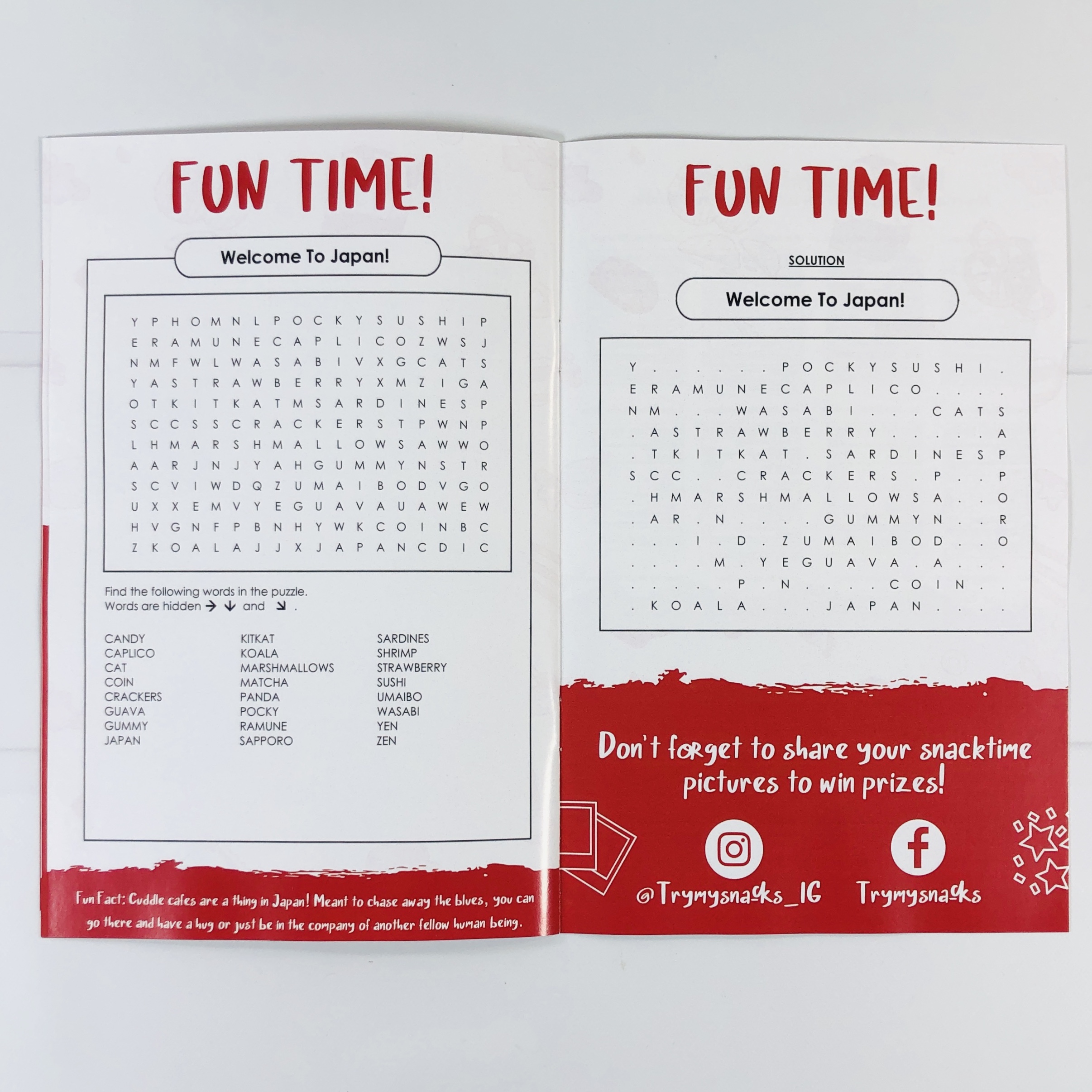 Next we have a puzzle, with the solution conveniently placed next to to it.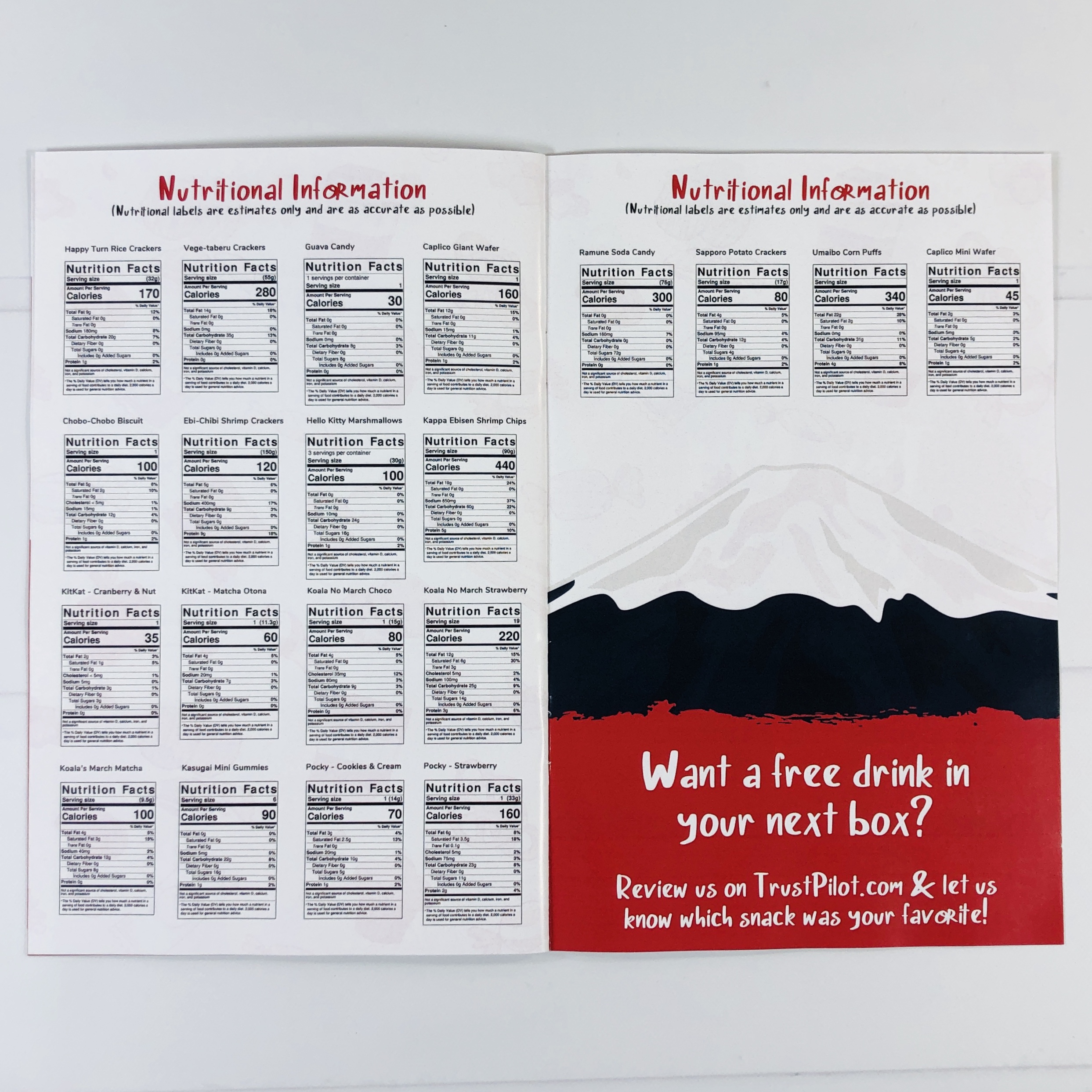 Finally we have some nutrition facts.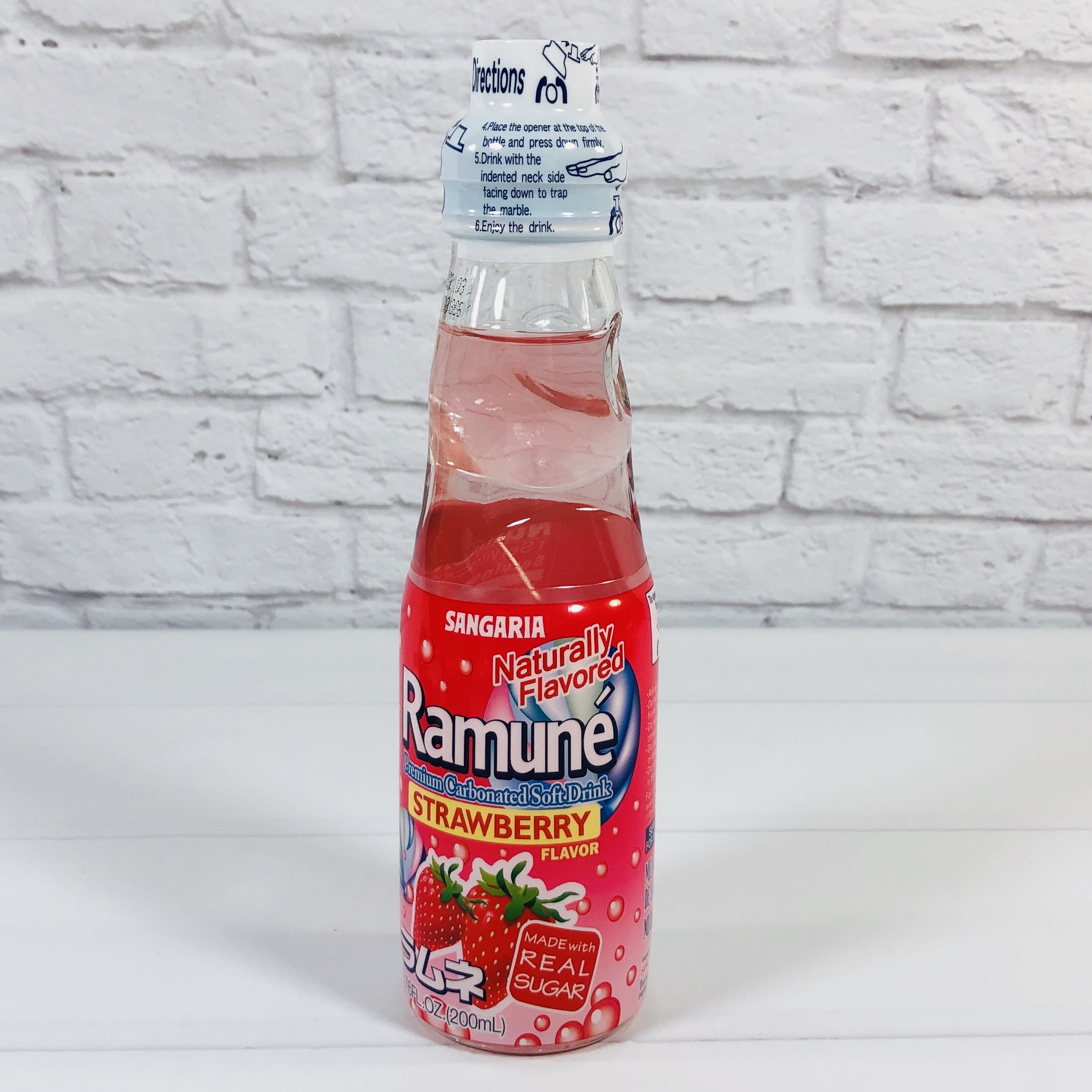 Sangaria Ramune Soda in Strawberry My daughters love these cool bottles – they have a marble on top that you push into the soda before drinking! The flavor was like strawberry candy and the drink is carbonated.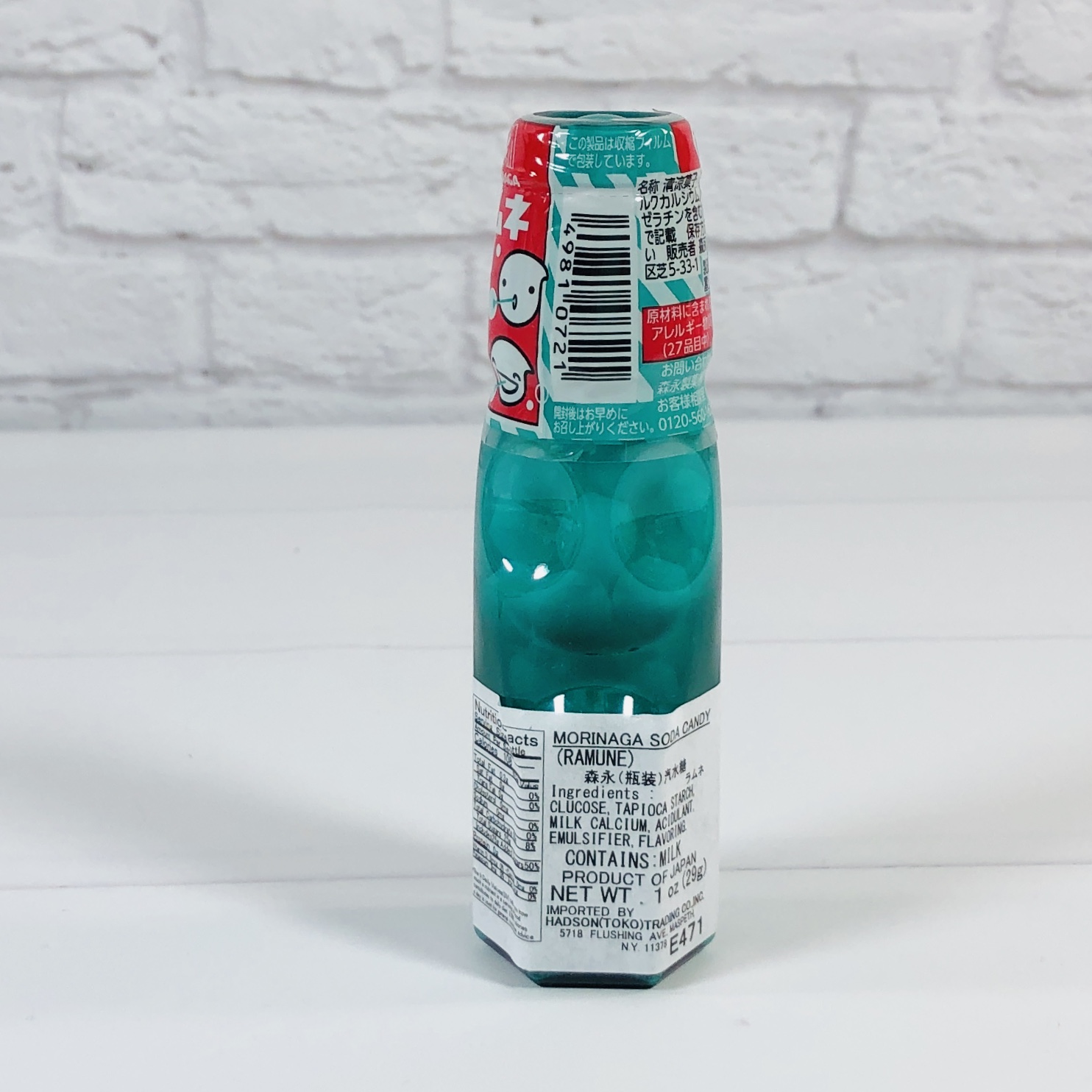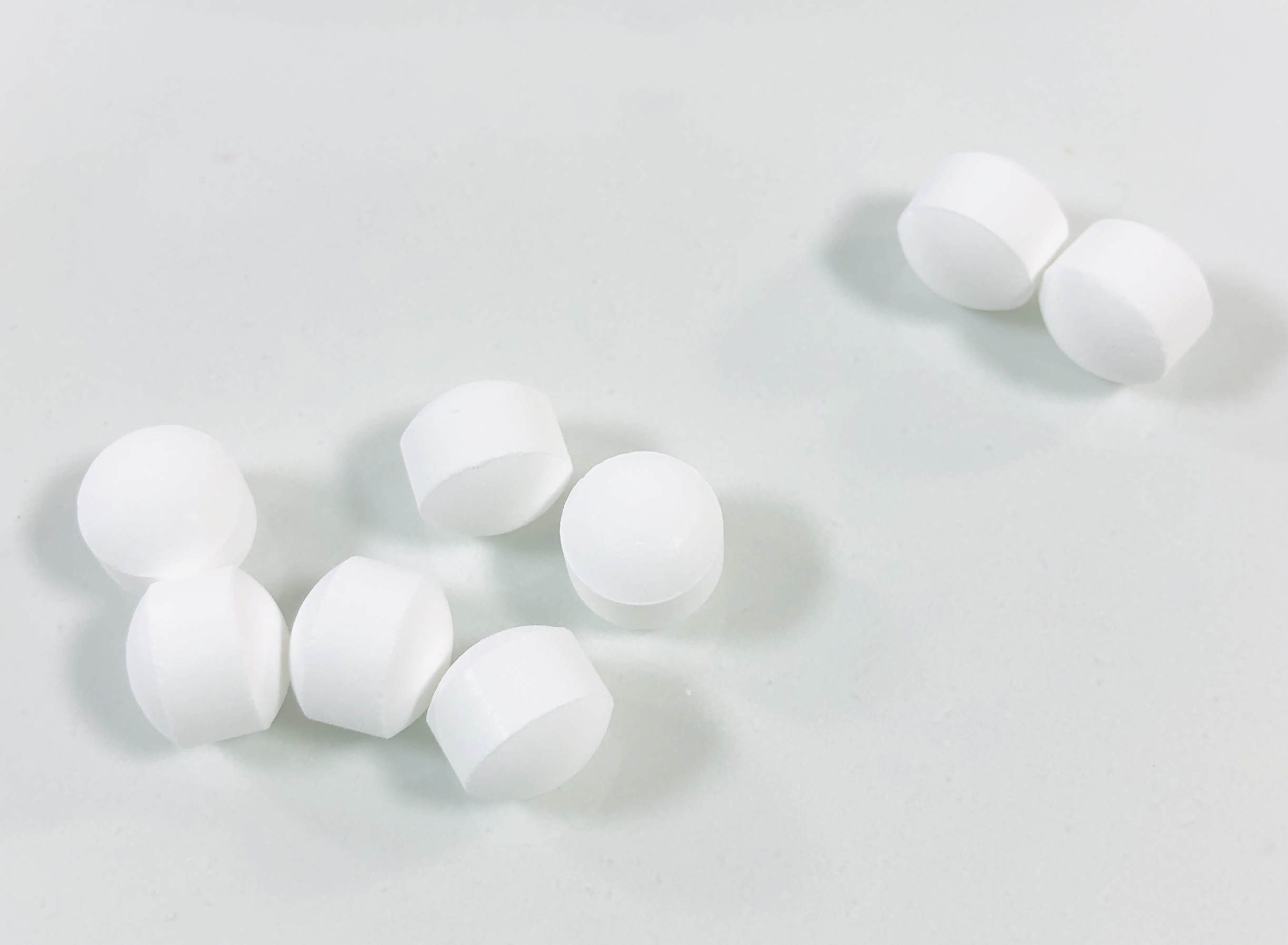 Morinaga Ramune Soda Candy comes in a soda bottle just like the drink above, except it's cool little candies inside! The candies are the original ramune flavor, which is lemon lime. They don't really fizz but they do have a texture that is kind of soft once it gets in your mouth. So good!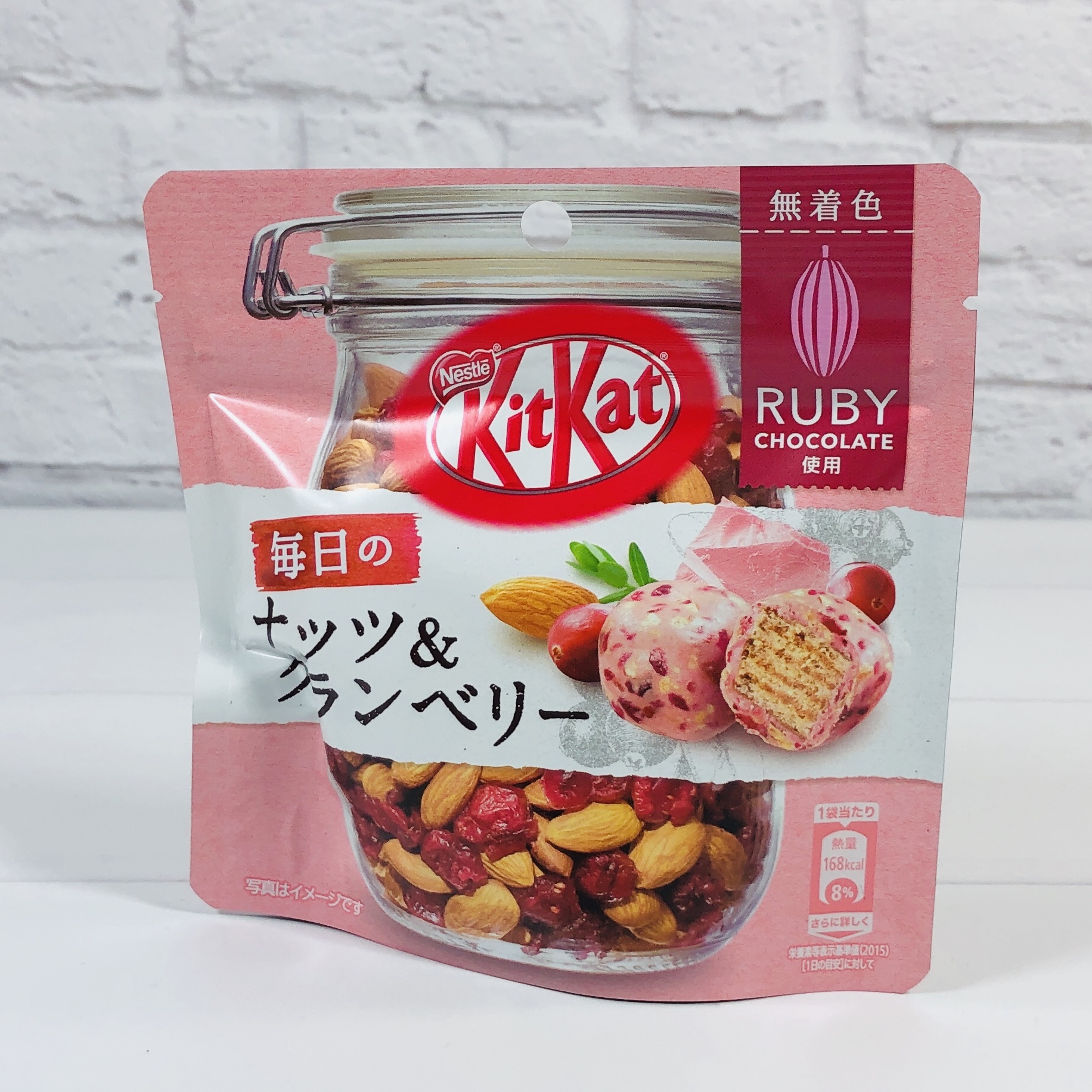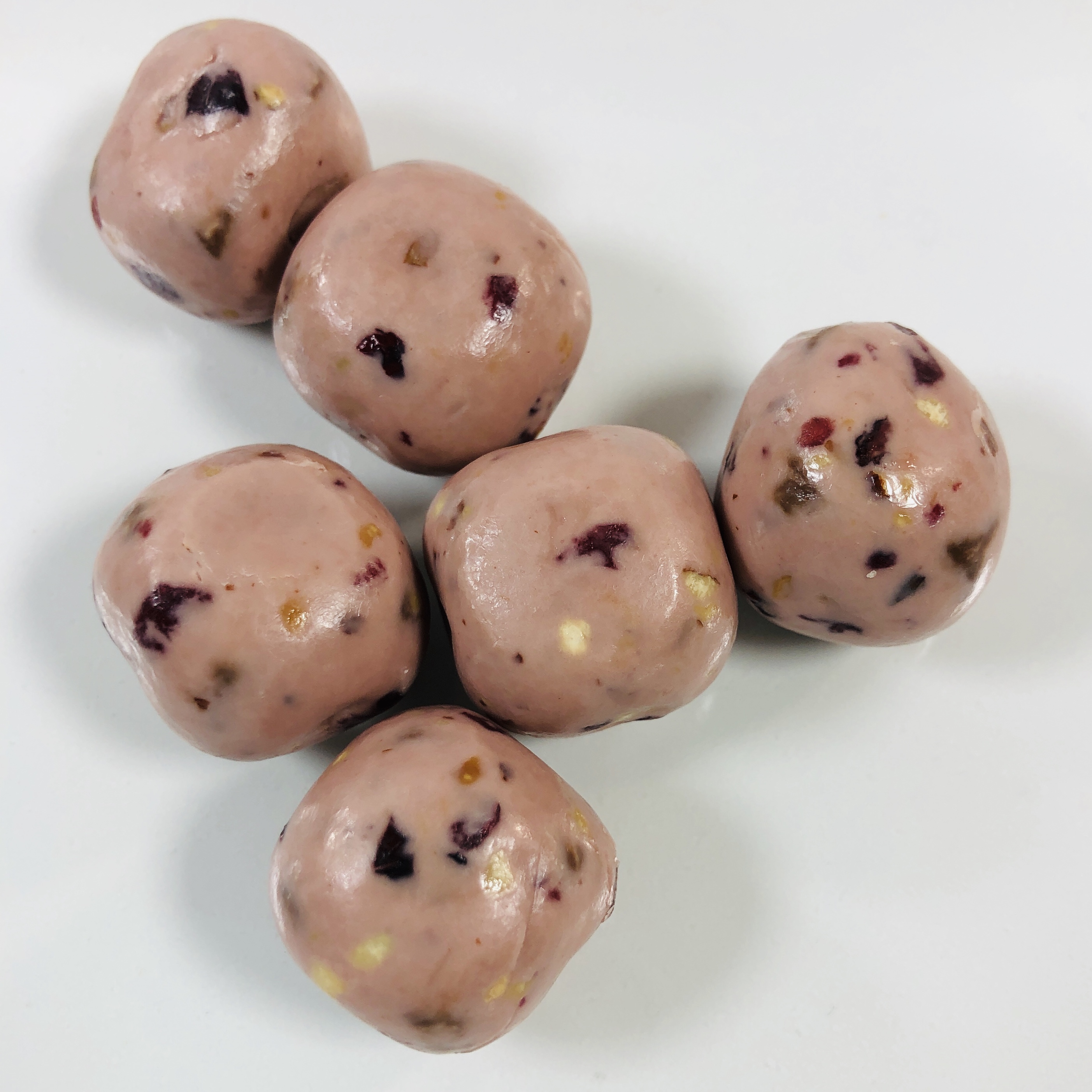 Kit Kat Nut Cranberry I had no idea that Kit Kat had a candy like this! The outside coating is white chocolate with cranberries and nuts, but the inside is like a traditional Kit Kat. Send more please!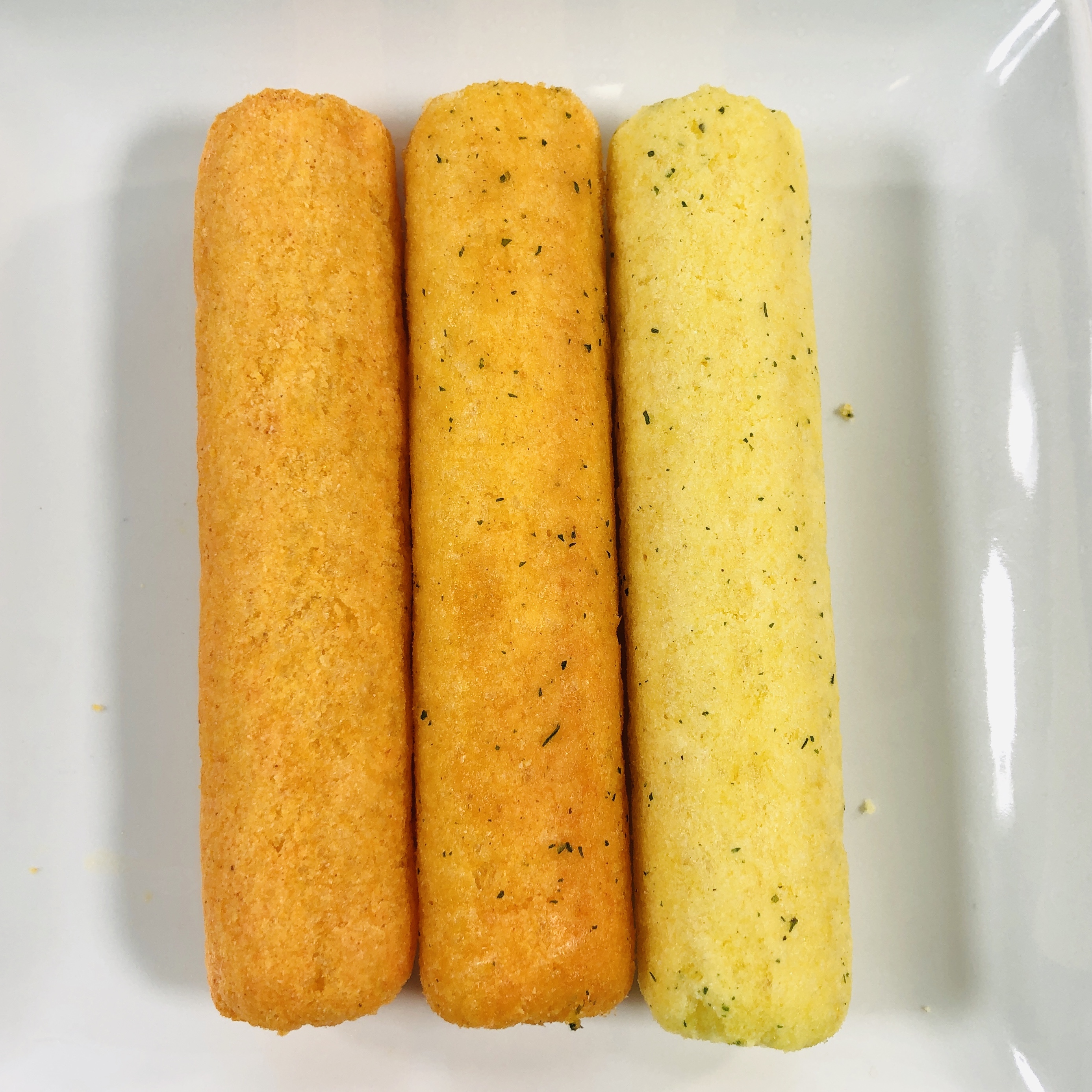 Umaibo Corn Puffs We received three different flavors of this giant puffy Cheeto-like snack. The one on the left is cheese flavored, the one in the middle is salad flavored, and the one on the right is corn soup flavor. Each one has a bit of a sweet note to it, and the corn soup was my least favorite, while salad was my favorite!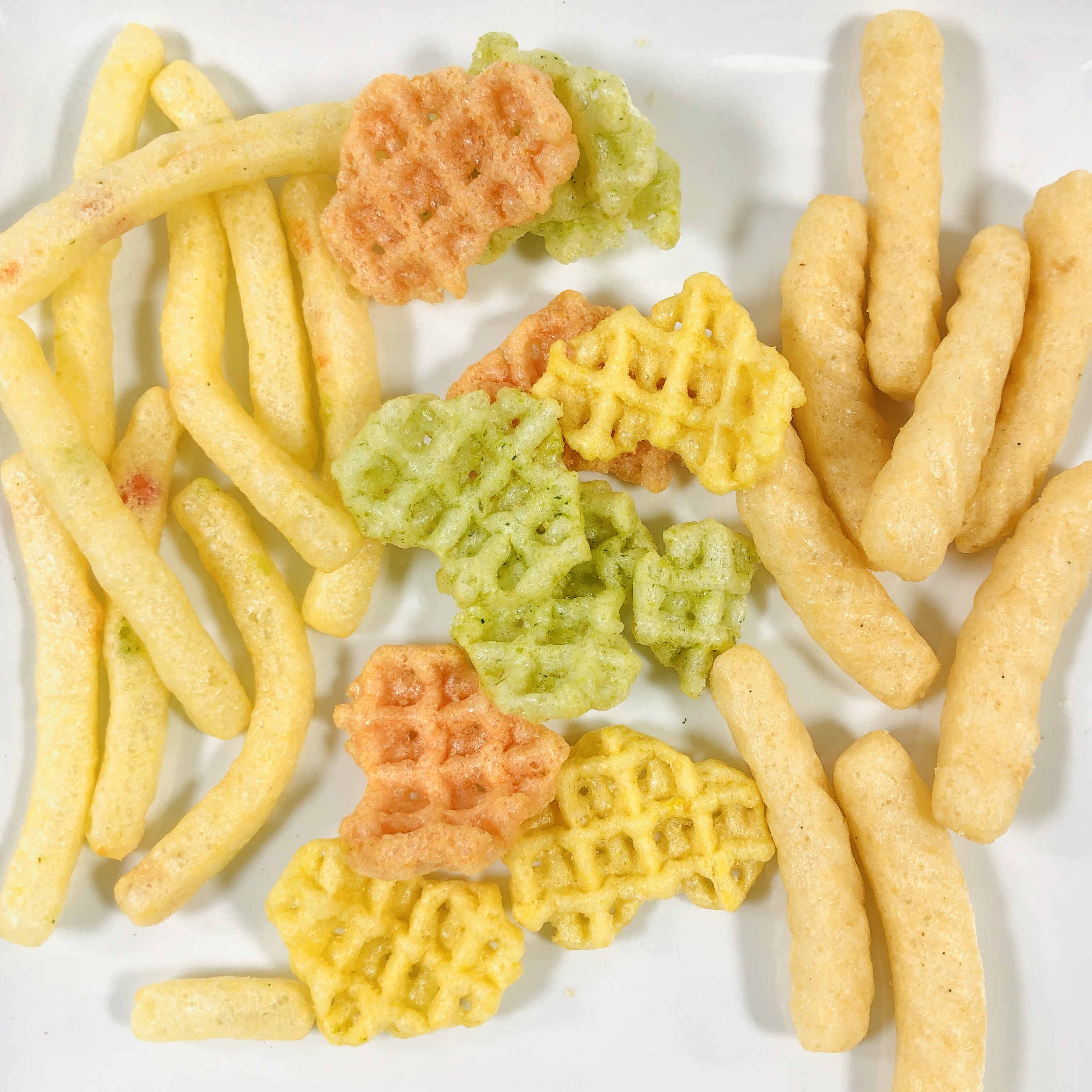 Calbee Sapporo Potato Crackers taste like crispy french fried potato sticks.
Calbee Veggie Taberu Vegetable Crackers taste like potatoes too but are even milder, with a non-greasy texture.
Calbee Kappa Ebisen Shrimp Chips are potato based but with the addition of shrimp. All three of these potato snacks were mild in flavor, even the shrimp one. I guess they are similar to vegetable straw chips that we have in America that don't have much vegetables in them.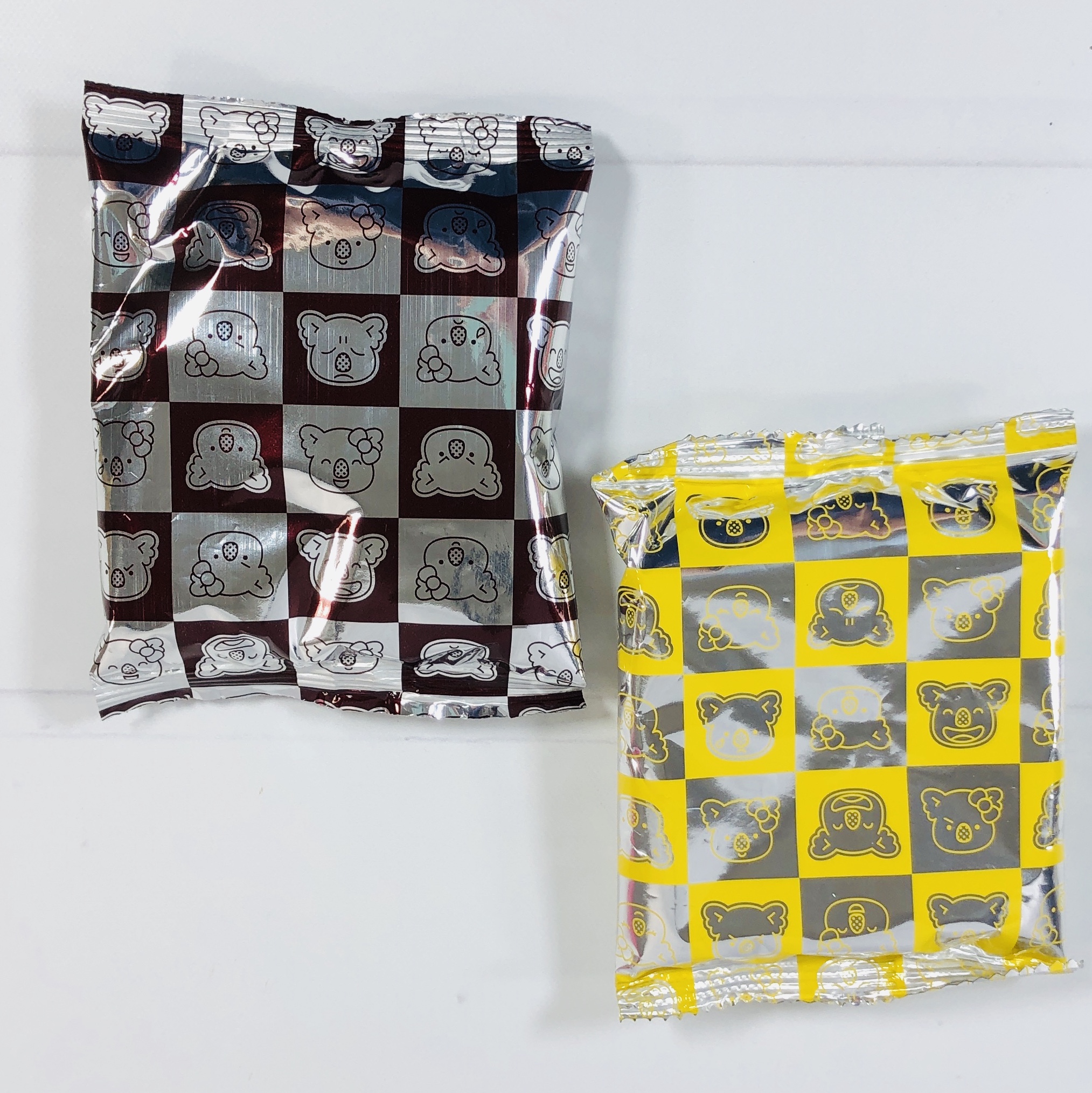 Koala's March in Chocolate and Matcha I found two packs of Koala's March cookies in the box. The brown pouch had chocolate-filled cookies, while the yellow pouch held matcha tea/white chocolate filled cookies. My daughters thought the koalas were so cute!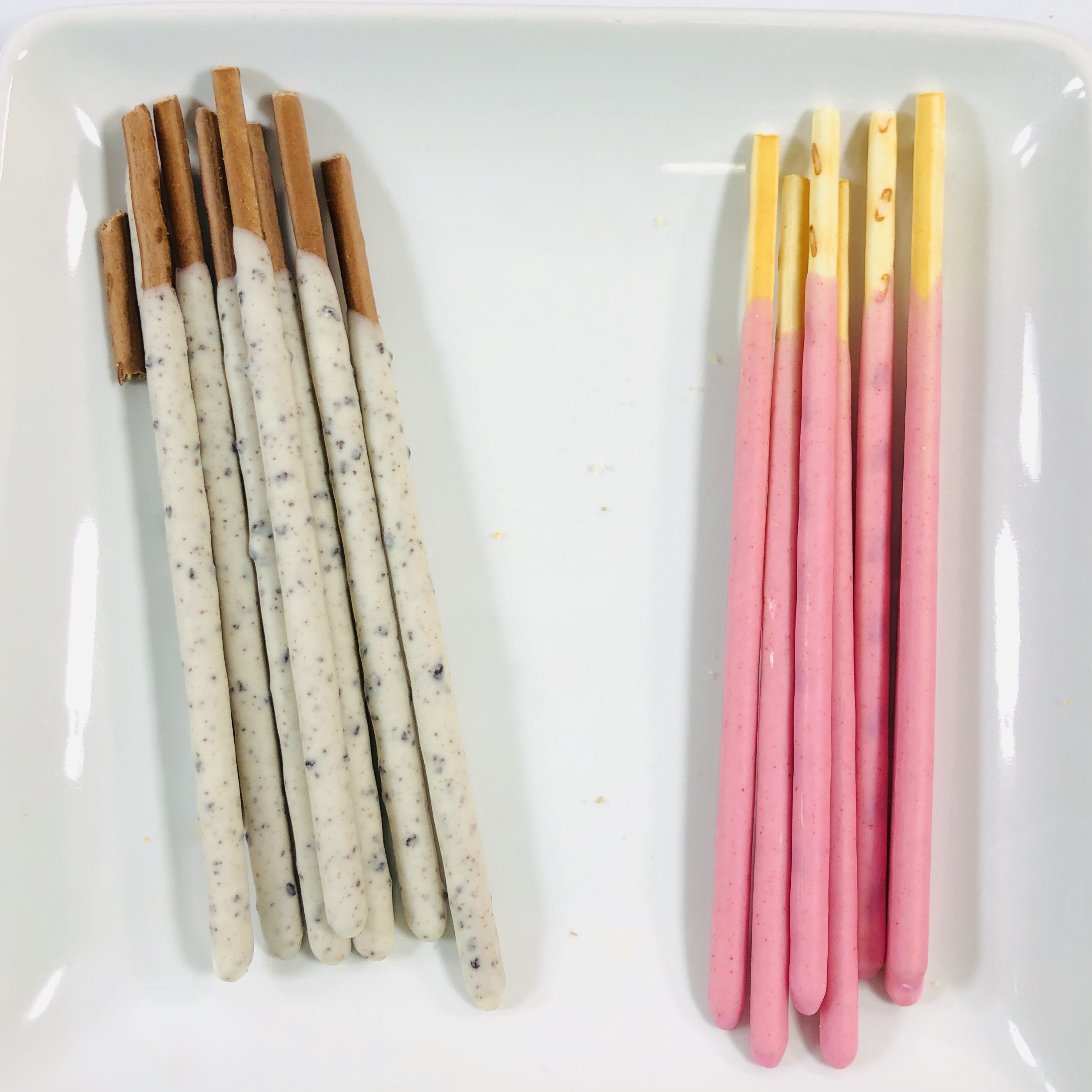 Glico Pocky in Cookies & Cream and Strawberry Pocky was one of the first Japanese snacks I ever tried and still like them today. These are like a cookie/pretzel stick (non-salty though) with a candy coating. One tastes like strawberry candy, the other is cookies and cream.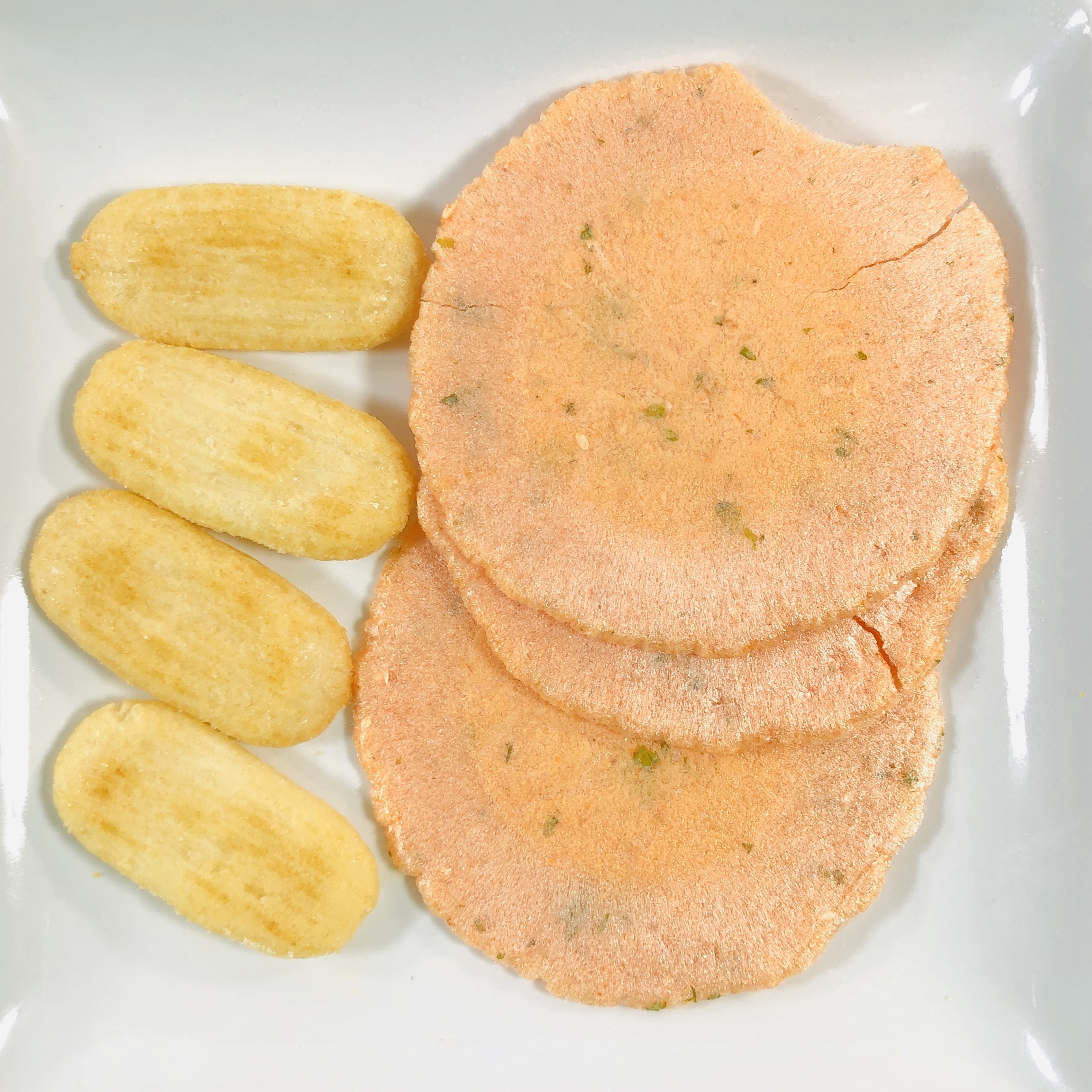 Kameda Happy Turn Rice Crackers Senbei are one of my favorite types of snack and I love the sweet and salty, umami flavor coating the outside of this crisp cracker. I think this is my most favorite senbei ever!
Ebi-Chibi Shrimp Crackers looks like a thin wafer and is probably similar in consistency to styrofoam. It is shrimp flavored and I am not a fan but then shrimp is not my favorite food.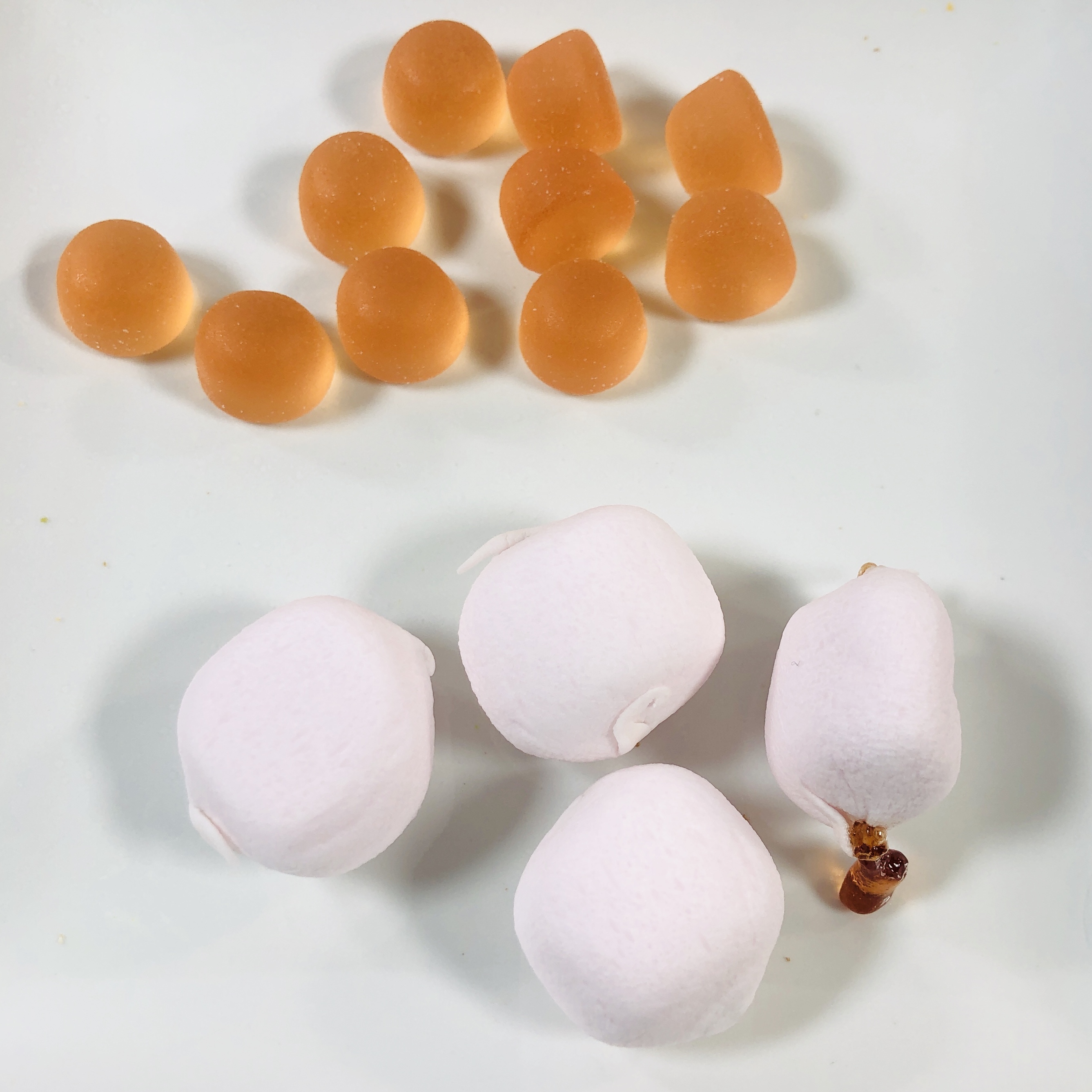 Kasugai Mini Gummies in Peach Flavor are very tasty peach gummies. But not just any peach gummy, they are flavored with white peach and I swear it tastes like the real thing, so sweet and fruity.
Hello Kitty Marshmallows have a strawberry jelly filling, and the marshmallow is slightly smaller than the kind I would use for s'mores. I like the interesting flavor from the jelly!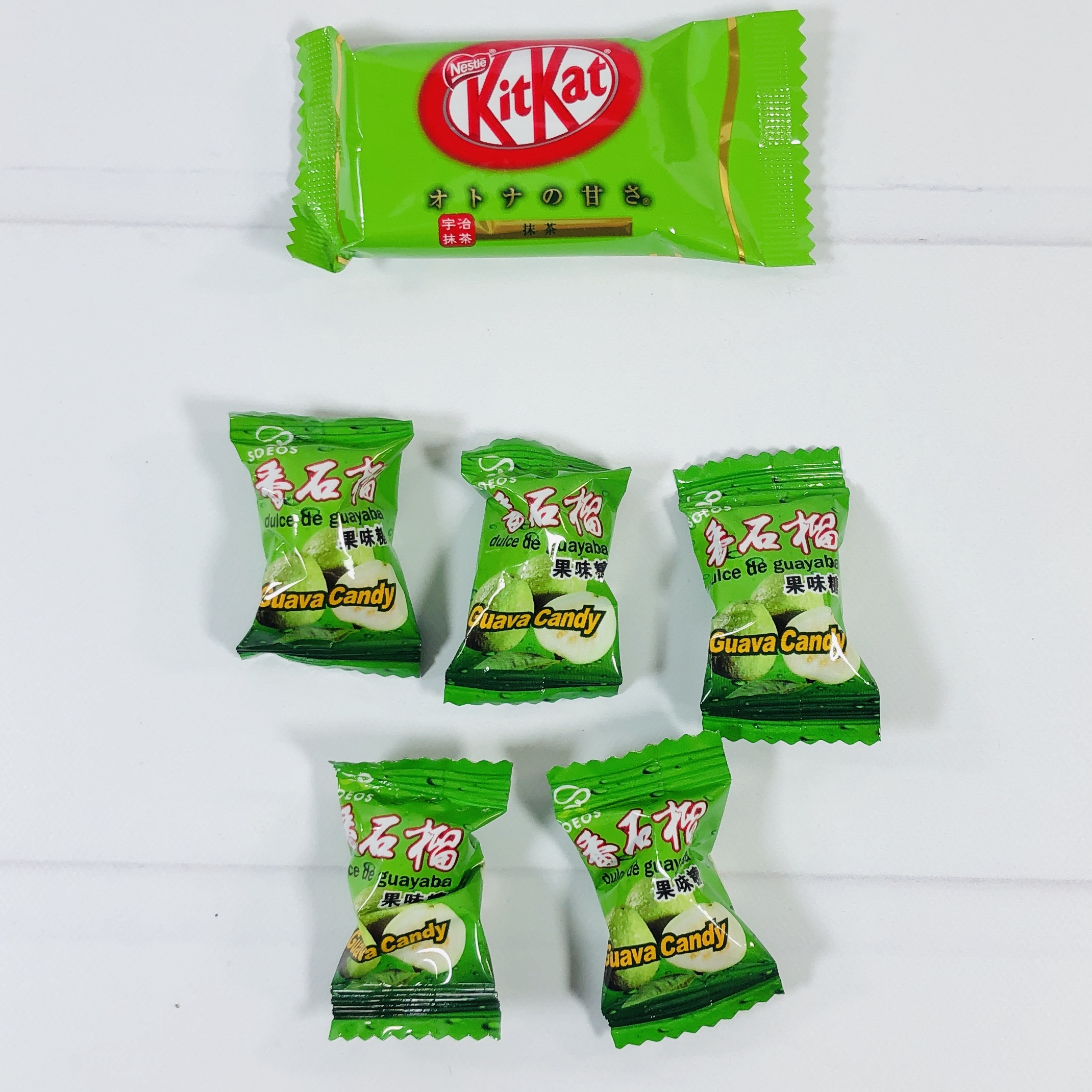 Kit Kat Matcha Otona is somehow supposed to be different from regular Matcha Kit Kats, maybe deeper, but I thought it was similar to the kind I've received in boxes before. Very tasty, with a green-colored white candy coating with some grittiness to it, maybe from the matcha.
Soeos Guava Candy actually comes from China but they are very tasty hard candies that have a full tropical flavor. I love fresh guavas, which are almost perfume-like, and the flavor here is pretty accurate.
Caplico Mini Wafers look like a mini ice cream cone and this one is filled with aerated chocolate and strawberry candy. The top is strawberry and it changes to chocolate as you go down the cone. So sweet and the filling reminds me of an Aero Bar.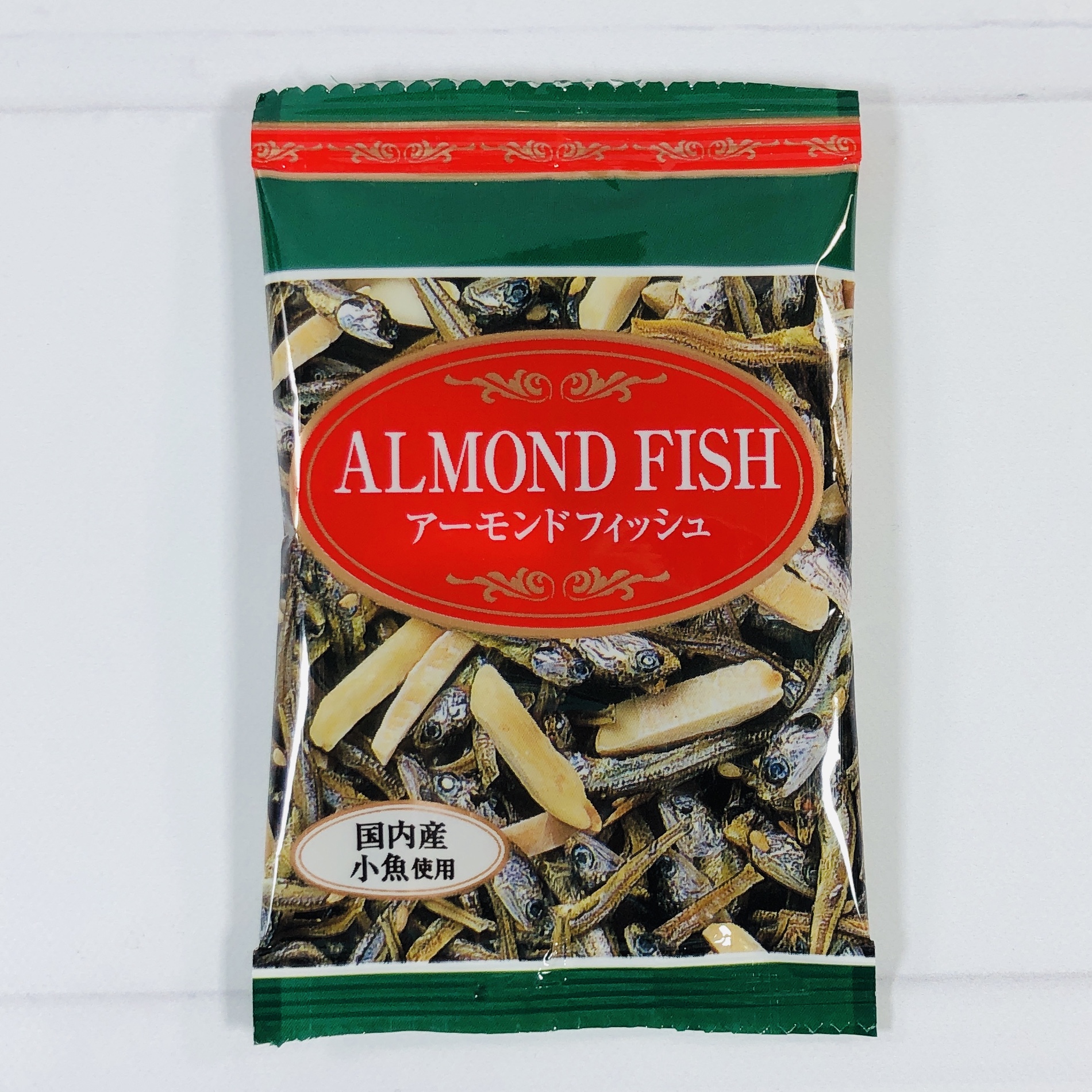 Dried Fish With Almonds When I lived in England I used to buy dried fish treats for my cat. This bears an uncanny resemblance, but with the addition of almonds. Please tell me the little seeds stuck to the fish are sesame, because I can't find the ingredients listed and I tried one (sorry, not a fan).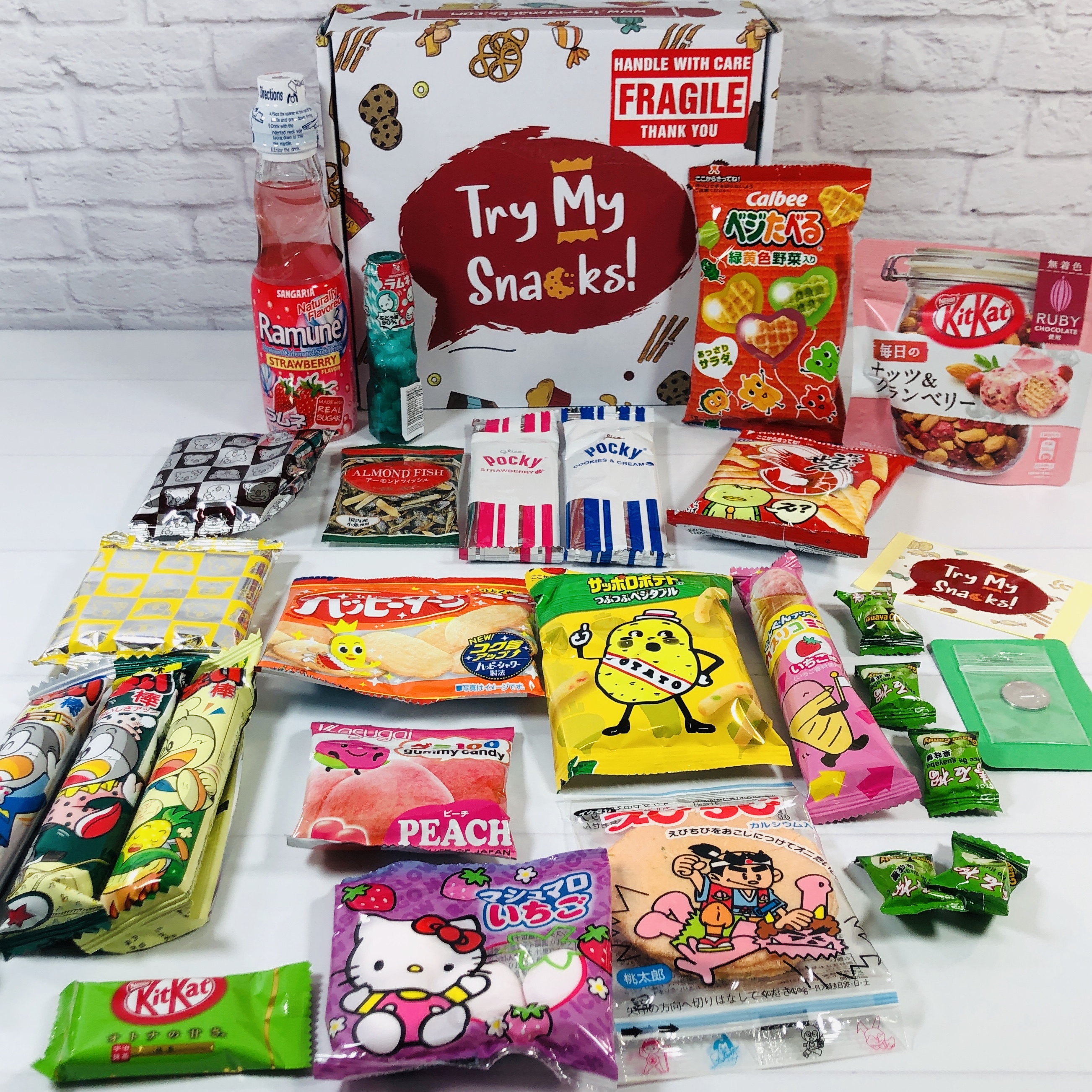 What a cool assortment of snacks in the Try My Snacks Japan Box! I've tried a few of these before but some of them were totally new to me. I realize fish is a popular flavor for Japanese snacks and most of them were palatable to me, but straight on dried fish was a huge nope (for the record, I won't even eat stuff like anchovies on pizza). The booklet was helpful although some of the snacks were a little different from those in the book, and please keep in mind that Try My Snacks sends a variety of snacks, and that you won't find all of those listed necessarily in your box.
Any thoughts about this box?