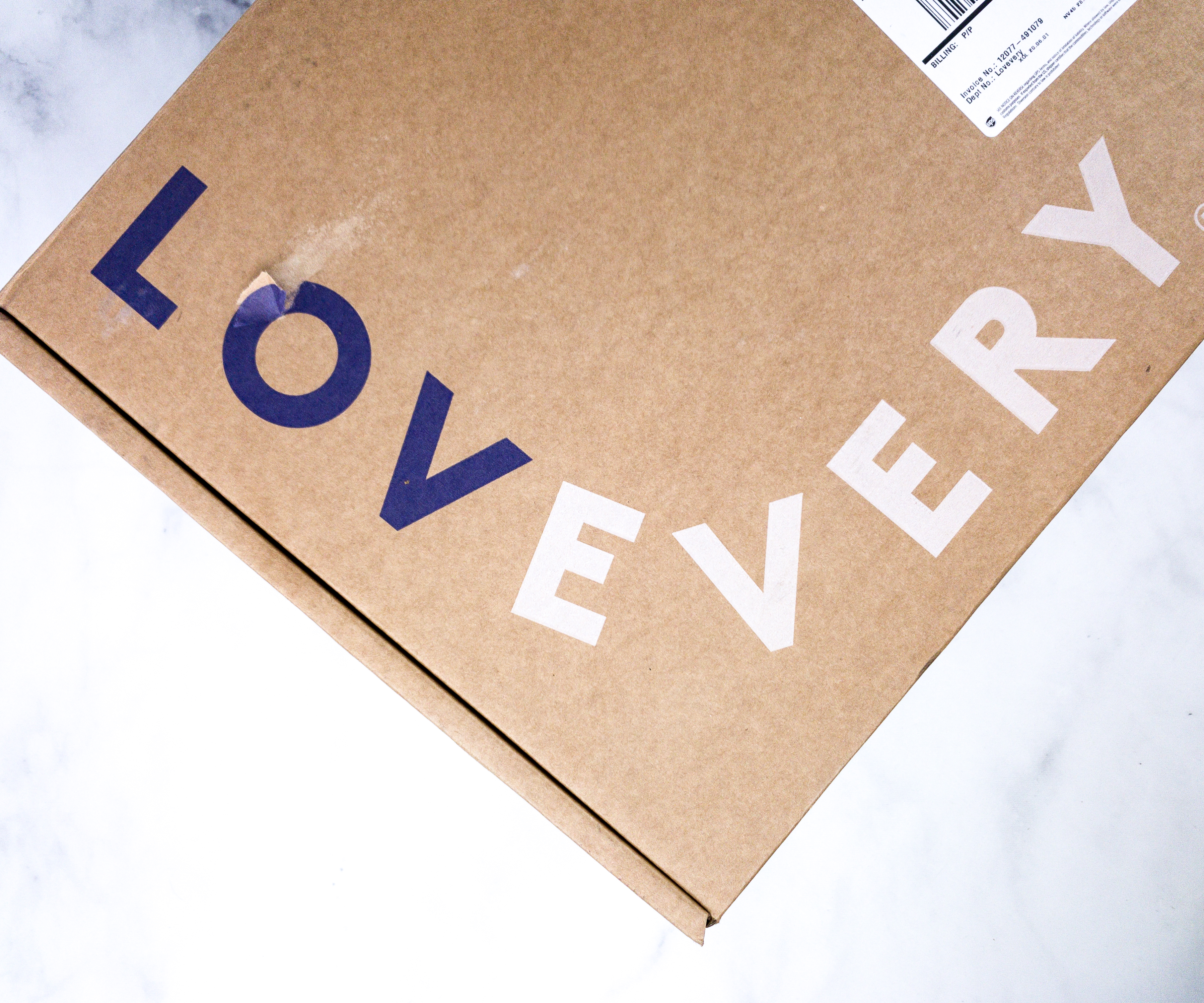 Toddler Play Kits by Lovevery feature the best play products designed by child development experts. The toys are customized by stage and thoughtfully crafted using sustainably forested wood, organic cotton, and baby-safe plastics.
They recently released Lovevery Two-Year Old Toddler Play Kits that cost $120 per quarter! There are 4 kits available – The Helper Play Kit for 25, 26, 27-months, The Enthusiast Play Kit for 28, 29, 30-months, The Investigator Play Kit for 31, 32, 33-months, and The Free Spirit Play Kit for 34, 35, 36-months!
We've spent the last year designing, testing, and perfecting one-of-a-kind play essentials for two-year-olds to explore. Around the age of two, children begin to find their voice, experiment with more humor, and explore the transition between baby and big kid. Every challenge is a chance for discovery, and every emotion is an opportunity to learn something new.
This is the review of The Helper Play Kit!
DEAL:  Save up to $48 when you pay upfront for longer length plans! No coupon code is needed – the deal applies automatically, just use this link to join!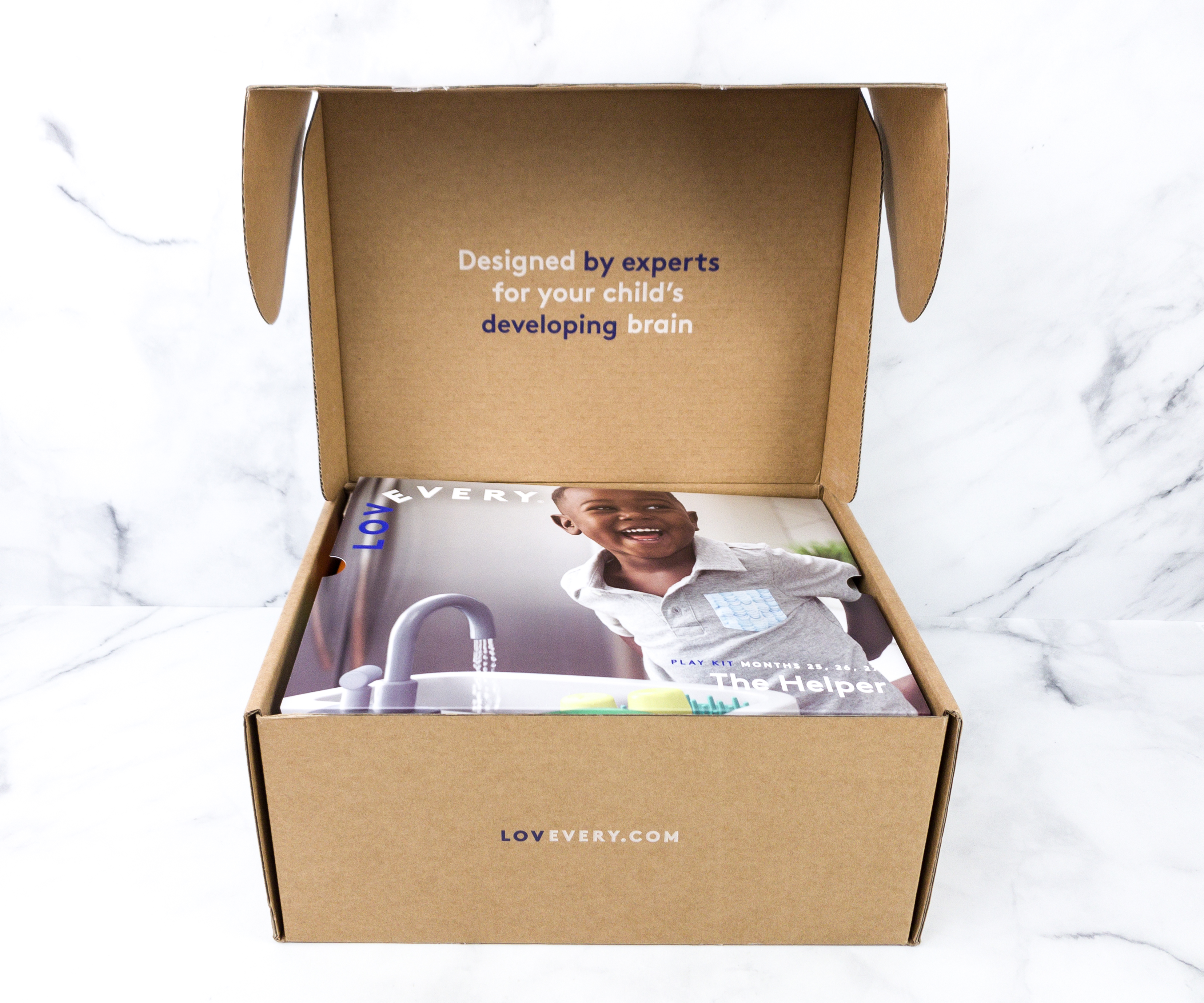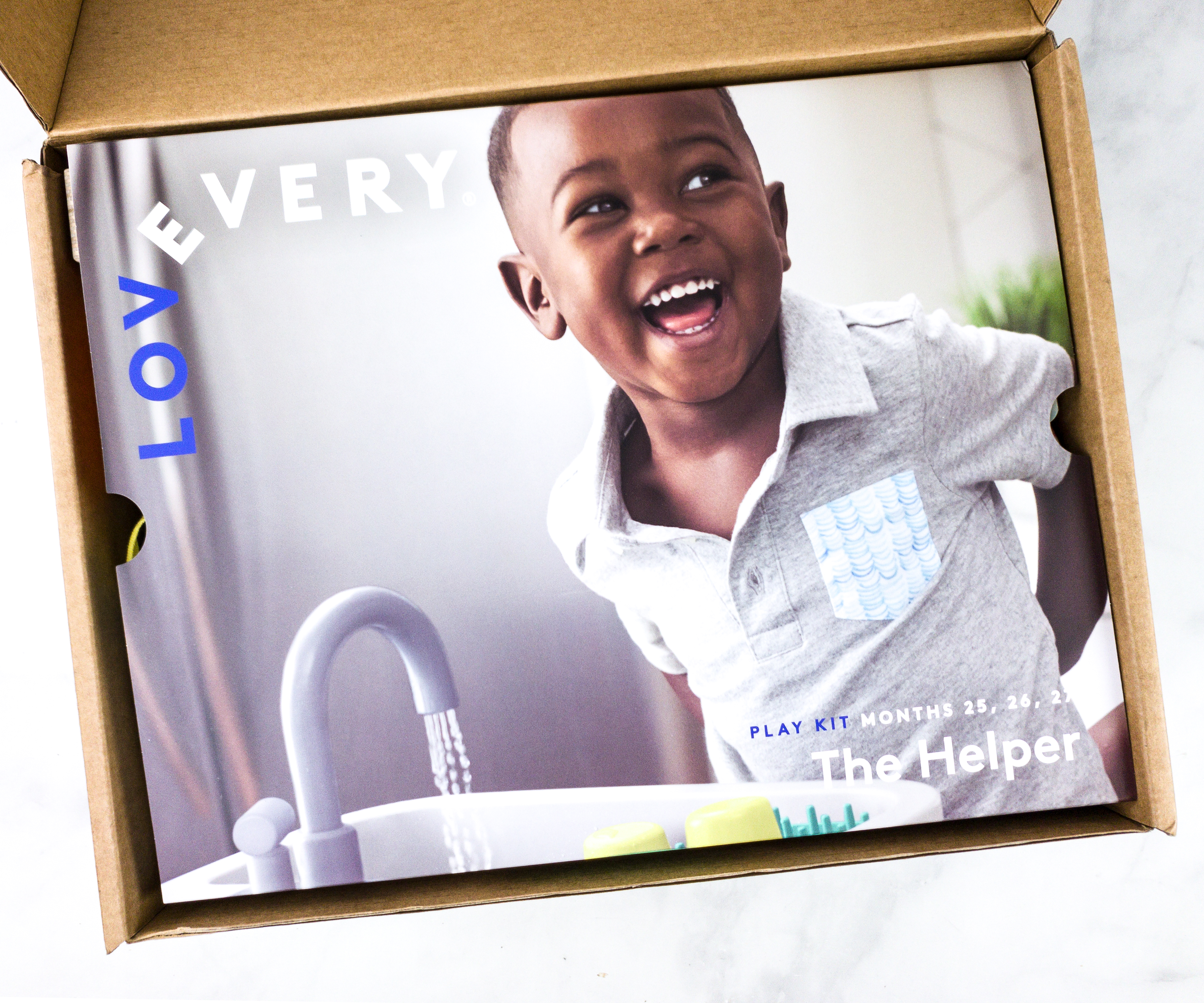 This play kit is specially designed for babies 25 to 27 months old. They're called "The Helper"!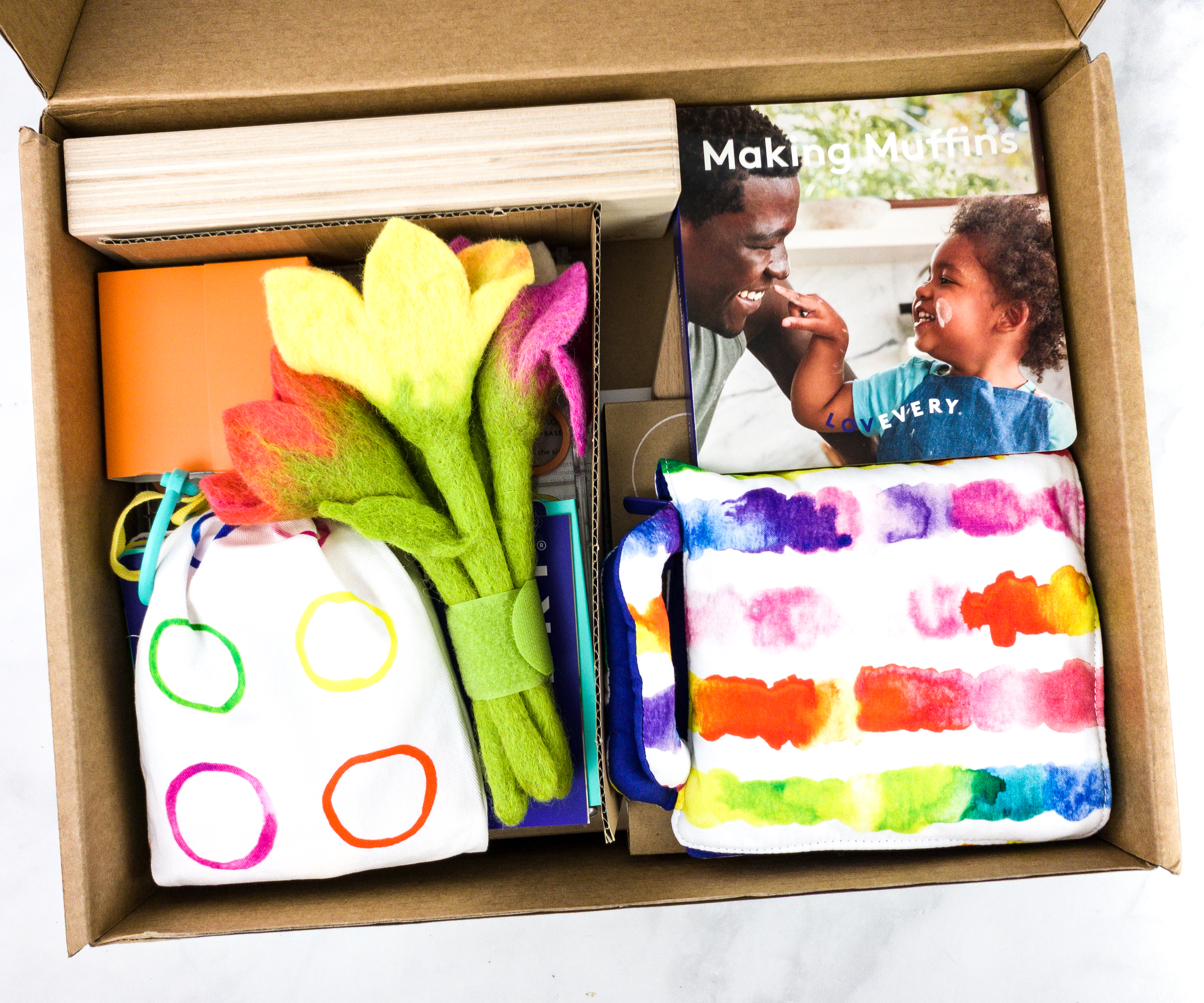 The toys came neatly packaged. They fit the box perfectly and there are also partitions made with carton, so there's no chance they'll move around and get broken.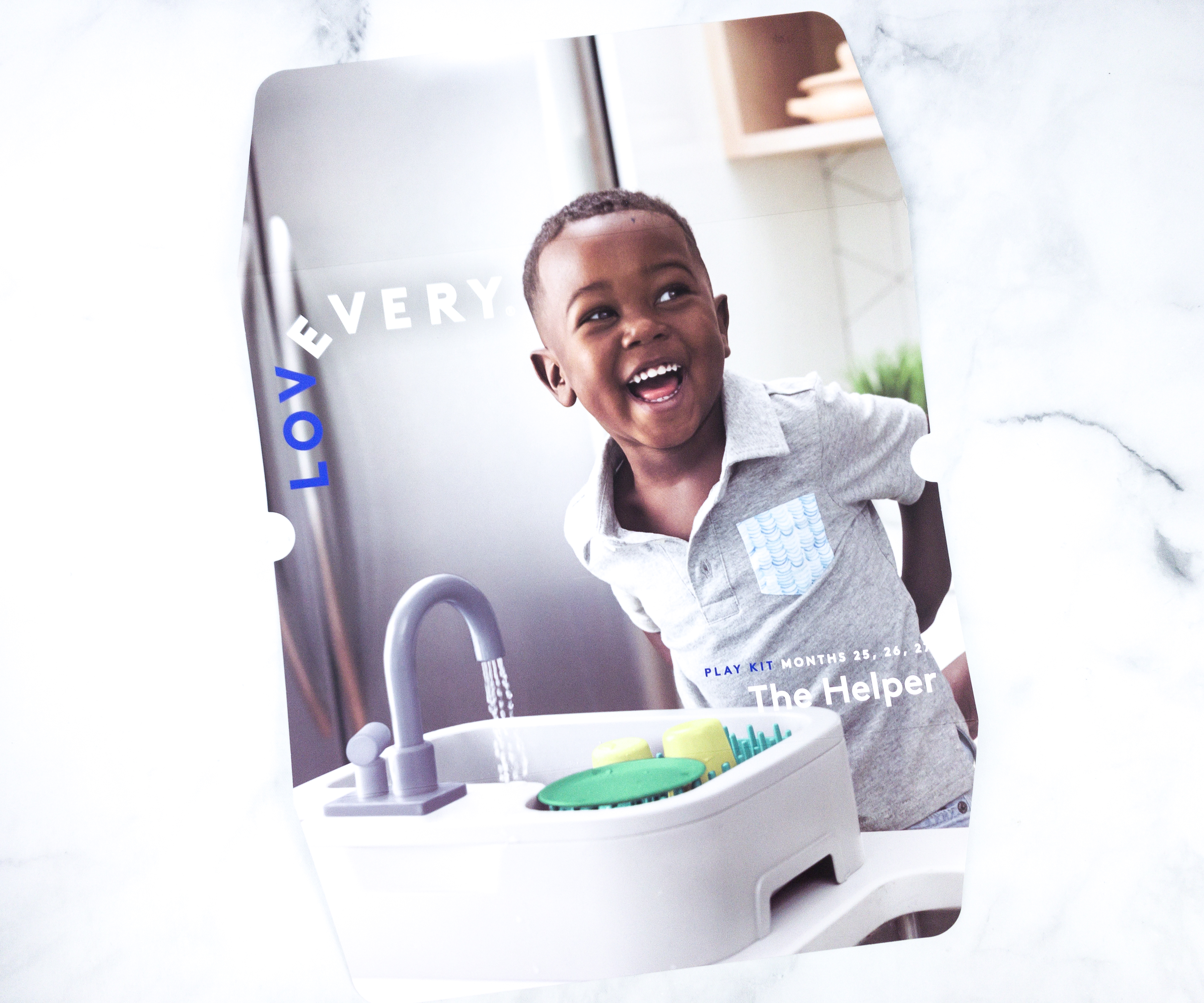 In case you missed it, we also reviewed The Companion for babies 22 to 24 months old. You can read more about it here.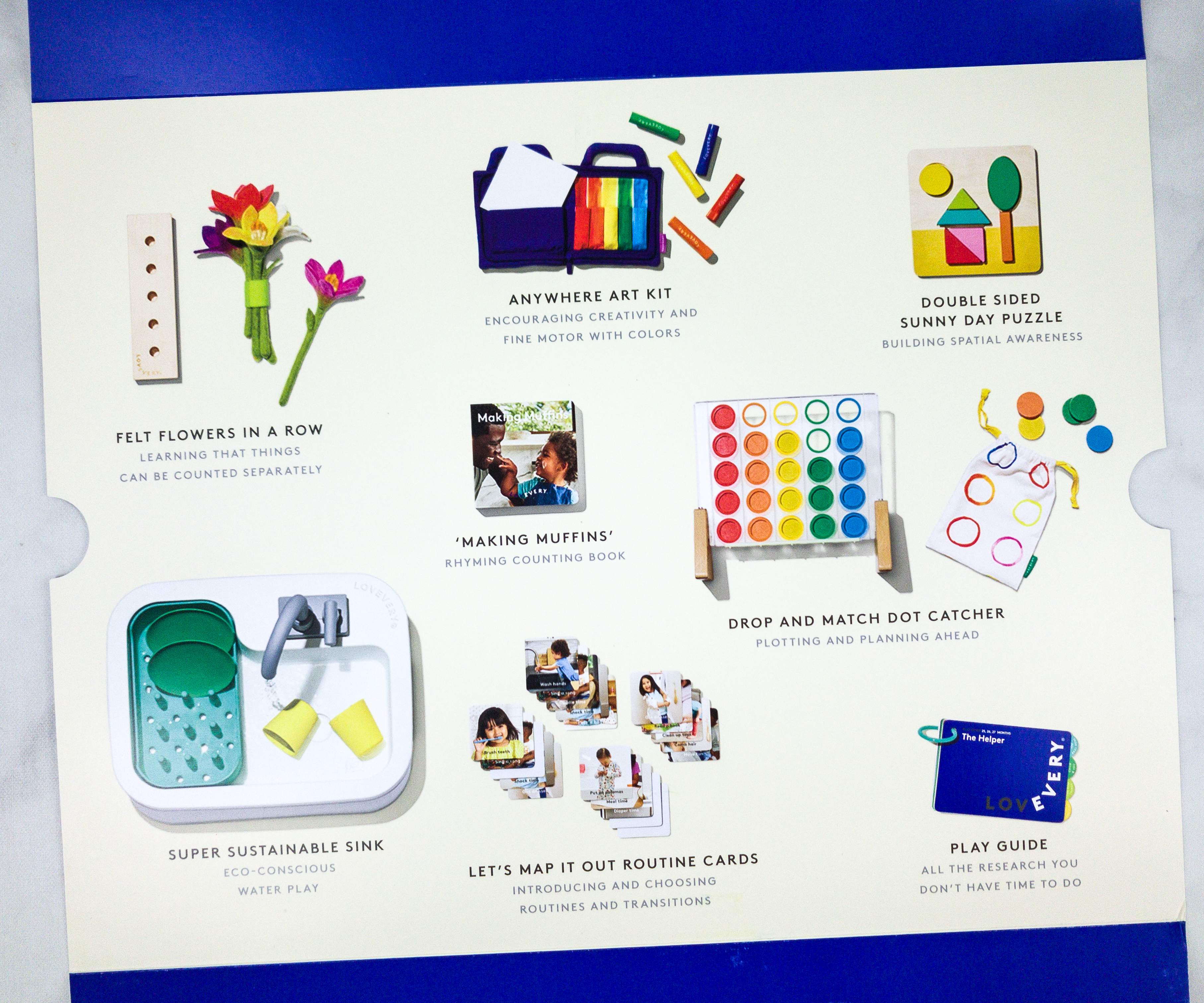 The information sheet gave us a rundown of all the items in the box!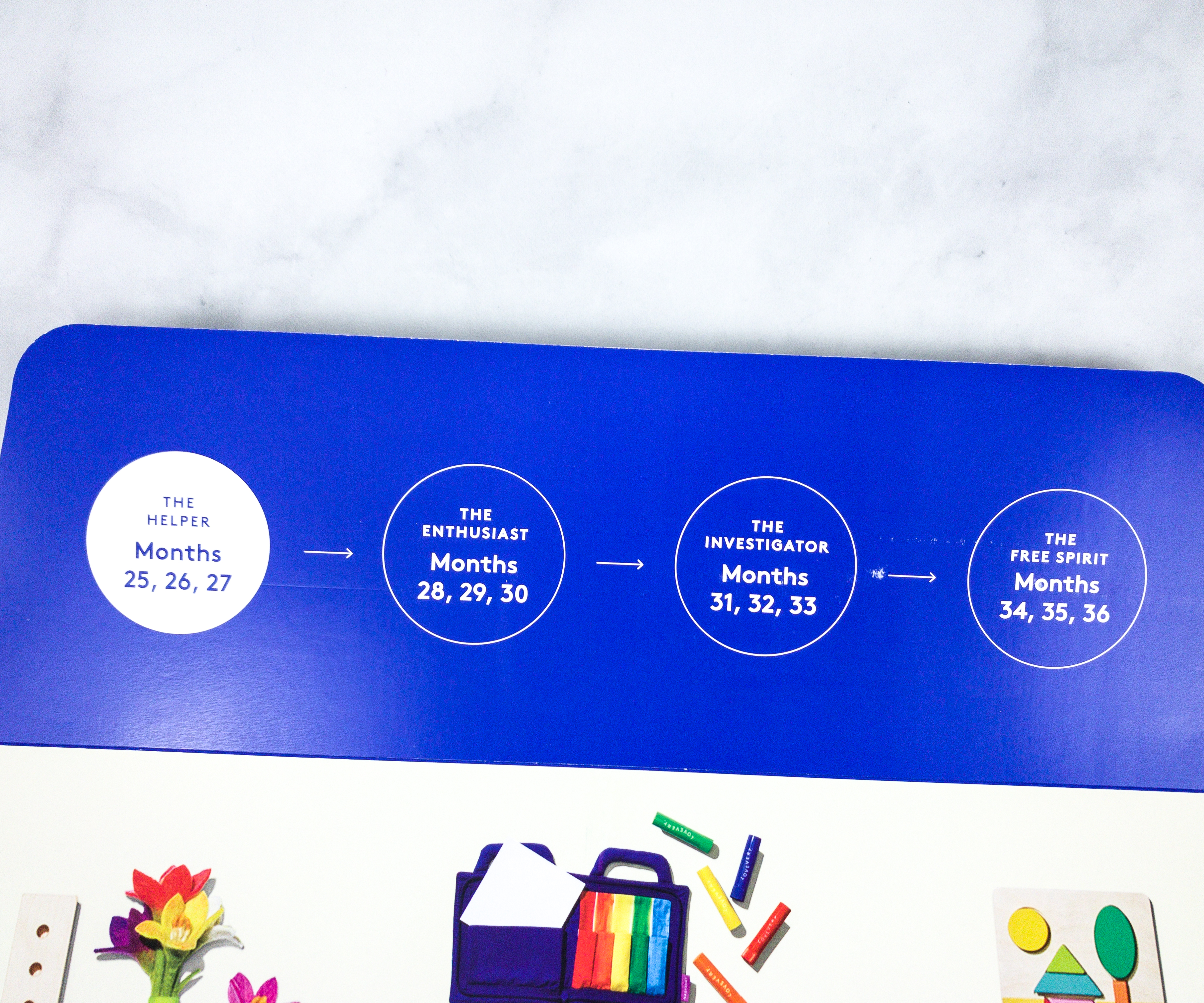 The card also shows us the next boxes: The Enthusiast, The Investigator, and The Free Spirit!
There's a note about the Sustainable Sink included in the box.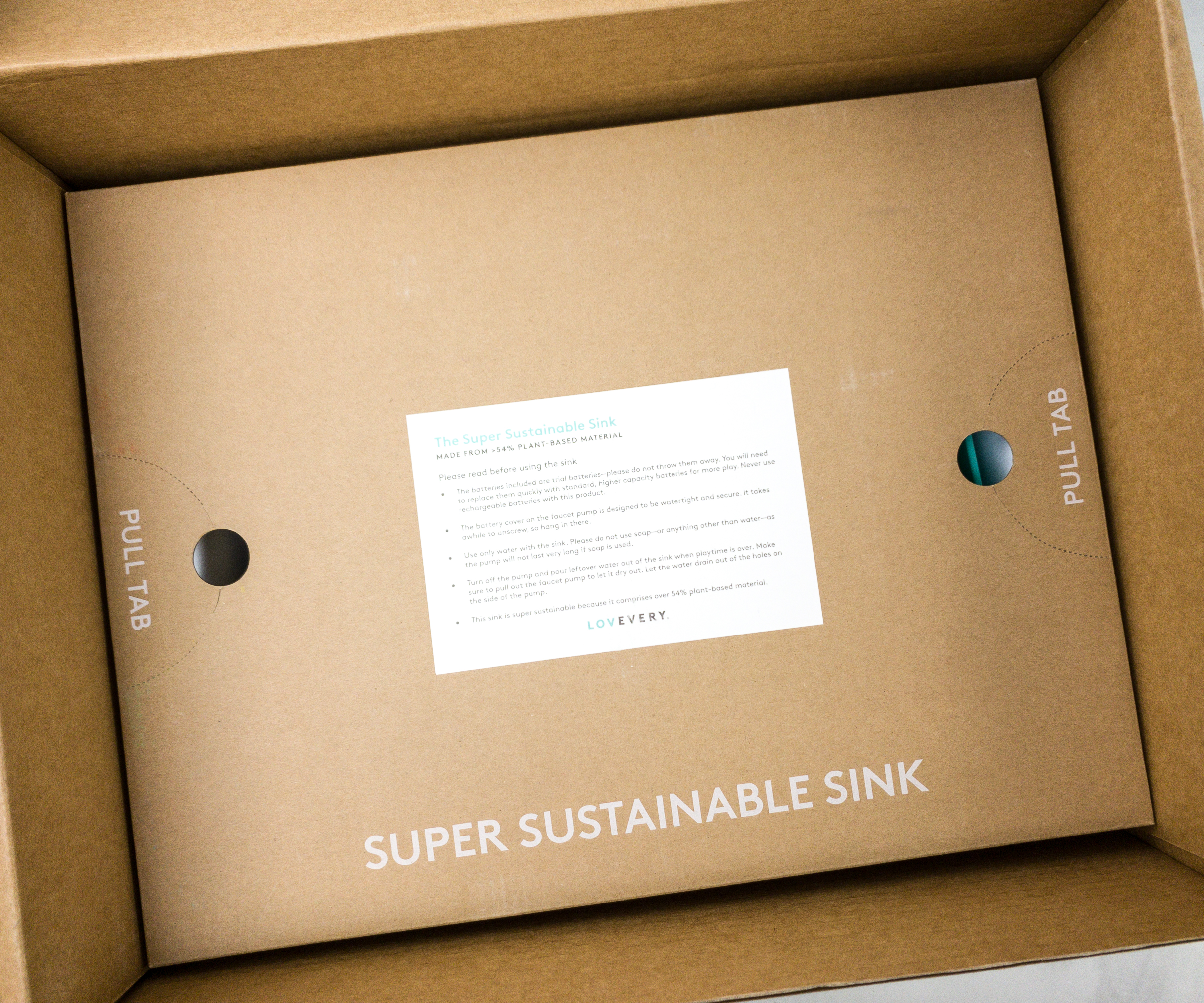 It's a big item so it's secured at the bottom of the box.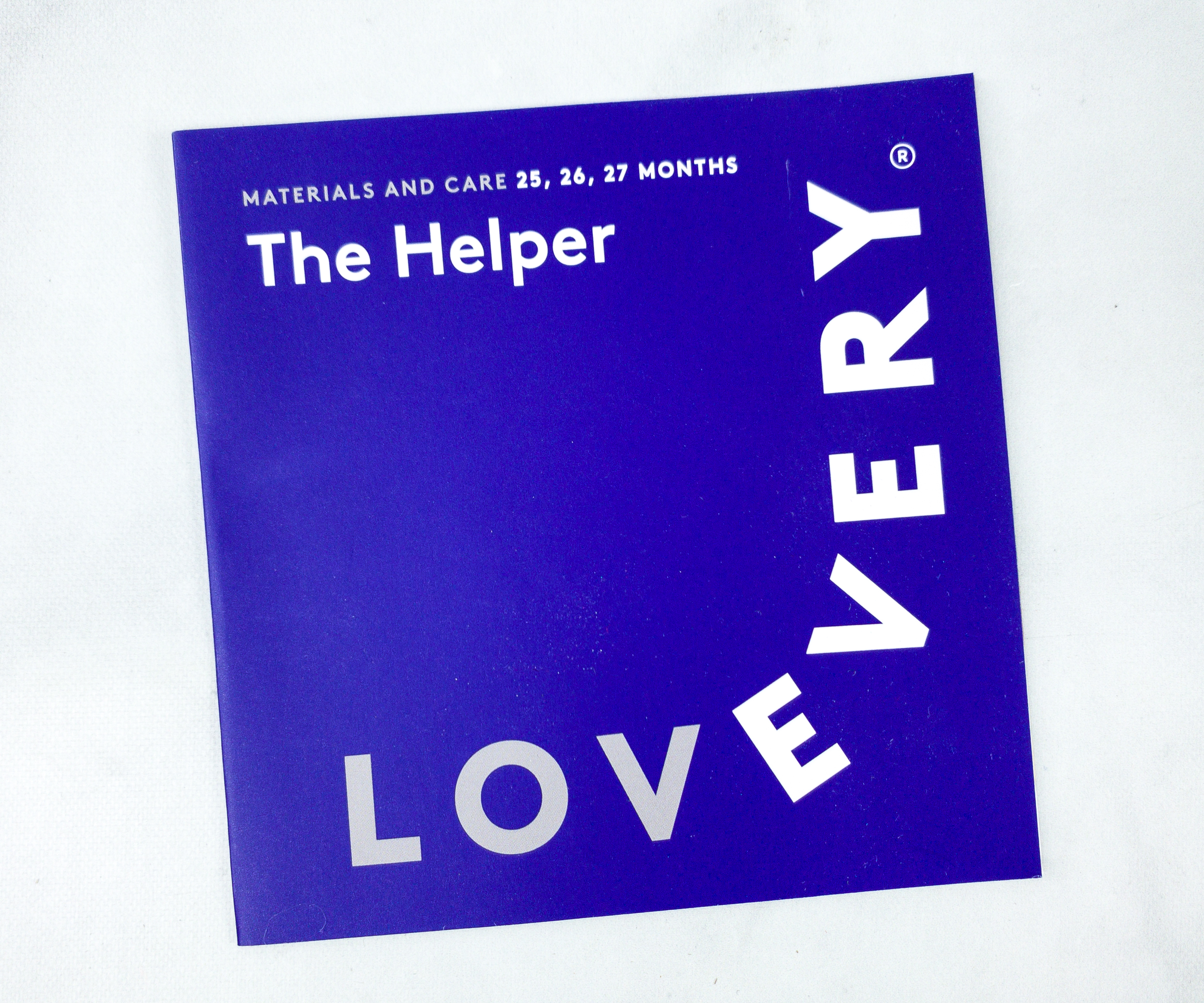 To make this a fun and safe experience for all, they included a material and care manual.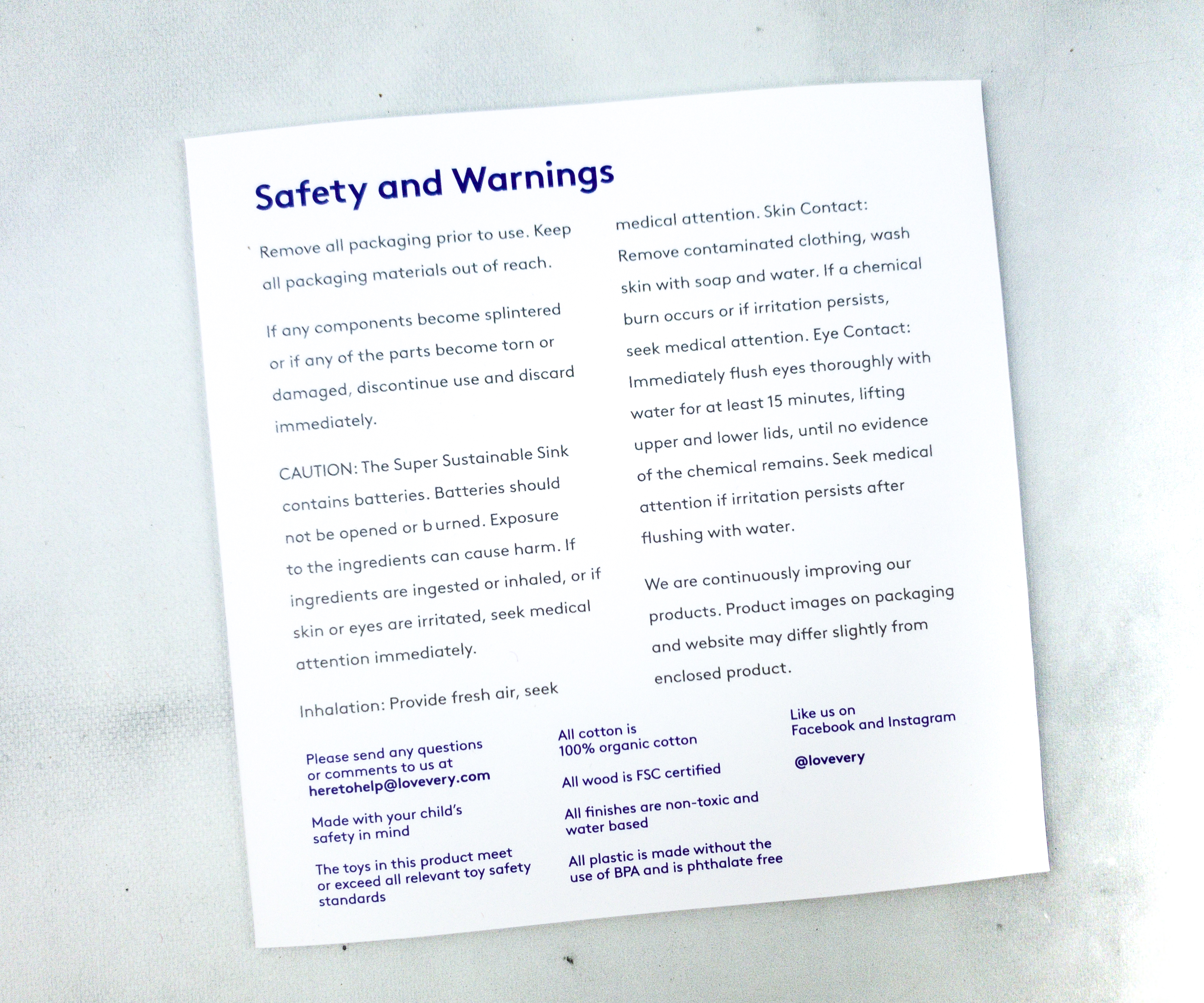 There's a list of safety tips and warnings that parents can refer to.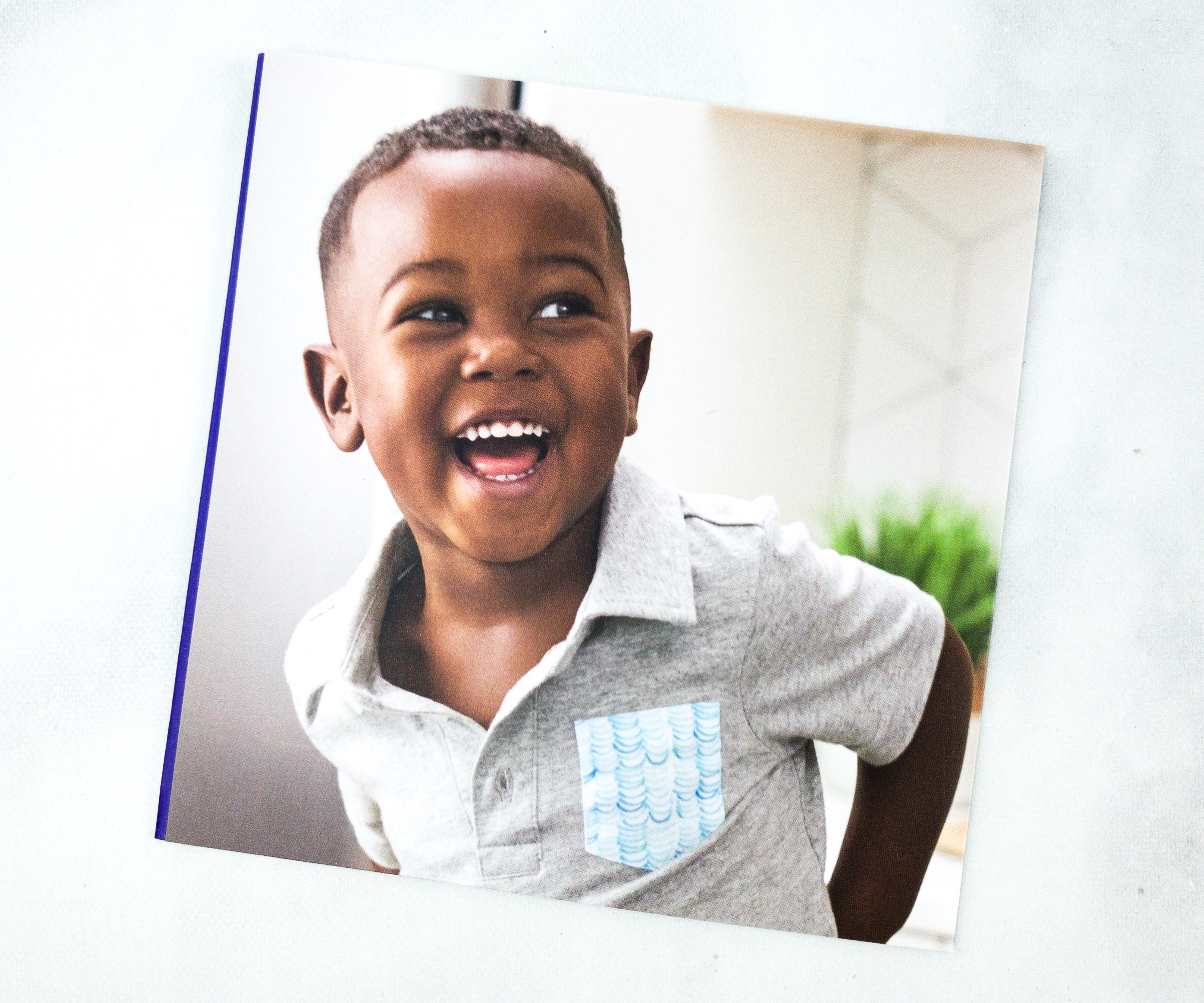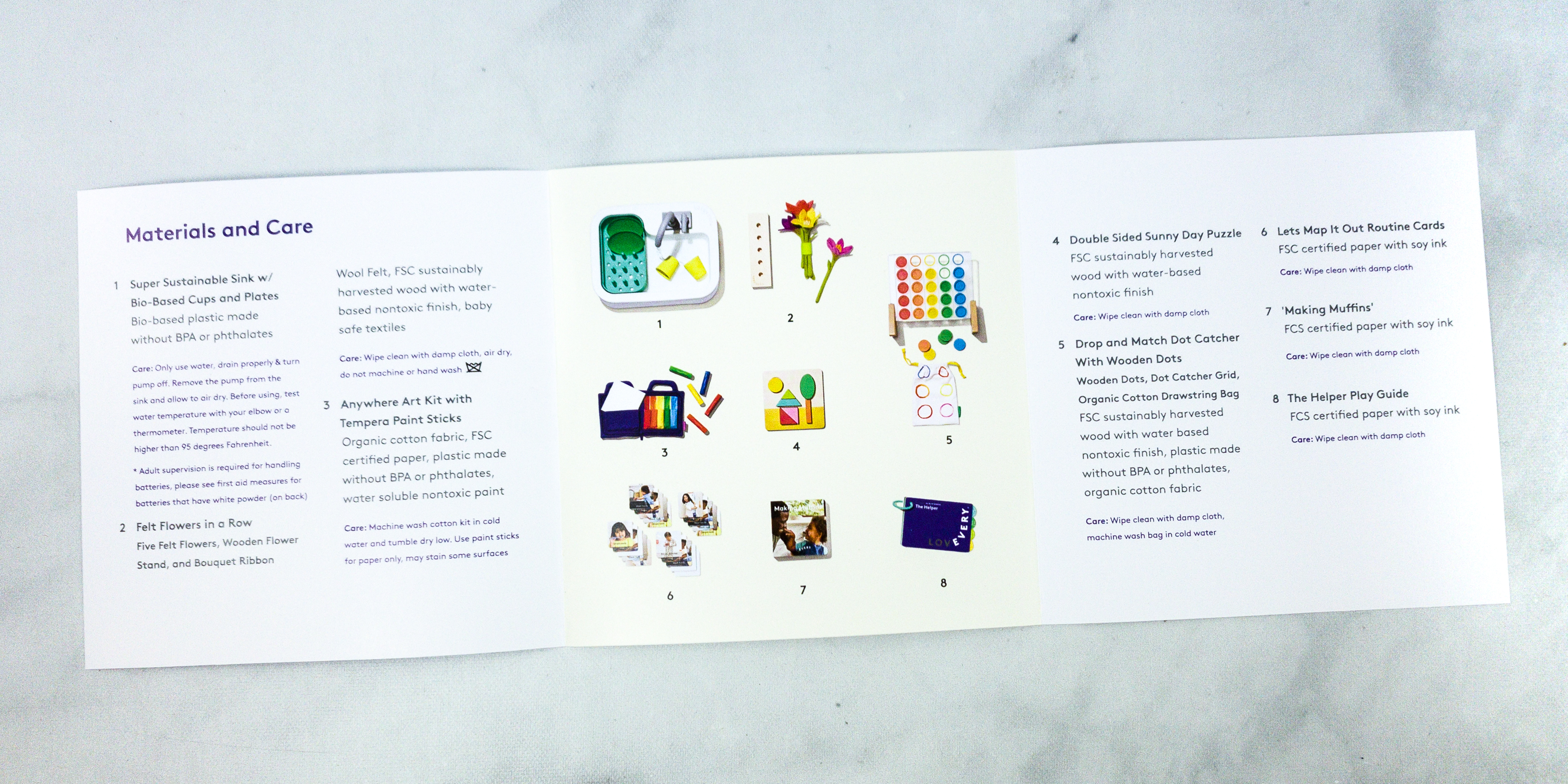 Here's a list of everything parents will need to know about caring for each item in the box.
Some toys can be simply wiped clean using a cloth, while others are needed to be hand-washed.
It also lists what materials the toys are made of. No worries because all of them are safe for babies.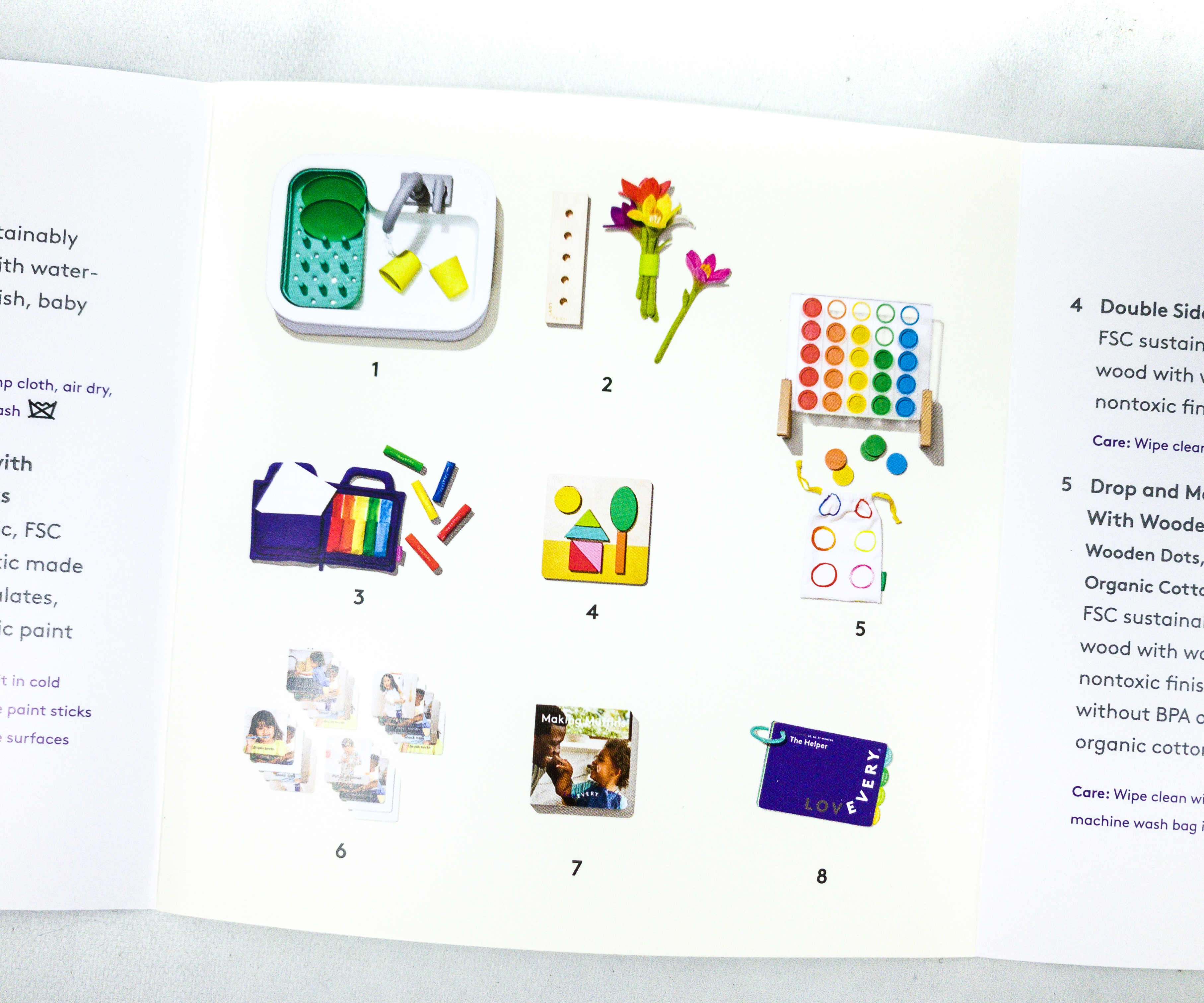 There are corresponding photos for each number, so it's easier for you to determine which is which.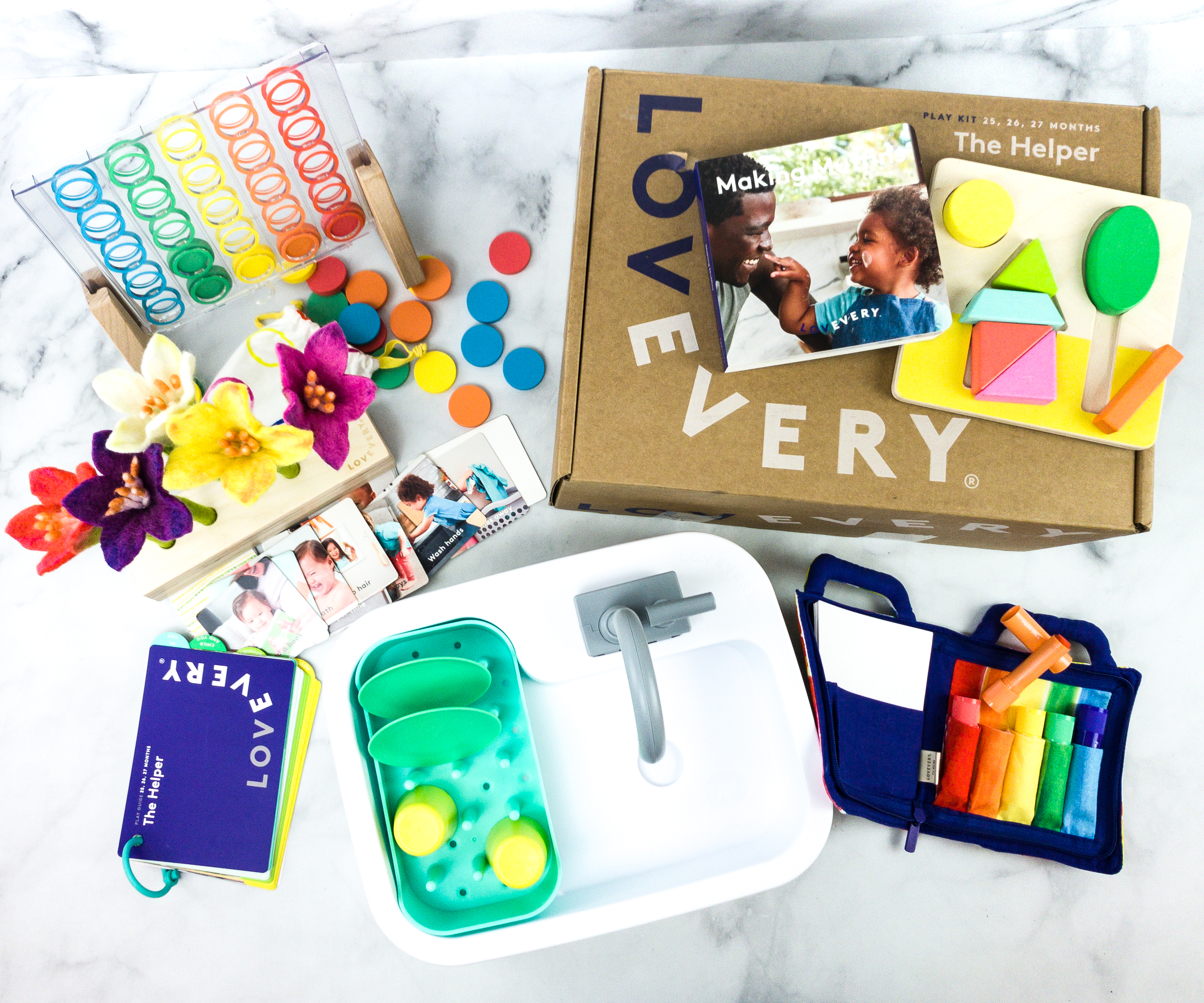 Everything in my box!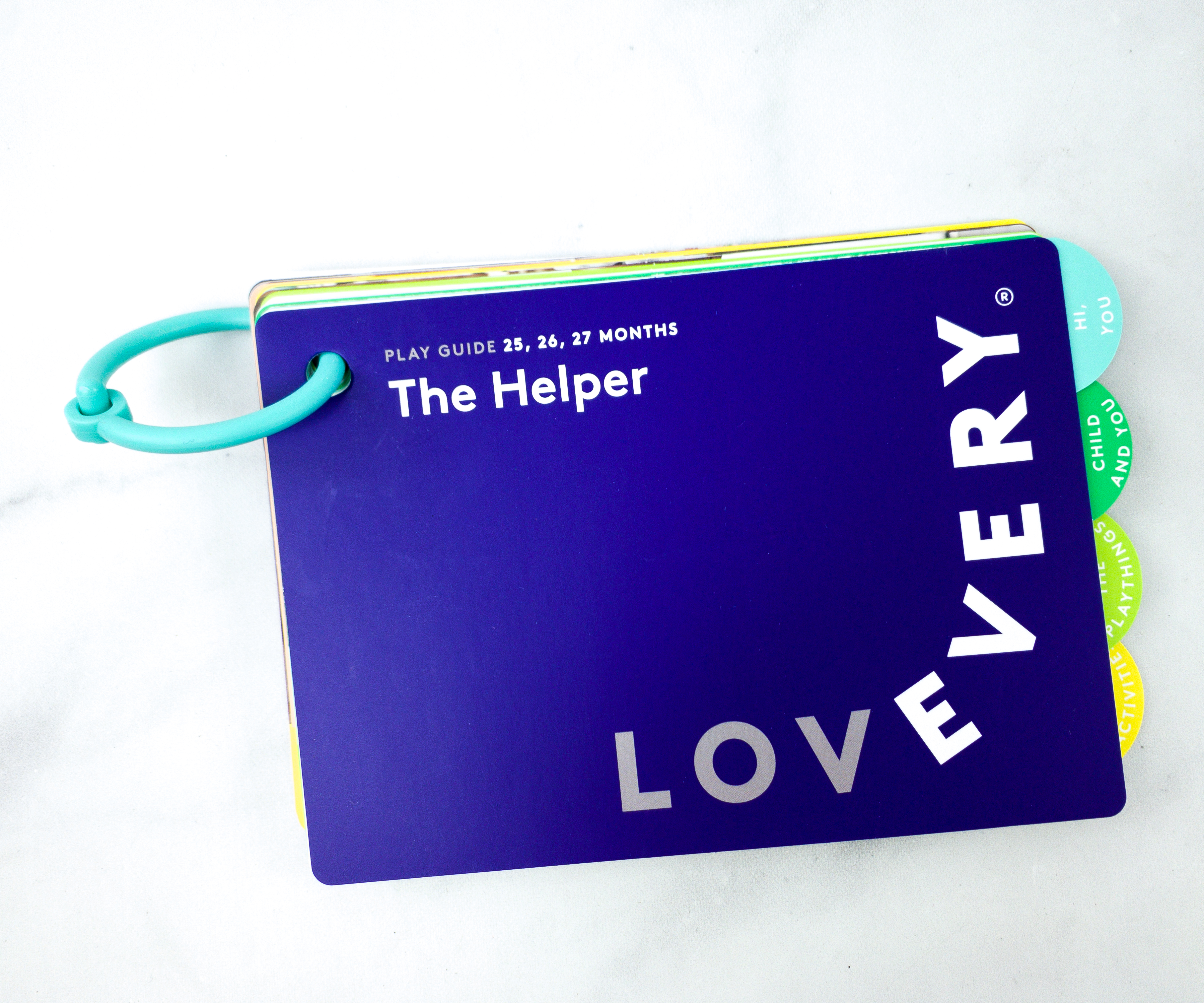 First up is the Play Guide!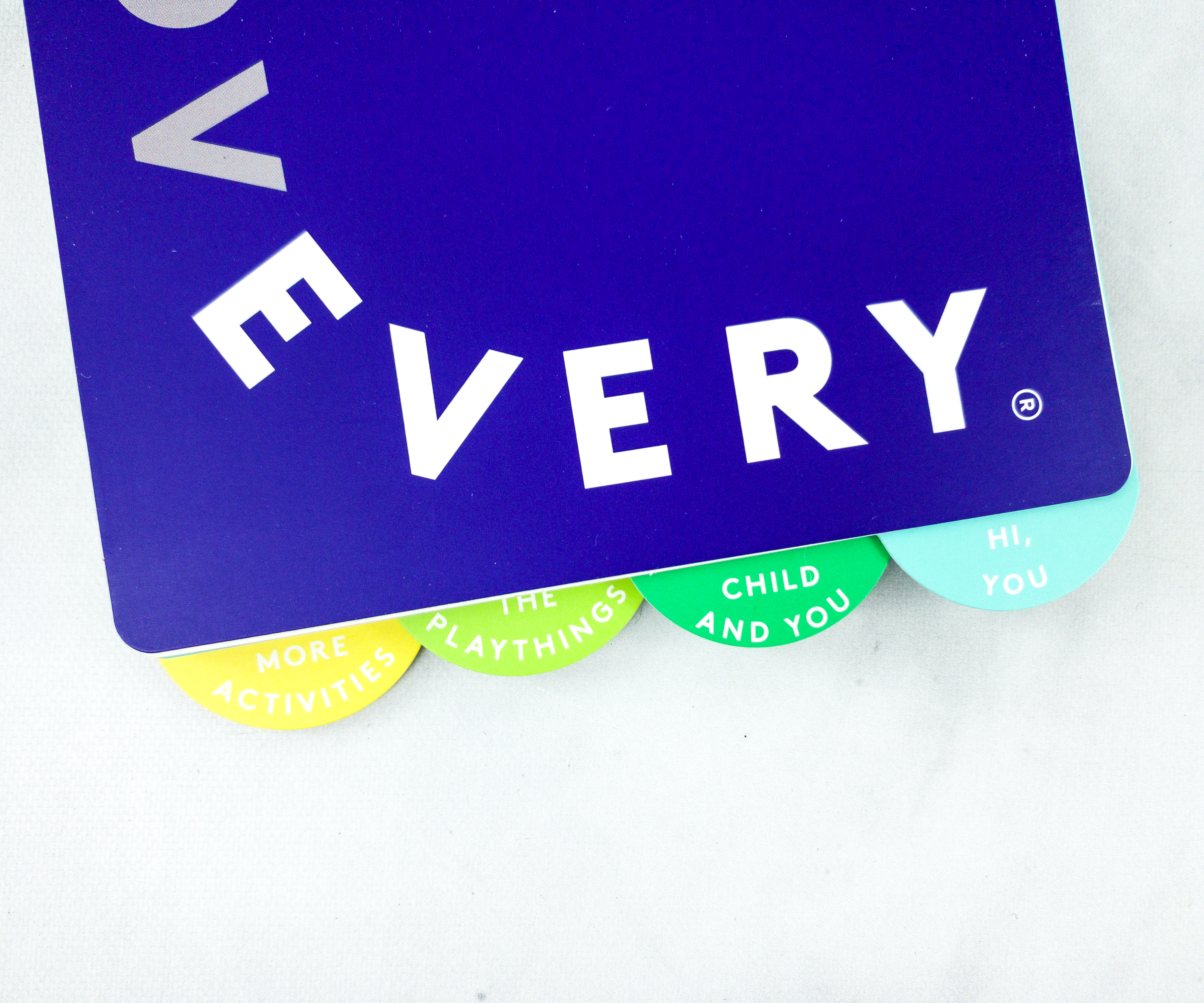 This guide is divided into different sections, so it's easier to flip through them and find what you're looking for.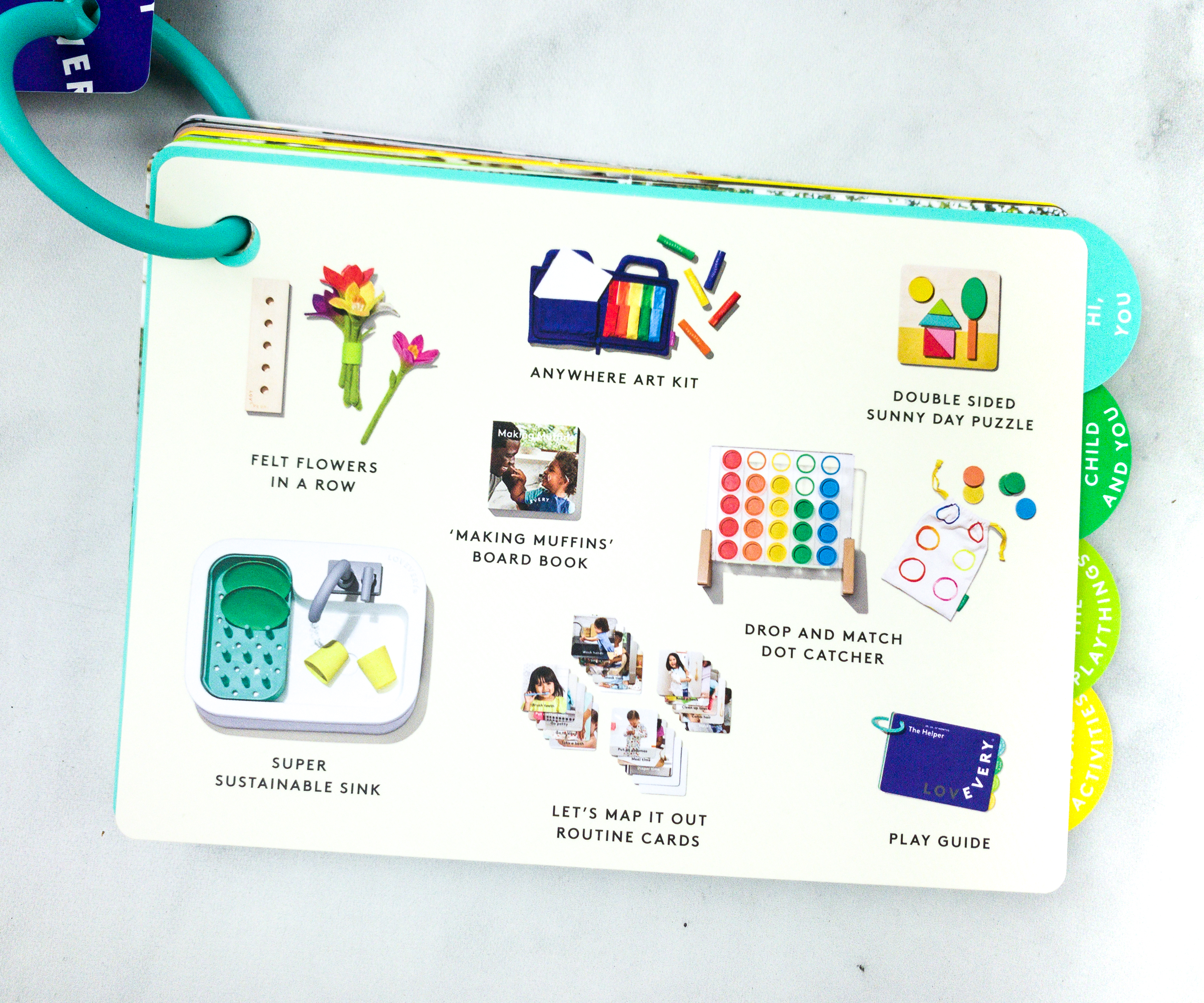 Like the information sheet, it gave us a rundown of all the toys in the box.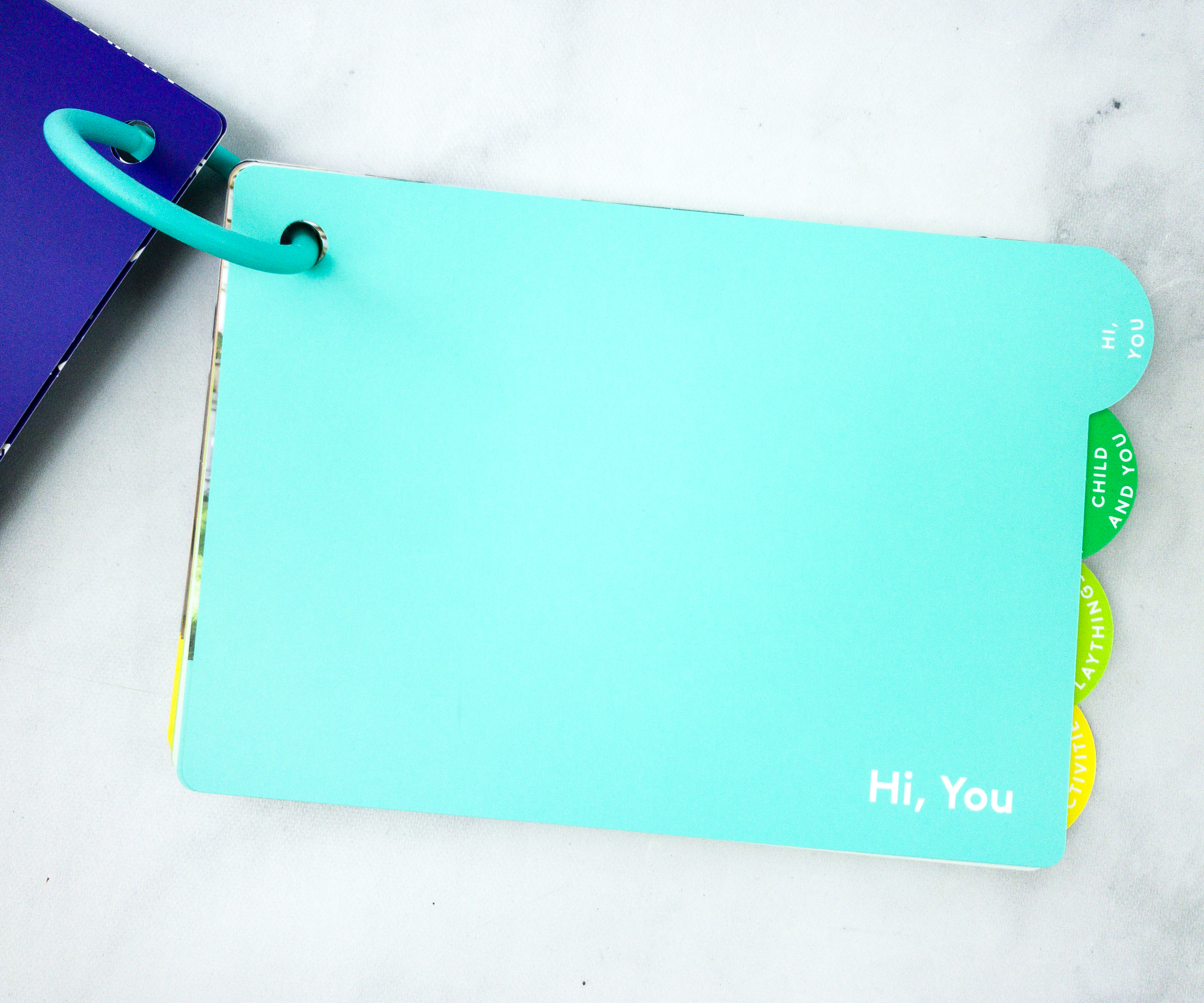 The first part is a note for parents.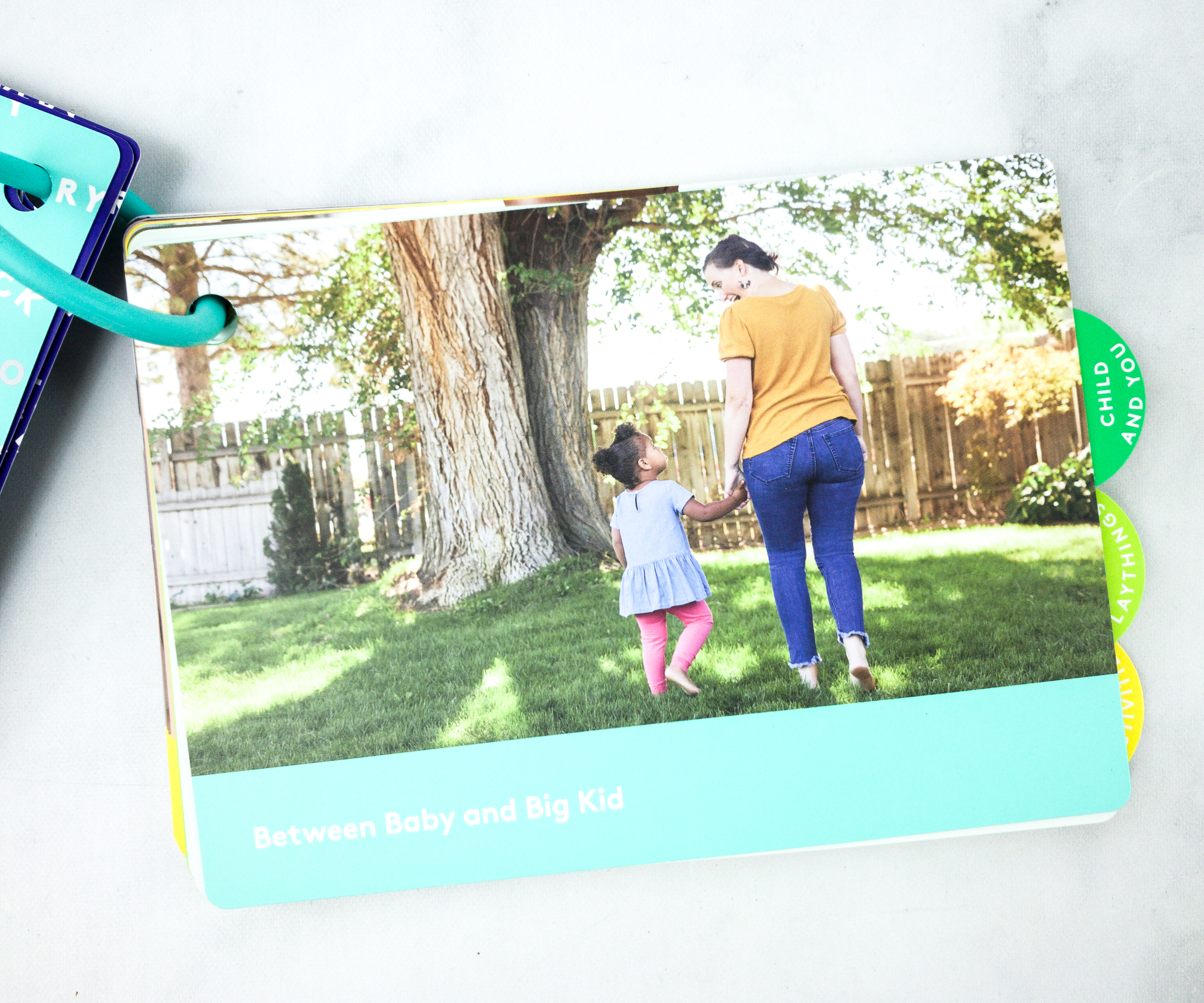 It discusses a toddler's characteristics at this age between being a baby and being a big kid!
According to the note, a child's language is emerging at 2 years old. It's also the time when they start to explore their humor and show their unique personality.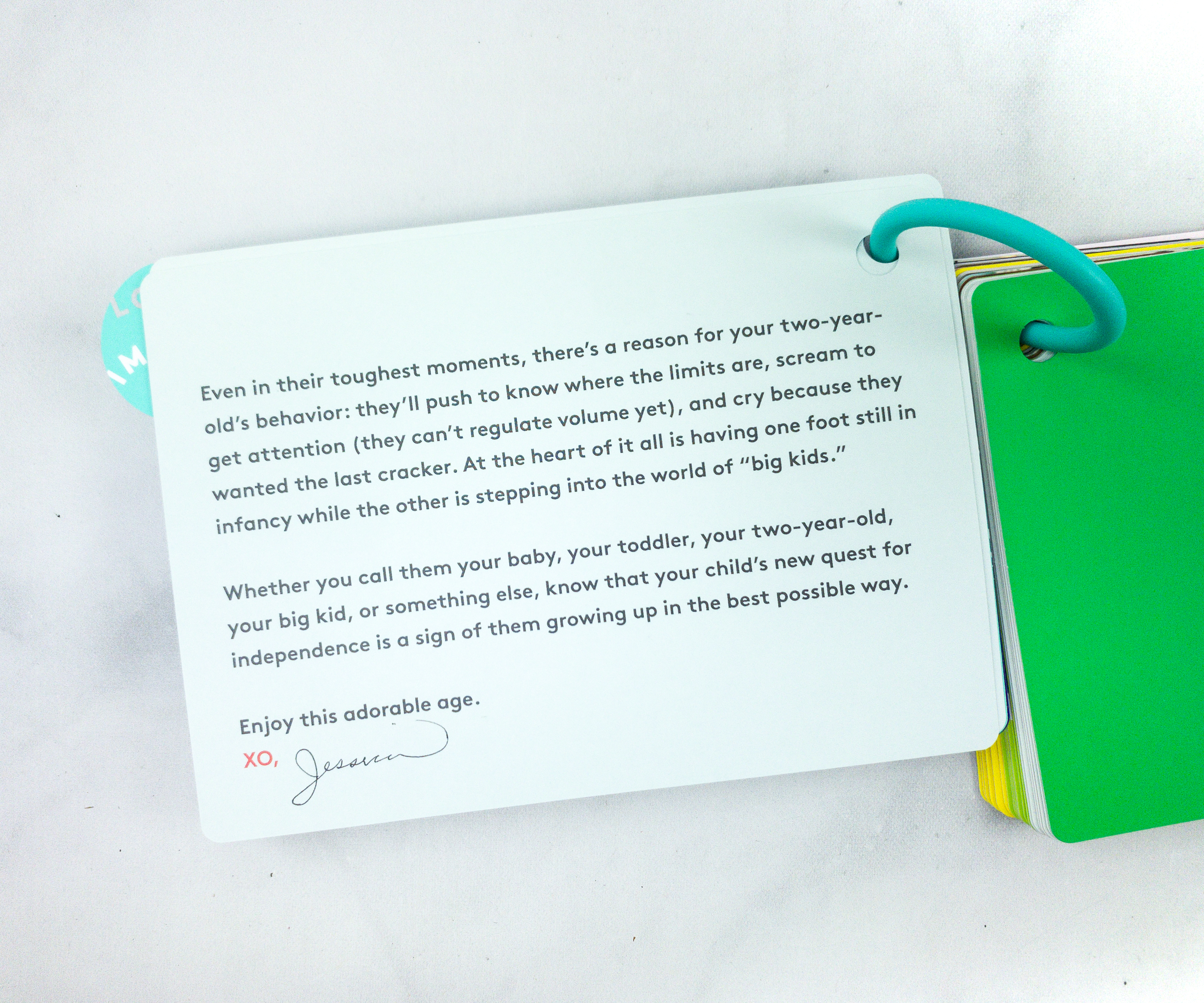 This is an encouraging read for parents! They thoroughly explained what you can expect and what you can do for your child at this stage.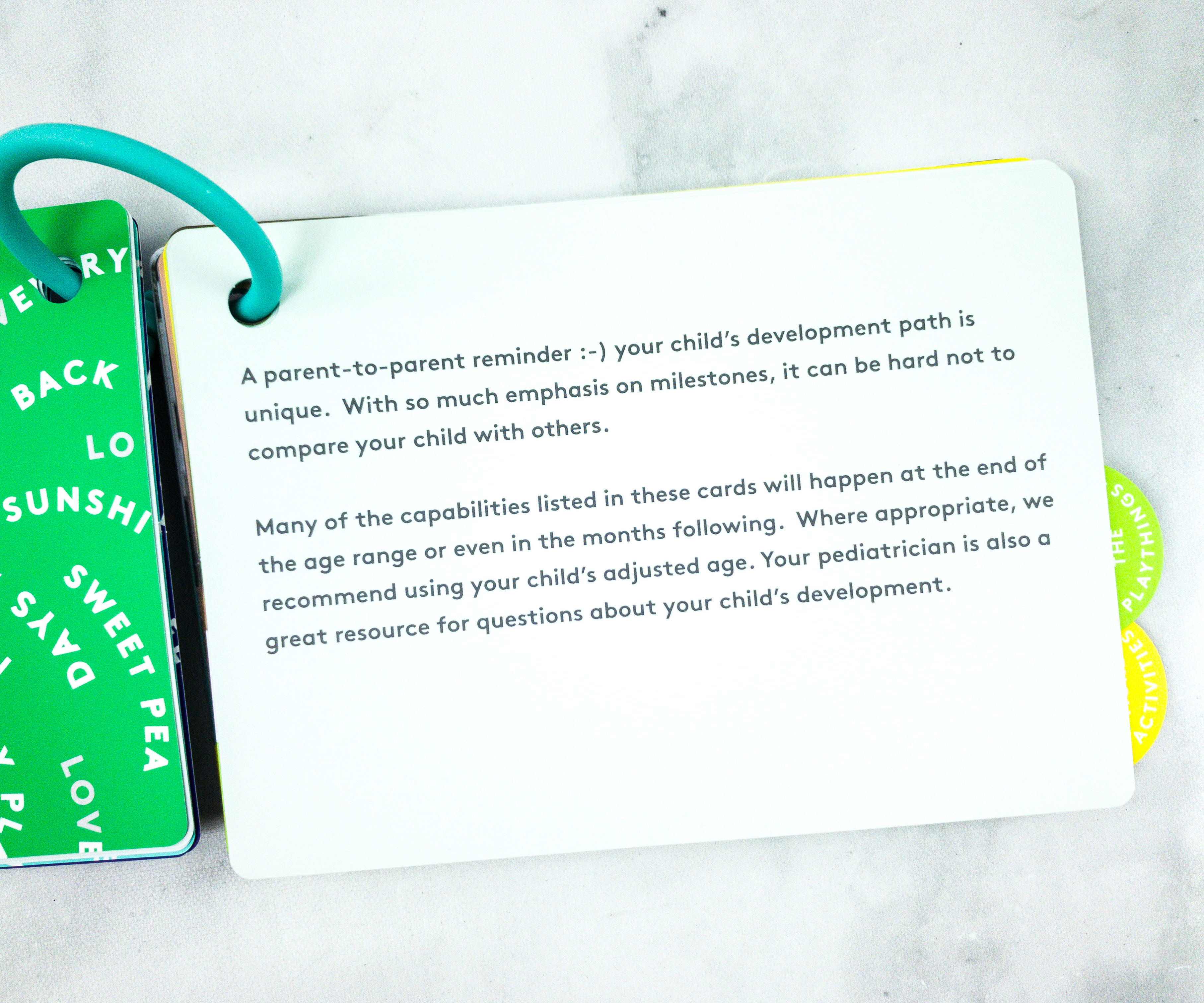 As always, there's a reminder for parents that every child's development path is unique.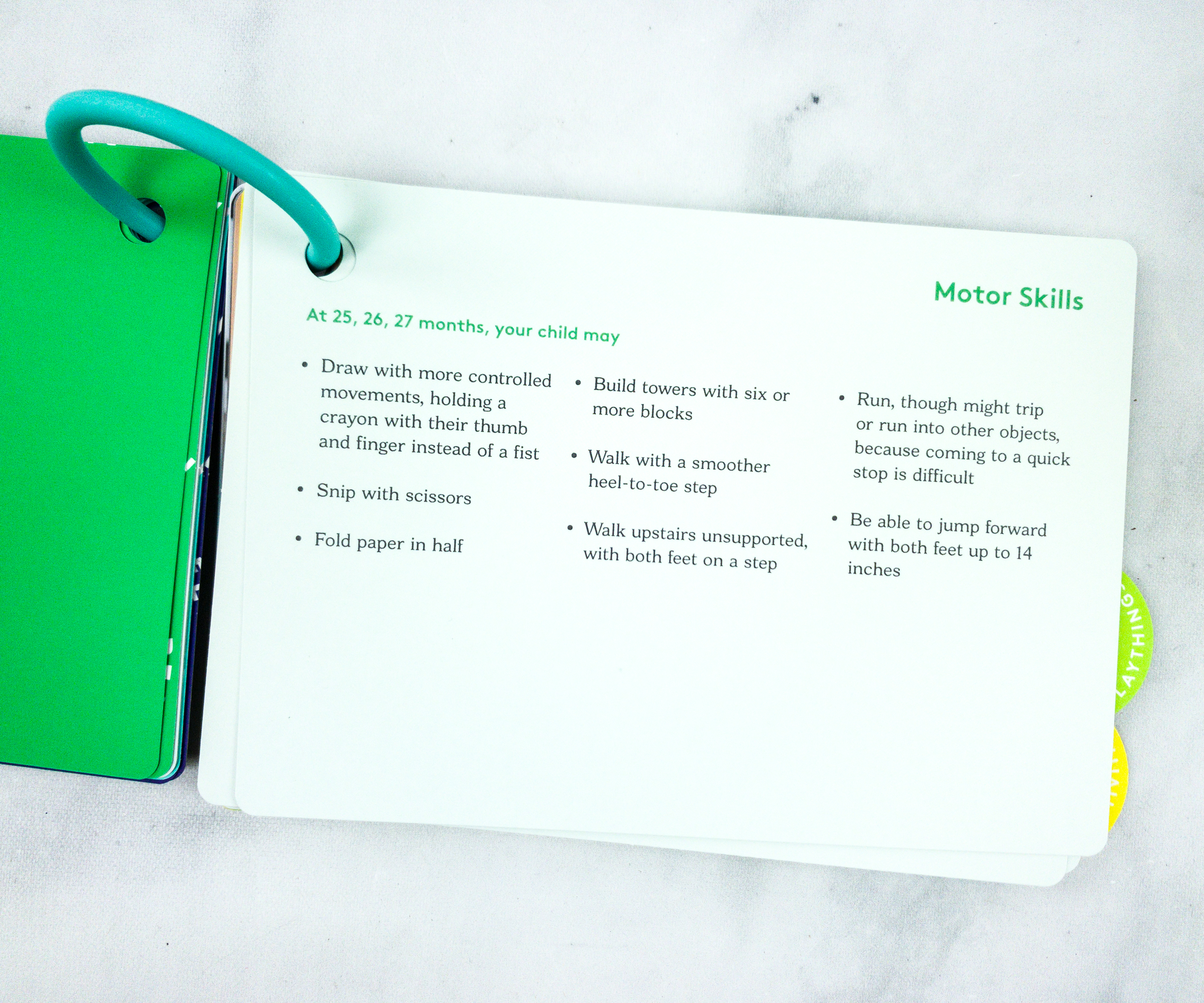 Here, they listed what 25 to 27-month-old kids are already capable of.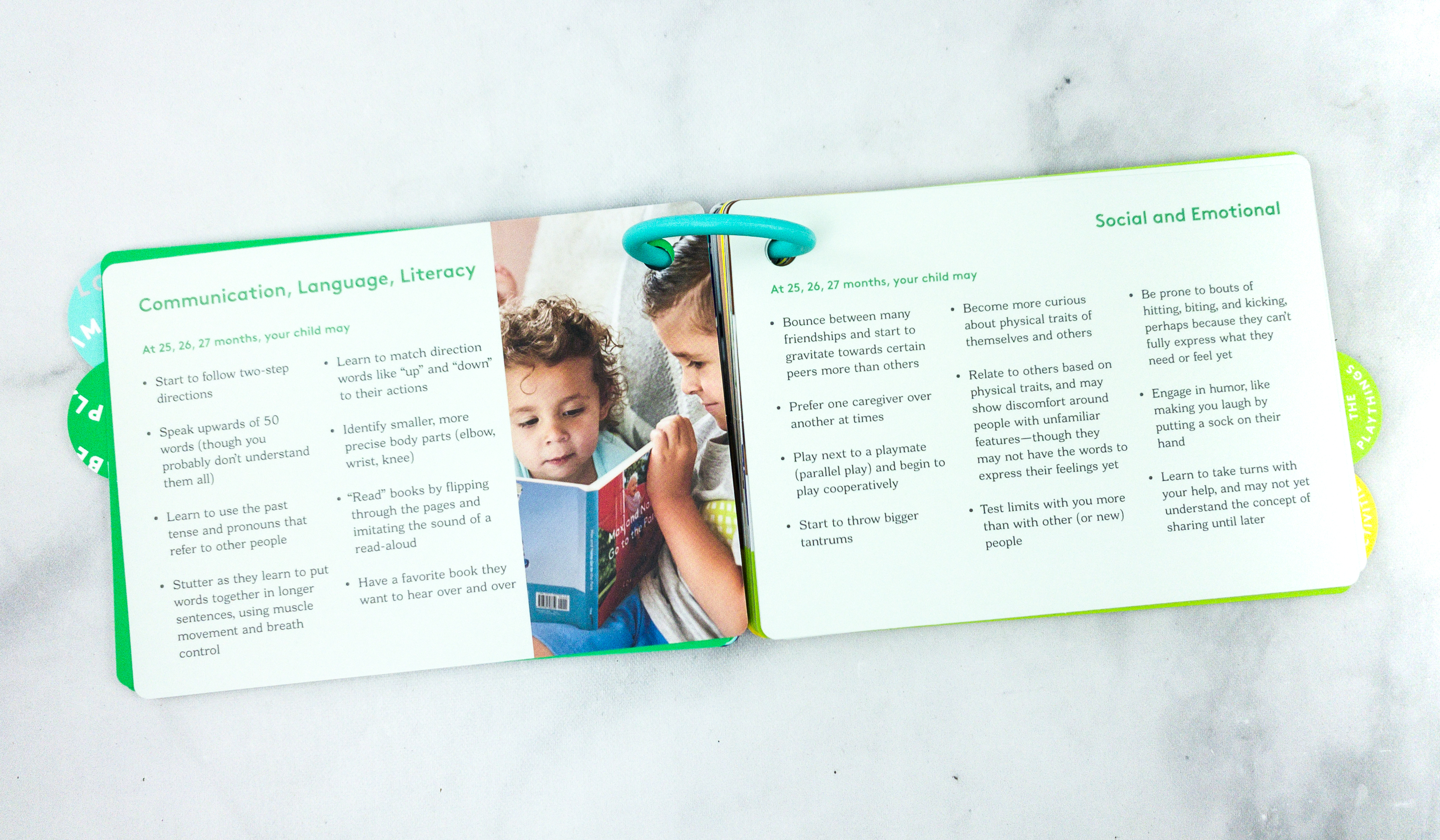 It's divided into sections, like Motor Skills, Social and Emotional, and more!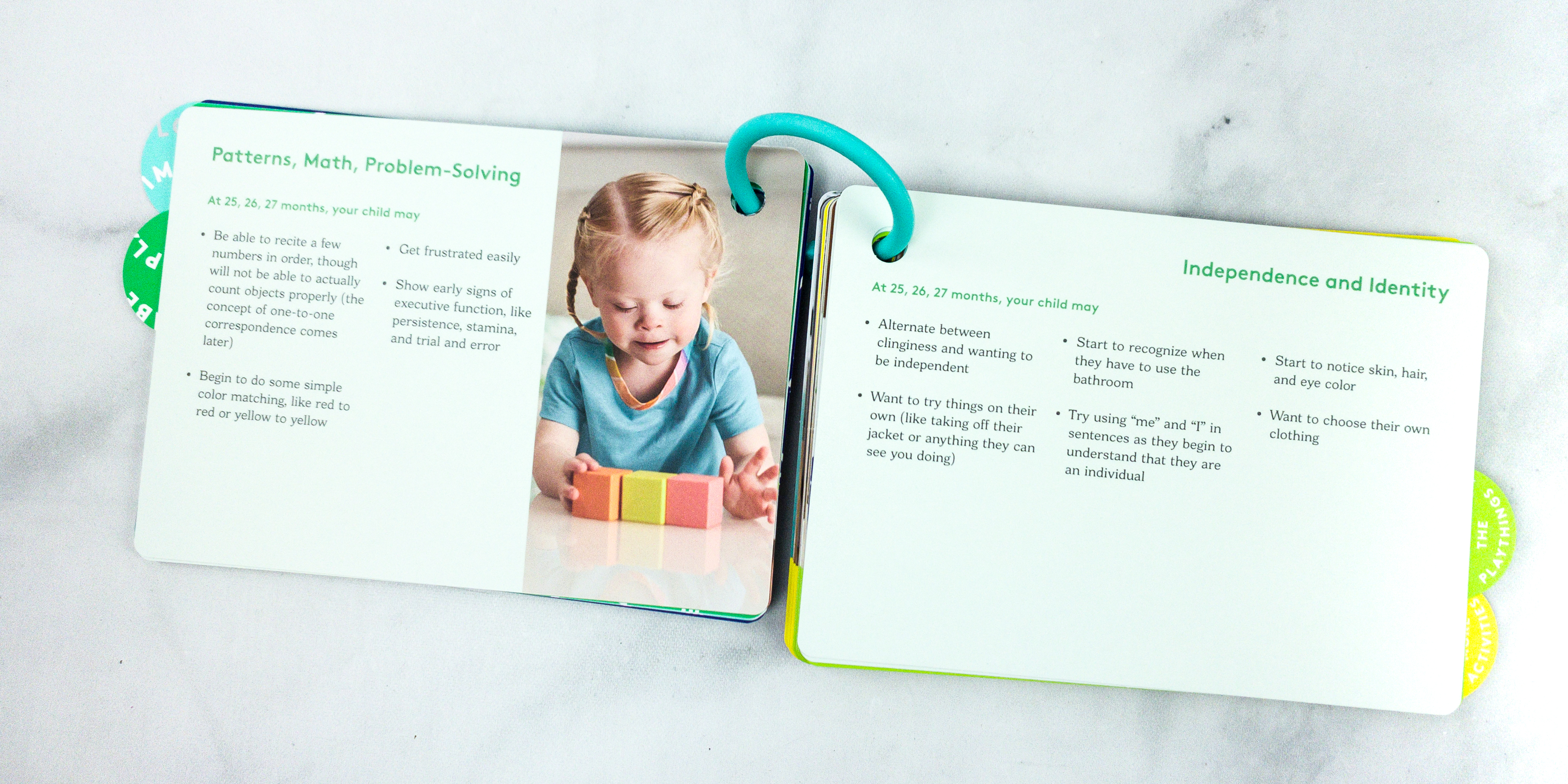 This is a great guide for parents, whether first-time ones or not.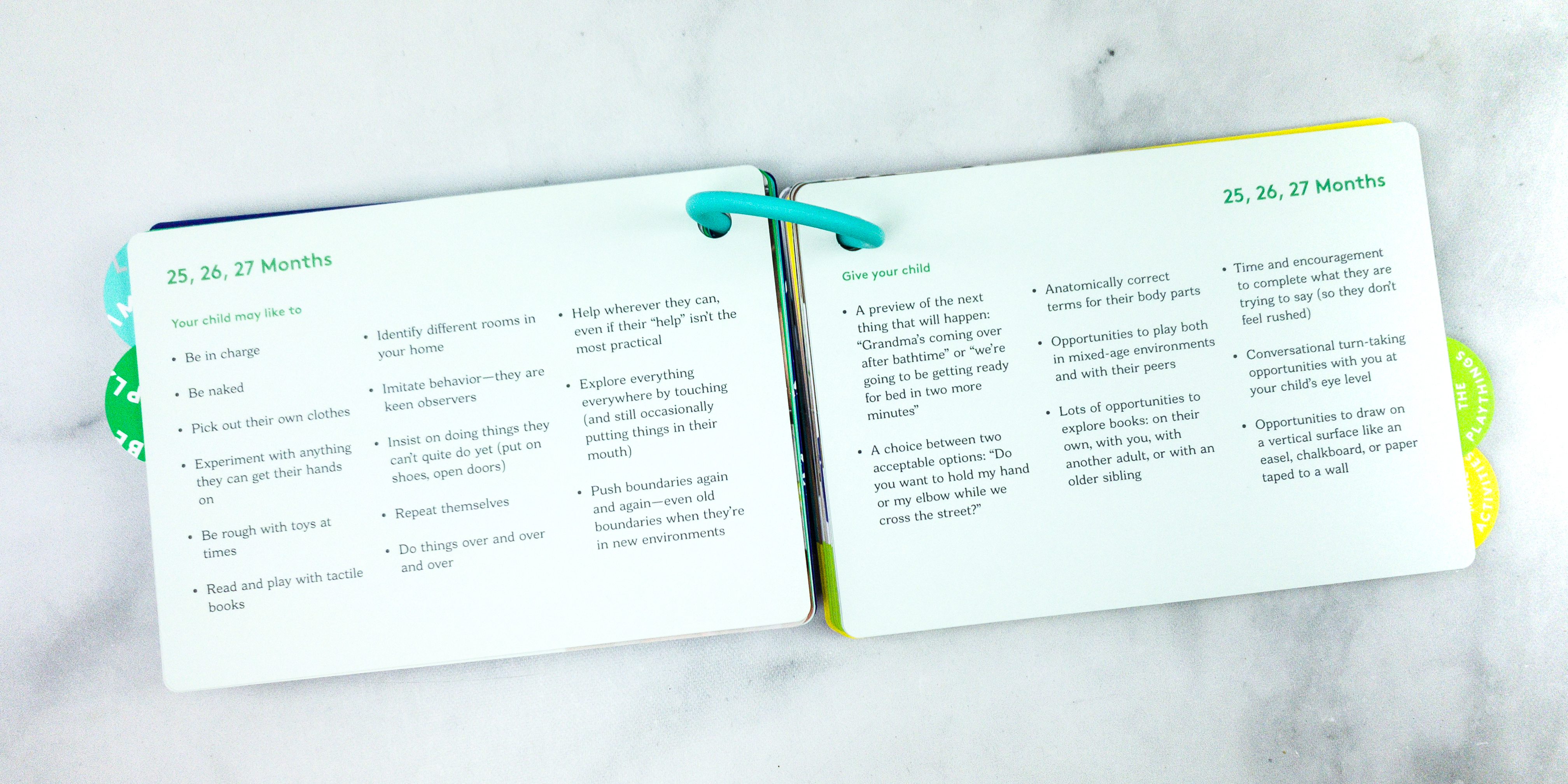 There's also a list of what your child may like at this age and what you can give to your child.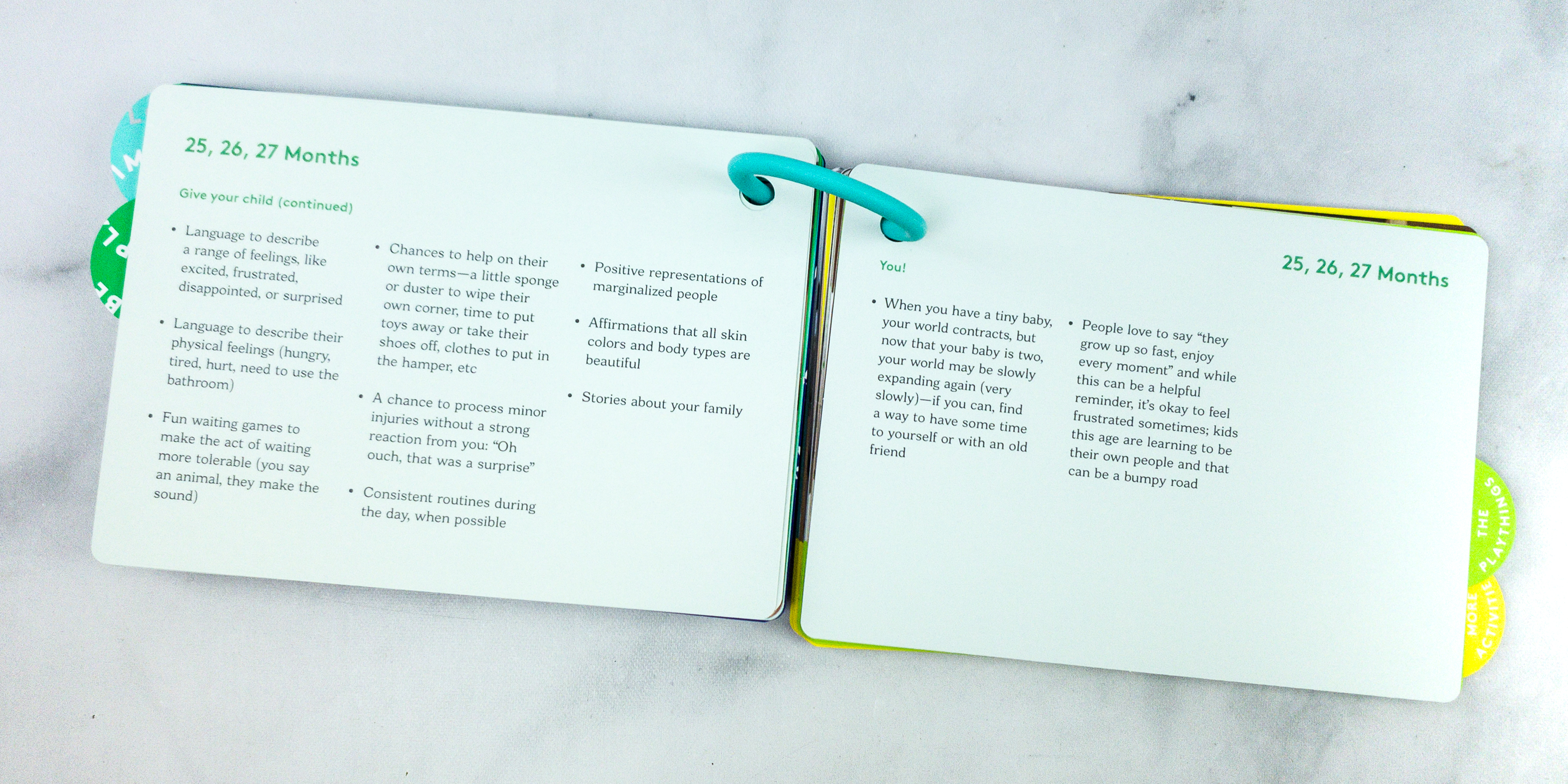 This may be lengthy, but it's worth reading.
The first activity is Water Play in a Sink Made from Renewable Resources!
Children at this age are endlessly fascinated by water. They love to play and splash without worrying about getting wet. Water play is the ultimate sensory activity–it teaches about texture (dry and wet), temperature (warm and cool), and movement (dripping, splashing, and pouring).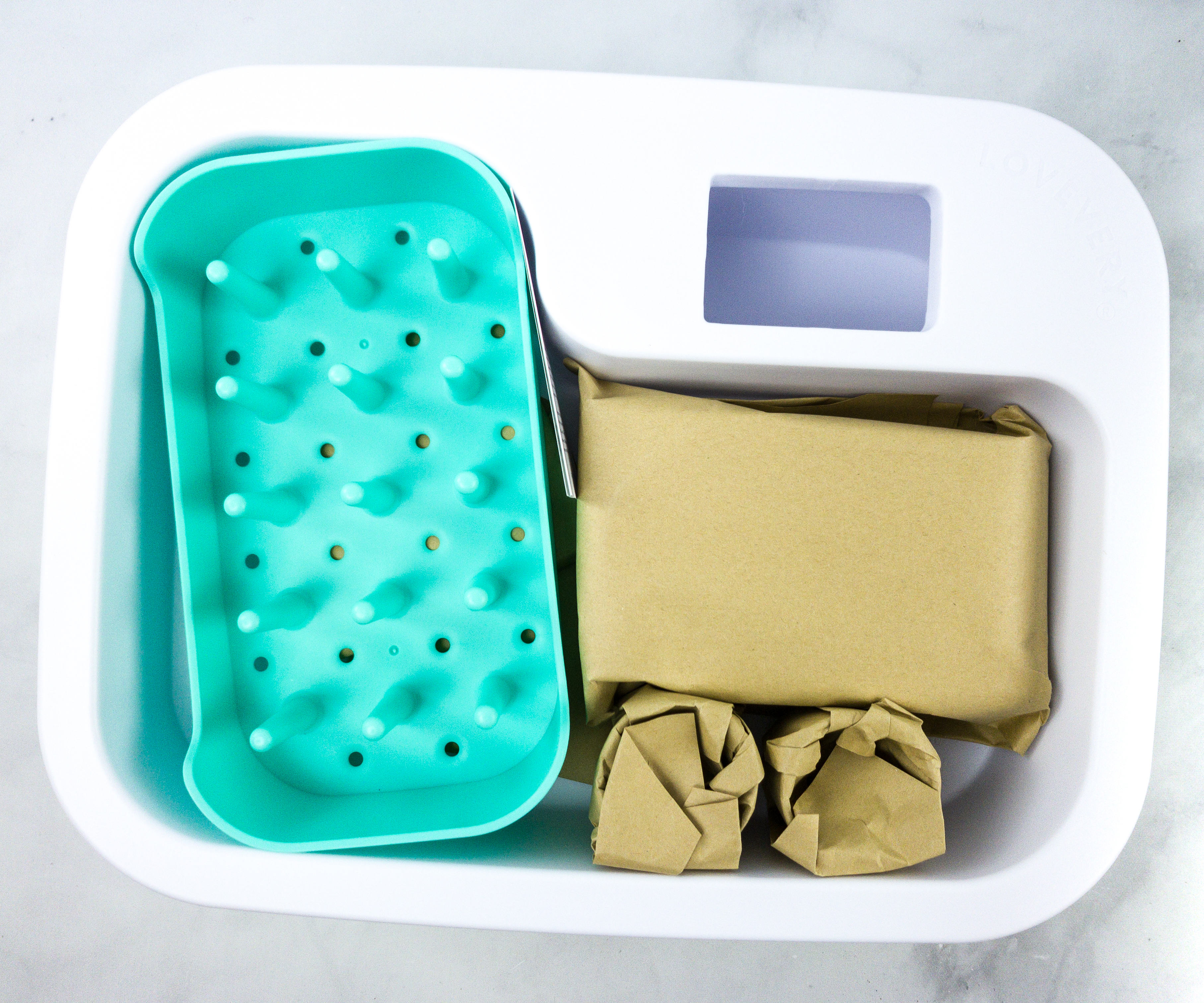 For this activity, they sent the Super Sustainable Sink which is made with plant-based materials. This can be used with water but not with soap or other liquids.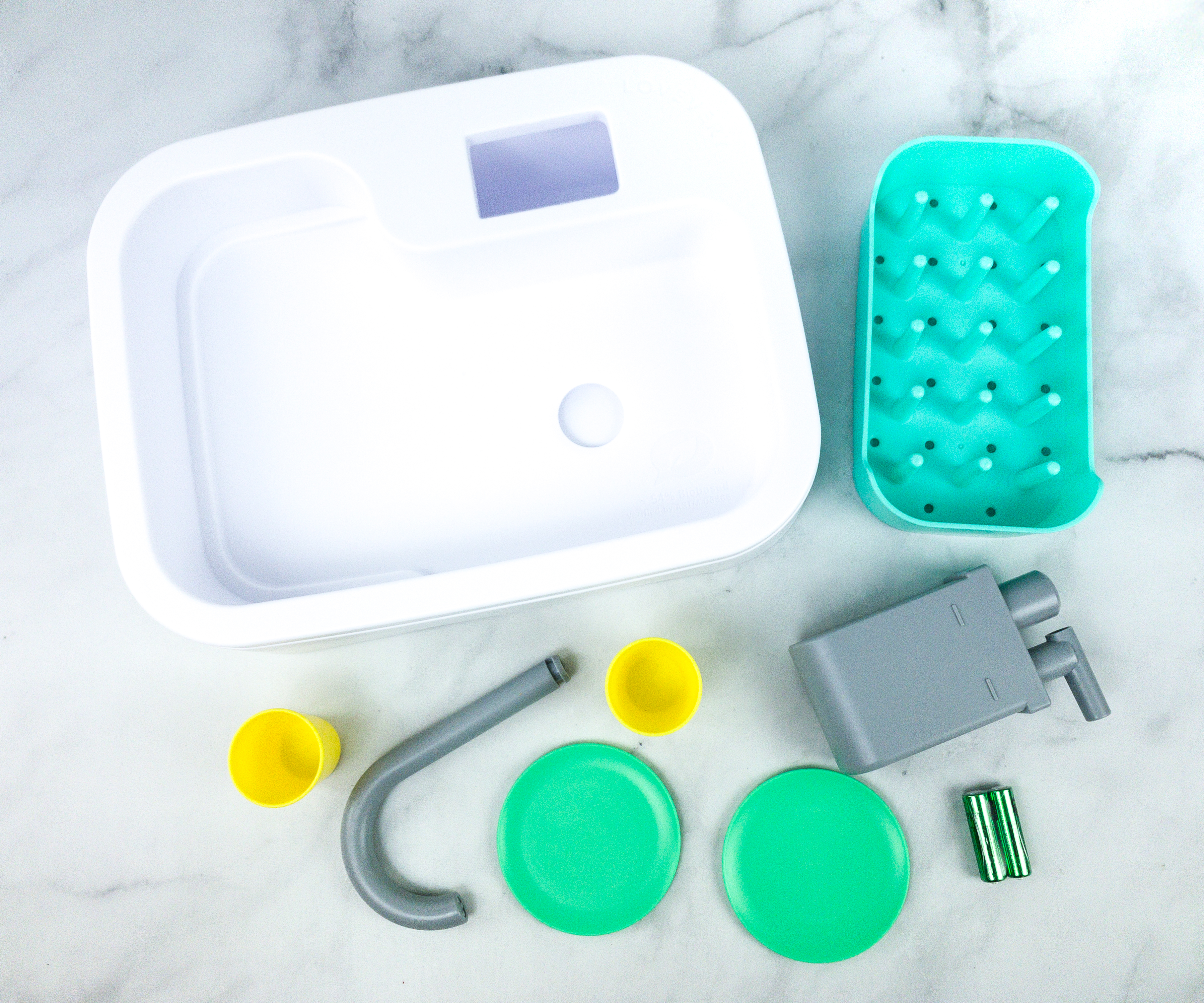 The sink also comes with a set of bio-based cups and plates, plus a set of trial batteries. It's recommended to replace the included batteries with standard, higher capacity batteries NOT rechargeable batteries.
First, remove the sink top and fill the basin with water, only until the fill line. Afterward, put back the sink top and turn the pump handle, then it's ready to be used!
After playing, remember to turn off the pump and pour leftover water out of the sink. Also, make sure to pull out the faucet pump to let it dry out.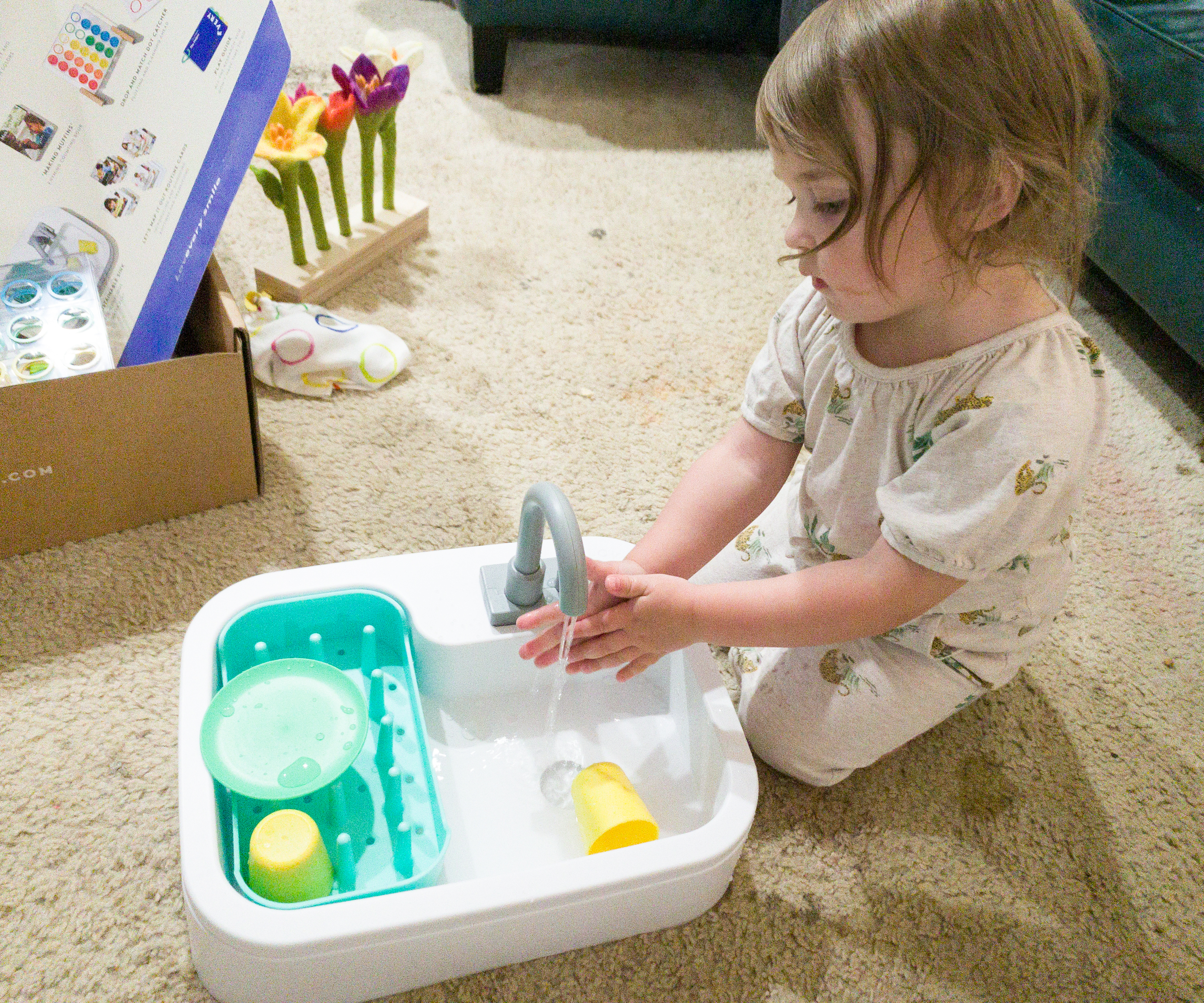 My daughter loves using this sink! Here, she's practicing how to wash her hands properly.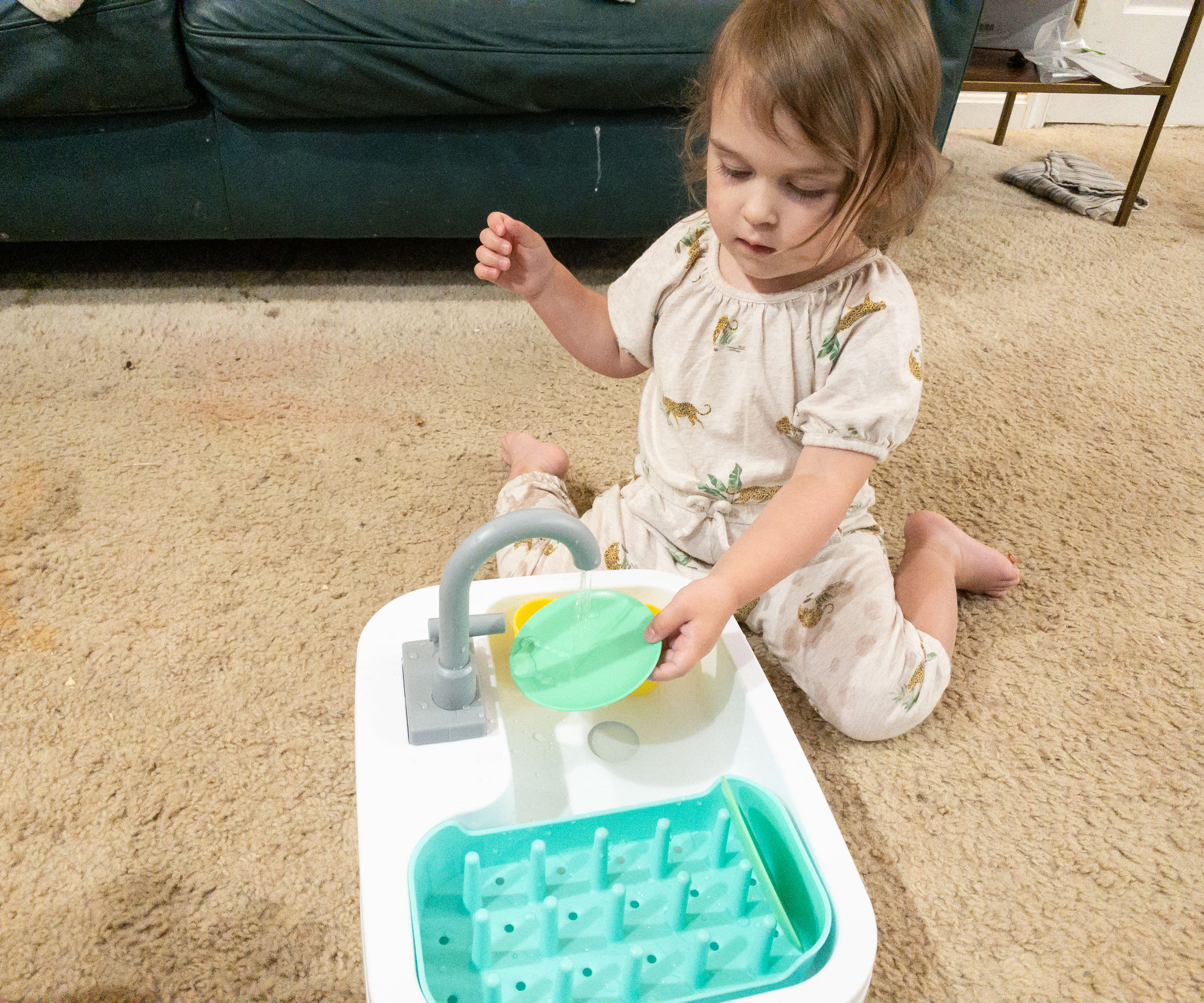 Another thing she enjoyed doing on the sink is washing the toy plates!
Playing with this sink teaches kids about the difference between wet and dry and warm and cool.
This sink toy is not just about sensory play, it also helps develop a kid's motor skills. You can also use it to teach them new vocabulary words related to the activity such as wet, soak, dry drip, splatter, fill, and more! It is HOURS AND DAYS AND MONTHS of fun. This is the best thing EVER!
Next up is Fine Motor Precision!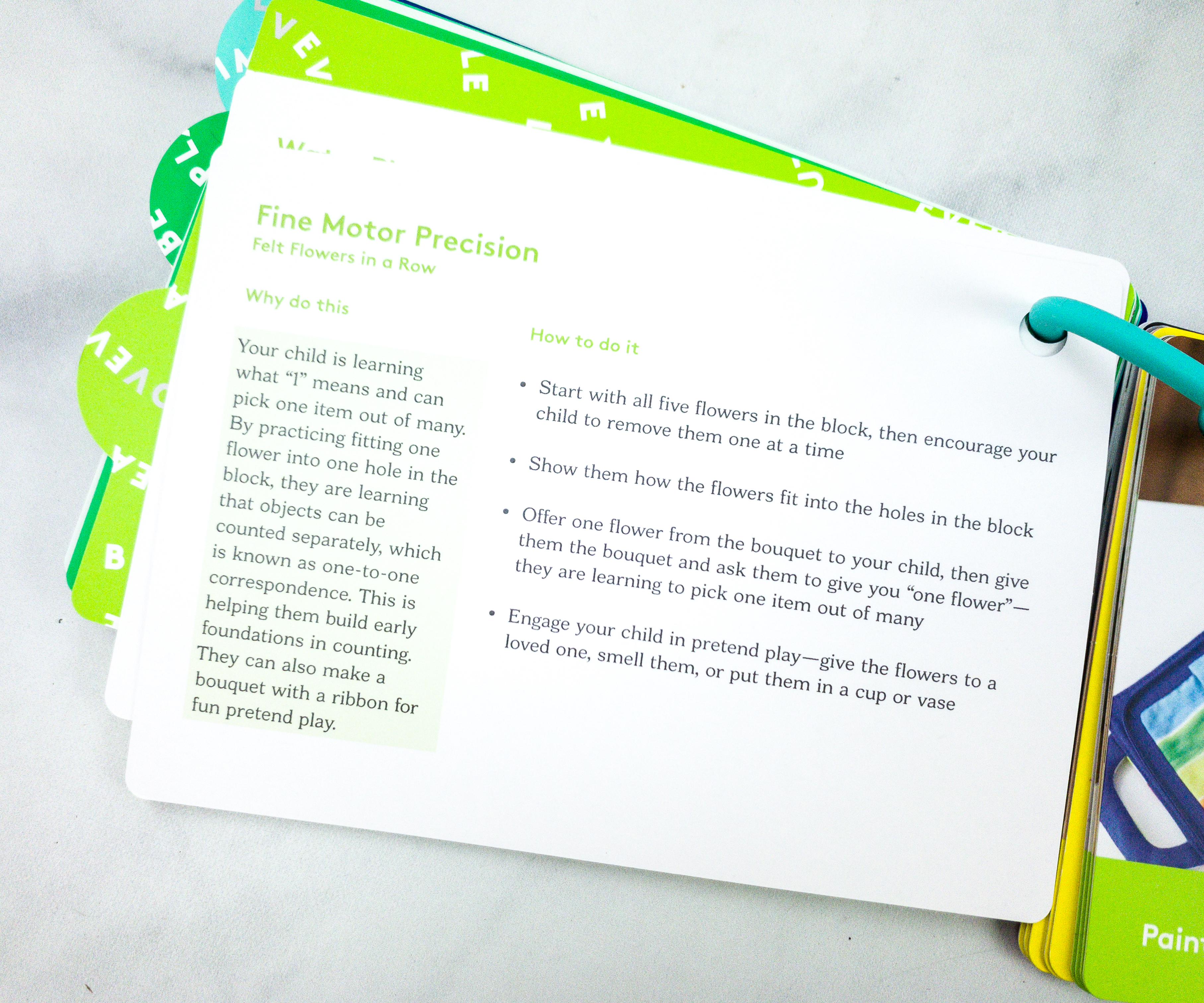 Your child is learning what "1" means and can pick one item out of many. By practicing fitting one flower into one hole in the block, they are learning that objects can be counted separately, which is known as one-to-one correspondence. This is helping them build early foundations in counting. They can also make a bouquet with a ribbon for fun pretend play.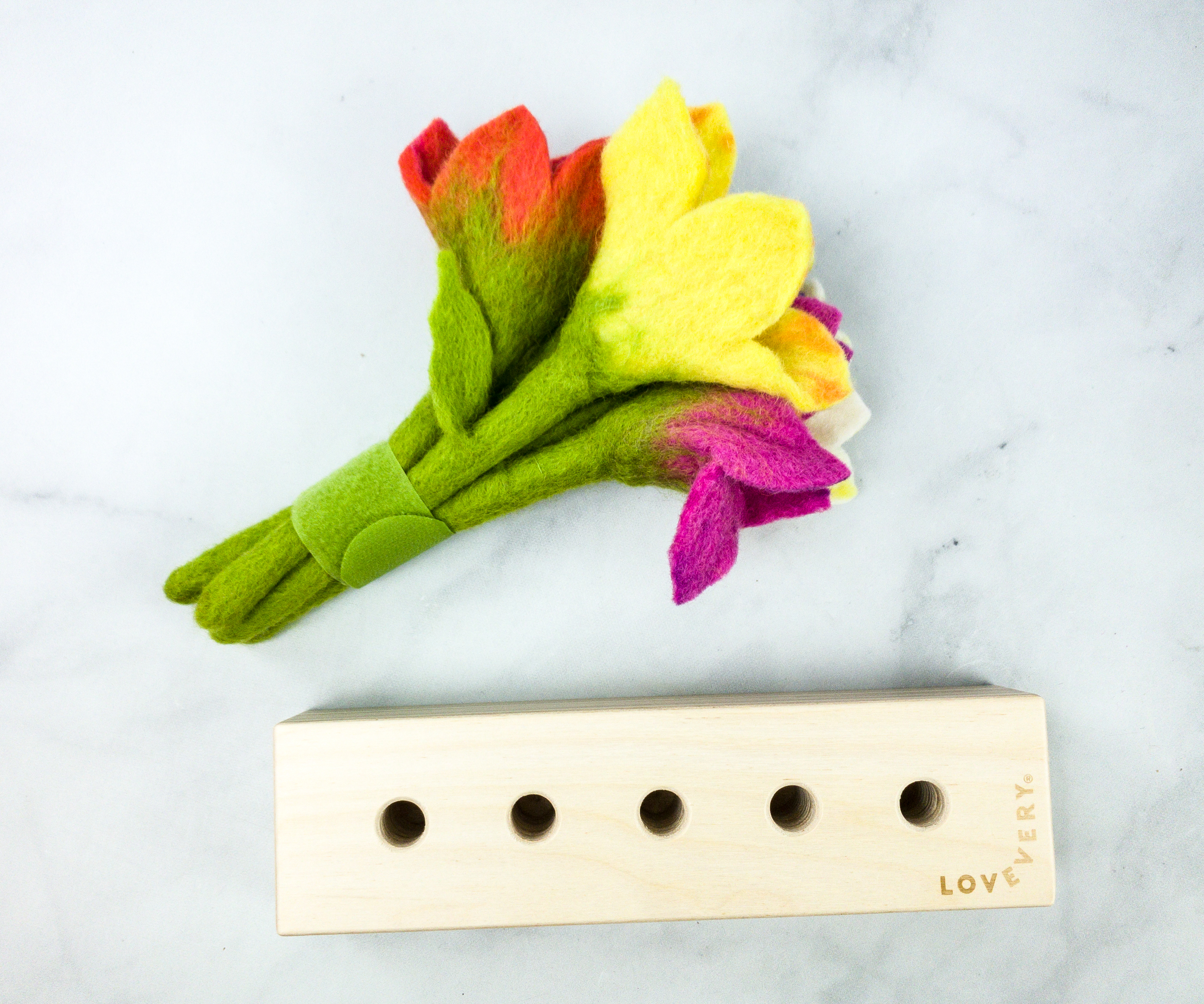 To help improve fine motor precision is a set of felt flowers plus a wooden base.
The stems of the flowers fit perfectly on the base. To play, you can encourage your child to remove them and then put them back on.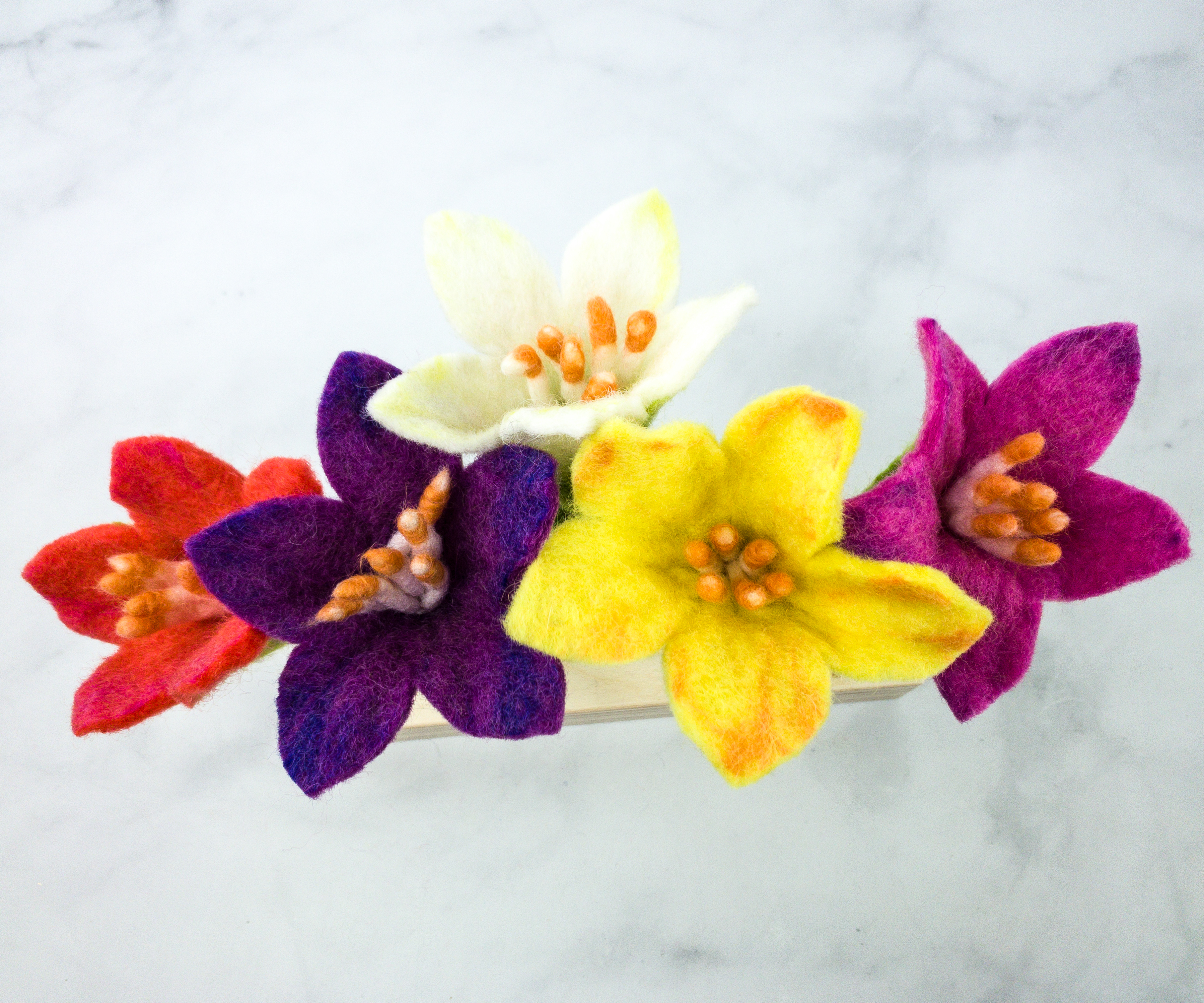 Look how pretty the flowers are! They even come in different colors!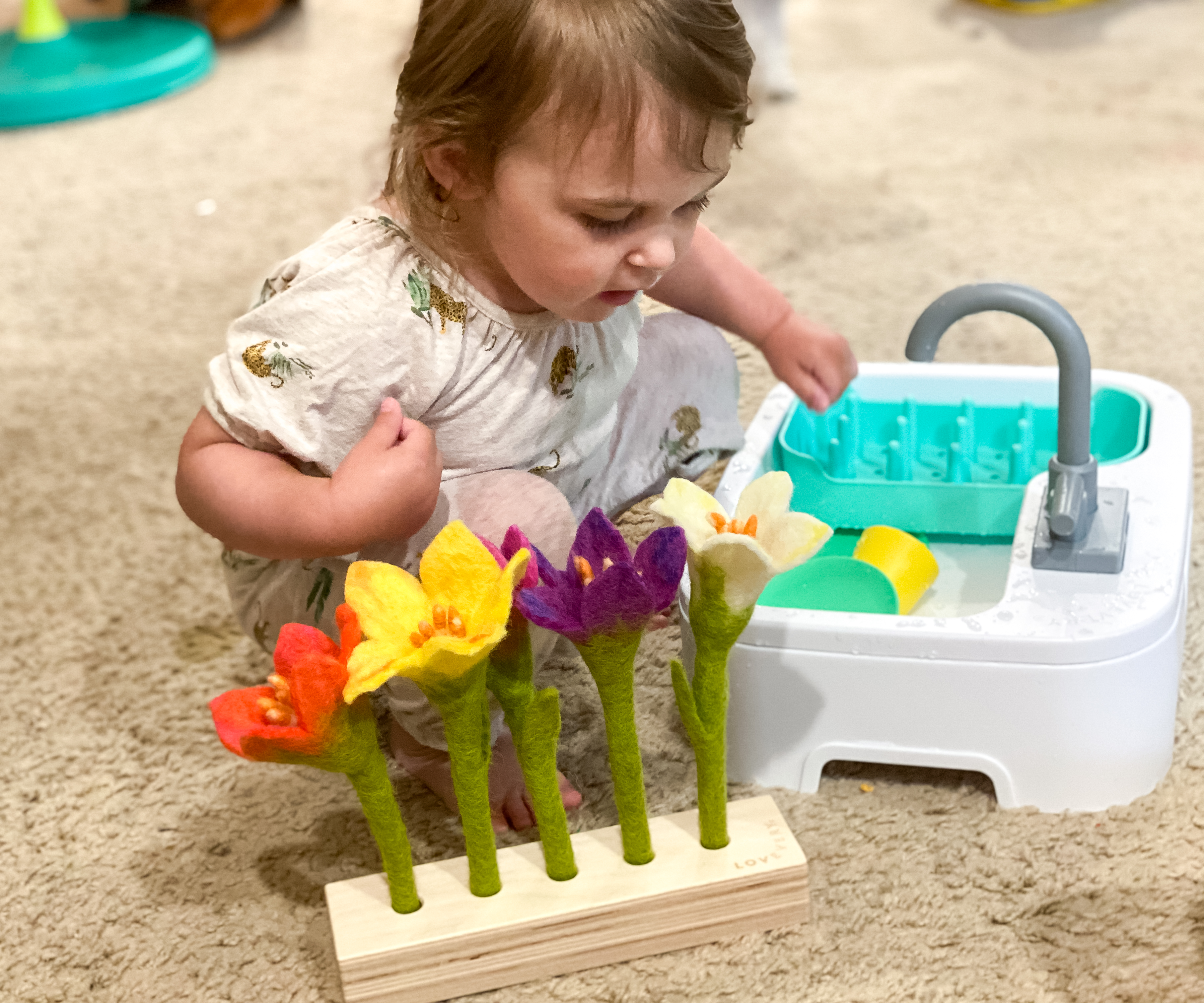 We did some pretend play with the flowers as well!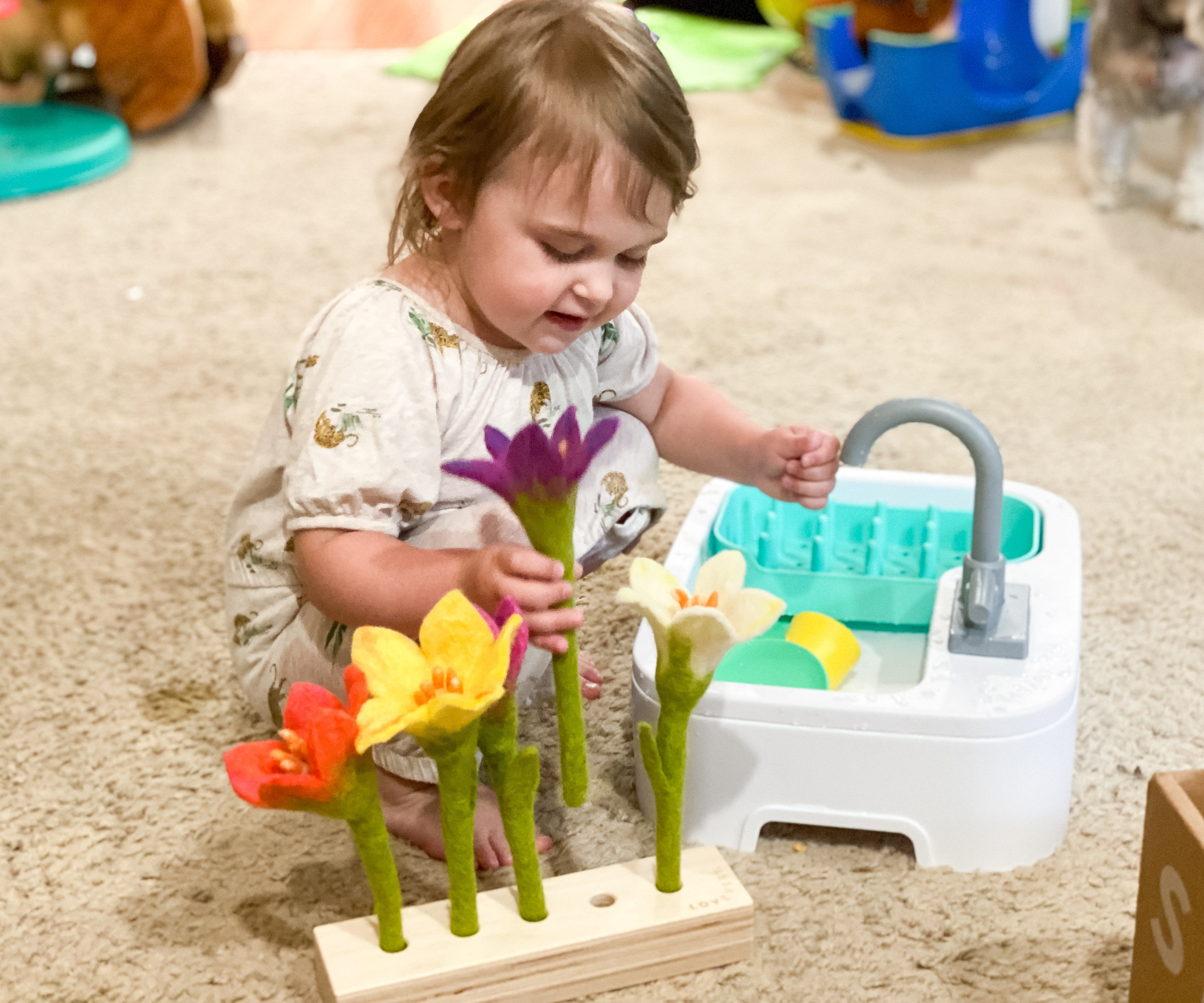 Another thing you can do with the flowers is to use them for counting. Count one as your child pulls one flower, then two as they pull the next one, and so on.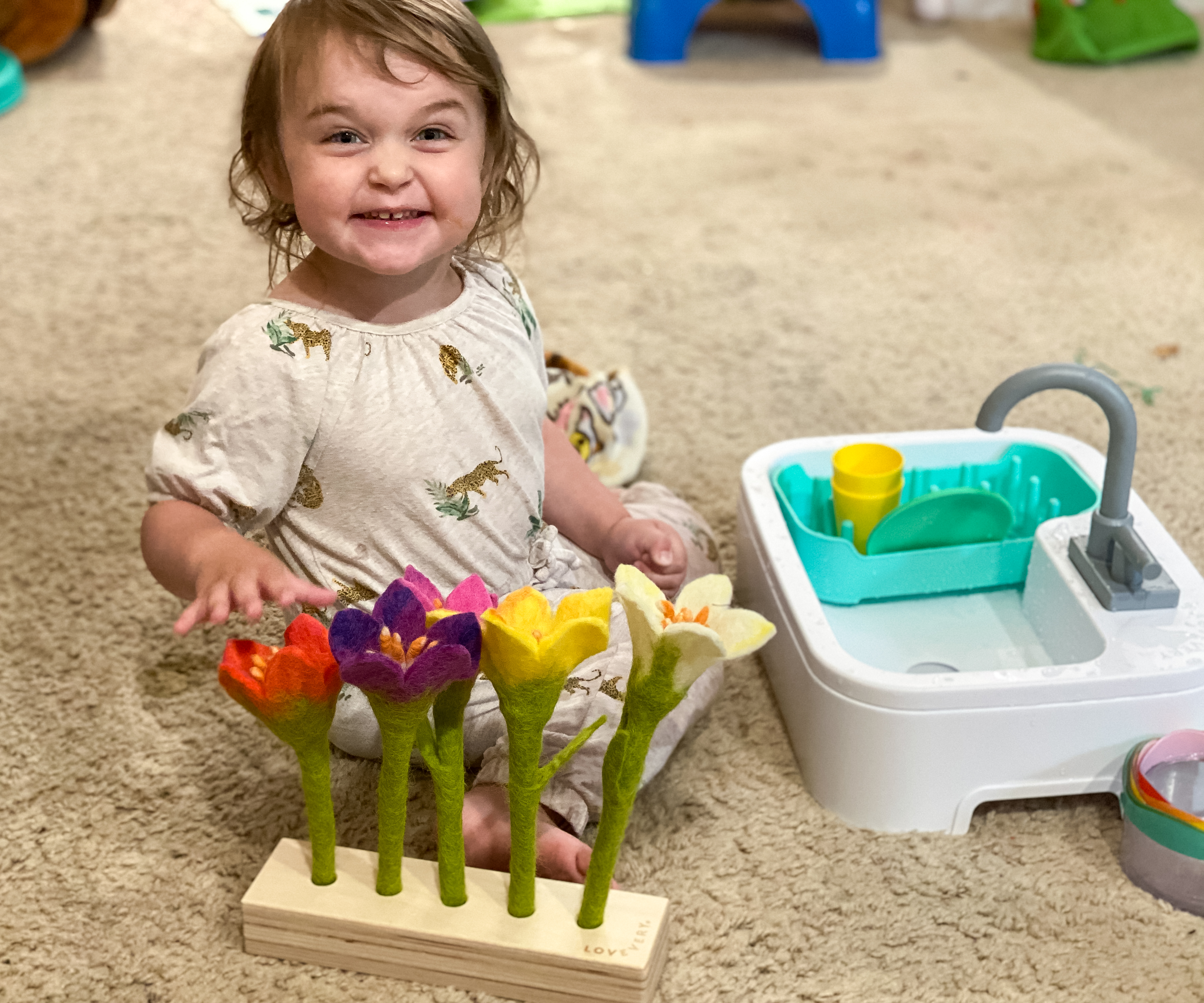 Even when she's still playing with the sink, my daughter didn't want to part with the pretty flowers!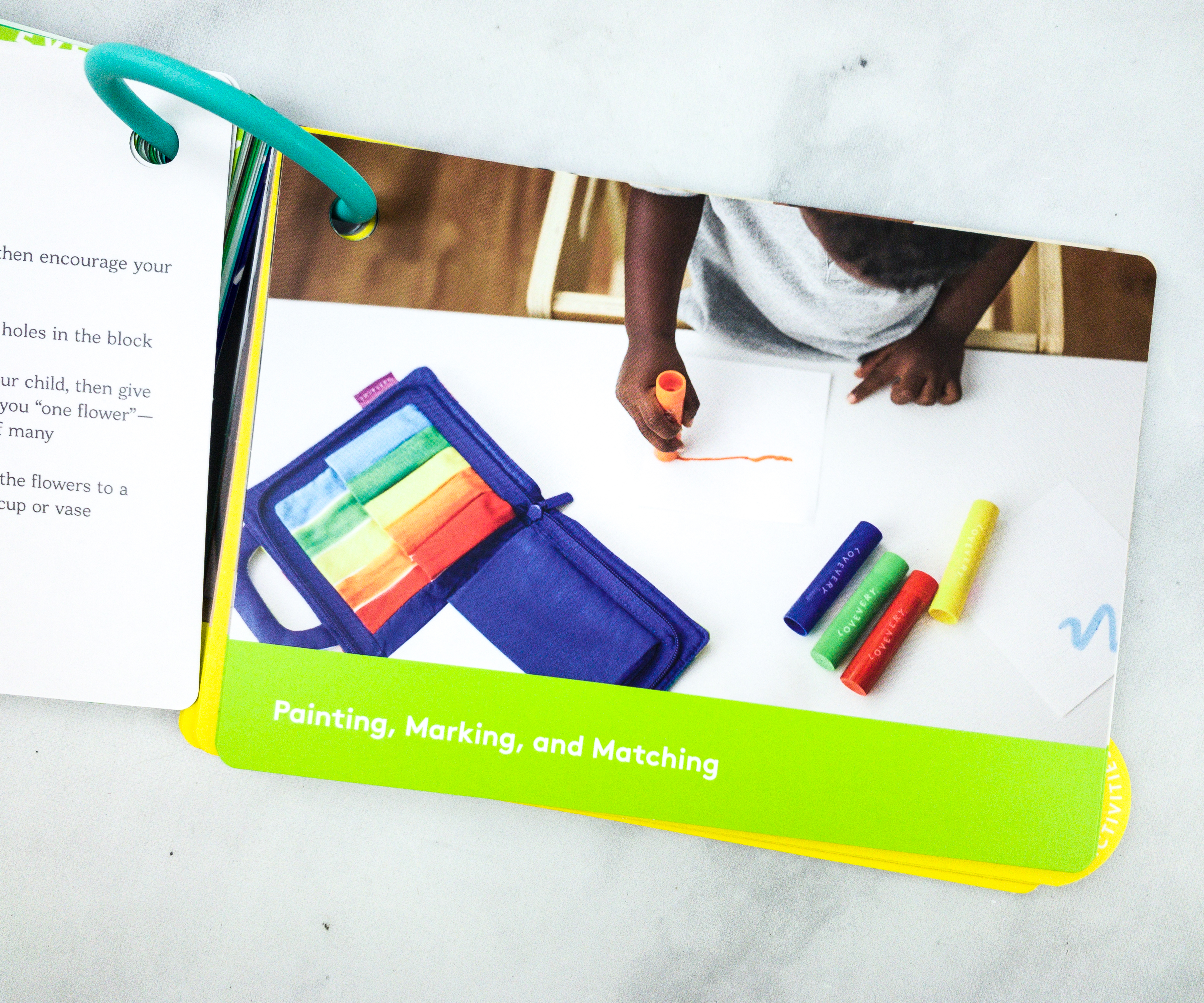 Another fun activity is Painting, Marking, and Matching!
These paintsticks are satisfying because they can easily make a mark. Clicking the caps onto the painsticks, sliding them into their pockets, and zipping/unzipping the case (with your help) are great fine-motor activities.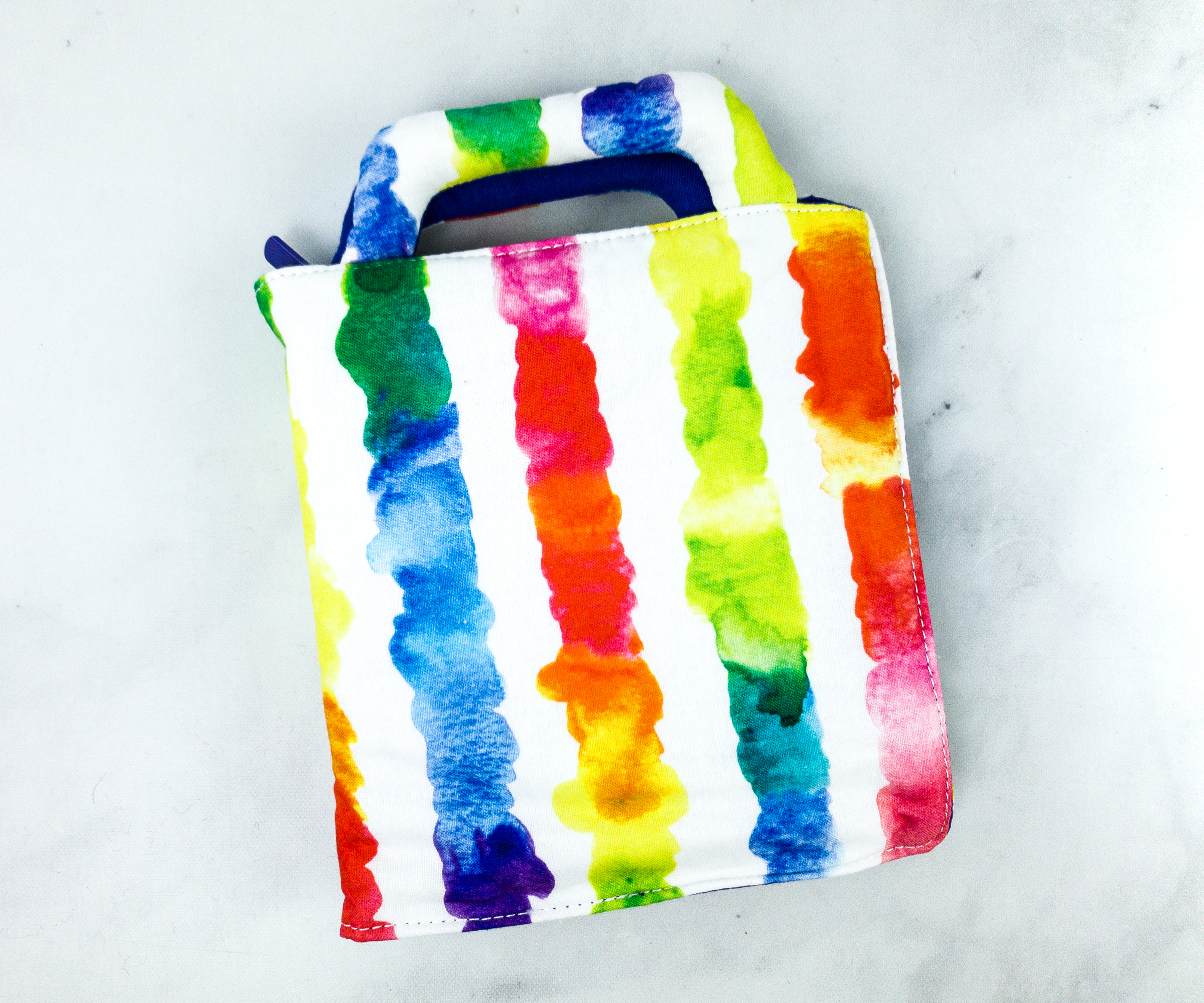 The art kit came in a colorful case that's easy to store and to clean!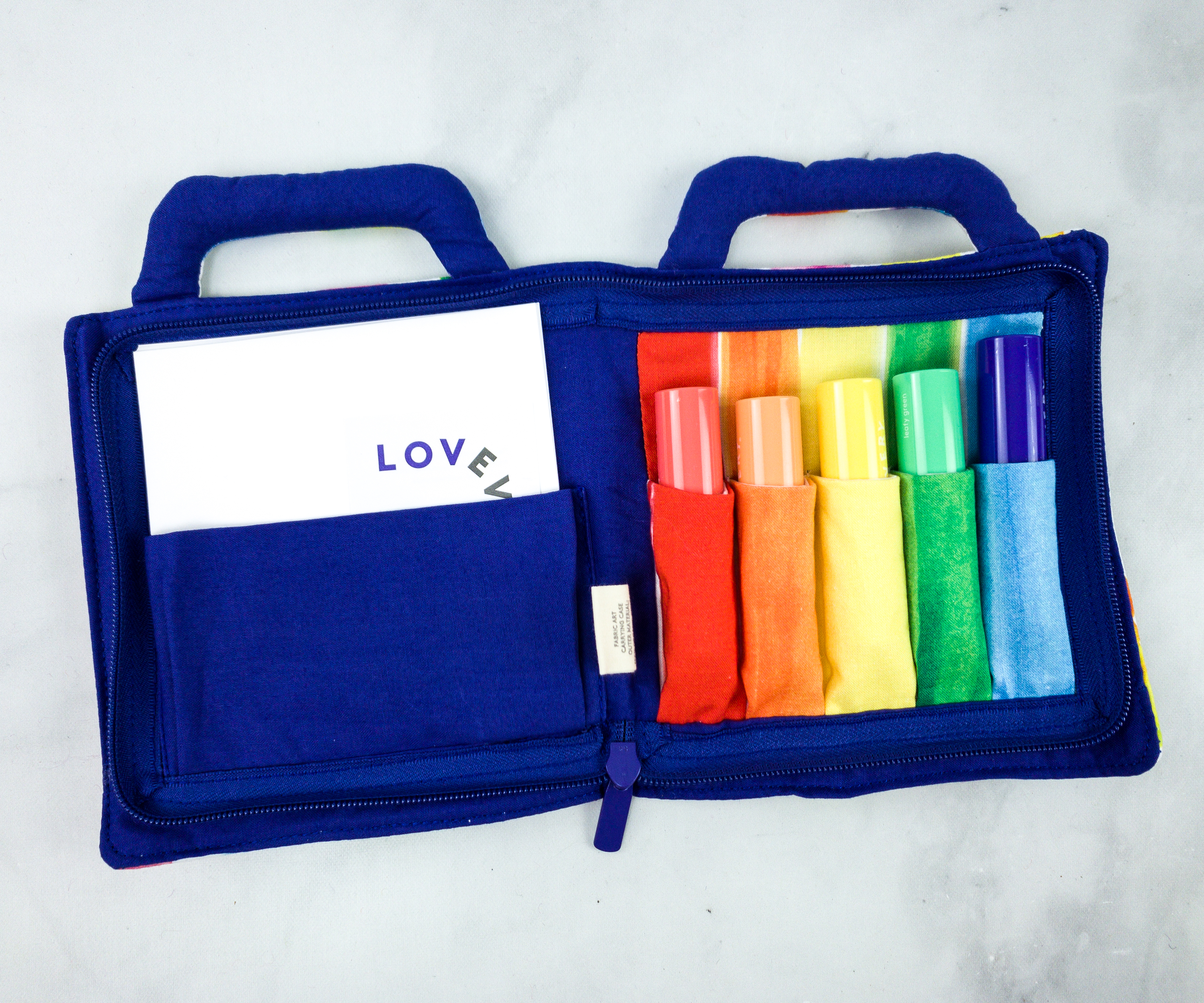 On the left is a slot for the paper and on the right are slots for the corresponding paint stick. Before using, it's recommended to orient your child first about the do's and don'ts, like keeping the pen out of their mouth, placing the caps back after using the pens, and so on.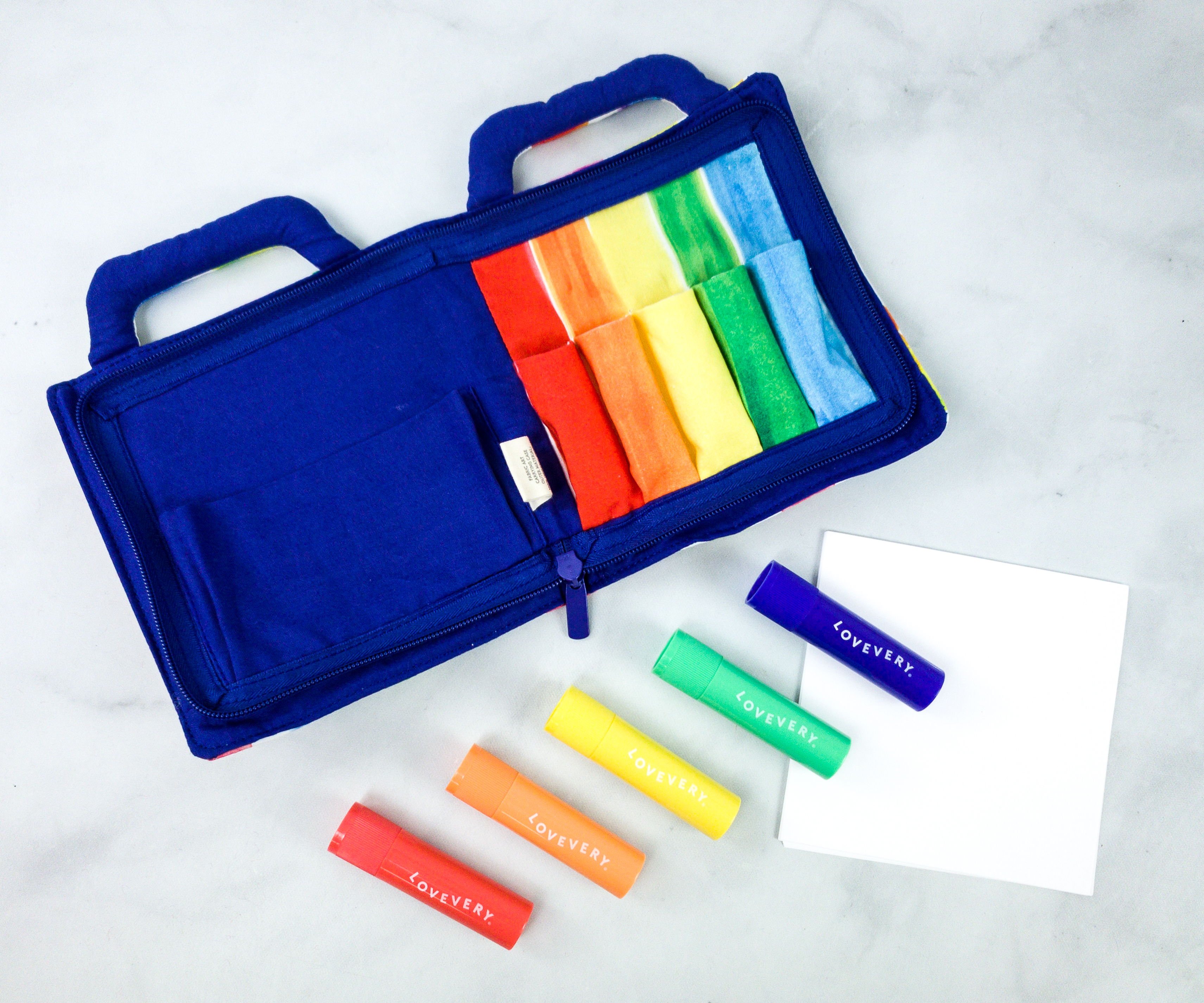 Everything in the portable art kit for kids!
There are 5 paint sticks in total: ladybug red, pumpkin orange, sunshine yellow, leafy green, and summer sky blue.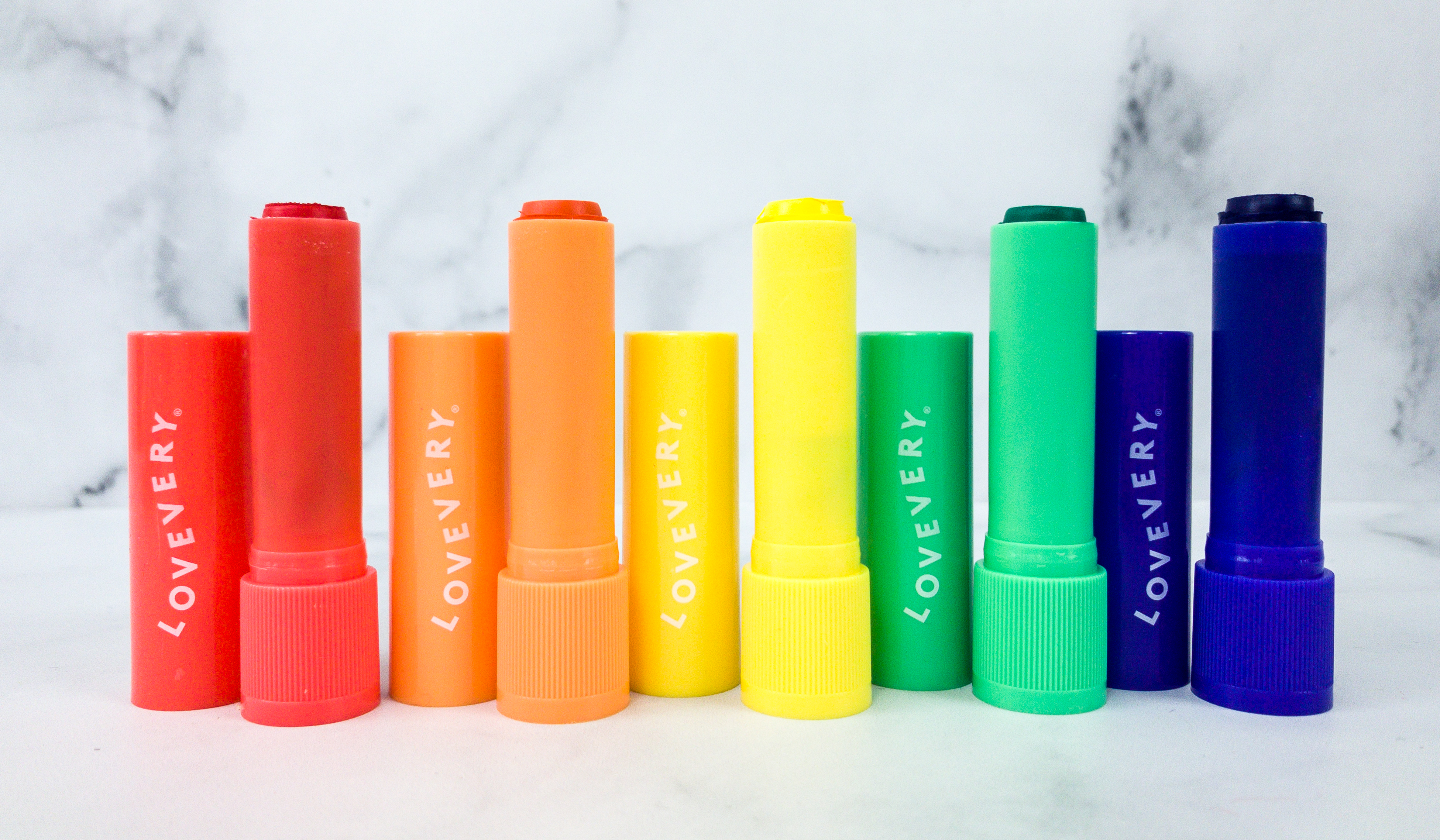 These paint sticks are easy to grip and unlike regular crayons, they don't break easily. They are just so sweet and fun. My daughter loves "painting" with them!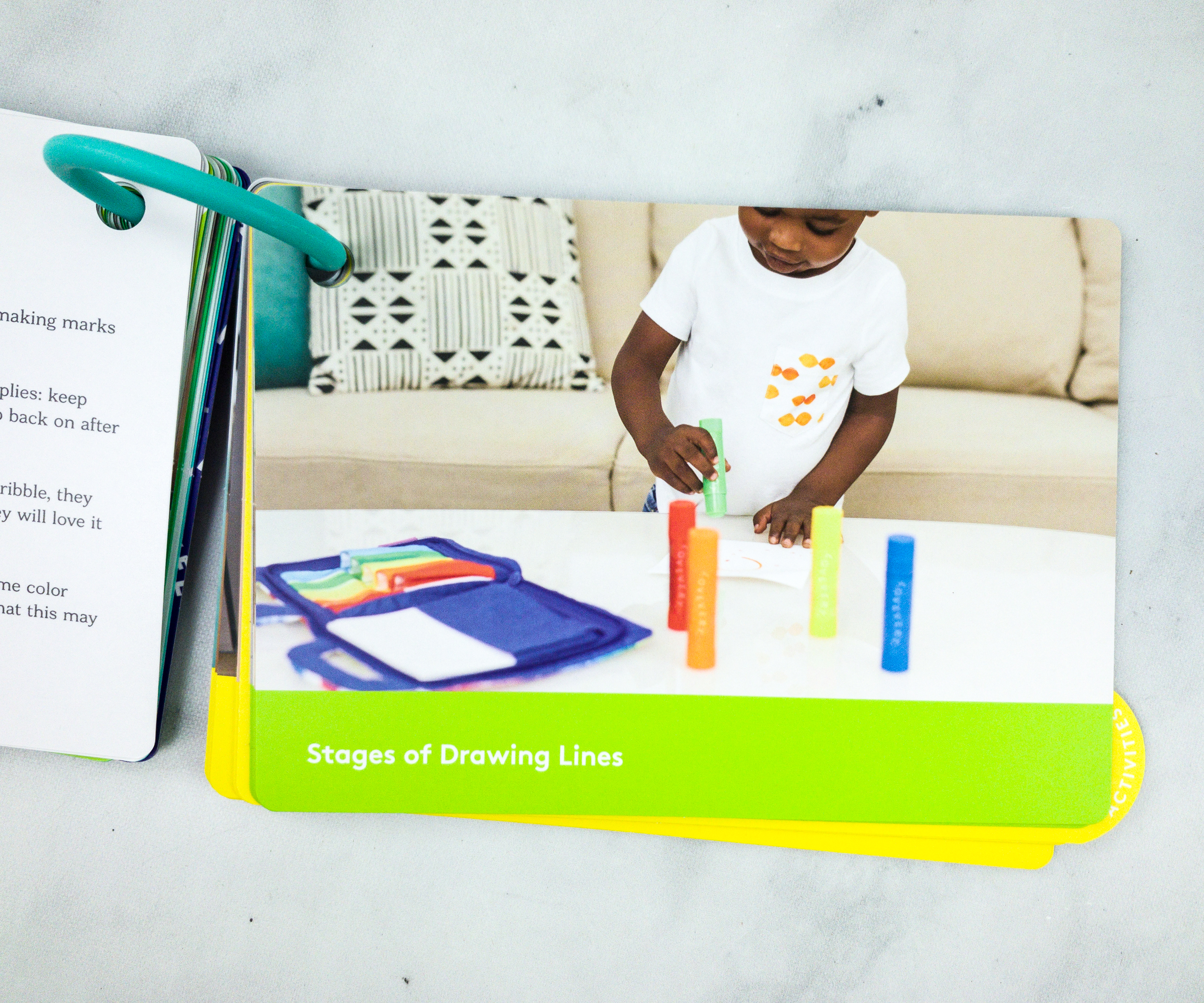 Up next is Stages of Drawing Lines!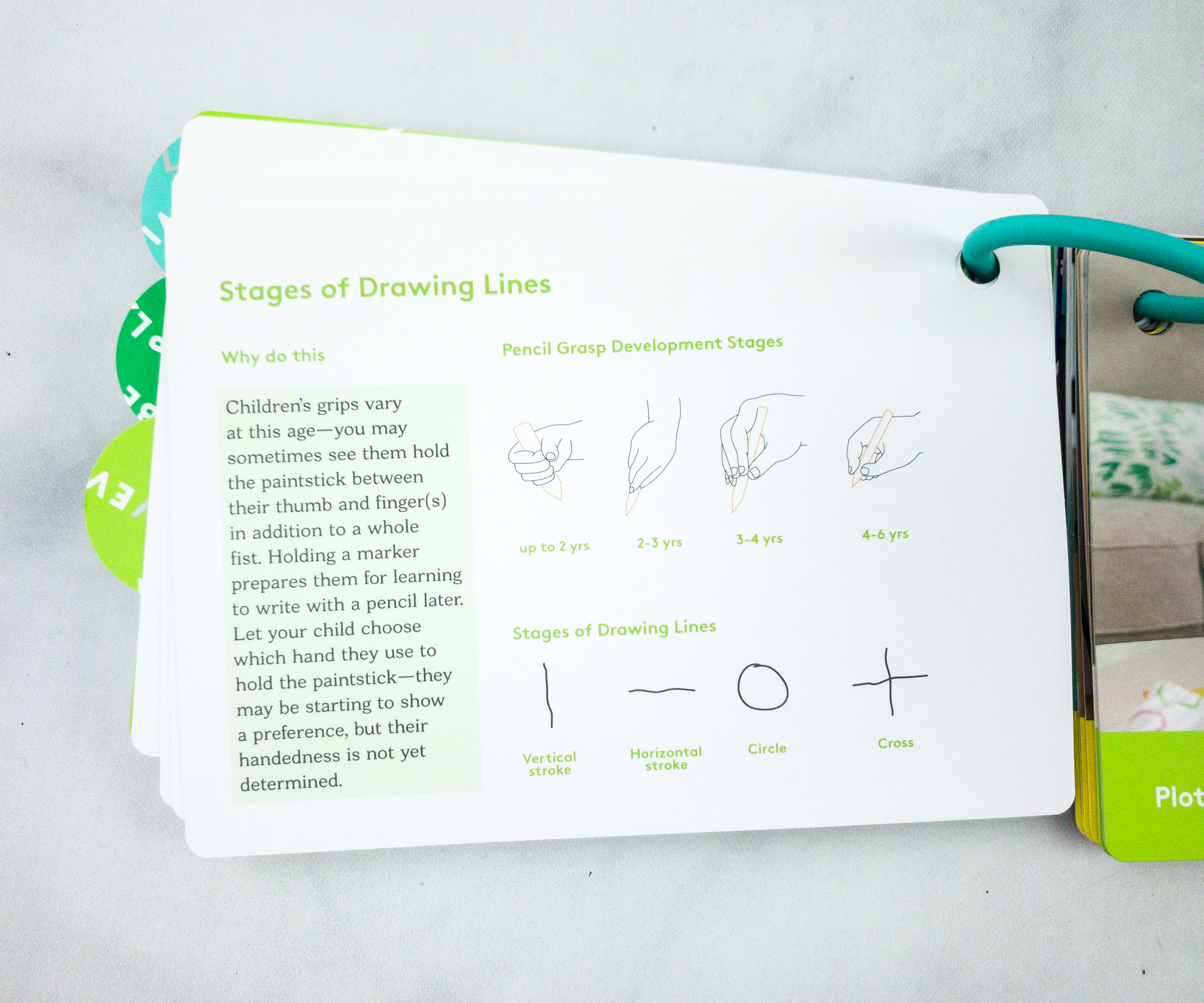 Children's grips vary at this age–you may sometimes see them hold the painstick between their thumb and finger(s) in addition to a whole fist. Holding a marker prepares them for learning to write with a pencil later. Let your child choose which hand they use to hold the paintstick–they may be starting to show a preference, but their handedness is not yet determined.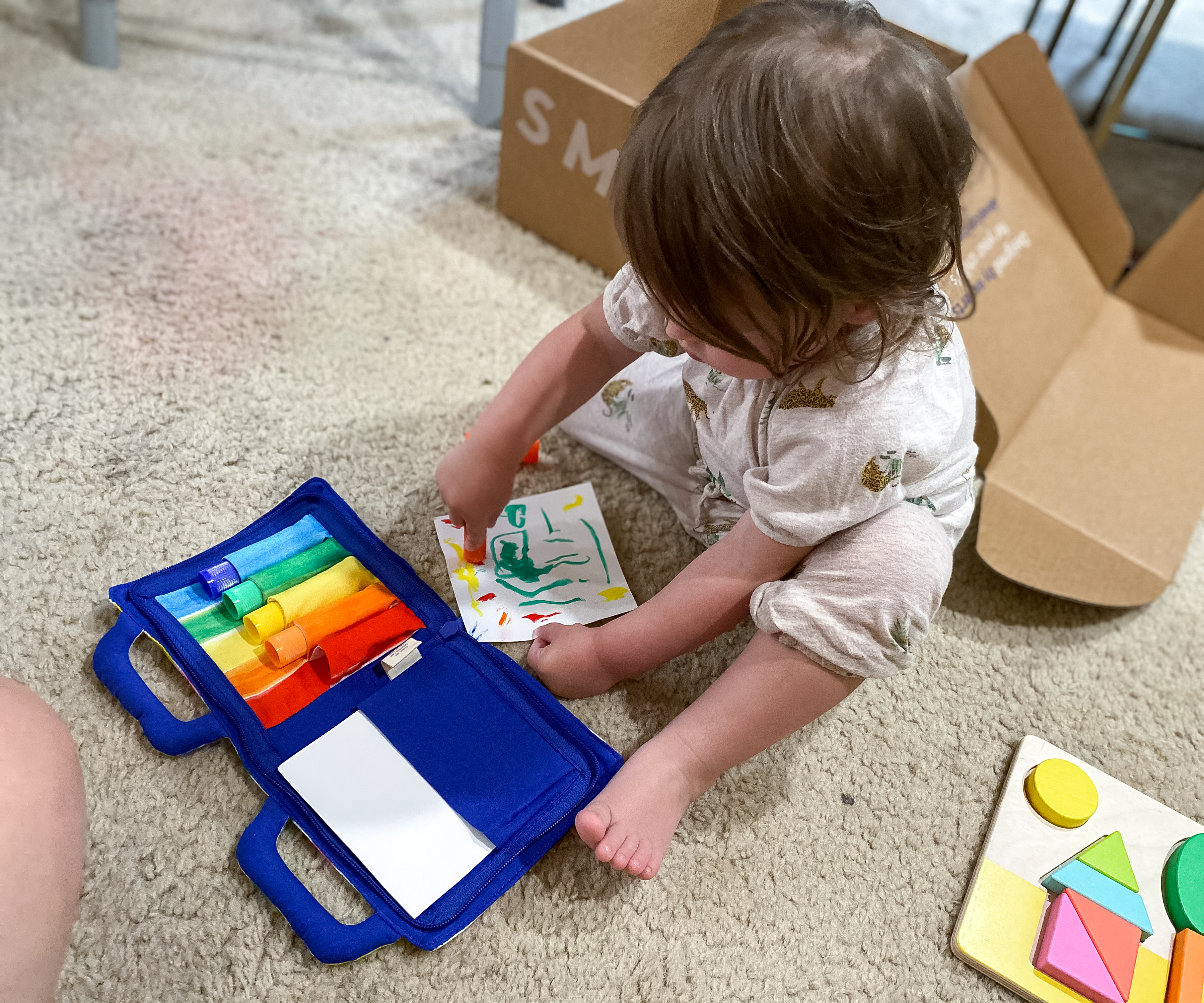 My daughter loved doodling using the paint sticks!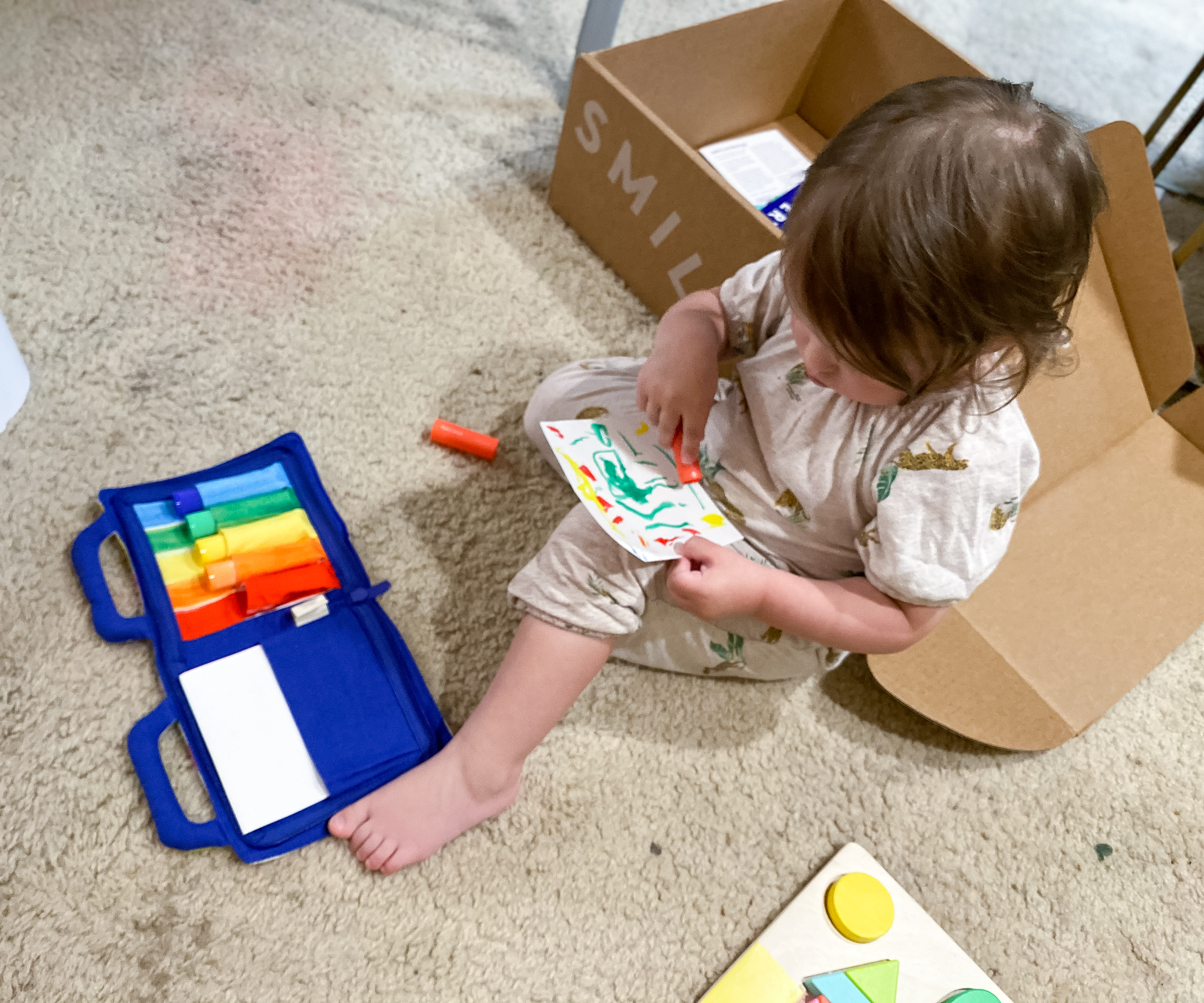 Kids at this age may not be able to draw perfect shapes yet, but it's still fun for them to make all sorts of marks on the pages.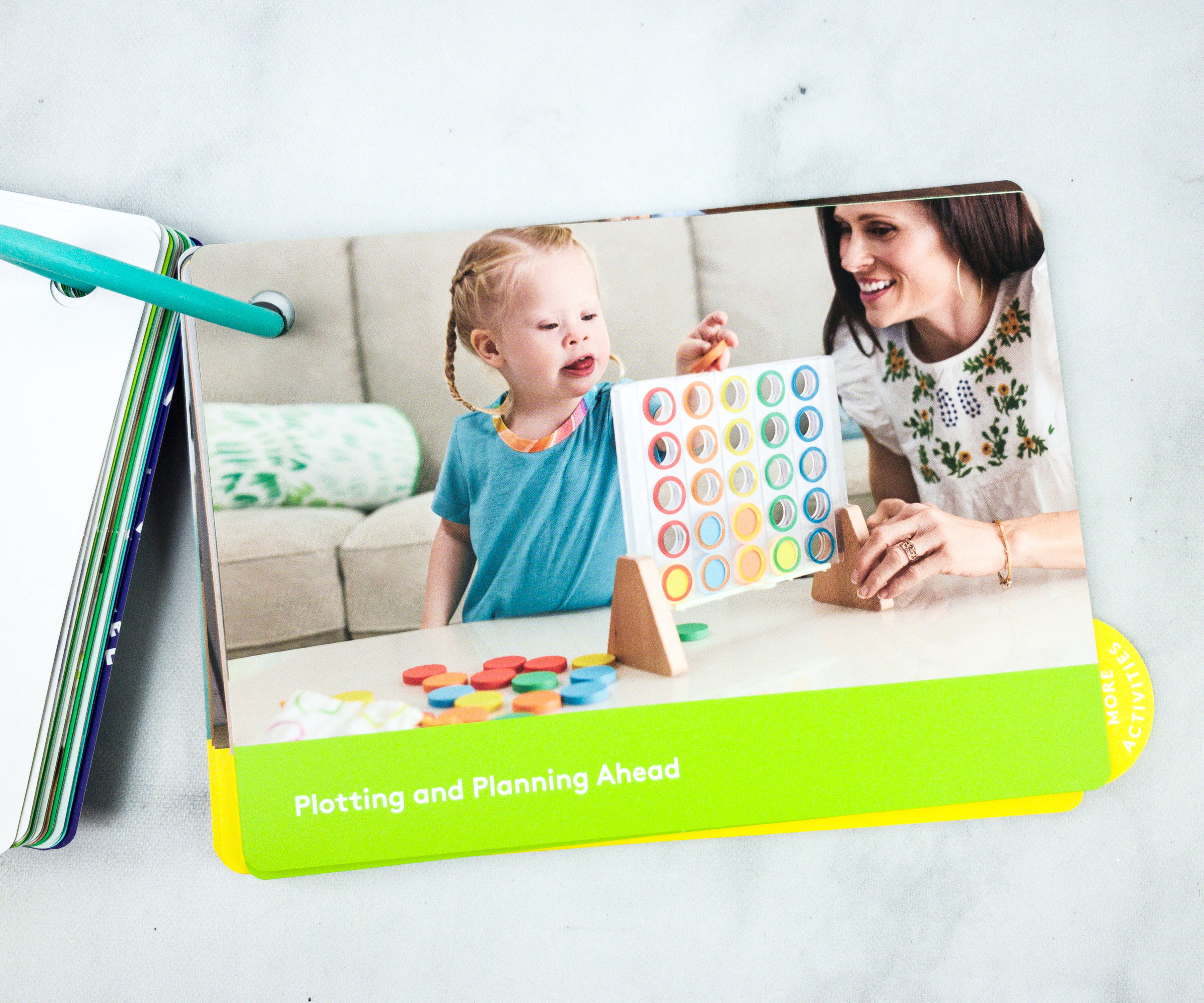 Here's another fun activity for kids, Plotting and Planning Ahead!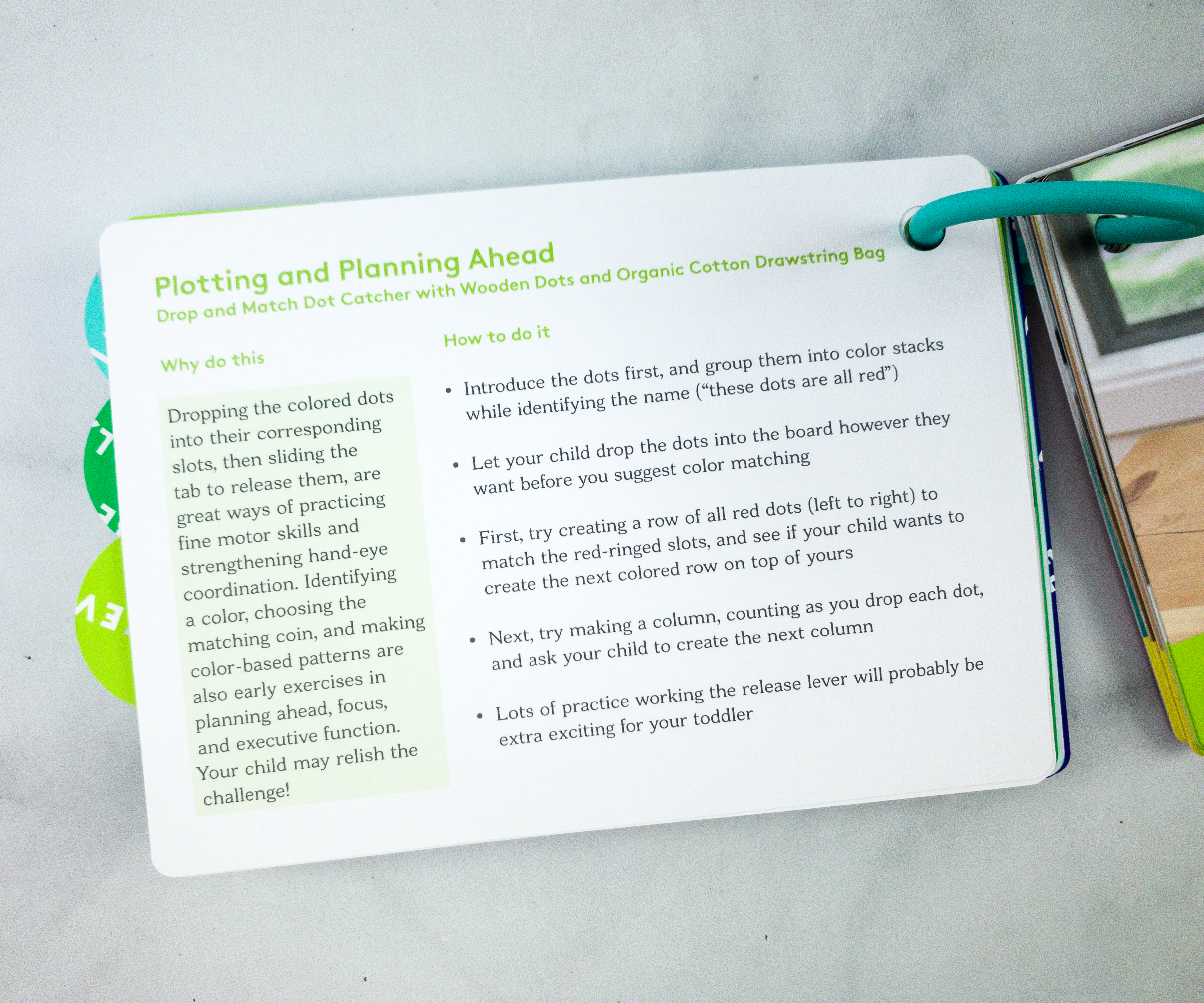 Dropping the colored dots into their corresponding slots, then sliding the tab to release them, are great ways of practiving fine motor skills and strengthening hand-eye coordination. Identifying a color, choosing the matching coin, and making color-based patterns are also early exercises in planning ahead, focus, and excutive function. Your child may relish the challenge!
For this activity, we have the Drop and Match Dot Catcher that comes with wooden dots packed in an organic cotton drawstring pouch. There's a stand for the dot catcher as well.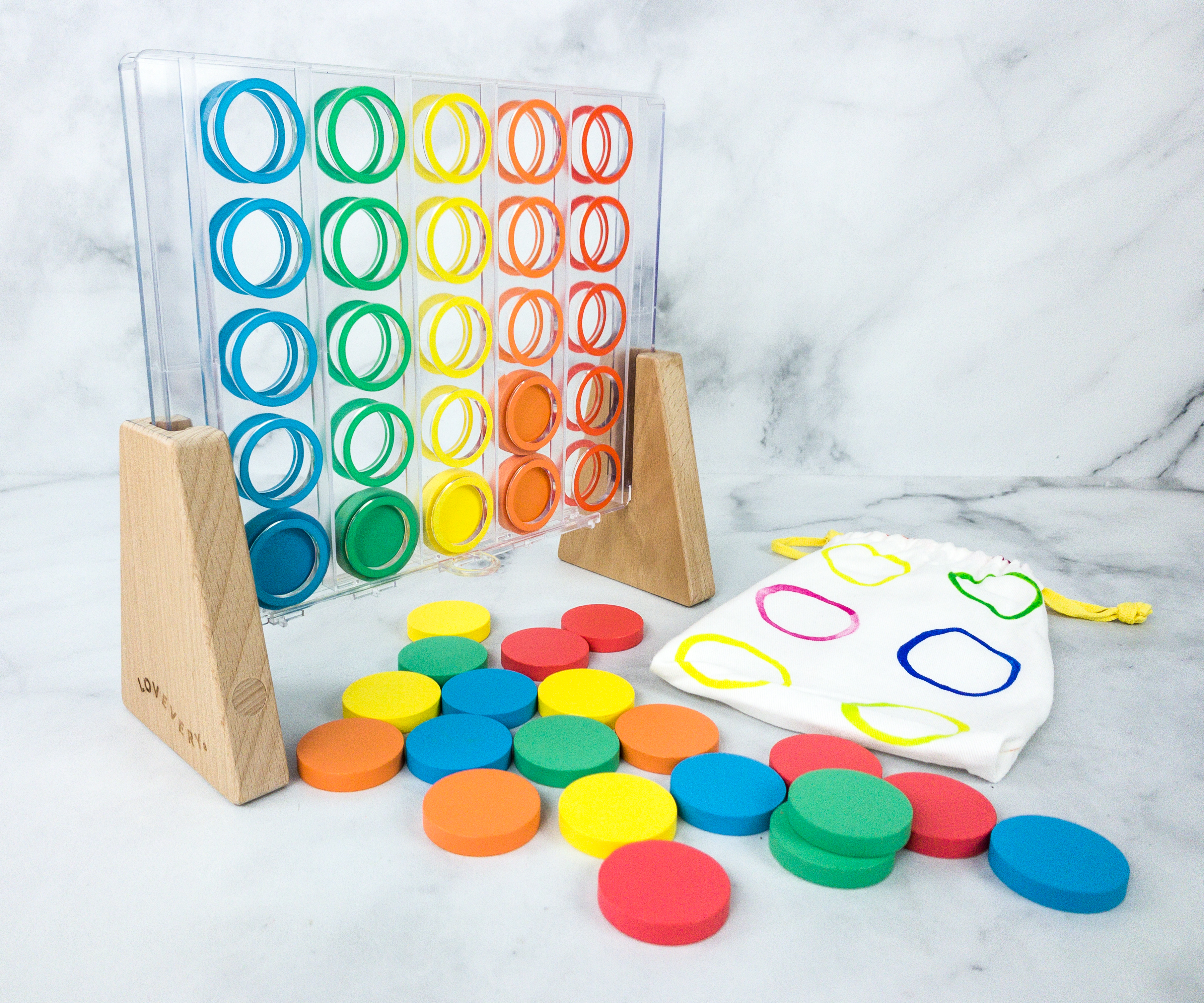 The wooden dots came in different colors: red, orange, yellow, green, and blue. Grouping them together and identifying their names is a fun way of teaching kids about colors!
Before color matching, my daughter familiarized herself first with dropping the coin into the slots.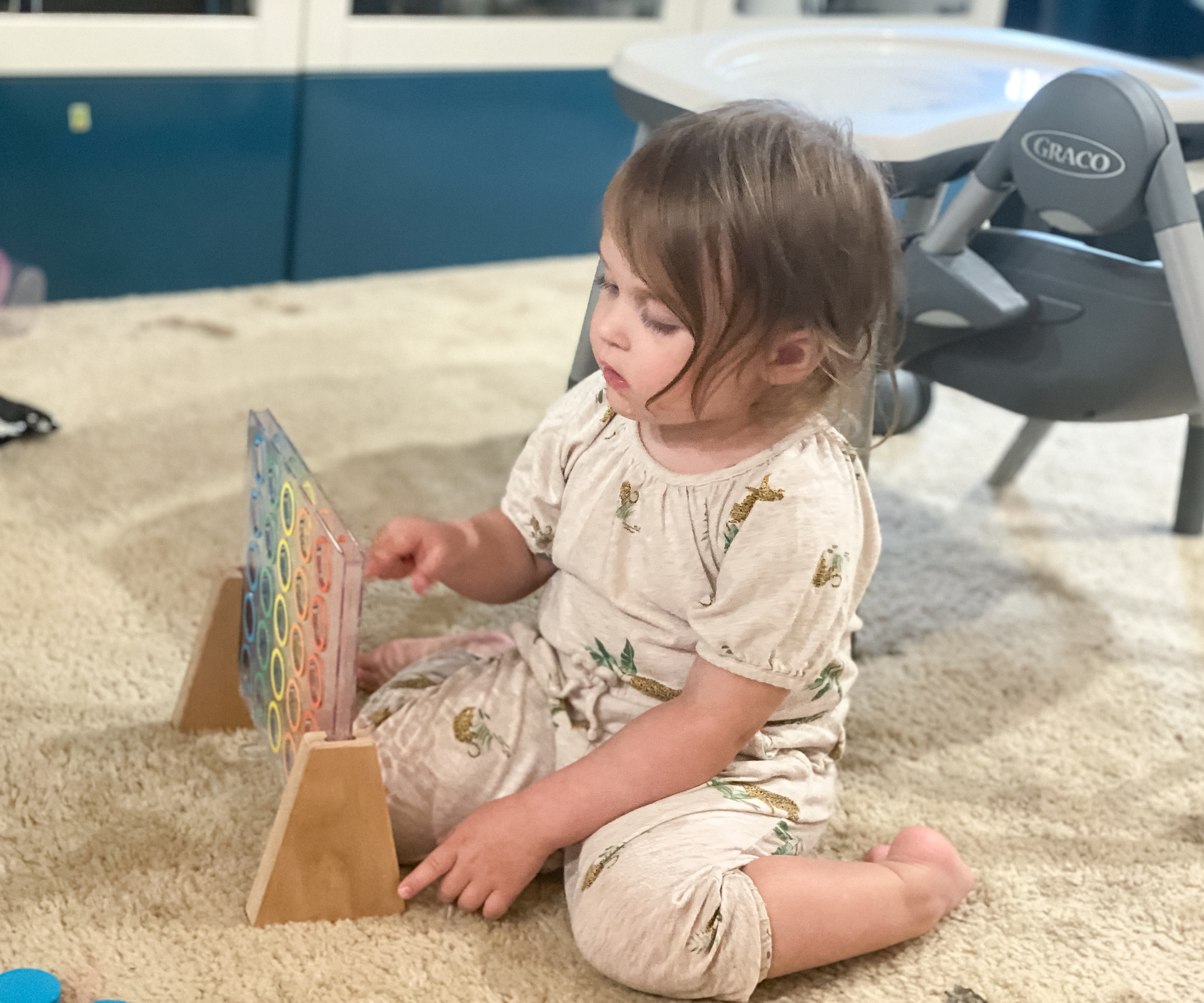 This activity helps develop a child's fine motor skills, as well as their hand-eye coordination.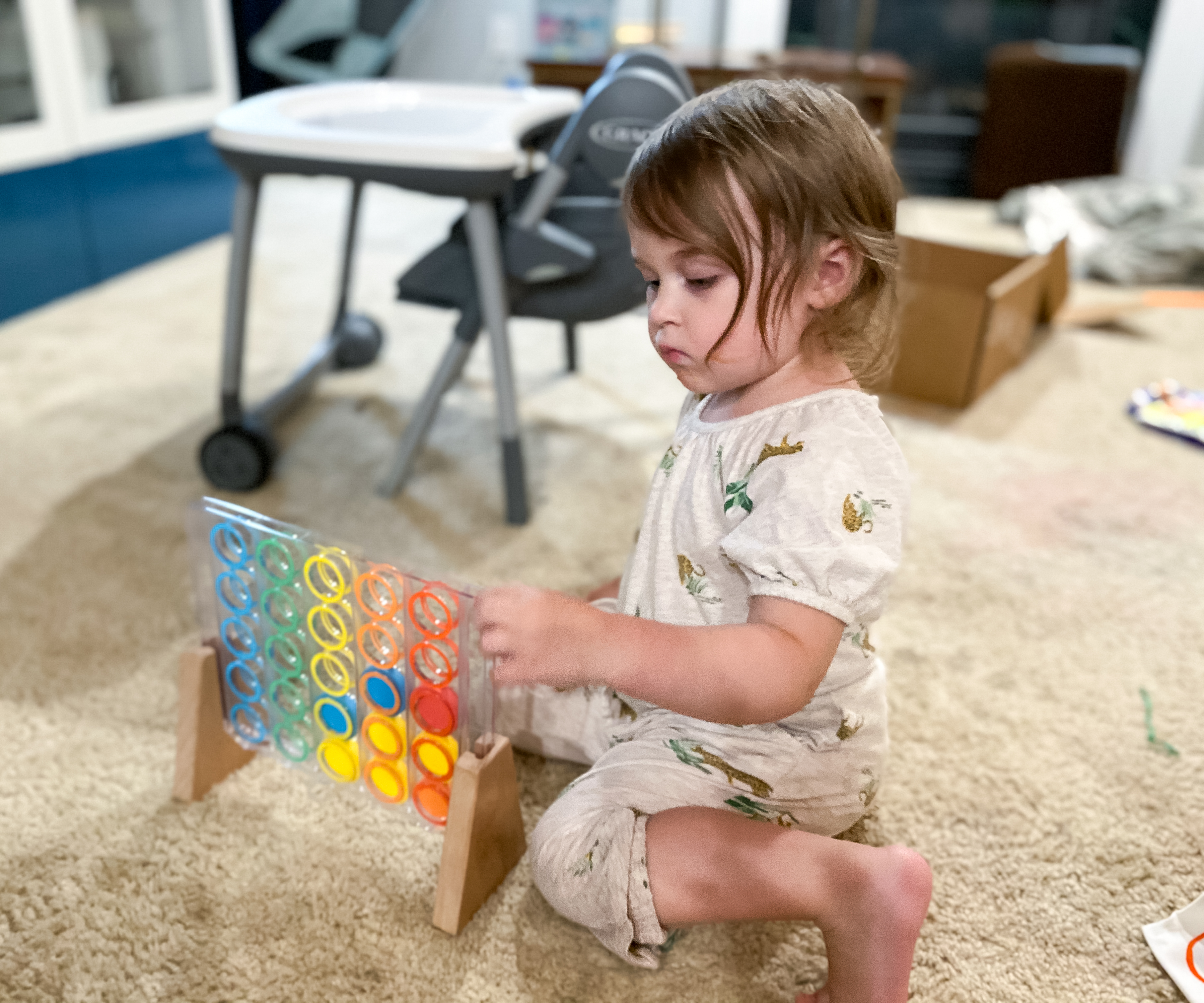 Taking out the coins from the slots by releasing the lever also excites kids!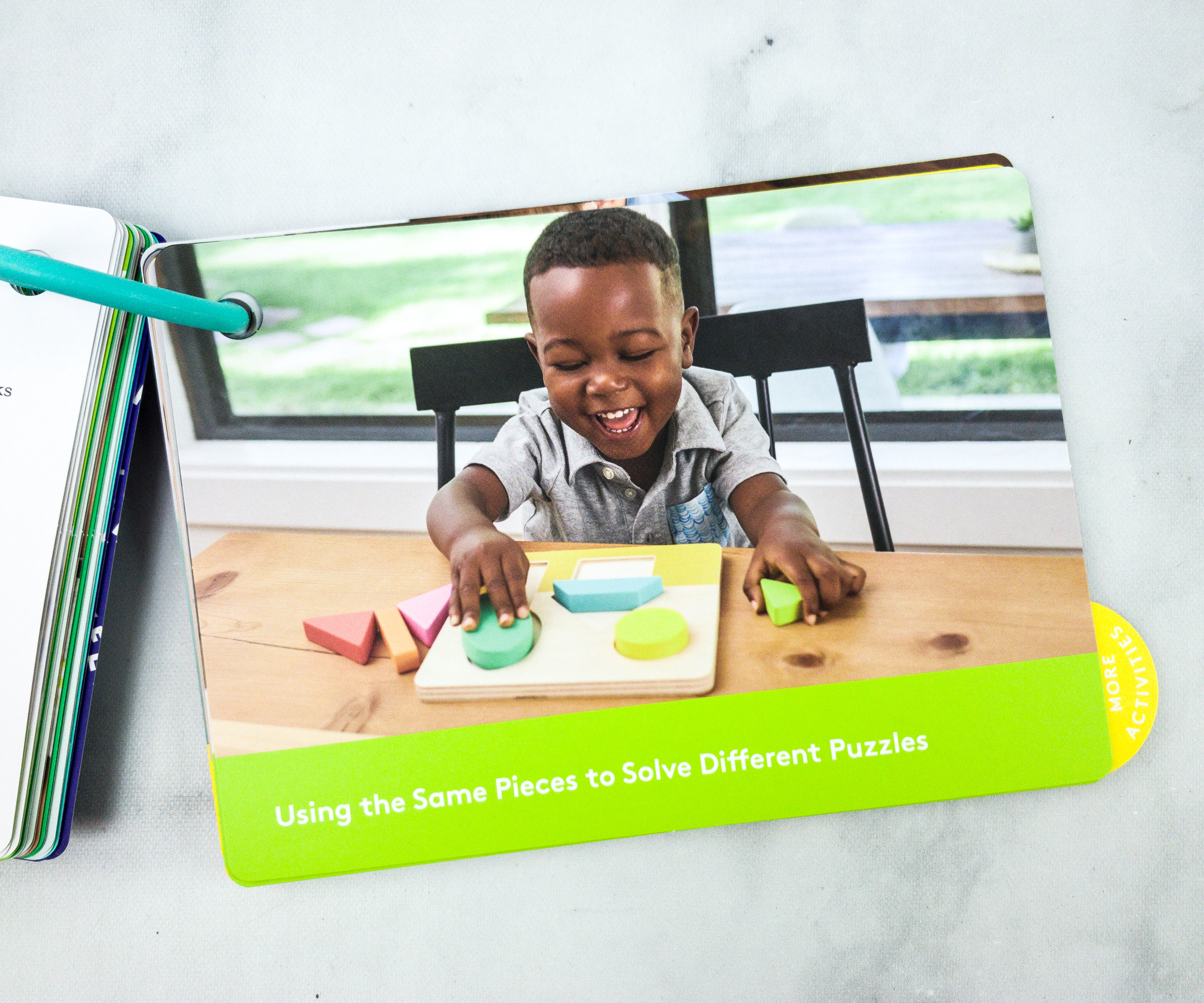 Next, we have Using the Same Pieces to Solve Different Puzzles!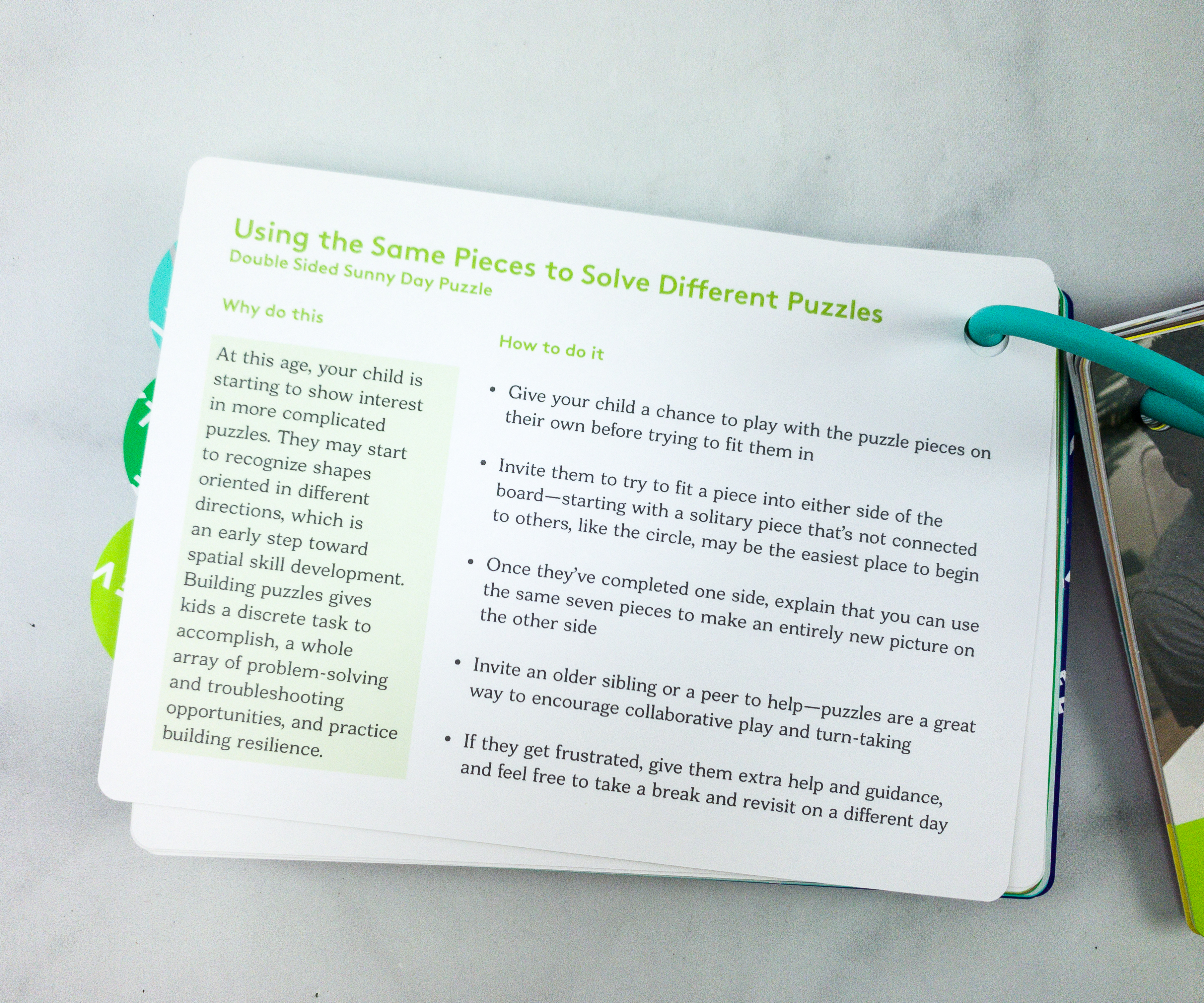 At this age, your child is starting to show interest in more complicated puzzles. They may start to recognize shapes oriented in different directions, which is an early step toward spatial skill development. Building puzzles gives kids a discrete task to accomplish, a whole array of problem-solving and troubleshooting opportunities, and practice building resilience.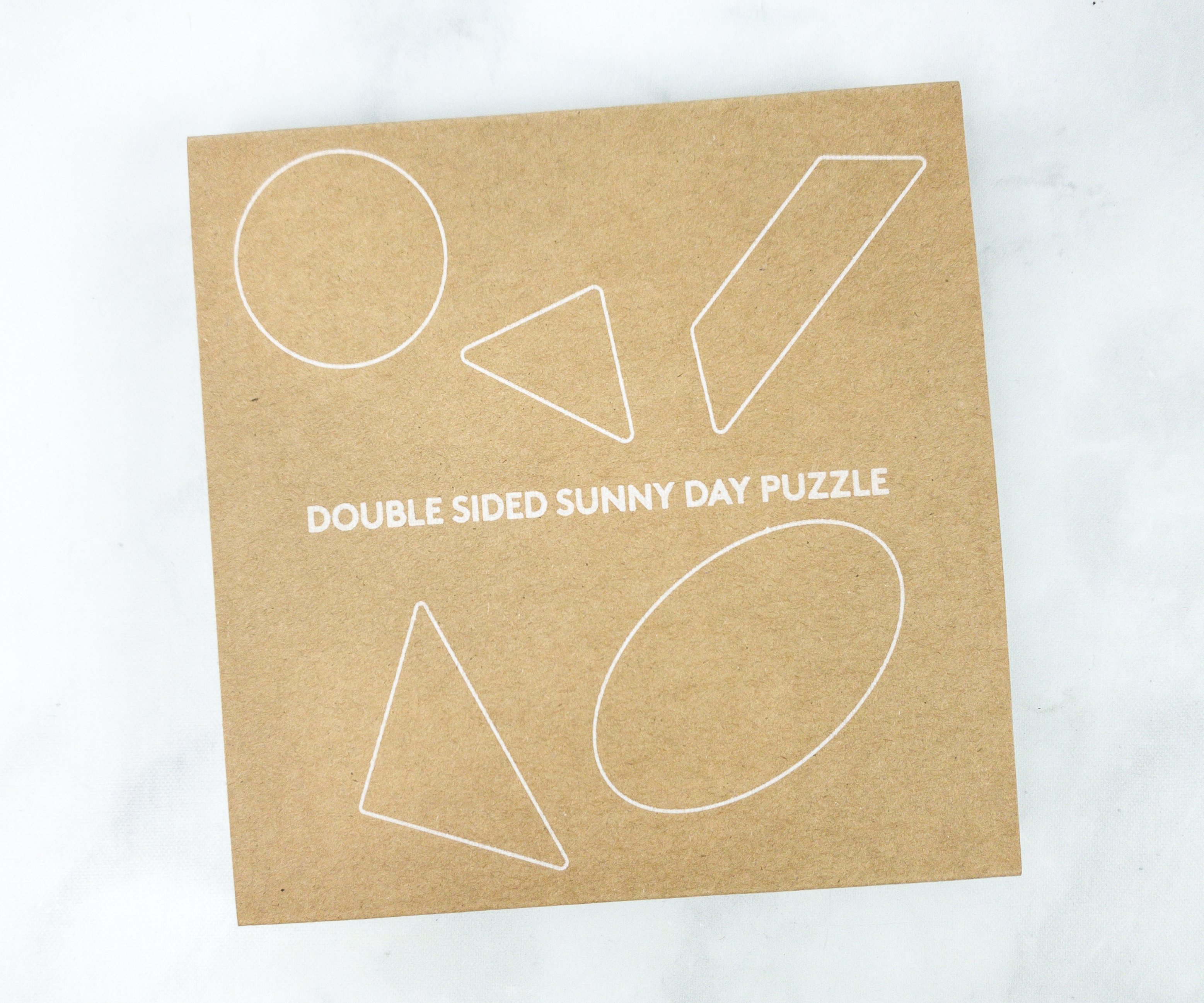 It's a double-sided puzzle designed to improve a child's spatial skills!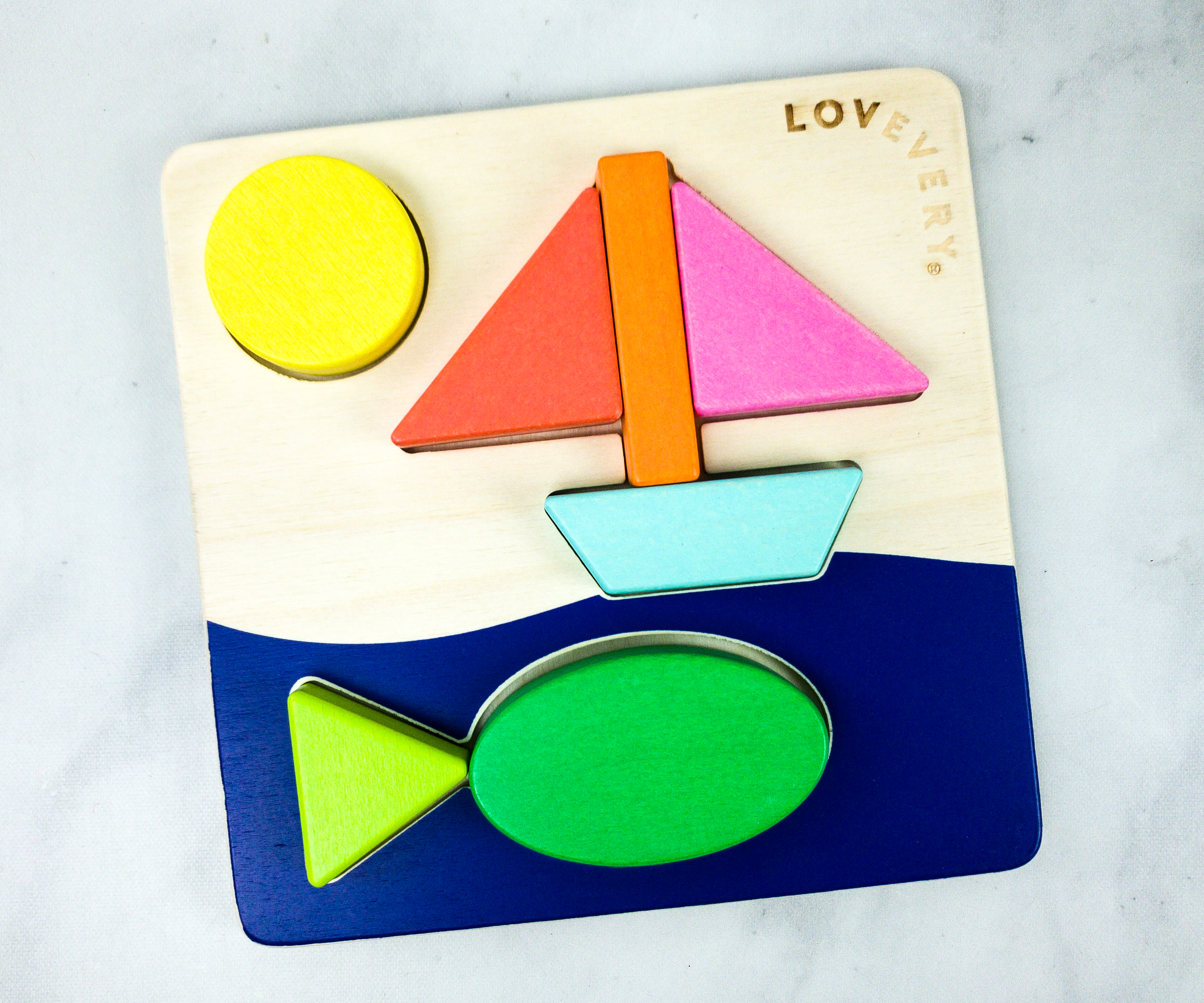 One side features a boat, a fish, and the sun, and they are composed of basic shapes such as triangles, oblongs, circles, and rectangles.
The same shapes can be used on the other side of the puzzle which shows a house with a tree beside it.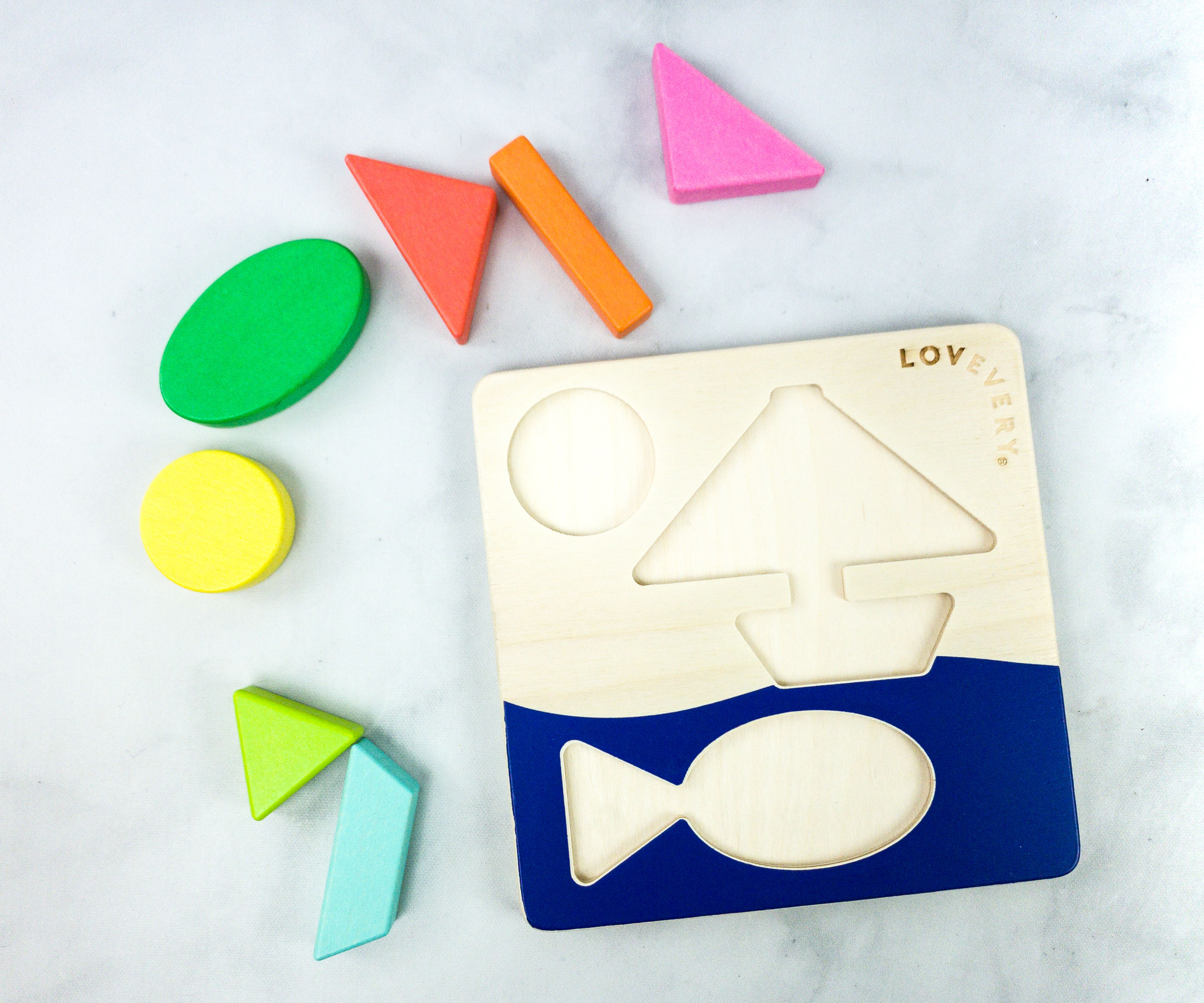 To familiarize kids with the shapes, it's recommended to let them play with the puzzle pieces first before encouraging them to fit the shapes into the puzzle. For collaborative play, older siblings are encouraged to help as well.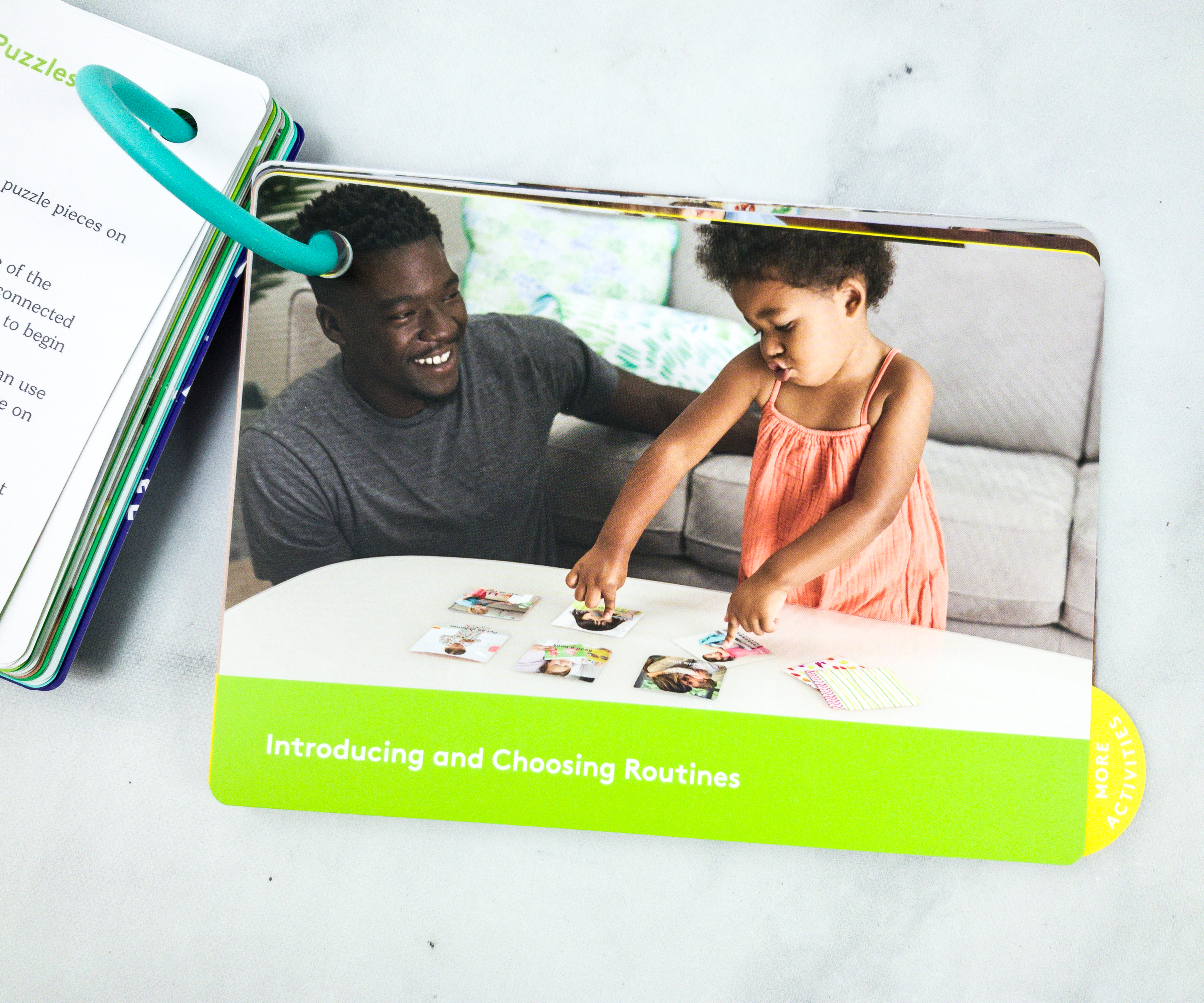 The next activity is called Introducing and Choosing Routines!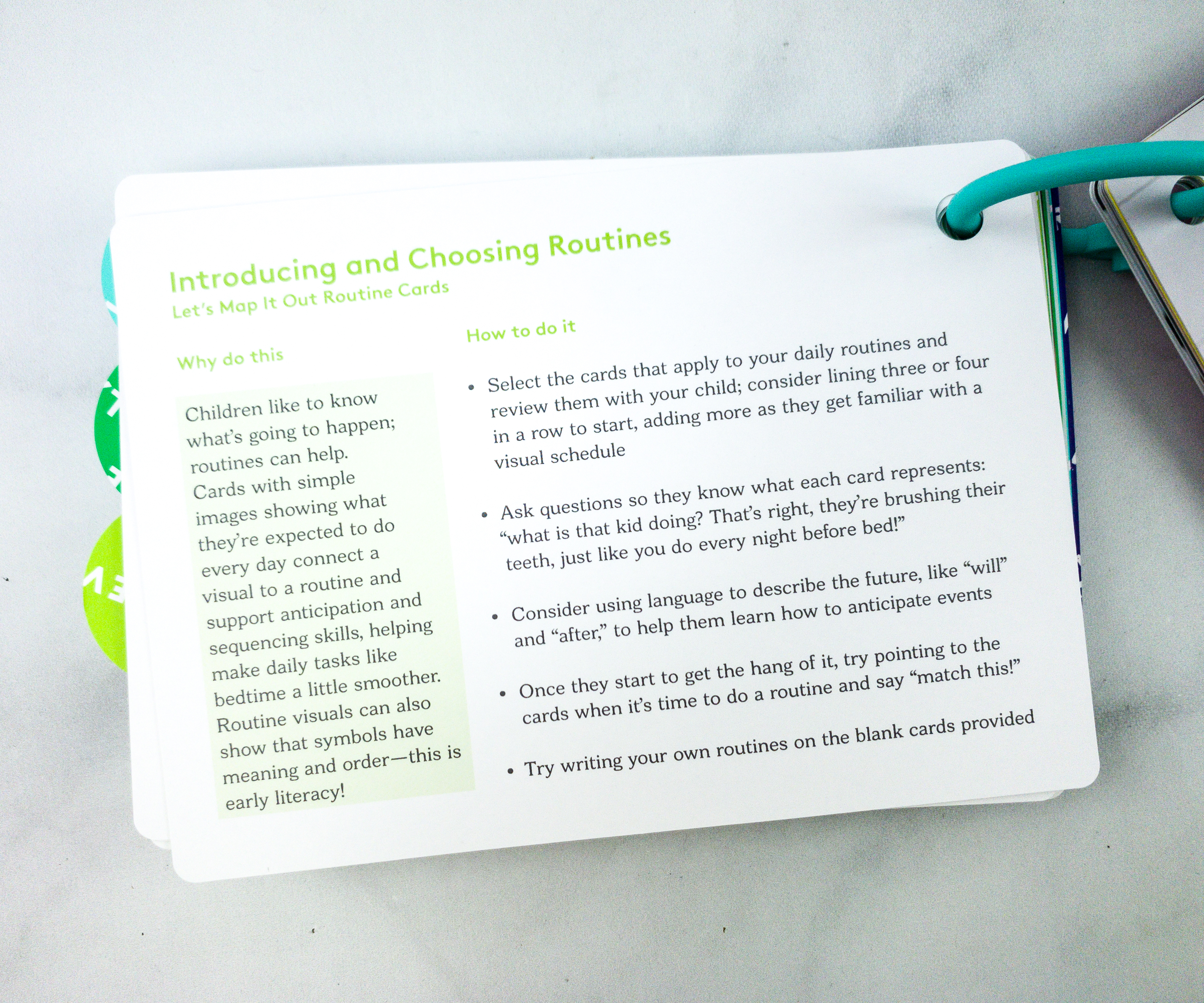 Children like to know what's going to happen; routines can help. Cards with simple images showing what they're expected to do every day connect a visual to a routine and support anticipation and sequencing skills, helong make daily tasks like bedtime a little smoother. Routine visuals can also show that symbols have meaning and order–this is early literacy!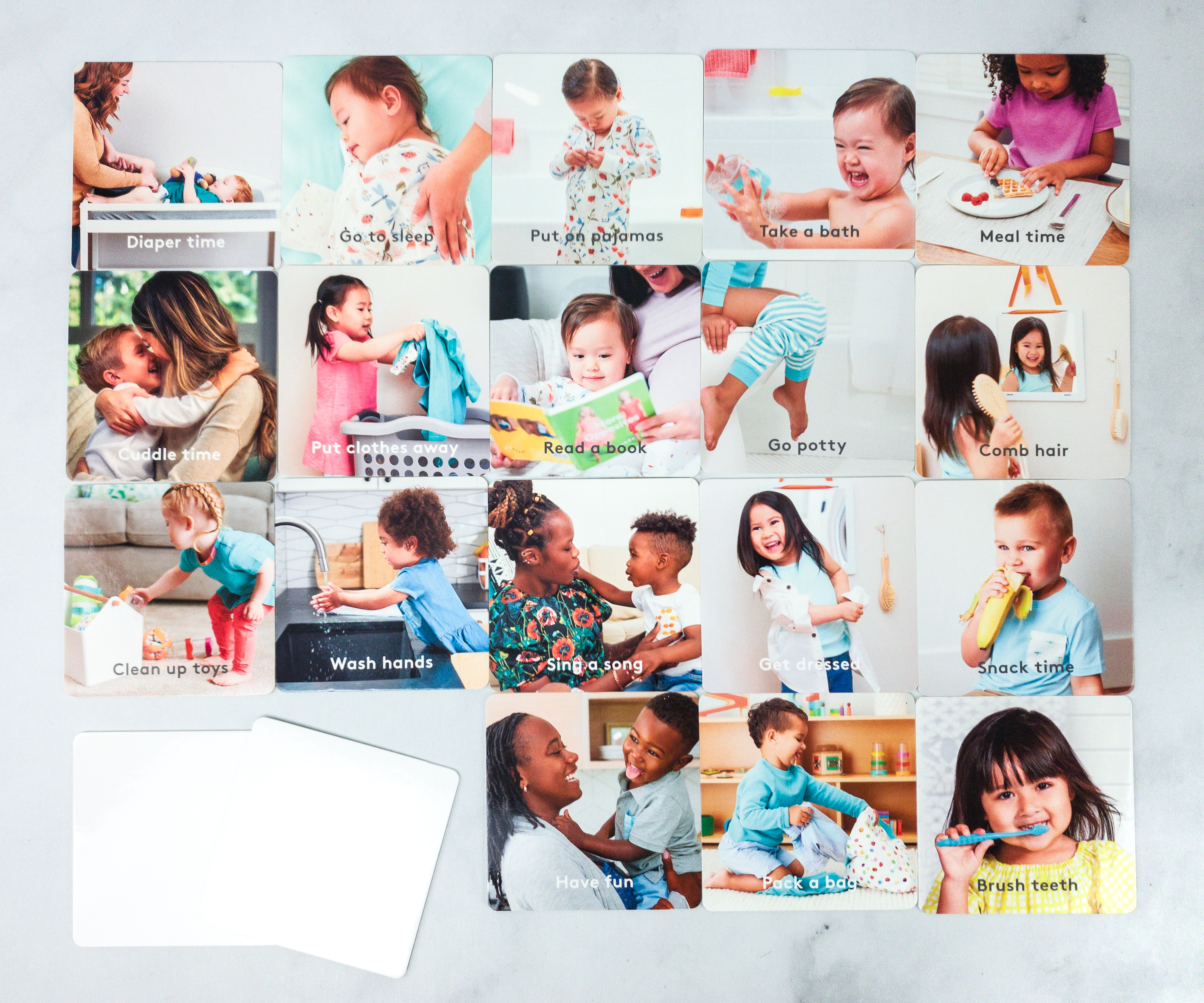 These cards show different things that kids do in their daily routine, like taking a bath, having a meal, cleaning up toys, brushing their teeth, and more. The photos are fun, and at the bottom, there's a short text describing the action. There are also 2 blank cards where we can draw or write other things in our baby's routine!
The back of the cards features various colorful patterns.
Lastly, here's Baking Together is as Easy as 1-2-3.
Math comes to life when you connect it to the real world. Your child is still learning what numbers mean, so counting is an activity that benefits from context–what are you counting? In addition, rhyming (a skull your chilld is years away from being able to do on their own) has many cognitive benefits, from improved memory, to language development and literacy.
For this activity, we received a picture book entitled Making Muffins!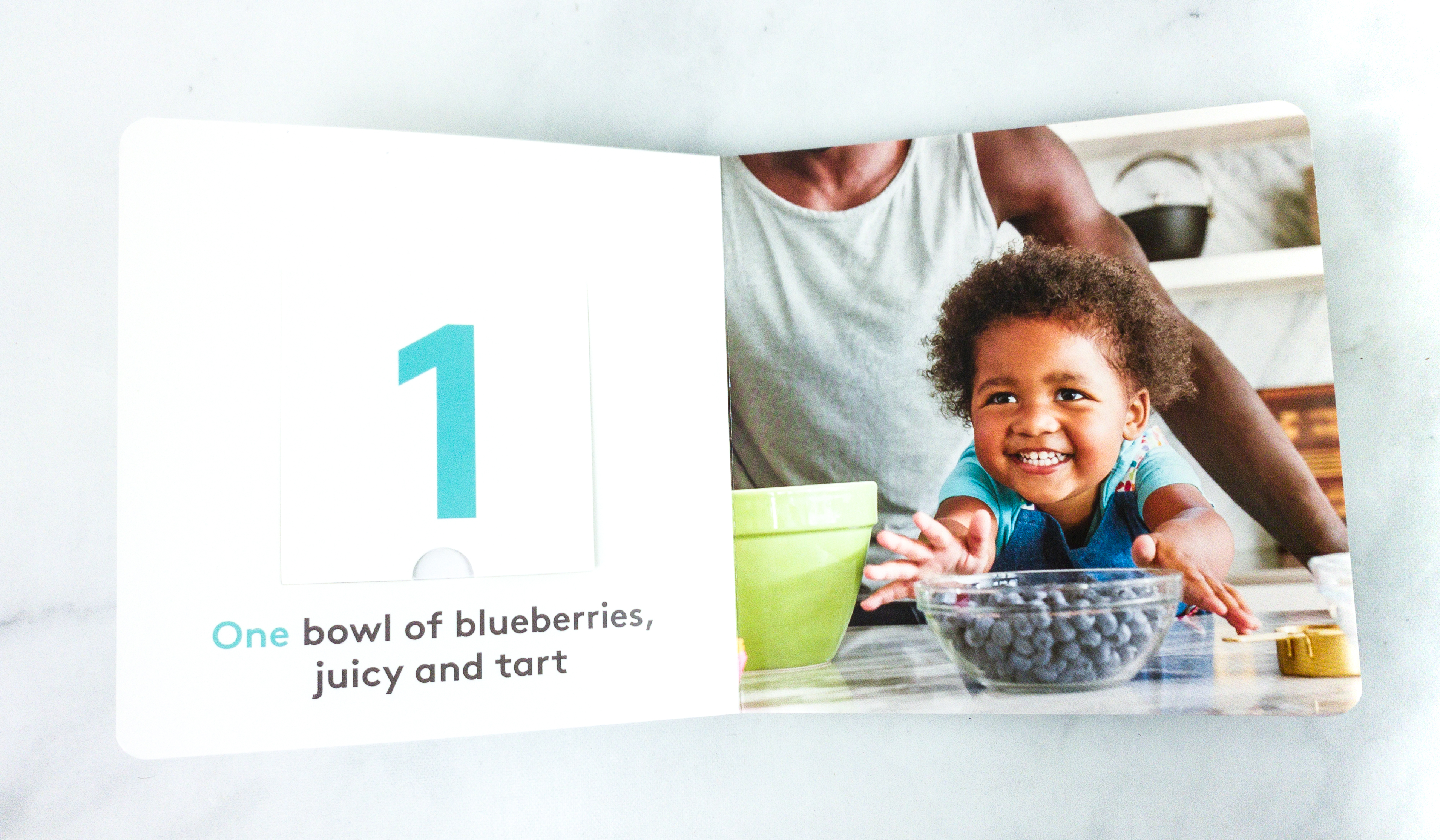 This baking-themed book teaches kids about counting and rhyming words!
When you remove the card, it will reveal a photo that matches the text printed at the bottom of the page. For this example, we have a bowl of blueberries!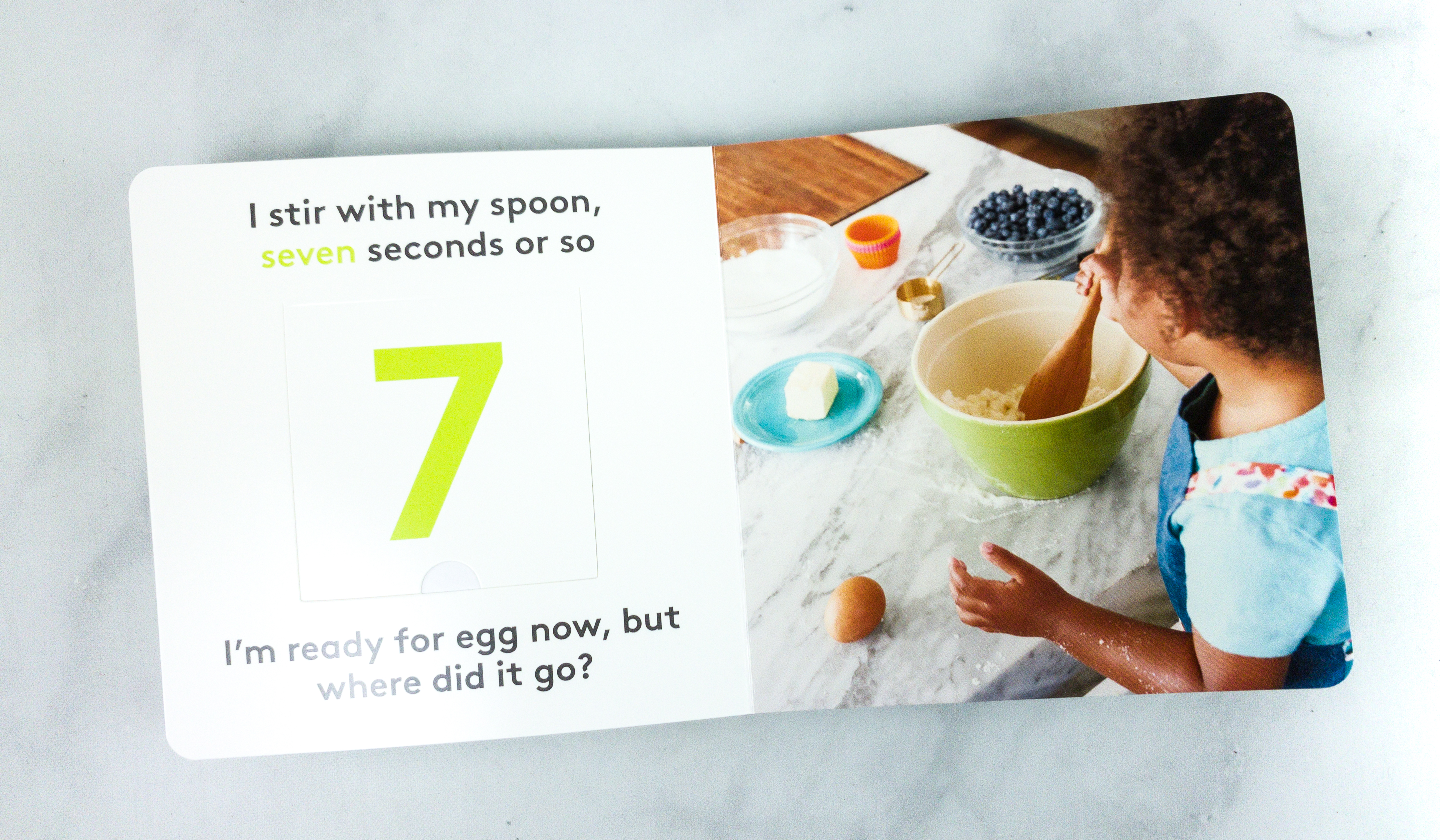 You can make the rhyming words more noticeable for kids if you emphasize them at the end of the sentences when reading!
Once your child is familiar with the rhyming words, you can start leaving out the second word from the pair of rhymes and then see if they can fill it out!
My daughter found the book interesting! She loves the photos as well!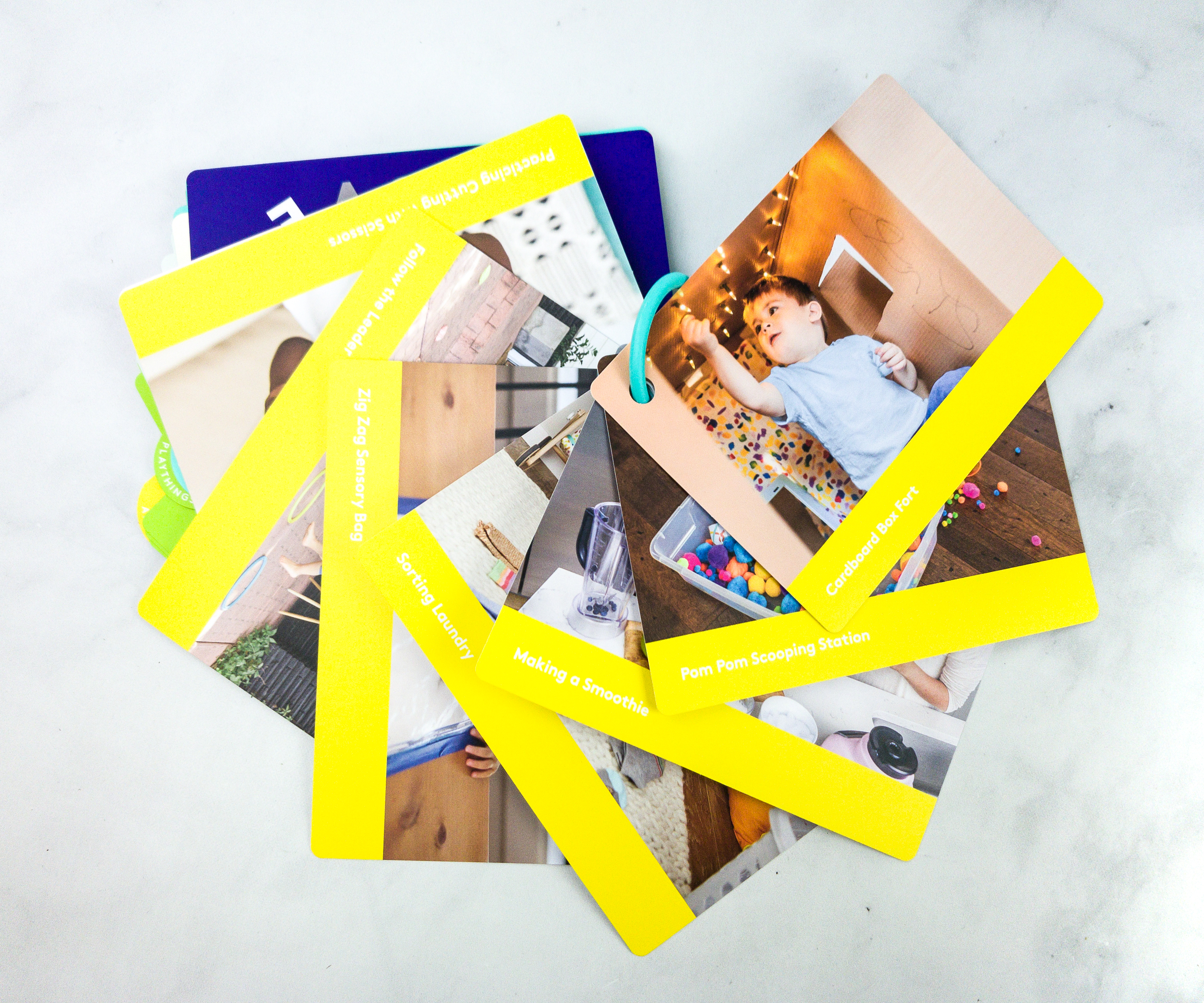 The last part of the booklet is called Real Life Play.
These cards suggest more play ideas using materials we can find from home.
This new Play Kit from Lovevery is tailored for 2-year-old kids! So far, everything is a hit with my daughter, from the toys to the suggested activities. This subscription makes learning more fun and exciting for the young ones, and it's such a great help for parents as well! We love the booklet because it has everything we need to know about our child's current developmental stage. Plus, their tips are practical and easy to follow. As for the toys, they are exclusive to this subscription, making each box really worthy of its price. The toys are also made with toddler-safe and non-toxic materials so we have no worries when giving them to my daughter. The Sustainable Sink is obviously my daughter's favorite from this box. It's a uniquely designed toy for sensory play and she had so much fun with it! Overall, we're pleased with this box and we think that this is one of the best educational subscriptions for toddlers!
What do you think about Toddler Play Kits by Lovevery?