The Hippie Box is a monthly aromatherapy box containing items from The Hippie Homesteader! I've encountered hand-made, small batch items from this maker before and was so excited to hear they have a monthly box! Every month they will send a sampling of their exclusive aromatherapy rollers, new blends, and bath and body samples. The Hippie Box is $19.95 a month and shipping is free, plus members receive free shipping on shop items too!
Here at the Hippie Homesteader we believe that wellness and beauty is best designed by nature. The Hippie Homesteader products are handcrafted in small batches using only pure essential oils and naturally sourced ingredients. Our essential oil blends uplift the mind, body, and spirit with the power of nature.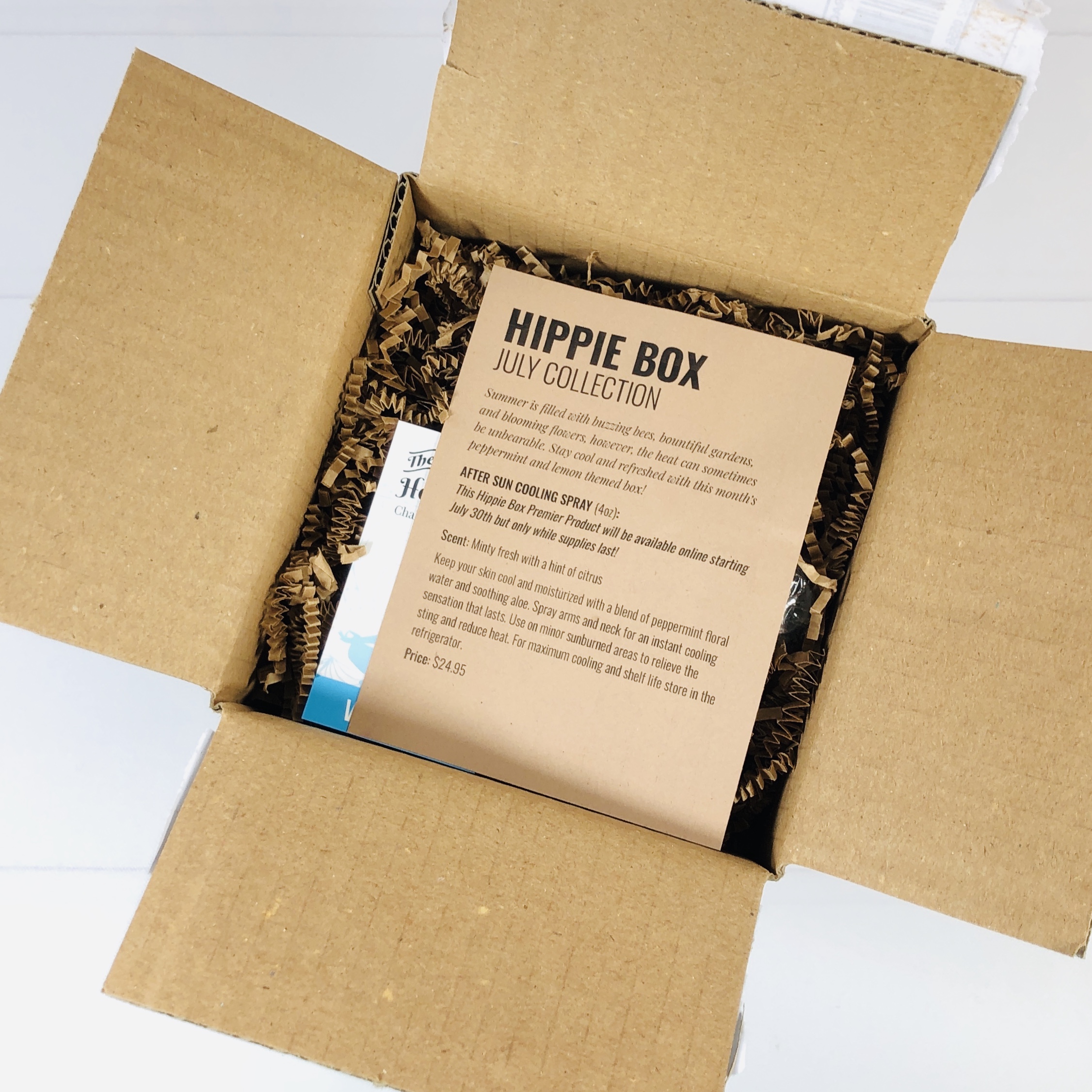 This is my first Hippie Box!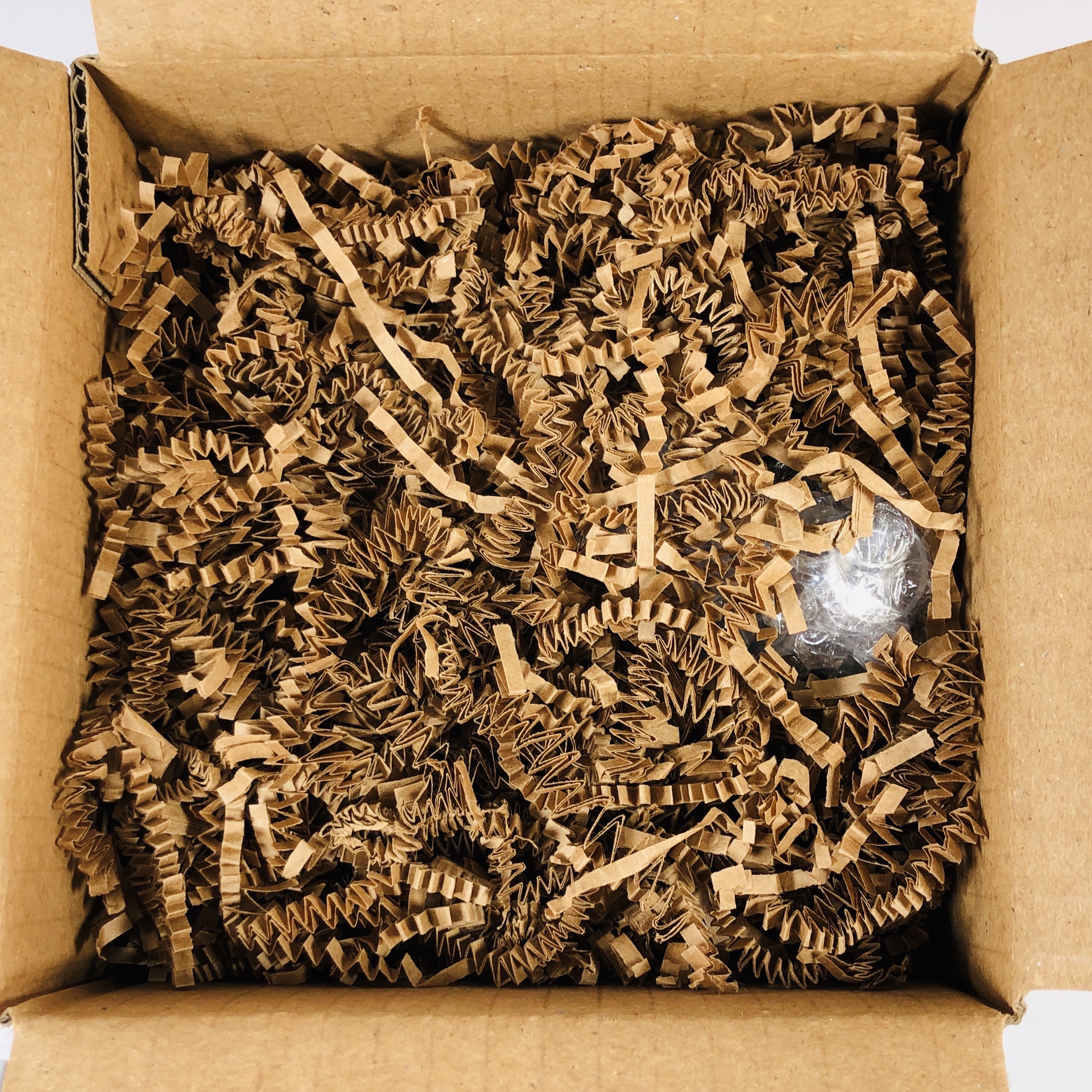 My items were packed in shredded paper squiggles.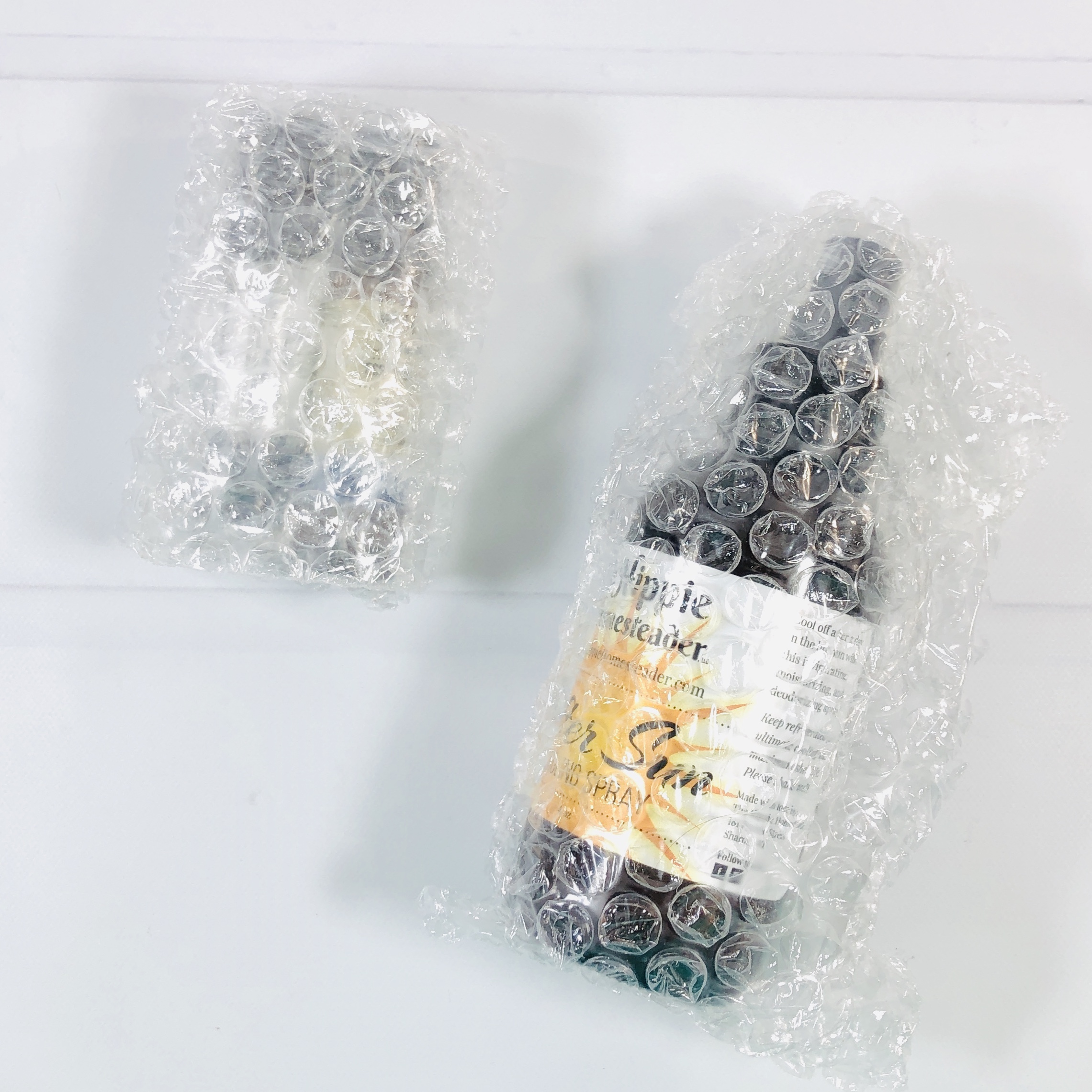 The bottles are glass so they were protected with bubble wrap.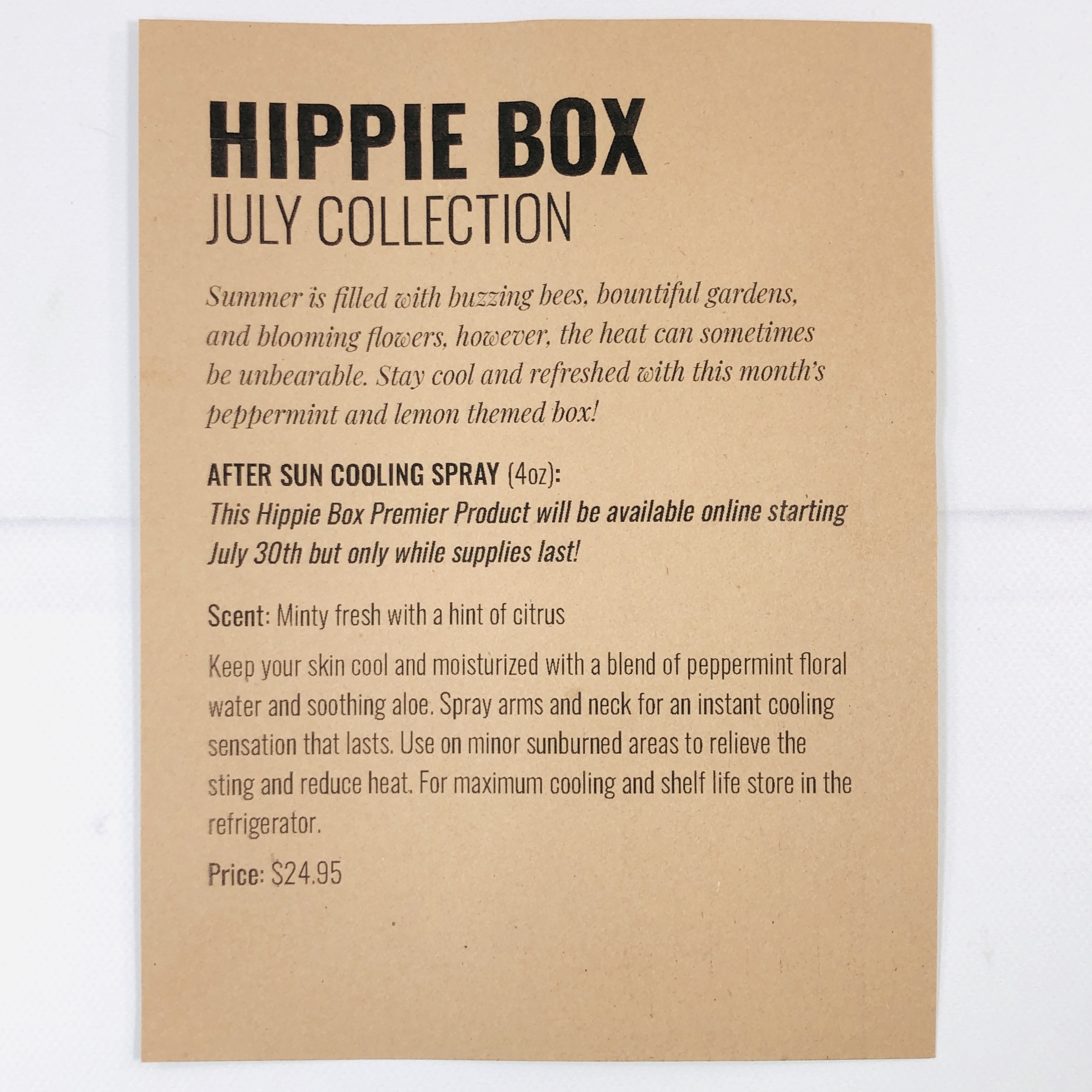 I found a paper with my items listed. July's box is filled with lemon and peppermint scents!
MSRP's were listed along with a brief description.
Everything in my Hippie Box! The Hippie Box includes items that may not be available on their website, so you will be first to try them!
After Sun Cooling Spray ($24.95) is a limited-time product, since summer must come to an end eventually for most of the country.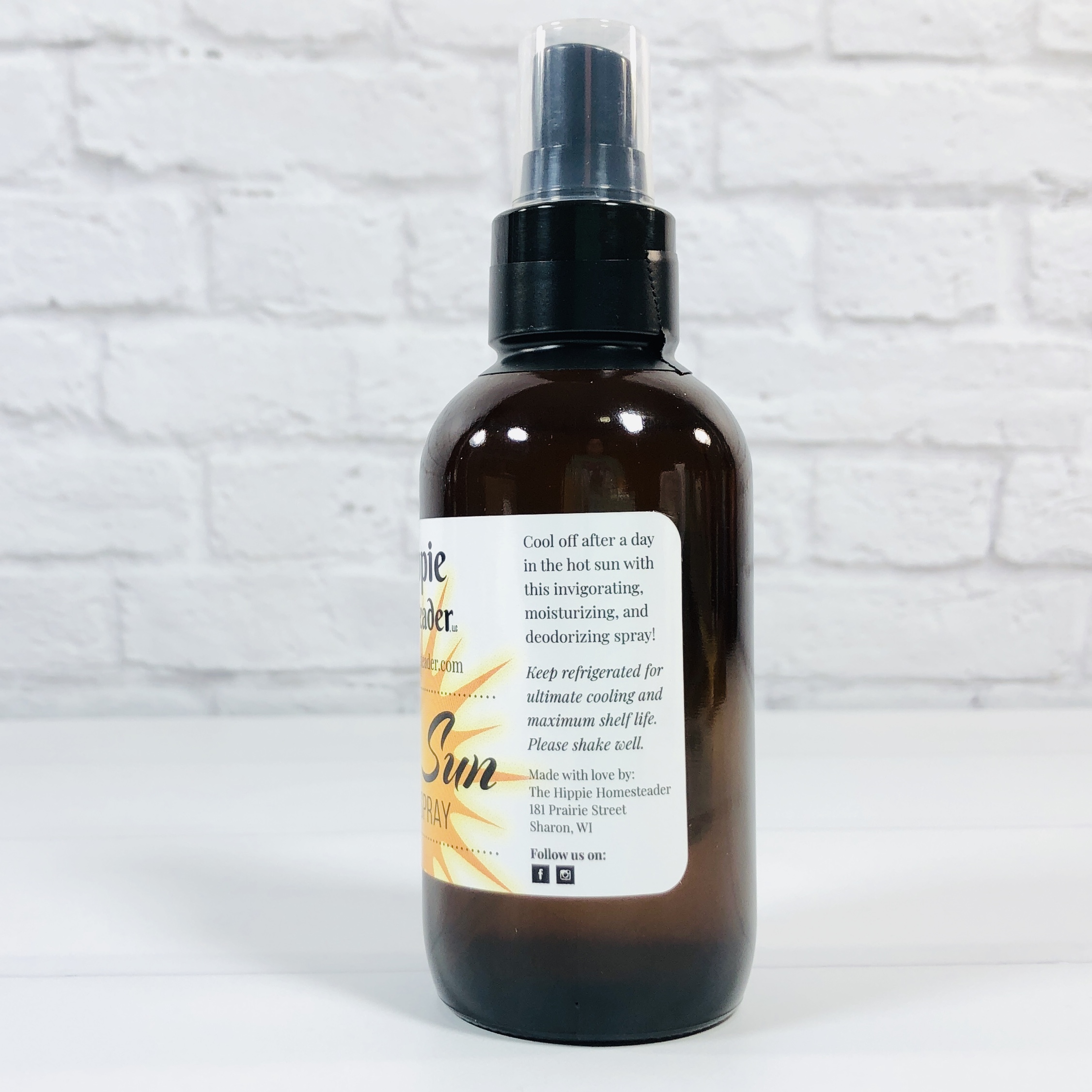 It's a spray that's supposed to help you feel cool after a day in the sun. Store it in the fridge for an extra burst of coolness.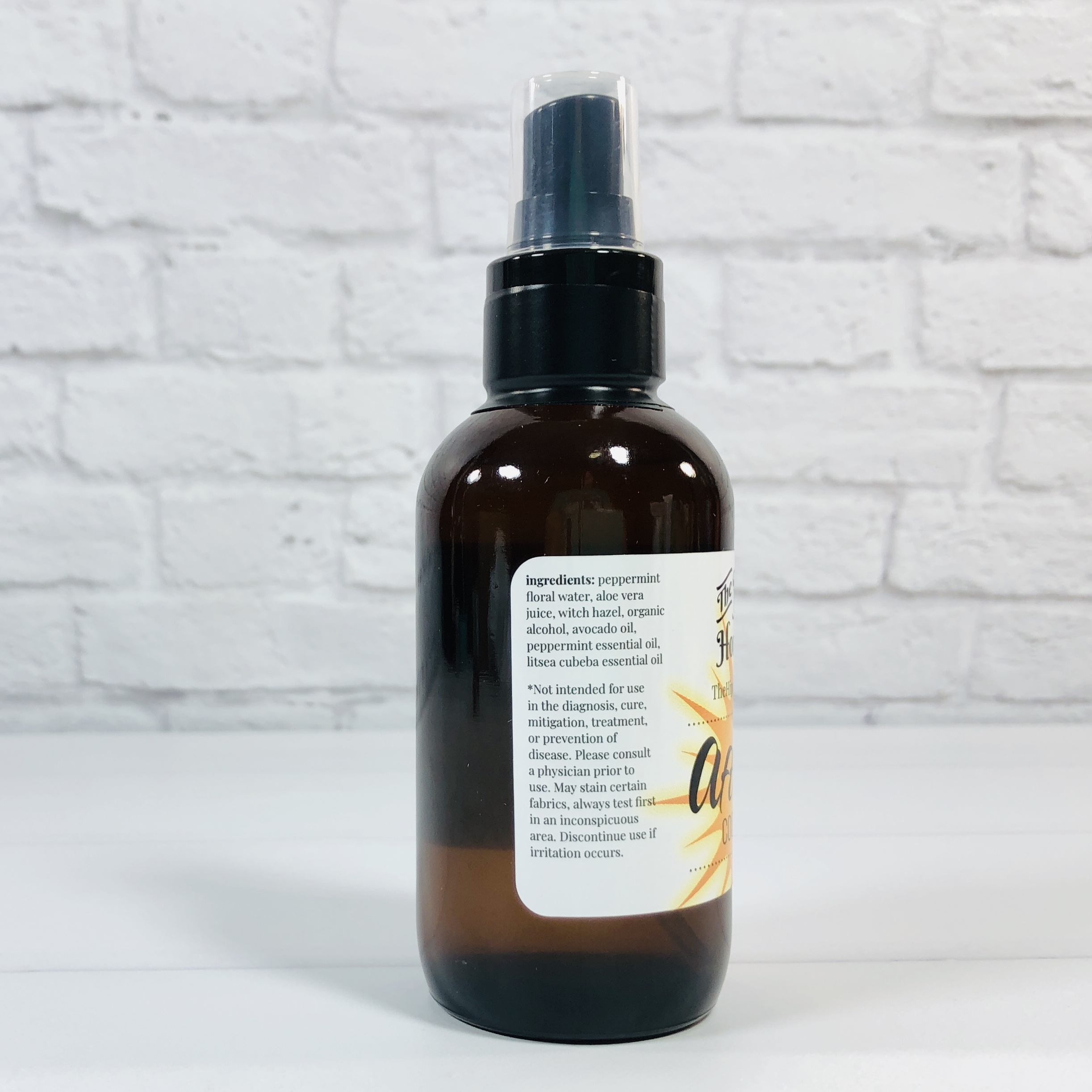 Ingredients include peppermint floral water, aloe, and witch hazel. I'm not familiar with litsea cubeba but it has a lemon scent and lemon and peppermint were all I can smell when I sprayed this on. It is uplifting and I will use it generously this next month, since the temps will be 100+ the rest of the month. It's Central Texas y'all!
The next item came with a mini card.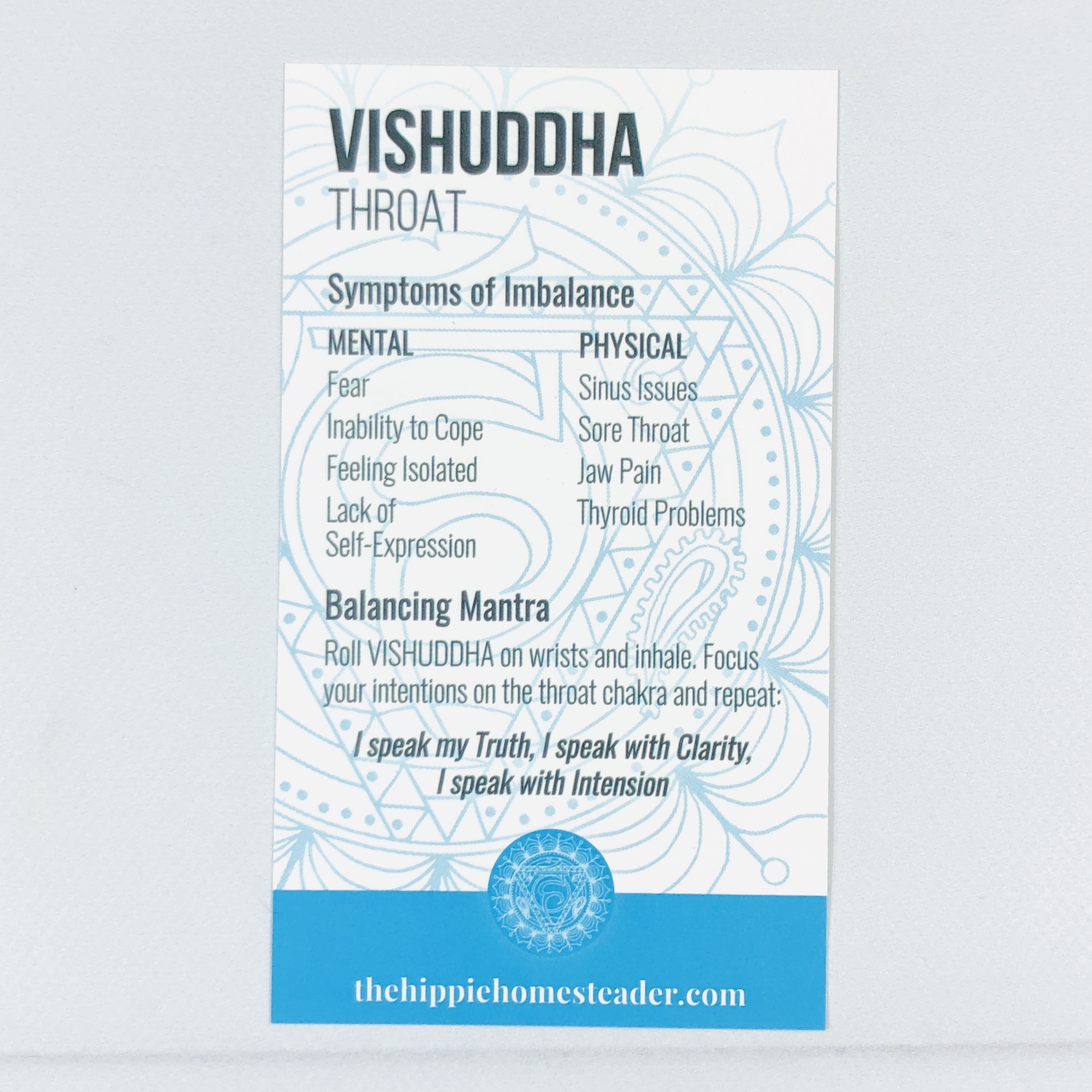 It discusses symptoms of an unbalanced throat chakra and some tips on getting that chakra back in check. I think it's fair to say that I am experiencing all of the symptoms on the left, thanks to Covid worries. Time to take a deep breath.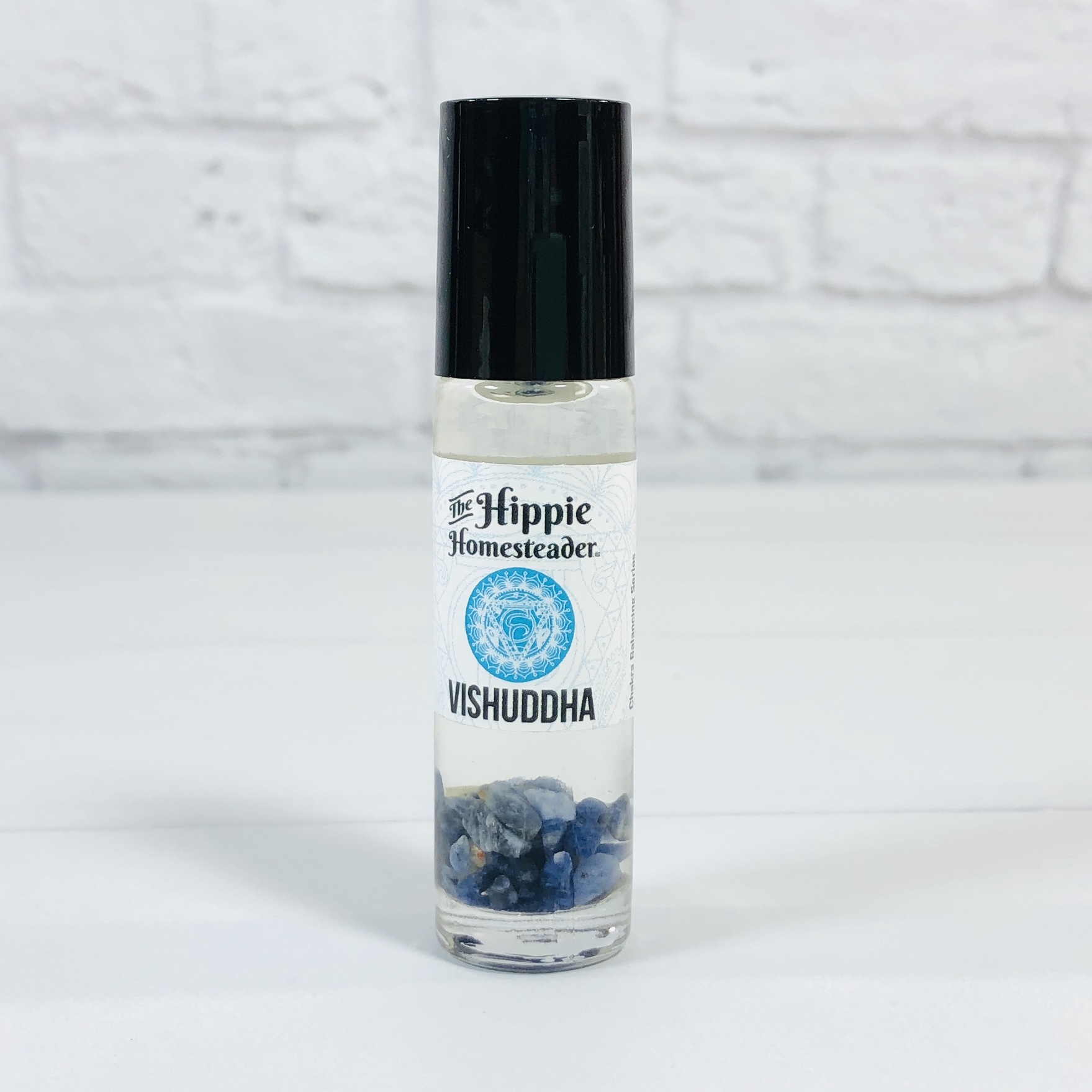 Vishuddha Chakra Balancing Oil ($12.95) Roll ons are such an easy way to apply oil-based products such as this, just roll it wherever you want it to go.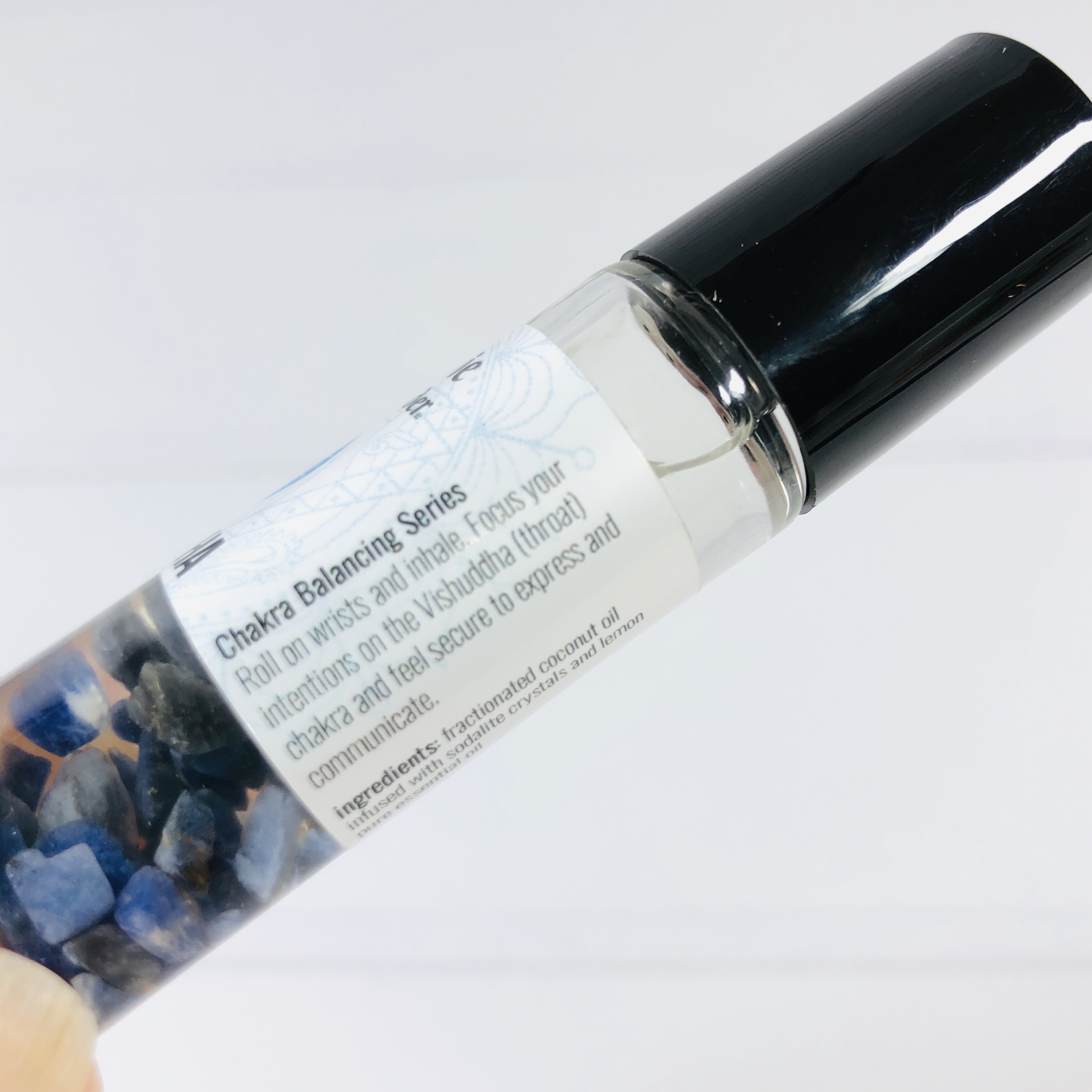 The ingredients are fractionated coconut oil (which generally stays liquid when it gets cold), sodalite crystals (for those who experiencing high emotions), and lemon essential oil.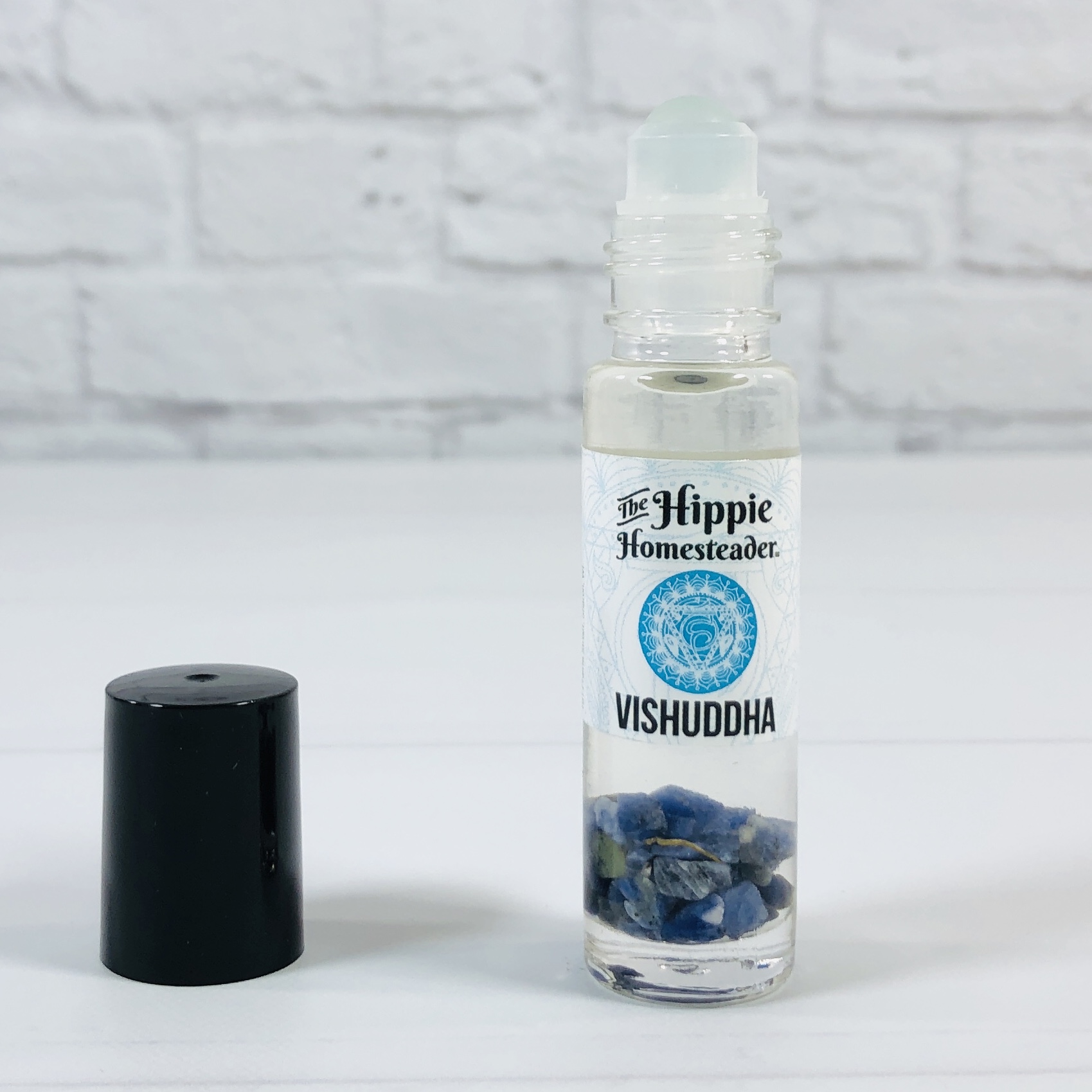 I don't think crystals have any actual powers but the mind is very powerful and I believe in the power of positive thinking. I think products like this help calm the body and mind and help me focus so I can get my emotions in control. It's a type of self-care activity, and feels calming and relaxing.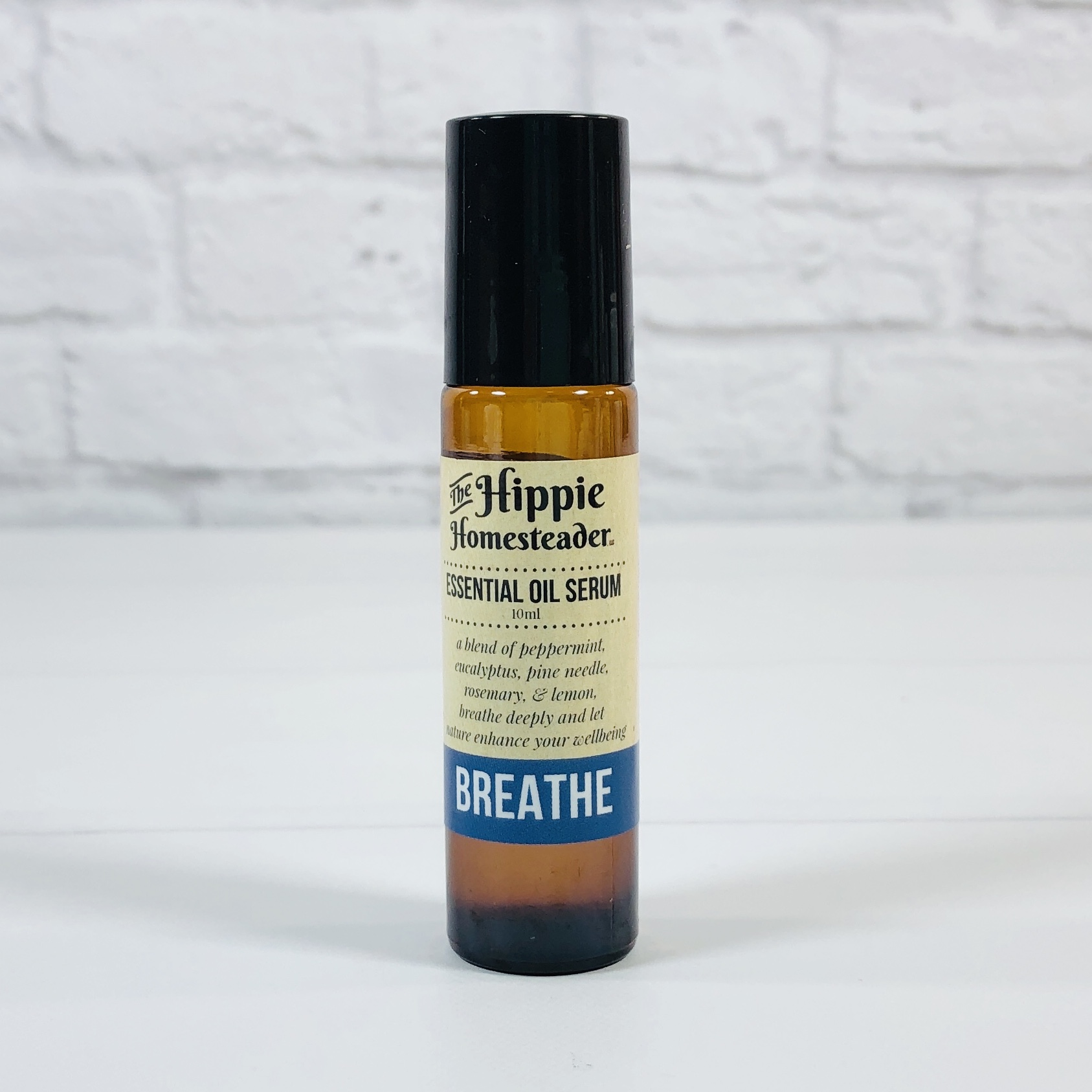 Breathe Essential Oil Serum ($11.95) I adore aromatherapy products, I think they can change my mindset in an instant!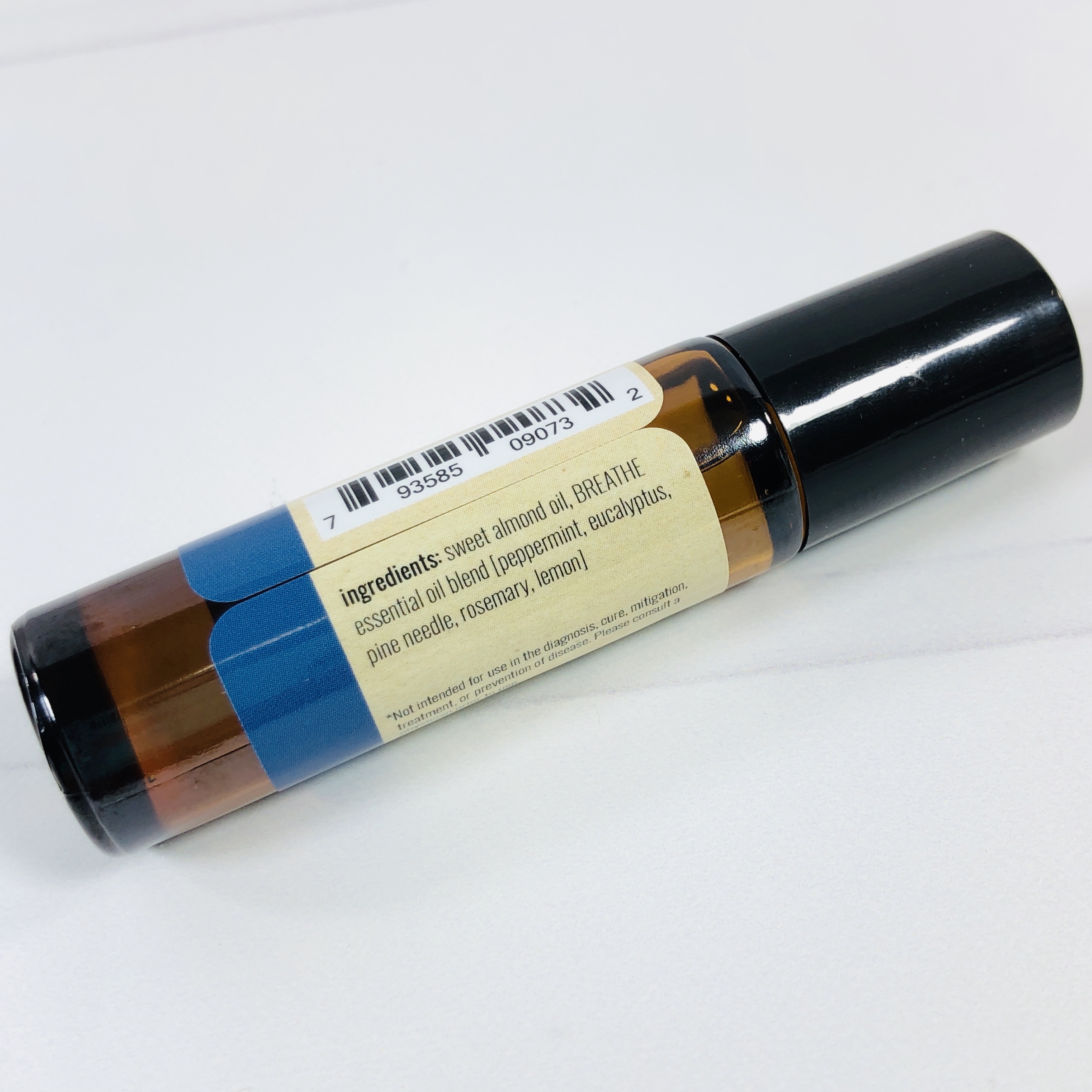 Breathe is made with sweet almond oil and a blend of essential oils: peppermint, eucalyptus, pine needle, rosemary, and lemon. I plan on mixing my own oils in this combo for my diffuser, but this is instant gratification!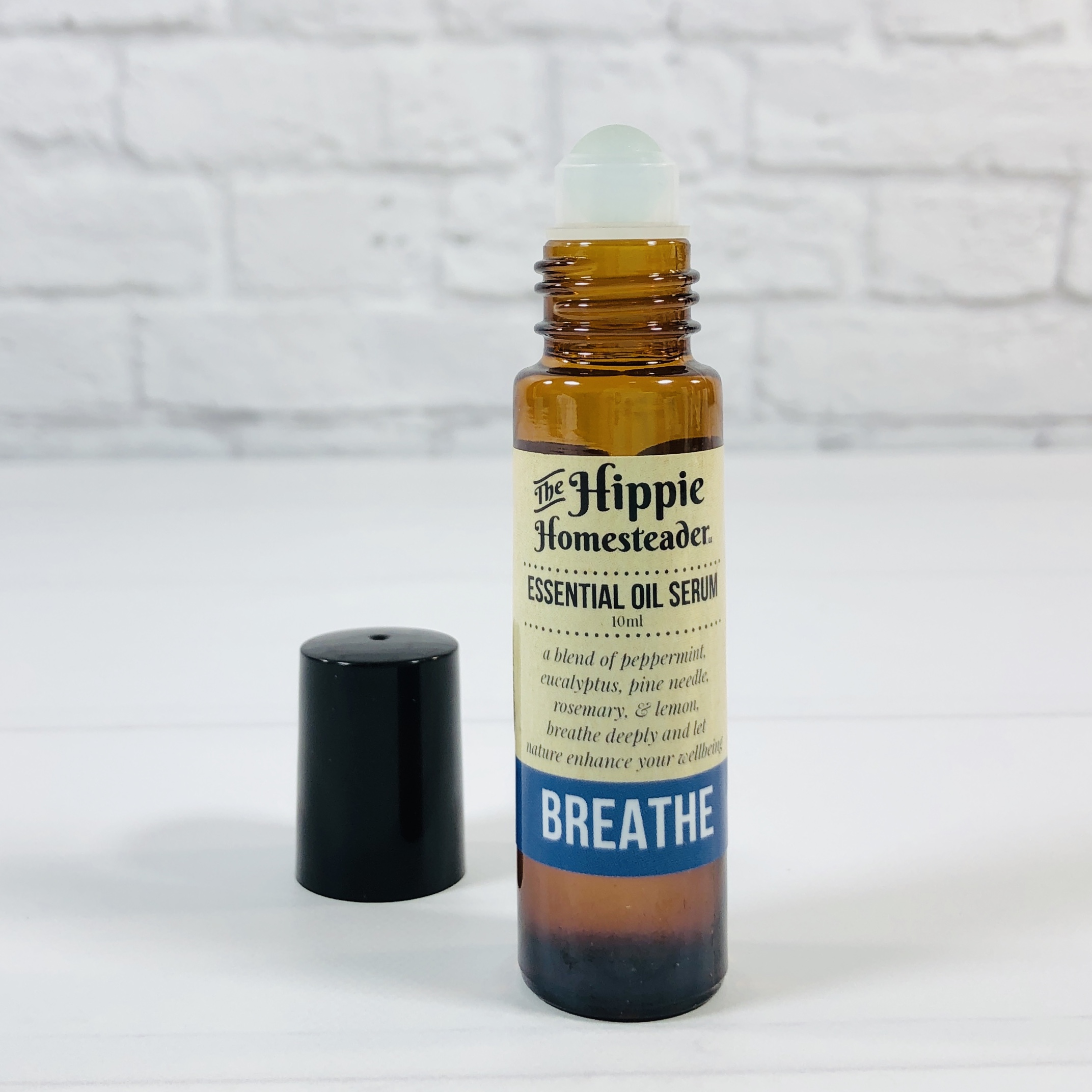 Peppermint is my most favorite scent and that is the first note that hit me when I rolled this on. I love the blend, and although I can't make out all of those other notes it doesn't matter, it's just peppermint+. It may give you some relief if you have a stuffy nose or sinus issues, but again, I love the uplifting and cooling scent and will roll it on generously for the foreseeable future.
I was pleased with the items in The Hippie Box from The Hippie Homesteader! I have always enjoyed her products (they've been mostly room sprays, which are scattered throughout my house) from other subscription boxes and liked trying some of her other offerings. I was especially enthralled with the Breathe Rollerball, I just love peppermint and it was so uplifting and refreshing.
What do you think of The Hippie Box?
Visit The Hippie Box by The Hippie Homesteader to subscribe or find out more!