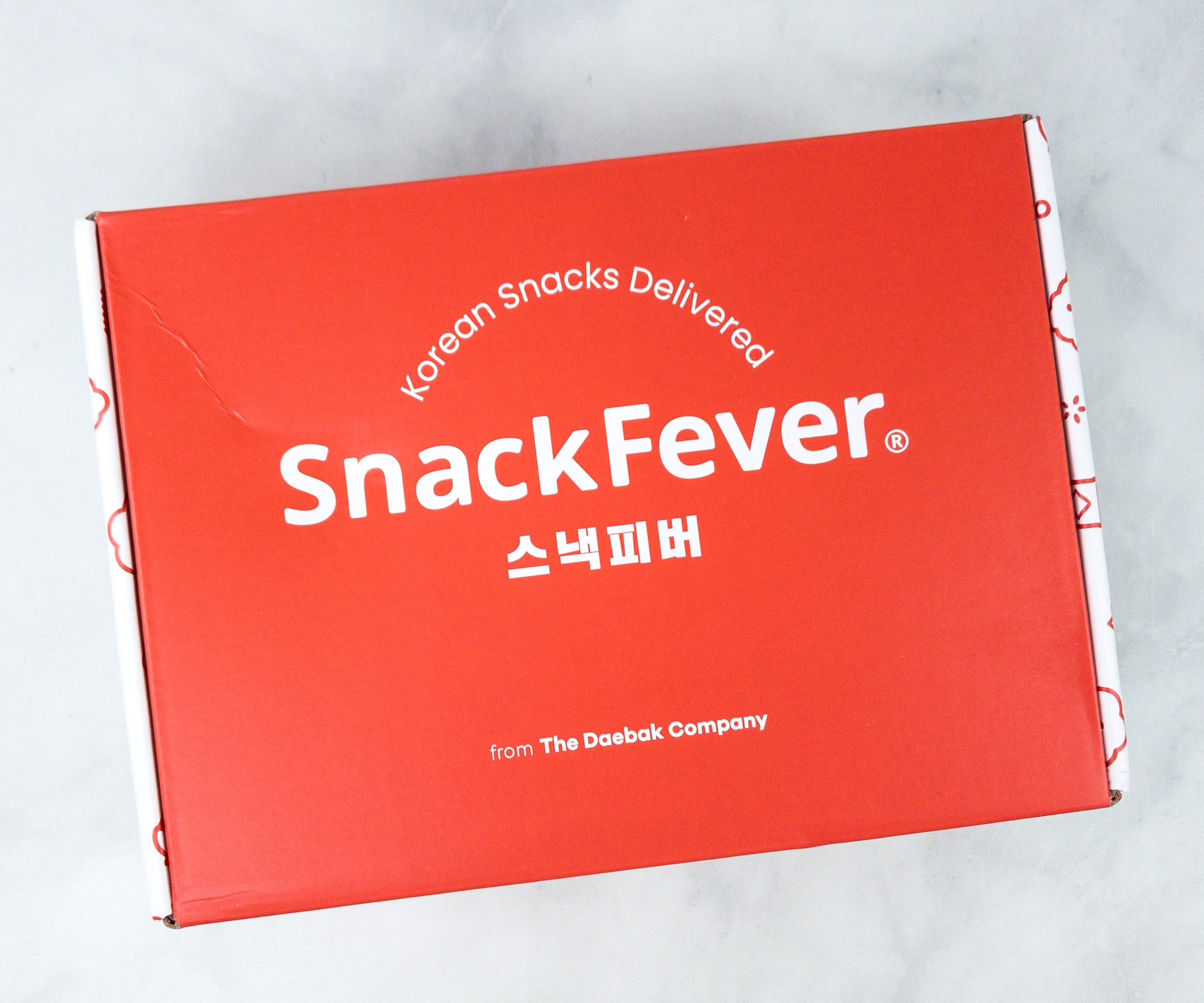 SnackFever is a monthly subscription box that delivers all your favorite Korean snacks, as well as other hard-to-find Korean treats. Snack Fever is available in two boxes, the Original box ($30) which contains 8 to 11 full-size snacks and Deluxe box ($40) which has 10 to 13 full-size, bigger, more premium snacks. Your subscription auto-renews and you can pause or cancel anytime. Shipping per box is only $5 worldwide.
This is the review of the Original box.
DEAL: Save $3 off your first box (Mini, Original, Deluxe). Use coupon code HELLOSUB3.
NOTE: Due to shipping related issues, SnackFever are canceling all the SnackFever Original Box subscriptions, and every subscription to Europe (except UK, Germany, Norway, Switzerland, Estonia, Denmark, and Sweden) and Asia (except Japan). If you still have any boxes remaining in your plan, they will issue refunds. Deluxe boxes remain available.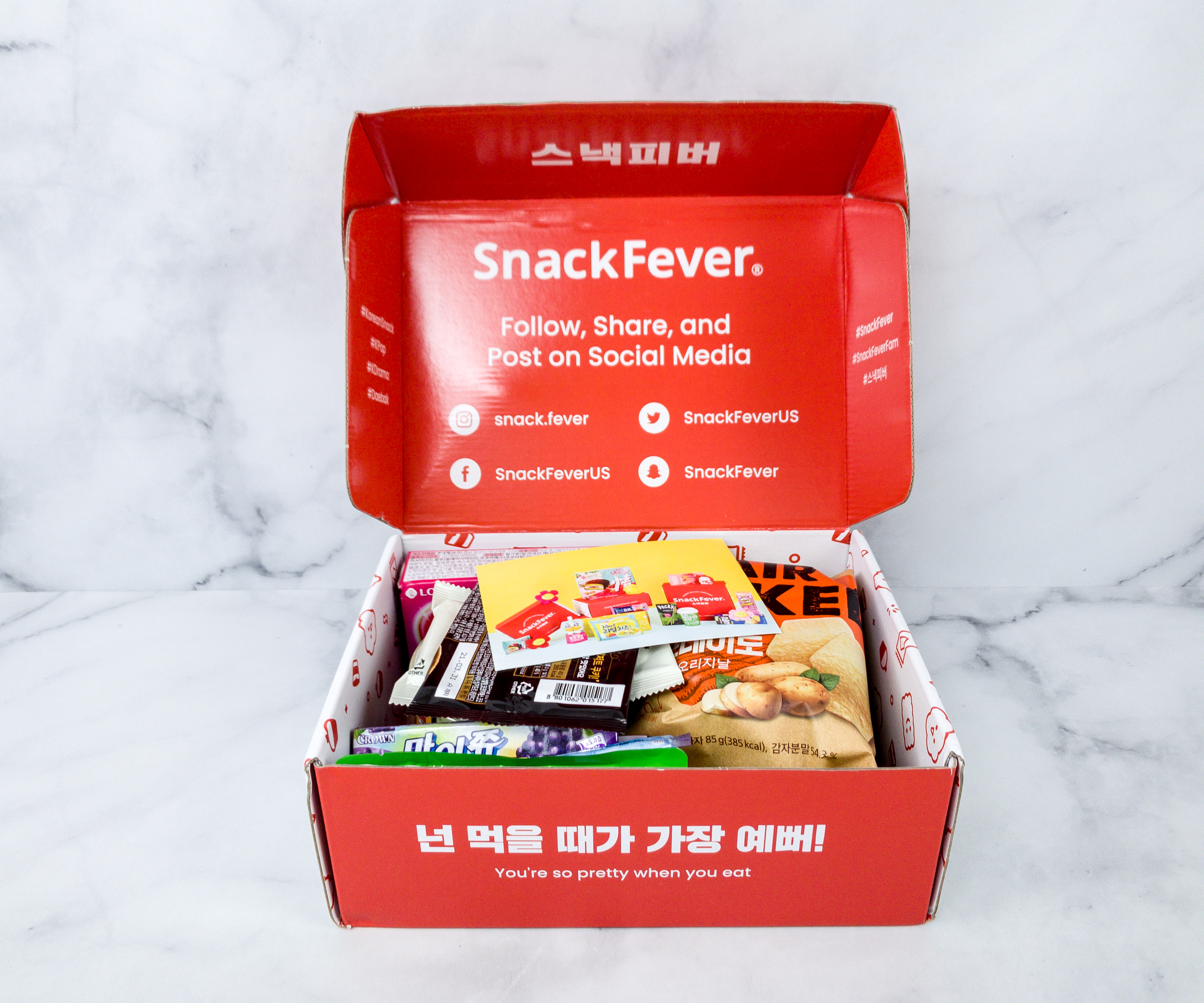 SnackFever's social media handles are printed on the box. On the side, there's even a Korean sentence which means "you're so pretty when you eat"!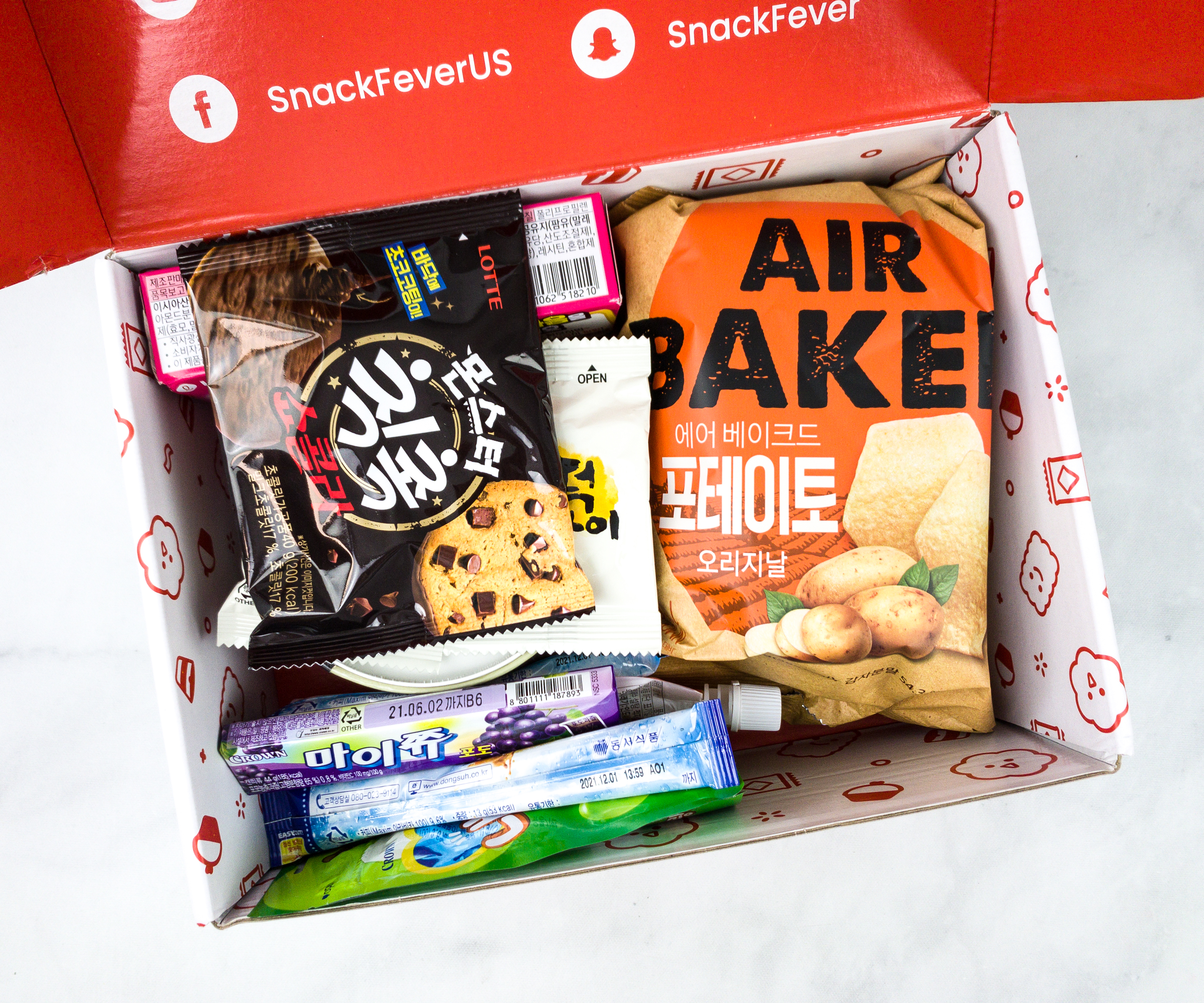 There is no extra packaging, just pure snacks!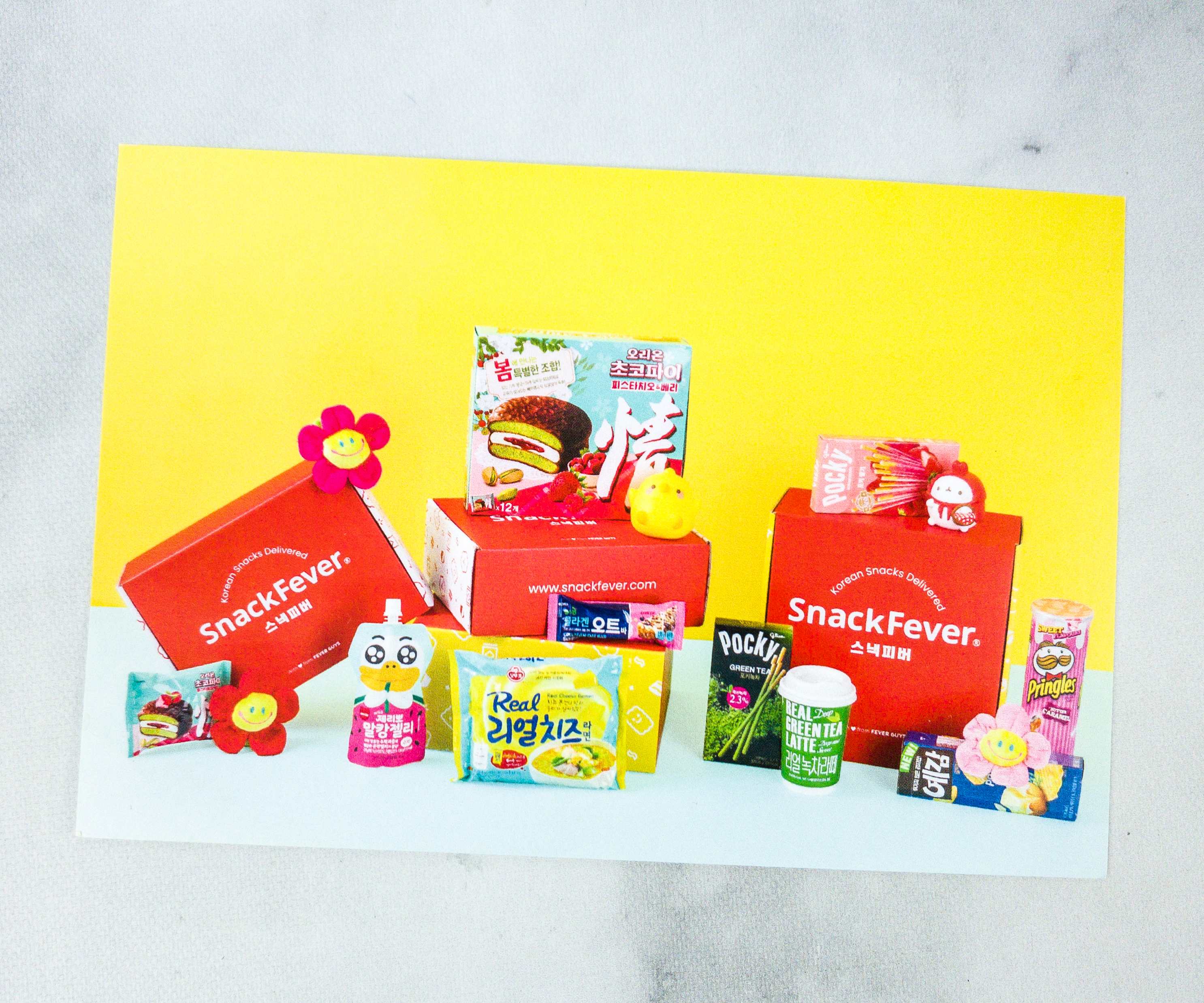 This month's box doesn't contain booklet, we only received a card.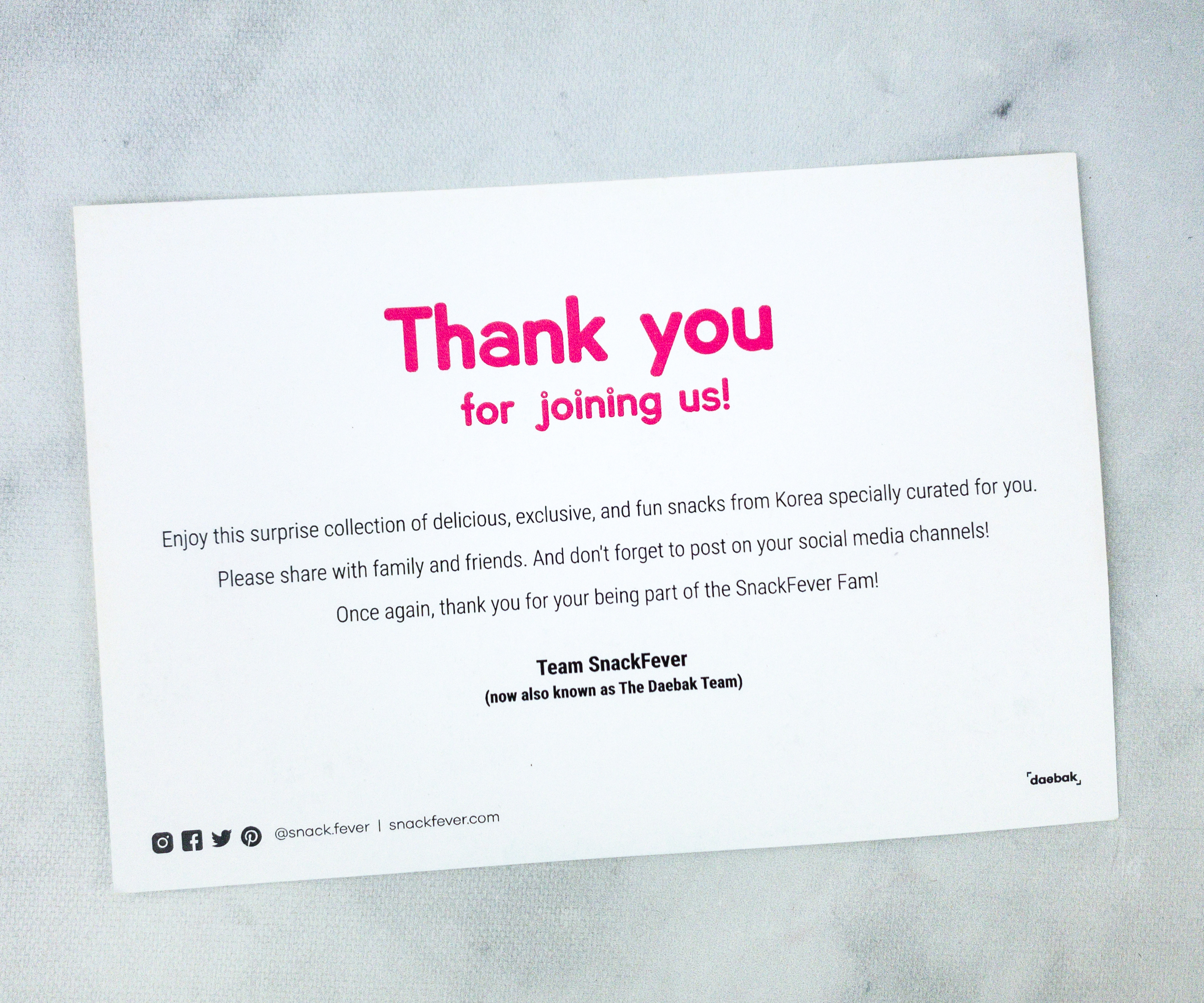 Apparently, SnackFever is now also under The Daebak Team, the same people behind the seasonal Daebak Box!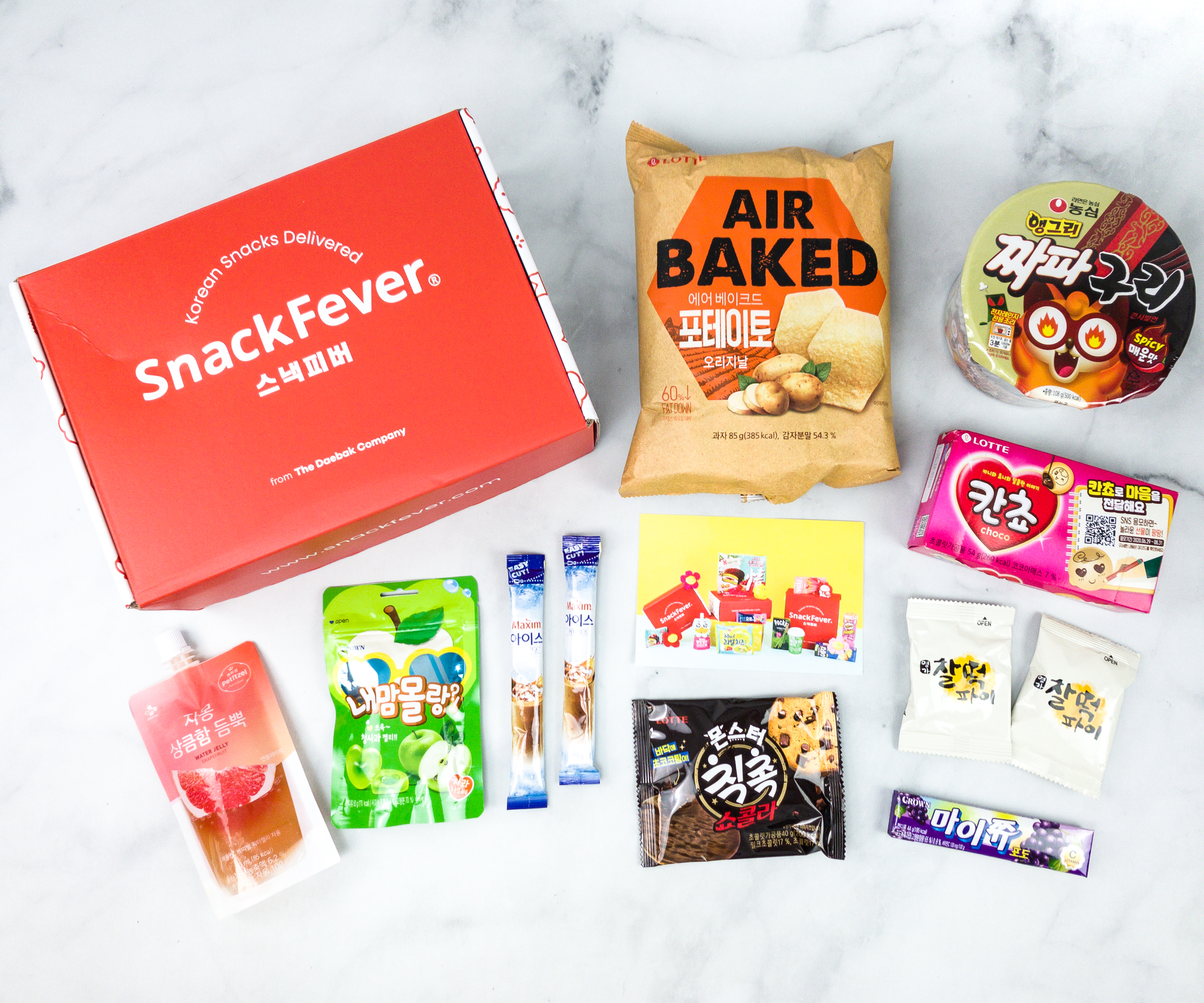 Here are the full contents of the Original box. To see all of our SnackFever reviews including the big box, click here.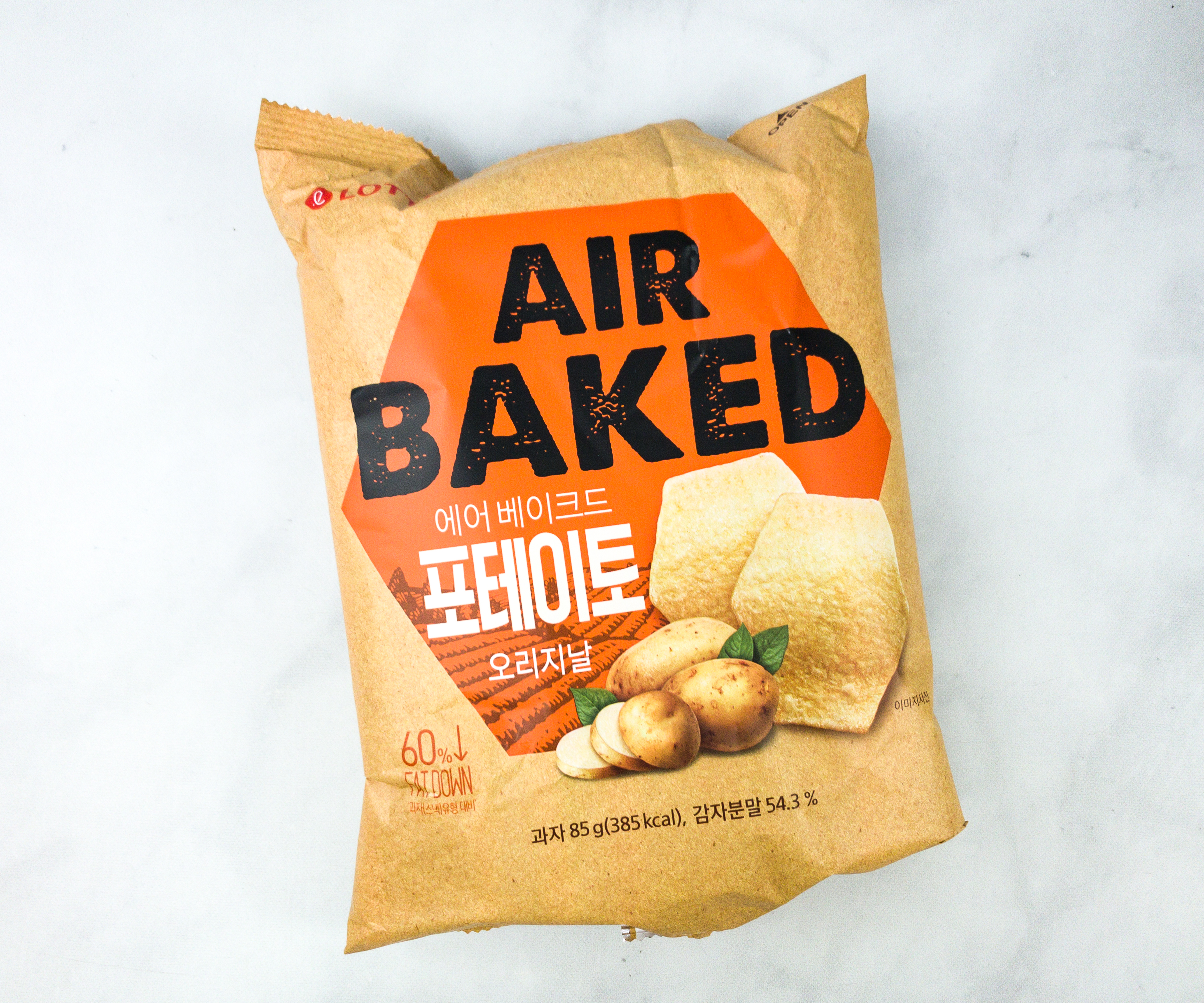 Air Baked Potato Chips. This month, we received one of the most talked-about chips in Korea, the air baked potato chips from Lotte! These scrumptious chips are made with real potatoes, thinly sliced and then baked to achieve the perfect crunch. Compared to fried chips, these are less greasy and more flavorful!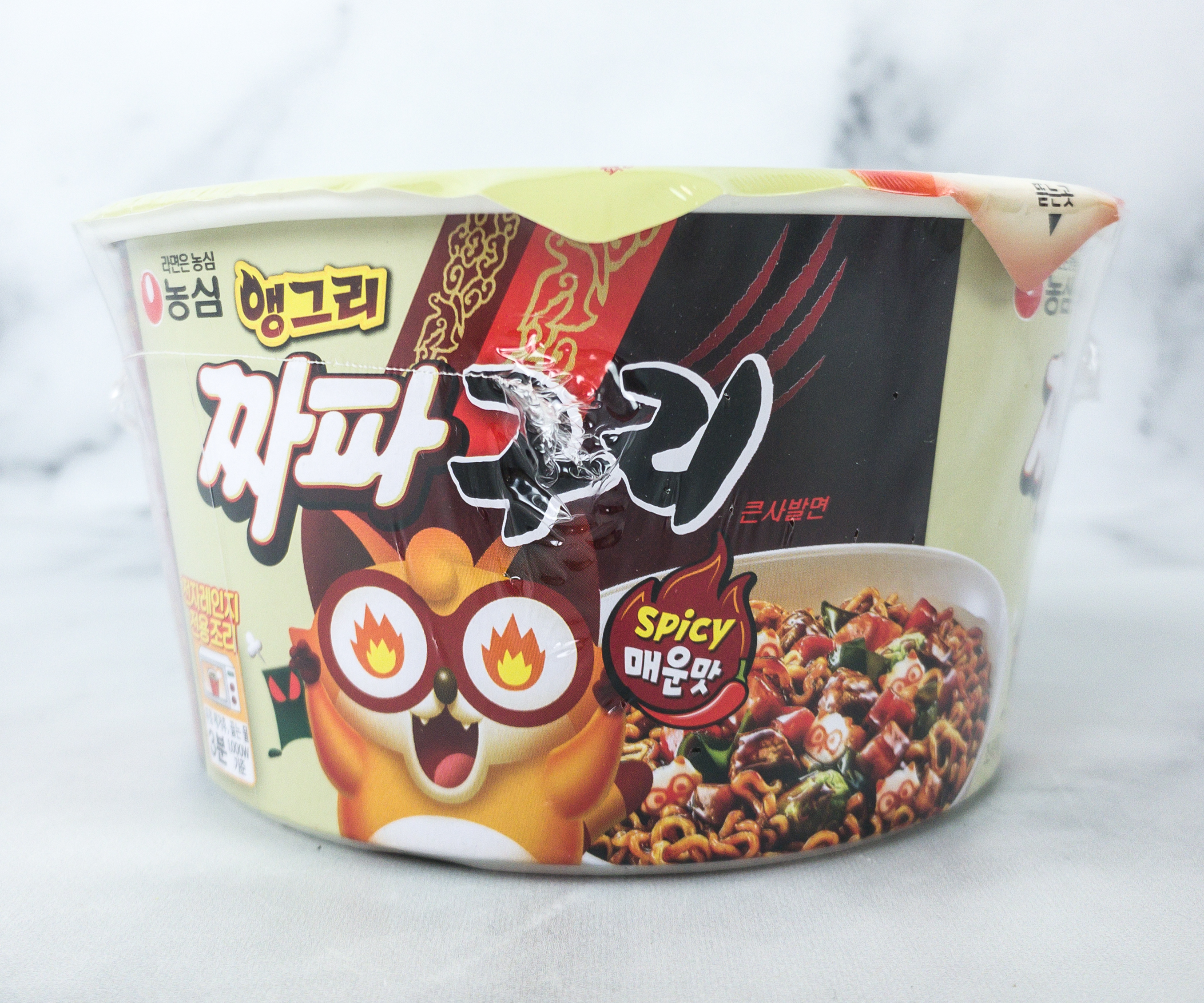 Angry Neoguri Noodle Soup. If you are into spicy food, then this is definitely the perfect cup noodles for you! Nongshim Neoguri is a seafood noodle mixed with an extremely spicy flavor. It's so spicy you'll definitely need to prepare an ice-cold drink on your side when you eat it.
Petitzel Water Jelly Grapefruit. This fruit jelly drink features a delicious and refreshing taste of grapefruit juice mixed with sweet chewy jellies. The pack comes with a unique twist cap, making it the perfect drink you can bring on-the-go!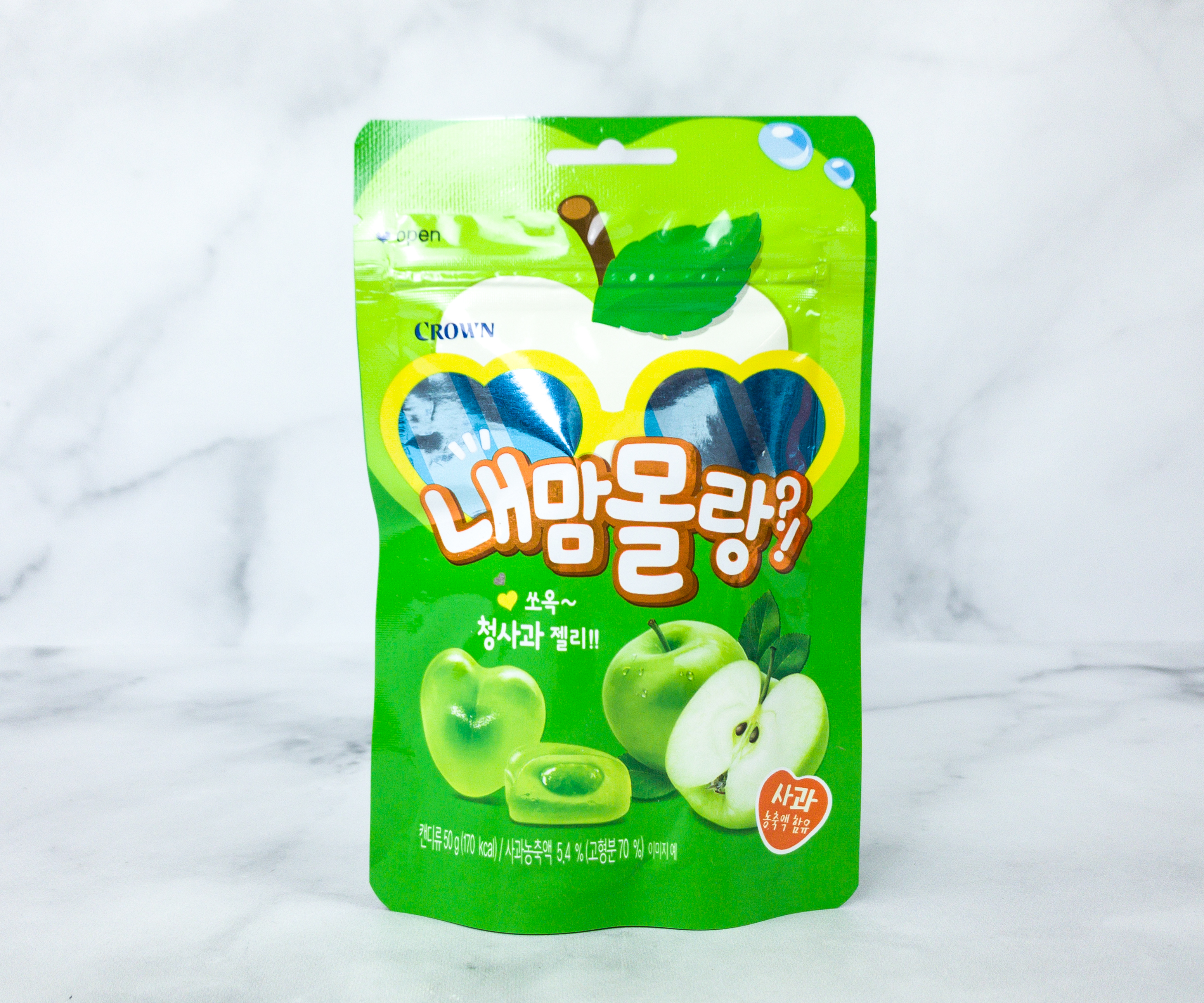 My Heart Jelly Green Apple. It's a hard-shelled candy with luscious green apple jelly filling. Each piece is packed with a tongue-tingling fruity flavor that bursts out in my mouth with every chew!
Chic Choc Chocolate. Here's another popular Korean snack, cookies topped with gooey chocolate chips and a creamy chocolate coating on one side. It's sweet and satisfying!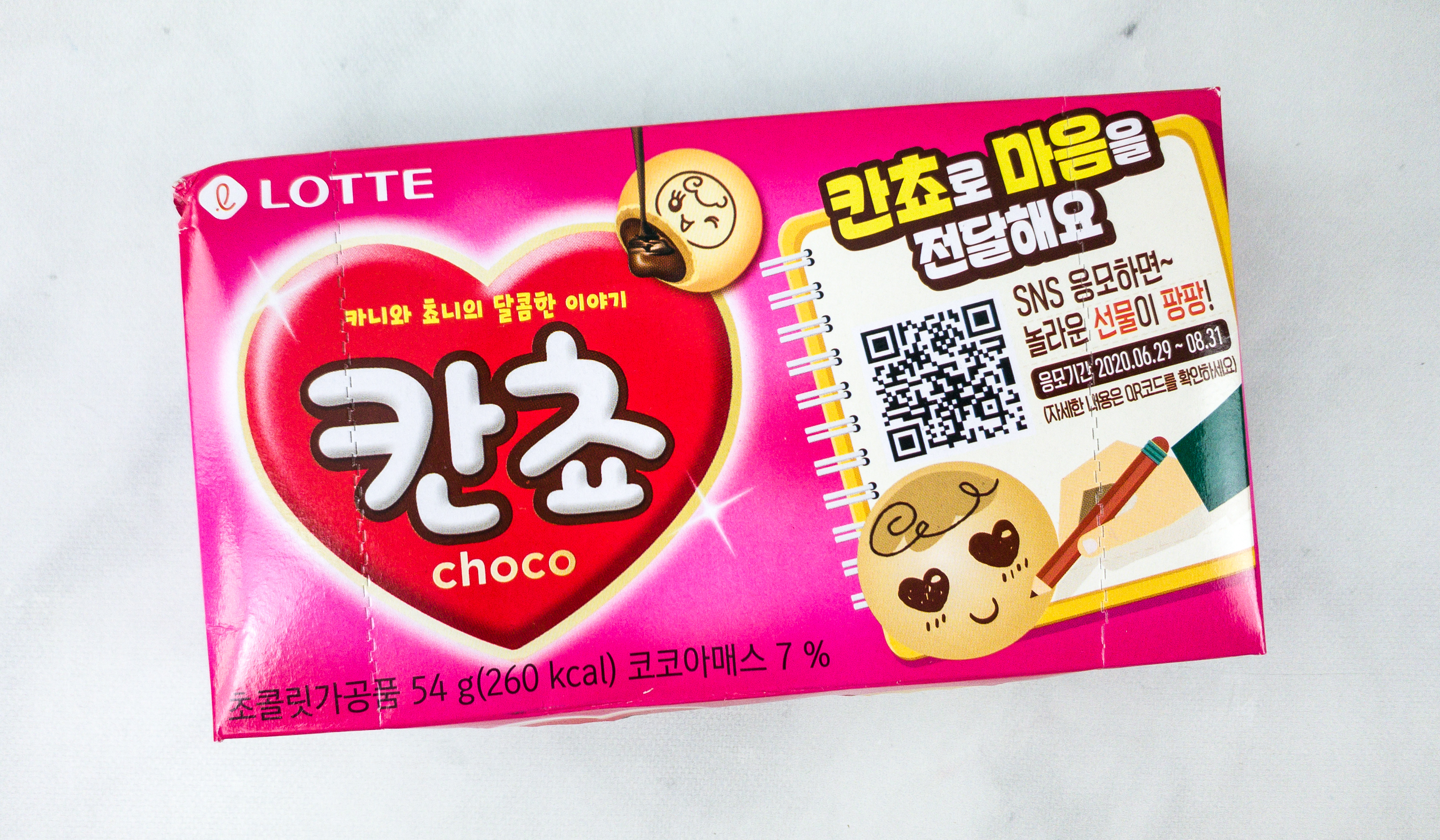 Kancho Choco Biscuit. These round, bite-sized cookie biscuits are stuffed with sweet and creamy chocolate fillings! Appealing to kids and kids at heart, each piece has a cute cartoon character figure stamped on it.
Maxim Instant Iced Black Coffee Mix. I'm not a coffee lover, but my husband likes this coffee mix! We received 2 sachets for making instant iced americano. To prepare, pour the contents in a cup, pour cold water, stir well, and add ice if you like!

My Chew Candy. This pack of gum features a sweet, tangy, and fruity taste. It's so chewy, and oozing with real grape flavor. It was also pretty long-lasting, compared to regular gums.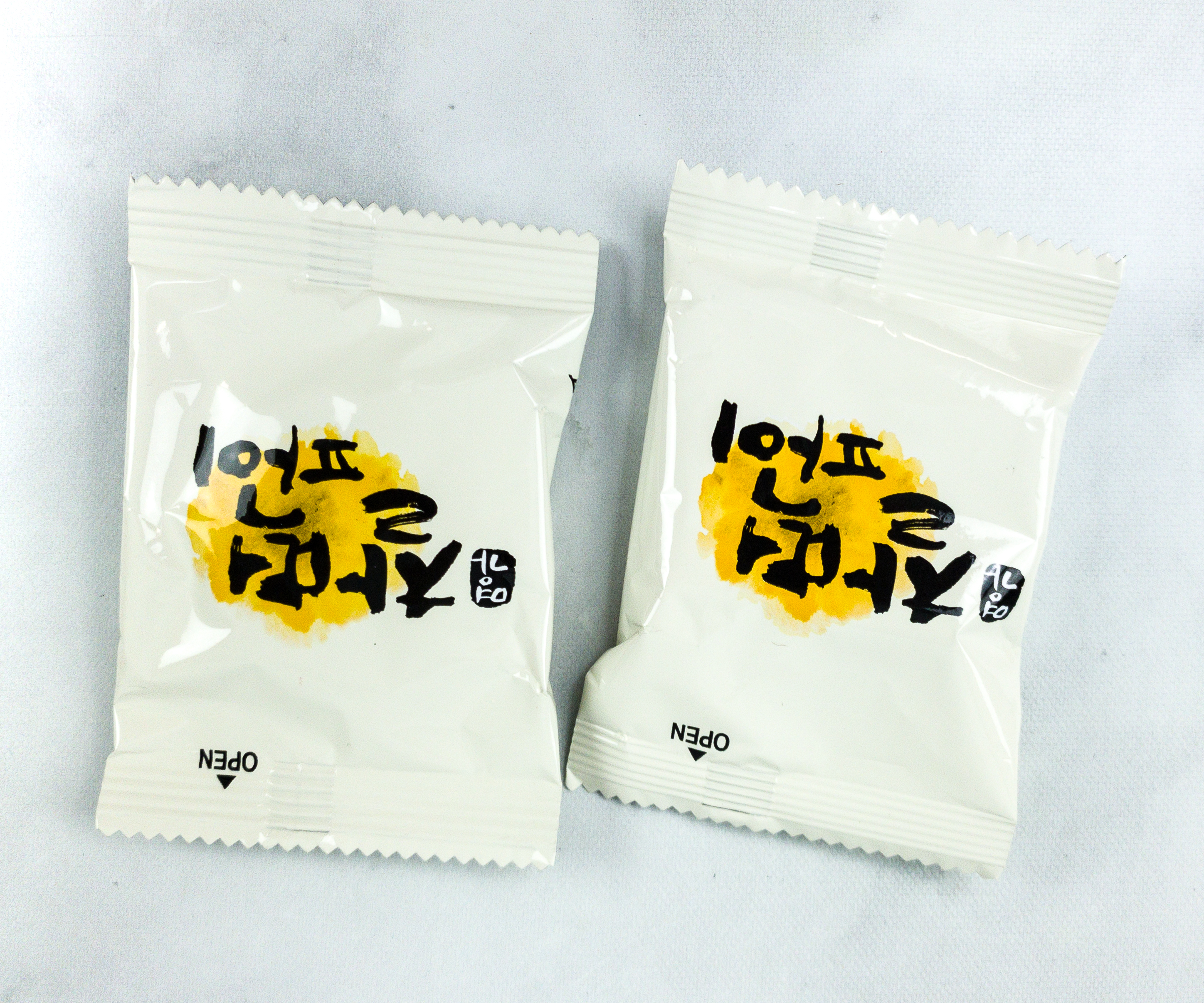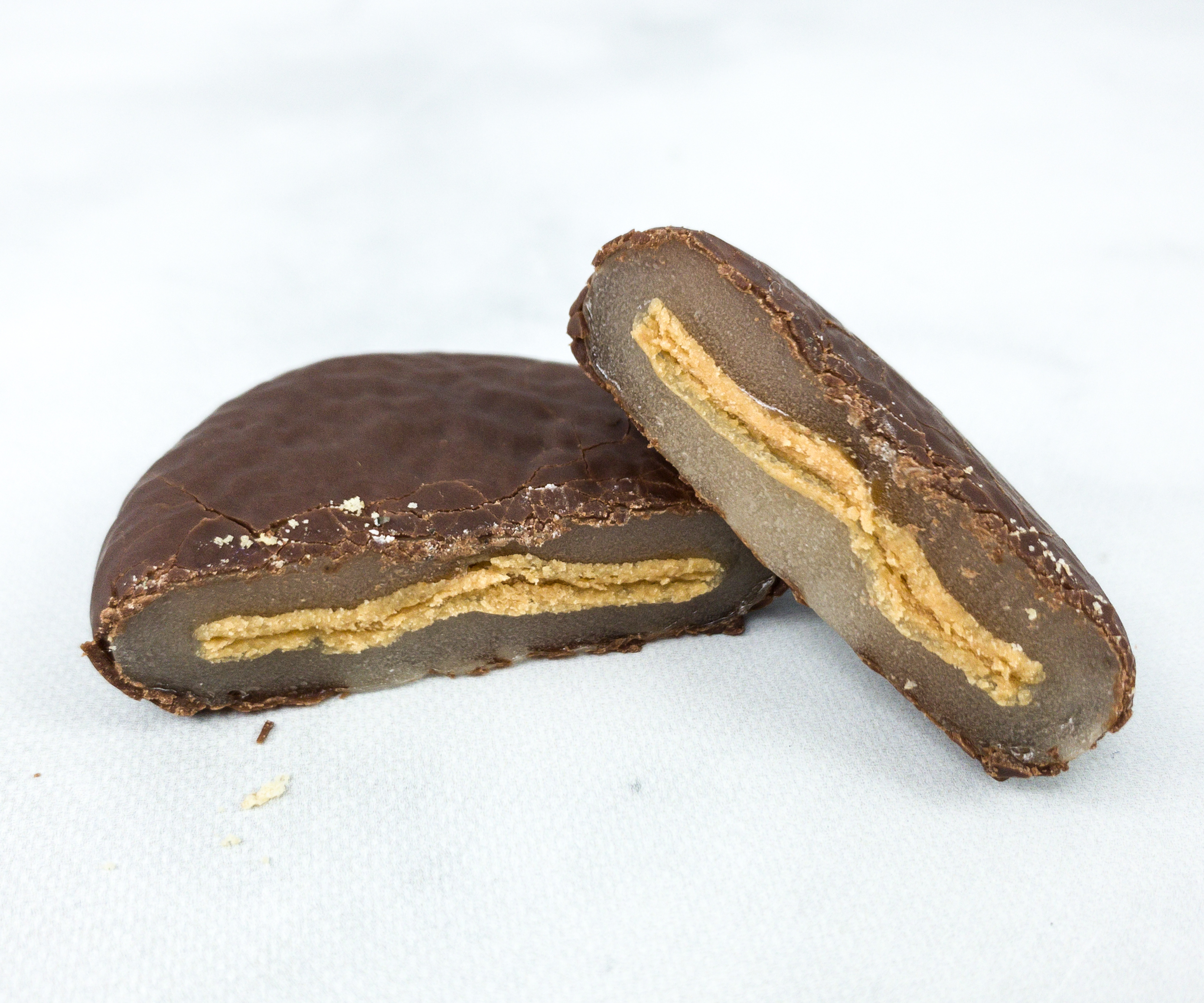 Chaltteok Pie. It's a unique Korean snack that features a delicious, soft, and sticky rice cake covered with luscious chocolate! The chocolate coating tastes really great, it's so sweet and rich. The pie's texture is pudding-like, and it's filled with even more chocolate in the center.
This month's featured Korean snacks are all tasty! My family and I enjoyed them so much! We're also pleased with the variety because they included not only chocolates and biscuits but also fruity snacks and a large cup of spicy noodles. There's even a jelly drink that my kids loved! Meanwhile, my favorite is the pack of air baked chips. We heard it's extremely popular in Korea because it's endorsed by a celebrity, and it didn't disappoint when it comes to taste and crunchiness! If you love Korean snacks and would love to share with your family and friends, getting the deluxe version of this subscription is a really great idea!
Have you tried Snack Fever?