See New, The Skincare Box, is a bi-monthly subscription box that features one clean and cruelty-free beauty brand. They send several products so you can get a real feel for the brand and also it is just about a whole routine in one box. The featured brands are from companies that are focused on cruelty-free, chemical-free, and sustainably sourced ingredients. For every subscription sold See New will donate a subscription to Dress for Success. See New is $44 a box.
We believe beauty is about showing yourself Self-Love. Beauty is not about altering your already stunning appearance it is about accentuating your natural beauty and enhancing your self-confidence.
DEAL: Get 10% off sitewide! Use coupon code HELLO.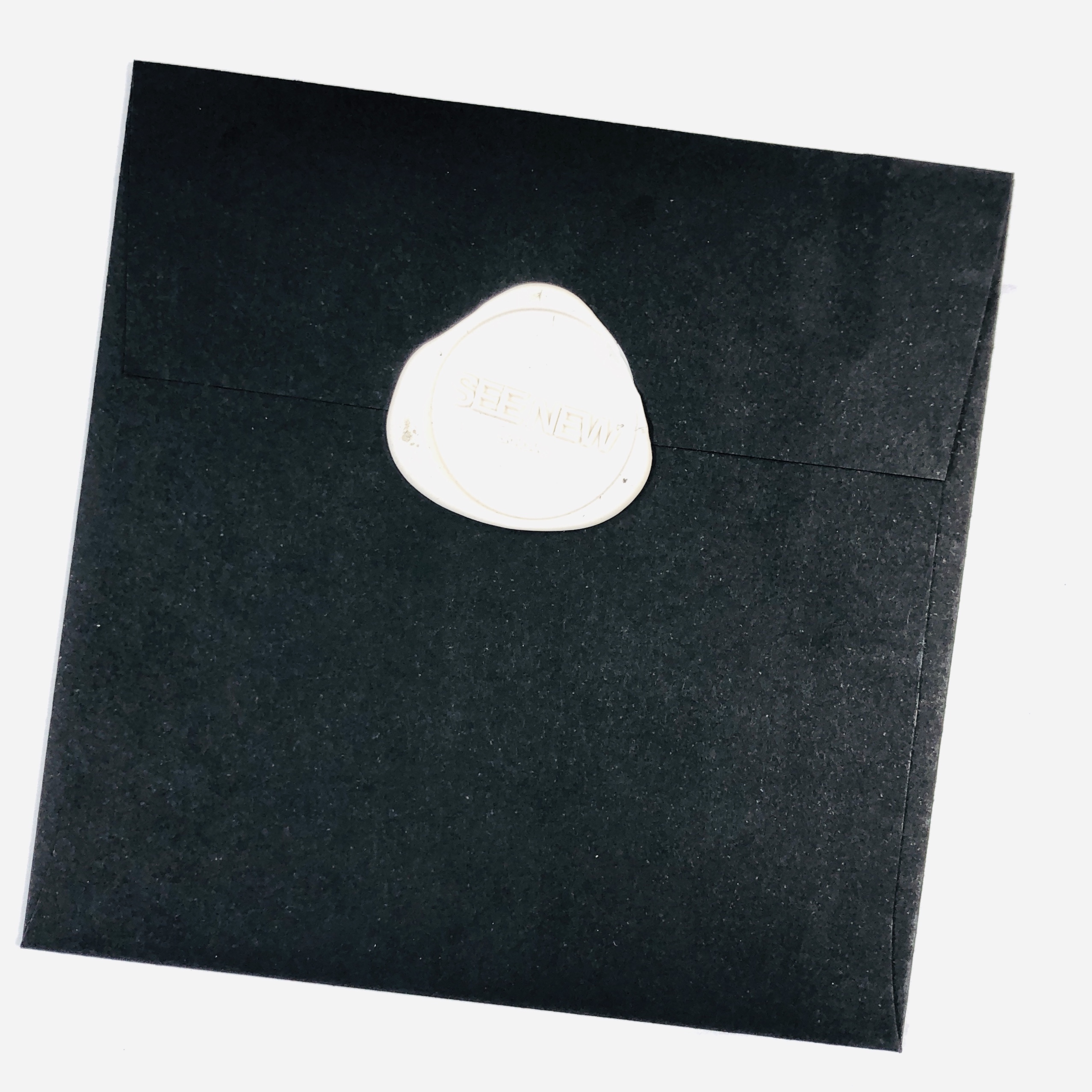 I received a card inside!

I always appreciate a hand-written note!
First look!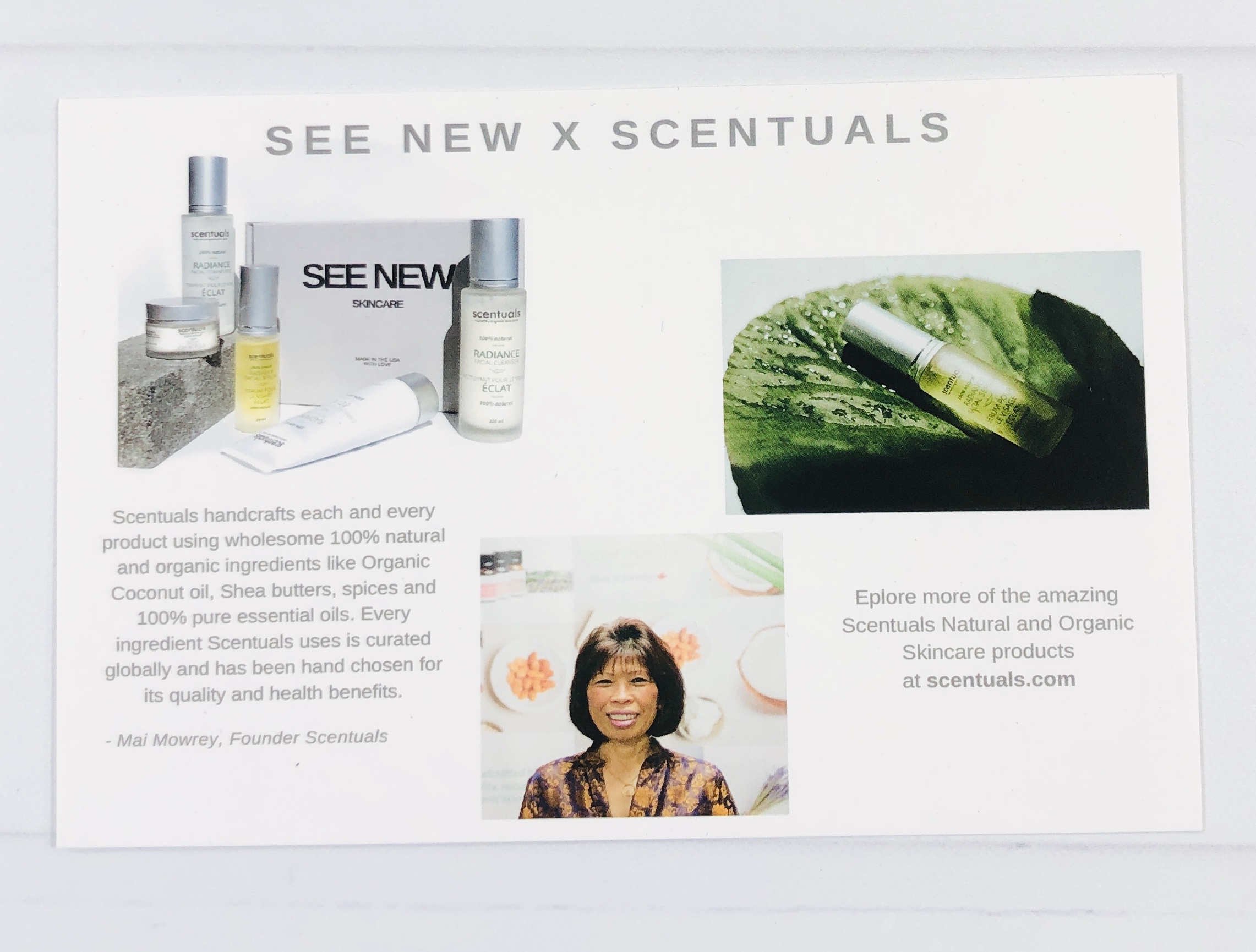 I received a card with info about the brand this shipment, Scentuals:
To deliver you the best products nature can provide, we handcraft each and every self care item using wholesome 100% natural and organic ingredients like Organic Argan, Coconut and Olive oils, Shea butters, spices and 100% pure essential oils. Every ingredient we use is curated globally and has been hand chosen for its quality and health benefits.

The back of the card listed the products and suggested order of use.
Some of the items came in their original boxes.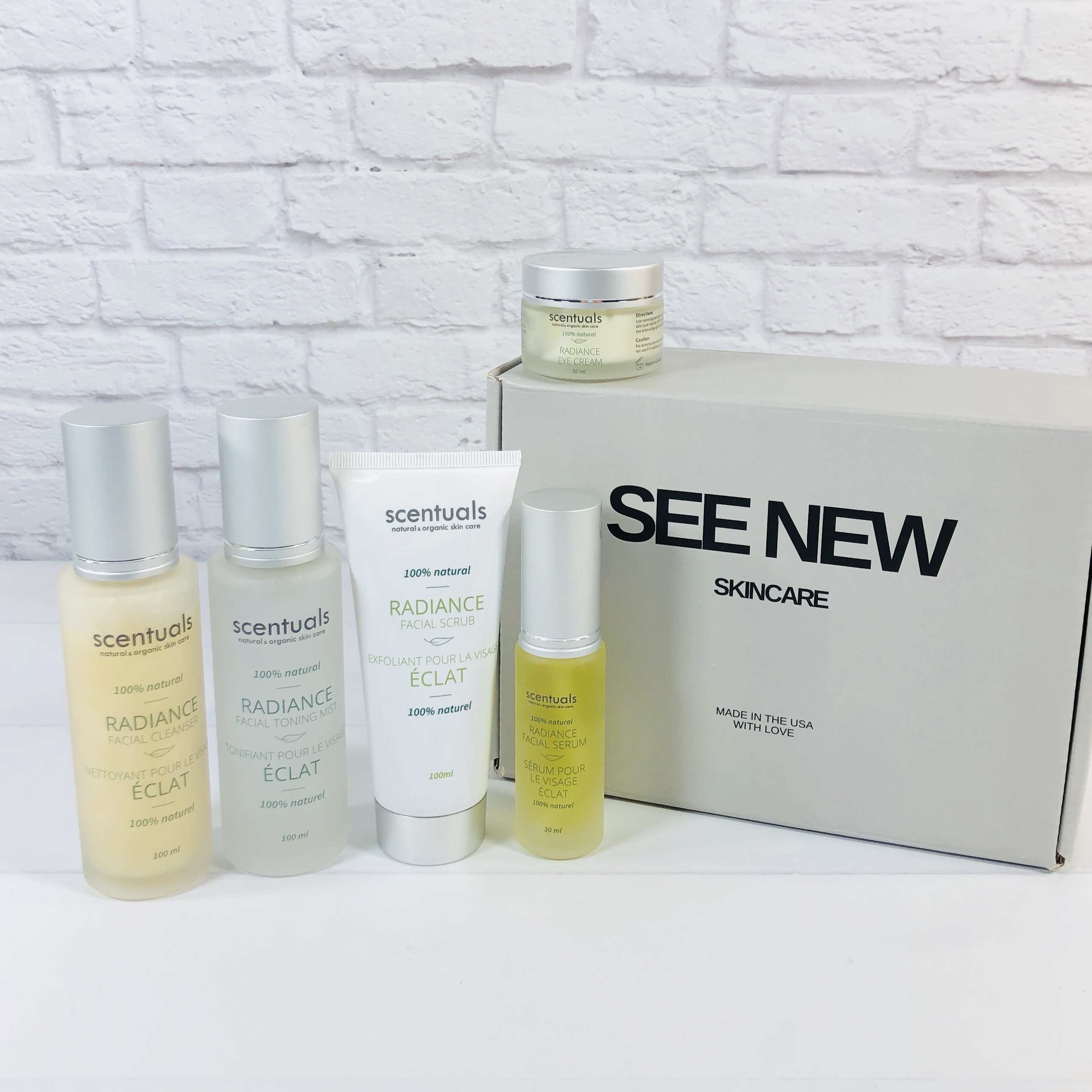 Everything in my See New box! Click the link to see how to use each product, or just keep reading!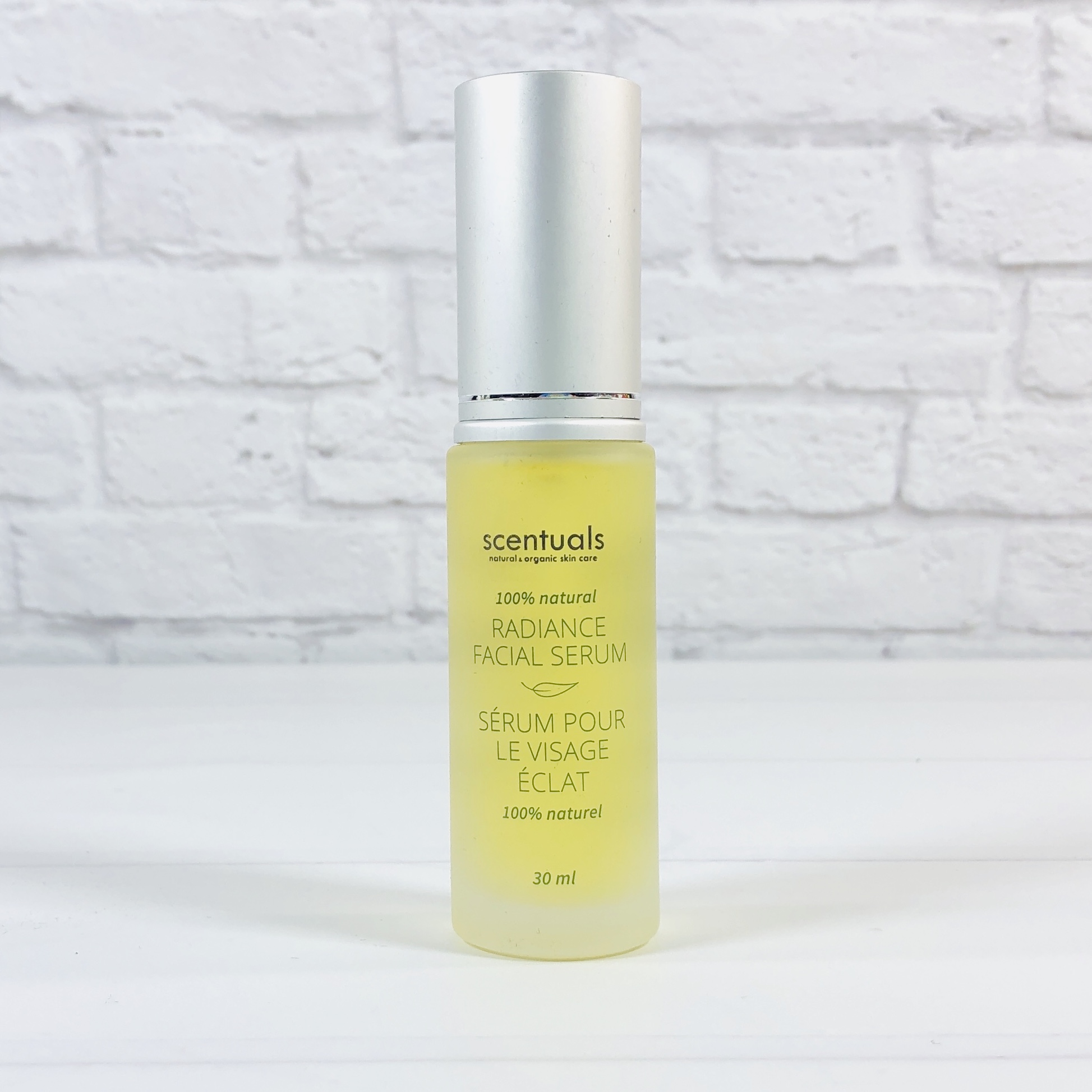 Scentuals Radiance Serum ($55 CAD, about $41.04 USD) I love facial oils since I have dry skin. It is truly a sensual experience to apply them too!
Experience skin balance with our 100% natural Facial Serum. Crafted with Frankincense, Rose Geranium, organic Argan, and Grapeseed oil to revitalize and balance skin leaving it radiant and healthy.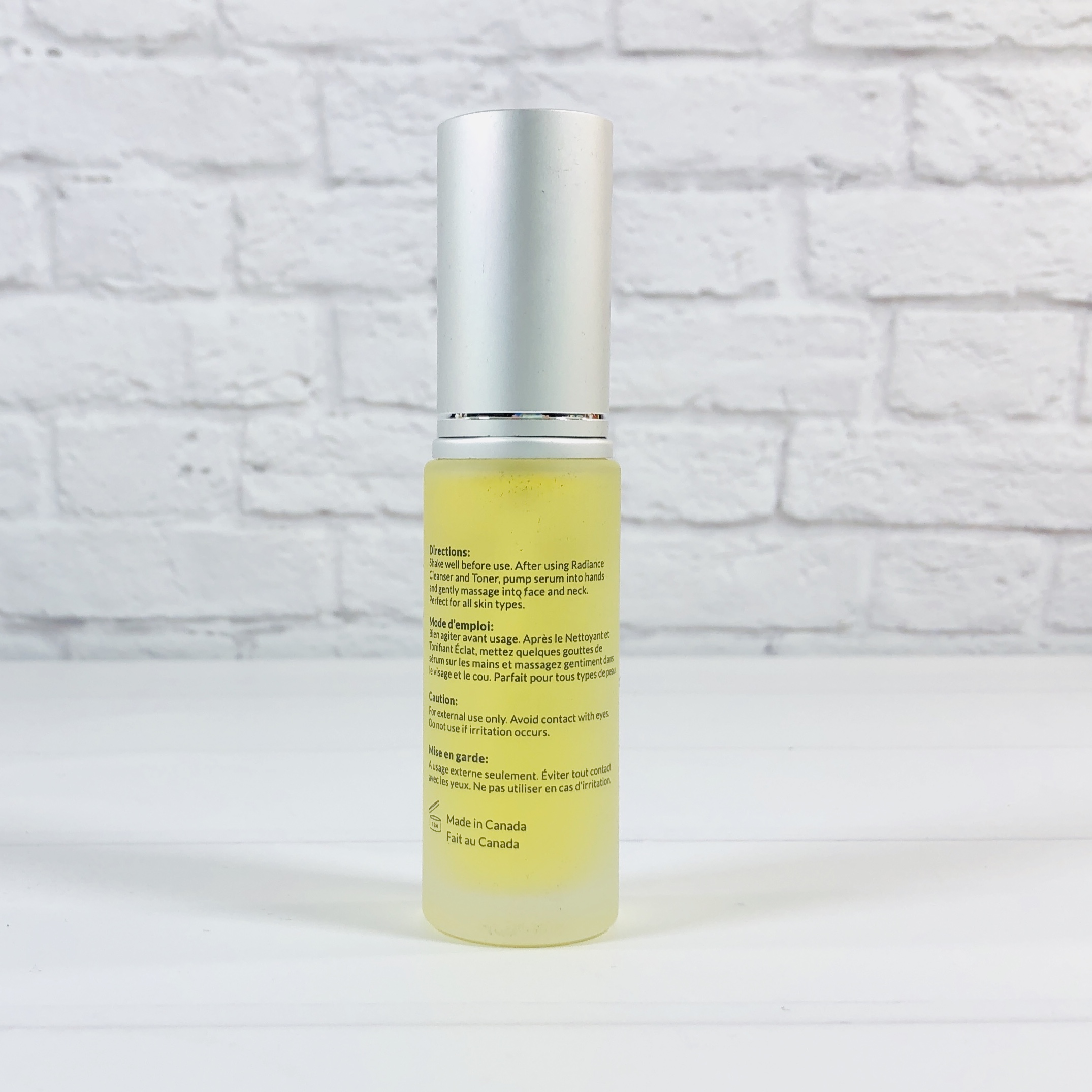 This serum is made with argan, sesame, and coconut oil. It also has several essential oils such as neroli, rose geranium, and sandalwood.
The serum is supposed to help balance the skin while also helping it feel revitalized. I liked the scent (it smells like orange blossoms) but my dry skin didn't absorb it quickly, it kind of sat on my skin. I'm not a big fan of coconut oil on my face (I think it clogs my pores) but I will use this as a body oil instead, it smells so luscious!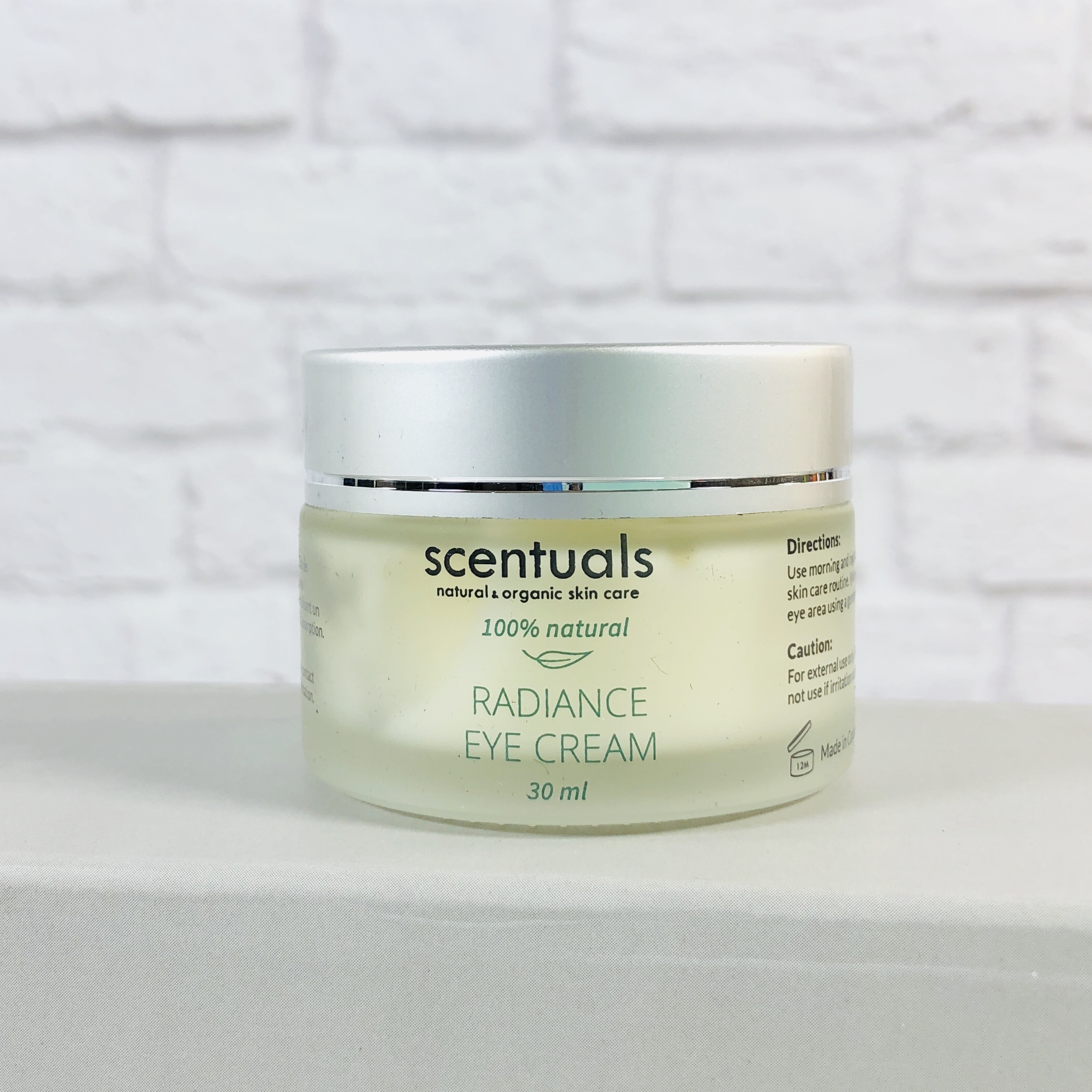 Scentuals Radiance Eye Cream ($55 CAD, about $41.04) I am always happy to find an eye cream in a box. I was late to the game and want to keep this area moist from here on out.
Revitalize your eyes with our 100% natural Radiance Eye Cream. Our botanical blend is formulated with Hyaluronic acid, Gardenia stem cells, and Mango butter to restore and hydrate. Sandalwood, Rose Geranium, Licorice root, and Cucumber extracts reduce dark circles and enhance natural lightening properties.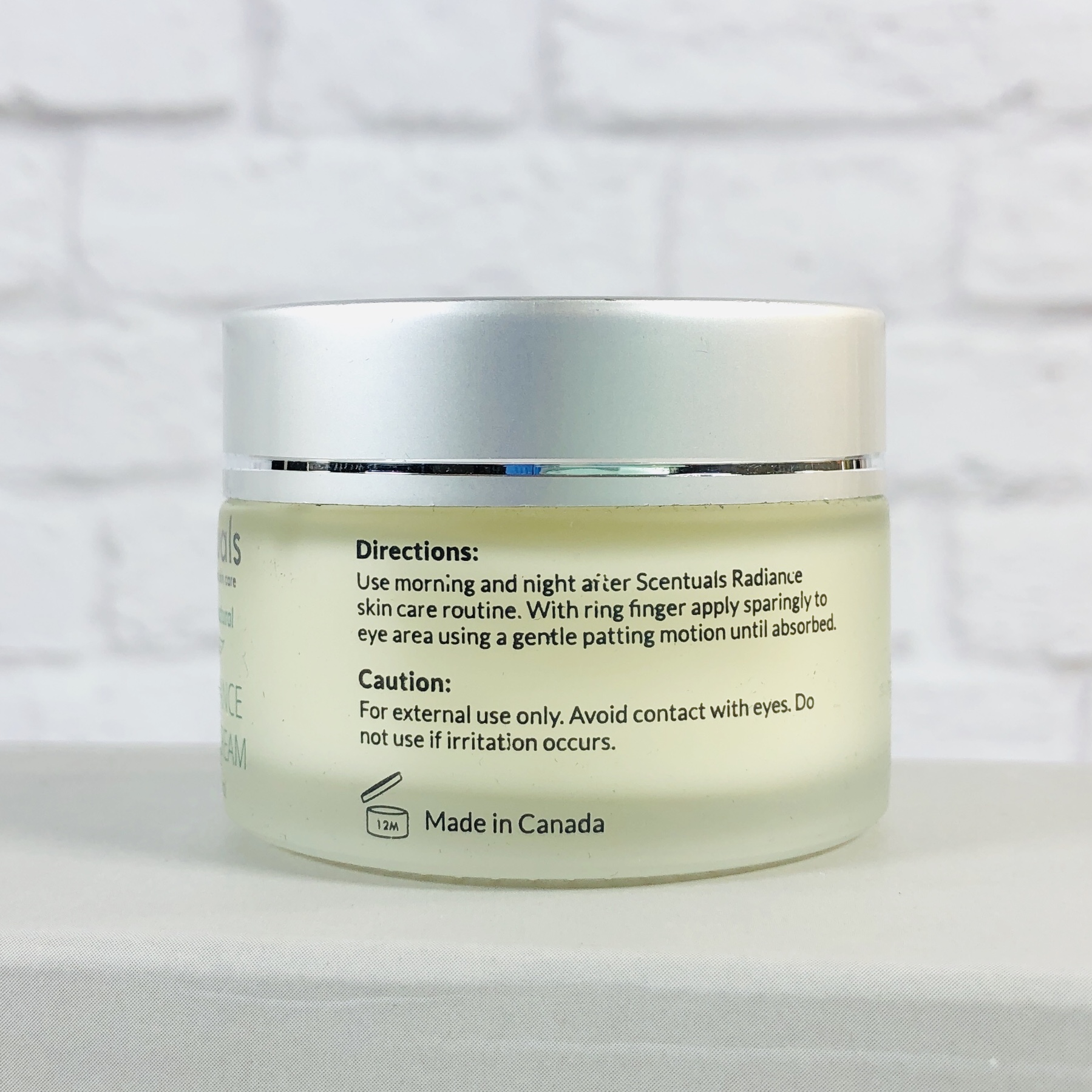 Use twice a day after cleansing.
The cream is made with aloe, mango seed butter, and apricot oil plus there are some essential oils in there for scent, which isn't really needed in this area but what can I say, it does smell good, like neroli blossom. Plus it feels good and didn't irritate this delicate area.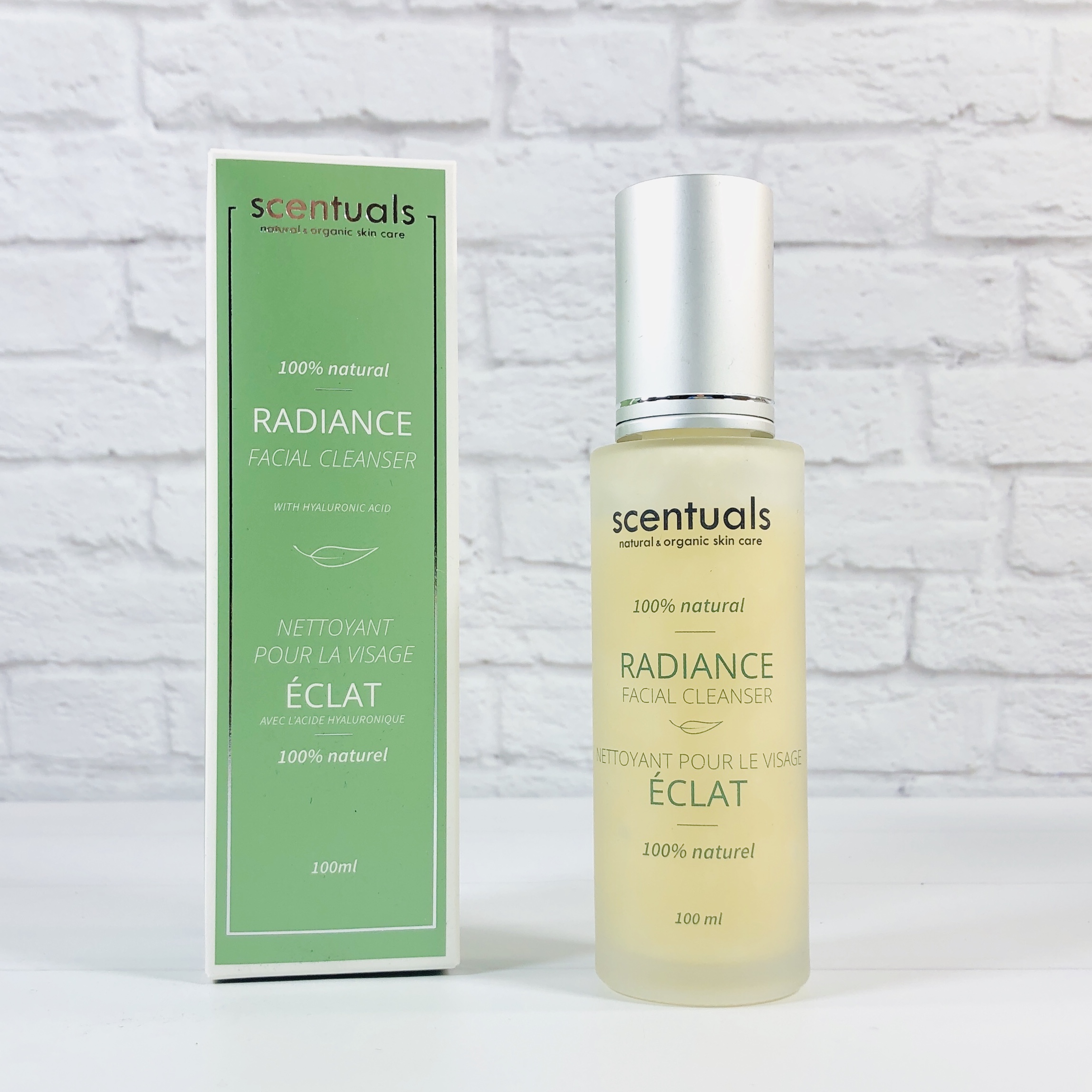 Radiance Facial Cleanser ($35 CAD, about $26.12 USD) I needed a new cleanser and this one seems perfect for my needs!
Experience our gently purifying 100% natural Facial Cleanser, crafted with organic Aloe, Argan, Avocado oil to moisturize and rejuvenate. Organic Aloe, Rose Geranium, and Cucumber extracts work to balance and calm the skin while removing impurities.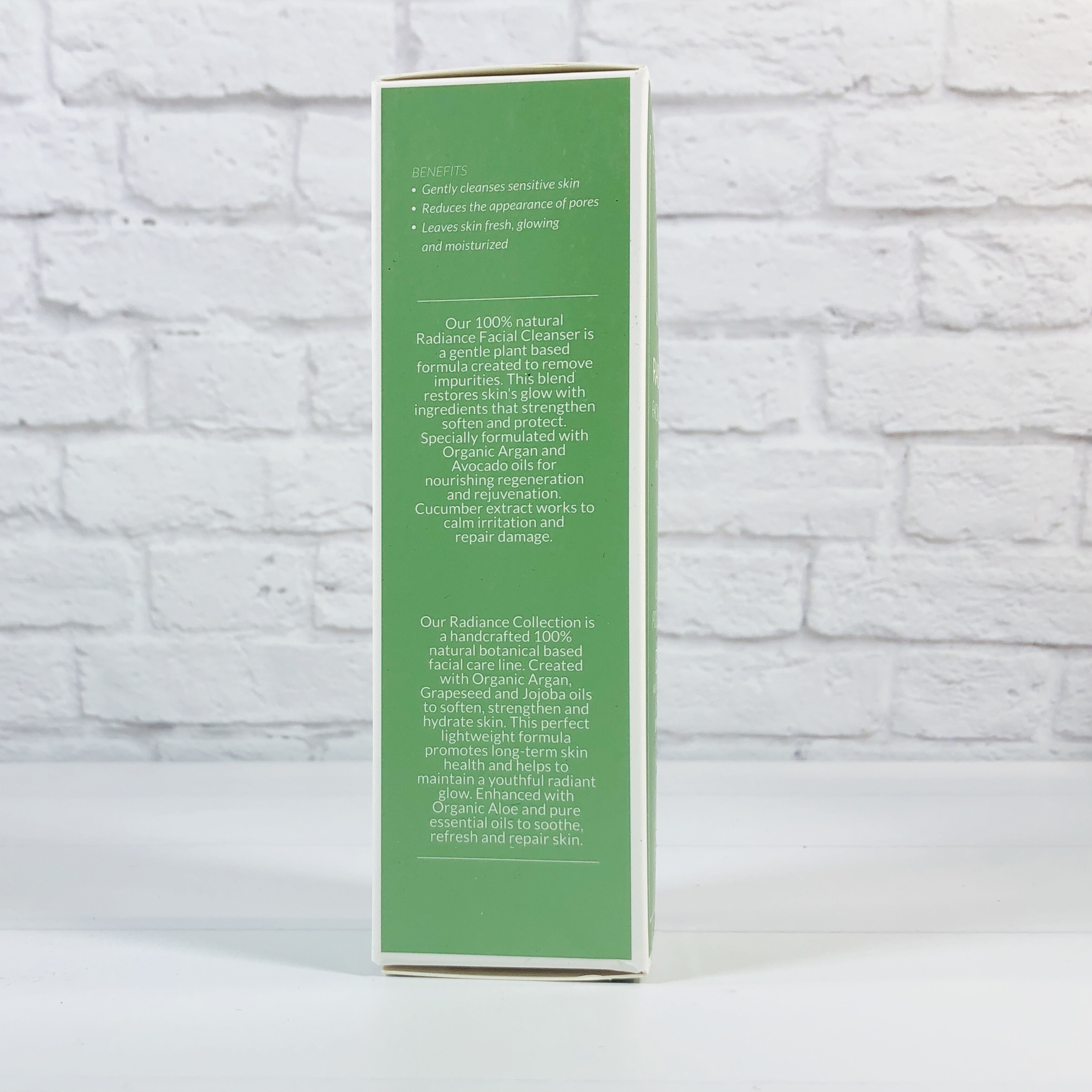 The cleanser is supposed to be gentle enough for sensitive skin and reduce the appearance of pore size while gently removing impurities.
Aloe forms the base and other ingredients include hyaluronic acid, essential oils, and saponified plant oils.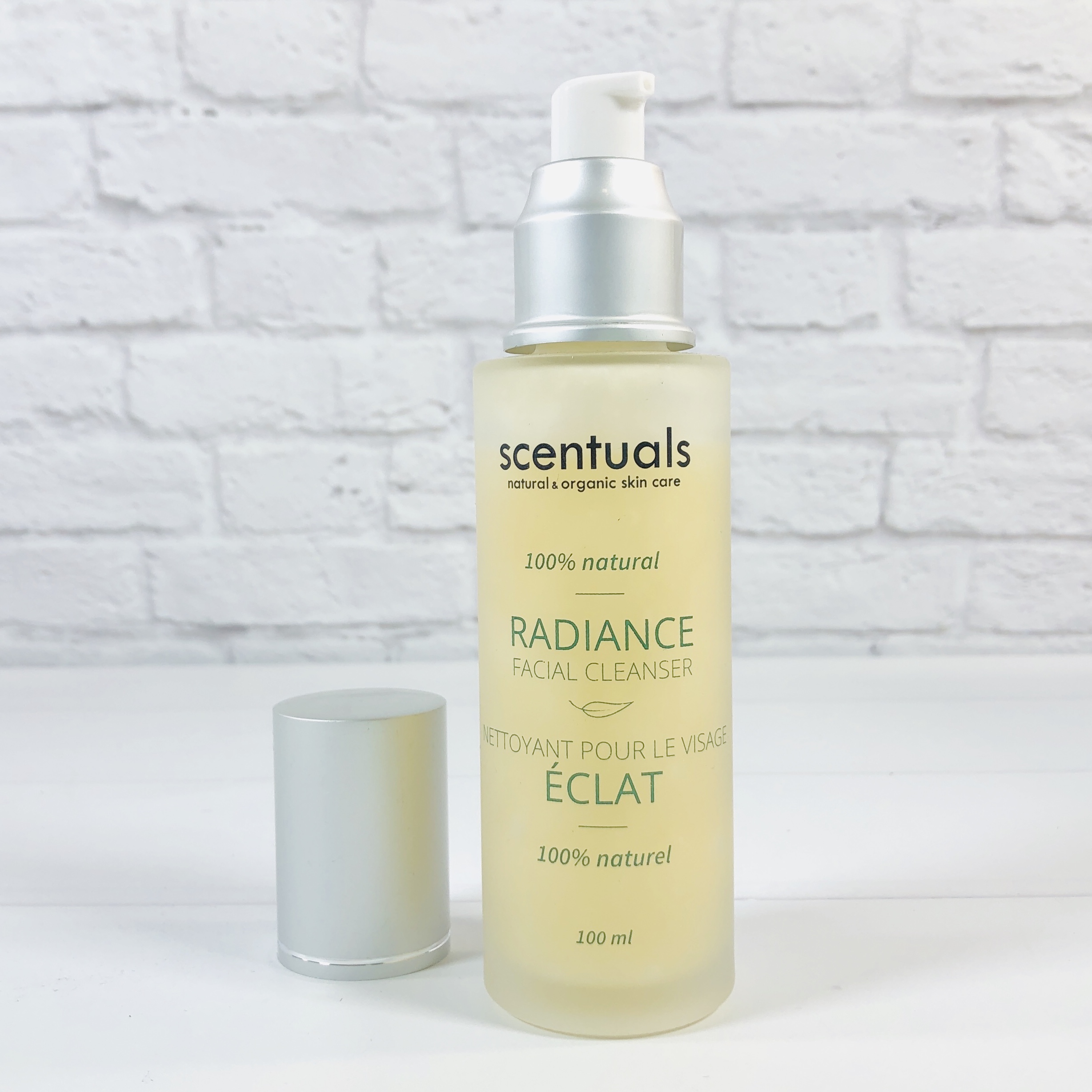 It has a gel-like consistency and I was surprised at how well it lathered and it removed all of my makeup from the day (I didn't use it on my eyes). I followed with a second cleanse just in case but that is entirely up to you.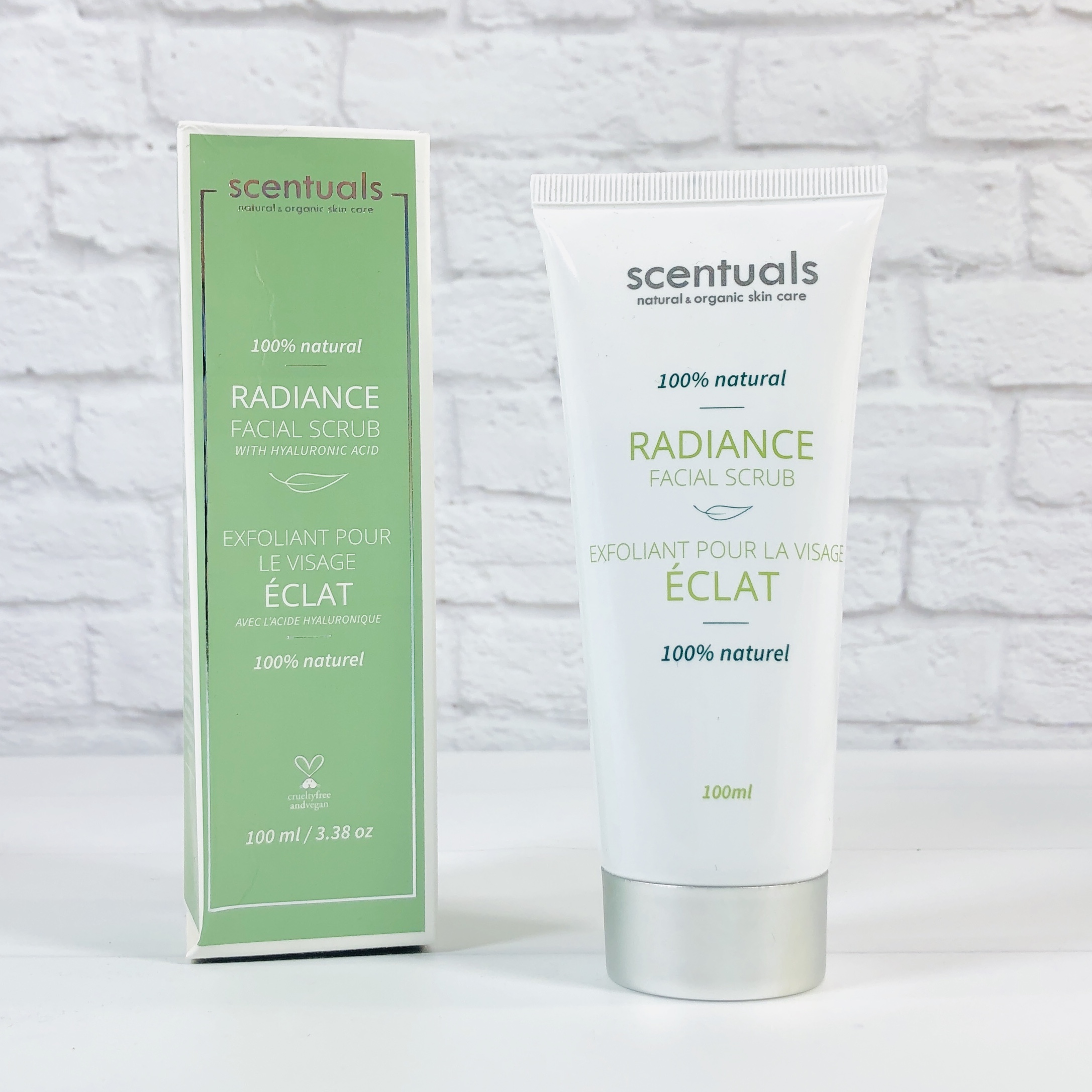 Scentuals Radiance Facial Scrub ($35 CAD, about $26.12 USD) I haven't received an exfoliating cleanser in a while so I was super thrilled to see this one in my box!
Bring out your skin's natural glow with our 100% natural Radiance Facial Scrub. Crafted with a botanical blend including ground Apricot seeds to gently exfoliate and remove impurities. Hyaluronic acid works to smooth, while organic Argan, Avocado, and Coconut oil hydrate the skin.
It is recommended for all skin types to help combat fine lines, acne, and dullness.
It's a gel base thanks to the aloe and has apricot seed powder, which is what gives it the scrubbiness factor. It has a scent I'll call "natural" and it worked well without irritating my skin. I'm hooked!

Scentuals Radiance Facial Toning Mist ($35 CAD, about $26.12 USD) I am very picky about my toners and this one seemed like a perfect fit for me, since it didn't list alcohol in the ingredients.
Enjoy a refreshing botanical experience with our 100% natural Radiance Facial Toner, crafted with Gardenia stem cells and Hyaluronic acid to improve skin tone and refine pores. Neroli, Rose Geranium flower water, Frankincense, and Cucumber extract blend to gently purify skin leaving it glowing and balanced.
It is supposed to hydrate skin while reducing the appearance of pores and wrinkles.
Aloe was the first ingredient, followed by witch hazel hydrosol, which means it wasn't distilled in alcohol. Most of the other ingredients are essential oils but there is also hyaluronic acid to keep skin moist.
Despite all of those essential oils, the product had virtually no scent. I sprayed it on after cleansing and before using the Radiance serum, but you can follow with any moisturizer or face oil if you like.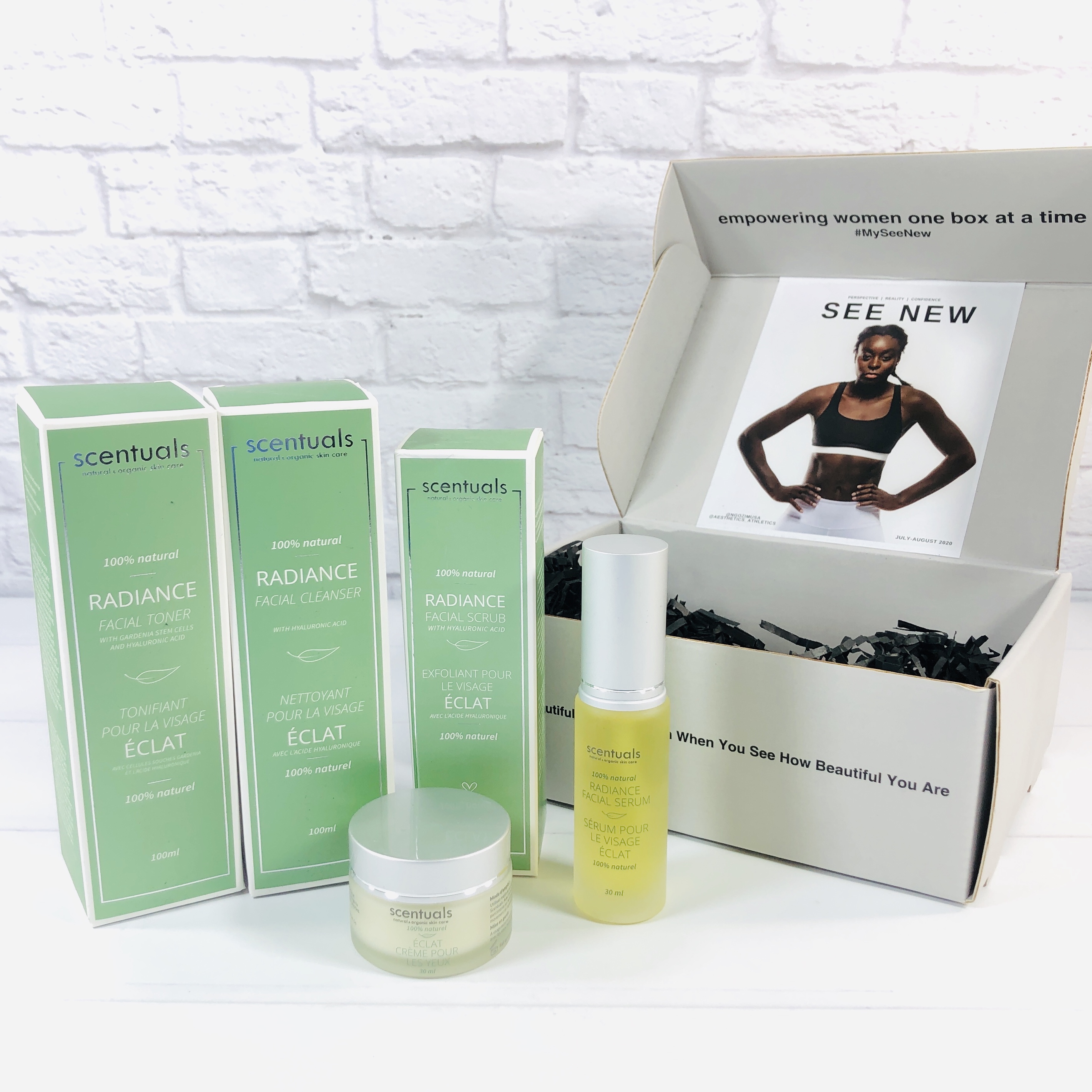 I can't believe how amazing the July-August See New box was, and it seemed like the box was curated just for me! I was excited to try the Scentuals line, and the products are pretty much a whole routine for me to use day and night. The bottles are made of frosted glass and the line feels very upscale. I liked that the essential oils used for scent (as well as their various beauty properties) weren't overwhelming, nothing smelled fake or off. As for the value, using the current exchange rate, this box was worth about $160.44. I am blown away!
What do you think of this box?