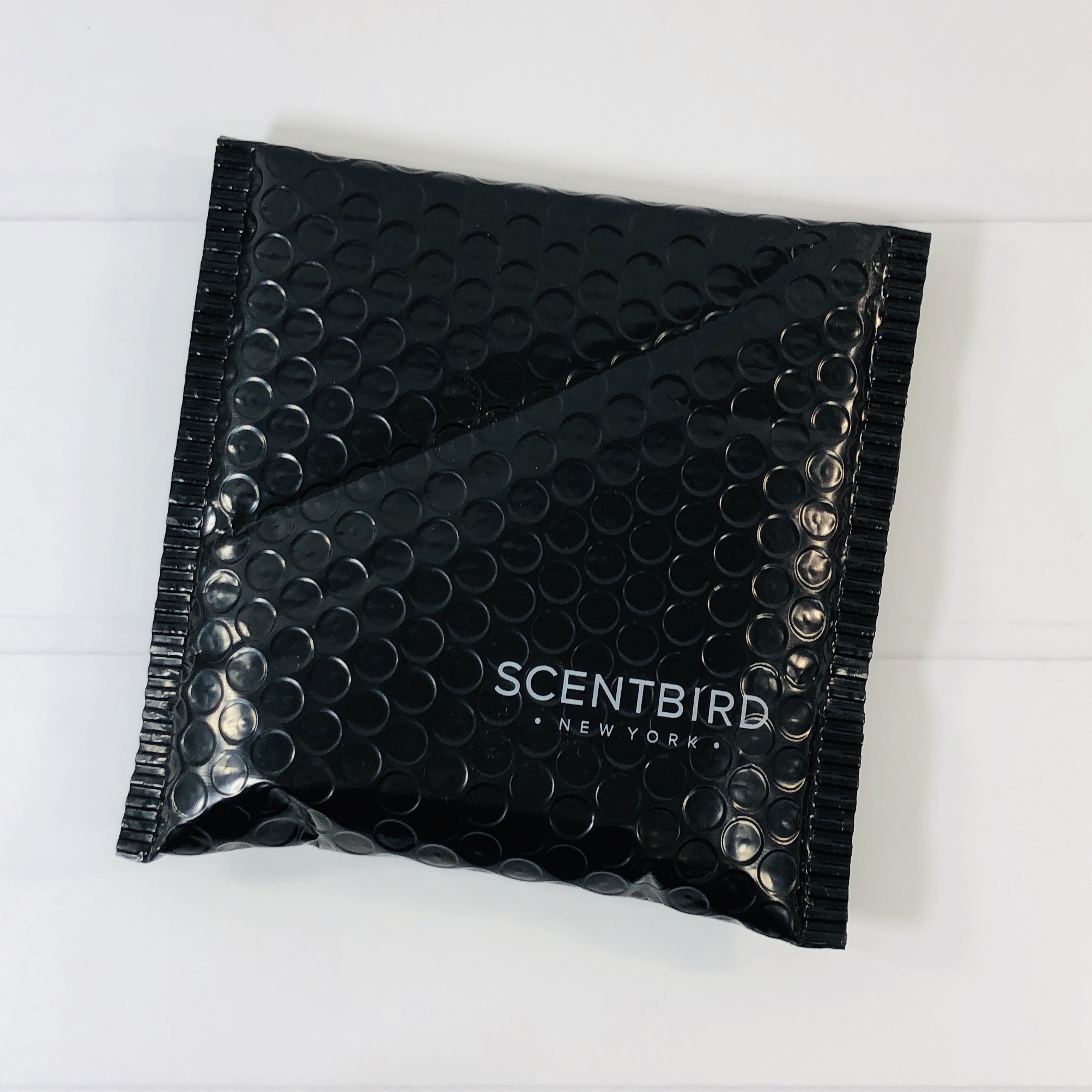 Scentbird is a monthly perfume and fragrance decanting subscription, but that's not all! You can also choose to receive makeup, skincare, body care, supplements, and even candles! With Scentbird, you get a thirty-day supply of perfume every month – Scentbird takes authentic perfumes and decants them into travel sprayers. There are over 450 fragrances to choose from and Scentbird adds new ones every month! You can save when you purchase a multi-month subscription, or even arrange to receive perfume every other month. Keep in mind that some fragrances and other items may have an upcharge of up to $15 in addition to the subscription cost. 
Scentbird is about the fun and magic of fragrance. We designed Scentbird for the pickiest girl- or boy- to let you date luxury perfumes before marrying them.
When you sign up, you can fill out a quiz so Scentbird can provide you with some suggestions. There are only 5 questions and you can take the quiz as often as you like. You can place both men's and women's scents in your queue too and of course there are lots of unisex scents available. You can also fill the queue with whichever fragrances you prefer and keep in mind that if your queue is empty, you will receive the Fragrance of the Month. The Perfume of the Month for August is Rebecca Minkoff Eau de Parfum.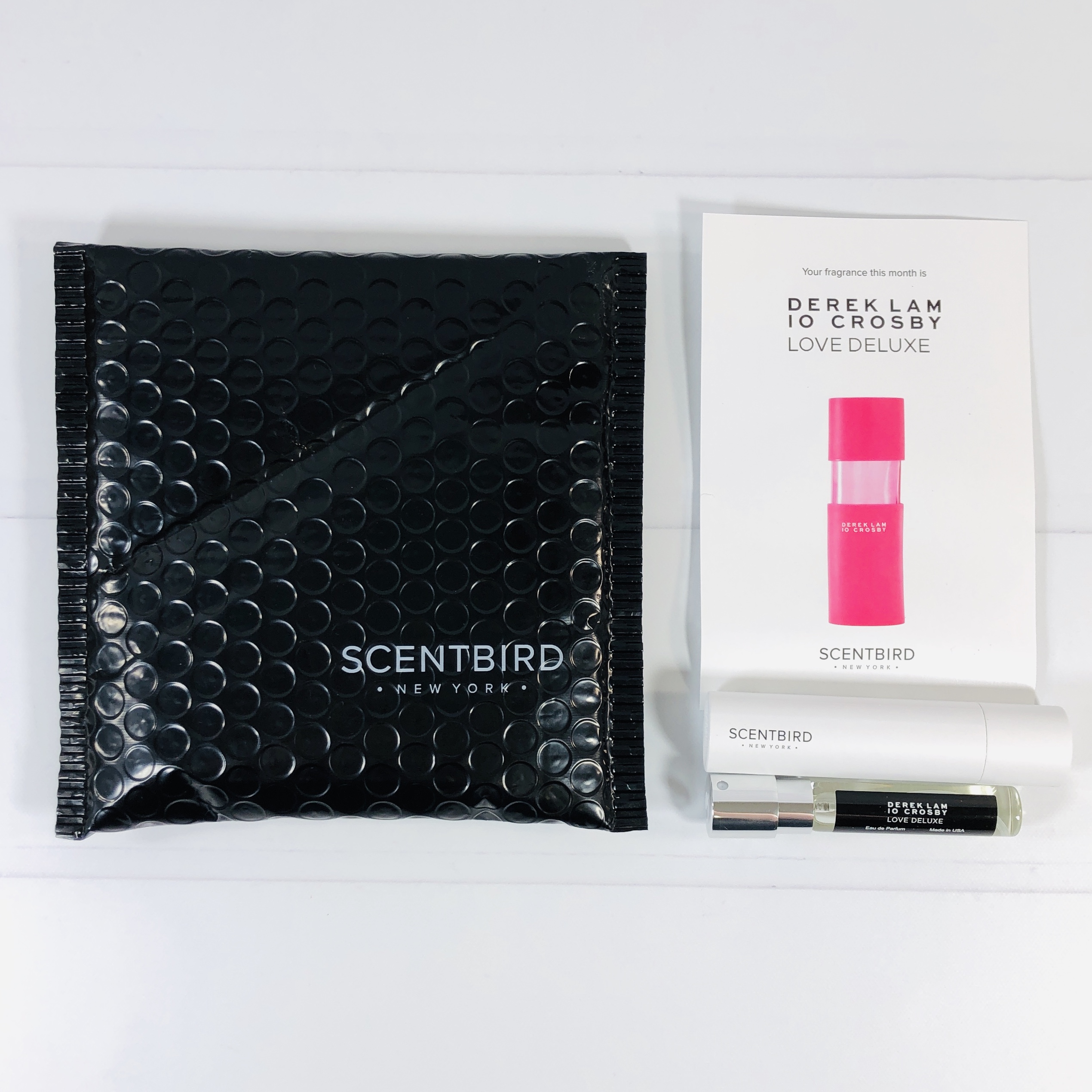 Everything in my box! My scent was placed in a cardboard tube to keep it safe during shipping.
I received a card with my selected scent.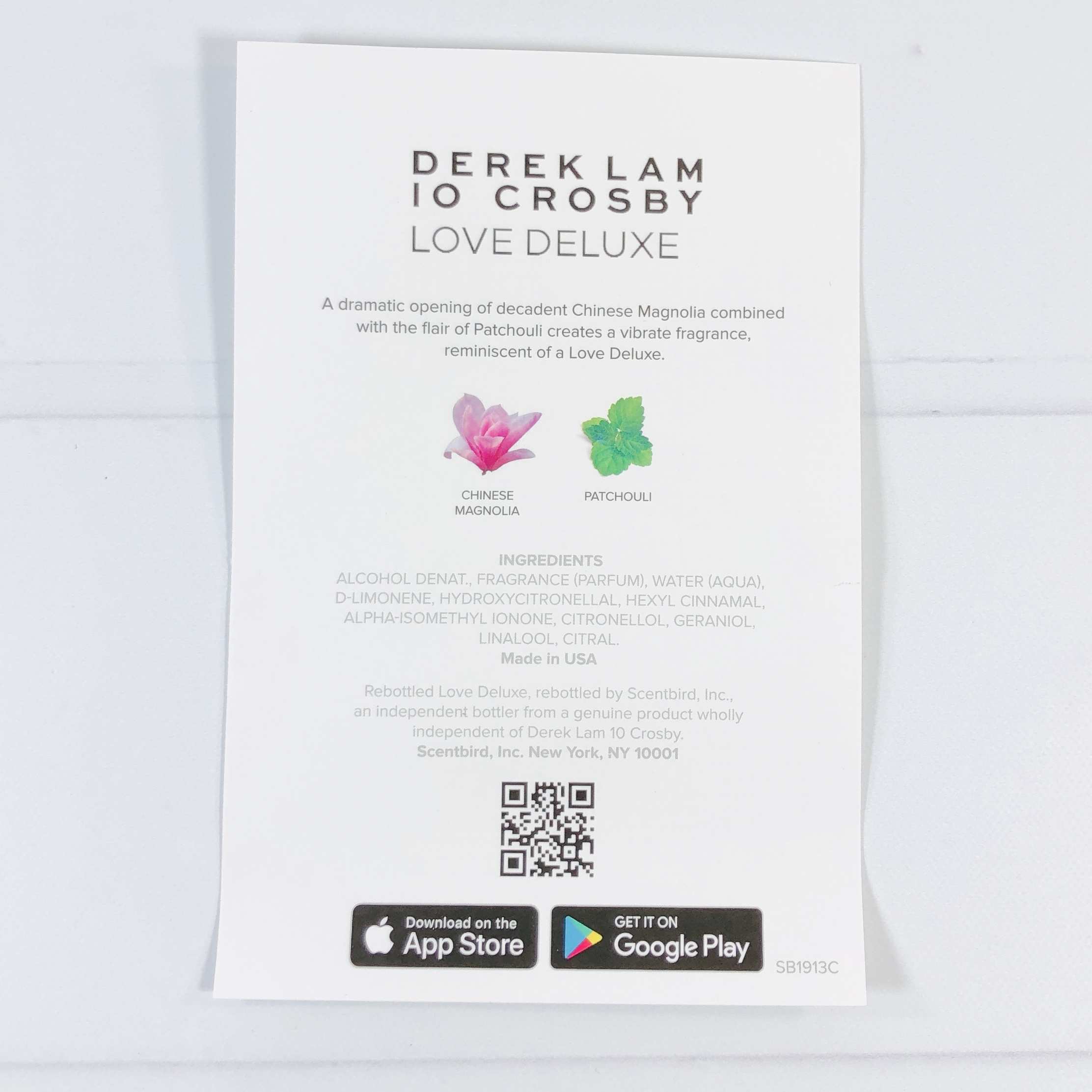 The back of the card gave a brief description and mentioned the scent notes.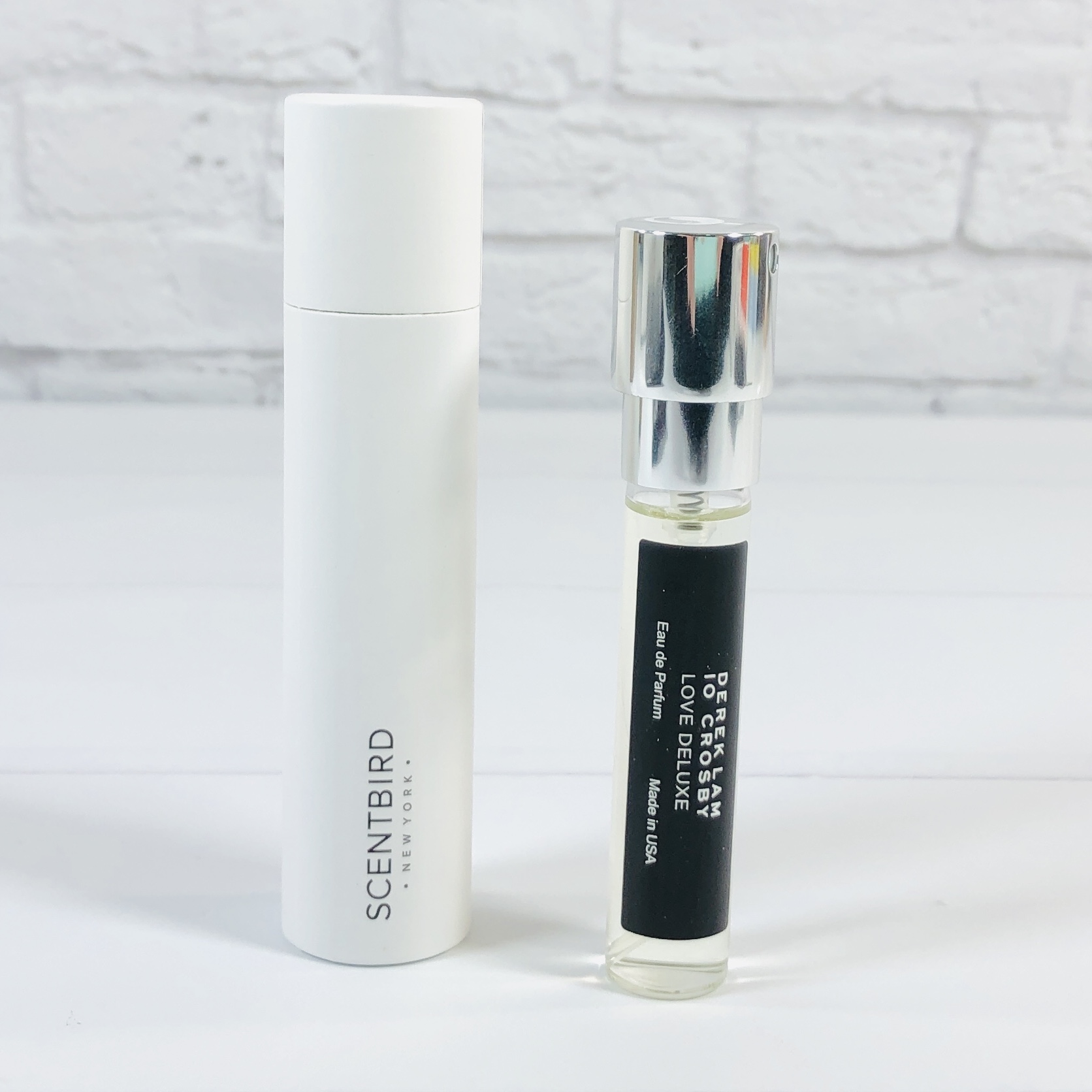 My scent was kept safe in a cardboard mailer.
Derek Lam 10 Crosby Love Deluxe Eau De Parfum ($85 for 1.7 ounces) The main selling point for me was the mention of only two scent notes, one of those being patchouli, one of my favorite scents. The other listed note was magnolia flower. Other than that I didn't really know what to expect, but sadly I can't smell any patchouli at all. To my nose, this is a powdery floral with a hint of spice, and it's definitely not what I would call a love deluxe. I would call it mature and old-fashioned. I'm no spring chicken but I am not ready to smell this advanced.
This is a newer scent for Scentbird so there weren't many votes when I placed it in my queue. It looks like a majority of Scentbirdies thought this was a floral scent, with woody and spicy far behind. Most wearers thought it was classic and perfect for every day wear. It currently has a 3-star rating so I'm guessing I'm not the only person who received something other than what they were expecting.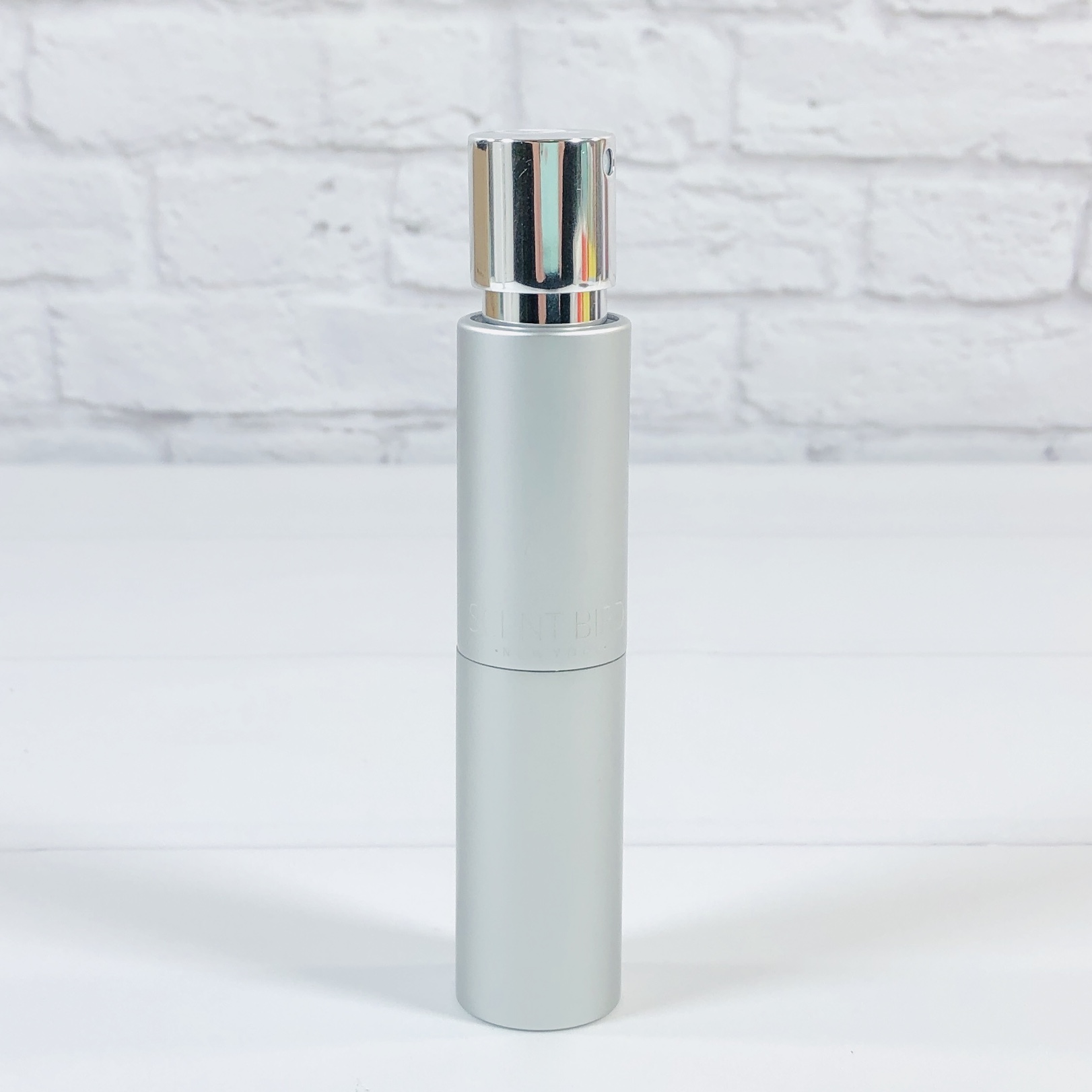 Your first Scentbird order comes with a special carrying case and you just pop the scent vial inside the case, then twist and push it down until the top is flush with the case. Then twist up to reveal the nozzle and give it a spritz. You should get enough sprays for a month's worth of wear, if you spray it on twice a day, two sprays each time.
The vial holds 8ml, or 0.27 fluid ounces, if you were wondering!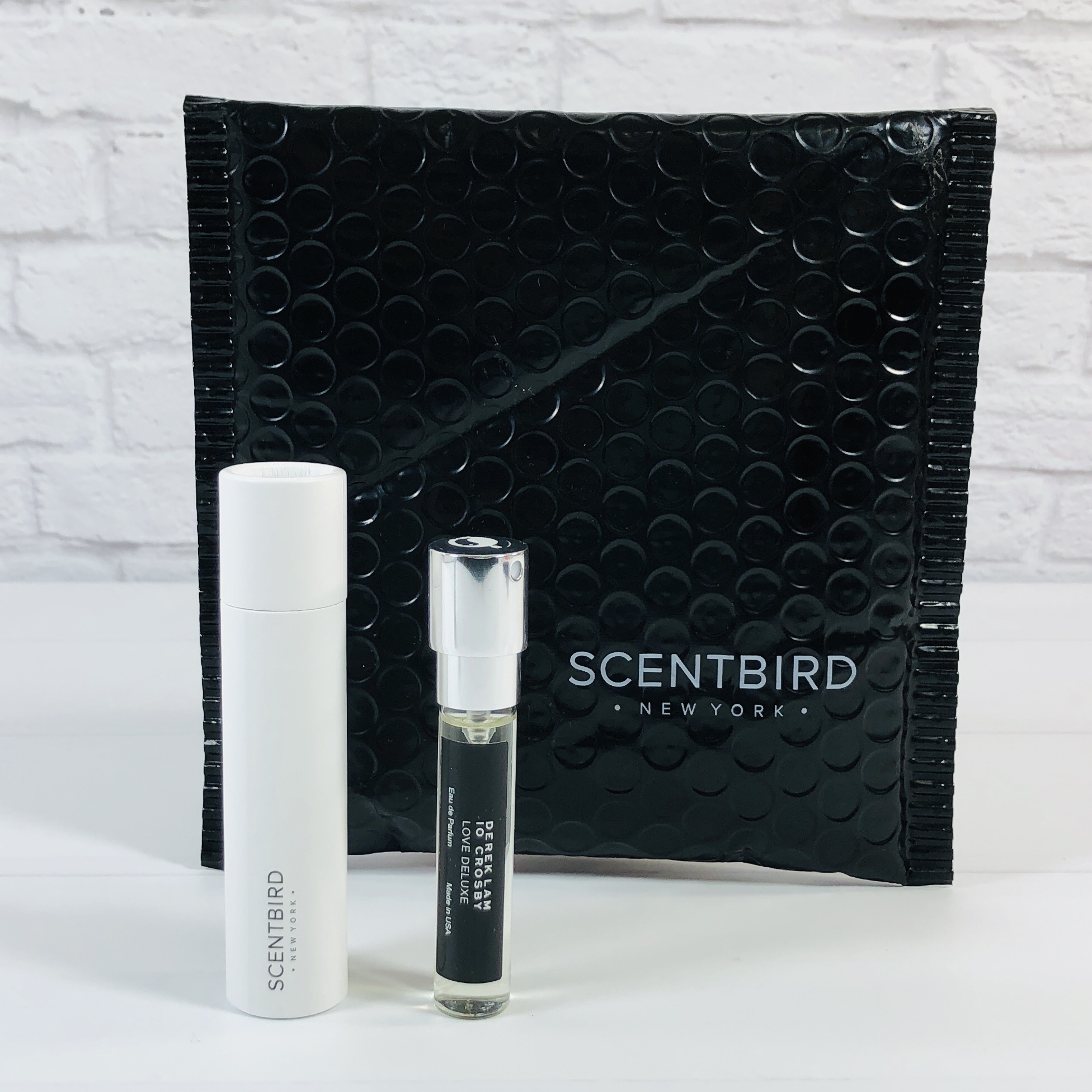 Scentbird has quite a selection of fragrances, and they frequently add new scents as well as seasonal favorites, and occasionally some fragrances will leave and may return sometime down the road. My scent for July was a miss for me personally but that's ok, I'd rather try before I buy, and it saved me from spending a ton on a full bottle. I also adore the fact that Scentbird has tons of choices, including skincare and candles, and that makes it a nicely customizable subscription box.
What's in your Scentbird queue? Let me know what scent you're wearing now in the comments!