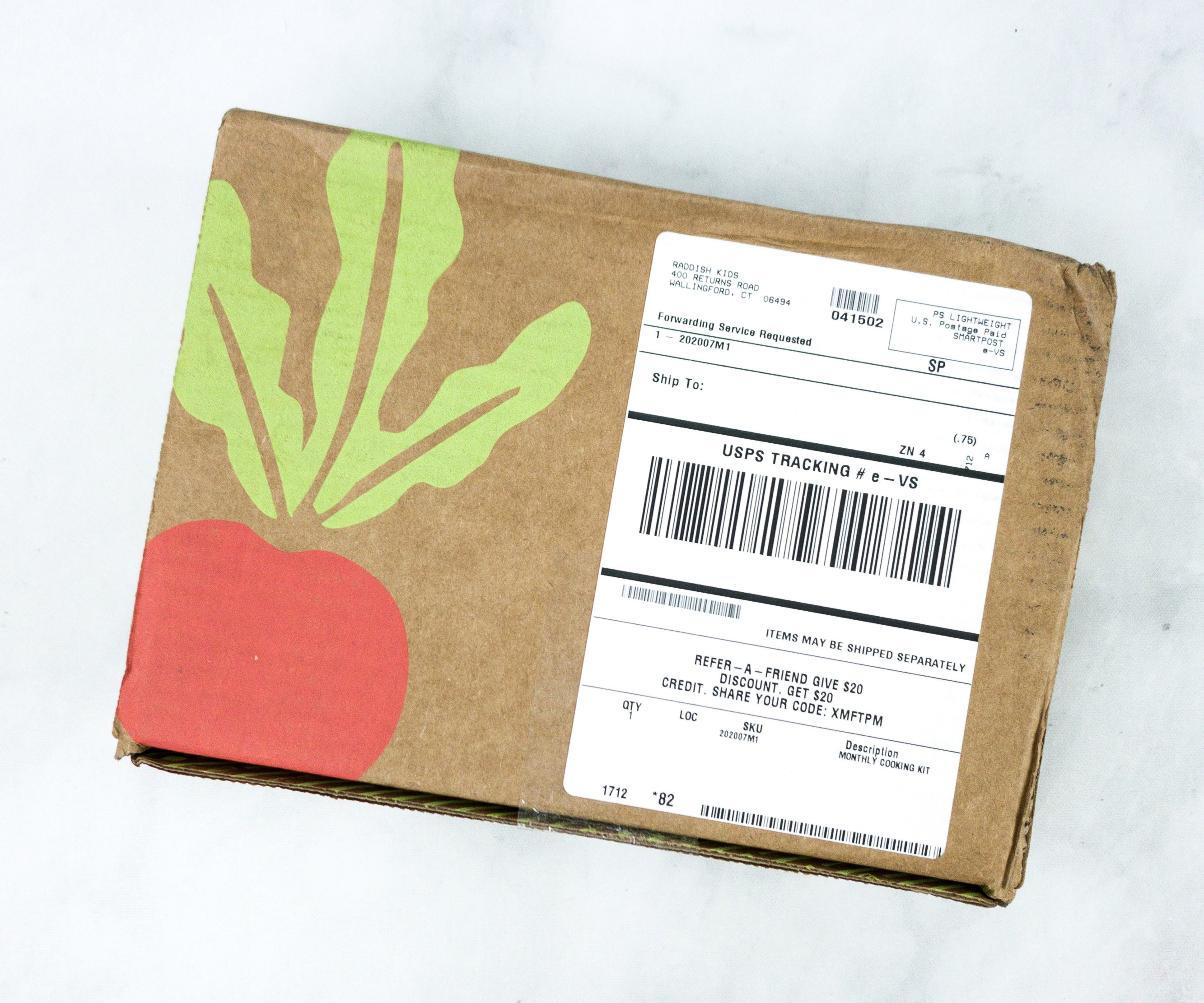 Raddish is a monthly kids' activity box centering around food and cooking! Designed for kids 4 to 14+, each themed box will include 3 illustrated recipe guides, 3 culinary skill cards, a creative kitchen project, kid-friendly tools and collectibles such as Table Talk cards, a culinary tool, and an iron-on Raddish patch. Themes range from Seasonal Spotlights to Global Cuisine and Creative Cookery to Holiday Celebrations. Although the ingredients are not included, they email you a shopping list for each month's recipes before your kit is shipped.
DEALS:
Get $20 off on a 12 month membership! Use coupon code CHEF20.
Get a FREE Apron with 6+ month membership! Deal applies automatically, just VISIT AND SUBSCRIBE.
They offer a monthly membership for $24/month, a 6-month membership for an upfront payment of $132 ($22/month), and a 12-month membership for an upfront payment of $240 ($20/month). For those who are getting the 6 and 12-month memberships, expect a free apron in your box.
Featured on the inner part of the box's flap are Raddish Kids' social media handles where you can share your cooking experience.
All the items were neatly packed inside the box.
This month's theme is Ticket To Tokyo!
Everything in my July 2020 box! If you subscribe for a year, the apron is automatically included!
Every box comes with a featured tool. Since this box is Japan-themed, we received a sushi rolling mat.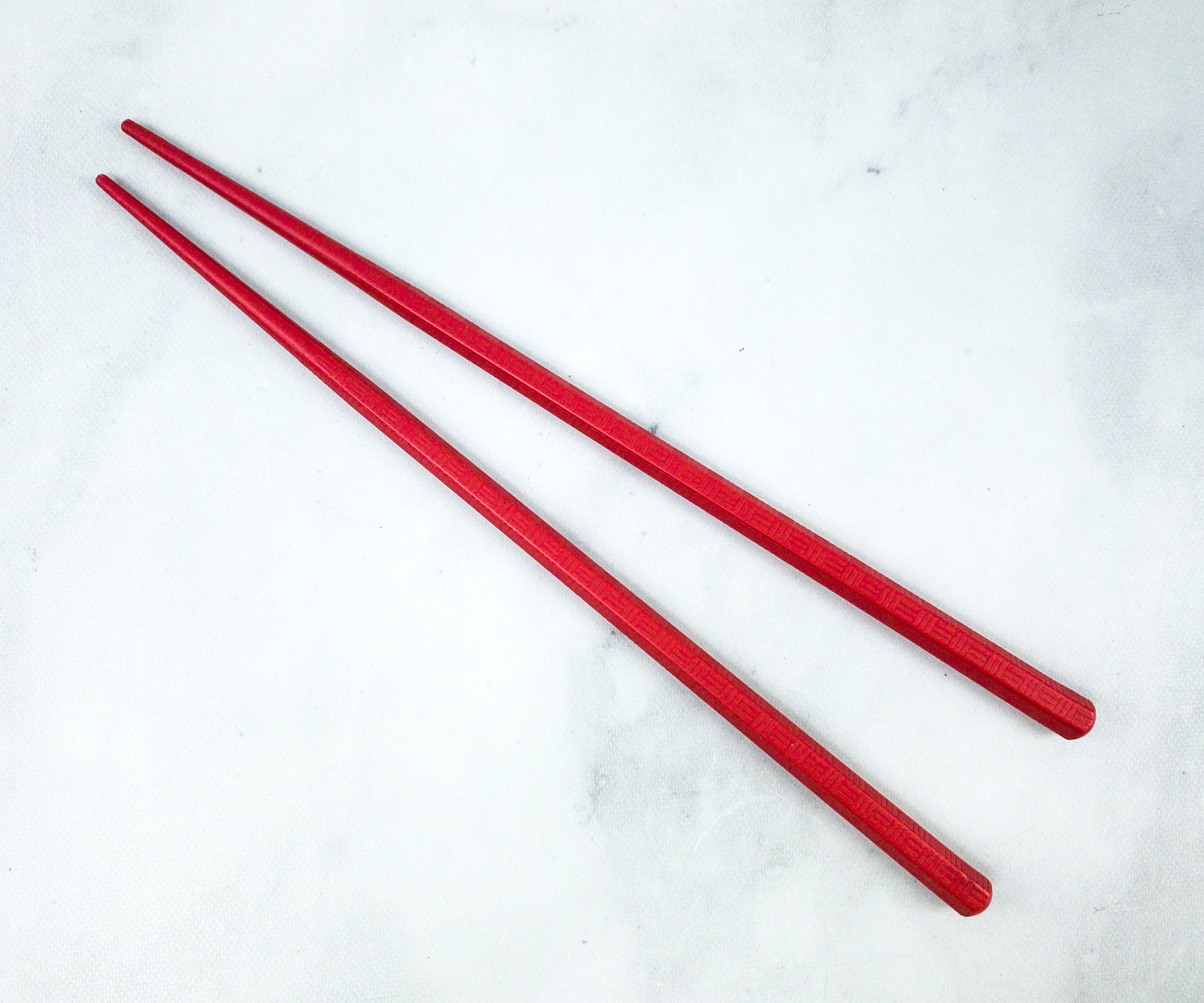 There's also a pair of red chopsticks.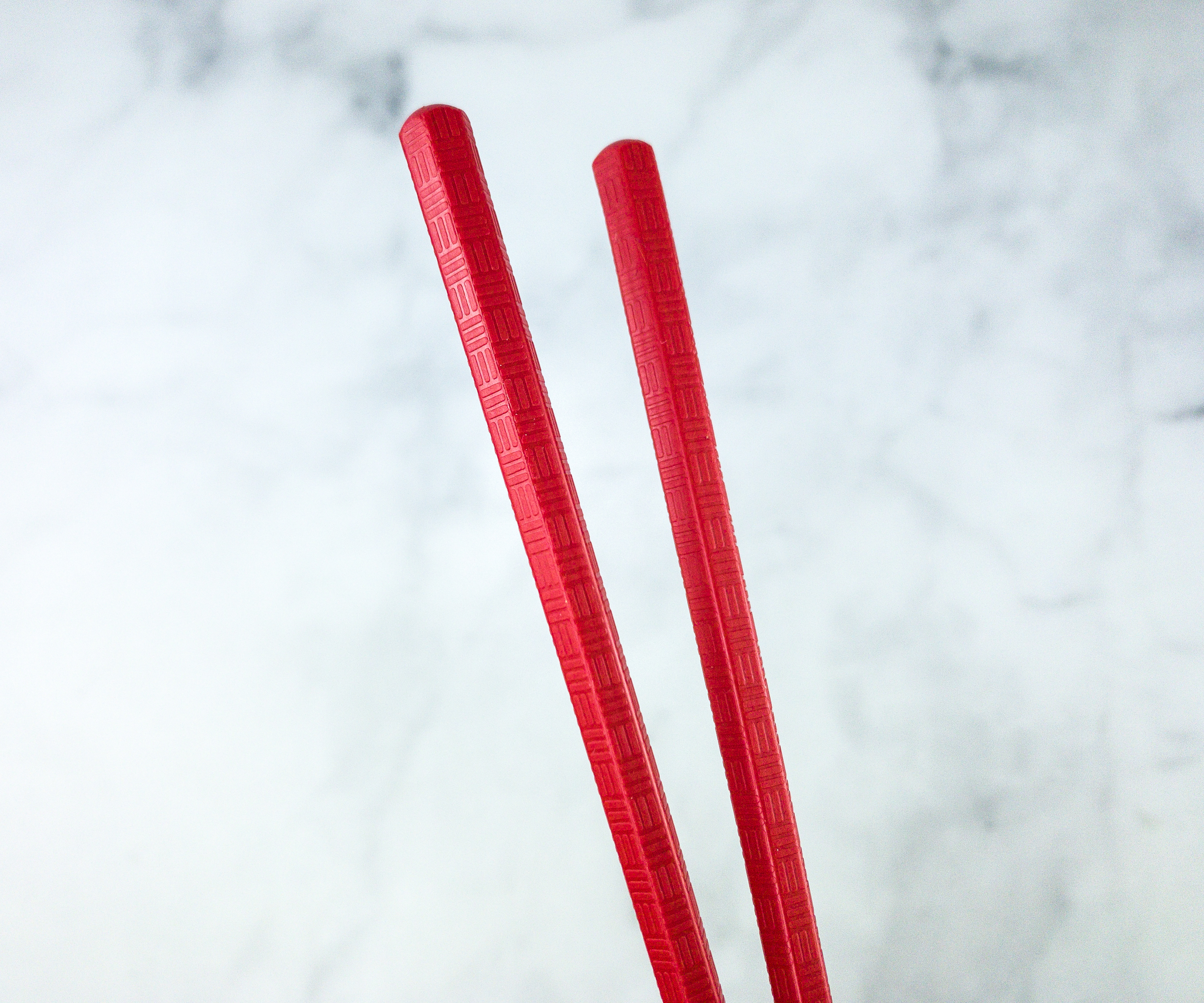 The chopsticks are patterned and you'll only notice them when you look closer!
Another bonus item in this box is a patch featuring Mt. Fuji!
Inside the envelope are small cards containing some culinary skill lessons, guides with fun and exciting activities!
The envelope also lists ways on how you can connect with Raddish Kids on social media, as well as a sneak peek for next month's theme.
Featured at the back of the envelope is a seek and find activity!
This card contains all the information you need to know about this month's box. It lists all the culinary skills your kids will be acquiring, the recipe names, collectibles, and other games and activities.
The back of the card provides a complete grocery list for all the featured recipes this month. The recipes are Yakisoba Noodles, Handmade Sushi Rolls, and Teriyaki Chicken Skewers.
Here are this month's recipe guides!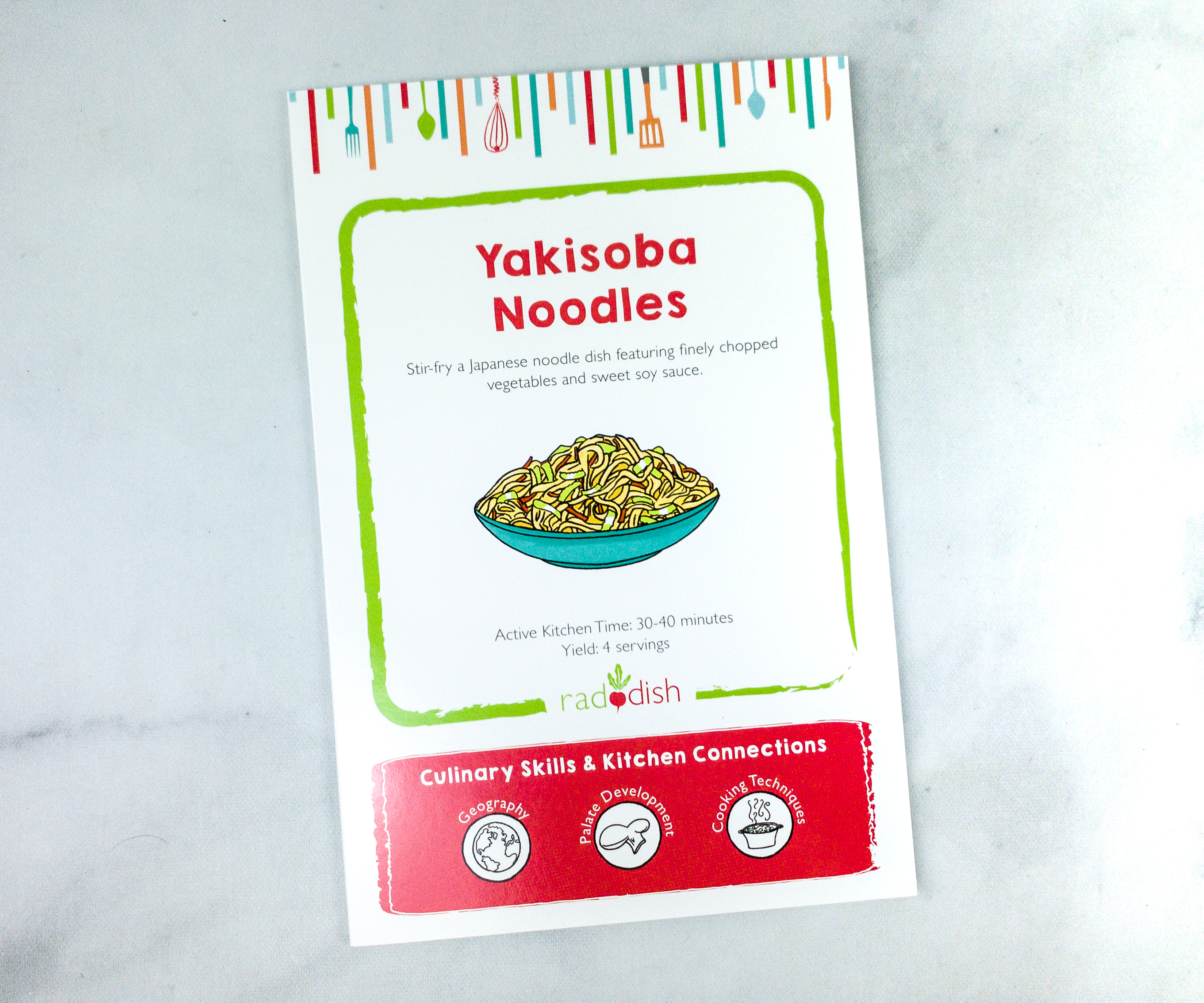 The first recipe is Yakisoba Noodles. This is a popular stir-fry Japanese noodle dish with vegetables and soy sauce.
Active Kitchen Time: 30-40 minutes

Yield: 4 servings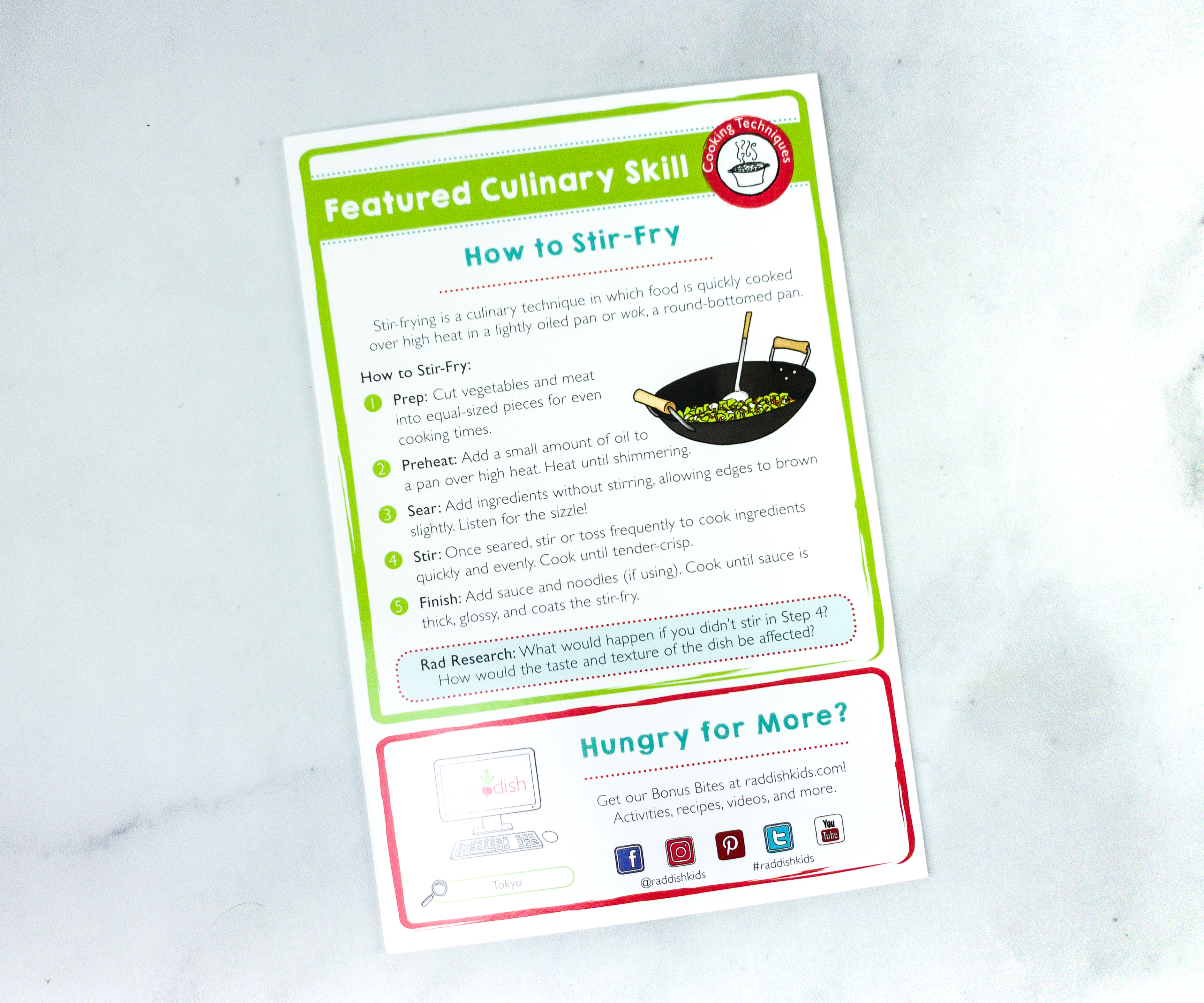 The back of the recipe guide contains the featured culinary skill. For this recipe, it's how to stir-fry!
Inside the booklet are the recipe's ingredients and tools for the project. There's also a portion on this page where we could learn about Japanese geography and different kinds of noodles in Japan.
Ingredients for this recipe are spaghetti noodles, napa cabbage, garlic, ginger, carrots, onions, sugar, ketchup, toasted sesame oil, soy sauce, Worcestershire sauce, and vegetable oil.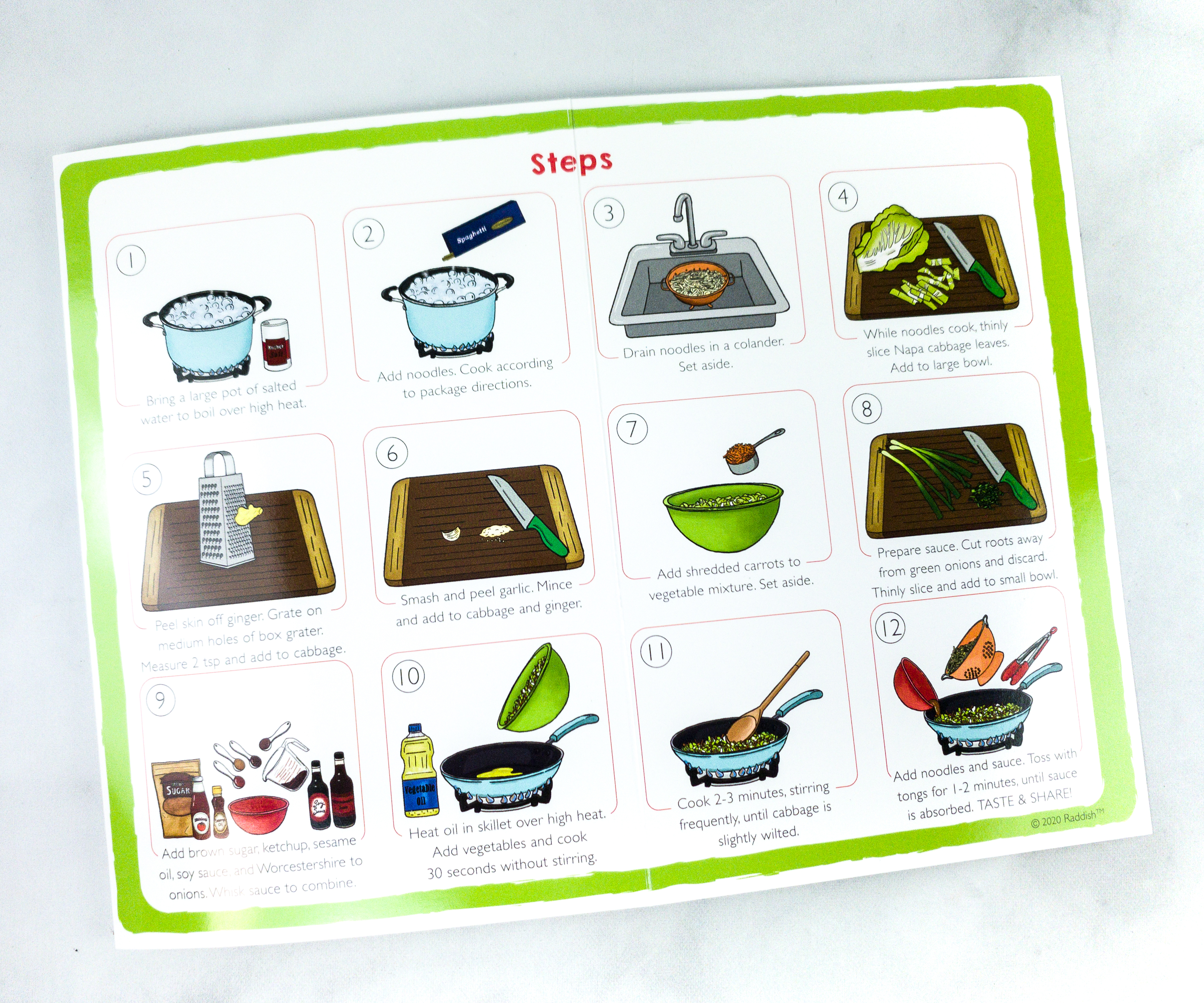 This recipe guide is easy to follow. We didn't encounter any problems because the illustrations are really helpful!
While we're boiling the noddles in a pot, we started to prepare the other ingredients. We chopped the vegetables and then prepared the sauce!
My youngest daughter also joined in on the fun!
Now, it's time to start cooking in a skillet! My daughter mixed the vegetables and then added the drained noodles. We added the sauce last and she tossed everything using tongs.
Here's how our Yakisoba noodles looked like when done!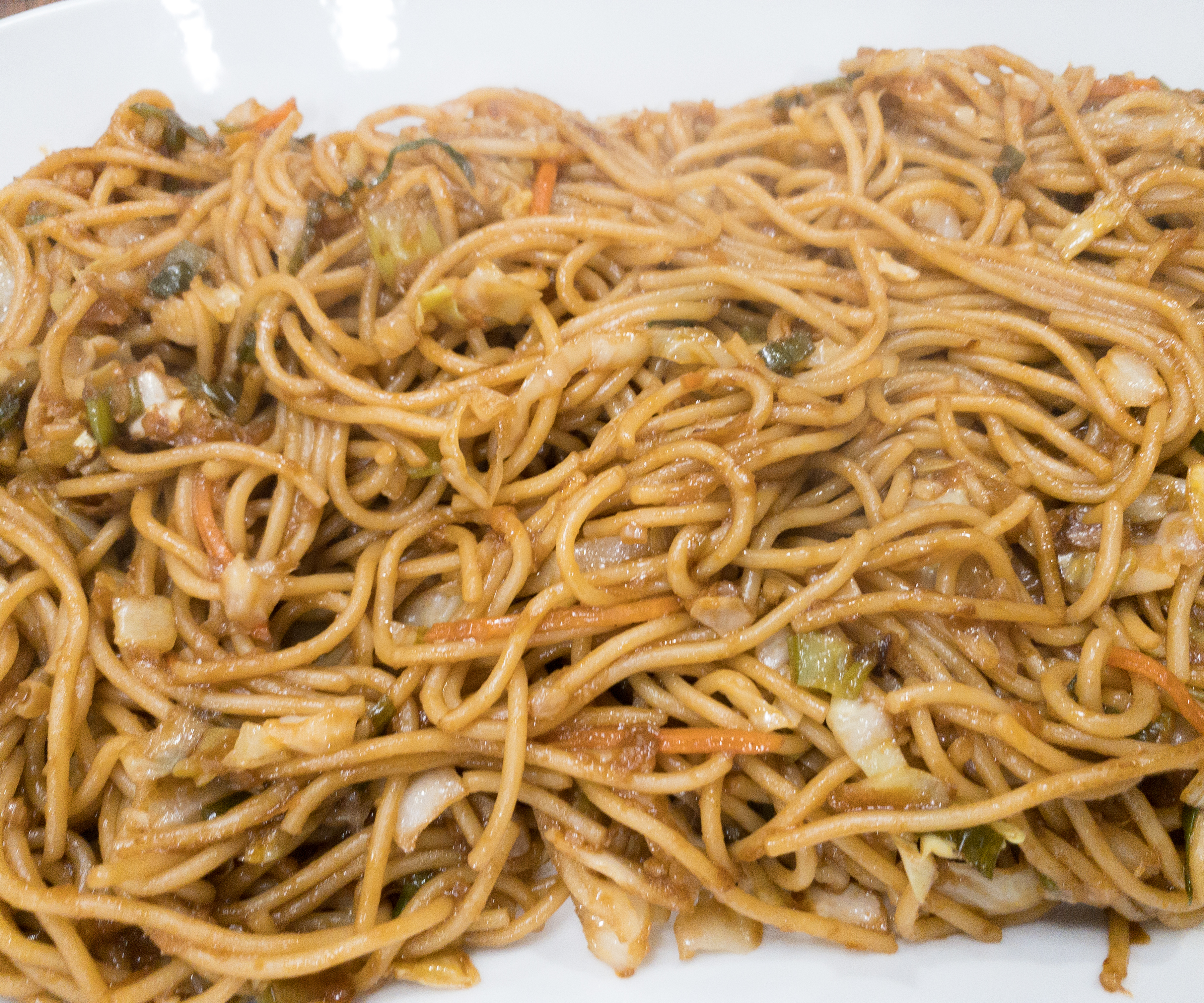 It smells so good and we love the savory flavors. The noodles were also well-cooked so they weren't soggy nor hard. Delicious!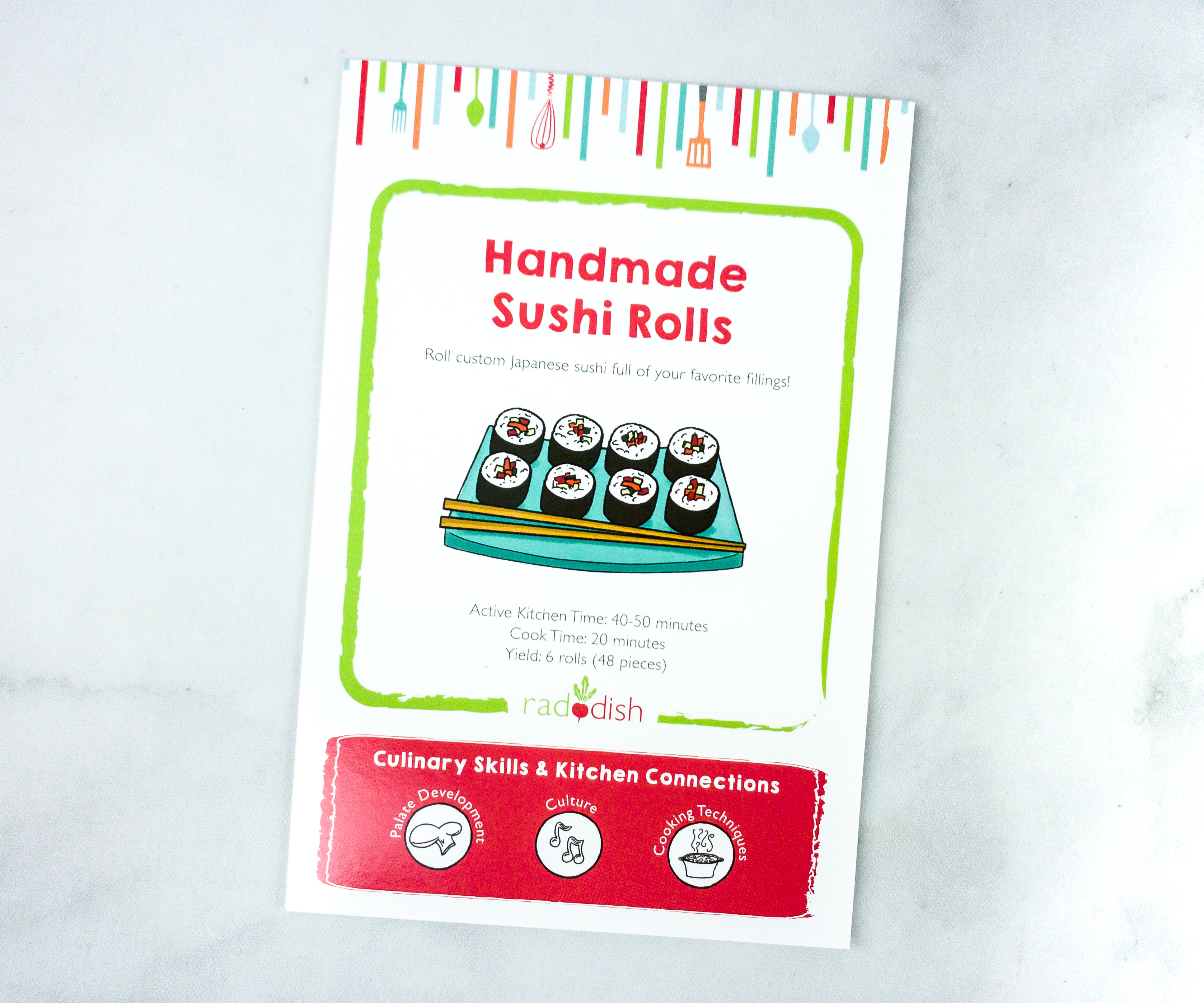 The next recipe is Handmade Sushi Rolls. Sushi is one of the most popular Japanese food and it's also easy to make!
Active Kitchen Time: 40-50 minutes

Cook Time: 20 minutes

Yield: 6 rolls (48 pieces)
The featured culinary skill for this recipe is using the sushi tools. The included sushi mat and chopsticks in this box can be used for this.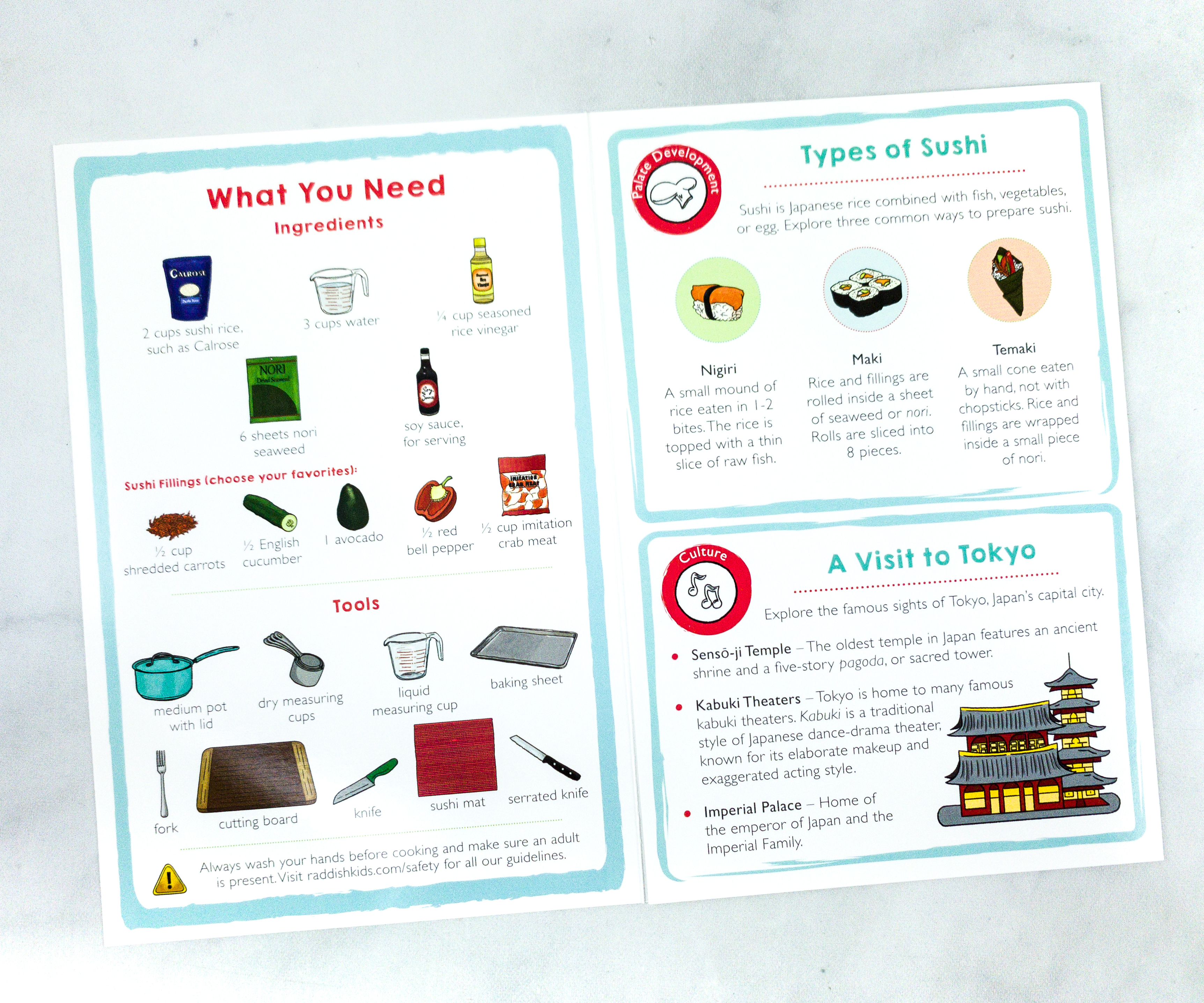 Aside from the ingredients and kitchen tools, this booklet also features different types of sushi and places to visit in Tokyo!
Here are all the ingredients needed for this recipe: sushi rice, water, seasoned rice vinegar, nori seaweeds, and soy sauce. For the fillings, you can choose your preferred ingredients. Some of the suggested fillings are carrots, cucumber, avocado, bell pepper, and imitation crab meat.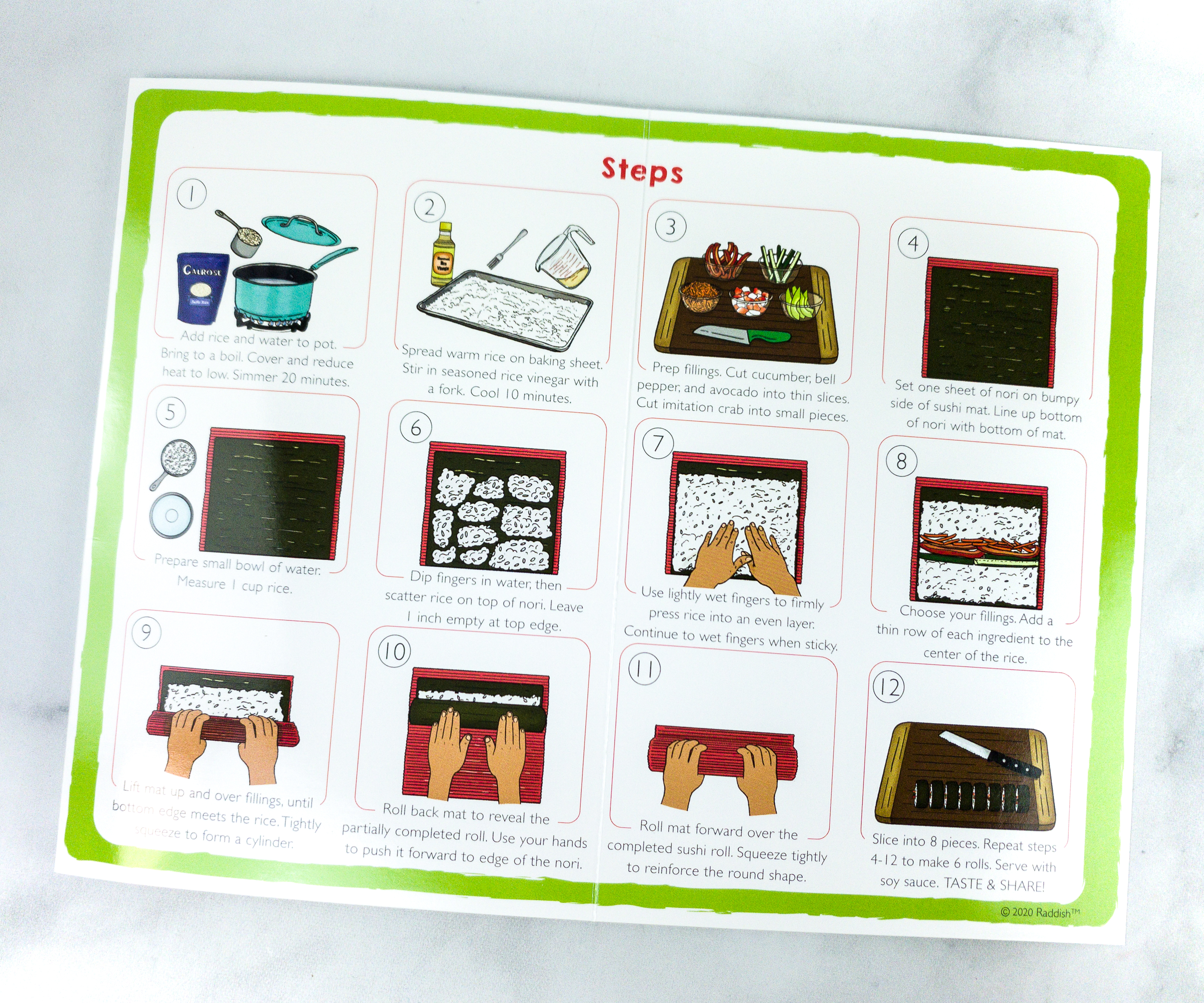 The guide has complete instructions and, as always, it comes with pictures that help us know that we're on the right track!
The first step is to add rice and water to a pot then bring to a boil. We let it simmer for 20 minutes and once done, my daughter spread the warm rice onto a baking sheet.
My daughter also prepared the seasoned rice vinegar which we stirred with the rice.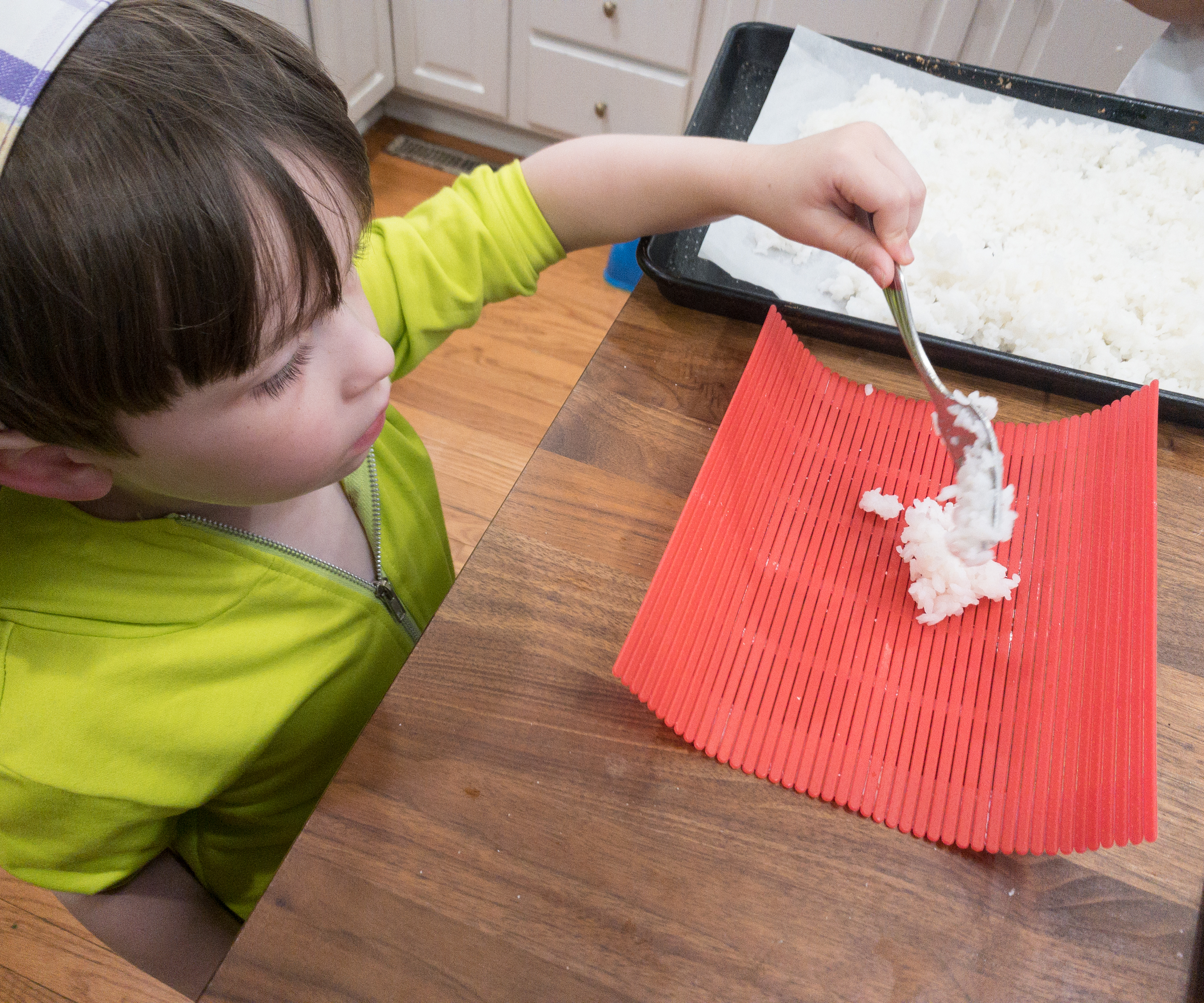 Now, it's time to put the sushi on the mat! We don't have nori seaweed available, so we put the rice directly on it after making sure it's clean.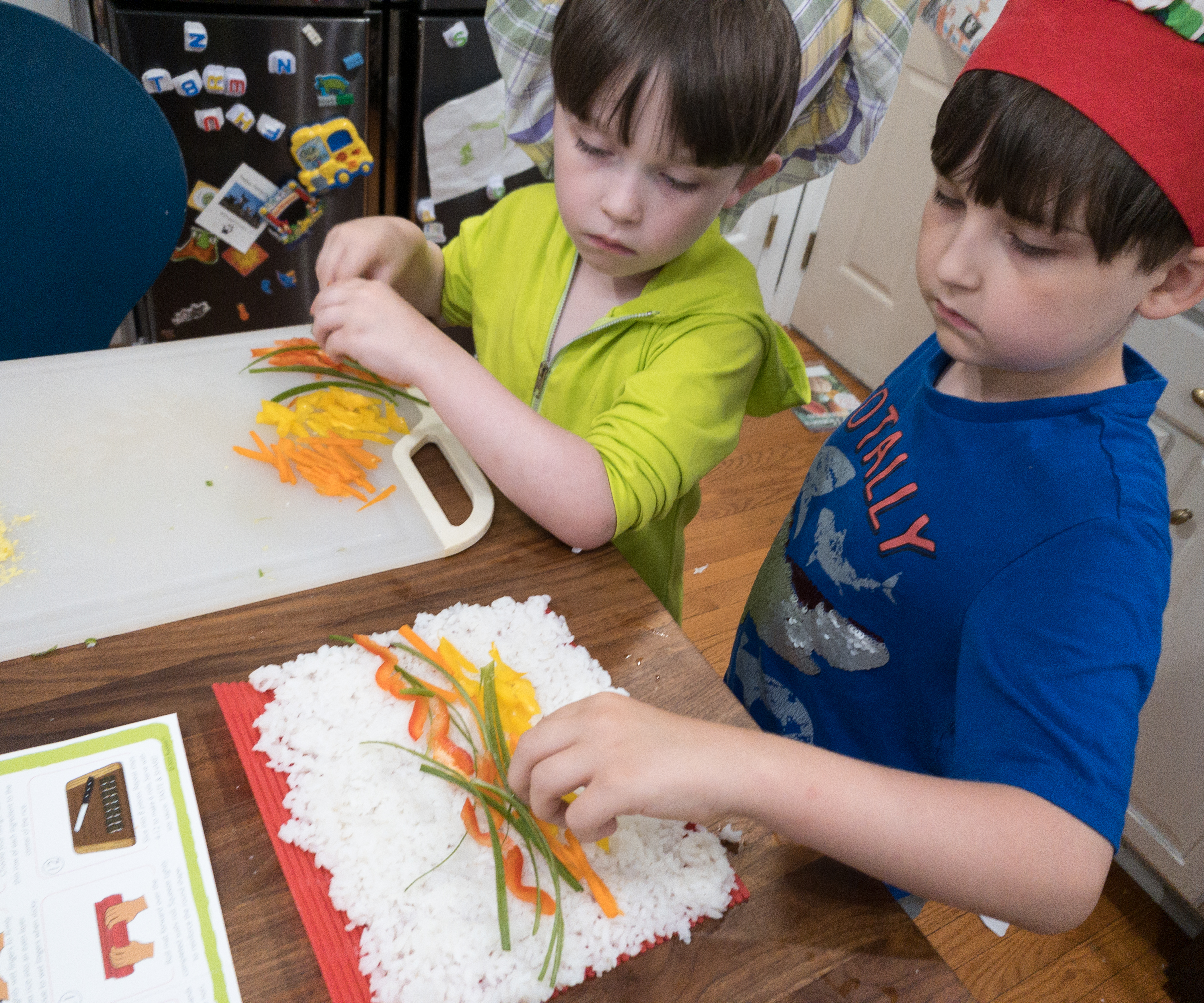 My kids pressed the rice to form an even layer and then added the fillings!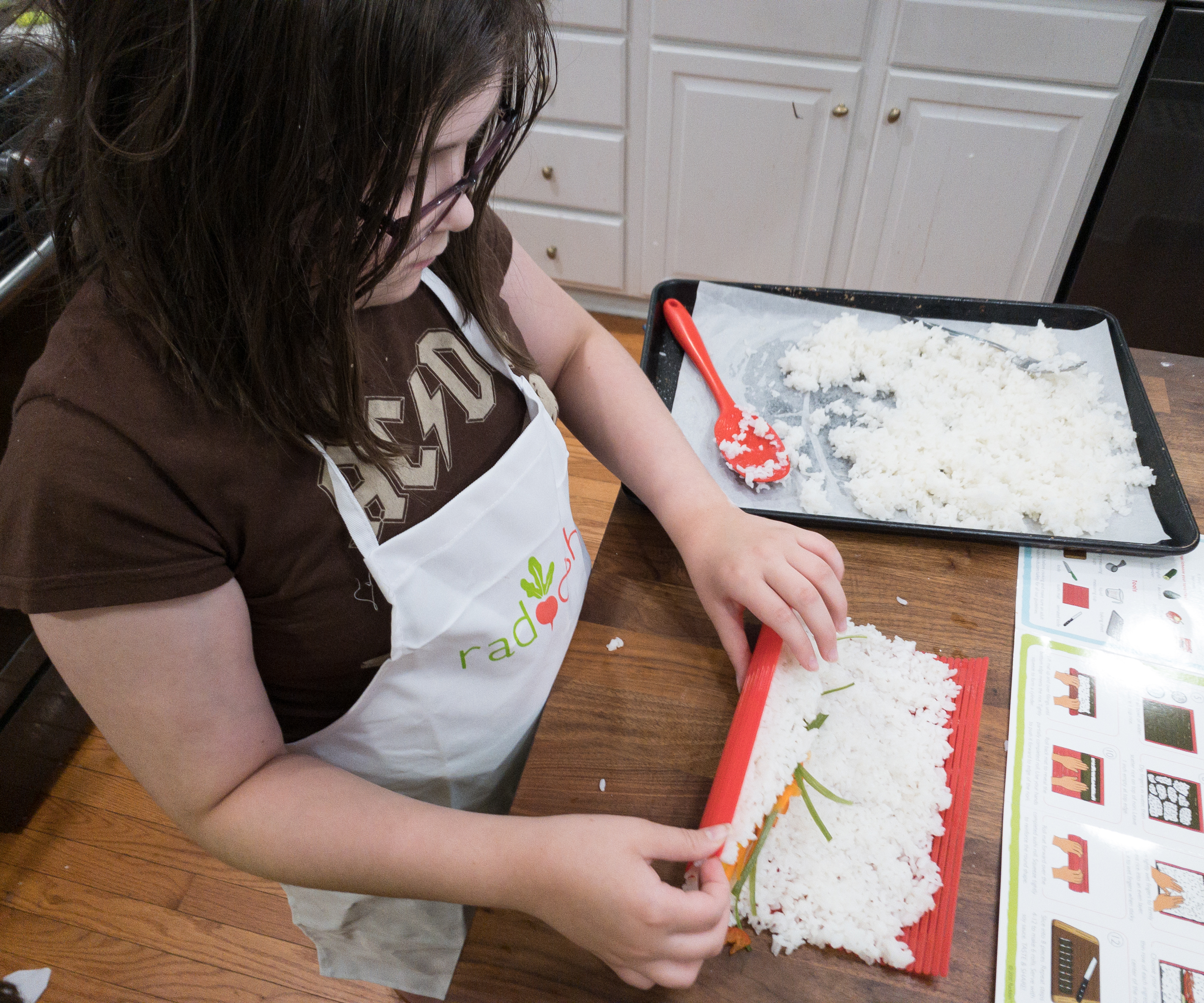 Now, it's time to roll it up until the bottom meets the edge of the rice.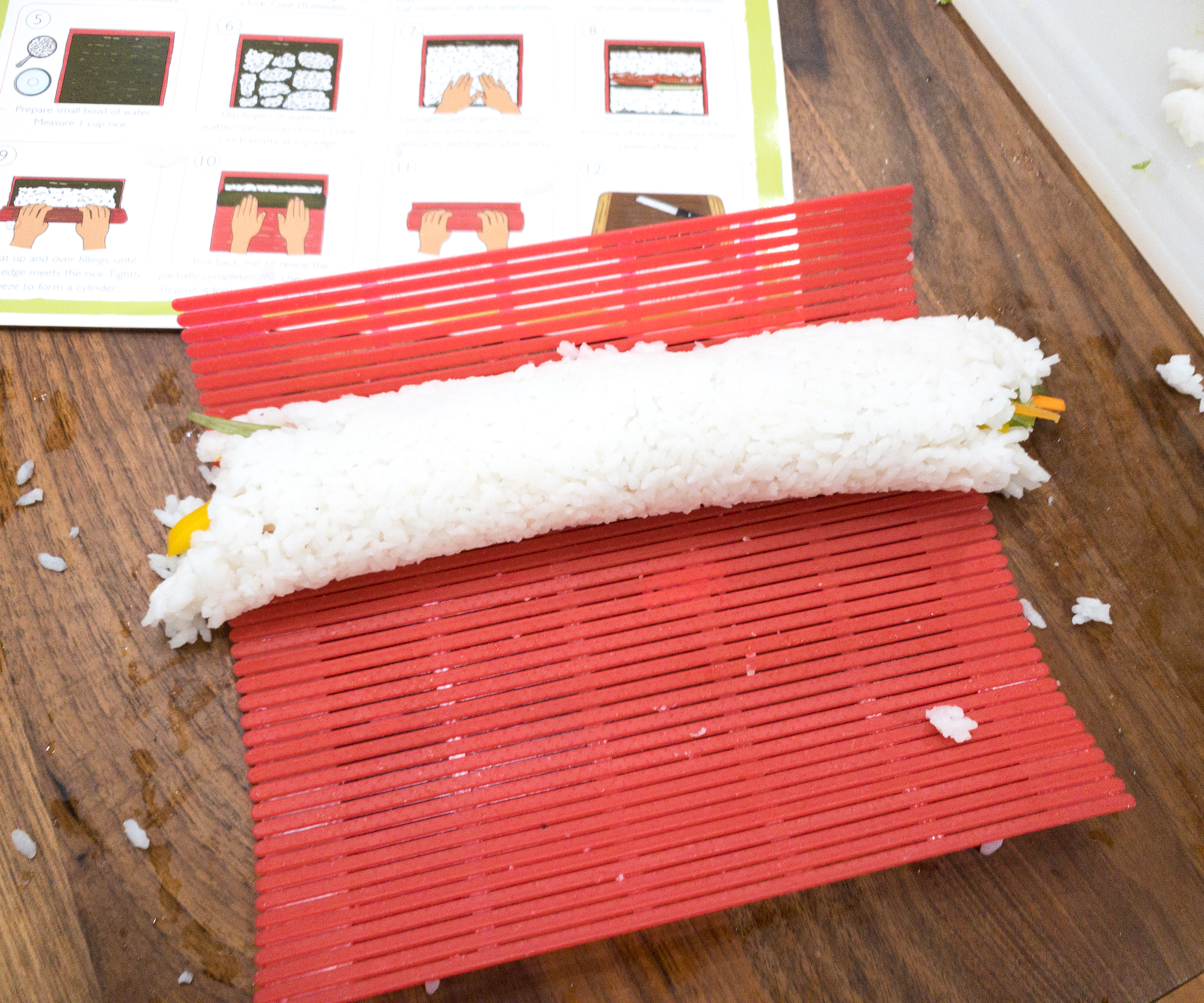 There you go! You just have to tightly squeeze so you can form a cylinder.
Although we don't have a nori wrapper, it still came out perfectly shaped.
We also cut them into smaller pieces for serving.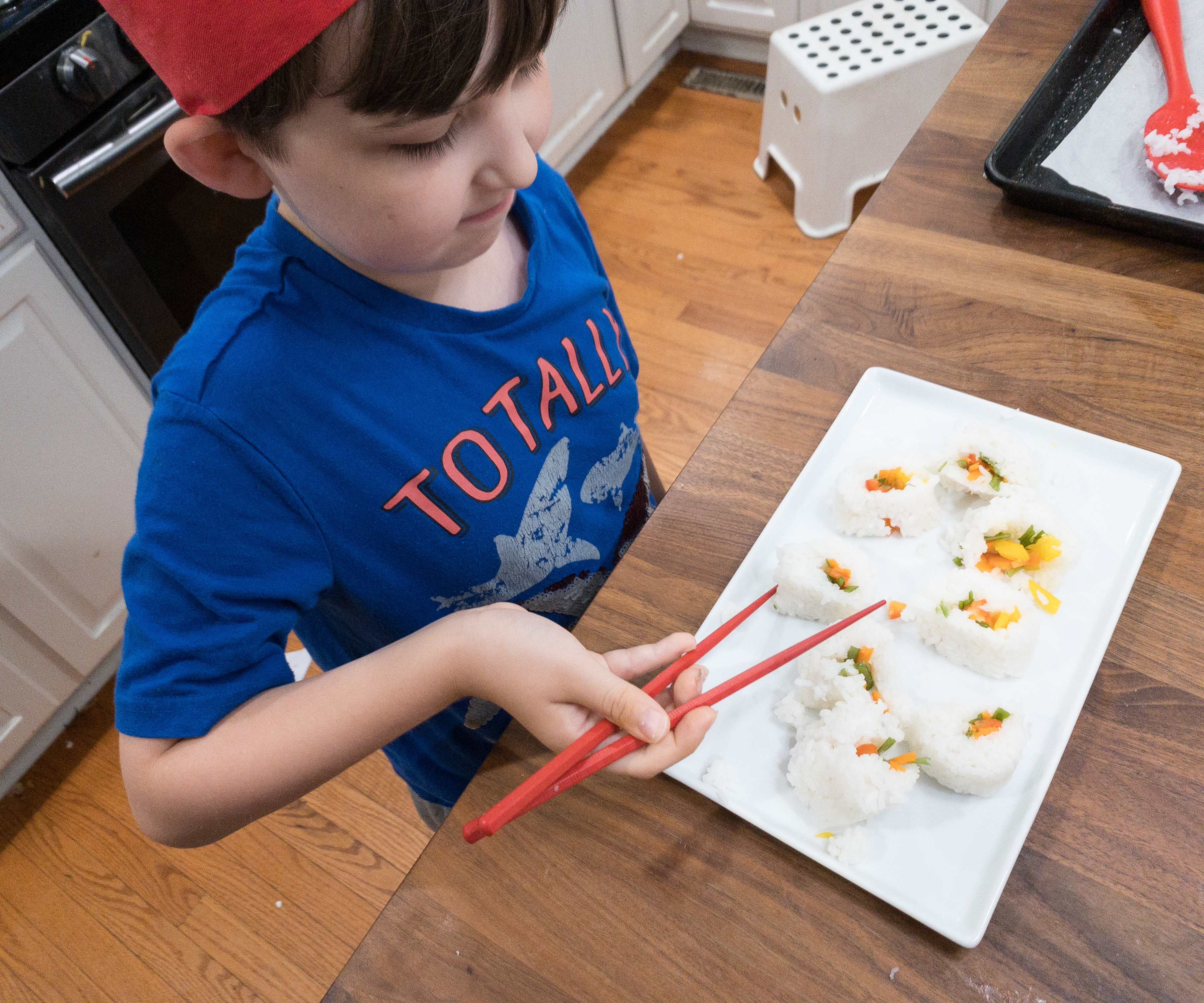 My son tried to eat the sushi using the chopsticks!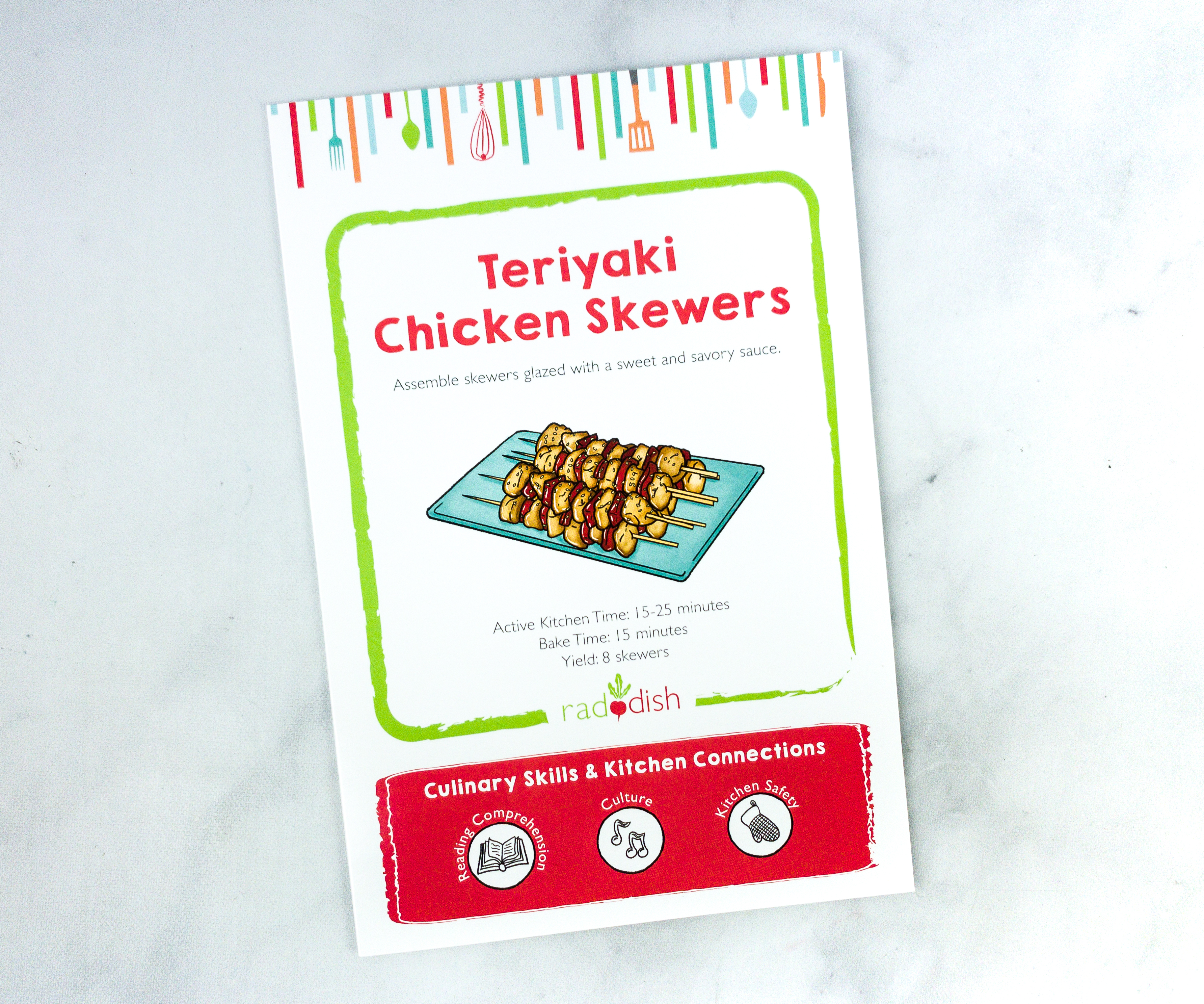 The third recipe is Teriyaki Chicken Skewers! These skewers are glazed with sweet and savory sauce.
Active Kitchen Time 15-20 minutes

Bake Time: 15 minutes

Yield: 8 skewers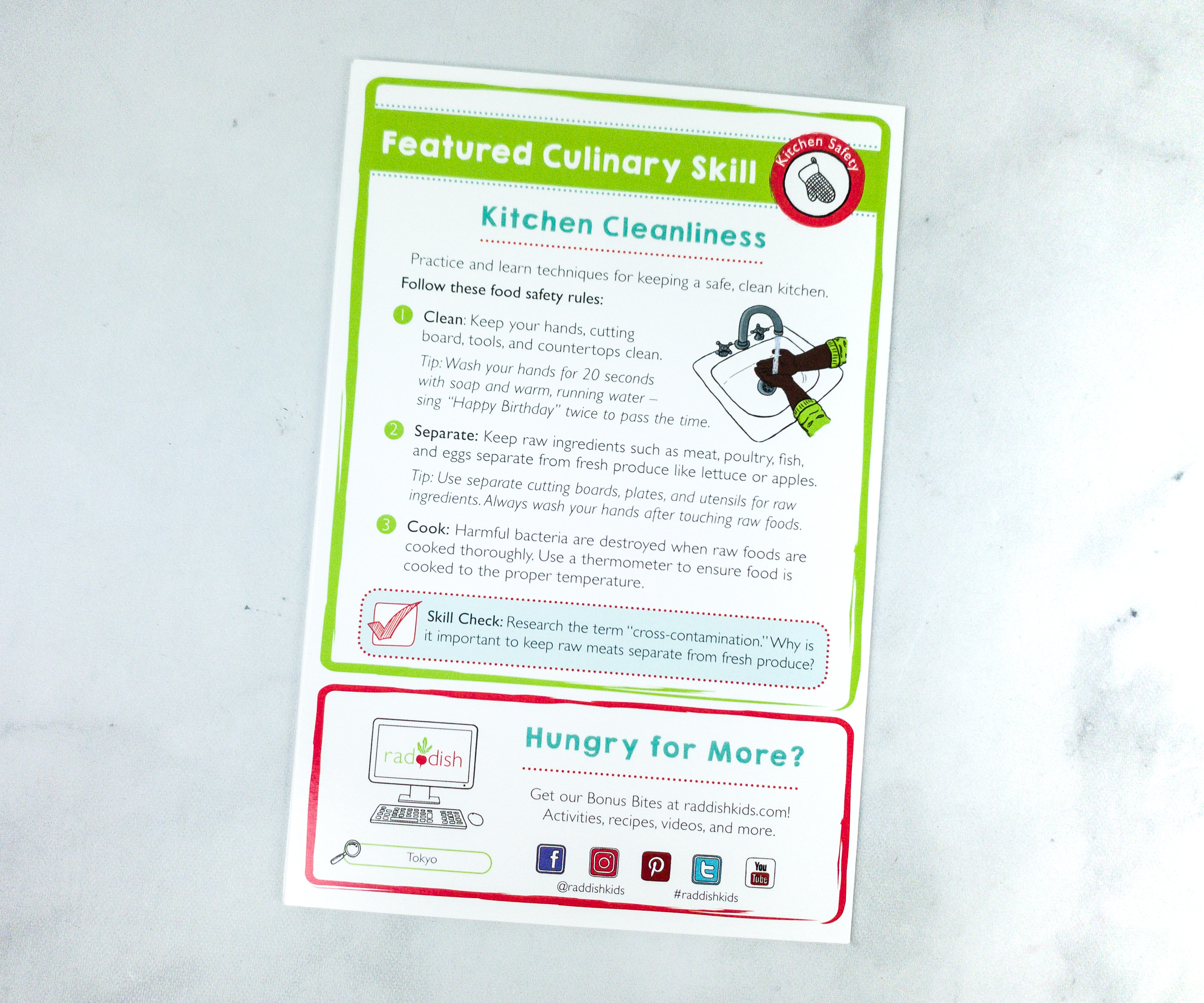 The culinary skill kids can learn from this is kitchen cleanliness!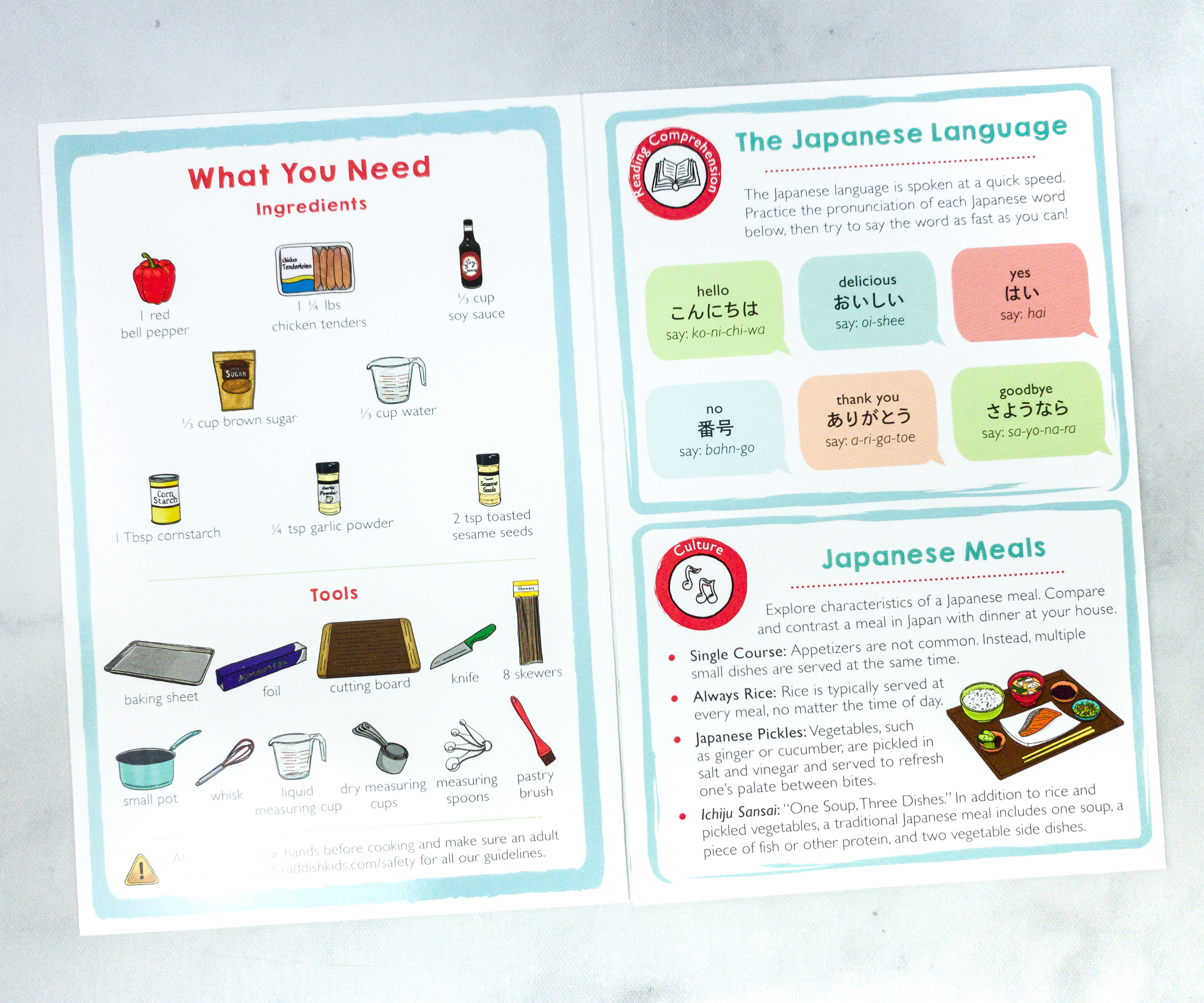 A part of the booklet has a short lesson about the Japanese language and Japanese meals!
The ingredients for this recipe are bell pepper, chicken tenders, soy sauce, cornstarch, garlic powder, and toasted sesame seeds.
This recipe involves using the oven!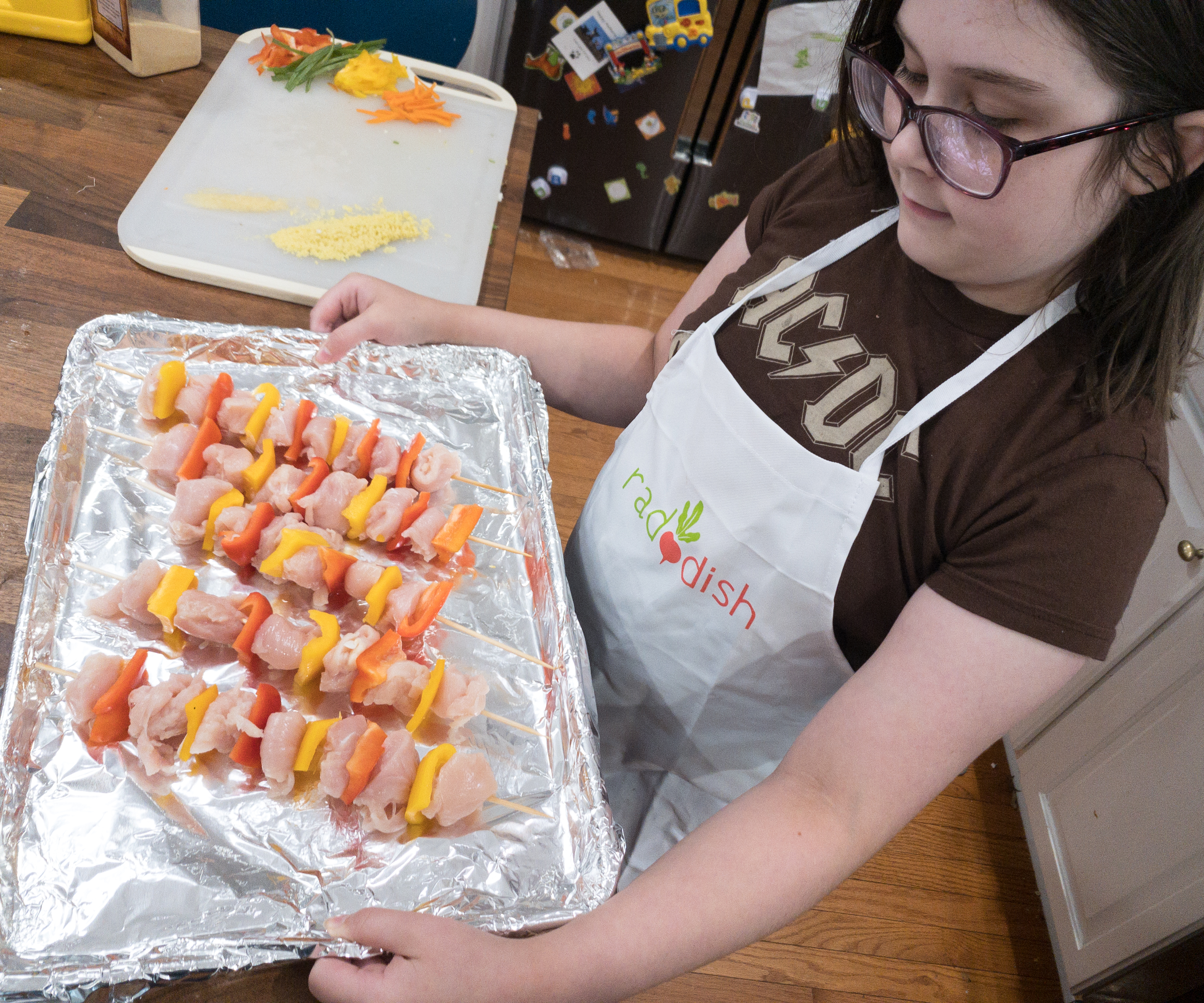 After we cut the bell peppers and chicken tenders, my daughter carefully put them on the skewers alternately. Once done, we also put the skewers on a baking sheet and baked them for 15 minutes.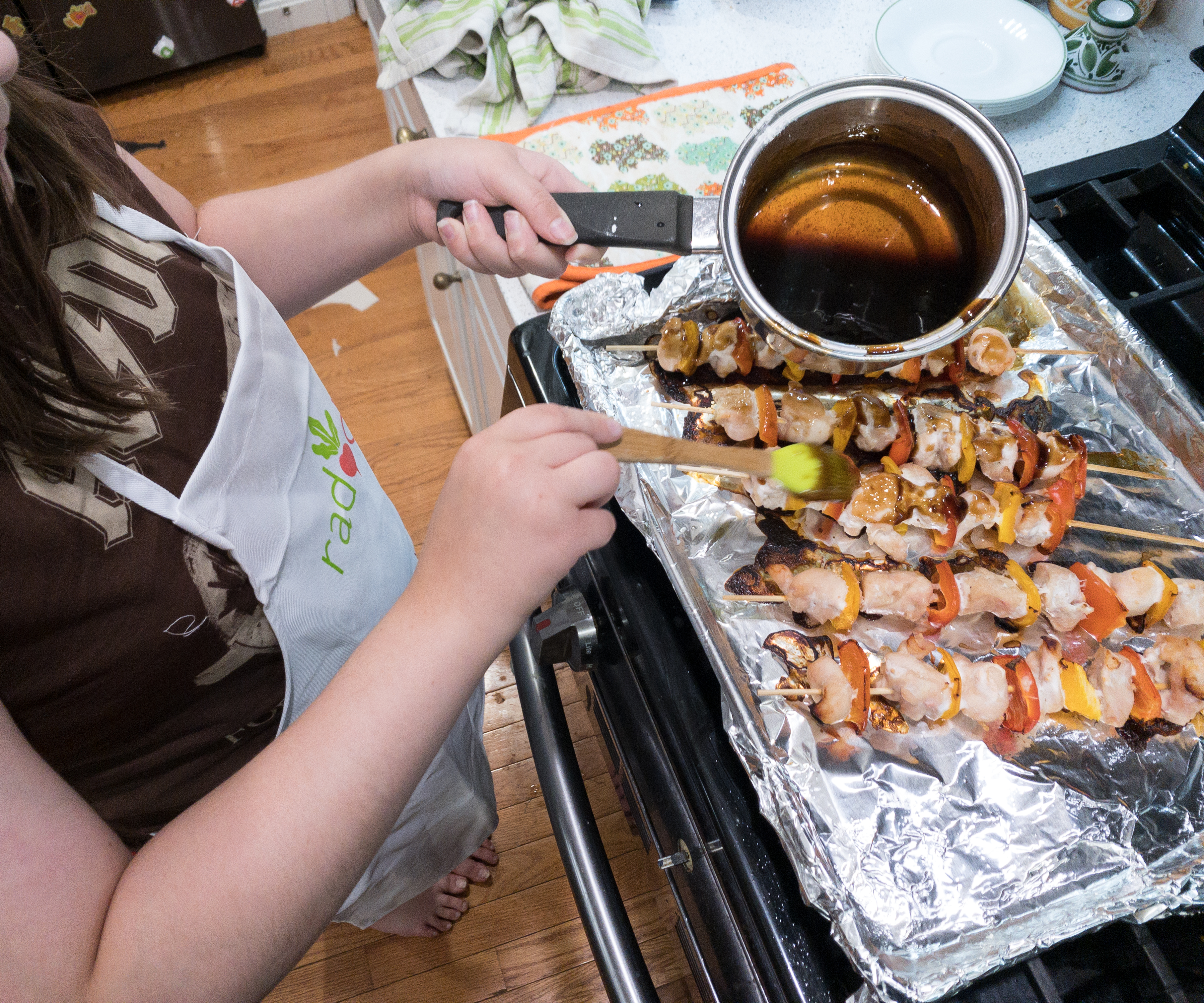 My daughter also prepared the teriyaki sauce. Then, when the skewers were ready, she brushed the sauce on them!
The last step is to sprinkle sesame seeds on top!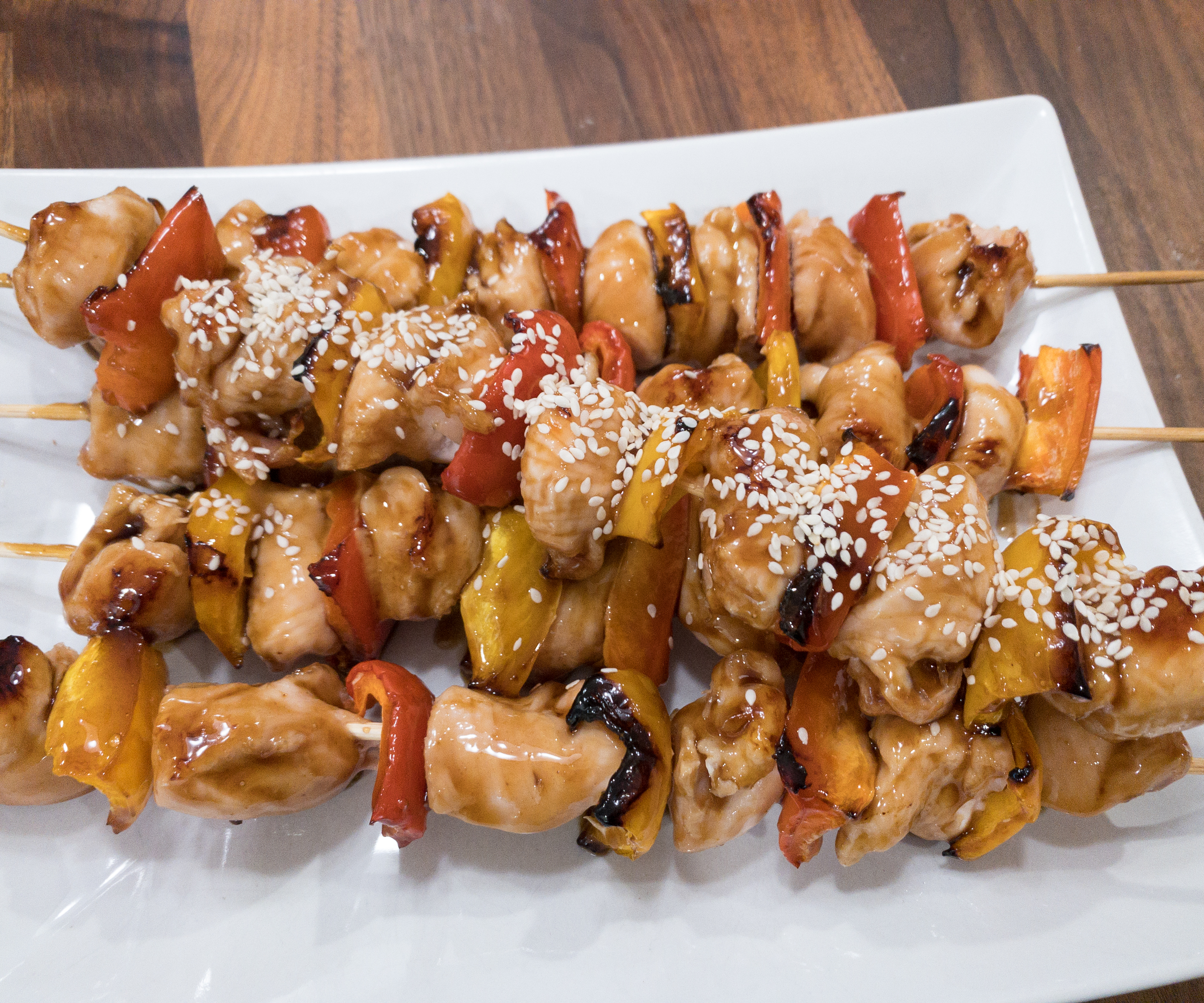 This is such a delicious meal! It actually goes well with the yakisoba noodles we prepared earlier.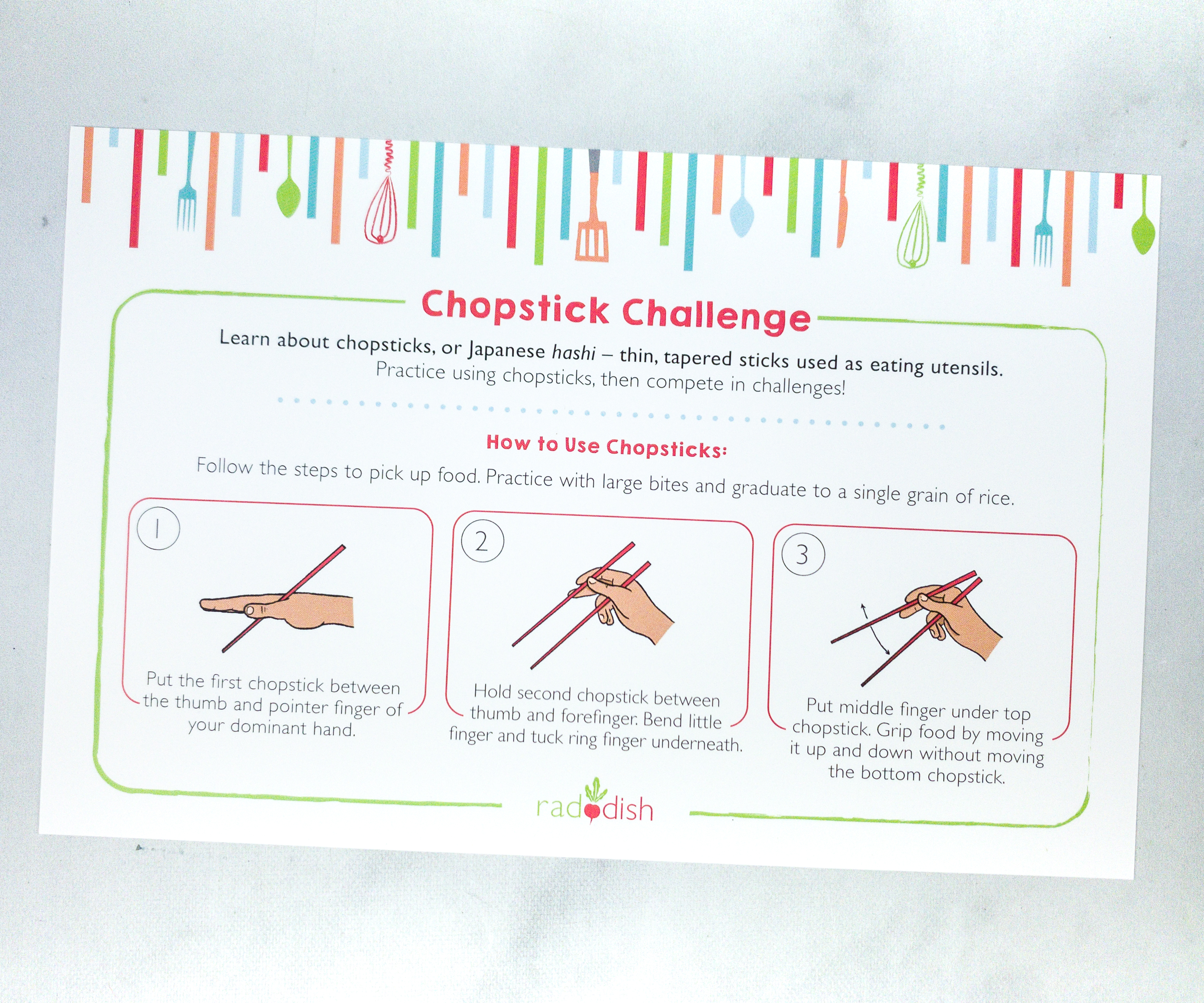 This month's box also included an extra card that features the proper way of using chopsticks.
At the back are various games for improving chopstick skills!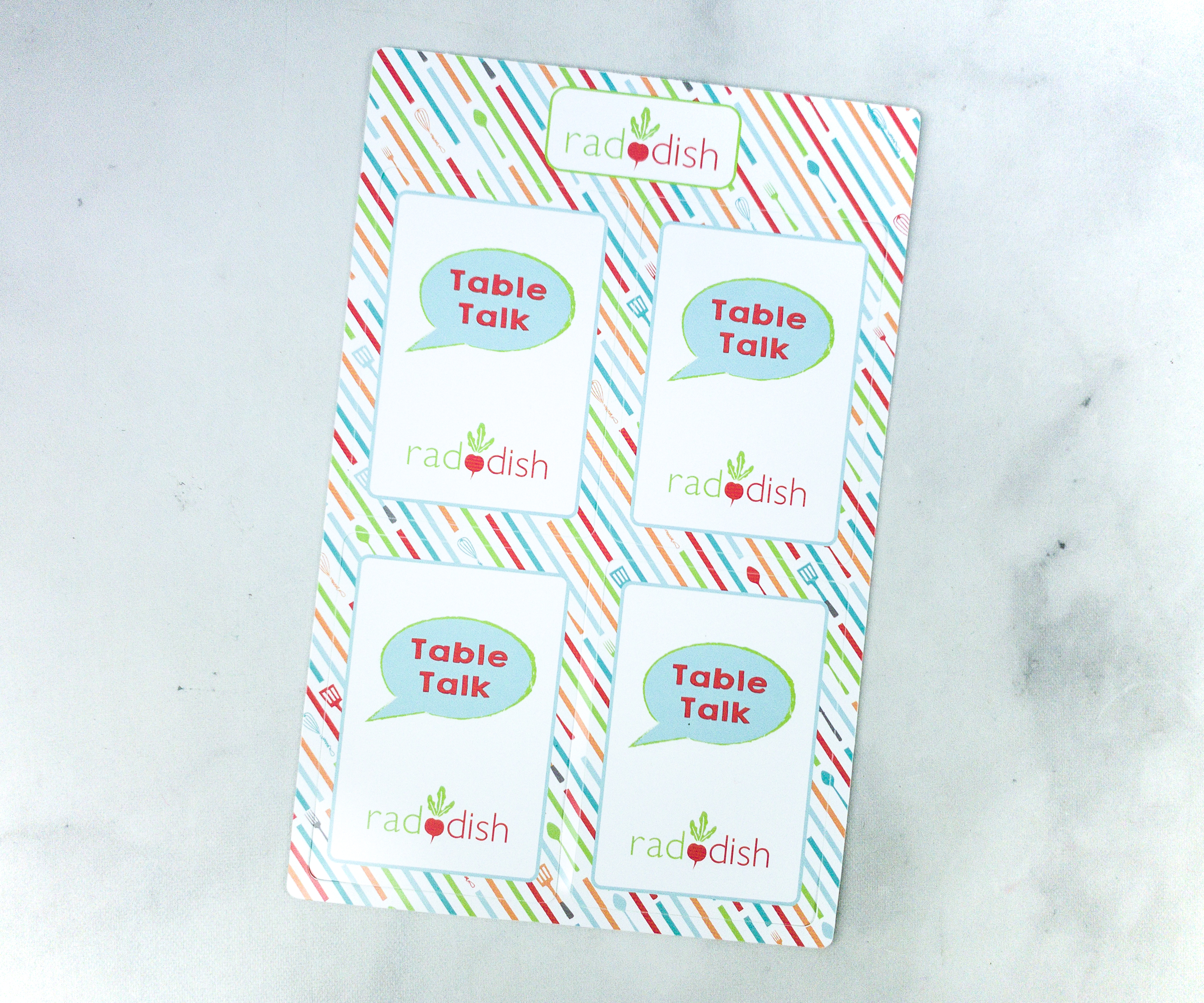 We also received an exclusive Table Talk conversation starter cards.
Each card contains some questions for a great table talk conversation.
They come in a sheet and you can easily tear them down.
While enjoying all the food we just made, these cards help keep the conversation going!
Raddish Kids makes cooking fun and exciting for children! They have new themes in every box, and this month, it's all about Japanese food. My kids learned using chopsticks and sushi mat, and made their own yakisoba noodles, sushi, and teriyaki skewers. The recipes are easy to follow and even kids can do them easily on their own. Still, adult supervision is needed especially when they're using the oven or the skillet. Although the ingredients are not included in the box, it's easy to shop for what we need because they provide a shopping list. We love this box overall! We recommend it for kids and families who want to bond over cooking something delicious that you can share later!
What do you think of this month's box?