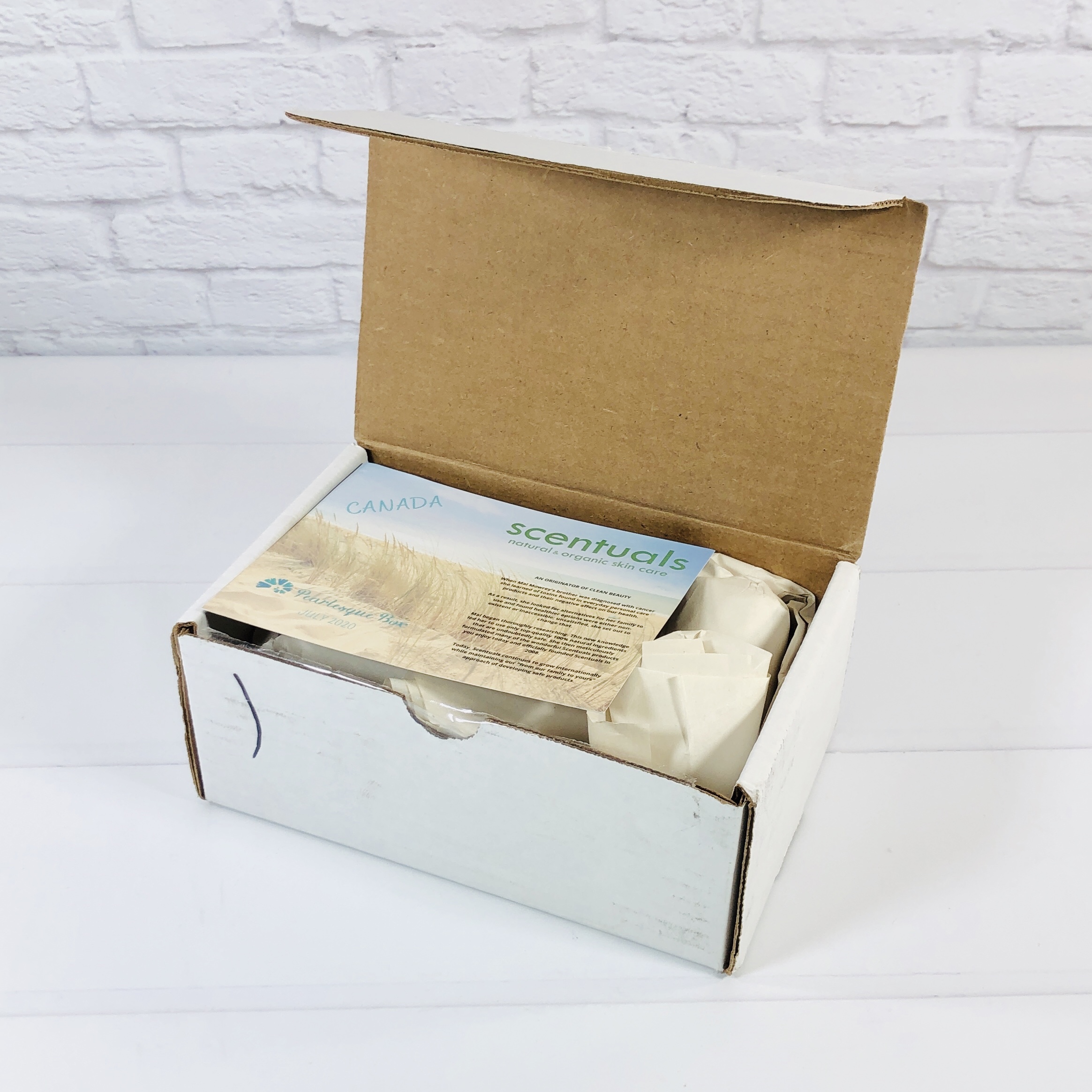 Pearlesque Box is a subscription box that delivers full-sized and travel-sized beauty products from around the world to your home each month so that you can accurately judge how each product affects your skin. Each month features a different organic, non-toxic, natural skin care line. This box is $39.95 a month (or a bit lower for longer sub terms) and promises a value of $90 – and it is often well above that!
Only about 10% of the 10,000 chemicals commonly found in personal care products have safety data

The US has NOT passed a federal law to regulate the ingredients used in personal care products since 1938

The European Union has spent the past two decades banning or restricting more than 1,300 ingredients, the US has only banned 11

20% of personal-care products that contain at least one chemical linked to cancer

Our mission is to bring you organic, non-toxic and safe products!
DEAL: Save $5 on your first month with PEARL5.
I received a card with background info on the featured brand for July, Scentuals:
Our products are 100% natural & made with organic ingredients. As an originator in the Canadian natural skin care industry, we not only pass all current "clean beauty/non-toxic" guidelines, we exceed them.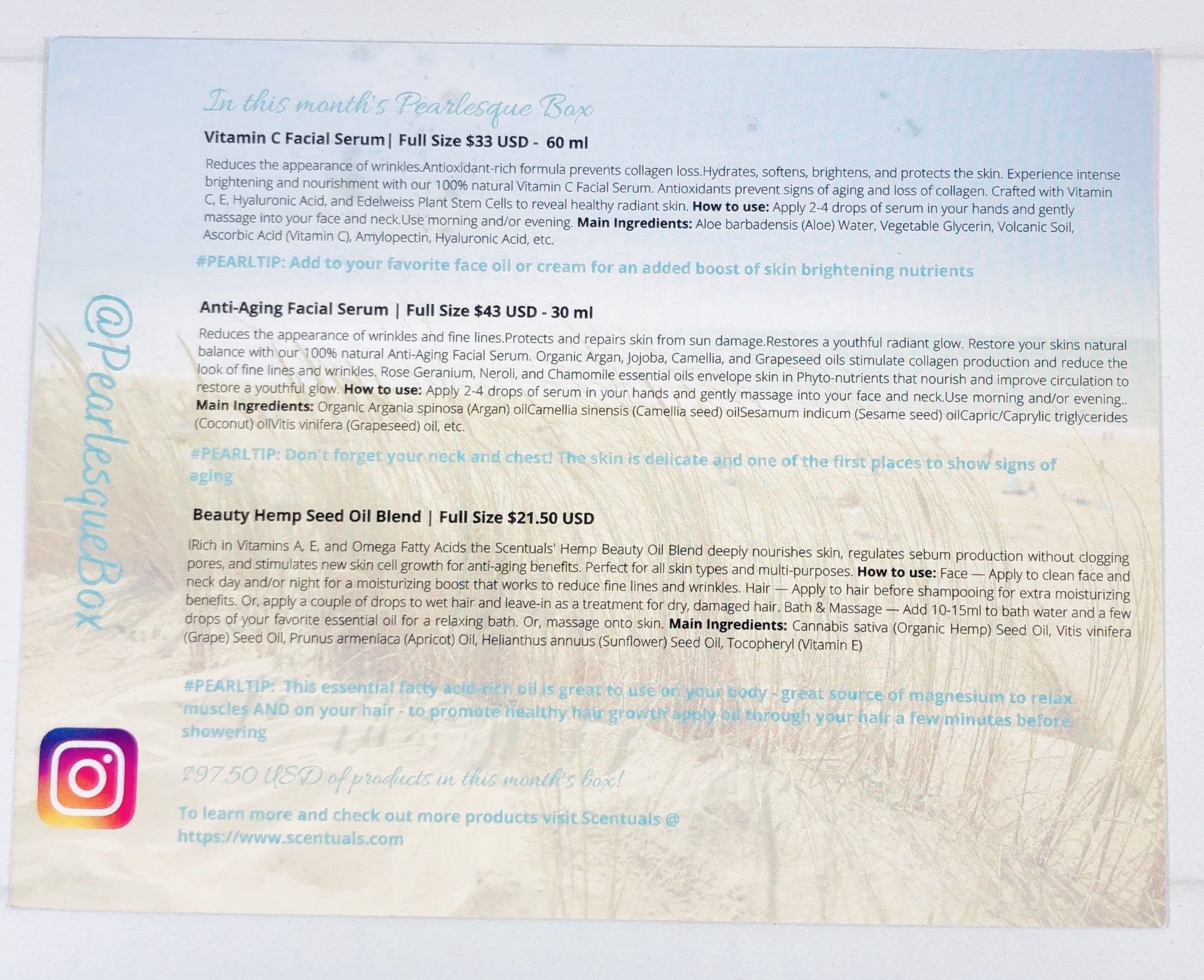 The back of the card listed each product, its retail value, and how to use each item. Check out the #pearltip for additional info.
Only one product came in its original box and the items were cushioned with paper.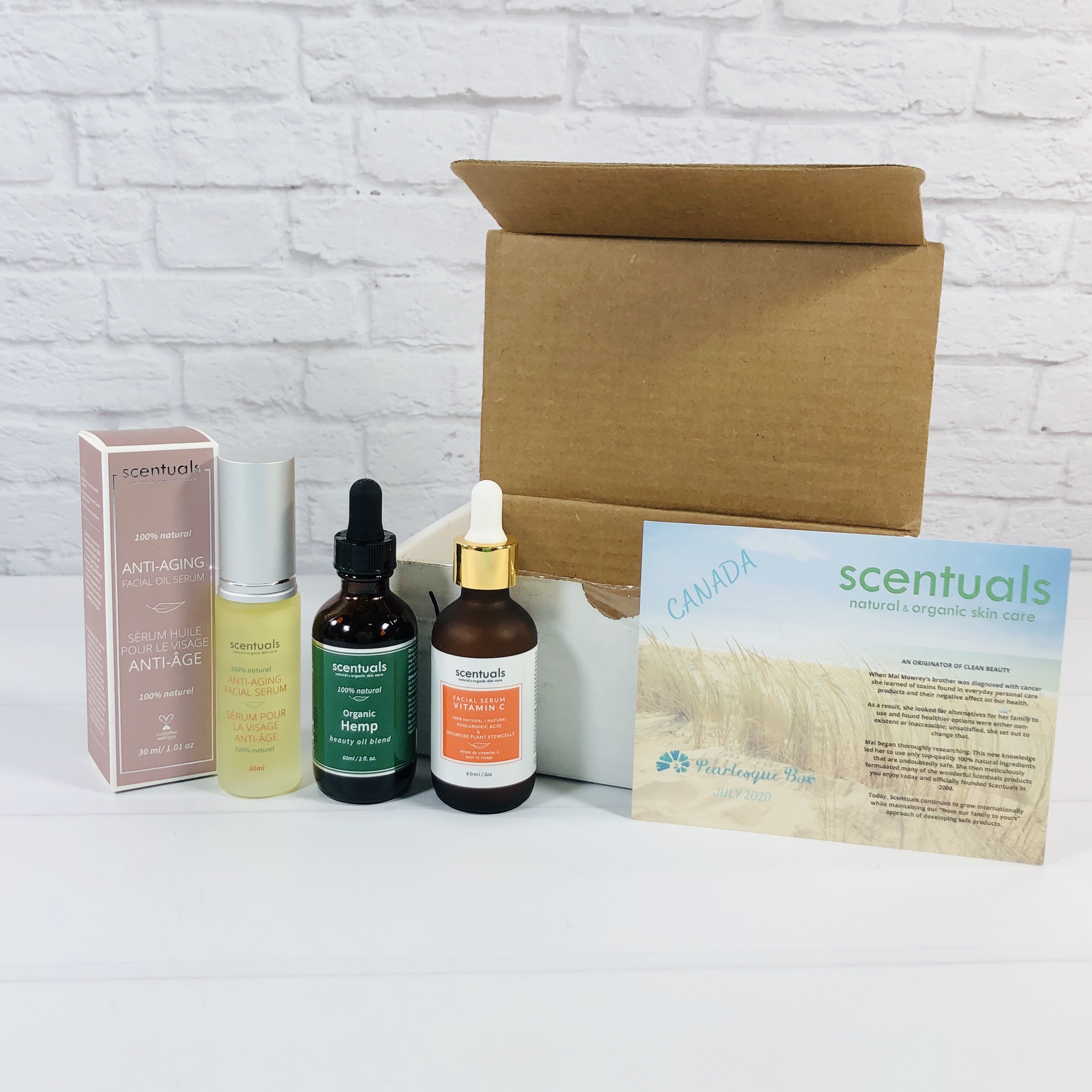 Everything in my July 2020 Pearlesque Box! We received 3 items from this brand!
Scentuals Anti-Aging Facial Serum ($59 CAD, about $44.36 USD) is supposed to reduce the look of fine lines and wrinkles while leaving skin glowing with radiance.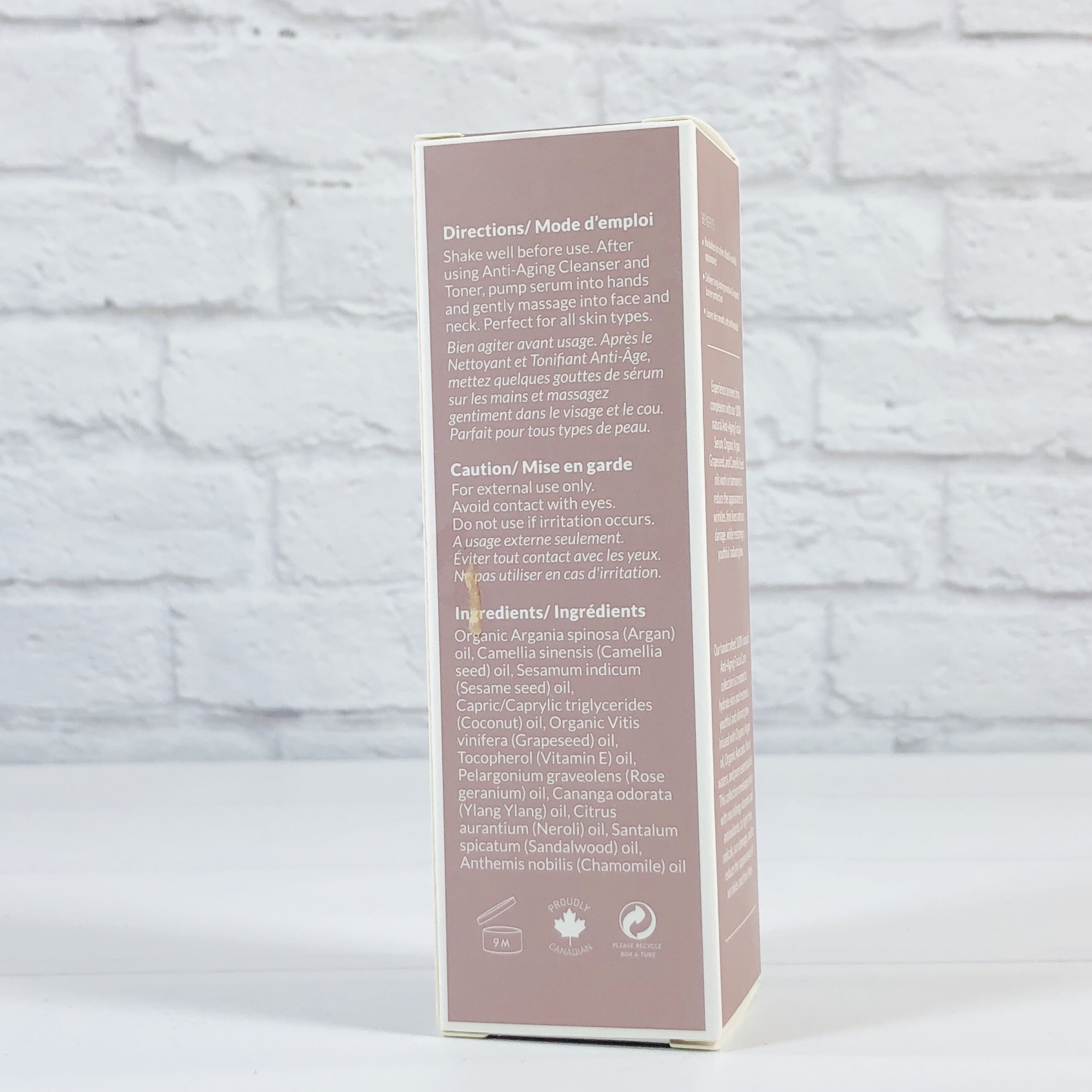 Argan, camellia, and sesame oil are the top three ingredients while essential oils add some scent and anti-aging properties.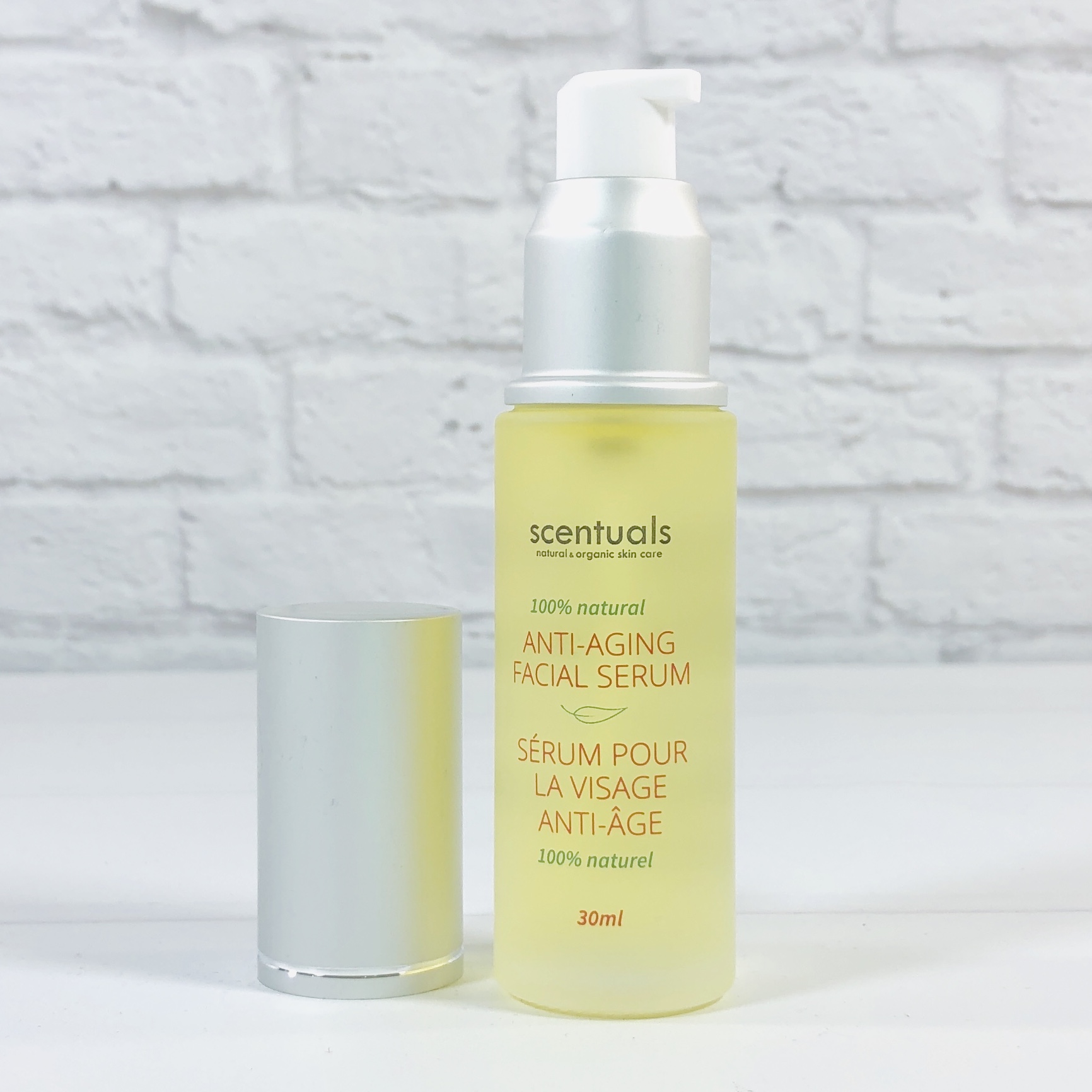 I applied the serum (which in this case is really just a facial oil with a fancier name) after cleansing and spritzing with a toner. One pump was all it took and it left my skin feeling soft without being too greasy.
Scentuals Vitamin C Facial Serum ($45 CAD, about $33.83 USD) may help reduce the look of wrinkles while helping to hydrate and brighten the face.
Experience intense brightening and nourishment with our 100% natural Vitamin C Facial Serum. Antioxidants prevent signs of aging and loss of collagen. Crafted with Vitamin C, E, Hyaluronic Acid, and Edelweiss Plant Stem Cells to reveal healthy radiant skin.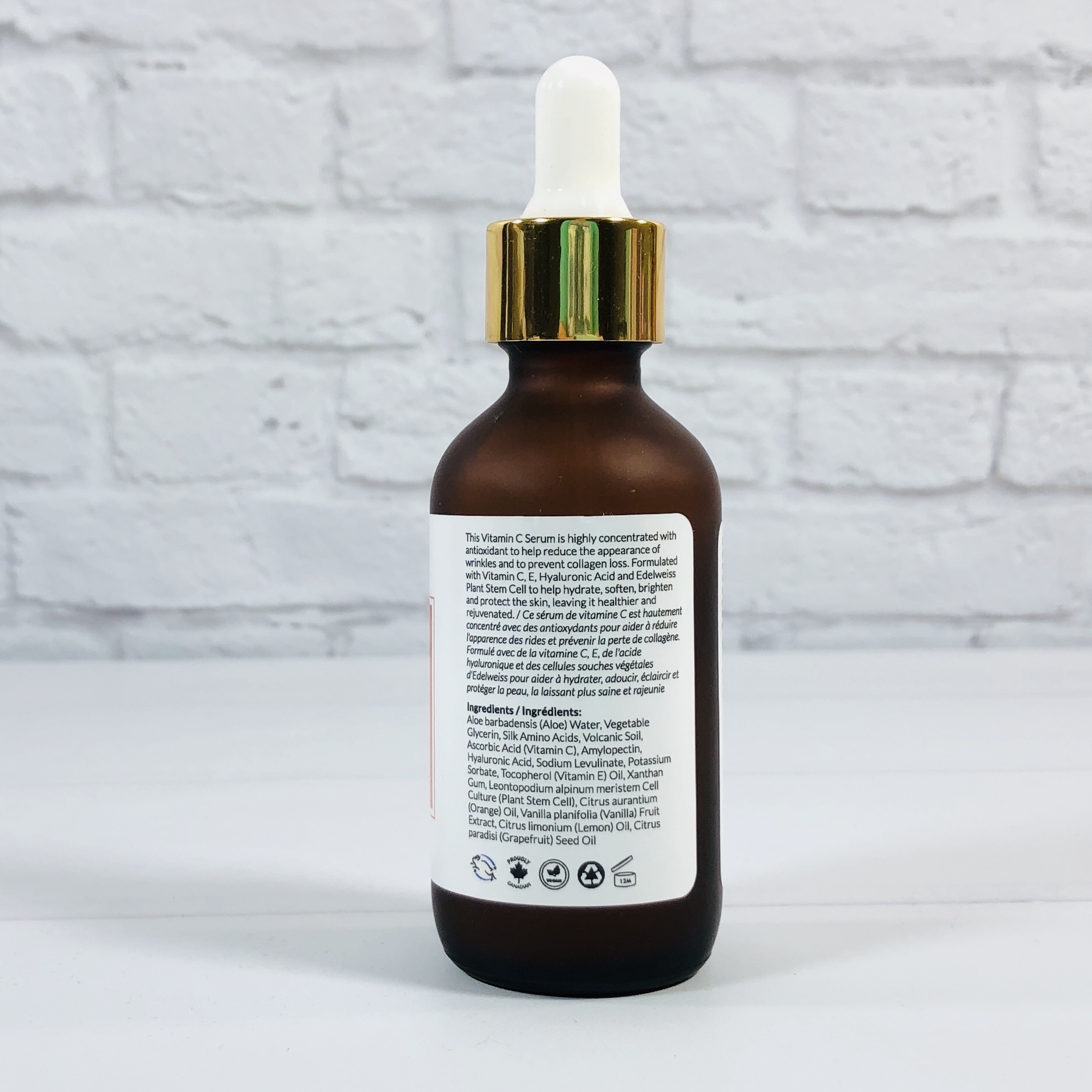 Aloe, hyaluronic acid, and plant stem cells are supposed to work their magic while essential oils provide the scent.
Massage in 2-4 drops morning and night and I would suggest applying your oil or moisturizer over top, as this isn't greasy at all. My skin absorbed it quickly and it smells like orange soda or baby aspirin. I would make sure to use SPF if wearing this during the day since citrus oils can make skin more susceptible to sunburn.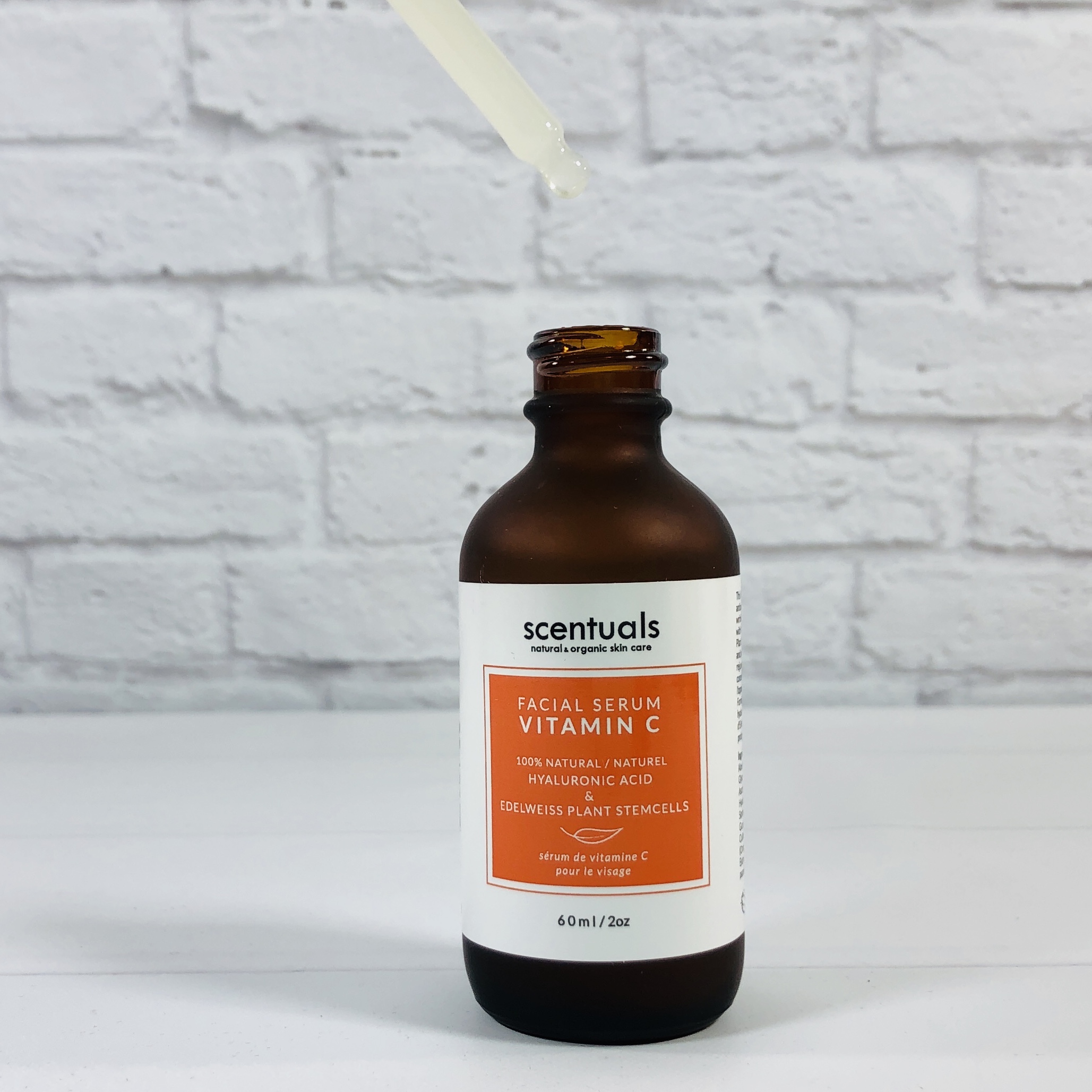 The product is milky looking and watery in consistency. That smell though, so nice!
Scentuals Hemp Beauty Oil ($21.50 listed value) For some reason Scentuals doesn't have this product on their website so I will give you the info from the bottle.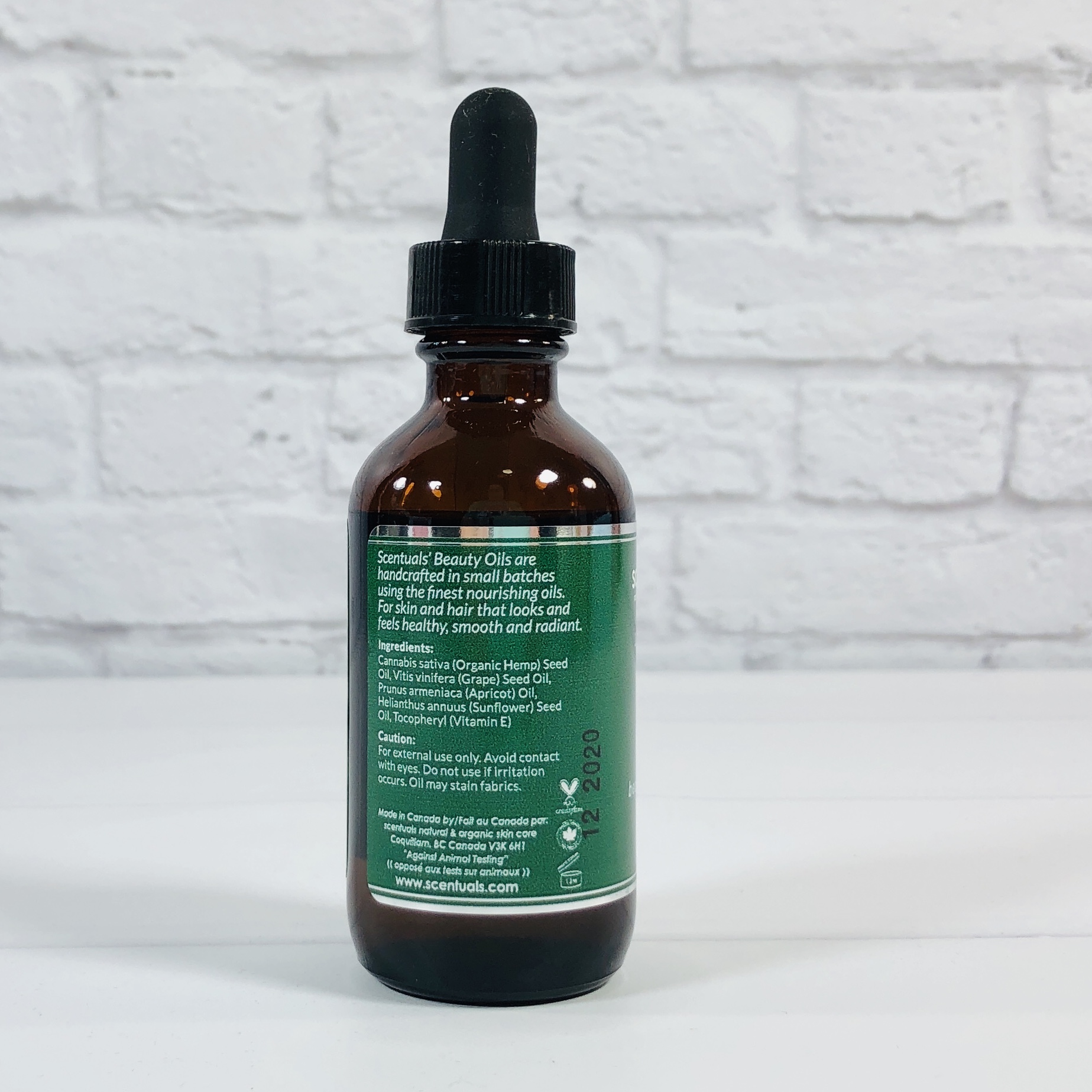 I like the short ingredient list, which shows this blend is made of hemp seed, grapeseed, apricot, and sunflower seed oils plus vitamin E. I was excited to see that it didn't have any essential oils, it's kind of hard to find a facial oil without them.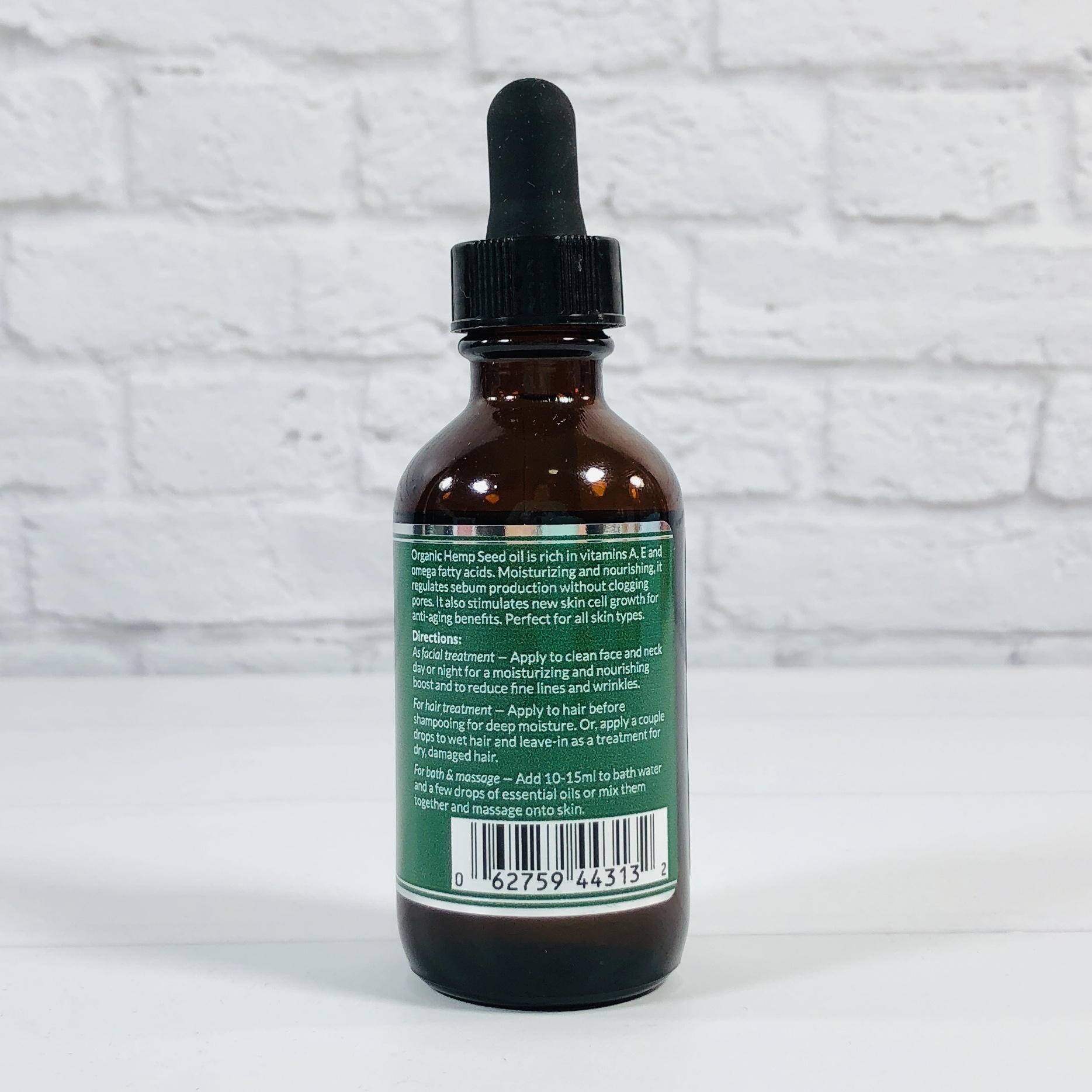 It's supposed to regulate oil levels without clogging pores and I was shocked to find my forehead wasn't greasy when I got up in the morning. It can also be used as a hair or bath oil, or apply to damp skin after a shower.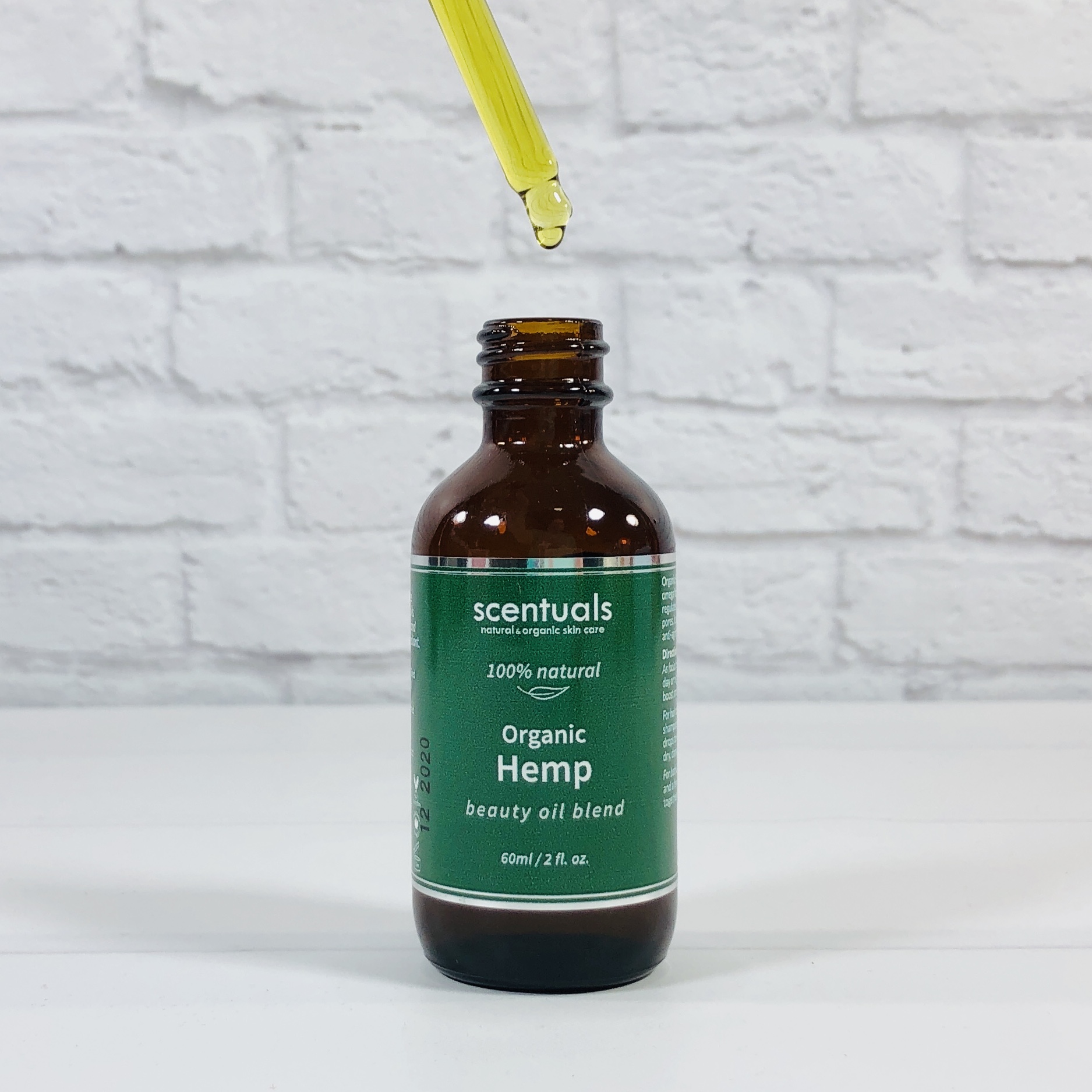 The texture was great and my skin absorbed this golden oil immediately. The scent was kind of stinky, it reminded me of those little red fish eggs my dad would use when fishing for trout, but you can mix in some essential oils to offset that natural scent.

I was really impressed with the three Scentuals items I received in the July Pearlesque Box! The two serums felt vastly different, and the hemp oil was closer to what I would want on my skin, with little scent added. I liked the feel of each item and enjoyed adding them to my routine. If you are wondering what to do with so many face oils, I think they make great body oils too. The value was around $99.69!
Do you subscribe to Pearlesque Box? What did you think of this month's box? I would love to hear your thoughts in the comments!