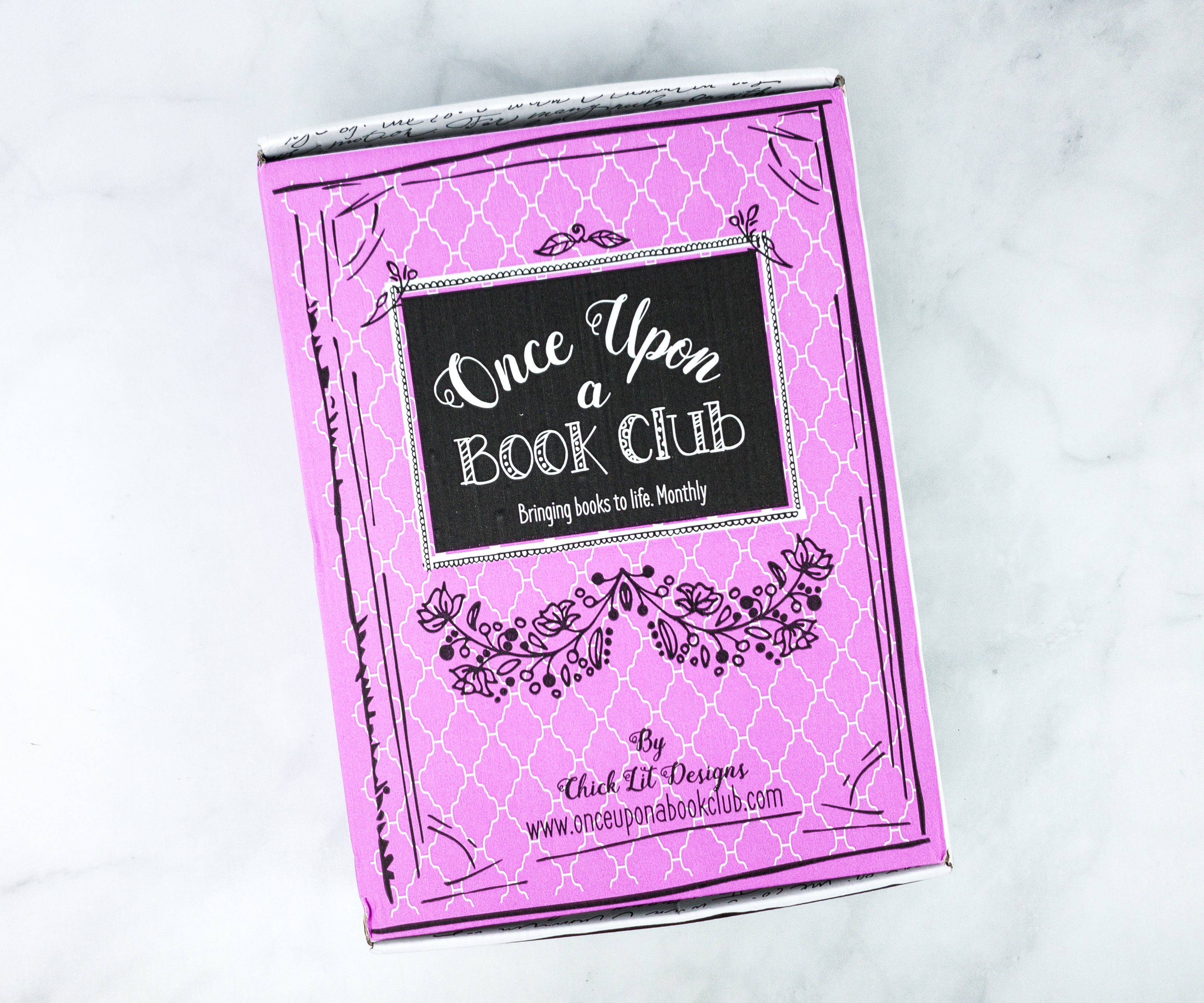 Once Upon a Book Club is a subscription that offers a unique reading experience. Each month, you'll receive a book to read, a 5″ x 7″ quote print, along with 2-4 corresponding gifts to match a quote/item mentioned in the book. Readers are advised to open the gifts as they finish the corresponding page to make them feel as if the book is coming to life!
You can choose between Once Upon a Book Club's Young Adult edition and Adult edition. This is the review of the Adult box.
DEAL: Enjoy 10% off your first box. Use coupon code BOOKNERD.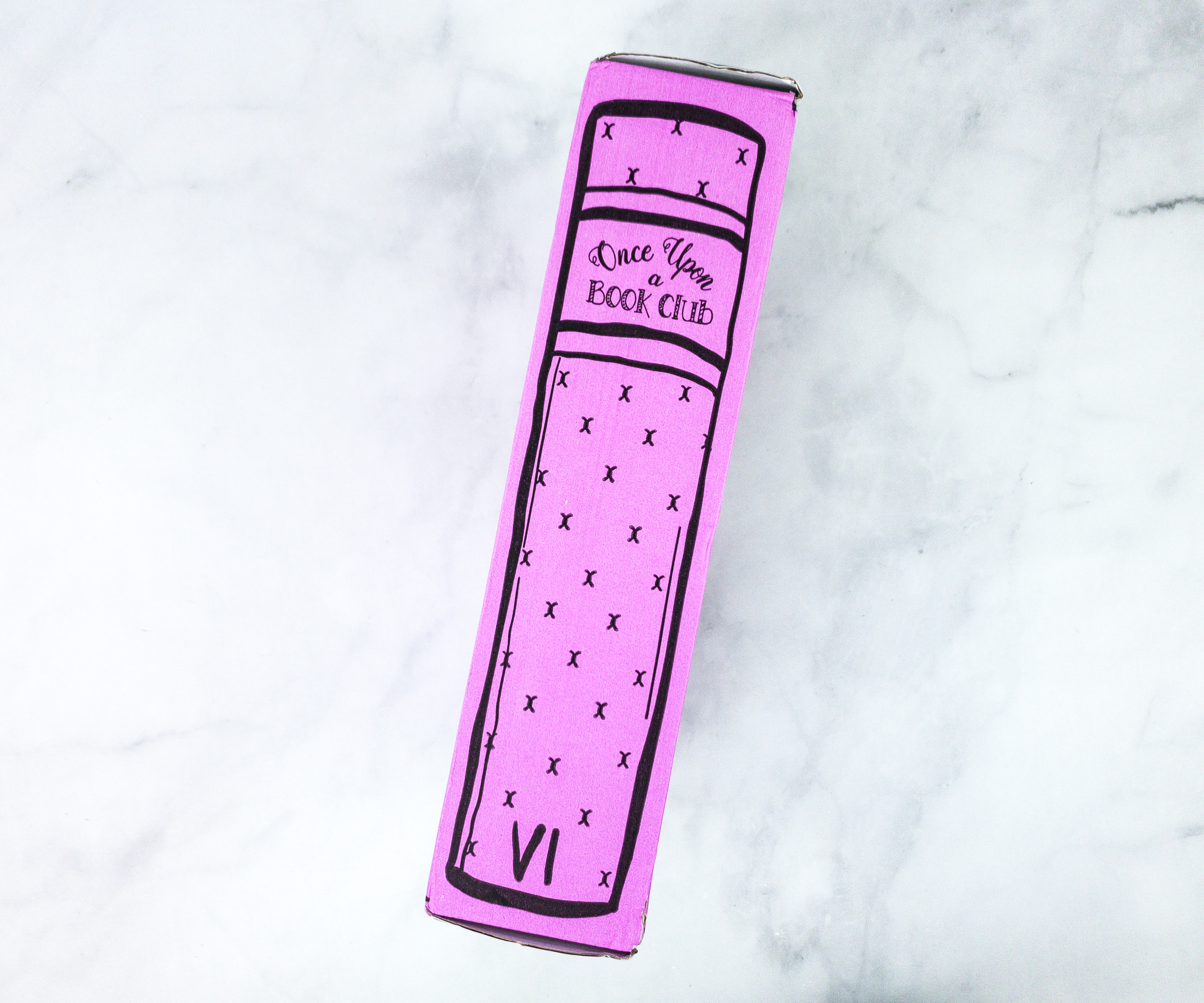 The box was designed by @ChickLitDesigns.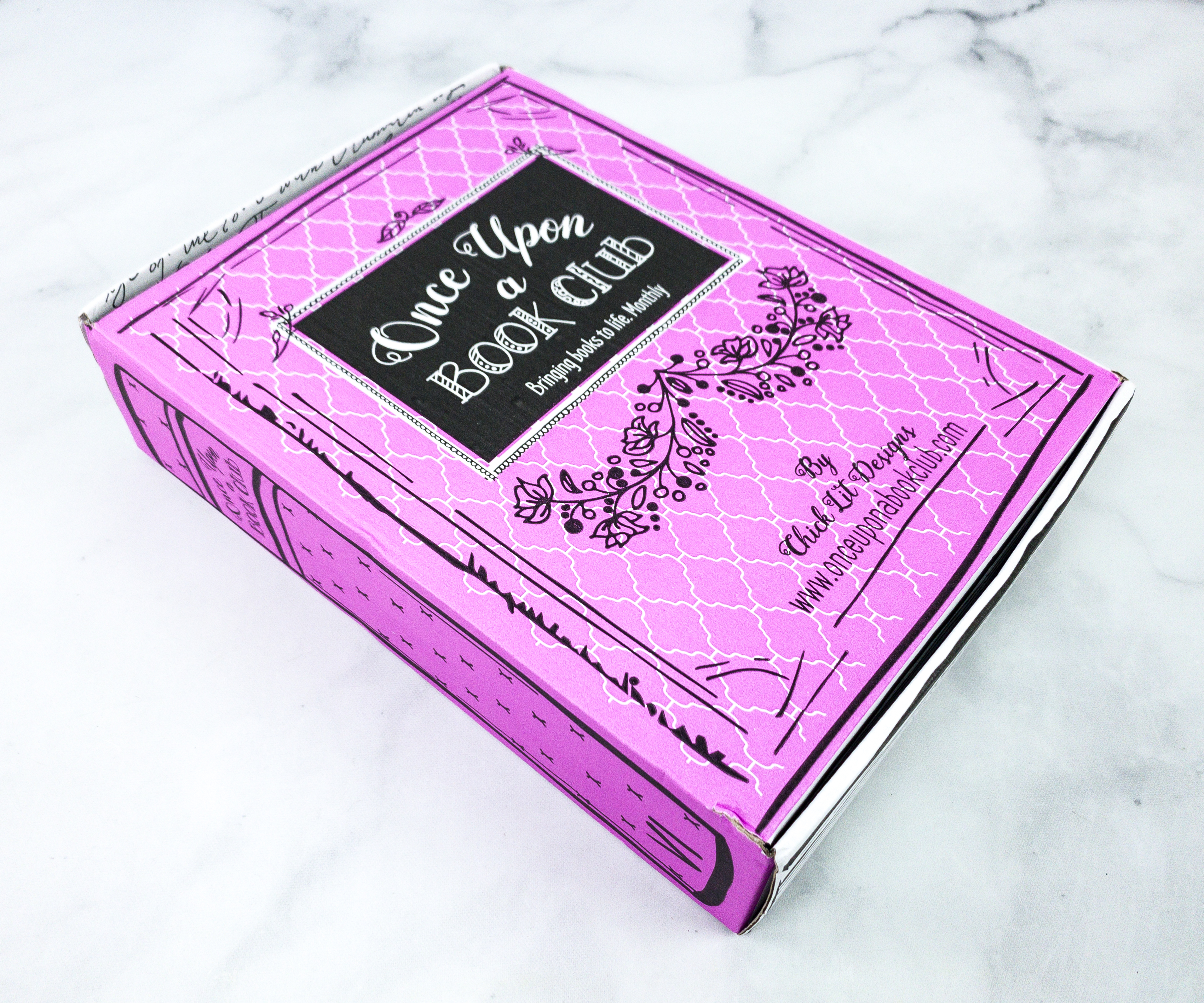 The box is designed to belong to the shelf.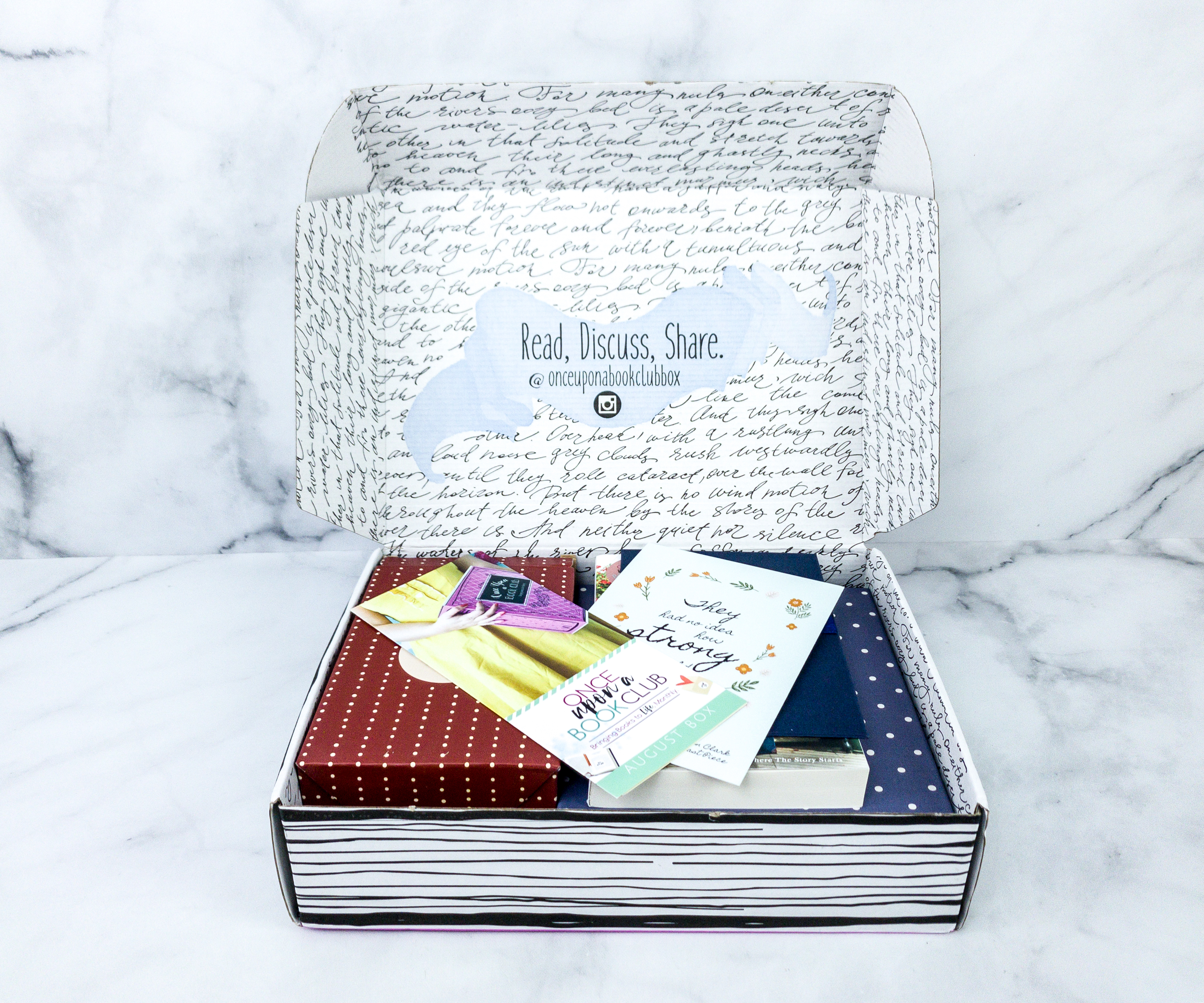 The box interior looks lovely with those words in script.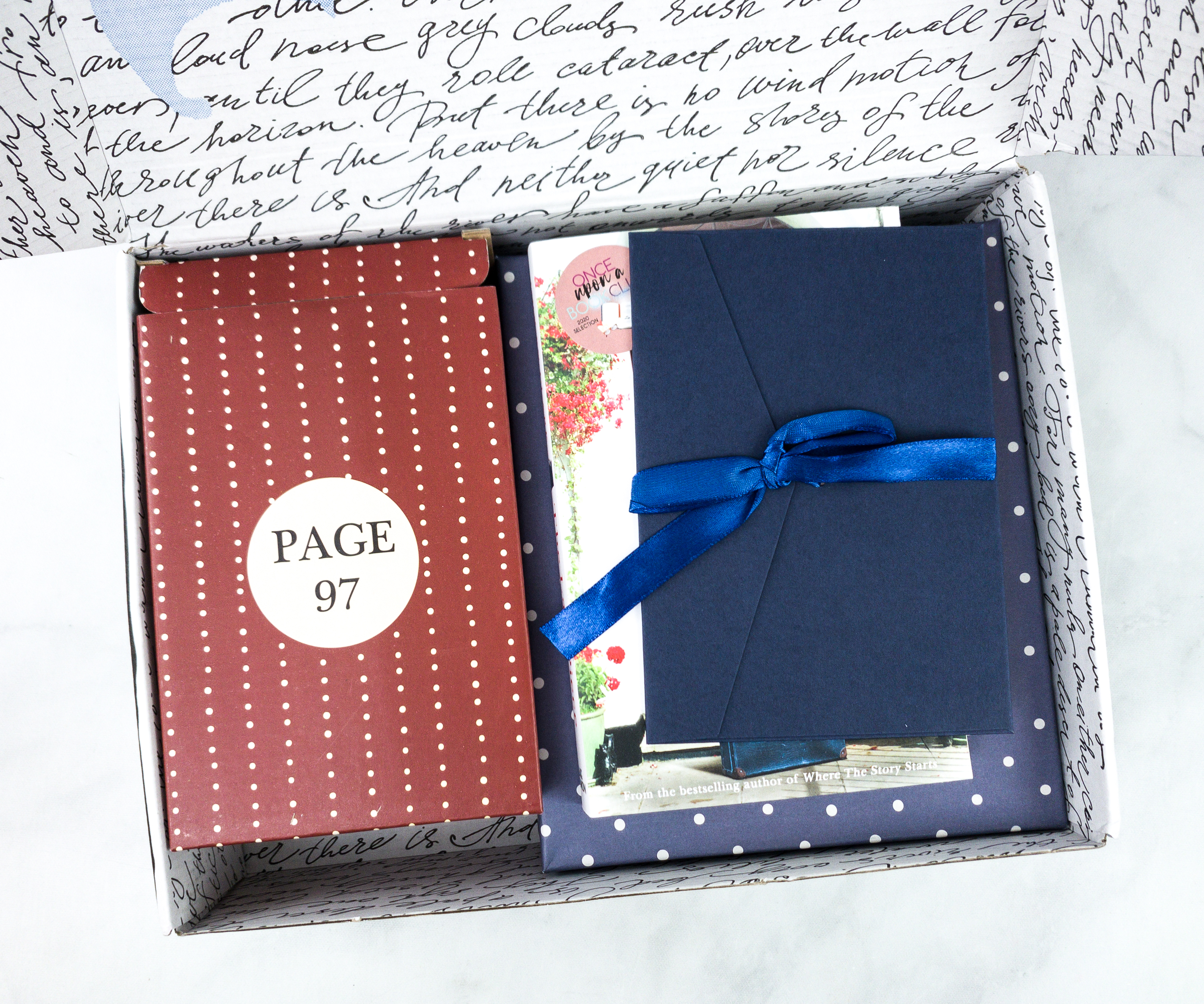 The items inside were neatly stacked inside the box.
I'm excited to open the gifts!
The box included a tri-fold booklet.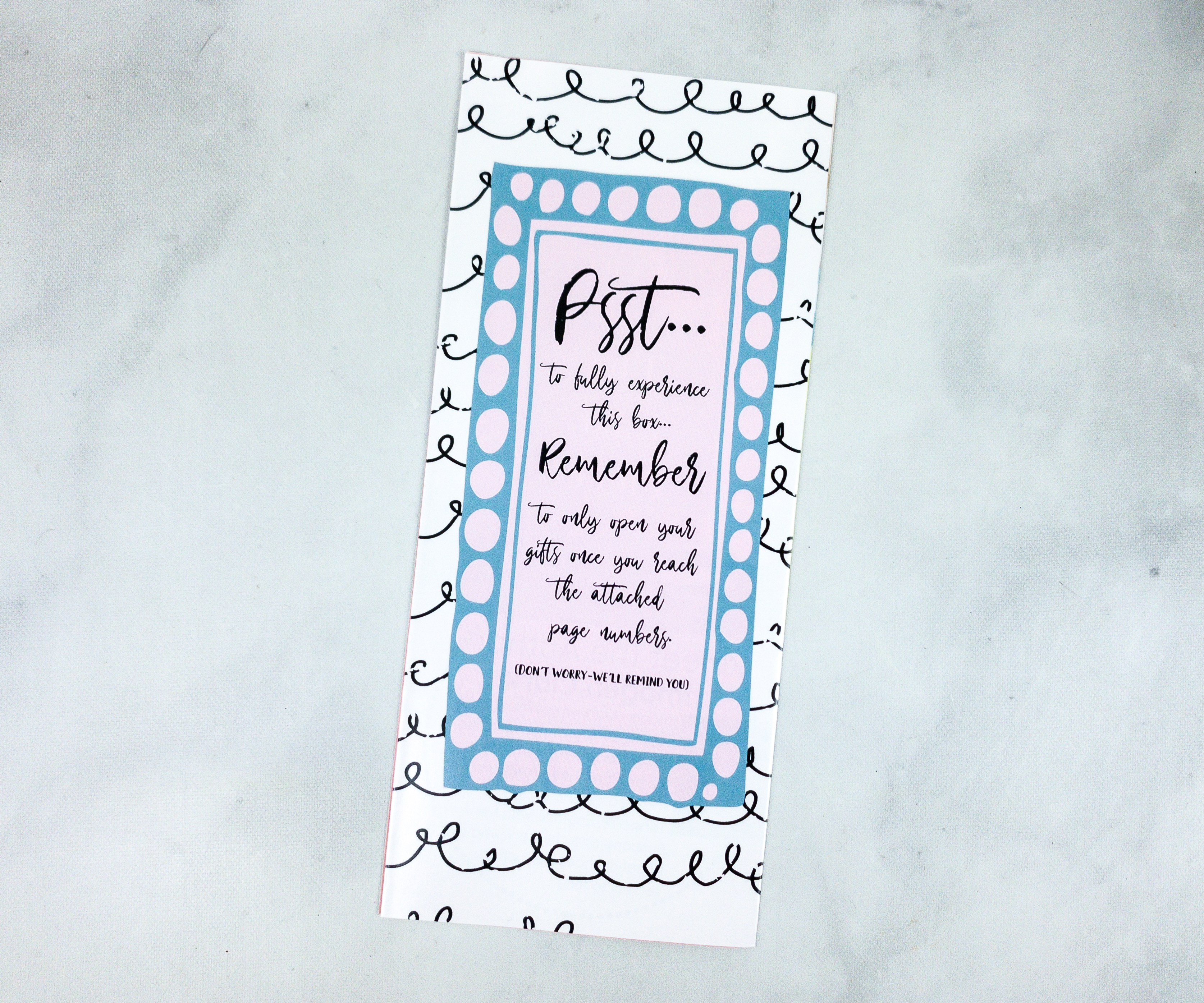 There's also a reminder on how to make the most out of this box.
Psst…

To fully experience this box…

Remember to only open your gifts once you reach the attached page numbers.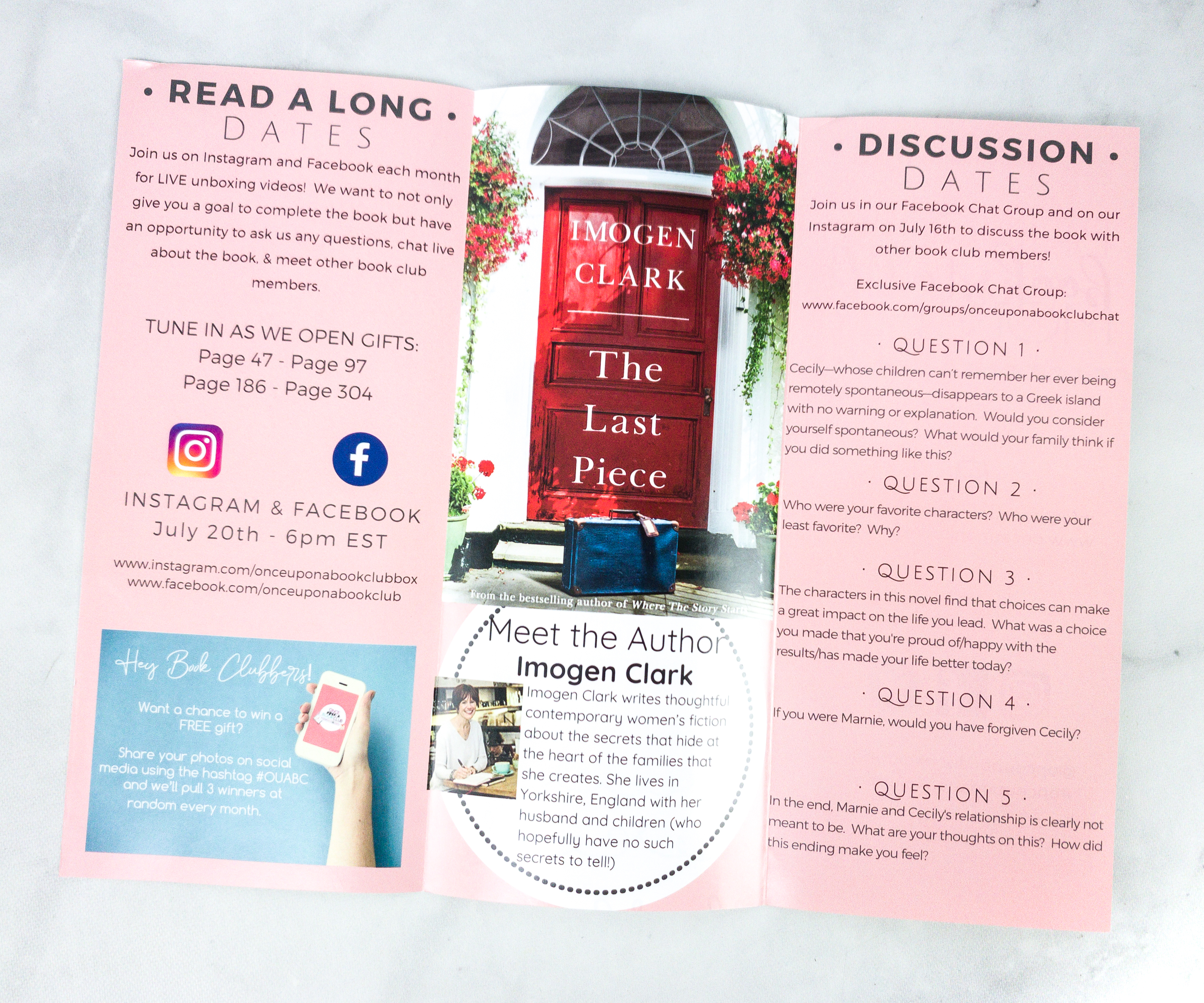 You can join the author and other book club members on these dates for some read-a-long and discussion activities.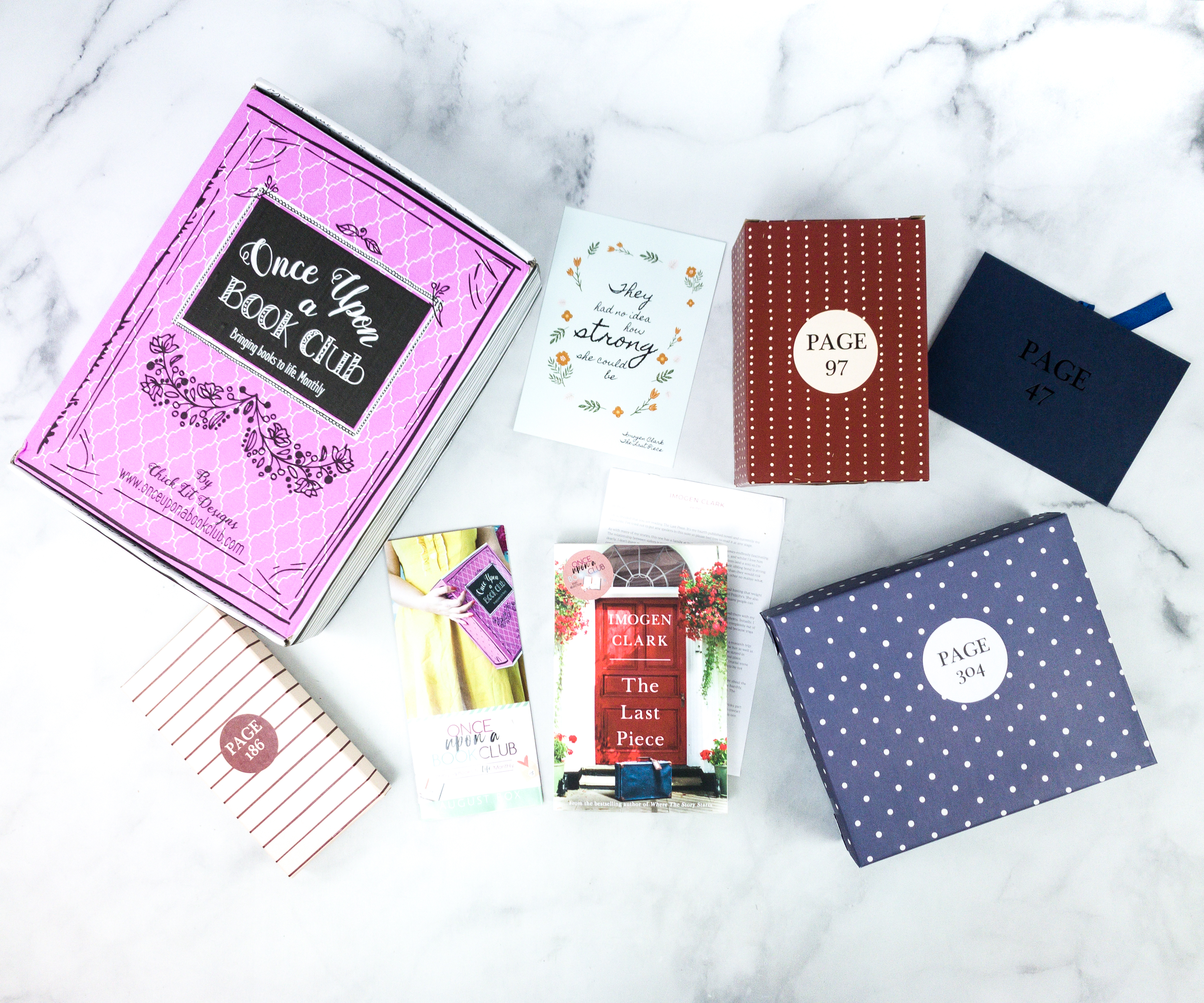 Everything in my box!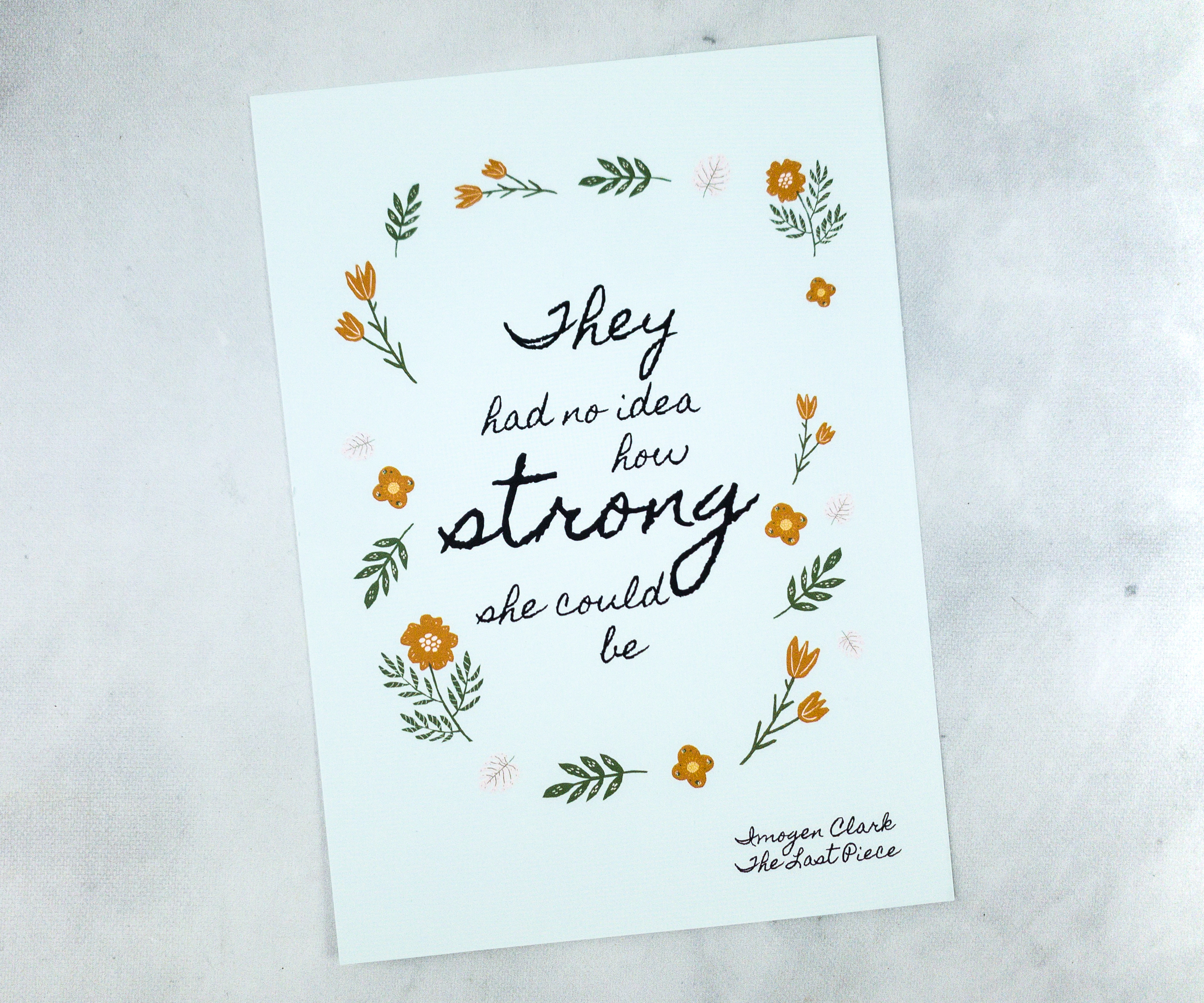 Here's a card featuring a quote from the author.
They had no idea how strong she could be.
There's an included note from Imogen Clark, the author of this month's featured book.
The book has a sticker that says it's a Once Upon A Book Club 2020 Selection!
The Last Piece by Imogen Clark ($10.99)
A sudden departure. A story decades in the making.

The chaotic but happy equilibrium of the Nightingale family is thrown into disarray when Cecily—whose children can't remember her ever being remotely spontaneous—disappears to a Greek island with no warning or explanation.

Her reasons for doing something so out of character are a total mystery to her three daughters, high-powered executive Felicity, unfulfilled GP Julia and organised mother-of-five Lily. What connection could she possibly have with Kefalonia?

But Cecily has gone to continue a story she thought ended decades ago—one that could have a huge impact on her family. And when she returns, she'll have to tell them the truth.

Will Cecily be able to hold her family together once she reveals her big secret? And might she discover that she's not the only one with a story to tell?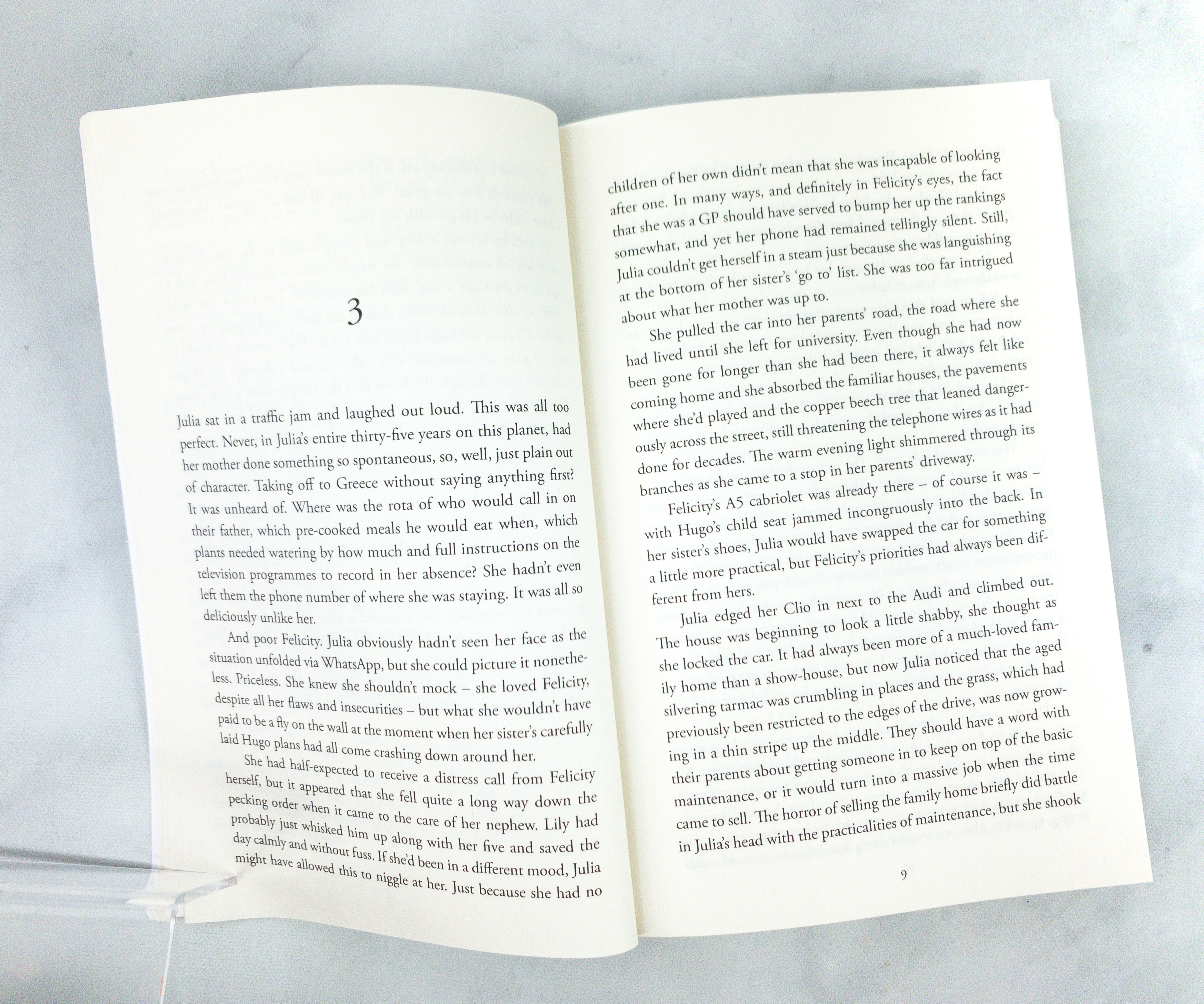 The story tackles a family, their issues, and how the consequences of a life-long decision made by the mother will change and turn their lives upside down.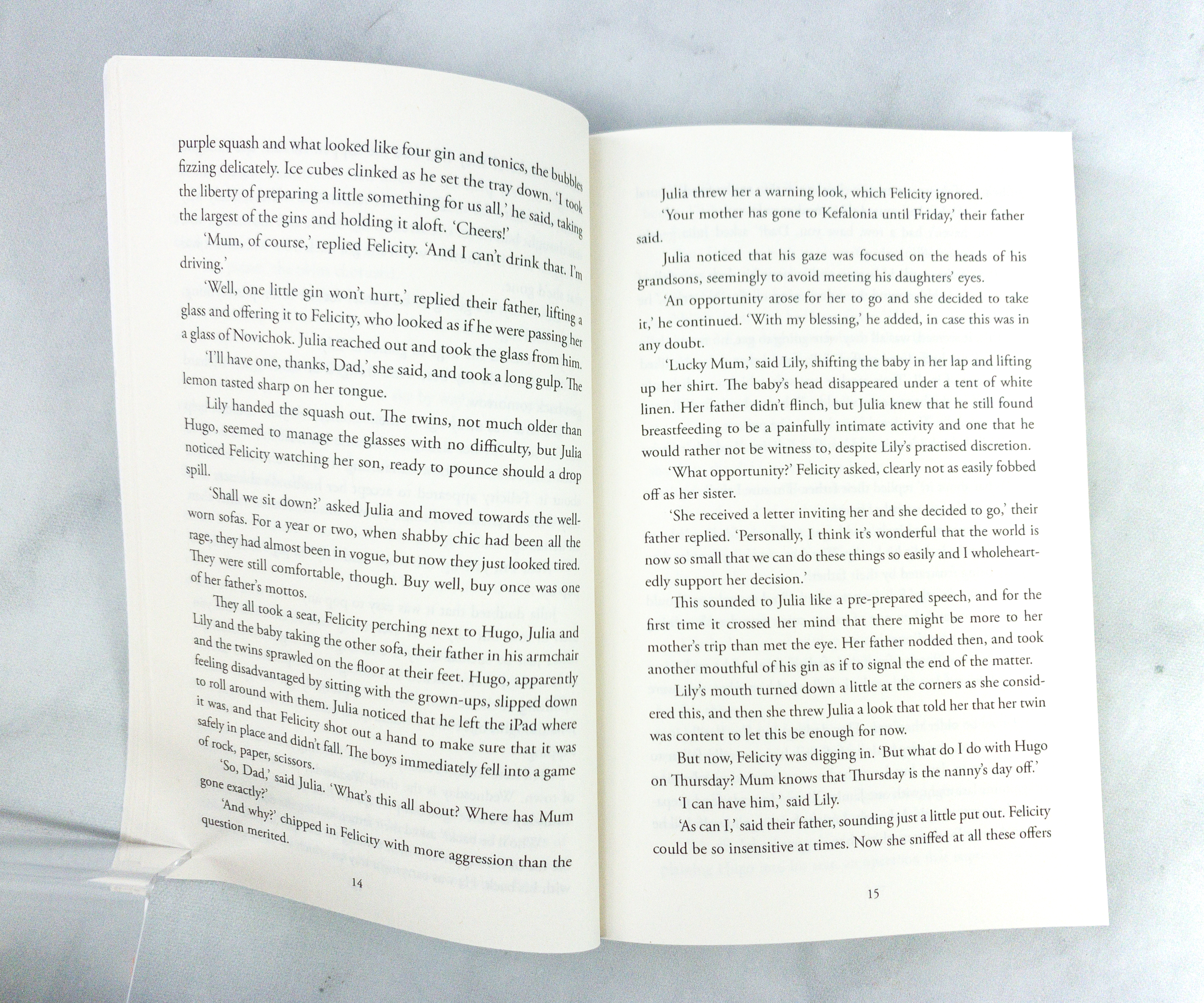 The author established each character well. Each of them has been struggling with their own issues. This story proved that our lives are like puzzles, where we sometimes need to go far to find the missing piece, and when we find it and it fits, everything that is happening in our lives will make sense.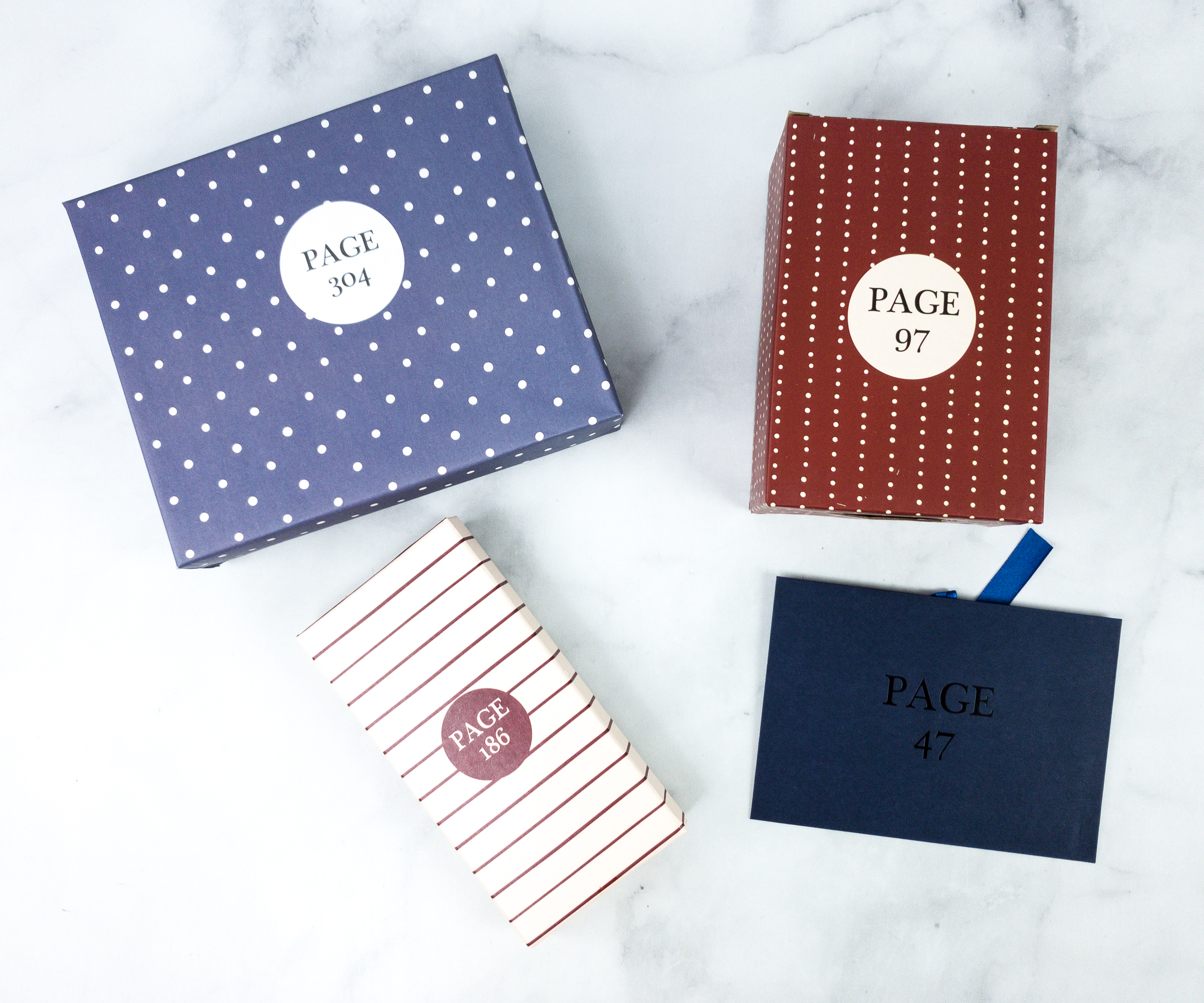 Here are the gifts that you can open once you reach the indicated pages in the book!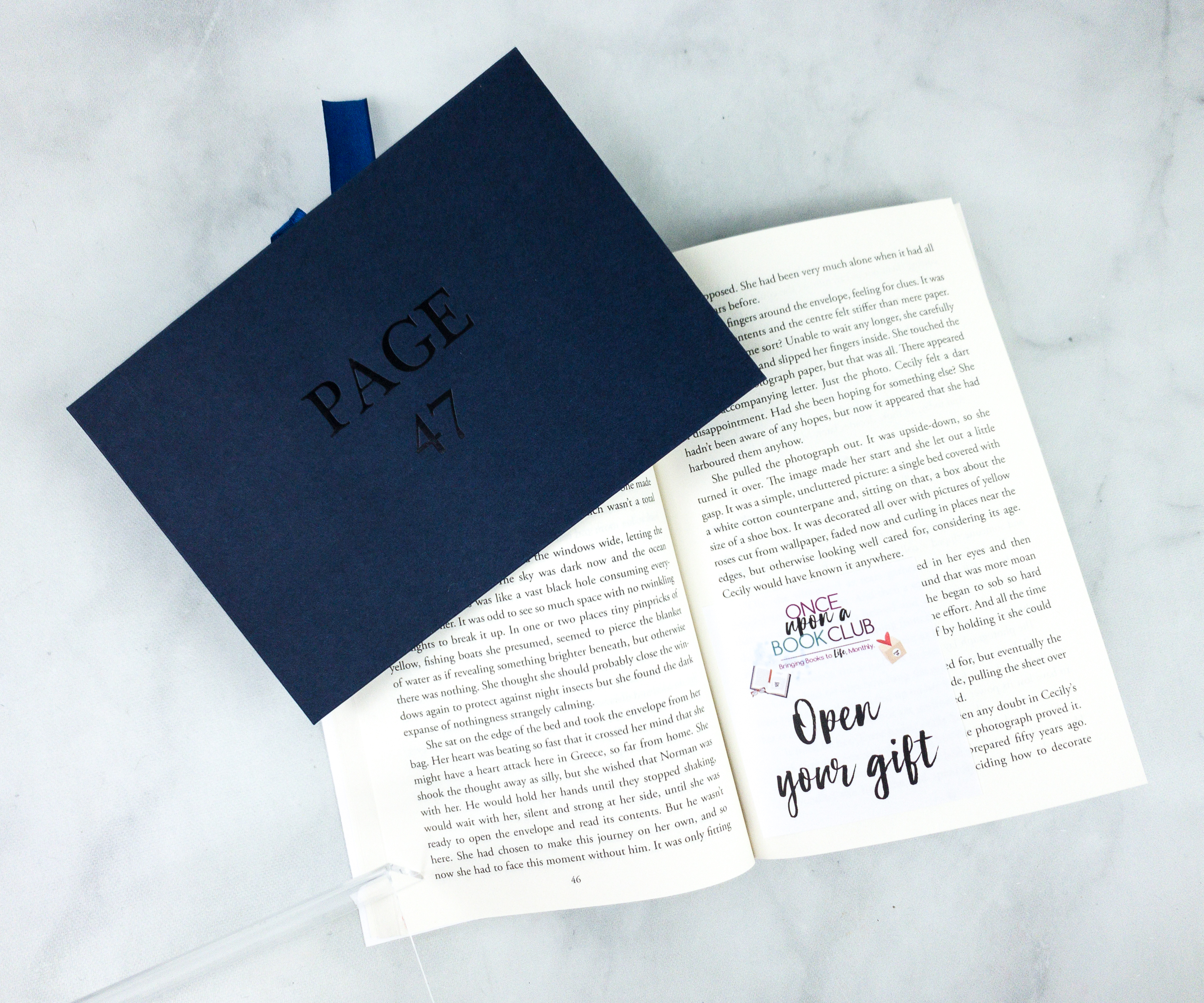 I opened the first gift when I reached page 47.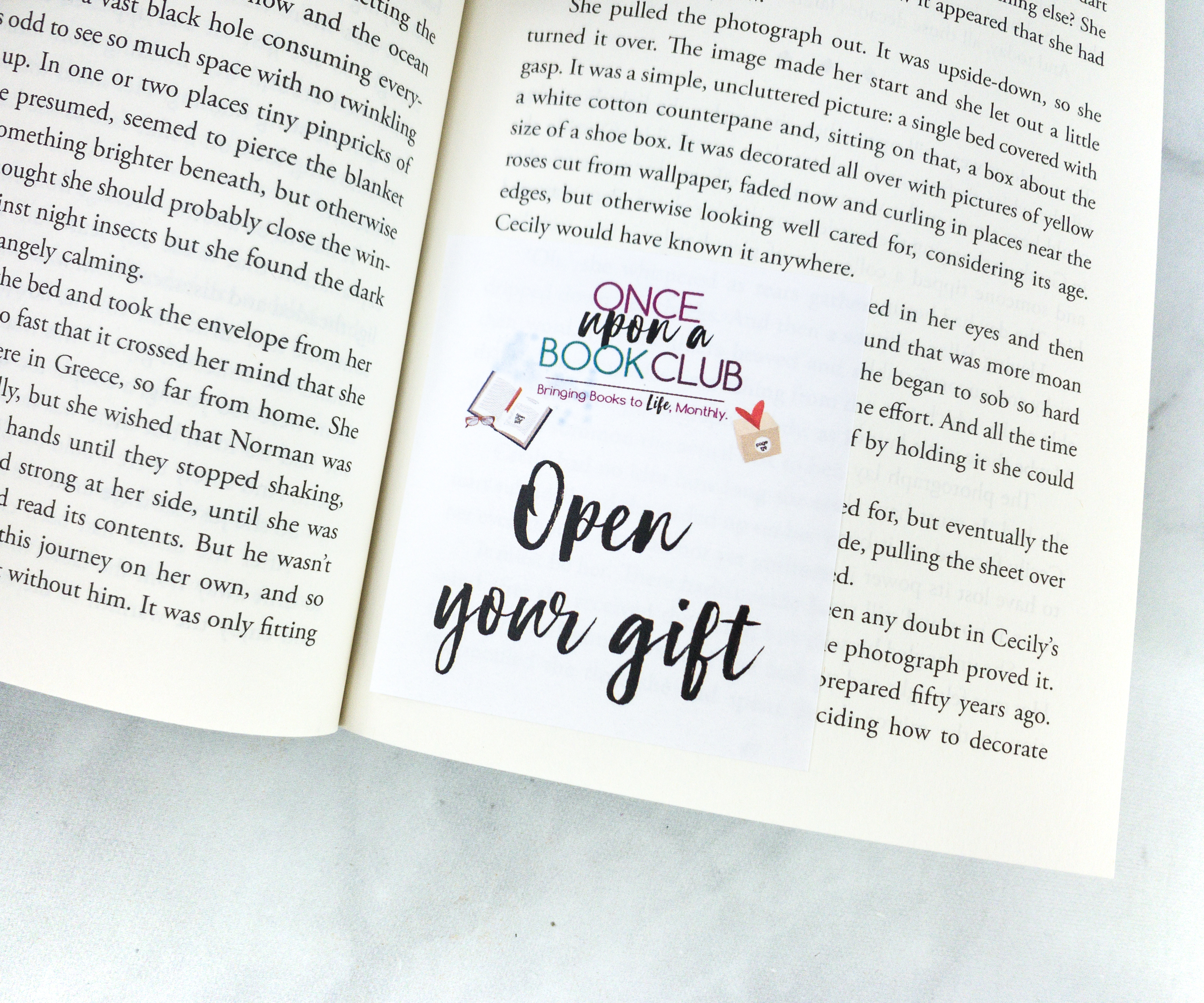 You'll know that you have a gift to open because the page will contain a note that will remind you of it.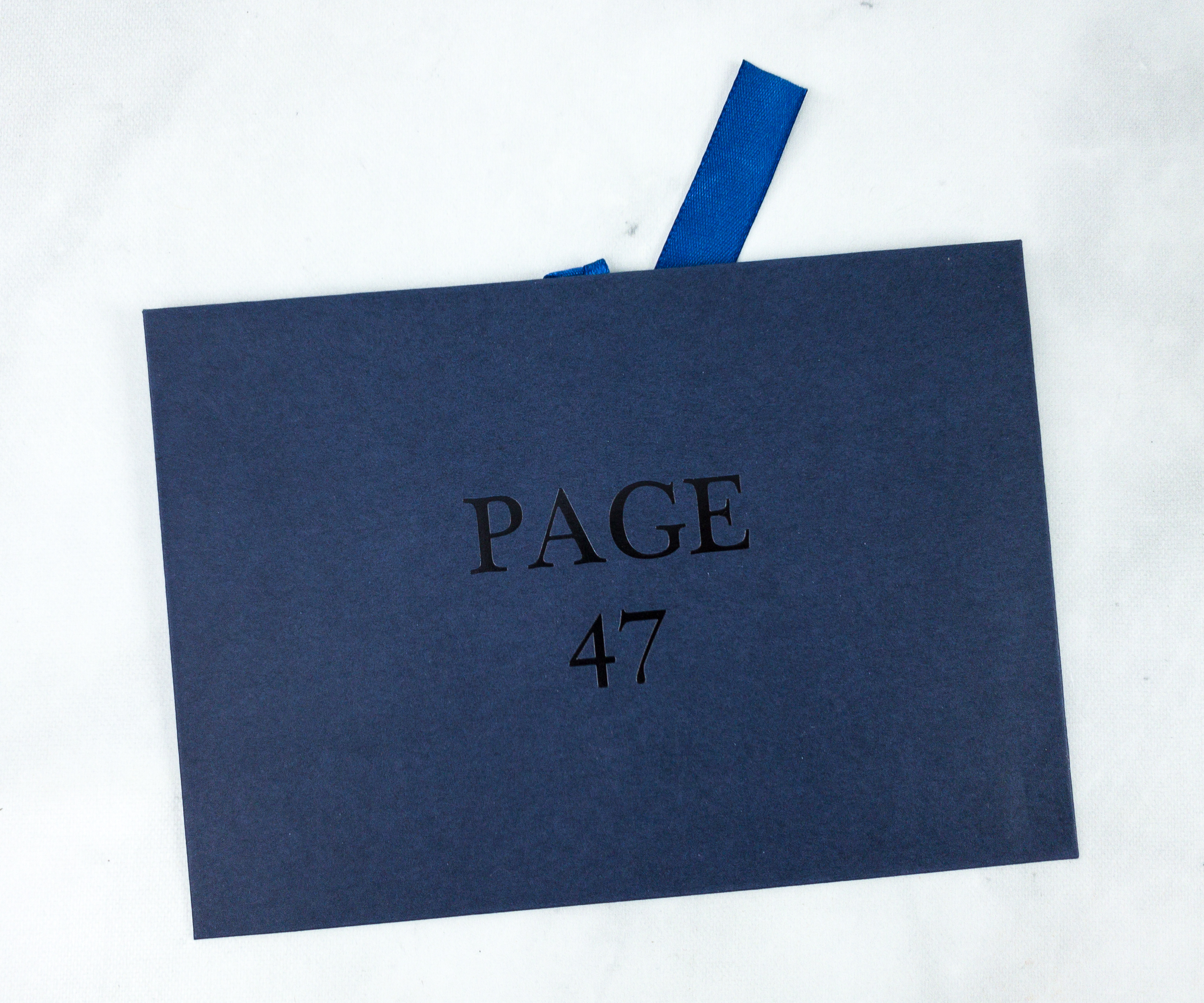 It's a dark blue envelope, sealed with a ribbon.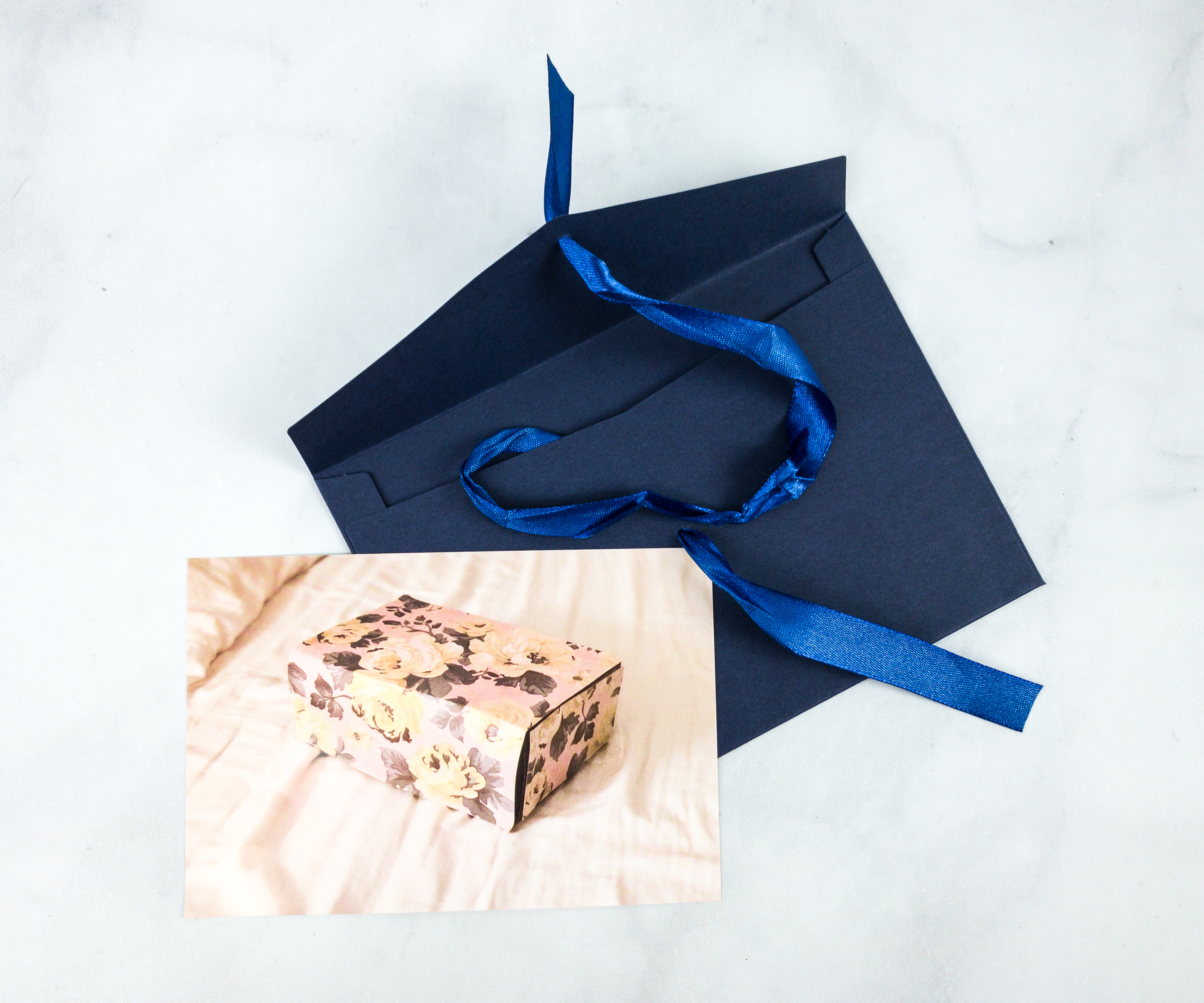 Photograph. Inside the dark blue envelope is a photograph of what looks like a floral-designed box, on top of a bed.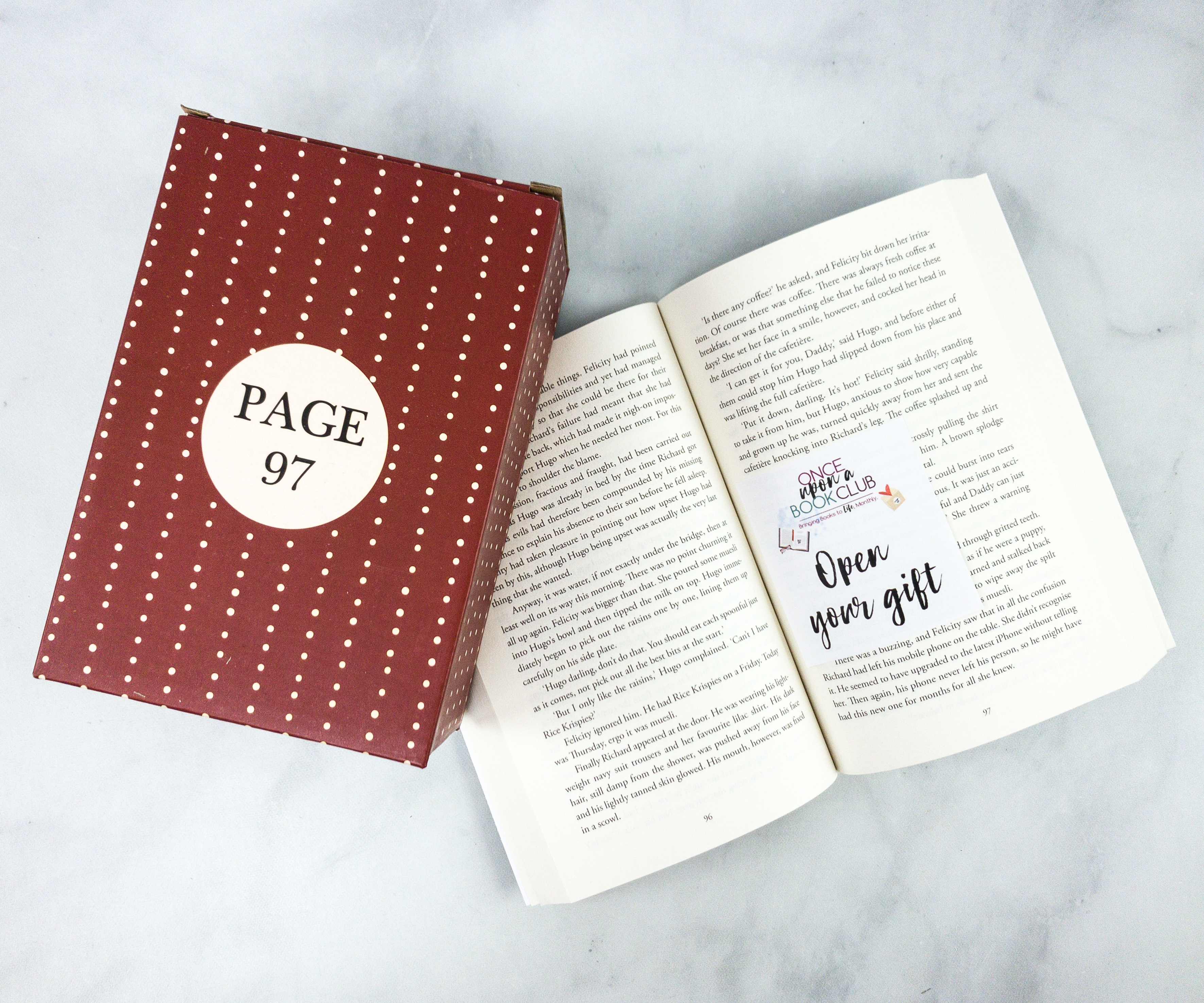 The second gift is meant to be opened when you reach page 97!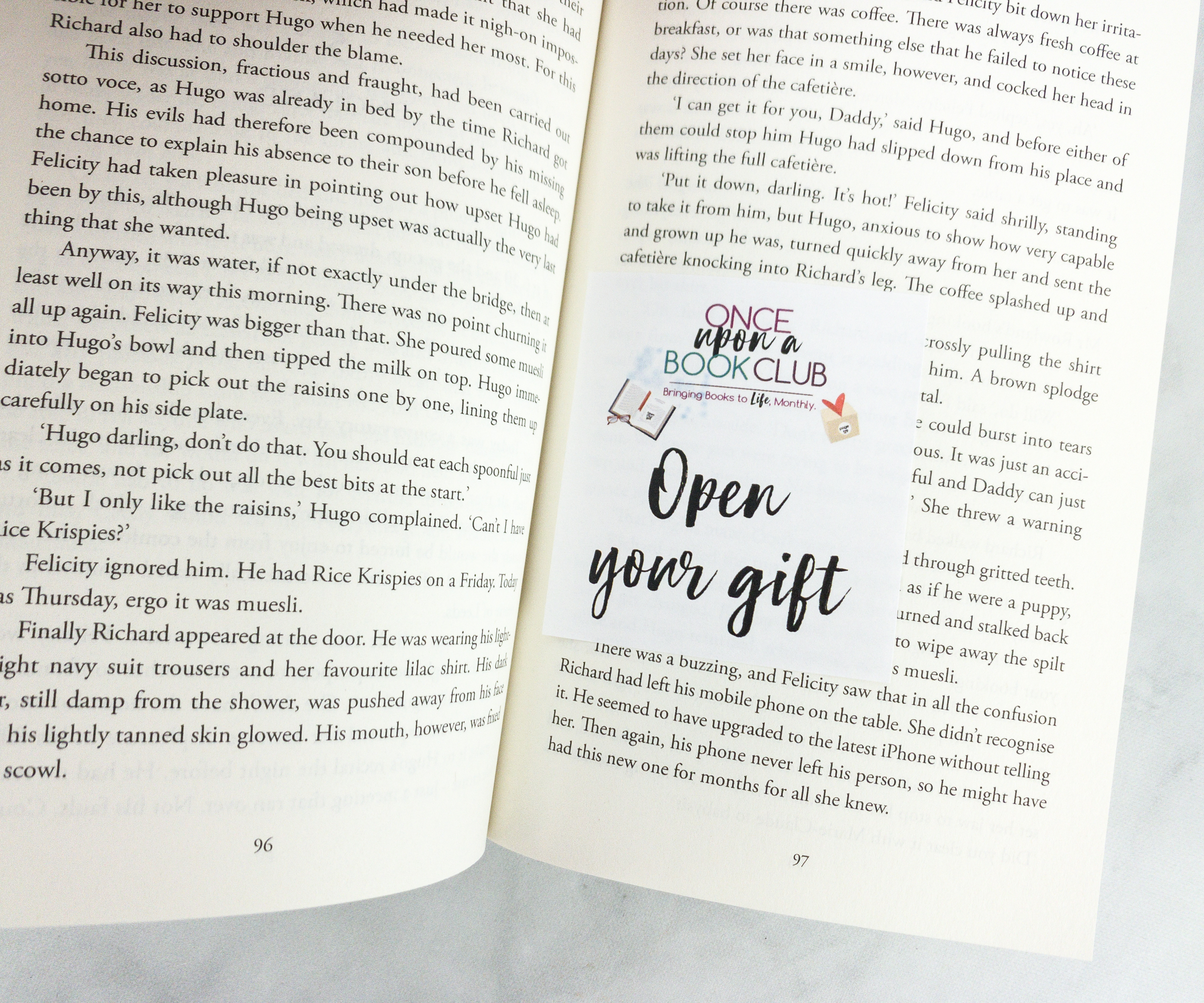 The page gave us a hint on what the gift is all about: coffee!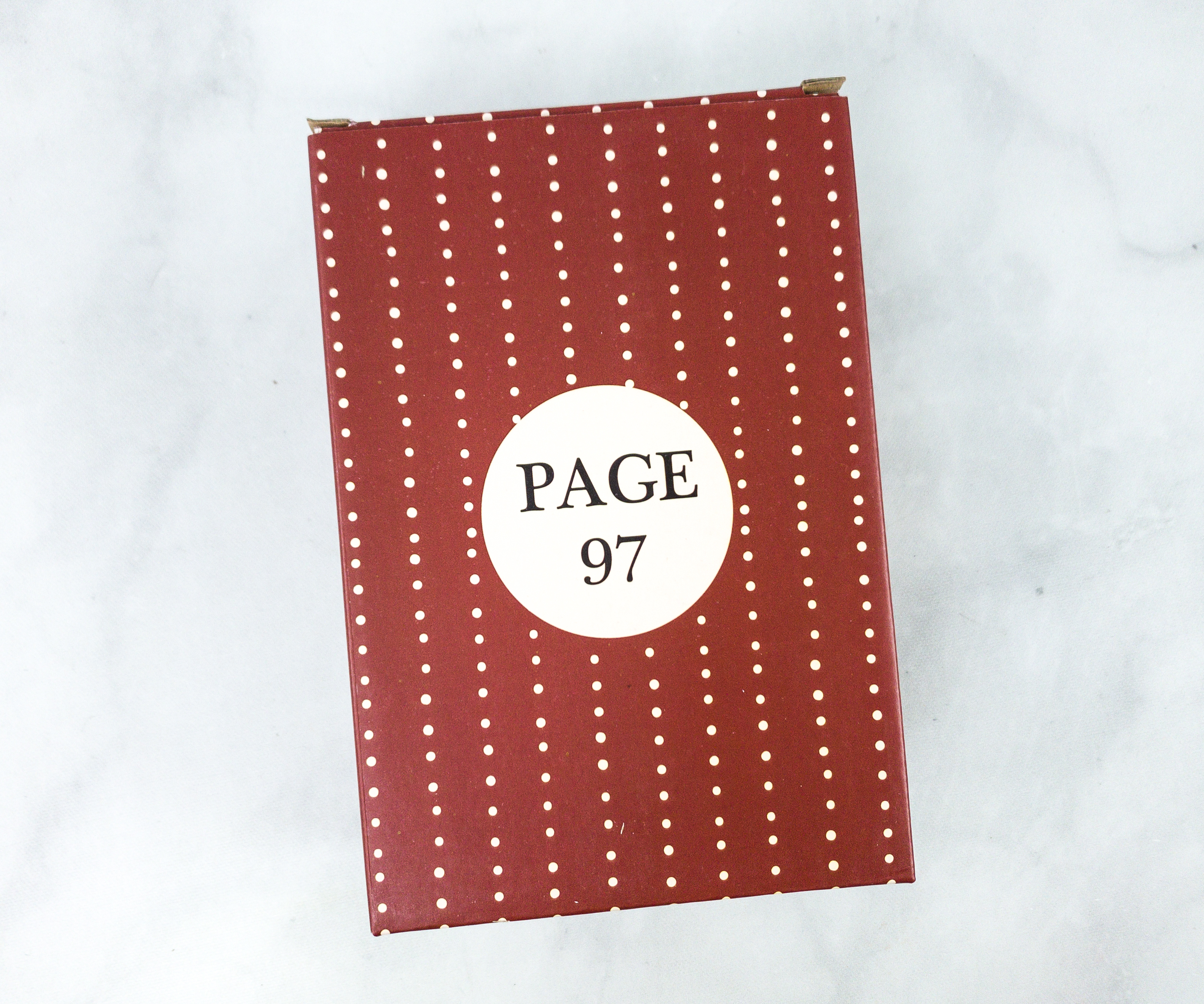 The gift is placed inside its own box.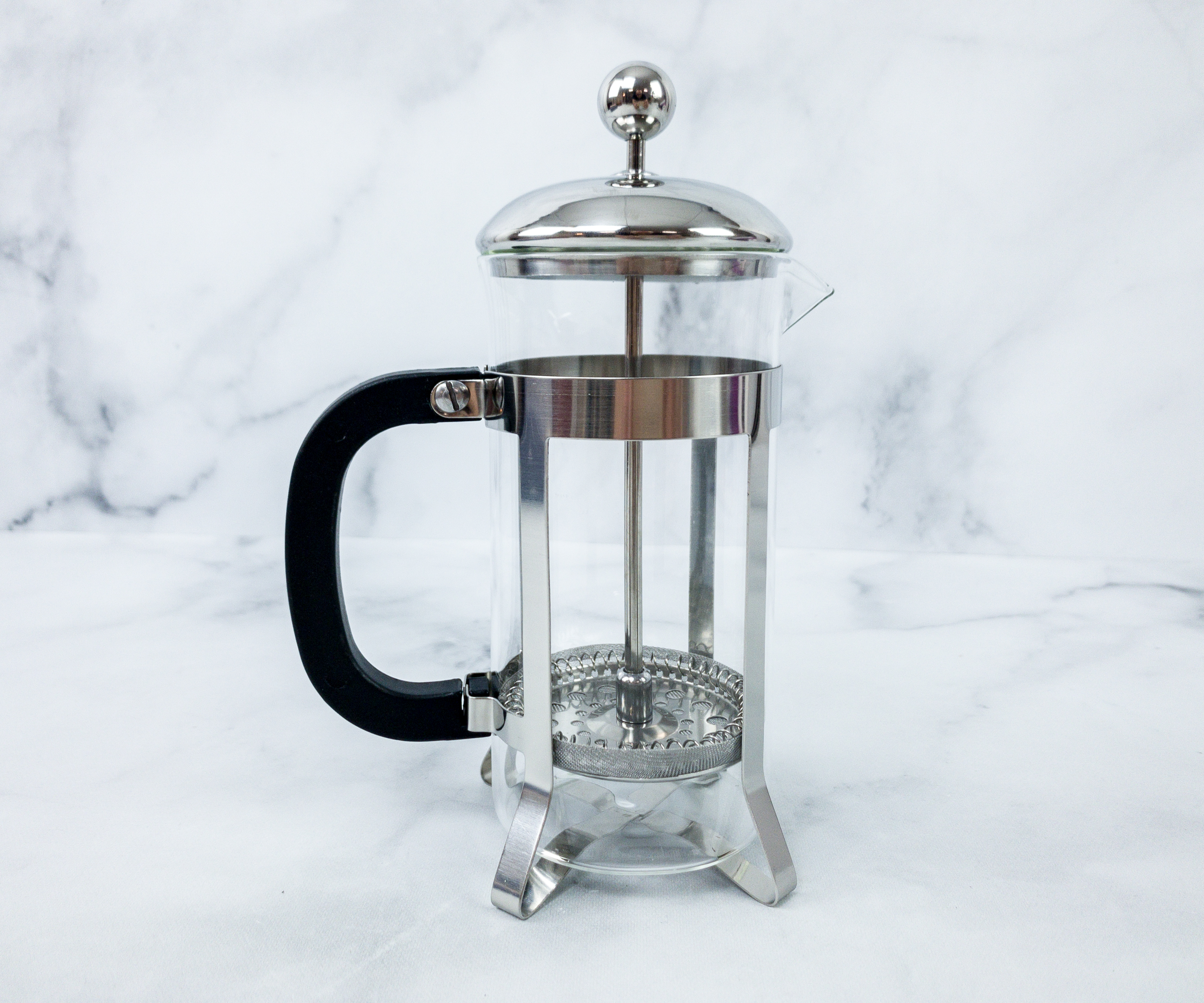 Cafetière. It is a Cafetière, or simply a French coffee press. It is used to prepare coffee by steeping coffee grounds and hot water in a beaker. Once the coffee is done steeping, there's a metal mesh filter that is pressed to the bottom of the beaker which separates the coffee grounds from the liquid coffee that you can now pour into your cup or mug.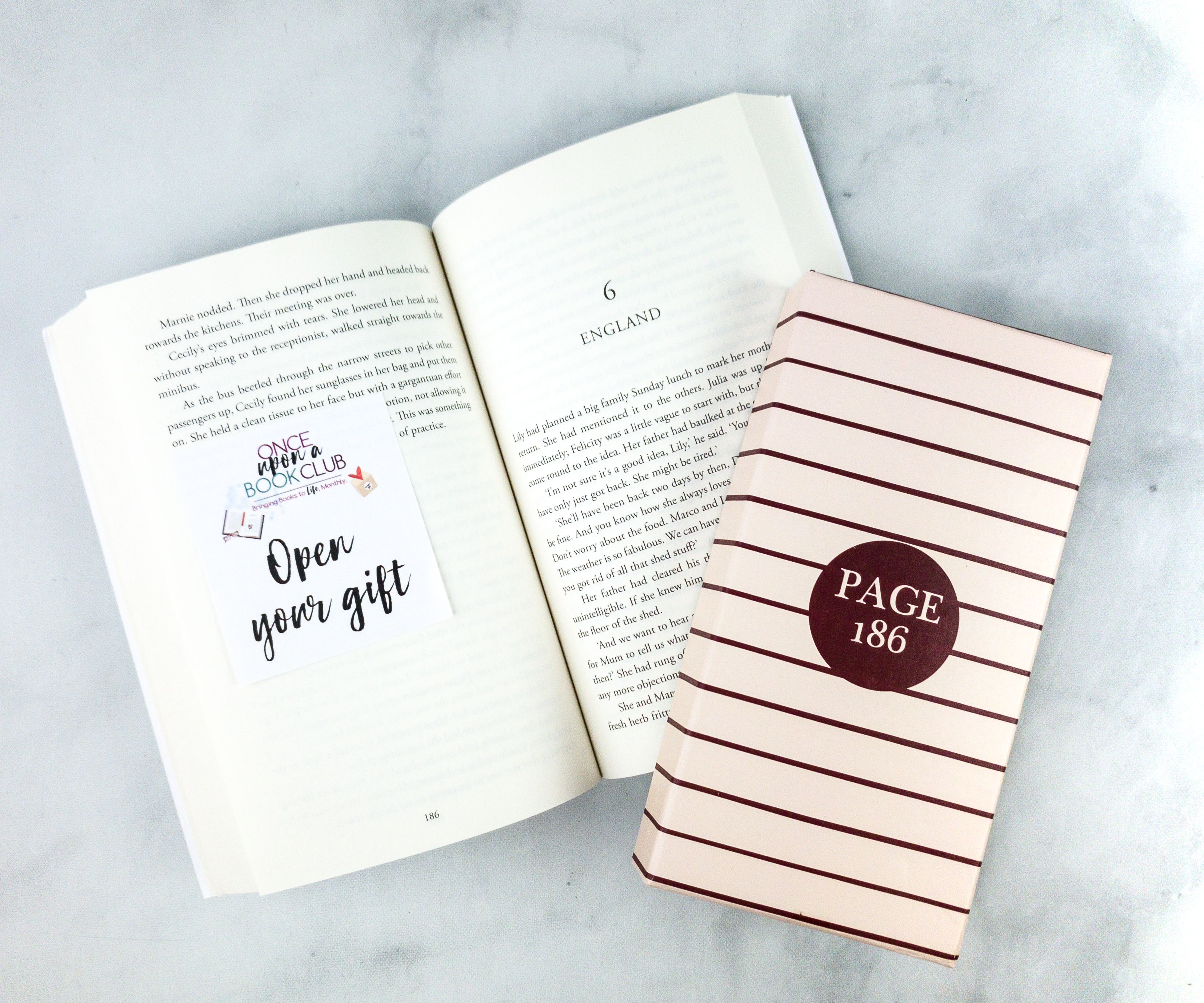 The next gift is for page 186!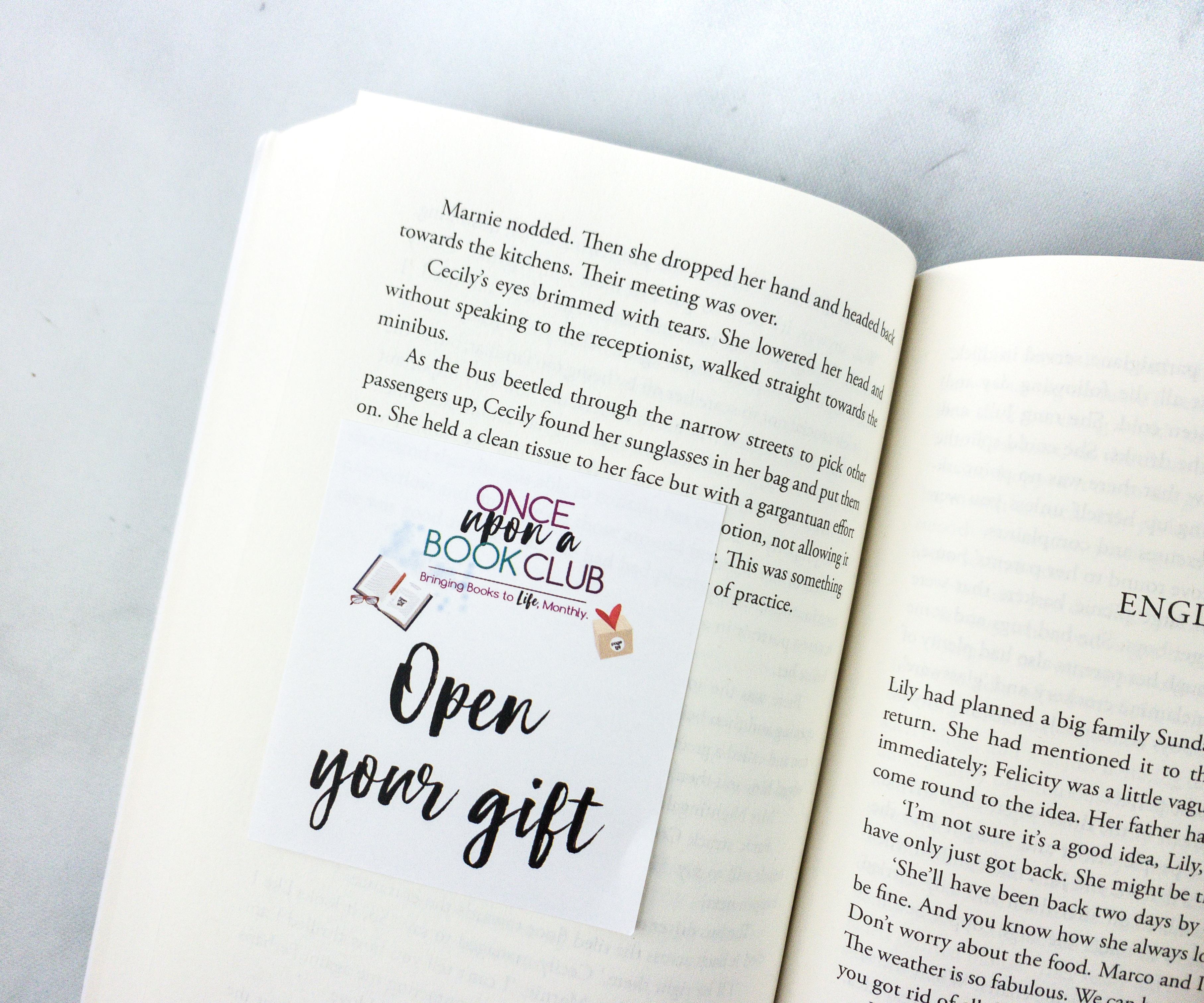 The gift has something to do with Cecily's belongings!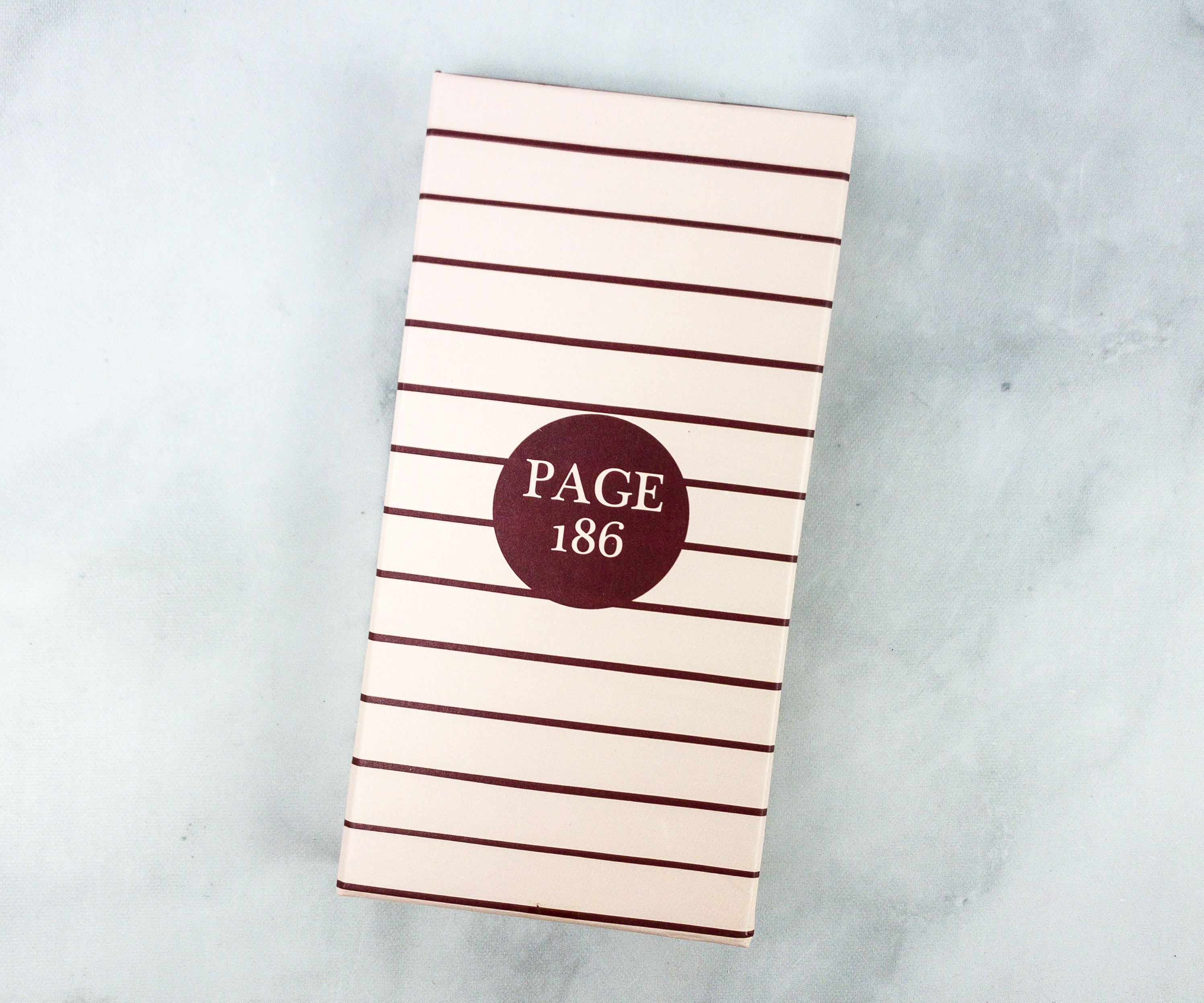 The gift wrap is so pretty! The item also came in its own box.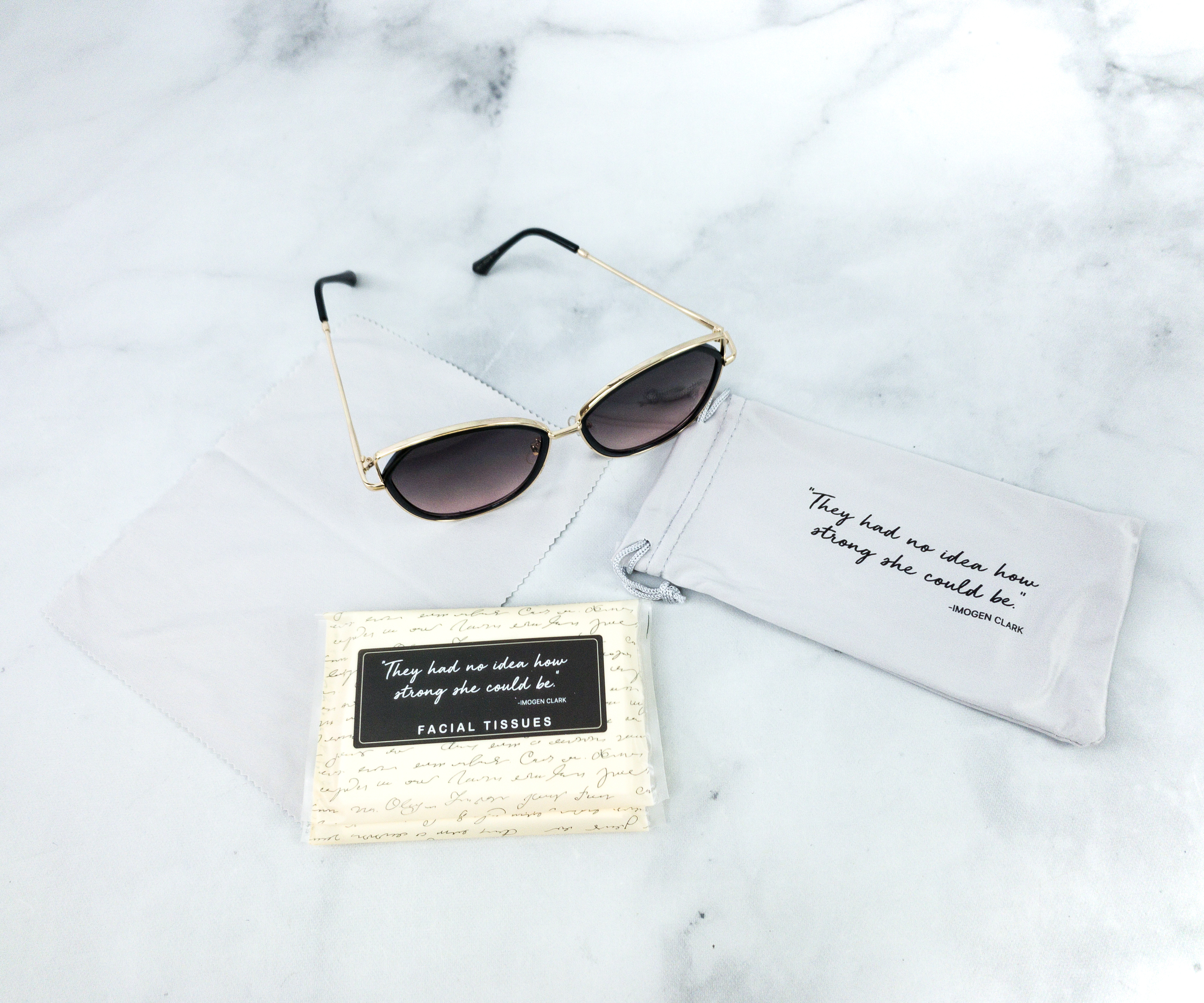 Sunglasses and Facial Tissues. Just like what's indicated in the book, I received a pair of sunglasses and packs of facial tissues!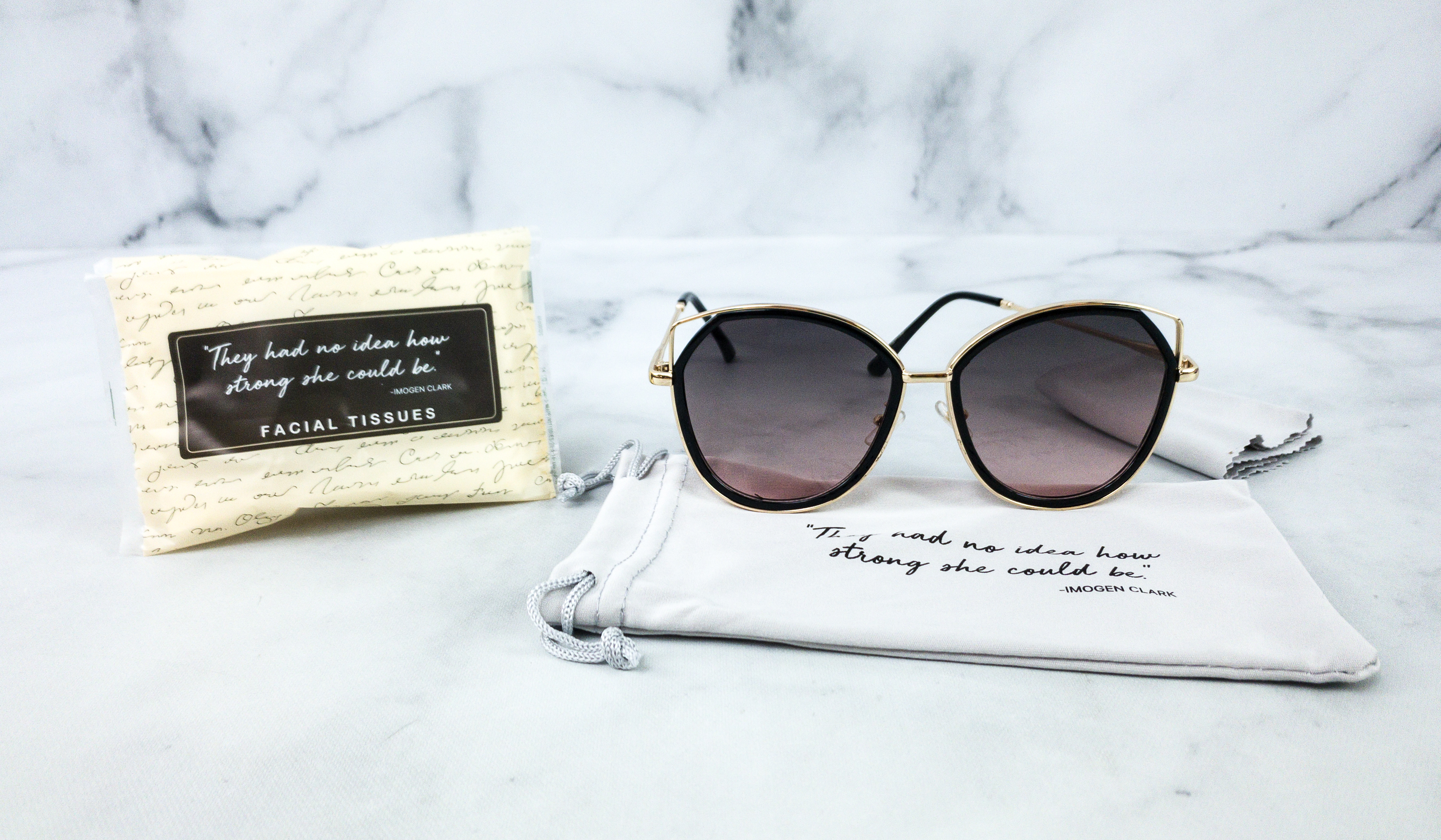 The pair of sunglasses even has a pouch, and it has the same quote as the one that I received on the card.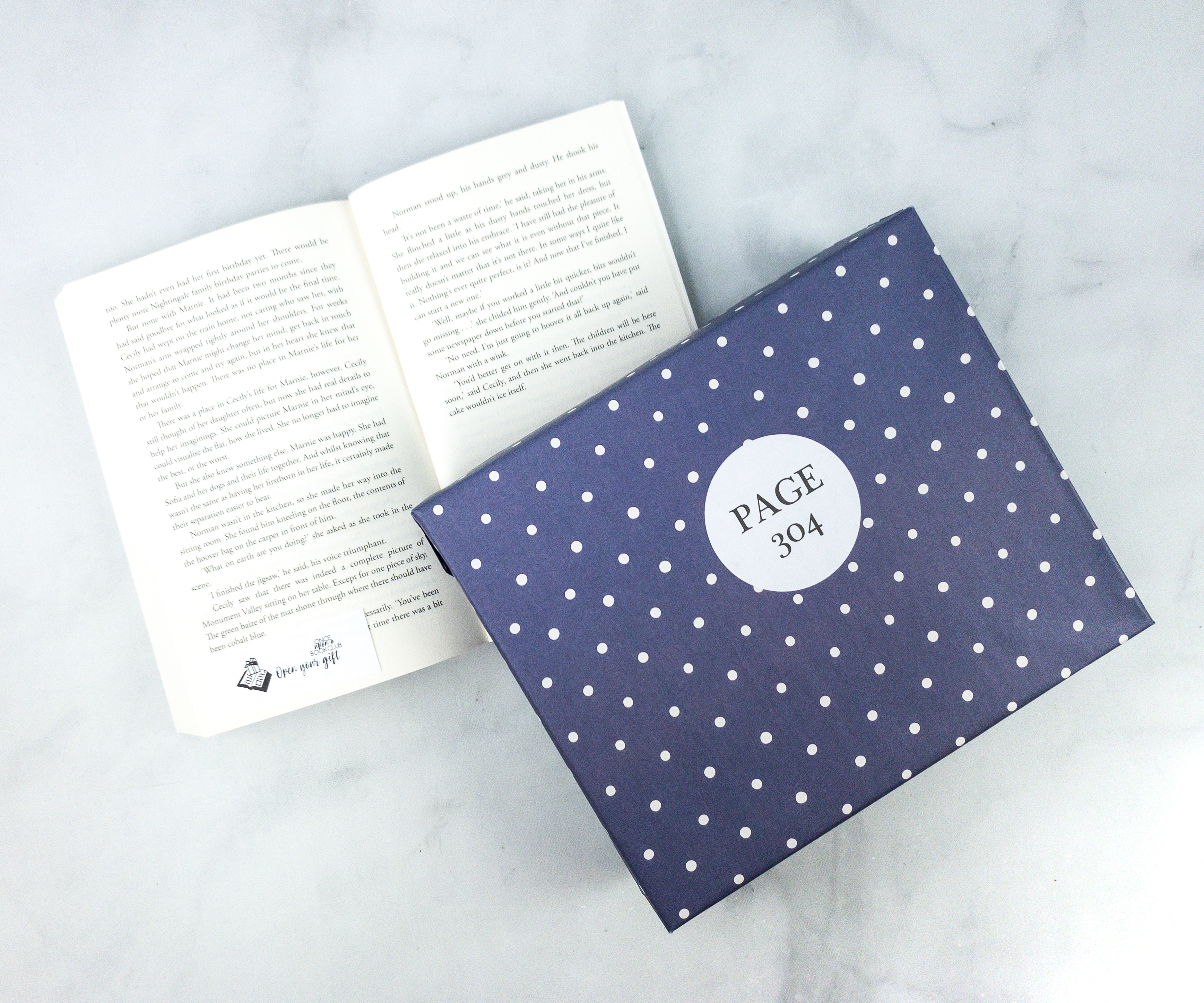 The final gift is for when you reach page 321!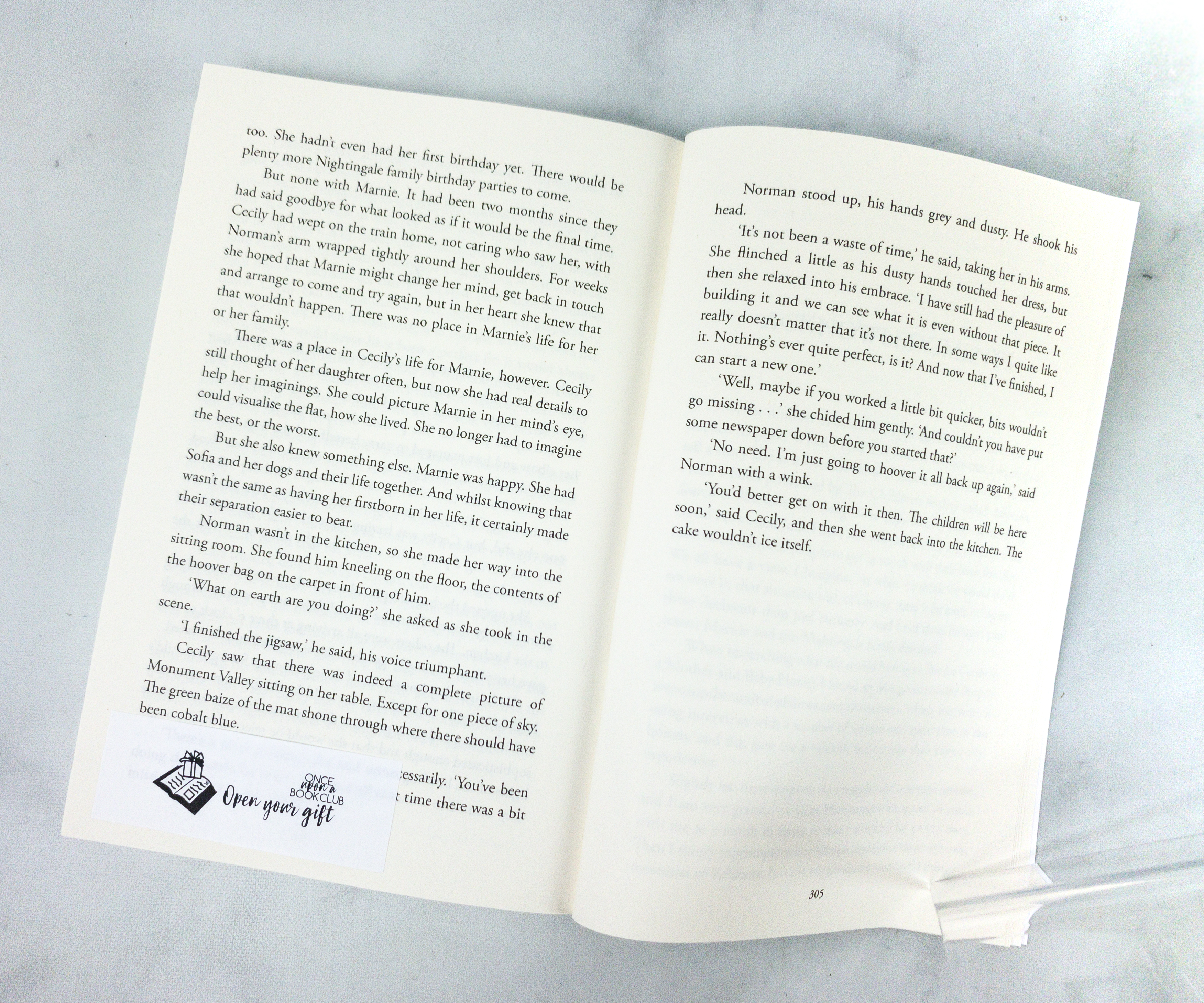 As I read this page, I wonder what else will I receive from this month's featured novel.

The gift is wrapped with blue and white polka dot wrapping paper.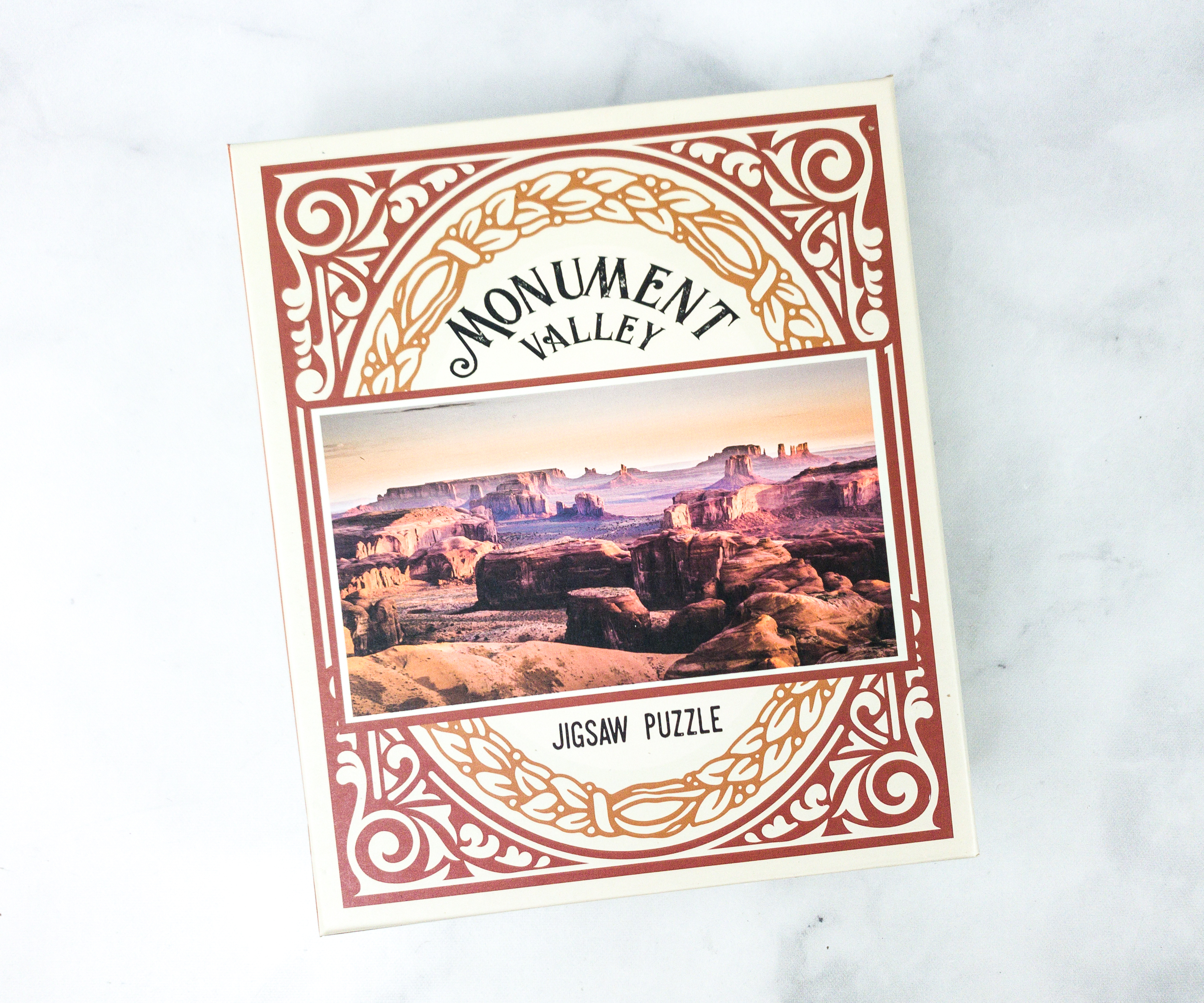 Jigsaw Puzzle. It's a Jigsaw Puzzle that features the Monument Valley!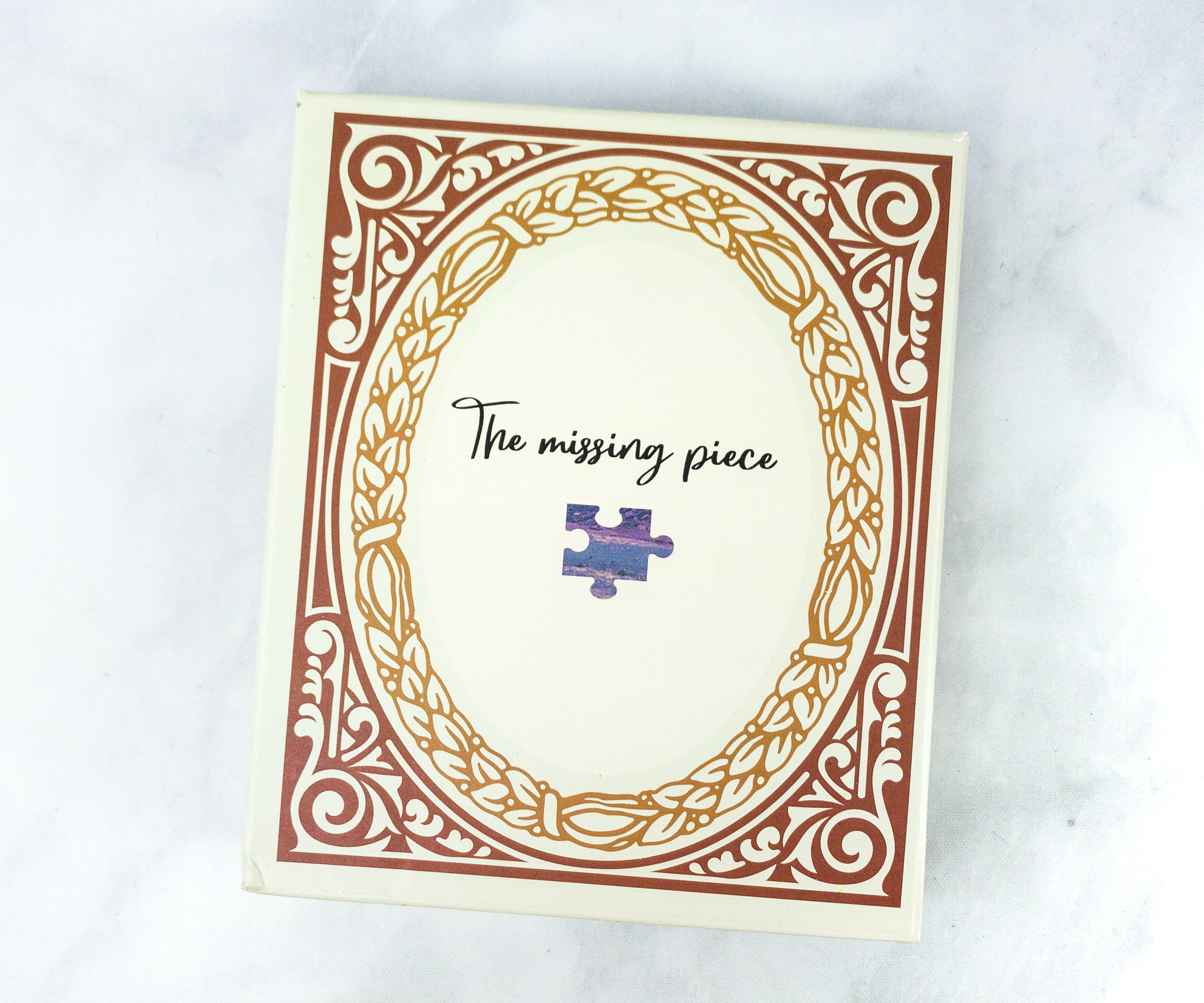 The back of the box also featured a single puzzle piece that is tagged as the "missing piece".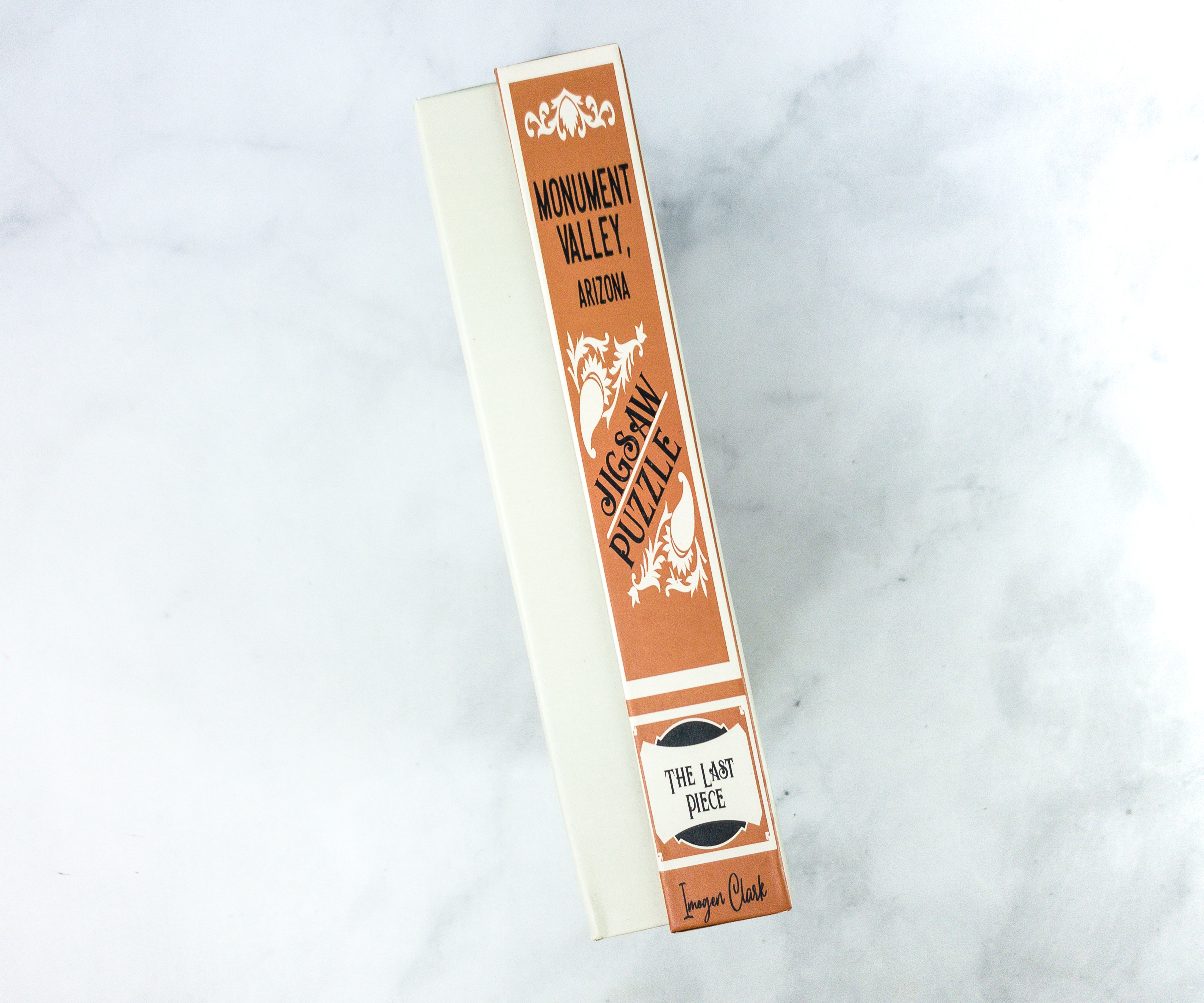 The puzzle's box looks classic as well!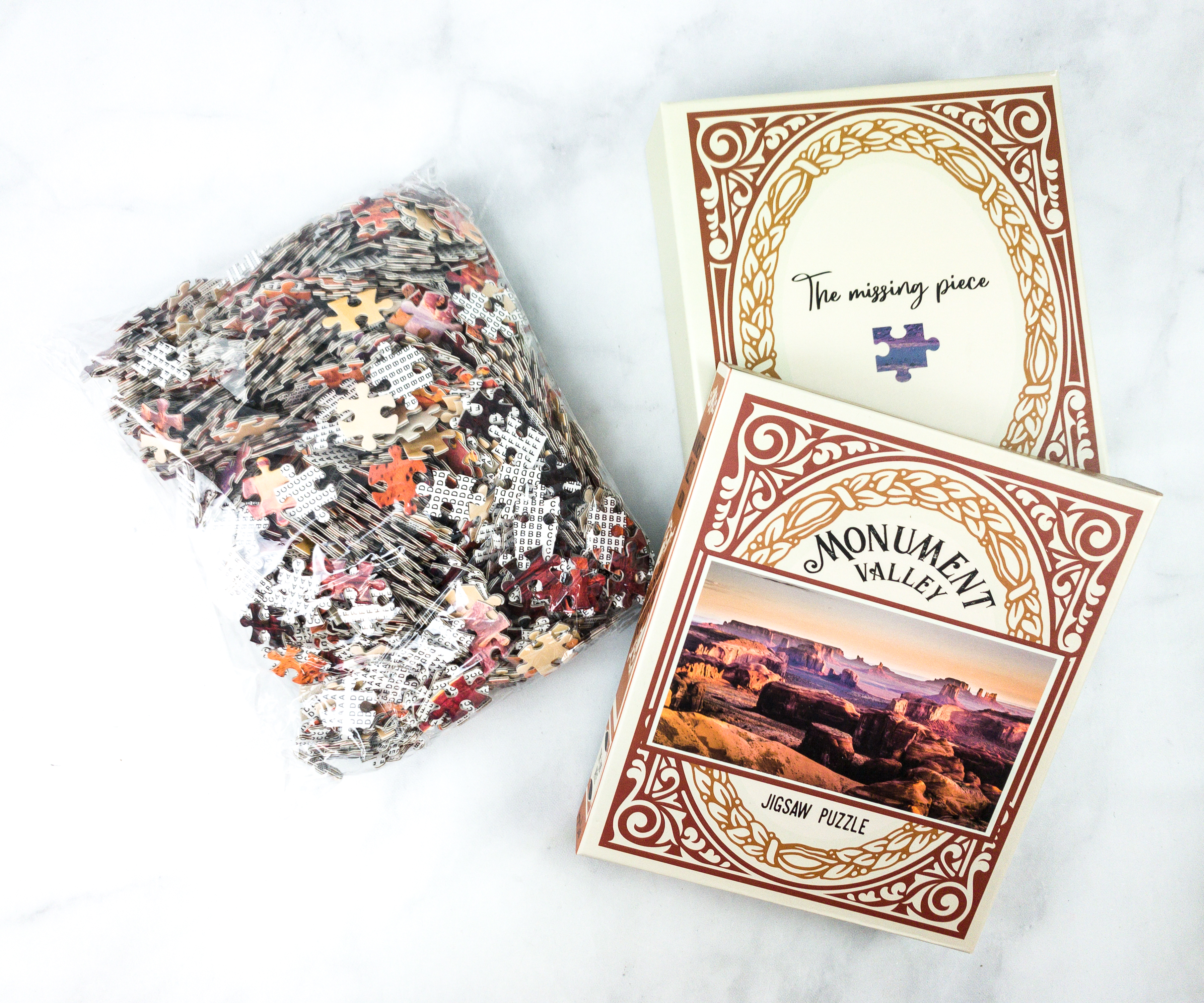 I'm excited to work on this puzzle. The box does not indicate how many puzzle pieces are there, but I'm still thrilled to start on this one!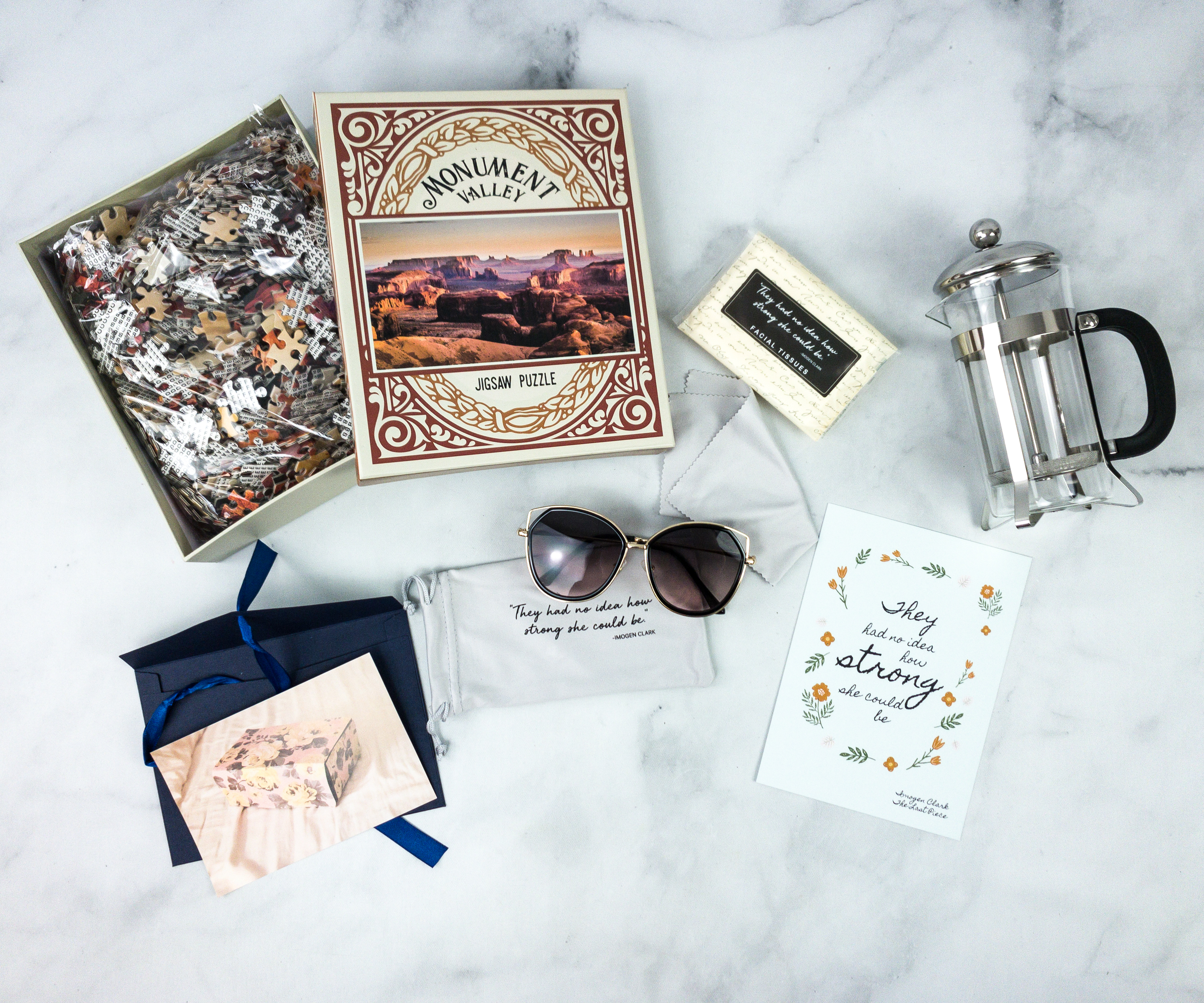 I love books and receiving gifts, so this box is like hitting two birds with one stone! The gifts are all related to the story. It shows that they had put so much thought in each gift and most of them are really useful. This month's novel is a compelling read and it was so hard to put down. As I turned the pages, more secrets about the family were revealed! I'm not a coffee drinker but I appreciate the French press in the box. It's nice and it will still be put into good use by my husband who loves coffee. Overall, I'm happy and impressed by this month's title and the items that come with it!
What do you think of this month's Once Upon a Book Club?