Nature's Wellness Box is a monthly subscription of aromatherapy and lifestyle products featuring non-toxic, natural, vegan, and cruelty-free ingredients. Their goal is to send items that are less processed and at wholesale prices. The subscription is $35 a month and ships from Canada.
All products are 100% non-toxic, cruelty-free and made in Canada. Each box features 5-7 full-size size products
Makes a great gift for health conscious women, vegans, vegetarians and loved ones in your life who deserve a unique surprise..
Aromatherapy focused; each box includes an aromatherapy related product.
Nature's essential oils are pure grade, Health Canada approved and NPN numbers are listed on our bottles.
Over $70 in retail value every box!

Look at how pretty the sticker is!

My box items were wrapped in tissue paper and had a sticker closure.
First look!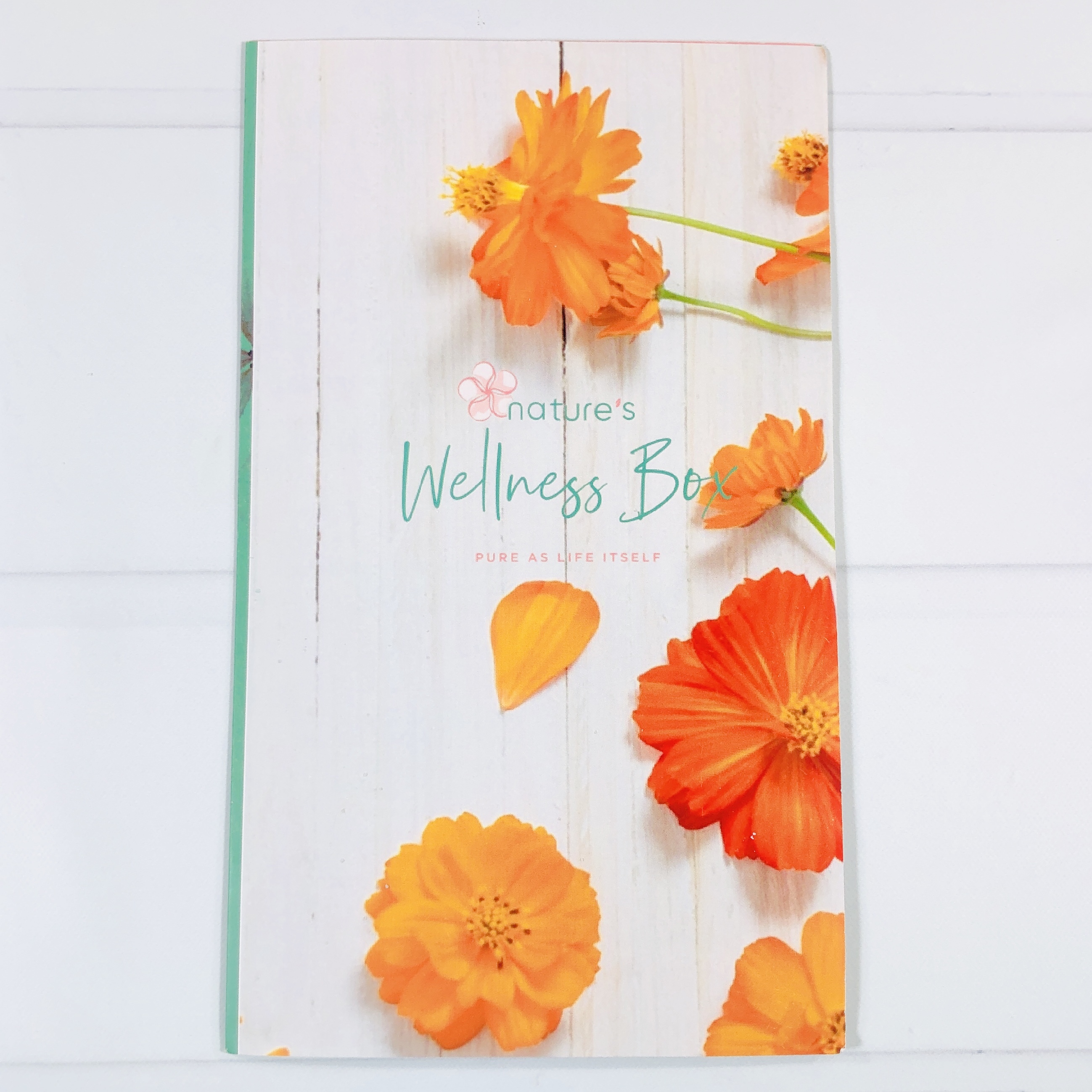 I found a product brochure.

It unfolded to give a brief description and MSRP for each product. I think it's cool that the pictures are in color! FYI the prices in the booklet are Canadian dollars!

The July box was my very first from this company!
Even the back was pretty.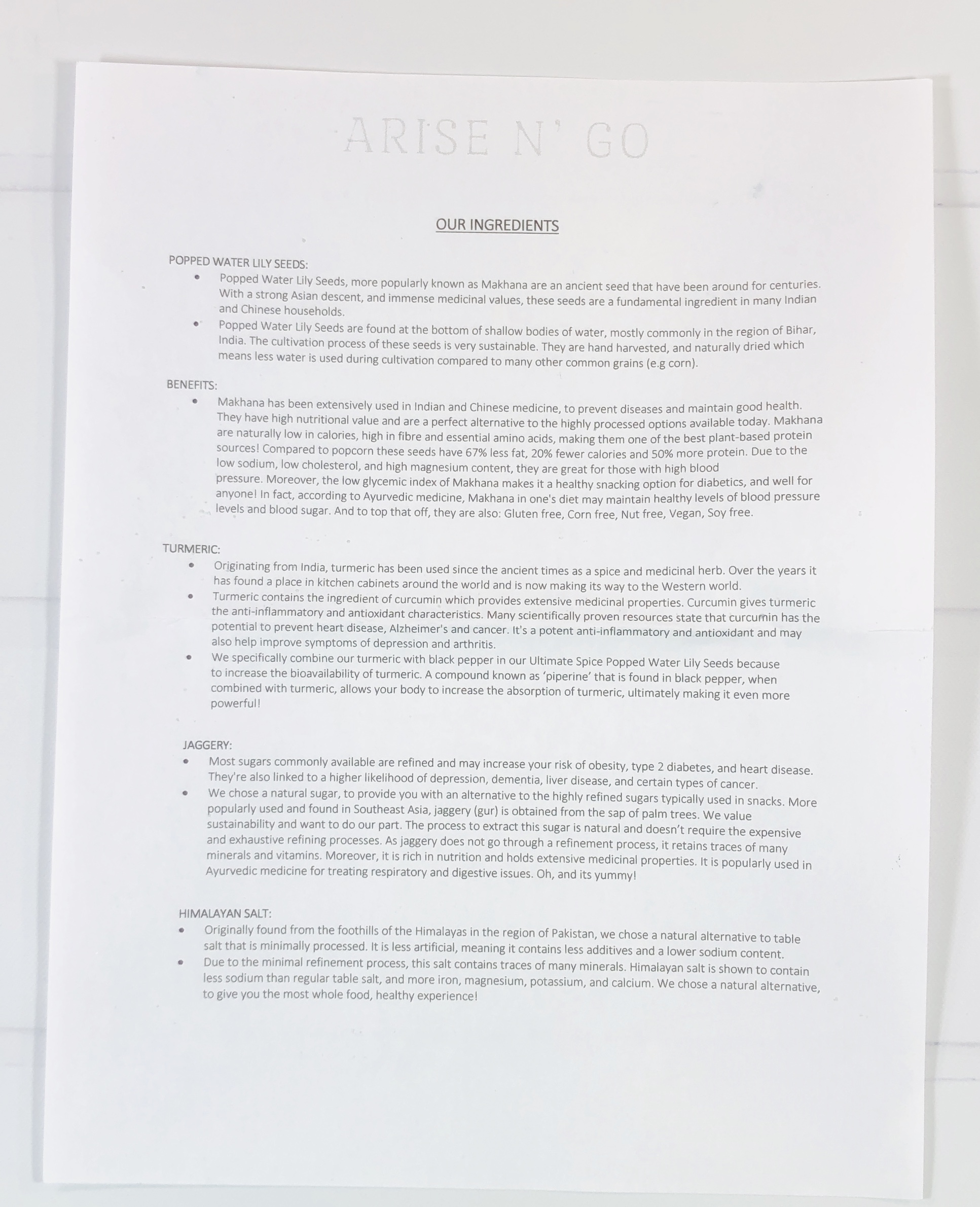 I found a note describing one of the items in more detail. This is for the food item.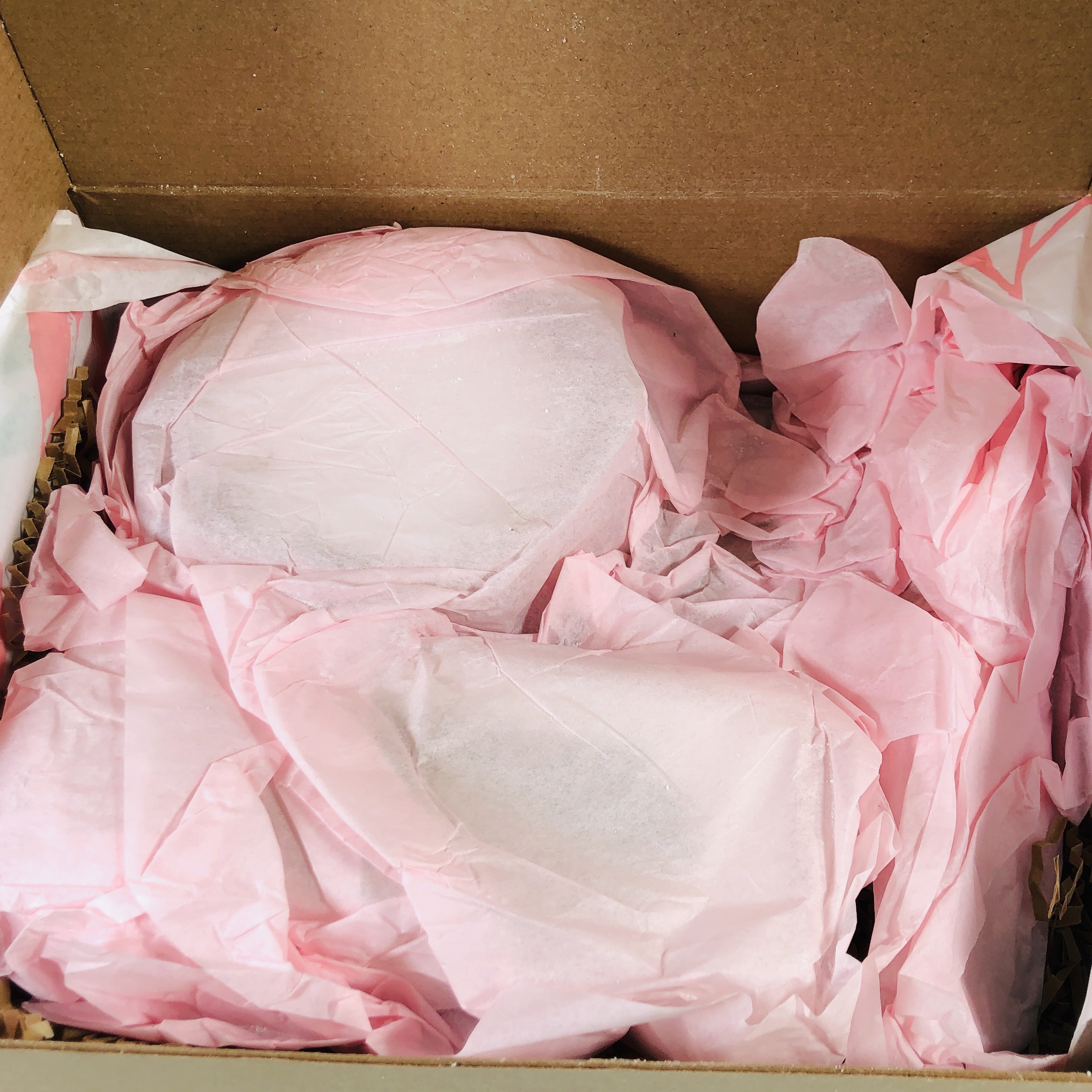 My items were tucked into tissue paper. One of the products (the shower steamers) crumbled a bit and tiny white pieces and product dust covered everything in the box.
Everything in my box!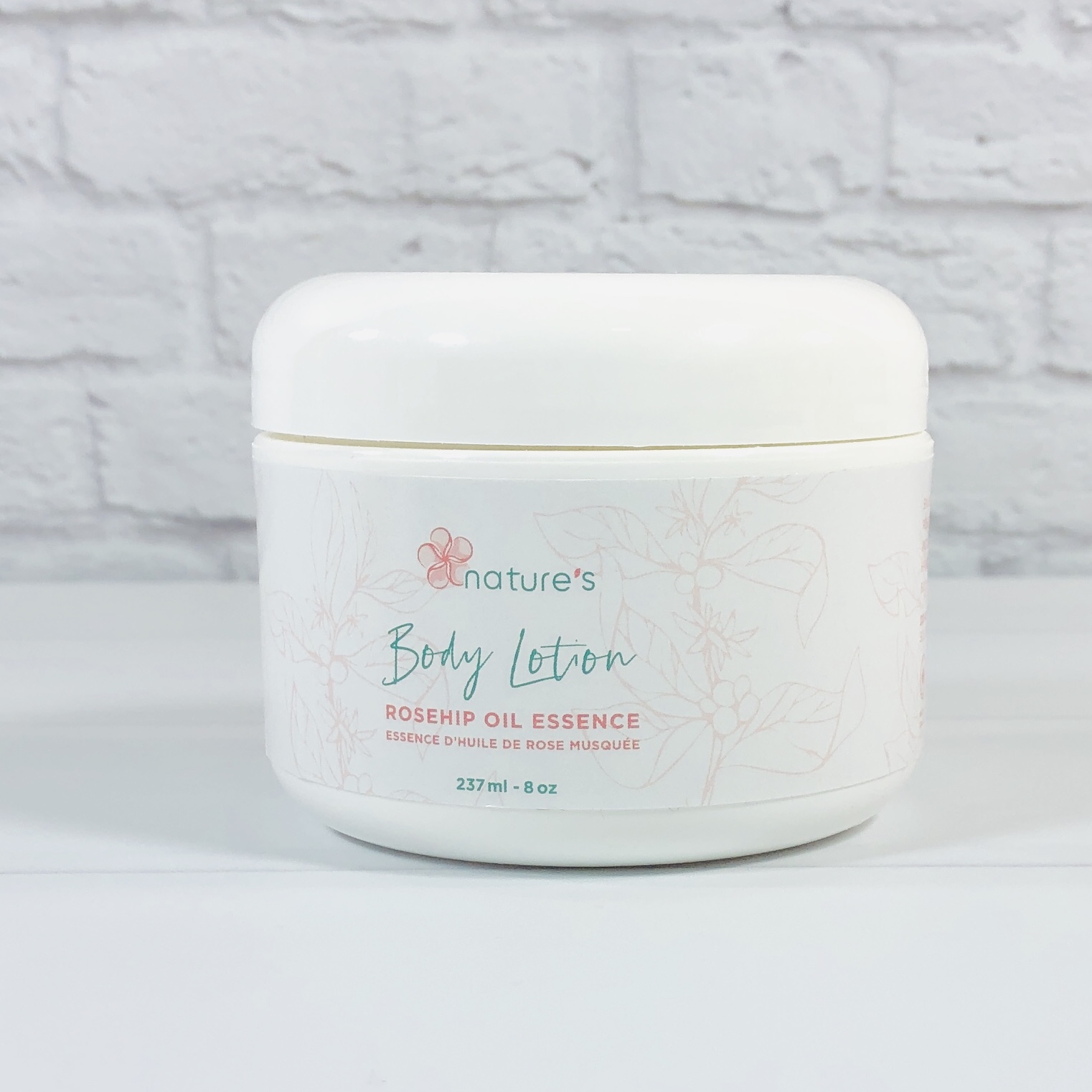 Nature's Body Lotion with Rosehip Oil Essence ($25 listed value) There wasn't any contact info on this product so it may be an in-house item, judging by the plumeria flower and colors, which match the box itself.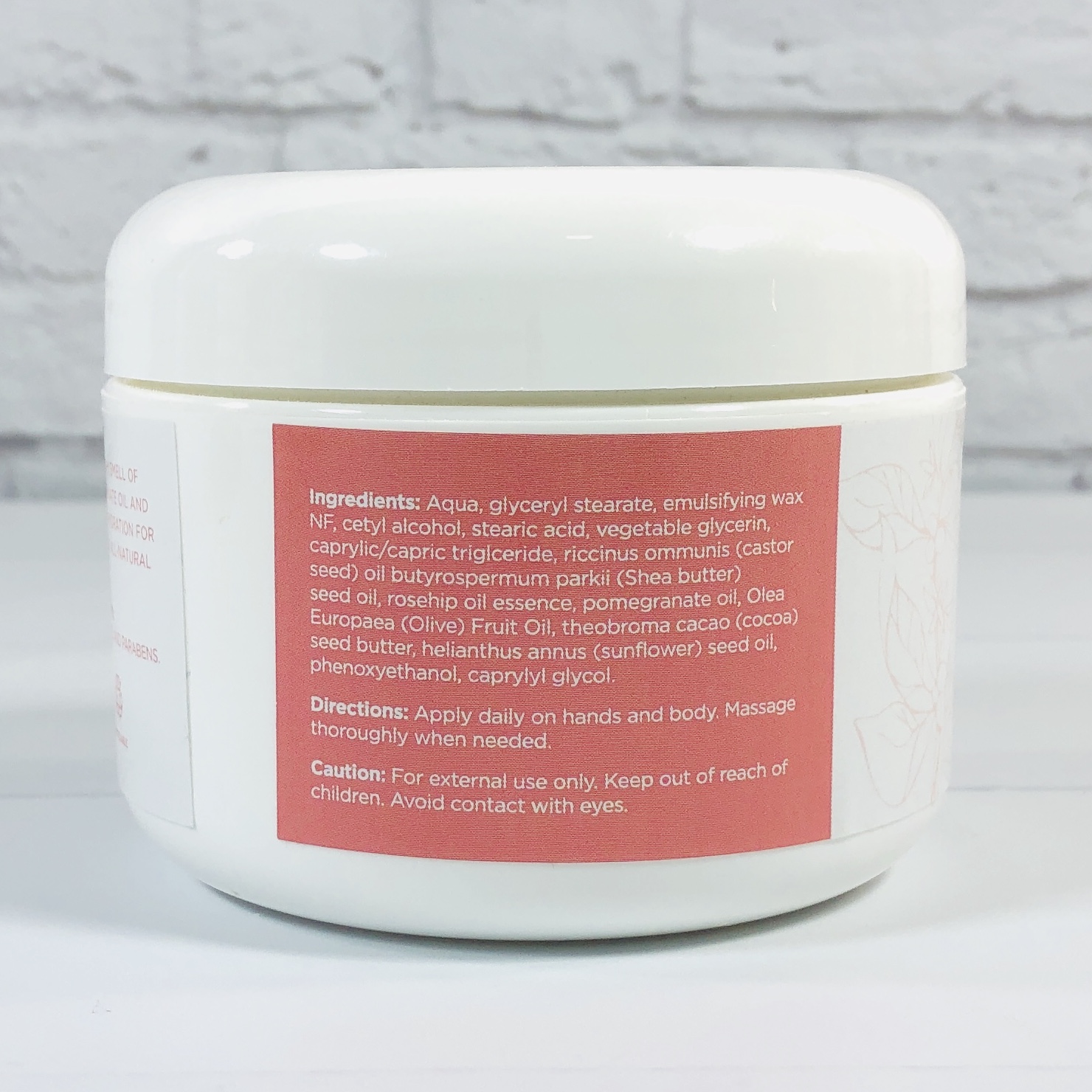 Castor seed oil and shea butter are in here along with pomegranate oil and olive oil.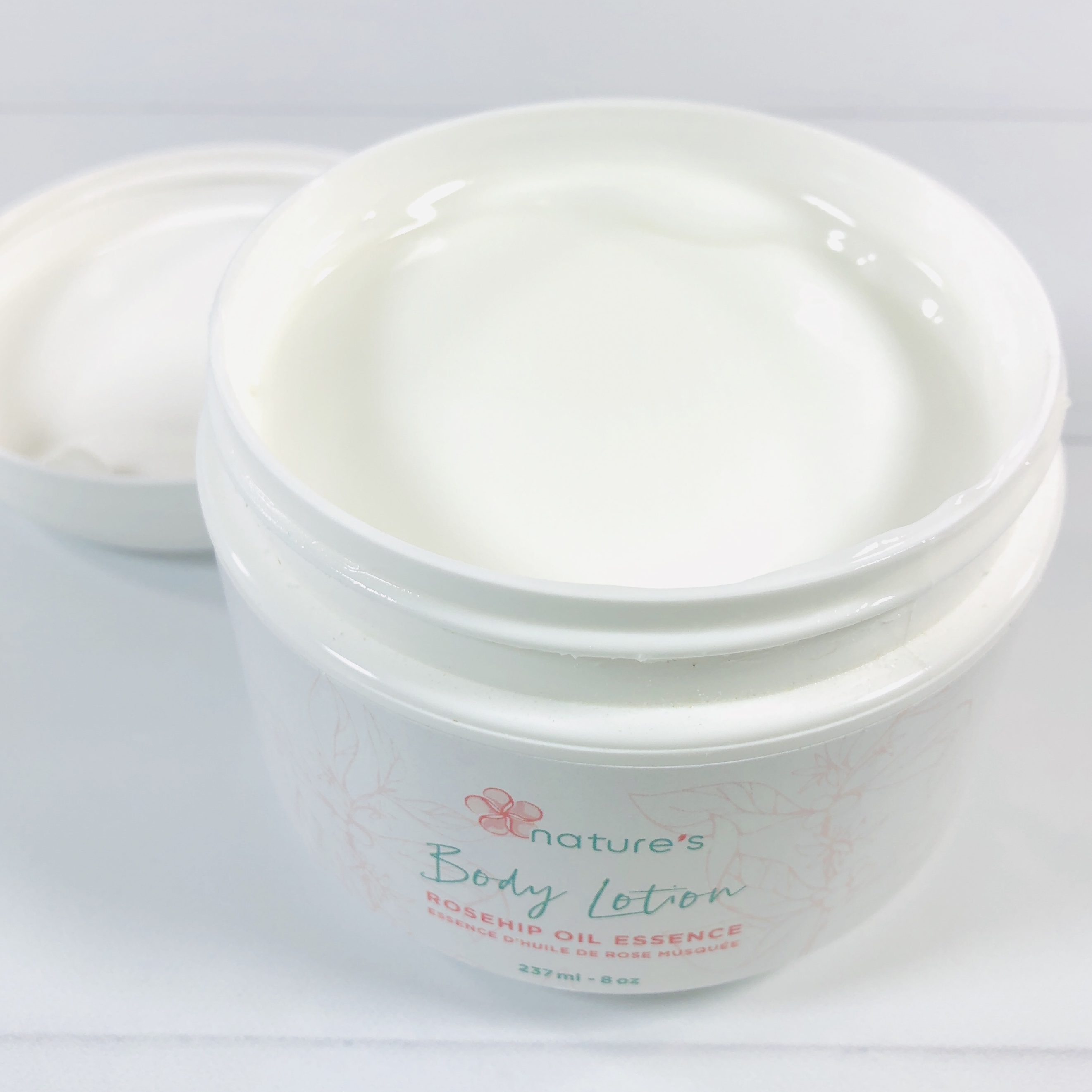 It went on easily and didn't take too long to rub in. It felt good on my skin but I wasn't a fan of the scent, although it wasn't strong, just "off". I wasn't expecting it to smell perfumed and it doesn't, but there is a slight chemical smell under it all.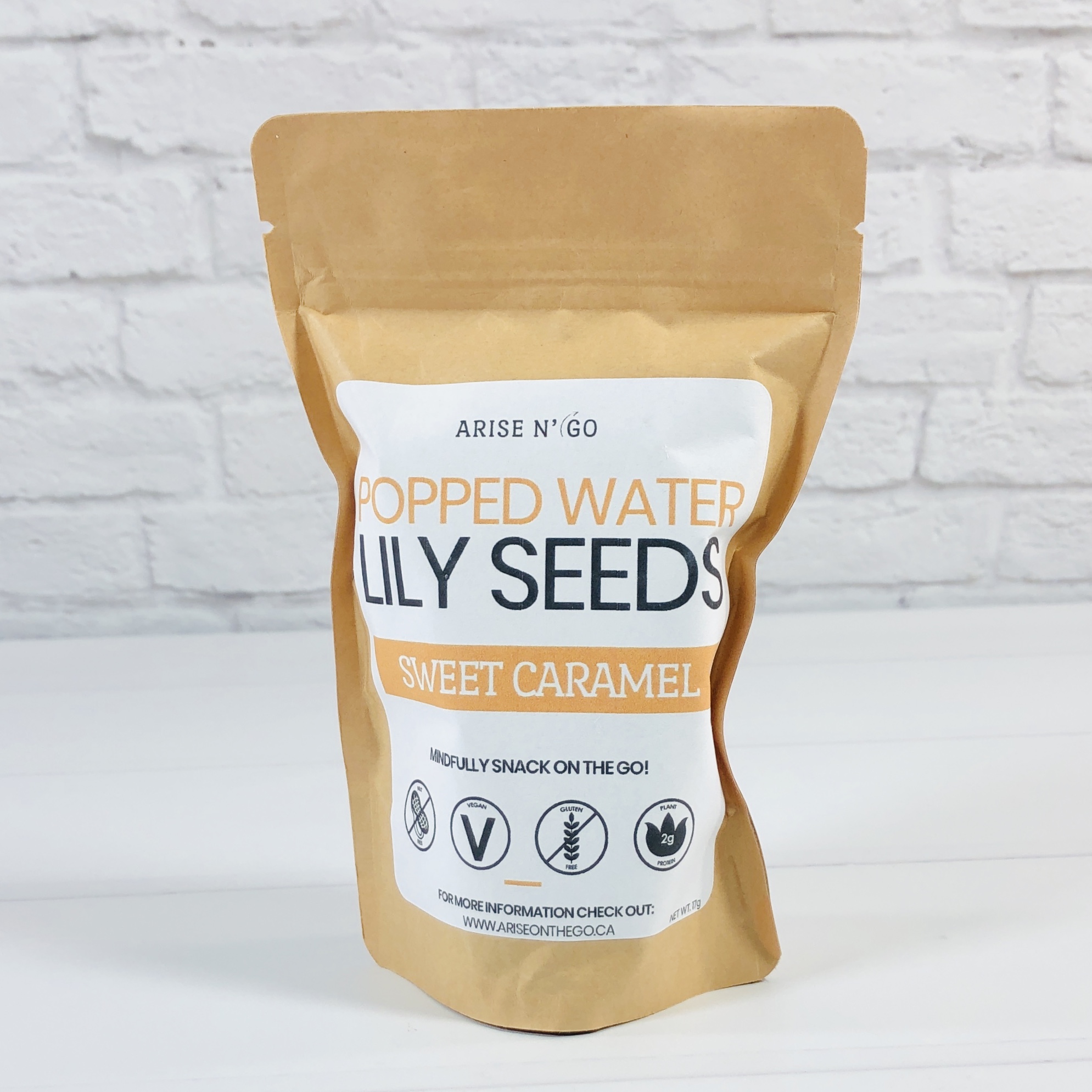 Arise N' Go Popped Water Lily Seeds in Sweet Caramel ($3.33) I've tried makhana before, they are popped water lily seeds! If you've never tried them before, then know that they have a unique earthy flavor that is probably an acquired taste, although I must say I would never buy it on purpose myself.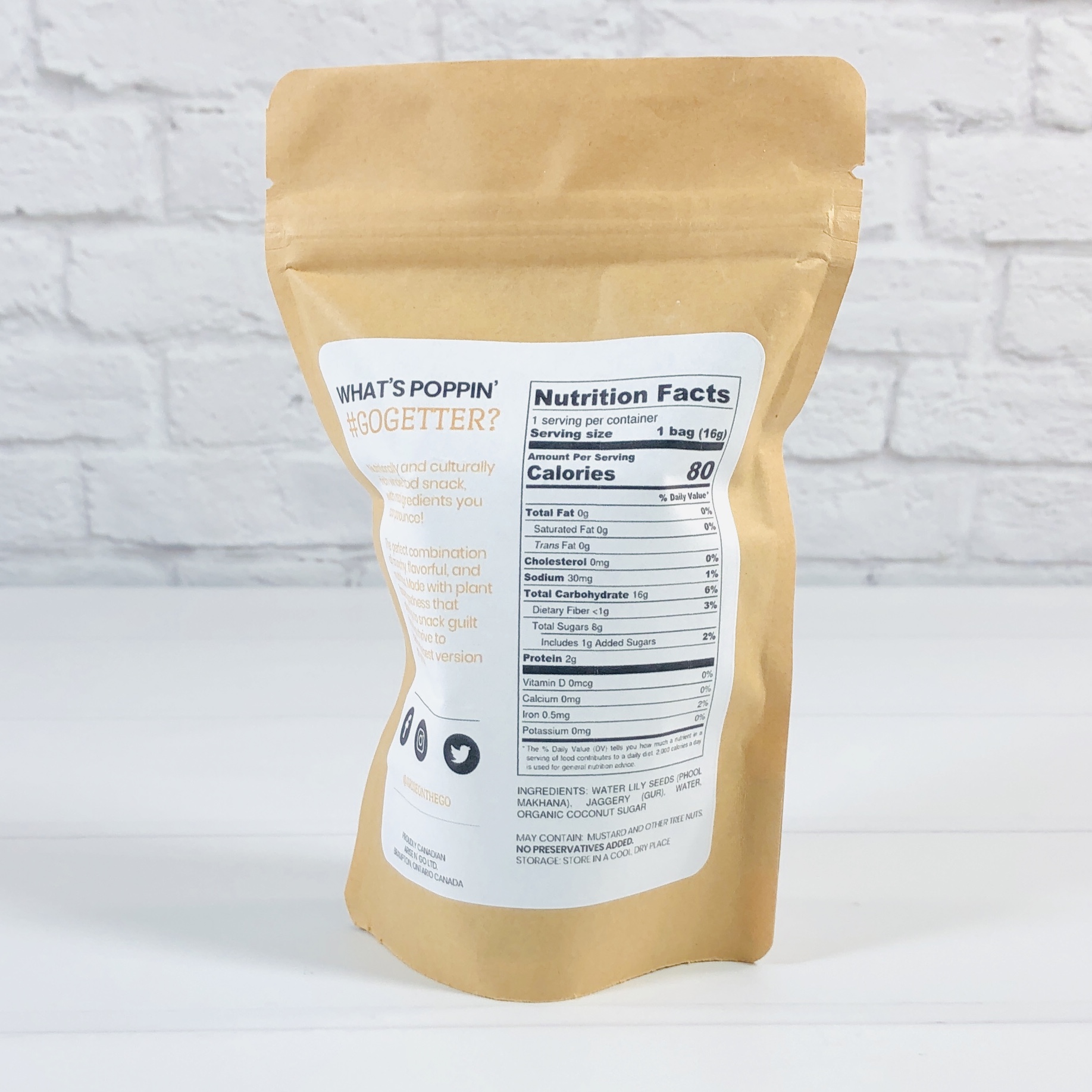 This version has a sugary coating made from jaggary (palm sugar) and coconut sugar. It has a caramel flavor, with a hint of molasses.
The consistency is odd, like stale caramel corn, it's not crisp, kind of soggy. My daughter loves healthy-ish snacks like this, even likes makhana, but she didn't care for this snack either.

Green Cricket SPF30 Face Moisturizing Mineral Sunscreen ($19.99 CAD, about $15.03 USD) I was happy to see that this sunscreen is fragrance-free, I prefer to not wear perfume on my face!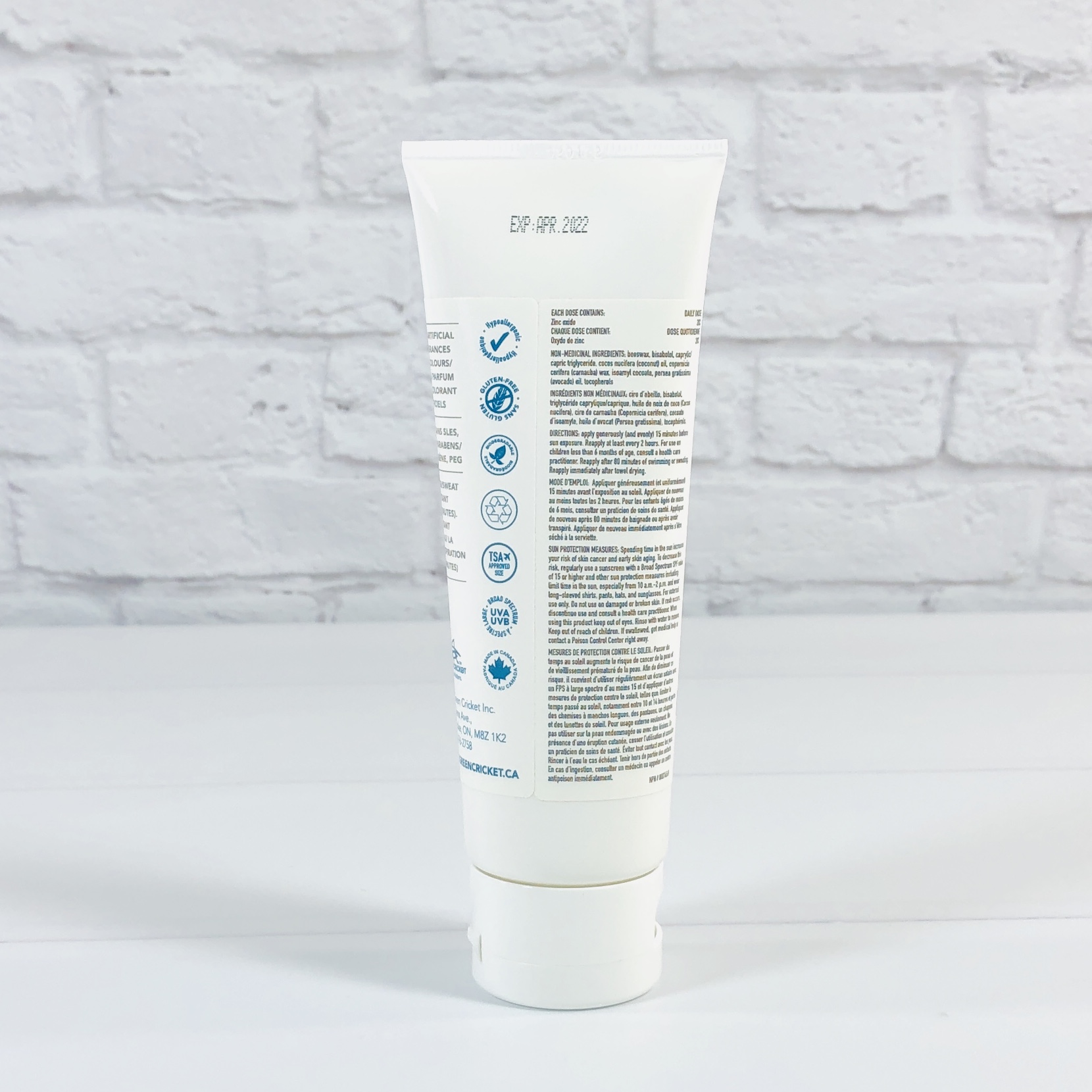 It's really hard to read the ingredients here but they include zinc oxide, coconut oil, and beeswax. Beeswax isn't really vegan but maybe in Canada they do things differently? I first tried this on the back of my hand and used too much, and I seriously thought the sunscreen was pink because that's what my hand looked like afterwards! I used a smaller amount on my face since a little goes a long way so it's possible I'm not getting the full SPF. It was very moisturizing, and oddly enough it worked well as a primer for my skin! I could tell it has shea butter because it was grainy but that feeling went away as I rubbed it into my skin. It left me with porcelain skin, so those who have darker complexions might find it leaves a whitish cast.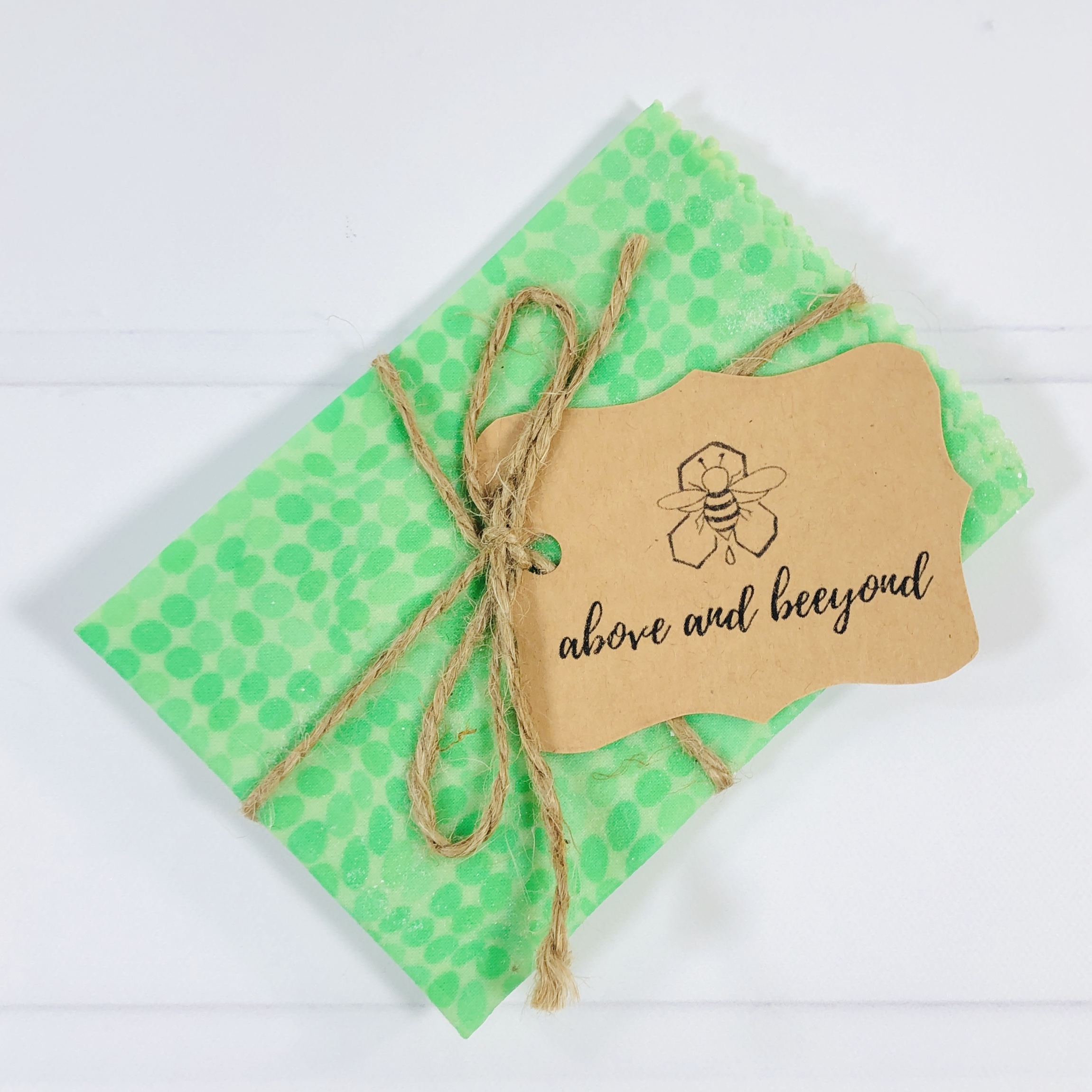 Above and Beeyond Medium Beeswax Wrap ($7.85) Well, here is another product with beeswax so keep in mind that this subscription isn't 100% vegan.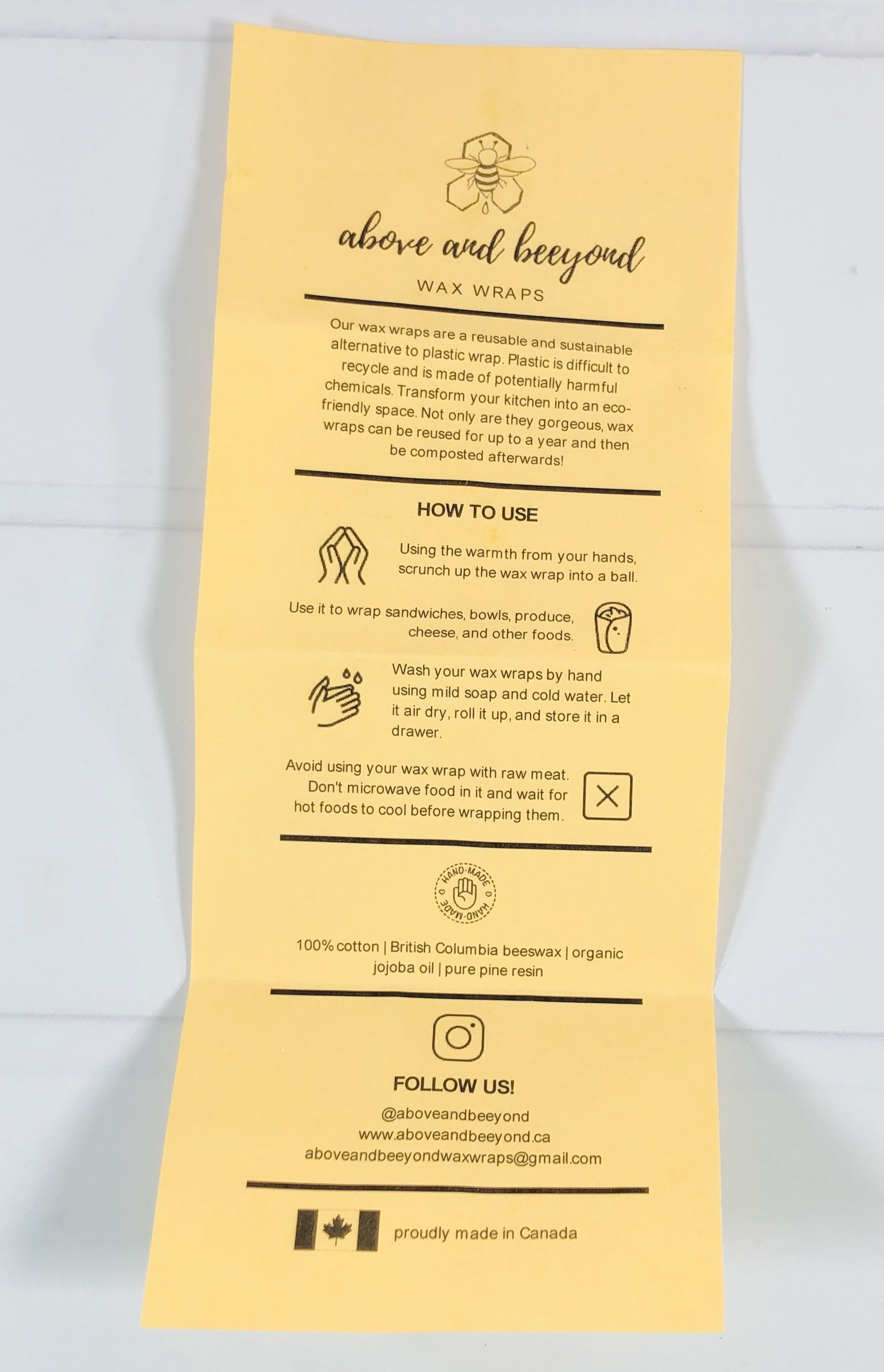 It came with an instruction sheet on how to clean it after use and keep it going for a while. One thing to keep in mind is that it shouldn't be used with raw meat.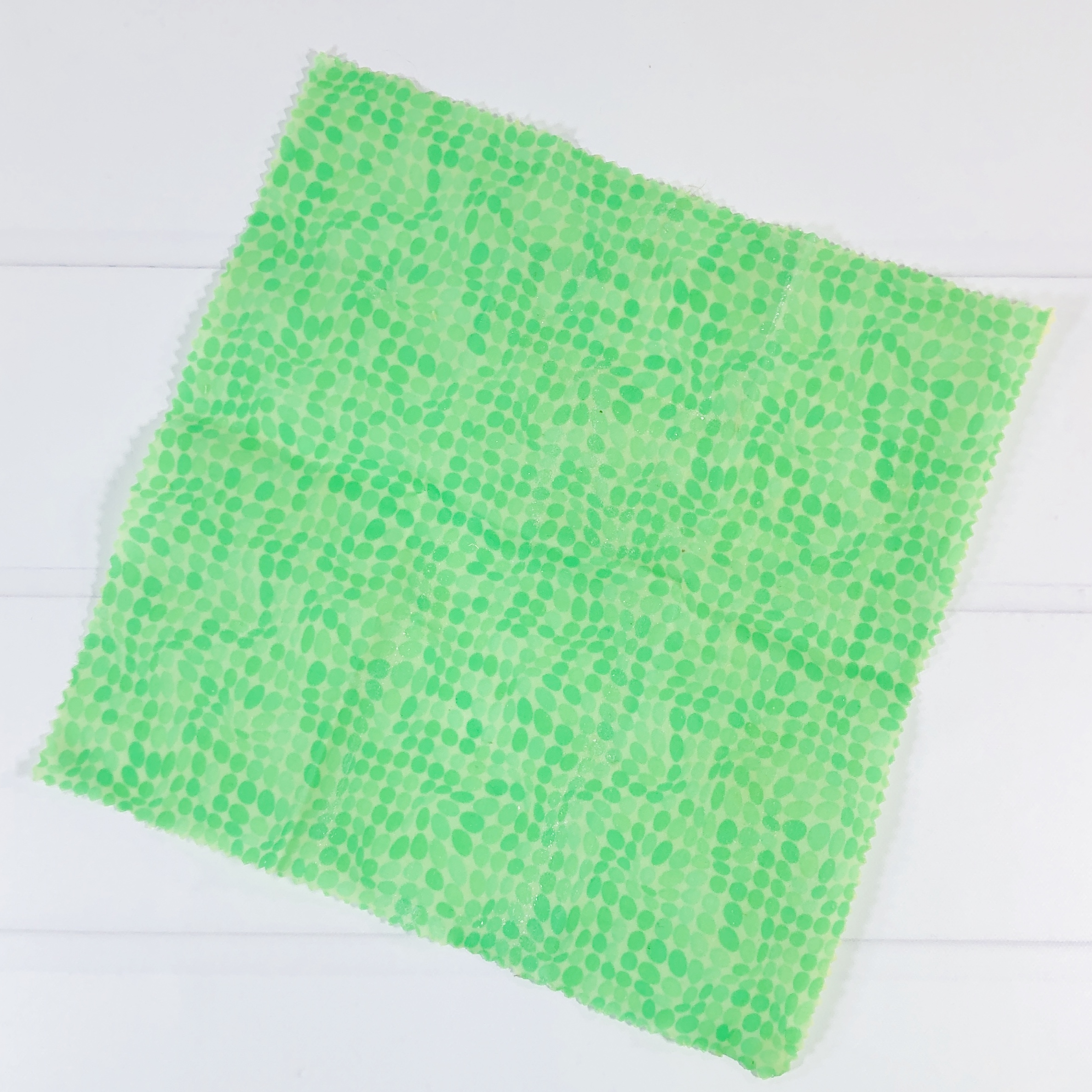 The wrap measures about 10″ all around and the cotton fabric is treated with beeswax, jojoba oil, and pine tree resin.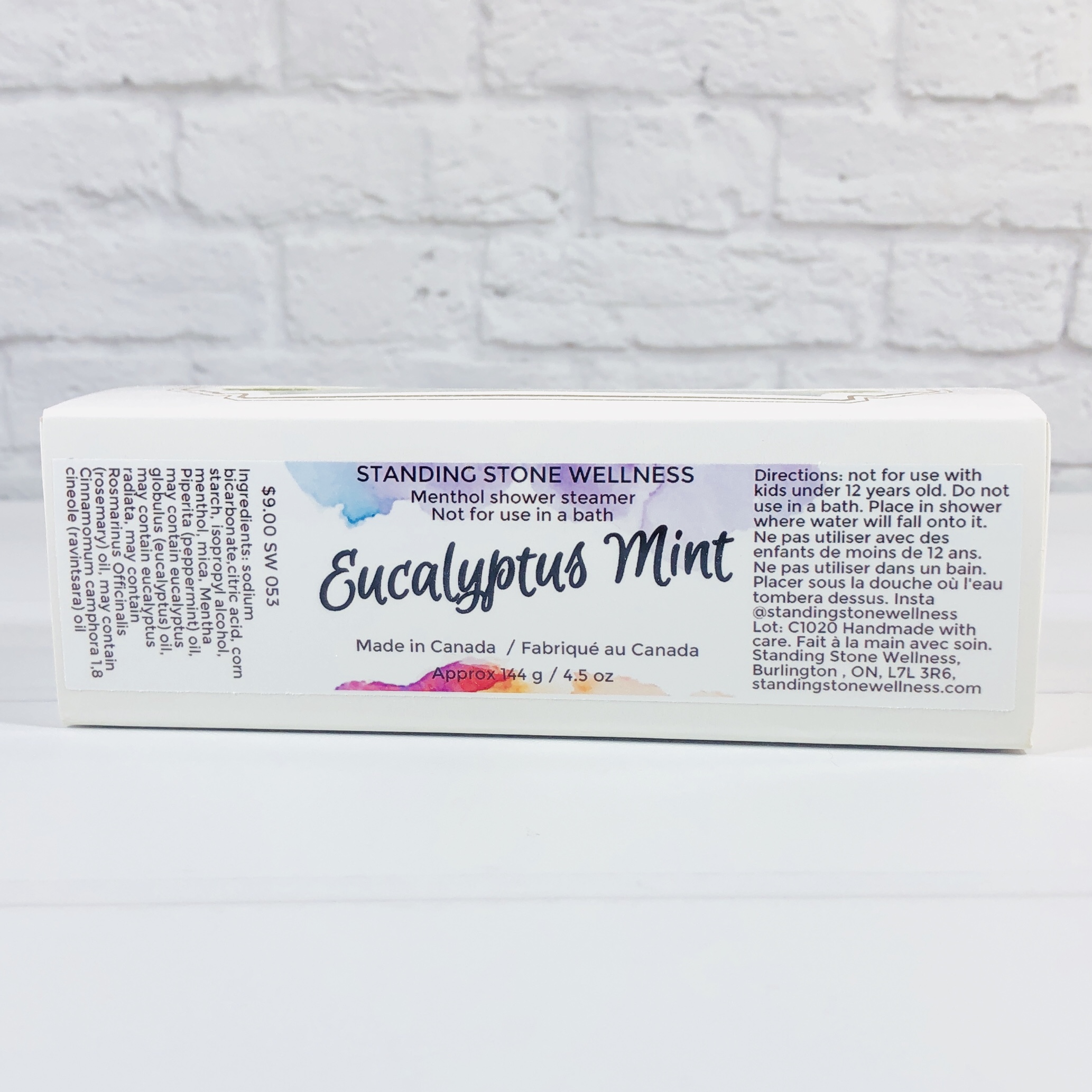 Standing Stone Wellness Eucalyptus & Mint Shower Streamers ($9 CAD, about $6.74 USD) I only take showers so it was nice to have an alternative to the bath bombs that are usually sent in subscription boxes!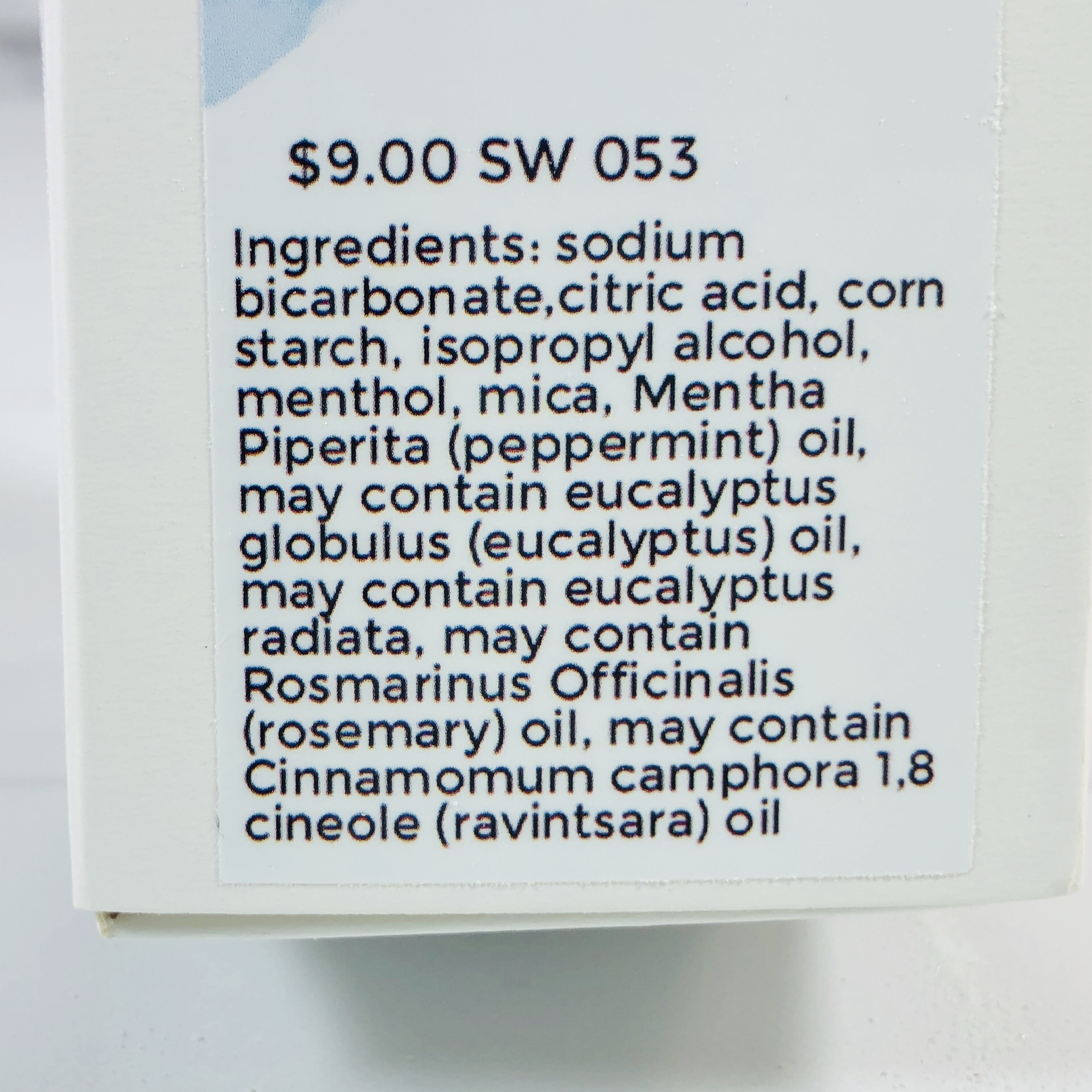 The main ingredients are baking soda and citric acid, which causes some foaming action. Essential oils provide the uplifting aroma.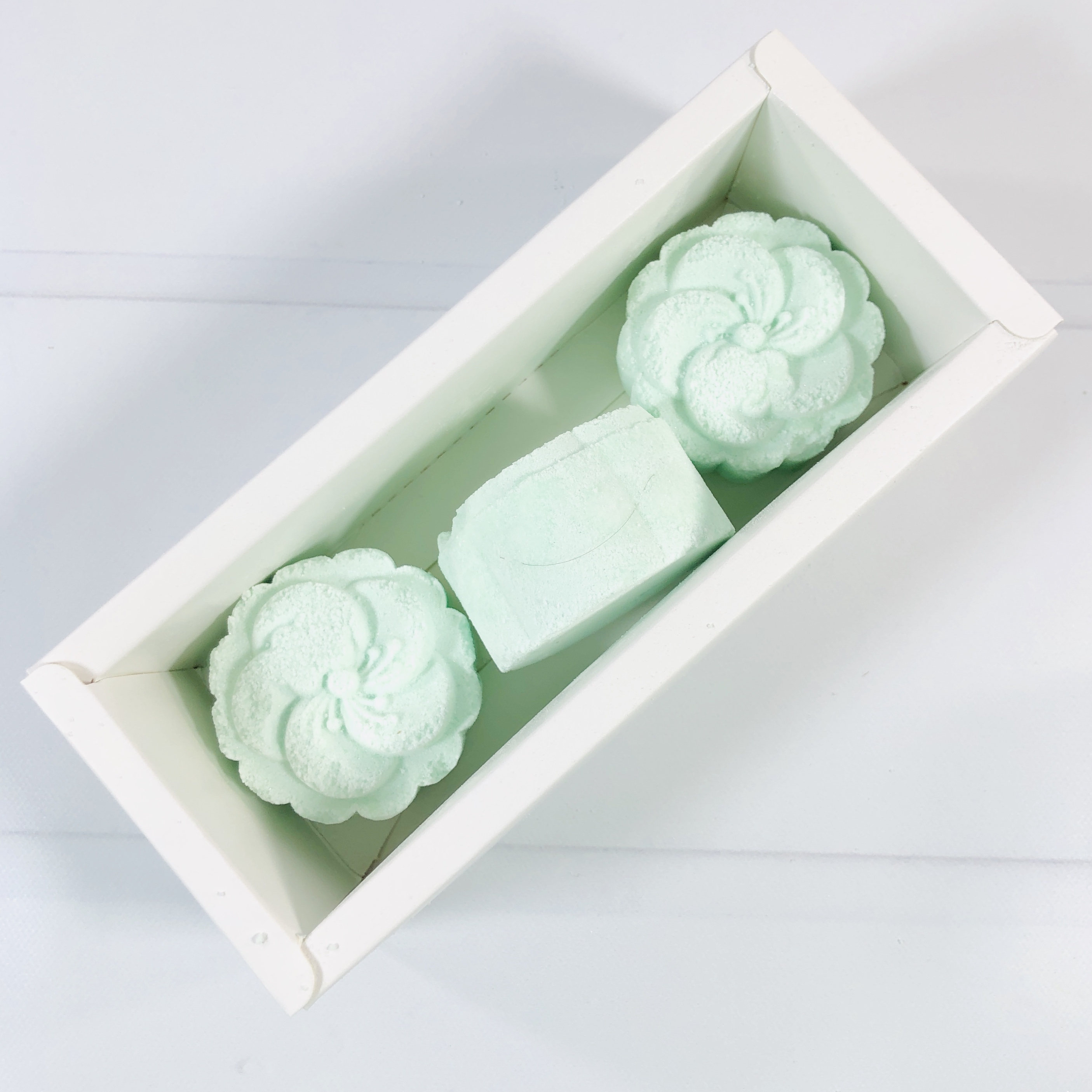 Yikes, one of the steamers had a hair in it! I could see it even before I opened the box. I was kinda grossed out but then remembered that I have stayed in hotels before and I don't think those bed covers get washed daily.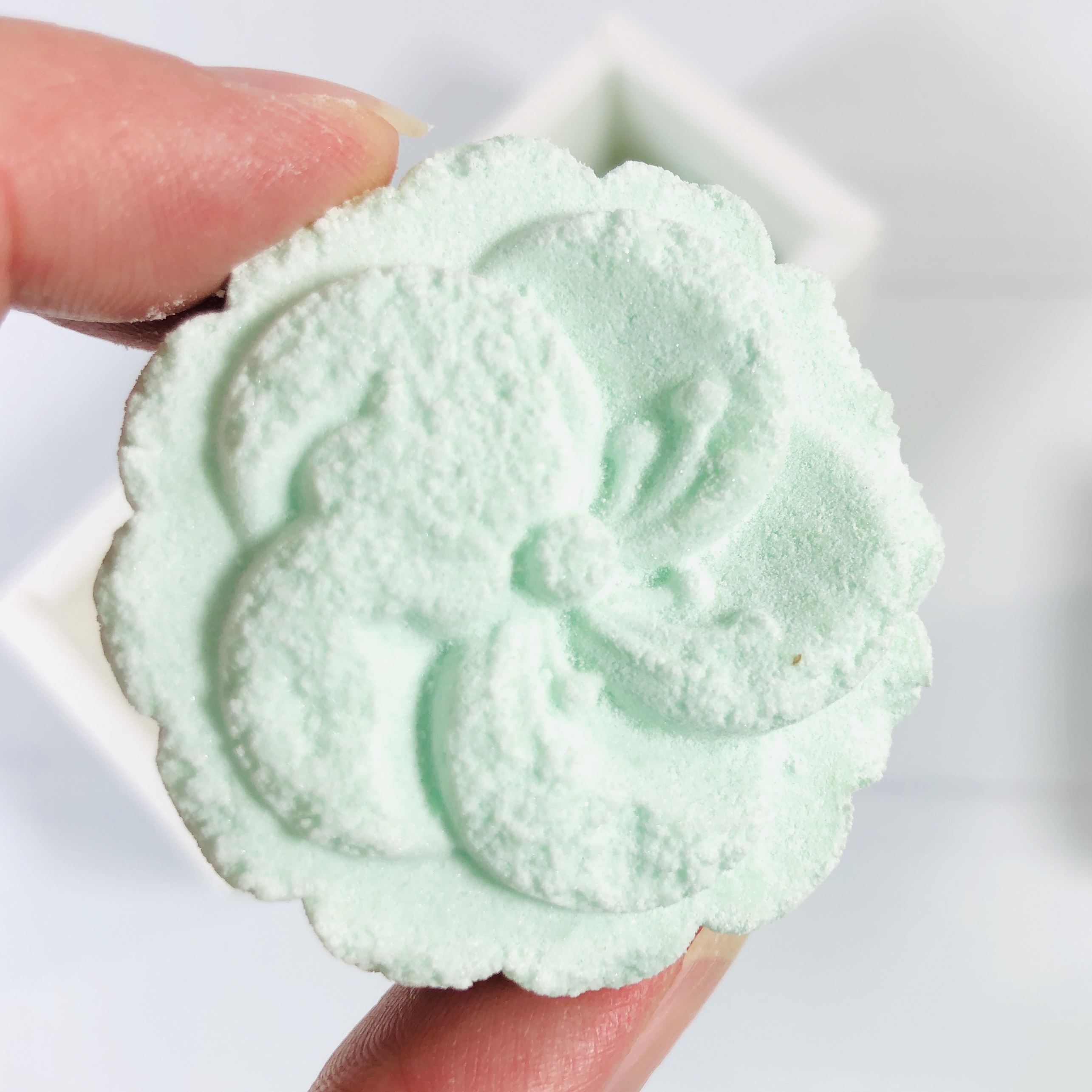 The steamer was one of the best I've ever received, so I'm glad I got over the ick factor. It foamed, but was still in one piece before I finished my shower. I could smell the aroma (which was mostly eucalyptus) for the entire shower; I've tried some that had no smell at all, but this one was wonderful.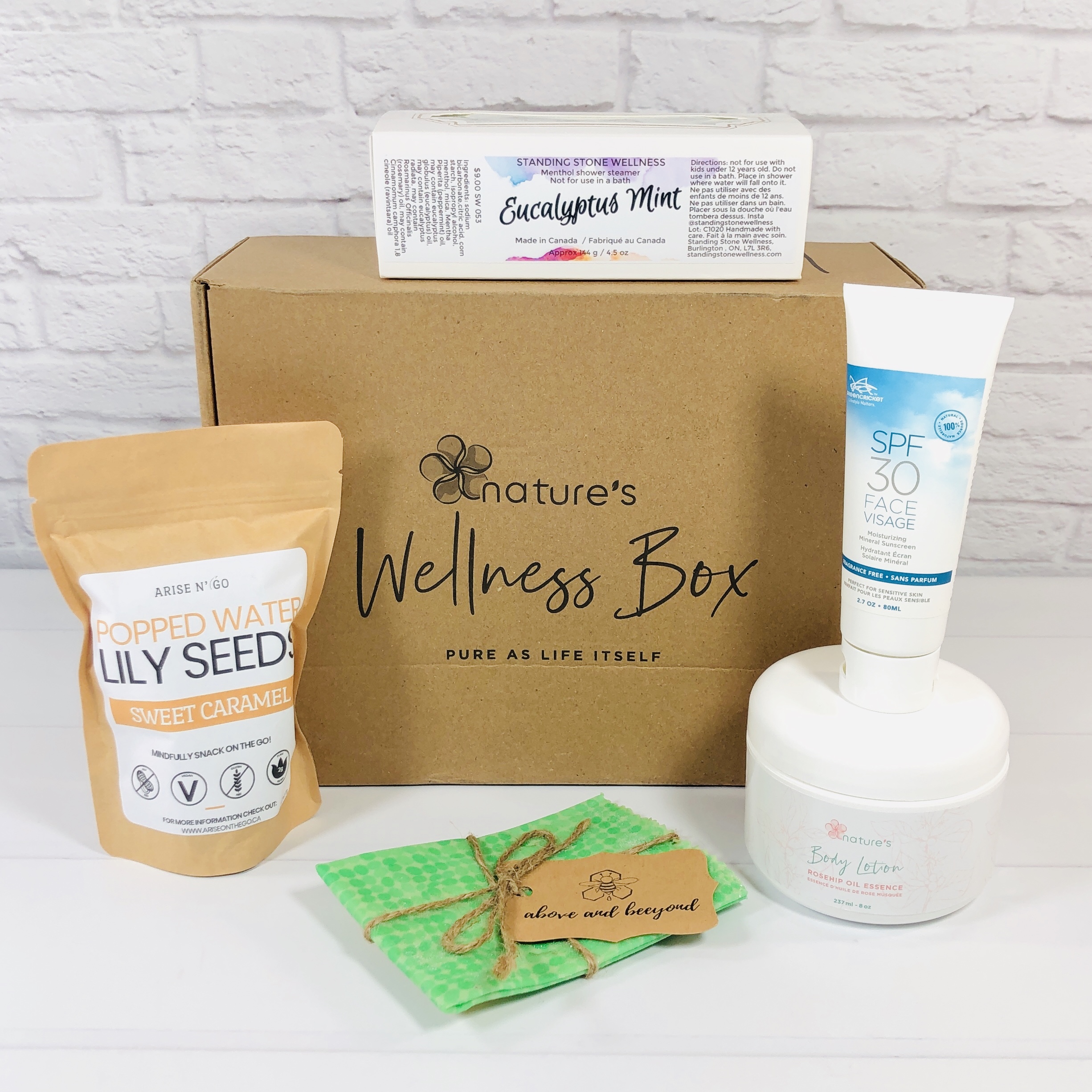 I had fun discovering the unique items in the July Nature's Wellness Box! I must say I was confused to see that two of the products were made with beeswax, because this subscription very prominently states that they are vegan. Maybe they have made an exception for bee-based products, I'm not sure but if you only want 100% vegan items, then keep that in mind. I added the wrap to my kitchen collection and I think I will stick to non-sweet popped lily seed treats, as salty flavors (butter, cheese, or spices) go better with the earthy flavor. Although I wasn't a fan of the scent of the body lotion, it left my skin soft without feeling greasy. The face sunscreen has worked really well for me so far, and the shower steamer smelled amazing, what a great way to start my day!
What do you think of Nature's Wellness Box?