MEL Science has launched a new subscription – the MEL Physics box! This subscription costs $34.90 per month + FREE Shipping, and will include one hands-on Physics experiment + FREE VR lessons you can access via the MEL VR app!
Your kids will learn how these everyday devices work by assembling them themselves

We often don't understand how many of our everyday devices work, such as loudspeakers, cell phone microphones, FM car radios, or electric motors. With MEL Physics, your kids will acquire this understanding effectively by assembling their own devices!
Here's how it works:
Subscribe for $34.90 on a monthly basis. Enter your address and payment details to get started. You can pause or cancel your subscription at any time.
Get both mobile and VR apps your first month. Your first experiments come with both mobile and VR apps so that you can enjoy the full experience right away.
Get new experiments every following month. Our physics sets contain 2 to 3 new experiments to conduct every month at home.
Get the family together for a new style of science education. This is a new way for families to spend time together while children broaden their scientific horizons. You can cancel your subscription any time you wish.
Here are a few of the experiments included in MEL Physics monthly subscriptions:
A MEL Physics subscription includes 18 physics sets delivered to your door. Each month you'll receive an exciting new physics set from the list below.
See more about MEL Science Chemistry Kits, MEL Science Kids, and MEL Lite below!
First month: You will receive a free Starter Kit, free VR headset, and one experiment set.
The kit includes: The reusable equipment you'll need to conduct your experiments. Eight tools valued at over $50—free with our subscription.
From then on:  Each MEL Chemistry set includes 2-3 experiments and contains the equipment you'll need to conduct the experiments: enough chemical reagents for at least 2 attempts, additional components, and visual step-by-step instructions.
You'll get experiments like:
Deals:
Get THREE months FREE with an annual plan, 1 Month FREE with a 9 month plan. Deal applies automatically, just visit and subscribe. Prepaid subscriptions only, see site for details!
Get 25% off your first month! Use coupon code HELLO25. PLUS get FREE Starter Kit and VR headset when you subscribe!
---
MEL Science Kids is now available – designed for kids 5 to 10 years old! This new kids STEM subscription is $24.90 per month + FREE shipping, and will include a supplementary AR lesson!
Science through storytelling!

Embark on a series of adventures with the adorable Zac and Newt — courageous explorers of a faraway planet!

What's inside

10+ exciting projects in one subscription! Each monthly kit contains a science-themed project and a compelling visual explanation of the underlying scientific principles.
Here are some MEL Science Kids projects:
Crystal Screen
With the "Crystal Screen" set, kids will:
assemble a model of a real LCD screen
observe how light changes when passing through a transparent object
create an image visible only through their screen
Kids will learn:
the nature of light
what a polarizer is and how it works
where polarizers are used in everyday life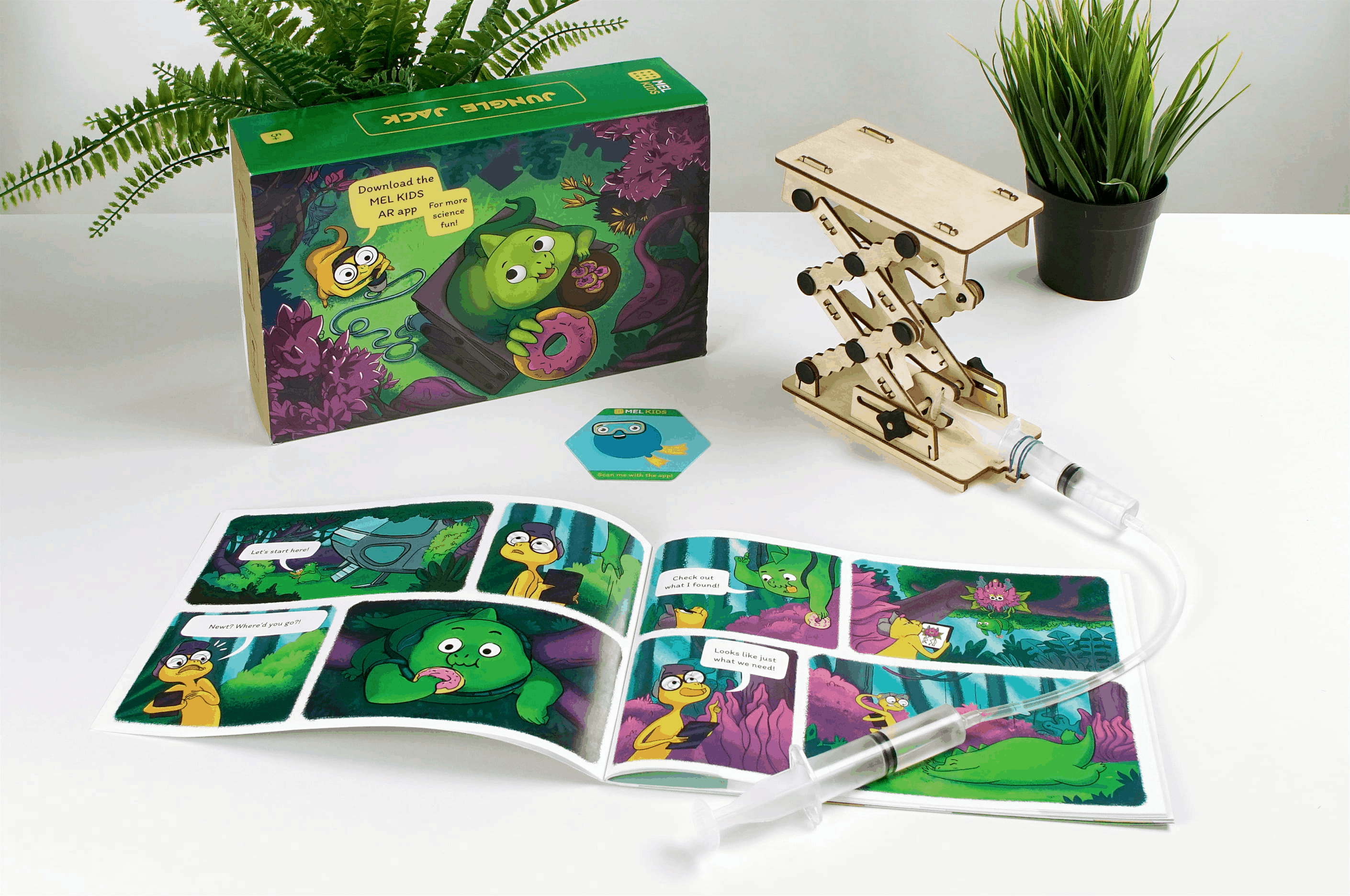 Jungle Jack 
With the "Jungle Jack" set, kids will:
assemble a model of a real jack lift
explore how a scissors mechanism works
build a simple hydraulics system
Kids will learn:
states of matter
how a hydraulics system works
where hydraulics systems are used in everyday life
Cave Sound
With the "Cave Sound" set, kids will:
assemble a model of a real music box
explore the nature of sound
compose their own melodies
Kids will learn:
how sound is created
unexpected uses of sound
the difference between "loud" and "quiet," "high-pitched" and "low-pitched"
Deal: Get 25% off your first month! Use coupon code HELLO25.
---