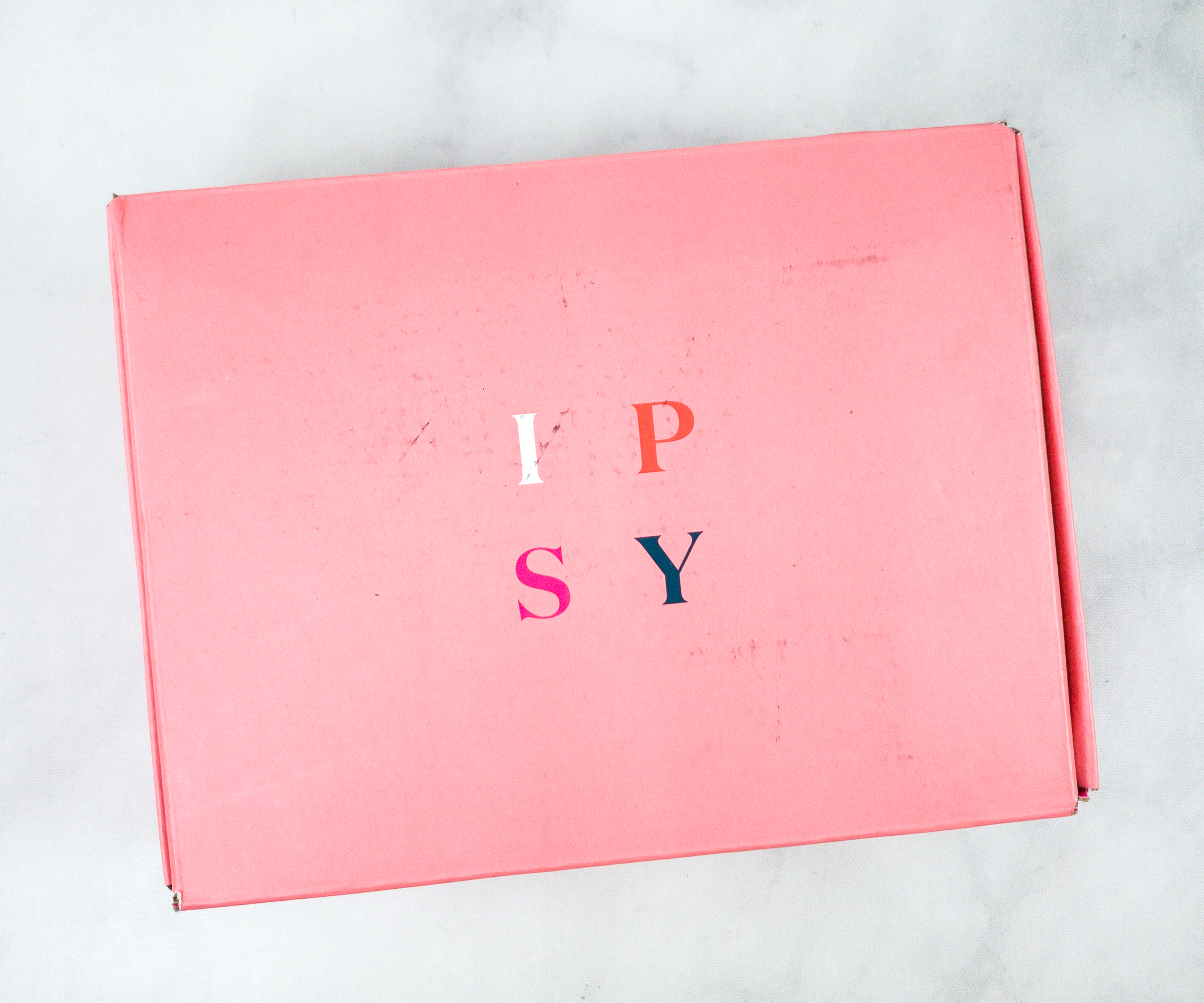 Ipsy Glambag Plus is the upgraded version of the monthly Ipsy Glam Bag. For $25 a month, it contains 5 full-size products from brands you love, plus a deluxe makeup bag with every shipment. The promised value of each box is $120 worth of products. It will contain variations, but there are far fewer compared to the regular Ipsy Glam Bag. Be sure to continue to rate and review your bag to help personalize it to your needs. Check out our Ipsy Glam Bag explainer to find out every detail of this subscription!
NOTE: I didn't receive my June Ipsy Glam Bag Plus, and they've sent this replacement box after I informed their customer support team. However, since inventory for certain items run out, I didn't receive the exact items as the original June Glam Bag.
For instance,  Doucce Cosmetics Punk Mascara is currently out of stock so they issued a $5.29 refund instead.
The items arrived in a pink box.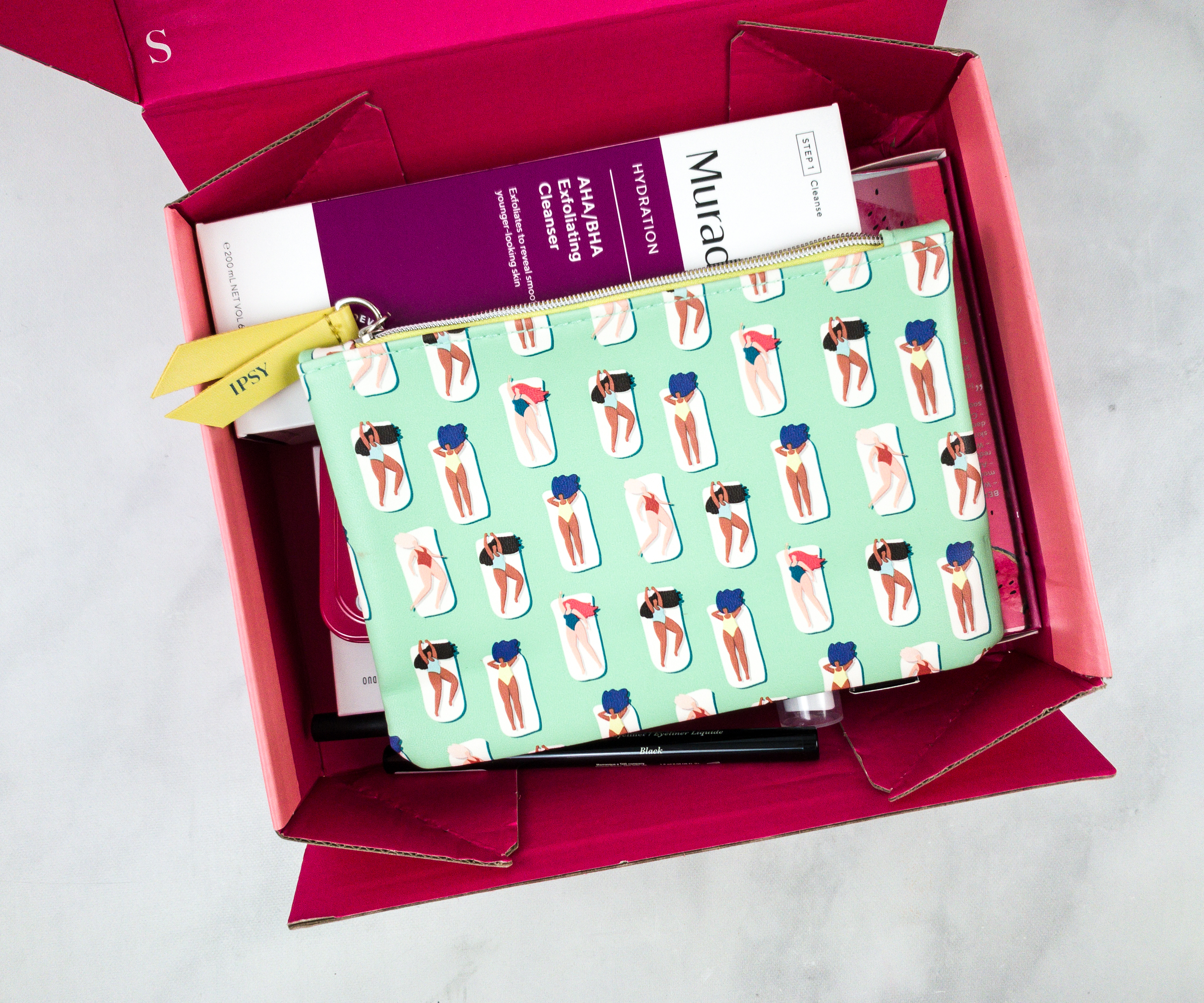 Here's a peek at the summer-themed Glam Bag!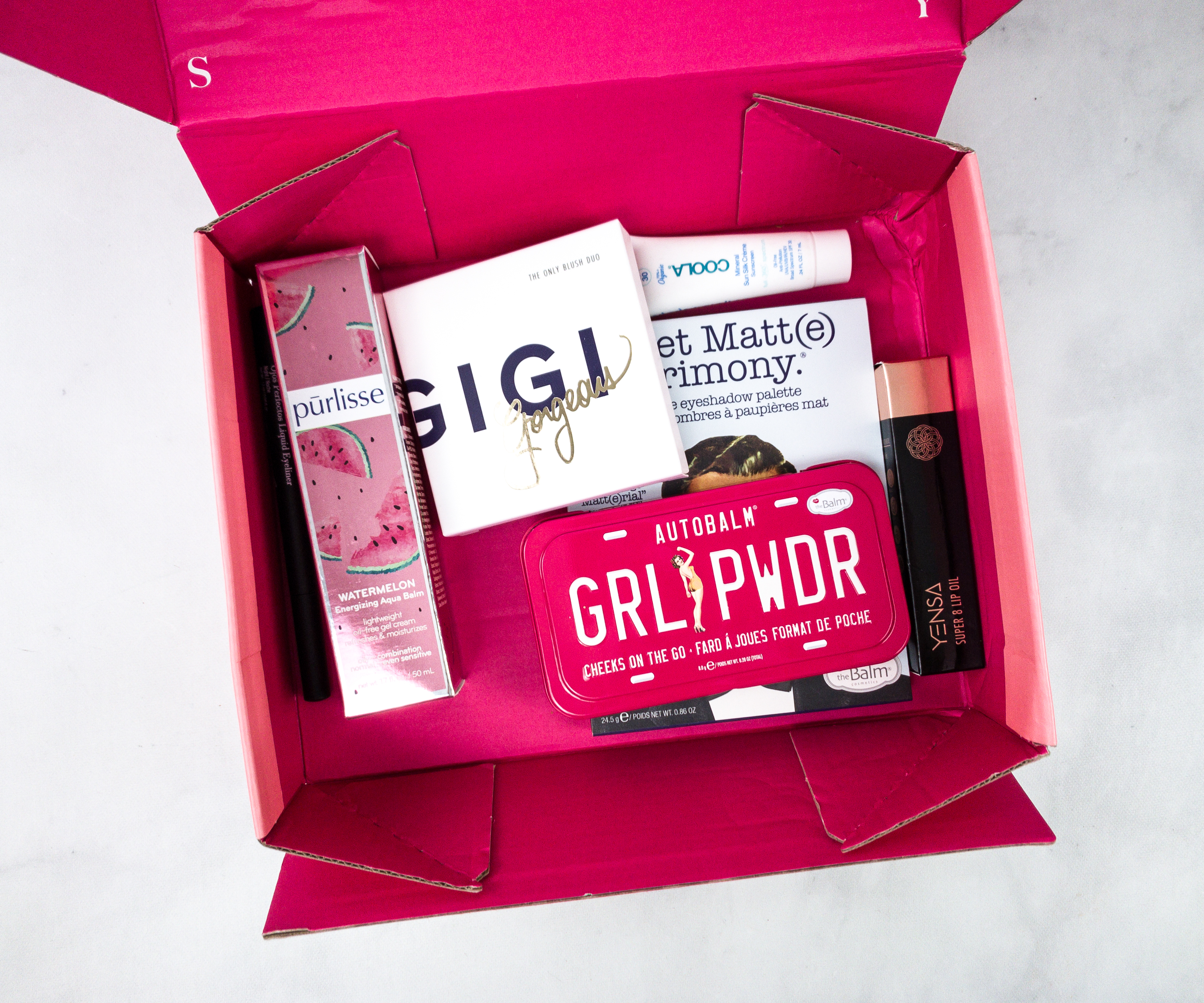 Most of the items came in their original packaging.
I can't wait to check everything out!
Everything in the box!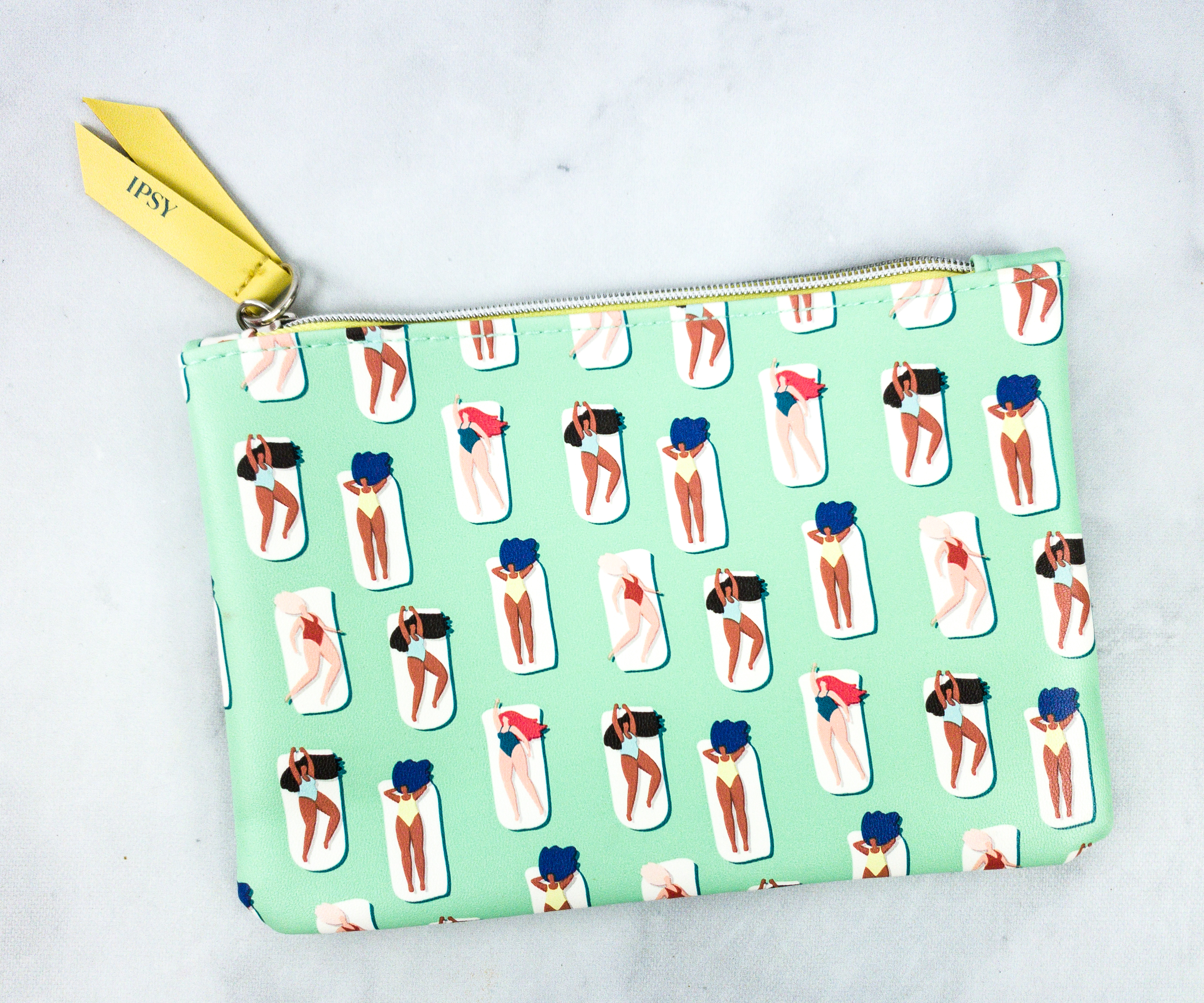 Ipsy Glam Bag. This month's glam bag features an illustration of ladies basking under the summer sun!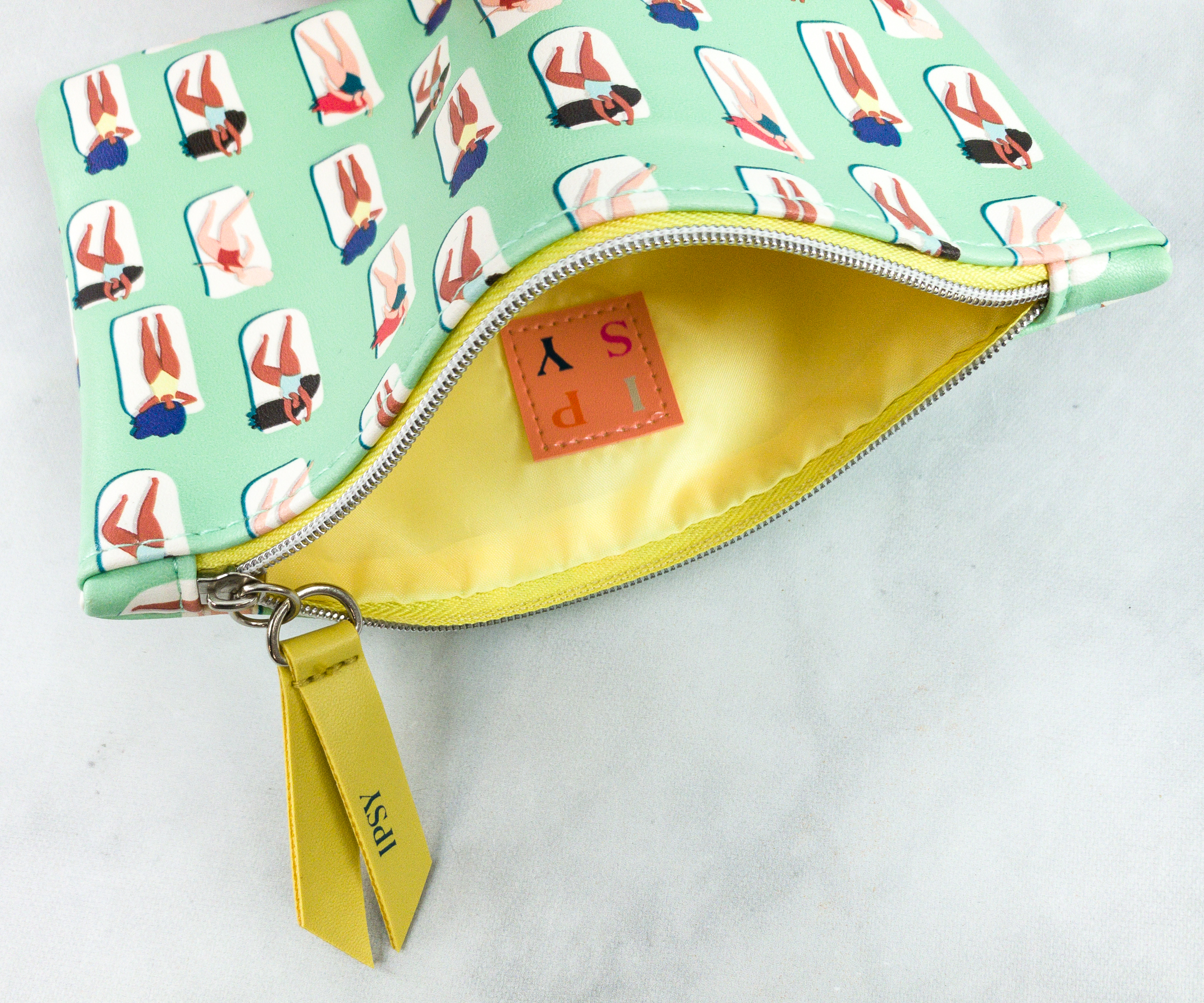 The inside ties up the whole look with a bright yellow lining! The zipper pull is also yellow with the IPSY branding on it. I like that this pouch is quite spacious, enough for bringing my daily essentials.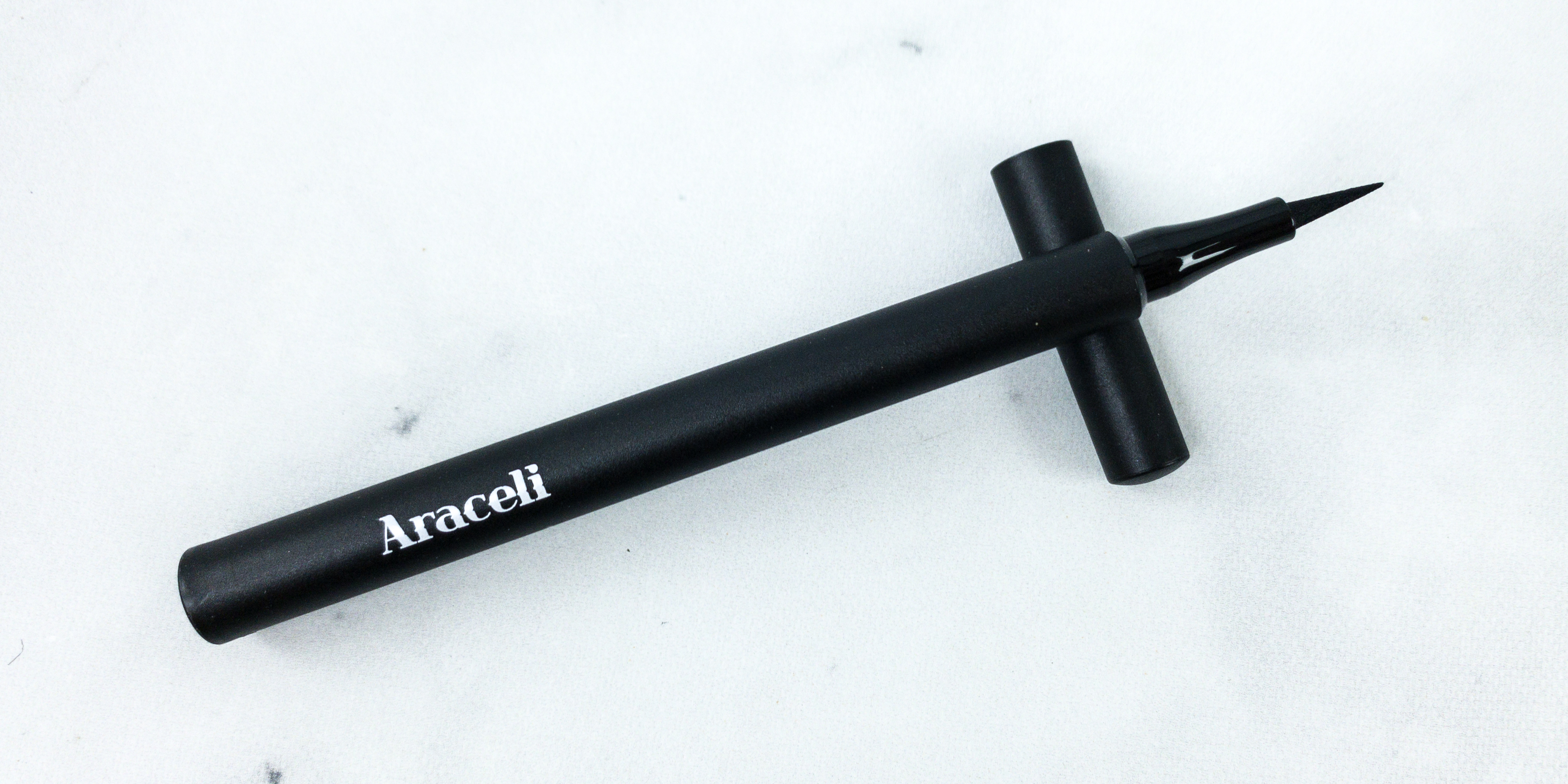 Araceli Beauty Ojos Perfectos Liquid Eyeliner in Night/Noche ($17) Smudge-proof, long-lasting and water-resistant, this liquid eyeliner lasts a whole night! The fine tip creates precise lines that can give you the sharpest of cat eyes.
It is highly pigmented and it stays in place no matter what you do. I find that it glides on smoothly and it disperses the product evenly, so I like it!
The Balm Cosmetics AutoBalm Grl Pwdr ($26.50) The blush palette came in a gorgeous license plate-inspired packaging!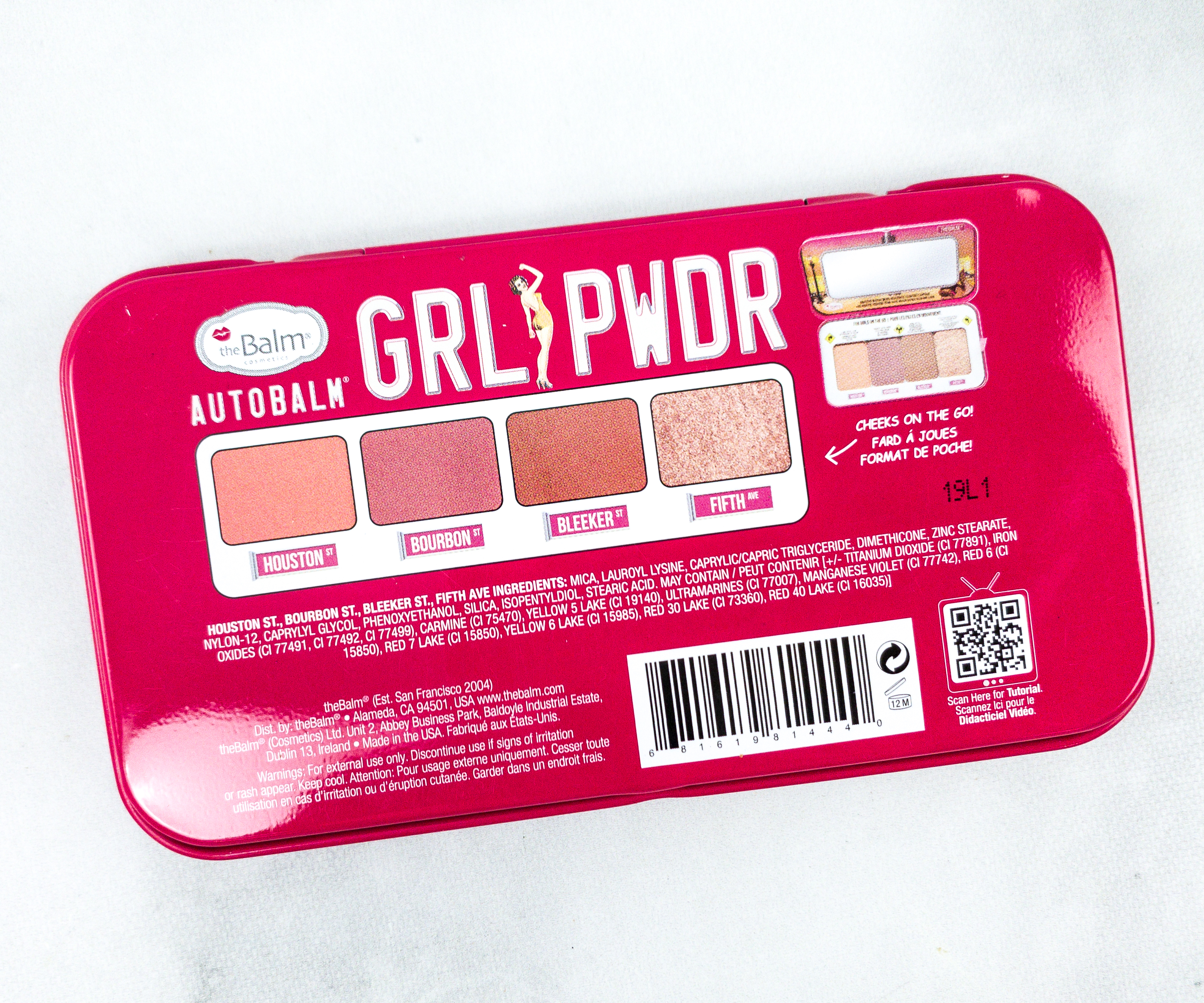 You can see more details about the product at the back, from the shade names to the ingredients!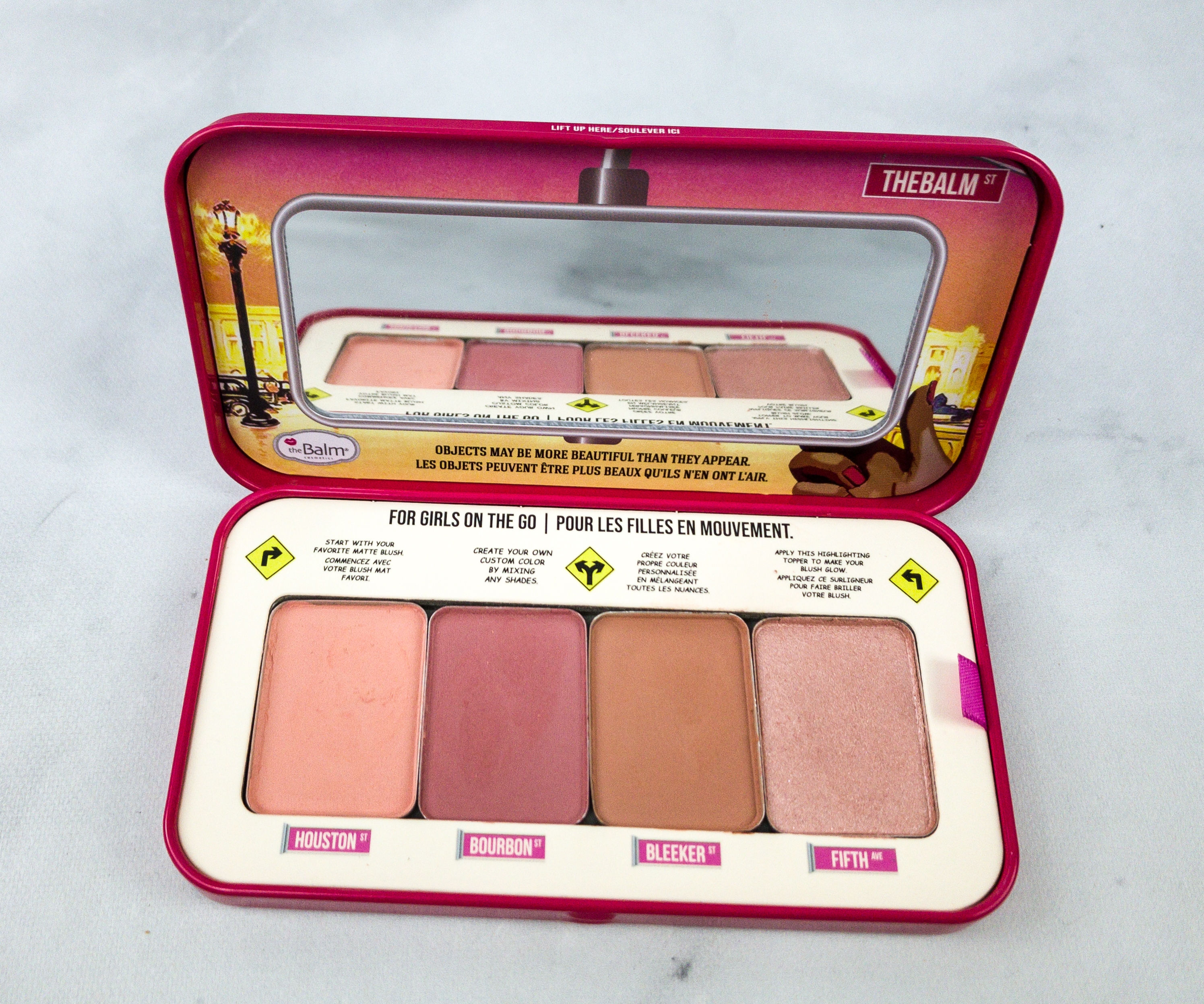 The palette has a mirror, which is perfect because you can use it anywhere and anytime you need to touch up your blush!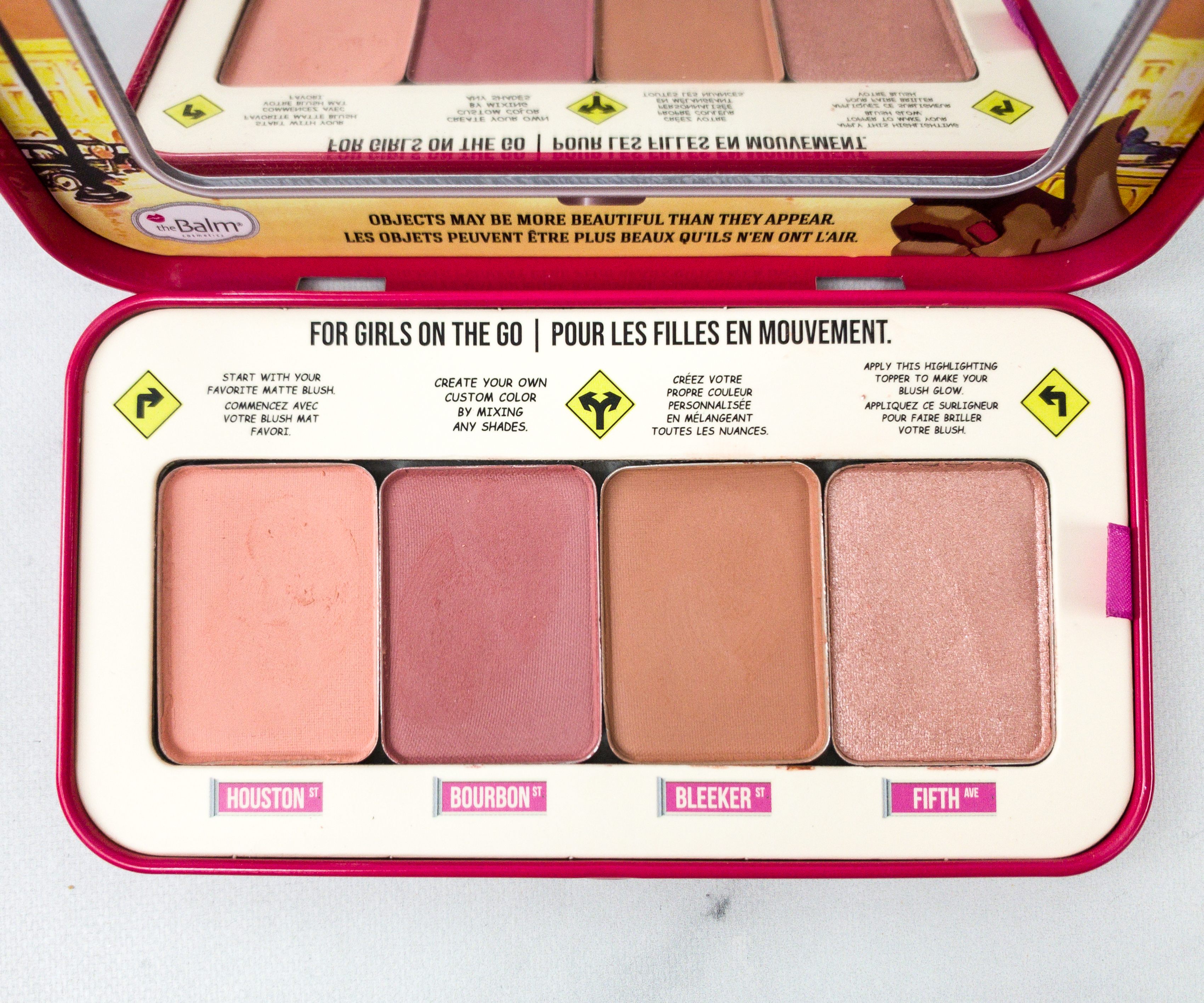 The shades are stunning! Not too bright, but just to enough to put colors back on your cheeks without overdoing it! The shades look natural and the pigment is buildable so you can control how striking you want the color to be! There's even a lovely highlight shade that has super fine glitters that you can use to create a veil effect or glass skin effect!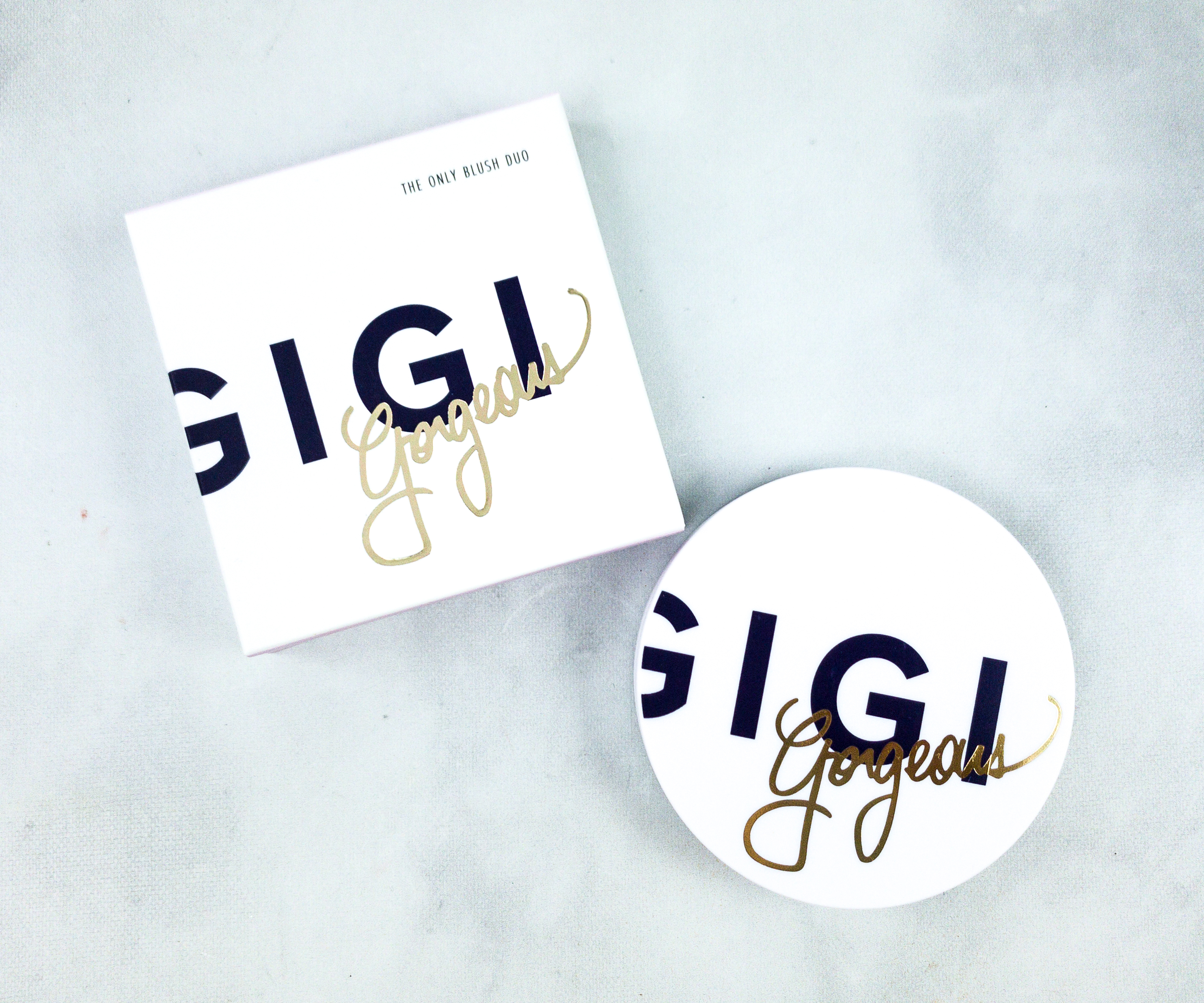 Gigi Gorgeous The Only Blush Duo Authentic + Pride ($3.36) Here's another blush palette! It's a duo inside a packaging that looks like a powder compact.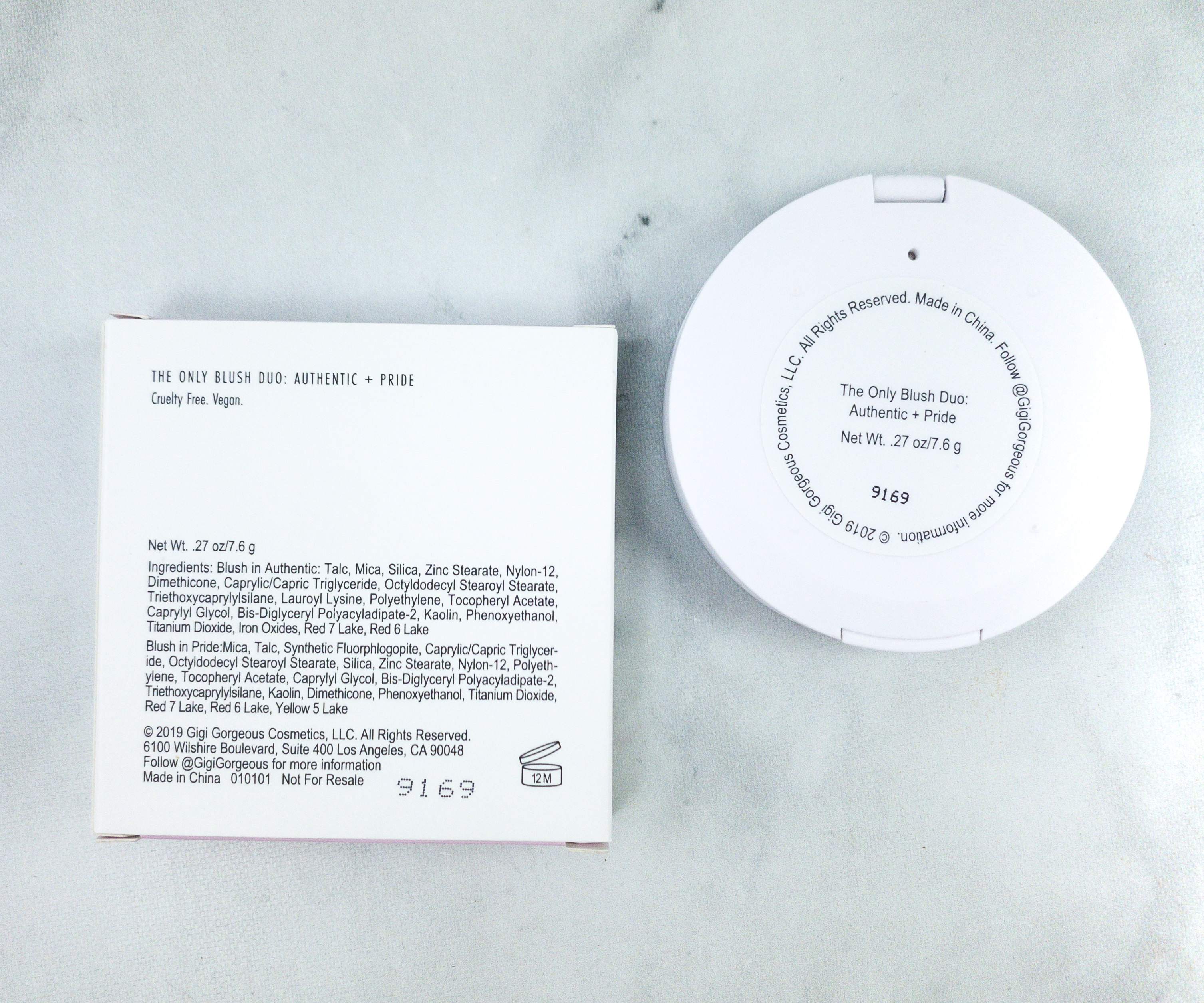 This palette is made in China. The label states it's cruelty-free and vegan.

Just like some powder compacts, it also came with its own mirror!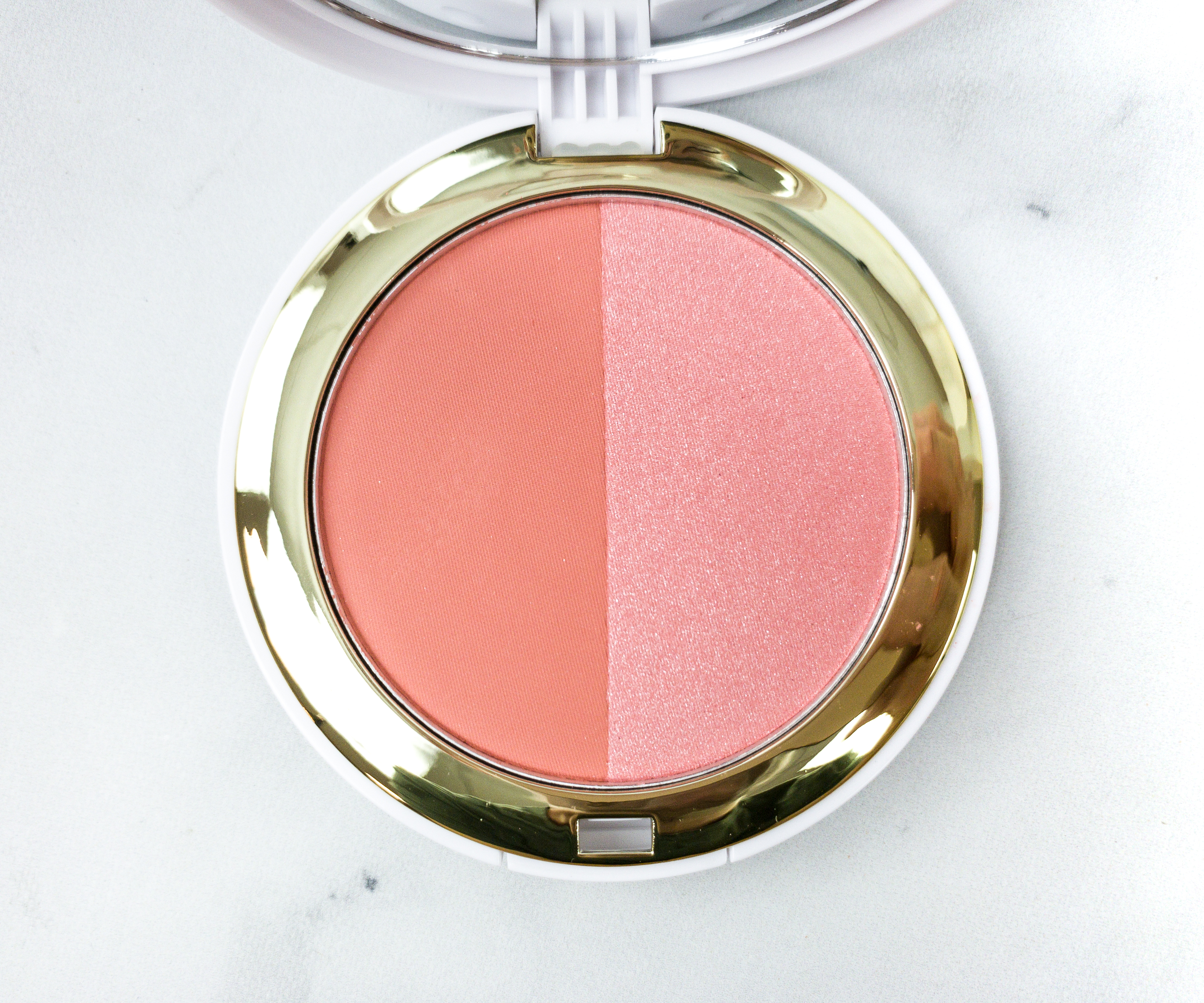 The blush shades are gorgeous! There are a matte and a shimmer blush that you can use one at a time or mixed together to create more looks. They are stunning and would look flattering on just about anyone. I like how soft and buttery the formula is! Also, they are highly pigmented so a little goes a long way. Just start small and build up the intensity based on your preference.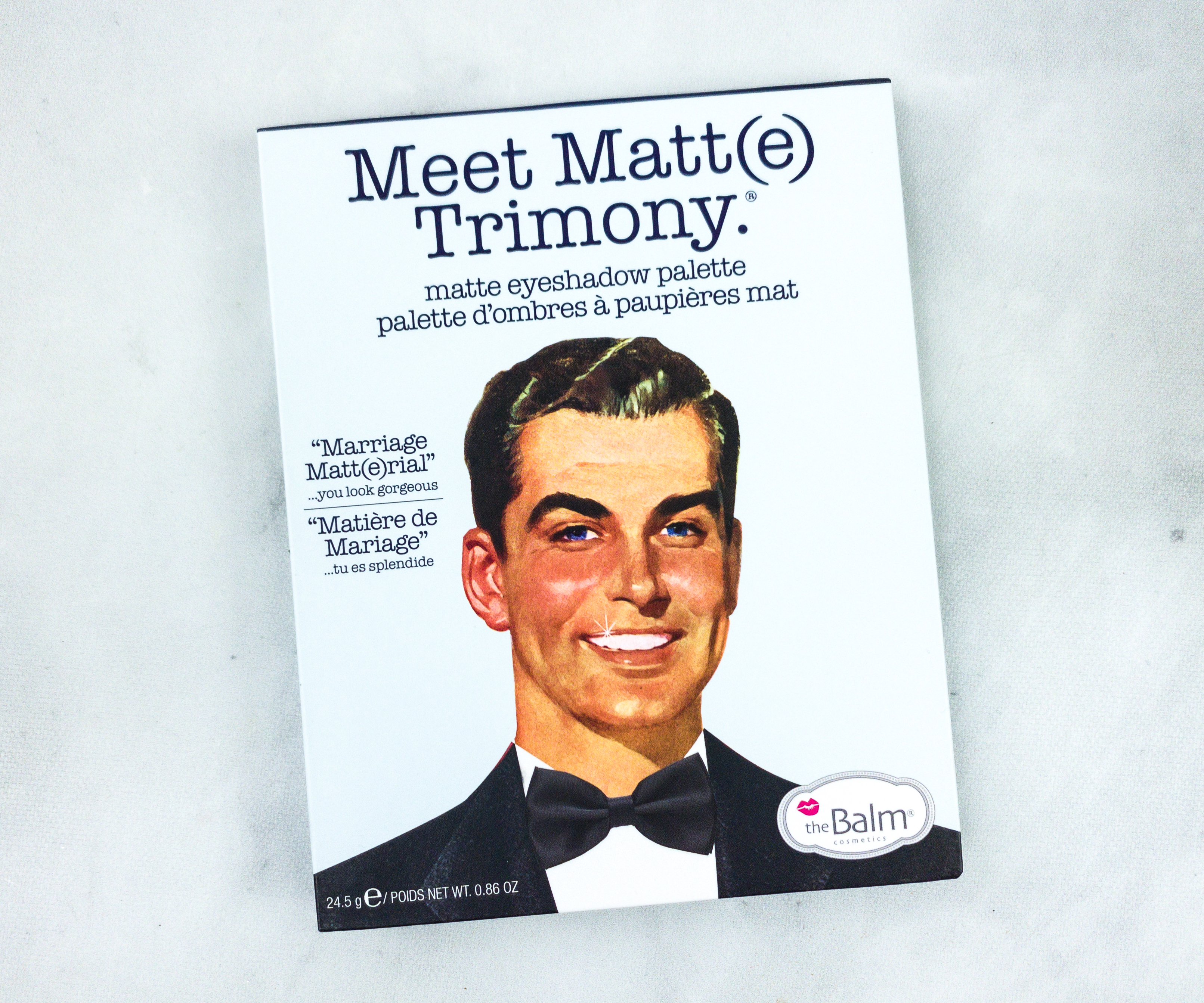 The Balm Cosmetics Meet Matt(e) Trimony Eyeshadow Palette ($42) This eyeshadow palette looks fun and the branding is just witty! I love the name of the palette and the packaging altogether.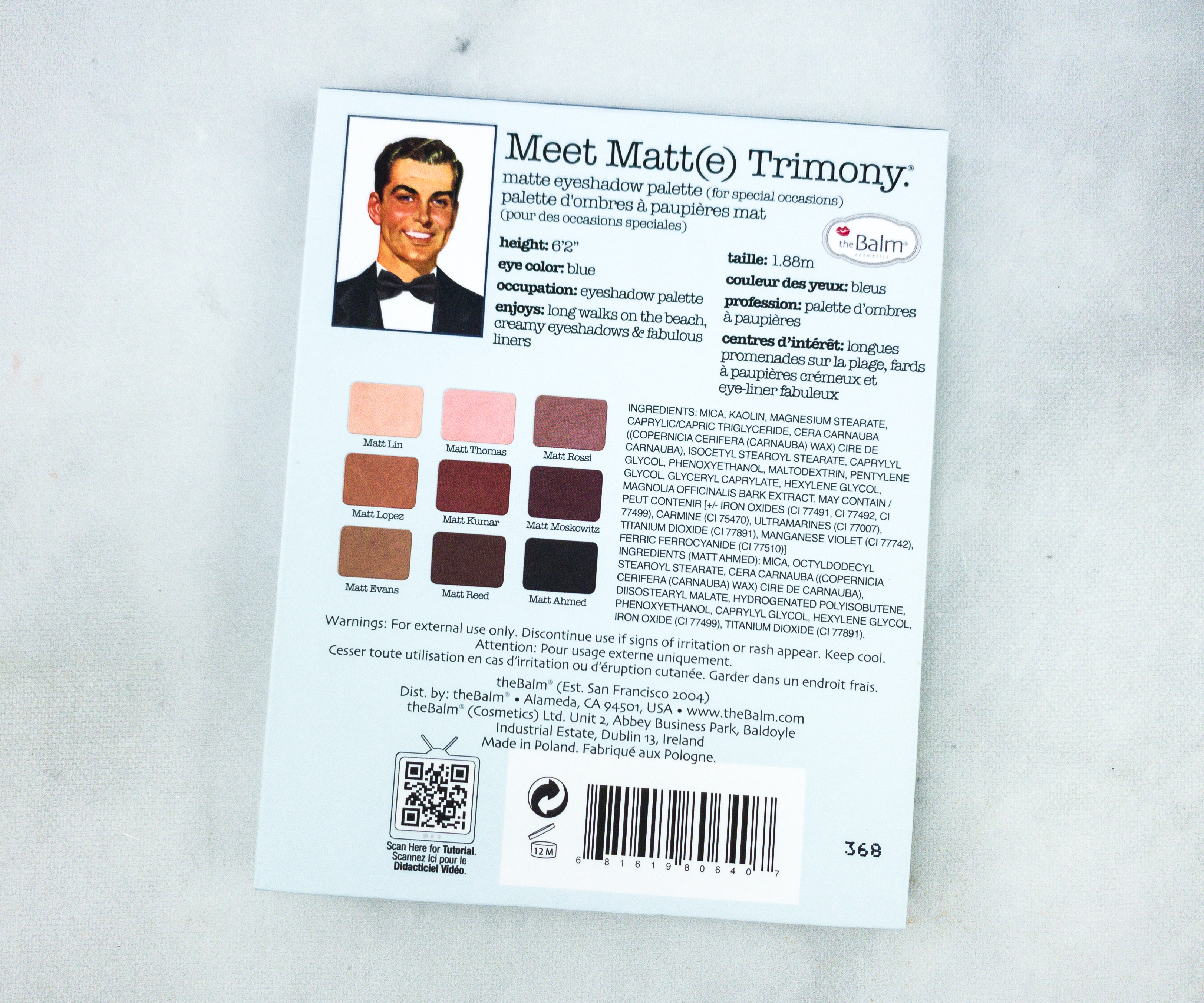 You can also find the shade names at the back and they're equally fun. The shades are named after boys since the palette is called Meet Matt(e) Trimony with a man looking like a groom on the packaging!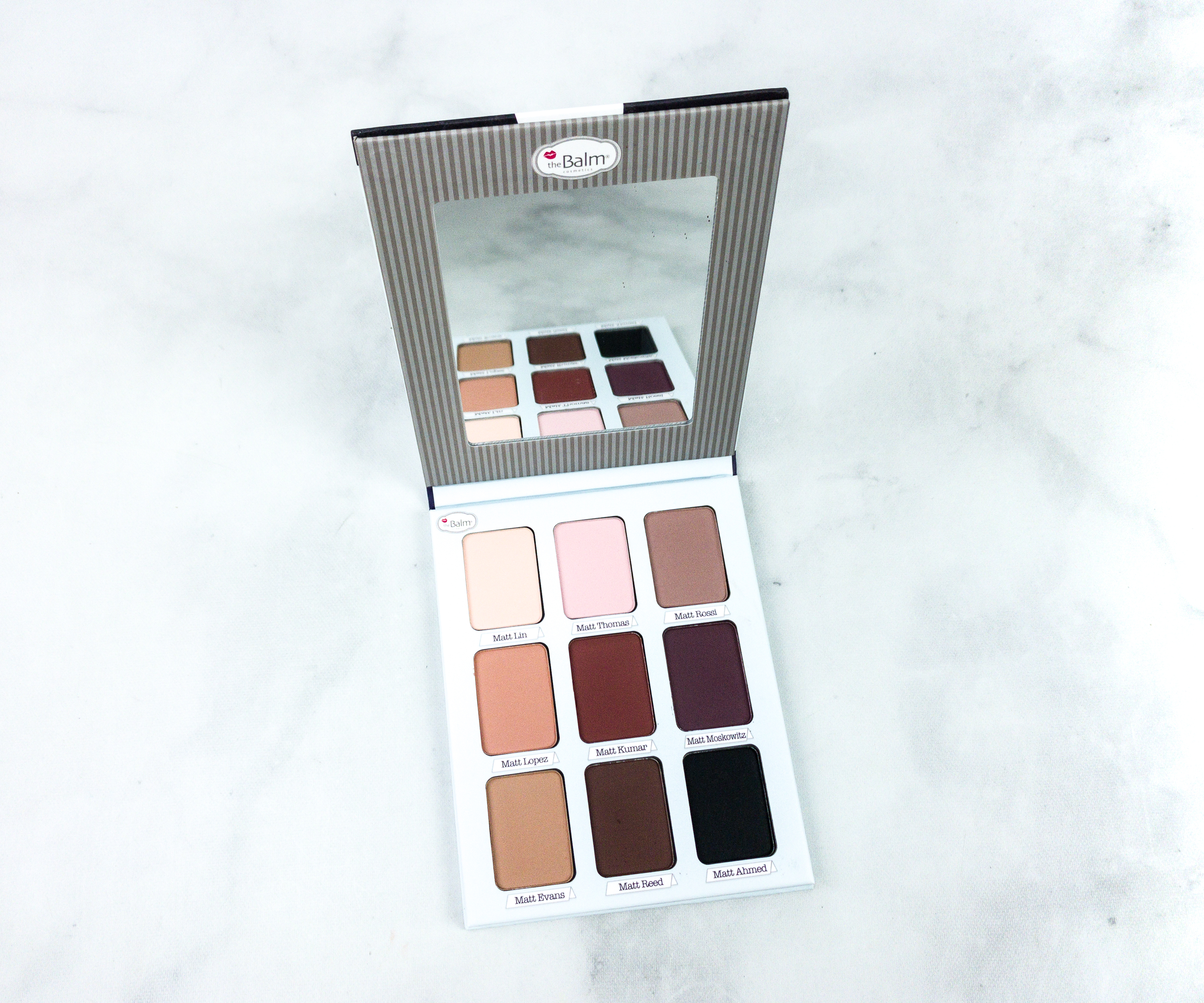 The inside is a beautiful set of neutrals that is wearable any day, on just about any occasion!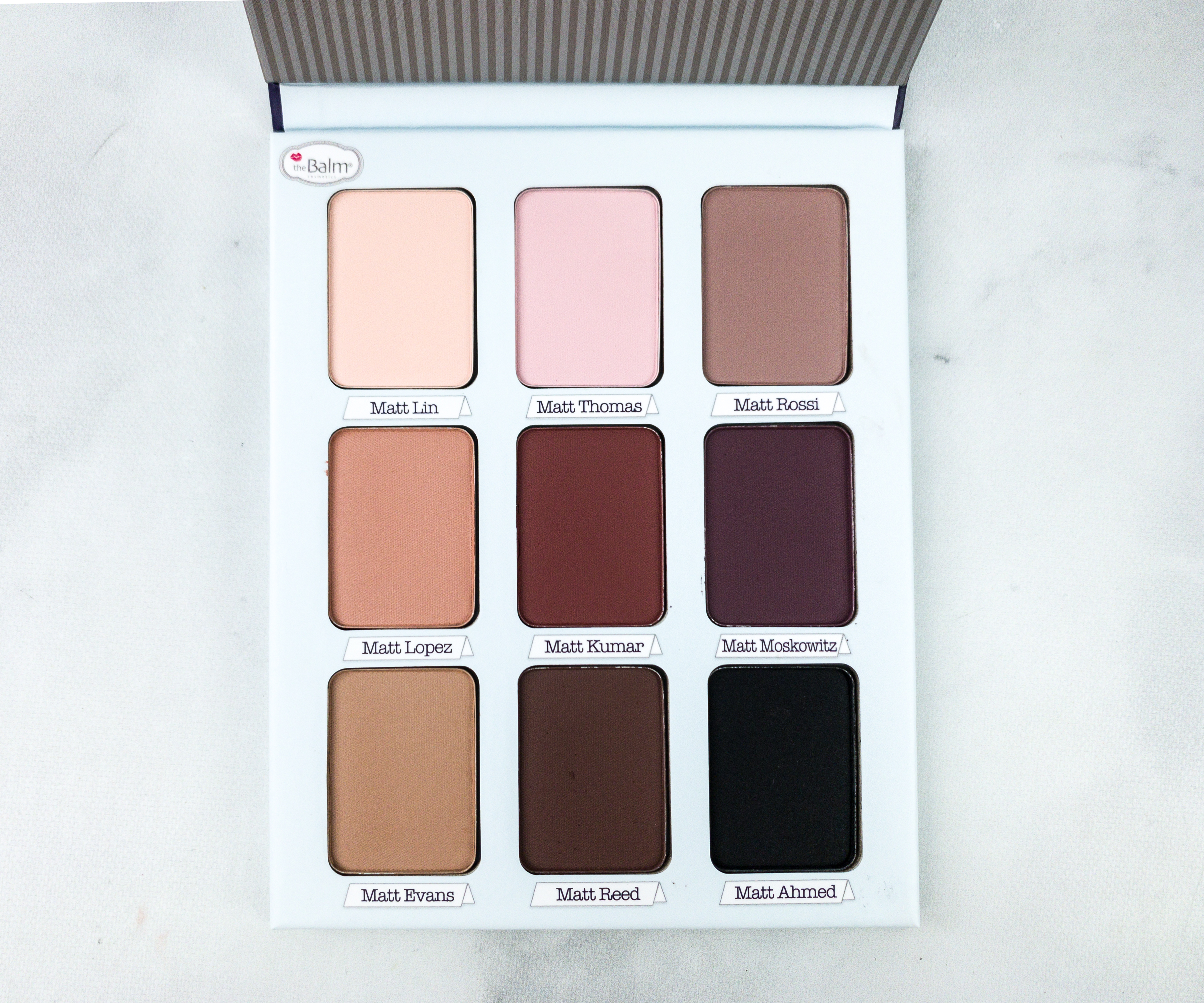 The shades are a little powdery but the pigment is on point and they blend really well! The color selection is also great with an assortment of warm and cold undertoned shades, making this palette not only great for everyday use but for any skin tone as well!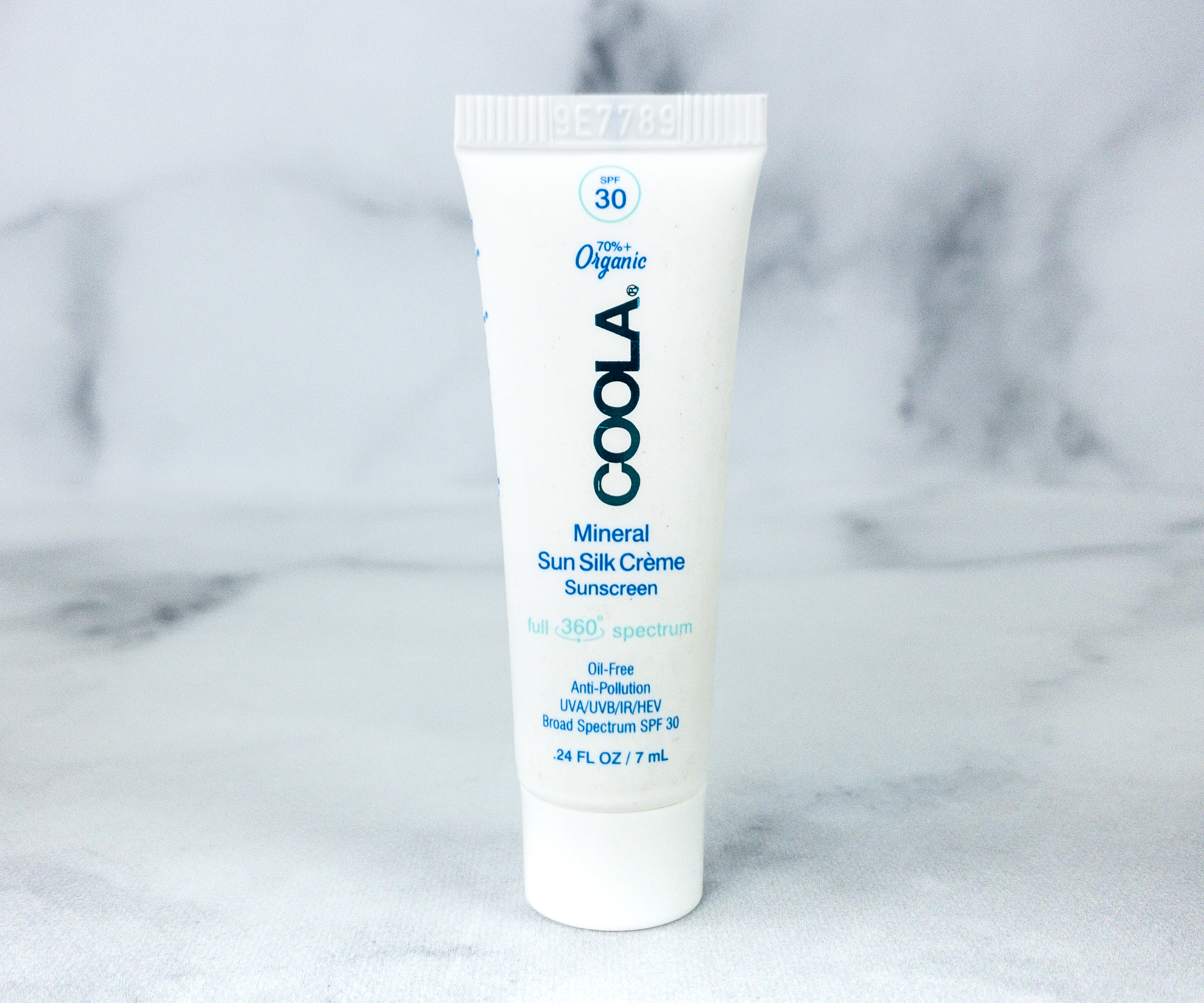 Coola Sun Silk Creme Sunscreen ($6.72) It's an oil-free sunscreen with SPF30, protecting the skin against harmful UV rays with the help of non-nano zinc oxide. Formulated for all skin types, it also contains a proprietary blend of supercharged antioxidants that help mitigate the skin damage from exposure to blue light, infrared, and pollution. It's recommended to be applied liberally to your skin 15 minutes before sun exposure. Another great thing about this sunscreen is that it is free from harmful ingredients such as sulfates, parabens, and formaldehyde!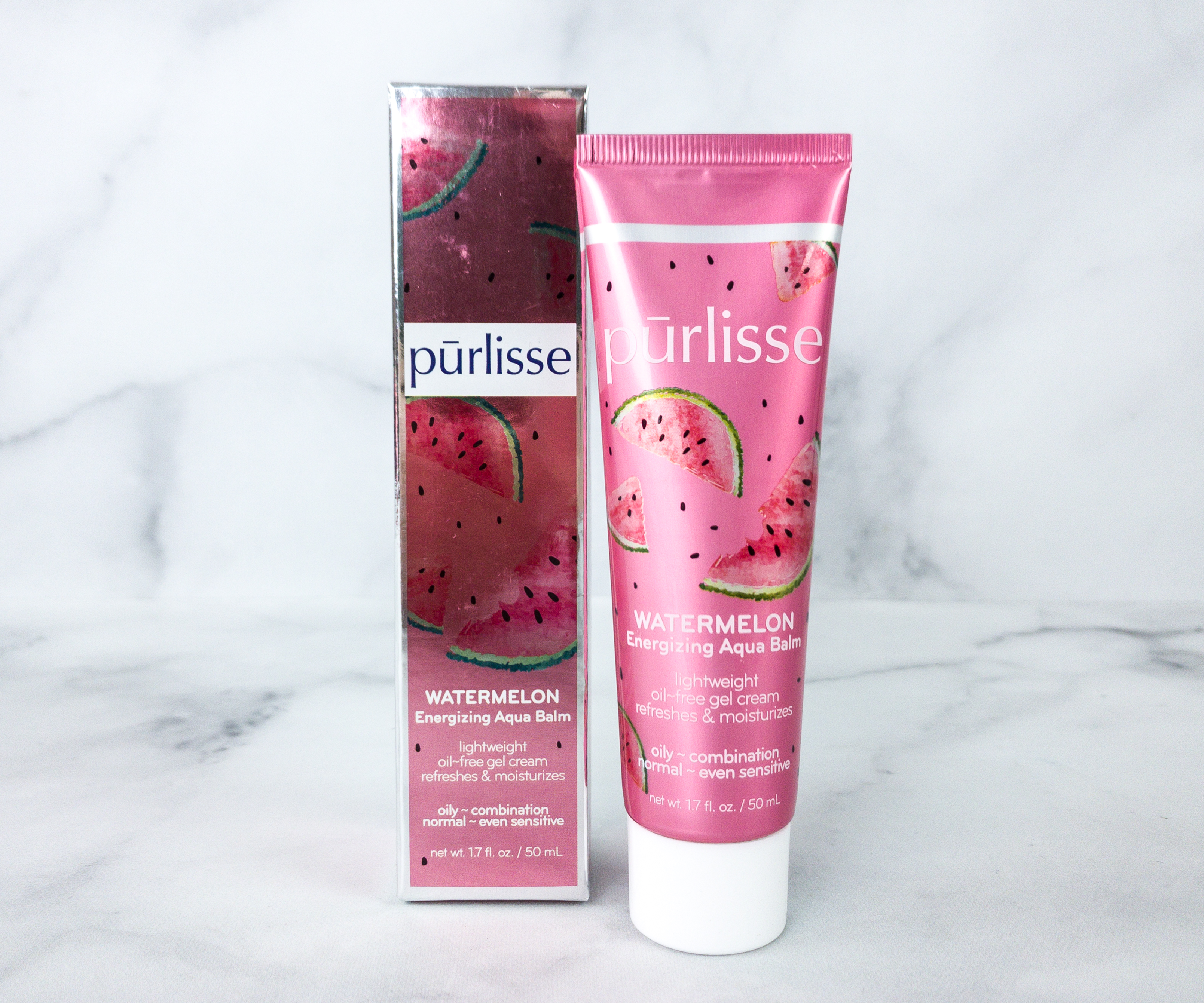 Purlisse Beauty Watermelon Energizing Aqua Balm ($24) This moisturizer is a summer must-have! It's formulated with cooling ingredients like aloe vera, cucumber, and watermelon which helps soothe and calm inflammations. It's ideally applied after cleansing and treating your skin. Also, a little goes a long way. It smells refreshing and I also like that the formula is light and non-sticky!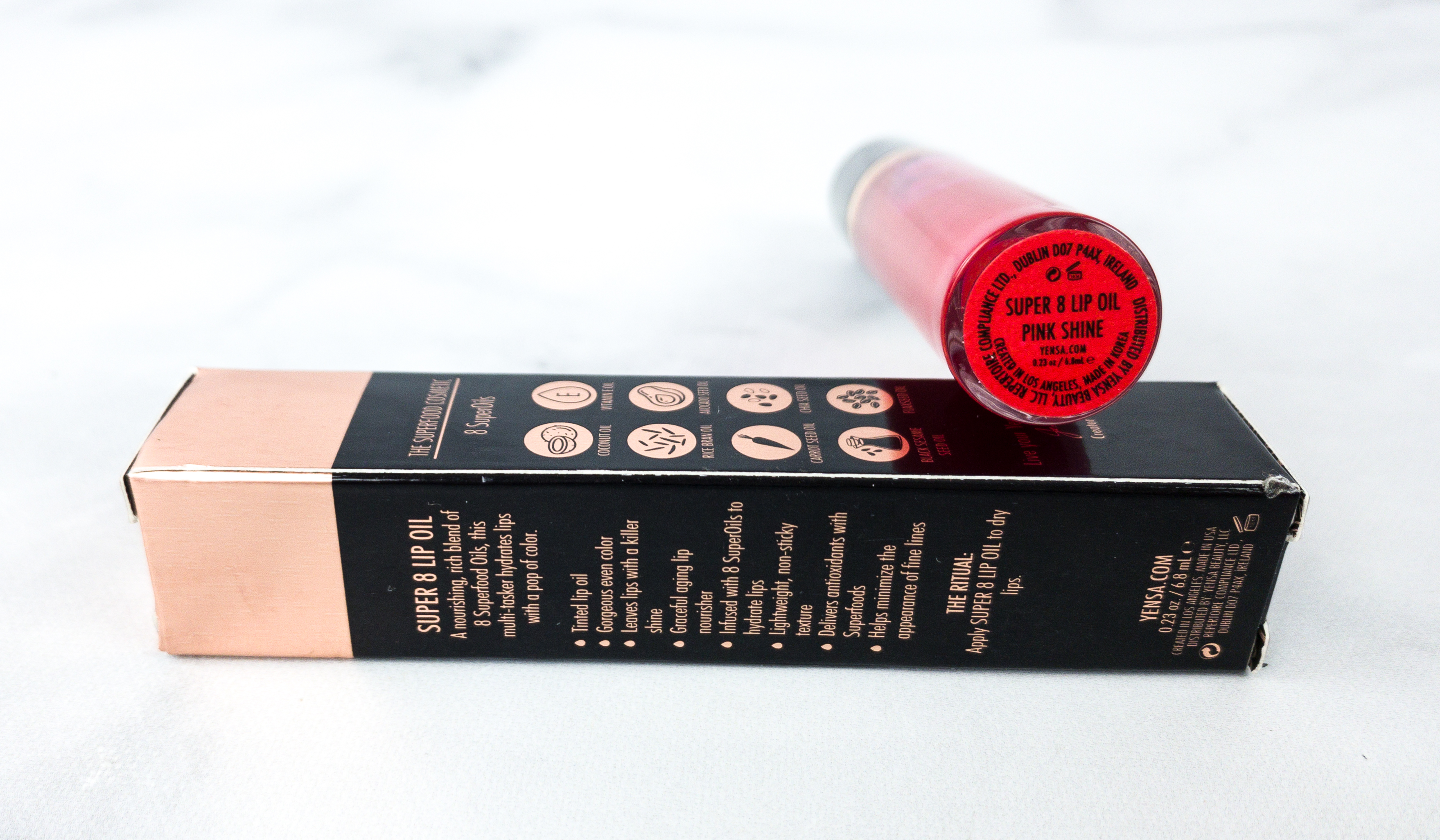 Yensa Super 8 Lip Oil ($28) This lip product is made with a blend of different antioxidant-rich oils which include coconut oil, vitamin E oil, rice bran oil, avocado seed oil, carrot seed oil, chia seed oil, black sesame seed oil, and flaxseed oil.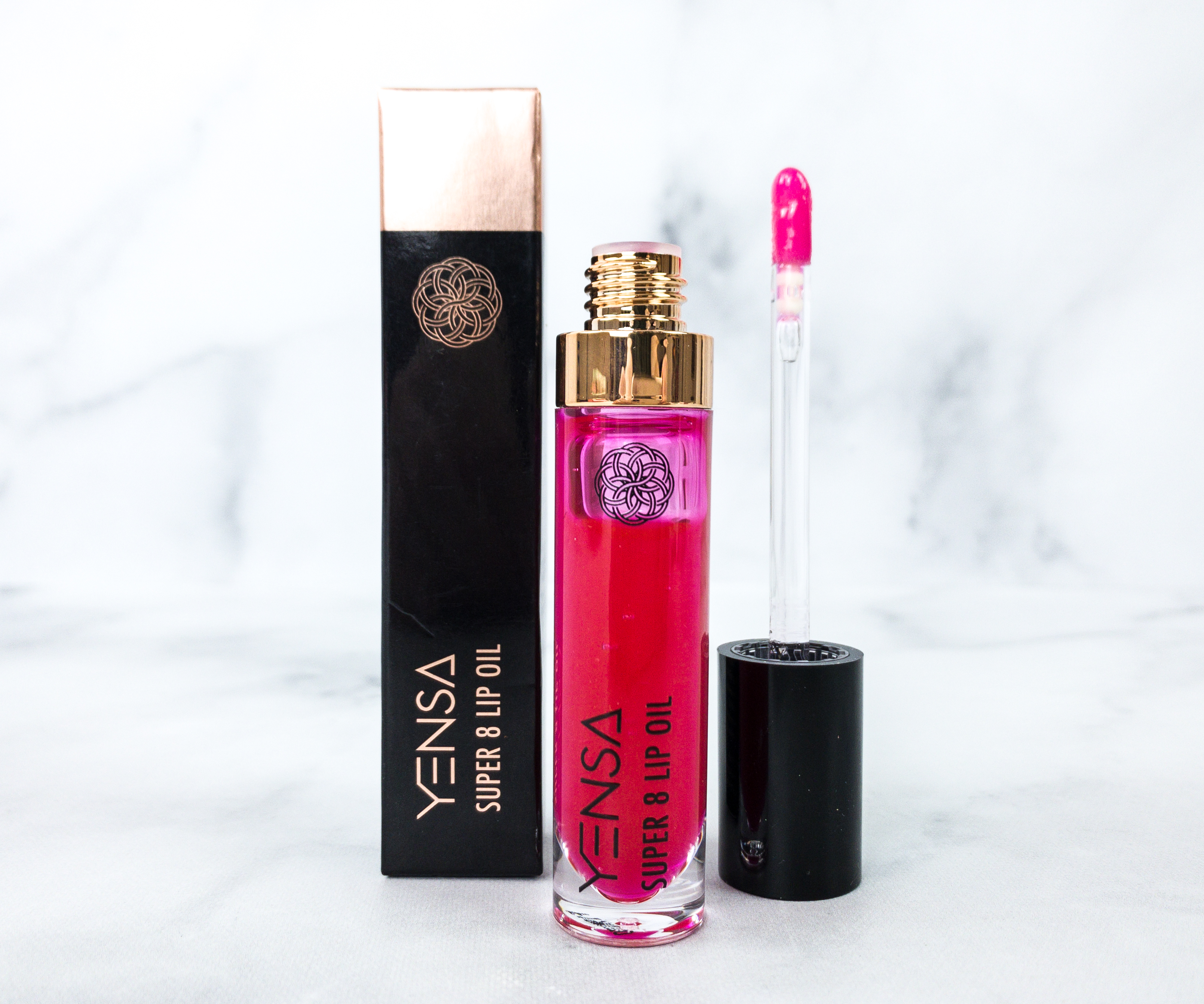 I received the lip oil in Pink Shine! It has a lightweight and non-sticky texture which makes it easy and comfortable to wear. The formula also contains a graceful aging lip nourisher that helps minimize the appearance of fine lines in the lips.
This box has $147 worth of items! Although I didn't receive the box in time, it was great that IPSY promptly answered and sent a replacement. My favorites among what I received are the blush palette and the eyeshadow palette. Their respective formulas are smooth, making them easy to apply and blend. The watermelon-infused moisturizer is also nice. It hydrates my skin well while making it look plump and healthy! Of course, let's not forget the super cute makeup pouch. The design screams summer fun!
I would have loved to try the mascara originally slated for my June Glam Bag, but they are already out of stock. Good thing IPSY gave back my Points and issued refunds to make up for it.
What do you think of this month's Ipsy Glambag Plus?