Decocrated is a quarterly subscription that sends beautiful home decor! Shipping every 3 months, each box will include a handpicked selection of home decor based on the season to keep your place feeling fresh, as well as items that work with the pieces you already own and love. The idea is that at the end of a year's subscription you will have a whole-home collection that works together to help you look like a seasoned decorator. Each Decocrated box is $79 and you can save 10% by signing up for a whole year of subscription.
DEAL: Get $10 off on quarterly subscriptions! Use coupon code HELLOSUBSCRIPTION10. OR Get $30 off on annual subscriptions! Use coupon code HELLOSUBSCRIPTION30. Valid to new subscribers only!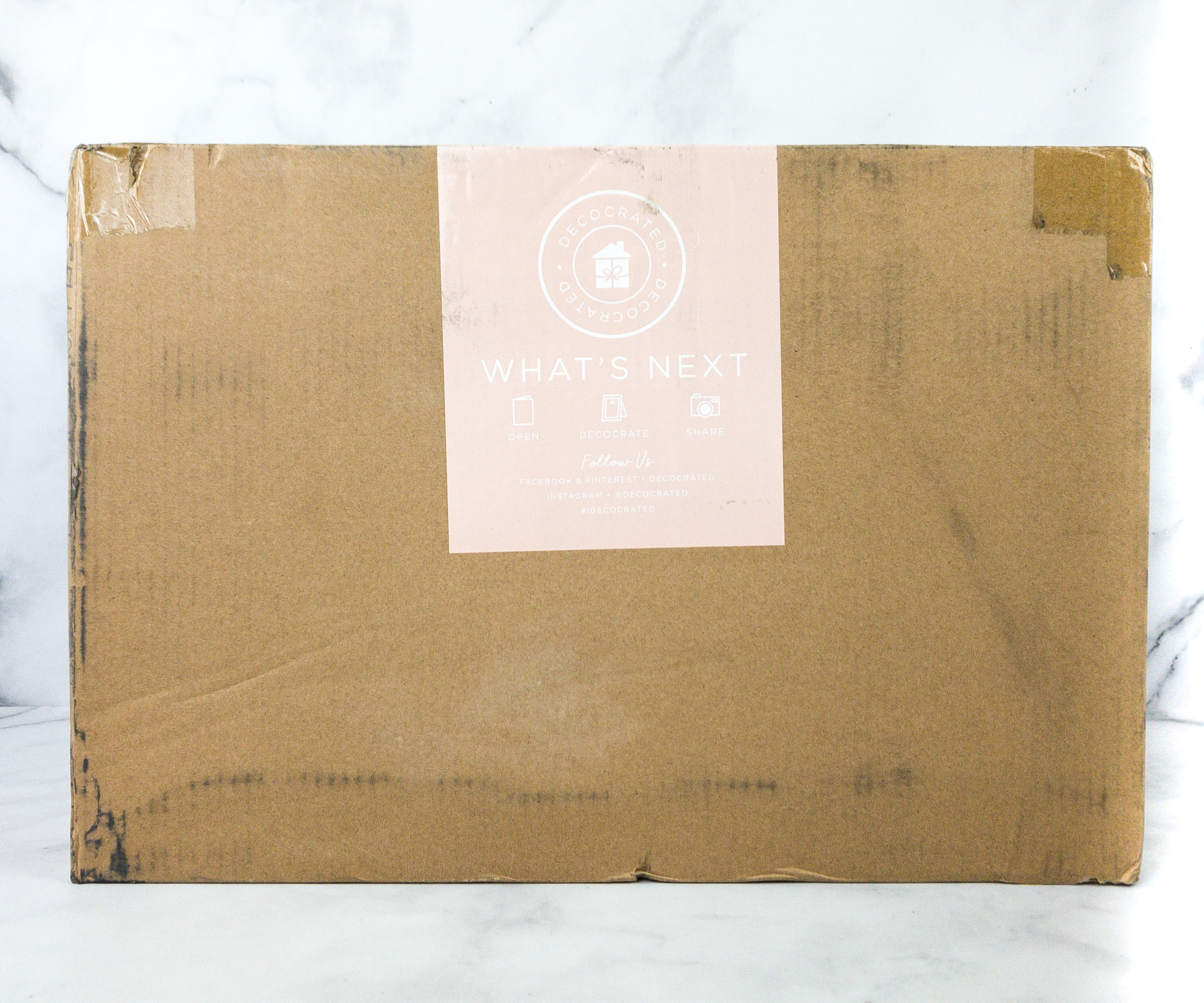 The box is huge and heavy.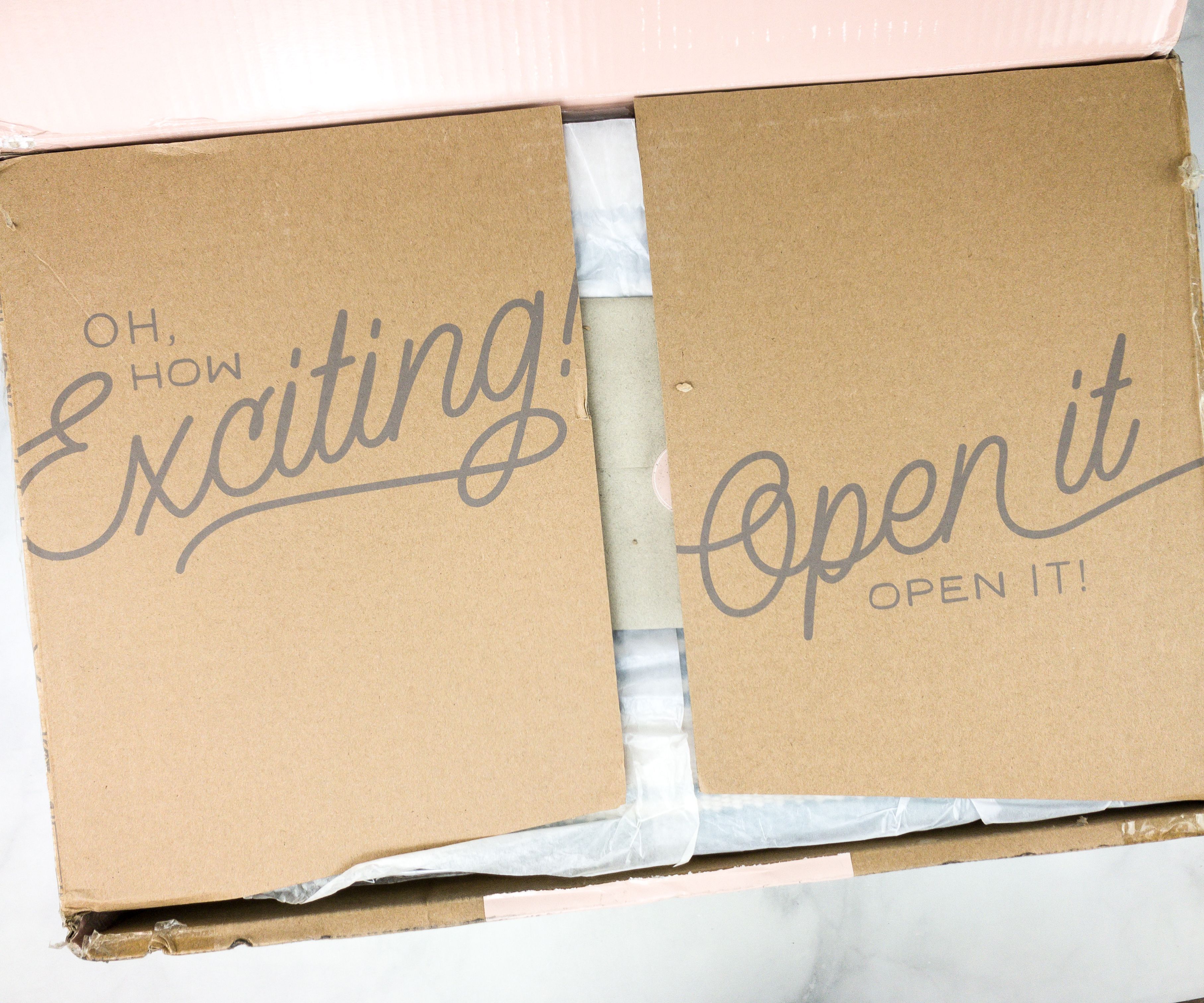 It's the SUMMER 2020 box!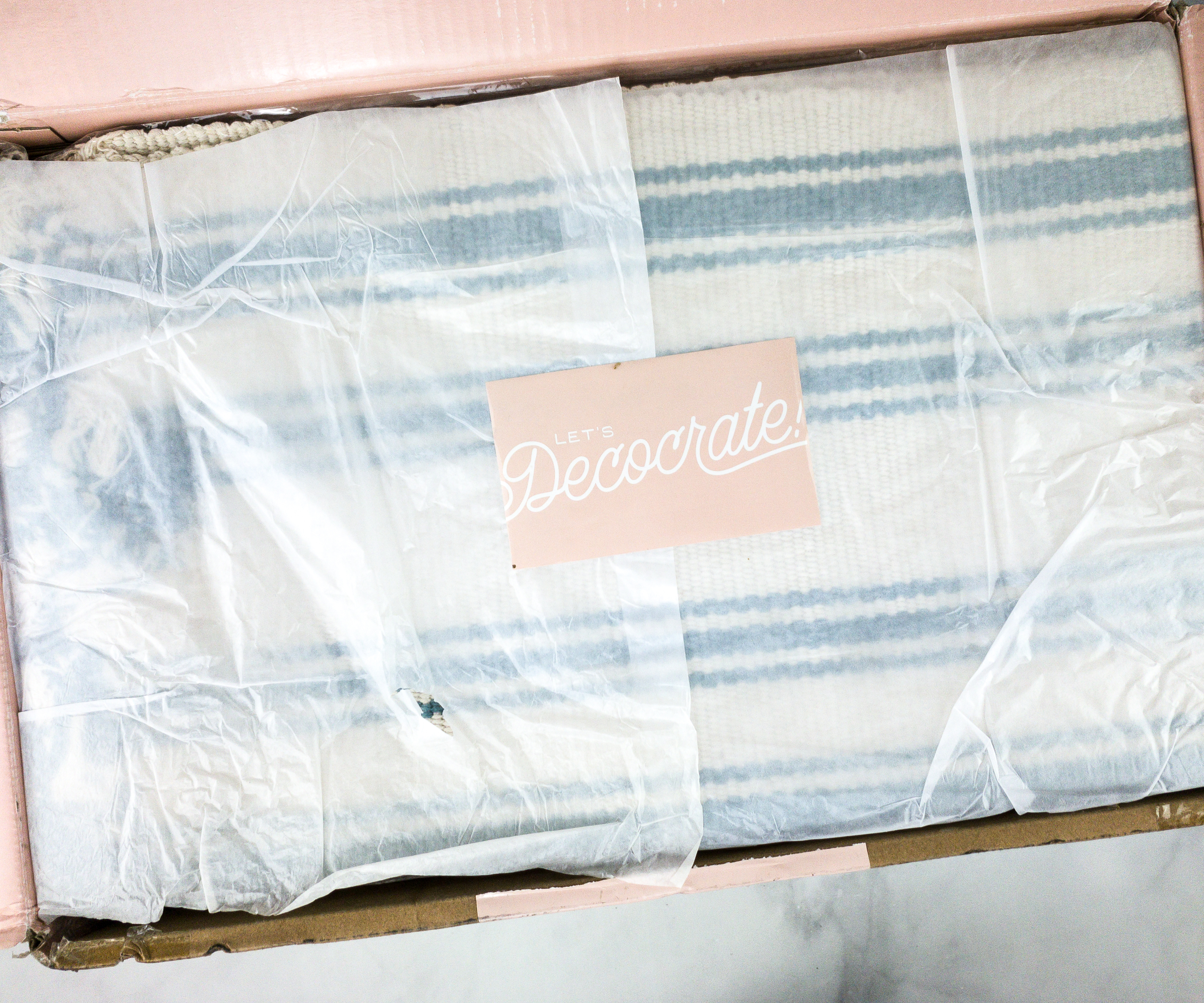 On top, an item is wrapped with tissue paper.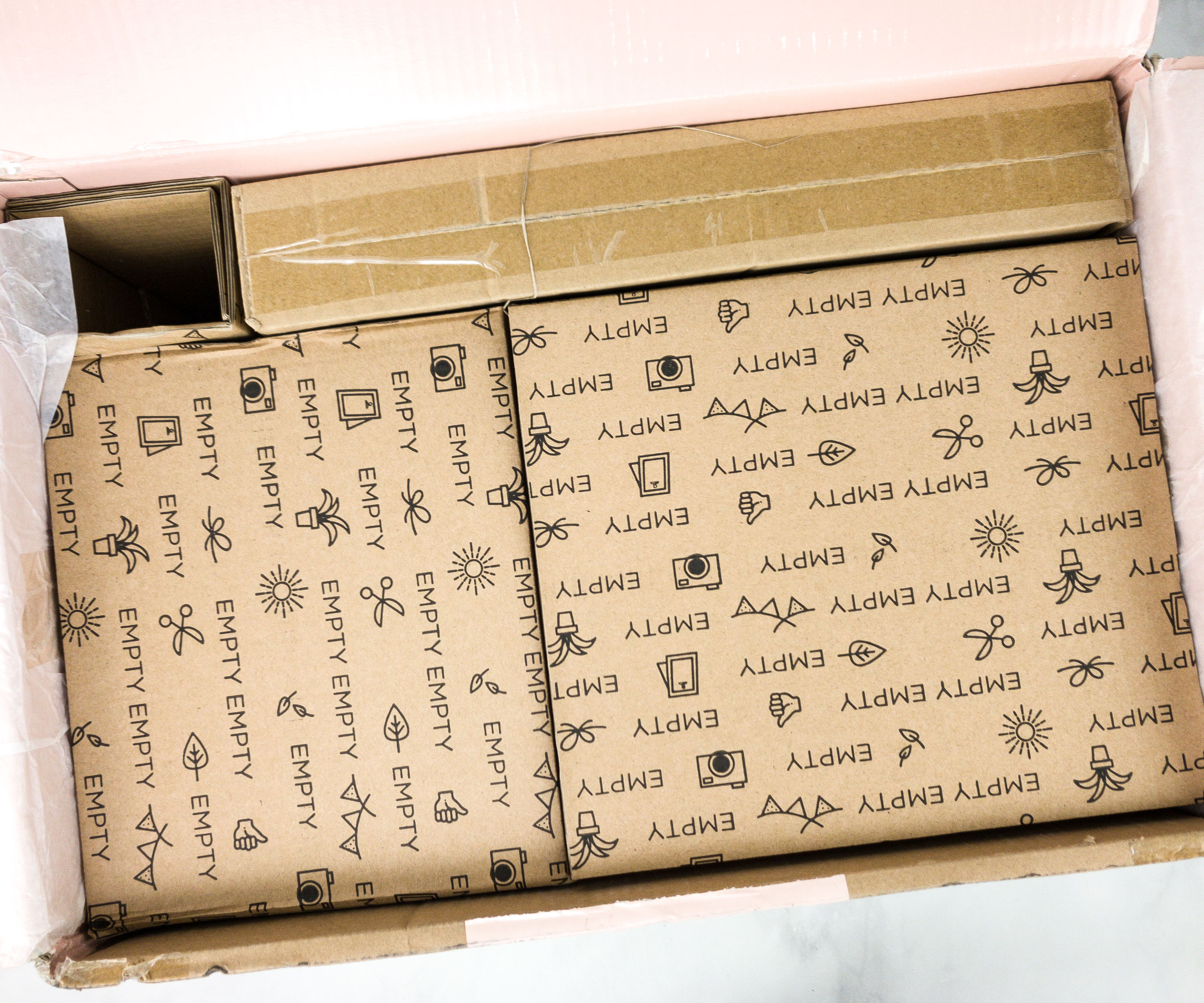 Beneath are the items that came in their own boxes to protect them during transit.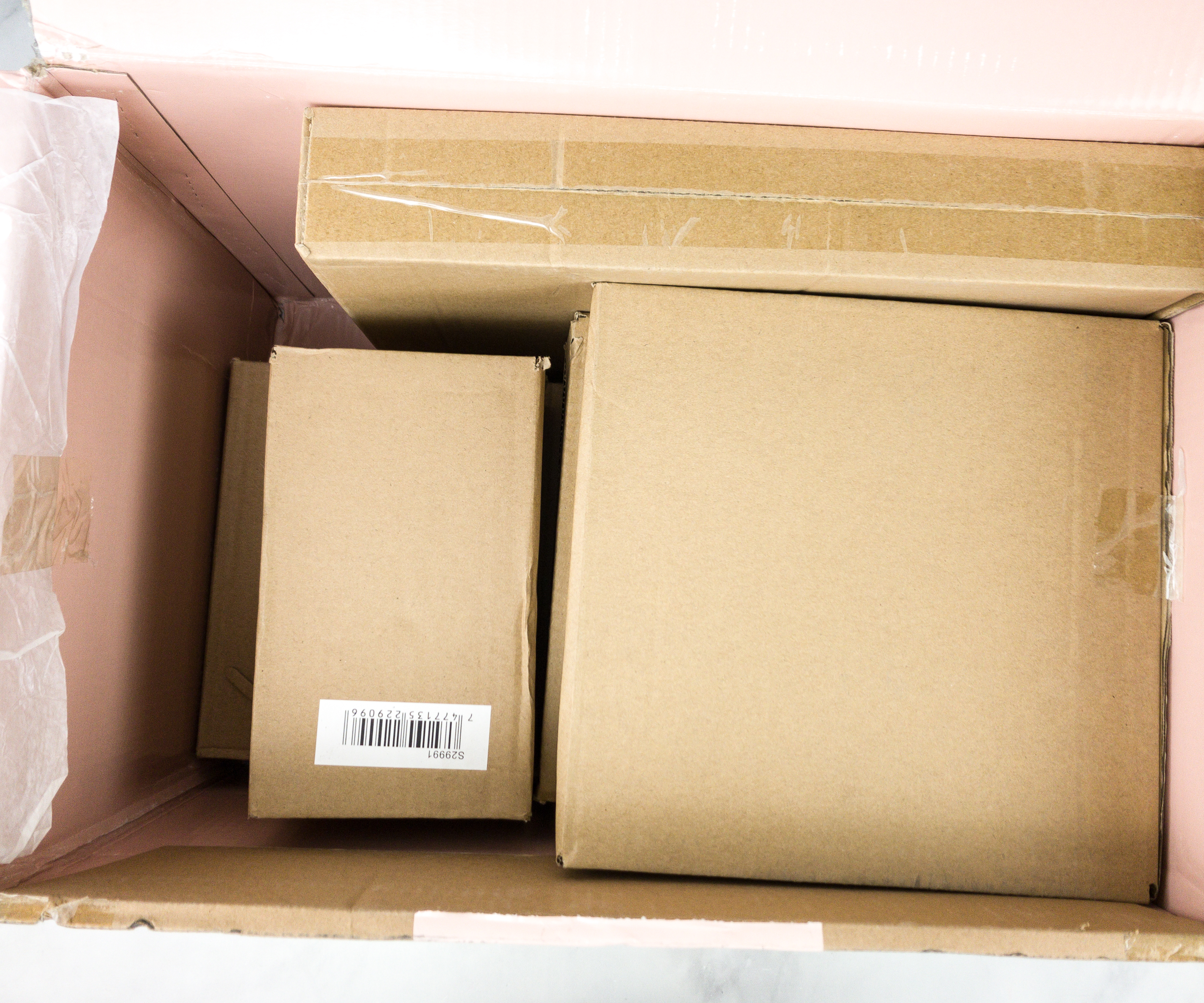 I love how well-packed this is!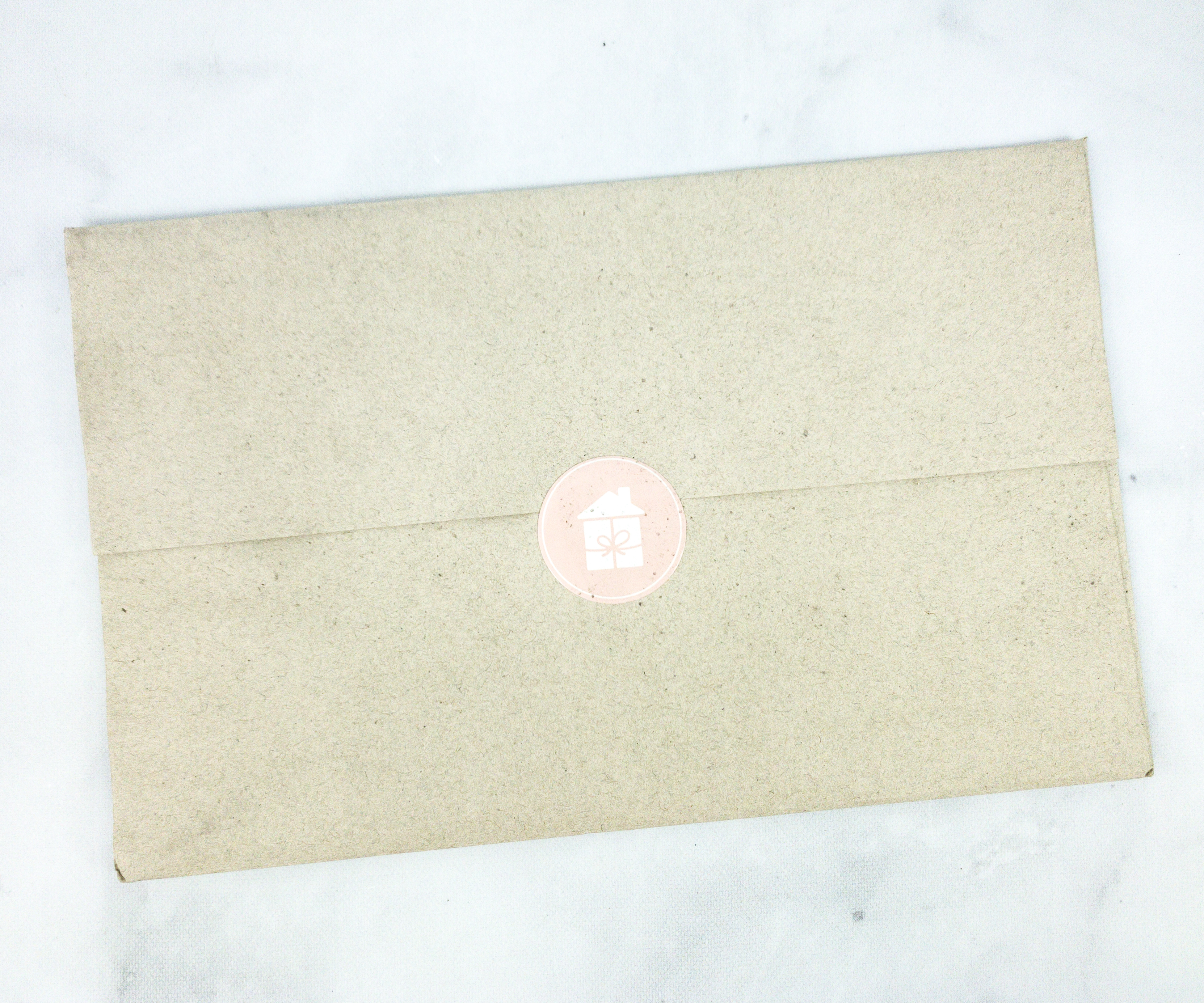 Also included in the box is an envelope!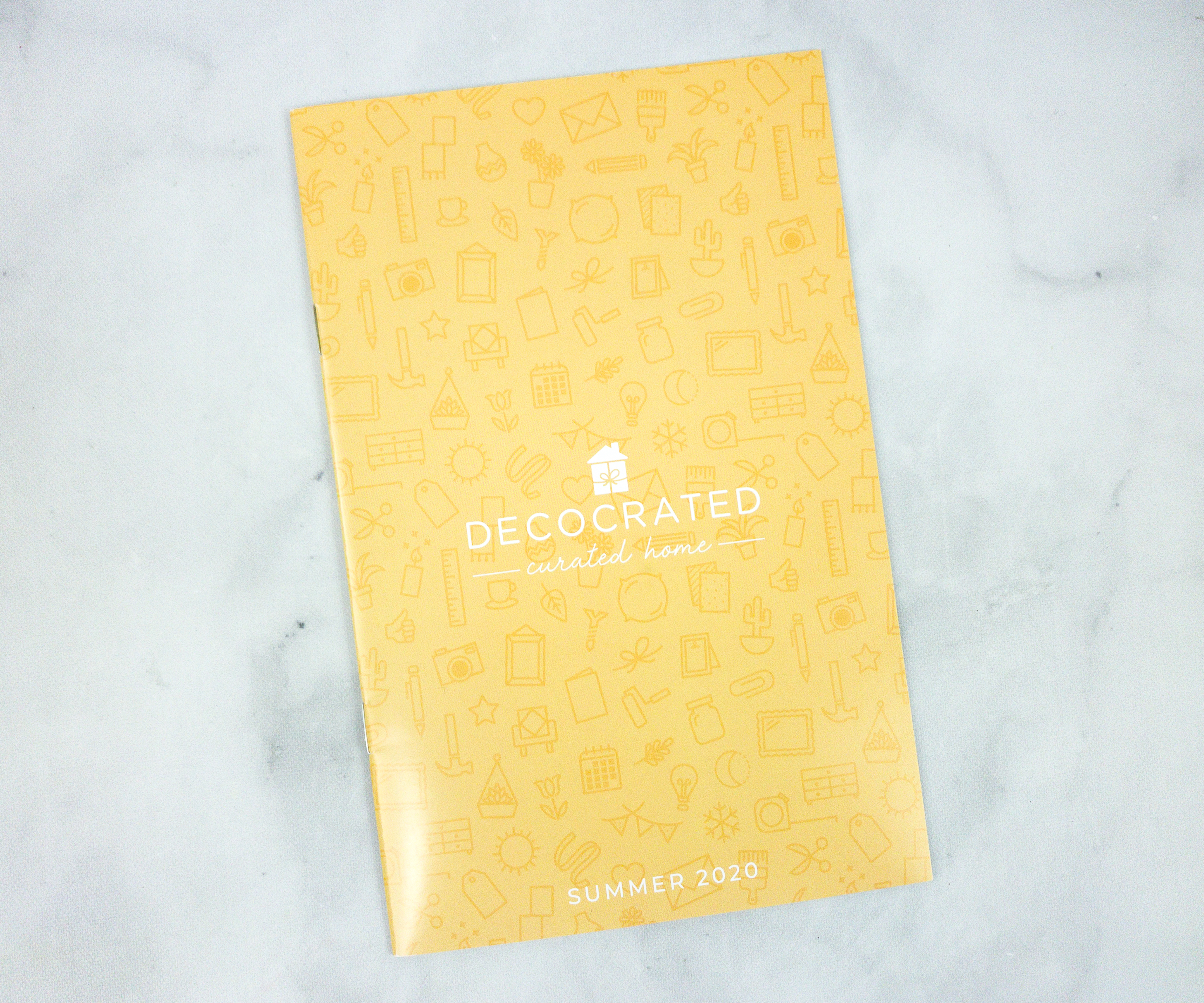 This mini booklet lists all the items in the box and also provides home styling tips.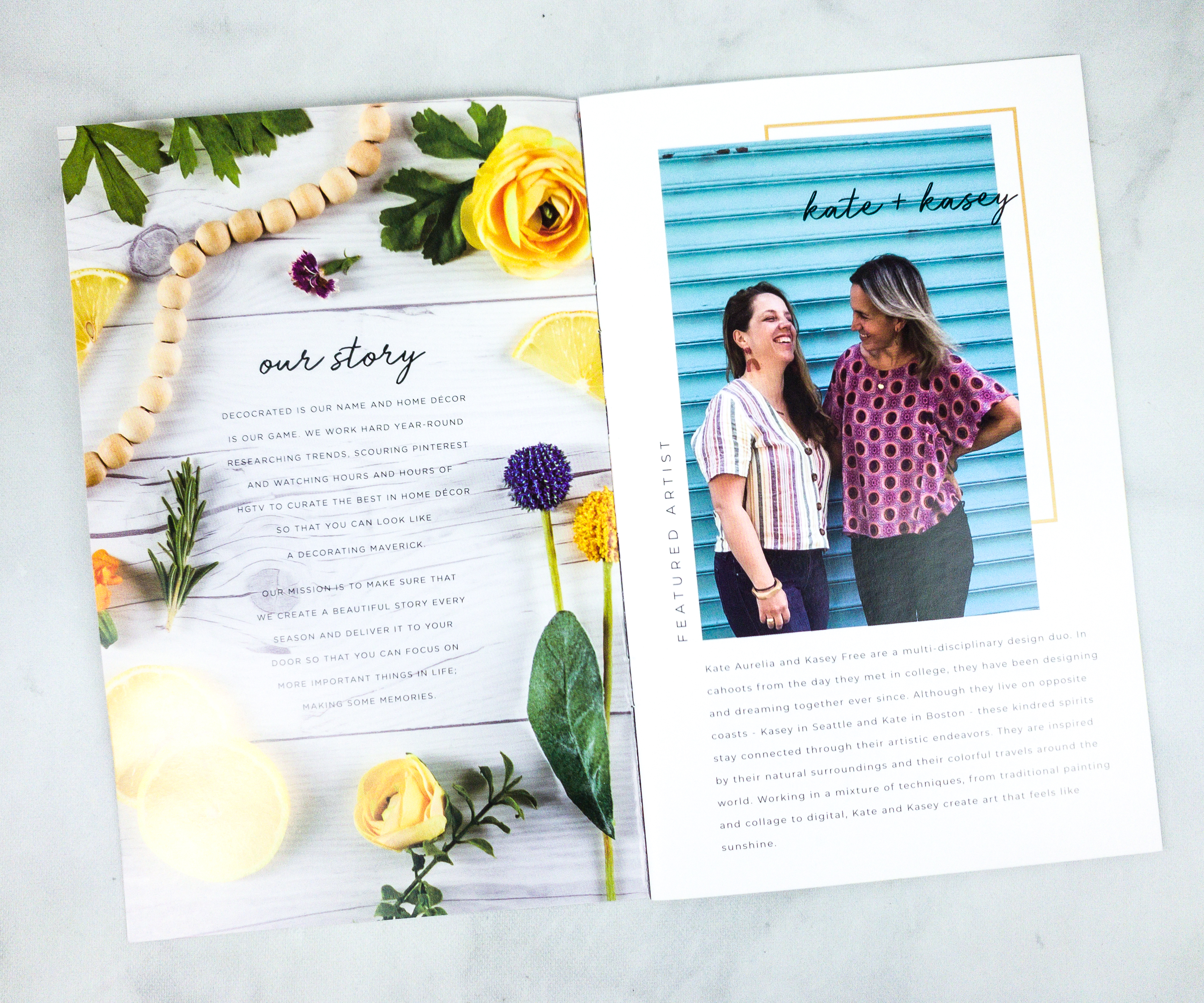 This quarter's featured artists are Kate Aurelia and Kasee Free.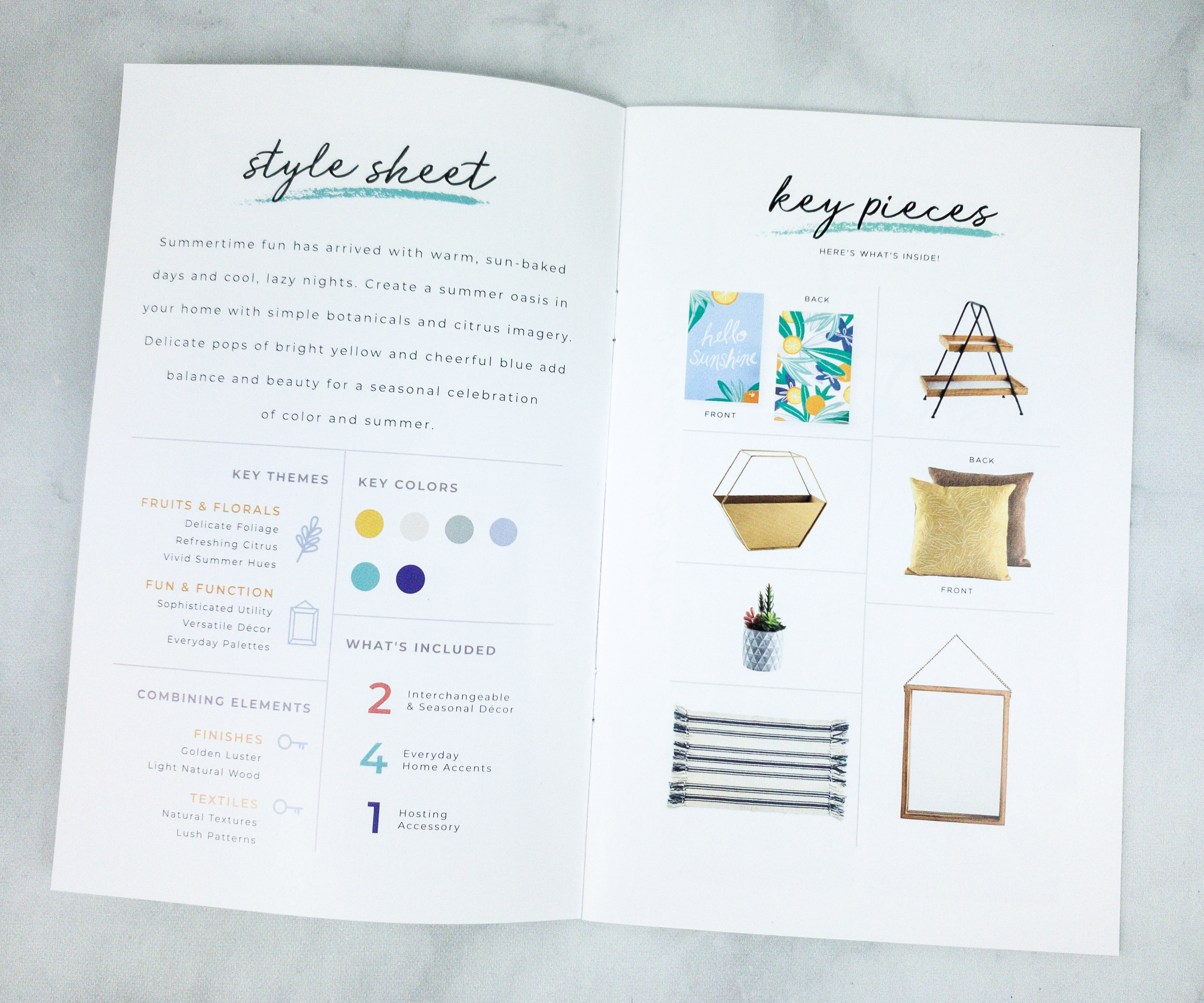 The style sheet details key themes and colors. There's also a list of the key pieces that this box is built around.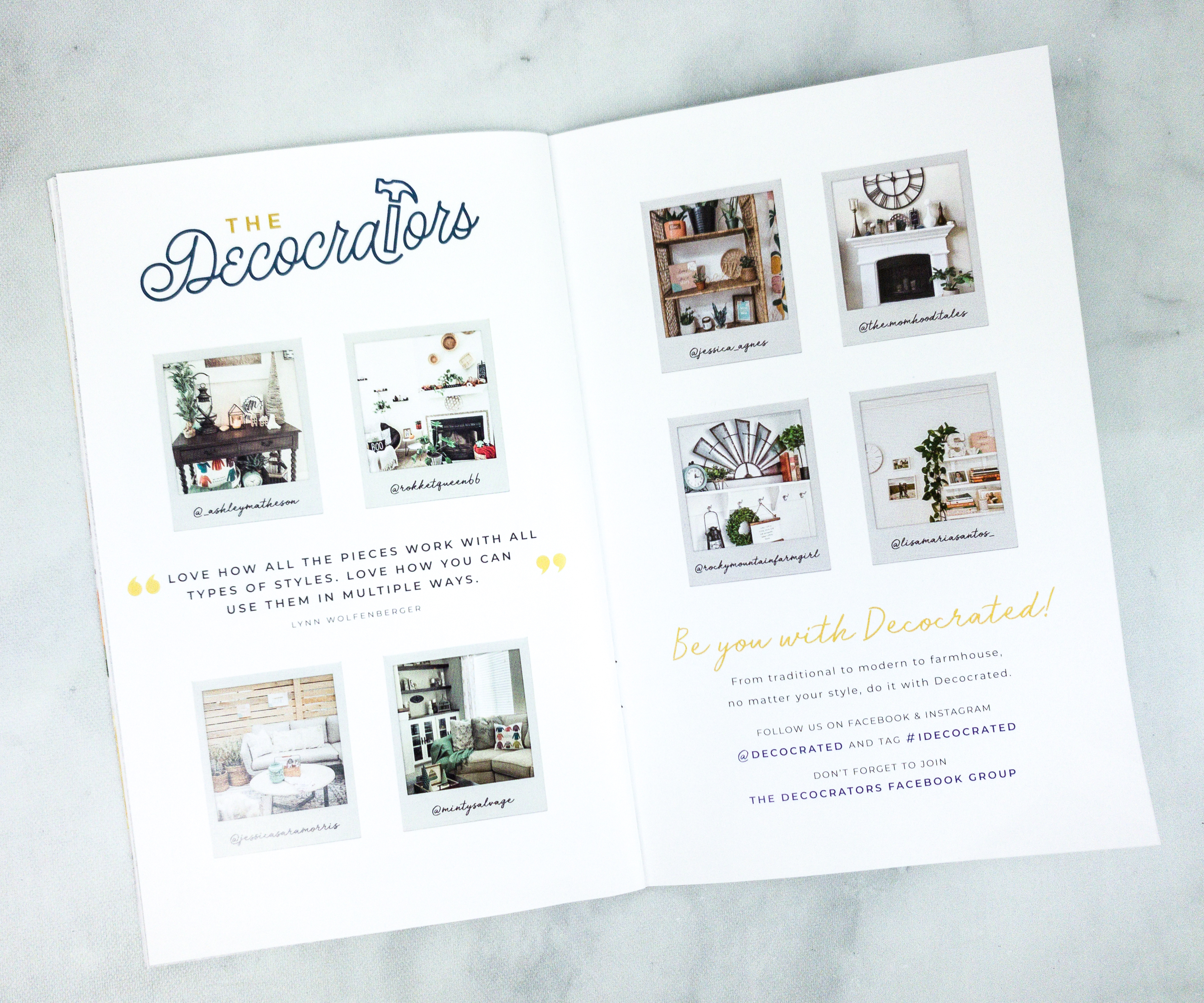 They encourage us to follow their social media accounts as well. They even have a Facebook group where you can interact with fellow subscribers.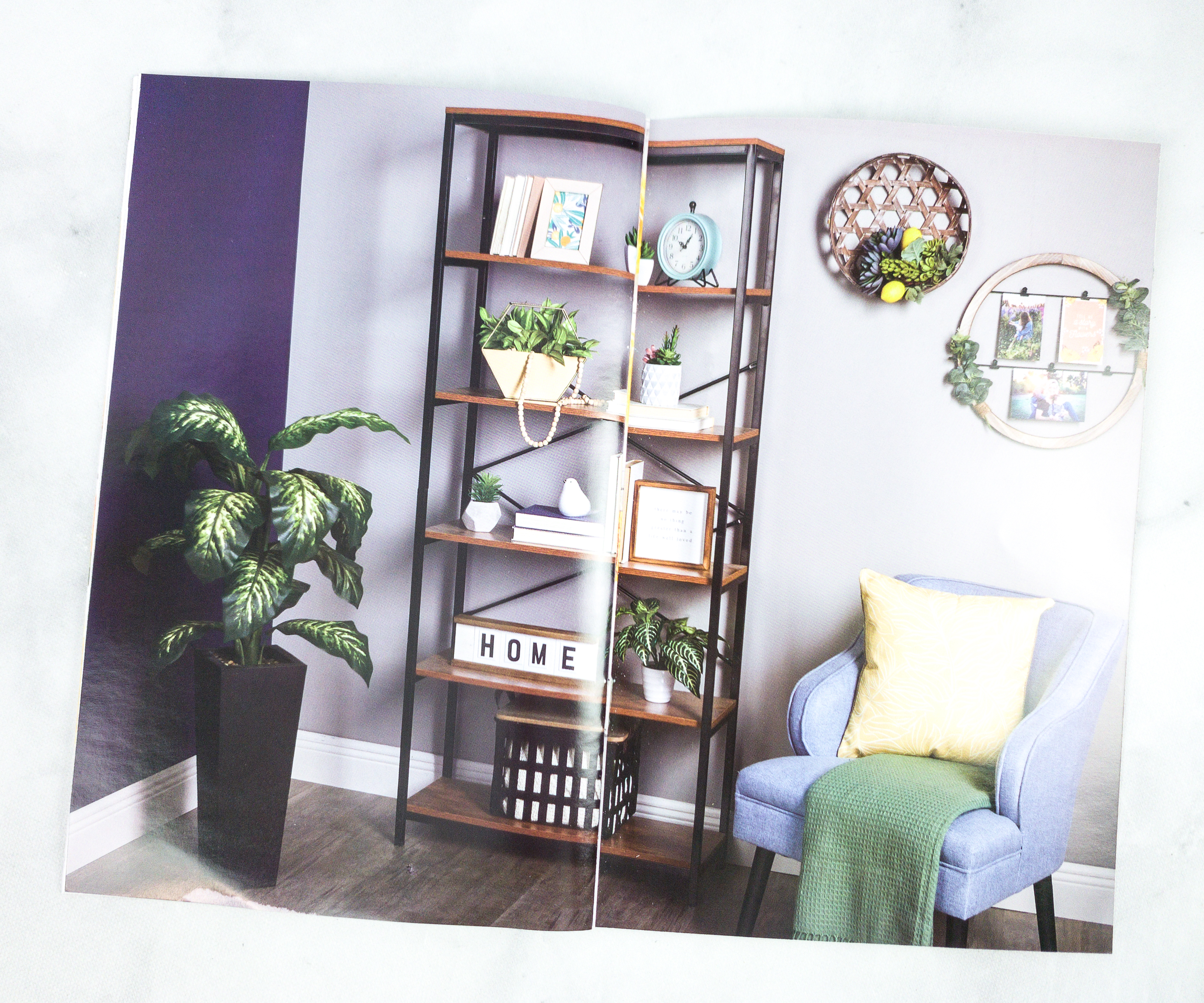 The sample photos are great! They make it easier for us to copy the suggested styles.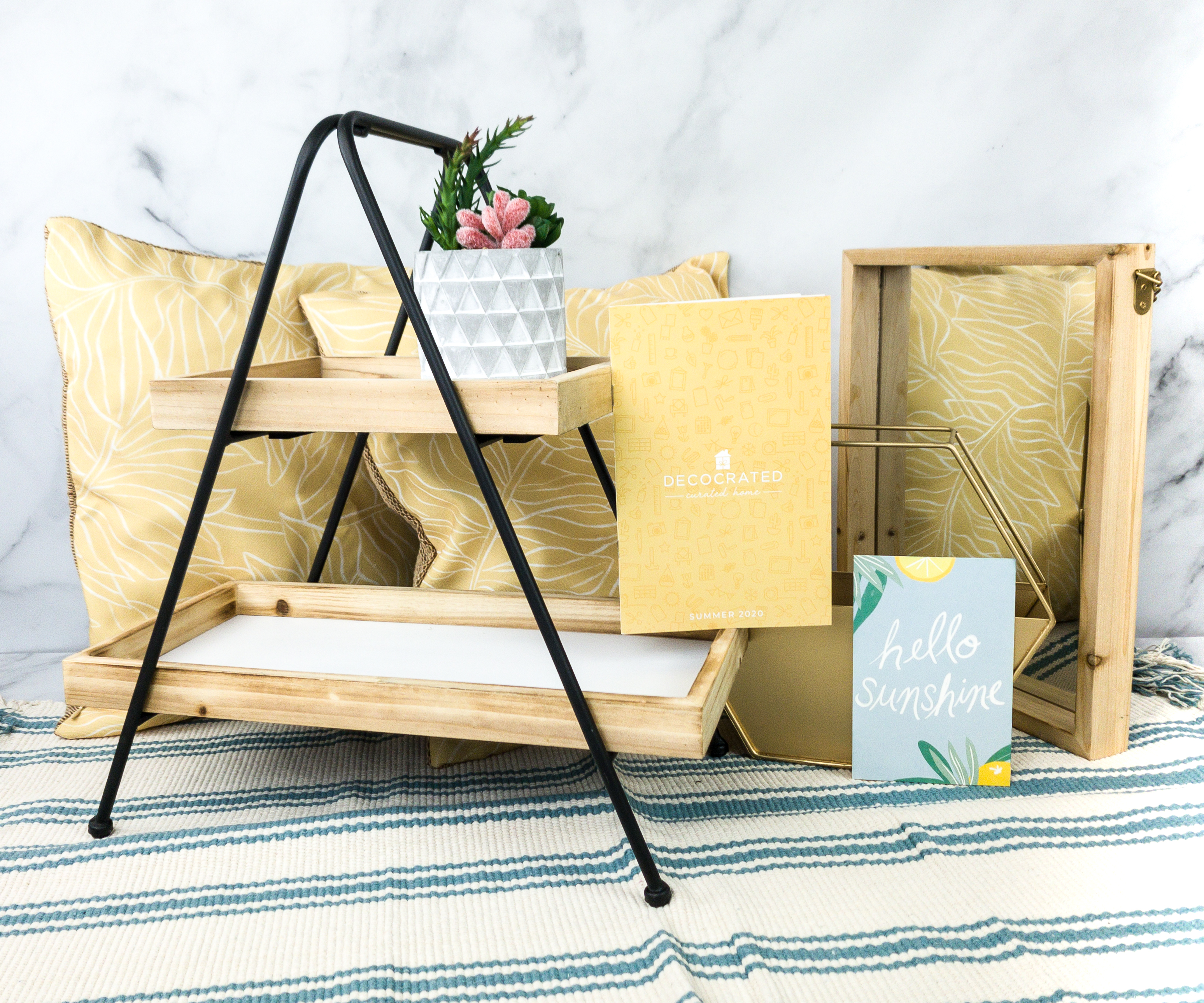 Everything in my box!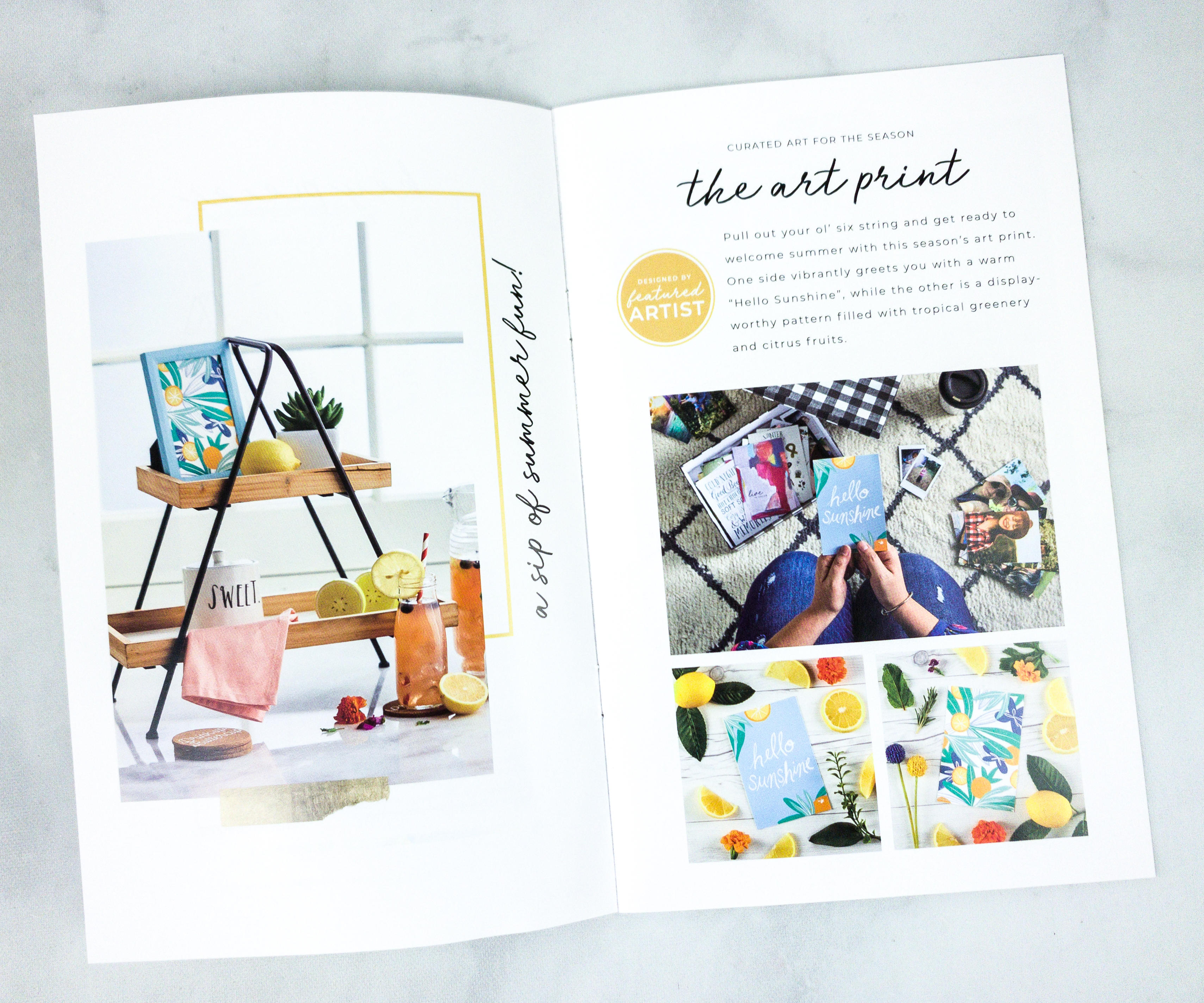 Art Print. Whether framed, hung, or simply displayed on your desk, this two-sided art print adds a touch of summer to any space.
One side has vibrant colors and a beautiful tropical design.
The other side says "Hello Sunshine"!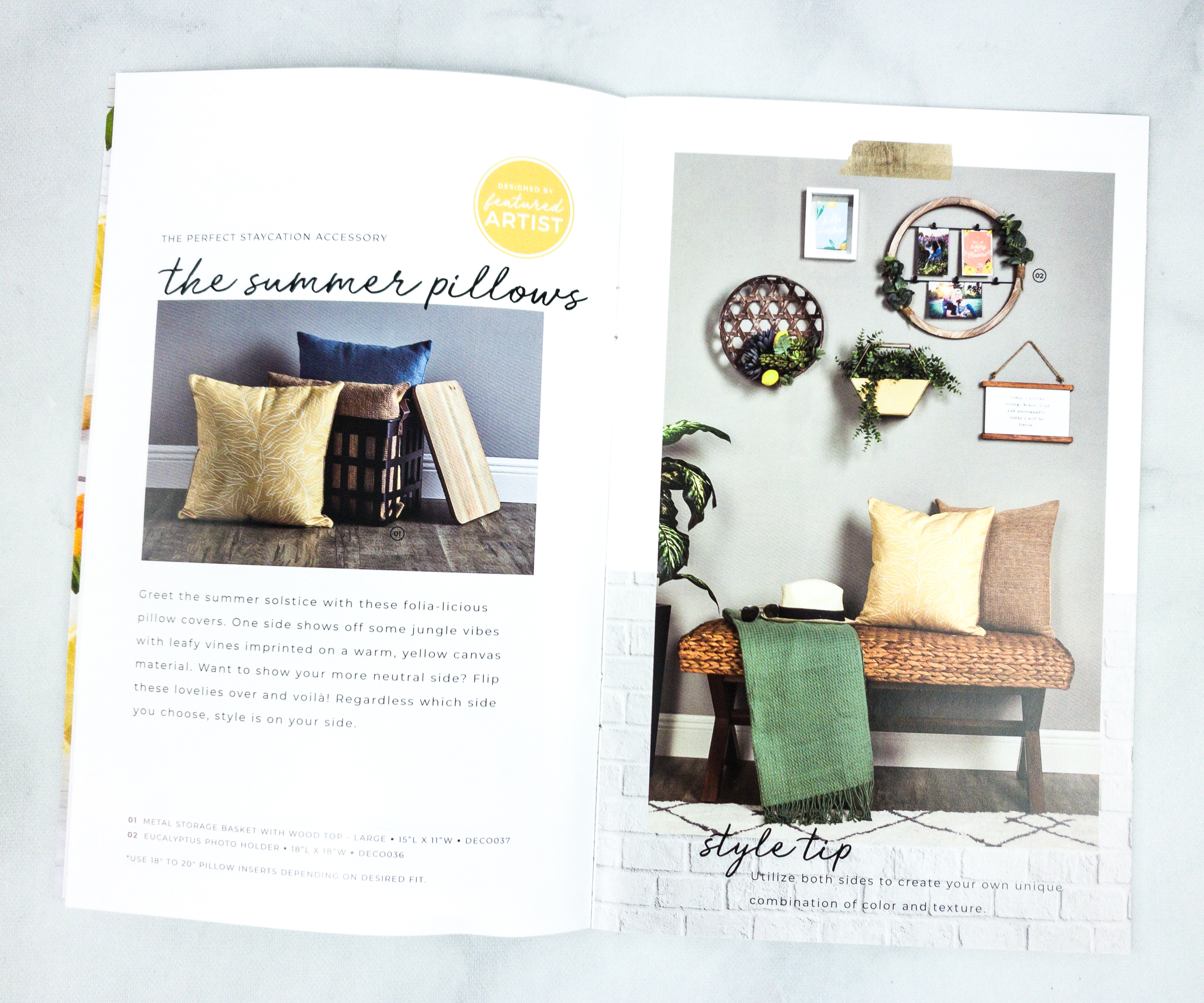 Summer Pillows. Here's another easy way of adding summer colors to your living room, a pair of pillow covers!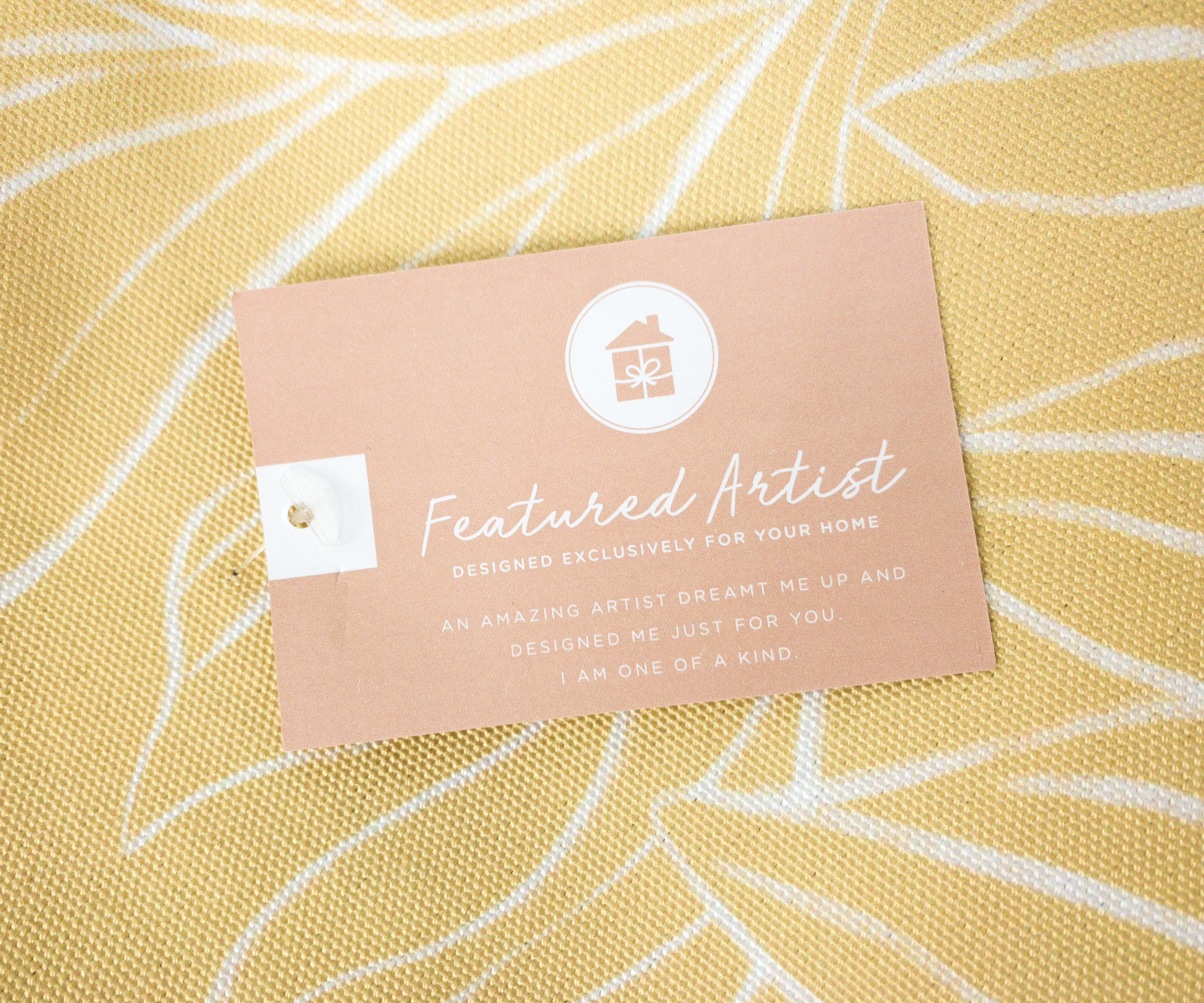 These pillowcases are made by this quarter's featured artists!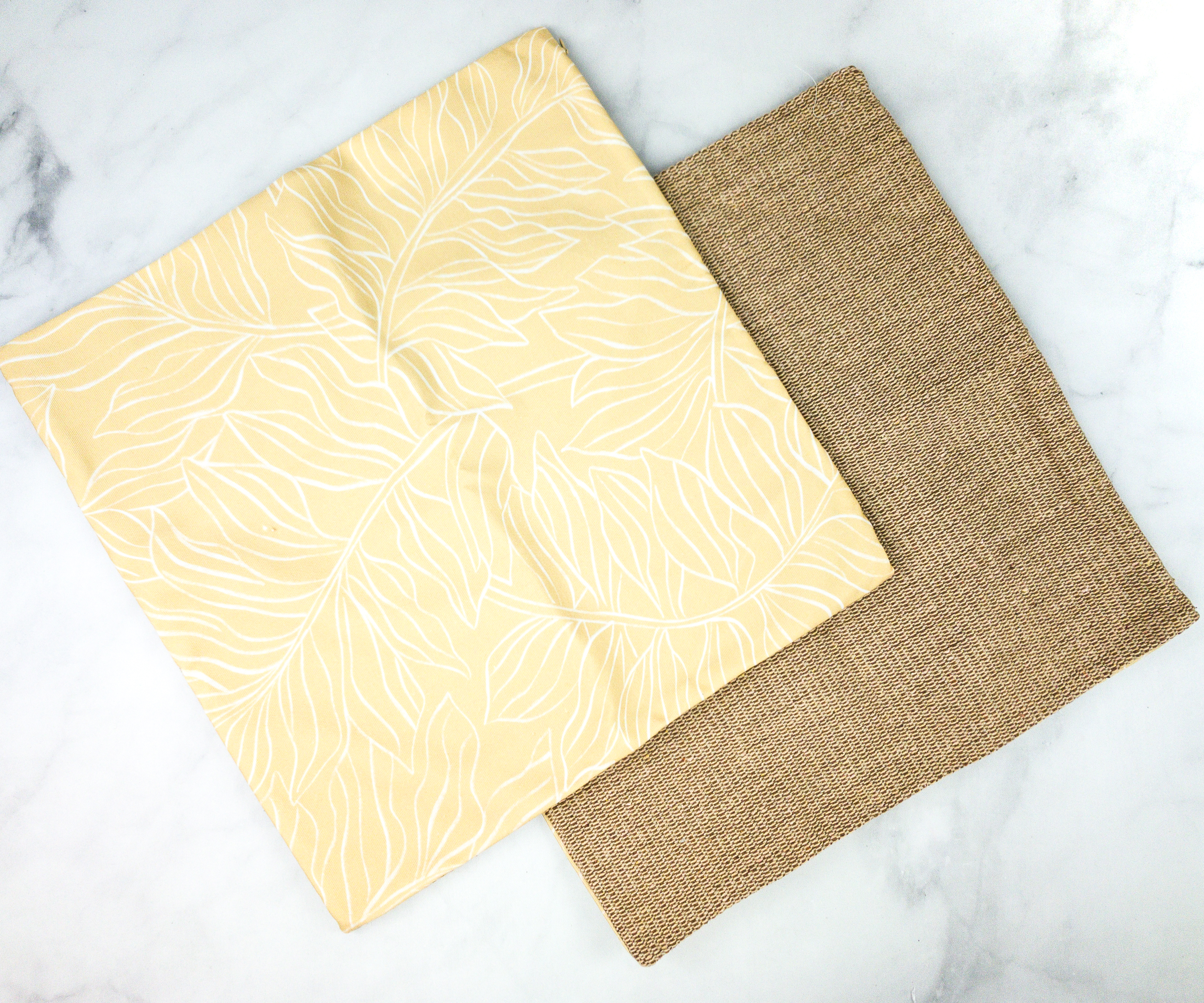 These are unique pillow covers you won't find anywhere else! They can fit 18″ to 20″ pillow inserts.
Each piece has two sides so you can style them both ways.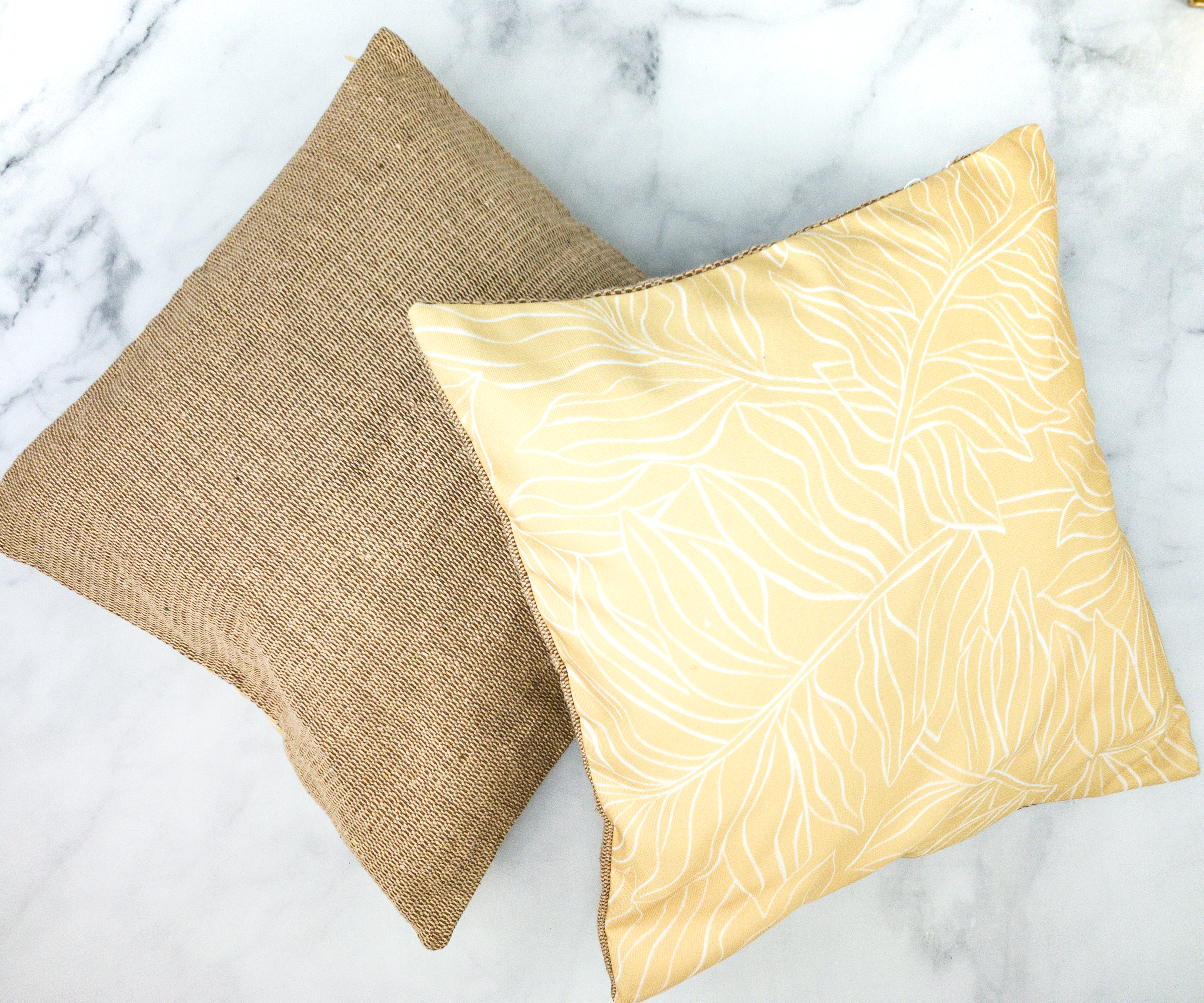 One side has a neutral brown color which will go well with just about anything. The other side is a warm yellow, with a leafy pattern.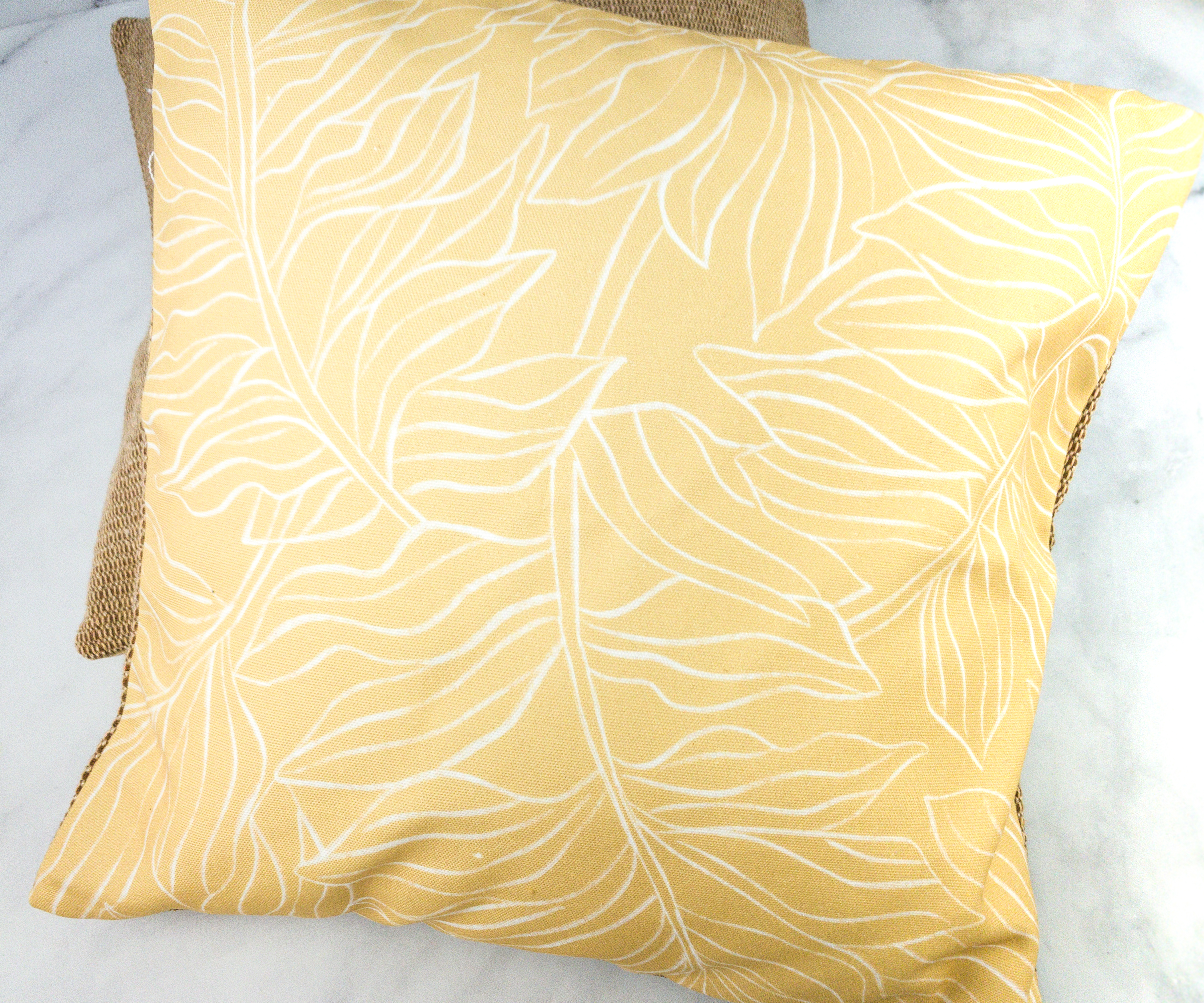 Whatever side you want to show, they both look gorgeous. You can even mix and match them as they both compliment each other really well!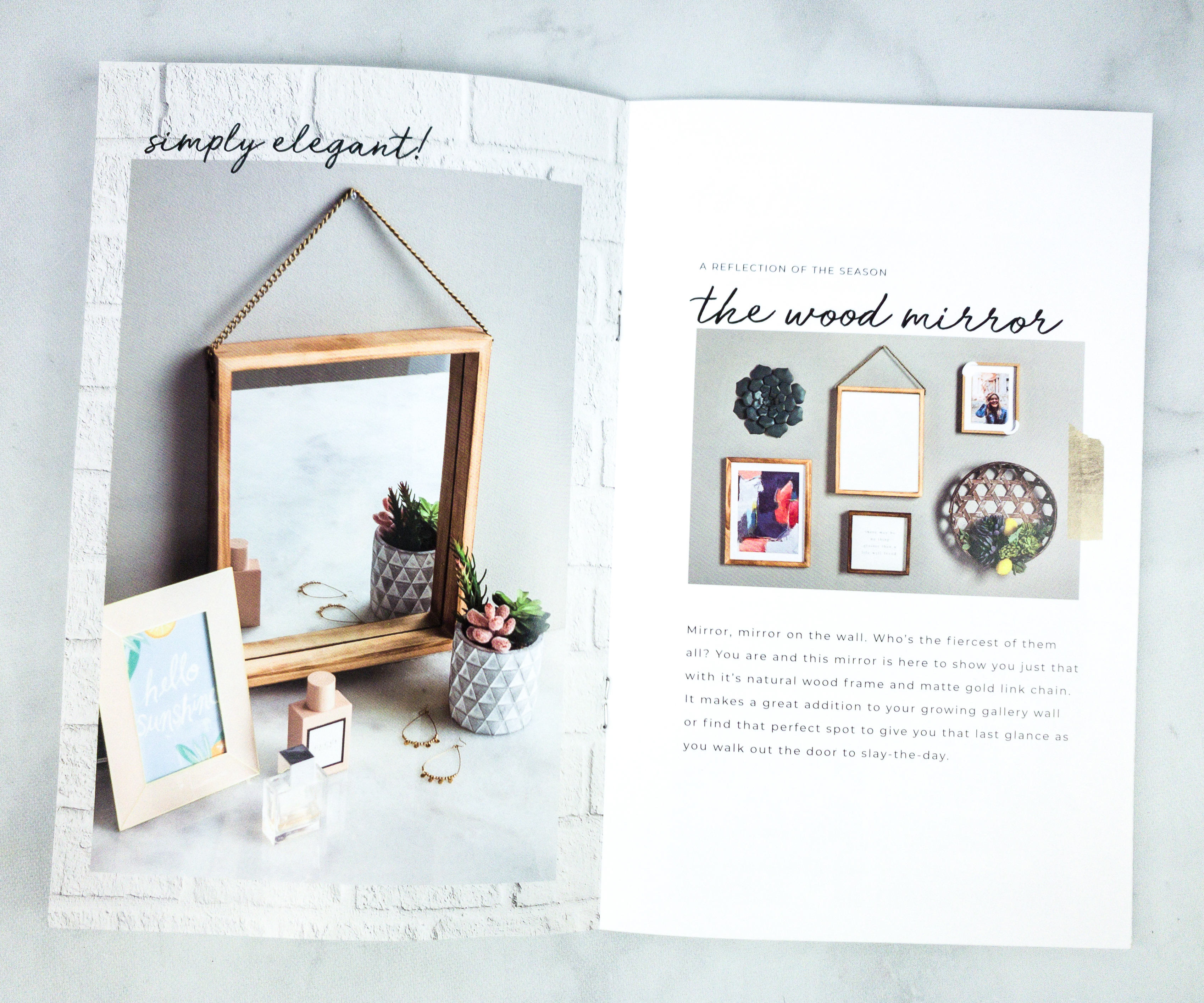 Wood Mirror. This hanging mirror adds elegance to a wall. The frame is made of wood, and it has a rustic vibe to it.
The gold chain hanger is what sets it apart from other mirrors. It's thick and well-secured.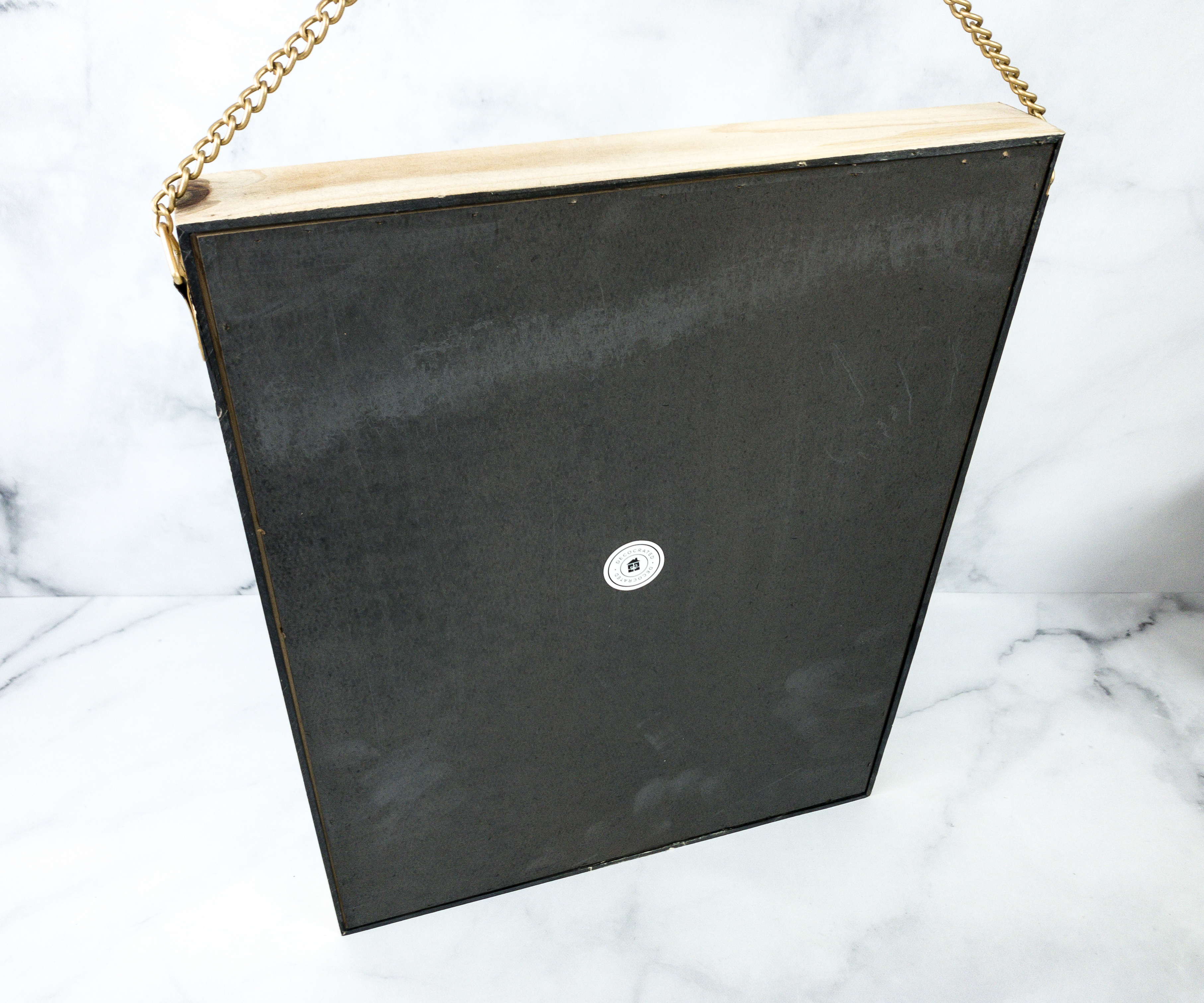 The back is black and it has some scratches to it, but it's okay because this part will be hidden anyway.
I like this, it's a great accent piece for my bedroom. Decocrated says it can also be hung on a gallery wall or even near the door so you can check yourself before going out!
Geo Planter. To match the rustic gold chain of the mirror, here's a hexagon-shaped planter!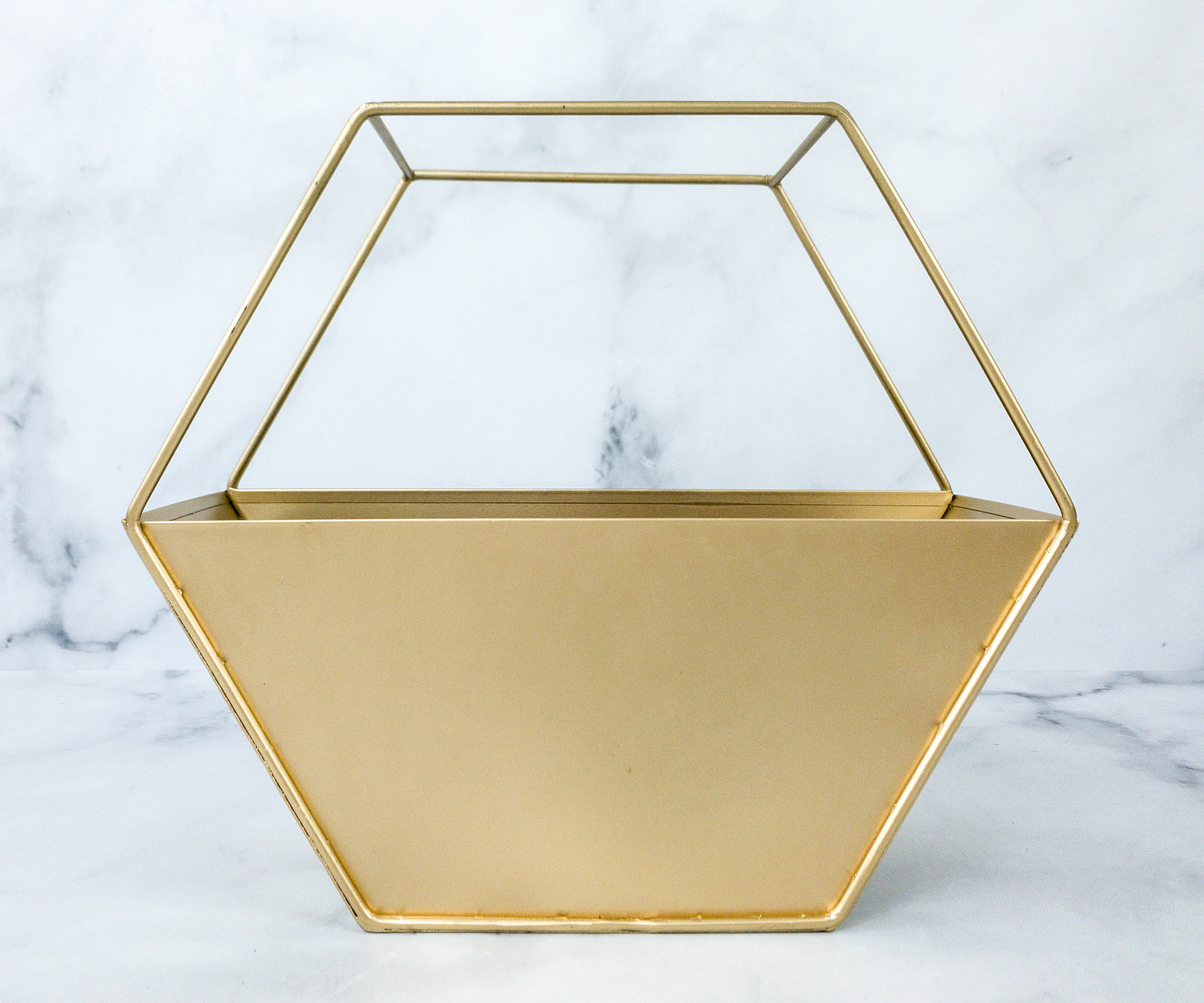 It can be hung on a wall or simply displayed on a desk.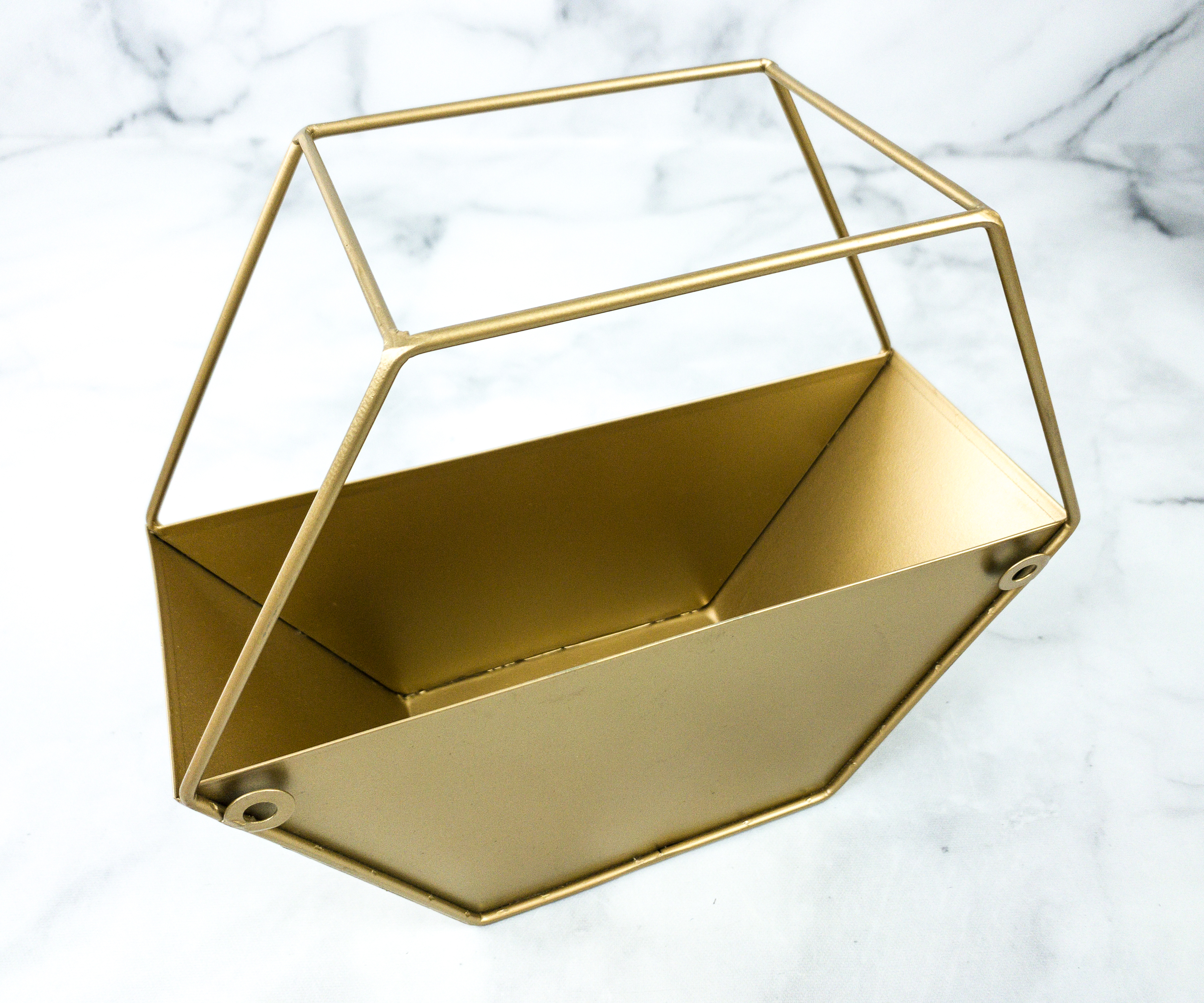 I also love that this is a very versatile piece. I can use it as a planter for small desk plants or as a pen holder! Even beauty items can fit here as well!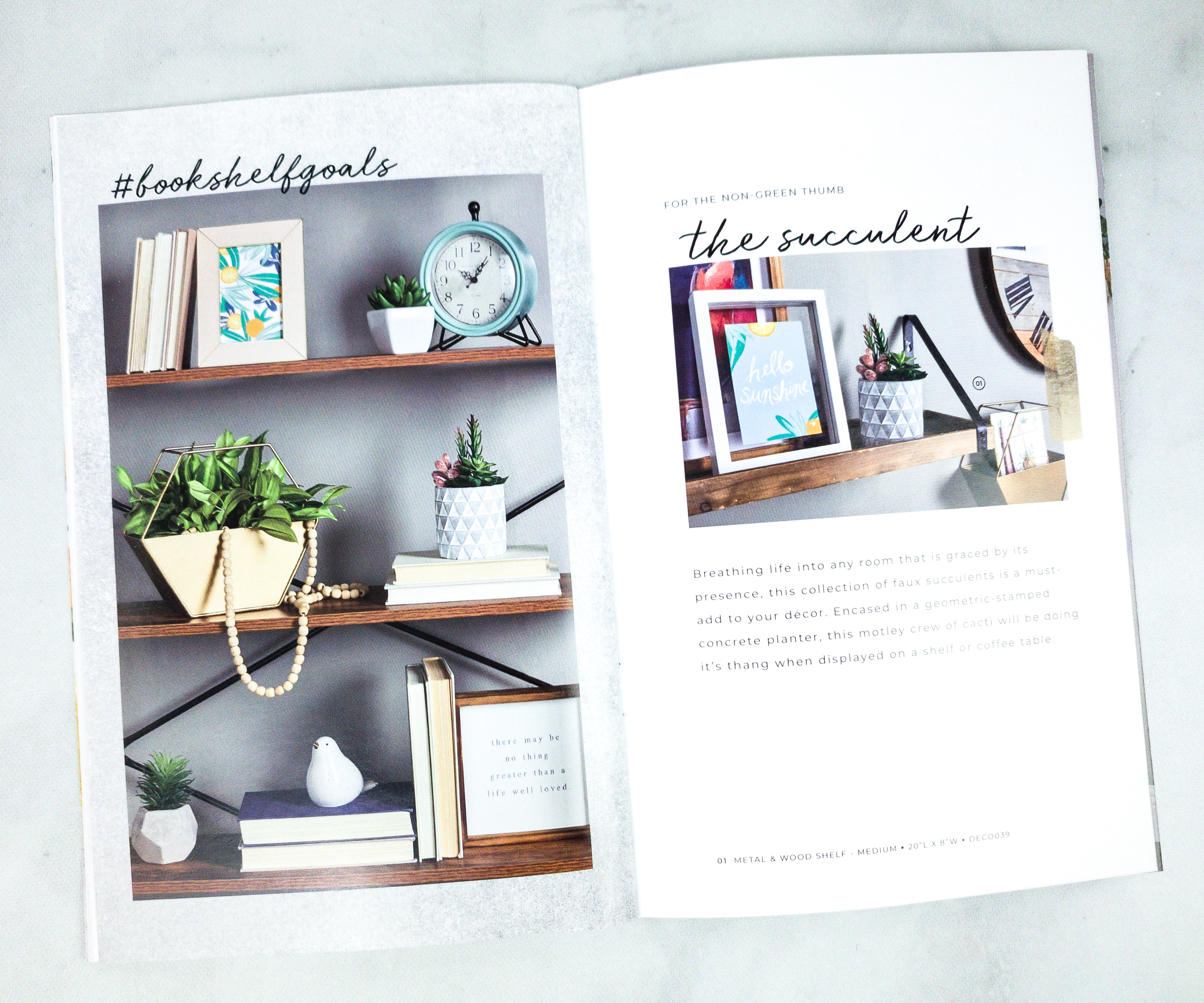 Succulent. Succulents are great desk plants. The ones I received from this box are faux ones though, so there's really no need to take care of them, except maybe wiping them once in a while to get rid of accumulating dust.
The faux succulents are placed in a cute vase designed with geometric stamps.
They look so much like the real ones, right? I would've liked real ones for my desk but this is also a nice piece that will add life and color anywhere I place it.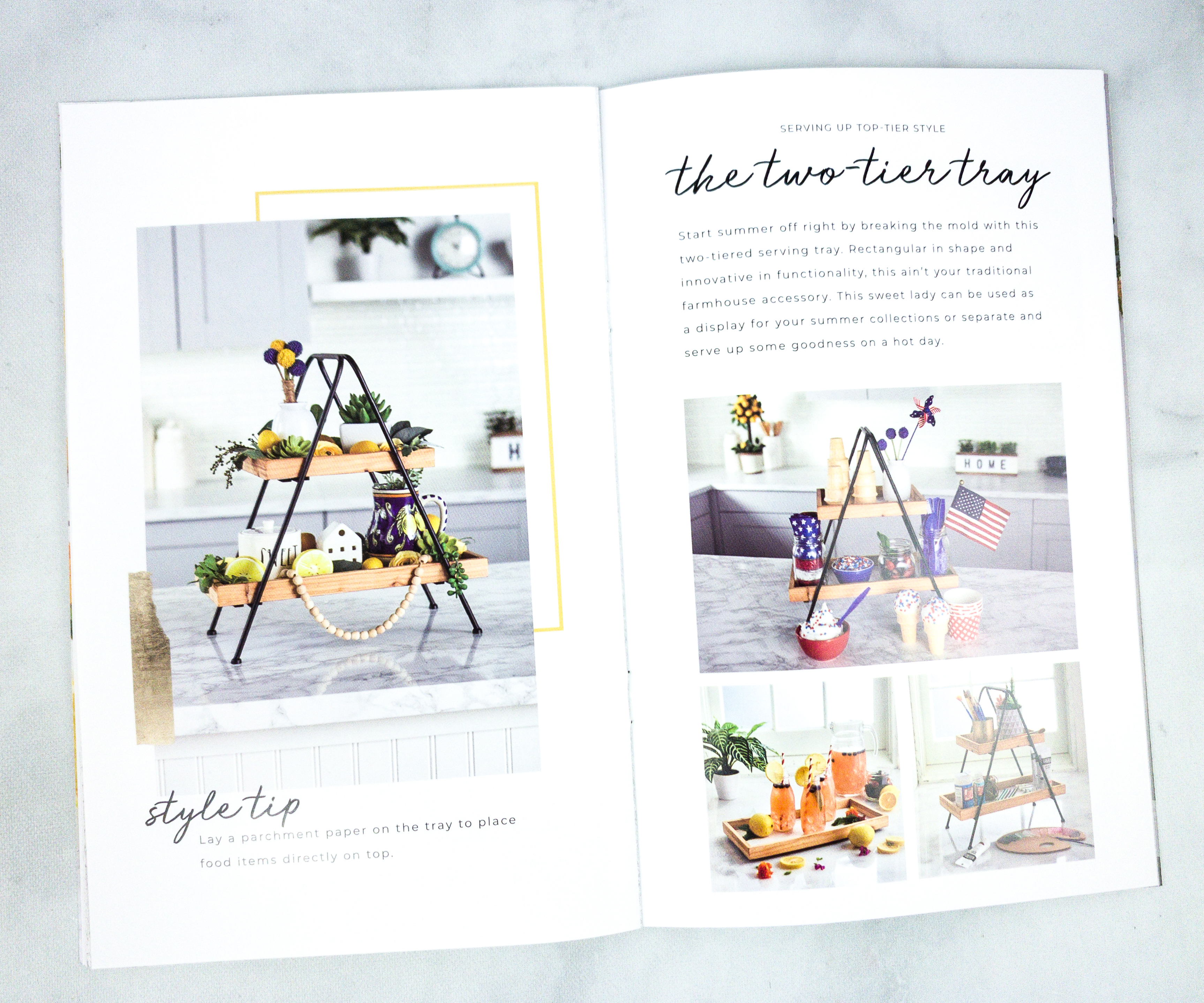 Two-Tier Tray. Layered racks give us more opportunity to showcase whatever items we will put there because it won't look cluttered!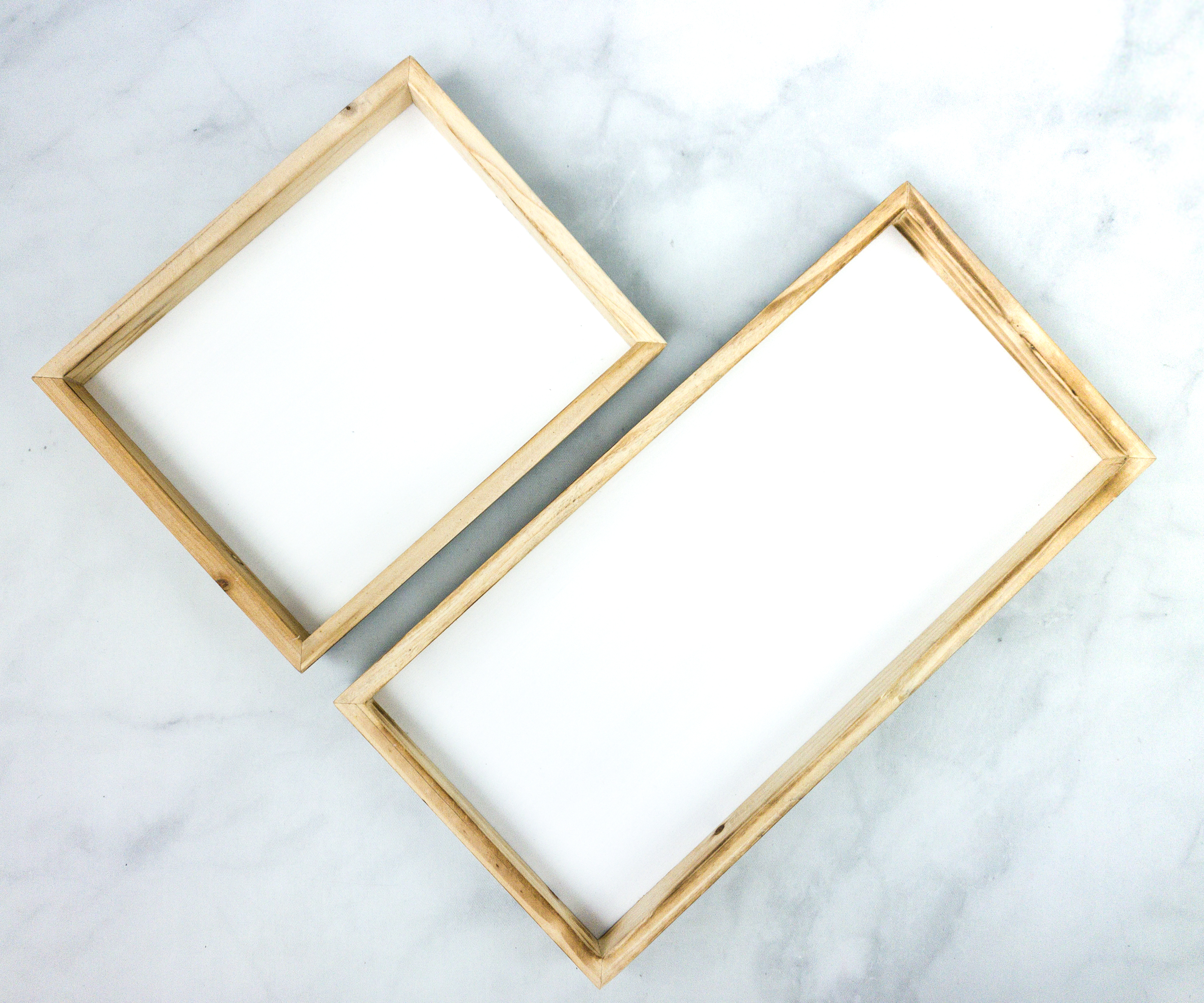 The trays are made of wood. Decocrated suggests to lay parchment paper on the tray if you're using it for displaying food items.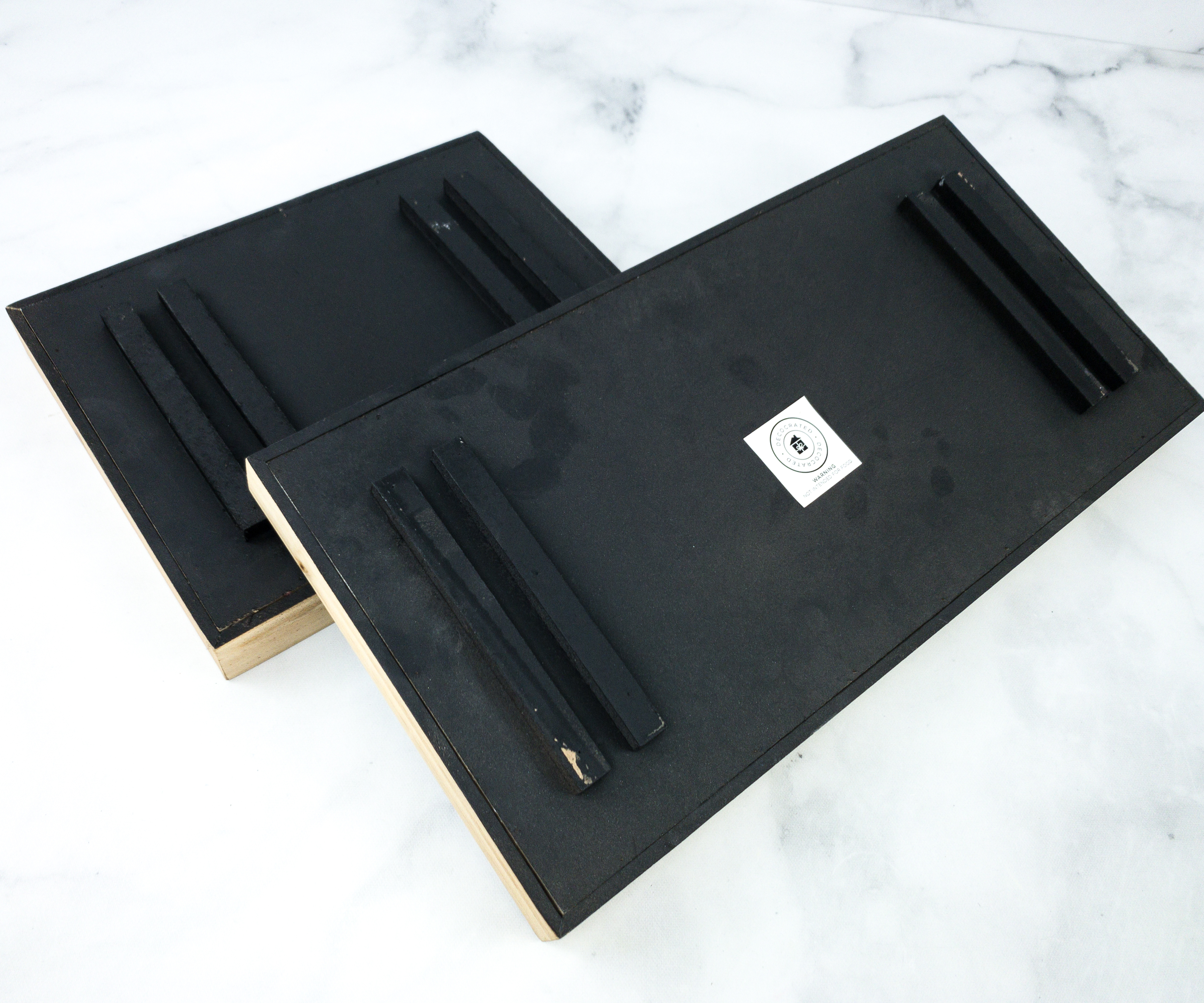 The trays are sturdy and heavy-duty!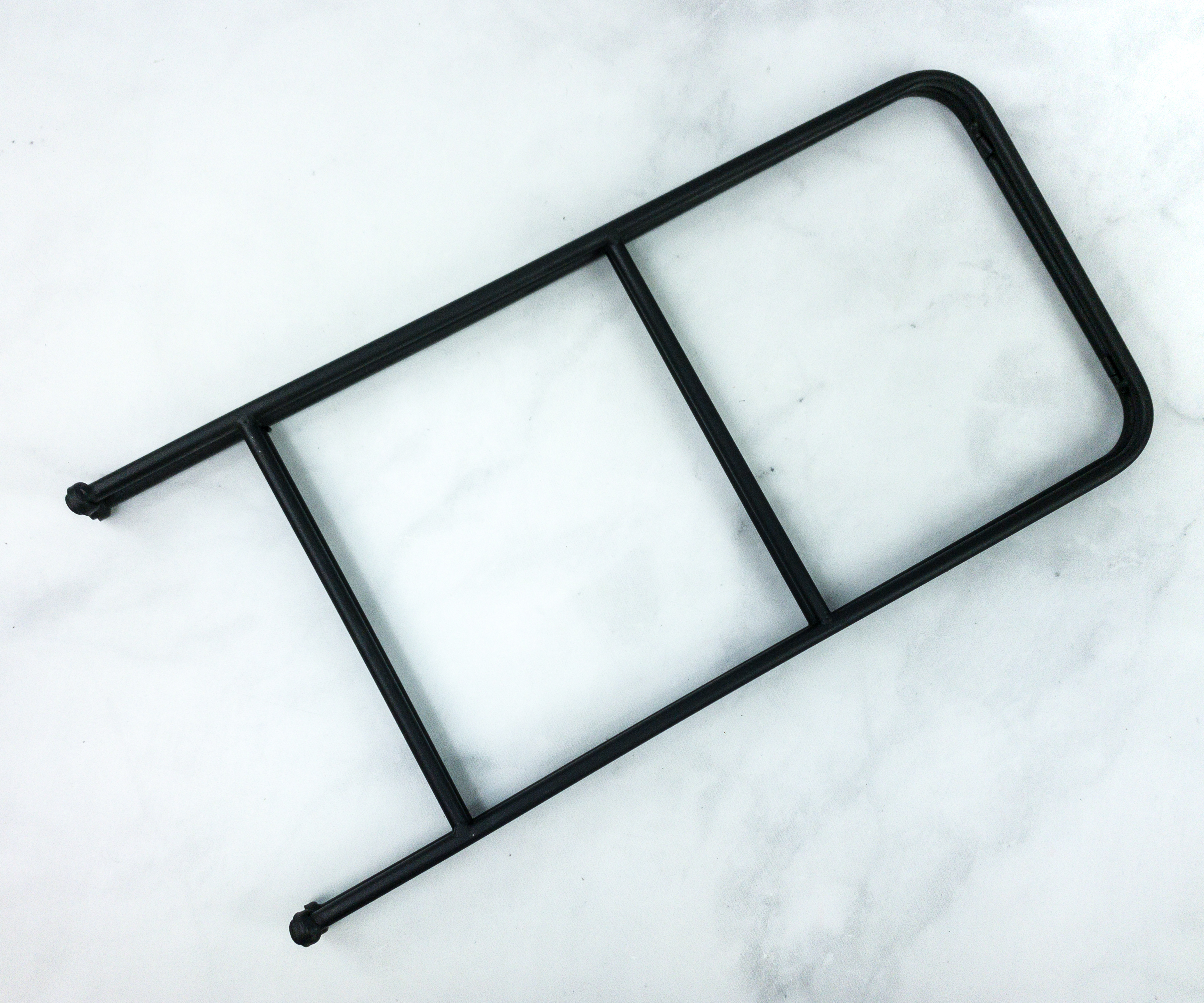 The rack itself is compact. I like that it's black because it gives more emphasis to the natural wood color of the trays!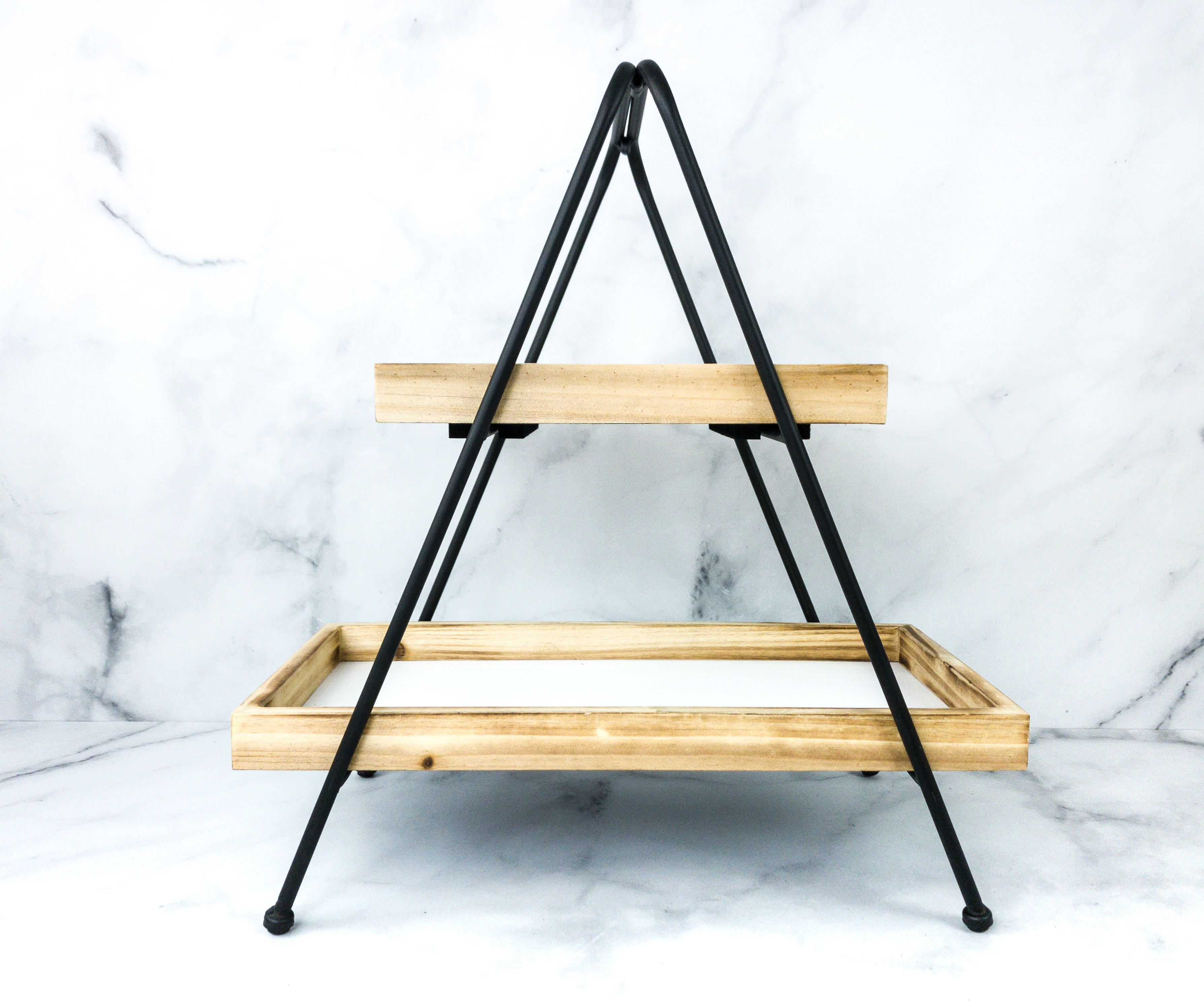 It assembles pretty easily. Just pop on the rack and place the tray. There are slots on the bottom of the tray that will help keep the rack stay in place. I love this item because it's durable and versatile!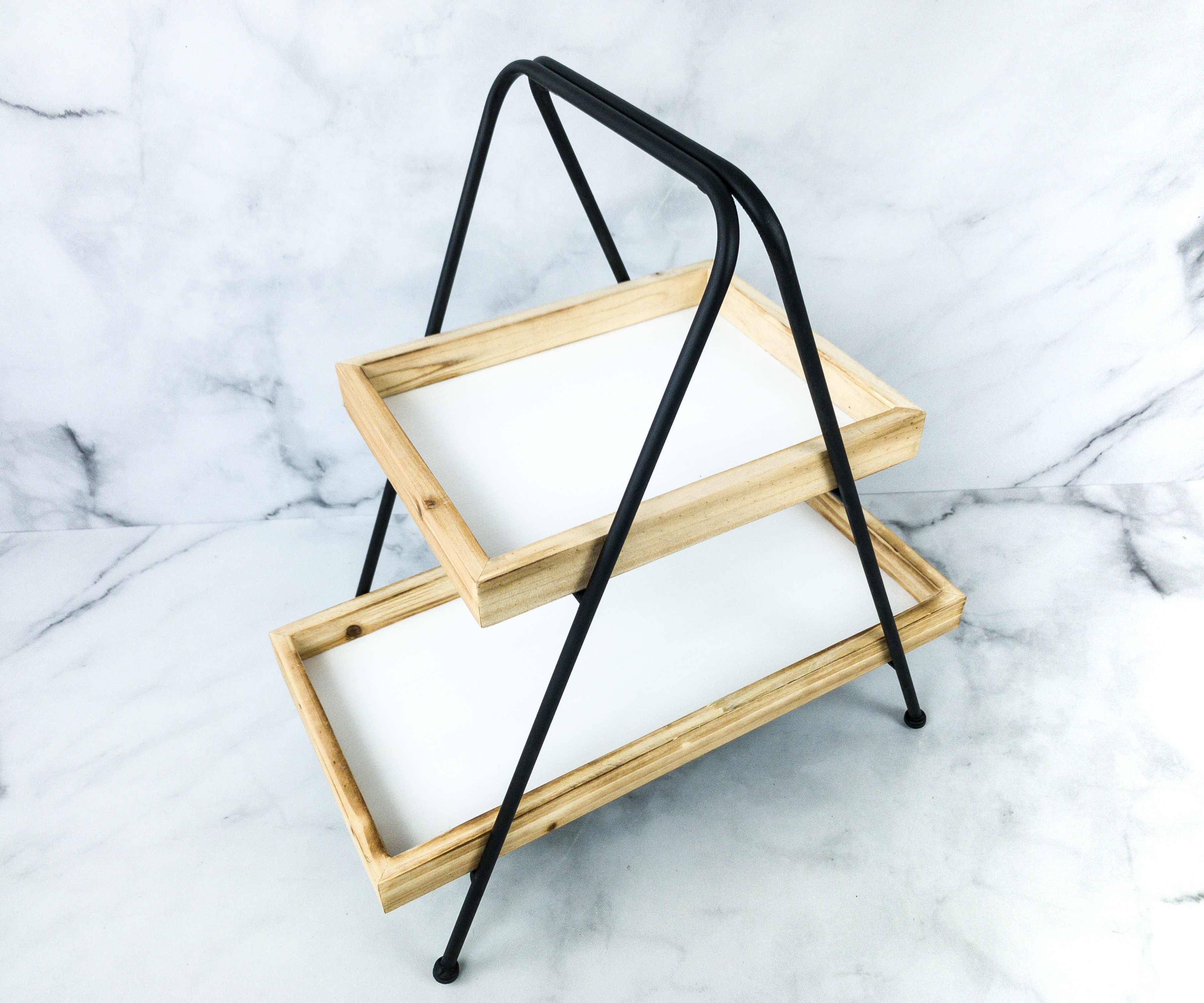 You can use this practically anywhere. Whether you're putting small desk plants, scented candles, or even fruits on this, I'm sure they will look amazing!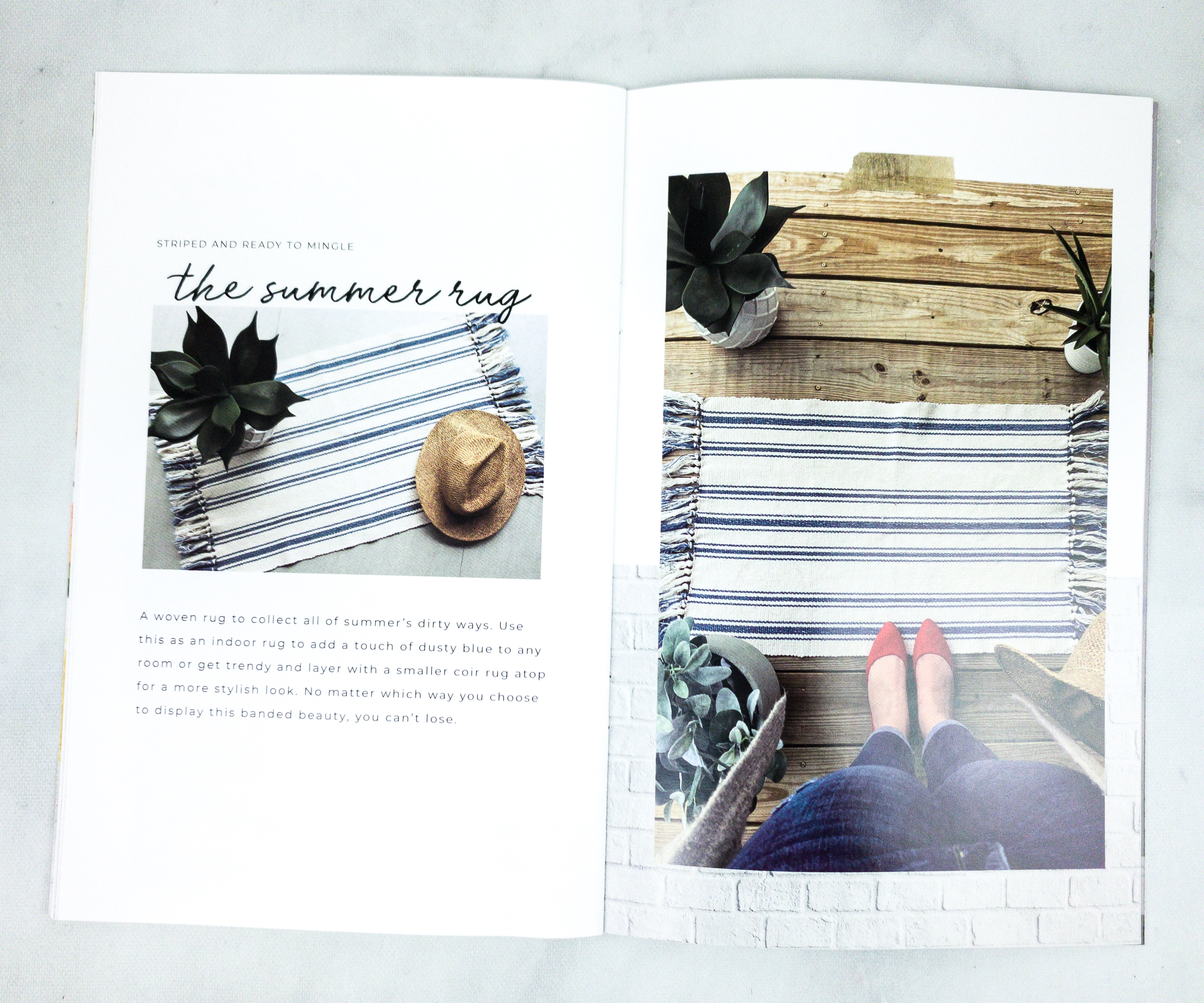 Summer Rug. The last item for this summer box is this lovely rug. It's made of 50% cotton and 50% polyester so it's soft and comfy!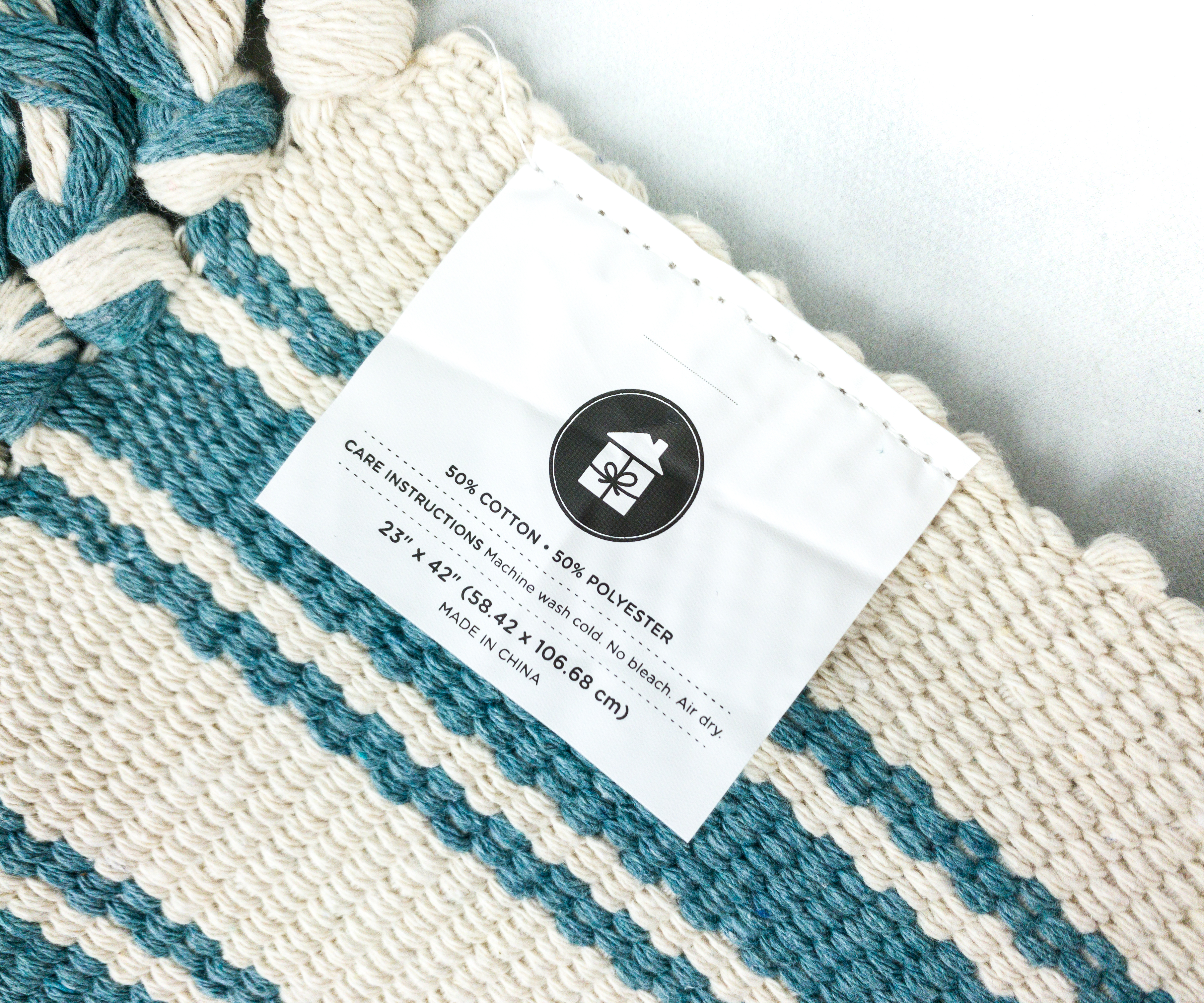 According to the tag, this 23″ x 42″ rug is made in China. It can be machine washed but no bleach.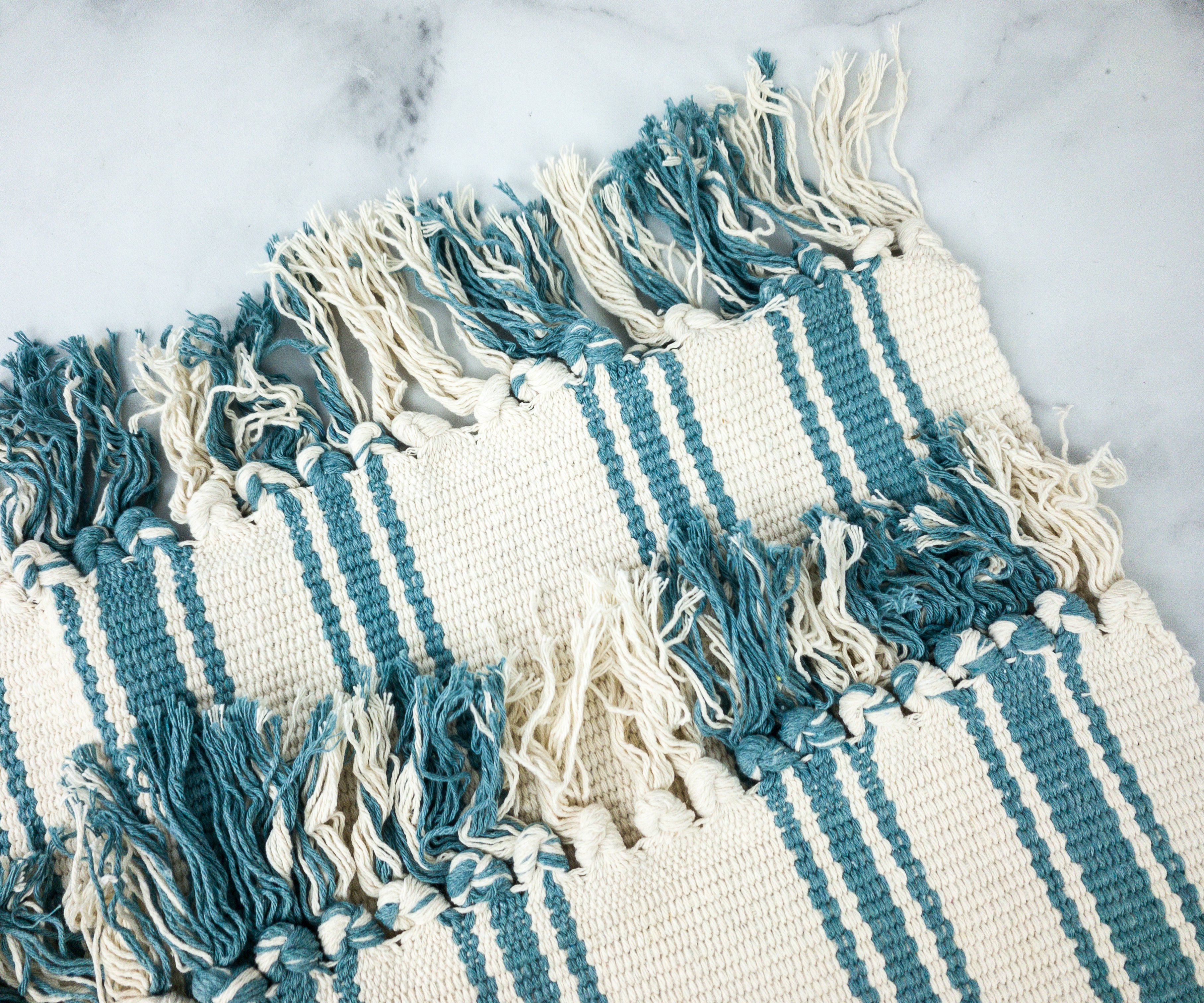 It has cute tassels running around both sides for an added effect!
The combination of dusty blue and cream is really nice. It's a perfect indoor rug, but according to Decocrated, you can also layer this with a smaller rug for a more stylish look.
What a wonderful box! All the pieces in this quarter's curation go well together, from the card to the rug. My favorites are the hexagonal planter and the two-tier tray! The gold-colored planter is such a unique piece and it also has a lot of uses. Meanwhile, the trays are heavy-duty and they can showcase a lot of different products without much effort! Overall, I'm pleased with the home decor items from this box. It ships quarterly so I can add new season-appropriate decor to my home as soon as the box arrives. If you're looking to revamp your home or your home office without breaking the bank, you might want to consider this subscription! Not only are the pieces stylish and pretty to look at, they're also of premium quality!
What do you think of this season's Decocrated box?