BOXYCHARM is a makeup and beauty subscription box that sends out 4-5 deluxe and full-size samples every month. In the past, the items have been mostly full-size products and the boxes always include an amazingly high value with premium products!
It's here! I've been excited since the spoilers!
Most of the items came in their original packaging.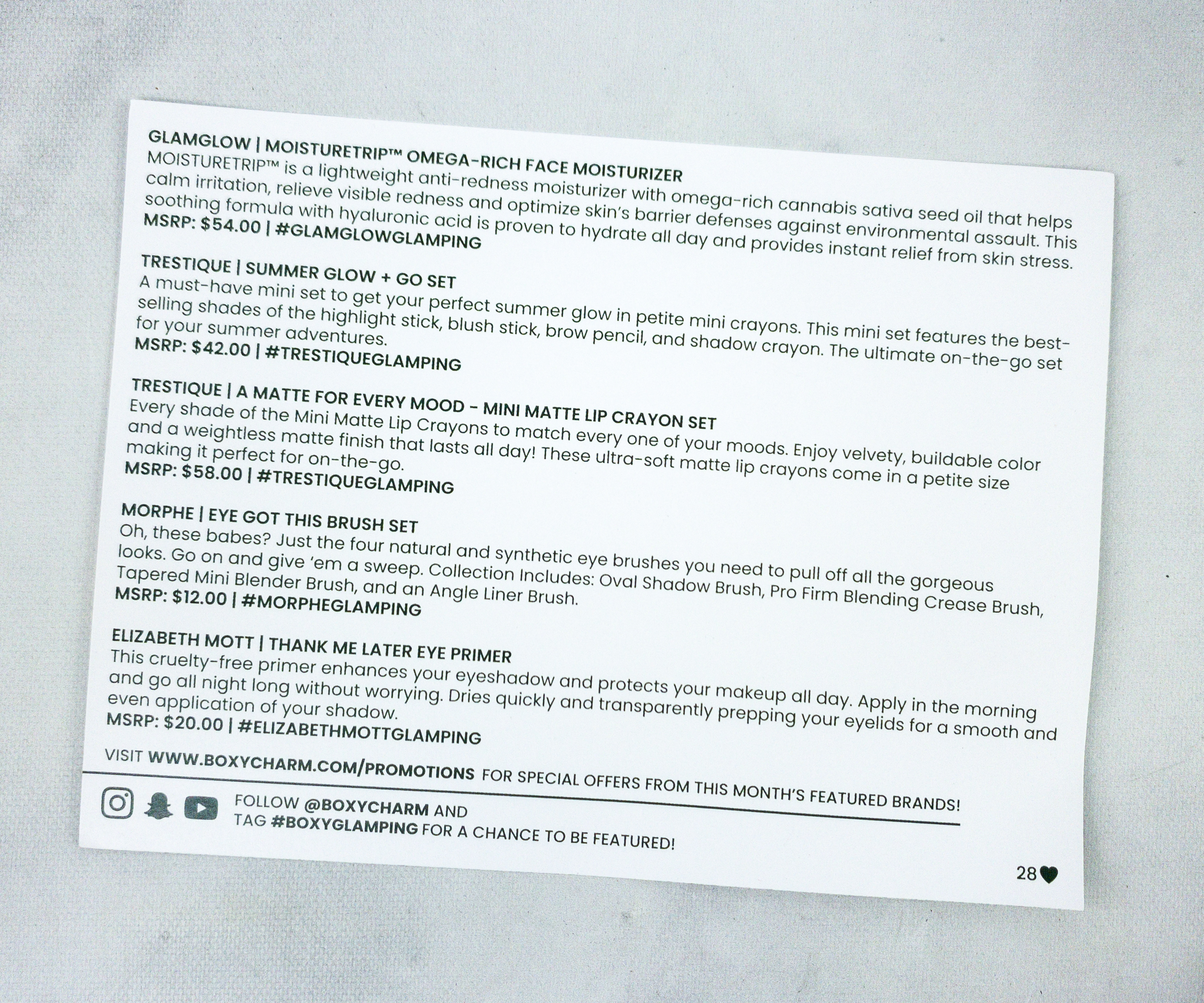 The box includes an information card.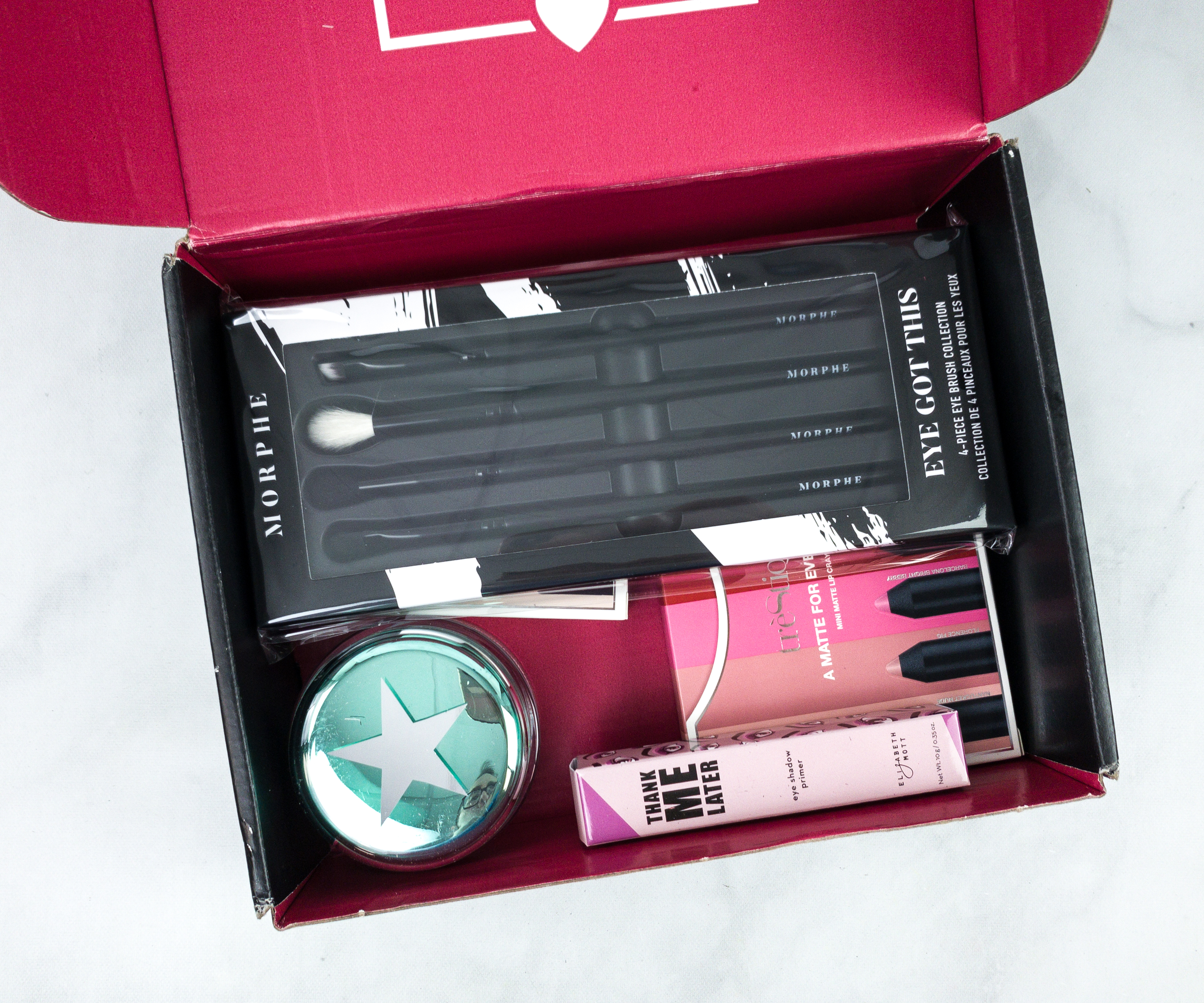 At the back, you will see a list of all the items inside as well as a short description!
Everything in my August 2020 BOXYCHARM! There are variations in the box – see them here.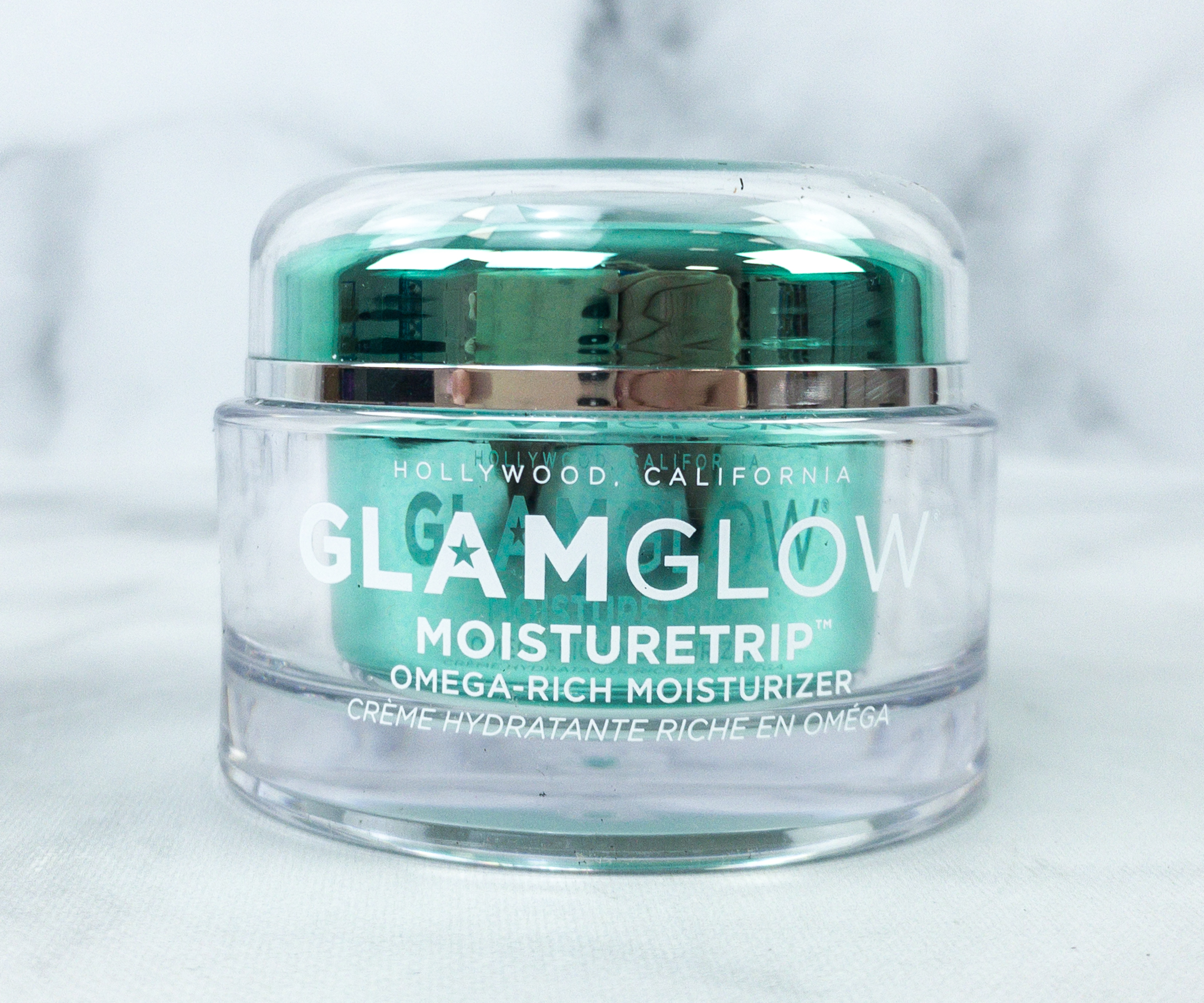 Glamglow Moisturetrip Omega Rich Face Moisturizer ($54) Subscribers will receive this OR Too Faced Born This Way Multi Use Sculpting Concealer (shades vary) OR QMS Medicosmetics Active Glow Tinted Day Cream OR Dr. Brandt Pores No More Pore Purifying Cleanser. Moisturizing is one of the most important parts of my skincare routine! This highly moisturizing cream is quite promising, as it hydrates while it also calms the skin, using a blend of hemp seed oil and hyaluronic acid.
Another important ingredient of this cream is chaga mushroom, which protects against blue light exposure. It's ideally used day and night for best results. How do I get this in a $25 box?! Crazy!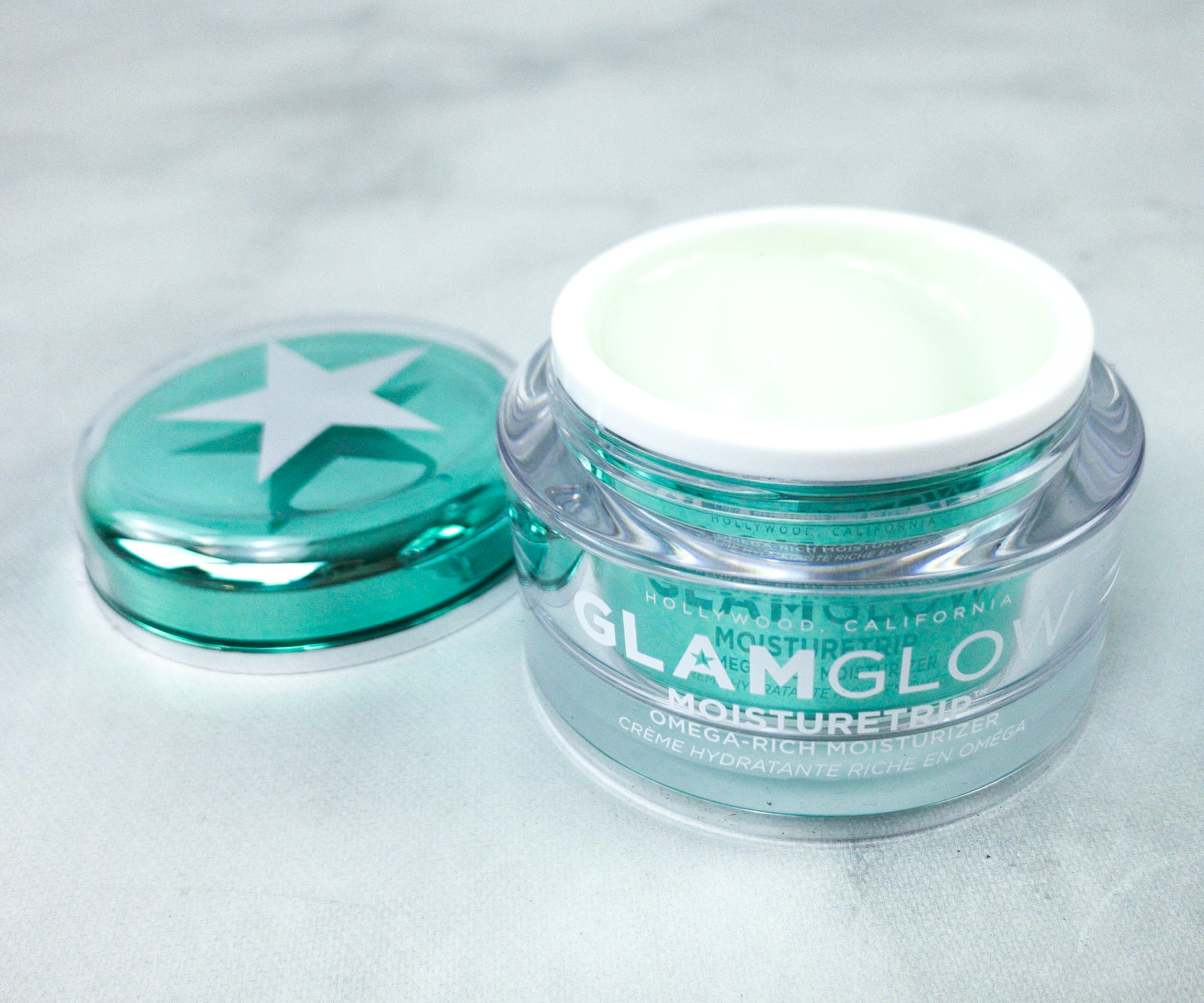 I love how it feels on my skin! The texture is rich and creamy but it gets absorbed easily, leaving no trace but smoother and healthier skin.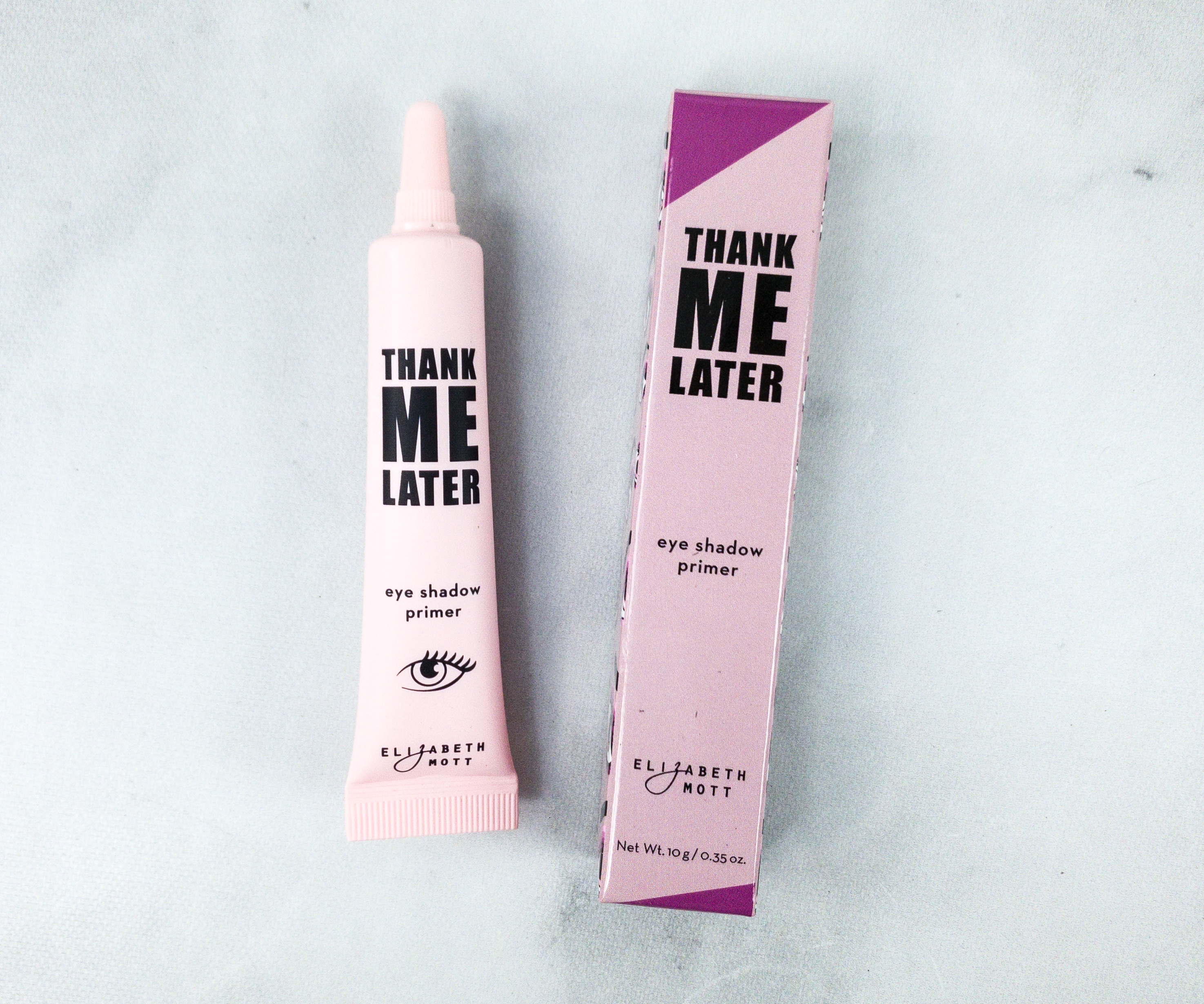 Elizabeth Mott Thank Me Later Eye Primer ($20) This is a variant item. Thank Me Later is such a witty name and they weren't wrong about it! This eye primer is impressive, as it enhances the eyeshadow's color and helps it last for a longer time. Just apply it in the morning and you can enjoy your gorgeous makeup look all day long. It easily dries once applied and it doesn't feel oily or heavy on my lids either.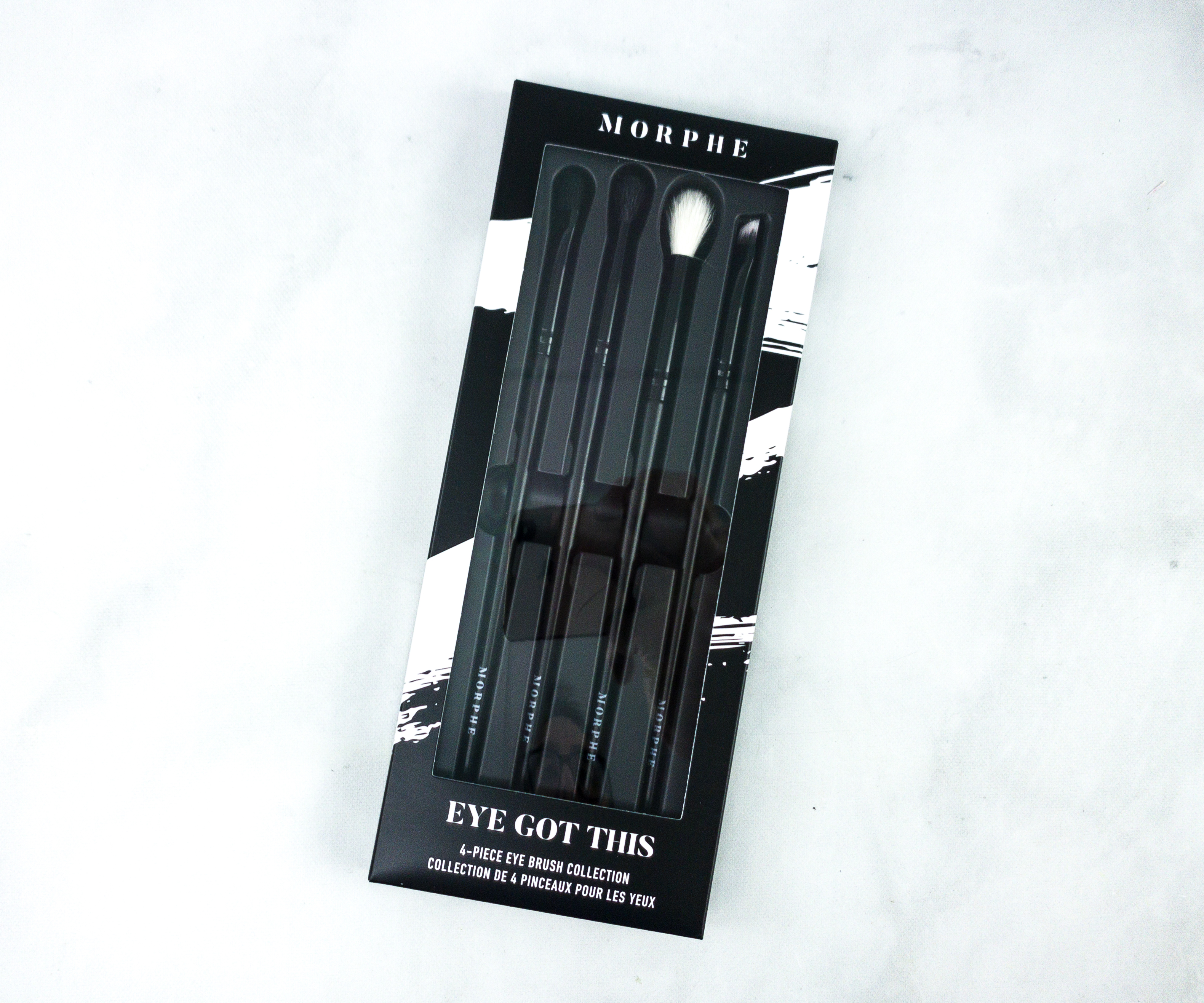 Morphe I Got This Brush Set ($12) This is a variant item. This set of makeup brushes is a must-have for eye makeup enthusiasts!
It includes 4 brushes, all designed to help you perfect your day and night eye makeup looks.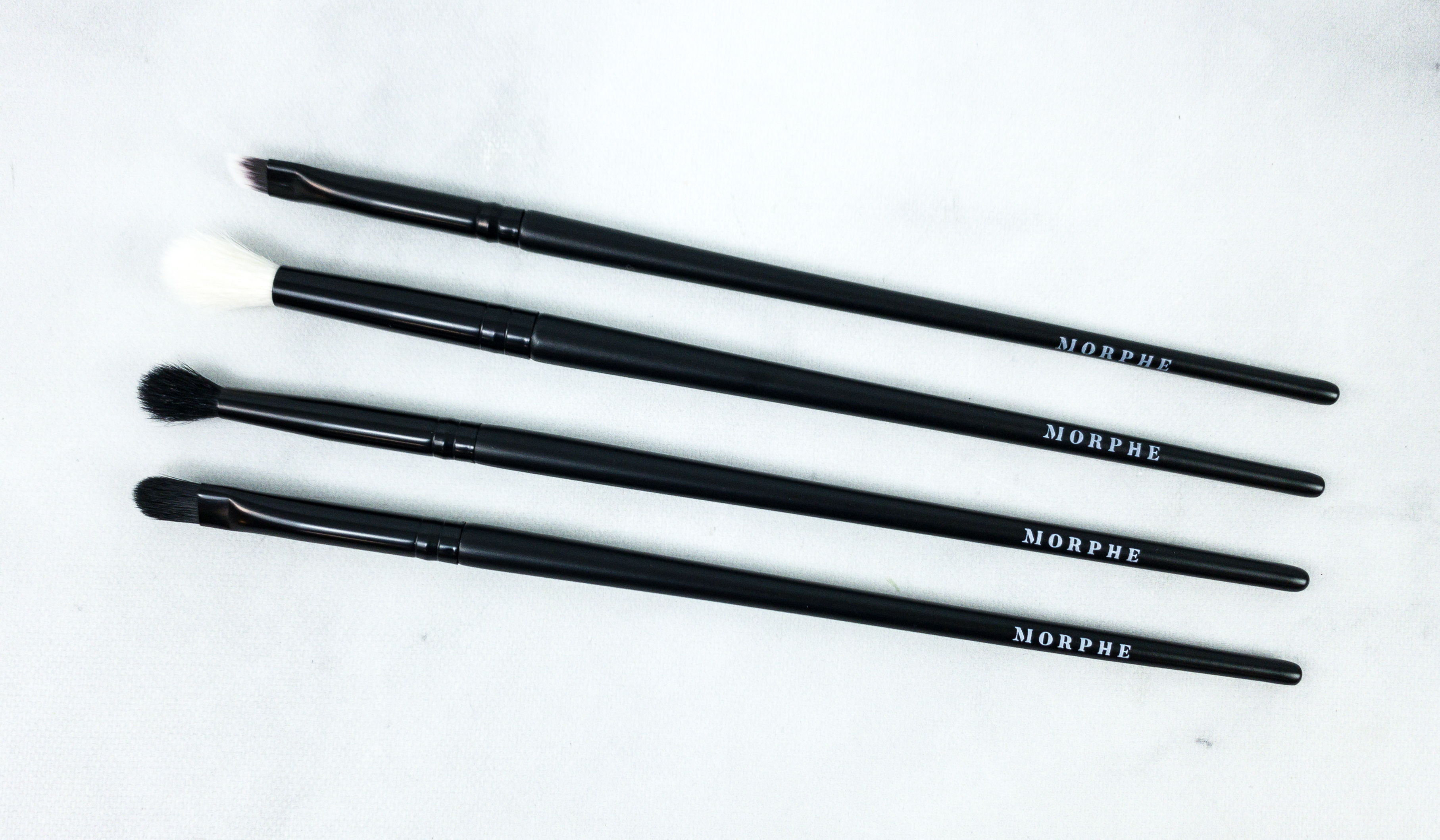 Here are all the brushes in the set!
First, we have the Angle Liner Brush featuring firm synthetic bristles. It's ideal for applying eyeliner.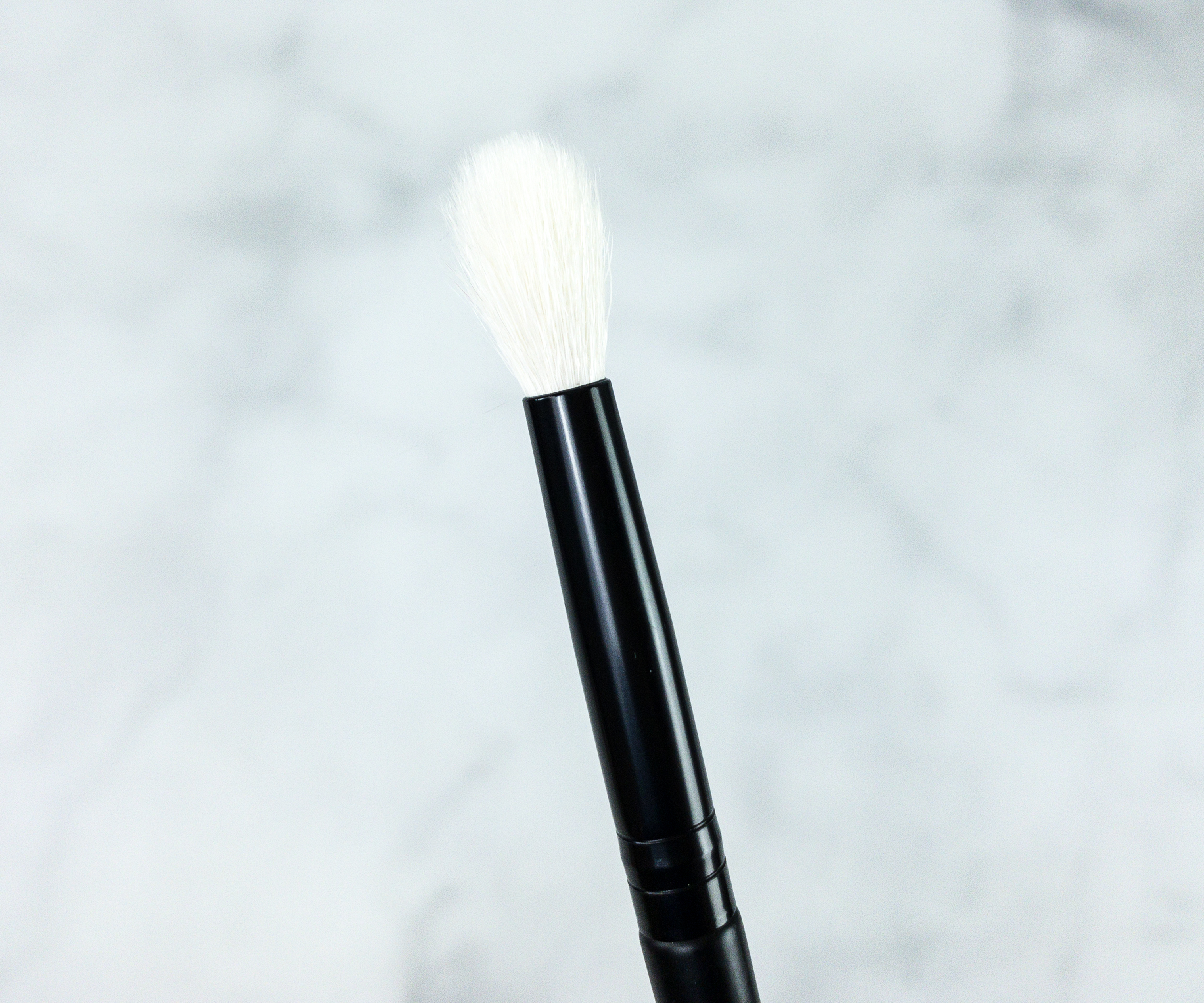 Next up is the Pro Firm Blending Crease Brush with natural bristles. This one is designed specially to blend products seamlessly with its round and firm brush head.
Also made with natural bristles is this tapered Mini Blender Brush. It's easy to use and gives you control when blending products.
This one is the Oval Shadow Brush which has thick, synthetic bristles. It's great for packing on color and diffusing edges.
Trestique Summer Glow + Go Set ($42) Subscribers will receive this OR Trestique A Matte For Every Mood Set OR Violetvoss Essentials 2 Eyeshadow Palette OR Butter London Teddy Boy Eyeshadow Palette. This set basically everything I need for a beautiful summer makeup look!
Everything is in crayon form, making them easy and non-messy to apply.
The bottom of the box also shows their shades: Mini Highlight Stick in Maldives Luminescent, Mini Blush Stick in Moroccan Rose, Mini Shadow Crayon in Tahitian Shimmer, and Mini Brow Pencil in Americano.
They are all travel-friendly!
First is the highlighter, which leaves a subtle shimmer and can be used whether on the eyes, cheeks, or whole face. Next to it is a blush stick that adds a pop of color to the cheeks, followed by the shadow crayon in a gorgeous taupe shade. Lastly, there's a mini brow pencil to keep the brows on fleek.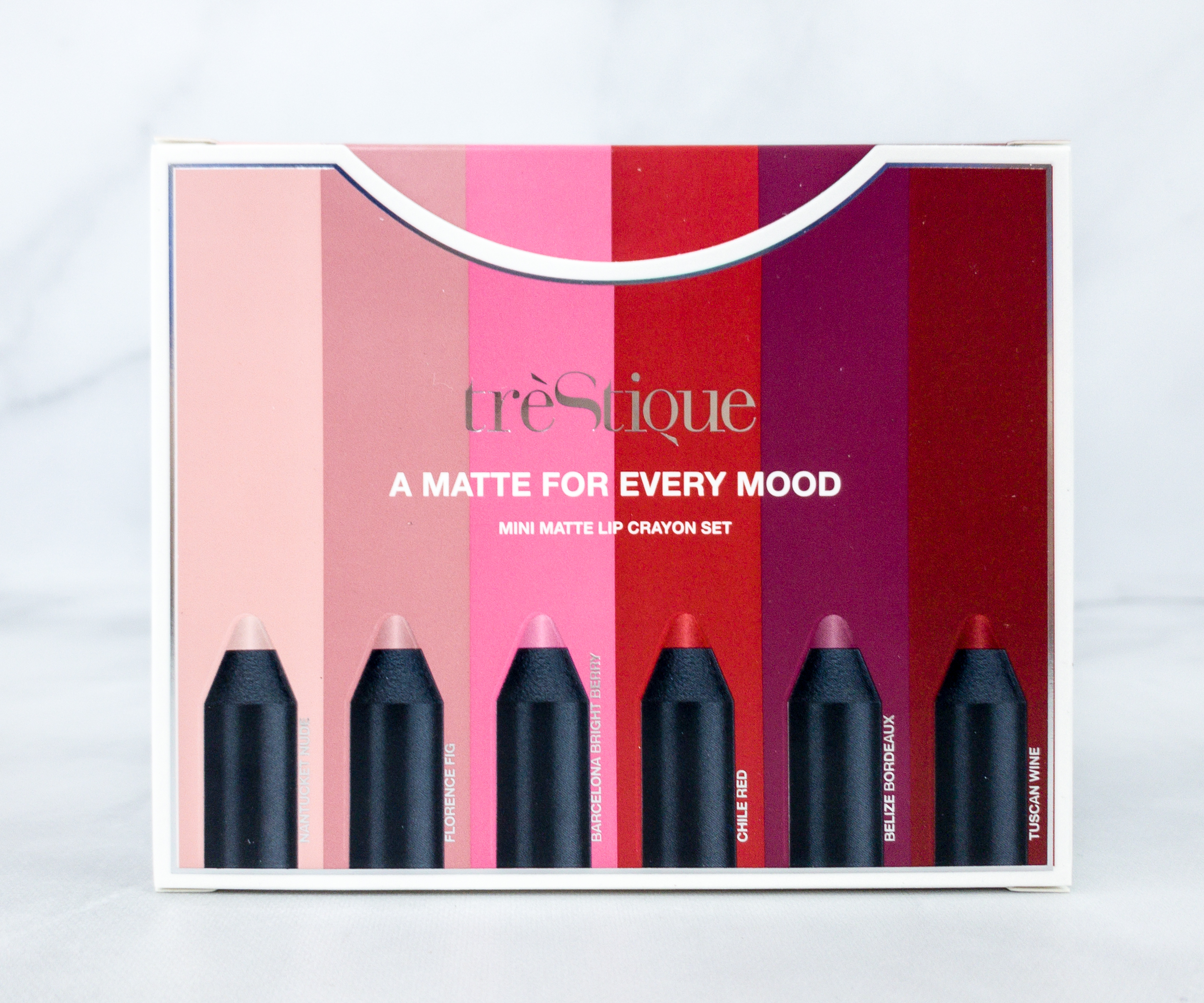 Trestique A Matte For Every Mood ($58) Subscribers will receive this OR  Trestique Summer Glow + Go Set OR Violetvoss Essentials 2 Eyeshadow Palette OR Butter London Teddy Boy Eyeshadow Palette. Here's another makeup set and this time it includes matte lipsticks in different shades!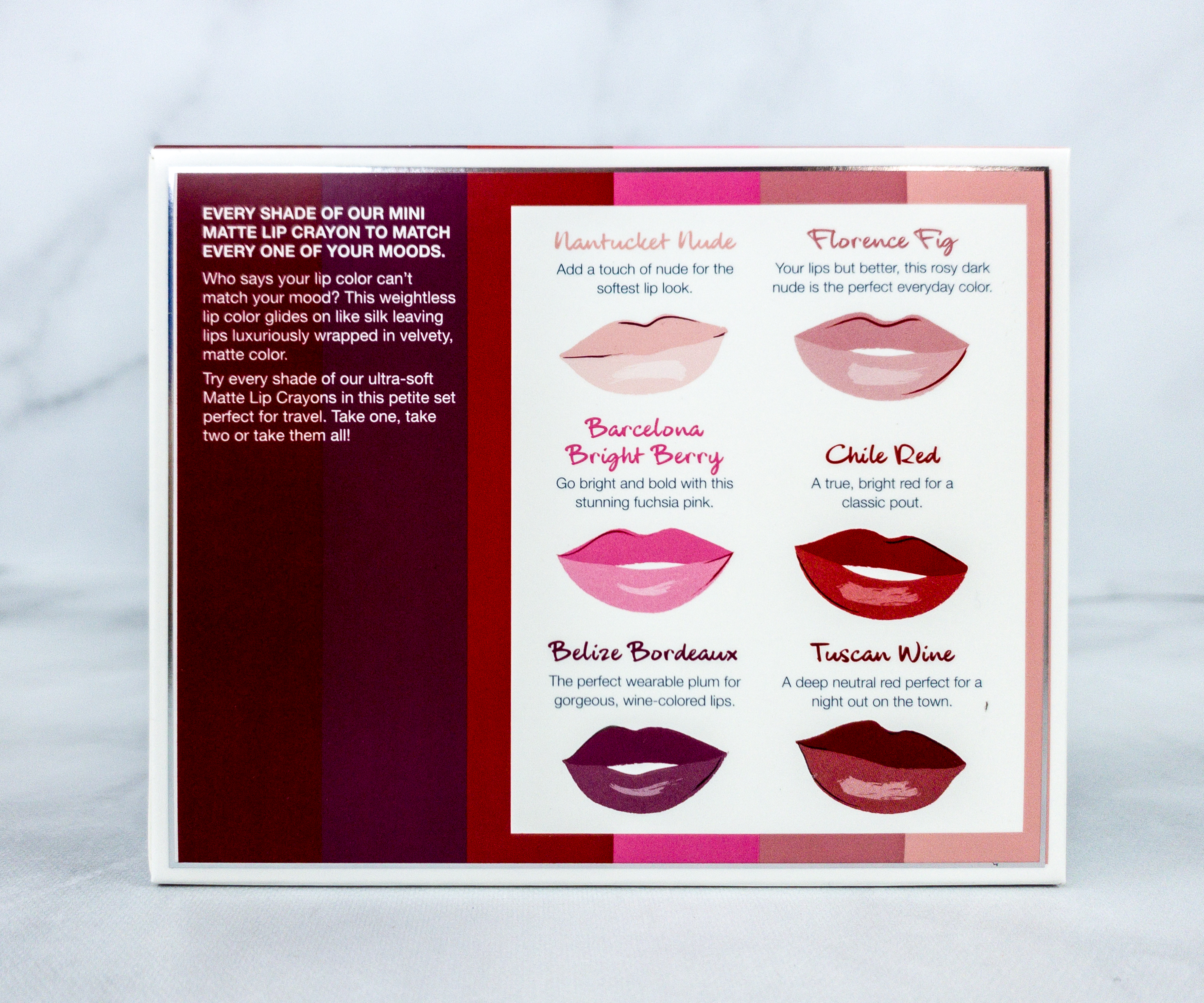 There are 6 shades in the set, perfect for matching with different moods or looks. Just like the previous set of makeup, they come in crayon form.
You'll also see the shade names on the bottom of the box: Nantucket Nude, Florence Fig, Barcelona Bright Berry, Belize Bordeaux, Chile Red, and Tuscan Wine.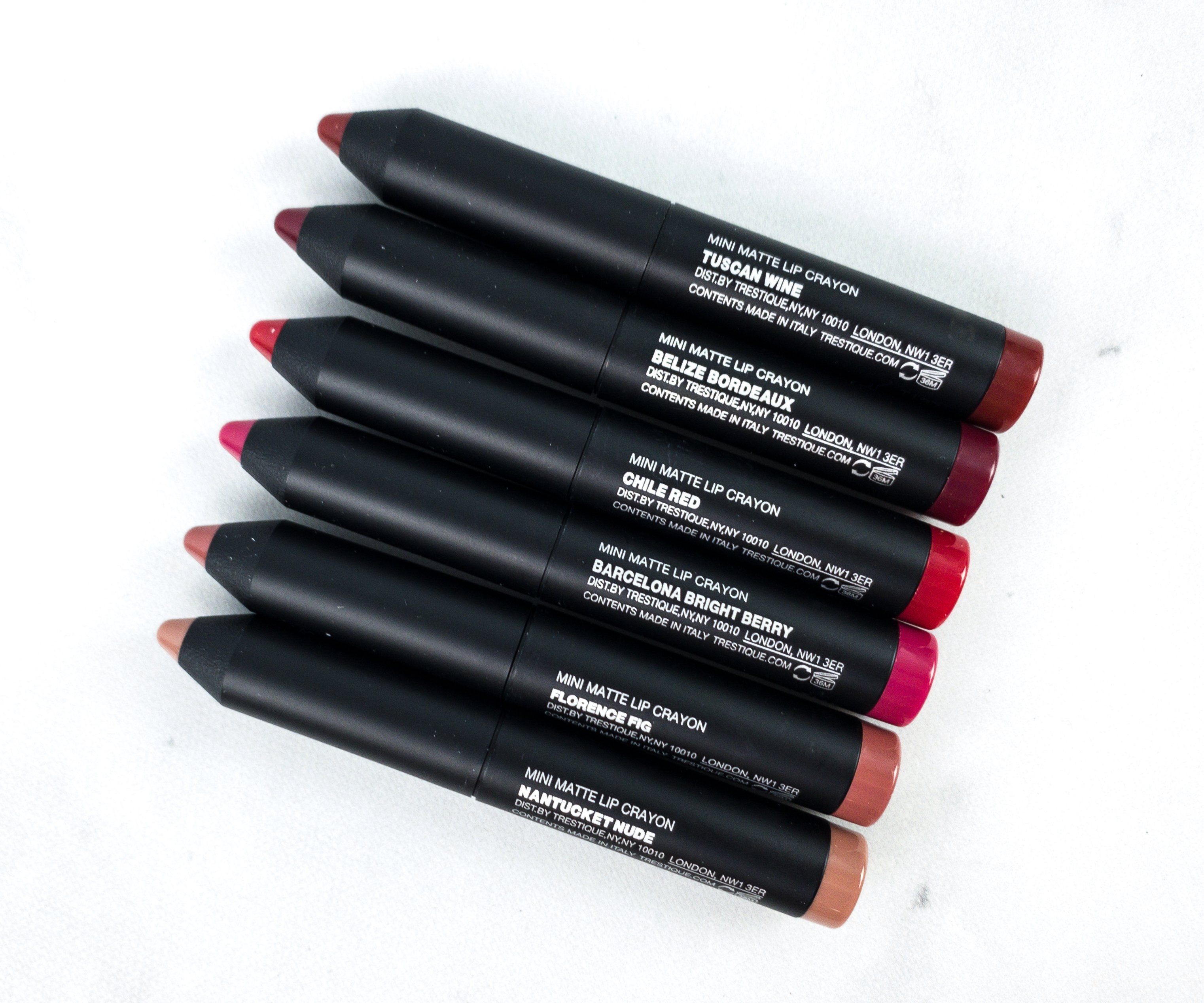 They all have a smooth and buttery formula, with intense pigments that don't dry out my lips. These lipsticks are perfect to use on-the-go. My favorite shade is Belize Bordeaux, which captured the perfect shade of plum!
This month my variation of BOXYCHARM has $186 worth of makeup, makeup tools, and skincare items! My favorite is the moisturizing cream, which is ideal for use during summer as it's lightweight and non-sticky. Coming in a close second are the 2 makeup sets which are great for creating full-face makeup looks. One set includes a travel-friendly version of highlighter, blush, eyeshadow, and brow liner, and another set has 6 beautiful lipstick shades! The makeup brushes and the eye makeup primer are also both useful! I really couldn't ask for more, value-wise and content-wise!
What's your favorite item in this month's BOXYCHARM?