Boxwalla is a subscription box company that offers three themes – natural beauty, international film, or books! With Boxwalla, you'll be able to discover great artisans and artists from across the globe.
This is the review of the Boxwalla Limited Edition "Two Facets of Joy" Makeup+Skincare Box. This box is $69 + shipping and includes 2 full-size products worth $170.
NOTE: This is a one-time box and will not start a subscription.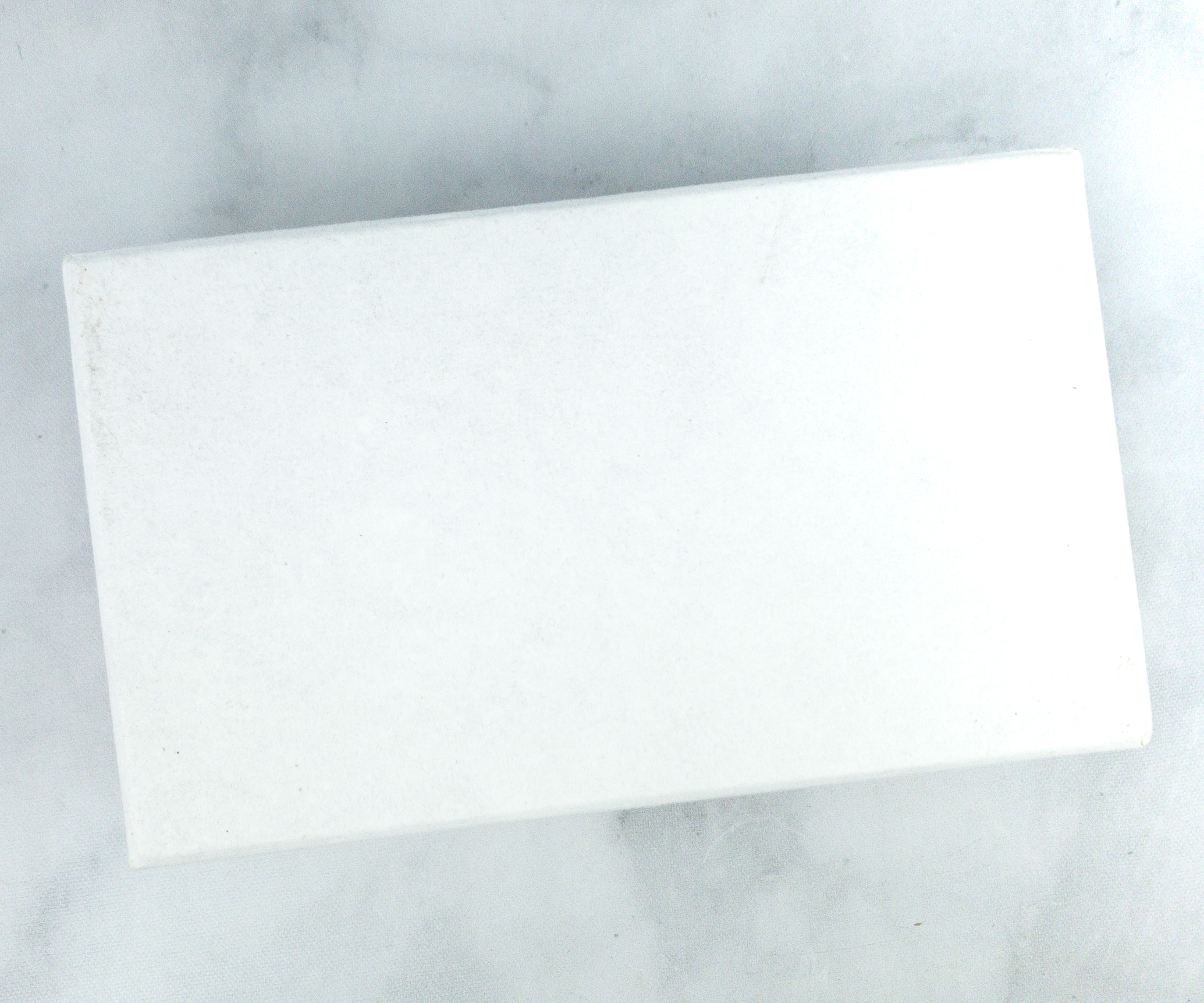 Just like the regular Boxwalla boxes, the items arrived in a plain box. It's a luxe cotton rag paper-covered box handcrafted by artisans in Rajasthan, India, and no child labor is ever used.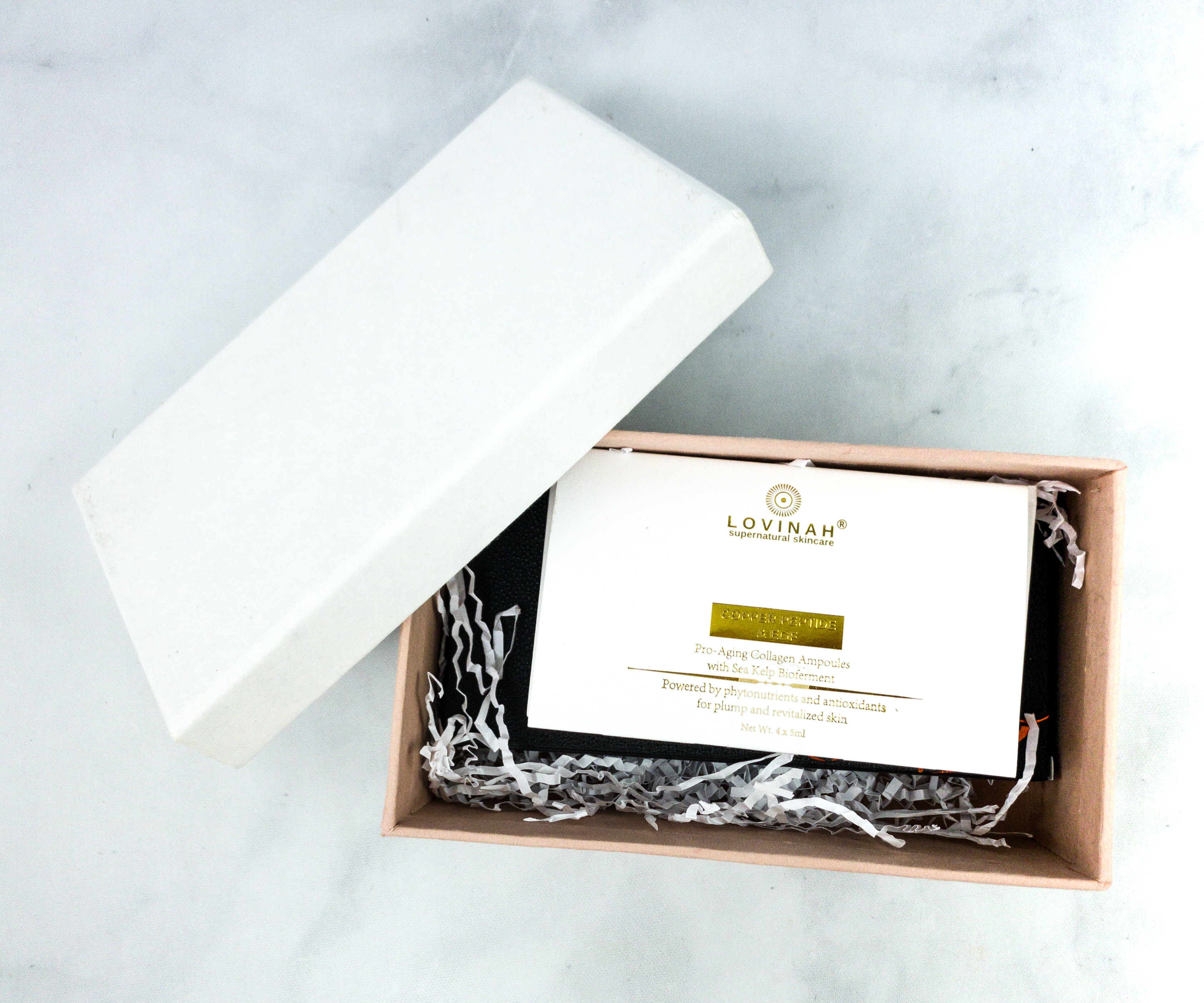 This limited edition box features items from Lovinah Skincare.
Lovinah Skincare was created by Joy Ekhator and combines ancient herbal healing traditions that she experienced growing up in her native Nigeria, with the latest, cutting edge skincare technology. The result: extraordinary products that are both soul-filling and incredibly efficacious.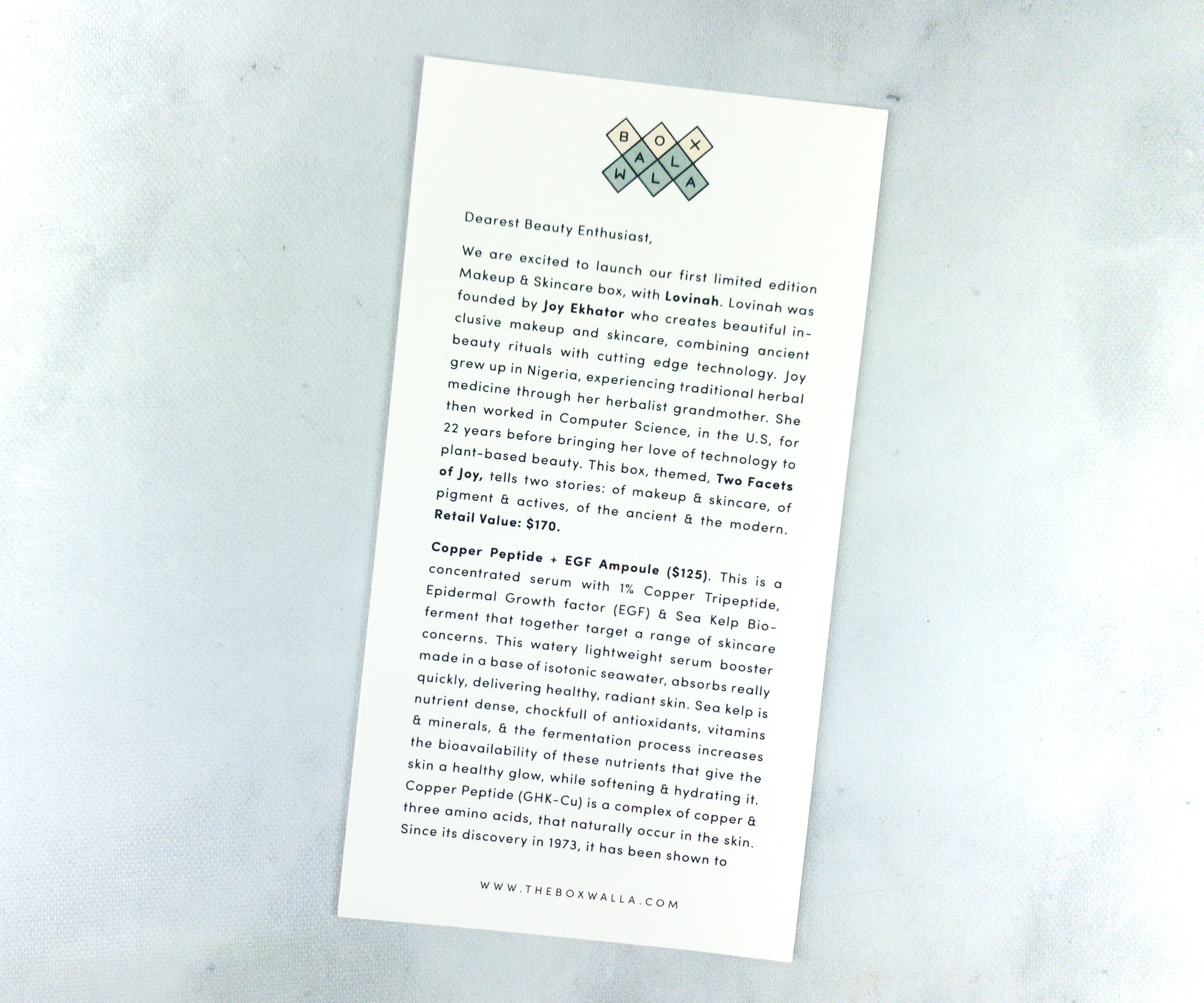 The information card is a letter from "The Drunken Boxwallas" detailing each of the products.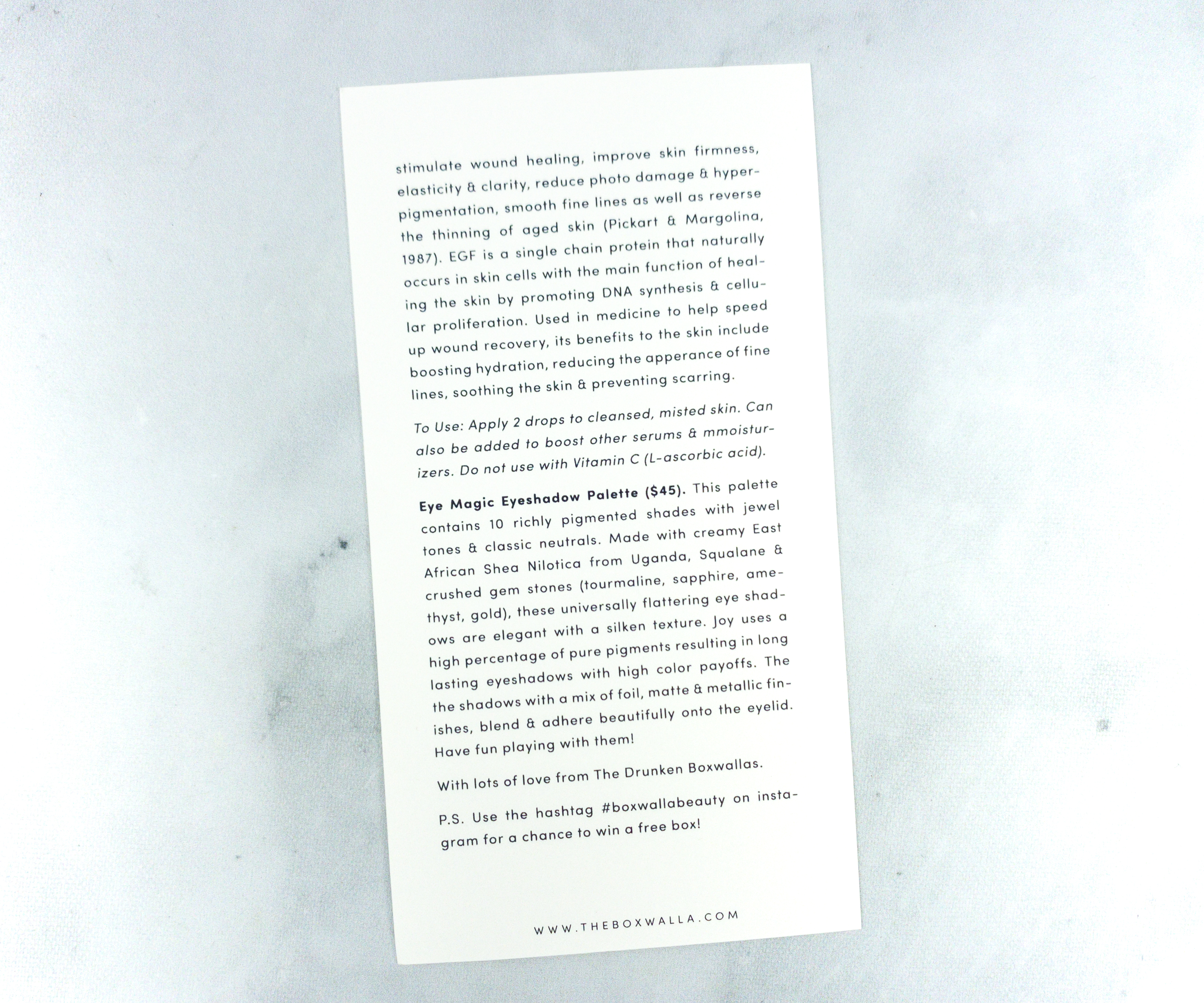 They also remind the subscribers to share their thoughts about the box on Instagram using #boxwallabeauty for a chance to win a free box.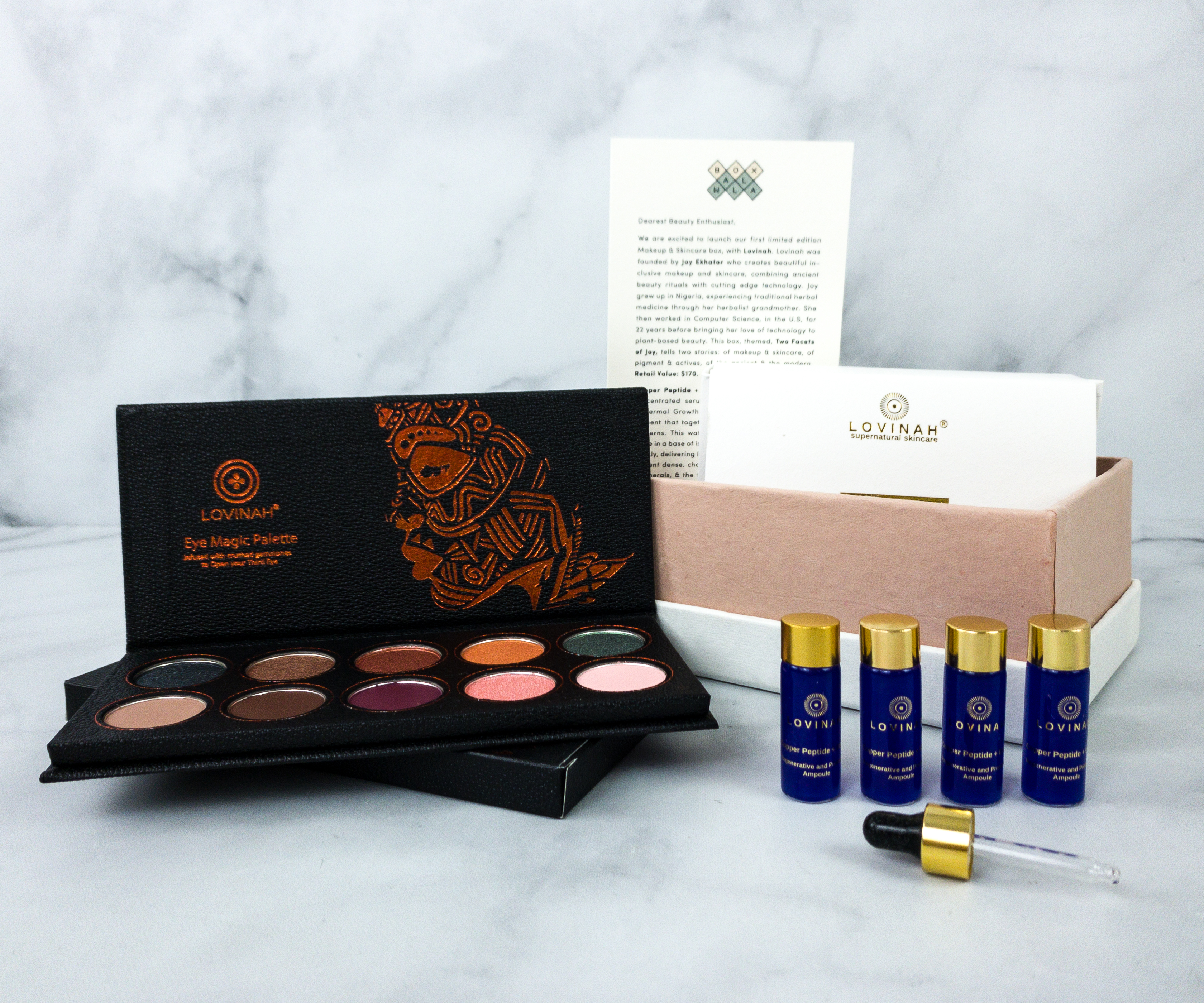 Everything in my box!
Lovinah's Copper Peptide & EGF* Ampoule Set ($125) This ampoule set is good for 4 weeks! It's formulated for oily, dry, normal, and combination skin, and also targets premature-aging, loss of firmness or elasticity, dryness, and uneven texture.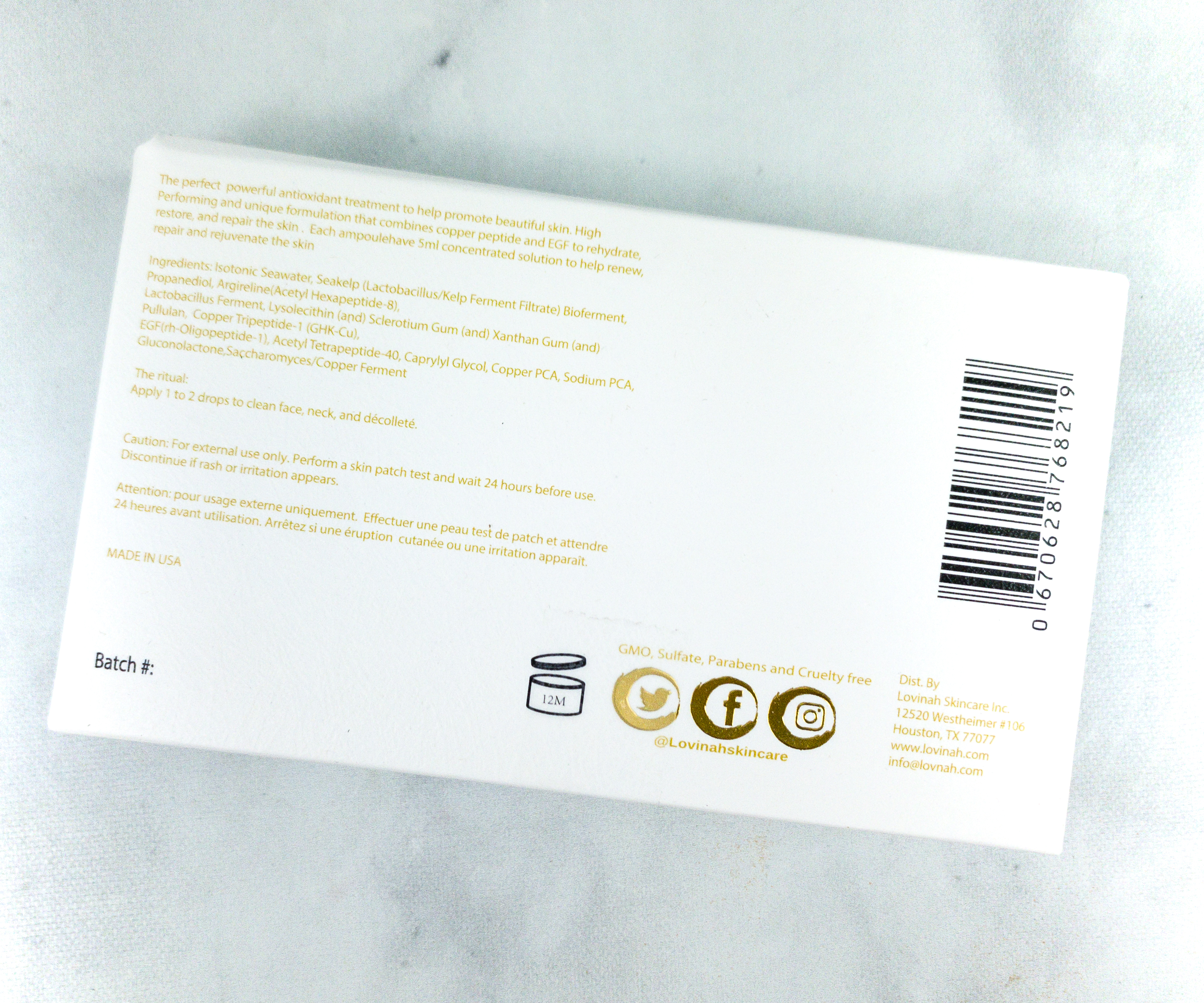 Ingredients include Copper Tripeptide GHK-Cu, a combination of copper and proteins that supports skin regeneration and sea kelp bioferment that is rich in antioxidants.
The bottles were cradled in a custom carton packaging to keep them from moving around the box. They also come with a glass dropper pump to help dispense product easily!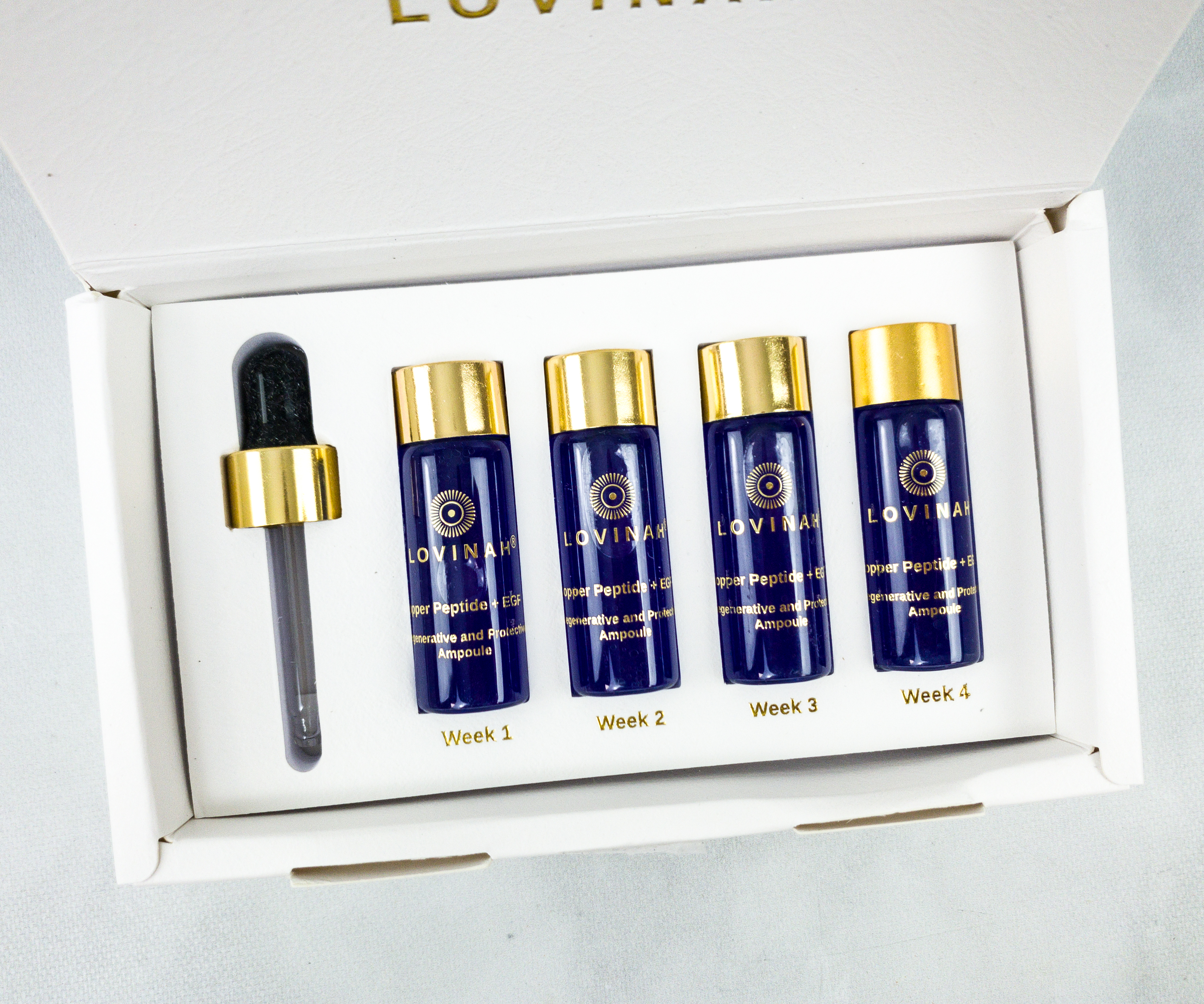 Each bottle includes a 5ml concentrated solution. It has a light blue color but no worries because it applies clear on the skin. For best results, it's recommended to be applied in both the morning and evening. You will need only 1 to 2 drops per application.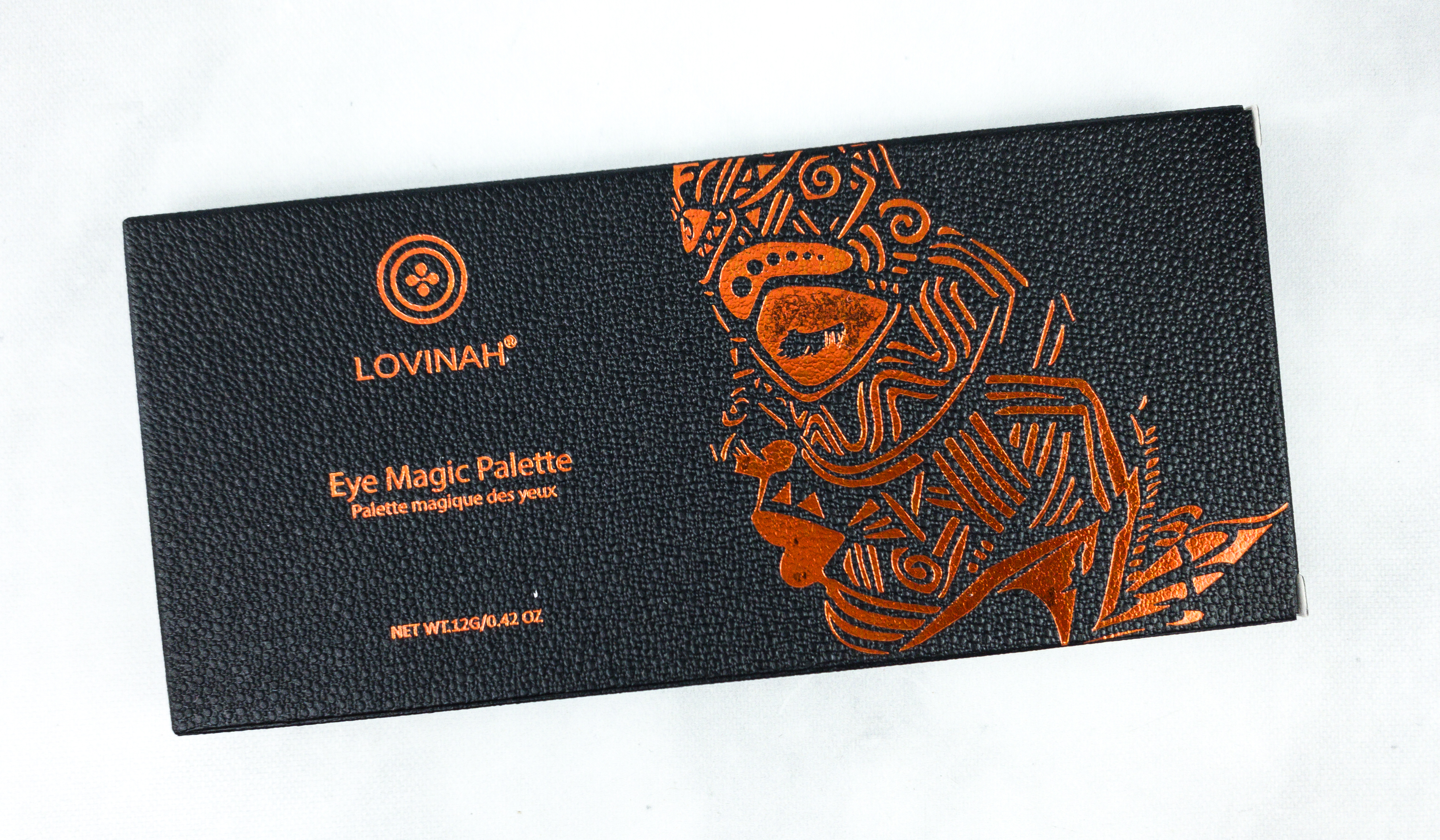 Lovinah's Eye Magic Eyeshadow Palette ($45) From the same brand as the ampoule, here's a luxurious eyeshadow palette that contains 10 well-pigmented shades.
This product doesn't contain talc, parabens, sulfates, phthalates, and mineral oil.
These shea shadows are infused with squalene and crushed gemstones, making these silky-soft eyeshadows are easy to blend and long-lasting. They don't dry out the skin either so your lids stay comfortable all day or night long!
The palette has a nice mix of foil, matte, and metallic shades, giving us a lot of eye makeup possibilities. I love the color pay-off! I'm definitely into the neutrals because they're great for everyday use, but some of the bolder colors are also useful for making the eyes pop!
This limited edition box from Boxwalla is a great deal for those who love both natural skincare and makeup. The ampoule set lasts a month, enough for you to decide if it works for your skin or not. There's 1 bottle per week so it's easier to control how much you use. So far, it has made my skin feel refreshed and rejuvenated and it also worked well under makeup! Speaking of makeup, the eyeshadow palette is just gorgeous. Any makeup enthusiast would love its silky smooth quality and how pigmented it was. Even the shades are lovely, so I couldn't really ask for more. The total retail value of this box is $170, which is exactly what they promised. Since this box is not a recurring purchase, it makes a nice one-time gift for a friend or loved one as well!
What do you think of the Boxwalla Limited Edition Makeup+Skincare Box?