Book of the Month Club is a monthly book subscription box. Each month, their panel of judges selects 5 books, which they announce on the first of the month, and members have six days to decide which book (or books) they would like to receive. One book per month is included in the membership fee, and members can purchase up to two additional books each month for $9.99 per title. The subscription price is $14.99 per month.
DEAL: Book of the Month has a new deal to get your first book for $9.99 when you use this link at checkout!
The book arrived in a sturdy blue box. The inner cover of the box says "You've got great taste."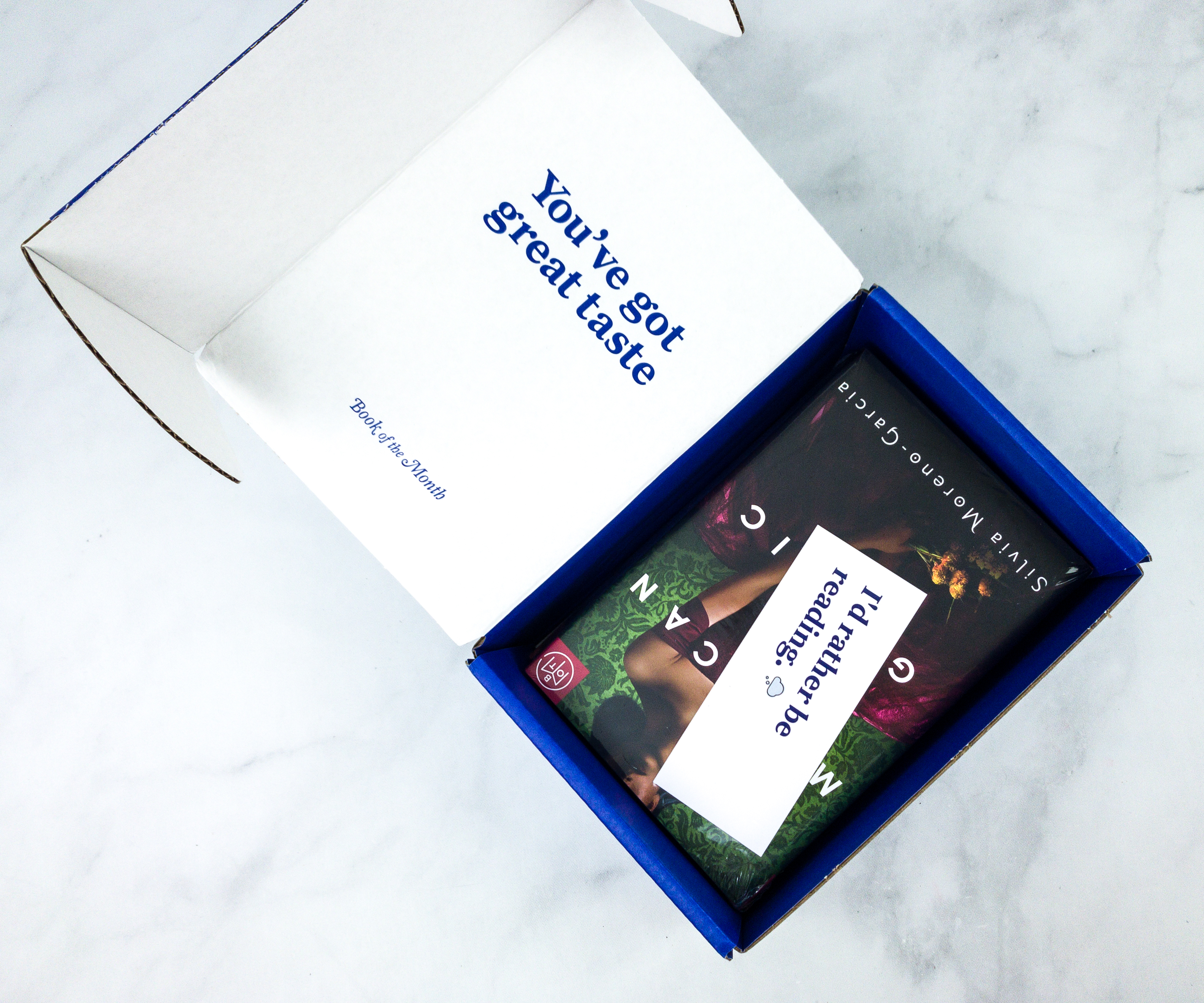 The book fits exactly into the box!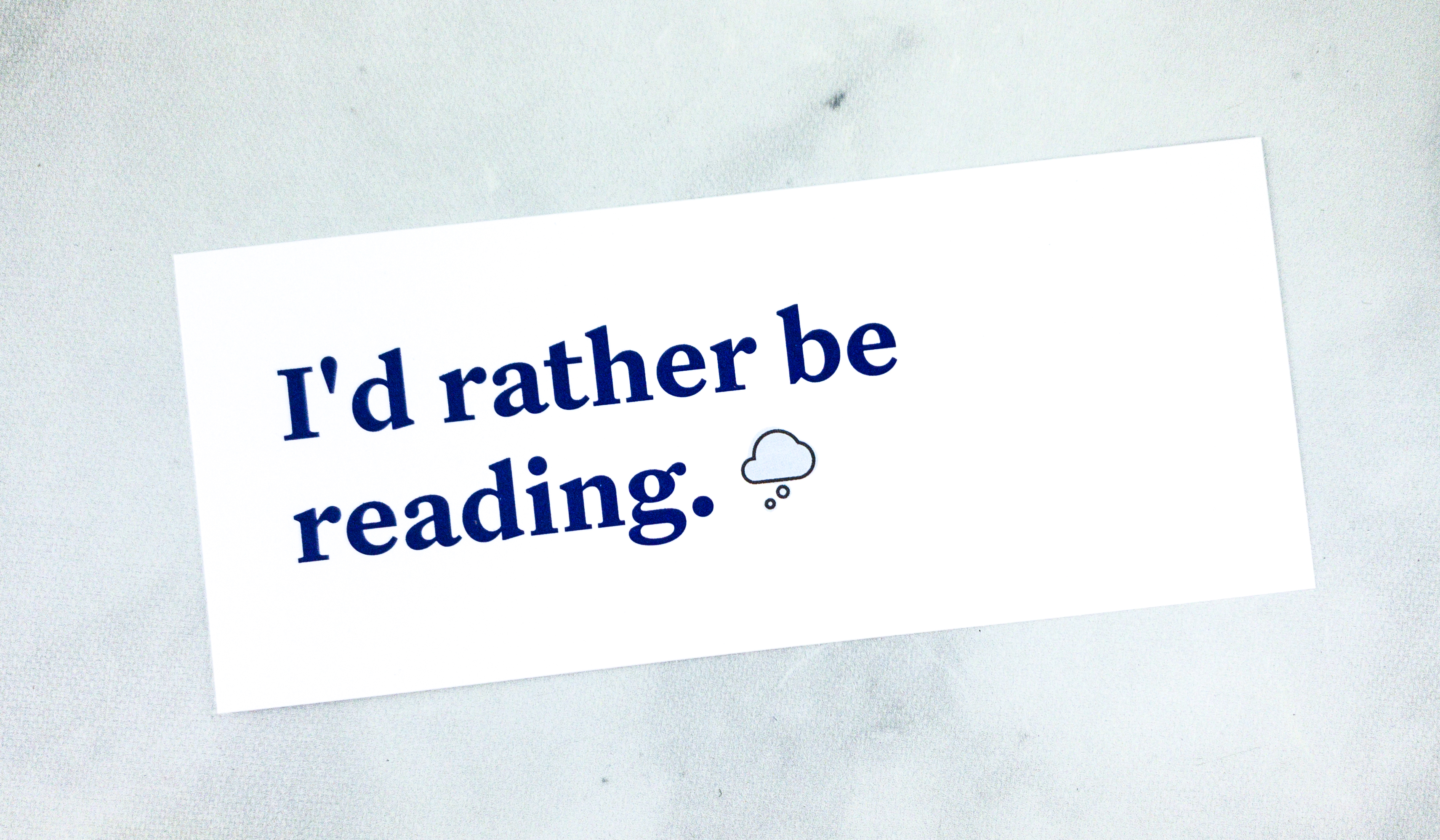 There's also a bookmark that says "I'd rather be reading."
The back has the Book of the Month branding.
Everything in my box!
The Book of the Month subscription includes one book per month. You can add on extra titles for $9.99 per book!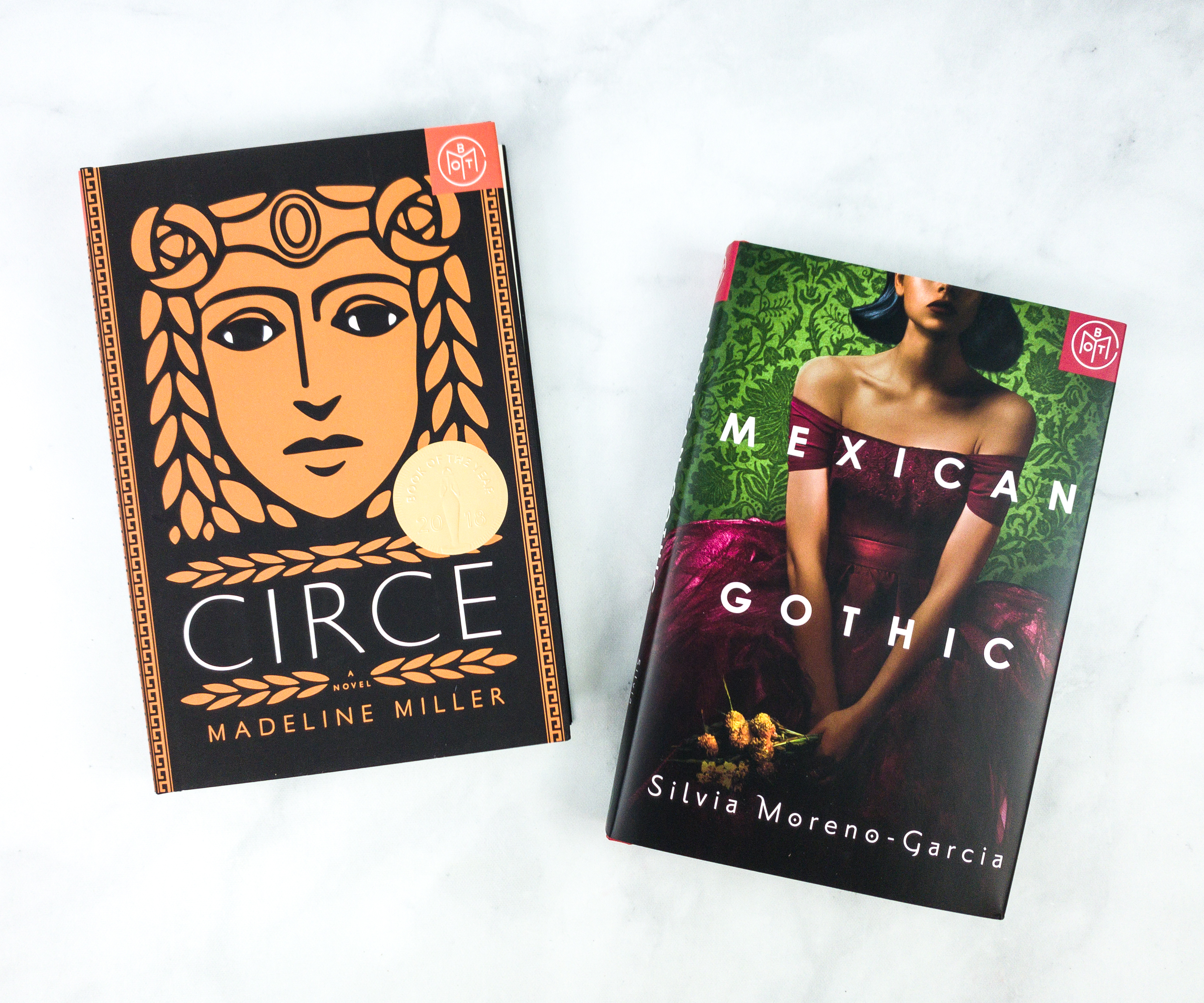 I have two books in this box: The Circe by Madeline Miller and Mexican Gothic by Silvia Moreno-Garcia.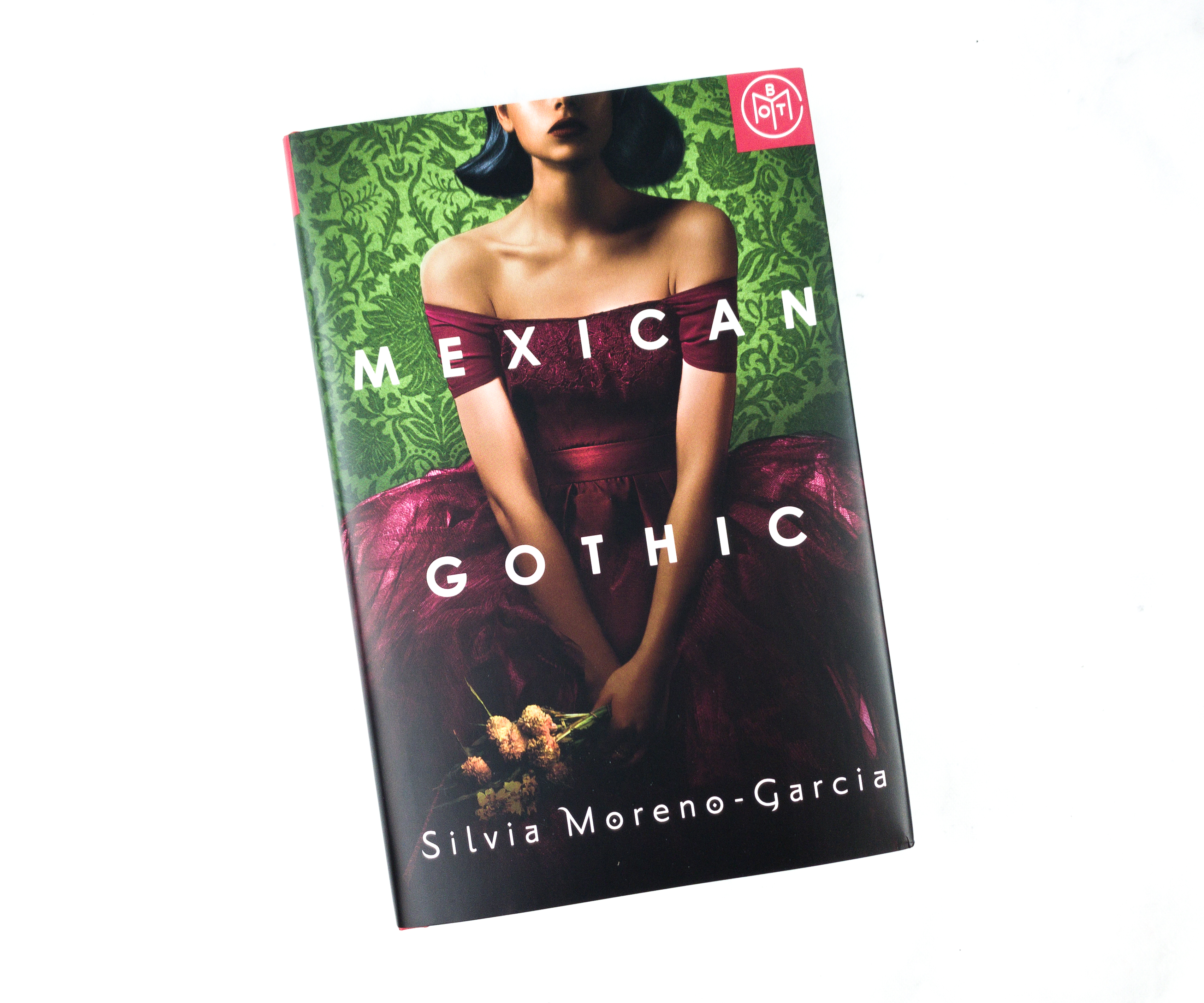 Mexican Gothic by Silvia Moreno-Garcia ($17.36)
After receiving a frantic letter from her newly-wed cousin begging for someone to save her from a mysterious doom, Noemí Taboada heads to High Place, a distant house in the Mexican countryside. She's not sure what she will find—her cousin's husband, a handsome Englishman, is a stranger, and Noemí knows little about the region.

Noemí is also an unlikely rescuer: She's a glamorous debutante, and her chic gowns and perfect red lipstick are more suited for cocktail parties than amateur sleuthing. But she's also tough and smart, with an indomitable will, and she is not afraid: Not of her cousin's new husband, who is both menacing and alluring; not of his father, the ancient patriarch who seems to be fascinated by Noemí; and not even of the house itself, which begins to invade Noemi's dreams with visions of blood and doom.

Her only ally in this inhospitable abode is the family's youngest son. Shy and gentle, he seems to want to help Noemí, but might also be hiding dark knowledge of his family's past. For there are many secrets behind the walls of High Place. The family's once colossal wealth and faded mining empire kept them from prying eyes, but as Noemí digs deeper she unearths stories of violence and madness.

And Noemí, mesmerized by the terrifying yet seductive world of High Place, may soon find it impossible to ever leave this enigmatic house behind.
The back features the BOTM logo that indicates this book is a July 2020 pick.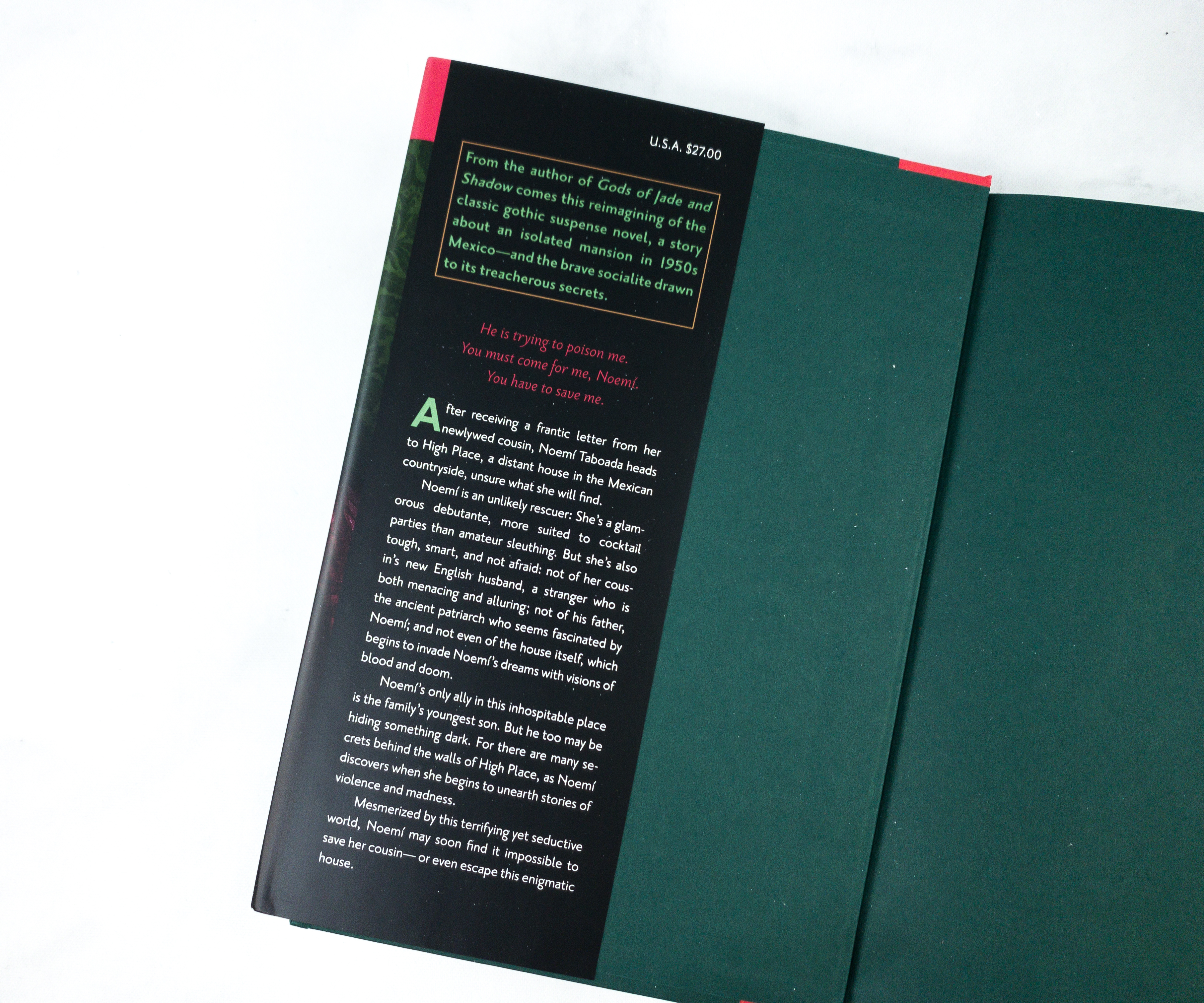 The cover image on the book made it look like a romance novel, but really it's too far from it. The inside flap of the dust jacket gives an idea of what to expect from the story: gothic suspense!
The socialite Noemi might fit glam parties, but she's more into sleuthing. Her newlywed cousin asked for her help and she went to where she is: a mansion in High Place. There's something eerie about the place and she felt really different about it, even the residents in the place felt weird.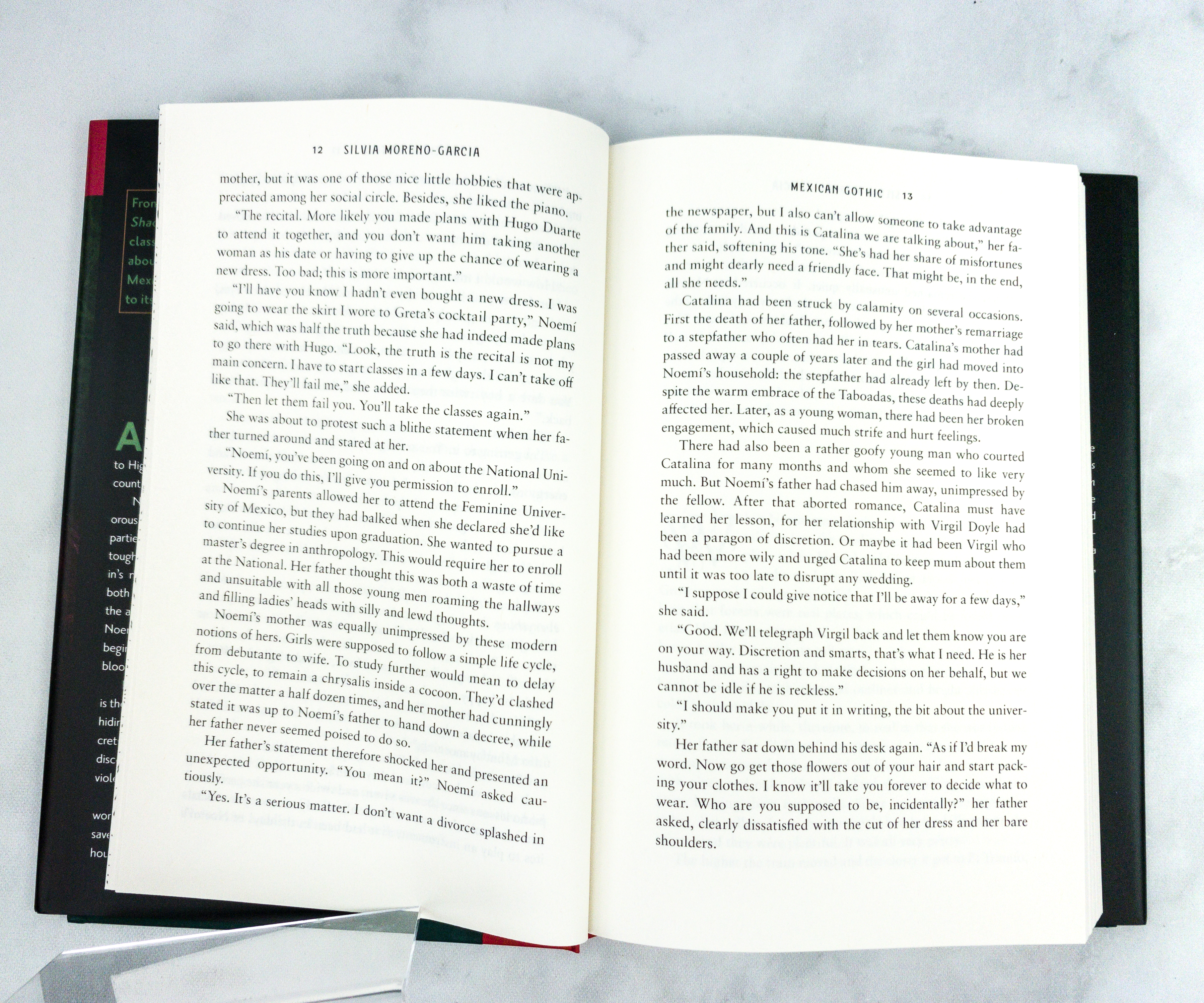 Though Noemi is not really afraid of the house, and the people who reside in the place, she's being haunted in her dreams! And as she digs deeper, she will find out the stories of violence and madness hiding in every corner of the enigmatic house. It's not your typical horror story as there's a big twist in the end, and it will leave you at the edge of your seat. It's terrifying, spine-tingling, and really exciting! It's the perfect book for those who love mystery, horror, plus a brave female lead character!
Circle by Madeline Miller ($14.89)
In the house of Helios, god of the sun and mightiest of the Titans, a daughter is born. But Circe is a strange child—not powerful, like her father, nor viciously alluring like her mother. Turning to the world of mortals for companionship, she discovers that she does possess power—the power of witchcraft, which can transform rivals into monsters and menace the gods themselves. Threatened, Zeus banishes her to a deserted island, where she hones her occult craft, tames wild beasts and crosses paths with many of the most famous figures in all of mythology, including the Minotaur, Daedalus and his doomed son Icarus, the murderous Medea, and, of course, wily Odysseus. But there is danger, too, for a woman who stands alone, and Circe unwittingly draws the wrath of both men and gods, ultimately finding herself pitted against one of the most terrifying and vengeful of the Olympians. To protect what she loves most, Circe must summon all her strength and choose, once and for all, whether she belongs with the gods she is born from, or the mortals she has come to love. With unforgettably vivid characters, mesmerizing language and page-turning suspense, Circe is a triumph of storytelling, an intoxicating epic of family rivalry, palace intrigue, love and loss, as well as a celebration of indomitable female strength in a man's world.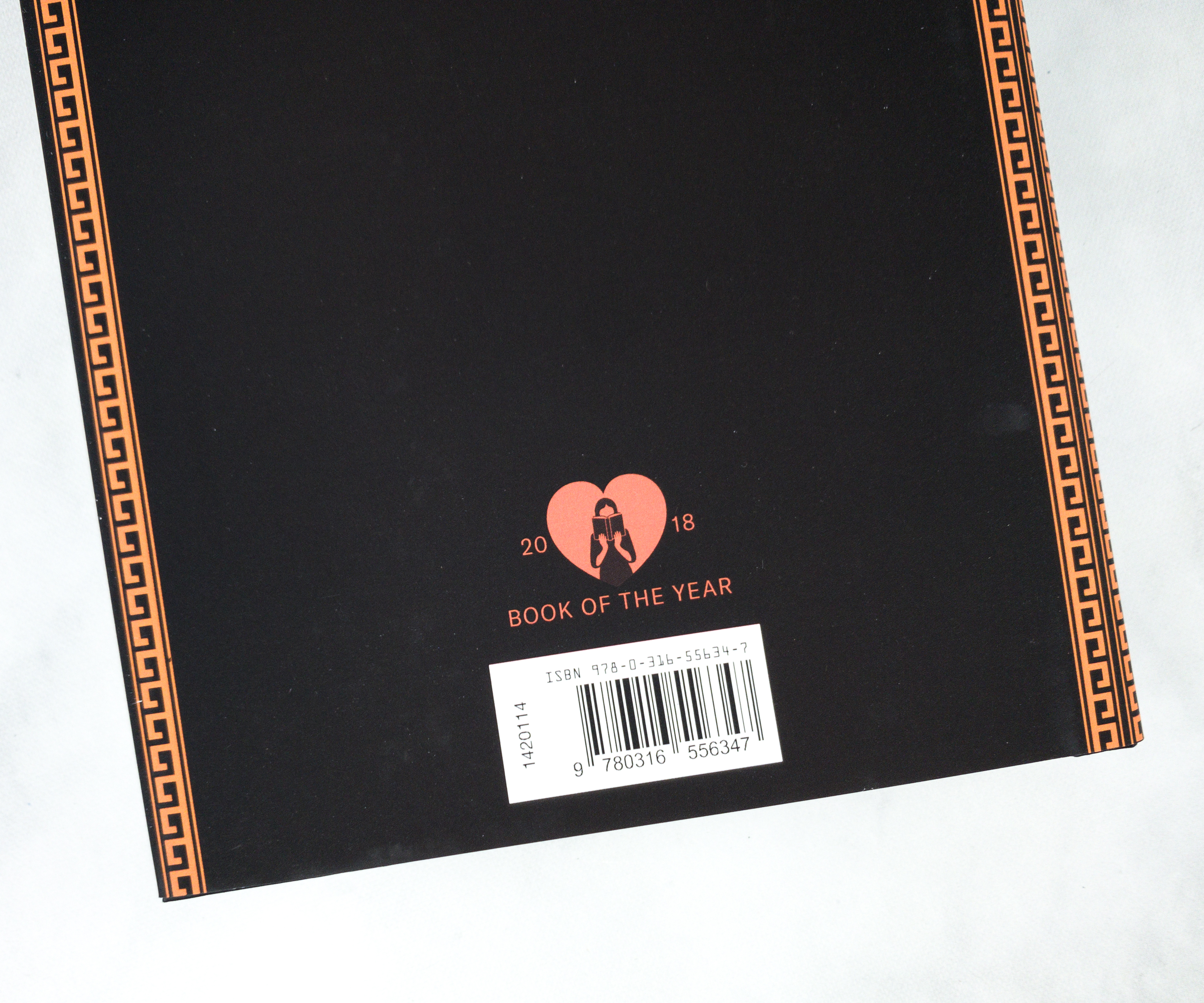 Instead of the BOTM logo, this one has an image of a girl reading inside a heart shape. It's the 2018 Book of the Year!
The story of Circe is the highly anticipated follow-up to the book The Song of Achilles.
Circe is the daughter of the Sun god Helios and the ocean nymph Perse. She's a powerful sorceress that can change rivals into monsters, that threaten even the gods themselves.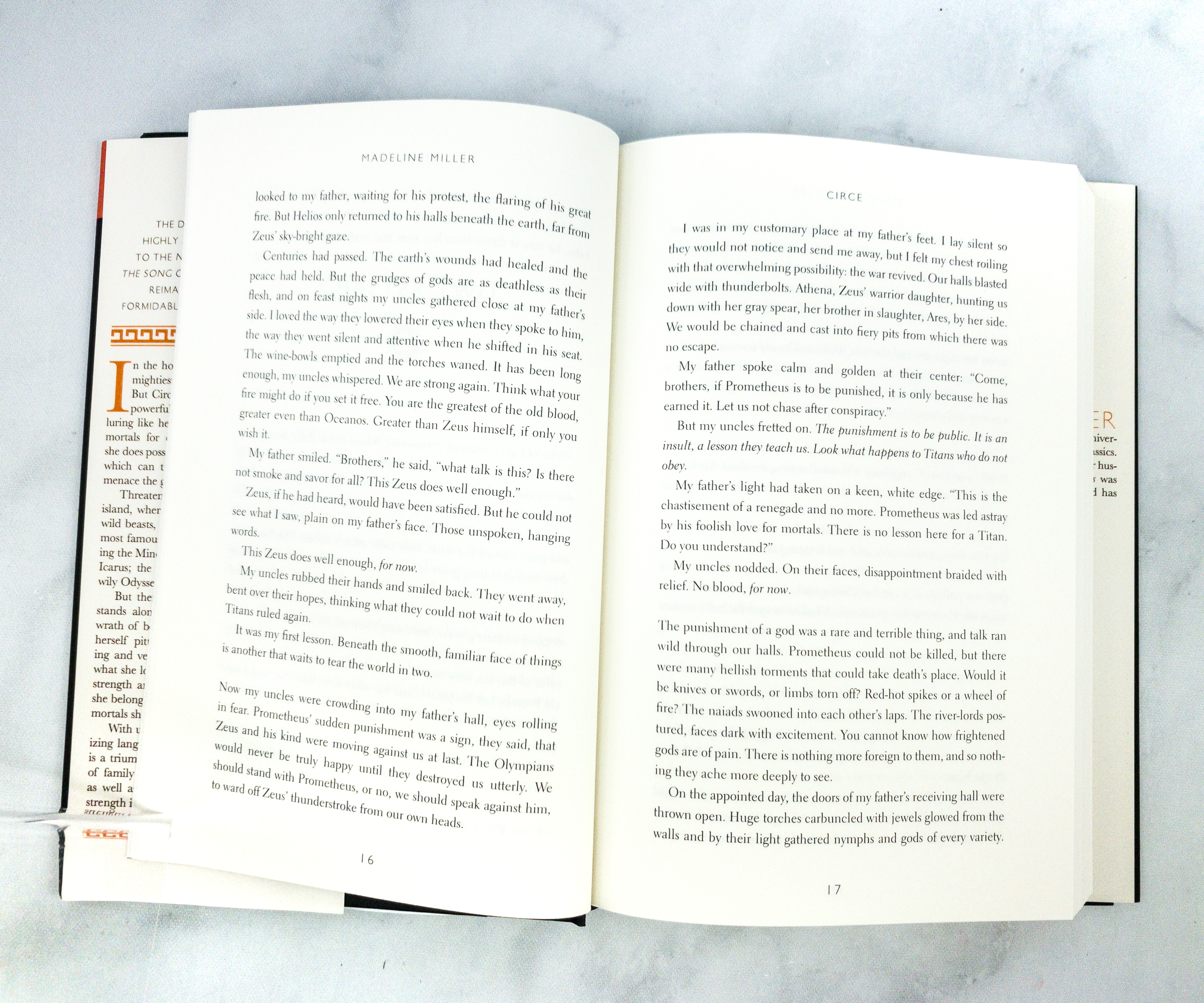 Zeus had banished her to a deserted island, and there she hones her craft and crosses paths with many of the most famous characters in myths like the Minotaur, Daedalus, Icarus, Medea, and even Odysseus. She also unwittingly draws the wrath of both men and gods, and she must choose whether she belongs with the gods or the mortals. The story is actually about finding and knowing oneself. I also love the fact that it focused on the life of a lesser god.
I have two books this month because of Book of the Month's add-on option! Mexican Gothic creeped me out and I don't think that's a bad thing. It just proved that the novel is really good! I recommend this one for those who love horror and thriller novels, as well as those who like reading books with strong female leads. Circe is amazing as well! It's really empowering! This is absolutely one of the best book subscriptions that you can get as they offer a diverse selection of new and awesome titles!
What do you think of this month's book selections?