Beauty Heroes is a healthy beauty discovery service. They send a full-size Hero product in every box, plus a Sidekick trial-size. Sometimes, they send more than one Hero or Sidekick, depending on the featured brand. Boxes are often over $100 in total value. Beauty Heroes members also receive a 15% discount in the Beauty Store, insider exclusives, and early access to new product launches. They currently offer 1-, 3-, 6-, and 12-month membership subscriptions. Here are the prices: 1-month – $58.95 ($58.95/month), 3-months – $137.85 ($45.95/month), 6-months – $251.70 ($41.95/month), 12-months – $479.40 ($39.95/month).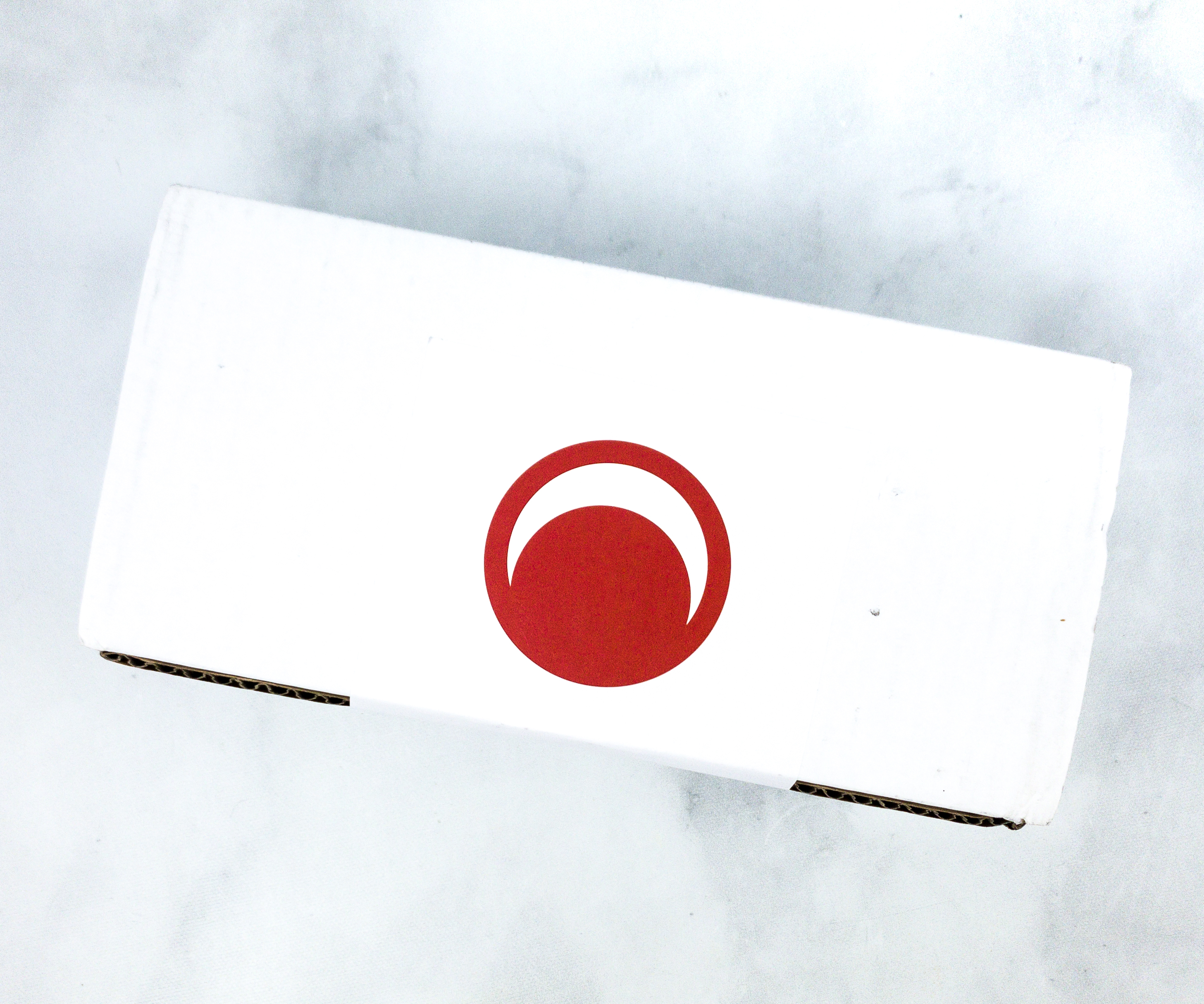 The items came in a simple white box with Beauty Heroes branding.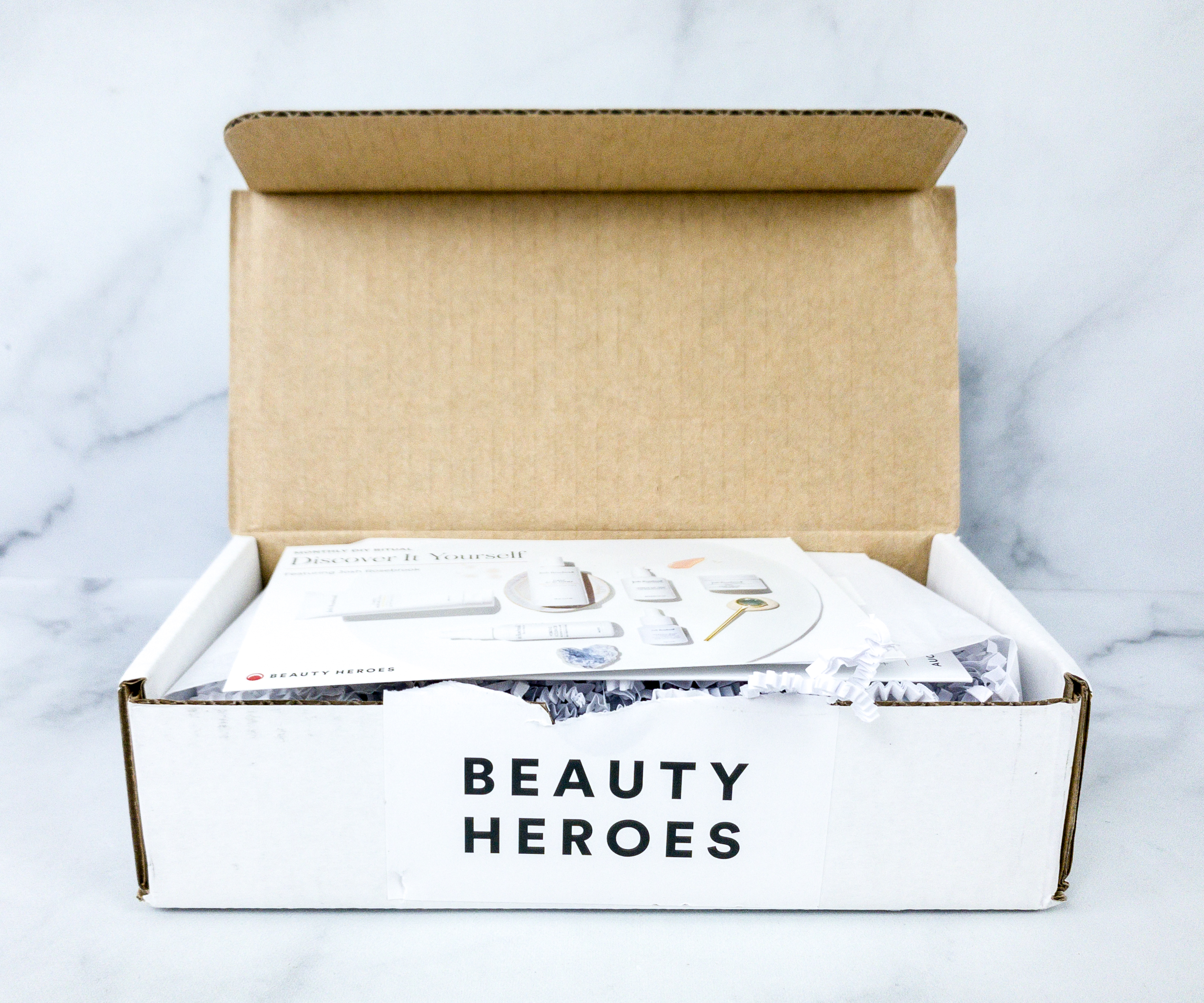 As always, everything was neatly packed inside.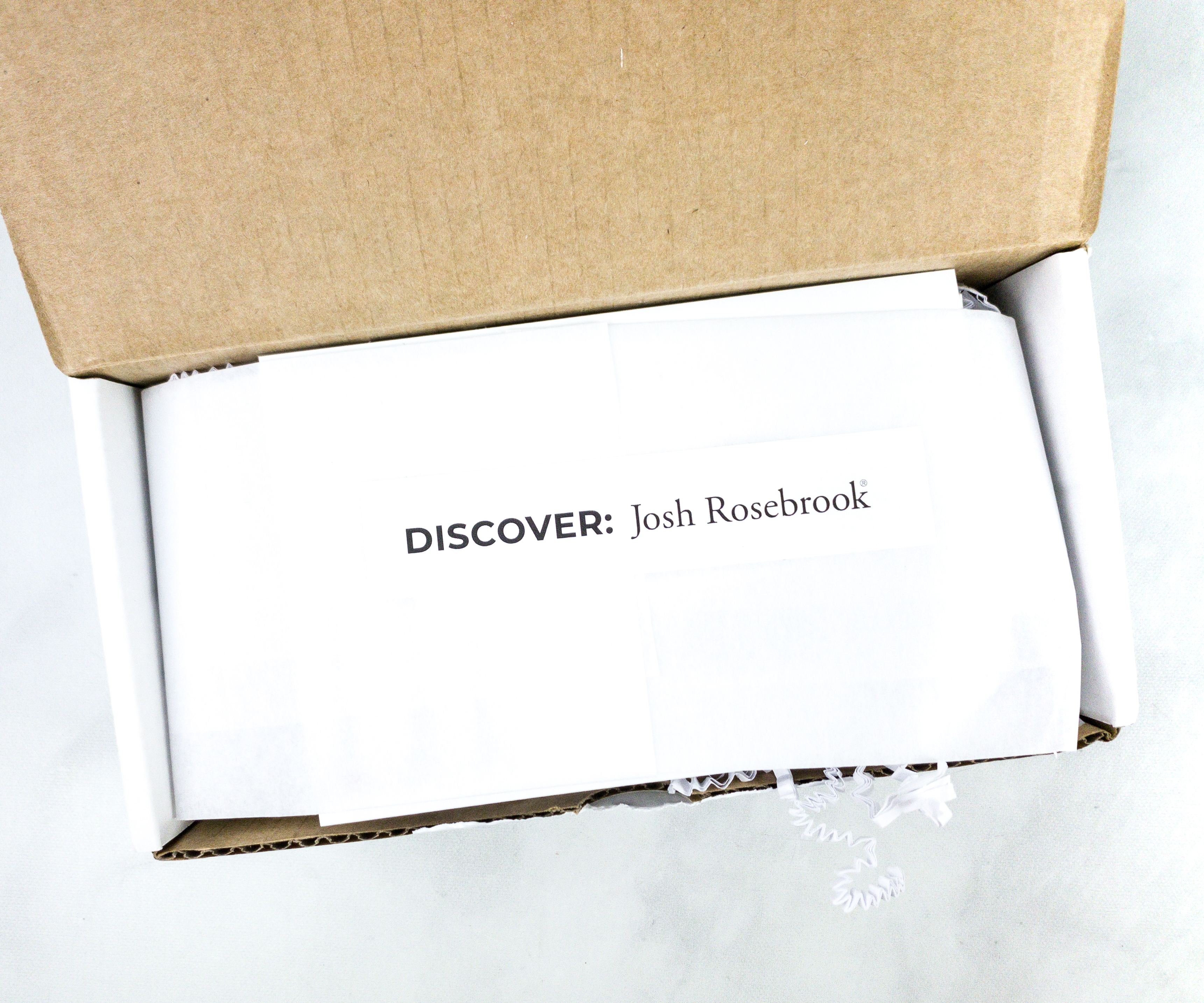 The items were also wrapped in tissue paper, secured with a sticker.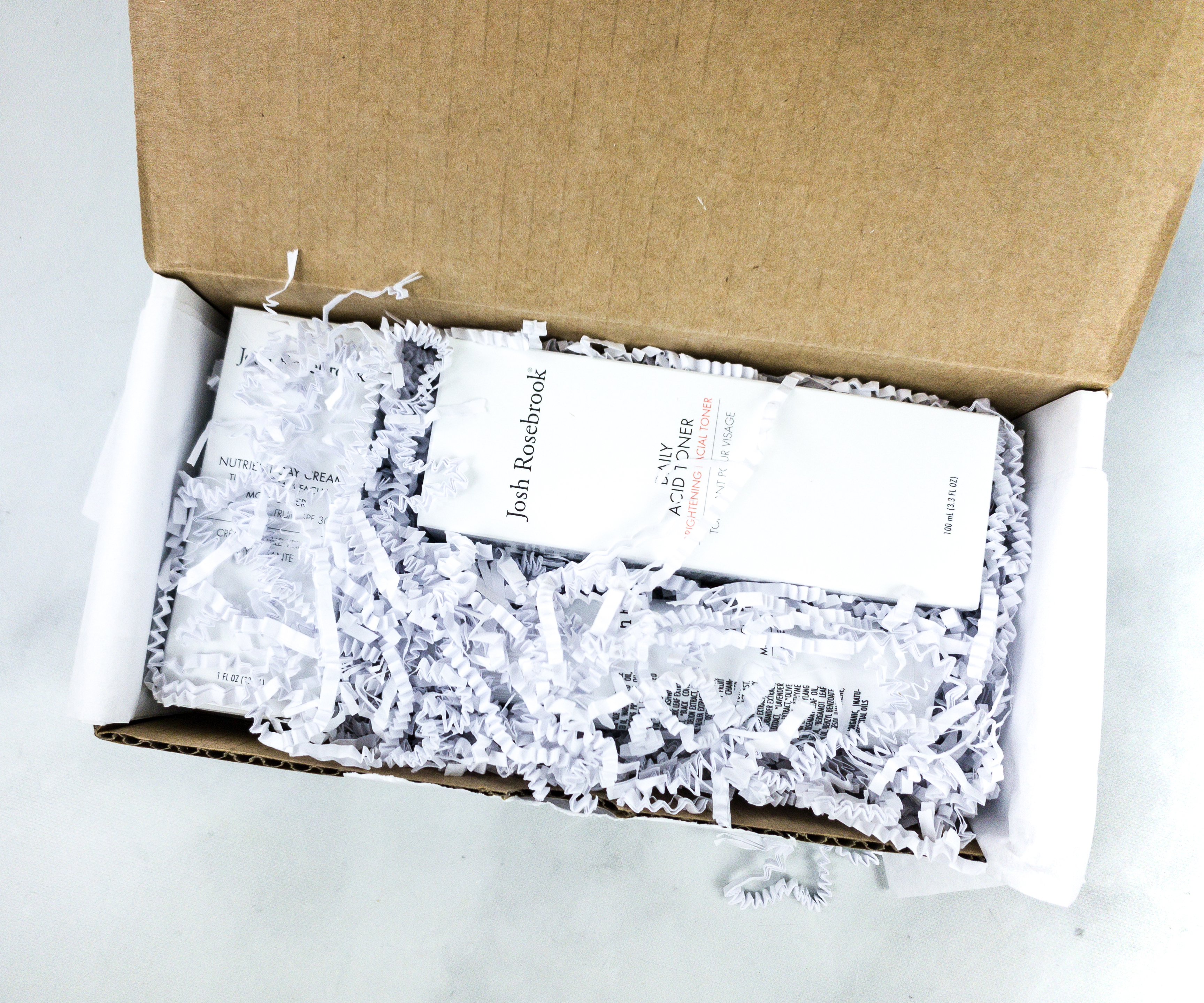 The items came in their original packaging and they were also cushioned with white squiggles.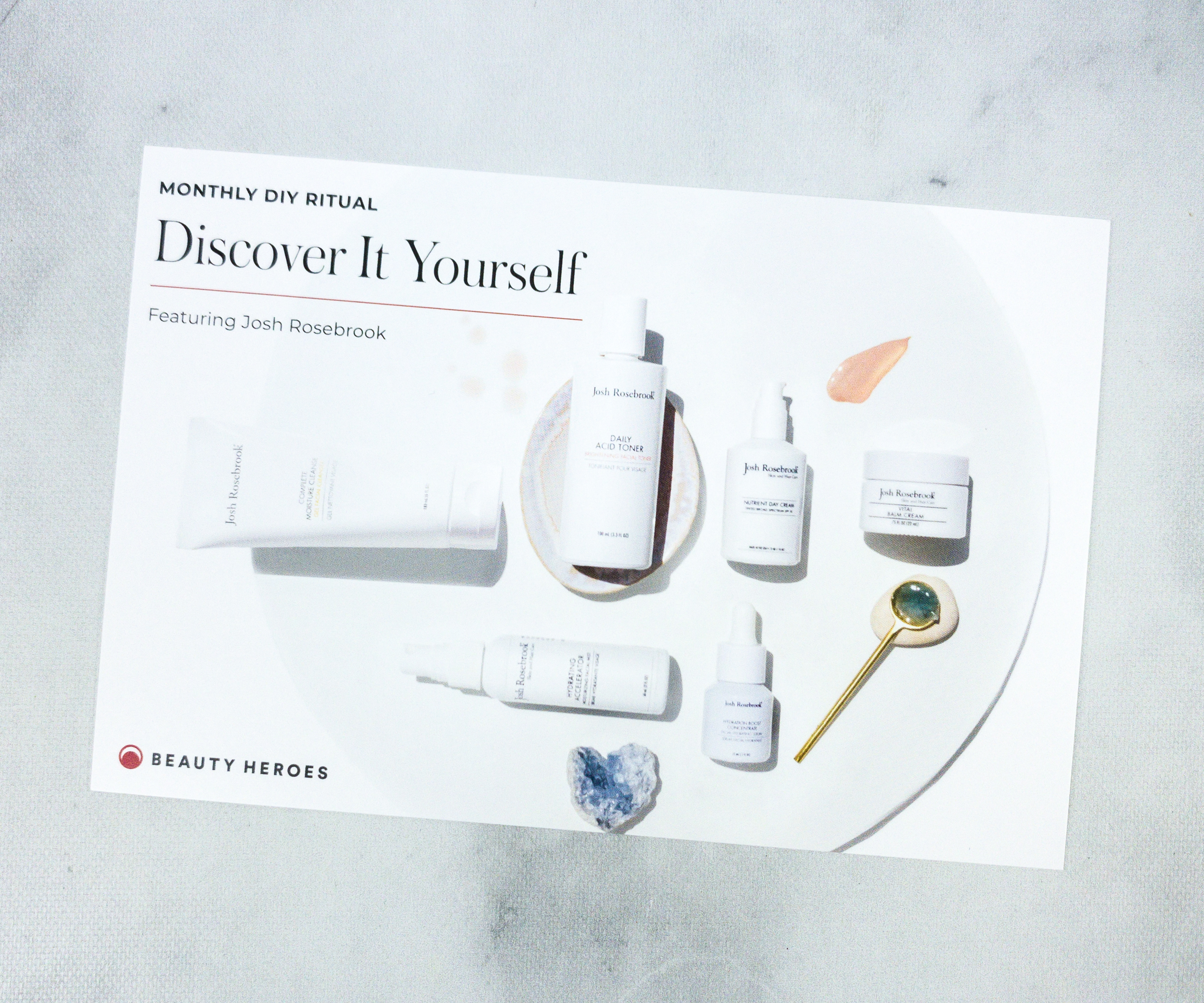 For this month, the featured brand is Josh Rosebrook!
There's a lot to discover about this brand and they are all indicated at the back of the card! Usually, Beauty Heroes incorporates products from previous months to provide updated rituals. Your ritual can change monthly with the seasons and with new products – I absolutely love this feature.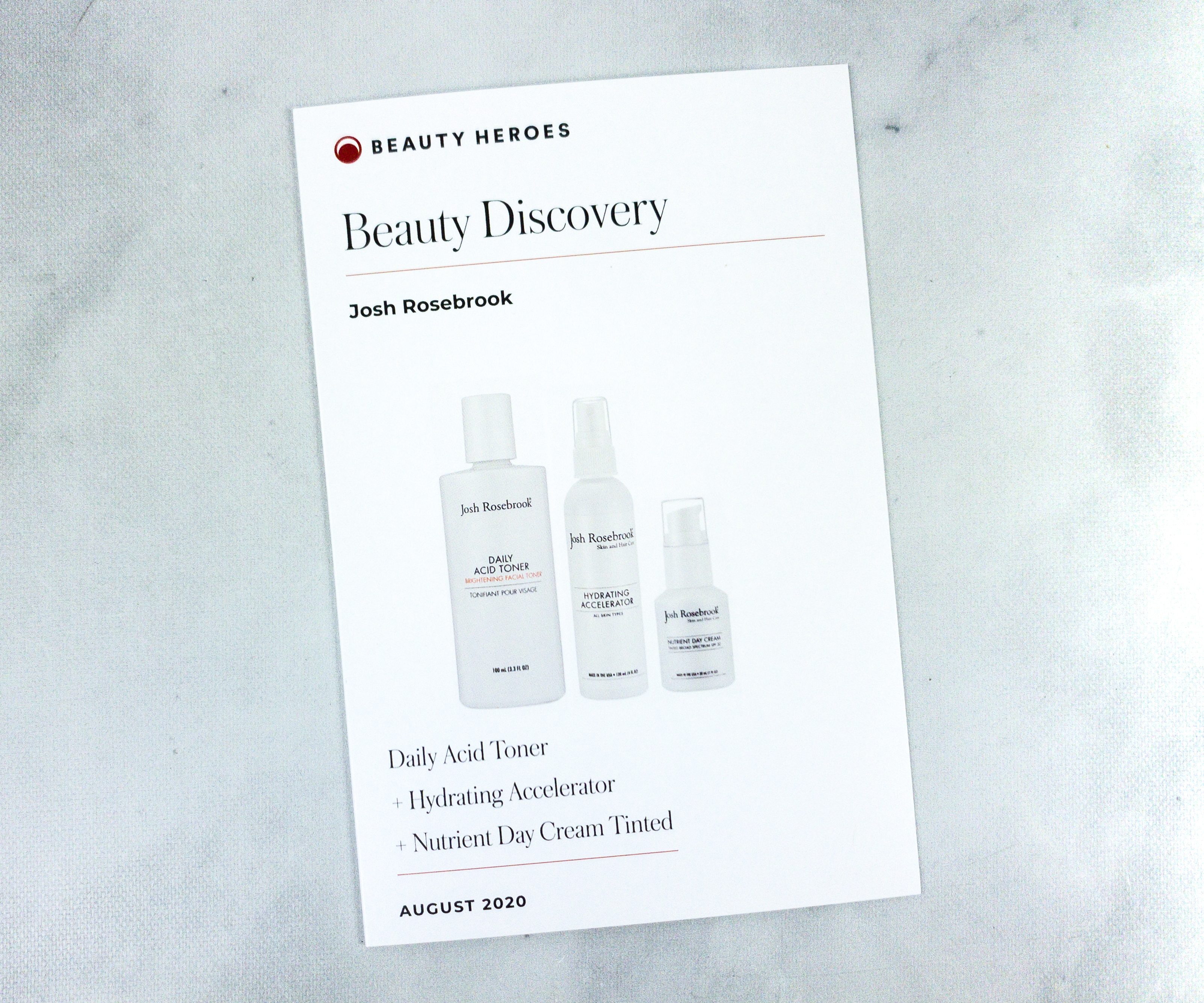 Aside from the card, there's a booklet that tells us more about this month's products and the featured brand.
As usual, it's jampacked with useful information. There's also a notice that Beauty Heroes Members save 15% every day in the Beauty Store.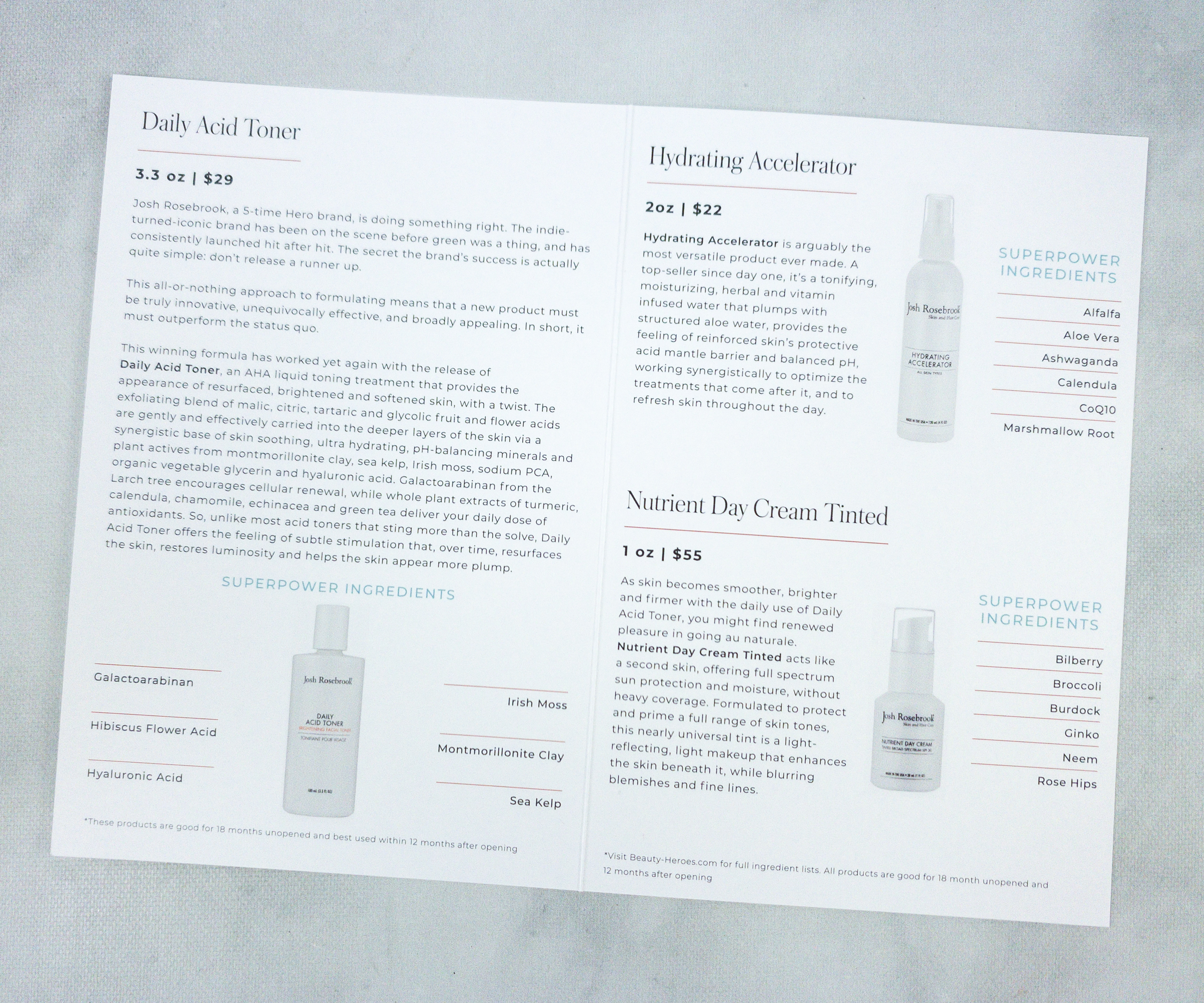 The booklet comes with an item photo, plus a brief description and a reason why they chose to include it in the curation.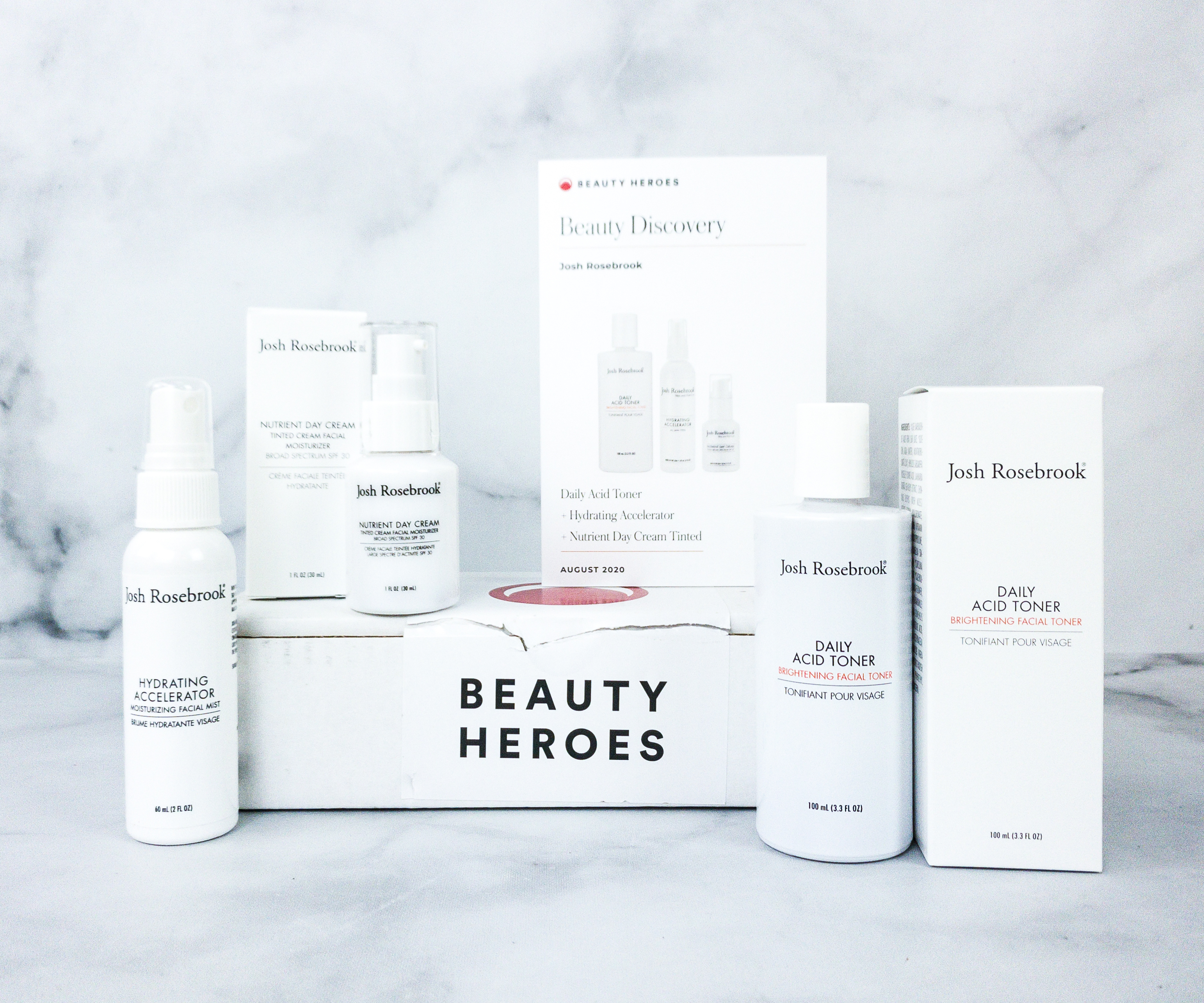 Everything in the August 2020 Beauty Heroes box!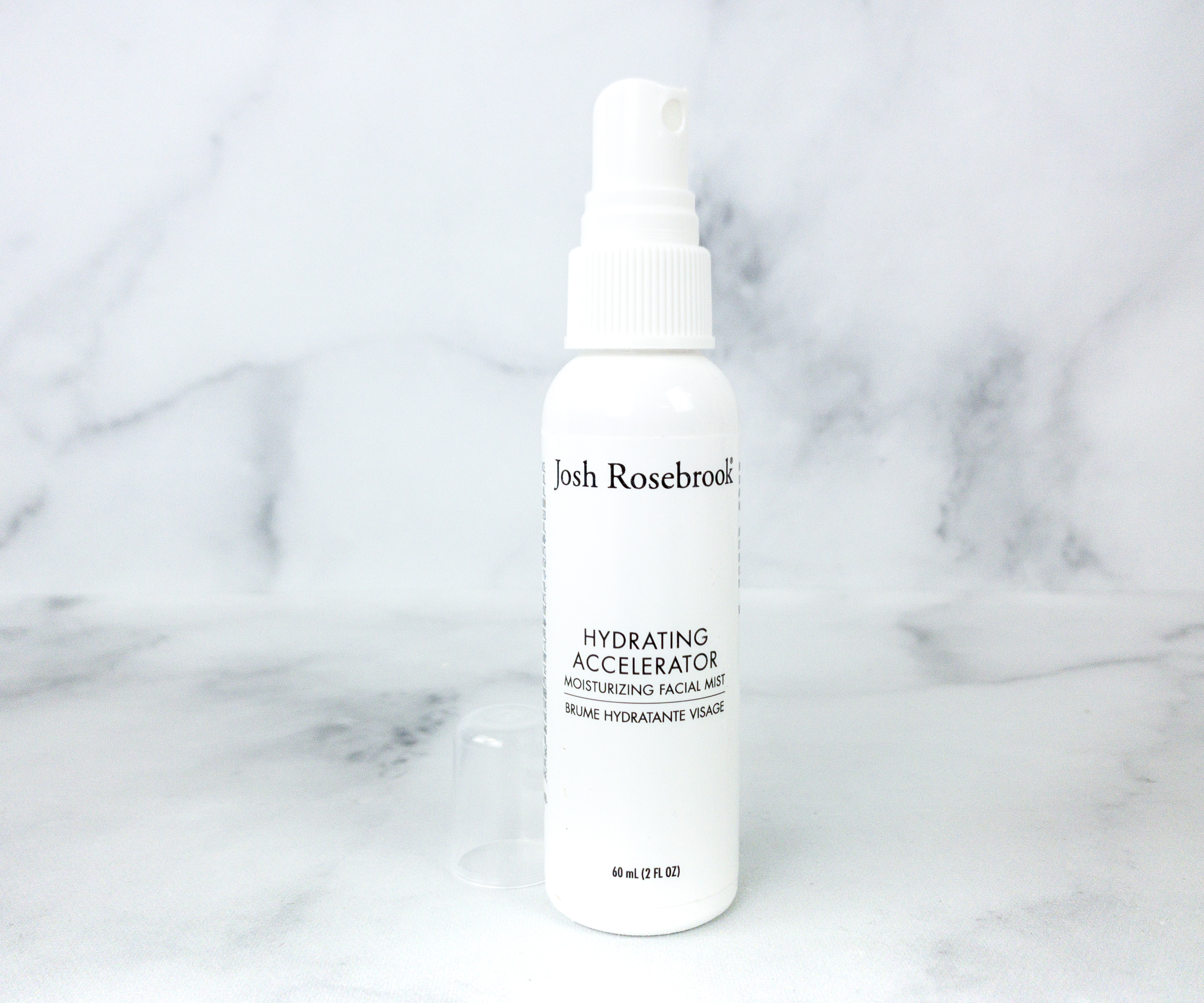 Josh Rosebrook Hydrating Accelerator Moisturizing Facial Mist ($22) It's not the first time this brand, as well as this product, is featured in the box! This facial mist formula works as a toner and a light moisturizer in one. Ingredients include vitamin-infused aloe water and fatty acids that lower skin surface tension, allowing for enhanced absorption of nutrients to the skin. It's ideally used before applying balms, serums, creams, and oils, as it also boosts the effects of other skin treatments.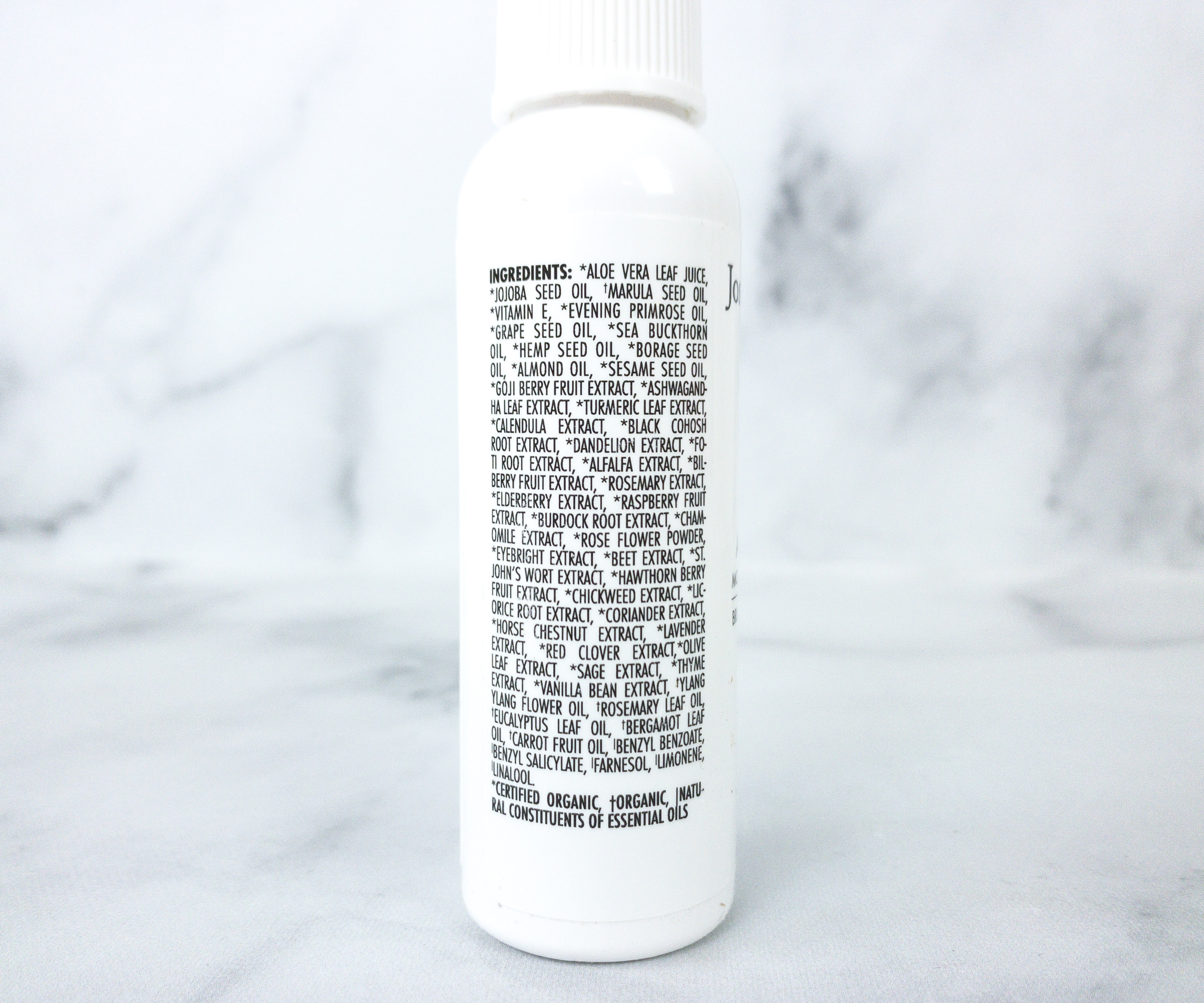 The formula is cruelty-free and made in the USA. Another thing I like about it is its slightly sweet scent! To use, make sure to cleanse your face first, pat dry, and then mist 3 to 5 pumps of accelerator!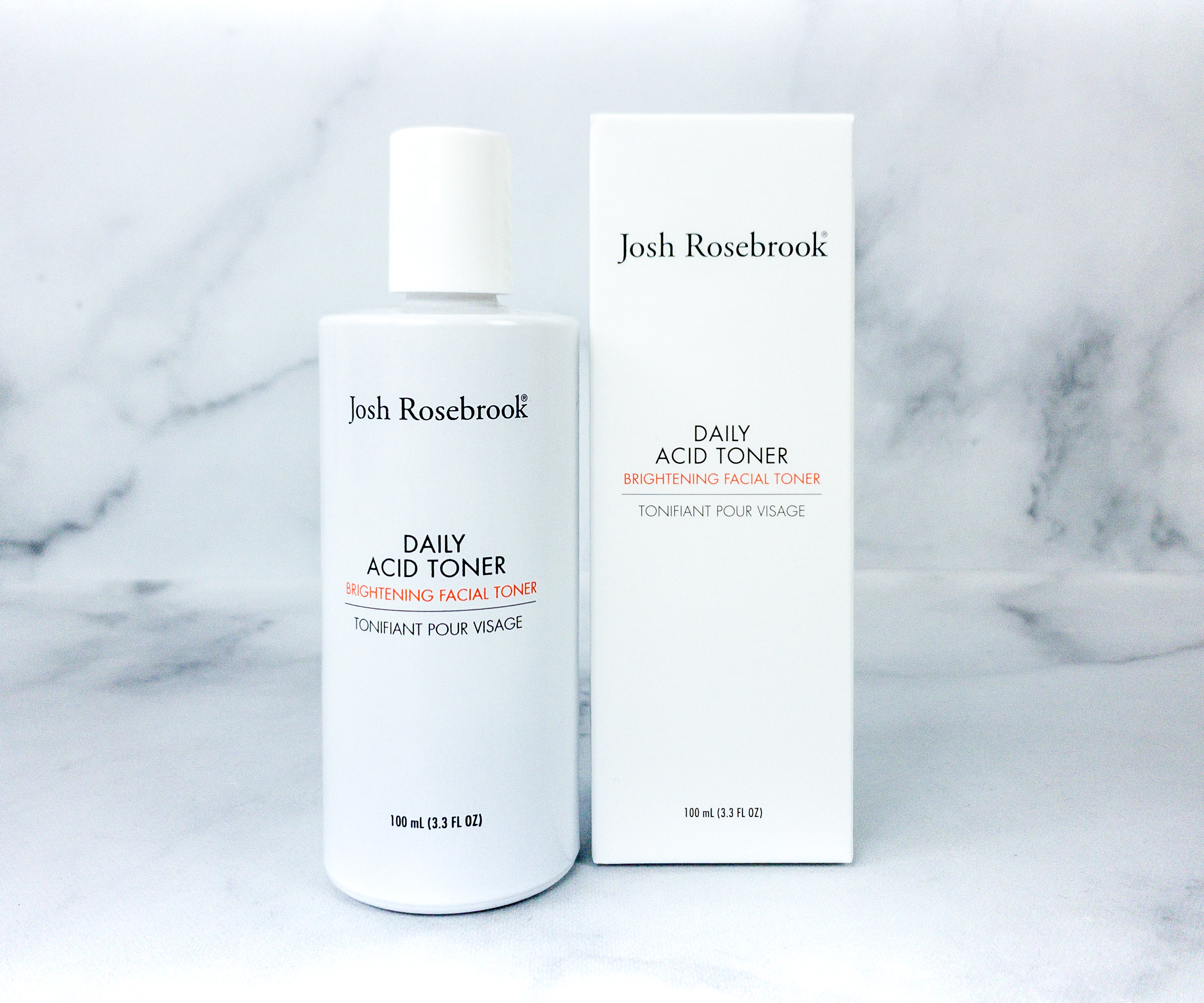 Josh Rosebrook Daily Acid Toner ($29) Made for all skin types including acne-prone and sensitive, this toner helps exfoliate and brighten the skin with the help of pyruvic, malic, citric, and glycolic acids. It also contains a blend of aloe vera leaf juice, hibiscus flower acid, sea kelp extract, green tea leaf, and turmeric root. The formula promises to help reduce signs of aging and improve overall skin texture with continued and consistent use.
The complete ingredient list is printed on the box. To use the toner, all you need is to apply a quarter-size amount to a cotton ball and spread on your face. It wasn't irritating on the skin, unlike other AHA toning liquids.
Josh Rosebrook Nutrient Day Cream ($50) This cream works as a moisturizer and a sunscreen in one! It also has herbal actives and plant oils which repair and protect the skin. It applies smoothly and leaves a beautiful matte finish. No white cast!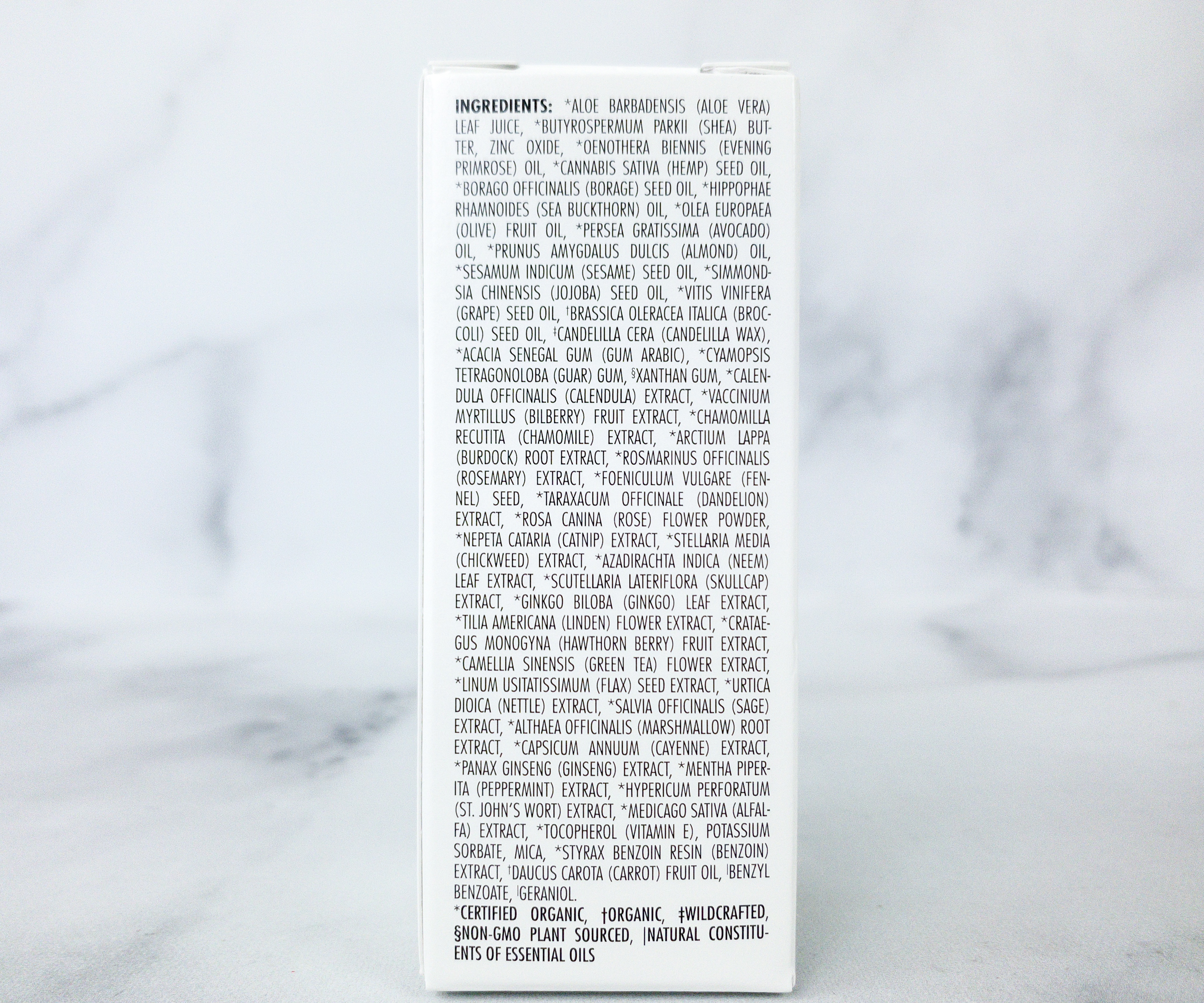 Ingredients include uncoated, non-nano, high micron zinc oxide which protects the skin from damaging UVA and UVB. It's formulated all skin types including oily, combination, and acne-prone. Also, the cream is recommended to be reapplied every 2 hours and after perspiration.
Beauty Heroes focuses on healthy beauty brands and products, ideal for those who are ingredient-conscious or those who are simply trying to switch up their skincare routine. This month, the box includes a repeat brand, Josh Rosebrook, which has been featured for at least 5 times! As always, the products are great because they're all cruelty-free and gentle on the skin. I love the facial mist, I've tried it before and it still works great as a primer to increase absorption of other skincare products. The acid toner and sunscreen cream are also pretty useful, and they work for my dry skin! I'm so happy with everything, especially because I received all these great products worth $101 for only $39.95!
What do you think of this month's Beauty Heroes box?