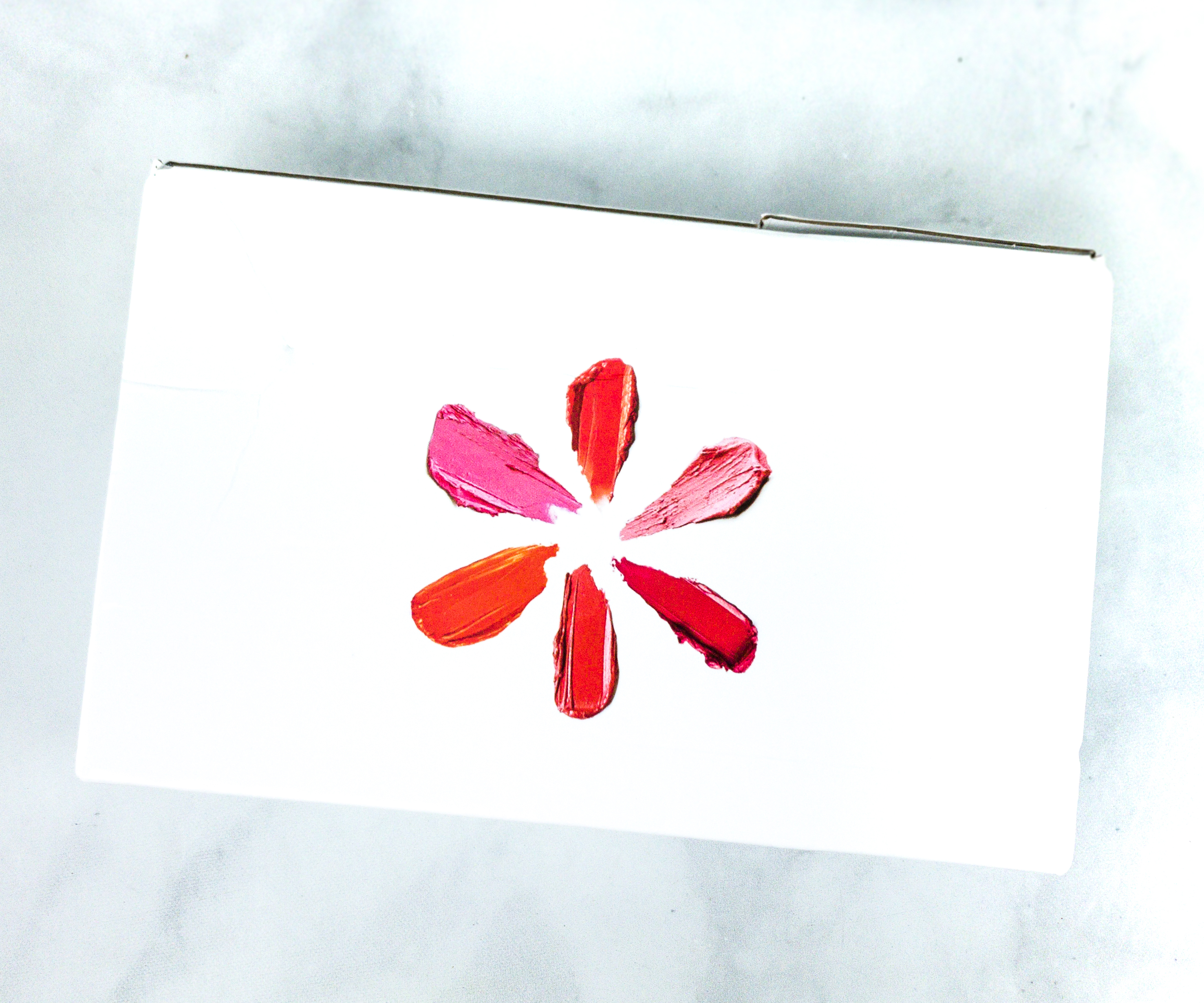 Walmart Beauty Box is a quarterly beauty and body sample box – just $5 for the shipping and handling. If you want a sampling experience for items you can buy at Walmart, this is your box!
This is a review of the Spring 2020 Walmart CLASSIC Beauty Box!
One the side, you will see the Walmart Beauty branding.
The box was damaged but the items were still in good condition when they arrived.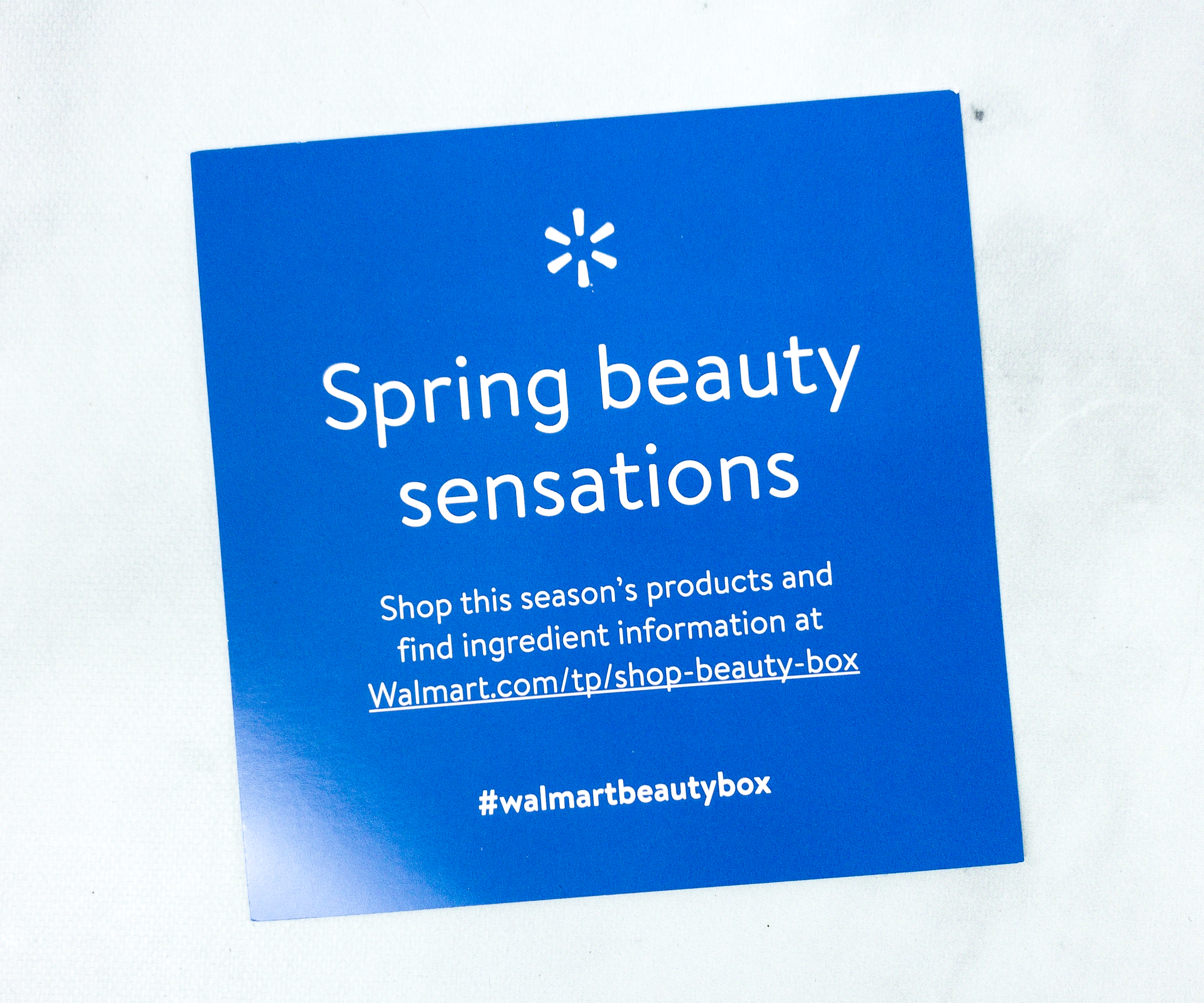 The promotional card includes a link to the ingredient information of the products on their website.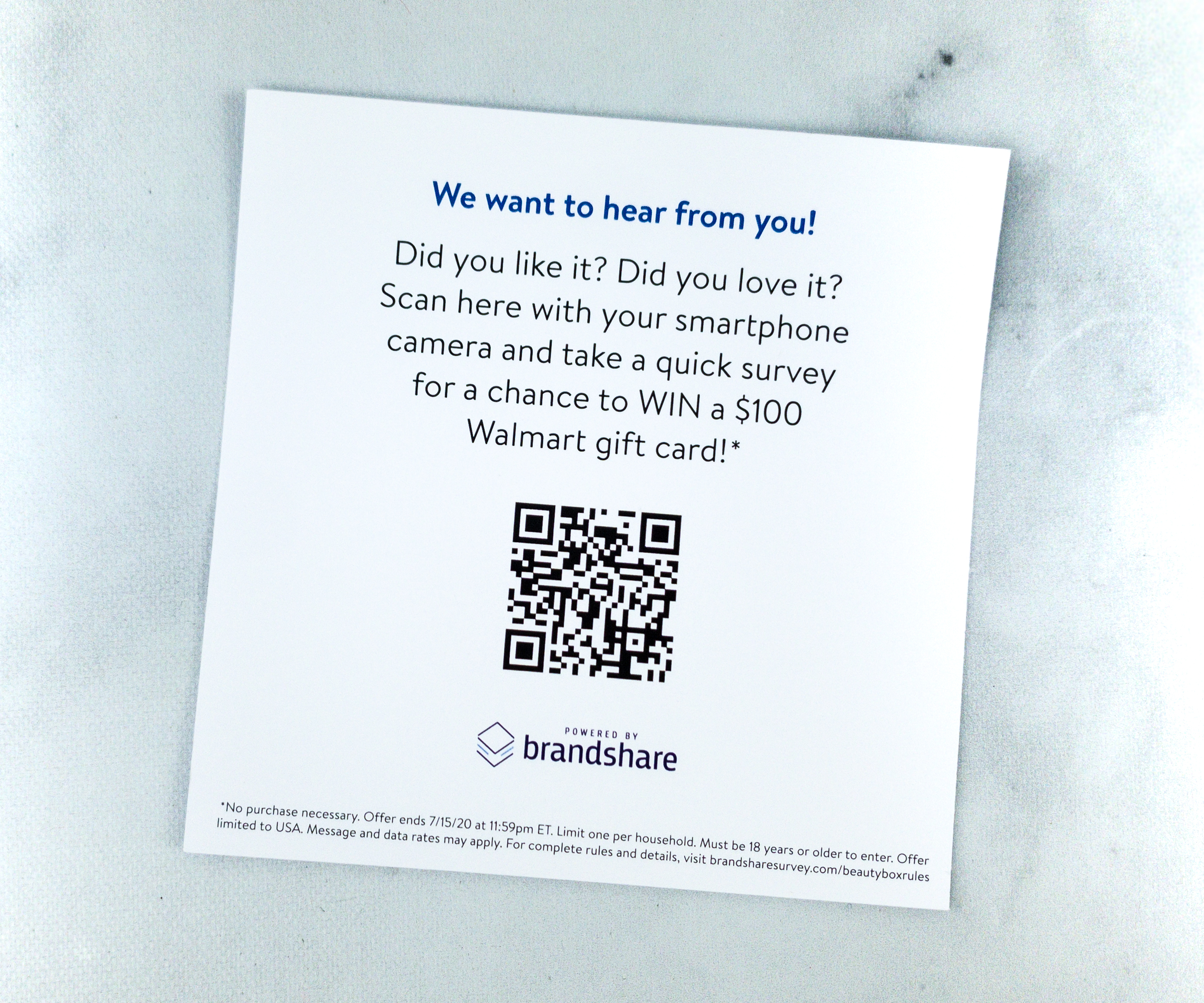 At the back, there's a QR code that will take you to a survey. Those who fill it up get a chance to win a $100 gift card.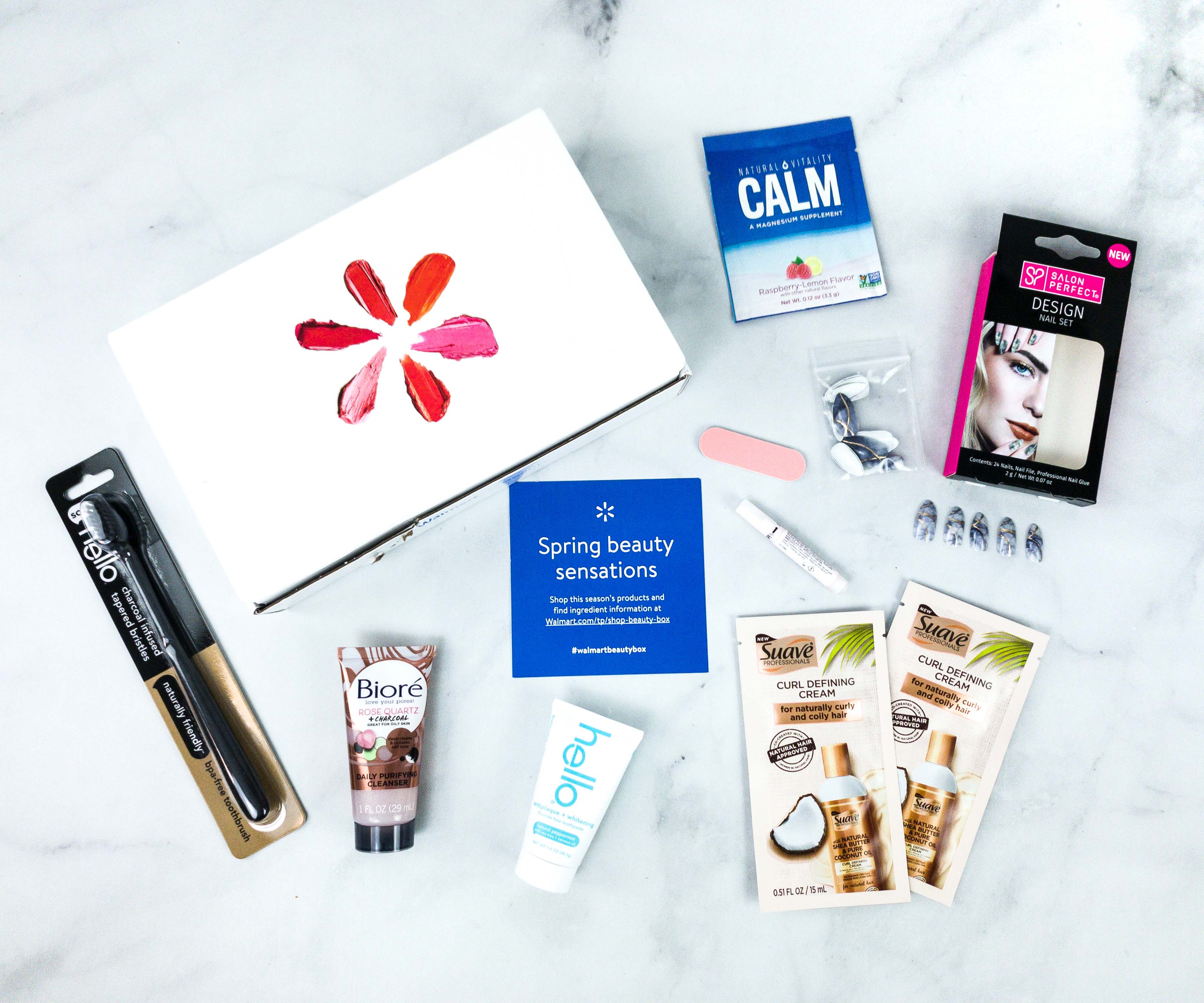 Here are all the items in the Walmart Beauty Box Spring 2020, Classic Edition. Items may (and probably will) vary!
Natural Vitality Natural Calm Anti-Stress Drink Mix in Raspberry Lemon Flavor ($0.30) It's a raspberry-lemon drink mix and it tastes sweet, tangy, and refreshing! To prepare, you just have to add water, let it fizz, and stir until dissolved.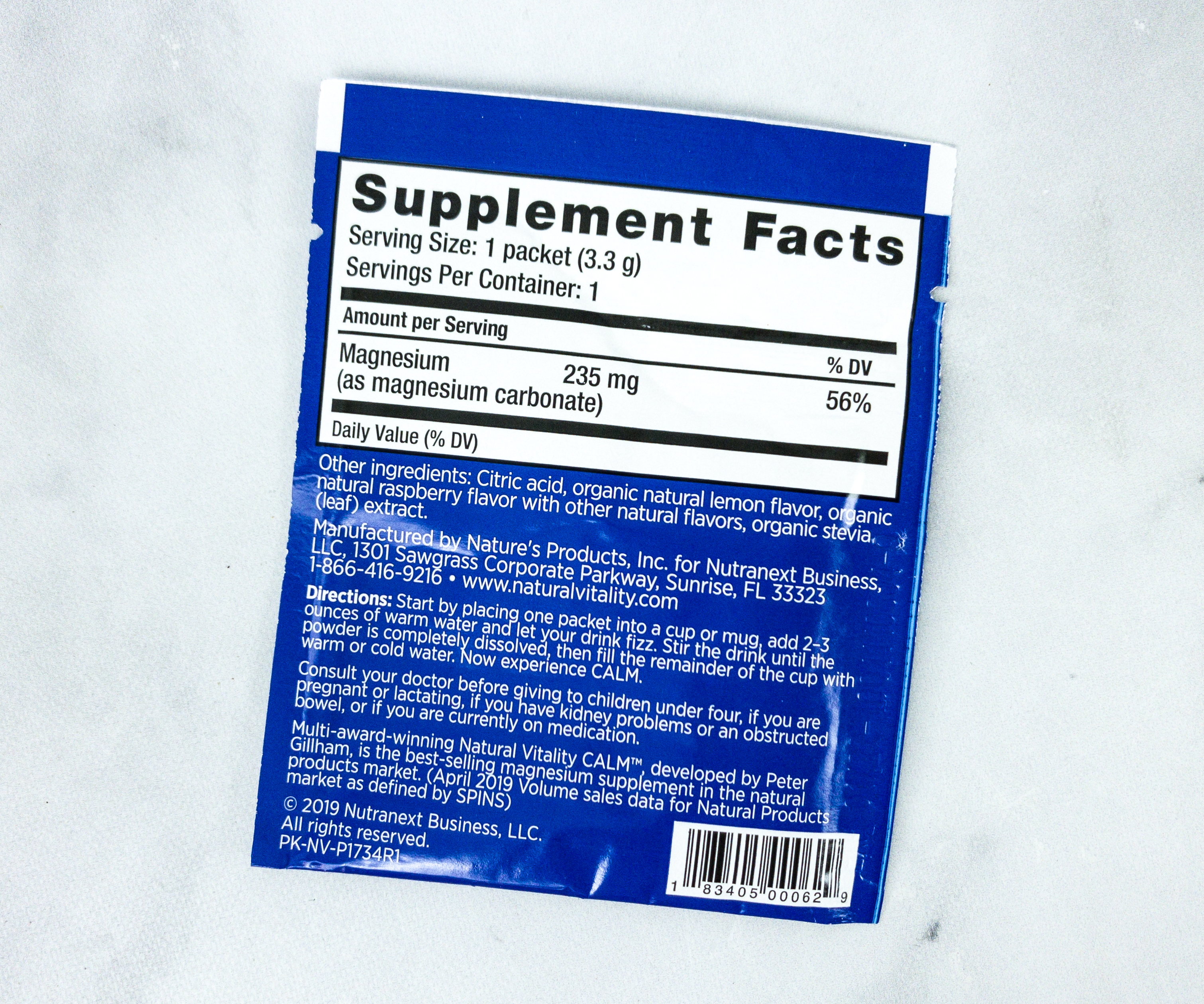 It contains magnesium which is known to help relieve stress. I love that this can be enjoyed either hot or cold! I personally prefer cold but it tastes delicious either way!
We also got this card from CALM that promotes self-care!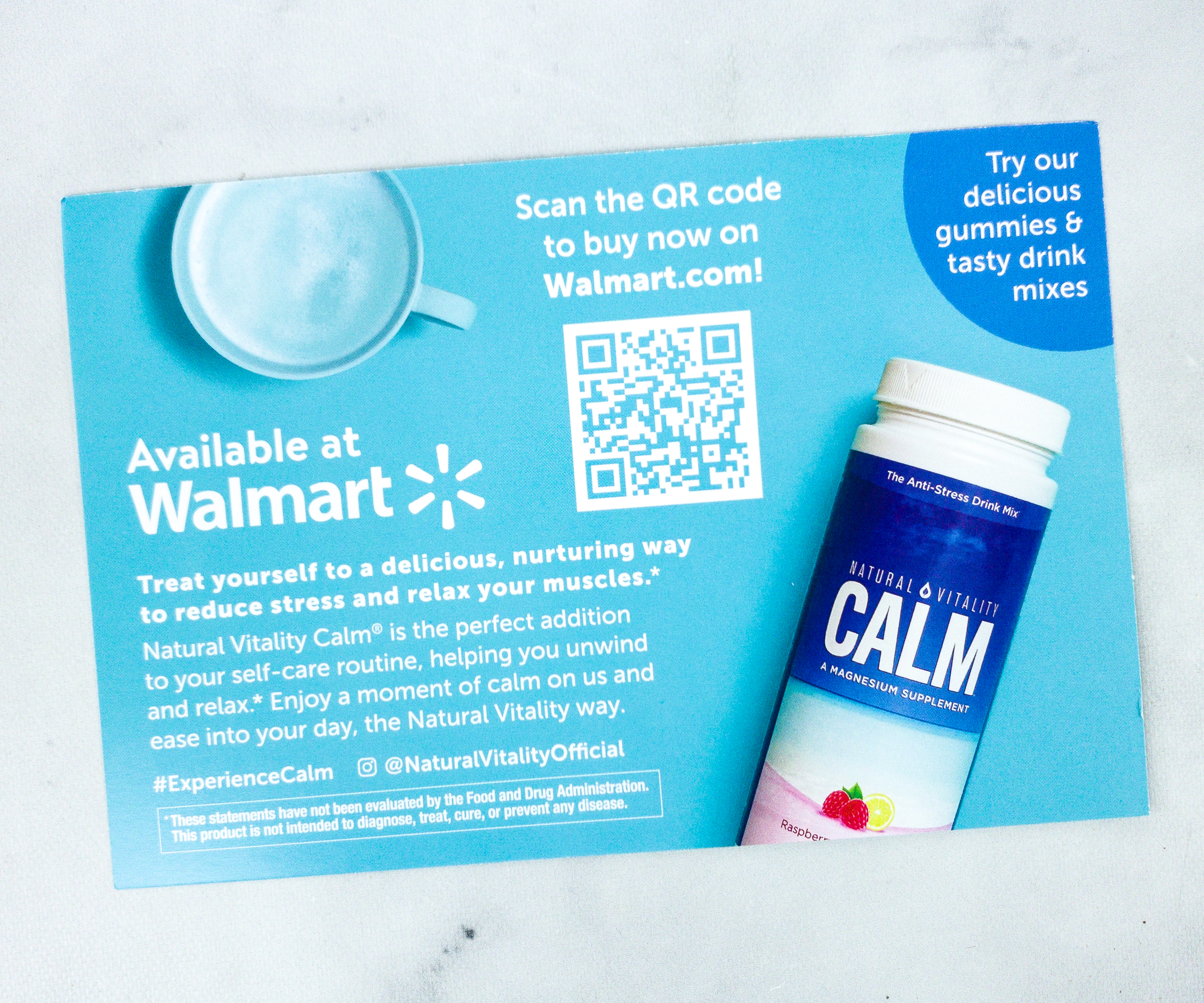 At the back are more details about the drink mix.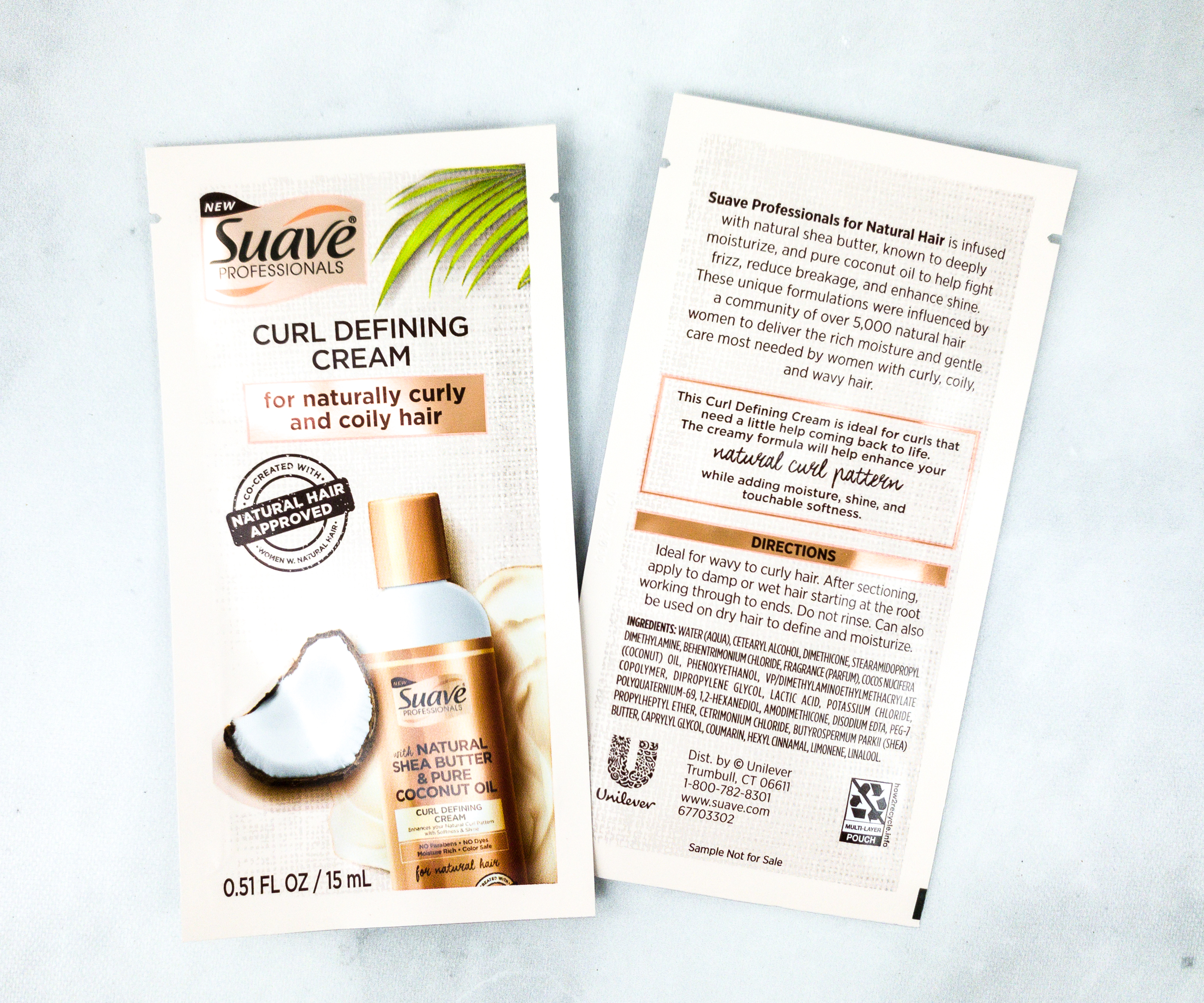 Suave Curve Defining Cream ($0.21) This hair cream helps define wavy to curly hair and make it look more alive! It's formulated with shea butter that helps moisturize damaged, dry, and color-treated hair. To use, section your damp or wet hair first then apply starting at the root to the ends. No rinsing required!
They also included a promotional card for Suave Professionals.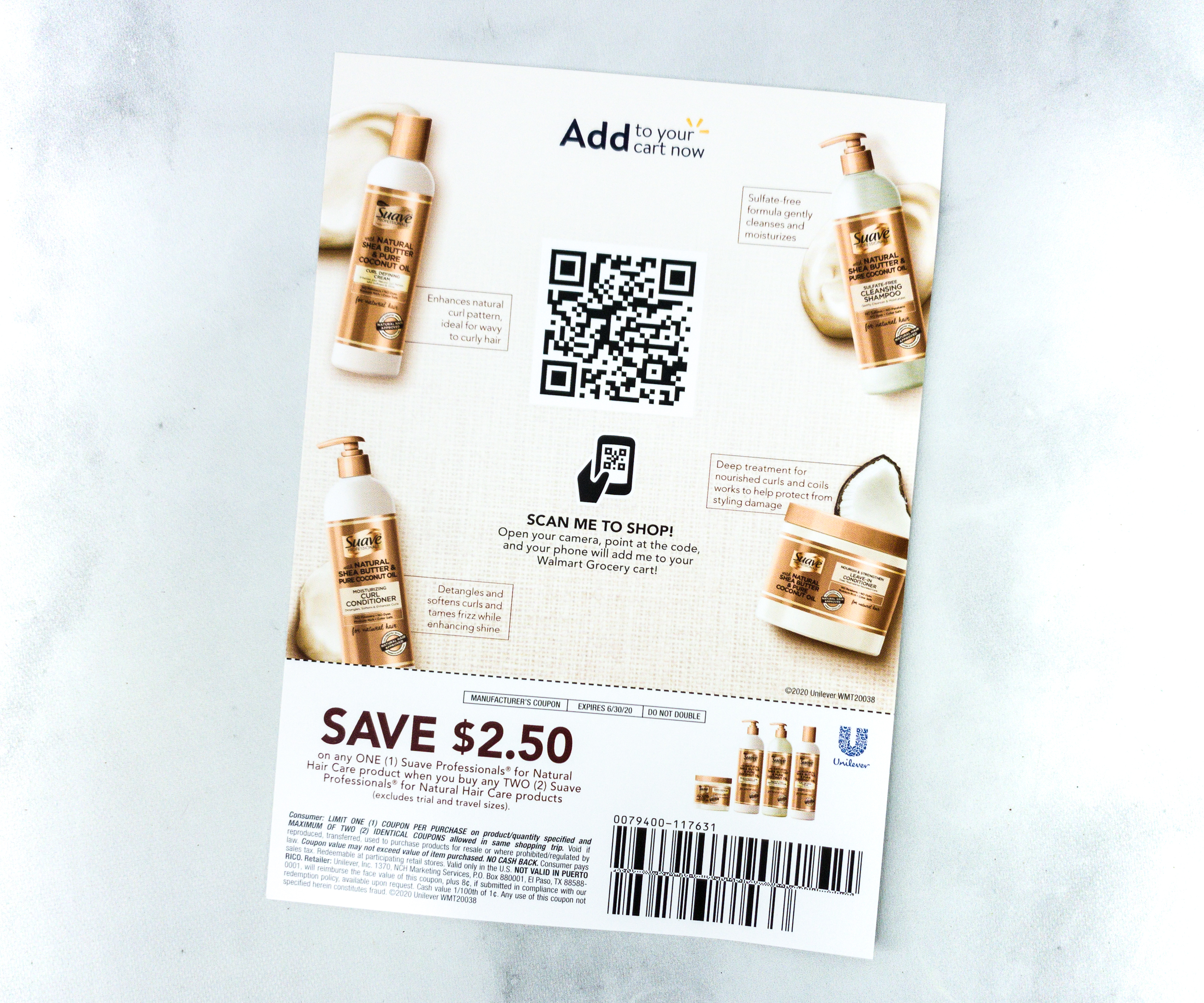 At the back, we got a $2.50 off coupon!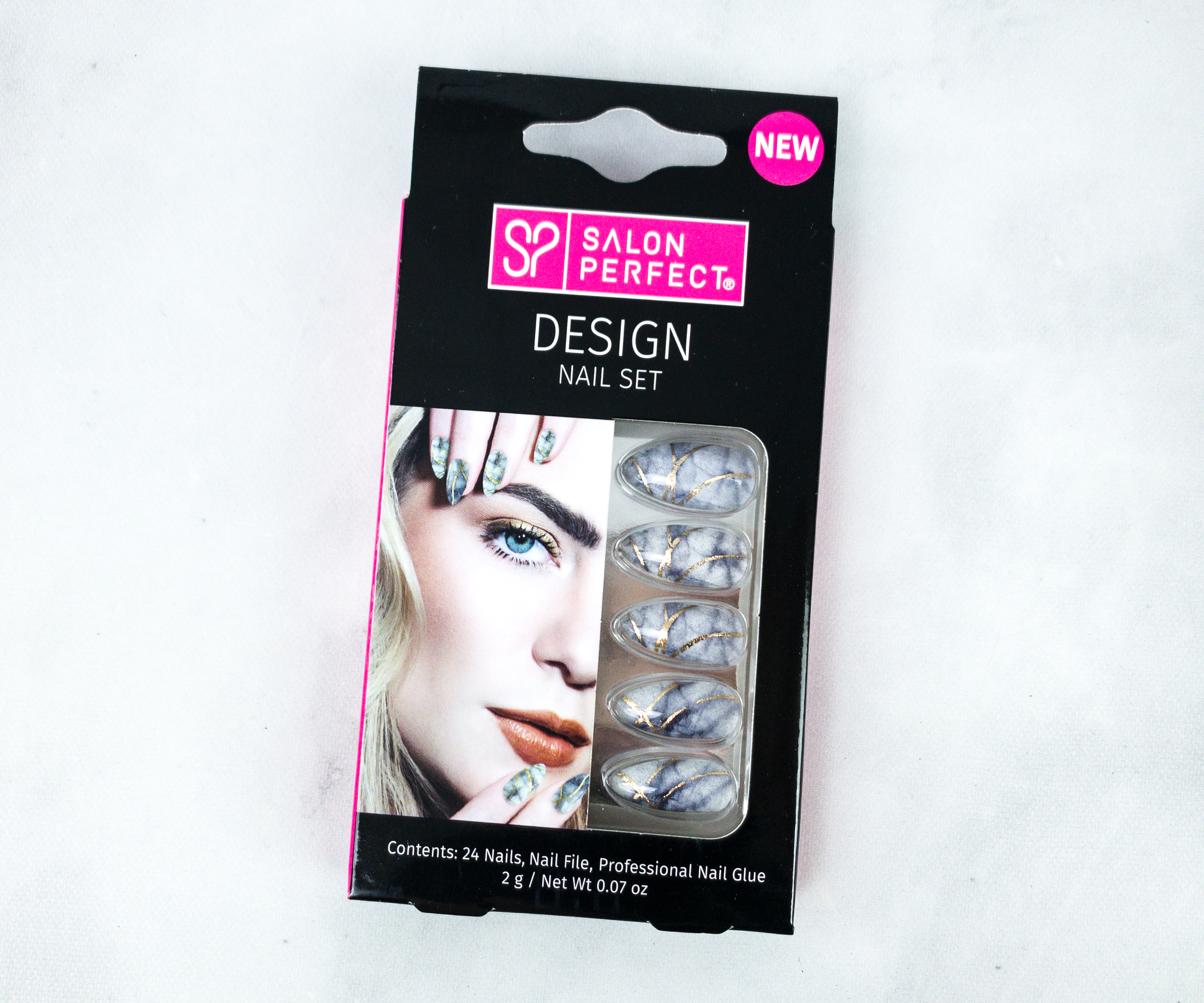 Salon Perfect Design Nail Set ($4.94) For nail art enthusiasts, here's a faux nail kit that came in its own box packaging. You can easily see the design from the clear panel!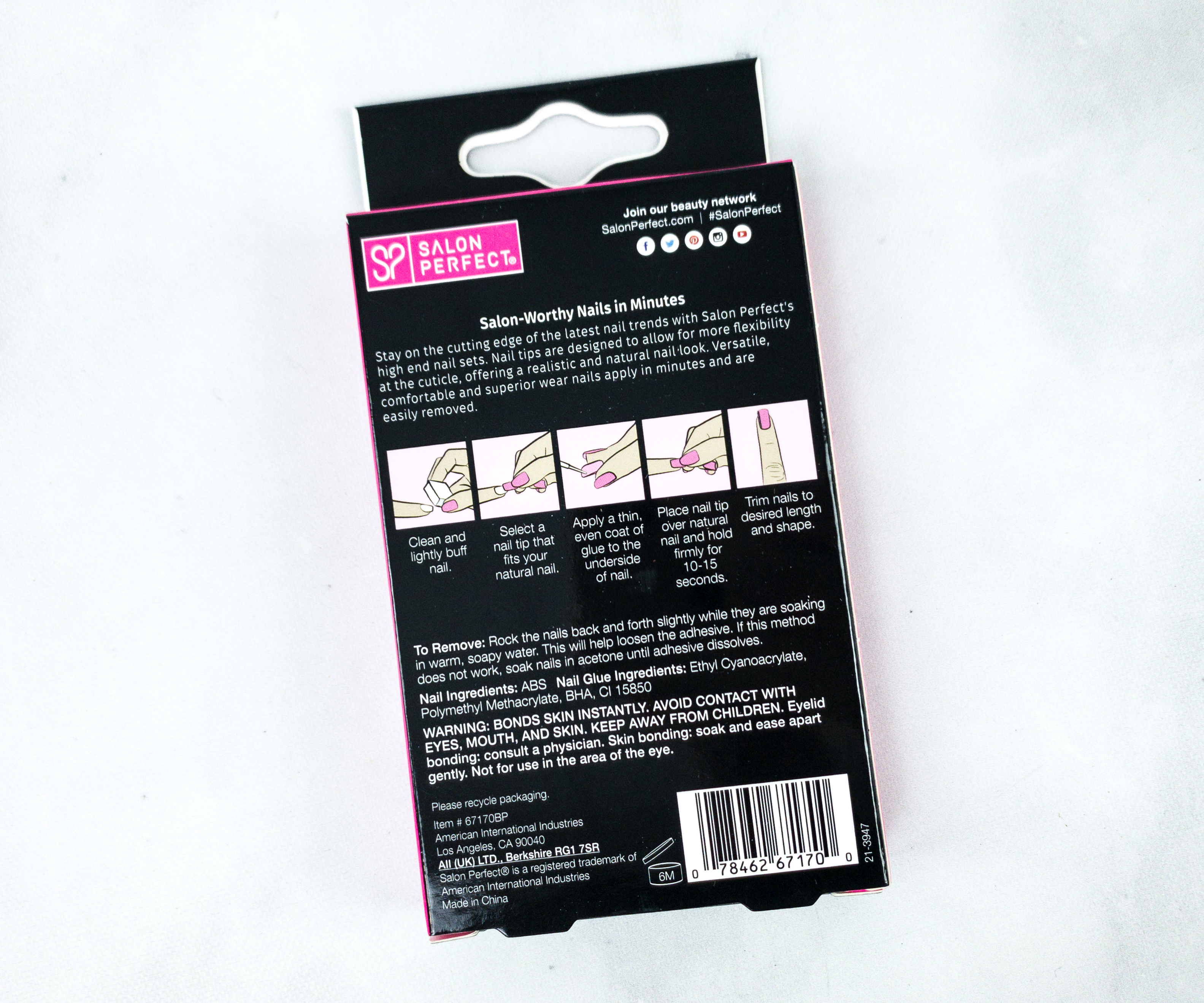 There are instructions on how you can easily put these on at the back of the box.
It's pretty simple, just file your nails to make sure they're clean and in good shape, choose a piece that would best fit your nail, put on some glue, and stick them on. I love the design, it's a simple marble-like pattern that has gold streaks that make it look stunning.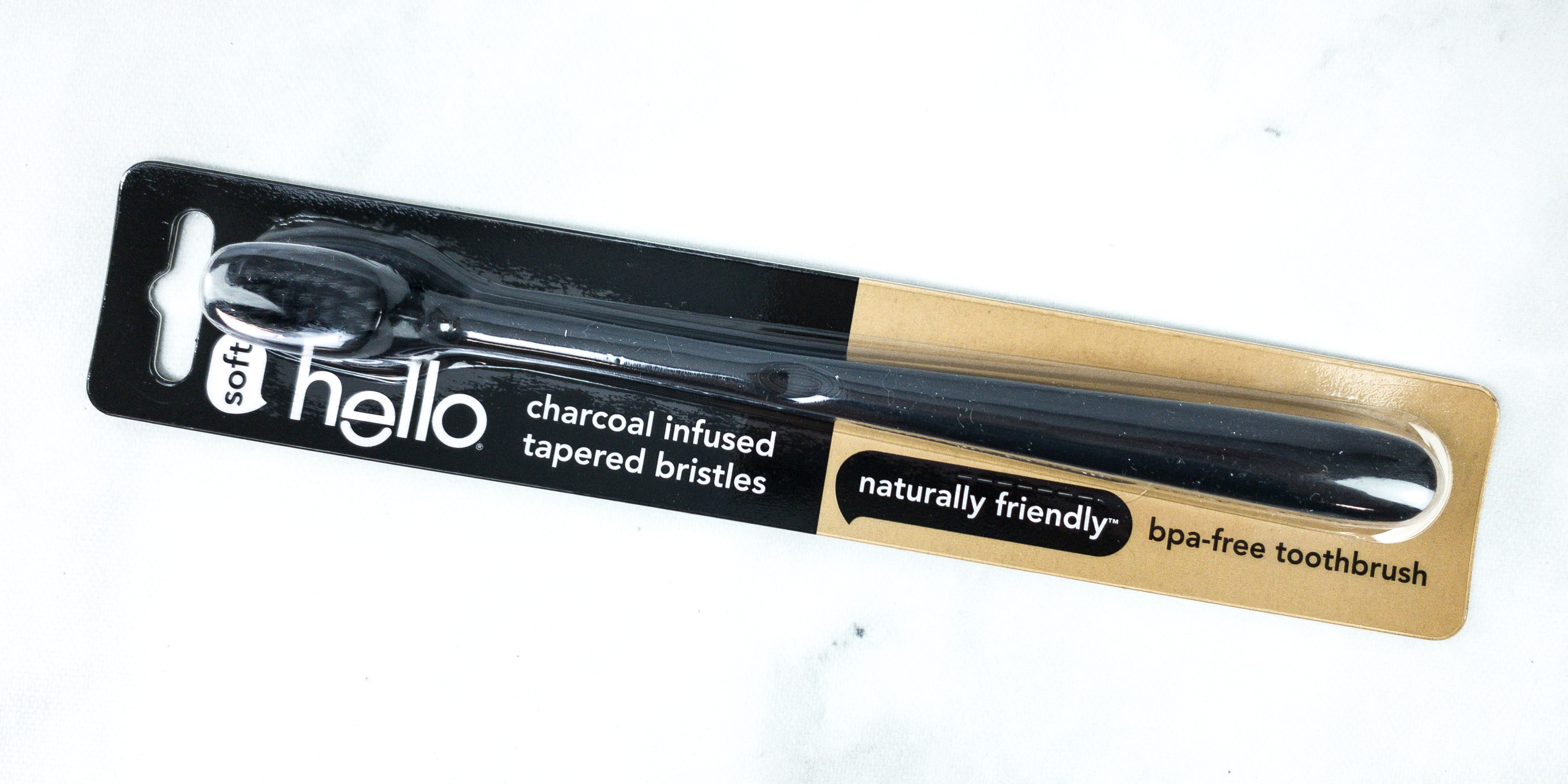 Hello Toothbrush with Charcoal Infused Bristles ($3.96) It's an eco-friendly toothbrush, made with a plant-based handle and bristles infused with charcoal from bamboo!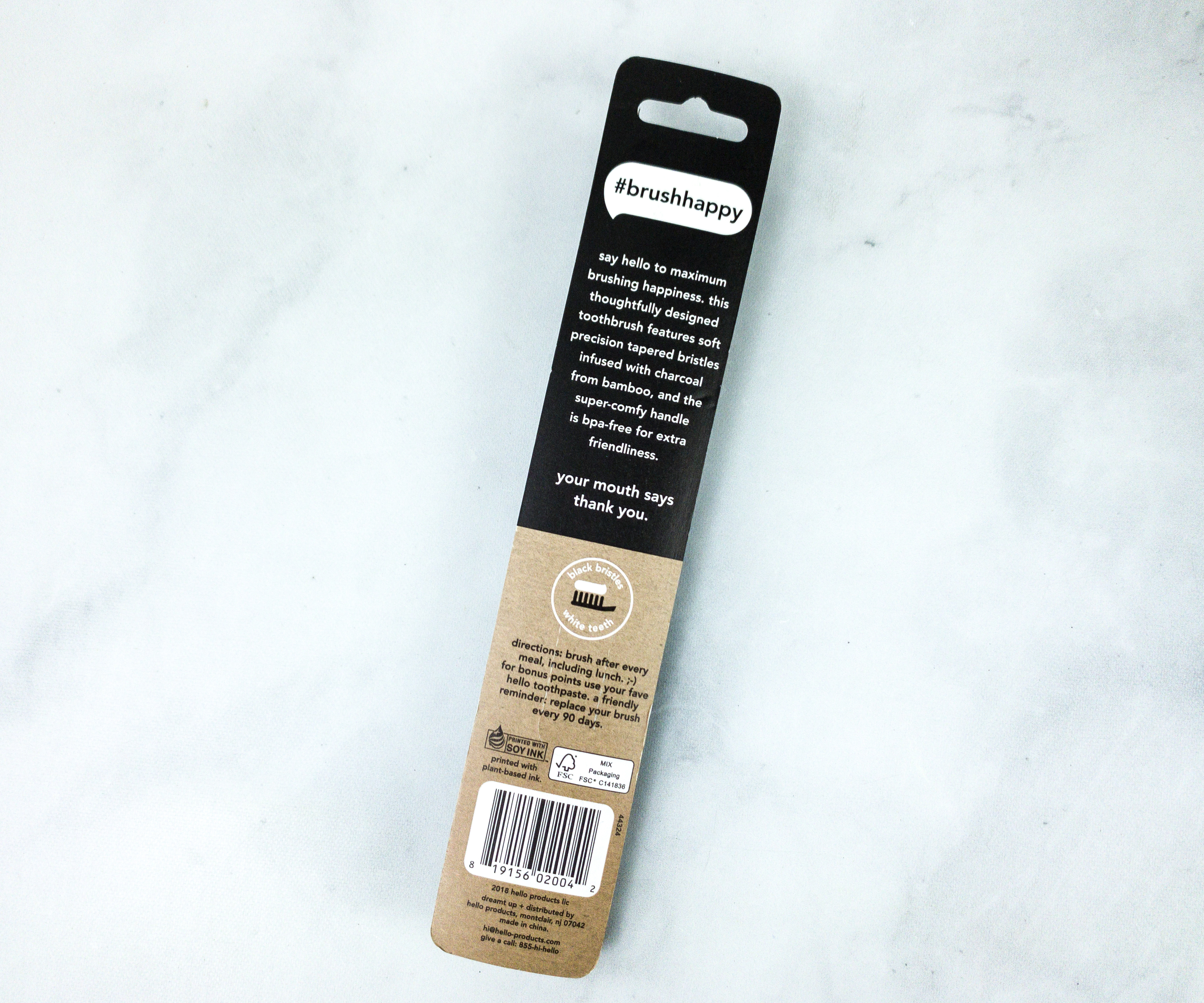 What's great about this is that it's BPA-free and the charcoal has teeth whitening benefits! I also like the bristles because they're so soft.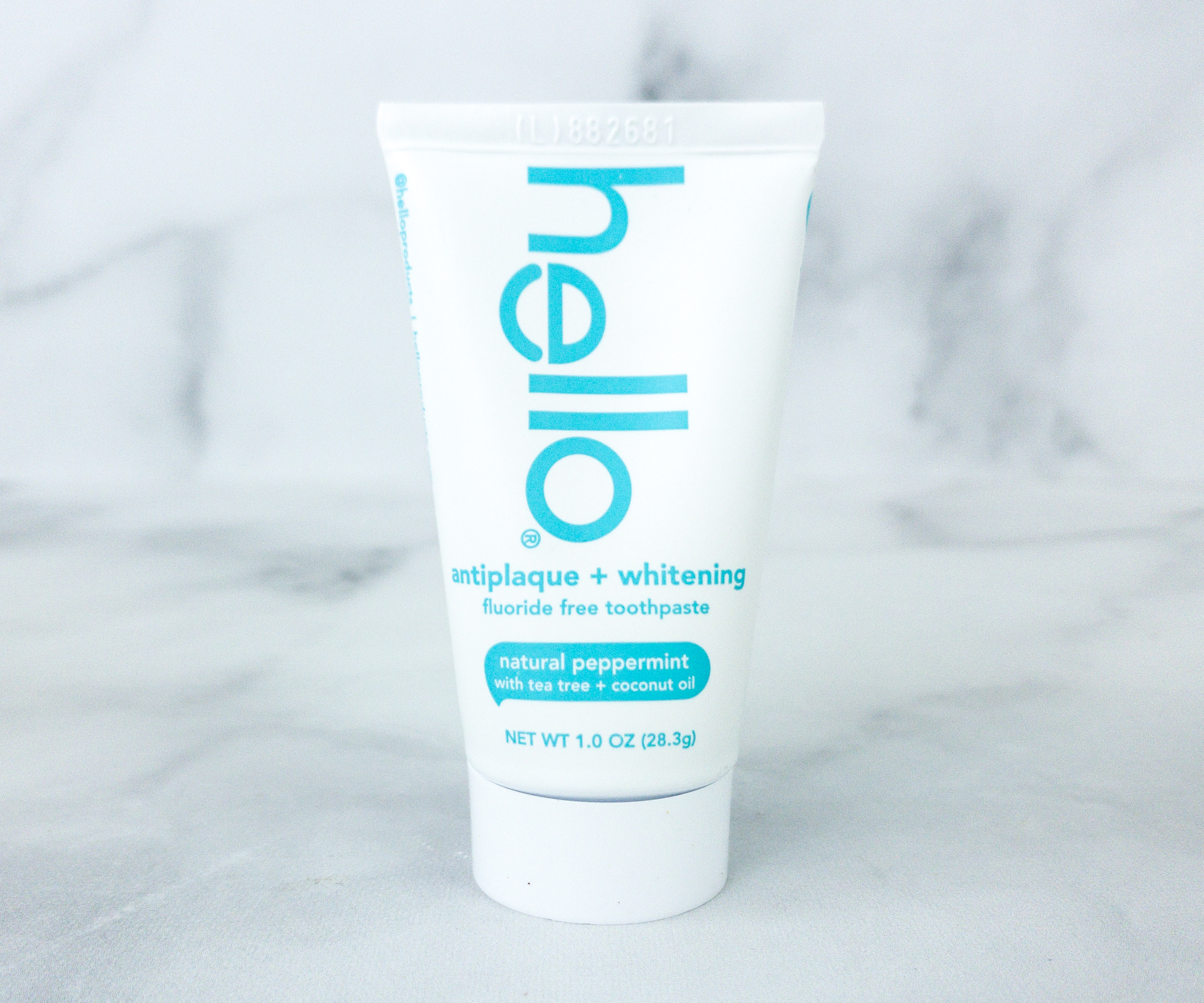 Hello Hemp Seed + Coconut Oil Extra Freshening Fluoride Free Toothpaste ($0.84) To pair with the toothbrush is this fluoride-free toothpaste! It leaves a nice clean feeling on my mouth and it also promises whitening effects on the teeth. Plus, the formula is vegan, cruelty-free, and never tested on animals, which is always a good thing!
Biore Rose Quartz + Charcoal Daily Purifying Cleanser ($0.95) Infused with rose quartz and charcoal, this cleanser does an awesome job of removing impurities without being harsh on my skin. It's ideally applied on wet face. To use, get a small amount in your hands, work into a lather, massage over your face, and then rinse. My skin did feel refreshed after using this. I also like the cleanser's light scent!
This box only comes out once a quarter and it's worth the wait if you love trying out new beauty products. The summer box has a bunch of useful items and my favorite is the rose quartz cleanser which felt great on my skin. I also like the nail art set with pretty straightforward instructions, as well as the toothbrush and toothpaste combo! For $5, I always get great items from this box and I couldn't be happier! Aside from trying out new products, I'm also able to find stuff that works for me through this box. Walmart is taking a pause on the Beauty Box until fall – maybe they can figure out their shipping woes!
What did you think of the Classic Walmart Beauty Box this quarter?