Universal Yums is an international snack subscription! Featuring a new country each month, the box contains unique and delicious snacks that are either difficult or impossible to find in US stores. They promise to always include a variety of sweet and savory snacks, all with the featured country's distinct flavors and spices. Each box also comes with an interactive guidebook containing an explanation of why they chose each snack, as well as trivia, games, recipes, and other cultural features!
There are three available box sizes:
Yum Box – 6+ snacks plus a 12-page booklet for $14 a month
Yum Yum – 12+ snacks plus a 16-page booklet and other bonus content for $25 a month
Super Yum Box – 20+ snacks plus a 20-page booklet and other bonus content for $39 a month
DEAL: Save 10% on a 6+months Universal Yums subscription!! No coupon code needed, just use this link to sign up!
This is the review of the Yum Yum box!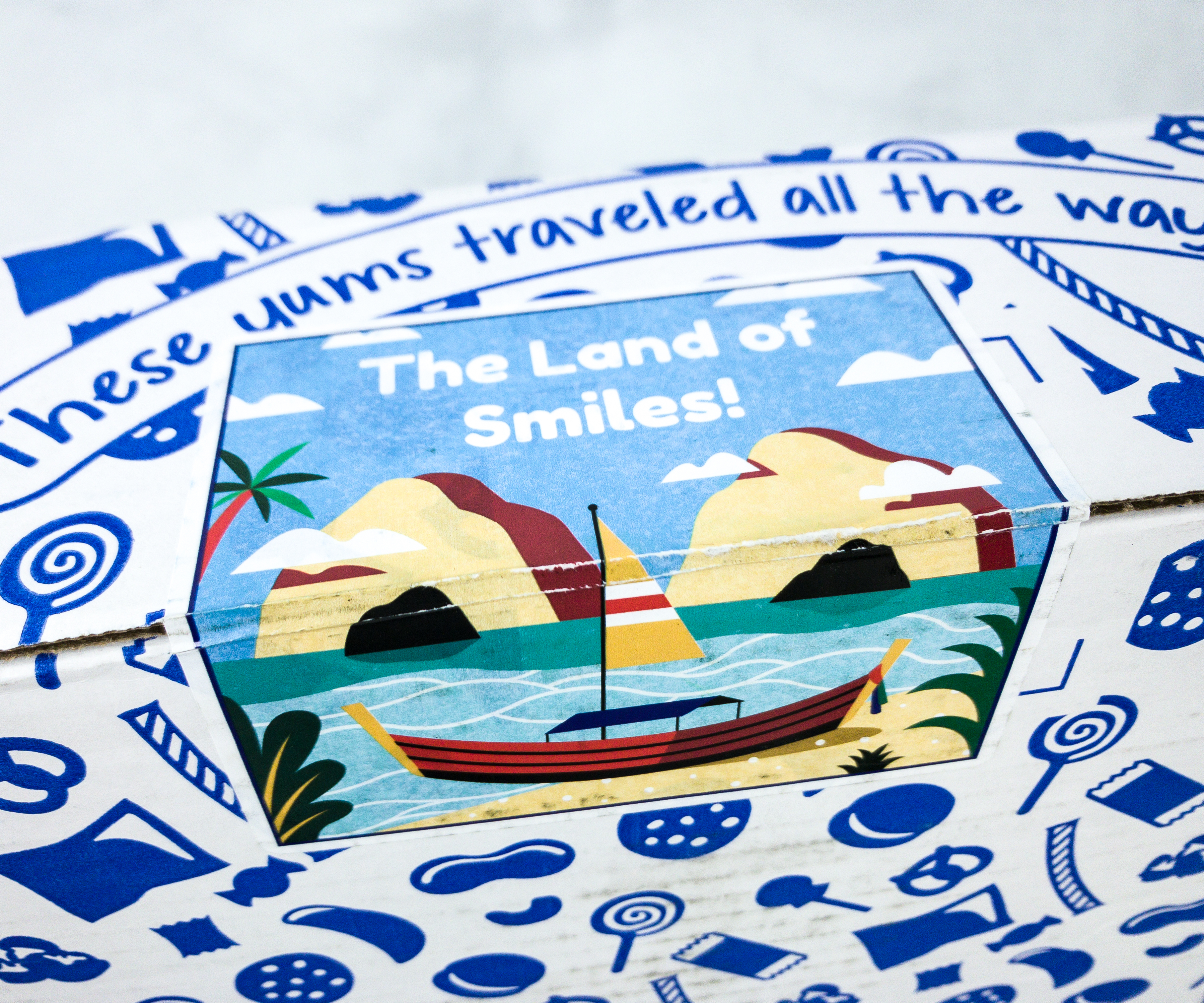 The sticker seal usually gives us a hint about the featured place.
The featured place this month is the THAILAND!
The box is jampacked!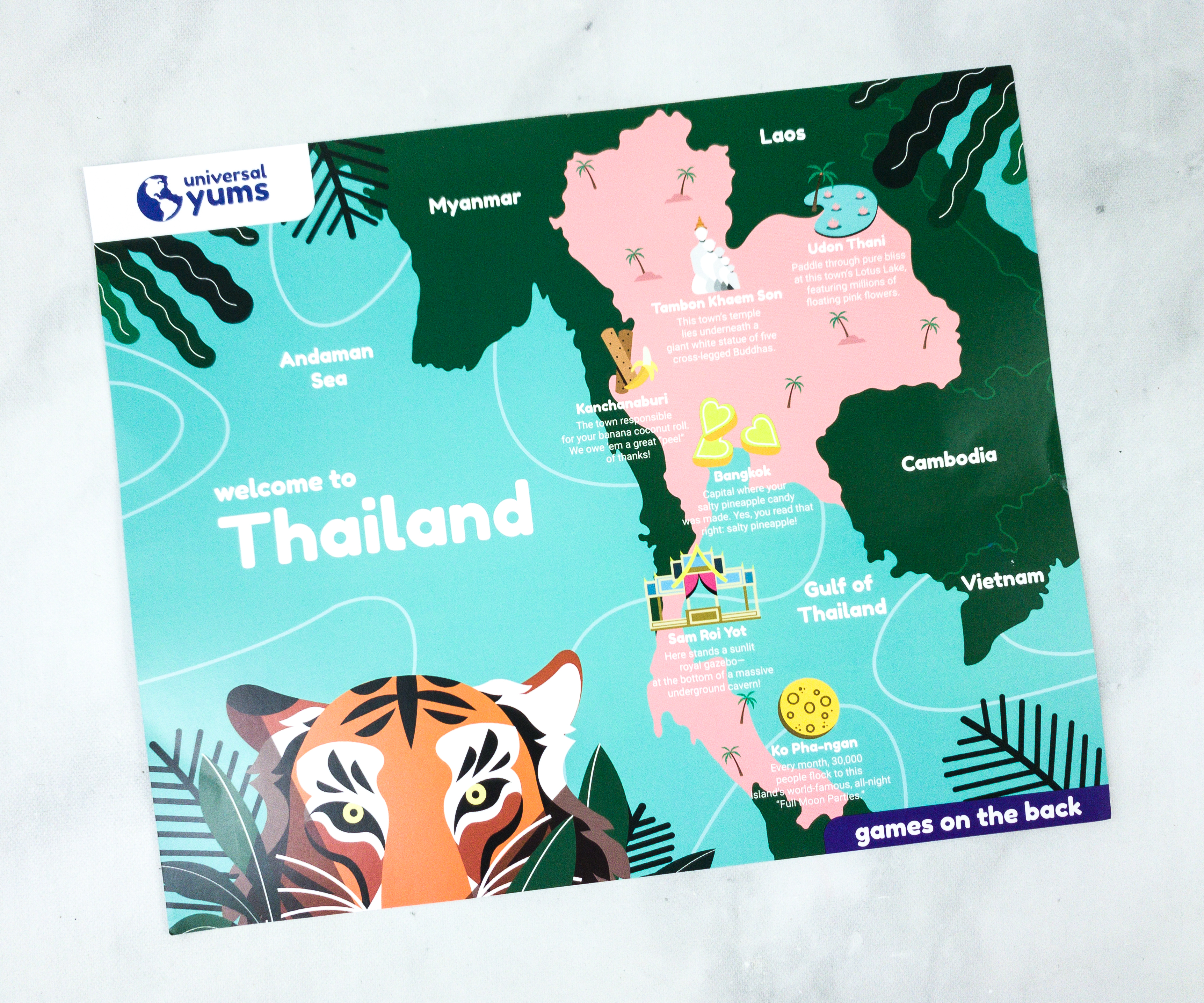 The card features the map of Thailand. It also gives us a brief overview of the country.
There's a sheet for The Official Yum Awards, where you can rate the snacks!
Aside from the sheet, we also received an information booklet!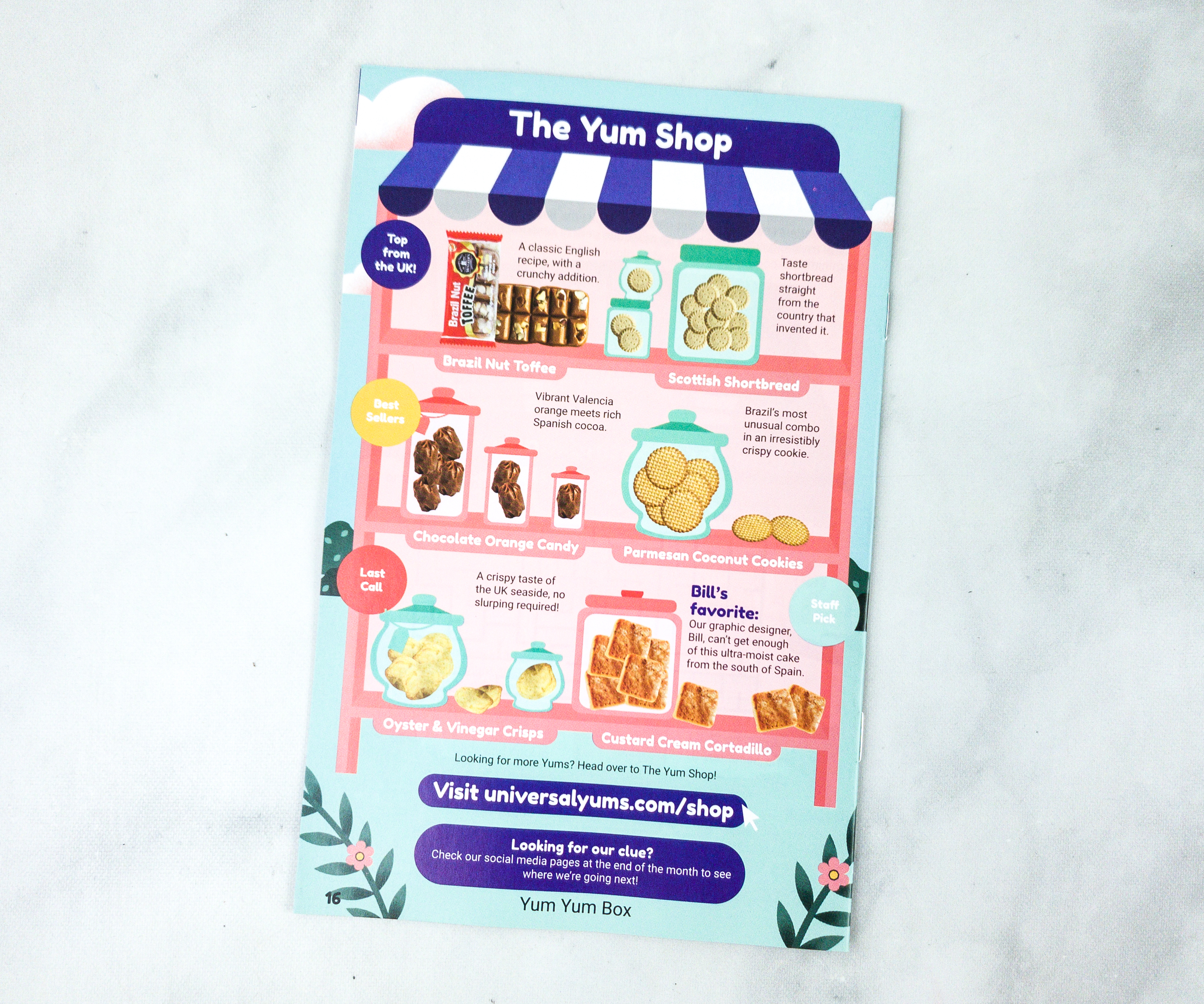 At the back, we get to see items that are available in The Yum Shop!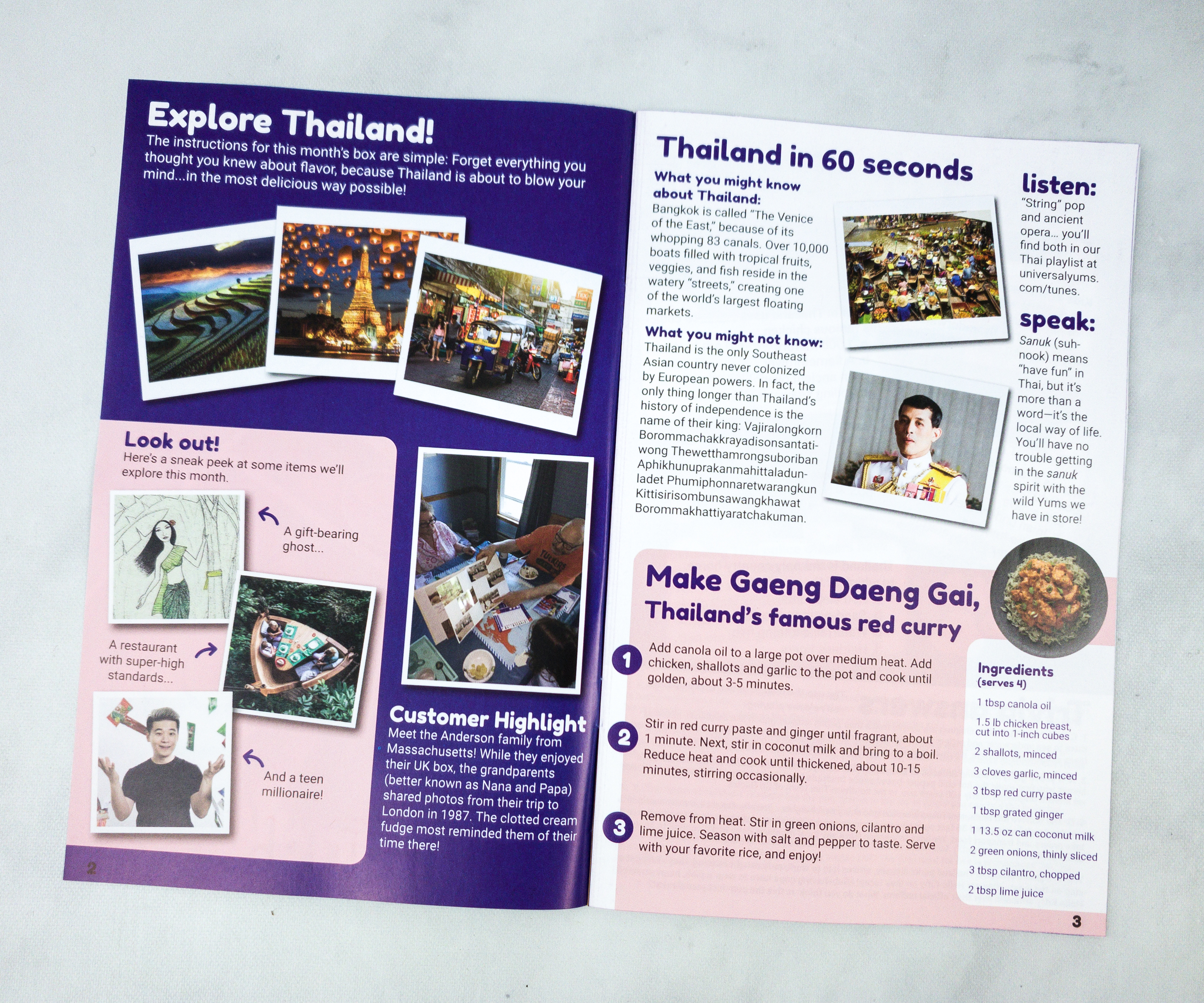 Inside the booklet, there are more details about Thailand like fun facts and tourist spots. There's even a recipe for their famous red curry, Gaeng Daeng Gai!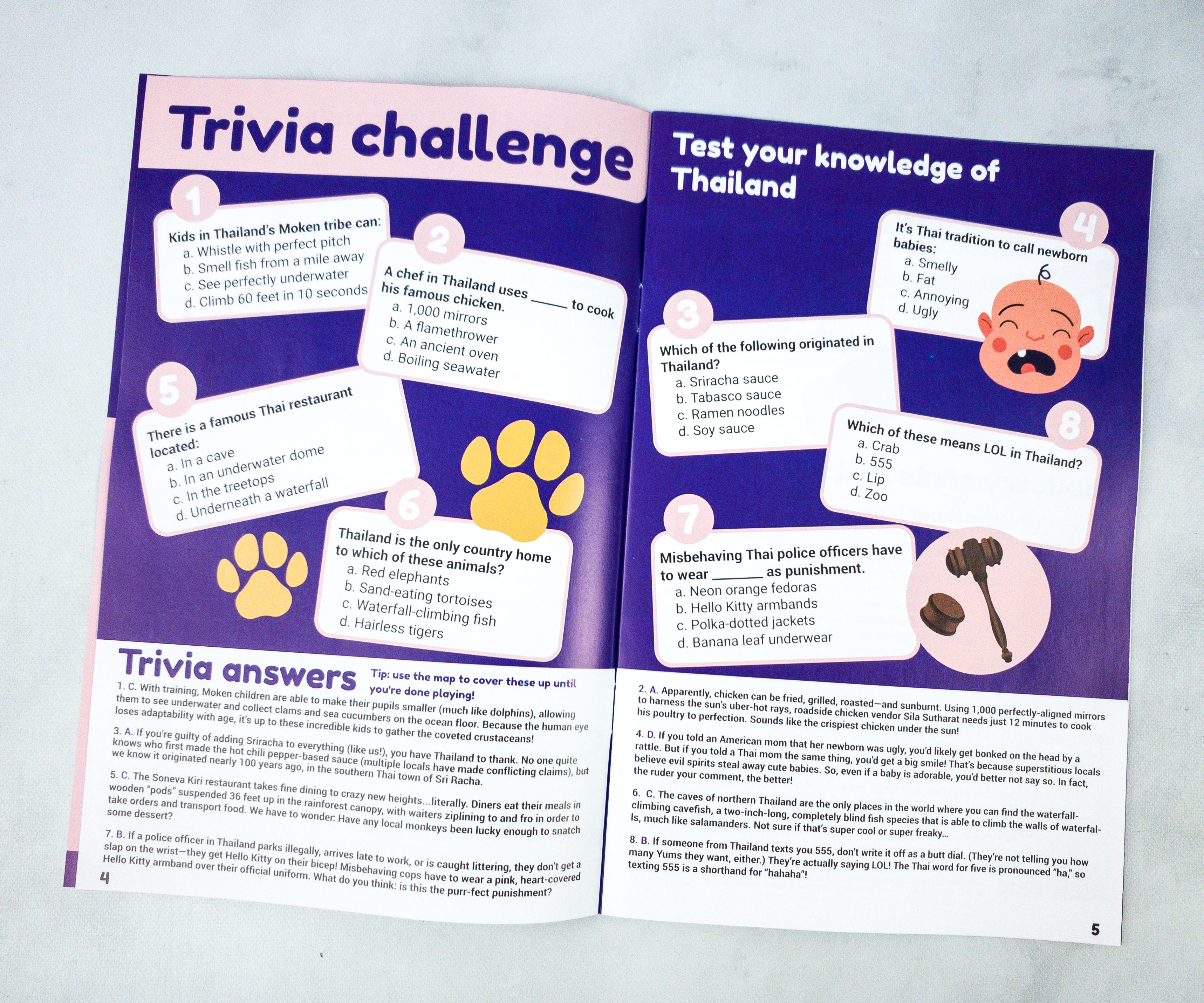 Here's a trivia page where you can test your knowledge about this wonderful place!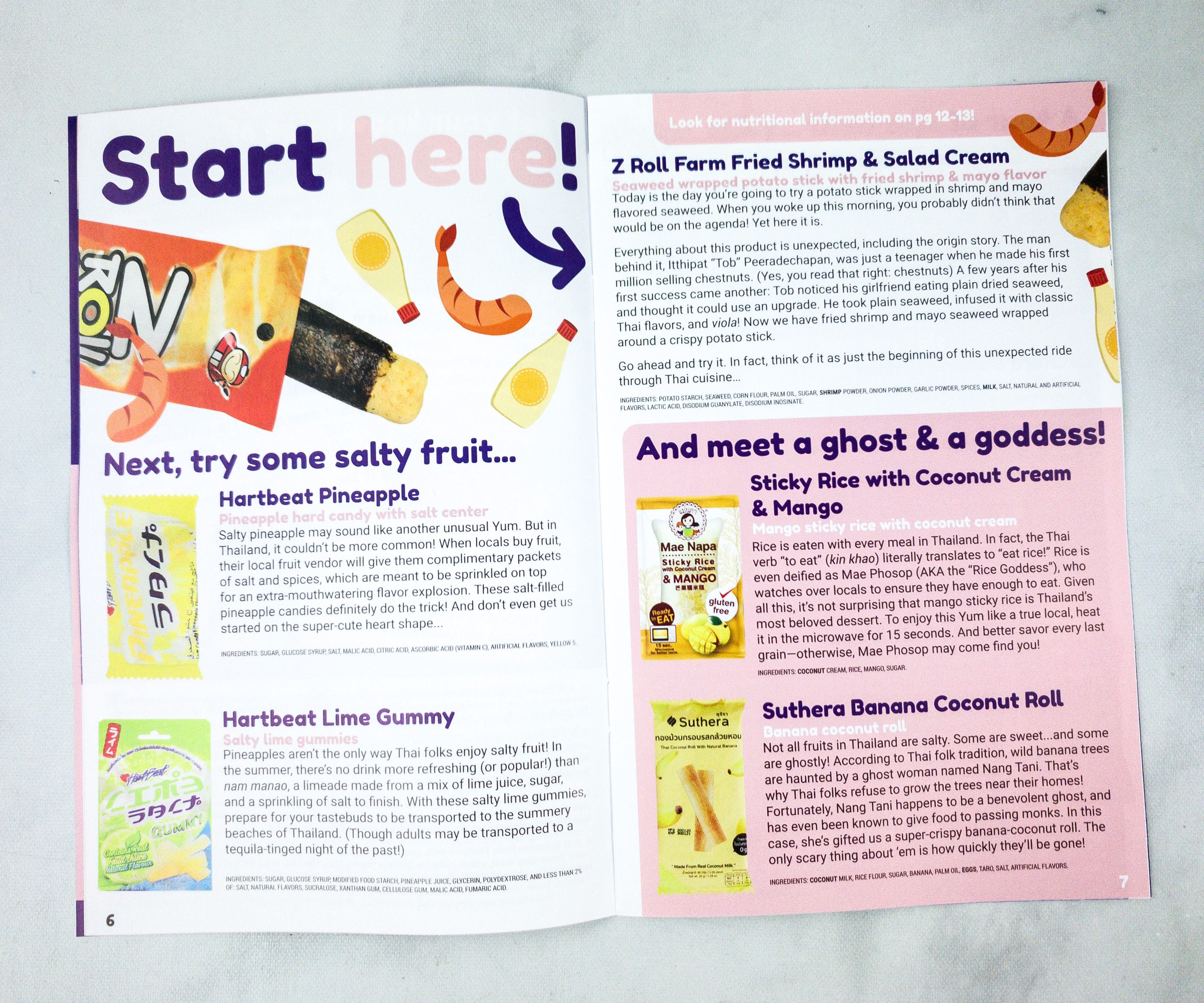 This booklet also lists down all the amazing snacks inside this box.
Each snack comes with a photo and a long description in the booklet!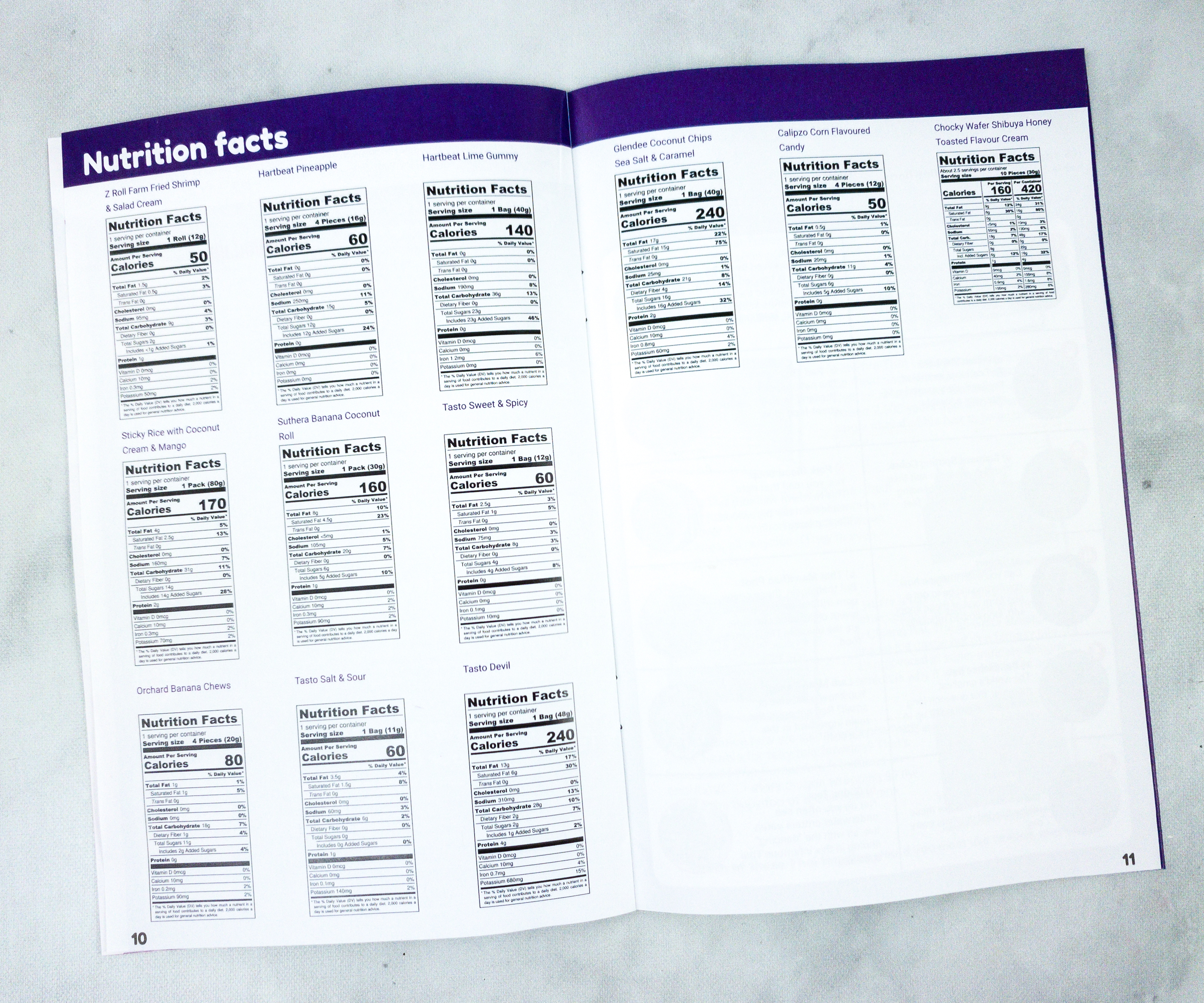 This month, they also included the Nutrition Facts of each item.
We loved reading this before taking a bite on this month's snacks!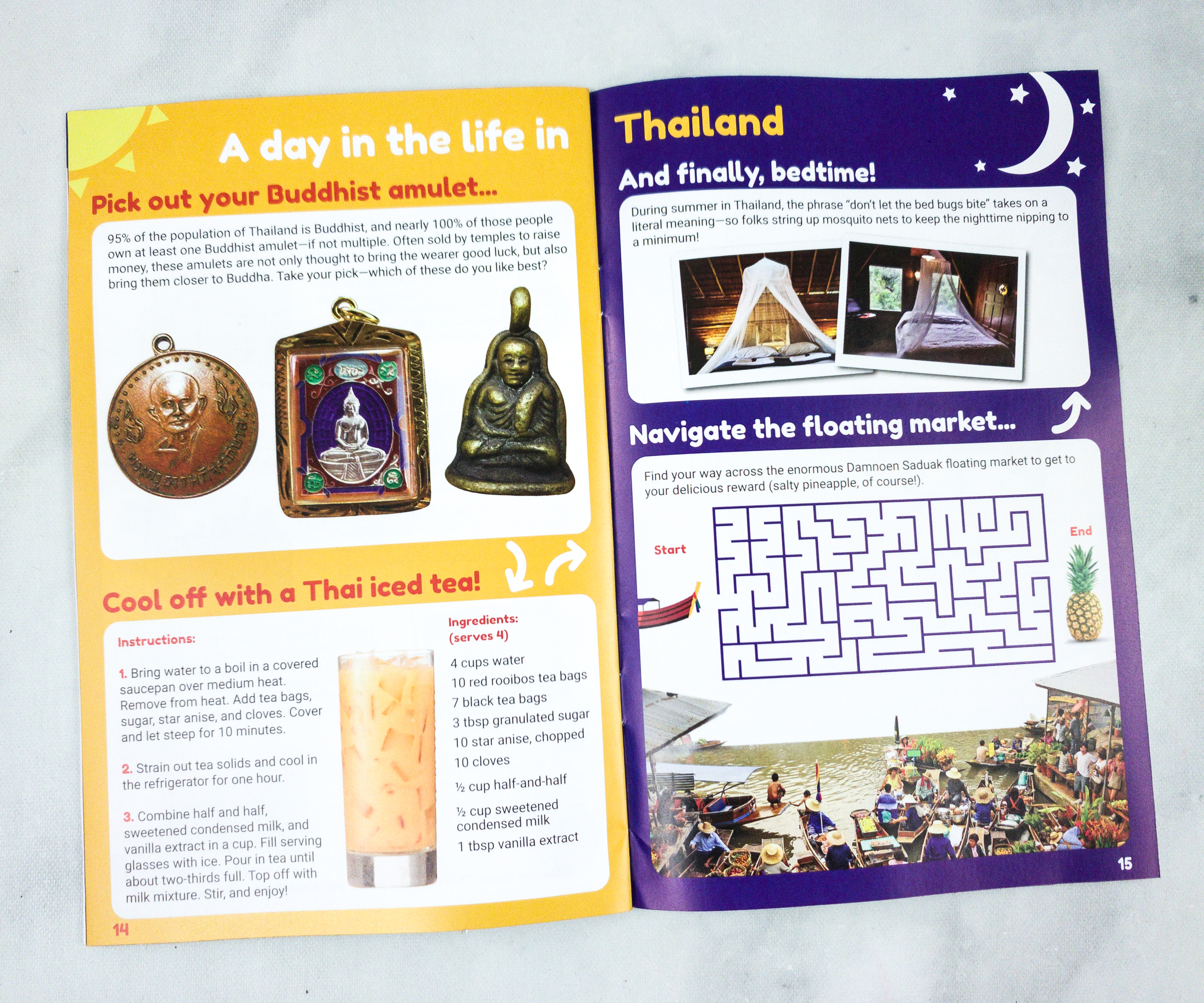 There are even fun games you can play with friends inside the booklet!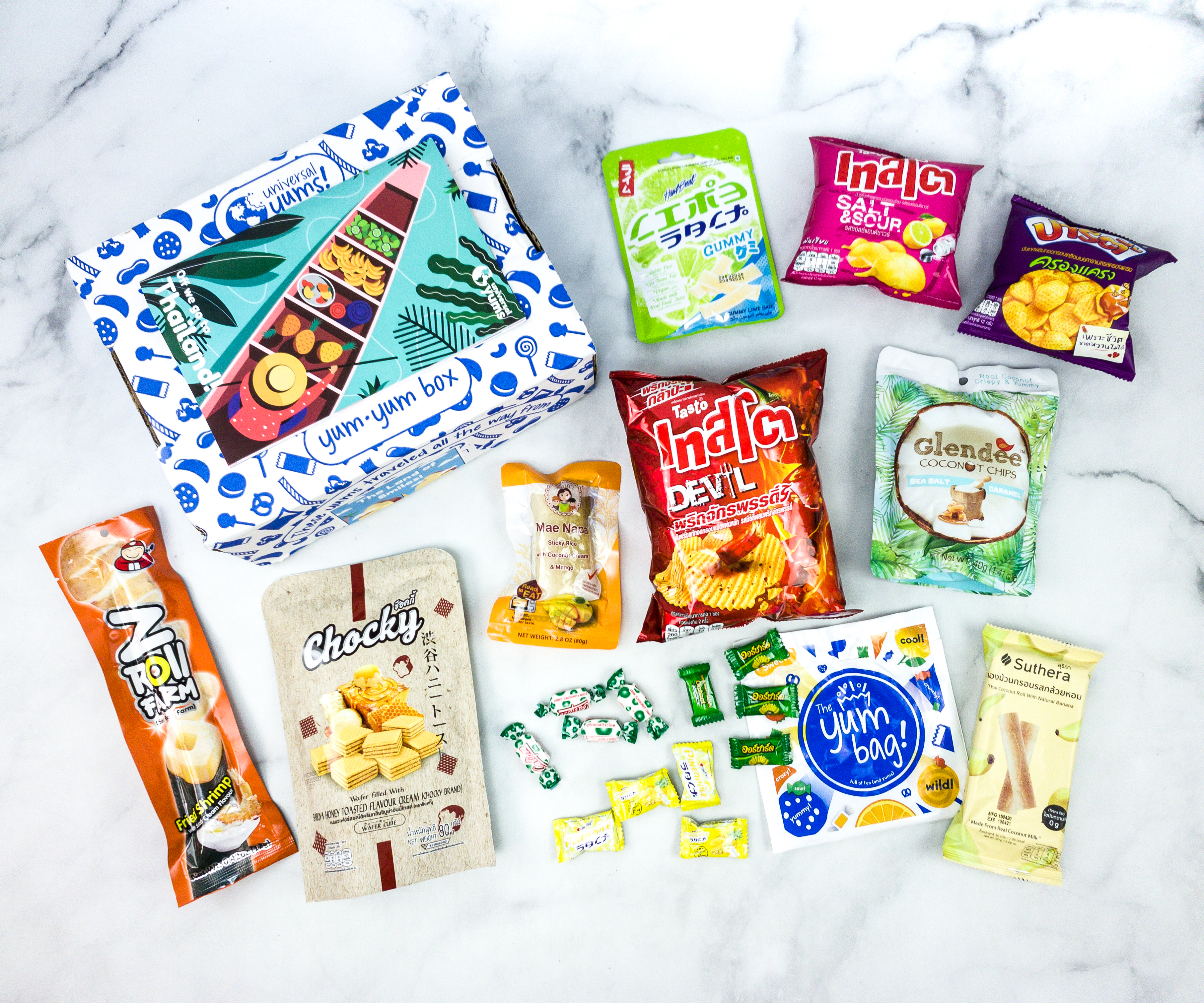 Everything in my July 2020 box!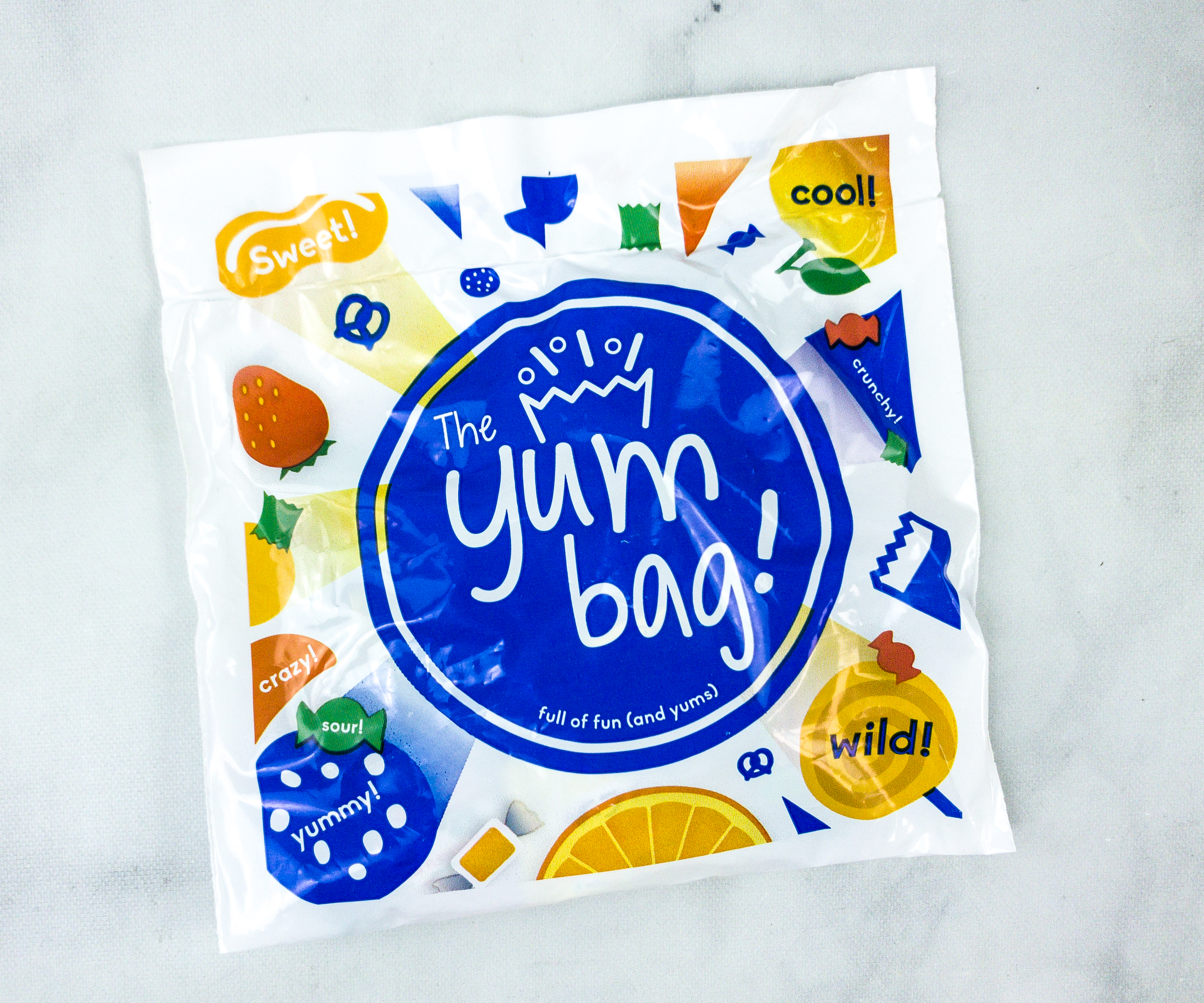 The Yum Bag. They say good things come in small packages and that is especially true with this bag of candies!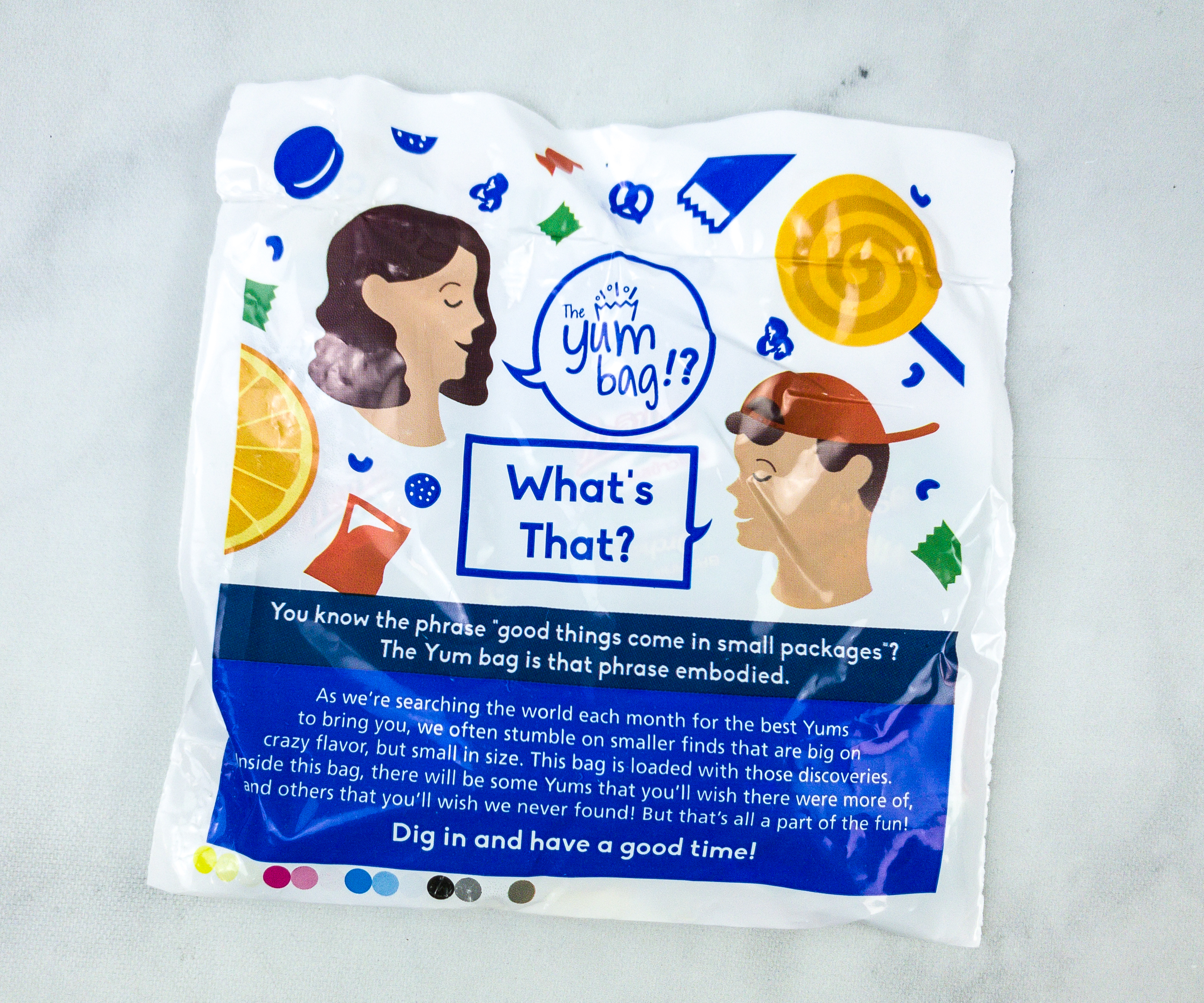 The Yum Bag is loaded with a variety of flavorful candies from the featured country.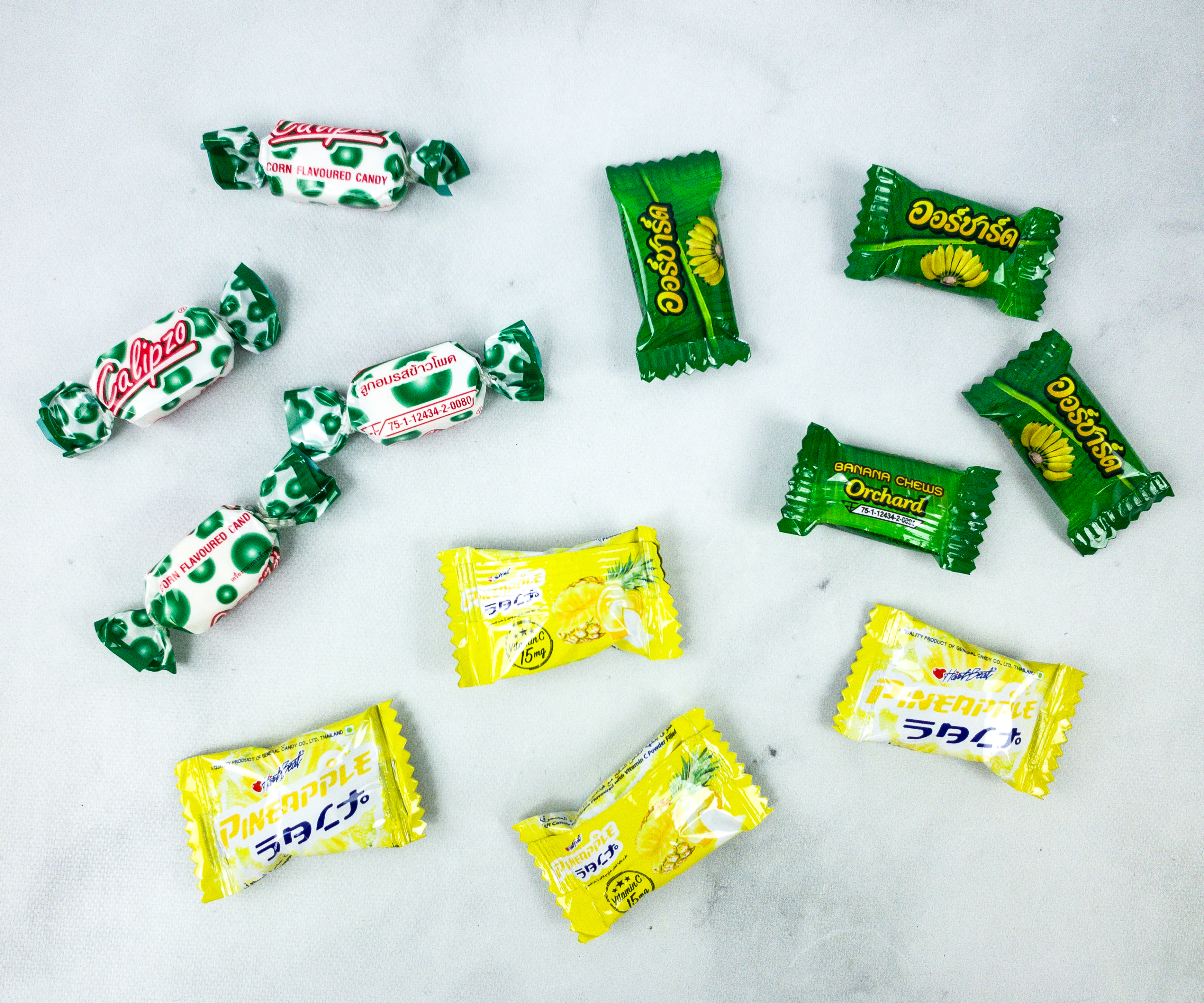 The bag includes 3 different kind of candies, with 4 pieces for each kind.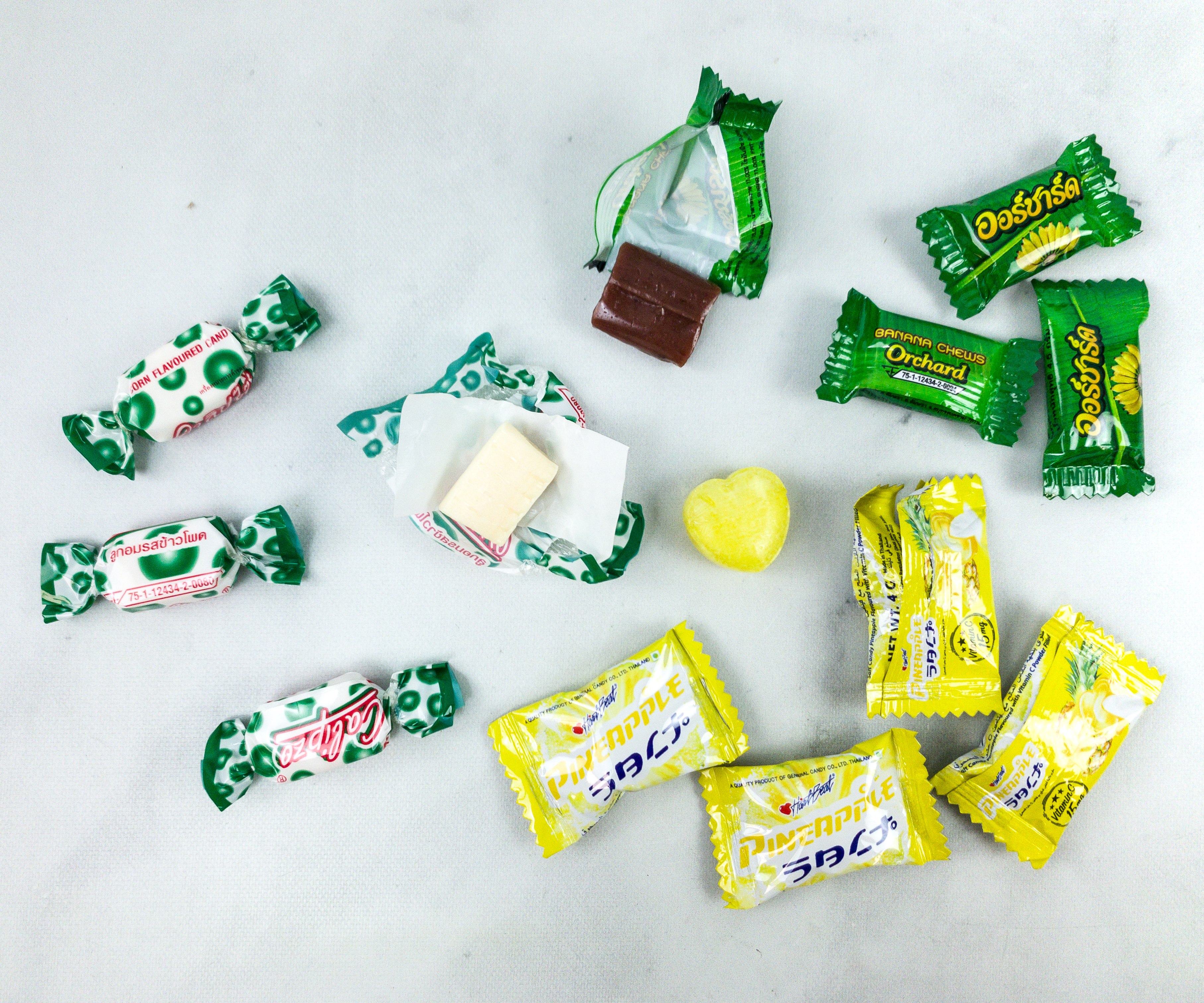 In the Thailand box, we have corn, pineapple, and banana-flavored candies!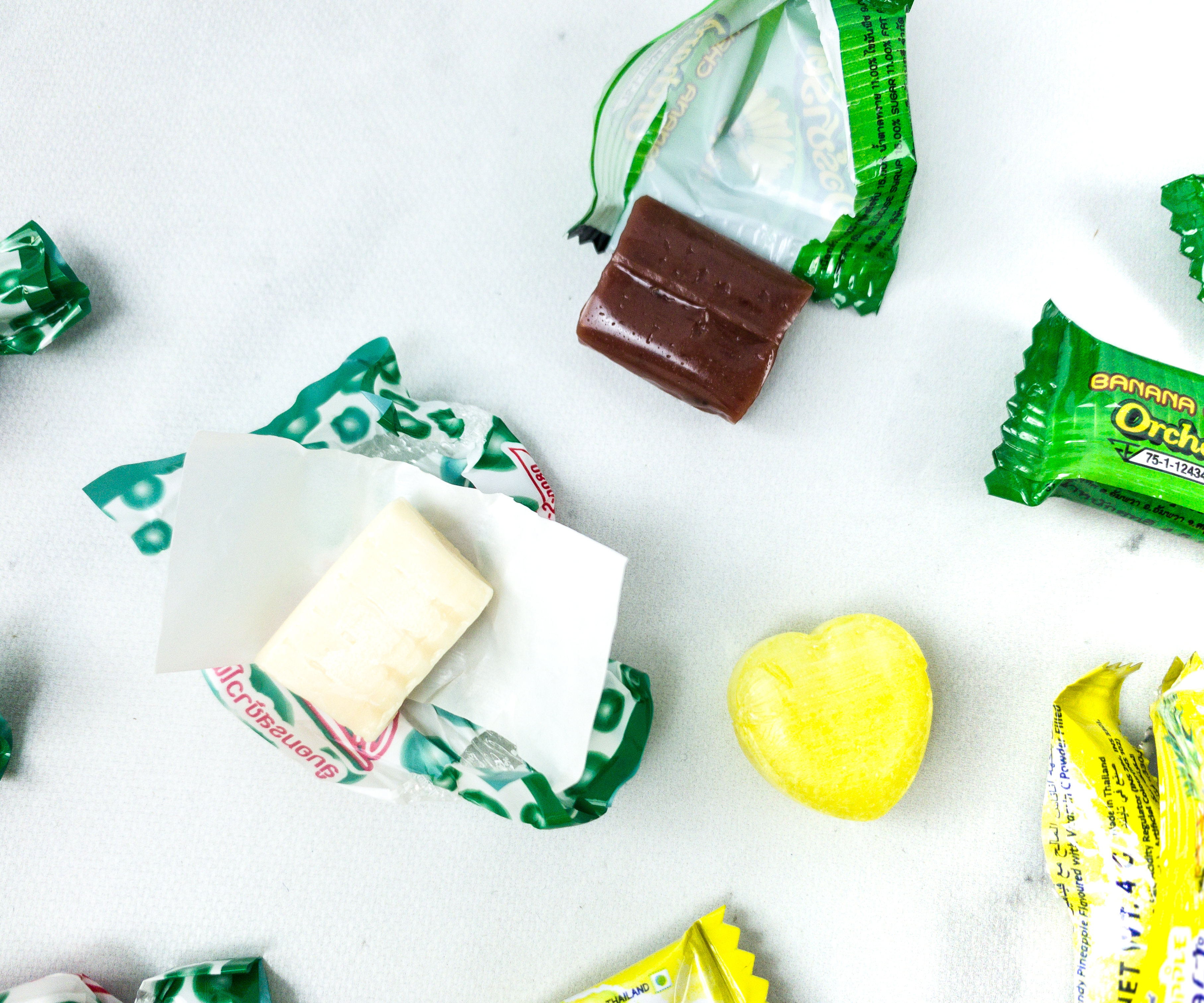 The pineapple-flavored candies are hard-shelled while the other 2 are chewable candies!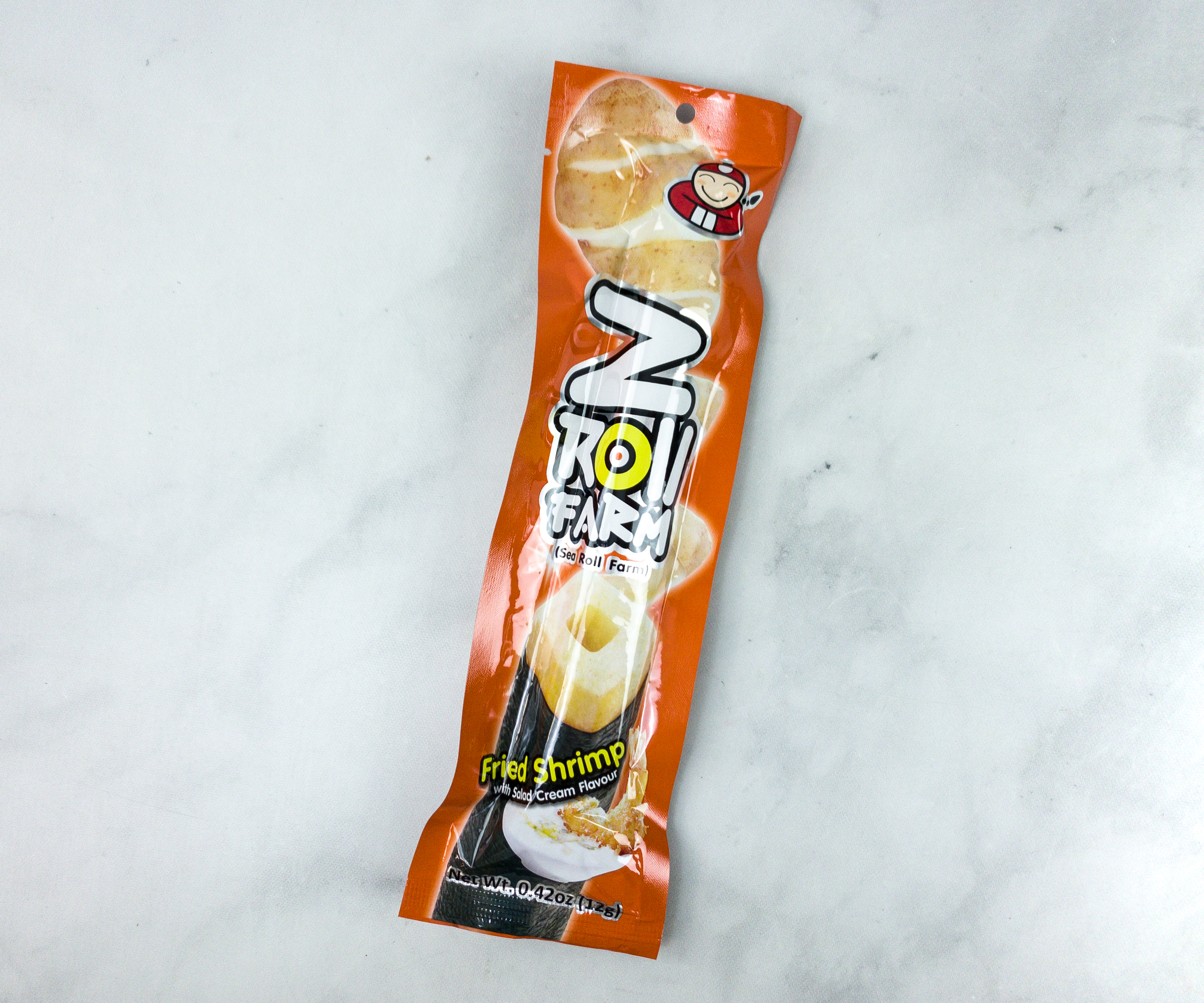 Z Roll Farm Fried Shrimp & Salad Cream. This crunchy potato stick is infused with delicious shrimp and mayo flavor, and also partly covered by a Thai-flavored seaweed sheet. This is a delectable snack with unique combination of flavors. If you're into seafood snacks, you'd probably like this one as well.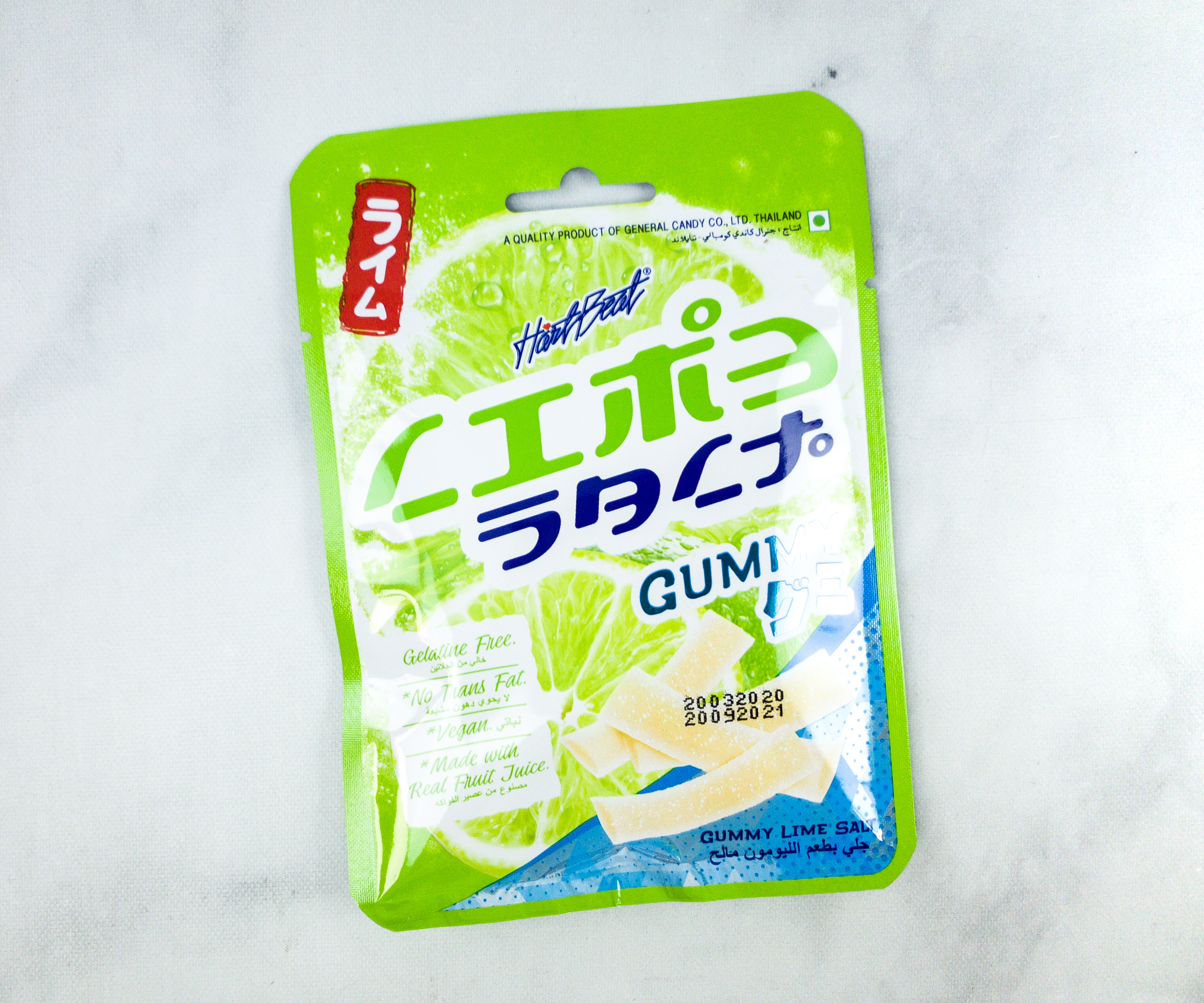 Hartbeat Lime Gummy. These gummy candies were inspired by limeade, a popular drink in Thailand during the summer. The gummies were soft and refreshing to the palate. Since they are made with real lime juice, they also tasted so natural. The subtle saltiness is also satisfying. According to the pack, this snack is gelatine-free, vegan, and trans fat-free!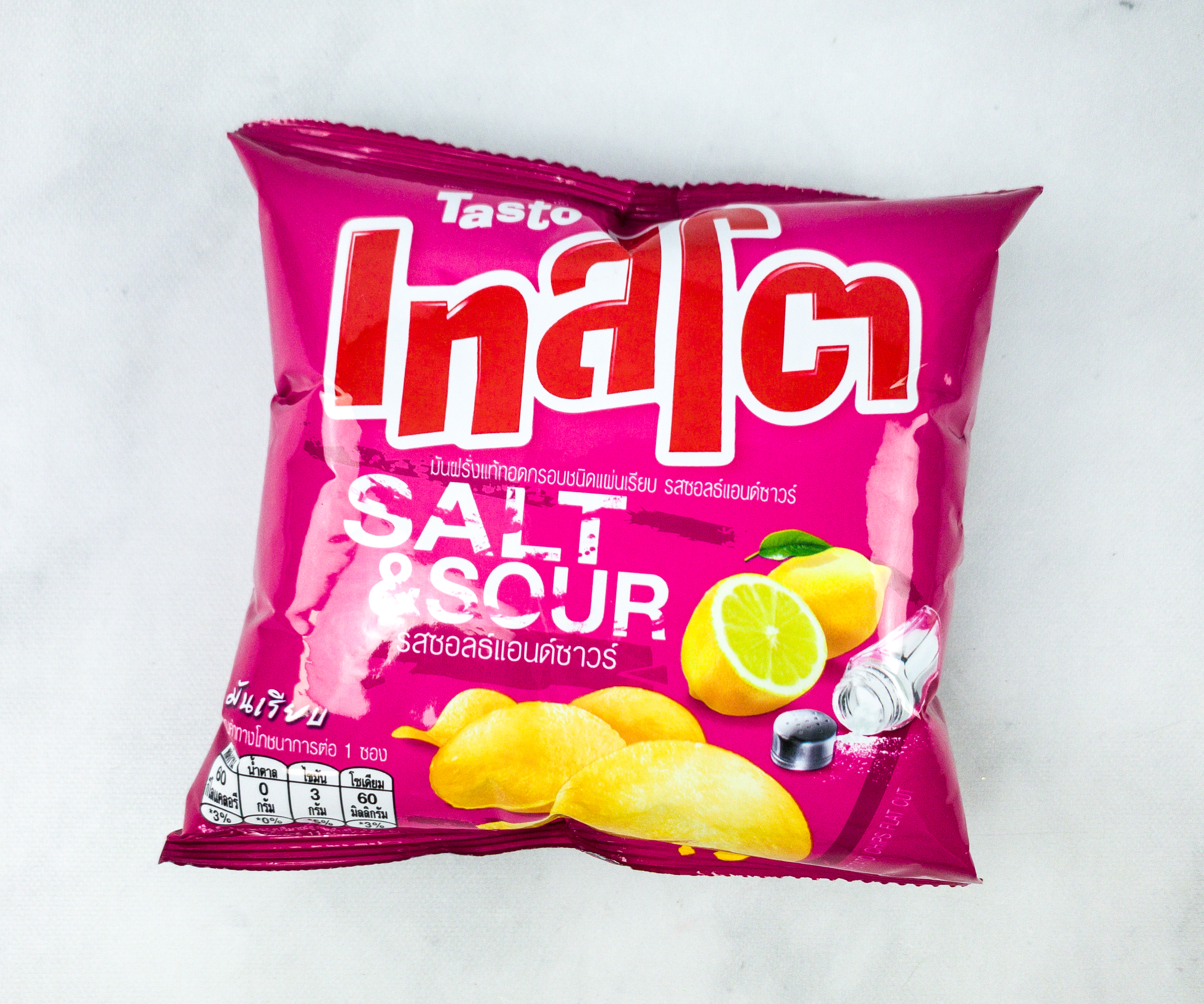 Tasto Salt & Sour. We're excited to try Thai chips and this one didn't disappoint. It features a balance of salty and sour flavors, but it's different from our usual sour chips because it has a fruity taste coming from the lemon extract. The chips were also thin and crunchy!
Tasto Sweet & Spicy. Thailand is known for its unique snacks, and this bag of chips fits the bill! Each hexagonal piece is made with sweet potato and garlic spices plus other flavorings. If you're not a fan of overly spicy snacks, this one makes a great alternative. The garlic flavor isn't too overpowering and it also has a hint of sweetness to it.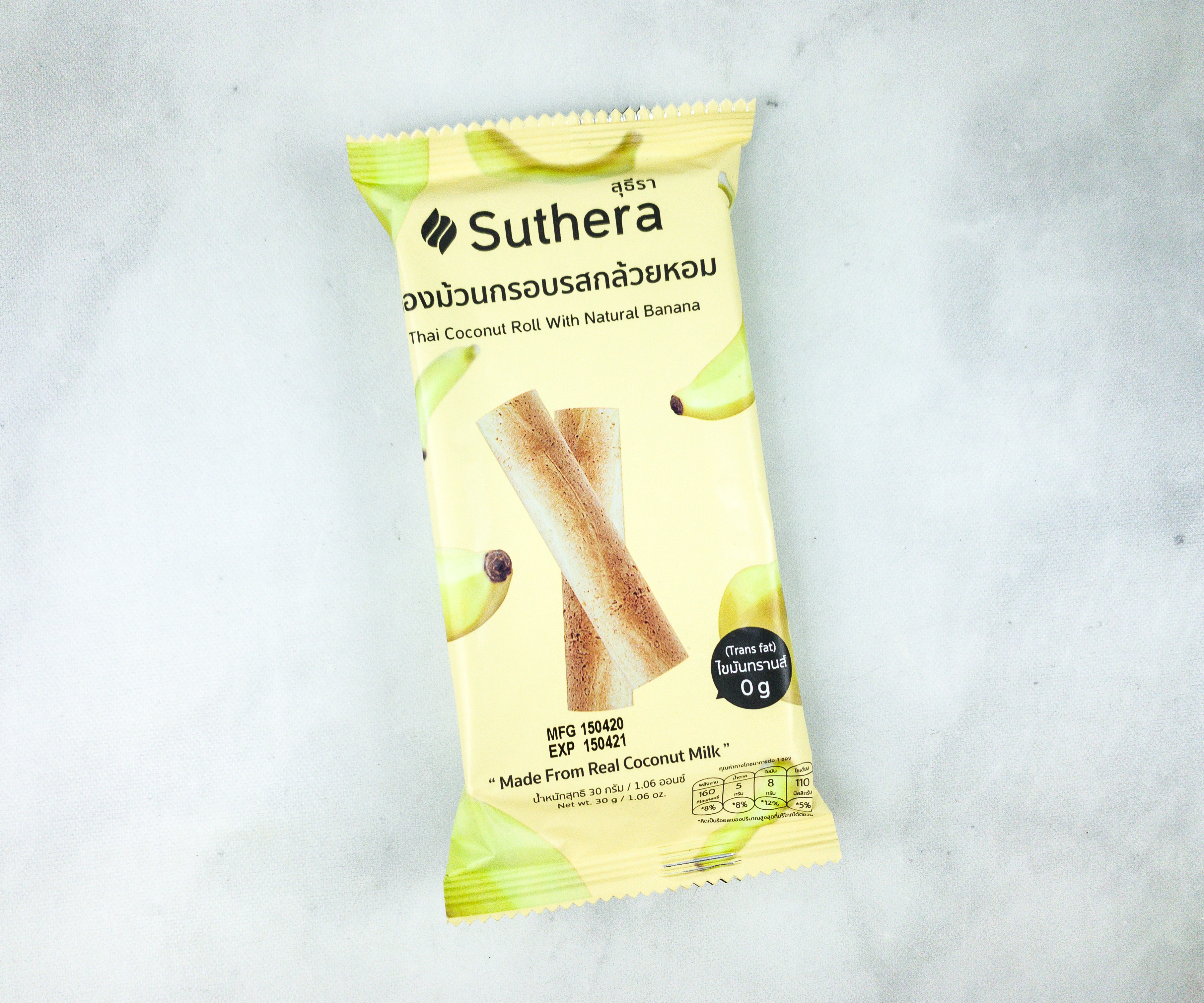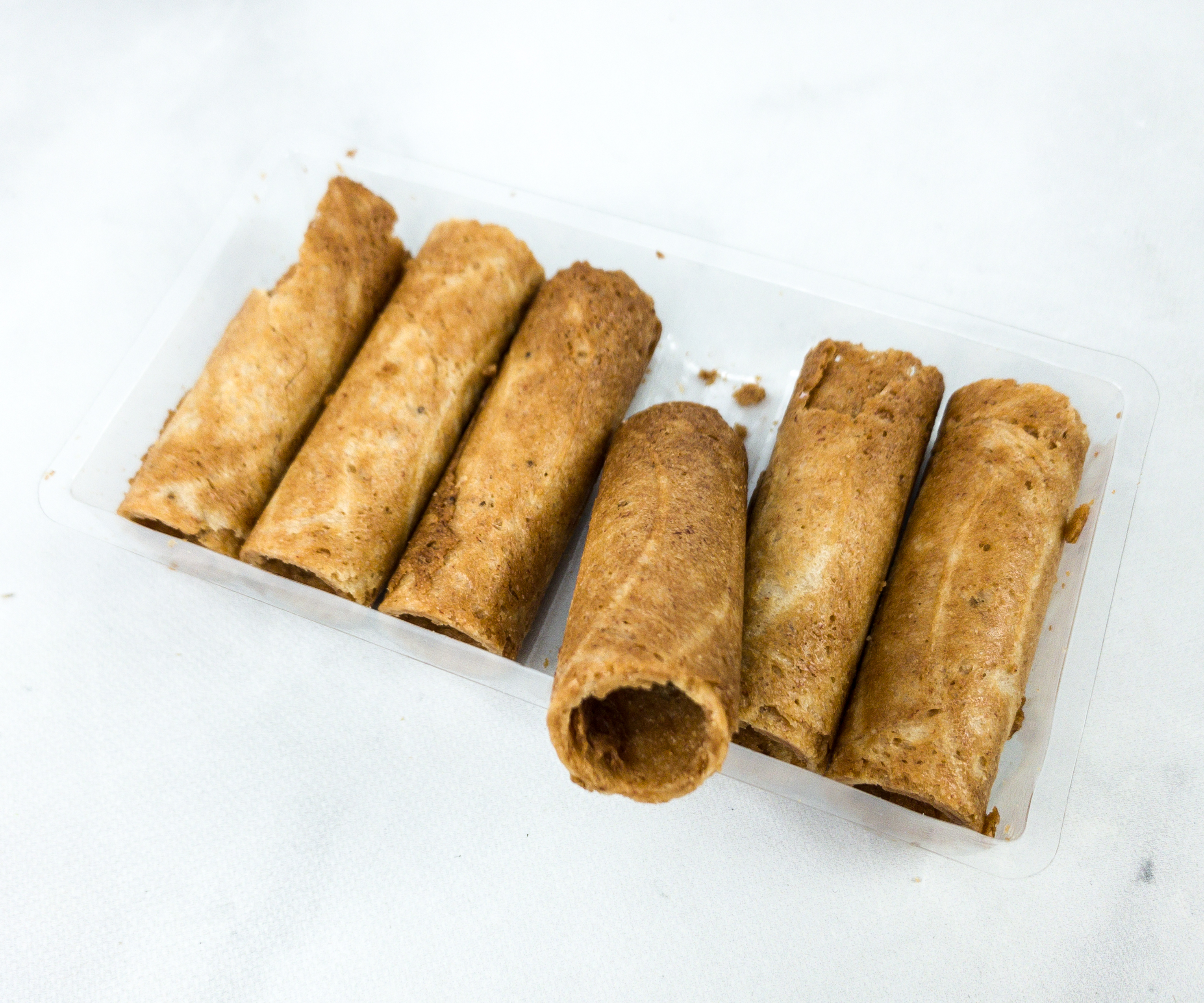 Suthera Banana Coconut Roll. Banana and coconut were mixed with rice flour to make these crispy rolls! I love how tasty these were. The rolls remind me of wafer sticks, except that they are thicker and crunchier. They also easily fulfilled my sweet tooth cravings! The flavor was just amazing – I need more!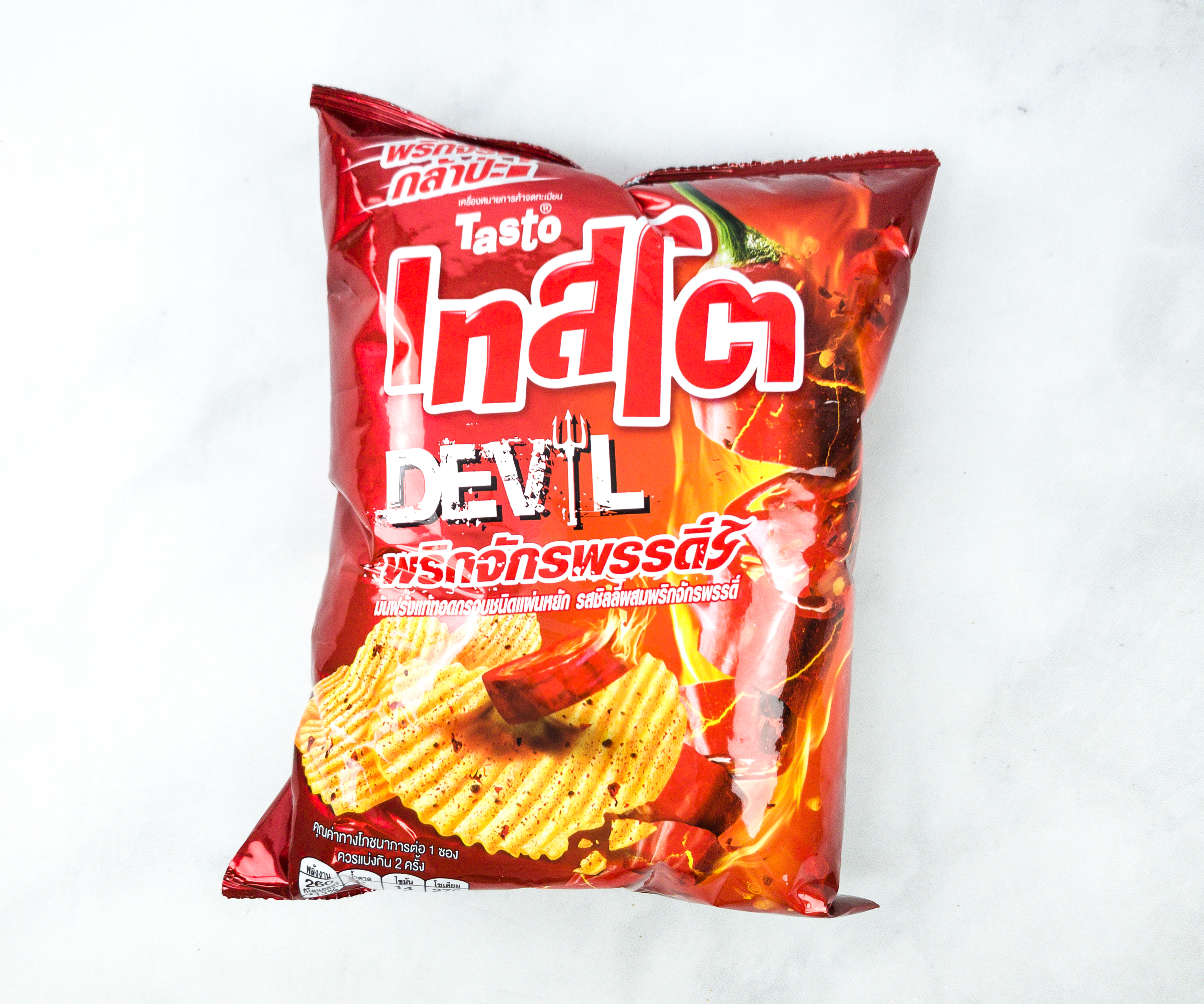 Tasto Devil. We've got another bag of potato chips in our box, and this time it's blended with Thai chili peppers. You can even find dried bits of these chili peppers inside the pack. It's so spicy, you'll surely want to pair it with an ice-cold drink!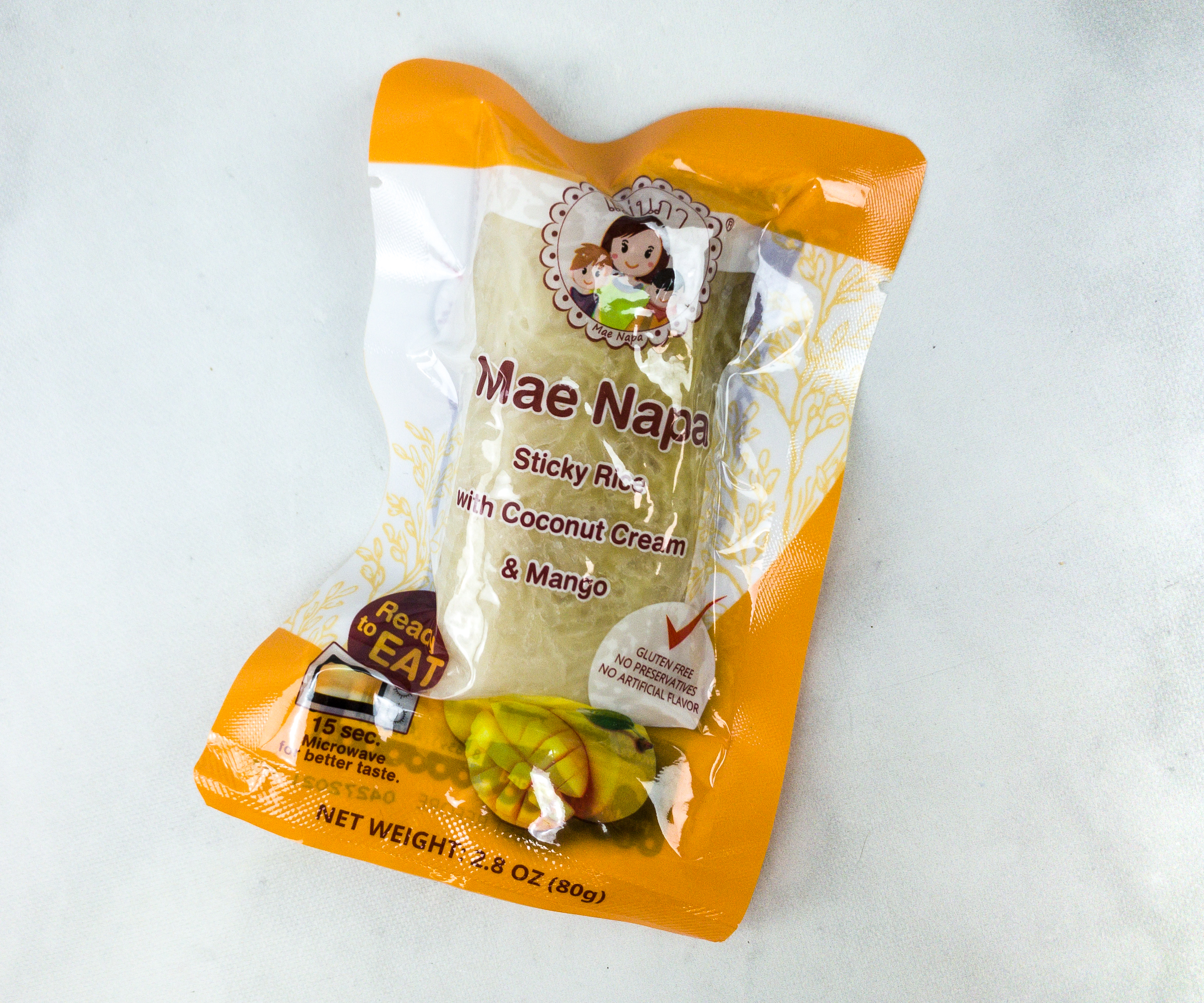 Sticky Rice With Coconut Cream & Mango. Mango sticky rice is one of the most popular desserts in Thailand. I'm so happy that they've come up with an instant version that we can easily enjoy at home. It comes in a pack and it's ready to eat! To enjoy this snack the Thai way, all you just need to do is heat it in the microwave for 15 seconds before eating. According to the pack, this is gluten-free and preservative-free as well.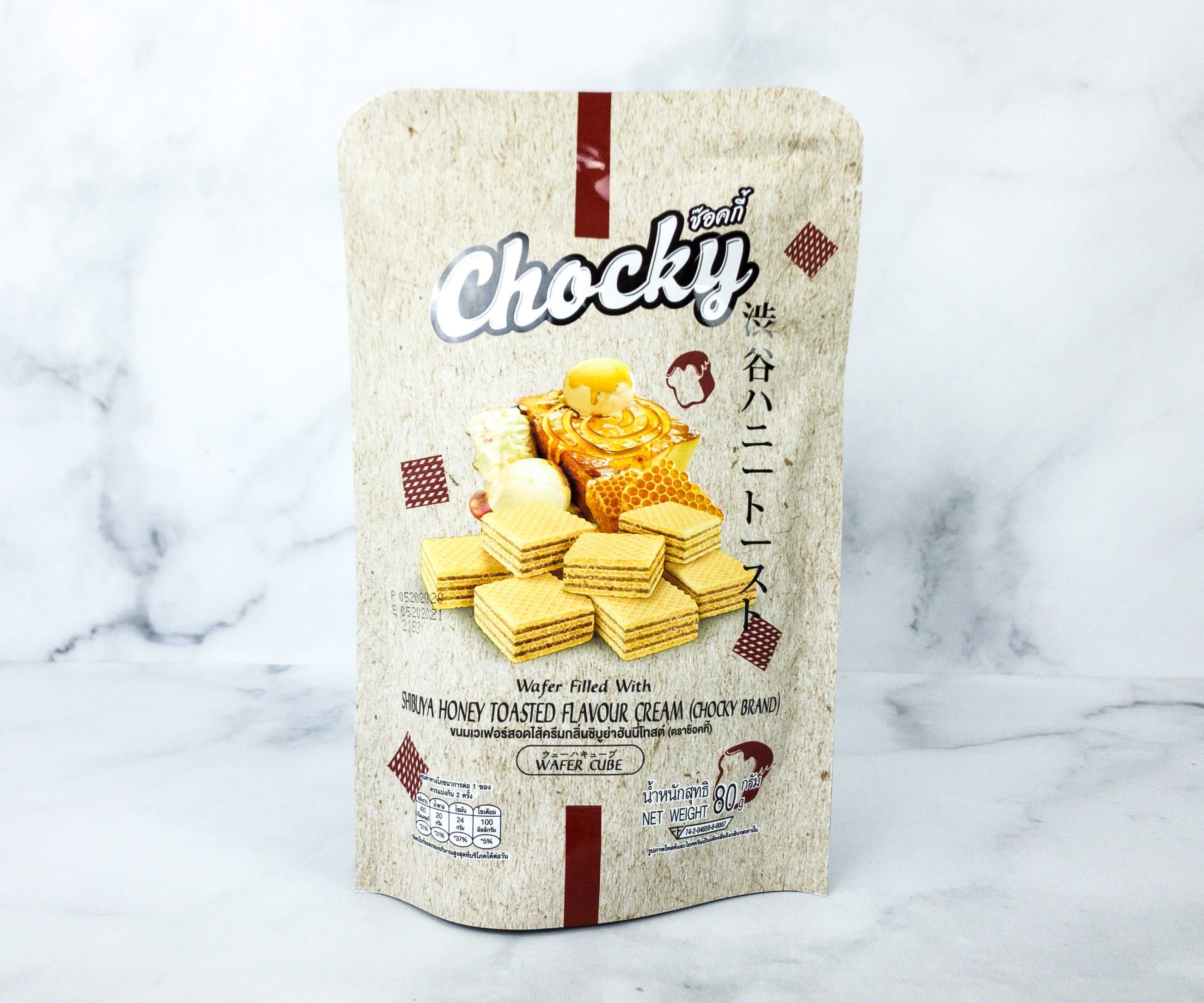 Choky Wafer Shibuya Honey And Toasted Flavour Cream. These bite-sized crispy wafers come with delicious chocolate fillings. This snack was inspired by the Japanese honey toast, a dessert made with a whole loaf of soft bread brushed with butter and honey and caramelized in the oven. Each piece was sweet and crunchy, a light snack that can easily fulfill cravings. No wonder this snack is quite popular in Thailand!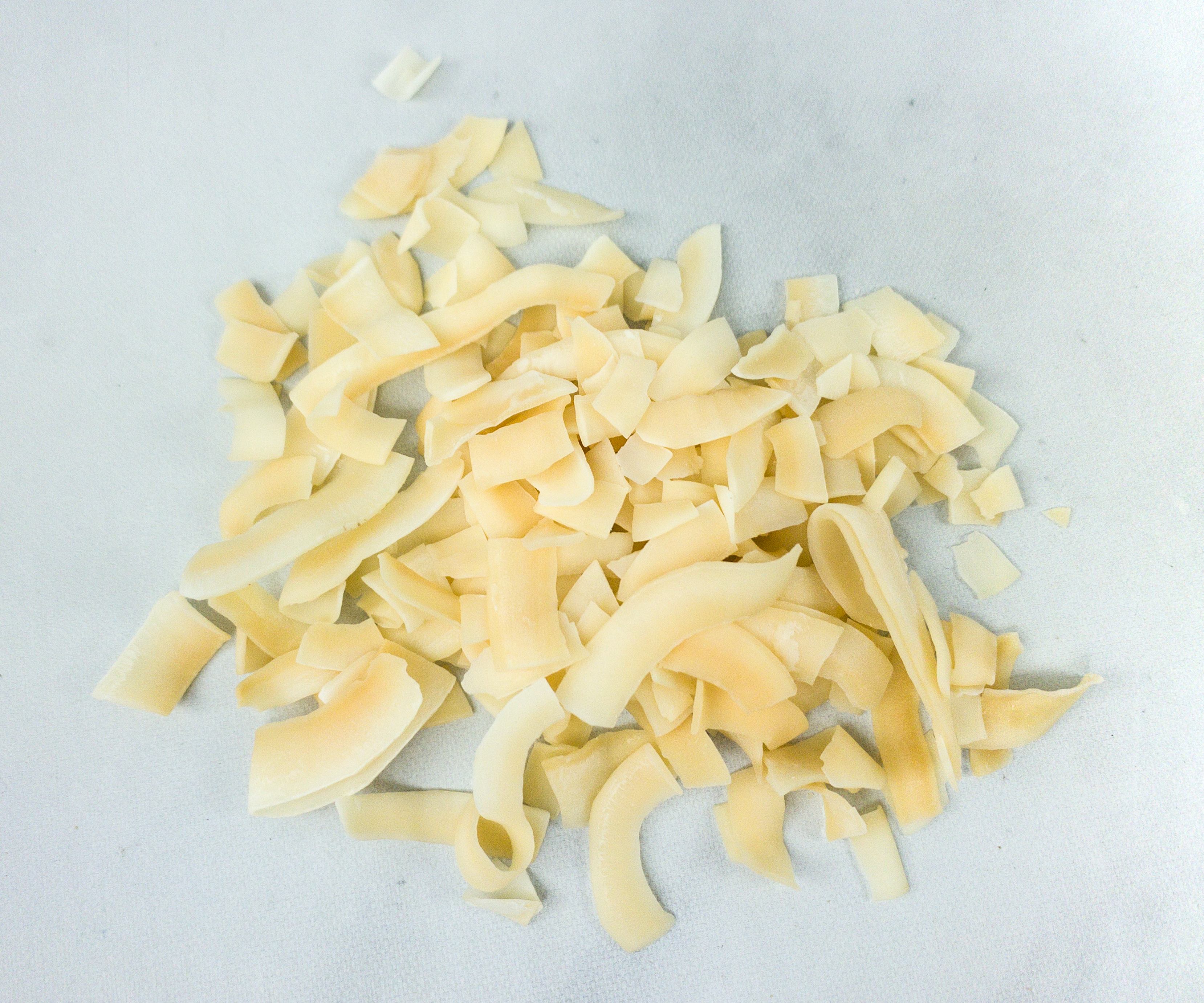 Glendee Coconut Chips Sea Salt & Caramel. A lot of coconuts in Thailand are harvested by the macaque monkeys. While it's impossible to get a whole coconut from Thailand, they sent us these coconut chips instead! They are made with toasted coconut meat and they're even flavored with sea salt and caramel to make them more addicting.
This month's snack box introduced us to another wonderful country, Thailand! I know this country has a lot of tasty snacks, but I never expected it to be this yummy! All the snacks we received were really awesome. They've provided us with a great range of flavor from sweet, sour, salty, and even spicy treats. My favorites are the spicy chips and the banana coconut rolls, but the rest was also good. If you also have an adventurous palate and you don't mind trying a variety of snacks from different countries every month, you'll love Universal Yums!
Have you tried Universal Yums? What do you think?