LiveGlam has released the August 2020 Eyeshadow Club (formerly ShadowMe) spoilers! This collection will be available starting on the 25th!
Every other month, you'll receive 9-10 new, high-quality, cruelty-free and vegan pigmented eyeshadows for $19.99 with free US shipping ($5.99 international). Like other LiveGlam subscriptions you can trade, skip, or cancel anytime. (Individual trade will not be available for ShadowMe). LiveGlam also offers the Brush Club + Lippie Club subscriptions.
DEAL: Get to pick a FREE lippie with any subscription plan during the sign up process! Use this link to sign up and activate the deal– no coupon code required! You'll also save $5 on a 6-month plan or save $10 on an annual subscription! Plus, save 10% in the Liveglam shop with coupon code HELLOBOXES 
This month's theme is WHAT'S THE SCOOP!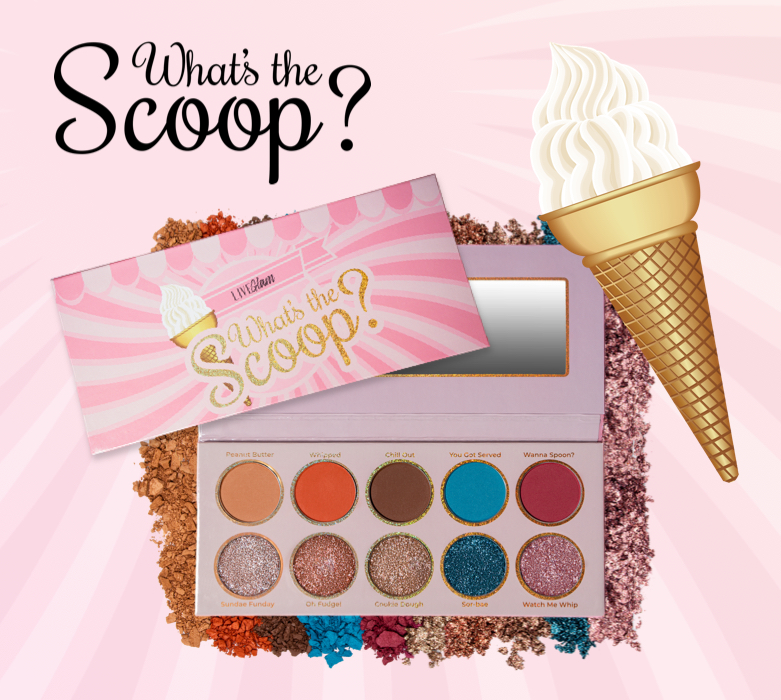 Grab your fav eyeshadow brush and get ready to dig into your new flavorite LiveGlam eyeshadow palette! After You Got Served with these sweet new shades from our August 2020 Eyeshadow Club Collection, you'll def be running back for seconds.

We can't stop swooning over the glamourous shade range in this sweet palette that will have you saying Watch Me Whip – seriously, we can't Chill Out about it. Oh Fudge! Almost forgot to mention that it features 5 highly-pigmented matte shades and 5 shades in our new pressed glitter formula! Use this palette to create natural or bold glam looks that will have your Sorbae asking… "Wanna Spoon?"
FYI, there will be delays on Eyeshadow Club's shipping this month. Subscribers who chooses the What's The Scoop? palette will be put on waitlist, and won't be charged until this palette arrives.
Here's the full announcement:
We wanted to give you an important update about our Eyeshadow Club. Due to the impact of COVID-19, many factories have shut down and we are experiencing delays in receiving our next few palettes. We know how much our Eyeshadow Club members had their hearts set on these eye-conic shades, but we promise to get glam goodies headed out as soon as we can!

We're committed to being responsive and responsible to our #LiveGlamFam. For those in the Eyeshadow Club, instead of charging you on your next renewal date and then having you wait for your next palette to ship, we thought the right thing to do was to place your membership on Hold and not charge you until we have everything in-house. We'll send you an email to let you know your palette has arrived before charging you, so you'll have plenty of time to Skip, Trade or Cancel.

To show our appreciation for your patience, we are working on an additional incentive to give our loyal Glammers some extra love and will be in touch about it over the next few days! We always want to blend things out for a flawless experience, so please let us know if there's any way we can makeup for it. Additionally, we're giving you an early peek at our upcoming palette so you can get excited for these gorgeous shades and our brand new pressed glitter formula!