Keto Krate offers a subscription box for those who love keto snacks! Every month, members receive 10+ full-sized keto snacks with less than 5g net carbs per serving, as well as printed insert including keto tips, keto recipes, keto advice, member case studies, and other information to keep you inspired with your keto journey. Members also get VIP access to the members-only KetoShop and Krate.Club. KetoShop is where you can discover and purchase more keto-friendly goodies including past Krates and one-off items. Krate.Club is where you'll find more useful information, discounts, recipes, and more for the current month's KetoKrate! The subscription costs $39.99 a month, plus free shipping.
DEAL: Get $10 off your first Krate! Use coupon code HELLO100FF.
As always, the box is full of low-carb snacks!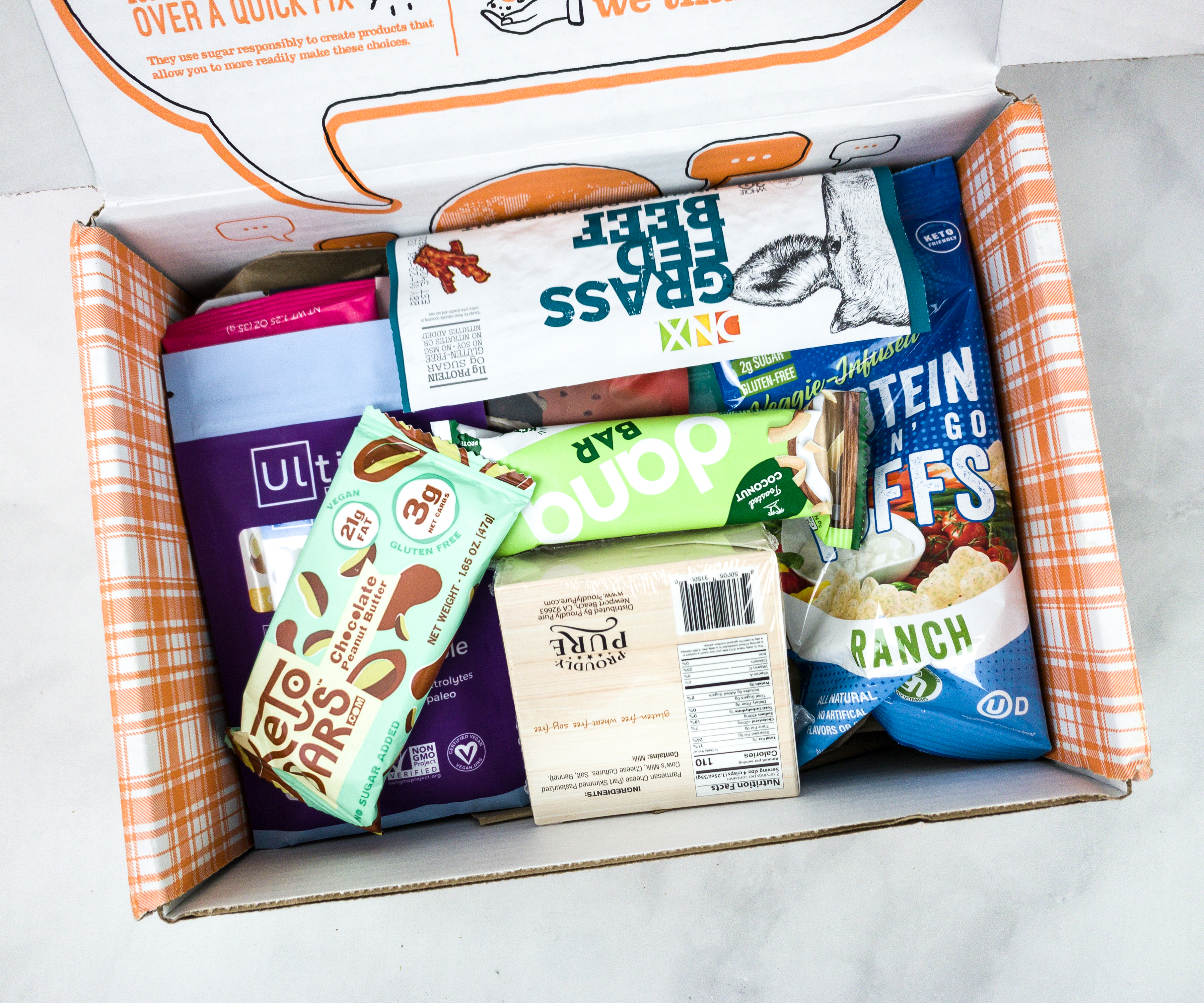 The box has no extra packaging, fillers, or squiggles.
The inner lid of the box contains some positive messages and more information about the snacks they feature.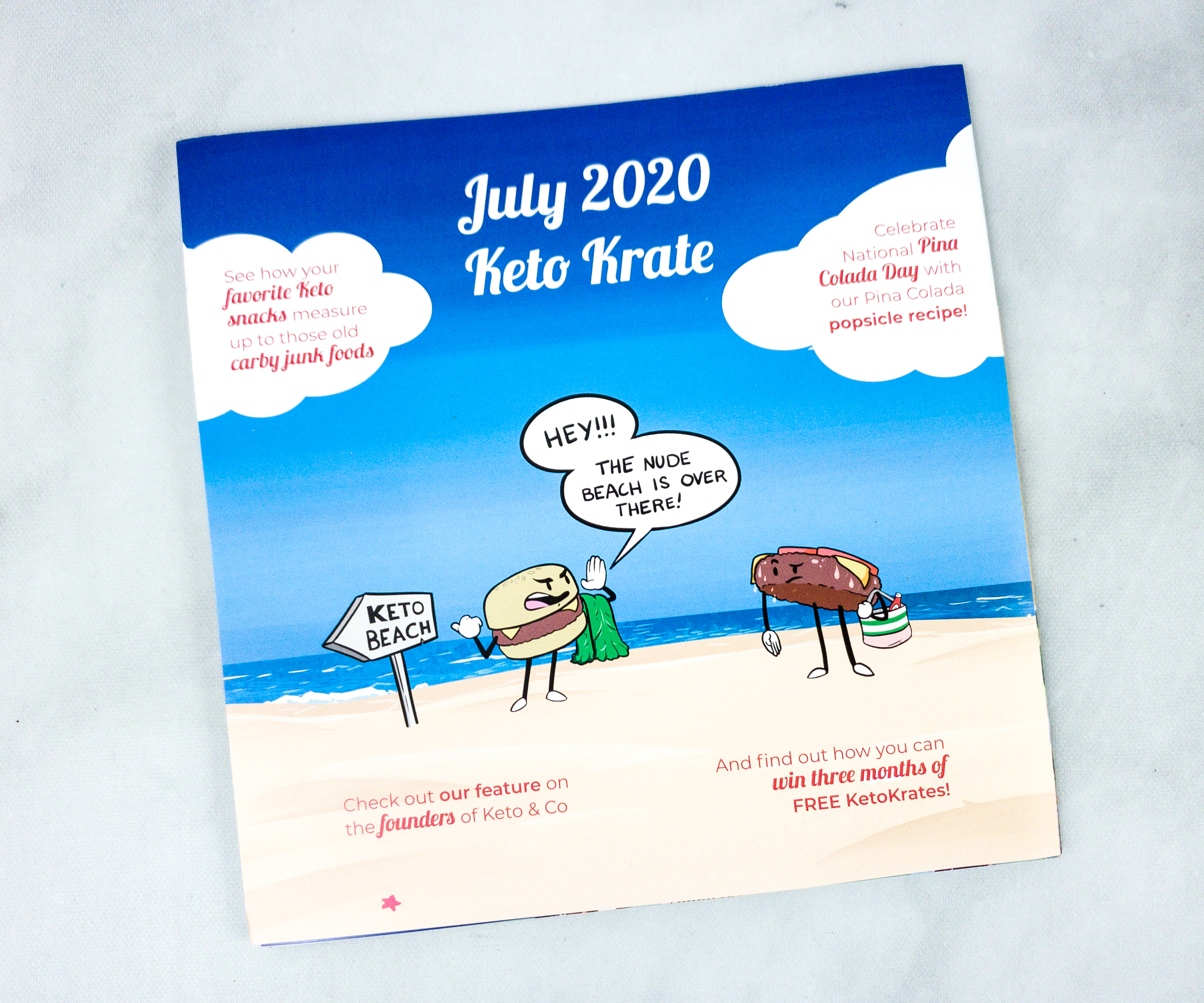 This month's box also included a KetoKrate booklet!
This booklet features a colorful illustration of the Keto Beach, where there are no buns allowed!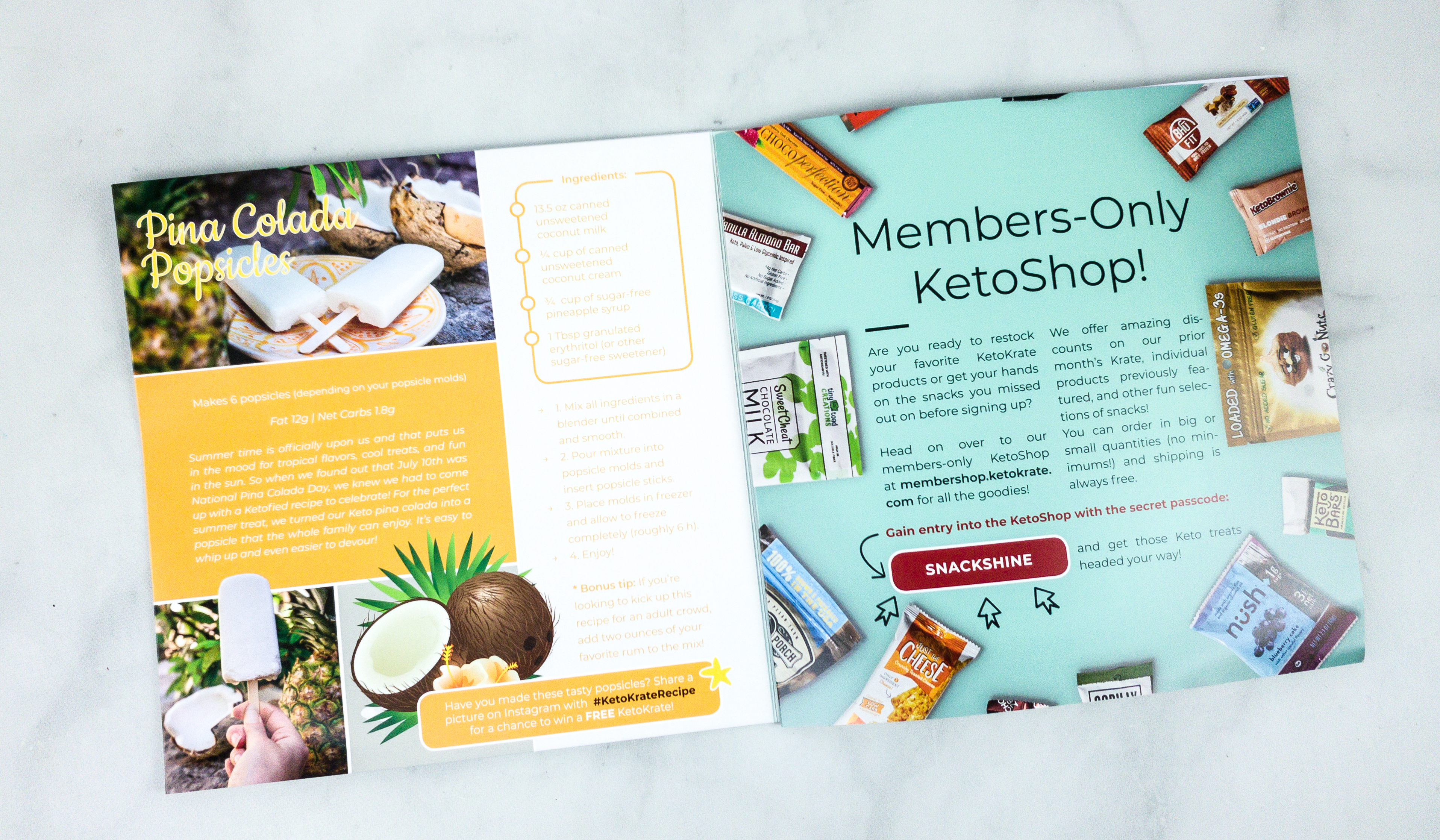 This part of the booklet teaches us how to make our own Pina Colada Popsicles. There were also instructions on how to access the members-only KetoShop!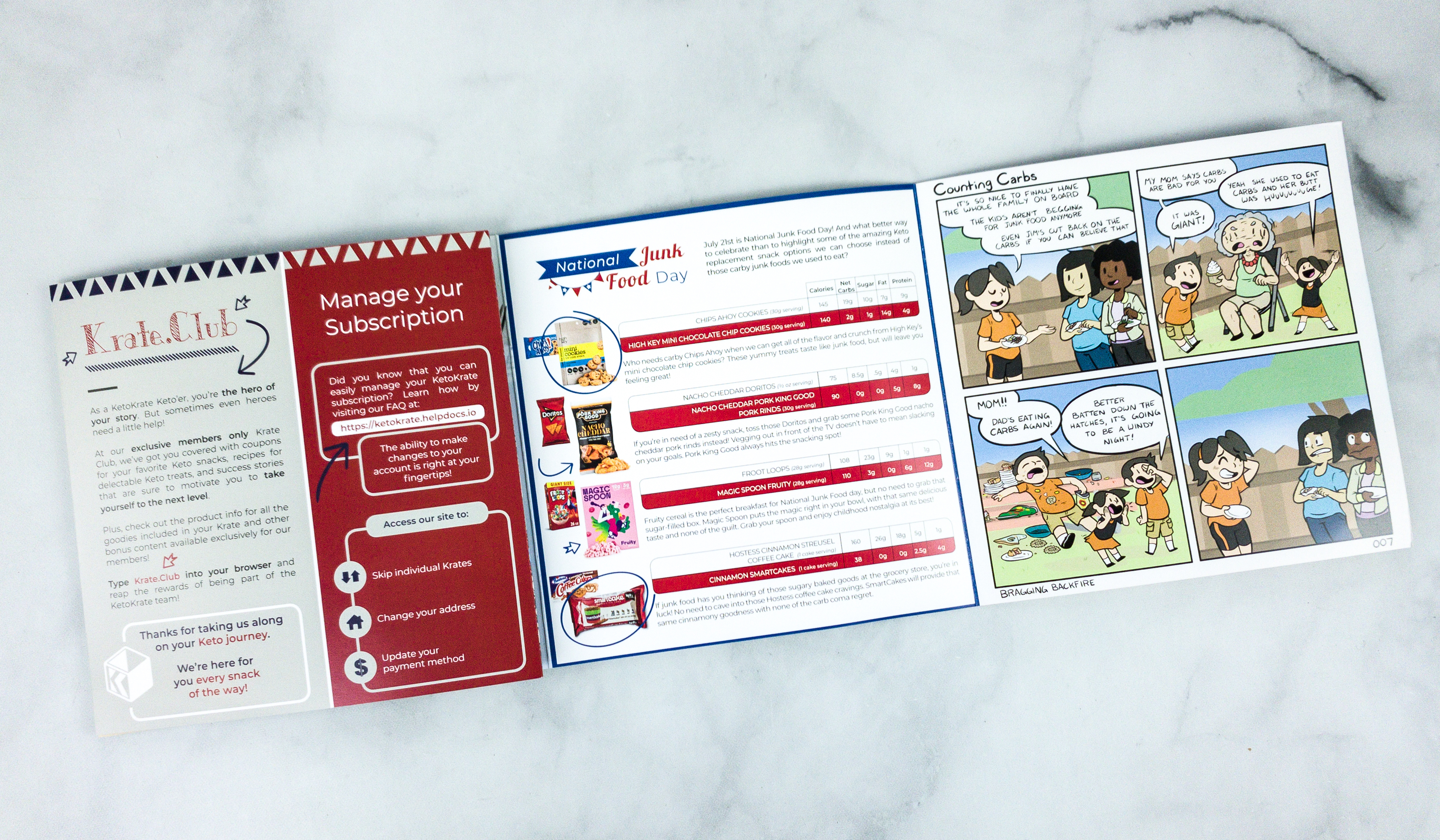 You can also manage your subscription by visiting their official website and get a reward for being a part of the KetoKrate team. The other side of the booklet features a cute comic strip about counting carbs!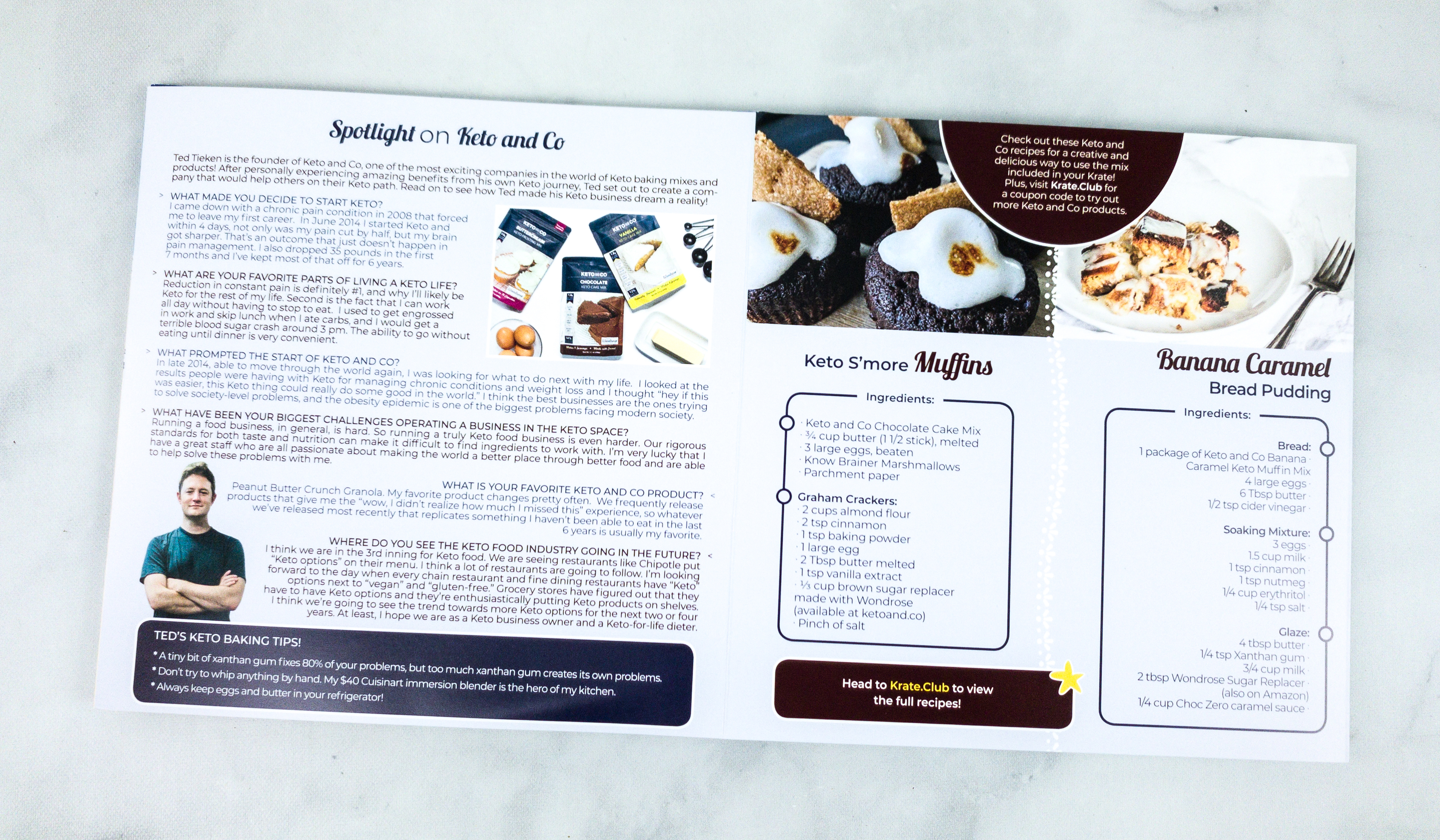 They even included keto-friendly recipes including Keto S'more Muffins and Banana Caramel Bread Pudding!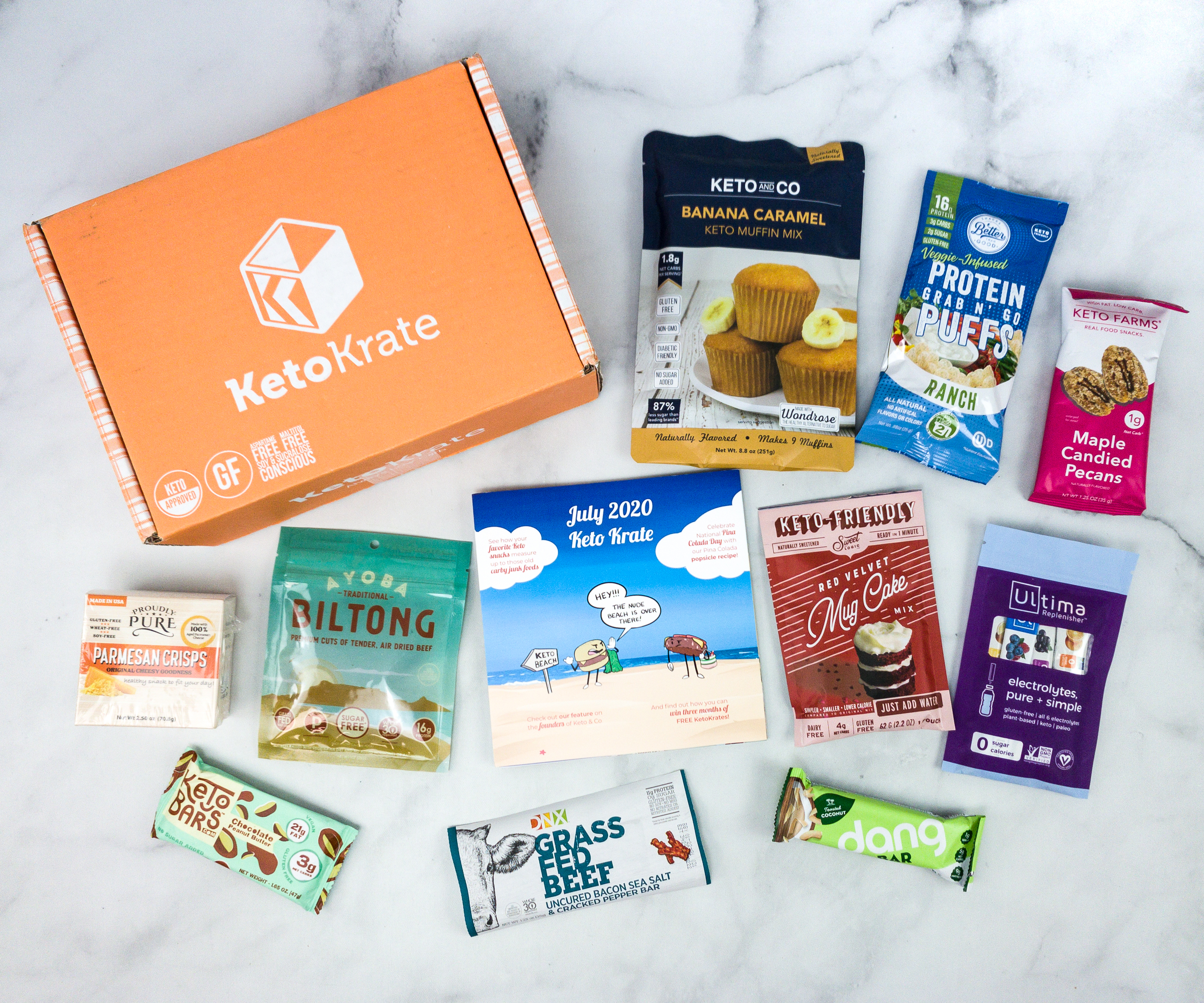 Everything in my box!
Keto and Co Banana Caramel Keto Muffin Mix ($28.99) It's a pack of muffin mix that makes at least 9 pieces of keto-friendly muffins! Ingredients include wondrose sugar replacer, coconut flour, and baking powder blended with luscious banana and caramel flavor. This is also gluten-free, non-GMO, and diabetic-friendly.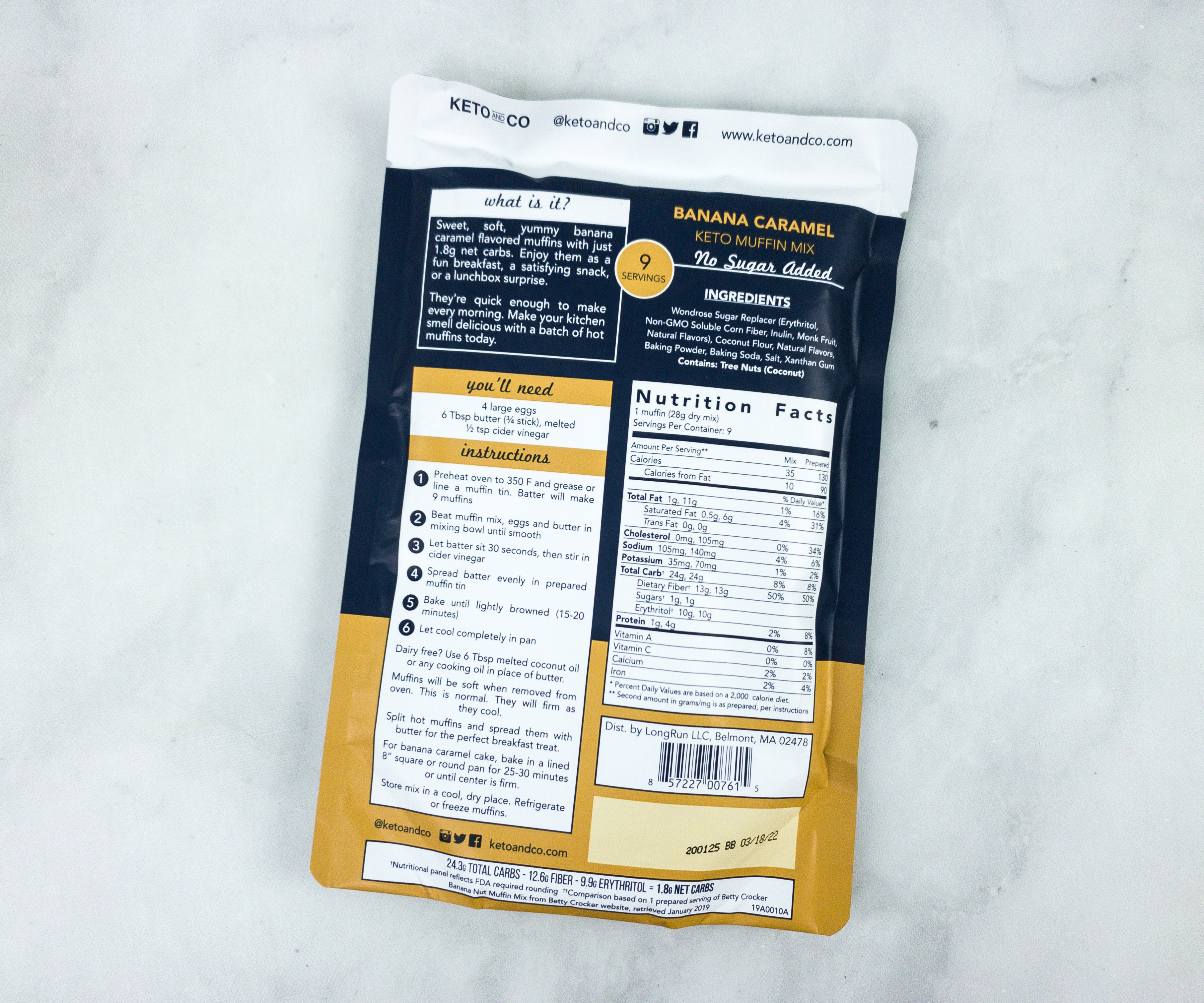 It's easy and quick to prepare! Aside from the mix, you'll just need eggs, melted butter, and cider vinegar.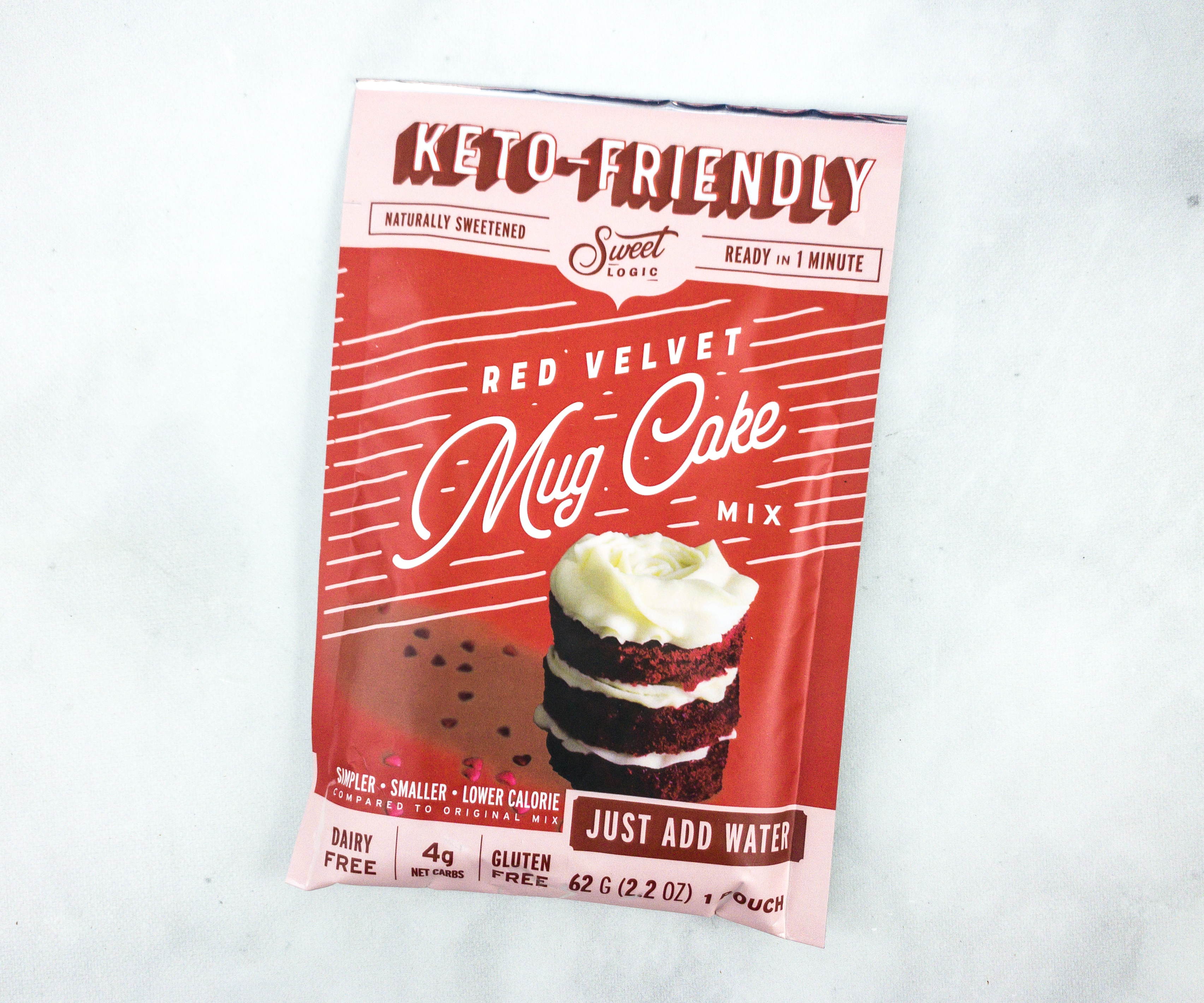 Sweet Logic Red Velvet Mug Cake Mix ($3.75) Who says we can't enjoy cake when we're on a diet? This keto-friendly mix is all we need to create our own low-carb red velvet dessert. All we need to do is prepare a mug, add the mix and water in it, stir, microwave, and enjoy!
This mix is made with natural almond flour, allulose, coconut flour, cocoa powder, flaxseed powder, and more. It's a low-calorie, naturally sweetened mix that is guaranteed to be dairy-free and gluten-free as well!
Snacks Better Than Good Veggie-Infused Protein Grab N' Go Puffs Ranch ($2.50) It's a pack of light and crunchy protein-rich puffs that don't contain anything artificial!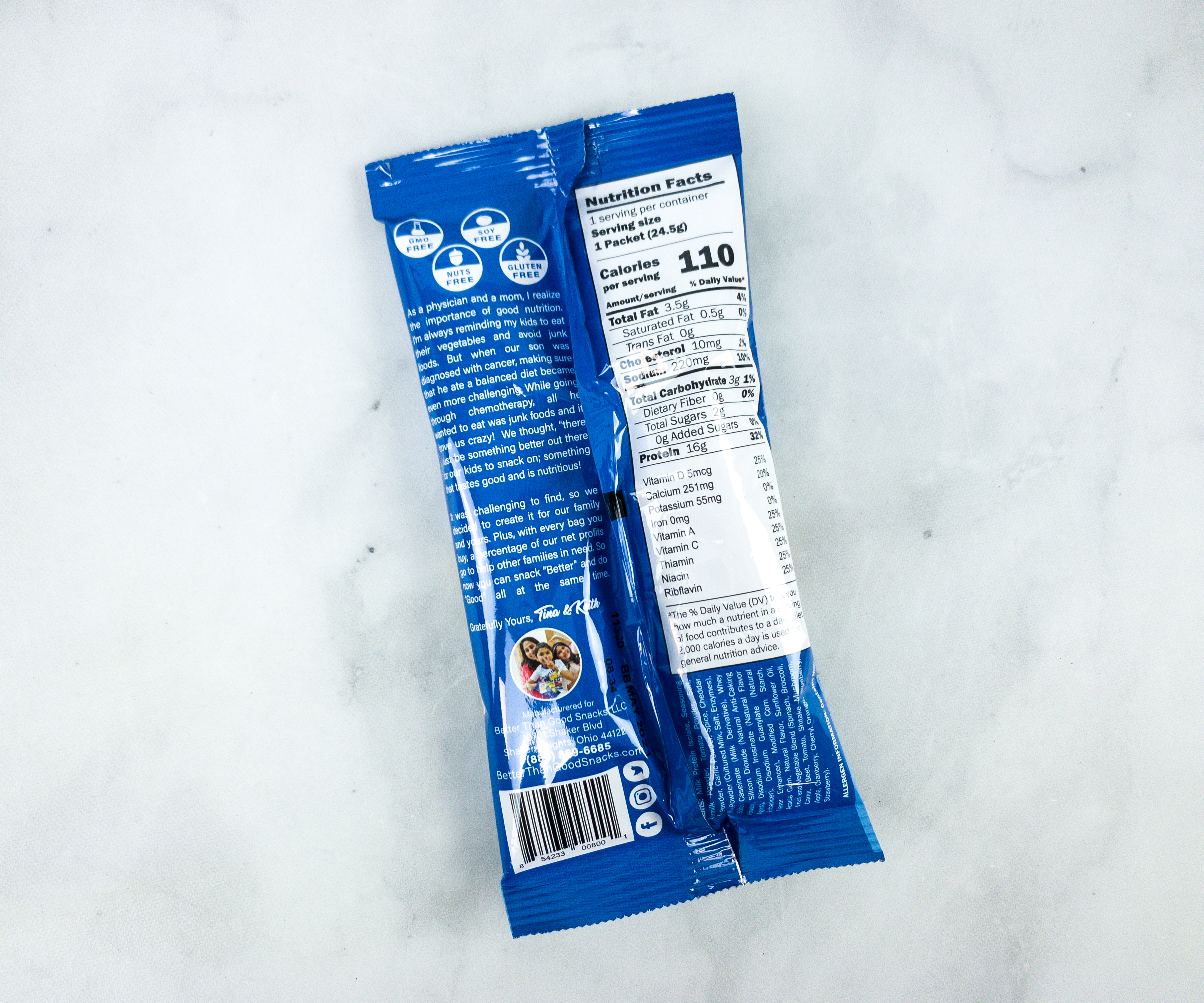 These keto puffs are not just packed with protein, they are also loaded with other vitamins and nutrients from fruits and vegetables. Plus, the pack is handy enough to bring on-the-go. The snack itself is also filling.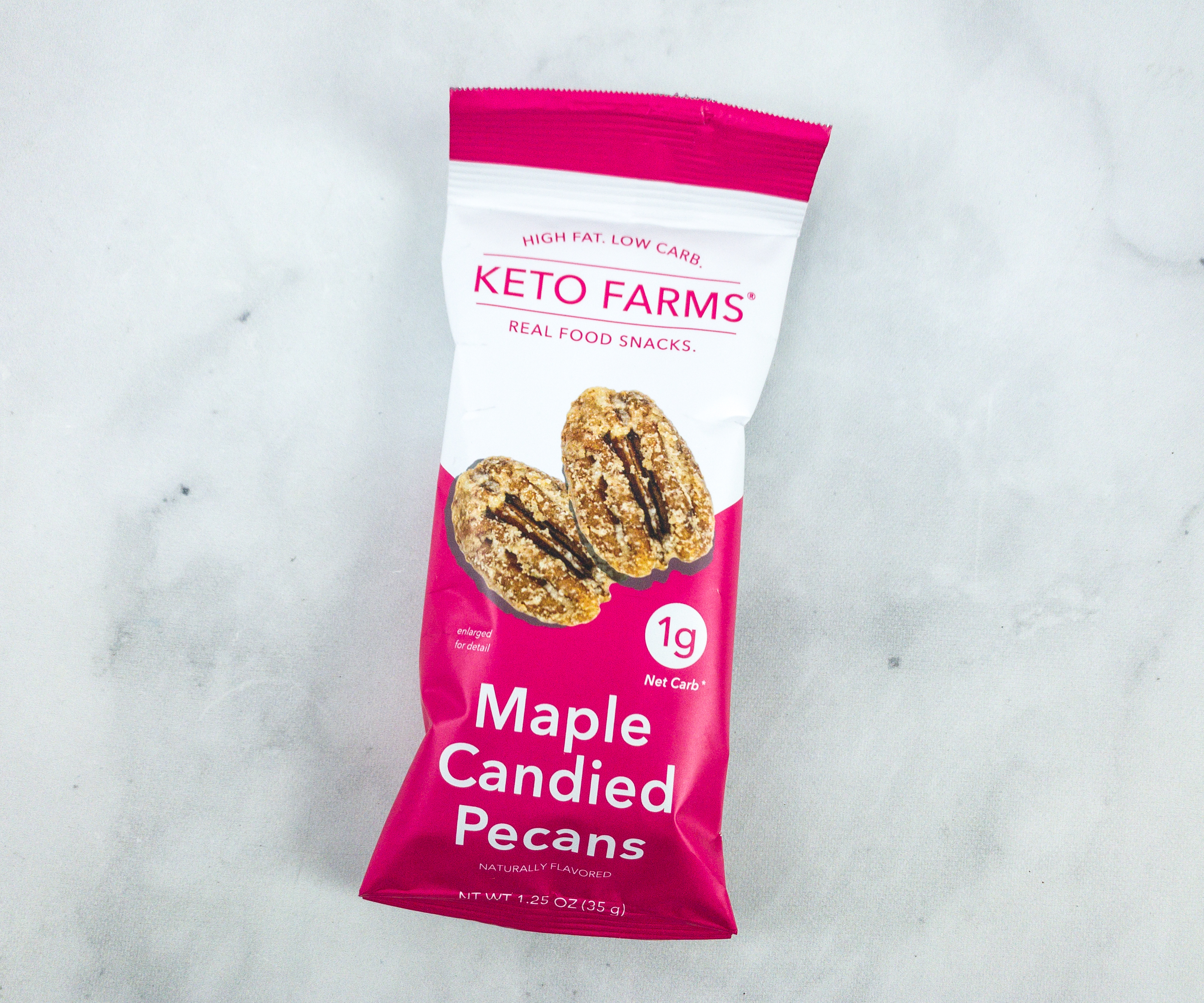 Keto Farms Real Food Snacks Maple Candied Pecans ($2.50) These candied pecans are great for curbing your sweet tooth cravings the keto-friendly way. The pecans are enhanced by natural sweetener, vanilla extract, cinnamon, and maple!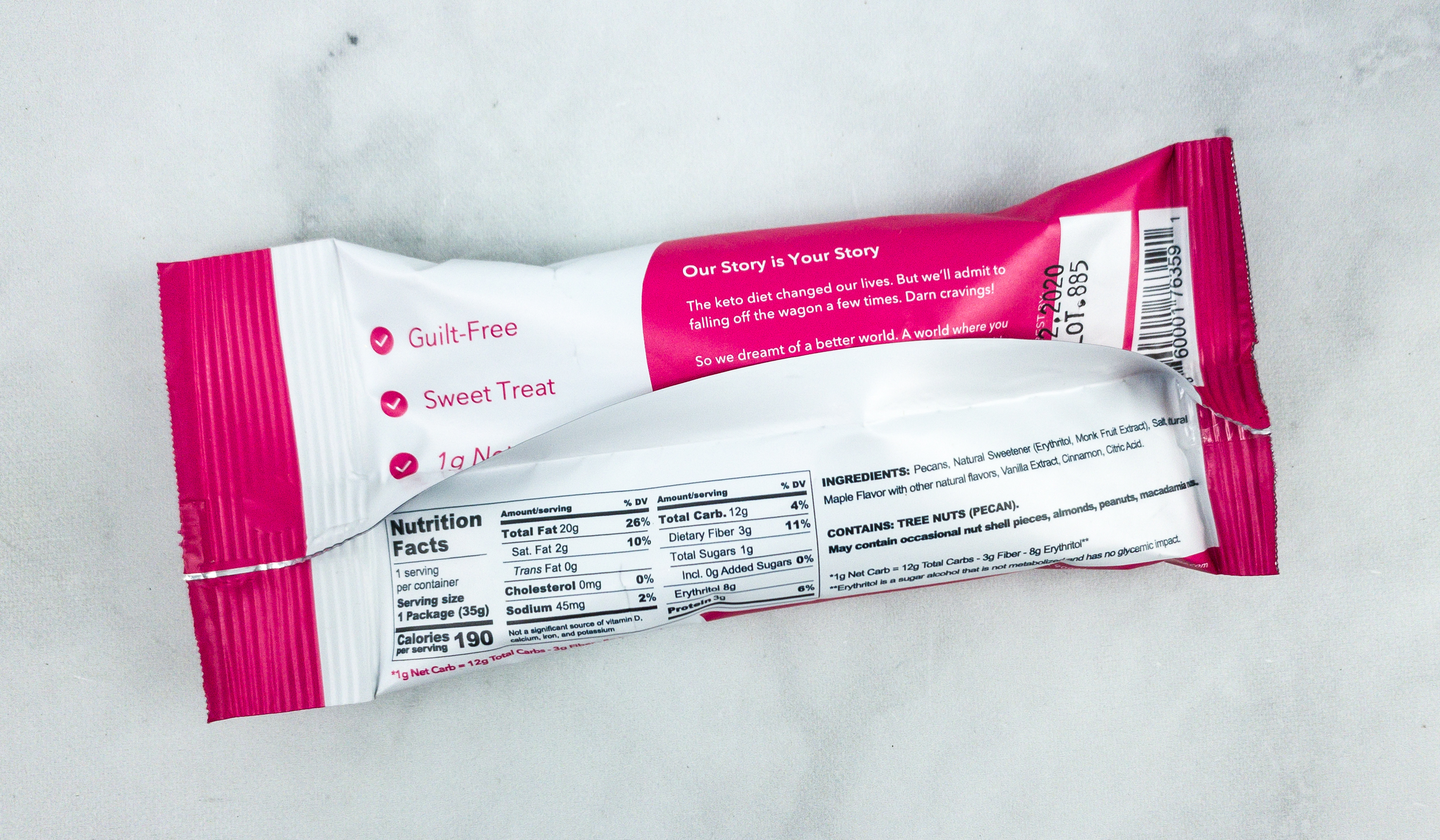 The toasted pecans are covered with sweet candy coating that features a rich, buttery maple flavor. It's seriously addicting!
Toasted Coconut Dang Bar ($2.49) Here's another filling and nutritious on-the-go snack! It's a protein-packed snack made with non-GMO, dairy-free, and gluten-free ingredients including sunflower, almonds, and chia seeds.
This bar has the ideal macronutrient ratio for the ketogenic diet, making it ideal as an office snack, a quick breakfast snack, or as an alternative to granola bars or protein bars.
Ayoba Traditional Biltong Premium Cuts of Tender, Air Dried Beef ($4) If you are looking for a natural alternative to protein shakes and other muscle fueling treats, this air-dried beef snack is for you!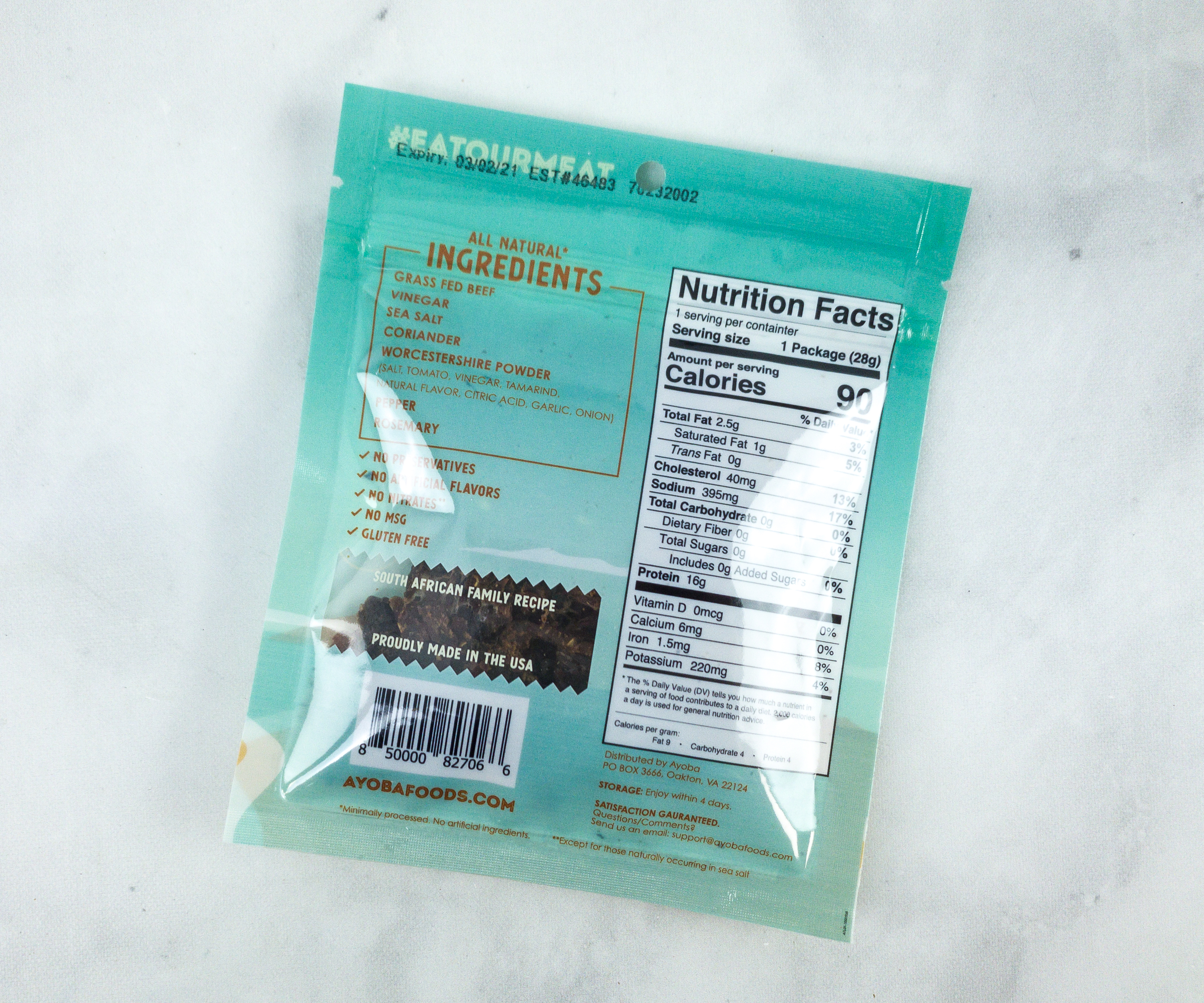 Unlike your regular beef jerky that is cooked at a low temperature and loaded with sugar and artificial flavors, this snack is hand dried for 14 days leaving it naturally tender, like a perfectly aged steak. It's also flavorful and easy to chew!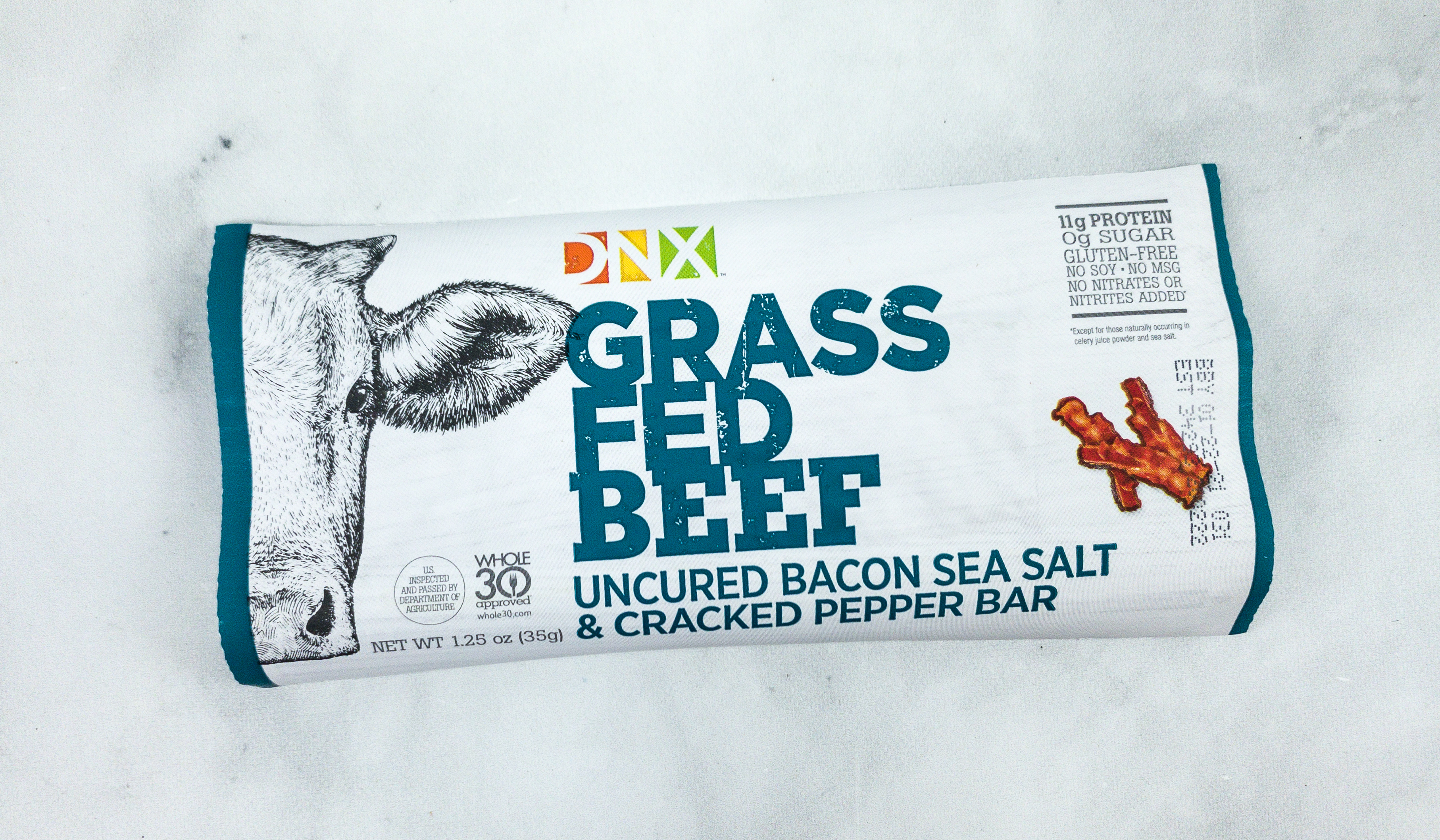 DNX Grass Fed Beef Uncured Bacon Sea Salt & Cracked Pepper Bar ($2.83) This snack showcases a scrumptious blend of grass-fed beef and uncured bacon. It's high in omega 3 with no added nitrates.
This snack is not just packed with protein, vitamins, and minerals. It's also very flavorful! Another great snack you can bring on-the-go!
Keto Bars Chocolate Peanut Butter ($2.50) Peanut butter and chocolate is a foolproof combination, and being on a keto diet doesn't mean you have to miss on them. This snack bar is a proof!
It's a delicious snack bar made with peanut butter, chocolate, coconut, non-GMO erythritol, water, salt, and stevia. One bite and I'm already in love with it. It was rich, sweet, and nutty! The taste is just like the peanut butter cups we're used to, but this is definitely healthier. This bar is gluten-free, dairy-free, soy-free, and vegan as well.
Proudly Pure Parmesan Crisps Original Cheesy Goodness ($5) For cheese lovers, here are cheese crisps made with all-natural aged Parmesan cheese. They are absolutely gluten-free, soy-free, and wheat-free!
These are ideal whether as a quick snack, as a topping for your salad or soup, or even served as a part of your charcuterie board!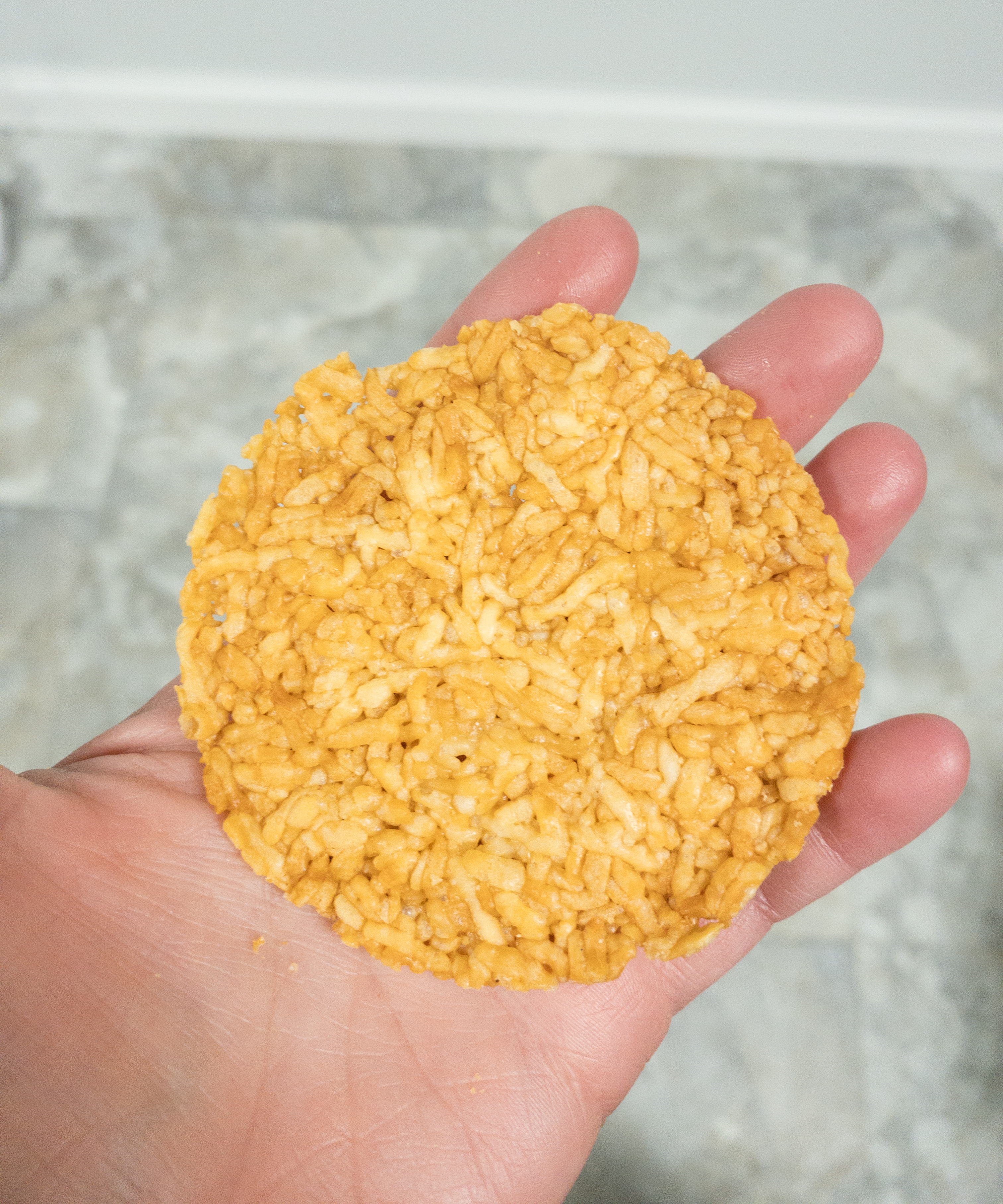 Inside each pack are 2 pieces of round crackers. They are crunchy and tasty! You wouldn't even think they're keto snacks because they're too good!
Ultima Replenisher Electrolytes Pure + Simple ($7.99) This keto-friendly drink mix is packed with electrolytes, trace minerals, vitamin C, and zinc, to replenish you minus the added sugar and calories. What's great is that they come in easy to carry sticks that you can bring on-the-go!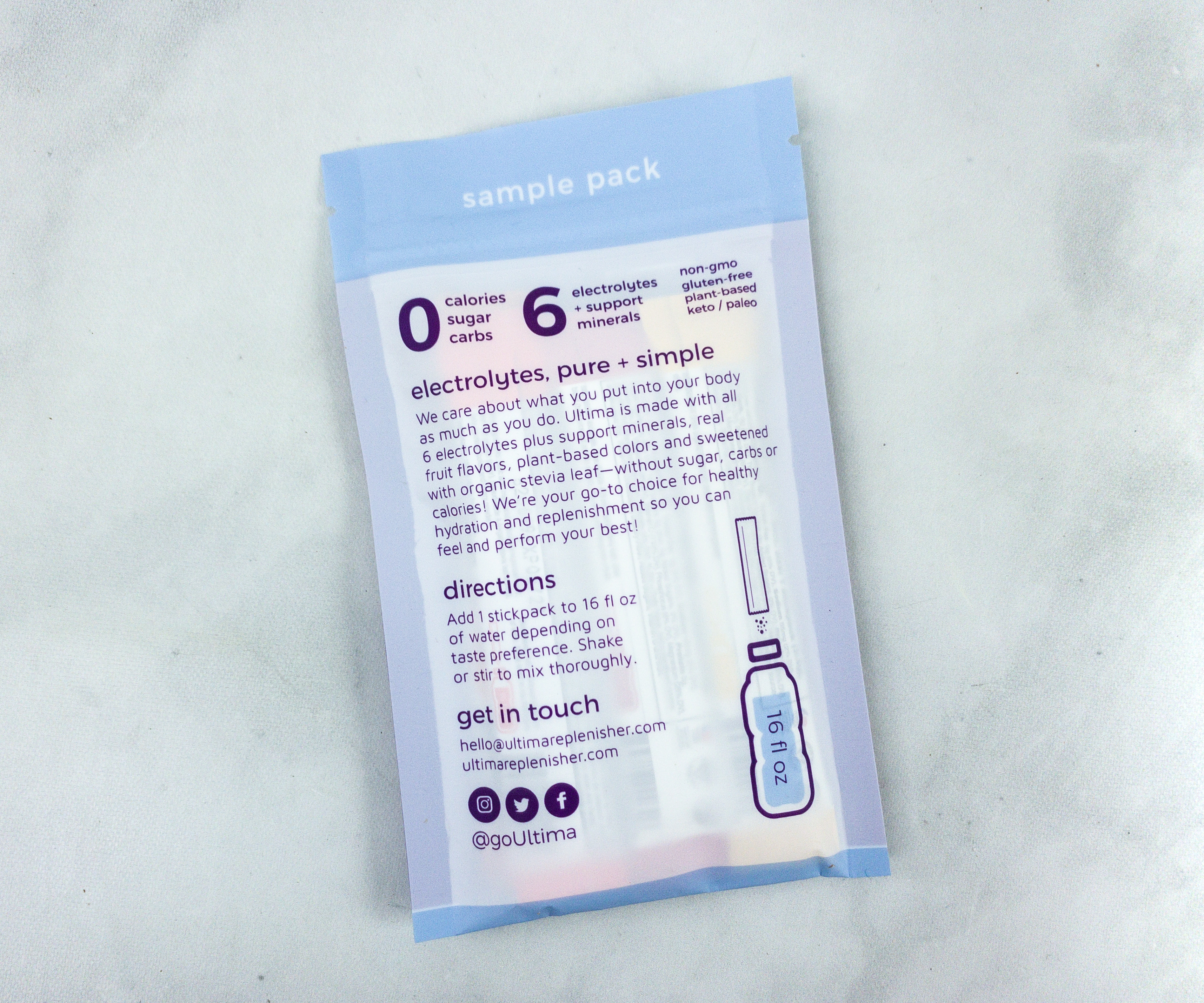 To create your ultimate hydrating drink, simply add 1 stick pack of Ultima to 16 ounces of water, stir thoroughly, and enjoy!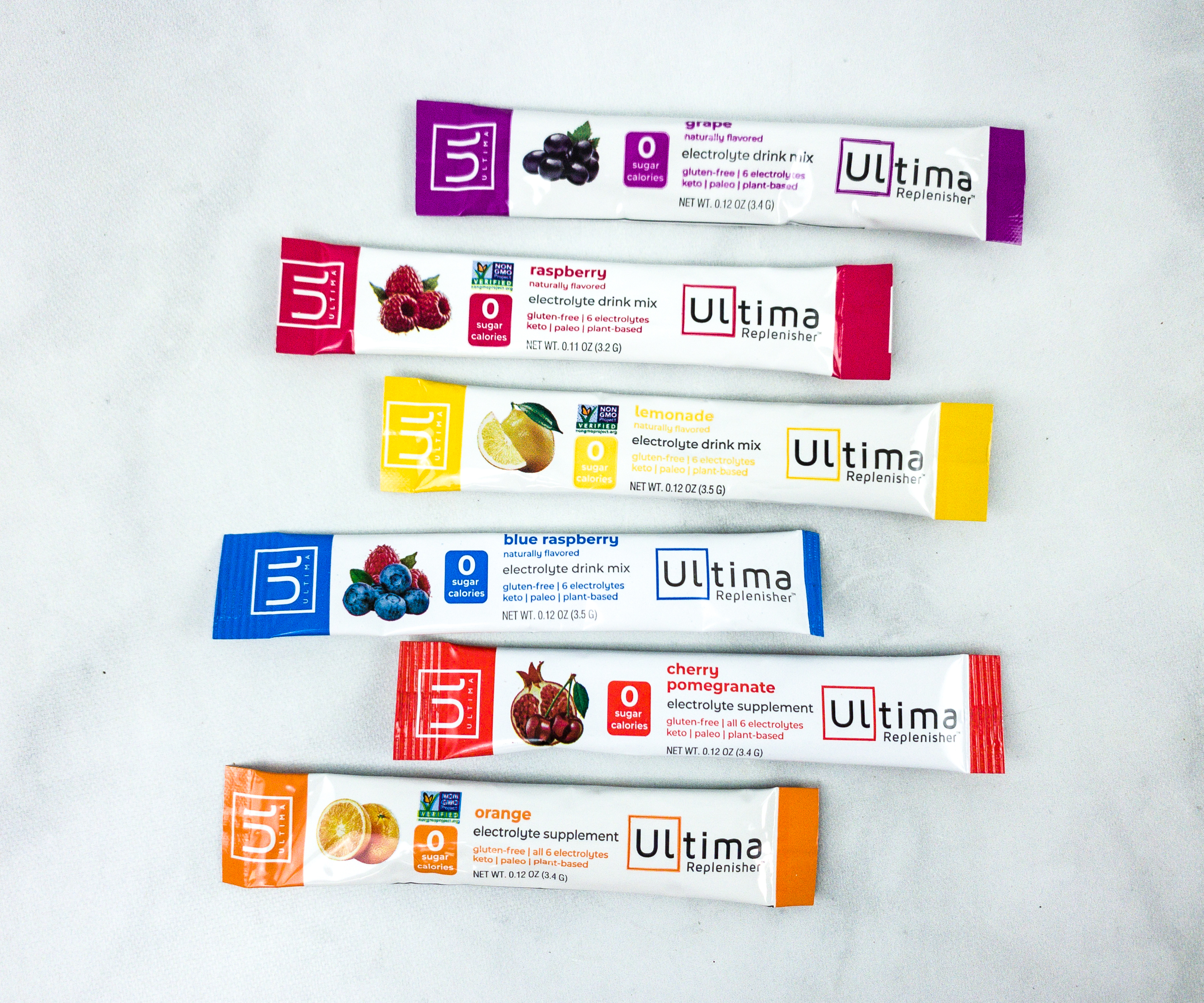 I received 6 stick packs in different flavors: grape, raspberry, lemonade, blue raspberry, cherry pomegranate, and orange.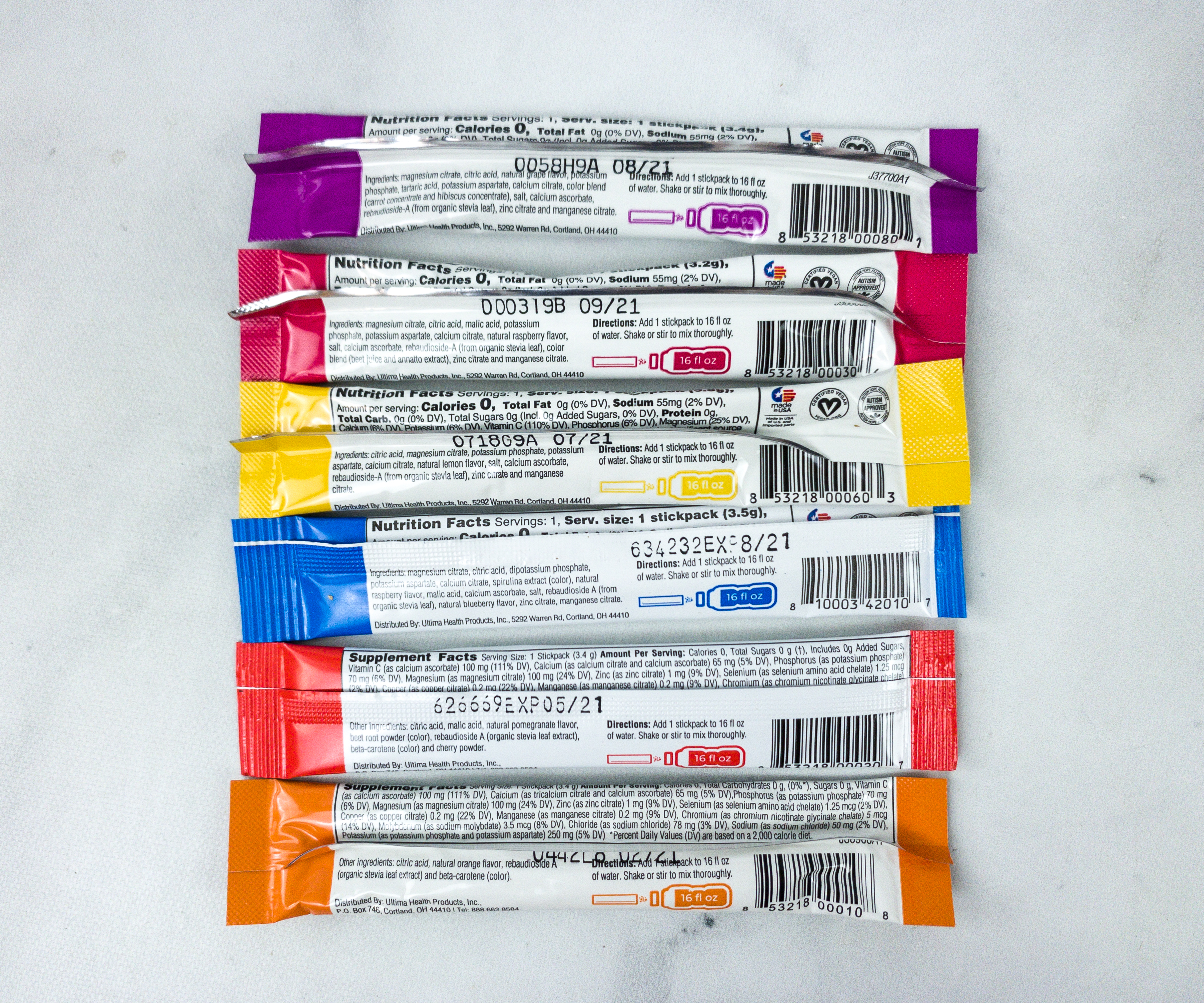 These drinks are sweetened with organic stevia leaf and made with real fruit extracts that make them delectable. They're also vegan, non-GMO, gluten-free, and caffeine-free.
For those who are on a keto diet, KetoKrate makes the best companion! They send keto-friendly snacks, which are not just healthy but also tasty. This month's box is once again filled with tasty low-carb treats, and my favorite is the red velvet mug cake mix! Although it's not-ready-to-eat, it's still easy to prepare and the taste is really similar to the regular version. I also liked the keto snack bars which are easy to eat even when traveling or commuting, as well as the cheese crisps make such an awesome addition to my charcuterie board. The rest of the snacks are good and I have no complaints! Whether you're a keto newbie or not, this subscription definitely makes a fun and convenient way of discovering new keto snacks to love!
What do you think of the KetoKrate box?