Stitch Fix is a personal styling service. Your stylist will send you 5 pieces based on your profile for you to try on at home and hopefully fall in love with. There are no coupons for Stitch Fix but if you hit the jackpot and keep everything, you save 25% on your whole fix (read below for details).
Here's how Stitch Fix works: fill out your style profile! This includes style, budget, what you're looking for, and you can get as detailed as you want with the notes to your stylist. It really really does help to provide notes to what you're seeking, and a Pinterest board if you have one!
The items were neatly stashed and wrapped in white paper, sealed with a sticker.
Your return mailer is tucked right into the box. The styling fee for each box is $20, and shipping is free both ways. I put my return items out with the rest of my outgoing mail – couldn't be easier.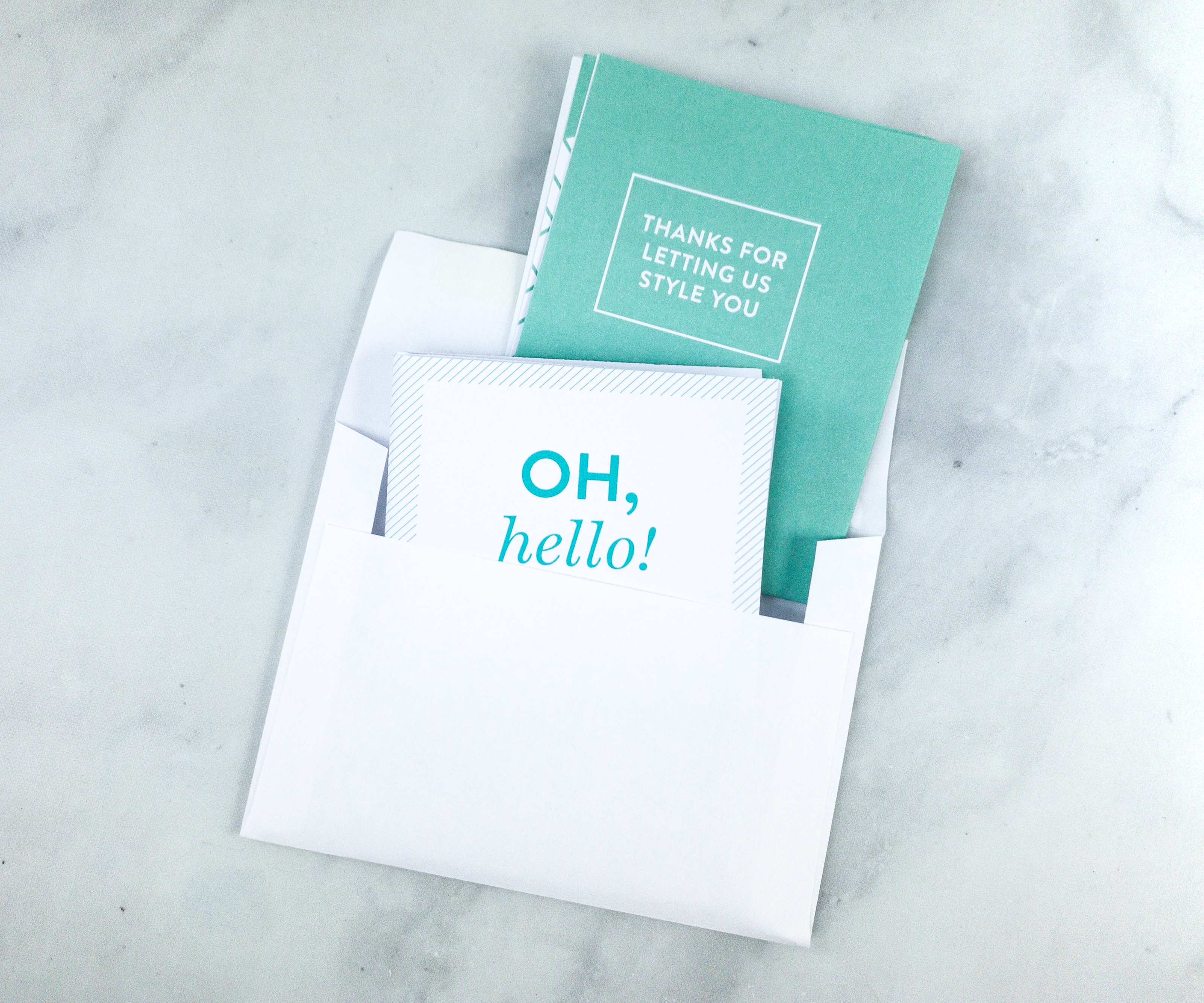 Stitch Fix also included an envelope. It contains a greeting card!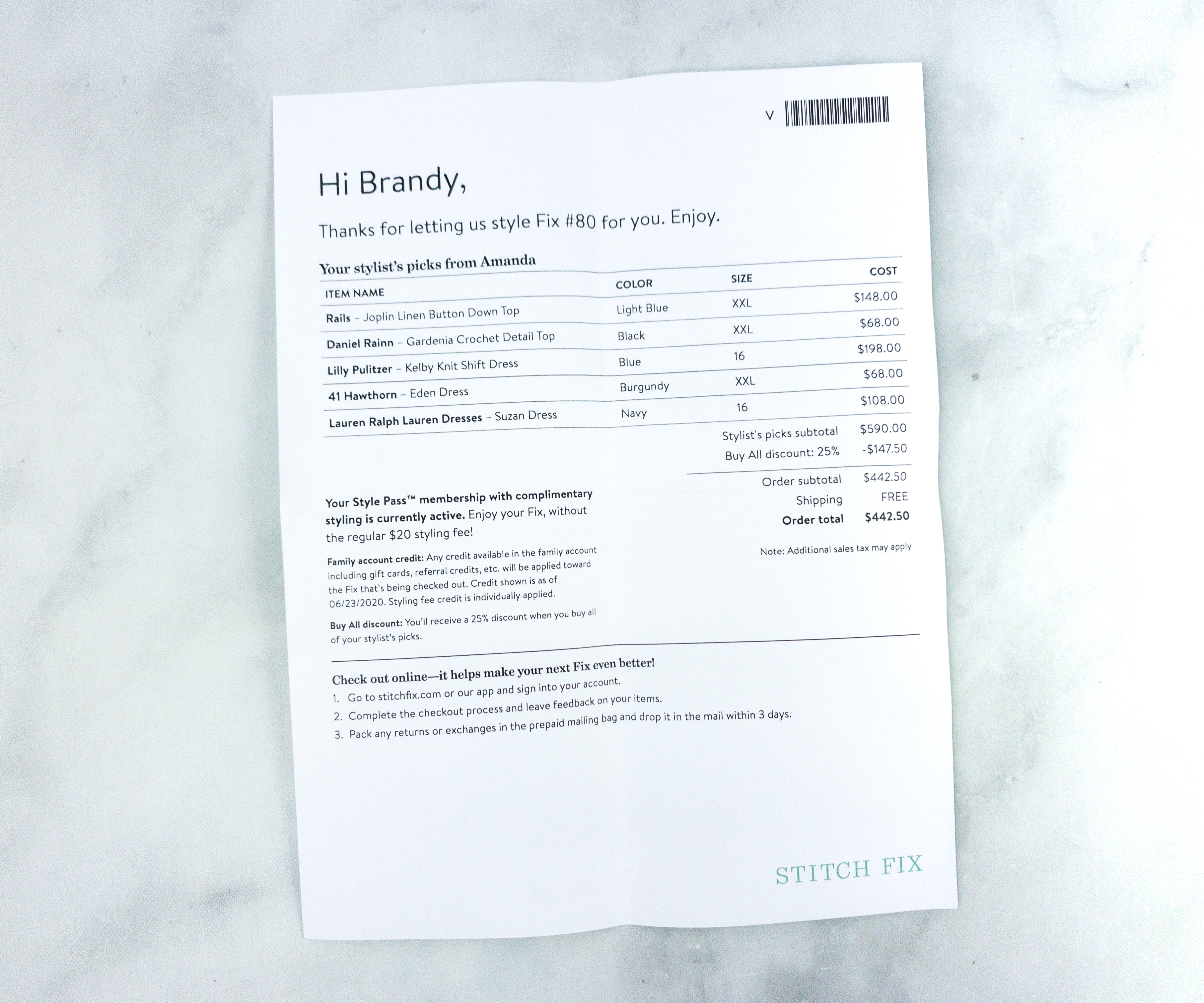 You'll be charged a $20 styling fee and shipped five items to try on at home. If you keep anything your styling fee will be applied to your order, but if you don't, you will pay the $20 fee. We currently have a Style Pass membership, an exclusive Stitch Fix membership where you can enjoy 1 year of unlimited fixes, with no styling fee!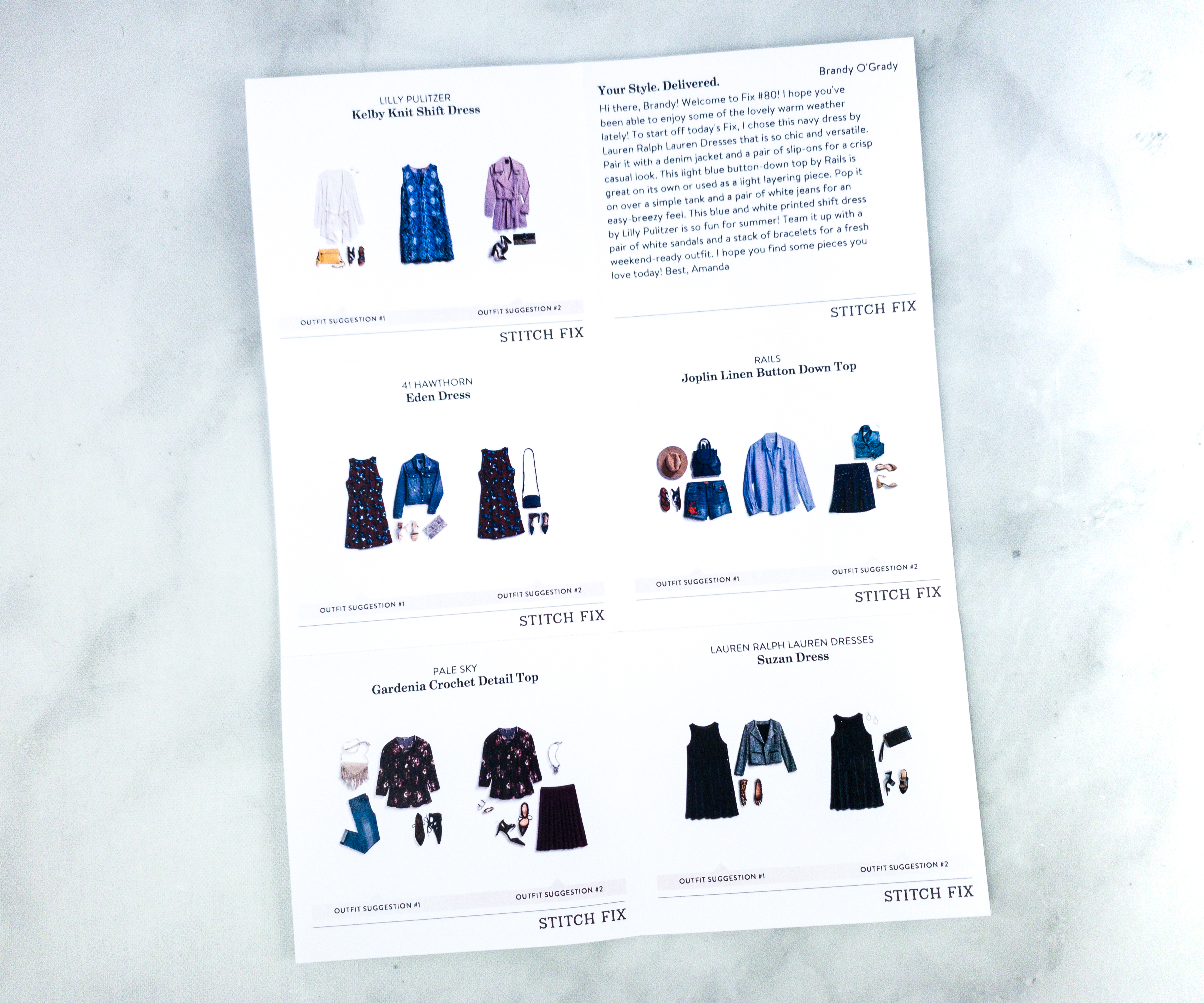 The set of styling cards has suggestions on how to wear a particular item. The styling cards have changed a bit – before they showed a dressier and less dressy version, now they're featuring multiple sets of accessories to pair with the garment, or 2 entirely different looks, but not necessarily dressed up and dressed down.
I find the styling cards very helpful. I am not a naturally good-at-fashion person and these help a LOT. Even if I don't keep the pieces I use them as inspiration – like my own personal fashion editor!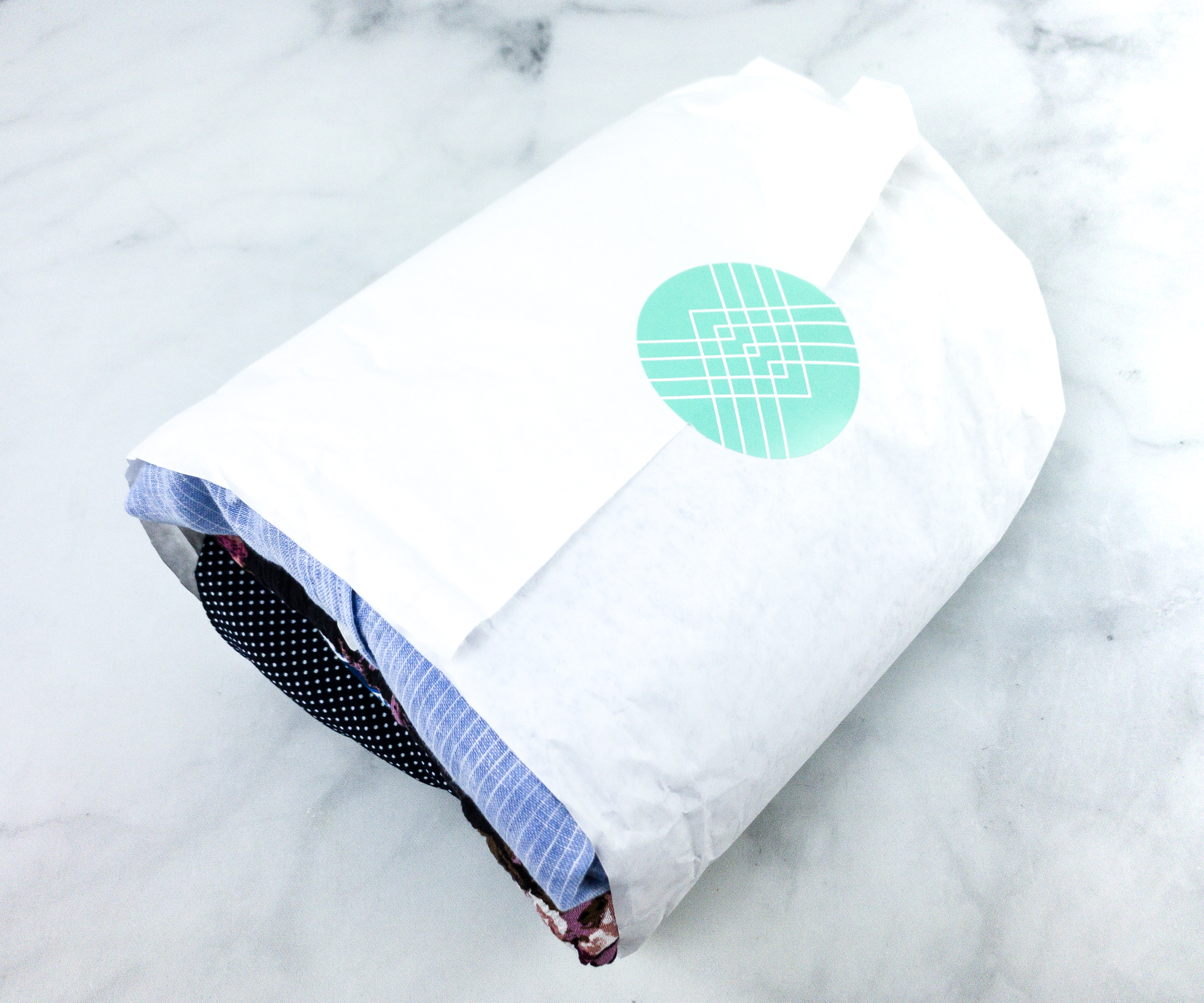 The styling fee is so worth it – I never go clothes shopping anymore. I just wait for my fix! If you keep everything you get a 25% discount, so it pays off to be specific on your style profile. You will check out and get charged to your Stitch Fix account. Return the pieces you don't want in the prepaid mailer (free shipping!).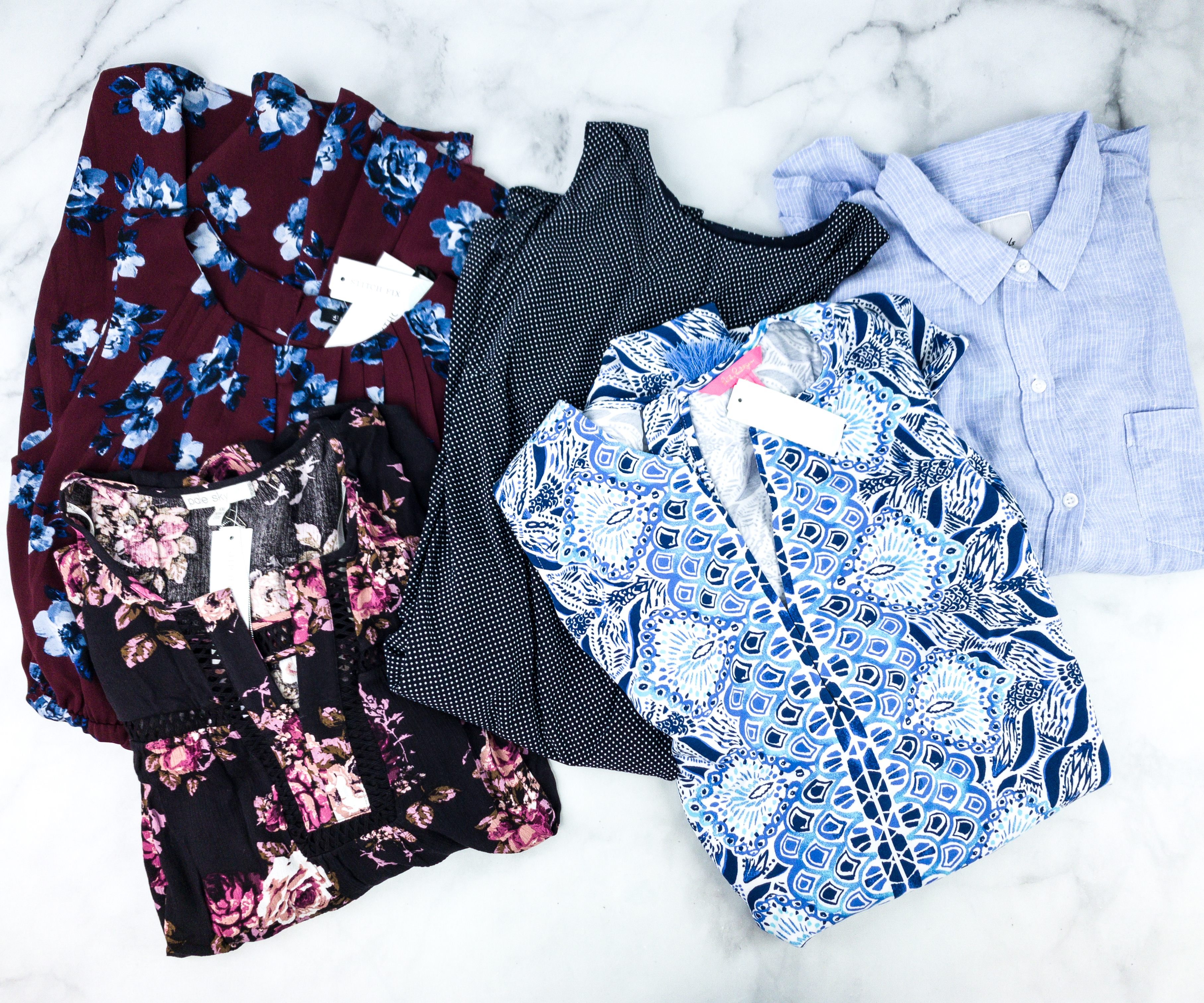 Everything in my June 2020 fix!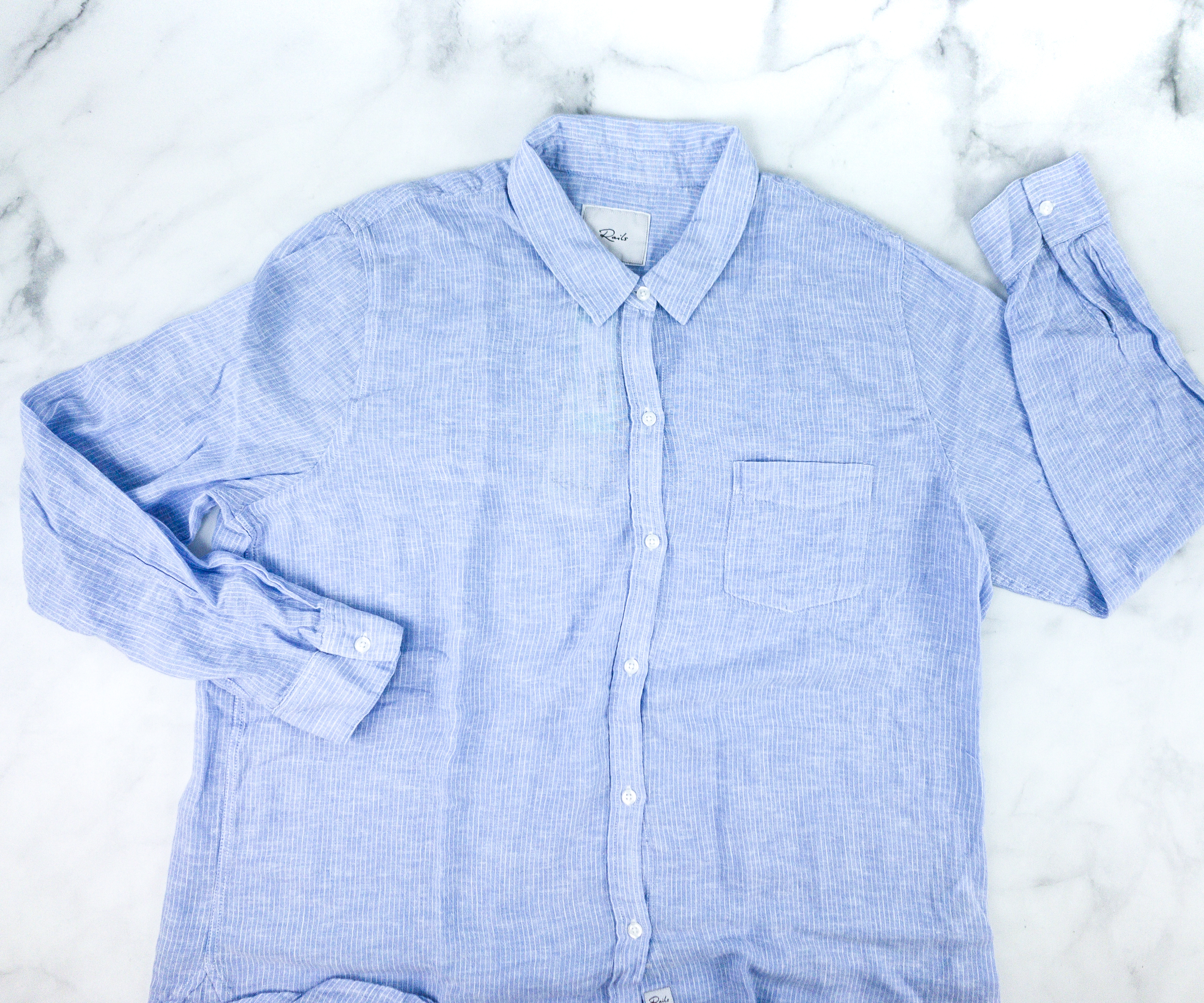 Rails Joplin Linen Button Down Top ($148) It's a long-sleeved button down top with thin white stripes running through the pale blue fabric.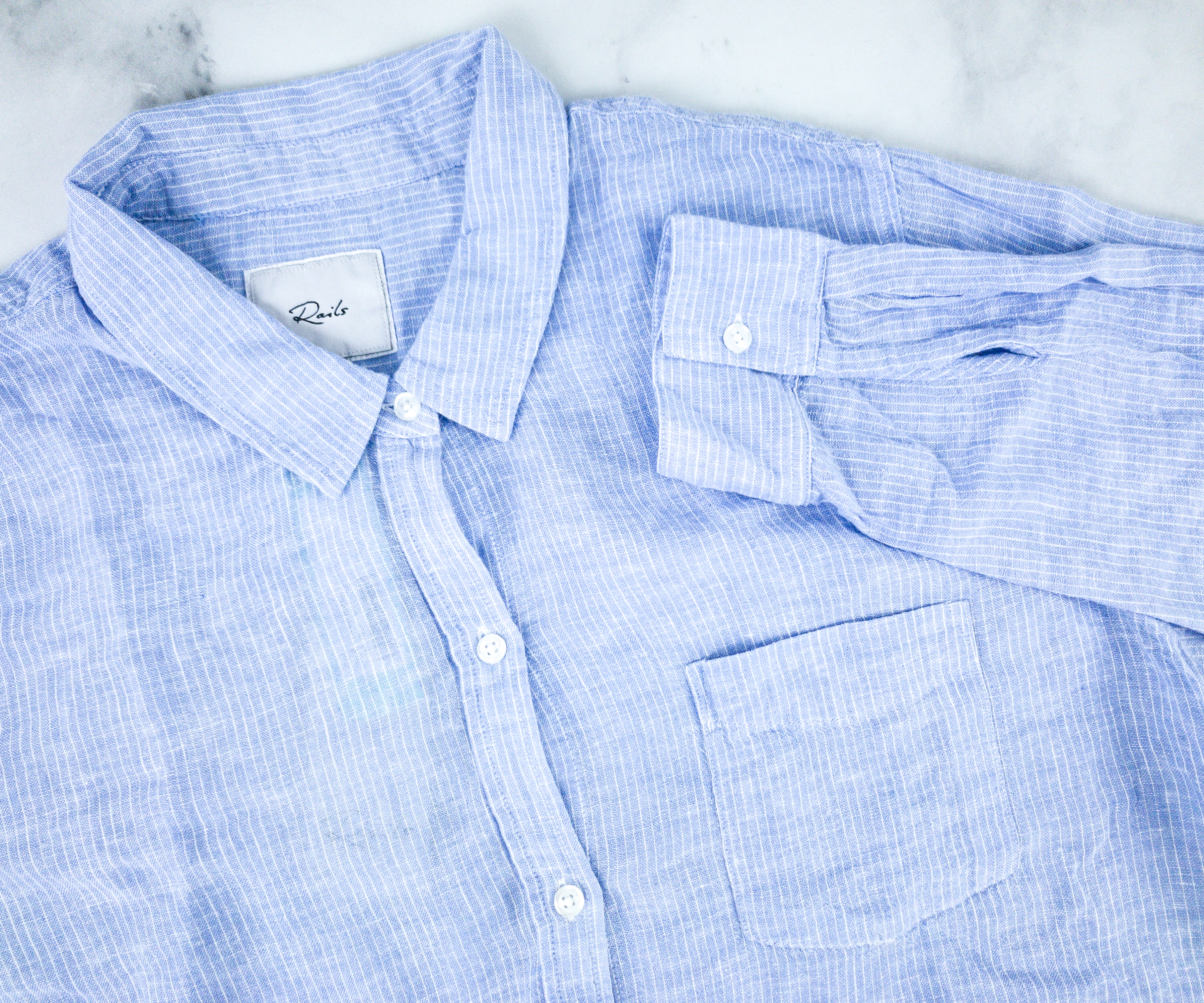 It has a breast pocket on the left side. The design is subtle and I like how simple it is because it will go well with just about anything!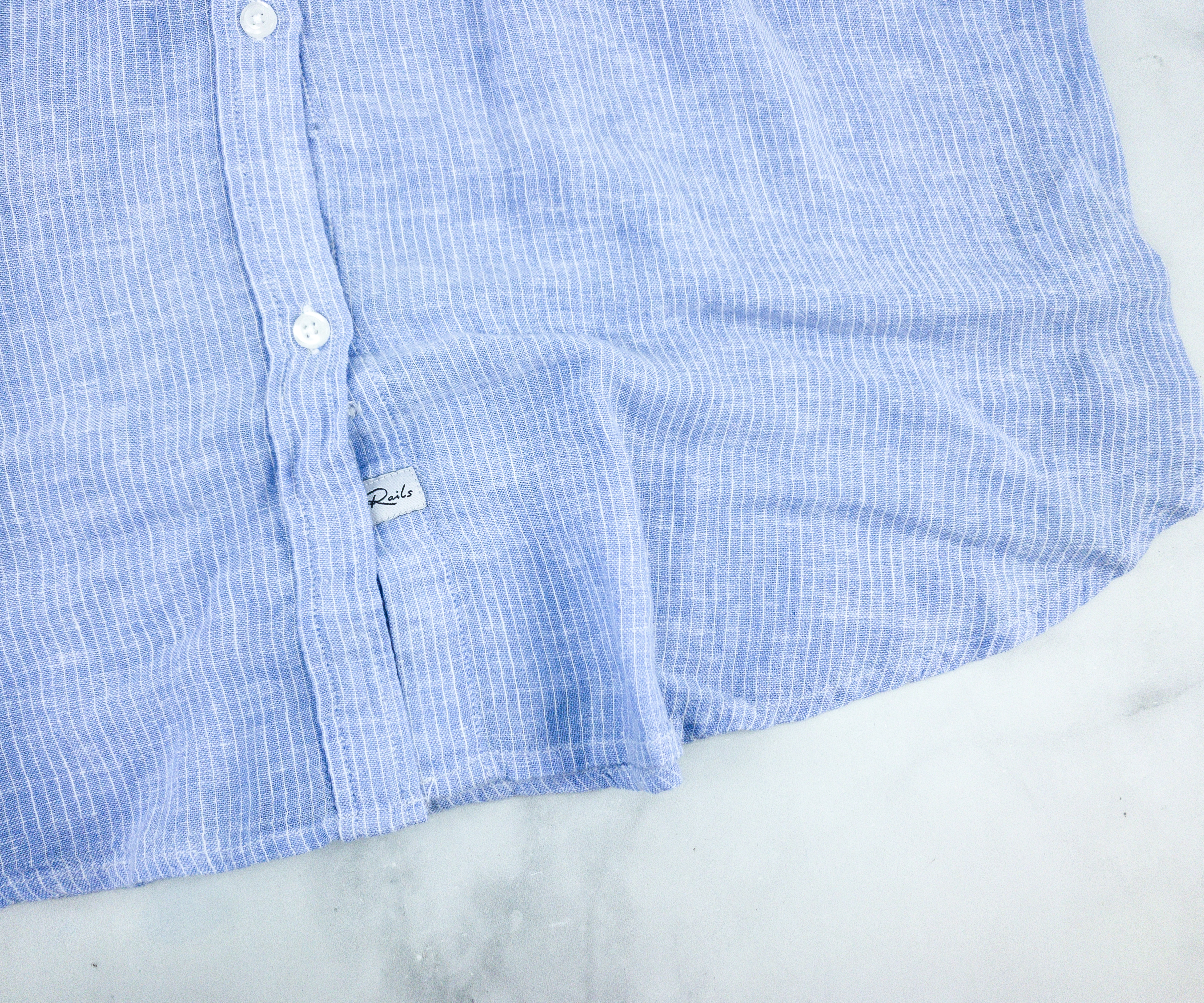 The hem is slightly curved. Another thing I like about this top is that it's light and soft. It's quite breathable as well.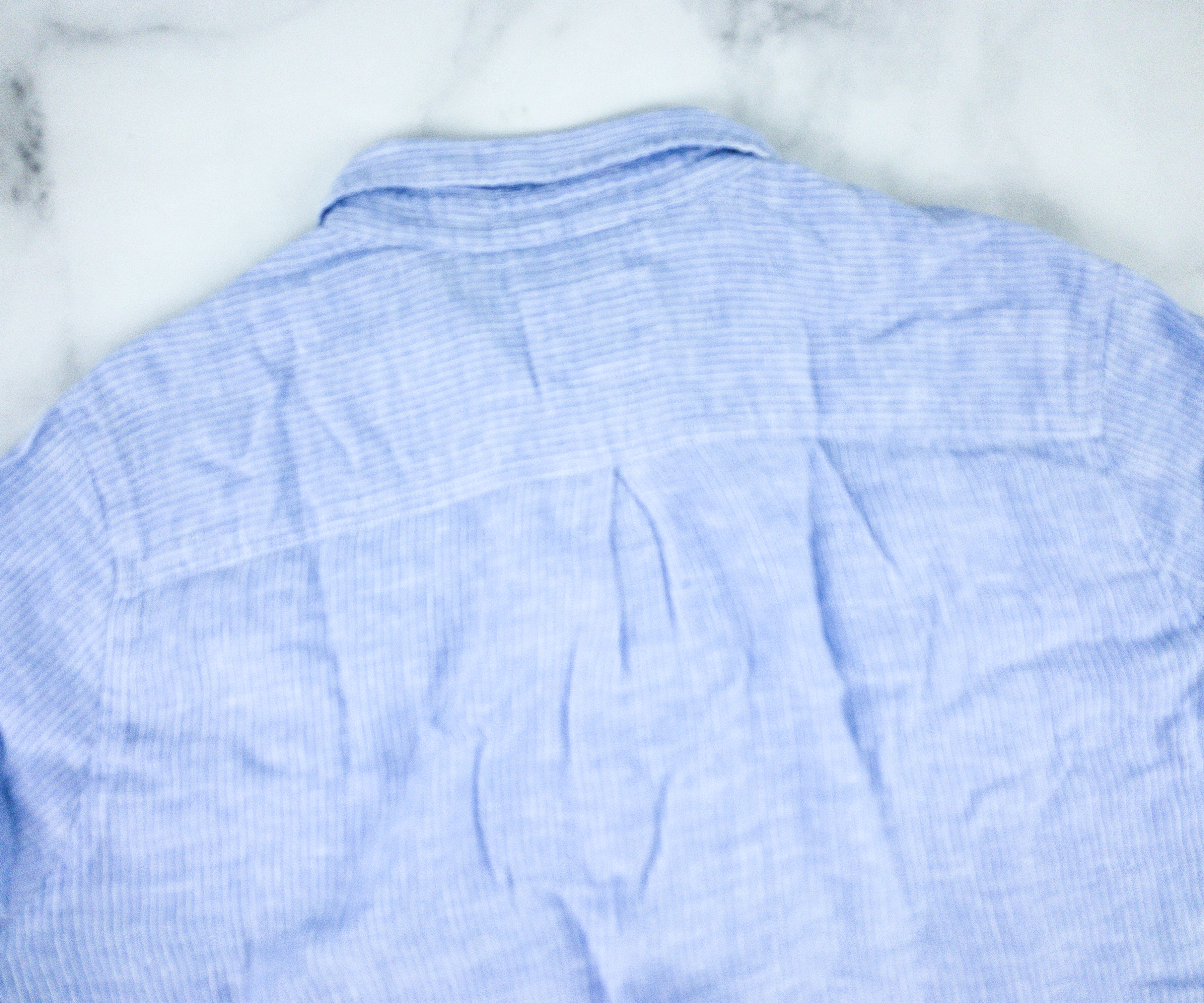 The back pleats give extra space for movements.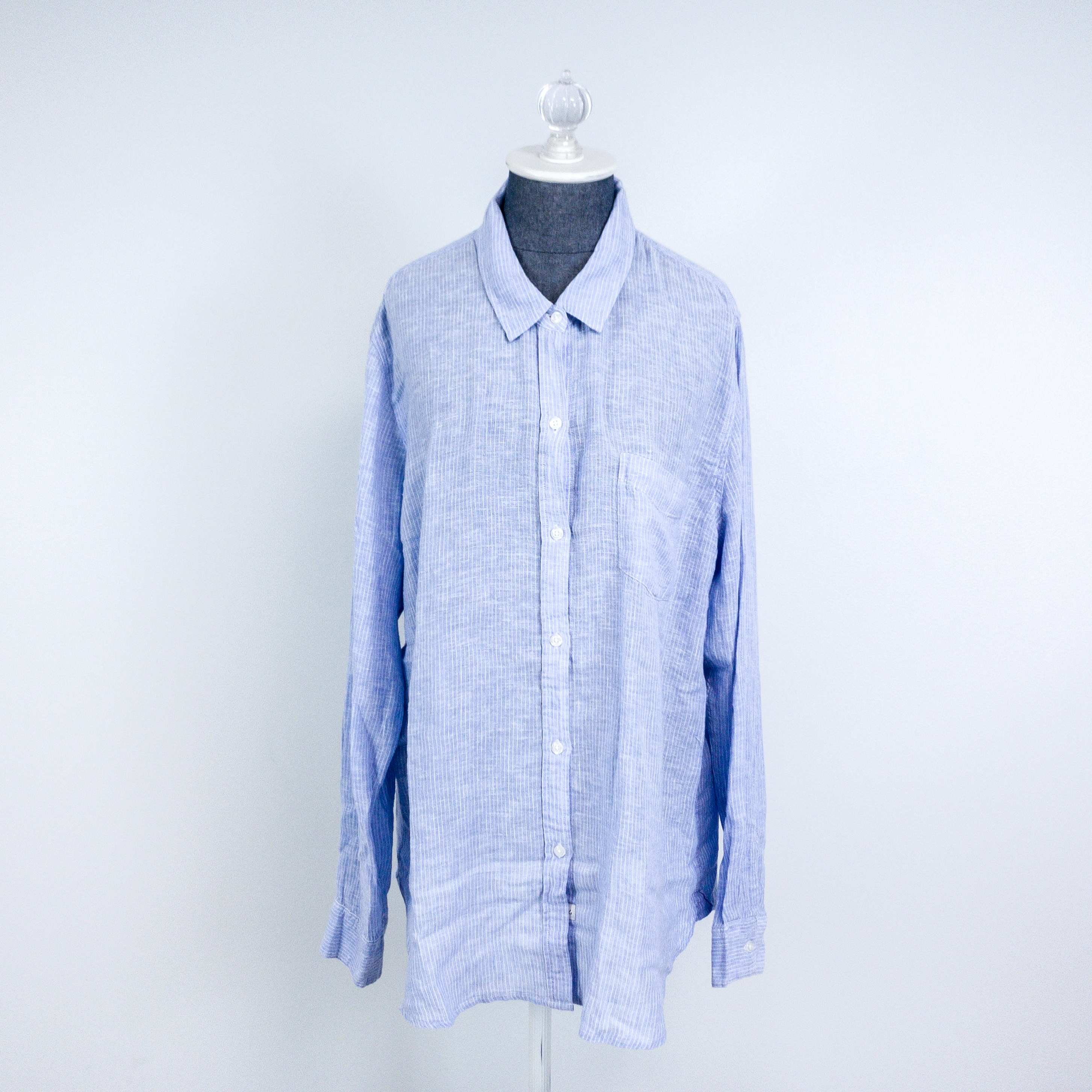 It has a loose fit that looks and feels comfortable. This will look great whether with denim pants or leggings!
41 Hawthorn Eden Dress ($68) This maroon dress with floral accents would be nice to wear on a casual day out or paired with a cardigan or a blazer for wearing at the office!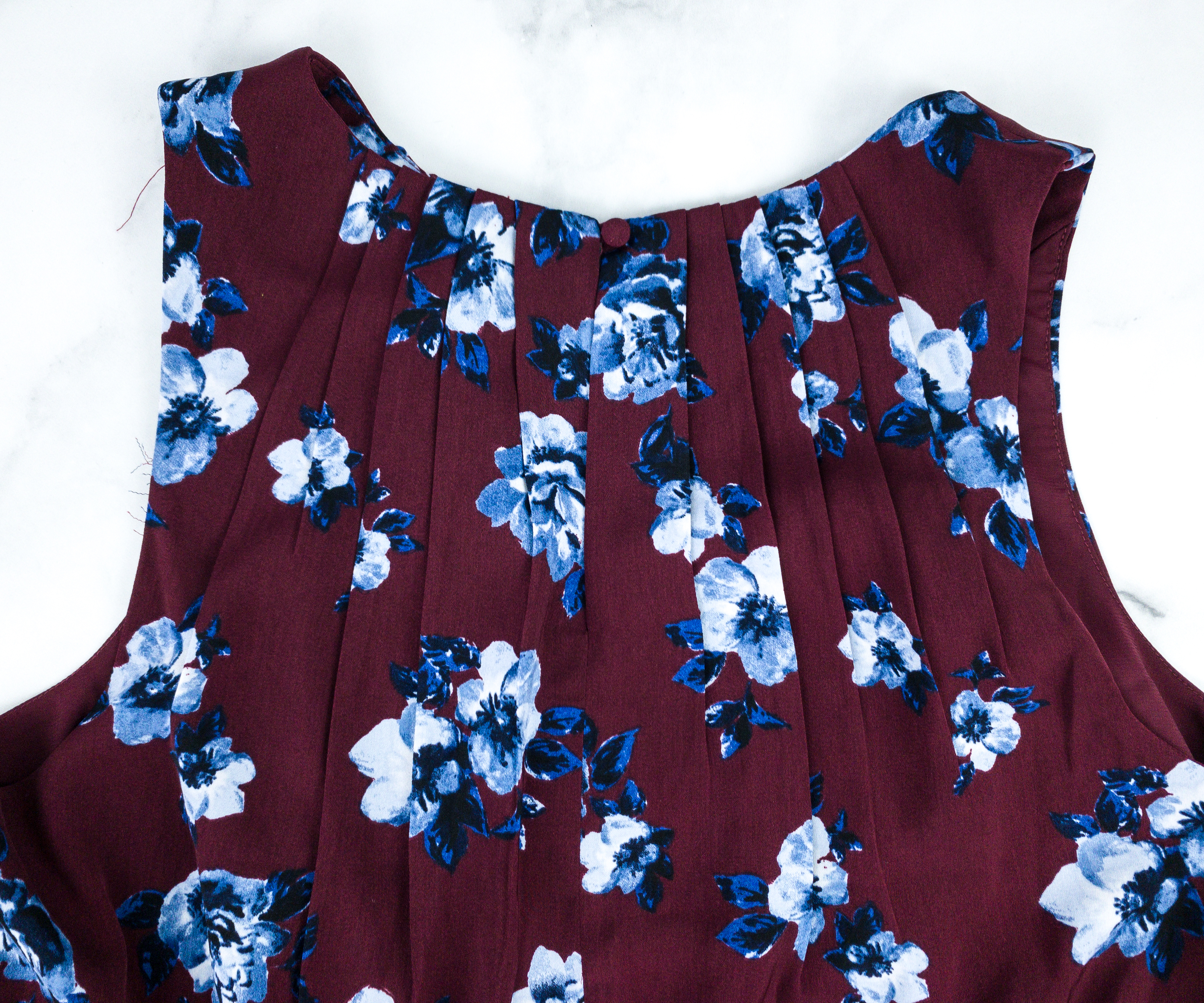 There is a button enclosure at the back that you can unfasten for easier access when putting the dress on.
The white and blue floral print stands out from the maroon background. It's so pretty up close.
The skirt hangs loosely from the bodice so this dress doesn't really provide a striking silhouette.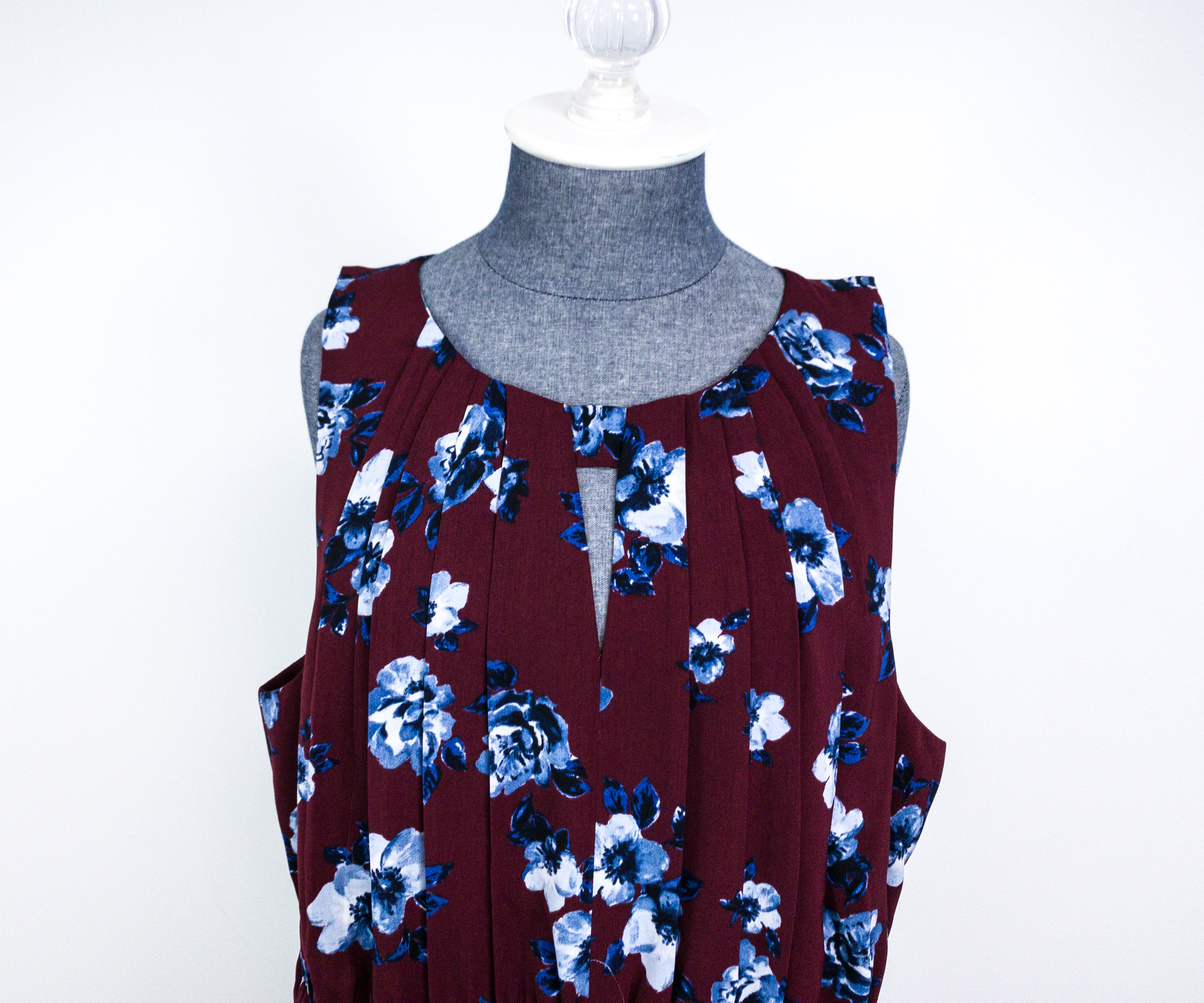 Still, I like this piece and it even has a v-neck illusion on the front even though it has a scoop neckline.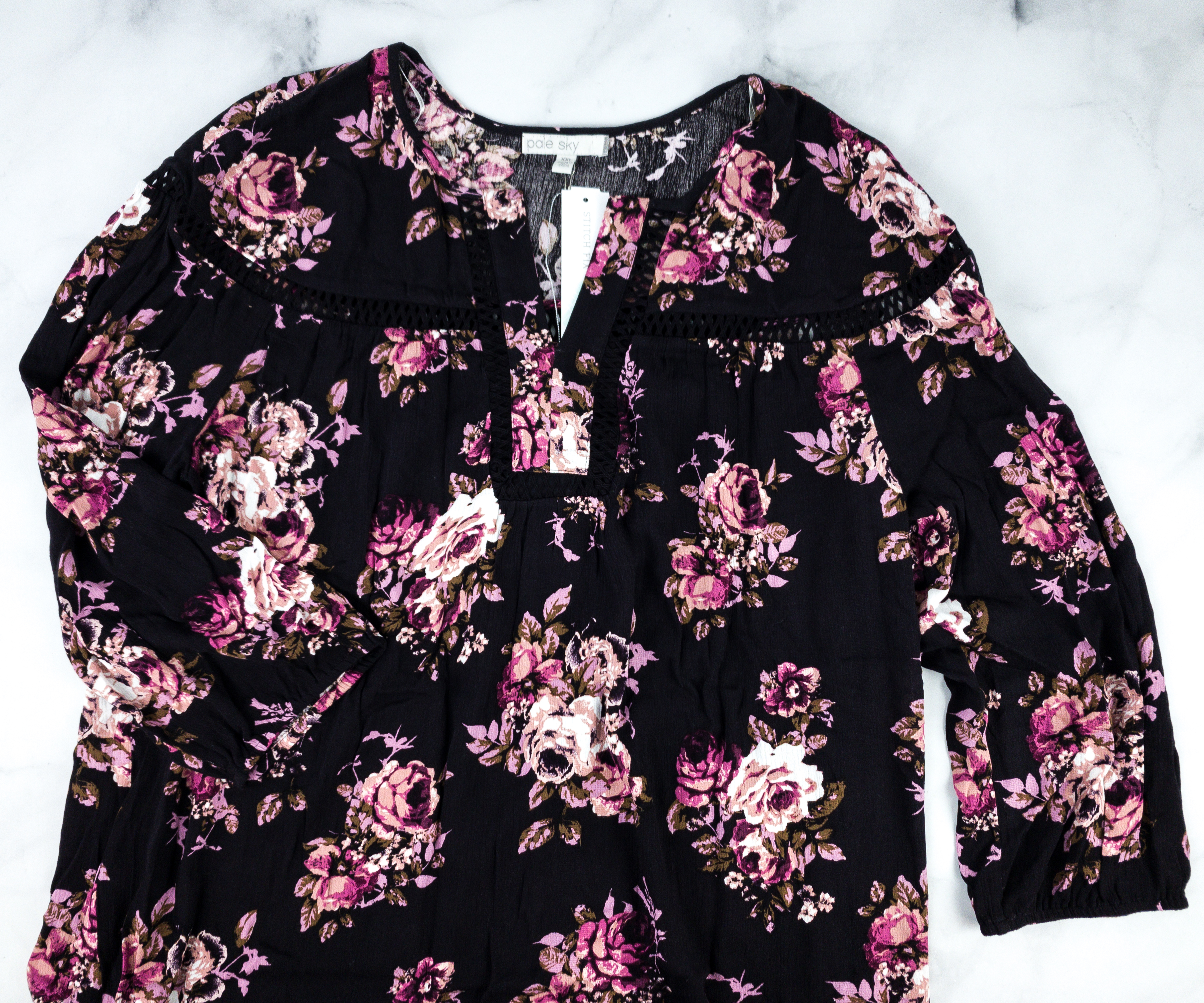 Daniel Rainn Gardenia Crochet Detail Top ($68) Here's another floral piece! It's in black with pink flowers all over.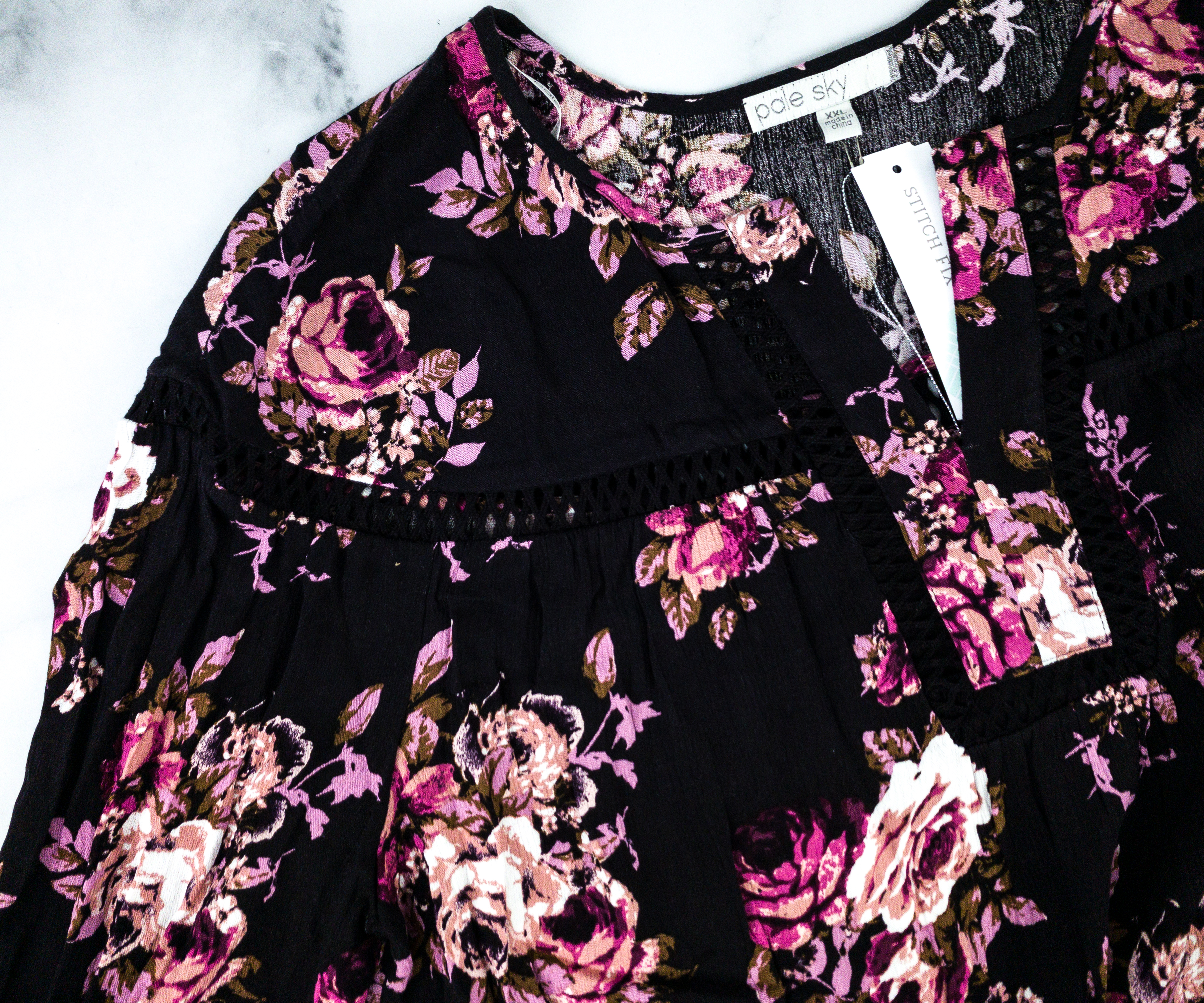 It has black lace detailing but you won't see it unless you look closely.
The stitching is good and I really like the feel of this fabric. It's soft and breathable.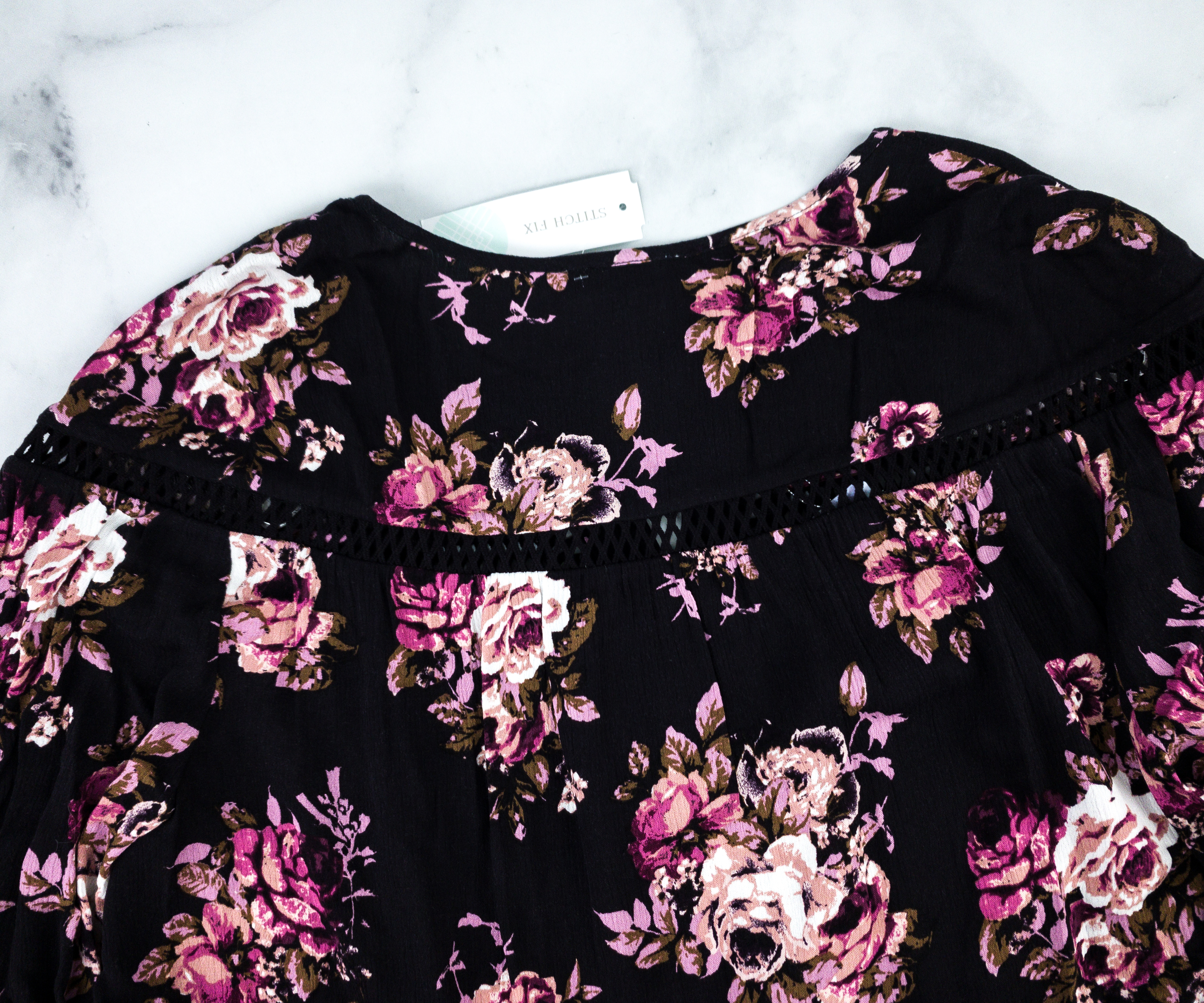 The black lace detailing can be seen all throughout the back.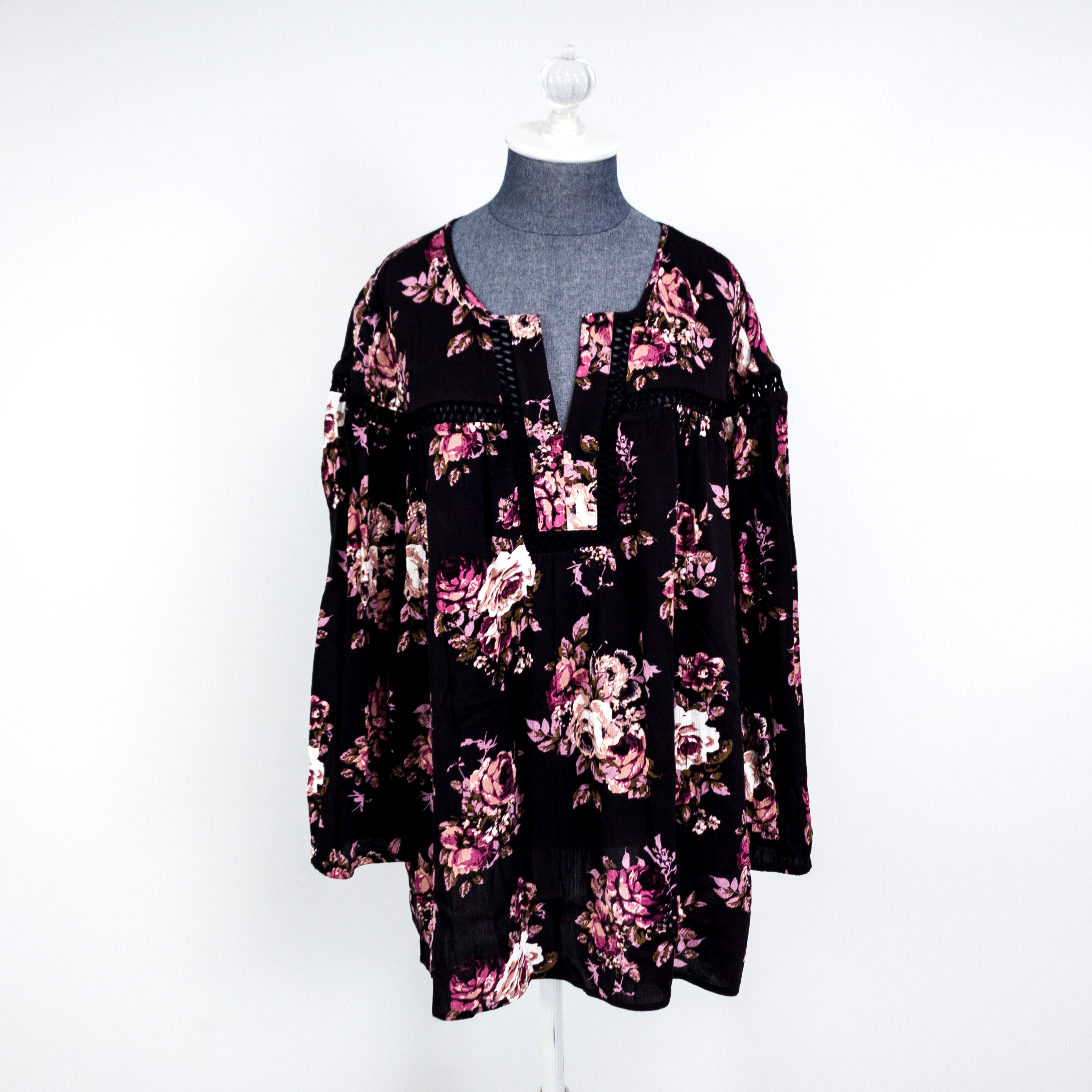 This gives me a boho-chic vibe! It's loose and comfortable to wear! Another piece that's ideal to wear with a plain black pant or even with leggings.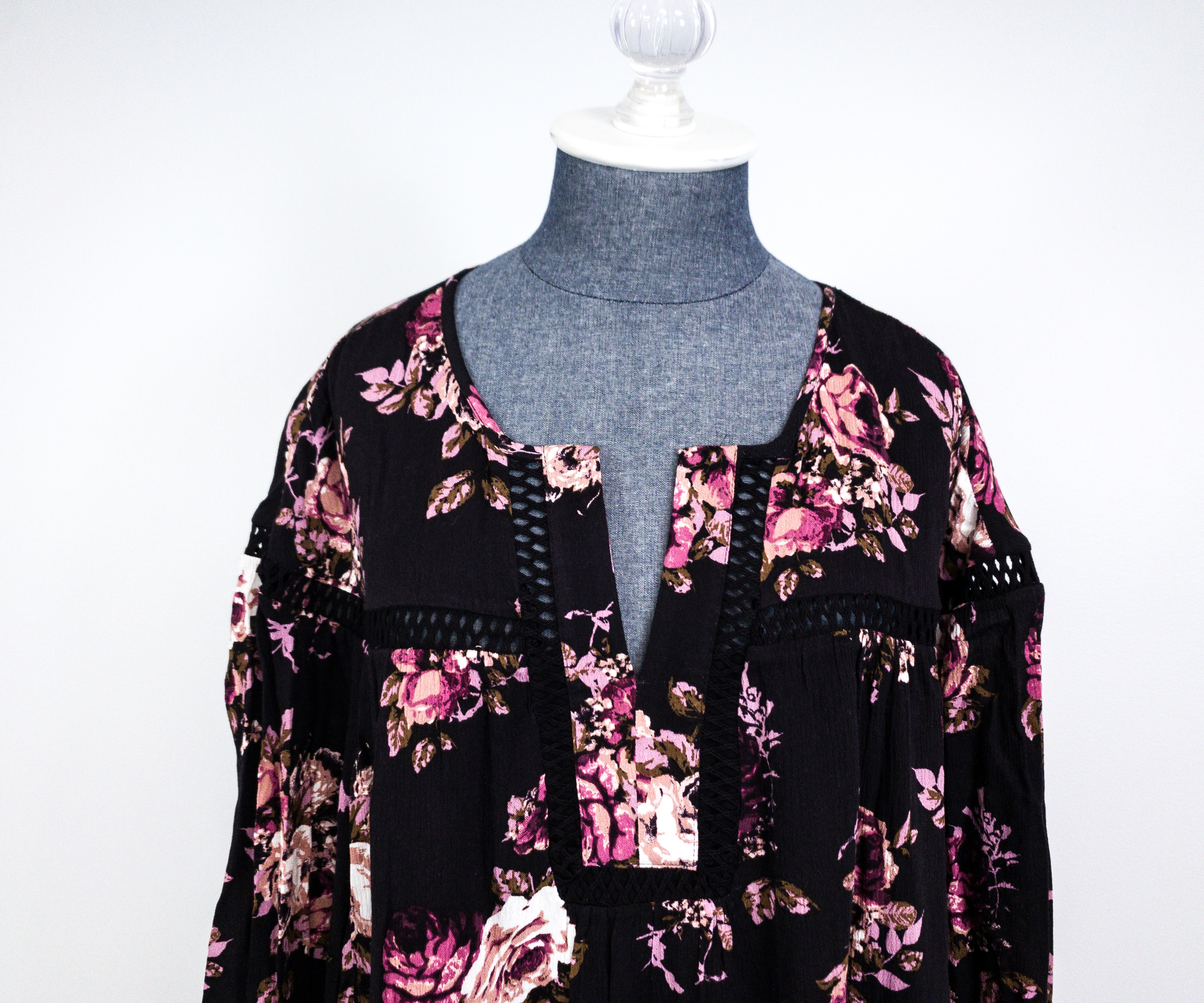 This one has a mix of a scoop and v neckline which adds flair to the whole boho look!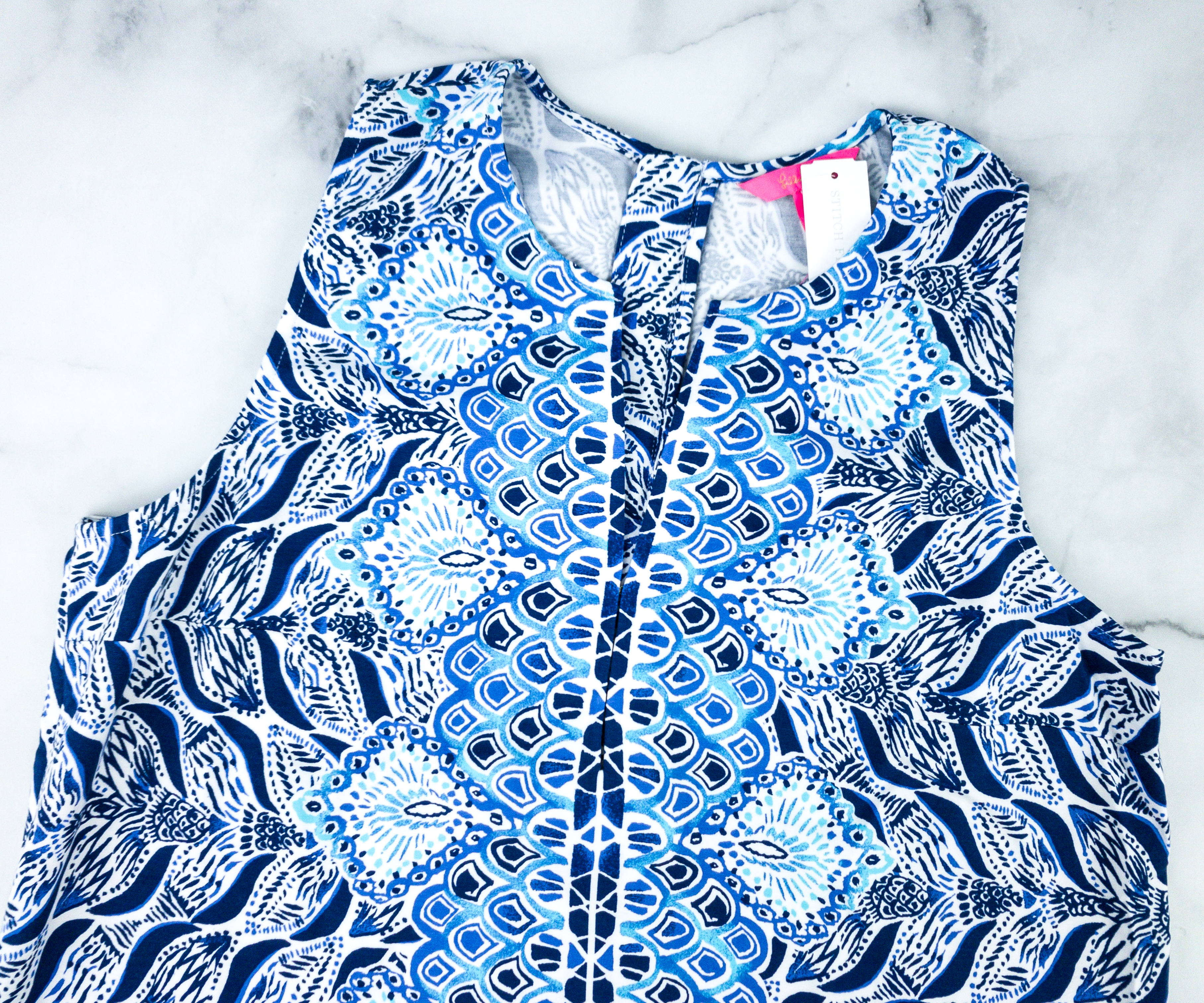 Lilly Pultizer Kelby Knit Shift Dress ($198) There's also a patterned dress in my fix. I love the different shades of blue!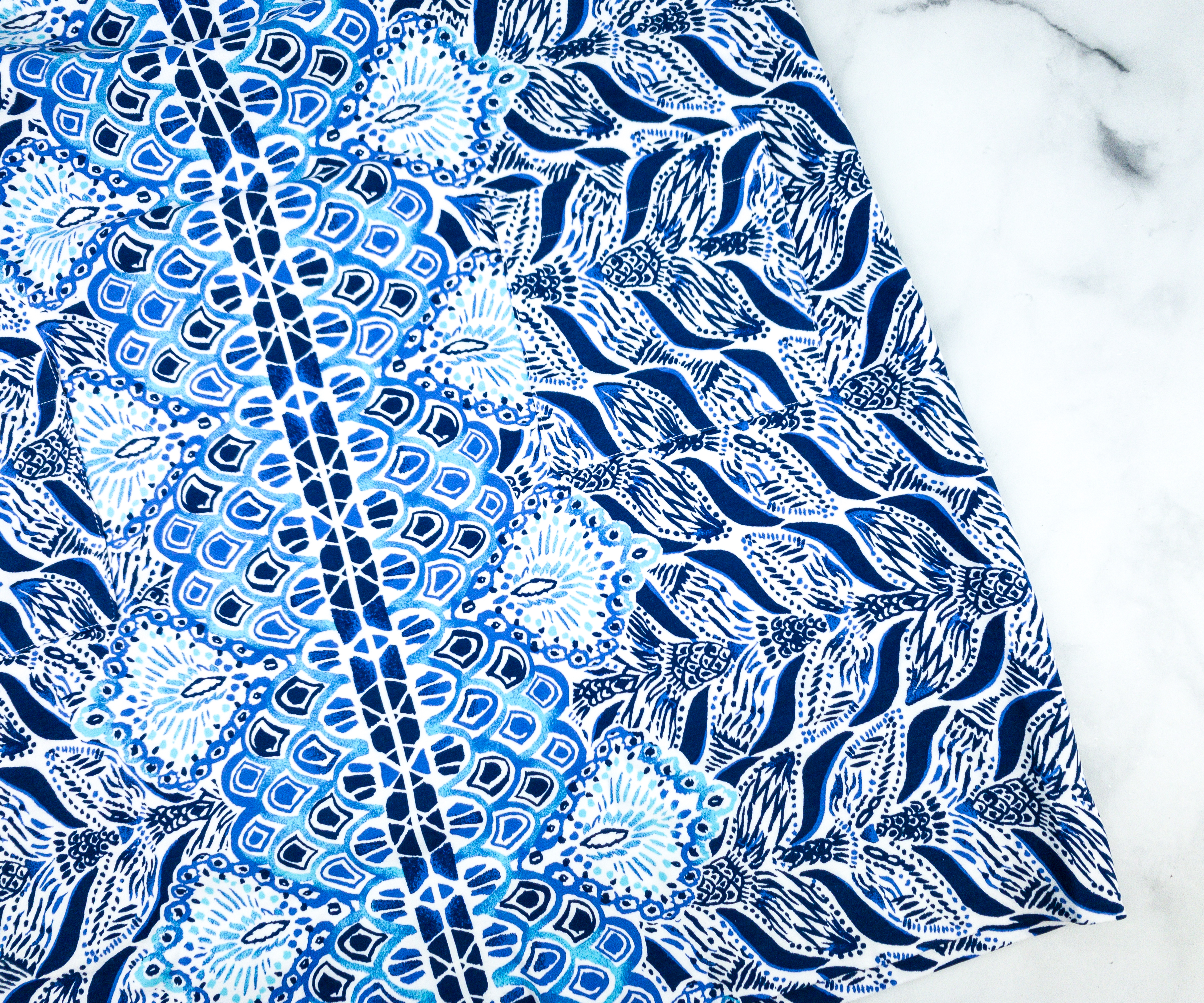 The pattern is mesmerizing! It's vibrant and fun, making this dress an actual statement piece, needing minimal accessories!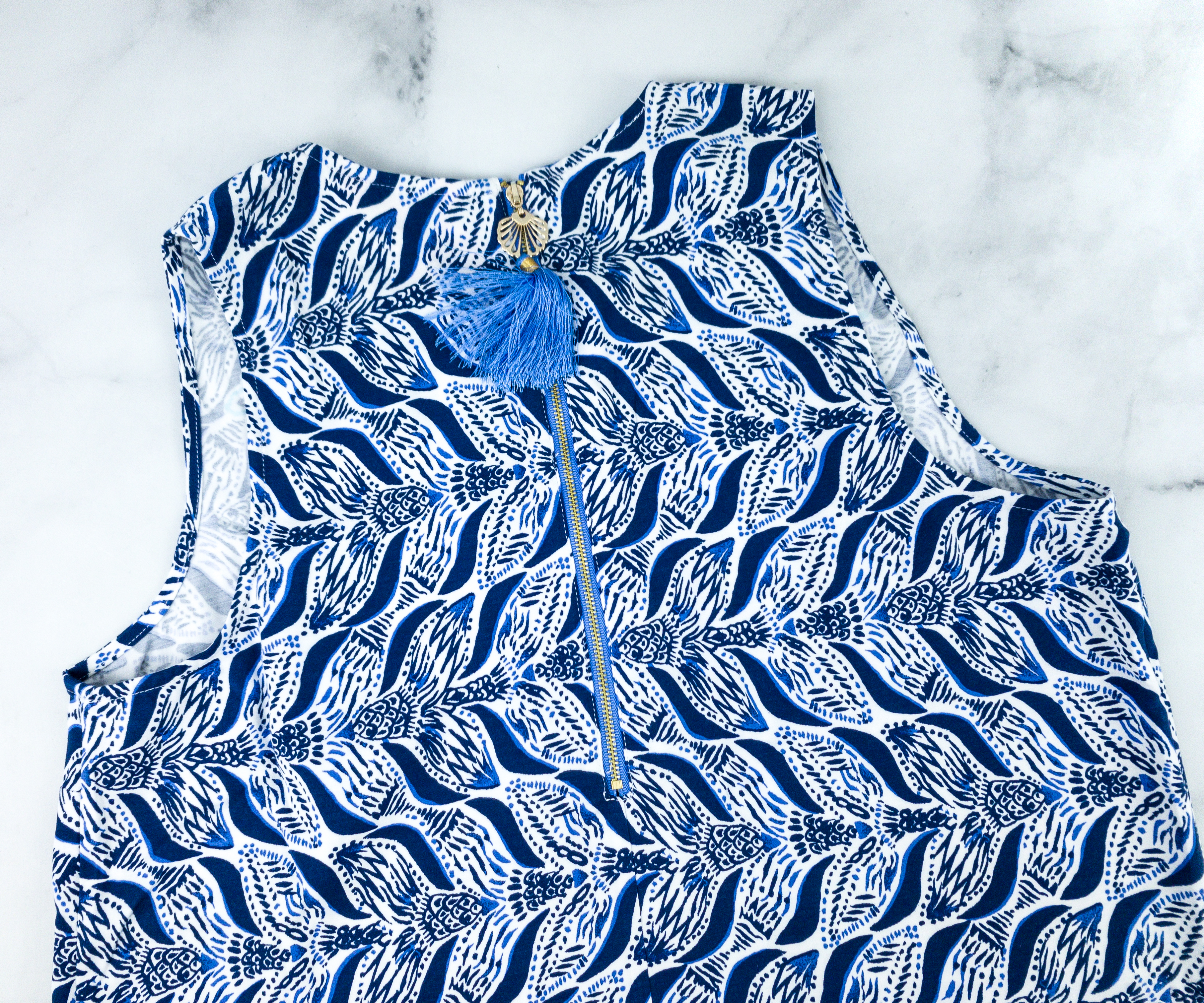 It zips up at the back and it has gold hardware that blends really well with the blue colored patterns.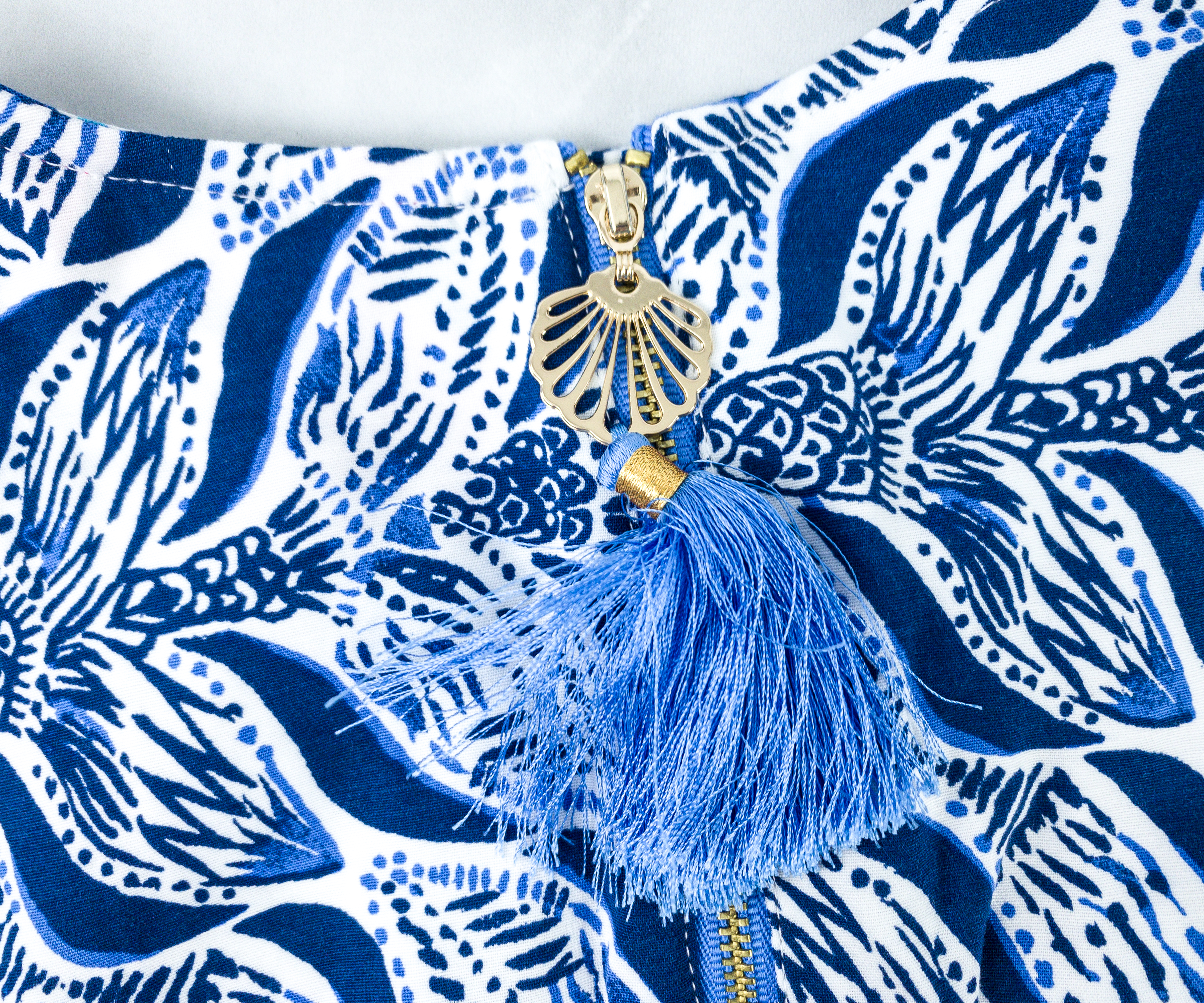 It's all in the details! This one has a golden shell-like zipper pull with a blue tassel attached to it.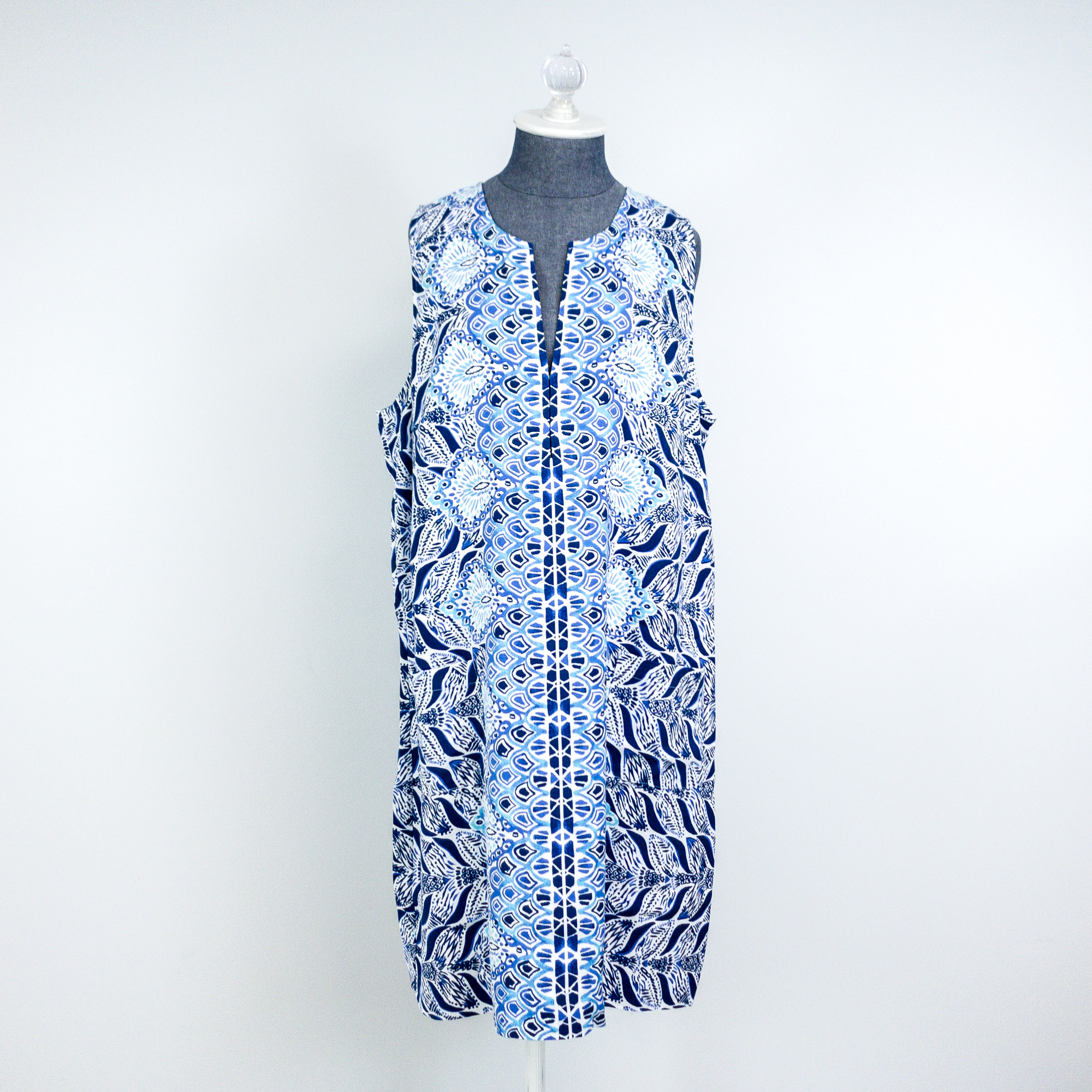 This shift dress hangs loosely on the body. The simple line of this dress compliments the loudness of the print. It's something I can see myself wearing on office parties! Just a gold bangle, a pair of nice stud earrings and sandals and this will look divine!
Lauren Ralph Lauren Dresses Suzan Dress ($108) This is the third dress in my fix and I'm not complaining. It's long shift dress!
This one looks interesting with all the buttons located at the side.
The fabric has tiny polka dot details, making it look such a classic piece.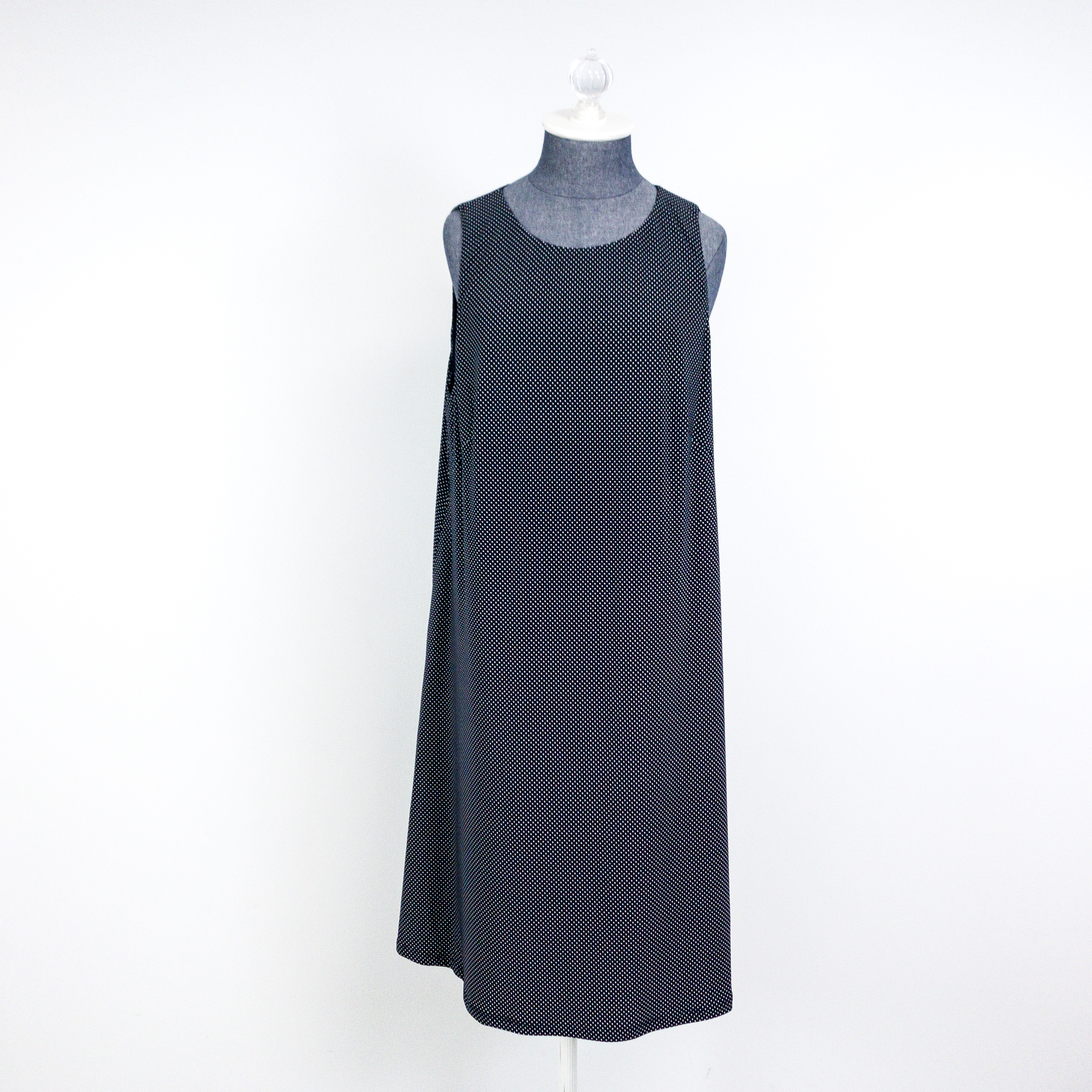 It looks gorgeous. With the right accessories, I can even see wearing this in a formal setting!
This month, my fix included a bunch of dresses and I really liked the selection. My favorite piece is the Ralph Lauren dress. It's flowy and the fabric looks classy. Plus, the detailing on the side is just eye-catching! I also liked the dress with the blue pattern because of how vibrant it looks. The tops in this fix look good as well! My stylists really did a great job of picking such pretty clothing pieces for me this month so I couldn't be happier! If you also want to add fresh pieces to your wardrobe regularly, this subscription service is a great way to do so. You can try everything at home and in case there's an item you don't like, you can return them easily using the provided return mailer. It's convenient and also gives you value for your money!
What did you get in your Stitch Fix this past month?