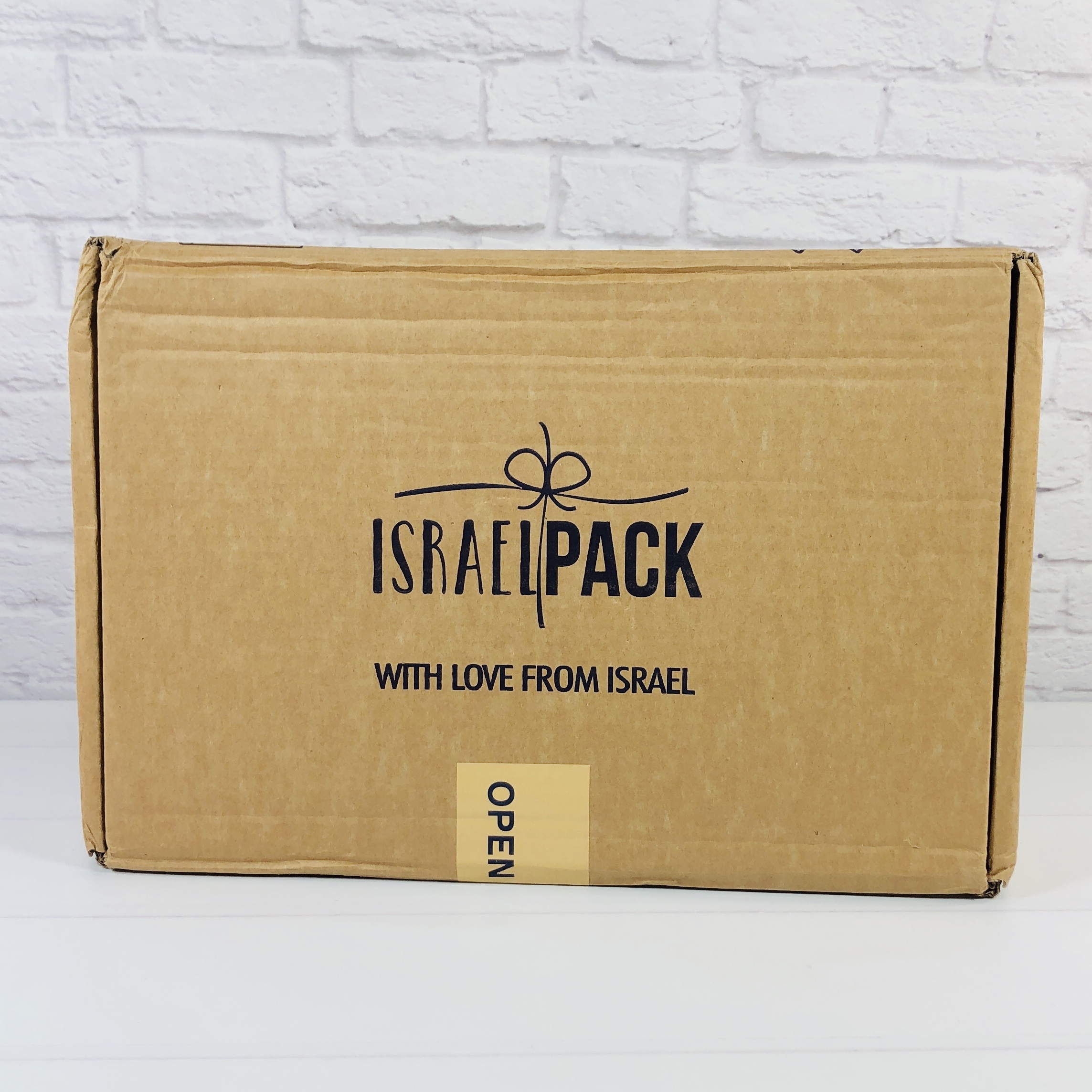 Israel Pack is a monthly subscription box with unique products from Israel handmade by local farmers and artisans. Each month you will receive 6-8 full-sized products such as tea, honey, olives, soap, home decor, or snacks. The subscription box is family-friendly and aims to promote a learning of the culture and history of Israel while giving back to the local farmers and artisans who make the products included in the box. Israel Box is $99 a month and includes free worldwide shipping!
Learn about Israel's history & culture and acquaint your children with the Holy Land
We believe that engaging with the world of Jewish arts, crafts and cuisine is the best way to learn about the Holy Land and to pass on the traditions to future generations.
DEAL: Get 35% off of your first box! Use coupon code GET35.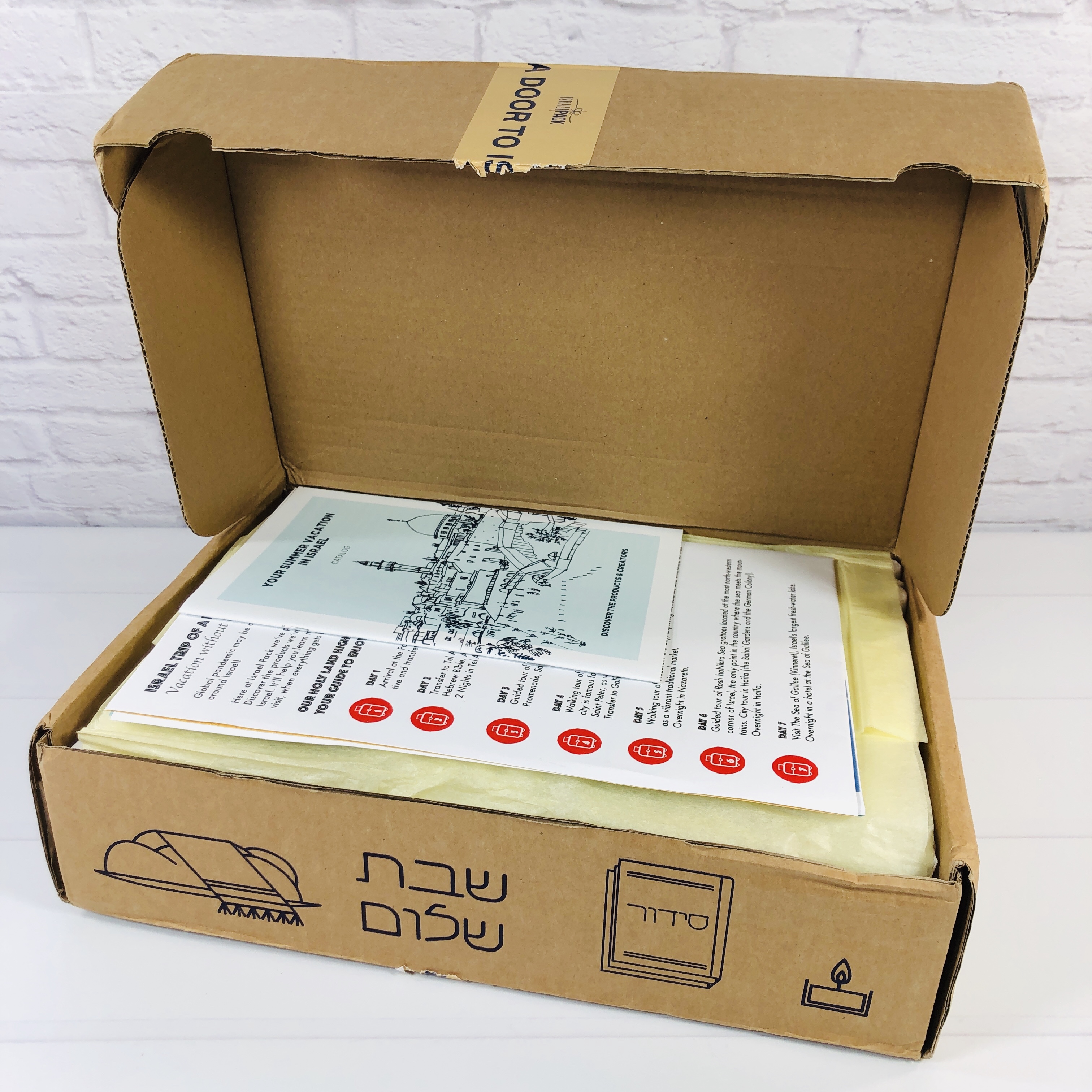 My box shipped direct from Tel Aviv!
My items were wrapped in tissue paper and sealed with a sticker.
The items were cushioned with styrofoam packing peanuts.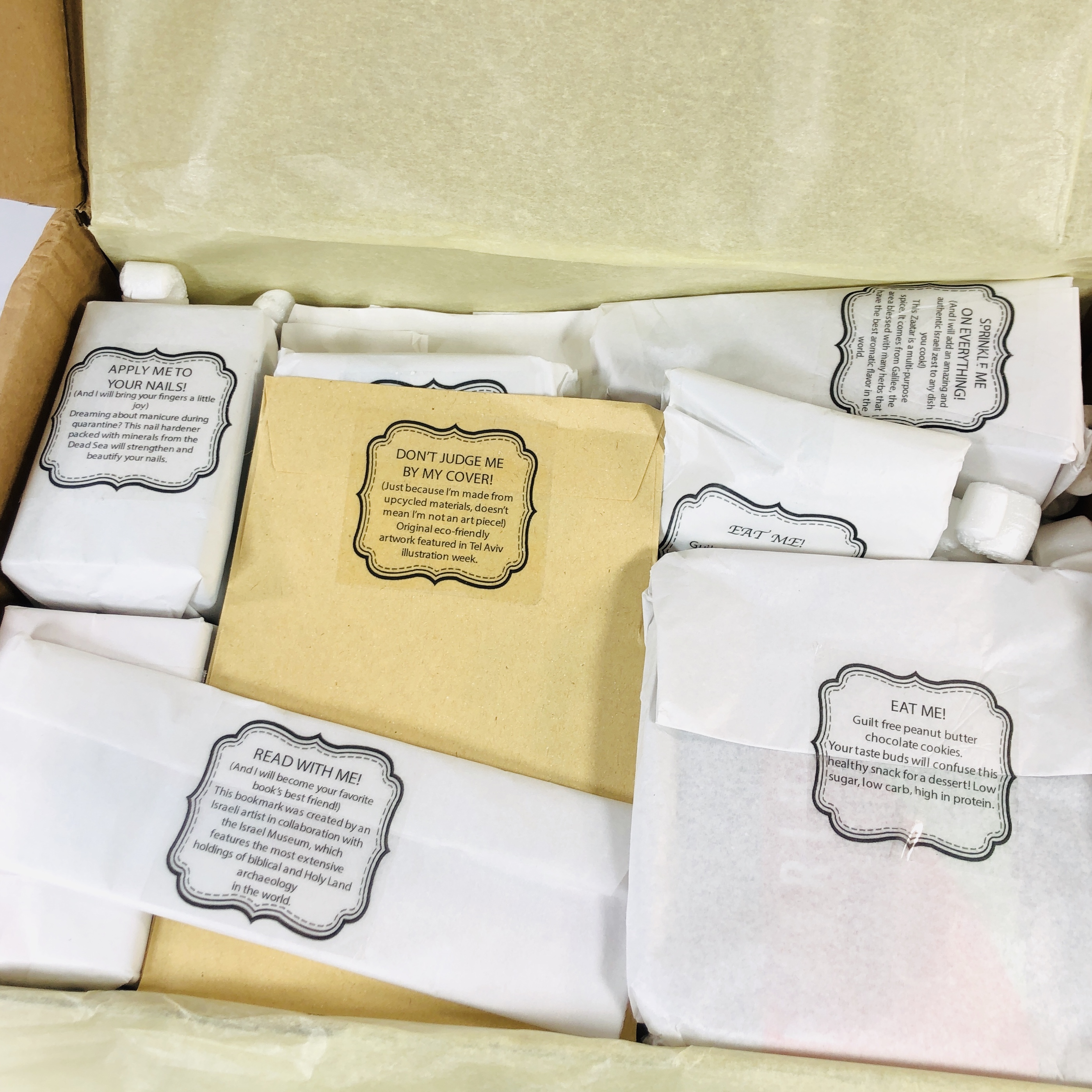 Everything's wrapped individually.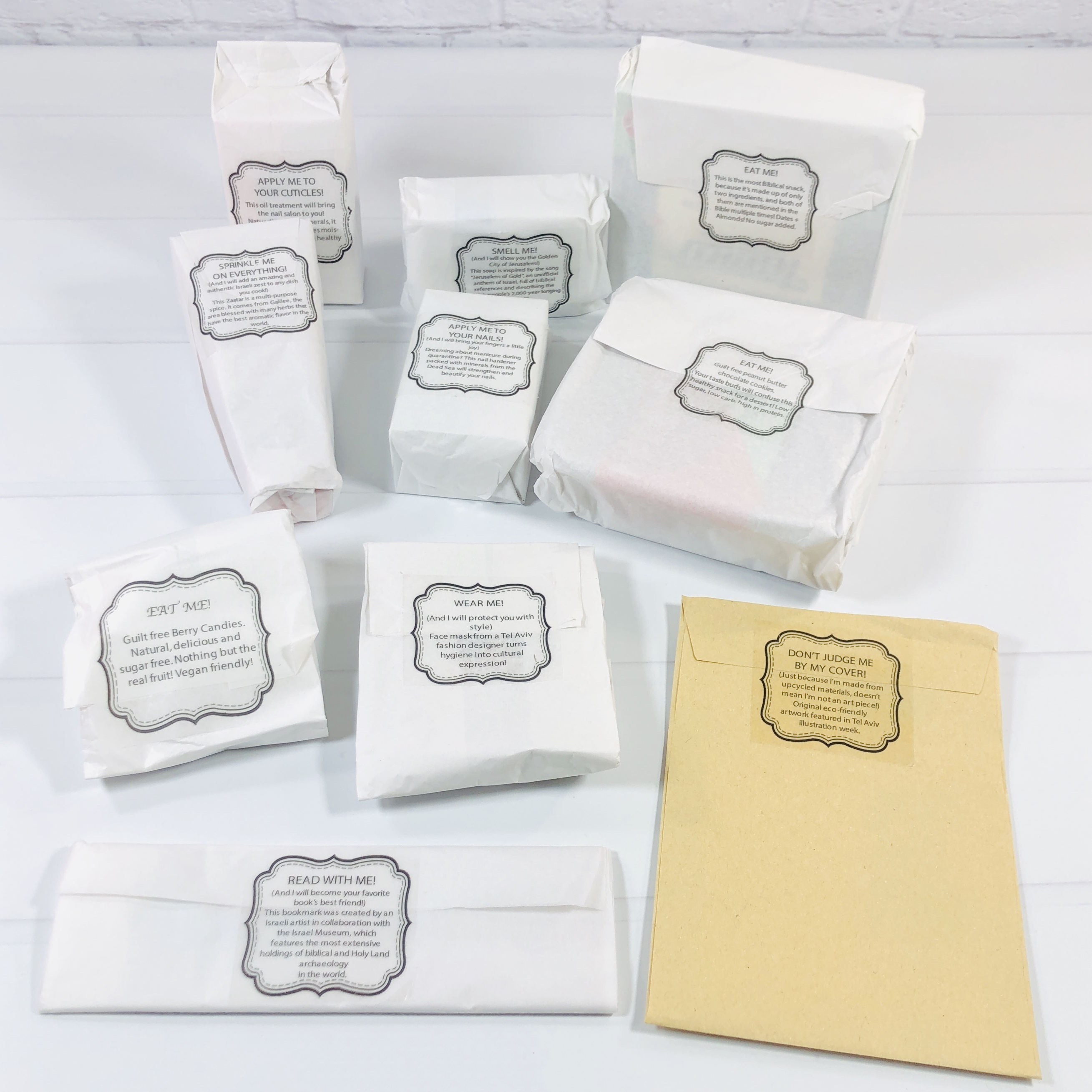 This is my second box from Israel Pack!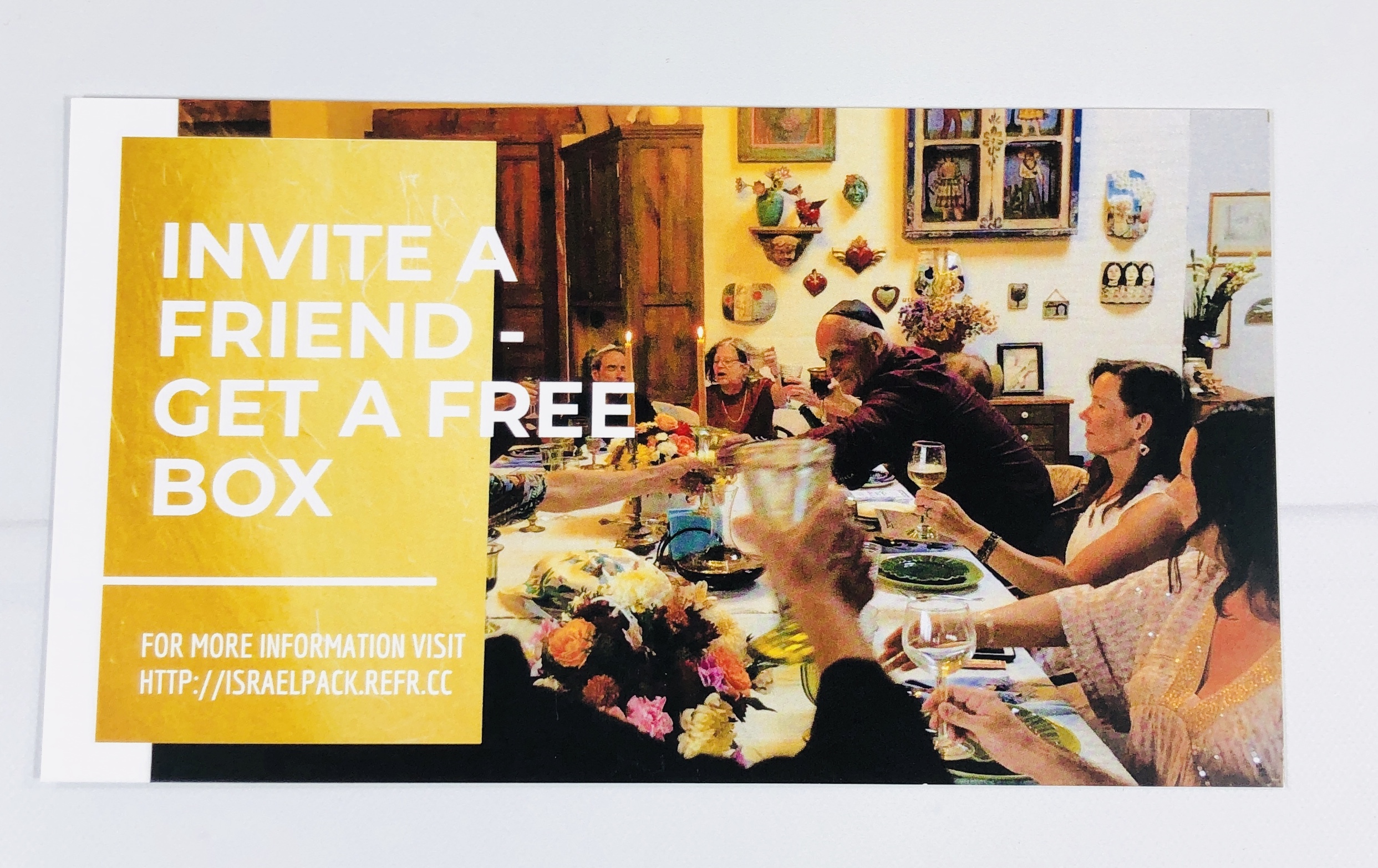 This card has info on their referral program.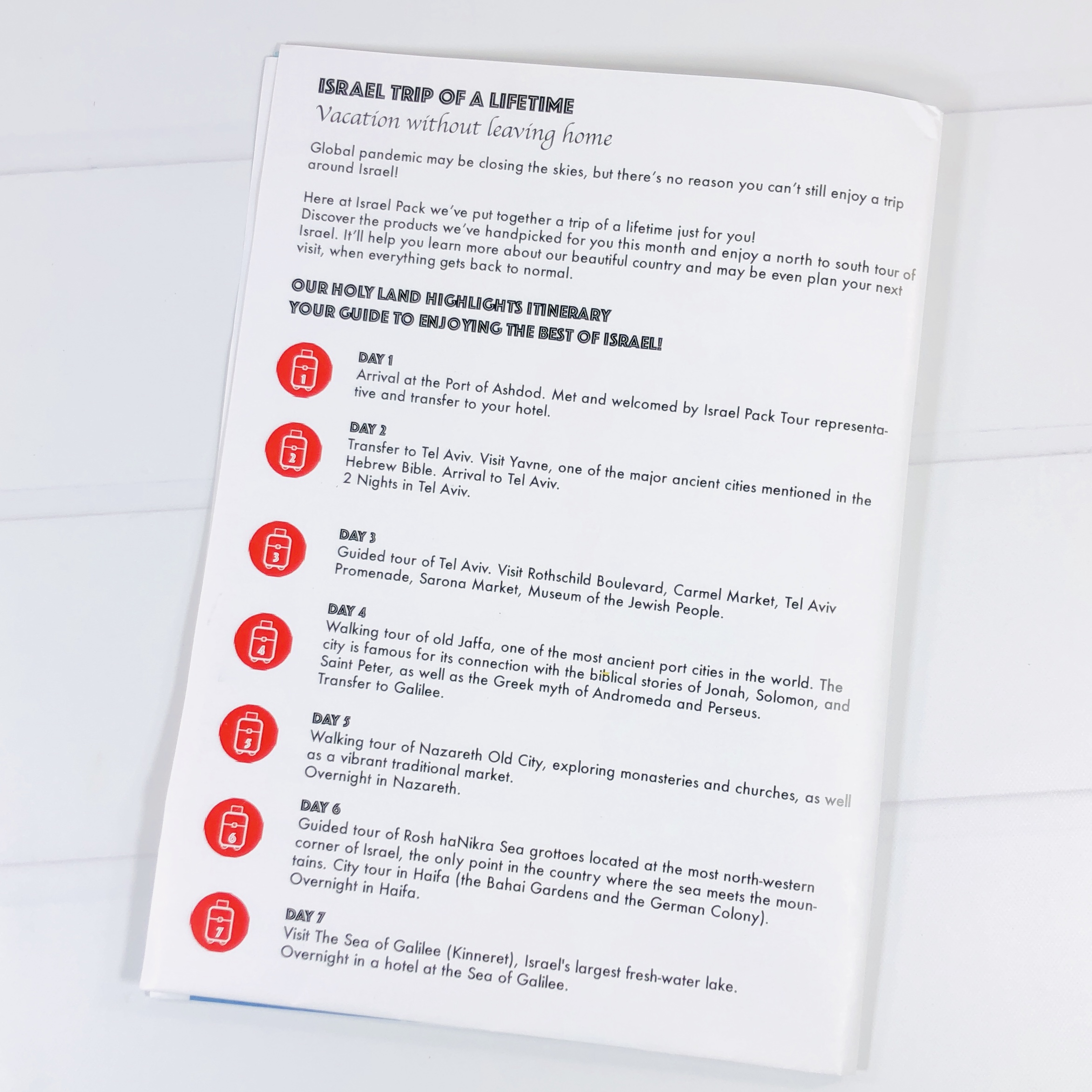 I received a giant paper that tells me I can take the trip of a lifetime, without leaving my home! This papers unfolds and discusses a 10 day itinerary and describes all of the sites.
The back of the paper has a map of Israel! The 10 stops on the itinerary are shown, just look for the suitcases.
The theme this month is Summer Vacation in Israel!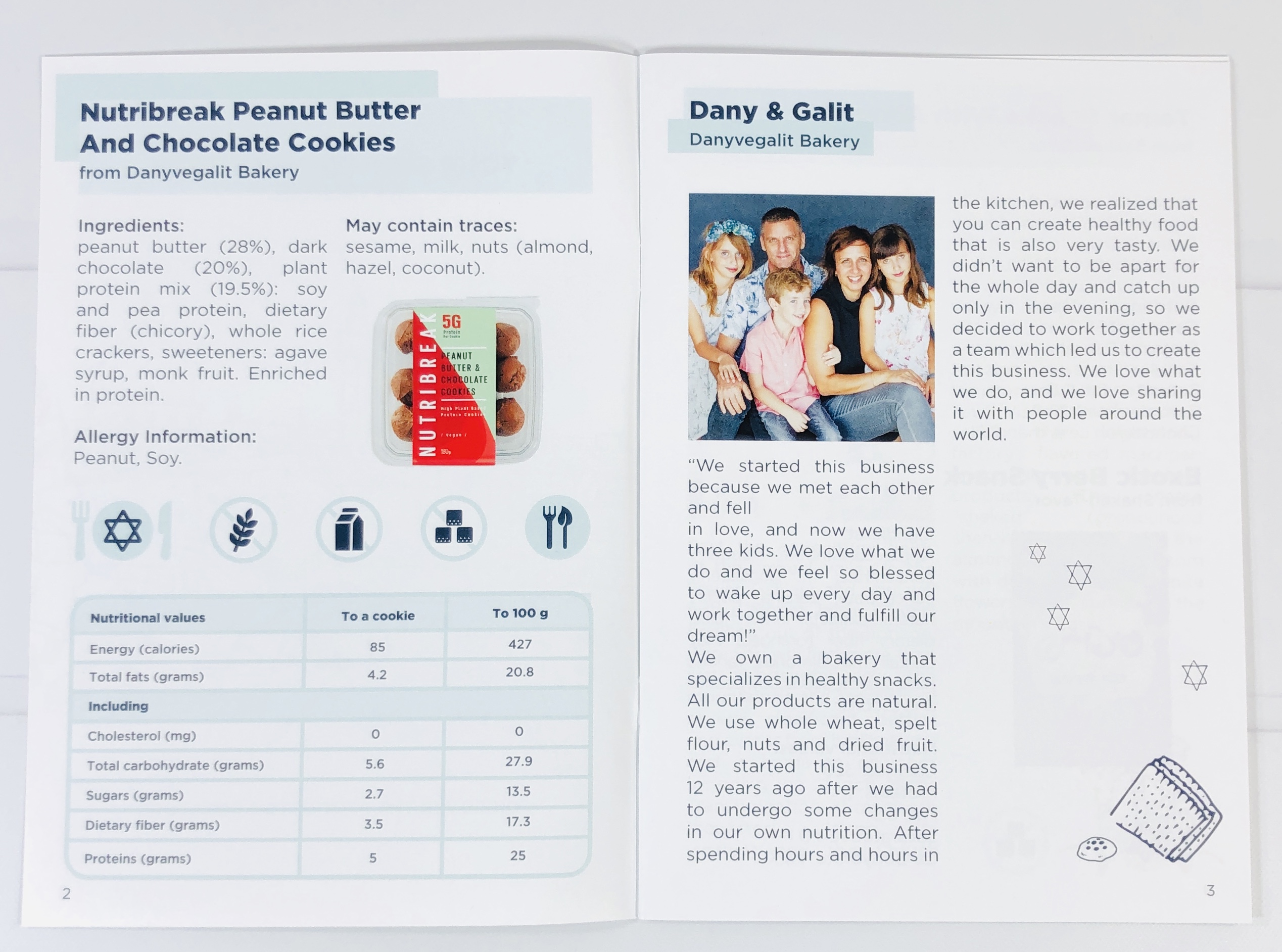 The catalog/insert discussed some the items and makers featured in this box. I would encourage you to read their stories here, and I will describe my experience with their products below.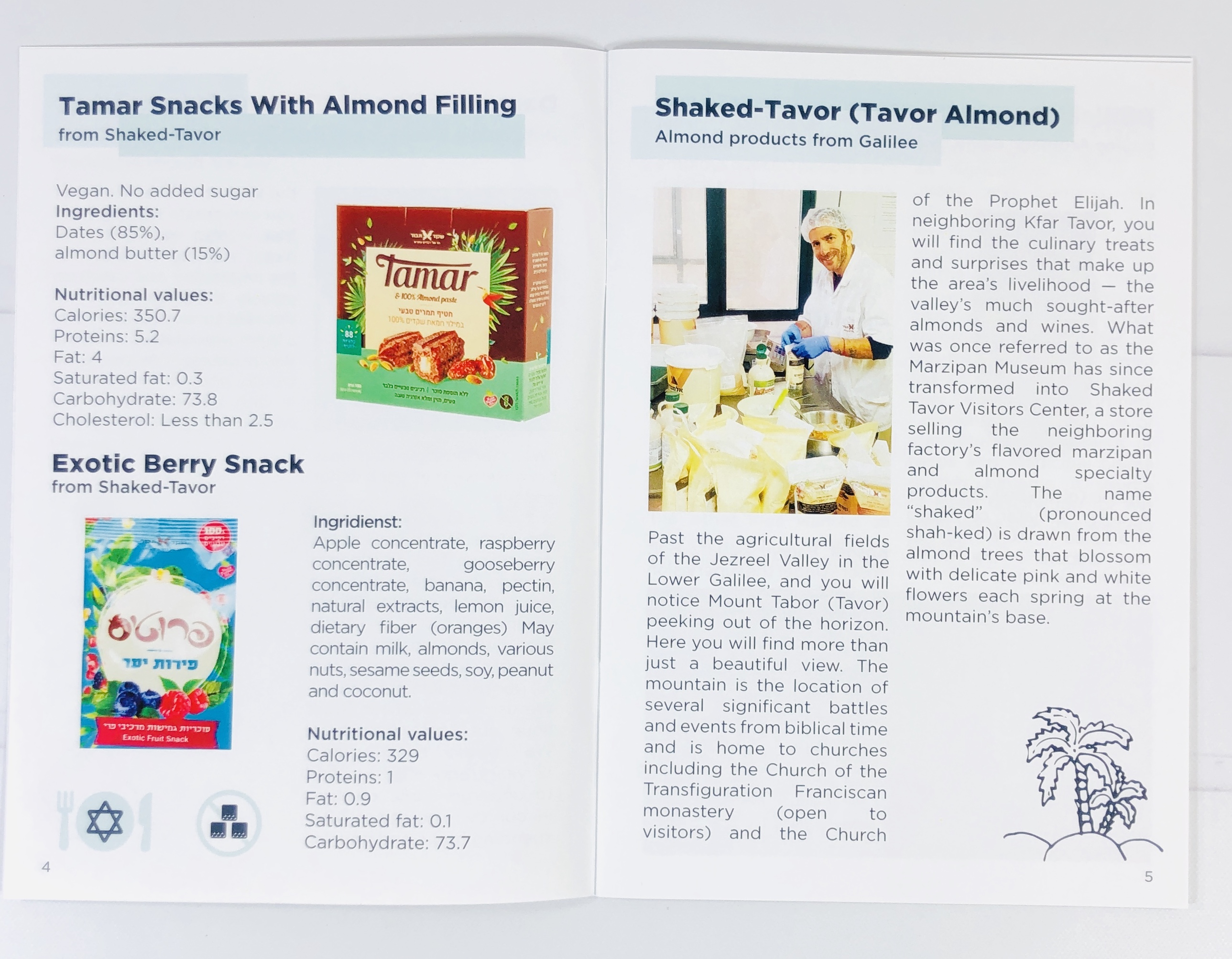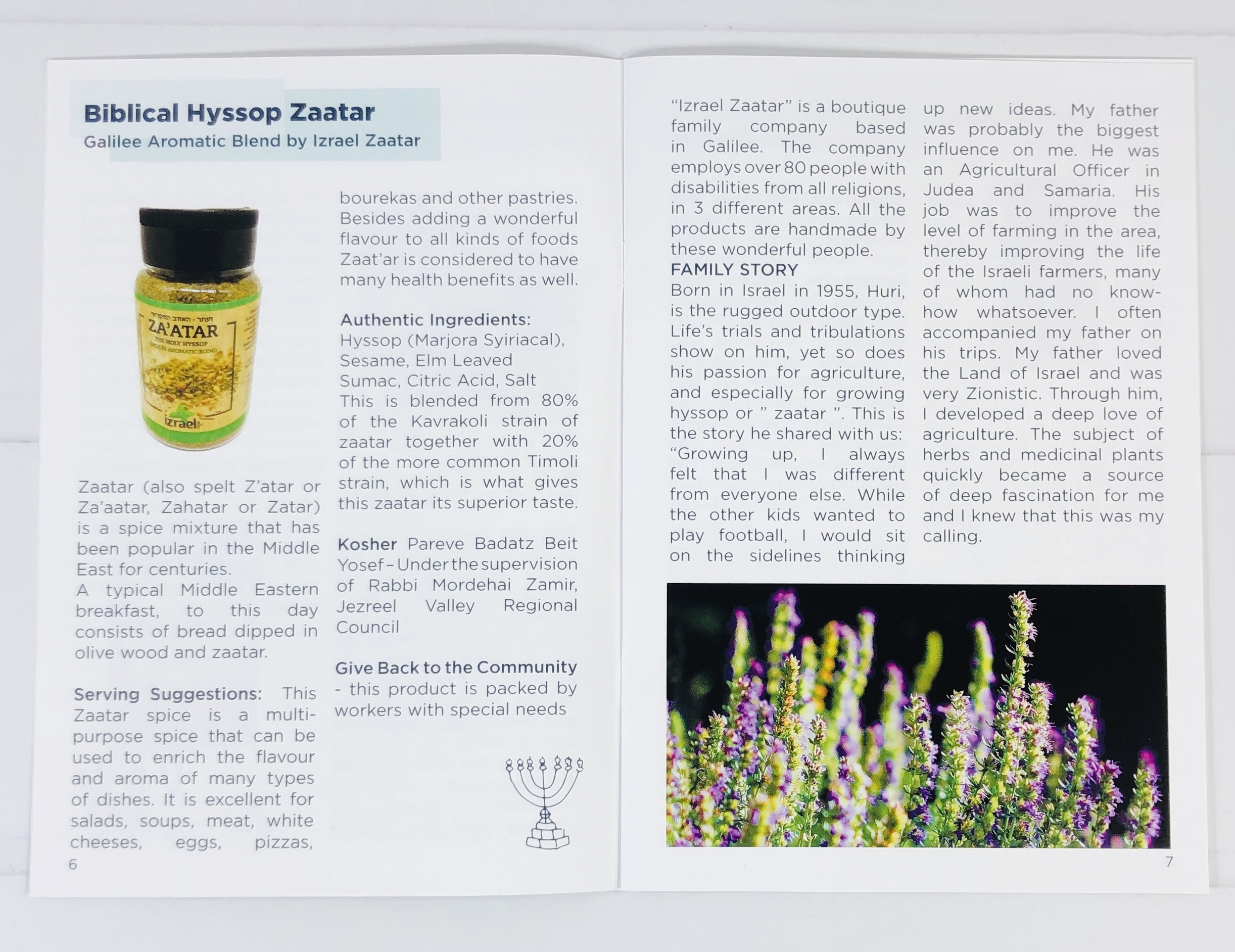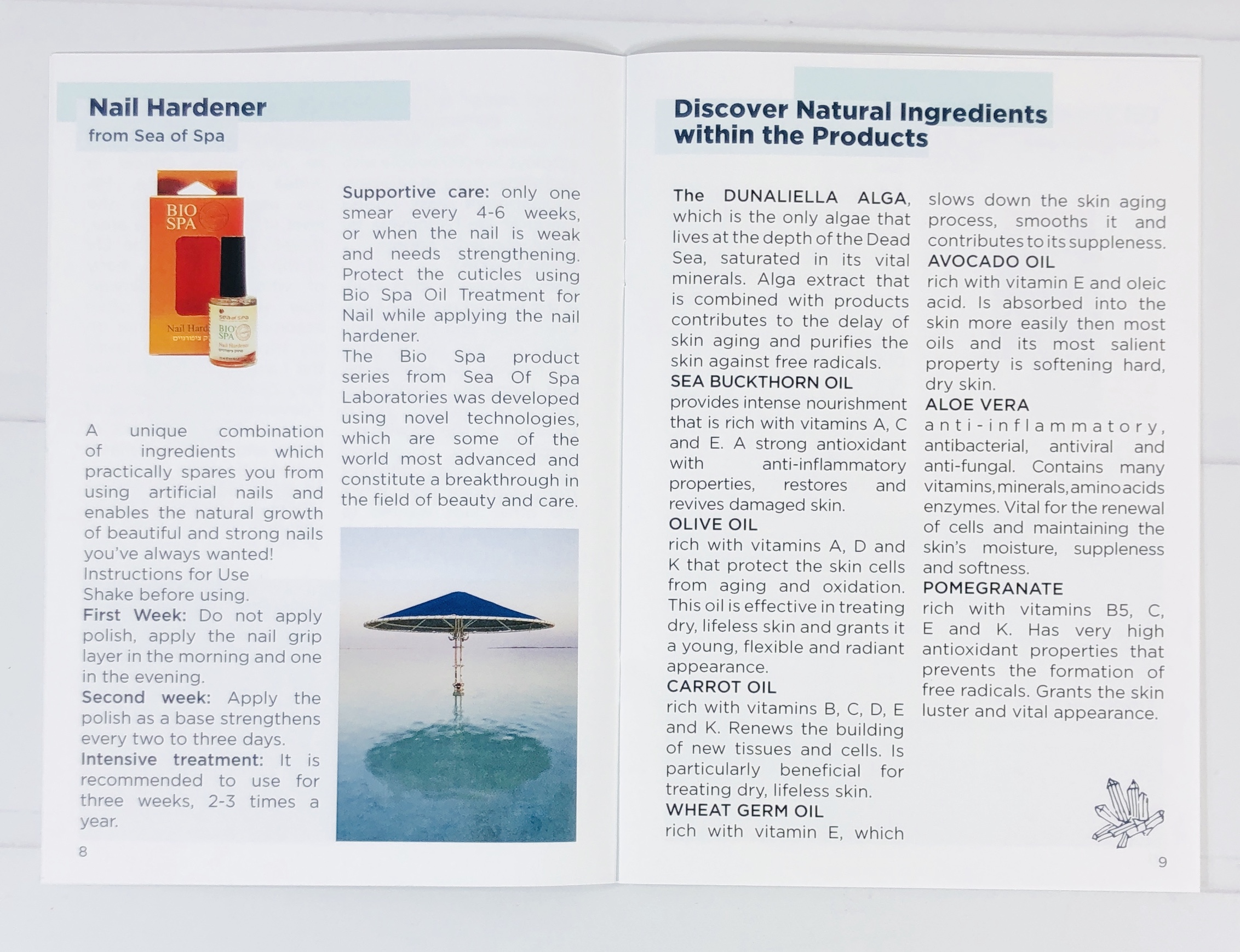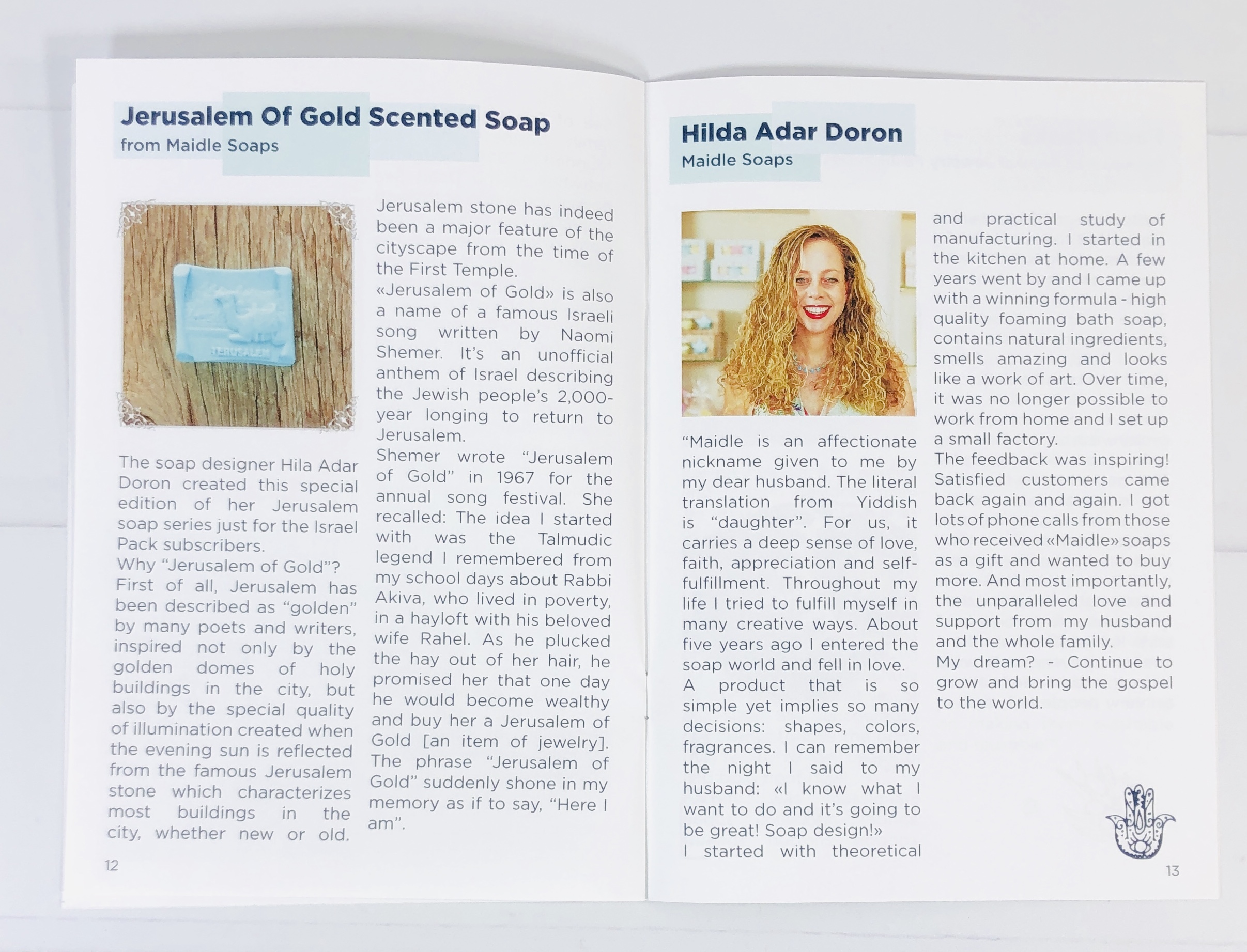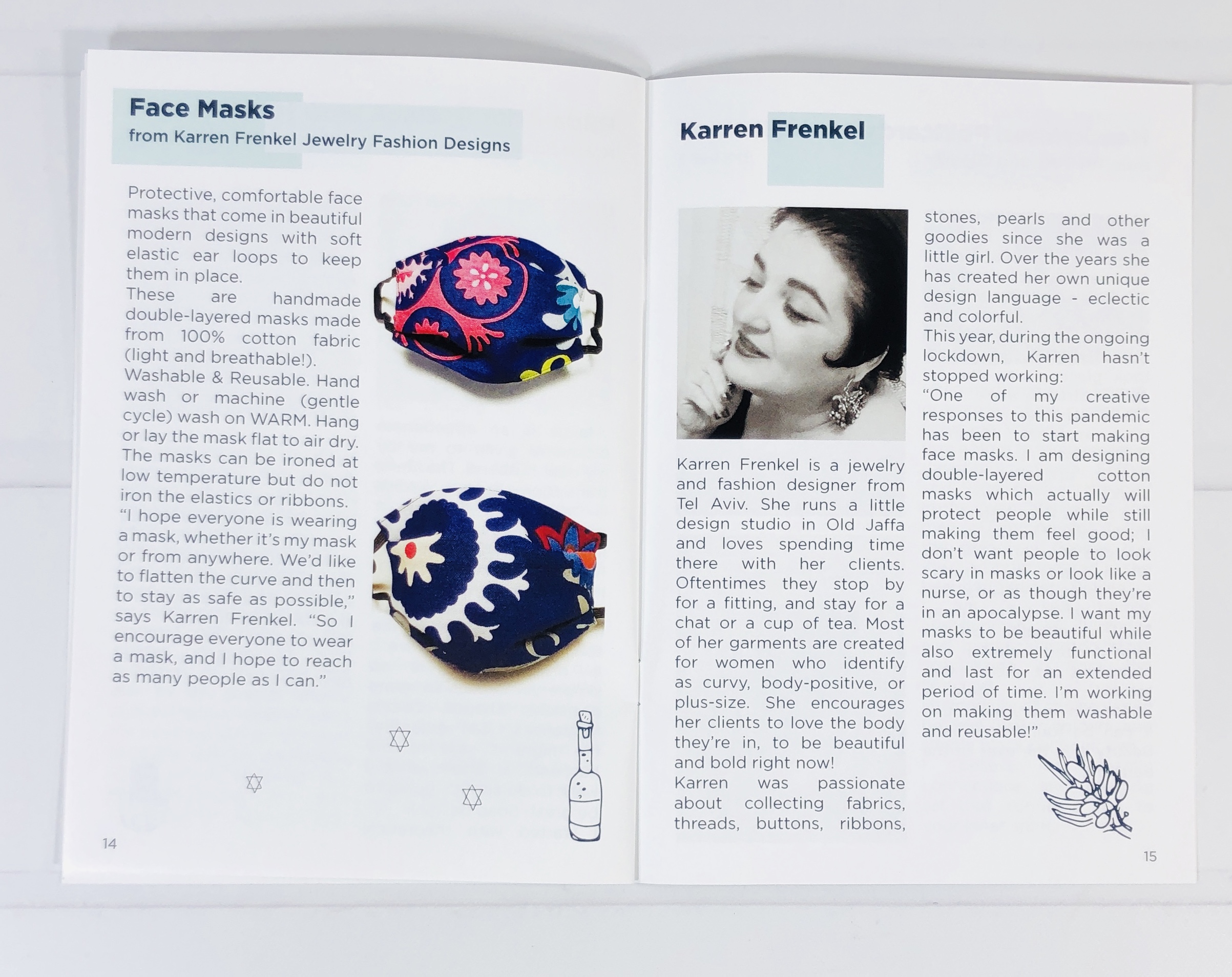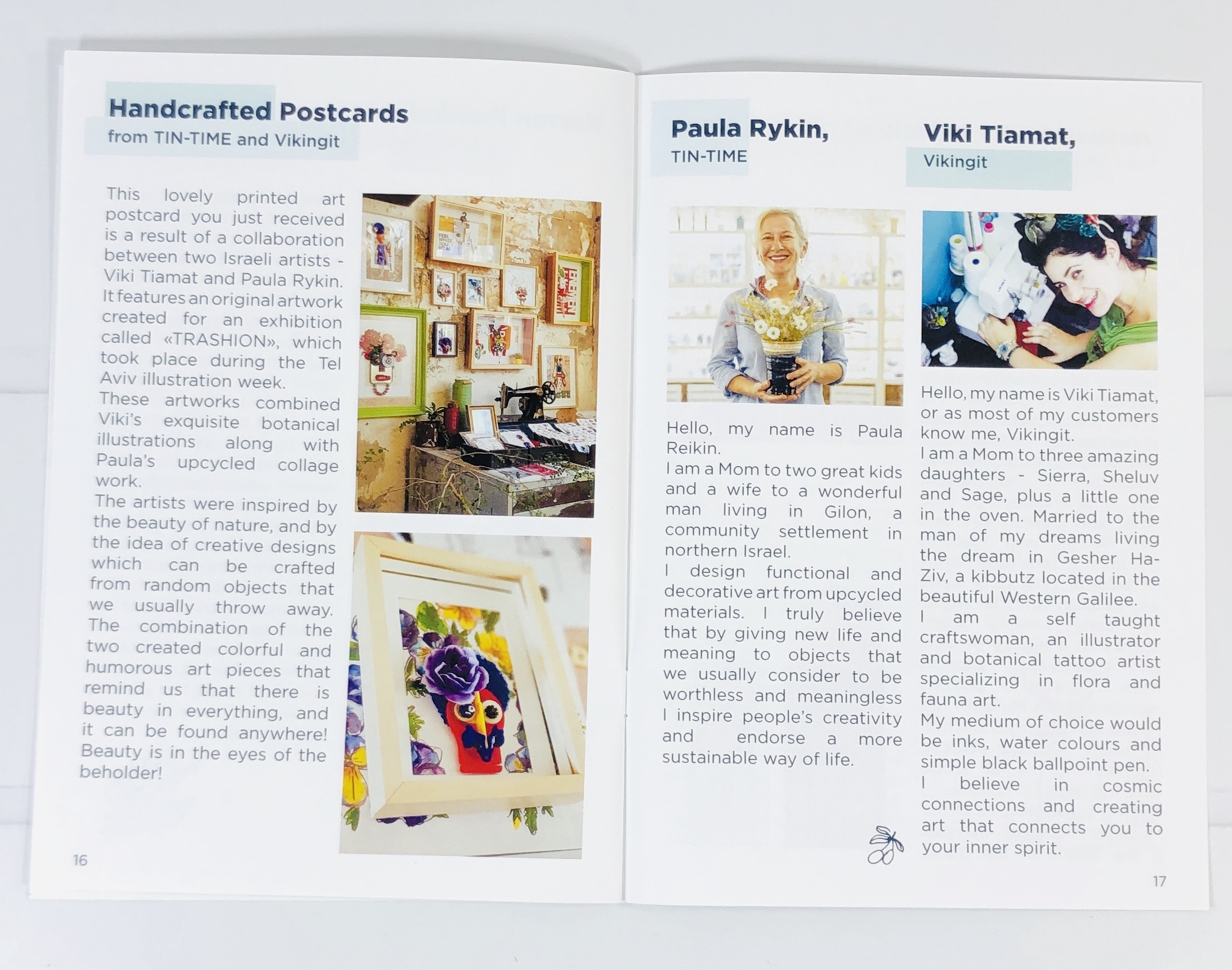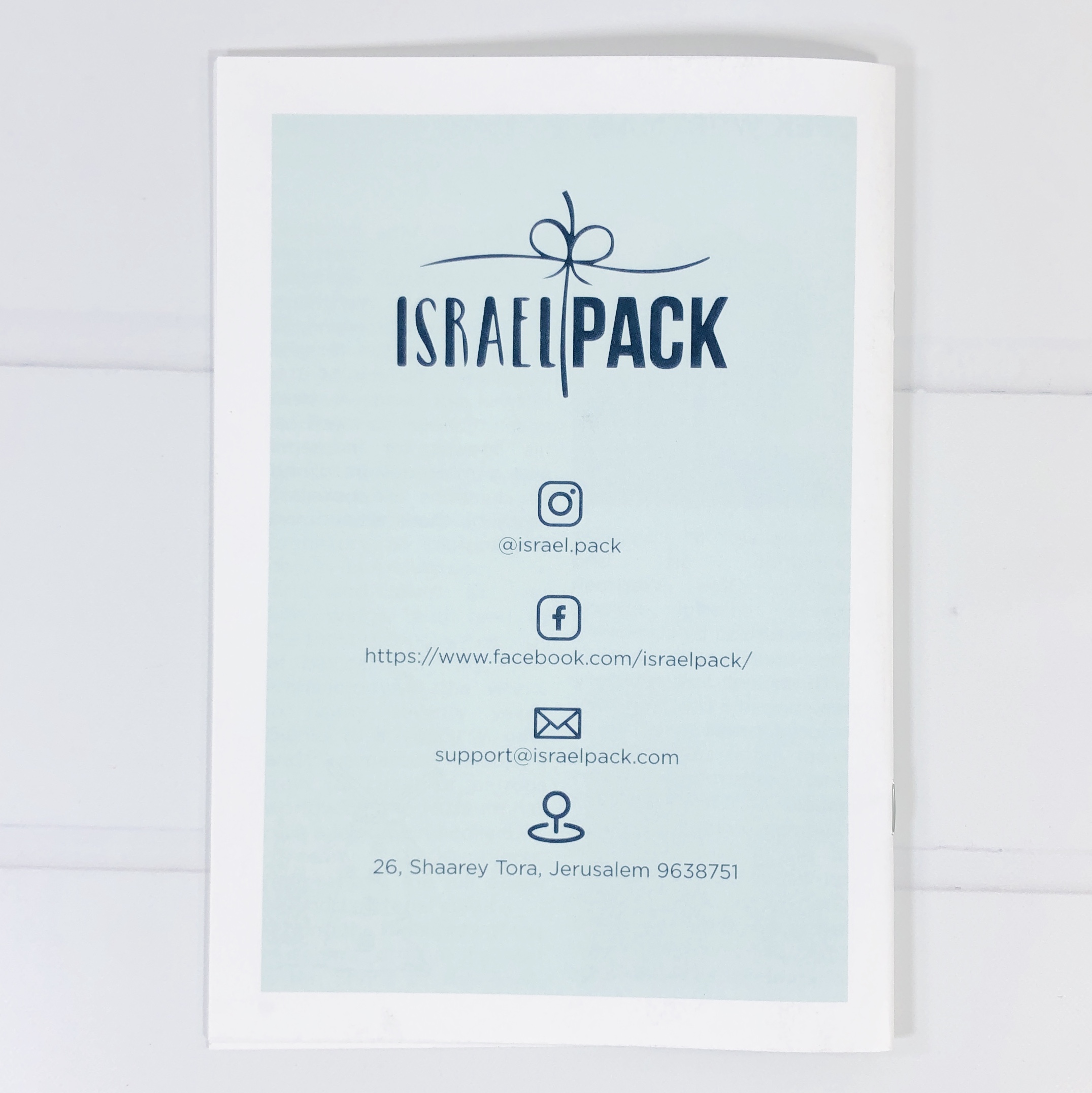 The back of the catalog had contact info and social media accounts listed.
Everything in my box!
Please note: These items shipped direct from Israel and the writing on the containers is in Hebrew, which I cannot read. I linked to websites where available, but you may need Google to translate the linked pages.
The experience this month was like opening presents, each item had a description on a sticker and was wrapped. It's like someone visited the Holy Land and brought back gifts!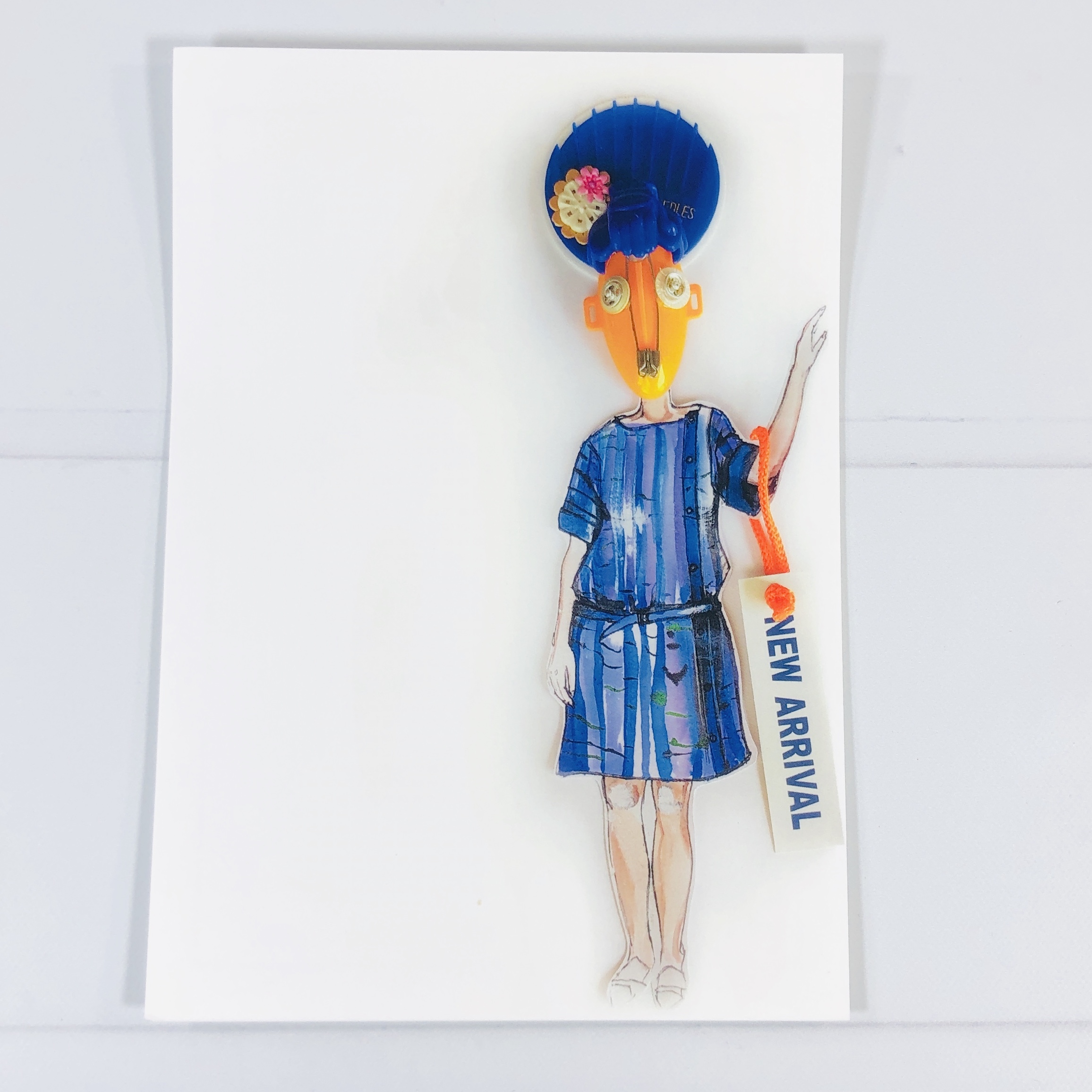 Handcrafted Postcards from TIN-TIME and Vikingit I received a striking postcard/desk art print from a collaboration between two artists. The print is 7″ x 5″ and is printed on matte cardstock.
The back of the card had info for the artists and the design was for an exhibition called TRASHION.
Our next item is an edible!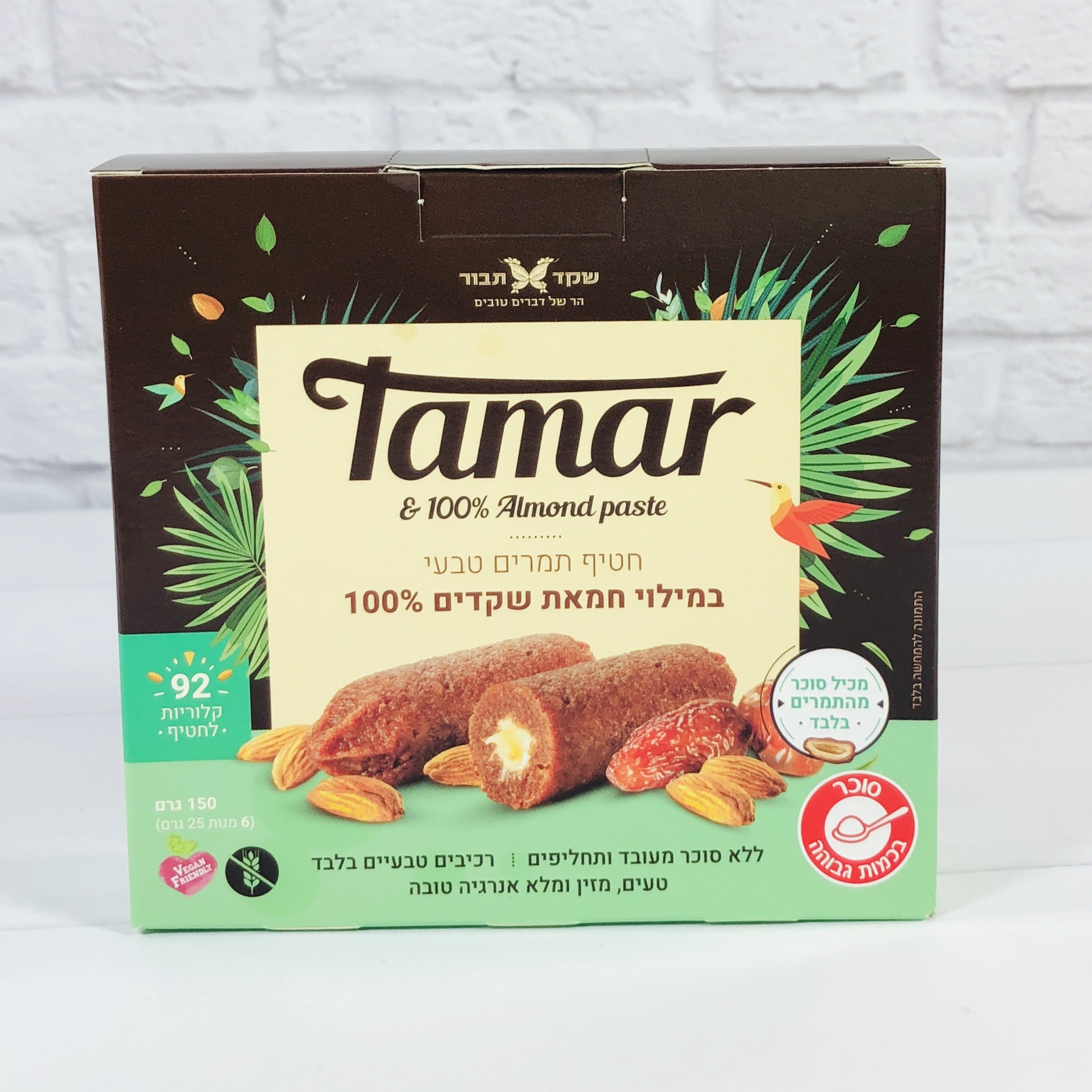 Shaked-Tavor Tamar Snacks with Almond Filling My daughter looked at the name of this snack and reminded me that Tamar was a woman in the Bible. It turns out it is also the word for date, the main ingredient in this snack (the other is almond paste).
There were 6 individually wrapped packs inside. This is a great snack to keep on hand for snacking emergencies because it's all natural, doesn't need to be kept in a fridge, and is sweet but has no added sugar.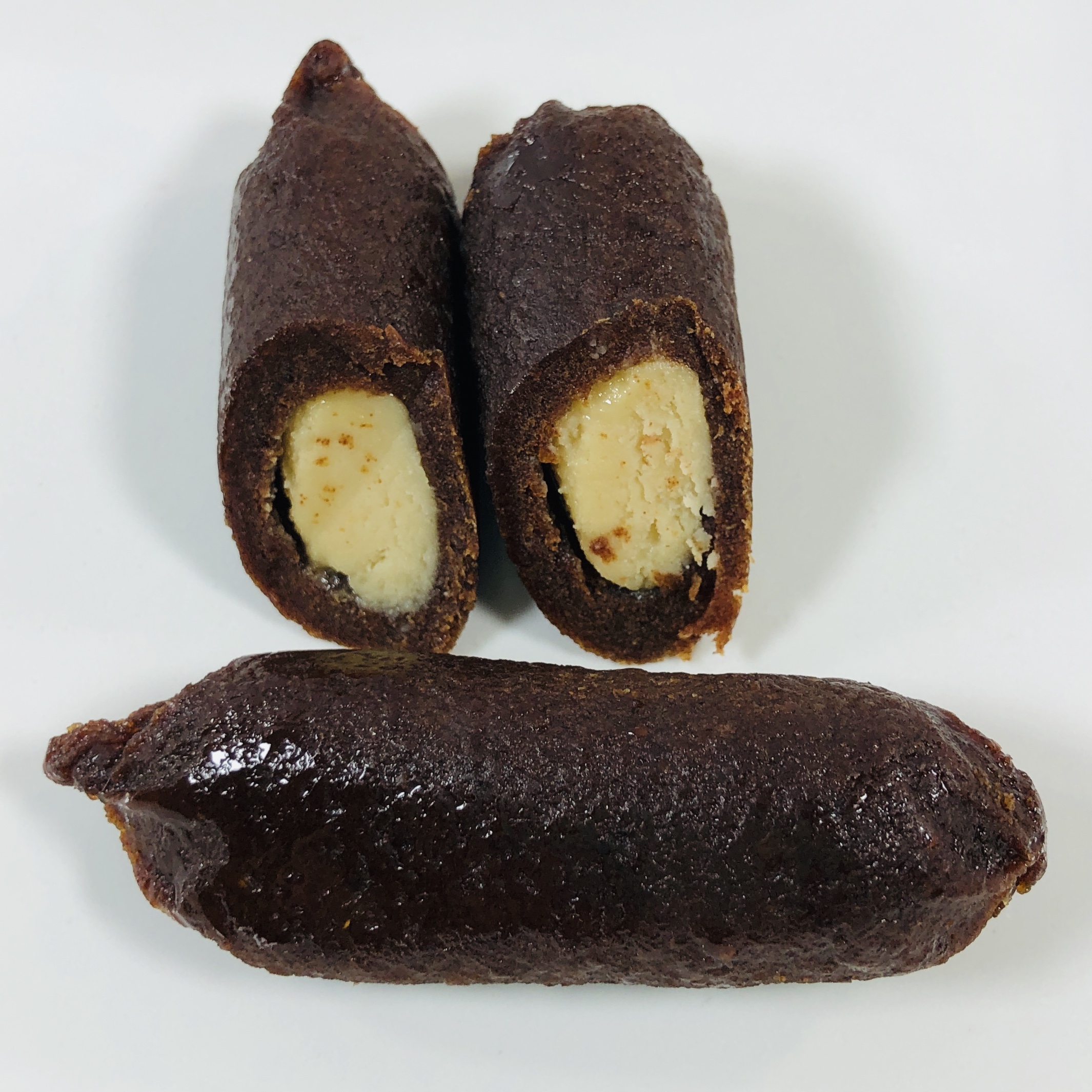 Please don't make fun of me but I couldn't help but laugh when I saw the treat, and no, I'm not 5 years old. I love dates and that was the predominant flavor here, I couldn't even taste the almond. I was expecting a marzipan flavor but this was more like almond butter in the middle. Unappetizing looks aside, I could pop these in my mouth all day, but then I love dates.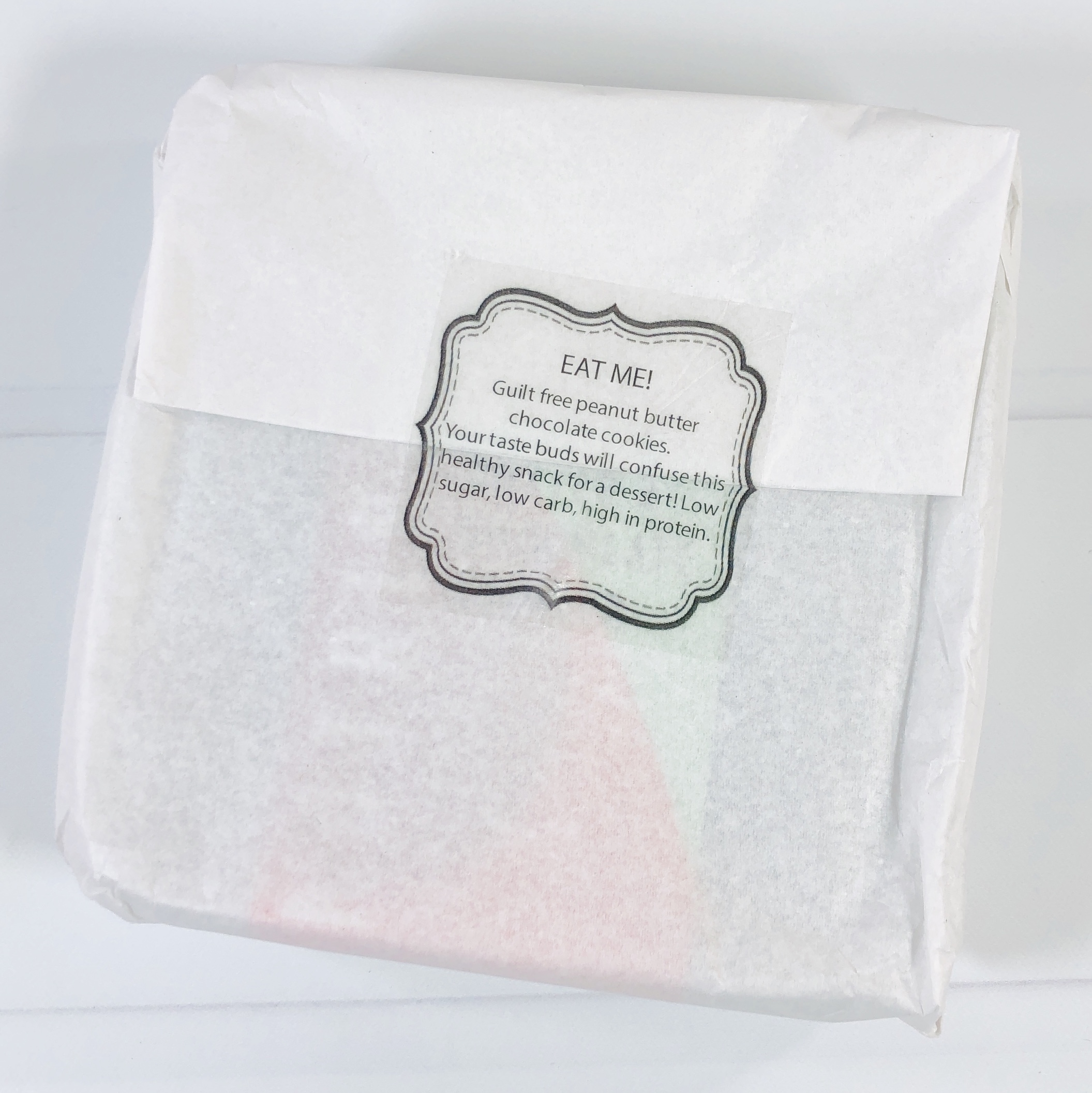 Another edible!
Danyvegalit Bakery Nutribreak Peanut Butter and Chocolate Cookies are mini power bars filled with protein and energy.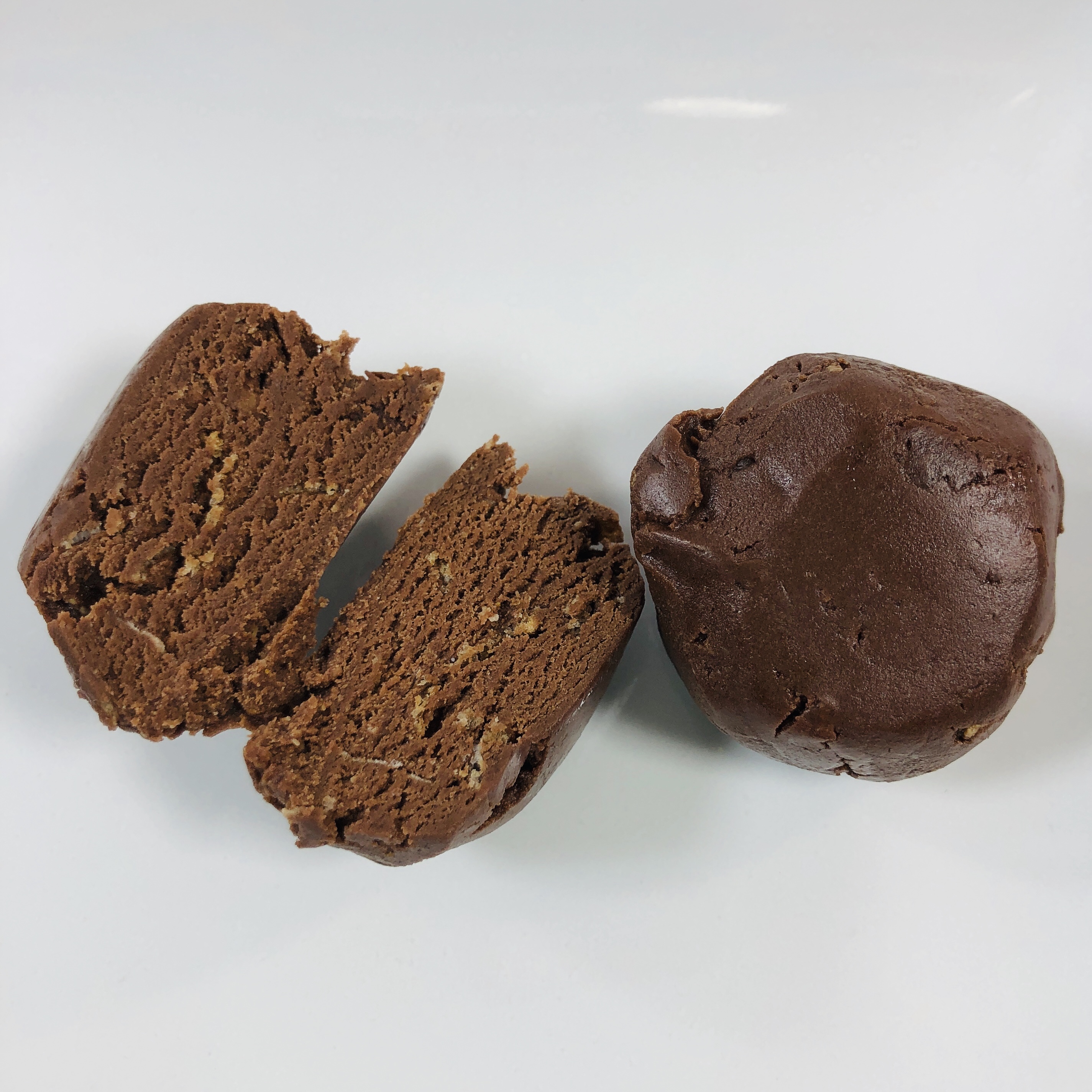 The chocolate and peanut butter flavors are muted a bit, so it doesn't taste like a Reese's, but it tastes similar to other pea-based protein bars. It wasn't as dense as the kind I've tried in other snack boxes, and the sweetness level was perfect, not overly sweet like similar products.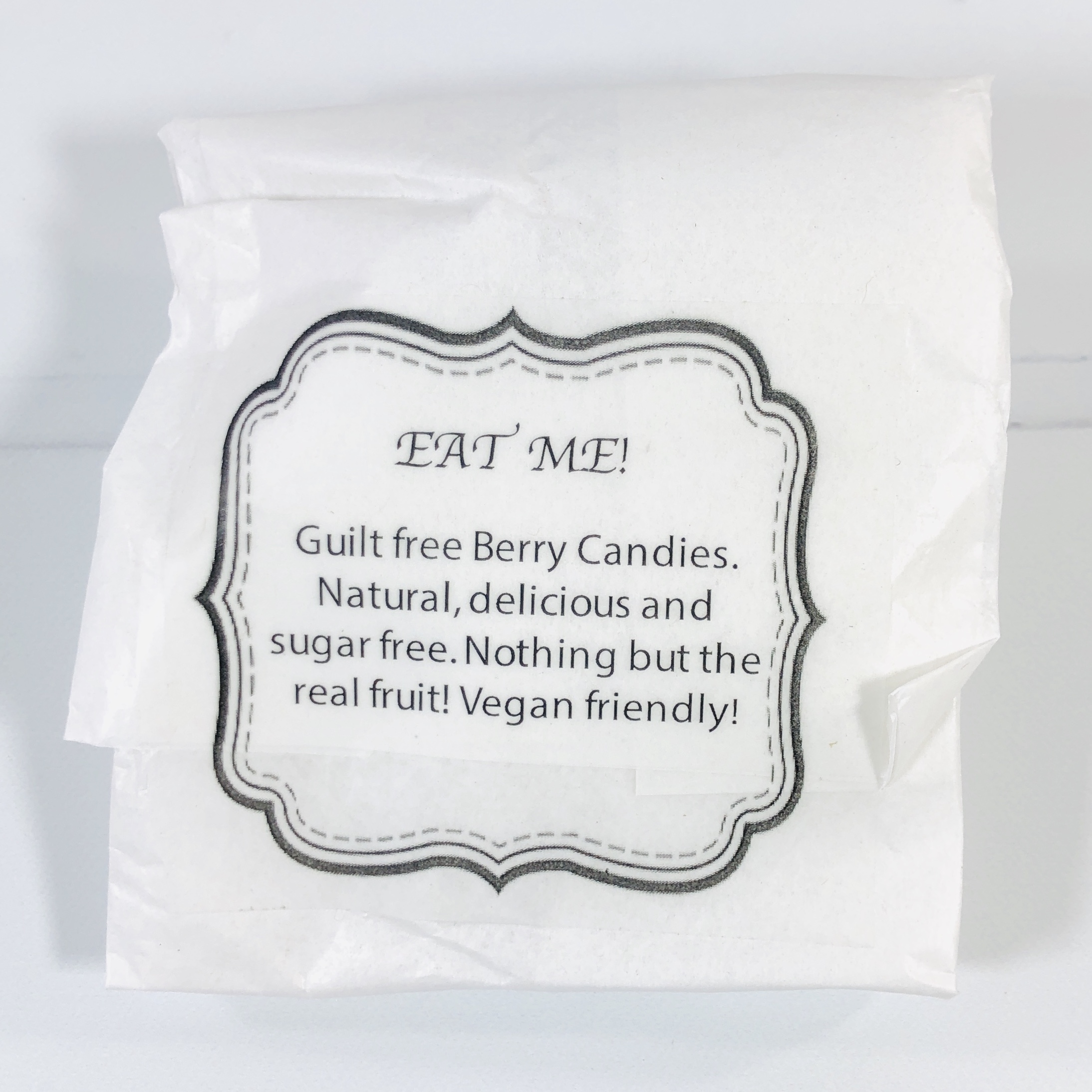 This sure is a food-forward box for June!
Shaked-Tavor Exotic Berry Snack I was expecting these to be similar to gummy fruit snacks but these were all natural and remind me of the fruit leather my mom would make when I was a kid.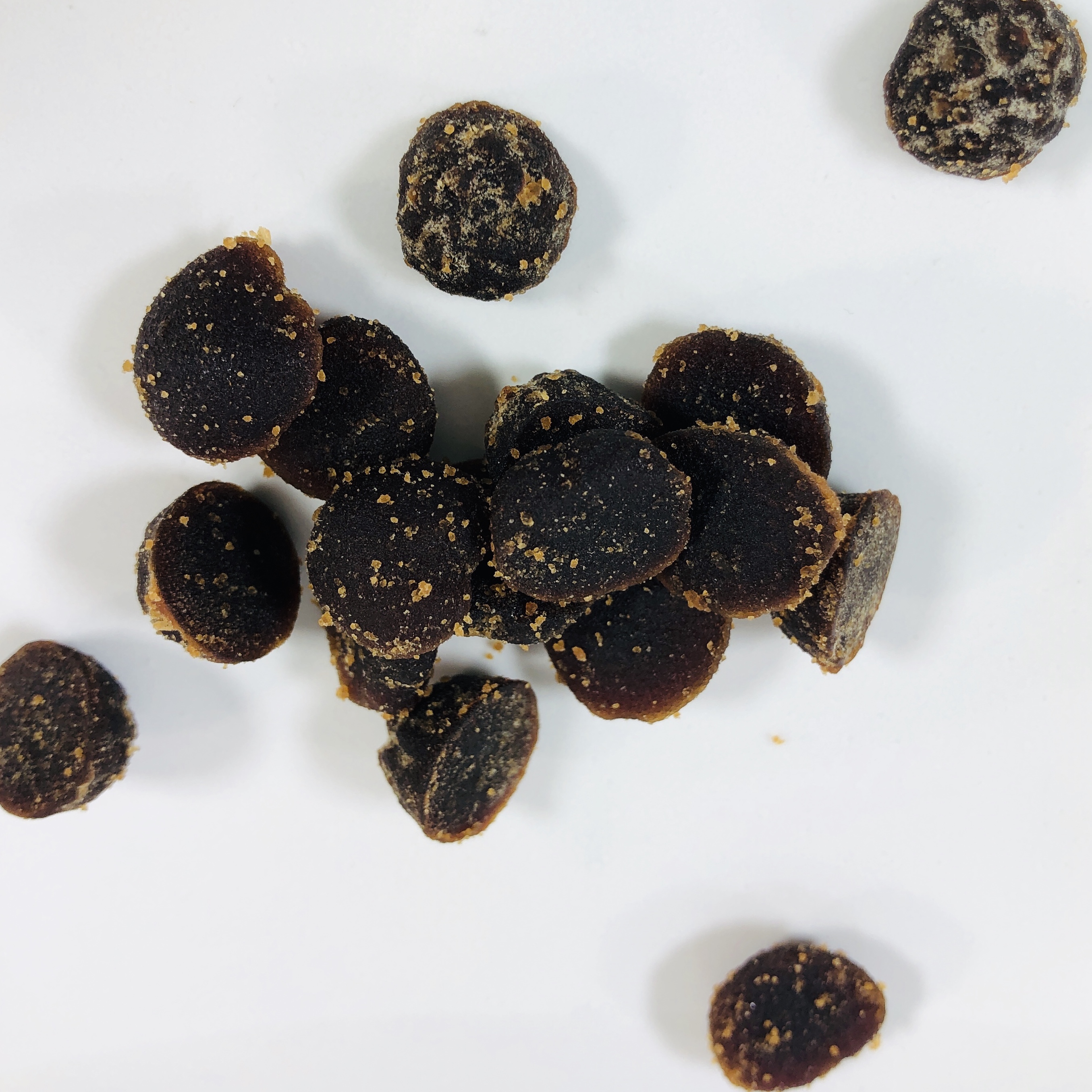 They are chewy and don't have the same consistency as gummy snacks, but are closer in texture to the date snack shown above. Everyone in my home agreed they were super tasty, they were fruity but I couldn't say 100% which fruit. Judging by the packet I would say berries, apples, and currants.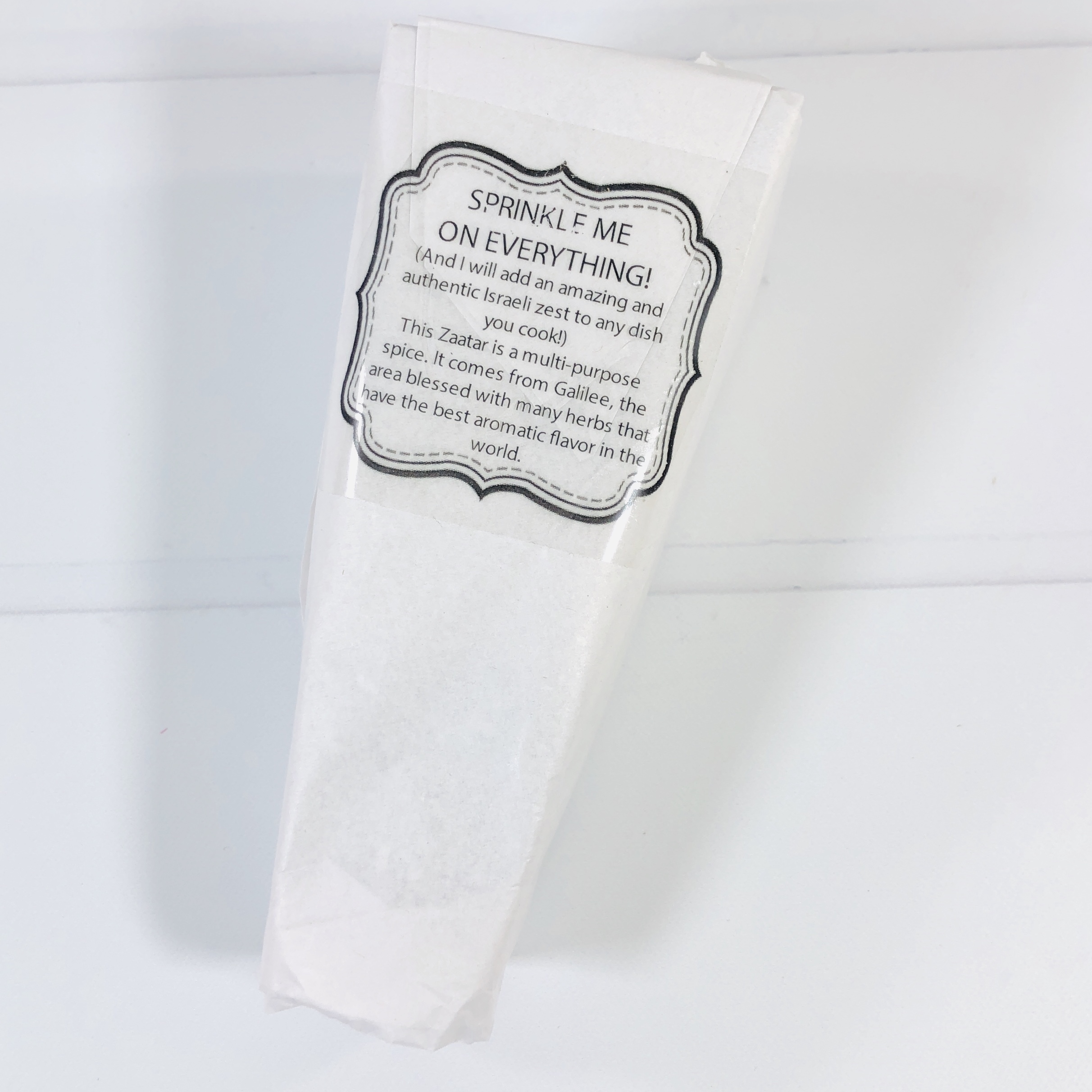 I don't have this spice blend in my cabinet so I am excited to see what it's all about!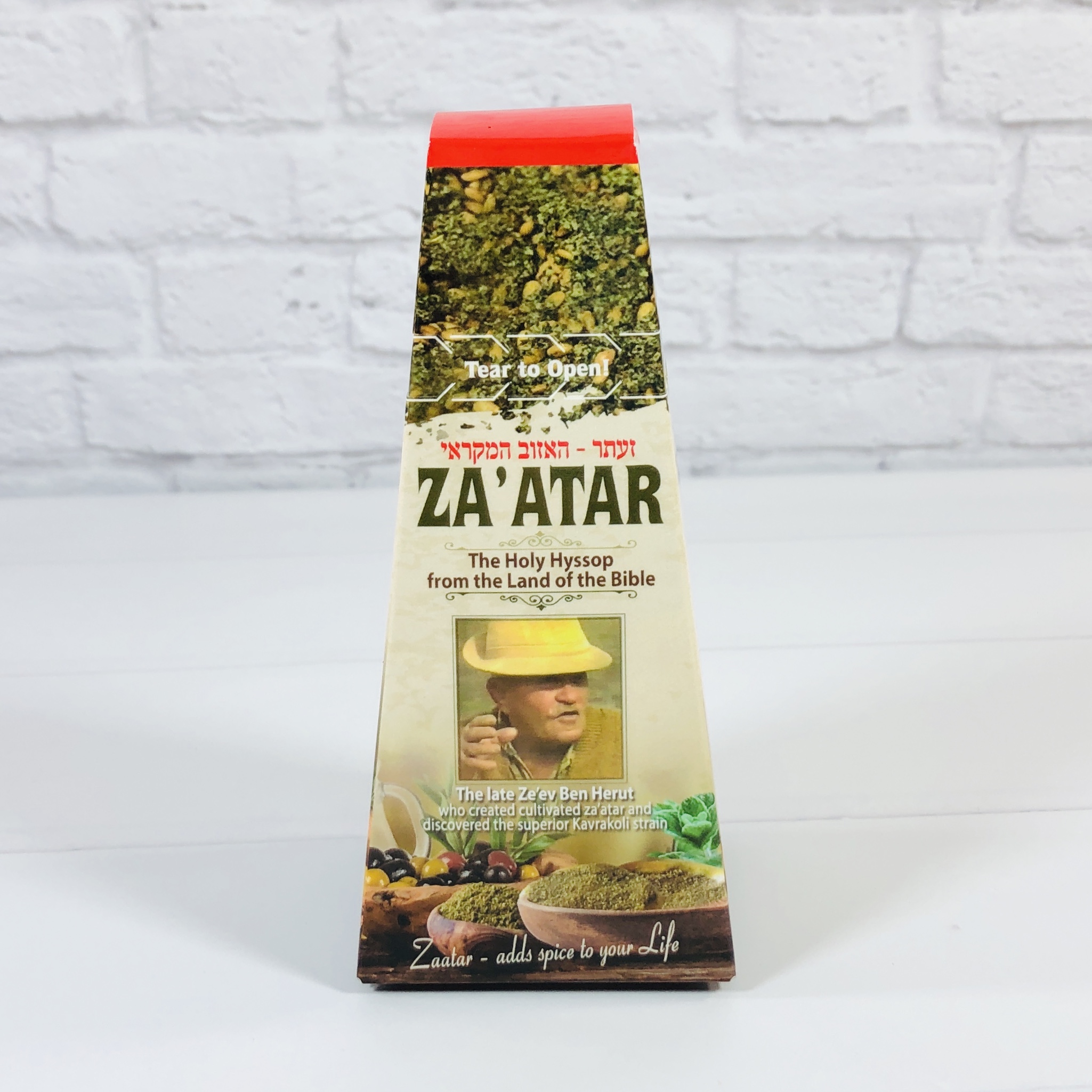 Izrael Zaatar Biblical Hyssop Zaatar Galilee Aromatic Blend ($10.20) The blend can be sprinkled onto all kinds of food items like pizza, salads, soups, vegetables, and recipes that specifically call for it. I think it would be amazing mixed with olive oil as a bread dip. I would use the olive oil from the last box but I used that up already, it was so good.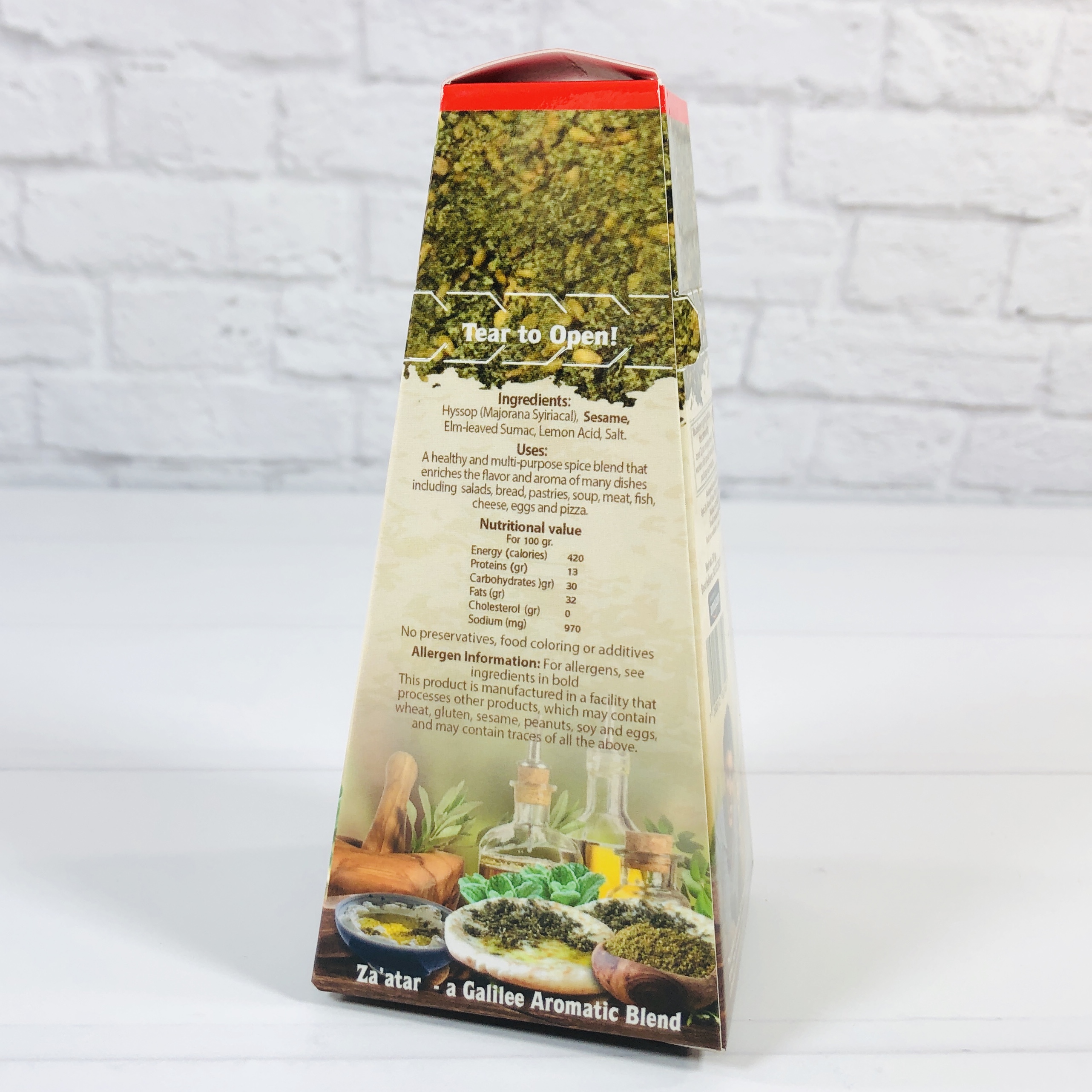 The ingredients are hyssop, sesame, sumac, lemon acid, and salt.
I think I messed up by taking it out of the box, but now you can see what it looks like. It smells and tastes similar to oregano but the toasted sesame seeds take it up a notch.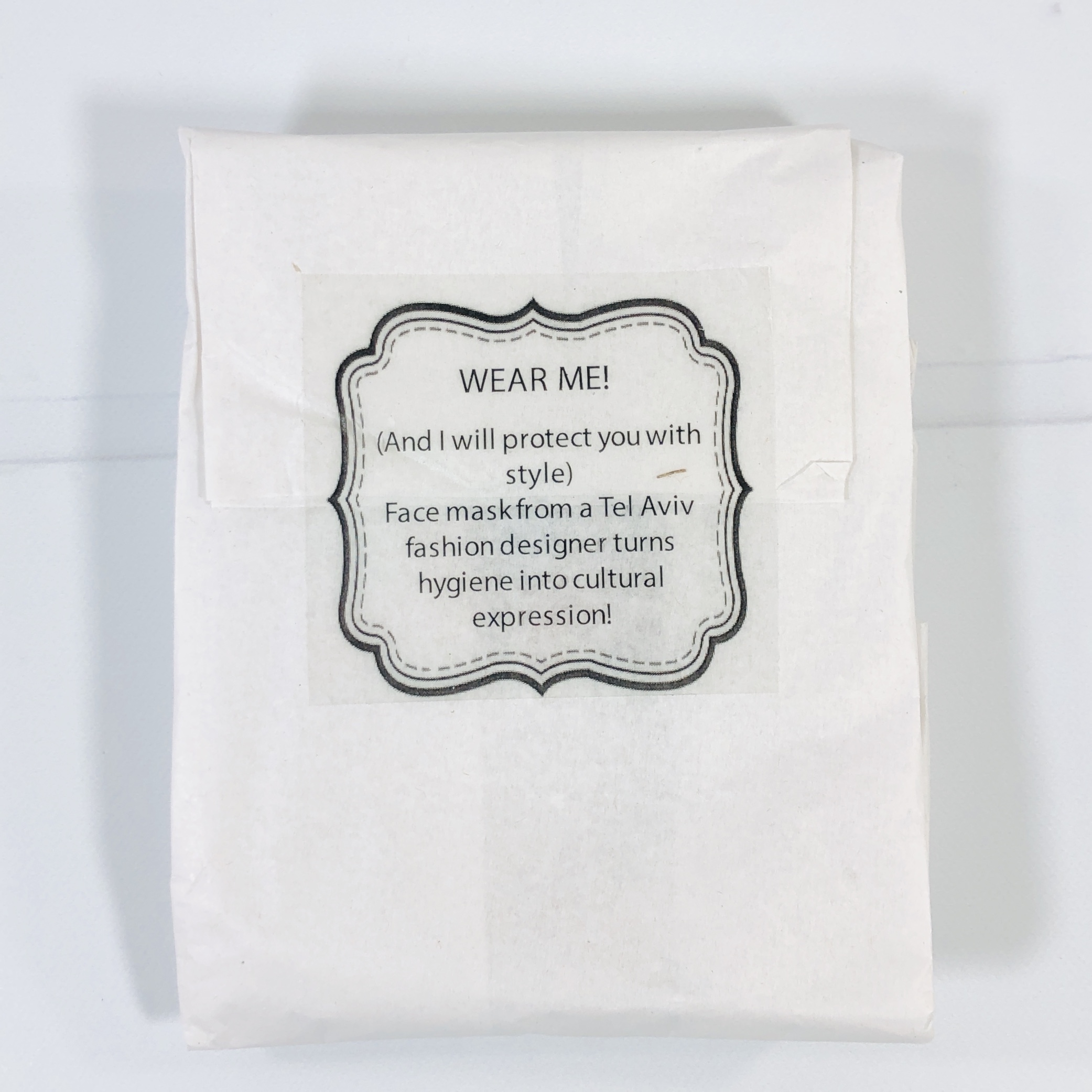 I think I can guess what this next item is!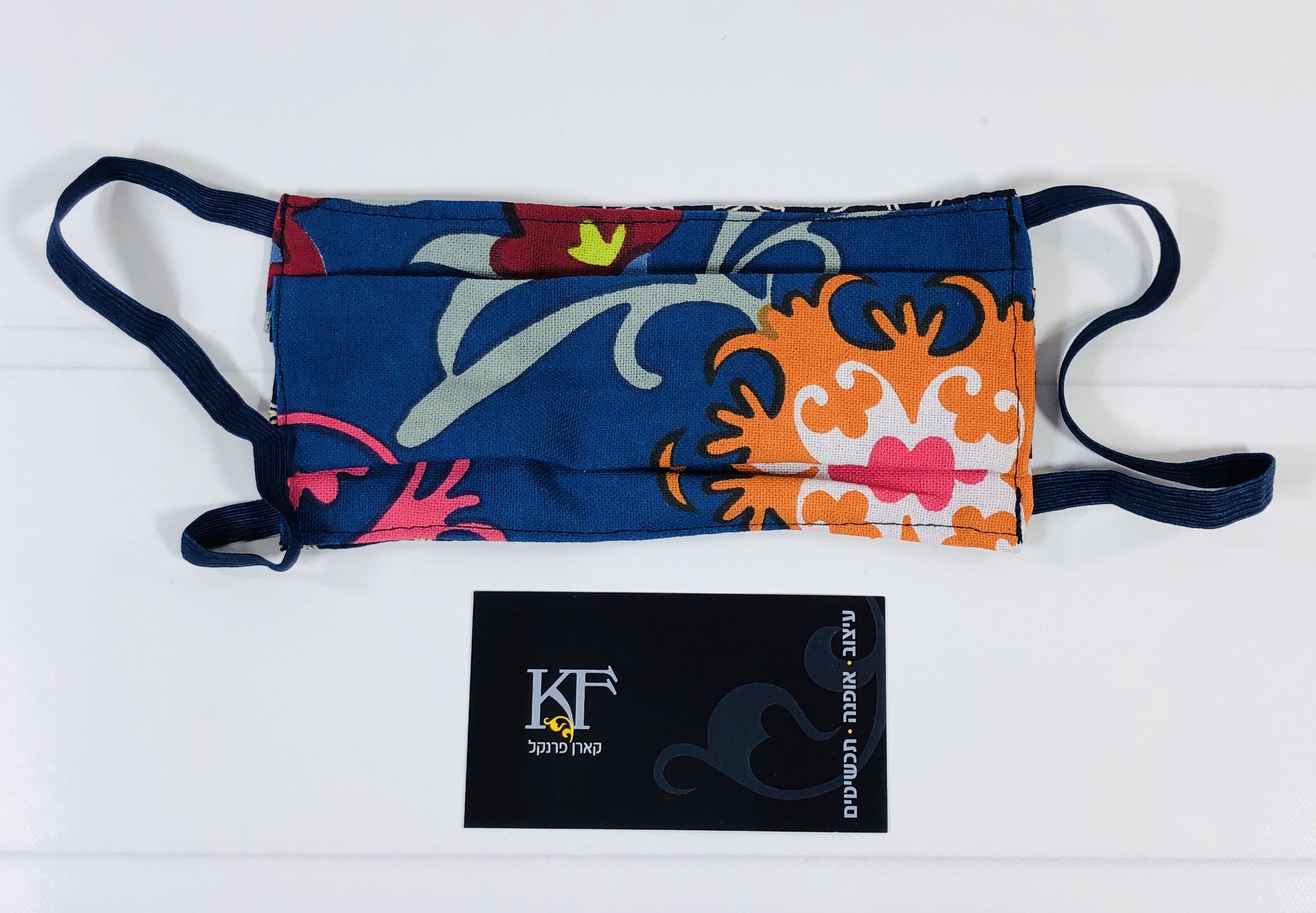 Karren Frenkel Jewelry Fashion Designs Face Masks It's a face mask! I am really excited to have a new mask to add to my very small collection, and this one is double sided. One side has vibrant colors, but the background keeps it from being super bright.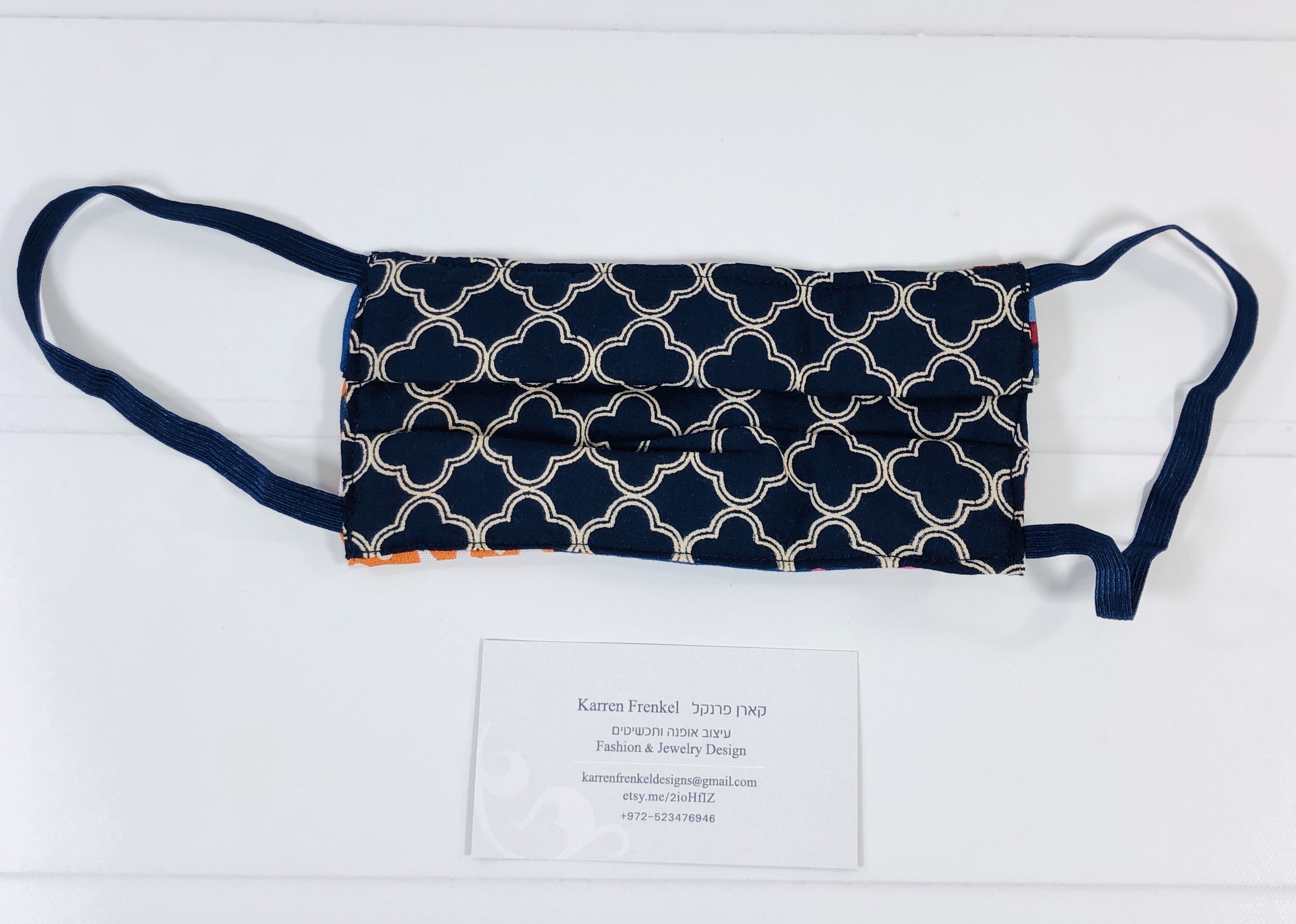 The other side has a more refined pattern and I like that, subscribers can wear the pattern they prefer facing out.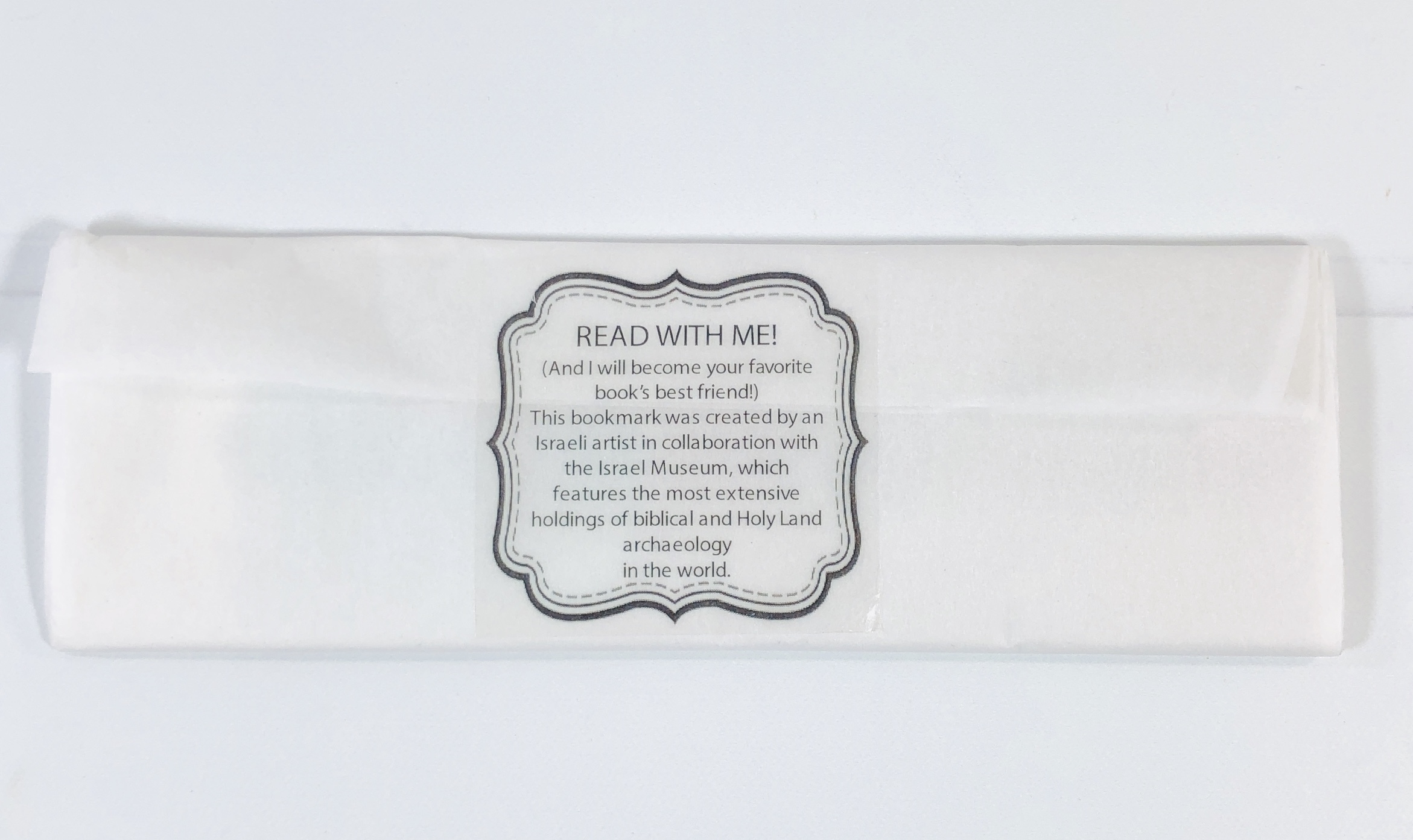 Our next item is a bookmark, and I have been reading a lot lately so this really appeals to me.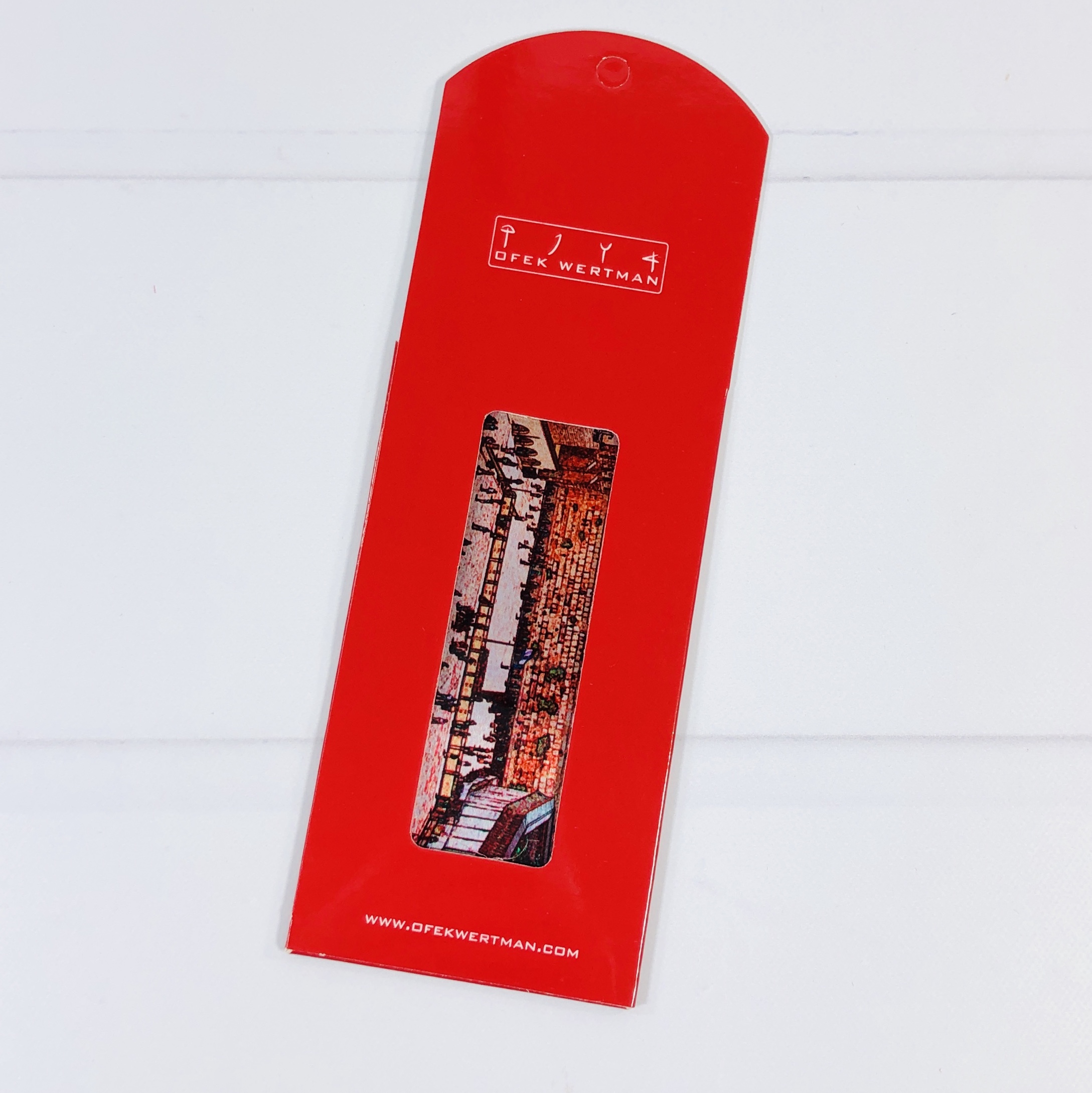 Ofek Wertman Jerusalem Bookmark ($7) It came in a giftable holder too.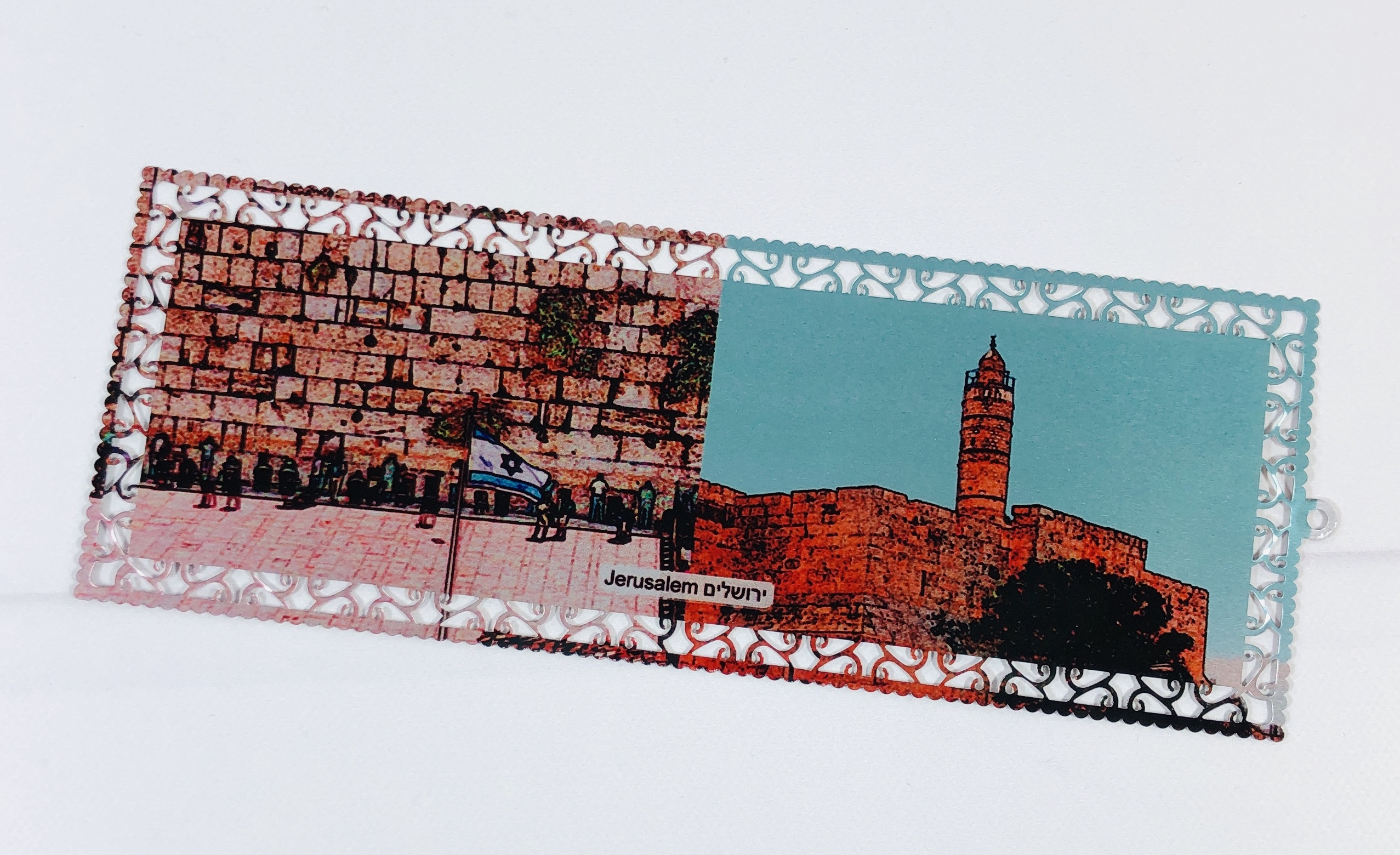 The material is aluminum and the die cut around the edges is very intricate and lovely.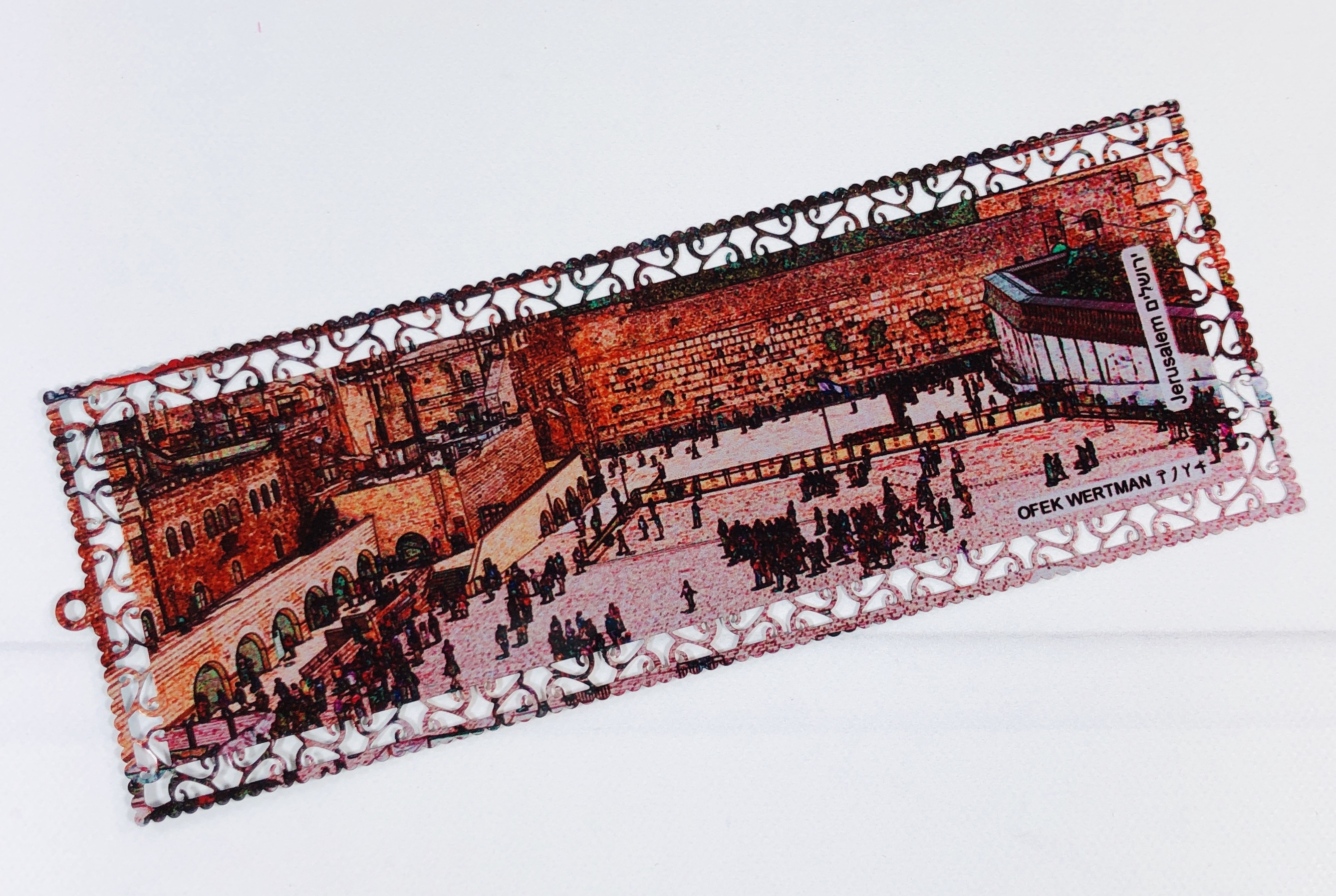 Both sides feature sites in Jerusalem.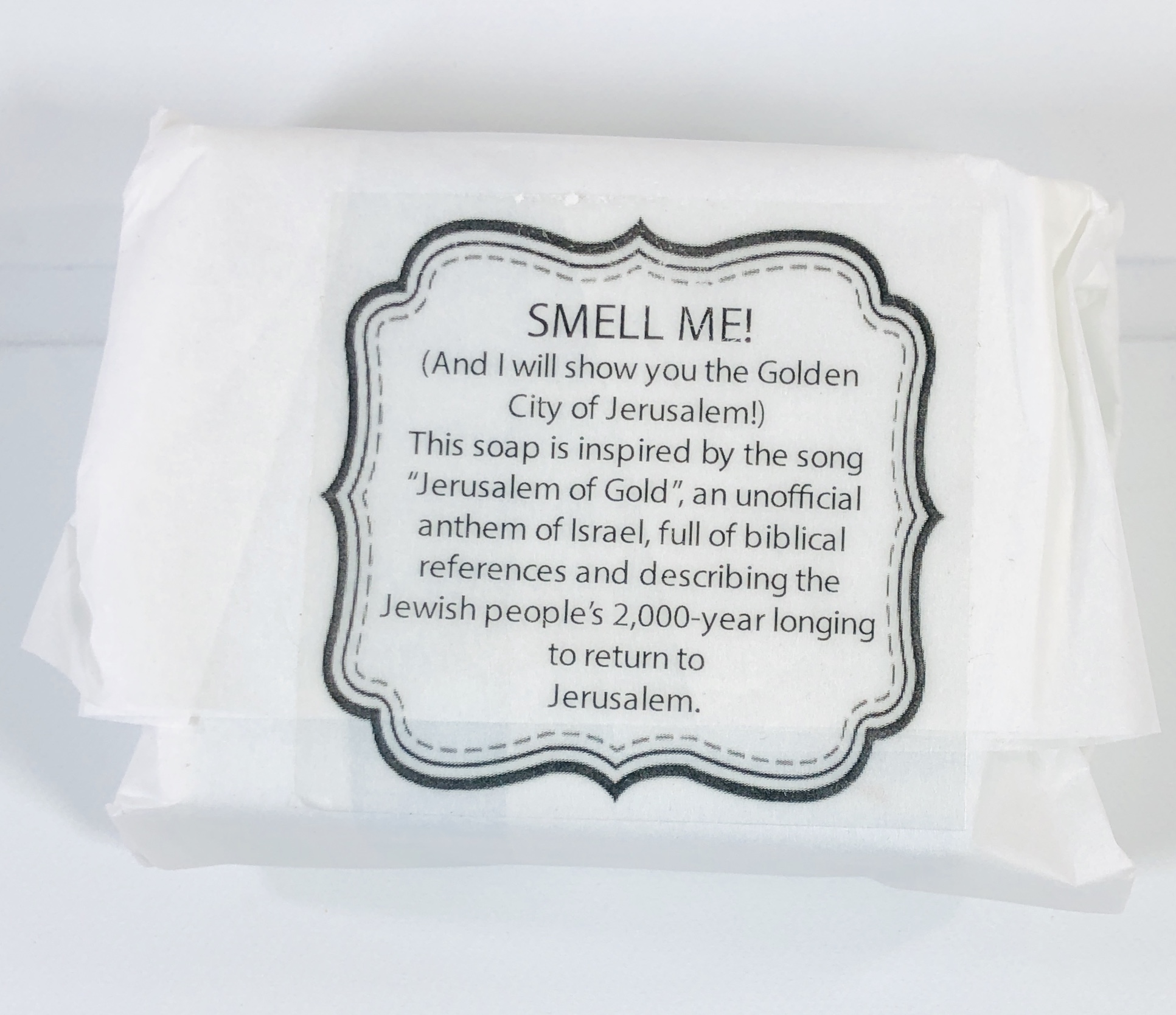 Next we have a beauty item!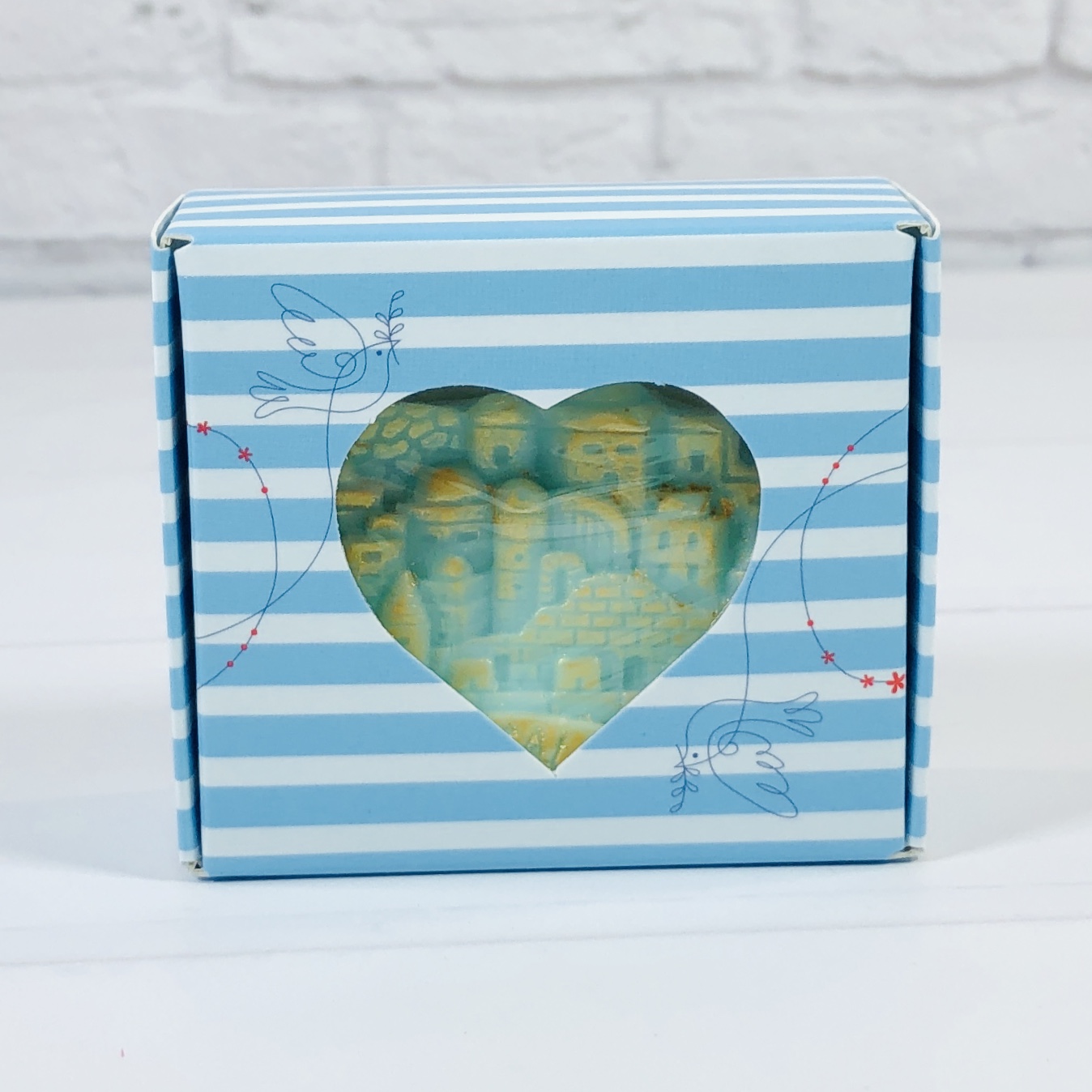 Meydale Soaps Jerusalem Of Gold Scented Soap came in a gift box with doves on the front.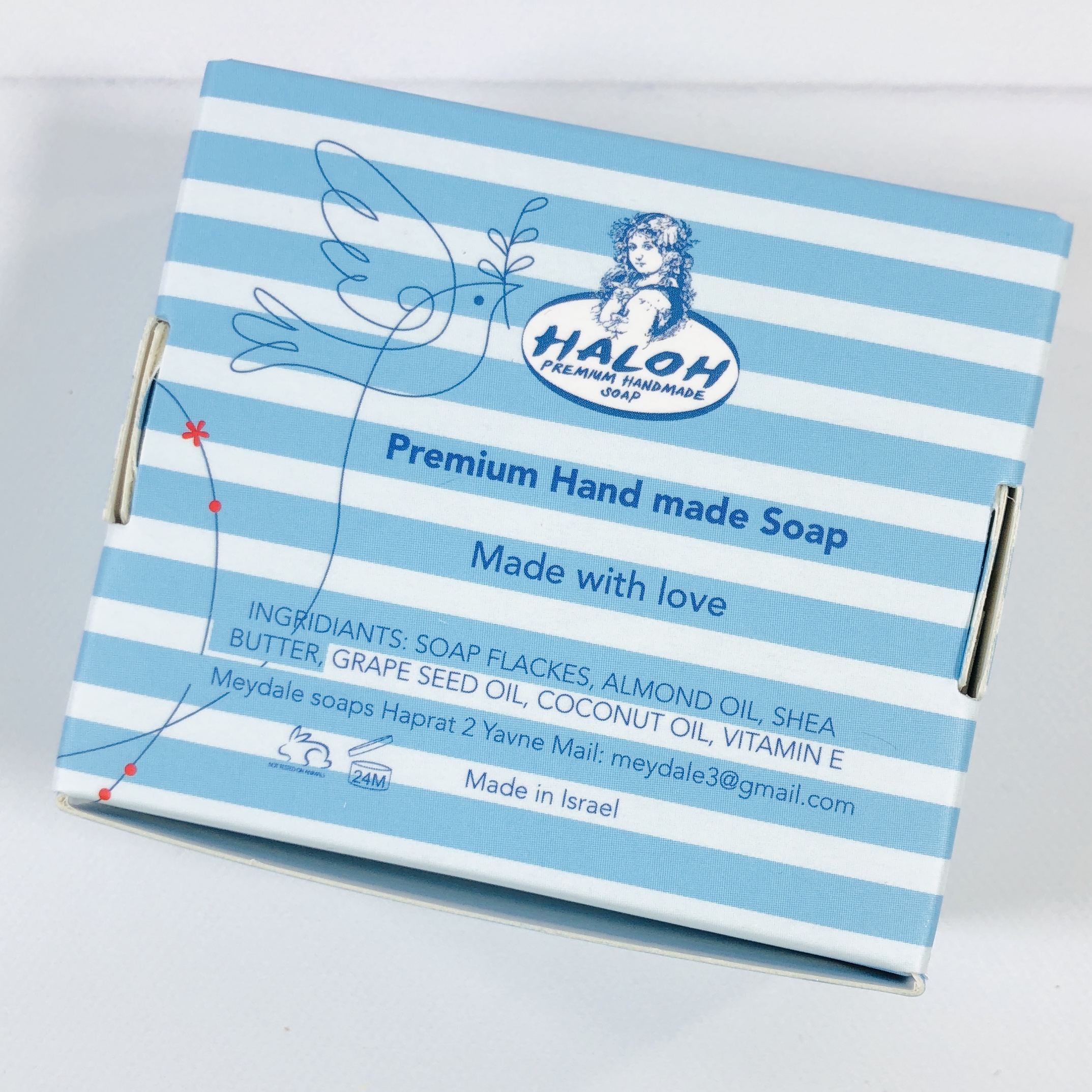 The soap ingredients were on the back.
It is dusted in gold! So pretty, and although parfum wasn't listed in the ingredients, it has a fresh floral fragrance.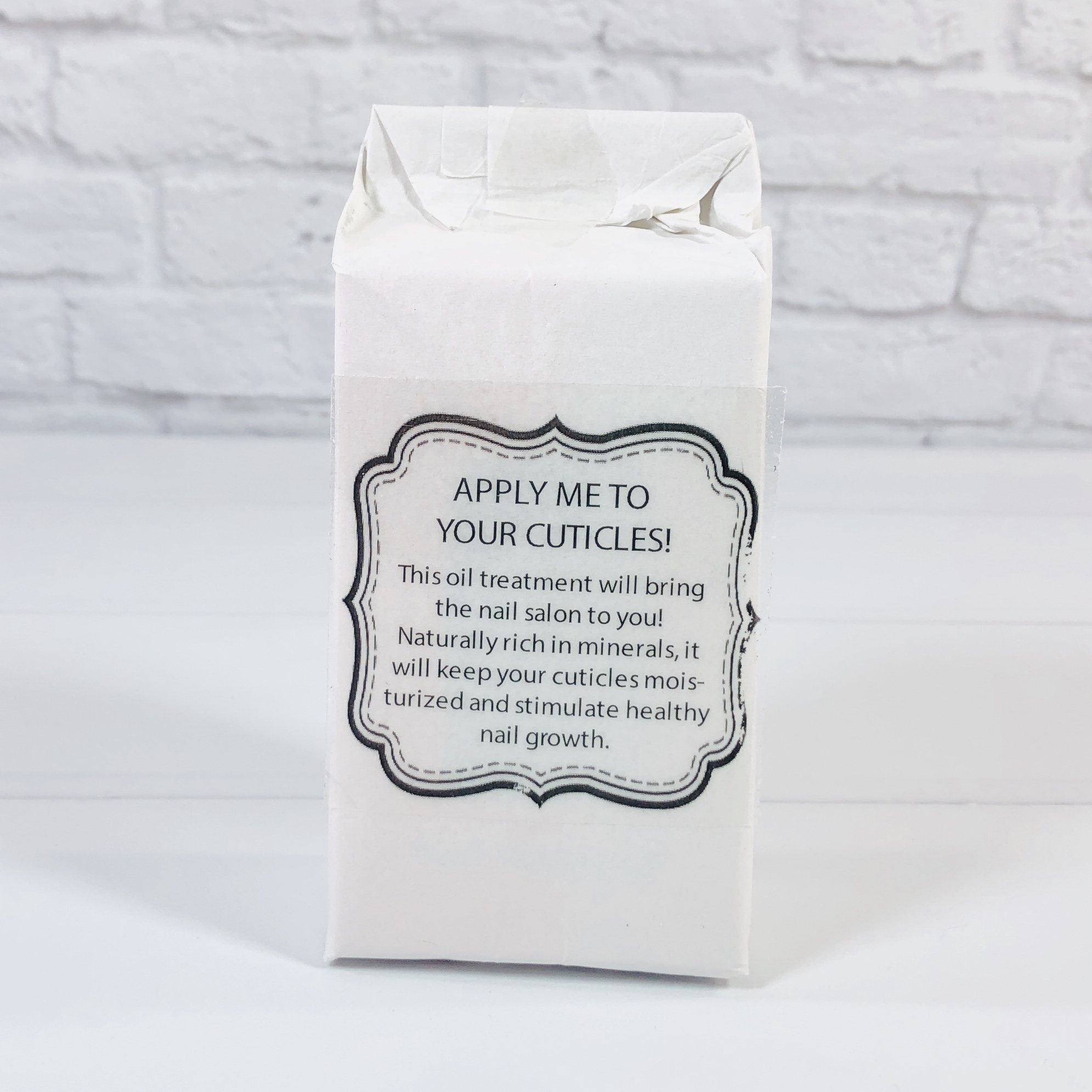 Here is the first of two nail products in the box.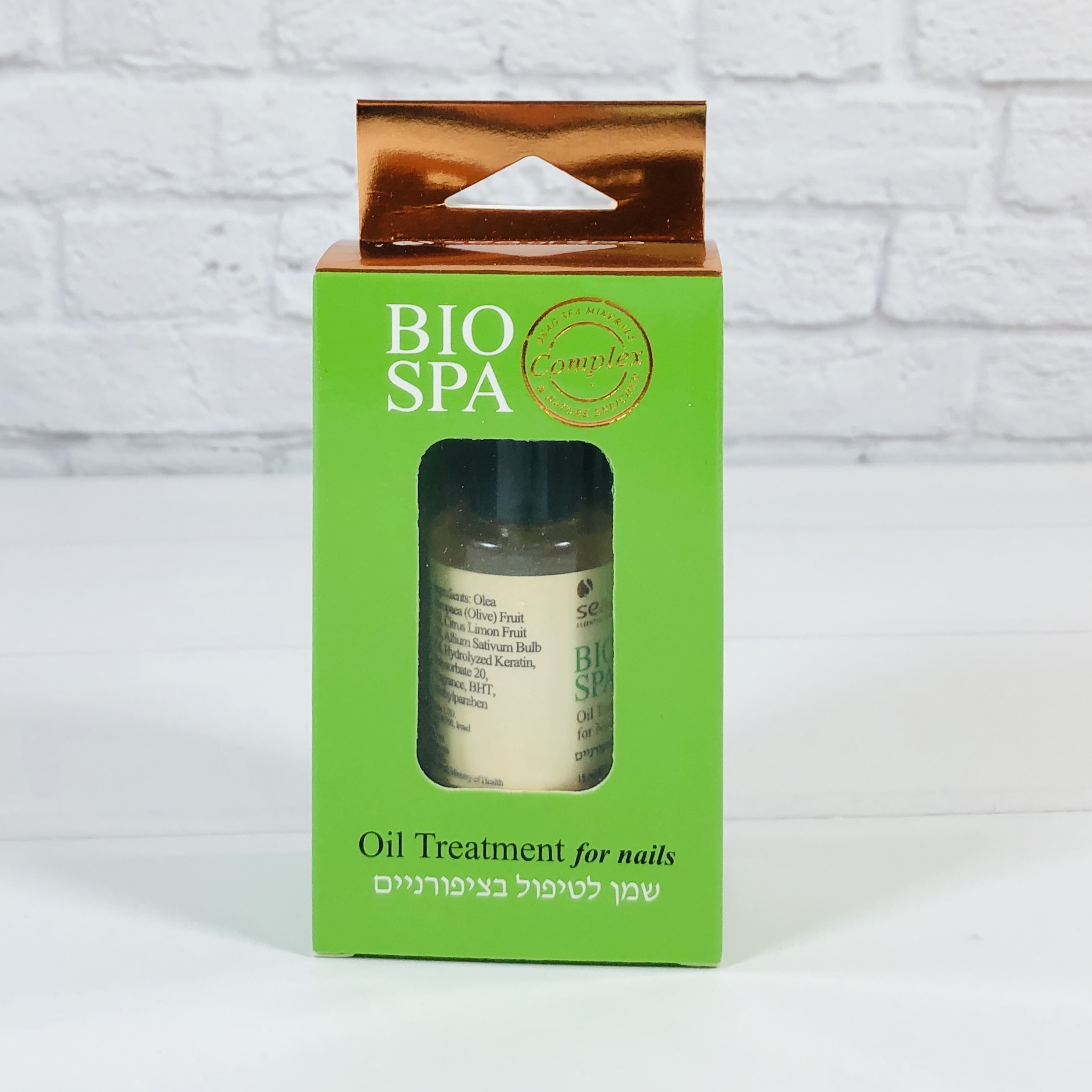 Sea of Spa Bio Spa Oil Treatment For Nails ($11.99) My nails can always use some extra help and this oil is meant especially for brittle nails or for nails that have recently had professional nails removed (or maybe they've come off thanks to quarantine, my daughter had to pick her dipped nails off).
The ingredients were listed on the box and include olive oil and lemon oil. Please note that this item isn't free of parabens (the link says it is paraben free).
Just brush on nails and cuticles and rub in. The product feels oily and smells like citrus!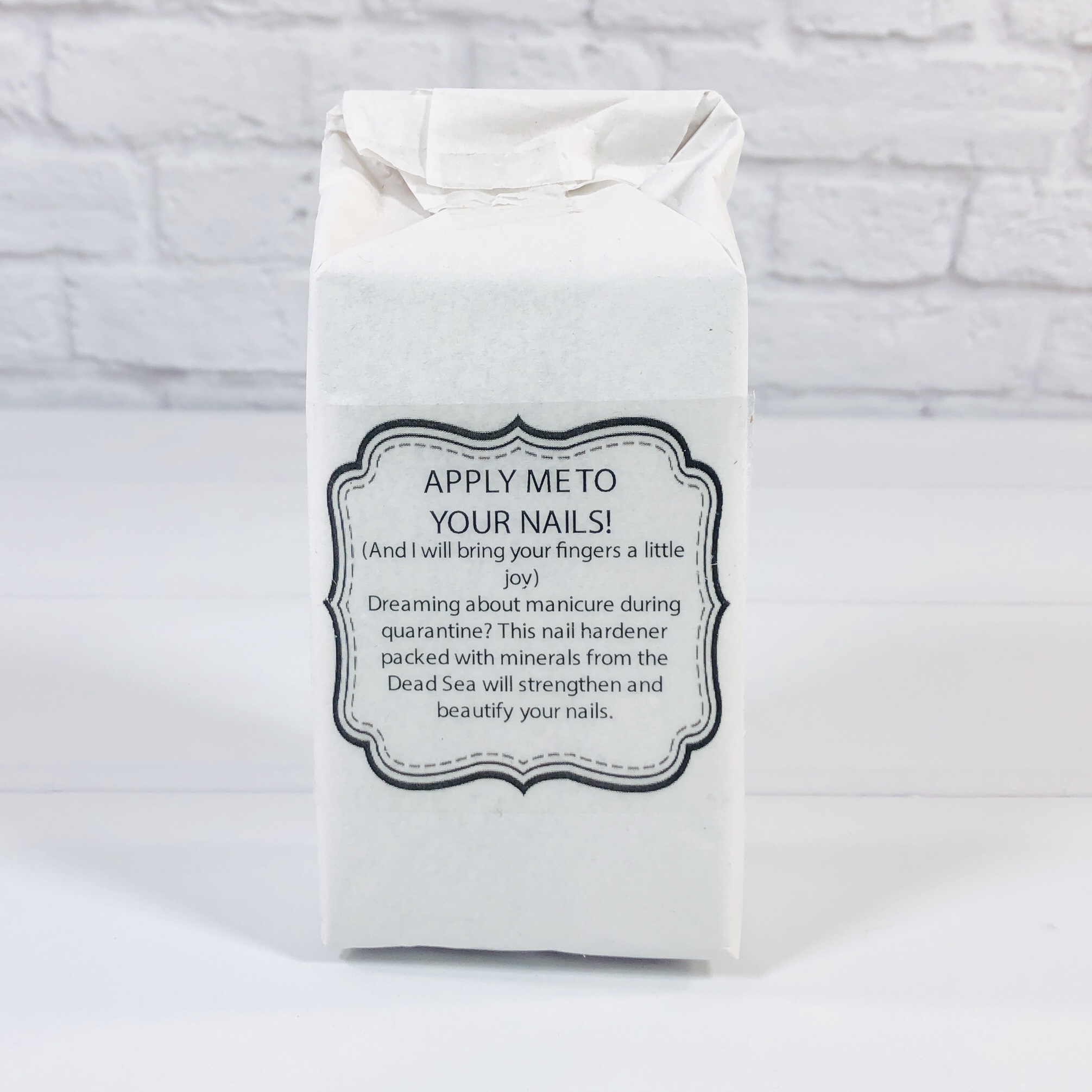 Here is our second nail item!
Bio Spa Sea of Spa Nail Hardener ($11.99) can be used as a base coat or as a treatment to help nails grow longer.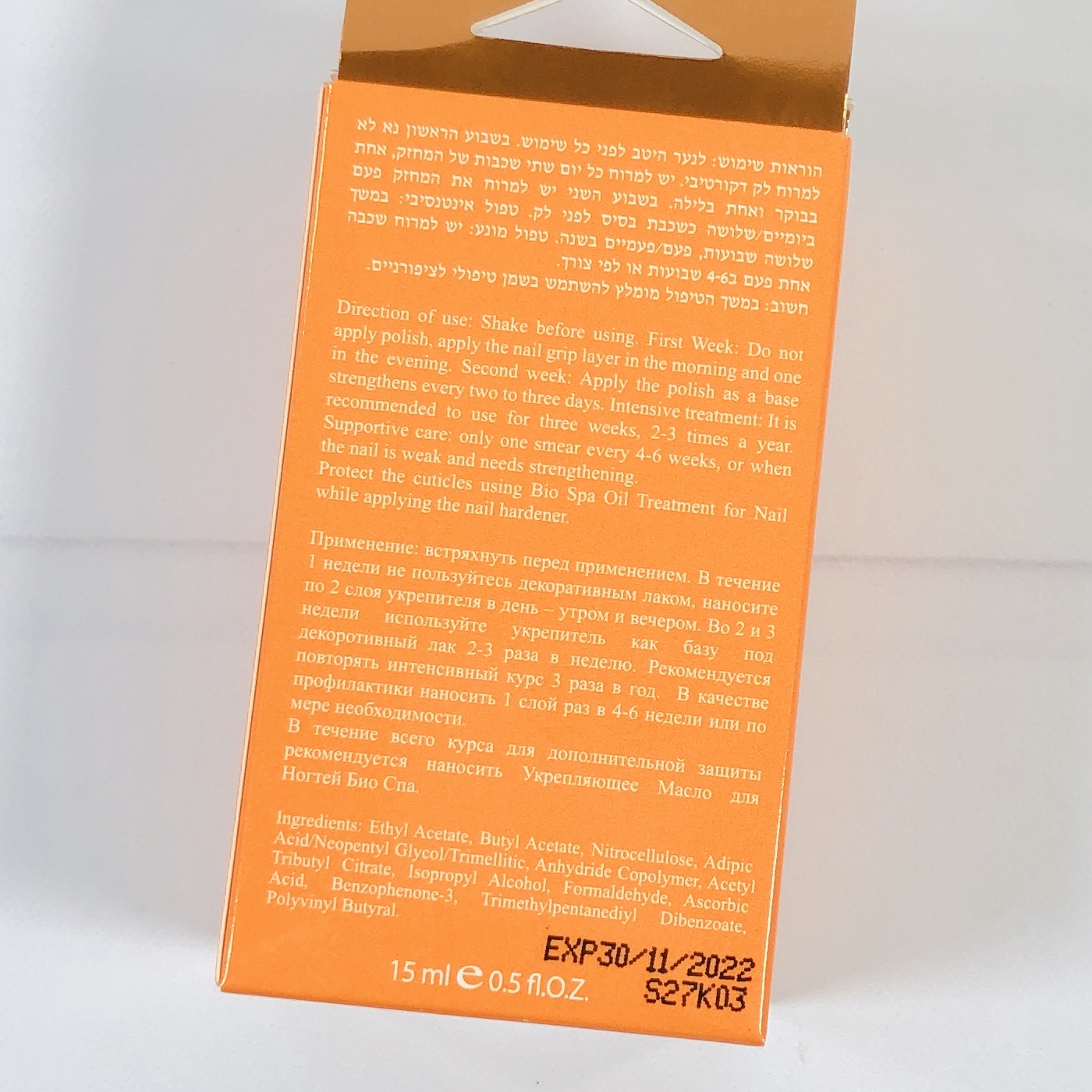 Ingredients were listed and I was surprised to see formaldehyde, which is one of those ingredients I rarely see in nail products in the U.S. anymore due to safety concerns as it can cause an allergic reaction. According to the FDA, this ingredient may actually lead to weaker nails in the long run.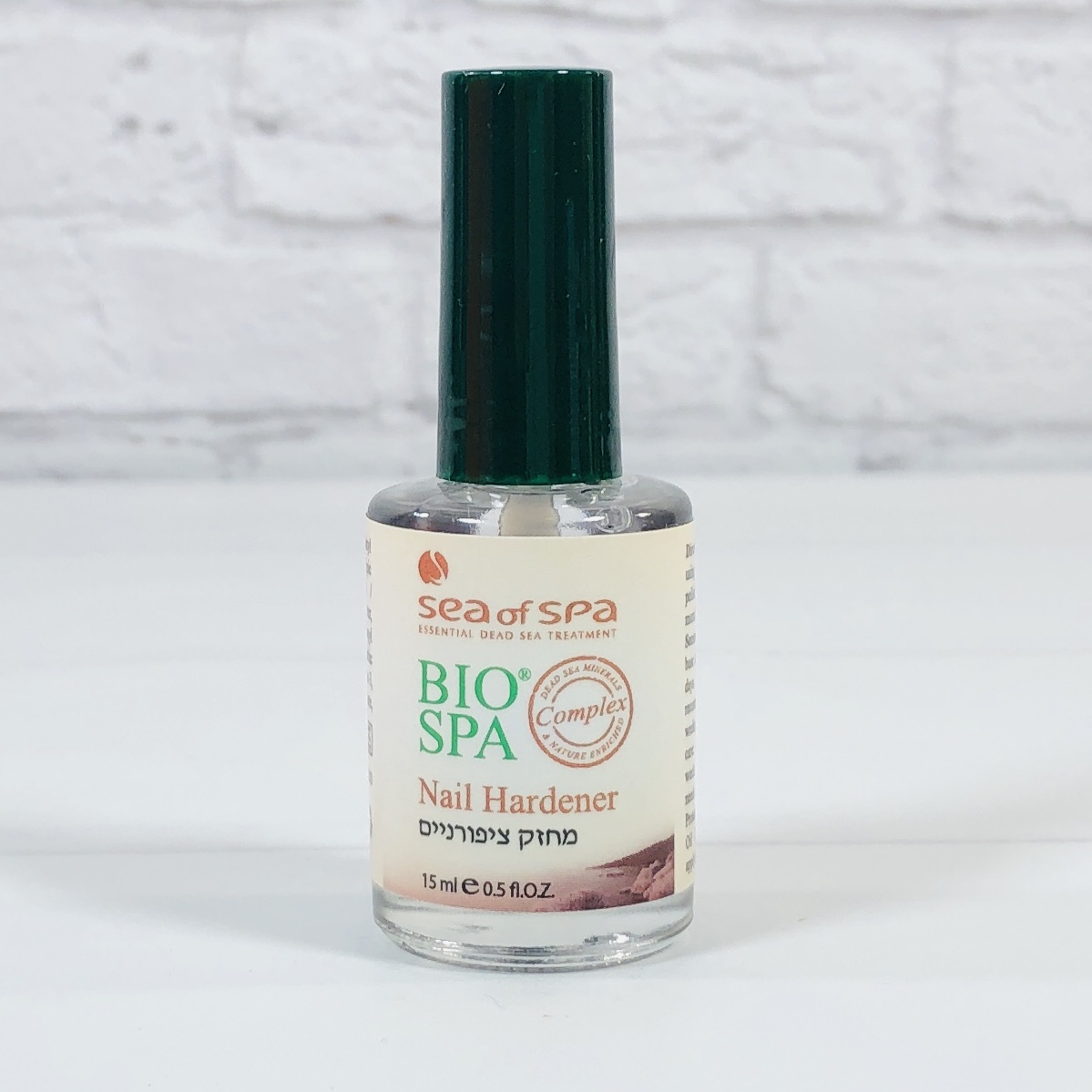 The nail hardener smells like typical nail polish and I may end up using it as a toe nail polish base, since those nails are weaker anyways thanks to my reliance on salon pedicures (and oh how I miss my pedicures!). This way I have less exposure to the fumes.
I am really enjoying the items I received in my June Israeli Pack! It is interesting to read all about the makers and their stories, plus I love learning about another country. I share the info and items with my family so they can learn too. The map is very cool, I think my oldest is going to put it on her wall, she hopes to go to Israel someday soon. I really needed another mask and this one will go into my purse for those essential visits to the store. I will use the bookmark and can't wait to make something with the zaatar. The snacks were very tasty and the soap, art, and nail products rounded out the box nicely. I really could see someone bringing these products home from a vacation so they fit the theme very well!
What do you think of the Israel Pack review? Let us know your thoughts!