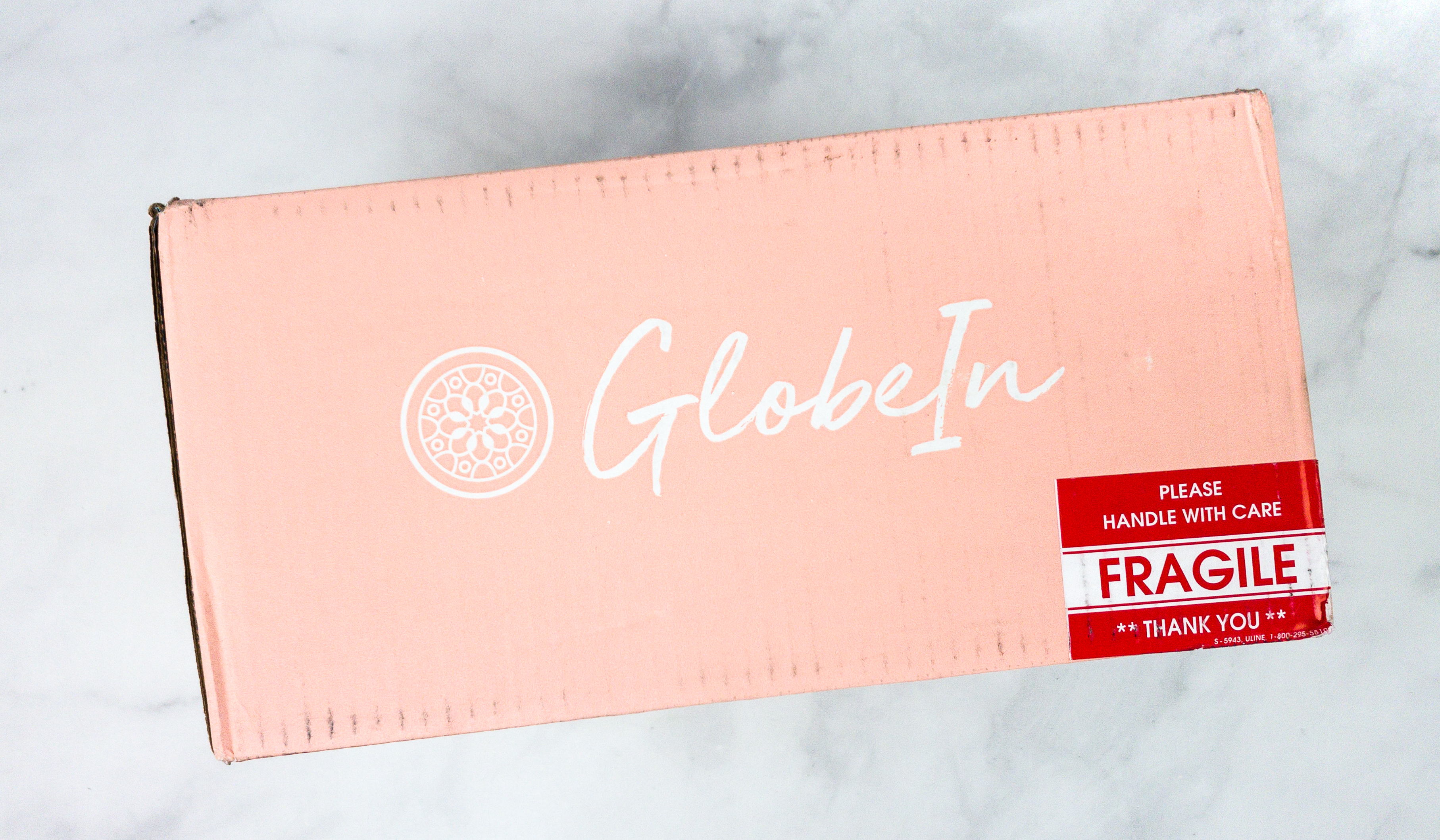 The GlobeIn Artisan Box Club is a subscription that sends handcrafted products from around the world. All items are produced either by collectives that are fair trade certified or that respect and adhere to fair trade principles. All artisans and farmers whose products are distributed by GlobeIn are paid a fair wage for their products.
DEAL: Get 50% off your first box on any 3-month GlobeIn Premium Subscription Box. Use this link and the coupon code TRYUS50 at checkout.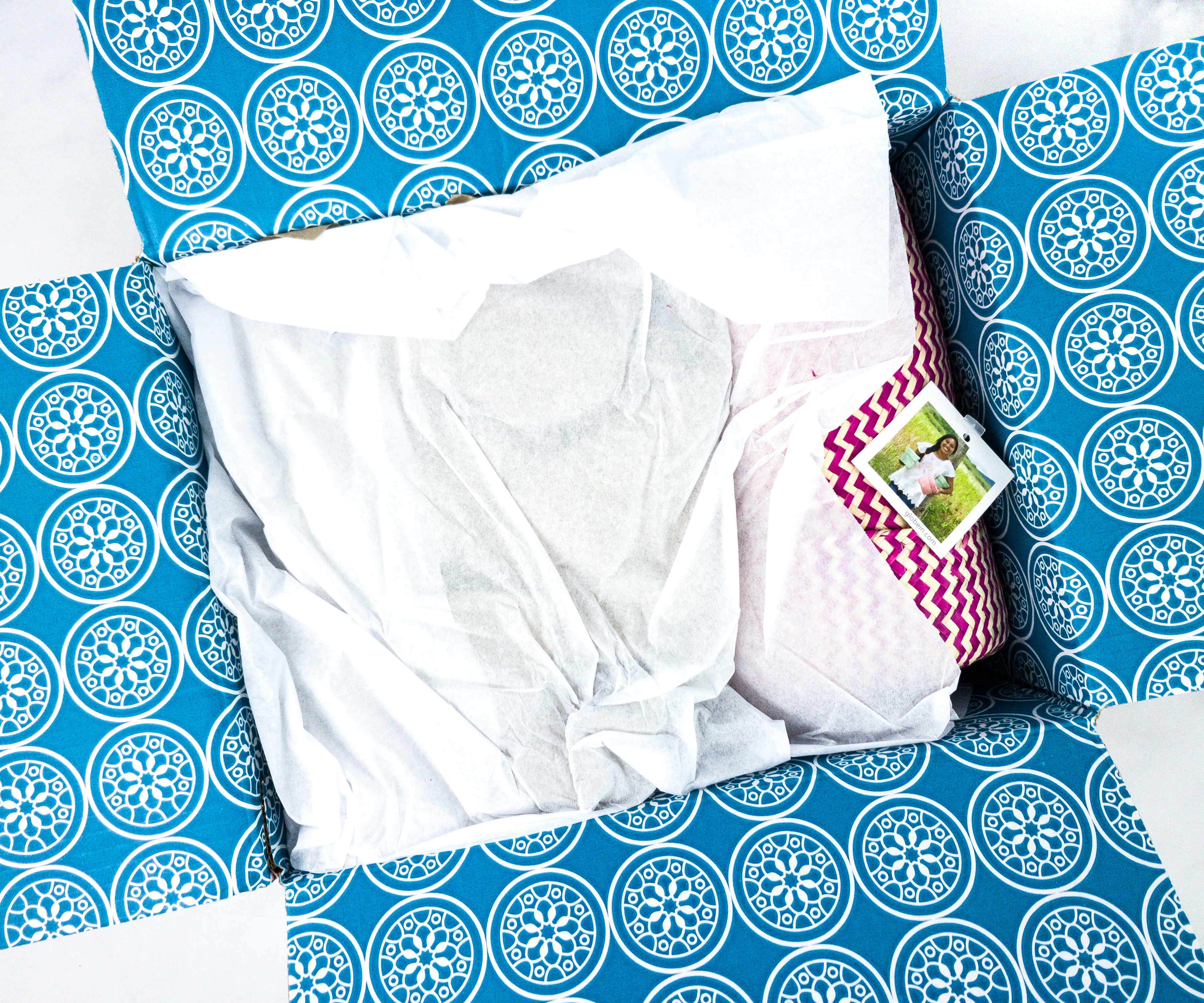 Everything was well wrapped and protected during shipping.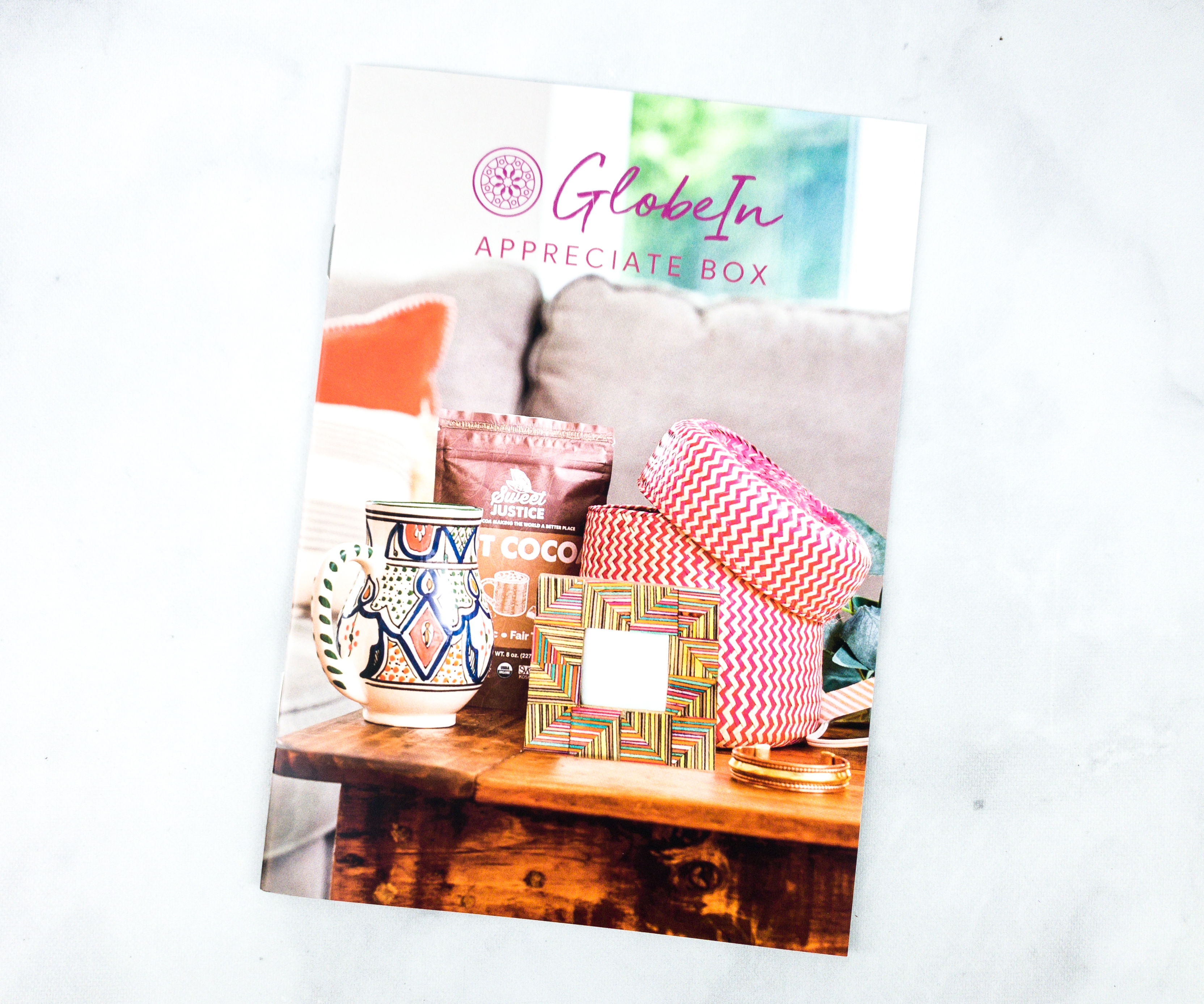 A booklet welcomed us upon opening the box.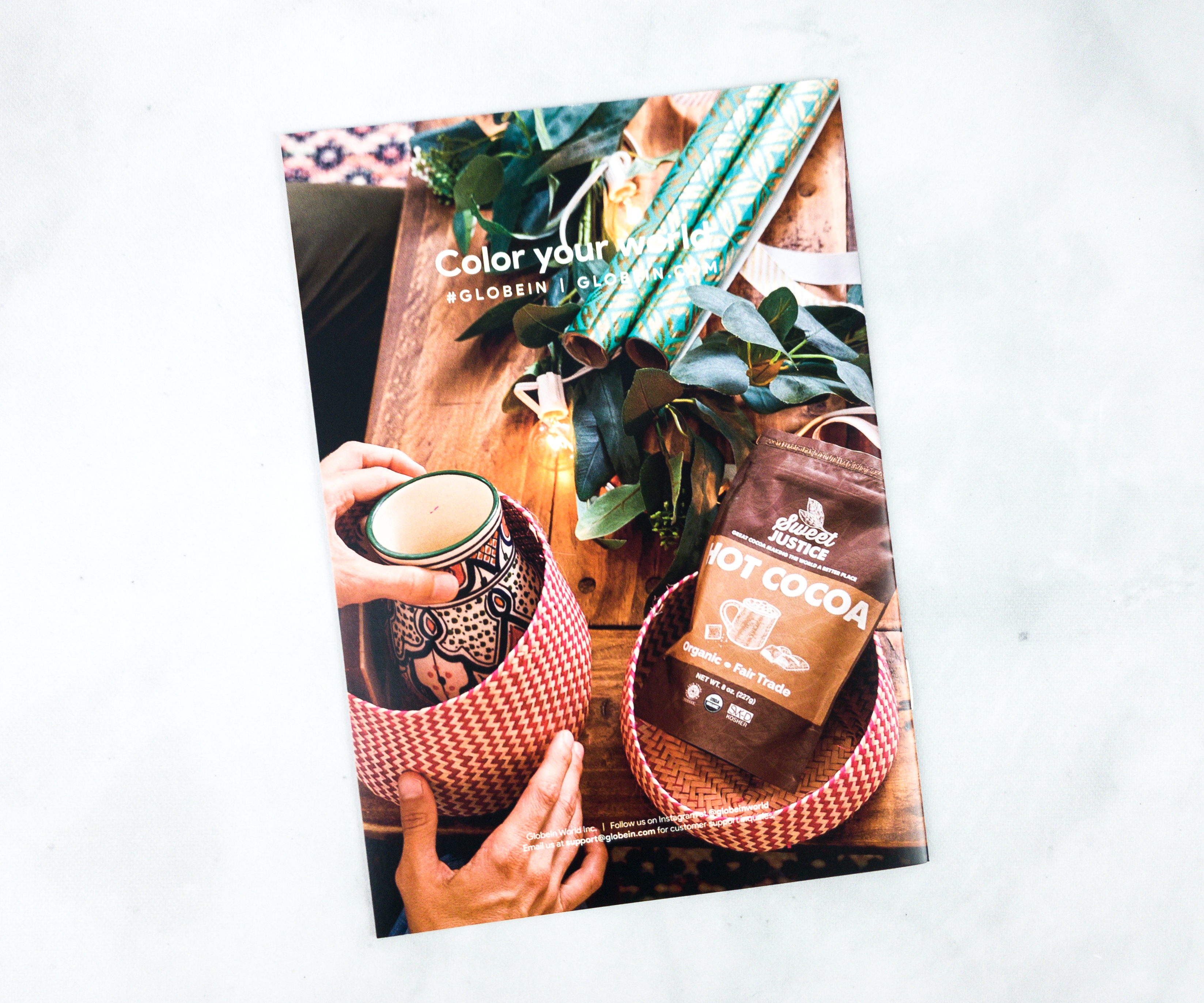 The back shows a photo of all the items in the box.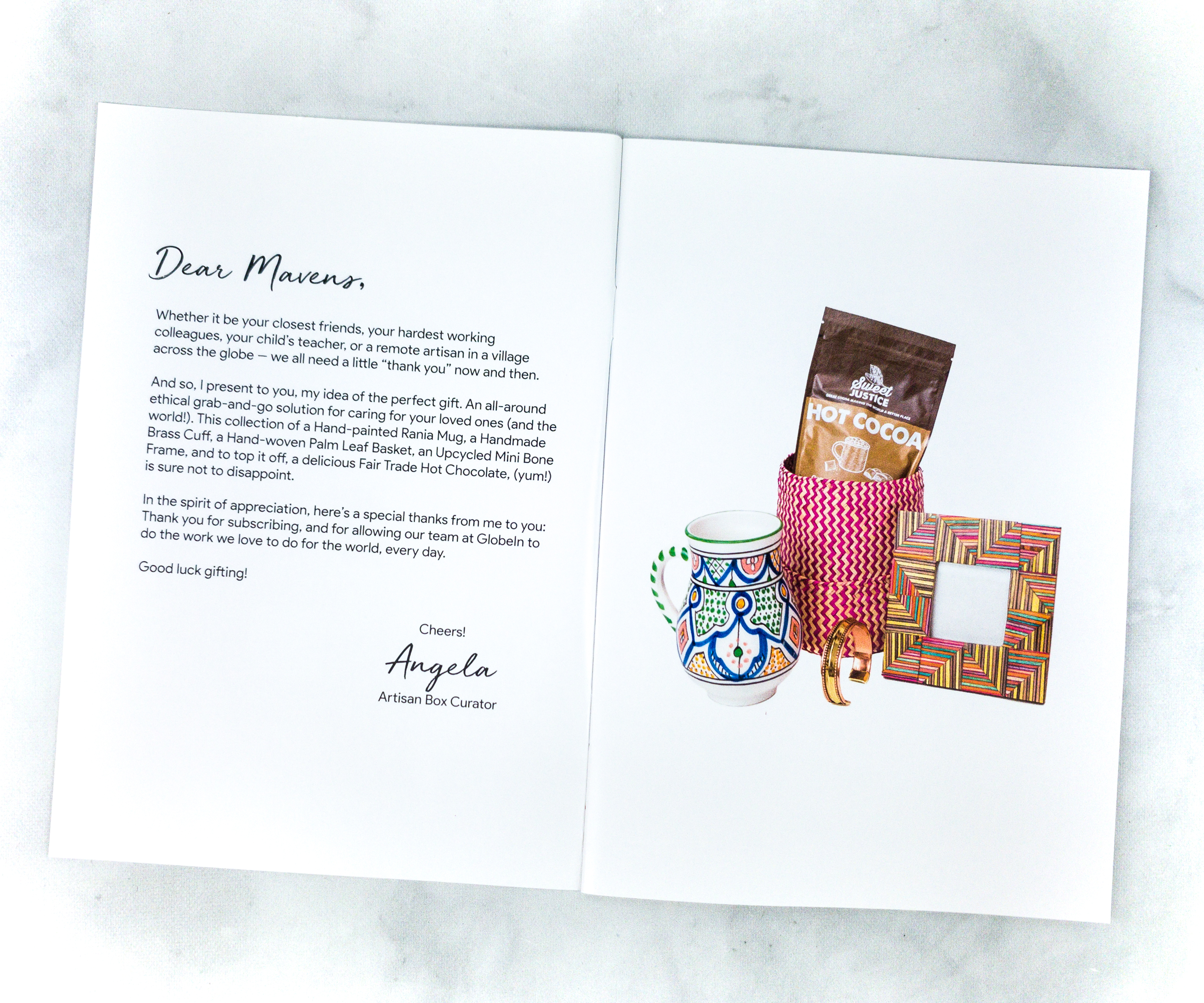 The theme for this box is the APPRECIATE BOX.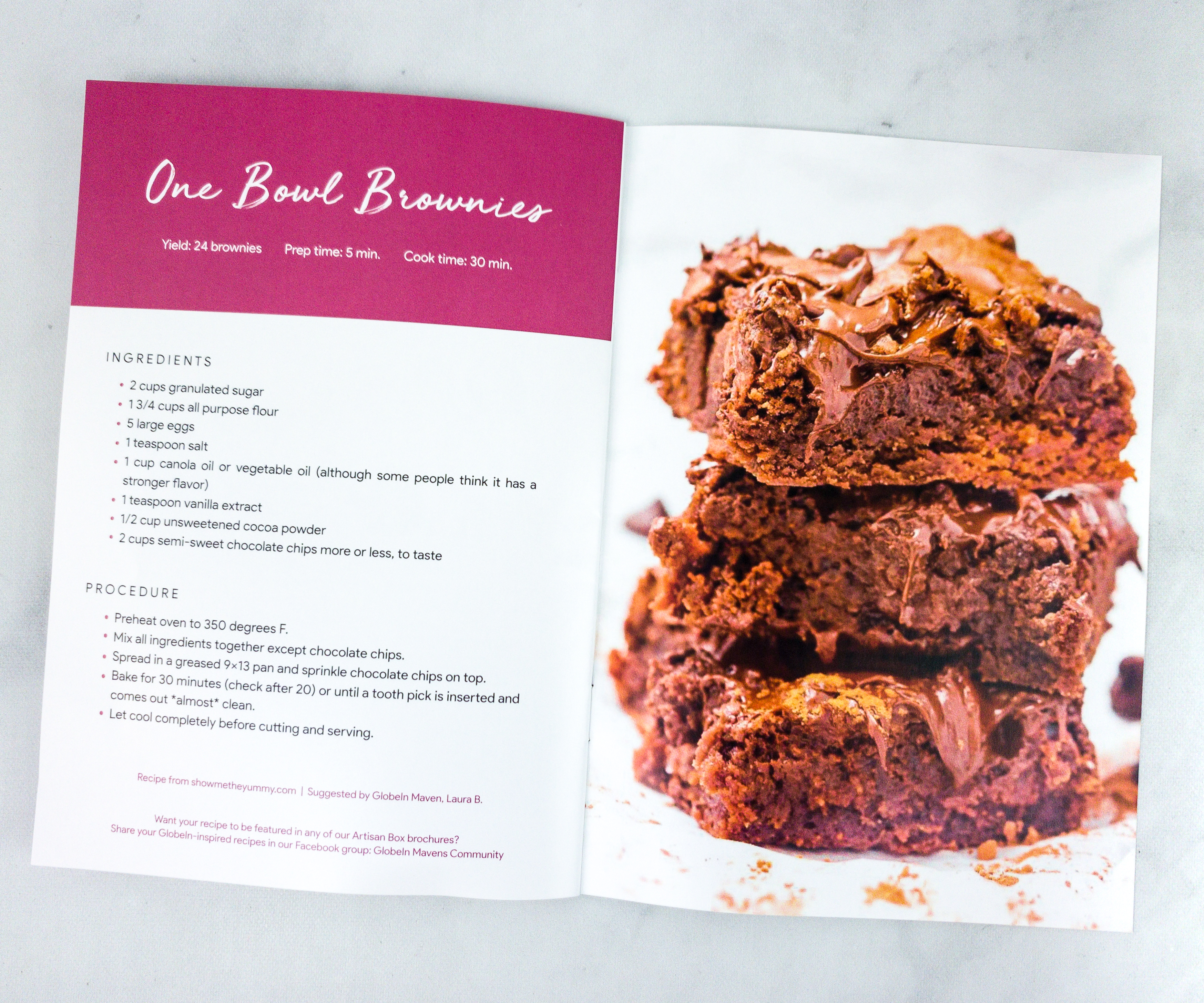 Inside the booklet is a recipe for One Bowl Brownies!
Everything inside the box is nicely packed, and some fragile items are also bubble-wrapped for safety.
Everything in my GlobeIn Artisan APPRECIATE box!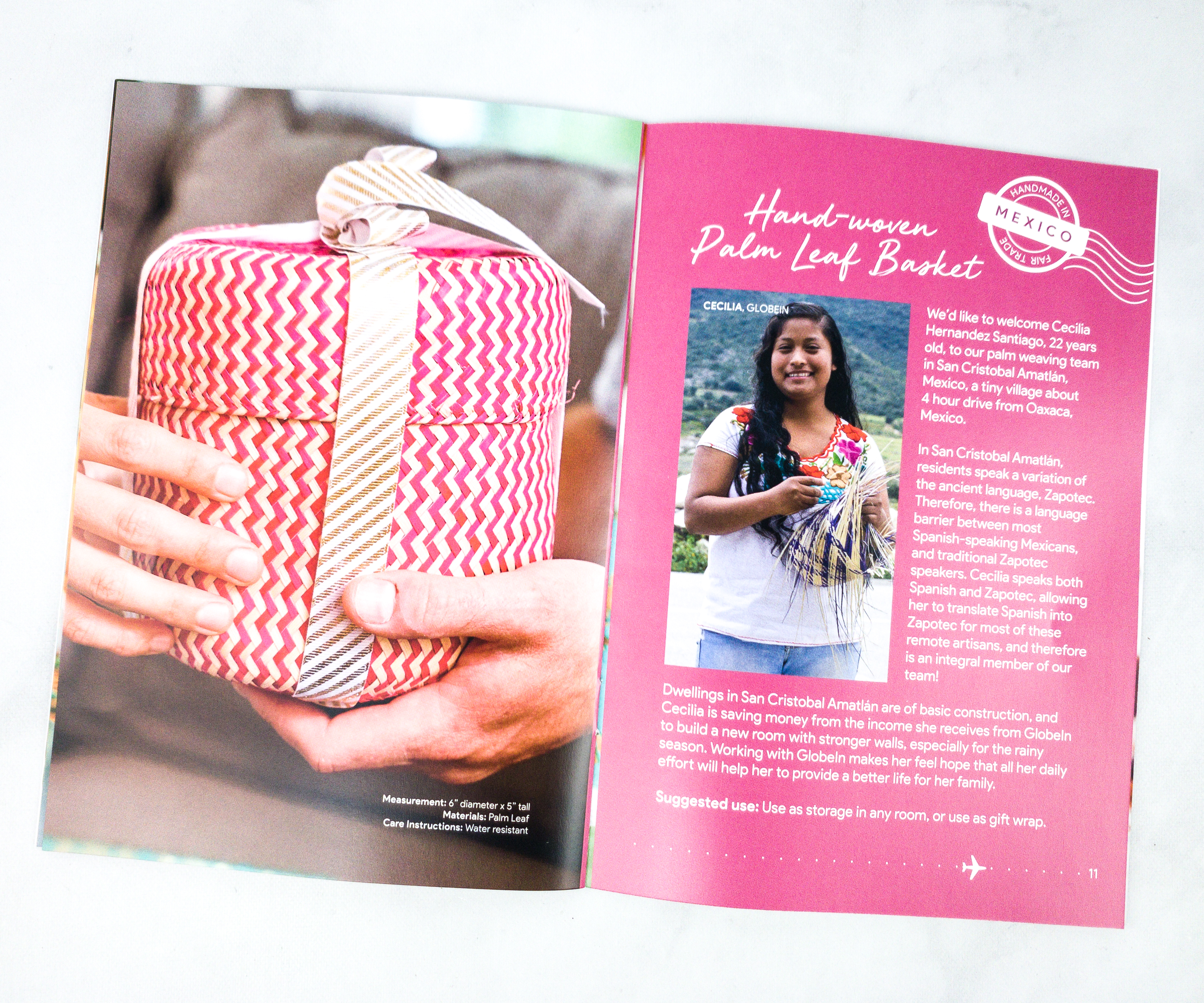 Hand-woven Palm Leaf Basket – Mexico. I'm used to getting beautiful, hand-woven baskets from this box, yet I am still astonished every time! I know that this one came from Mexico, and I can't help but be more excited.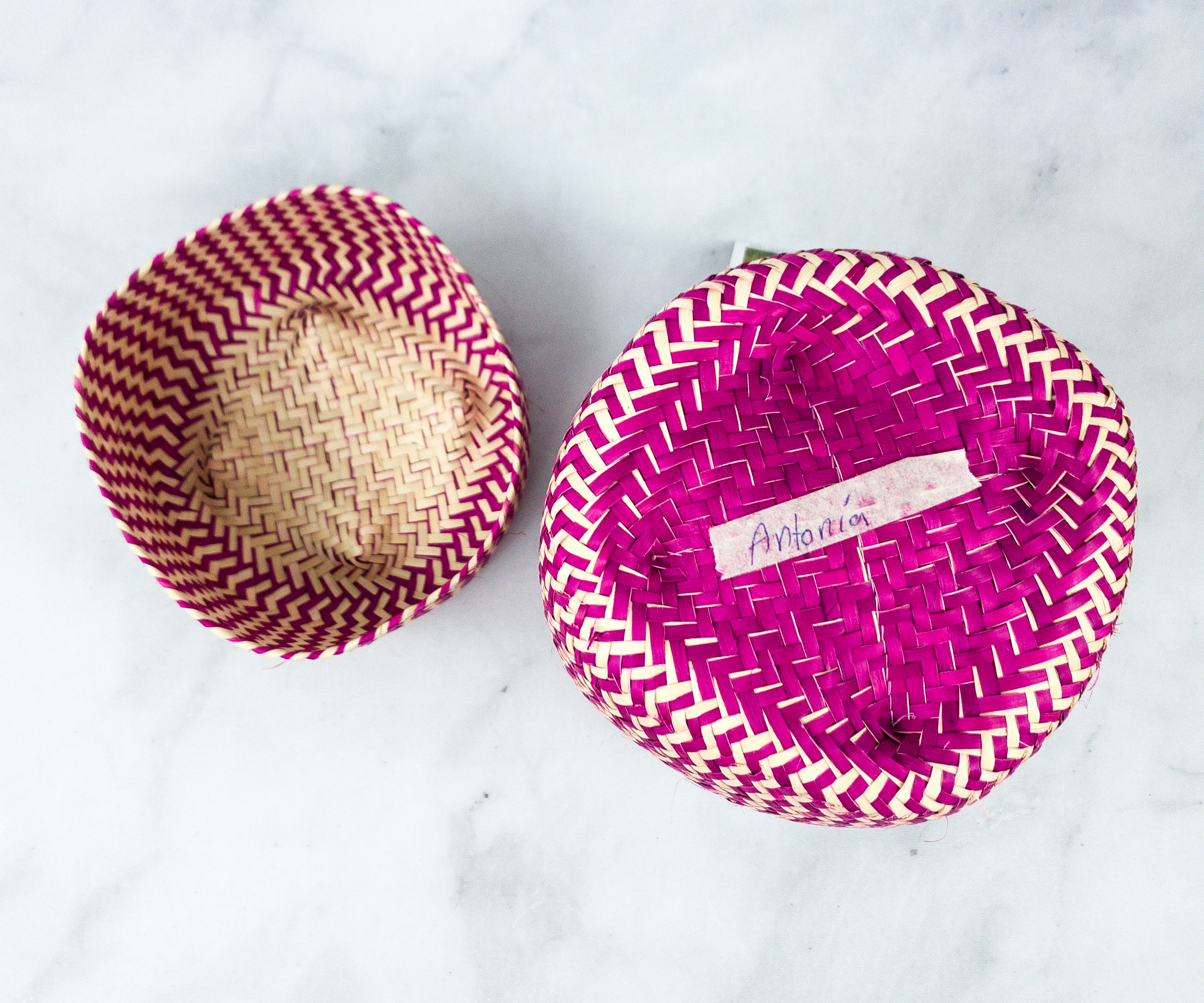 This makes a great storage box or even as a gift box!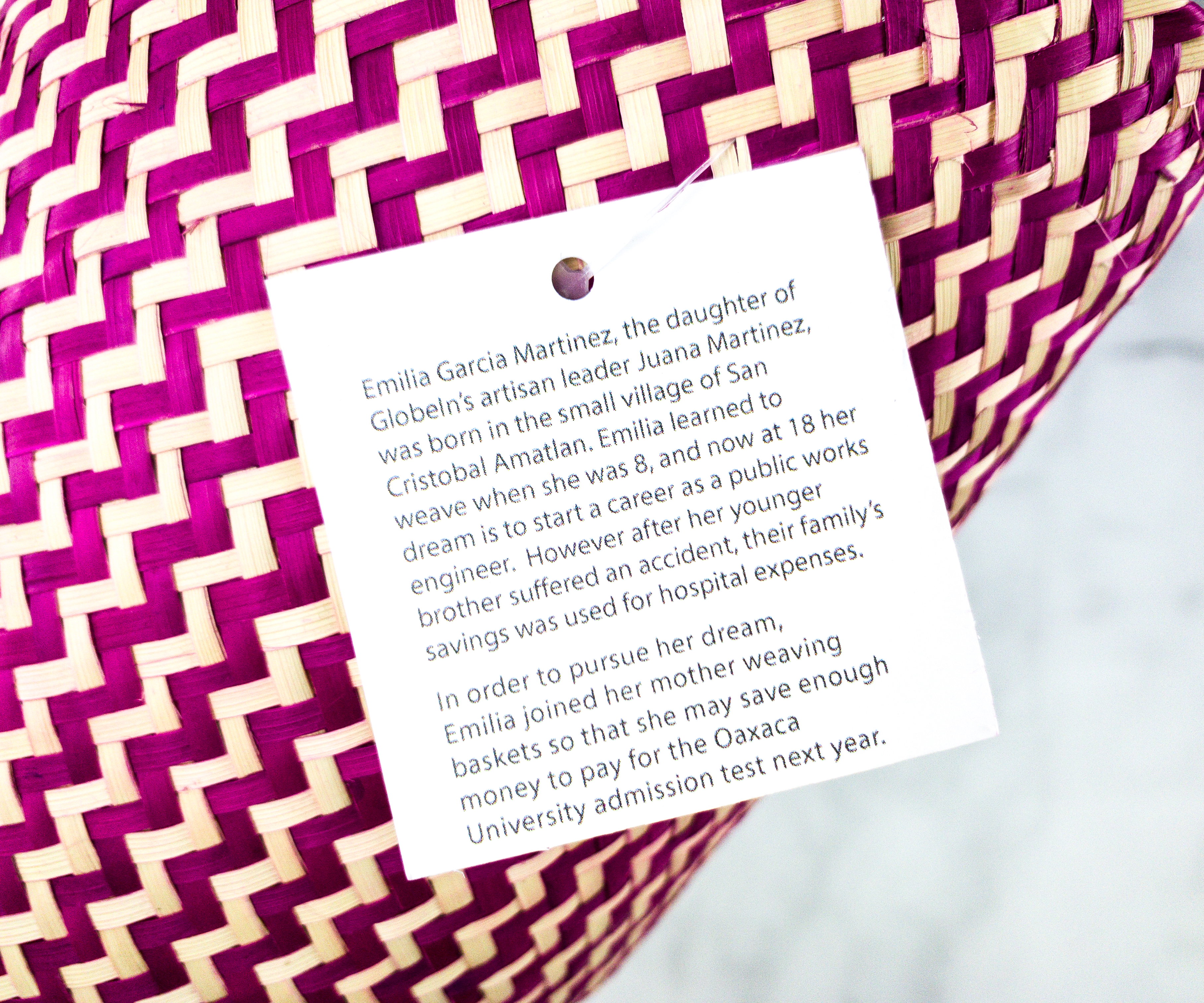 The beautiful basket came with a tag that tells us more about Emilia Garcia Martinez, the daughter of GlobeIn's artisan leader, Juana Martinez.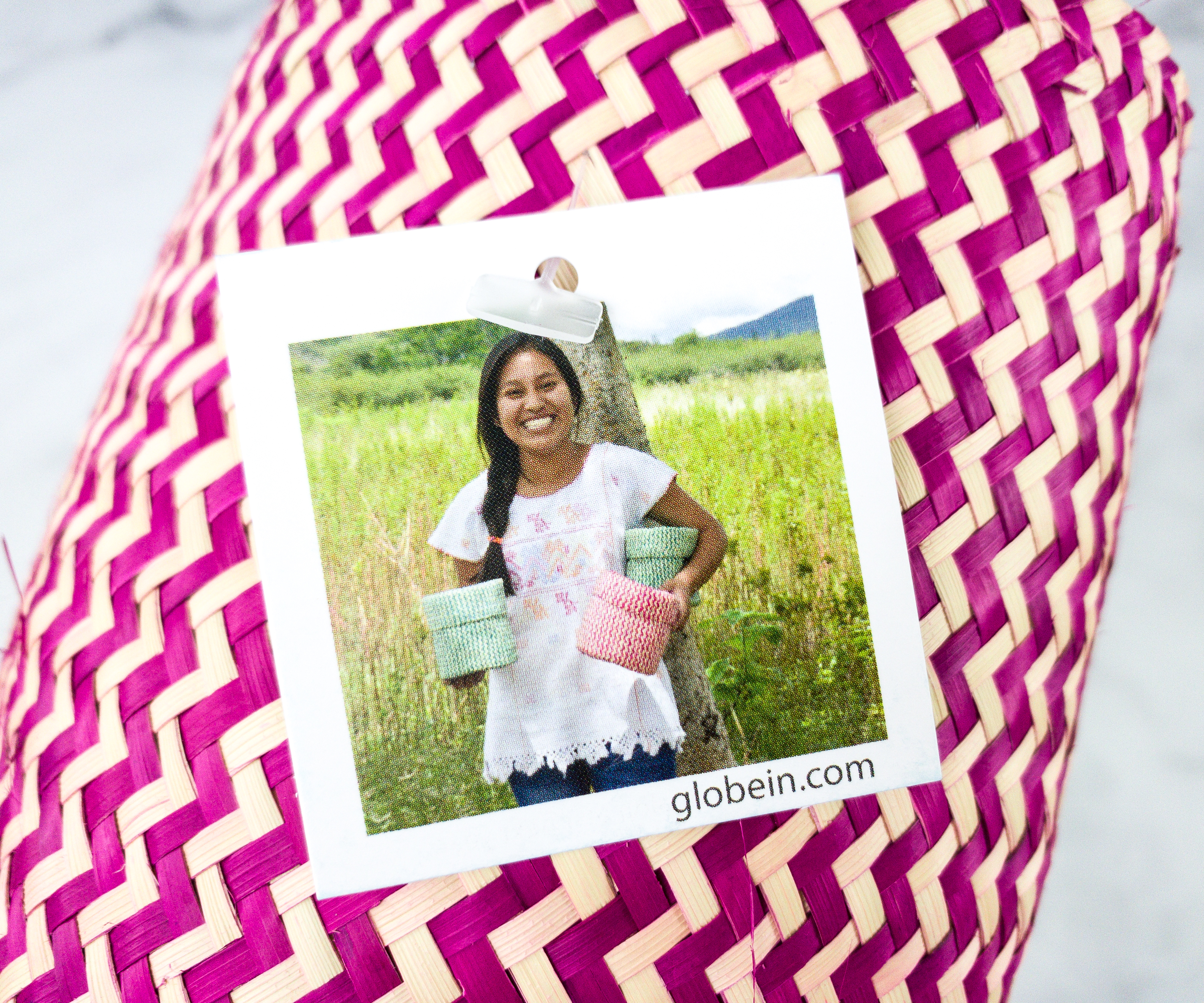 The flip side of the tag features a photo of the lady holding 3 more baskets! These are truly beautiful creations, and anyone who will be receiving these beauties will surely appreciate them.
The basket has nice wavy patterns of the natural and the dark pink-dyed palm leaf.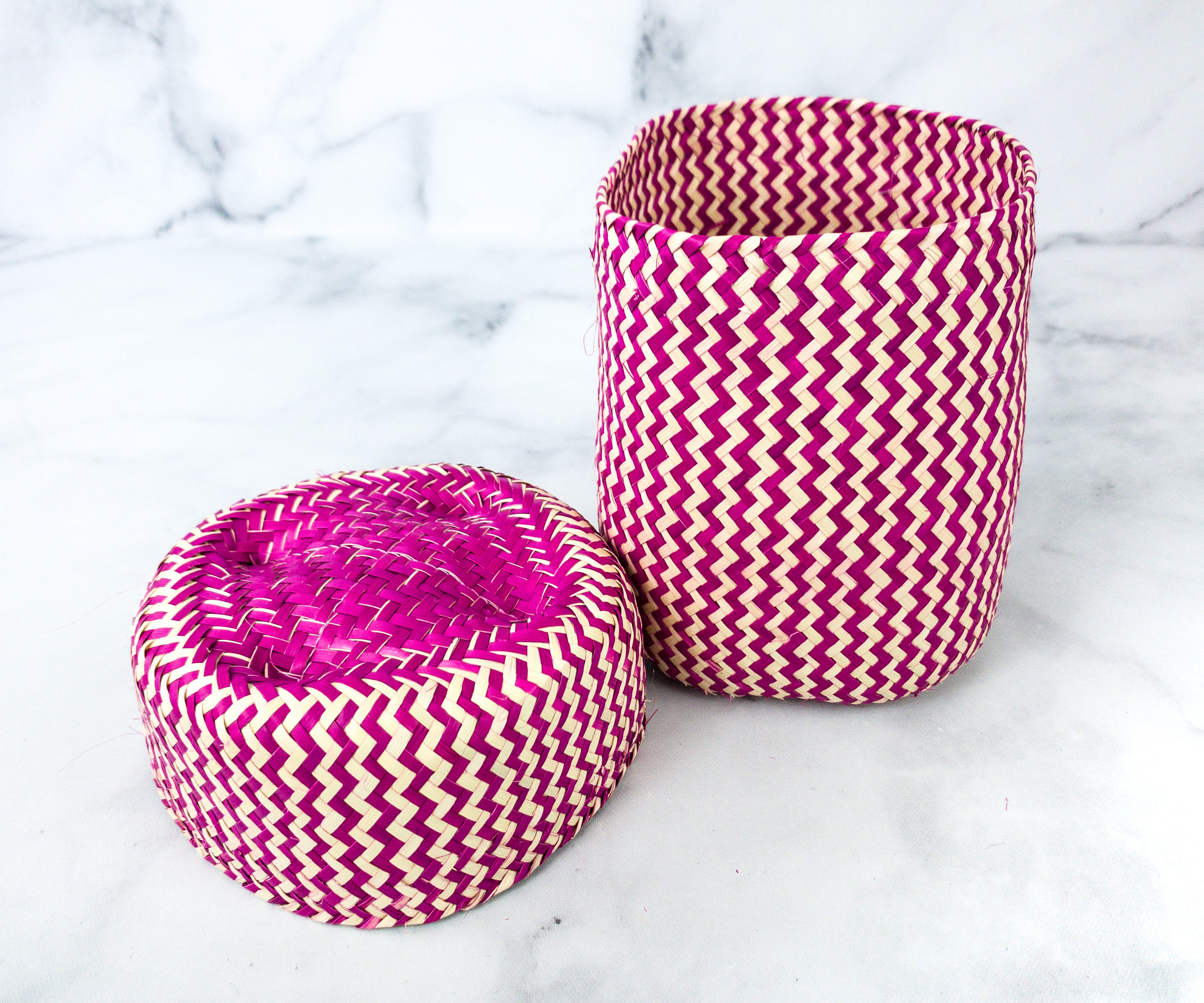 The basket is 6″ in diameter and 5″ tall. It's water-resistant as well.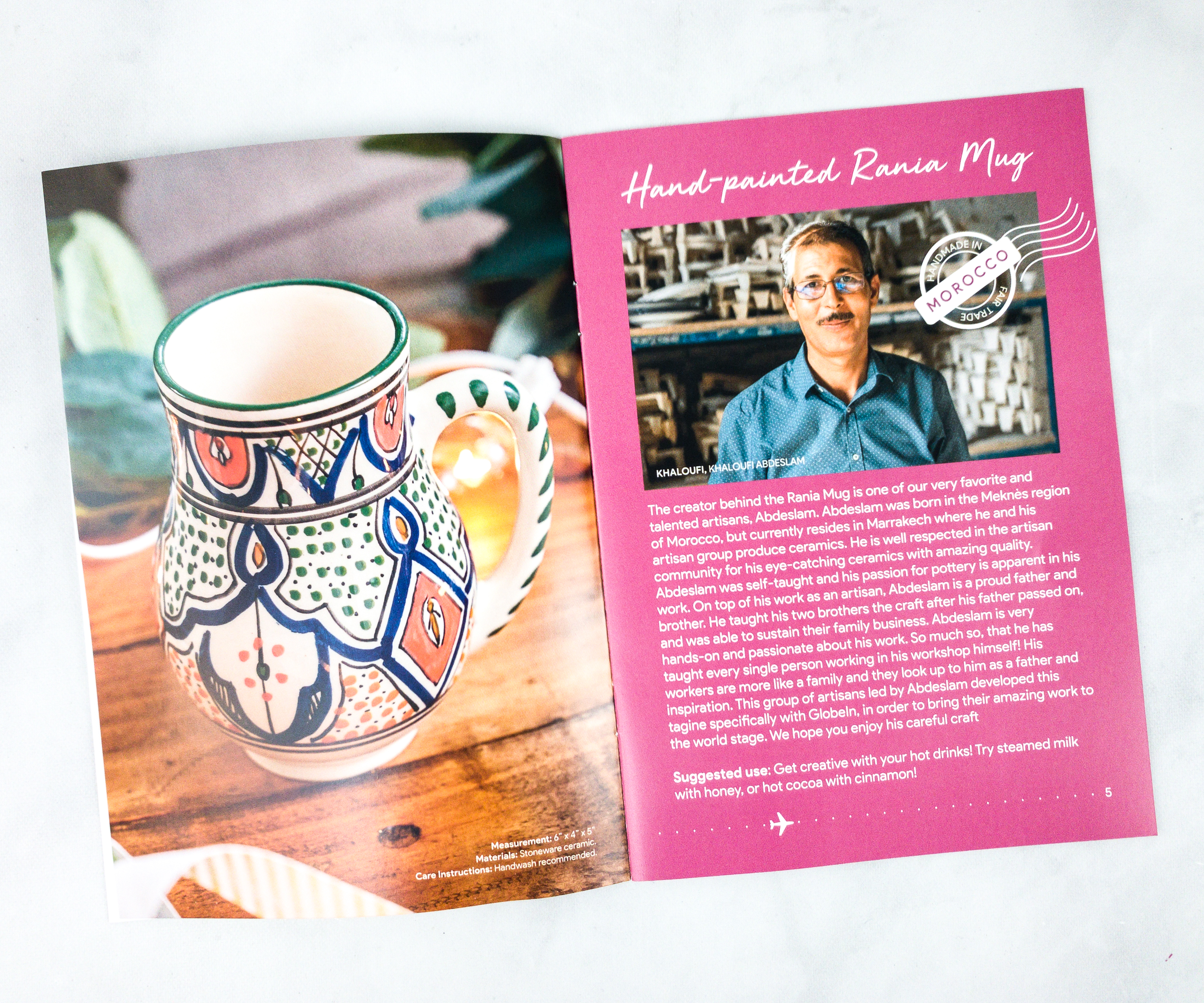 Khaloufi Hand-Painted Rania Mug – Morocco. Morocco is also known for its beautiful ceramic wares, like this hand-painted mug! It's another creation from the well-respected and talented artisan, Abdeslam.
The mug has an intricate and eye-catching hand-painted design. Just by looking at it, you'll know how much effort is put into making this ceramic mug.
I can use this to craft my favorite hot/warm beverages! When cleaning the mug, it's recommended to handwash it as it's a delicate piece.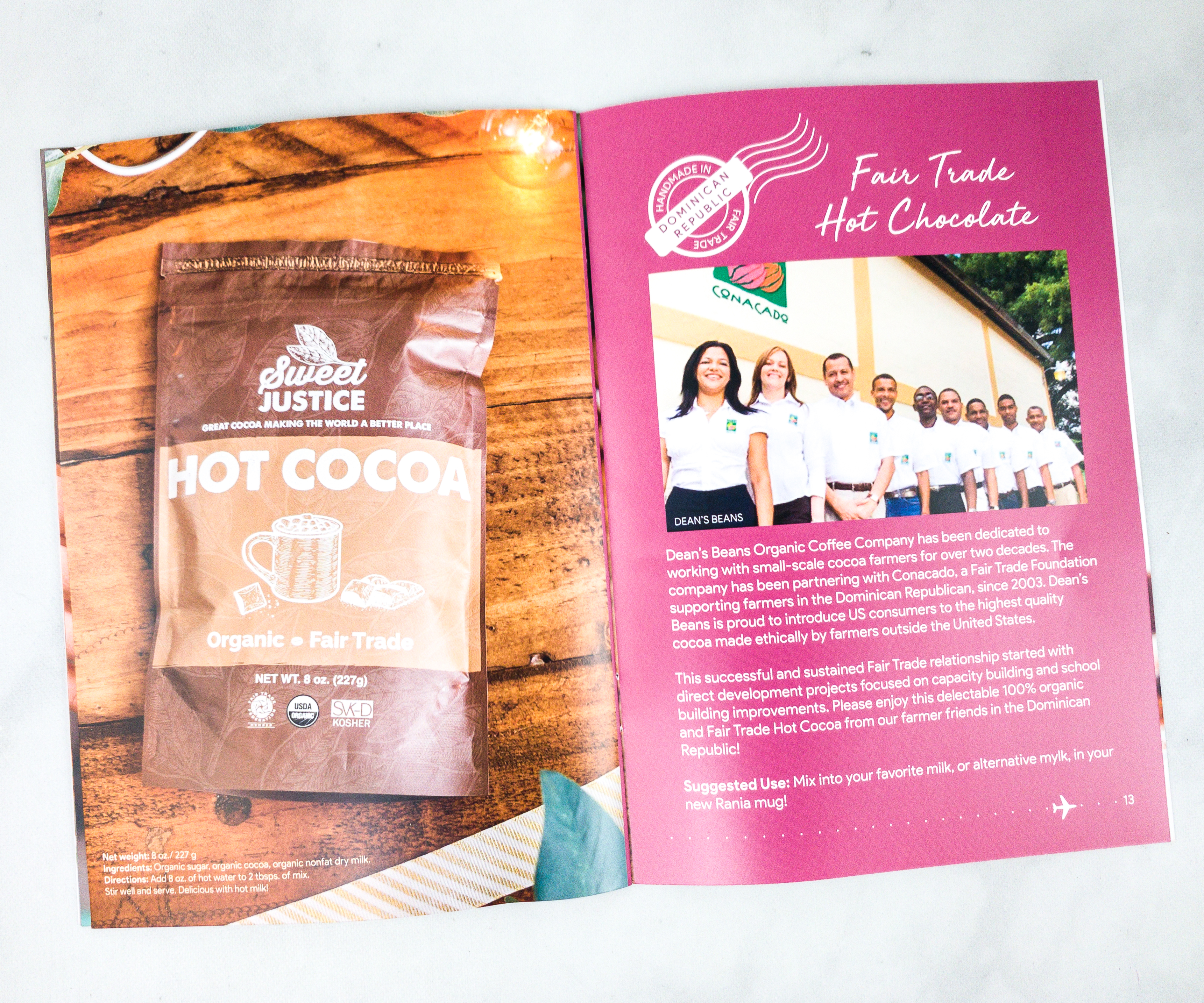 Dean's Beans Fair Trade Hot Chocolate – Dominican Republic. I received a mug, so I think getting this fair trade hot cocoa powder is perfect!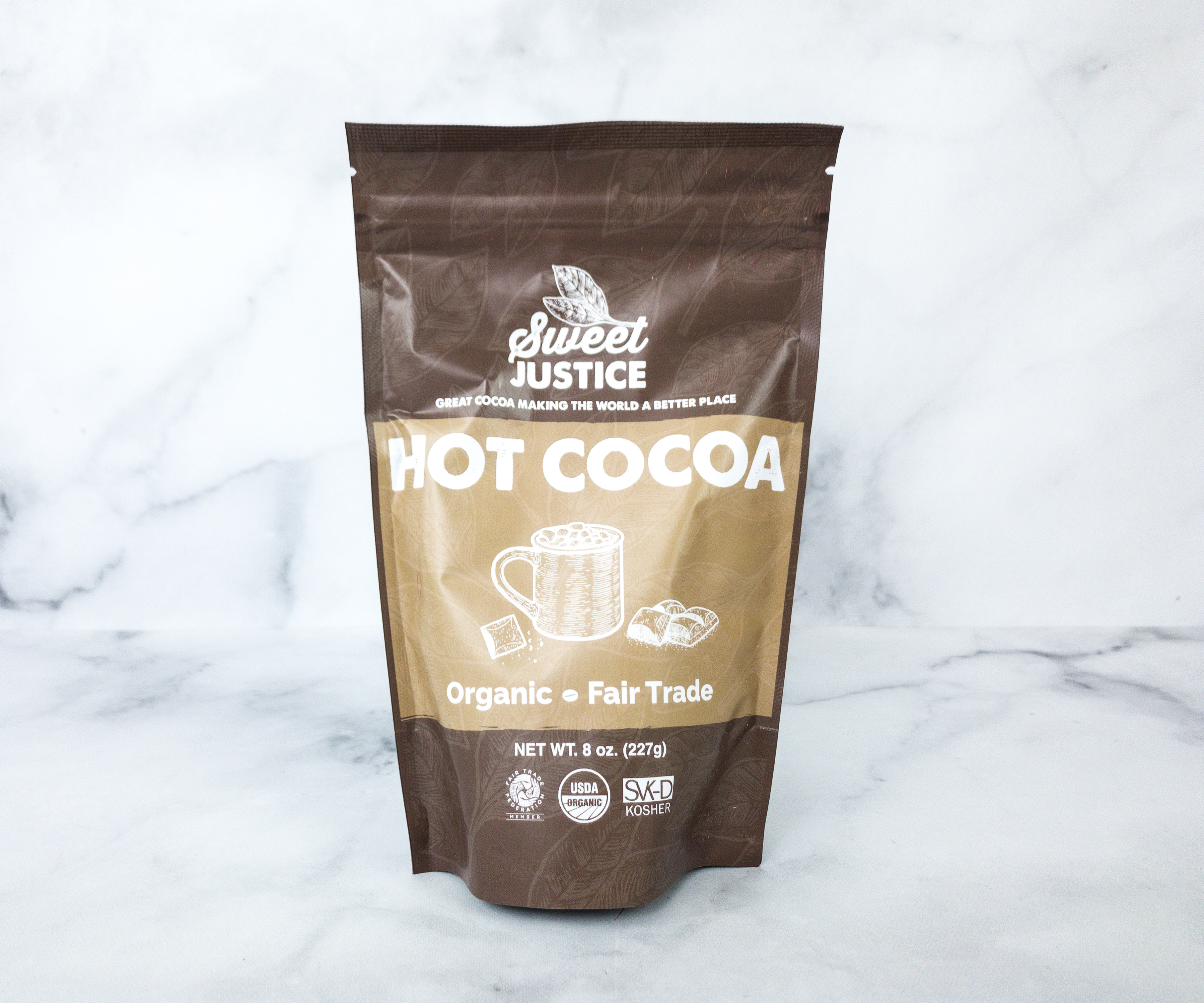 The package contains 8 oz. (227g) of cocoa powder. It even comes in a resealable pack.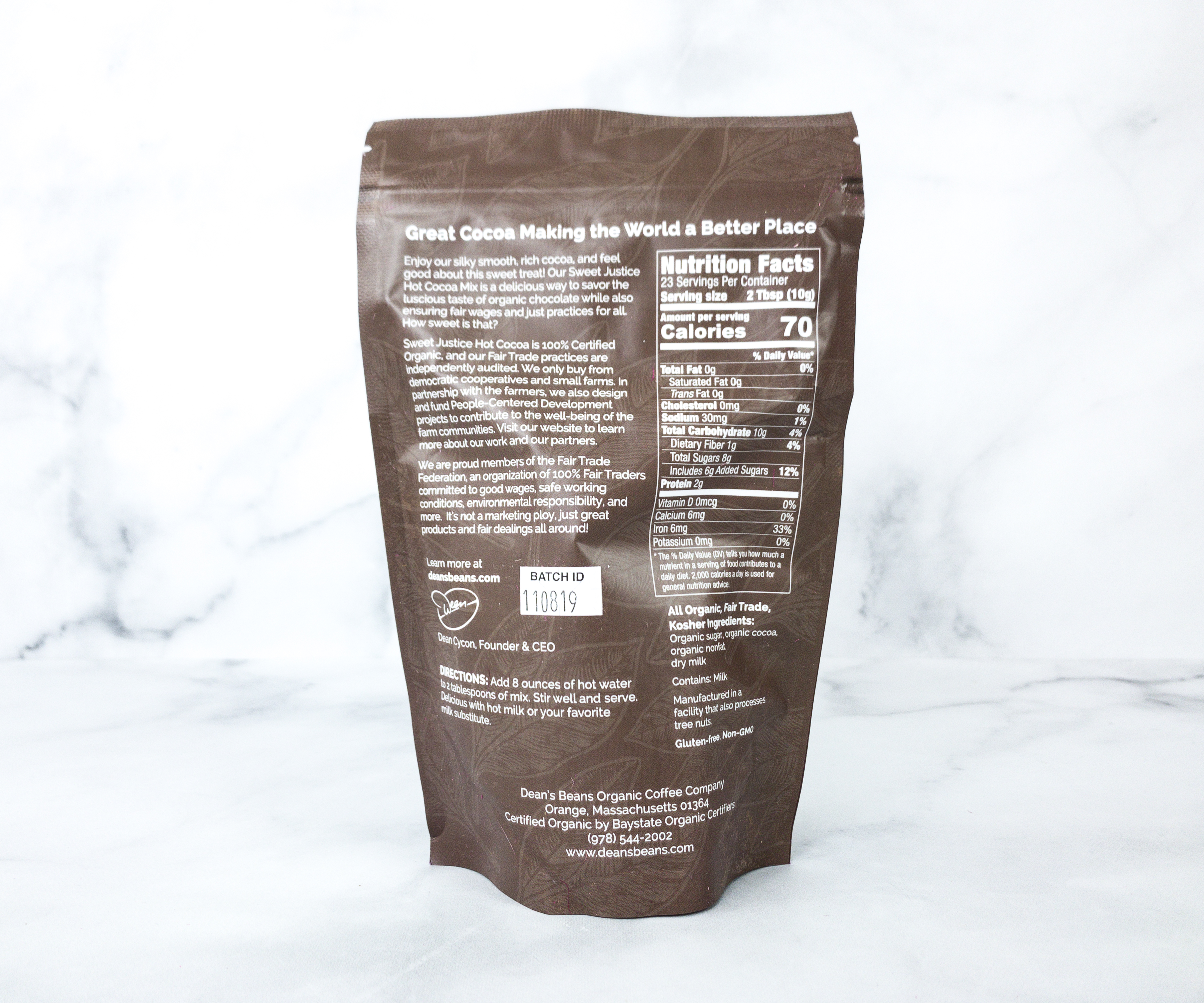 It contains organic sugar, organic cocoa, and organic non-fat dry milk. To make the delicious drink, just add 8 oz. of hot water to 2 tablespoon mix in a mug, stir well. It is also recommended to add hot milk. I can definitely try this in my new Rania mug!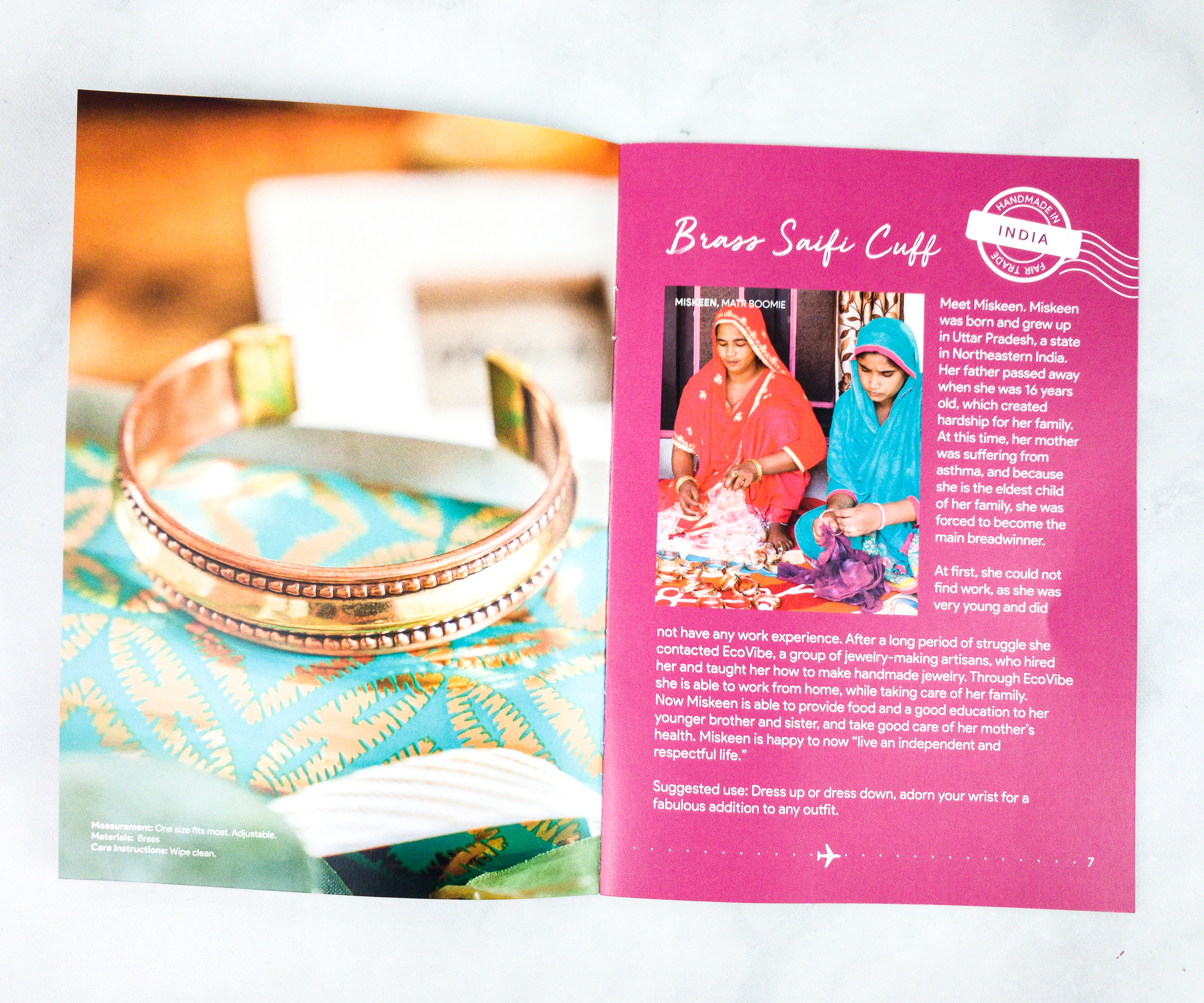 Miskeen Brass Saifi Cuff – India. This stunning accessory is made by EcoVibe, a group of jewelry-making artisans from India!
The cuff is a one size fits all piece because it is open-ended, which means it can be easily adjusted to fit any wrist size.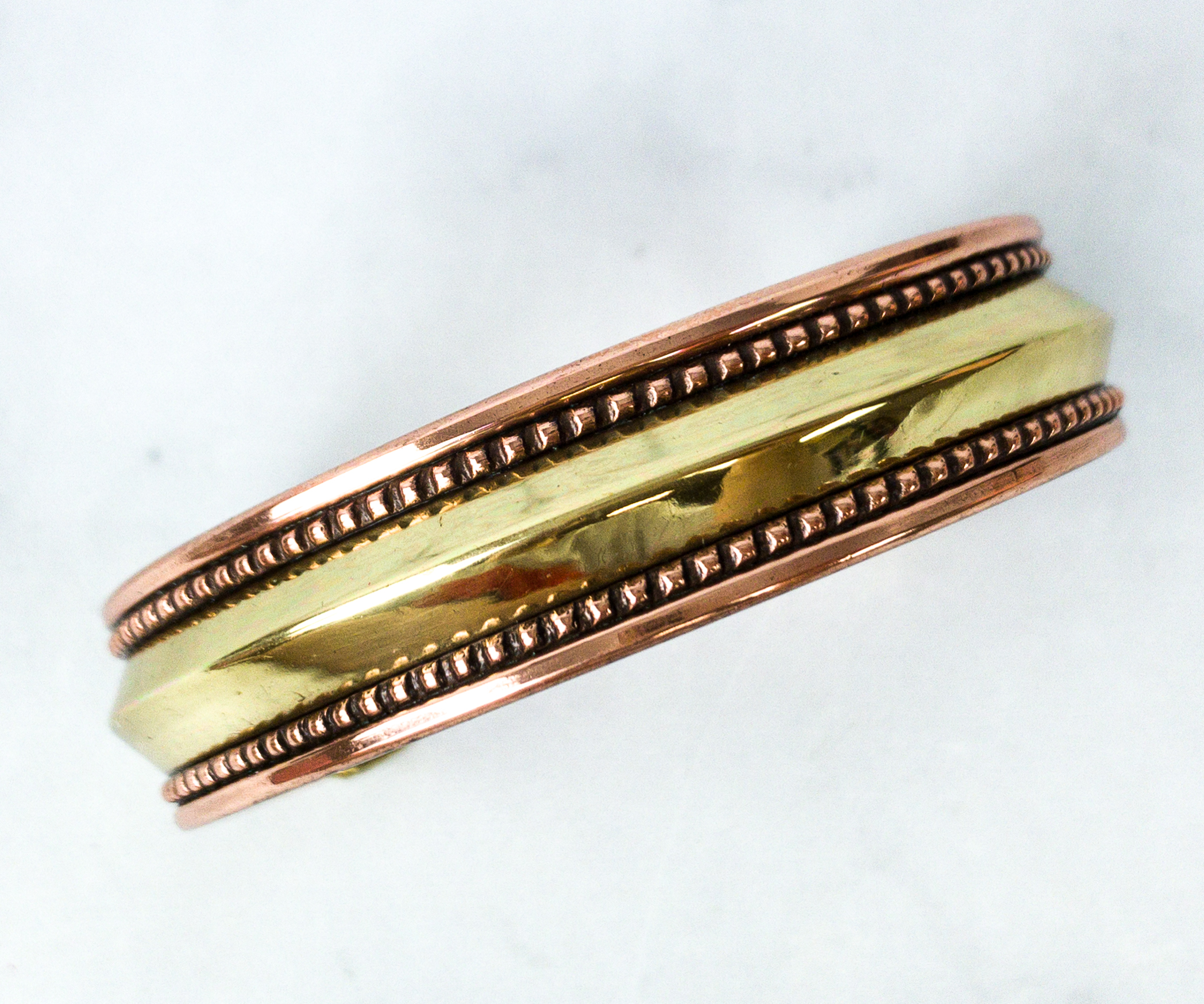 The beautiful piece is made of brass. It will look amazing whether you pair it with casual or formal clothes! To keep it clean and shiny, you just have to wipe it off.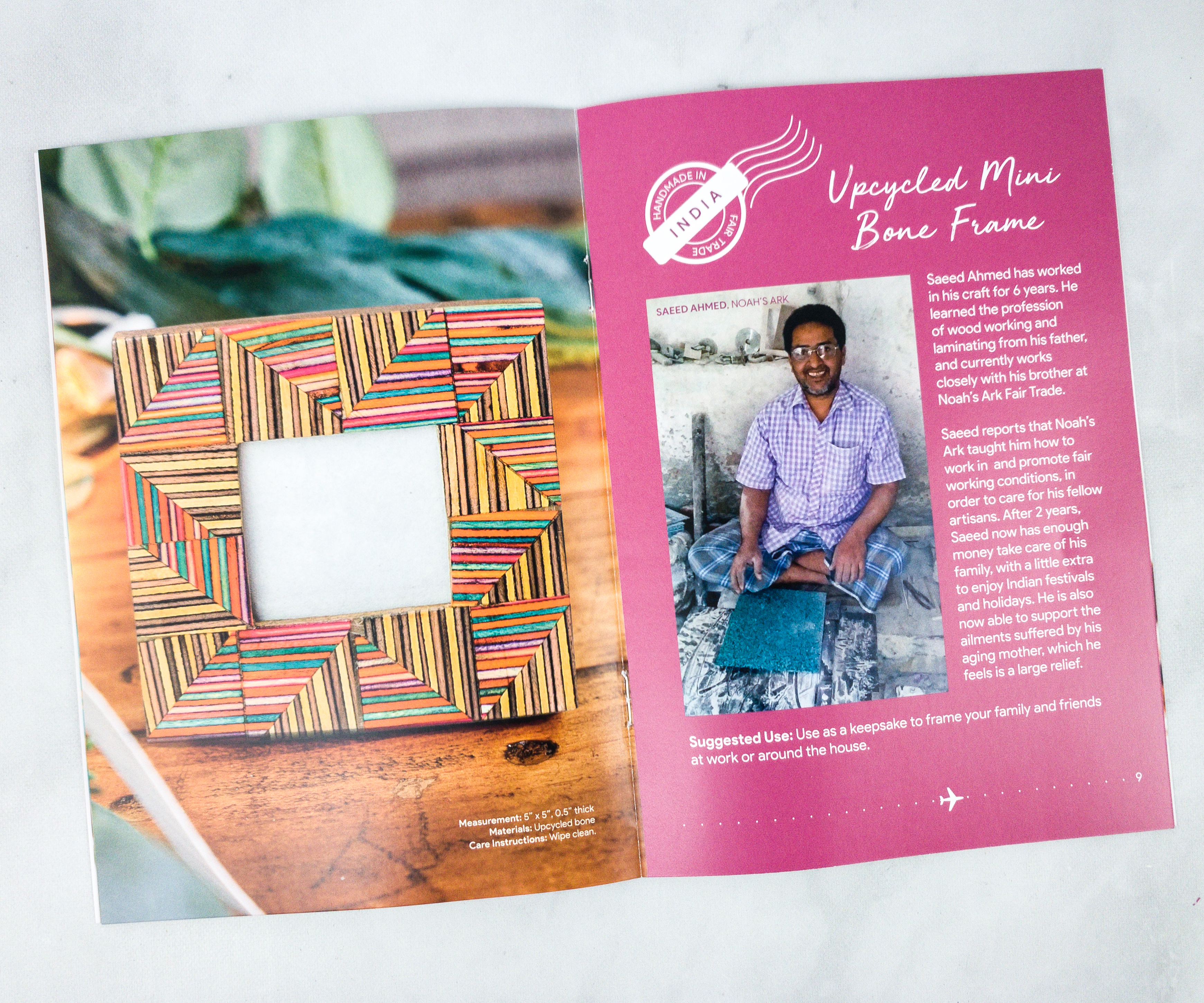 Noah's Ark Upcycled Mini Bone Frame – India. Another beautiful piece from India is this upcycled mini bone frame made by Noah's Ark Fair Trade.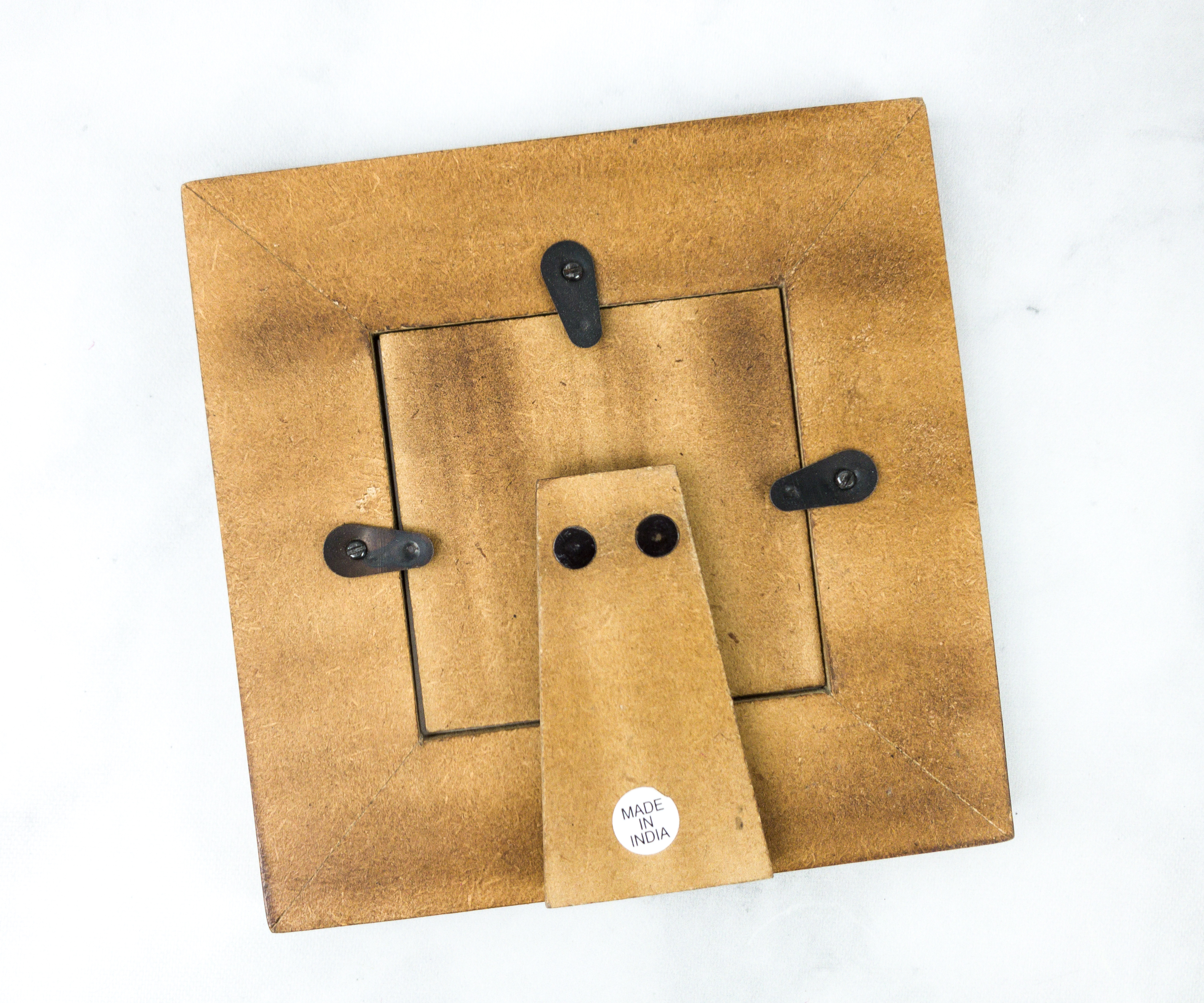 The back of the frame has a desk stand and several swivel clips that hold the backing in place.
The frame measures 5″ x 5″, and it's 0.5″ thick. The upcycled bones are dyed in different colors, making this wonderful pattern for the frame.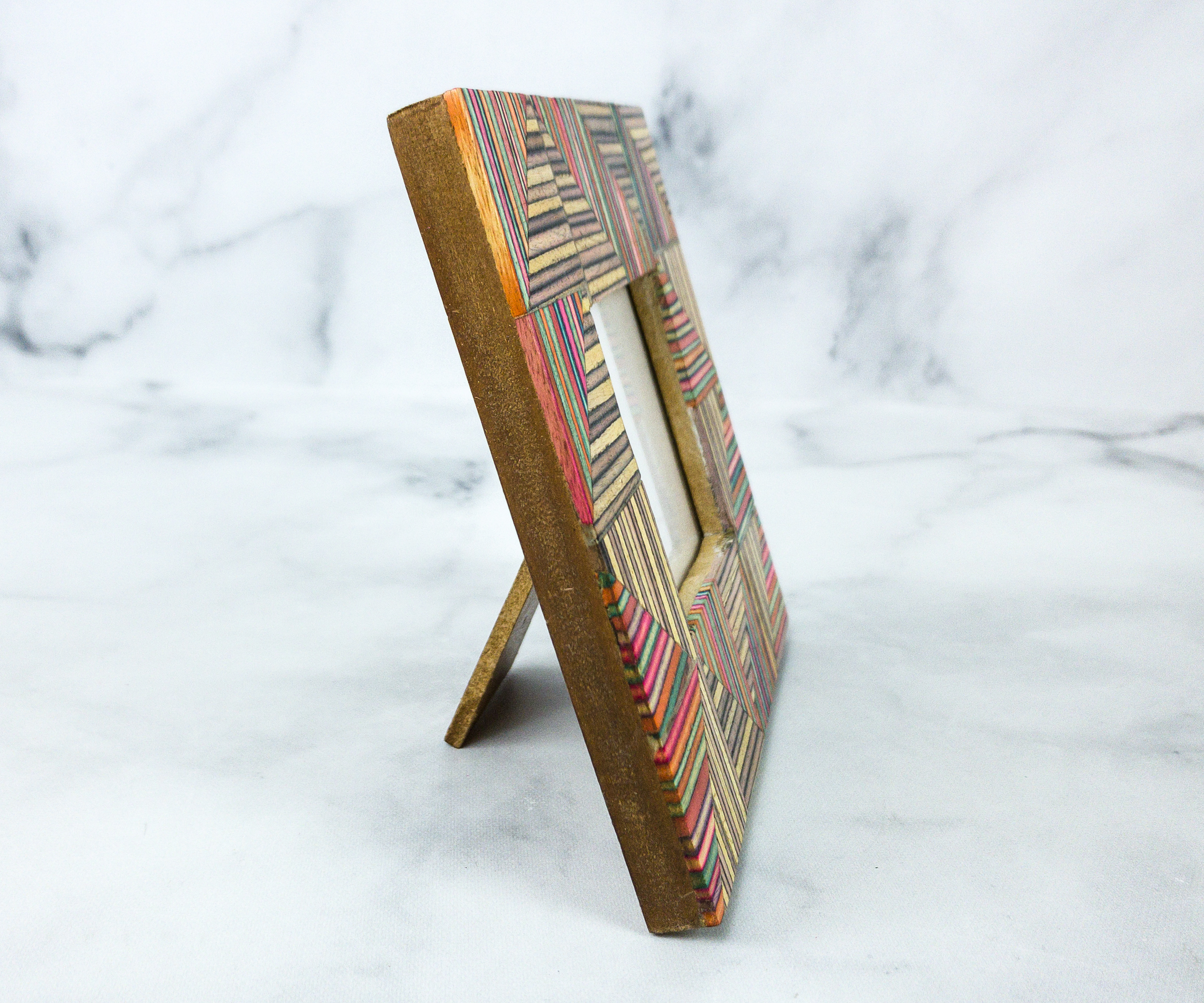 The frame will add flair to any desk or cabinet top!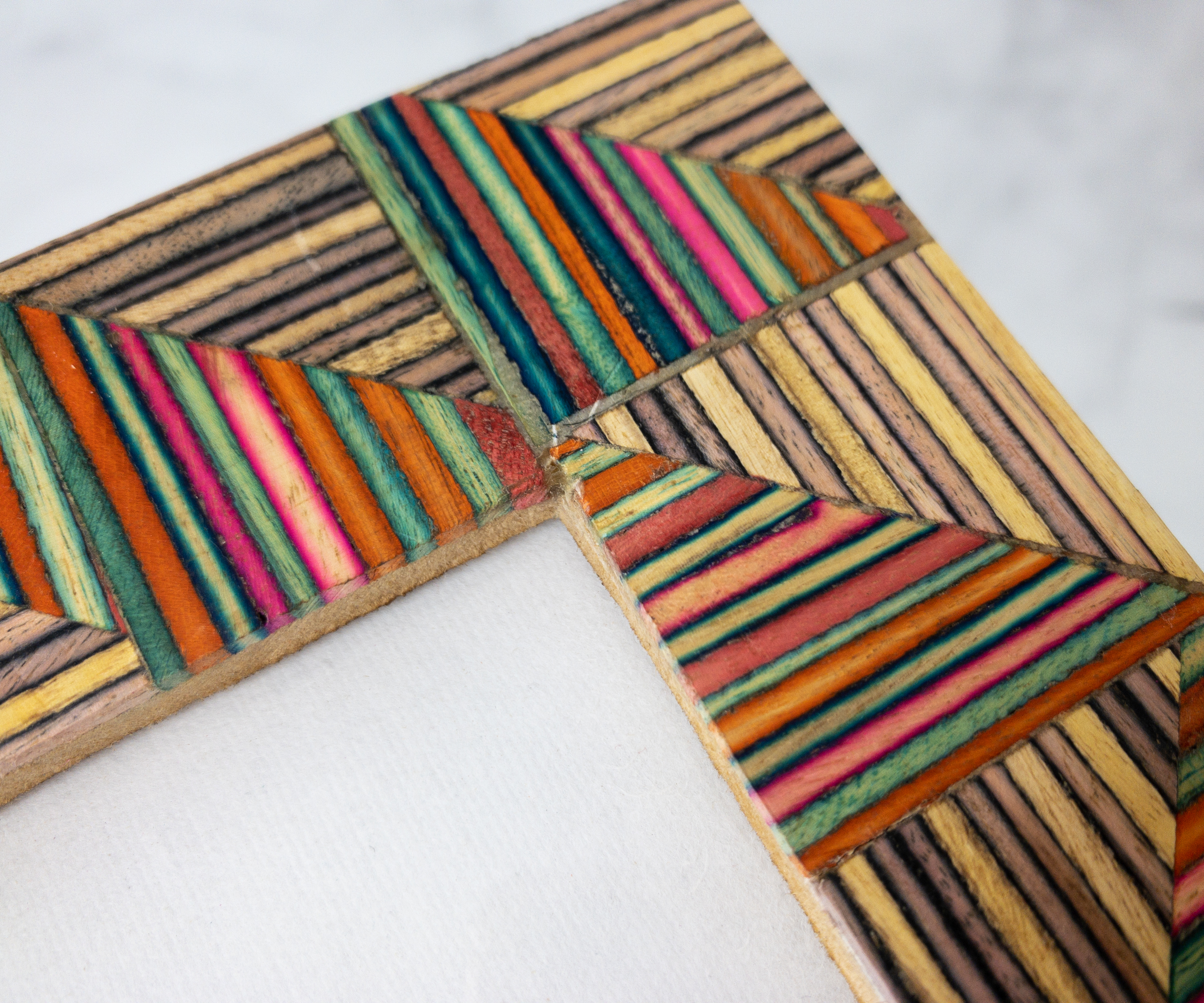 It can be used as a keepsake to frame special memories and pictures!
This month, GlobeIn taught us to be more appreciative of all the things around us, and I'm really grateful for all the beautiful items that I received in this box! My favorite is the beautiful mug plus the delicious cocoa mix. I'm also fond of the nice cuff and the picture frame is simply perfect for my work desk. The palm leaf basket is another addition to my basket collection from Mexico. I also love the fact that this subscription introduces us to great artisans from all over the world. I can feel that they put so much effort, time, and love into making all of these!
What do you think of this GlobeIn Artisan Box?

Visit Globe In Artisan Box Club to subscribe or find out more!