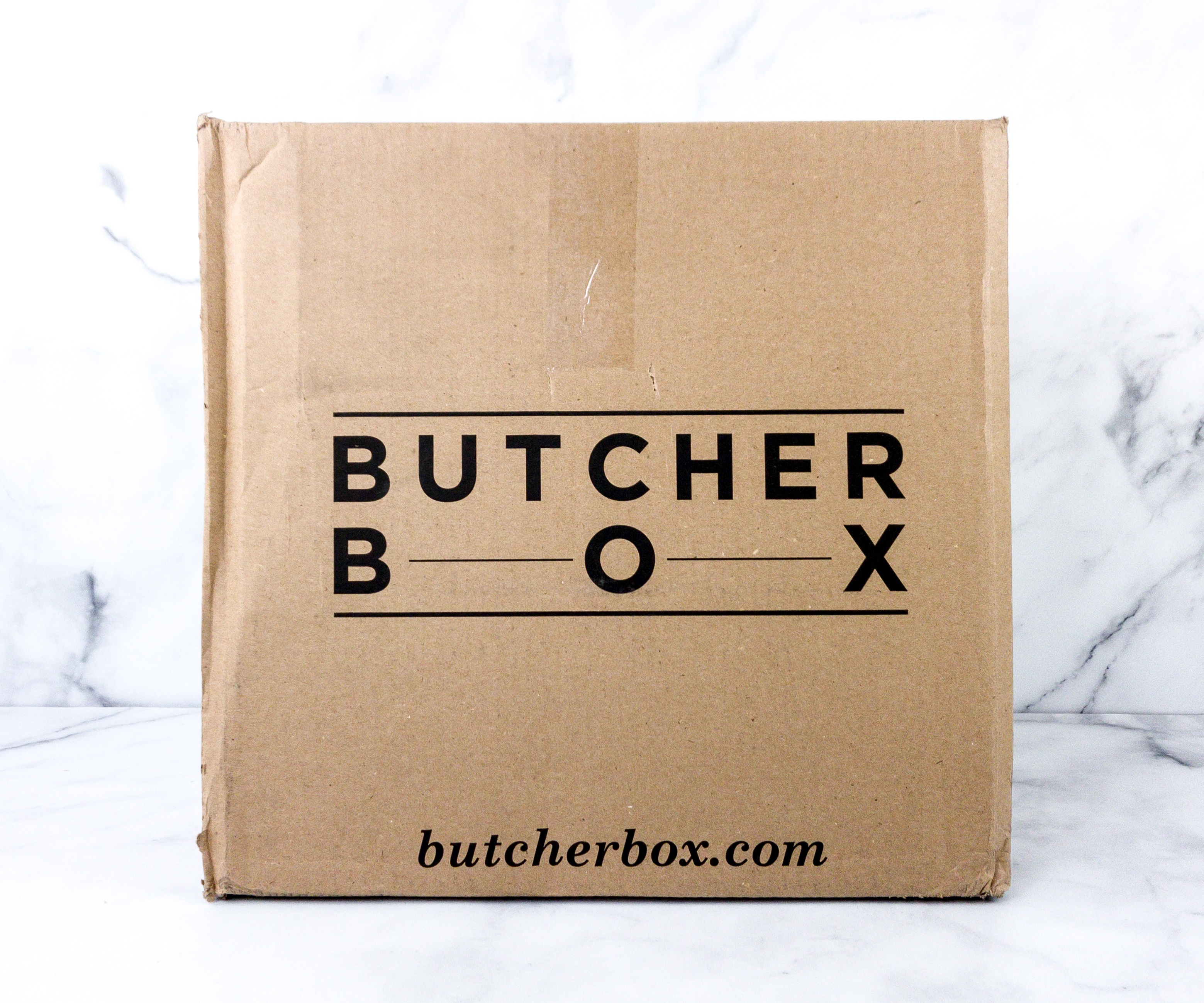 Butcher Box is a subscription box service that delivers premium quality meat starting at $129 per month. Each box comes with a selection of meat (about 15-20 meals worth) that has been carefully cut and prepared. The Butcher Box brings back that unique experience you get when you visit your local butcher shop. Their specialty is 100% grass-fed beef, but they also provided mixed subscription options. You can also have the box delivered every two or three months depending on your needs.
There are 5 box options:
Custom Box – 9 to 14 lbs – Select from up to 21 different cuts ($149 per month/$4.97 per meal)
The Mixed Box – 8.5 to 11 lbs – Curated assortment of beef, pork, and chicken ($129 per month/$5.38 per meal)
The Beef & Pork Box – 8.5 to 11 lbs – Curated assortment of beef and pork ($129 per month/$5.38 per meal)
The Beef & Chicken Box – 8.5 to 11 lbs – Curated assortment of beef and chicken ($129 per month/$5.38 per meal)
The All Beef Box – 8 to 10 lbs – Curated cuts of beef ($129 per month/$5.38 per meal)
This is a review of the Custom Box. Our box this month includes ground beef for life (2 pounds!), wings for life (3 pounds!), and drumsticks for life (5 pounds!).
The waitlist for ButcherBox has been lifted and you can sign up now!
We've always had everything arrive rock-solid, so there have been no issues with temperature control during shipping. The meat arrives ready to throw in the freezer or thaw for use.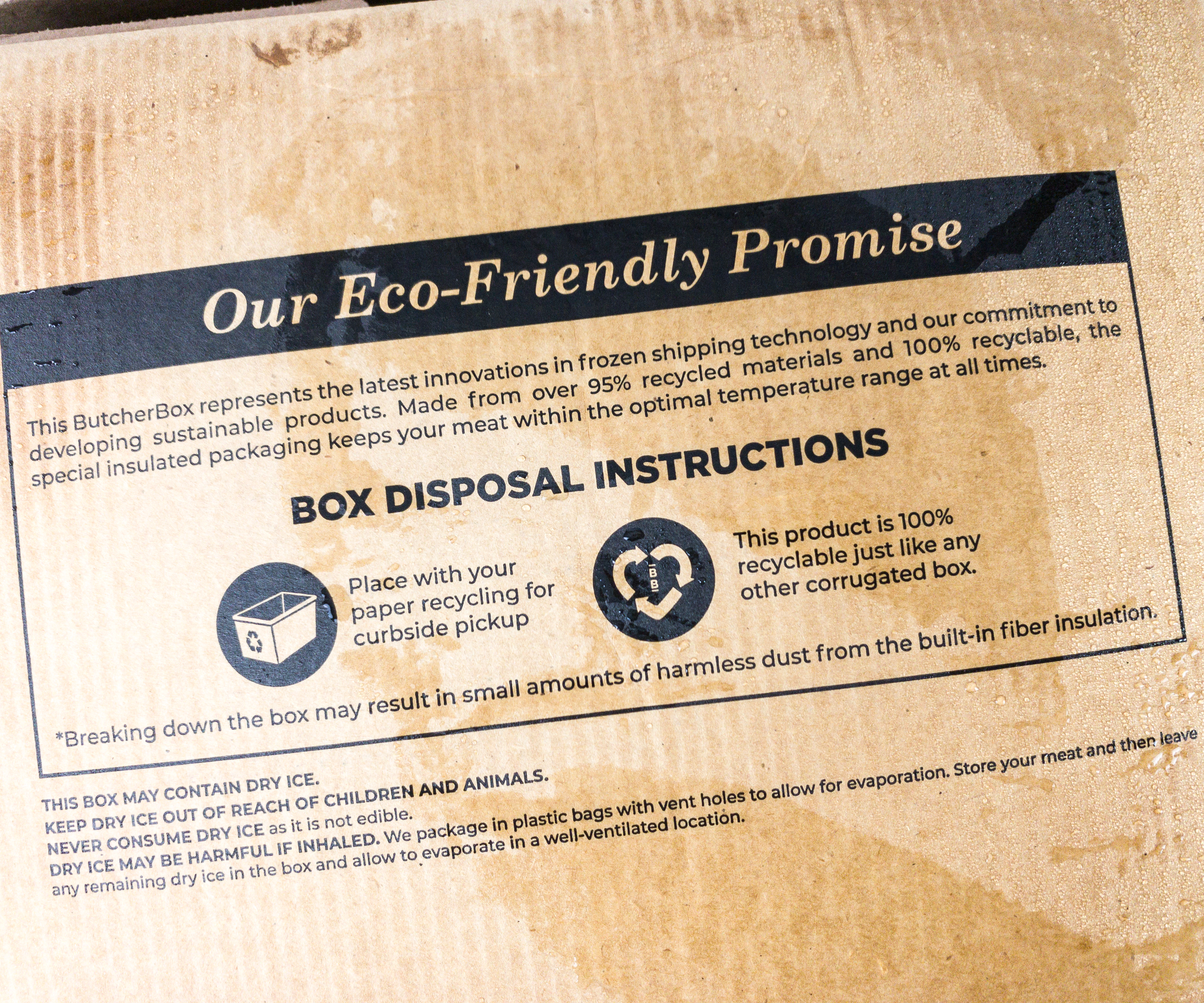 According to this part of the box, the packaging is made using eco-friendly and 100% recyclable materials.
All the meats are vacuum-sealed in plastic, packed in an insulated bag, and then kept frozen within the outer soft-side cooler padding and box with a large dry ice pack.
Everything in my June 2020 box!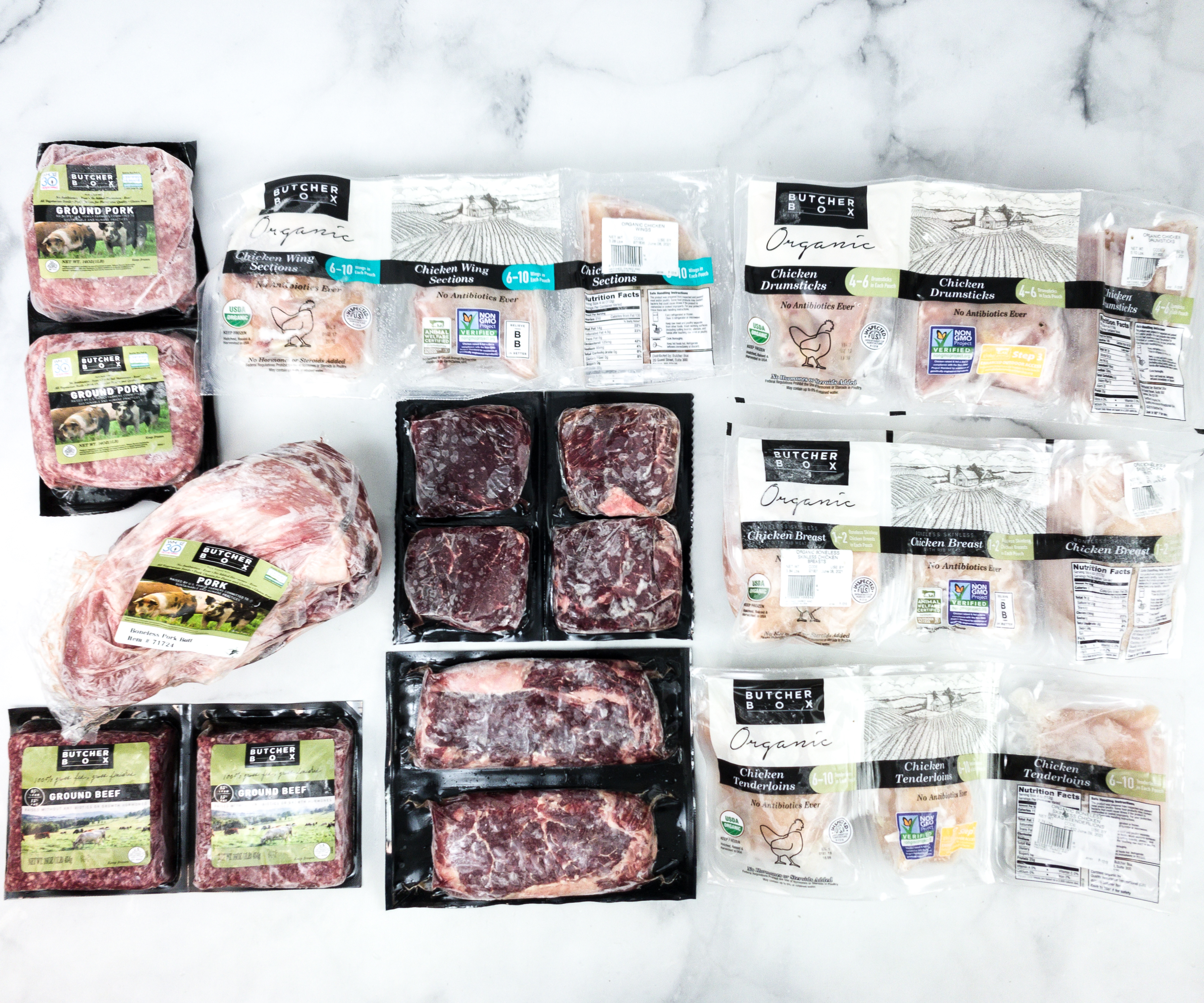 All the meats are portioned to a manageable size, so you can pull it from the freezer as needed without thawing more than you want.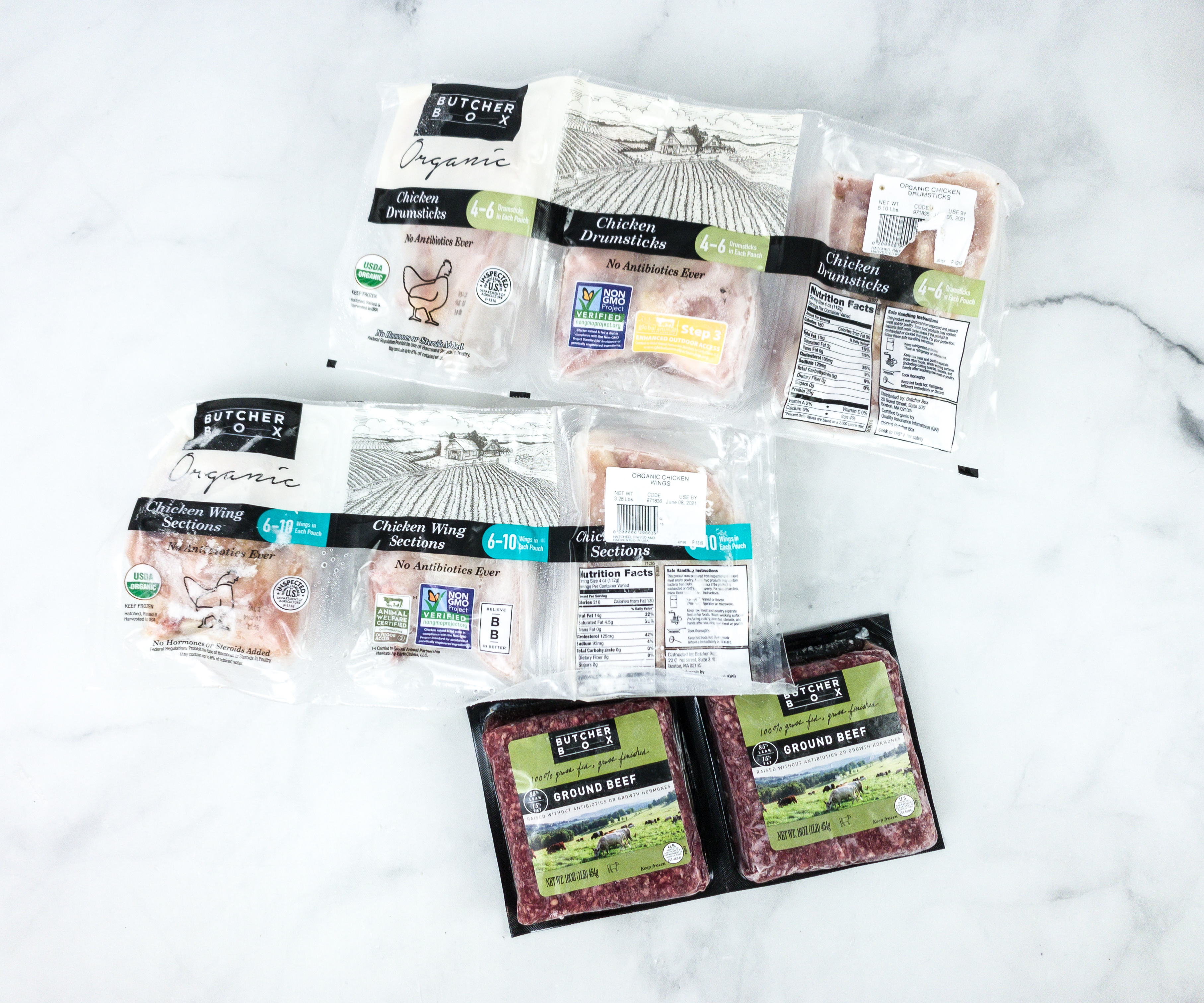 Here are our add-ons: ground beef, chicken wings, and chicken drumsticks!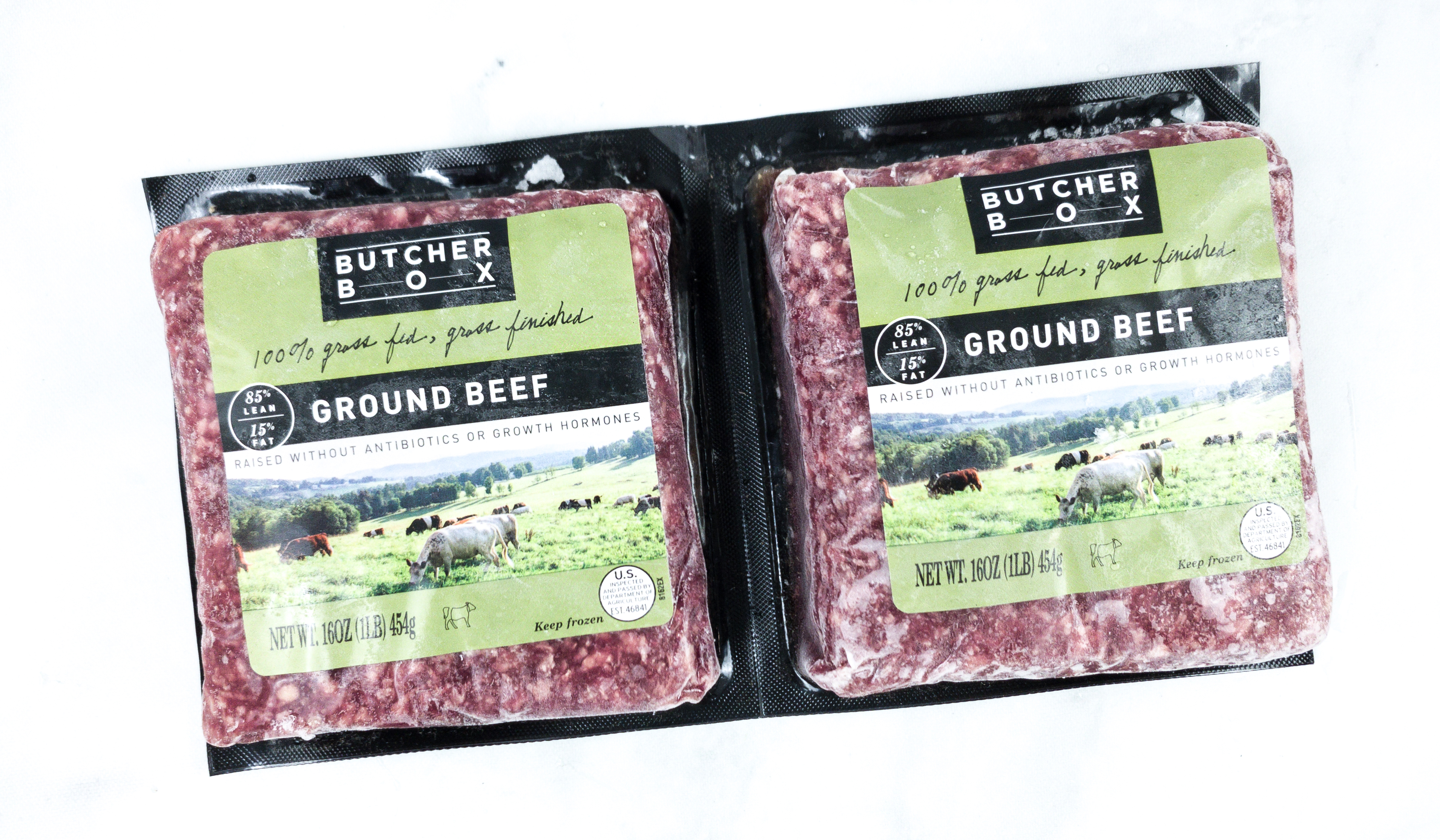 Ground Beef. A staple in our box, these packs of ground beef are 100% grass-fed with 85% lean and 15% fat content.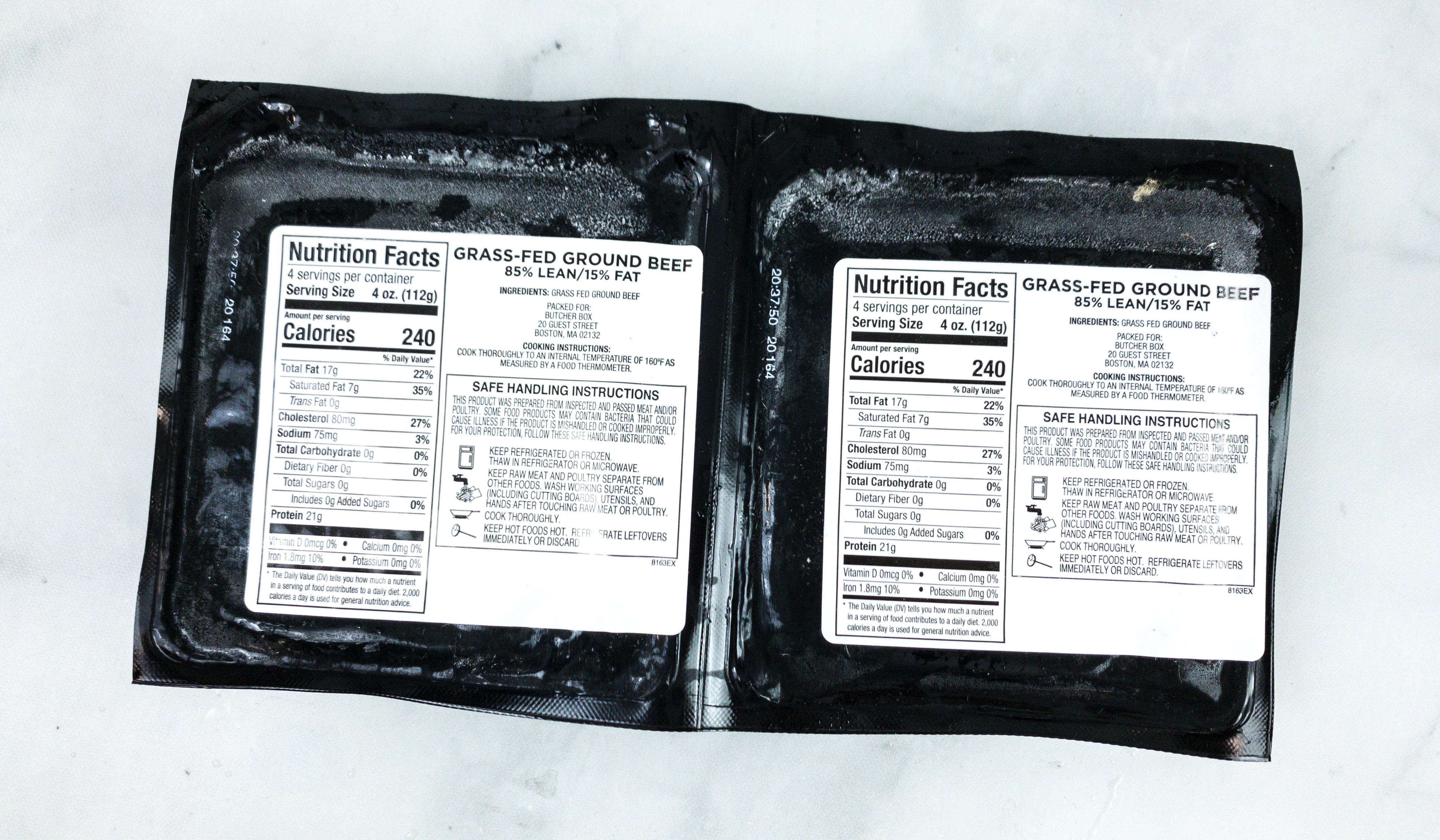 We love using this for making hamburger patties. It generates a bit of liquid when cooked and it won't flare up much when cooked on the grill!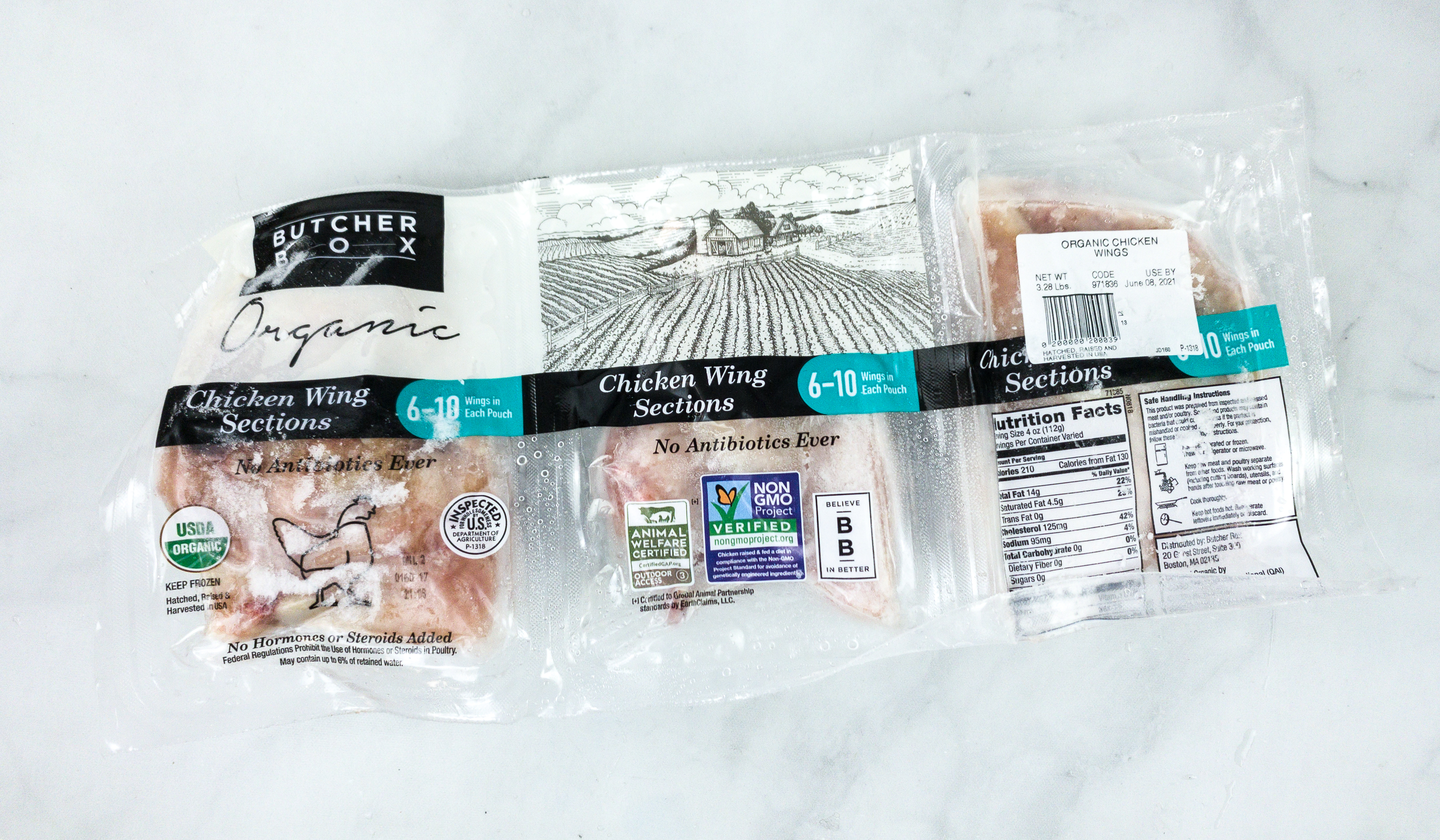 Chicken Wing Sections. We also have 3 packs of chicken wings, with 6-10 pieces of organic wings in each pack!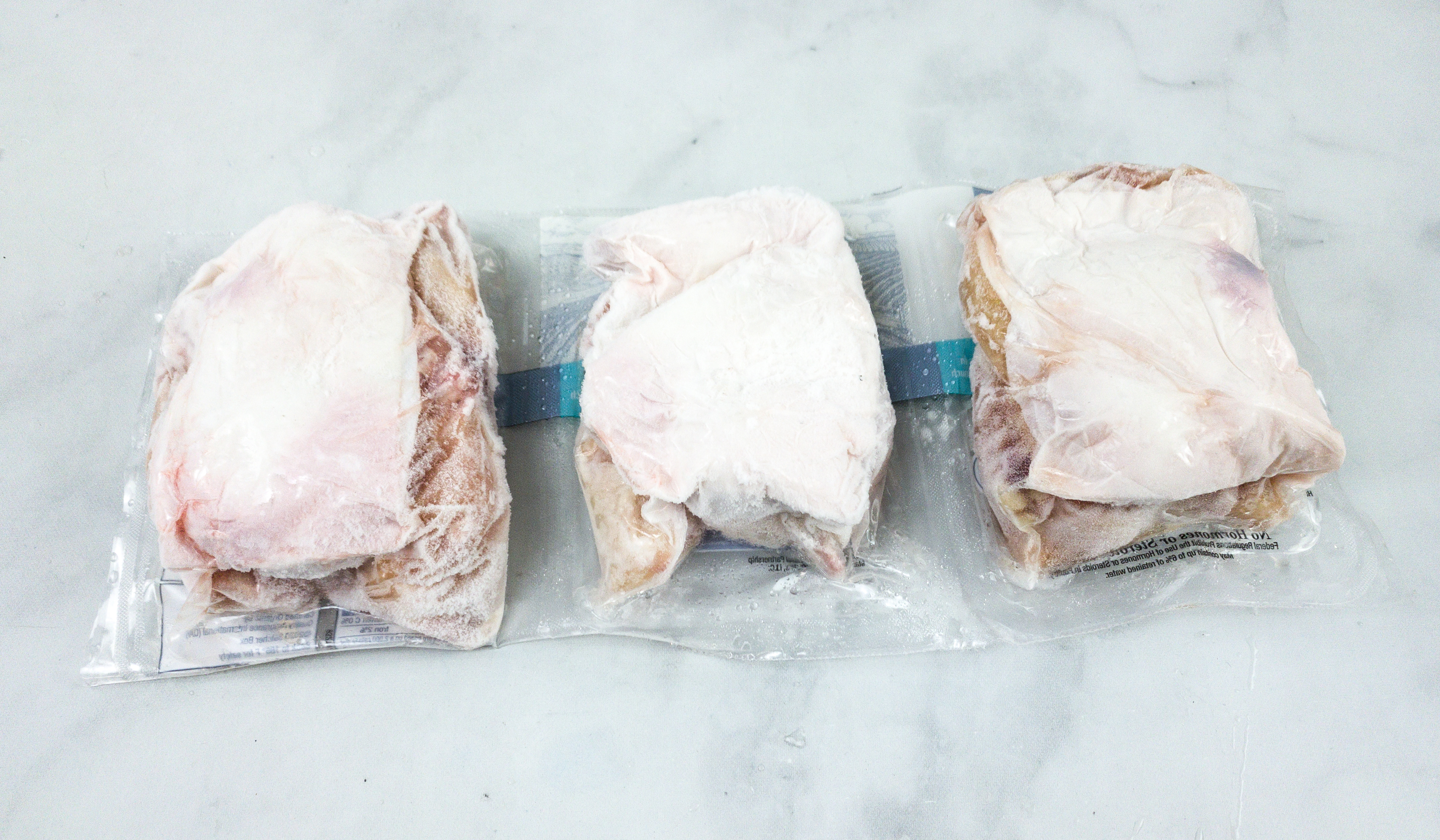 These are USDA-certified, non-GMO chicken wings that don't contain hormones or steroids. Since they arrived well-portioned, they are easy to prepare and cook and ideal for chicken barbecue and fried chicken recipes!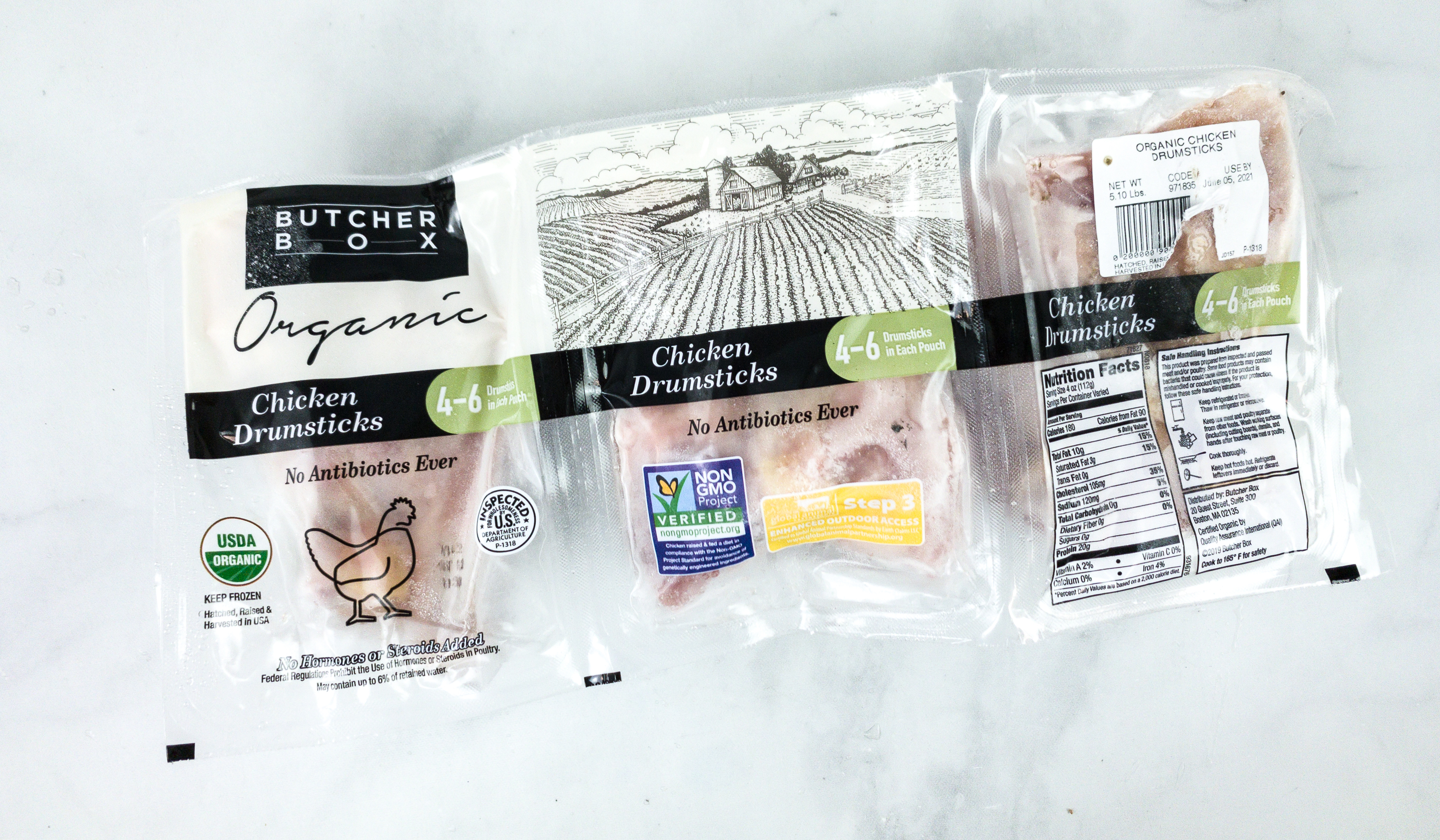 Chicken Drumsticks. Here are more chicken cuts! We have 3 packs of chicken drumsticks and each of them contains 4-6 pieces.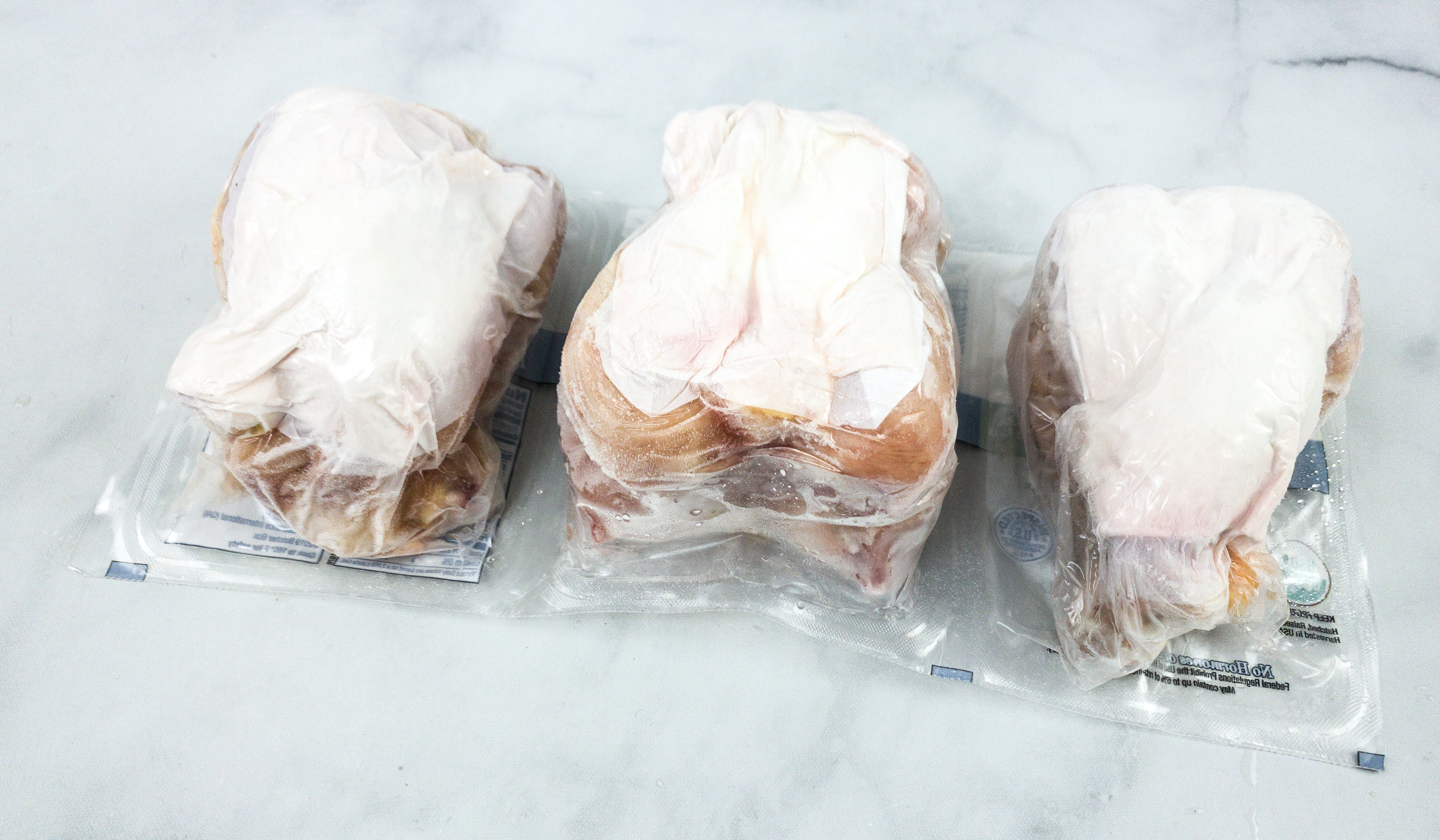 Drumsticks are considered to be one of the meatiest and tastiest parts of the chicken. They're ideal for frying!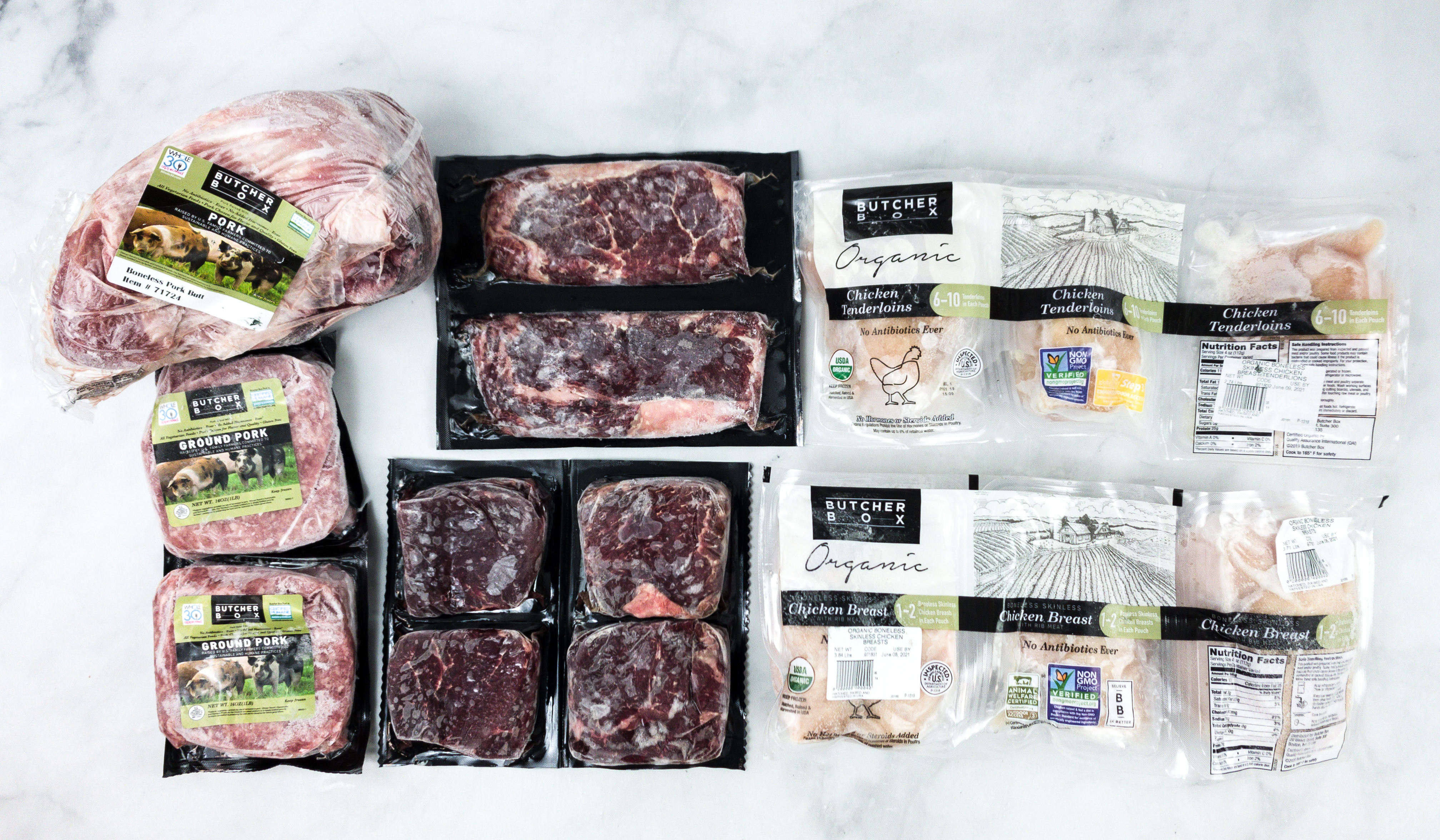 Here are the other meats we received in this month's box: Boneless Pork Butt, Ground Pork, Chicken Tenderloins, Chicken Breast, Rib-eye Steak, and Top-Sirloin Steak!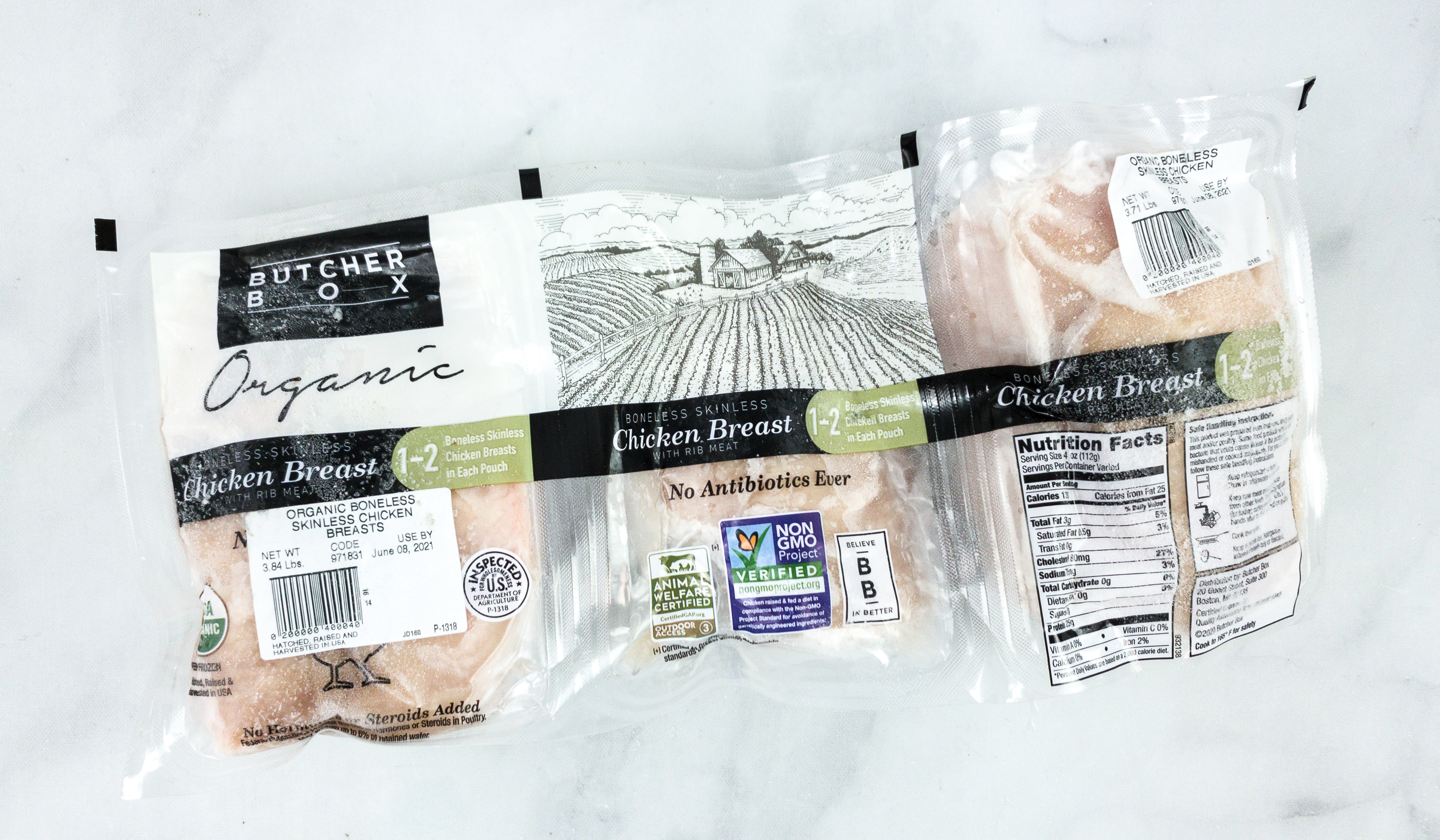 Chicken Breast. Like drumsticks, the chicken breast is another meaty and juicy cut of chicken meat. We have 3 packs of it with 1-2 pieces of chicken breast in each.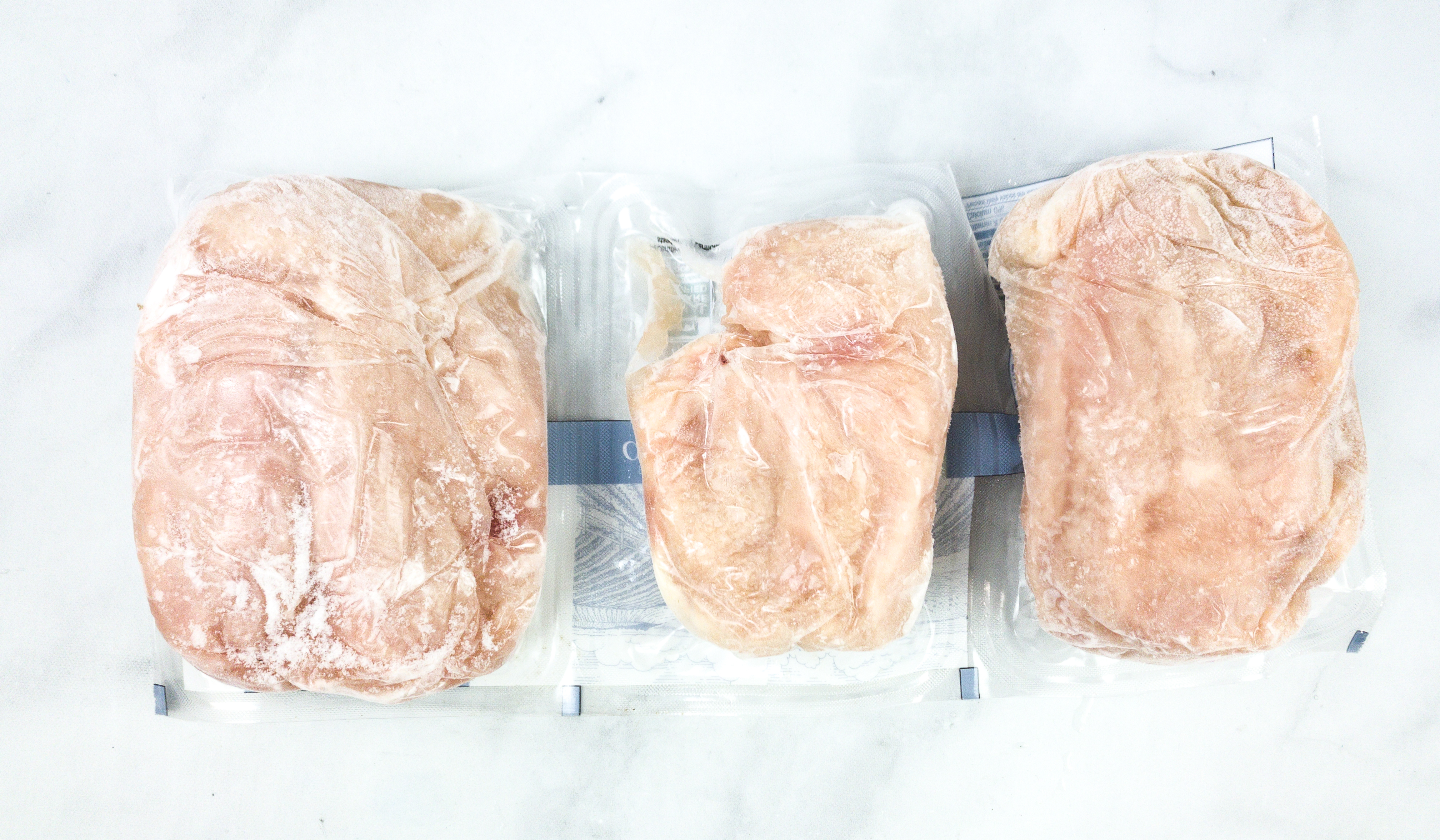 These are boneless, skinless, and all-organic chicken breasts. It's the kind of meat that is easy and quick to cook. Plus it's rich in protein!
Chicken Tenderloins. This cut of the meat is sourced from a strip of muscle that is lying alongside the inner breast part of the chicken closest to the bone.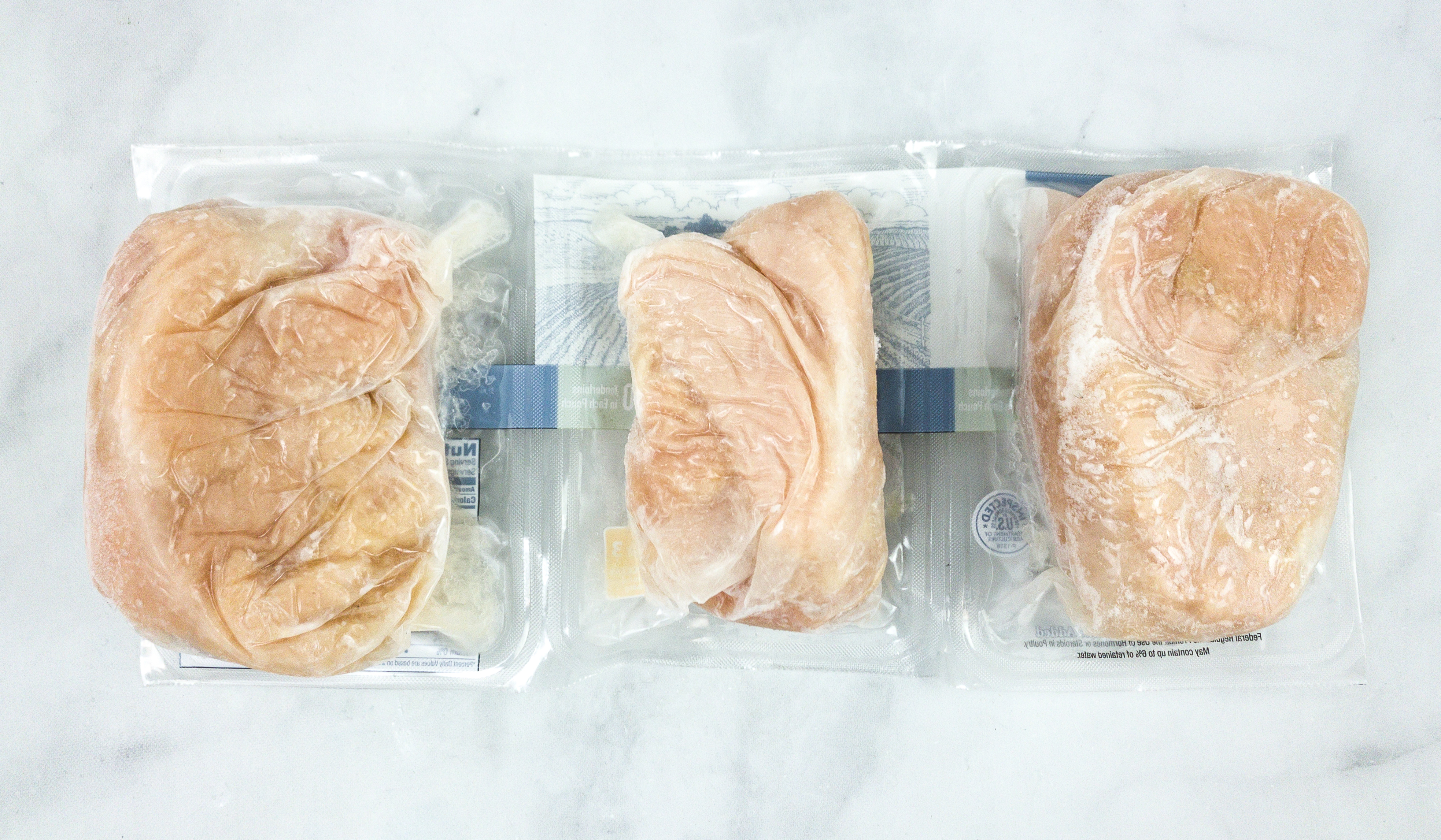 These tenderloins have a high protein content. Each pack contains 6-10 pieces!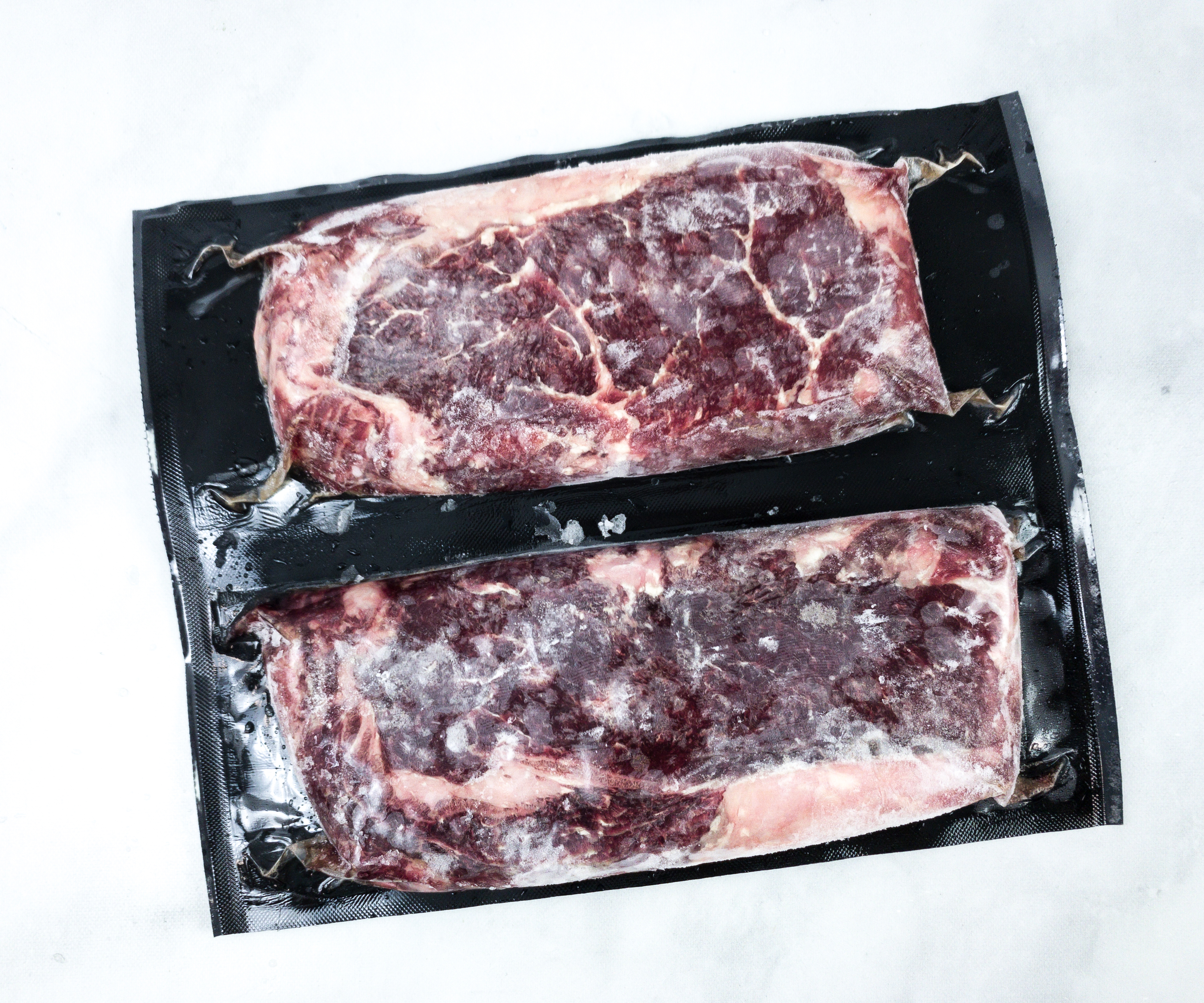 Rib-Eye Steak. Known to be the king of steaks, rib-eye features a distinct beefy flavor. It's sourced from the center of the rib section which has the smoothest and richest texture.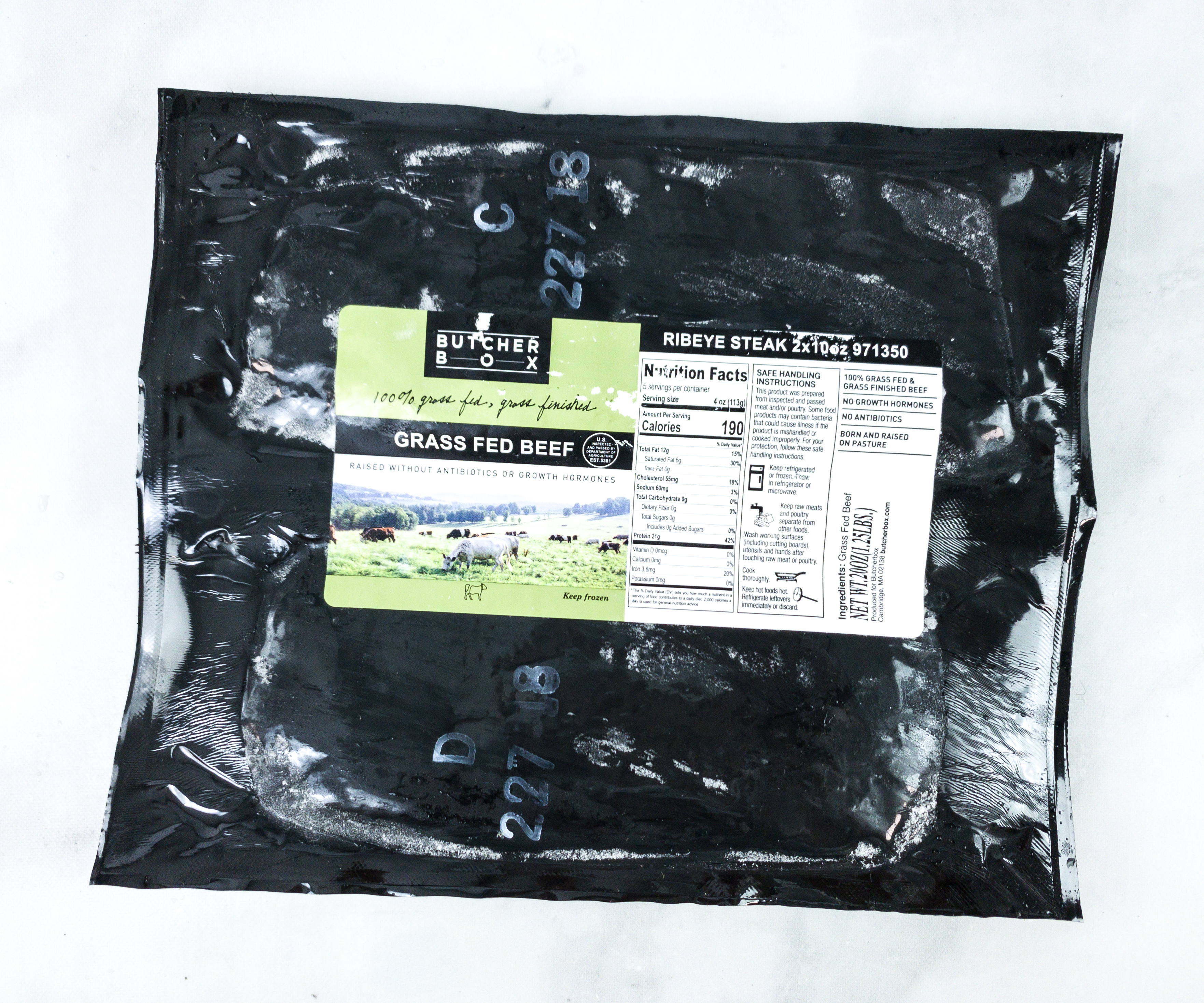 We received two 10 oz. packs of rib-eye steaks. These grass-fed steaks are fairly lean and the bands of fat are satisfying enough to provide a big, and greasy rib-eye flavor. What's great about this cut is that there isn't much waste once cooked.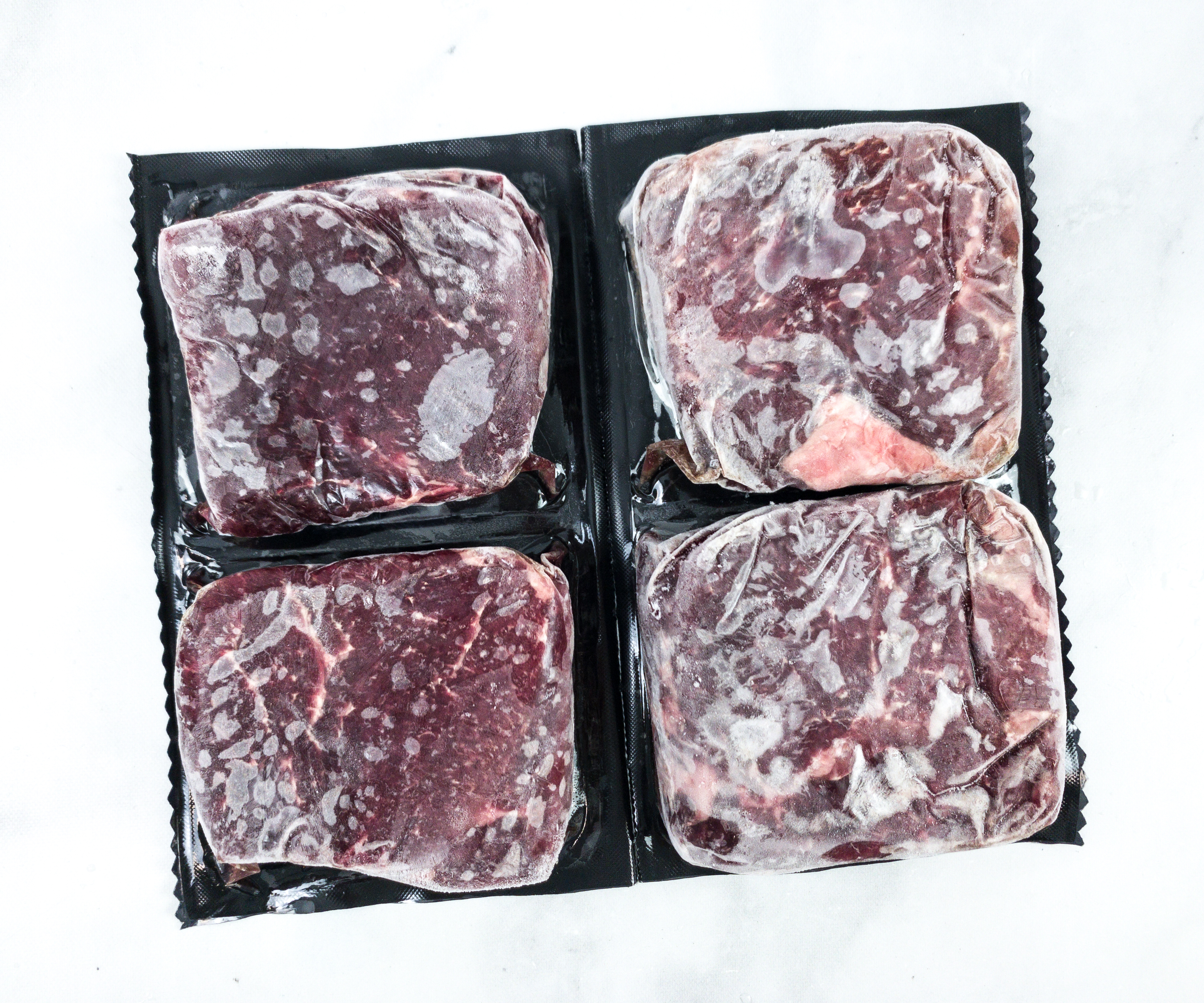 Top Sirloin Steak. It's a cut of beef sourced from the primal loin which is taken from the top rump part of the cow.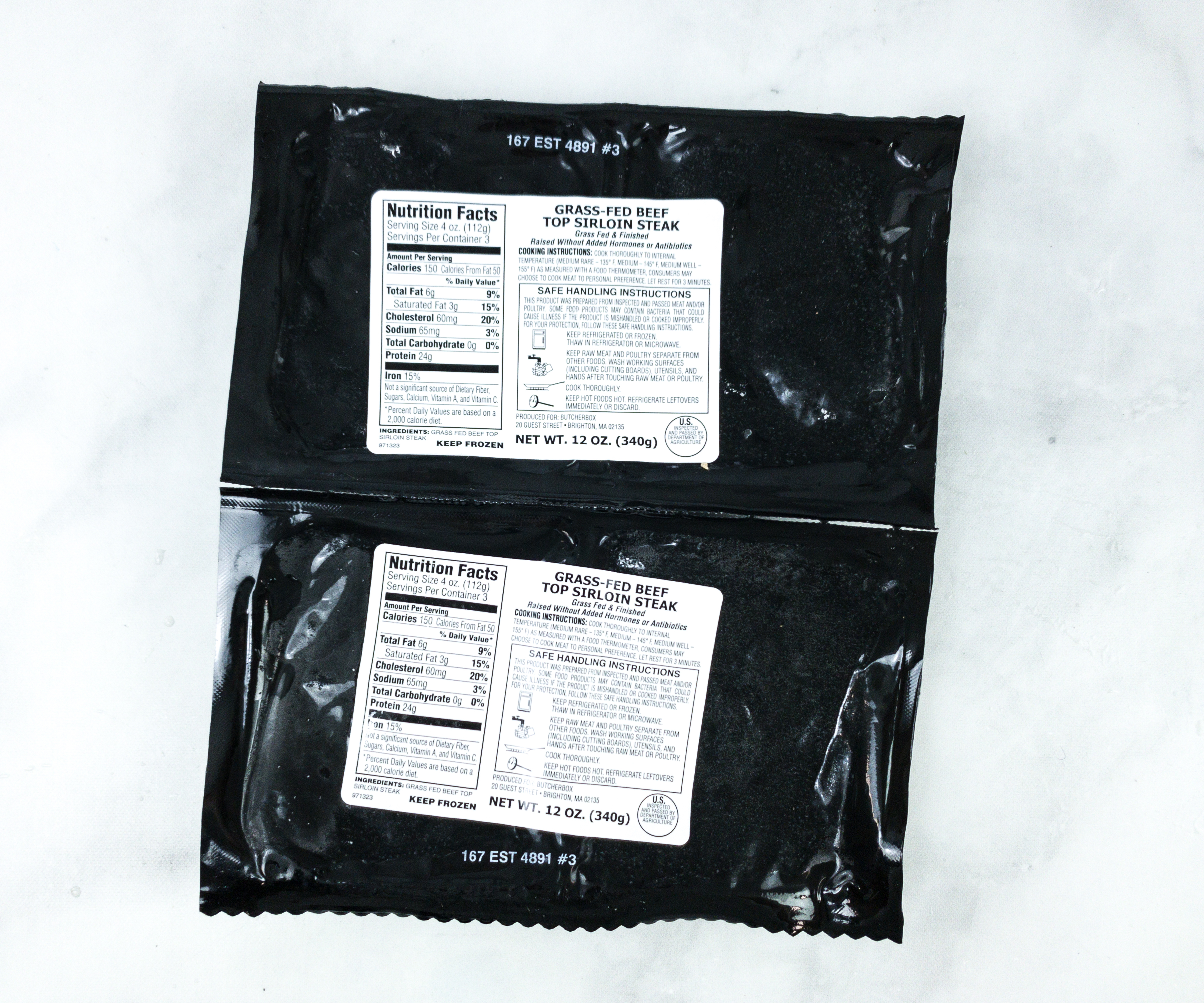 Sirloin cap features a good layer of fat and tenderness that is regularly used as a small roast, but since it's so versatile, it can also be a major ingredient for other delicious dishes!
Ground Pork. We received 2 packs of ground pork! The pork used for these is pasture-raised, antibiotic-free, and gluten-free.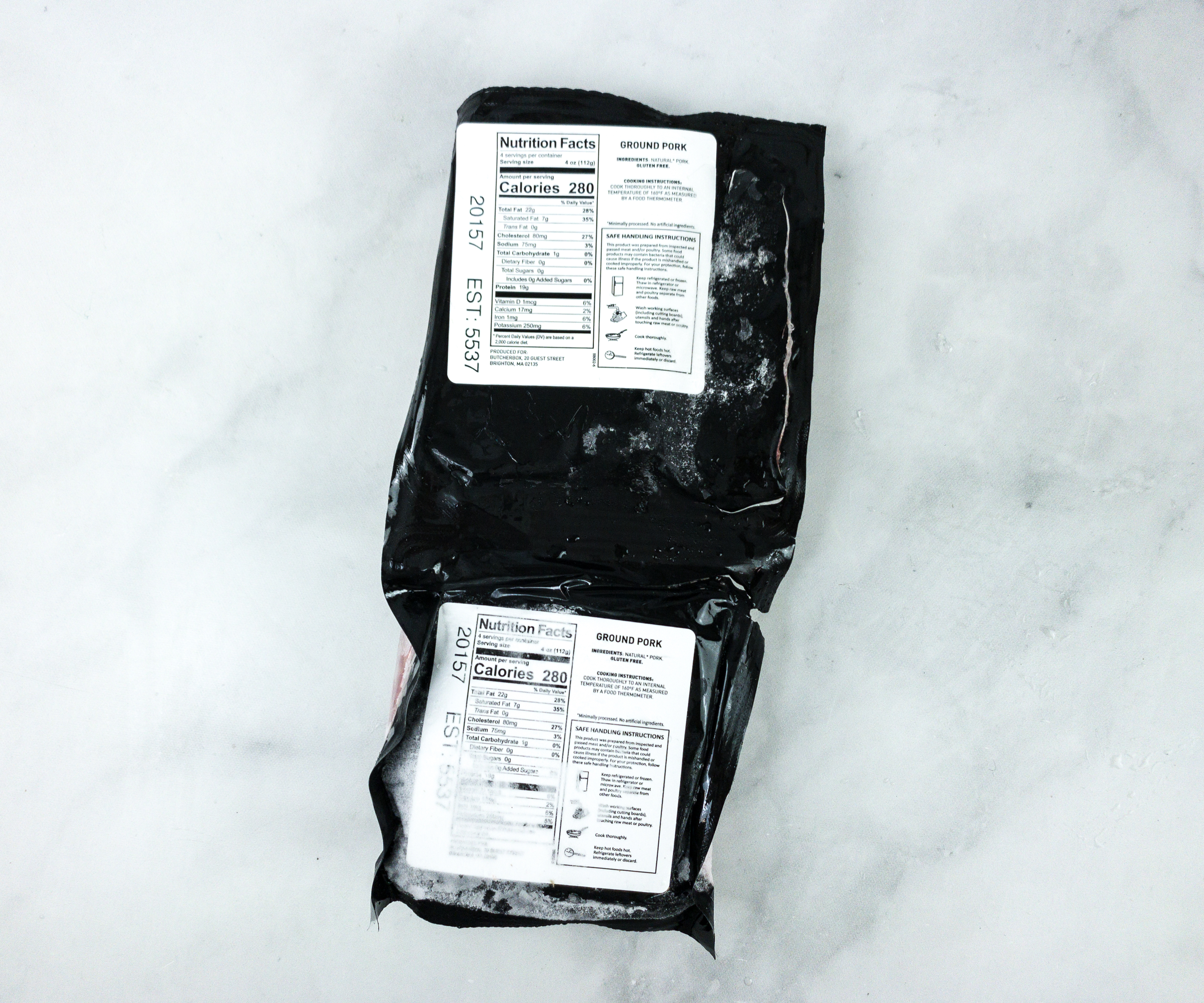 These have a nice texture, like the ones you can get in butcher shops. There are so many recipes that can use ground pork, like meatballs, dumplings, and fried rice!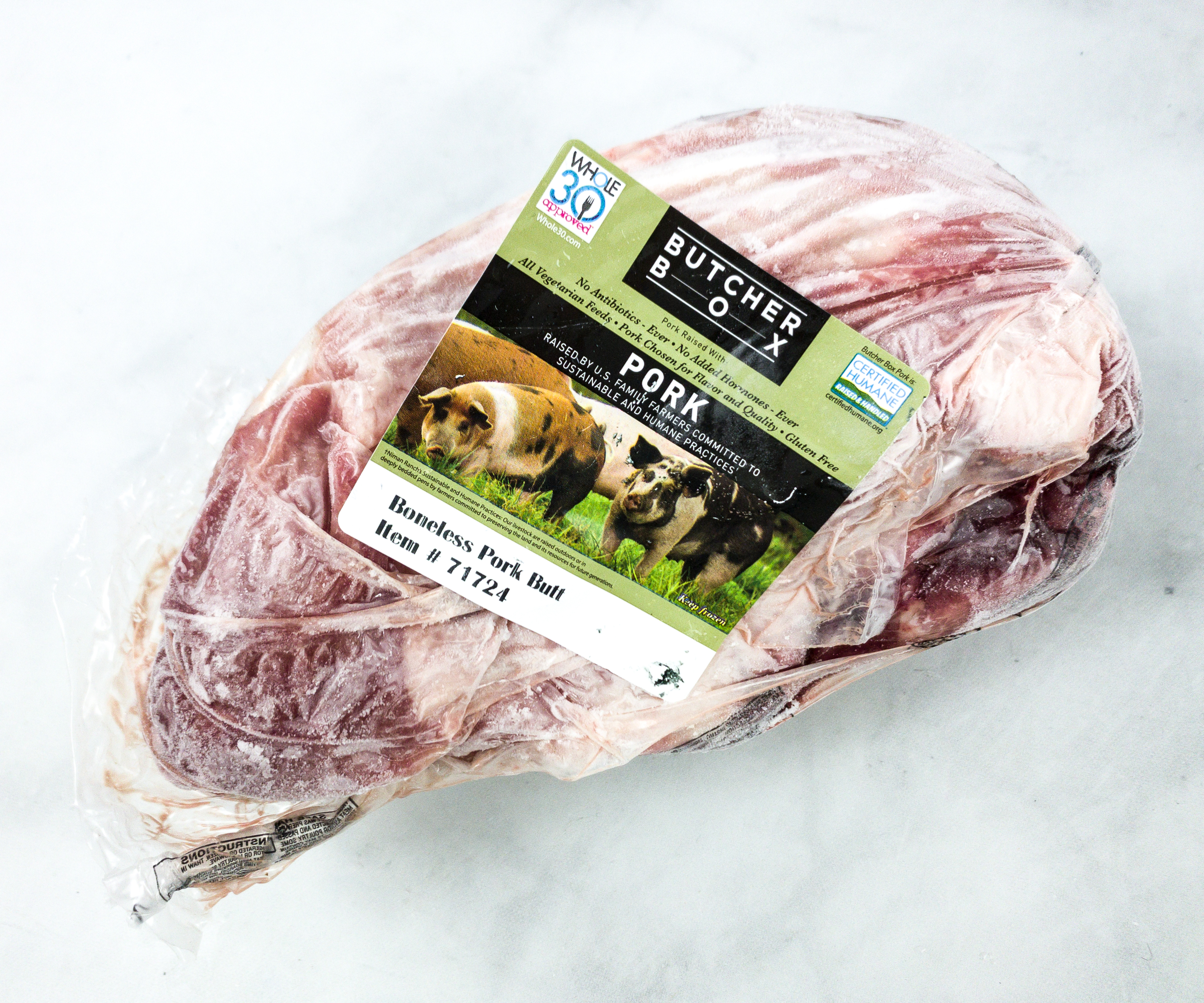 Pork Boneless Pork Butt. This one is considered to be one of the meatiest pork cuts! Pork butt is the ideal to use for roasting, as it is tough and features a considerable amount of fat!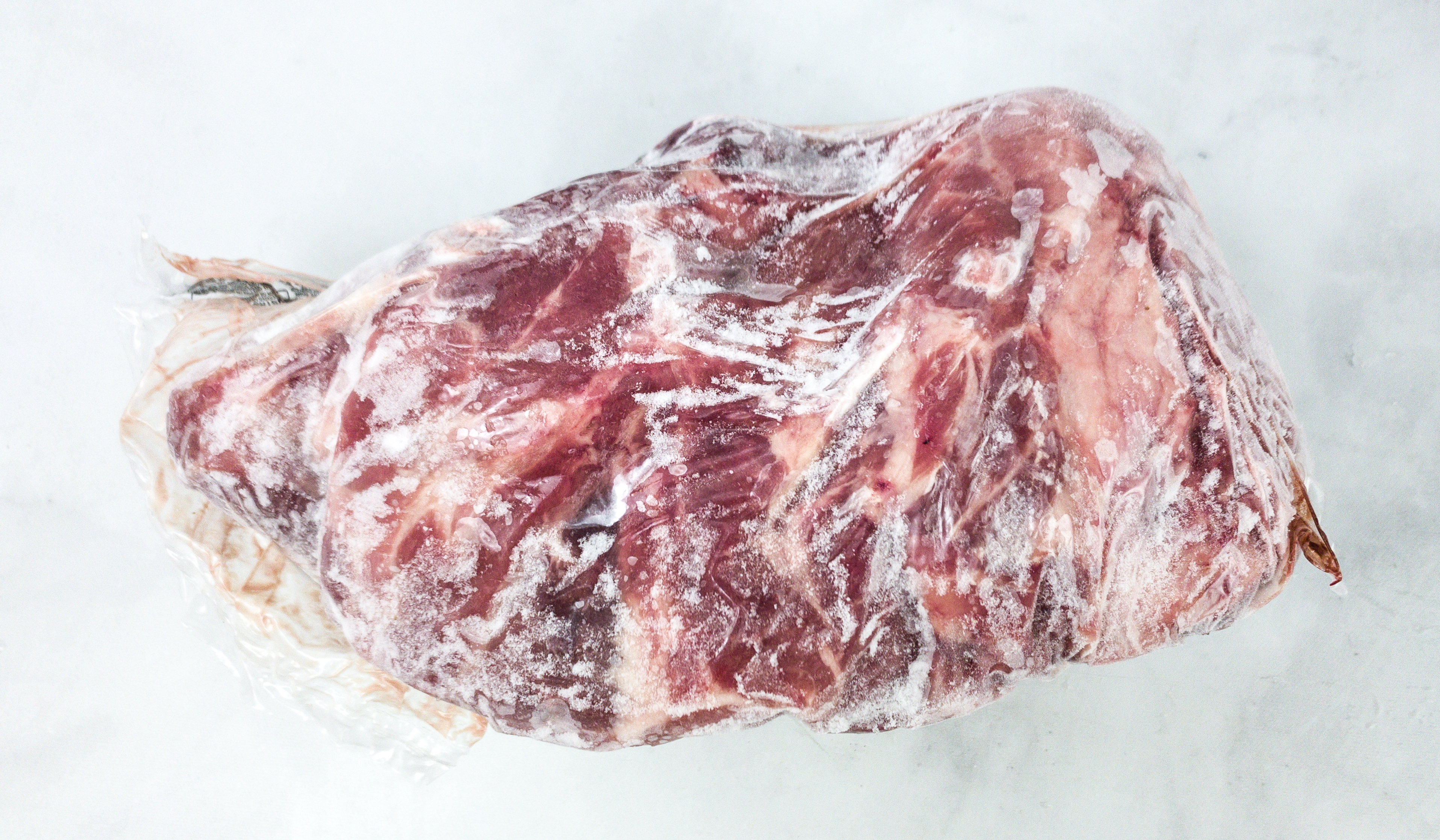 According to the label, this pork is raised with no antibiotics, no added hormones, and is gluten-free as well. It is also big enough to use on a couple of dishes!
Butcher Box is an ideal subscription for meat lovers! The variety of meat cuts they offer is really good and there are many choices depending on your household needs or your preferences. Although their boxes are a bit pricey, they always make sure to send high-quality meat sourced from antibiotic-free and hormone-free cow, pork, and chicken. The convenience of not having to go to a butcher shop is also priceless. These meats arrive deep-frozen and already cut into manageable sizes, so preparing and cooking them didn't take much time and effort! As someone who loves to cook, having a meat subscription box like this is really helpful. Although we typically go for the ButcherBox selections we also love being able to select the exact cuts we will receive!
Stay tuned for our "what we made this month" post to show you our goodies all cooked up!
What did you think of our haul from Butcher Box?