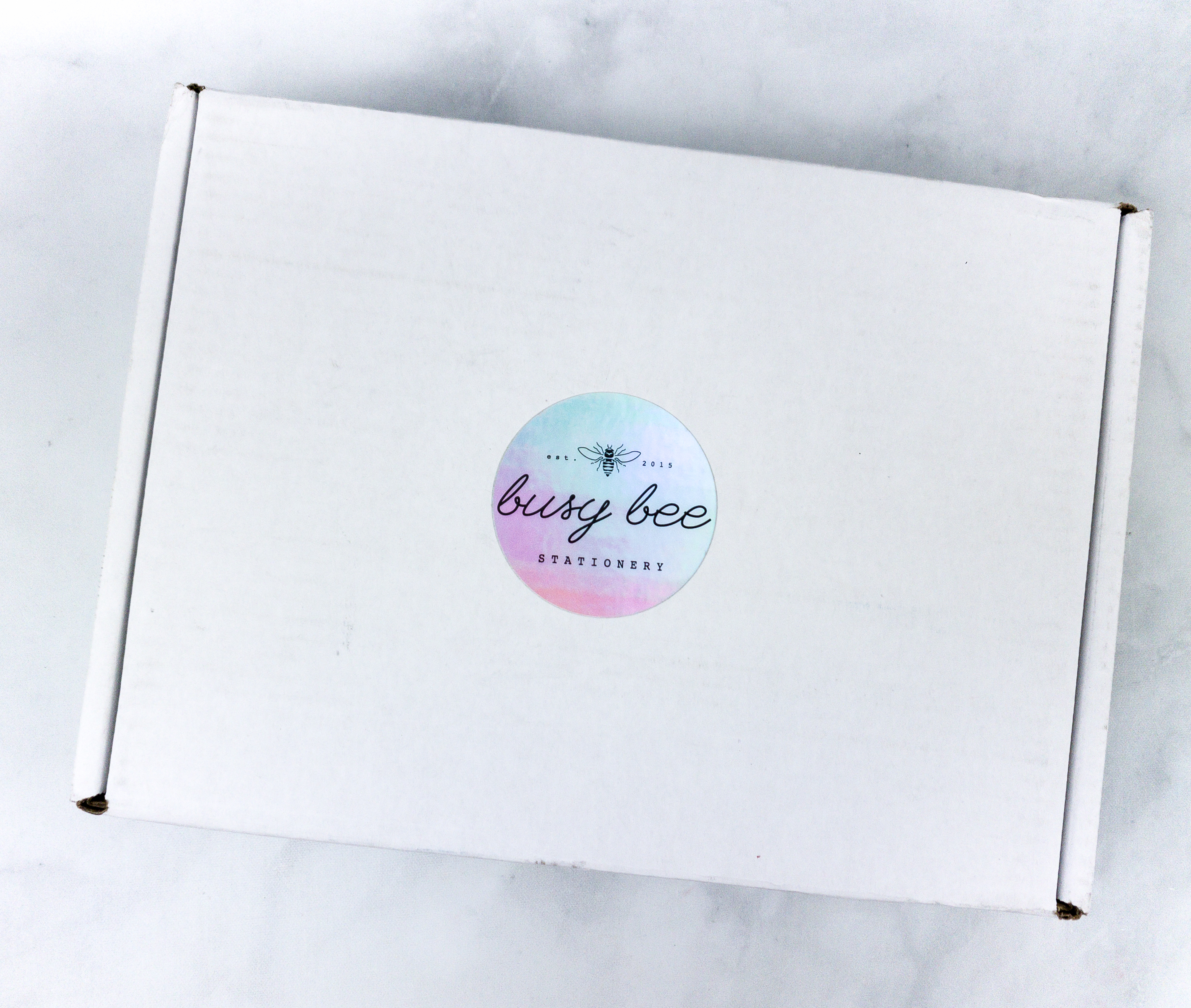 Busy Bee Stationery is a monthly stationery subscription that will bring you items that inspire creativity and help you with everyday note-taking, planning, journaling, and letter writing. For $39.90 per month, you will receive 5 to 10 items built around a theme, season, or a specific project. Items can be things like pens, stickers, a notebook, washi tape, stamps, and more!
There's an info card on top of the items!
Everything came in retail plastic bags but we remove them for photography purposes.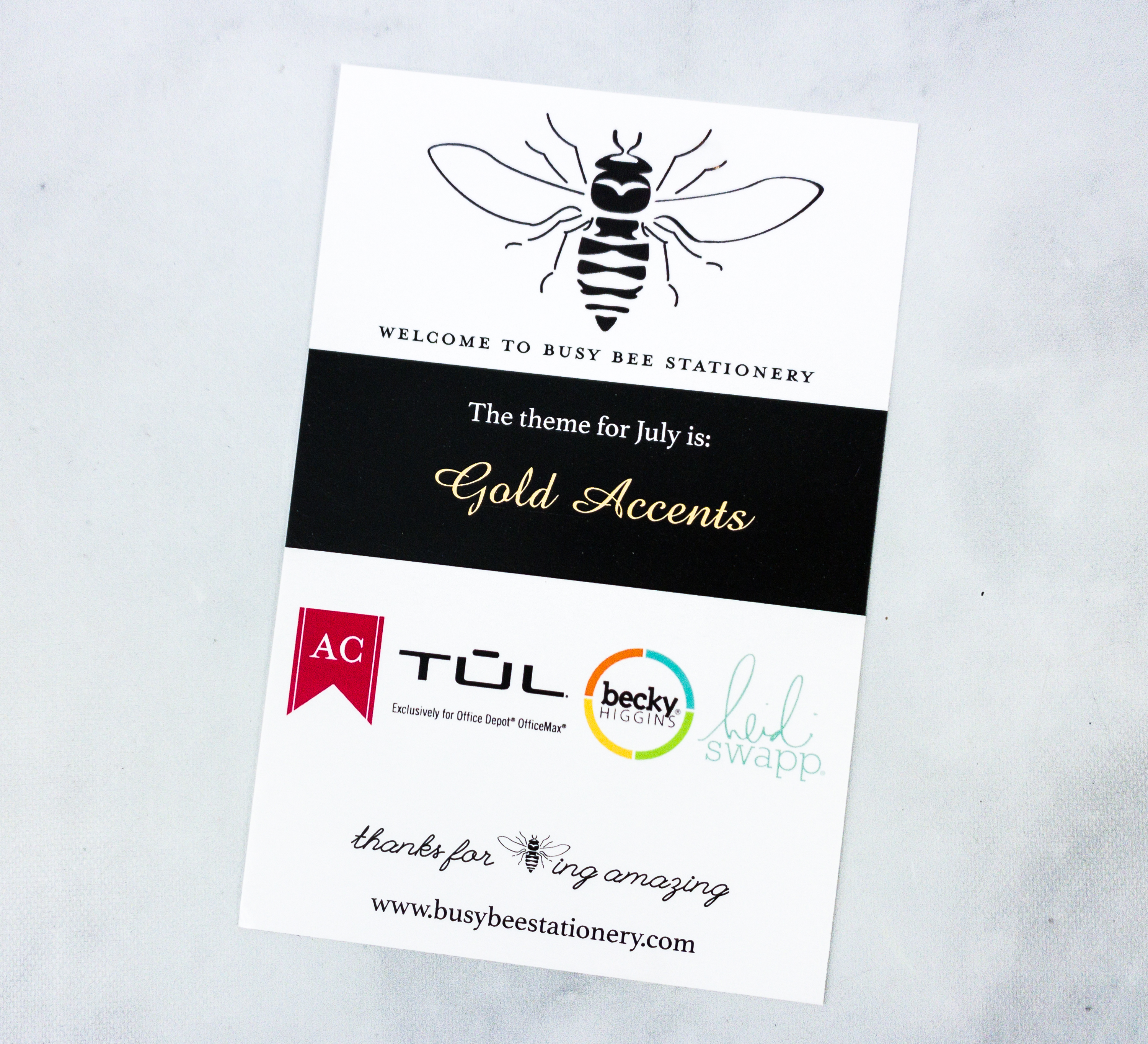 The July 2020 theme is Gold Accents!
You are busy -ing amazing.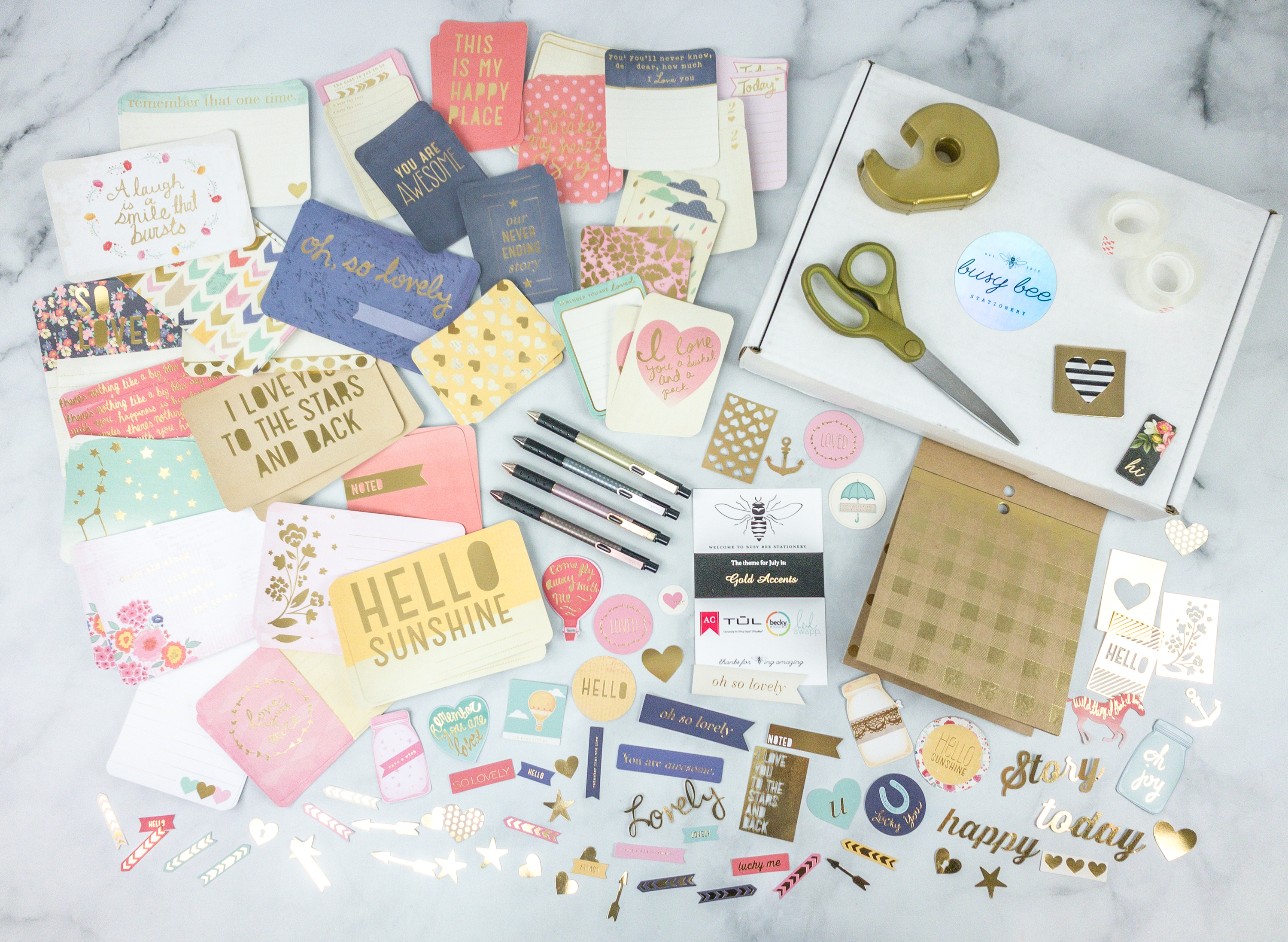 Everything in my July 2020 box!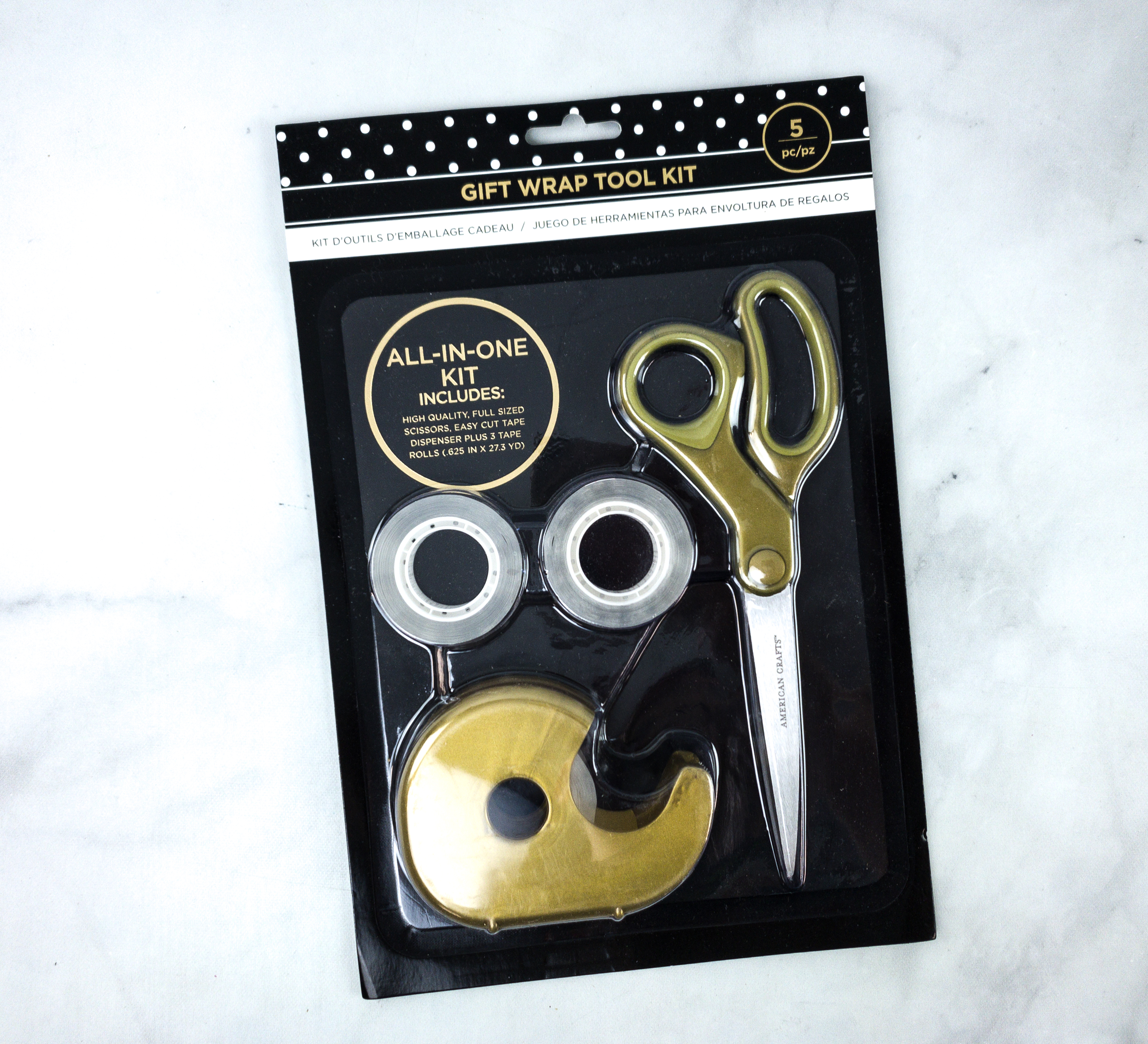 American Crafts Gift Wrap Tool Kit. This set of tools make gift wrapping easy, and it includes a scissor, tape dispenser, and tapes.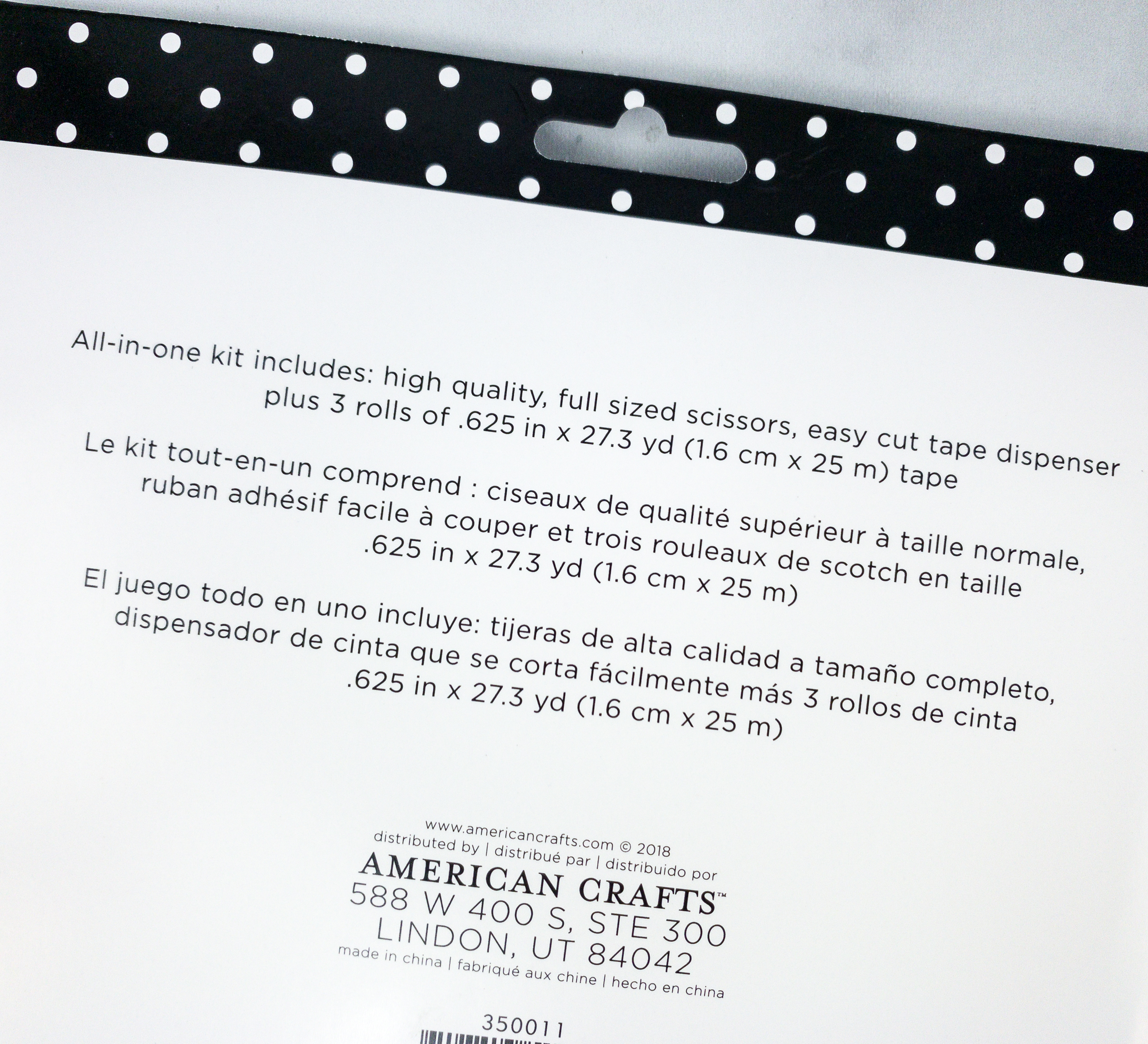 The back of the packaging lists all the contents of the kit.
The scissors are sharp and full-sized. The metallic golden handle looks so pretty.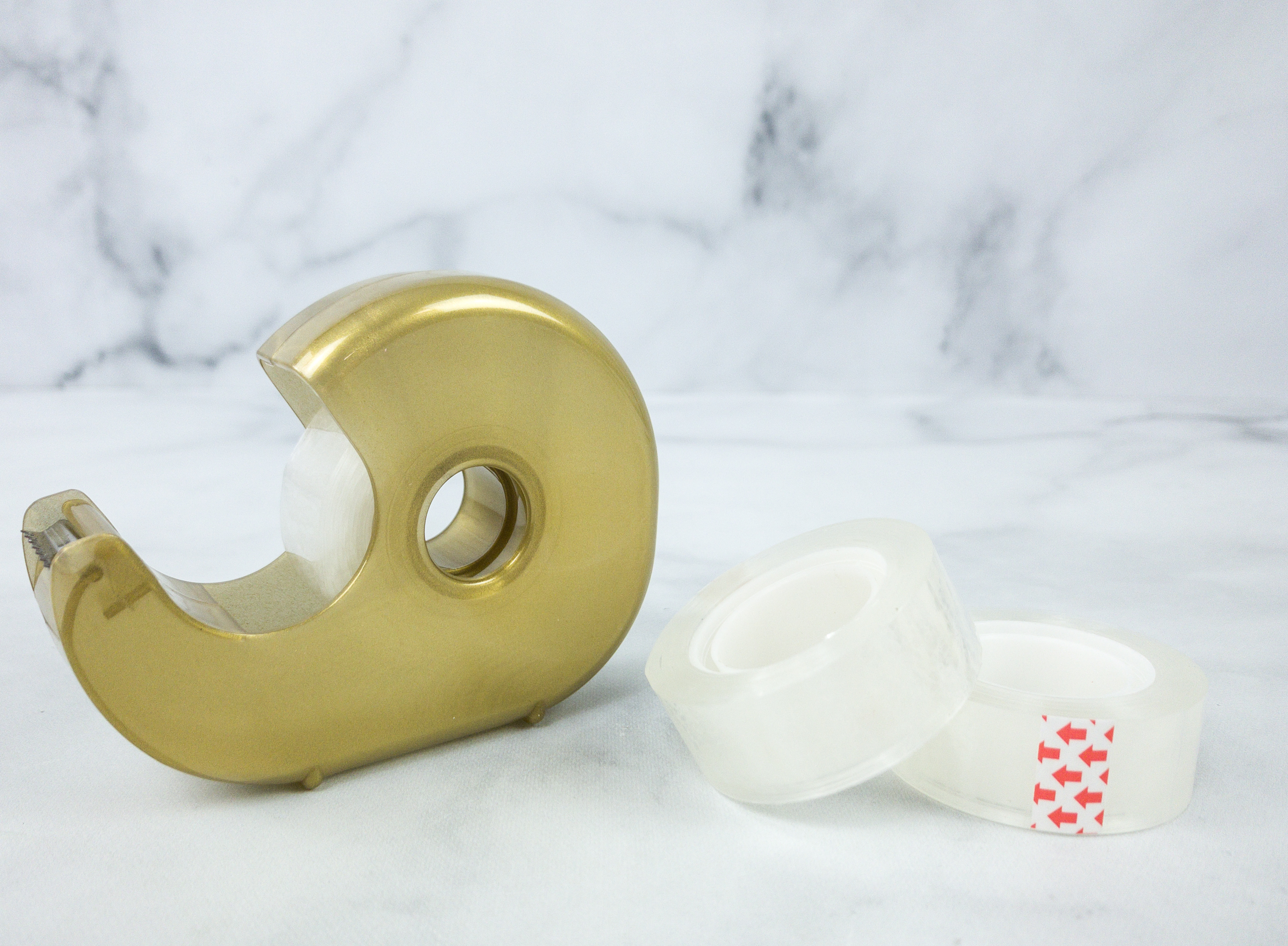 The easy-cut tape dispenser also comes in metallic gold color. There are even 3 rolls of tape, so you can use it right away and have refills in handy.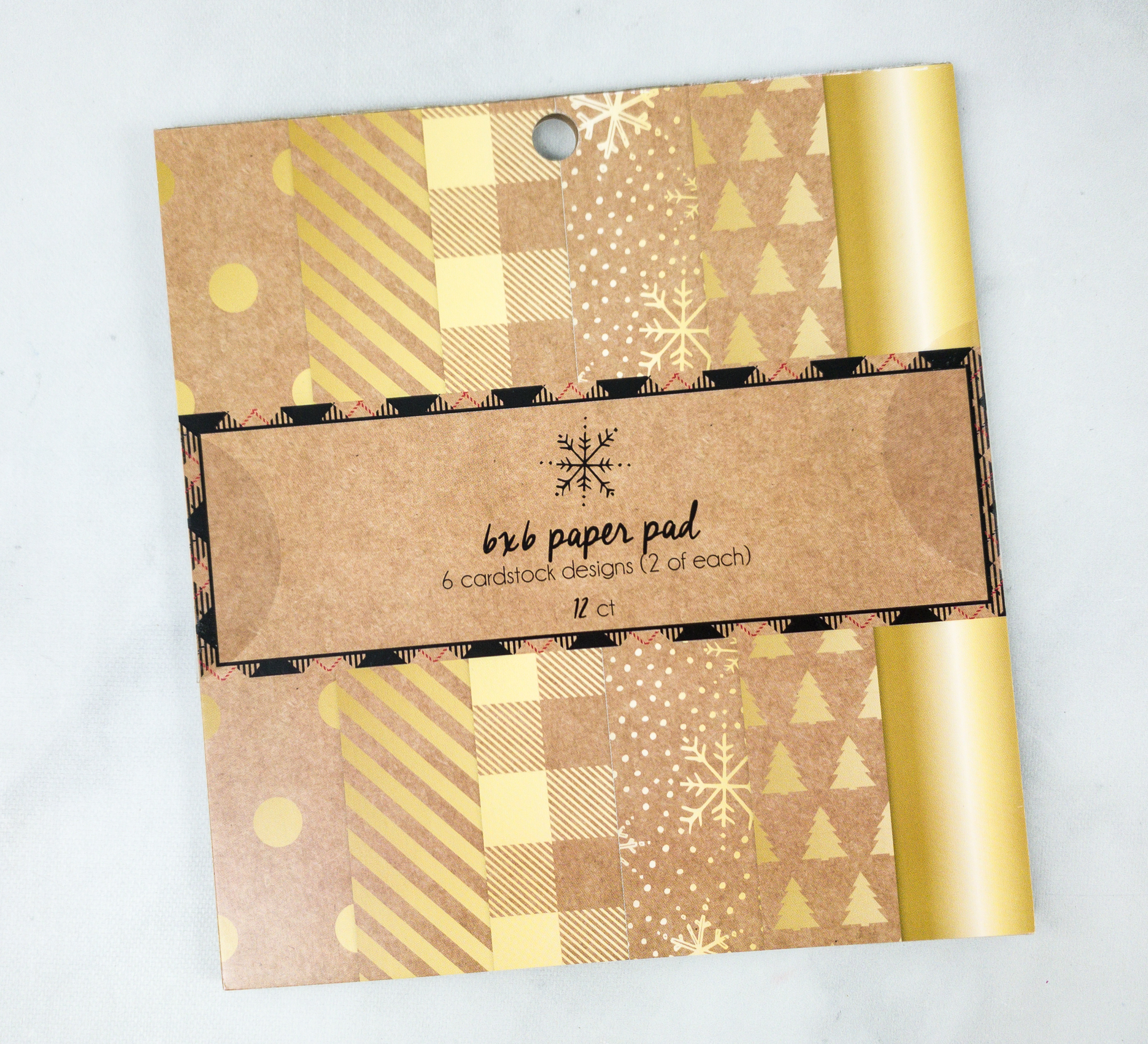 6×6 Paper Pad. I also received a set of 6″x6″ paper pads, and there are 6 designs included (2 of each). The paper pads have so many uses. They can be fill-in pages in journals and scrapbooks, or used as wrapping paper, and more!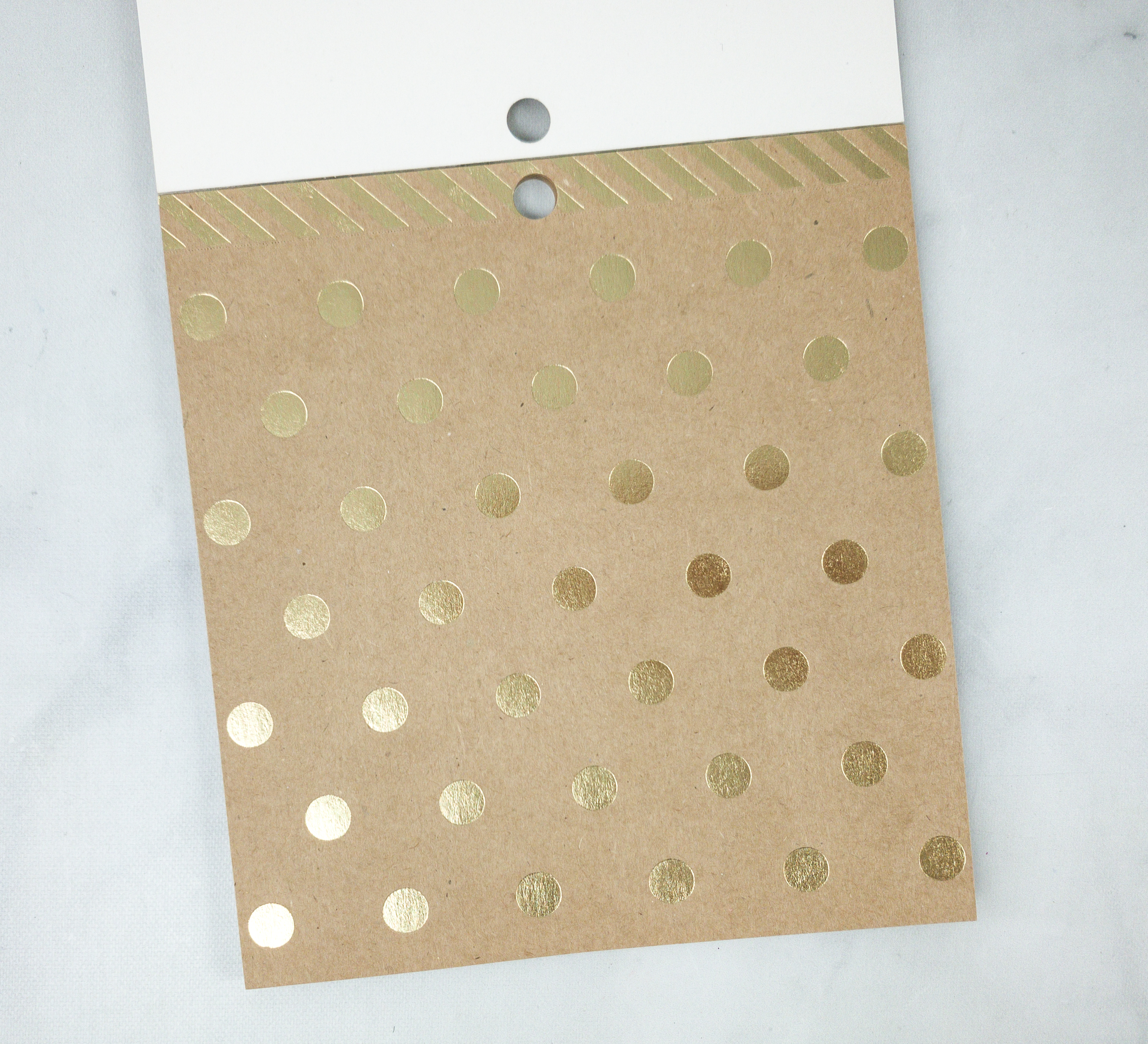 Here's a sample page, featuring gold foiled polka dots.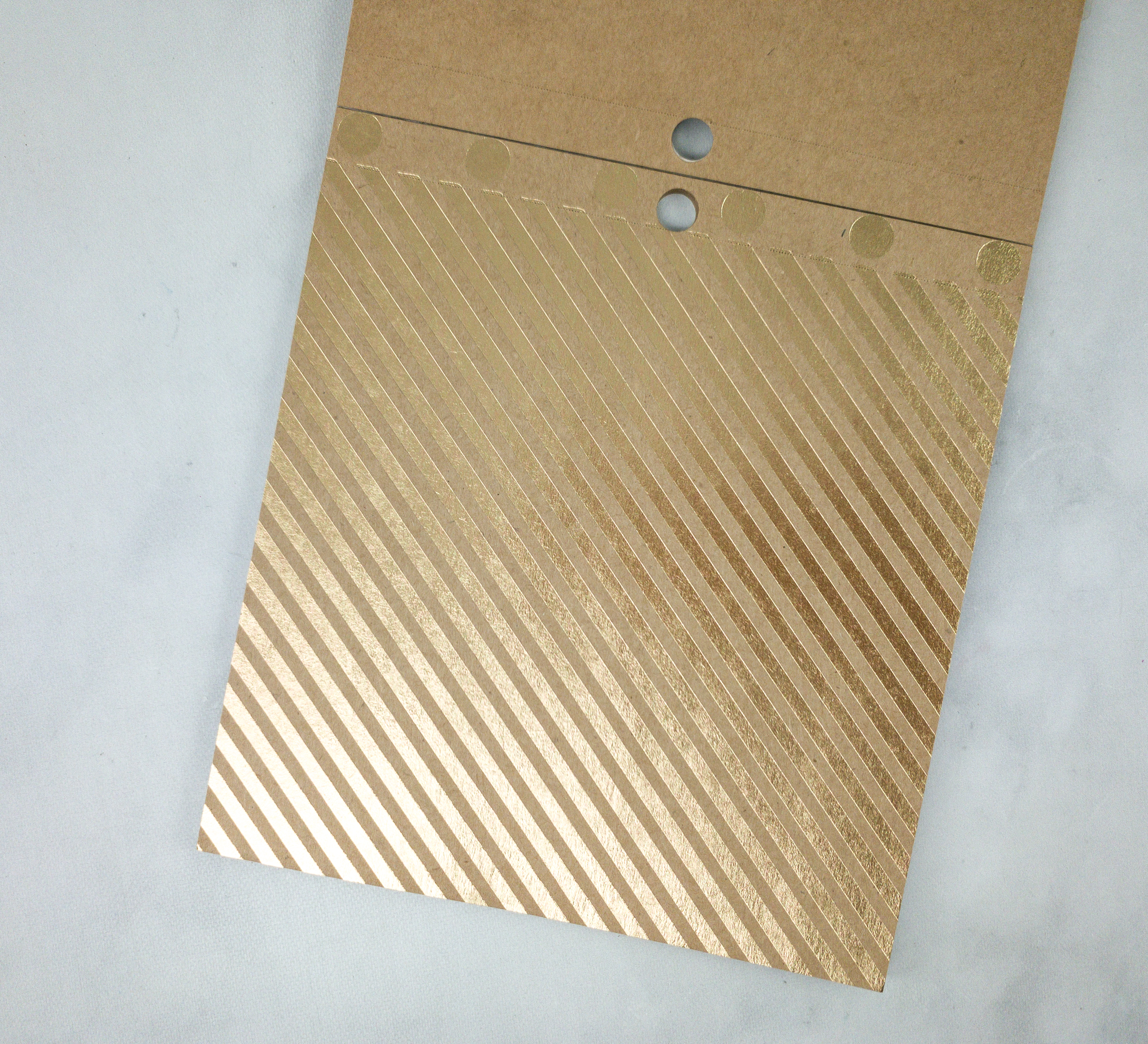 The next design ara slanted stripes of gold on craft paper.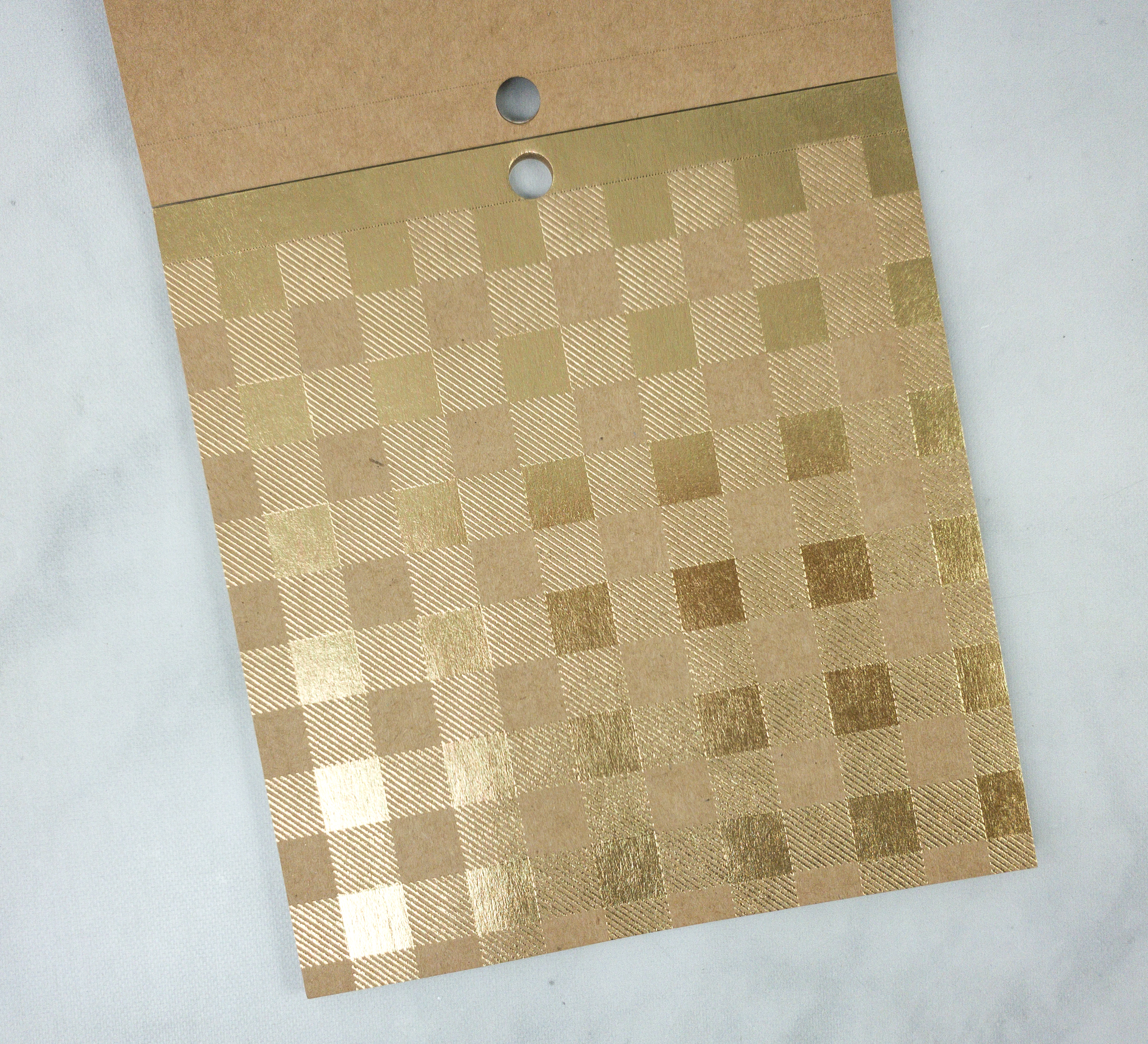 This is one of my favorites, the checkered design.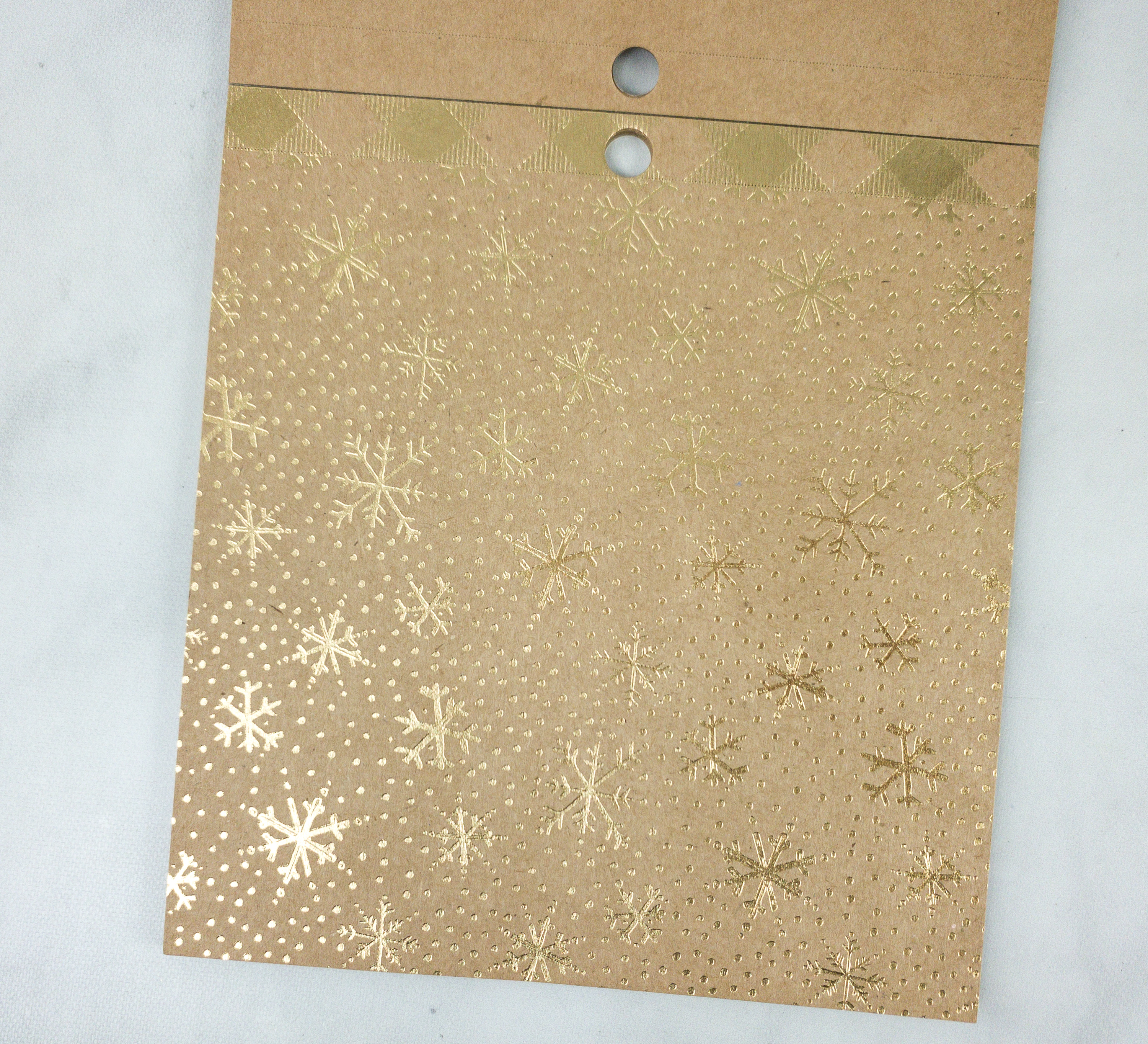 This one is perfect for the holidays! There are gold foiled snowflakes!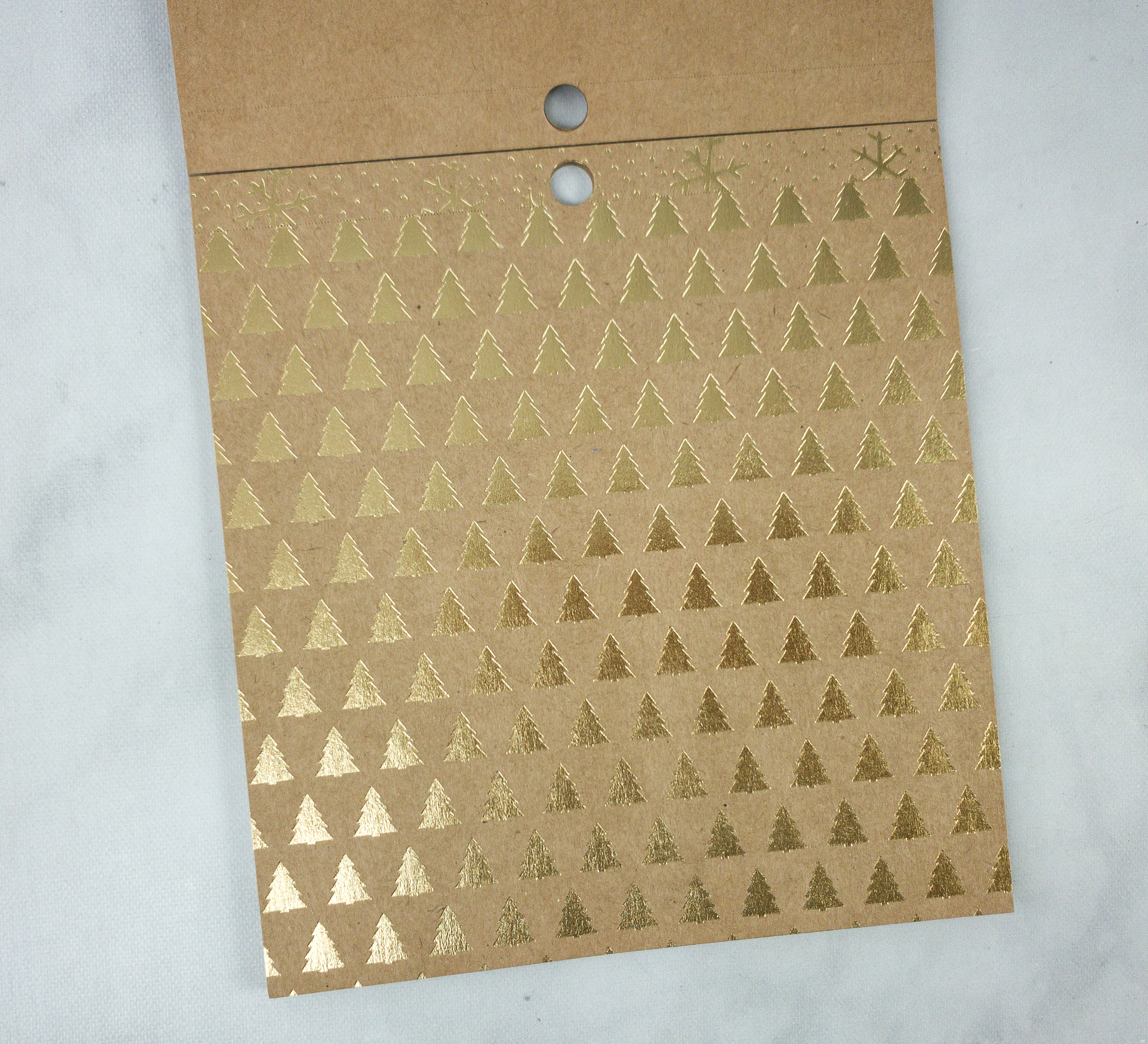 Here's another one for the holidays and this time it has small Christmas trees in gold foil!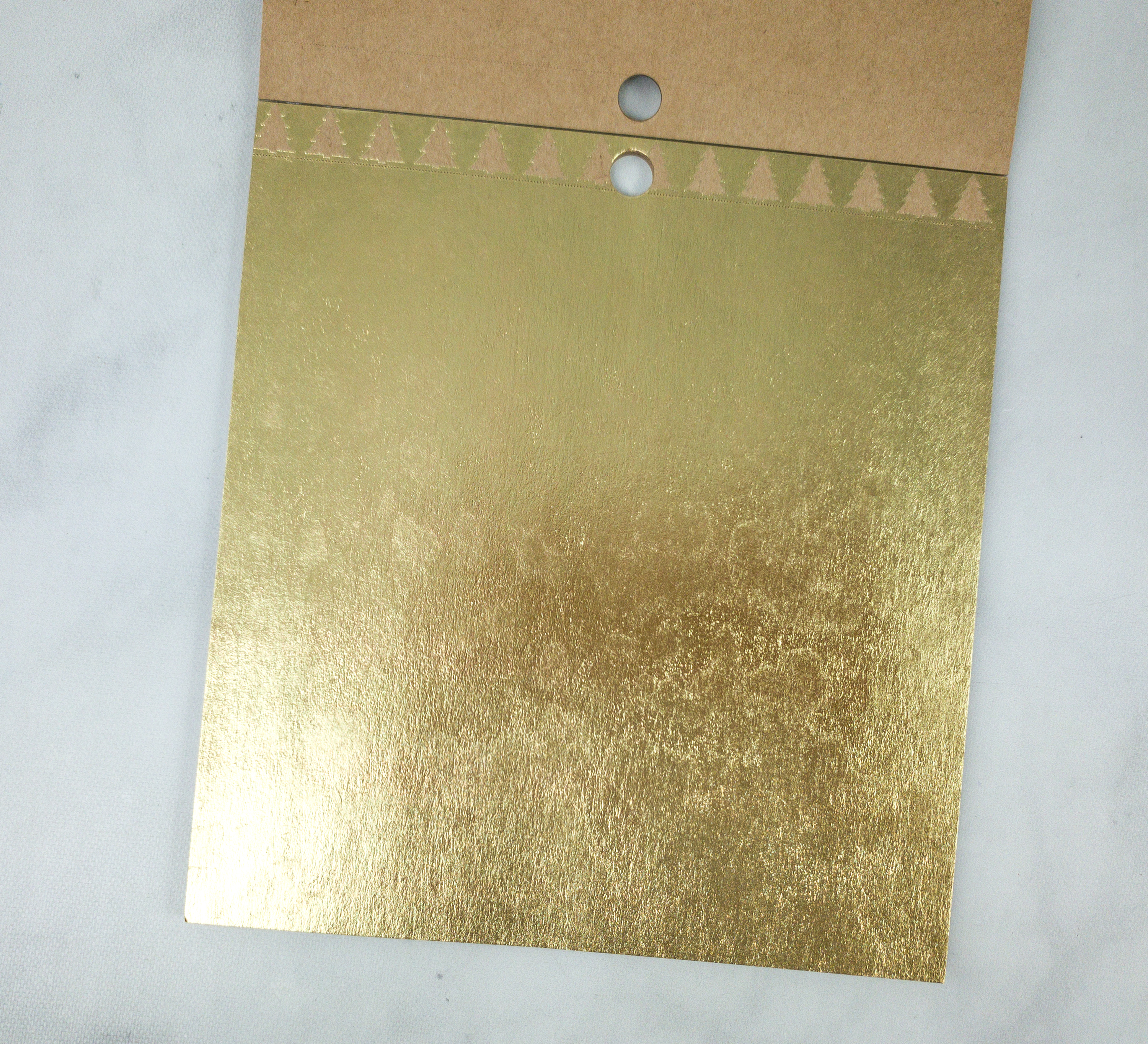 The last one is a plain gold one, which looks really shiny and exquisite! On top is a line of Christmas trees!
Heidi Swapp Bookmark Magnets ($3.99) Here's a pack of bookmark magnets, which will make it easy to mark pages!
These are made for use with Heidi Swapp Memory Planner.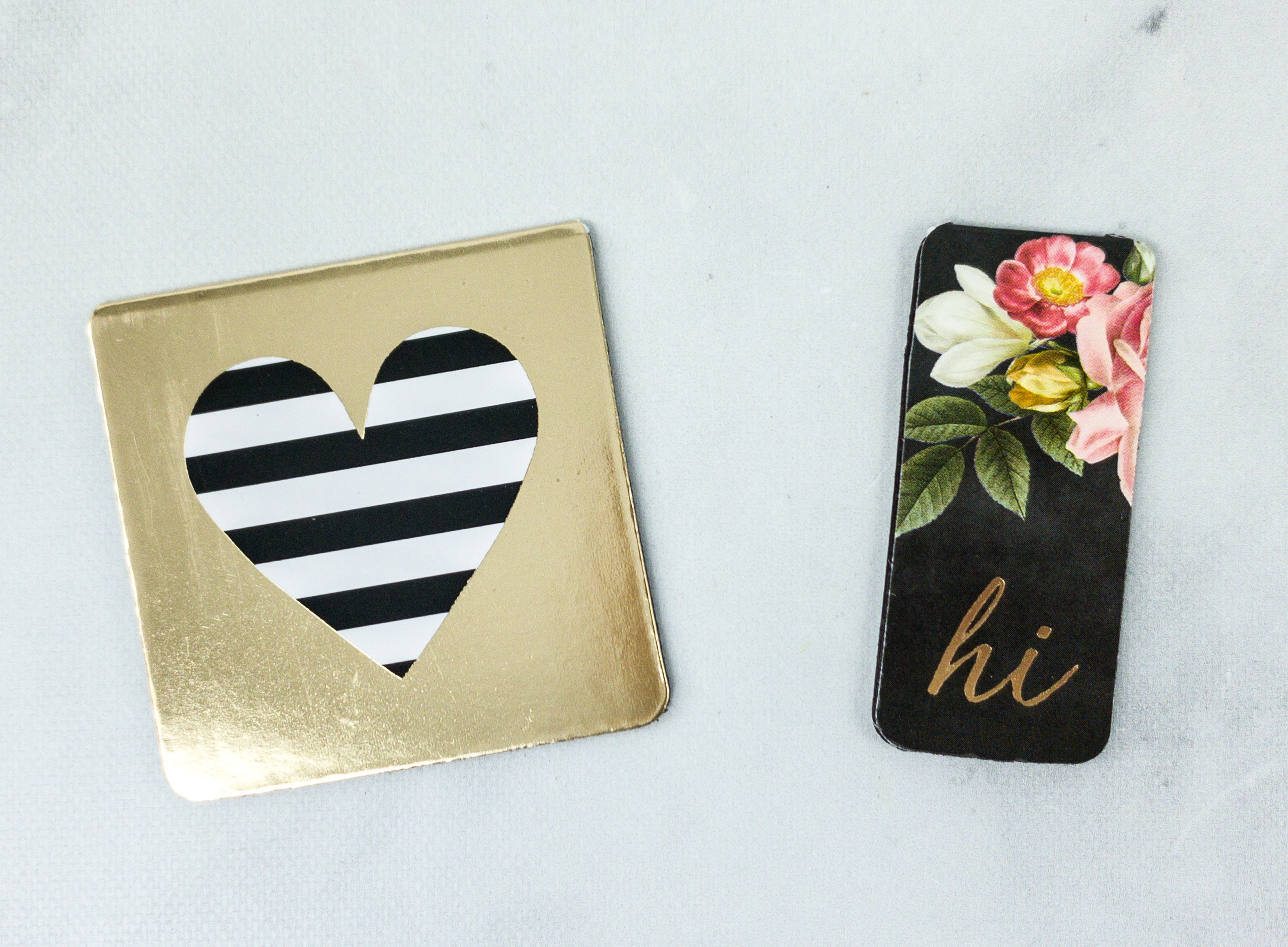 The pack contains two uniquely designed bookmark magnets. One is a striped black and white heart in a gold frame, and another one has a floral design and the word "hi" in gold.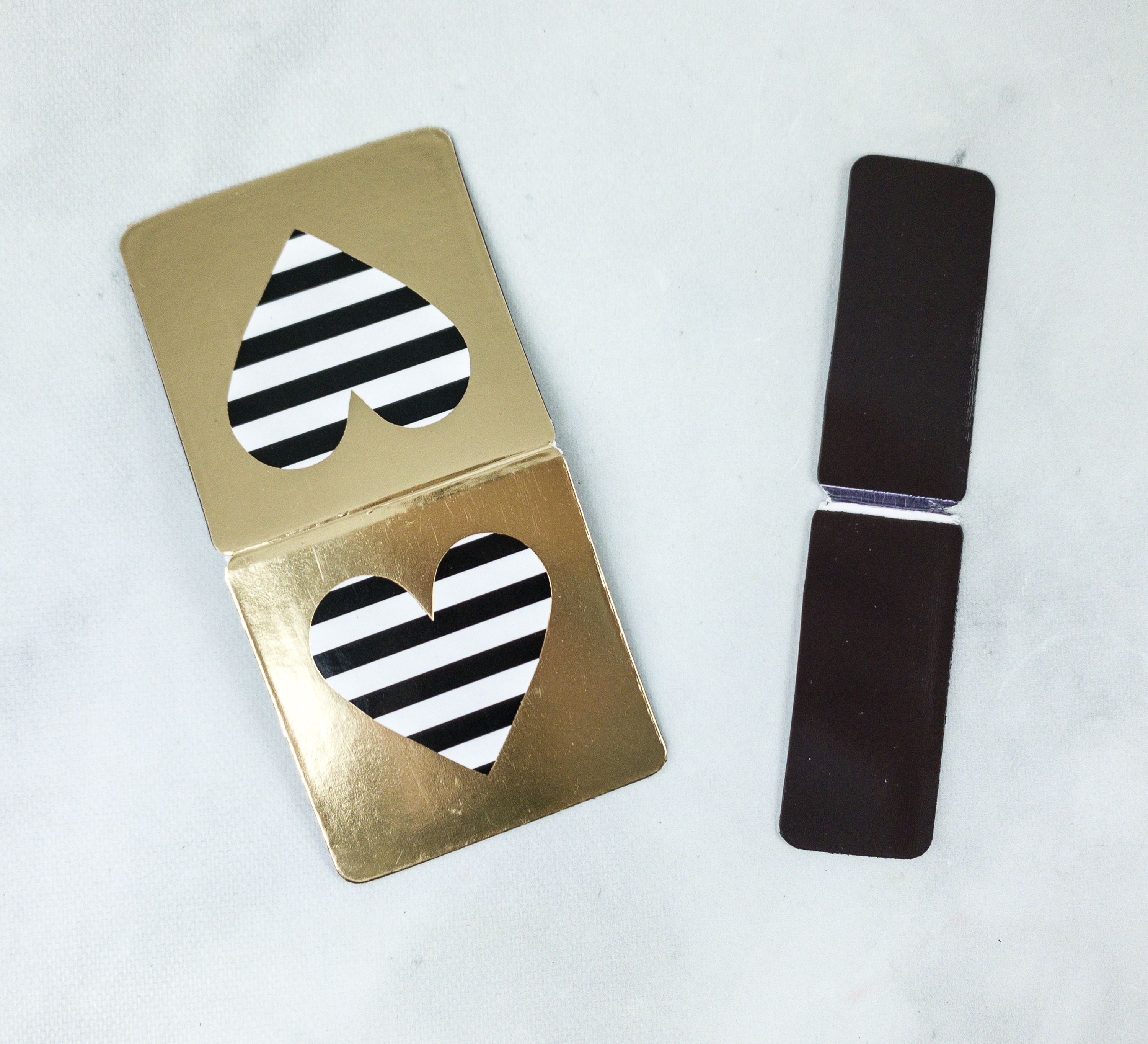 The strong magnet can be found inside the folded bookmarks.
TUL Limited Edition GL Series Retractable Gel Ink – SIMILAR ($8.19) I like retractable pens because they are easy to use and keep. These TUL gel pens write smoothly and their ink is resistant to smearing and fading as well.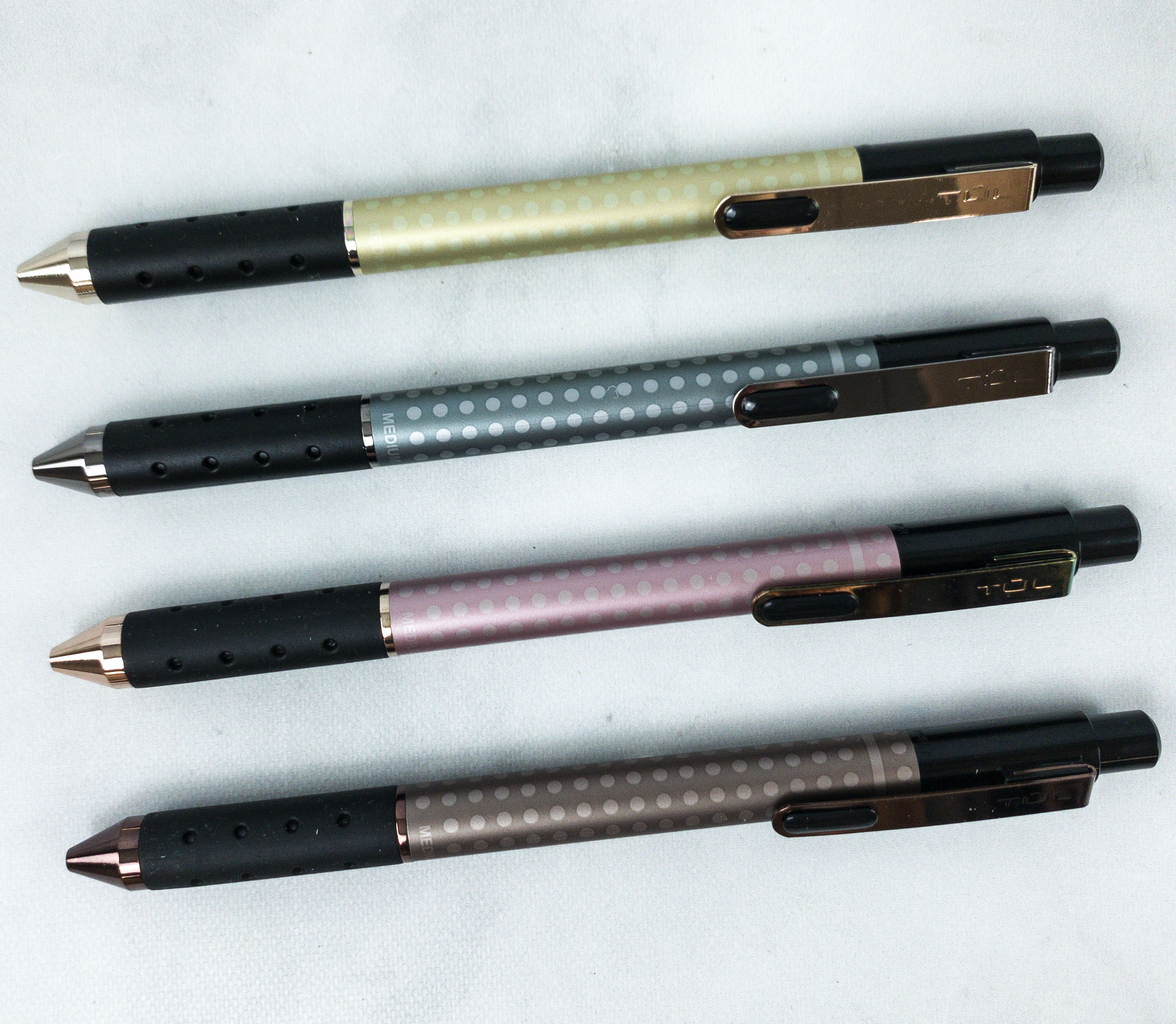 I like the stainless-steel clip that is easy to attach to a notebook or jean pockets. They also have rubberized texture grips for a more comfortable feel and control. The barrel designs are cool as well!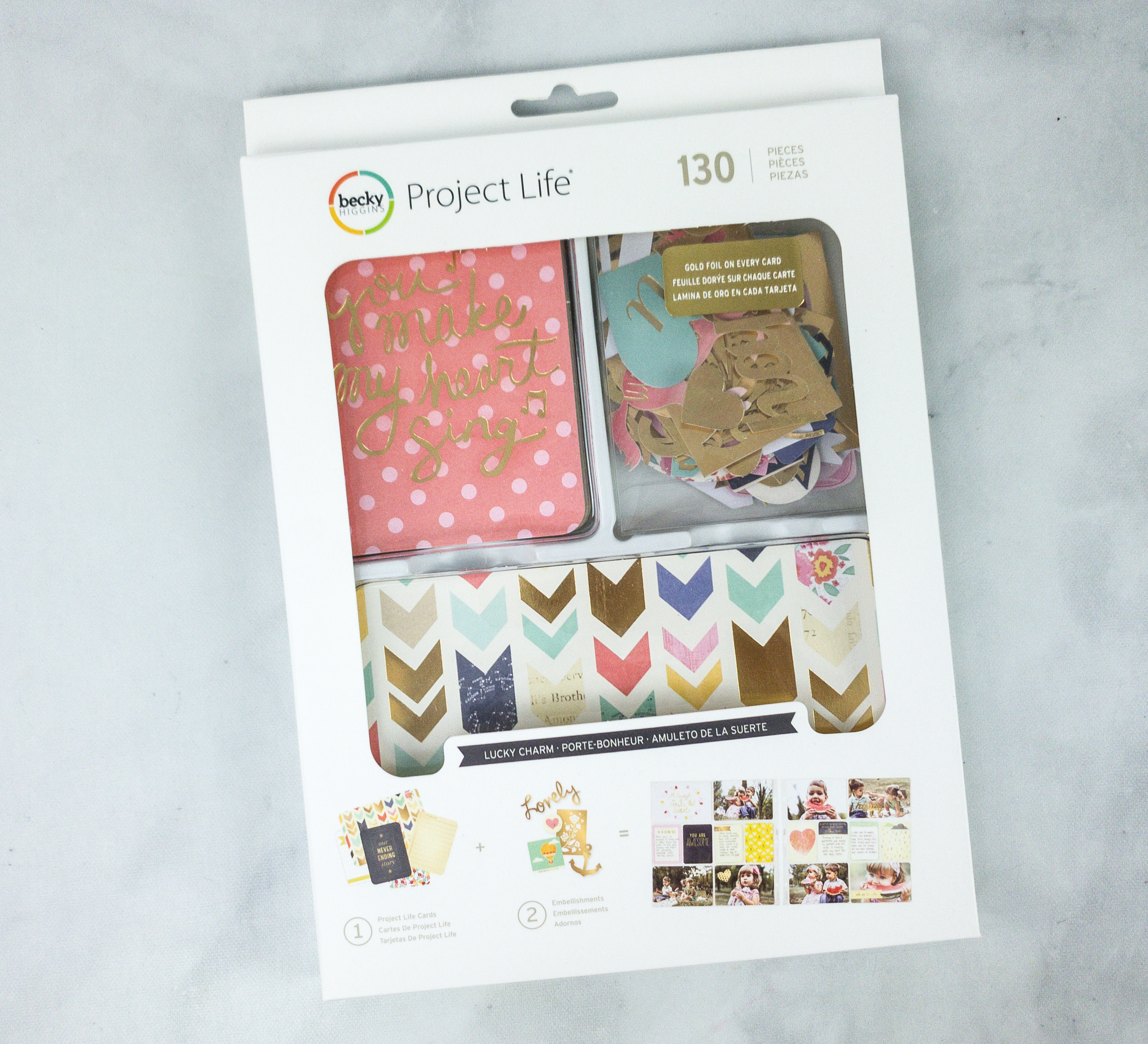 Becky Higgins Project Life ($6.99) This kit features decorative items for journals and scrapbooks!
The kit contains 30 4″x6″ specialty cards, 30 3″x4″ specialty cards, and 70 cardstock embellishments.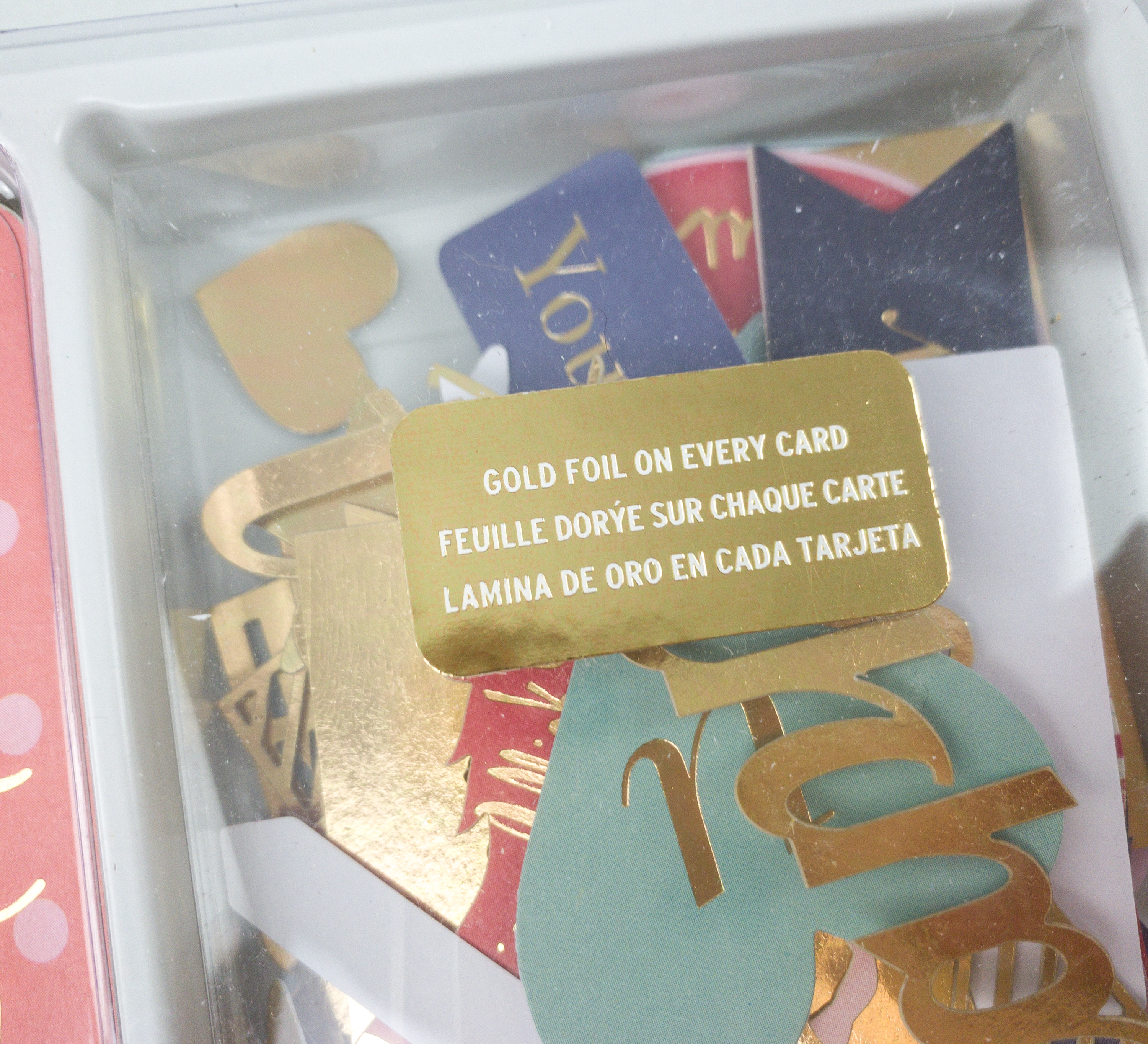 Each card has a gold foil print on them, so as the other embellishments!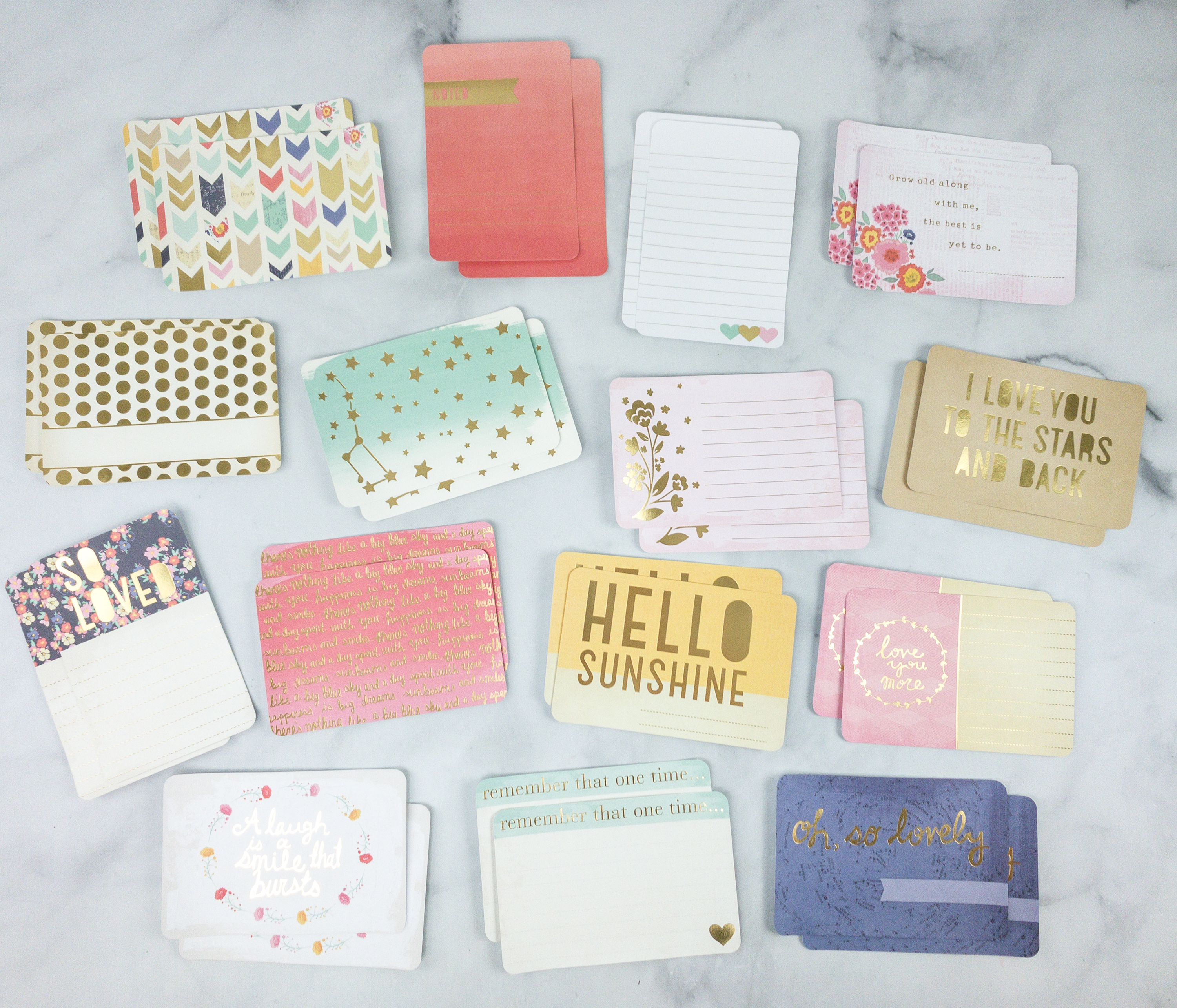 The 4″ x 6″ cards come in 15 beautiful designs.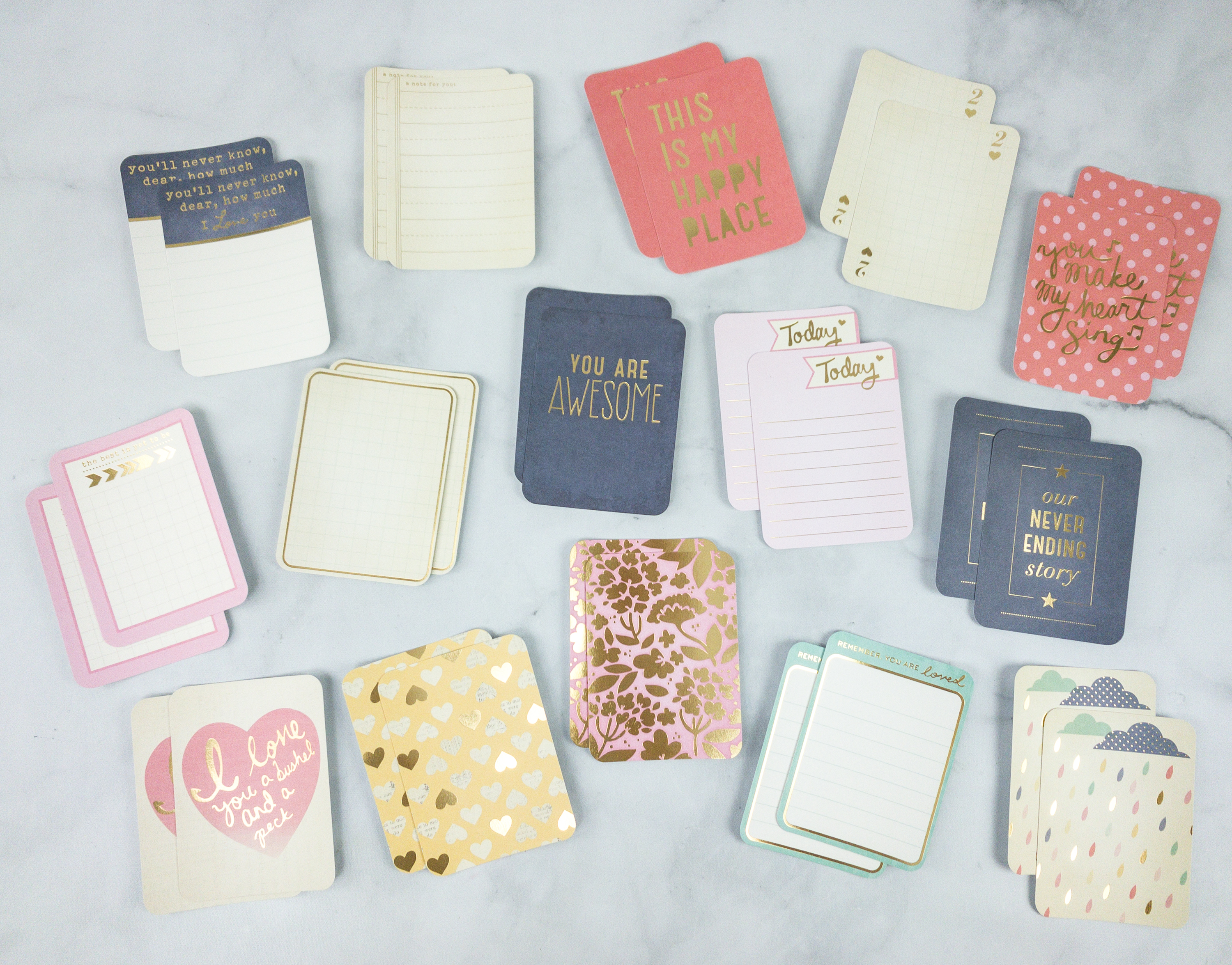 The smaller cards also come in 15 cute designs.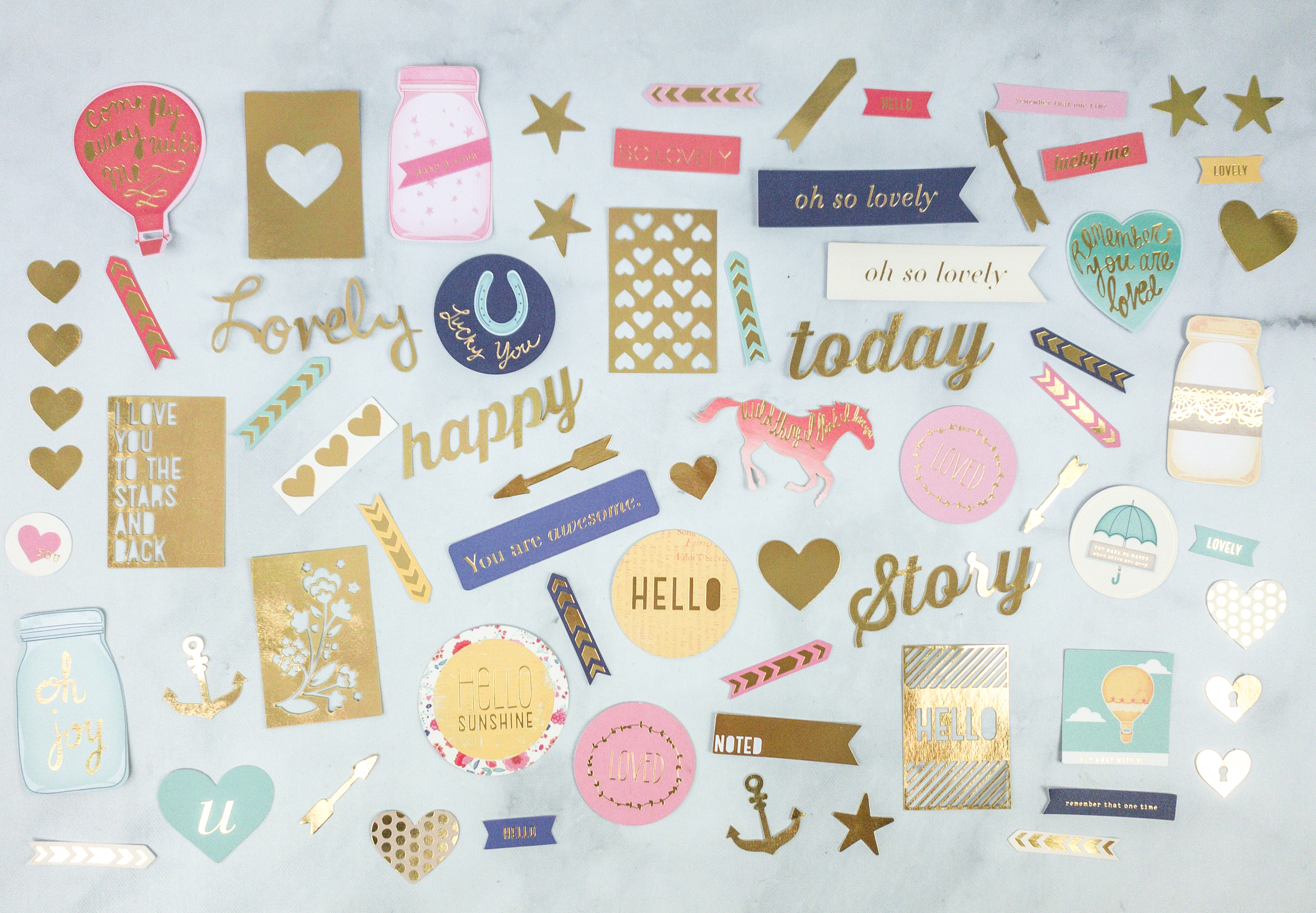 There are lots of embellishments that you can add or use with the cards. I really like the gold foiled words, stars, and hearts!
This month's Busy Bee Stationery box is like a treasure chest filled with gold items! My favorite is the cards and embellishments kit. The gold foiled designs were beautiful and totally right up my alley. I also like the retractable pens, they are not just eye-catching but they write smoothly as well. The rest of the stationery items are also usable. What I love about this subscription is their fun themes and they make sure that every inclusion lives up to it. For crafters and journaling enthusiasts, this subscription has everything you need and more!
Have you tried Busy Bee Stationery? What did you think of this month's box?