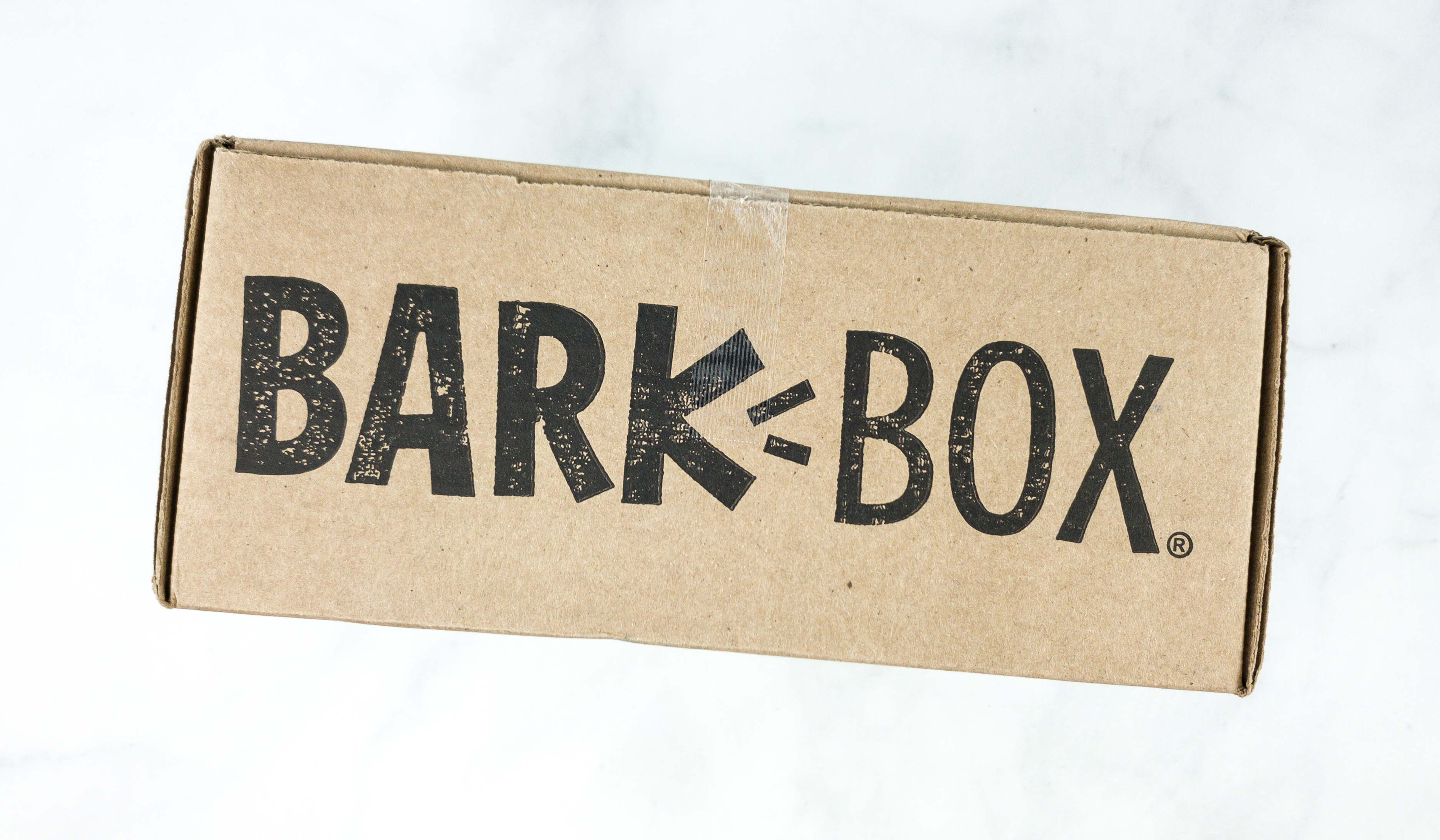 Barkbox is a monthly subscription box created just for dogs! Each box is themed, and includes toys, treats and photo-worthy props. The classic assortment is composed of 2 toys, 2 treats, and 1 chew, but you can also customize a box to fit your dog's needs. A monthly plan costs $29 and there are discounts if you get a longer plan. The best deal is the 12-month plan, which reduces the monthly cost of the box to $22. Shipping is free in the contiguous United States.
DEAL: Get a FREE month on a 6 or 12-month subscription when you sign up for BarkBox with this link!
LIMITED TIME: Get a FREE UPGRADE to a DOUBLE DELUXE box on your first month with a purchase of 6-, or 12-month subscription. No coupon needed, just use this link to sign up. Ends 7/26.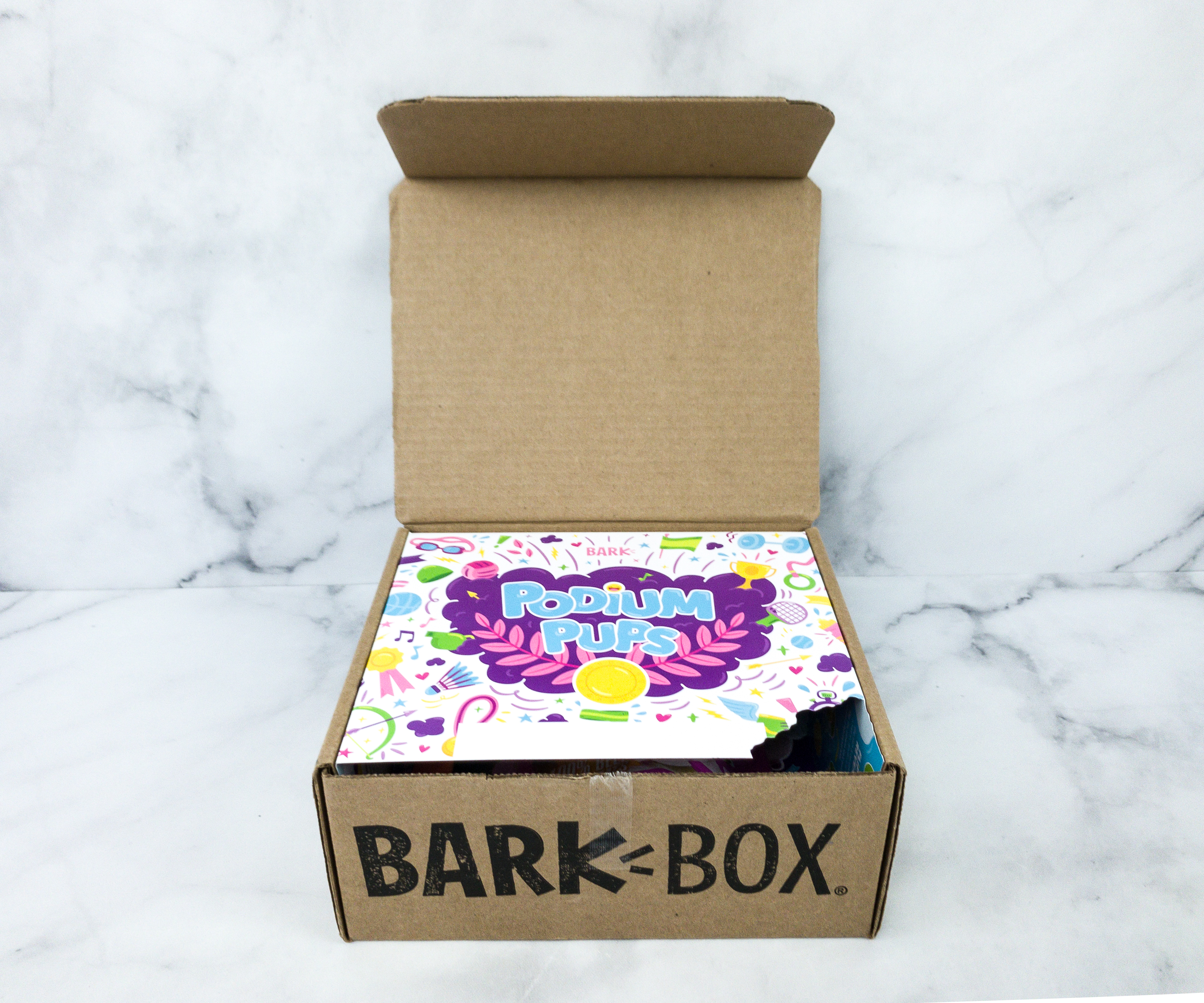 This Barkbox is for small dogs like our miniature schnauzers, Lindy and Dean, but you can get them for medium and large dogs too. Check out our Barkbox reviews for a peek at the big dog boxes! Plus, they now offer Barkbox SUPER CHEWER – the heavy chewer box!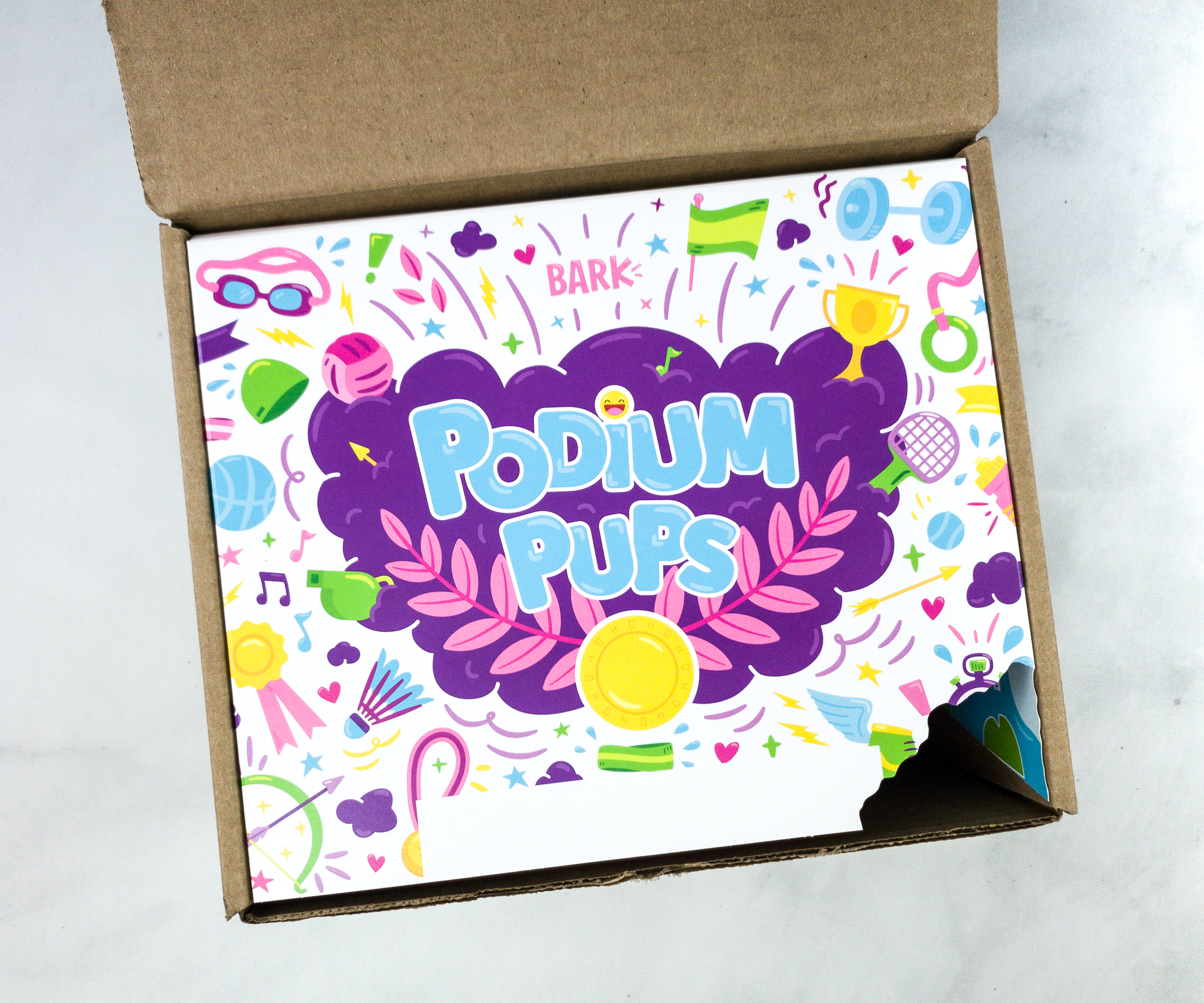 This month's theme is PODIUM PUPS!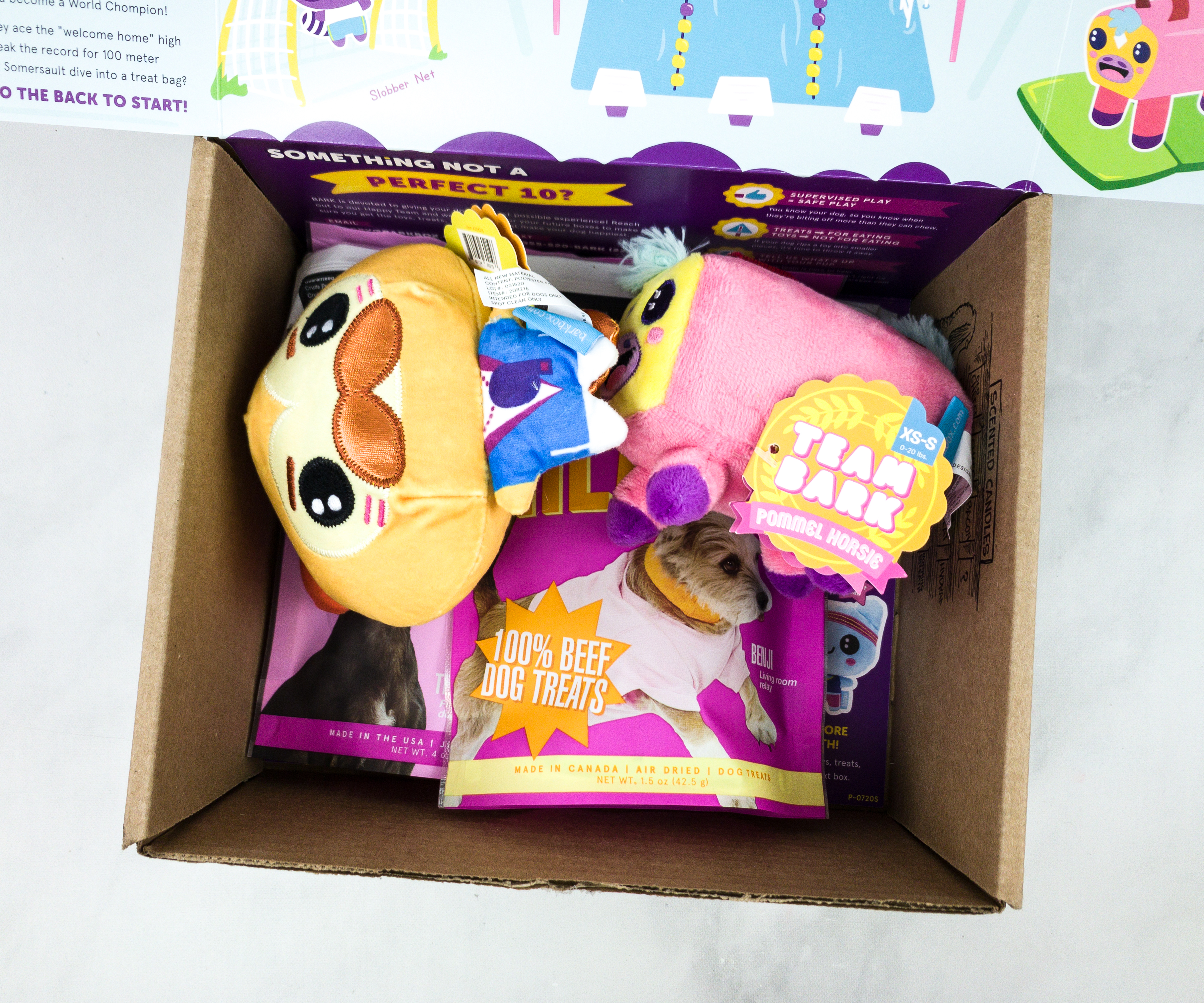 The box this month doesn't contain any custom-made wrapping paper. Instead, they used this month's theme to design the carton to cover all the items inside the box.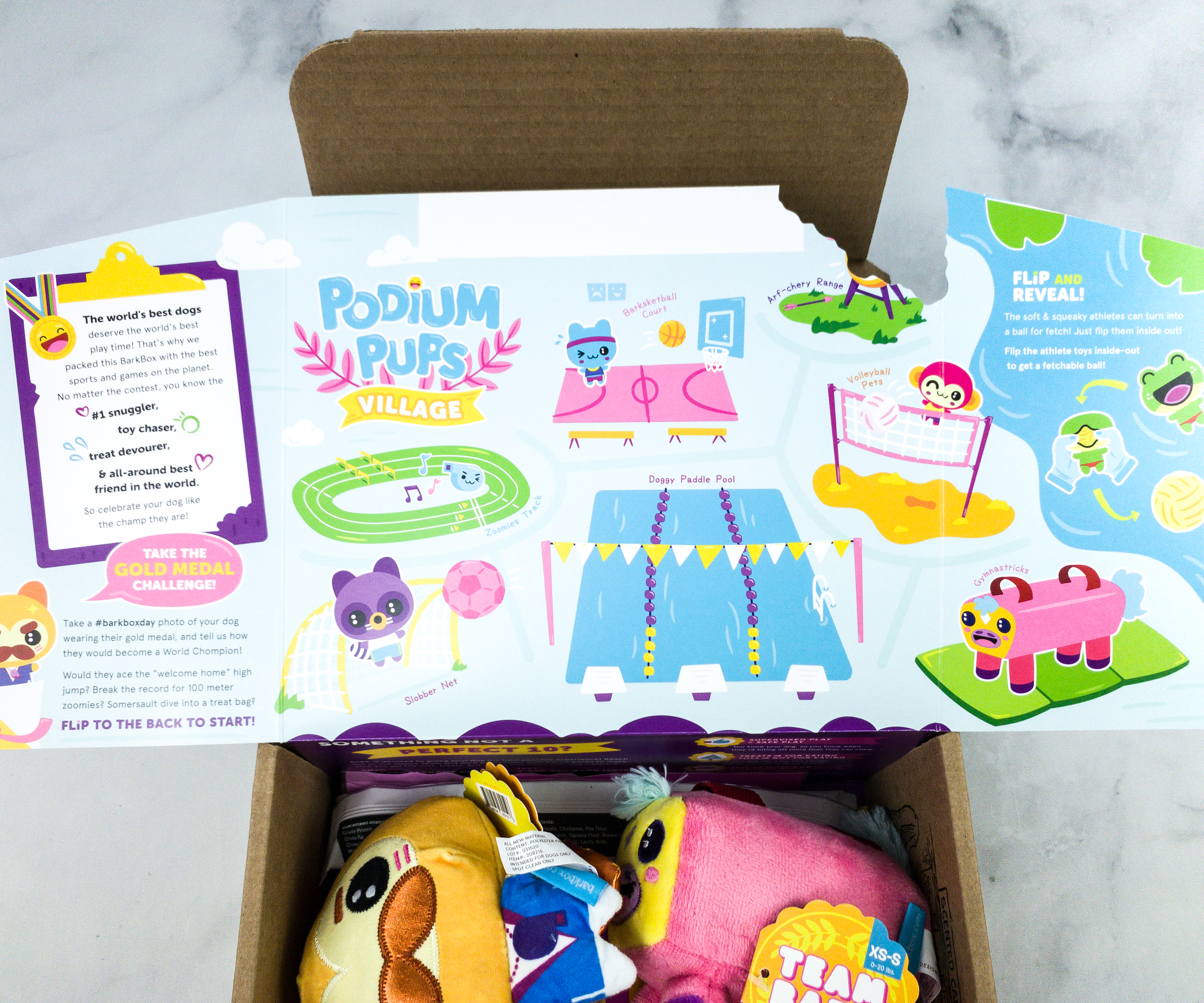 As usual, there were no extra fillers or squiggles, just treats and toys for your pups to enjoy!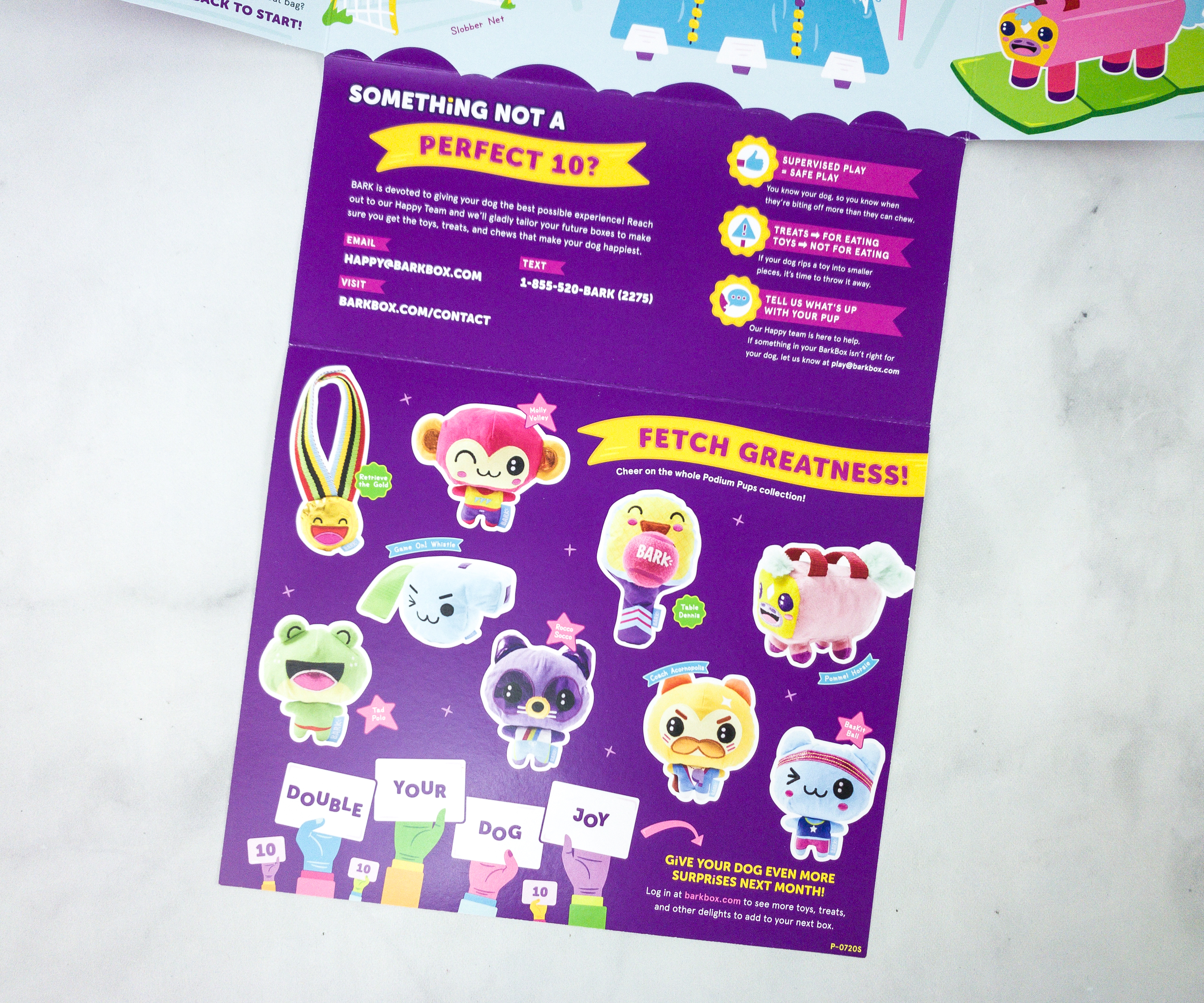 This part of the carton features a variety of photos of the toys that you might get in this month's collection.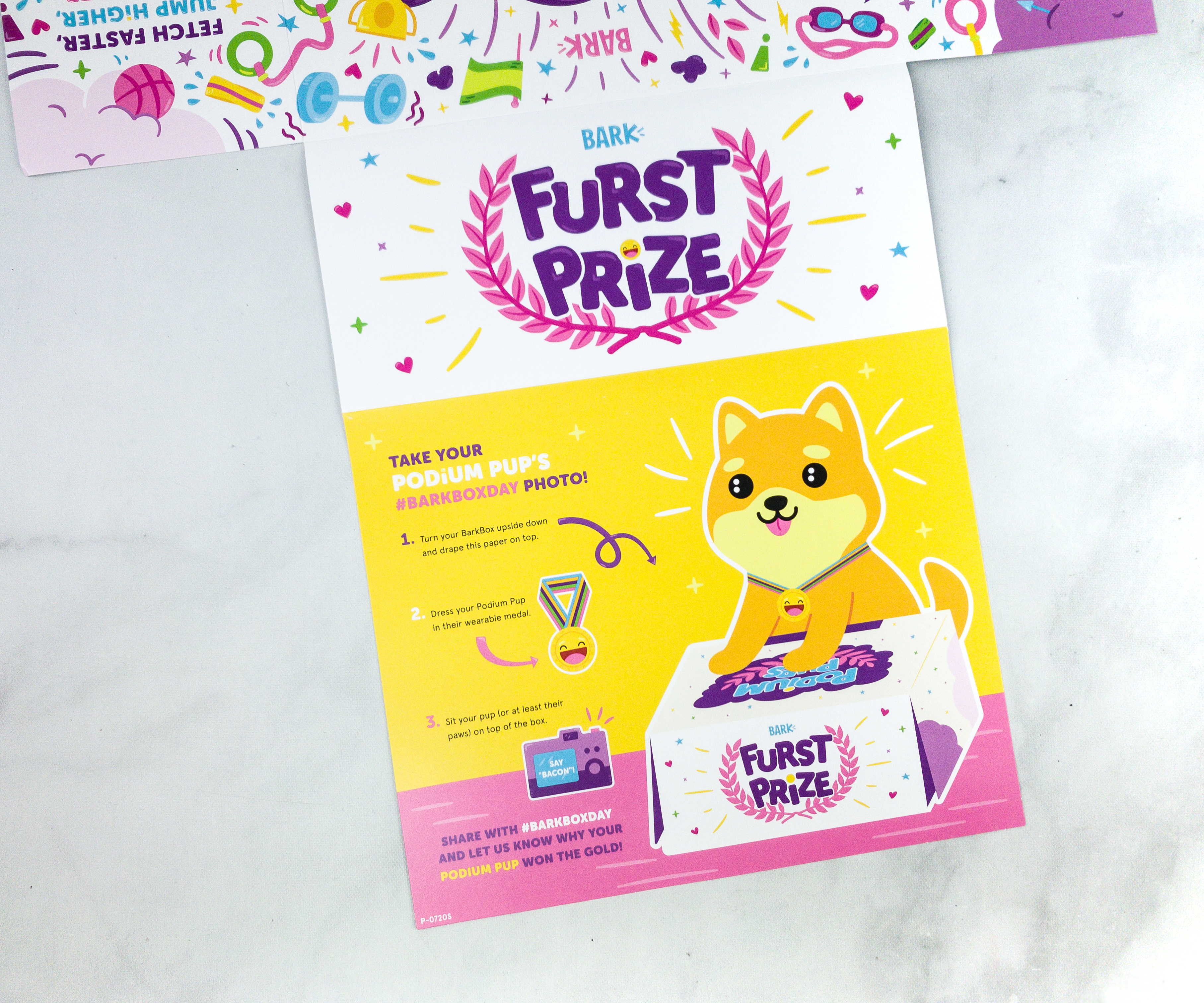 This part encourages us to take a photo of our pups and post it on social media account using #BARKBOXDAY.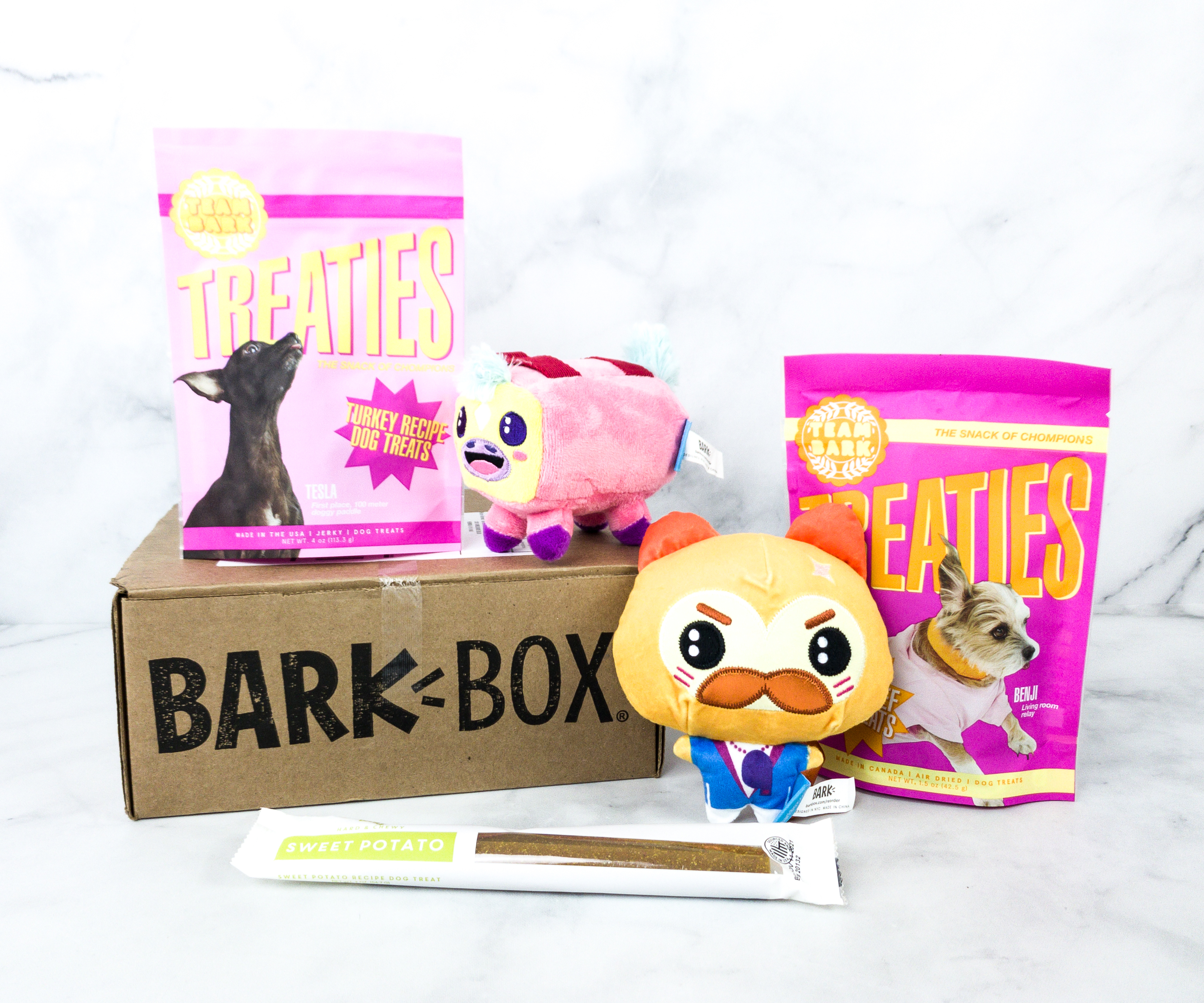 Everything in my July 2020 box!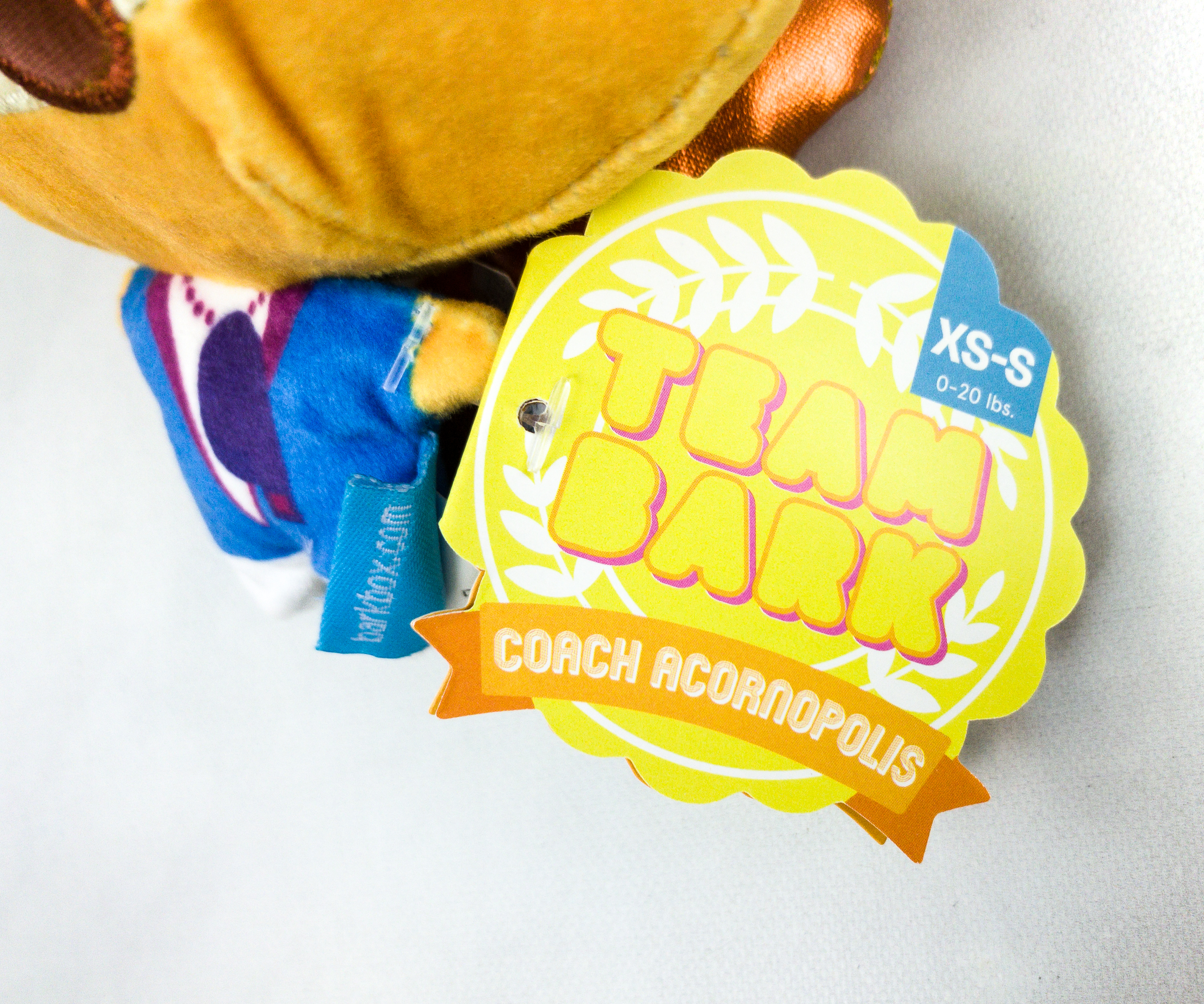 Team Bark Coach Acornopolis Plush. This month's box includes 2 toys, and the first one is a cute plushy named Coach Acornopolis!
According to the label, this toy is stuffed with crinkles and a ball squeaker! The sound this toy produces make it interesting for dogs.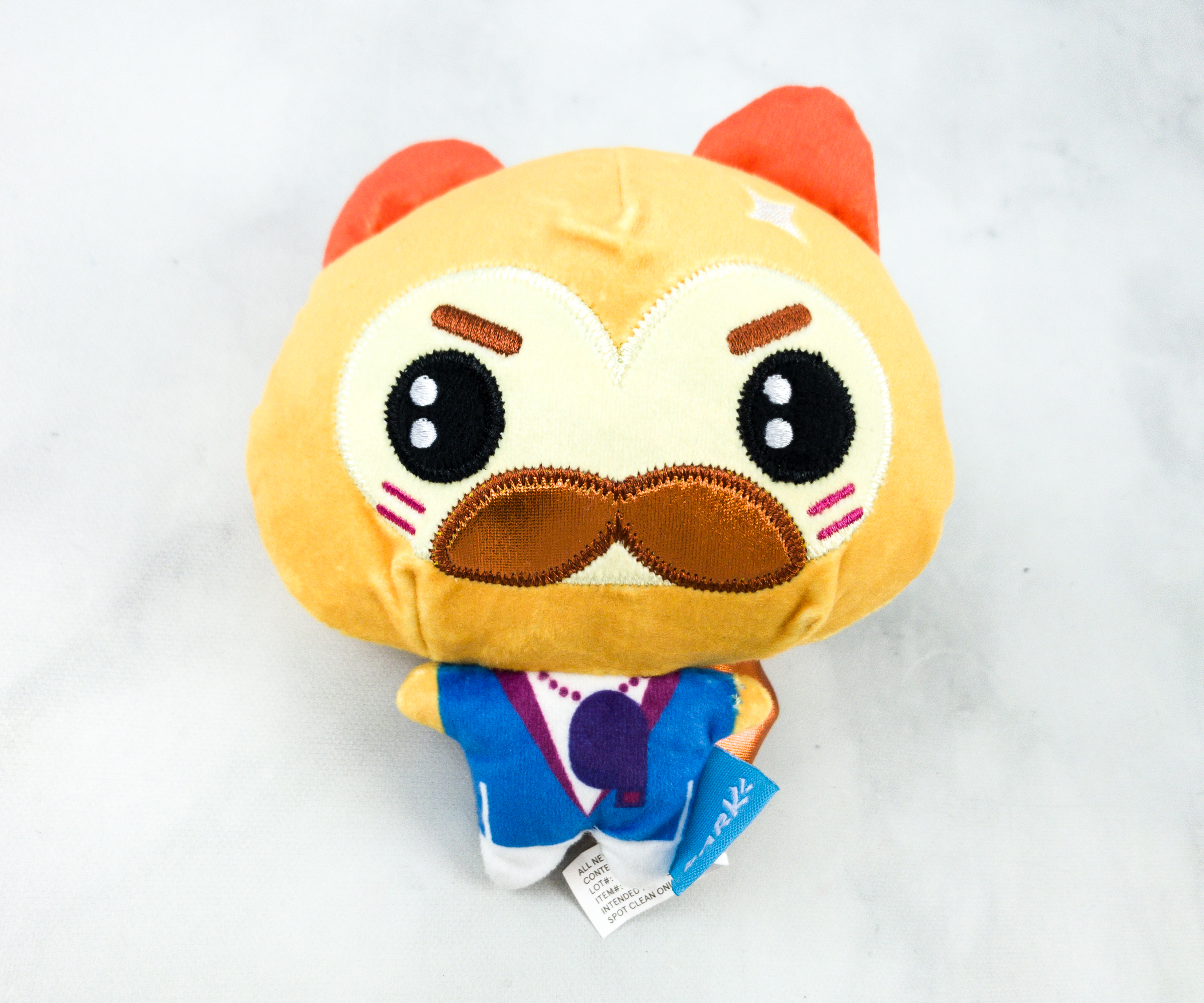 Coach Acornopolis is a small yet durable plush toy designed for extra small to small-sized dogs. He's so cute, especially with those big eyes and his mustache!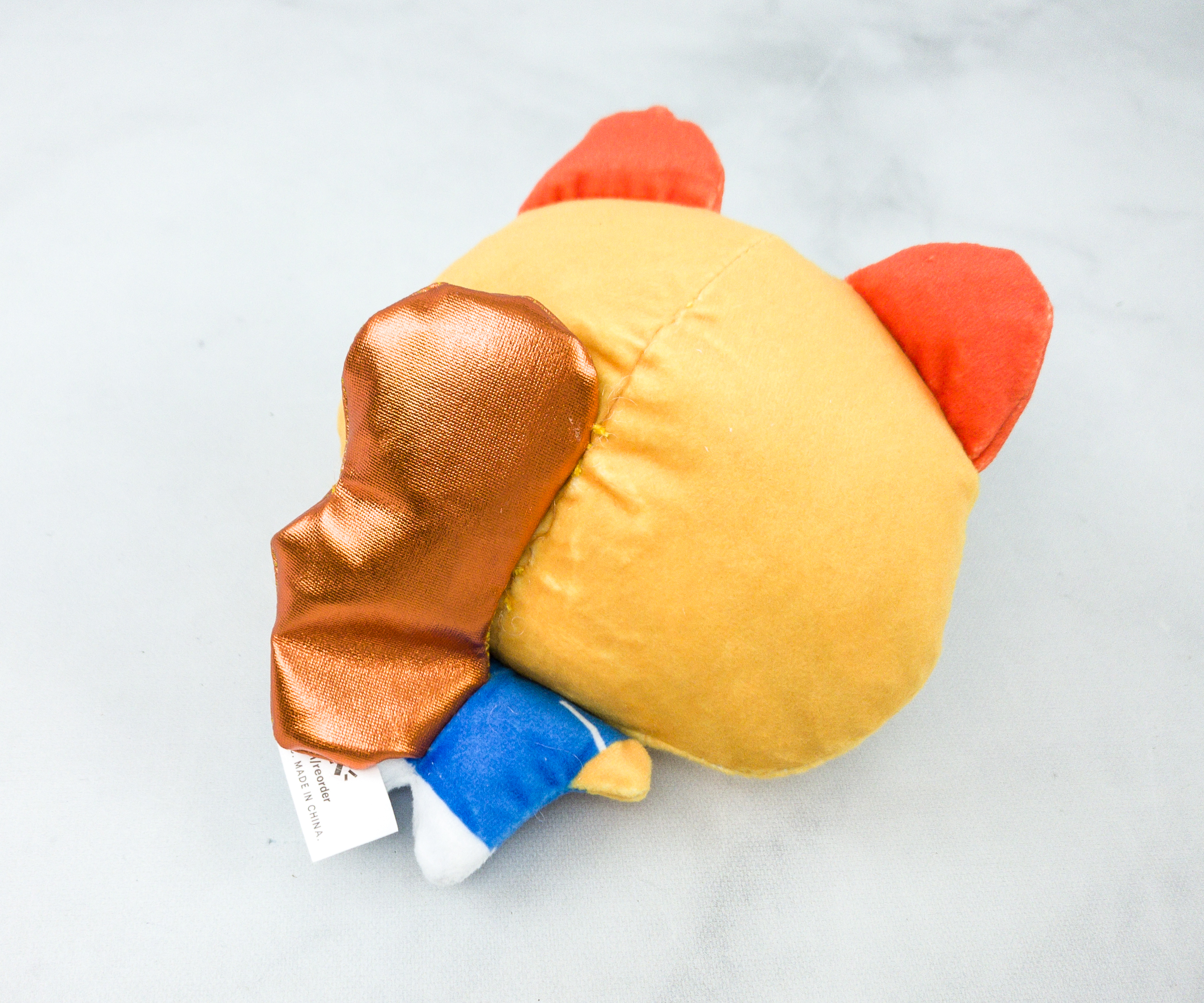 The back of the toy features a glossy tail that our pups love to bite. It's also lightweight!
Team Bark Pommel Horsie Plush. The second toy we received is a pink-colored horse called Pommel Horsie!
This toy is stuffed with a grunt squeaker and a crinkle. It also has a pair of nylon straps on top.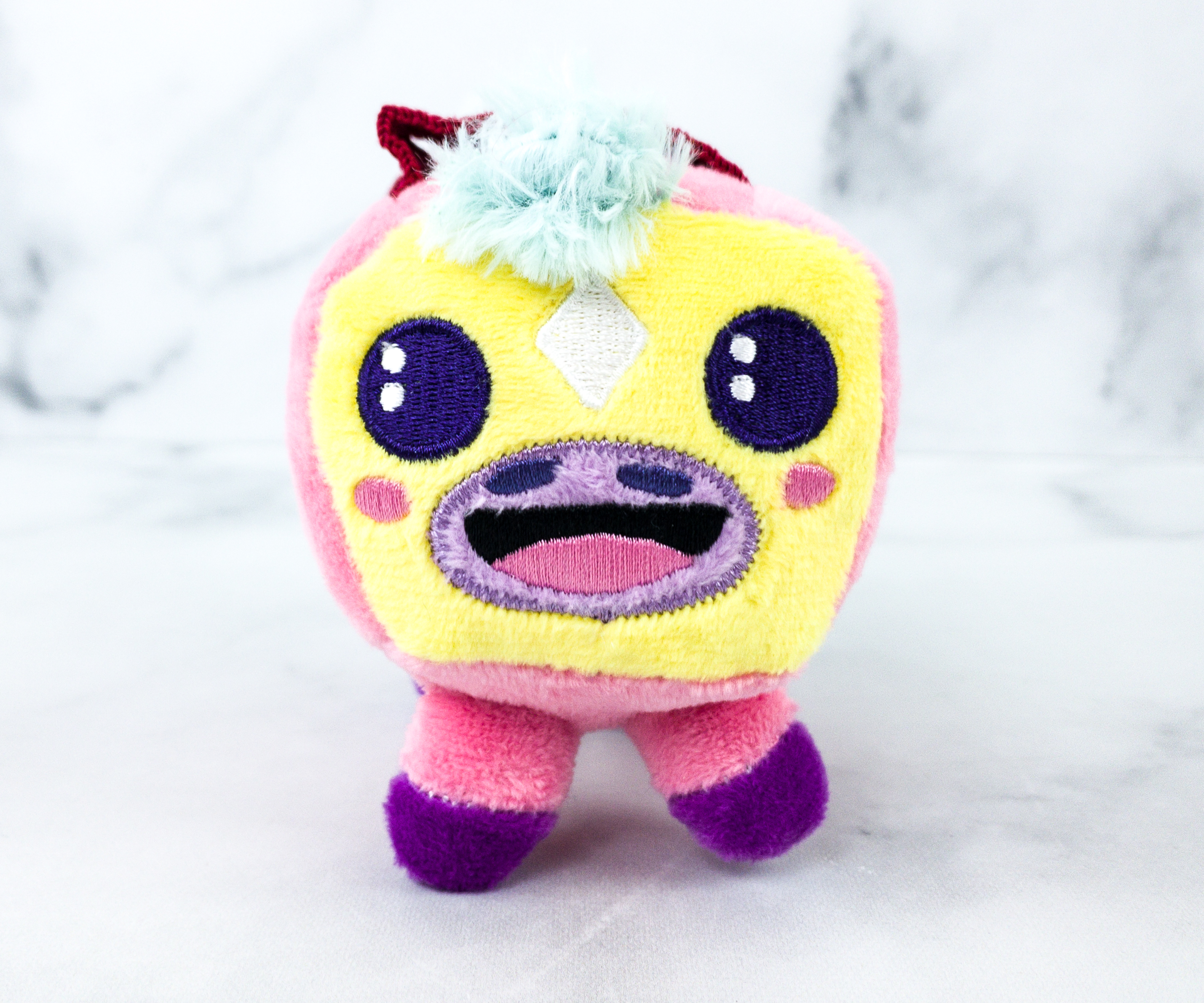 It's so cute and colorful! The toy's face and mouth are embroidered so they won't easily fall off. The stitching all over the toy is also good, ensuring its durability.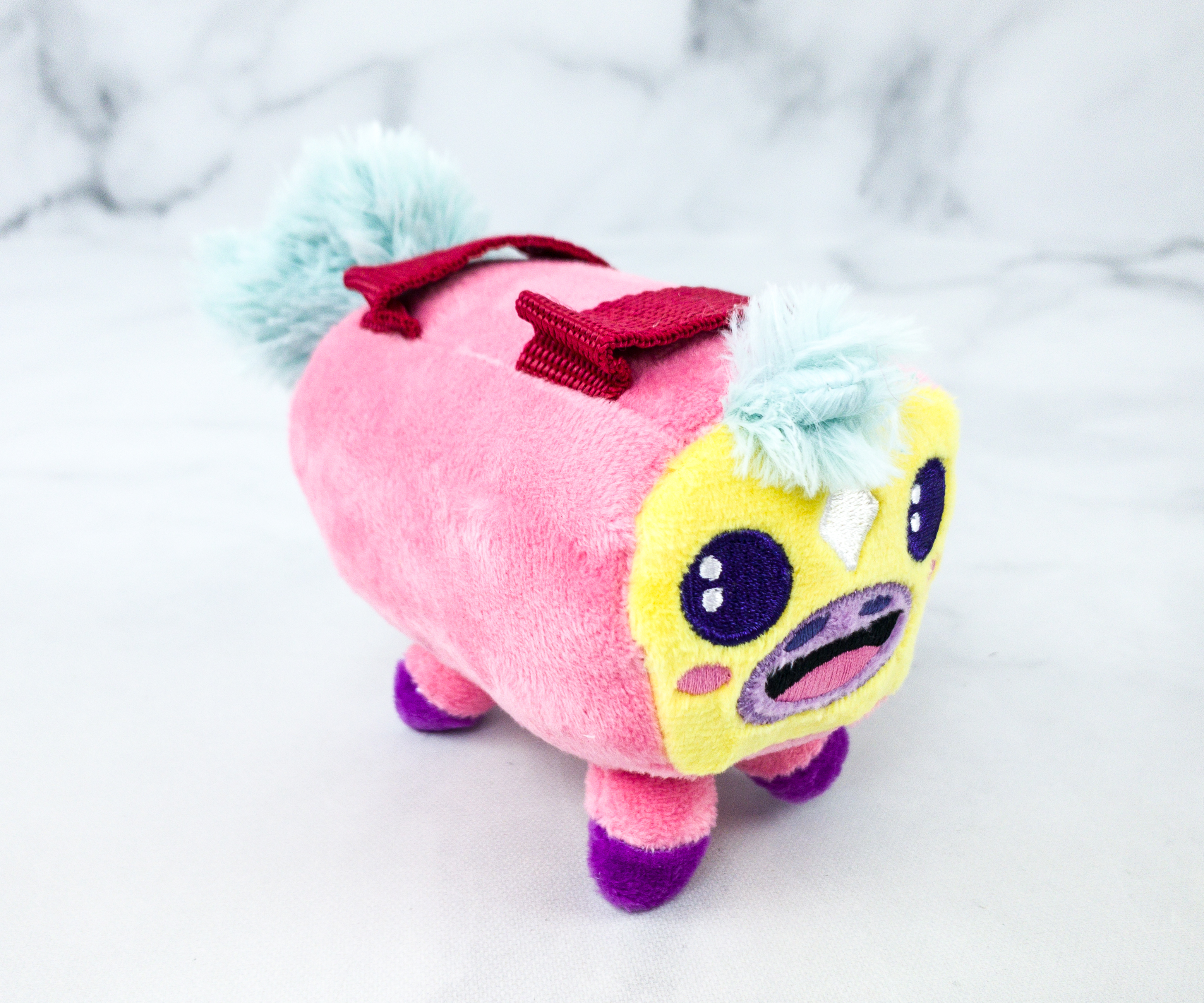 The pair of nylon straps attached at the back of the horse makes it easier for my pups to bite and bring it around. We used this to play fetch and they also loved cuddling with it.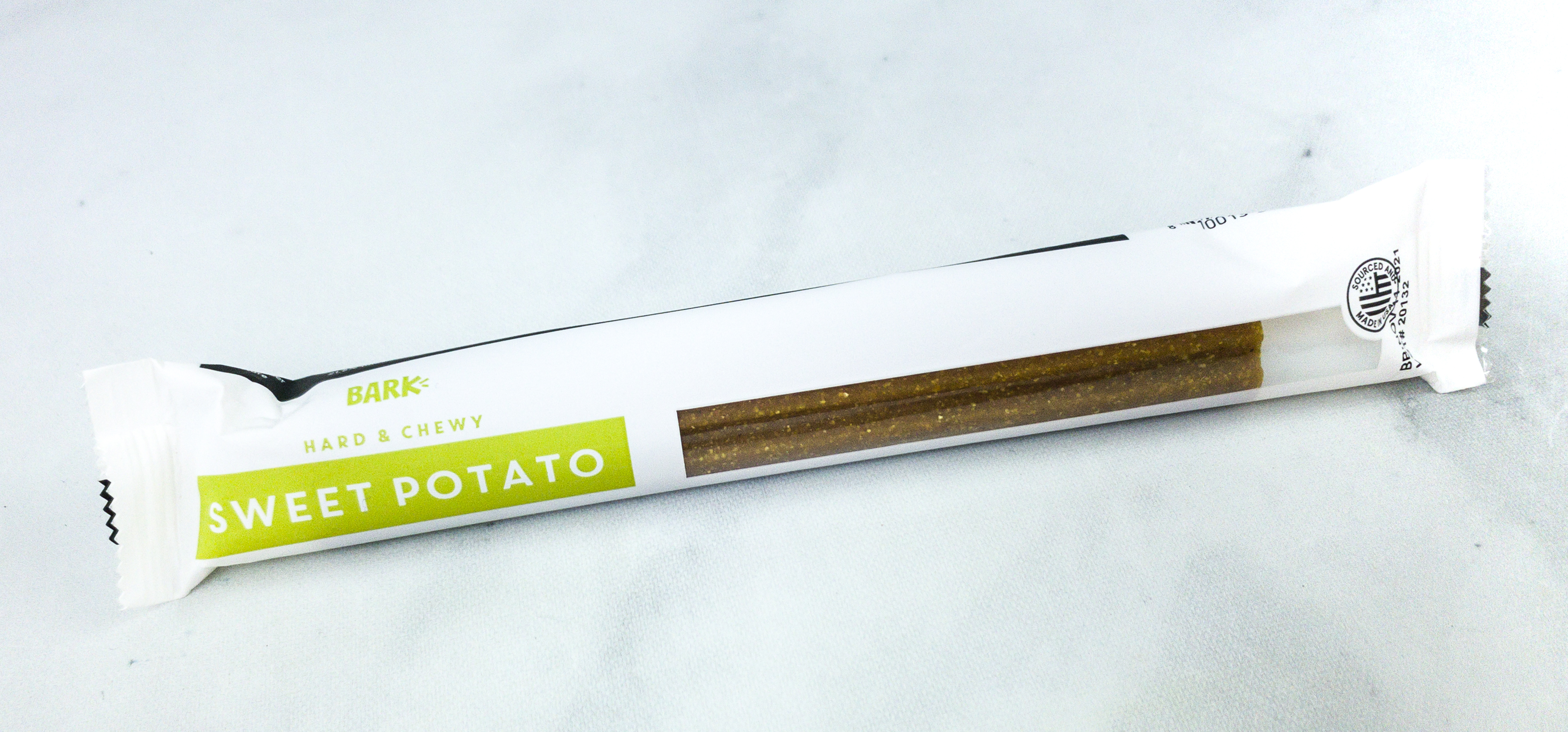 Bark Hard & Chewy Sweet Potato Dog Sticks. This dog stick is a treat made with healthy ingredients such as sweet potato, chickpeas, pea flour, honey, and turmeric!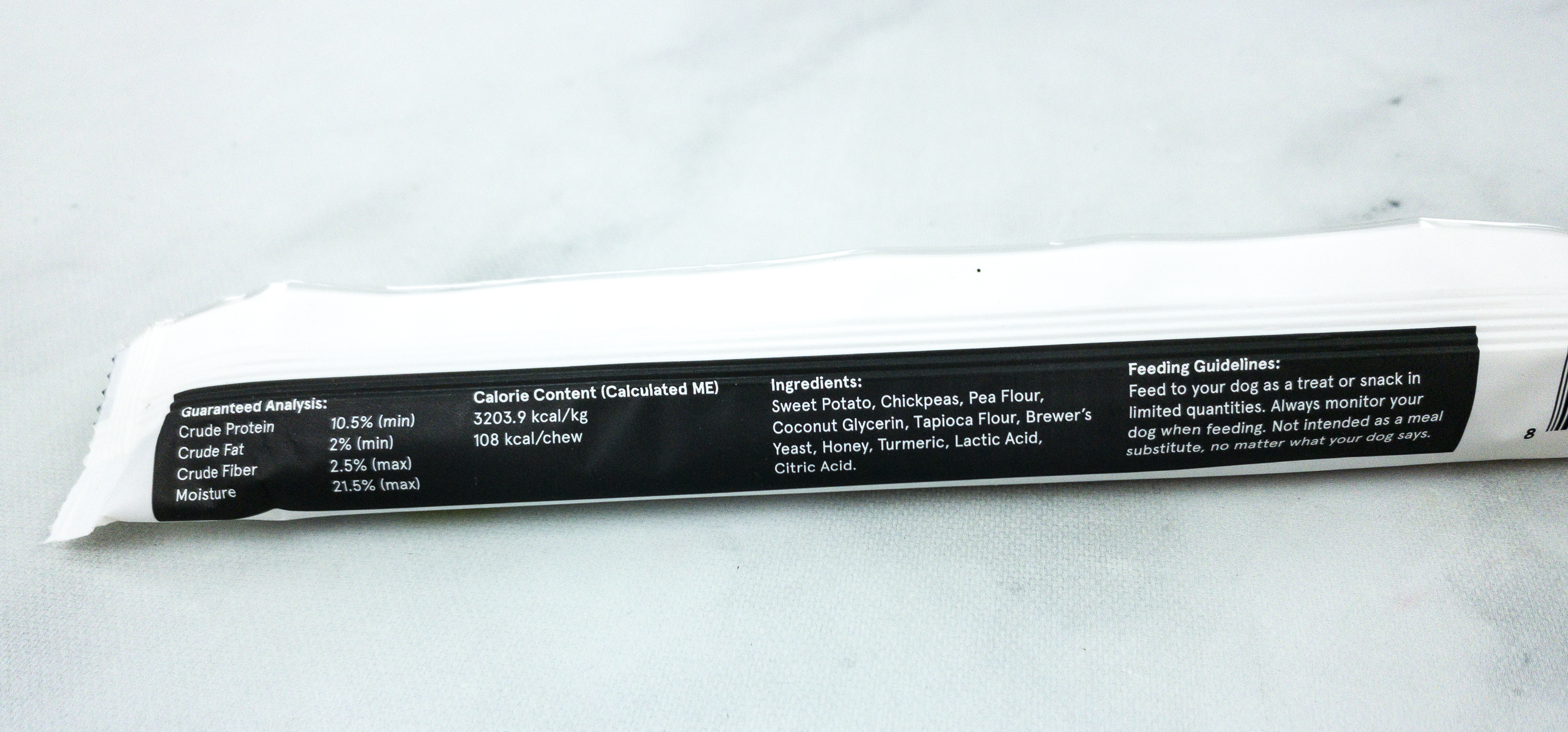 It's an all-natural treat packed with protein and fiber, perfect for growing up pups!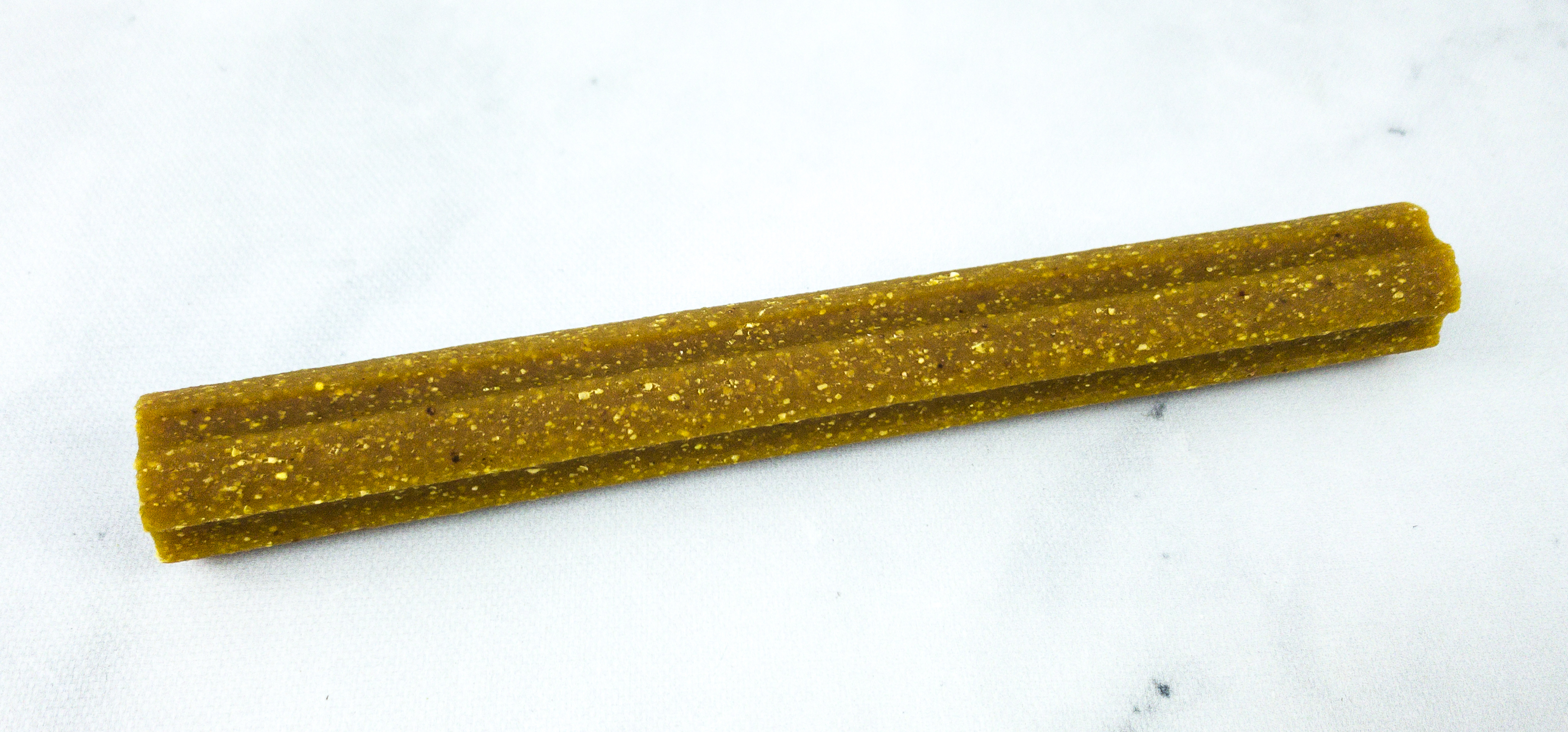 You can either serve it as is or break it into smaller pieces. Since it's made from natural ingredients, you won't feel guilty when you give it to your pups!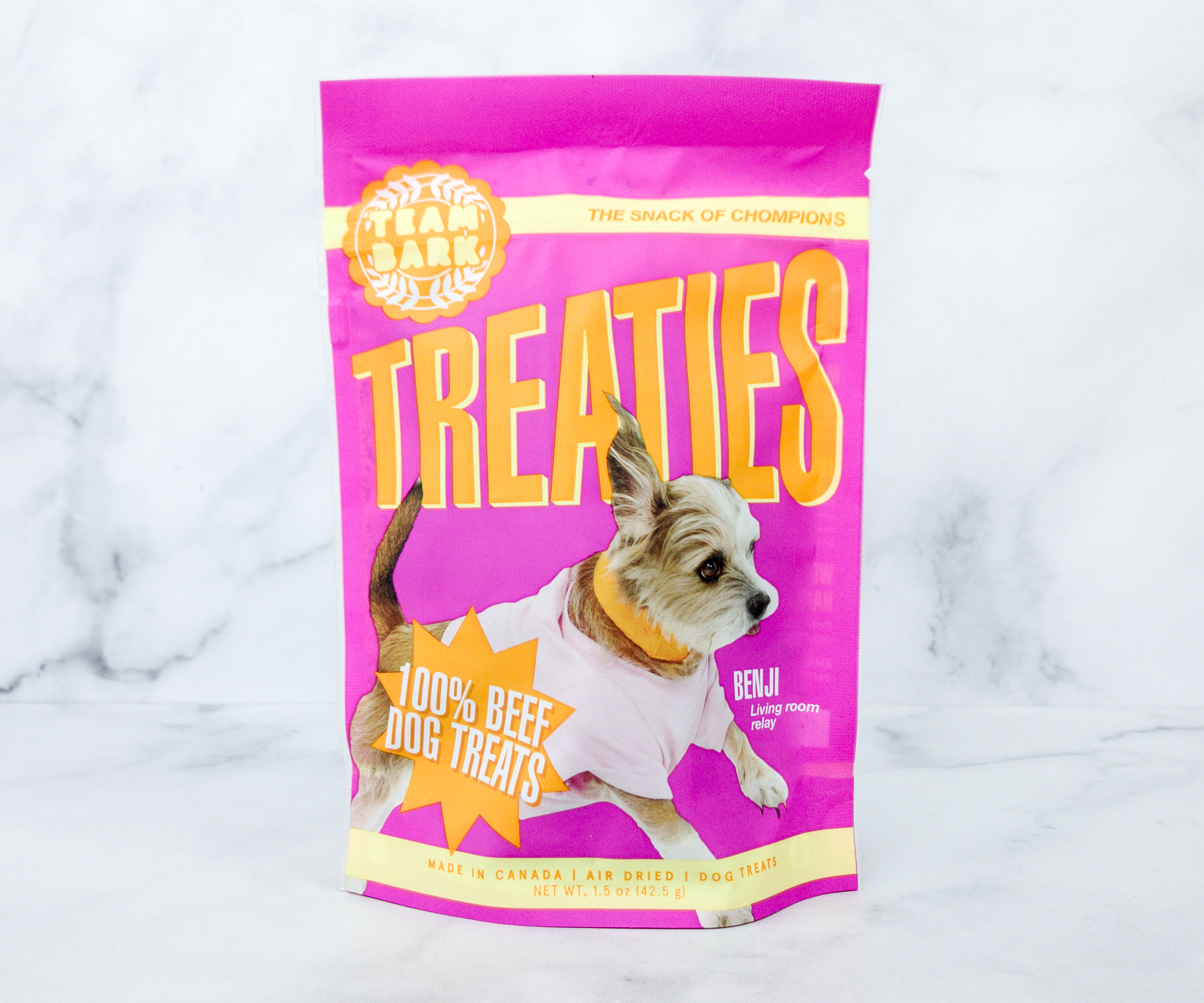 Team Bark Treaties Beef Dog Treats. Aside from the dog stick, this month's box also includes 2 bags of treats from Bark. This first bag of dog snacks is made in Canada.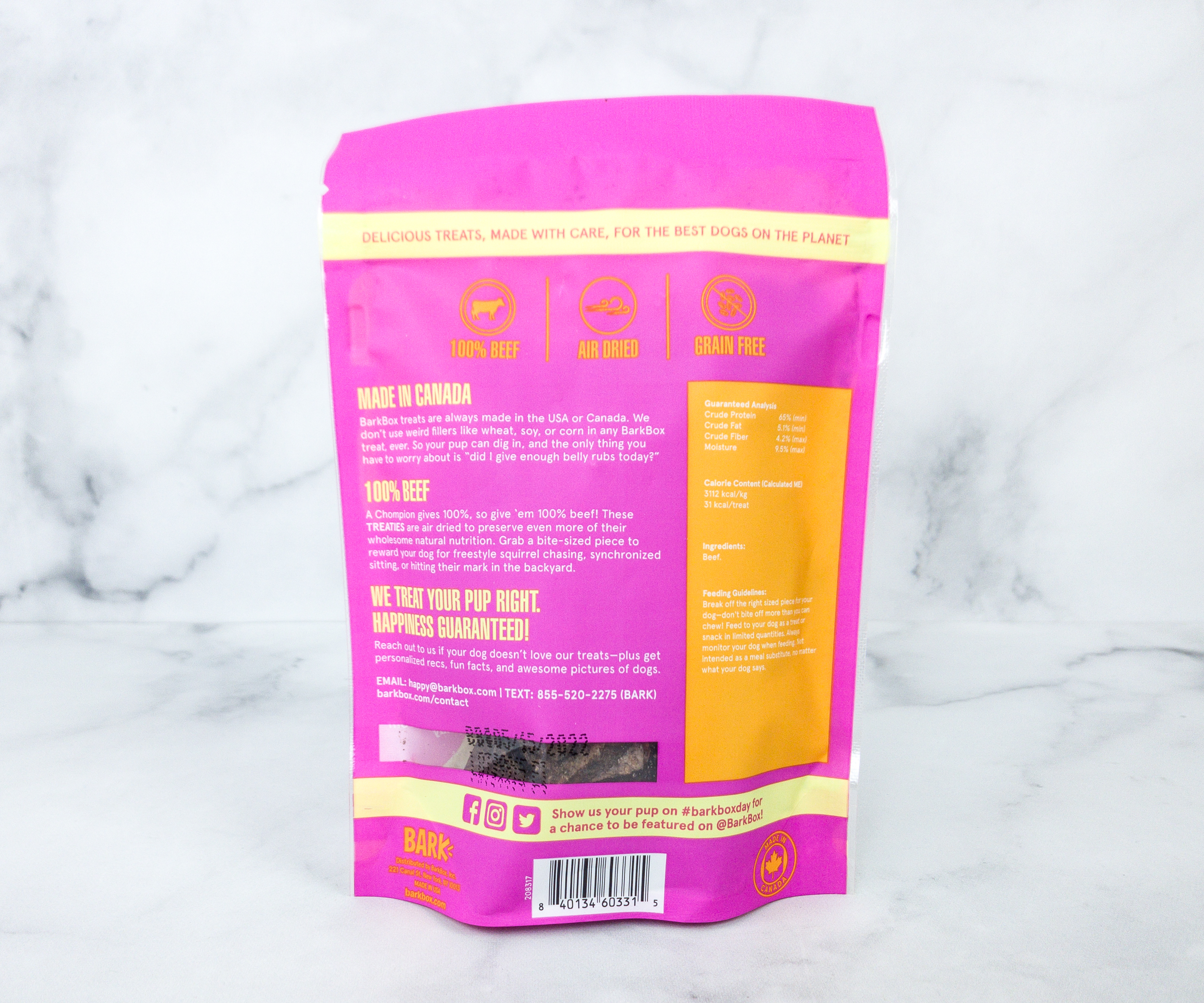 This snack is made using 100% beef meat, air-dried to preserve its wholesome natural flavor and nutrition.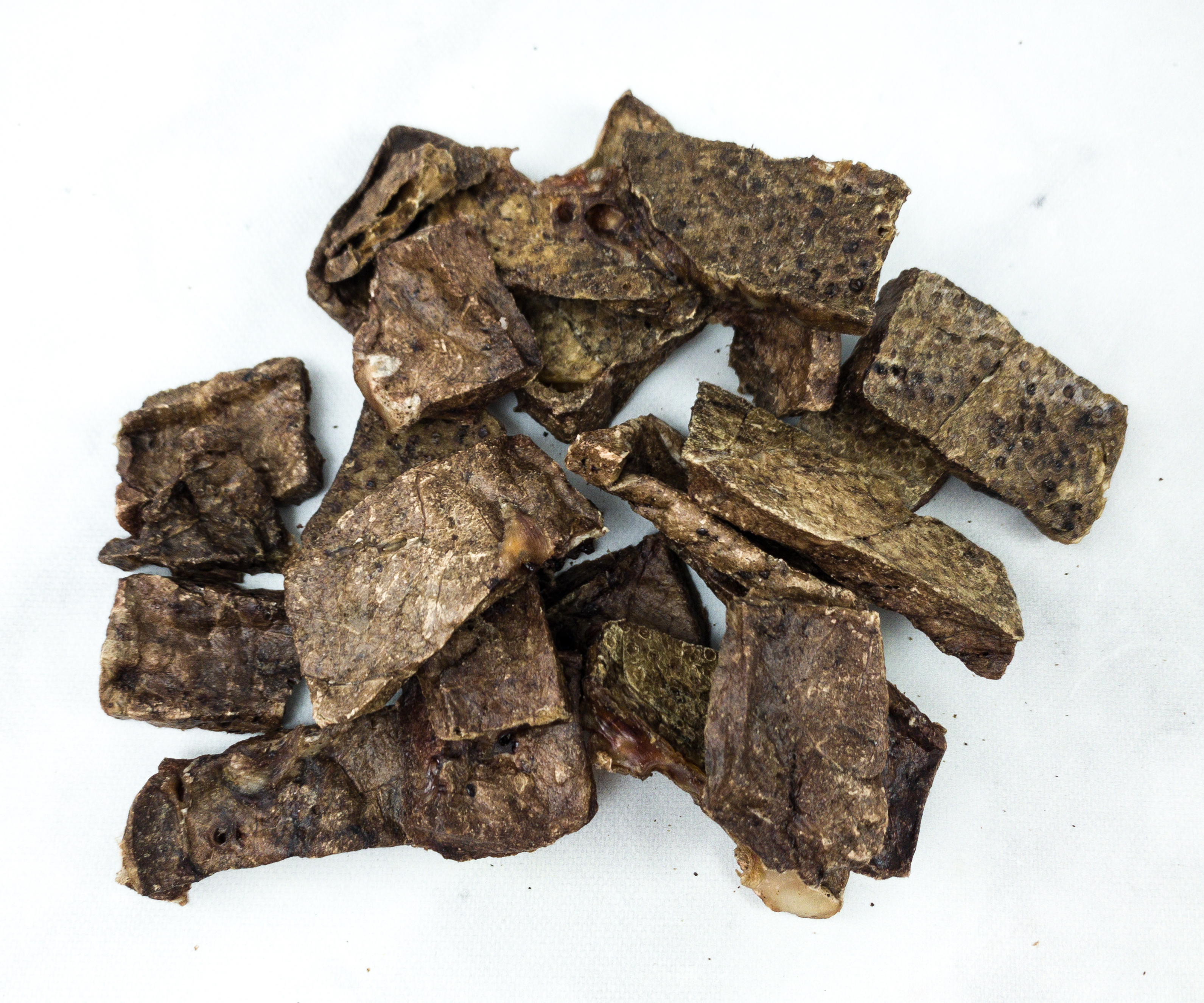 Inside the bag are bite-sized beef chunks with a nice texture. These are crunchy, no wonder Dean loves them so much!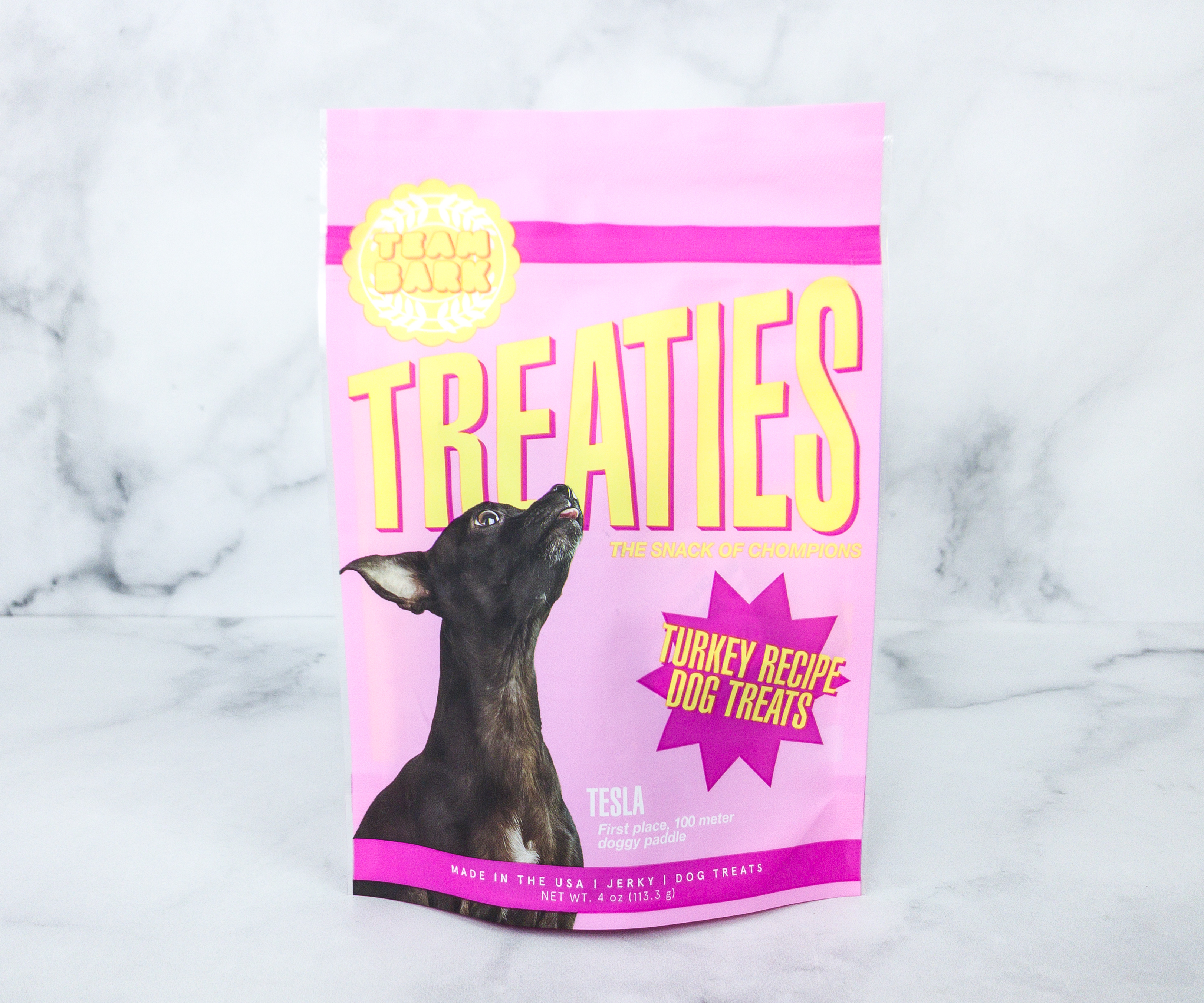 Team Bark Treaties Turkey Recipe Dog Treats. The second bag of treats is made in the USA using clean and delicious ingredients including turkey and rosemary extract.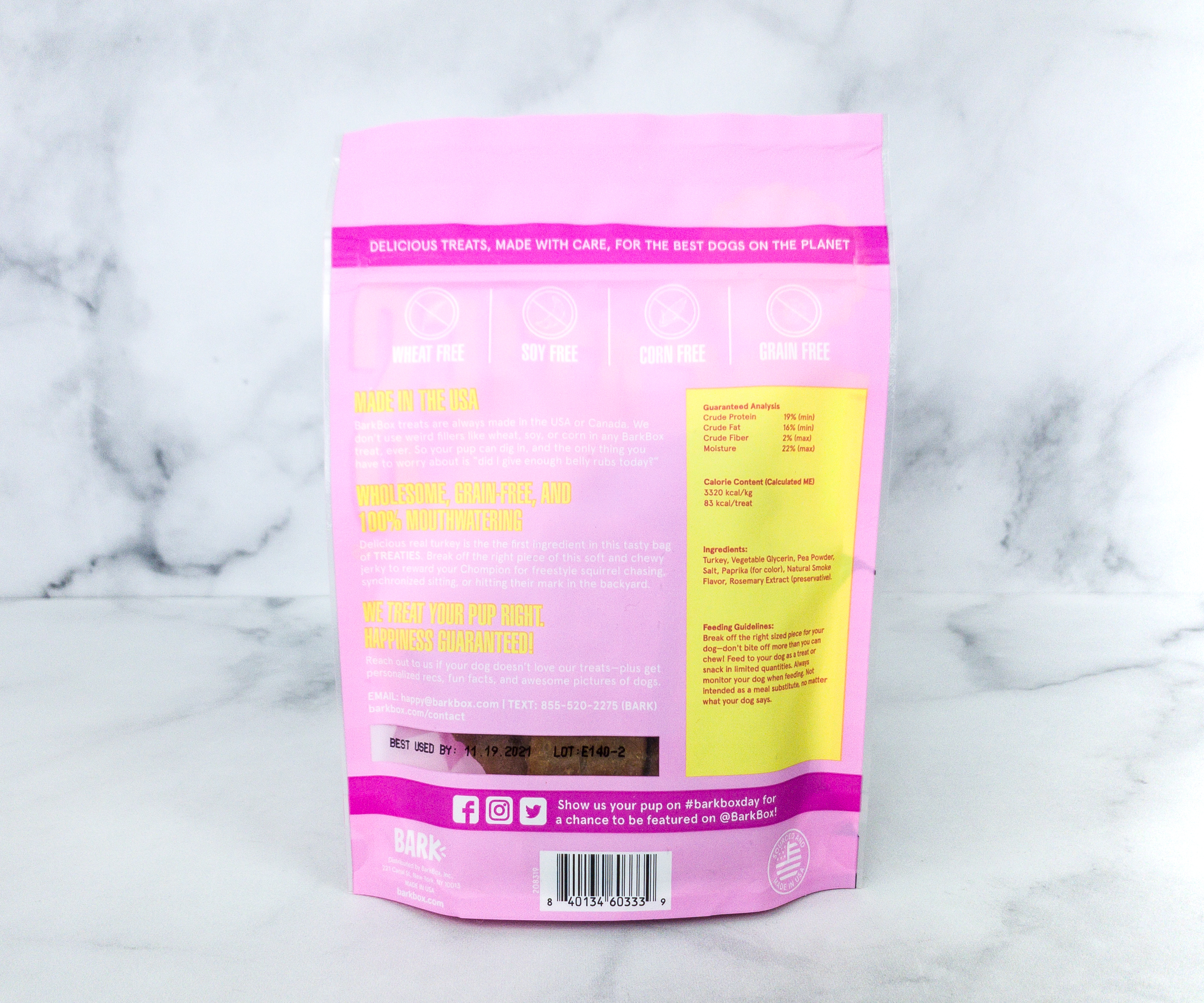 According to the back of the bag, these snacks are wheat-free, soy-free, corn-free, and grain-free as well!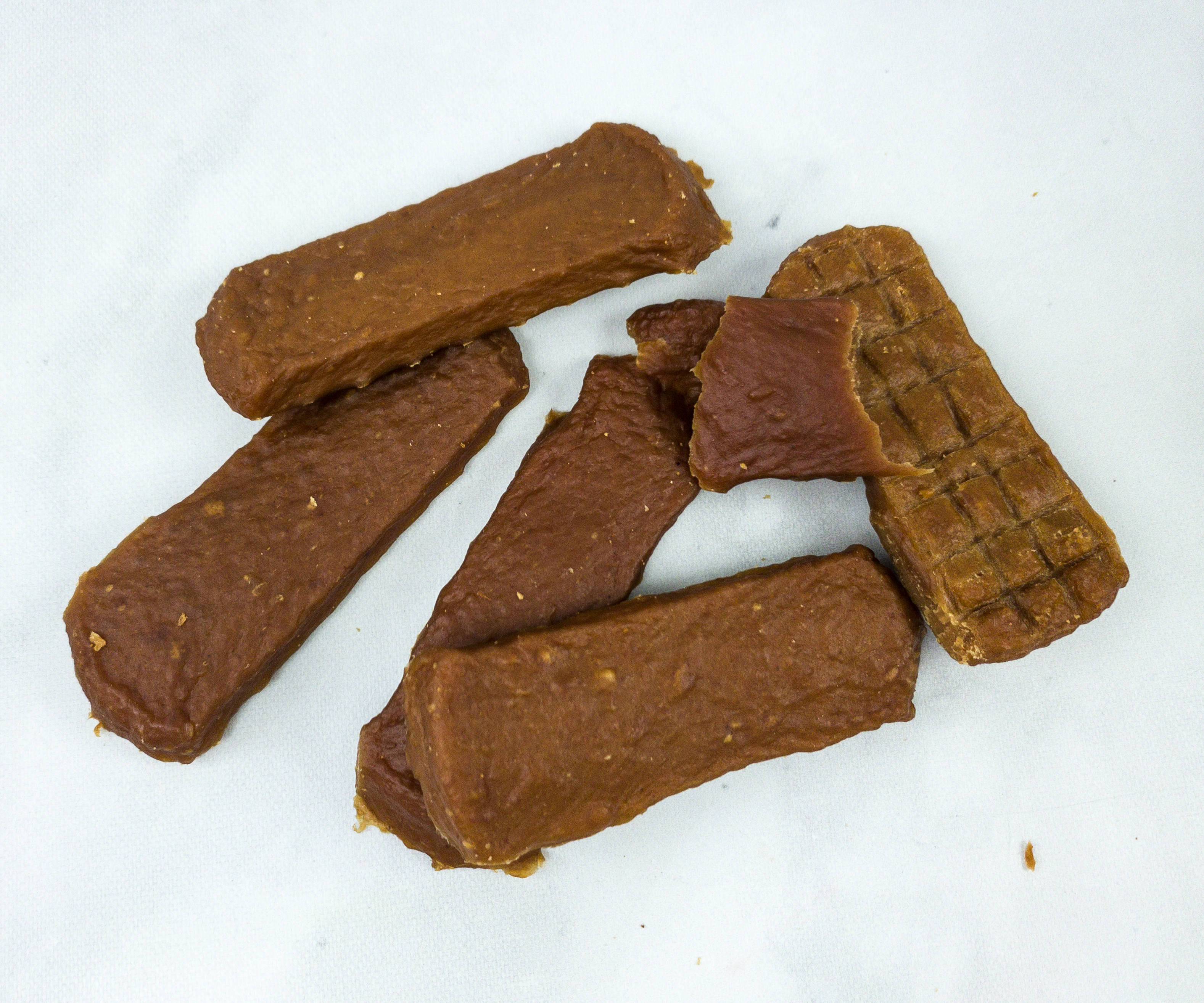 The treats are thick and rectangular. Our pups love getting this for snack time!
One bag of treats is made with beef and the other is made with turkey. Both are a hit with our dogs!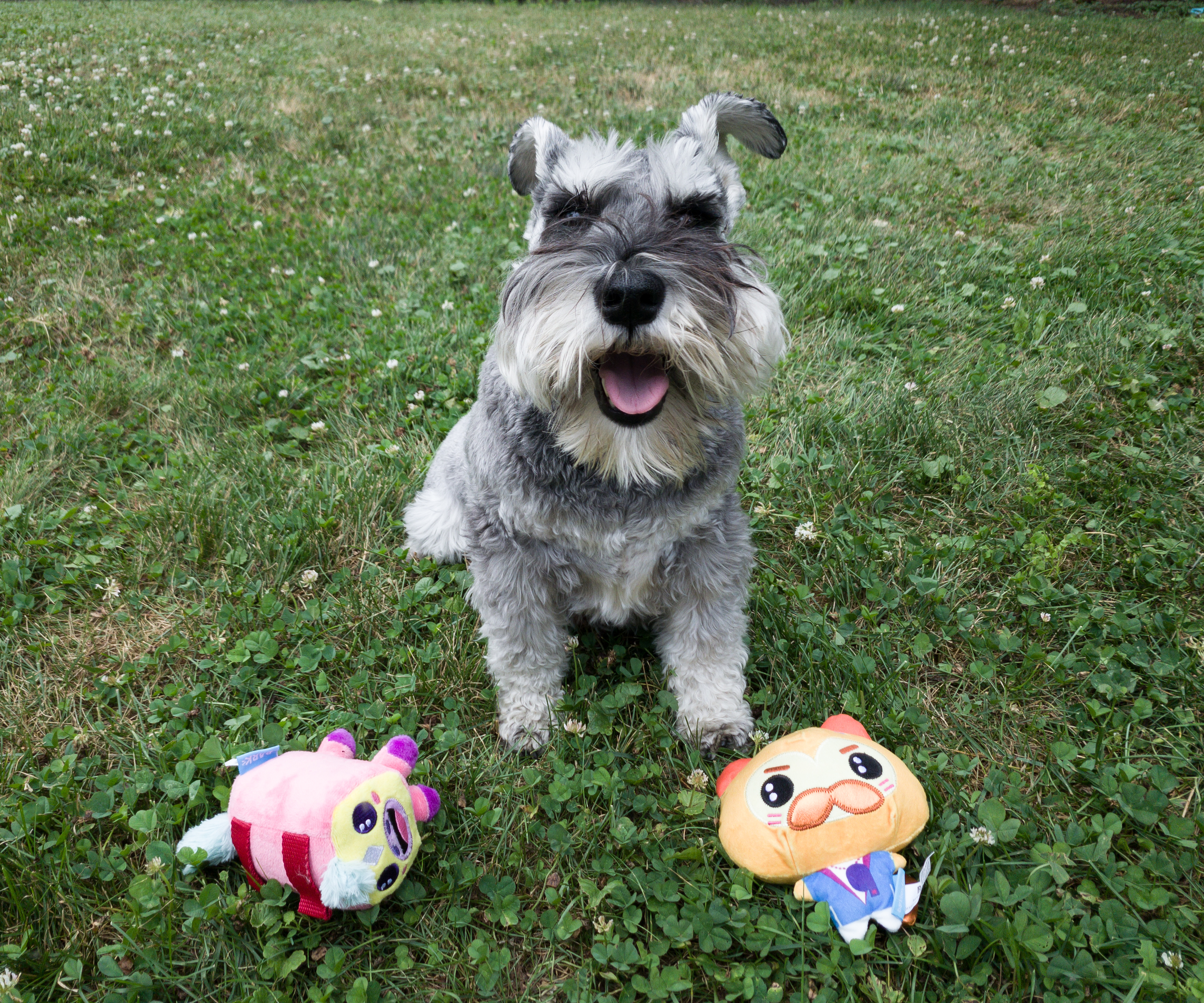 Barkbox always does a great job of curating fun boxes for pets and pet parents! This month, we received another impressive curation of dog treats and dog toys. Our pups loved munching on the healthy snacks, especially the dog stick. We know because they kept asking for more! The dog snacks in the bags were also great. I love that they only send us goodies that are made with healthy ingredients and none of those nasty fillers that other dog treats have. Of course, the 2 plushies this month were also awesome. Our pups kept playing with them for hours. We're really impressed with this subscription overall, and they never fail to make us happy!
What do you think of Barkbox? If your dog is a serious chewer, check out Barkbox Super Chewer!